Dear Readers, I can't begin to tell you how excited I was to open the folder of images for today's super fun and beautiful modern wedding celebration.
It's the kind of hip and intimate London wedding that the city plays host to effortlessly well, but also, we have a bride in the most sensational outfit: a white trouser suit topped with a wedding fedora adorned with a tulle veil.
Images by Leah Lombardi Photography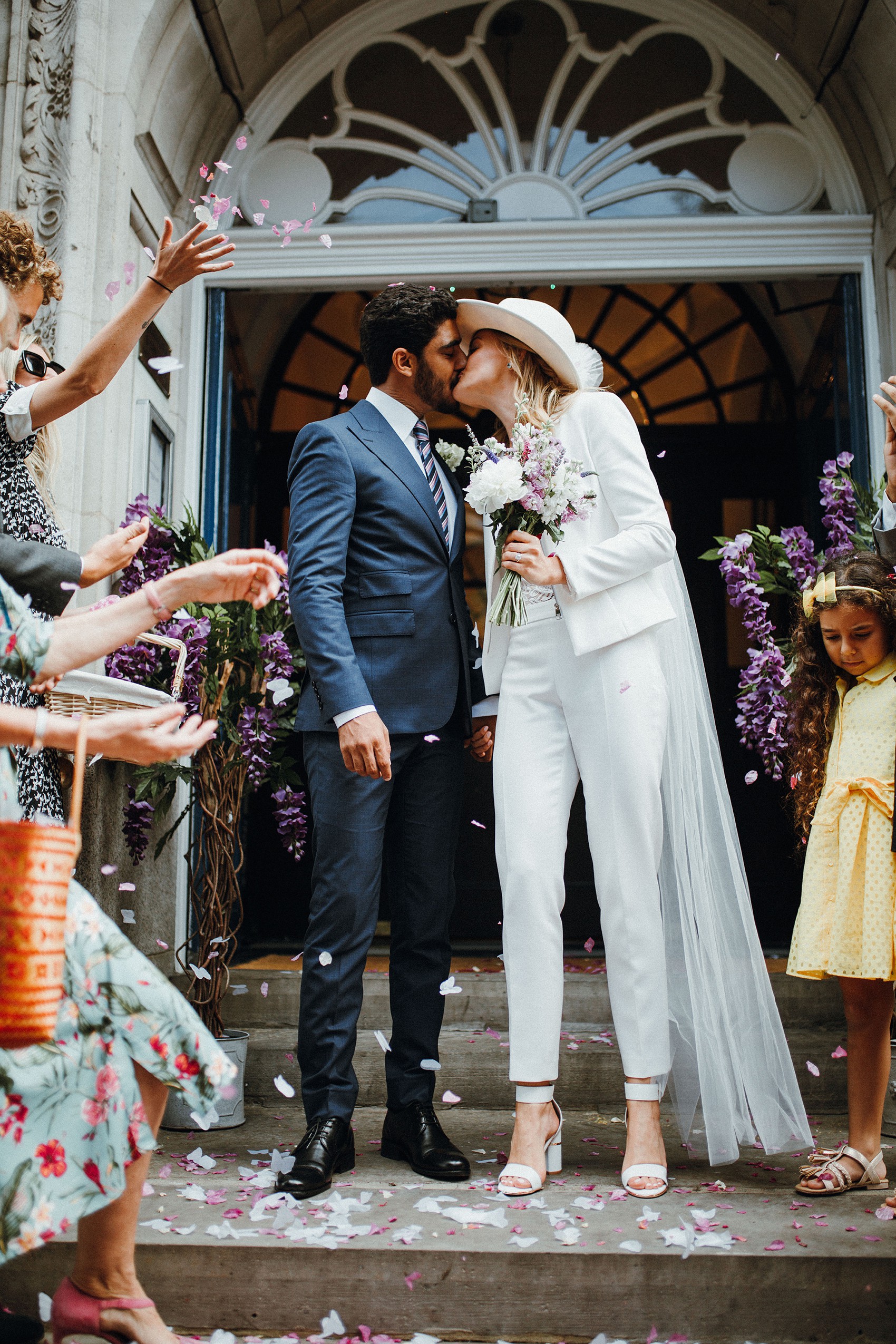 The happy couple in these images are Gabriela and Adam. Gabriela owns travel company Story Unheard, who create digital travel guides, and Adam owns digital marketing agency, MO4 Network. They were married on the 12 July 2019 at Chelsea Old Town Hall in London, followed by a reception at Belgravia restaurant, Wild by Tart.
"I had passed Chelsea Old Town Hall for years, seeing hundreds of happy couples get married, and since we lived so near it, it made perfect sense – plus it has such a lovely exterior!"
Gabriela's hair was styled by Emma from Spence & Oliver, and she topped her outfit with a white fedora by Australian designers Lack of Color.
It was trimmed with a handmade veil made by her mamma and sister, using tulle chosen at John Lewis. I just love this whole look – it's cool and elegant, with individuality and flair.
Gabriela and her father were driven to Chelsea Old Town Hall in a vintage inspired Beauford car from AB Chauffeurs, and Gabriela carried a pretty, delicate assortment of blooms from Battersea Flower Station, which included sweetly scented stocks and blowsy white peonies.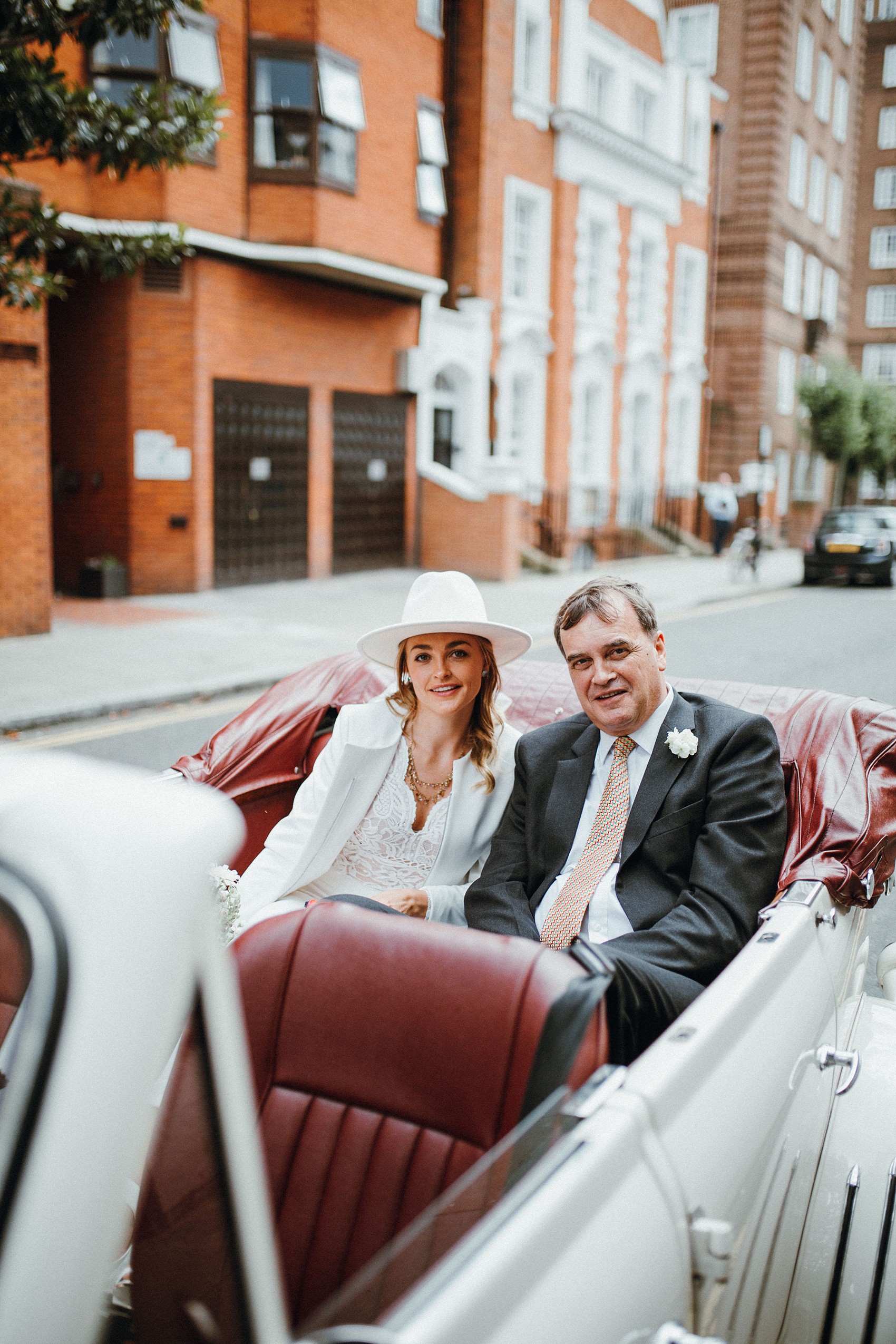 "I wanted my bouquet for July (with each flower handpicked by my father) to have the feel that it was like wild flowers picked from a field, and this theme was carried through to the table décor, too. Battersea Flower Station were so cute and helpful."
Adam's smart blue suit was by Egyptian designer, Ahmed Hamdy, which Adam wore with a white shirt, and colourful striped tie and shoes, also by Ahmed Hamdy.
Gabriela and her papa made their way down the aisle of the town hall together, to a moving piece of music by Franz Schubert, specially chosen by him.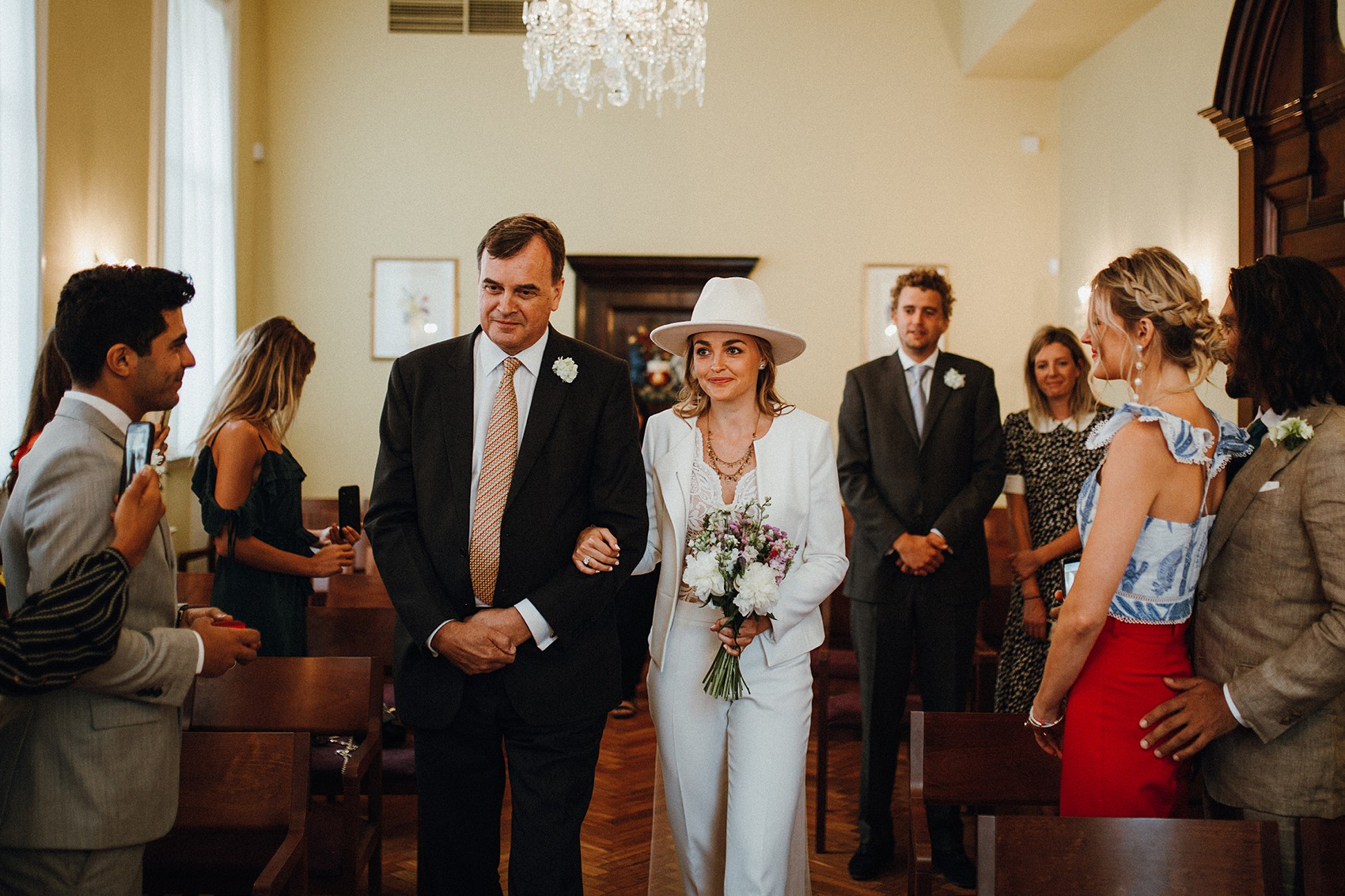 "Adam and I met in Cairo, Egypt, 9 years ago and have been doing long distance ever since. At that point in my life I wanted to be an actress, so was acting in an Egyptian TV series. Adam was this brilliant, ambitious emerging entrepreneur who I fell in love with at first sight, at a fantastically chic party in Cairo."
"We got engaged last November in Iceland, where Adam whisked me away to propose to me under the stars and Northern Lights in the Blue Lagoon at midnight."
"We have both never done things the traditional way, so it felt right to make our July wedding a reflection of who we are. We're having a second big celebration this October by the Pyramids in Cairo, so wanted the July wedding in the UK to be intimate and less traditional, with a very relaxed feeling". 
During their exchange of vows, Gabriela and Adam presented each other with rings, which were from an Egyptian jeweller (sadly, no further details provided), with their names and the wedding date engraved in Arabic.
There were readings, too, and the couple chose two lovely pieces that embodied their feelings for one another. Gabriela's sister read Roy Croft's poem, I Love You, which was adapted to suit them, and Adam's sister read an extract from Paulo Coelho's haunting, beautiful book, The Alchemist.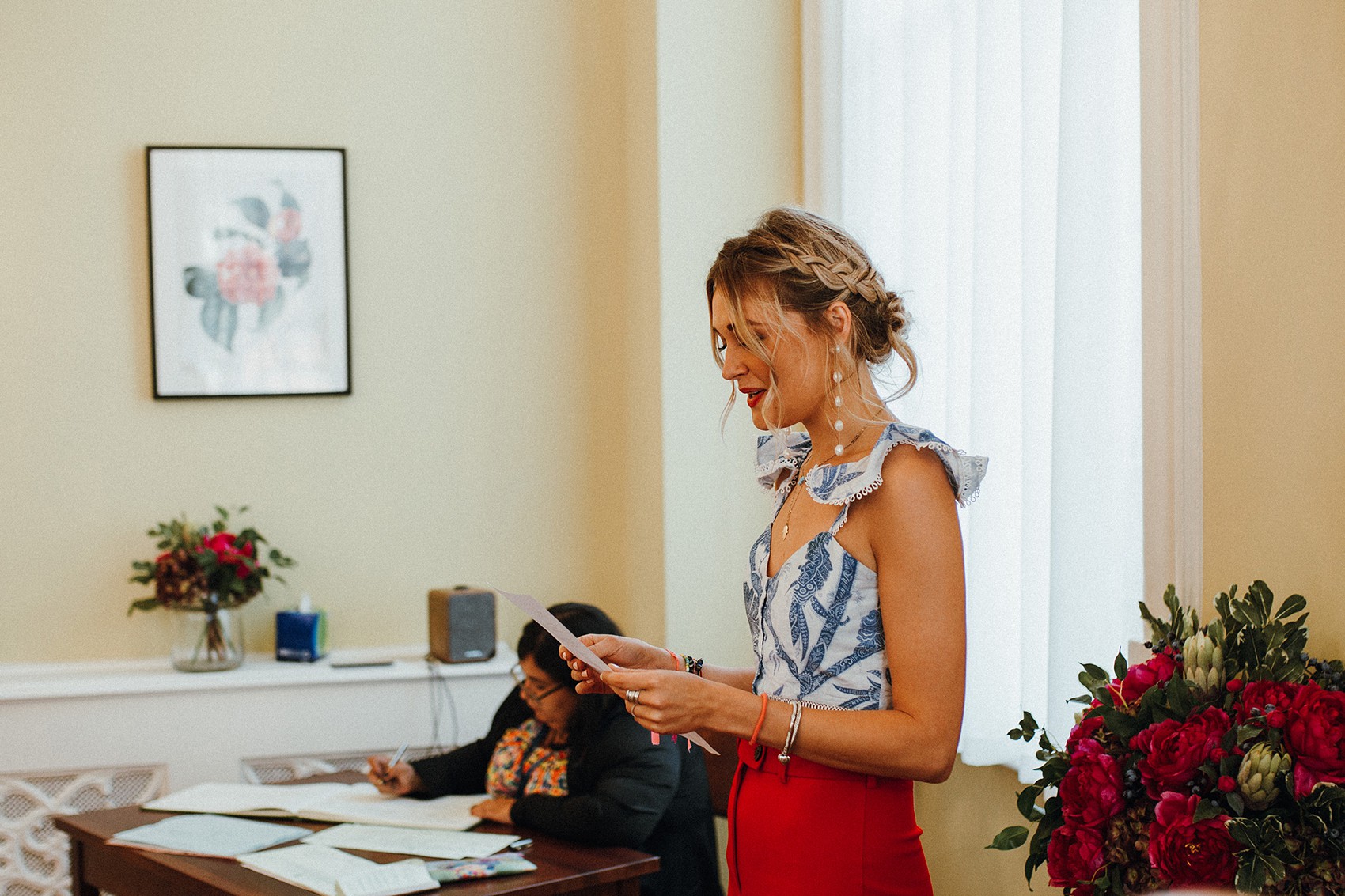 Photographer and filmmaker Leah Lombardi works in both digital and film, which brings a deeply romantic, dreamy, fine art quality to her work. Here, she captured Gabriela and Adam's day with a collection of beautifully and sensitively composed images, which are a real delight to share.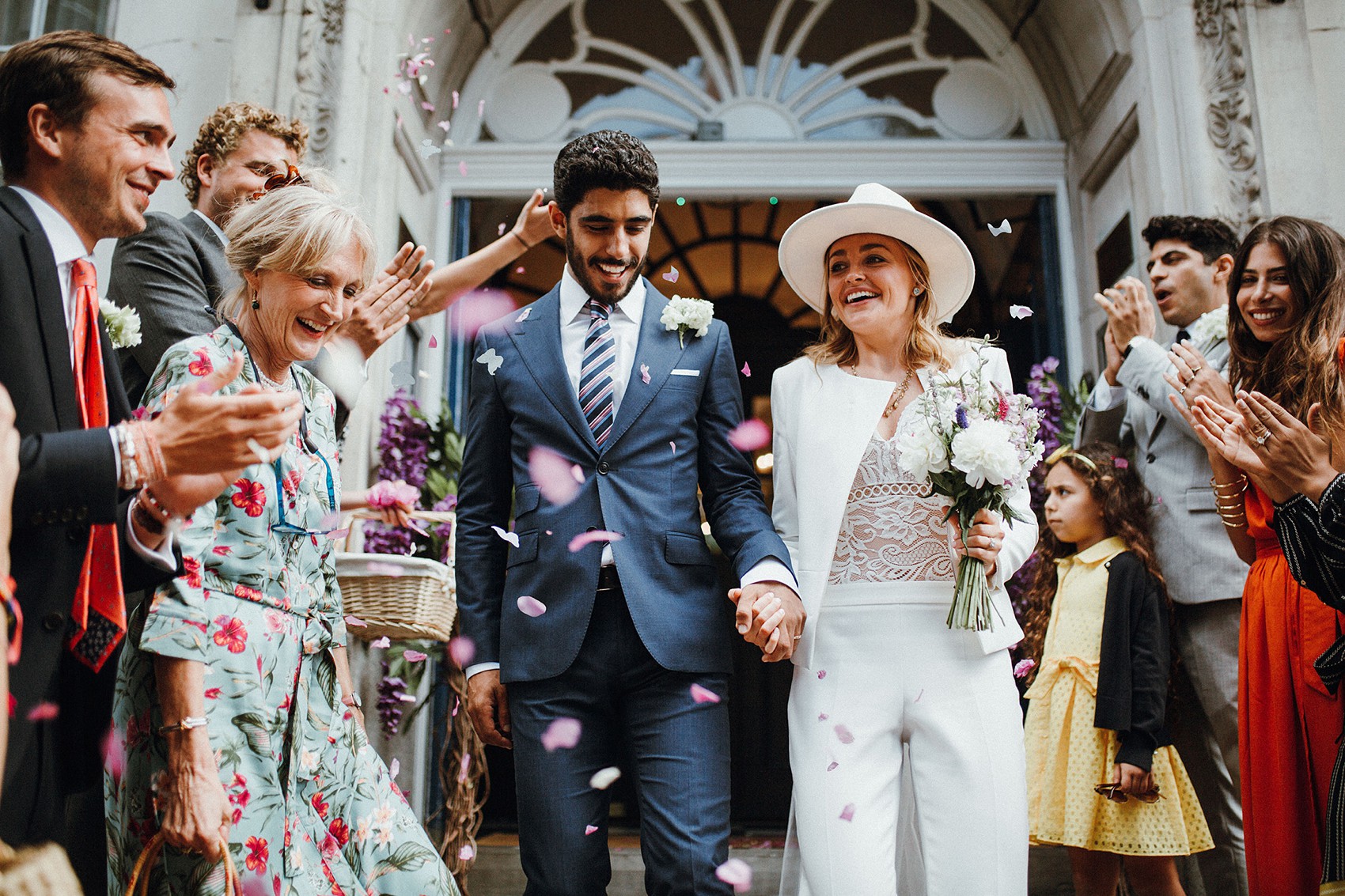 Gabriela wore a wonderfully tailored white trouser suit by Hugo Boss, which she paired with a long-sleeved lace top by Love Triangle at ASOS, and white, ankle-strap sandals from Kurt Geiger.
"It totally screams 'me'. Since I was little, I lived in leggings, so jumped at the opportunity to wear cool white trousers and a jacket. I was inspired by Rime Arodaky's Civil Collection, but with my own twist."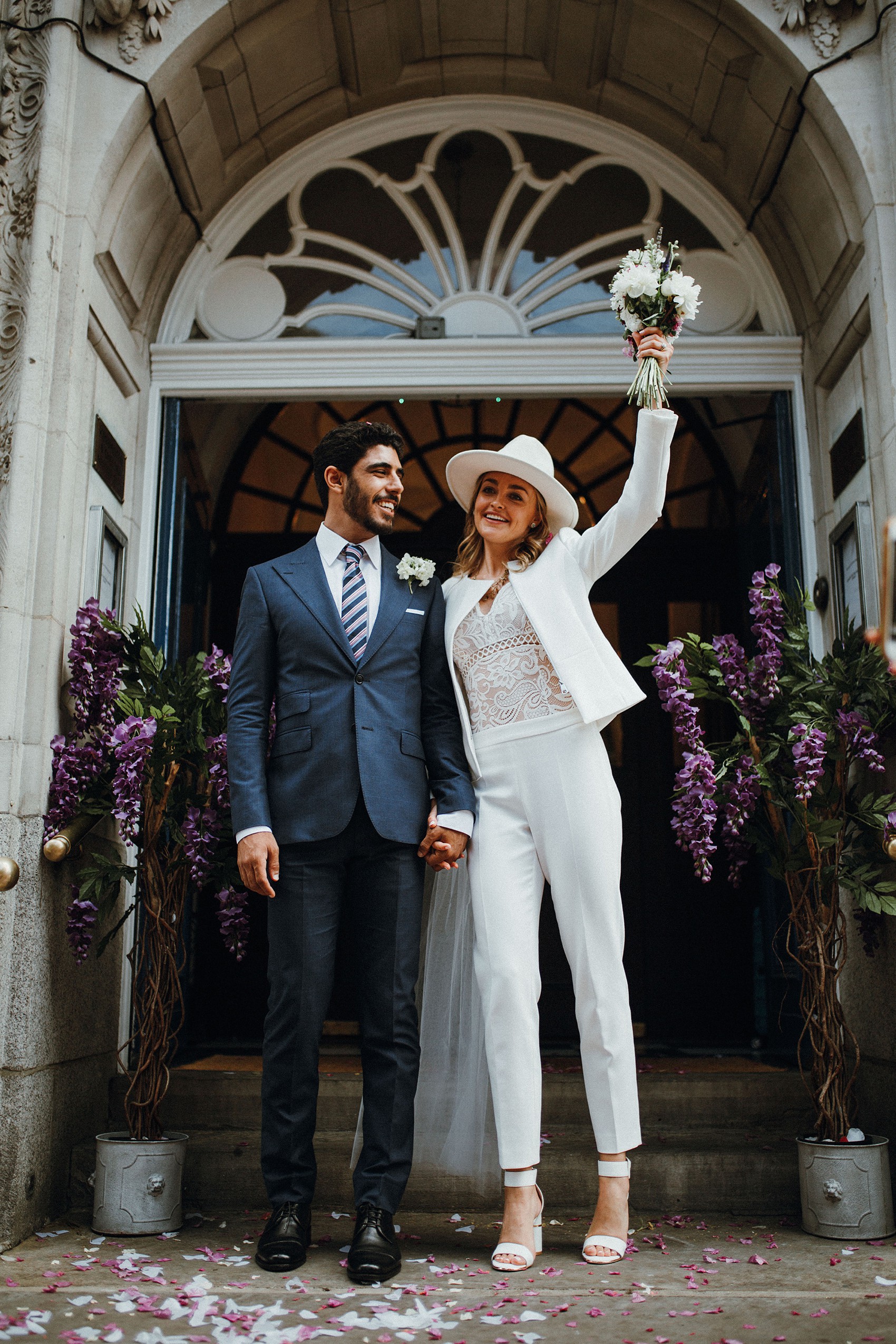 For her something old and something new, Gabriela wore bespoke aquamarine stud earrings, which were a gift from her parents, and made in India.
"I wore perfume by Narciso Rodriguez – it's been the scent I've worn since I was 18, and I couldn't think of any other scent that would make me feel more at ease and in my shoes on the big day."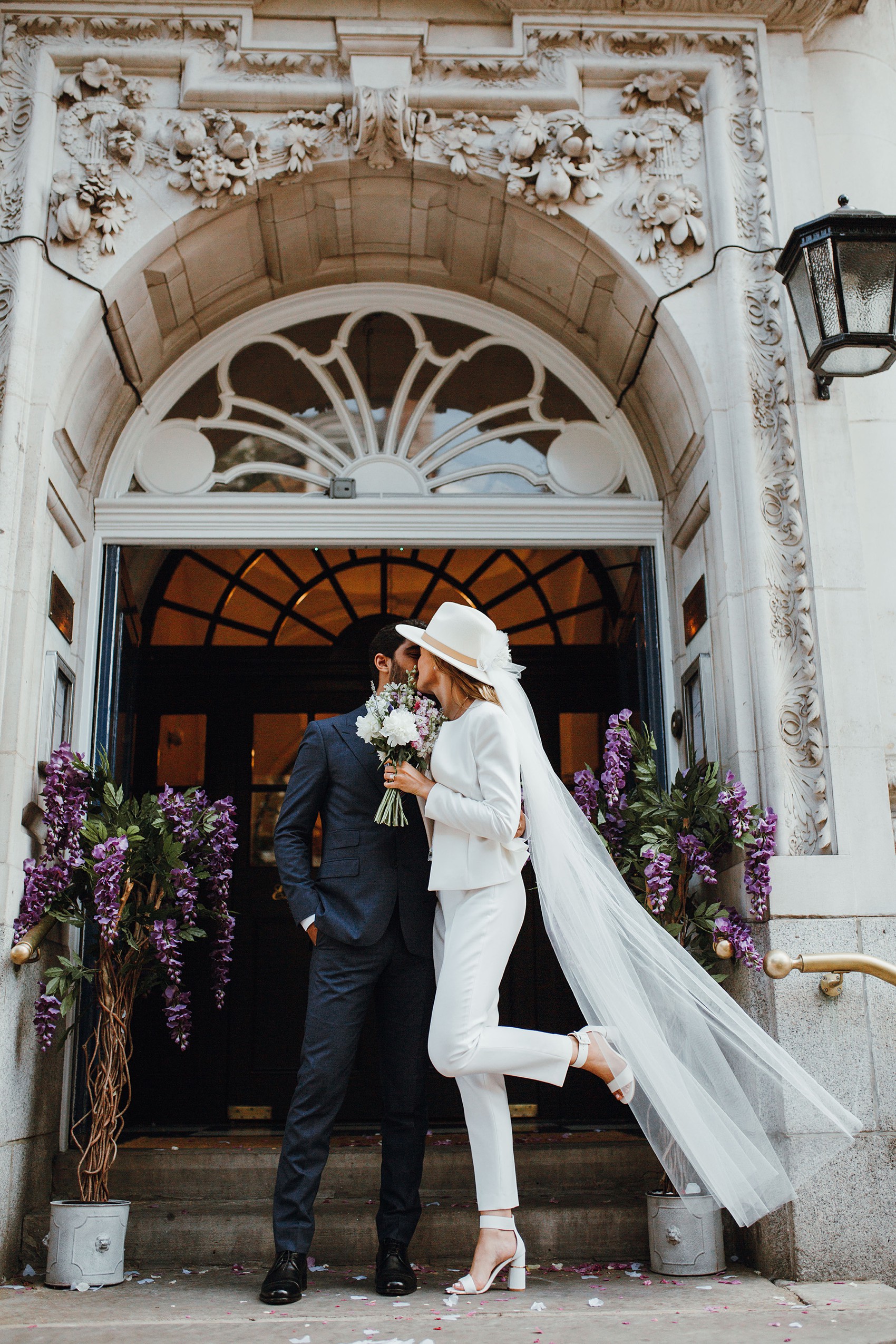 After confetti and kisses on the steps of the Old Town Hall, Gabriela and Adam enjoyed a just-married drive around the sunny streets of London, before making their way to Belgravia restaurant, Wild by Tart.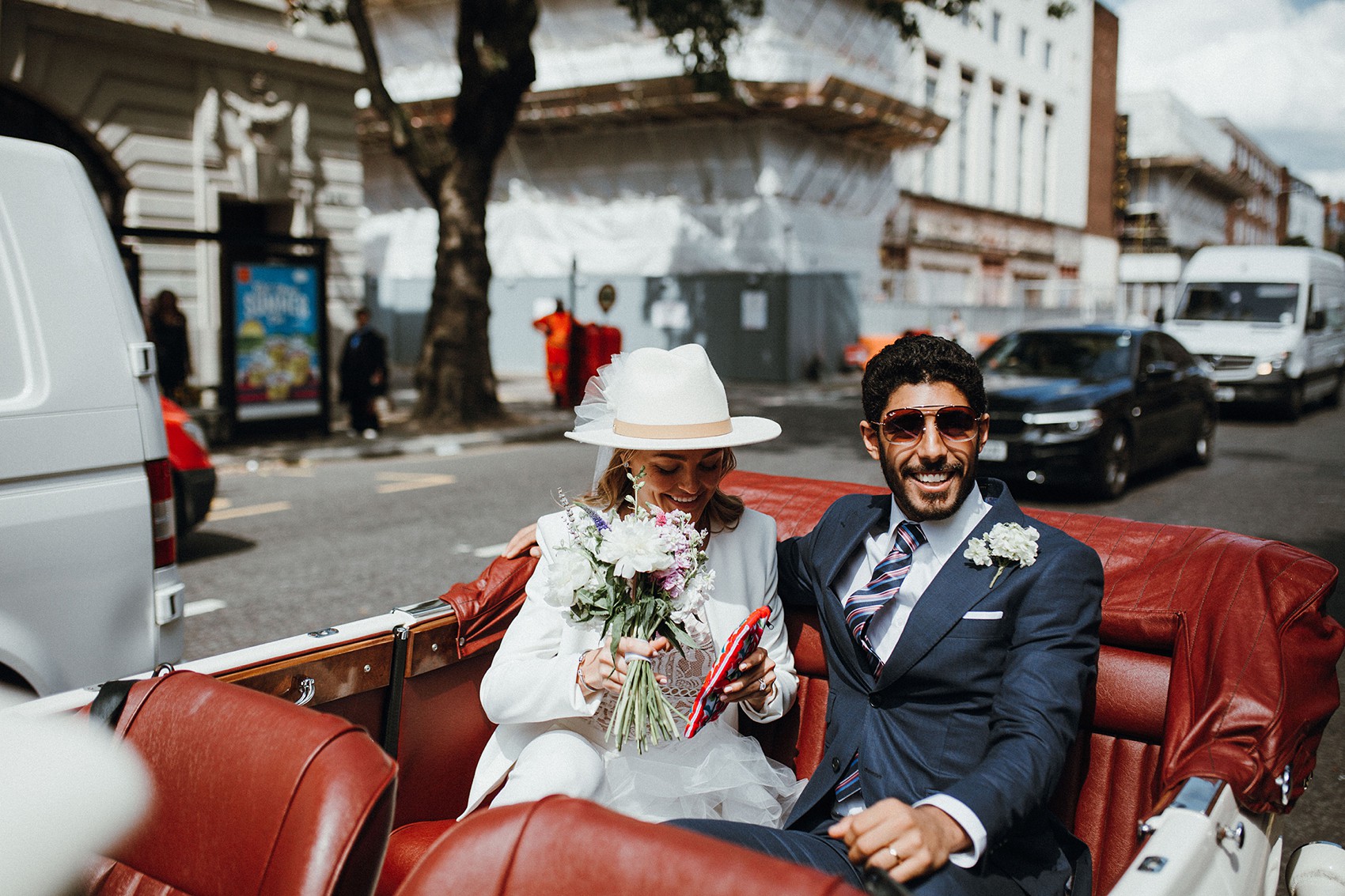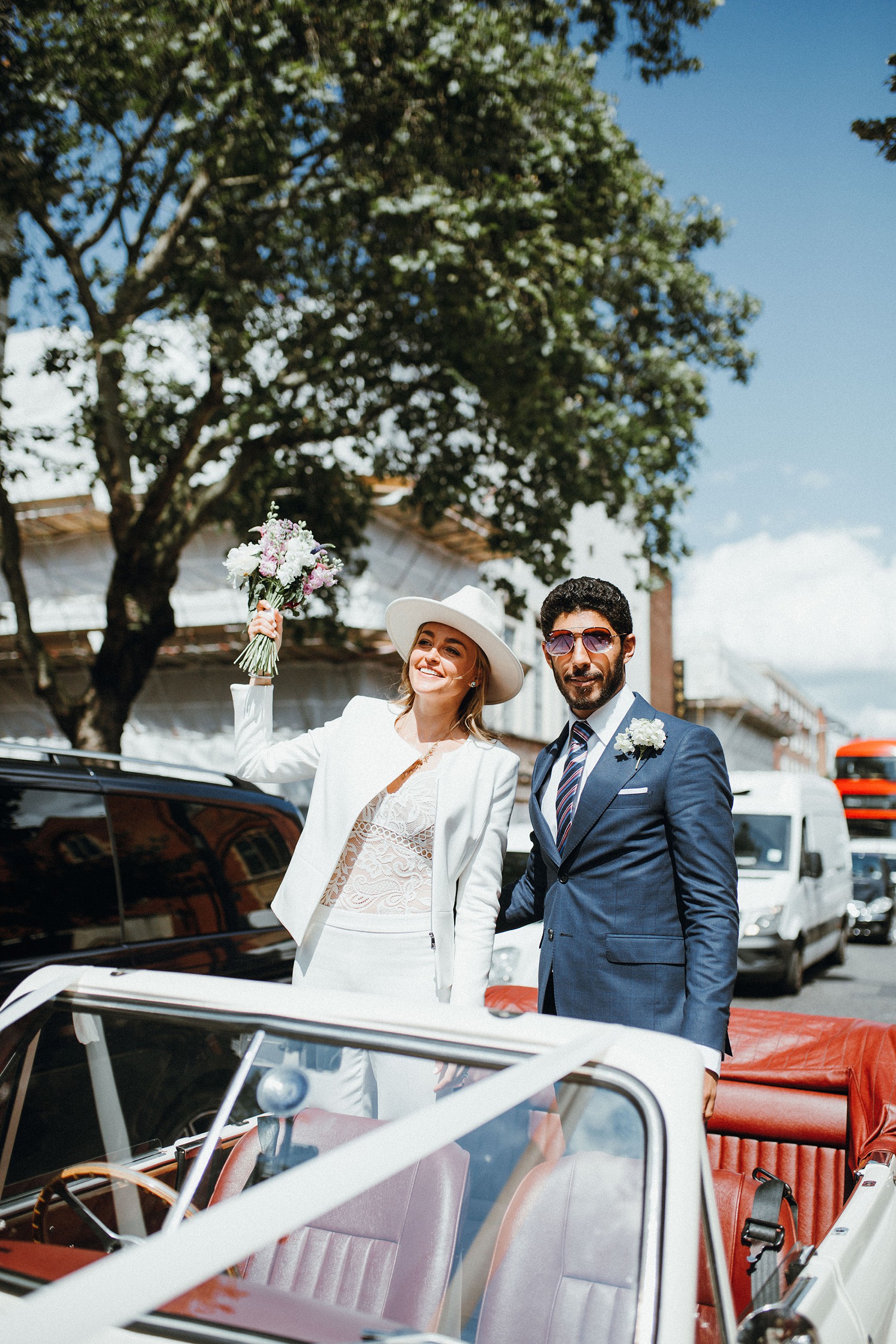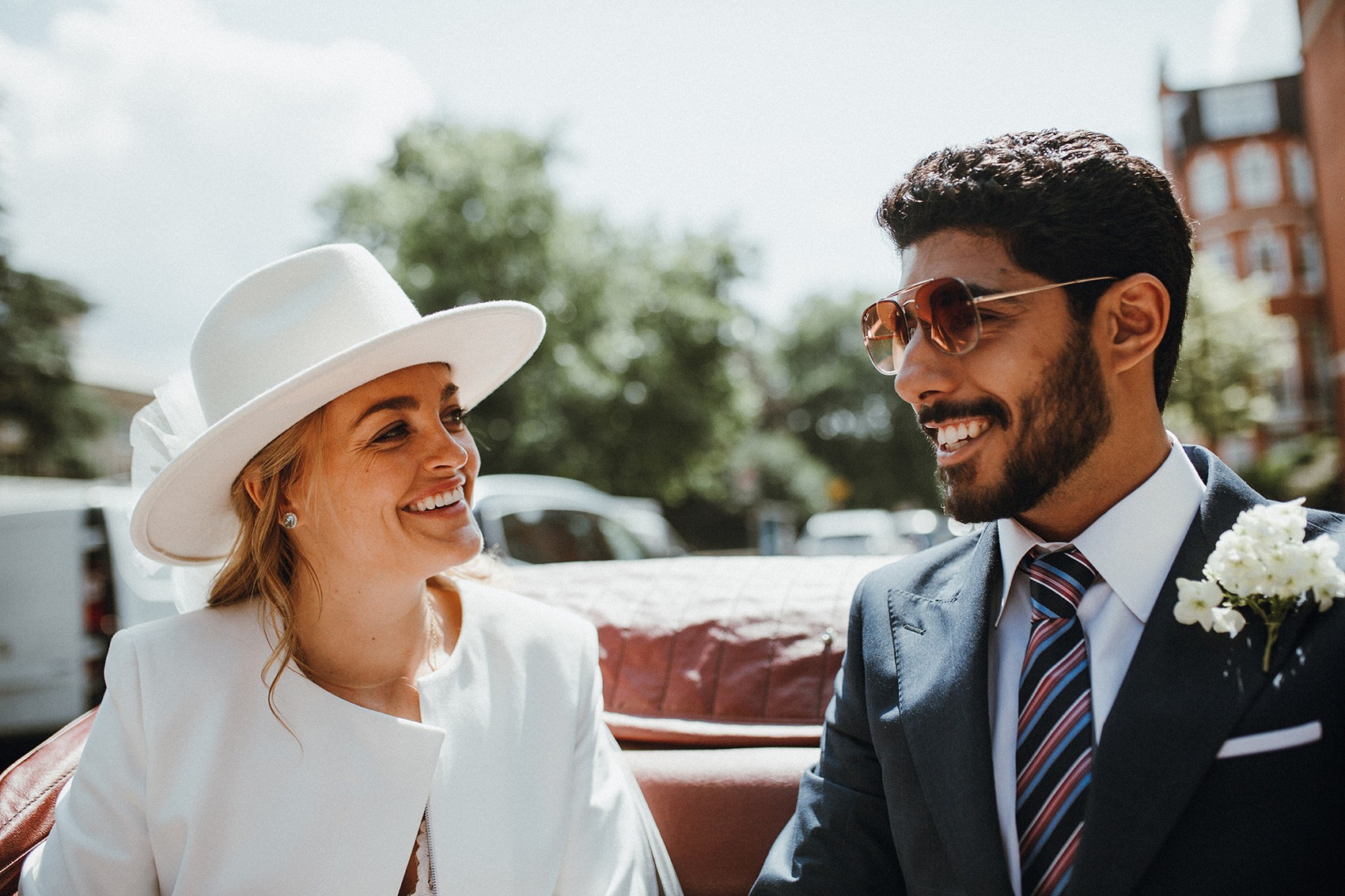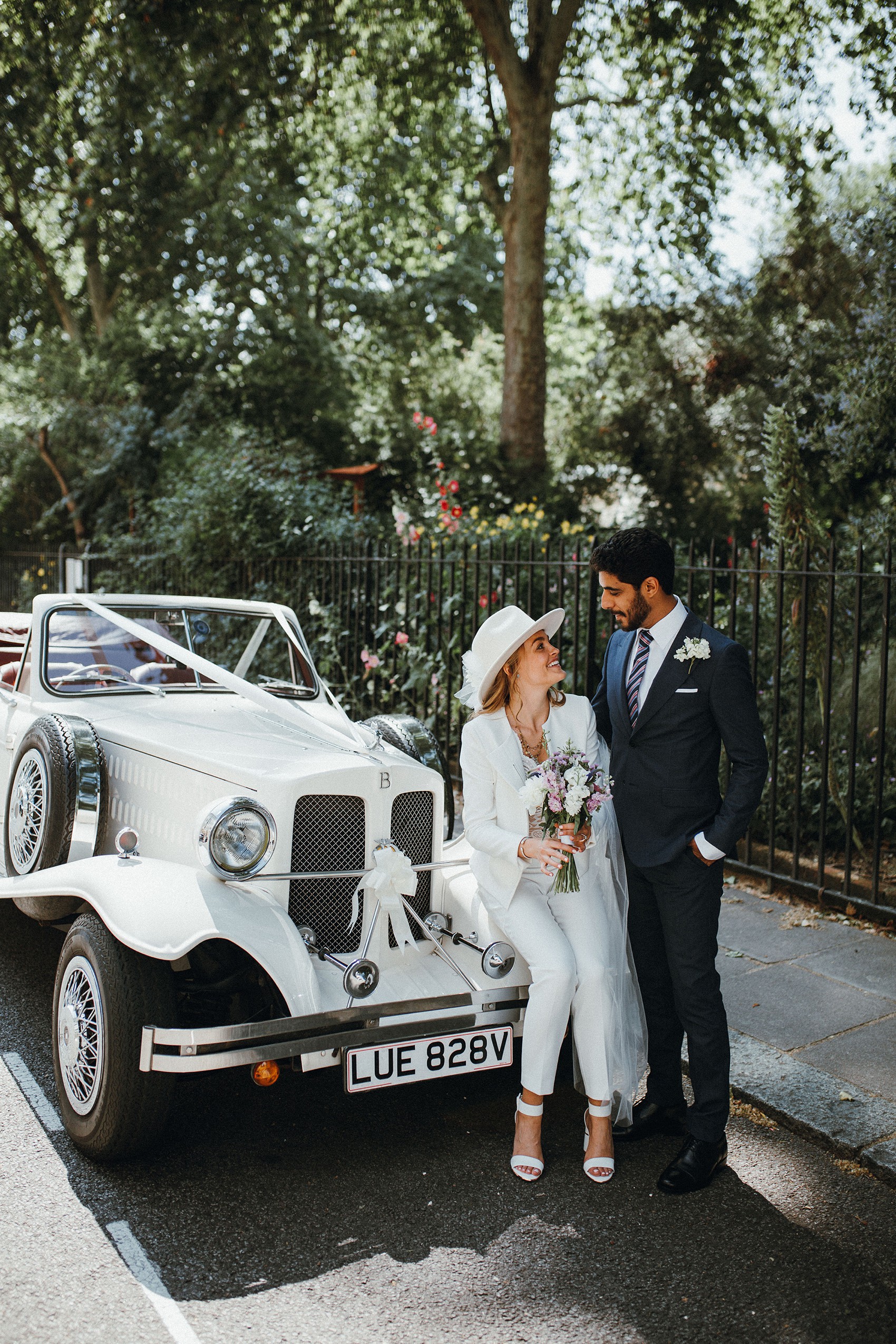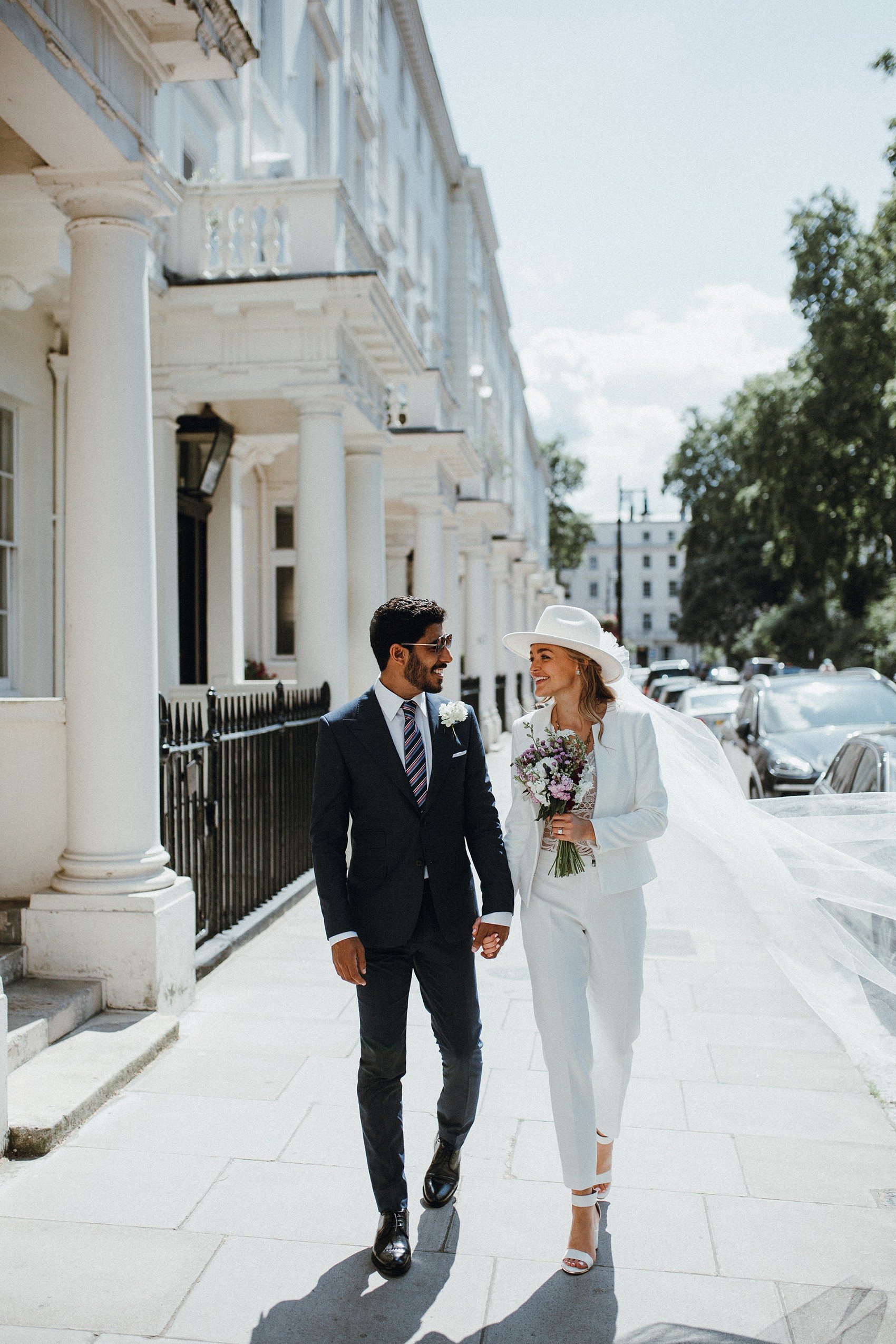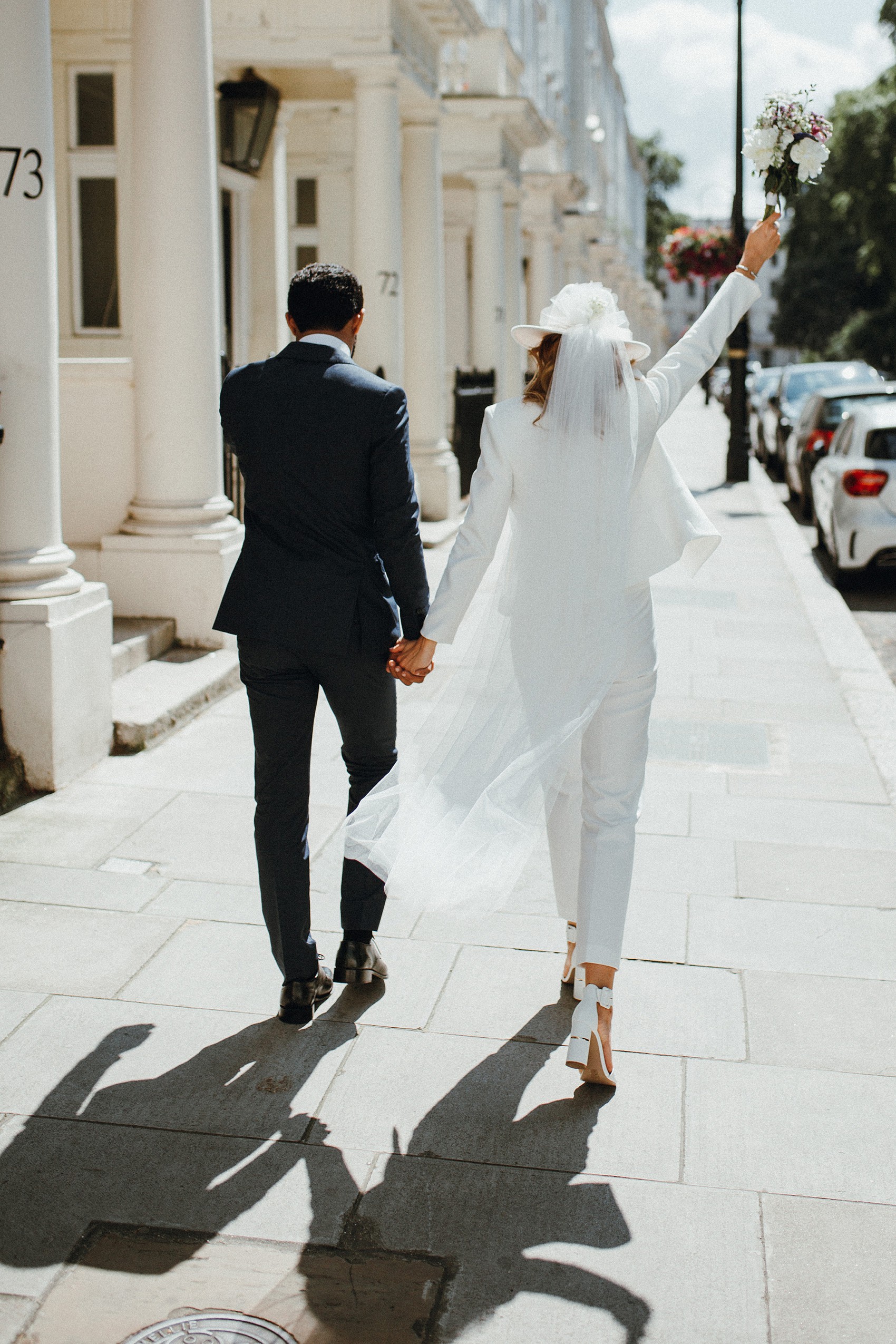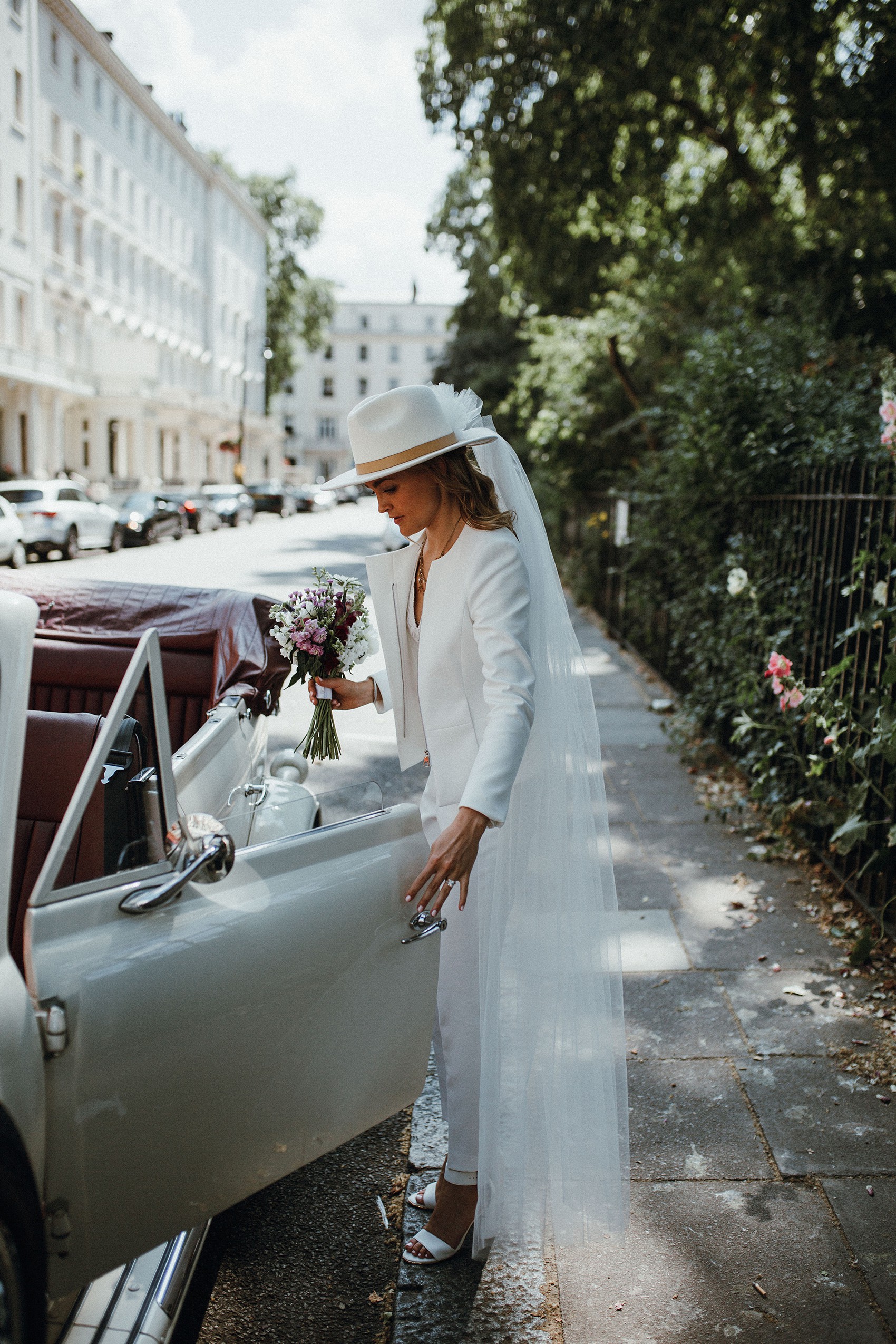 Loved ones chatted, and offered their good wishes to the couple over drinks and canapes in the light and airy space.
There was one, long dining table set for an intimate wedding dinner; laid with crisp, white linens and lined with classic bistro chairs.
"Our inspiration for the décor was bringing the fresh, beautiful English countryside indoors; a very cool change to our wedding in Egypt, which will all be about the desert, pyramids and palm trees."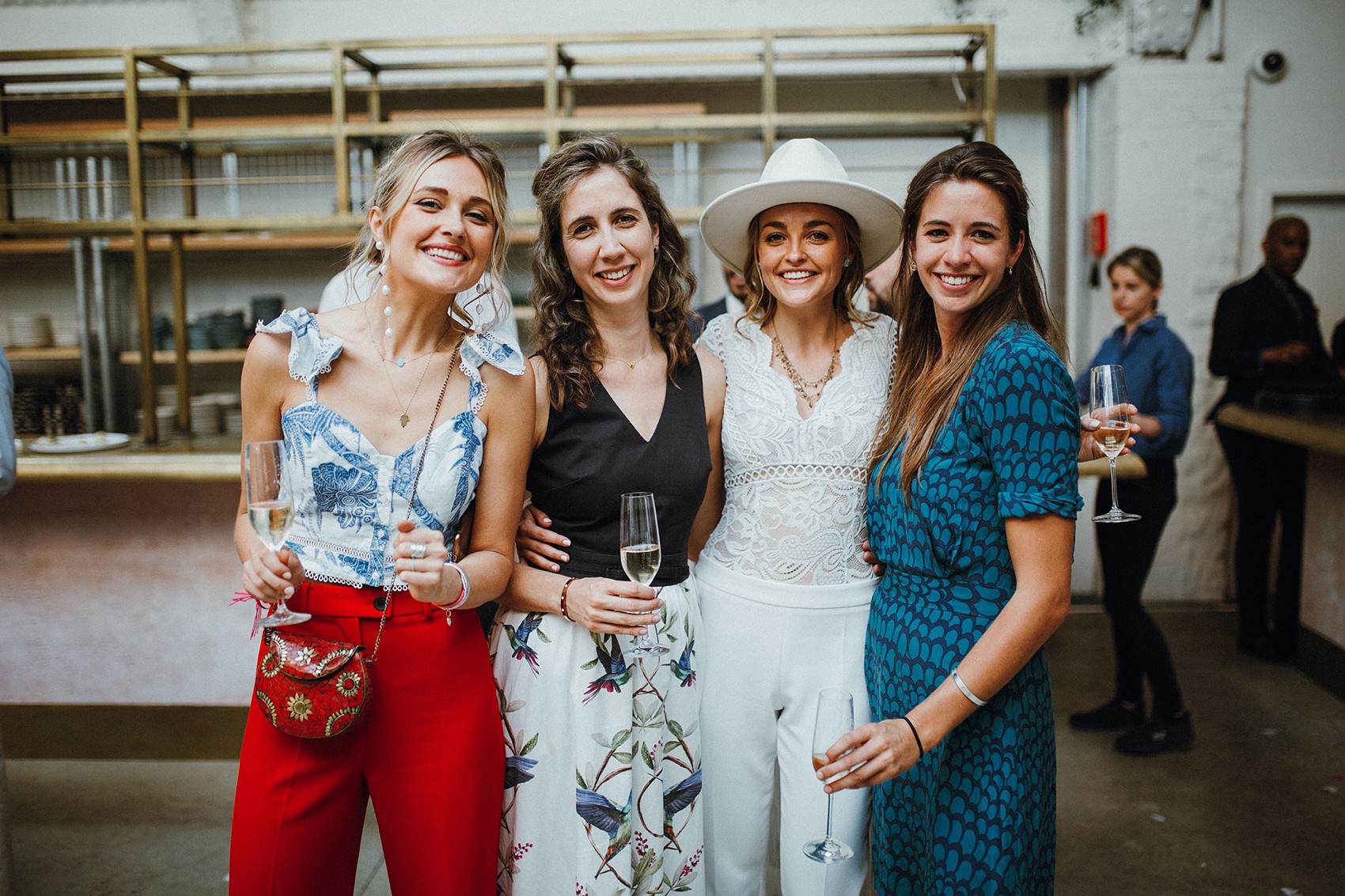 There were big potted palms dotted around the room, and on the tables, vases of sweet and colourful summer flowers from Battersea Flower Station, and tealights from Good Earth.
Speeches and toasts were followed by a delicious, colourful feast made by the Wild by Tart team, served on big platters to be shared around, family style.
More speeches, toasting and tears followed, bringing Gabriela and Adam's relaxed, cosy and intimate celebration to a close, with the promise of more revelry to come later in the year, in Egypt.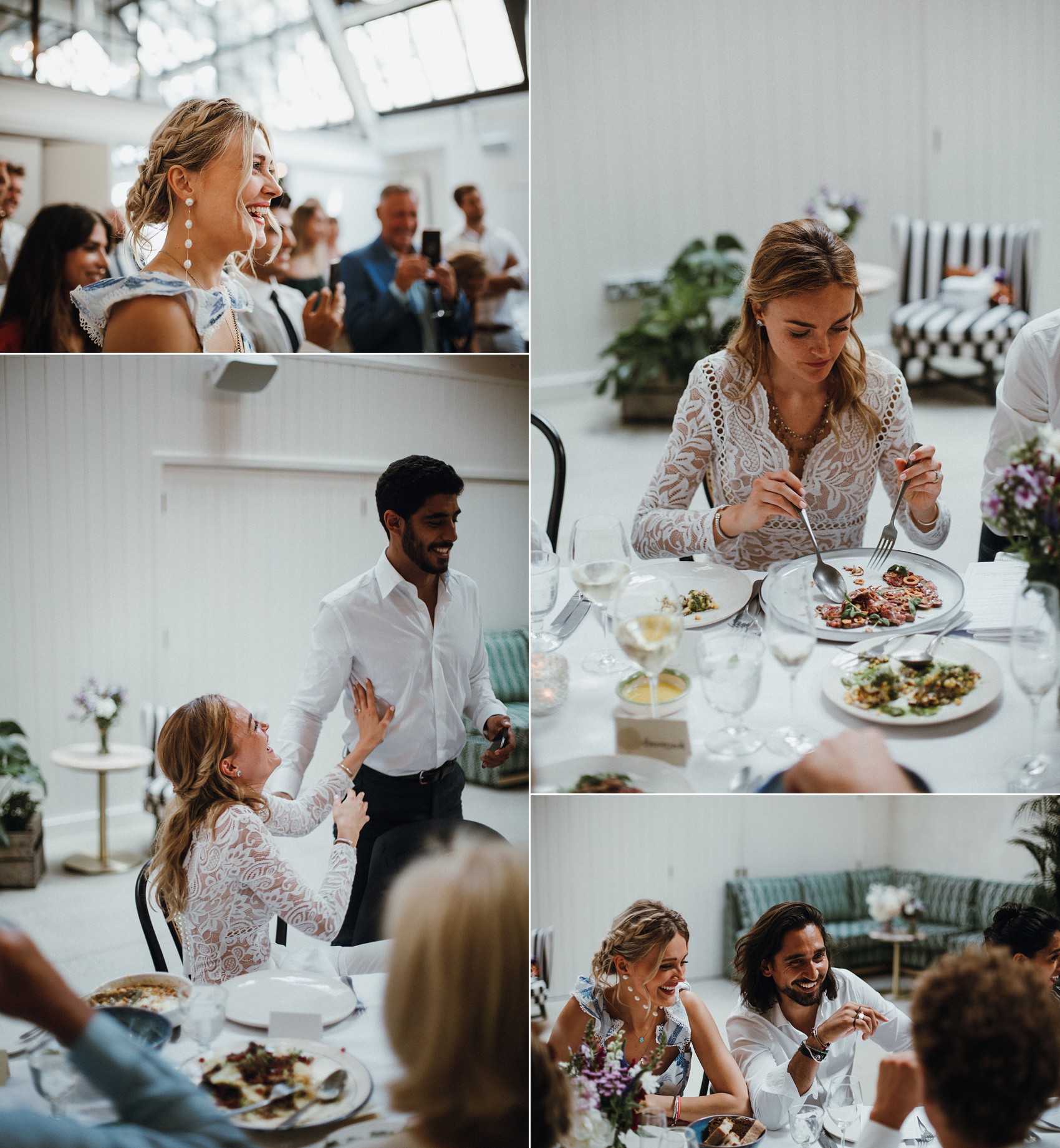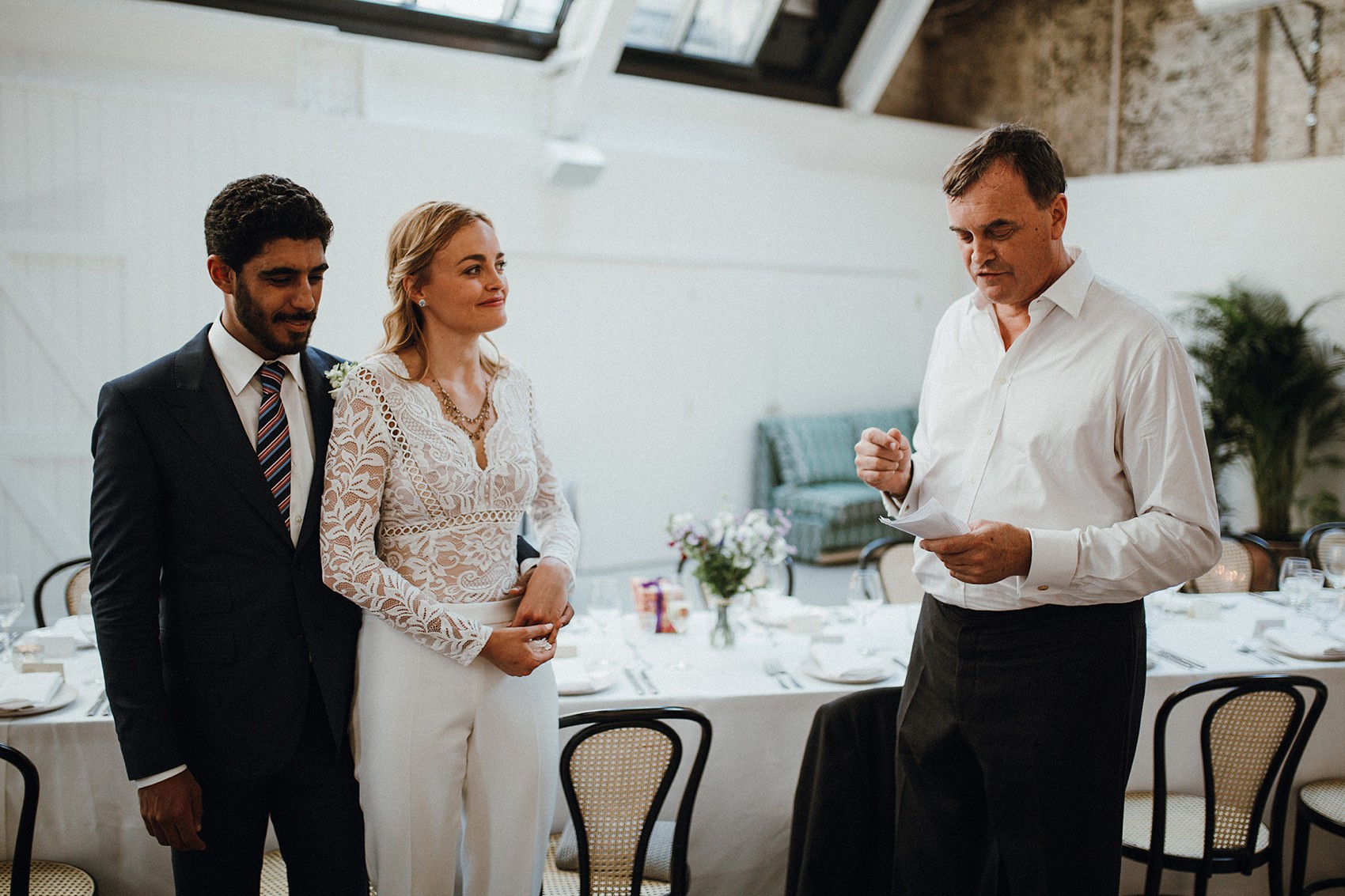 Words of Wedded Wisdom
"Spend as much time with the ones you love on the big day as it goes by so quickly. It's the memories with them that you will carry forever."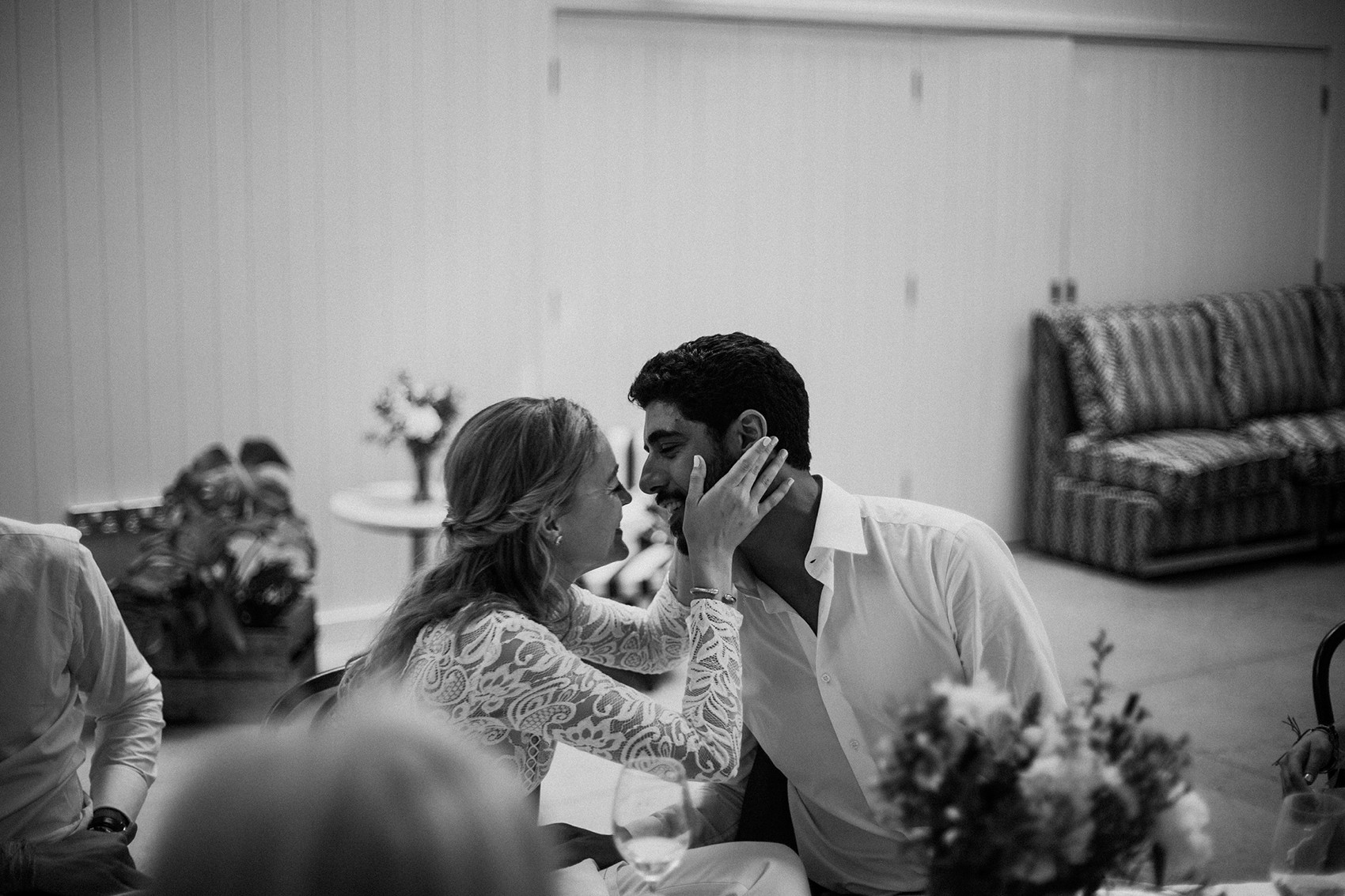 Gabriela and Adam, thank you so much. Congratulations to you both, and we're wishing you the very best for your Egyptian celebration in October, too. Huge thanks also go to photographer Leah Lombardi for this truly lovely set of images.
If dresses aren't your thing, and you've been inspired by Gabriela's outstanding wedding attire, then do take a look at our other real weddings featuring brides in trousers and jumpsuits.
Until next time.
With love,
Laura