I'm really enjoying the variety of different winter weddings we've been featuring on our much-loved wedding blog pages lately, and this relaxed country house party celebration is no exception.
The venue is grand and elegant, but the atmosphere is cosy and intimate, with roaring open fires, winter greenery, candles, fairylights, and pops of festive red in the styling throughout. Martyna, an admin manager in the education sector, and Damien, who is company director for The Amazing Chocolate Workshop, were married on the 4 January 2019 at the beautiful Stubton Hall, Newark, in Nottinghamshire.
Images + Film by Caitlin & Jones
"We wanted our wedding day to be special, but it was also very important to enjoy as much time as possible with all our guests. It was very private too. We had the entire place to ourselves for the whole day and night. Breakfast in the morning with everyone was a great chance to chat about the shenanigans from the night before!"
"Damien loves old houses and the countryside; I love old houses and Downton Abbey! We chose Stubton as it's a beautiful, old country house with stunning grounds, and plenty of rooms for guests to stay over. The latter was a main factor for booking Stubton, as although there are plenty of fabulous wedding venues in Nottinghamshire, not a lot of them offer rooms, too."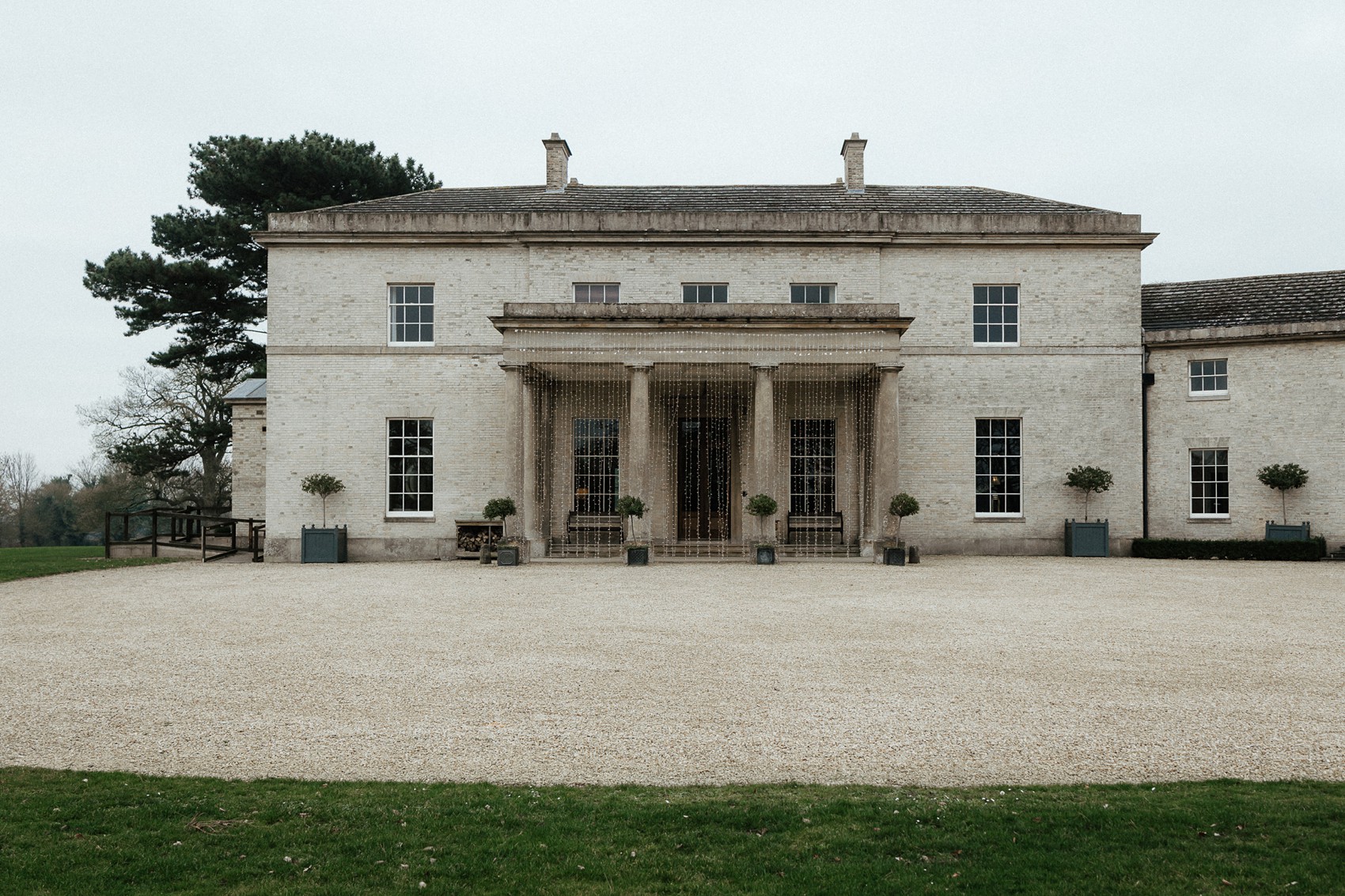 The couple's modern botanical stationery was from Papier, with elegant menus and place cards from The Little Blue Brush.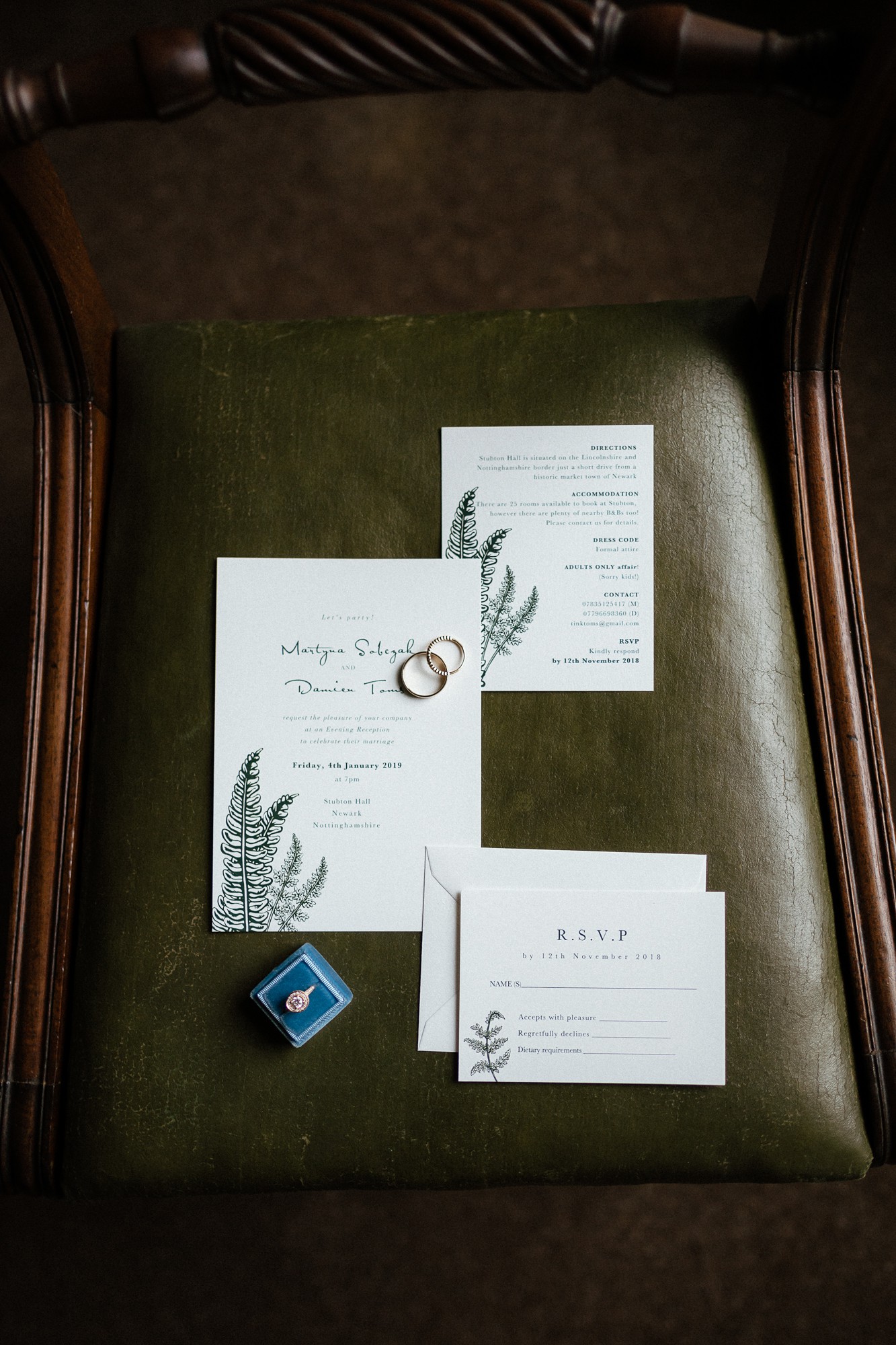 Martyna and her bridesmaids carried spectacular bouquets, created for them by florist Mrs Umbels, and filled with beautiful ranunculus and anemones, deep burgundy roses, ethereal asparagus fern and fragrant eucalyptus.
"Sarah was recommended to me by my lovely friend Cath. She is just the most humble, lovely lady I ever met, and very patient. I think I changed my colour scheme and design three times, poor woman! I wanted my bouquet to be flamboyant, and the final result was just as I wanted, but better than ever imagined."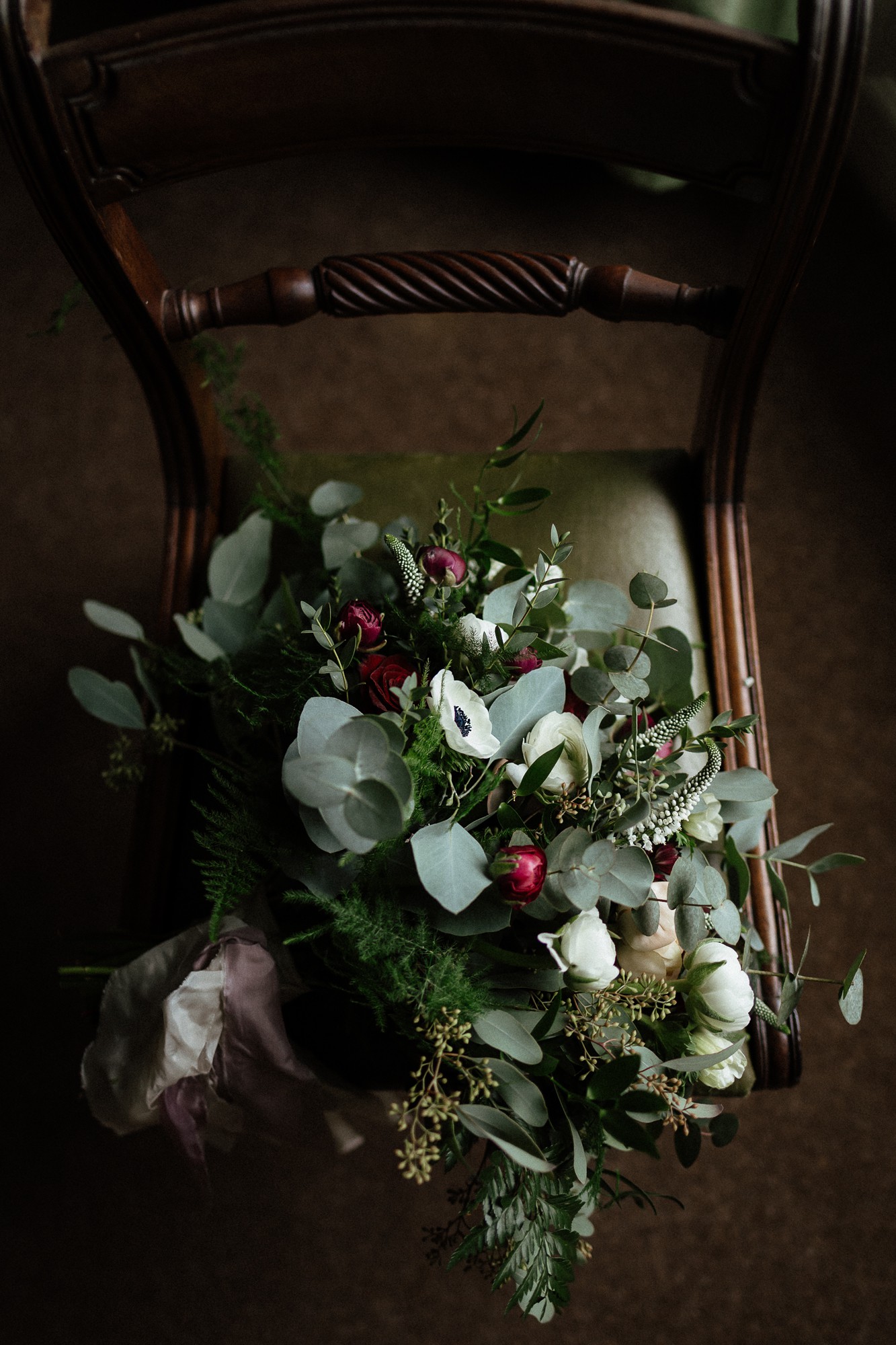 Martyna chose her gorgeous Enzoani gown – the 'Juri' – with its intricate, sinuous Guipure lace design, delicate spaghetti straps and off-the-shoulder sleeves at boutique Belle & Bouquet.
"I always wanted a relaxed, bohemian style dress with plenty of lace, with a long train and long sleeves, however, I ended up wearing a very fitted dress with spaghetti straps and an open back. It was a plain little number with plenty of skin on show. It's true what brides say – you will know when you find the one."
"I tried plenty of 'Pinterest' dresses, and didn't feel great in any of them until I tried 'Juri'. It was just perfect. Enzoani has lots of lovely dresses that look great. They also make most beautiful, long wedding trains. I loved mine."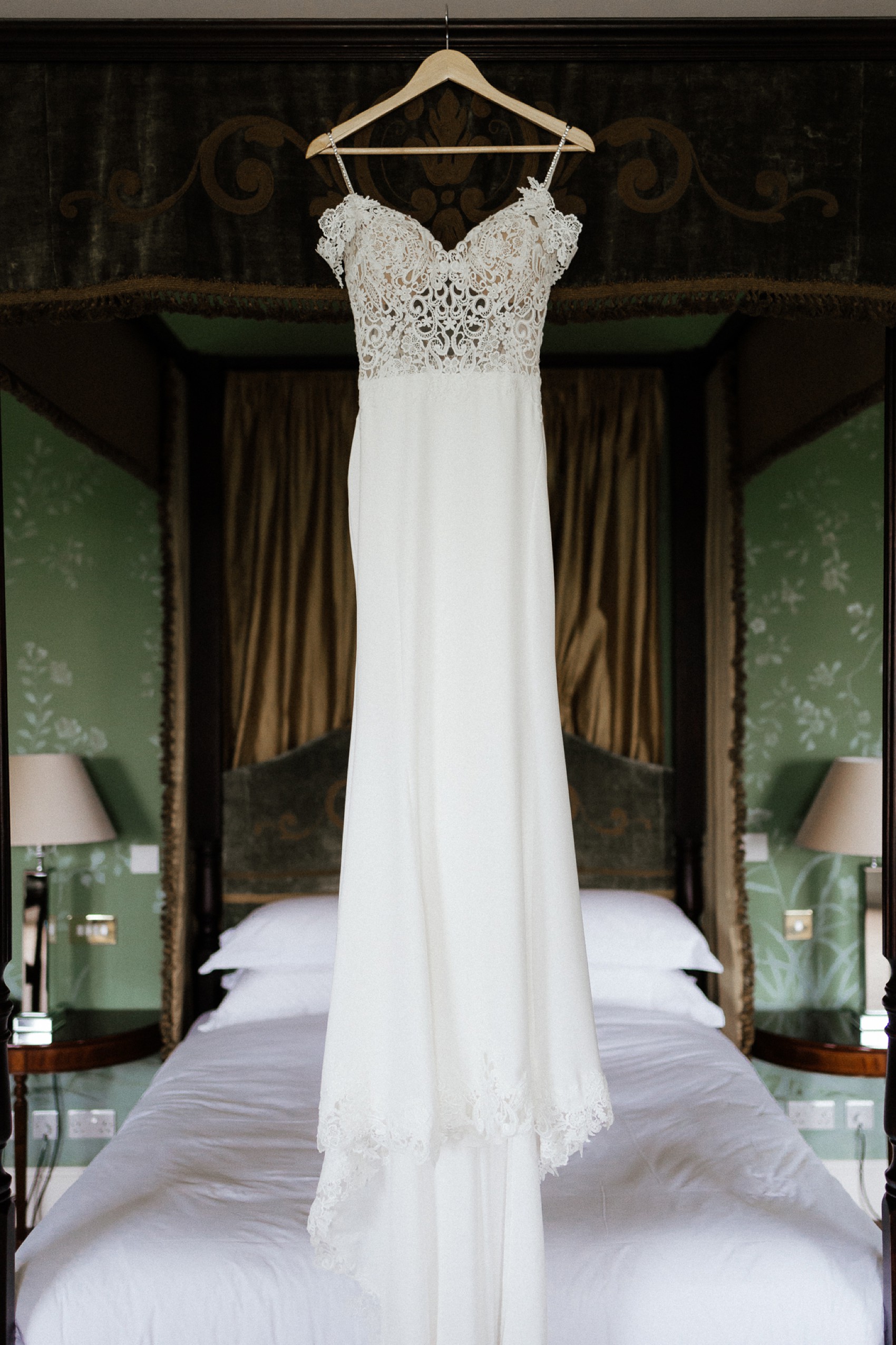 With her dress, Martyna wore a simple, cathedral length veil of fine tulle from Belle & Bouquet, and a pretty necklace, bracelet, earrings and rings from a jewellery brand shes loves – Missoma.
"My shoes were by Dune, from the wedding collection, in blue from John Lewis. I always wanted to have blue shoes, and I'm not a very 'bling' person normally, but thought these looked amazing! They were very high but very comfortable."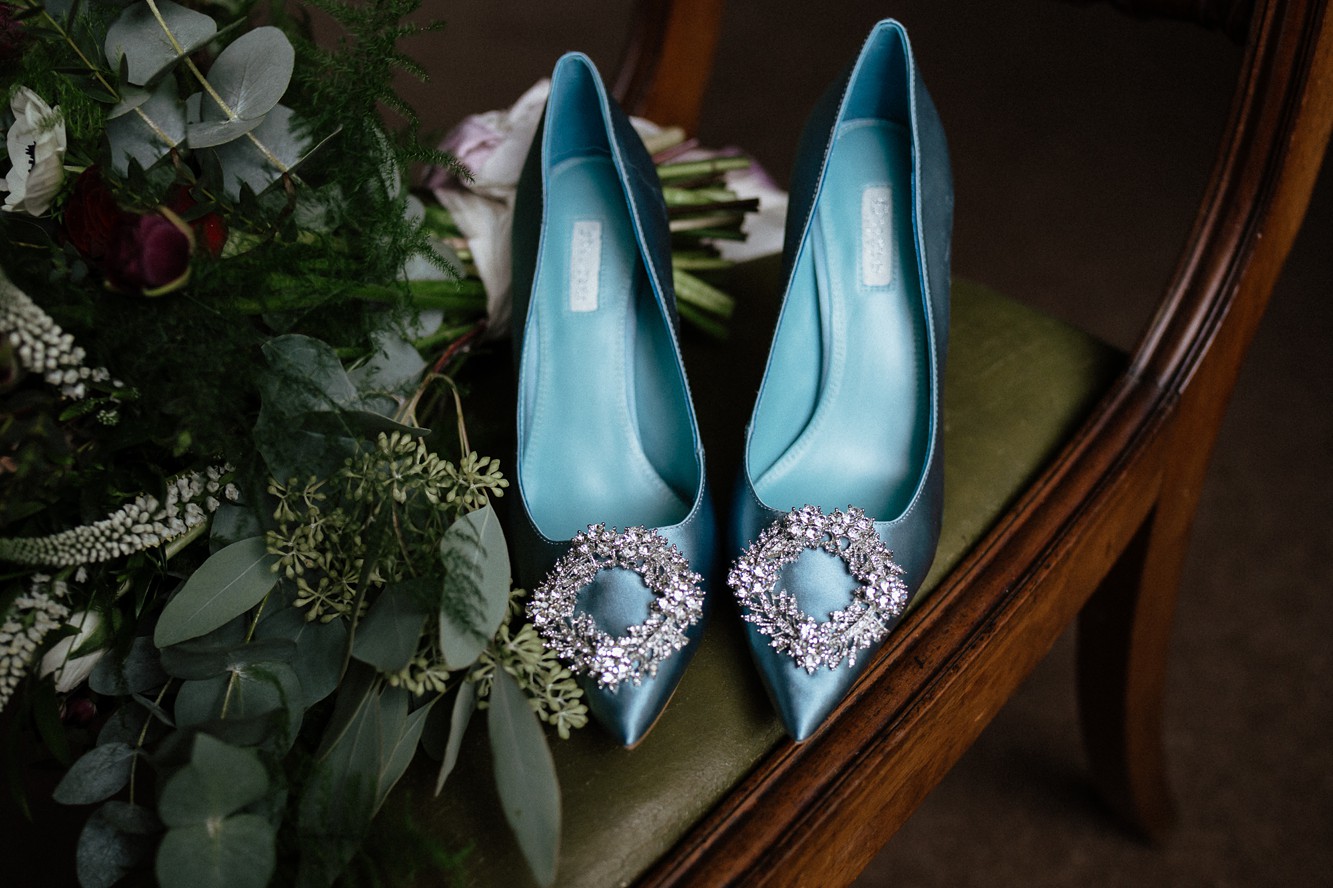 I love the bold red lipstick Martyna wore for the day, and her radiant and polished make-up came courtesy of Josephine Way, whilst her soft and relaxed bun was styled by Rock n Roller Hair.
"I wanted a messy bun with no hair accessories. My dress was elegant, so I tried to keep everything quite simple, but not too stiff and preppy. I wanted to look like me still, but just a little bit more refined."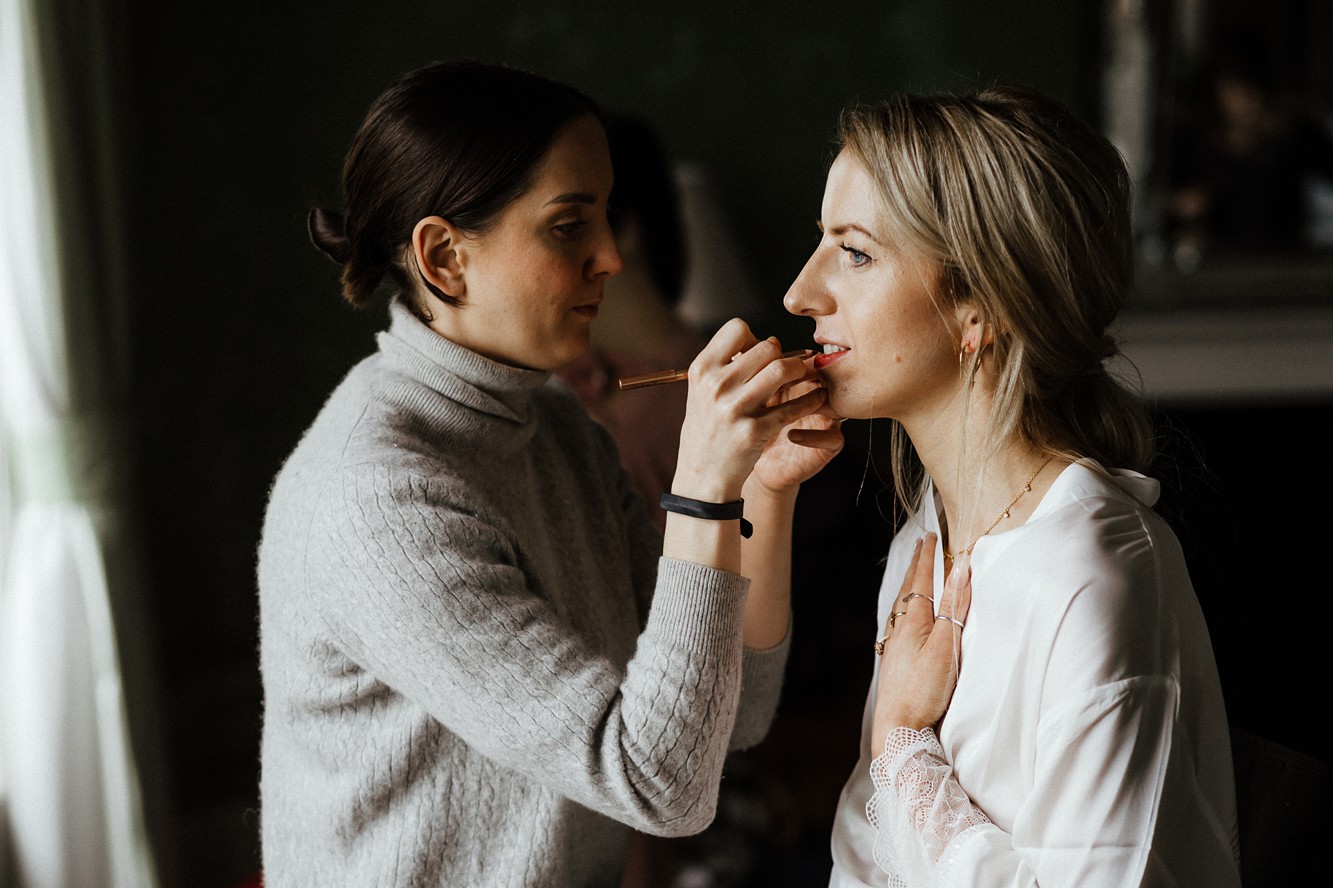 For the bridesmaid's dresses, Martyna was inspired by Pantone's 2018 Colour of the Year, which was Ultra Violet, and opted for lovely dusky purple ASOS dresses with pleated skirts and lace bodices. They wore their dresses with their own choice of shoes, and Missoma necklaces gifted to them by Martyna.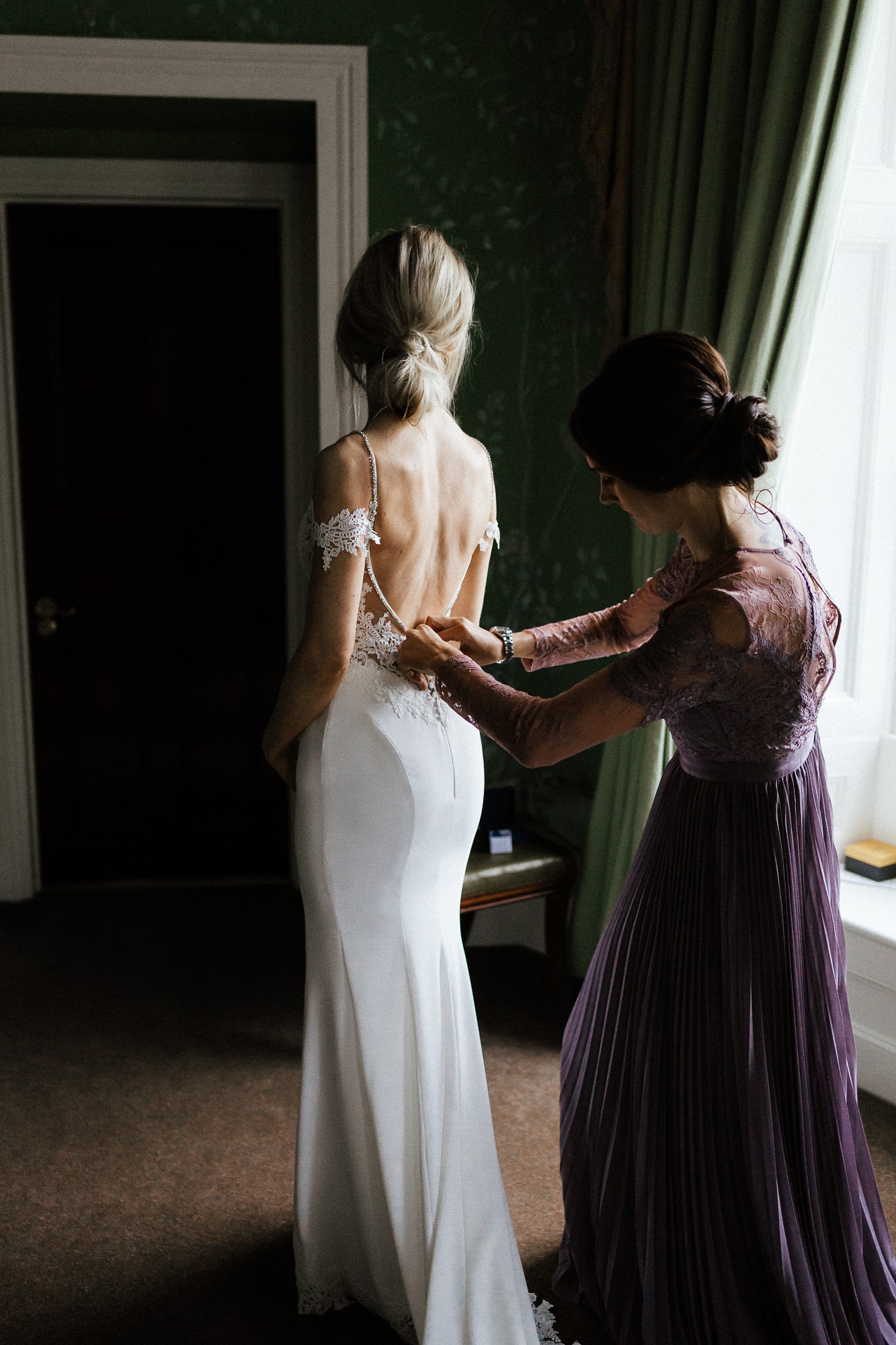 "I'm a big fan of perfumes, and I have my favourites that I wear all the time. I wanted to get something new but couldn't find anything that I liked, so I ended up sticking to what I wear in the winter, which is Jo Malone Pomegranate Noir. I also got Pomegranate Noir candles to scent the ceremony room."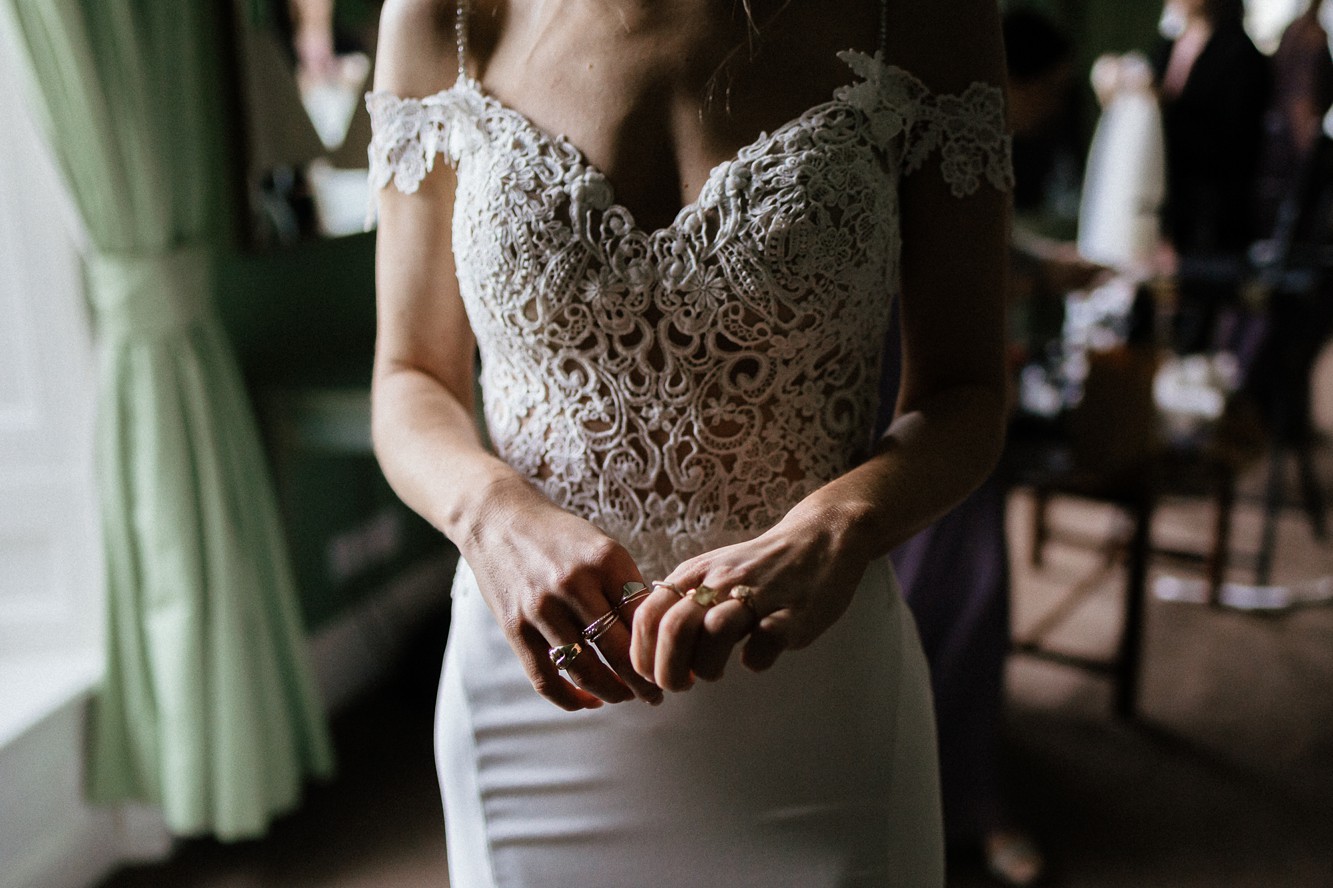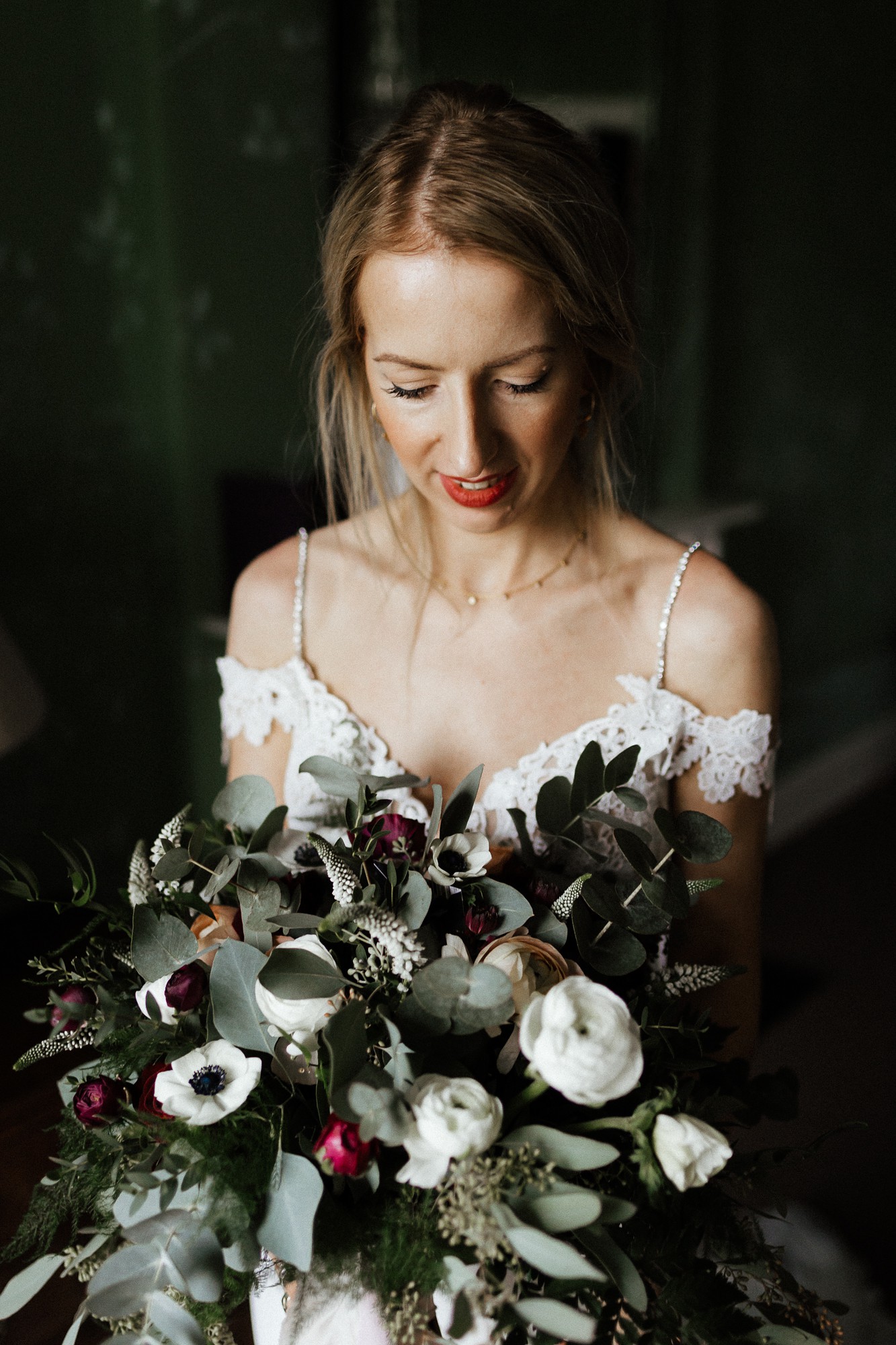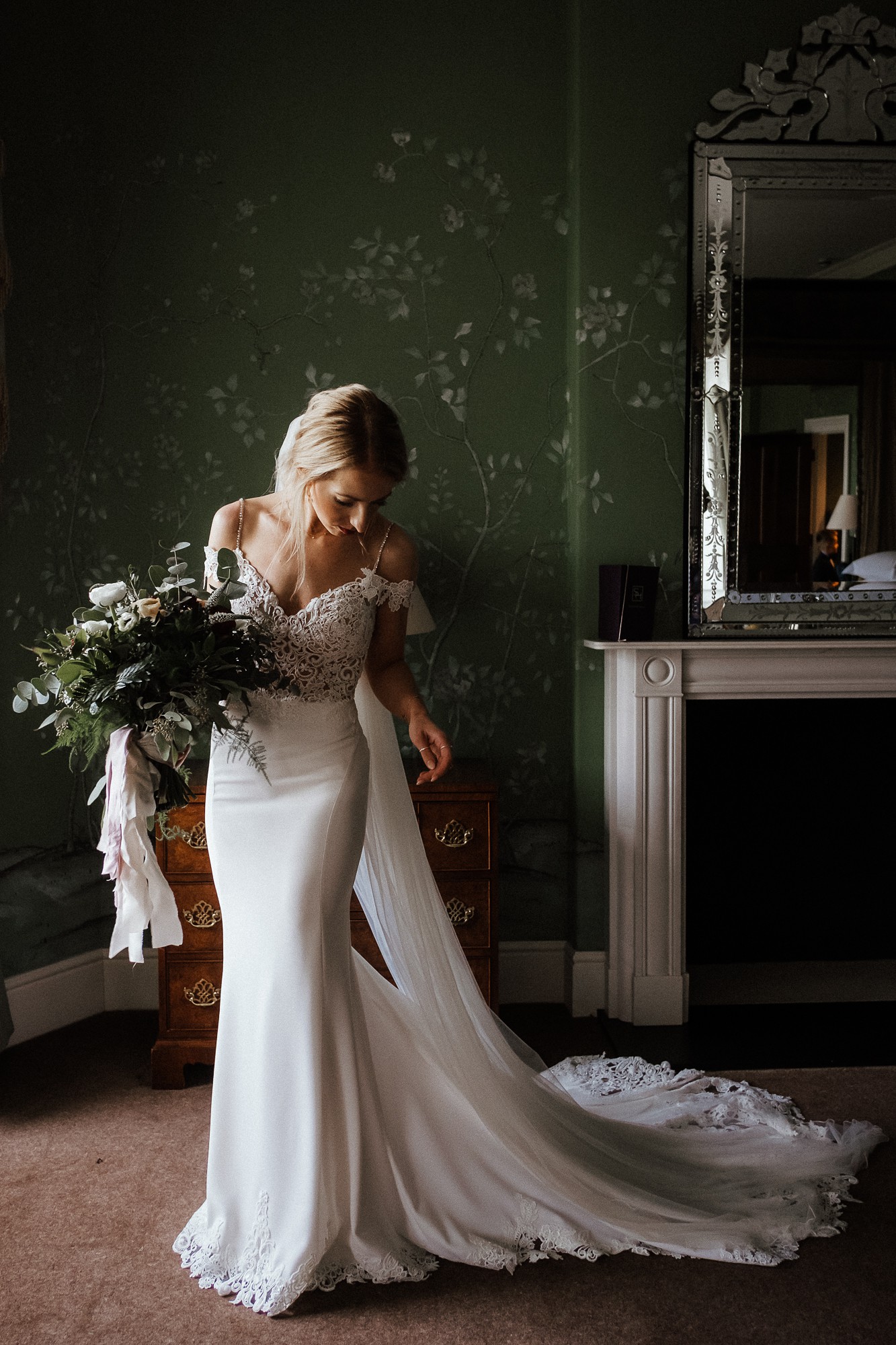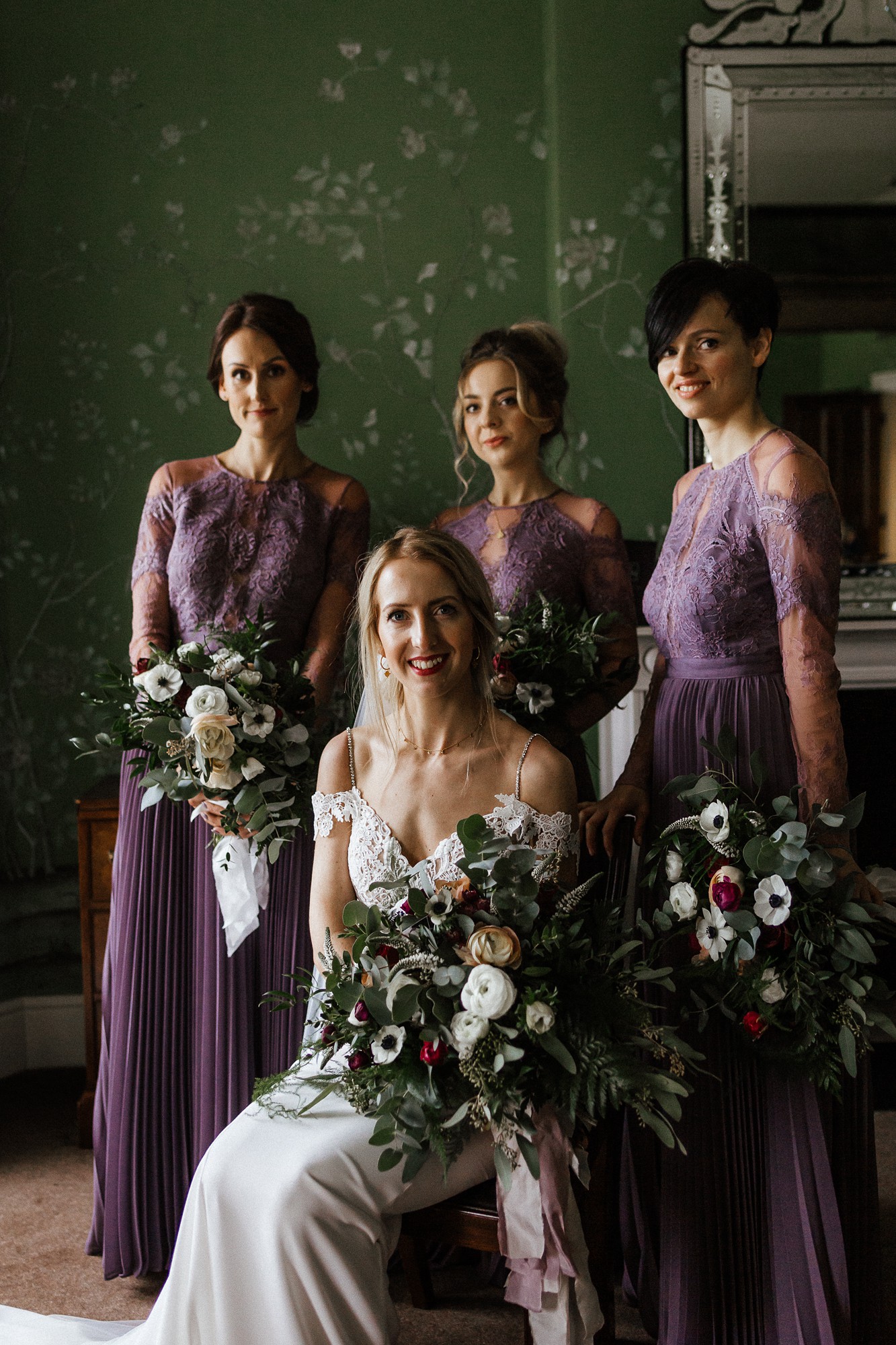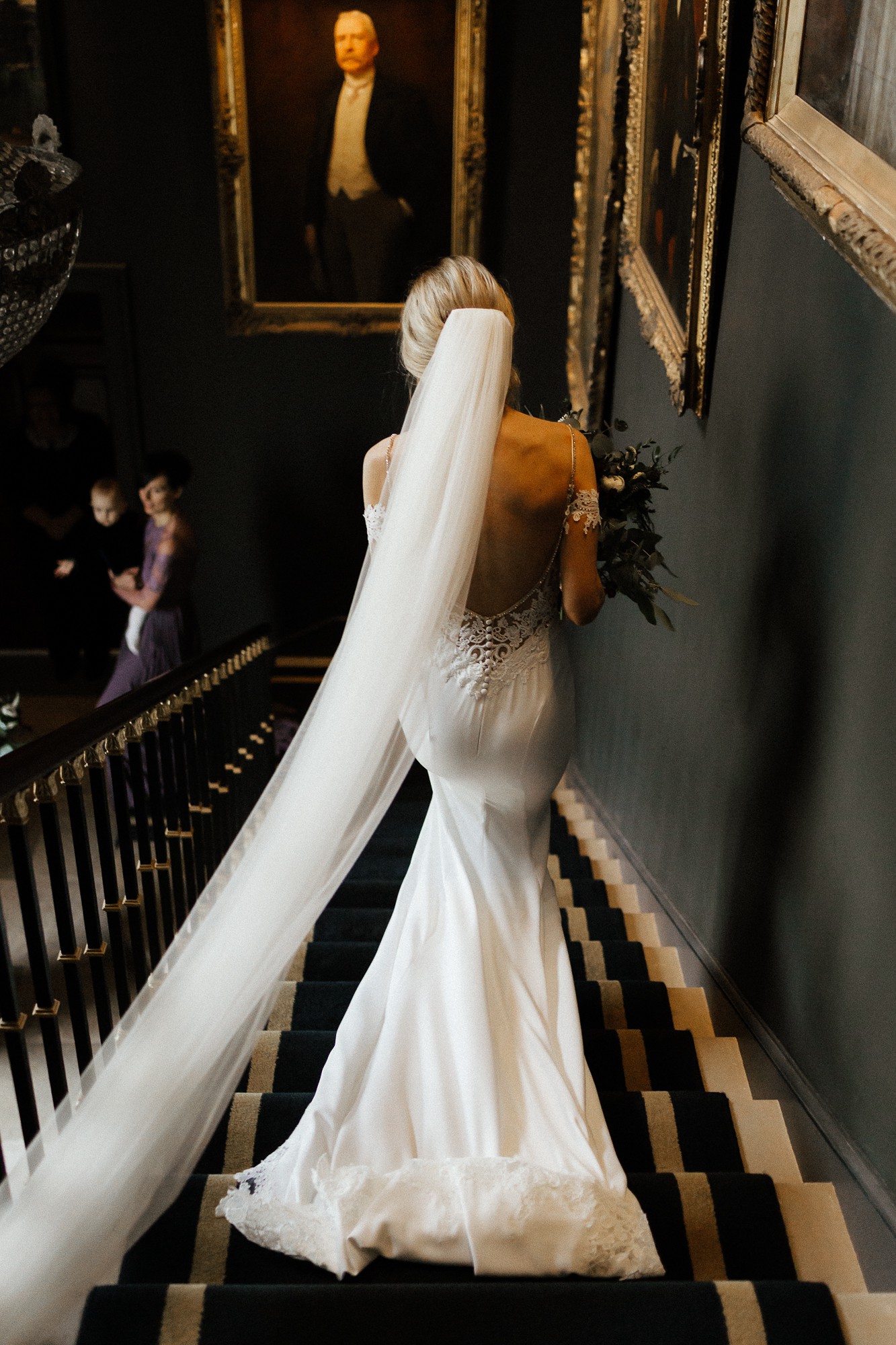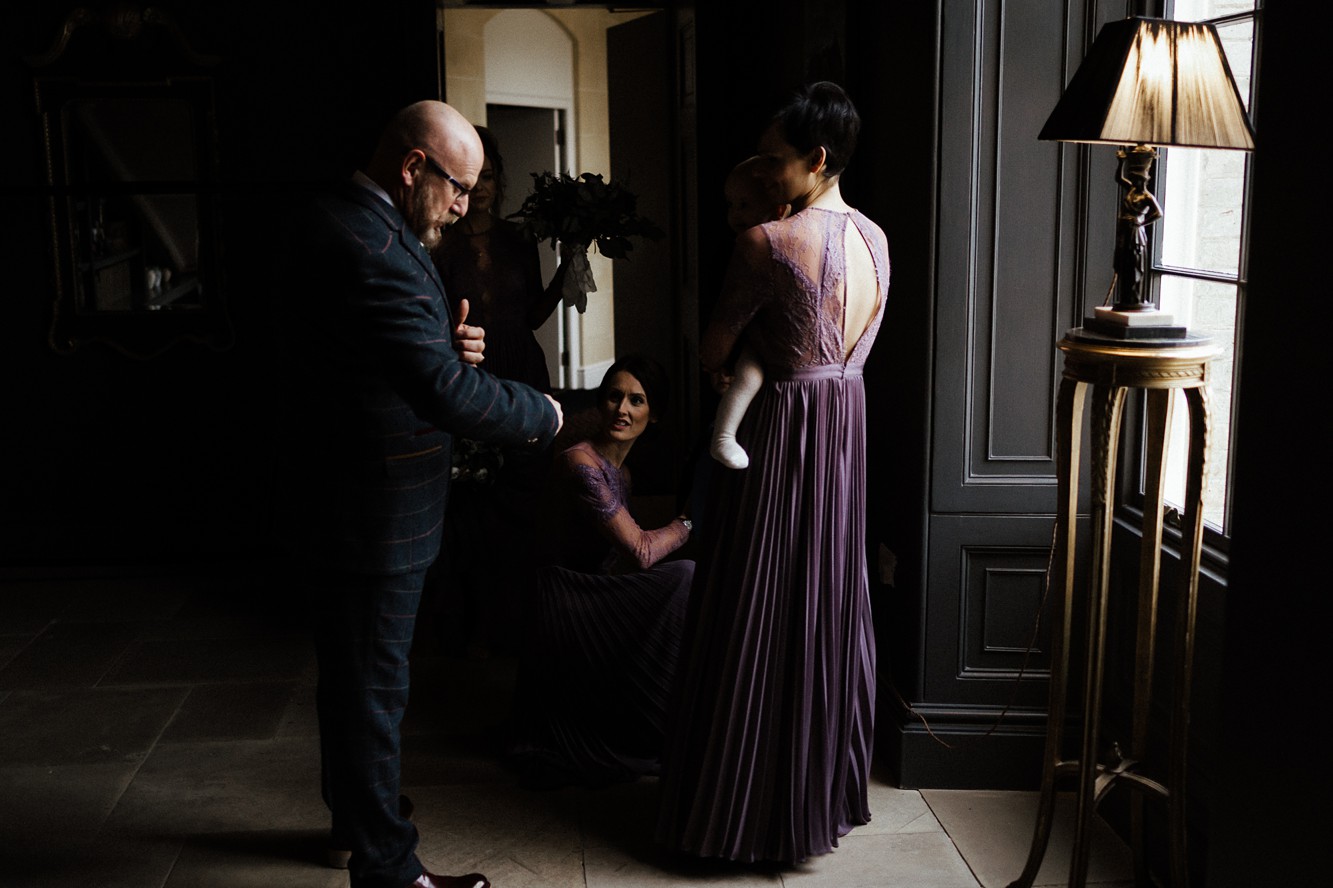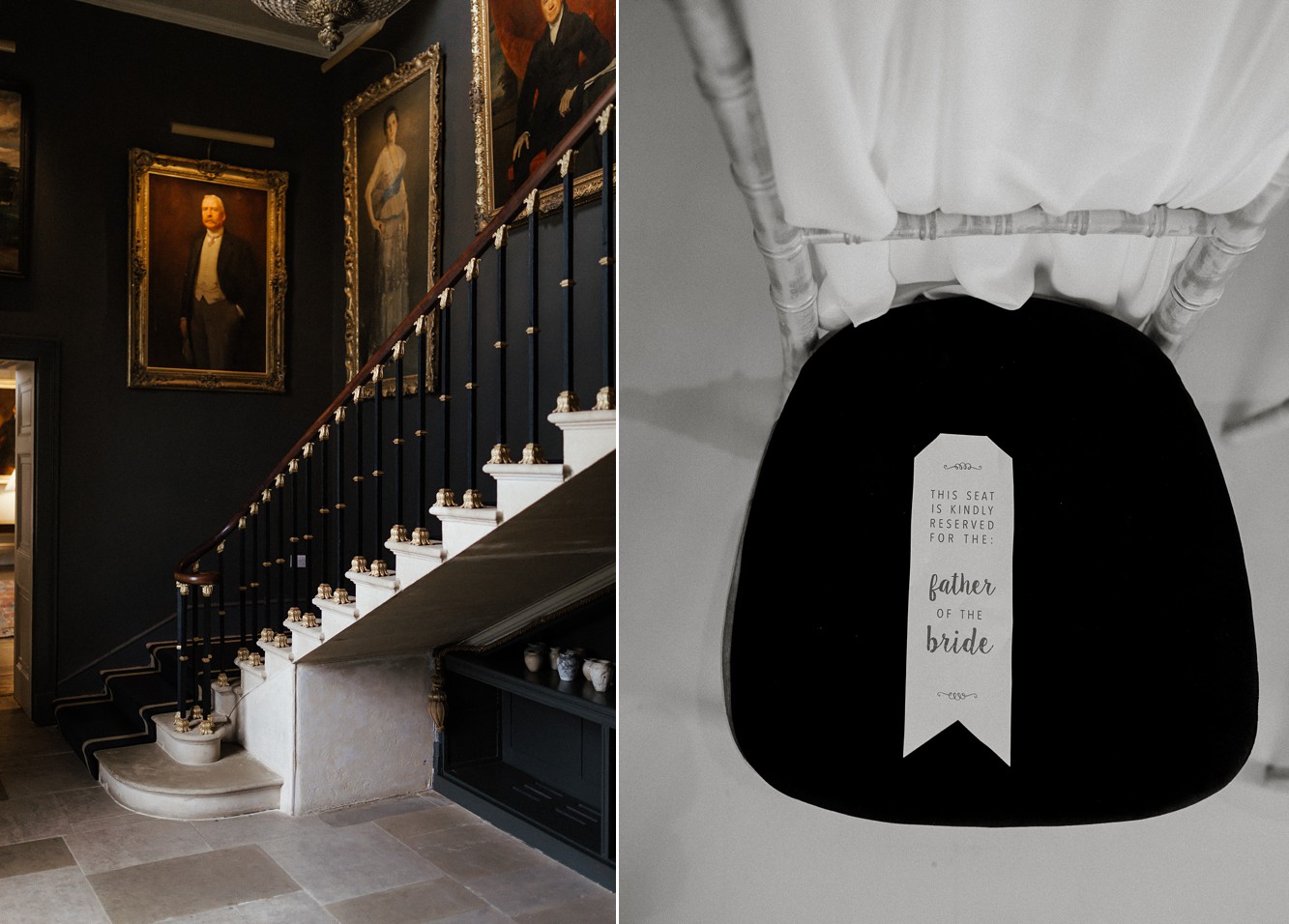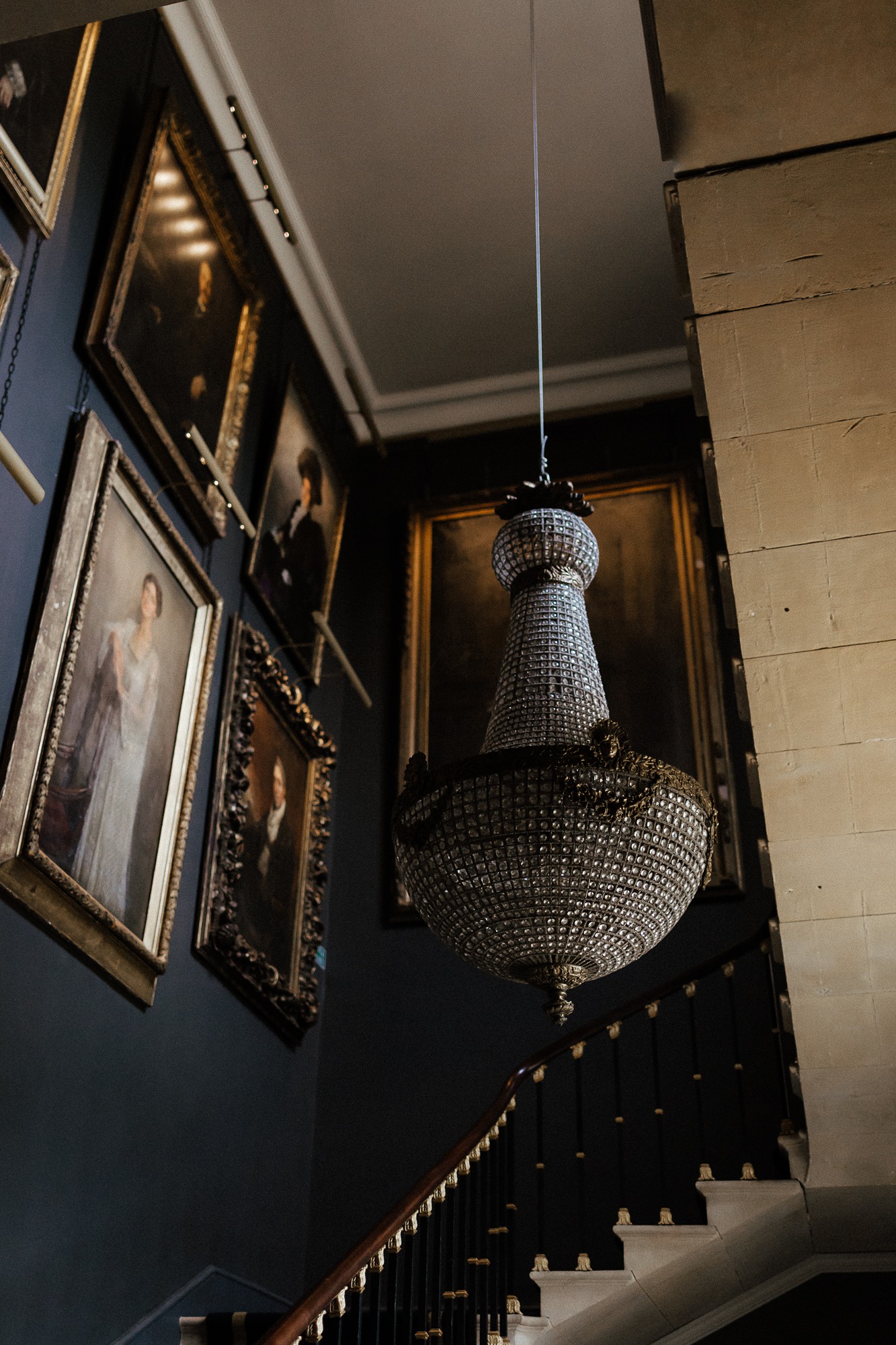 Martyna and Damien took the decision to hire Save the Date Event Stylist, to bring their cool, seasonal vision to life. The lovely, neoclassical portico of Stubton Hall was decorated with cascading fairylights, potted bay trees and giant white 'Love is in the air' balloons, which Martyna sourced from Etsy (sadly, no further seller details provided).
"We wanted a relaxed but quite traditional affair. Modern bohemian I would say was always the goal. I did plenty of research on my favourite suppliers (mostly through Instagram) and was very pleased as everyone that we wanted had availability."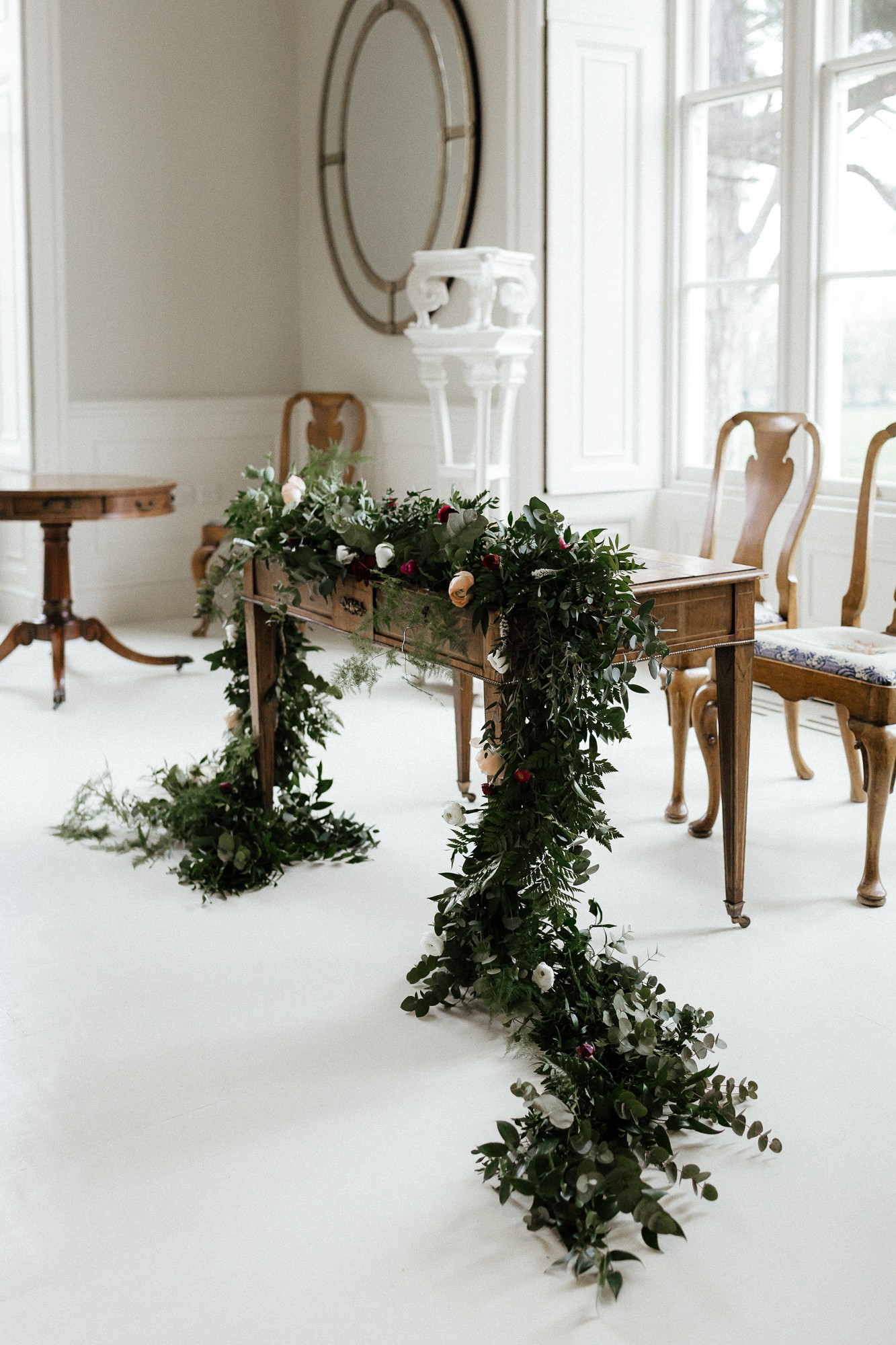 Damien wore a smart three-piece suit in navy blue, from Next, together with a red velvet bow tie from ASOS, shoes from Ted Baker, and a surprise TAG Heuer watch from Martyna. The groomsmen likewise wore navy blue suits, with red ties with white polka dots, and they all wore bright red socks from Ralph Lauren.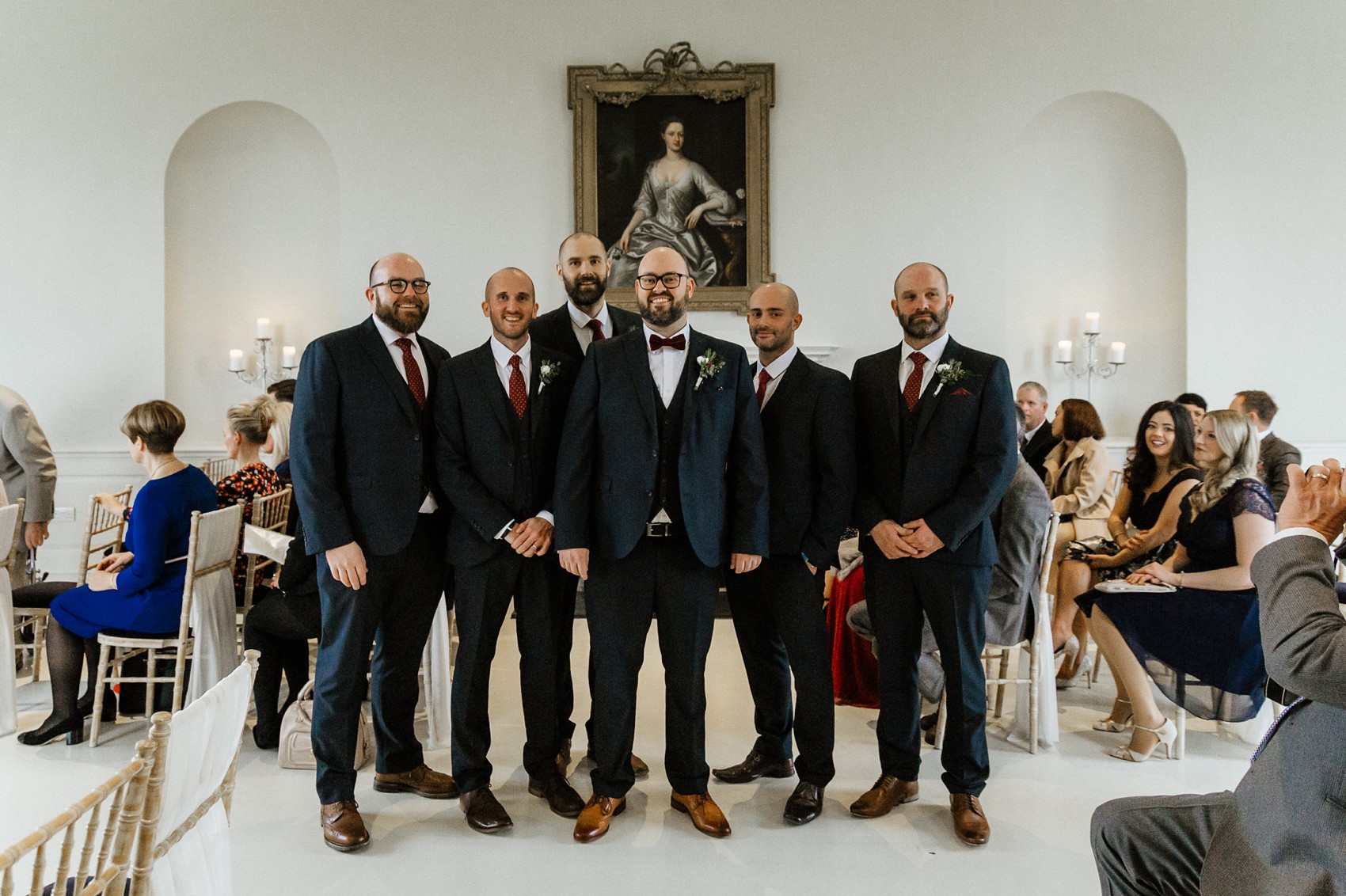 "We booked Highly Strung String Quartet from Southwell and can't recommend them enough. We loved them, and all the guests loved them too. Their repertoire was exceptional, covering all the best hits across every kind of music you can imagine. We had them playing upon the arrival of guests, during the ceremony and the drinks reception. We were thrilled and got to listen to our favourite tracks throughout the day: Sweet Child of Mine, Satisfaction and Crazy Little Thing Called Love by Queen were just some of them."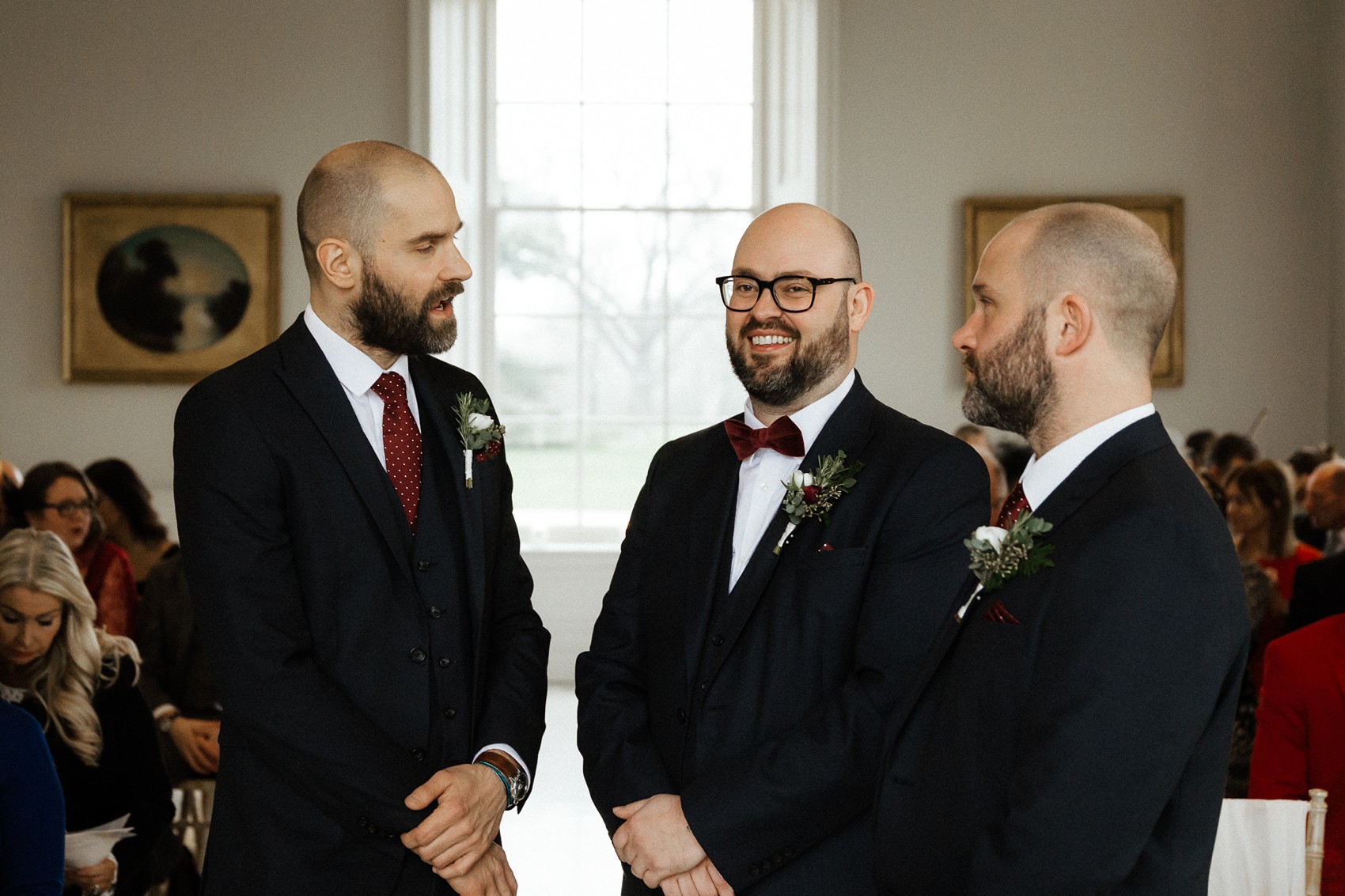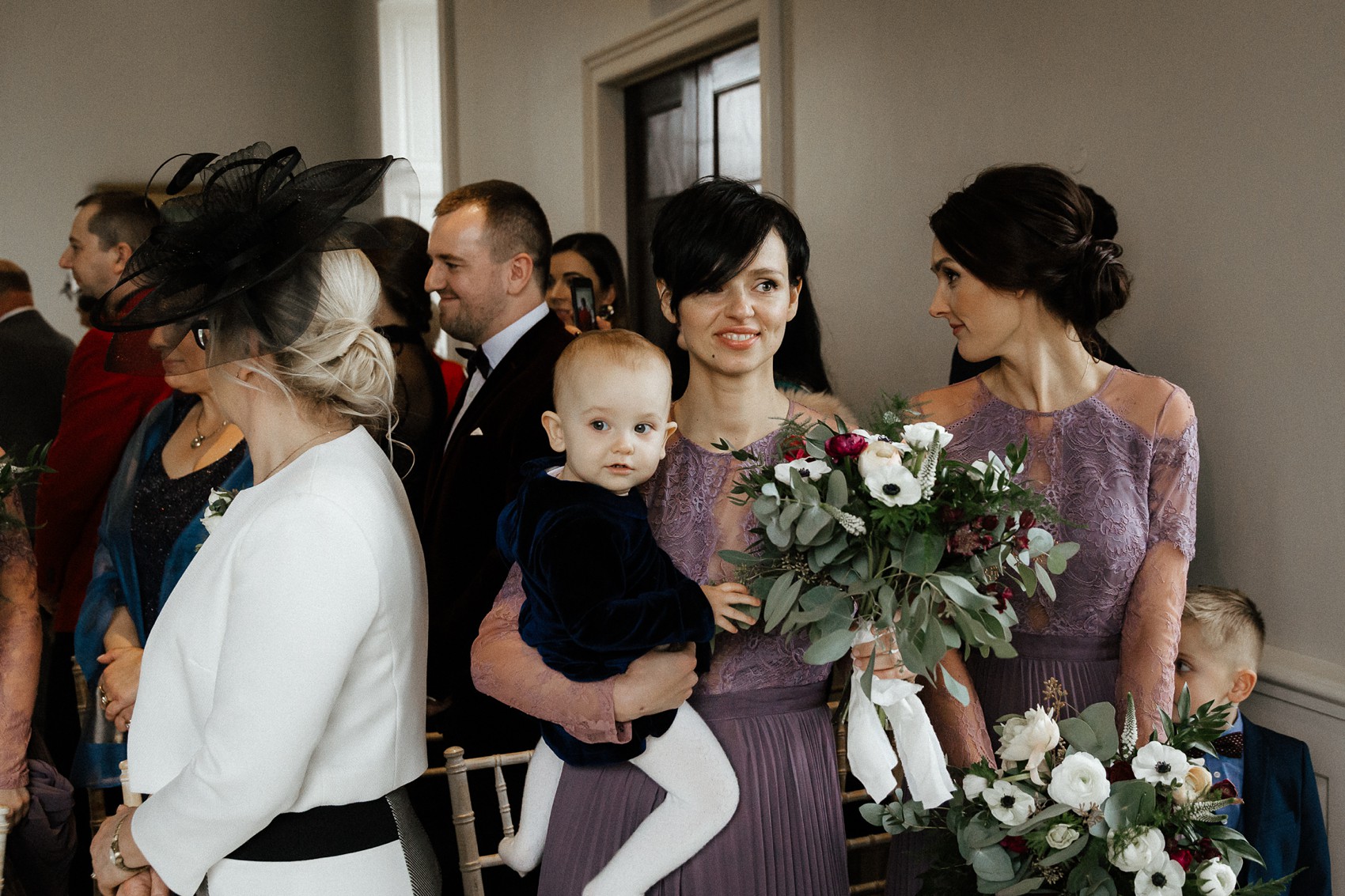 The string quartet played Etta James' At Last as Martyna and her proud dad walked down the aisle together.
"Damien and I met through my ex-boss, Alison, now a great friend of ours. She gave Damien my number as she knew I was single at the time. I agreed to go out for a drink, and I can't thank her enough now! We got on straight away and haven't been apart since. It took Damien 8 years to pop the question, but he did it in style, and totally surprised me while on holiday in Greece."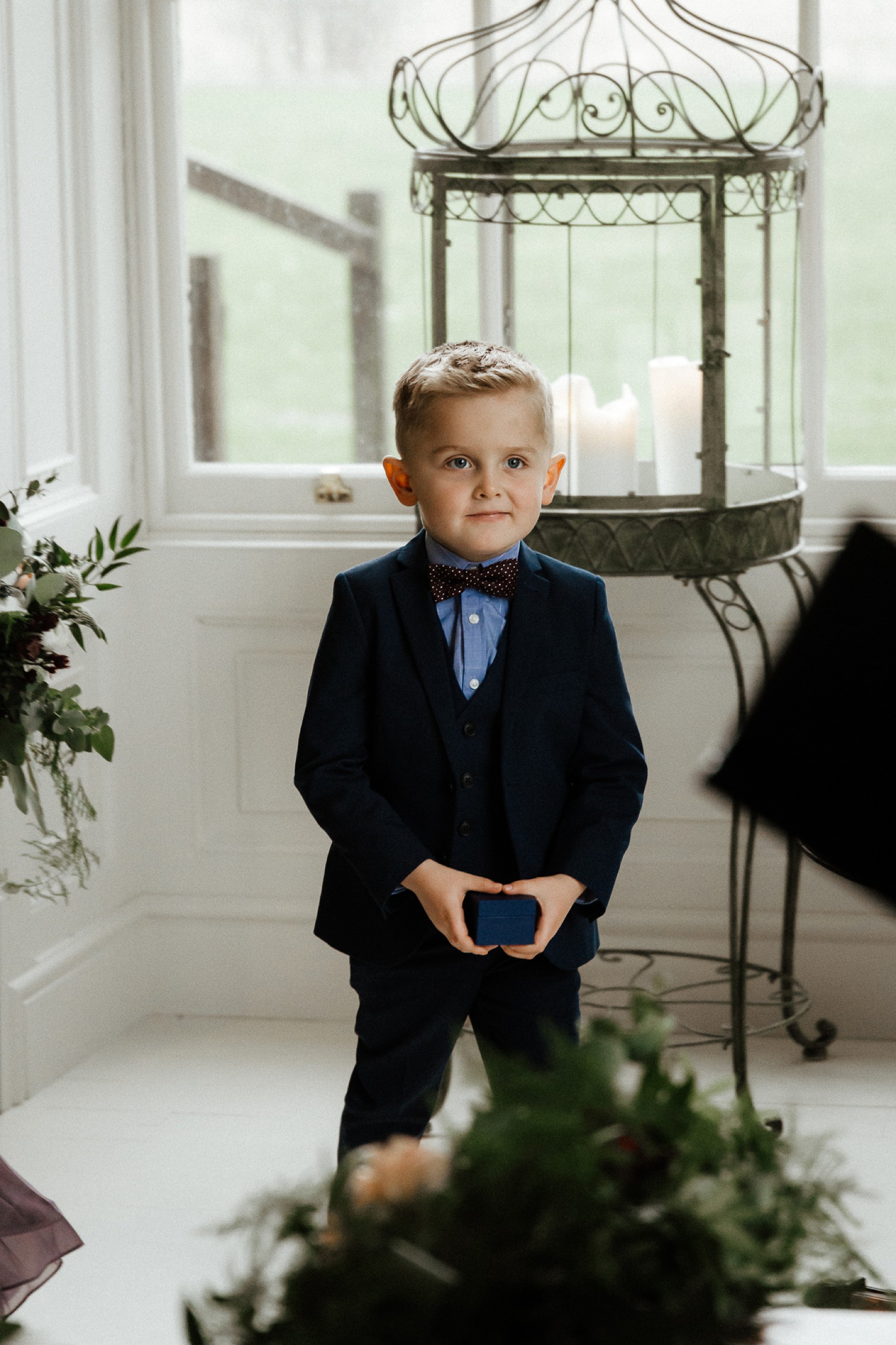 "Damien's sisters live far away from us, and we don't see them very often, but we wanted them to play a little part of our special day, so we asked them to do one reading each during the ceremony. Lindsey started with How Falling in Love is Like Owning a Dog by Taylor Mali. We chose that one as we have a dog that we love unconditionally, but he couldn't be the part of our wedding day (purely due to logistics!) so this was a little part about him."
"Nicola's reading was an extract from Captain Corelli's Mandolin by Louis de Bernieres, purely as it was a lovely piece that we both liked."
During their emotional vow exchange, Martyna and Damien presented one another with rings, too – both from Goldsmiths. Martyna chose a rose gold ring from the Jenny Packham collection, and Damien went with a simple, slim rose gold band.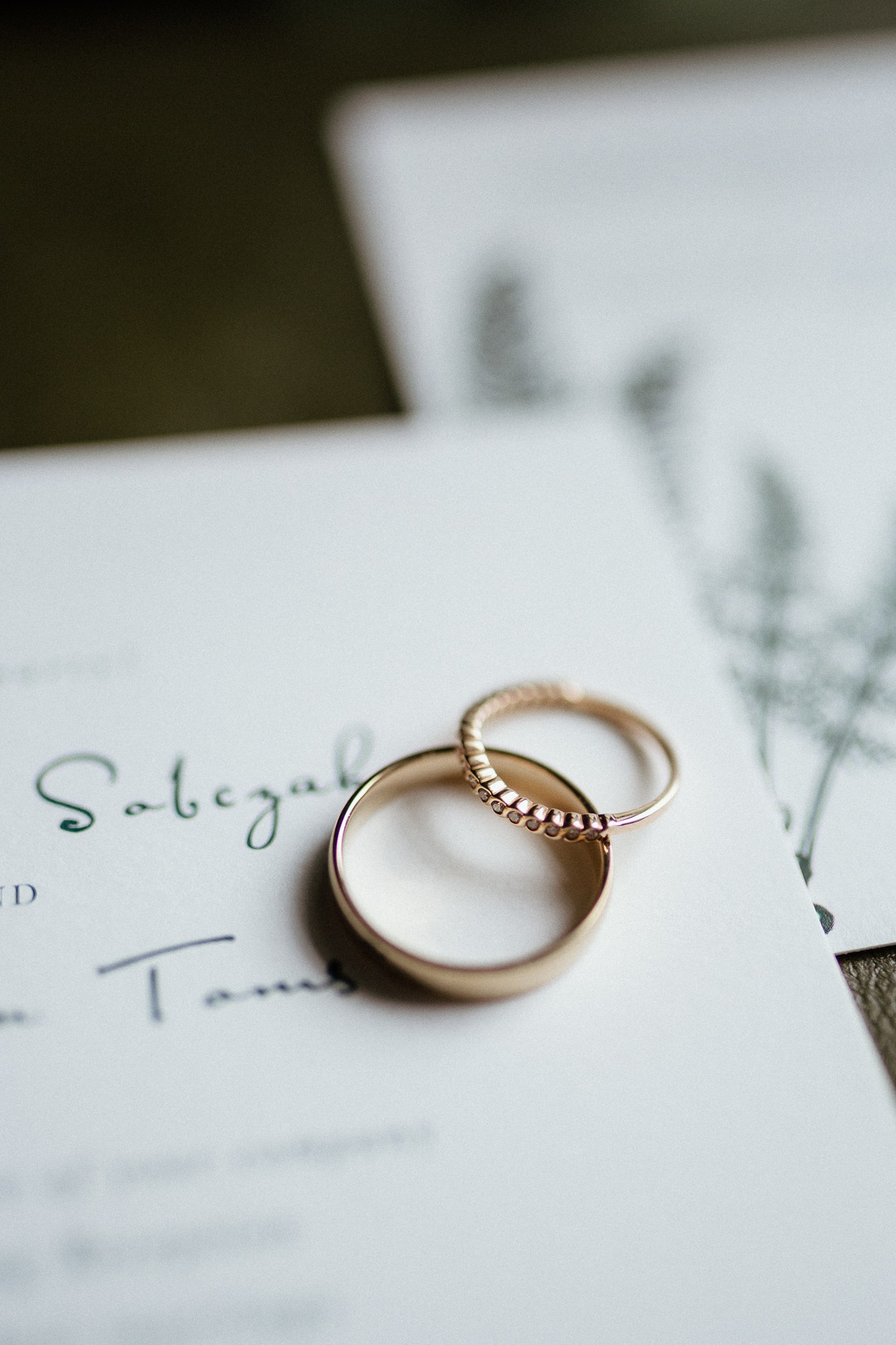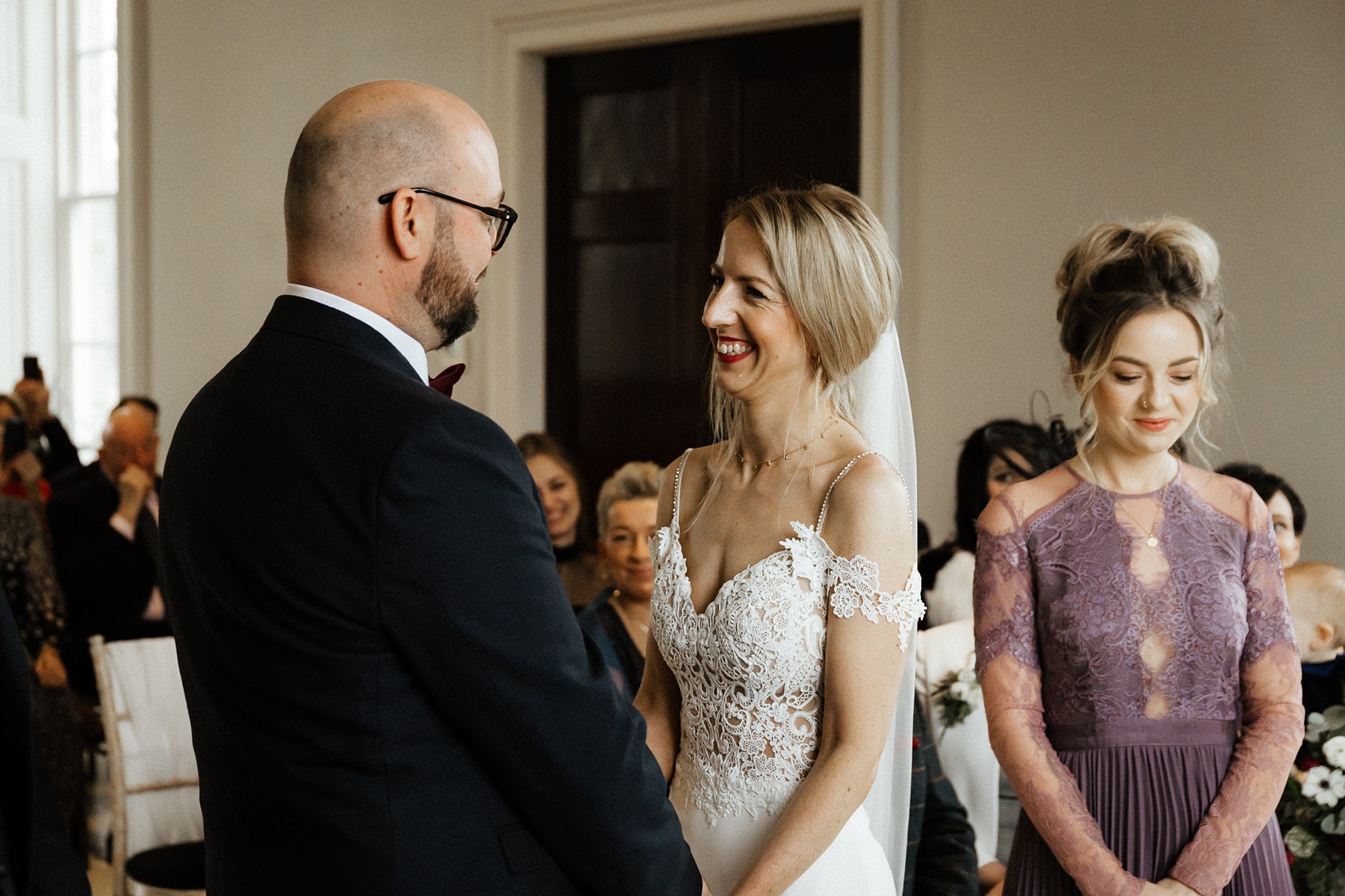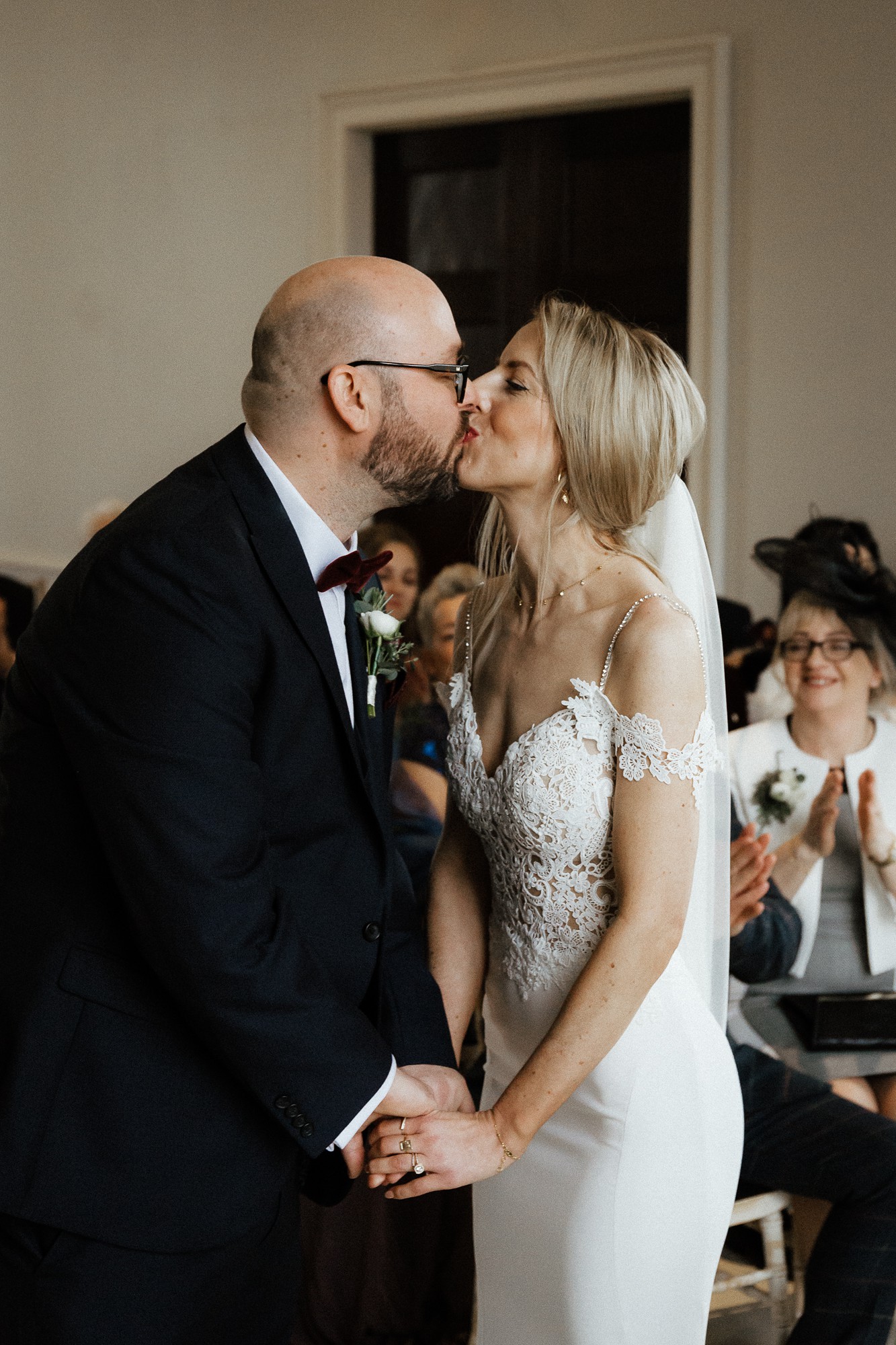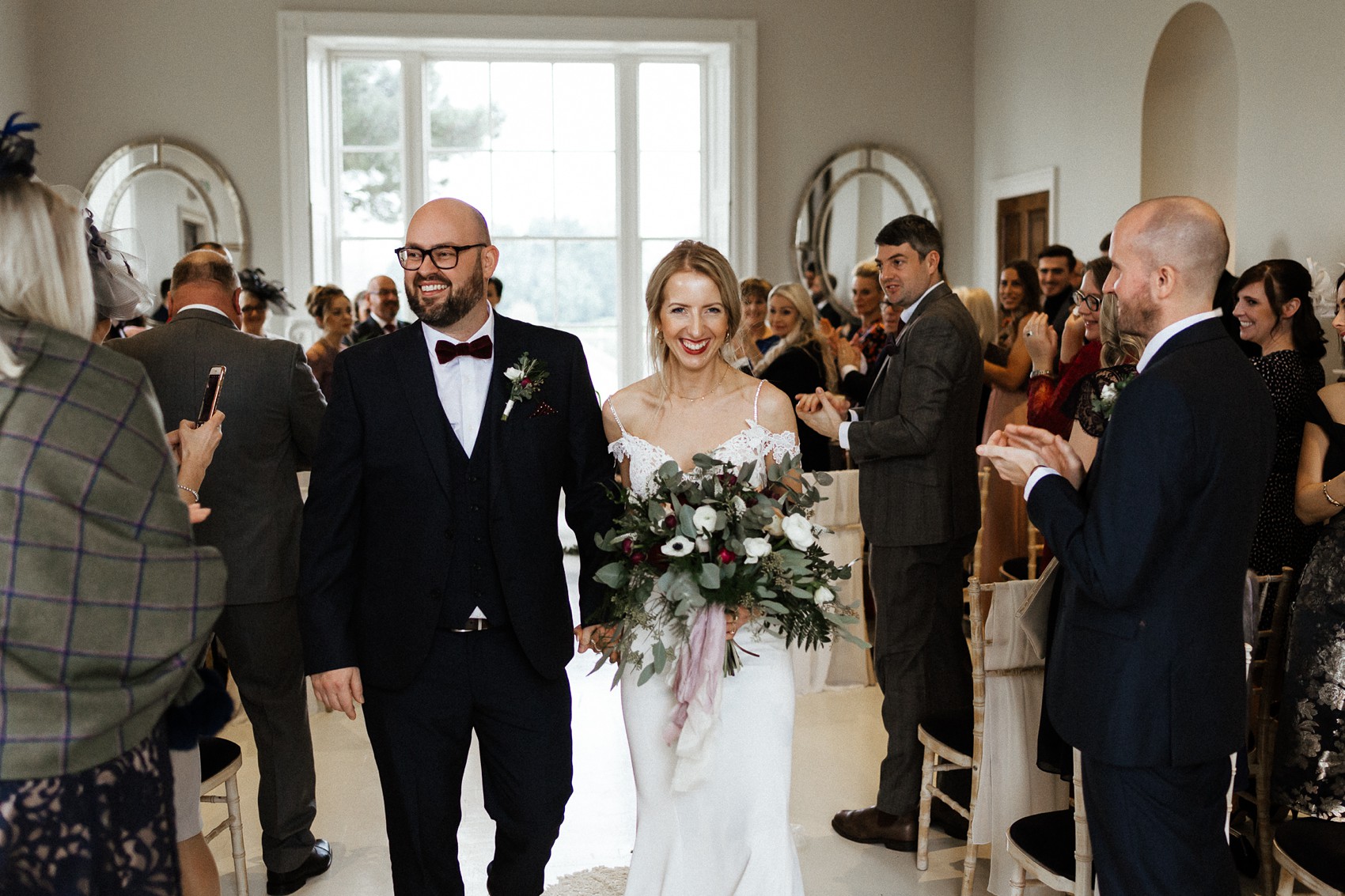 Capturing Martyna and Damien's day on film and on camera, with creativity and a sensitive touch were photography duo Eleanor and Nathan, of Caitlin & Jones.
"They were best of the best, and the first wedding suppliers we booked. I can't describe how fabulous these two amazing people – husband and wife team – are. Their work is incredible! I loved the style of their photographs and videos. It was literally love at first sight."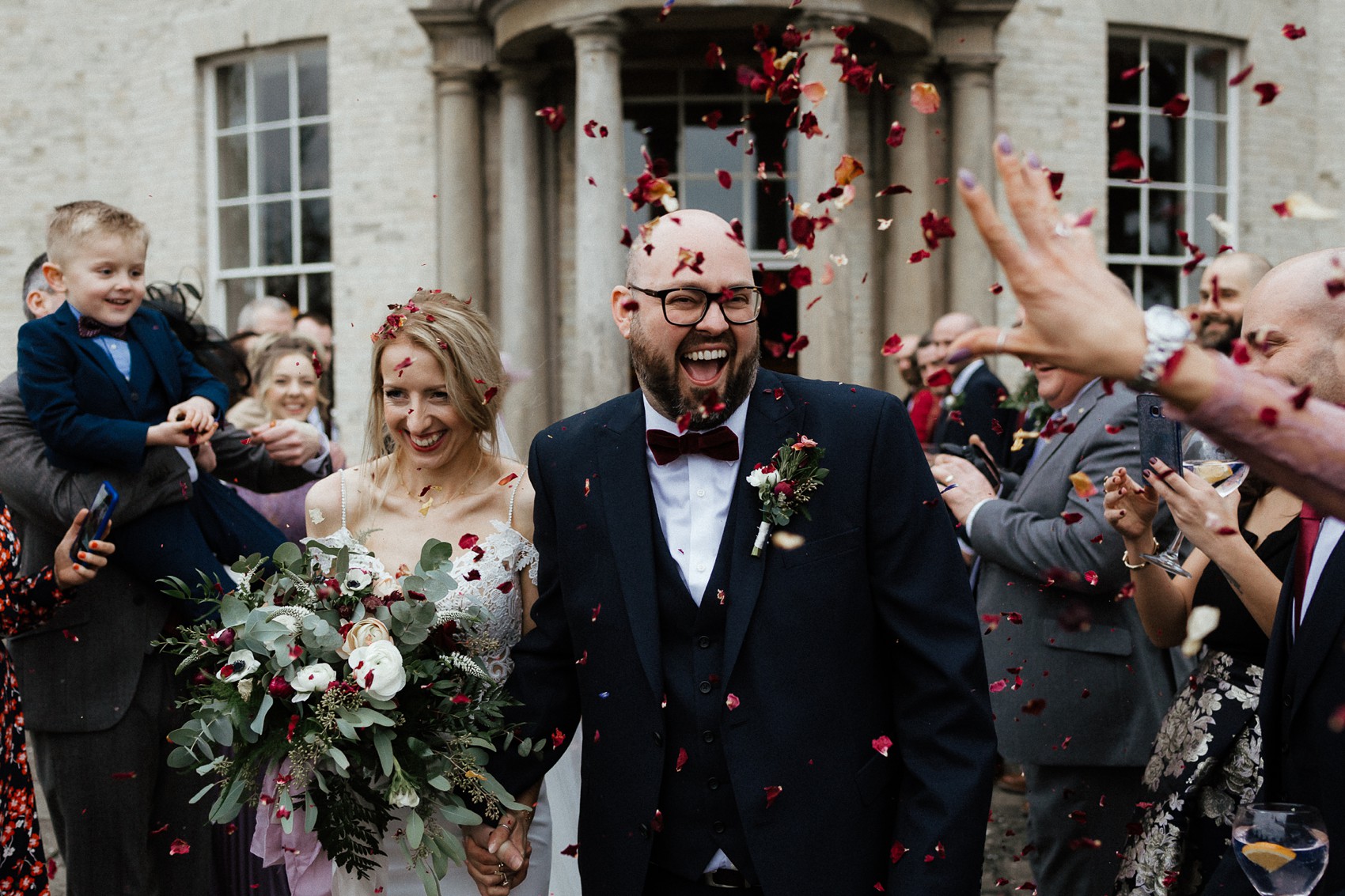 "I was thrilled that we found them. We also had a pre-wedding photoshoot with them, which was a fabulous thing to do. We have millions of fabulous photos, and couldn't be happier about the wedding video. Highly, highly recommended."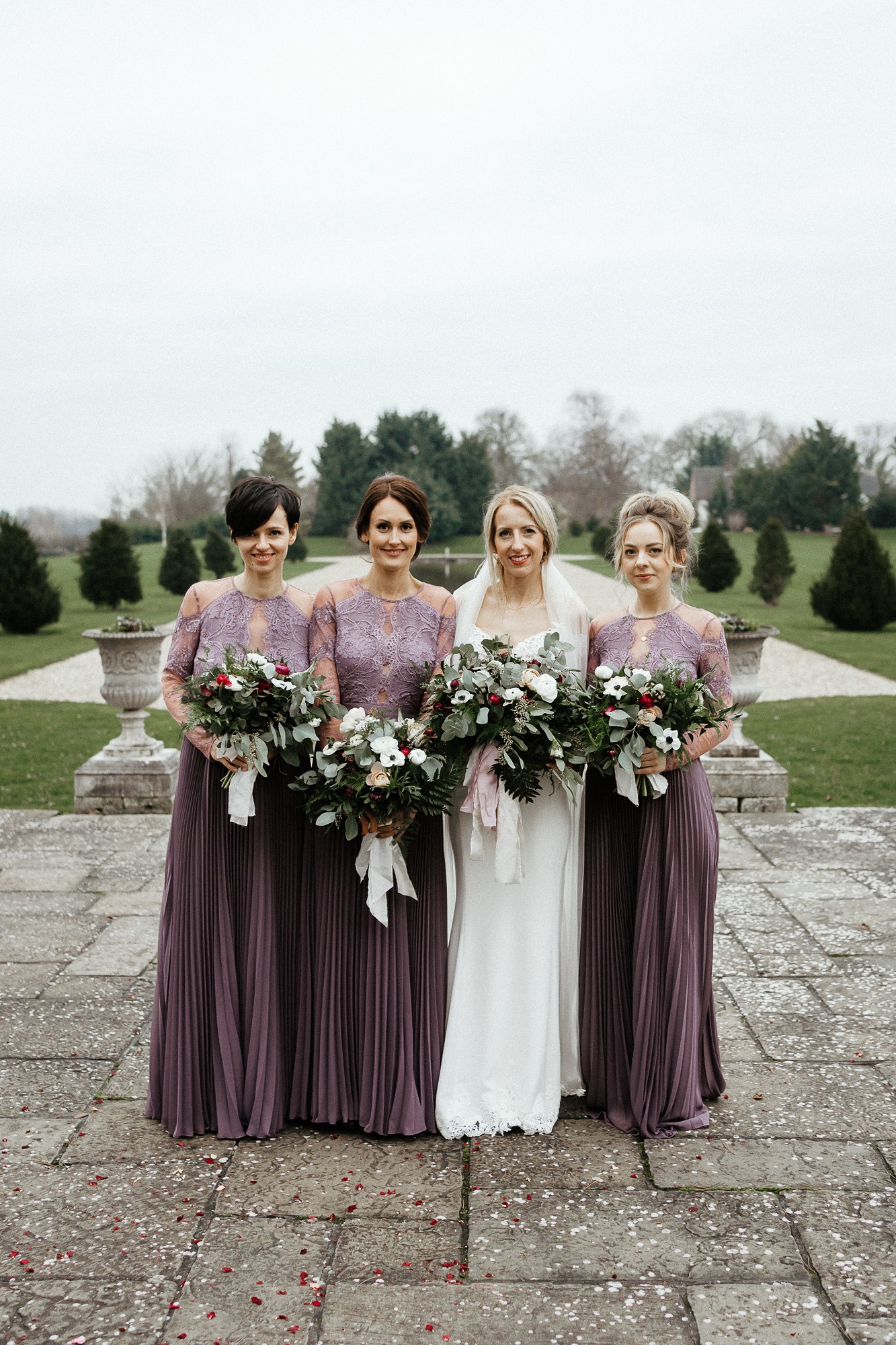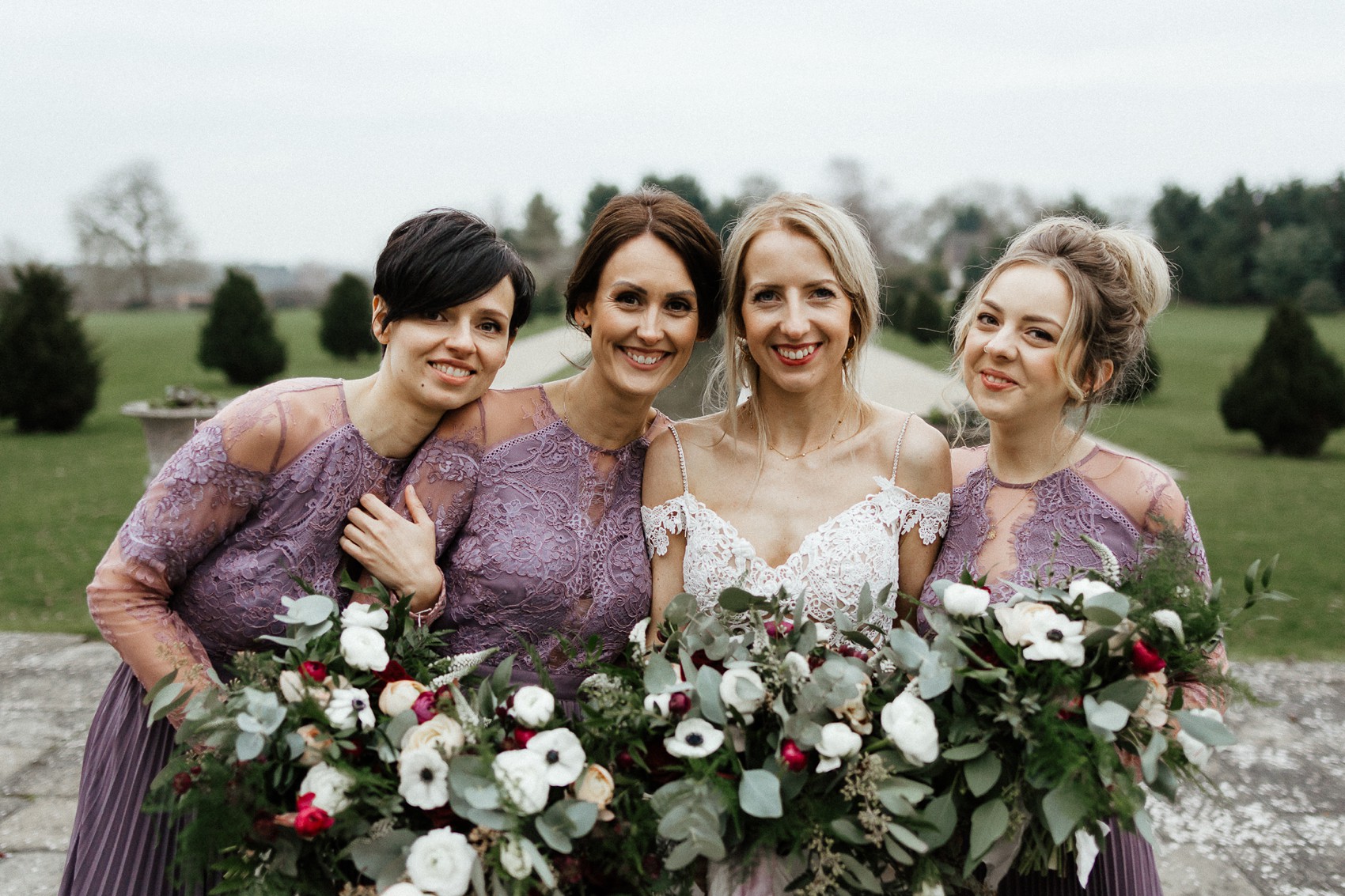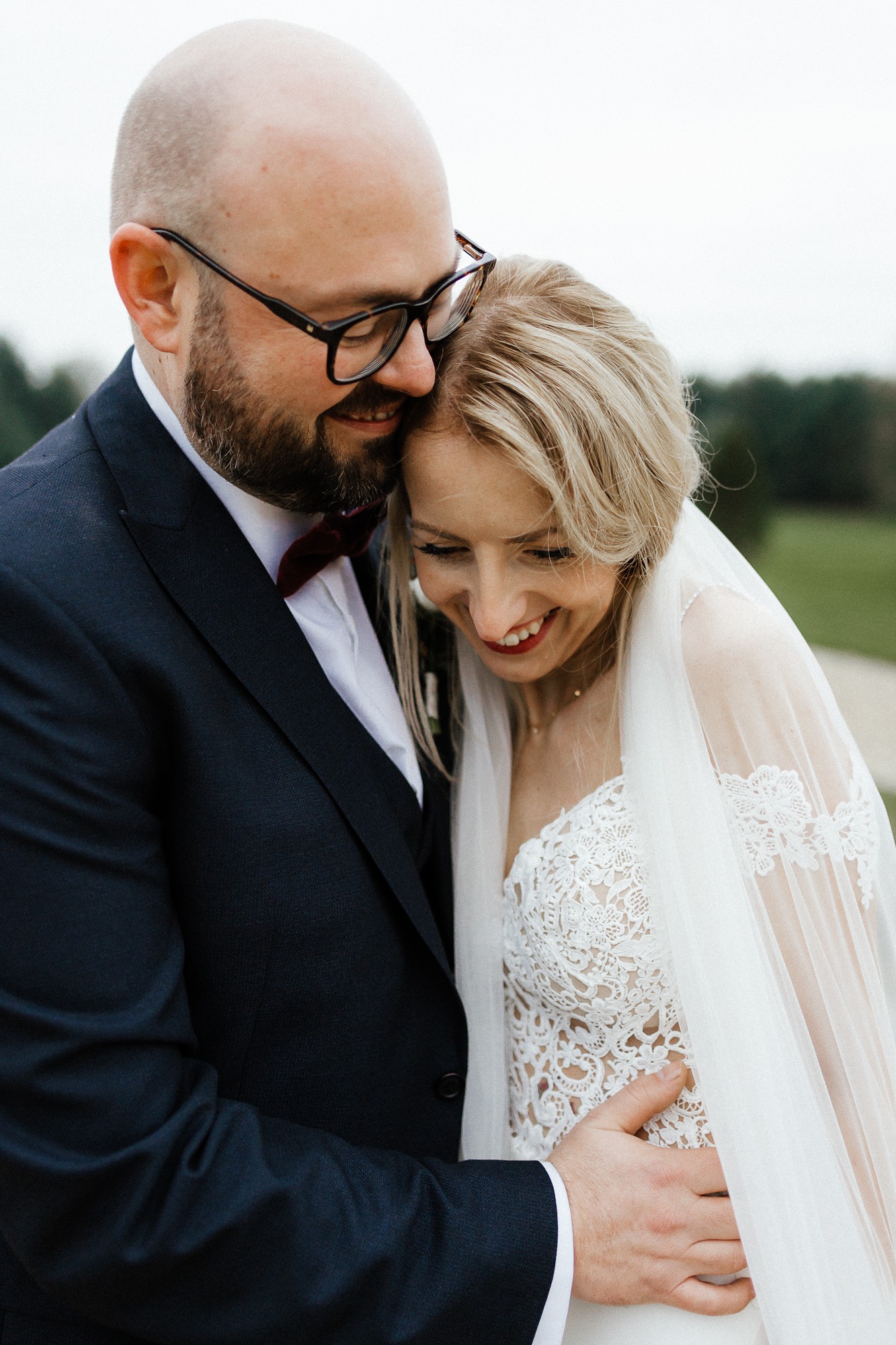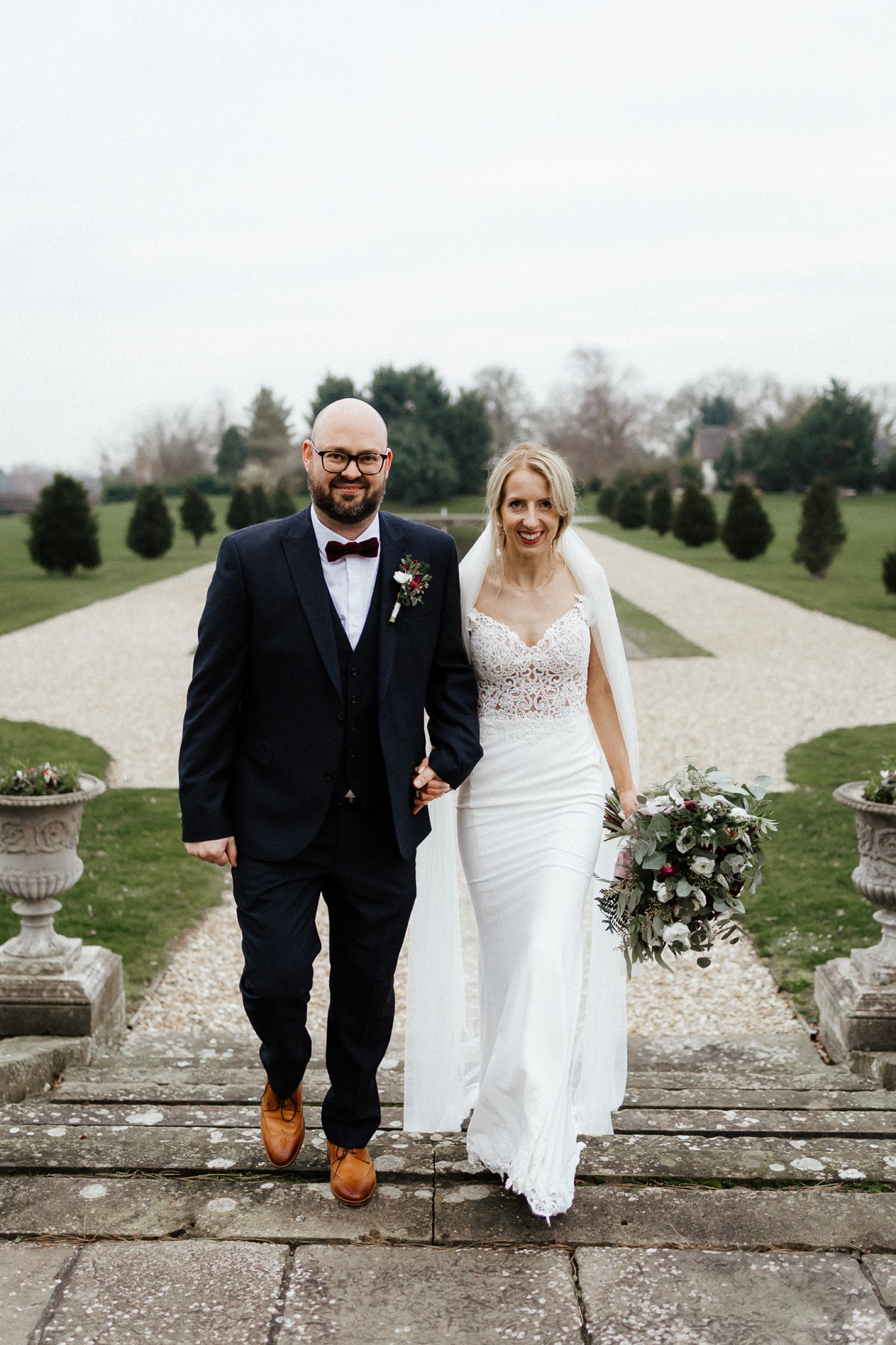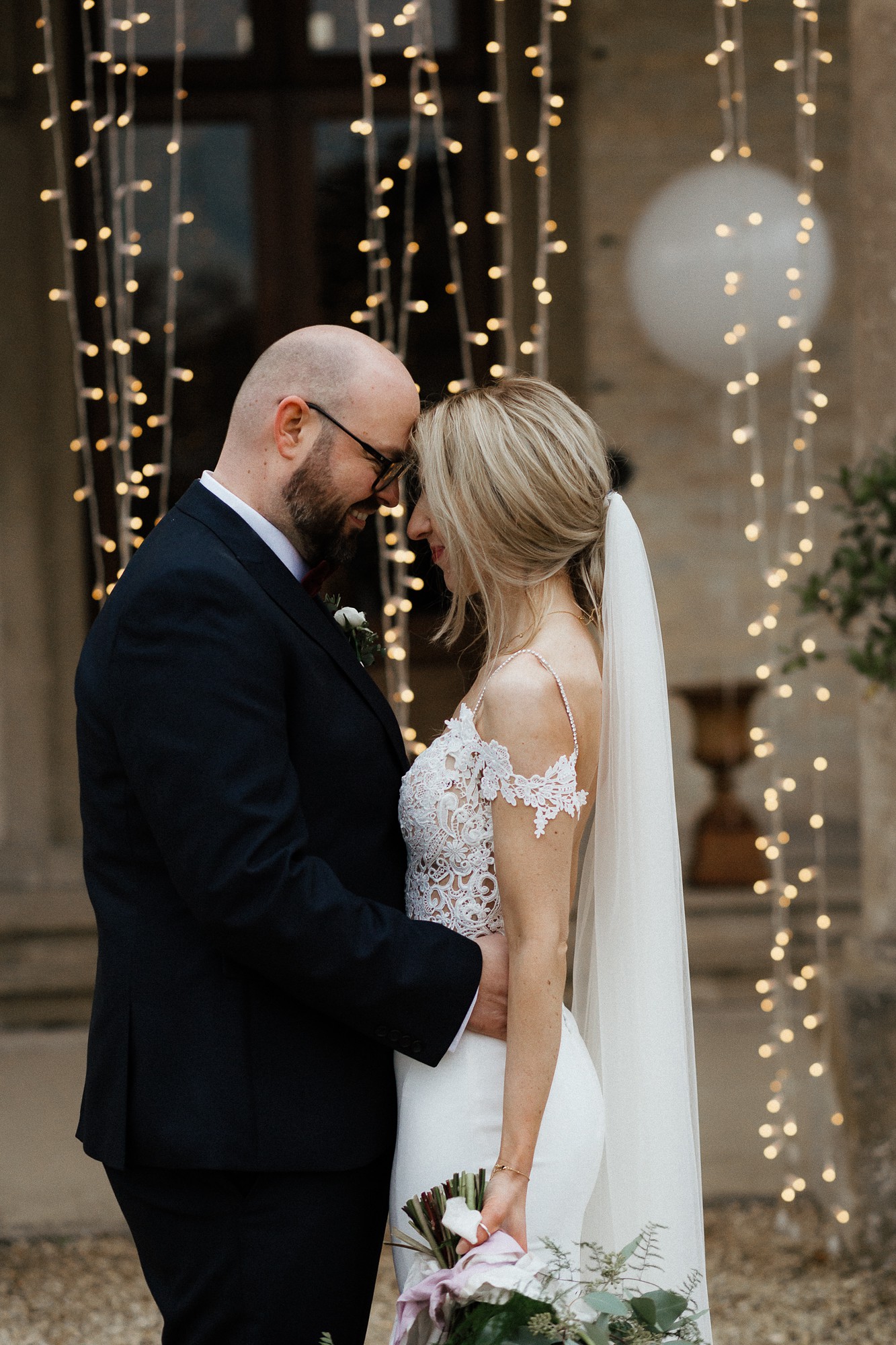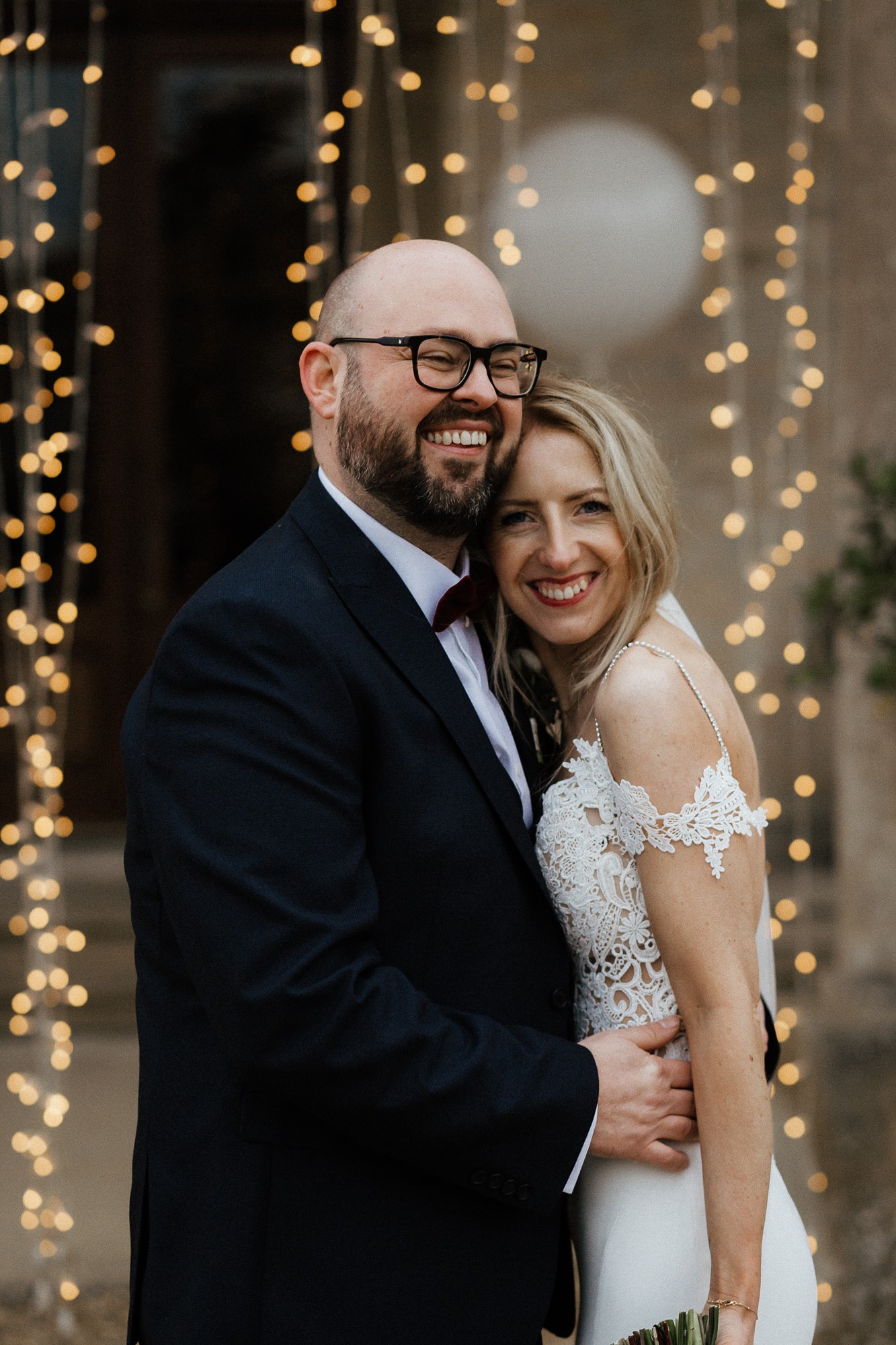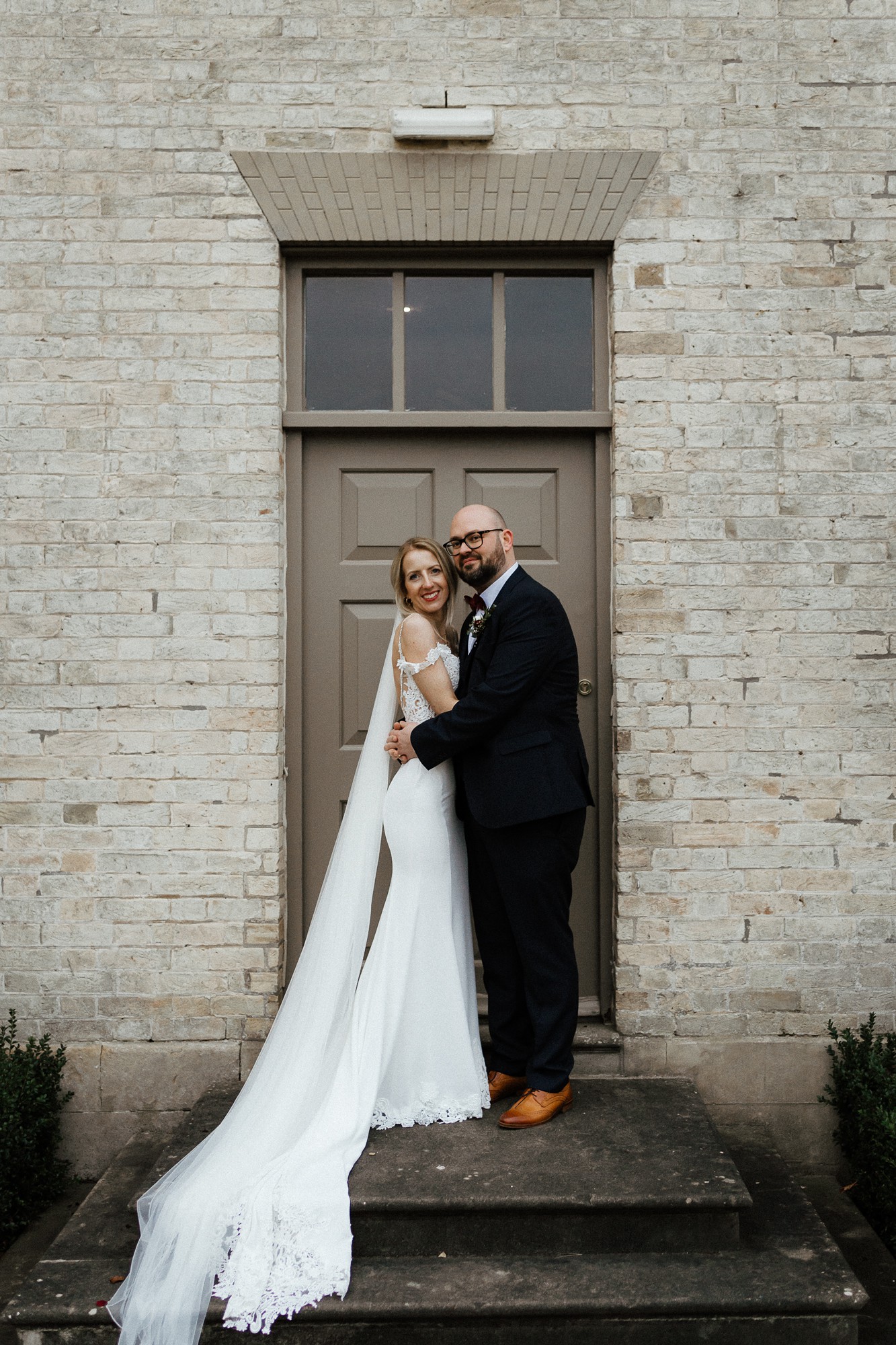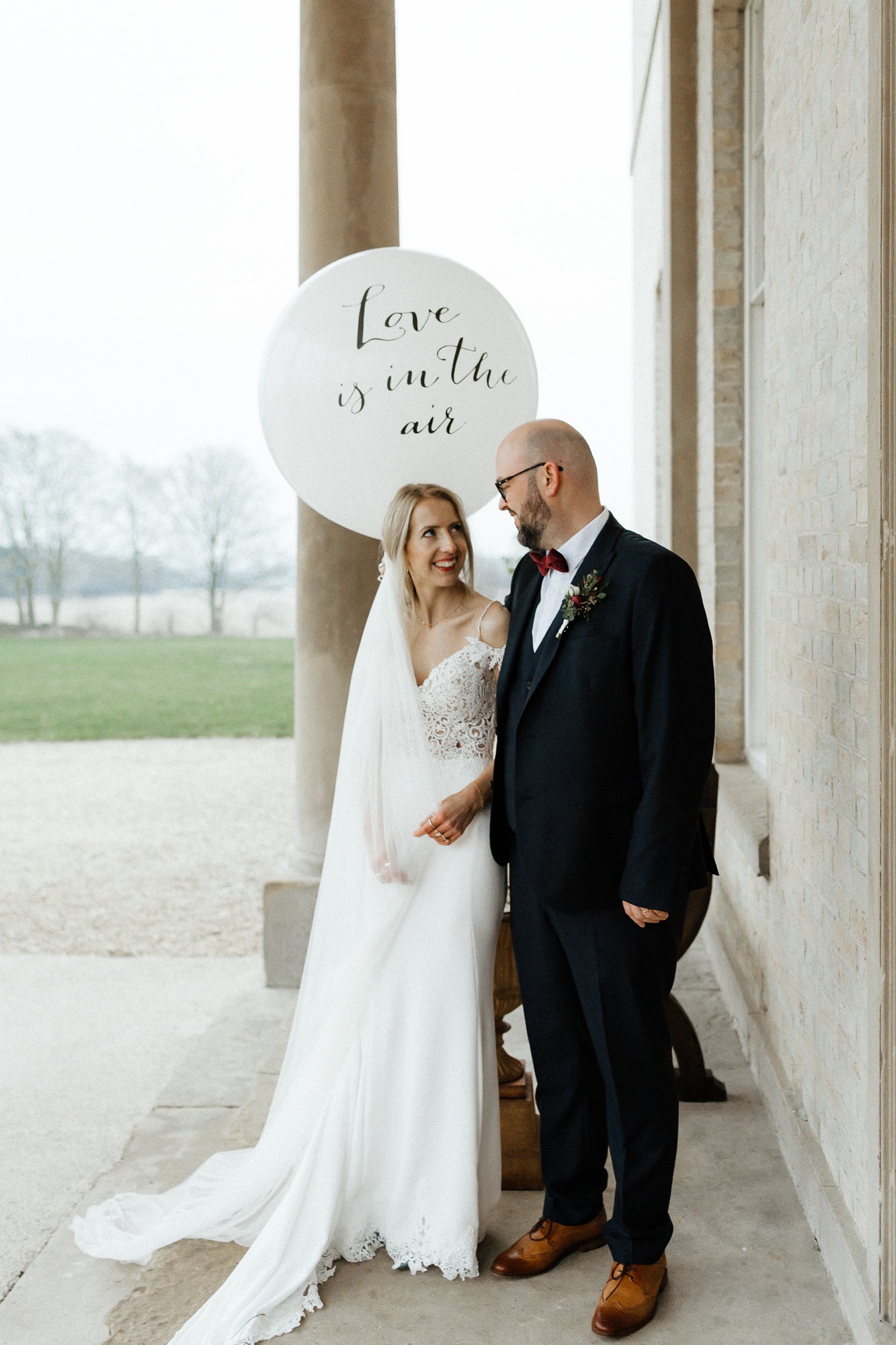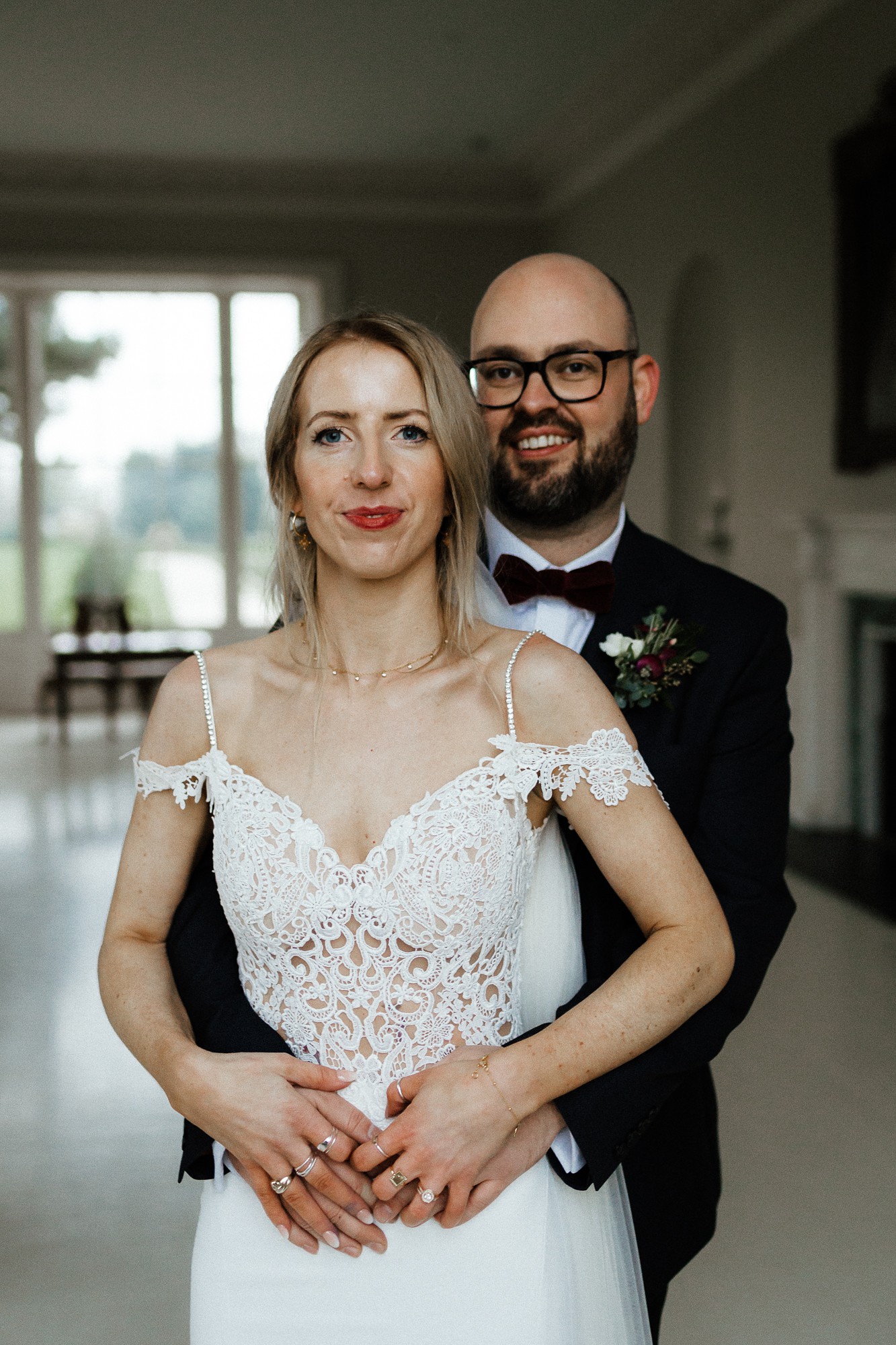 Tables were set beautifully for dinner, with crisp white linens and contrasting bright red runners, gold beaded charger plates, vintage gold candlesticks, cut crystal glassware, and bell jars painted with table numbers.
"We opted for a January wedding, as it's always low season in retail for Damien, and not a bad time for me to take time off due to school holidays. We were never bothered about the weather. It didn't matter to us, we were very happy to stay indoors throughout the day, with roaring fires and plenty of spiced gin."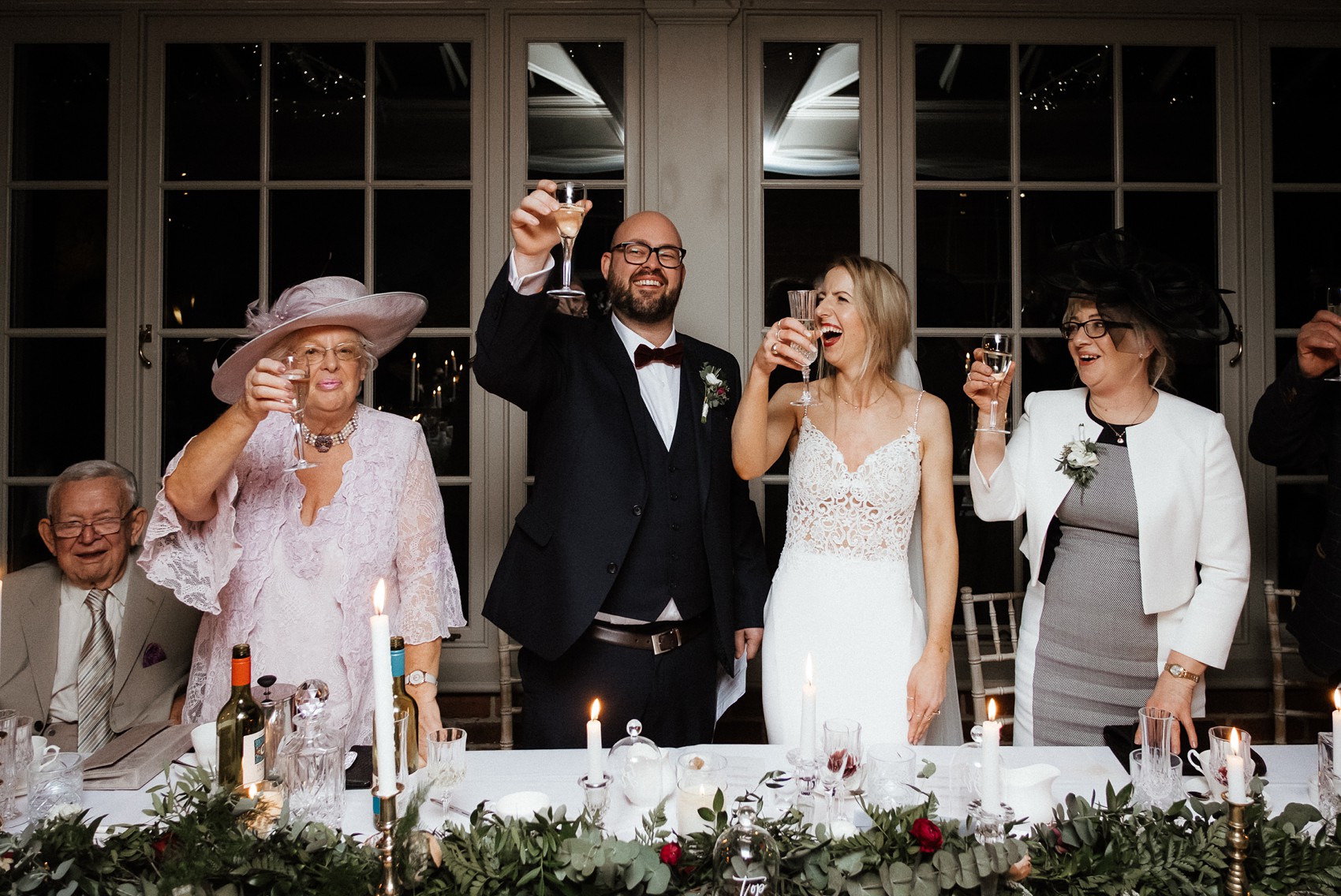 There were garlands and table arrangements of fresh, festively hued flowers, and it all came together to create a magical atmosphere.
Hensons Catering Co. designed, prepared and cooked a fantastic wedding feast, with oak smoked salmon and caviar on rye, with creme fraiche, black pepper and dill to start, followed by roast lamb with honey, lemon zest, garlic and Dijon mustard in red wine jus, with potatoes and vegetables. Dessert was a delicious chocolate brownie with salted caramel ice cream.
"We had a simple, two tier naked cake from The Confetti Cakery, as we only had 80 guests in total. The design of the cake was perfect, with foliage and flowers. Sophie also made us macarons, meringues and giant marshmallows. In addition we also ordered vegan doughnuts from Doughnotts, a company based in Nottingham. They were absolutely delicious, and a perfect choice for our vegan friends. There were none left!"
For their first dance together, Martyna and Damien chose a song they both loved from the A Star is Born soundtrack – Shallow, sung by Lady Gaga and Bradley Cooper.
"We can't possibly pick one favourite moment; the whole day was truly wonderful. I was very nervous prior to the ceremony for some reason, but I still enjoyed every minute of the day. I think having all your closest family and friends from all over the country and abroad, on this one, special day, in a beautiful venue, with a beautiful setting, and seeing them enjoying themselves was the best part. There will never be a day like it again, so yes I would say this was very special. There is nothing we would do it differently, in fact, we would do it all over again tomorrow."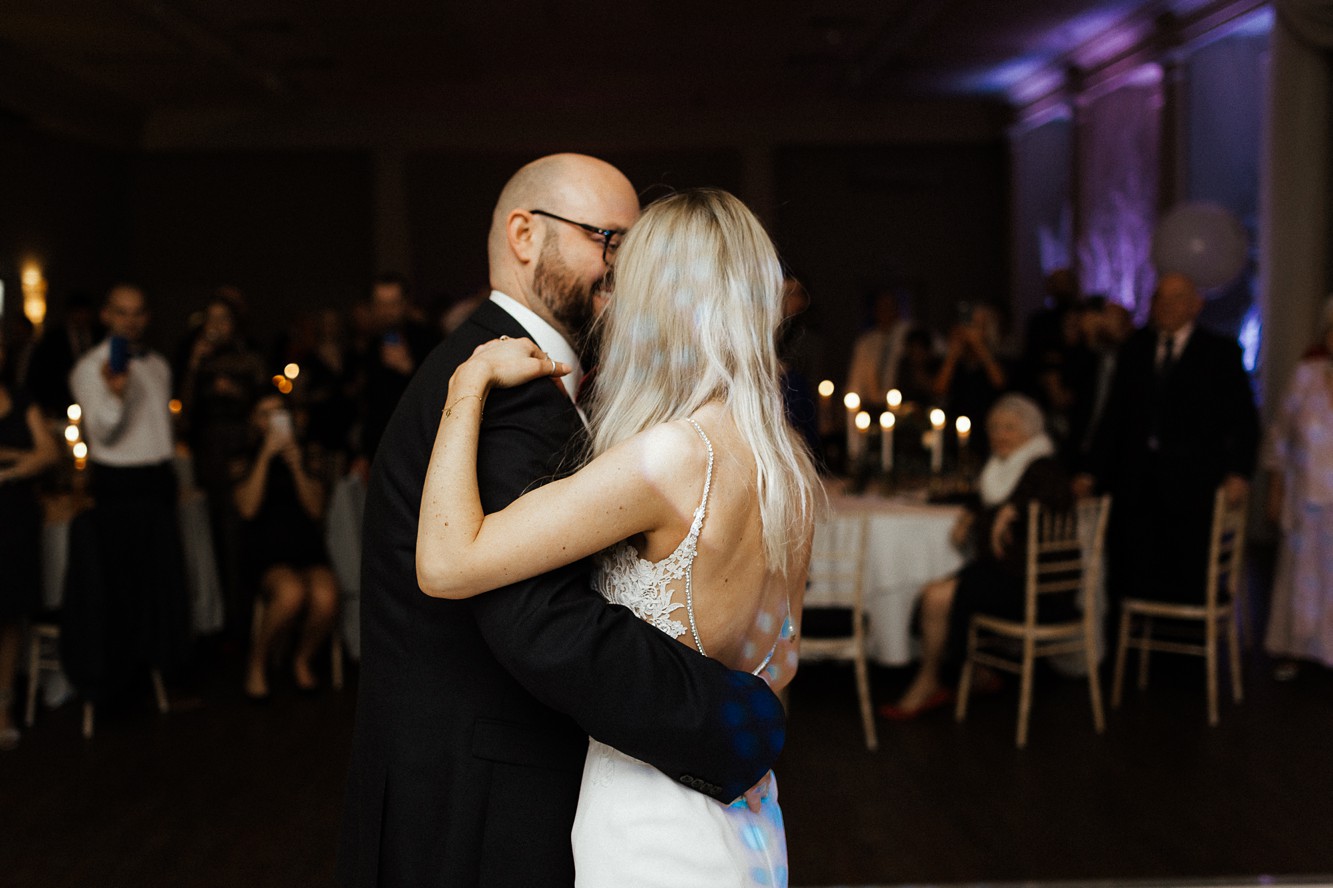 The evening was filled with fun entertainment, with music from Stubton Hall's in-house DJ, as well as the chance to have a portrait sketched by caricaturist Andy Gilbert. There was also great photobooth fun to be had from Vintagebooth.me.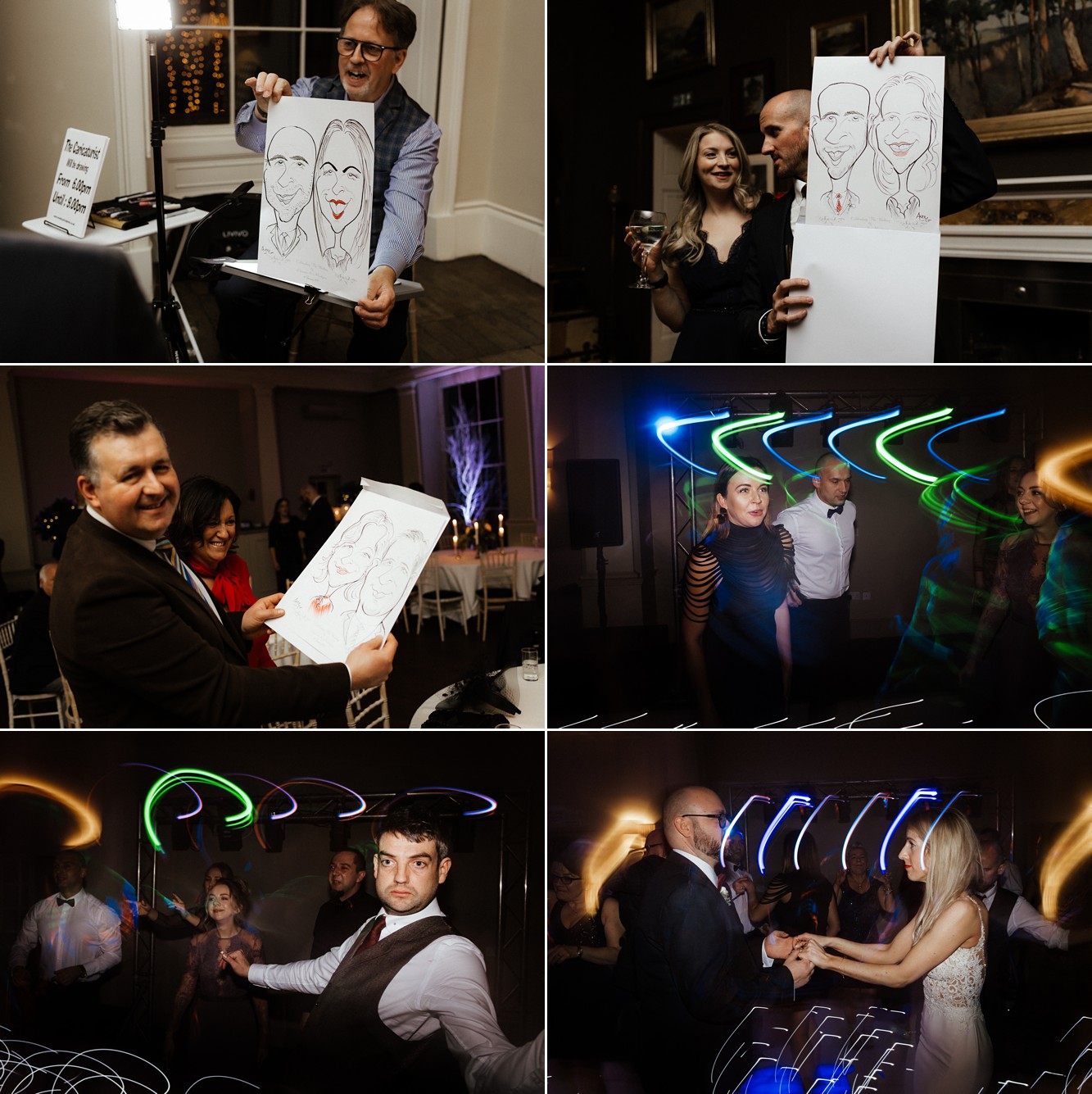 Words of Wedded Wisdom
"Love My Dress was one of the first Instagram accounts I followed. I love your site, and the beautifully edited wedding stories, and I always wanted to be featured. LMD was most helpful with finding inspiration and ideas and is absolutely vital to follow before the planning starts."
"This might be a cliché, but please remember to enjoy every minute. Enjoy the planning, preparation and all the fuss. It might be stressful, but it's fun at the same time, too. Go and try as many wedding dresses as you want."
"Be honest with your suppliers – it's your wedding day."
"Make sure you have a lovely, relaxing day before your wedding. Last minute prep and running around searching for the perfect pair of white knickers are a no no ( yes that's what I was doing)!"
"On the day, if something goes wrong don't panic and stay calm. It's not the end of the world, and the show will go on. Lastly, please don't get upset if the 'wedding night' doesn't happen, as you'll have a lifetime to catch up! Enjoy, enjoy, enjoy!"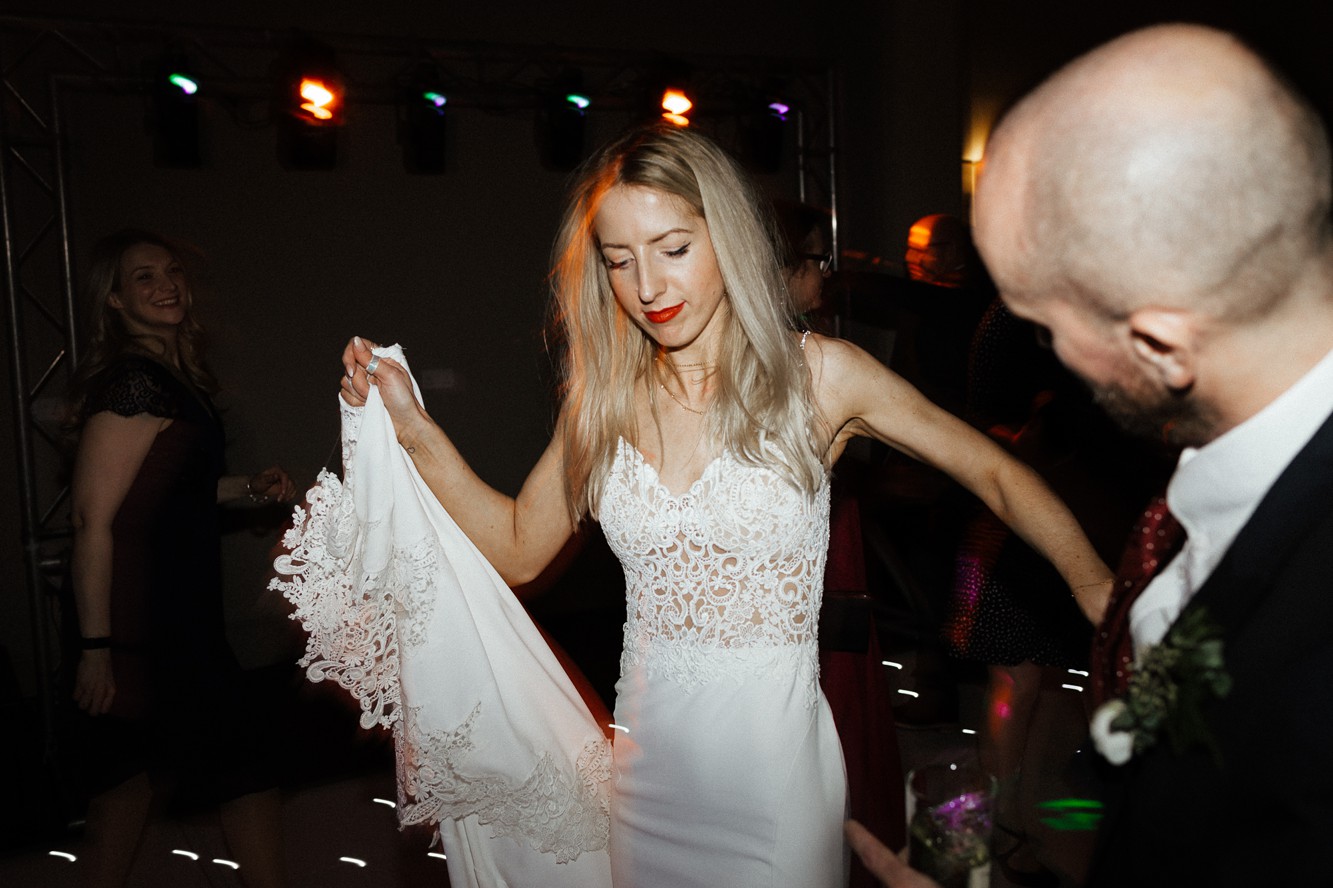 Martyna and Damien, congratulations to you both and thanks for sharing your absolutely wonderful winter wedding with us. Huge thanks to Caitlin & Jones for their fantastic film and super images, too. To enjoy more enchanting wintertime celebrations, do head here, and enjoy.
With love,
Laura