Hello darlings, happy Tuesday to you! Shall we all have a collective moment to pause and slow September down just for a moment?
I'm pretty sure I say this every year but by God, has this year whizzed past. I adore Autumn and all of a sudden feel the need to really lessen my pace and savour up all the beautiful changes taking place all around. We've been out picking apples from the little orchard at the bottom of our garden – which was perfect because today's wedding actually took place in an orchard too; George and Courtney tied the knot on 28th July with an exquisite outdoor ceremony at George's parent's home.
Photography by Through The Woods We Ran
The couple wanted their day to reflect the settings, and for it to feel like a wonderful relaxed garden party. As Courtney's father had passed away a few years before, it was always going to be an emotional day, so being surrounded by loved ones in a familiar environment made the perfect setting for the day.
"We looked at a few beautiful venues but soon realised that we had all that we needed already. The garden has been the setting for many a happy time for friends and family and seemed the obvious place for our celebrations, we just needed a gentle reminder."
I happen to know that that bride is a budding florist herself, so flowers were hugely important at this wedding.
"We had wanted a florist that we loved the style of and would naturally work with the day we were creating. We found Debs at Lunaria and just knew we could trust her to put her own spin on things to create something beautiful for us. We had seen Debs's work on Instagram before she actually started her business, Lunaria.​"
"A year down the line and I have actually assisted Debs on a project or two now that I have chosen to work with flowers."
Courtney looked incredibly in her Temperley London floral dress – actually part of designer Alice's Temperley's ready to wear collection, so not a traditional 'wedding dress', but here at Love My Dress, we encourage you to wear whatever you want on your wedding day. And my word, does Courtney look sublime.
"I'd had trouble picturing myself in a white/ off white/ cream dress. I tried a few on and felt so formal. My mum actual spotted the dress in the non bridal section and persuaded me to try it on. It instantly felt more fitting for me, the location and the day we were day."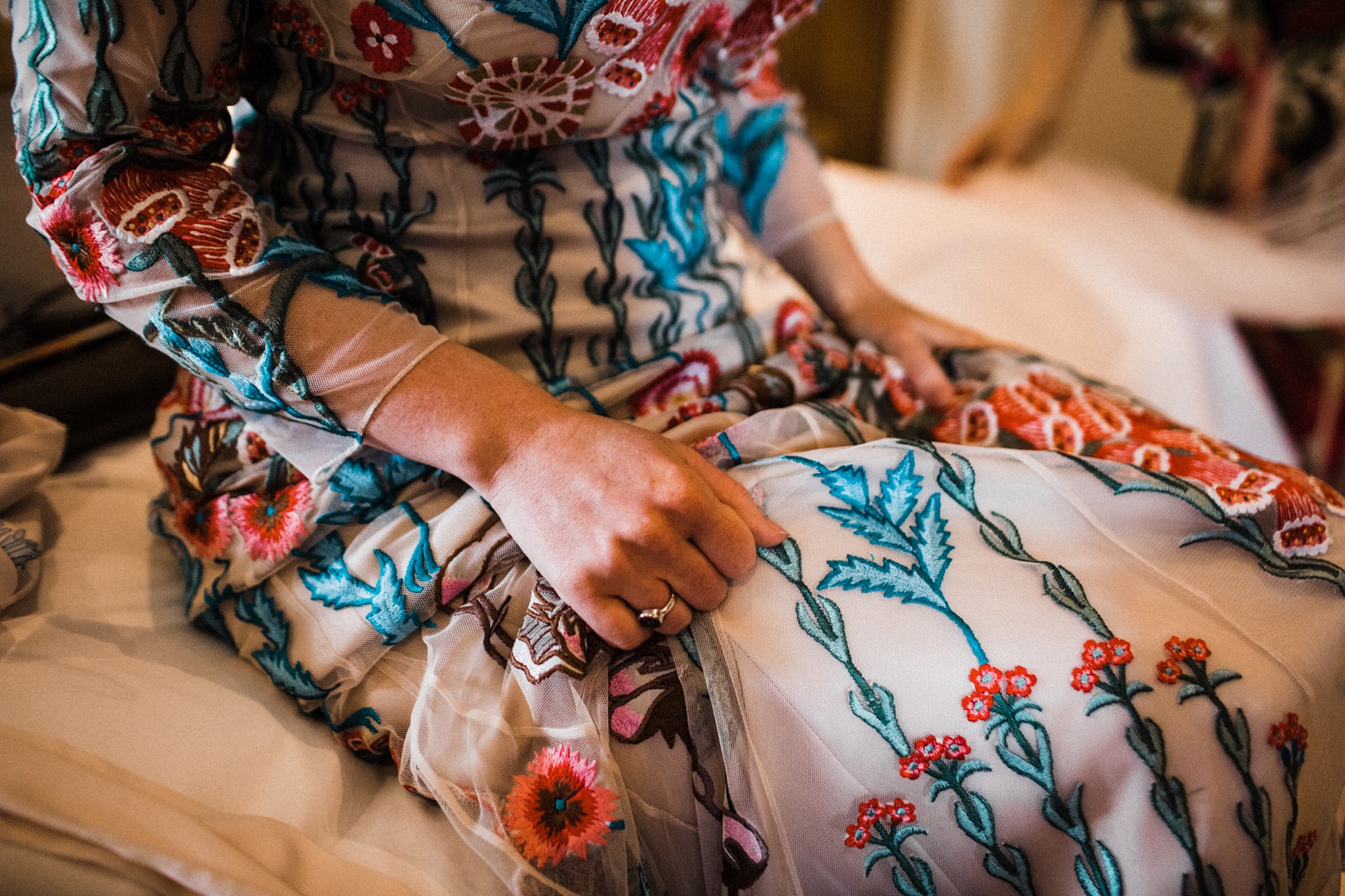 Courtney chose Jo Malone's beautiful 'English Pear & Freesia' as her wedding day scent; "I wanted to smell like myself".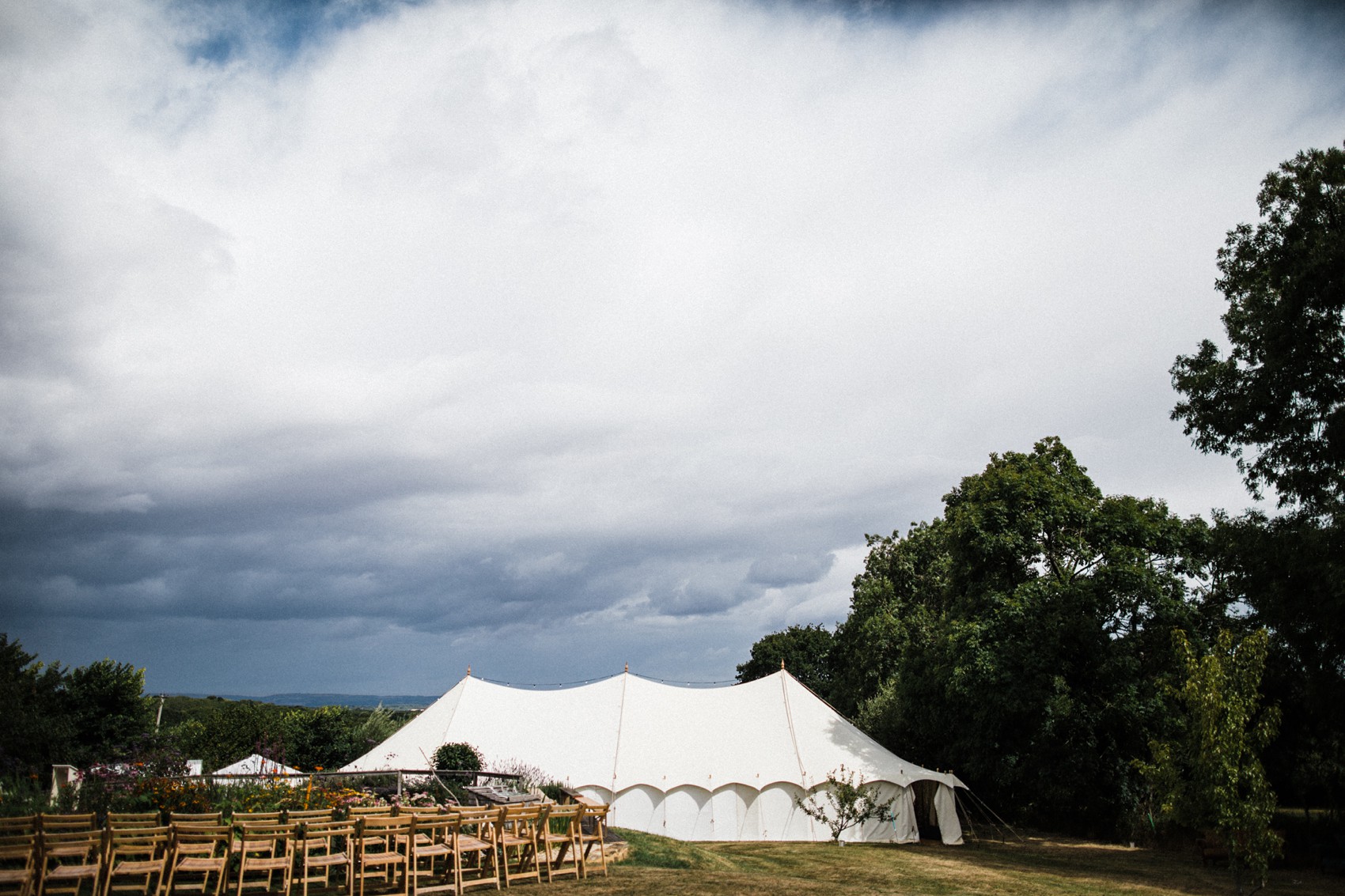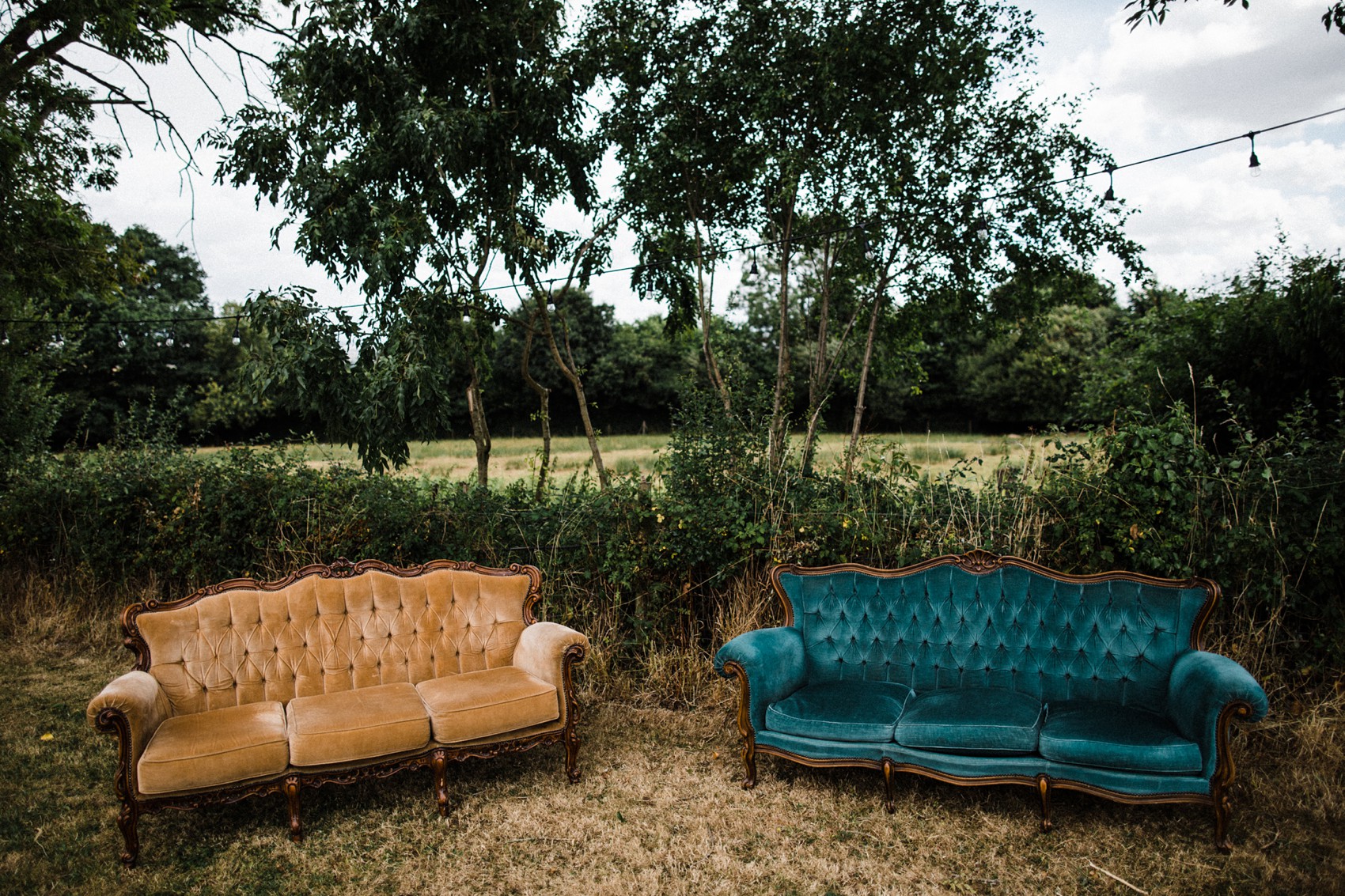 "We made everything ourselves. We really went to town on all things graphical, as it was something we really enjoyed creating together."
"Our joint business revolves around branding and graphic design so it was no surprise really. Although we didn't take over the company until after the wedding."
"For our invites, we chose beautiful papers and combined, laser cut, hand painted, embossed and printed techniques to create something truly unique, textural and fun."
"George and I met at university in Bristol. Since then we've built our lives together. When we married we'd been together for 10 years. We'd become engaged about a year and a half before we got married."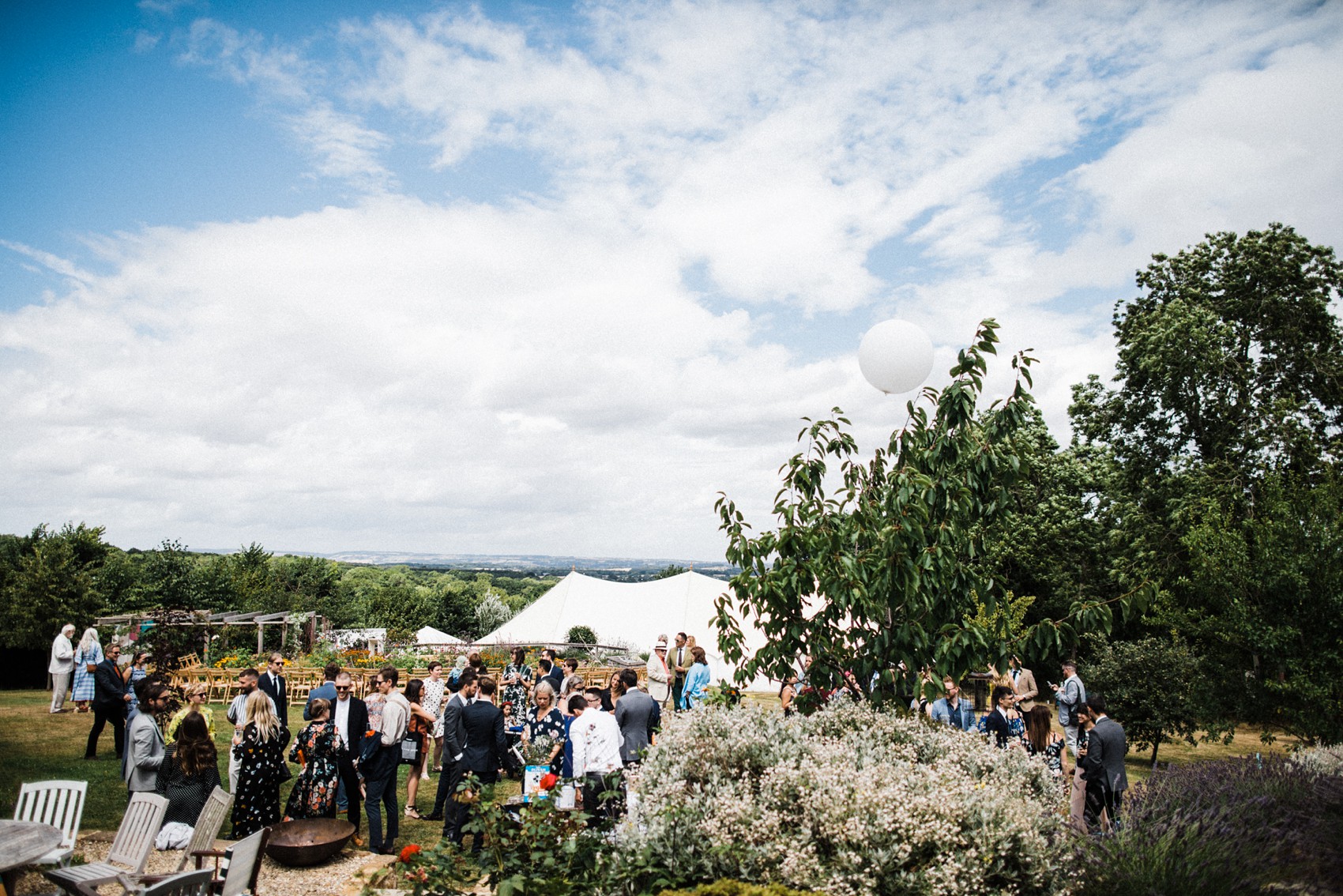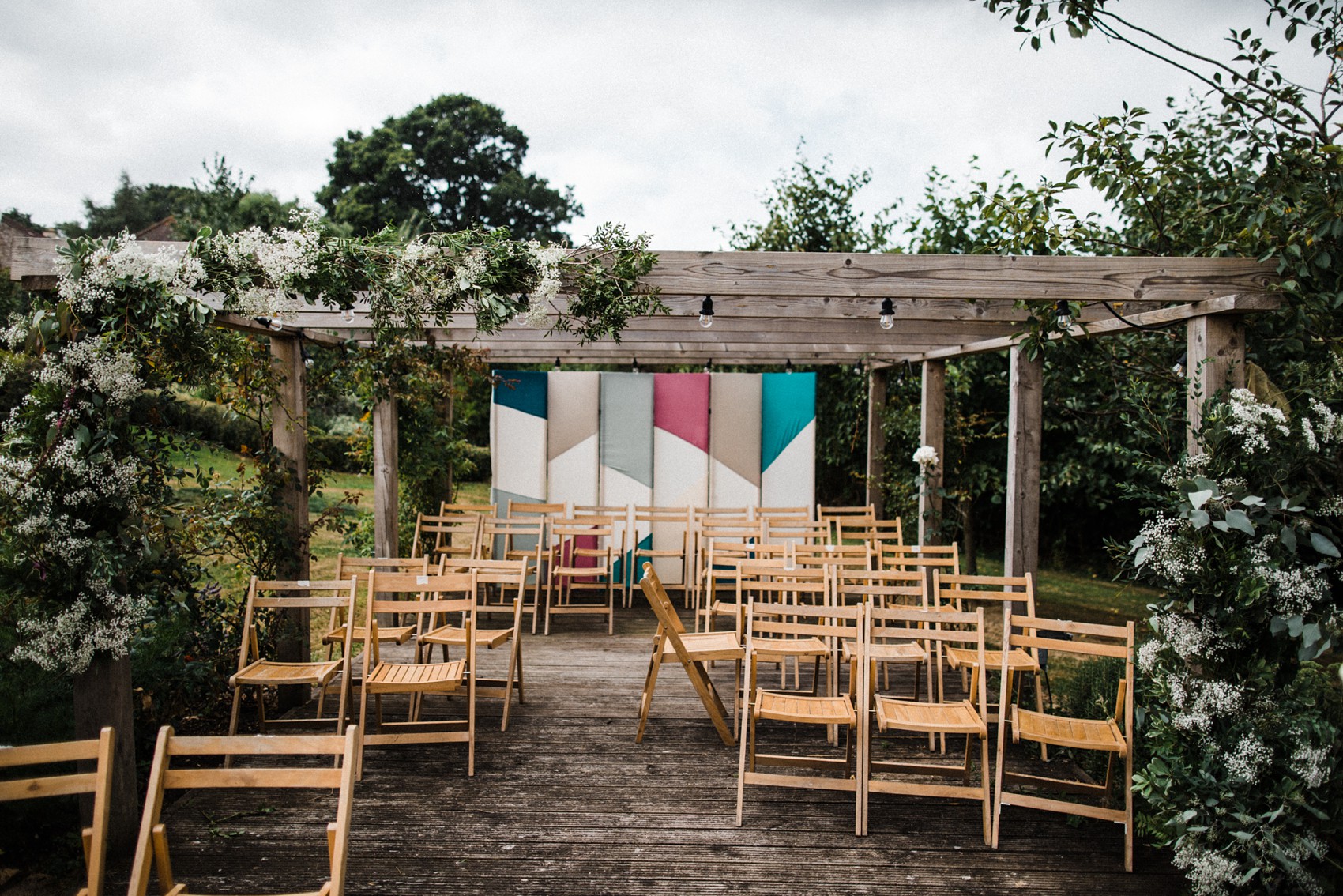 George looked super dapper in a blue wool flannel suit from Fox Brothers, which he had tailored by Beggars Run. He paired this beautiful suit with a pair of Doctor Martens and an embroidered Paul Smith tie.
Defying tradition again, the groom had two best-men on the day.
"My wonderful friend Emma (bridesmaid in the red) made the veil for me, embroidering our initials and wedding date on to it."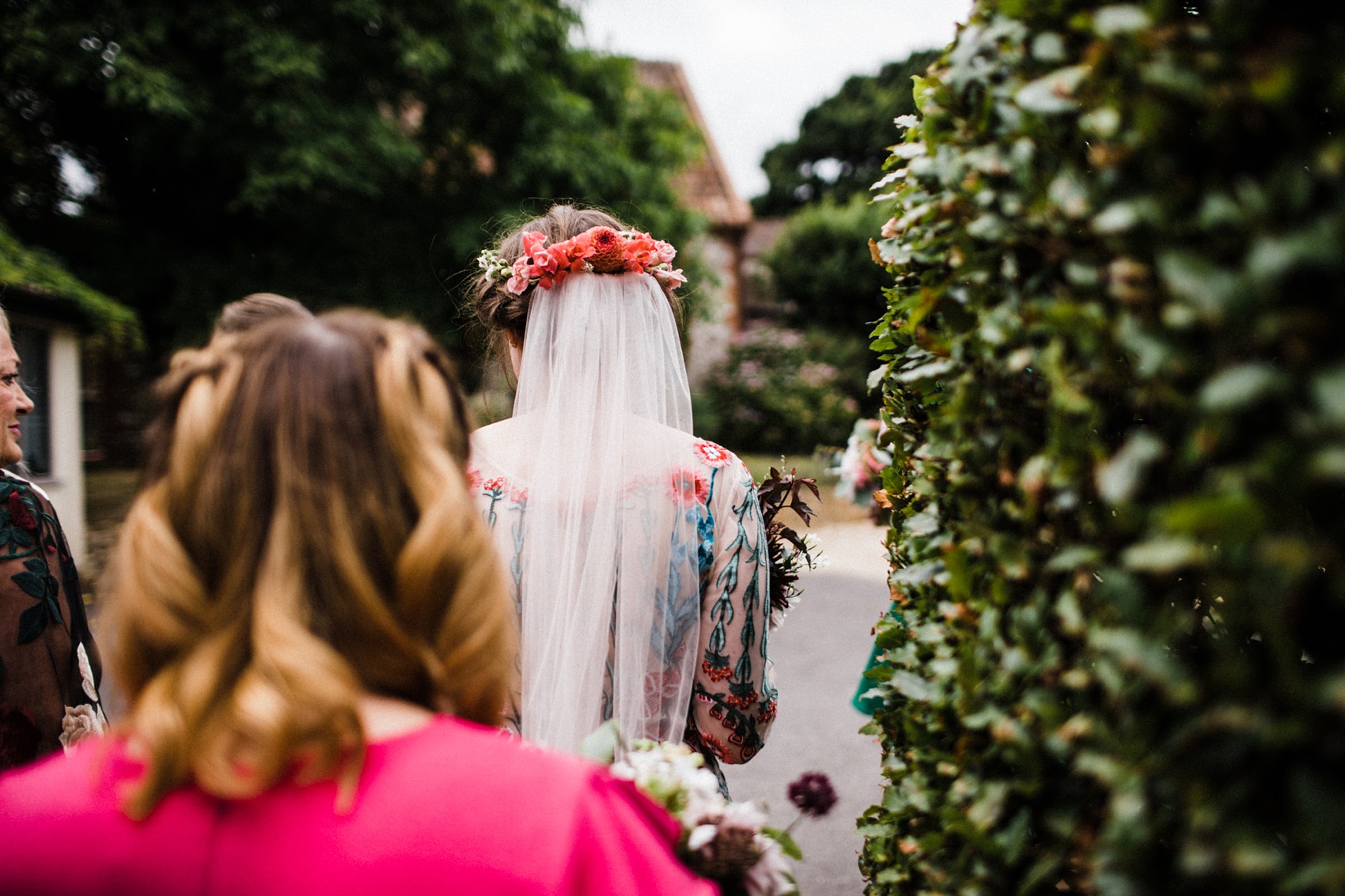 The bridesmaids chose their own dresses.
Courtney's mother Erica walked her down the aisle. It was a special moment for them both. They were accompanied by the sound of Mary Clark's Take Me I'm Yours.
"It's a song we love and chose together. We wanted something fun and expressive."
"As we aren't allowed to legally marry in the garden we chose to get officially married the week before with our immediate family only. We did so in Hackney Town Hall, London. Where we were living at the time. On what we consider our wedding day (the garden) we chose our friend Simon to conduct a ceremony for us."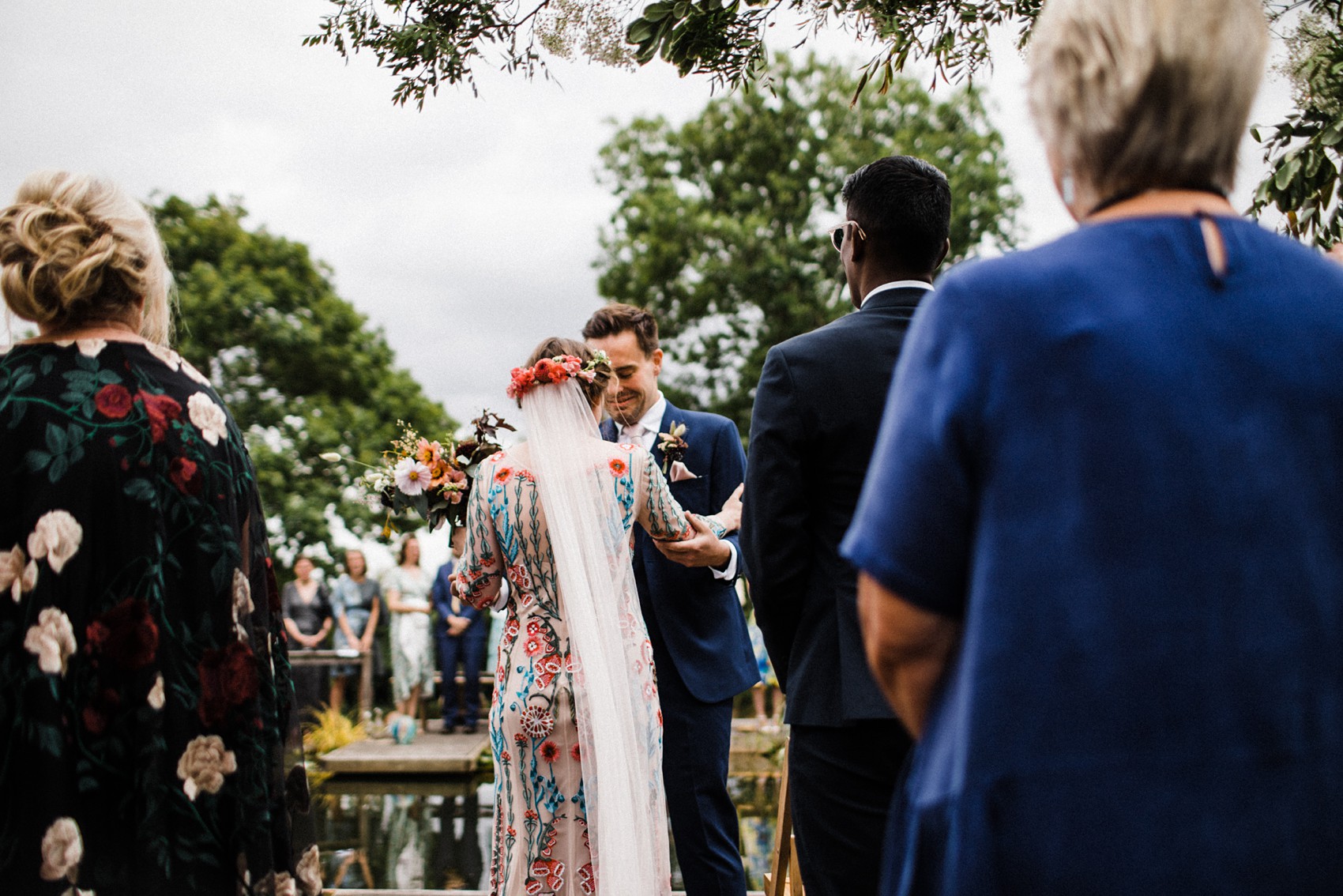 "As we aren't religious and don't follow the world of poetry, we went decided to have songs that meant something to us as readings and hymns. We had the Maccabbees – 'Toothpaste Kisses', a song that encapsulated our lives when we first met as 20 year olds. And 'It Must Be Love', by Madness – one of Courtney's late fathers favourite bands."
"We then had Barry White – My Everything as a hymn alternative. It was rather silly and sung as it started to shower. It was fun and not taken seriously at all and provided some laughter to the ceremony. We also had words written by Courtney's mother to us both."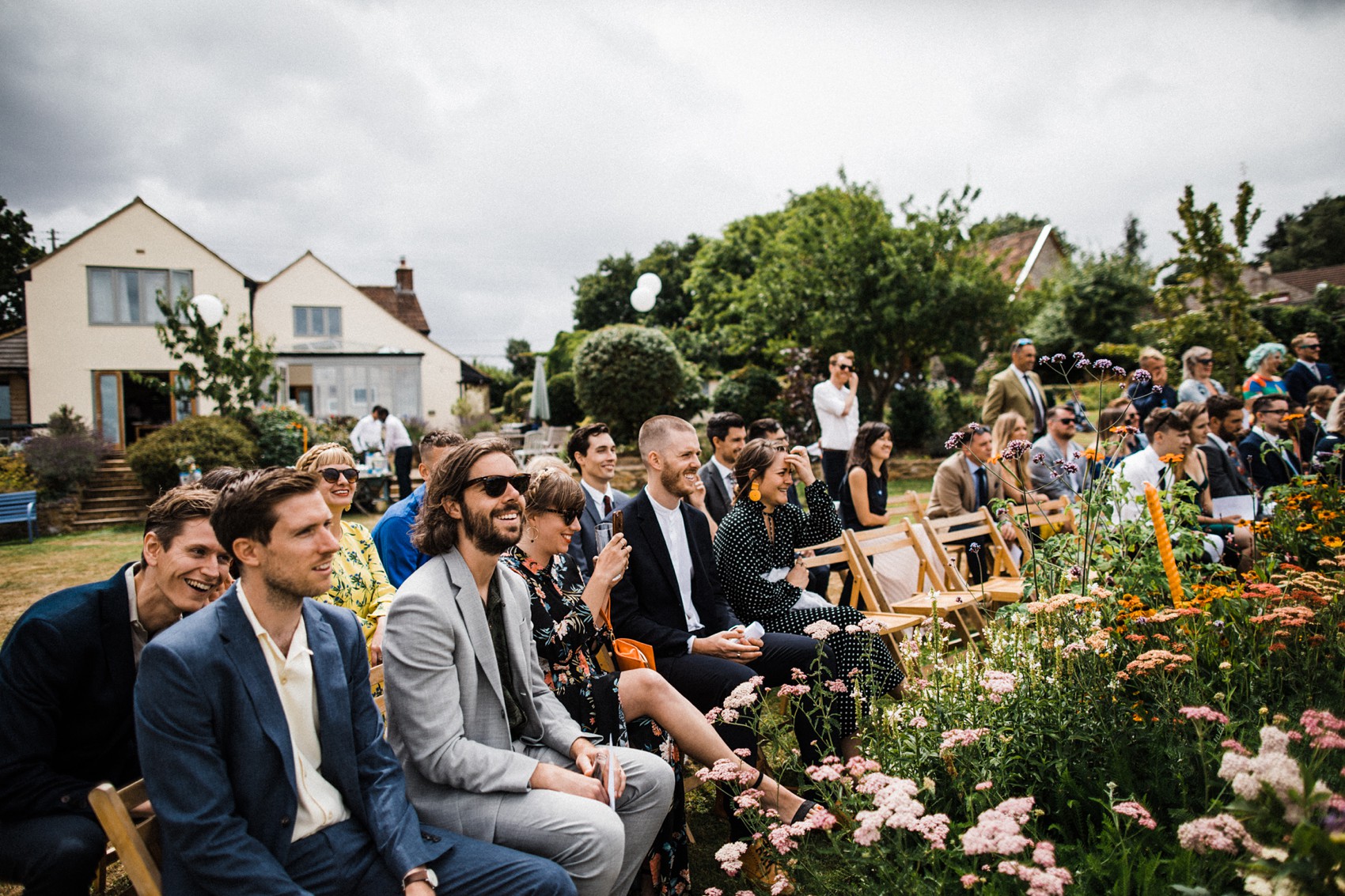 "The summer we married was intensely hot and sunny and therefore we thought we were safe to get married on the decking around the pond."
"However, the heavens opened and it rained half way through our ceremony. We persevered until the vows when it got heavier. Therefore we ended up ditching our planned vows and simply shouted we do at each other."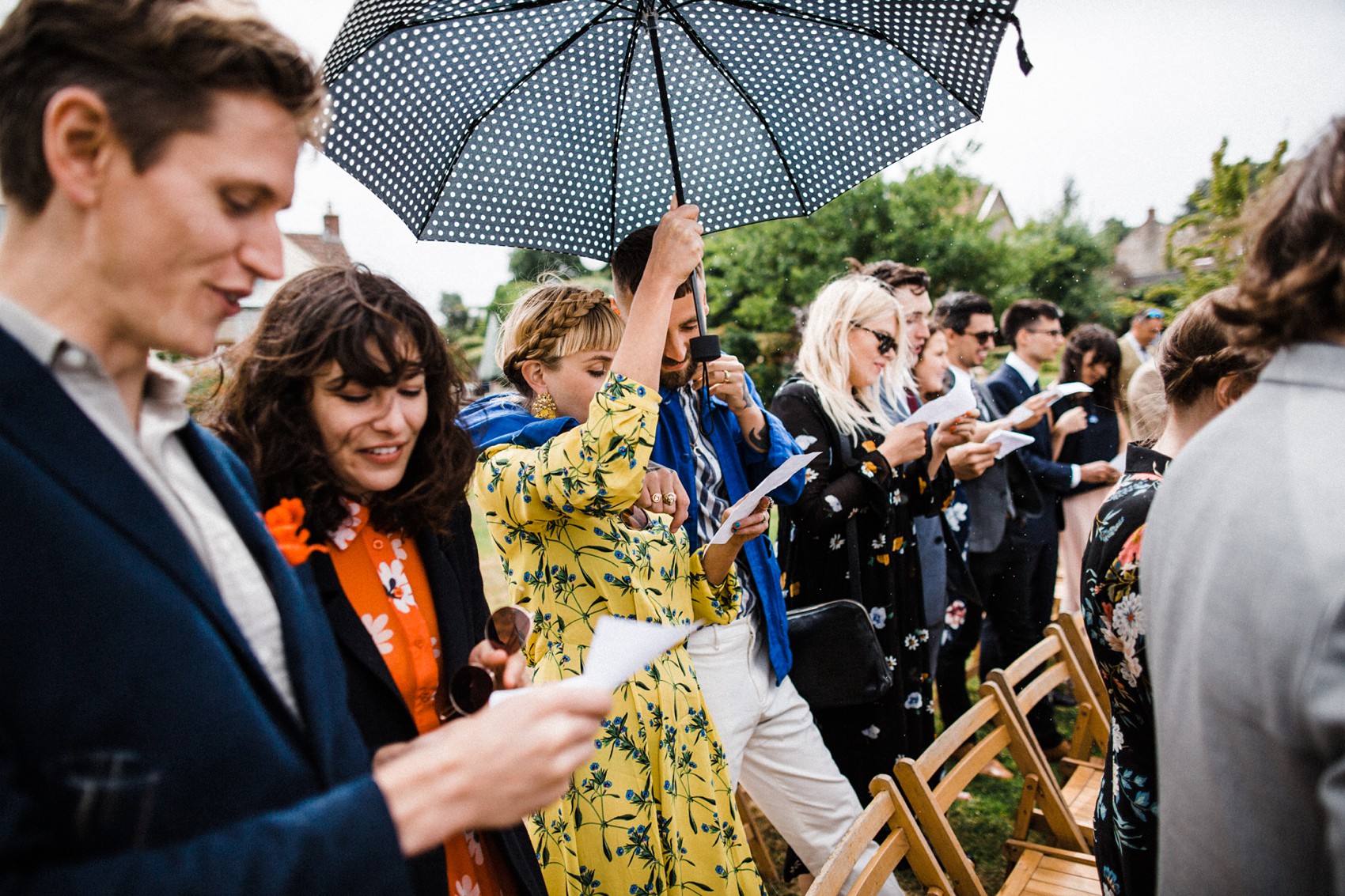 "Our rings were a forgotten last minute purchase, not glam at all, simple bands from the high street."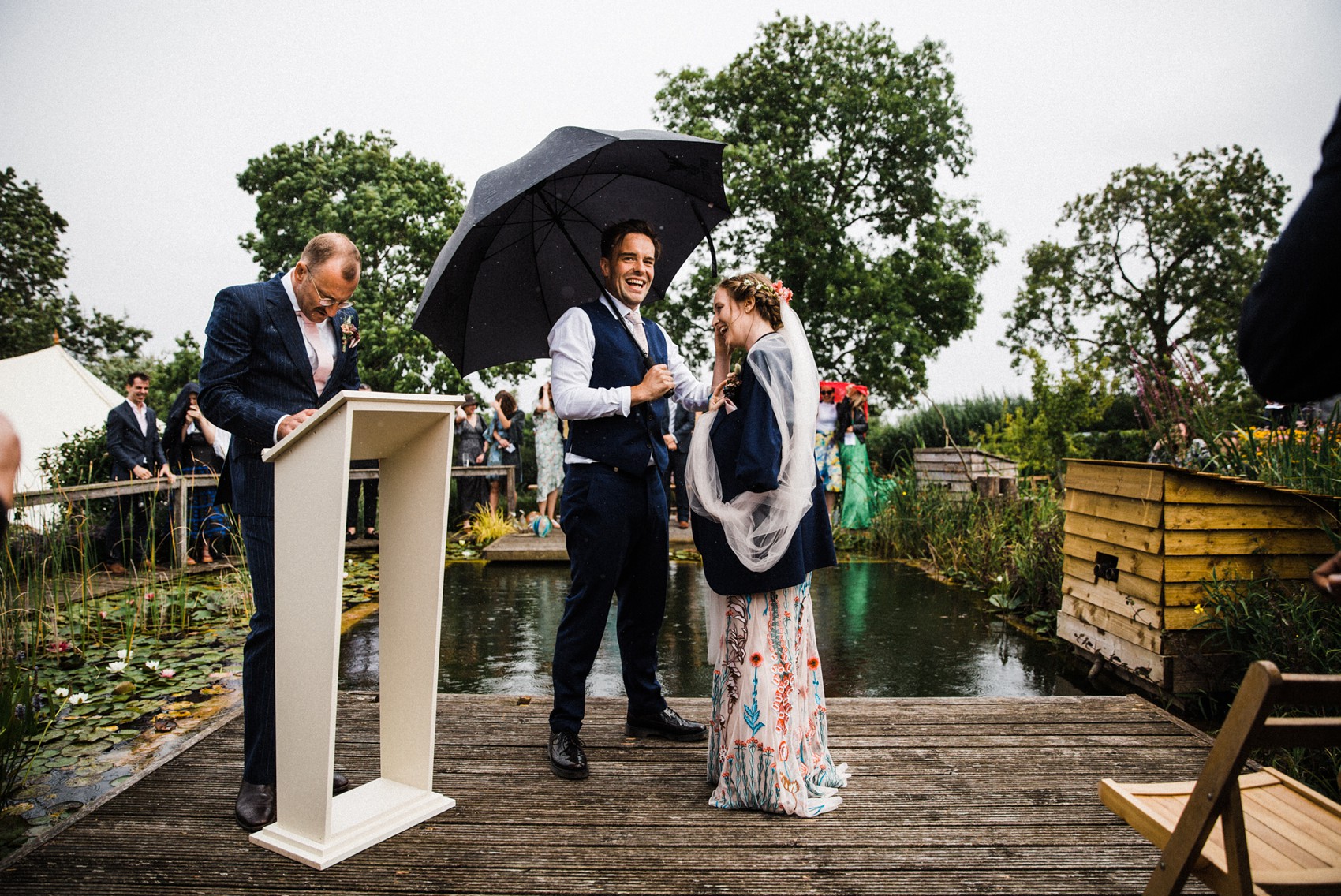 As we left our ceremony, we had 'Les Fleurs' by Minnie Riperton playing.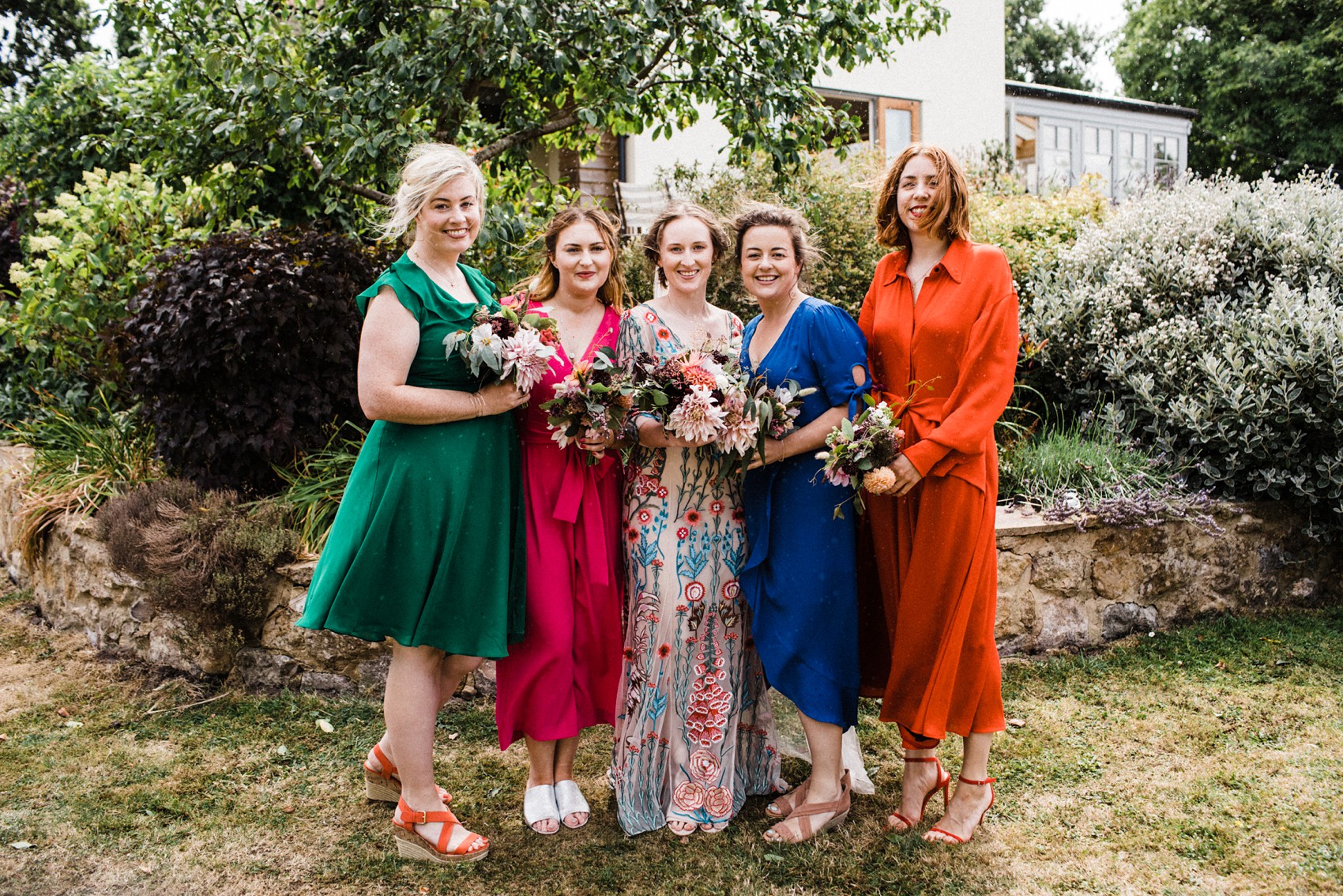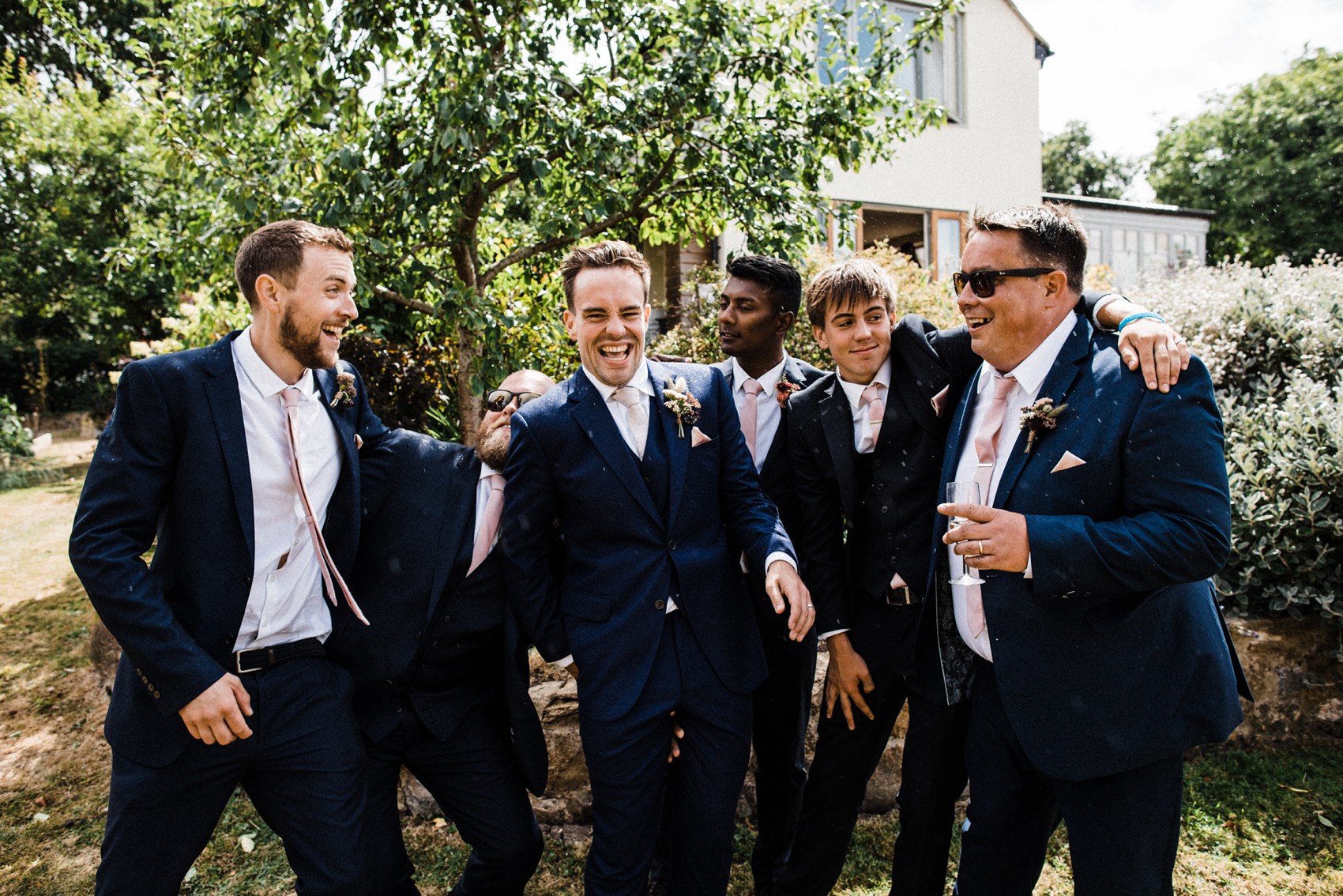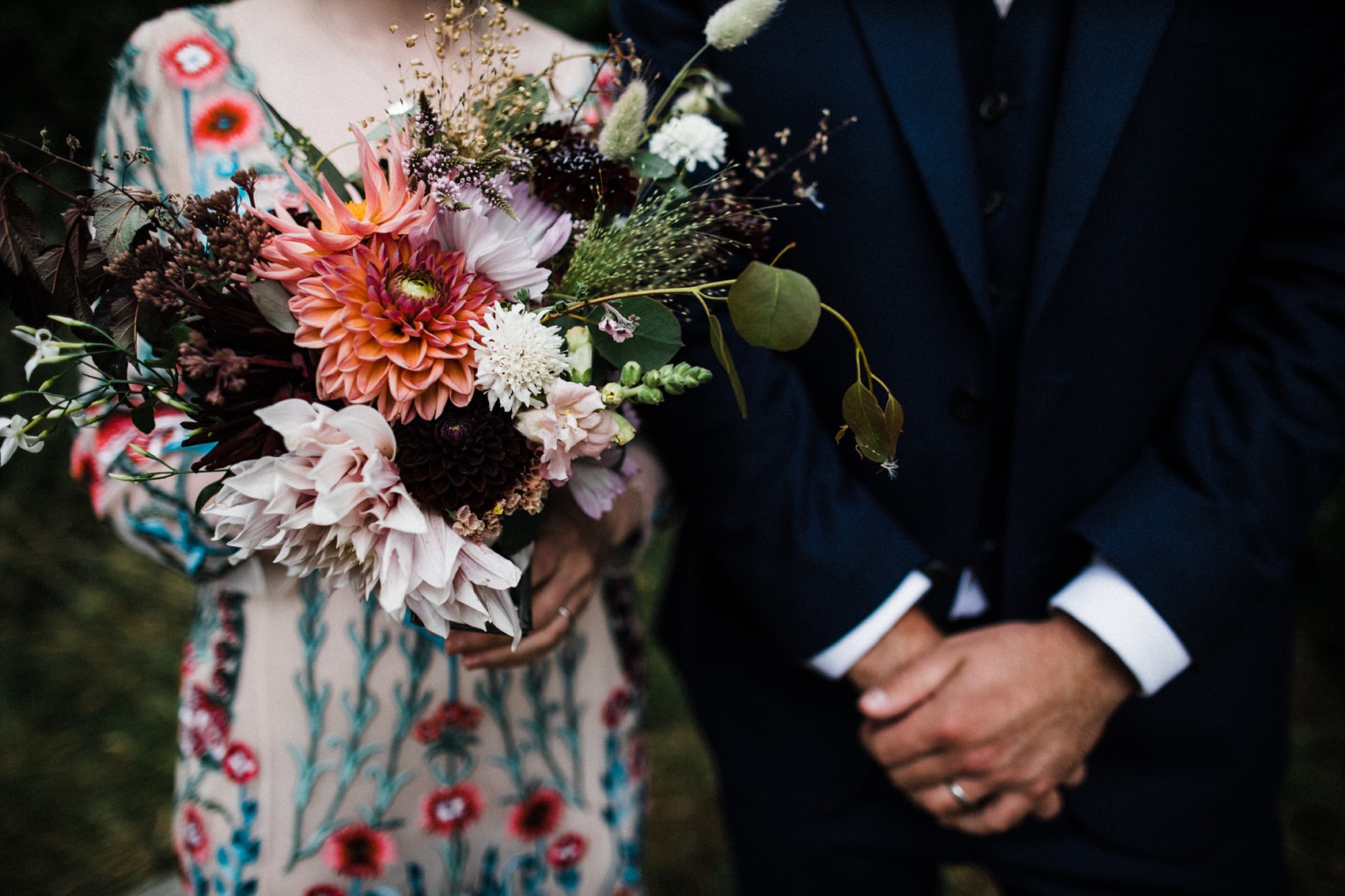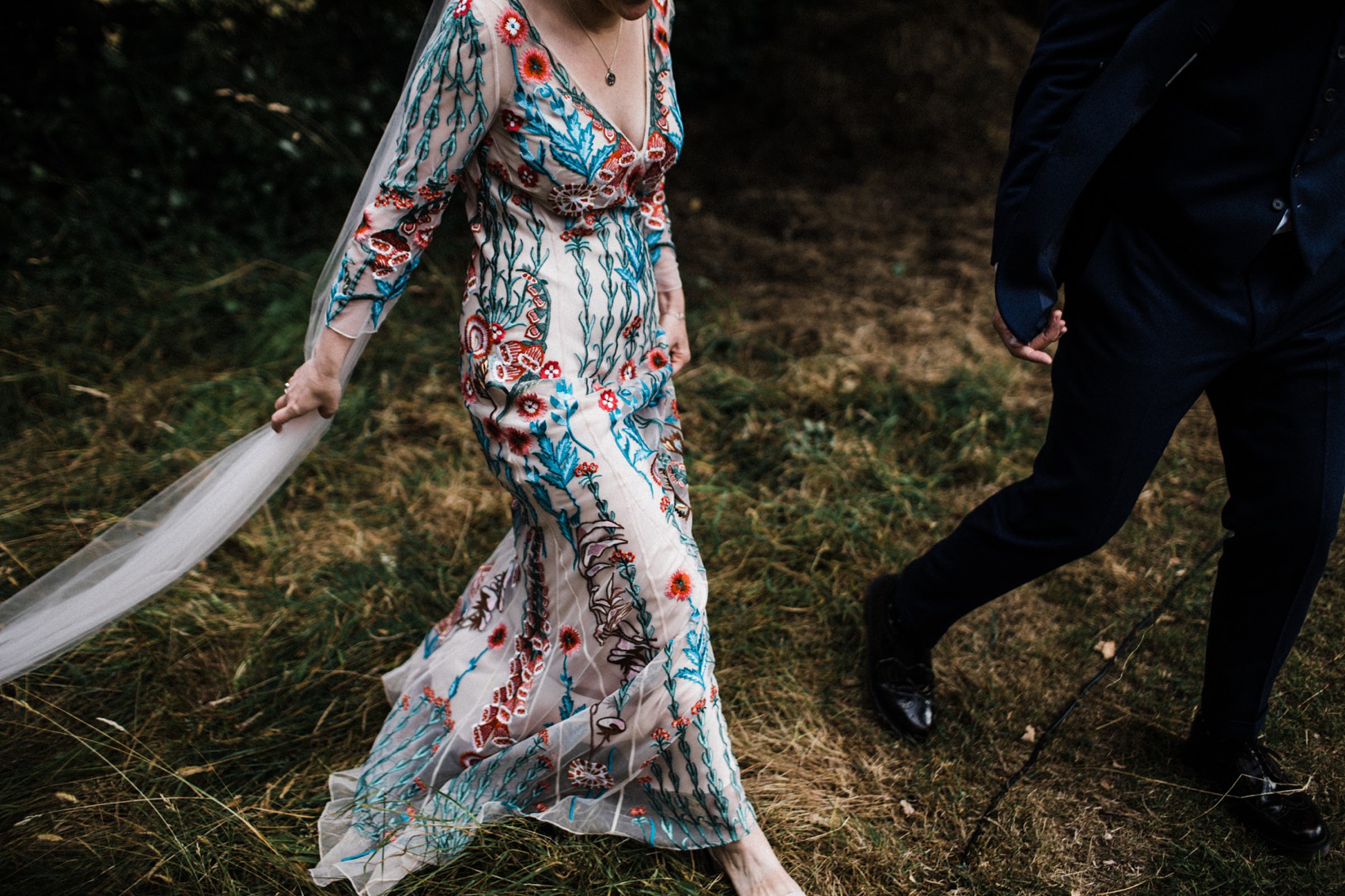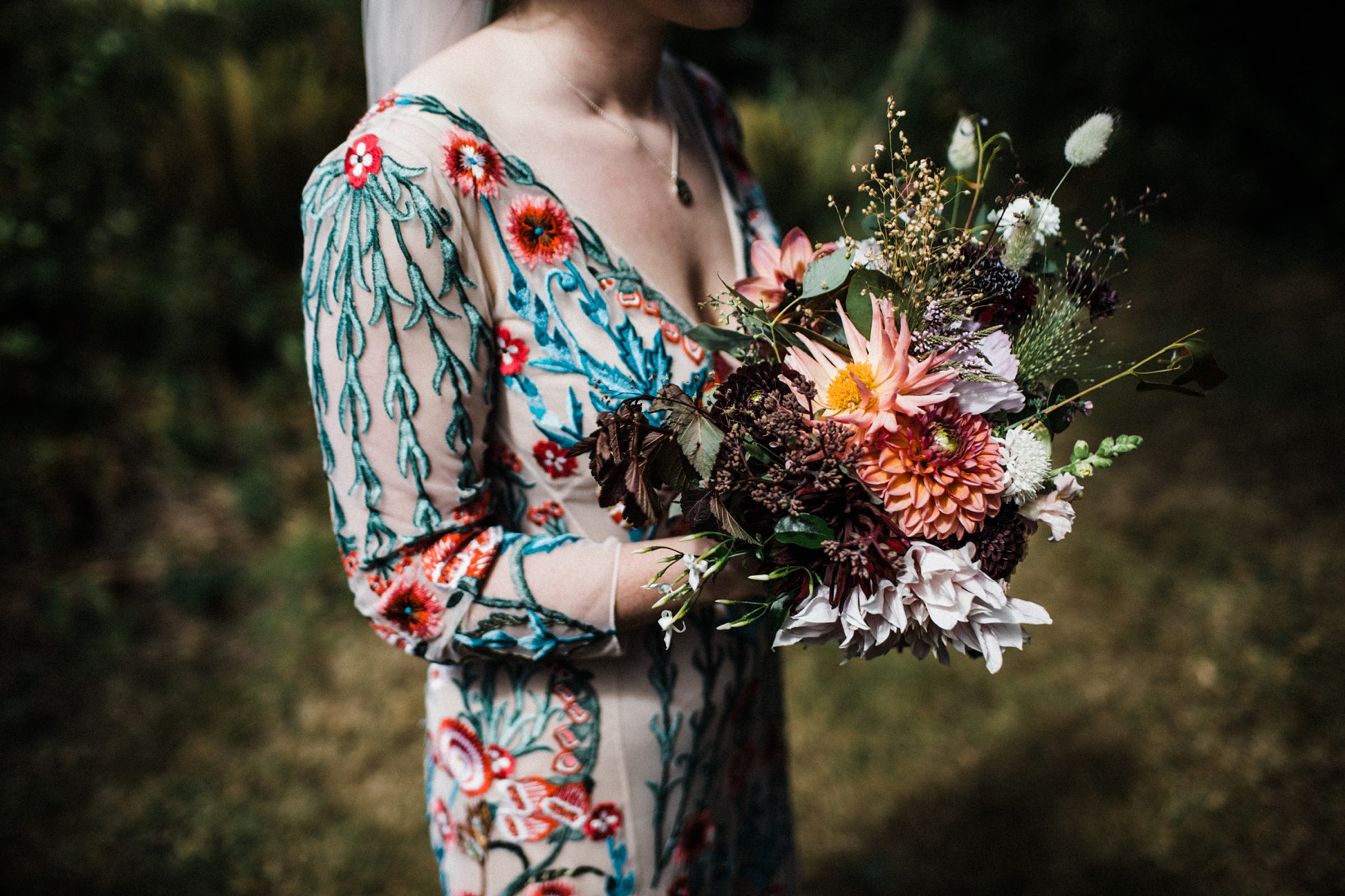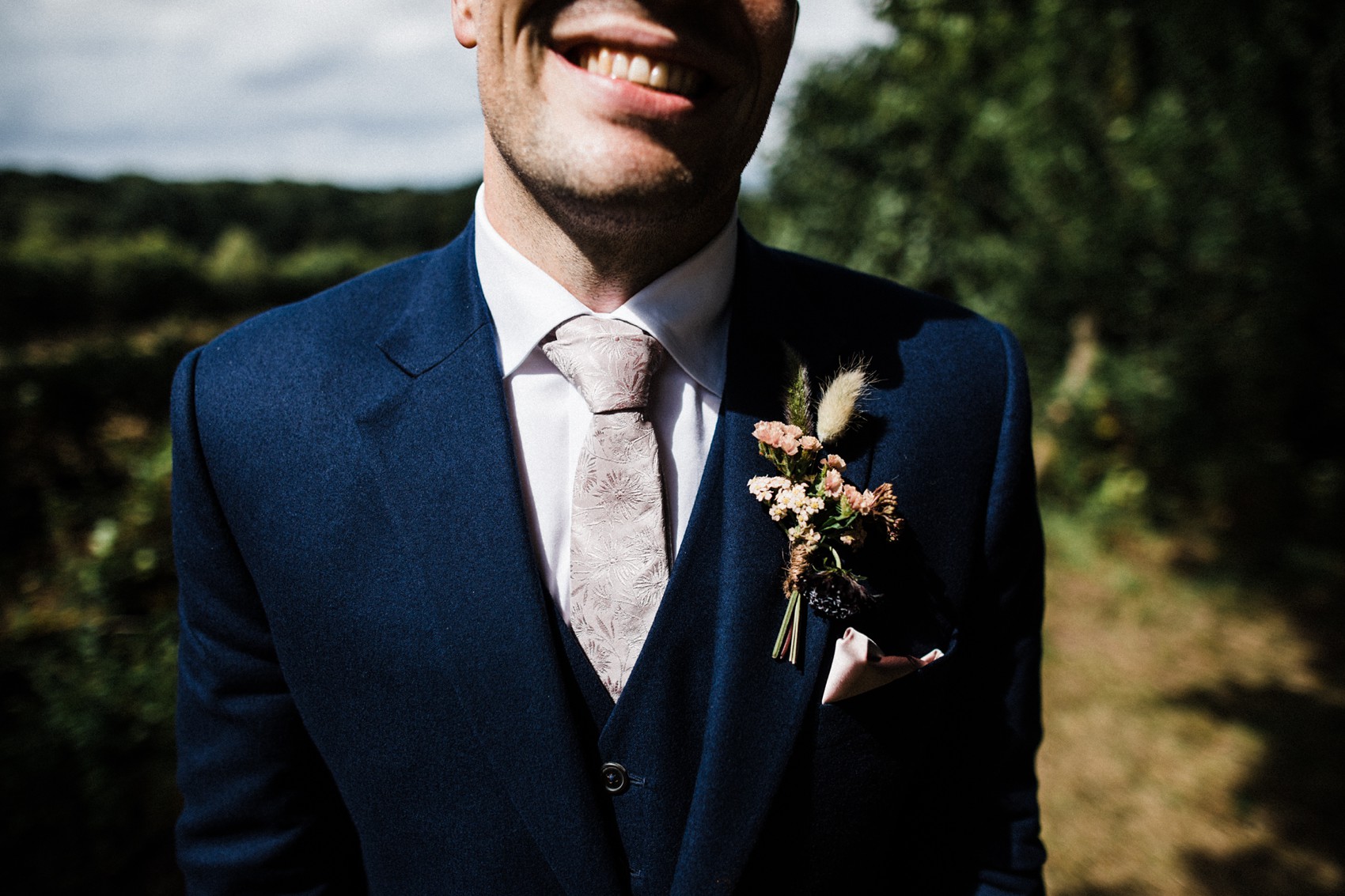 The couple hired photographers 'Through The Woods We Ran' who they fell in love with for their great style and feel captured their day wonderfully.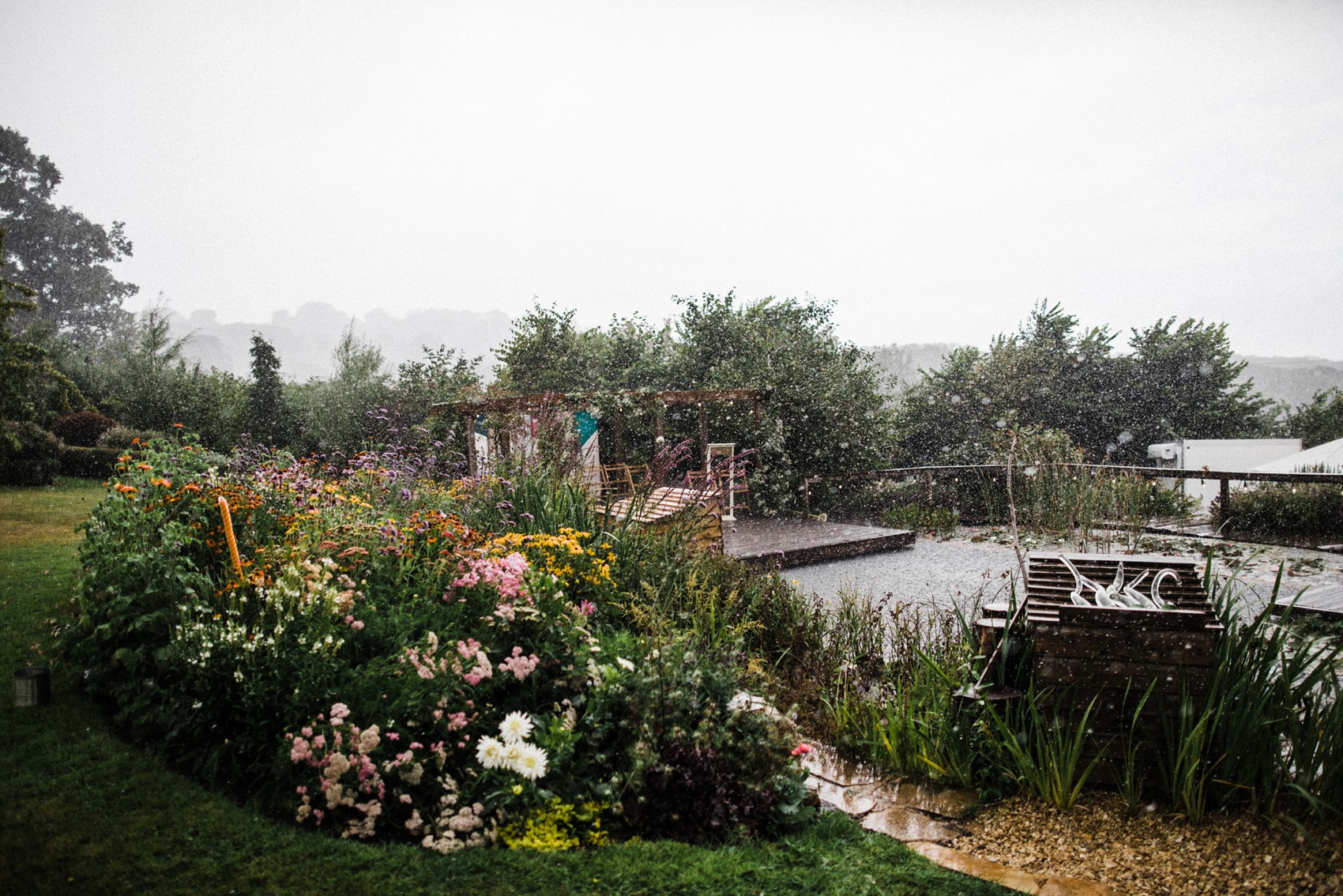 Following the ceremony, the couple and their guests celebrated under canvas in a beautifully decorated marquee that had been erected in the garden.
The space was filled with trestle tables that were topped with colourful florals and lots of lovely DIY decor hung from above. There was a gorgeous handmade rustic vibe all-round.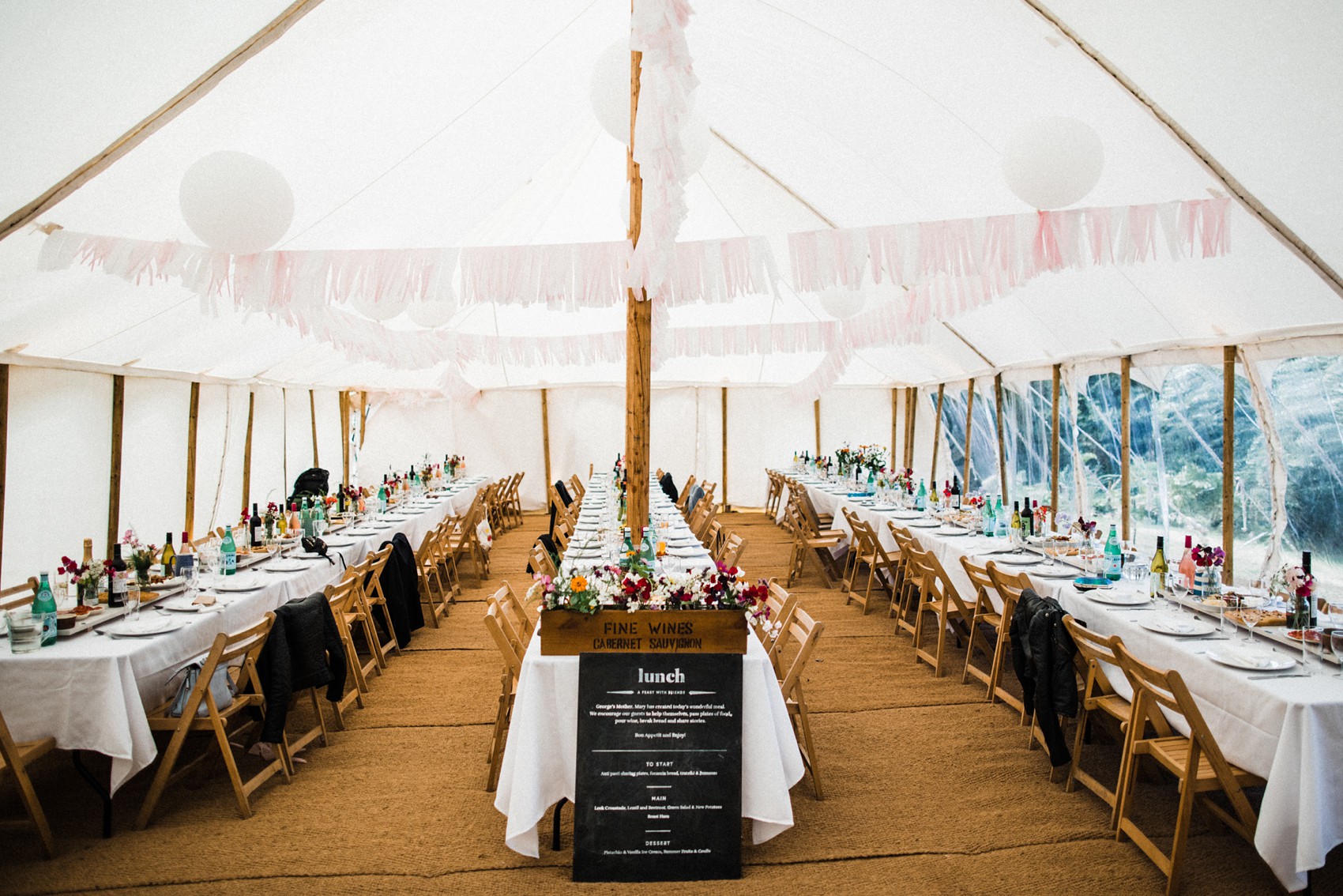 "For our table plan, we printed Polaroid style pictures of everyone of our guests to show them where they were sitting and next to who. The pictures helped identify each other if they'd not already met. It went down rather well as it was a bit of fun. The pictures varied from current to childhood snaps. With of course a few embarrassing ones in there!"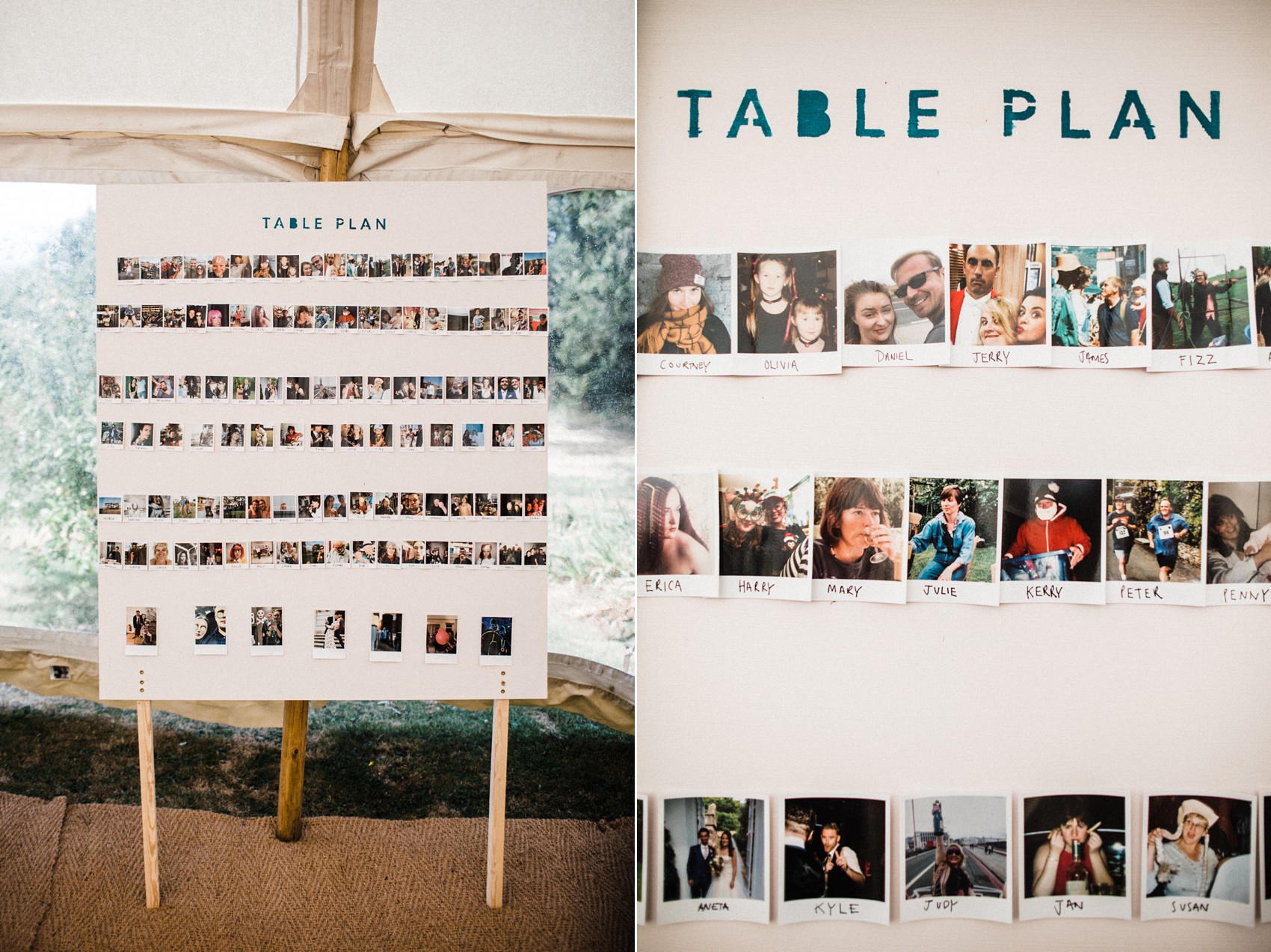 "We individually hand painted and wrote our place cards. Our menu was a simple chalk board style, but stencil painted by hand again. We also created huge balloon and tissue garlands within the tent to break the space up a little and provide movement."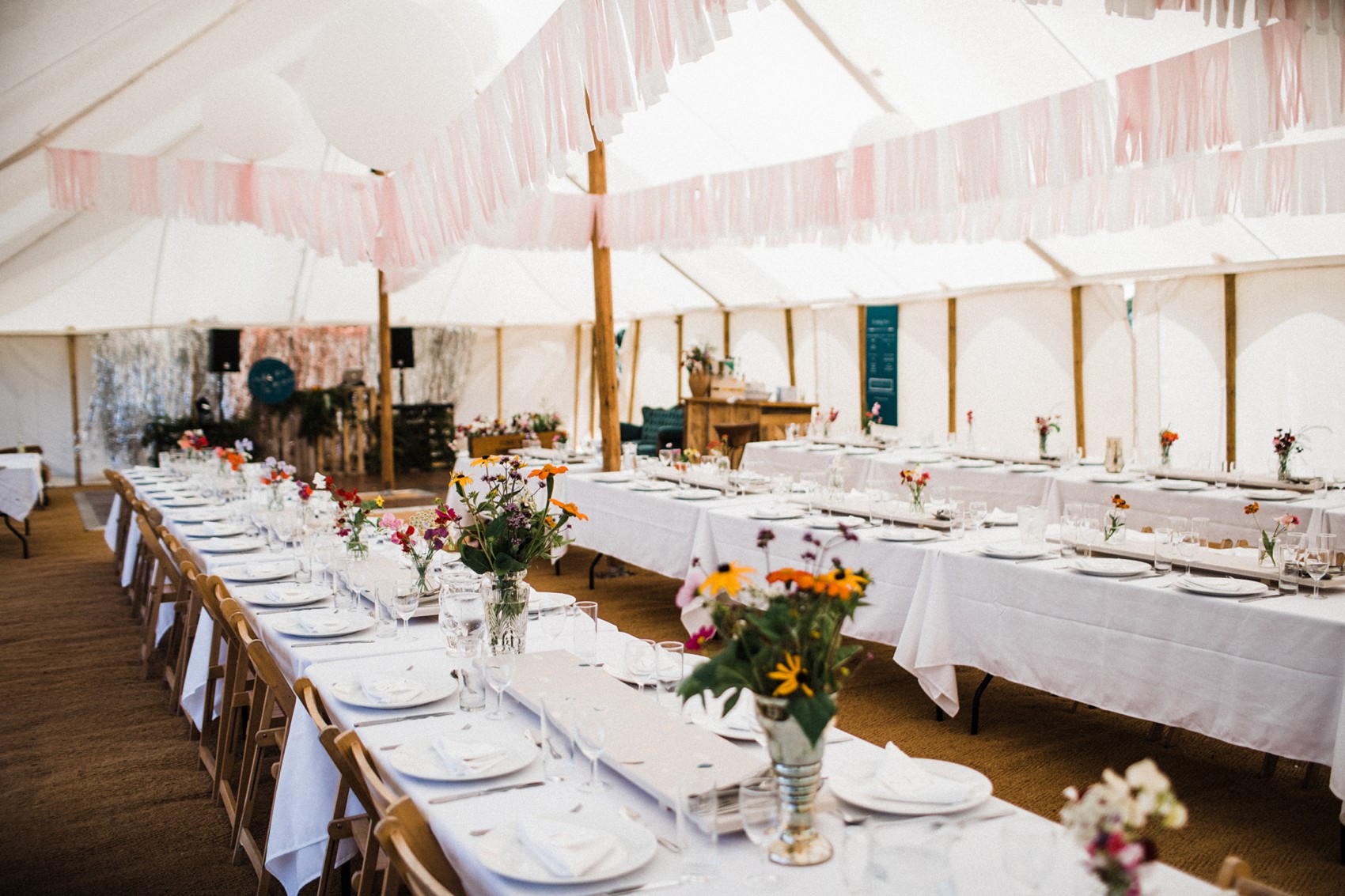 "We didn't provide any wedding  favours. We often find that wedding favours get left behind at the end of the night and therefore seemed like a waste to us."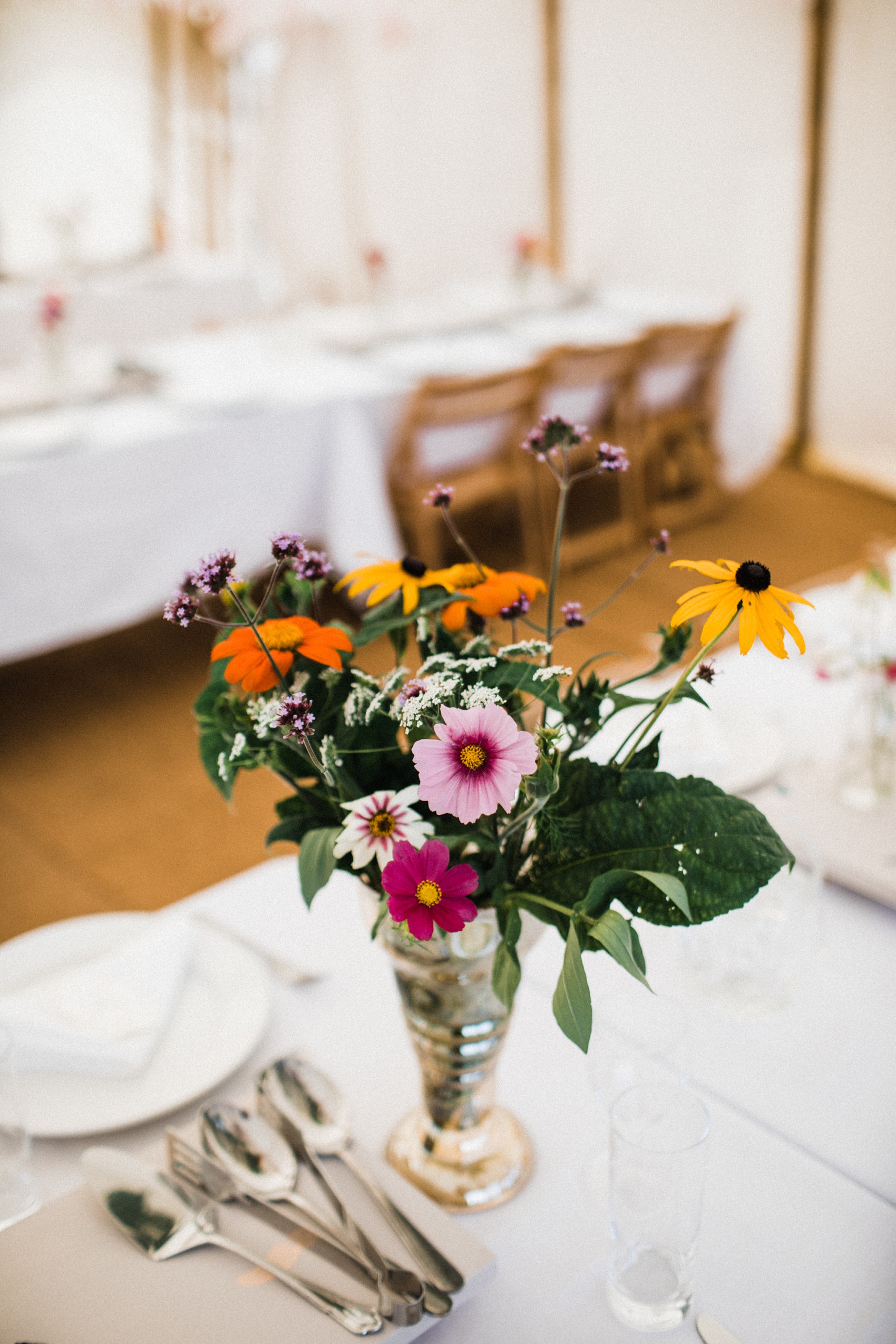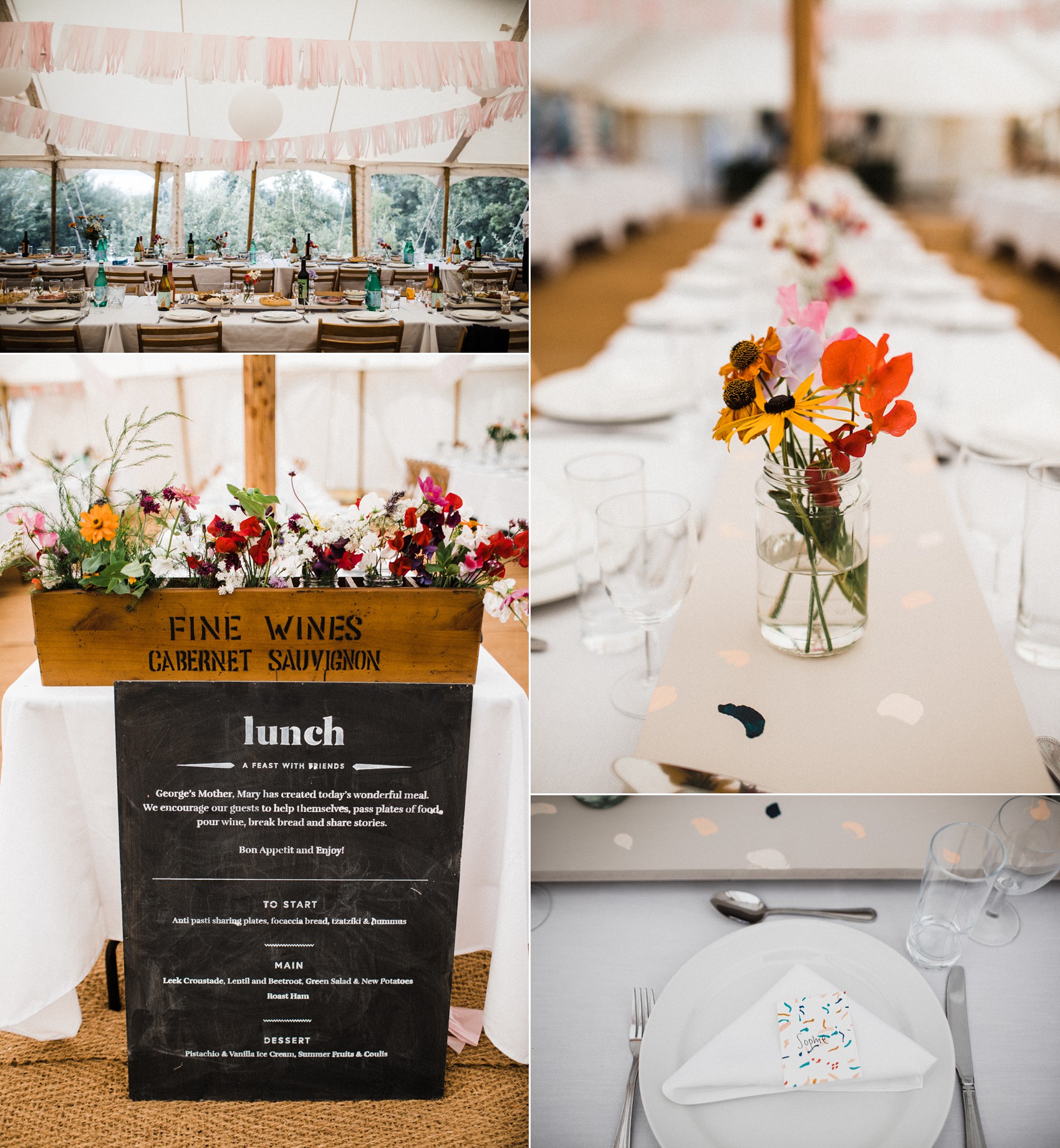 "George loved giving his speech as it was a special moment to talk to everyone he loved. In fact I loved this too as it was a wonderful moment to look around under the roof of the tent at the faces of our beautiful friends and family that had come to share our special day with us."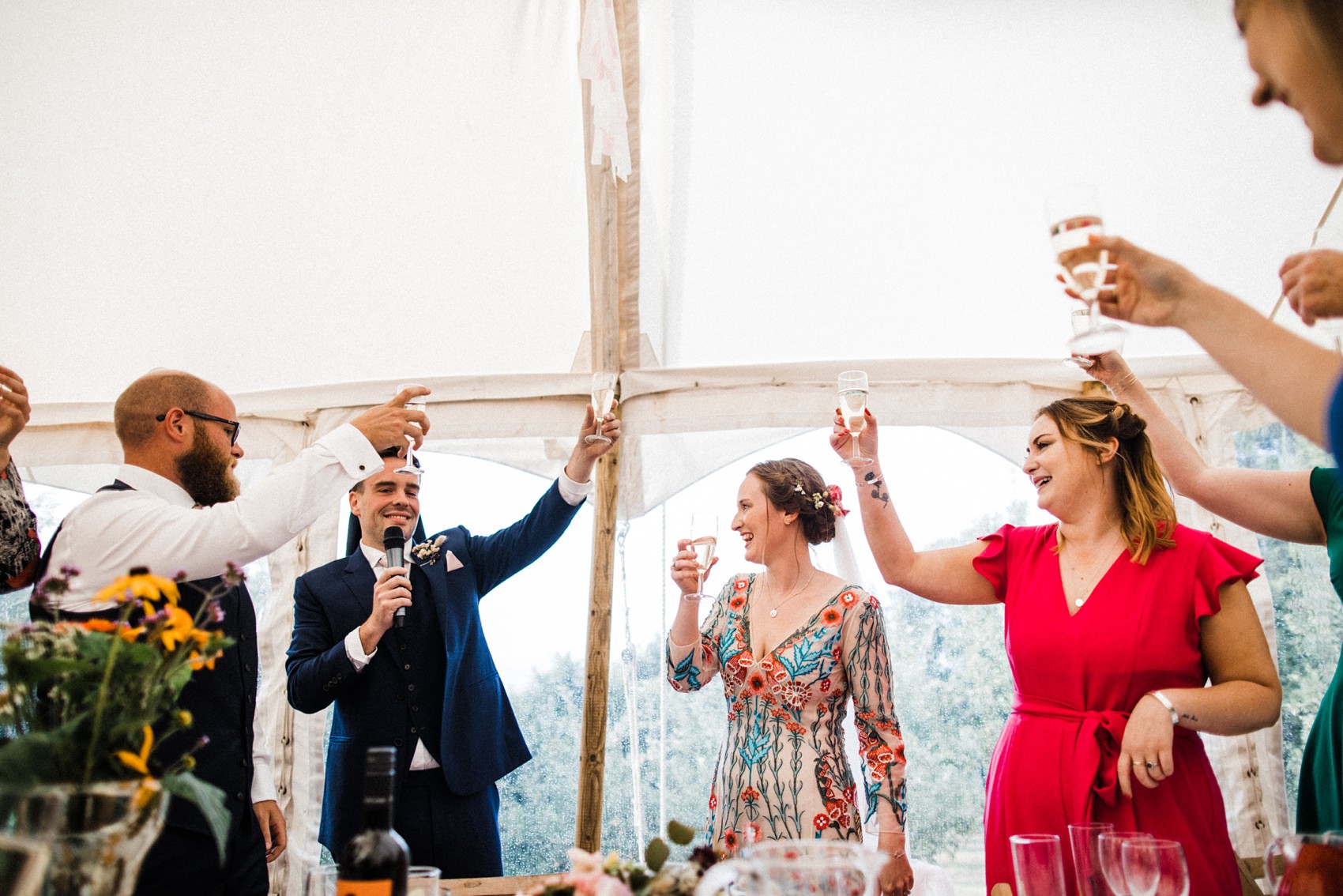 "We are very lucky in that George's mother had previously been an events caterer and therefore offered to catered for the wedding. We worked on a menu that Mary could create before hand and have a team serve on the day. Our food style for the day was a relaxed, sharing feast, predominantly vegetarian, made up of gorgeous leek croustade, wonderfully fresh salads, home made breads etc. Followed up with homemade ice creams."
The couple danced to Sister Sledge's 'Thinking of You' in the evening to encourage their guests onto the dance floor.
"We wanted a song that we loved and that had a nice tempo that would encourage our friends and family to join in."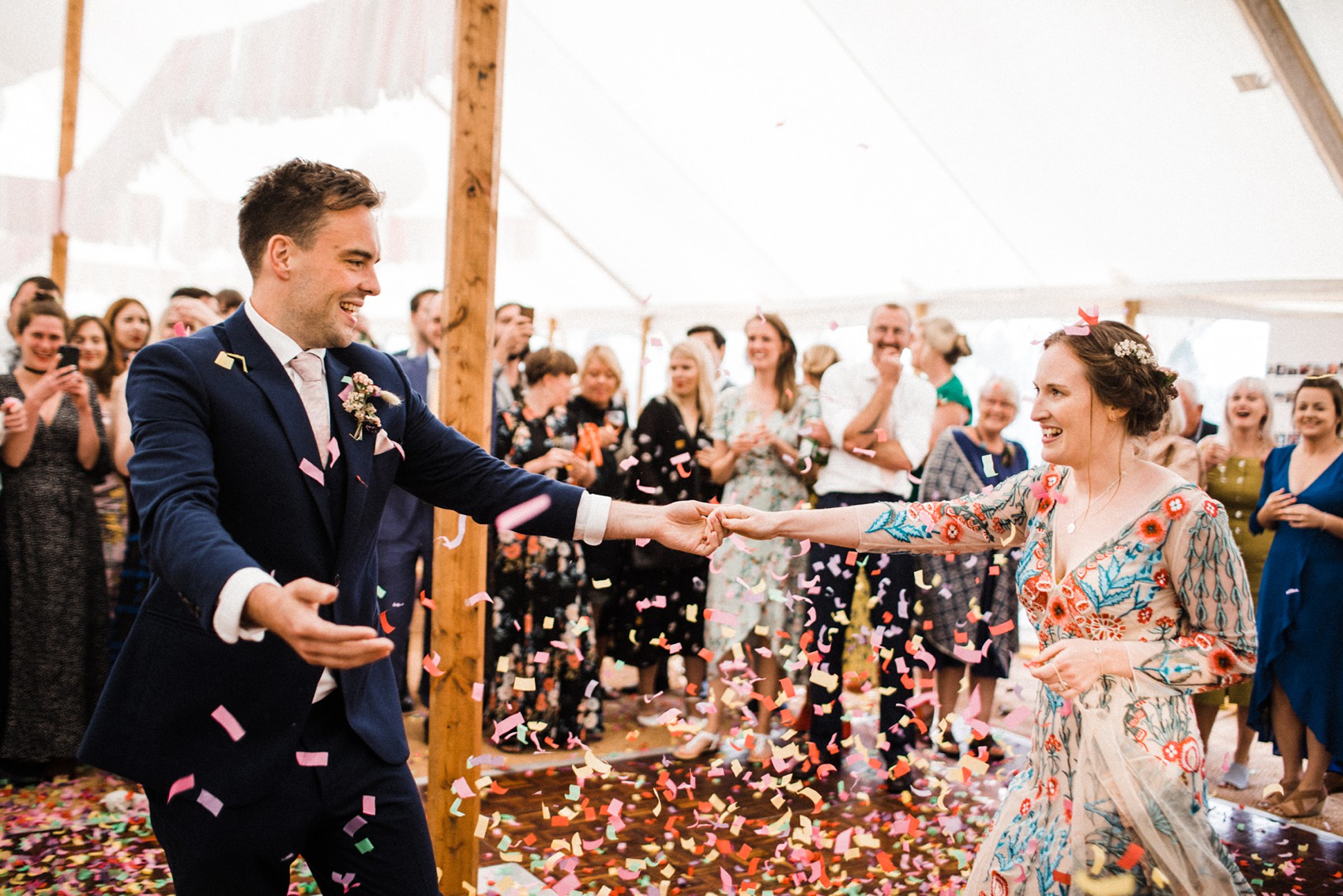 Words of Wedded Wisdom
"It would be to not focus on the details so much. And to not worry if something goes wrong. The rain on our wedding day added a giggle and some drama. We look back on it fondly."
"I wish we'd not gotten so stressed in the lead up. As long as you're with the people you love, have good food, music and drink then everything else just falls in to place.
What a divine wedding, so much joy – proof again that a bit of wedding day rain only adds to the memorable moments and doesn't ruin a thing.
My love and thanks to you both Courtney and George, I'm so thrilled we have been able to share your wedding with our community. Congratulations to you both! Also, Courtney – so encouraging to discover your love of flowers! My husband and I have our own little flower farm and smallholding too! You'll find us at @moonwindflowers on Instagram – I look forward to following your floral adventures online too.
Love Annabel x