One of the best parts of this job is that we get to support and lift up other women in business.
I gain so much from being a part of this creative and entrepreneurial female driven community – they inspire me and drive me to do better and evolve my own business in innovative and responsible ways.
It's partly why I'm super happy today to be shining a spotlight on a lovely boutique that we actually had the pleasure of first introducing you to a little while ago on Love My Dress, Fross Wedding Collections in Uckfield, East Sussex. And I'm doing so through a set of beautiful images styled by the Fross team themselves (and even featuring some of their stylists as models) that showcase their modern, glamorous, head-turning wedding dresses. I adore the decadent decay vibes in this shoot.
Fross, named after its charismatic owner, provide all the usual wedding dress services you would expect from a boutique, and they do so via a team who are completely down to earth, friendly, approachable and sensitive to the many needs, wishes and often, body hangups that us women take with us when we start out on our wedding dress hunting journey.
"Having carried out many bridal photoshoots in with typical backdrops such as woodlands, castles etc, we wanted to do something completely different. We loved the idea of having a beautiful wedding gown against something quite the opposite, a derelict building. We thought the contrast between the two would be very effective, in turn creating very eye-catching images."
The boutique has a light and airy feel and offers both a  welcoming and spacious feel as well as intimate spaces where you can try dresses on away from prying eyes and within your own privacy.
I know, from having worked with Fross myself now over the past few months, that the welcome  you'll receive at this lovely boutique is one you'll be grateful for, whether you're sold on a dress already or arrive having absolutely no idea where to start looking.
Watters
Let's take a virtual wander around Fross Wedding Collections in the company of owner Fross who can tell us more.
"A lot of our brides are 'starting from scratch' when they visit us and have no idea what they want so we encourage everyone to try on lots of styles from different designers and, with our help and guidance, they find a gown that suits their personality and body shape."
Eddy K
"Even brides who come to us with a certain style in mind will surprise themselves and go for something else, particularly when they try on a 'wild card' gown which is far from what they ever thought they would consider. But, when they wear the gown, they fall in love."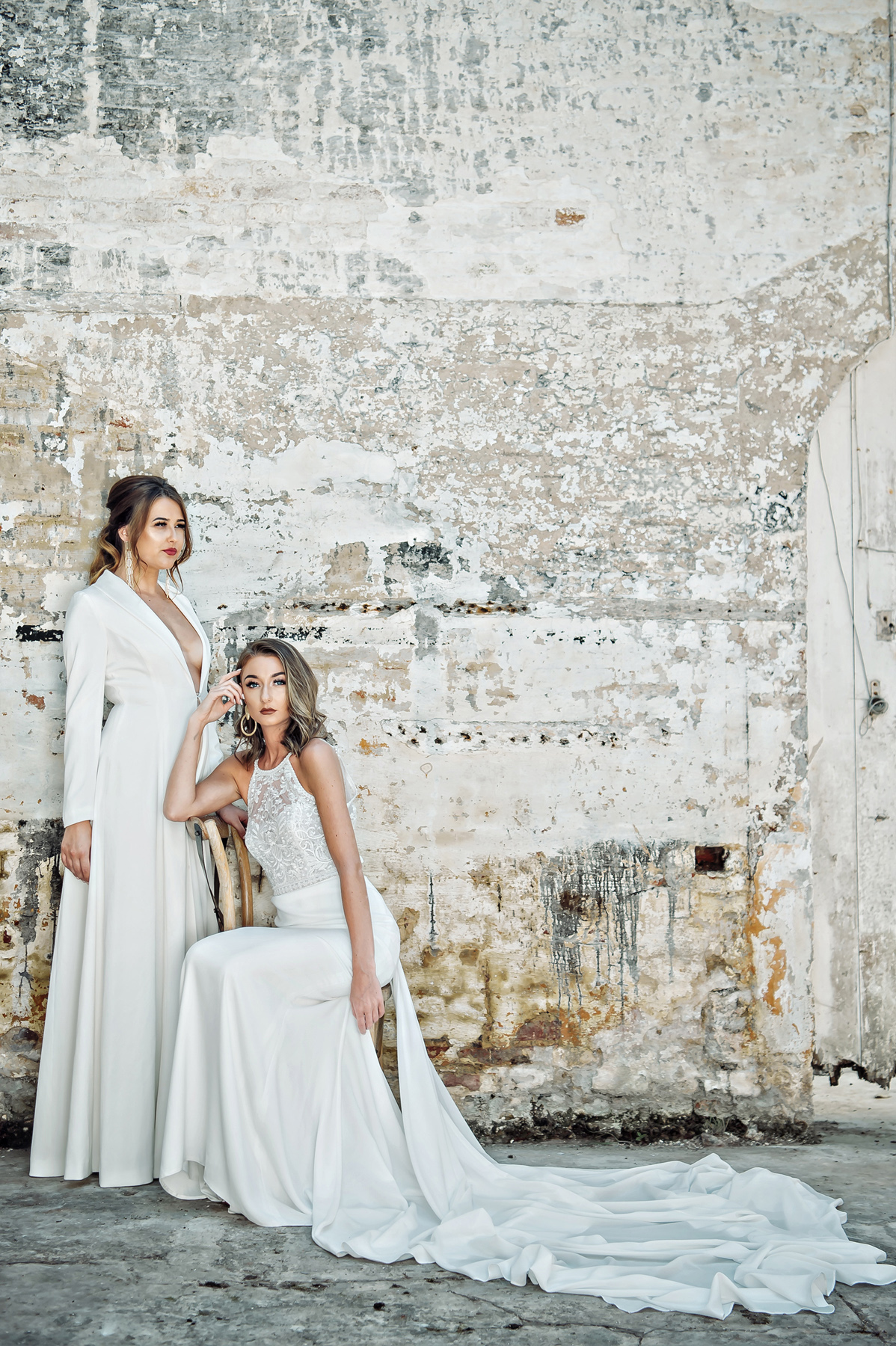 Watters + Aire Barcelona
"When brides first visit us, they're always surprised at the range and variety of gowns that we stock. We're often told how lovely it is to see a collection that encompasses all different styles from classic and contemporary to bohemian, romantic, and more."
"We're proud to stock designs from world-renowned designers and they all offer our brides something different. Aire Barcelona is all about feminine, figure-hugging designs with delicate detail. We love these dresses and their 'beach collection' designs are all perfect for a destination wedding."
Watters
"Eddy K dresses come from Milan, the fashion capital of the world and the dresses range from sophisticated couture gowns to elegant destination dresses. We also stock Nicole Sposa and these collections are fresh and full of trend-led details. Don't miss the impeccable lace detailing and sophisticated elegance of these dresses."
"We're proud to be the Sussex stockist of Justin Alexander and there's no compromising on quality with these affordable couture gowns. We love the glamorous Old Hollywood influence found in his gowns and the vintage-inspired yet contemporary designs."
Justin Alexander
"The Dutch label of Modeca & Le Papillon is proving very popular and they've come a long way since their first days as a shop in the Netherlands that sold lace, buttons and other little knick knacks. These hand-crafted bridal designs are absolutely gorgeous."
"Finally, I have to mention Watters & Wtoo, the newest designer to the boutique as they've definitely impressed! These dresses offer drama, comfort, versatility and a big dose of fashion-forward individuality."
Watters
I hope this provides a useful insight as to what you can expect when visiting Fross. Time to plan a trip to Sussex and enjoy shopping for your wedding dress with your girl gang.
Now's the time to book your appointment at Fross Wedding Collections and you can do that here. You can also find out more about the boutique and the collections on their website.
Love Annabel x