Today we are heading to the deepest Cornish countryside for a marriage which is so achingly beautiful I can't stop looking at these photographs.
If this wedding doesn't have you contemplating a rustic yet styled wedding in Cornwall (as well as craving a slinky wrap in blush pink, just like me), then I don't know what will. This is the wedding of fashion buyer Robyn and Alistair, a director of a wealth management business, who wed on 18 August at the most charming and quaint of Cornish venues, Nancarrow Farm, near Truro.
Photography Ross Talling Photography
Their intimate, morning civil ceremony was attended by their closest family and friends before the party grew for the afternoon humanist ceremony. Joyful and lively, it set the scene for the relaxed outdoor party which extended long into the summer night.
"We both really wanted a countryside wedding having both had a rural upbringing (a stark contrast to living in London now!), and coming across Nancarrow's website it felt perfect. So many barn weddings feel very sterile and purpose built but this had total charm and charisma. We also loved the focus on food and the outdoor kitchen, as we both love food and knew this would be a big part of our day!"
For her second ceremony, the bride wore Rime Arodaky bridal separates in pure white; a sheer overlay delicately embroidered with foliage and flowers over a simple, cropped cami top and a matching silk skirt with the loveliest of puddle trains. Doesn't her outfit ooze contemporary, laid-back elegance? By the way, Annabel, our founder, met with and interviewed Rime last week in London! Keep an eye on our brand new 'LMD Collective' (that's our content creation agency) Instagram account for me.
"I wanted something that felt quite modern so fell in love with the skirt and top combination. I also loved the intricate floral lace which worked perfectly against the rural setting."
Nancarrow Farm is the most wonderful mix of laid-back countryside charm with beautiful, established gardens and style-able spaces, meaning the couple could infuse the day with their own taste and style.
"All of our suppliers came directly from Nancarrow Farm's recommendations. We felt it was important to work with people who knew the venue and we completely trusted the Nancarrow team's judgement."
"We wanted it to feel very relaxed and us so just went with what we liked on every decision."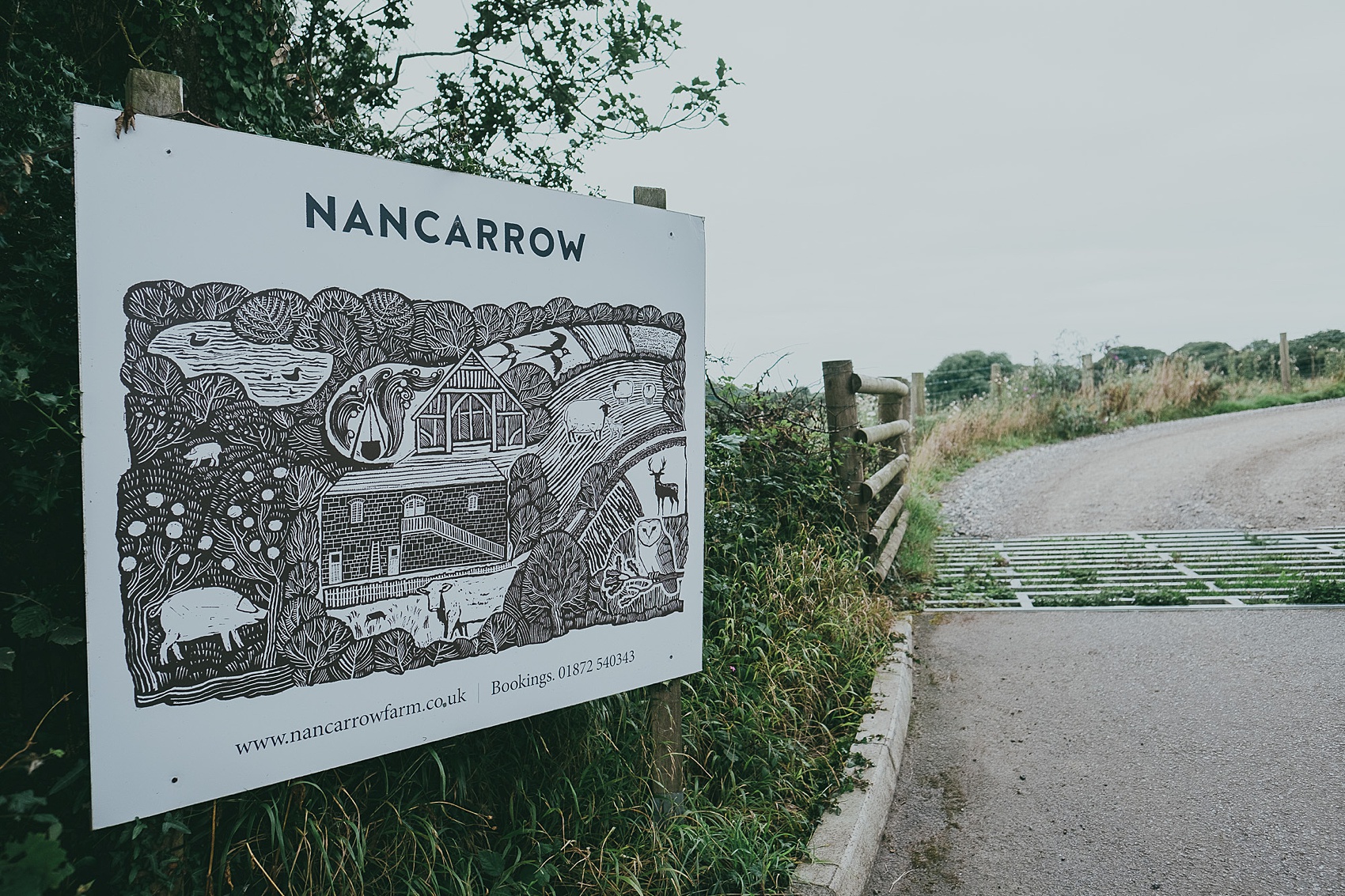 Robyn and Alistair met through mutual friends, and got together a couple of years later.
"Alistair proposed on my birthday about 18 months before our wedding. He originally made out that he hadn't given my birthday much thought, which offended me, but then claimed to have booked dinner at a local restaurant. We organised to meet in the pub beforehand where he surprised me, firstly with a group of our close friends arriving and then with tickets to a gig around the corner for my favourite band, The Pixies. It was in the middle of the gig that he proposed surrounded by some of our closest friends."
For a relaxed look, her long blonde hair was styled into glamorous waves by Jo Ennis at Gold Bird Hair and her makeup was defined yet natural, the work of make-up artist Chloe Drew.
The intimate ceremony was held in the barn in front of the couple's closest friends and family. The bride and her father walked in to the wonderful track 'You're So Cool' by Hans Zimmer from the couple's favourite film, 'True Romance'.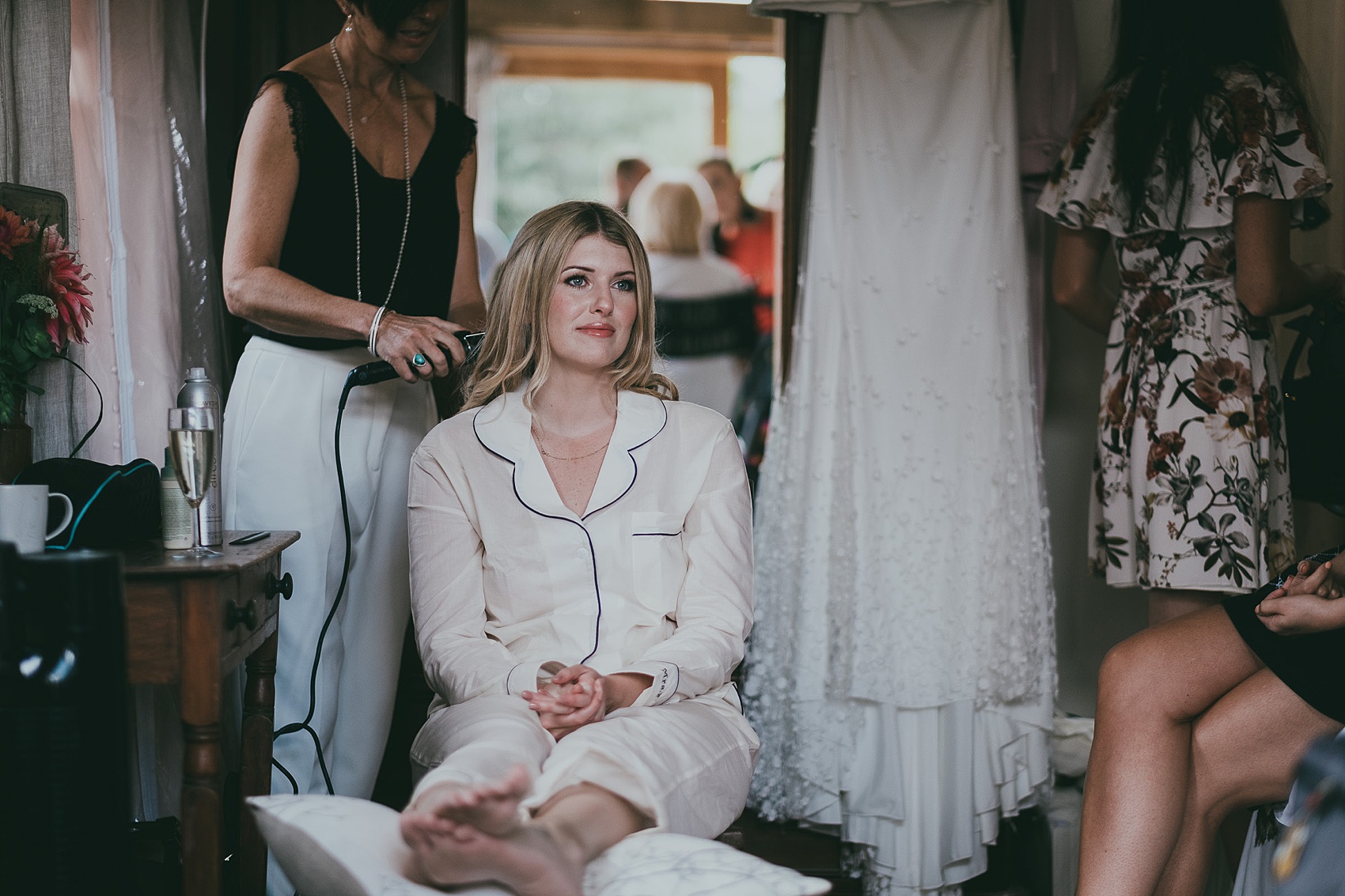 As the wedding day included two ceremonies, fashion buyer Robyn was able to choose two of the most beautiful gowns. I adore both of them and cannot get over how achingly hip yet relaxed she looks in her blush pink, silk Nanushka dress, her choice for the civil ceremony in the morning.
She added block heels in patent white by Prada and wore her everyday Maria Tash earrings and Byredo Gypsy Water fragrance.
"Ali also bought me a pair of diamond earrings as a wedding gift."
The entire day was caught on camera by Ross Talling Photography, whose reportage style and natural approach offers us such an intimate and romantic insight into the day.
"Ross Talling was AMAZING. He made us feel completely at ease and comfortable in front of the camera. He perfectly captured everything about the day – the tone and everyone's bonds and relationships. I especially love the photos he took of my dad and I."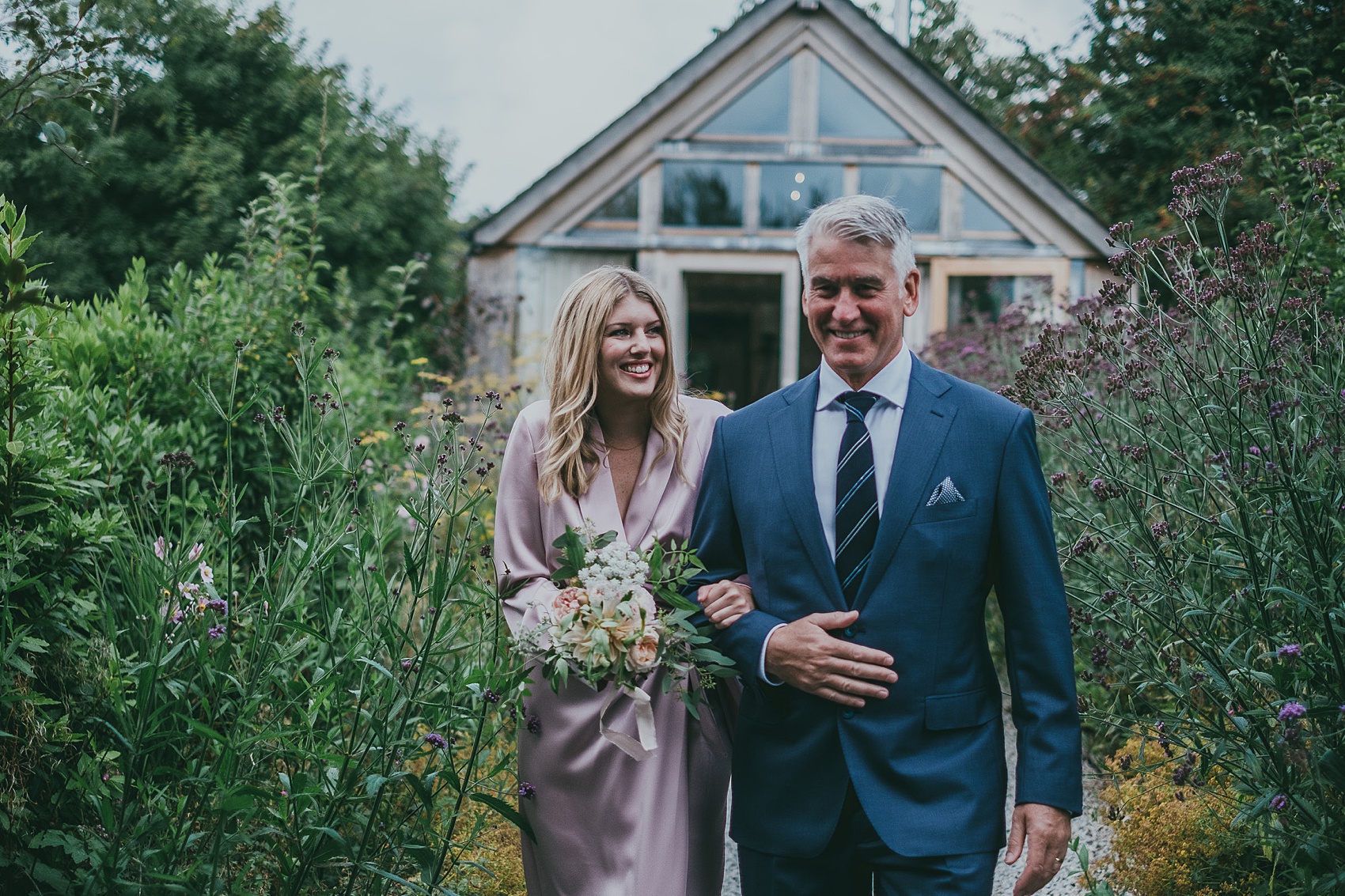 "I left booking the registrar quite late and so we ended up getting legally married at 10am with just immediate family and the wedding party and then had a humanist ceremony later in the afternoon, which all our friends and family joined."
" The morning was very intimate (and emotional – I cried), whereas by the time the afternoon came around we were much more relaxed and able to kick back and enjoy what was happening."
In preparation for the wedding, groom Alistair commissioned a sharply-cut Thom Sweeney suit in soft blue which he wore with an Emma Willis shirt, a grey tie from Charvet, cufflinks from Alice Made This (one of our Little Book suppliers) and shoes from John Lobb. His finishing touch was a wild and natural buttonhole of grasses and foliage, by 3Acre Blooms.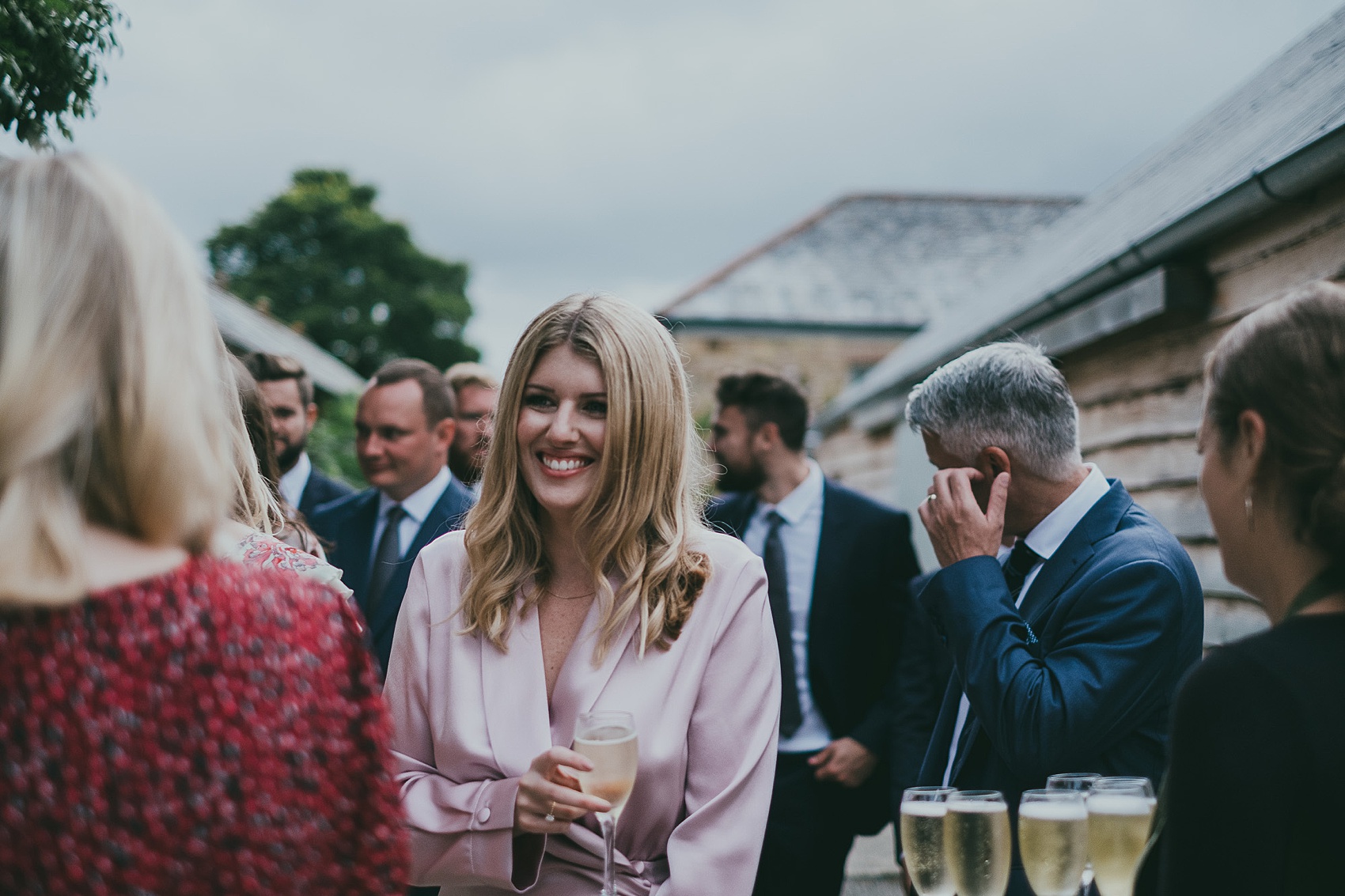 After the morning ceremony, there was time for the couple to draw breath, relax together and nourish themselves on delicious, seasonal food before the afternoon ceremony began.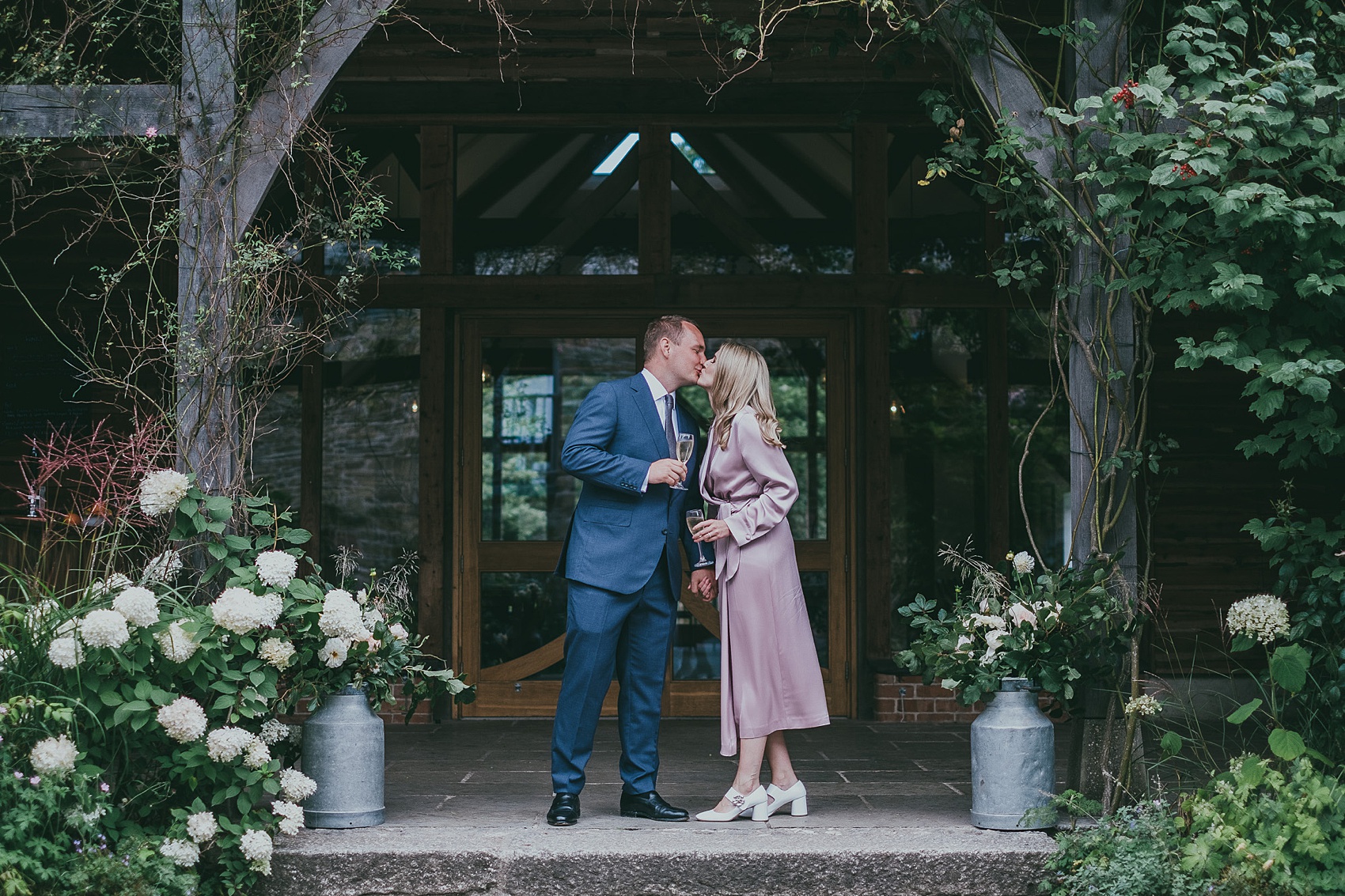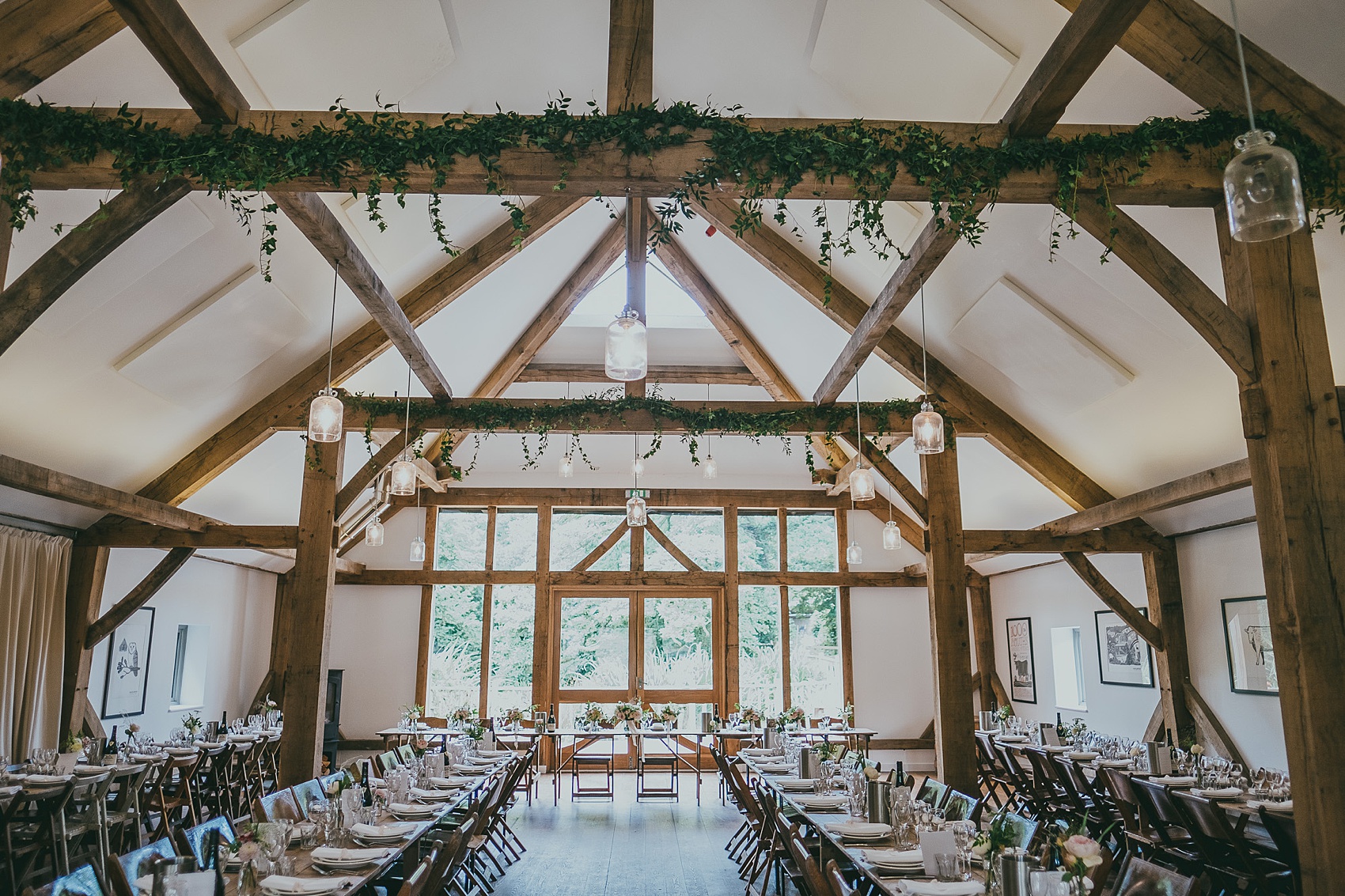 Robyn and Alistair took inspiration from the abundance of greenery and white and pink blooms in the gardens. They asked floral designer 3Acre Blooms to create the beautifully undone floral decorations (including these utterly gorgeous floral hoops) which adorned the ceremony space and reception barn.
"3Acre Blooms were an absolute pleasure to work with! All their flowers are home-grown and nothing is imported, therefore all of our flowers were in season. I wanted them to be fairly undone to go with the more relaxed styling, and in neutral tones and blush pinks to match the flowers growing in the courtyard of Nancarrow Farm."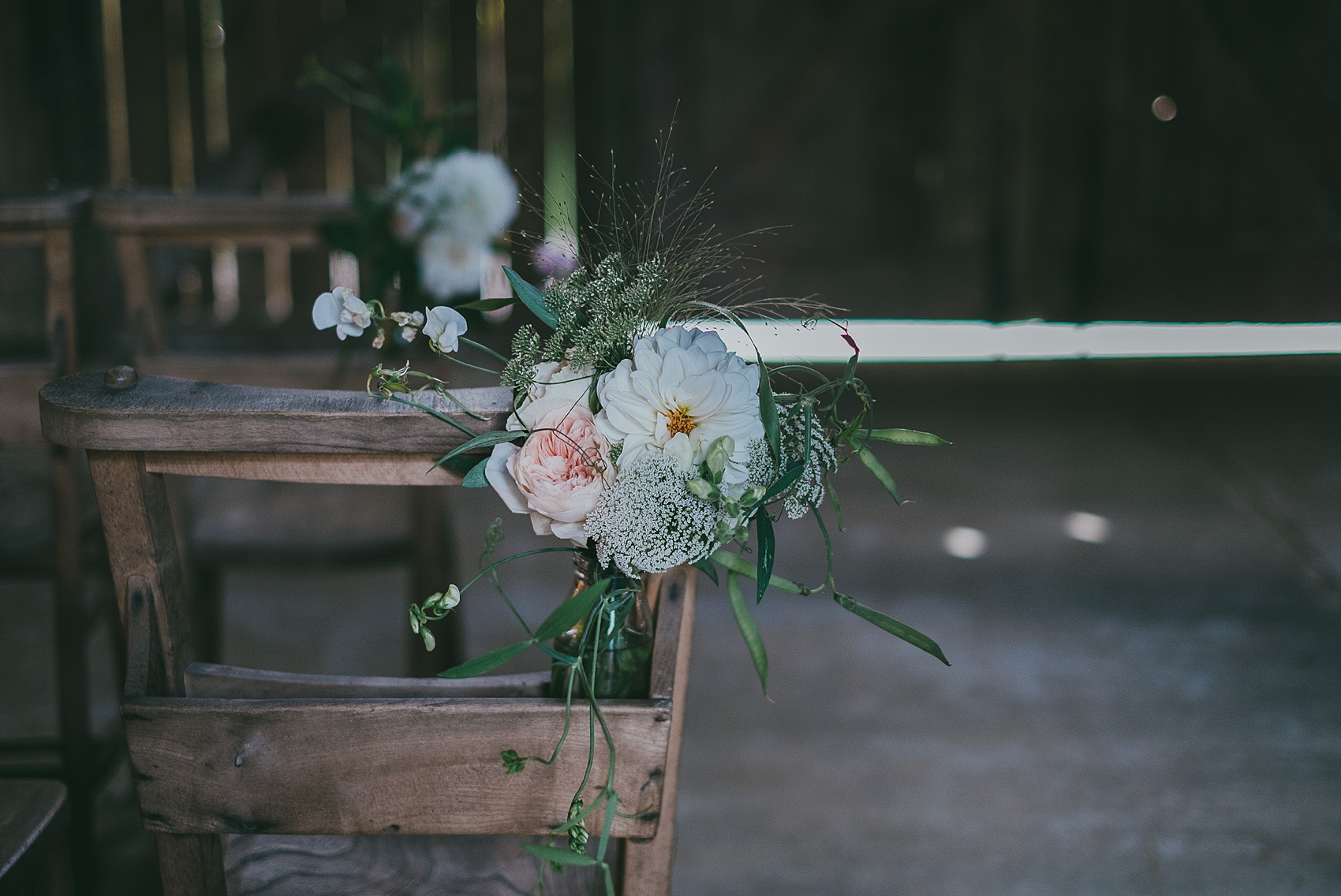 The bridesmaids wore buttoned dresses with open backs and soft, fluttering sleeves from Maids To Measure.
"The girls all had loose blow-drys and my sister (my maid of honour) wore one of my Eugenia Kim gold statement hairbands."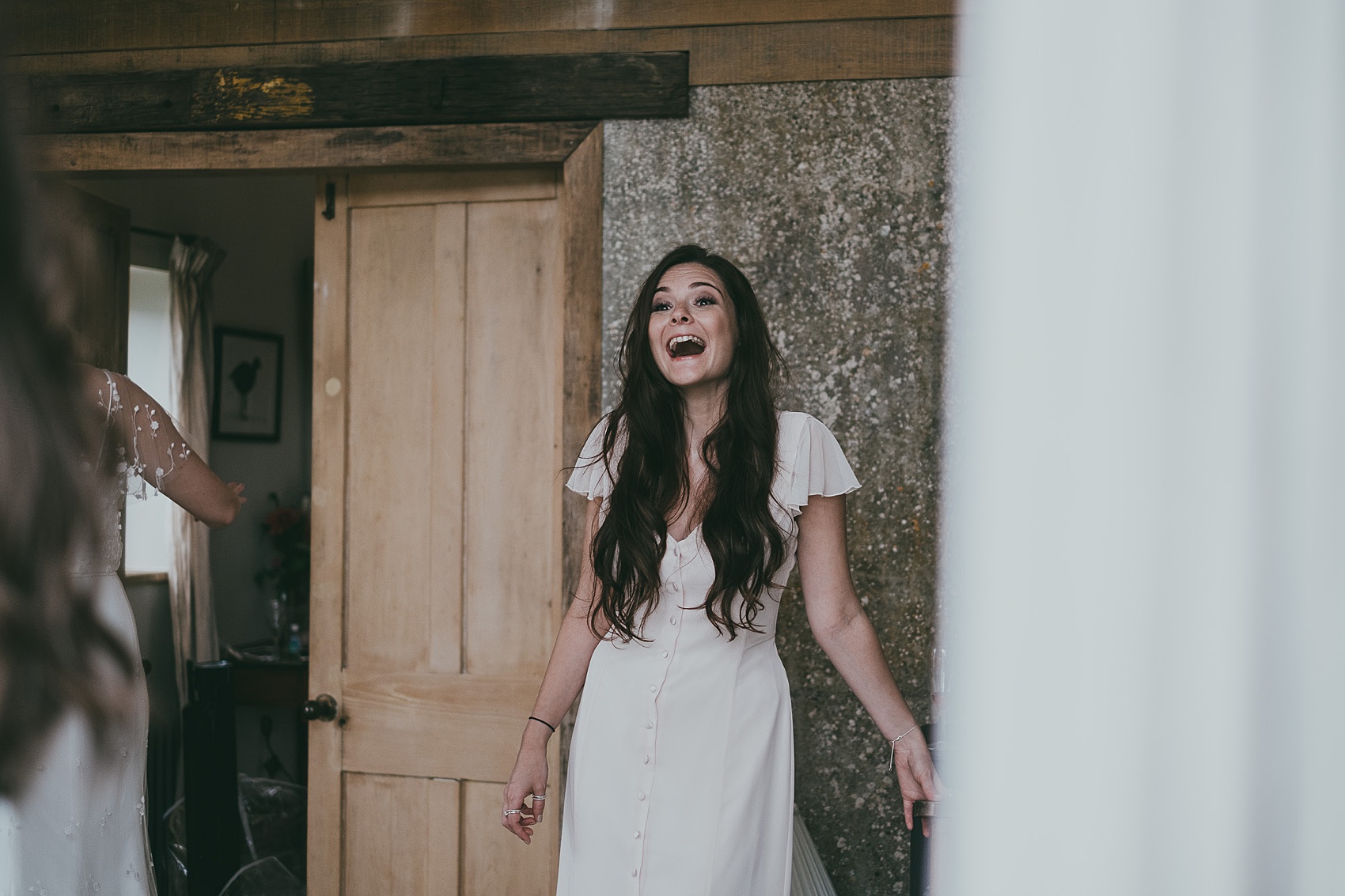 The bride added the sheerest of veils, which she swapped later on for an elegant Rime Arodaky headpiece.
"My mum had my veil made for me by Emma Tindley, a bridal shop in my hometown East Grinstead."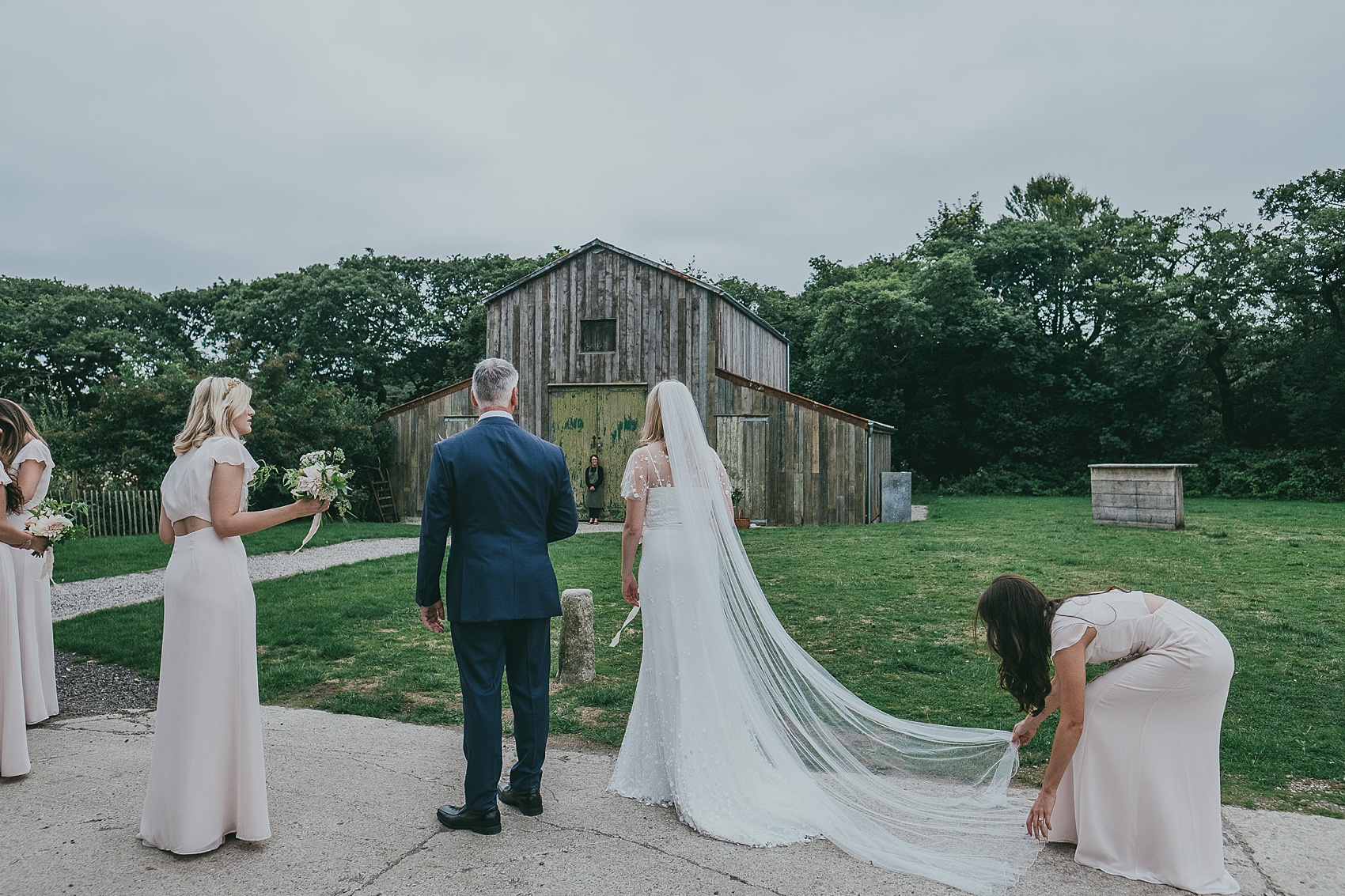 Robyn chose to walk in to the afternoon ceremony to 'Sweet Thing' by Van Morrison, and humanist celebrant Carrie Langford led a personal service.
"For the humanist ceremony, Carrie met and chatted with us a few months beforehand so she was able to share some lovely details of our life together and memories. This was great, particularly for some people we aren't able to see all the time and got a lot of laughs from the audience!"
"One of our readings was a poem from Kate Clancy called 'Patagonia'. Patagonia has always been our bucket list trip and where we went on our honeymoon."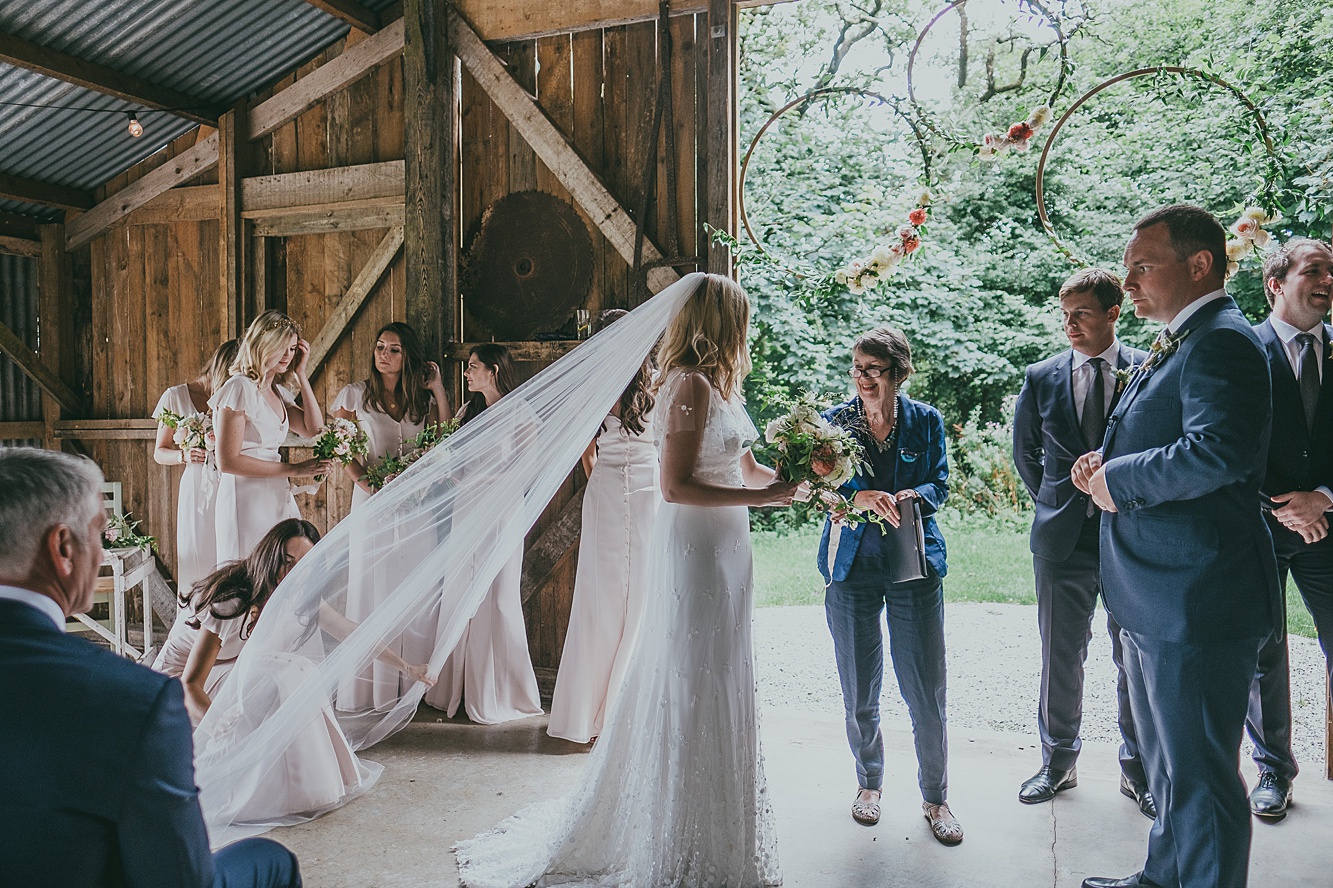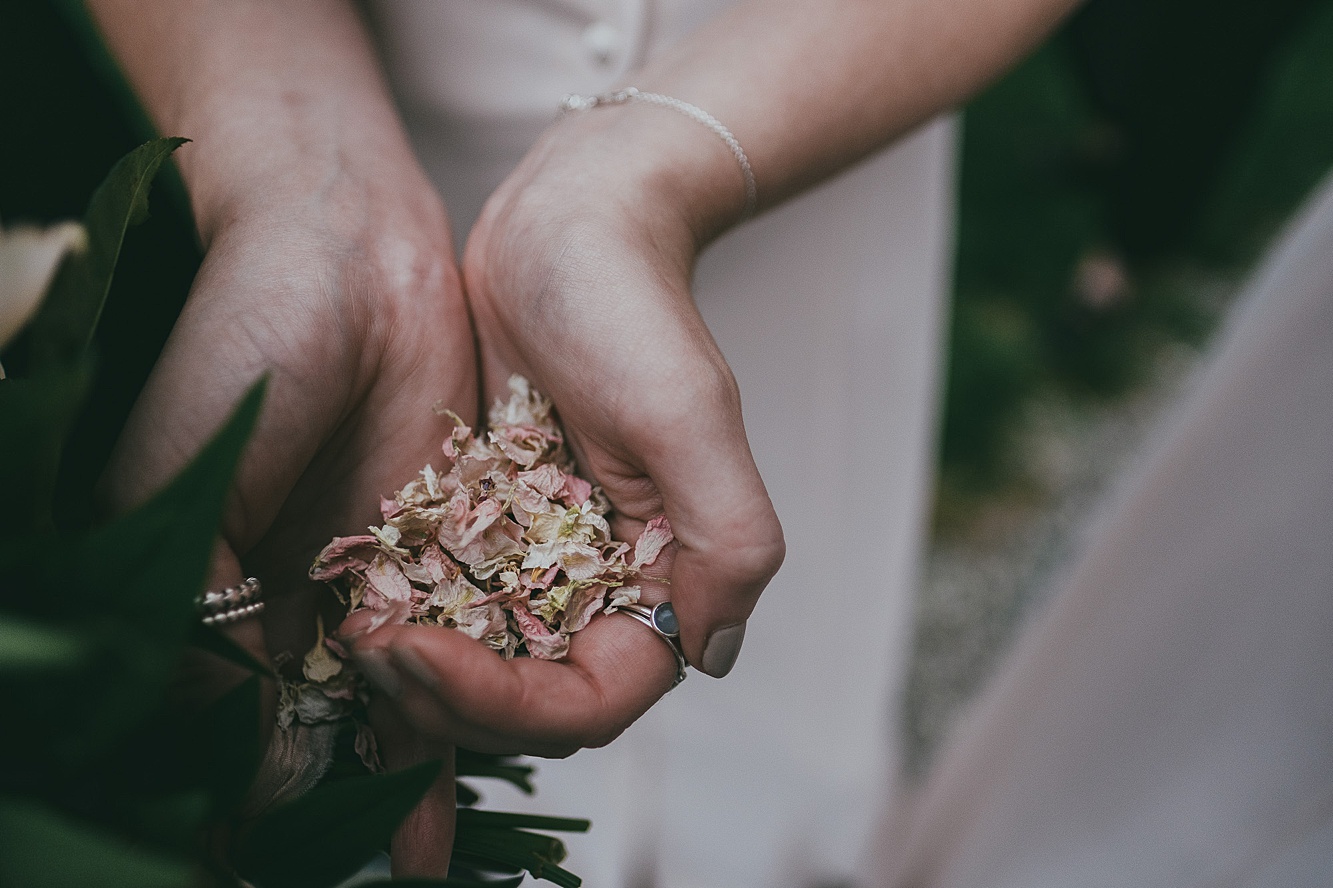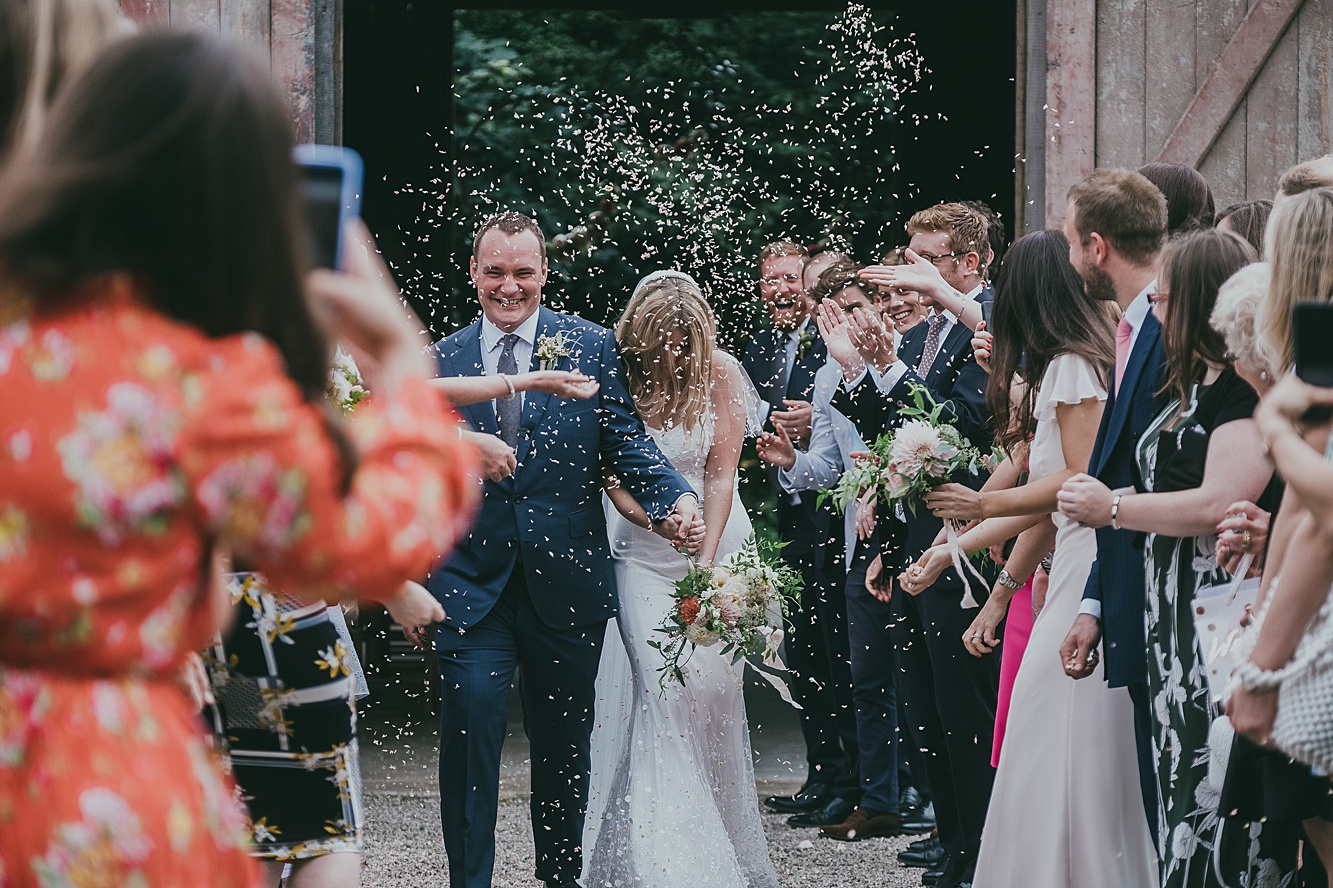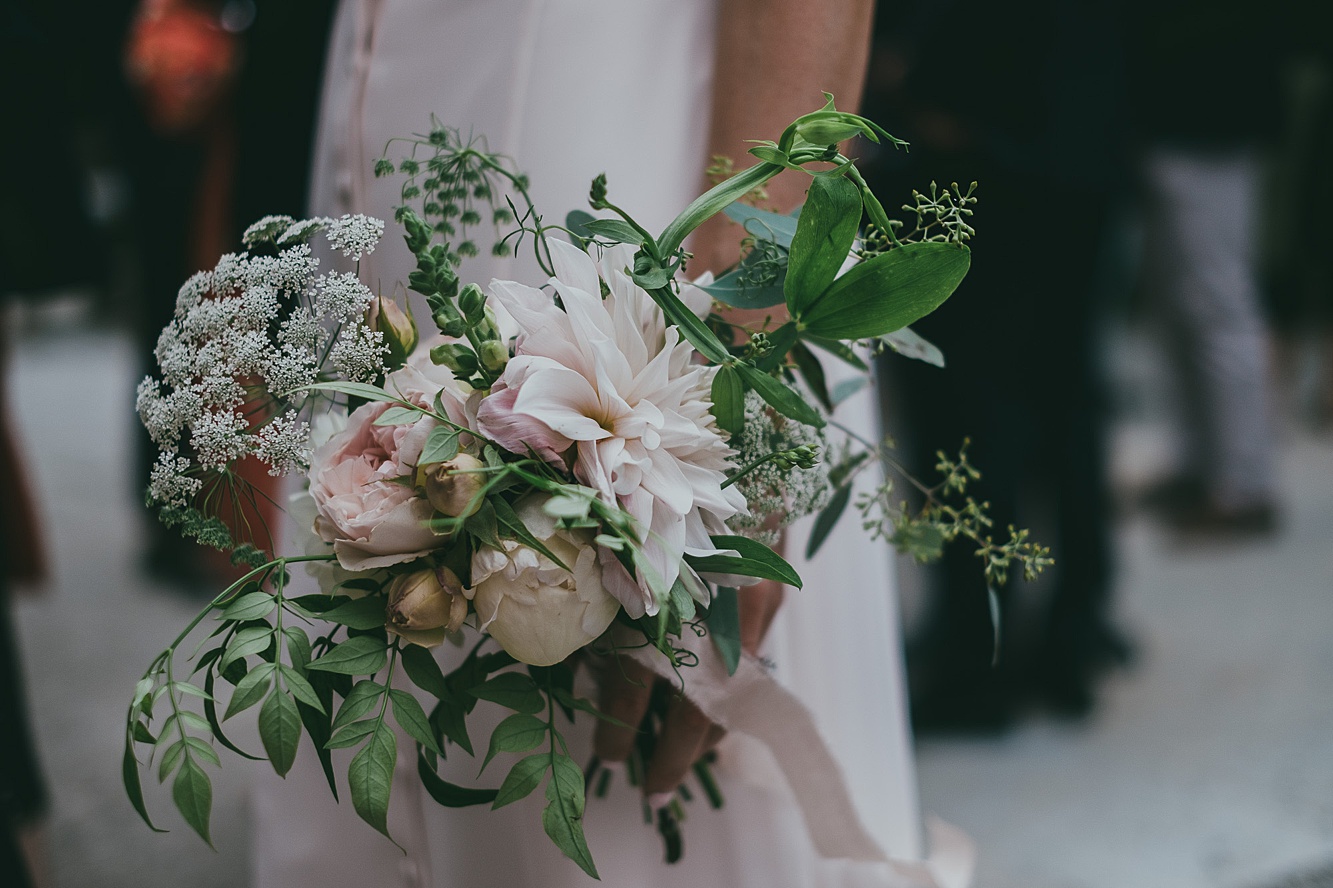 The guests spilled out in to the farm's courtyard for live music and delicious food.
"Tom Dale played during the afternoon while everyone had drinks and canapés – we originally heard him play at one of Nancarrow's feast nights."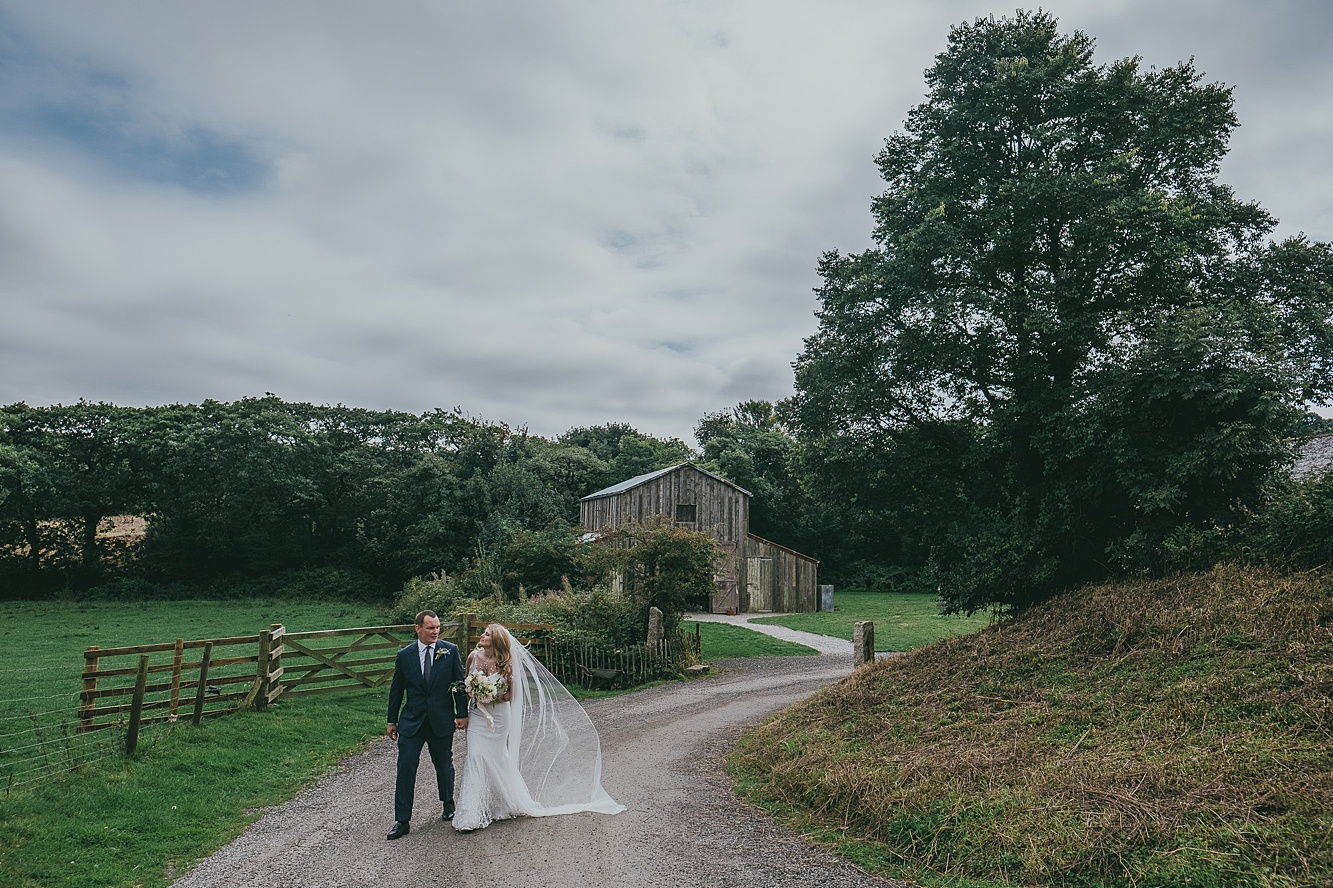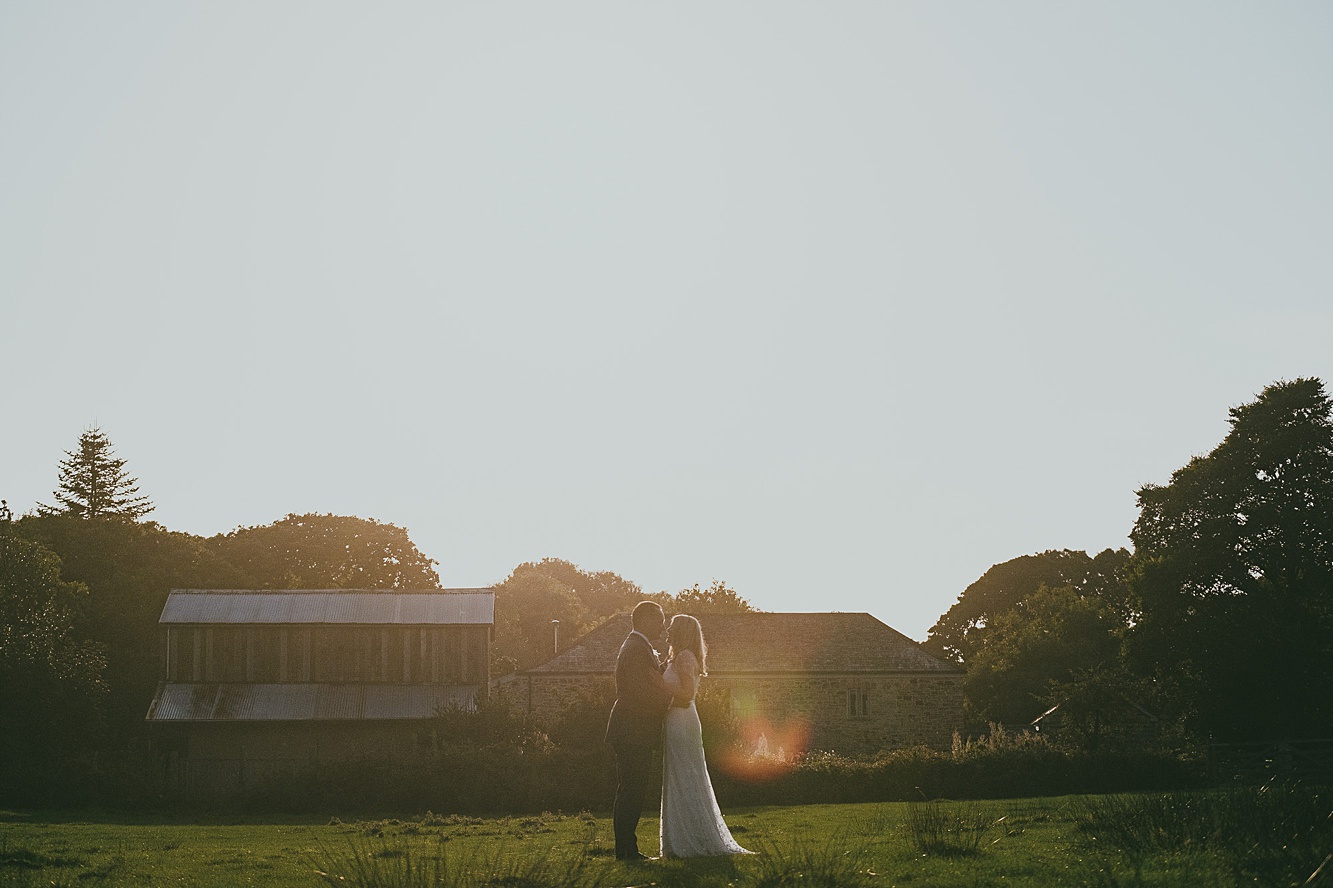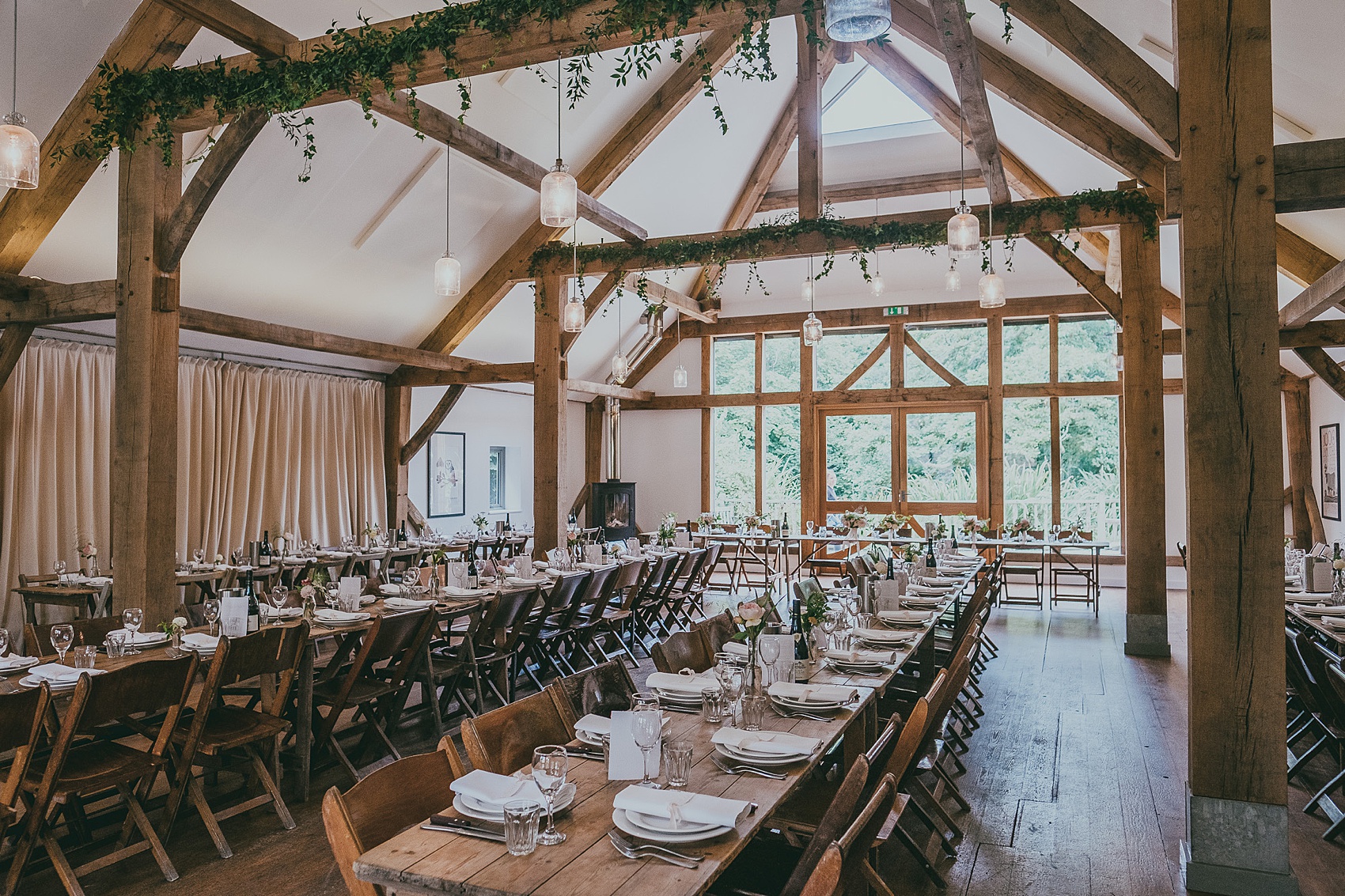 The stationery, created by Vine In The Wild, was pared-back and simple, featuring precise calligraphy on handmade paper for a rustic and stylish vibe.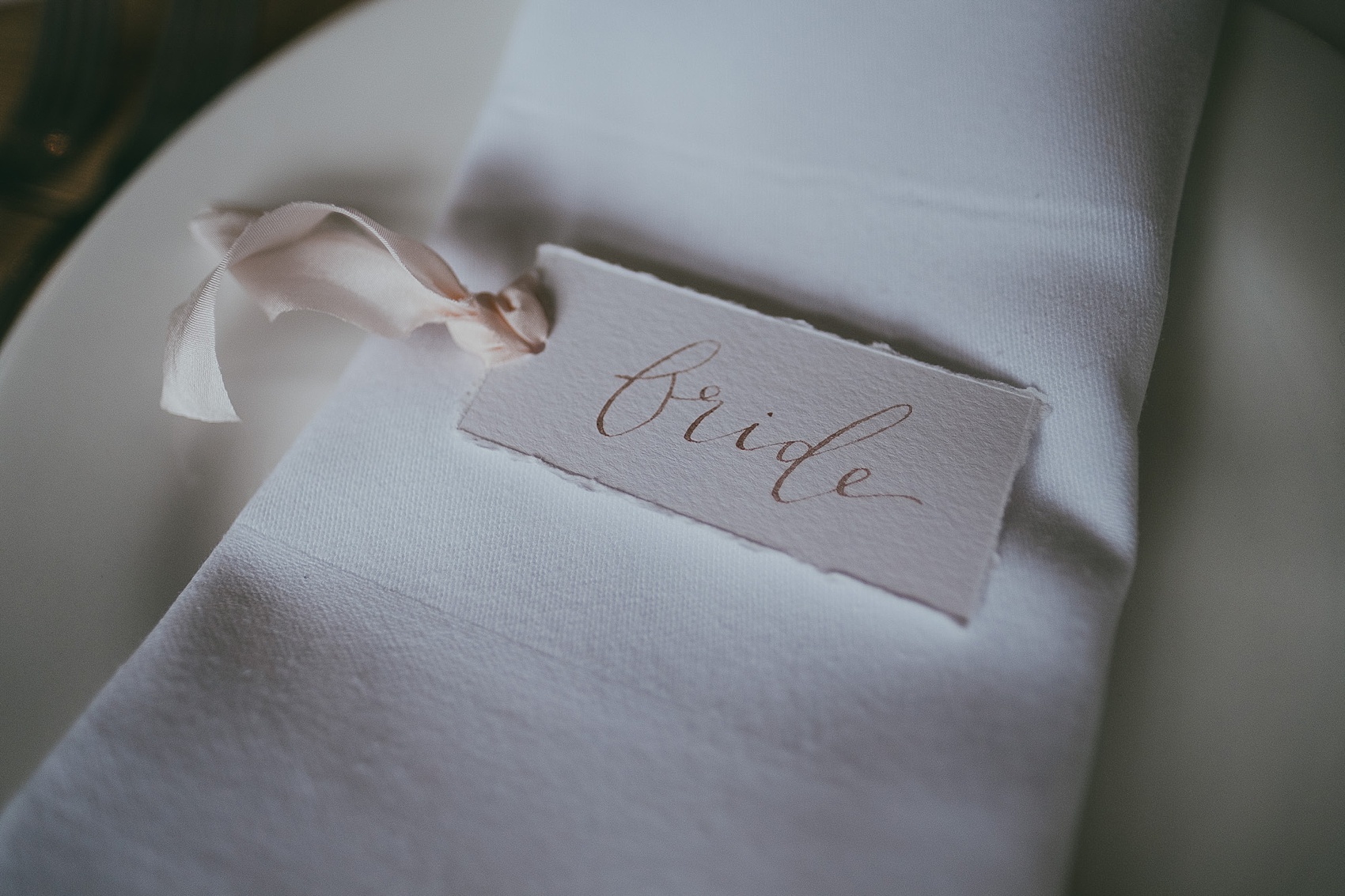 The guests sat down to long trestle tables, decorated with yet more full-blown flowers, for the wedding breakfast from chef Darren Broom and his team at Nancarrow Farm.
"As neither of us have much of a sweet tooth we opted for a tiered pork pie cake, which was made by chef Callum at Holborn Dining Room. This was by far the biggest spectacle of the wedding and we still have everyone telling us how much they loved it!"
Having their friends and families surrounding them on such a special day was so important to Robyn and Alistair, and was their favourite element of the day.
Later in the night, after the cutting of the pork pie cake and some beautiful, tranquil portrait shots together as the sun went down, Robyn and Alistair had their first dance together.
"Our first dance was 'Beast Of Burden' by The Rolling Stones. It is Ali's favourite song and always makes it onto playlists wherever we go."
Day turned into night as the newly-weds and their guests danced to music from Fistral Stereo.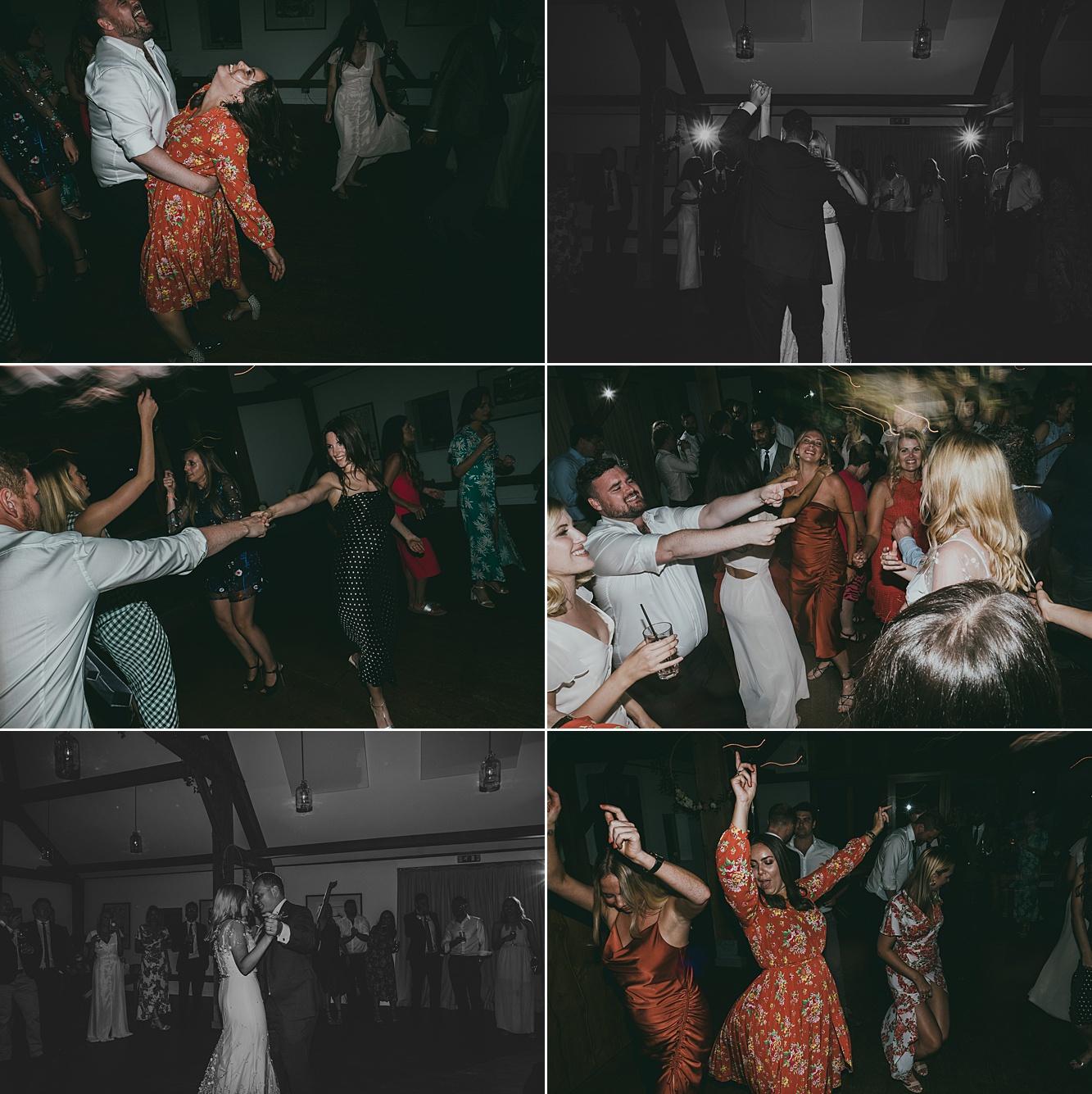 Words of Wedded Wisdom
"Please try to relax and enjoy the build up! I found wedding planning pretty stressful and overwhelming. I'm not much of a party planner and am much more comfortable as a guest than a host. I was so worried that people wouldn't have fun or something would go wrong but I really shouldn't have worried."
"Try lots of different make-up to find something you are comfortable in. I must have gone to a dozen shops and counters before I settled on the right foundation (I used Laura Mercier as it gave good coverage but wasn't too heavy). Also, use your own makeup so you can touch it up throughout the day – especially good if there are any tears or it smudges from hugging people."
Oh Robyn and Alistair, thank you so very much for sharing your beautiful day with us all. I'm so in love with both of your wedding gowns, and love your relaxed, natural approach. It's been a real treat to share these photographs from Ross Talling, so many thanks of course to you too.
Lovelies, if you'd like to see more Cornish wedding inspiration then take a few minutes to enjoy these other Love My Dress weddings.
With love
Ele xx