Hello everyone, it's Becky from MOST CURIOUS here, the iconic wedding show happening in London, Norwich and now Manchester next year.
By the way, thank you for your incredible support since we launched our Manchester date. We've been overwhelmed by enquiries from potential exhibitors and cannot wait to get this show on the road.
Today though, I'm here to tell you about bridalNEXT.
bridalNEXT is the section of our Most Curious show which supports and promotes new, fresh and emerging talent in the industry. It is a platform for designers and artisans who have launched their brand no earlier that 2017. We provide reduced rate exhibiting space for these exhibitors to keep everything price- accessible four fledgling businesses, start ups and young brands.
It is our way of fostering and introducing innovative and exciting new names into the wedding world, a jumping board, so to speak, for those who would like to expand or enter into or experiment with this audience, uniting them with the coolest and most creative, adventurous couple out there. And it's great for us too, 'cuz it keeps our exhibitor base directional and forward thinking, which is fantastic not only for Most Curious but for the couples that come to find something new and wonderful.
Our bridalNEXT promo images are shot by the very talented Joanna Brown, featuring the beautiful Wing Leung. It is something of an extension of our main campaign shoot, as there were shots we did plan to shoot outside, but the hottest day on UK records but a stop to that. So these images are all the shots we haven't been able to stop thinking about when we thought we had to let them go.
Instead, we actually decided to develop the ideas, keep a nod to some of the styling in the campaign, but push some neglected elements further and give them their very own space. We love our long banquet table, created after much discussion, since May (!) with the wonderful Hire Love, who also found us our very own wild flower meadow of dreams in the perfect rural wedding venue The House Meadow in the Kent country side, with horses, a barn, sleepy three legged cats, a lake, a swing in a tree, it's picture perfect.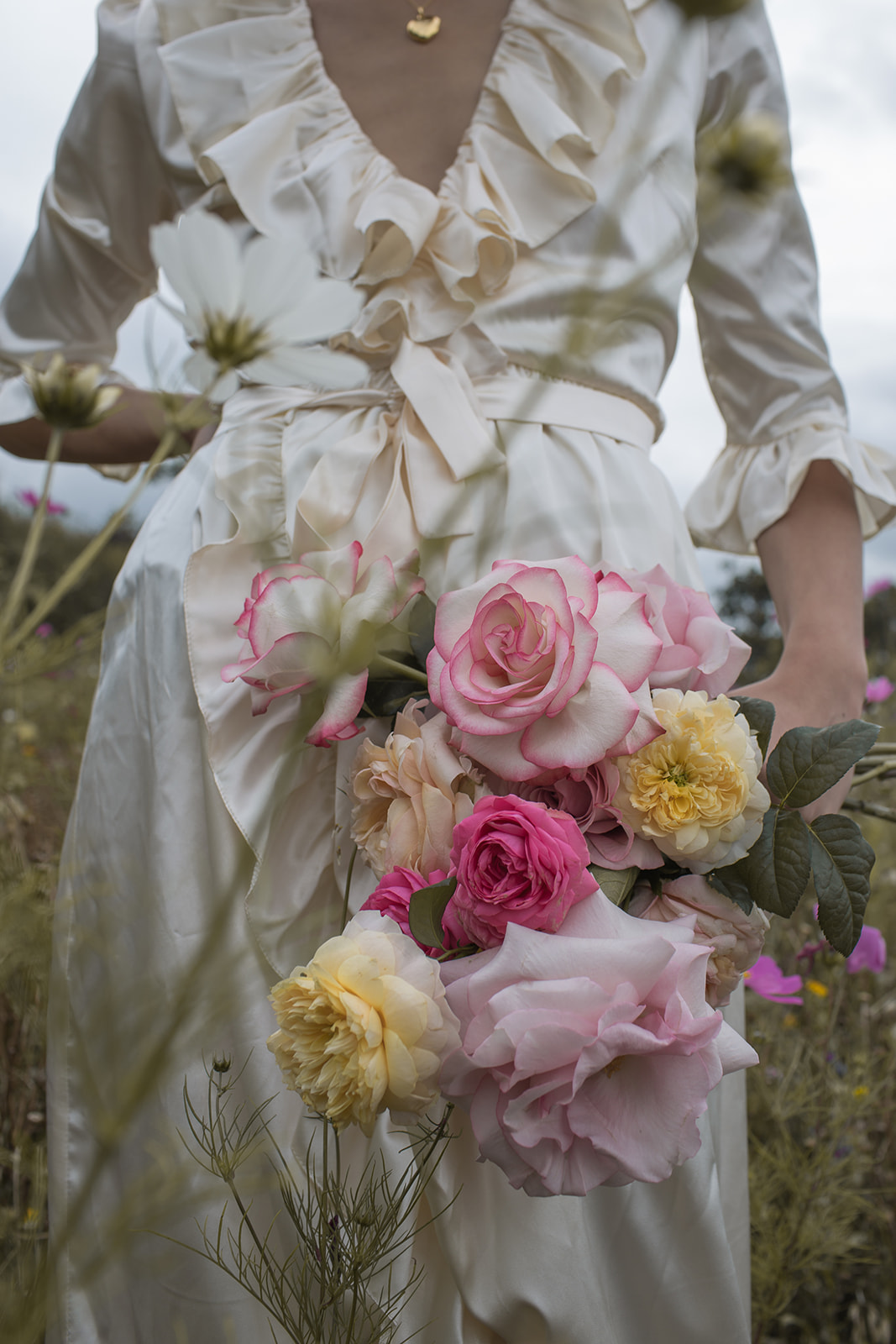 Bloaum jumped back on board to bring the rose joy and Isobel Bakes courageously took on our request for a large, low, wide wedding cake, traditional Italian style and covered it with scrummy, figs, apricots and rose petals. She also went above and beyond with our requests from some jelly experimentation and we love her for that. 2020 will be all about putting flowers in your jelly.
Knot Your Average Brides pioneering hair and make up agency The Vibe, supplied us with the brilliant Alev Miller, who created simple, pared back, fresh looks for Wing. Fi Graham's bows and bands made the journey over to Kent, including a vintage 90s wedding hat, customised with, of course, a huge bow on our request. AM Faulkner's veil selection was loaned once more and this time it was the Daisy and polka dot pieces time to shine.
We were stoked to use Loud Bodies, for that fashion forward high silky shine, teamed with a frilled plunging neckline which we predict big things for in 2020. Loud Bodies are a new inclusive fashion brand founded by Patricia Luiza Blaj, to make ethically produced clothing of all sizes available to people everywhere. Perfect or frolicking in the meadow.
Velvet Johnstone's puffed sleeve playsuit, made in collaboration with Atelier of Knit, brought the cool factor to our field of wild horses, an unexpected plus of this rural location.
I had been obsessed with creating a long table in a meadow since the Spring and Hire Love did such a grand job of making it become reality with A Touch of Vintage crockery hire. What can we say Chintz is back?
We also commissioned the brilliant Curious Me Design to hand paint some real shells with a soft blush pink water colour wash and calligraphy names for the table settings, to further bring in bring in the current fashion trends of shell, reef and pearly type forms and finishes.
We wanted a shot of the velvet bowed ASOS shoes, with Wing standing on the table, like a party shot, amongst the jellies, cake and flowers, which was fun but actually when we looked up and saw how bad ass she looked standing there, the shot opened up with her looming large, a little bit like a dreamy, majestic Statue of Liberty bride in her Ritual Union's blowy Breeze cape over a Velvet Johnstone slip dress, teamed with Fi Graham's over sized pearl beaded Alice band.
Some directional moments to project our message to the most directional makers, movers and shakers out there.
We want to hear from you.
Becoming an Award Winning bridalNEXT brand
Our 2020 show is being run in conjunction with the UK's most trusted and respected bridal blog, Love My Dress, another big player in the industry, whose founder, Annabel Beeforth, is also striving to champion emerging, British talent in the bridal world.
Every year, we also offer up a bridalNEXT award for most directional and talented young brand at our show. This prize will be awarded by both Most Curious and Annabel of Love My Dress, who will come and meet all the bridalNEXT contestants at the show to learn more about you and your work.
Winning bridalNEXT gave me a huge amount of confidence coming into the wedding industry. As a newcomer, it made me realise I was doing the right thing and is a wonderful accolade to be proud of. Isobel Bakes, winner of bridalNEXT 2017
Are you thinking about applying to bridalNEXT?
Do you have an existing portfolio but want to branch into weddings? Or perhaps start a new line aimed at brides?
Do you have a goal of becoming a name to watch in the world of bridal?
Can you imagine cool couples commissioning pieces from you?
Do you want to reach the right people for you, who will get your aesthetic and ethos, appreciate craftsmanship and are passionate about design?
Or simply test the waters of the wedding world?
If any of the above sound like you, we strongly encourage you to apply for bridalNEXT What have you got to lose? And yet look what you could gain…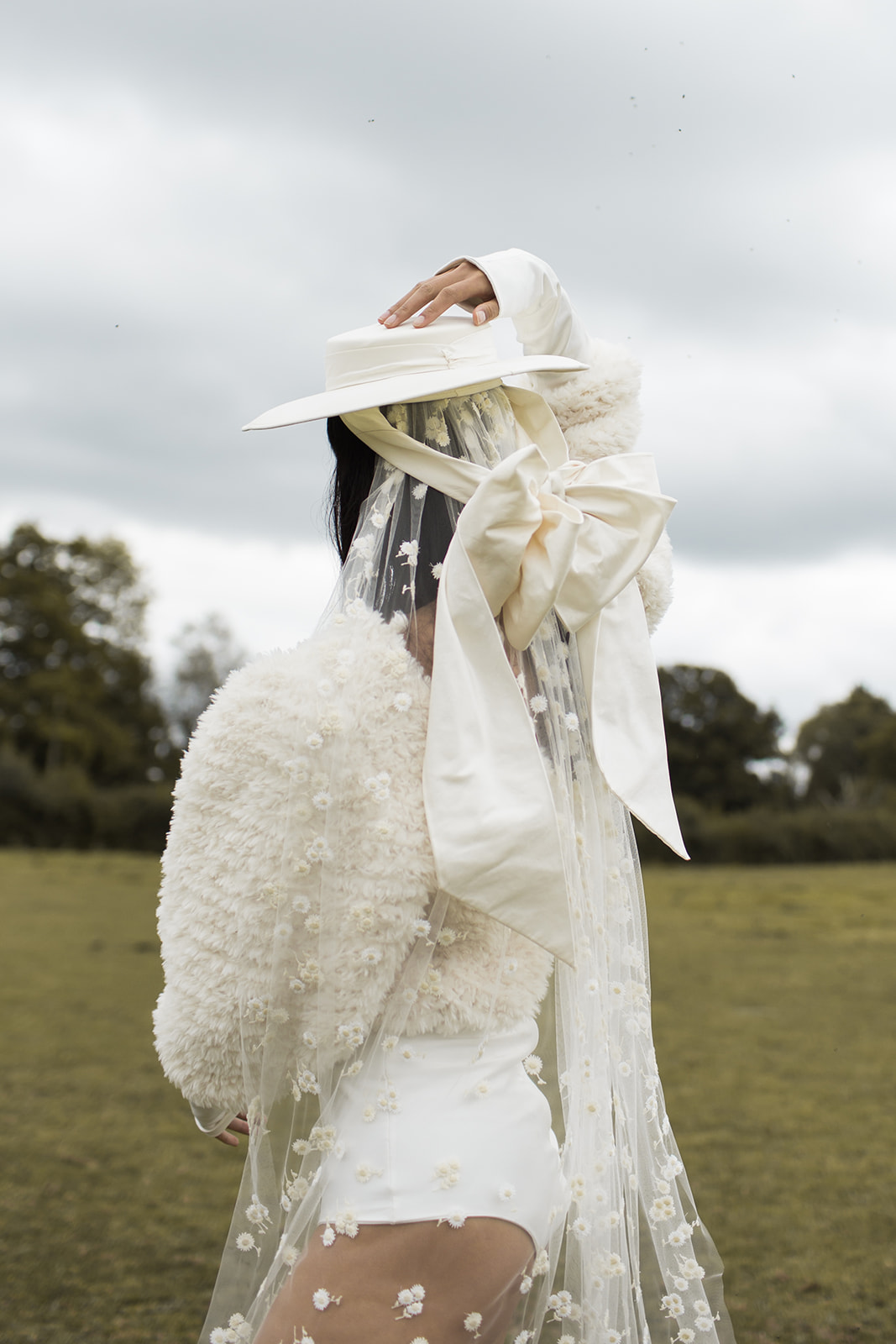 What will the prize winner receive?
Classic stand and work featured on the catwalk at next year's Most Curious
Listing on Most Curious Directory
Most Curious dedicated Blog post
Most Curious dedicated Instagram post
Do you have an existing portfolio but want to branch into weddings? Or perhaps start a new line aimed at brides?
A fantastic years worth of advertising with Love My Dress, to include a directory listing, content published on the blog, social media support and advice from the blog and digital media queen herself on how to make the best of social media for your business.
Film by Loved Up Films
Cool MOST CURIOUS statistics you need to know
93% of exhibitors got leads as a direct result of exhibiting at the fair.
84% of those leads resulted in at least one booking or sale, with 53% getting 3 or more bookings or sales
82% felt that form a marketing and networking perspective, their involvement with the show was positive and beneficial for their businesses
66% of our show visitors have an annual household income of £70k+, with 34% having an income of £90k+
39% of our visitors have a total wedding budget of between £20k and £39k.
46% of our visitors work within the creative industries
8%% of our visitors rated our show as 'good' or 'excellent'
We have 22.8k followers on Instagram and are supported by big blogs like Love My Dress who have not only excellent reach on Instagram but access to their brilliant collection of closed Facebook groups – including one mighty thriving group for brides to be.

Exhibiting details
bridalNEXT Stands cost £315 to hire and measure 2m x 2.5m in dimension.
You will also receive:
Inclusion in the Exhibitor Directory with images and wording of your choice, plus click through to your website
Promotional support across instagram, facebook and twitter
Marketing list of all attendees who give permission to have their details passed on
A pair of complimentary tickets valid for the entire weekend
NB: Please note bridalNEXT entry is applicable only to businesses launched since January 2017, and is not open to previous bridalNEXT exhibitors.
How to Apply
It's super easy Simply complete this form, making sure you tick the box for bridalNEXT under the 'Which Package' section.
If you have any questions at all about application, please direct them to me directly and I'll get back to you right away. You'll find me on [email protected].
Deadline for application is 18th October 2019.
We look forward to hearing from you and welcoming you into our family of exhibitors next year.