One of the brilliant things about the celebrations I've had the privilege of writing about since joining the Love My Dress team is having the opportunity to share the work of talented designers; from fashion to accessories, stationery to flowers (and more!), there's such a wealth of creativity, and it's nothing short of inspirational.
I'm excited to share the work of two such talents today, who created a timeless and romantic look for our bride. Meet Claire and Paul, who own and run a digital marketing agency. They were married on the 19 May at St. George's Church, Preshute, Marlborough, followed by a reception at Rockley Manor, an elegant Grade II listed Georgian mansion and 'secret' walled garden in the Wiltshire countryside.
Images by Aga Tomaszek Photography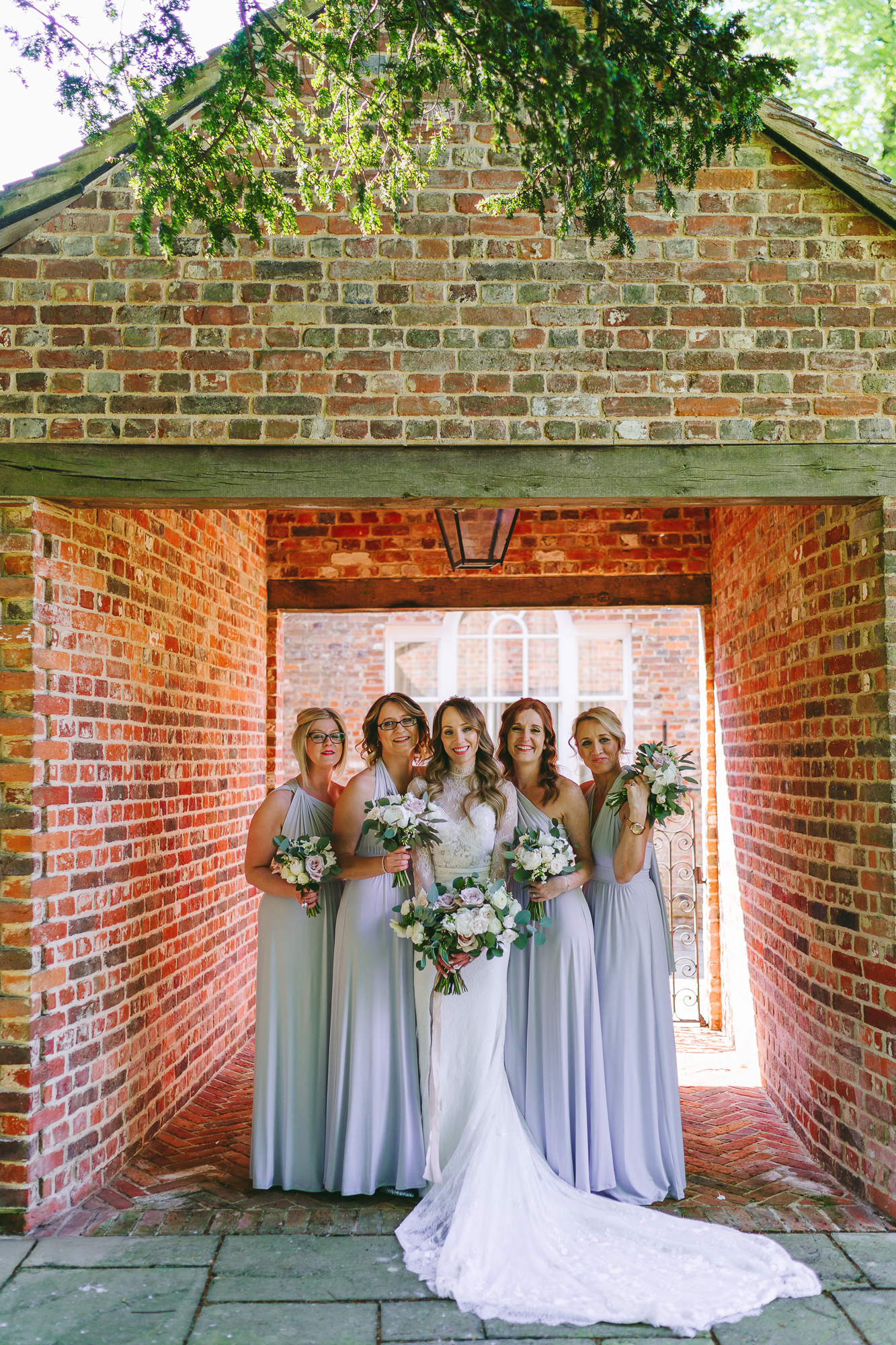 Claire's breathtaking dress, with its delicate French lace jacket, floral applique, pearl trimmed straps and neckline, and showstopping train, was a bespoke creation by Sienna Von Hildemar, whose 2019 collection we featured in autumn last year.
"I'd always had it in the back of my mind that I'd love to have a bespoke dress made, but assuming it was completely out of my budget, I set about visiting some of the well-known London boutiques. I actually loved lots of the dresses I tried, but found myself wanting something that combined all my favourite elements."
"When my wedding planner introduced me to Sienna Von Hildemar, I jumped at the chance to have my dress made. I really wanted a combination of classic and contemporary. I loved having a dramatic long train, and the lace top I wore for the ceremony, which I removed later on. It was like having two dresses in one. It was backless with contemporary touches, like the semi-sheer bodice and the most incredible French lace, which Sienna carefully sourced and hand-appliqued on to the bodice and train."
Sienna Von Hildemar also made Claire a long veil of the softest silk tulle, and on her feet, she wore iconic Valentino 'Garavani' Rockstud heels.
"I wanted shoes I could wear again, and I'd always loved Valentino Rockstuds. This was a great excuse to get them! They were so comfortable, and will become a well-loved item in my wardrobe for years to come."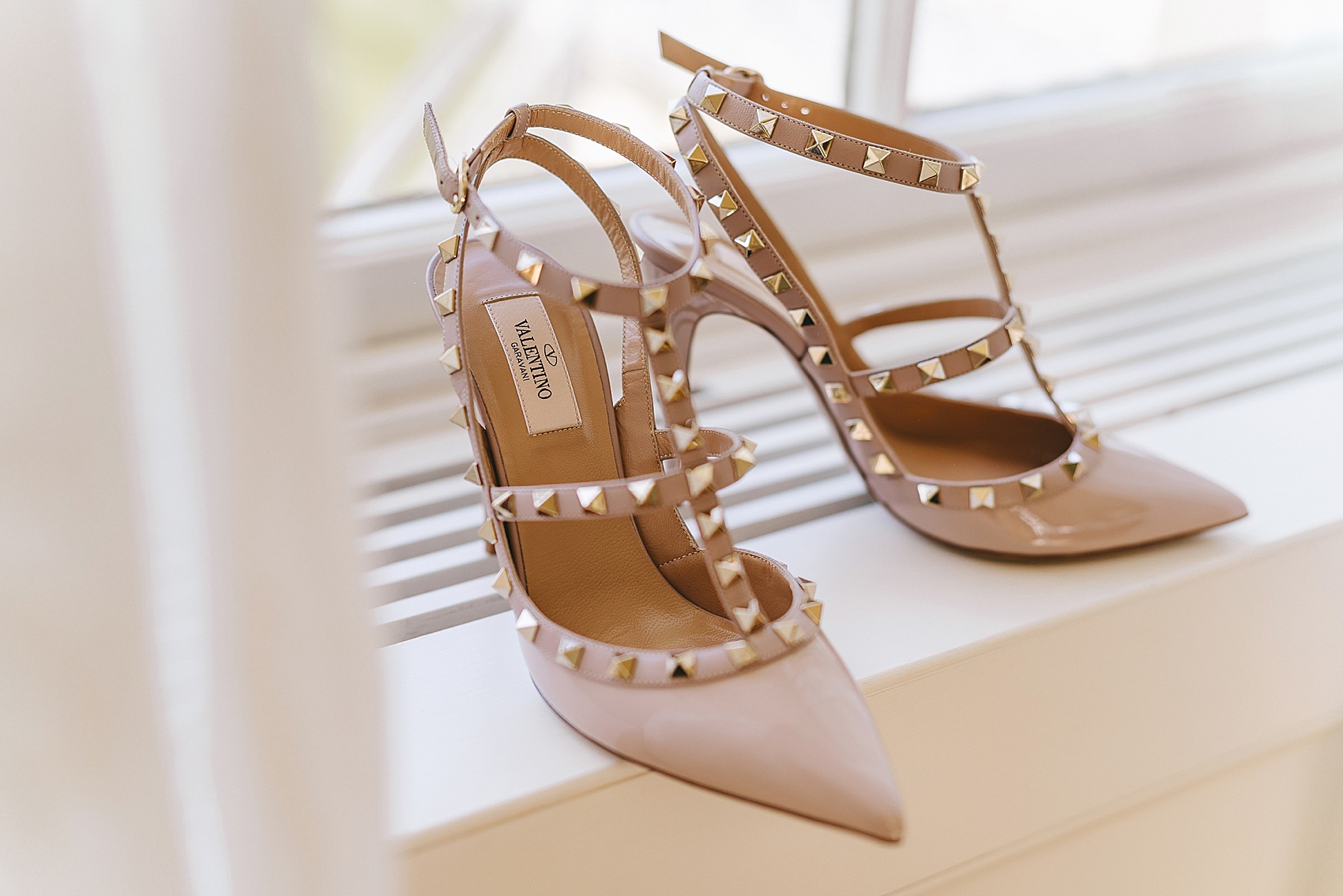 In her hair, Claire wore an exquisite, celestial inspired crown of vintage jewel and crystal stars (the 'Ophelia') by Little Book member, Miss Clemmie Artisan Bridal Accessories.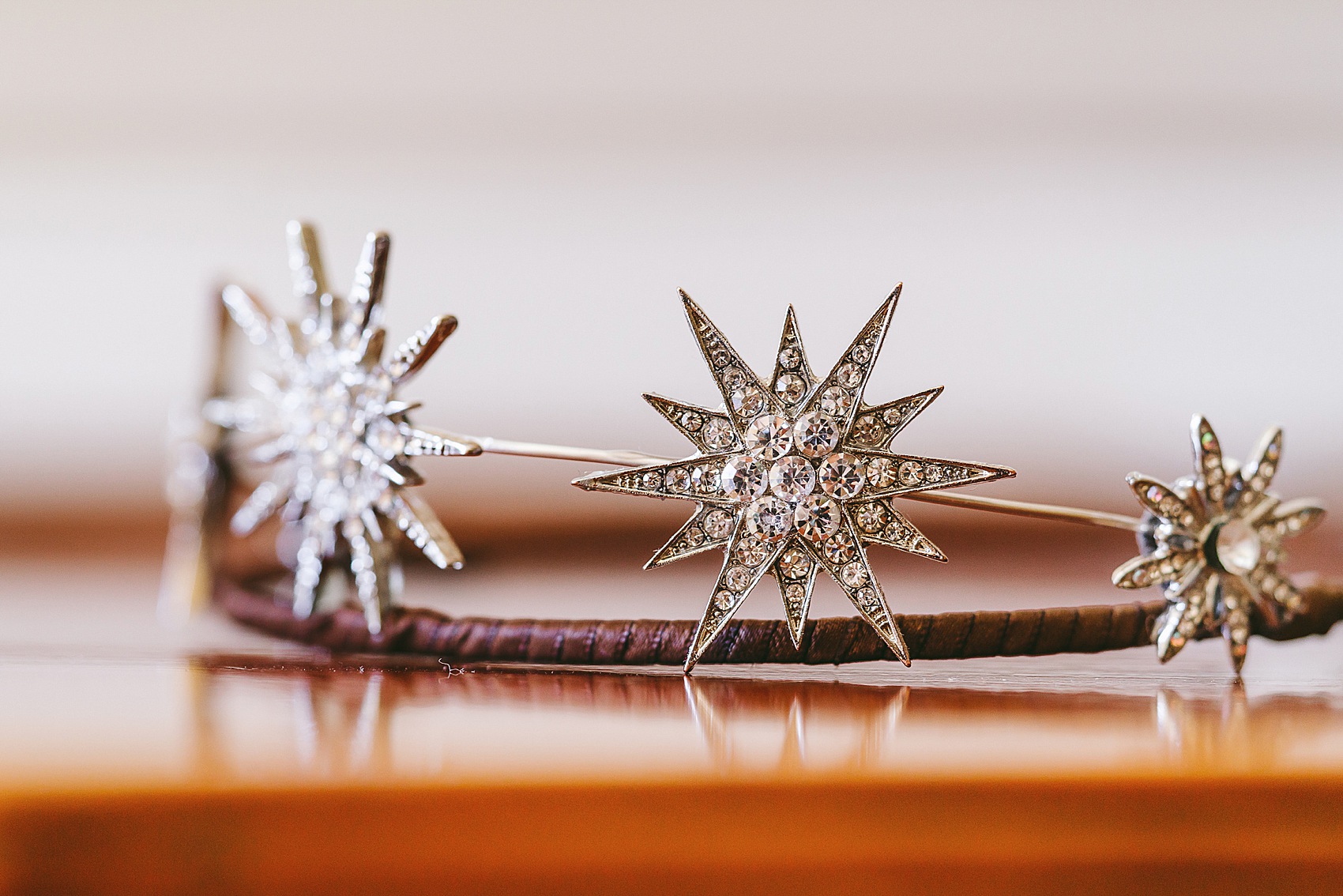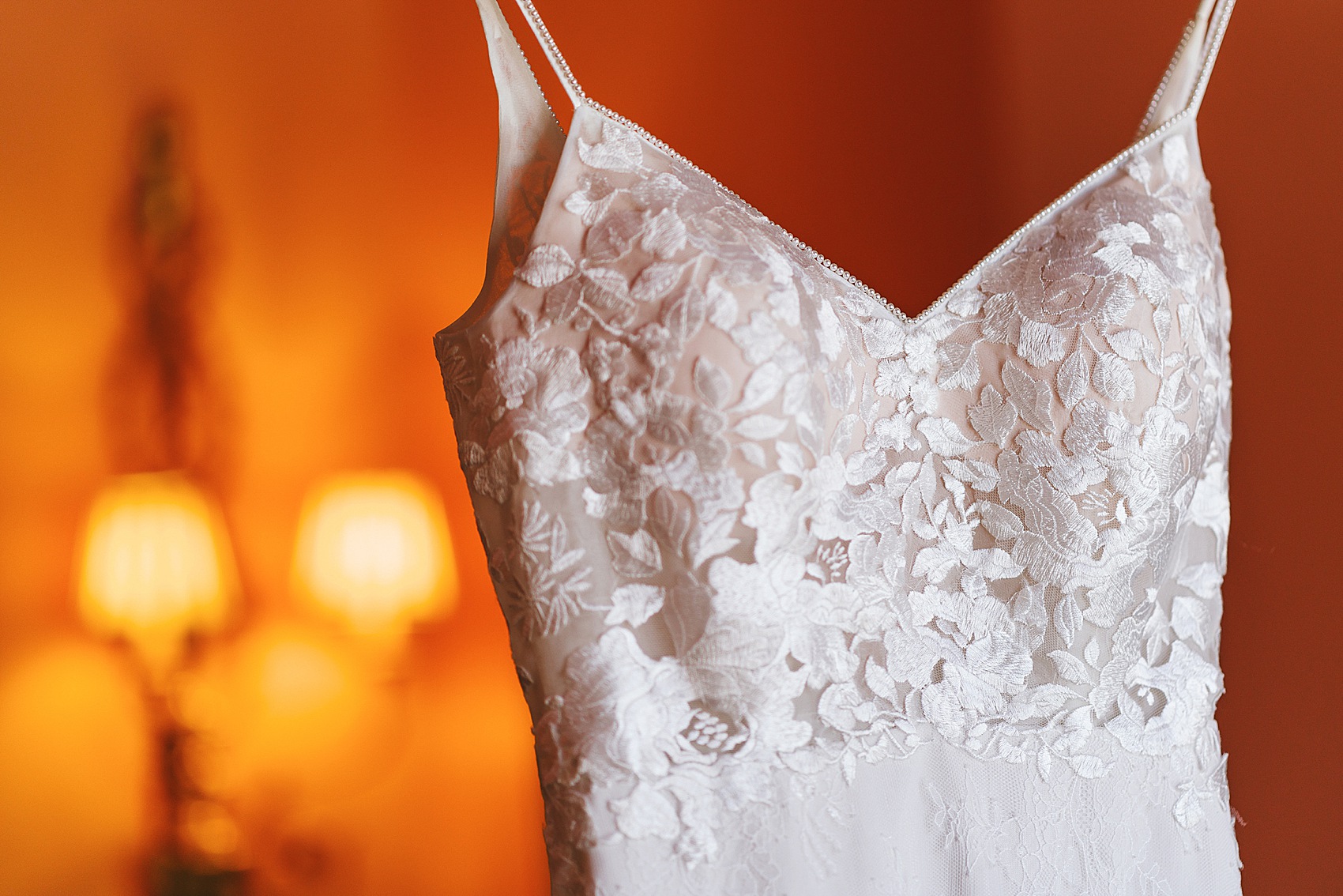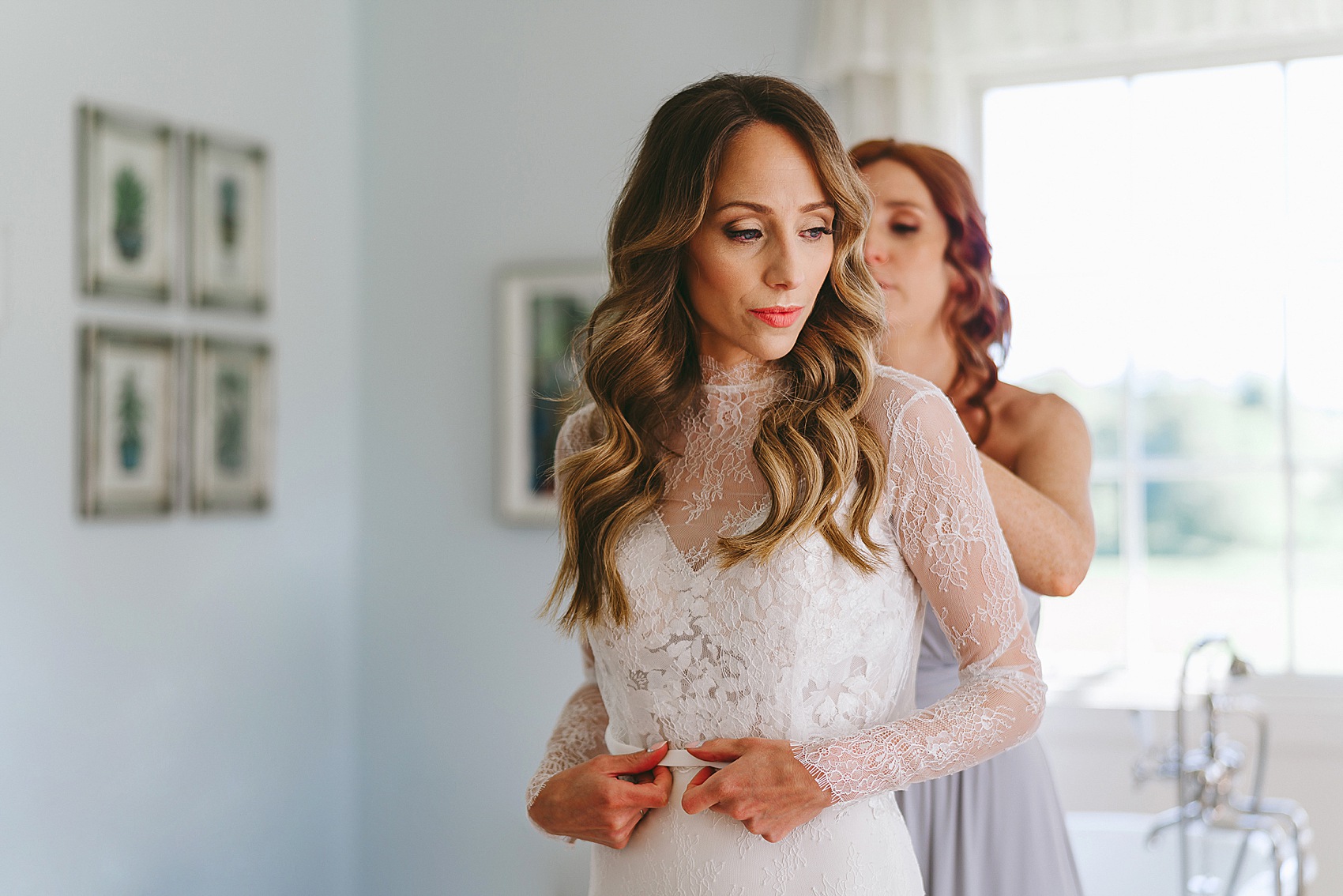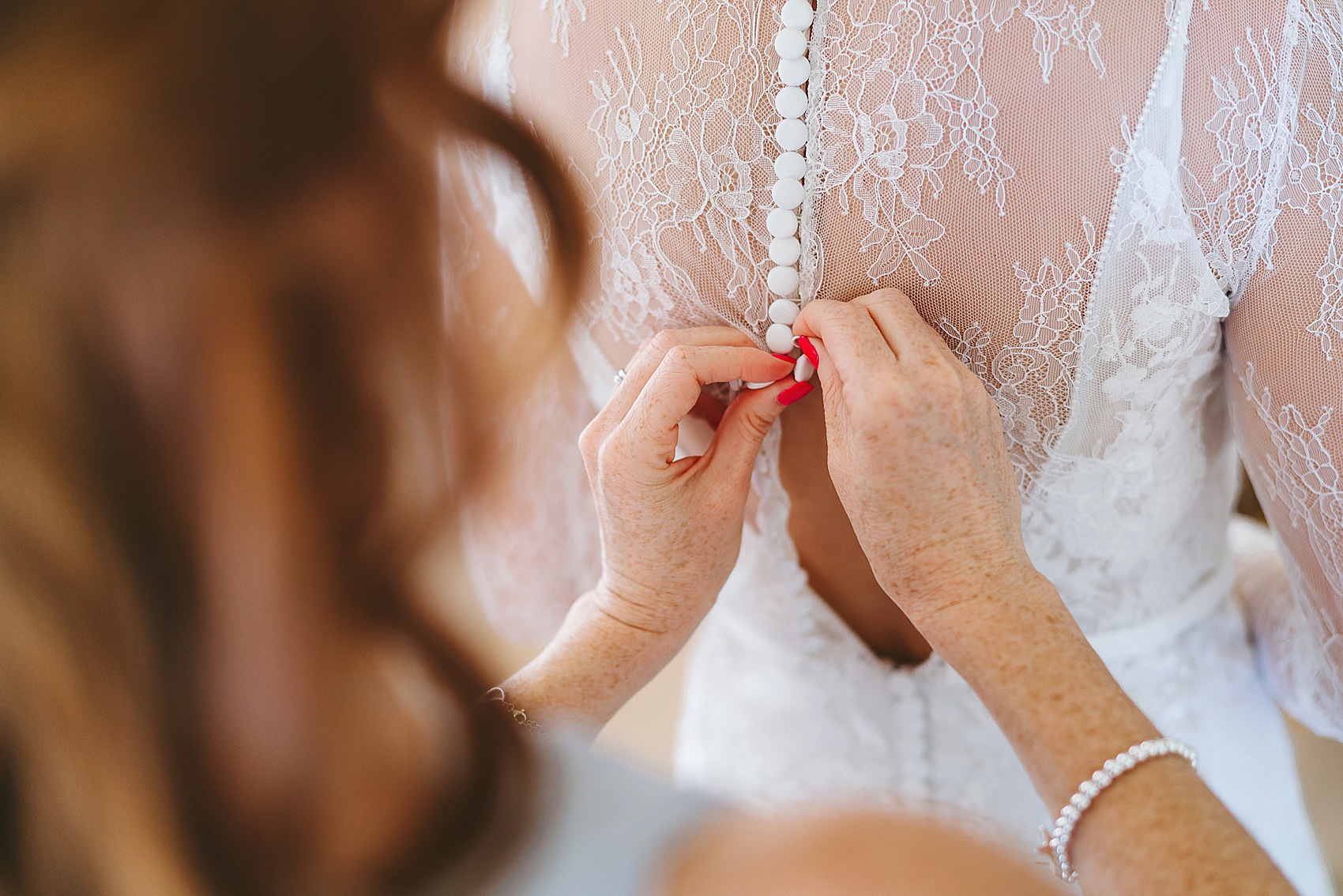 Whilst wedding planning, Claire found invaluable help, support and inspiration through our private Facebook group (do join!), our real wedding features, and our awesome supplier directory, Little Book, which includes the brilliant hair and make-up artistry of Kristina Gasperas.
"We had Agata, and she was fantastic and created exactly the look I was after – I felt amazing."
As a Christmas gift about three years ago, Paul had given Claire a silver necklace from Tiffany & Co., which she wore, and for perfume, she chose English Pear & Freesia, by Jo Malone.
"Paul's was English Oak & Hazelnut. Our fragrances for the entire day were very carefully chosen. We did a Jo Malone wedding consultation, and settled on a beautiful selection of scented candles for different parts of the day. We had Lime Basil & Mandarin for the main house during the day, English Oak & Redcurrant for the Baronial Hall during the wedding breakfast, and then added Velvet Rose & Oud for the party."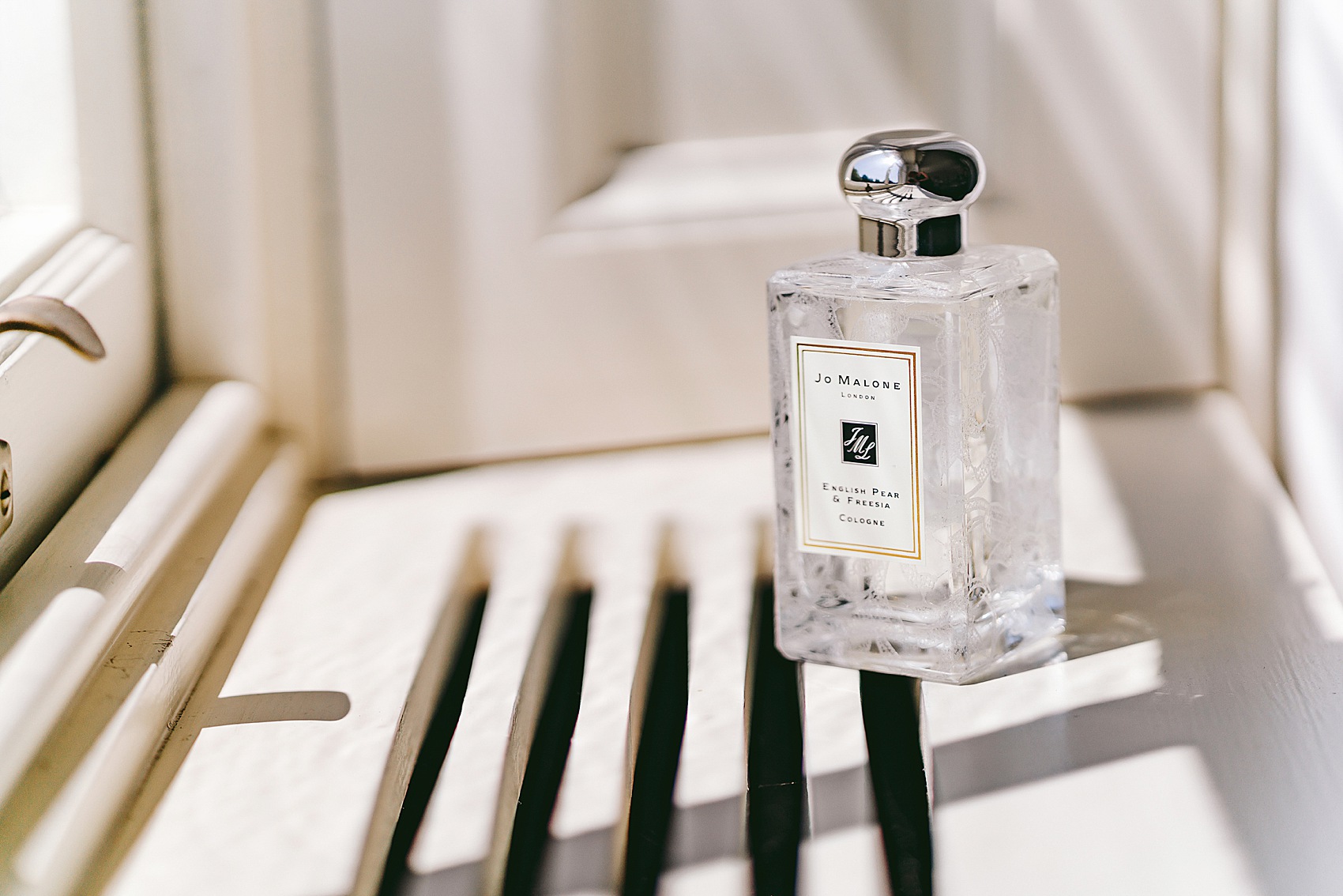 Claire had originally wanted lots of greenery together with white flowers, but as the planning progressed, opted to add dreamy accents of soft blush pink, which all came together beautifully in her bouquet (as well as the other lovely florals) by Foxy Buds Floral Design. It was filled with roses, peonies and greenery, and tied with pretty ombre silk ribbons.
"I'm so pleased we added blush pink, as these ended up being my favourite flowers in the bouquets and table displays. Krysta found and put us in touch with the wonderful Caroline from Foxy Buds. She stepped in quite close to the wedding, as we'd had a bit of uncertainly around the florist we'd originally chosen. Caroline understood our brief immediately, and sourced the most stunning flowers and greenery."
"My mum lent me my nana's ring to tie around the bouquet. It was lovely to carry something of hers down the aisle with me."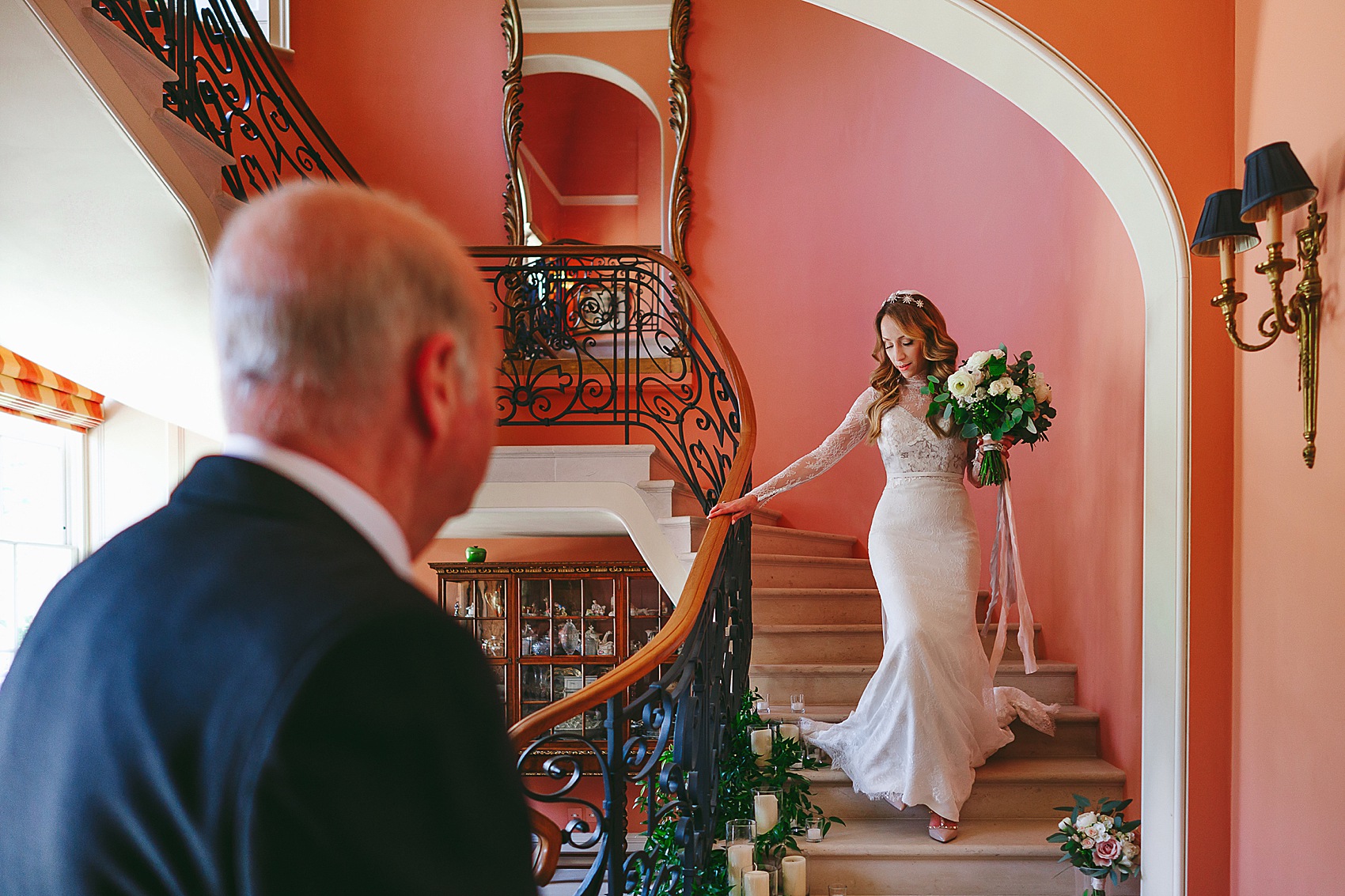 "We had other 'nice-to-have' criteria, and after looking at a number of venues we ended up coming back to Rockley Manor, which was one of the first we'd seen and very close to where we live. It was easy to get to for our guests compared to other venues we considered. This was important, as we had guests coming from all over the UK as well as a few from overseas. We worked with the wonderful Krysta from For the Love of Weddings. She was incredible and this was one of the best decisions we made."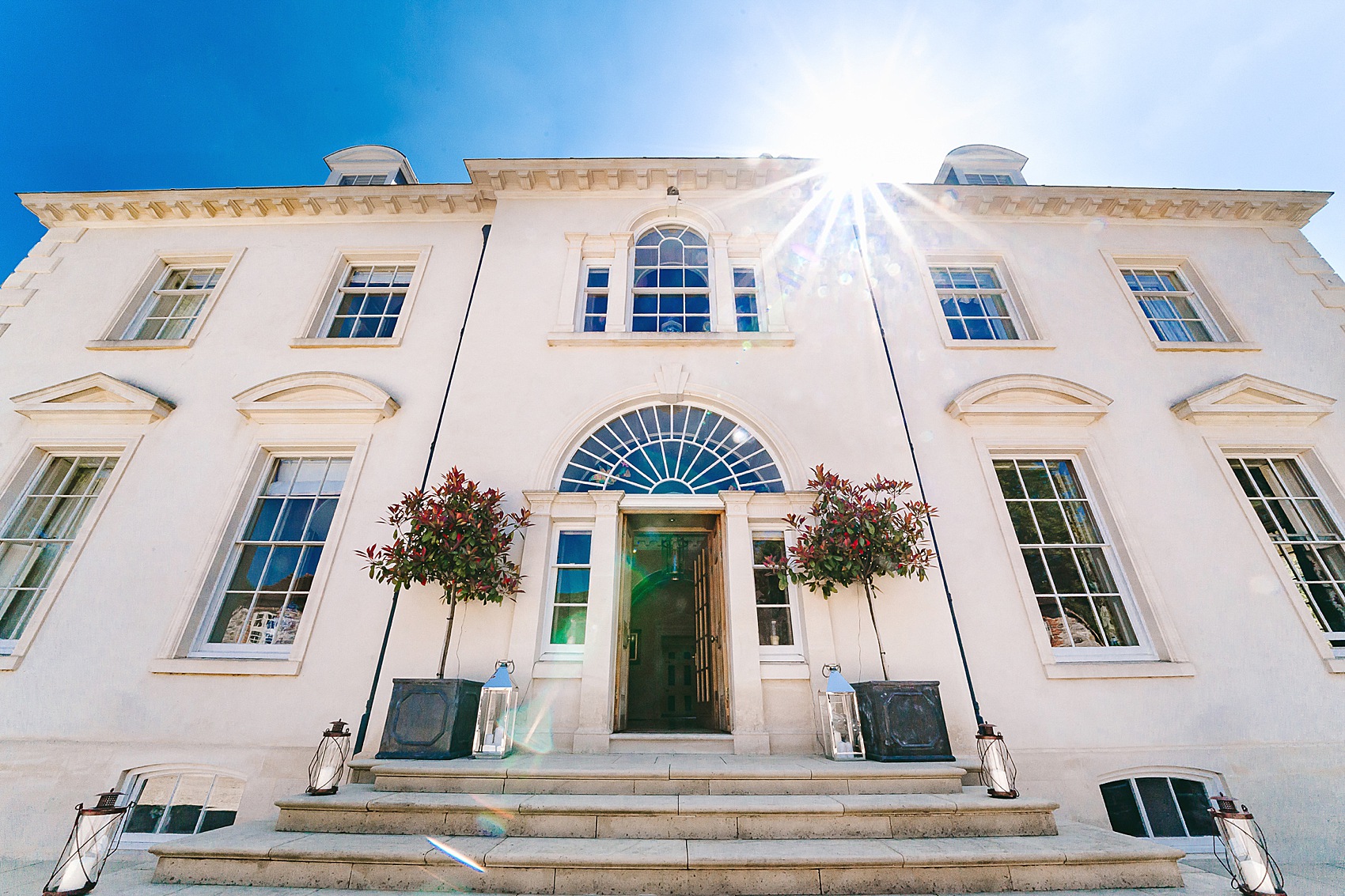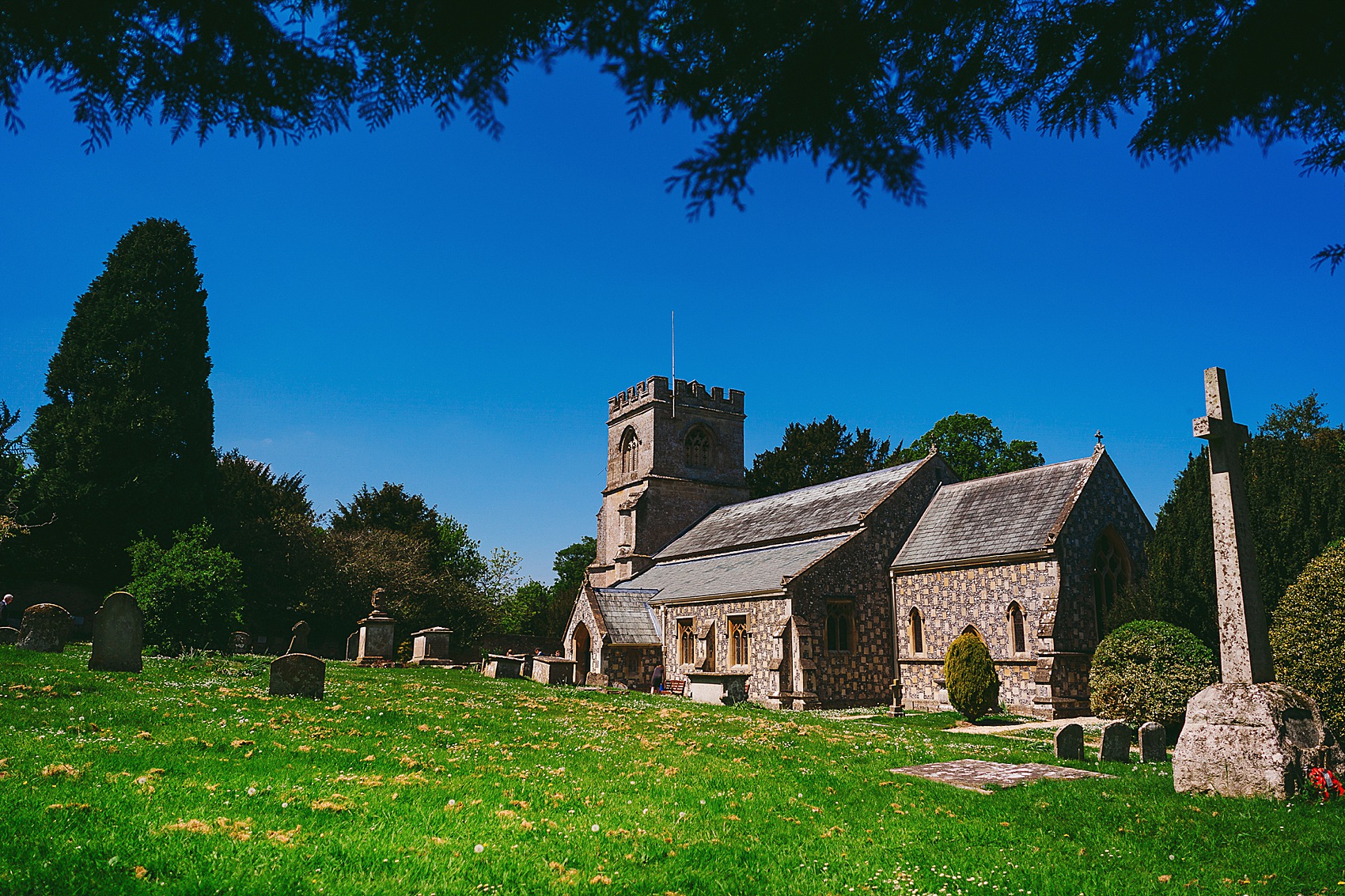 Paul's bespoke blue suit with blush pink waistcoat was made by A Suit That Fits (who are sadly no longer operating), which he wore with a white shirt from Eton, and a pair of Tateossian cufflinks, which Claire had given to him as a Christmas gift some years before. He also wore classic brogues by Loake and a pink bow tie from Swagger & Swoon.
The groomsmen, and Paul's son, Sebastian, wore matching navy blue suits from Moss Bros., and Swagger & Swoon bow ties.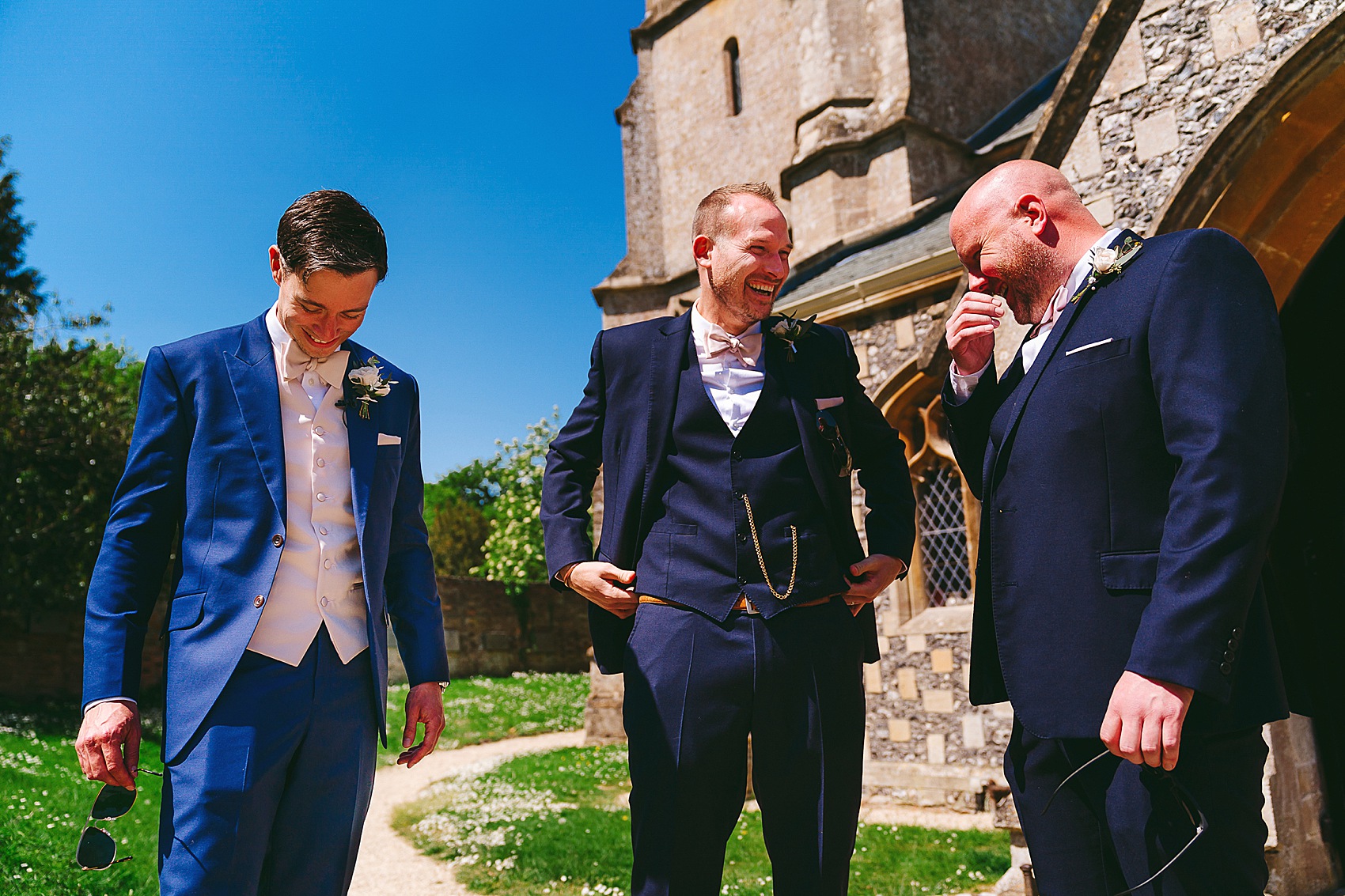 The bridesmaids wore multiway dresses in pale silver-grey from Marks & Spencer, worn with their own choice of shoes in pale pink, silver or nude, and their own accessories.
"I wanted the girls to be comfortable, and the multiway design meant they could choose how they wanted to wear them. I loved the simplicity of the dresses – the soft colour and drape worked perfectly with our elegant and romantic styling."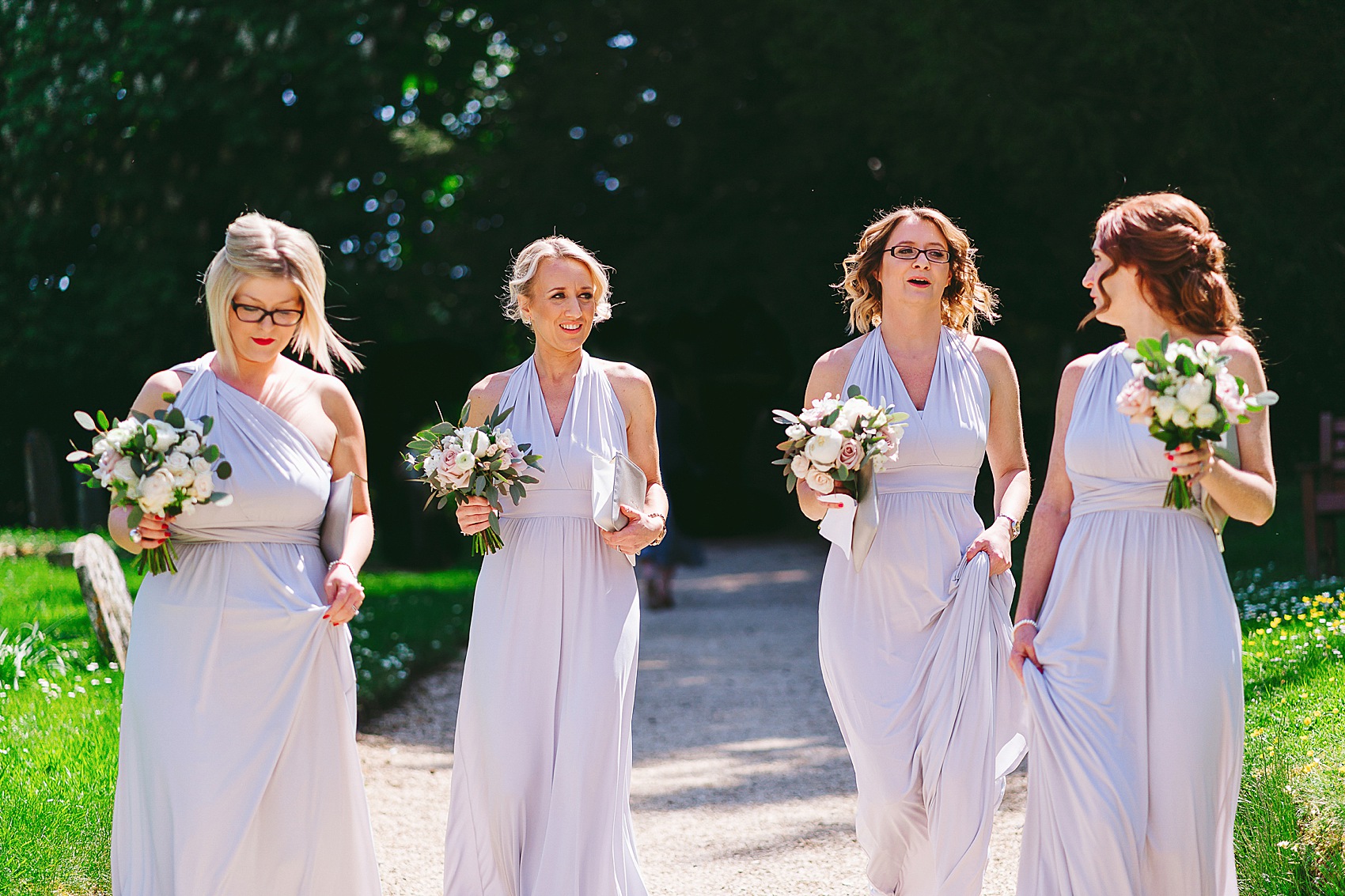 "My dad walked me down the aisle. I was a bit nervous before we walked into the church, and he squeezed my arm and said 'Come on, let's do this', which resulted in the loveliest photo of us both smiling as we walked into the church. The church aisle is 'L' shaped, and as soon as I turned the corner and Paul and I made eye contact, caught in the moment, we were both struggling to hold it together."
As her entrance music, Claire chose the aria Vide Cor Meum (See My Heart), composed by Patrick Cassidy for the soundtrack to the Film, Hannibal.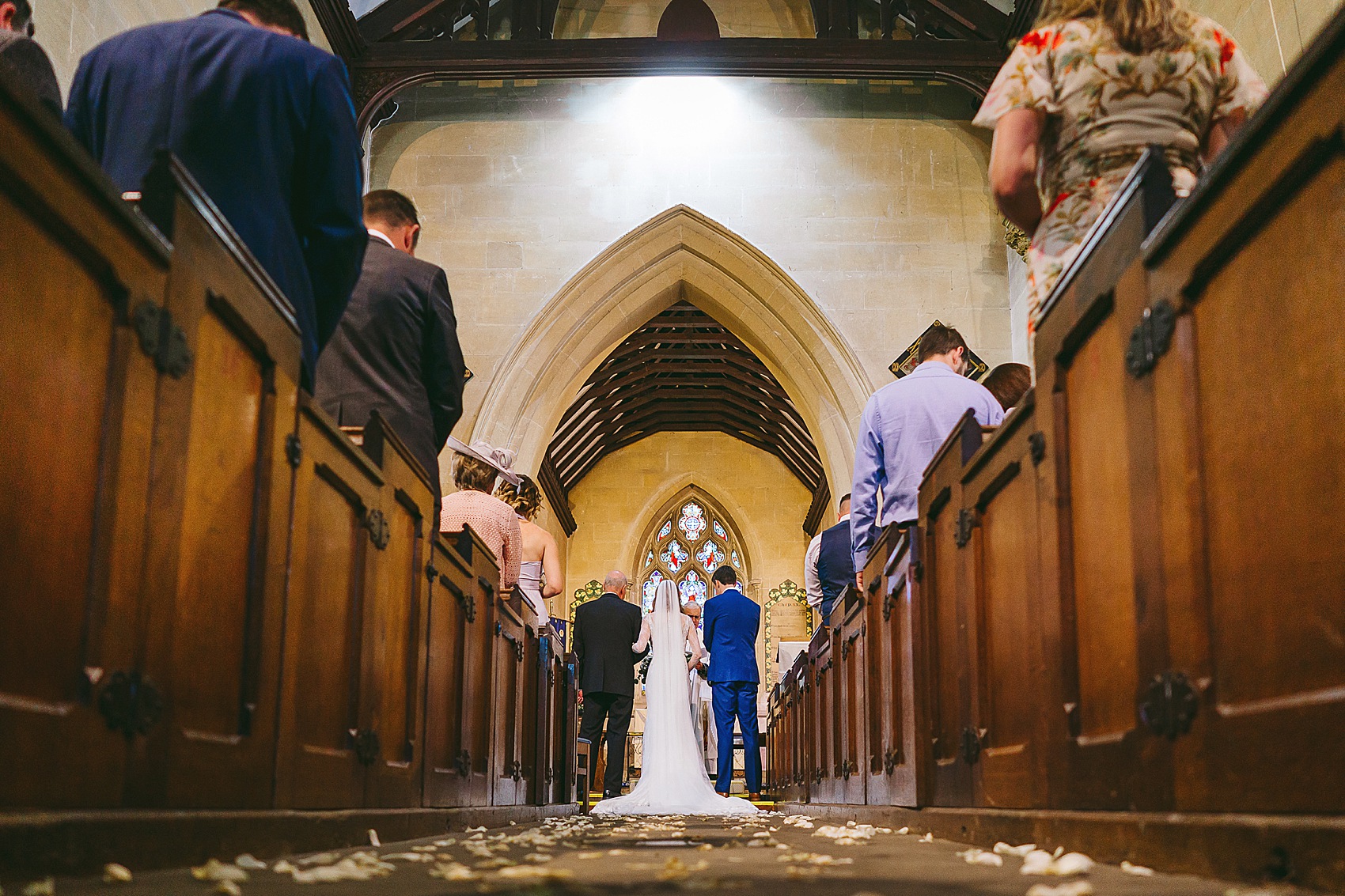 "We knew we wanted something a bit different. The song was used in the film Hannibal, which sounds a bit dark, but it was during the beautiful opera scene, and I've always loved it. It needed a string quartet alongside the choir, which was definitely an added extra but so worth it. Our choir director created the arrangement, and even performed it beforehand and sent us a recording. It was absolutely stunning and worked perfectly. It was incredible hearing the choir begin as I entered the church – it was absolutely magical."
Claire and Paul had been together for 8 years when Paul proposed, whilst they were on holiday in the Maldives, and it came as a total surprise to Claire!
"On the evening before Paul's birthday we headed back to our room after a lovely dinner on the beach. Paul asked me to come outside onto the deck of our water villa. We could see the bio-luminescence glowing in the water, so I headed down the steps to the water's edge to get a closer look, and Paul followed me (whilst internally panicking about the ring falling out of his pocket into the Indian Ocean!)."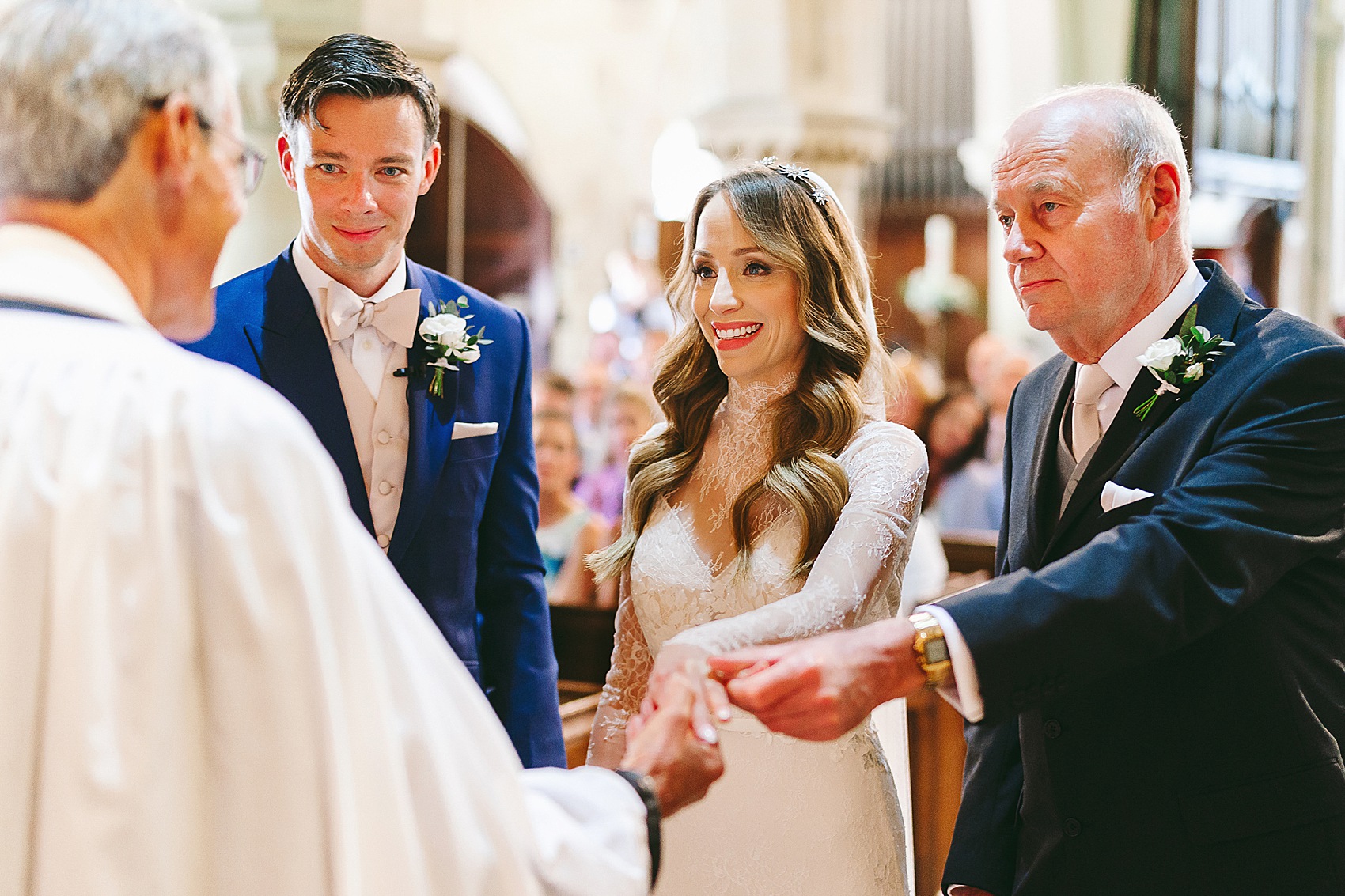 "He soon encouraged me back up onto our deck, and as we stood looking at the stars and chatting about how perfect everything felt at that moment, he then proposed with my grandmother's ring I'd inherited a few years earlier. He'd snuck it out from my bedside drawer, had it resized and taken it all the way to the Maldives for the proposal. It felt incredibly special in every way and it's not a moment I'll forget in a hurry."
During their ceremony, Claire's friend read A Love Poem Between Two Lovers (Song of Solomon 2:10-13 and 8:6-7), and the church choir sang This Marriage, by Eric Whitacre, the words of which are a historic poem by Rumi.
"We both found our wedding rings at Fraser Hart. I knew I wanted a diamond band, and managed to find the perfect ¾ diamond wedding band. My engagement ring is a diamond cluster ring, and it's quite low set, so I thought I'd find it hard to find the right band, but the second one I tried on sat perfectly with it. Paul went for a simple palladium wedding ring in a classic design."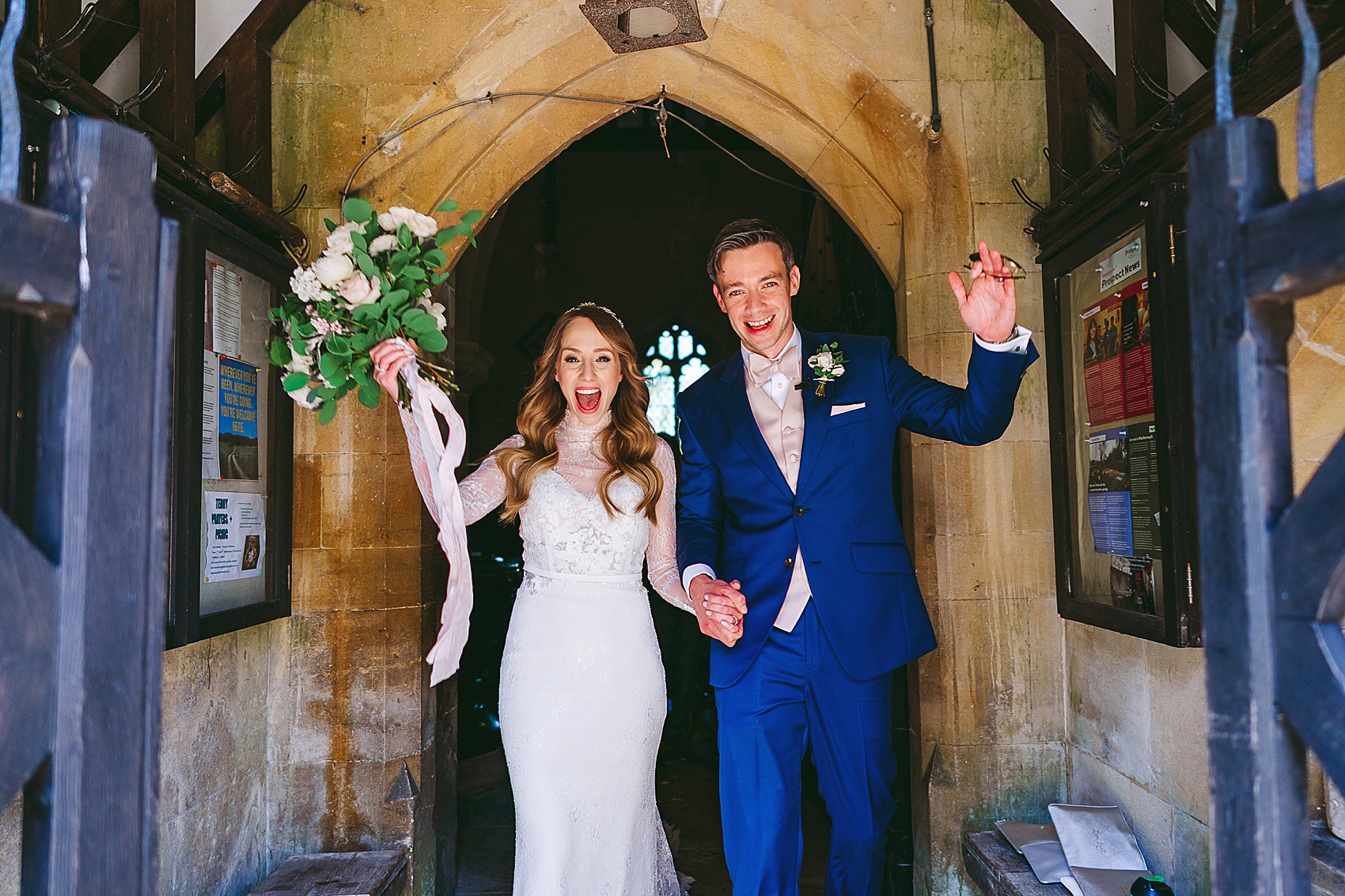 "It's really difficult to pick a single part of the day as a favourite, as each element felt special in its own individual way. Before the wedding, we felt like the ceremony was so important, and we think it really stands out for us."
"The introduction of the choir and string quartet along with the special arrangement the choir master put together really took our breath away, and added to the emotion of the occasion. Guests still tell us now how fantastic the choir were."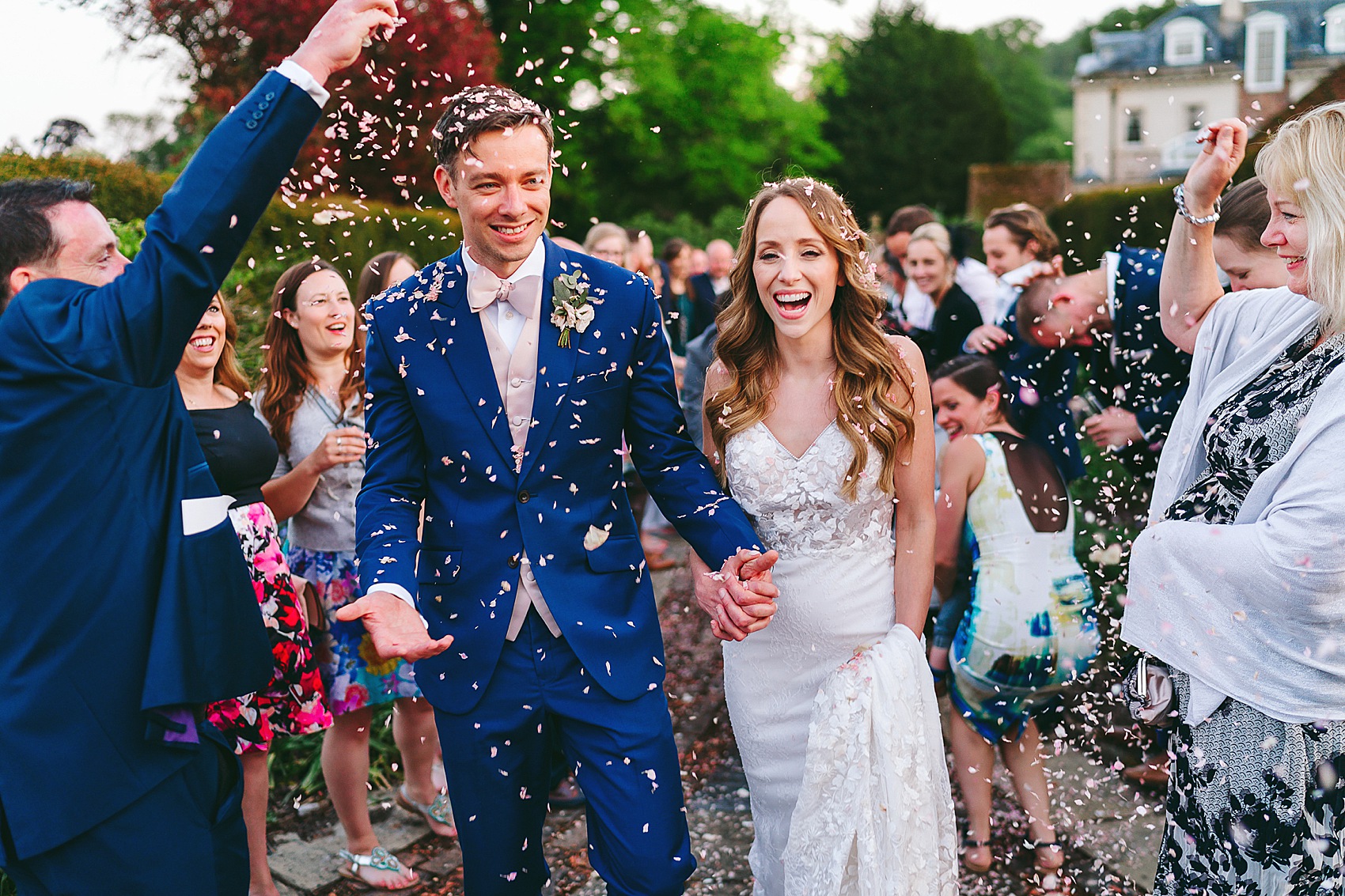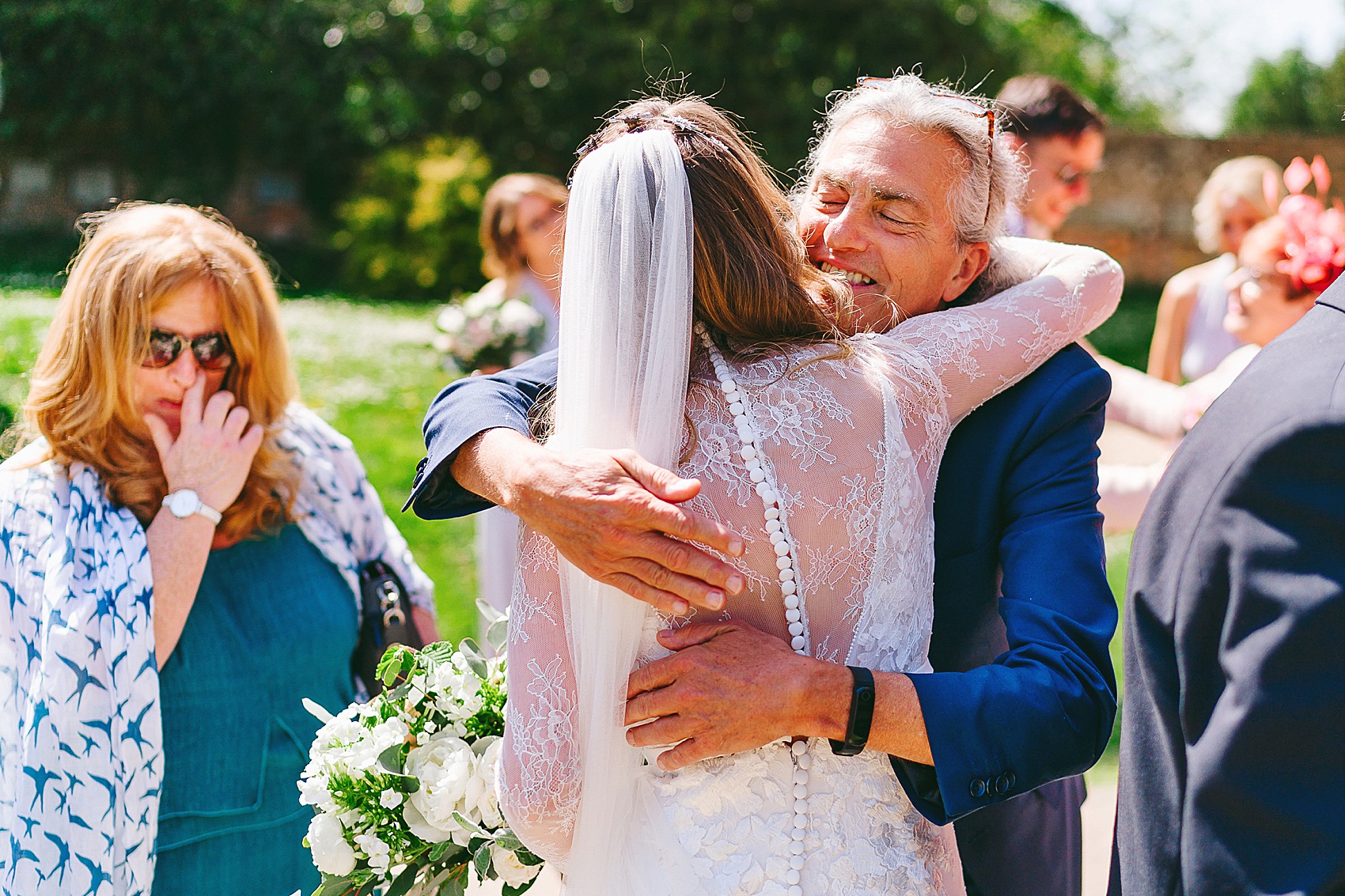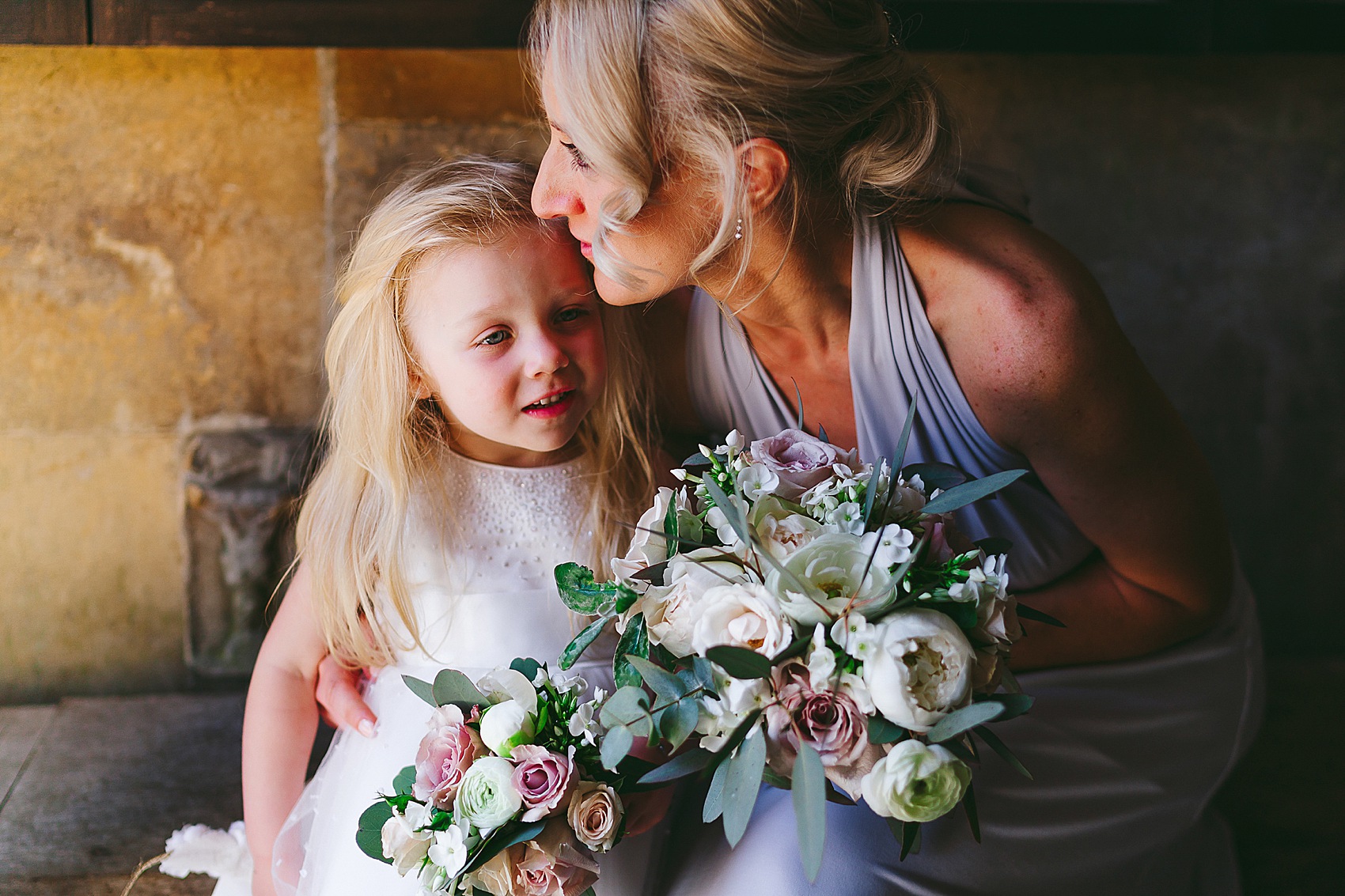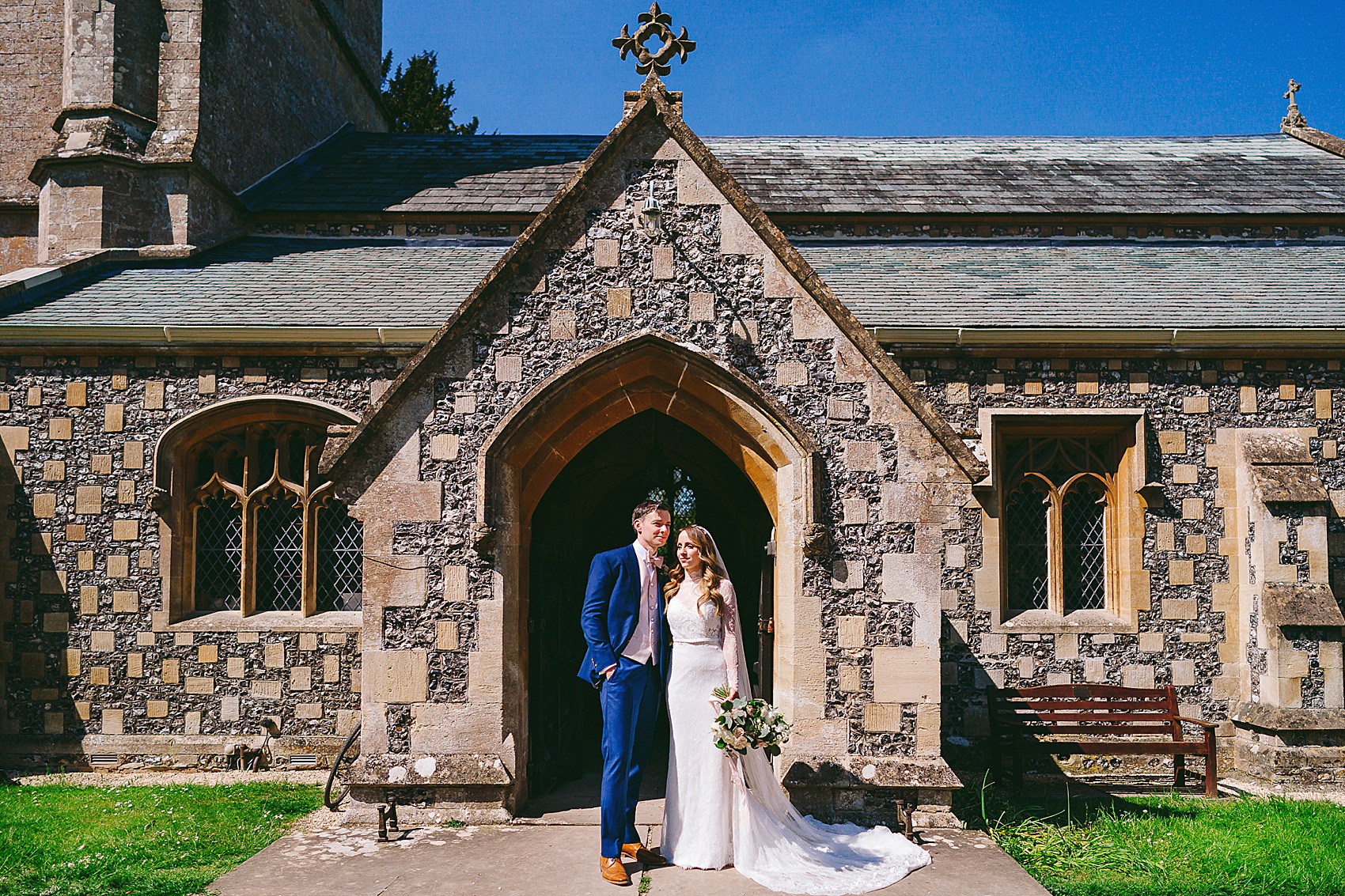 Claire's flowergirl looked wonderful in a white tulle dress with white tights, shoes, and a silk flower headband from John Lewis.
"We both love sports cars, and were fortunate that Paul's brother Marc owns a Jaguar XF 5.0 V8 and kindly drove my dad and I to the church. It was a very swift journey!"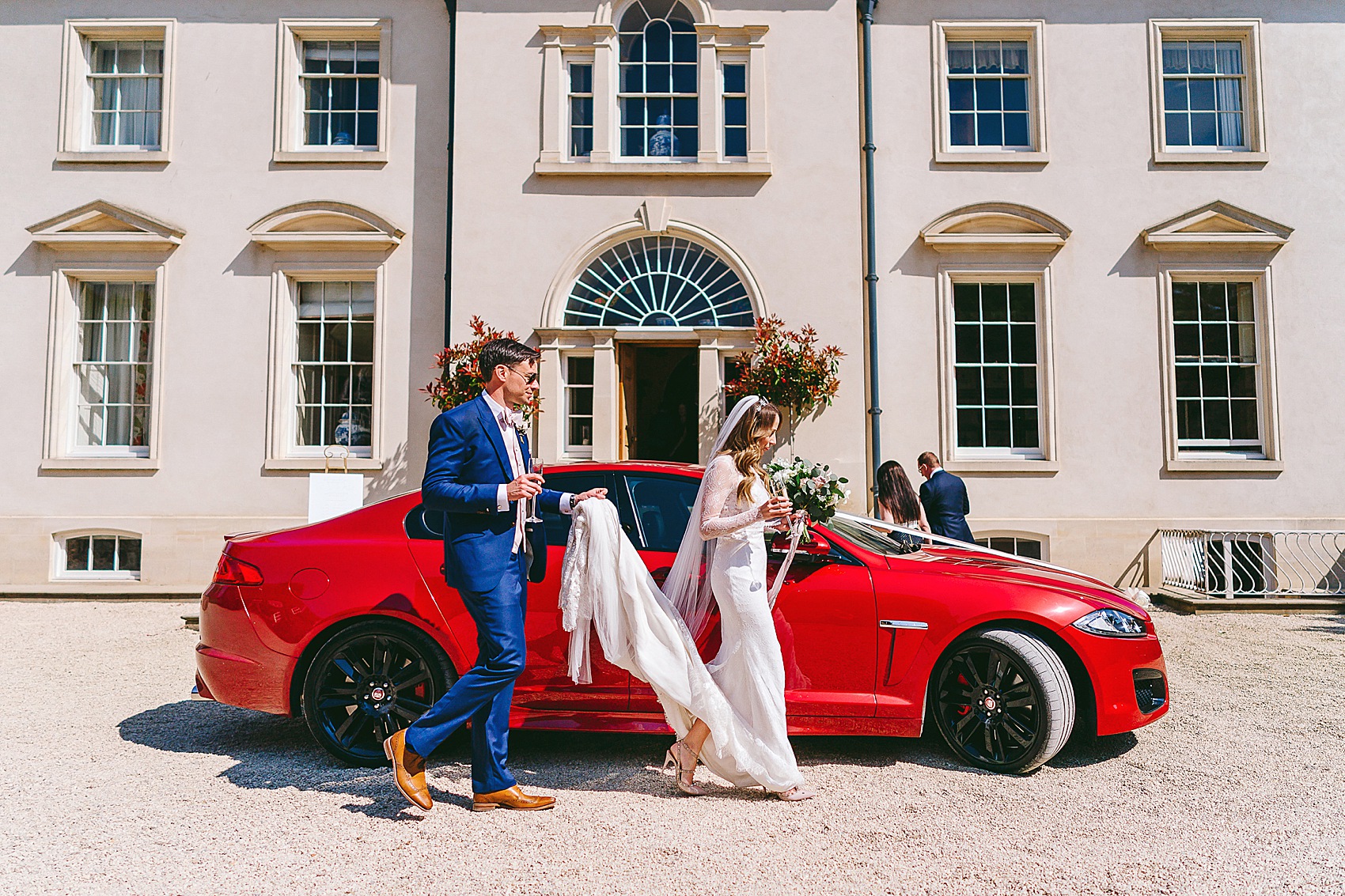 After the ceremony, and joy-filled congratulations and good wishes were shared outside the church, it was time to head to Rockley Manor for drinks and live music from band Mister Kanish.
"Mister Kanish were brilliant at helping create an upbeat and fun atmosphere for the guests with their original versions of 90's classics."
"We loved all the different areas of Rockley Manor, from the secret walled garden and the characterful Baronial Hall, to the sweeping lawns and Georgian manor house itself. Each area had distinct characteristics, and meant we could use different areas for different parts of the day. We had our reception drinks on the sweeping lawns, our wedding breakfast in the Baronial Hall, followed by cocktails and music in the secret walled garden."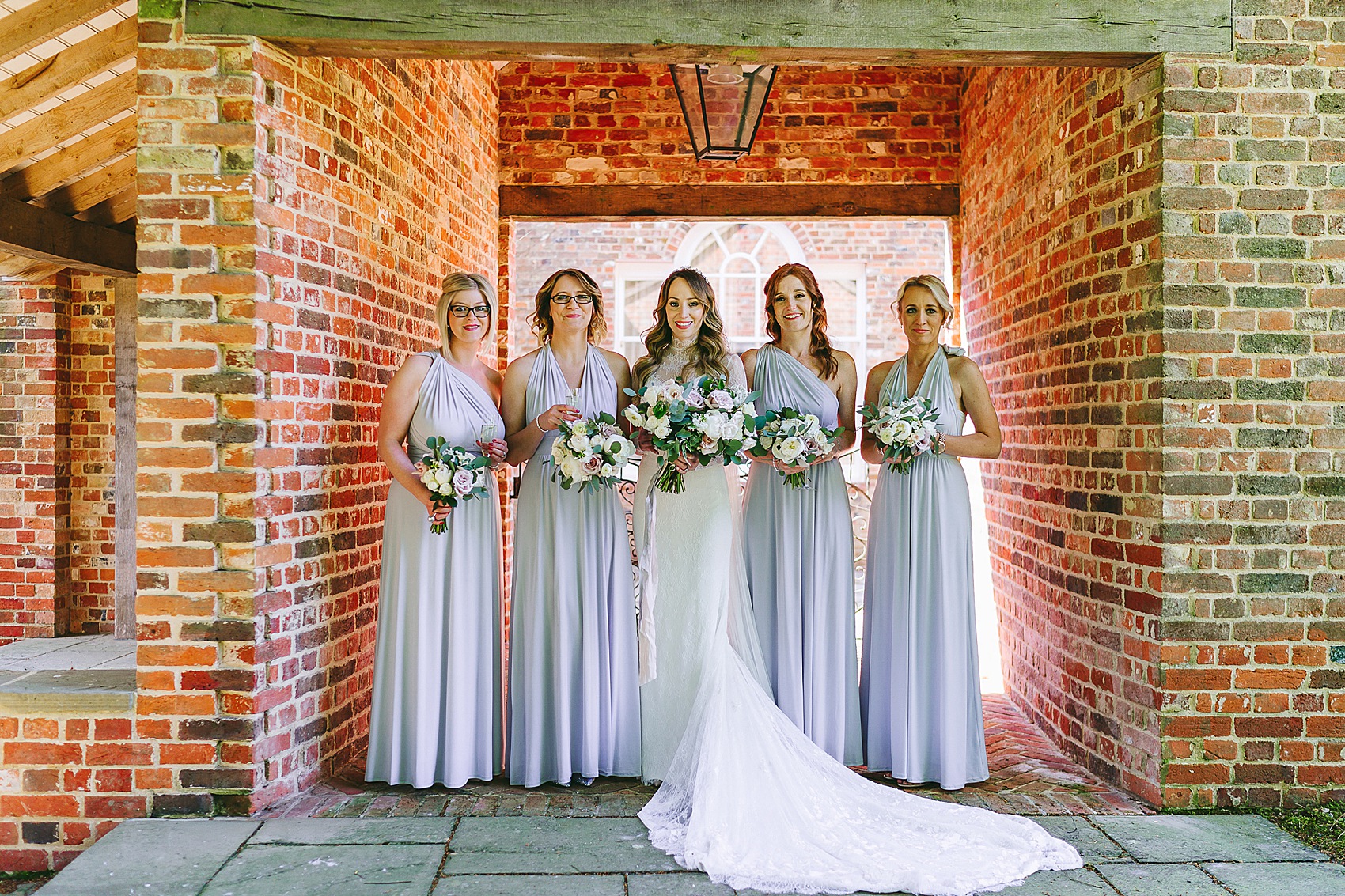 Rockley Manor's gorgeous Baronial Hall, with its timber framed ceiling and weathered stone and brick looked wonderful decorated for Claire and Paul's wedding feast. Garlands of greenery, fairylights and candle filled glass baubles hung from the ceiling, and behind the top table, a neon sign hung from a copper frame by Wedding Metal Art.
"Our on the day stationery was created by Lilac & White. The menus and table names were grey card with white ink. We had an acrylic table plan hanging outside from a copper frame made by Wedding Metal Art, and beautifully decorated with fresh flowers by our florist Foxy Buds. This created a real impact as people headed in for dinner."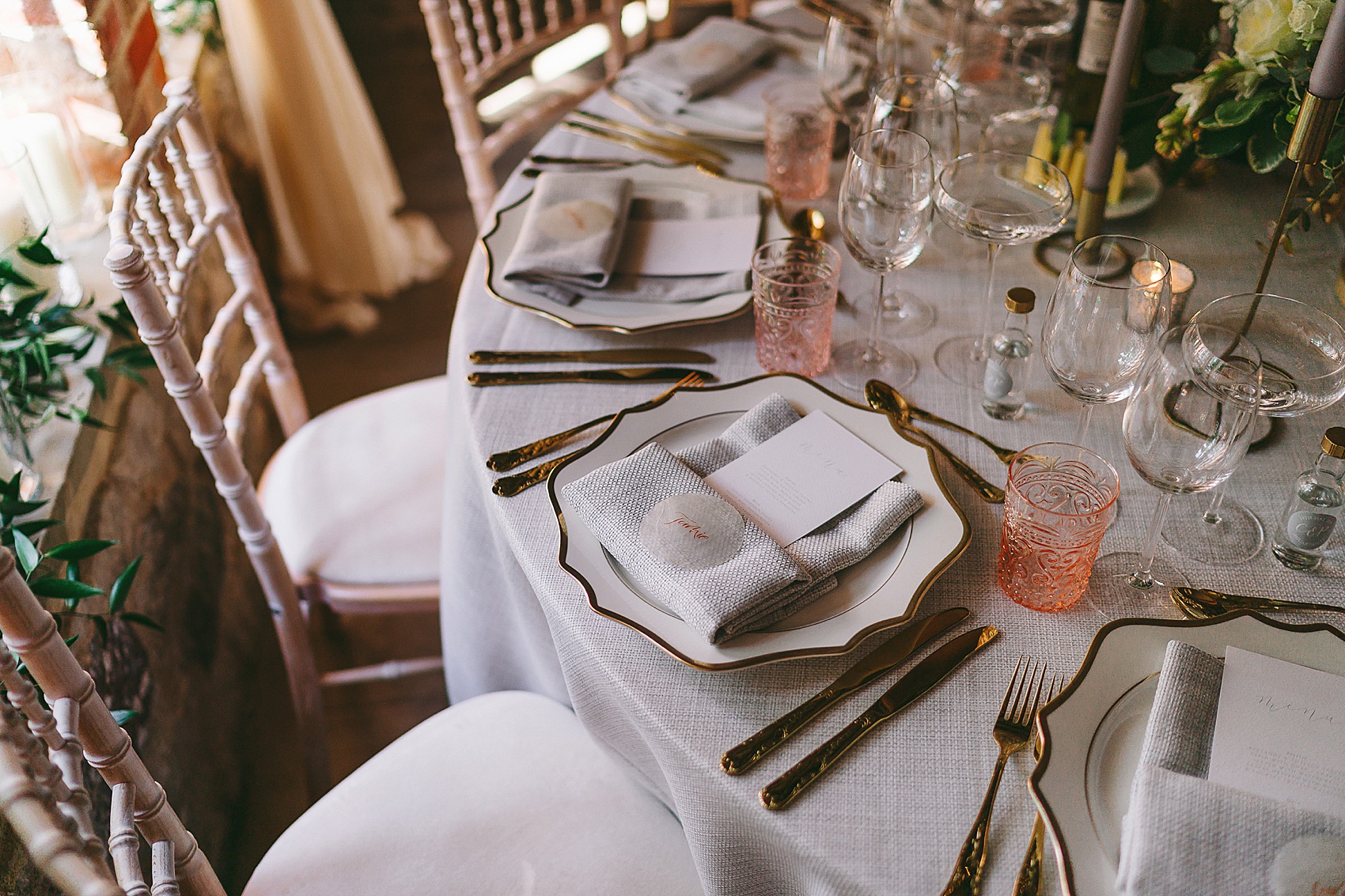 "The venue and season helped us decide on a fresh, soft colour palette. Our wedding planner Krysta put together a beautiful look book brimming with gorgeous styling ideas for each part of the day. This ensured all the elements came together, and I didn't keep getting my head turned by new ideas!"
"She worked closely with us throughout the planning helping us source suppliers, décor items, and of course, bringing the design to life at the venue."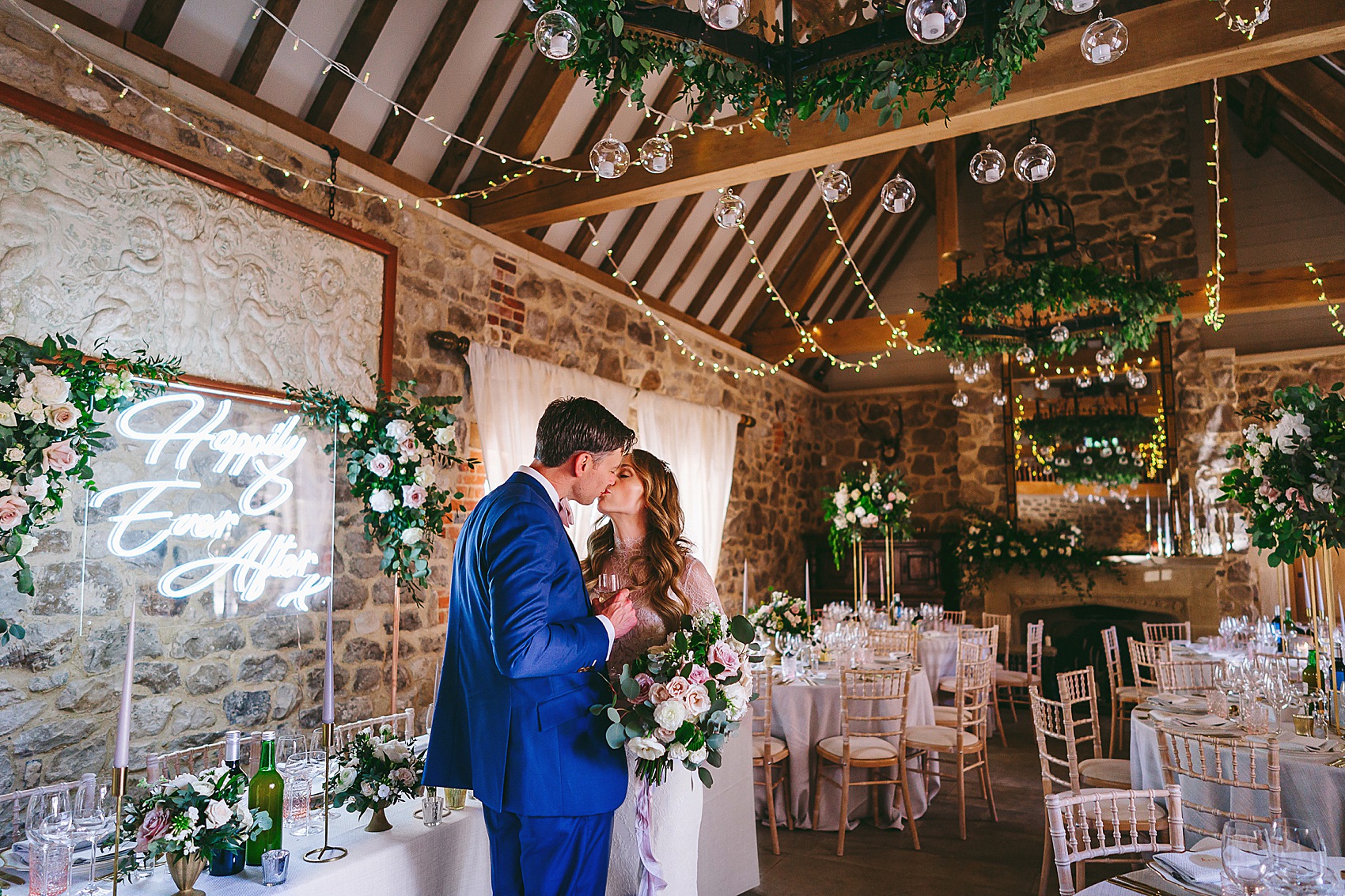 Tables were laid with gold cutlery and gold rimmed charger plates, pale pink glassware and grey napkins, with oyster shell place settings with rose gold hand lettering, as a nod to the couple's love of travel.
"We played with height for the table centrepieces, with some tall displays on gold stands, mixed in with lower arrangements. The result was just the right level of dramatic impact we'd hoped for."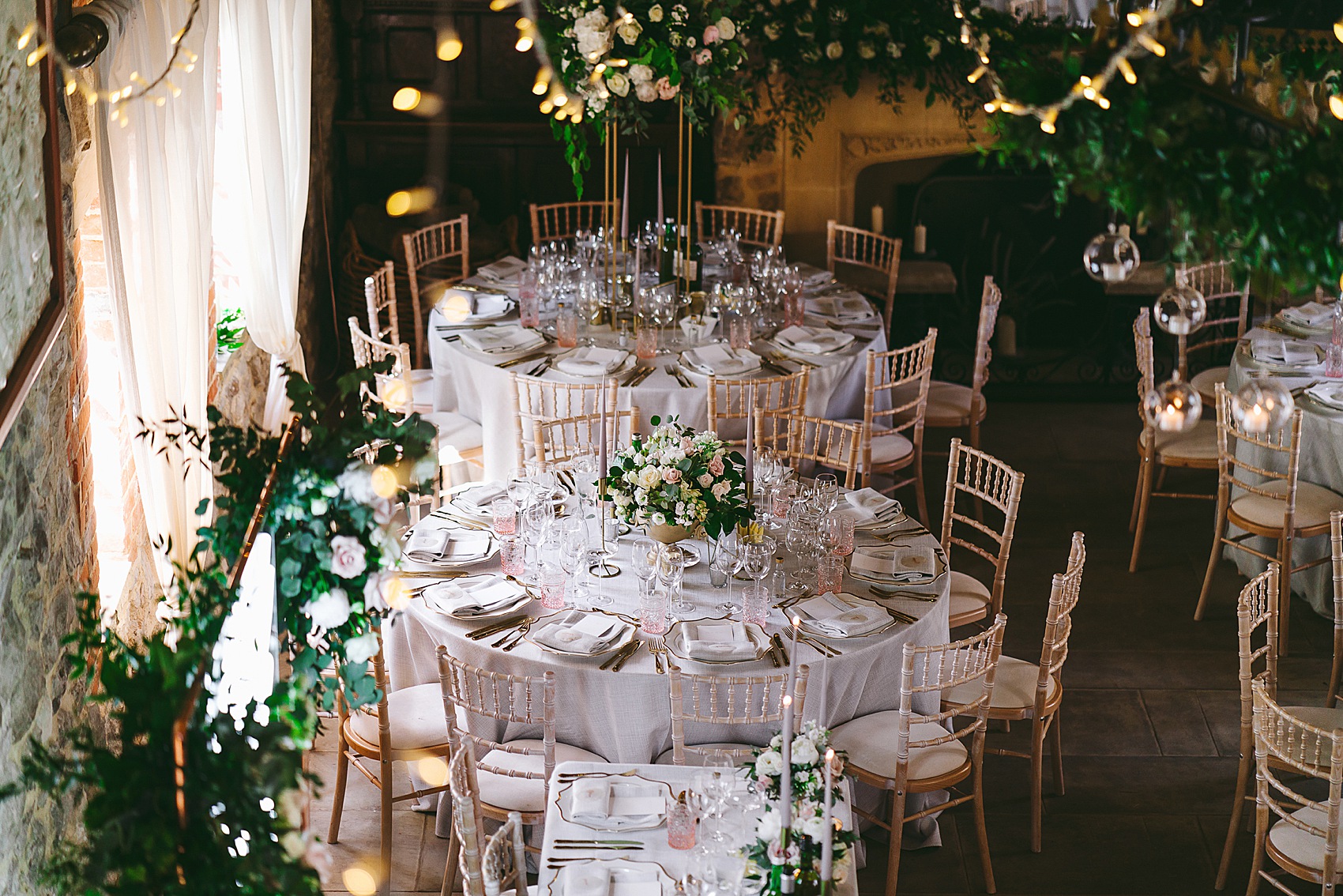 Rockley Manor's in-house catering team, Jump Events (unable to find any further details) gave everyone a feast to remember, which began with canapes during the drinks reception, followed by a three course meal that concluded with a trio of delicious desserts.
"My sister-in-law helped us find our cake supplier. Originally she was planning to make the cake herself, but quickly realised it would be quite an undertaking. She then introduced us to Joanna Pyda Cake Studio from Bristol."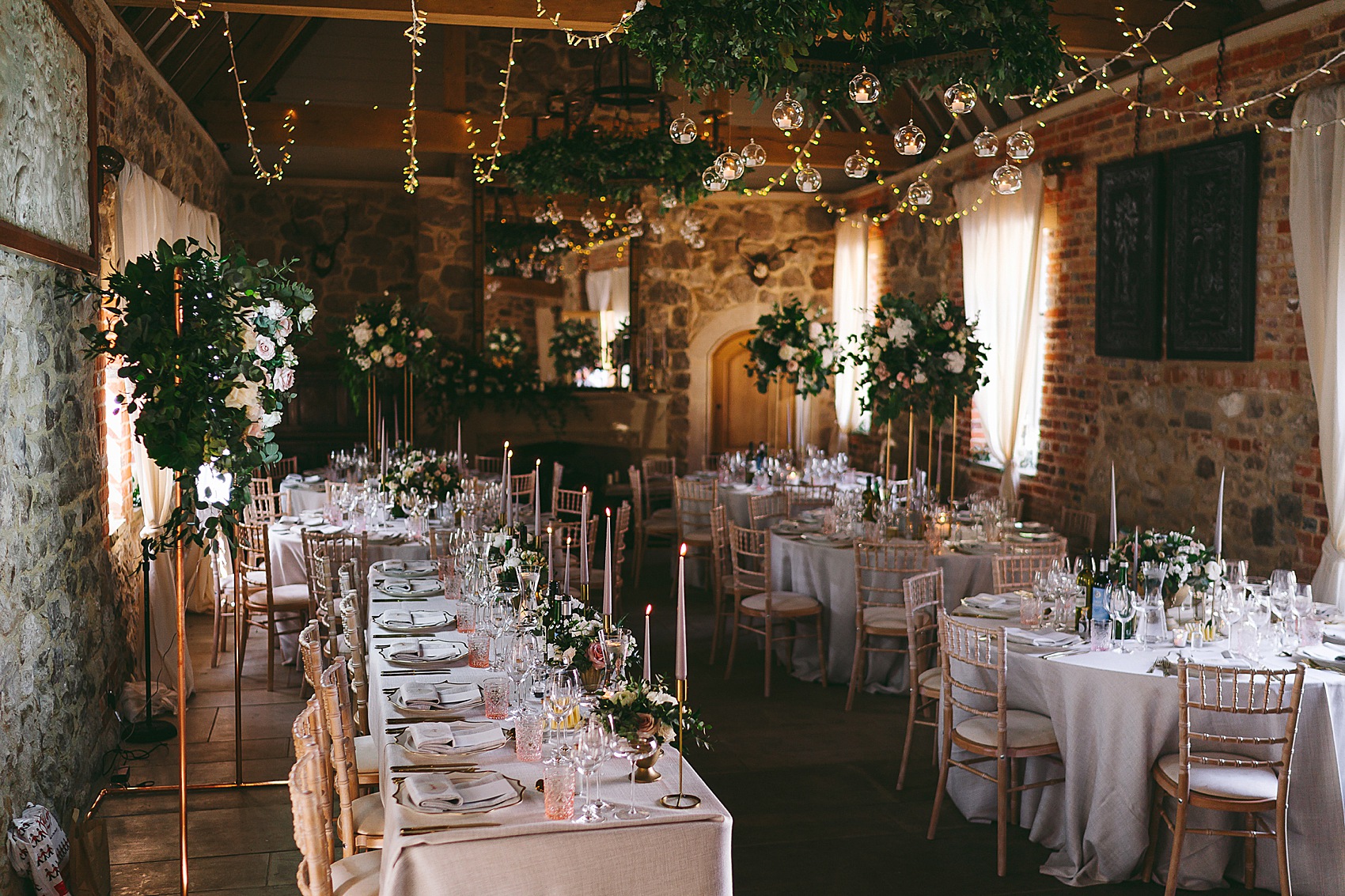 "We chose a four-tiered semi-naked cake decorated with flowers, and a bespoke gold geometric cake topper. Our chosen flavours were chocolate, strawberry and champagne, gluten-free lemon, and sticky toffee with salted caramel, which was very popular with our guests."
"We cut our cake with a hand-forged sword made by Paul's brother Marc, which was a lot of fun and gave the moment a personal touch."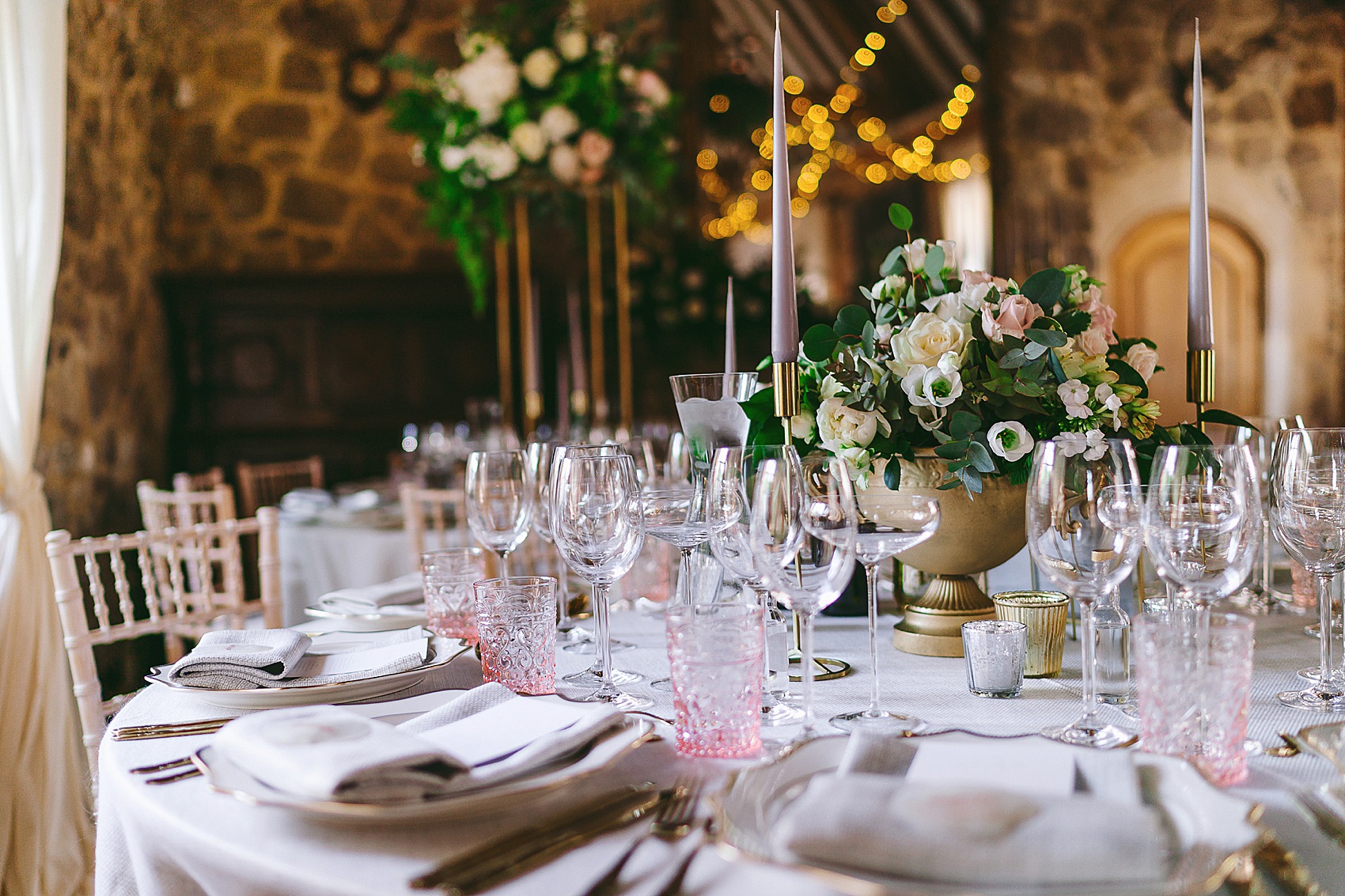 As a further nod to their love of travel (to The Algarve in particular), Claire and Paul's guest favours were miniature bottles of Aguardiente (Fire Water!).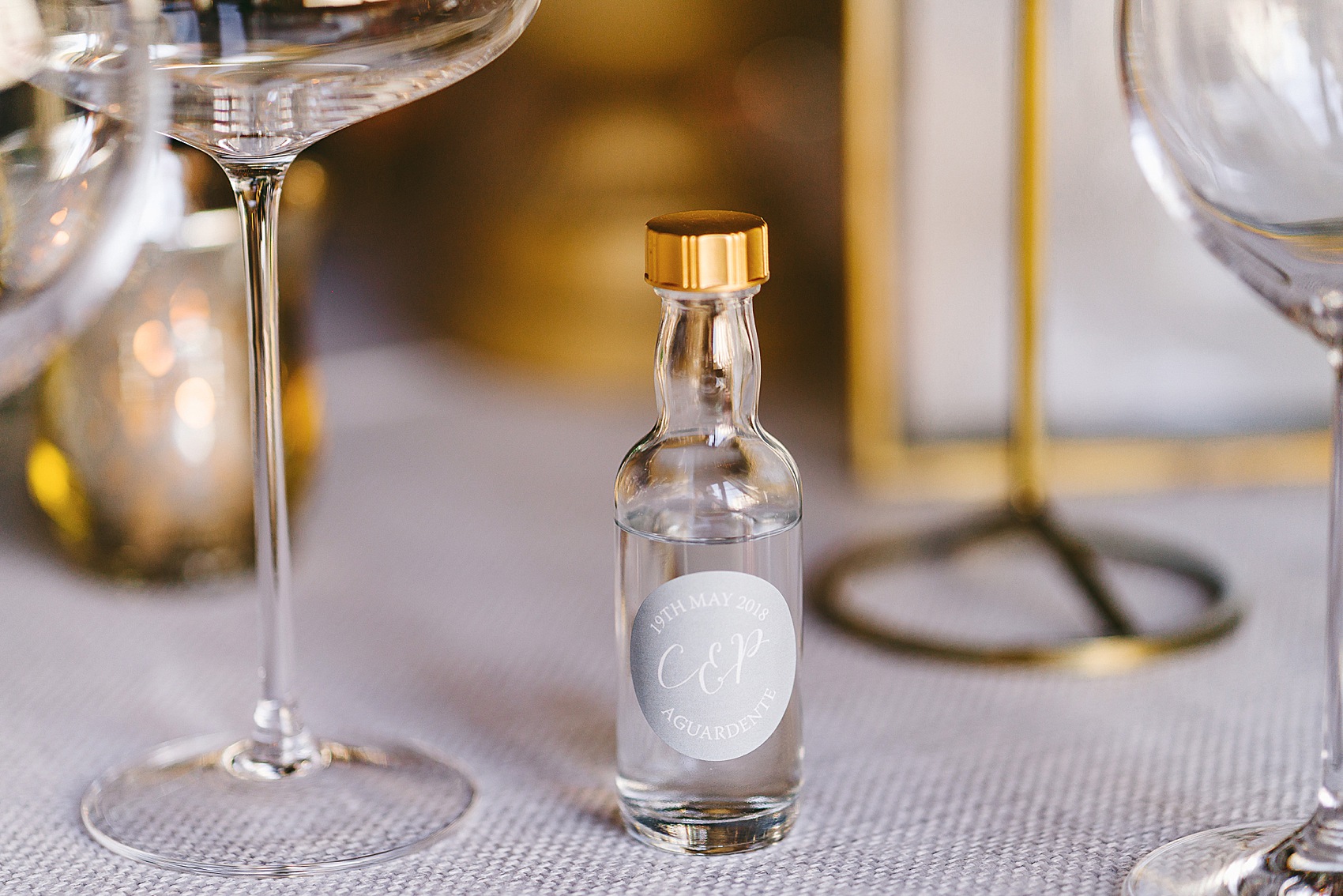 Capturing the newly married couple in the magical walled 'secret' garden of the venue, filled with colourful flowers, was photographer Aga Tomaszek, whose work we've featured on our pages before.
"We met Aga over a Skype call and instantly felt her energy and enthusiasm was exactly what we wanted on the day, and this definitely translates into her images. Aga captures some incredible 'blue hour' images."
The glorious walled garden was the setting for after-dinner cocktails – another standout moment from the day for Claire and Paul.
"We both chose a cocktail, which our fantastic bar provider Goldbars served to our guests in the beautiful setting of the secret walled garden. Seeing all our guests relaxed and having fun as the sun set was an unforgettable moment." 
It was important for Claire and Paul to fill their day with music, and during evening cocktails, family member Matt Underdown (who is part of the band Erica Drive) perfomed an acoustic set of indie covers.
"Our first dance song was an acoustic version of Kings of Leon's Use Somebody performed by Matt Underdown. It took us a while to choose, as we don't have one song that we call ours. We heard Lusaint's cover of the song on a Spotify playlist, and both immediately knew it would be perfect as we are both huge fans of KoL's music."
"We did lots of research before choosing Tritts & The Numbers for our evening entertainment. They provided a mixture of classic dance tunes and high energy indie and pop music, which kept the dance floor full all night."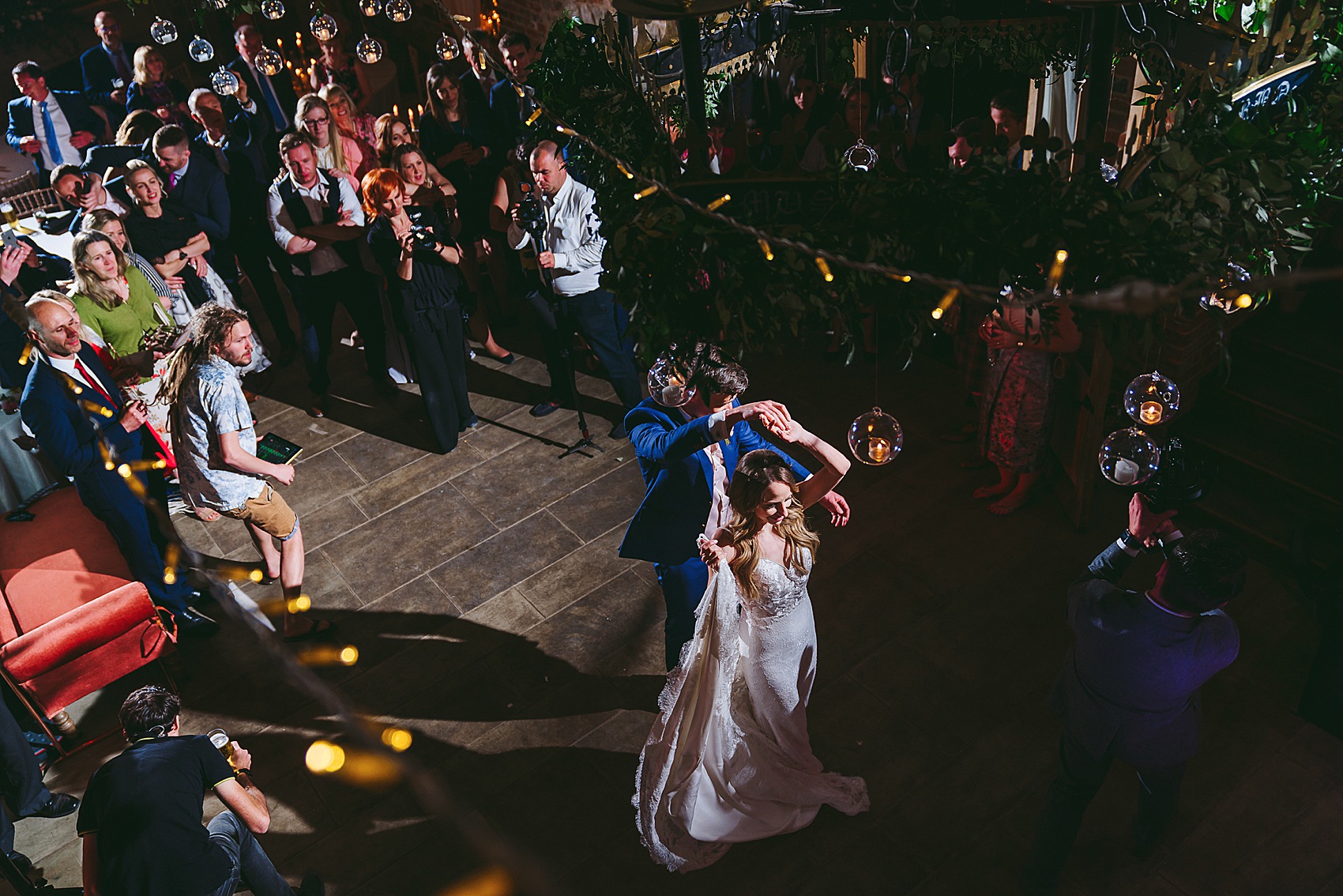 "We chose the incredible HD Moments as our videographers after coming across one of their films whilst researching wedding venues. They were so friendly and professional and yet so unobtrusive, we barely knew they were there."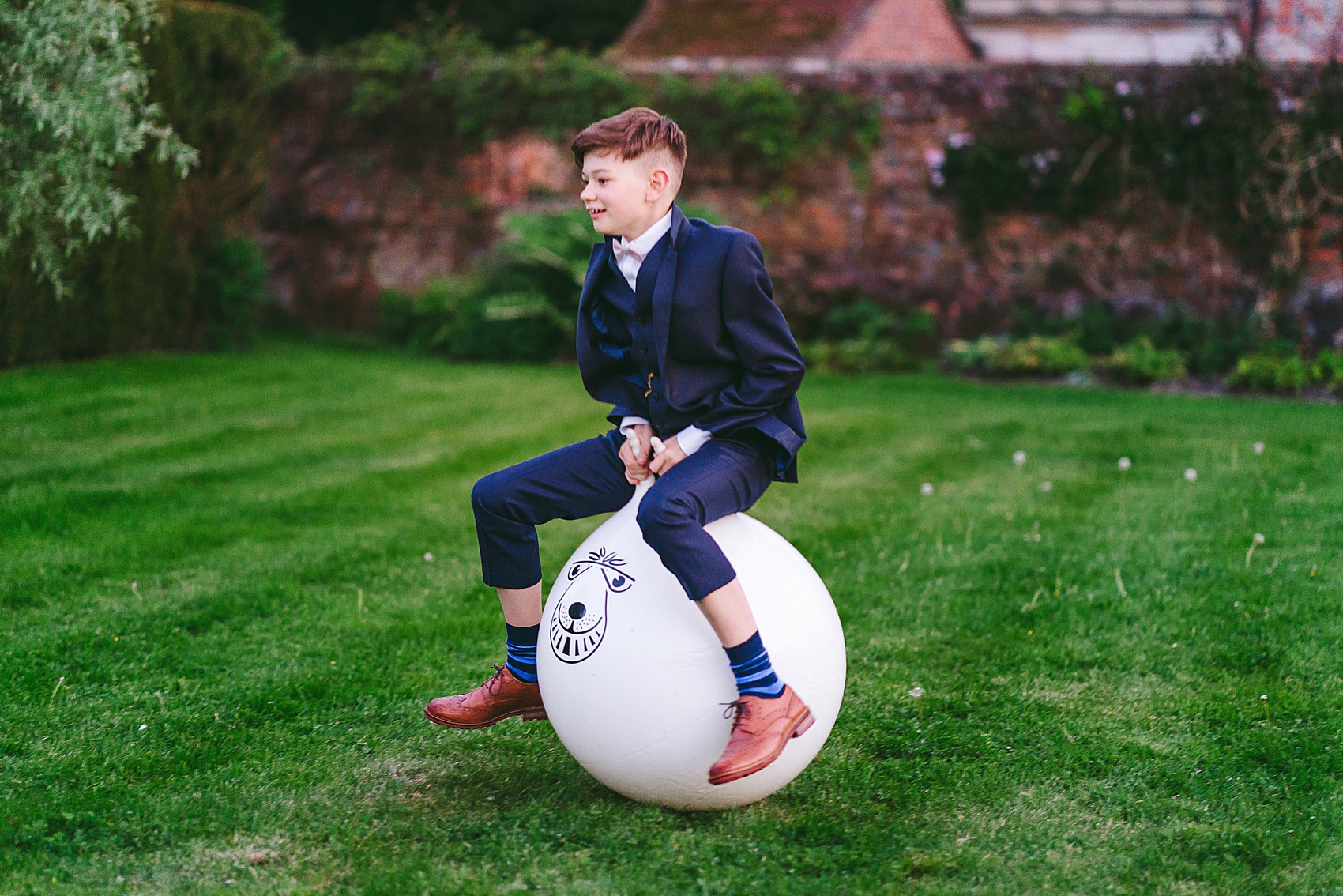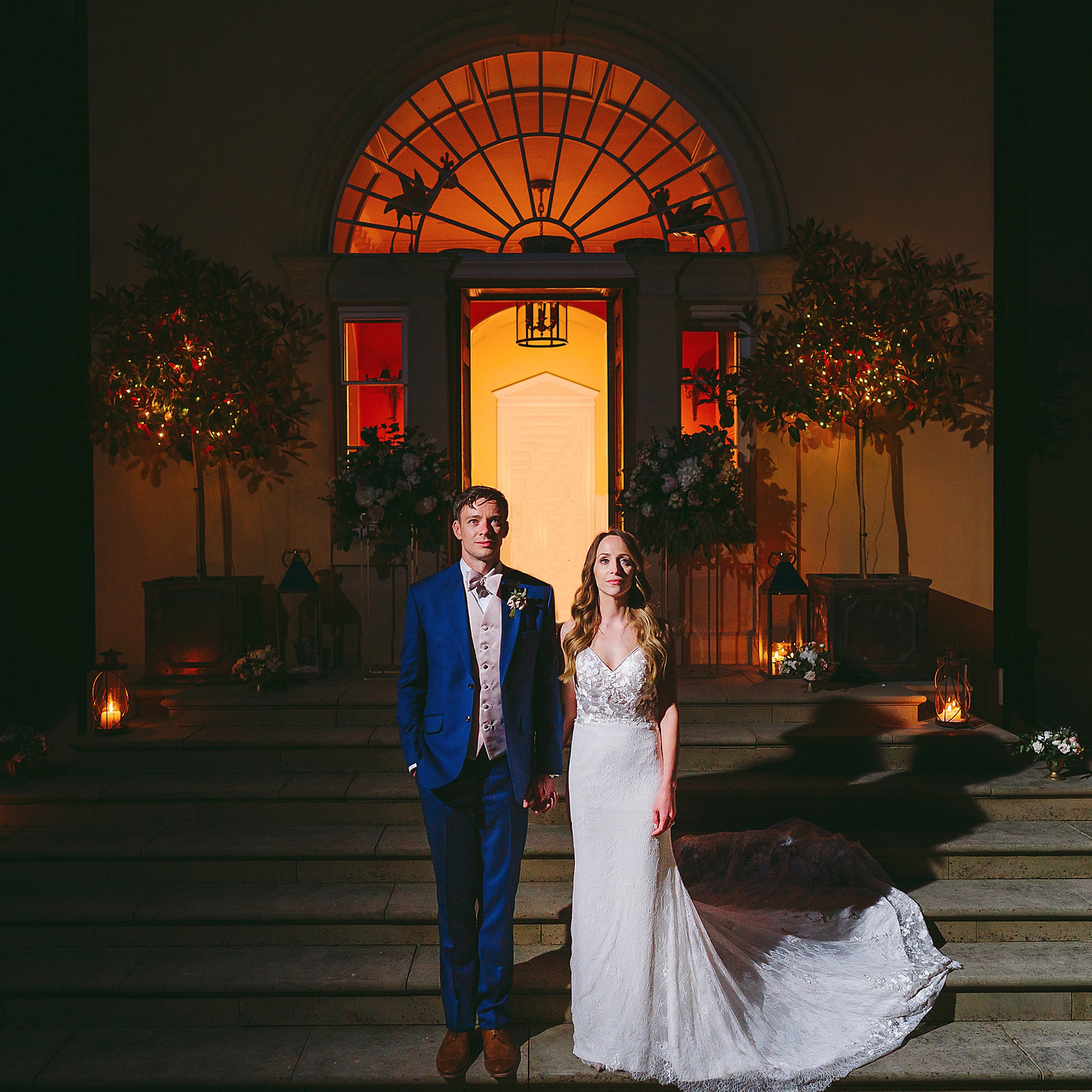 Words of Wedded Wisdom
"If we could do it again, we would have chosen a slightly earlier ceremony. We planned so much into the day that we would have liked extra time to enjoy certain elements more. Everyone says it, but the day really does fly by!"
"Also, if we could do it again, we'd work with our wedding planner from the outset. The experience Krysta brought was invaluable, and we hadn't anticipated how much time it would take to make so many decisions whilst also running a business."
"We love the fact we made a weekend of it. Having a meal the night before and brunch at the pool house the following day meant we got to spend much more time with our guests, especially those who had travelled a long way to be there."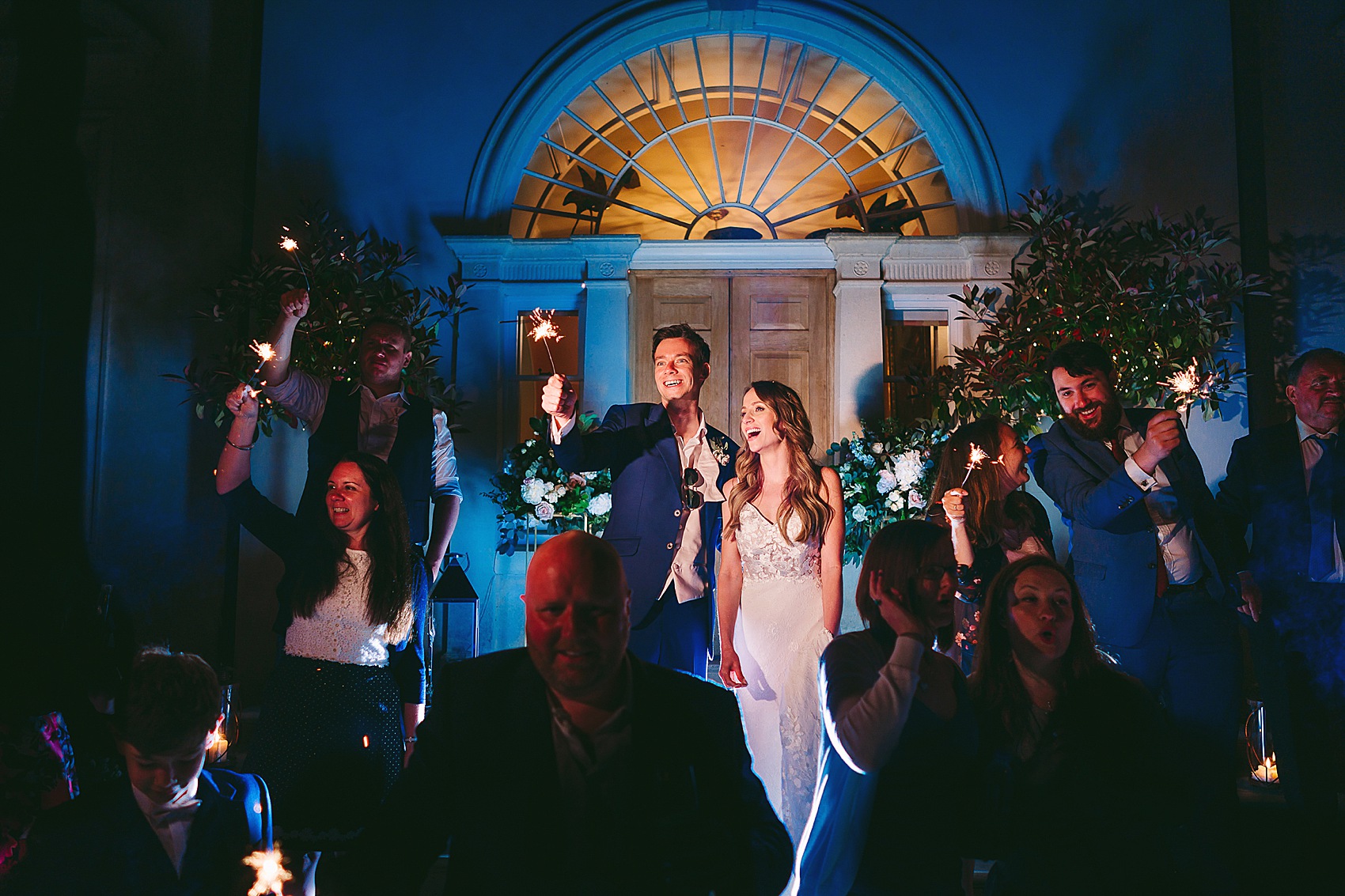 Claire and Paul, thanks a million for this glimpse into your beautiful day, and many thanks to Aga Tomaszek for her vibrant, crisp images, too.
Until next time.
With love,
Laura