The images from today's Italian destination celebration are suffused with beautiful light; at times dramatic, and at other times soft, but always painterly and deeply romantic.
Every tiny detail and every heartfelt moment has been captured and exquisitely rendered. Readers, this wedding is going to stay with you – enjoy. Meet Rachel, who is Head of Investor Relations and Marketing at a New York hedge fund, and Katie, an Account Director for a graphic design firm. They celebrated their marriage on the 20 October 2018 at the magnificent Villa Medicea di Lilliano in Grassini, Tuscany, Italy.
Images by Stefano Santucci
We have talented photographer Stefano Santucci to thank for this breathtaking collection of fine art images, so beautifully and creatively composed.
"We browsed Stefano's website, and he was immediately our first choice. His style is natural and real, yet very artistic and refined. He uses natural light beautifully, and has an eye for unique angles and perspectives. He also has a gift in capturing genuine and emotional moments between family and friends. Our photos came out so beautifully that we are finding it hard to choose which ones to have printed or put into an album, because they are all so amazing!"
"Stefano and his assisting photographer Lucrezia Cosso are true professionals, and they were a pleasure to work with throughout the whole event. They were attentive and responsive, and their presence at the event was calming and enjoyable. They helped make it truly special, and we are so happy that we have so many beautiful photos to capture the love and joy that we felt throughout the day."
Elegant, minimalist stationery came courtesy of Papel New York (now sadly closed), and Oblation Papers & Press, with exquisite, modern calligraphy by Andi, of Old City Mailroom.
As her something blue and something borrowed, Rachel wore a pair of sapphire and diamond earrings borrowed from her friend, Jen, and on her feet, classic ivory pumps by Manolo Blahnik.
Katie wore a beautifully crafted and tailored tuxedo from Bindle & Keep, in a deep midnight blue with contrasting black silk lapels, paired with a crisp white shirt with monogrammed cuffs, and a black bow tie.
"The midnight blue is classic, yet modern and bold. Bindle & Keep make great suits and tuxedos, and they help you find the style that really feels perfectly tailored to you, so that you feel comfortable and confident on your special day."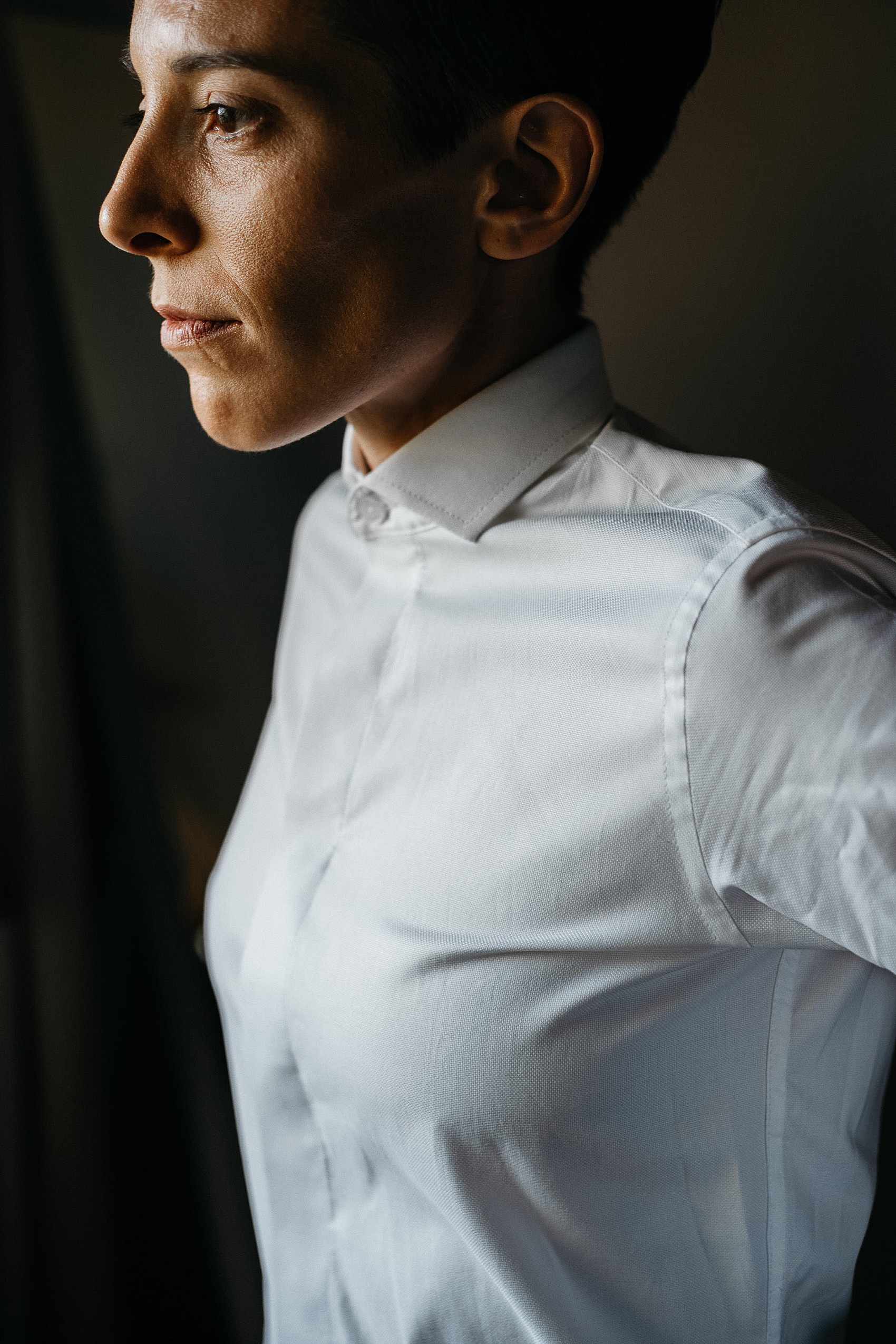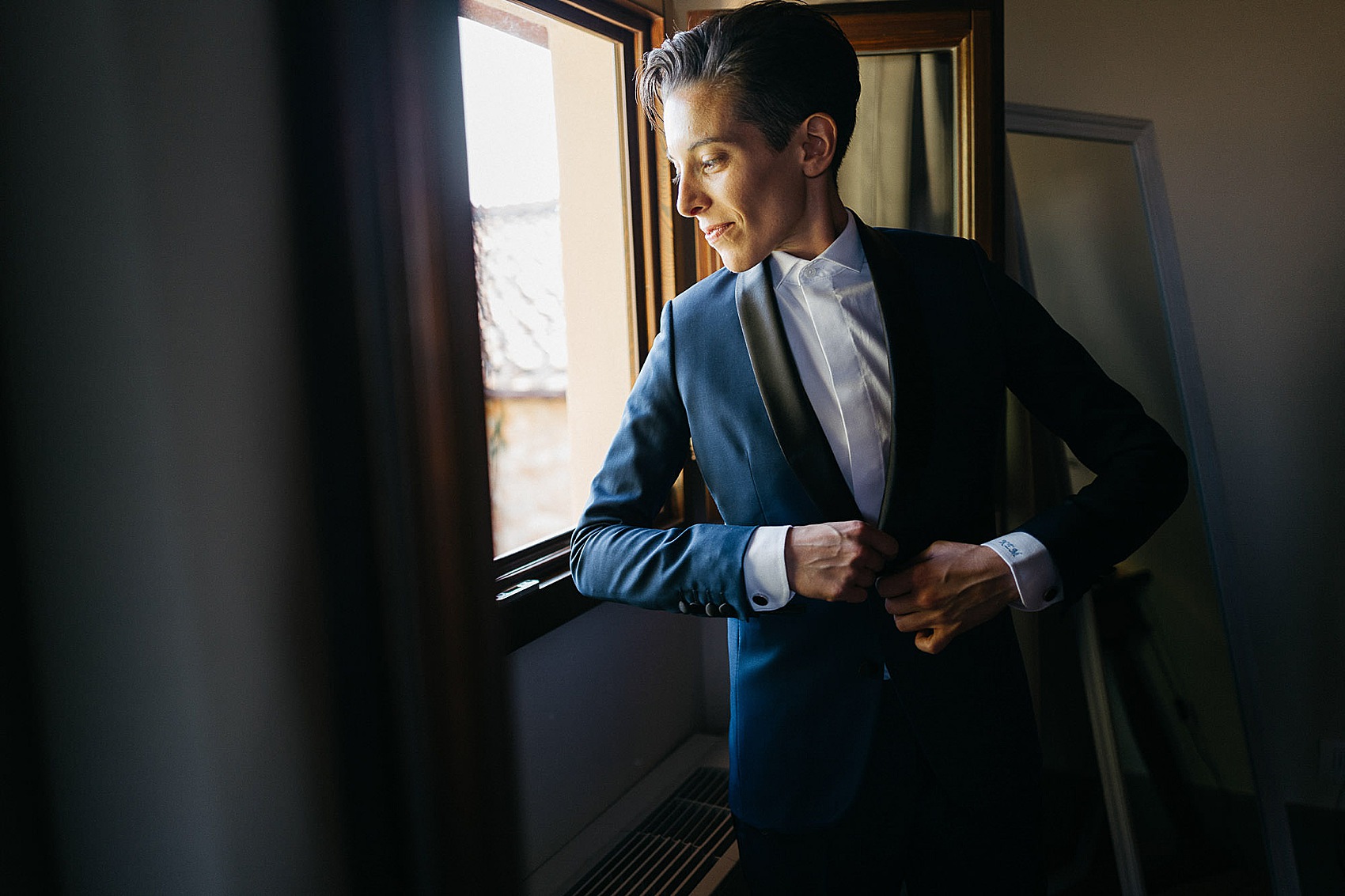 Rachel discovered her ethereally beautiful dress at Vera Wang's New York boutique, with its high neck and row of delicate buttons running down the back, and magical layers of lace and tulle falling to a long train.
"The romantic style and fine, elegant detail felt like a perfect fit for Tuscany. Given it was in October, strapless was too off-season, and this style gave us a way to keep the dress light and elegant, but without baring too much skin."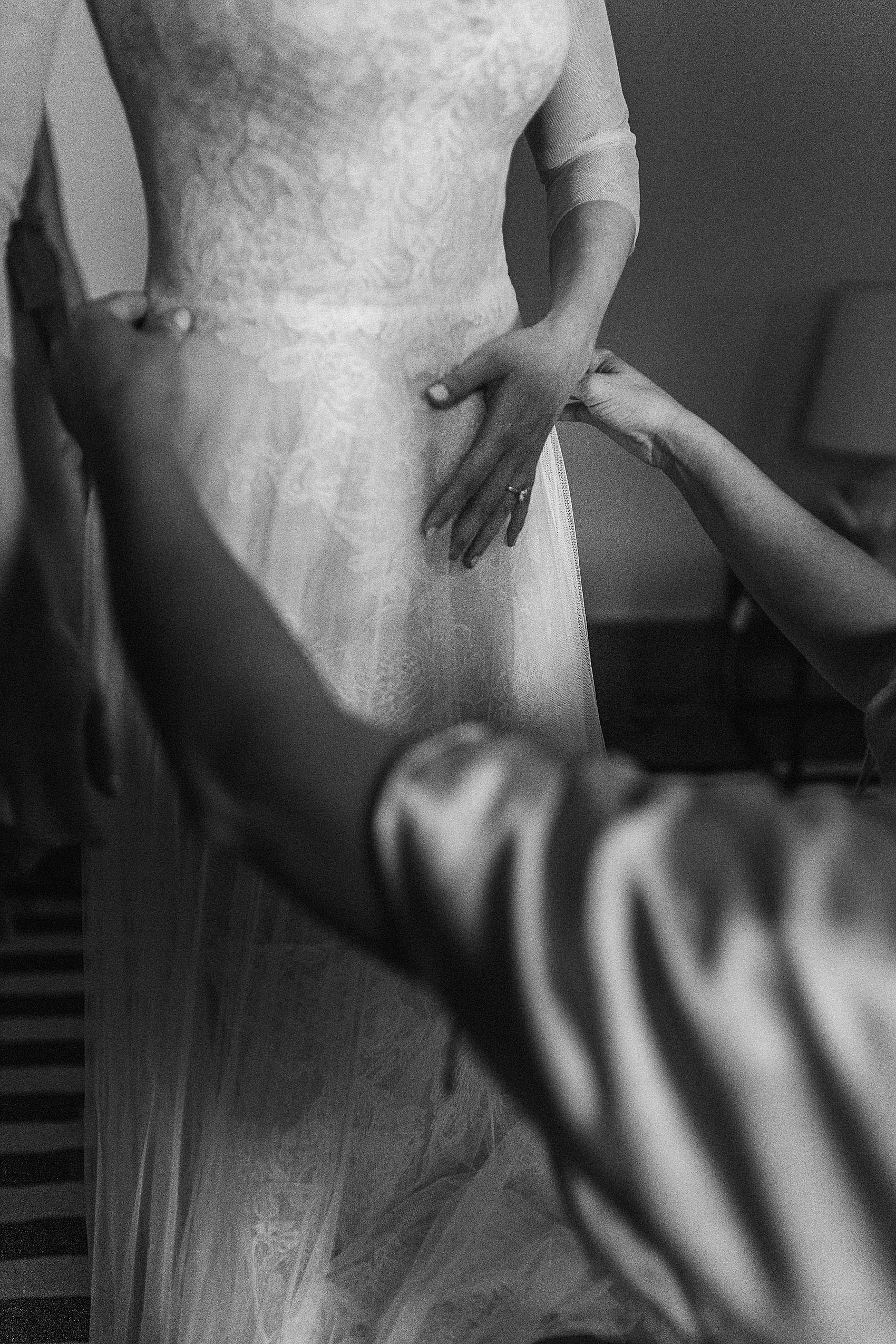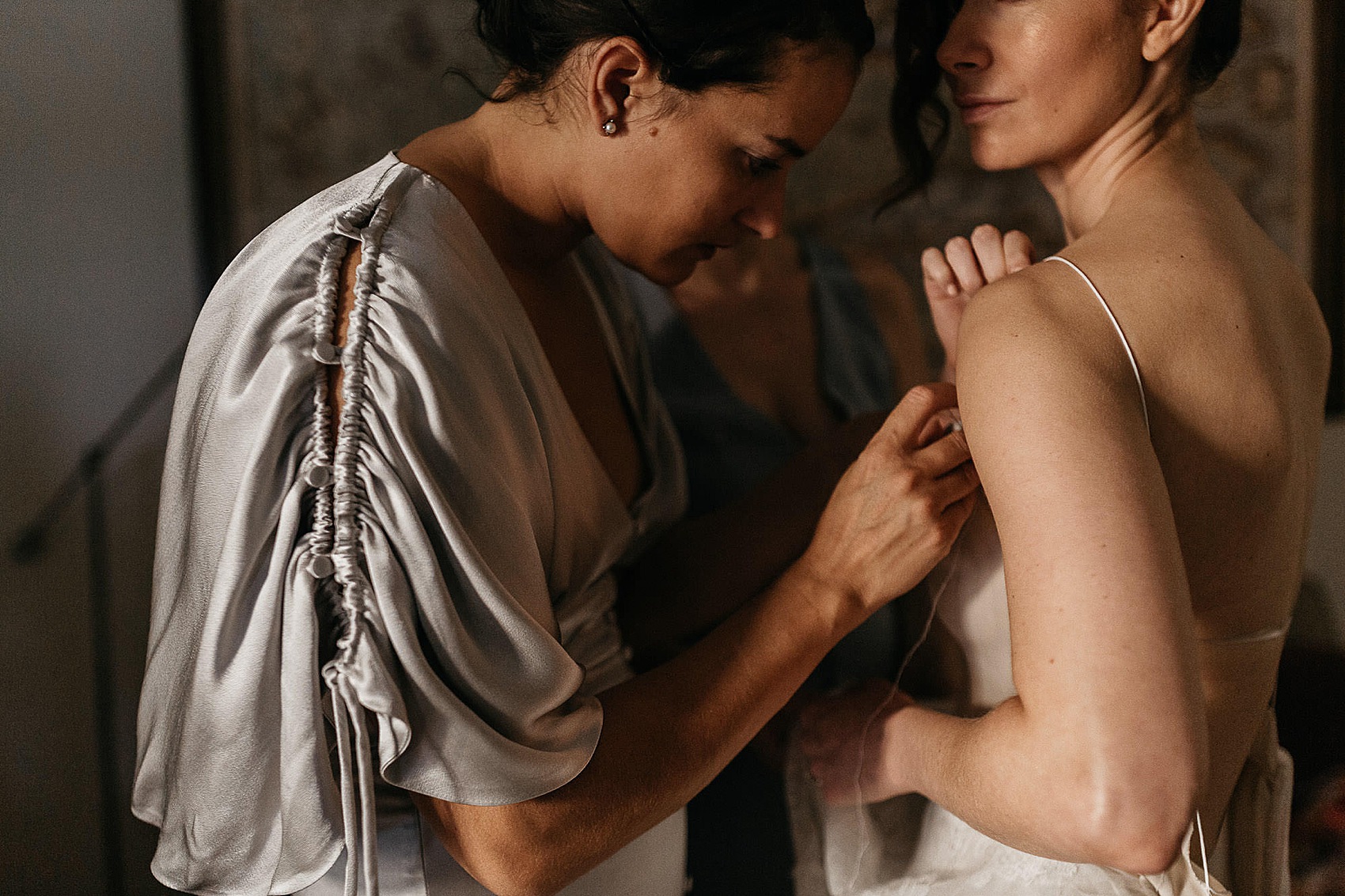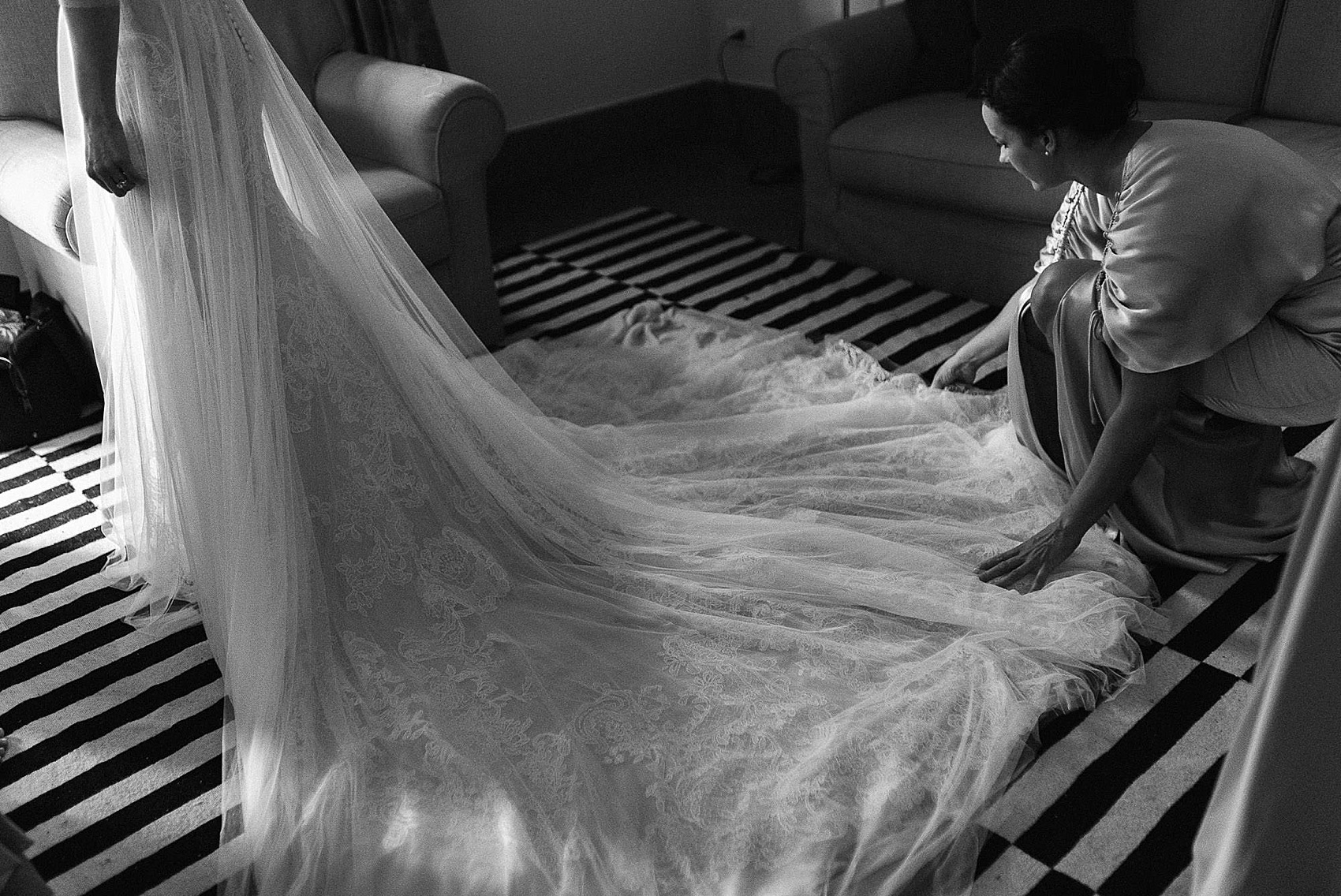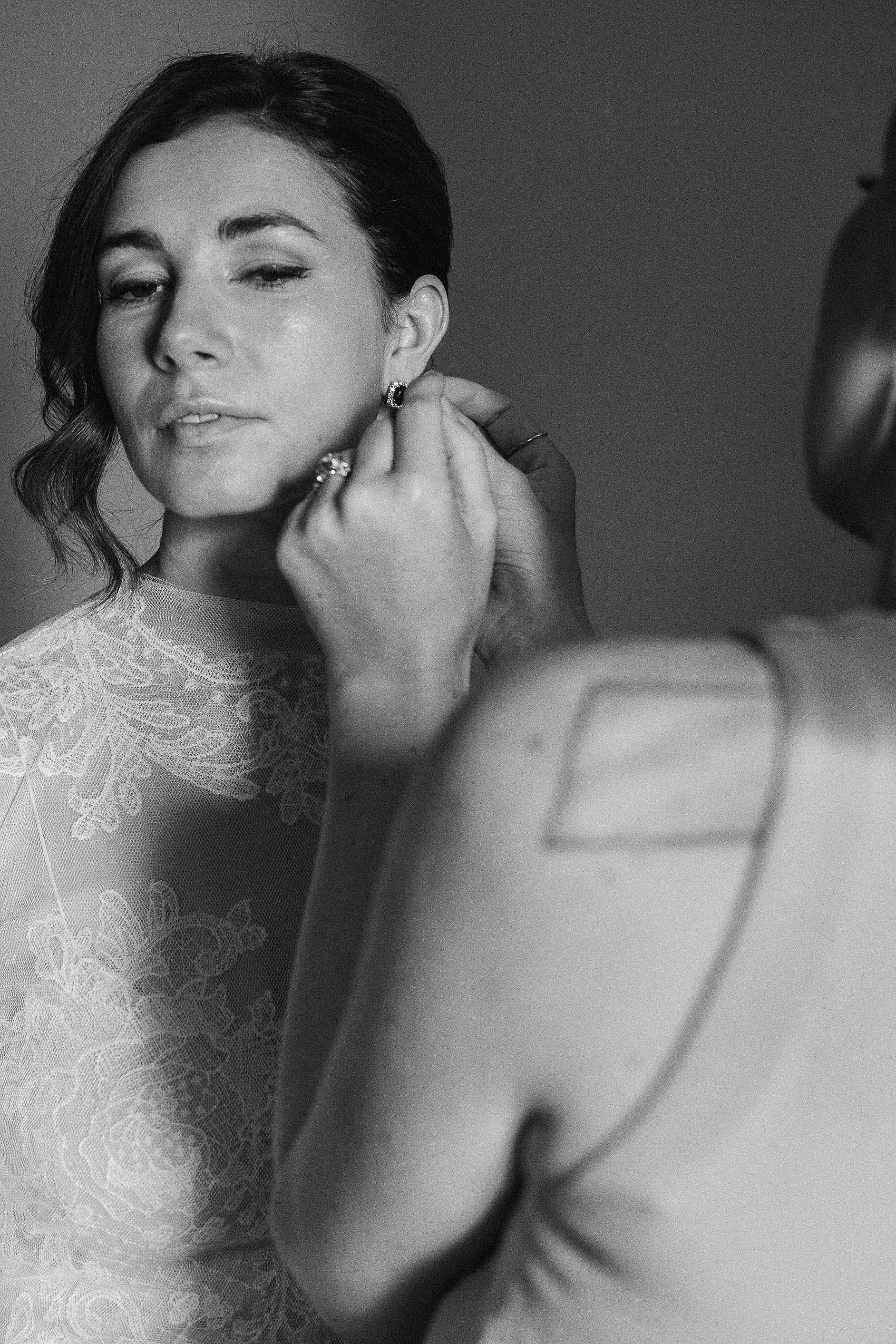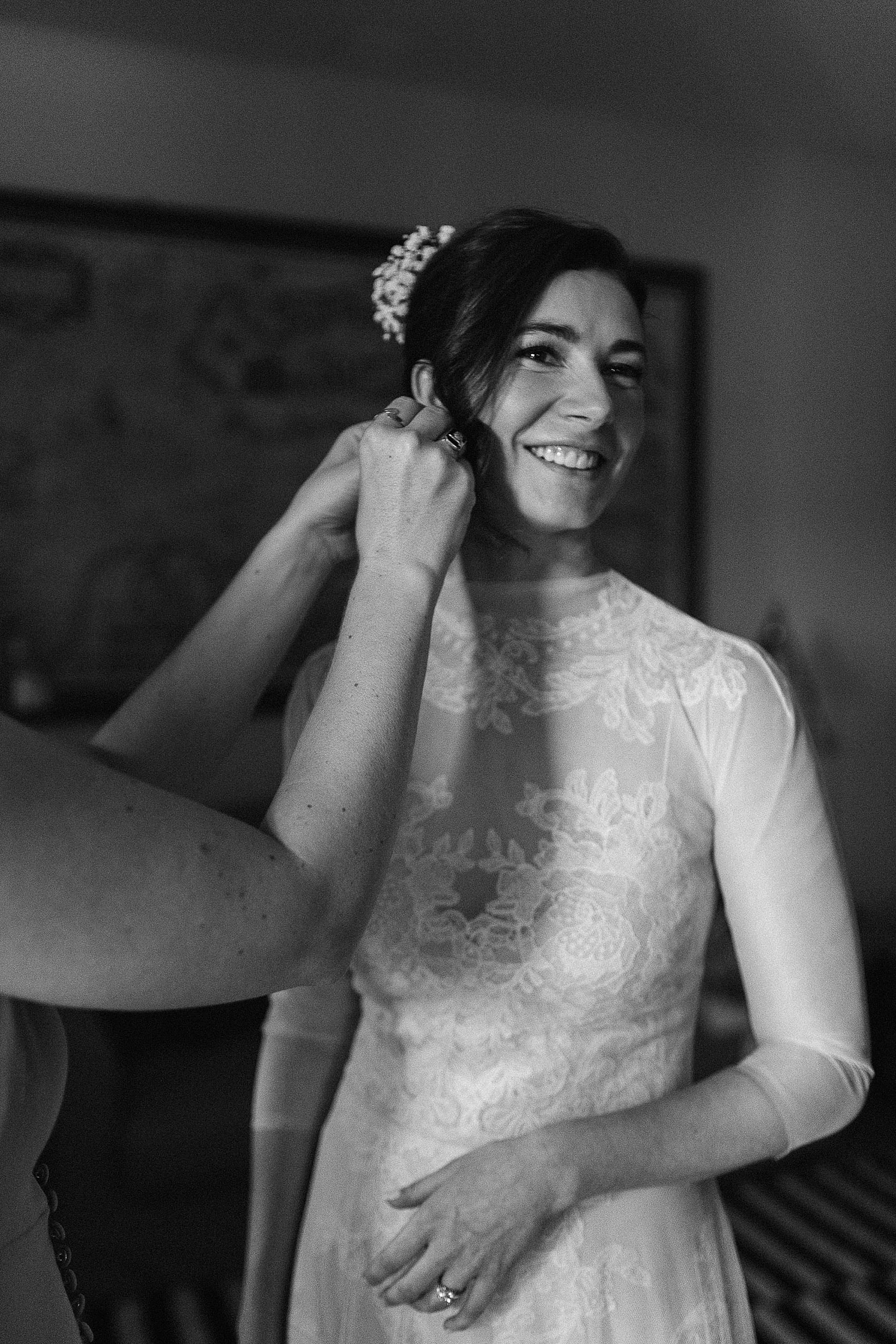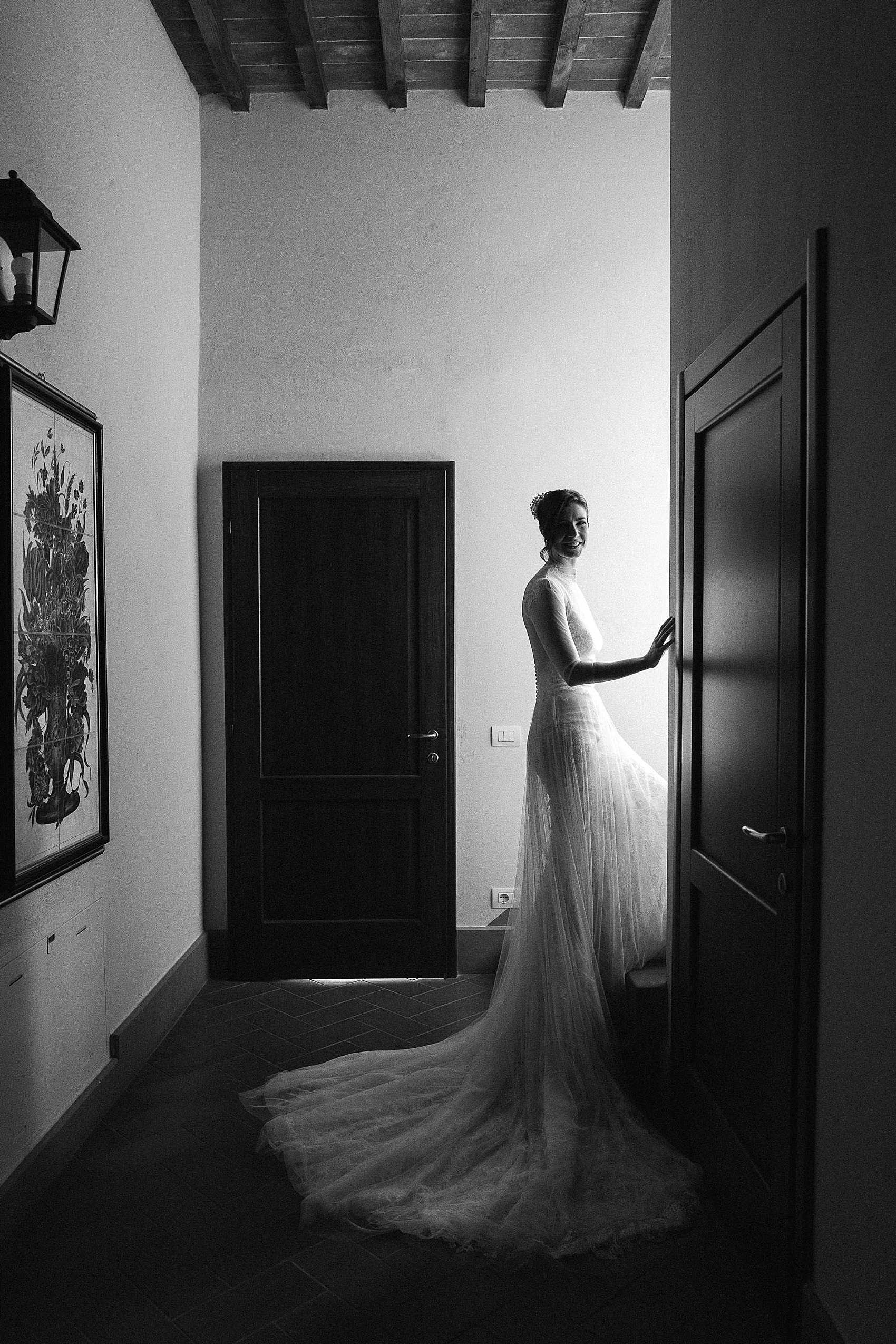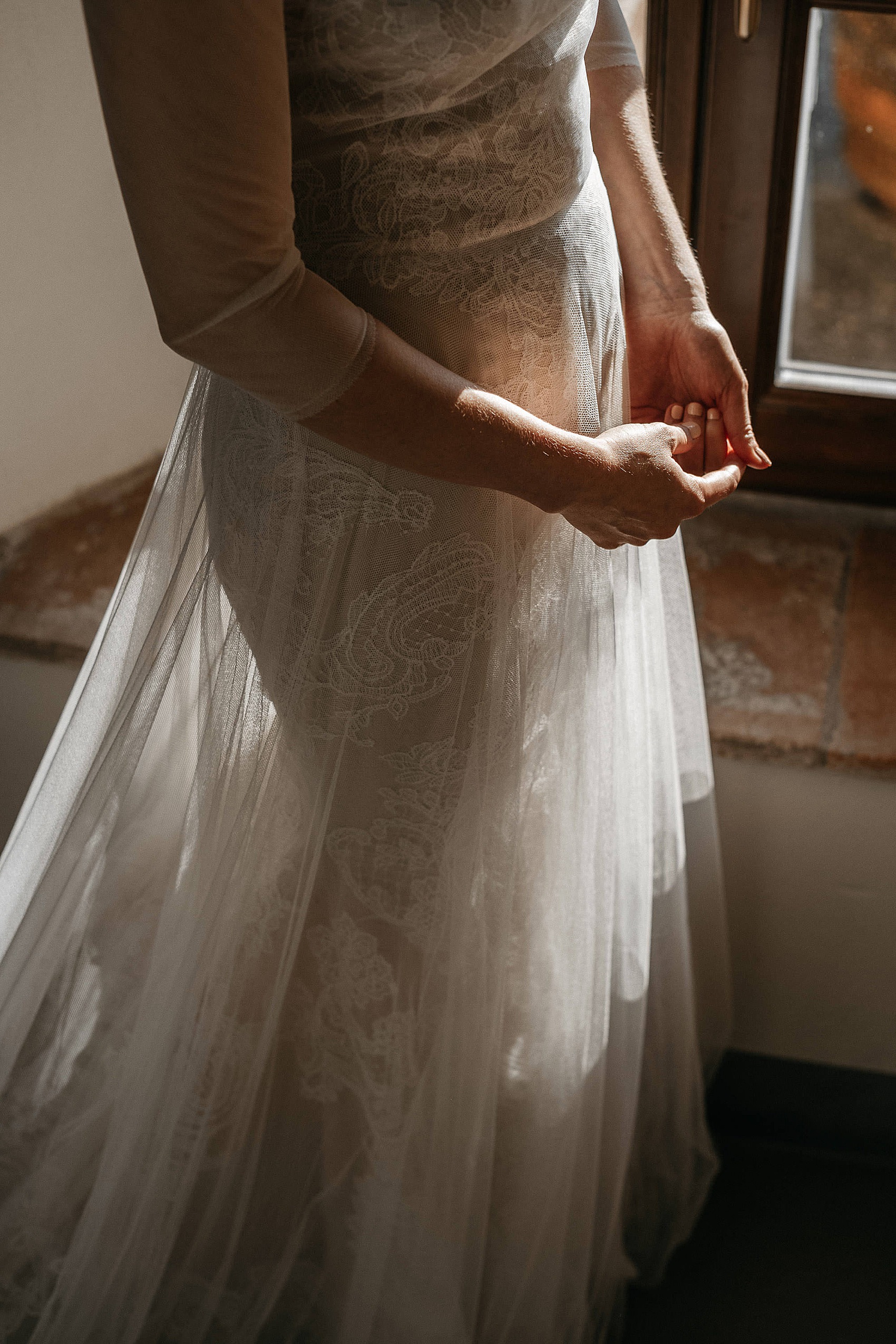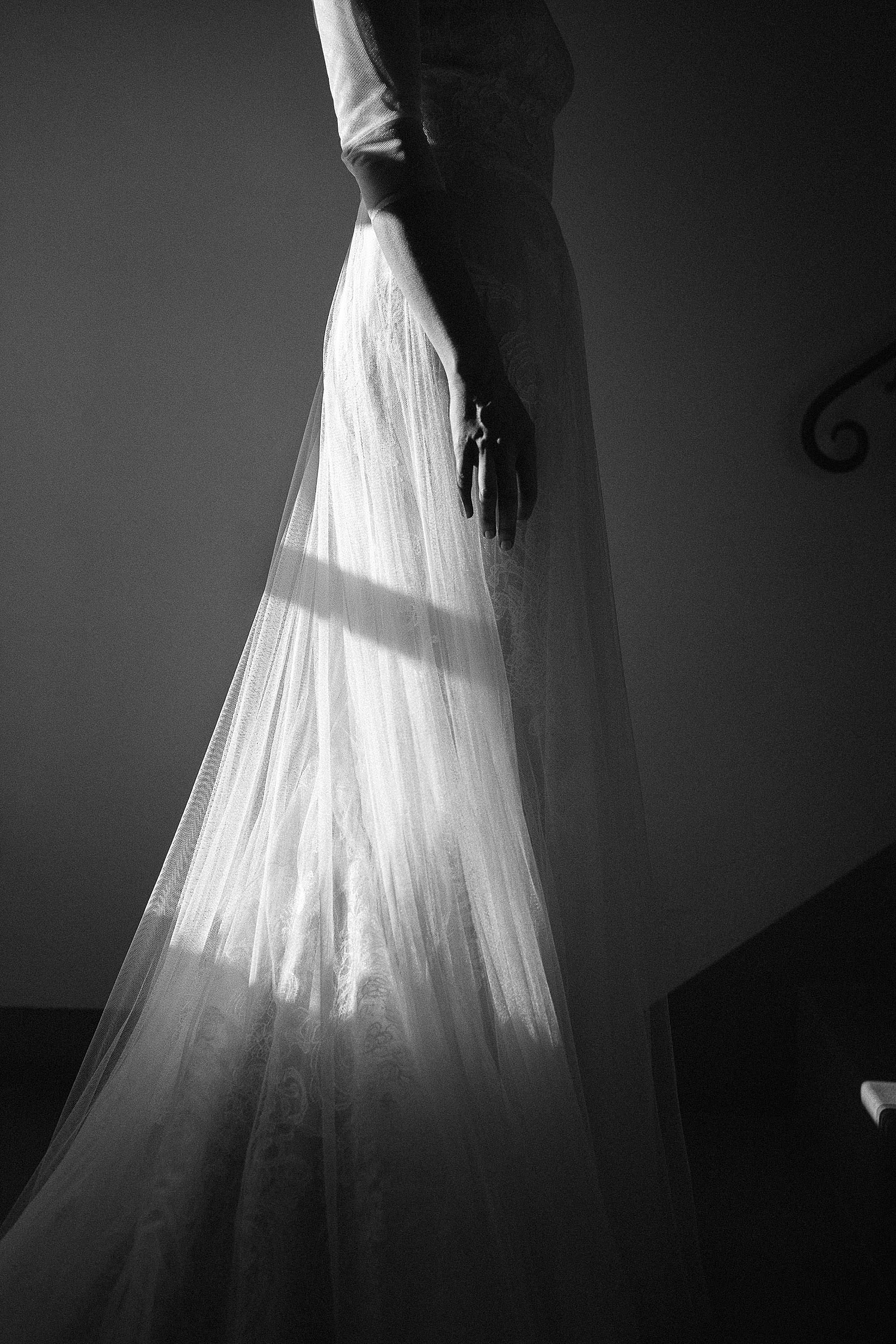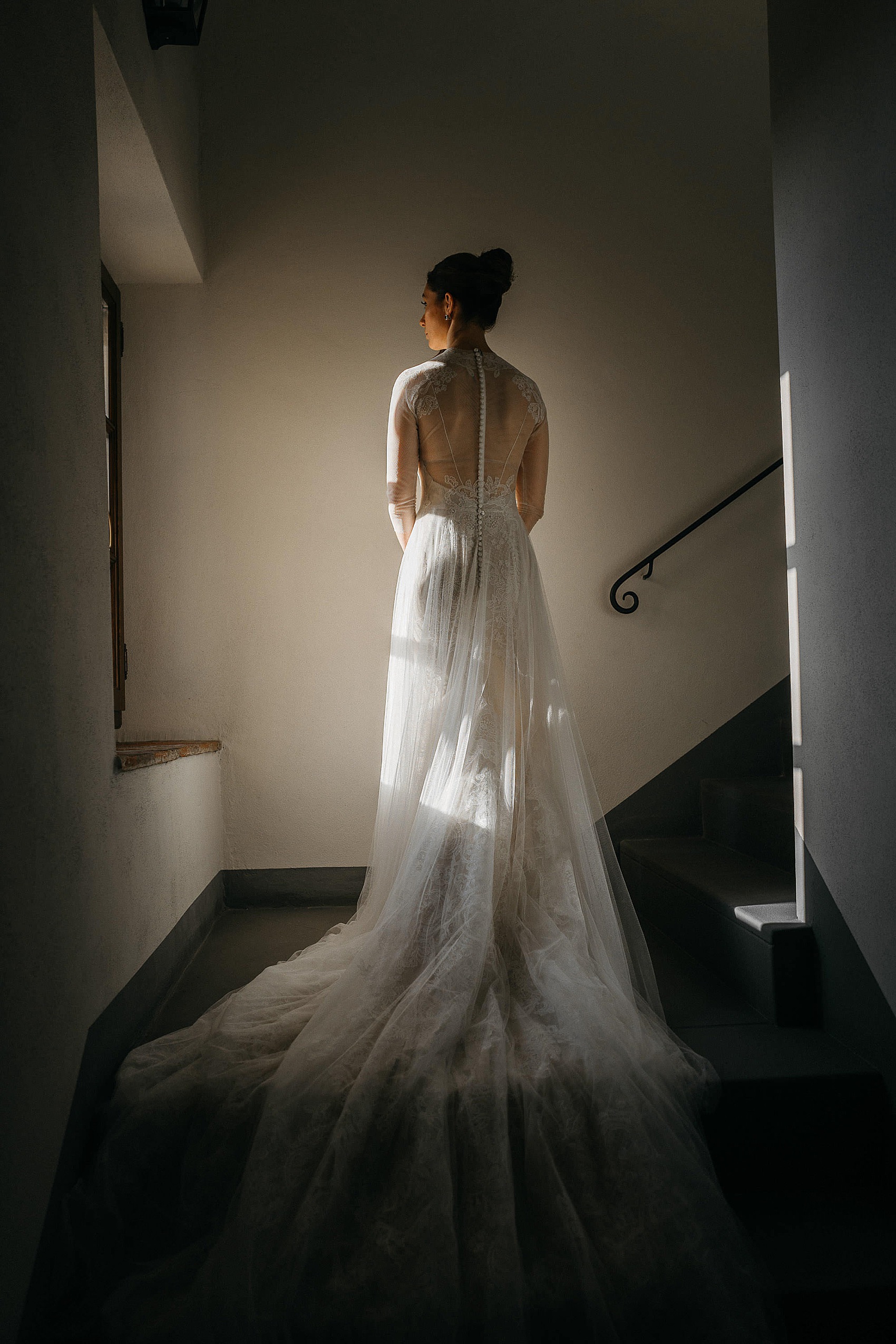 "After getting engaged in California wine country, we knew we wanted to have our wedding at a vineyard or wine estate. Our friend Kellin lives in Florence, and she had just visited Lilliano for an event and recommended we consider it for our wedding."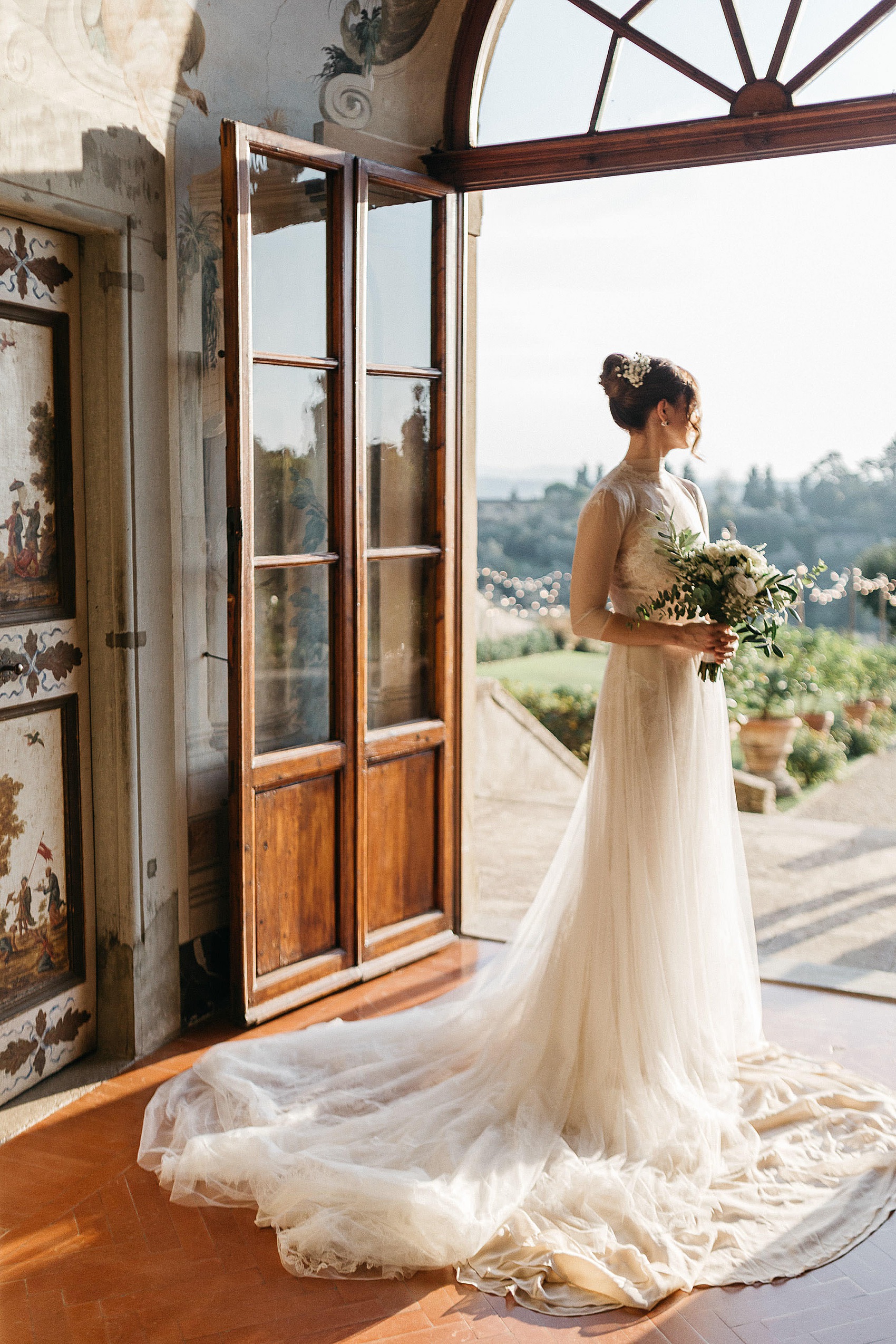 The couple enjoyed a lovely first look ahead of their ceremony, against the backdrop of the villa's painted wall and ceiling frescoes – cherubs, flowers and leaves shining brightly in the Italian sunshine.
Rachel and Katie spent time together with loved ones on the wedding morning, enjoying drinks as Rachel's hair and make-up was styled by Cherie Spisso.
"We visited Lilliano in February 2018 and met Eric, the General Manager. We fell in love with the venue right away, and knew we wanted to work with him on our wedding. We are so happy with our decision. We wanted the style of our wedding to be a mix of old and new. We were inspired by the rustic style of California and Tuscany, and wanted the food, the music, and the décor to be as authentic and timeless as the location where we were getting married."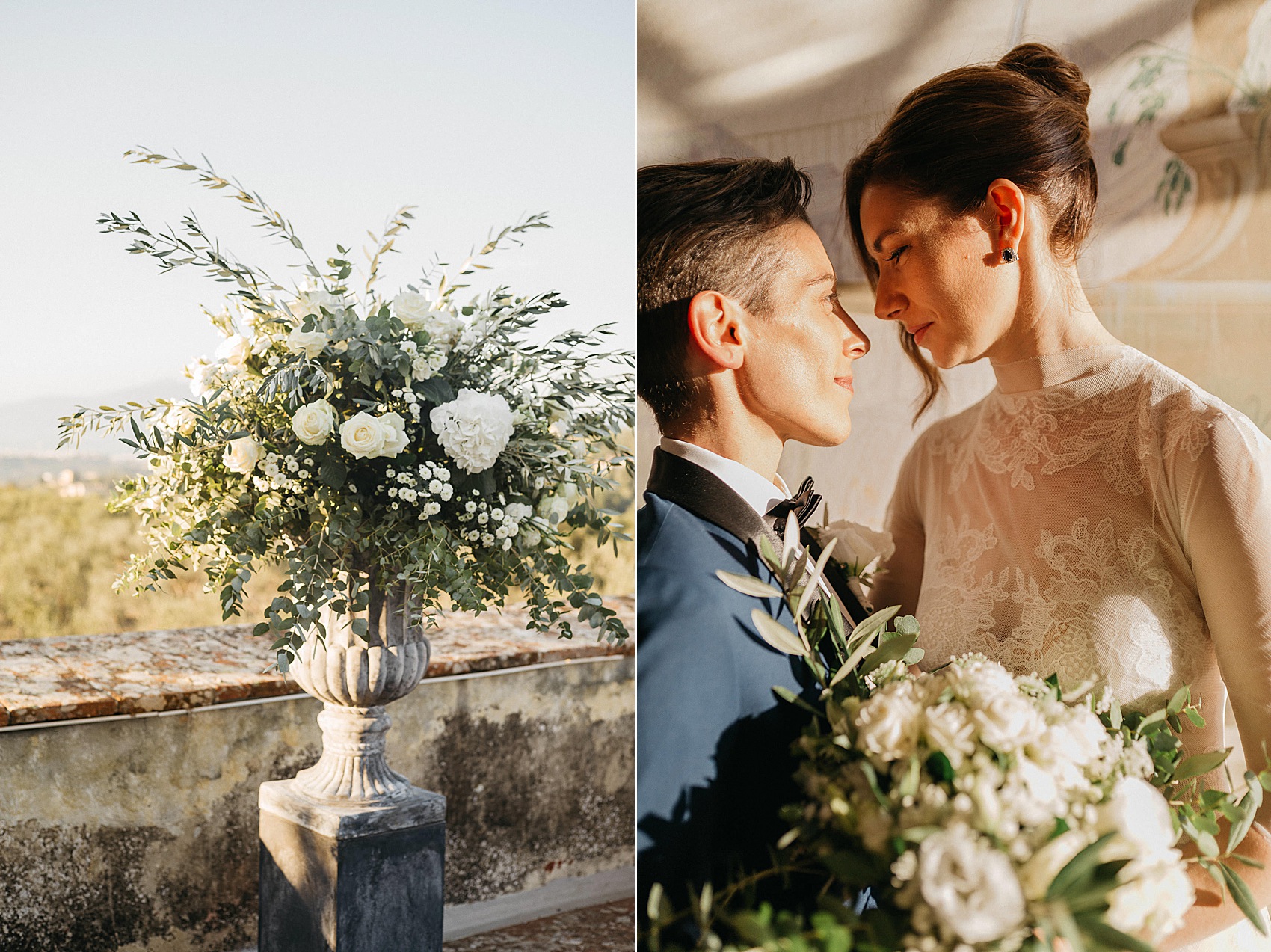 Rachel and Katie worked with wedding planner Silvia, of Infinity Weddings, who gave them fantastic guidance and support, and who arranged (amongst many things!) the spectacular floral arrangements decorating the villa, as well as Rachel's pretty cream and white bouquet of roses and greenery, and the spray of delicate gypsophila she wore in her hair.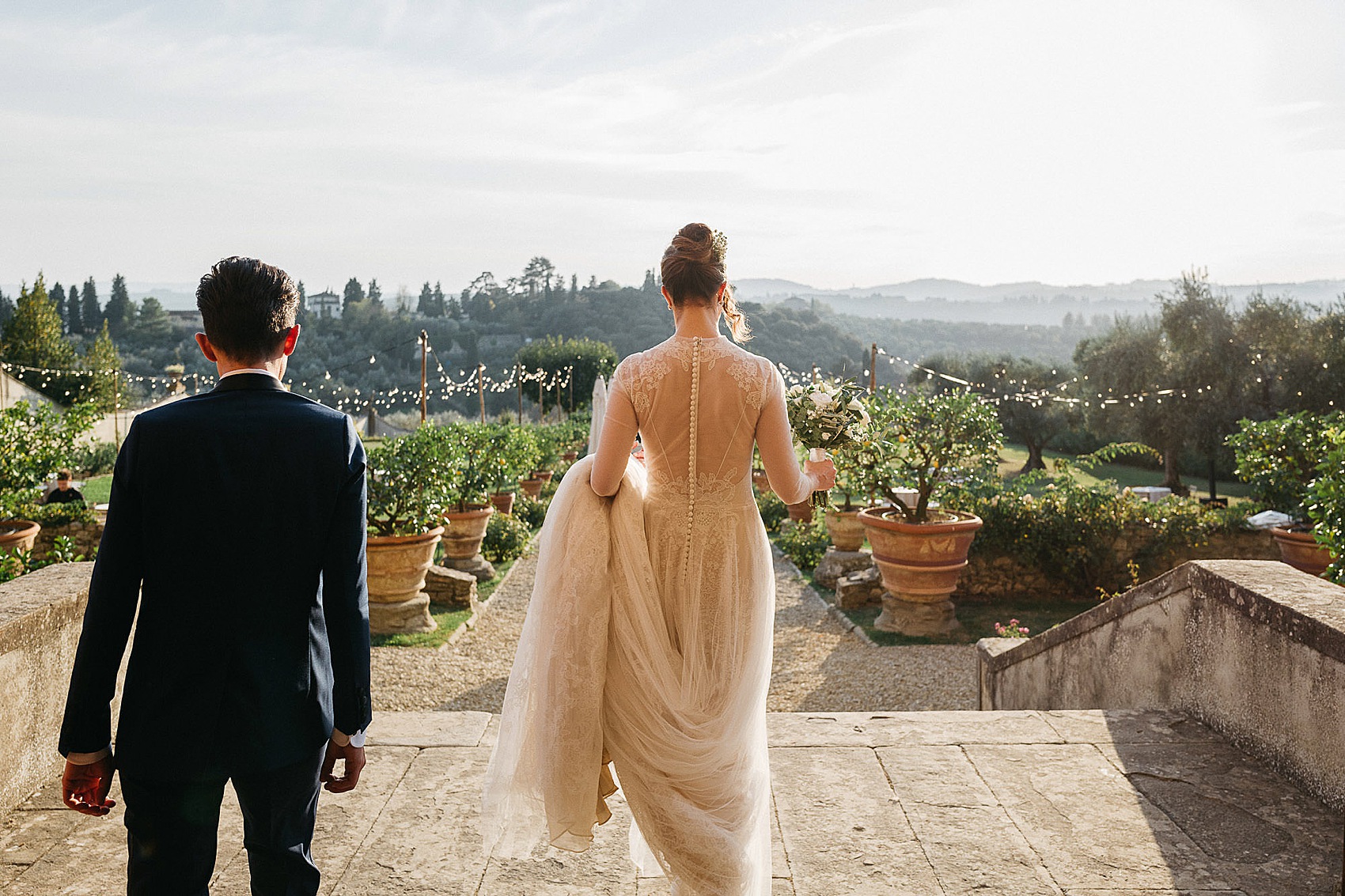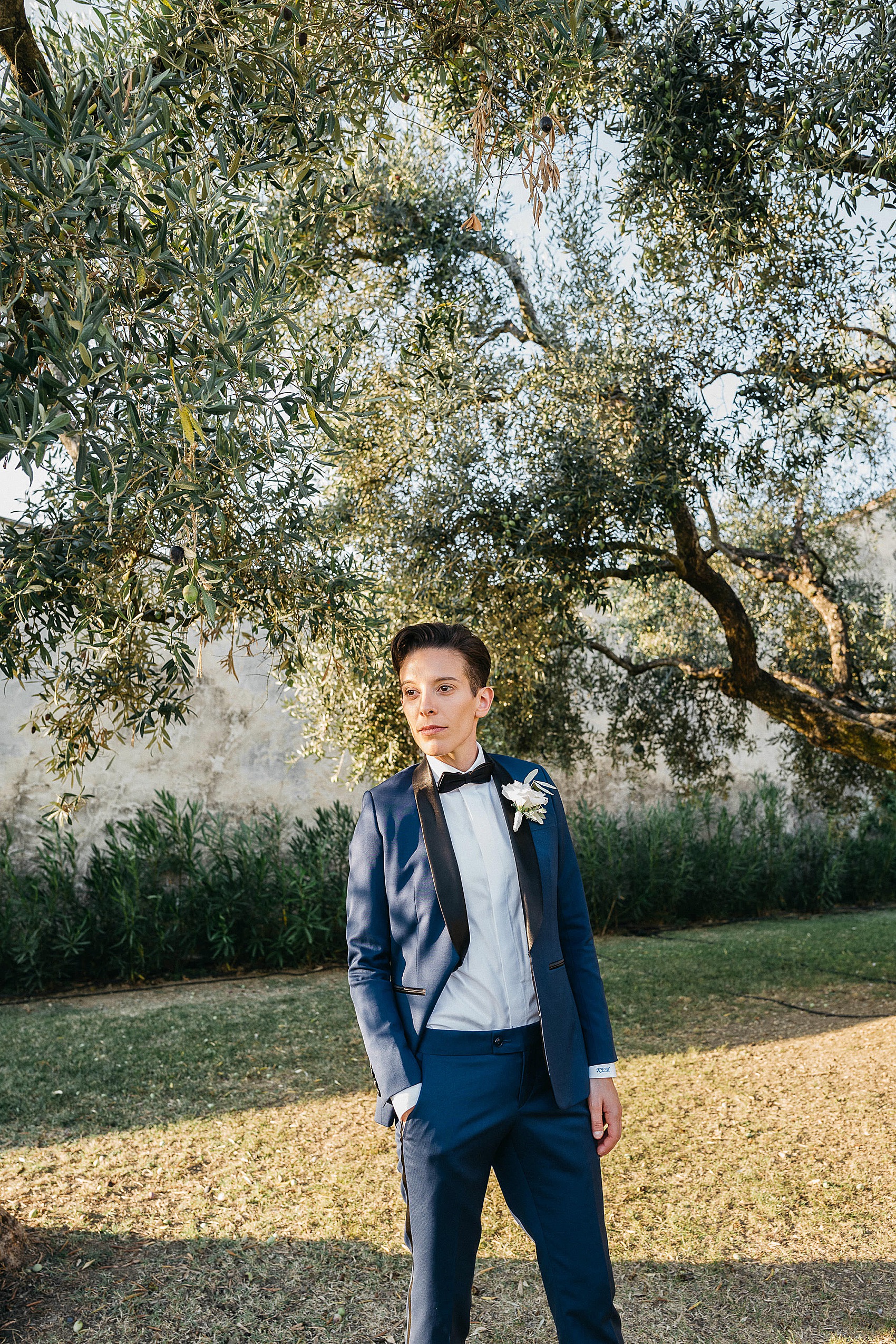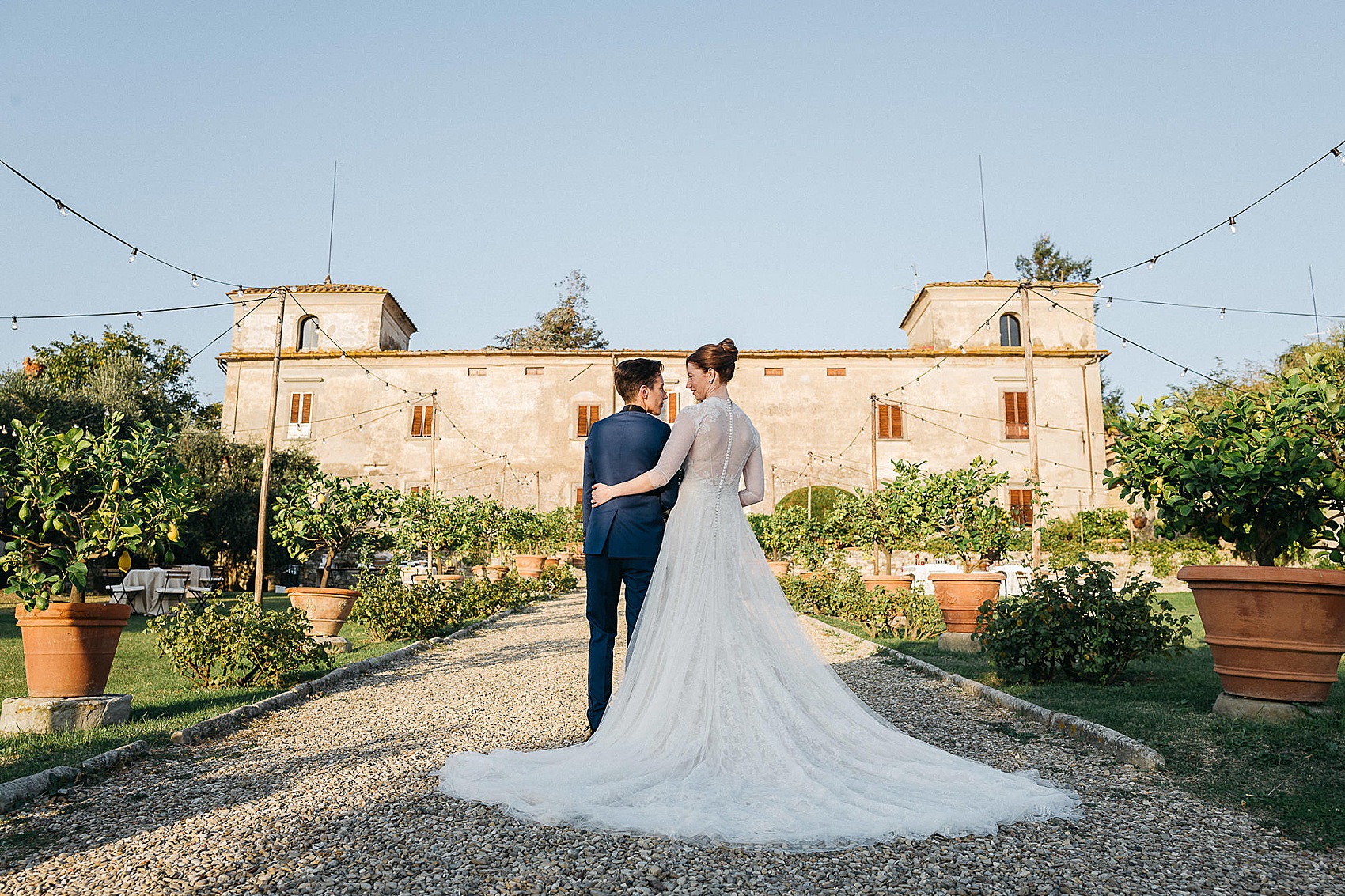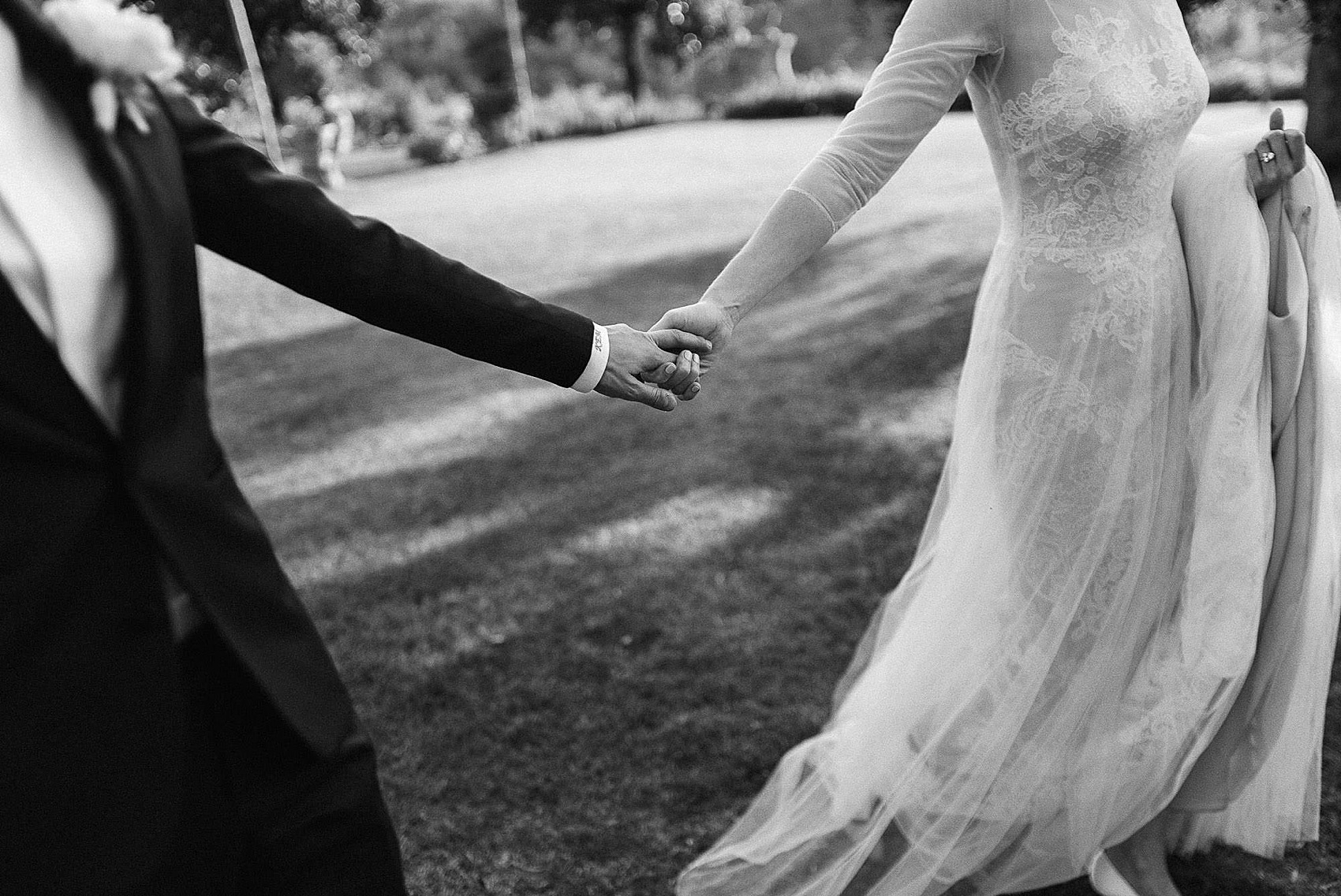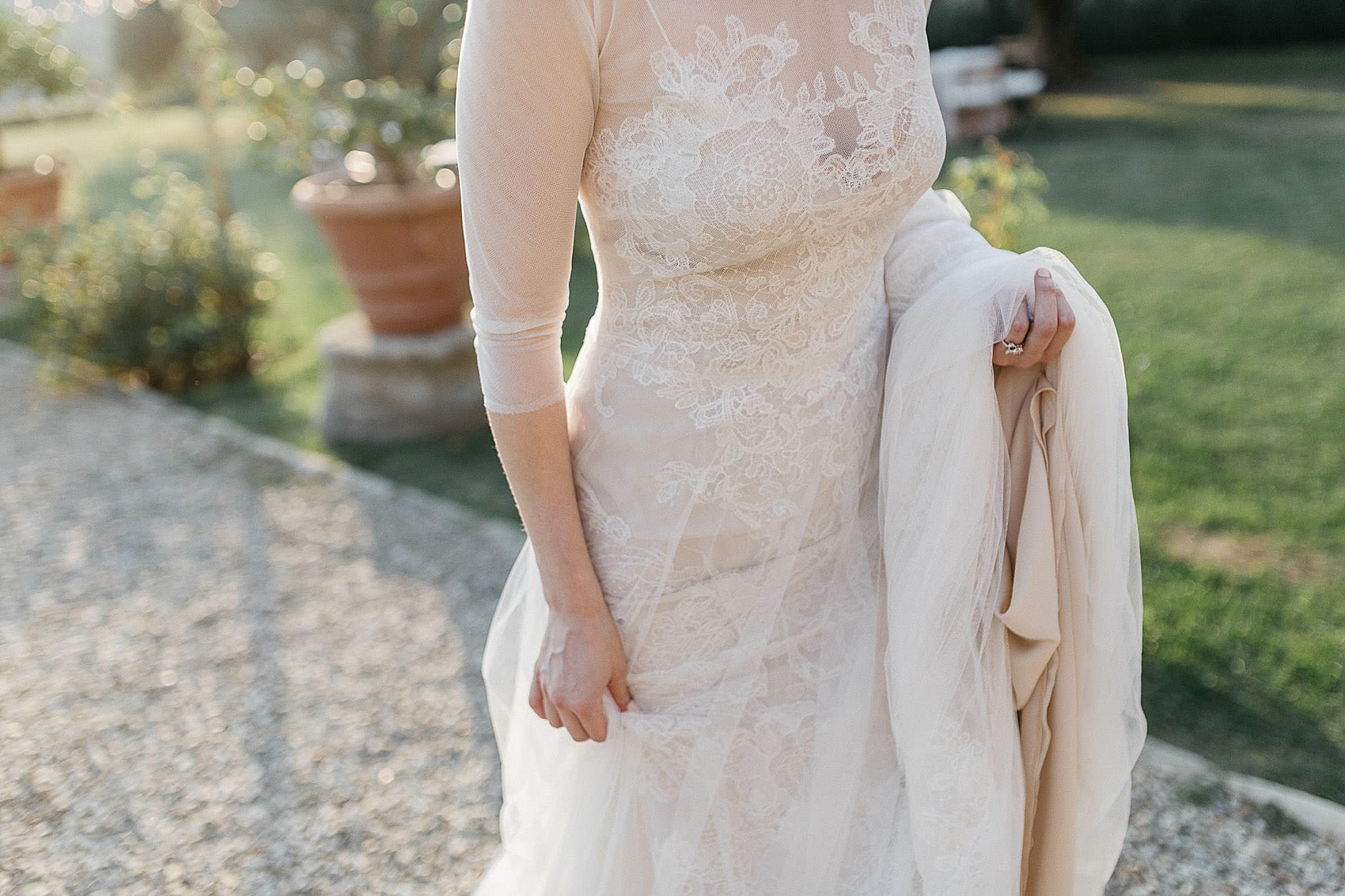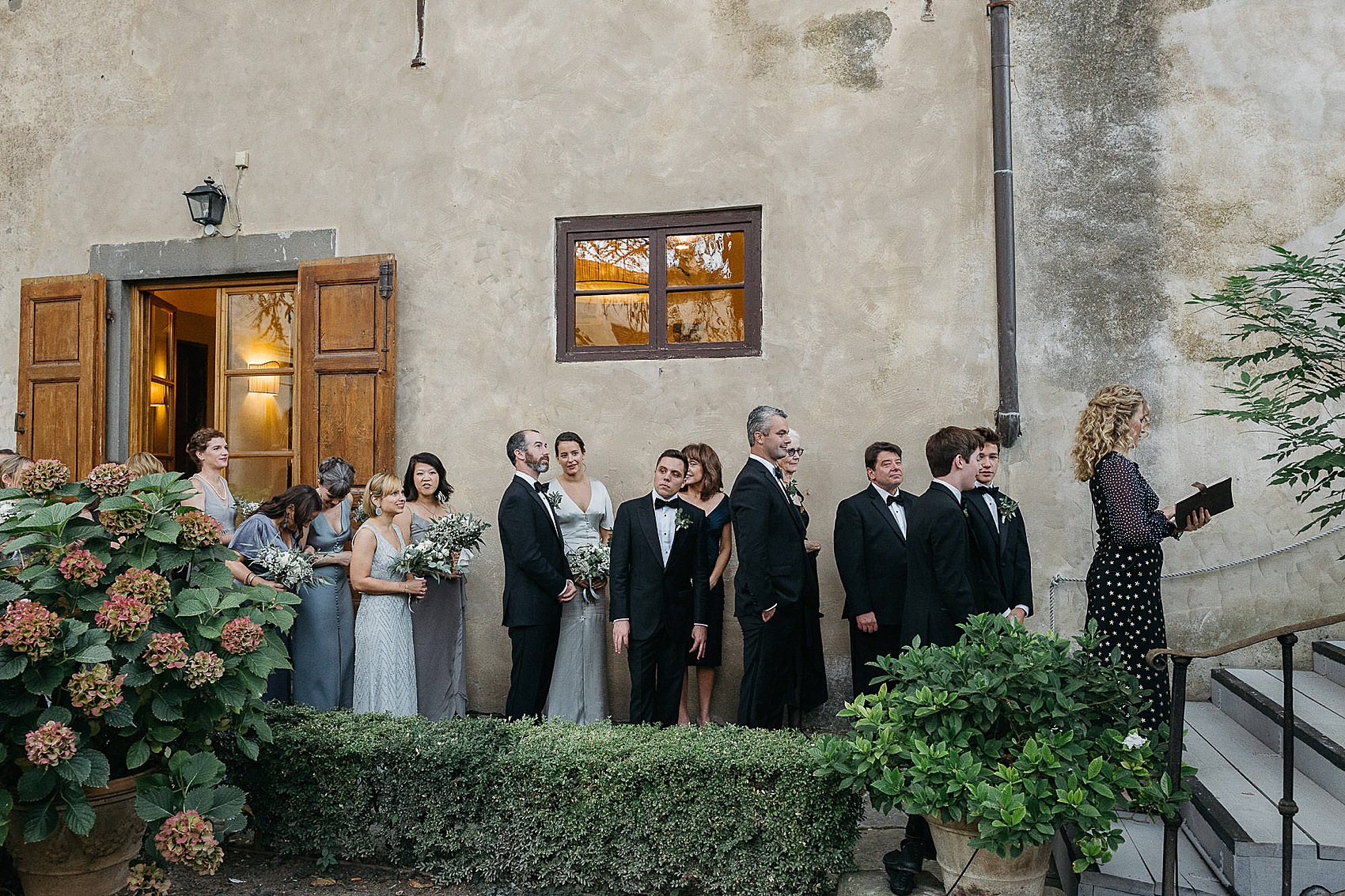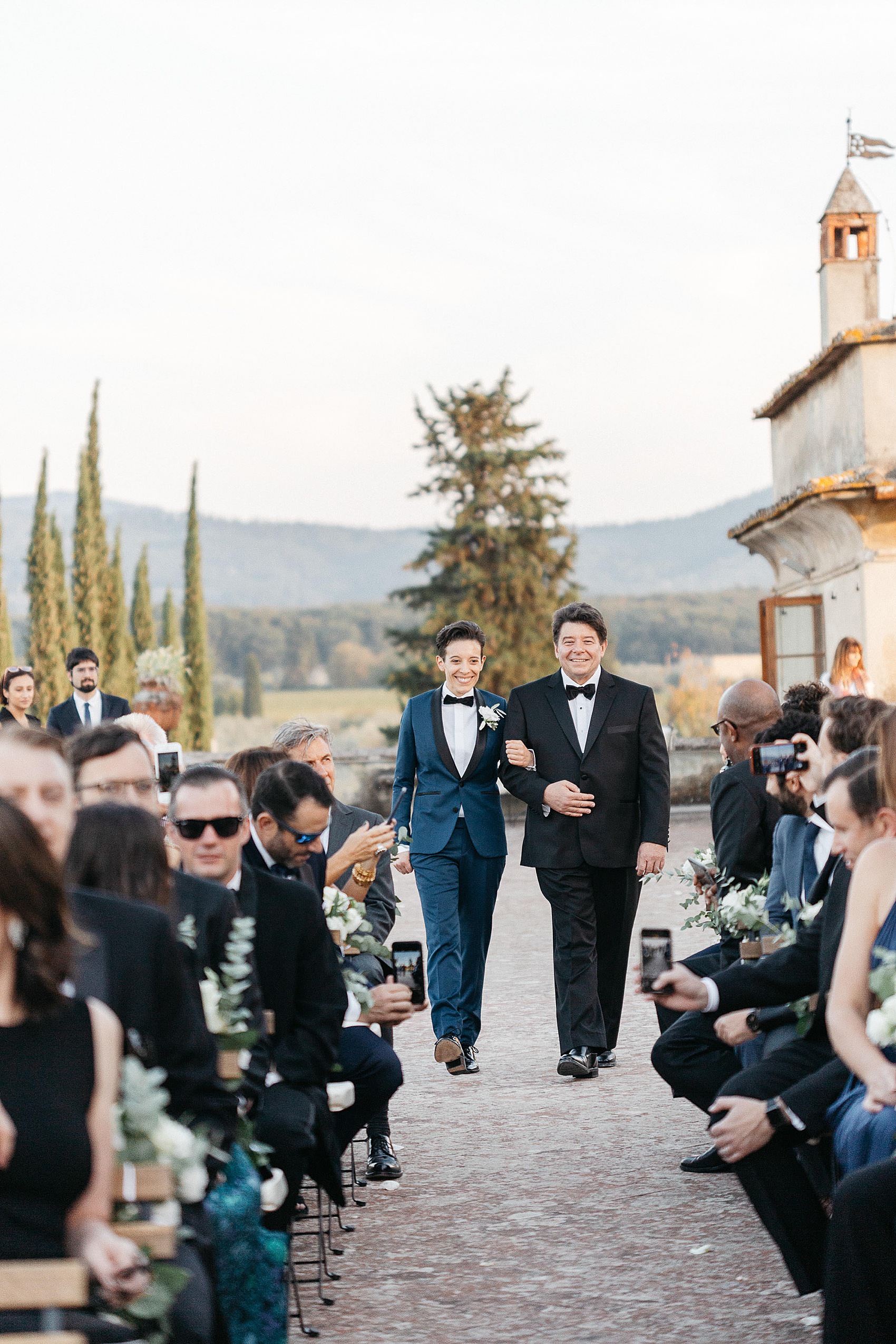 The bridesmaids, ushers, and Katie and her father walked to Adelita by Francisco Tárrega, whilst Rachel and her father walked to Air on the G String, by J.S Bach.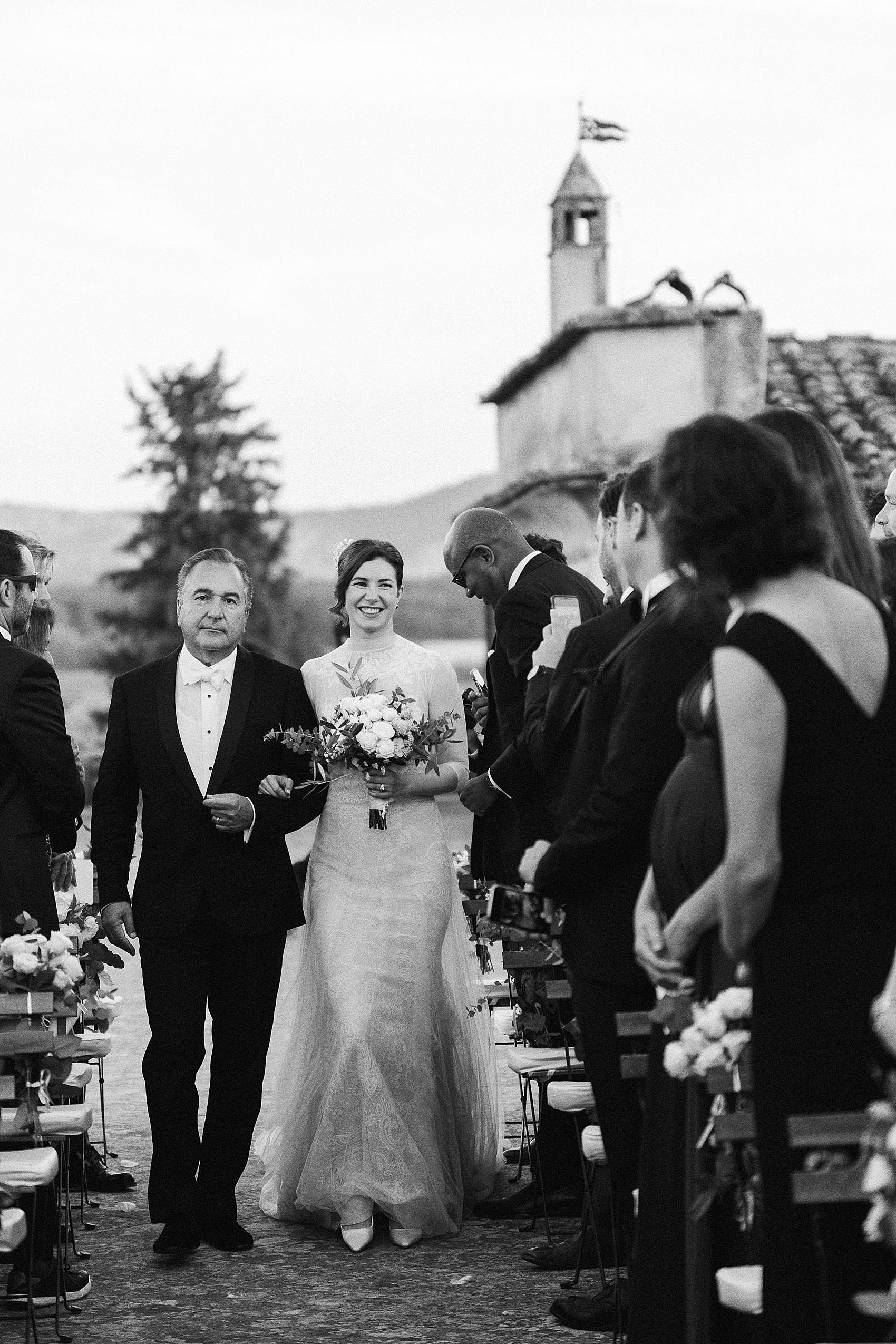 "We met at a cycling class in New York in 2015. We quickly became friends, and then started dating a few months later. In October 2017, Katie was living in San Francisco for three months for work, and Rachel visited for a long weekend. We drove up to the Russian River Valley and stayed at the Farmhouse Inn. During a wine tasting and walk through the vineyards at Kistler Vineyards, Katie proposed. We got married almost exactly one year later."
On the villa's terrace overlooking the Tuscan countryside, Rachel and Katie exchanged their specially written vows, and gave each other rings, which came from Branford Jewelers in Connecticut.
"My family has known this jeweller for years, and they helped design a unique engagement ring for Rachel, using diamonds given to me by my grandma and mother."
Loved ones delivered wonderfully personal readings – the poem The Invitation, by Oriah, followed by a piece called Reflections on Marriage, written by Katie's aunt.
"In it, she quoted excerpts from Justice Robert's Supreme Court Decision on gay marriage, and also from a letter that Katie's grandparents wrote to Katie and Rachel, in which they shared loving words of wisdom based on their 60+ years of marriage."
As they walked back up the aisle together, Rachel and Katie were showered with confetti and serenaded with live music performed by family.
"It's hard to name one favourite part, because the whole day was like a dream come true, but it was probably when we walked out of the villa doors and saw our guests ready to welcome us on the lawn, with the backdrop of the most beautiful sunset we could have asked for. It was like a scene from a movie or a painting. A wonderful start to the celebration that evening."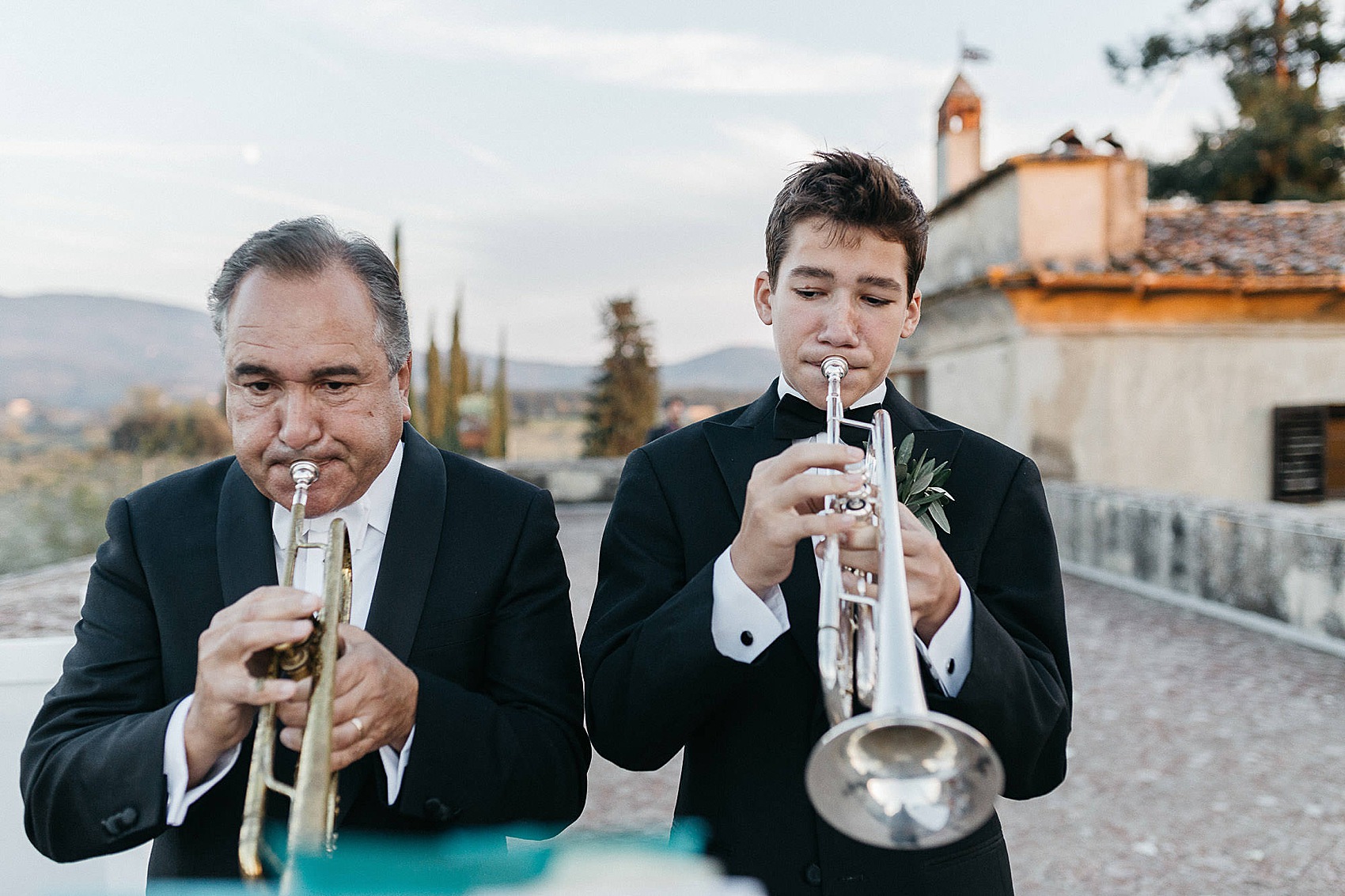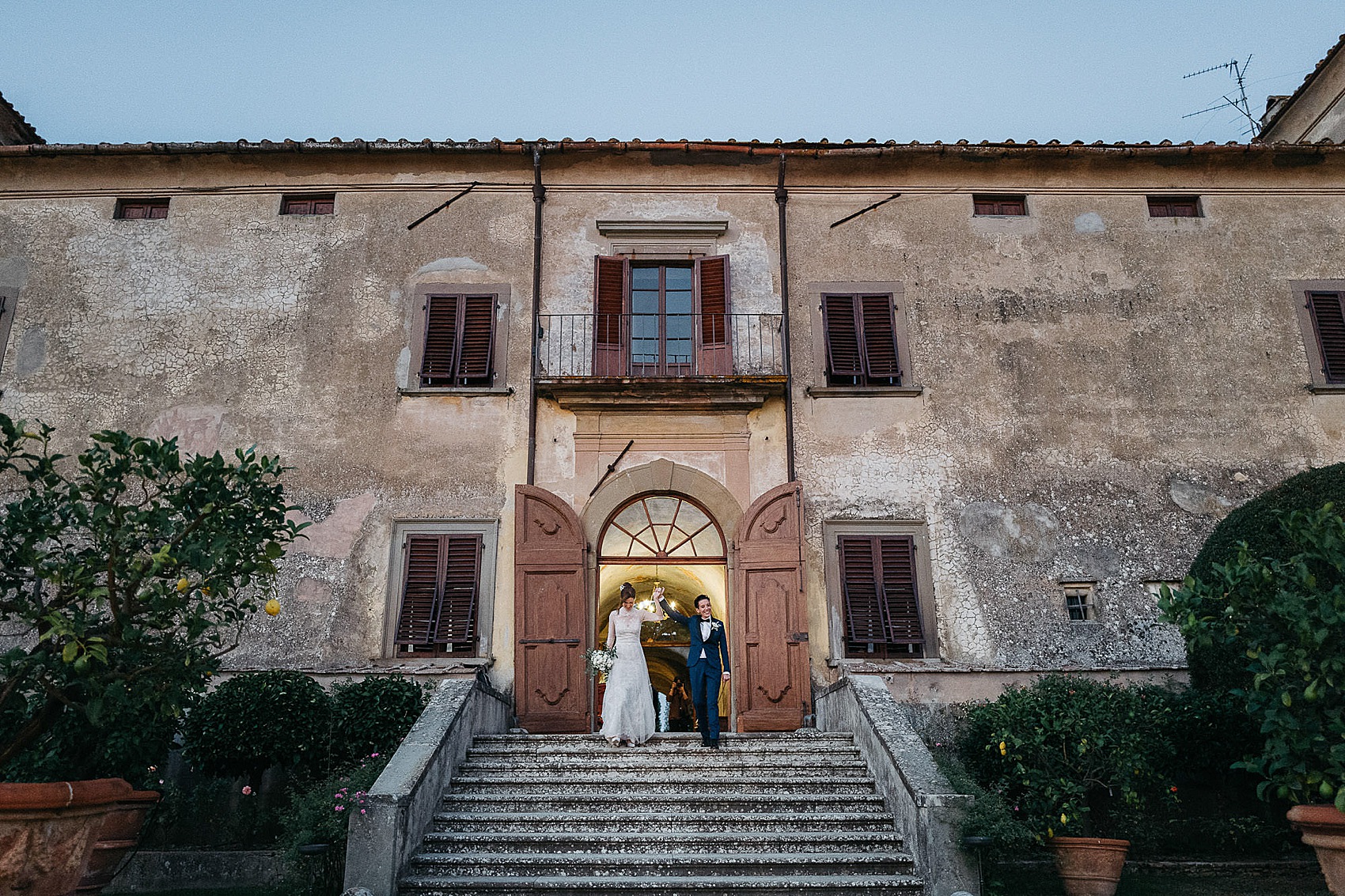 Everyone enjoyed an Aperol spritz or two as the sun went down, and the villa's gardens lit up with glowing festoon lights.
Rustic wooden dining tables were decorated with runners and garlands of eucalyptus, olive branches and blooms, interspersed with lovely Italian lemons.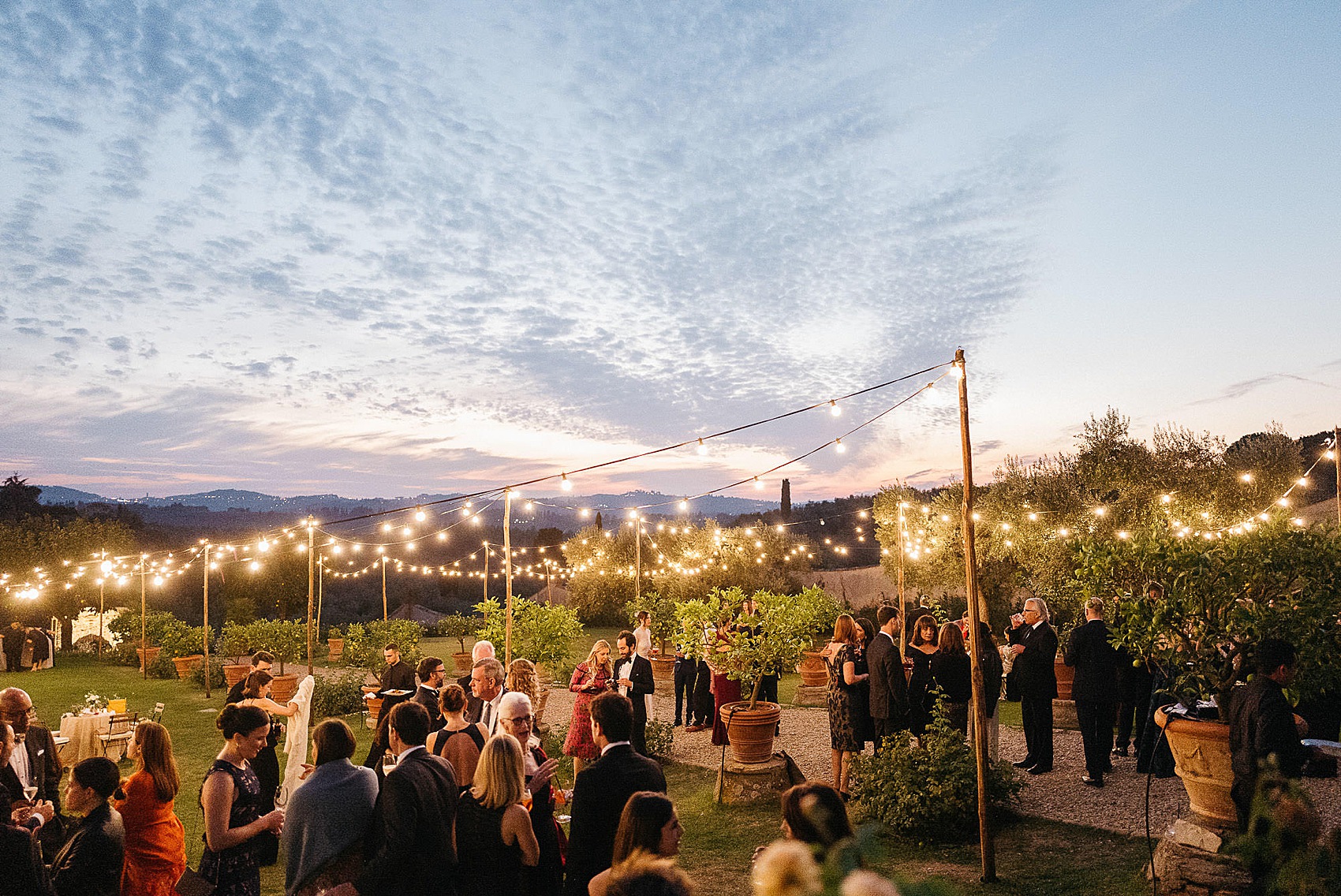 Places were set with gold charger plates and cutlery, and gilded vintage china and glassware, all supplied by caterers Galateo, and guests were given favours of olive oil from Villa Lilliano's trees.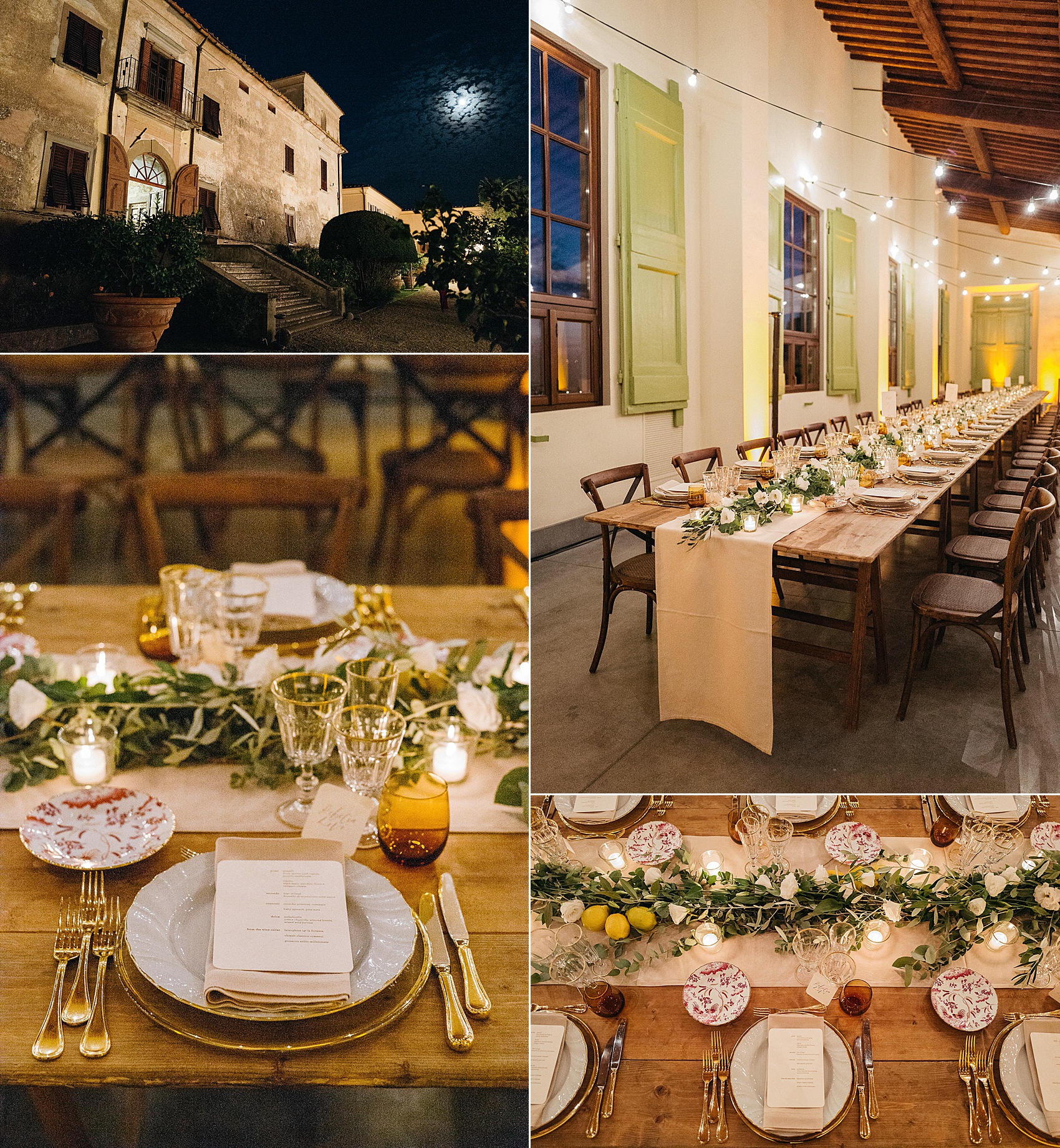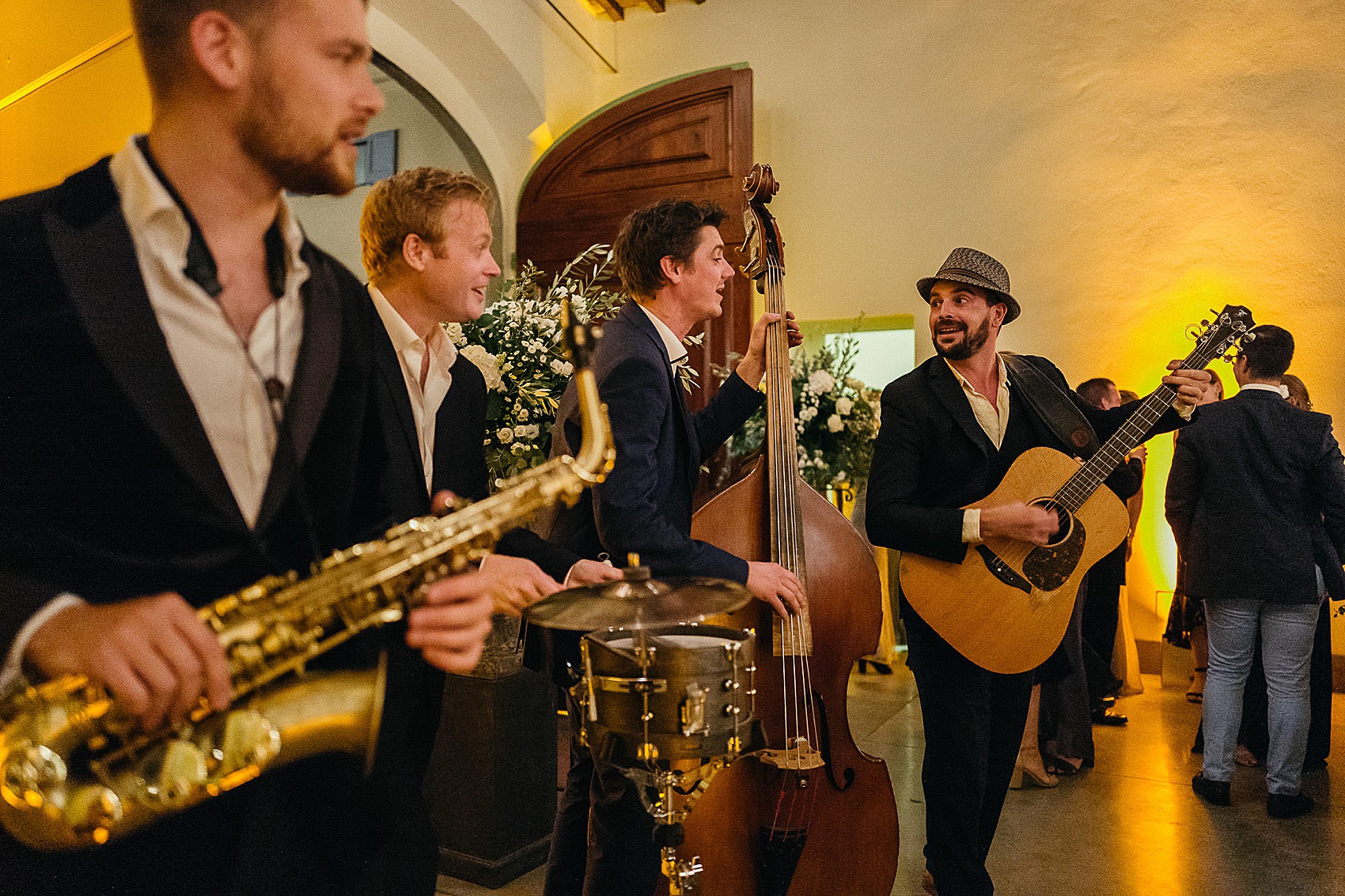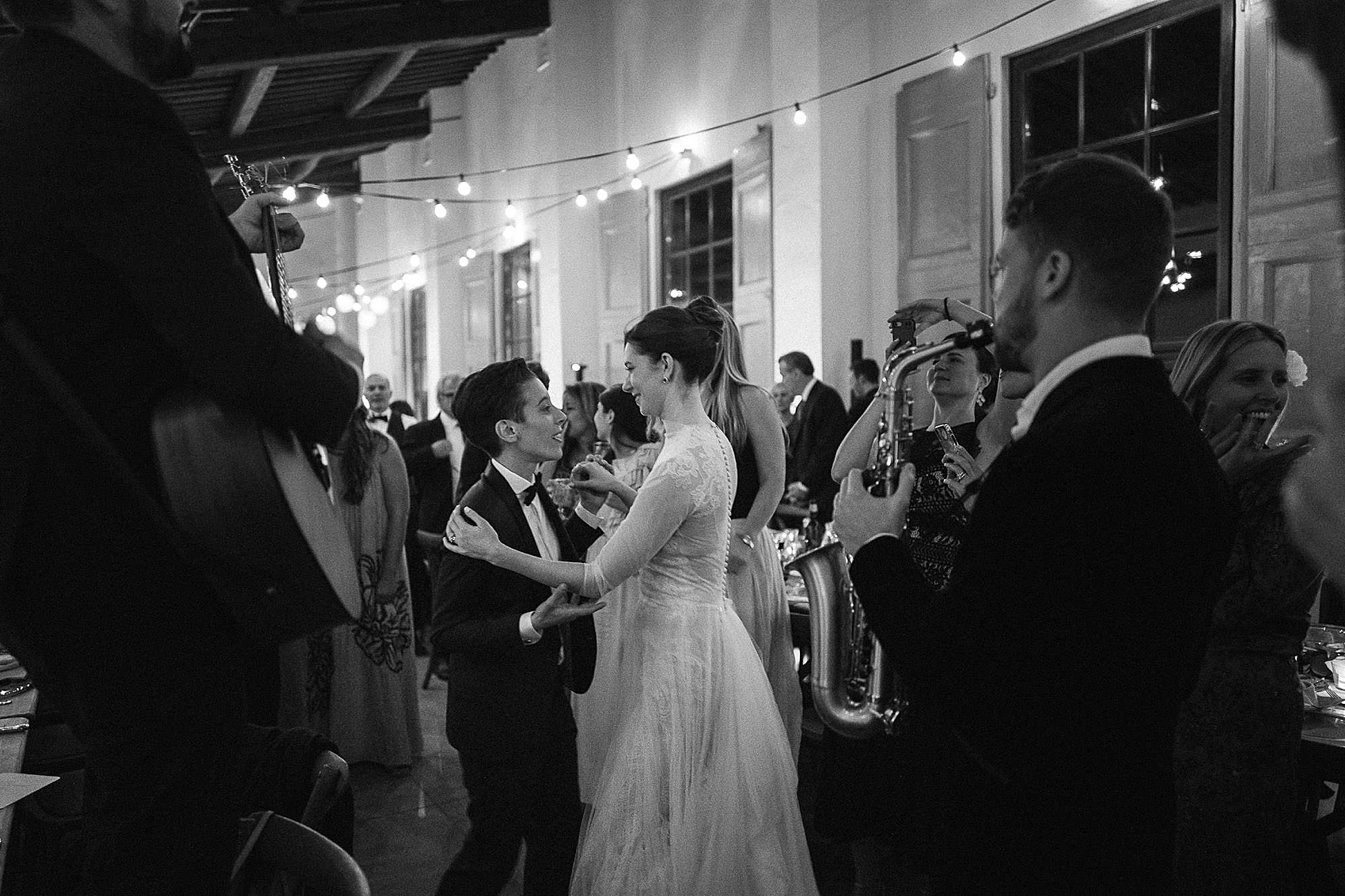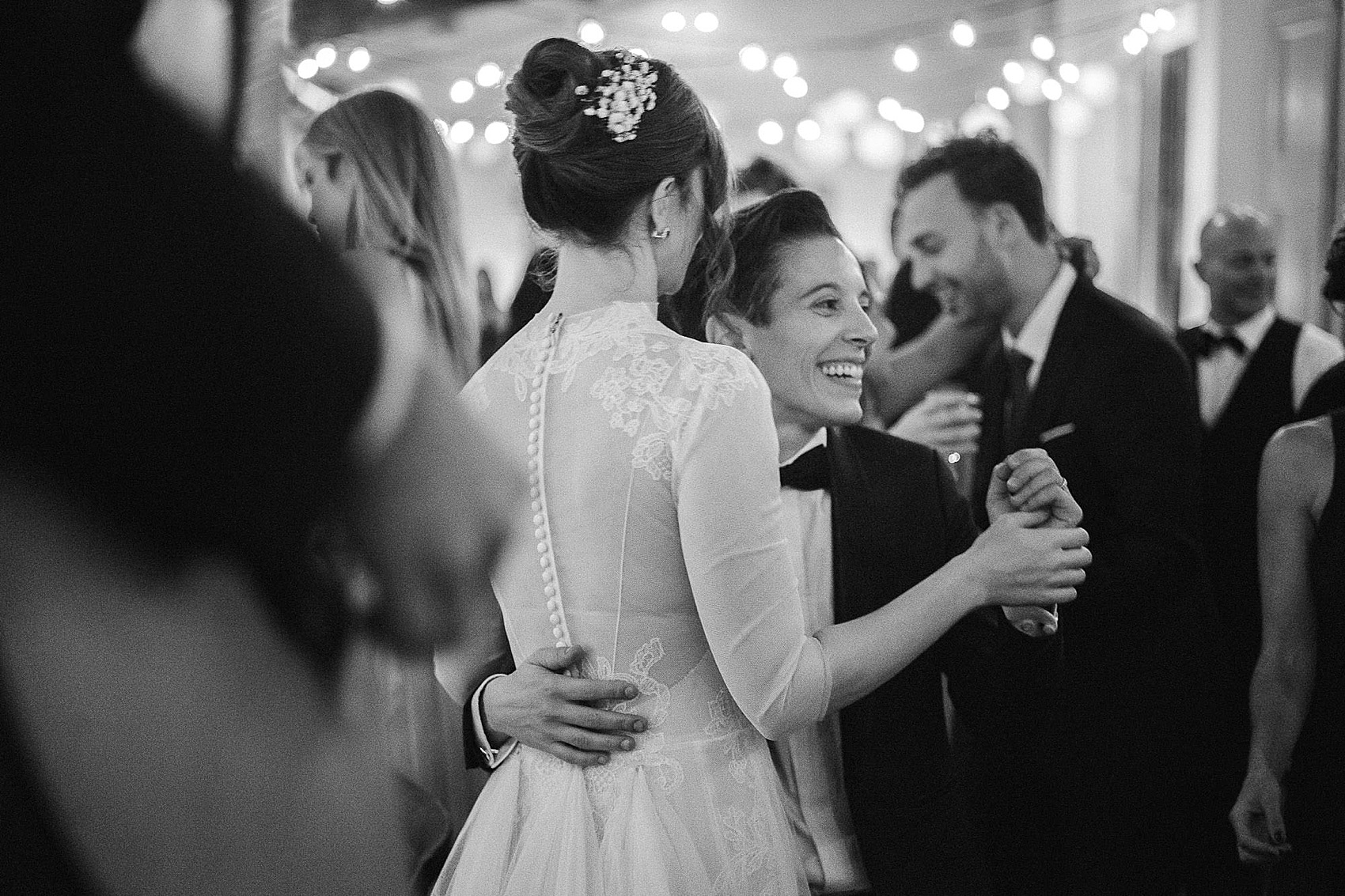 Galateo cooked a delicious feast, with a pasta course of pork ragu with mushrooms, and an asparagus risotto with courgette flowers stuffed with taleggio cheese, followed by fillet of beef with a red wine sauce with crunchy potatoes and baby spinach and pine nuts.
Speeches and toasts rounded off the meal, as music from strolling band The Strikes (with more music and lighting by Alma Project) began the evening festivities, and a first dance for Katie and Rachel, to the wonderful song Under a Blanket of Blue, by Ella Fitzgerald and Louis Armstrong.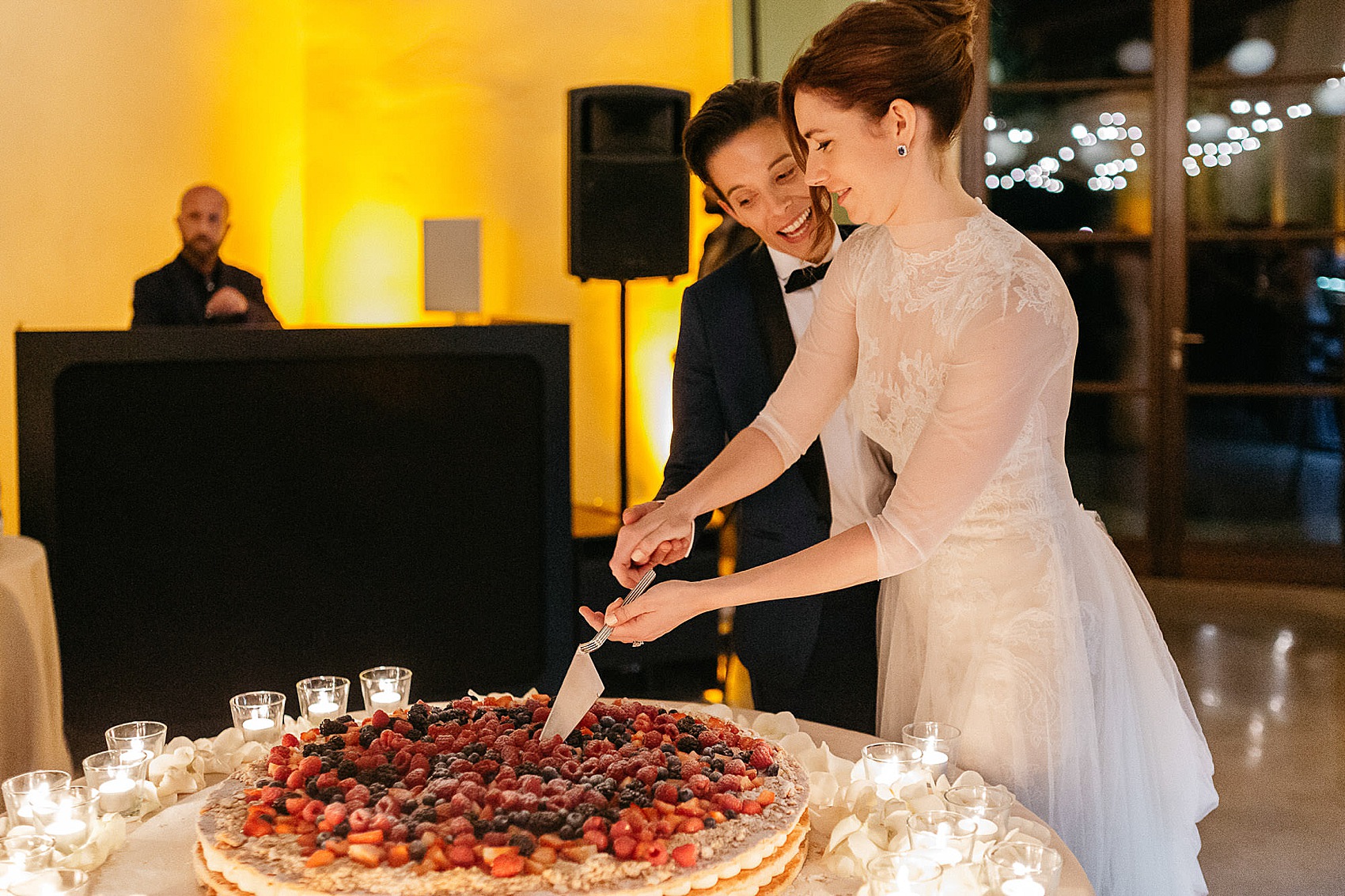 "Our wedding cake was millefoglie, prepared by Galateo. It's a classic and delicious dessert that paired beautifully with the Tuscan meal we served for dinner."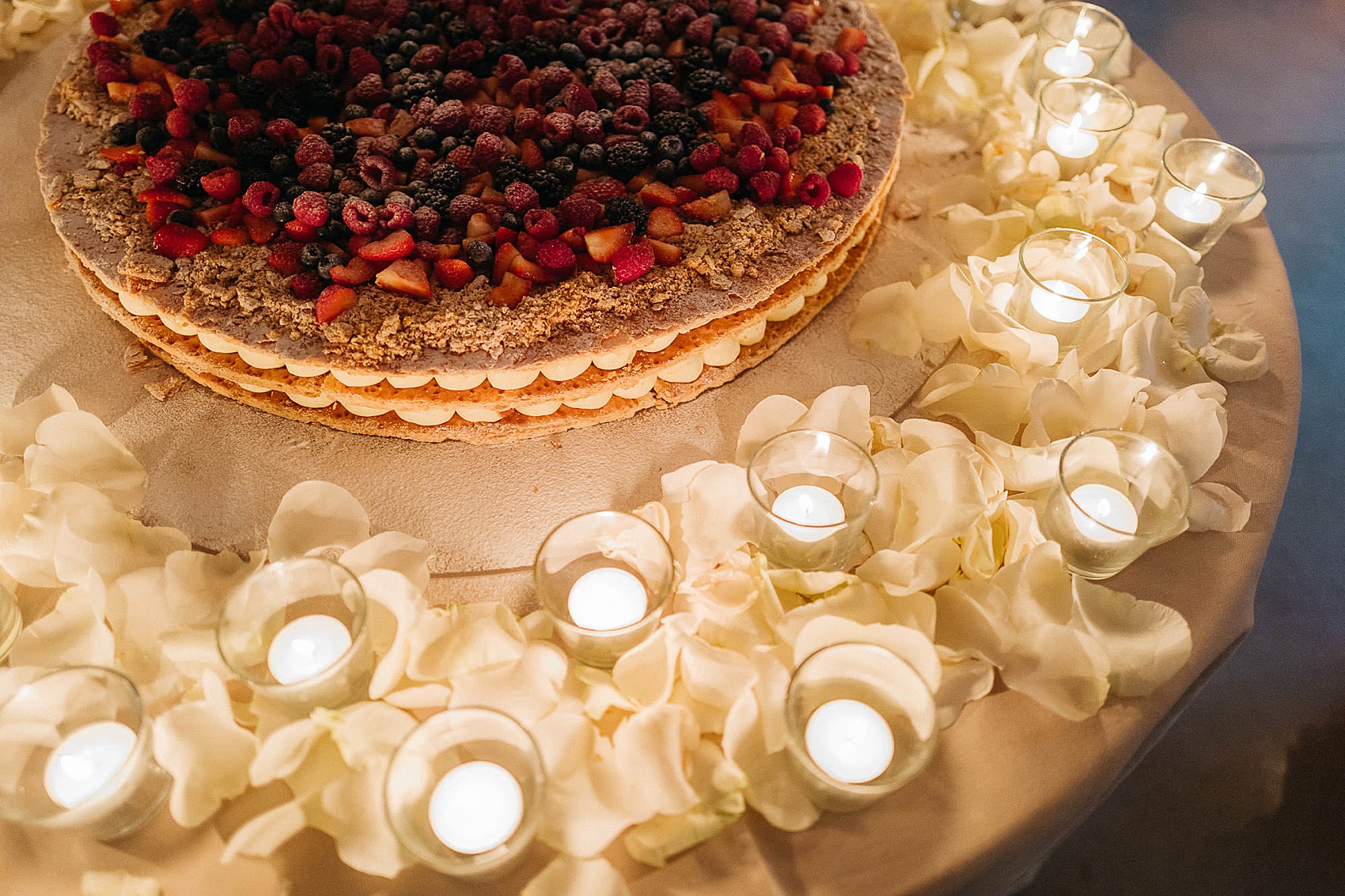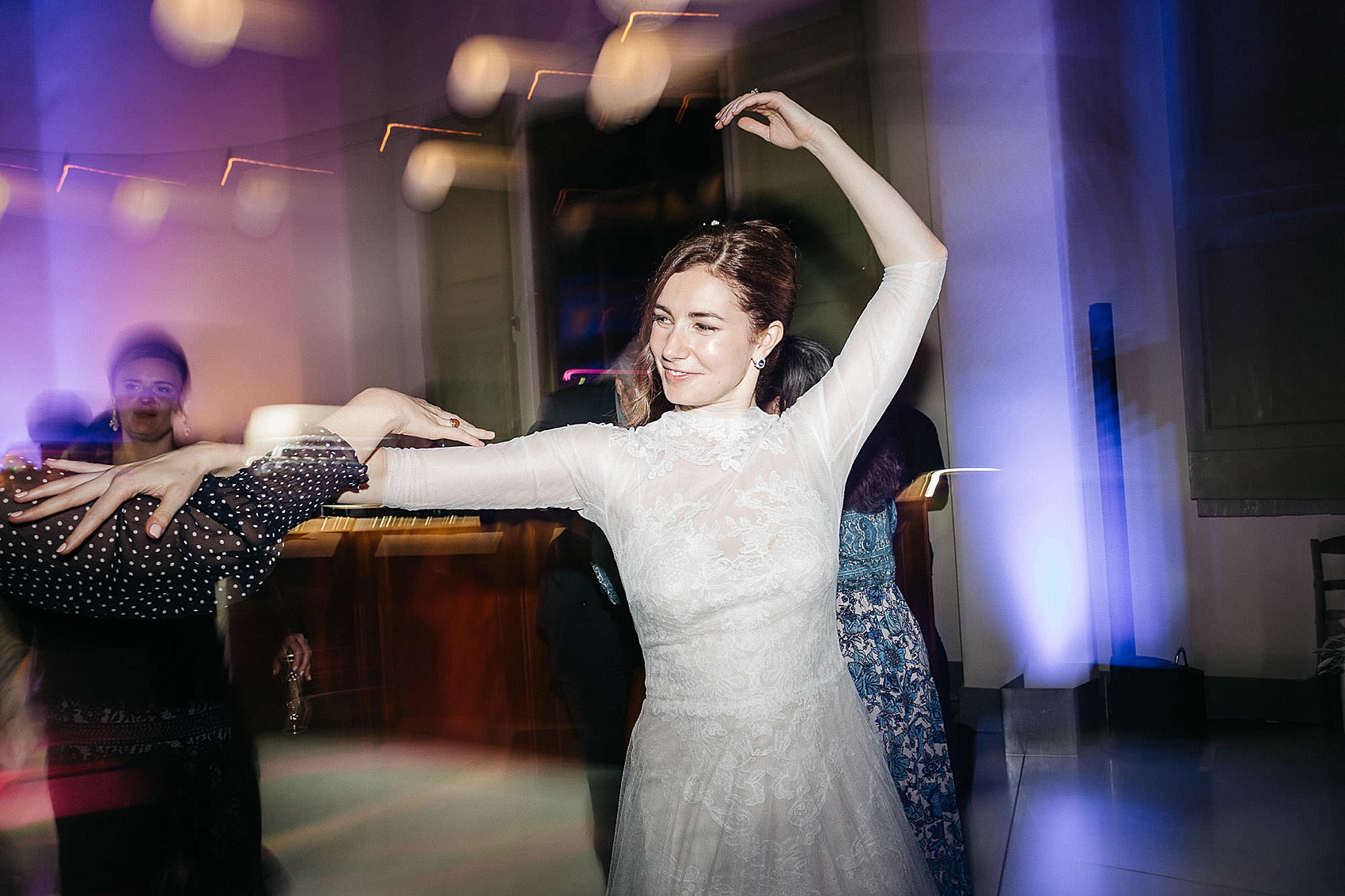 Words of Wedded Wisdom
"Try to have a sense of your style as a couple, and what you want the feeling of the event to be before you start planning all the details and picking your vendors."
"You want it to reflect you as a couple, and not feel like someone else's wedding. Spend the most on the things that are most important to you. For us that was music, photography, and food and wine."
Rachel and Katie, as you approach your first anniversary, many congratulations, and huge thanks for giving us this glimpse into your elegant, enchanting day. It's been a complete joy. Many thanks also go to Stefano Santucci for his fantastic images, too.
With love,
Laura