There's a definite wintry chill in the air but today's wedding is sure to warm your heart. We're heading to the farm (yes, I know the idea of an outdoor wedding when it's freezing outside might be hard to imagine) for a day full of rustic farm vibes, relaxed celebrations and a beautifully informal, boho gown from one of our favourites, eco-conscious Indiebride London.
Please welcome Steph, an illustrator who runs Stephanie Cole Design and Jordan, an animator, whose intimate wedding on 8 September 2018 took place at All Hallows Church, South Cerney, Gloucestershire with a reception afterwards in the renovated parlour barn at Berry Farm, just a short walk away.  To suit the relaxed vibe of the day, Steph turned to eco-conscious, London based deigner Miina, of Indiebride London, for her beautifully-fitted lace gown.
Photography Megan Elle Photography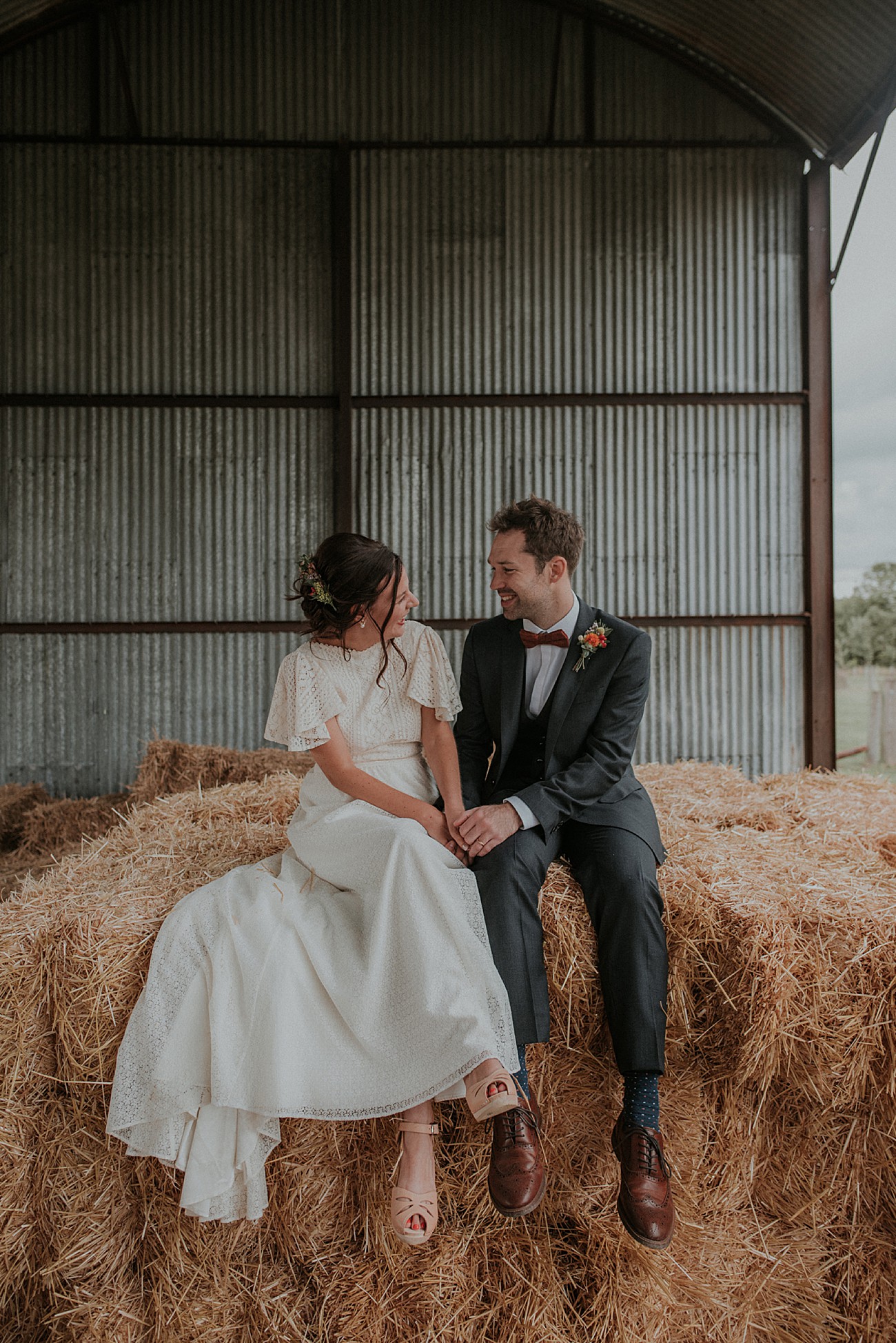 I adore the batwing sleeves and the exquisite detail of the fine lace. This brand is so passionate about using sustainable fabrics and ethical production techniques to make their boho-influenced gowns, perfect for free-spirited brides like Steph. We are delighted to support them on both Love My Dress and our Little Book Wedding Directory, where you can see a complete look book of delicious gowns.
"It was the warmest long day of the whole summer and we had a magical day on the coast before wandering by a castle at dusk, where Jordan sprang down on one knee with the most beautiful ring. It was perfect. We were engaged for just over a year."
Steph grew up next to the farm and its rustic spaces were a wonderful location for the couple's vision of a relaxed village celebration with an abundance of British-grown, late summer flowers and hand-made elements by the talented bride.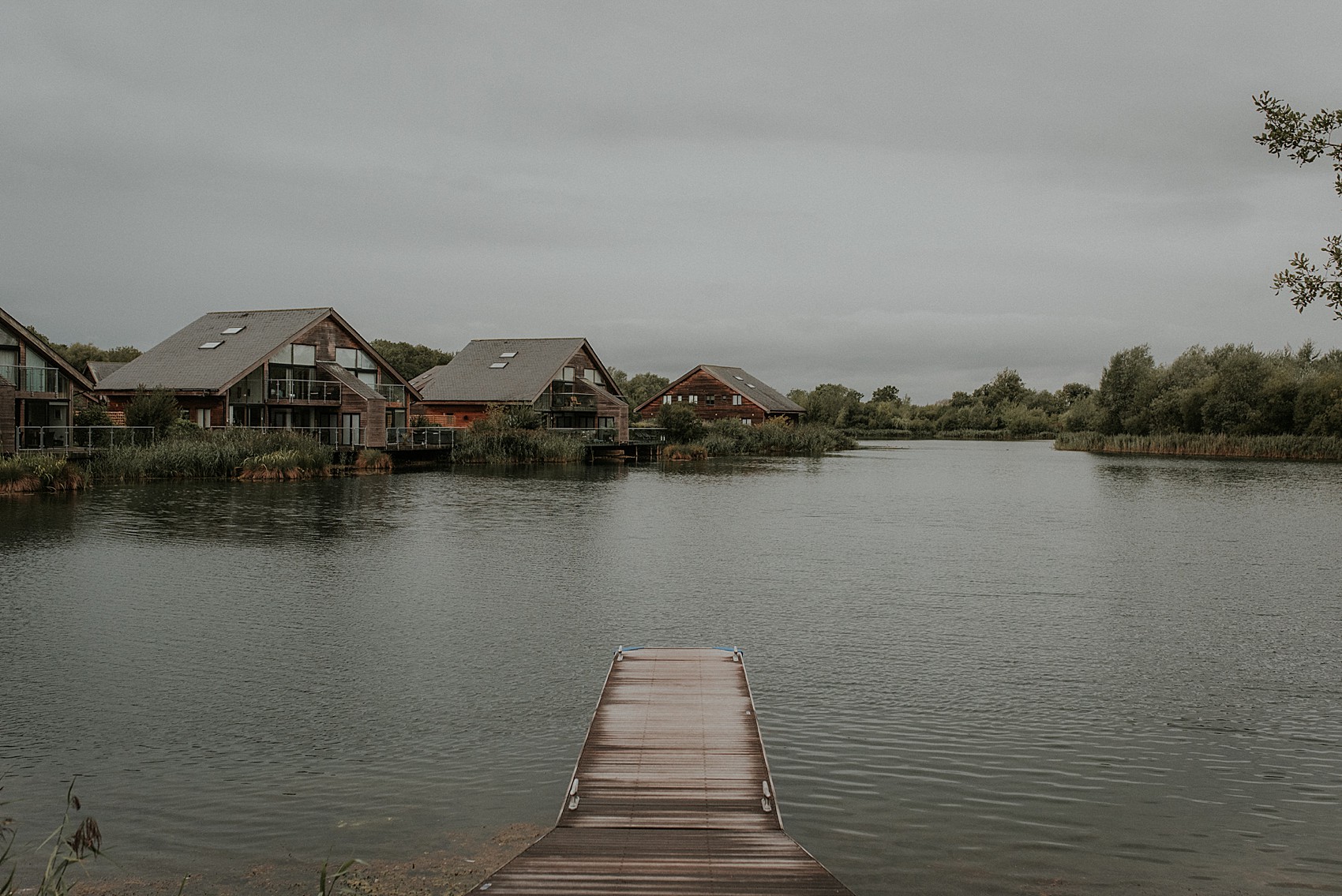 Steph's creative talent is clear to see in her vibrant and beautiful stationery suite with hand-drawn florals.
"I designed and printed all the stationery and table plans. It saved us a small fortune and was really special to work on over the year we were engaged."
The couple met at university and were together for eight years before Jordan got down on one knee on a weekend in Wales.
"We have lived and worked all over the place and were in the process of buying our first home together when it fell through. Jordan suggested we get away for the weekend so we headed to an idyllic farmhouse in north Wales."
Hair stylist Kirsty at Individual Glamour caught the bride's hair into a loose up-do with tendrils left down to frame her face. She adorned the do with a natural headpiece full of foliage, seed heads and berries, put together by the florist for the day, Great British Florist.
"I loved Indiebride's beautiful designs and the fact they're made in England with the environment in mind. Since we'd lived in Finland together for two years it felt that was a nice connection too."
I was incredibly lucky to find the 'Minna' dress in my exact size second-hand on eBay. Unbeknown to me, I'd even had the seller's wedding picture pinned to my wedding Pinterest board – the dress I'd end up getting married in!"
"Even more weirdly, the lady who'd owned the dress had got married in a remote place in Ireland my family had a fleeting relocation to in my childhood."
"After that, how could I even imagine wearing another dress? It was a dream and so, so comfy – massively important to someone who lives in paint-covered jeans."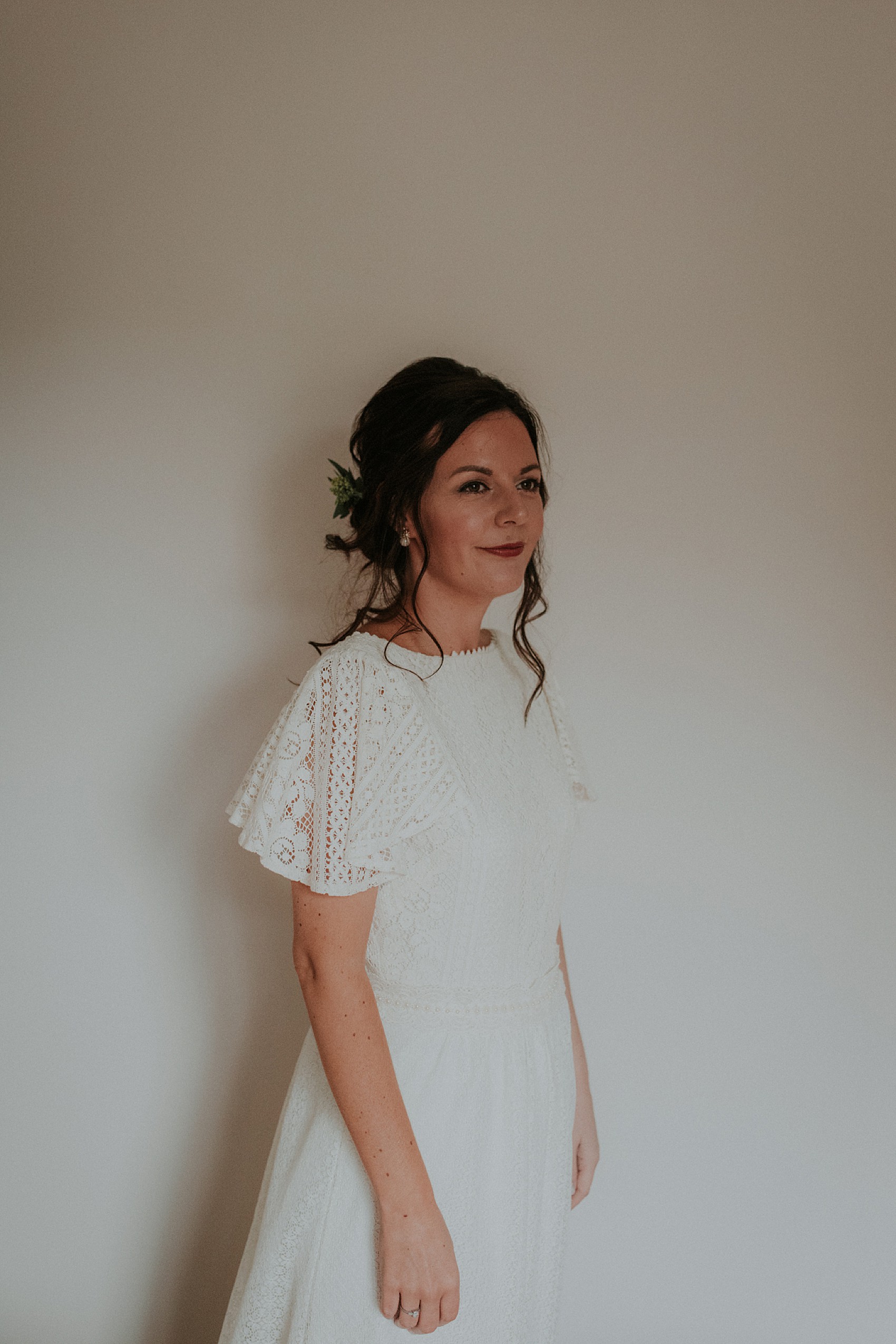 For even more comfort, Steph slipped on a pair of heeled clog sandals from Maguba, bought on Lotta From Stockholm, as well as Kate Spade earrings and her go-to fragrance, This is Her! by Zadig & Voltaire.
"It's my favourite and made me feel myself with all the high-flying emotions of the day."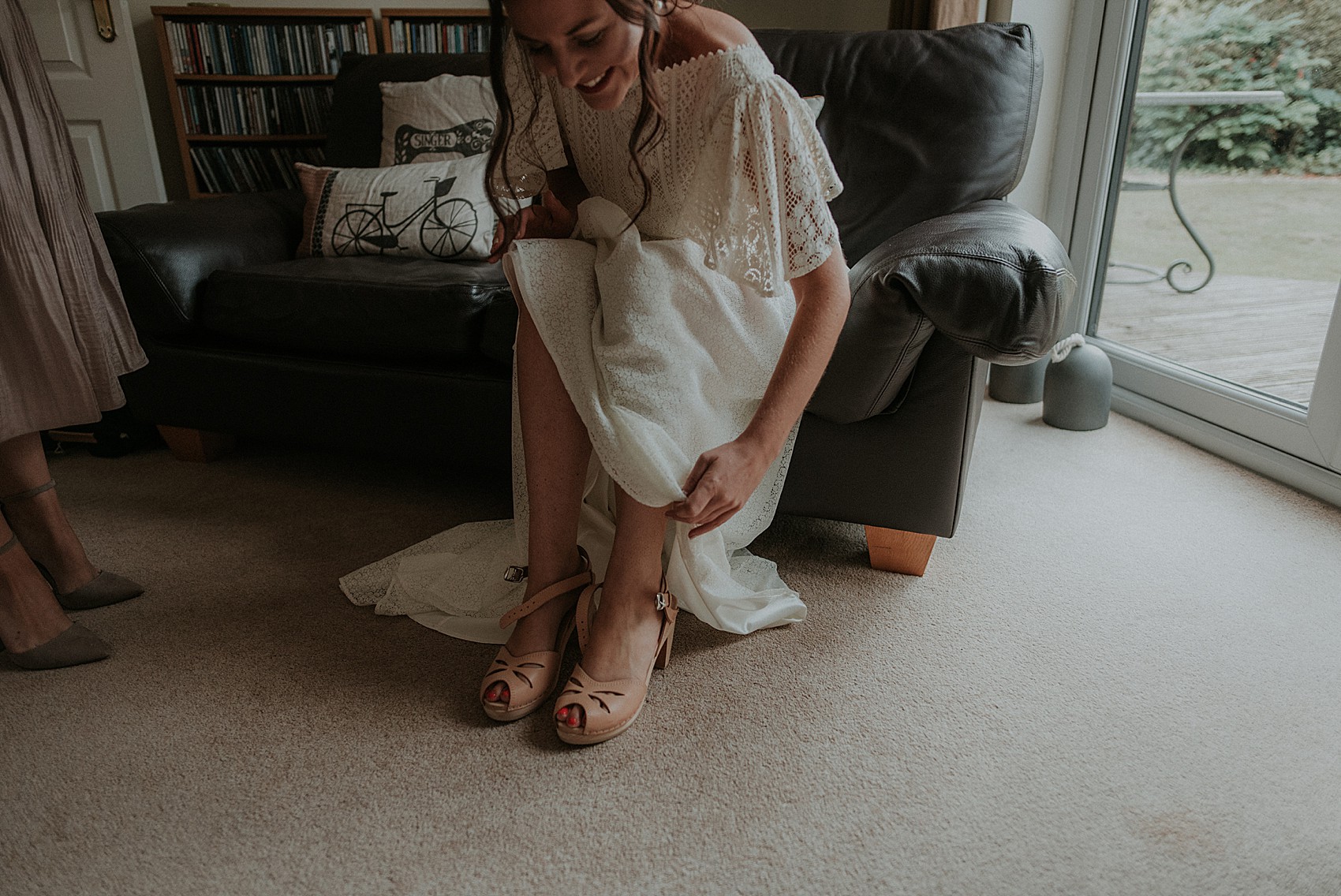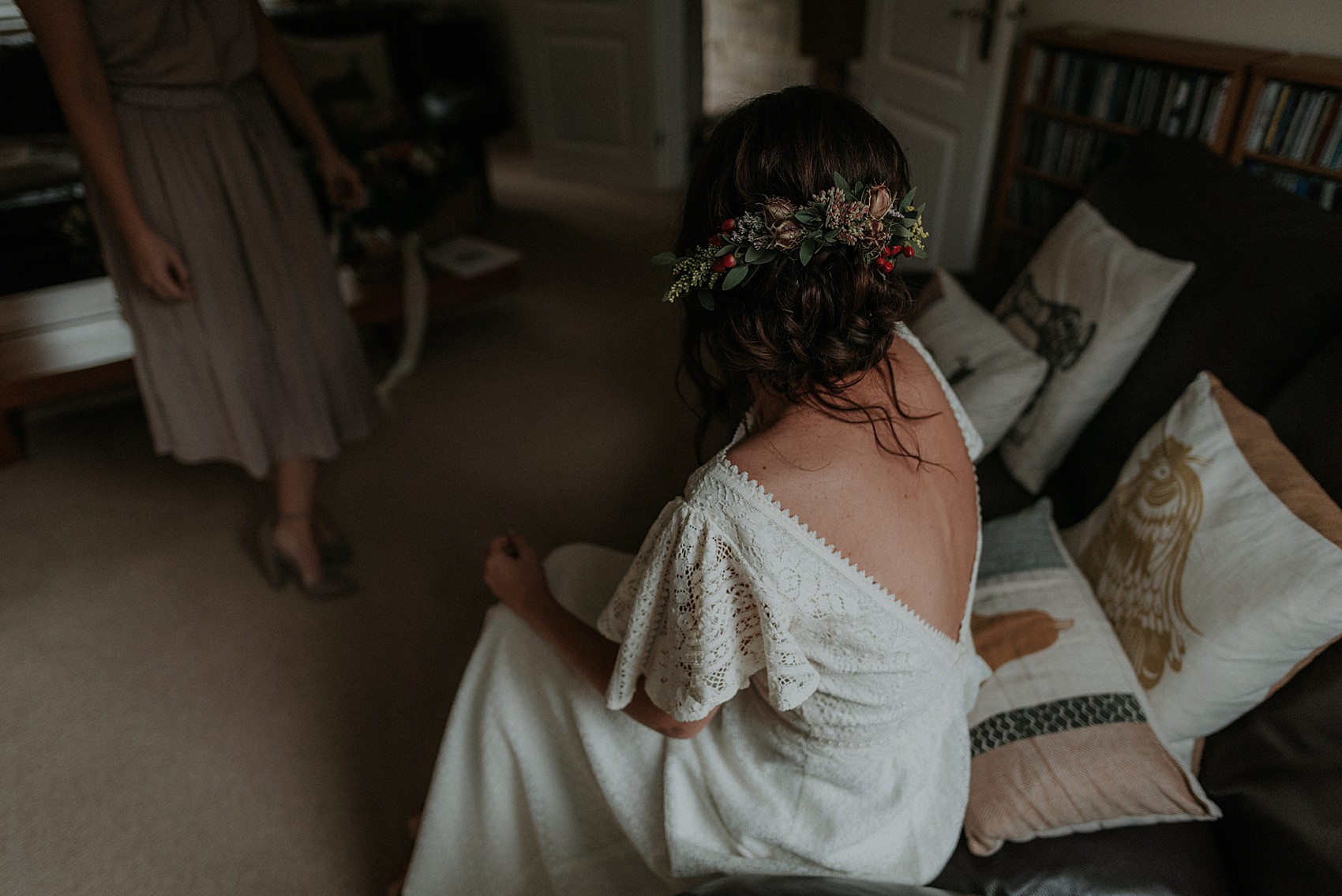 Returning to her home village was an easy choice for Steph.
"We decided on a church ceremony in the pretty Cotswold village I grew up in and, since we'd wanted a reception venue in close proximity, happily settled on Berry Farm which was in the very beginning stages of having an old cattle shed renovated. In fact the first time we saw it, it had no roof. I grew up looking onto the farm from my childhood nursery and had worked with the owners Chris and Claire before so it was a real no-brainer and just the perfect, intimate size for the handful of guests we wanted to share the day with (around 50 of us)."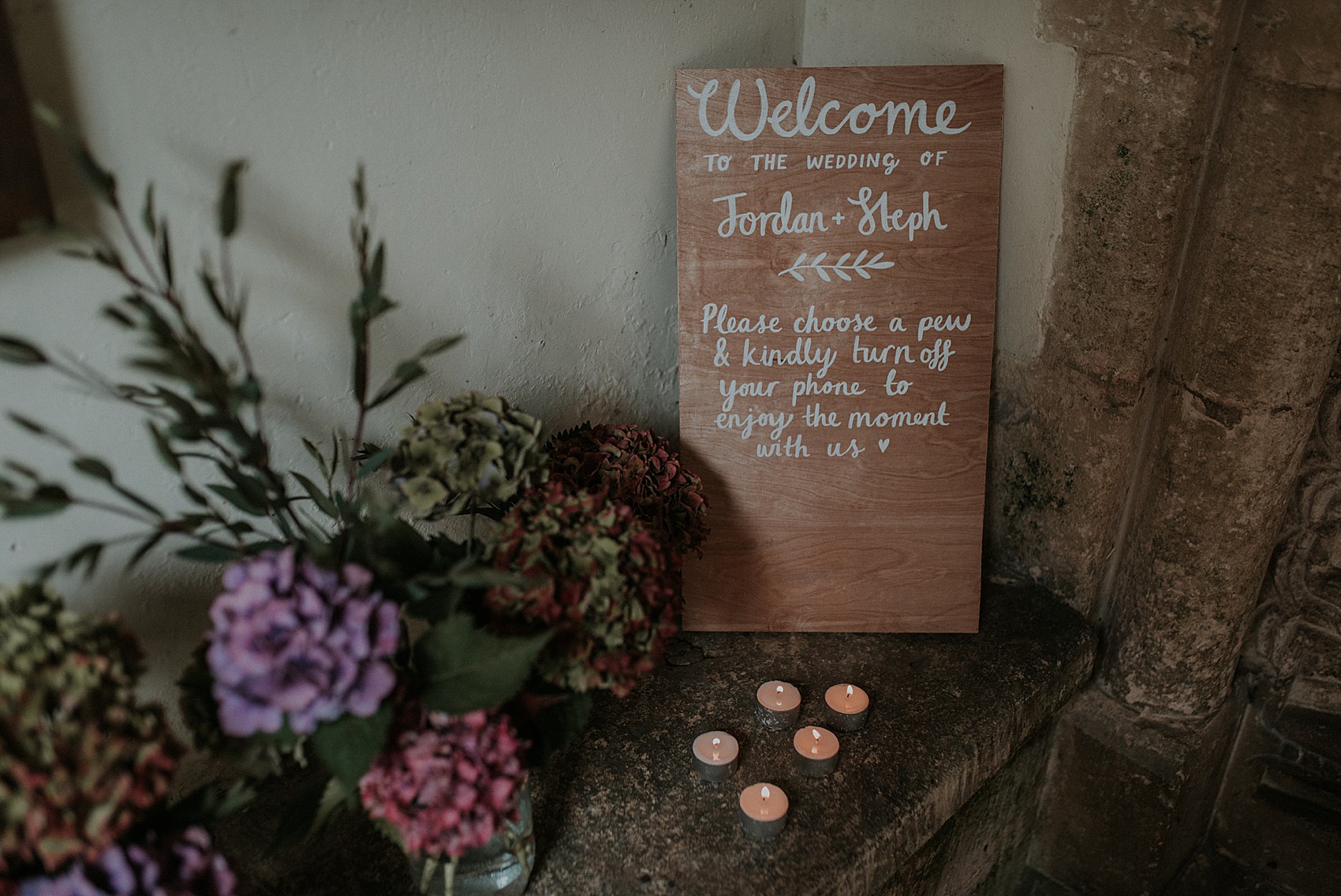 Steph and Jordan chose to marry in the local church and the bride hopped into an iconic Morris Minor to make the trip there.
"I was driven to church by Doris, a pale blue Morris Minor belonging to my good friend Sophie. It was so fun to bundle into the back in my dress with my dad and chat away together on the way to church, totally putting us at ease until we reached the aisle!"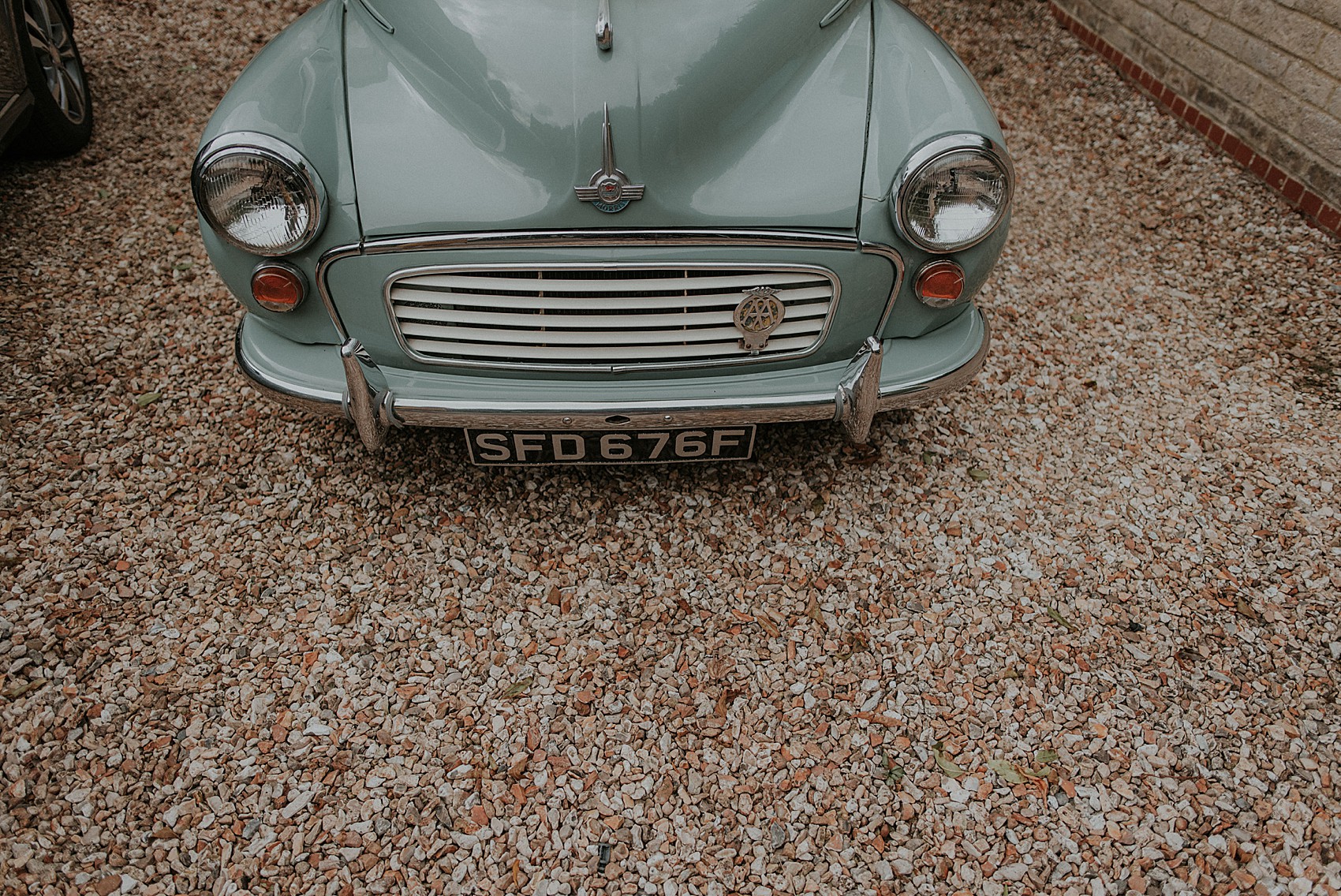 "We wanted it to be a relaxed affair full of everything we love and with the special people in our lives. I designed save the dates with wild late summer foliage which set the tone, and the village setting was lovely enough without fussing too much on anything else, just adding jars of wild foliage and my own hand-lettered fabric banners on the lovely Cotswold stone."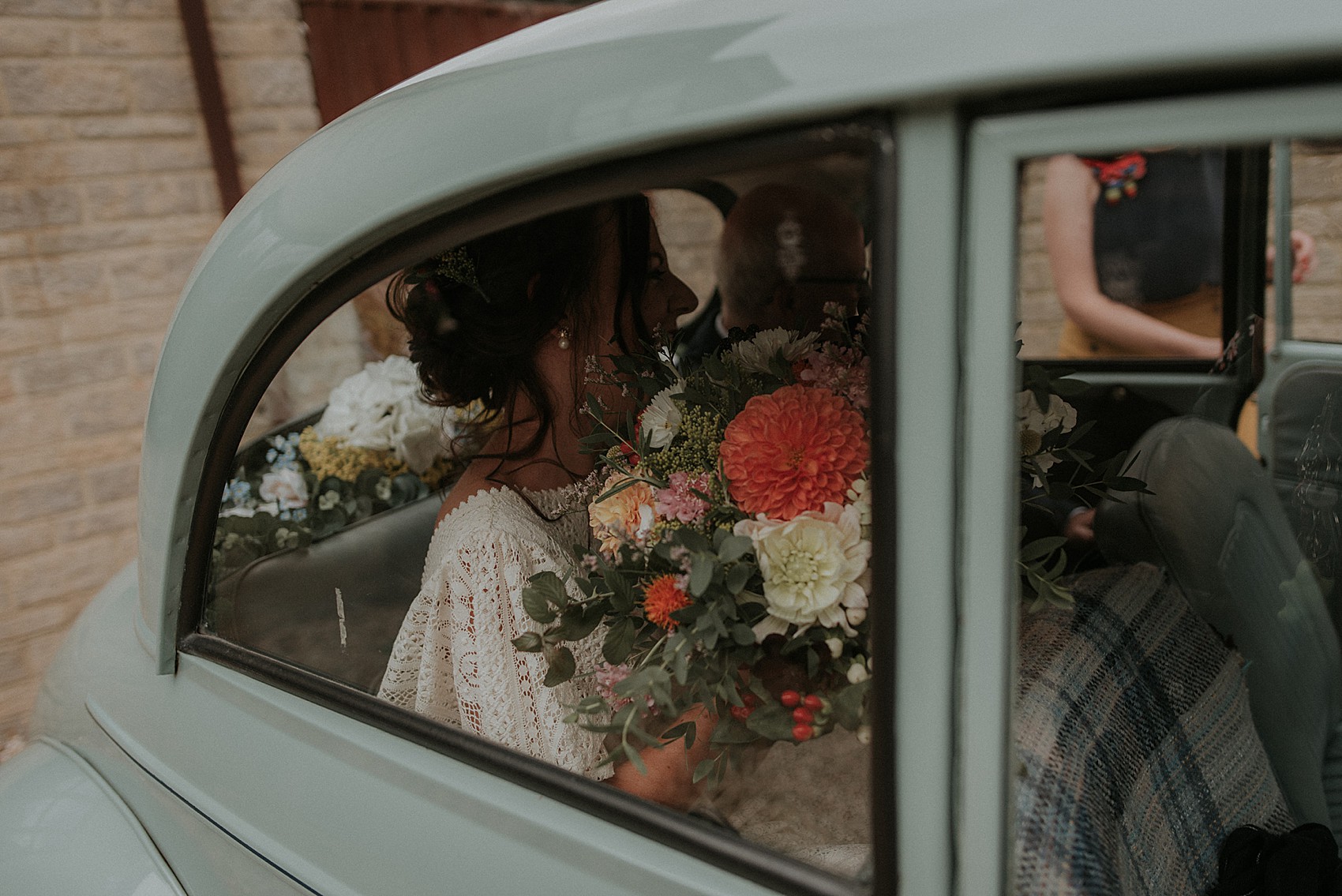 Jordan was waiting at the church, dressed smartly in a deep grey suit from Hugo Boss and rusty bow-tie and leather brogues. Steph entered the church with her dad, as 'Air à Danser' by Penguin Café Orchestra played. I love these 'first glance' photos; they are so emotional and romantic.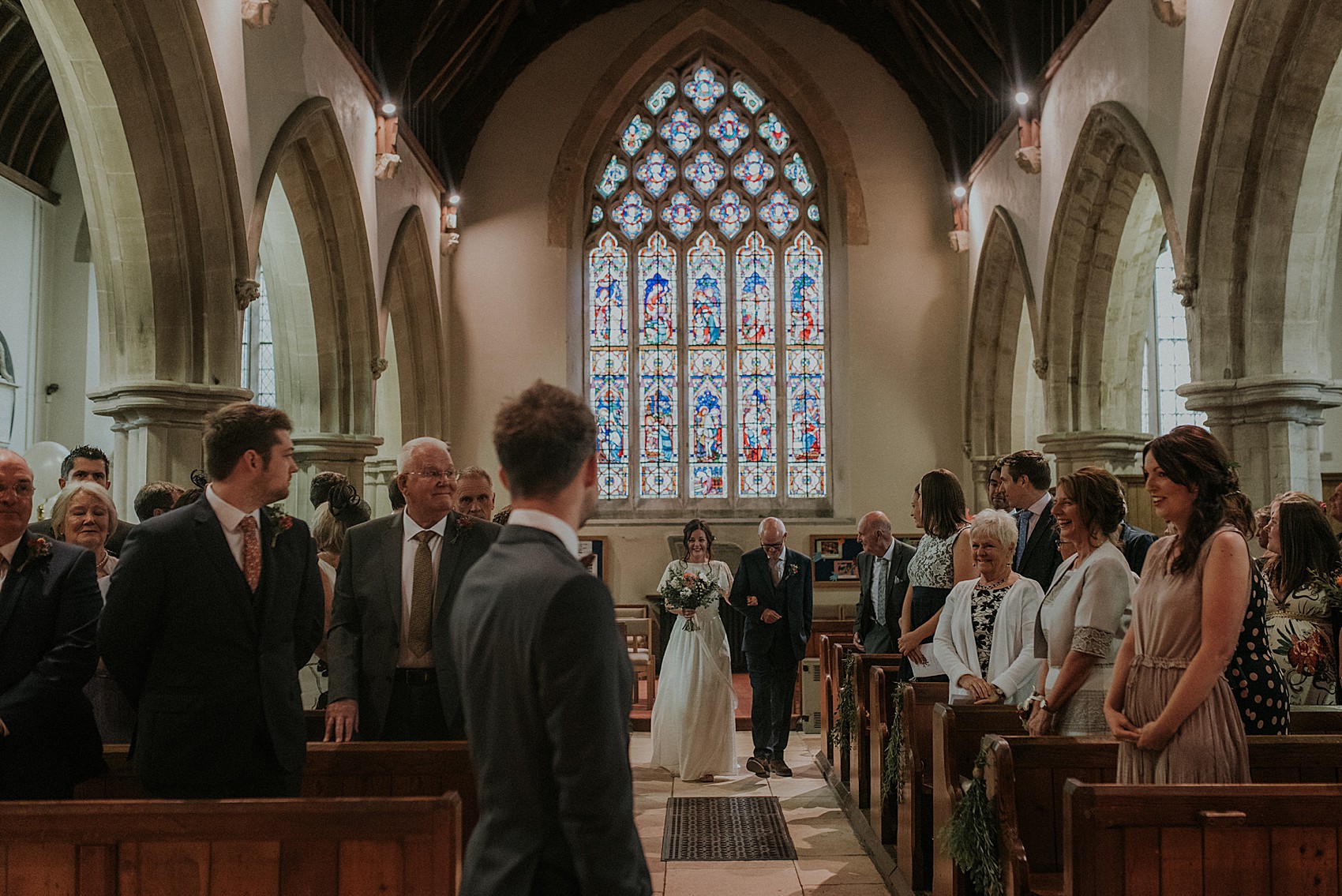 "My favourite part of the day was meeting Jordan at the end of the aisle and him taking my hand. It was such a sweet moment and reconfirmed all the reasons I was marrying him."
The bride and groom asked their friends Laura and Sarah to read 'Your Walled Garden' (author unknown).
"It felt short and sweet, plus poignant as we'd spend the months before the wedding building a garden in our new home. It was lovely to have friends involved in our ceremony."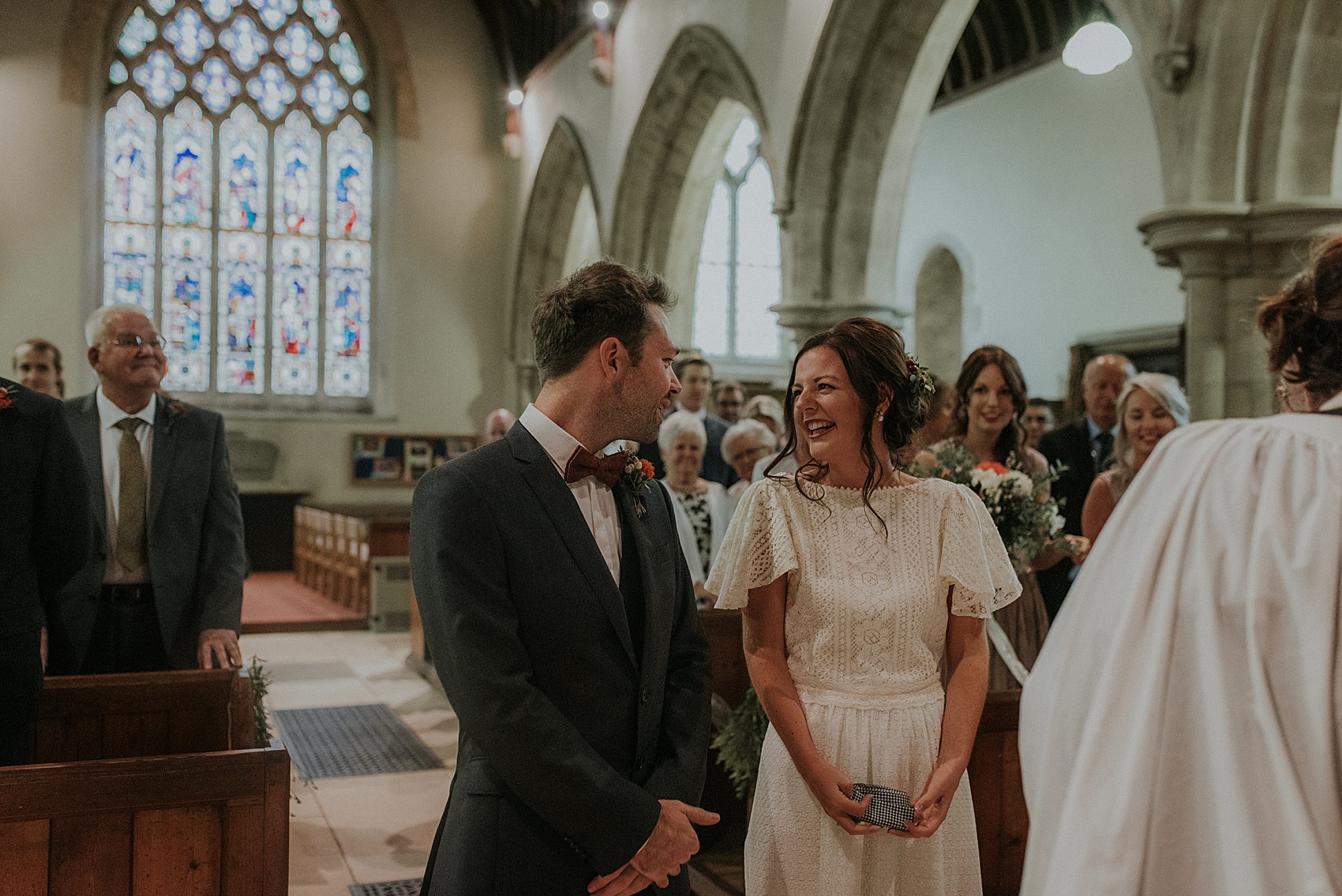 As they exchanged vows, Steph and Jordan also gave each other rings from independent designers. The bride's was by Sarah Brown Jewellery whilst the groom's was from Tanja Ufer.
"As creatives, it was really important to have something individual to us and handmade to treasure."
This set of timeless, documentary-style photographs is the work of Megan Elle Photography, whose flair for capturing special details as well as the romantic and joyous feel of the day shines through. She was aided by secondary shooter Emma Butler Photography.
"Megan was a pro and wonderful person to work with from the outset. We're so happy with every detail of our day she captured. Having a good photographer was so important; we have those memories to last forever."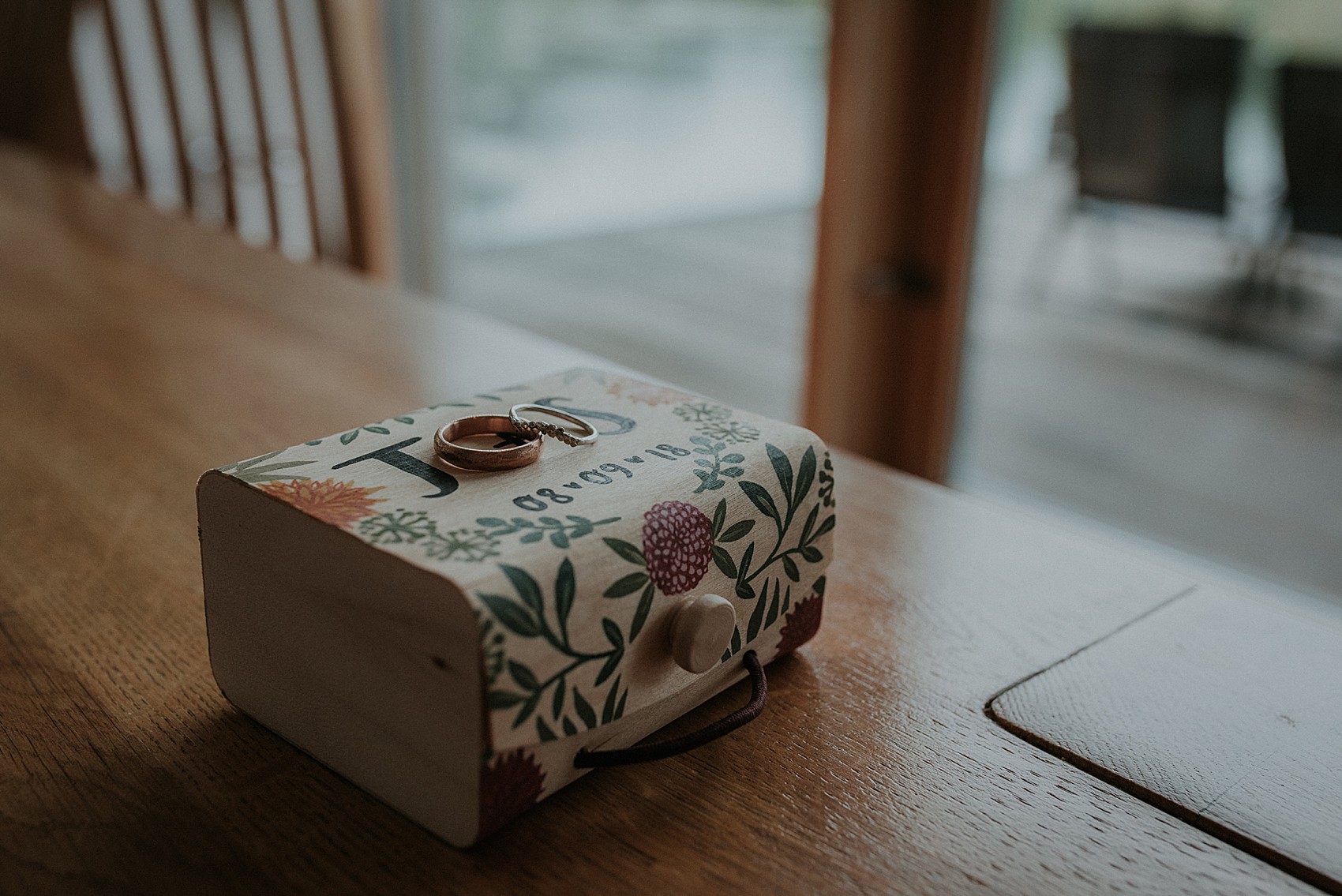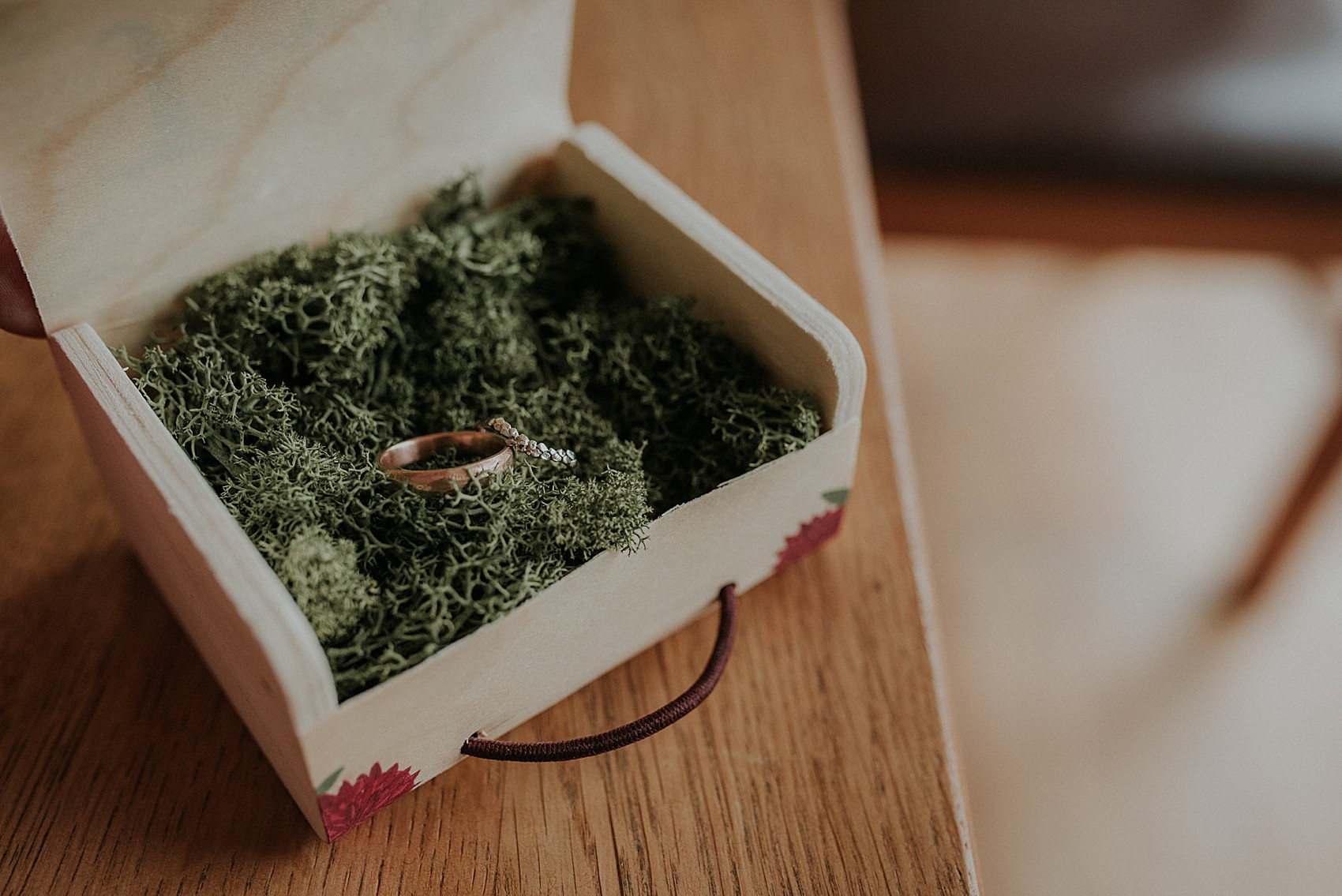 Steph's bridesmaids slipped on nude-pink dresses from H&M, and hair and make-up artist Kirsty entwined loose foliage into their up-dos to mirror the bride's look. The girls all carried wonderfully loose and wild bouquets of flowers, expertly styled by Great British Florist.
"Our florists were wonderful to work with and at pretty short notice put me completely at ease. After organising and making arrangements for every little detail, it was really nice to have our flowers a surprise. Though I could give them an idea of what we liked, everything was grown in Britain and they had to work with whatever was in season which fit the theme perfectly. They used beautiful dahlias, berries, cosmos, scabious and lots of foliage and supplied armfuls of loose flowers to decorate our venue too."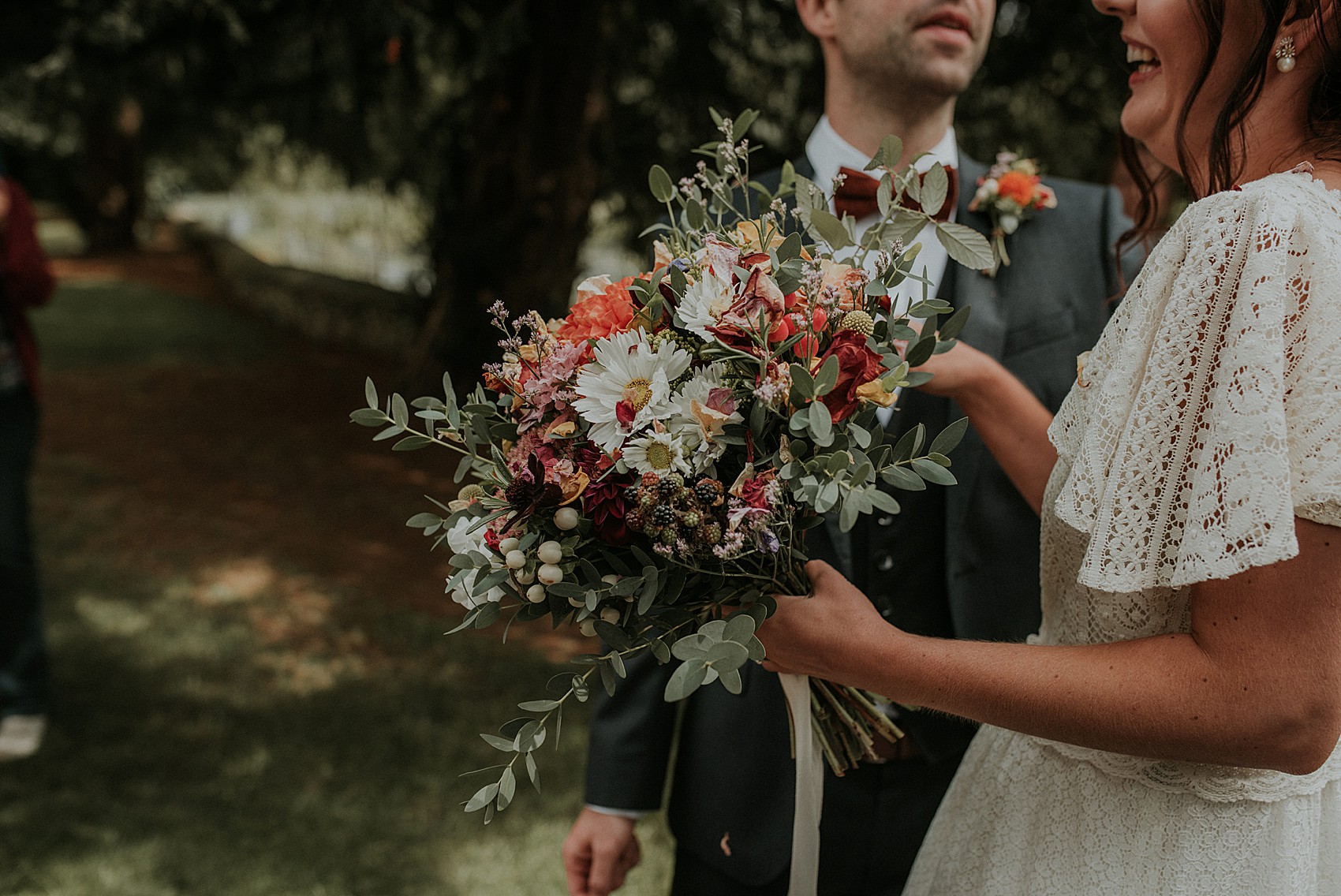 Coming out in to the late summer day, Steph and Jordan were showered with petal confetti before walking to Berry Farm, followed by their friends and family, as well as a musical surprise.
"As a surprise to our guests we arranged for Tom Cooper Music to meet us outside of the church with his guitar and serenade us as we walked across to the farm down a tree lined drive."
The farm looks like the perfect location for an afternoon of relaxation, celebration and chatting, with hay bales for seating, traditional wooden games and toys and even a limbo bar. It had been simply adorned with lots of hand-made elements and the guests were greeted with sausage rolls and doughnuts from the local farmer's market to keep them fuelled up.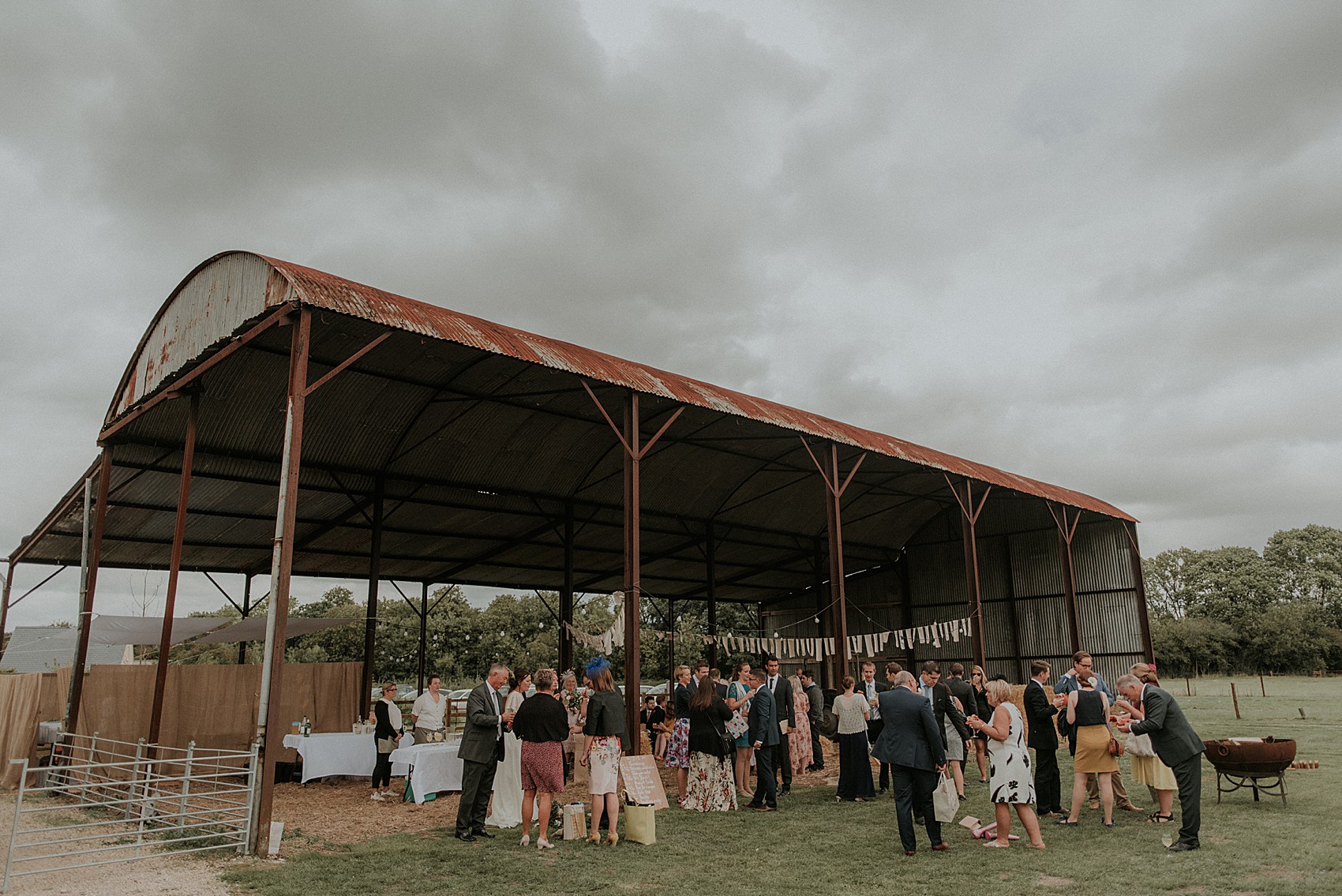 "The parlour barn at Berry Farm is gorgeous enough without doing too much to it but I made paper foliage to hang across the beams, a paper flower backdrop for the photo-booth, fabric banners to hang on the Cotswold stone and bunting from fabric left over from past projects."
"I have the happiest memories of recycling glass jars over the year for flowers on the venue tables with our families; we've all found it hard to stop collecting them!"
"Doing all of the creative parts we could possibly do ourselves saved us a small fortune and were loads of fun to make."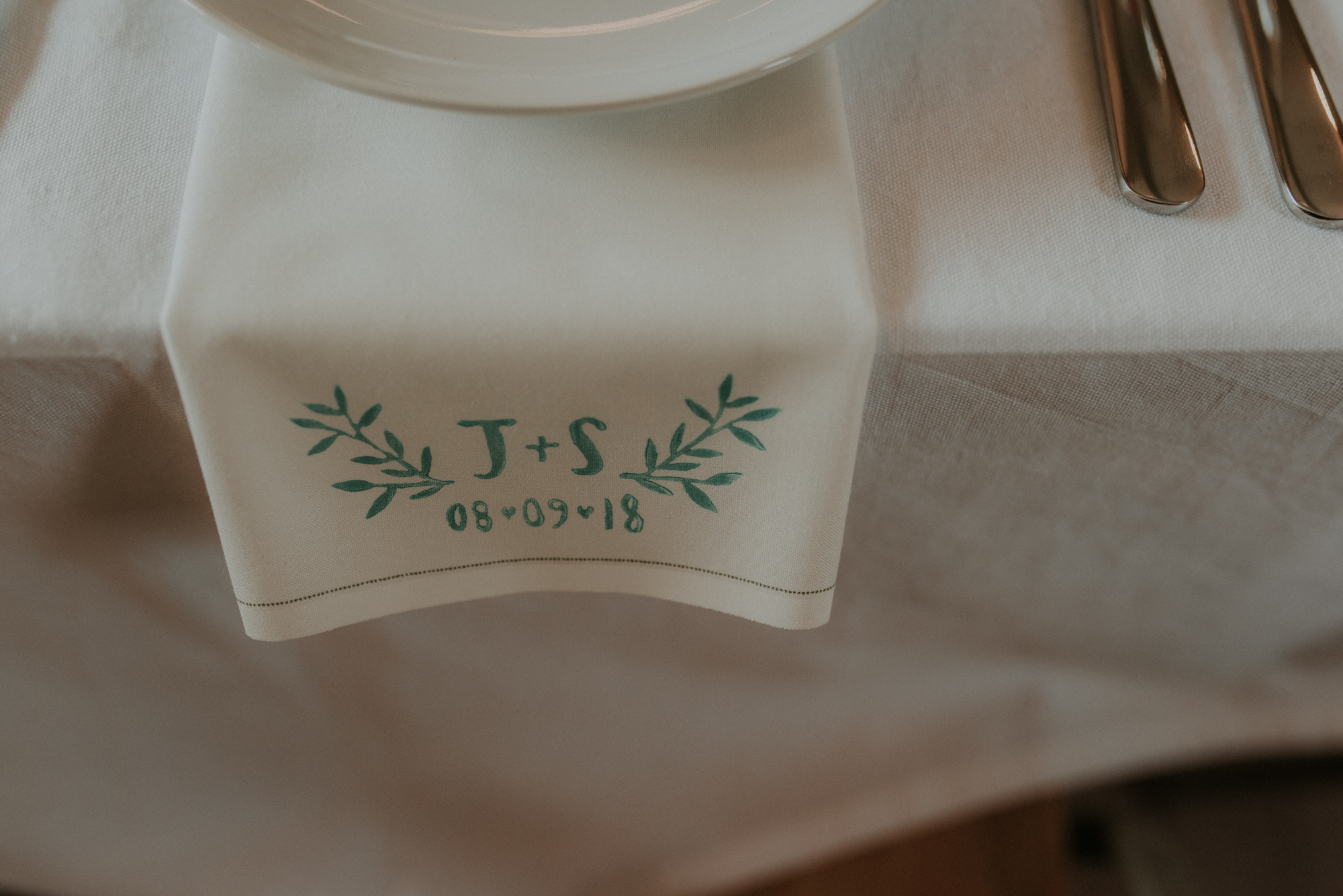 The newly-weds and their guests gathered around long tables for the wedding breakfast, a feast of sharing food.
"Berry Farm produced amazing bowls of locally-sourced food and home-grown barbecued lamb to share amongst our tables of guests. It was all so delicious."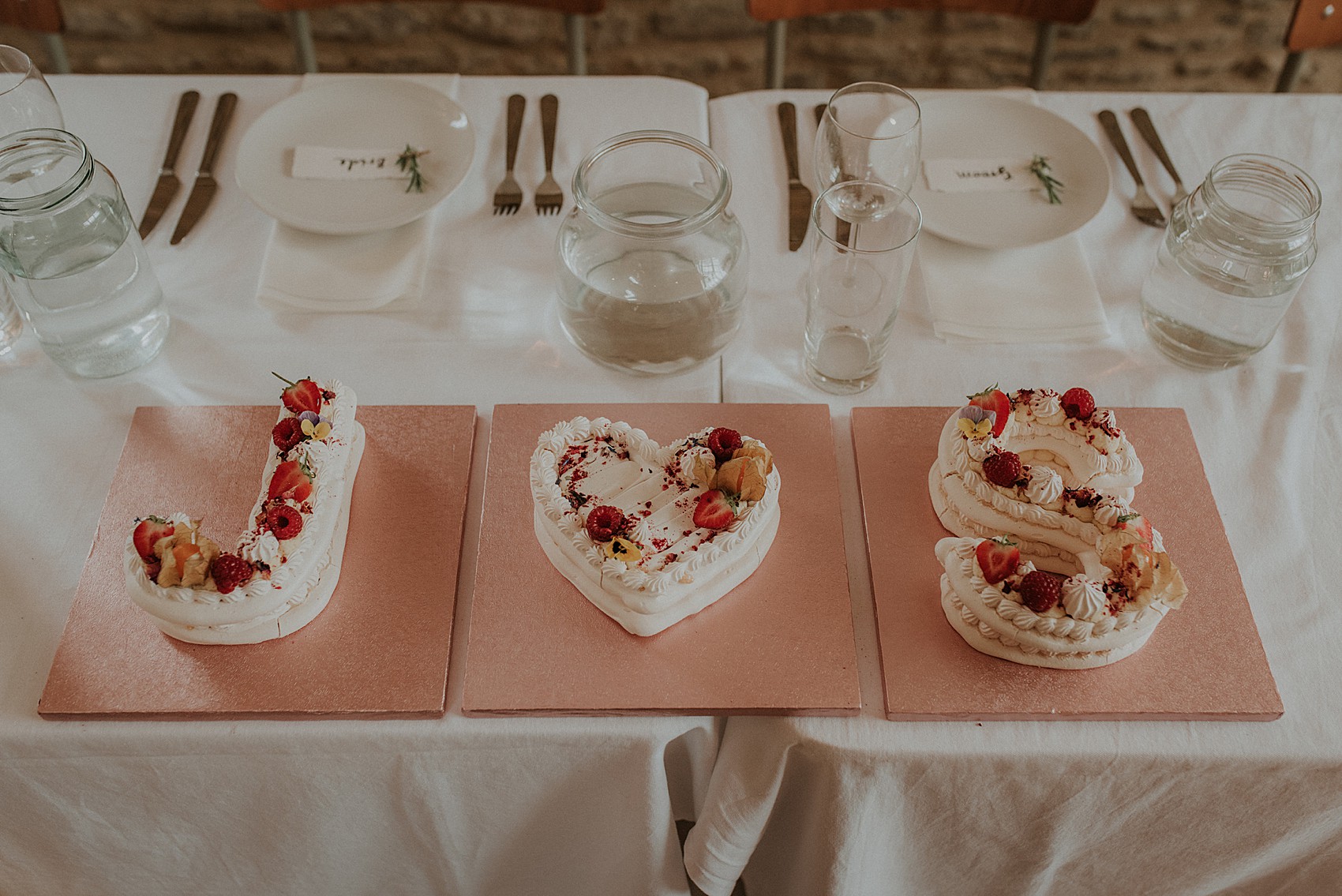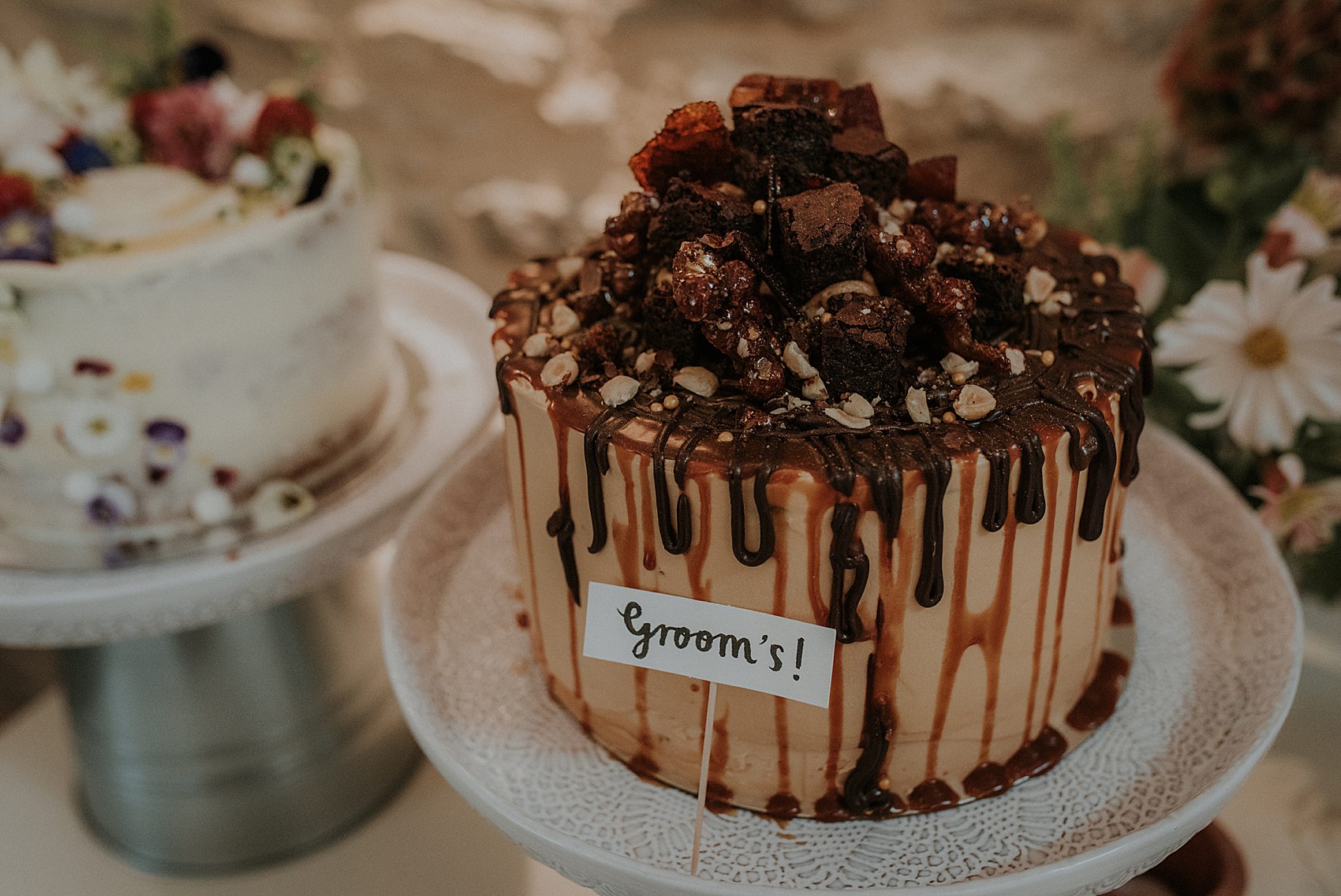 As well as a wedding cake, there was an array of baked goods on the dessert table and some beautiful 'S & J' initials, created from meringue.
"I did a skill swap for our wedding sweets and Hetty's Kitchen did us proud. She created two individual wedding cakes – Jordan's choice of chocolate and salted caramel tiers topped with nut brittle and my choice of lemon, pistachio and mascarpone along with an incredible dessert table and meringue initials. They tasted incredible and were a real talking point. Everyone loved tucking in."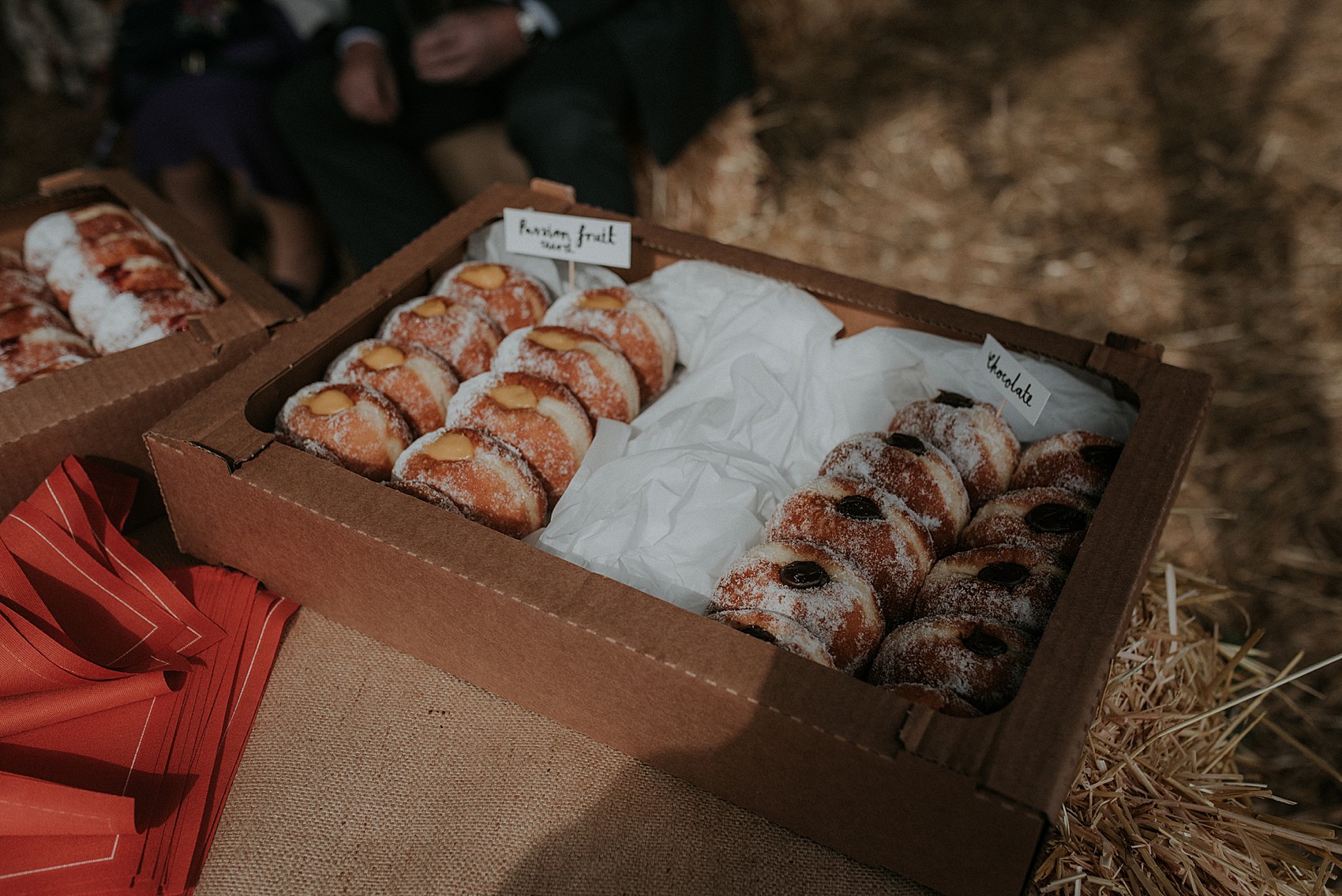 There were more delicious treats for the guests for their favours.
"I made extra rhubarb chutney with rhubarb grown in our garden for the cheese-board and potted it into small jars for guests to take away too."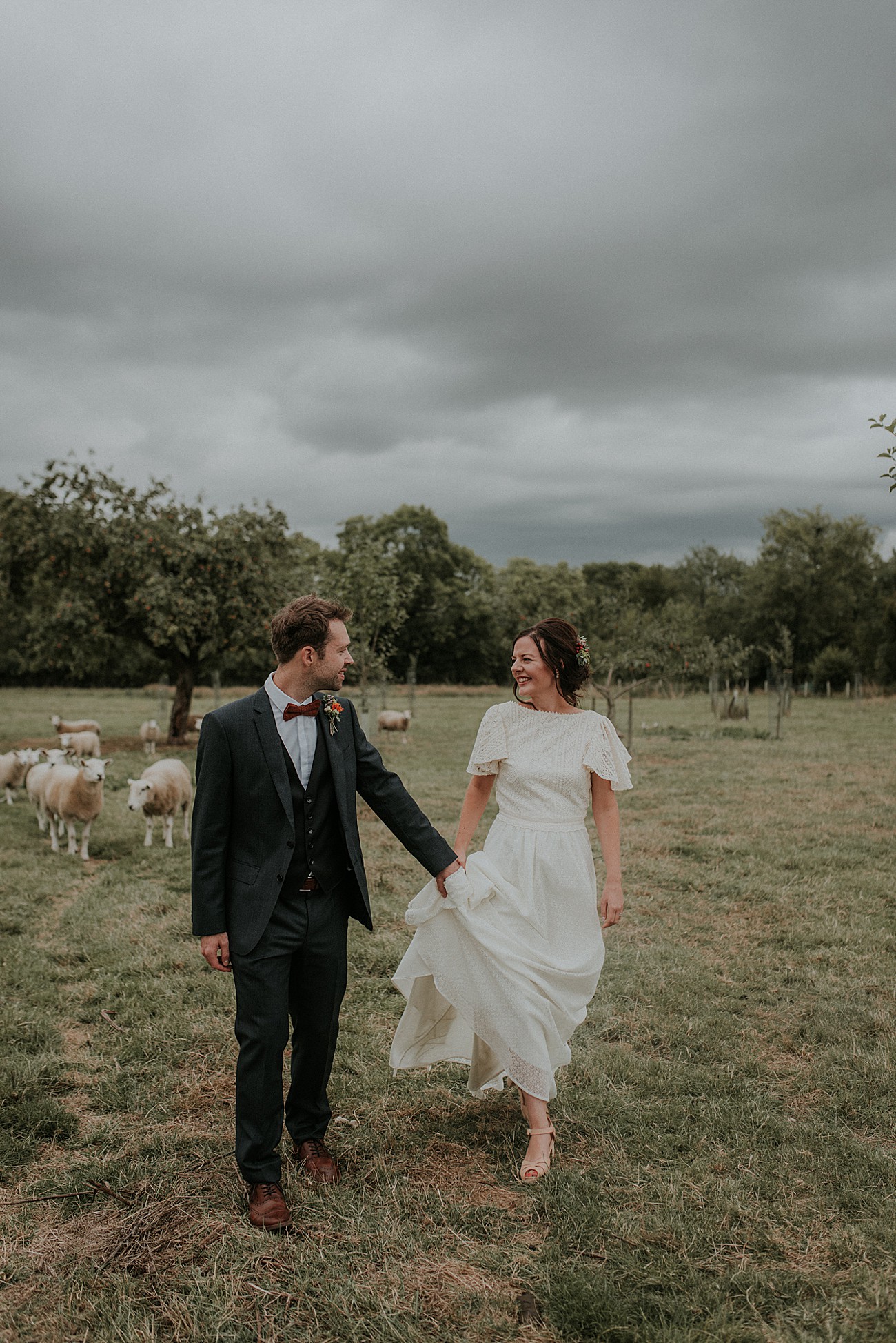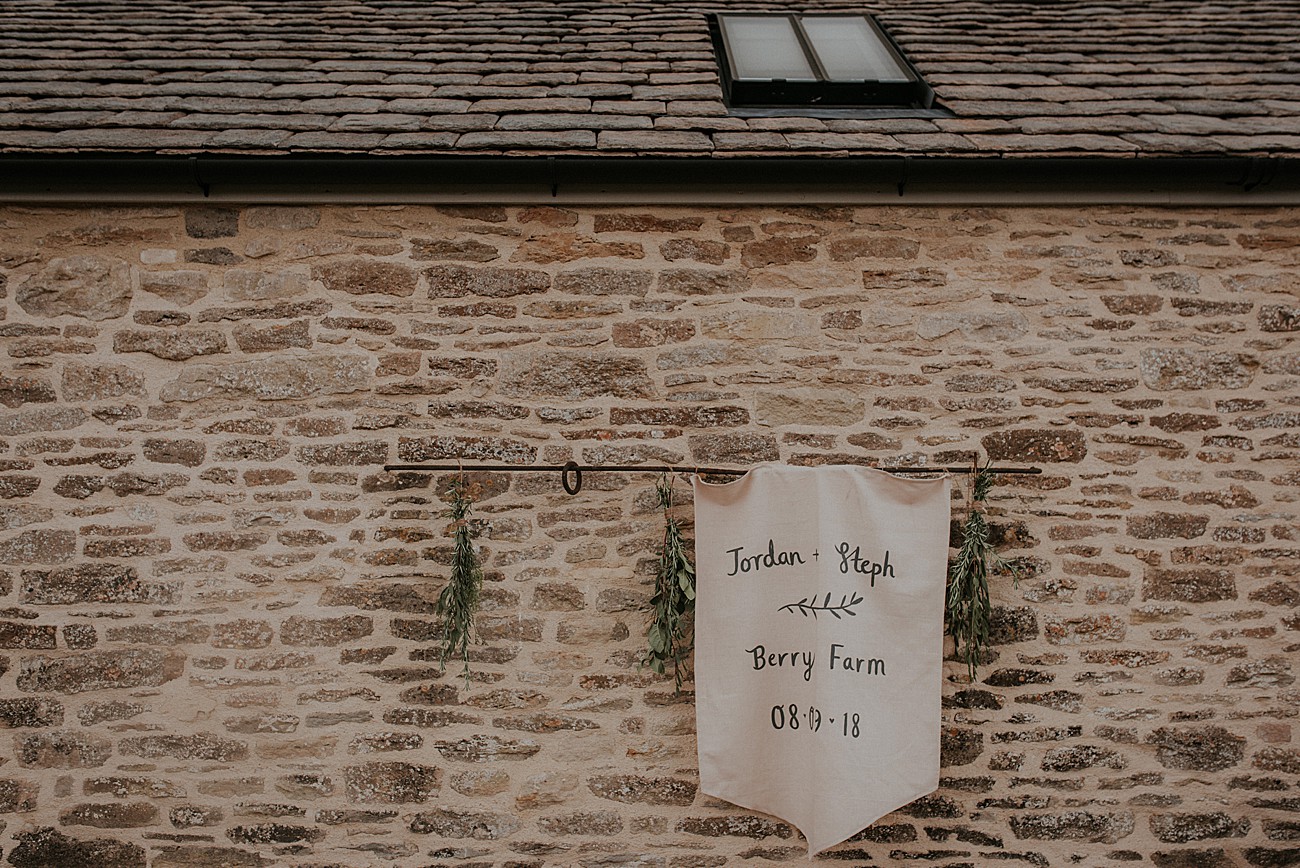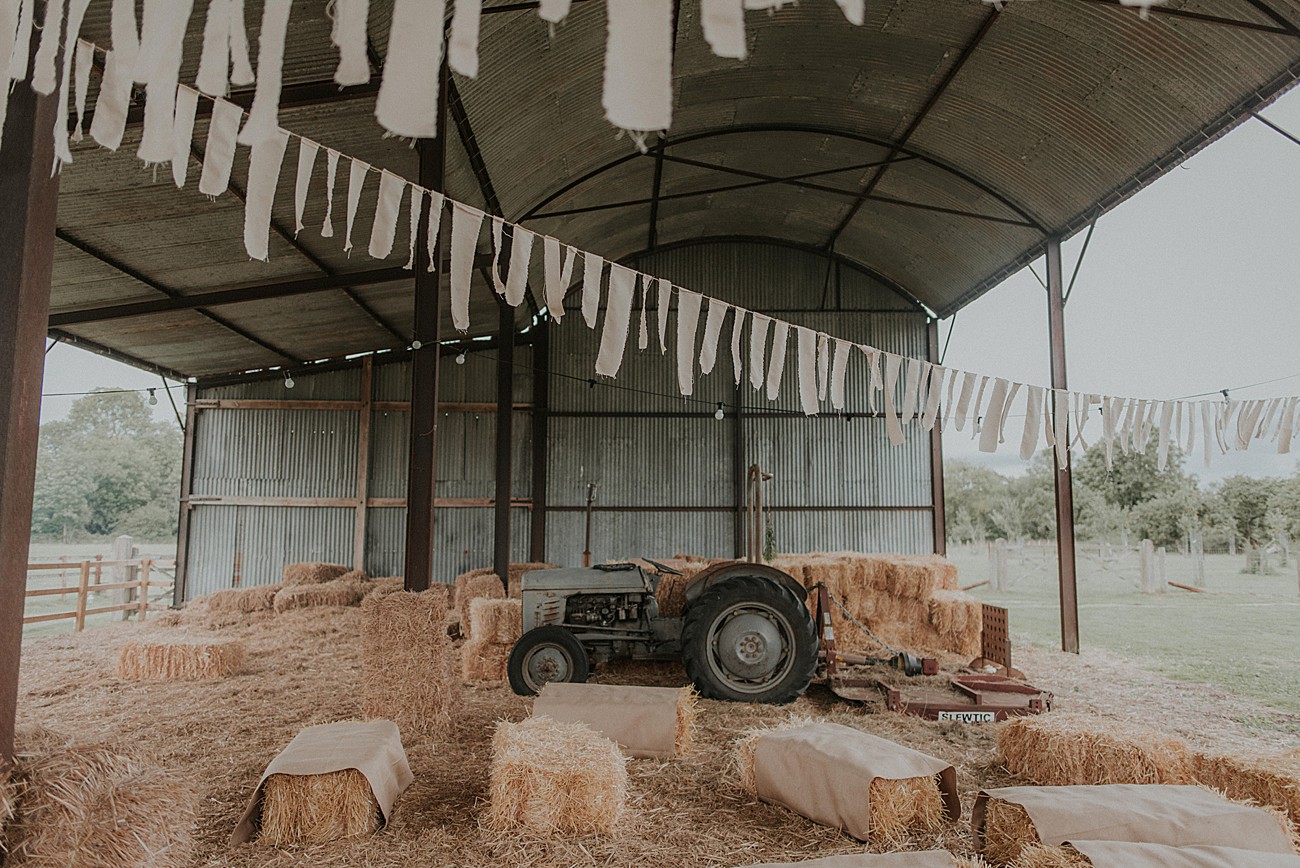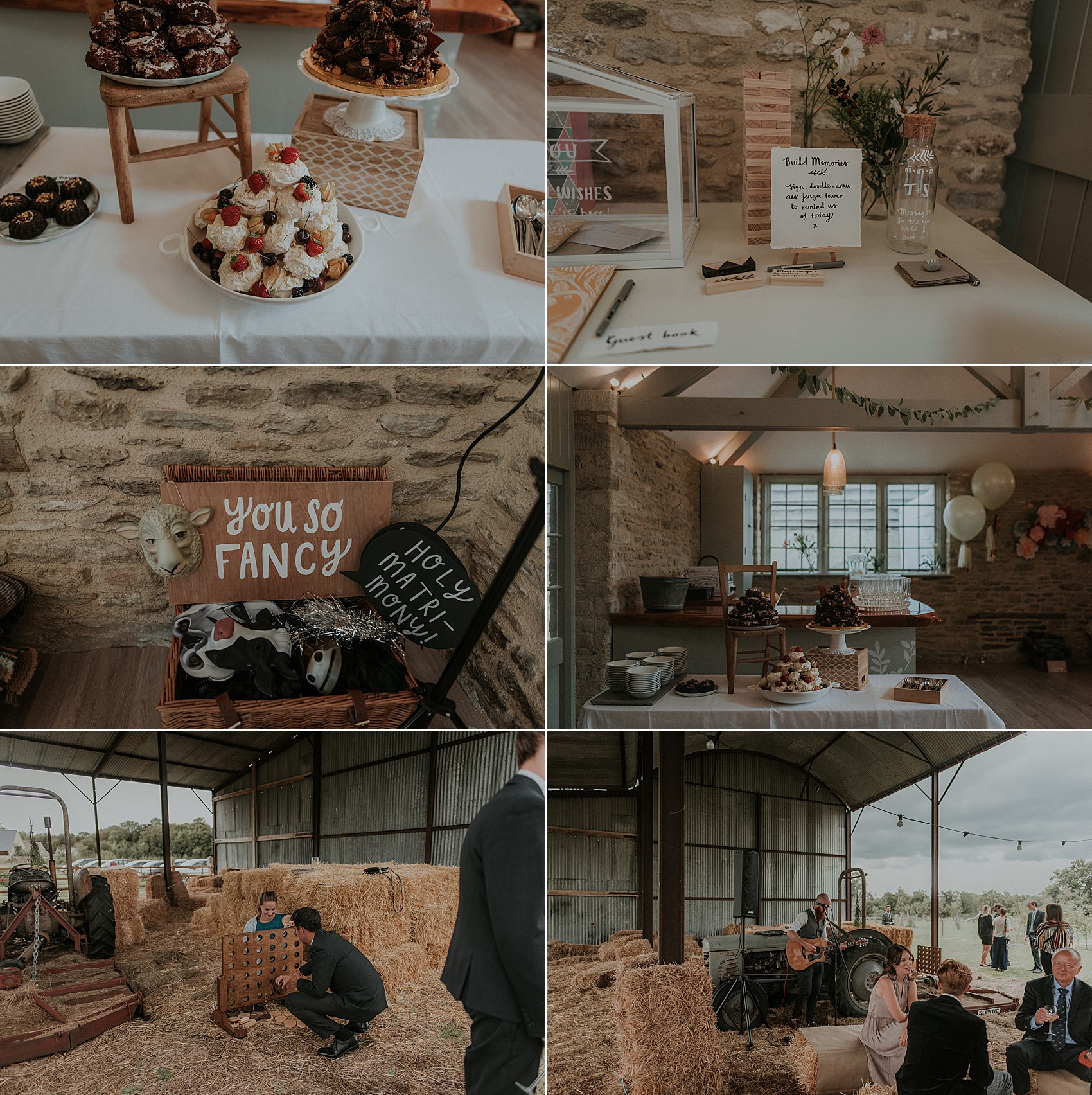 In preparation for the evening reception, Steph slipped on a pretty white Boden gown and for added warmth, a custom-embroidered denim jacket which she made herself. After marshmallows melted over the fire-pits and twinkling sparklers, it was back in to the barn for the first dance to Elvis Presley's 'Burning Love'.
"The best fun; Jordan loves Elvis! Everyone joined us on the dance floor after a few spins. It was gloriously unrehearsed."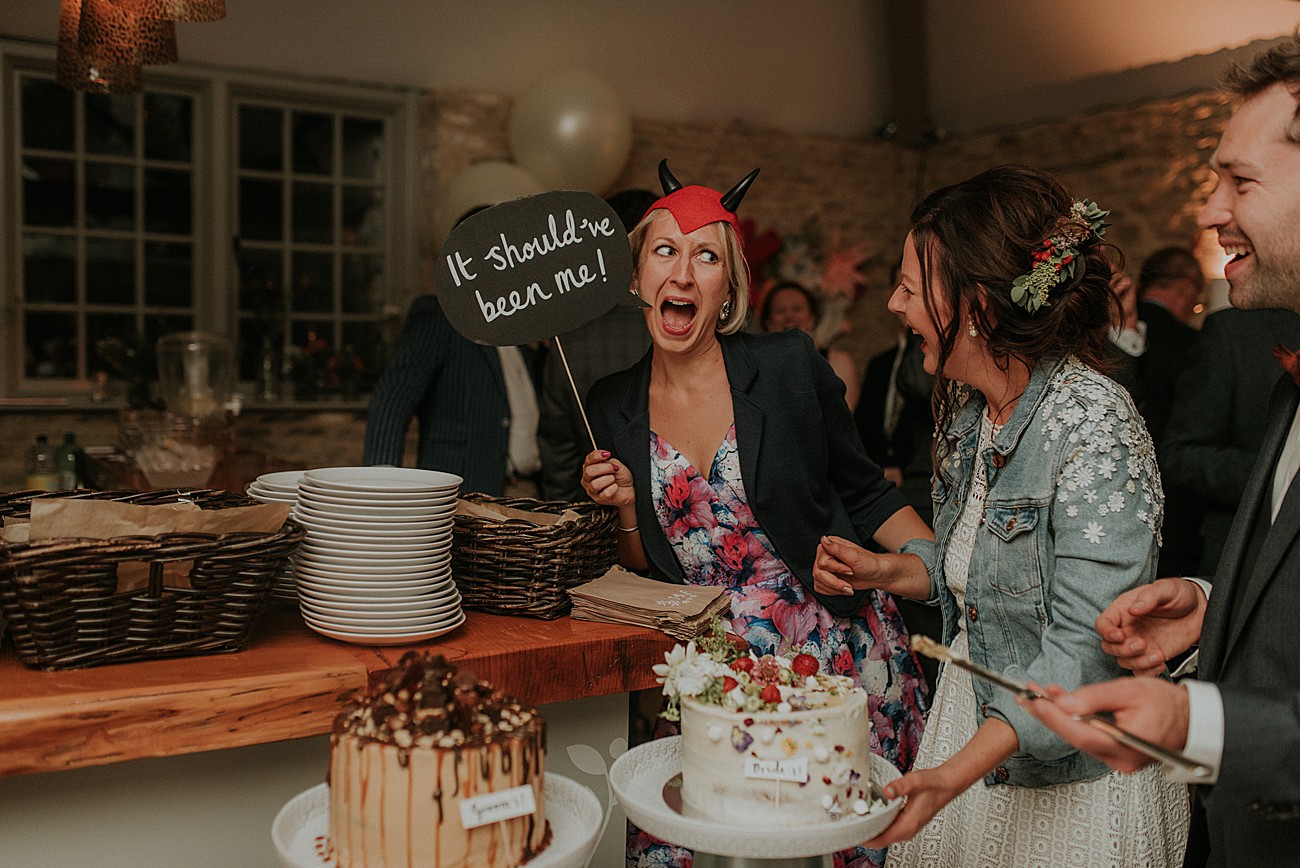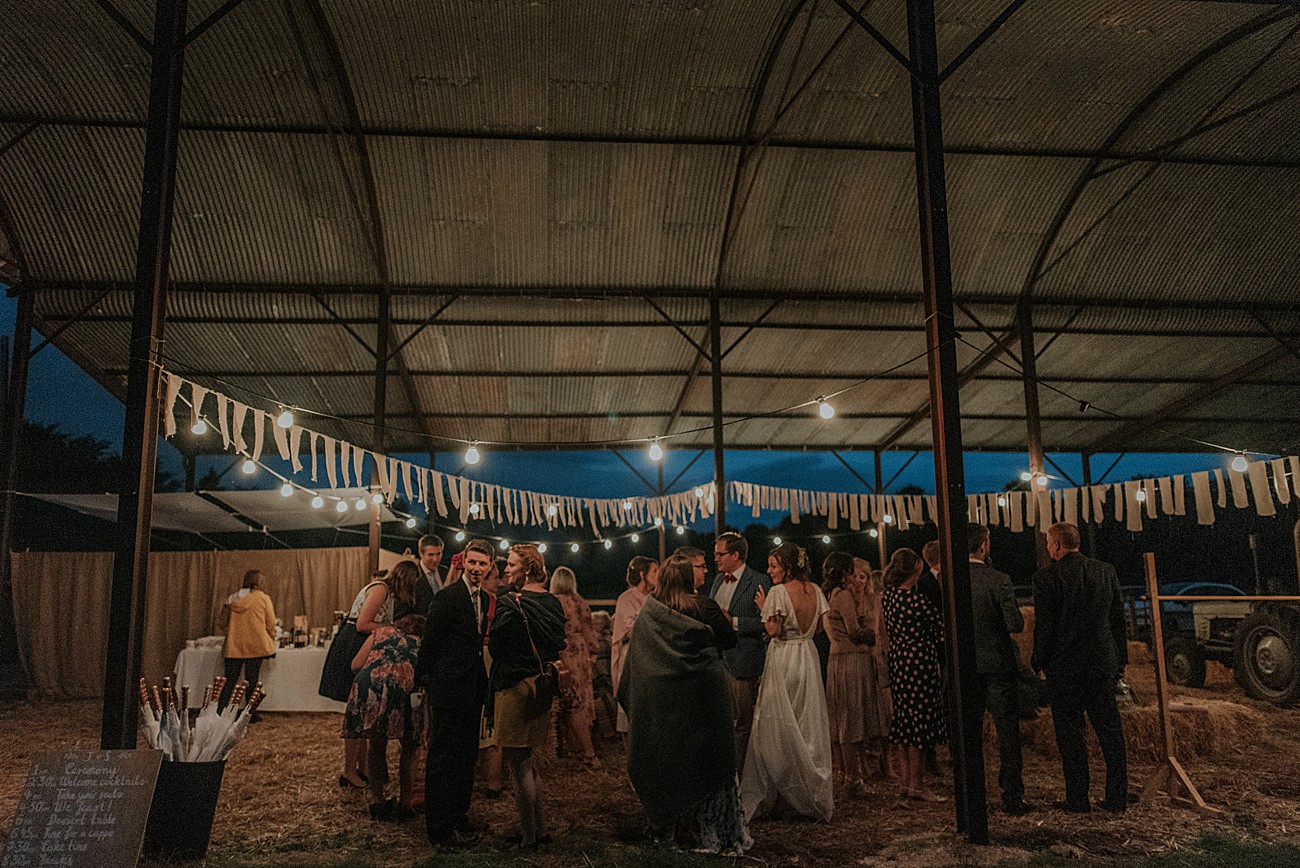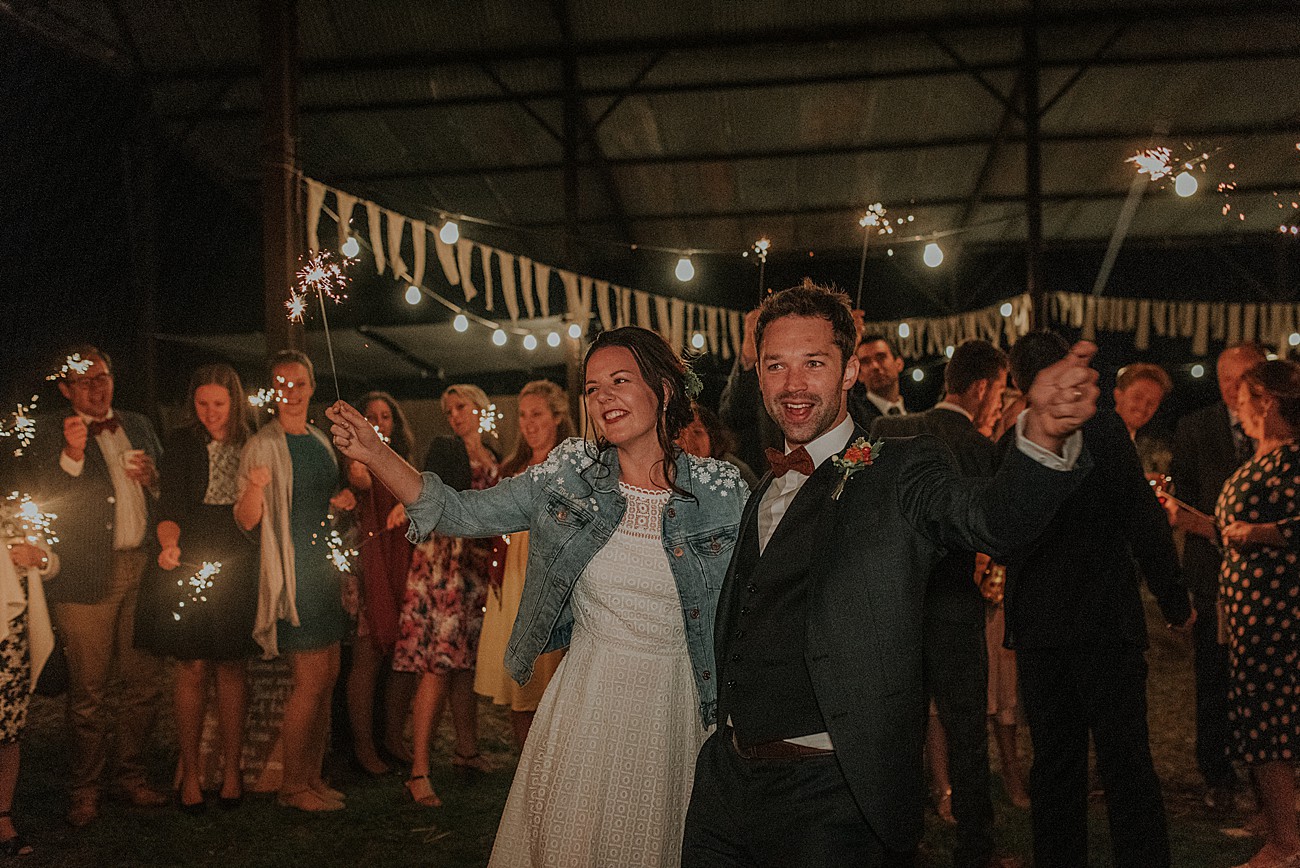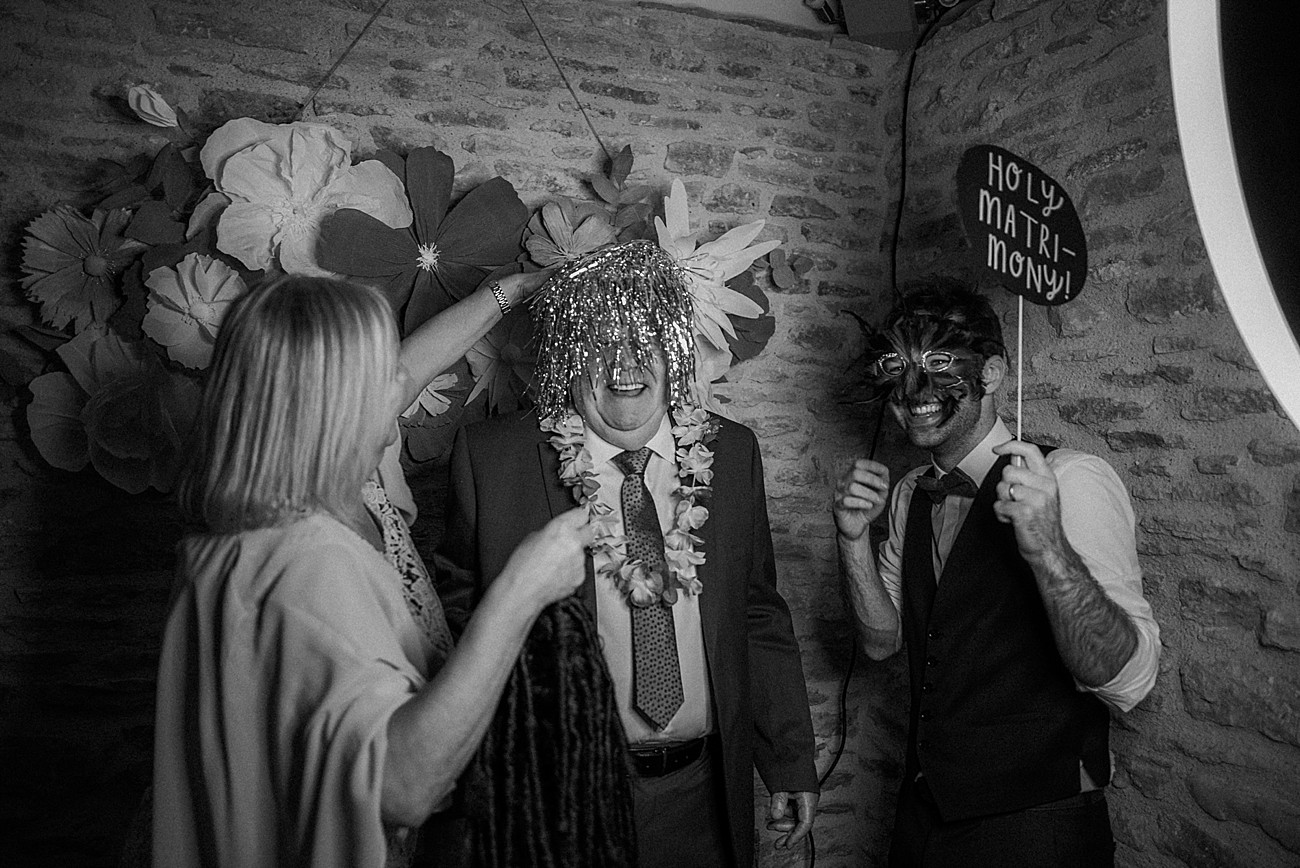 Words of Wedded Wisdom
"Try not to get overwhelmed or stressed by everything in the run up to your wedding day. You're only supposed to do it once and you'll miss the prep work once it's all over so enjoy the whole process and every minute plotting and scheming the fun together!"
"Saying that, don't get caught up on the details that really don't matter. If you have a beautiful venue sometimes simple decoration is best and you don't need to over-fuss."
"You know how much you can manage. Do exactly what you like and forget about pleasing everyone else."
"Think outside the box for suppliers – we had farmer's market doughnuts and amazing sausage rolls instead of canapés"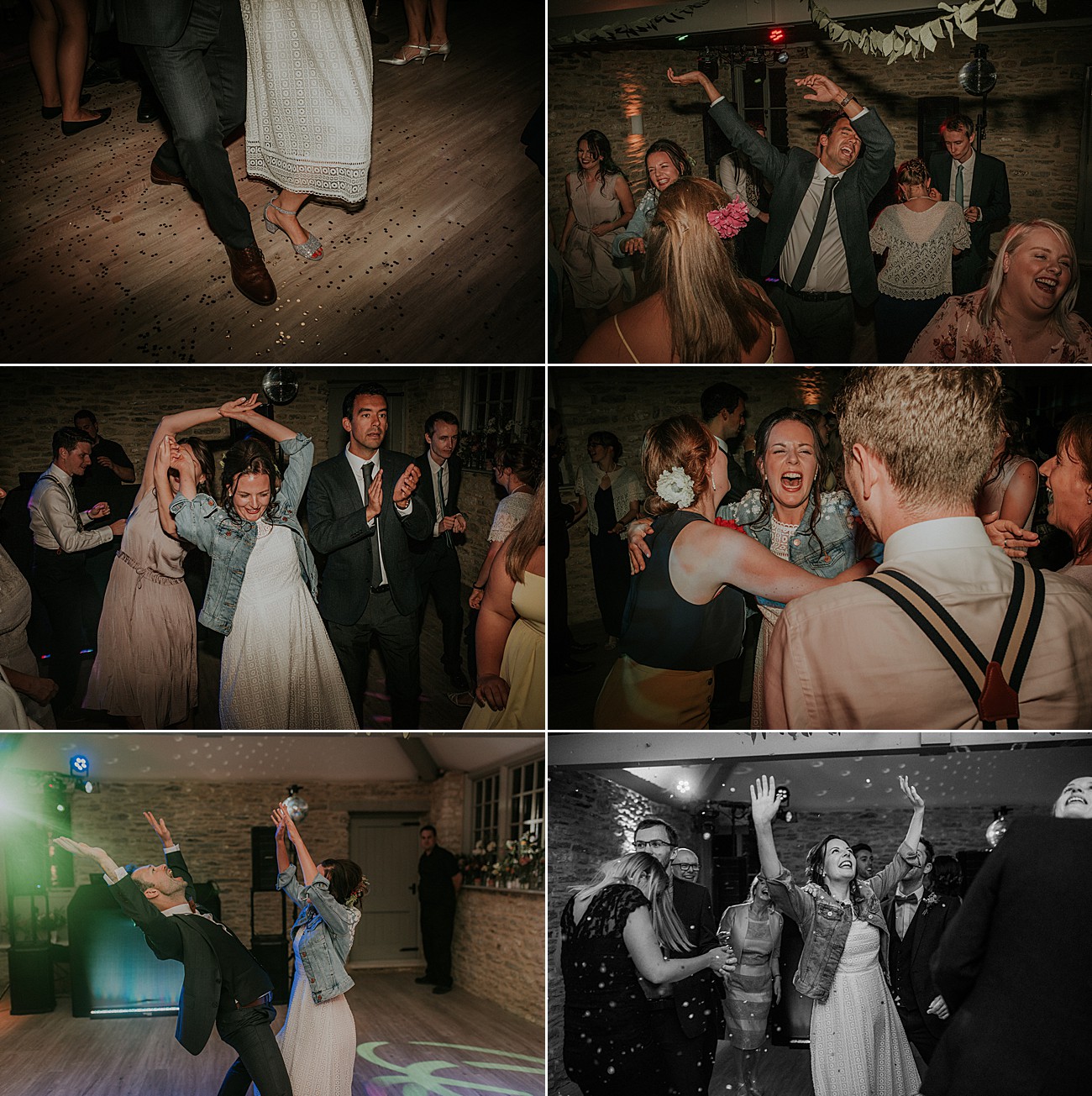 Well Steph and Jordan, it looks like you had so much fun celebrating with your nearest and dearest. I've thoroughly enjoyed looking at your wonderful photographs and admiring all of the creative, simply put together, elements that you crafted. Please accept my thanks and congratulations. And thank you also Megan Elle Photography for these charming photographs.
Ele xx