Readers, I have a three-fold Italian delight for you all today, and you're going to love it – the whole day oozes effortless era inspired glamour, fun, laughter and smiles.
First of all there's the traditional church ceremony, which is followed by brunch at a beautiful fourteenth century farmhouse, and then we're heading to a spectacular villa steeped in history, and surrounded by the most incredible formal gardens for the evening celebrations.
Film by 2Become1
This is the wedding of Raphaela, who works for Alibaba in China and Europe, and Charles, who works for a trading company in Shanghai. They were married on the 18 August at Abbadia a Isola, followed by brunch picnic at Ebbio, which is a farmhouse turned yoga retreat and holiday accommodation. The afternoon was siesta time, before everyone gathered again in the evening, for feasting and dancing at Borgo Stomennano.
Images by Monica Leggio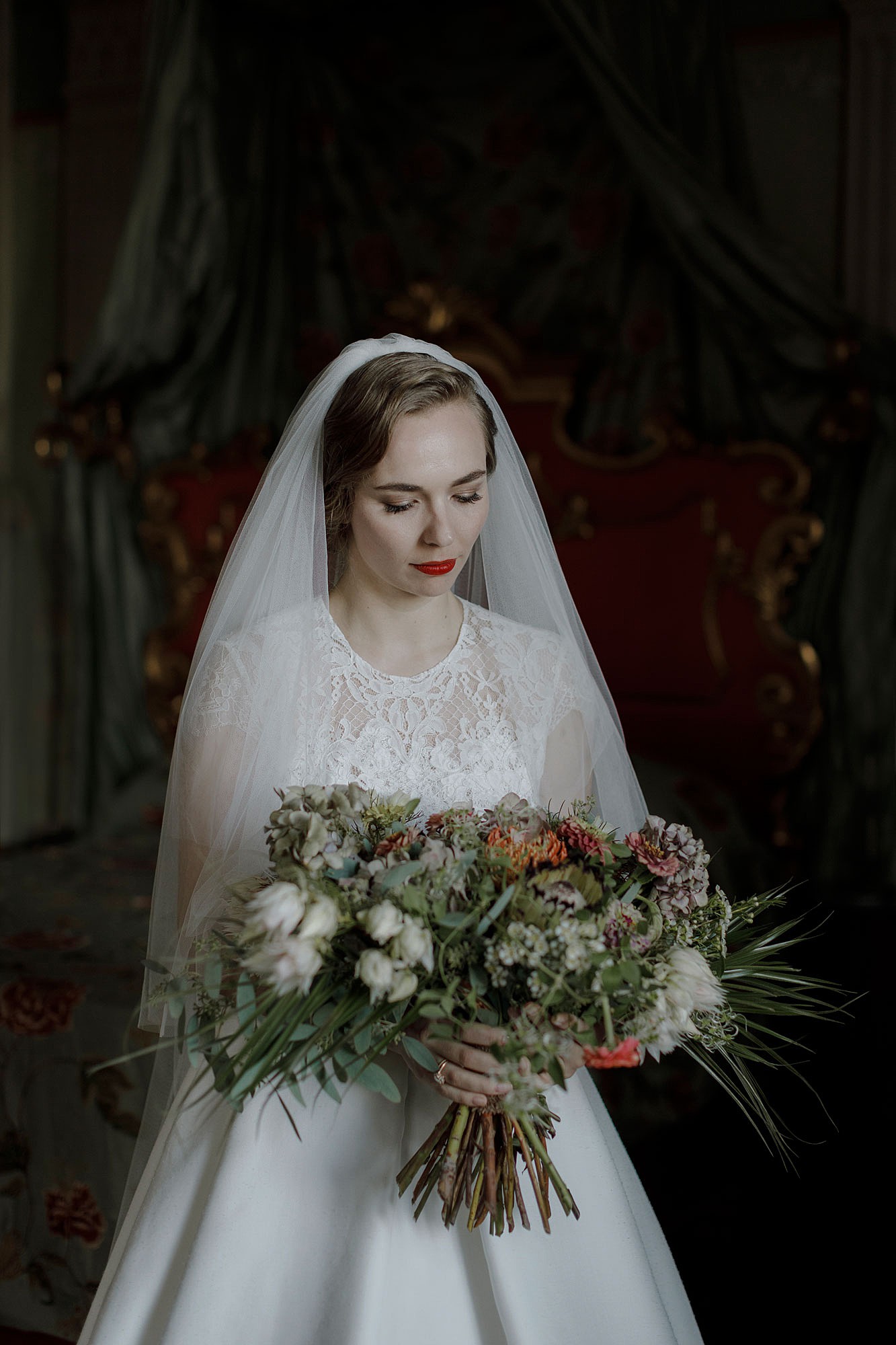 "What inspired us were natural, pure materials and colours. We both enjoy design, architecture and fashion, and we have a very particular style, so when we started to think about our wedding, it was very clear what we wanted: To combine beautiful old buildings and sites with nature and very few materials (and no plastic). It took us 2 years to find the right venues. First we looked in Provence in France, since we both wanted olive trees and a place where it's warm."
"We went to France to look for venues, but we couldn't find the right fit. Then a year later, I thought that Tuscany could be the right place. My father was so amazing that he took time to drive with me from Switzerland (where I'm from) to all the venues I had found. On that trip, we found Borgo Stomennano and also a nearby ruin called Ghinibaldi."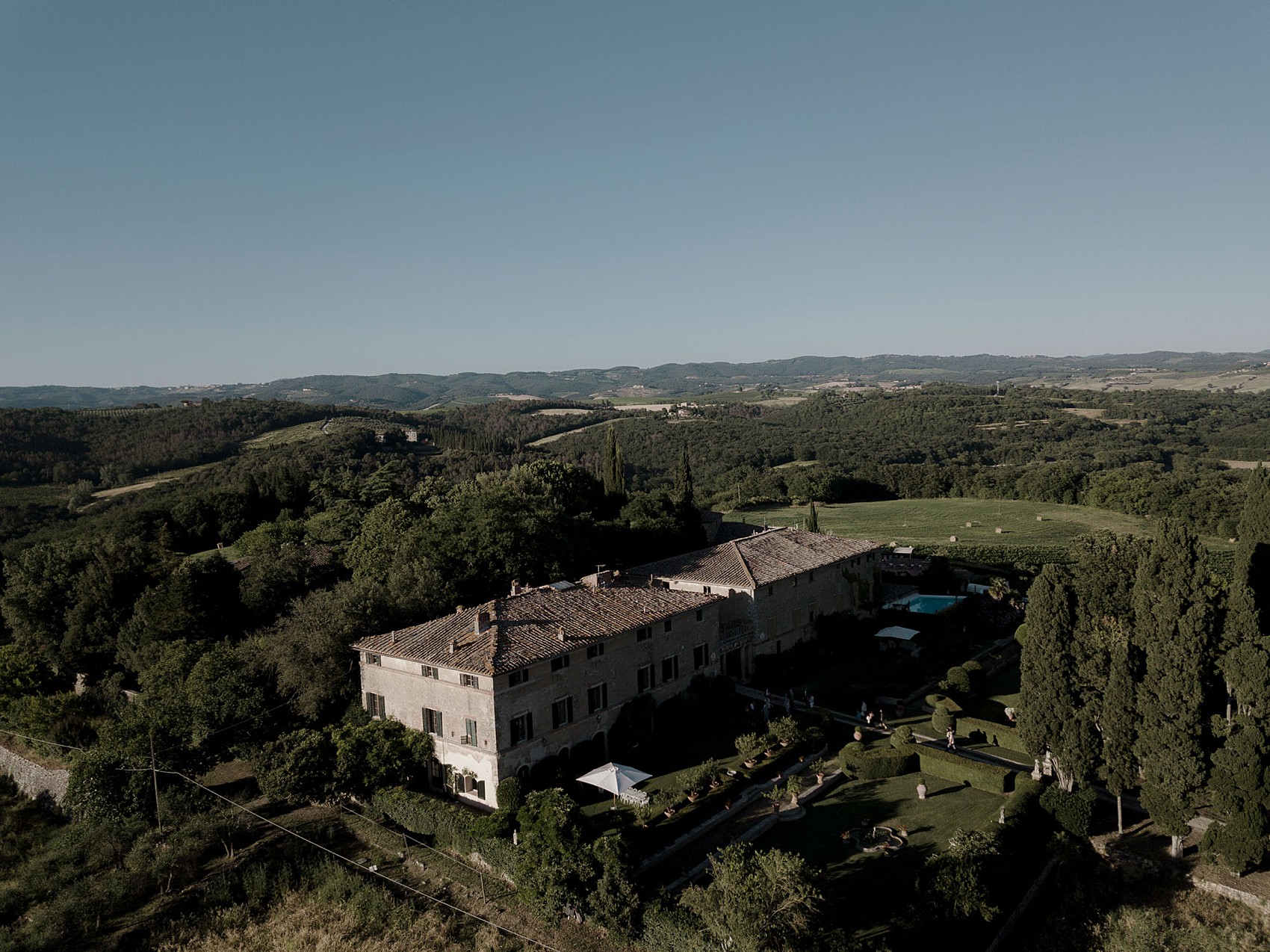 "The planning started, but being far away wasn't easy. We planned to hold a brunch in the morning in the ruins, but unfortunately that place was cancelled the week before, so we found to another gem, which was Ebbio."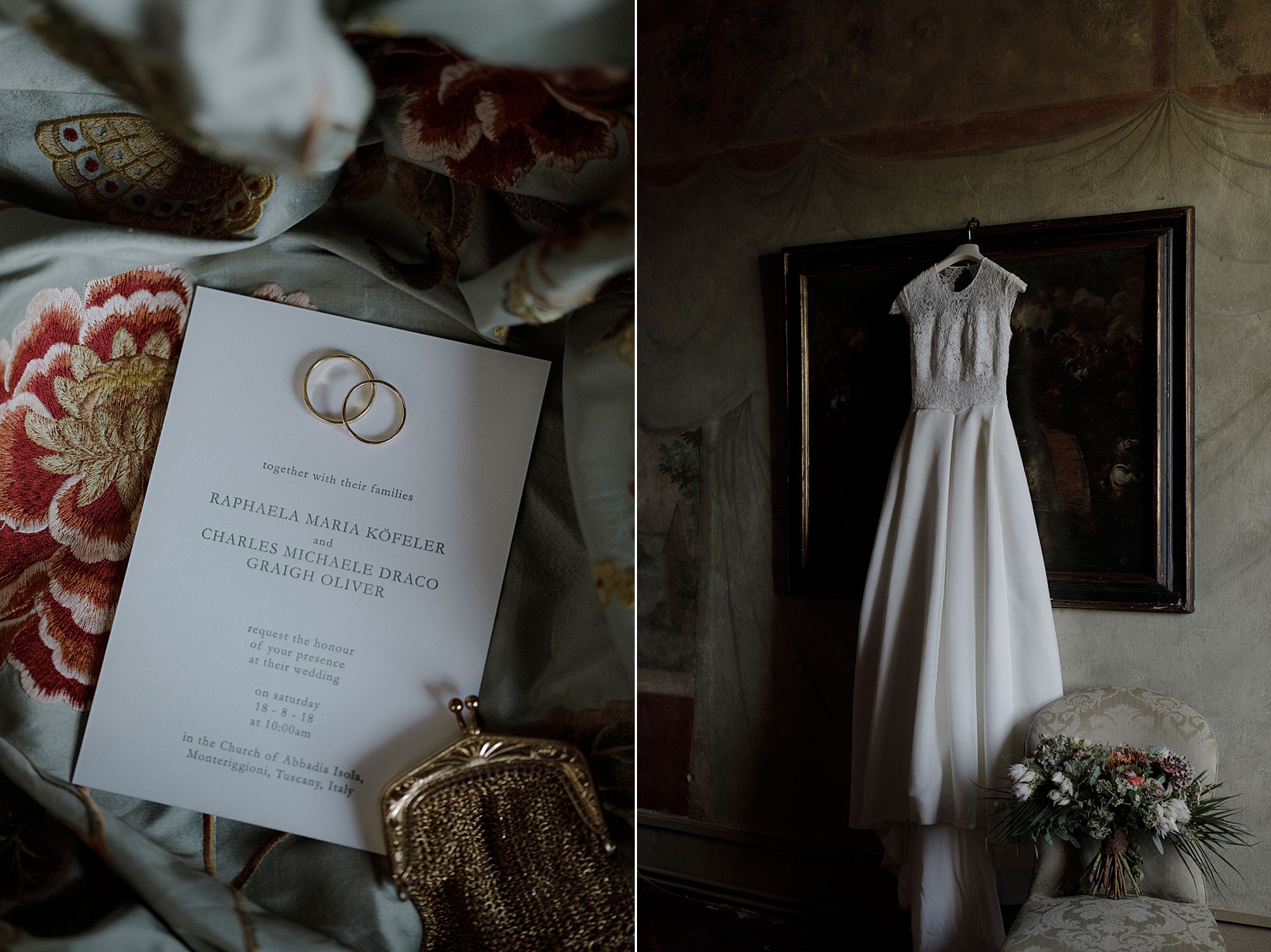 Beautiful Raphaela was a vision with her vintage inspired pin-curled hair and bright red lipstick, courtesy of Roxy Rose. I should also say that not only is Roxy Rose a hair and make-up artist, but she also spins records on antique gramophones – more about that later!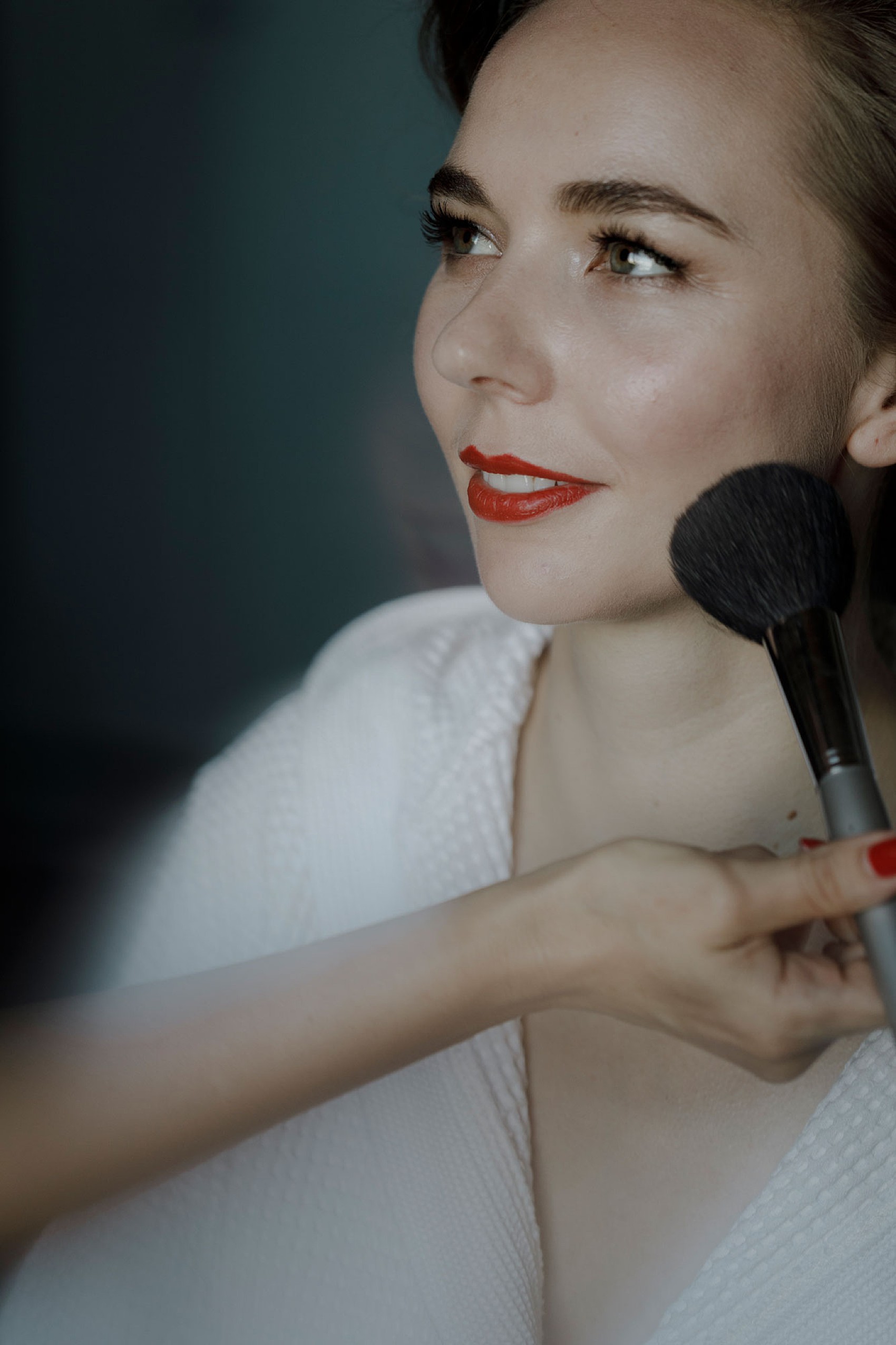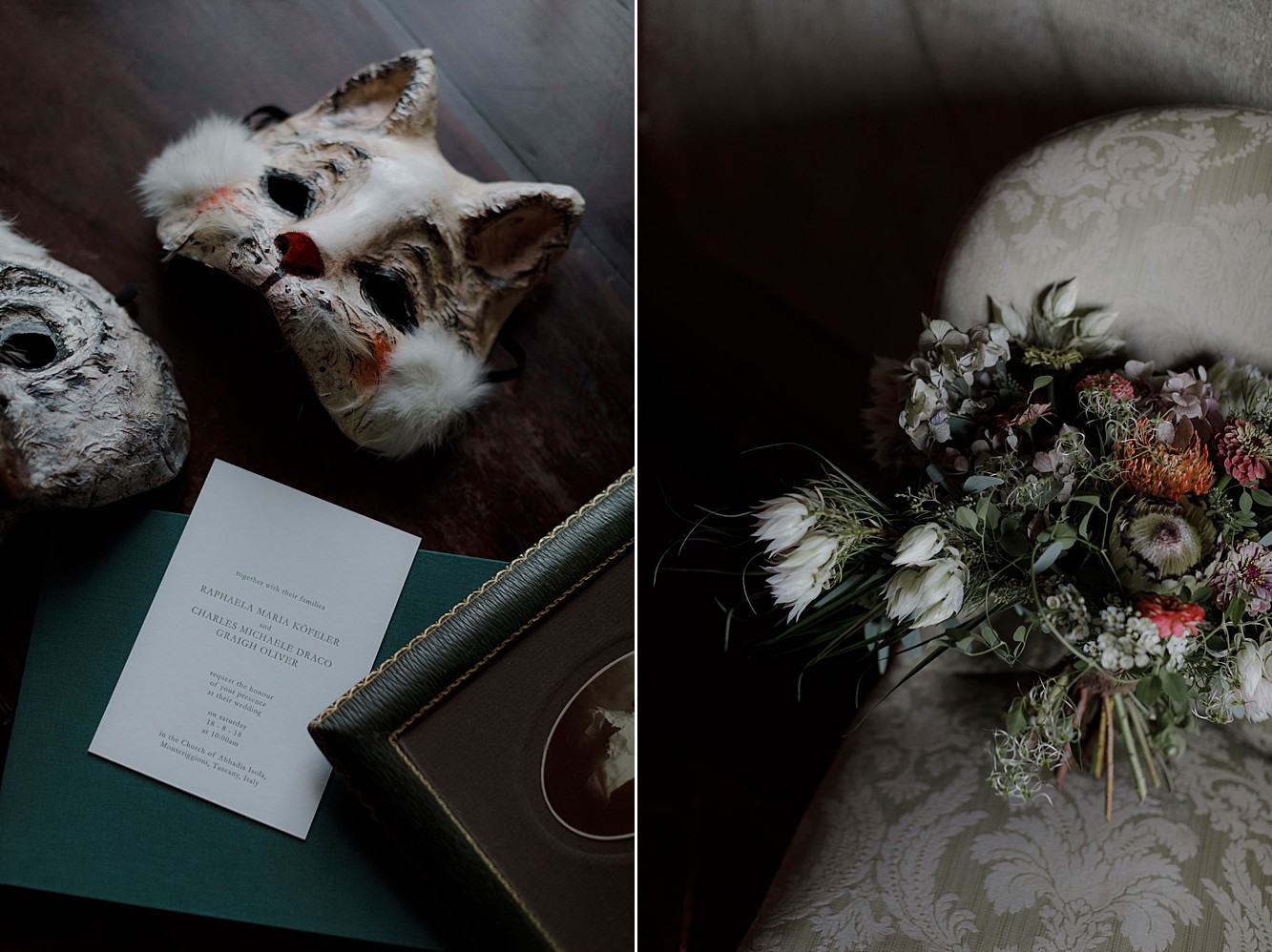 The bridesmaid's outfits were designed by Raphaela, and then made in Vietnam (unfortunately, no further details provided), with white tops in various shapes and cuts, olive green circle skirts and their own choice of shoes.
In their hair, they wore pretty crowns of gypsophila and eucalyptus leaves.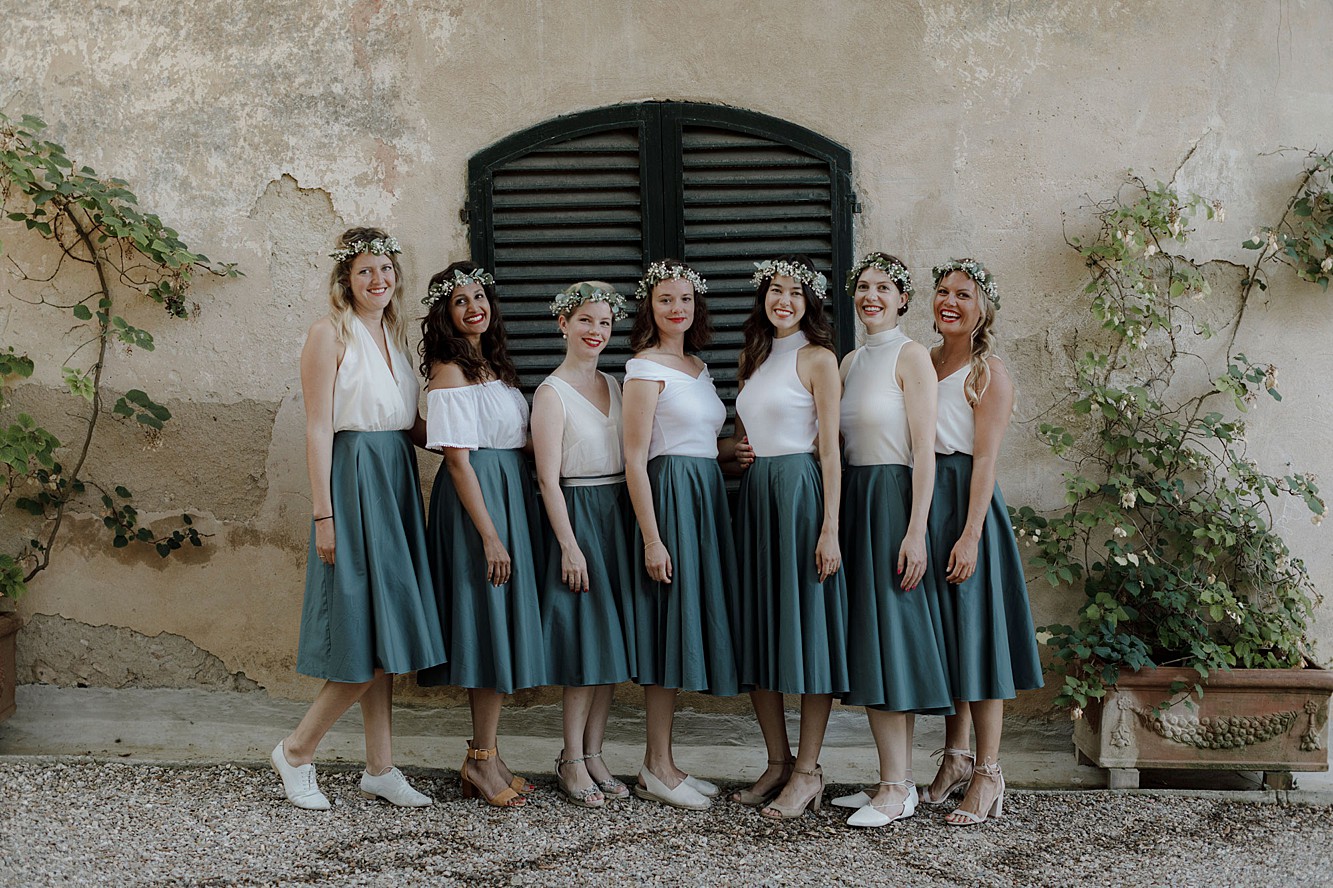 Raphaela wore a beautiful dress with a full, ballgown skirt and delicate lace bodice with capped sleeves, which she found just a week before the wedding at a vintage market in Hong Kong, after her original dress fell through.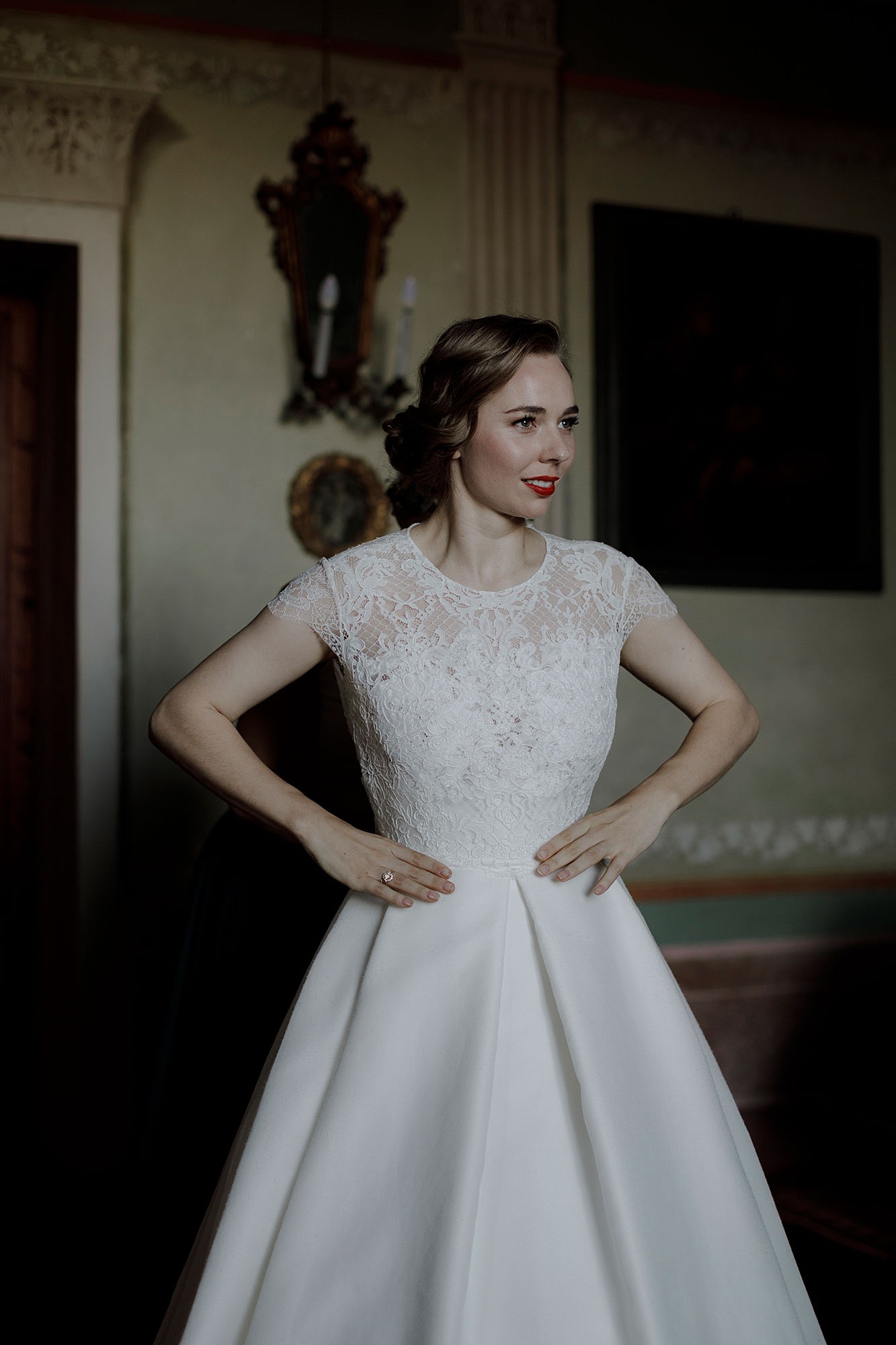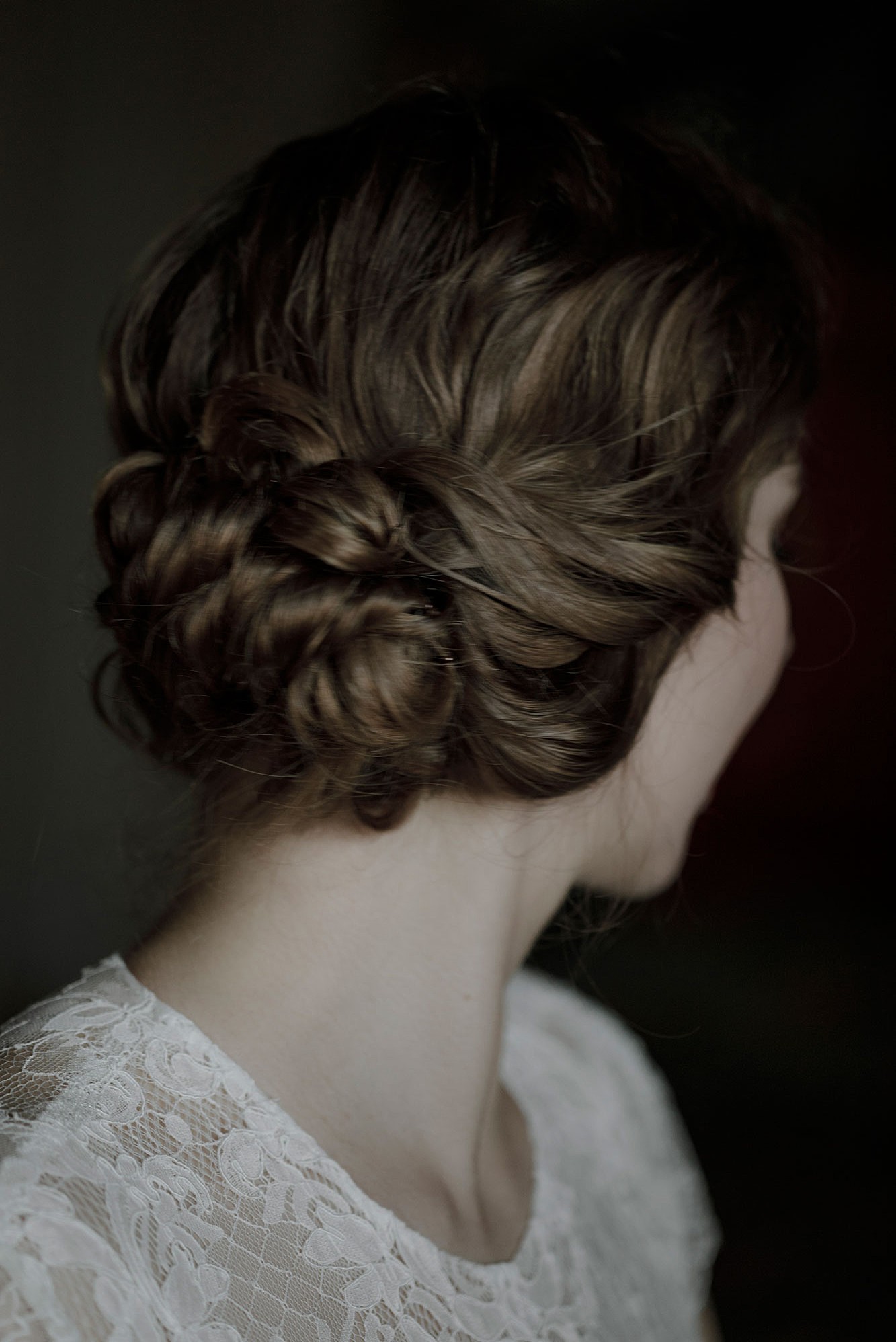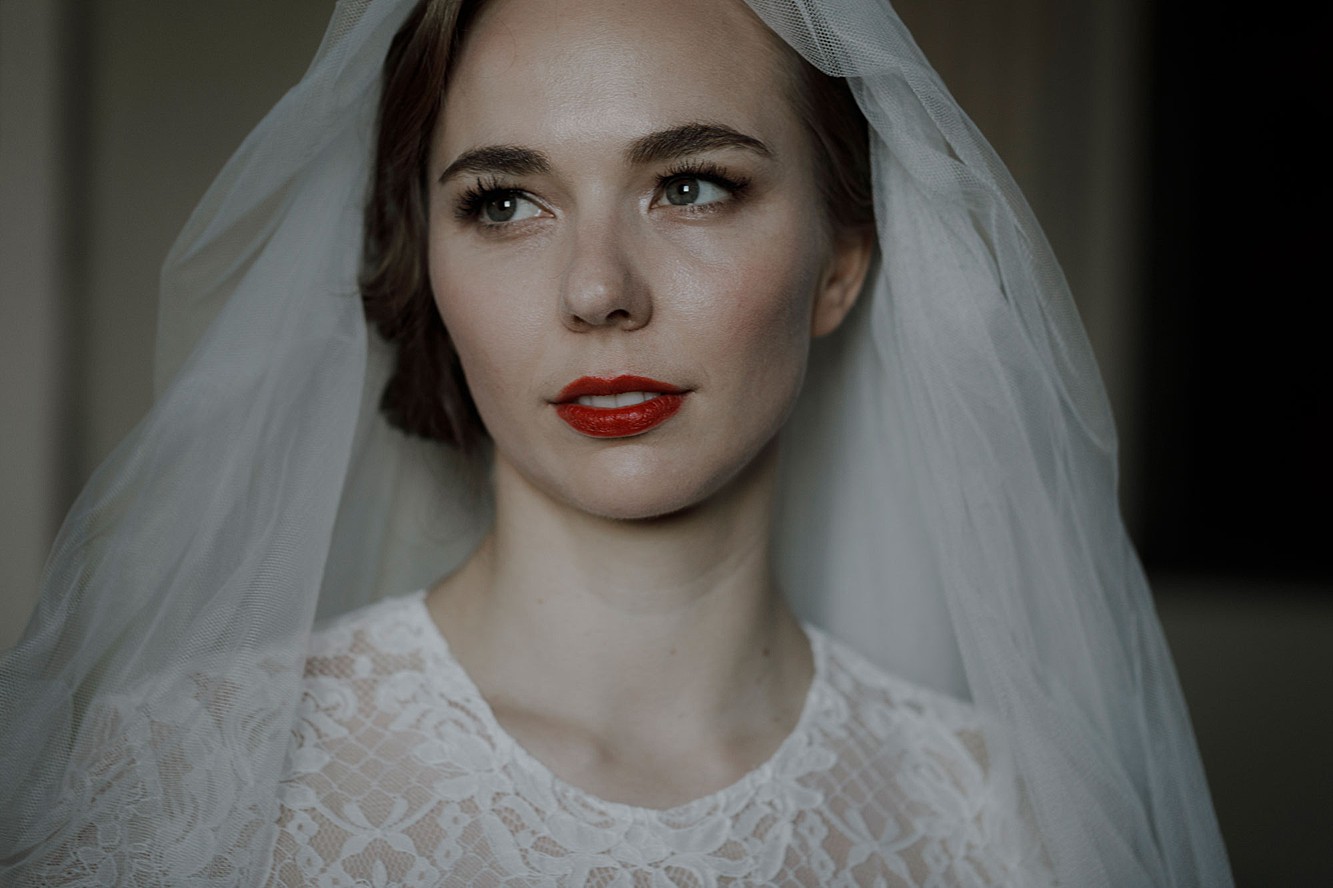 Accessories were kept minimal, with just a romantic tulle blusher veil (sadly no further details about this) to complete Raphaela's look, and shoes borrowed from her Maid of Honour.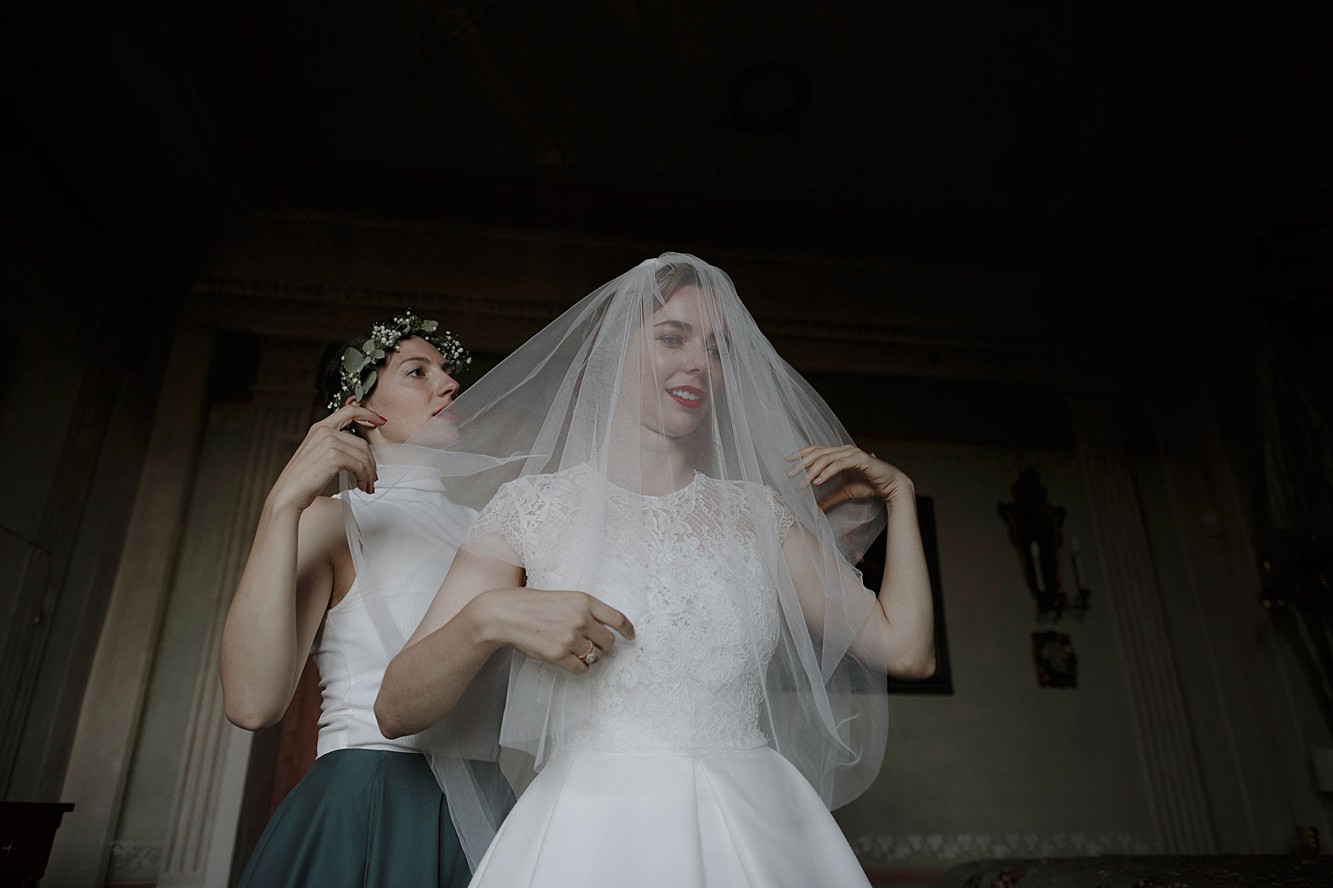 The couple worked with wedding planner Cristina Ditta from The Wedding Care, and florists Fleur & Decor arranged for Raphaela a beautiful, wild bouquet of wonderfully textured blooms in softly faded hues, including protea, hydrangea flowers and palm leaves.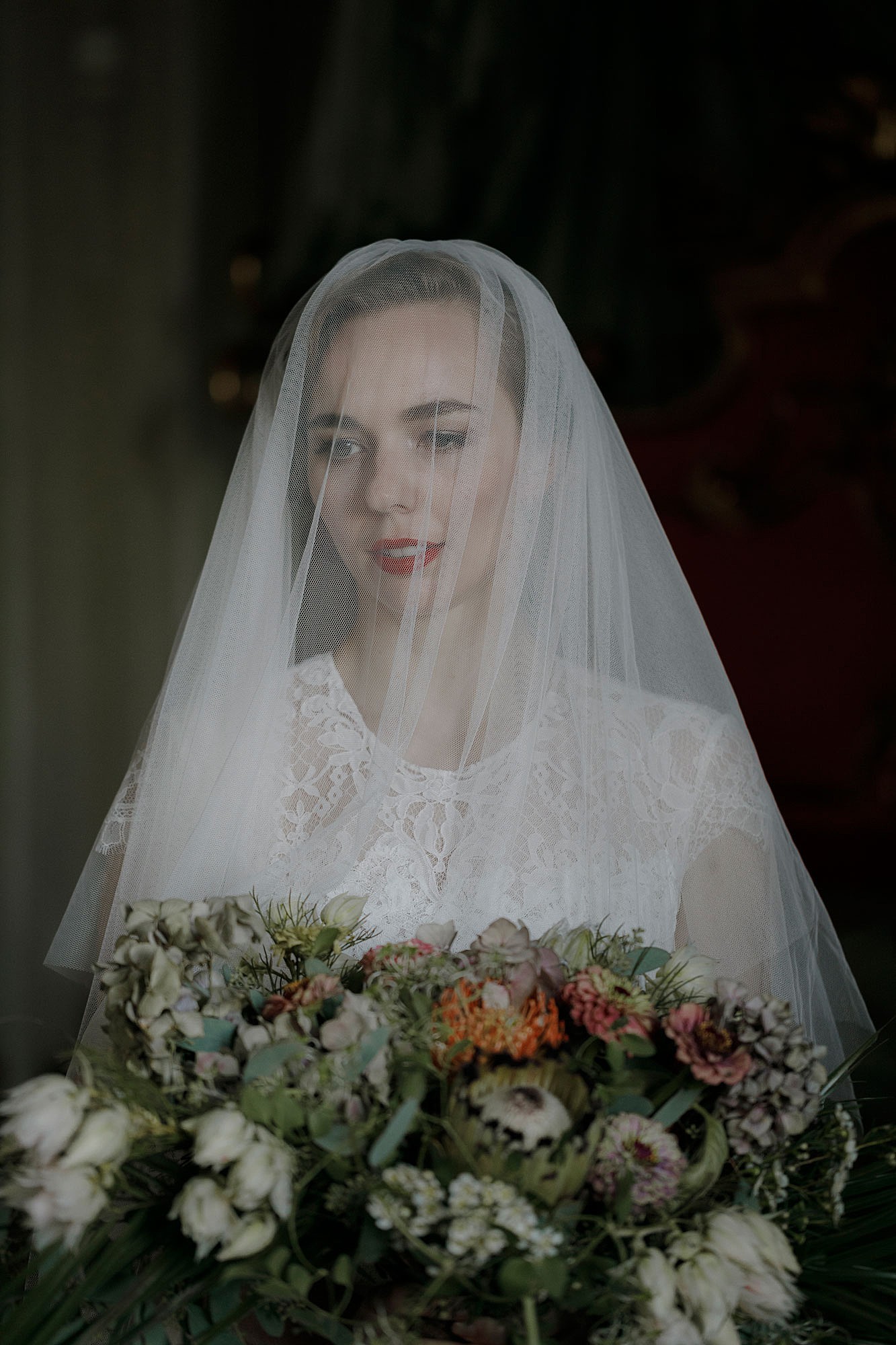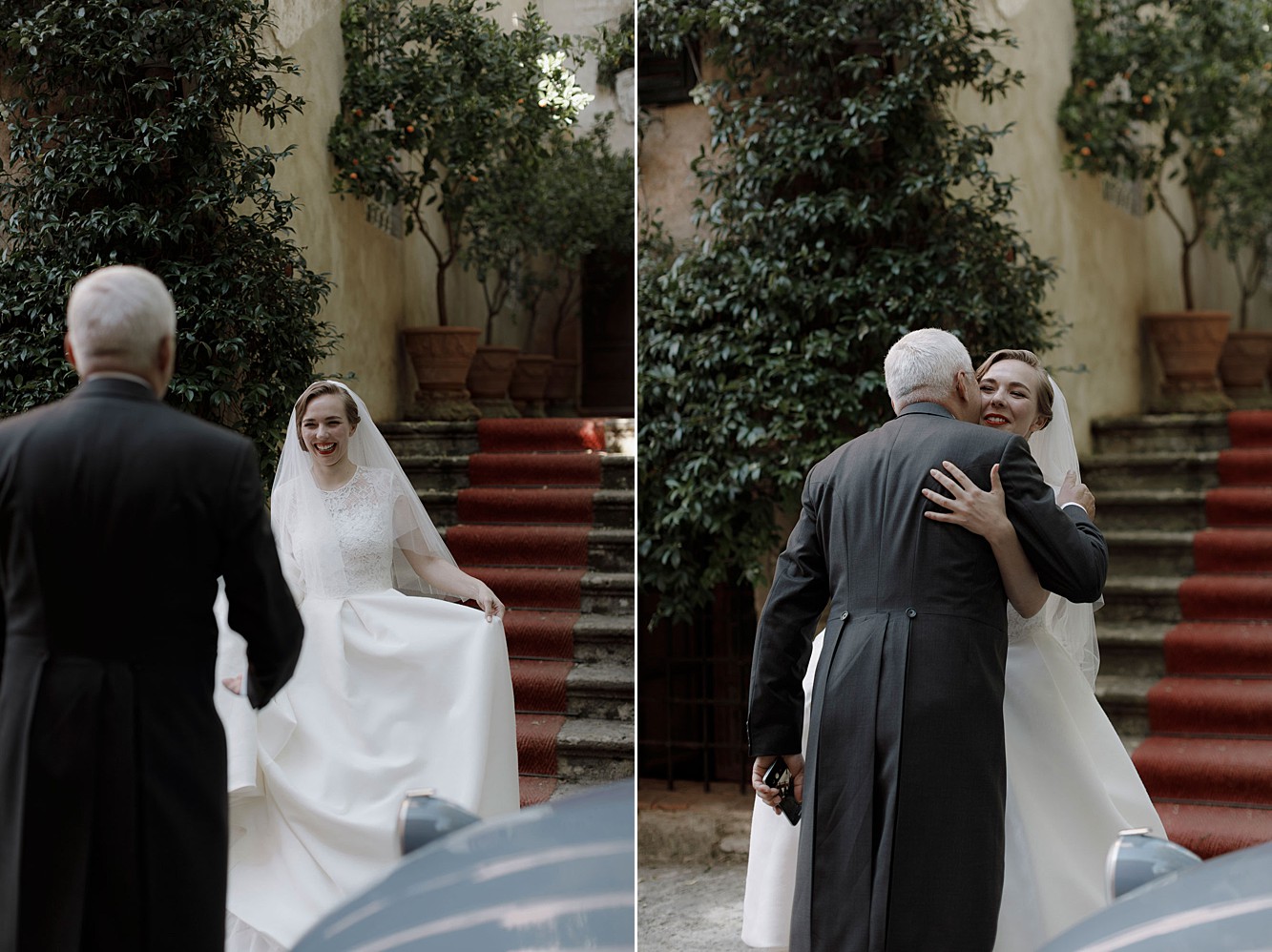 Raphaela enjoyed a sweet moment with her father before getting into a vintage blue Citroen for the journey to Abbadia a Isola to begin the ceremony. To Handel's Lascia la Spina, sung by Cecilia Bartoli, she and her father walked together down the aisle.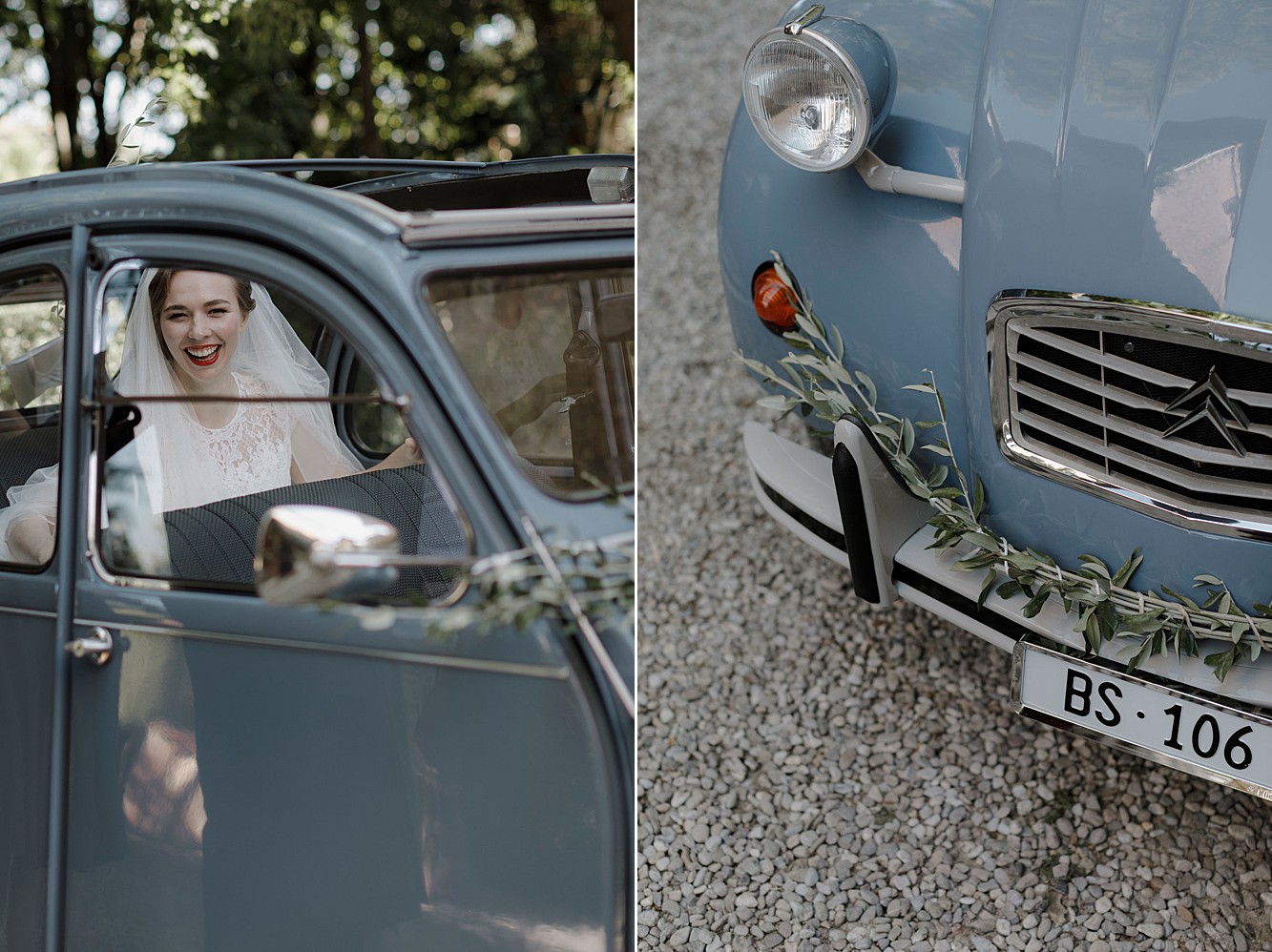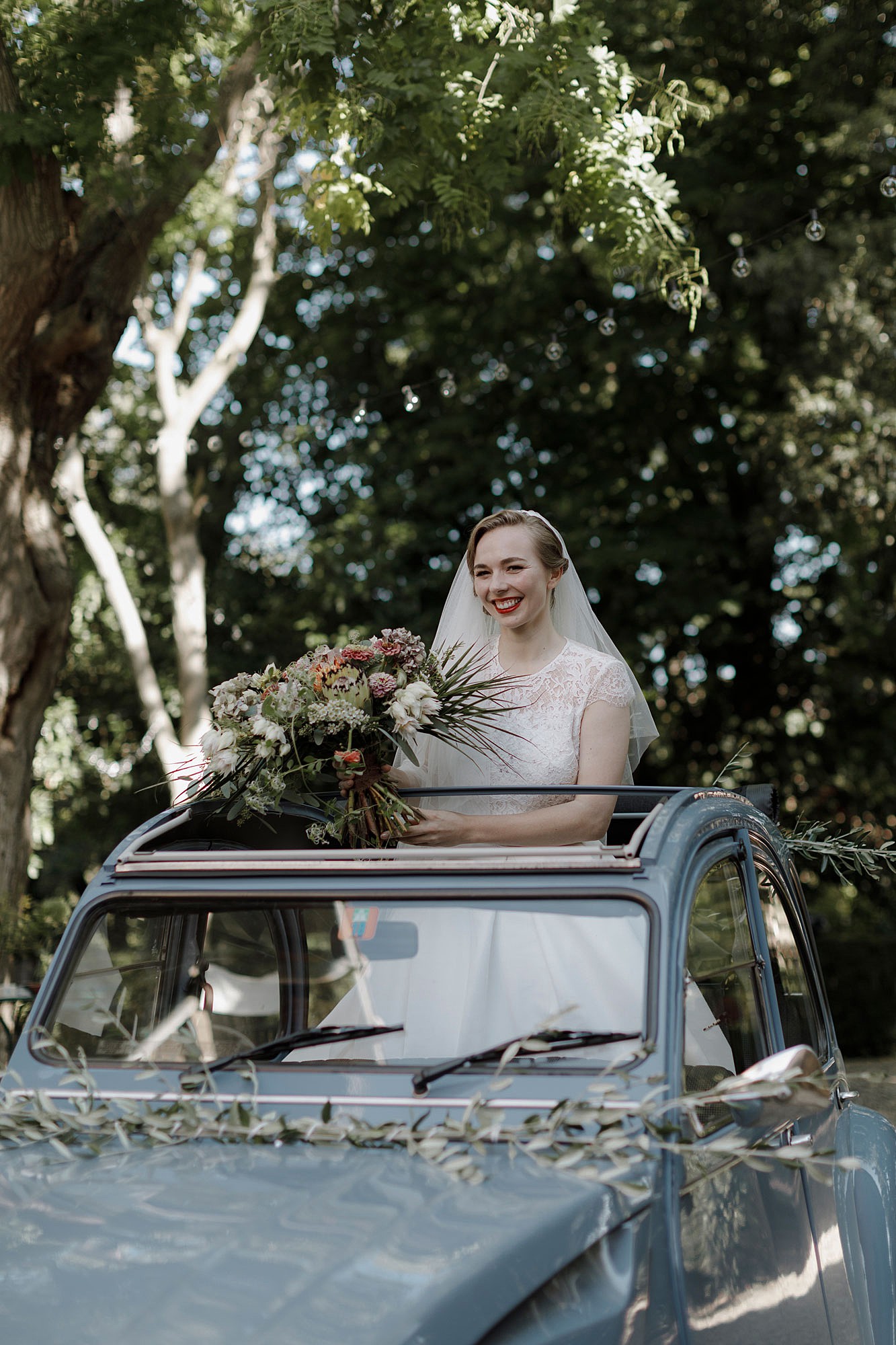 "Charles is British, and was born in Hong Kong, and I'm Swiss. We've been living a very international life! We met in Hong Kong in 2012."
"Charles proposed in 2015 on a trip to Europe whilst I was seeing friends in Zurich. It was during a party with all my friends, but in a private moment between the two of us."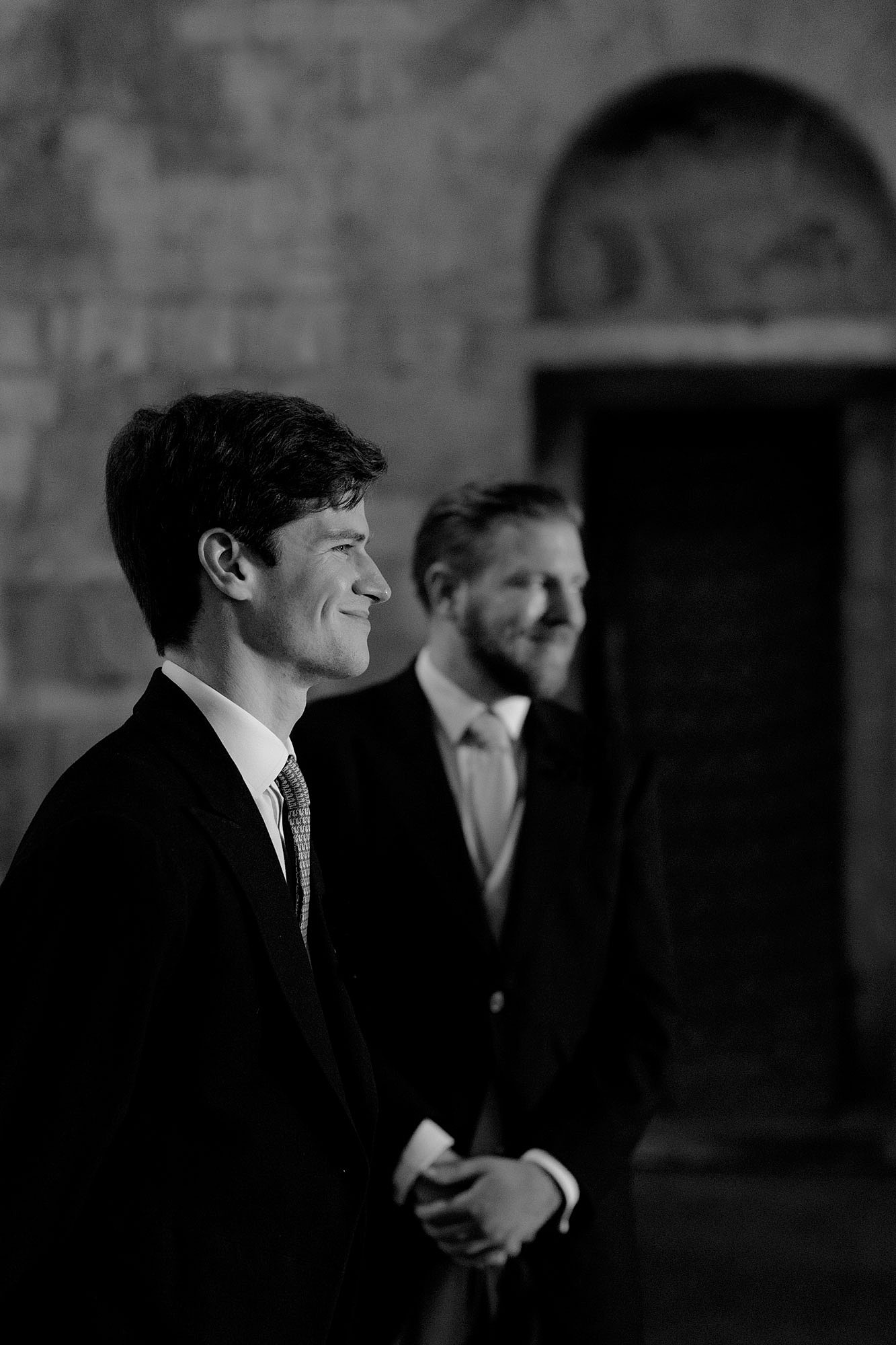 "Since we were living all over the world, and often due to work were not in the same place, we had to postpone our wedding from 2017 to 2018. We had our civil wedding in Hong Kong in March 2017."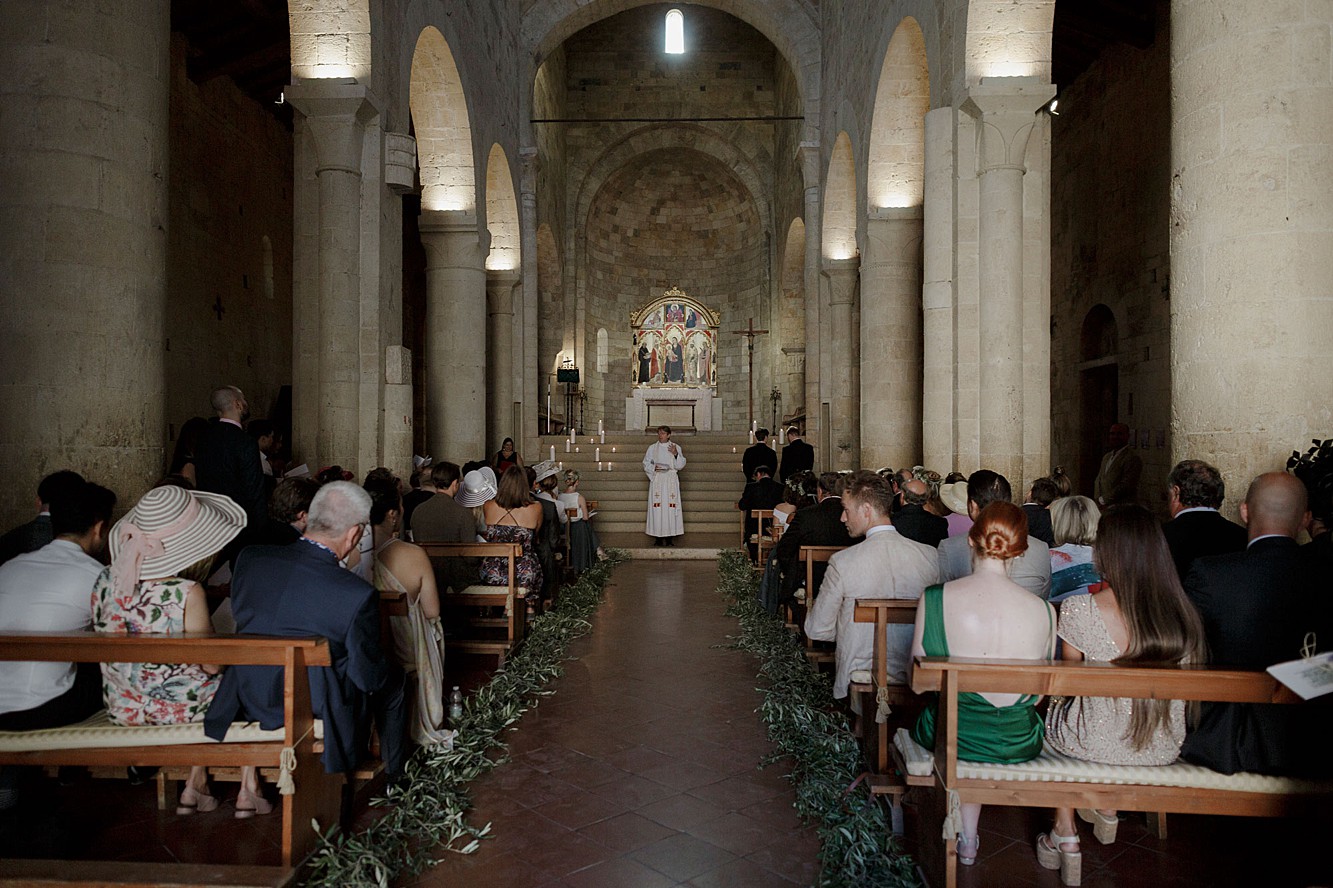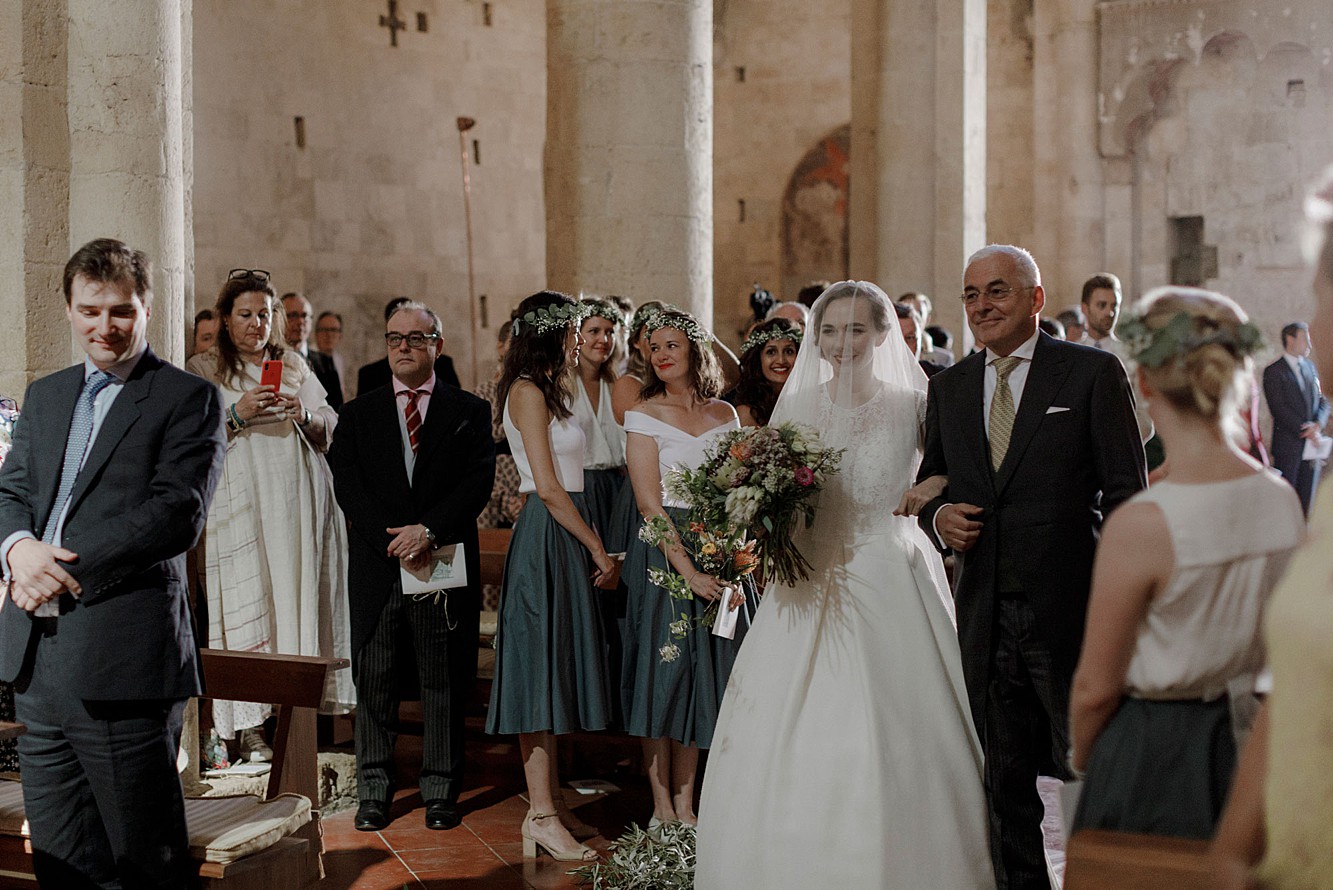 The couple's service was conducted by the family priest on Charles' side, and as they shared traditional Church of England vows. They also exchanged simple gold wedding bands (no further details about these). There was also a specially chosen reading, too – Life and Music, by Alan Watts.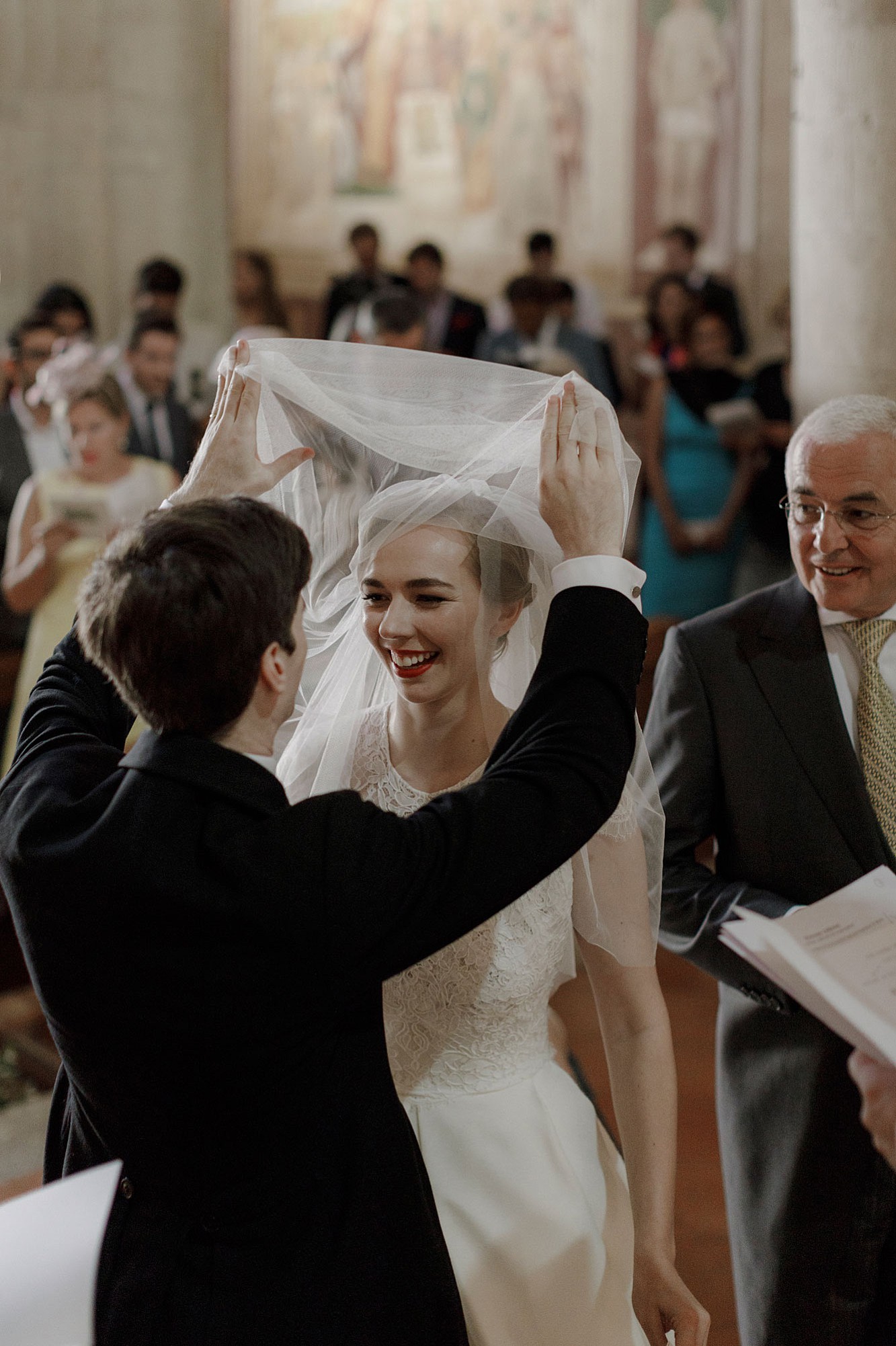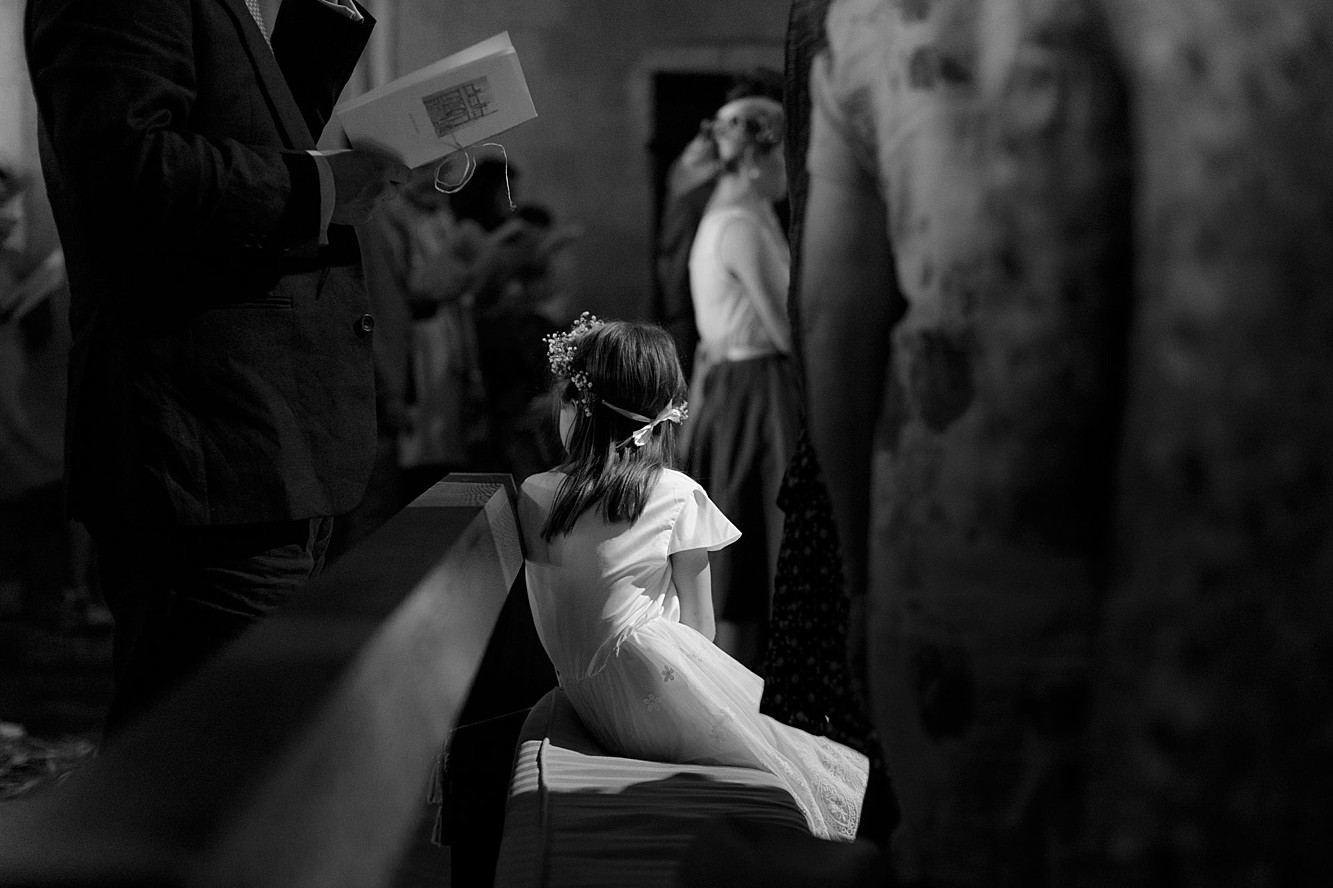 "We both believe that life is a piece of music to which we want to dance, so we try as much as possible to live in the moment and not always focus on the next thing."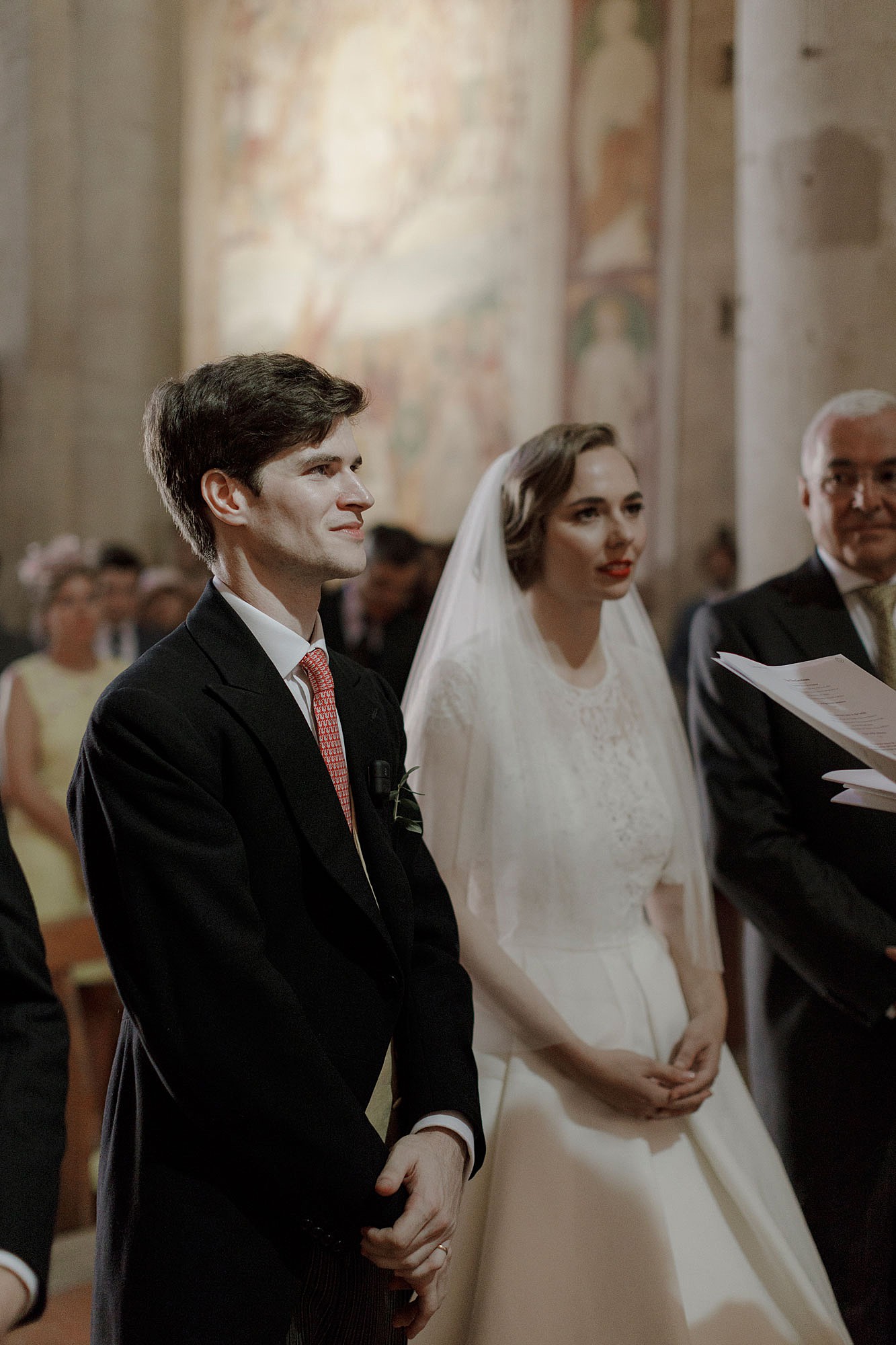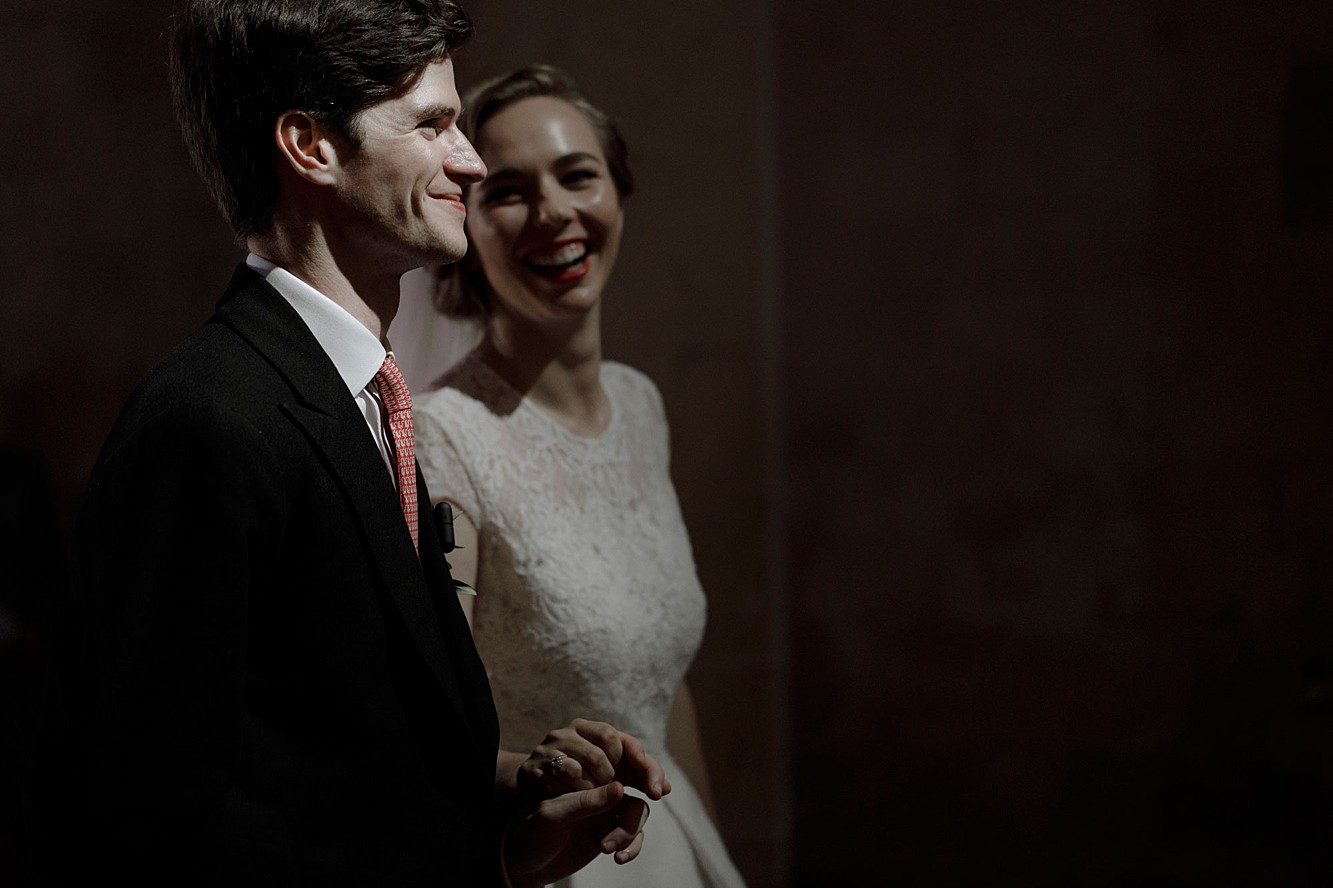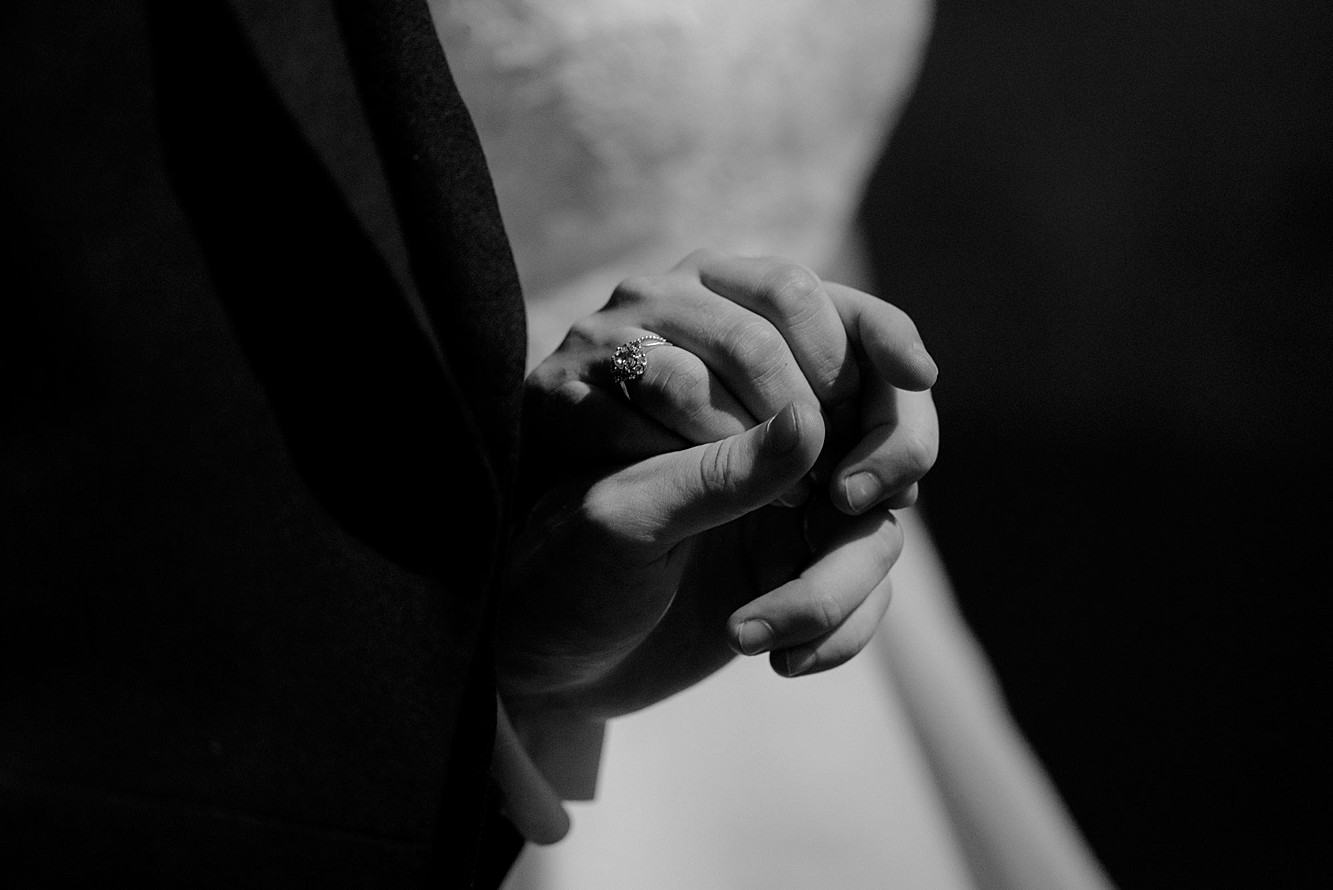 Capturing every gorgeous detail and intimate moment, with beautiful use of light and shadow, was the couple's photographer, Monica Leggio.
"We always knew we wanted to work with Monica Leggio. Her way of capturing every moment is exactly what we like. We are beyond happy with her work!"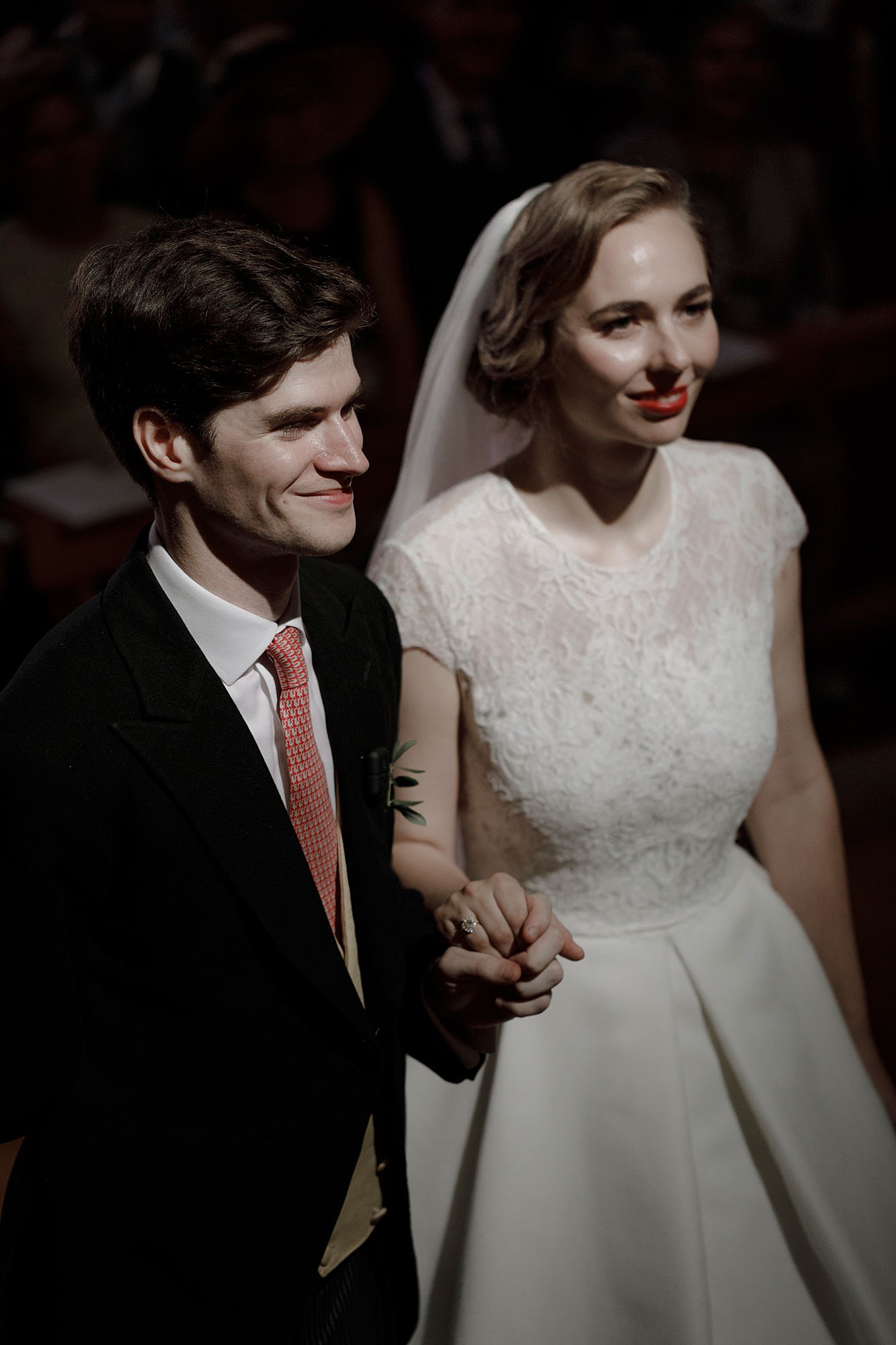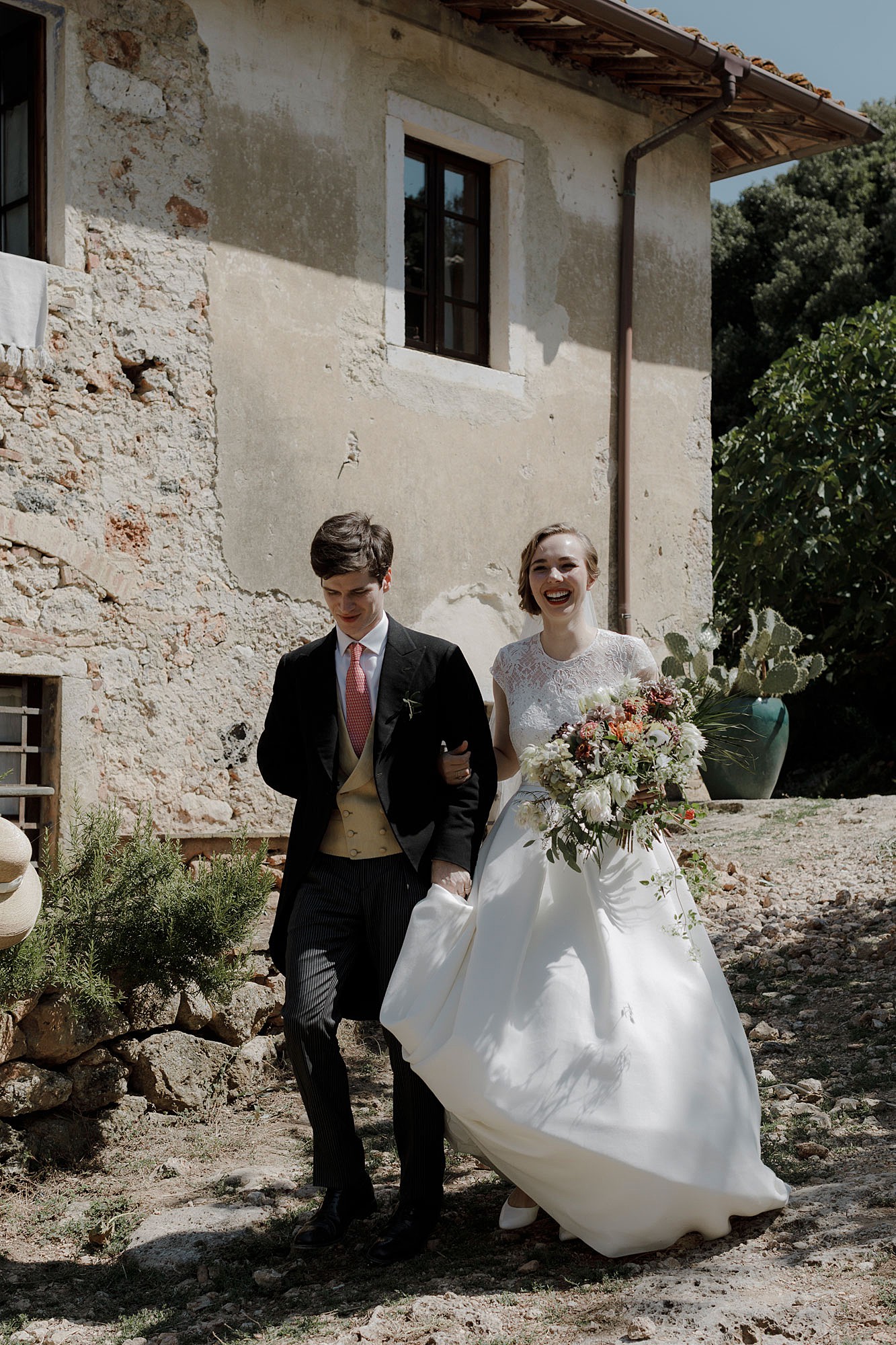 Fluttering paper butterflies filled the air as Raphaela and Charles left the church, and everyone made their way over to the farmhouse, Ebbio, for a fun and relaxed outdoor reception and brunch.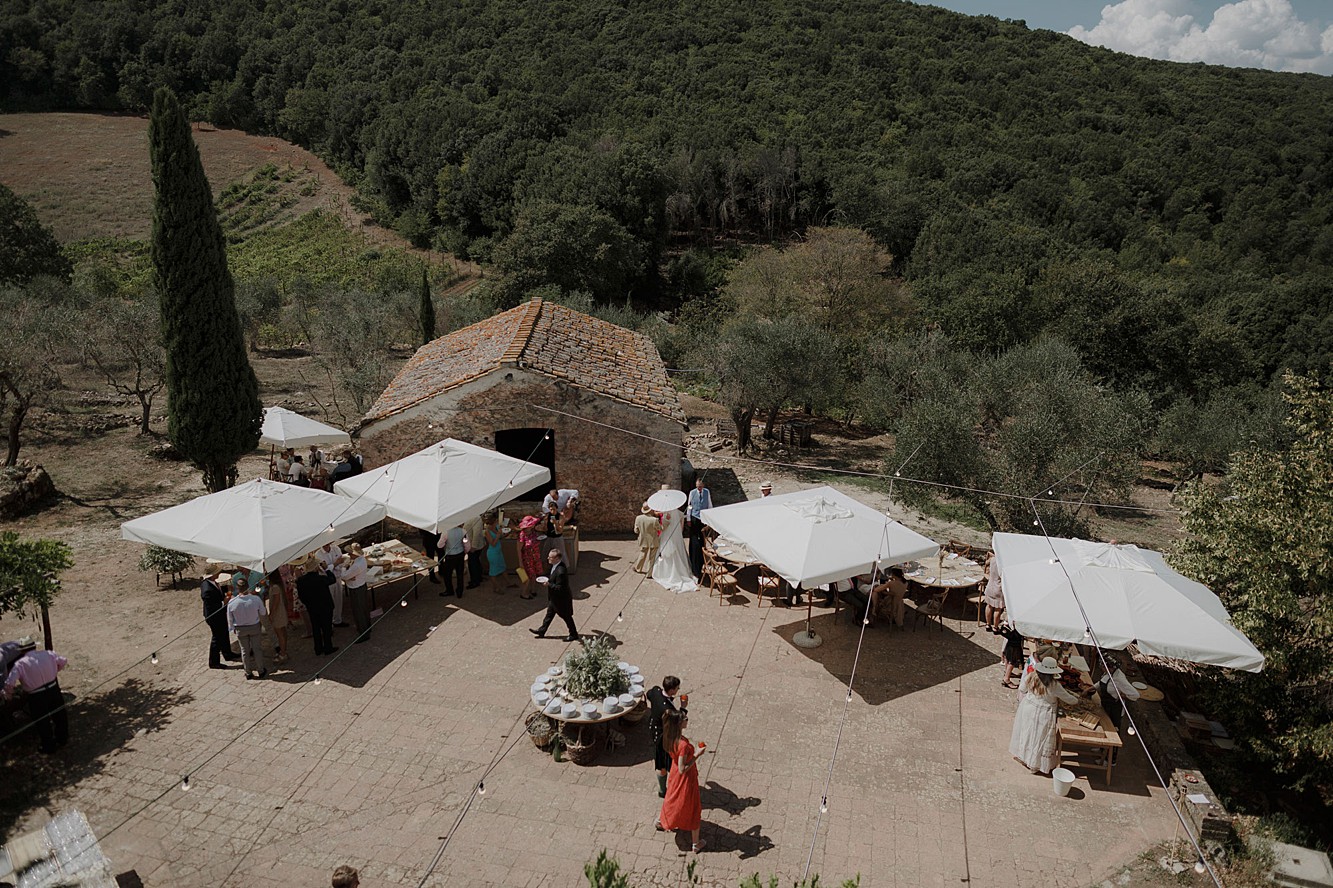 Cushions and throws were arranged beneath a shady canopy of white cotton, or guests could sit at a rustic round table decorated with lovely dried flowers and drink champagne, beer or an Aperol spritz, and eat an assortment of lovely Italian produce – meats, cheeses and breads laid out buffet style. There was also music from the fabulously attired Roxy Rose and her gramophone!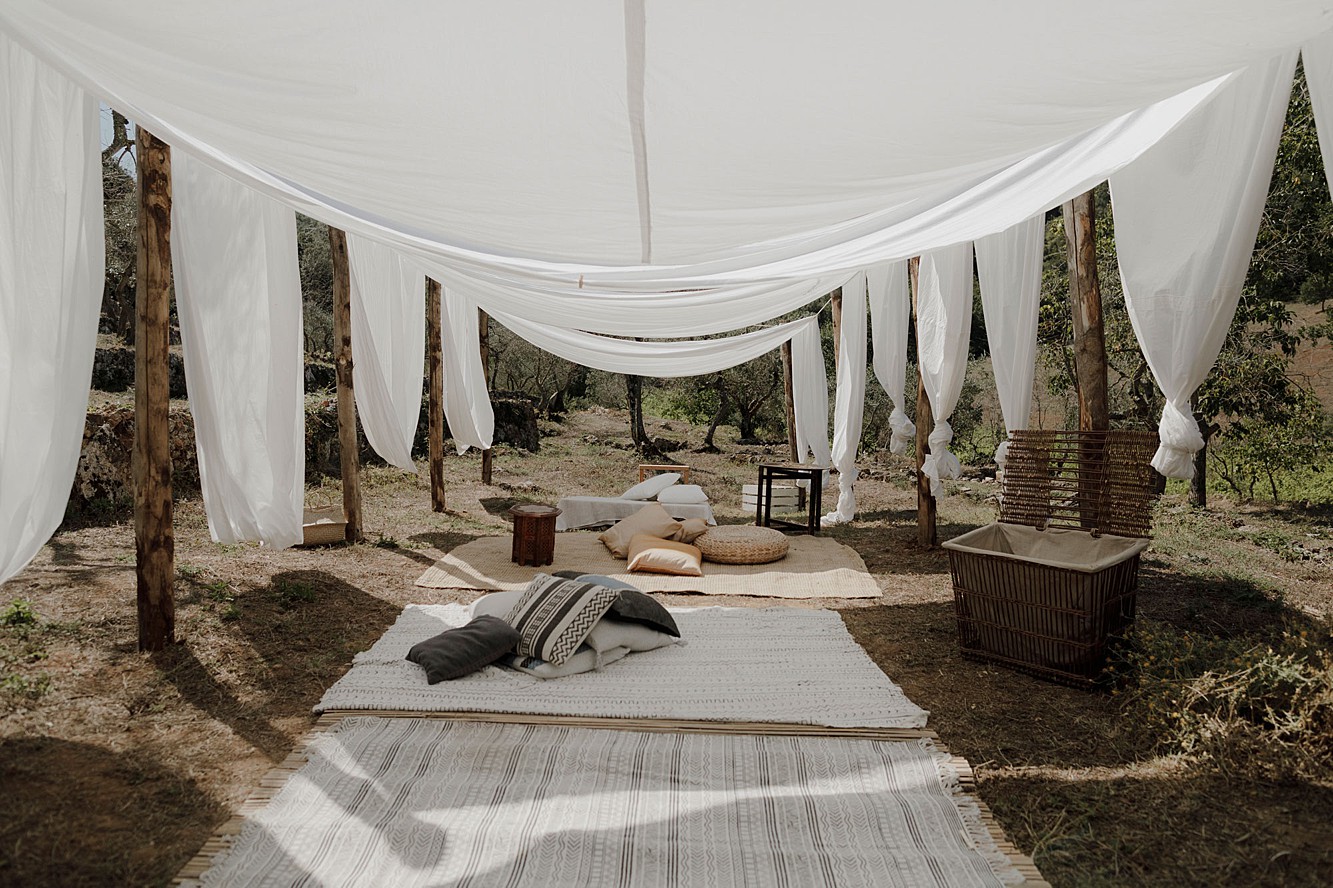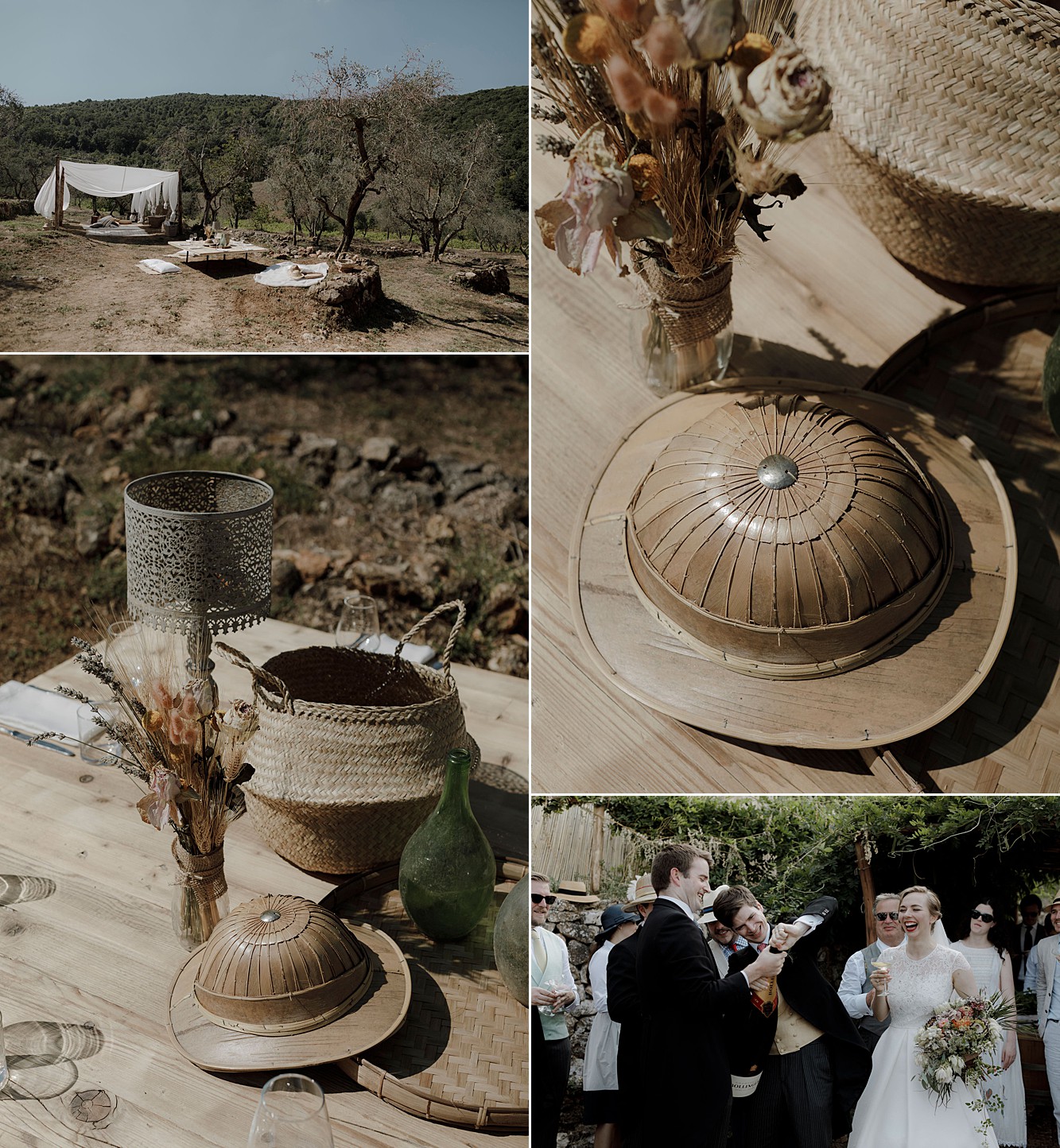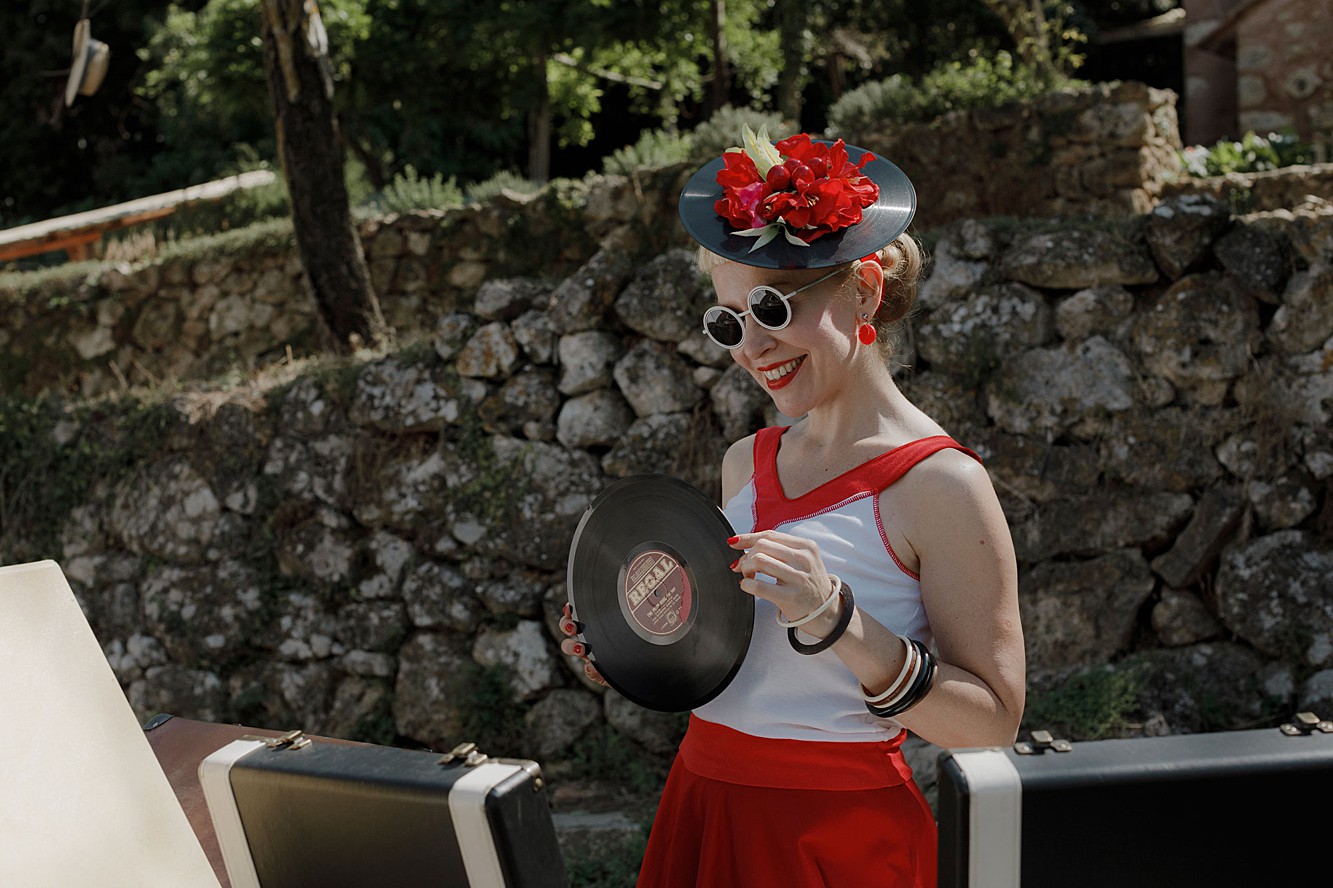 Raphaela changed into her second dress, which she had designed and had made in Vietnam – a pretty, 1950s inspired circle dress, with a lovely full skirt, nipped in at the waist with a sash.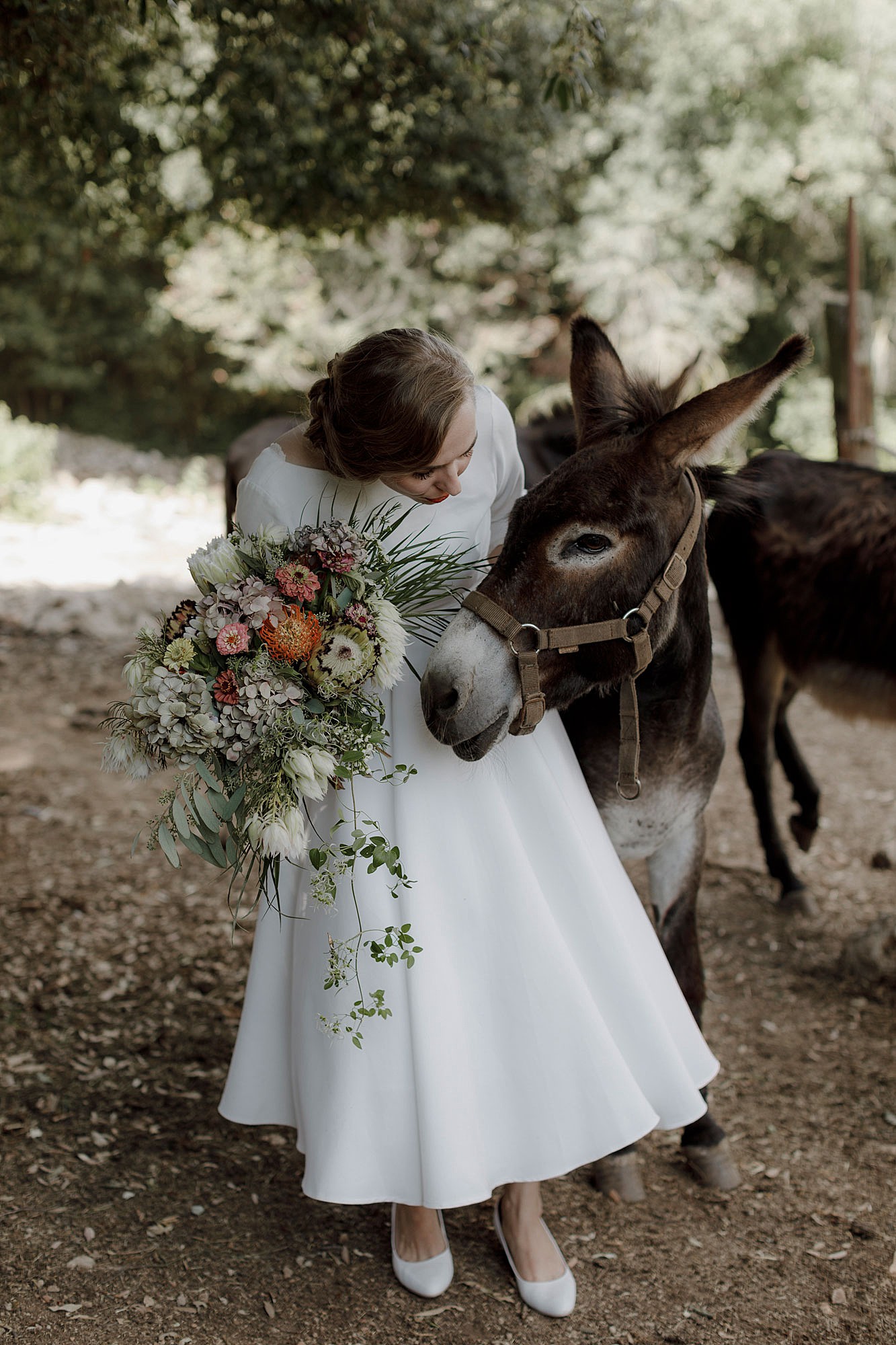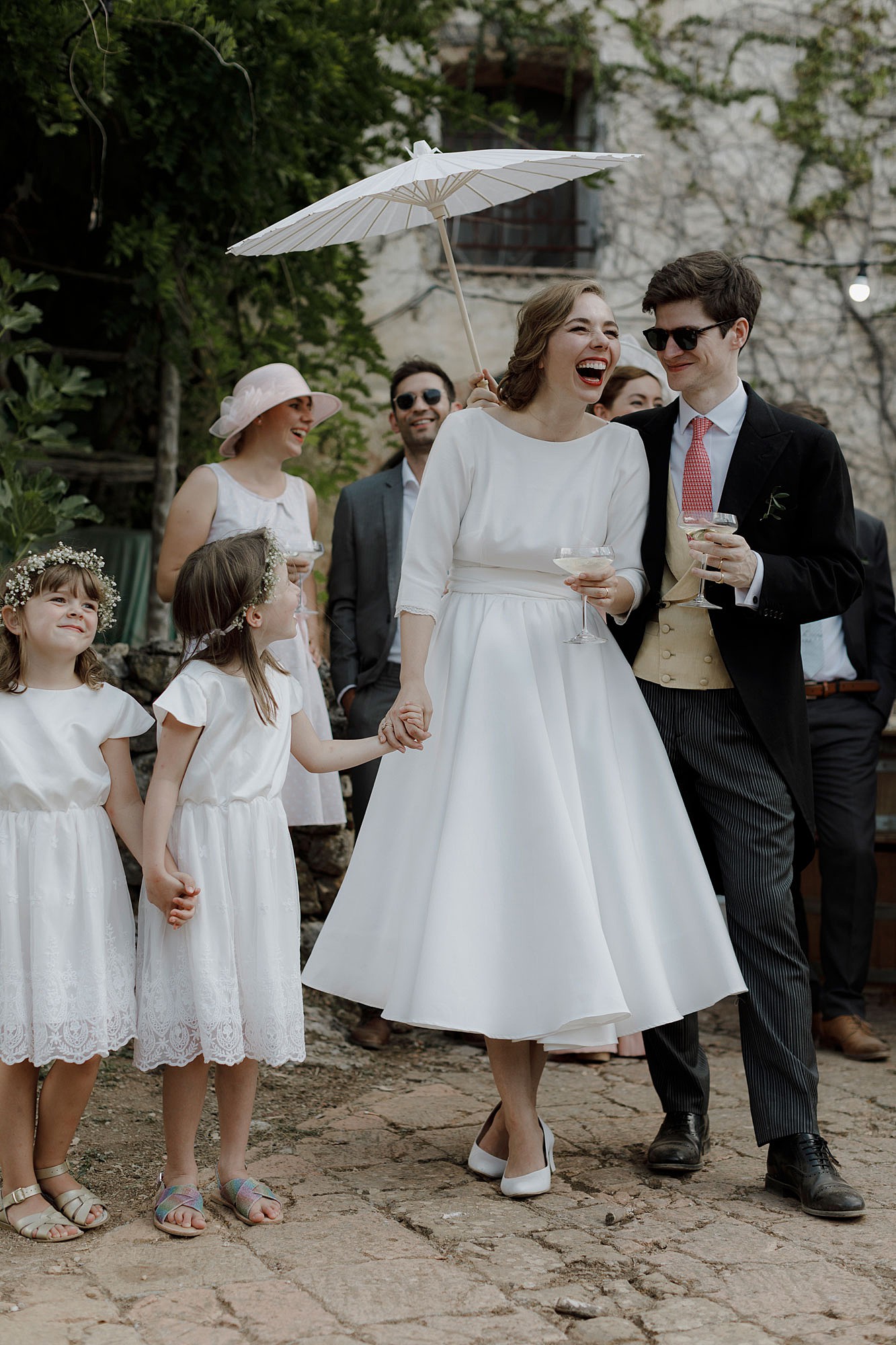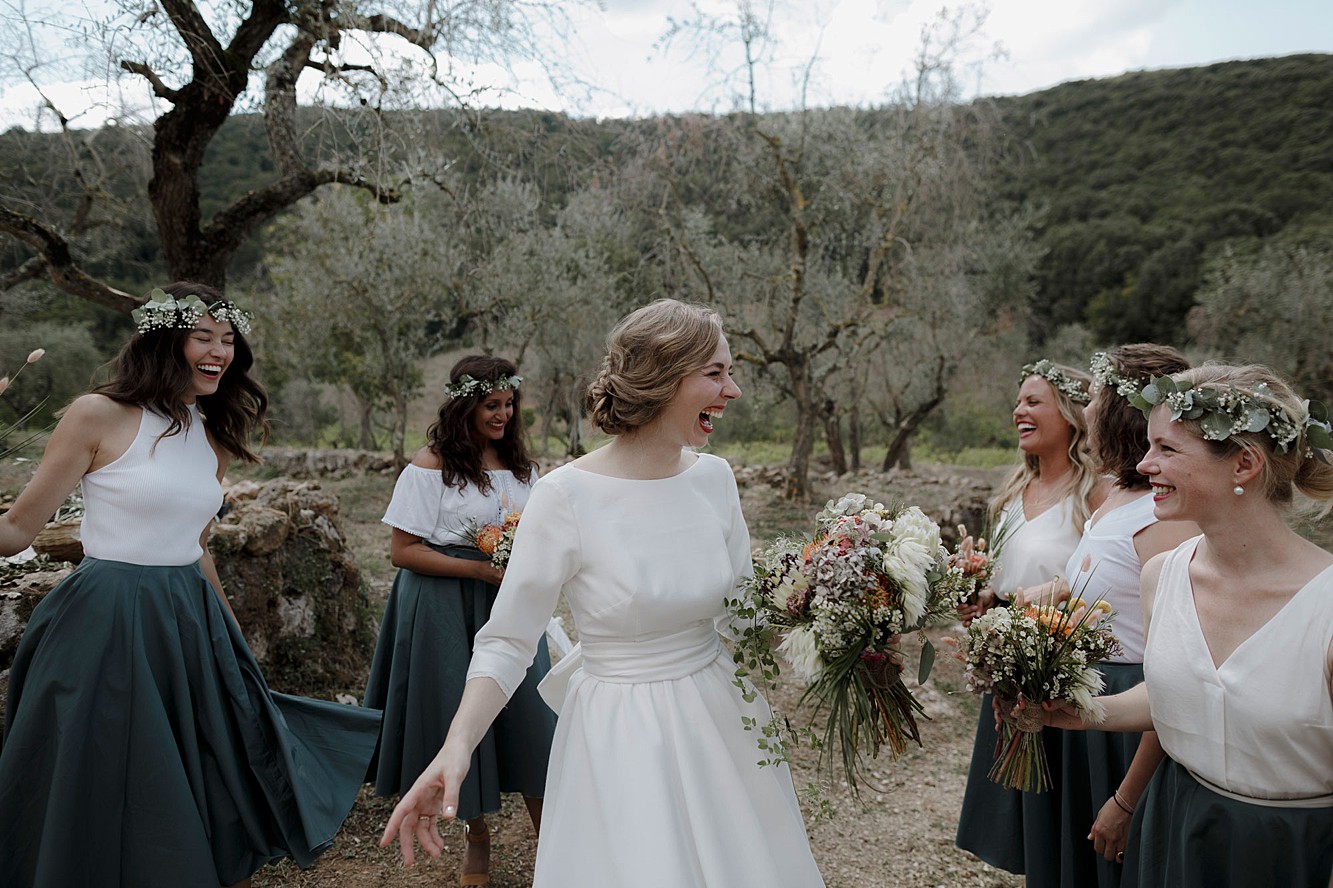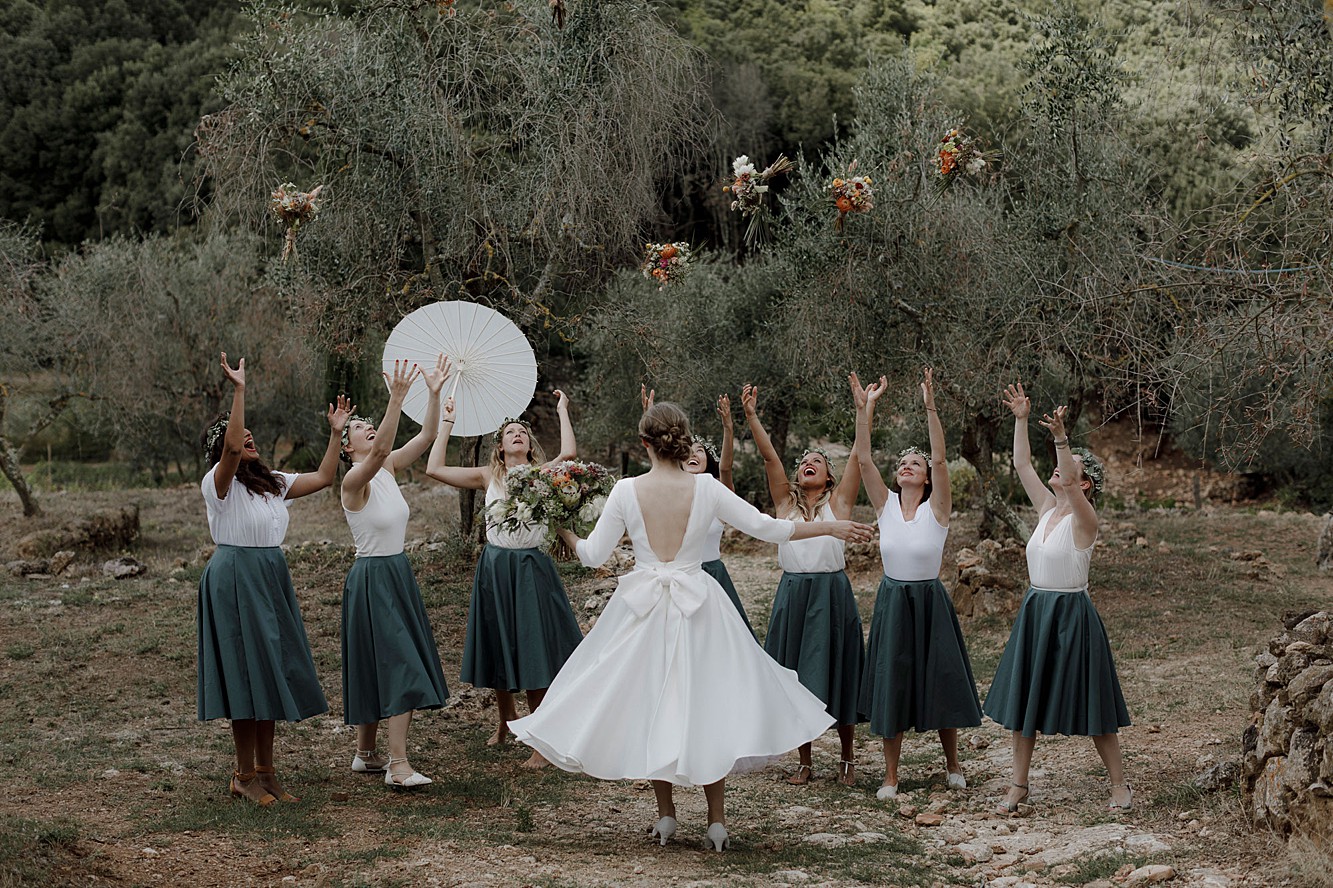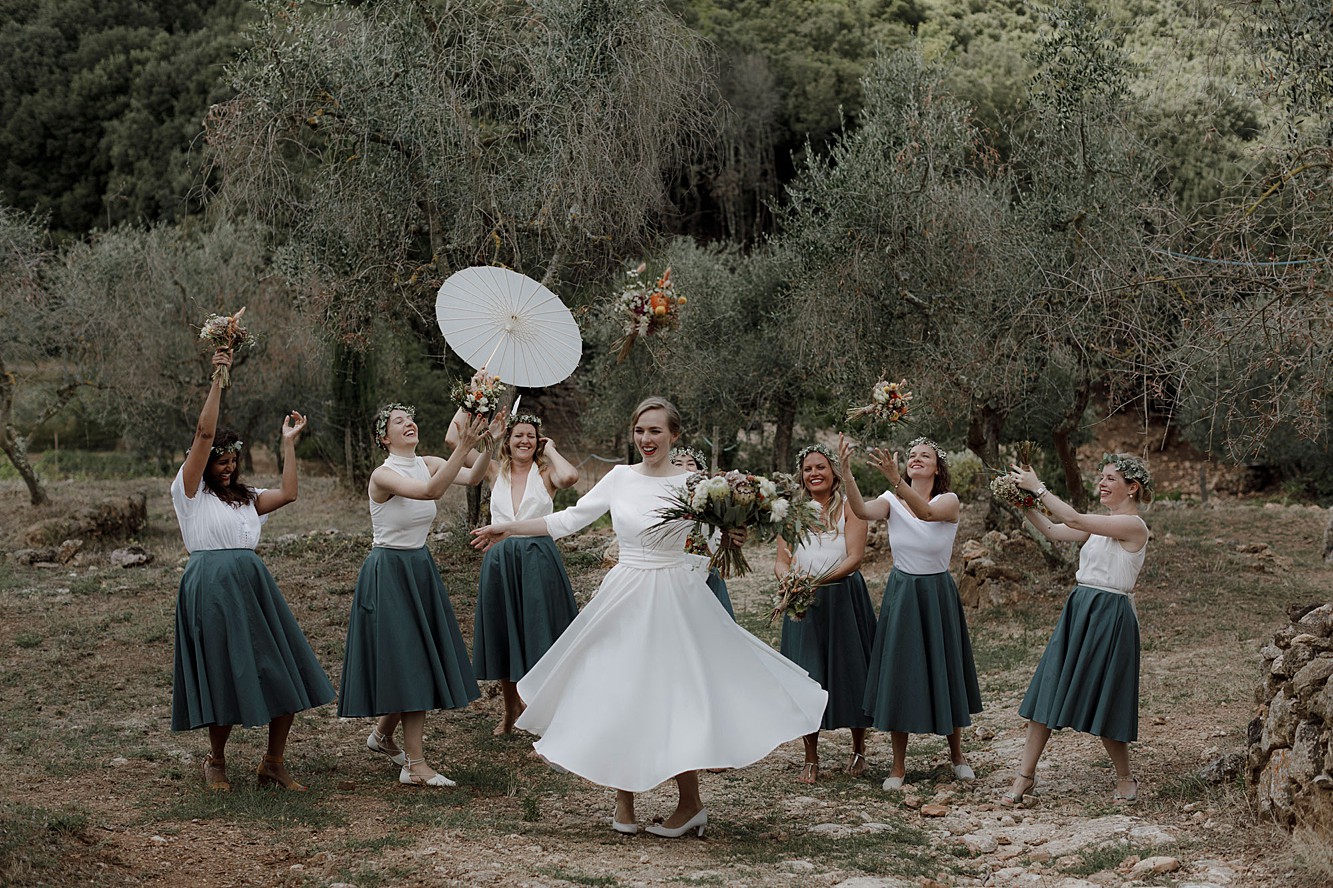 After this fun and laid back start to the celebrations, everyone went back to Borgo Stomennano for an afternoon siesta, whilst Raphaela and Charles had fun with their photographer, Monica, dancing and sporting two brilliant owl and pussycat masquerade masks!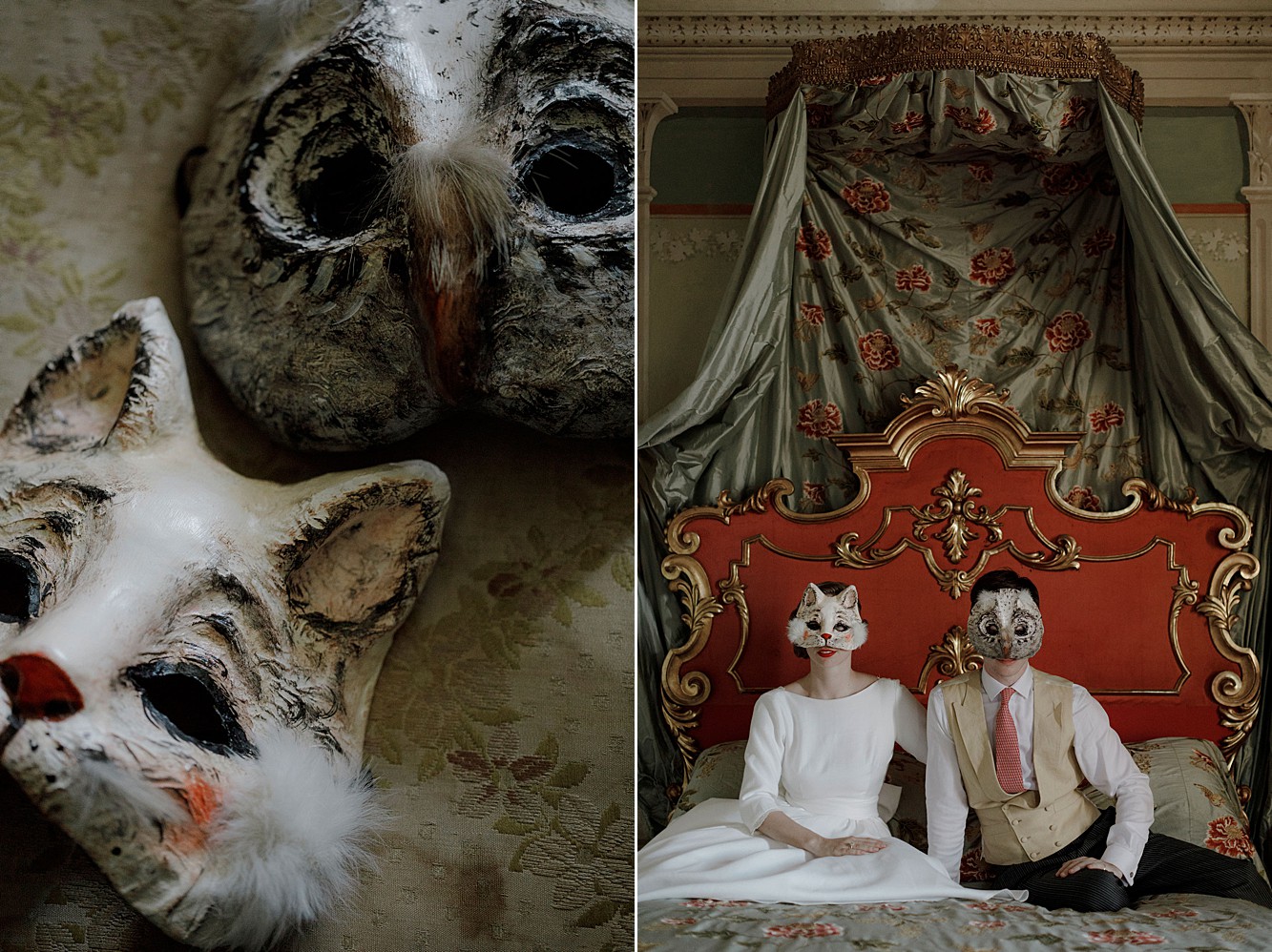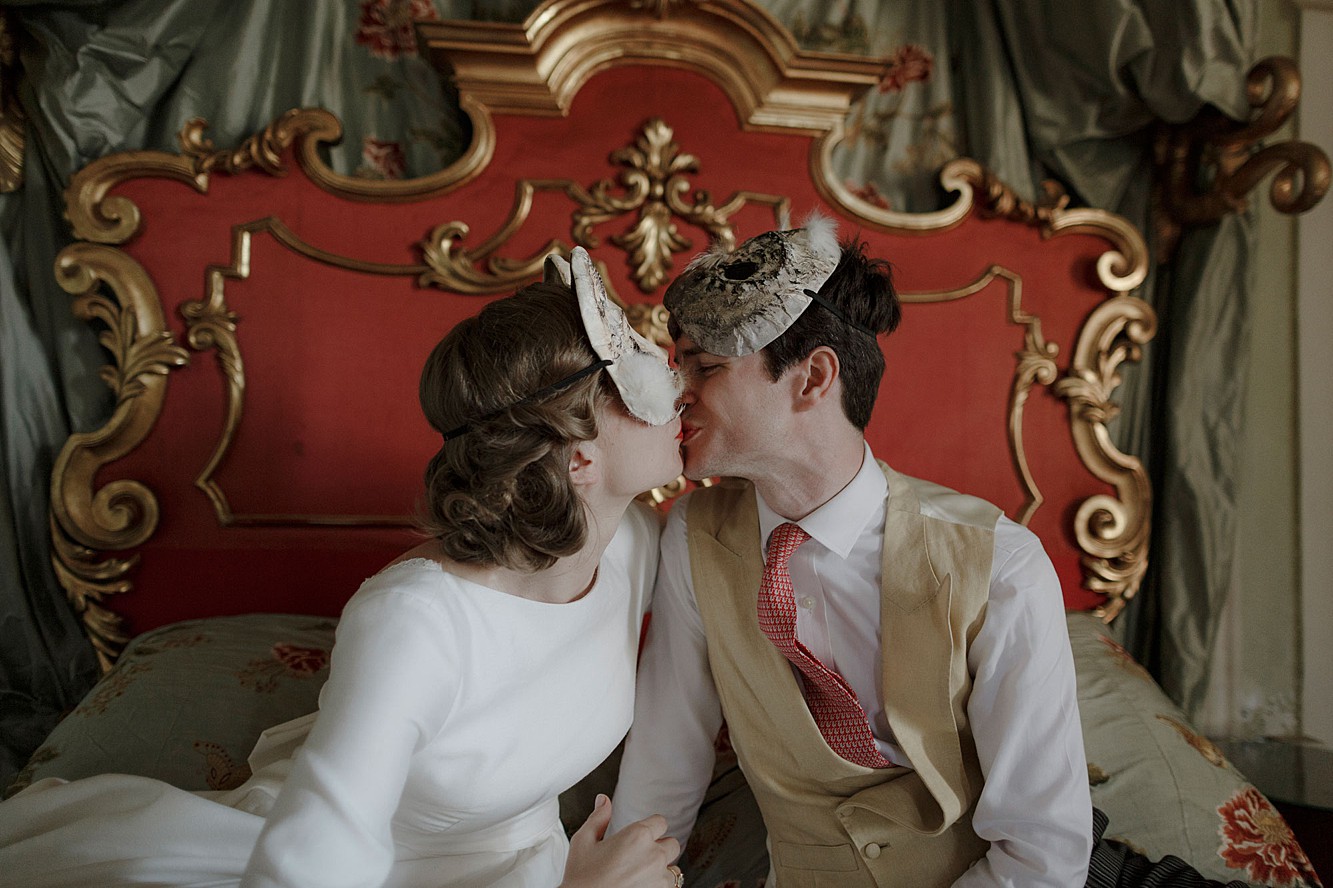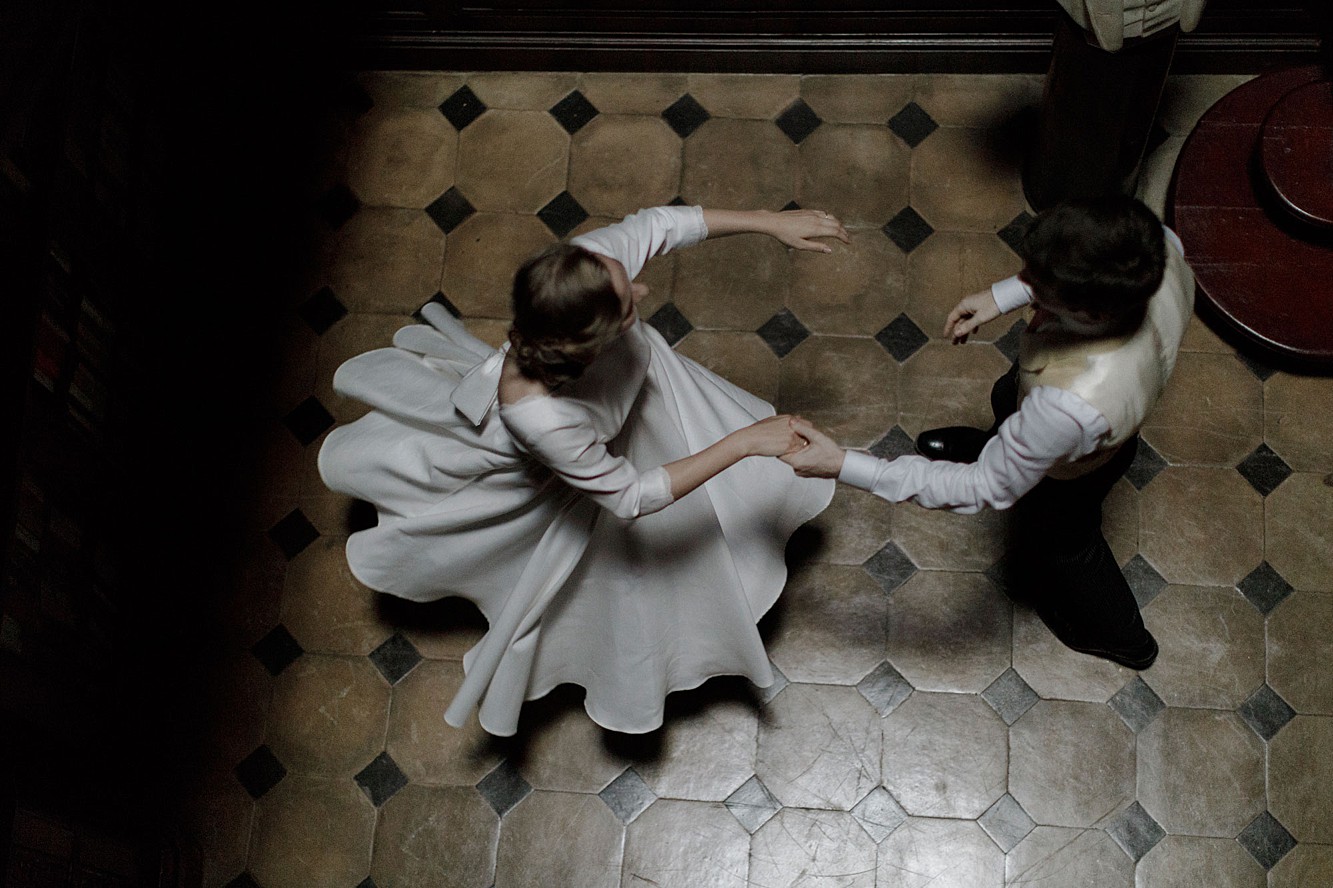 For the evening affair, Roxy Rose changed into more a more formal (and equally fabulous) outfit to entertain the guests – a white top hat and white tie, and Raphaela wore her long wedding dress once more, swapping her veil for a spectacular and stylish wide-brimmed fascinator trimmed with pheasant feathers (sadly no details provided about this), and adding a pair of chic sunglasses.
Charles changed from his traditional morning suit (a family heirloom piece) into a classic tuxedo.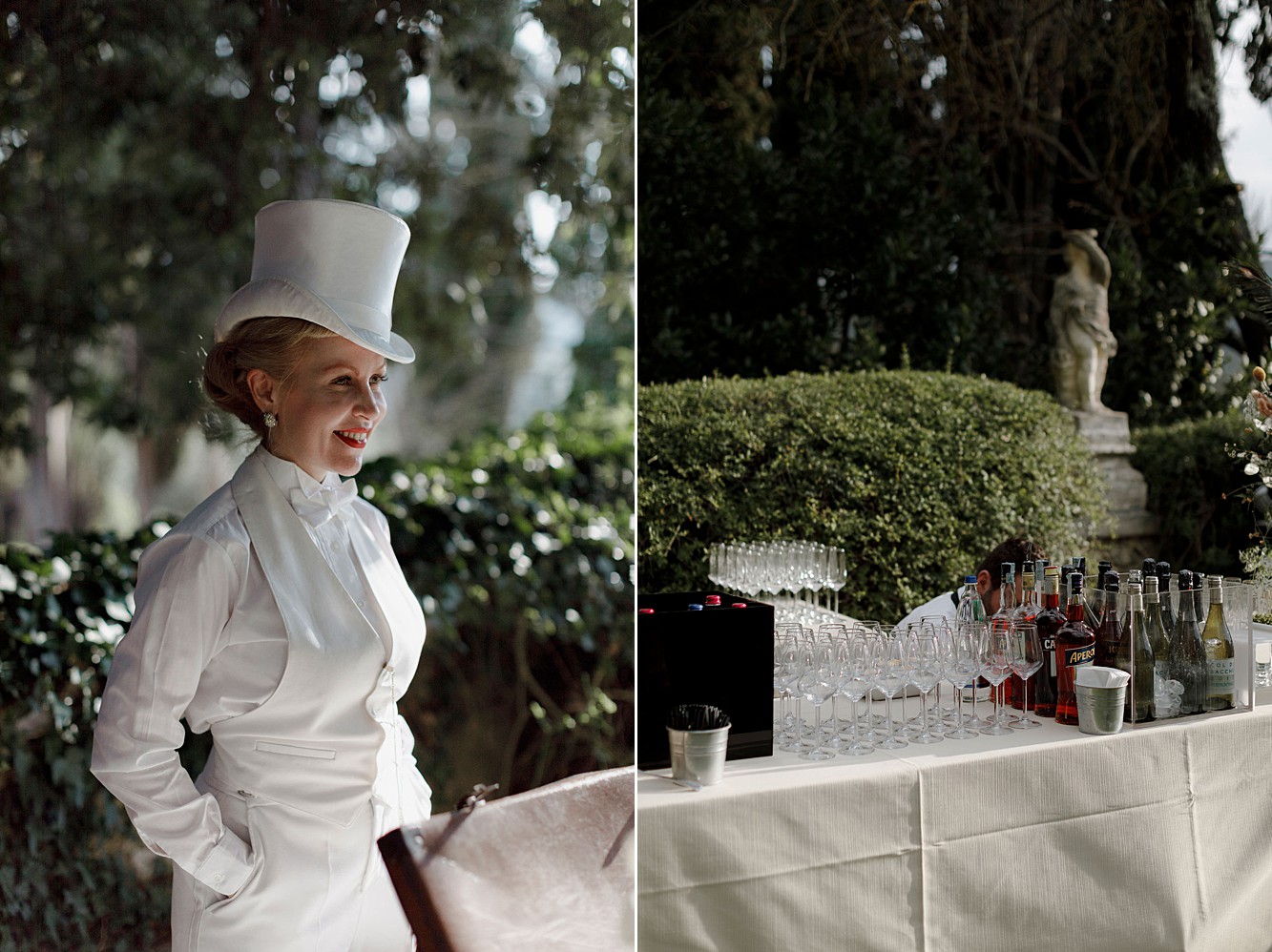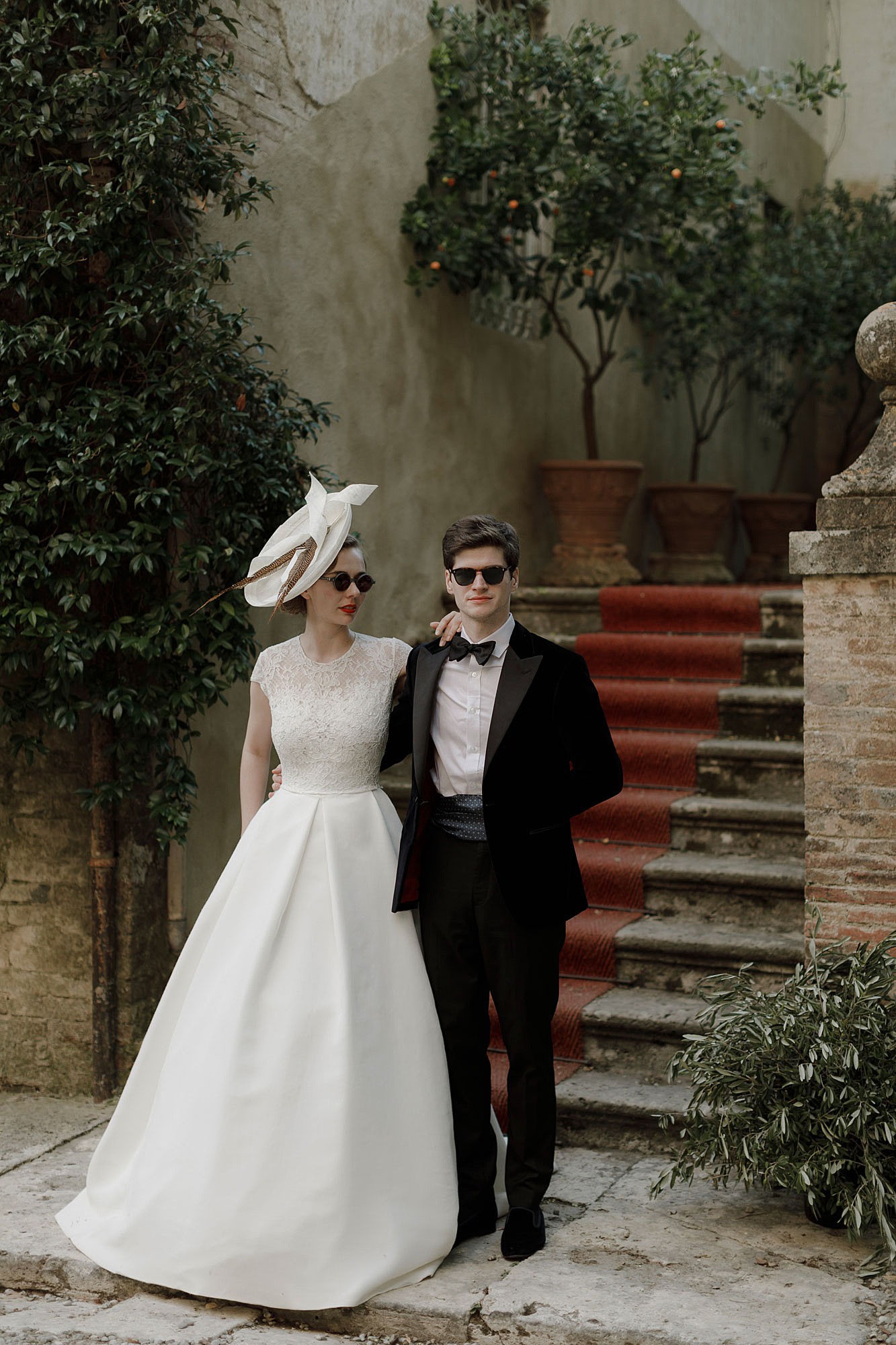 Tables were laid for dinner in the villa's sheltered courtyard, shaded by trees, and with the old walls covered in deep green creeping ivy. Above, festoon lights were threaded, and below, long and rustic tables were filled with candles and lemons – in bowls and across the table tops.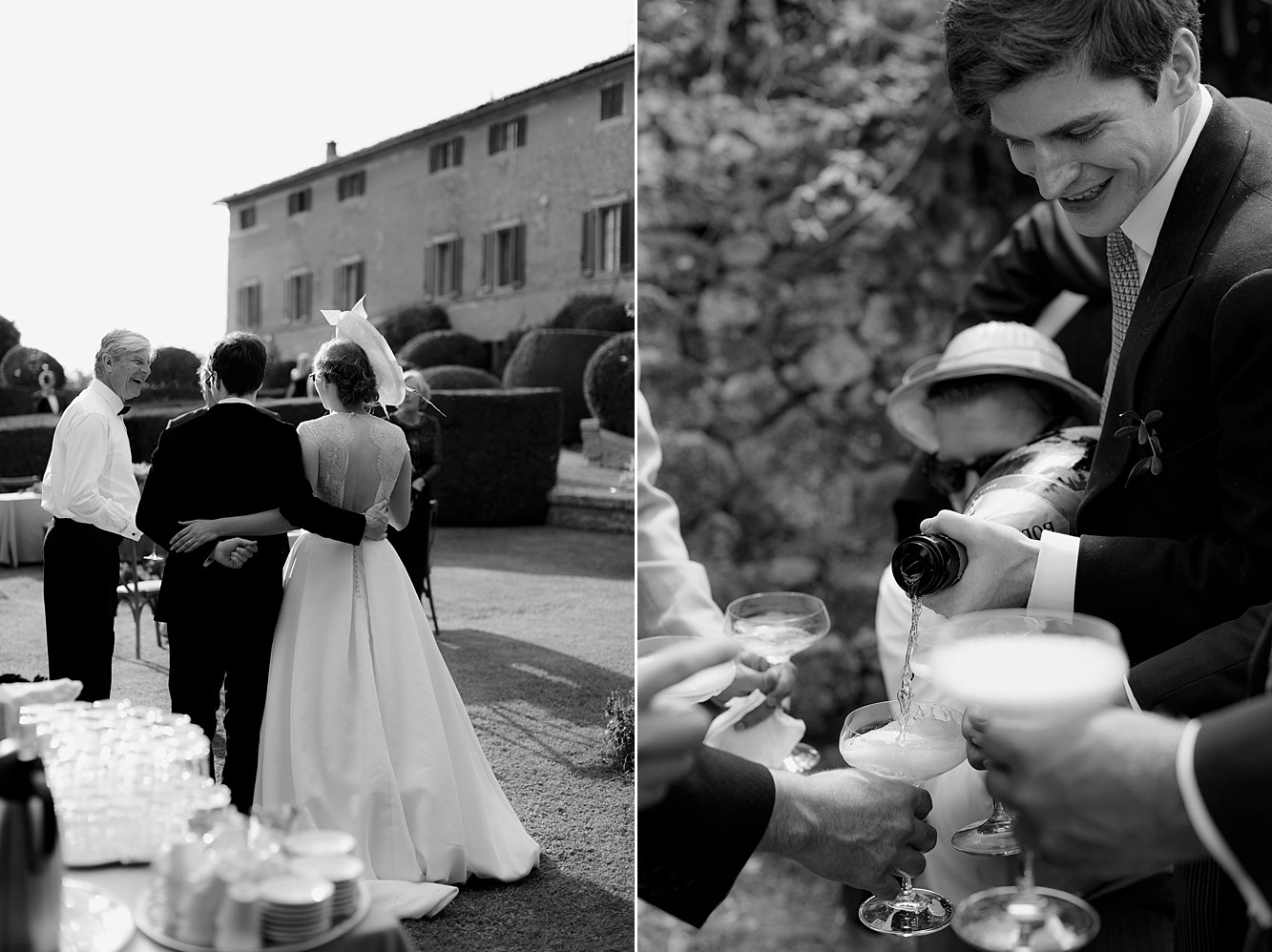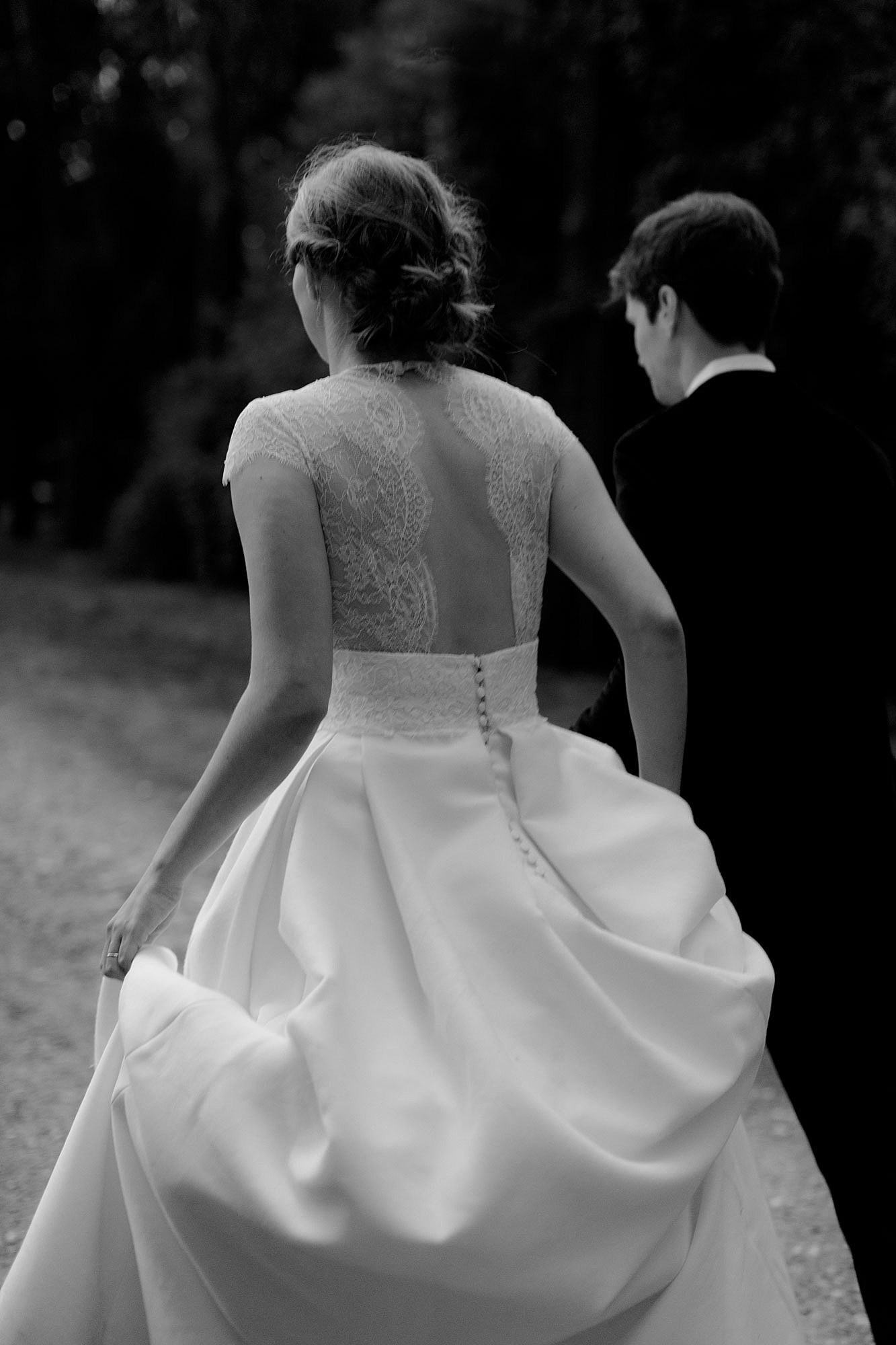 Raphaela and Charles each had a crown of olive leaves adorning their chairs, and place settings included stationery designed by the couple, each with an olive green napkin, a sprig of fragrant rosemary, and a bay leaf with each guest's name in gold ink.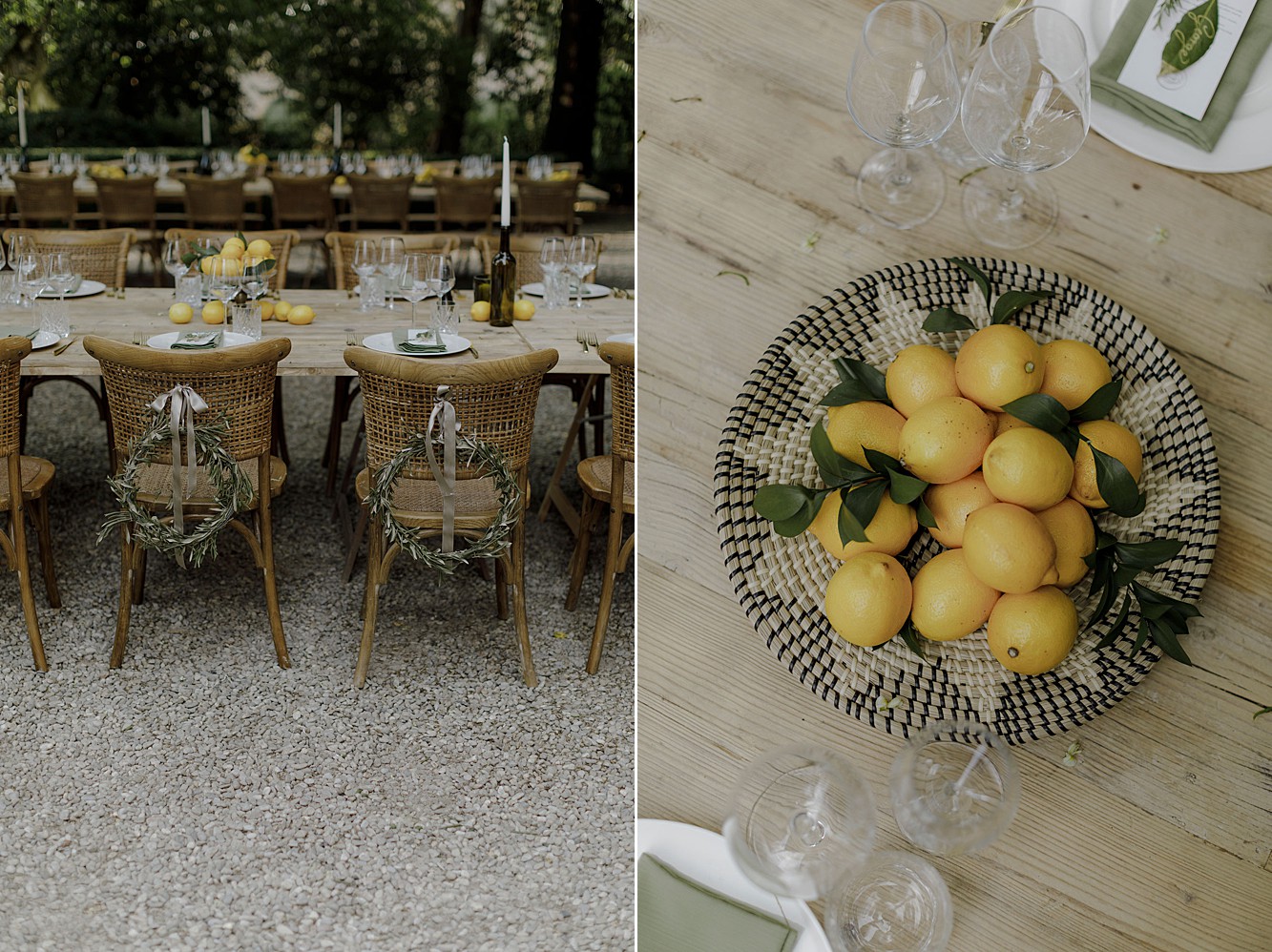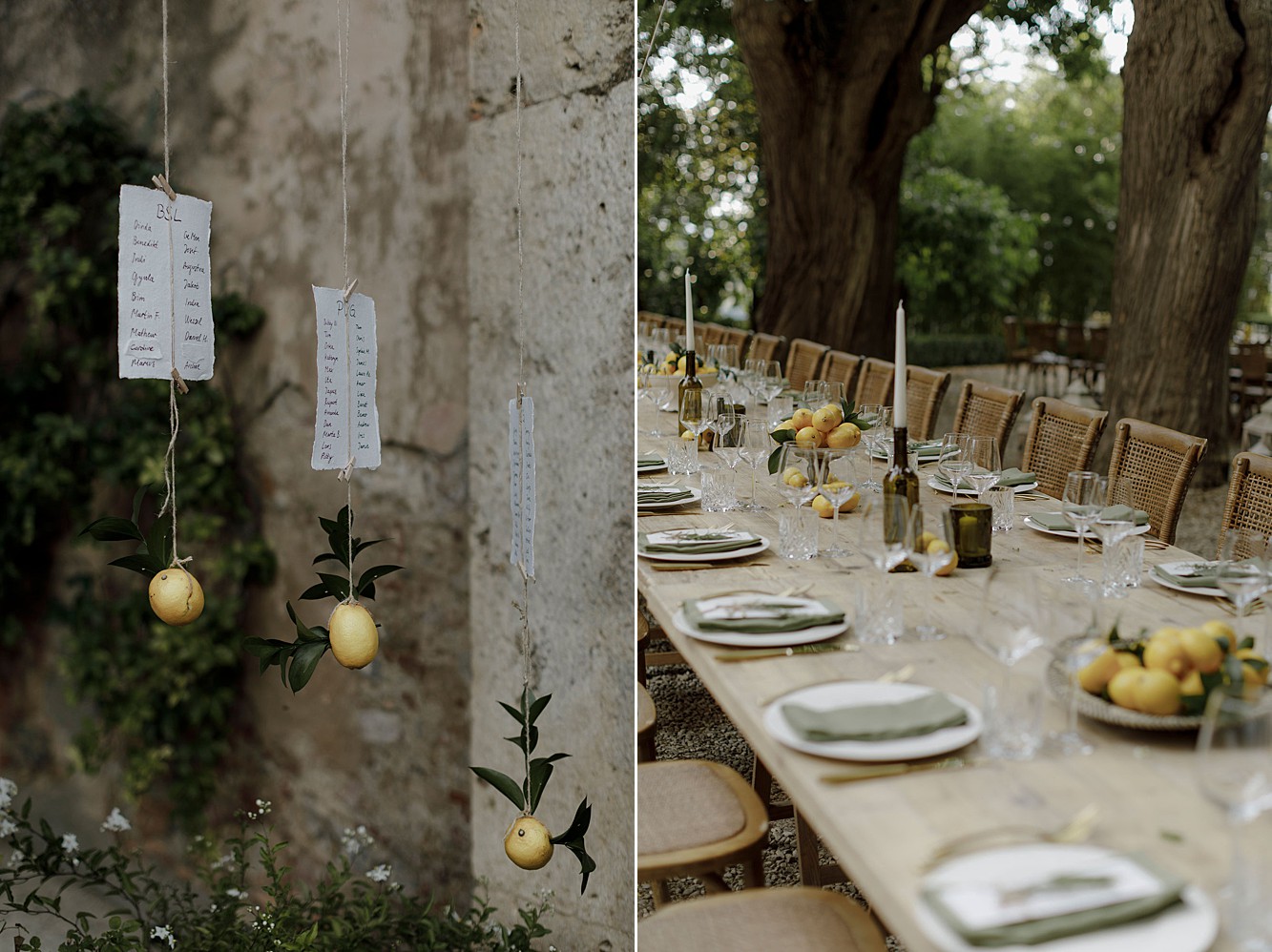 A wonderful Italian feast was served by L'Oste Gentiluomo Catering, followed by a delicious millefoglie decorated with lots of icing sugar, fresh berries and a unicorn topper.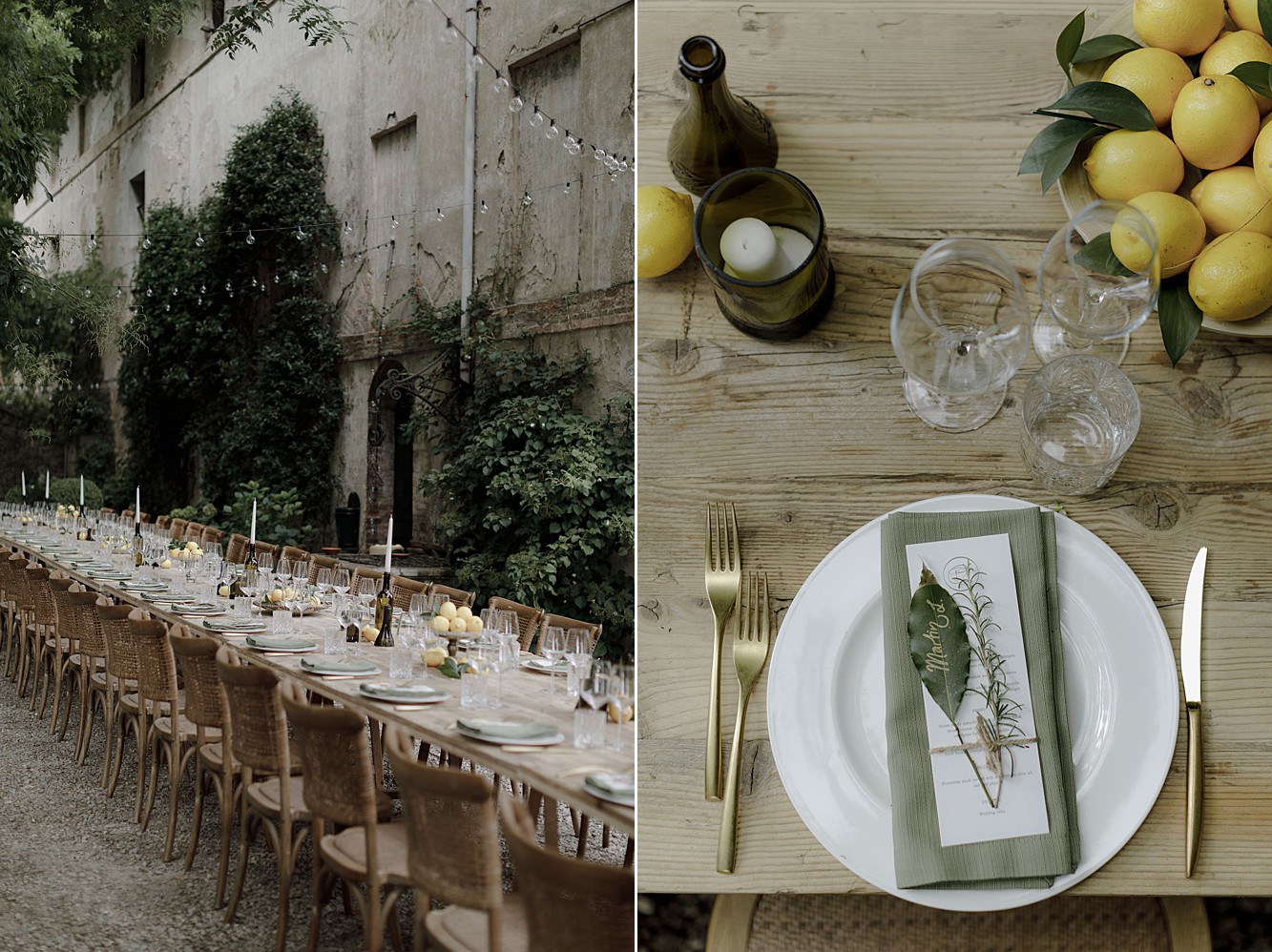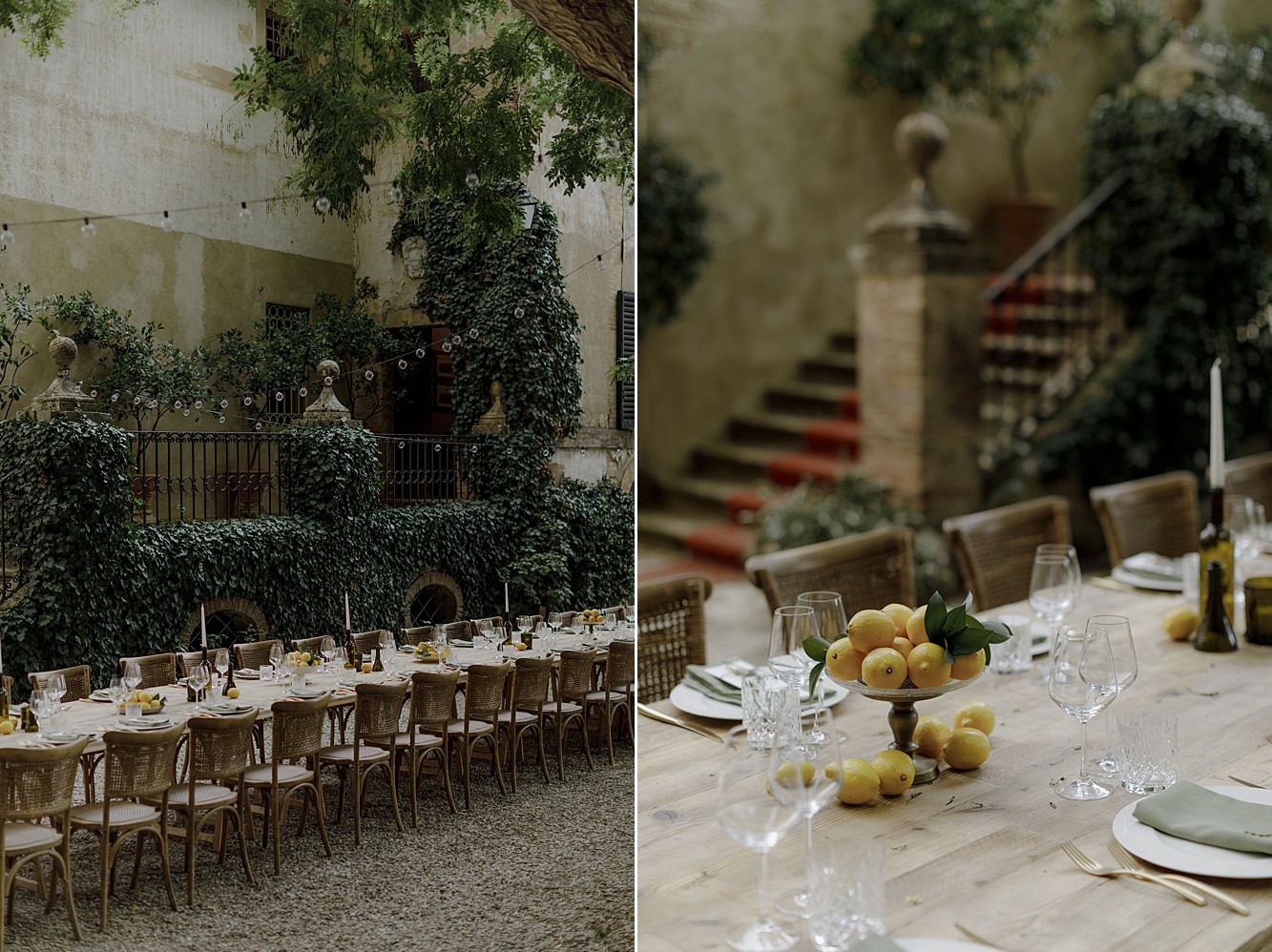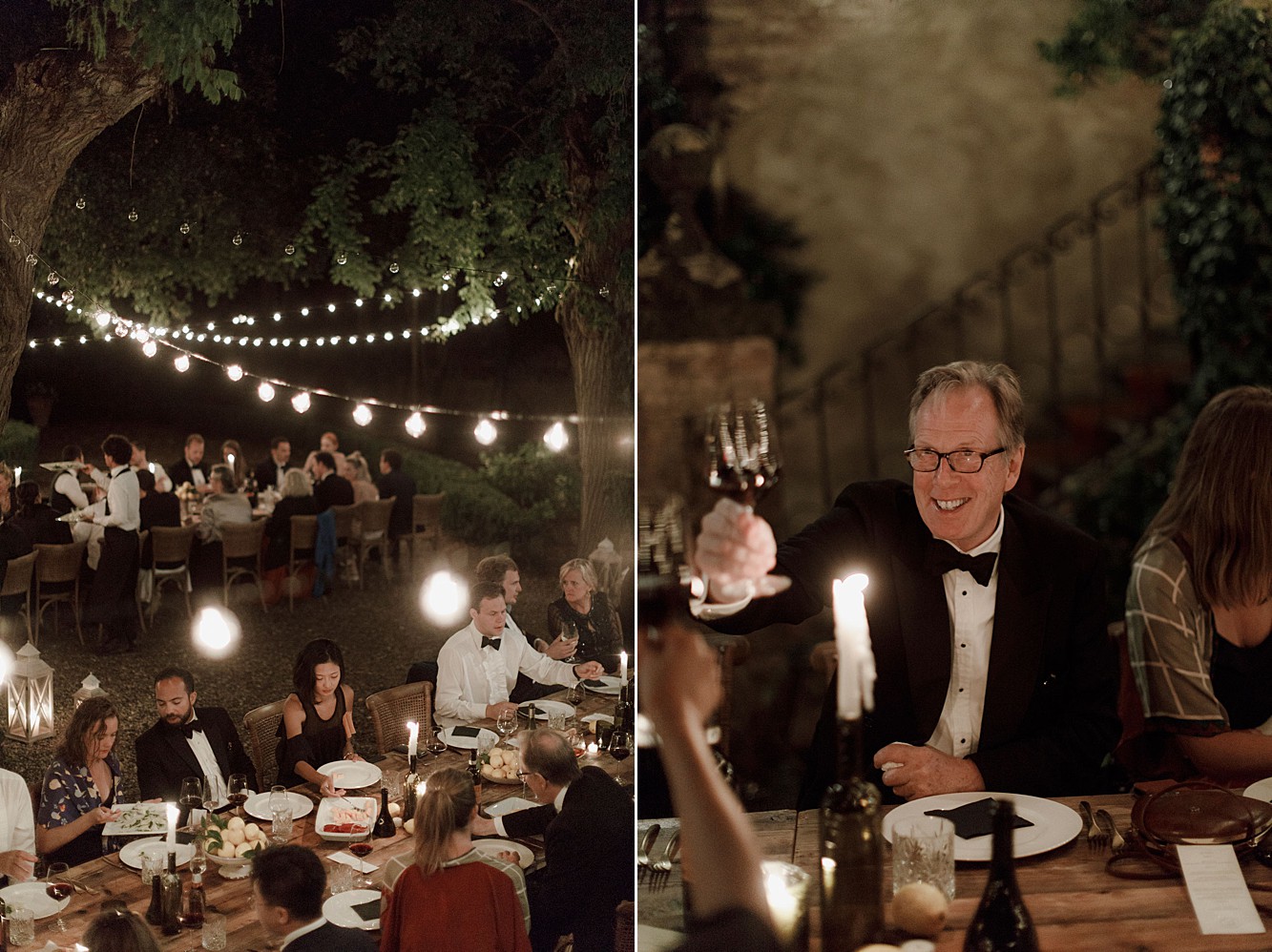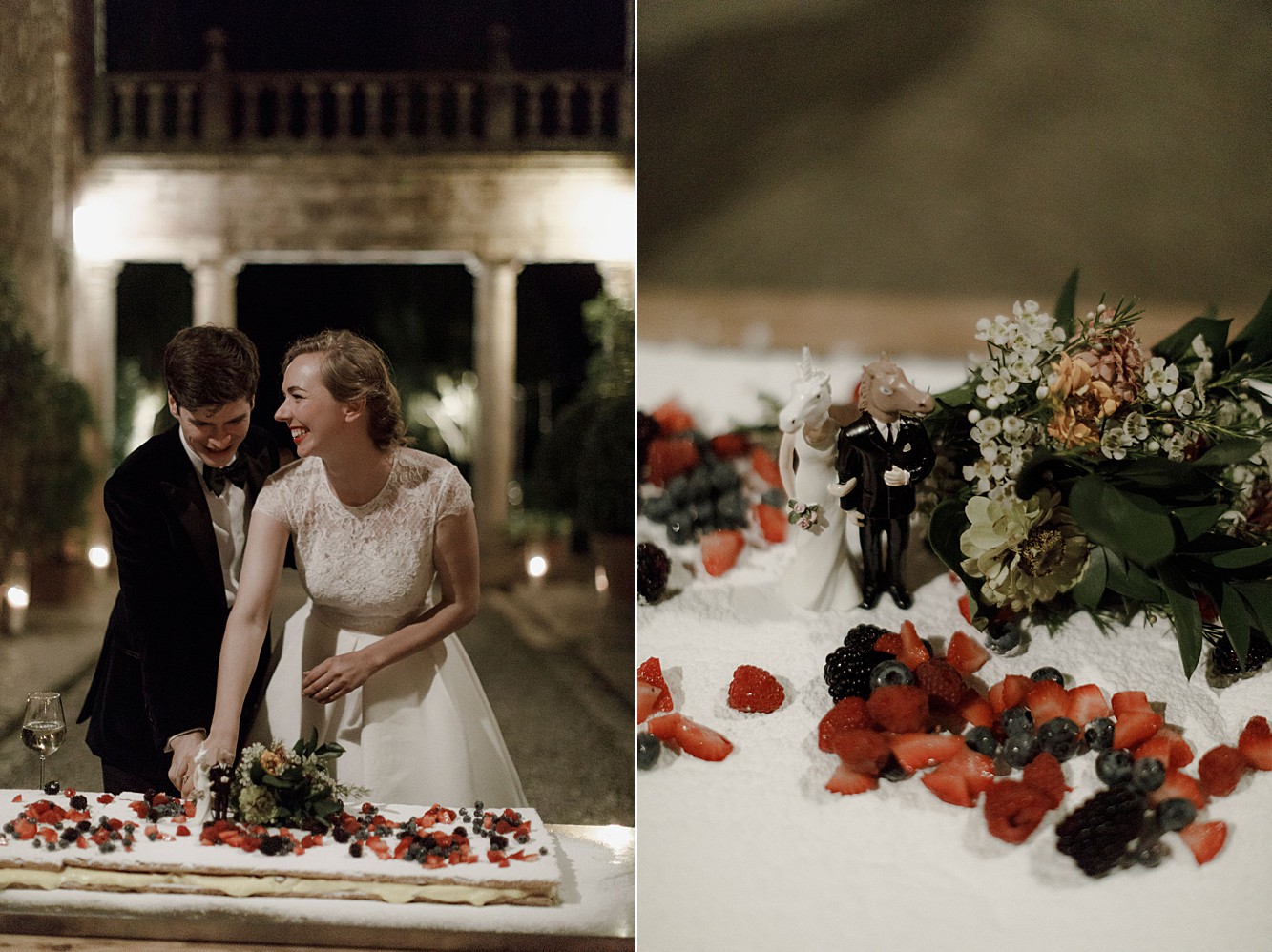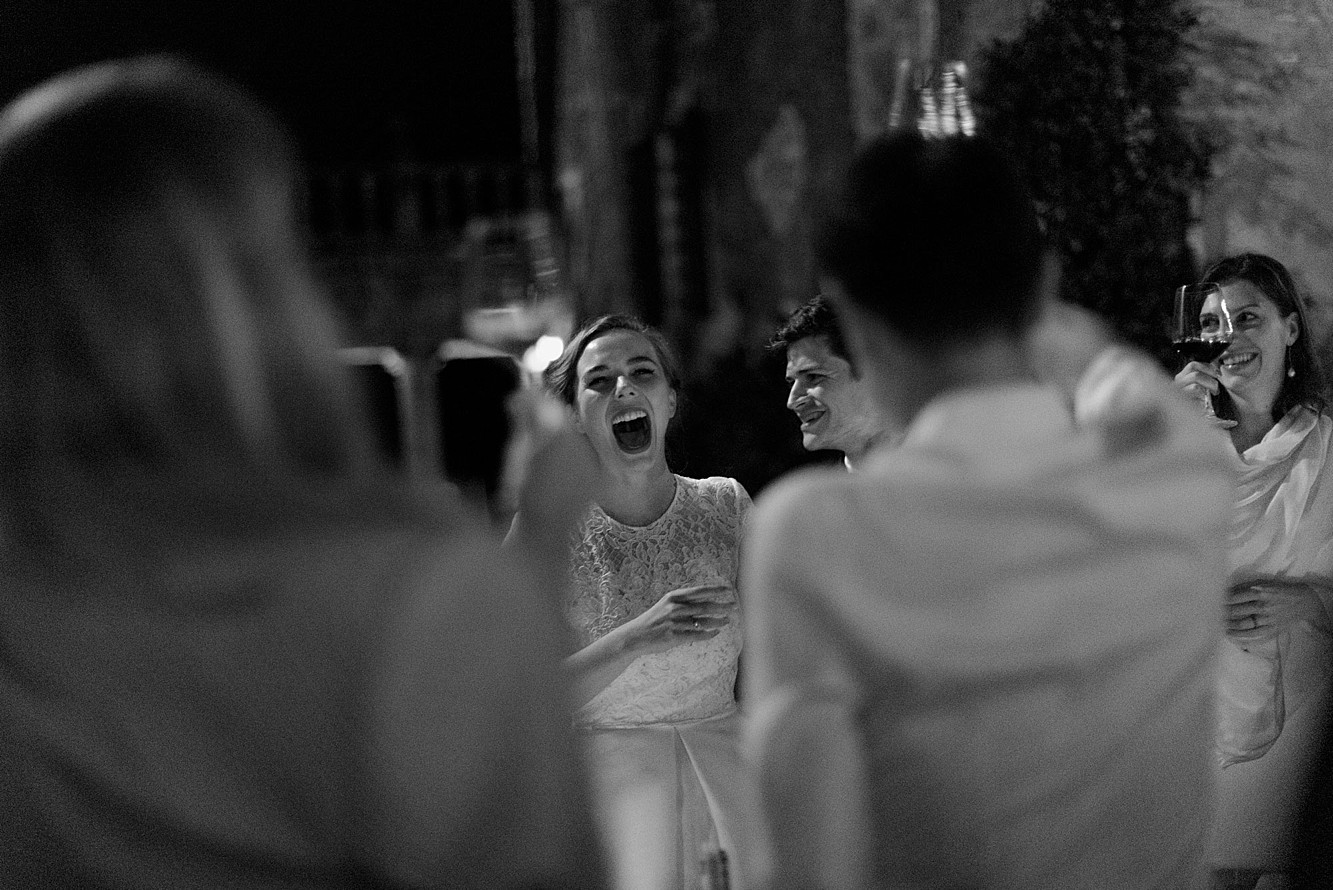 Favourite Moments
"We very much enjoyed the singing in the church, and the music, but we also very much enjoyed the sudden rain shower we had, and the time Charles and I had together during our photo shoot, since we could be so close and dance together."
"We also very much enjoyed the picnic in the morning at Ebbio, since it was absolutely beautiful."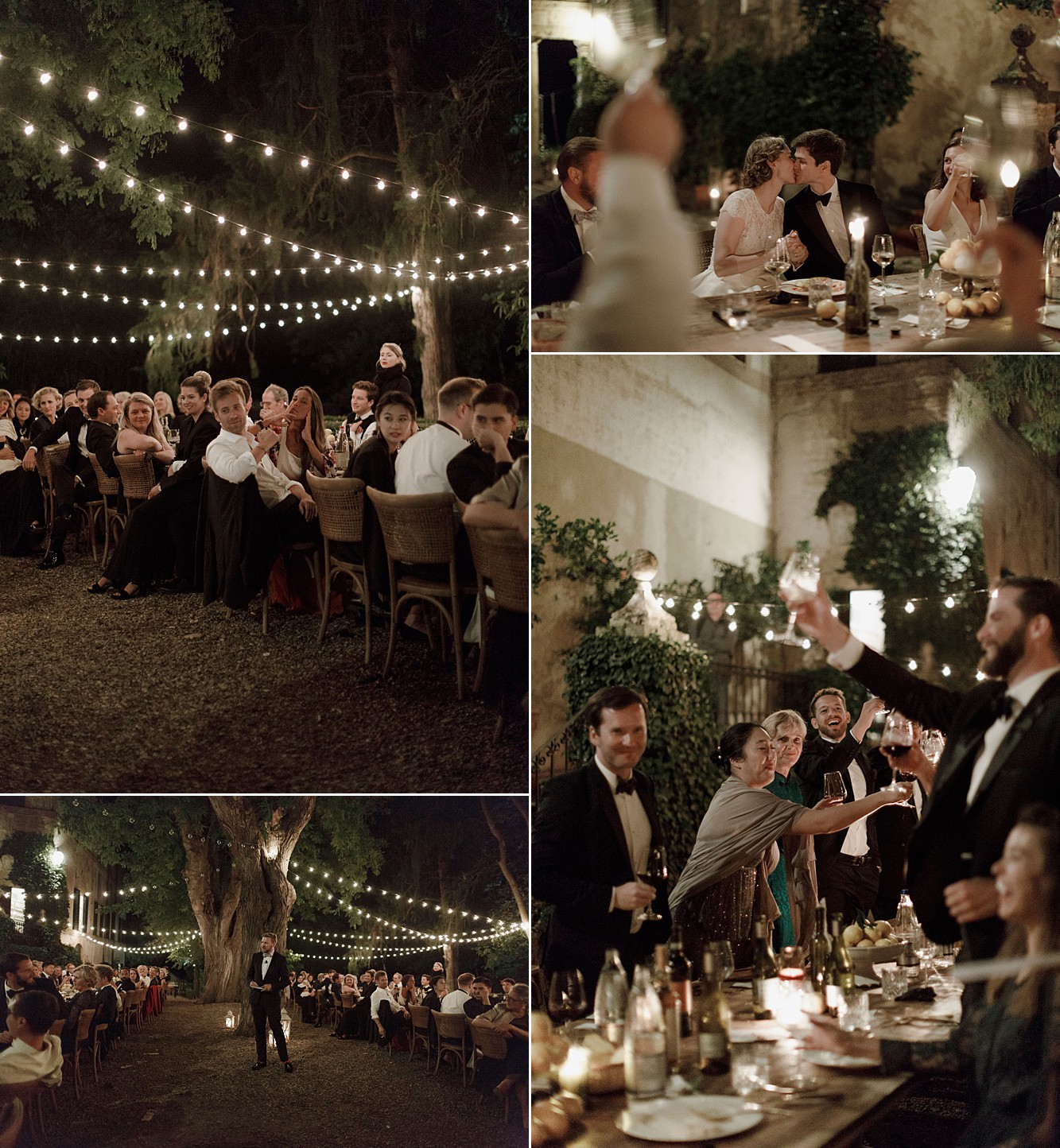 Words of Wedded Wisdom
"Planning a wedding in a different country from the one you live in isn't easy, so it's important to trust your wedding planner (if you have one), since they know best the local suppliers."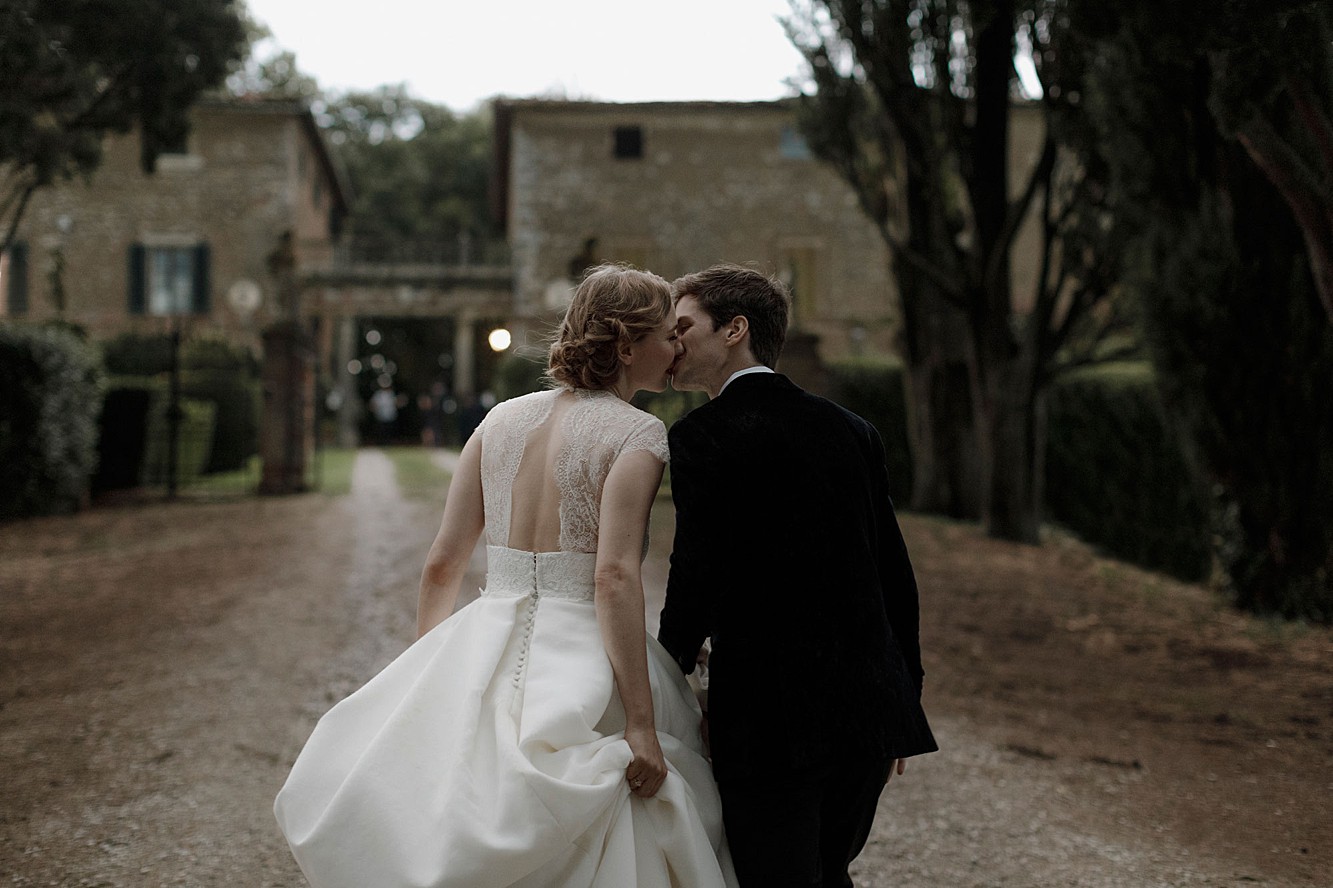 Raphaela and Charles, thank you so much. What a stylish, elegant affair from start to finish. Just beautiful! Huge thanks to photographer Monica Leggio for these beautiful images, too.
Until next time!
Love,
Laura