As a destination wedding planner in Portugal, I haven't yet had the pleasure of working with a pregnant bride. When my step-sister, our bride Sofia, found out she was pregnant with twins, it made me think of what little inspiration there is for pregnant brides out there.
It seems there is still a little stigma with the image of the pregnant bride so we created this shoot as the ultimate transgression. Here we have a real 'barefoot and pregnant' bride in this shoot inspired by the depiction of the Spring Goddess in Botticelli's Primavera painting from the 1500s. We wanted to play on this trope of perceived helplessness and turn it into something strong and beautiful.
Photography by Rita Santana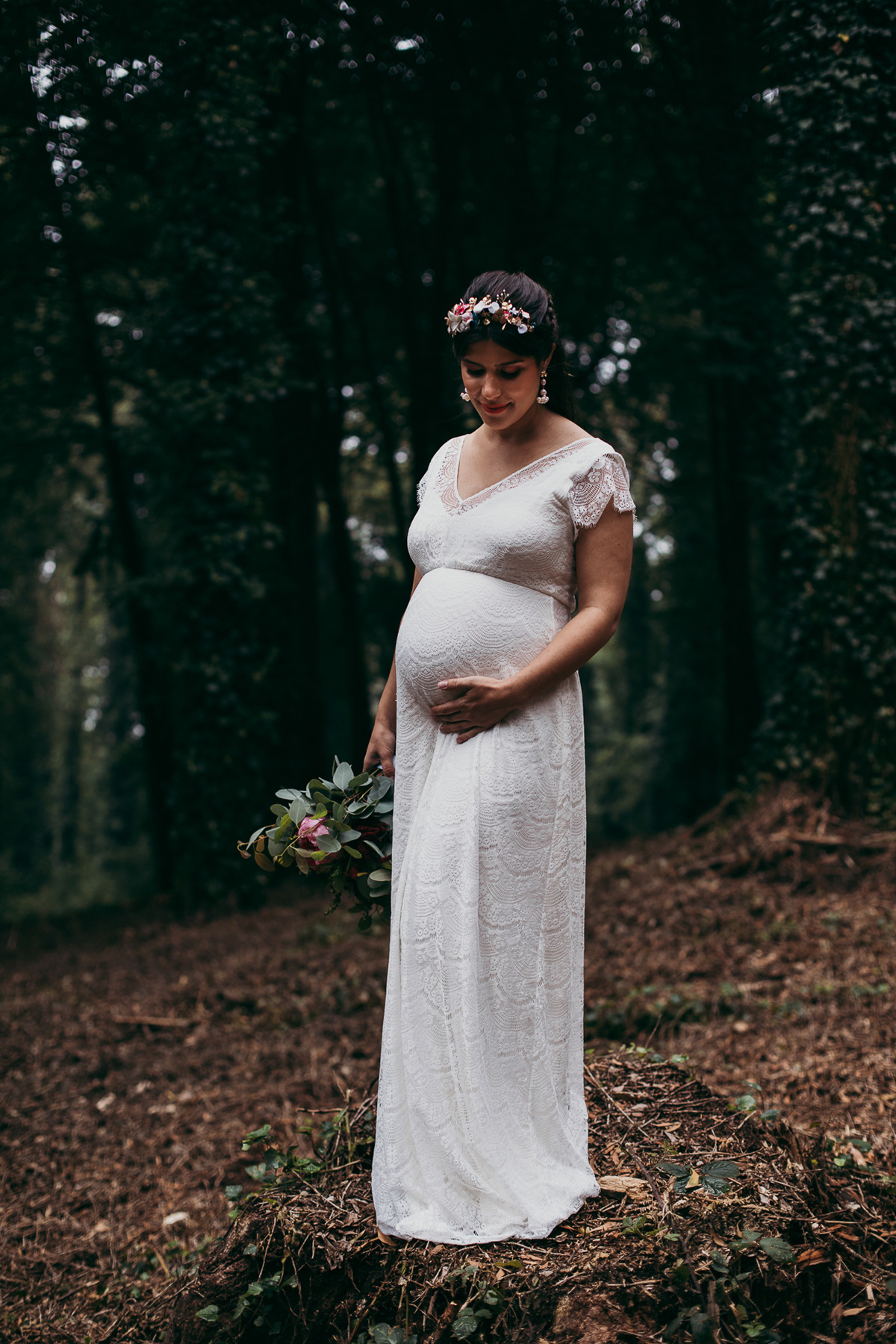 Set in the eerie forests of Sintra in Central Portugal, our solo bride first wore a beautiful white lace dress by Tiffany Rose Maternity for some true bridal bump inspiration. The second lilac-grey dress, from Monsoon, was more directly inspired by the Primavera painting and was found on the high street! In the 1500s, flowers were incredibly important and held alot of meaning, so we chose deep pink peonies and roses in our bouquet to symbolise eternal love.
Eternal love between the couple, but also mother and child(ren).
Flower Love Wedding mixed tones of raspberry and burgundy in the bouquet for a feminine and bold design. For makeup, Cláudia Água did a modern take on vintage makeup with fresh skin, little mascara and a matte coral flush on the lips to look as if they were pinched to colour.
Diana Martins designed a bespoke headpiece and earrings using our colour scheme as a base, to give our bride a regal, confident and elegant look. Patz Hairstylist did some french braiding in our bride's hair which was very common in the Renaissance period.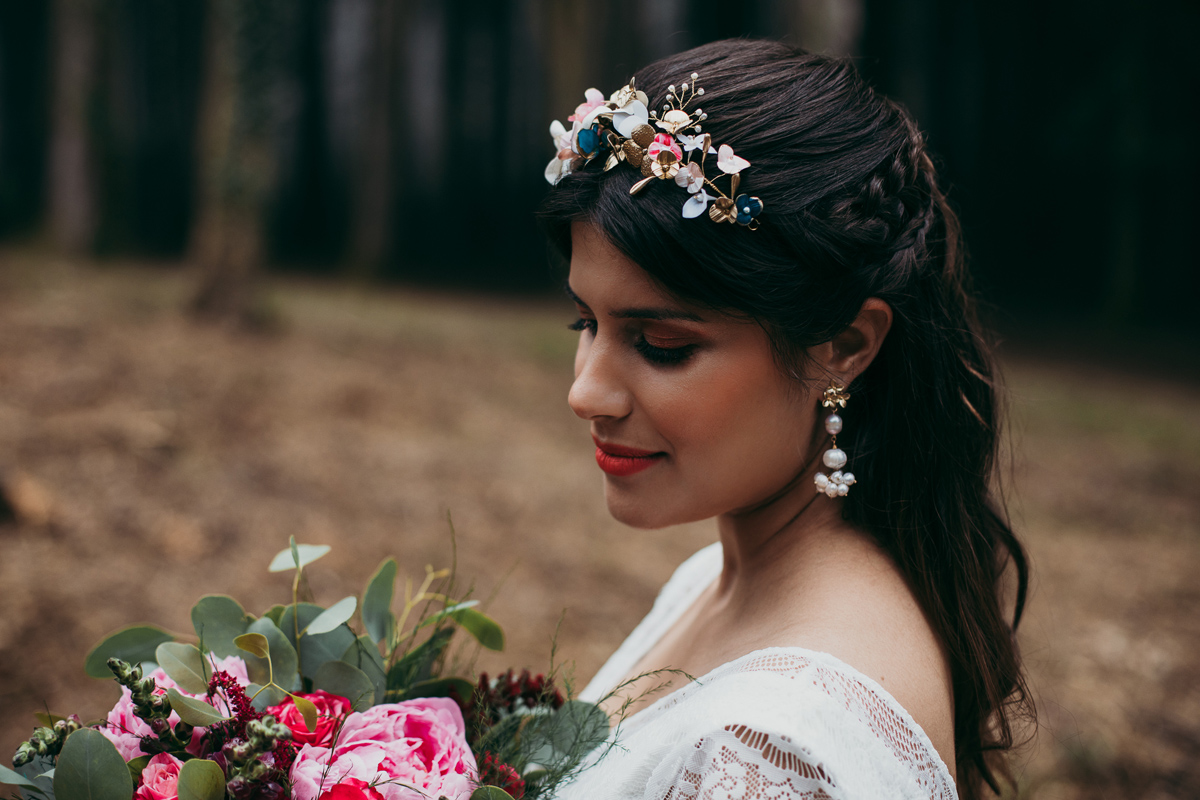 As stylists, Cândida (from Oficina Primavera) and I were really excited by the idea of making our shoot look like a painting, which you could derive the story from the photos. In this lonely forest, our bride is reading a collection of letters and illustrations from her keepsake box that her distant love has sent her.
She misses him but is strong enough to be here now, on her own, excited for her babies to arrive. We used my deep blue velvet cloth as a picnic rug and Oficina Primavera designed and painted the letters, illustrations, envelopes and the box. The main letter is an excerpt from one of Michaelangelo's poems. She also hand painted the sign with the Maga Angelou quote – "Be ready, here comes life".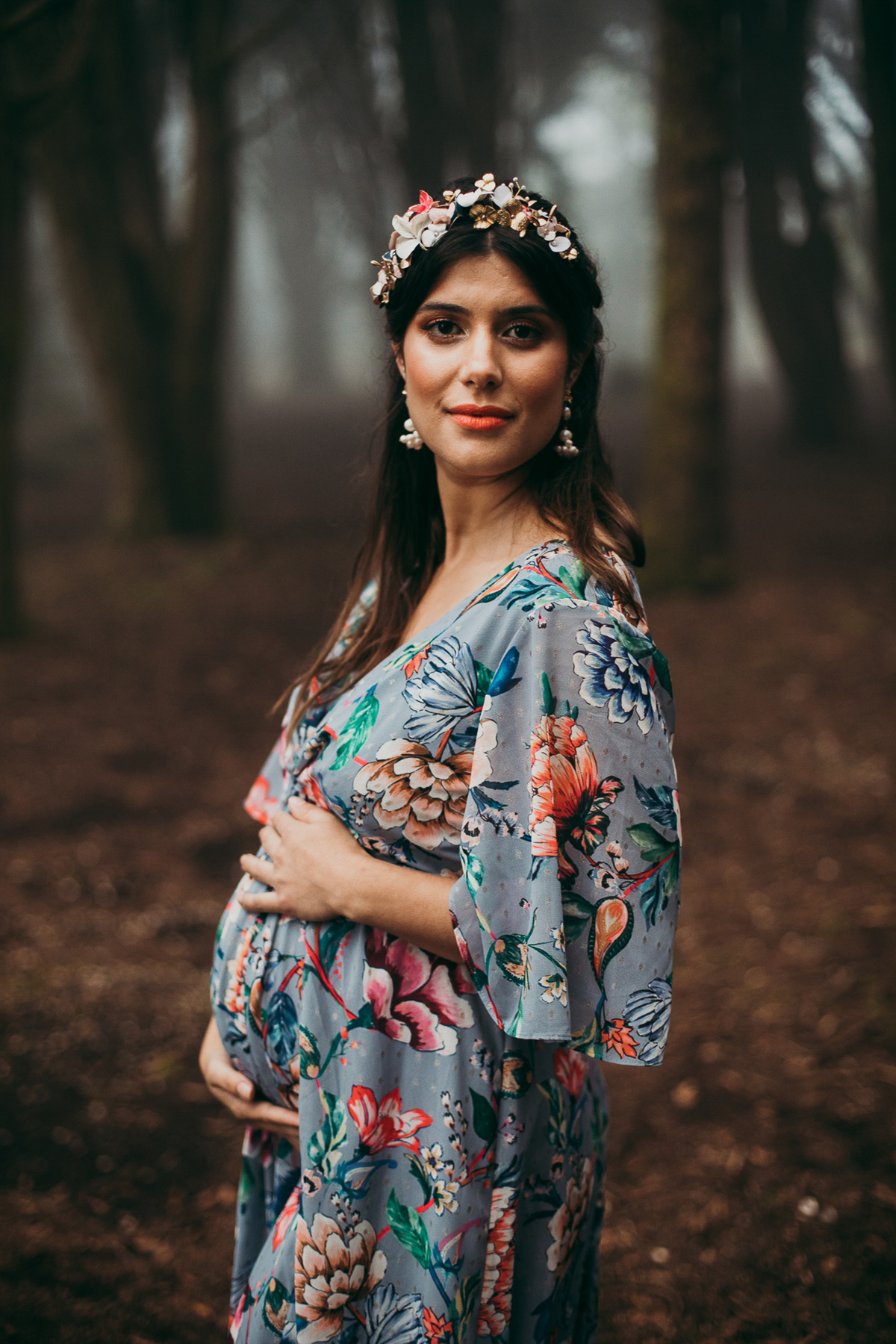 Rita's photography really adds to the mood of this shoot as she has a moody, vibrant style that made the colours pop and the misty surroundings even more mysterious. Though our Sofia has a wonderfully serene, emotive and longing expression, we really enjoyed creating this shoot!
It's not every day you get to craft a piece of fantasy like this, whilst also giving some tangible wedding inspo! This is something a bit different and we hope you enjoy our work.