Think pink! That's what magazine editor Maggie Prescott says at the start of the classic Audrey Hepburn and Fred Astaire musical, Funny Face, when she decides the next edition of her magazine isn't good enough, and throws it all out in favour of an entirely pink issue.
I think that's exactly what today's couple did here, too, with the bride's spectacular blush lace gown, and pink roses galore. Meet Amalia and Sergio, who were married on the 14 April in a church ceremony in Castelsardo, on the beautiful Mediterranean island of Sardinia, followed by a marquee reception. Castelsardo had special significance for the couple, as it is also Sergio's birthplace.
Film by Giovanni Saturno
Italian designer Elisabetta Delogu is a happy new discovery for me, and Amalia's showstopping dress, with its dramatic, intricate blush pink lace came from Elisabetta's 'Greensleeves' collection. I just love the colour, as well as the Victorian inspired sleeves, with their puffed and ruffled shoulders and cuffs, and the silk flowers and duck egg blue sequins adorning the neckline.
"I liked the pink colour –  I didn't want a white dress. It's a unique piece, handcrafted, and nobody will have the same dress."
Images by Valeria Mameli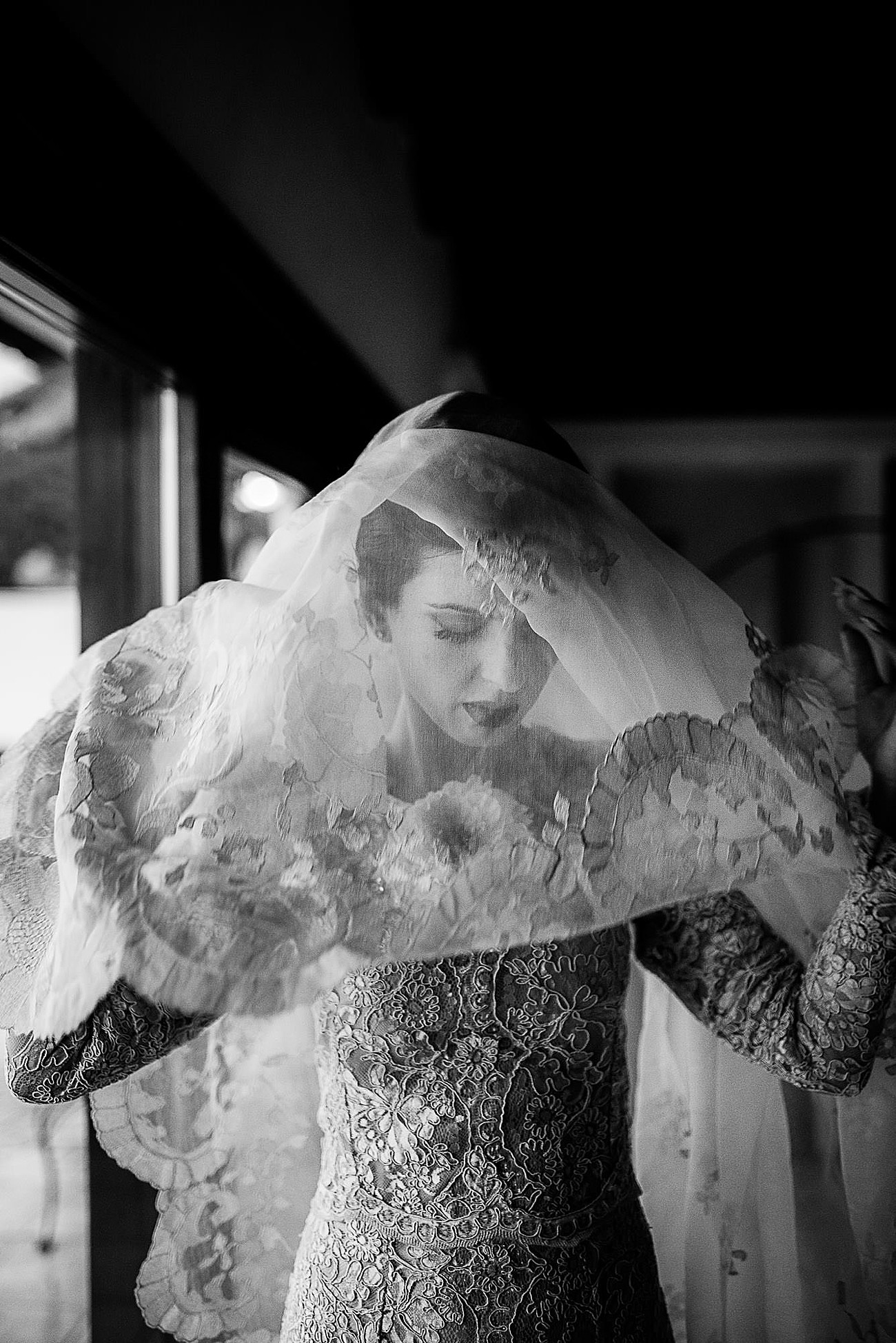 There to capture the day with all its drama, elegance, warmth and love was photographer Valeria Mameli, who did a wonderful job on what looked to be a day full of changeable spring weather. I particularly appreciate her sweet and intimate shots of Amalia and Sergio, with the dark blue sea in the background, and the light catching the ethereal lace of Amalia's dress and veil.Amalia's pale pink, ankle-strap shoes were by The Seller, and as a brilliant contrast to the softness of her dress, she opted for gorgeous, glamorous make-up, with smoky eyes and deep red lipstick. In her cool cropped hair, she wore a scalloped edged, fingertip lace veil by Elisabetta Delogu.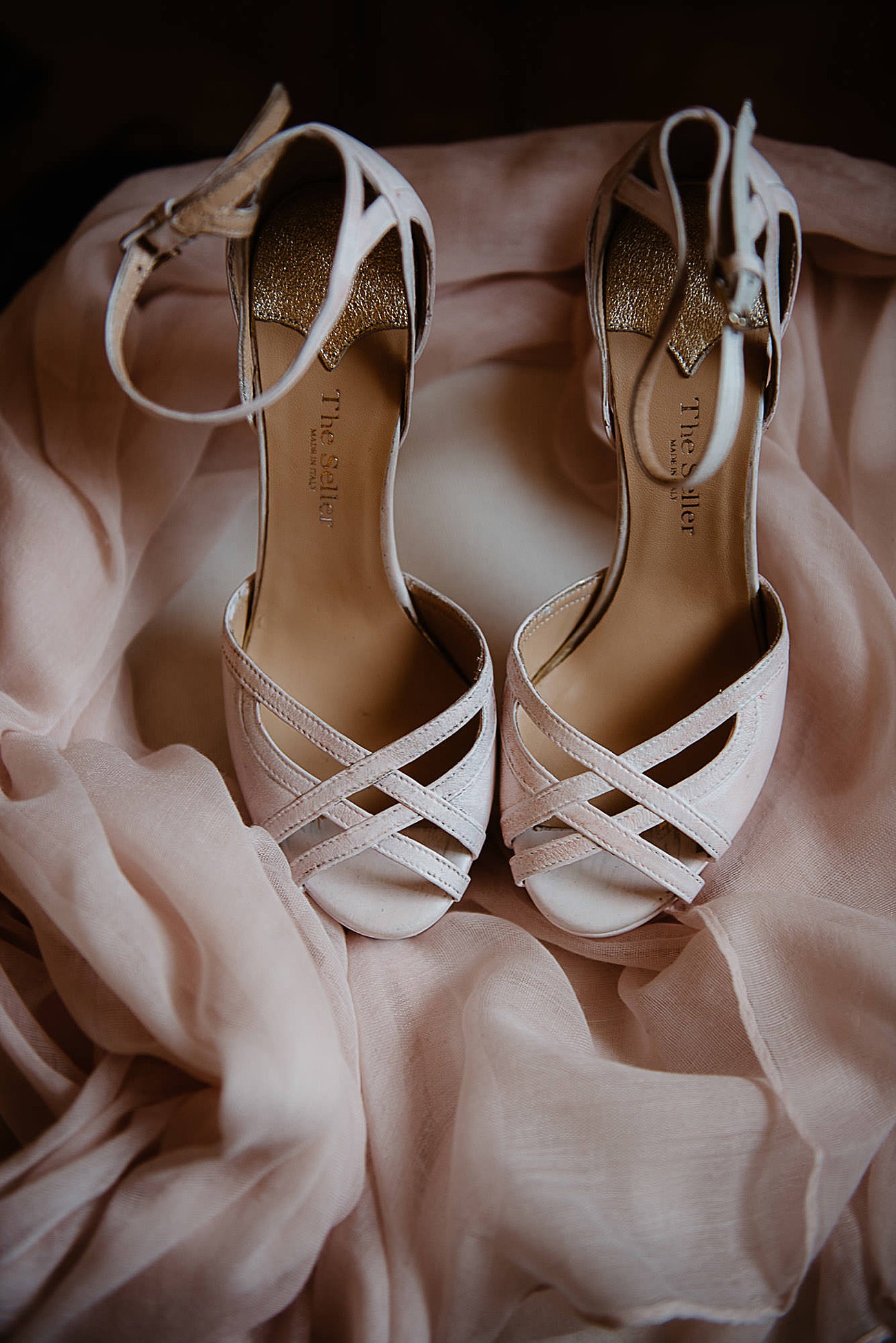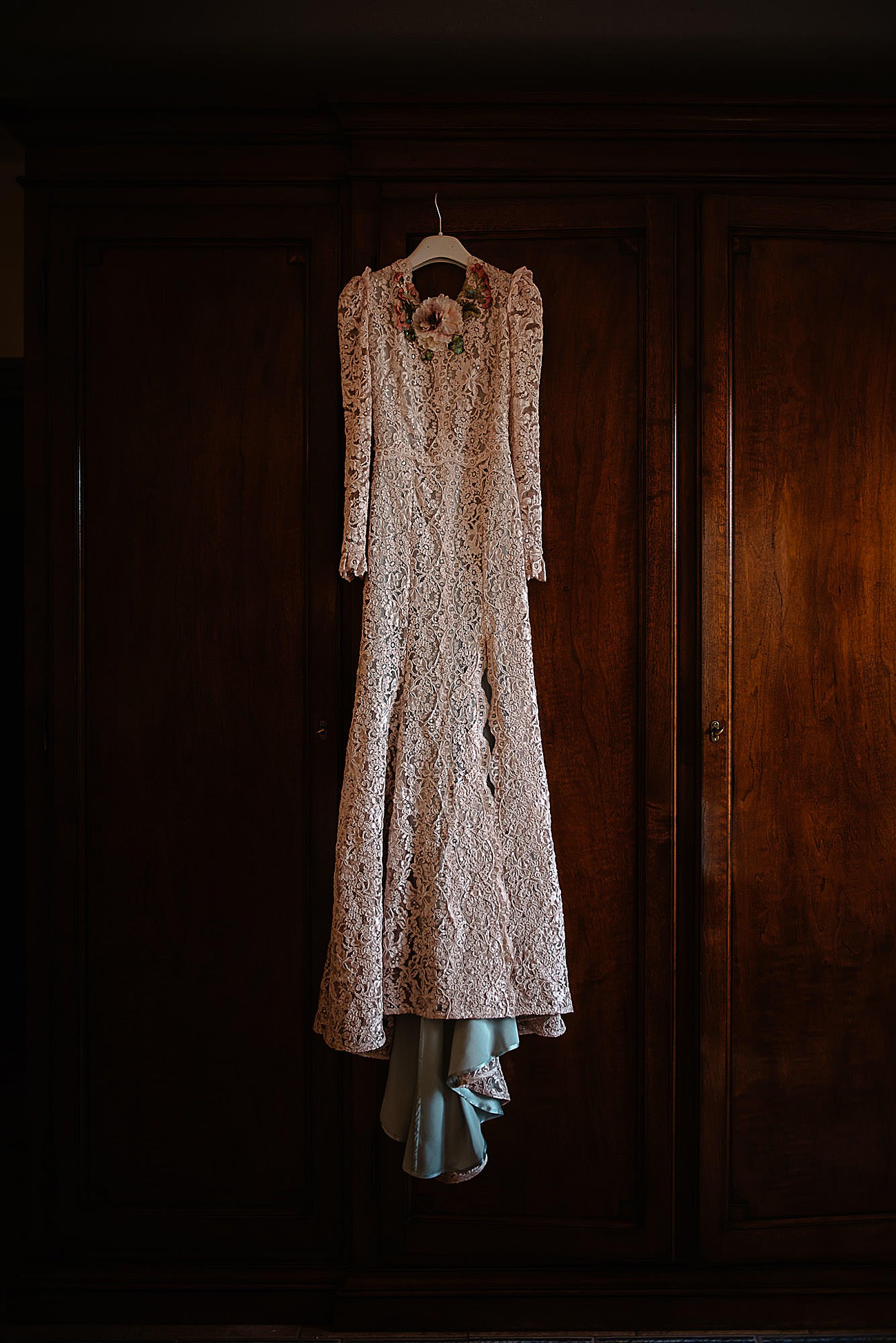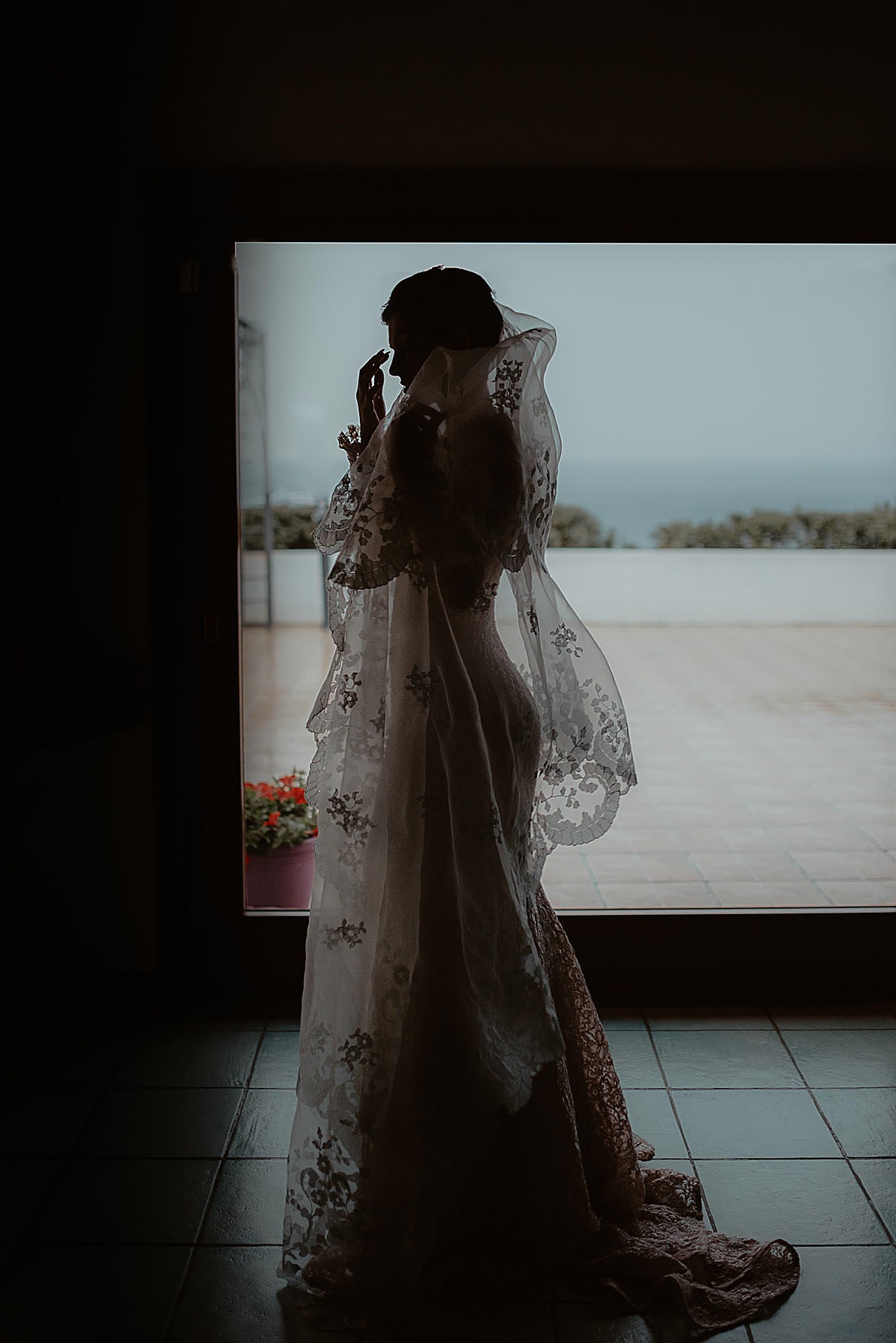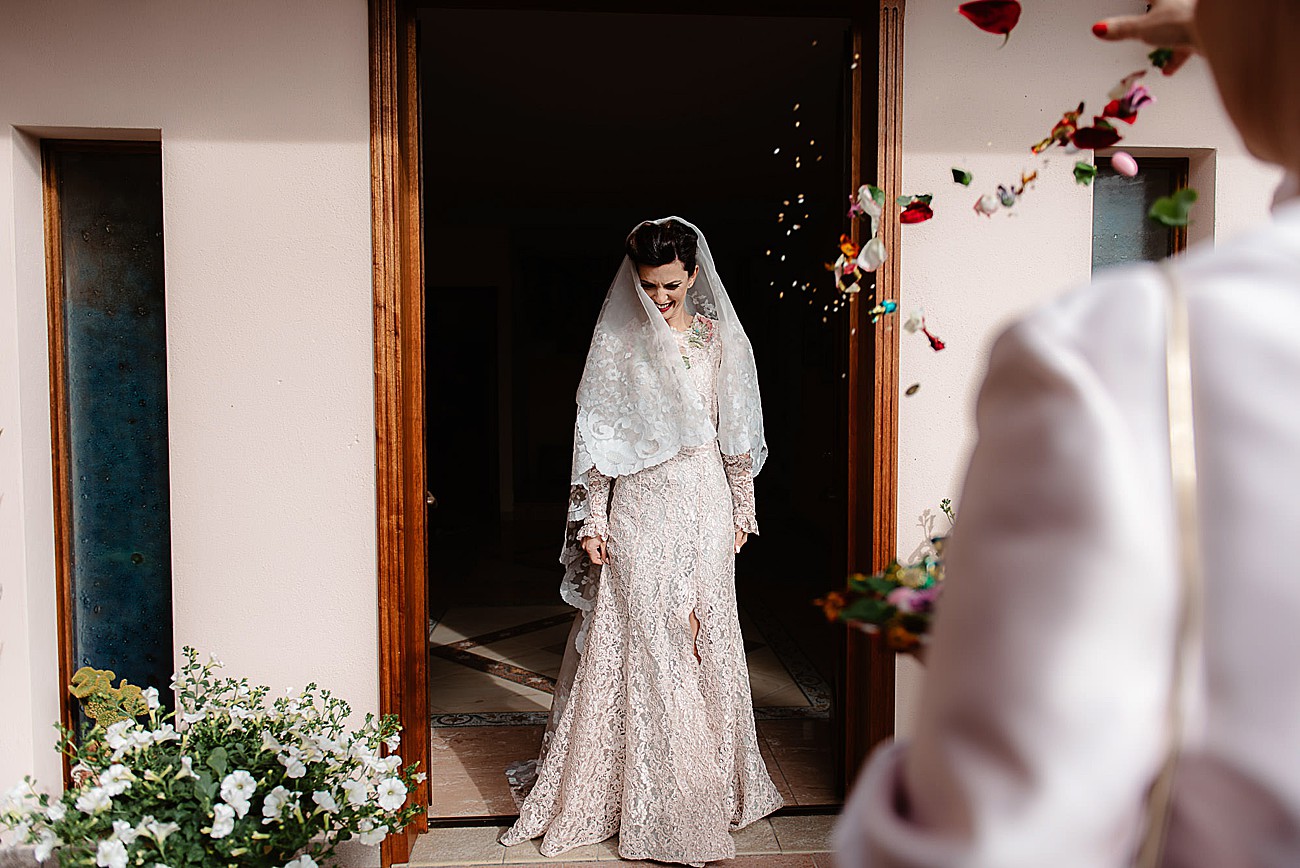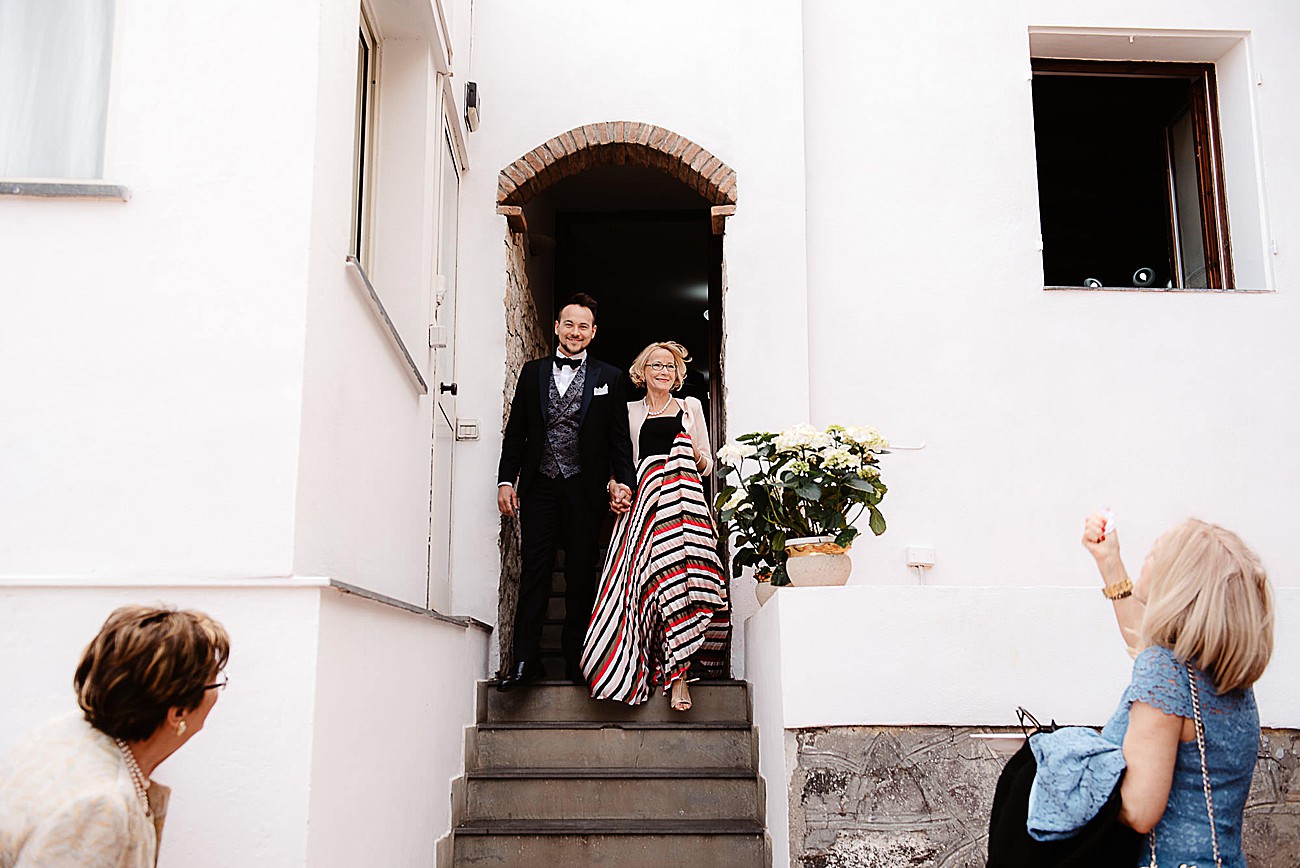 The couple walked through the winding streets of Castelsardo to the church with their respective families, with groom Sergio looking smart in a tuxedo and grey brocade waistcoat (sadly, no details provided about Sergio's outfit) and carrying a sweet posy of pink roses to give to his bride.
The couple first met through work, and were together for four years before getting married. They exchanged the vows of the Catholic church, together with rings they had custom-made by a trusted goldsmith (no further details provided).
"My father walked me down the aisle to Ave Maria by Schubert, and as I stood at the entrance to the church with him, he was very excited! Sergio, with shining eyes, was waiting for me. This was my favourite moment of the day."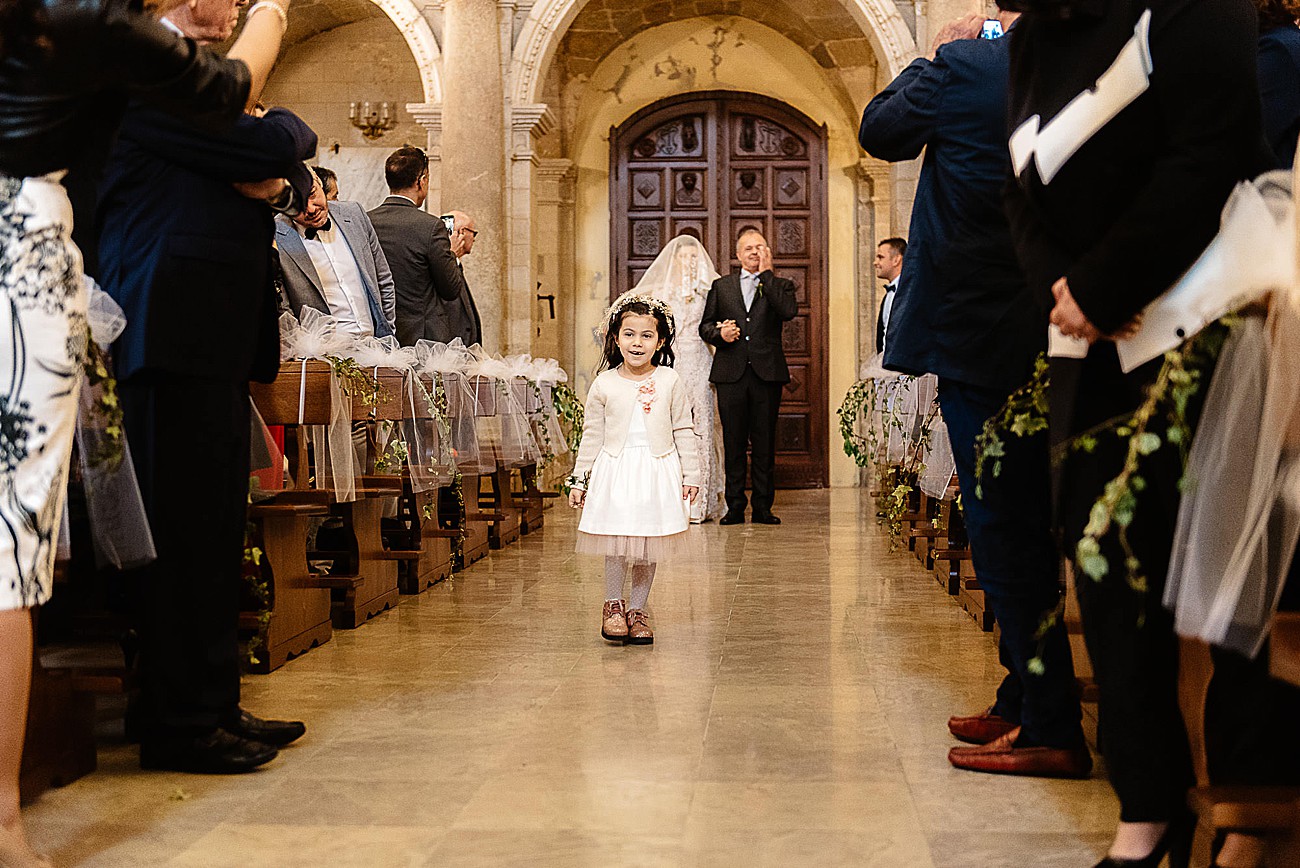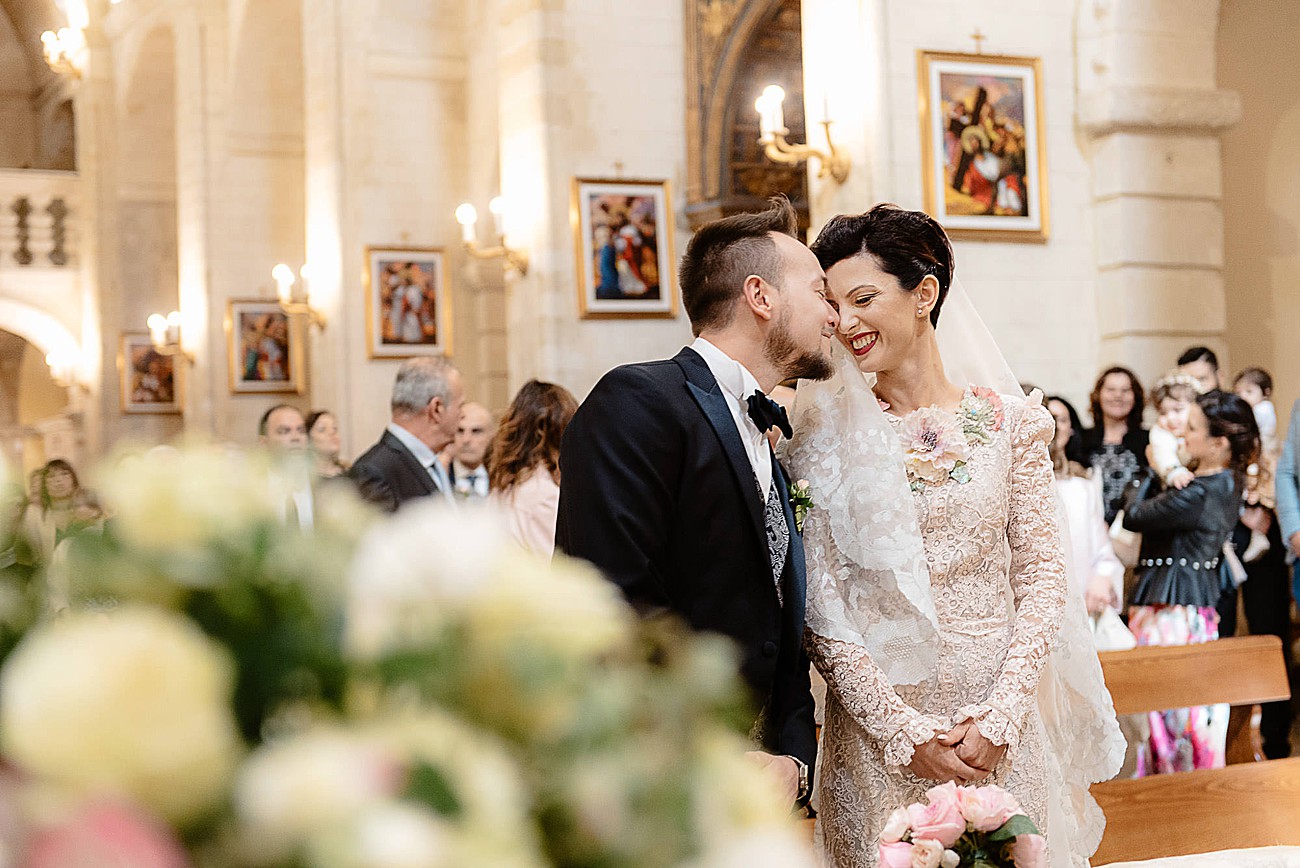 As they left the church, Amalia and Sergio were showered with rice and confetti by joyful loved ones, before making their way over to their reception venue.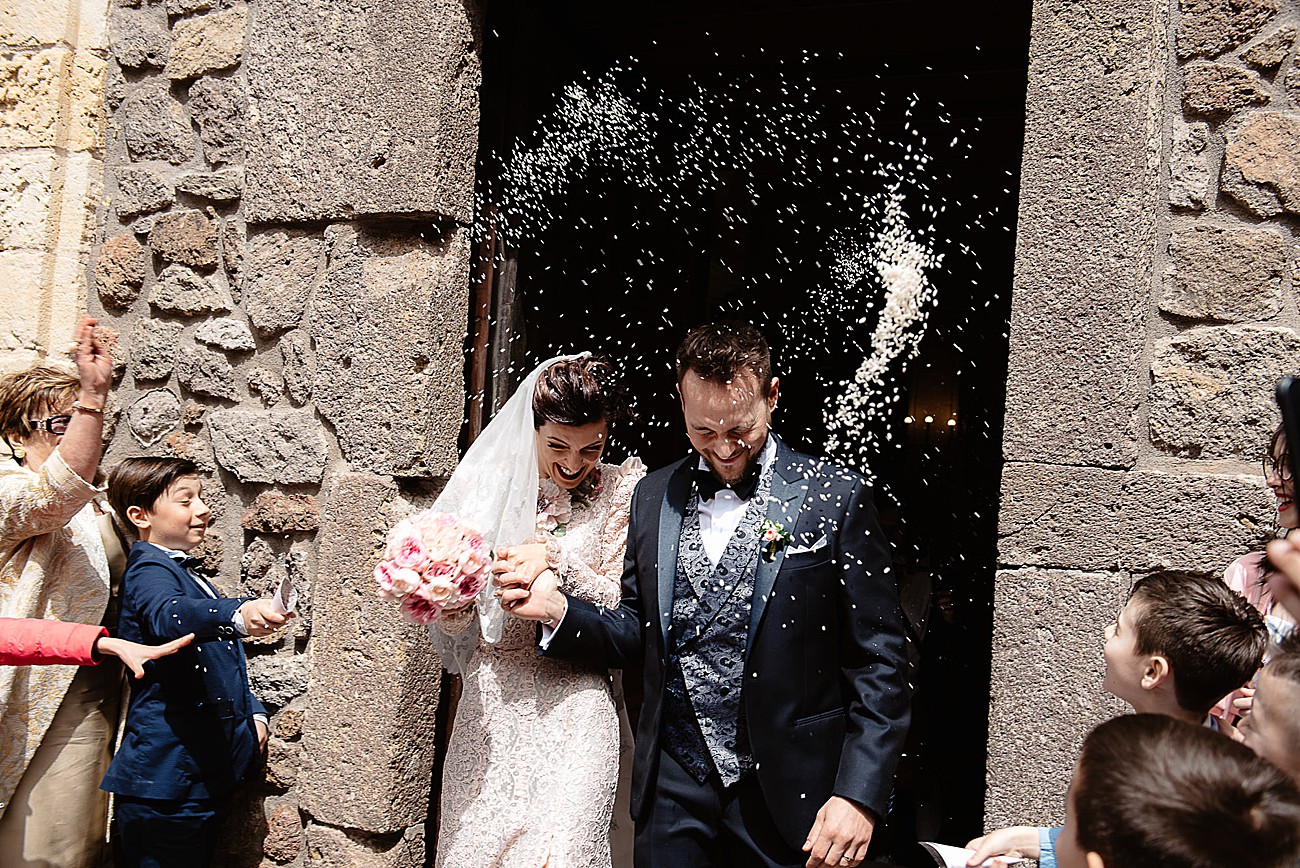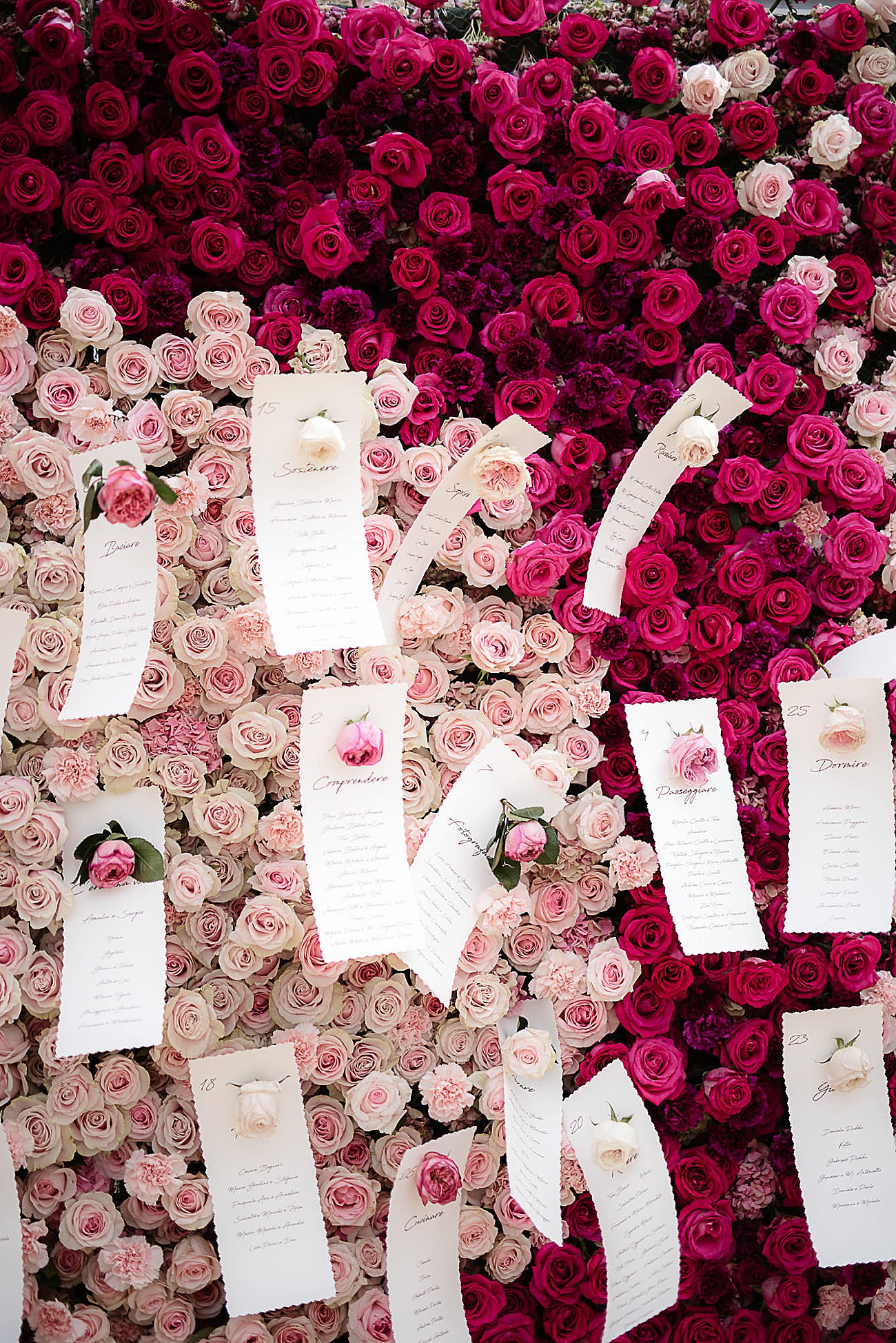 Anna Satta, of Fabula Eventi was the couple's planner and stylist, and worked together with them to bring their perfectly pink and luxurious vision to life.
"Our inspiration came from telling our story, which then gave birth to a printed fable, which served as a decoration for the cake and the floral wall, also used as a tableau. All nuances of the colour pink were used, and roses were our leitmotif."
Fabula Eventi designed all the stationery and the floral arrangements for the day, which included a striking, modern calligraphy table plan, decorated with ivy and flowers, which spilled over onto the incredible wall of pink roses and carnations, pinned with pieces of fluttering paper.
Tables were laid inside a completely transparent marquee, which brought a sense of the outdoors inside, and crystal chandeliers hung from the ceiling canopies.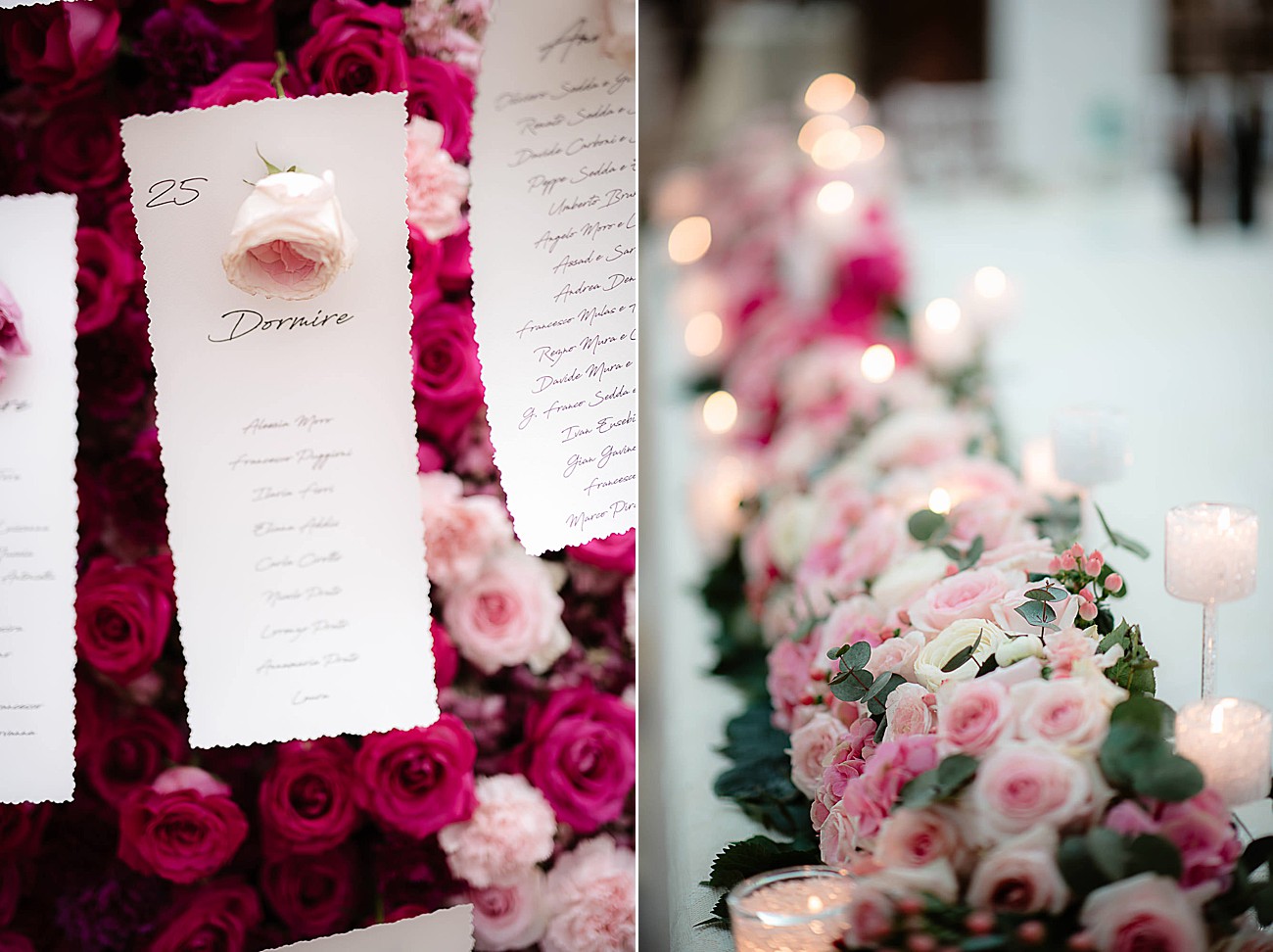 Stretching across one table was a garland of ombre roses and berries, dotted with pink candles, and place settings were simple white linens adorned with sprigs of fresh eucalyptus. On other tables, there were floral centrepieces in tall martini glasses.
"Our favours were Sardinian jewels, bought in the groom's Sardinian handicraft shop."
Everyone sat down to dinner by candlelight, prepared by chef Gianni Mannu (unable to find any details, sadly), including a dizzying array of sweet treats, with glass dishes of sugared almonds and exquisitely iced cookies and cakes. Amalia and Sergio's three-tier pink and white cake was made for them by Sofia Soru of Pasticceria Licànzias.
"The cake decoration followed the pink feel of the day, and was decorated with the same flowers and placed on a large swing!"
After dinner, there was live music from band Pericolo Generico, and the day came to a brilliant close with dancing, fireworks and kisses.
Words of Wedded Wisdom
"Rely on the wedding professionals!"
Talking of which, have you visited our most splendid wedding directory?
Amalia and Sergio, many congratulations and best wishes, and thank you so much for this glimpse into your rosy day. Amalia, your dress was a dream, and I love that you did it your way. Many thanks to talented photographer Valeria Mameli, and to Giovanni Saturno for the lovely film.
If, like Amalia, you're considering a non-white or ivory wedding dress, then we have lots of weddings featuring dresses of all colours to enjoy here, as well as lots more beautiful celebrations in Italy, here.
With love,
Laura