Oh, Grace Loves Lace, how I adore your brilliant, bohemian designs! It's wonderful to be able to share a wedding featuring today's bride.
She wears a gorgeous, 1970s inspired, off-the-shoulder creation by our Little Book members, and that she discovered this whilst visiting Grace Loves Lace's recently opened London boutique filled with treasures.
Victoria Somerset-How Photography

+ Follow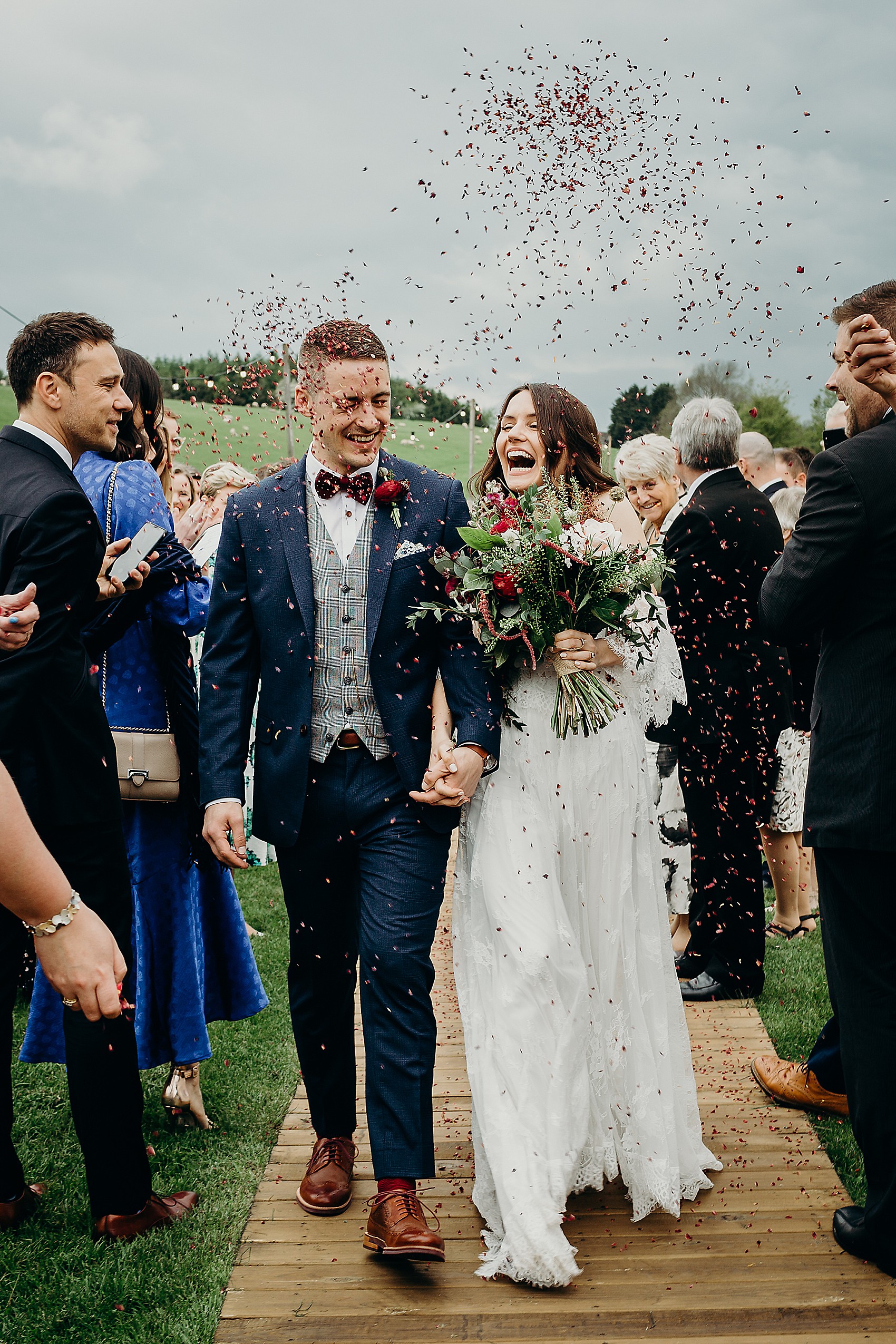 Katie works in fashion as a social media content editor, and Christian is a senior radio producer. The couple were married on the 18 May 2019 at the beautiful lakeside tipi venue of Hadsham Farm, nestled in a Cotswold valley.
"We got engaged October 2018, and got married May 2019. A fast turnaround, but when you find the venue that you thought only existed on Pinterest, and they have a date 7 months away, you make it work!"
Florists Flower Thyme created spectacular floral arrangements for the day, including bridal party bouquets filled with garden roses, peonies and stocks in shades of soft blush and deep, rich red.
"We didn't have a specific brief on the exact flower that we wanted, we were more concerned with having the best array of wildness and colour, which Gill completely succeeded in. We wanted something that represented the wildness and rawness of the outdoor venue, and it was important for us that the flowers felt just picked."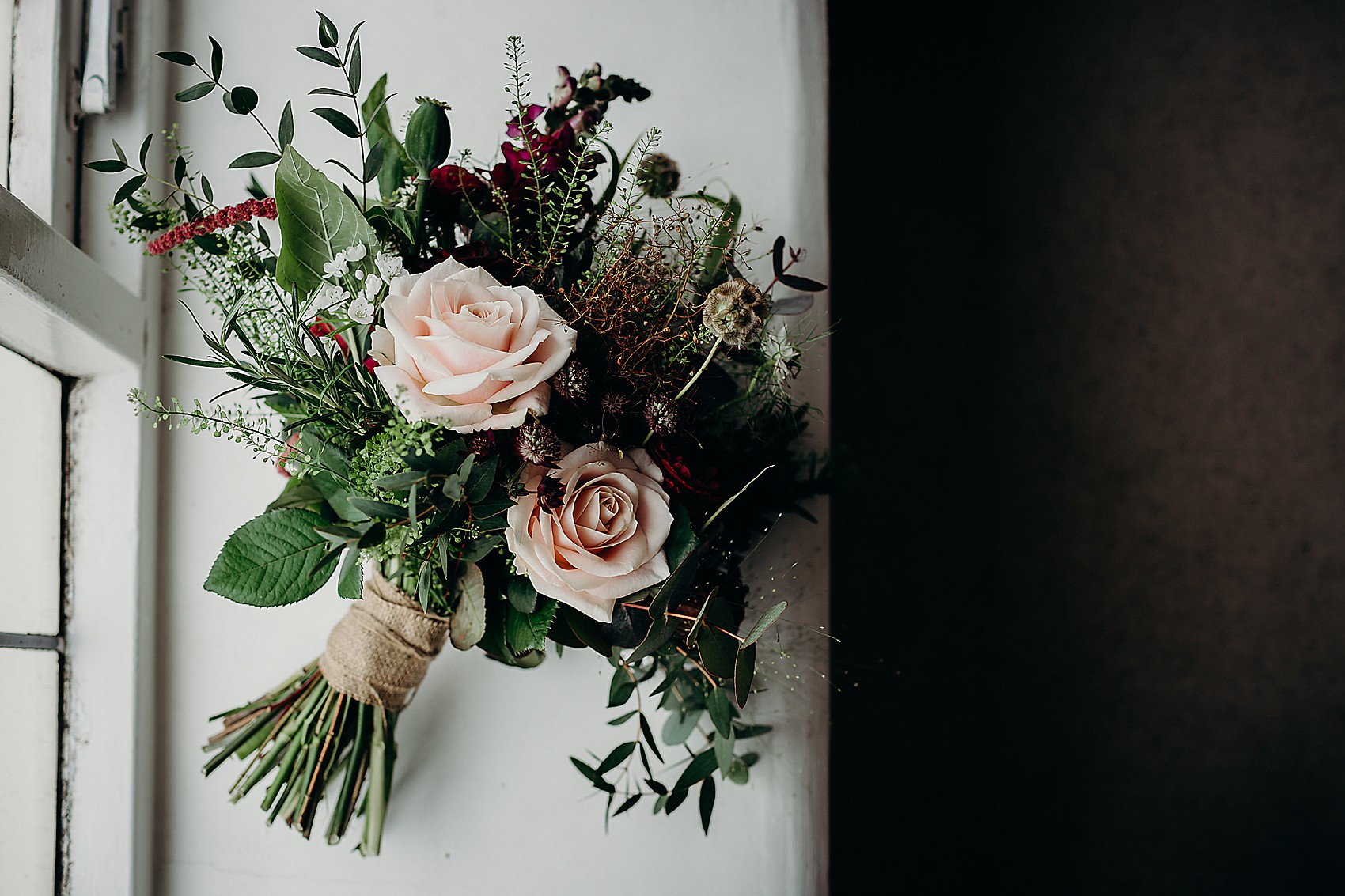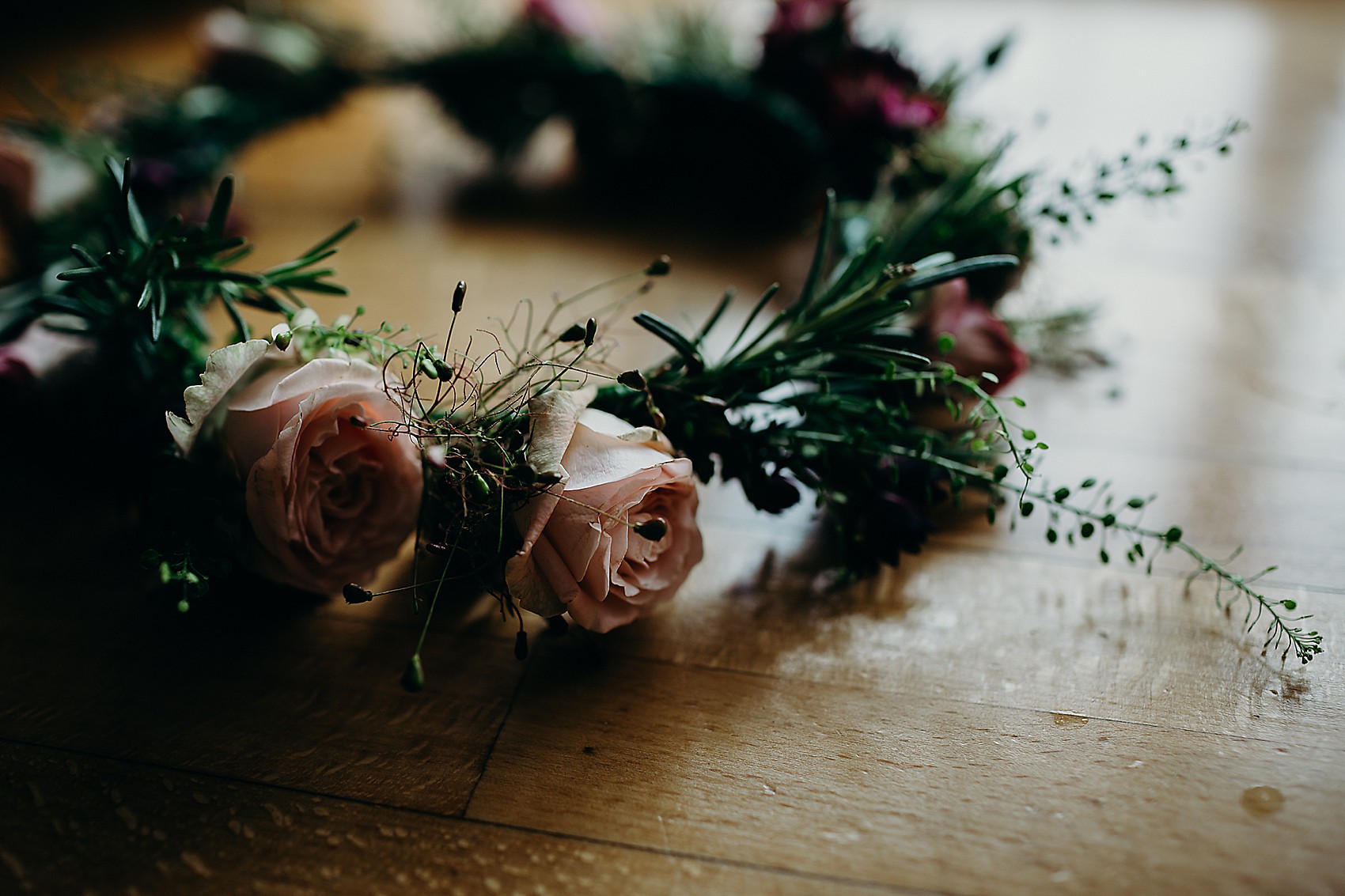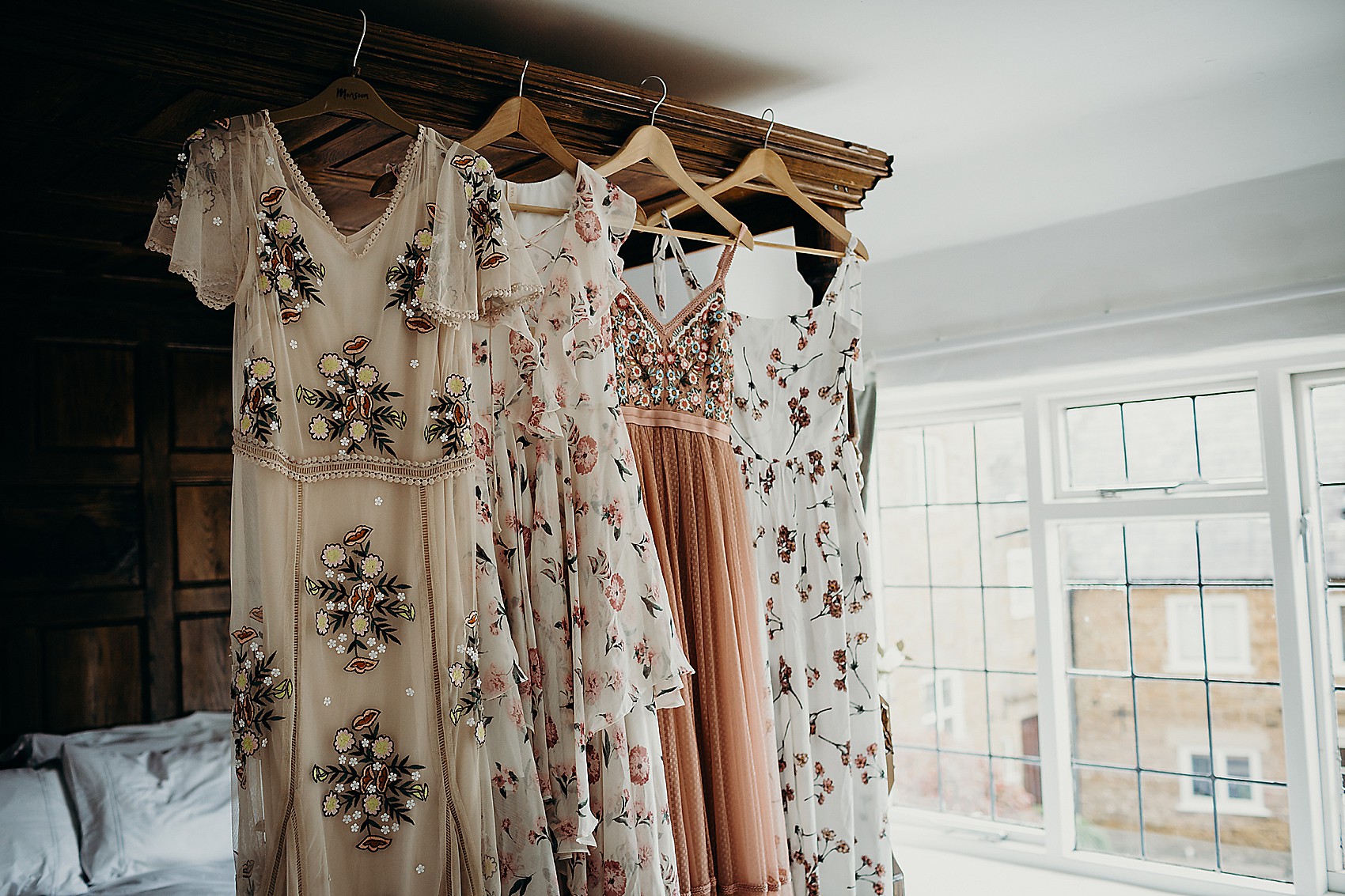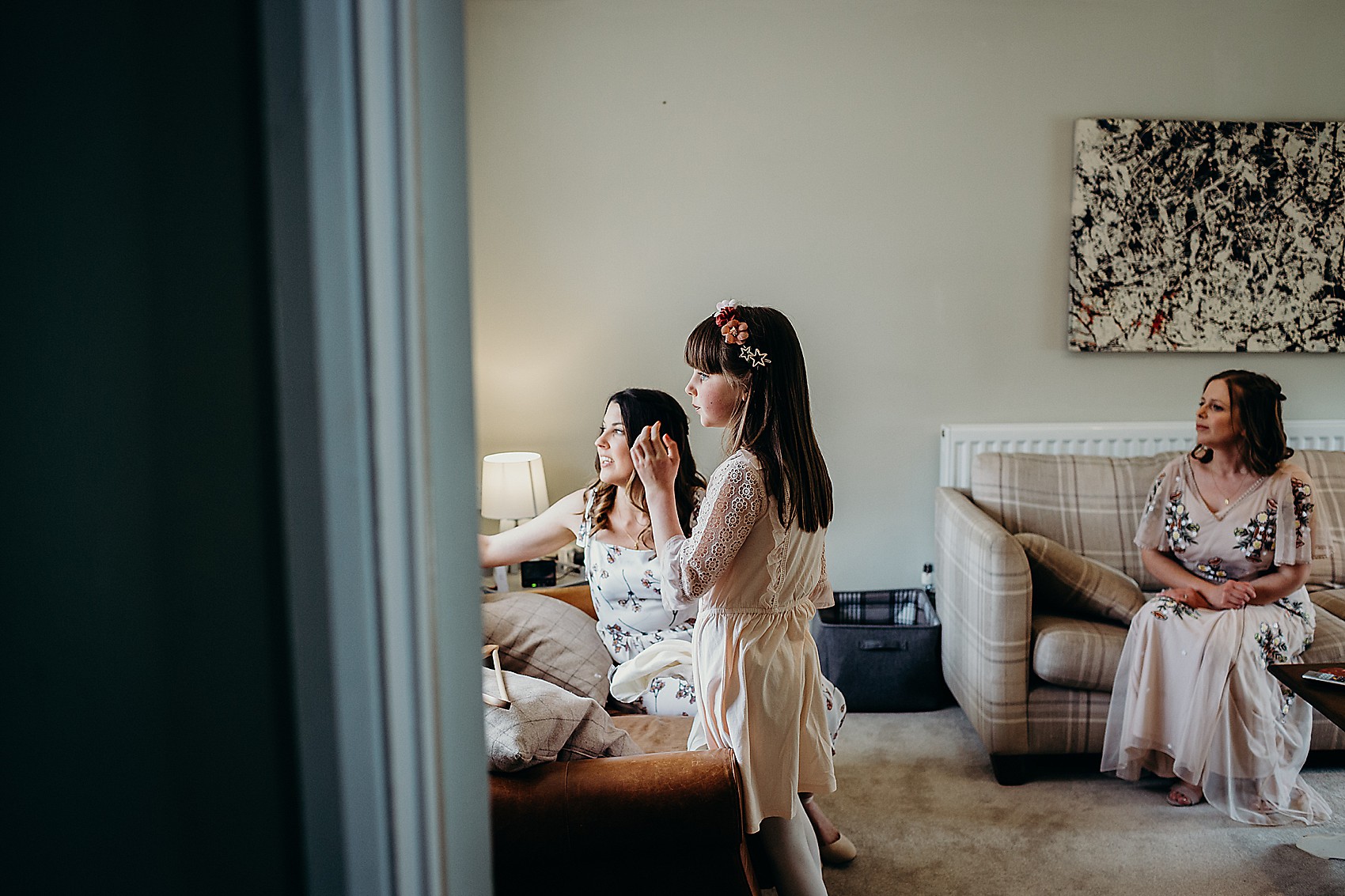 With this boho, festival inspiration in mind, Katie visited the London boutique of Grace Loves Lace with her mum and sister, and there she found the perfect outfit – an exquisitely crafted, vintage inspired lace skirt, with a top with the most amazing off-the-shoulder detail.
"I knew fairly early on that I didn't want a traditional wedding dress, and was set on having something that fit the venue and theme of our wedding perfectly. I had done a lot of research into the style that I was after, and had a clear idea in mind for when I went for my appointment."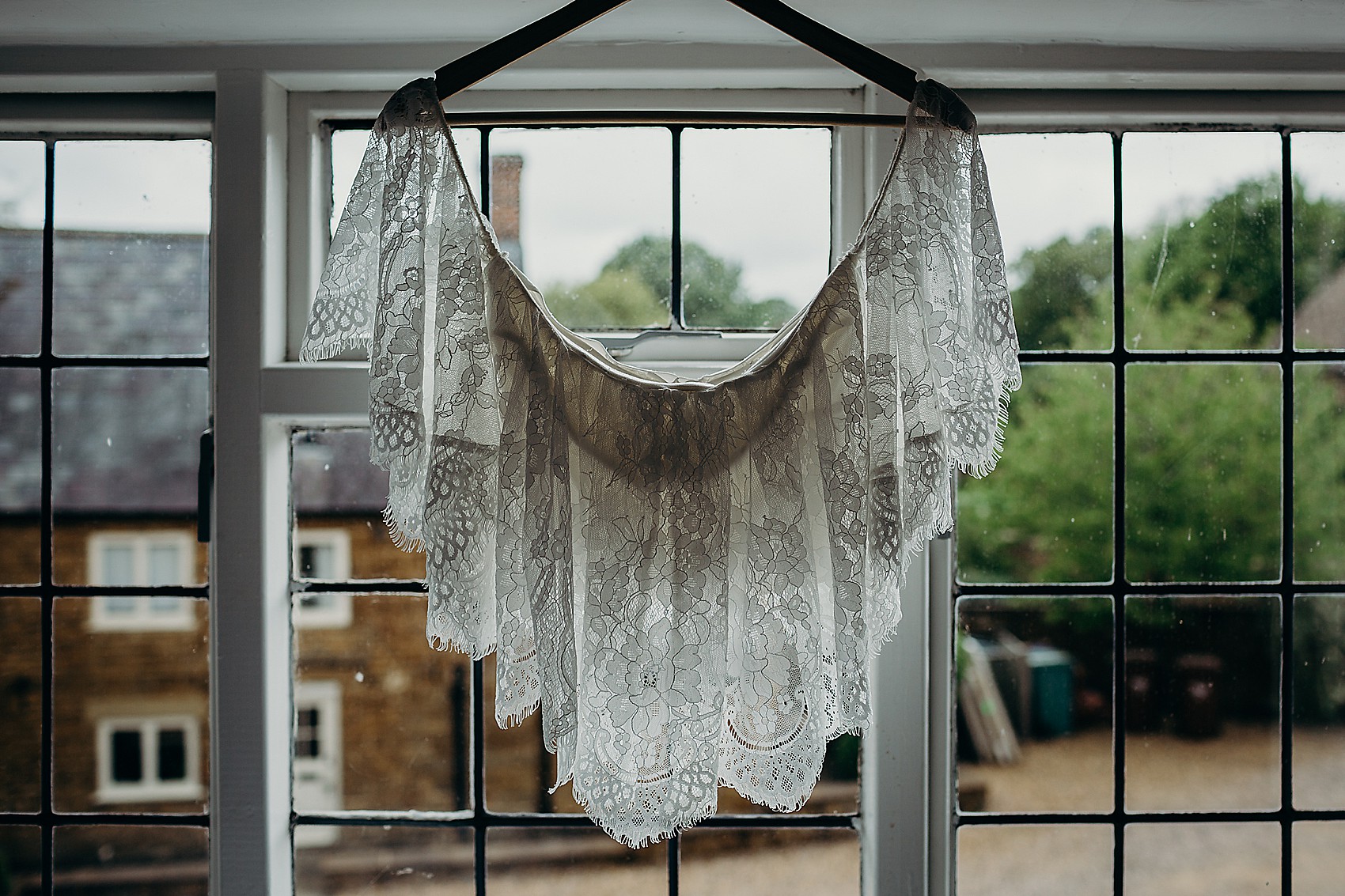 "However, when I got there, the one that I thought I'd love just wasn't 'The One', and I'm so glad that I followed my gut instinct and went with the one that I felt best in. It ended up actually being a skirt and top, but thanks to the lace layer, you couldn't tell!"
"I loved its bohemian vibe (a key part of my initial wedding dress brief!) and the intricate detailing on the lace. I really love the off-the-shoulder style as it felt really laid back, but the fact that the skirt also had a train made it still feel really bridal."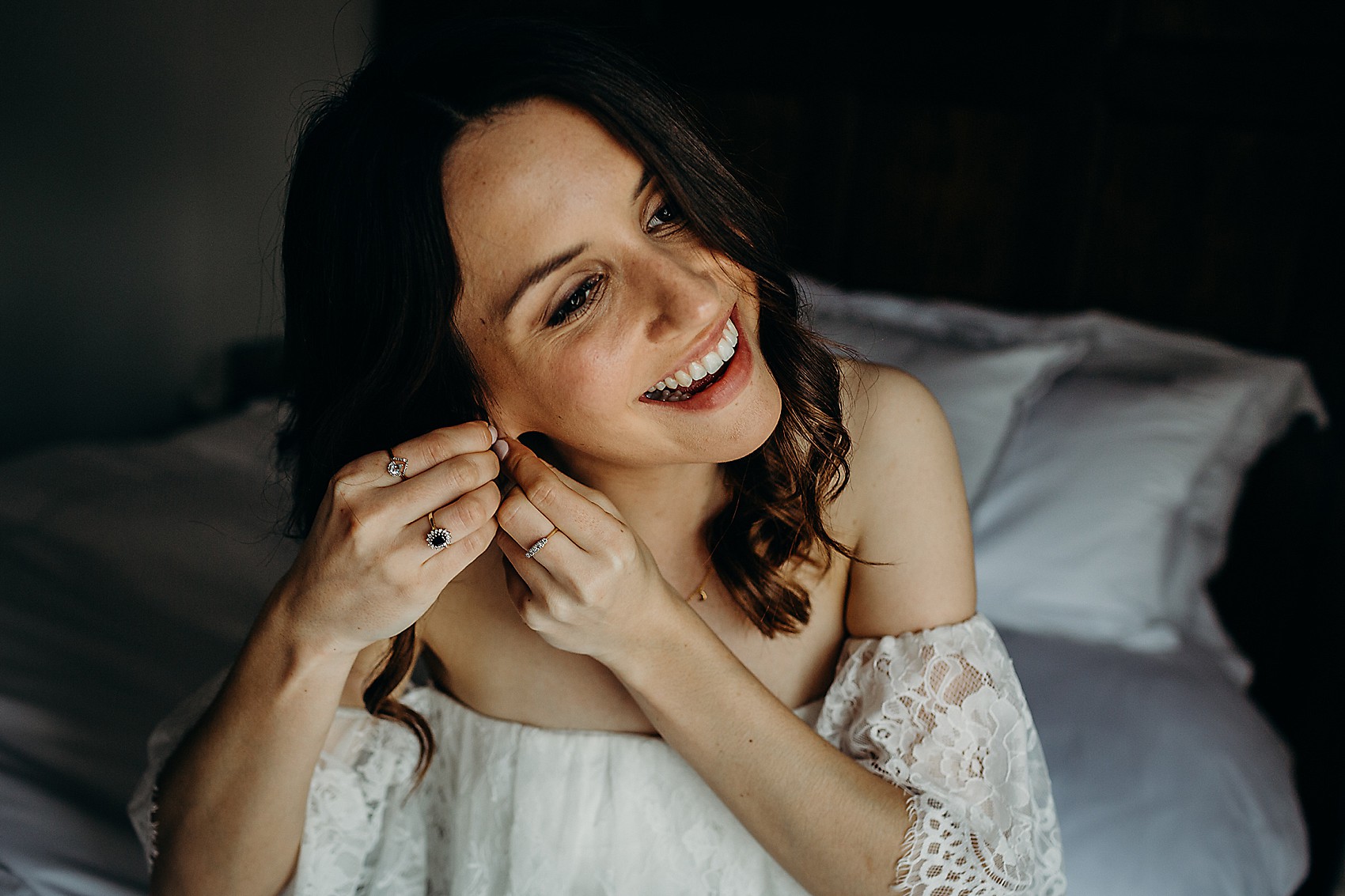 Katie styled her look with red block heels (complete with tassels) by Sezane, along with her engagement rings (her initial placeholder ring, as well as her permanent ring), her grandmother's engagement ring, and some very special new jewellery from Christian, made by Carrie Elizabeth.
"Carrie Elizabeth is the designer who made my first engagement ring (we later chose my permanent one together). The necklace is a beautiful gold chain with moons and stars on it, and the earrings matched. They fit perfectly with the boho theme of my dress."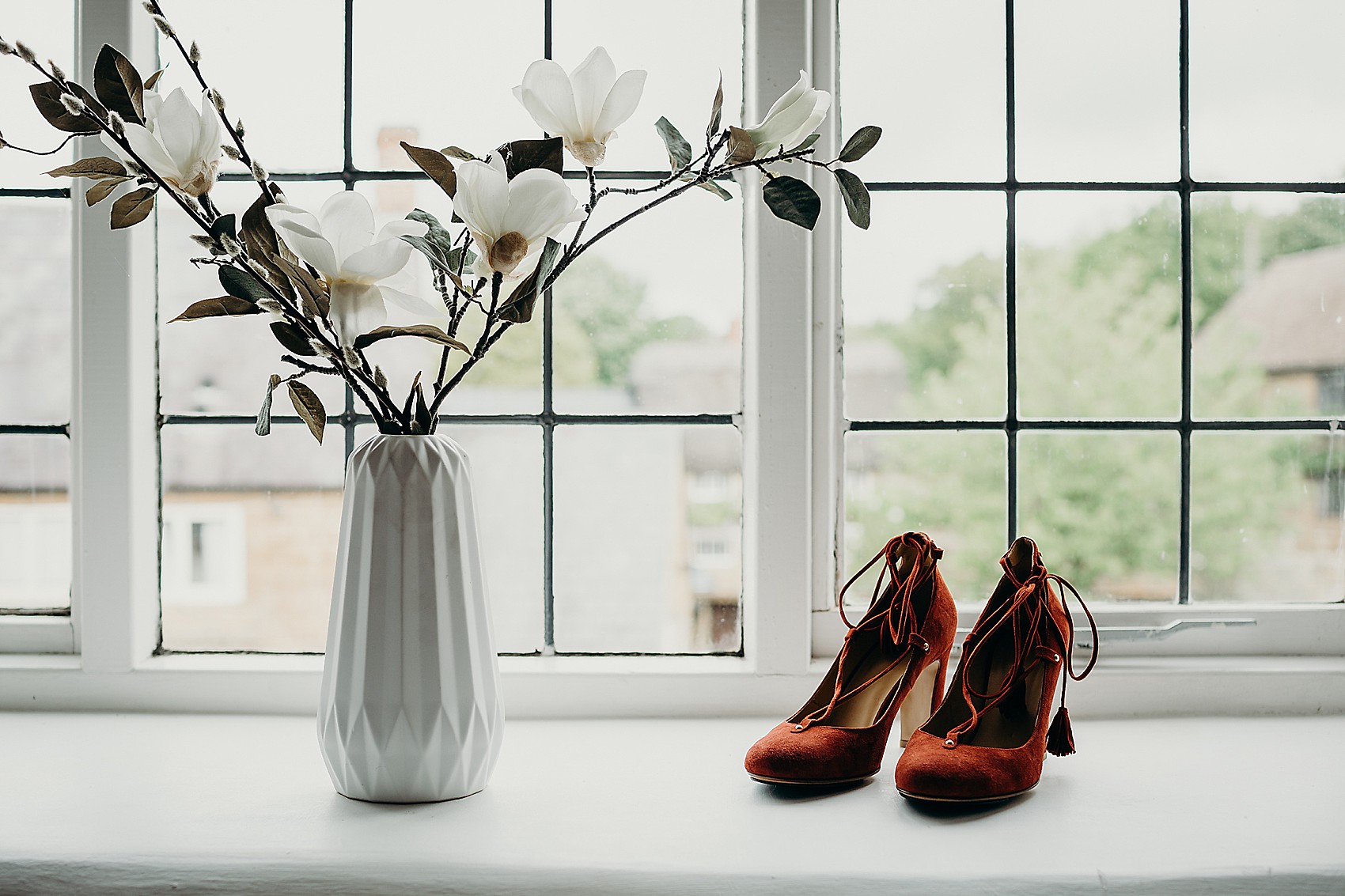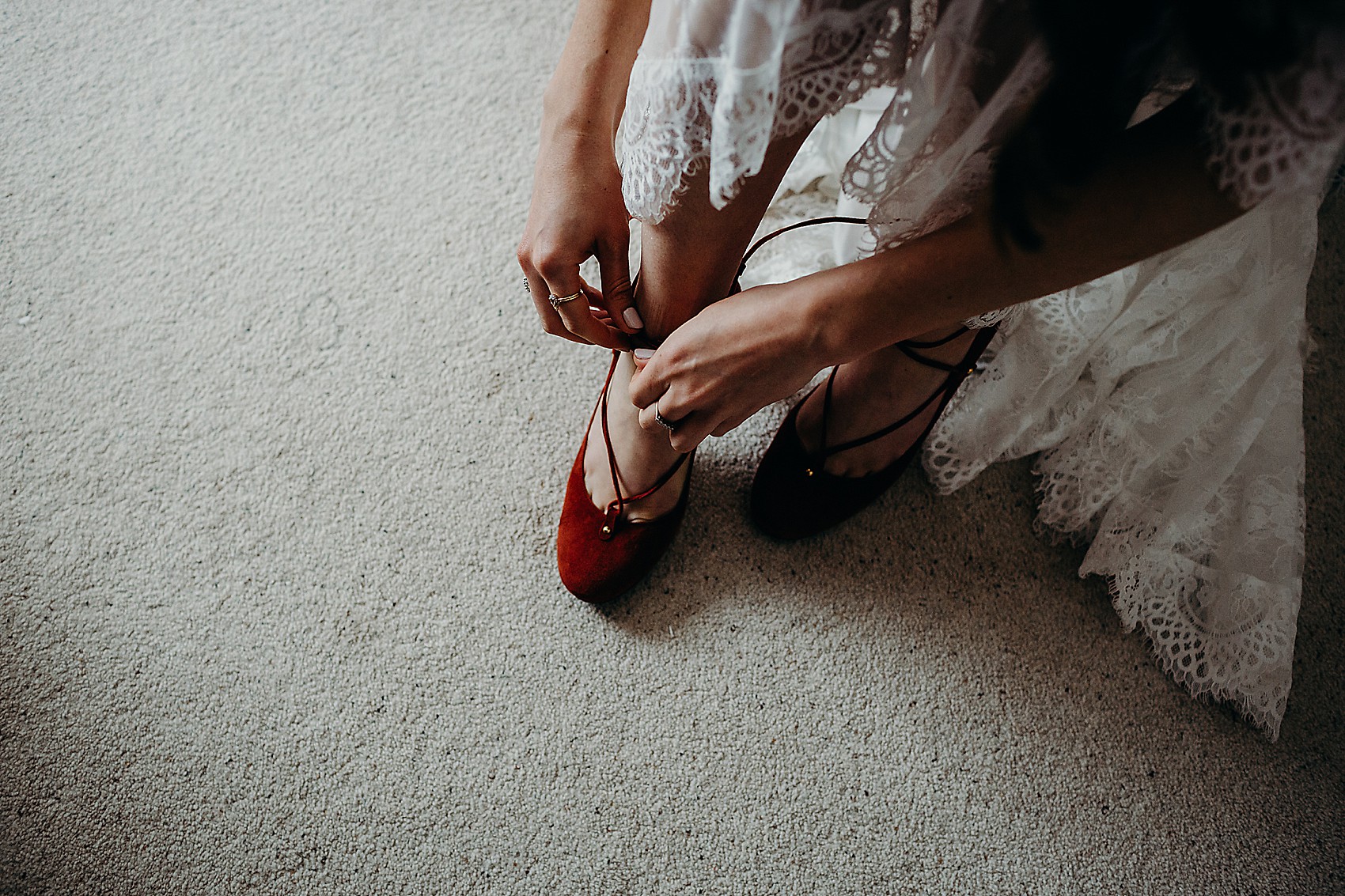 On hand to beautifully groom Katie was make-up artist Leanne O'Neill, and hair stylist Alice Derbyshire, and her finishing touch was a very special veil by Grace Loves Lace.
"These two girls were saviours on the morning of the wedding. I was so nervous and had barely slept, and yet they managed to make me look wedding ready."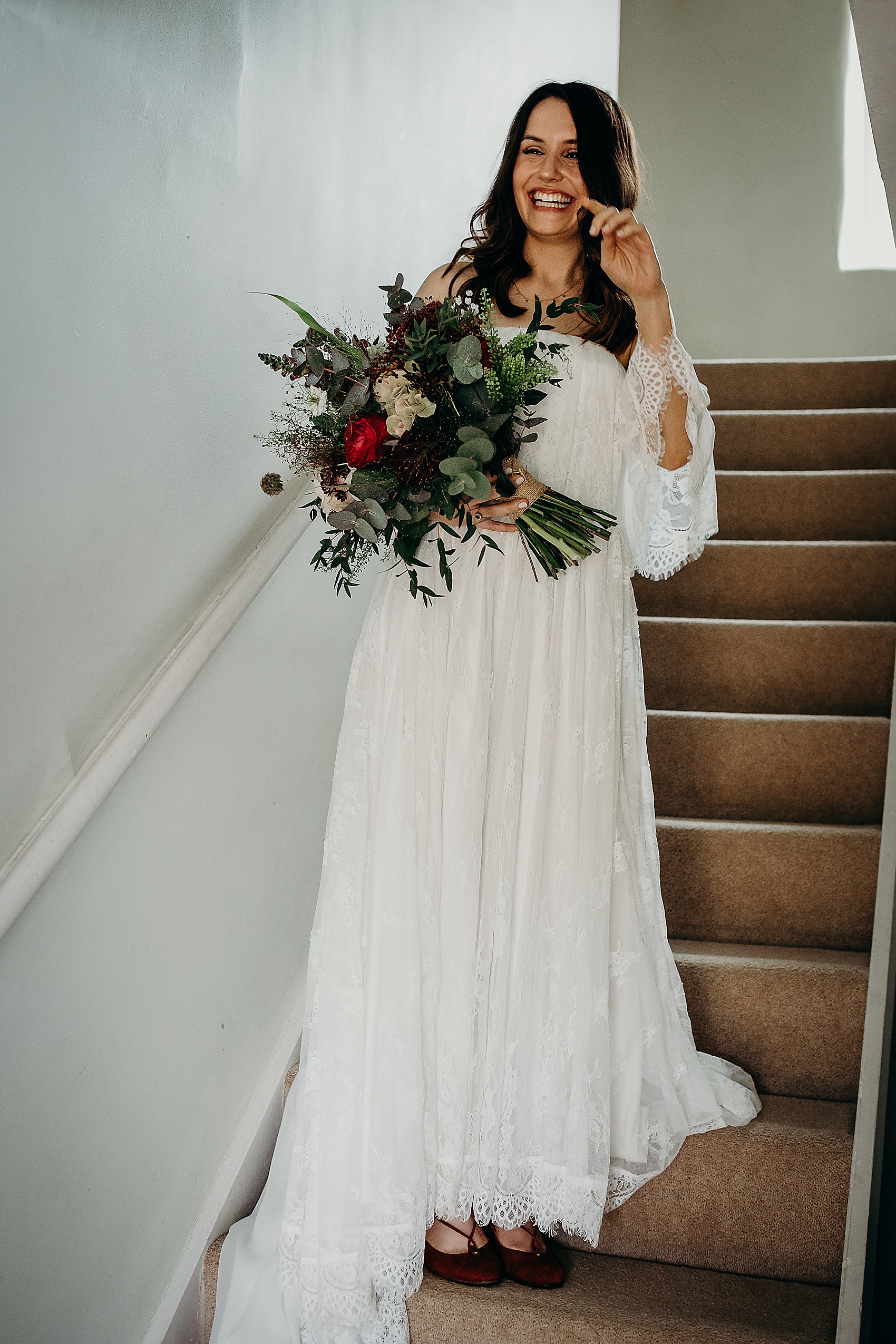 "My veil was actually my favourite part of my wedding day look. Since none of my grandparents are with us, I wanted to ensure that I had something on my wedding day which acknowledged them."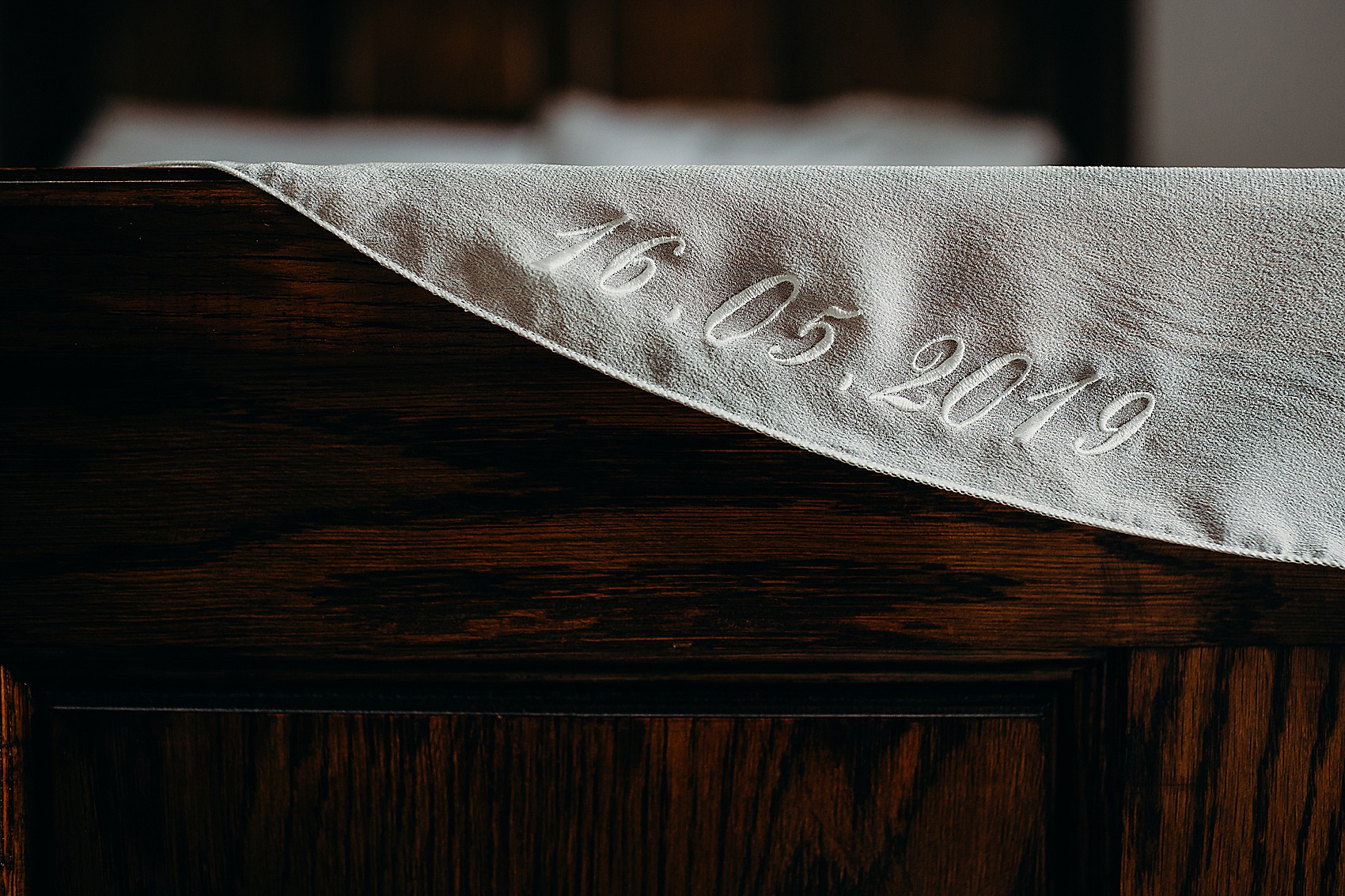 "I asked an embroiderer in London to stitch in both set of grandparents' wedding dates, my parents and then mine and Christian's wedding dates onto the side of the veil. The aim is that this will become an heirloom for future generations."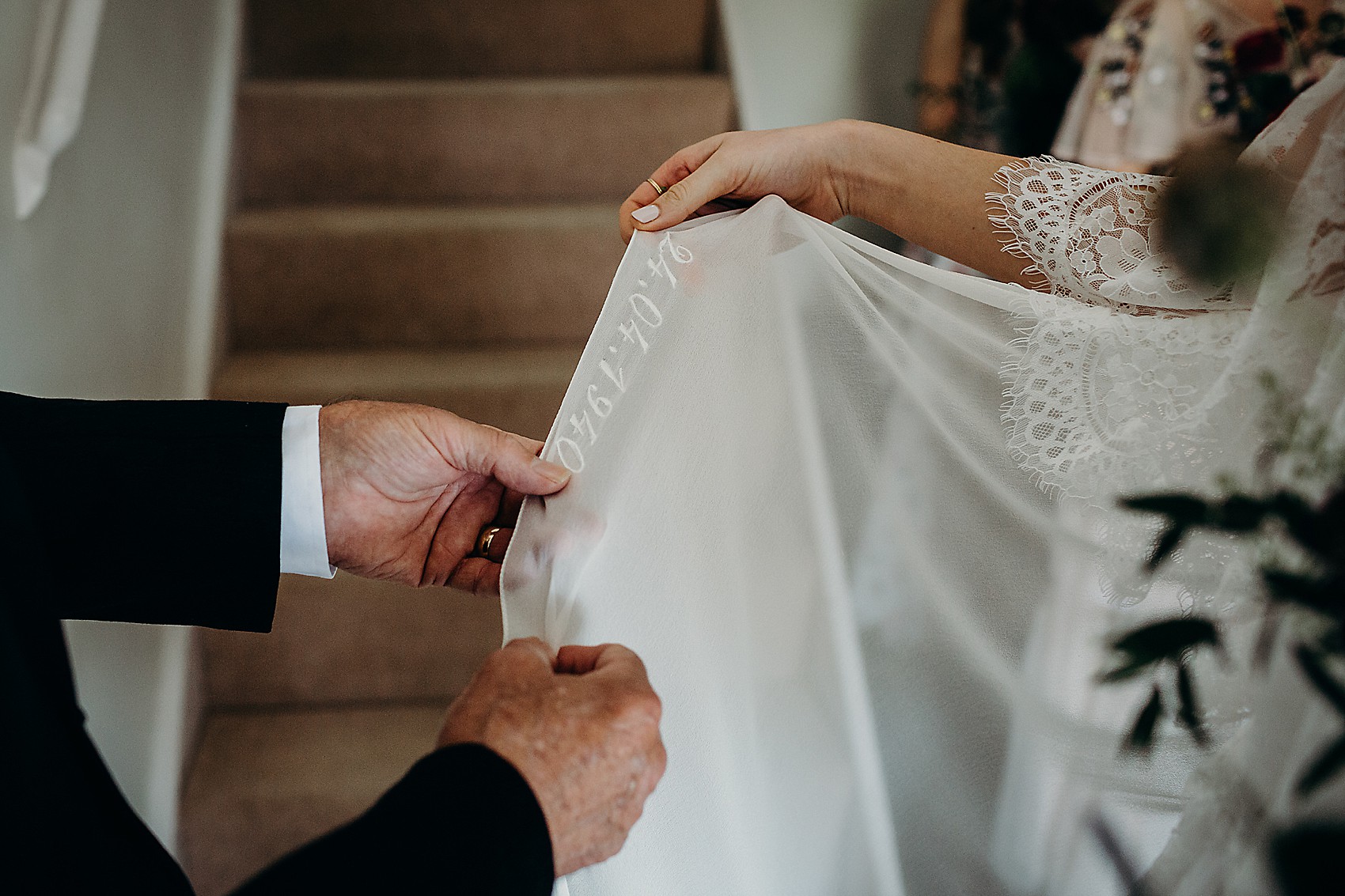 Katie and Christian first met when they worked at the same radio station, although had to keep their relationship discreet. Work friends and colleagues found out though, when Katie and Christian went on their first holiday together to Devon!
"Devon played a key role in how we got engaged. Whilst there, we went on a walk following a cliff path, and ended up on a beautiful spot overlooking the sea. It was here that we had our first photo as a couple, and it was here that Christian would propose two years later."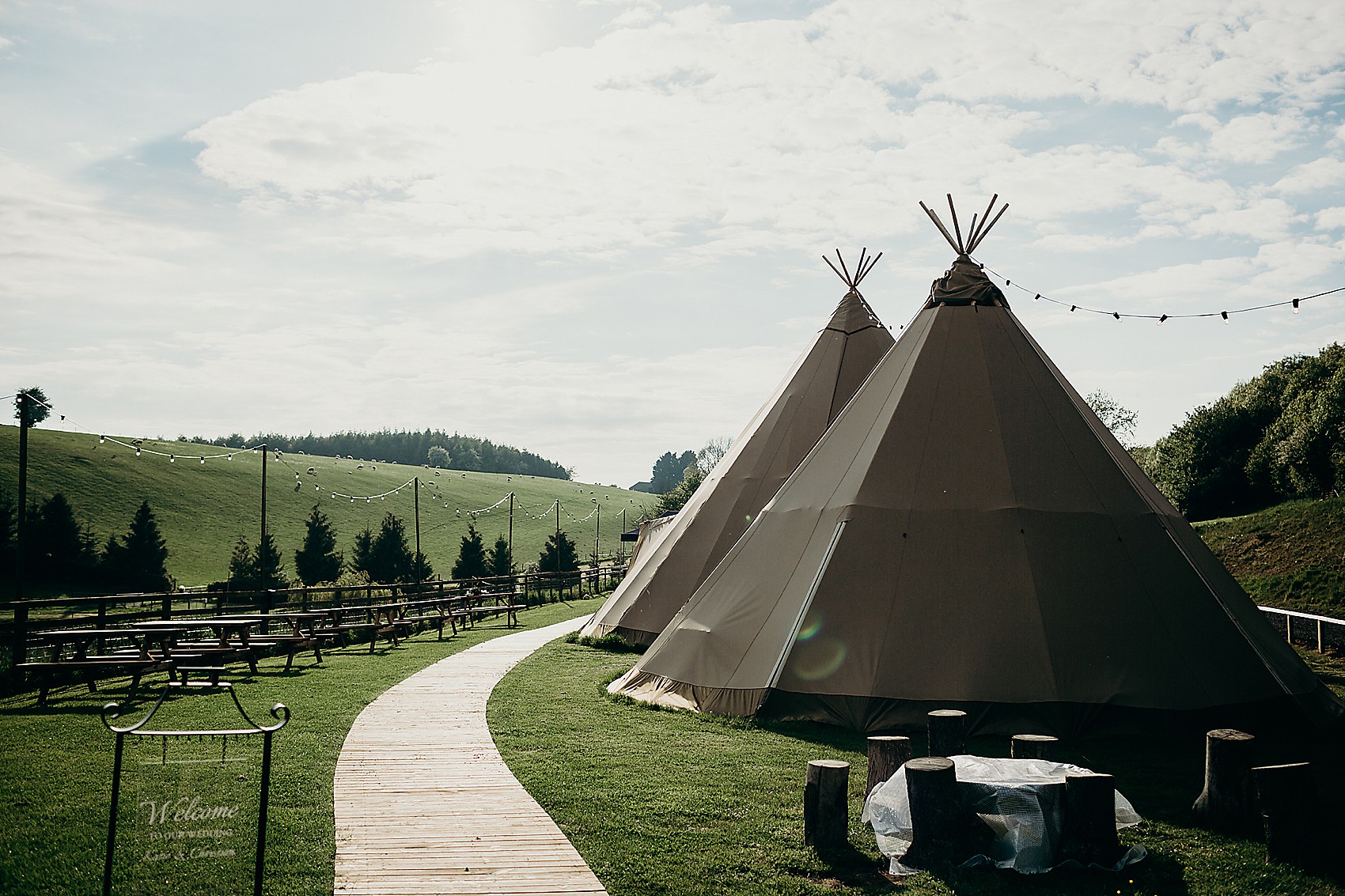 "When we first met, we quickly bonded over our mutual love of music. Christian has always worked in the music industry, and so we knew fairly early on that this would play a big role in our day."
"When we fell in love with the Hadsham Farm venue, we decided that it was the perfect place to throw a festival, which was later aptly named Nashtonbury!"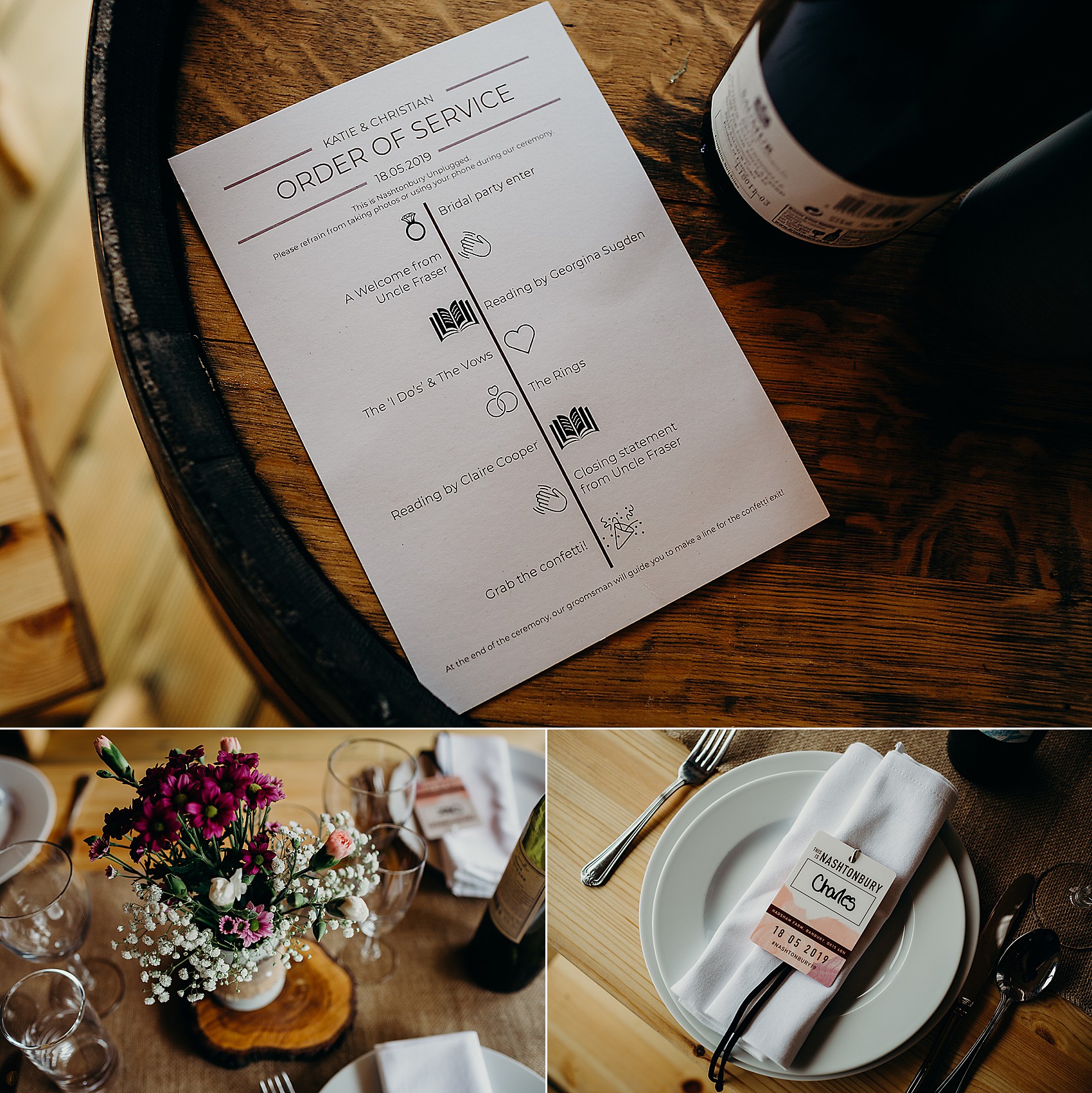 Katie fulfilled her dad's dream of a ride in a VW Campervan, which they hired for the day as their transport (sadly, no further details supplied about this). He proudly accompanied his daughter down the aisle to Due Tramonti, by Ludovico Einaudi.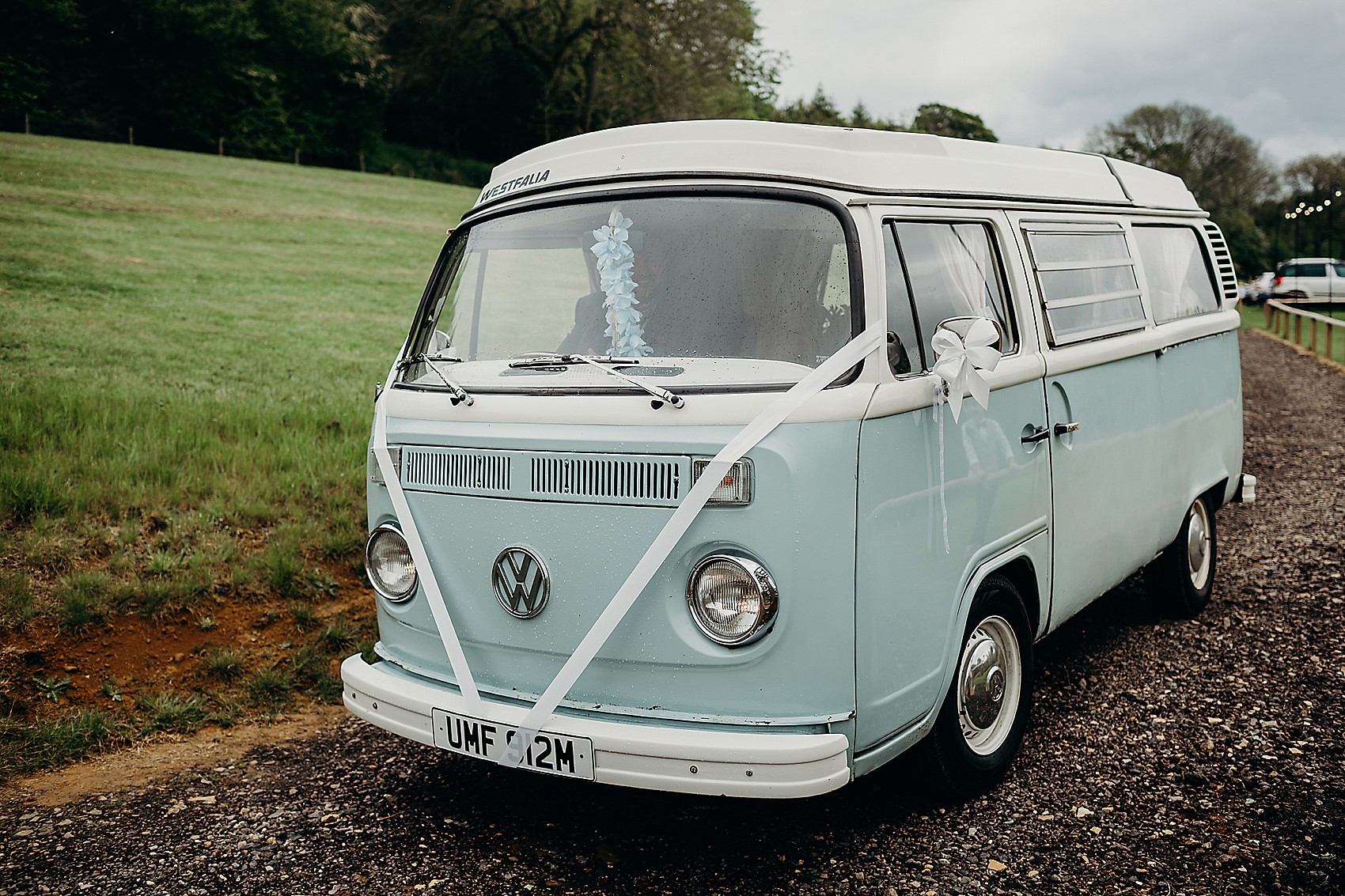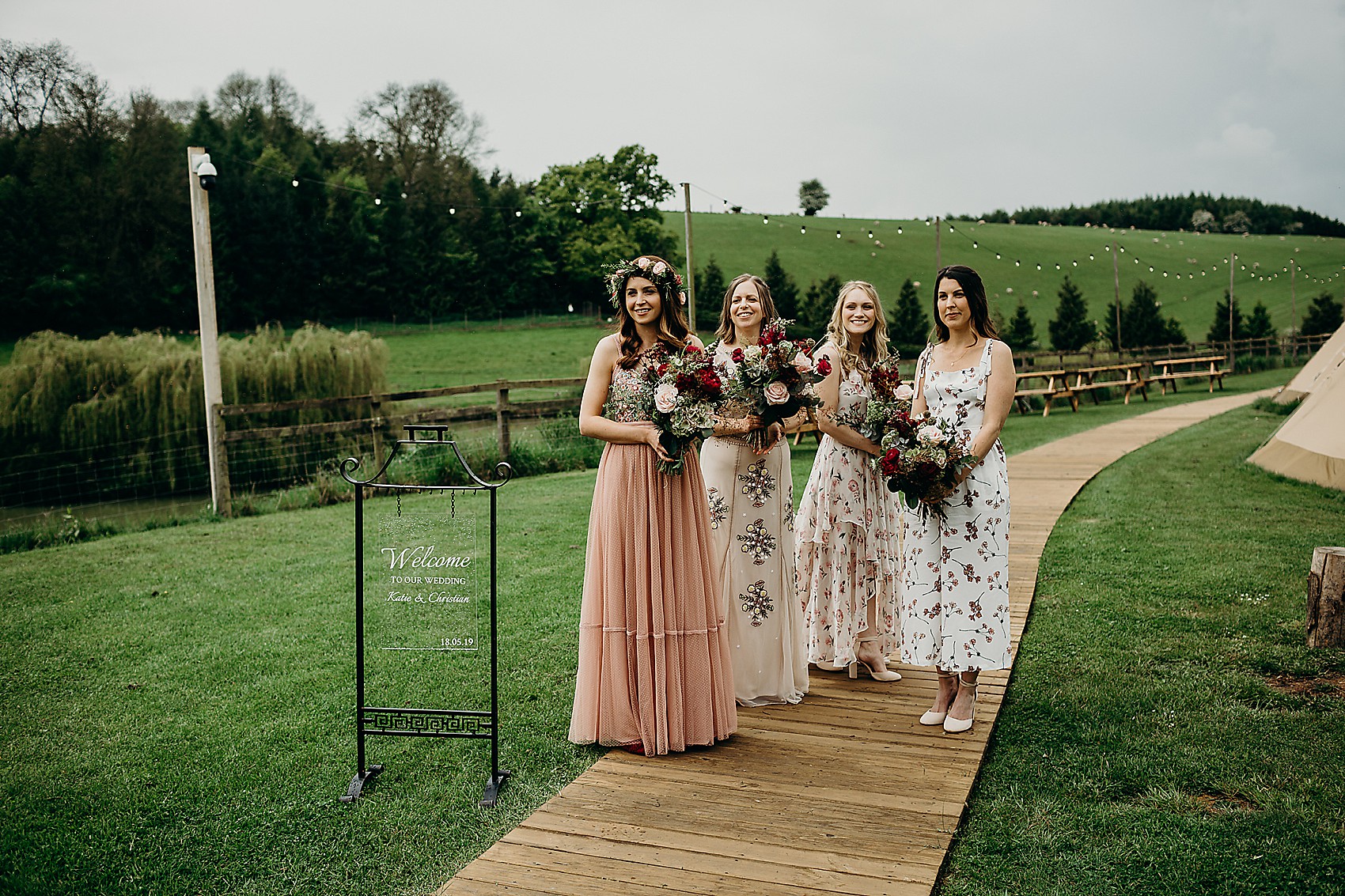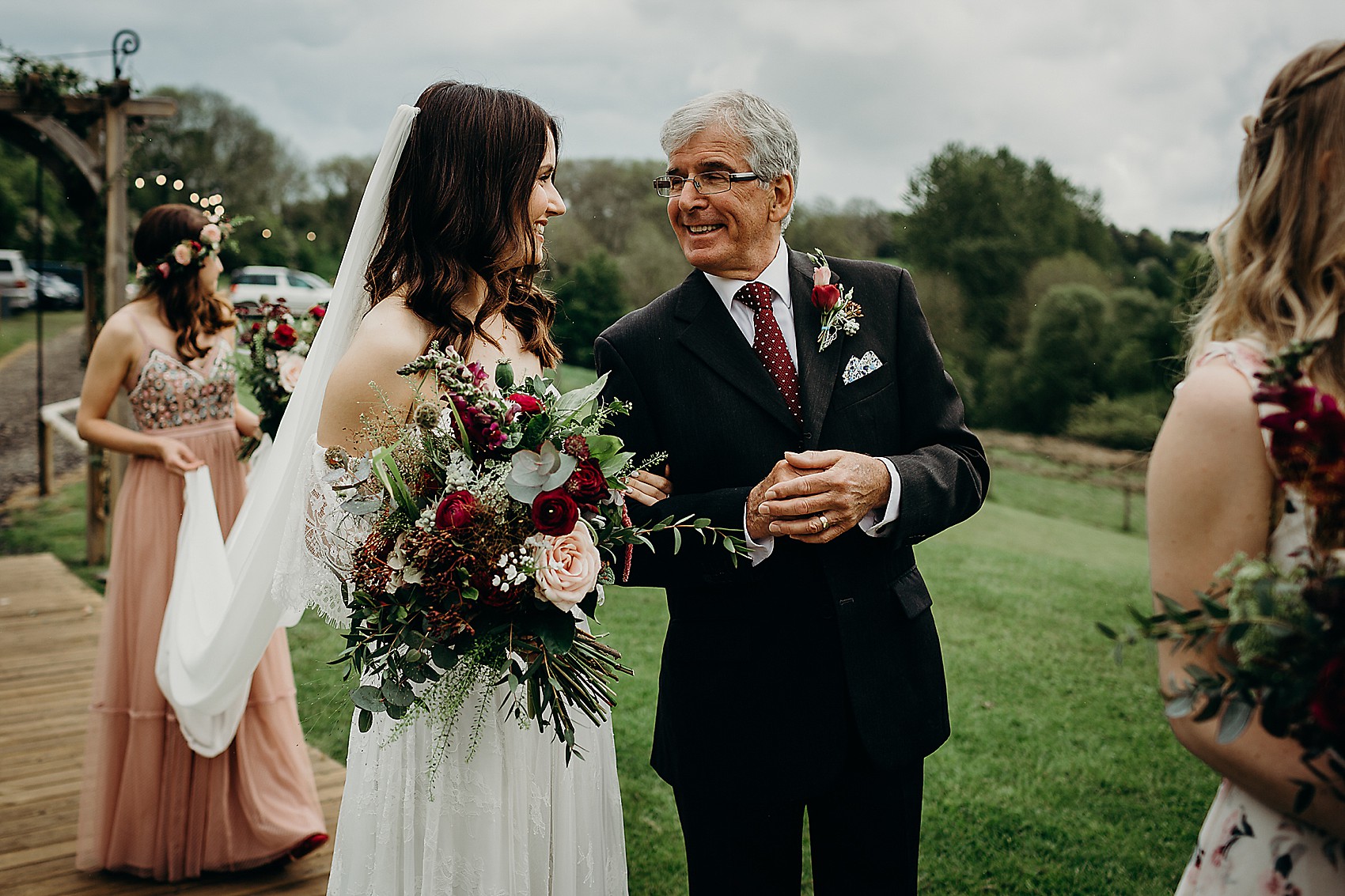 There was also a magnificent, circular arch adorned with more blooms, placed inside the tipi where Katie and Christian held their ceremony.
"I've always been obsessed with flower arches and this was a must! When we initially planned to have the wedding ceremony outside by the lake, we wanted something that felt momentous to get married in front of."
"However, moving the ceremony inside due to the weather worked out for the best as the flower arch stayed on the dancefloor the whole night and many of our guests ending up snapping photos in front of it, which we love."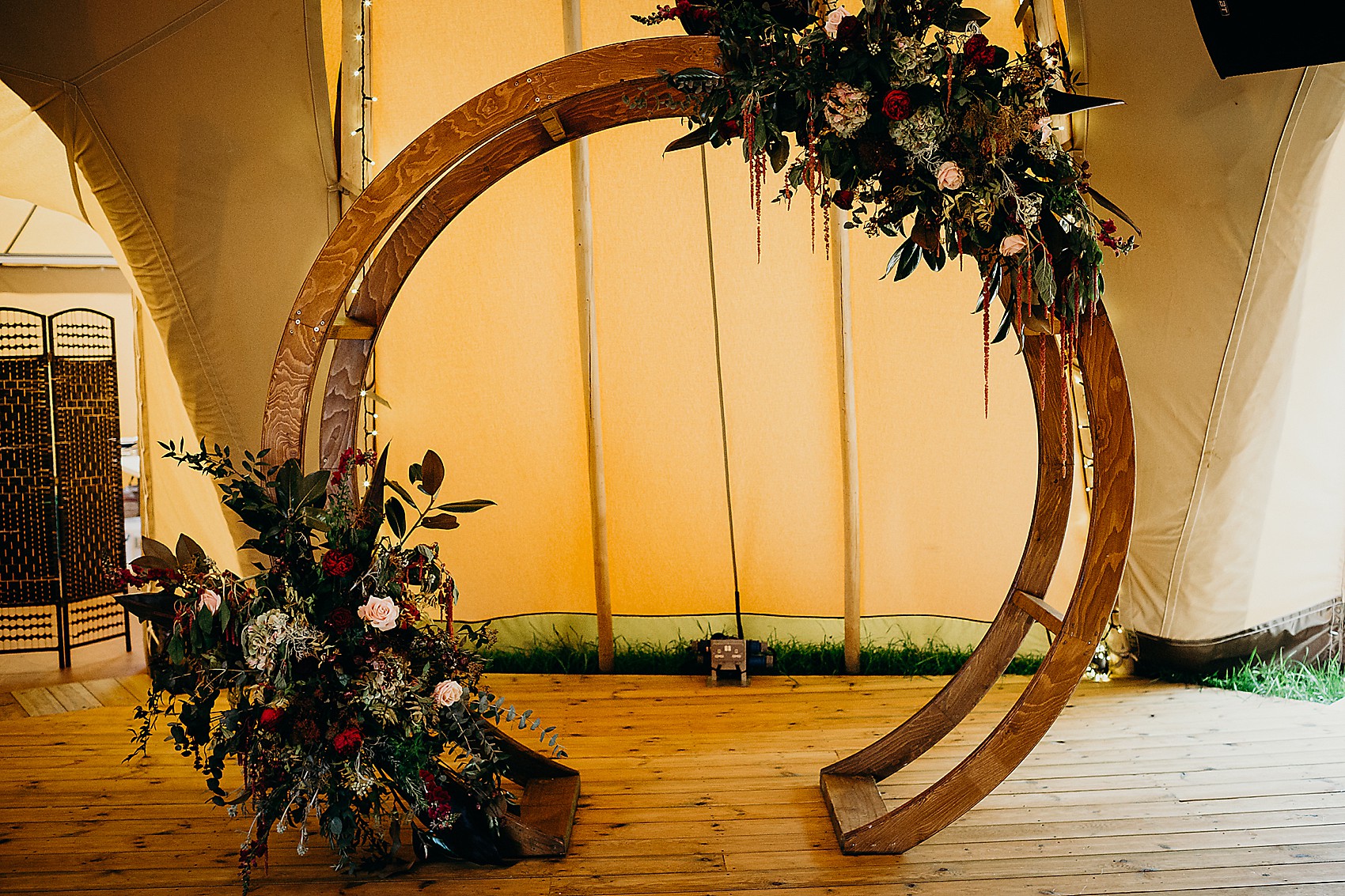 Christian awaited his bride, wearing a tailored suit from Kin at John Lewis, along with a grey waistcoat from David Gandy's Savile Row collection at Marks & Spencer, a white, custom-made shirt from Tailor Store, and Ted Baker shoes.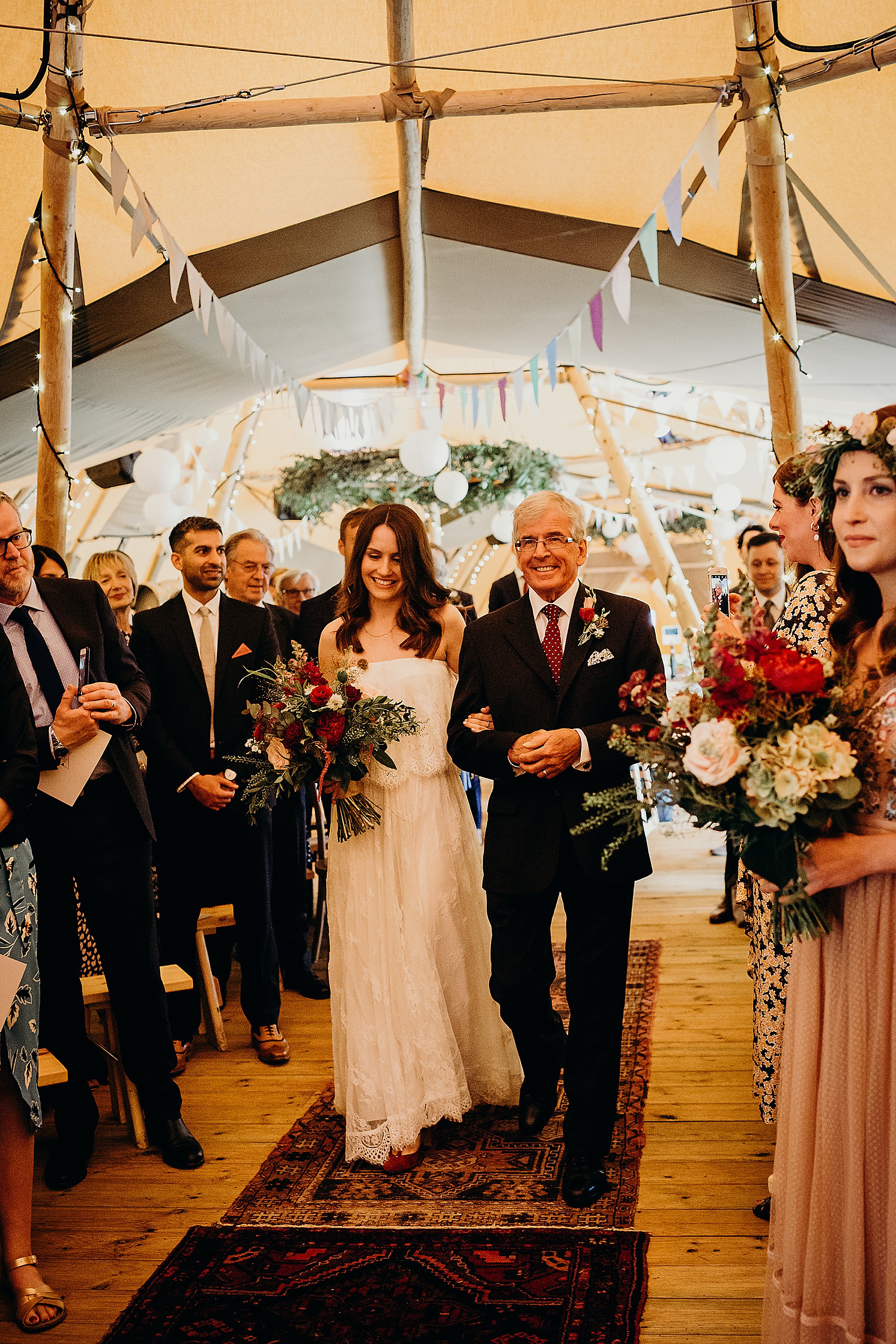 "Christian wore his grandfather's gold pocket watch, a Triwa 'Humanium' wristwatch, which was a wedding present from myself, and a pocket handkerchief hand stitched by me, with fabric bought in Brighton."
"My uncle officiated our ceremony, and it was one of our favourite parts of the day. I instantly felt at ease when I was coming down the aisle and saw a familiar face, and he was making jokes and light-hearted comments the whole way through. Our guests loved it, and it was the perfect length. We did the legal ceremony 2 days before at the registry office near to where I grew up in Surrey."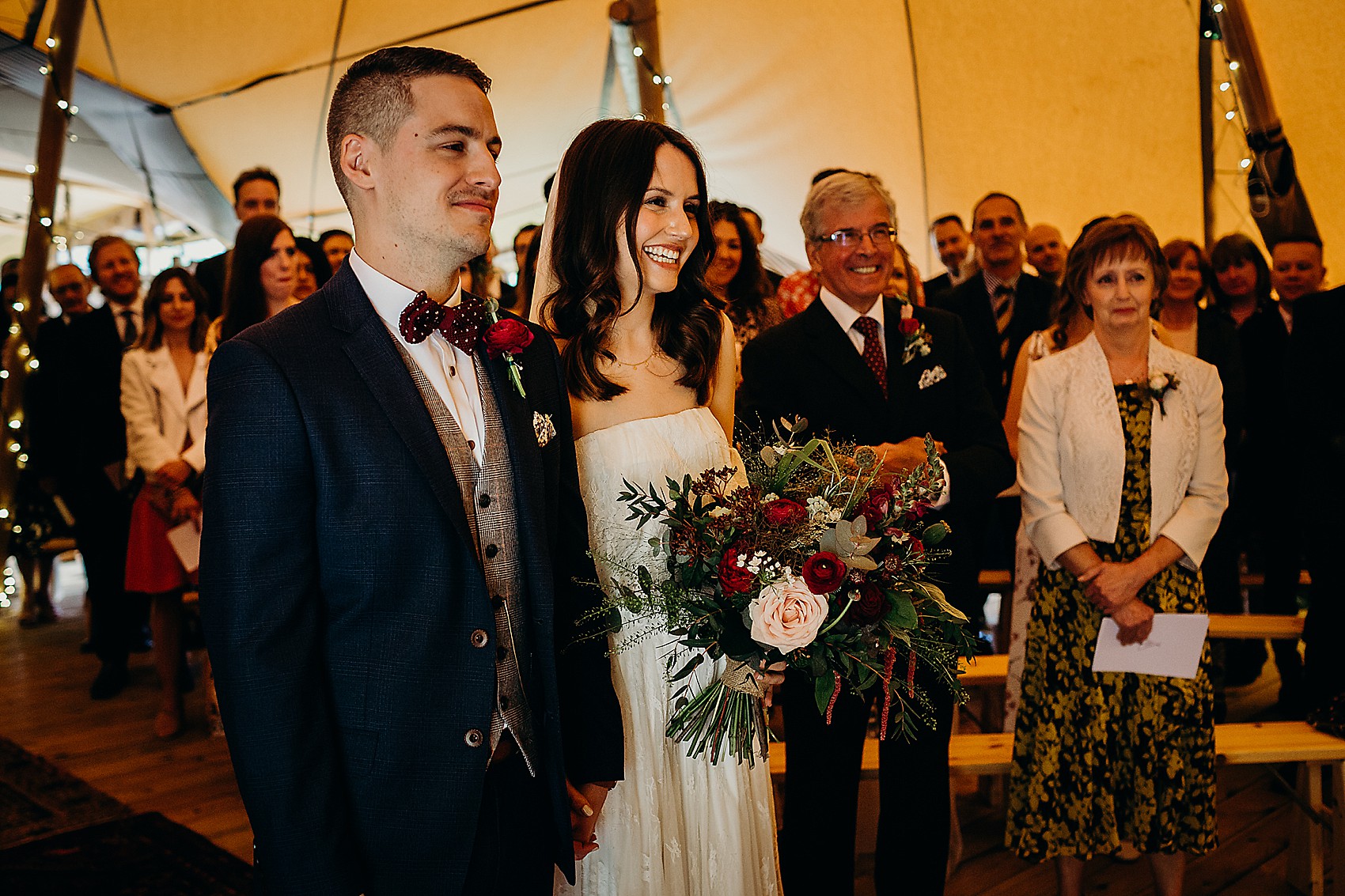 Katie and Christian each wrote their own vows to say to one another, and kept them a surprise until the wedding day.
"We felt it was important to write our own vows, as we wanted something that reflected our relationship and felt more personal. We had a couple of light-hearted jokes in there too, and it all felt very 'us'."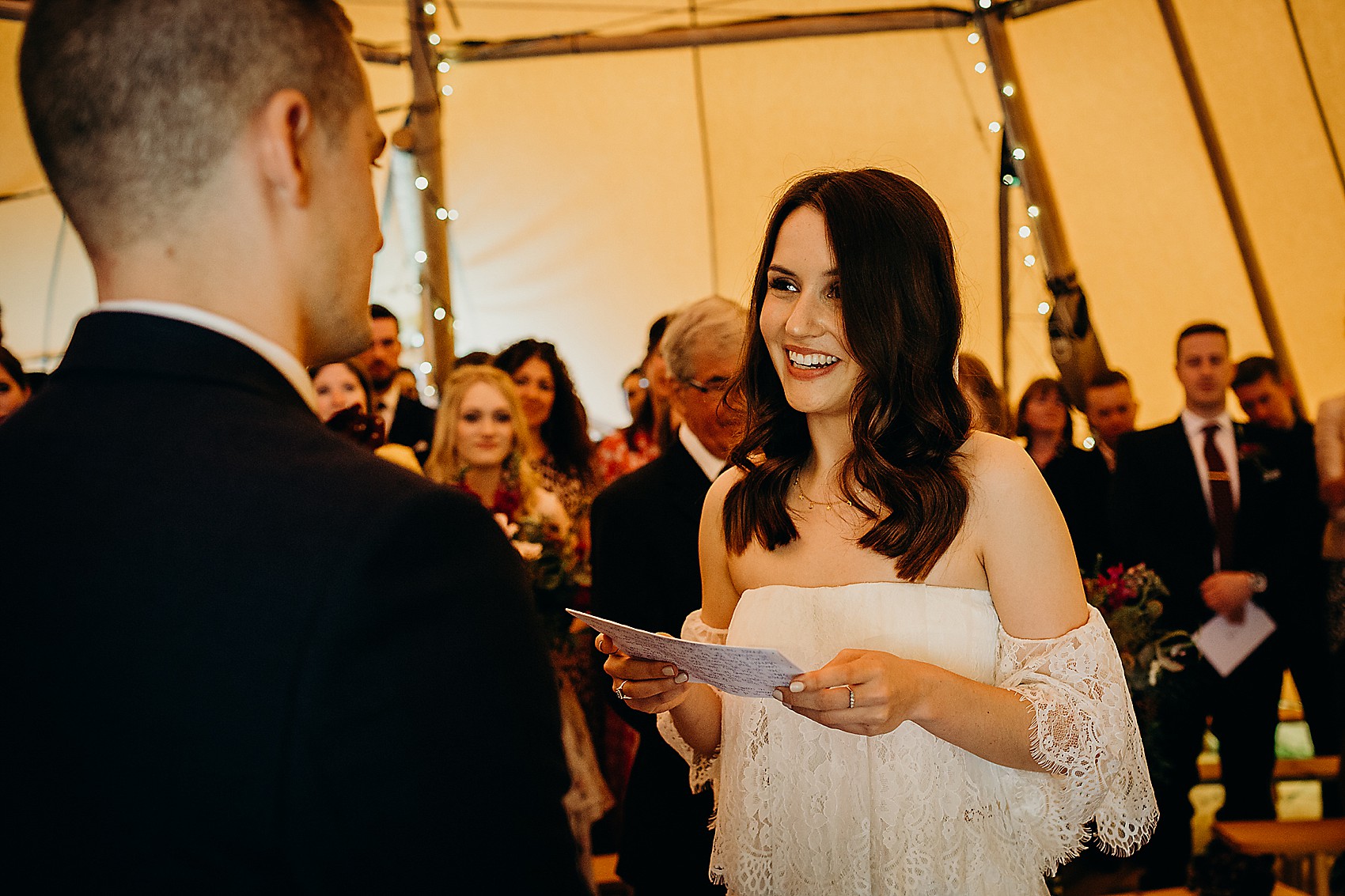 On a trip to Brighton, the couple visited The Lanes and chose their wedding rings from a little antique shop there (sadly no further details provided), with Christian choosing a simple, gold band.
"Because of the setting on Katie's engagement ring, finding a wedding ring to fit around it was slightly more difficult. However, in a serendipitous moment, we walked into one antique shop and sat there in the window was a ring which fit perfectly around the engagement ring. It was a real meant to be moment."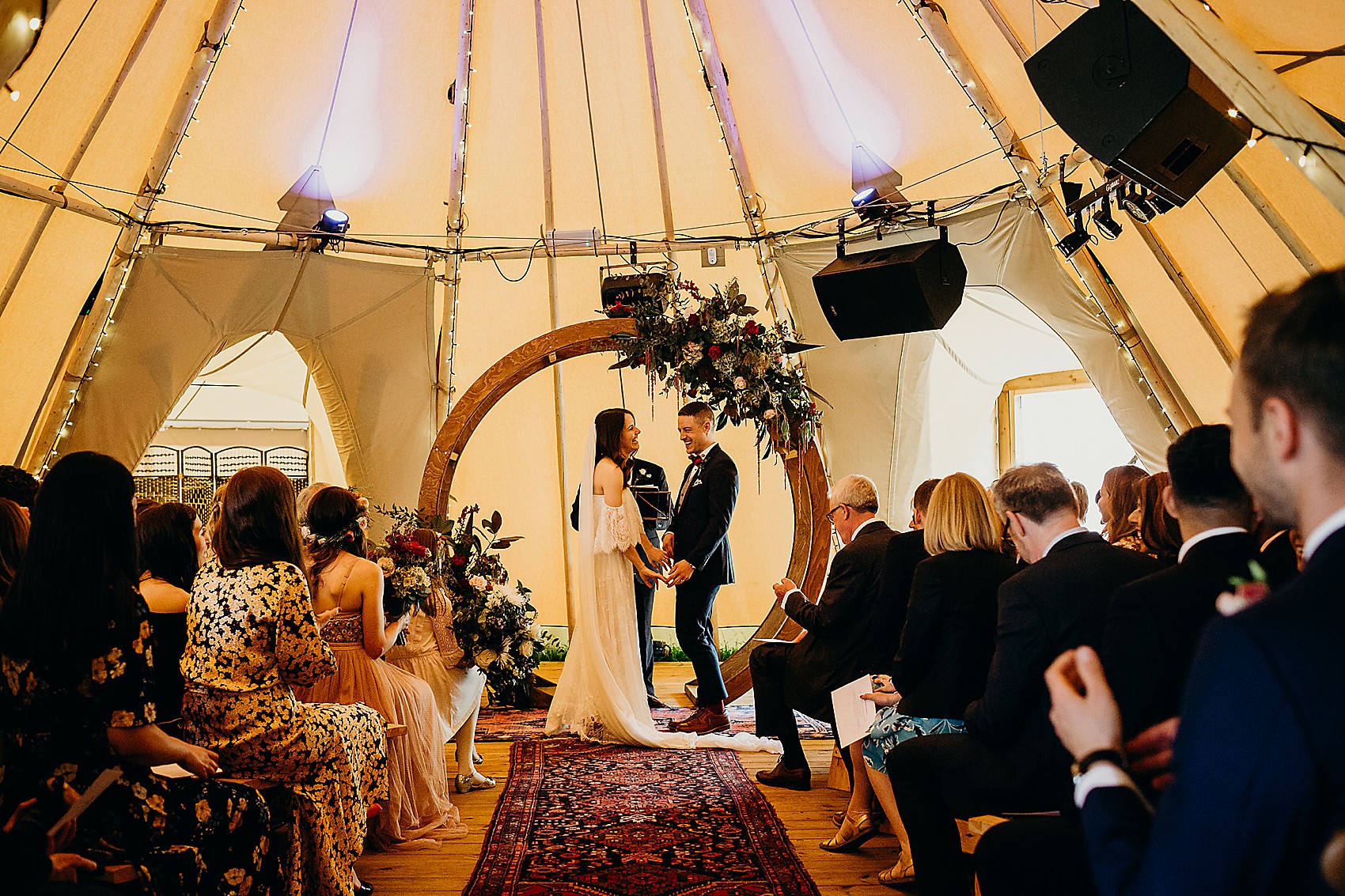 One of the couple's best friends, Claire, read the lyrics to the song Me & You, by HONNE, which was filled with special significance, and the second reading was an extract from Winnie the Pooh, by A.A. Milne.
"This was my favourite book growing up, and a nickname that Christian adopted when he was very tiny. Christian's cousin Georgina read this, and it felt perfect knowing that she and Christian have always been so close."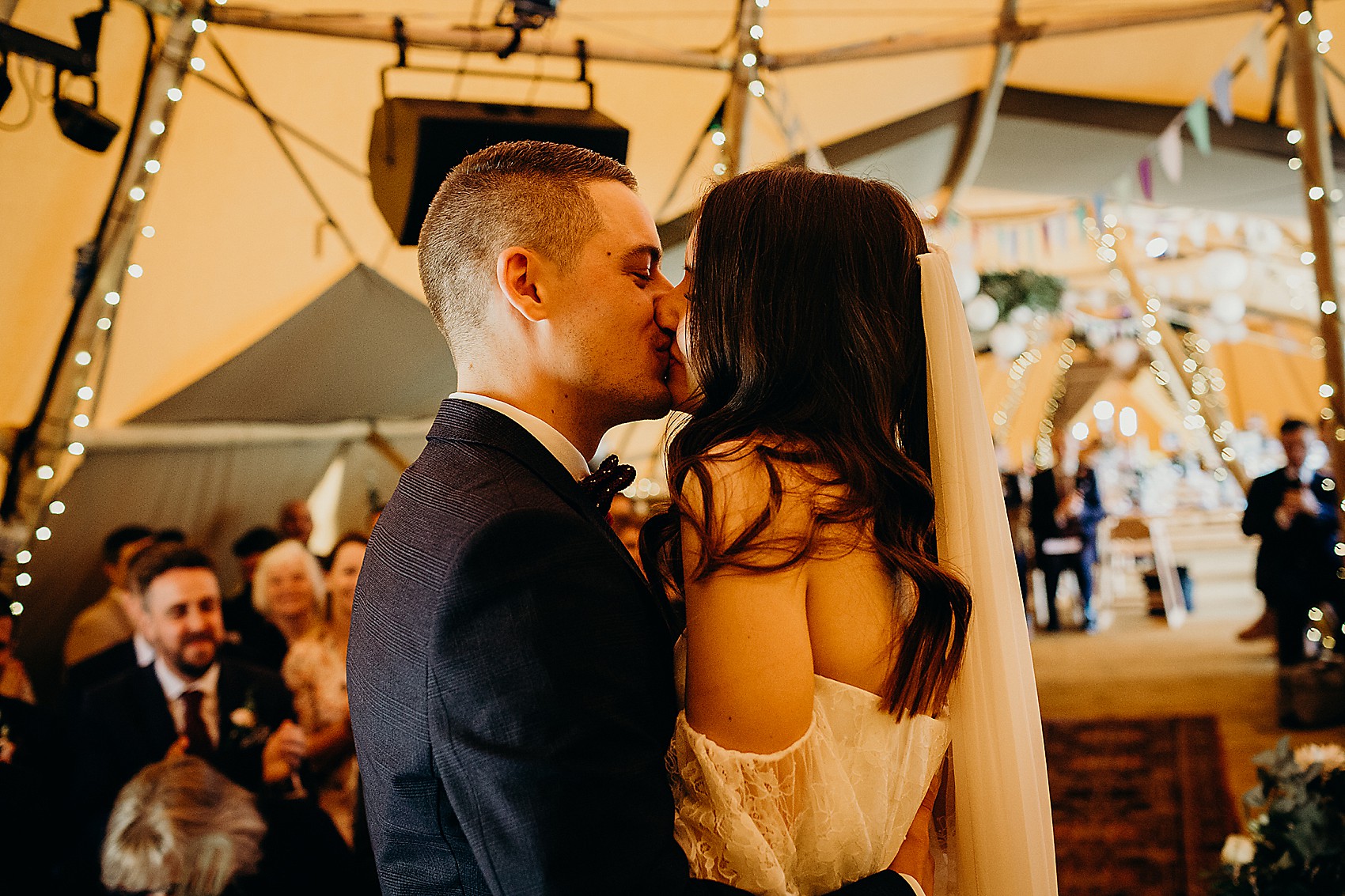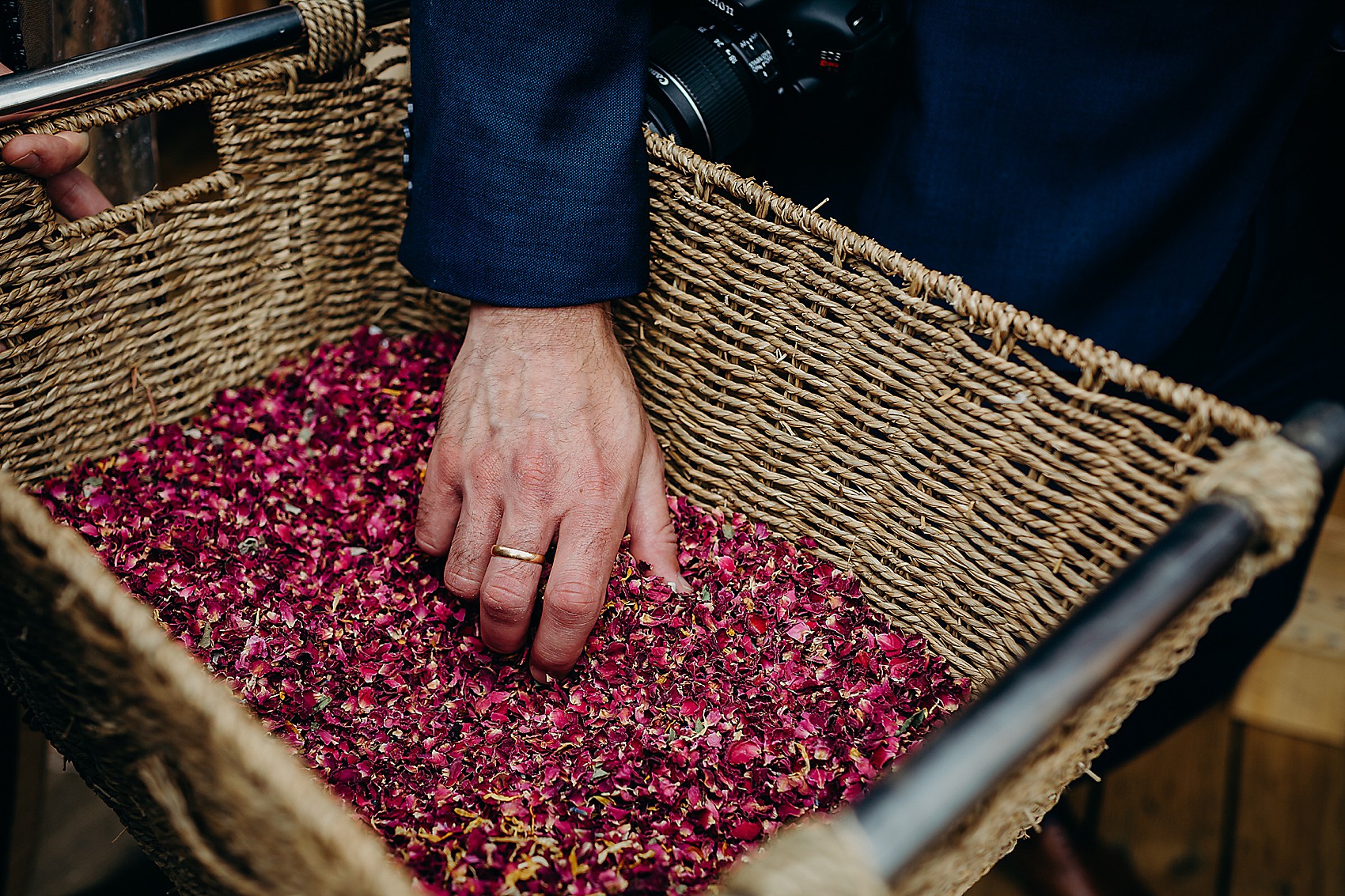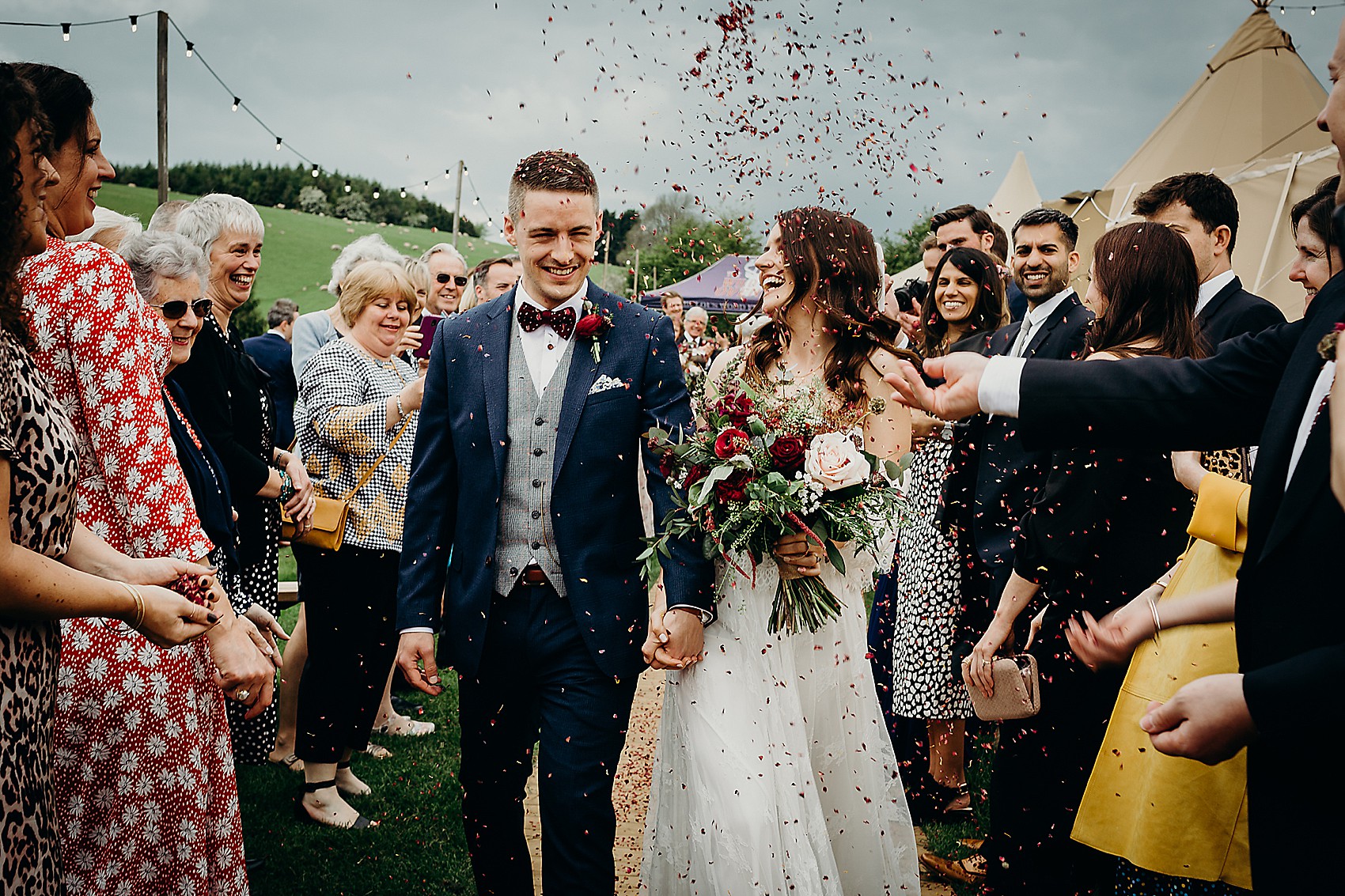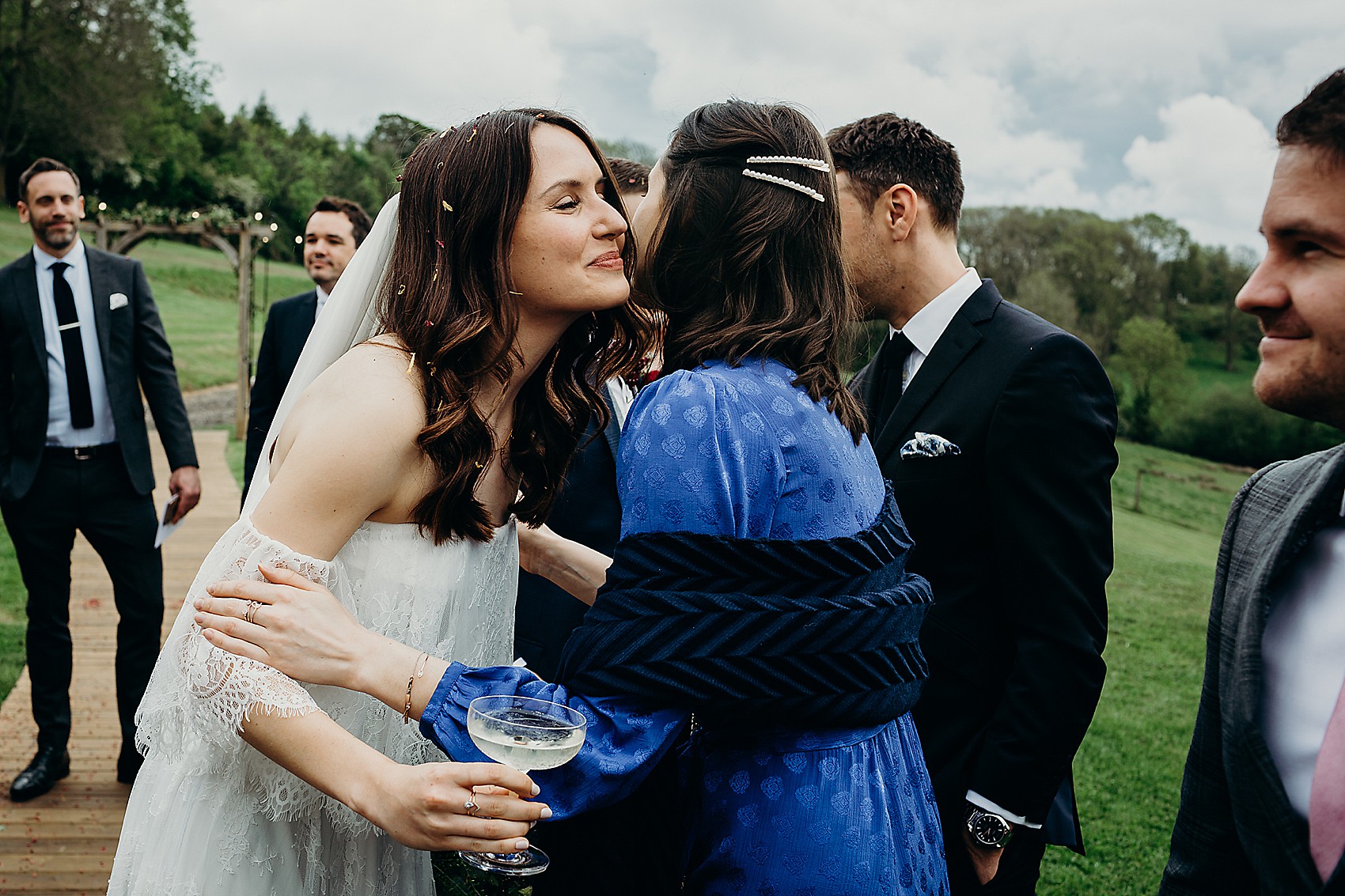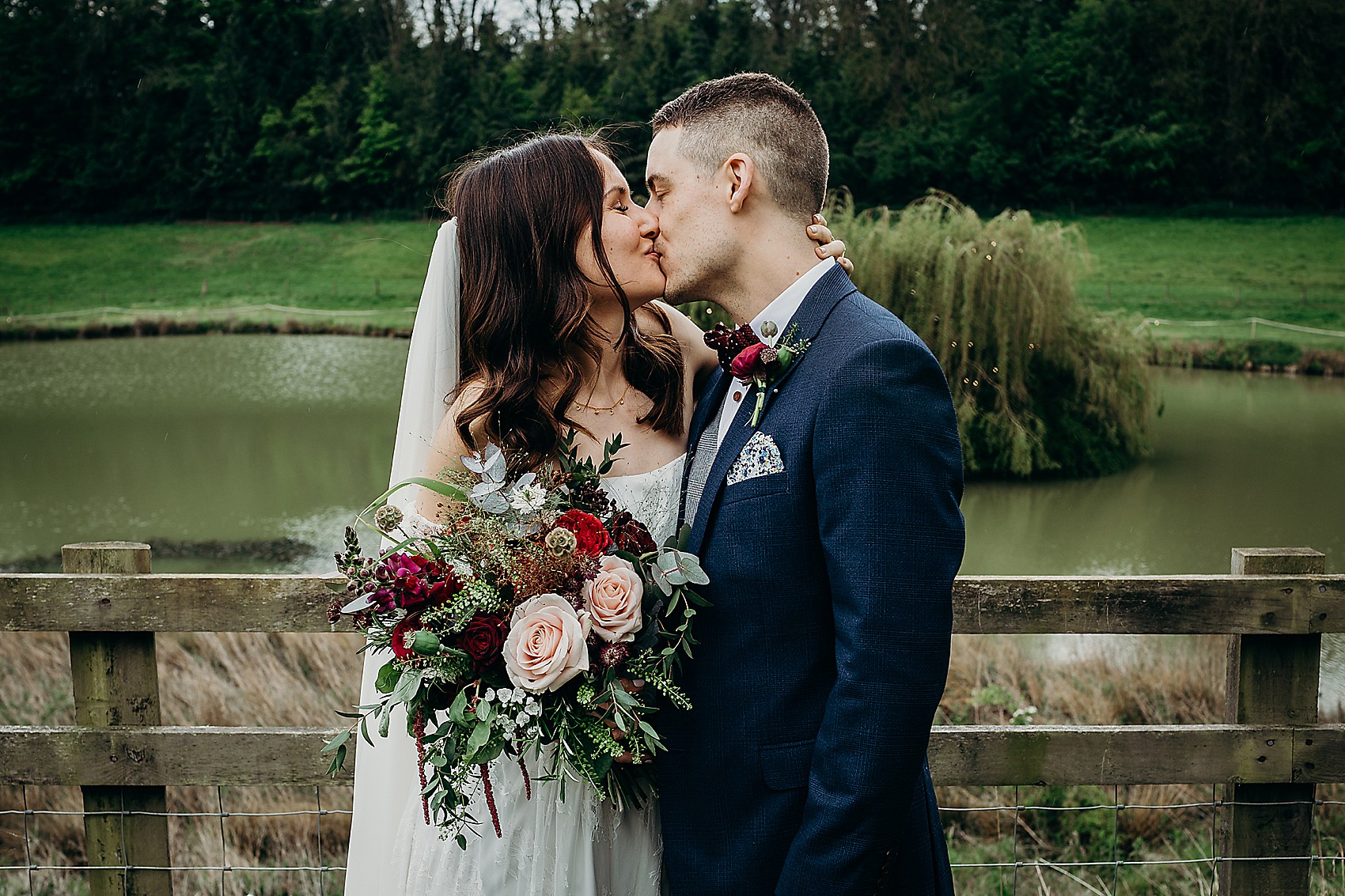 I love all of the different, floral embroidered and print dresses worn by the bridesmaids – a pink dress by Needle & Thread, a jumpsuit from Flynn Skye, an embroidered dress by Frock & Frill, and a printed high-low hem dress from Y.A.S at ASOS. On their feet, they wore shoes from ASOS and Aquazzura, and vintage hair accessories and fresh flowers.
"We just had one flowergirl, and her pink dress was actually from Gap. We had an honorary Best Man who was our 6 year old nephew, Thomas. His outfit was from Marks & Spencer, which was paired with a pair of red Vans."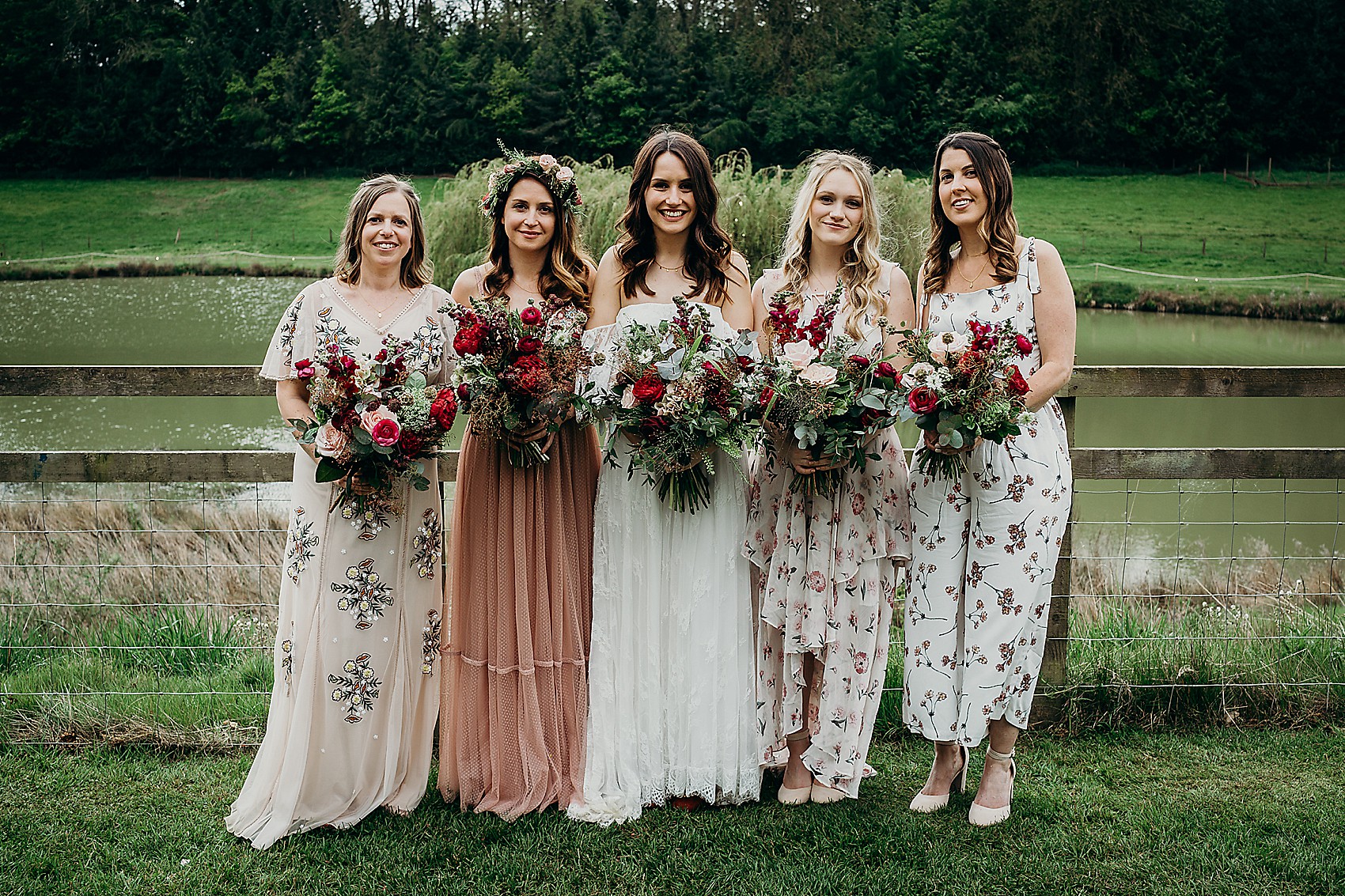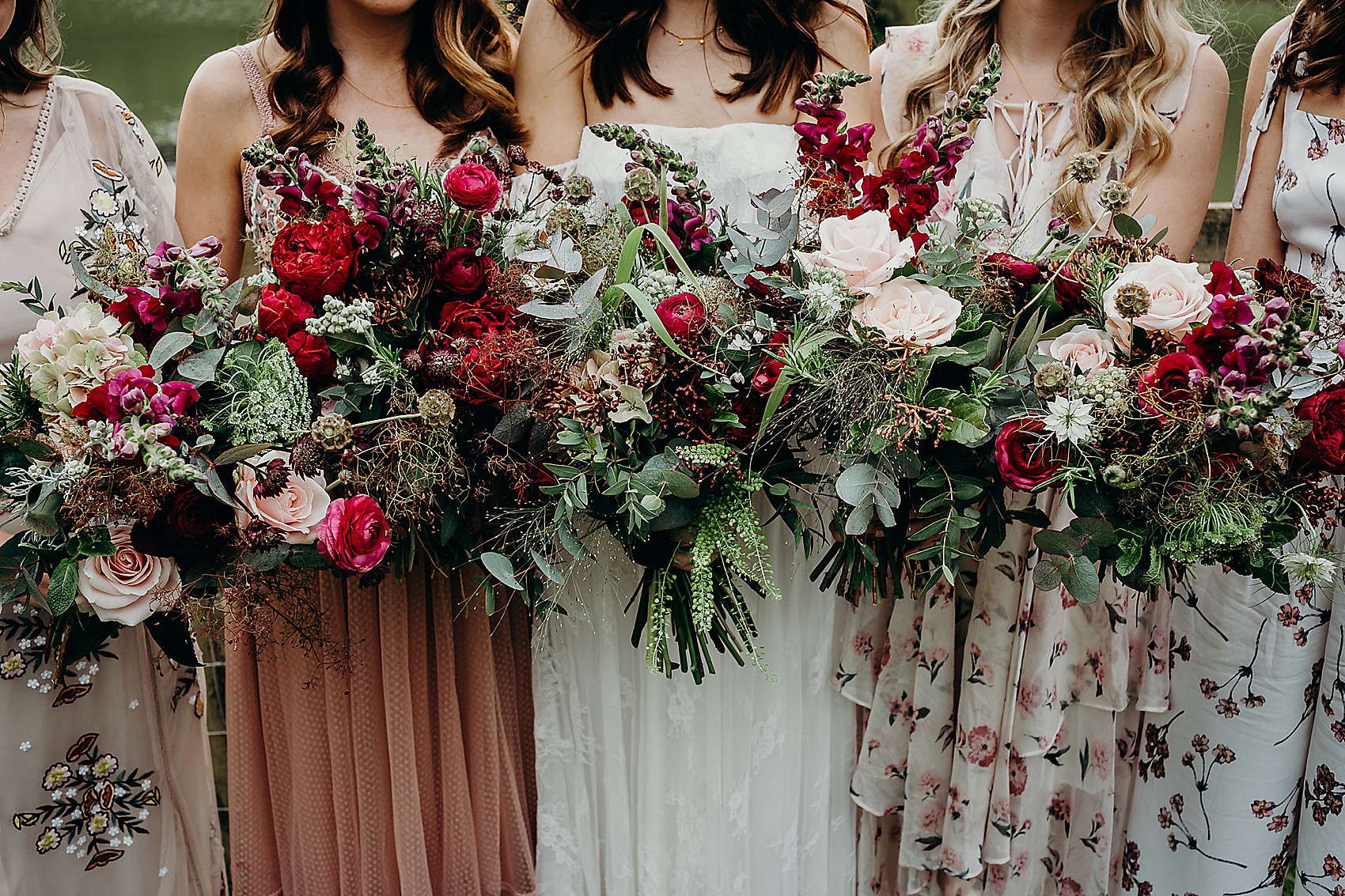 With the ceremony concluded, it was time to go outside for kisses and confetti throwing, along with group shots with the brilliant wedding party.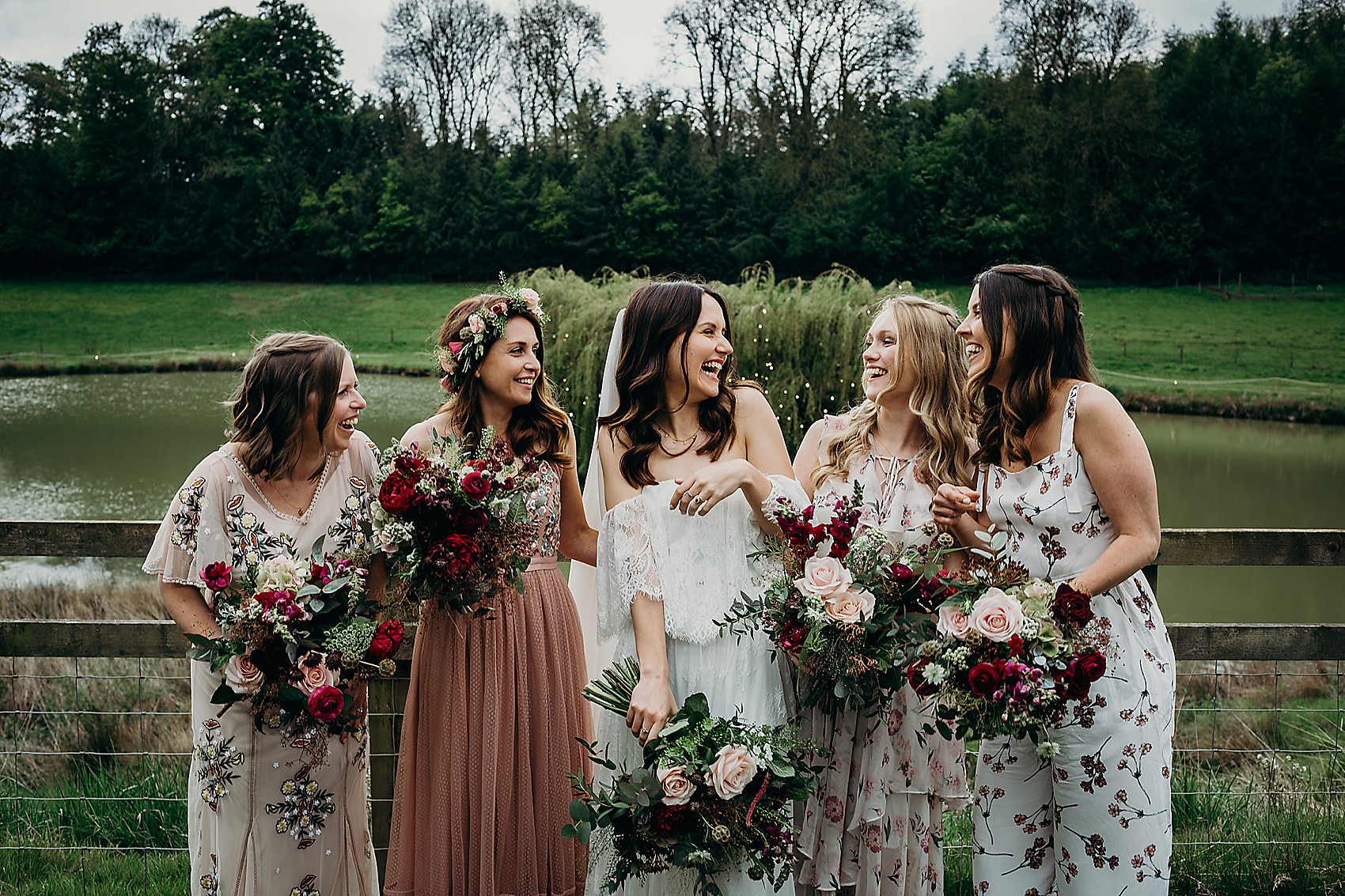 "The groomsmen all wore burgundy ties with white flecks. I hand stitched all the pocket handkerchiefs from fabric we bought on a day trip to Brighton. There were custom socks, too – Christian packaged them all up with a 'To-do on the day' card specific to each groomsman, so they all knew what they were doing! These were bound together with a custom kraft card belly band with our festival logo on it."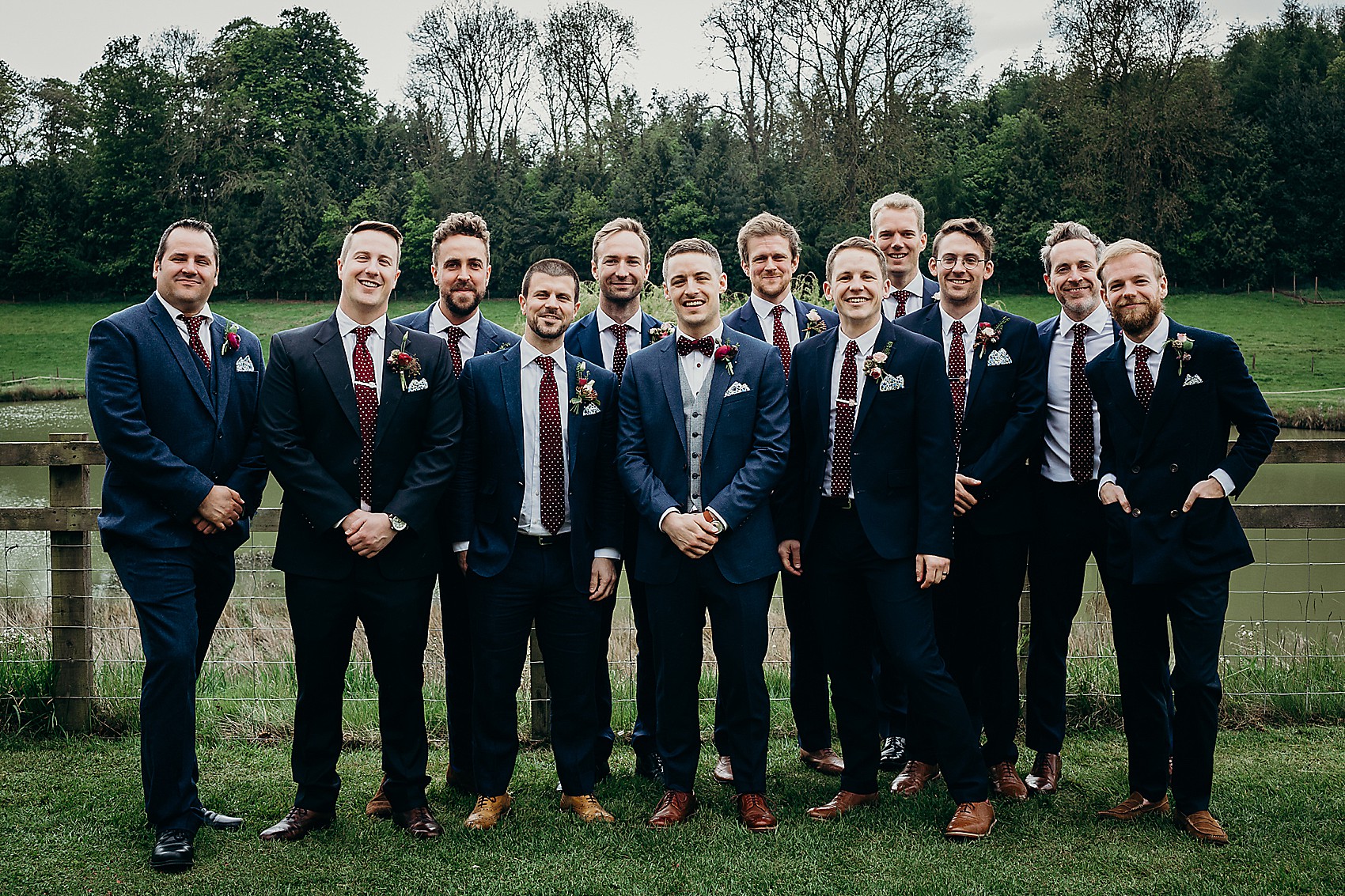 One of the constant joys of sharing weddings here on Love My Dress is being able to showcase the work of talented people like Katie and Christian's photographer, Victoria Somerset-How, whose work we're featuring here on our pages for the first time today.
"Wow. Where do we even begin with Victoria? She was recommended to us by the venue, and she was quite honestly amazing."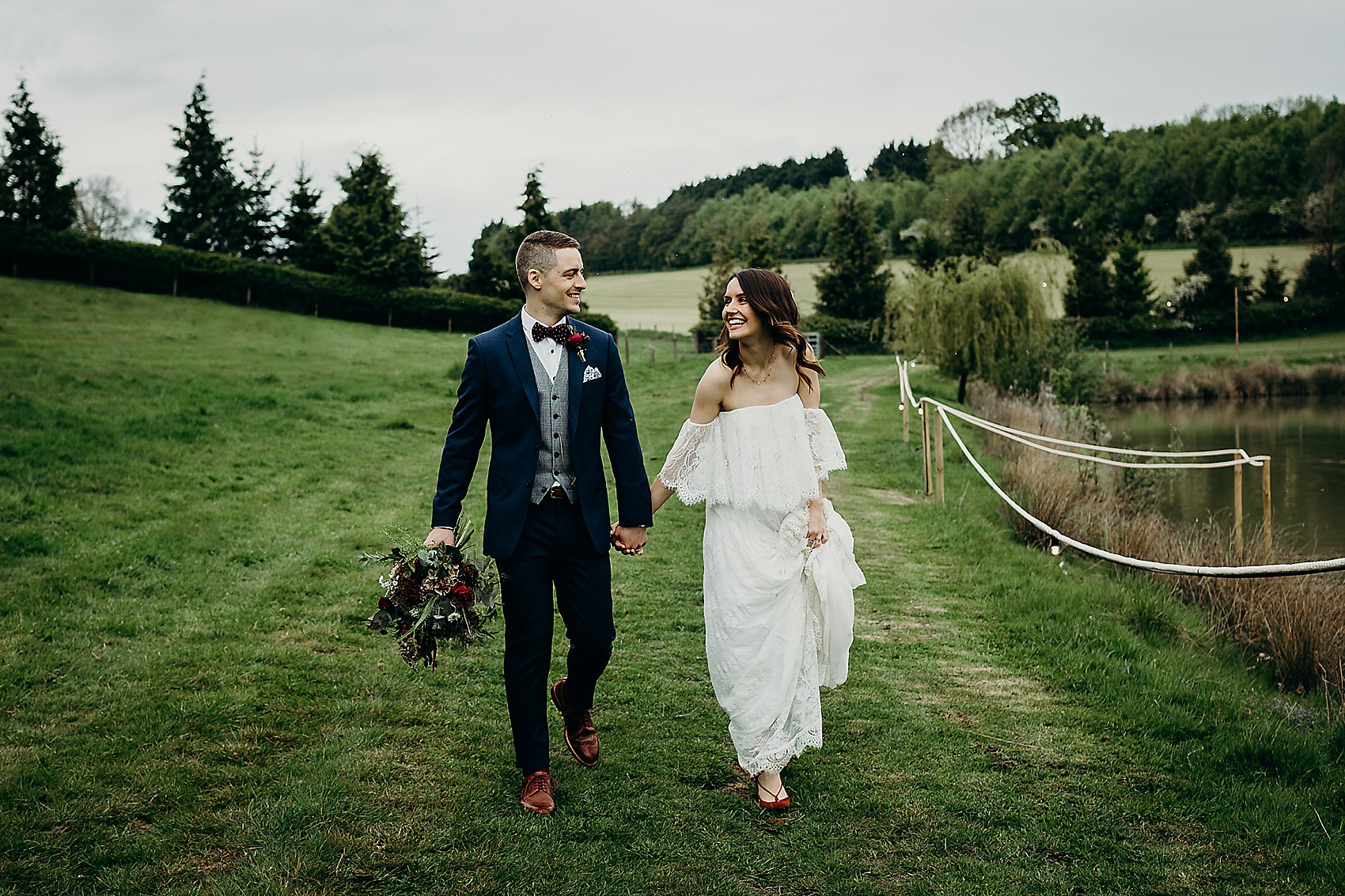 "Victoria's eye for the perfect shot, her ability to make us feel at ease when we're both somewhat awkward in front of a camera, her knack for making us laugh and catching those candid shots, as well as her desire to just want to chat to our friends and family and really get to know everyone, all comes together to produce the most beautiful, intimate and joyful photos."
"You can tell from the images she creates that she is an artist, but her passion for what she does and her love for love is what makes her so supremely talented."
Hadsham Farm really is a spectacular venue, and guests were welcomes to Katie and Christian's day with an elegant perspex sign, designed by a friend of the couple, Steph, who also designed all of the other stationery for the day.
"Everything from the invites (guests to arrive at 'Doors Open', whilst our ceremony time was down as 'Stage time'), to the place settings (a festival lanyard with the evening's DJ line-up on the back – we had 6 different DJ sets!), to table names, which were all related to our favourite bands and musicians we'd seen together live. It all contributed to the overall festival theme."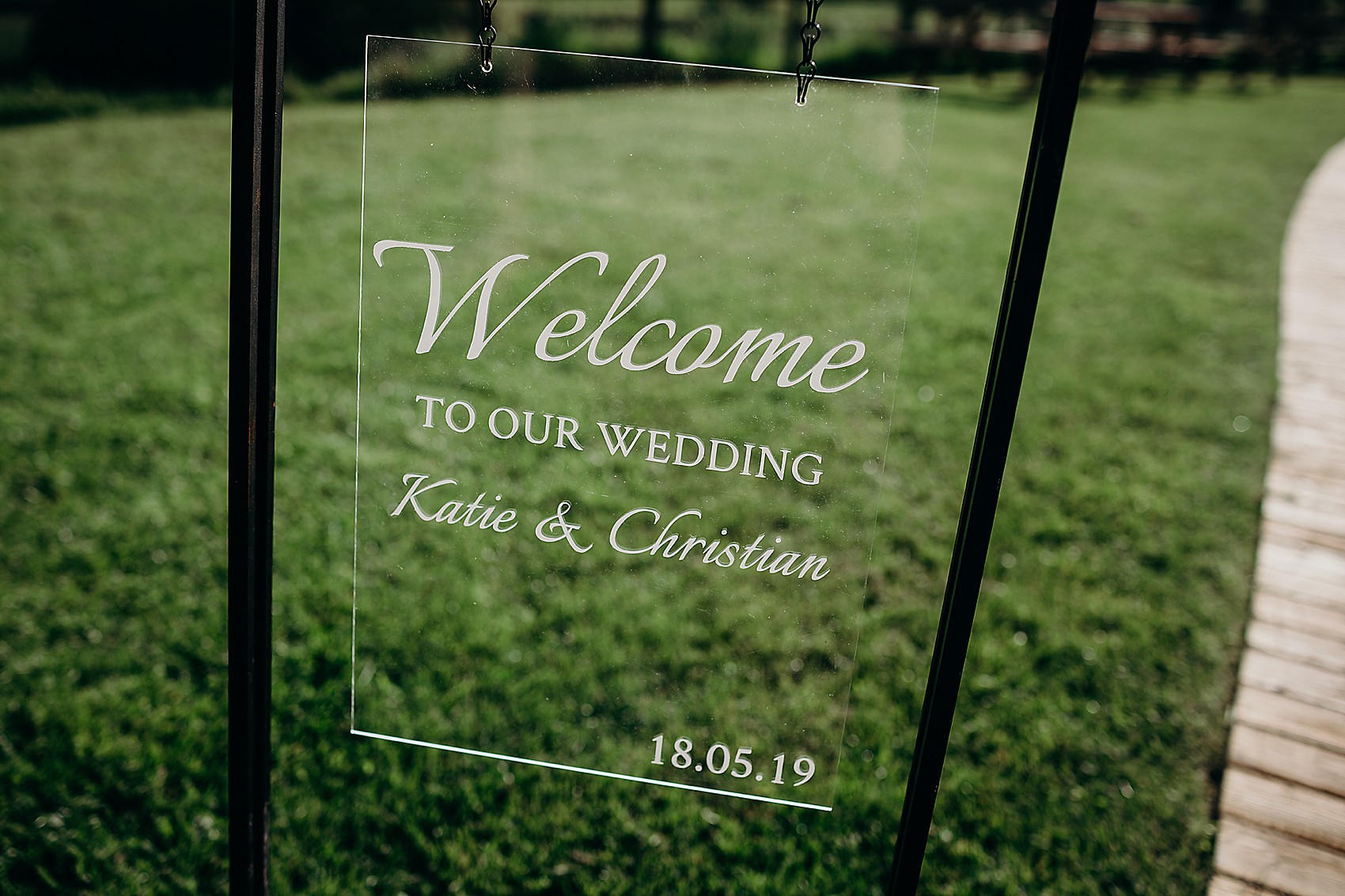 "Our catering was by The Wild Oven. Again, we wanted something different from traditional silver service wedding catering. With our long trestle tables in the tipi too, we wanted a meal which felt like a feast, and was as much of a sharing experience as it was a wedding breakfast."
"The Wild Oven rocked up to our venue in their converted Land Rovers, set up camp and cooked up the most amazing feast for our guests. Many said it was amongst the best wedding meals they've ever had!"
Dessert was a brilliant idea – The Nashtonbury Bake Off, where family and friends brought along specially baked treats for everyone to enjoy, labelled with mini chalkboards.
"This produced everything from wonderfully light meringues to the most delicious gingerbread. We loved that our family and friends were a part of our day and there was next to nothing left the next day!"
The reception tipi was set for a feast, with long, rustic tables and benches dotted with posies of flowers and candles placed in recycled wine bottles. Hanging from the soaring ceilings were white paper lanterns, wild greenery and fairylights, along with lots and lots of cheerful bunting.
"Our lanyards were our favours, as each of them was personalised with the guest's name."
Kate and Christian enjoyed a sunset walk by the lake at Hadsham Farm before taking to the dance floor for their first dance together as husband and wife.
"Our first dance song was Cover Me Up – Jason Isbell (the 'Live at the Ryman' version!) We saw Jason Isbell live together a couple of years ago, and it just instantly clicked when we got engaged that it should be our first dance. The lyrics, the passion in the song, his incredible voice – particularly on the live version – all made it seem like the obvious option."
"Because music was such a key part of our day, and we're lucky enough to have some friends who are very talented DJ's, we had a line-up of DJ's in the evening, with each set covering off a different genre of music. Before the wedding, we also planned a surprise with Christian giving me some DJ lessons, which meant that I made a guest appearance on the decks! Opening the set with Whitney Houston, it was potentially one of my favourite moments of the day, seeing absolutely everyone we loved bouncing up and down and singing along very loudly to How Will I Know? was something we'll cherish forever."
Favourite Moments
"Katie: At one point, Victoria grabbed Christian and I as the sun was setting over the tipi and she said 'Just go for a walk, hold hands and just have a moment'. It was really special to have that moment by the lake and look back at the tipi, where the music was playing knowing all our favourite people were there to celebrate our marriage. It was lovely to have that time together to soak everything in and really appreciate the day and everyone who was there to celebrate with us."
"Christian: It has to be seeing Katie coming down the aisle in her dress! After that, the speeches were brilliant, the dancing was great fun and our back-to-back DJ set was a moment I'll never forget."
Words of Wedded Wisdom
"Whatever you're worrying about now, you won't care on the day. There were so many things that I was worrying about before the wedding, and when the day came, I couldn't remember what most of them were. As long as the major stuff is done, everything else will fall into place. And if you have a great team of bridesmaids and Best Men around you, then you'll probably never even hear about it if something did go wrong (which it won't!). Trust your suppliers, too – they've done this so many times before."
"Focus on the personal touches as well – you'll remember those little hints of you and your beloved more than the generic wedding stuff."
"The personal bits here and there are the pieces that will make your wedding yours. Think outside the box and do what feels right for you guys – it's your day!"
"One of our best friends also gave us a good piece of advice: 'A wedding isn't made by how much money you spend on it'. If it's really important for you, then your wedding day is the time to do it, but no guests went to an amazing wedding and thought it was amazing because of the budget – it's amazing because of the people you're there with and the magic that's naturally present."
Well Katie and Christian, thank you so very much. This has been truly lovely, and all the very best to you both. Big thanks to Victoria Somerset-How for her excellent images, too.
With love,
Laura