Happy New Year Lovelies! My oh my, what a lovely day it's been so far? I hope you've all had a wonderful festive season and, if you're newly engaged and a first time visitor to Love My Dress, then congratulations and welcome to the best, most beautiful wedding resource online.
One with a heart and one that cares very much about helping people like you maintain their sanity and actually enjoy the wedding planning experience.  And I'm delighted today to be kicking off a whole new decade of inspiration in gorgeous style by sharing this beautiful Cotswolds wedding.
Dress by Hermione de Paula

+ Follow
On 1 September, police officer Luisa wed musician Jack in a Church of England wedding followed by an outdoor celebration and tipi wedding at Furtho Manor Farm near Milton Keynes, Northamptonshire.
Their day was defined by a laid-back, relaxed vibe with plentiful flowers and a cool, stylish edge. The love-filled and natural atmosphere has been captured to perfection in these gorgeous images, courtesy of the super-talented Richard Skins Photography.
Richard Skins Photography

+ Follow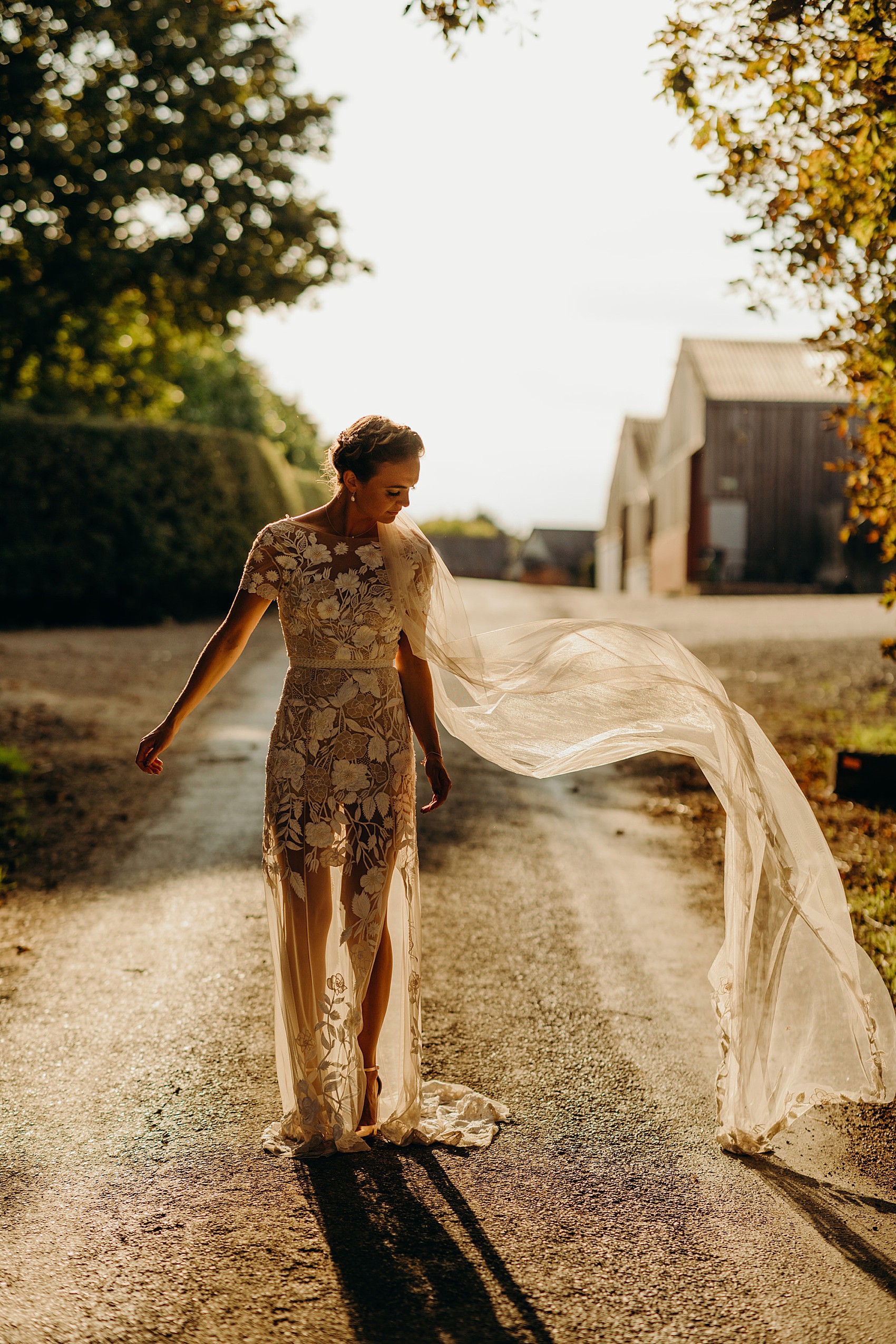 "We feel so incredibly lucky that Richard was our photographer. He is beyond talented. When we saw Richard's work and he said he was available we snapped him up. Just how special the photos really are once the day is over is quite amazing – they take you back to that day every time you look at them. They also help take away a bit of the post-wedding blues as you have something to look forward to."
"To have someone who has captured so well the vibe and happiness of the day in such a natural way is priceless."
"Richard is so professional and friendly and knows exactly how to achieve what you ask of him."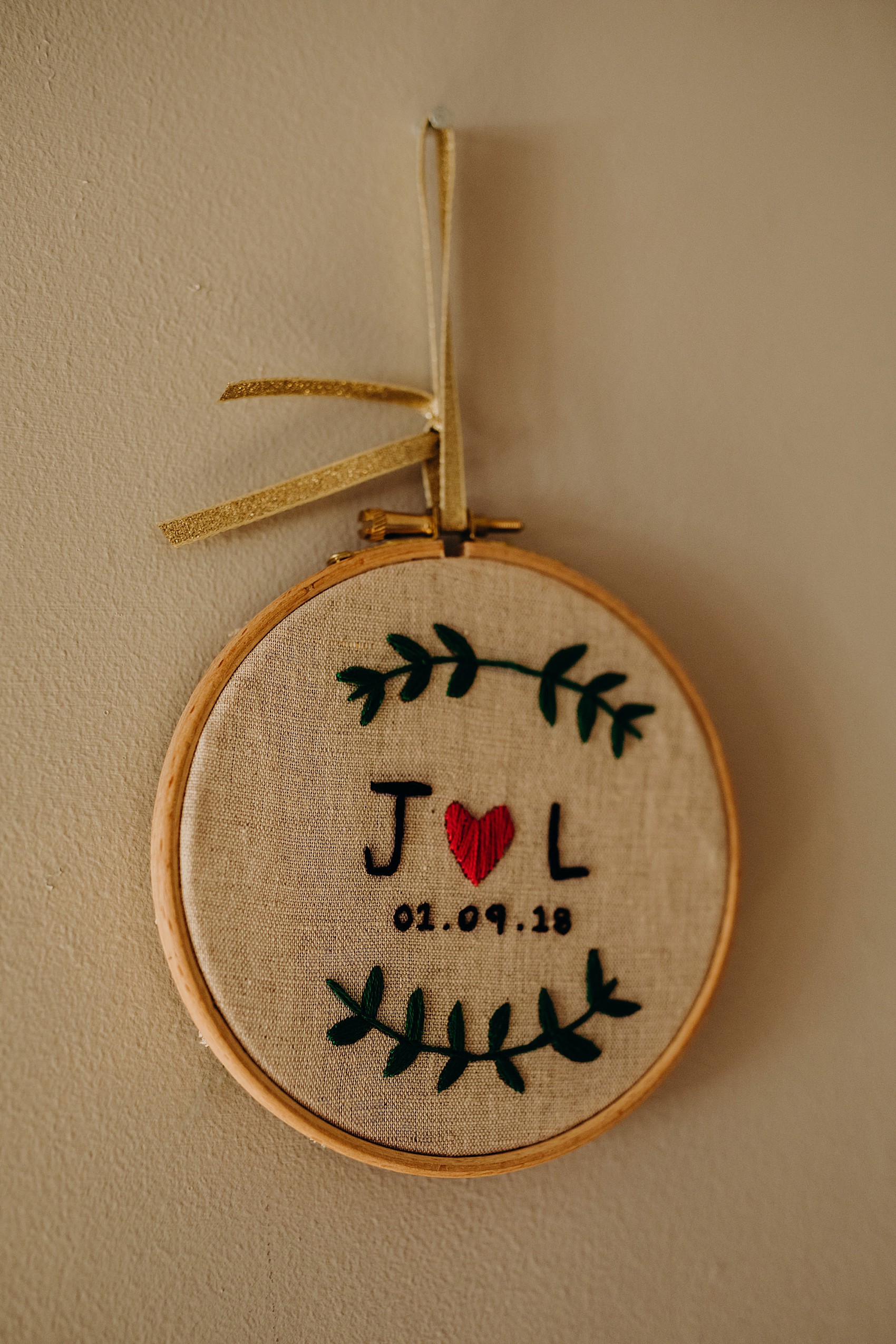 "Neither of us are used to having someone follow us around with a camera but Richard does it in such a way that you don't realise that's what's happening. He has this great way of just blending in as if he's part of your friends and family and that's where he finds the magic."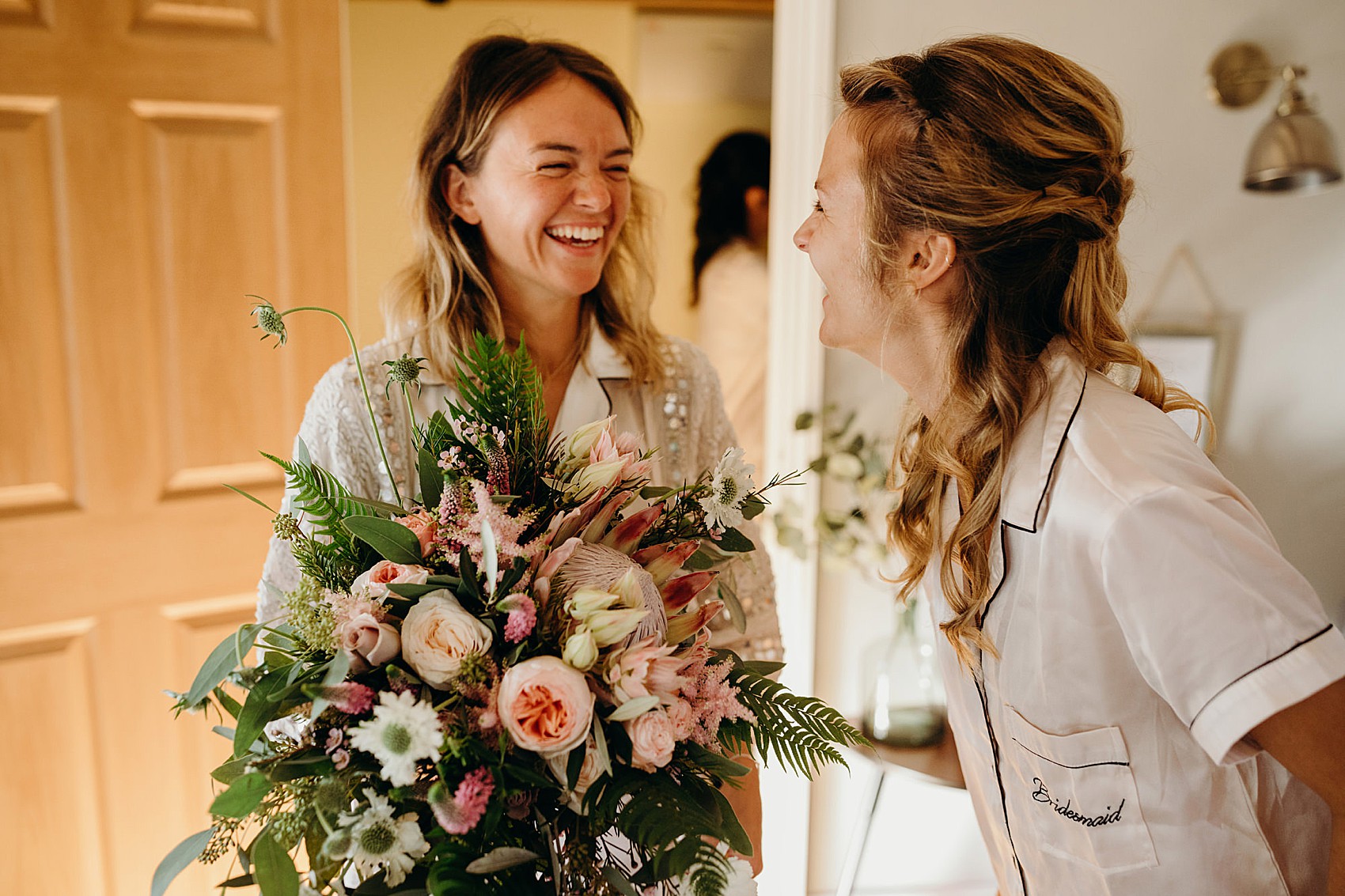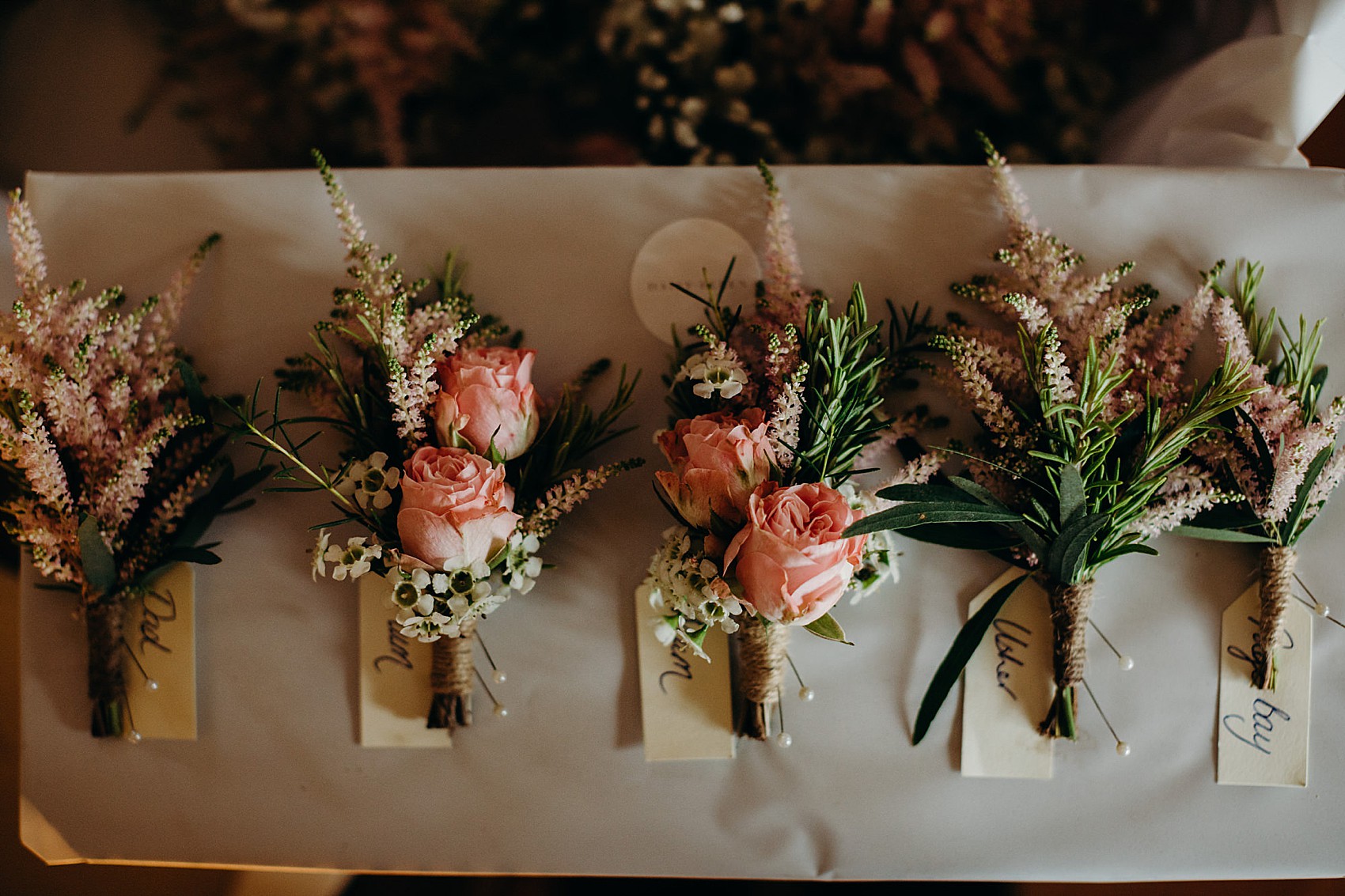 If you love these photographs I invite you to take a look at Richard Skins' listing on our Little Book Wedding Directory, which is filled with more examples of his bold, natural and modern photography.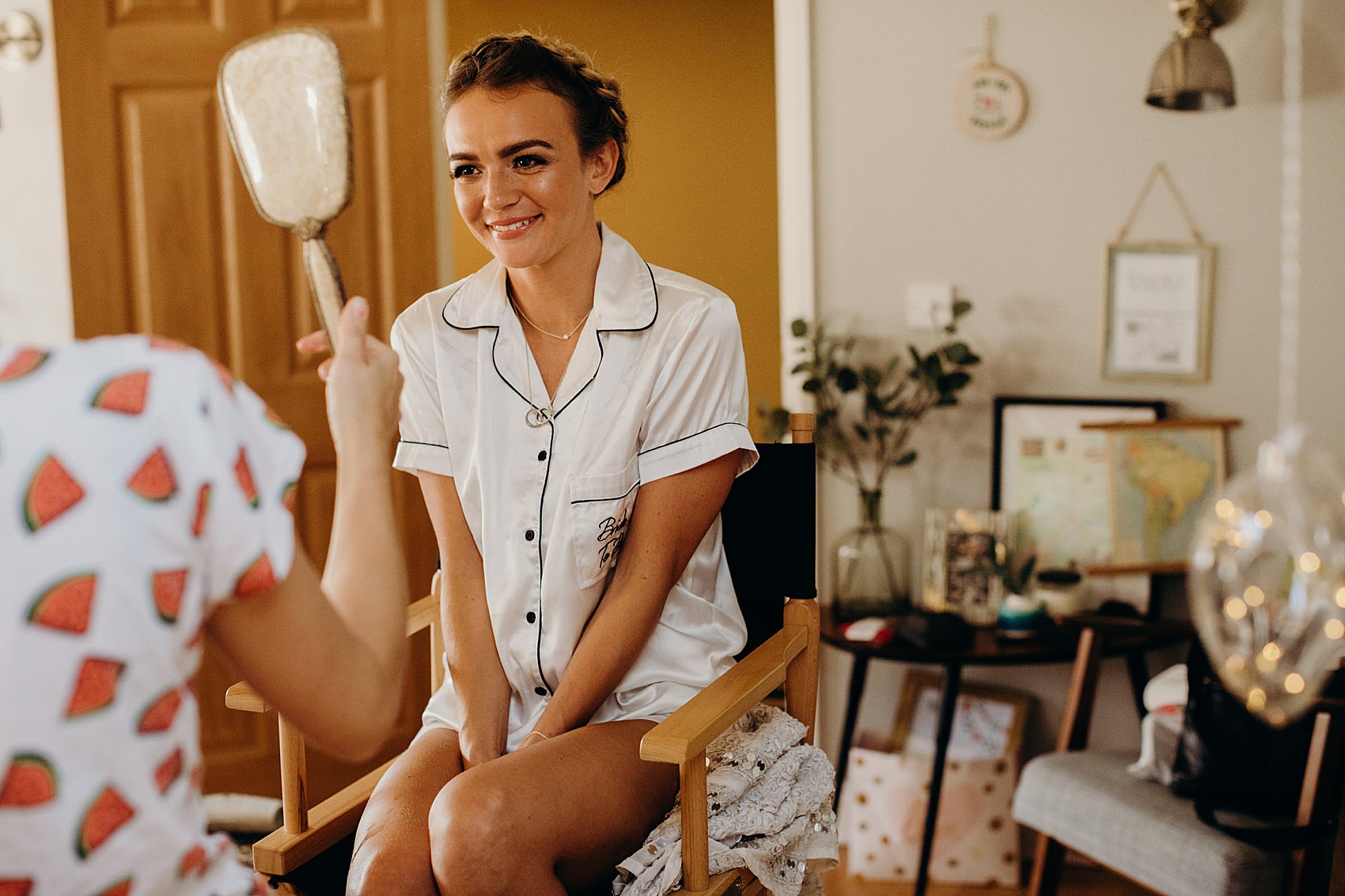 I love how the split in the skirt shows off her rose gold Jimmy Choo heels, the hue of which perfectly complements the gown.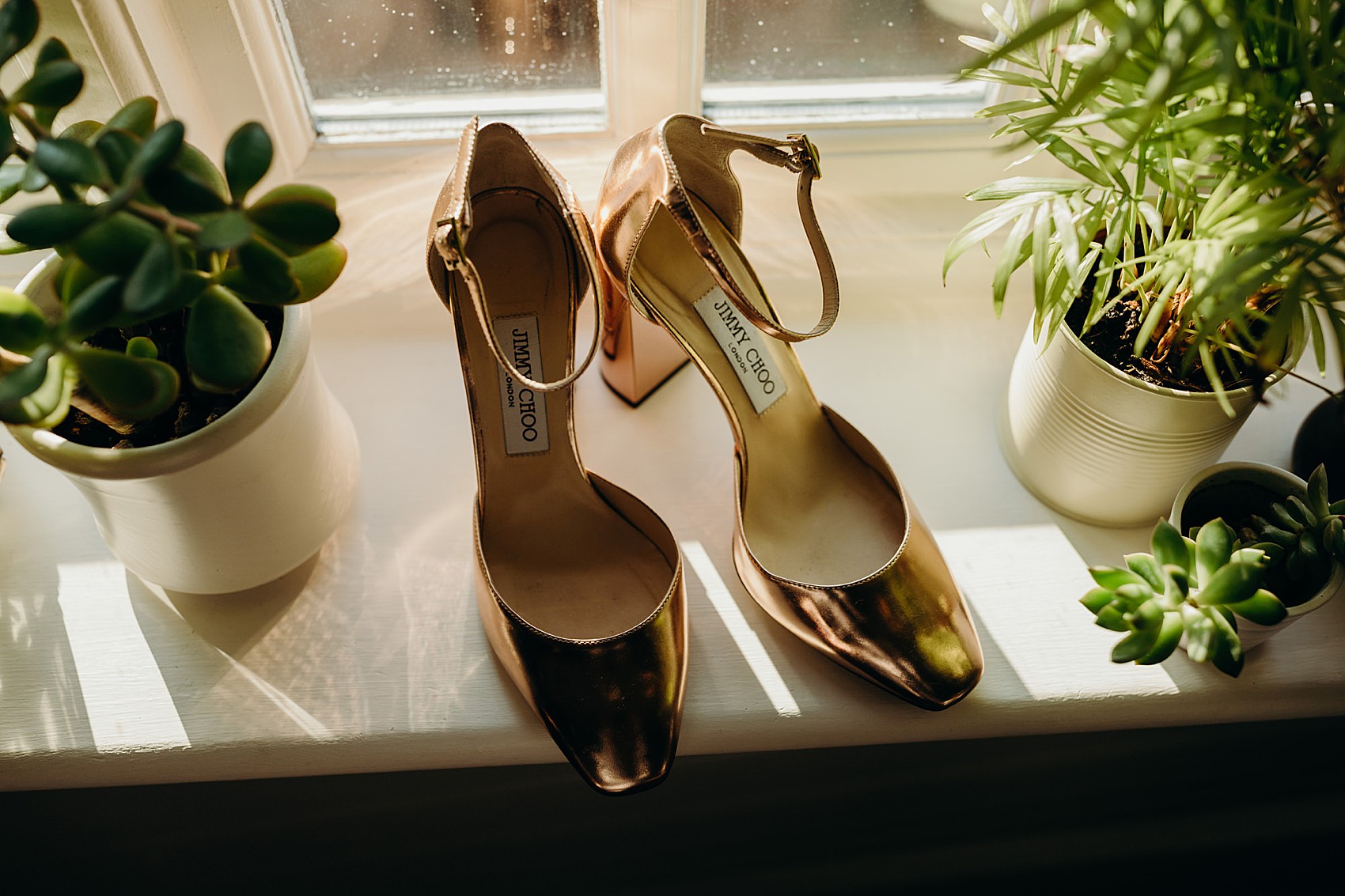 If you're anything like me your eye will have been immediately drawn to Luisa's incredible gown, a bespoke design by the amazing Hermione De Paula. With its romantic, appliquéd bodice, sexy low back and the most modern and wonderful layered skirt, I adore how the sheer skirt and train are layered over the mini skirt for an oh-so contemporary and cool vibe.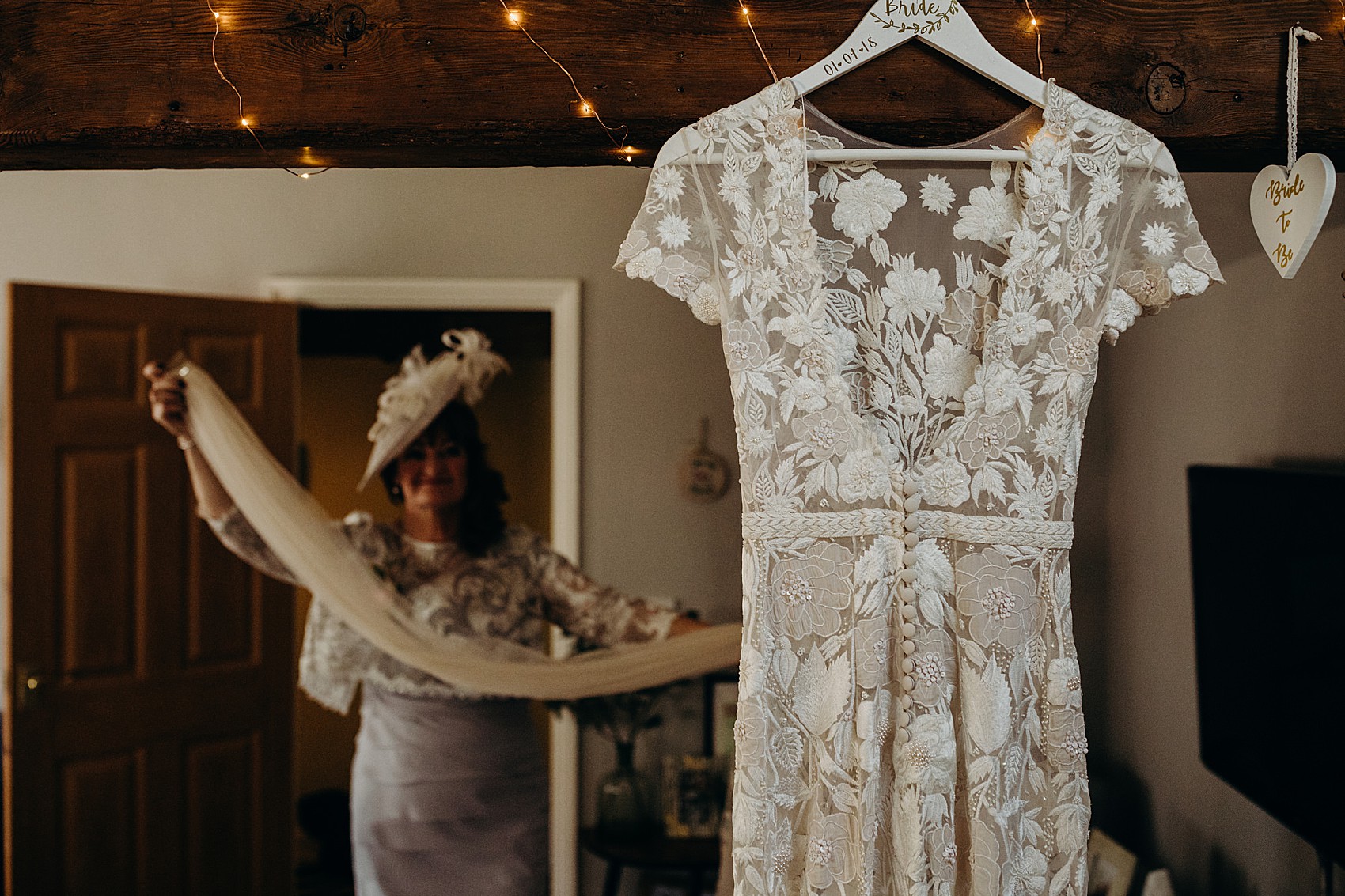 It features the most beautiful, personal embroidery on both the skirt and the veil too; take a look at the T-shirt style sleeves and you can see the wedding date embroidered there.
"The dress and my veil were handmade, just for me. It tells our story and is a piece of art that I can keep with personalised embroidery of our date, initials and a couple of quotes from poems that we both love. I'd tried on a few dresses at various places and felt special in all the dresses because I don't really wear a long white dress… ever."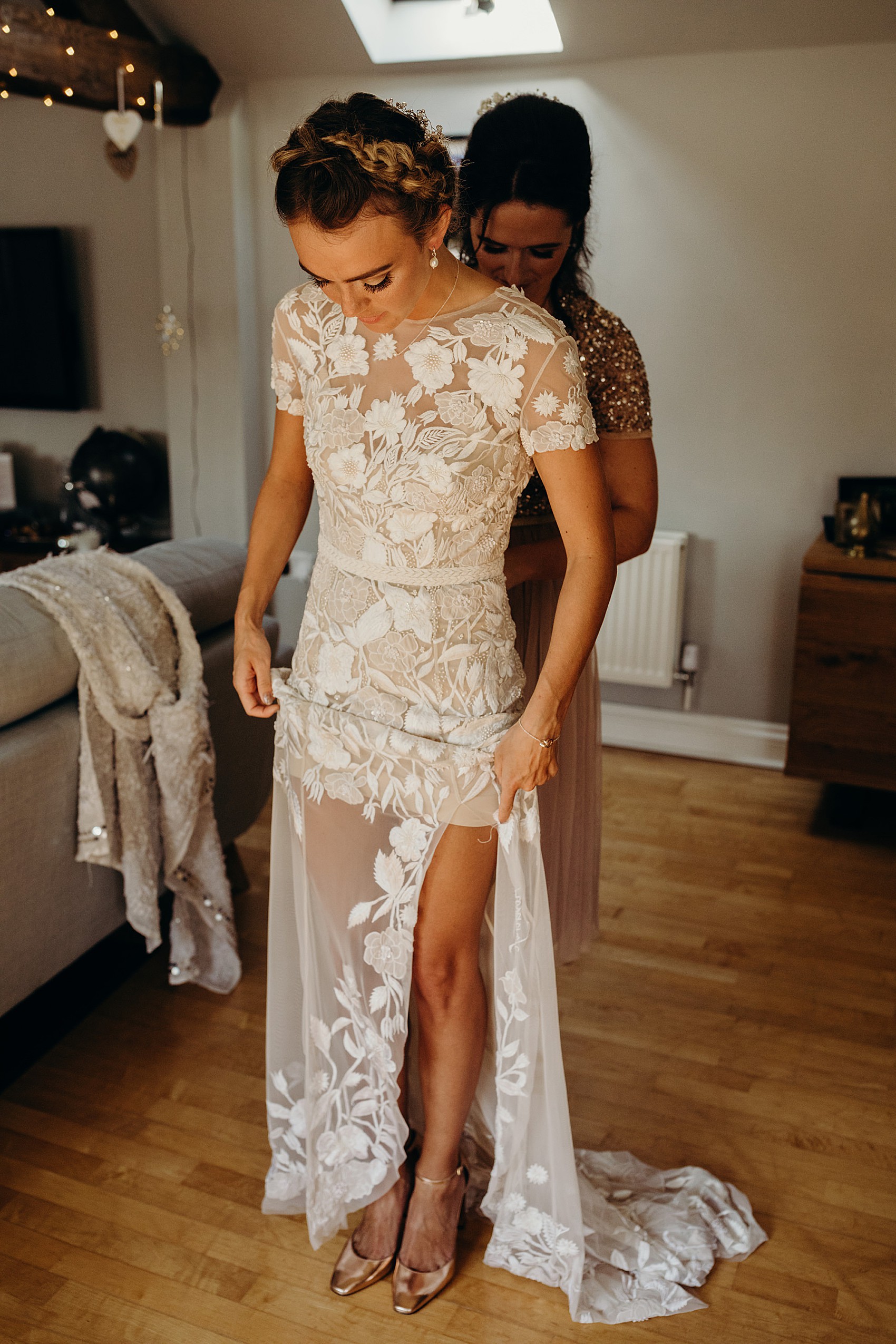 "But when it came to actually choosing none quite gave me the magic I felt when I stepped inside the Hermione De Paula studio that first time and tried on her sample dresses. I loved that I could choose the neckline, dress style, split in the leg, where the embroidery went, what flowers for the embroidery, what colour.
There were a lot of decisions but choosing a Hermione De Paula dress was the easiest one I made."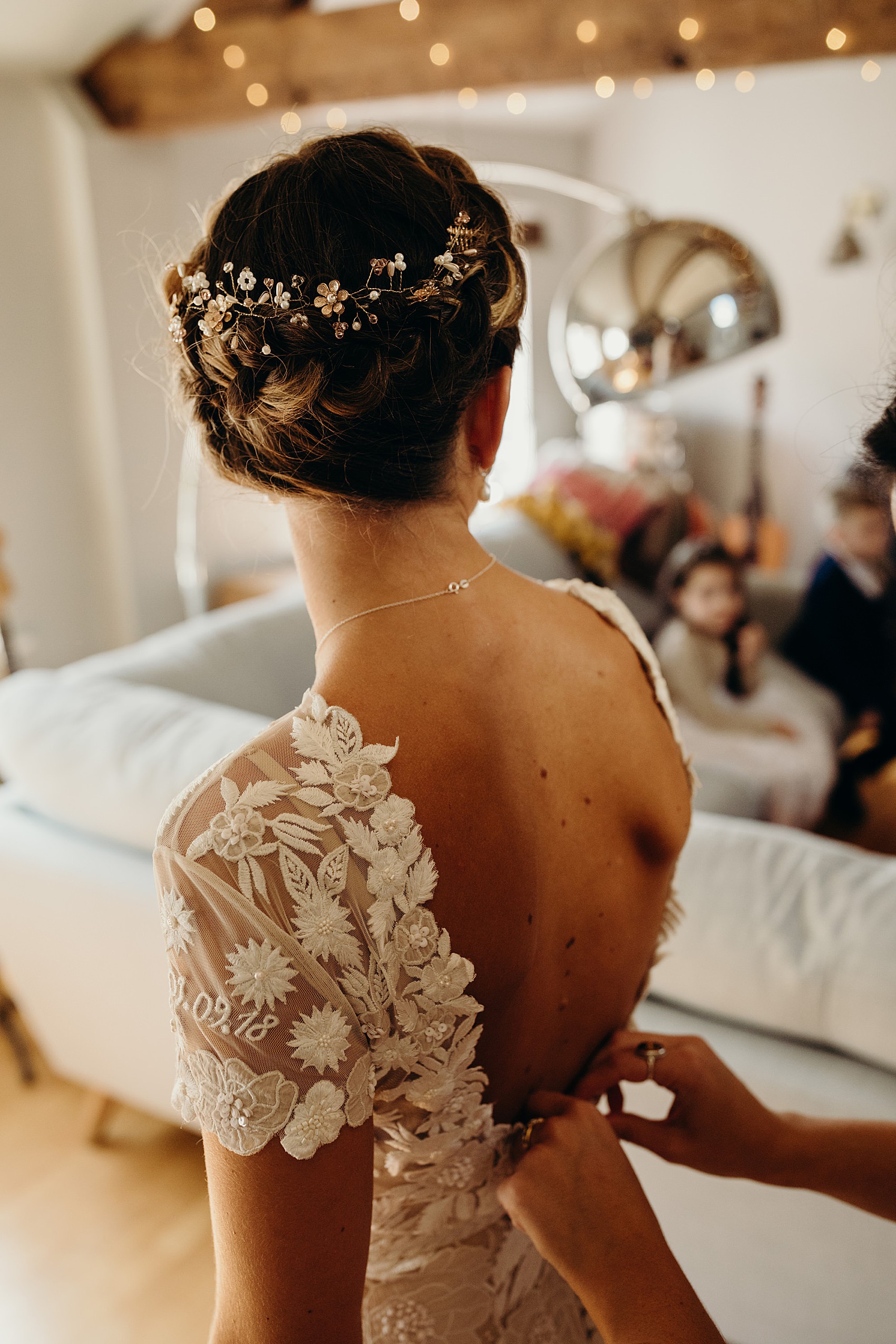 Luisa added a necklace and a pair of elegant pearl drop earrings from Lily & Roo, given to her by Jack, as well as a Tiffany & Co. bracelet. Her hair, which was twisted into a funky braided halo by Becky Arnold, was adorned with a delicate Accessorize hairpiece.
To finish, Becky Arnold applied her make-up to ensure the bride was radiant and glowing and she wore her favourite Jimmy Choo perfume.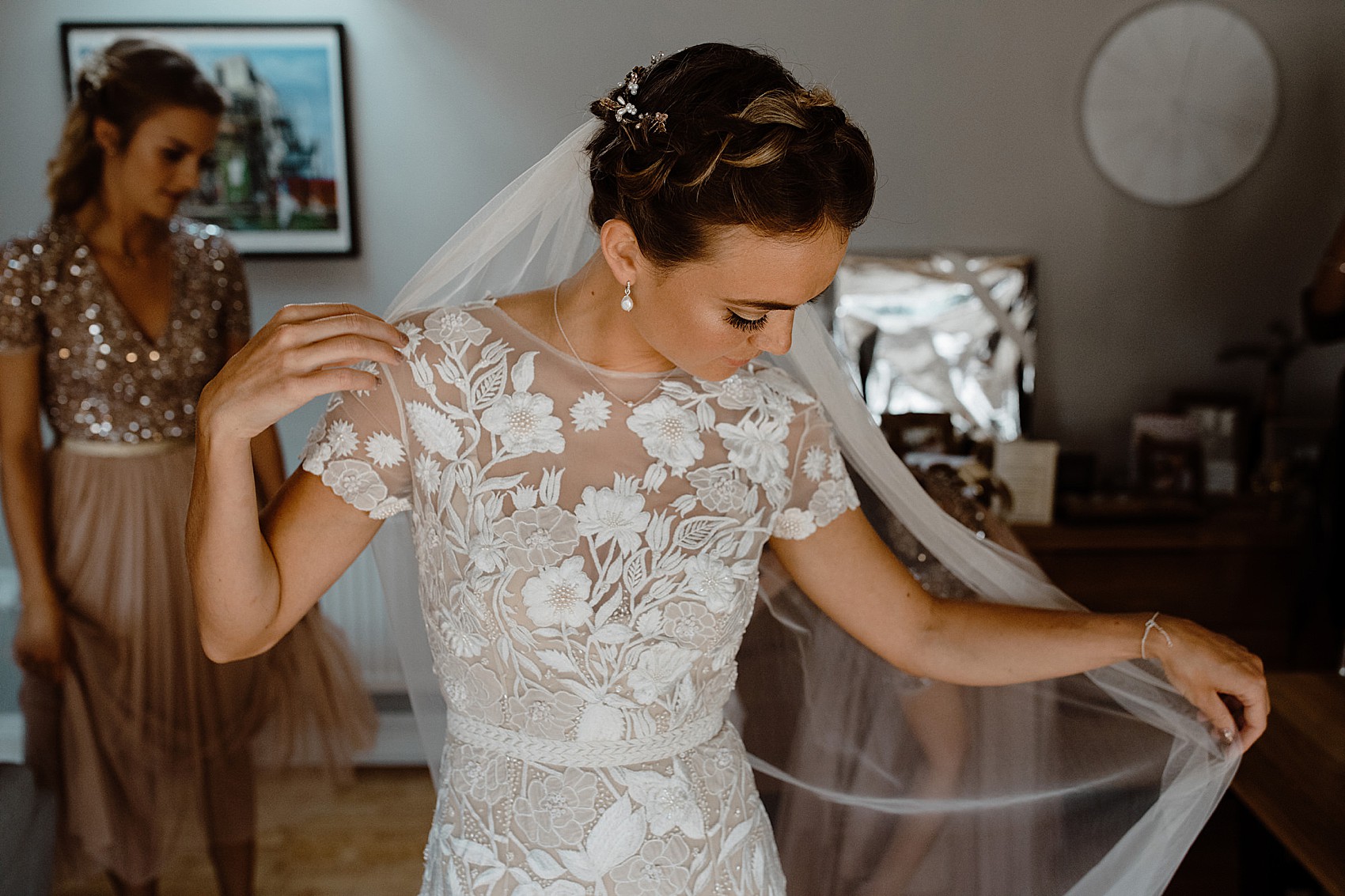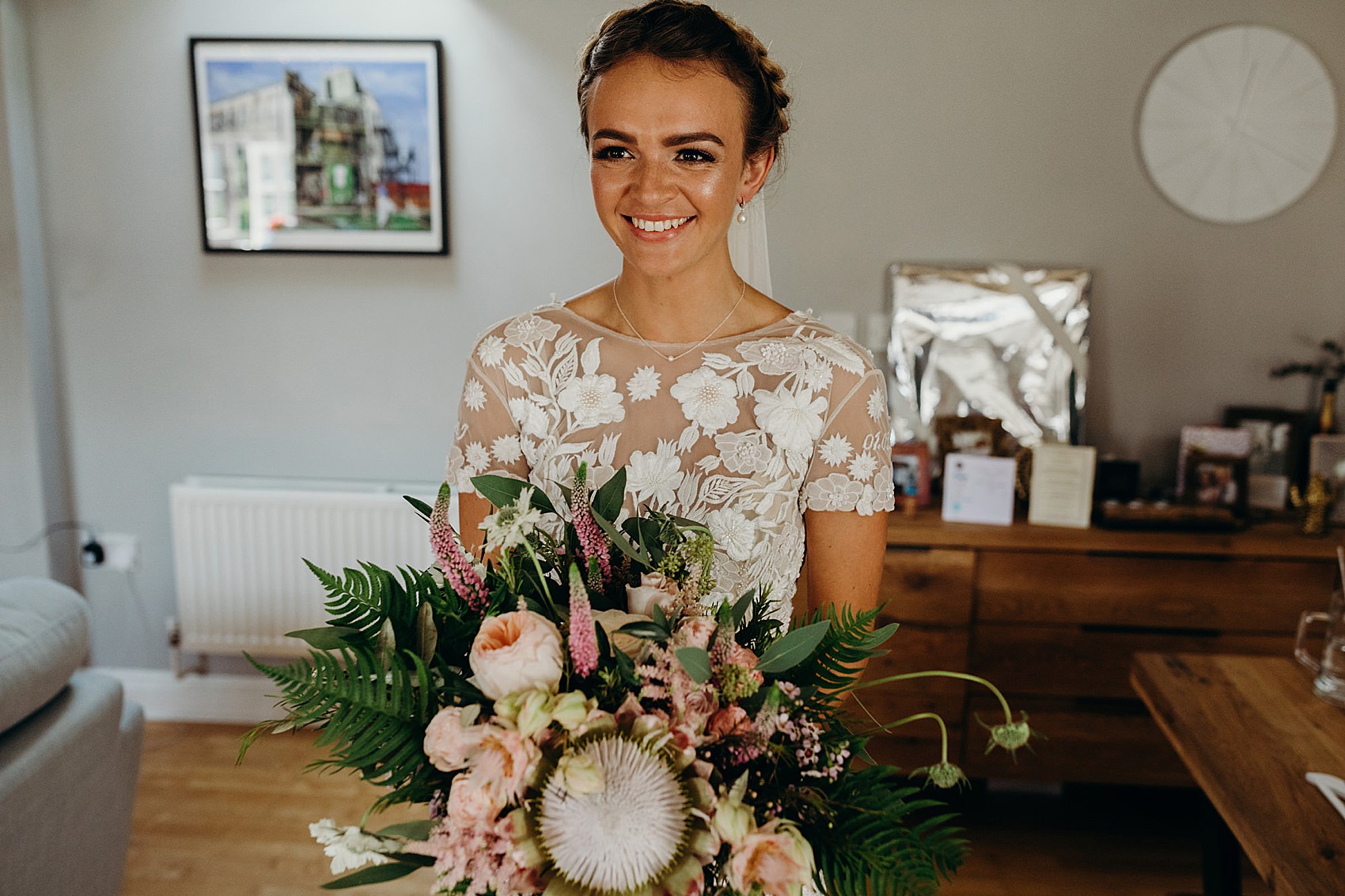 Luisa's bridesmaids looked beautiful in their ASOS gowns of sequinned bodices and tulle skirts, worn with shoes from T.K.Maxx and fresh flowers in their hair, along with a gift from the bride:
"I got little personalised initial necklaces for each of them from Lisa Angel."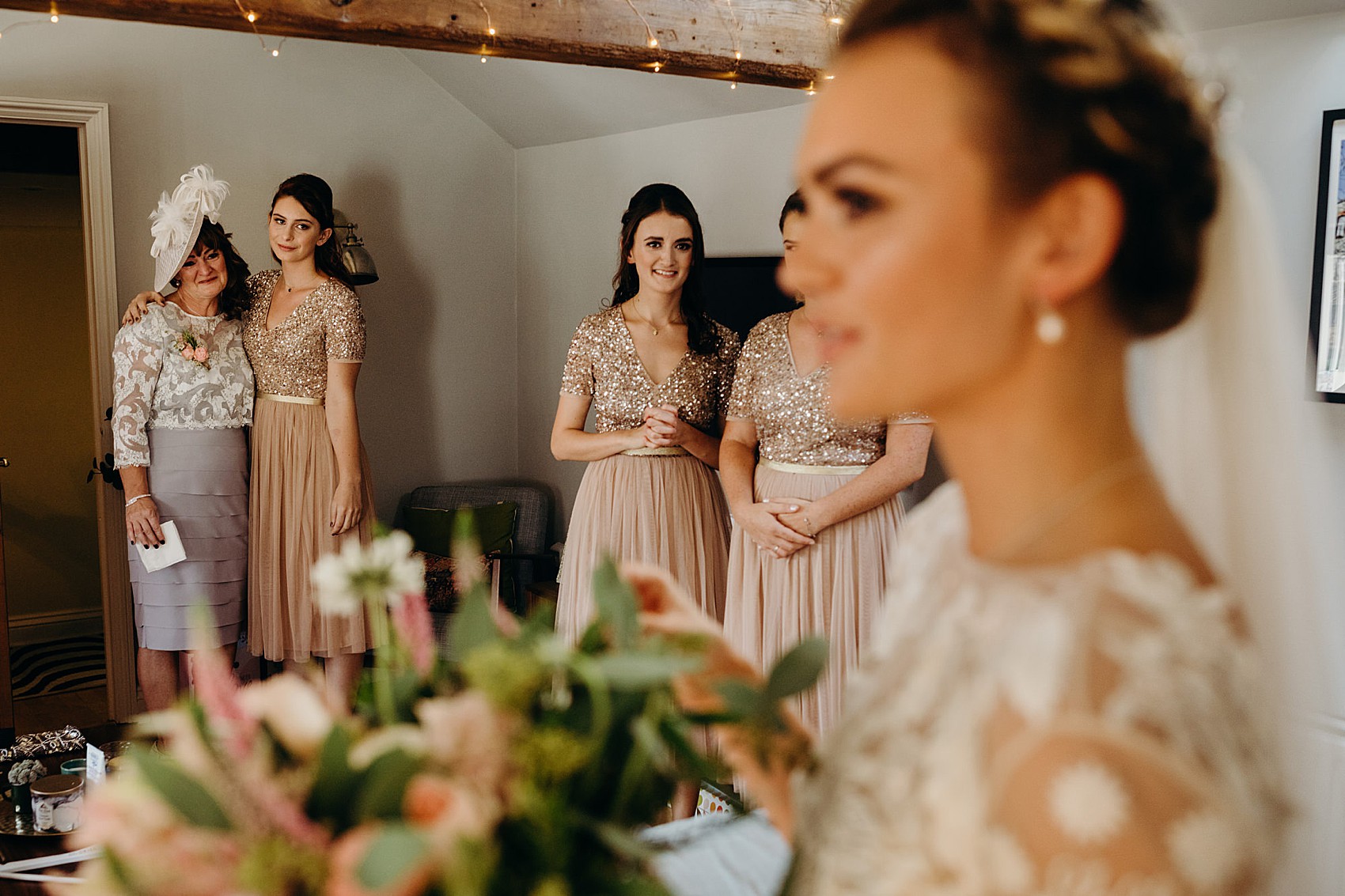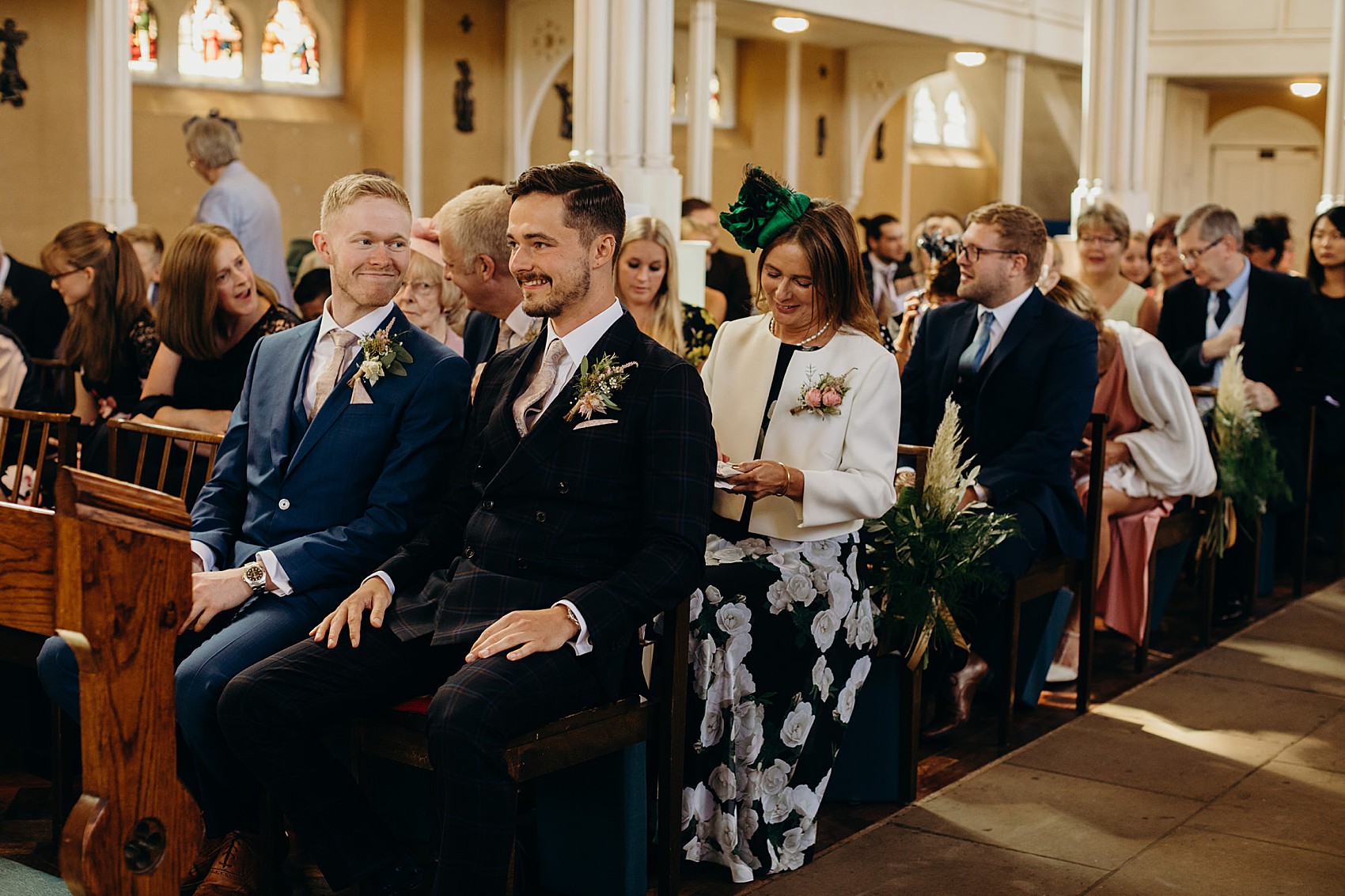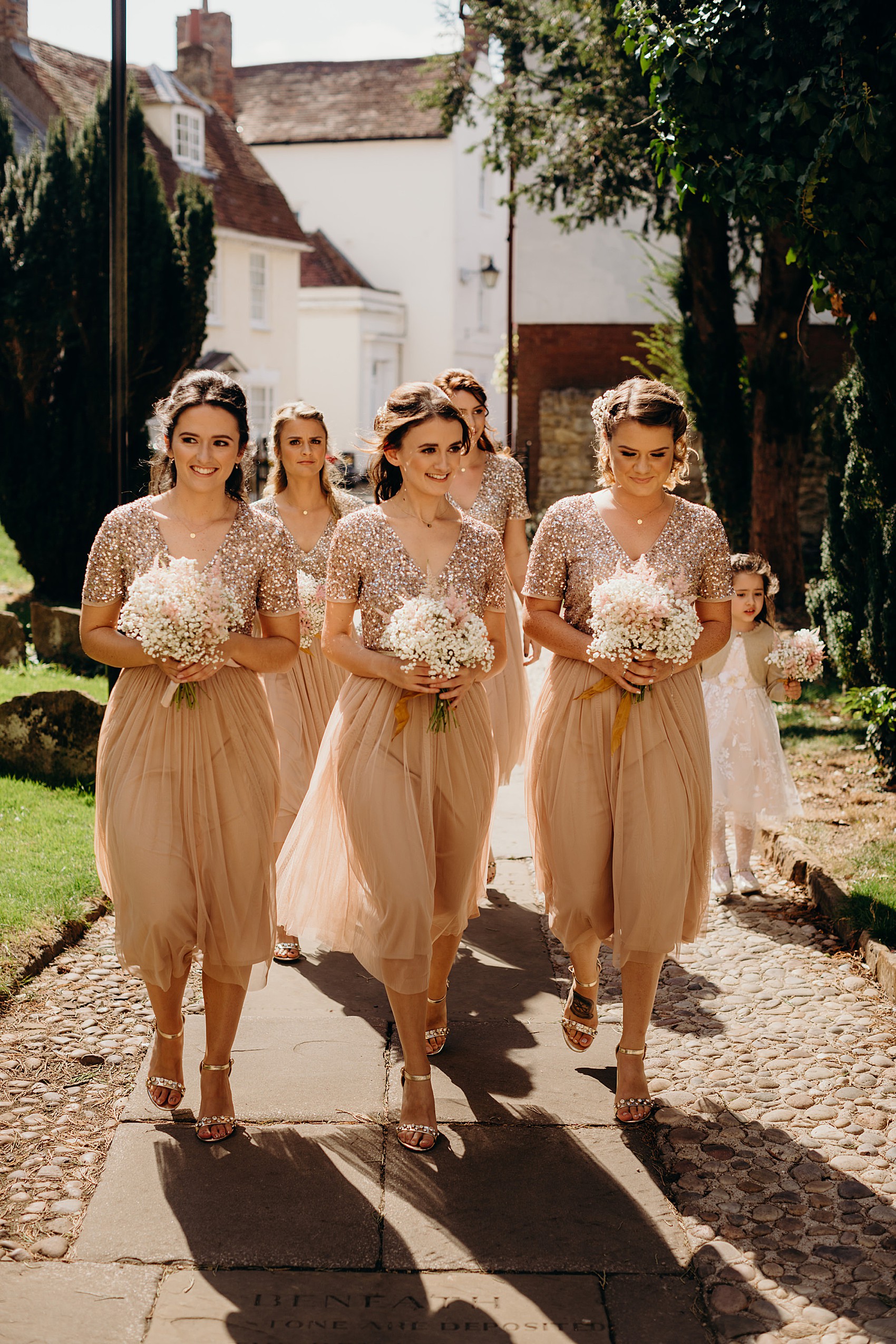 This couple have been together for ten years, ever since they met age fifteen back in secondary school.
"We sat next to each other in English and have pretty much been inseparable ever since. Jack proposed in Bruges after a beer tasting evening. We went for a walk to find a super moon and Jack said my shoe lace had come undone. When I looked down Jack wasn't doing my shoe lace up; he was on one knee and asking me to marry him."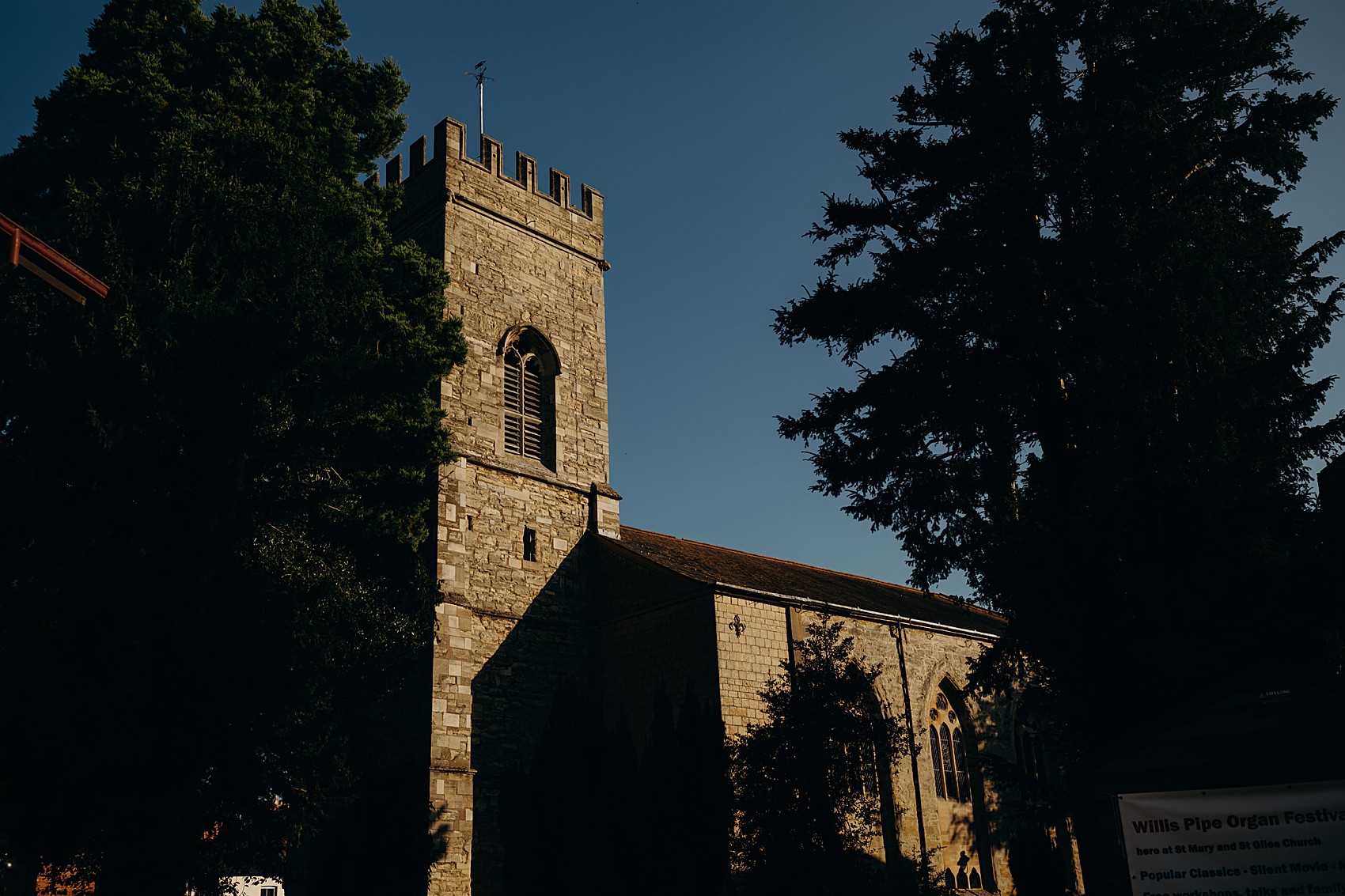 Luisa and Jack planned and styled their late summer day, beginning with the stationery suite which was hand-made by the bride's talented friend and bridesmaid Franziska Dodl.
"She drew and painted the maps and place names. She painted the church for the front of the order of service and drew the titles out to create a printable PDF."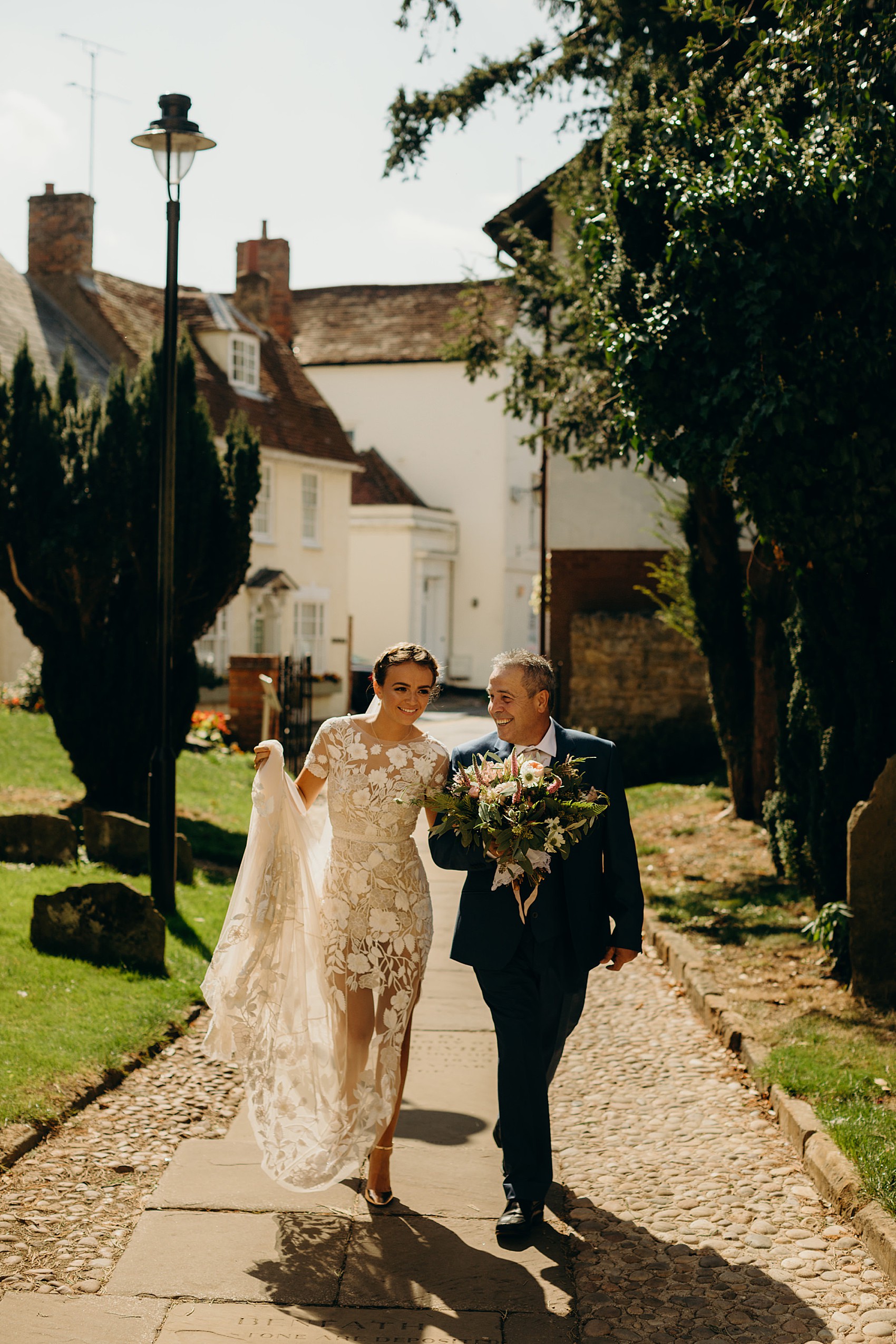 Luisa and Jack selected Sigur Ros' 'Hoppipolla' for the entrance music as the bride and her father came into the church and walked down the aisle together.
"Our apartment is a stone's throw from the church so we took the short few steps from the flat to the church together."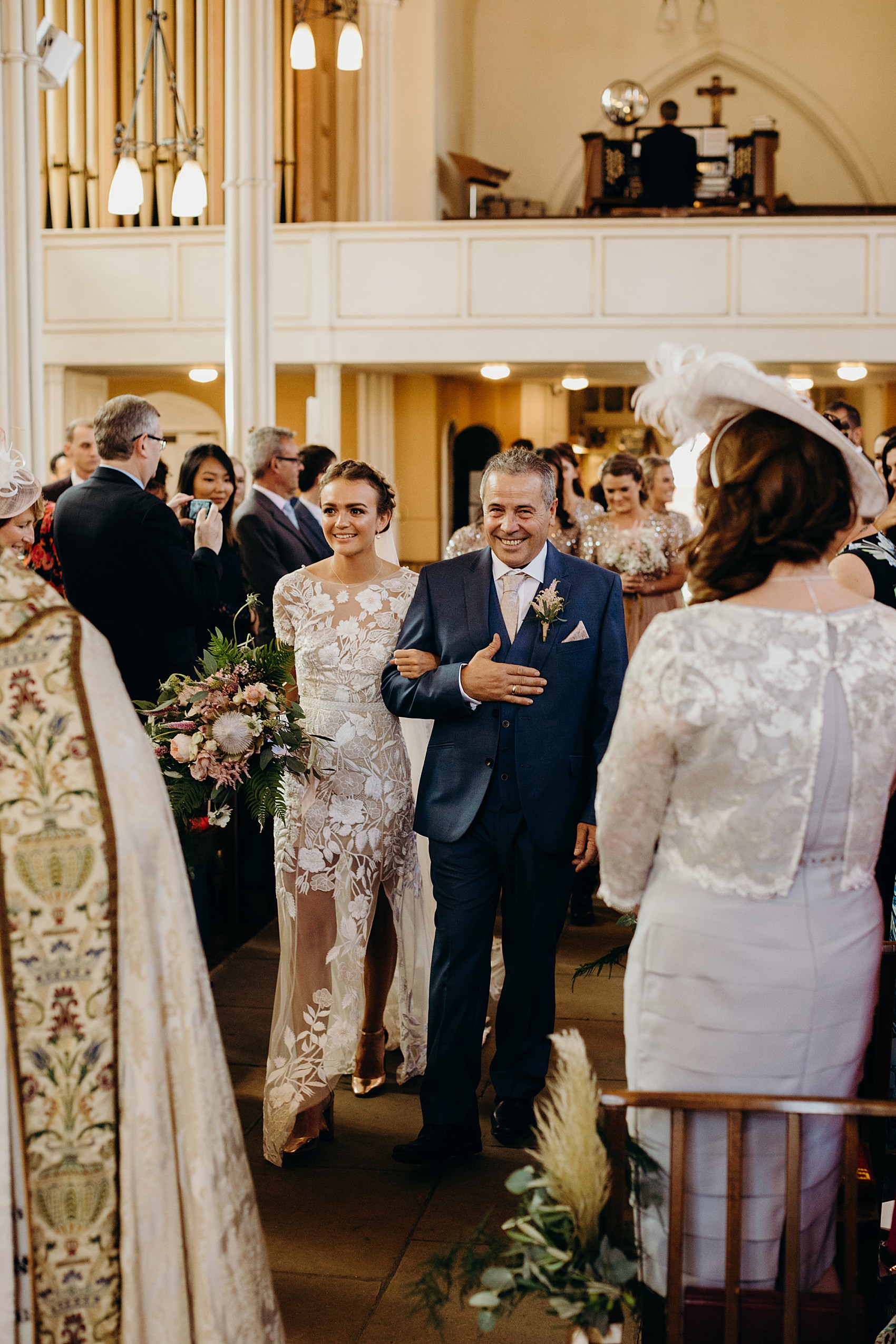 The couple exchanged Church of England vows and rings, and asked Jack's grandad to say a few words.
"Jack's grandad spoke for us at our wedding. He was a minister and it was a special touch to have him say some words during our marriage."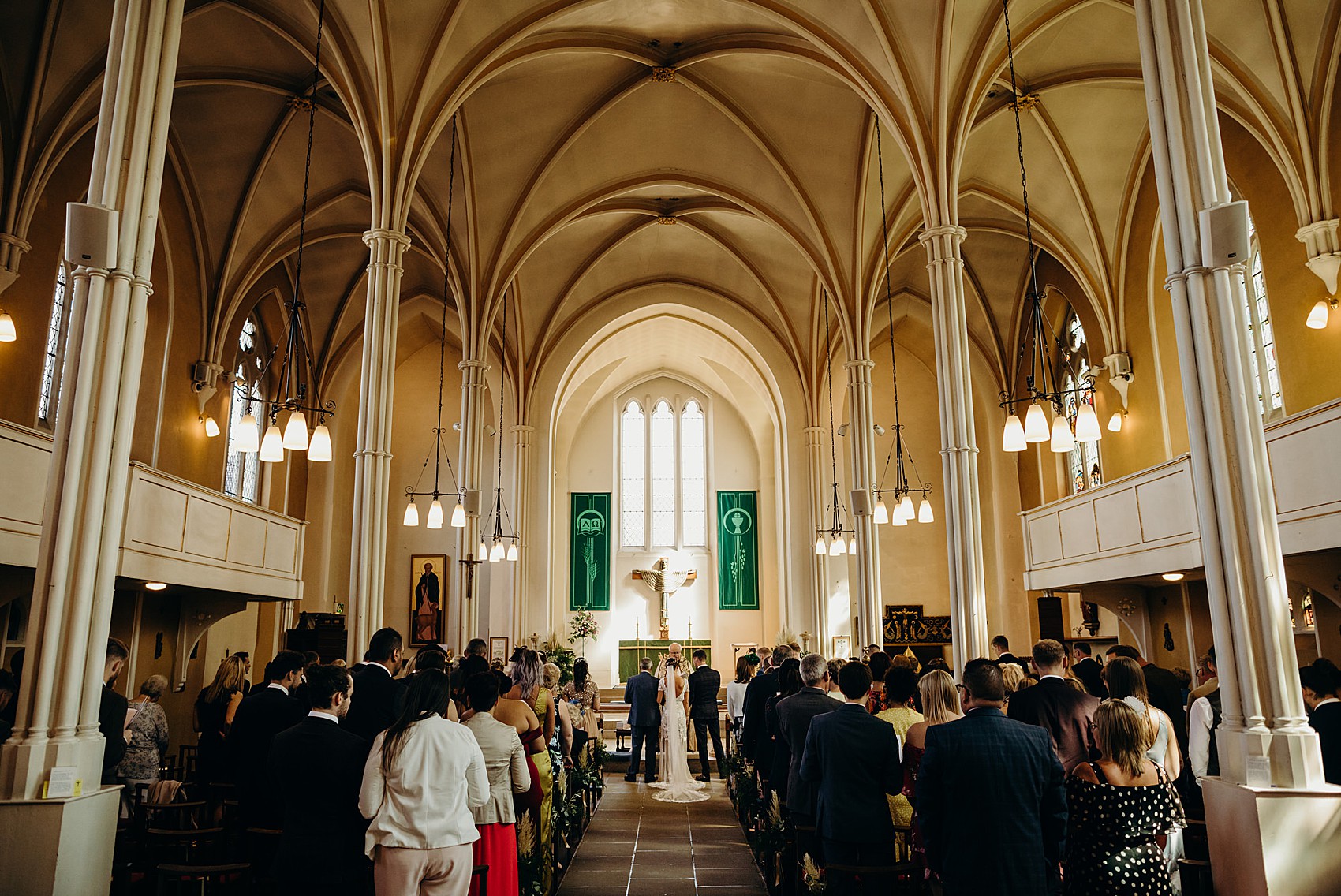 "My ring is a plain platinum ring with small diamonds on a quarter of the band. I wanted it to be very simple, delicate and small. Jack's wedding ring is his dad's original wedding ring. His dad now has another one that fits him a bit better."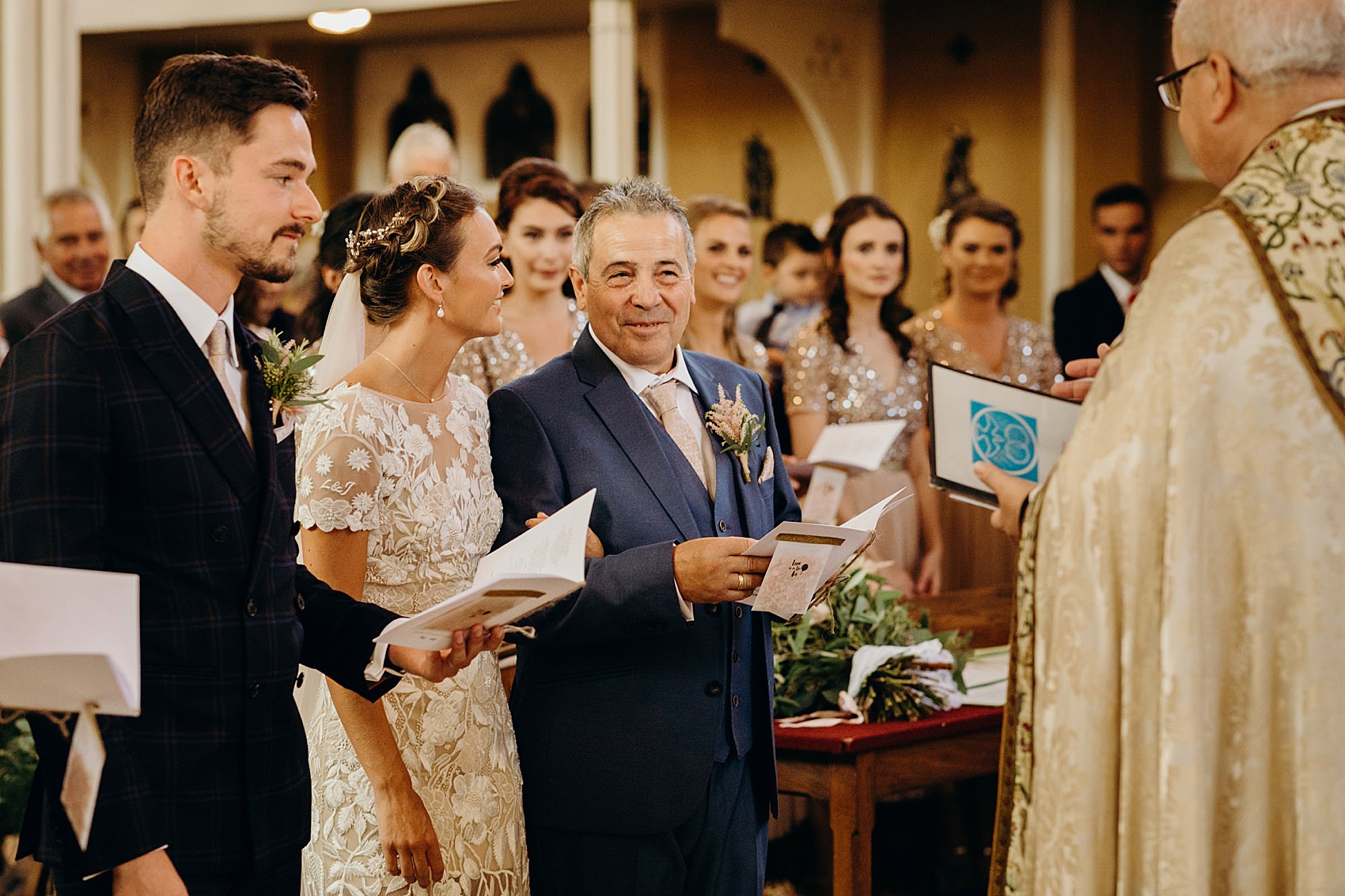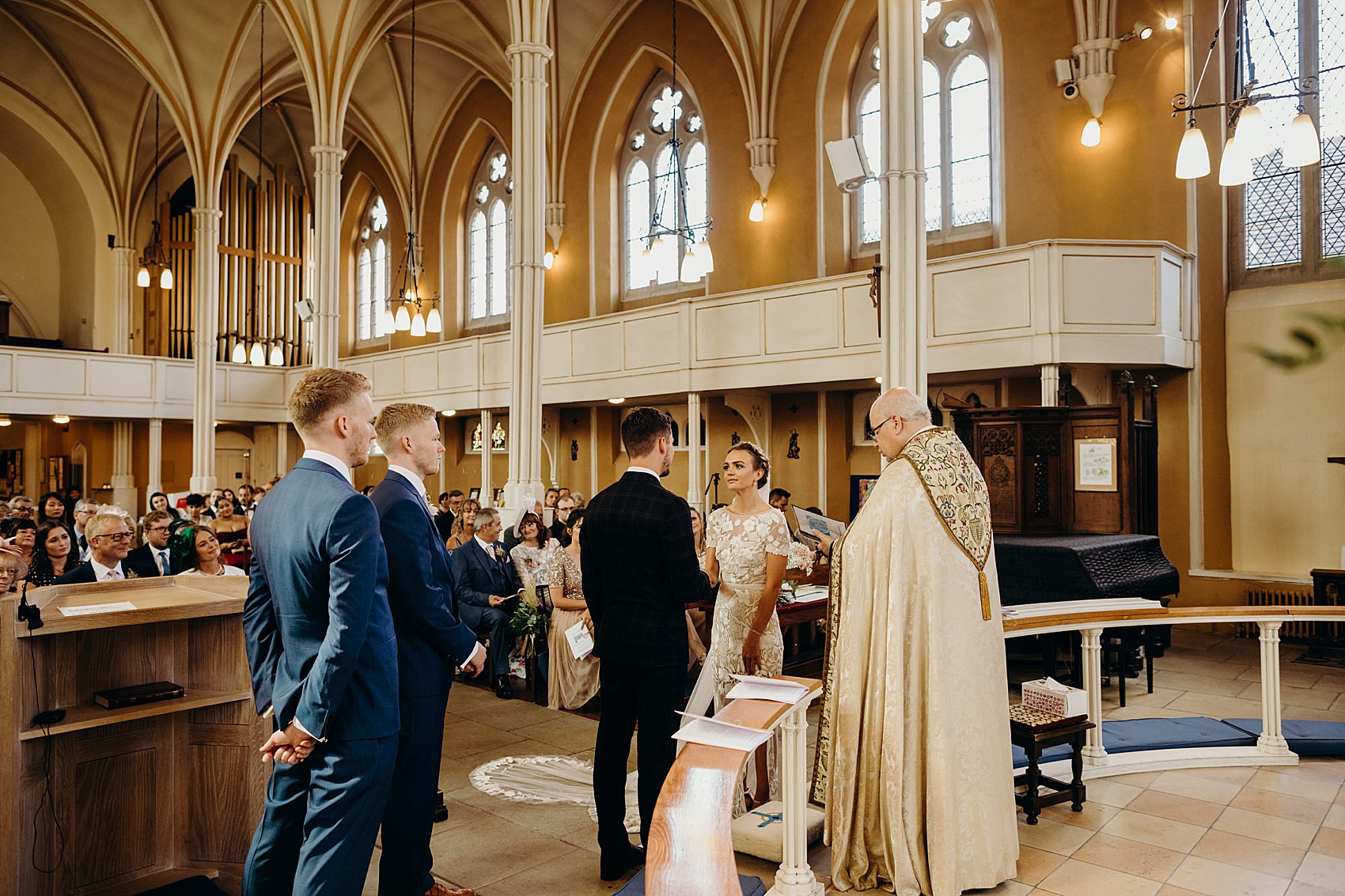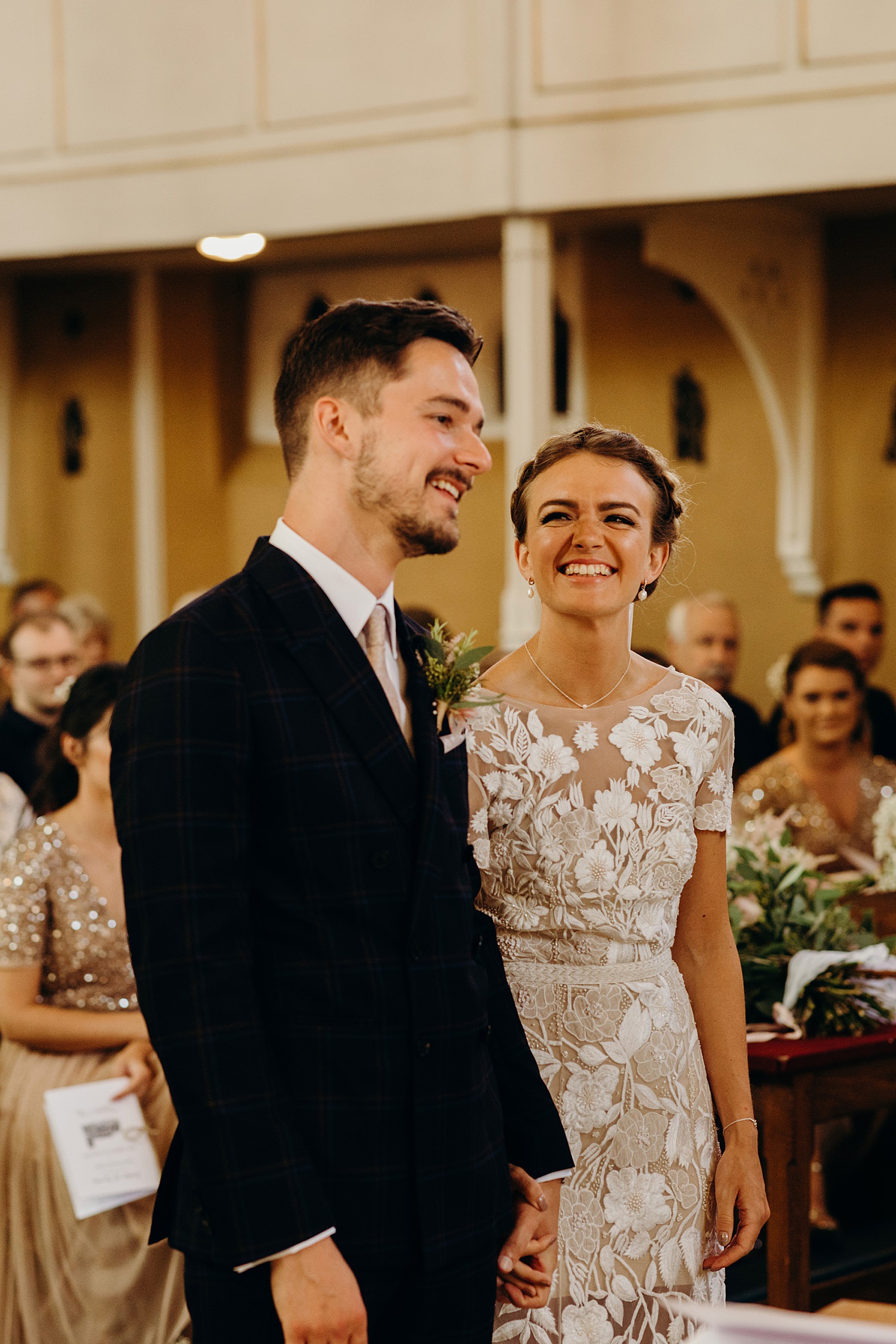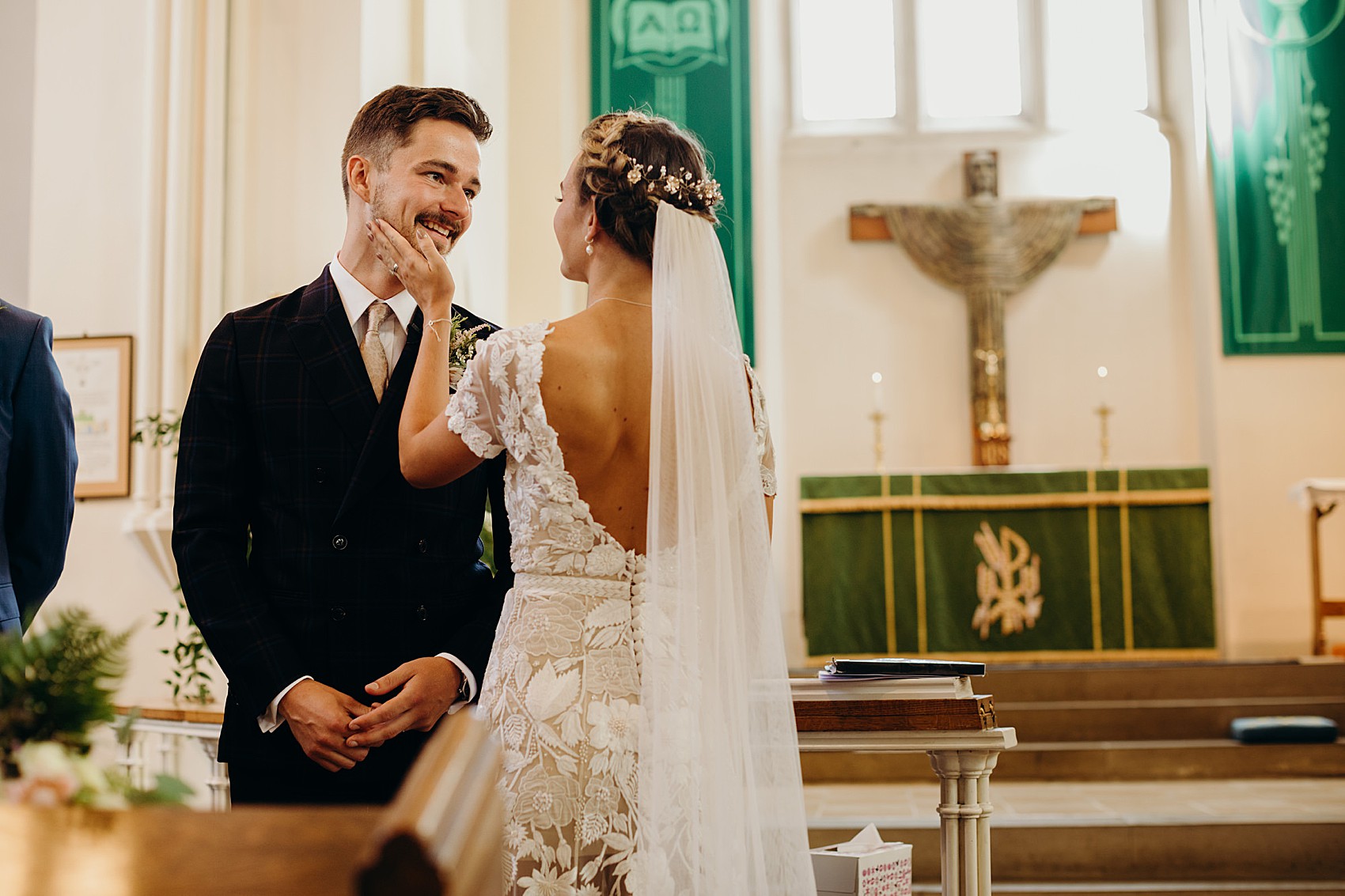 My favourite photos are those of Jack and Luisa leaving the church as newly-weds; they look so incredibly happy and as if they are having such fun with their loved ones. Although the bride had walked to the church, the couple hopped in to a smart Tesla to travel to Furtho Manor Farm.
"Tesla lent us a vehicle as Jack used to work with them, which was very kind."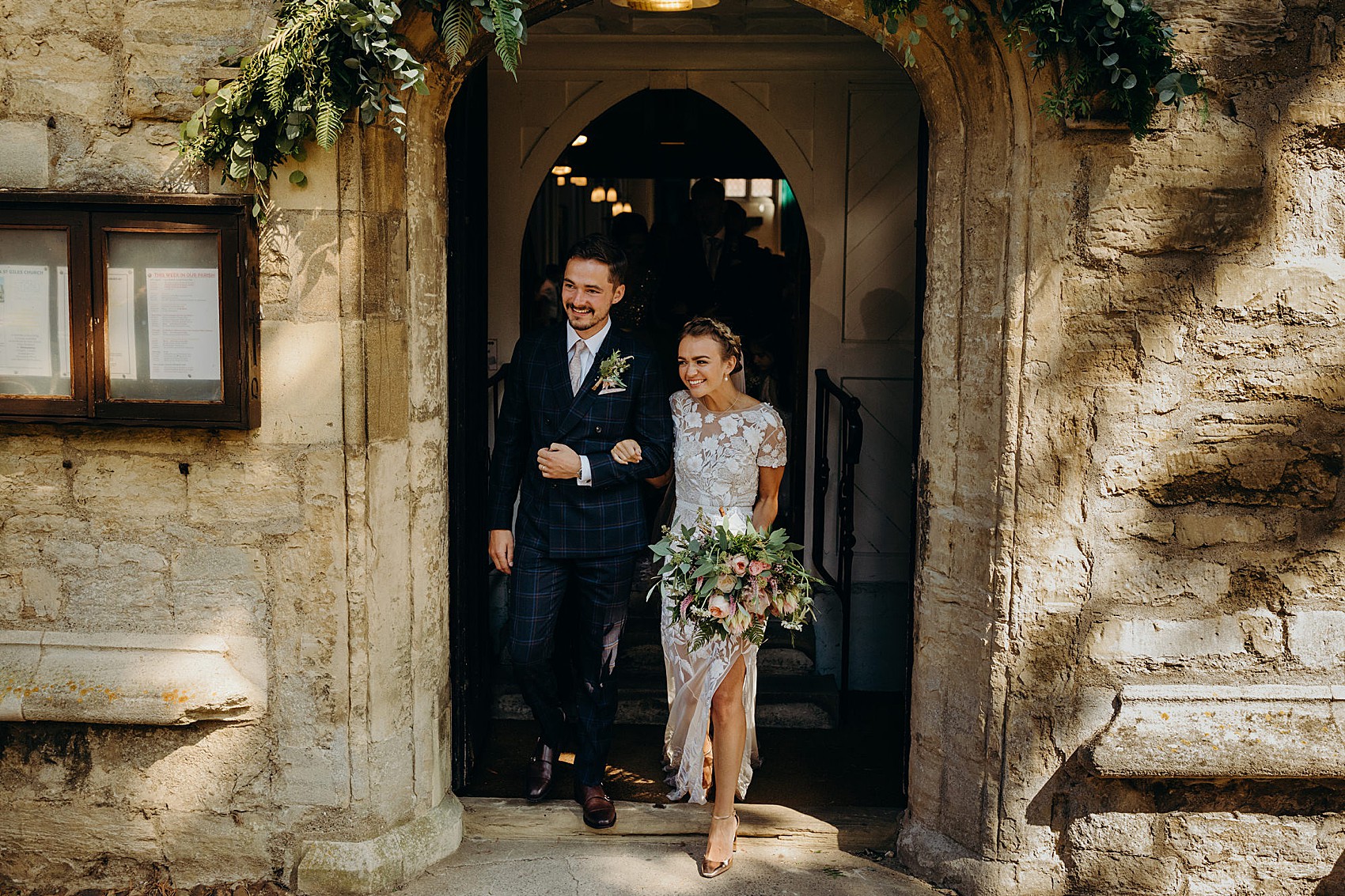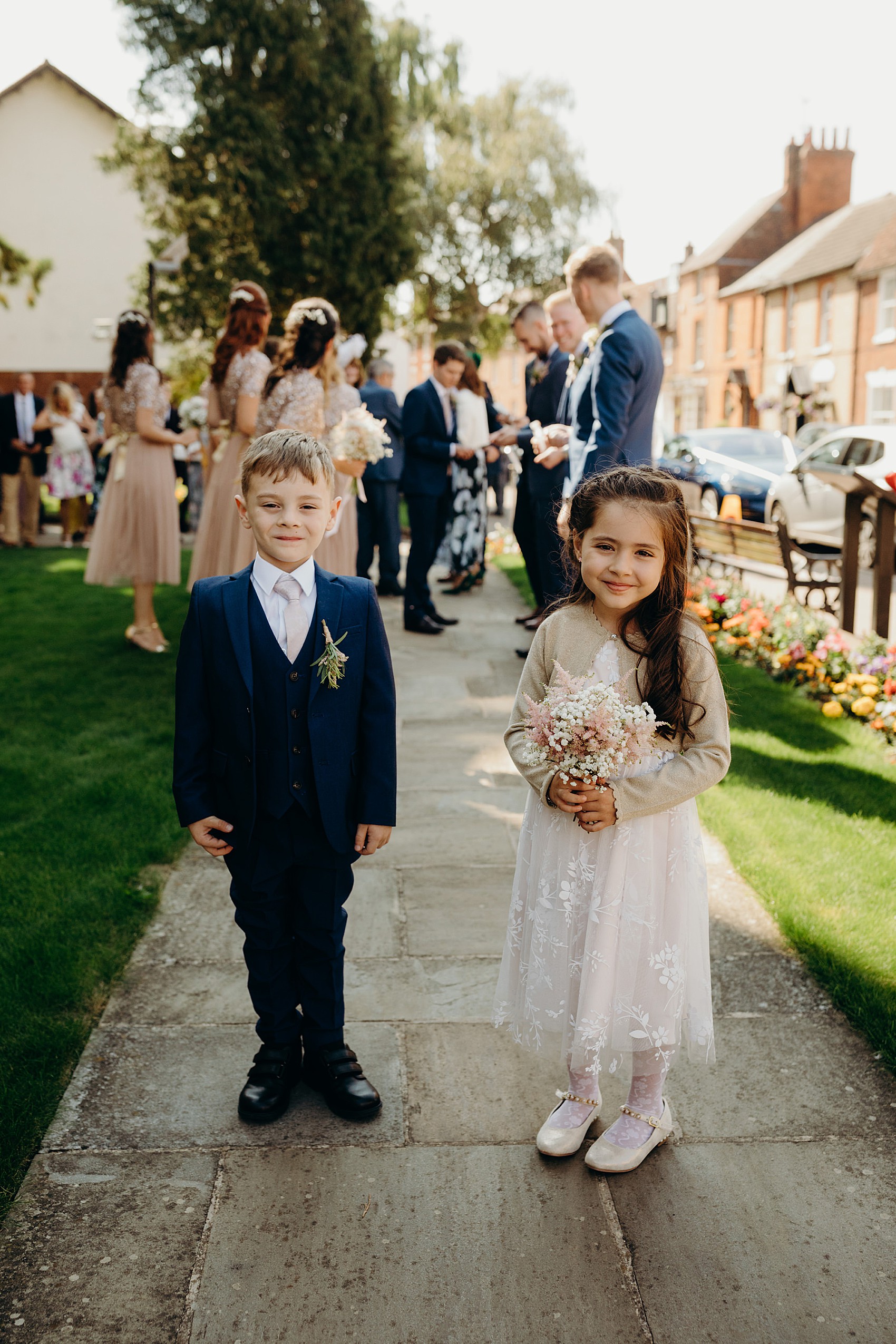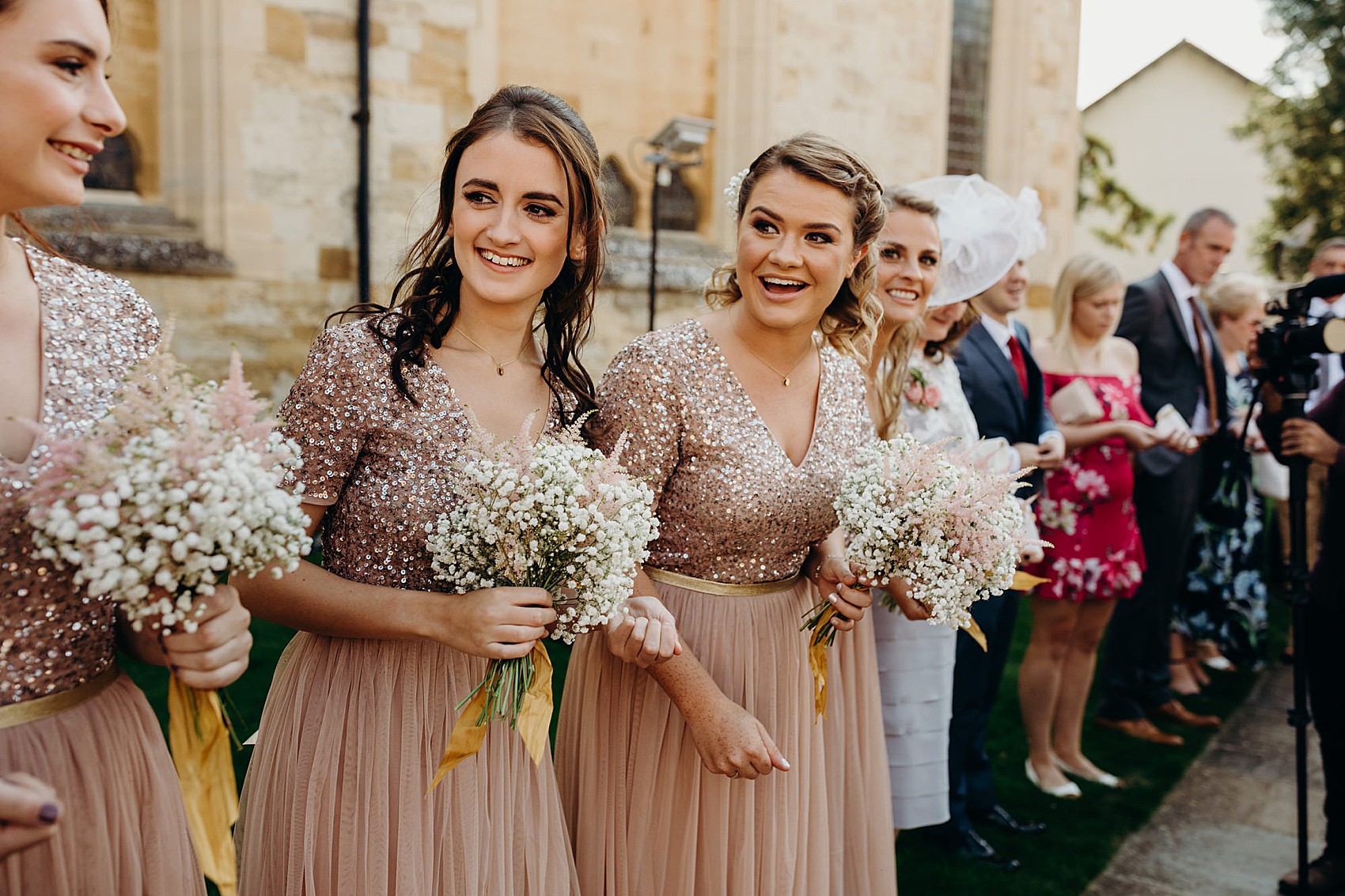 For a slick, modern take on groom's style, Jack chose a fitted Paul Smith suit which he accessorised with a pure white Dunhill shirt, a Next tie in warm gold and Church's shoes. He also wore a gift from Luisa, a Nomos watch.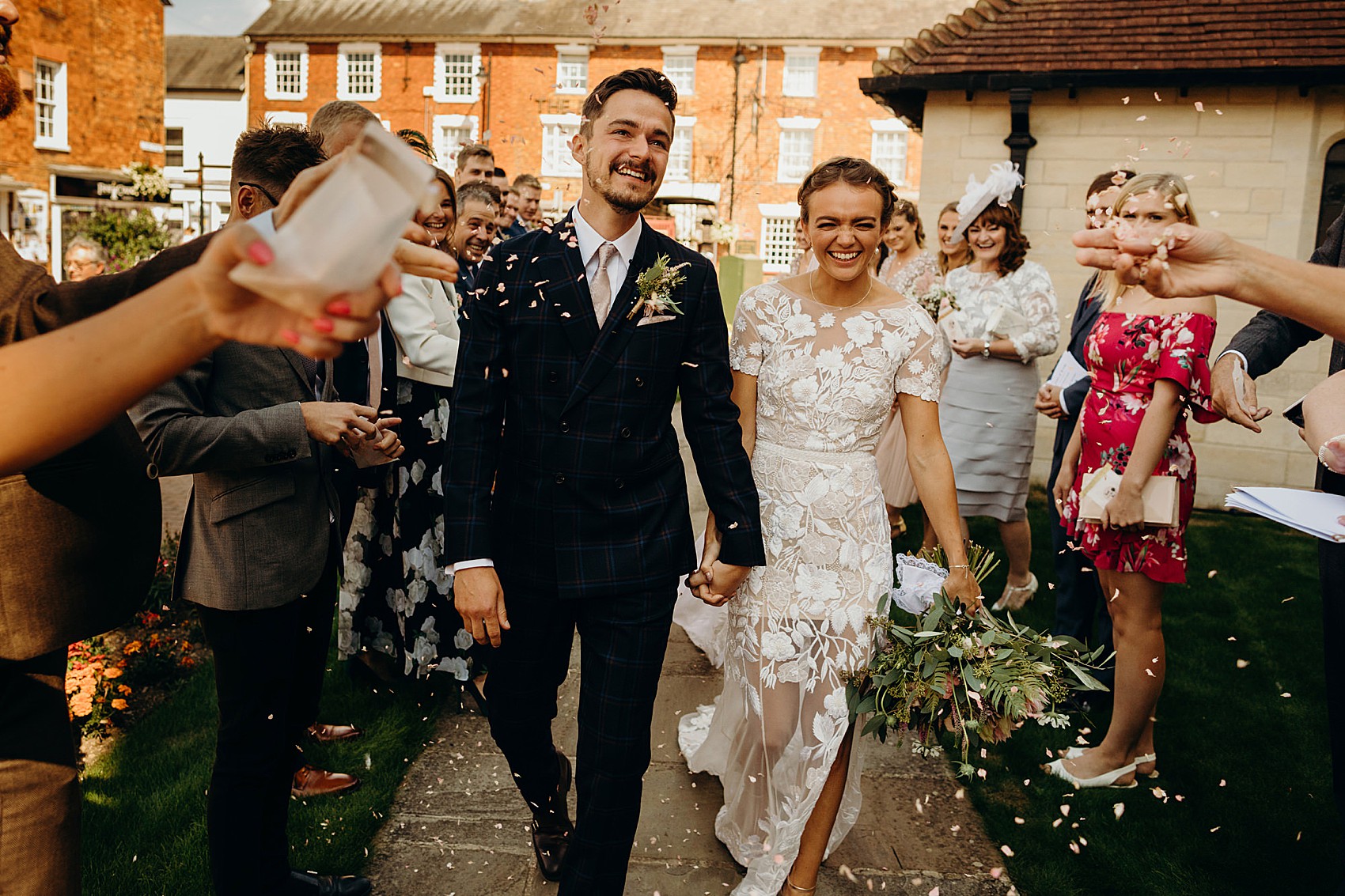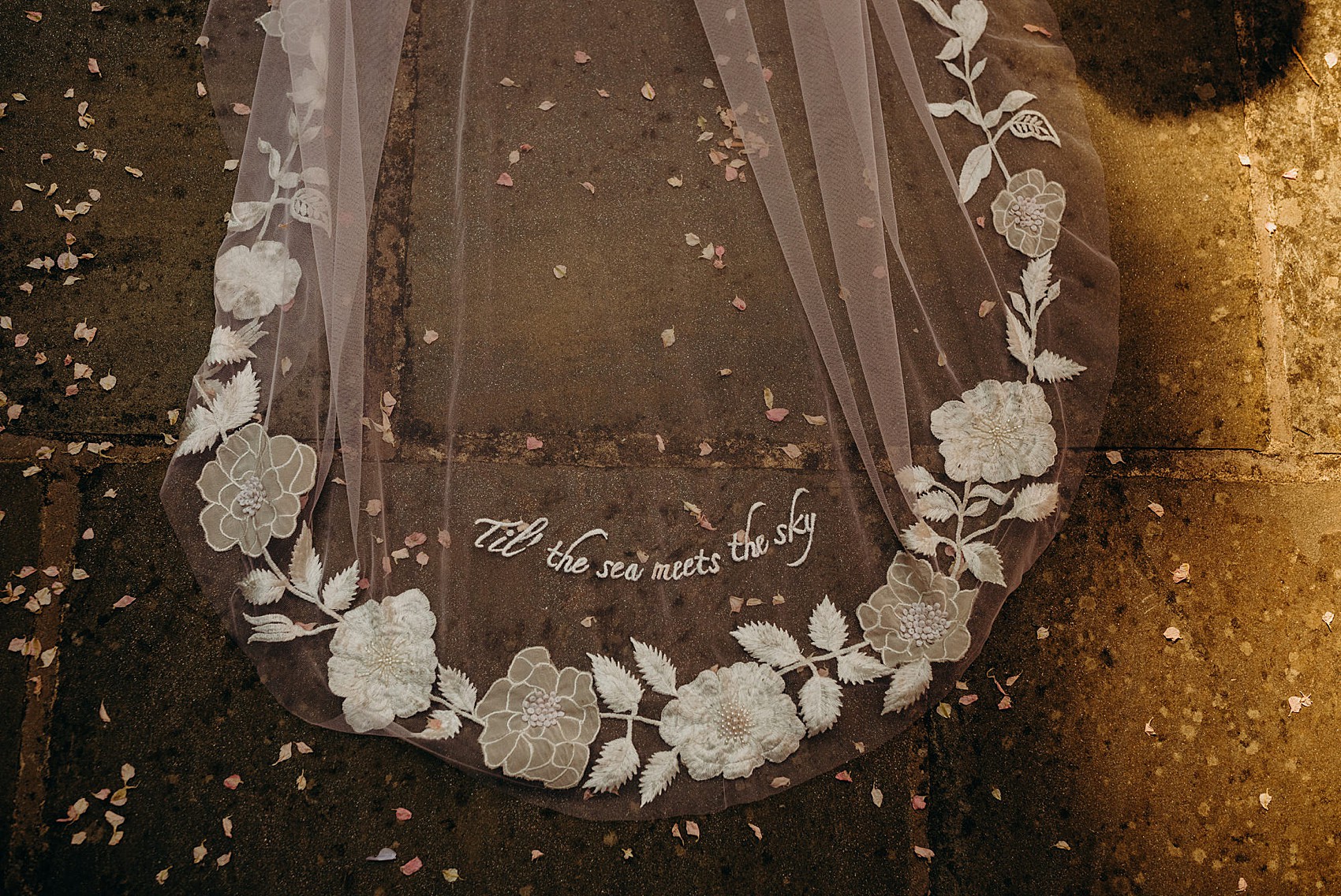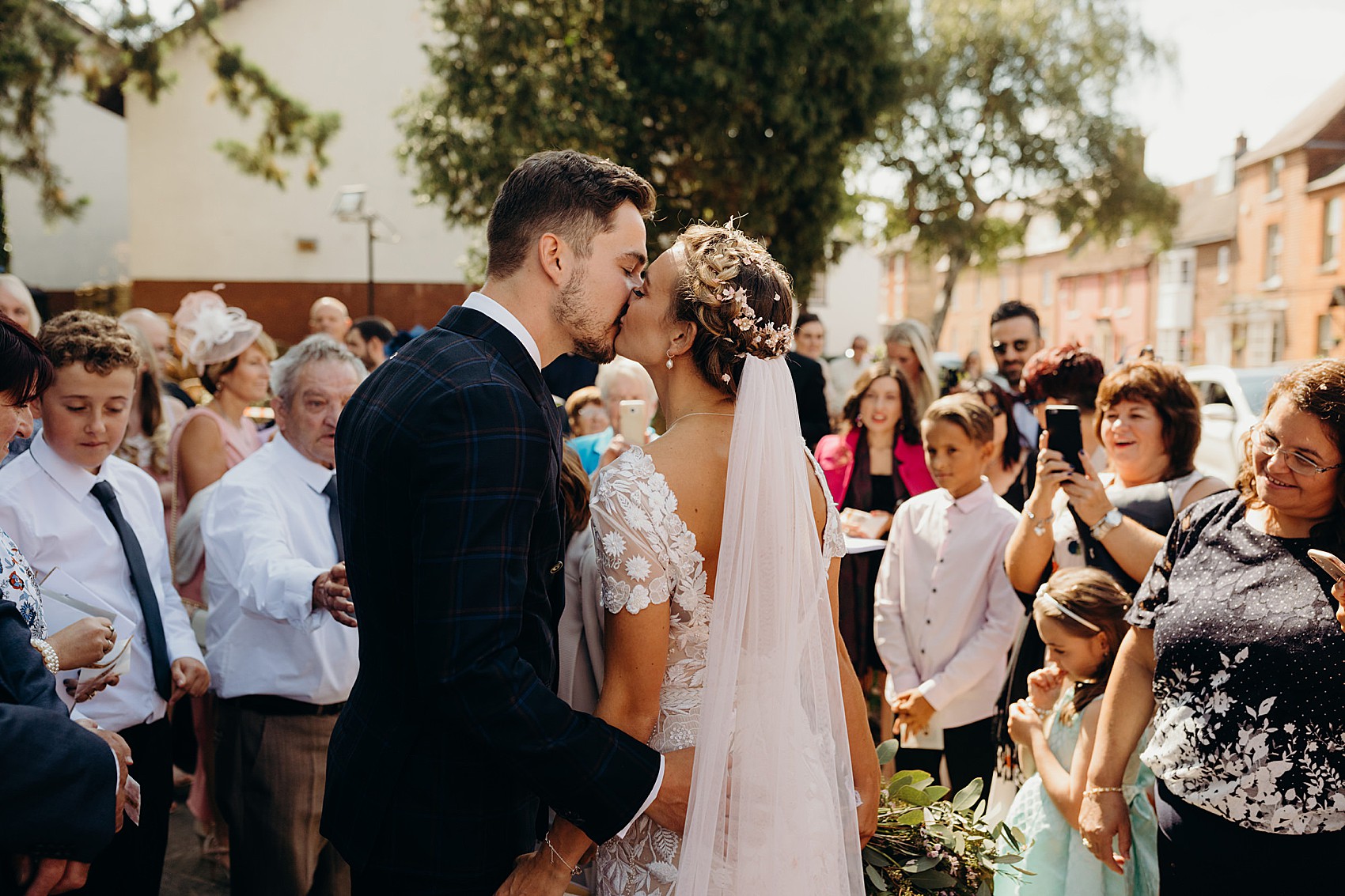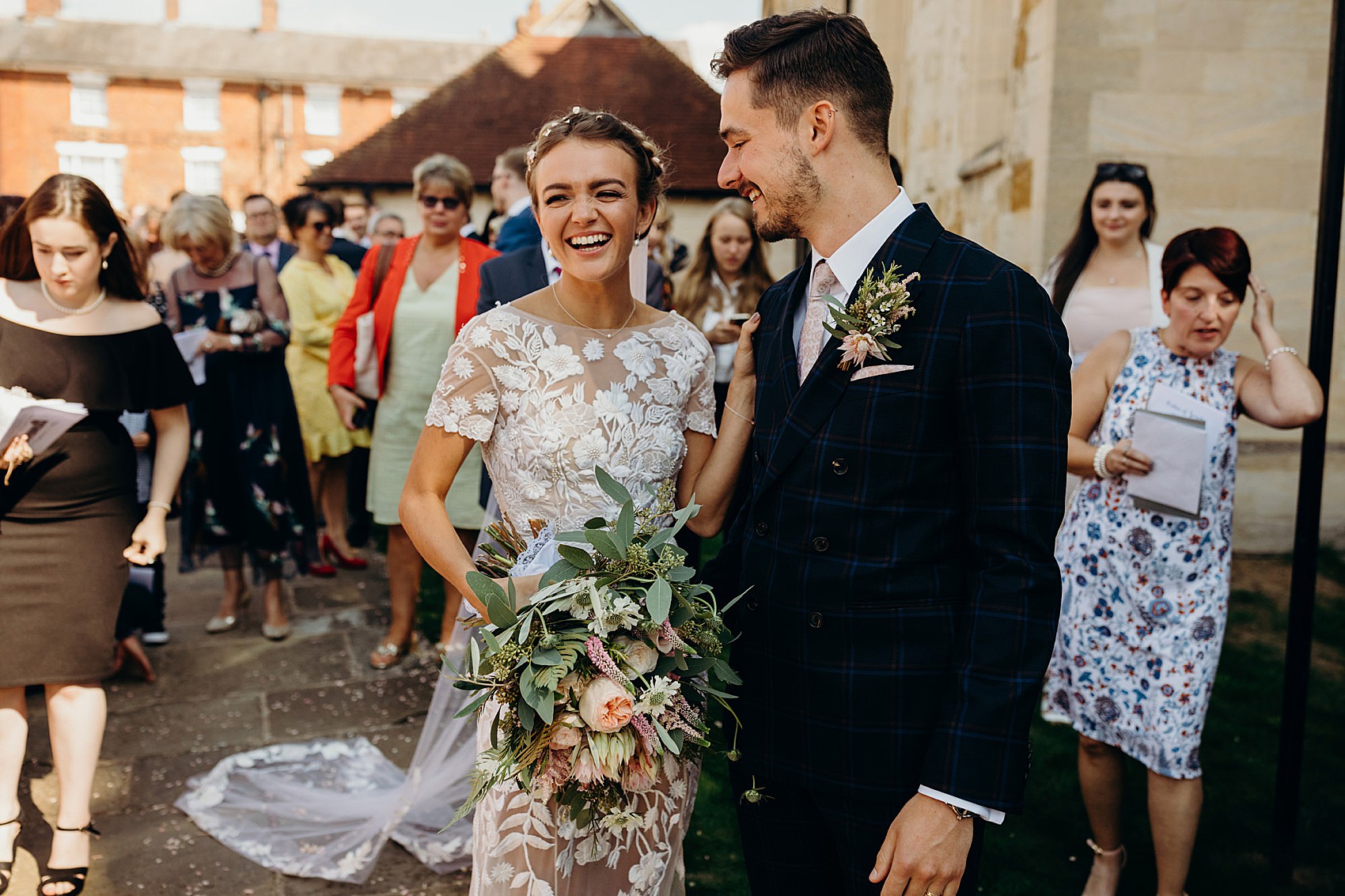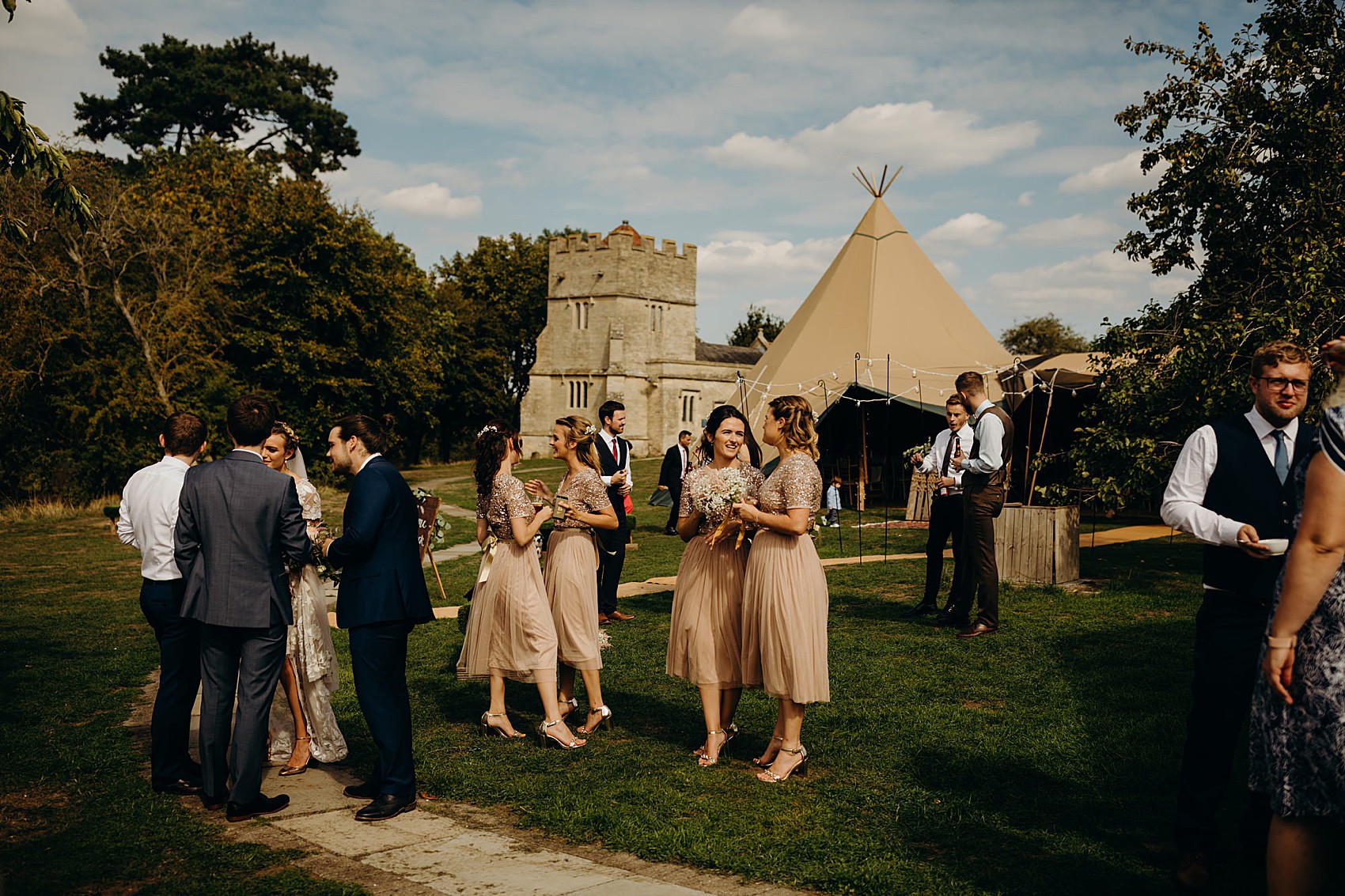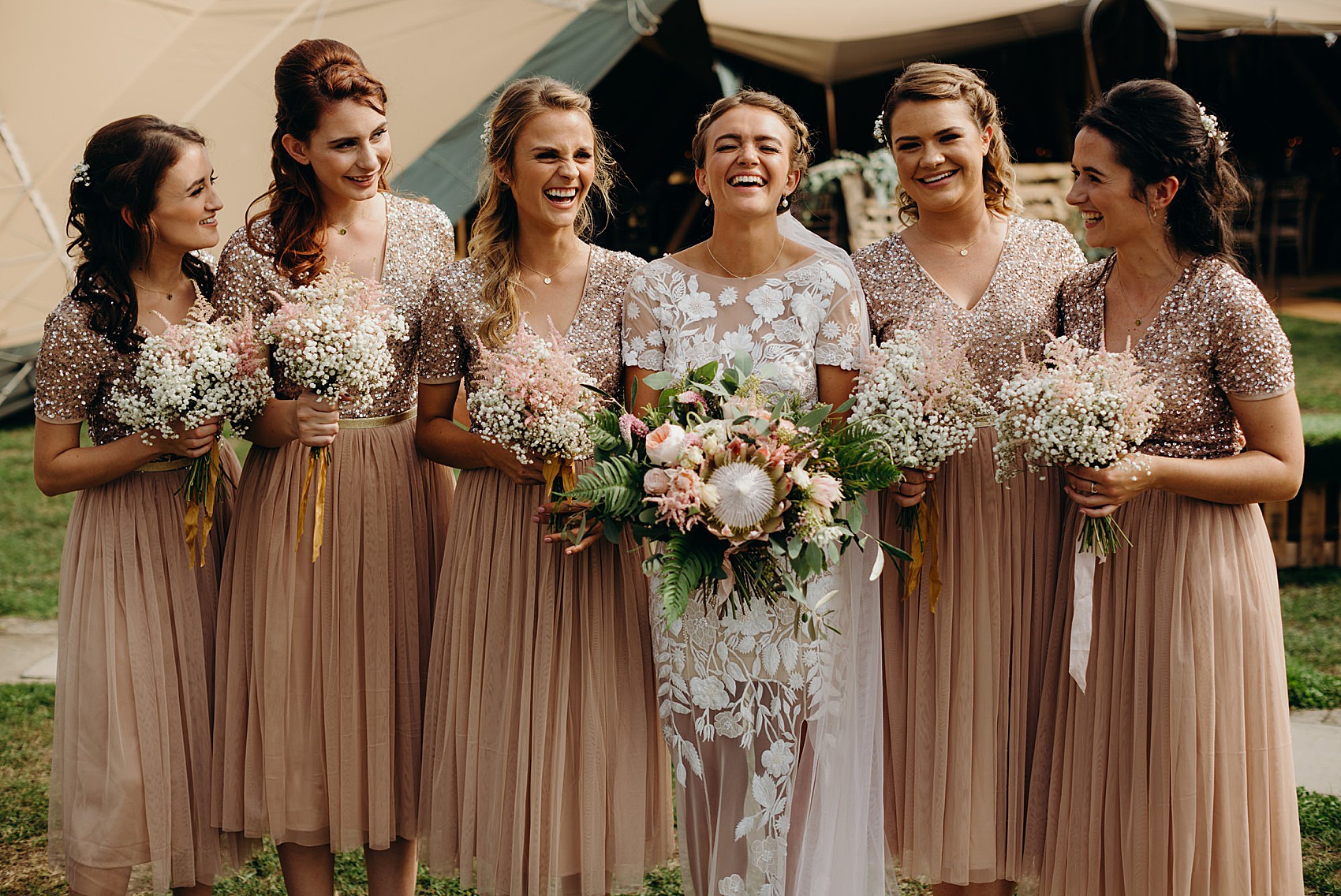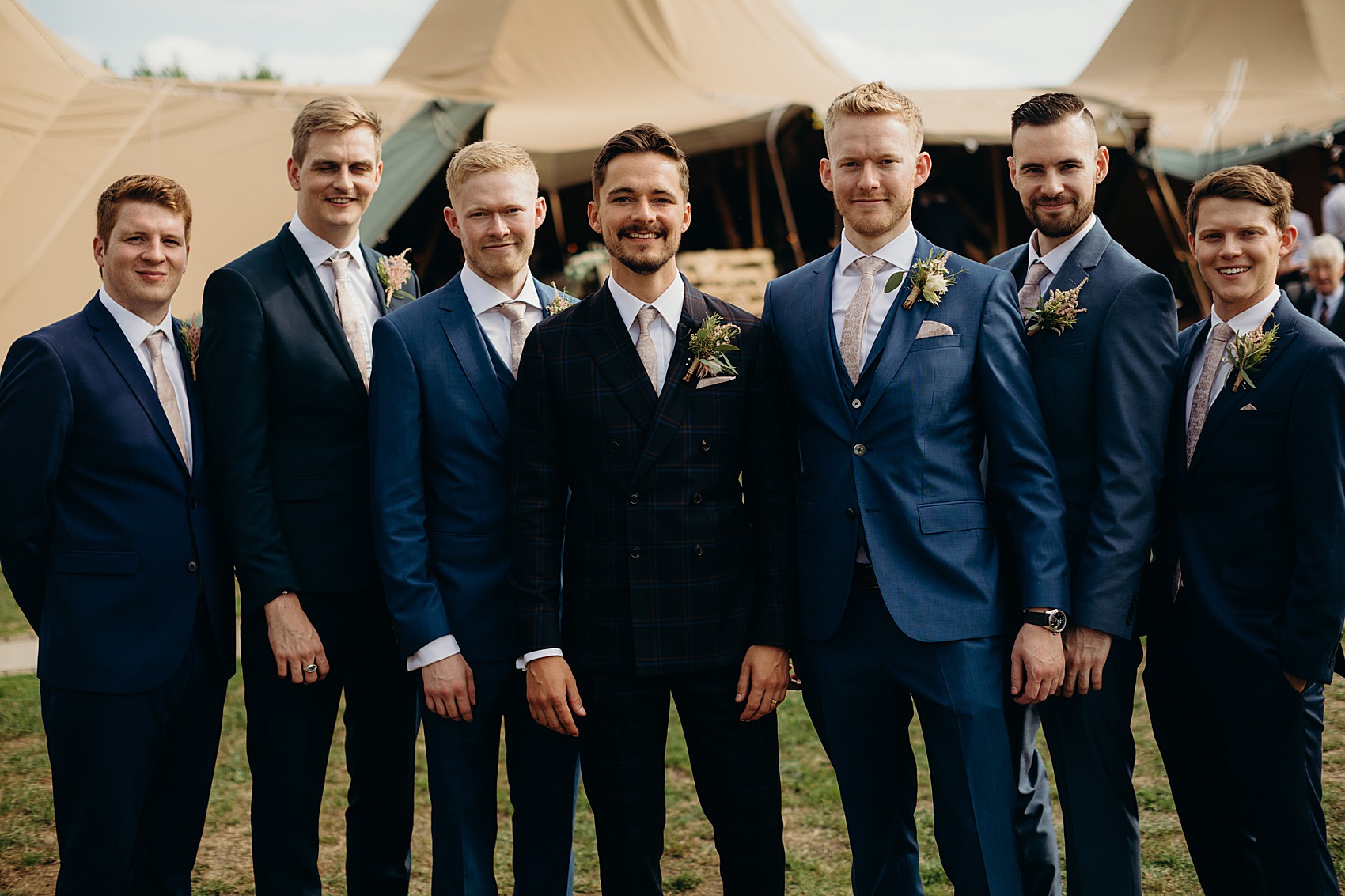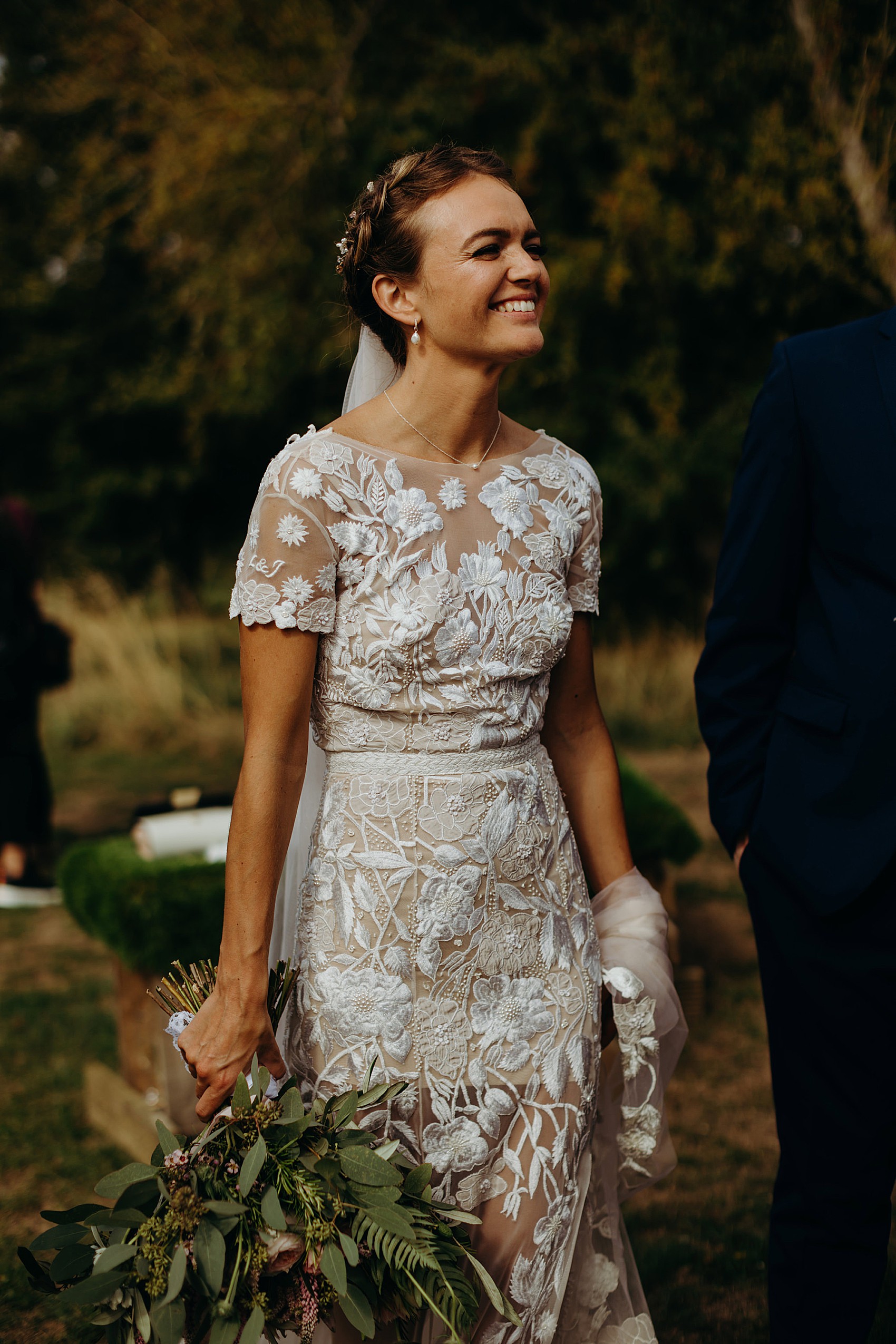 As the weather was so sunny and warm, the newly-weds relaxed outside with their guests before their formal, sit-down meal from Dimblebee Catering.
"We liked the idea of long tables and a banquet-type meal in the day with a fish and chip van in the evening. People could go and be served any time in the evening when they were hungry, grab a Krispy Kreme donut from the tower and a slice of wedding cake whenever they wanted."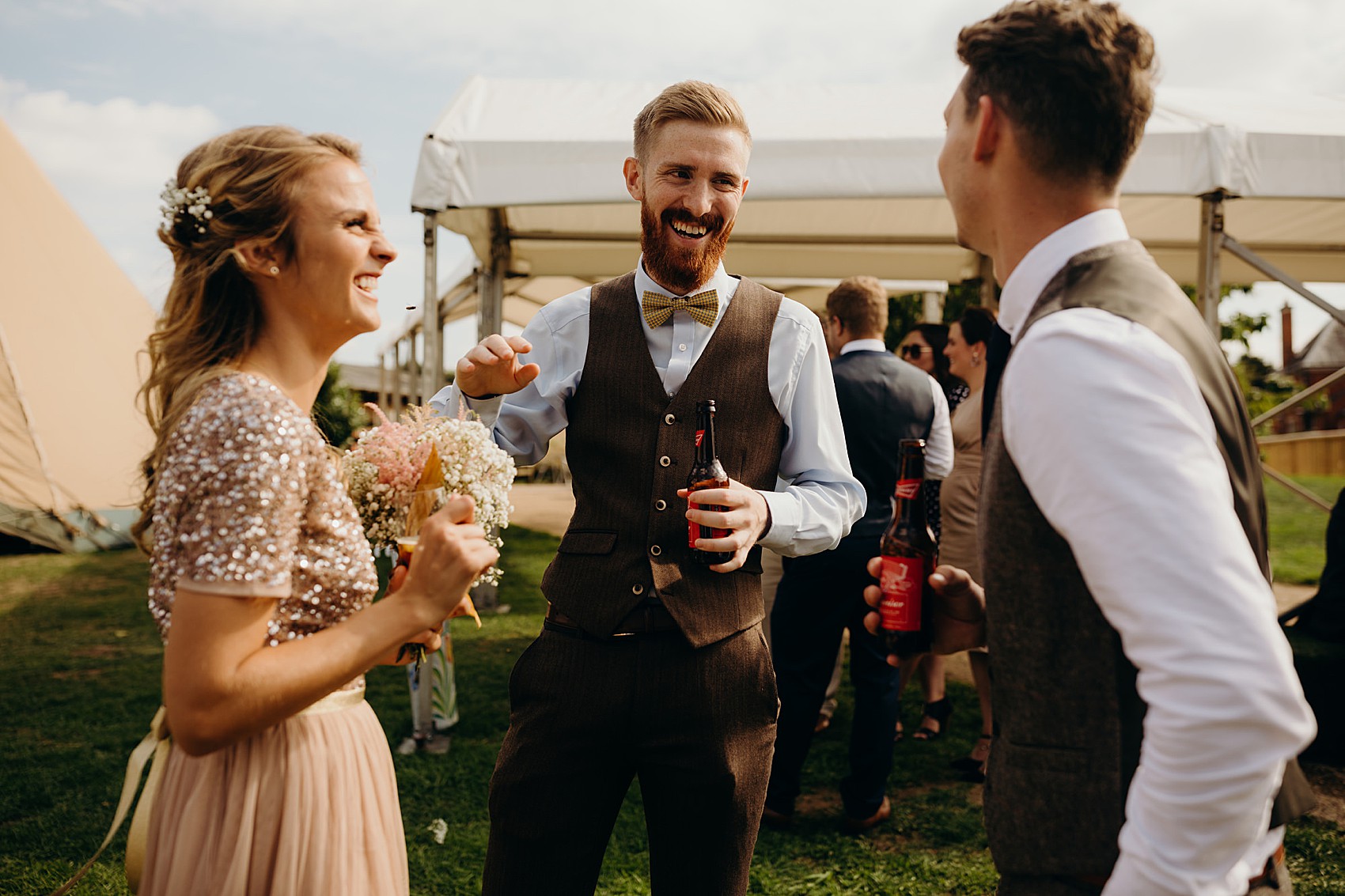 Planning for bad weather, the rain shelter turned out to act as a sun-shade.
"We had a nightmare hitch along the way regarding weather and getting food into the tipi from the kitchen across the way in the bar. We put a covered walkway from the tipi to the barn just in case but the day was surprisingly glorious and people didn't use it for rain as we'd planned but for shade – so it worked out ok in the end."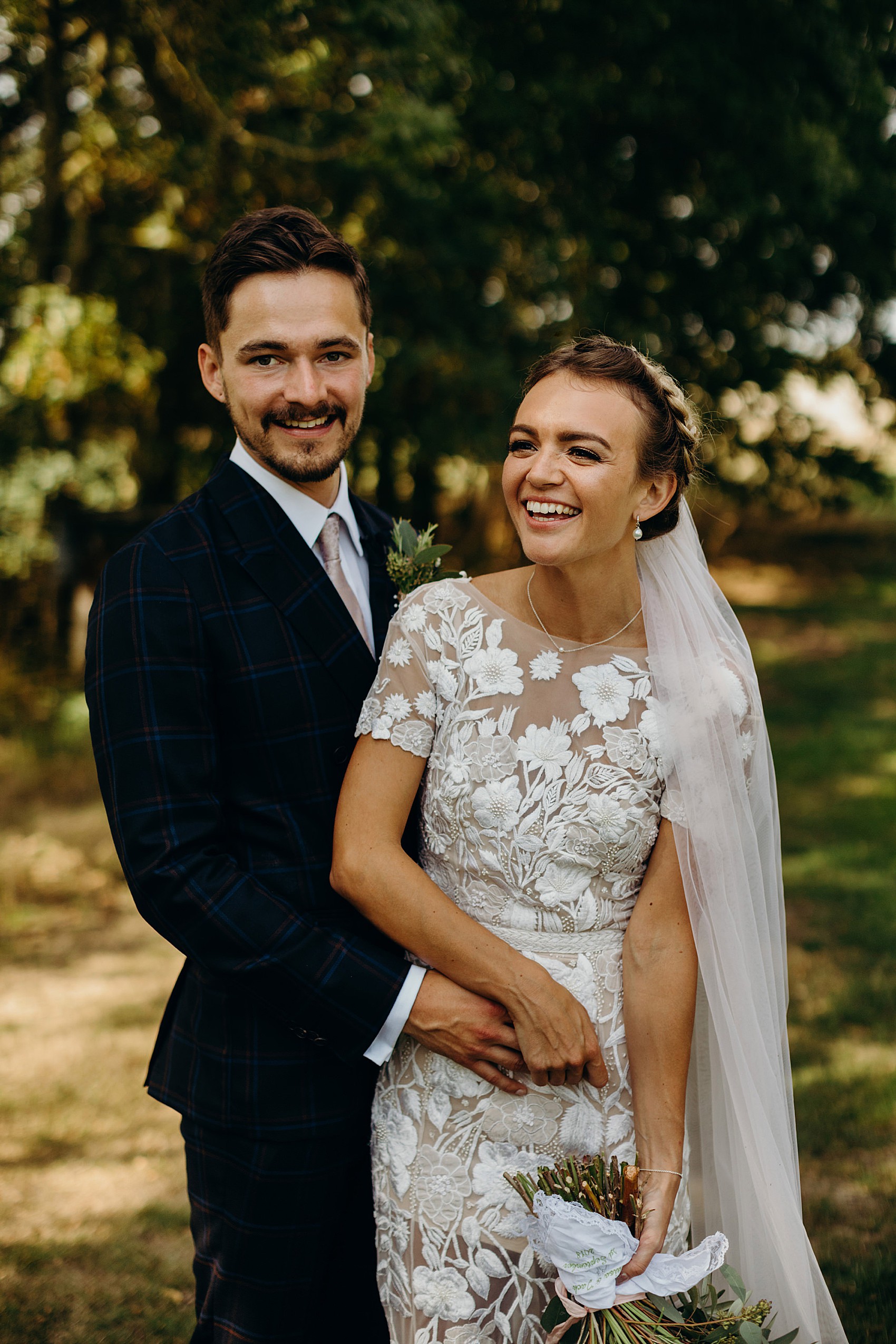 Furtho Manor Farm was an easy venue choice for the couple as it is just a few minutes' drive from the church and their home. The farm offered all the space needed for them to stage their vision of a day filled with love, friends, family and relaxation.
"Furtho was amazing because it provided us the canvas to put exactly what we wanted together with the flexibility to have as many different suppliers as we wanted and an outdoor wedding in the most beautiful setting."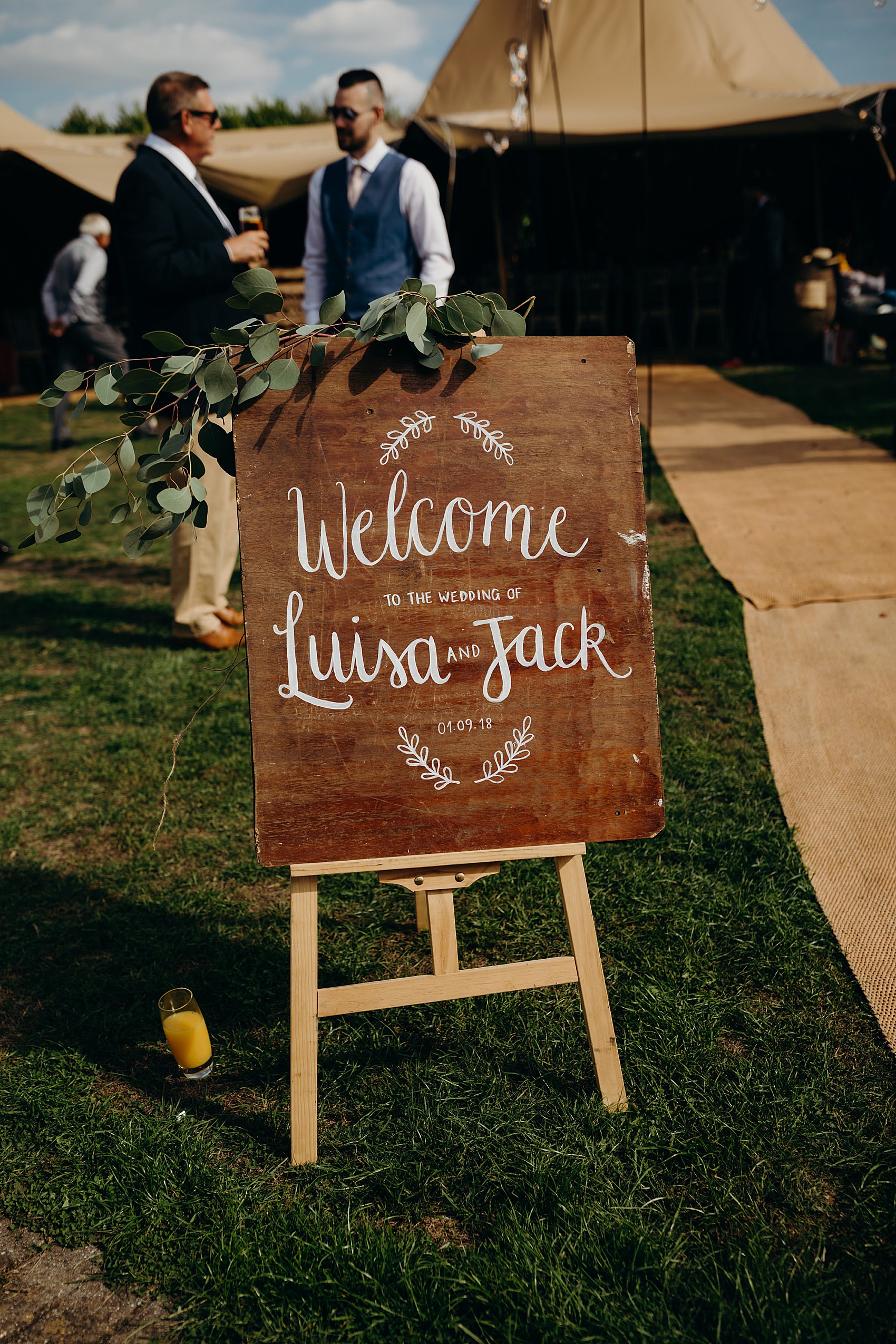 "We wanted a relaxed vibe where every detail was thought of and the guests felt comfortable. We didn't really have a theme as such, more a vibe that we wanted to achieve; relaxed and full of love and with as many flowers as we could fit in a tipi. We wanted it to be laid-back but with all the little touches to make it come together. We loved the ideas of the open sides on the tipi so that those outside could still be involved with those inside and it felt like one big room."
The light and airy tipi was filled with décor and elegant touches hired from The White Emporium, along with items from car boot sales and Ebay. There were also some really lovely personal details and, of course, those incredible flowers from florist Daisy Ellen.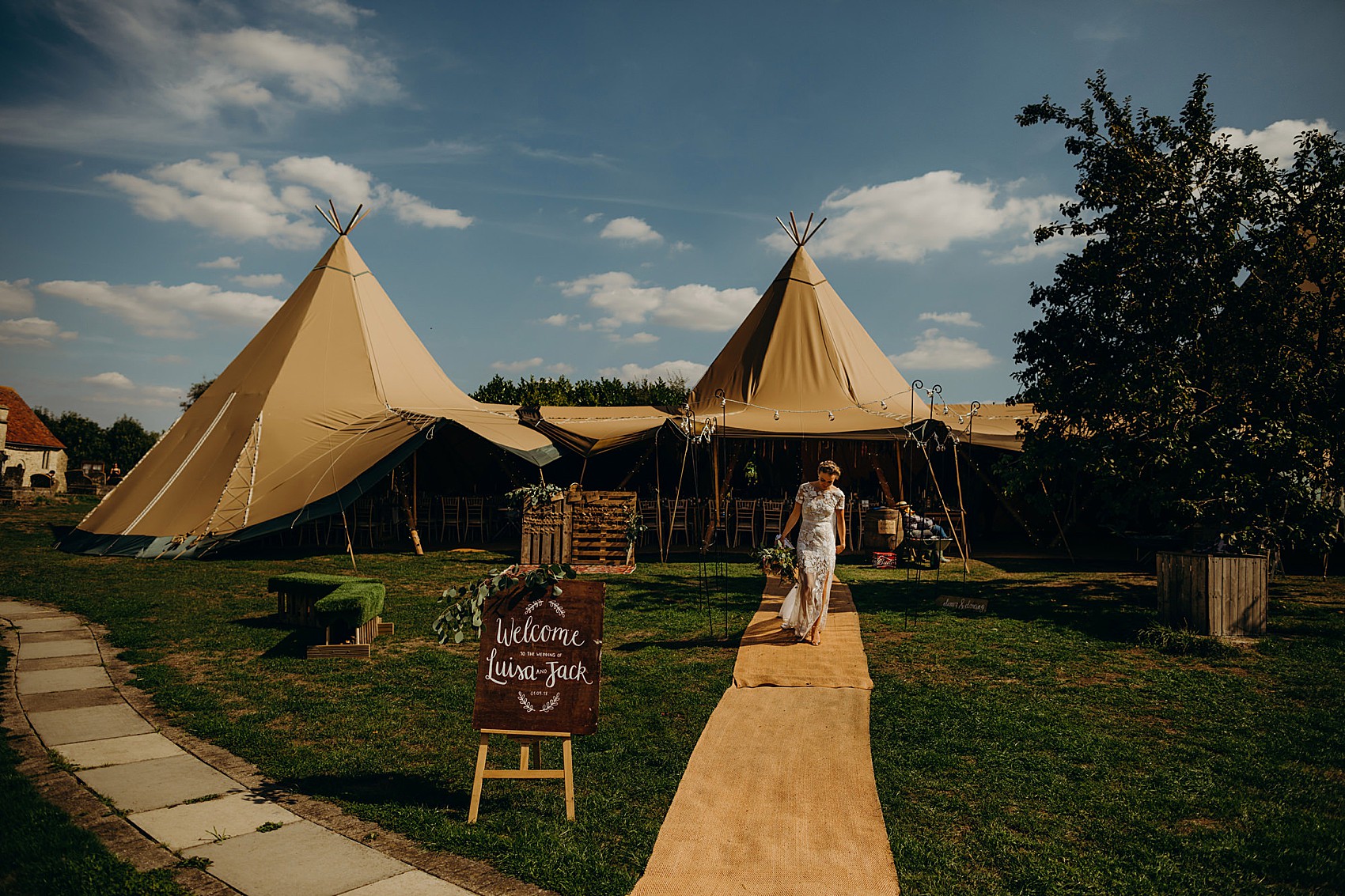 "We went for the 'pick up and drop off' and 'style it yourself' options as we had our venue for a long time beforehand to set up. It was amazing to be able to borrow so many candle sticks and props and then hand them back without having to worry about where to store them. Fran, my best friend, made lots of signs by painting pieces of wood which we'd been collecting and we used old ladders to put photos on of loved ones and marriages we admire."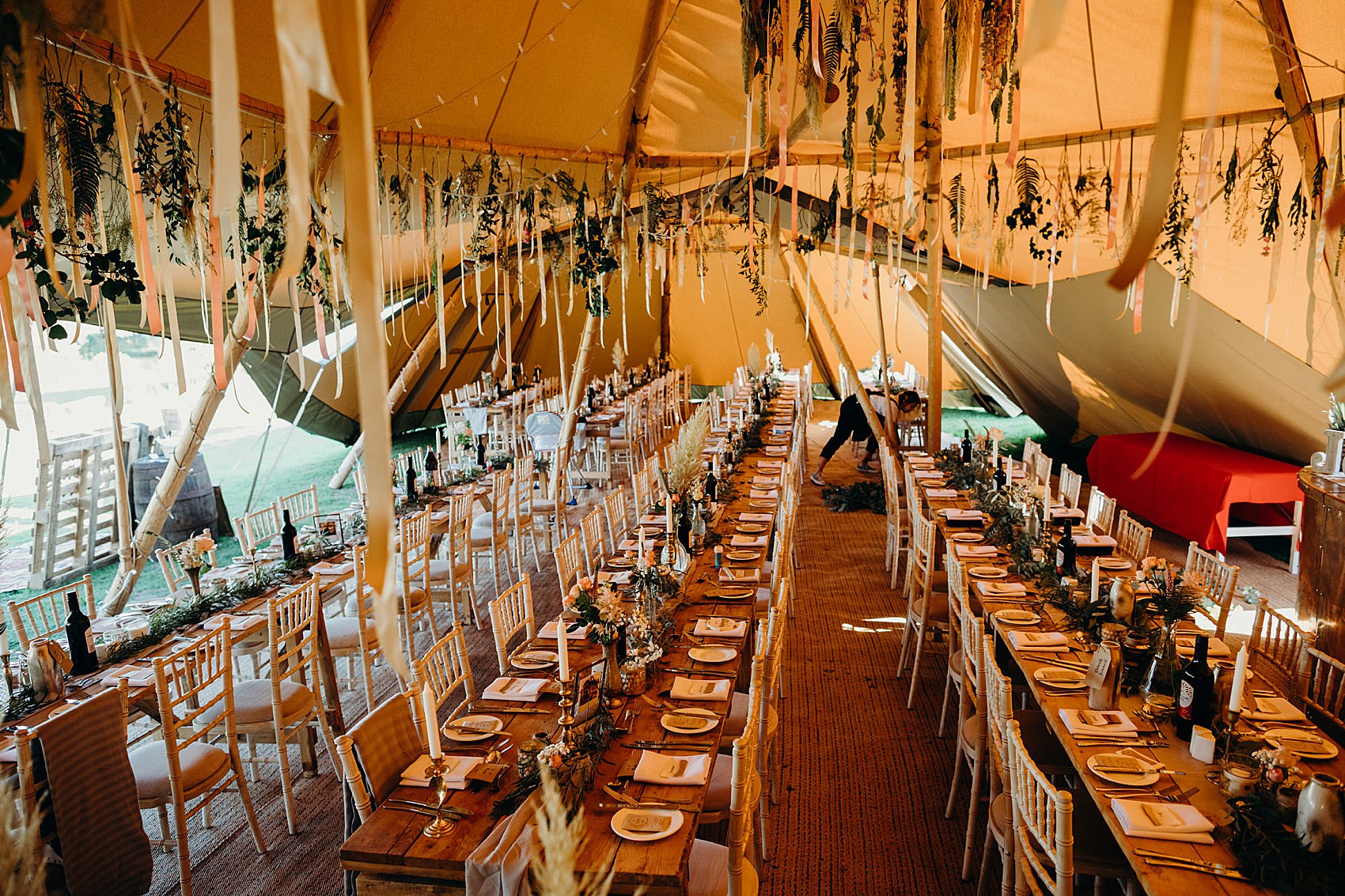 "Flowers were something I didn't want to hold back on. I felt the bigger the better. We wanted them wild and green and everywhere to combine indoors with outdoors and for the tipi to feel full. Daisy was nothing short of amazing. I made a Word document of photos for each element and she came back to me with prices for each or alternative ideas of cheaper options that could achieve the same effect. My personal favourites were my bouquet and the hanging flowers inside the tipi. They added that extra special touch."
I totally agree, Luisa, and I love the ribbons which must have looked so beautiful wafting in the breeze – oh, not to mention the fun wicker hoops with yet more ribbons.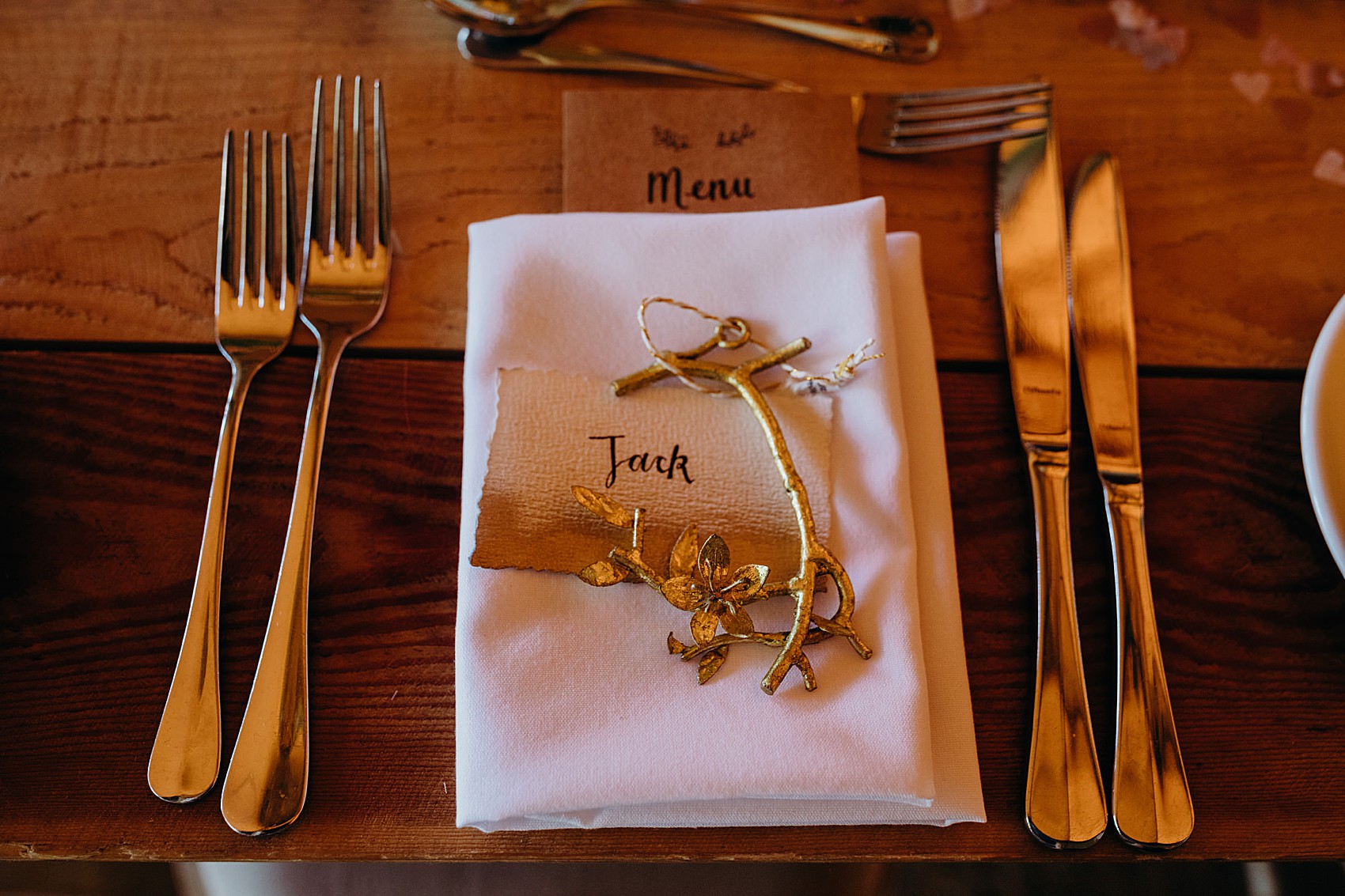 "We did a lot of research on Love My Dress. Having an outdoor tipi wedding where everything was organised separately was a bit of a risk and required a lot of research and coordination. We found our wedding invites through Love My Dress and had tea towels made by The Original Wedding Tea Towel after seeing them there."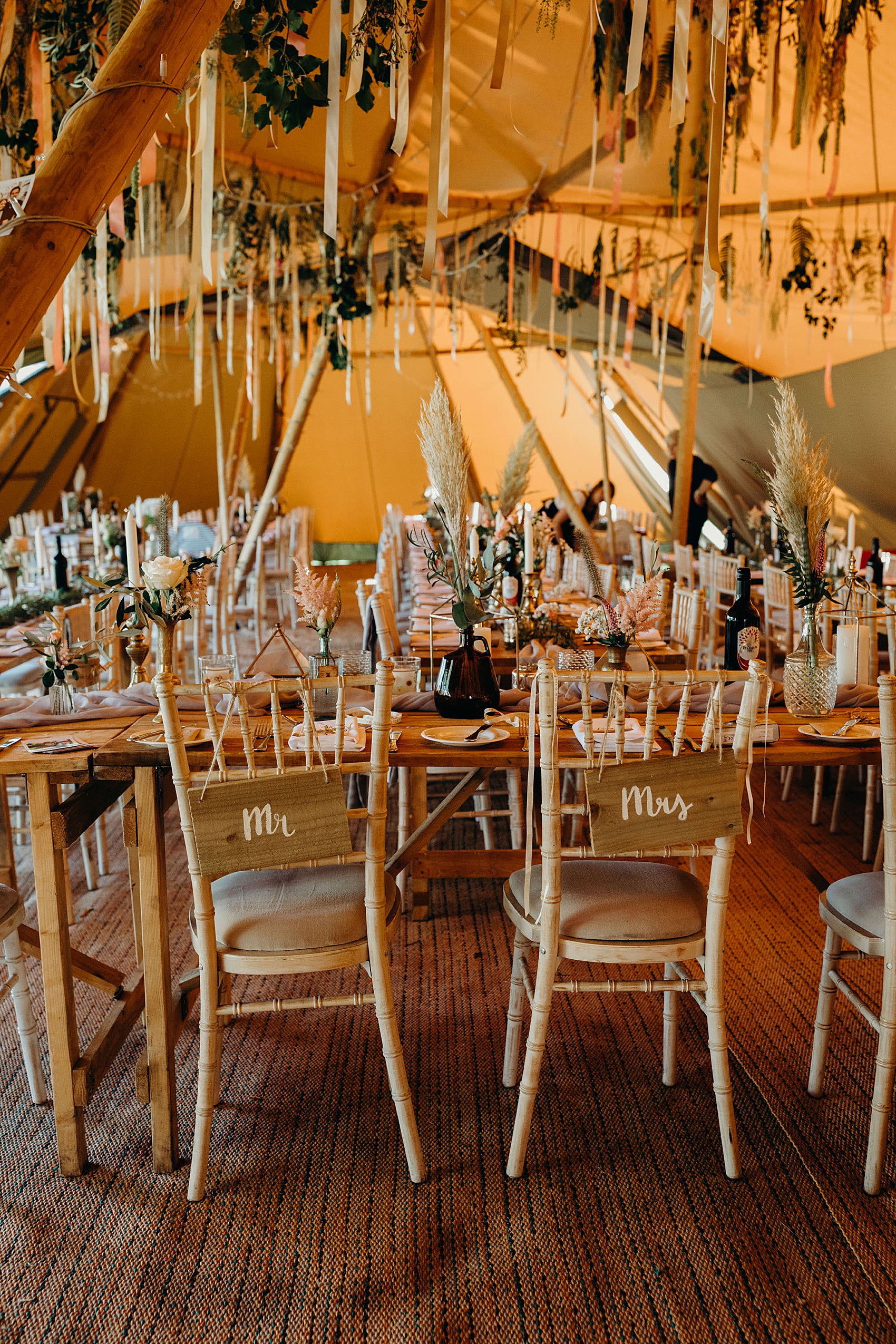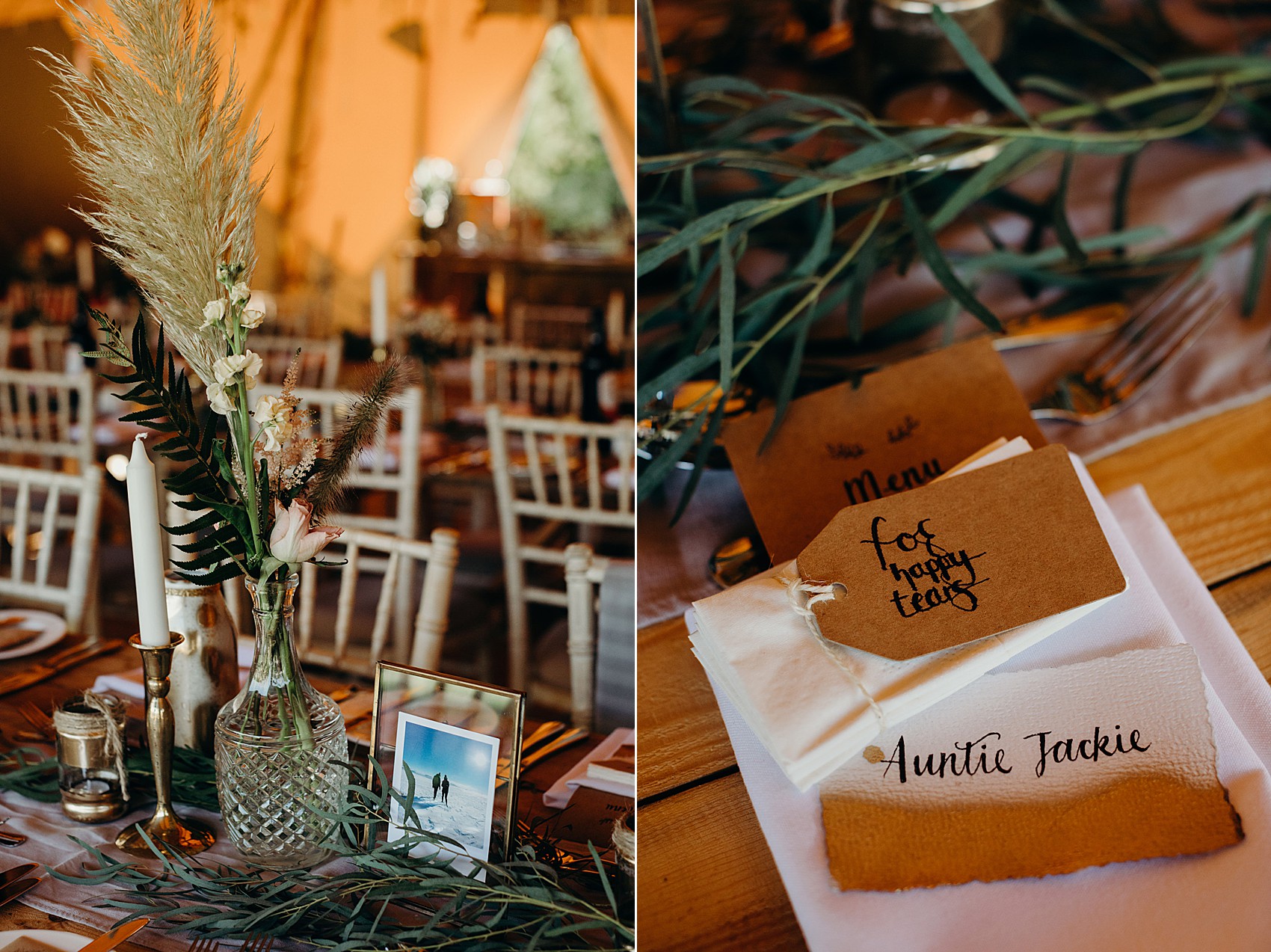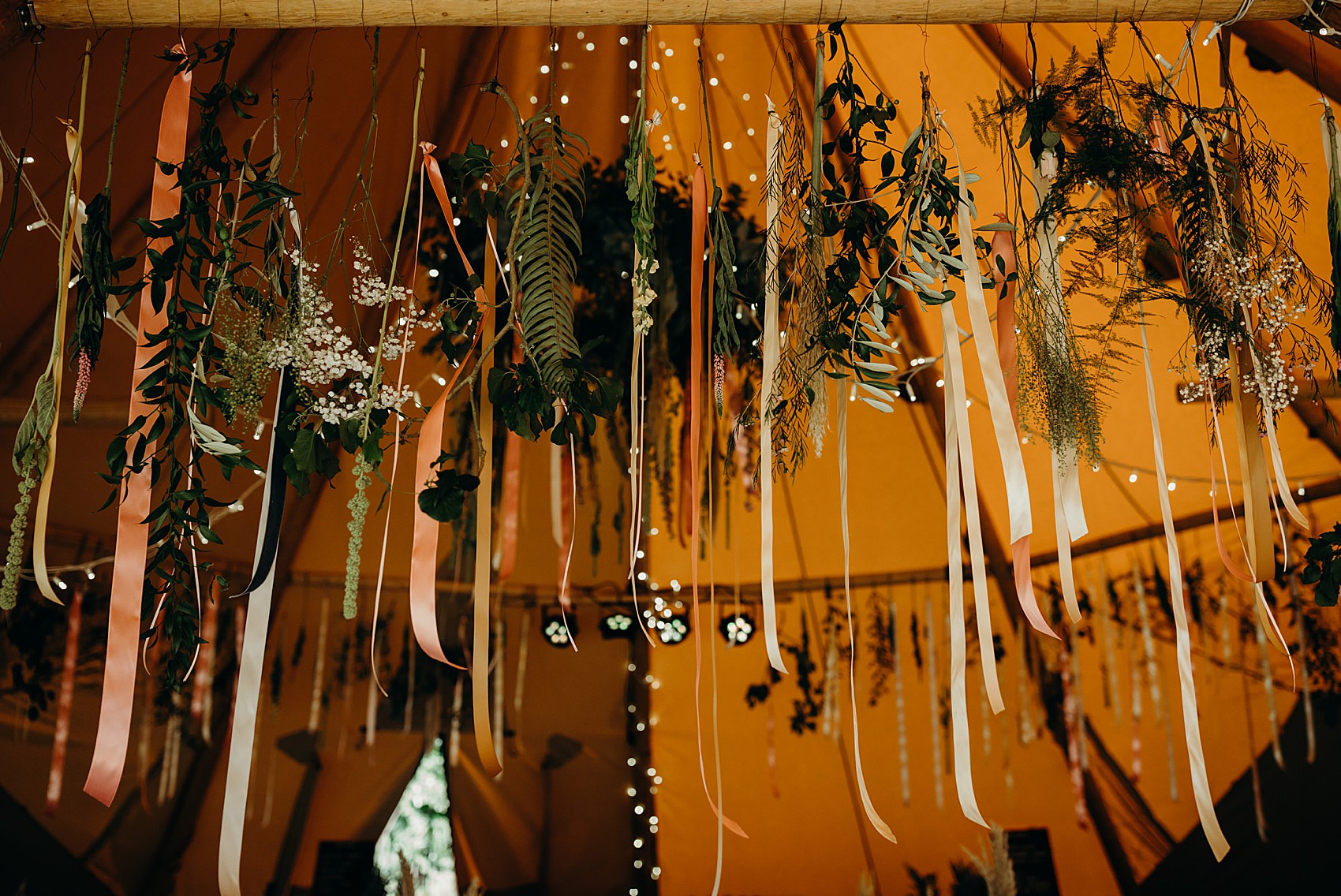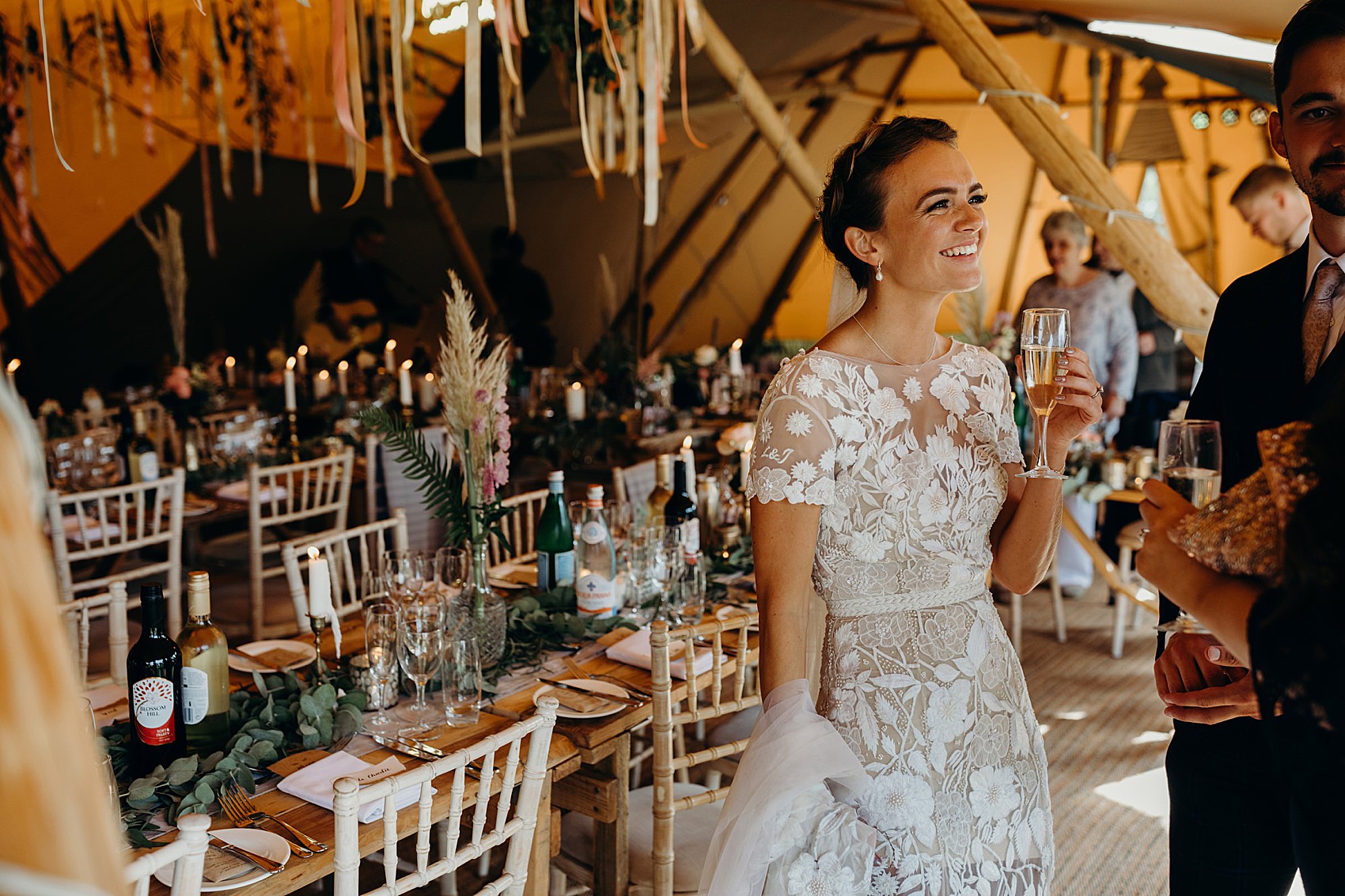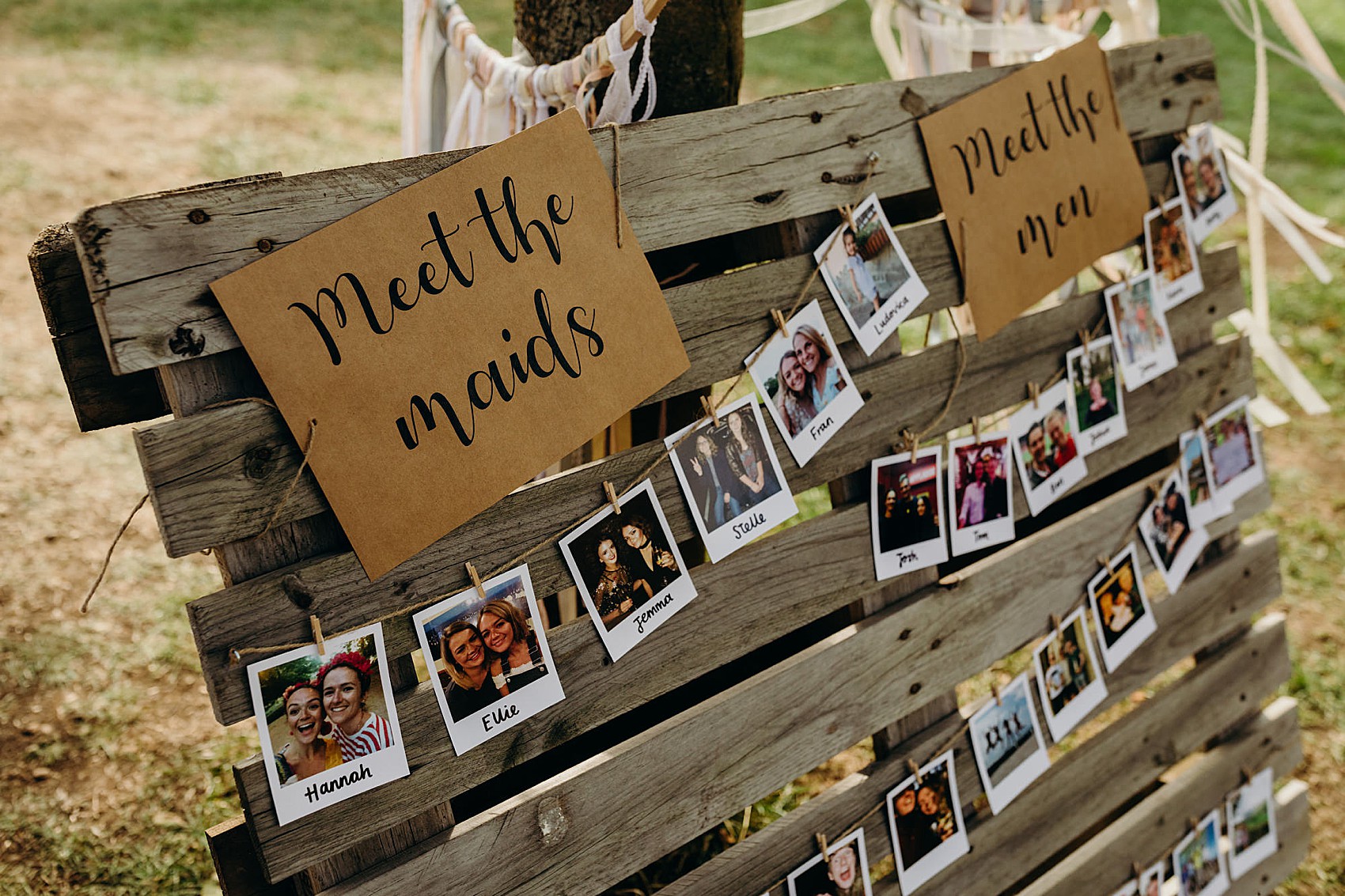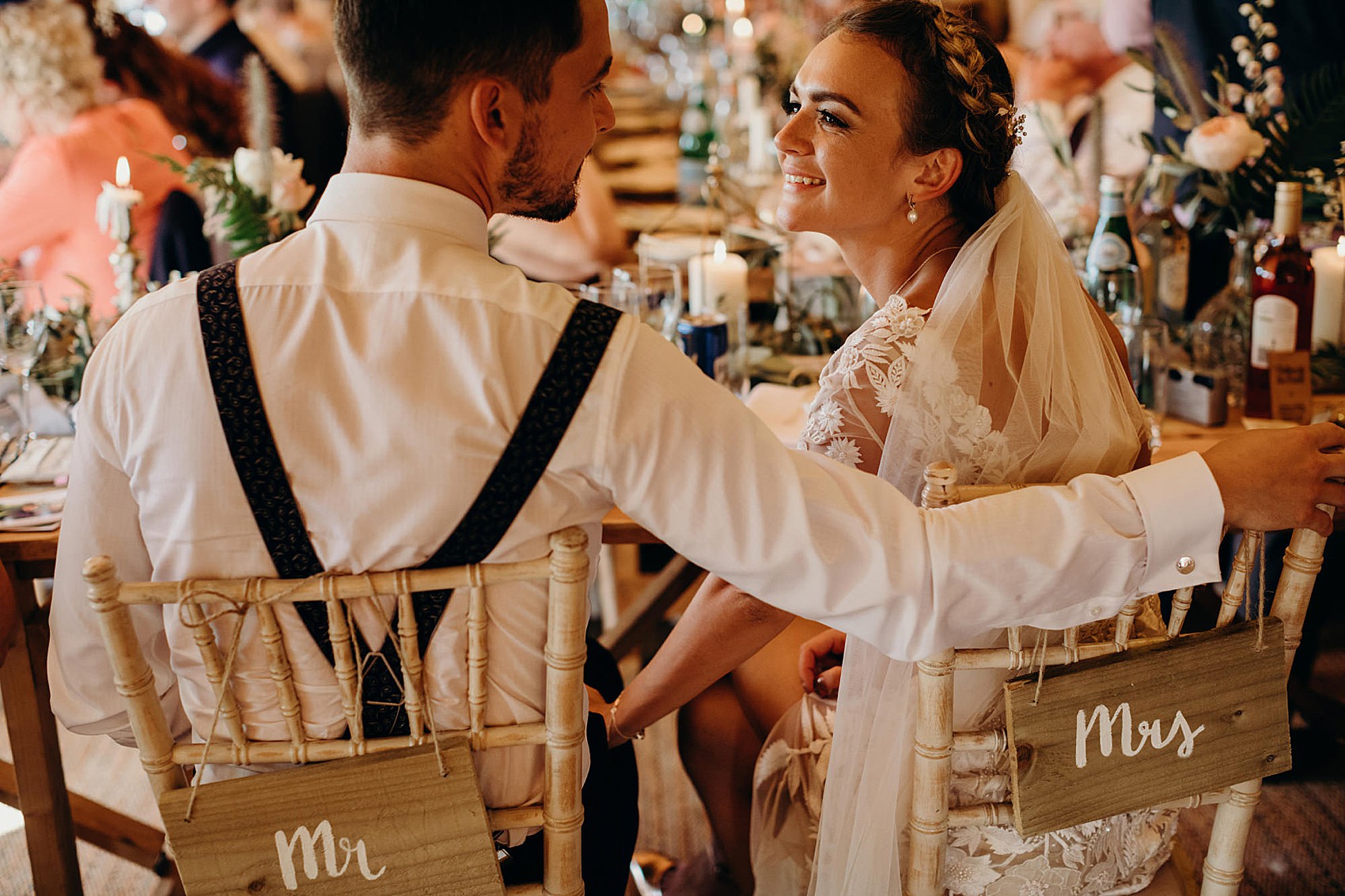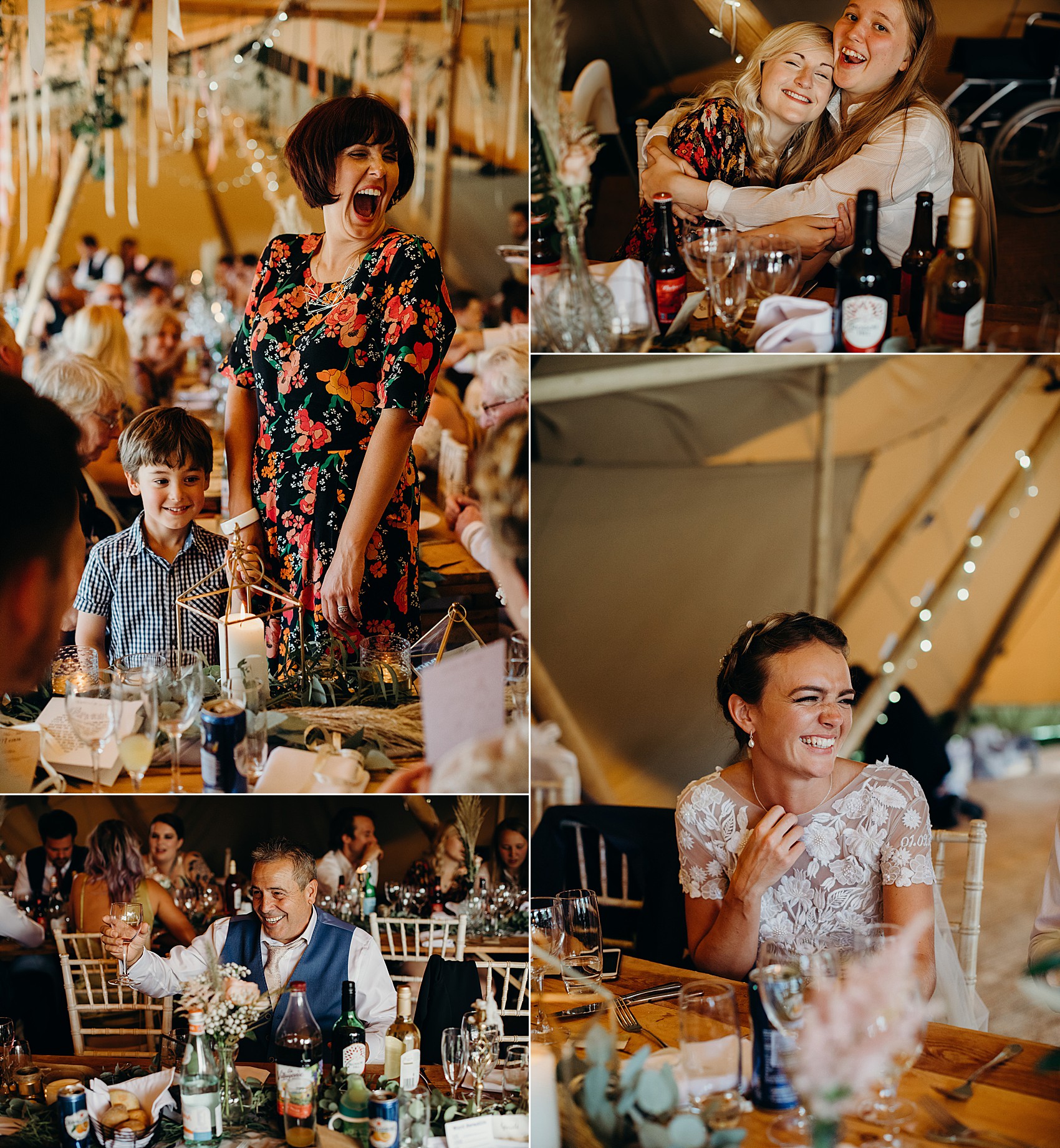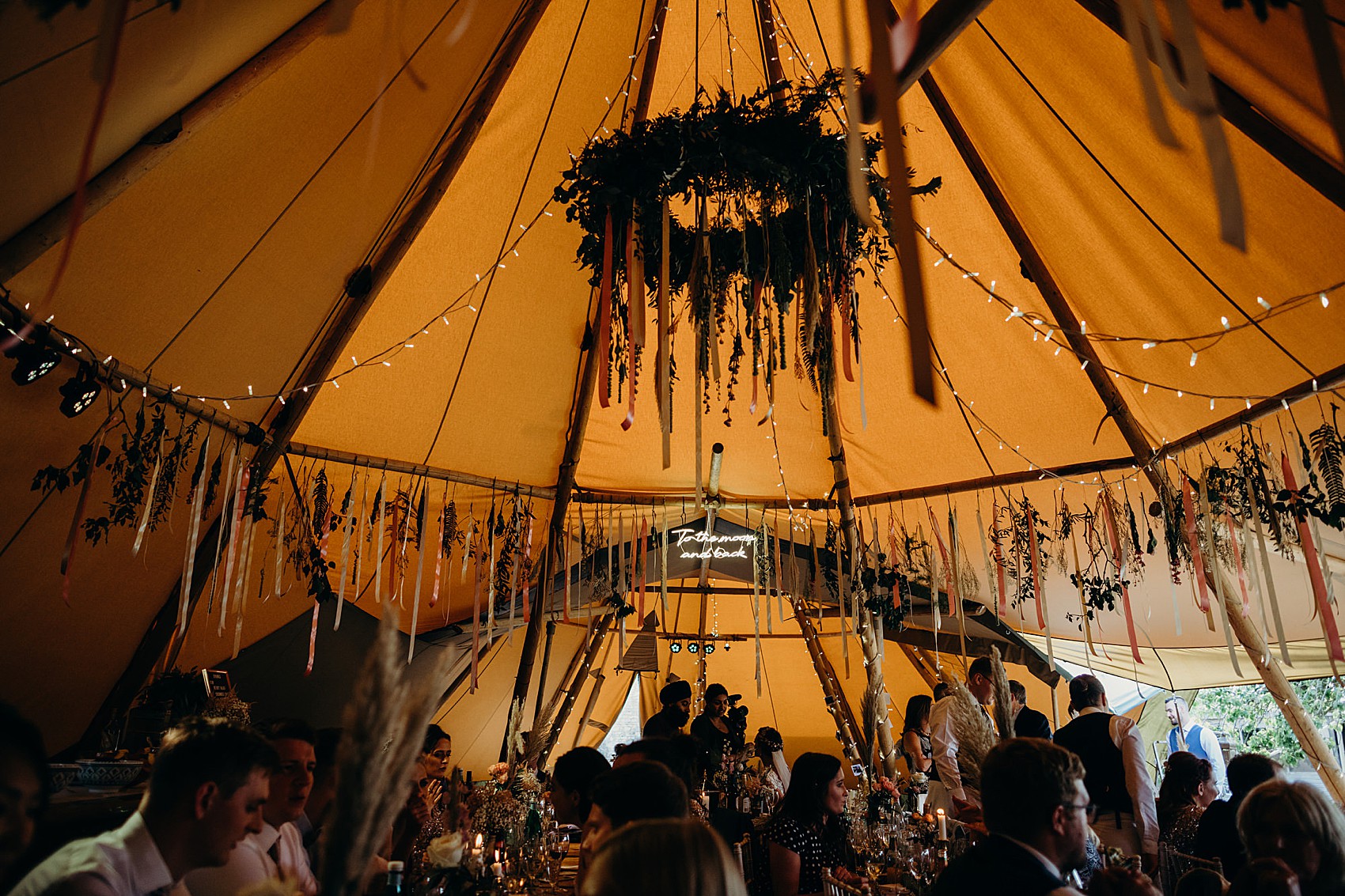 Matching the boho vibe of the day was the naked cake from Jamie Bakes Cakes.
"We saw one of Jamie's cakes at a friend's weddings. She is amazing. We are vegan and had a vegan layer just for us. We had a top tier of vegan carrot cake, then lemon, white chocolate and raspberry decorated with edible gold leaf and gorgeous flowers by Daisy Ellen. We had a fair few guests and I didn't want a massive cake so Jamie made us a Red Velvet cutting cake that was chopped up and handed out along with the rest so there was enough for all."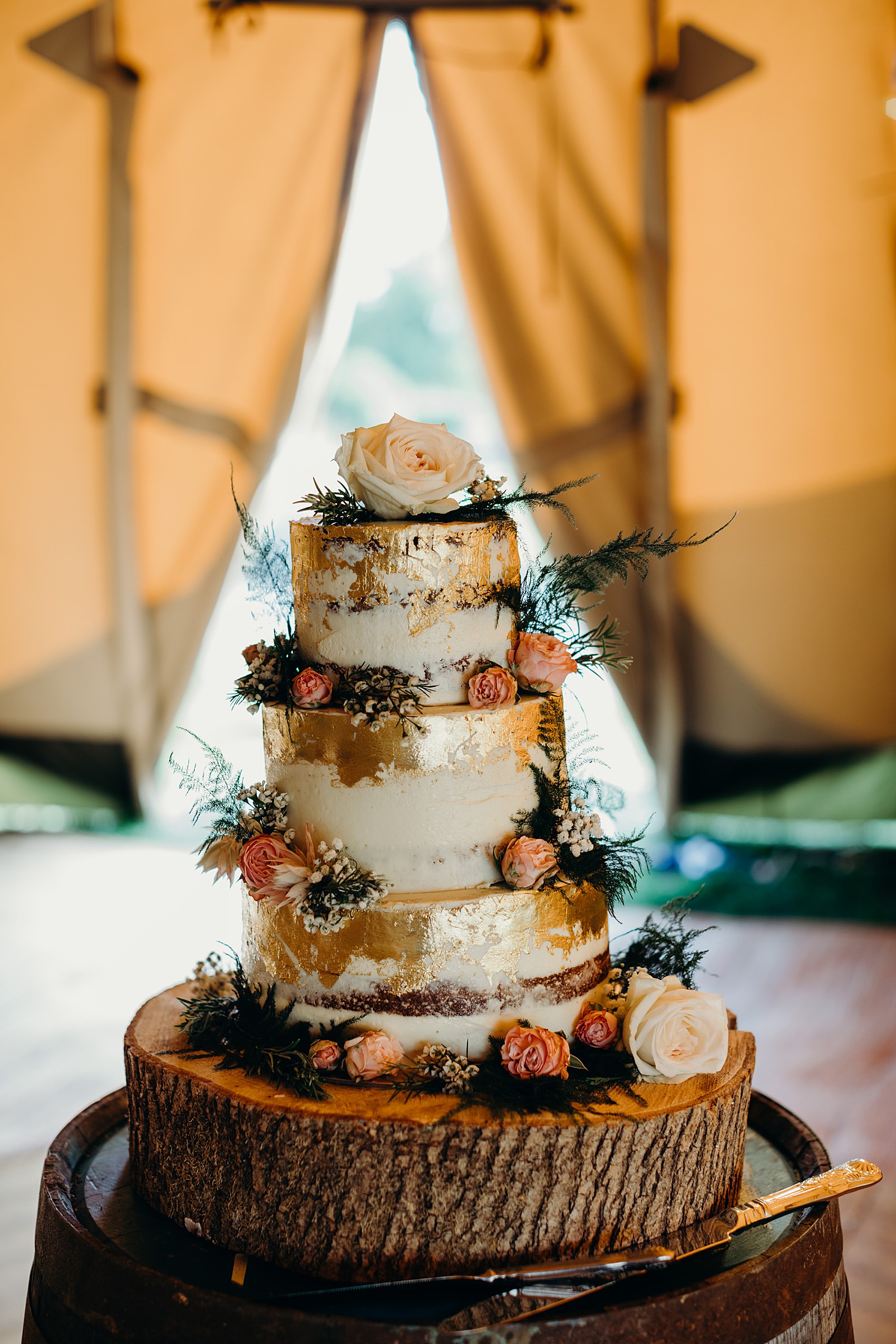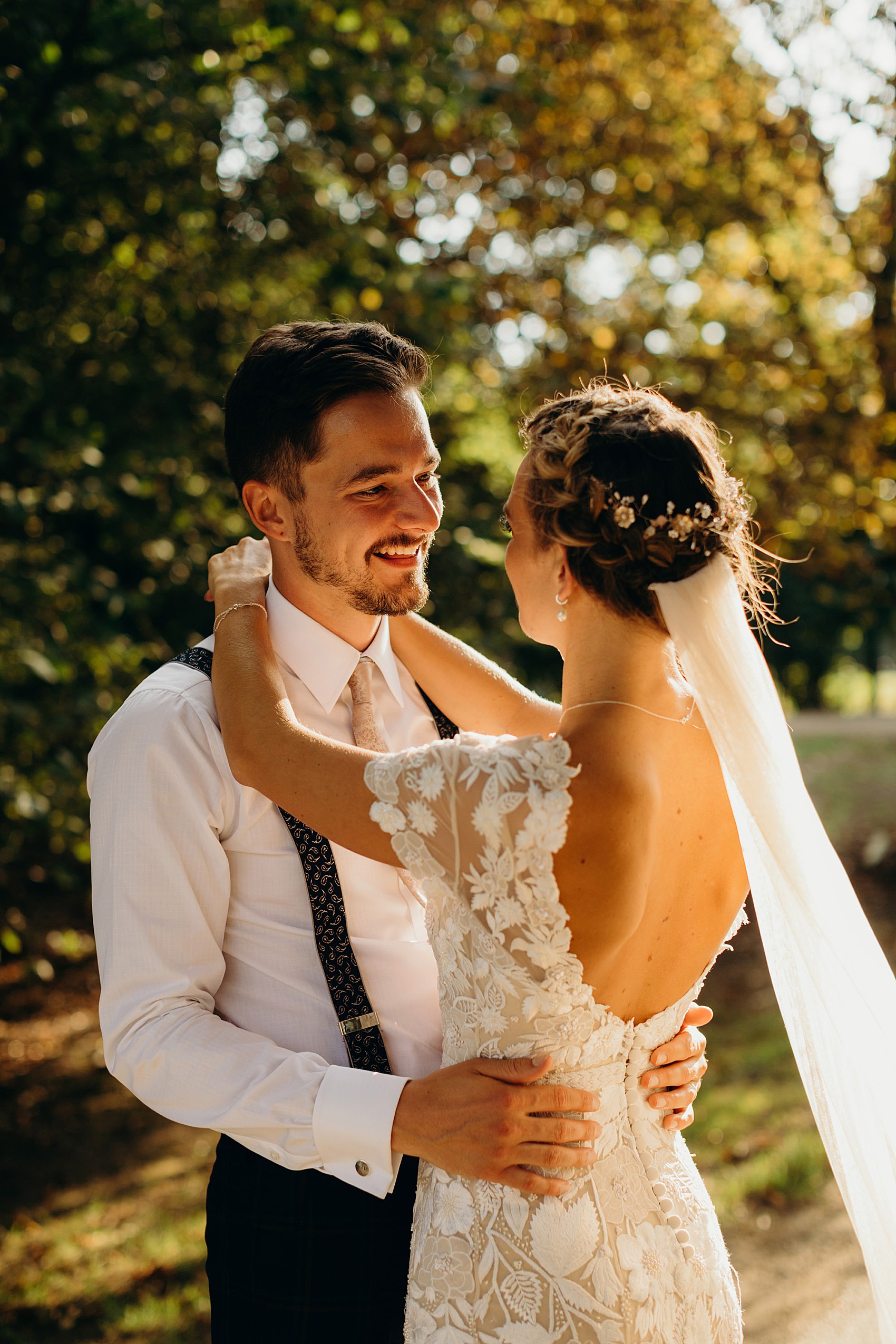 The bride and groom asked two of their friends, filmers at Bushy Beard, to record their day on film.
"Gurbir and Shanika are the dream team. They worked so hard to film us and capture every element. There's nothing like the feels of looking at a video of your fave day ever repeatedly when you've got wedding blues."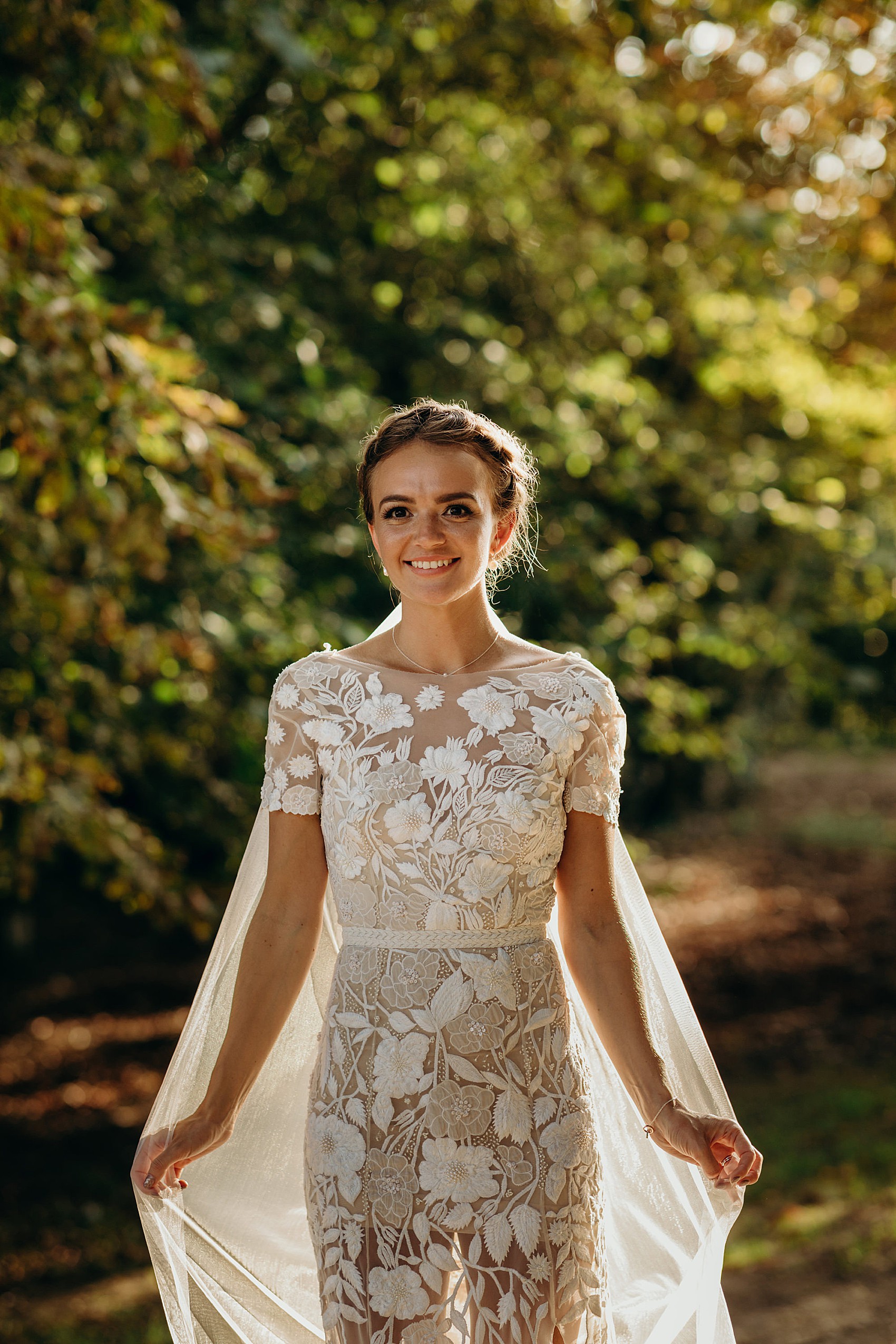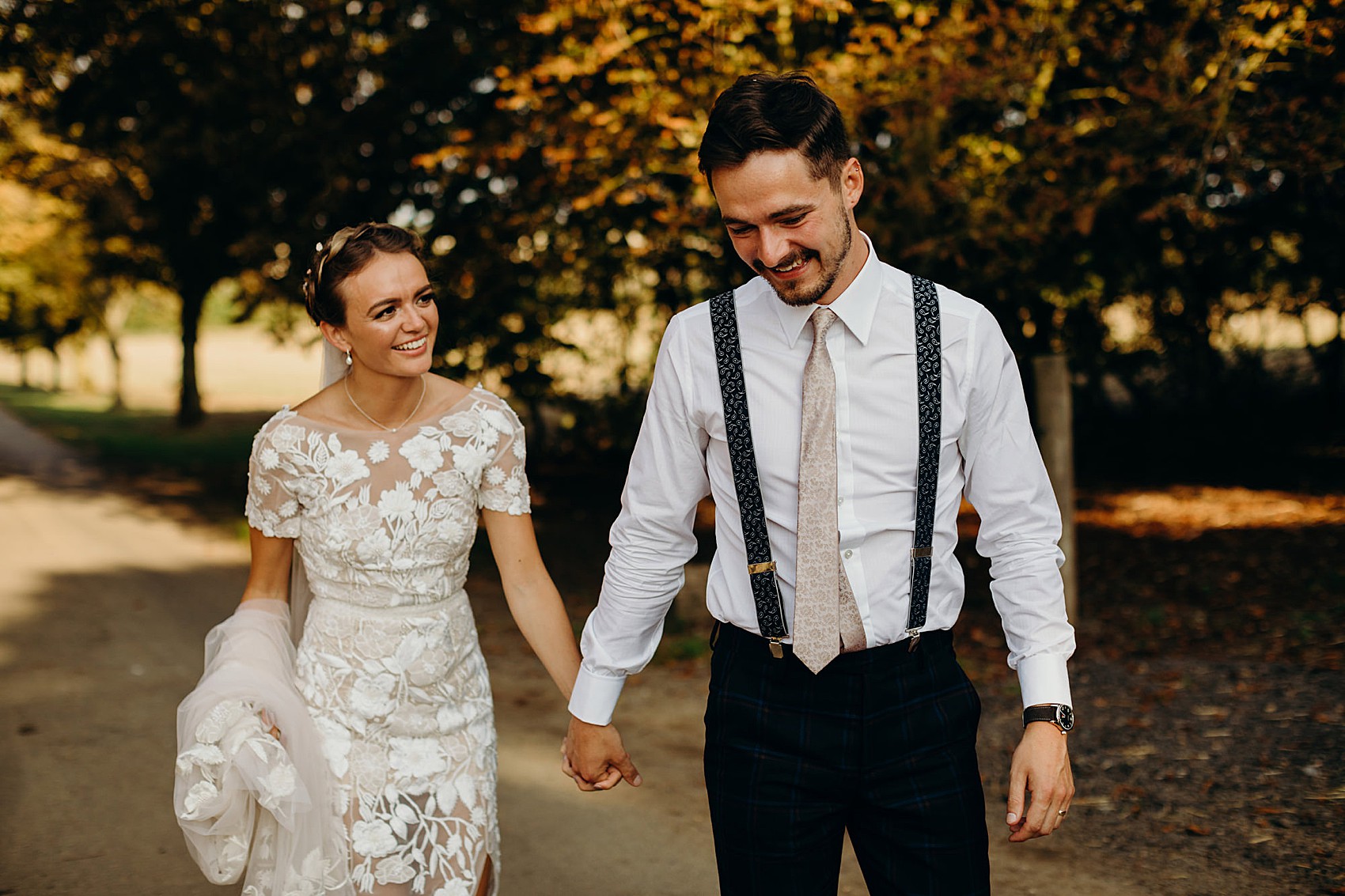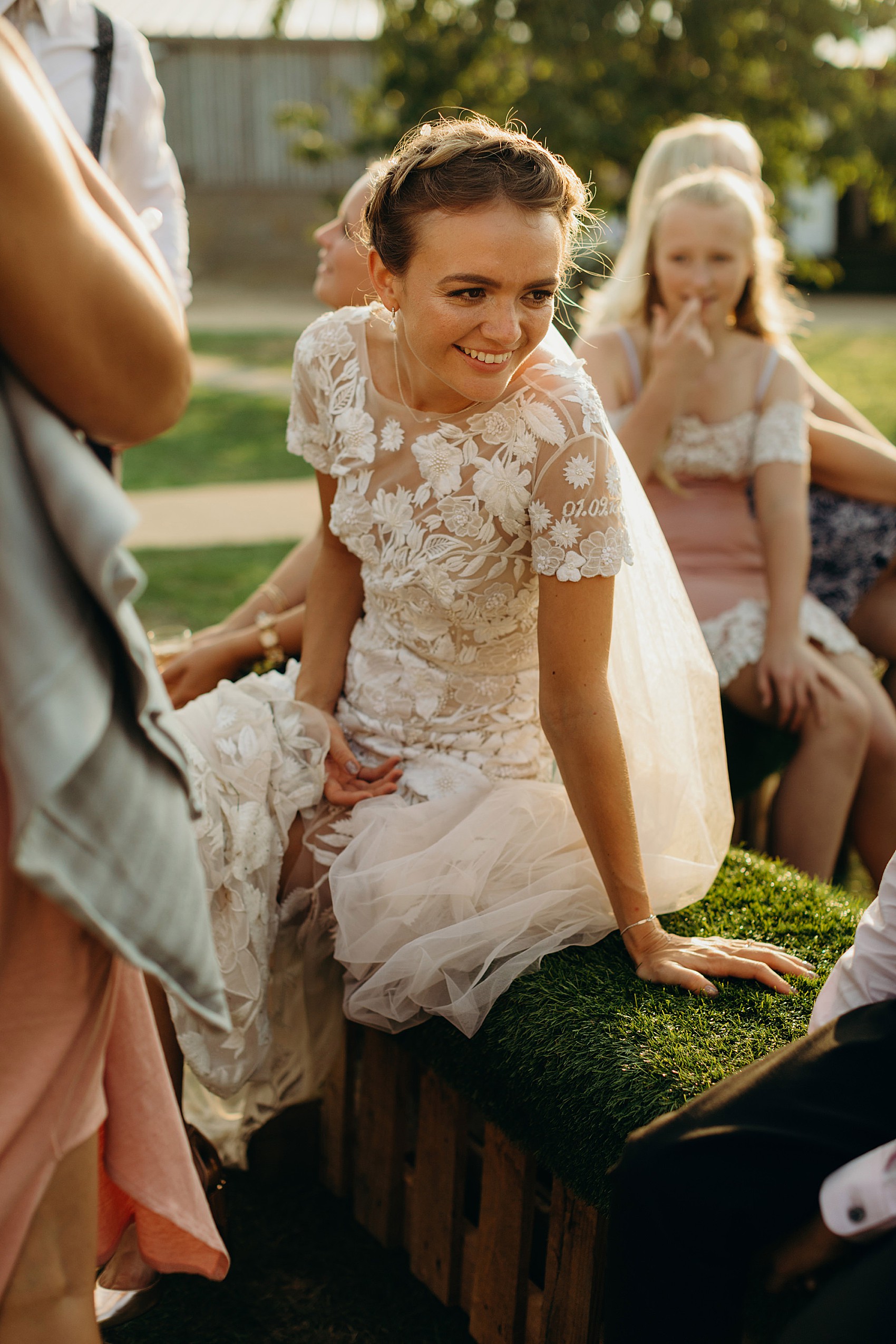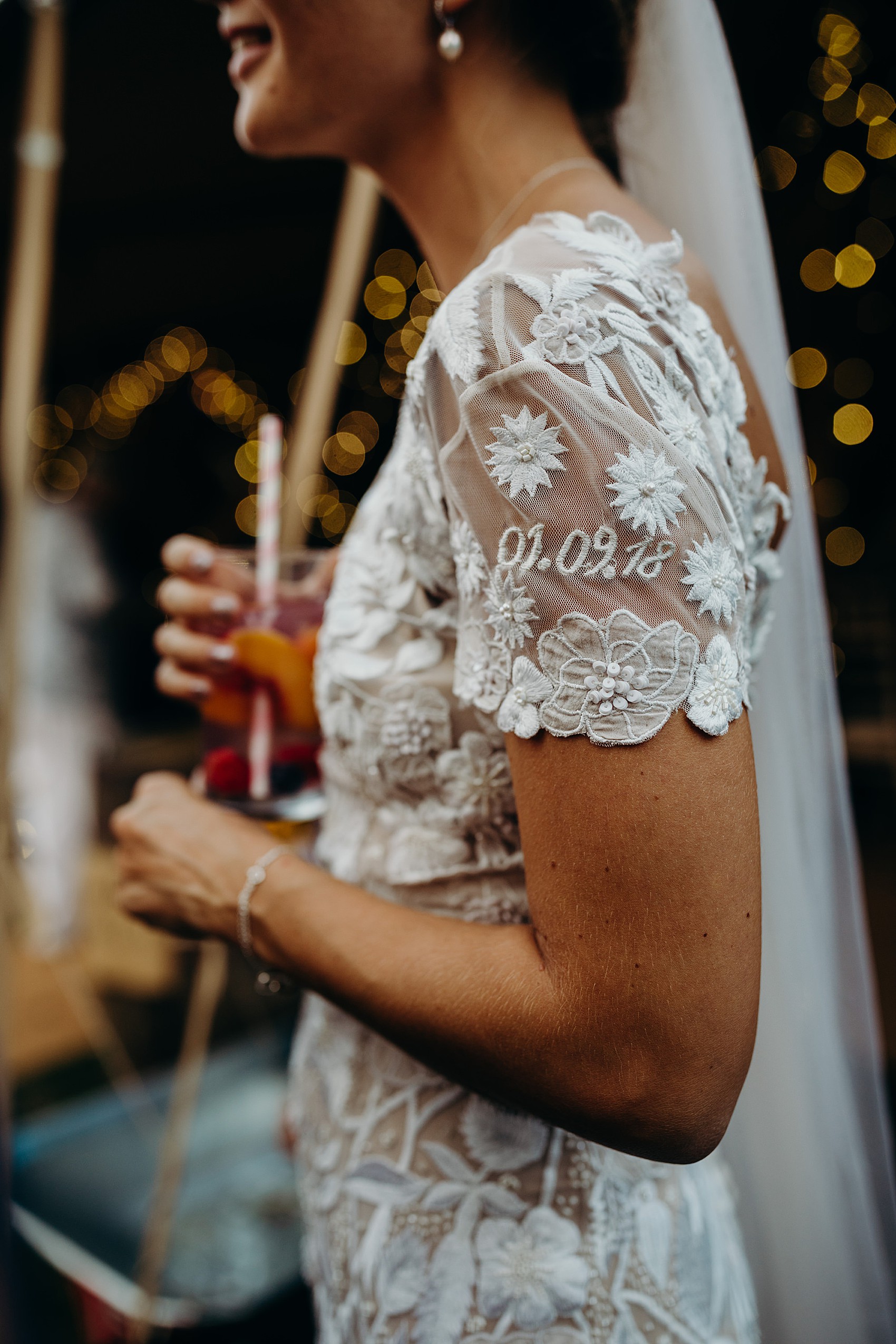 Luisa and Jack were keen that their guests could relax and chill out during the celebration.
"The children had personalised colouring books and little table gifts like bubbles and dinosaurs to keep them entertained. Our guests could grab a blanket if they were cold, a drink from the wheelbarrows and bath with ice in, Krispy Kremes from the tower and chips from the chip van."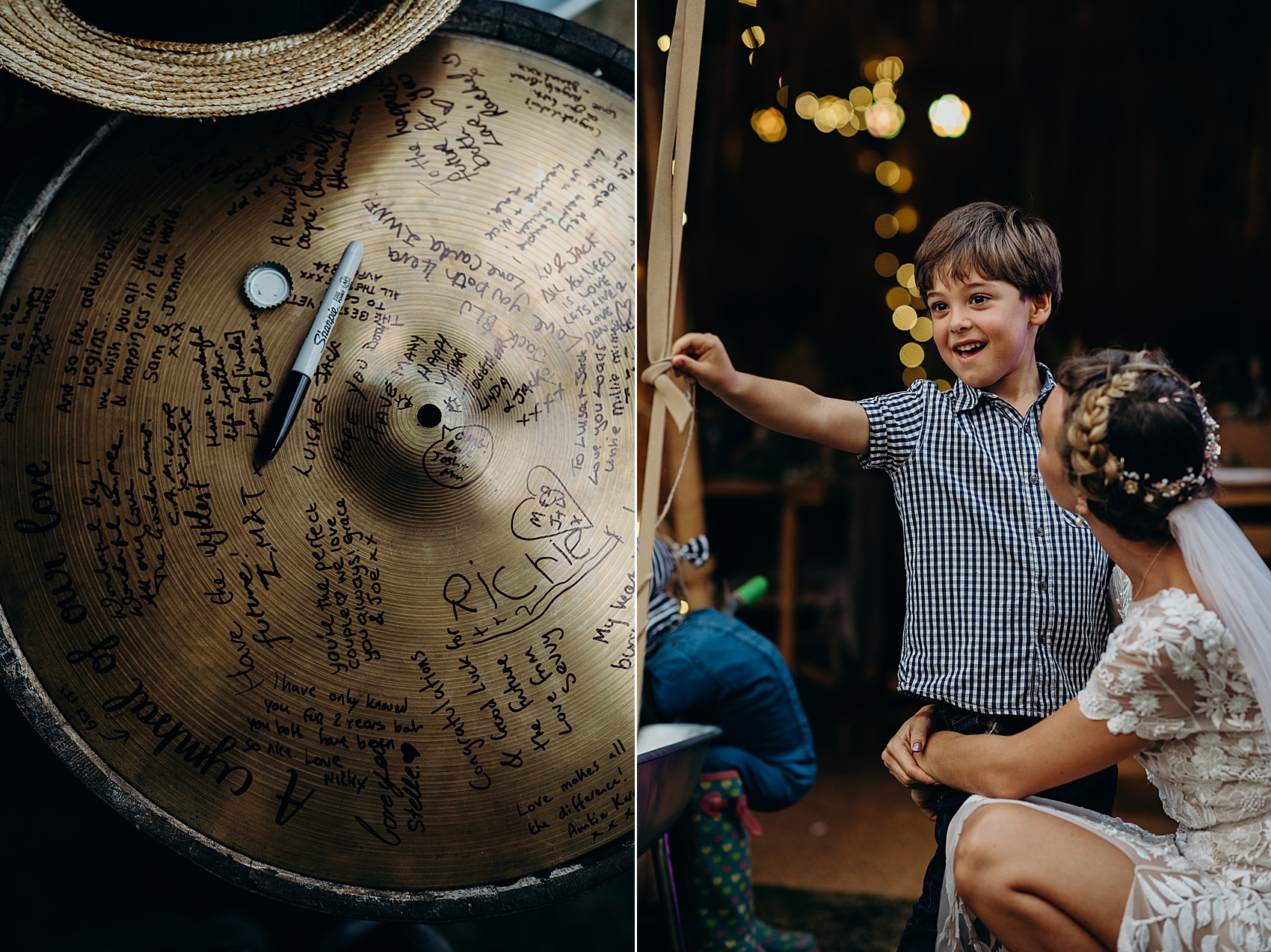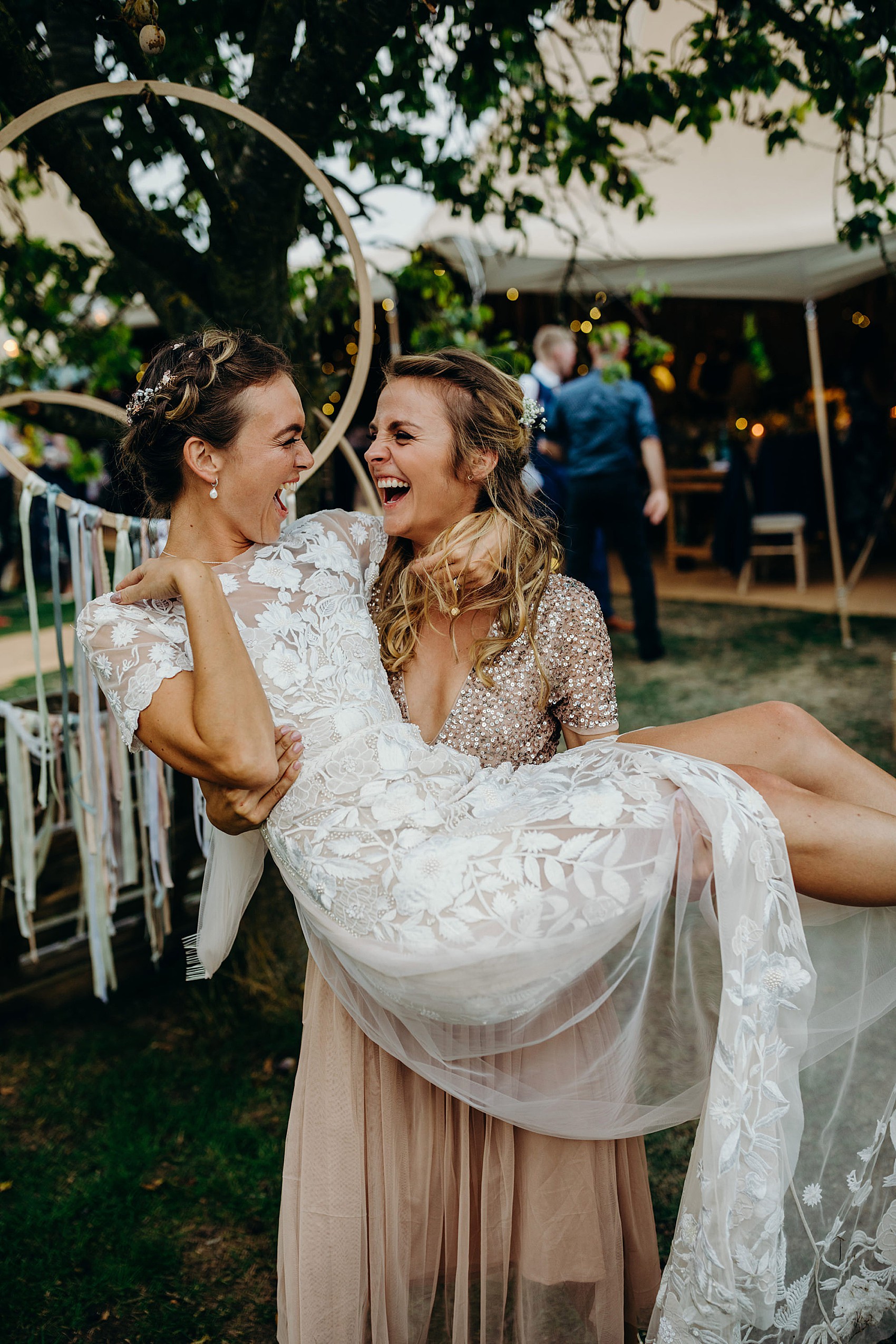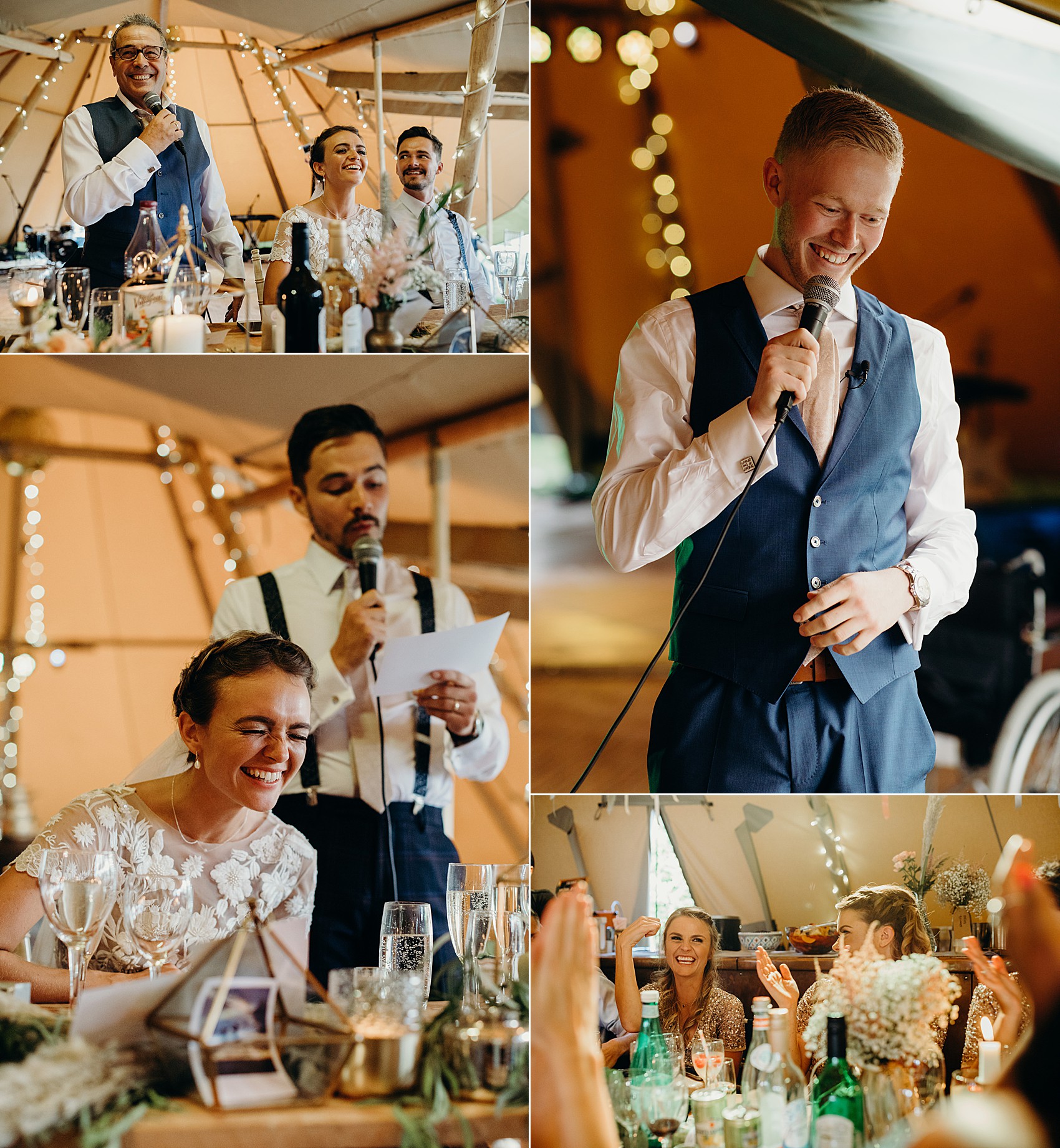 Come evening time, the first dance kicked off the music with live band The Midnight Jams getting everyone up and dancing.
"'Fly Me To The Moon' by Frank Sinatra is a classic song that we absolutely adore."
"So many people said how fab The Midnight James were. We are so glad we went for live music."
"There's nothing we would change; it was the best day of our lives. One thing we are glad we said we would do is stay together as much as possible on the day, it's easy with so many guests to get swept up and separated. We really wanted to stay together and spend our day with each other and we are glad we did – it was special."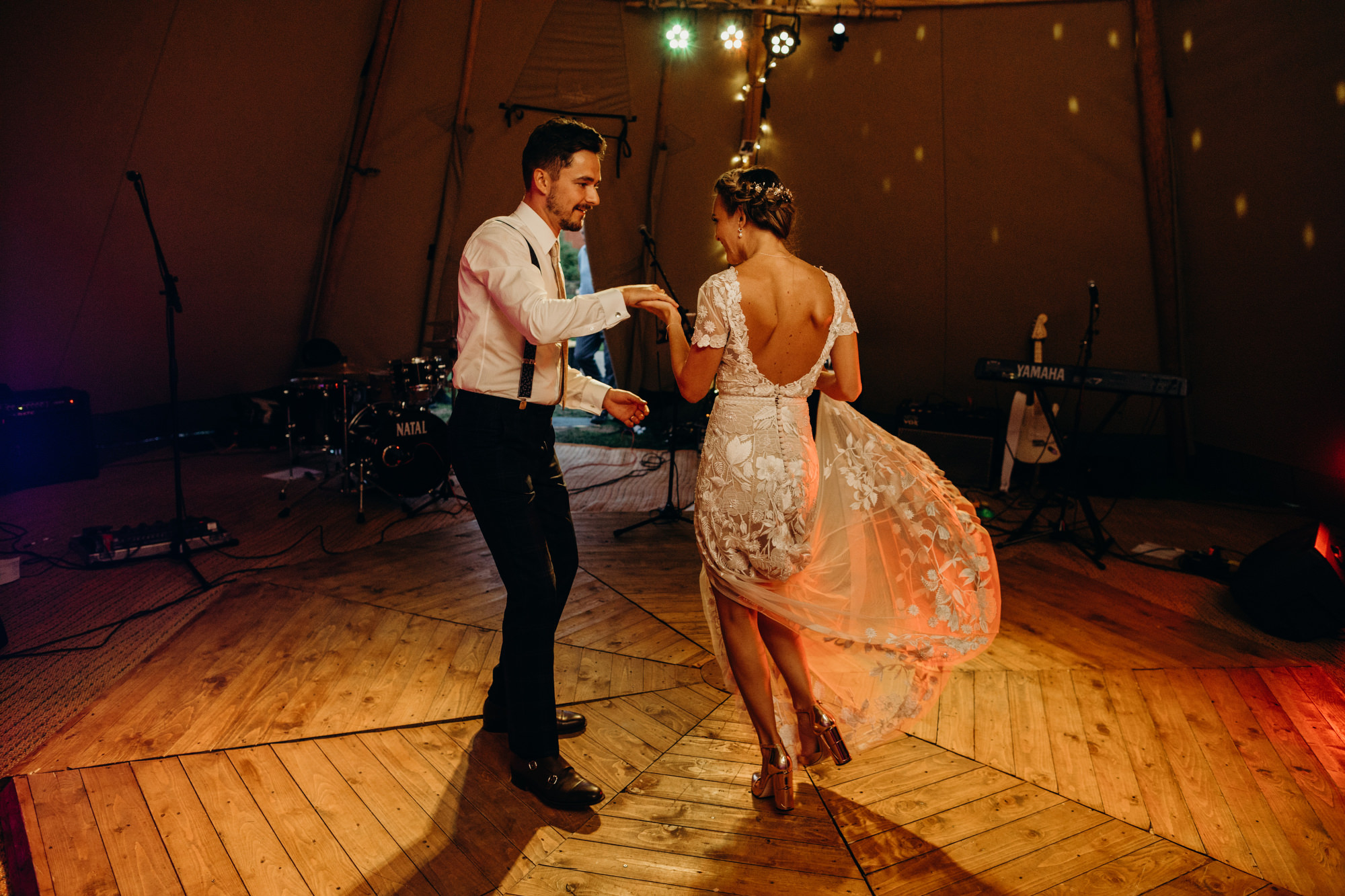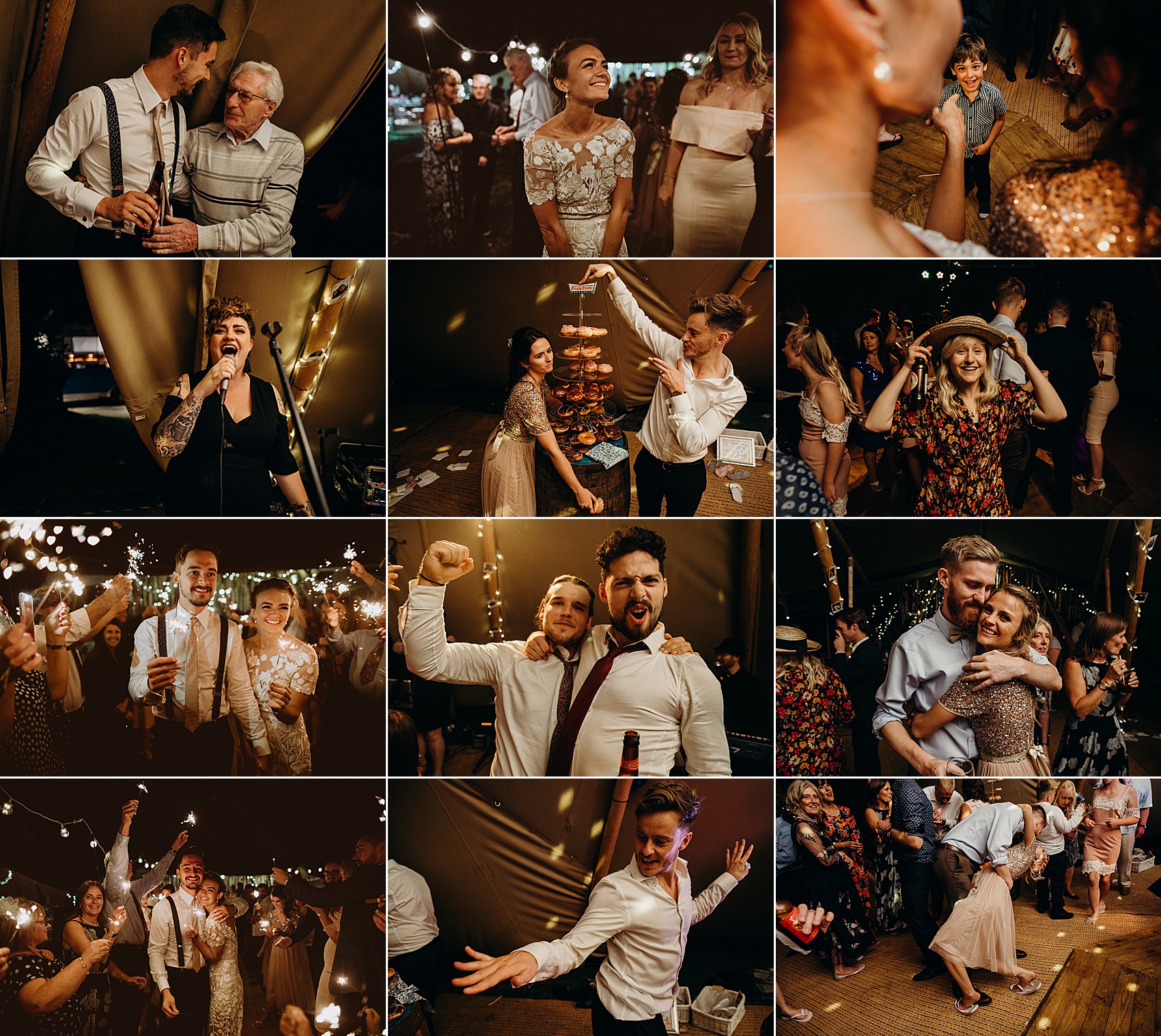 Words of Wedded Wisdom
"Stay together. Try and make sure you spend your day together – it's about both of you after all. Take some time to just go and sit away from everyone and observe."
"Make sure you're comfortable with your suppliers – our photographer and videographers spent most of the day with us. They were amazing."
"Make sure someone else can sort out any issues that may arise on the day – it's not something you should be worried about. Let it go and enjoy. All the hard work will have been done and it'll all work out."
"Go the extra mile with the details if you can as it makes it extra special. Ours were all DIY and felt like they took forever but they were well worth the many evenings spent putting things together."
"A laid-back tipi wedding is much more expensive and requires much more organisation than it may look or seem. This is mainly due to it being quite separate in terms of suppliers and you need to pay for the venue, tipi, toilets, generator, fridges and caterers all separately. In comparison to some venues we saw where you turn up and choose the menu, tables and what bar service you'd like it was much more of an organisational mayhem but I absolutely loved sorting it all out."
"We didn't have a wedding planner but if organisation and coordination of suppliers isn't a strong point I would recommend one as it is vital to have a plan and timeline. Some corners can be cut but it really does pay on the day to have proper suppliers who you can rely on. You only do it once so we just went for it."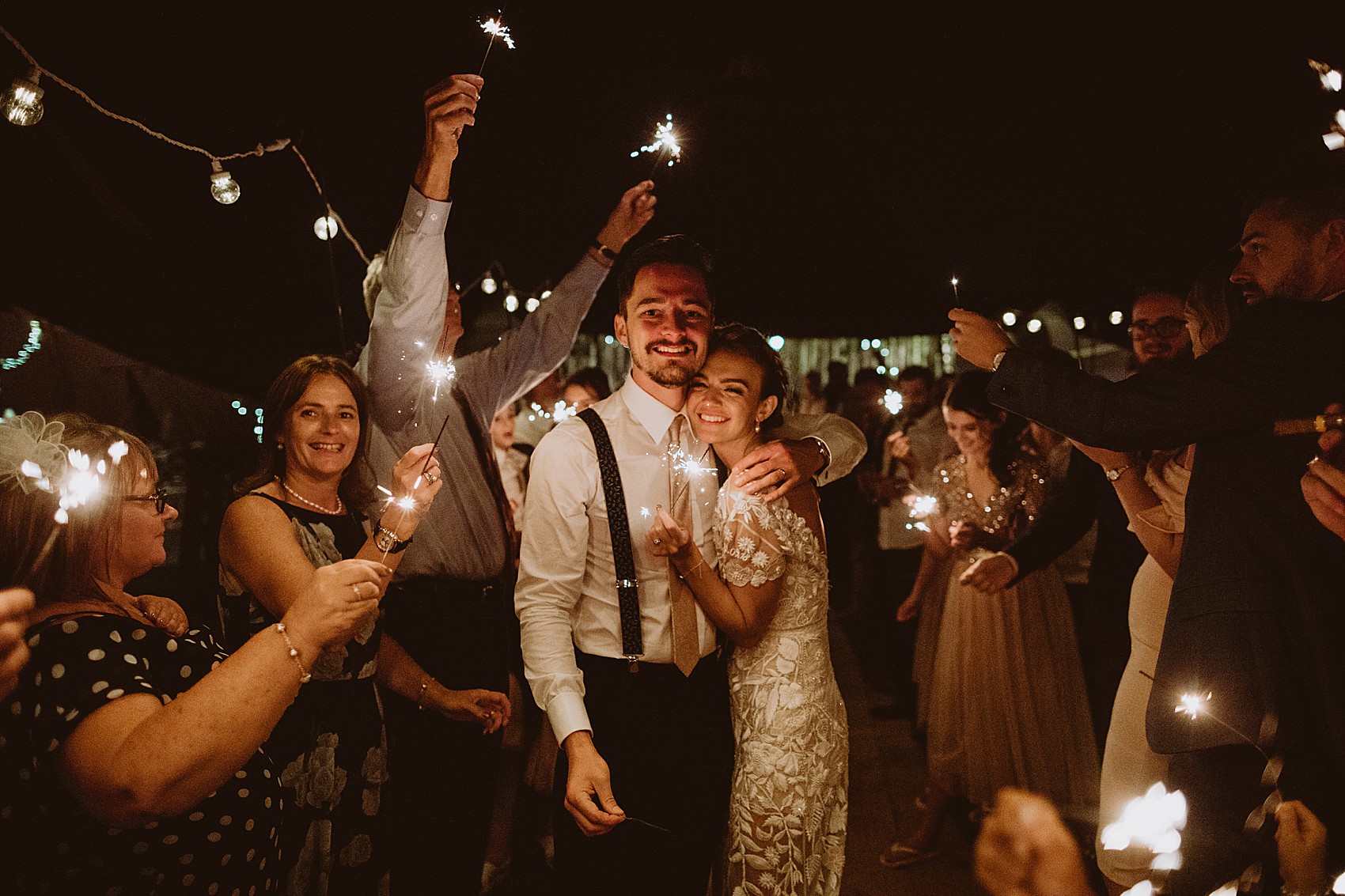 So what do you think lovelies? I hope this laid-back but super-stylish day has given you plenty of ideas for your own nuptials. Please join me in saying a huge thank you to Richard Skins Photography for his sublime work, and to wish Luisa and Jack congratulations and many thanks too for giving us such a beautiful insight in to their day.
Ele xx