Who amongst you is considering whether to wear a veil at your wedding? Having just spent a long time drinking in the photographs for today's wedding feature I really do think that they might encourage you to go for it.
This Halfpenny London design has to be one of the most exquisite pieces I've seen. Are you ready for something really special? Join me in London for the black tie city wedding of Sophie and Ryan, who both work in the commercial lighting industry, on 1 September 2018.
Miss Gen Photography

+ Follow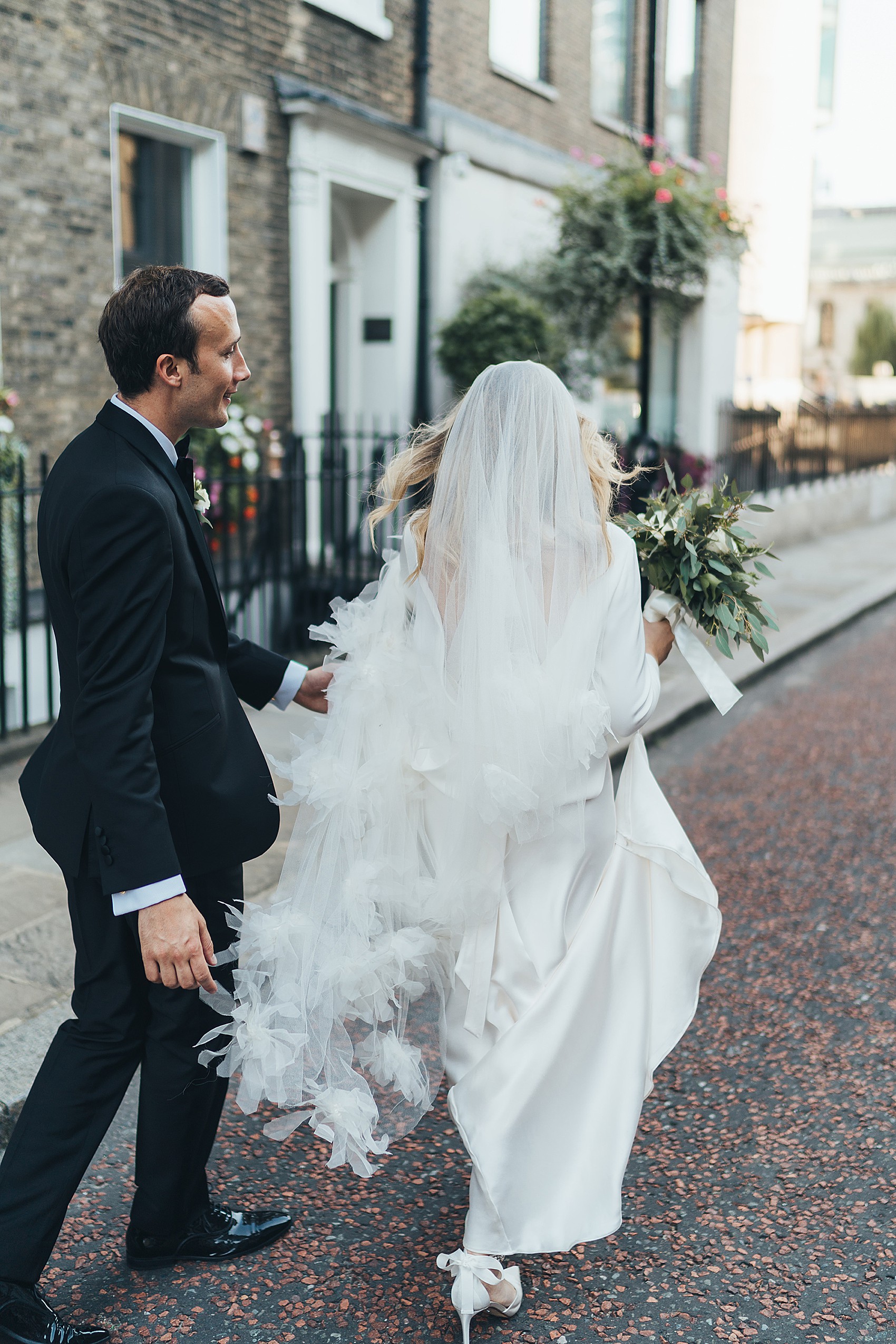 "Everything was cream, white and black. It was a traditional yet modern day held in the oldest Catholic church in England. We were fortunate to have a beautifully warm, calm, starry evening with friends and family celebrating late into the night in The Crypt below."
After marrying in the majestic surroundings of Saint Etheldreda's Church in Ely Place – the oldest Roman Catholic church in England – they descended below for a black tie dinner and dance at The Bleeding Heart at The Crypt. For her modern yet traditional day, Sophie slipped on a luxe, fluid Halfpenny London gown in sumptuous silk, paired with a veil embellished with full-blown dandelions.
The bride's bejewelled heels were from Dune London and her light-catching, shoulder-dusting earrings, adorned with Swarovski crystals, glass and mother of pearl, were the Erela by Tilly Thomas Lux.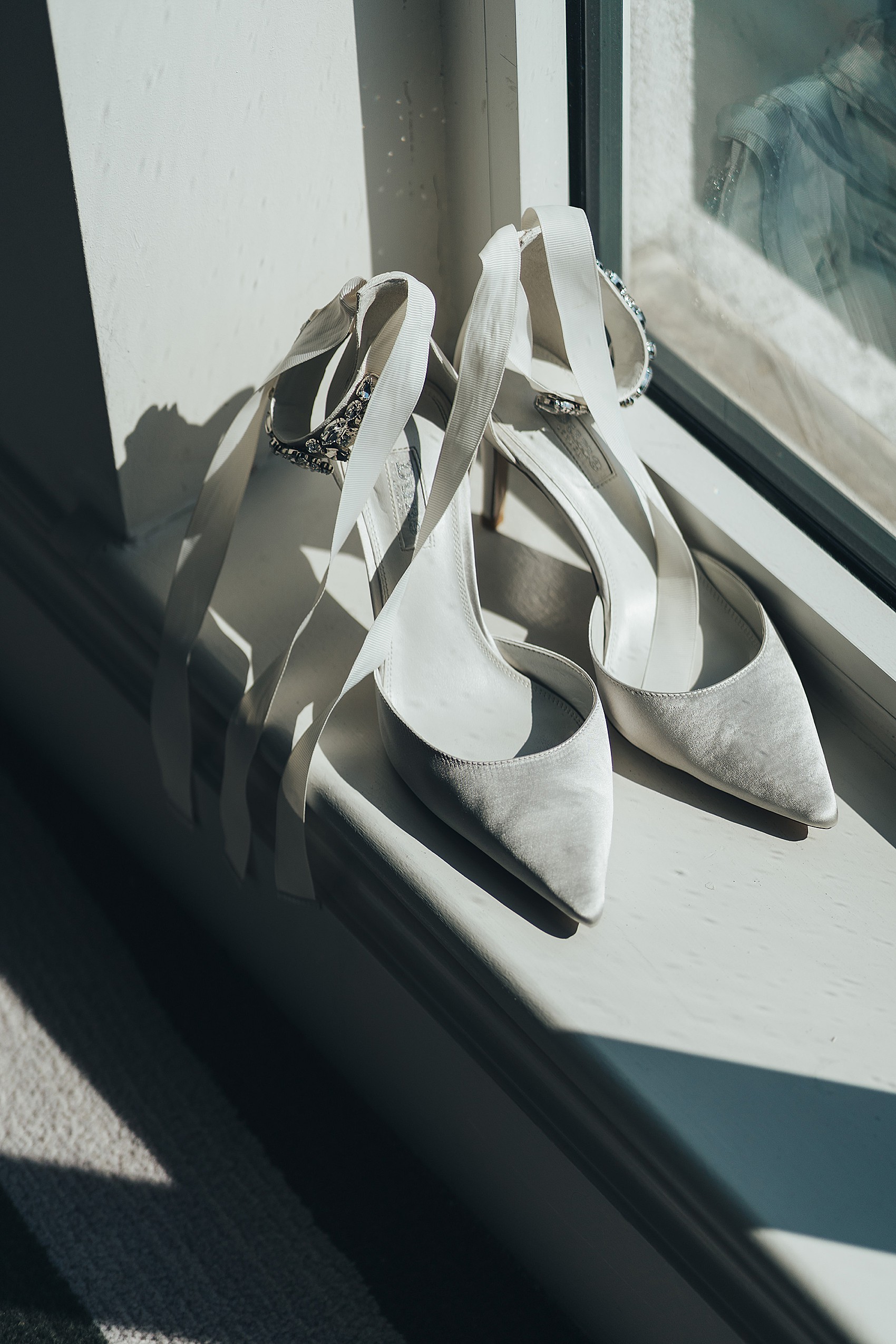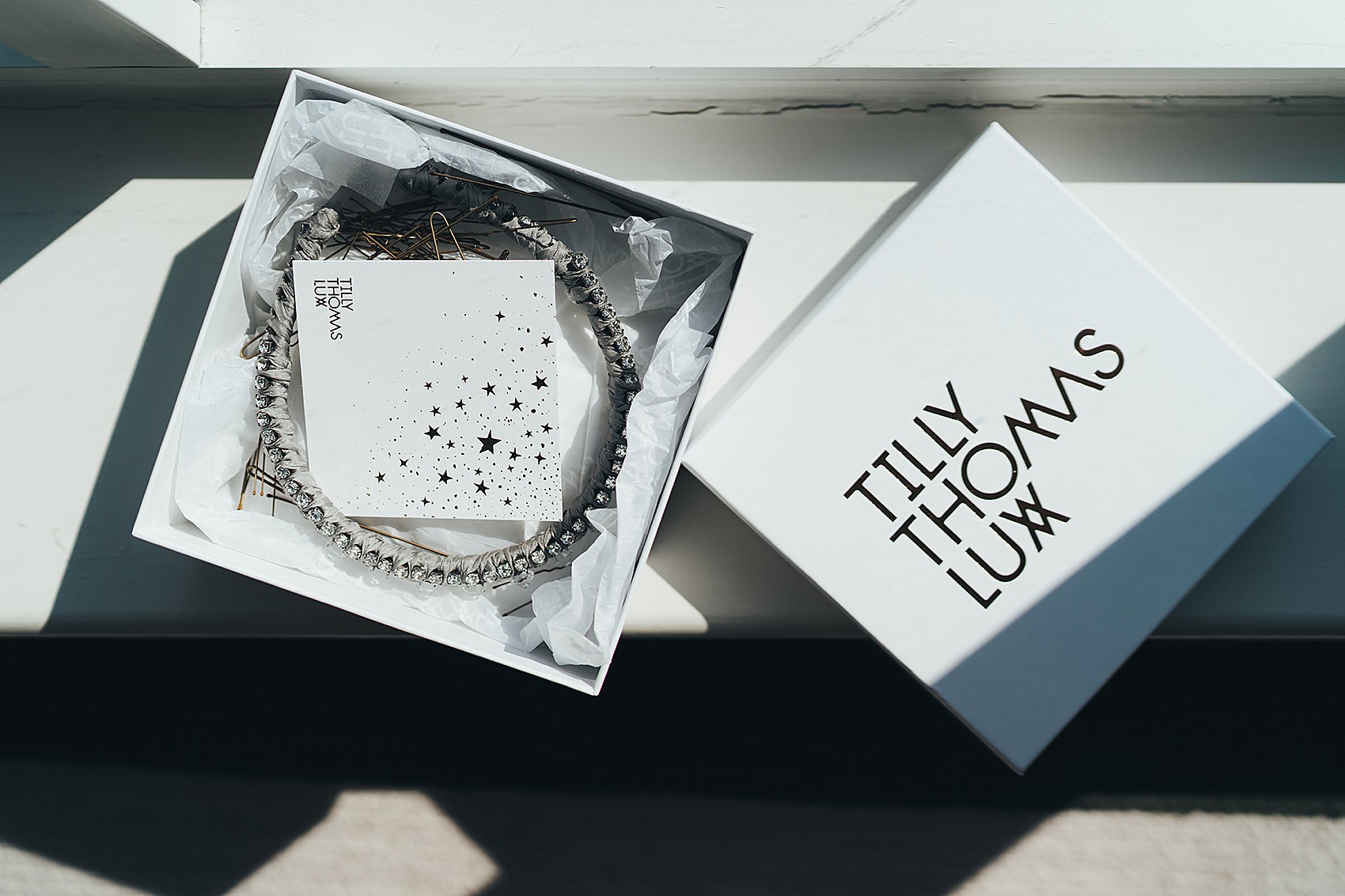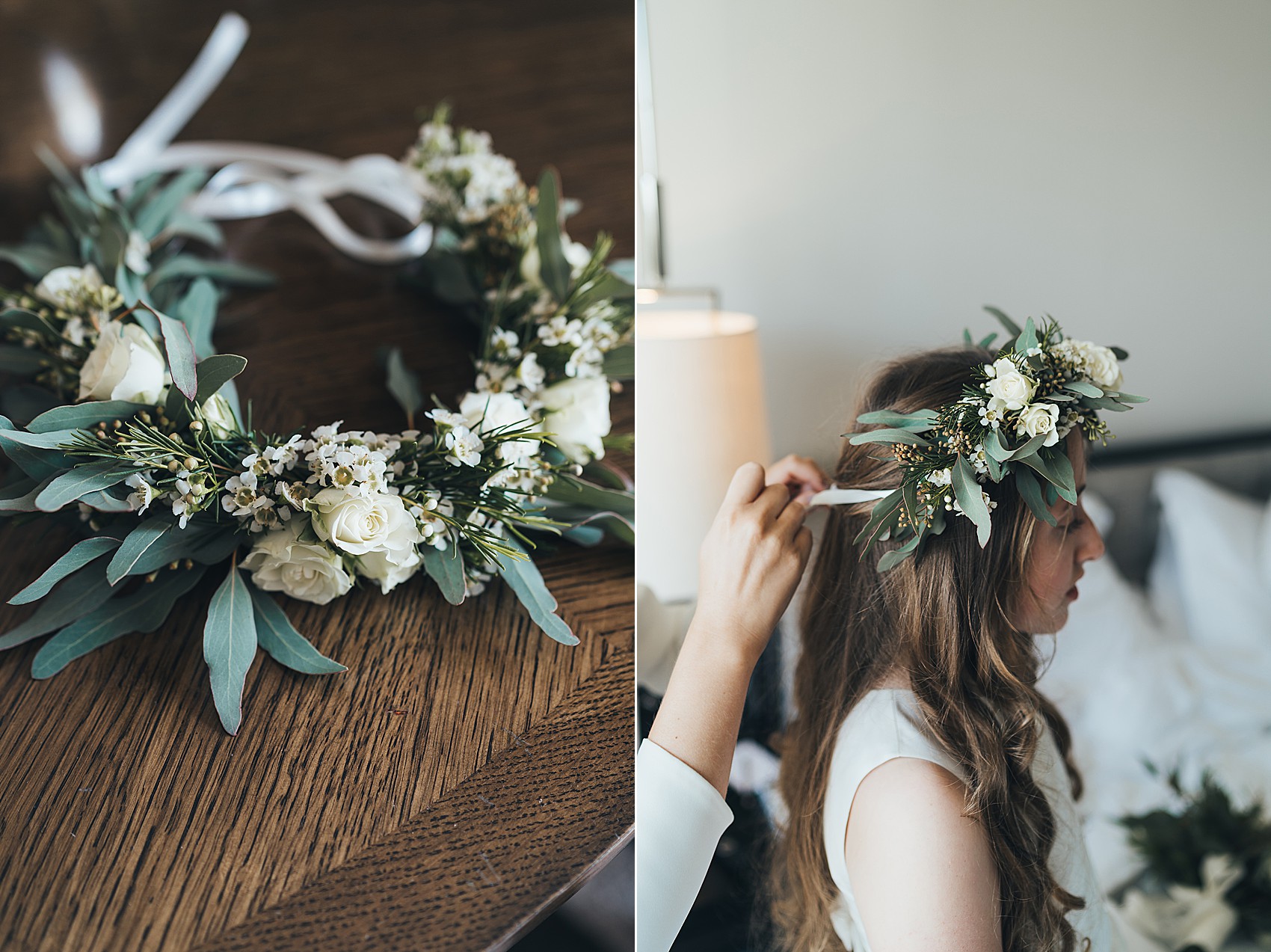 It is a real delight to share details of Sophie's wonderful Halfpenny London gown, the exquisitely-cut, figure-skimming Juniper dress with a striking back and feature bow, worn with a draped top for the church ceremony.
We adore Kate Halfpenny and are delighted to share more beautiful images of her collections here, as well as a full listing on our Little Book Wedding Directory. I think Sophie looks truly beautiful, and this gown is so special in its simplicity.
"After getting engaged in December, I started to look at dresses online the following spring. I came across one dress that I instantly fell in love with. I took a screen shot and tried to forget about it as I had a feeling it would be out of my price range. I bought two high street dresses in the meantime online and tried them on at home as the thought of going into a wedding dress shop made me feel incredibly anxious and overwhelmed. Both dresses were lovely but they didn't feel quite right."
"I had mentioned Kate Halfpenny's designs to my mum and mother-in-law over dinner and they suggested I go and try some dresses on. As soon as I entered Halfpenny London I just knew it was for me. It's a very relaxing environment; you almost feel as though you're trying on beautiful dresses and accessories in the comfort of your own home."
"The very first dress I tried was absolutely everything I had been looking for and more. I was elated and couldn't believe that it was going to be my dress. I will be forever grateful to them for creating my dream wedding look."
"Halfpenny London was my first choice and the only bridal boutique I visited. I was blown away by the collections and the bespoke service they provided. I absolutely loved every piece I tried on but decided on the Juniper dress. I wore the Laura Drape top with a ¾ length sleeve over the top to reveal the gorgeous bow at the back."
"I then went for the Dandelion veil in a chapel length so that it was slightly longer than the train on my dress. They were so patient and helpful and I can't wait to go back and have another piece made for my 30th birthday next year. Halfpenny introduced me to the wonderful Tilly Thomas Lux, which is now my go-to brand for all things sparkly. They made me a beautiful headband called the Comet which I hope to pass down one day."
Florist Elizabeth Marsh created her sophisticated, refined displays and bouquets using white roses, hydrangeas, and eucalyptus for a timeless, romantic, and elegant look.
"Our church recommended an award-winning florist from New Covent Garden Market, Elizabeth Marsh Floral Design, who understood the spaces we needed to dress. They did a fantastic job, including two flower arches, thirteen tables, candlelit globes across the ceiling of The Crypt and three pillars covered in flowers and lights."
"We met each other at work in September 2014 – a completely lucky and wonderful fluke as Ryan was just about to leave to start up his own company within the industry. In December 2016, on a freezing but beautifully sunny evening, Ryan proposed to me in our favourite place – Fanore Beach on the west coast of Ireland."
Sophie kept her make-up classic and fresh, with her hair down in soft ringlets for a bit of movement. Helping her to get ready was her best friend, looking radiant in a soft grey, sequinned gown.
"My beautiful best friend and maid of honour was nine months pregnant when she walked down the aisle with me. We found the most lovely maternity bridesmaid dresses at Tiffany Rose. My two flower girls wore silk ivory dresses from Next and fresh flower crowns made by our florist."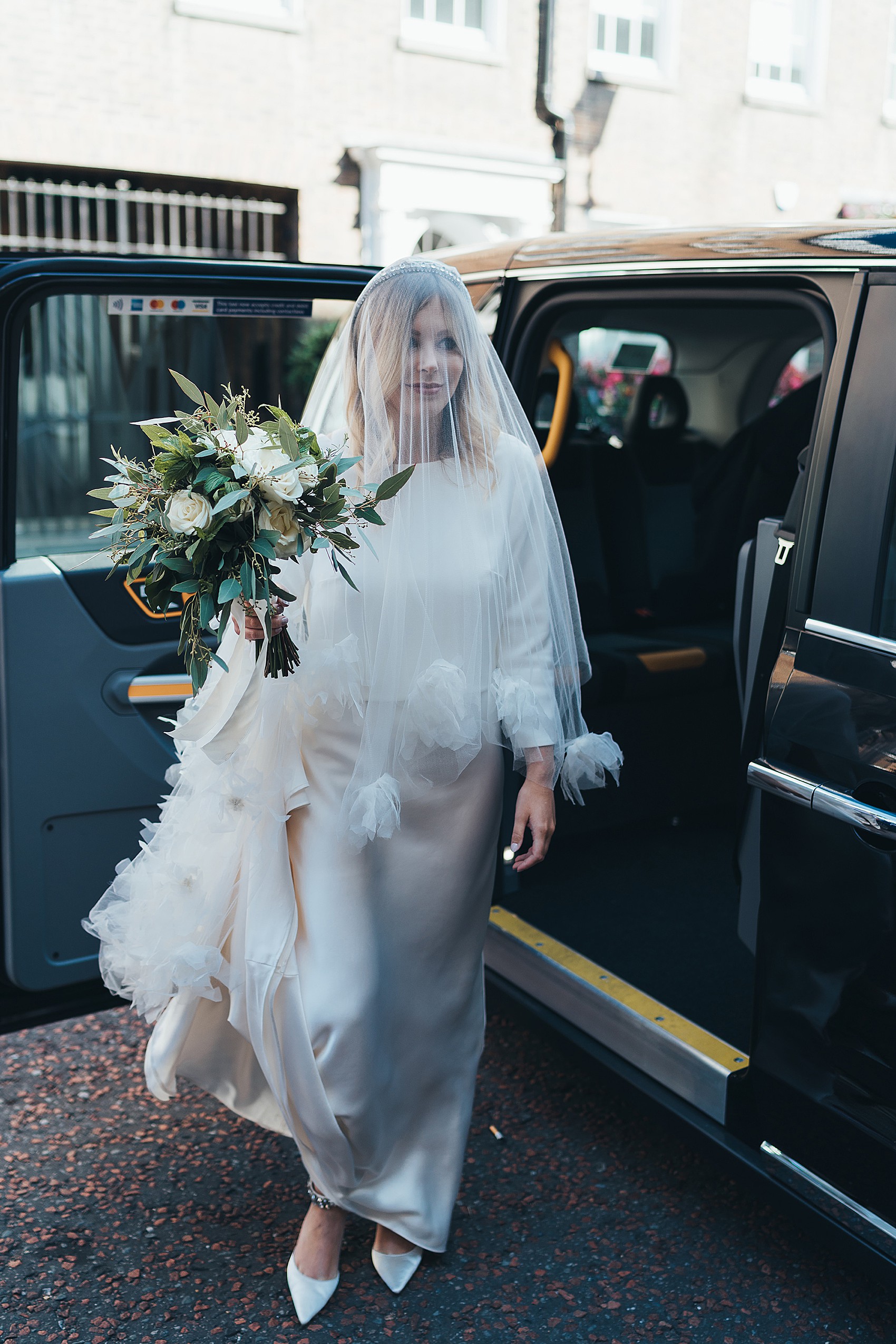 Setting the black tie theme was Ryan in his bespoke tuxedo from Richard James on Savile Row.
"He chose them for their modern yet traditional cuts. They were very helpful and quick with alterations and he has been a repeat customer ever since."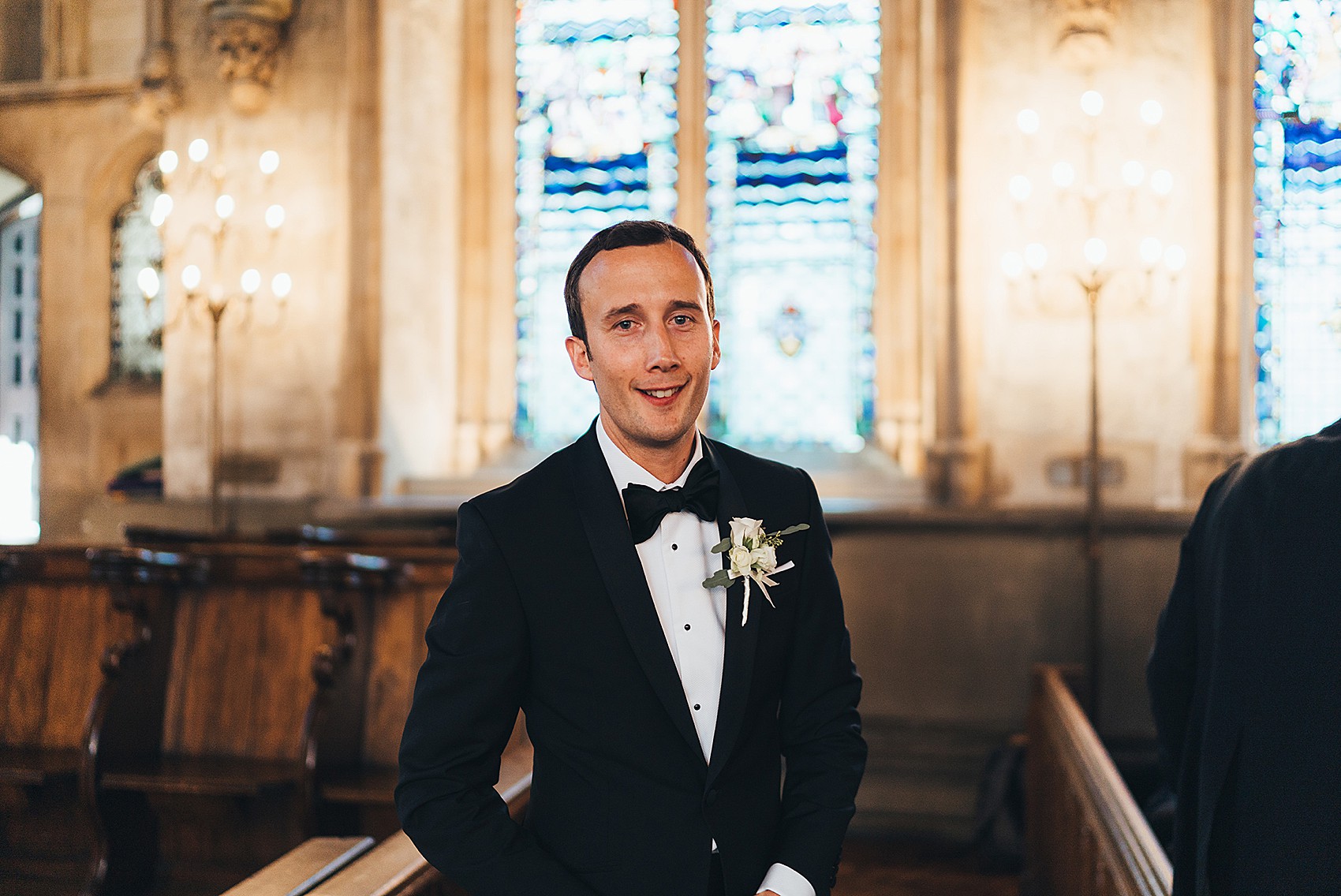 Sophie and her father travelled to Saint Etheldreda's Church in an electric black cab, before walking down the splendid aisle together to the traditional wedding march.
"My dad walked me down the aisle – his beaming smile walking in was everything!" 
"We had a traditional Catholic service with bidding prayers and two readings chosen from the bible. One was read by Ryan's grandad Michael and the other by his best friend, Tom. The professional five-piece choir was a highlight – something I will never forget."
"Our most memorable moment was seeing each other at the top and bottom of the aisle. We couldn't believe the day was finally here and we are so grateful for our amazing family and friends for all of their love and support."
The couple returned to jeweller Lewis Malka in Hatton Garden, where Ryan had engaged the engagement ring, for their wedding bands.
"Ryan had done a lot of research into diamonds and rings when looking for my engagement ring. He came across Lewis Malka in Hatton Garden, who is an expert in diamonds and engagement rings. Between them, they designed and made my dream ring. It's a yellow gold band with a single diamond set in a platinum crown. Lewis has been an incredible contact and we have recommended him countless times to friends."
"We couldn't imagine going to anyone else for our wedding rings. We both chose yellow gold. Mine is a very traditional gold band, while Ryan's is a flat, contemporary gold band."
Photographer Miss Gen's romantic yet modern style, with an almost editorial feel – marries perfectly with the overall vibe of the couple's day.
"Before I was even thinking about wedding photography, I was browsing lots of wedding blogs and kept feeling drawn to certain images. I then realised every image I absolutely loved was by the same photographer. I just knew we had to have Miss Gen and hoped that she would be free for our date. We were very lucky."
"We absolutely loved working Miss Gen. Gen was extremely relaxed, even when I was at my most stressed around an hour before the ceremony. She made us all feel at ease and blended in to every situation perfectly. Our favourite photo is of us on the bridge. We had only been married for about an hour when it was taken. I love the red bridge with the blue sky behind – it sums up our London wedding. Full of sunshine and lots of love!"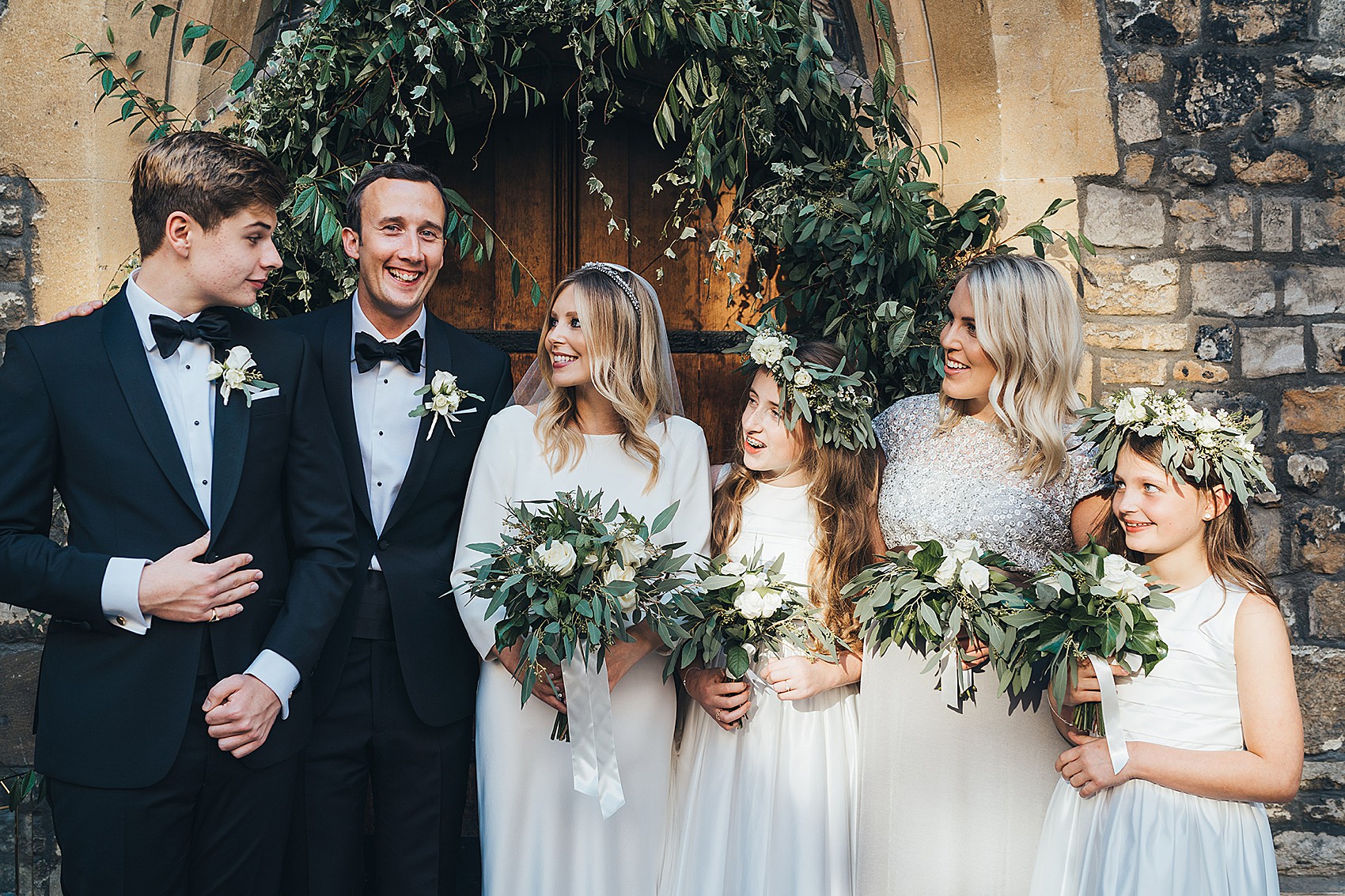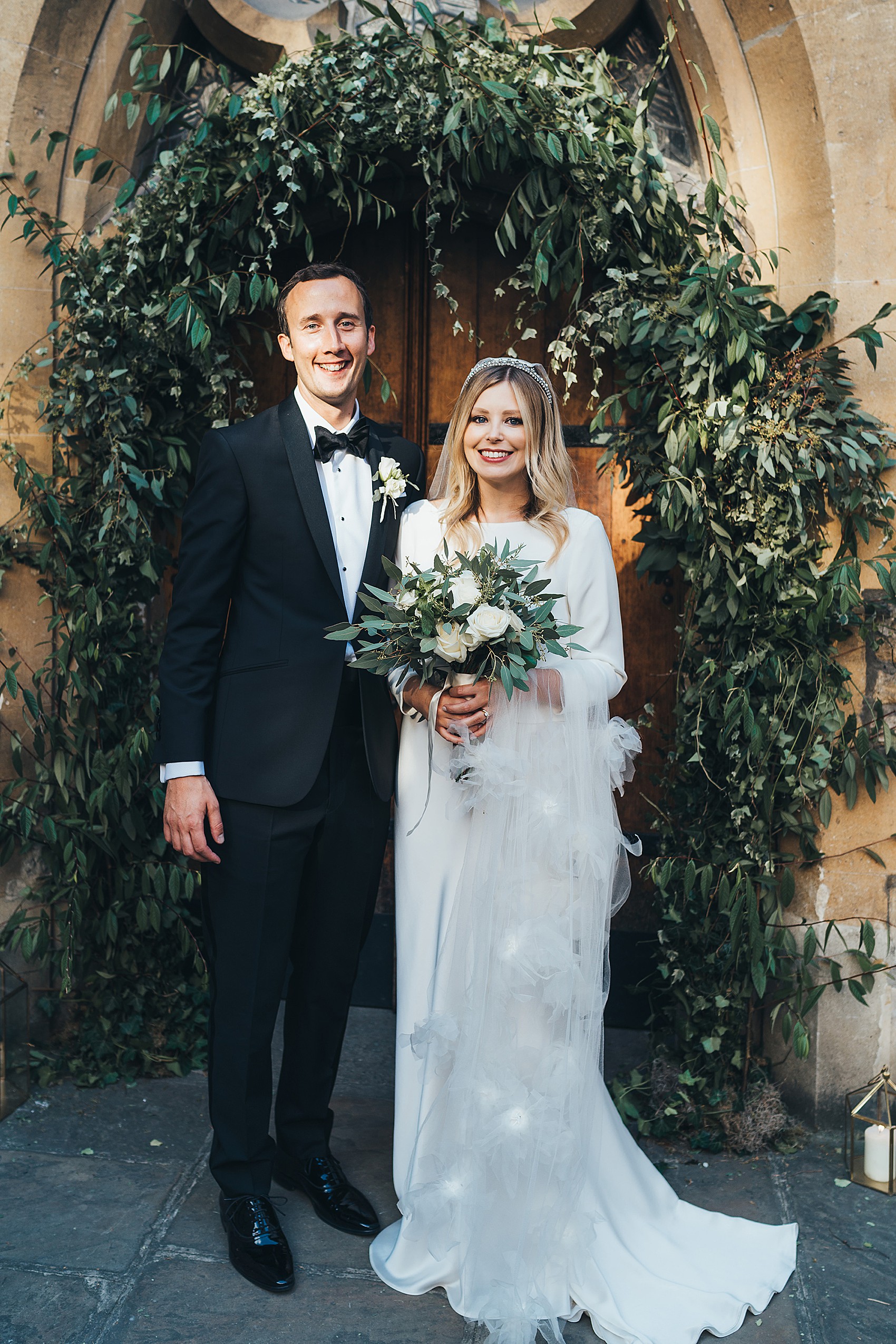 The empty London streets make the perfect backdrop for the couple's newly-wed portraits, which are so beautiful and atmospheric. I cannot, though, get over the movement and flow of Sophie's gown and the drape top, and it looks even more beautiful with the bow on full show.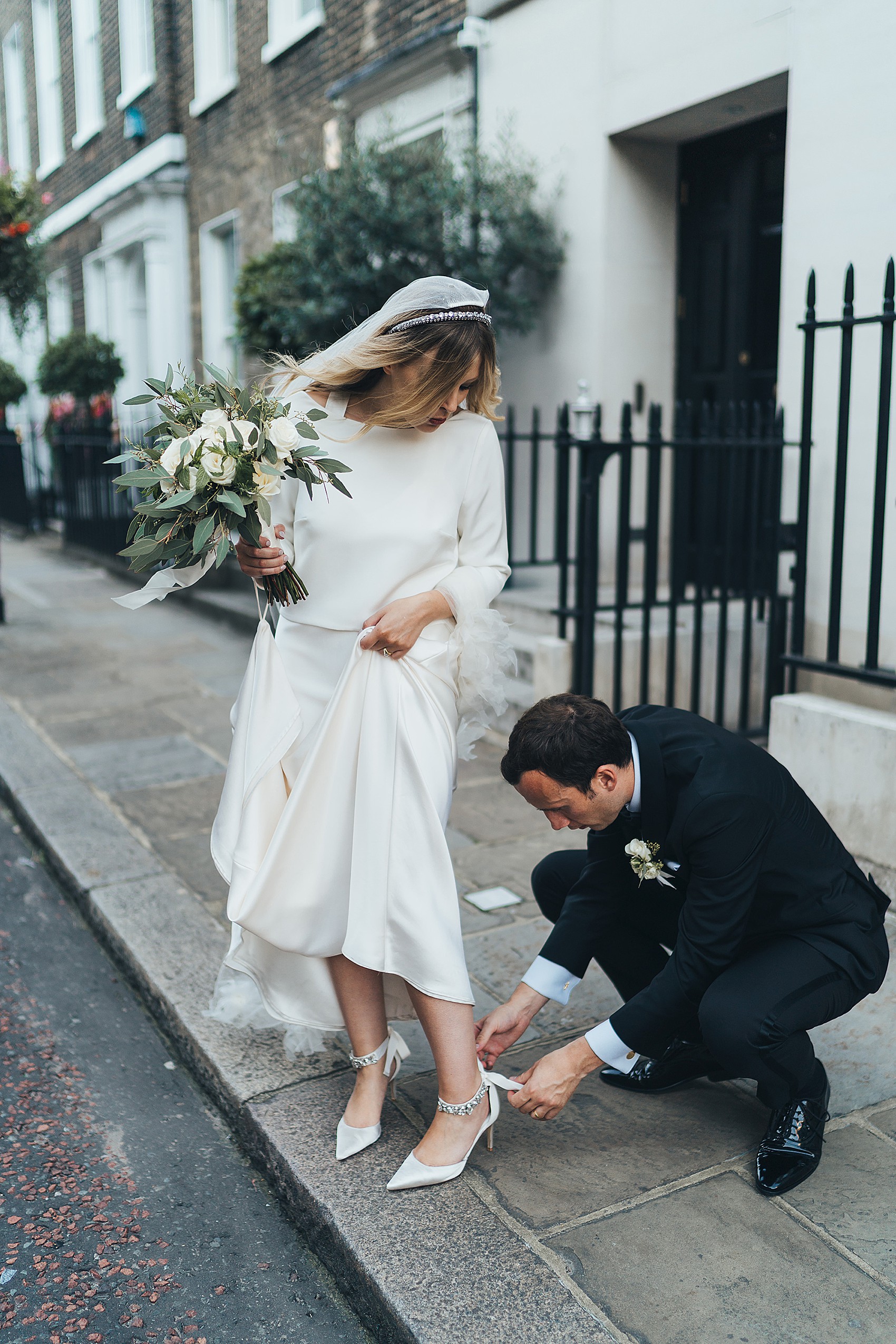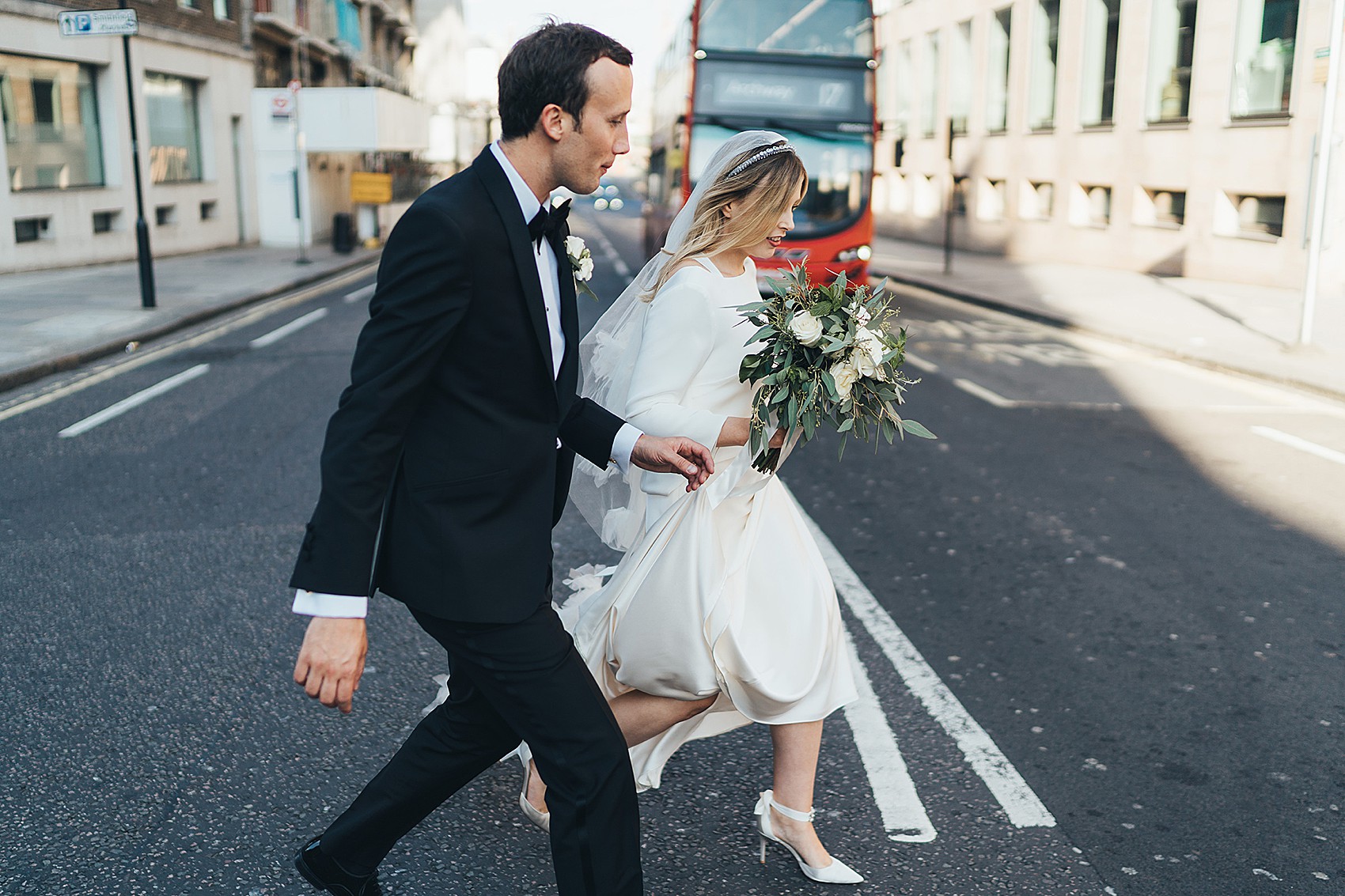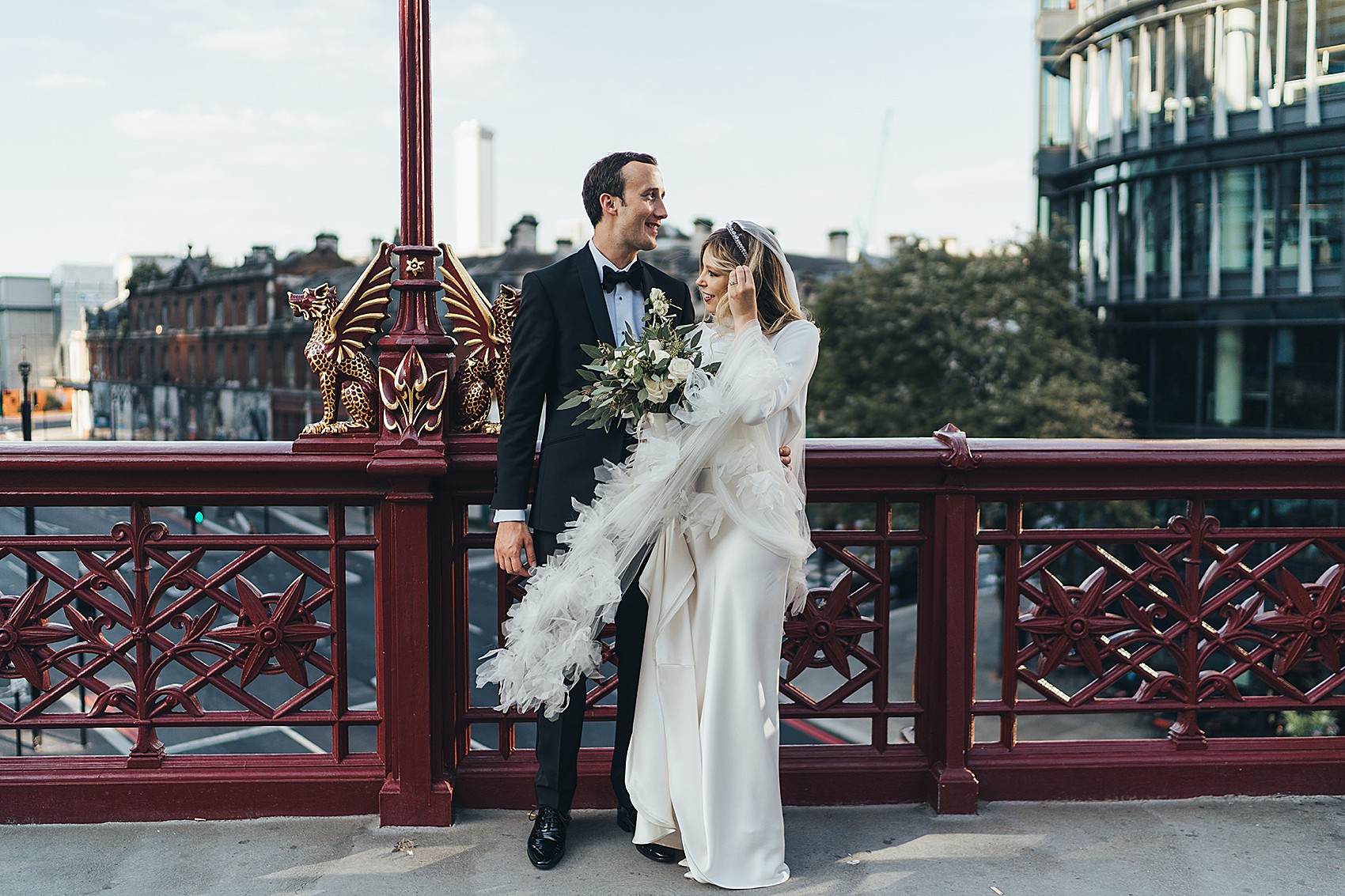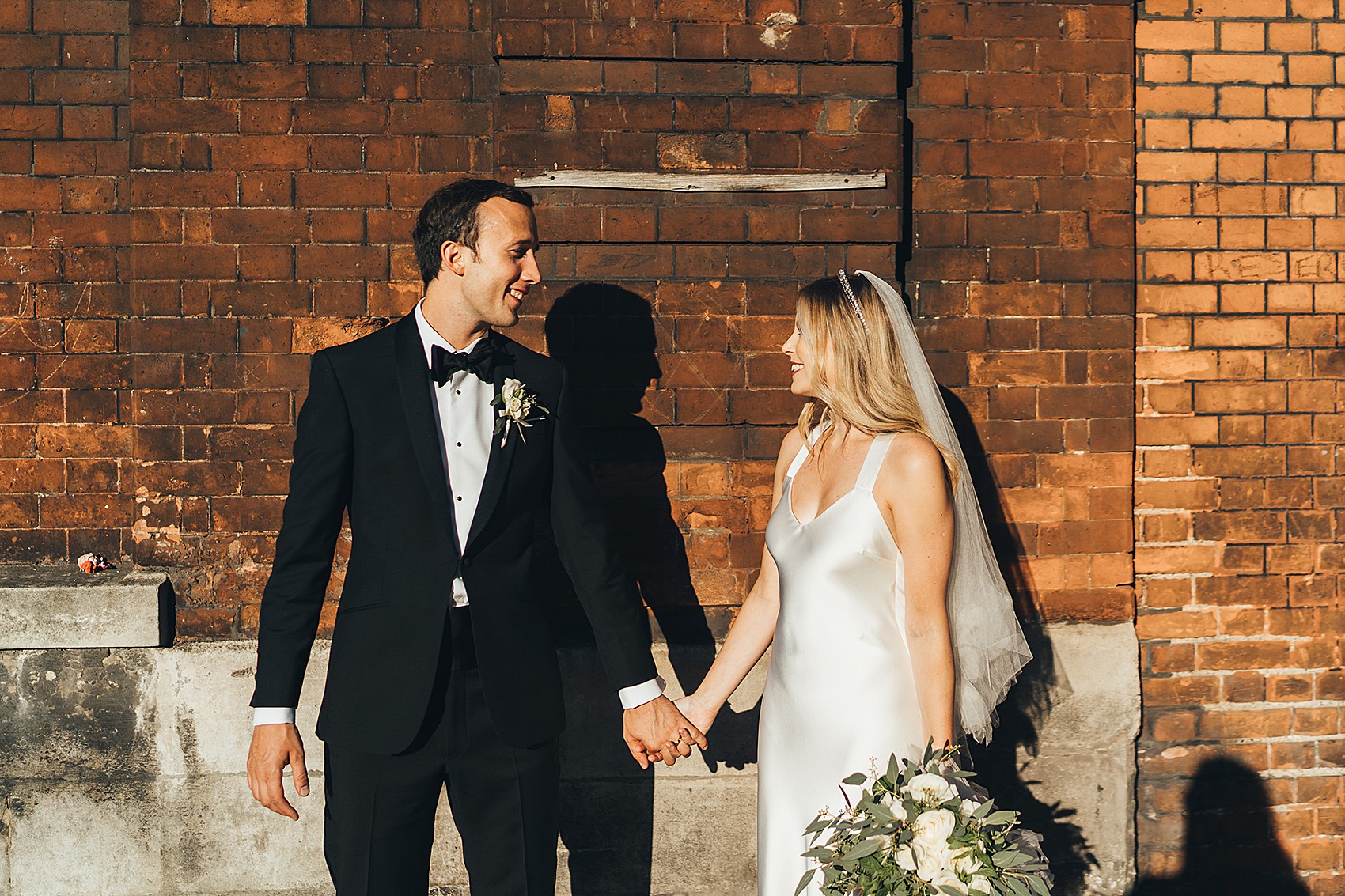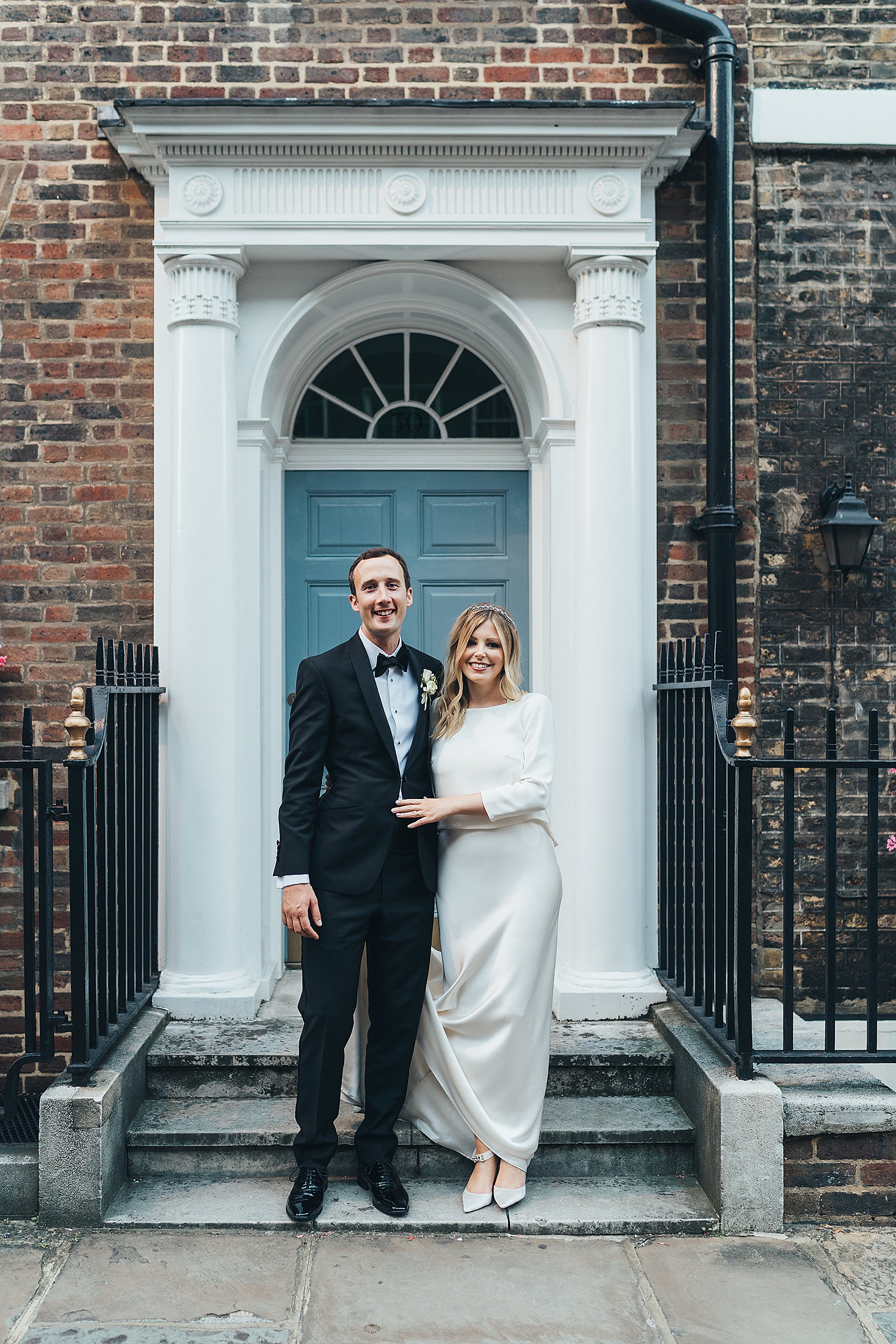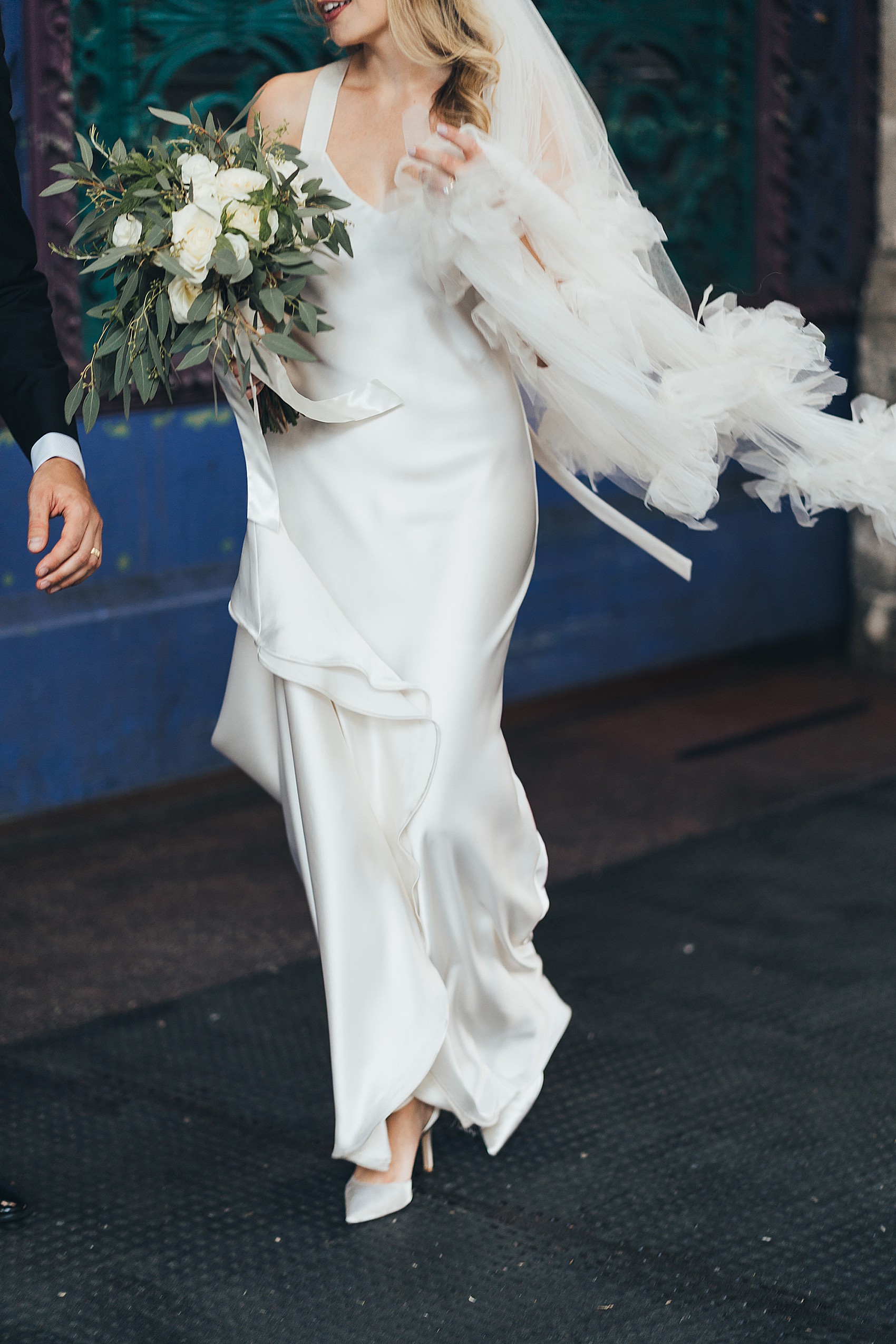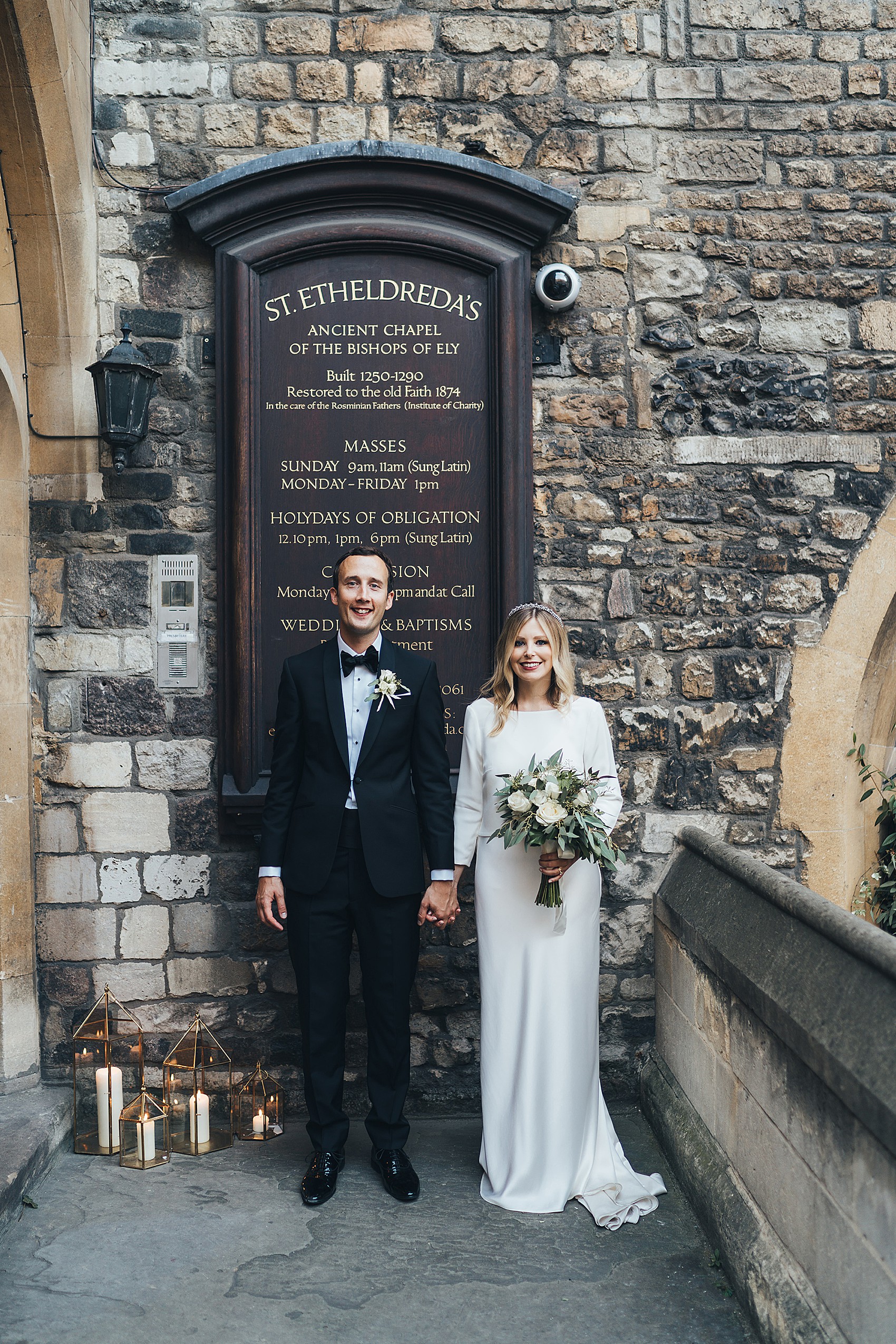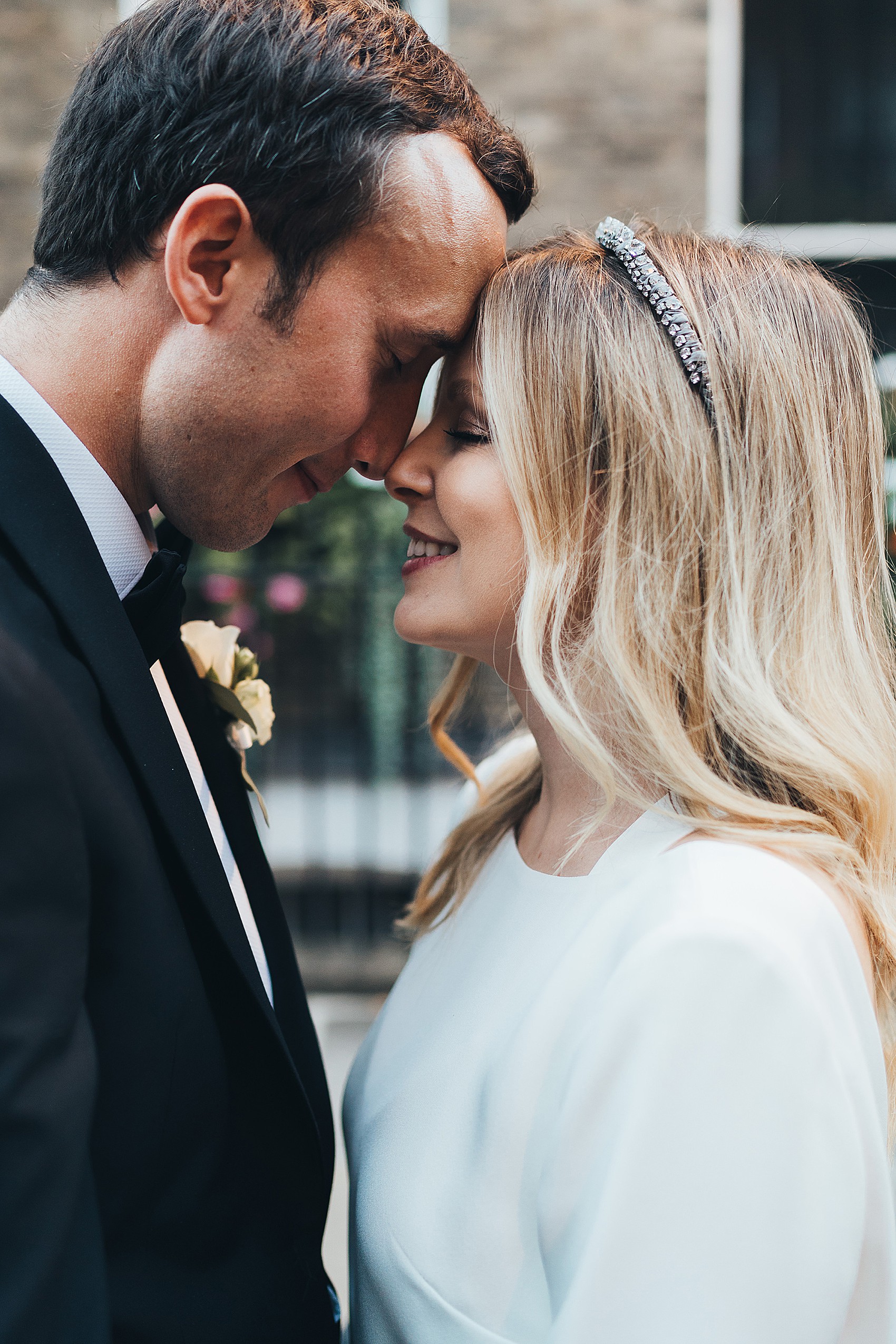 Back at the church, the newly-weds and their guests descended in to The Crypt for a magical dinner party, catered by the restaurant next door, the iconic The Bleeding Heart. The Crypt looks wonderful with its thoughtful illuminations, foliage and floral displays. And, a little fact for you, King Henry V111 held a three-day wedding feast there in 1531.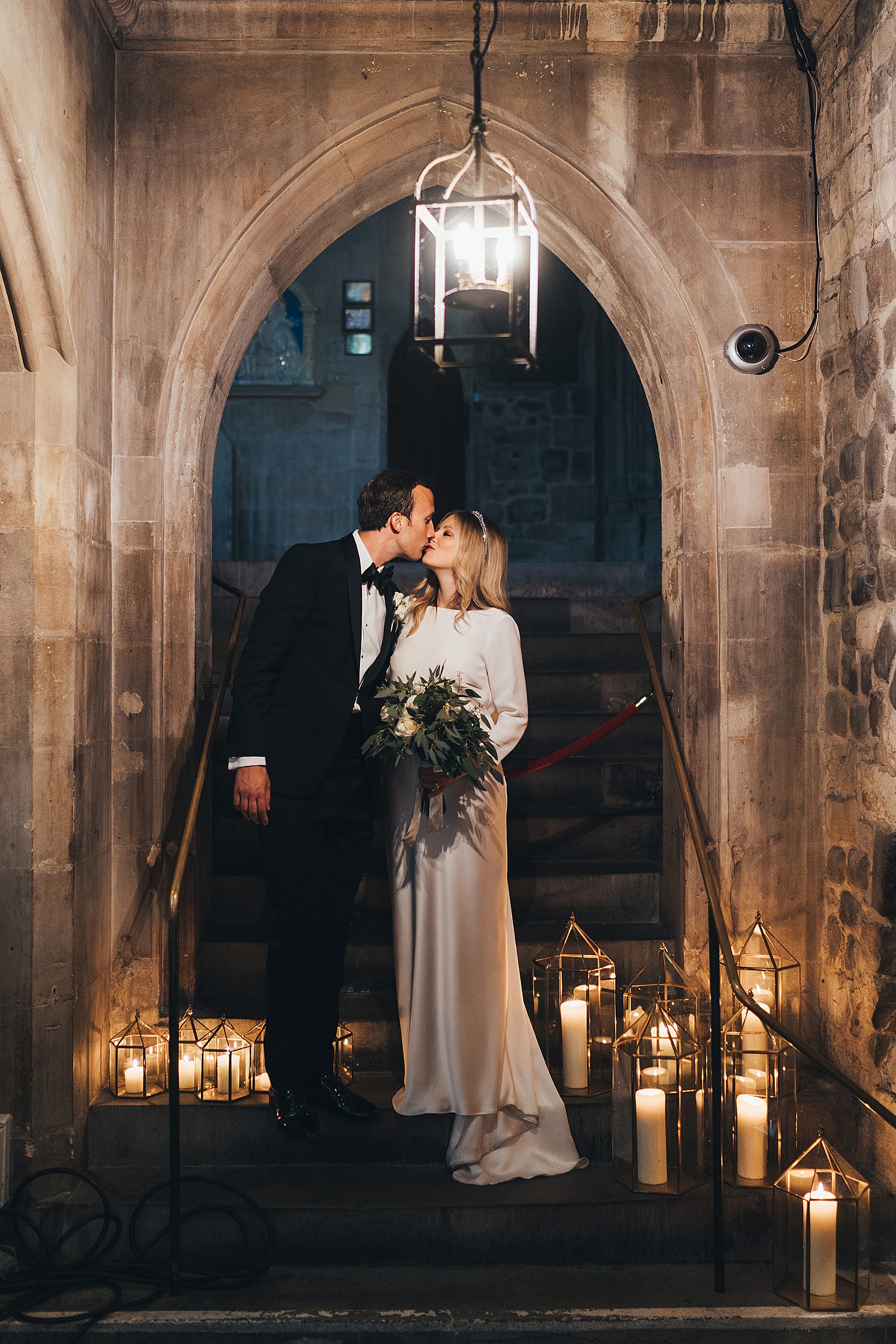 The groom's father designed and printed the stationery suite for the couple.
"Ryan's father owns a printing company in Shoreditch. They kindly designed and printed all of our wedding stationery."
"The Crypt was full of our wedding flowers and gold glass lanterns. We filled all the coves with real burning candles. It felt like a romantic fairytale and was everything we had hoped it would be."
"The Bleeding Heart is a restaurant set in a stunning courtyard in Hatton Garden which backs onto Ely Place where our church is situated. It is a French bistro specialising in the most incredible champagne and wine from various regions in France. They were brilliant to work with and tailor made every course to our requirements. The Bleeding Heart at The Crypt provided a wonderfully unique combination of magical ambience, delicious food and impeccable service. We couldn't have asked for a better caterer and have visited the restaurant many times since."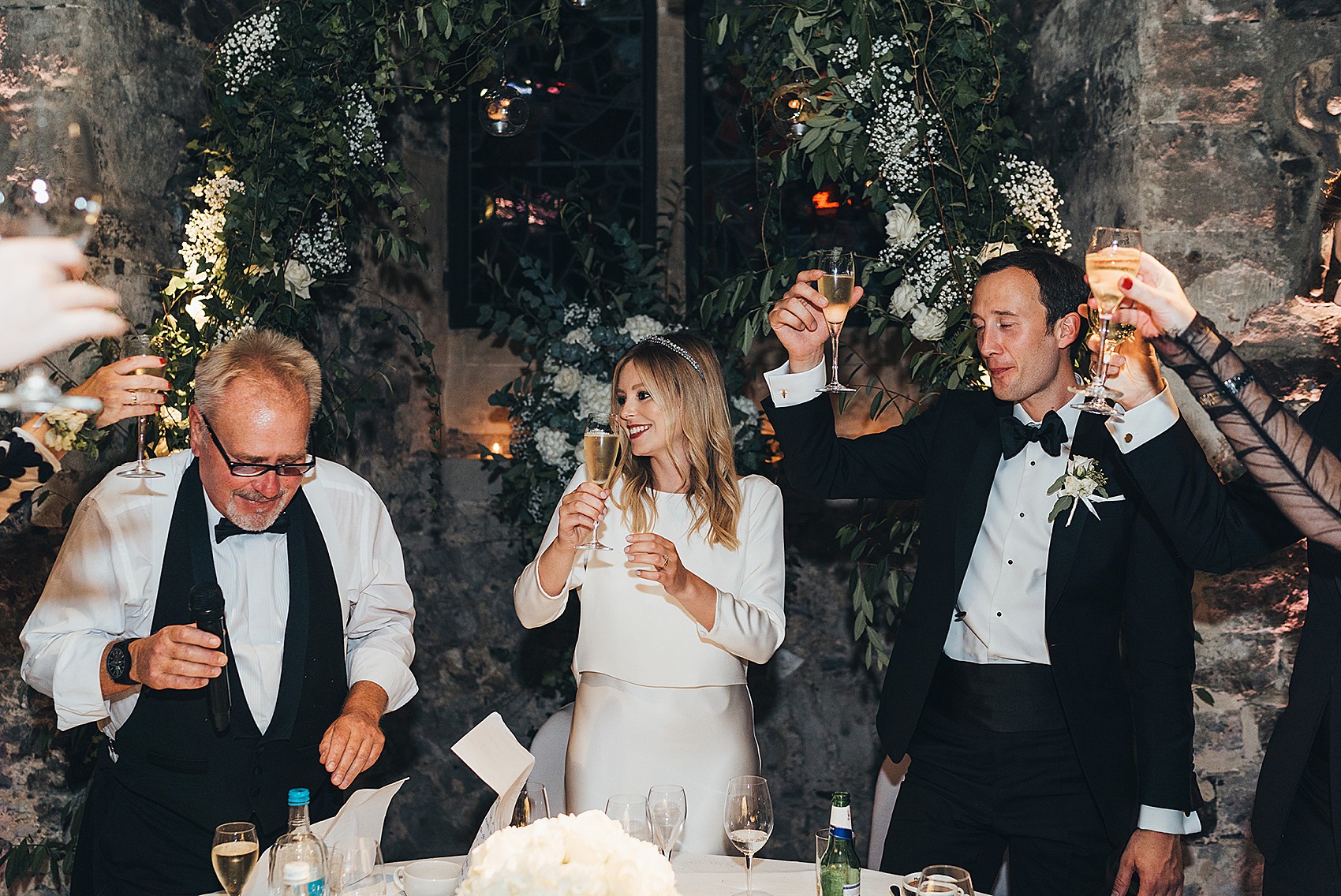 The magnificent tiered cake came courtesy of Konditor & Cook.
"It was a Victoria Sponge cake, covered in buttercream icing with three white iced roses on the top. It was delicious!"
The disco lights were turned up for the wedding party, played for by The Wedding Smashers, another of our Little Book Wedding Directory members.
"We had The Wedding Smashers who were absolutely brilliant. We hired a giant disco ball from them which lit up the dance floor. We picked a handful of our favourite music and they ran with it."
"Our first dance was 'Thinking Of You' by Sister Sledge. We wanted something upbeat/disco to get everyone onto the dance floor. It is also the first song that was played on New Year's Eve going into our wedding year."
Words of Wedded Wisdom
"No two weddings are the same – try not to compare anything and enjoy your big day because it's gone in a flash."
Sophie and Ryan, sending you so many congratulations and thanks for this beautiful city wedding. You both look so happy and radiant, and I adore the elegance of your gown and distinctive veil. Lovelies, for more city inspiration, we have some other divine weddings here.
Ele xx