The vision and creativity of all of you Love My Dress brides never ever fails to surprise me; just take a look at the discussions and swapping of ideas that take place on our Love My Dress Facebook Group and you'll see what I mean.
Today's wedding has really blown me away with all of its lovely, personal, DIY touches. With a starting point of foliage and wildflowers, this summery marquee wedding is a joy for all the senses. Teacher Guy wed Tora, who works in the music industry, on 18 August 2018 in a Church of England service at St Aldhelm's Church near the bride's parents' house in Bishopstrow, Wiltshire.
Photography Andrew Brannan Photography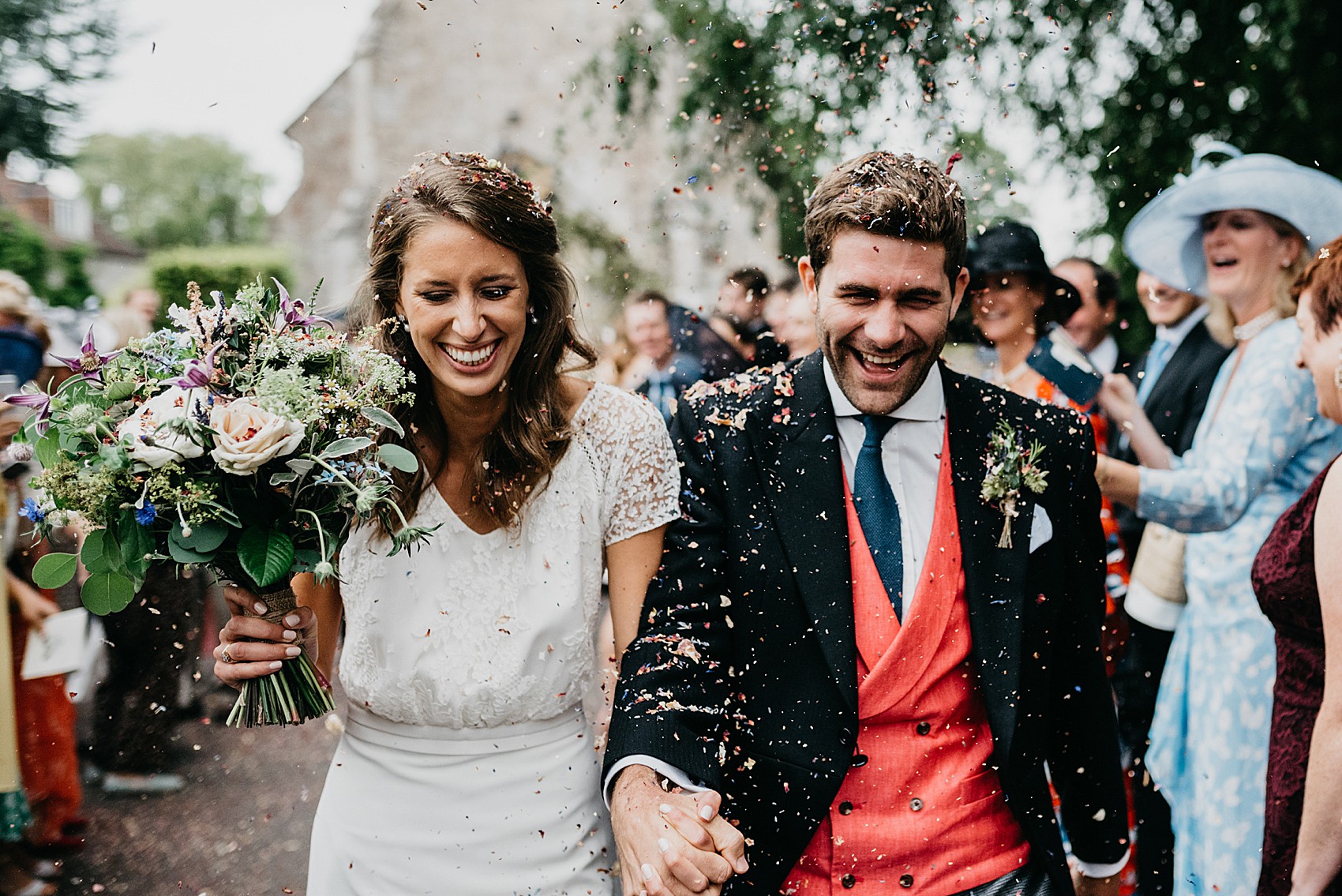 The bride and groom and their guests didn't have far to travel for the reception, taking the short walk to the cricket field next door for a marquee party inspired by the couple's love for music, relaxed, lush foliage and pretty and summery wildflowers.
"Music played a very important part in our day, from the entrance and exit of the church and even one of our readings (A Led Zeppelin Song). Foliage and wildflowers were very much the floral theme."
"A family friend did my hair, my bridesmaids and my mother. My make-up was done by a local girl called Beth Cox who has her own salon in Shaftesbury. Beth really understood my vision for a very natural and relaxed look and made it a reality."
The bride chose long, lacy dresses in navy blue from ASOS for her bridesmaids and, a glorious pop of colour, selected ribbons to their hair.
"They each wore a brightly coloured ribbon which matched the style on the back of my own dress. My present to my bridesmaids was a unique Jo Malone scent with an engraving on the front – the words 'thank you' and the date of our wedding."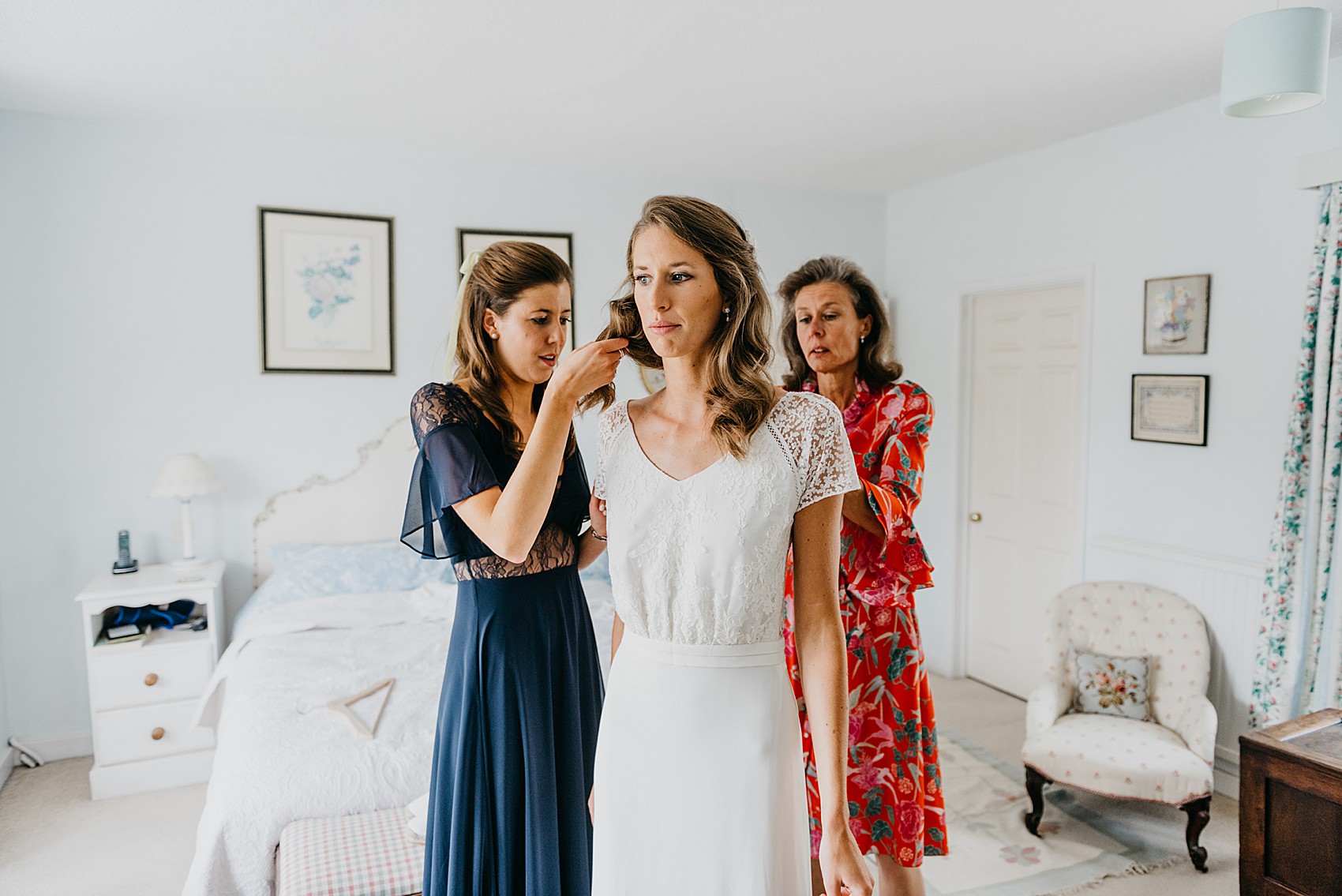 We adore Tora's elegant gown. Sophisticated, French chic, it's by Laure de Sagazan and was discovered at The Mews Bridal in Notting Hill. Laure's exquisitely-cut gowns are feminine and modern, and always fit impeccably. My favourite detail is the combination of delicate lace panels which create the cut-out back.
"I absolutely love the laid-back style of the French wedding dress designers and already knew Laure de Sagazan would be my go-to once I got engaged. I fell in love with the relaxed, comfortable style of the Beau Regard and felt the shape totally suited the vibe of our wedding. I wanted something I would feel comfortable in all day. The quality of the lace and material used on the dress was breathtaking."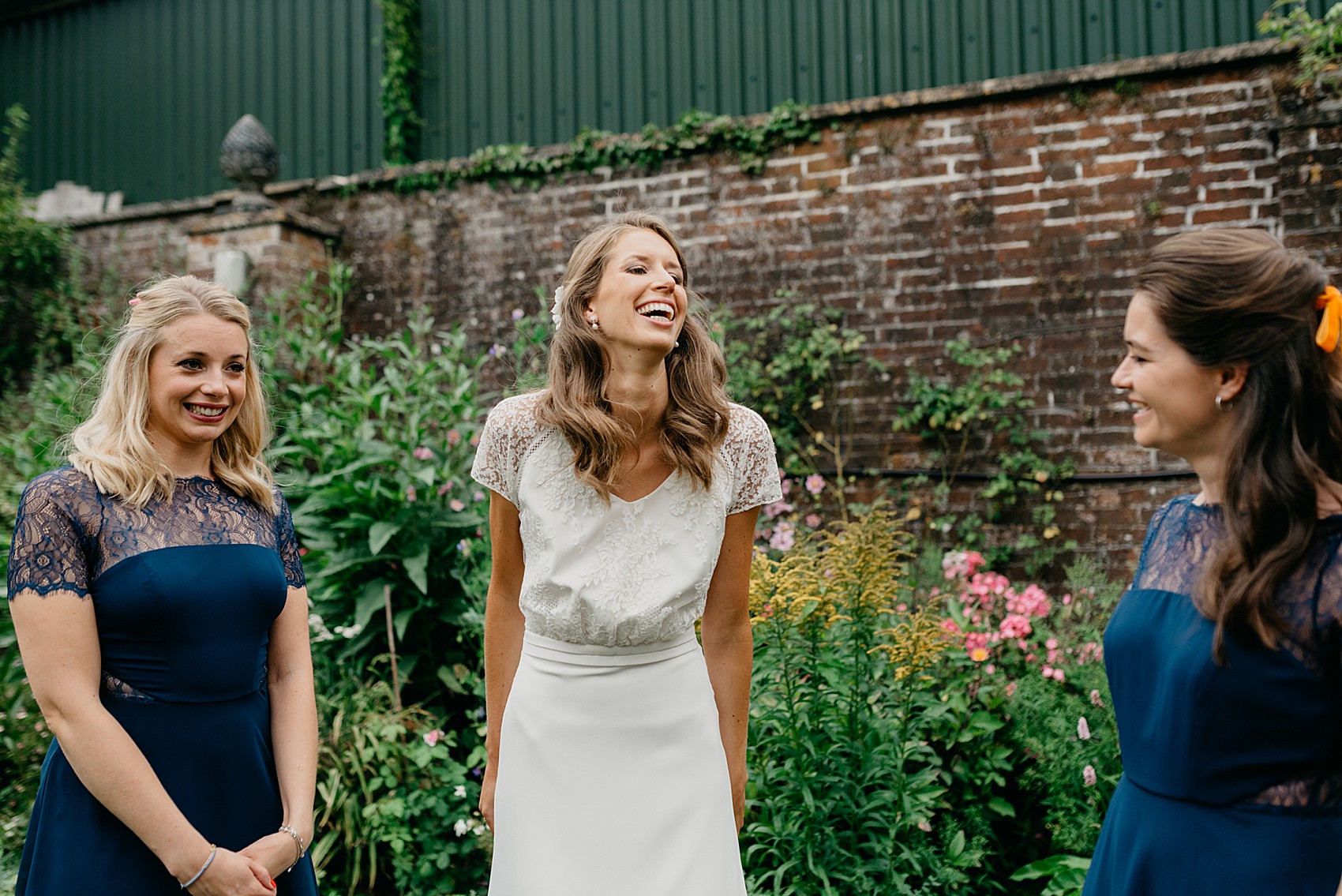 The couple met on Tinder in 2014 and dated for three and a half years before their engagement.
"The weekend Guy proposed, I'd actually taken him away for a surprise thirtieth birthday weekend but it was me who ended up being surprised. He popped the question on Lulworth Cove in Dorset."
"We both love the sea and spend many a holiday by the coast so it was hugely special for the two of us. Our table names were named after beaches we have been to and each place name was a hand-written pebble. We were engaged for just under a year before we got married."
Tora and Guy's floral vision was brought to life by the supremely-talented Stephanie Jevons. Wow, wow and more wow; I adore the pretty, wild but totally modern floral displays. The impact of the bright pop of colour from the blue bloom is delightful.
"We worked with Stephanie Jevons to create our floral visions. Stephanie is based locally in Blandford and she is incredible – she managed to take my vision and transform it into something even better than I could have imagined. We went for a very simple green and white theme with lots of foliage and wild flowers. My mother also did a lot of the flowers herself, including all the posy arrangements on our tables, our cheese cake and the wine box display outside the marquee."
For the service, Tora wore a family veil worn by both her grandmother and mother on their wedding days, fixed to her head with a statement headpiece of frangipani flowers from ASOS.
"My antique diamond and pearl drop earrings were a present from my parents. I also wore a beautiful, light blue stud from Otiumberg that one of my bridesmaids gave me as my 'something blue'."
For perfume, she added one of her favourite scents, Chance by Chanel and a pair of espadrille wedges from L.K. Bennett.
Tora's father drove her to the church and, as she and her father entered, The Midnite String Quartet's version of Fleetwood Mac's 'Everywhere' played.
"This was a very special moment as it's both mine and my father's favourite song. We also danced out of the church to Kool & The Gang's 'Celebration'."
The service had two readings in addition to their bible reading, the 'Song of Solomon'.
"'I Carry Your Heart' by E.E. Cummings was read at Guy's uncle's 50th wedding anniversary and meant a lot to both Guy and myself. A great university friend read 'Thank You' by Led Zeppelin. We just loved the lyrics and they felt so appropriate for our day. Everyone commented on that reading and said how unique it was."
To complement her engagement ring, chosen at Grays Antiques off Bond Street, Tora's wedding ring was an 18 carat gold band made by local designer Virginia De Chenecey.
"The church service was extremely special but as everyone warns you, it goes too quickly. I wish we could do it again. It was incredible to see everyone you love all in one room, knowing that they're there for you both. It was so special and emotional – we couldn't stop smiling."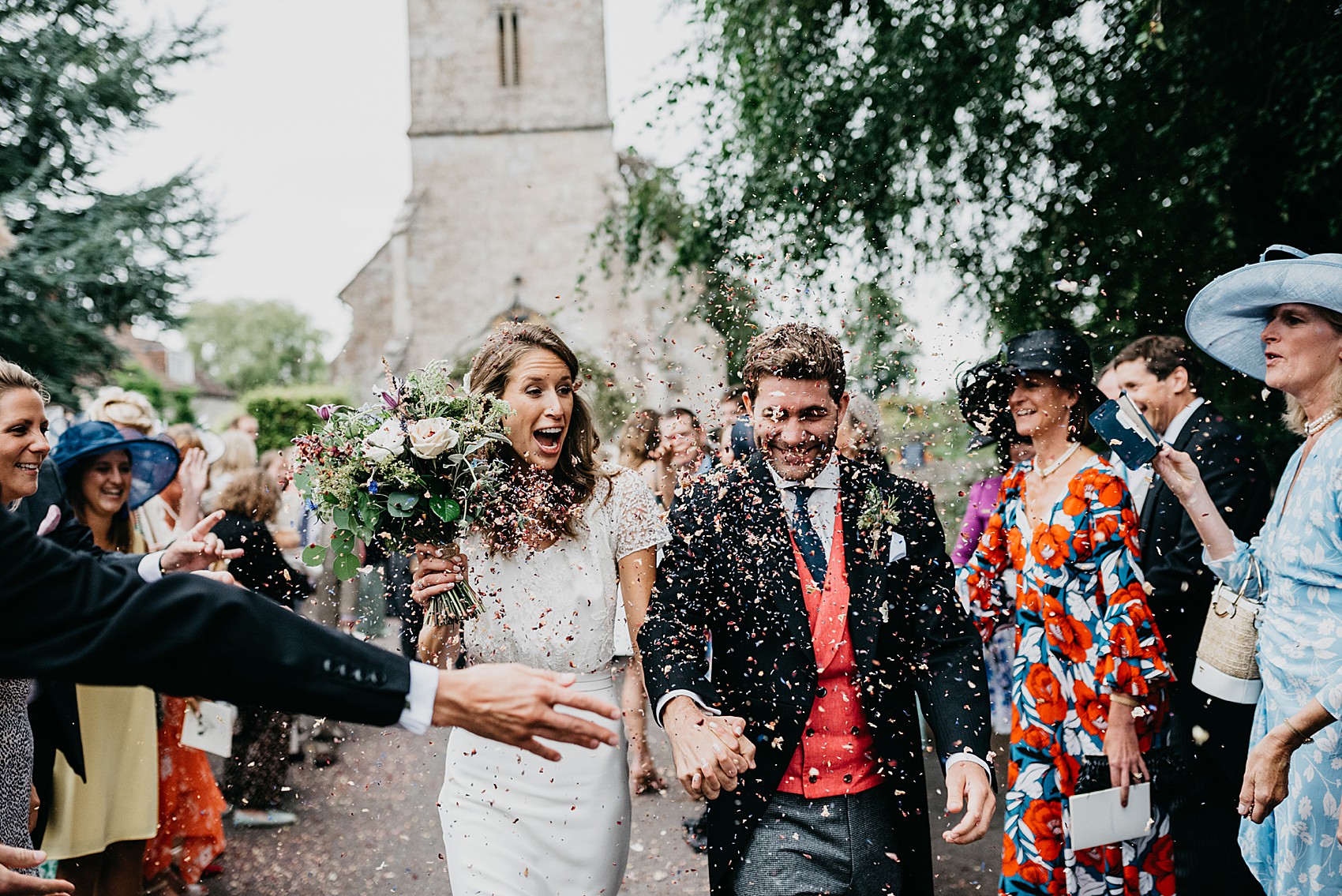 Guy totally rocked his own style, pairing grey hounds-tooth trousers from Sirplus with a bright, raspberry-coloured waistcoat from  Neal & Palmer and a morning jacket from Oliver Brown.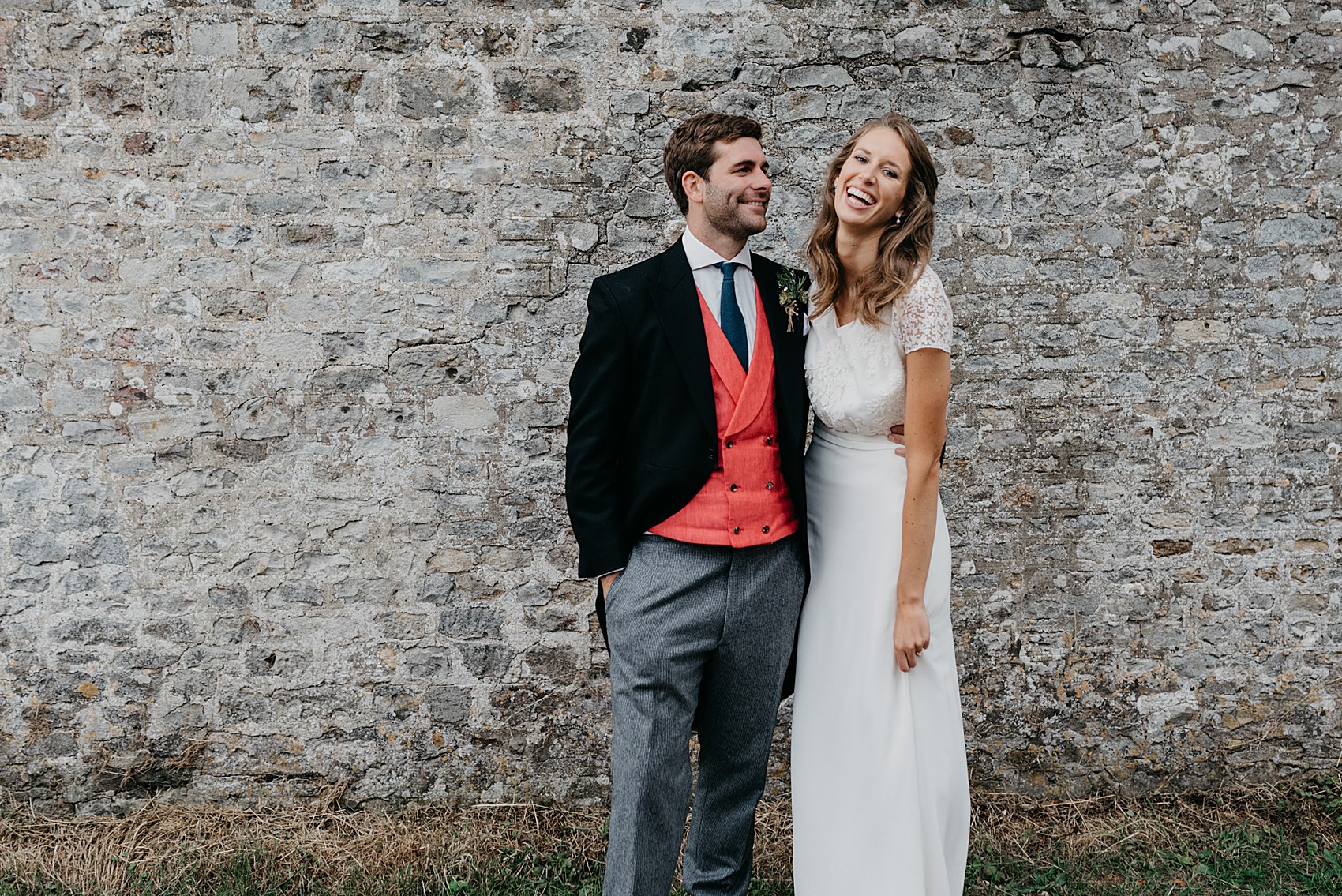 The creative details, and Guy and Tora's wedding service, was captured in so much detail by Andrew Brannan Photography. His reportage style suits the relaxed and modern feel of the day so well, and he has a real knack for capturing unexpected moments and emotions.
"When it came to choosing our photographer we immediately knew we wanted the amazing Andrew Brannan who had photographed my good friend's wedding the year before."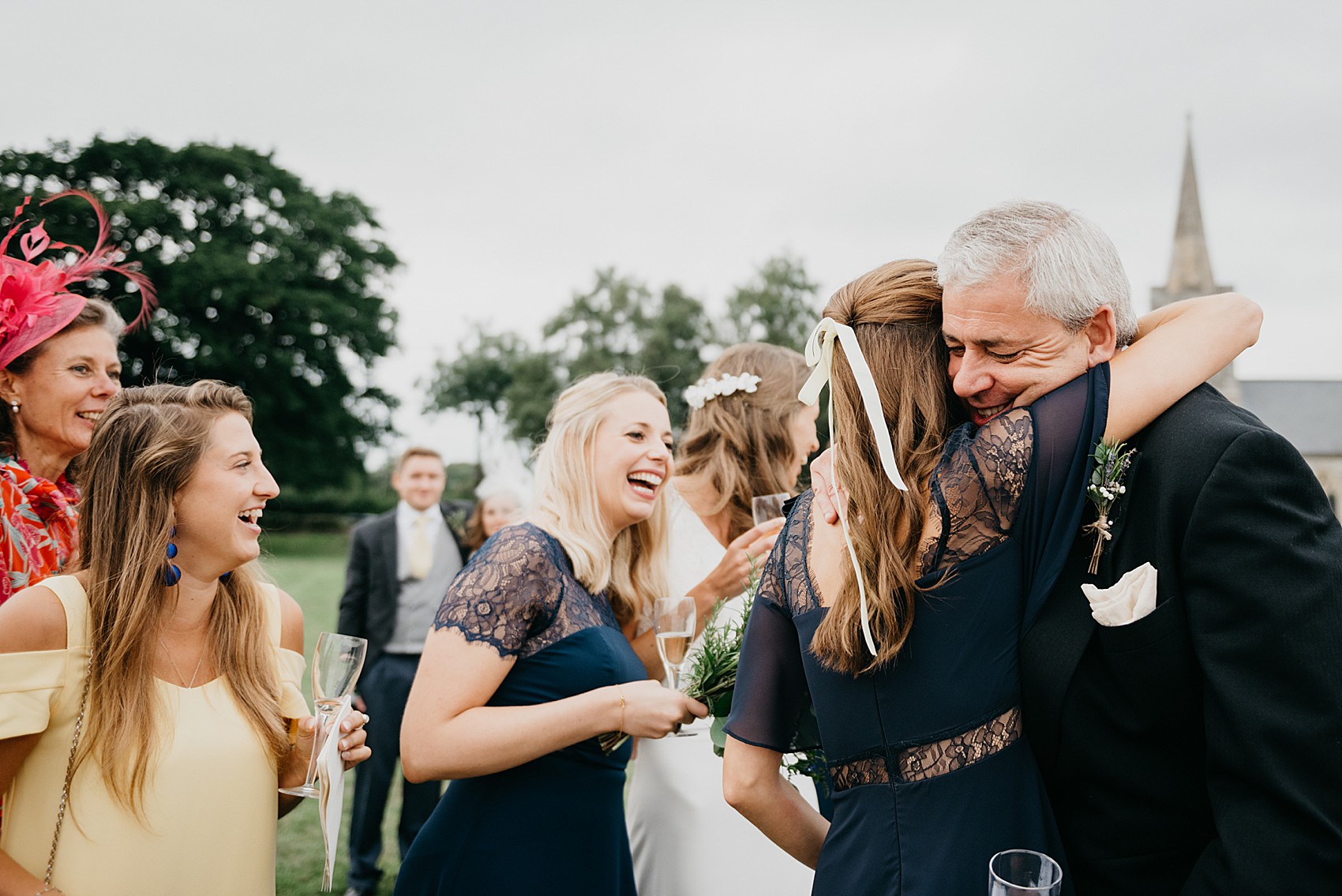 "He is one of the hardest working photographers I have ever come across and he manages to capture the most beautiful moments from the day, things you don't even remember happening."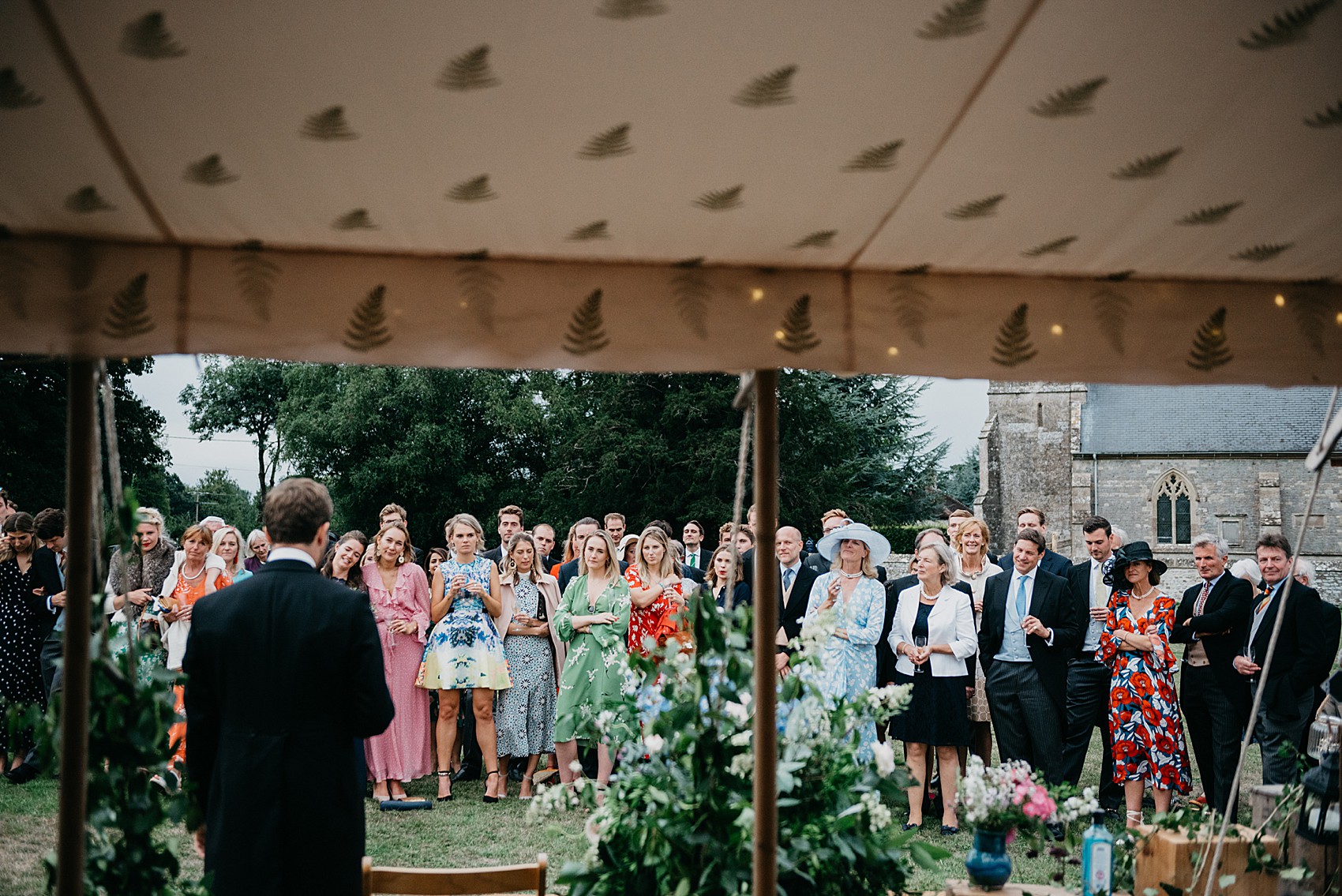 "His shots are very natural and candid, fun and relaxed – which was exactly what we wanted. We couldn't recommend him enough!"
The short trip to the cricket field was made on foot and, as their guests relaxed and chatted over drinks, the newly-weds took off with their photographer for some quiet time and portrait shots. Even in the more traditionally formal shots, it looks as if the party are having so much fun and laughter together. In the marquee, the guests sat down on long trestle tables for a proper feast.
"A friend's mother, Pippa Schofield, who runs her own catering company provided the canapés and starter of smoked trout. For our main course we had pizza from London-based company The Pizza Project. We set up long wooden boards on our tables, propped up on recycled tomato tins from our local pizzeria, for the pizzas to be served on. Pudding was homemade brownies and chocolate biscuit cake made by my mother."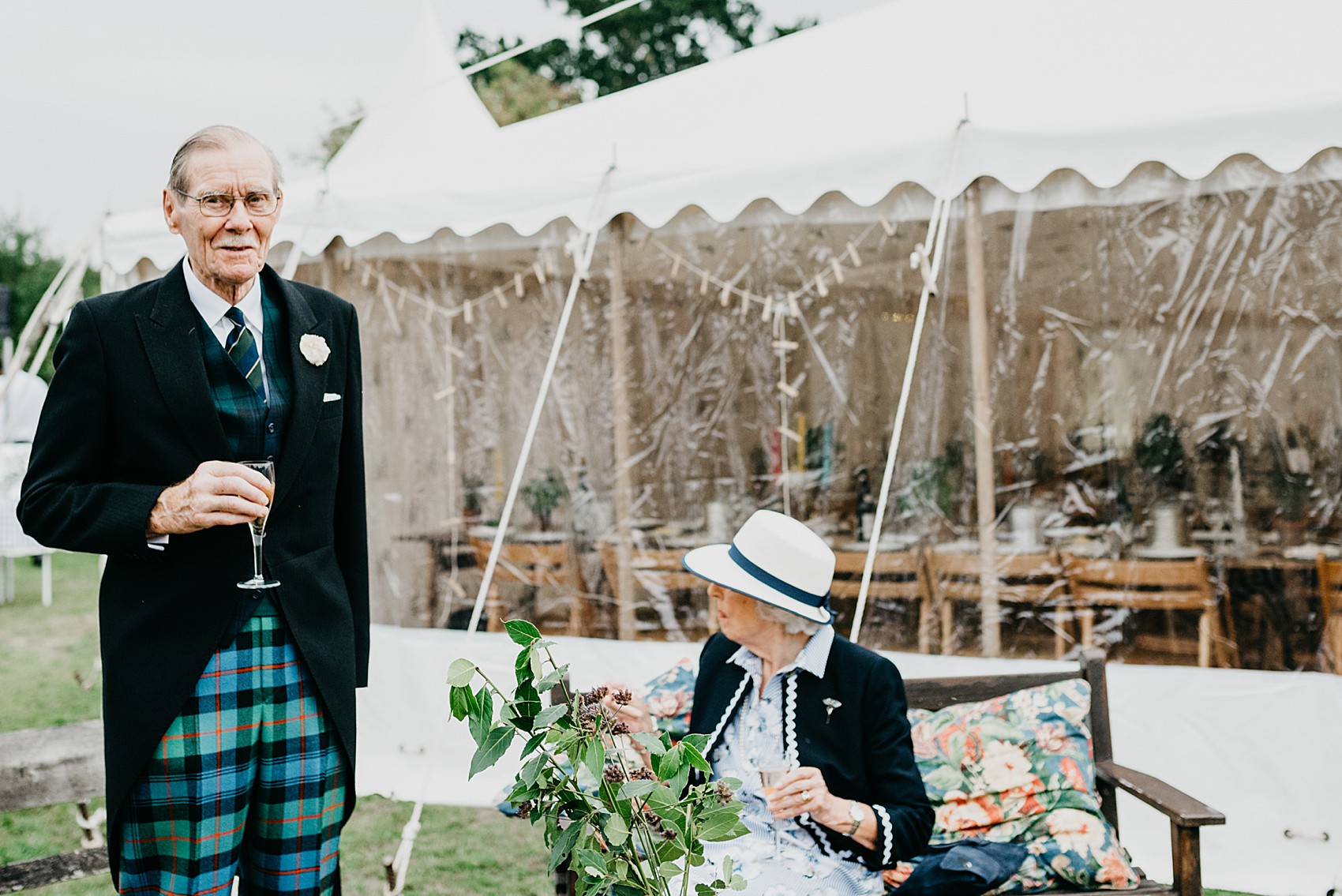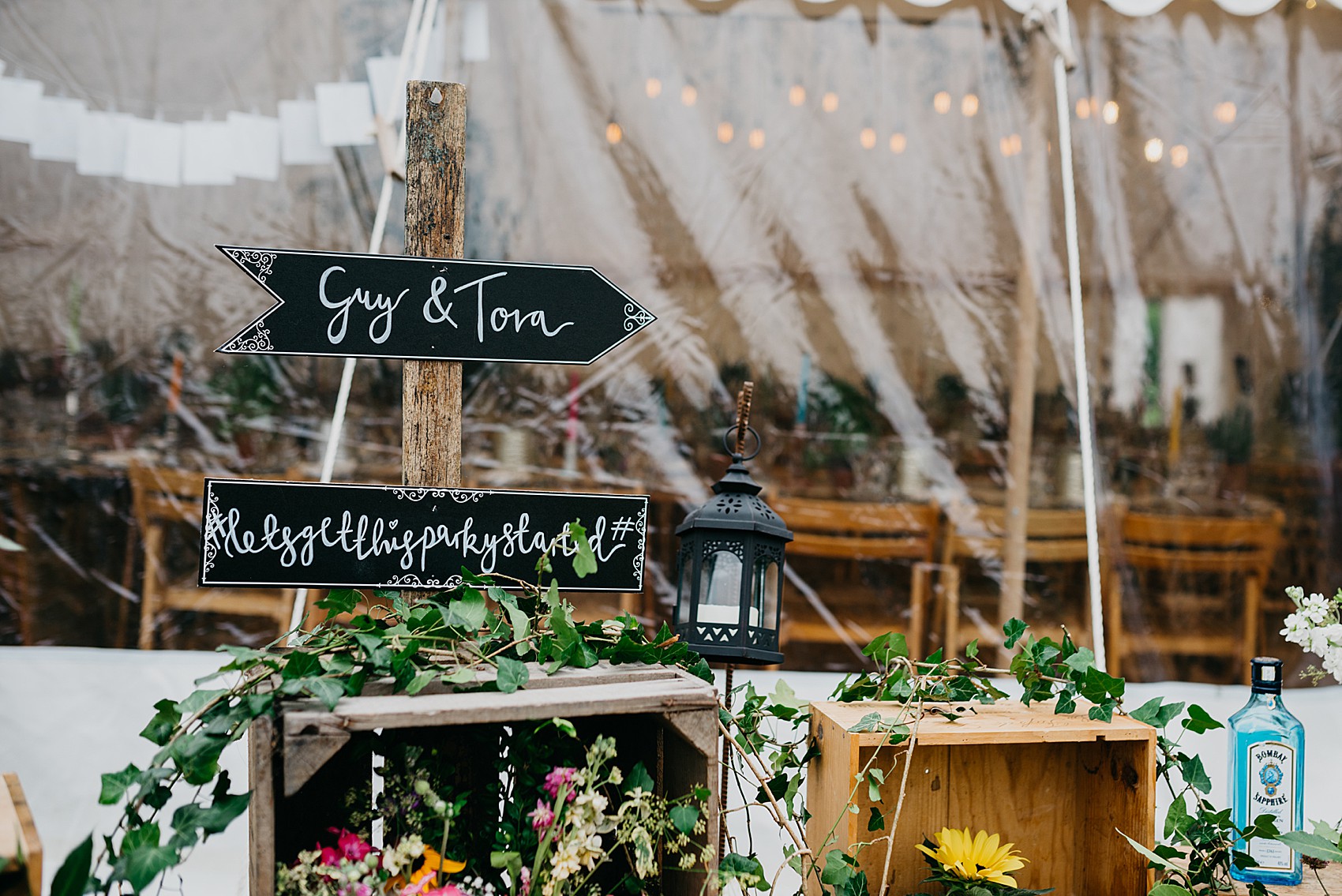 The marquee itself is totally different from any other marquee I've seen, as it was lined with a golden print material. The look is so modern with the filament light bulbs and 'sharing boards' which were used to serve up the food. Keep an eye out, too, for the personal DIY details created by Tora.
"Our marquee was provided by DP Marquees, a local company who had come highly recommended to us. We used their incredible fern print lining for the interior which totally transformed the marquee. We suspended vintage ladders from the ceiling of the marquee and adorned them with hanging filament light bulbs and foliage."
"We had trestle tables arranged in four long rows, reminiscent of big Italian feasts, which turned into four teams for the ultimate waterfall drinking game during our wedding breakfast!"
"I created bespoke wooden signs and created a beautiful floral setup outside the marquee of a collection of wine boxes and flowers."
"We opted not to have a cake but we had cheese piled up to resemble a cake instead, which my mother made."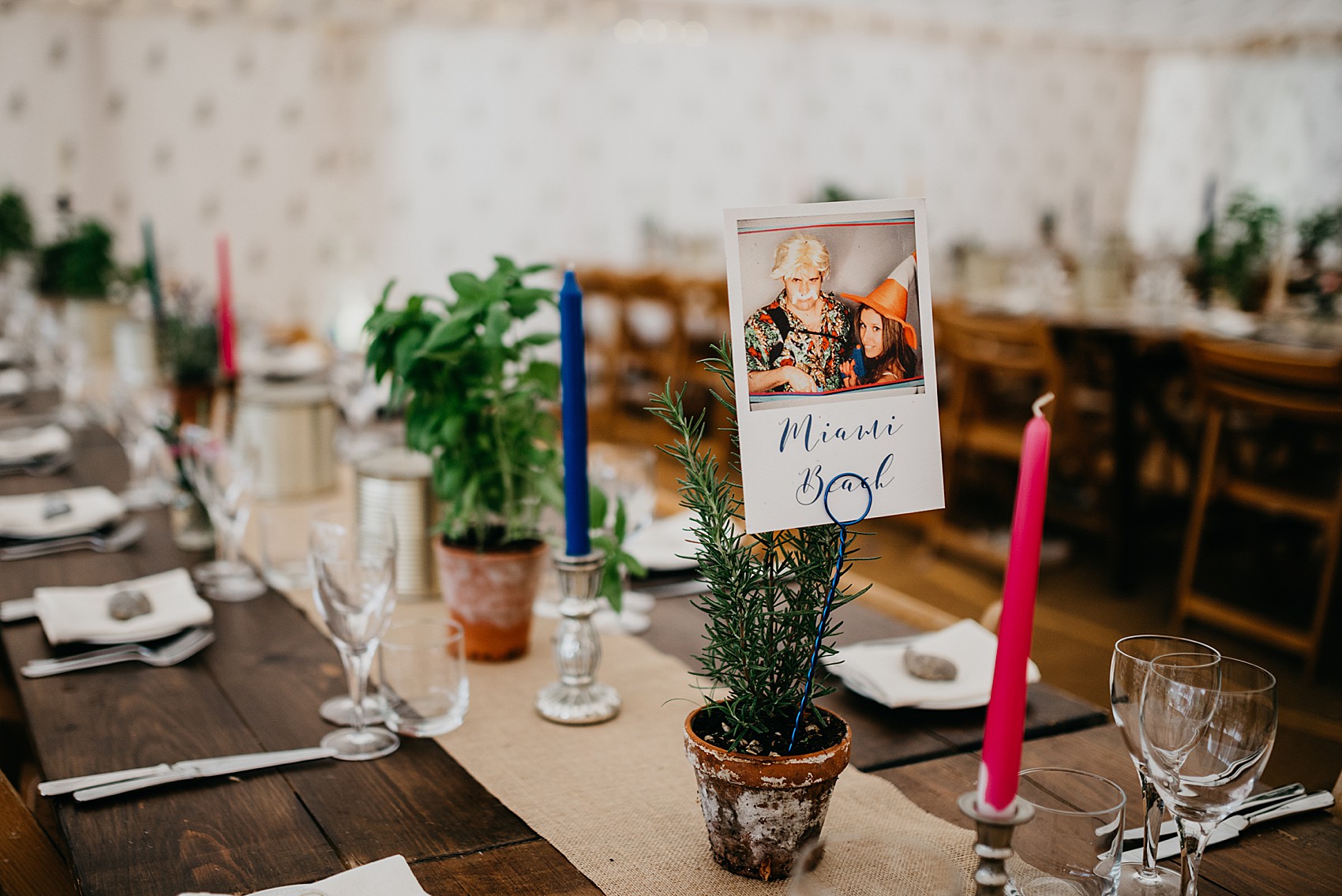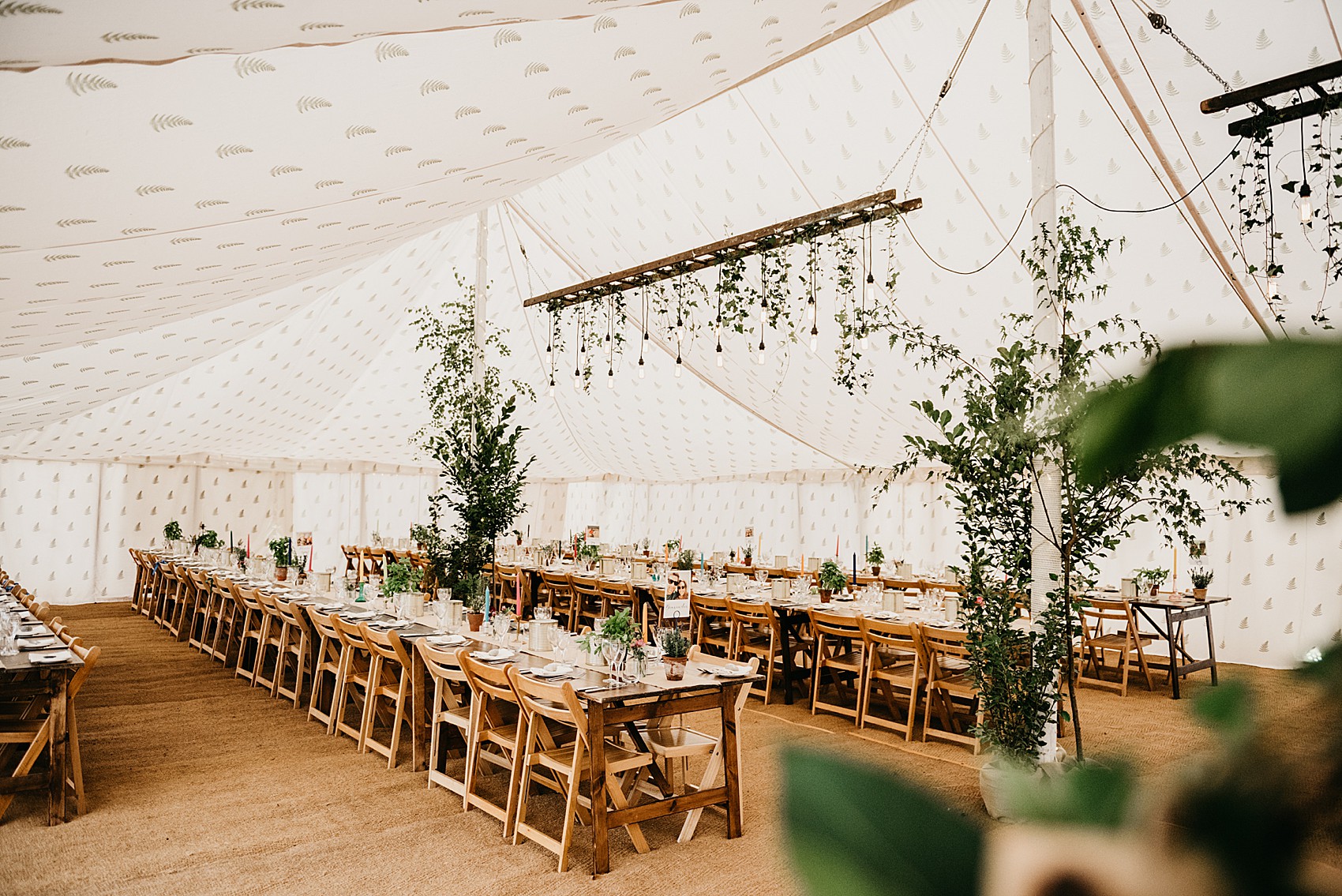 Like many couples, Tora and Guy sent out save the dates, designed by the bride on Printed.com.
"Our invites and order of service were designed by a school friend and graphic designer, Anya Da Costa. One of my bridesmaids painted the image of our church on the front of the order of service."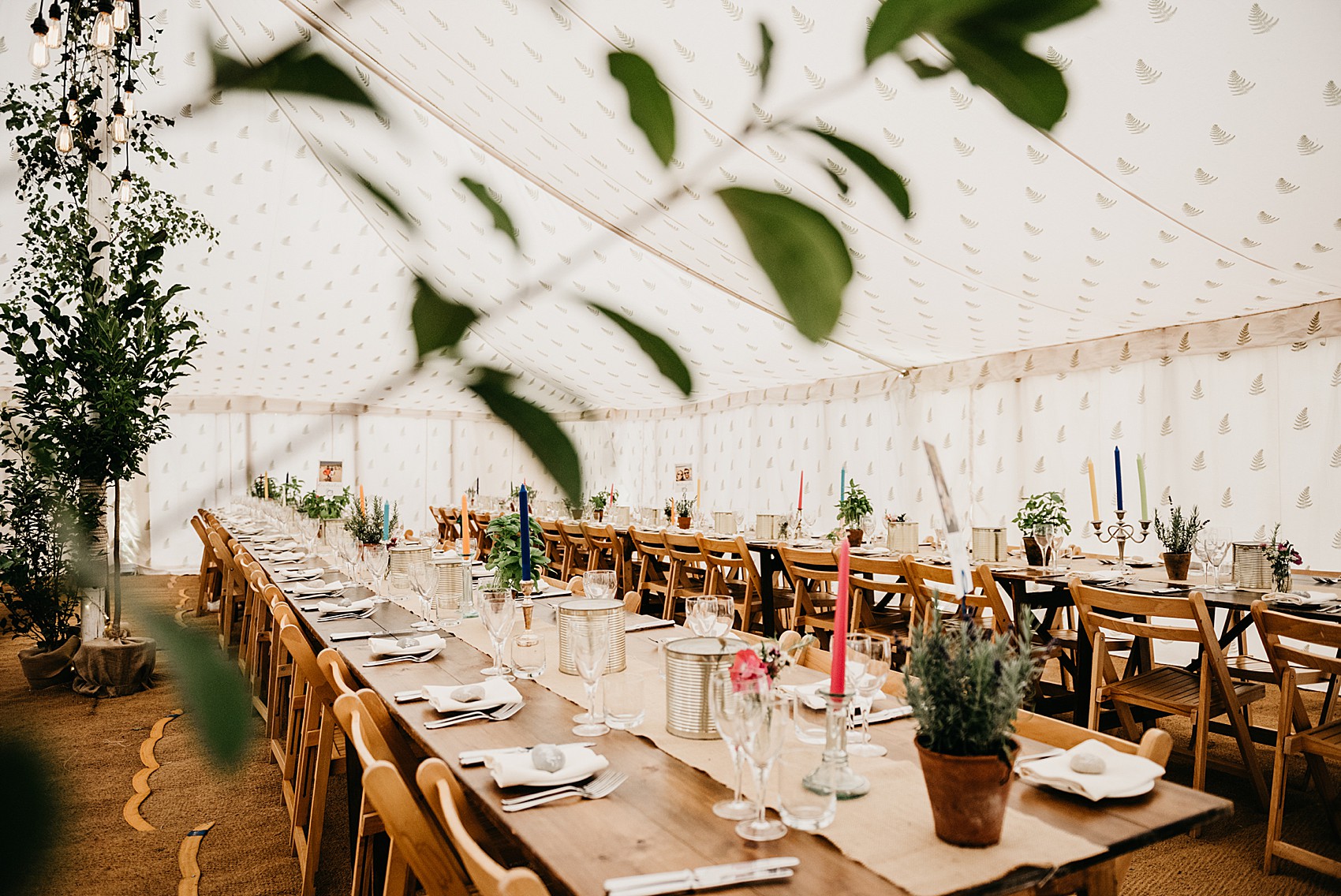 Although Tora and Guy chose to miss out the traditional first dance, George Ezra's 'Paradise' kicked off the evening party, played for by the Co Stars wedding band.
"We chose this song to kick off the dancing as we both love it. The dance floor was never empty, the Co Stars were incredible."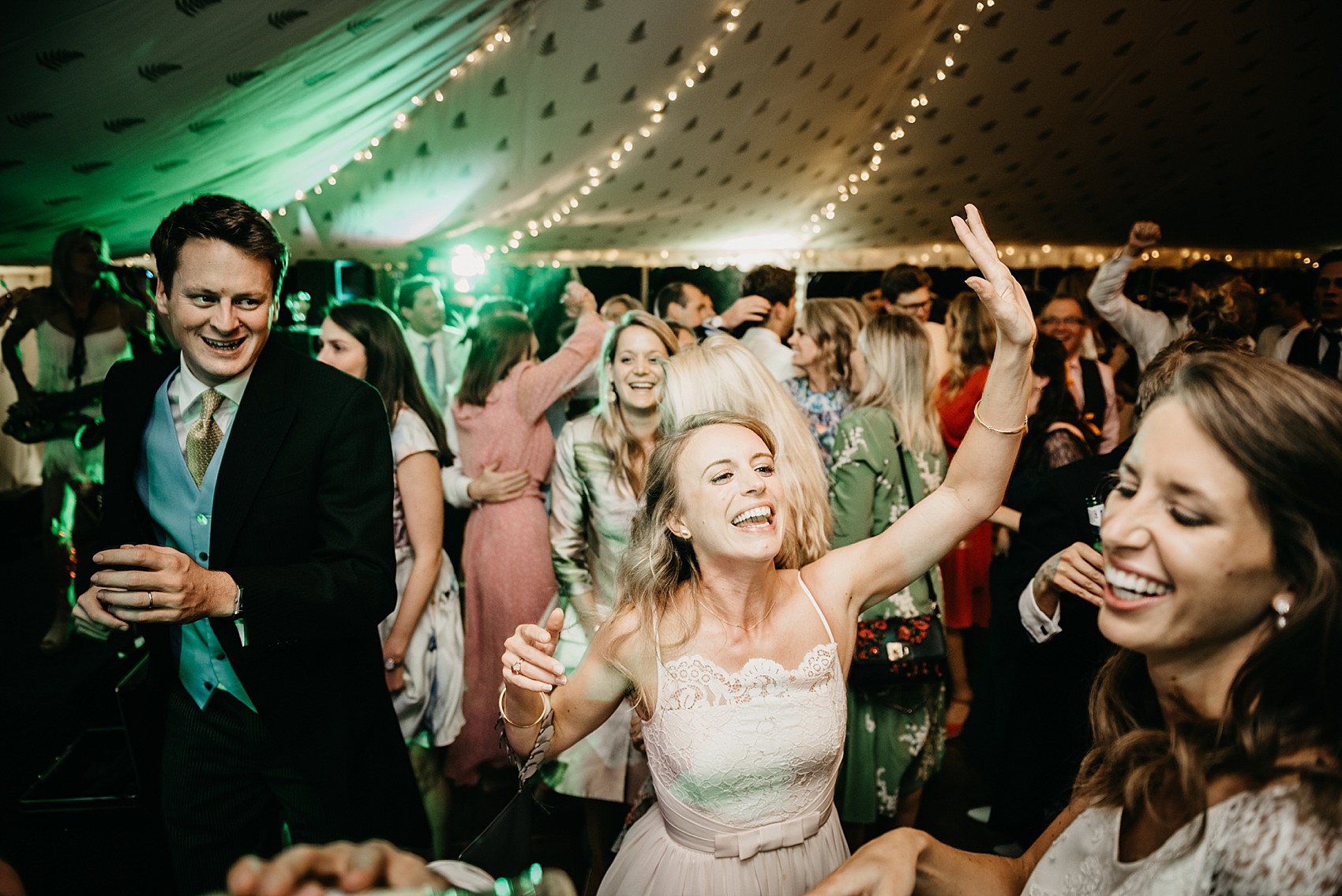 Words of Wedded Wisdom
"Try to enjoy the planning as much as possible. Organising suppliers and logistics can sometimes feel incredibly overwhelming, especially when coupled with trying to hold down a day job. By taking the time to enjoy the 'more fun' plans, however, such as deciding the music or the food, can definitely help to take the pressure off. We would always make sure we made a thing of it – so sitting down with some bubbles and making the decisions together, trying to make it as fun as possible."
"All the planning pays off, I promise. All the effort we put in was ultimately one of the main reasons we were both so relaxed on the day itself."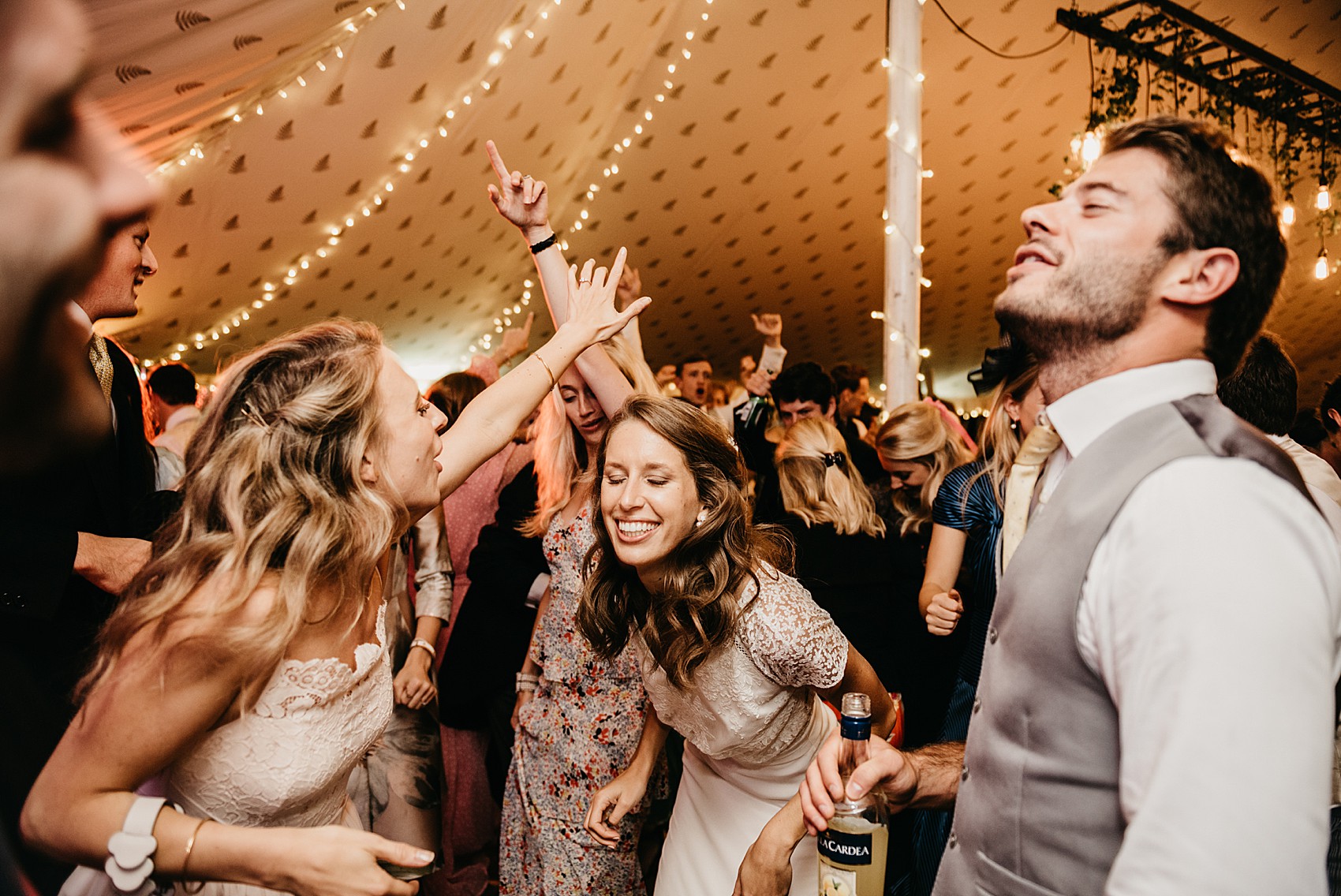 Is anyone else in love with this chic and totally beautiful gown? It looks so wonderful on you Tora, and thank you so much to you and your new husband for allowing us to share your day today. If you're looking for ways in which to style your own marquee wedding, I invite you to visit this selection of Love My Dress weddings which are full of personal touches to inspire you. And finally, thank you Andrew Brannan for your beautiful work.
Ele xx