We have our tree! It's not decorated yet, but it's sure as heck in the house and standing in its pot and looking and smelling absolutely glorious.
I blinked on 1st December and then here we were, 12 days later, and the realisation that I had better get all those last minute present buying done has hit hard today. But first, time for a little matrimonial magic. This most lovely wedding took place at Le Petit Château in Otterburn, Northumberland – a venue that has played host to some absolutely beautiful weddings that we've already shared here on Love My Dress. The bride, Mona, who works in the gold jewellery industry, married Consultant Sean on 14th August 2019.
"We went for a whimsical feeling and style on our wedding day. We chose an array of colours and patterns on the day – nothing was off limits. If we liked it, we made space for it."
Image by Virginia Photography

+ Follow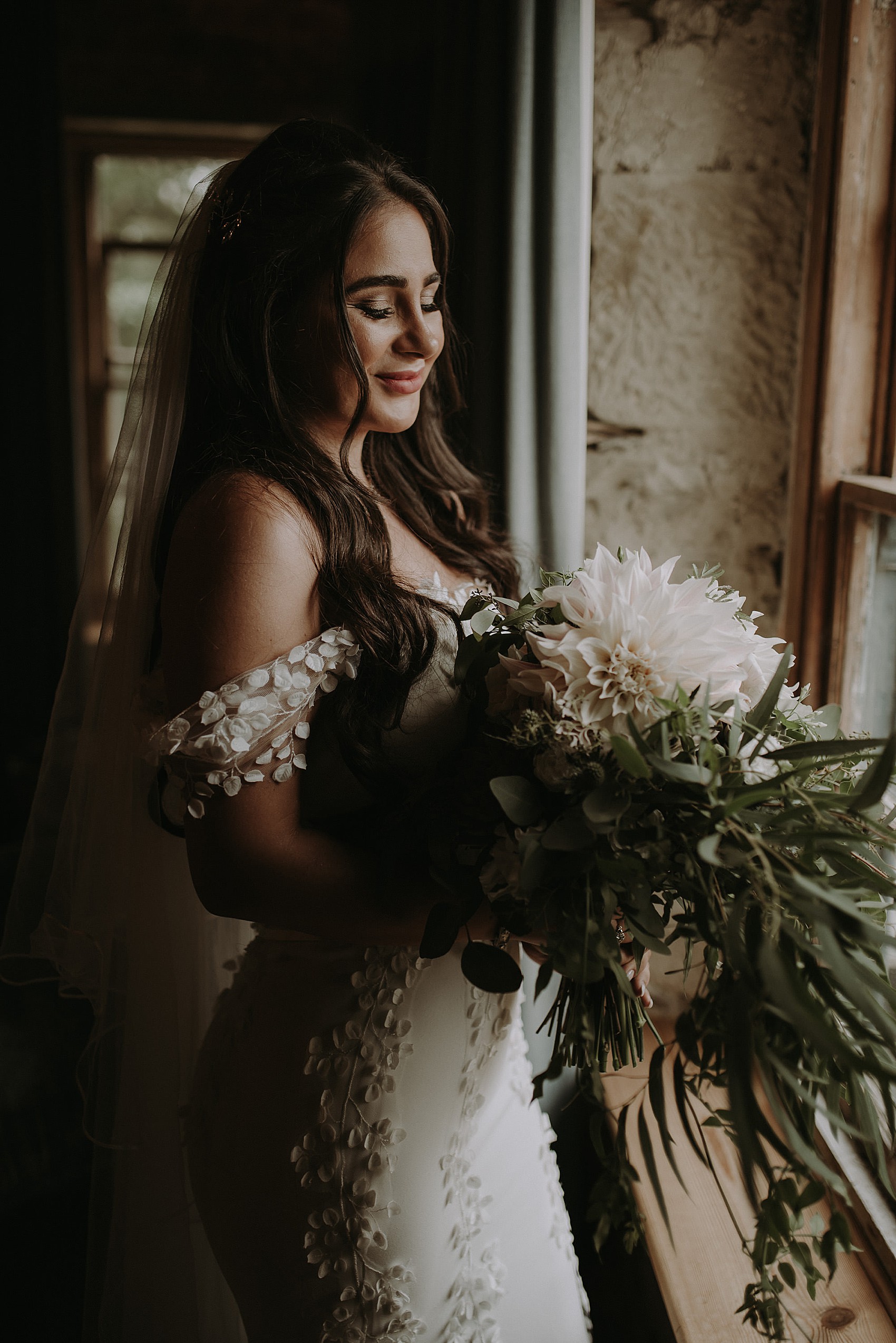 The couple chose alternative and documentary wedding photographer Virginia Photography to capture their day. I adore Virginia's portrait shots – so beautifully romantic.
"Our photographer Virginia has made all our dreams come true with the fantastic way she was able to capture our day. She listened to all our concerns and we discussed in great detail what we wanted. She is incredibly talented which translates into the photos. We recommend her services to anyone and everyone."
"This may sound crazy to some people, but I actually booked our venue online without having seen it in person. We wanted a wedding in England (we both currently live and work in Dubai) but I had difficulties finding a place that ticked all the boxes. At the Chateau I got an indoor ceremony in this stunning chic French setting. The hotel grounds are just as beautiful and the decor and attention to detail was exquisite."
"You really do feel like you have stepped into a fairytale and that translated into photos on Trip Advisor. When I discovered that they had a few slots left for August 2019 with an irresistible low price, I threw caution to the wind and paid the deposit and I am so glad that I did because it really was everything that I had hoped for."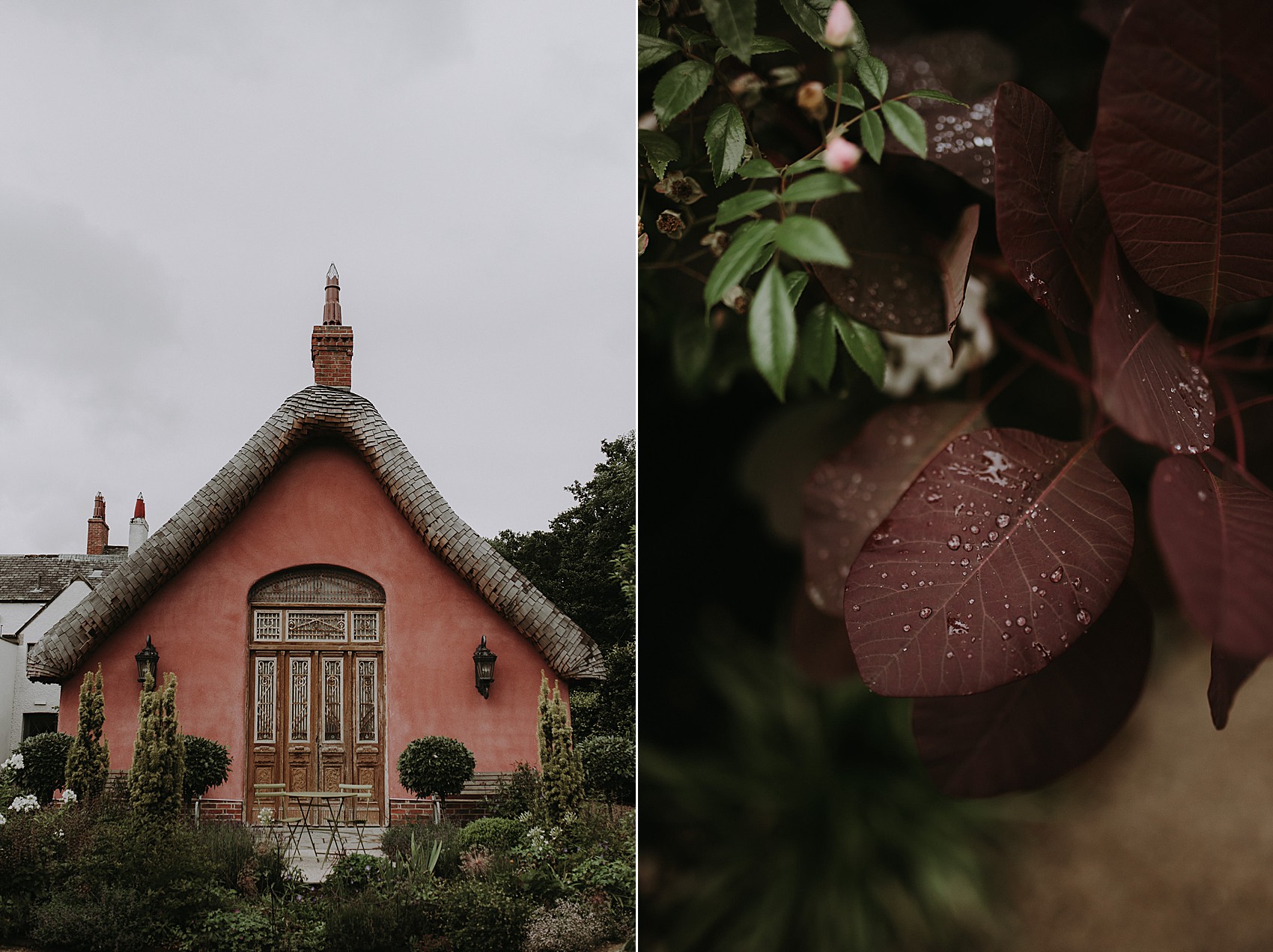 "The Chateau allocates a dedicated coordinator to every bride and helps organise the wedding. As part of the venue they provide meals, beverages, tables and chairs. Our coordinator was Jodie Amor and she was my rock. I must have bugged her for the better part of the year and she was always readily available for me. The entire team at the Chateau are incredible and really do go that extra mile."
The bride discovered a silver leaf hair accessory, to match her gown, whilst shopping in Dubai. Whilst we don't know the specific designer, we can highly recommend Debbie Carlisle if you are looking for something similar.
Debbie produces the most beautifully hand-crafted bridal headpiece accessories from her Sheffield based studio, which she ships all over the world.
You might also wish to read this fab little article about how to find the perfect bridal headpiece, written by Debbie herself. There are in fact some amazing articles by Debbie written about accessories for all different kinds of hair, here.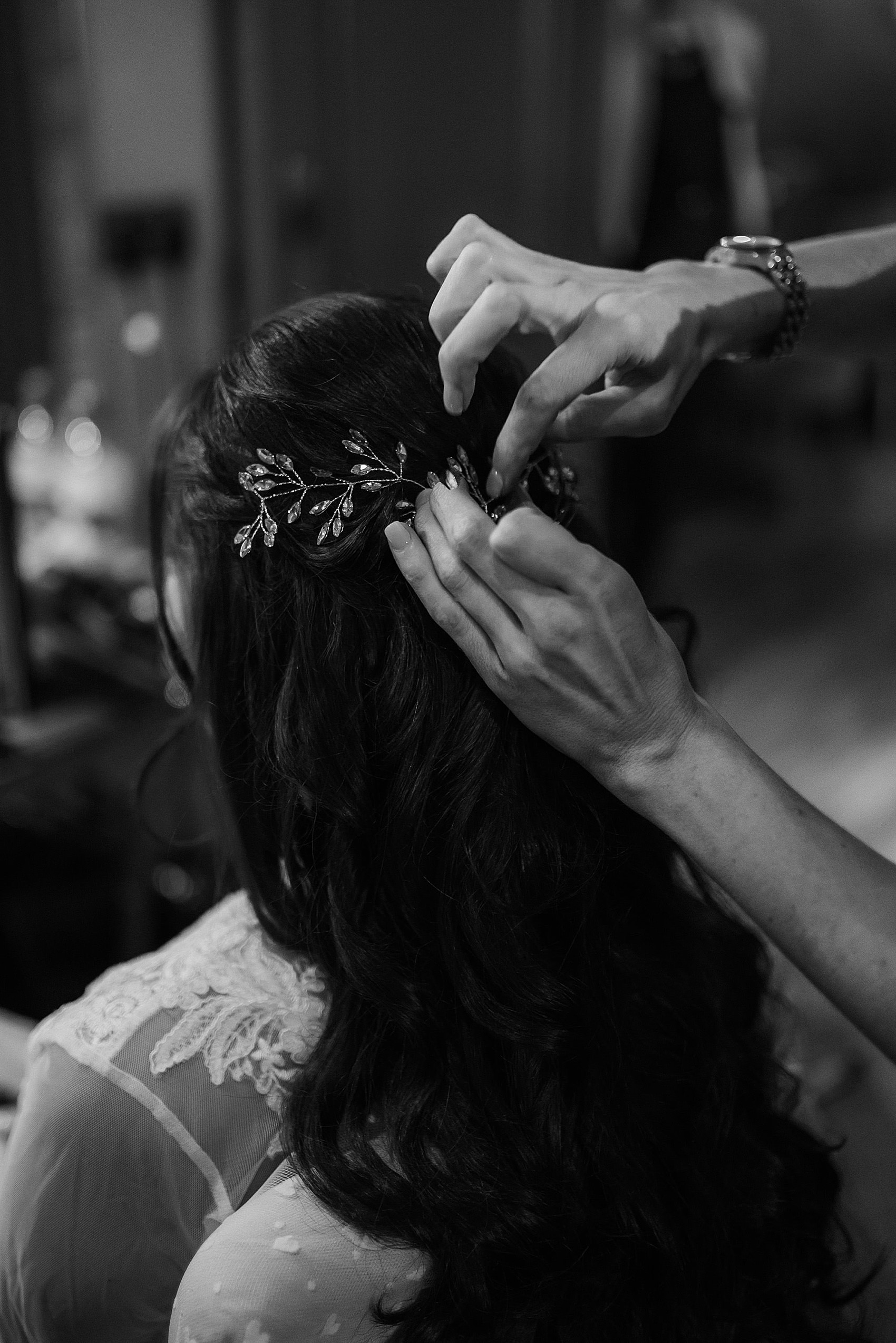 The bride wore the most stunning dress by British designer Stephanie Allin.
"Like so many brides I bought my first dress and after a month of purchase I felt that it was not me.  I didn't feel bridal in it. I was browsing around on Pinterest and fell in love with a dress. I then searched for that designer online and found that they had a flagship store in London."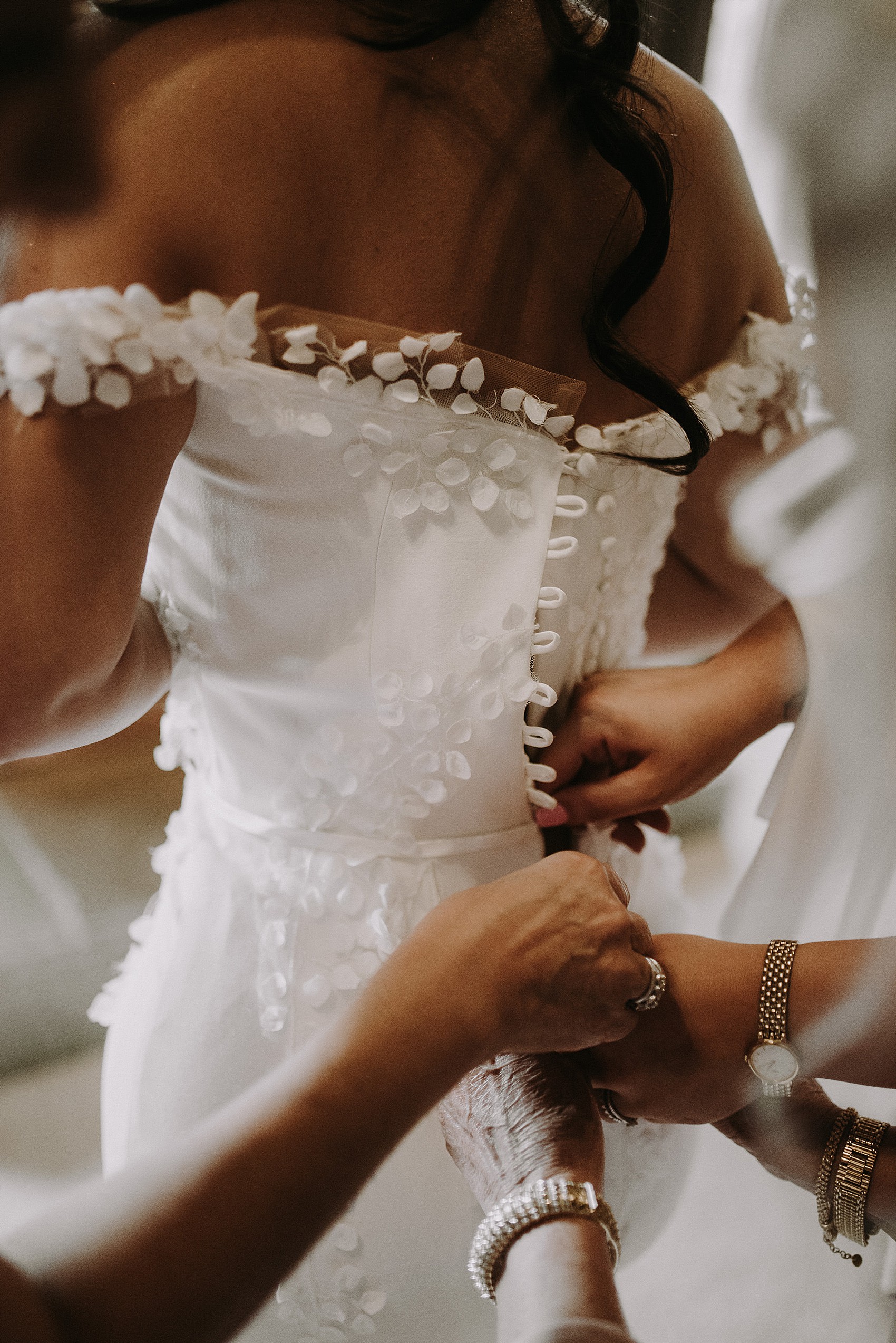 "I then went on to knock on the door and ask if they had 'this' dress in stock and surprisingly they did! I put the dress on and when I saw myself in a crisp white fit flare dress that hugged my hips in all the right places I knew that I had to get it. I adore the simplicity of the dress. The off shoulder sleeves with leafs stitched against the skin coloured tulle gave it a romantic look."
"A thin silk stitched on belt gave the illusion of being pulled in and my seamstress made sure that it fit like a glove. I truly do believe that i could not have chosen a better dress to wear on my wedding day."
Staying well on trend with the pearl movement, Mona wore a pair of gorgeous heels by  Jimmy Choo.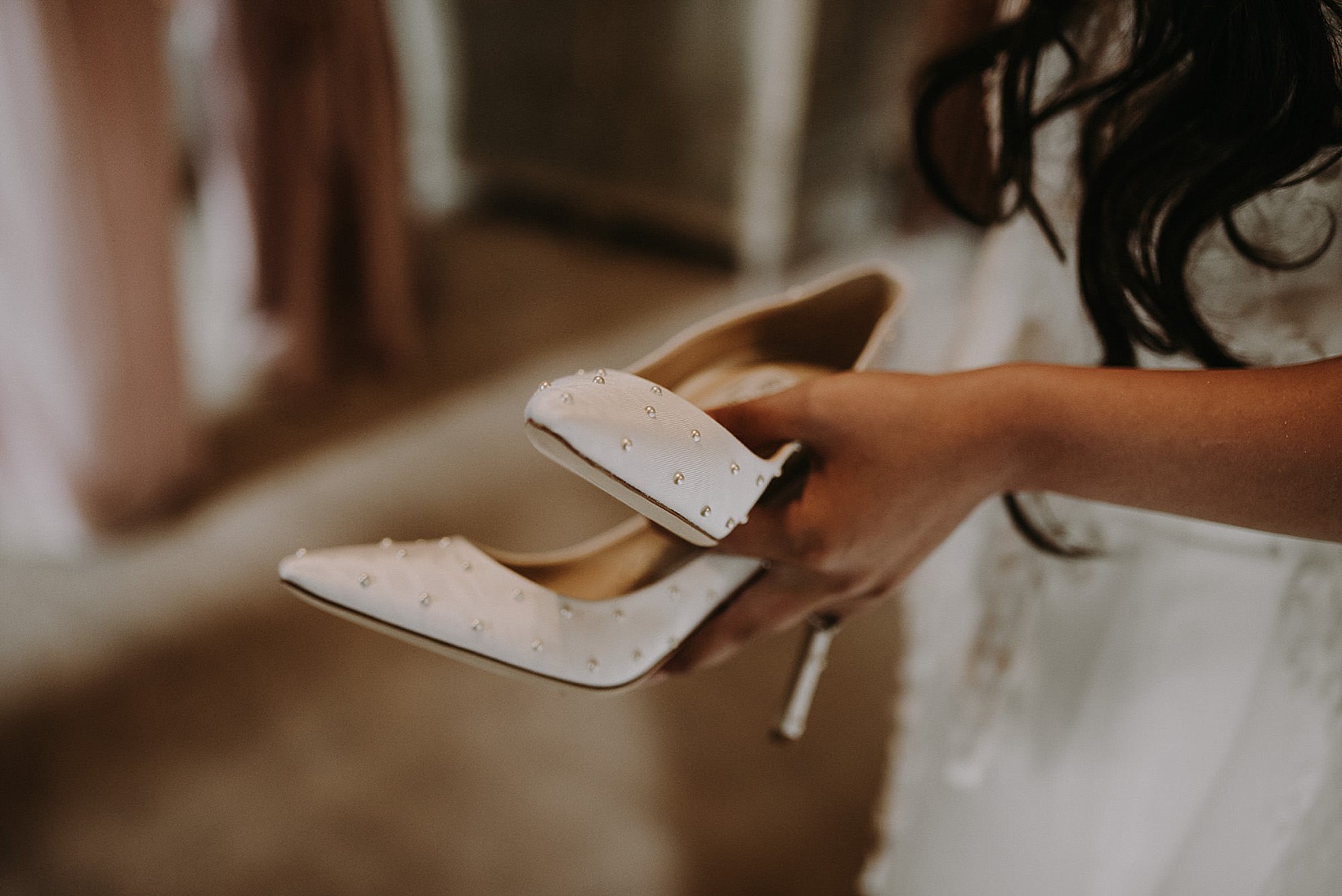 "I wore Twilly d'Hermès Eau de Parfum. My mother-in-Law had bought me that perfume on one of her visits to Dubai. It's a feminine smell but has very playful notes in it."
"My necklace was a gift from my Husband and his parents. They were incredibly kind and asked my chose something to my own liking. During my trip in London I visited 'Alfies Antique Market' and had the please to make acquaintances with a very delightful Mr. Kieron Reilly. That is where I found this Victorian diamond encrusted necklace to match my grandmothers earrings. It really did make me feel royal and I am hoping that one day I can give the necklace as well as the earrings to my daughter."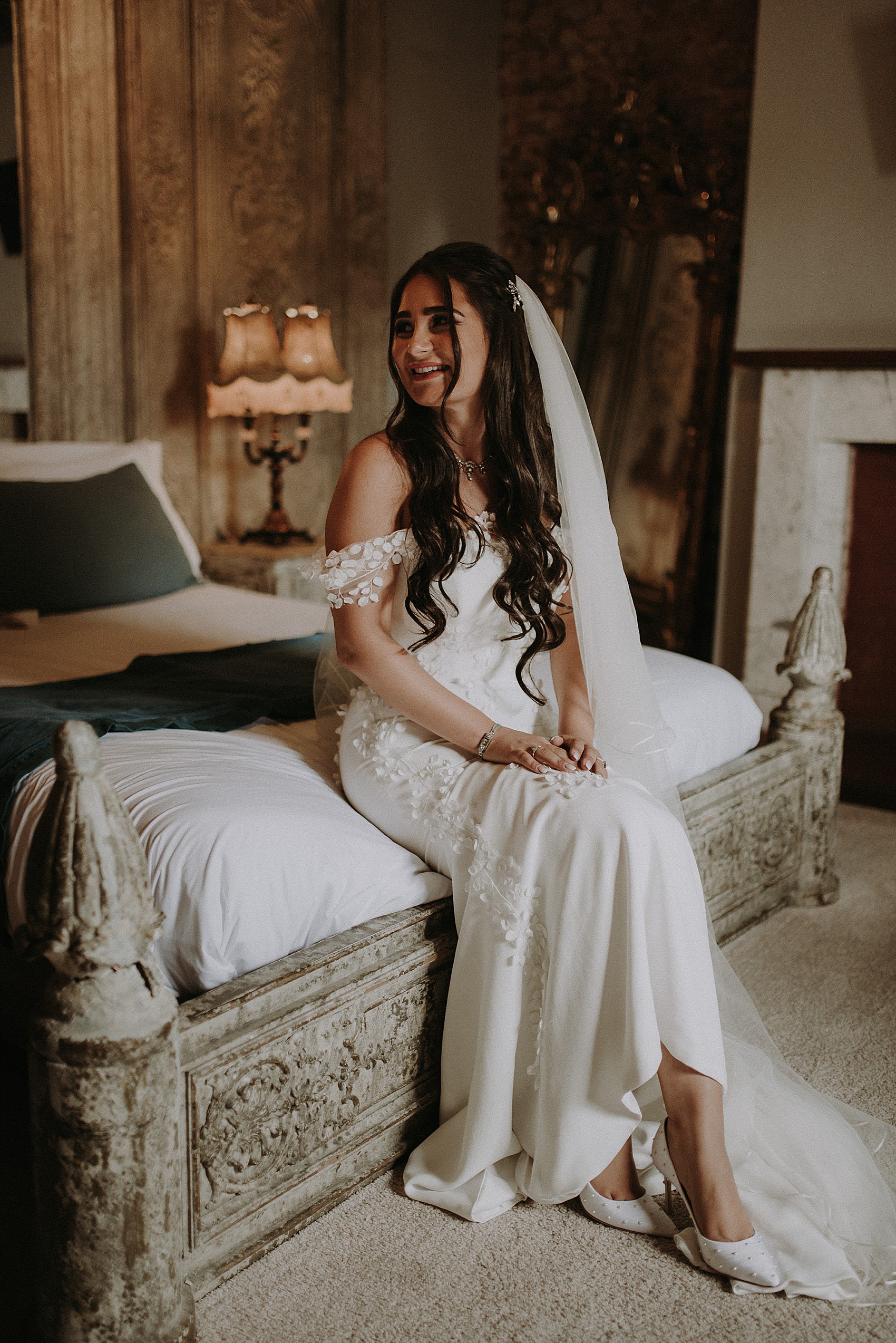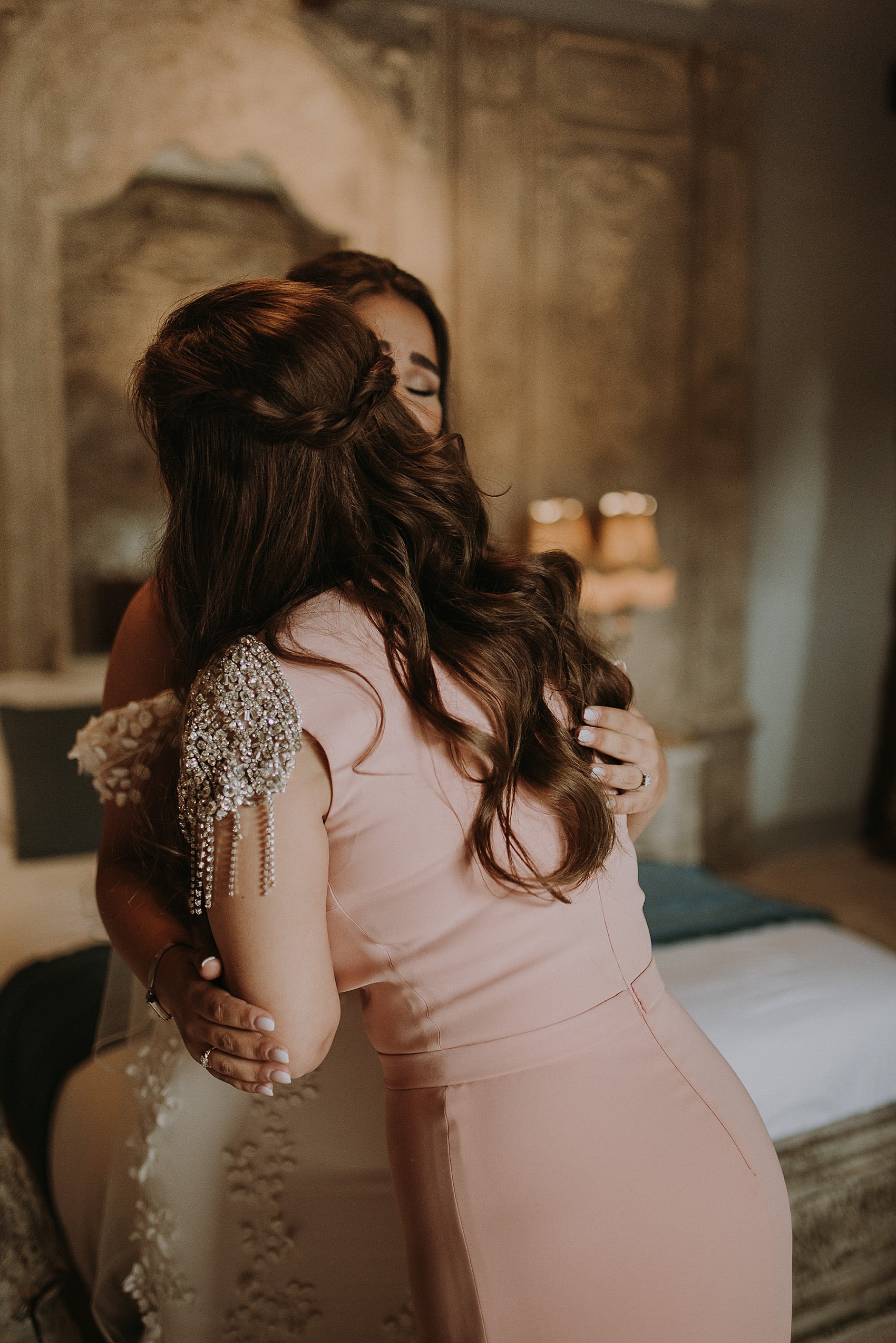 "I decided I did not want any Bridesmaids. I had a few close family members get ready with me and asked them to choose light coloured dresses. It worked out fantastic and funnily enough everyone went with a shade of pink!"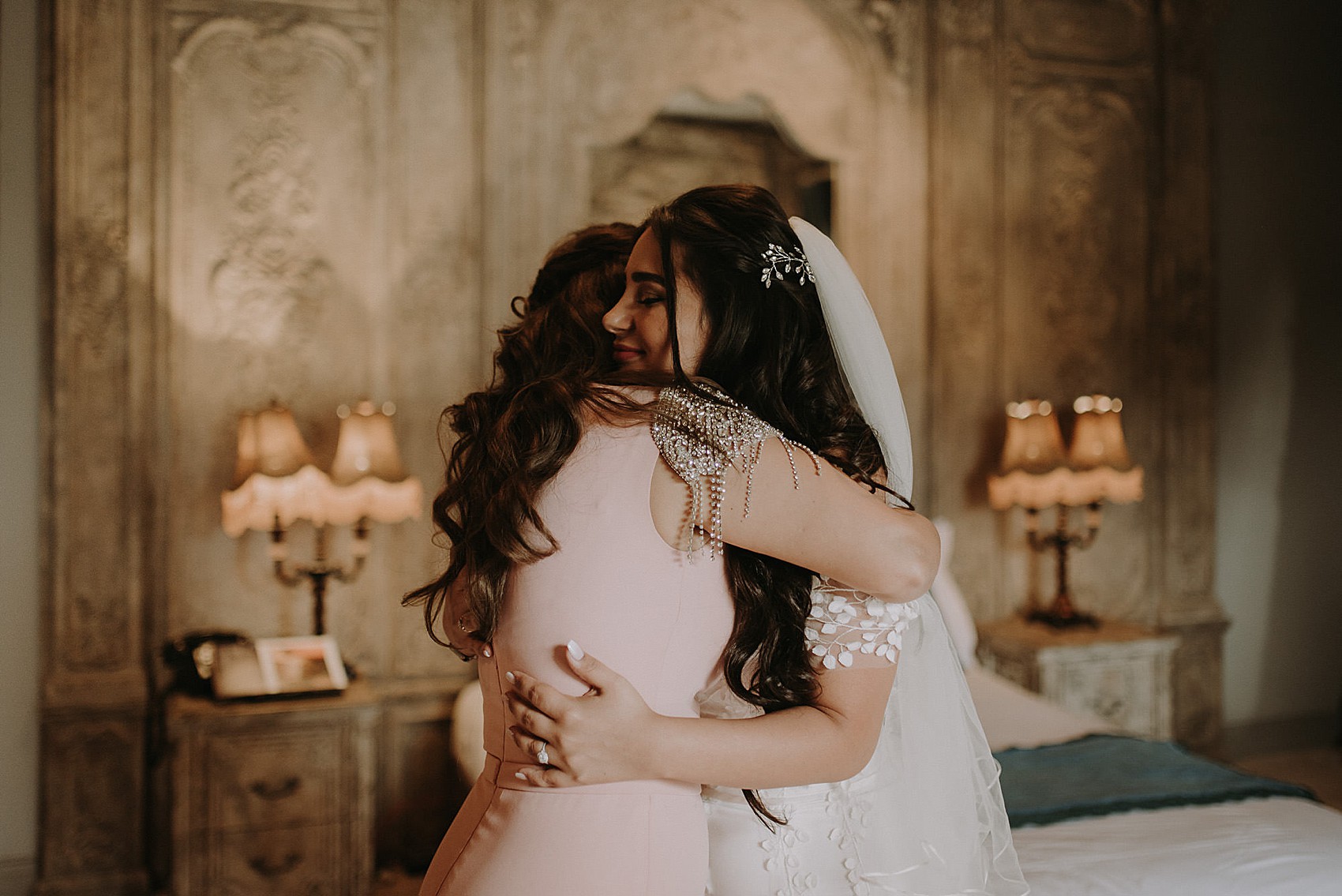 "My earrings where borrowed from my grandmother. In fact, they were the same earrings she wore on her wedding day, it was very special."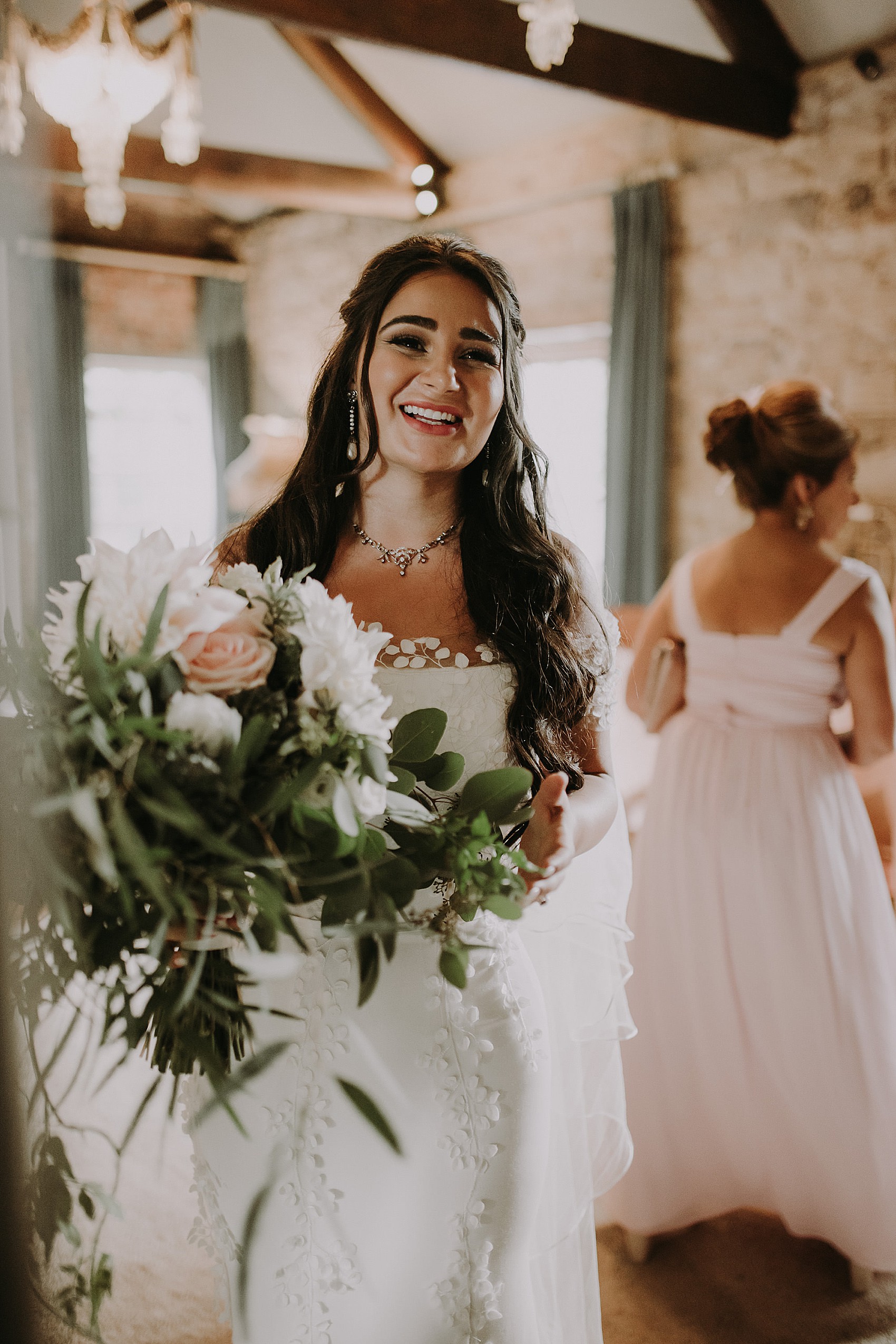 "My bridal bouquet, the grooms boutonniere, foliage and flower wreath were made by Kathrine Norris at Northumbrian Flowers. I searched for a few bouquets and flower arrangements that I loved the look of and she helped me choose wild flowers that were in season and I trusted her to run with it and so she did. Absolute magic."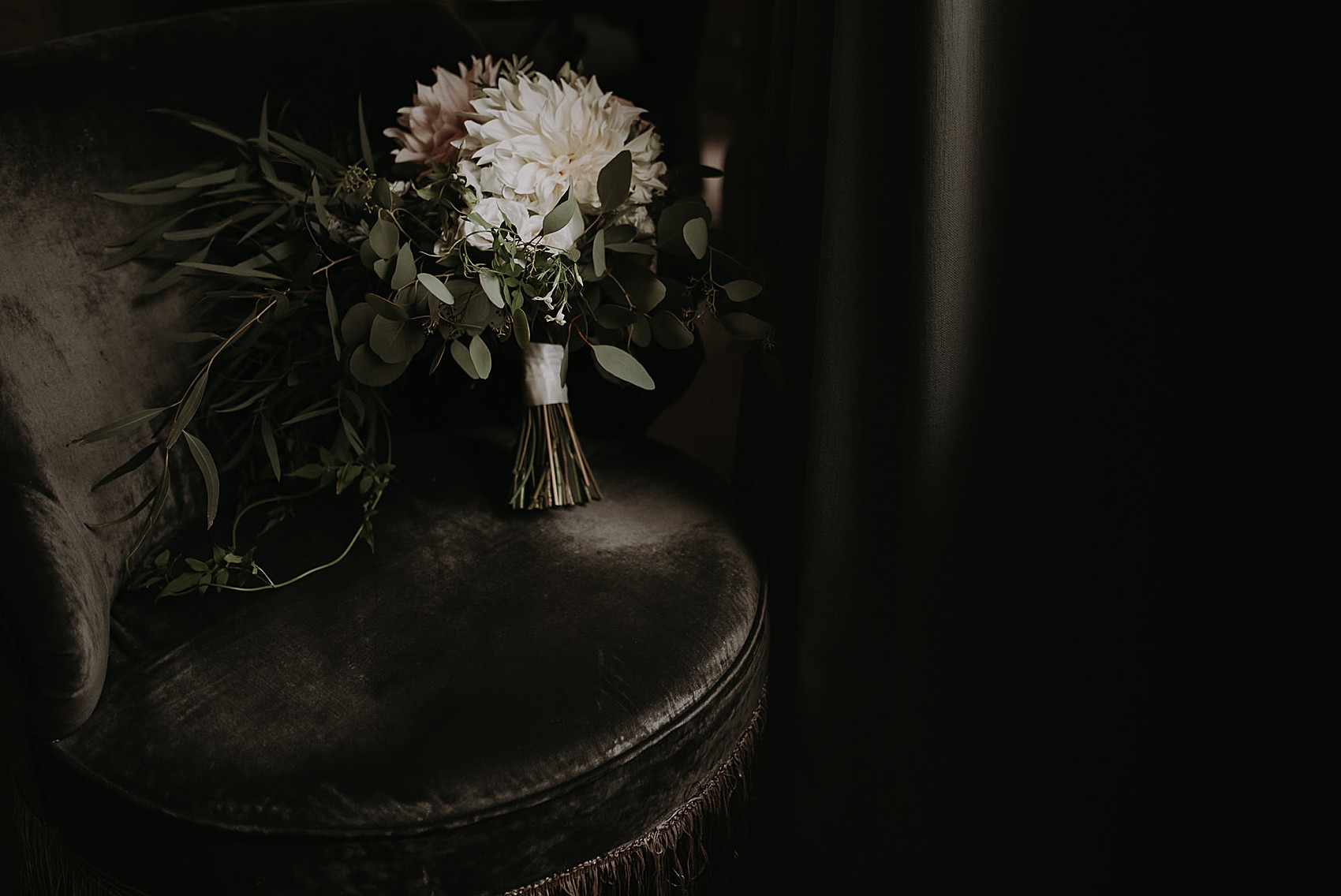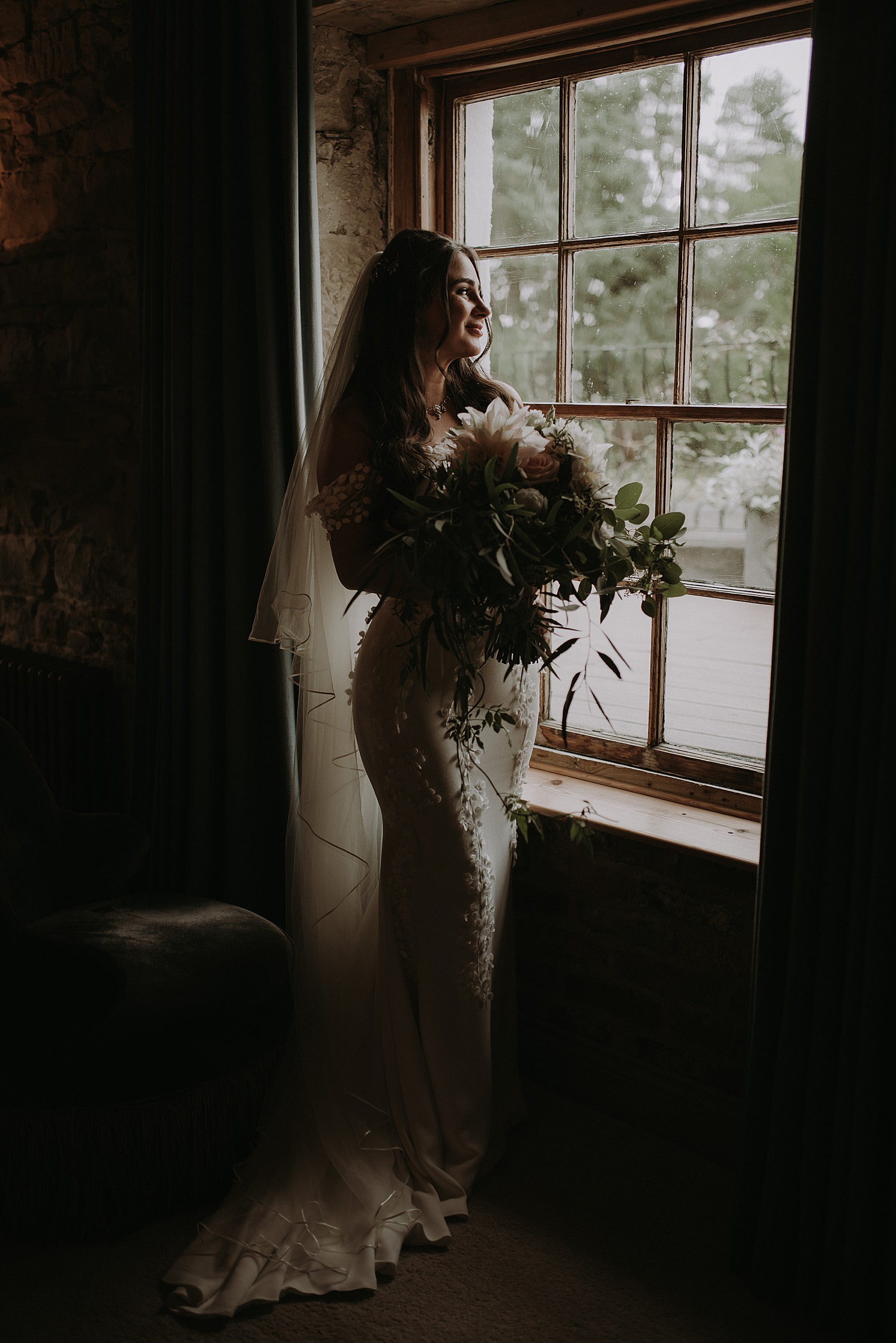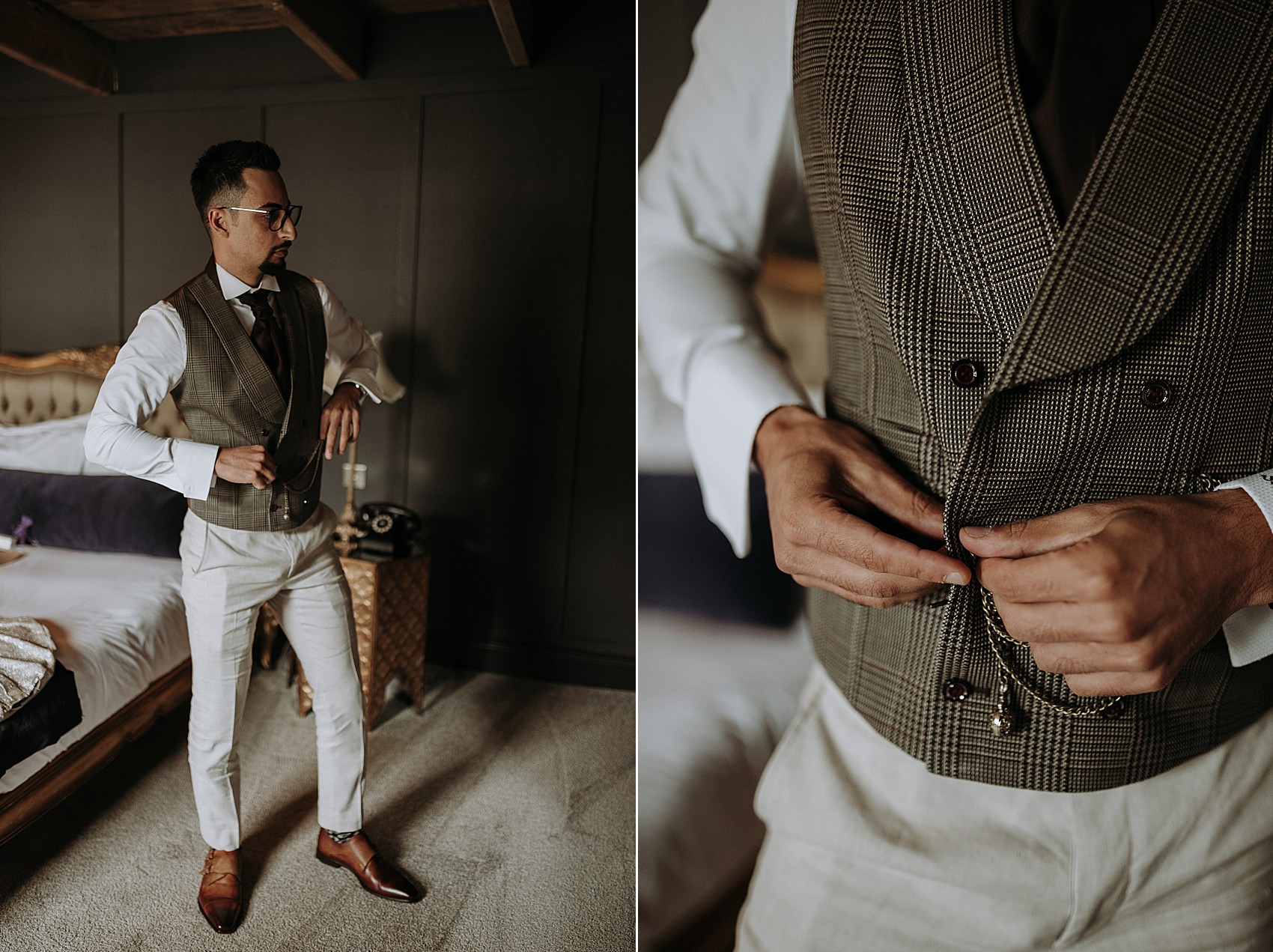 The couple, like so many others whose weddings we have shared on Love My Dress, met via a dating app.
"Well, it all began like all good love stories do, we met via a dating app. I am actually giggling to myself now! Probably not the most romantic way to meet but gosh am I grateful to online dating."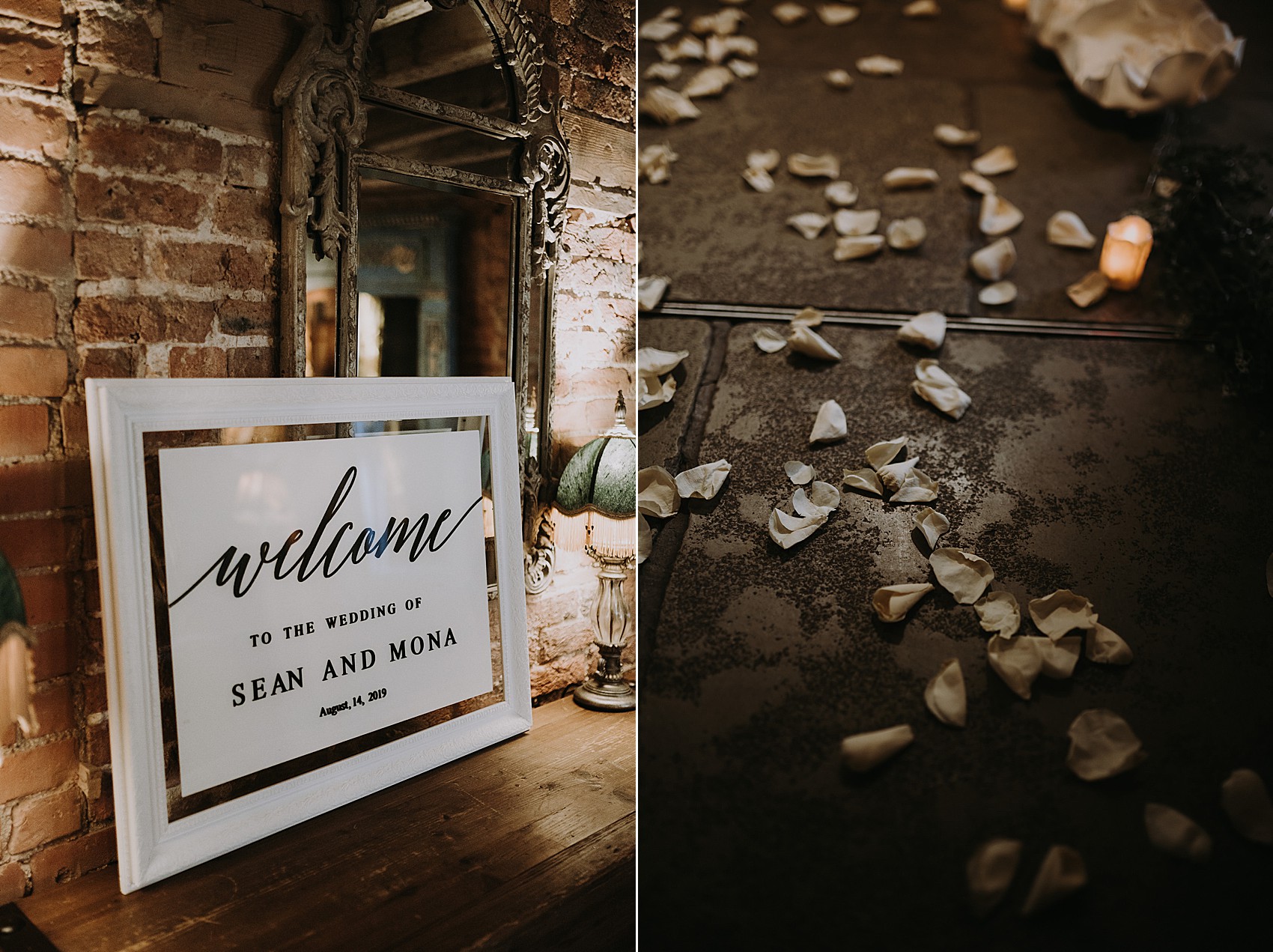 "We spoke online for around 3 months before we decided to meet and pretty much dated from then on. Six month later we move to Dubai together and where living together."
"A short five years later on a trip to Santorini, Sean got on one knee near a cliff at Sunset in Oia. We married a year later."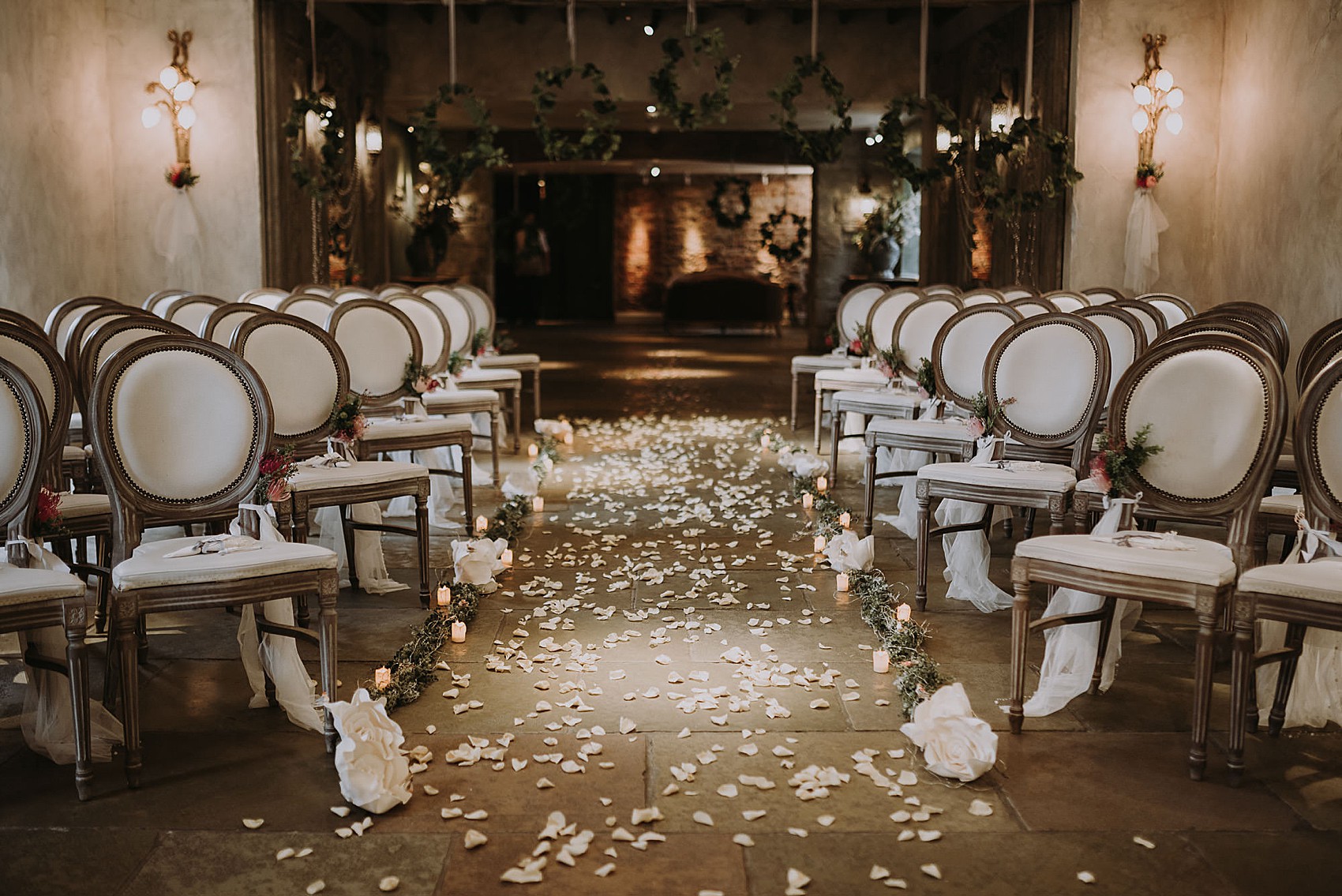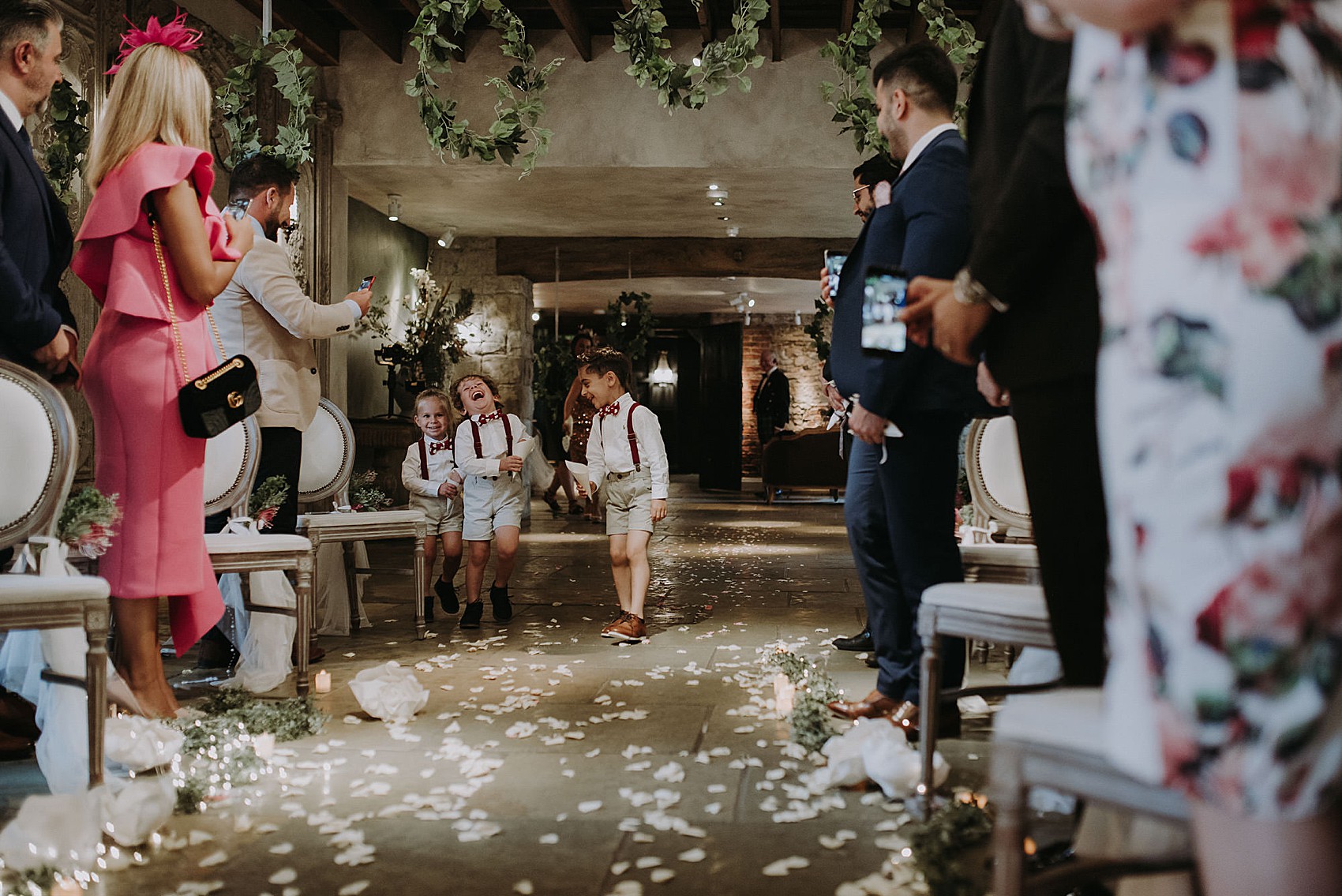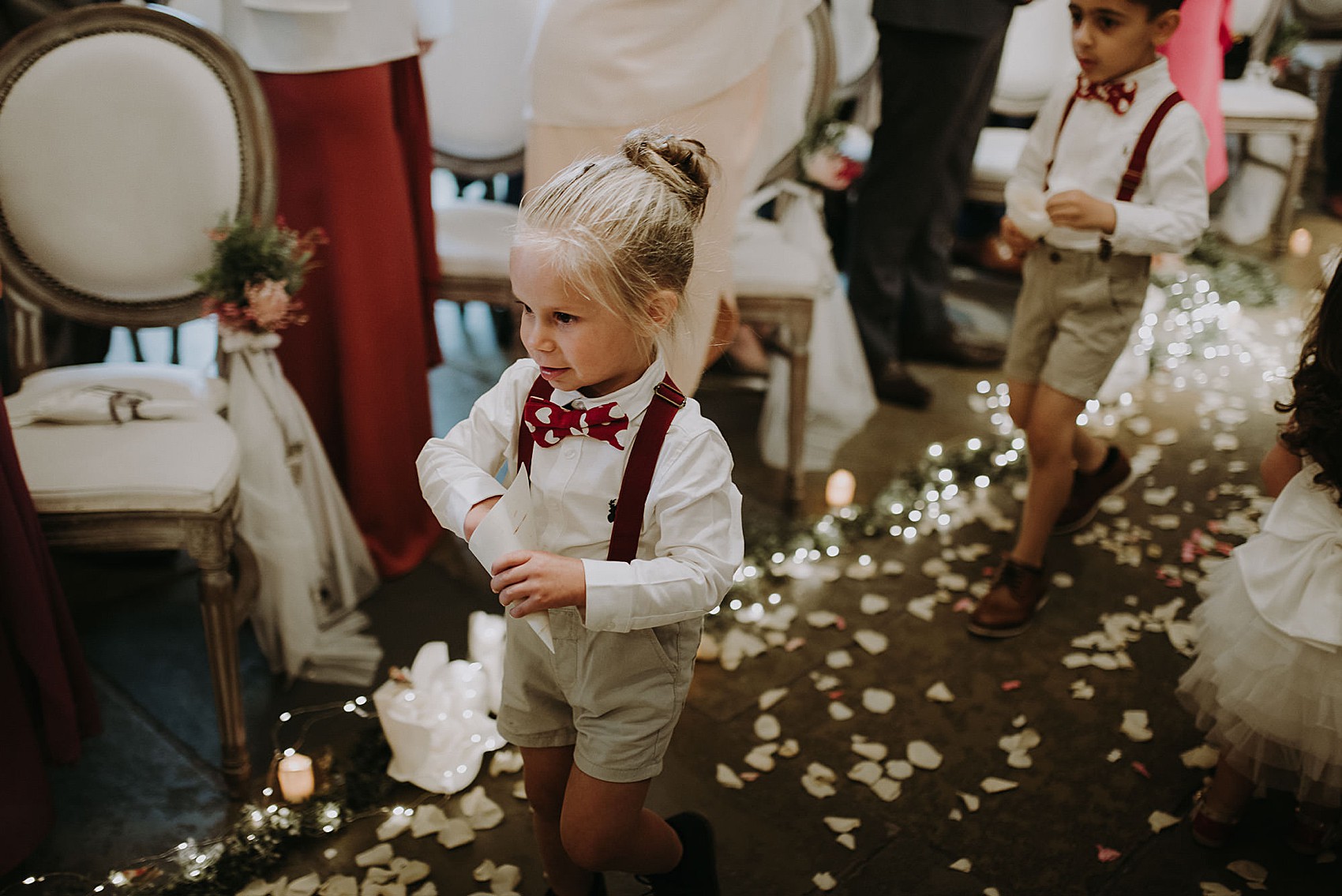 The bride was accompanied to the ceremony by her mum.
"Only the most incredible human being I know! My Mother walked with me down and aisle to the sound of Pachelbel's 'Canon D Major'.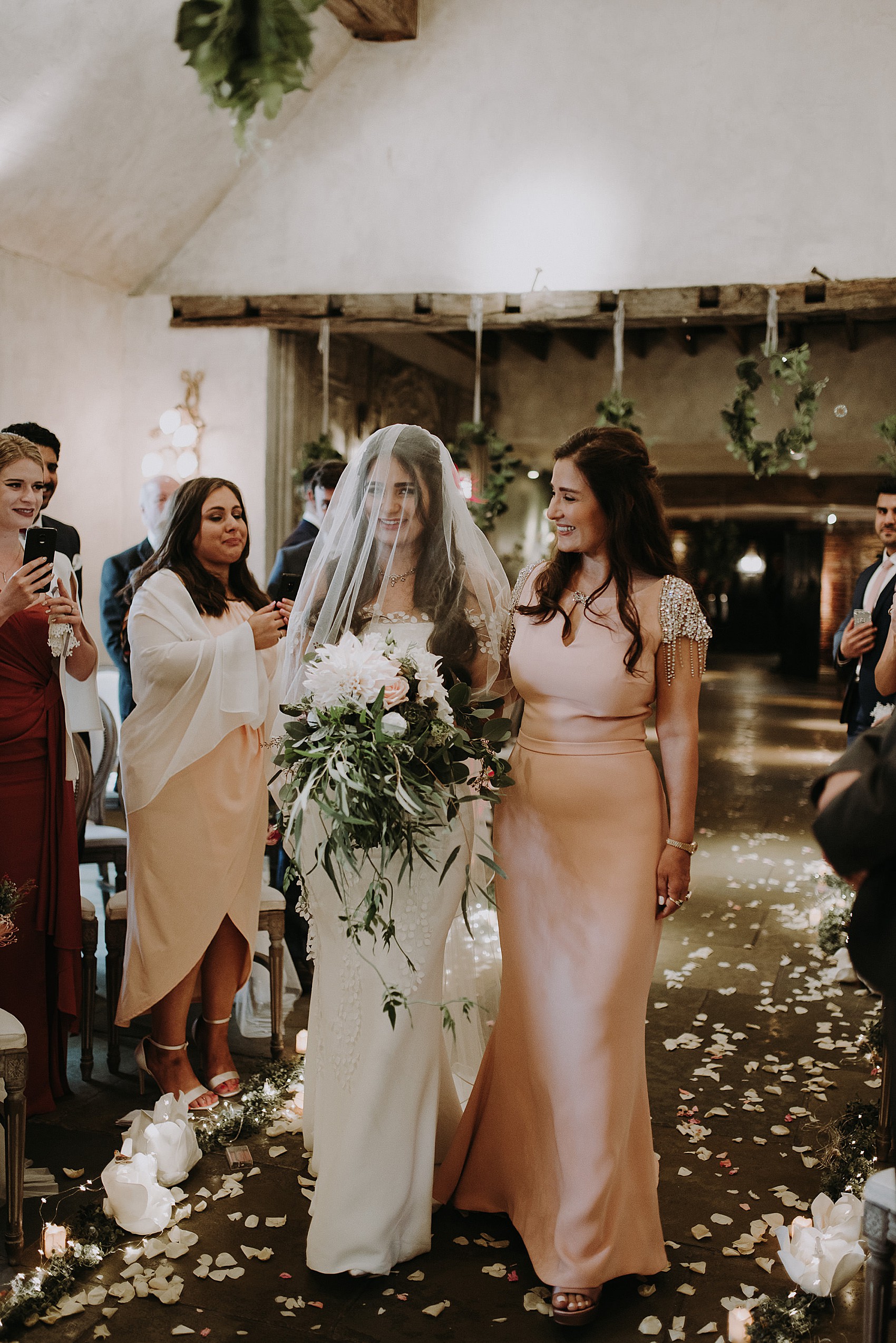 Sean wore a bespoke tailored suit in pale grey by Stallion Bespoke Dubai.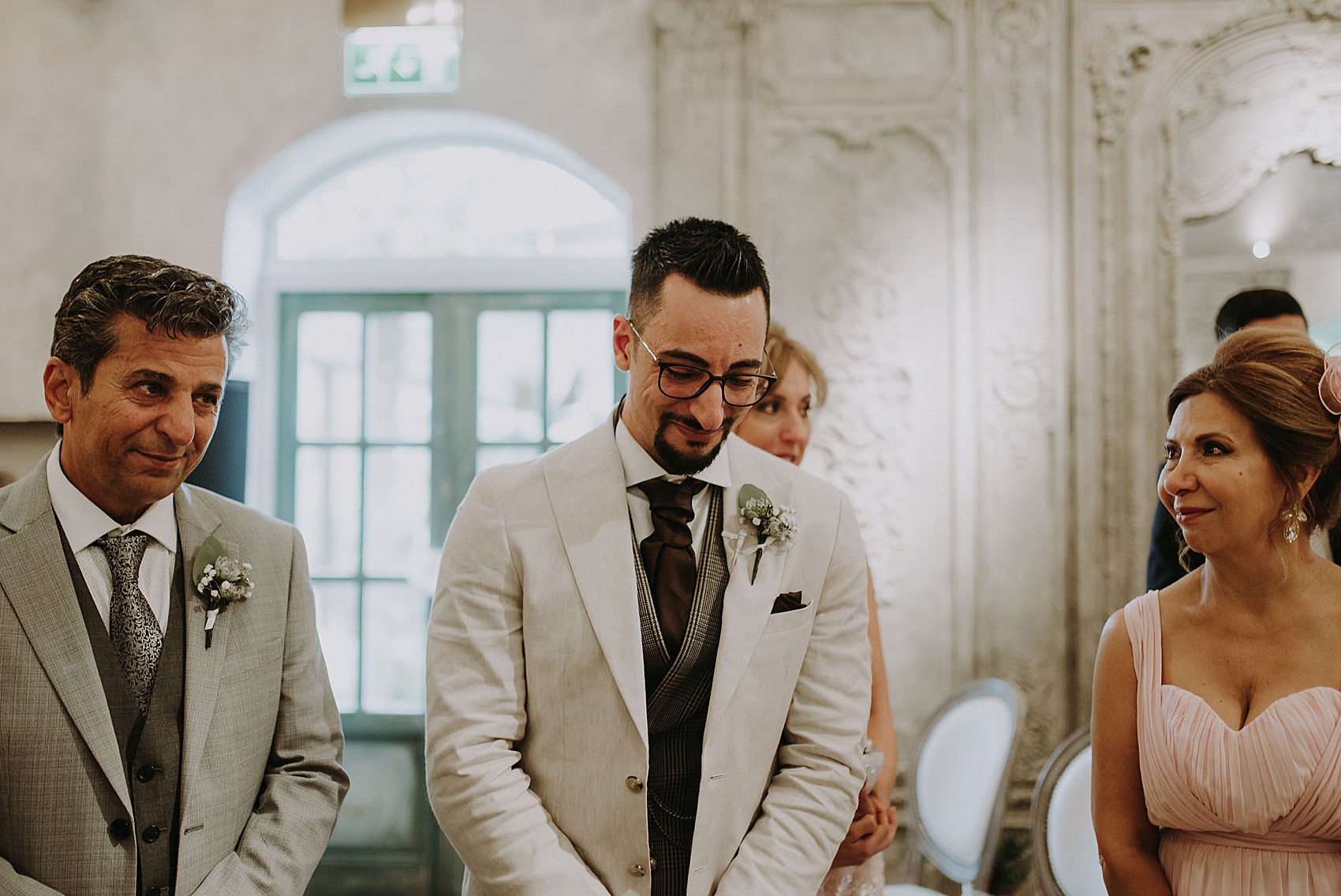 "We both had personalised wows prepared for our ceremony – we feel that this made it more personal and special. I would just speak from the heart and maybe add some inside joke. Just for you and your hubby after all, this day is just about the two of you."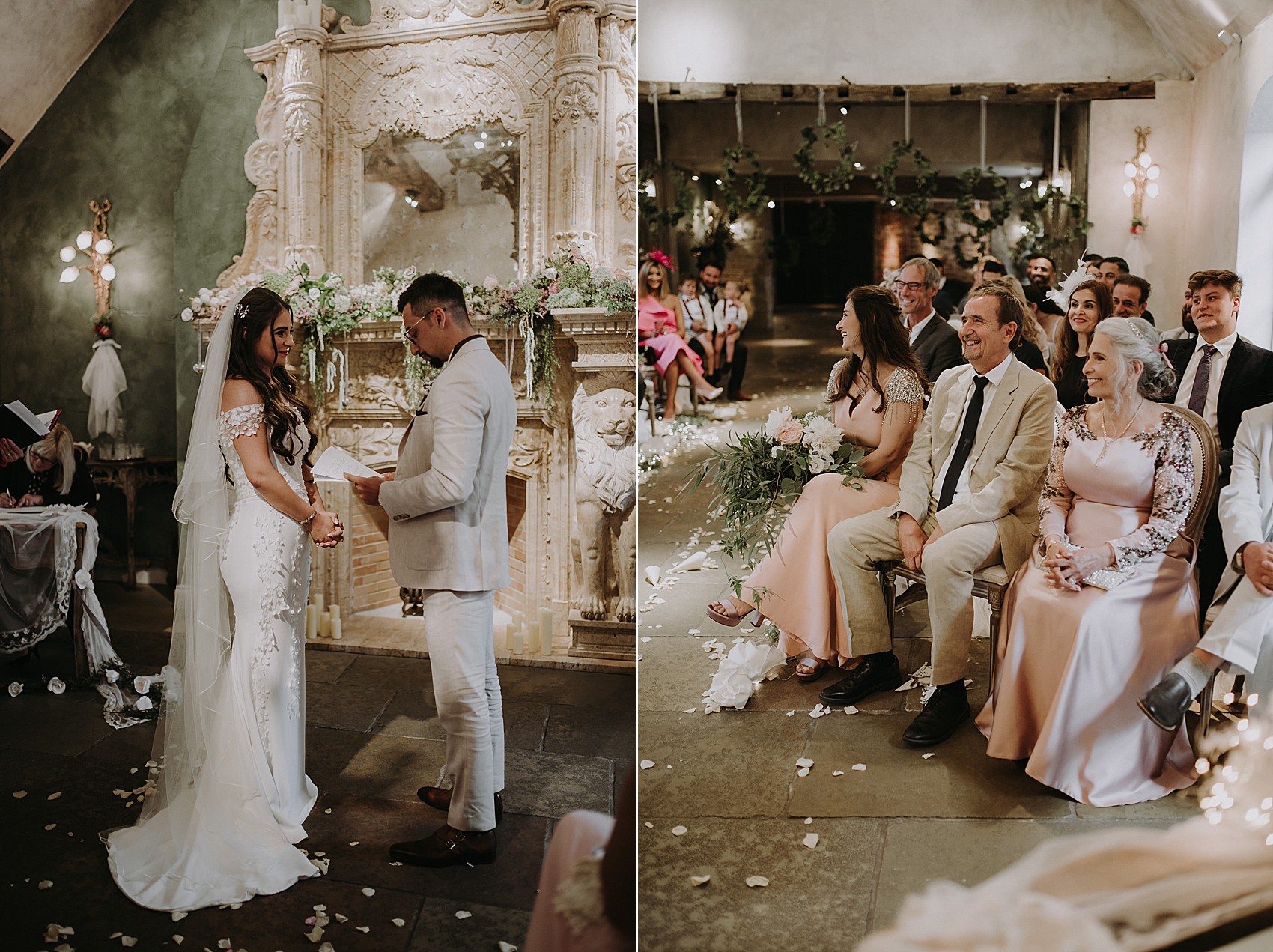 "My favourite part of the day was the ceremony. The moment you walk down the aisle is like no other. You are flooded with a mixture of overwhelming feelings. I felt so much love. Looking at my husband to be, he had tears in his eyes. I was laughing, pure joy. Everyone around me was full of love and it made the room vibrate. It was one of the happiest moments of my life."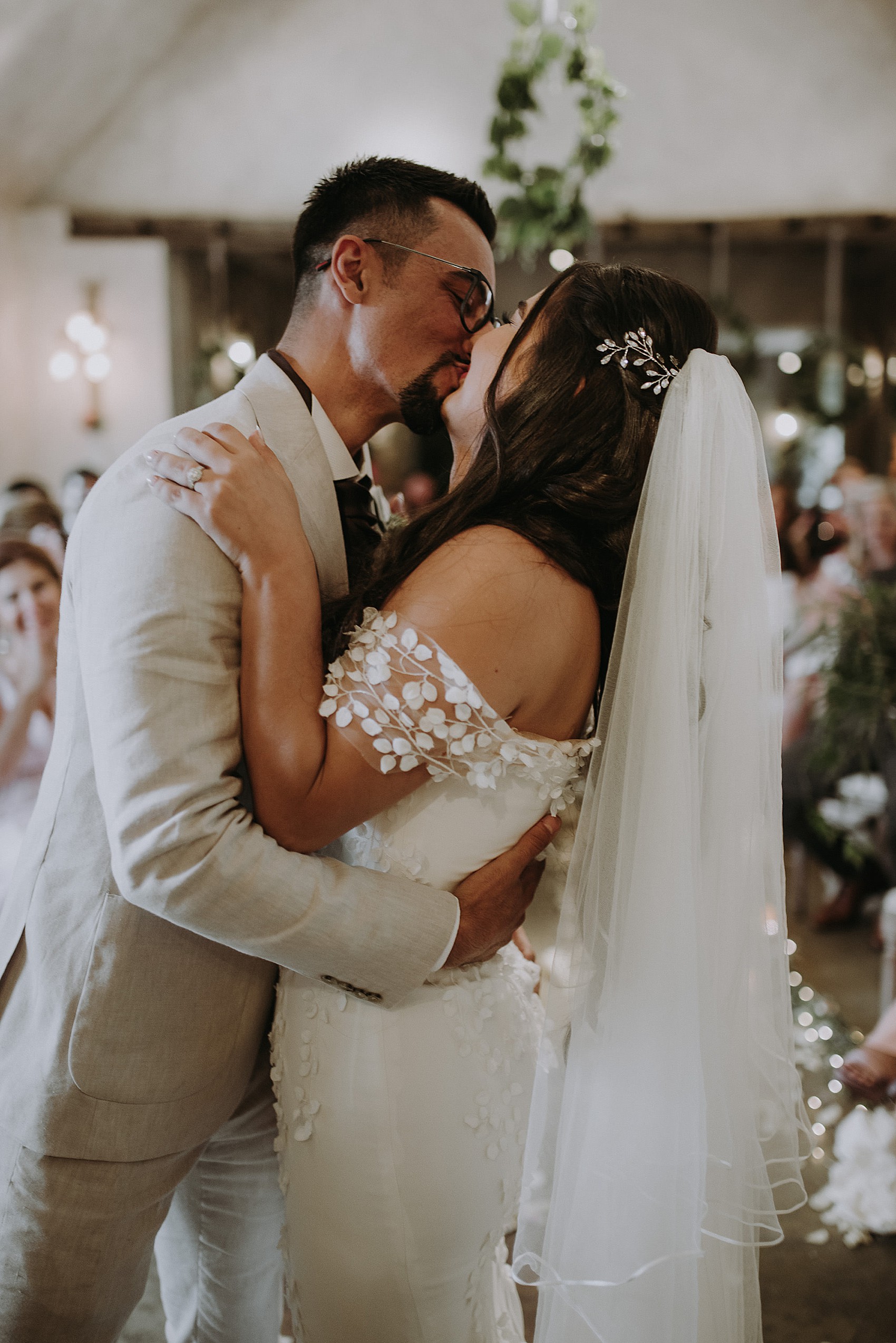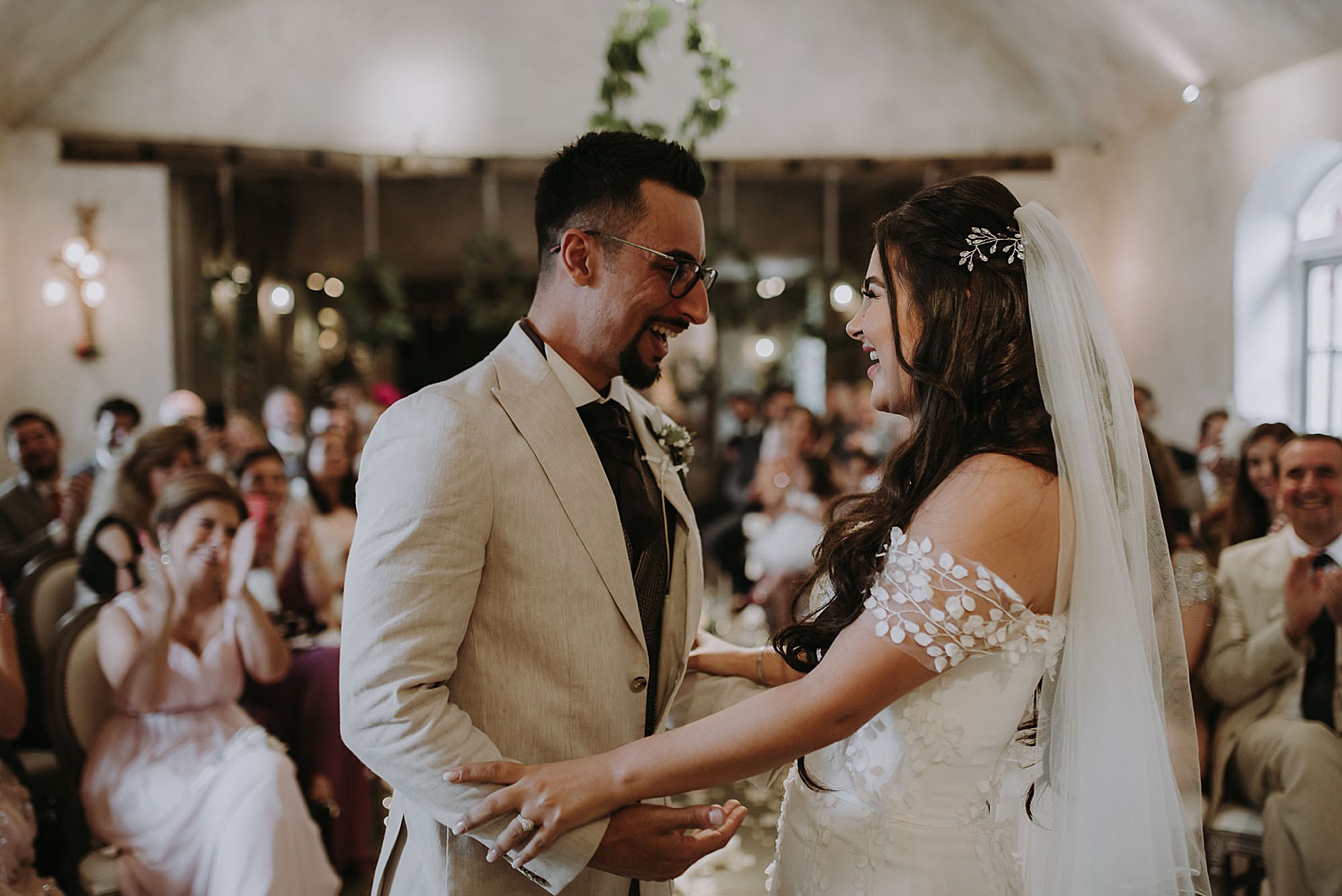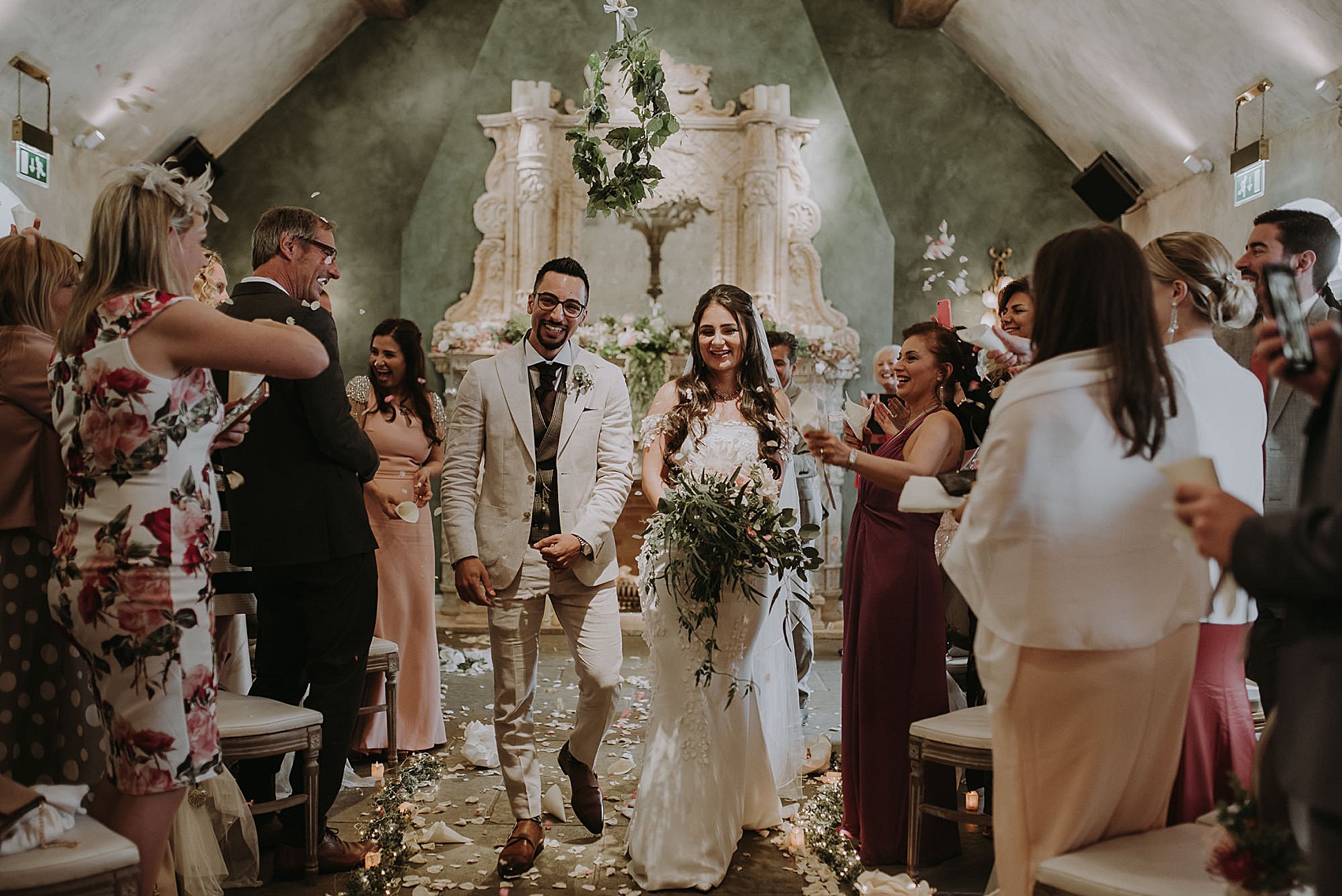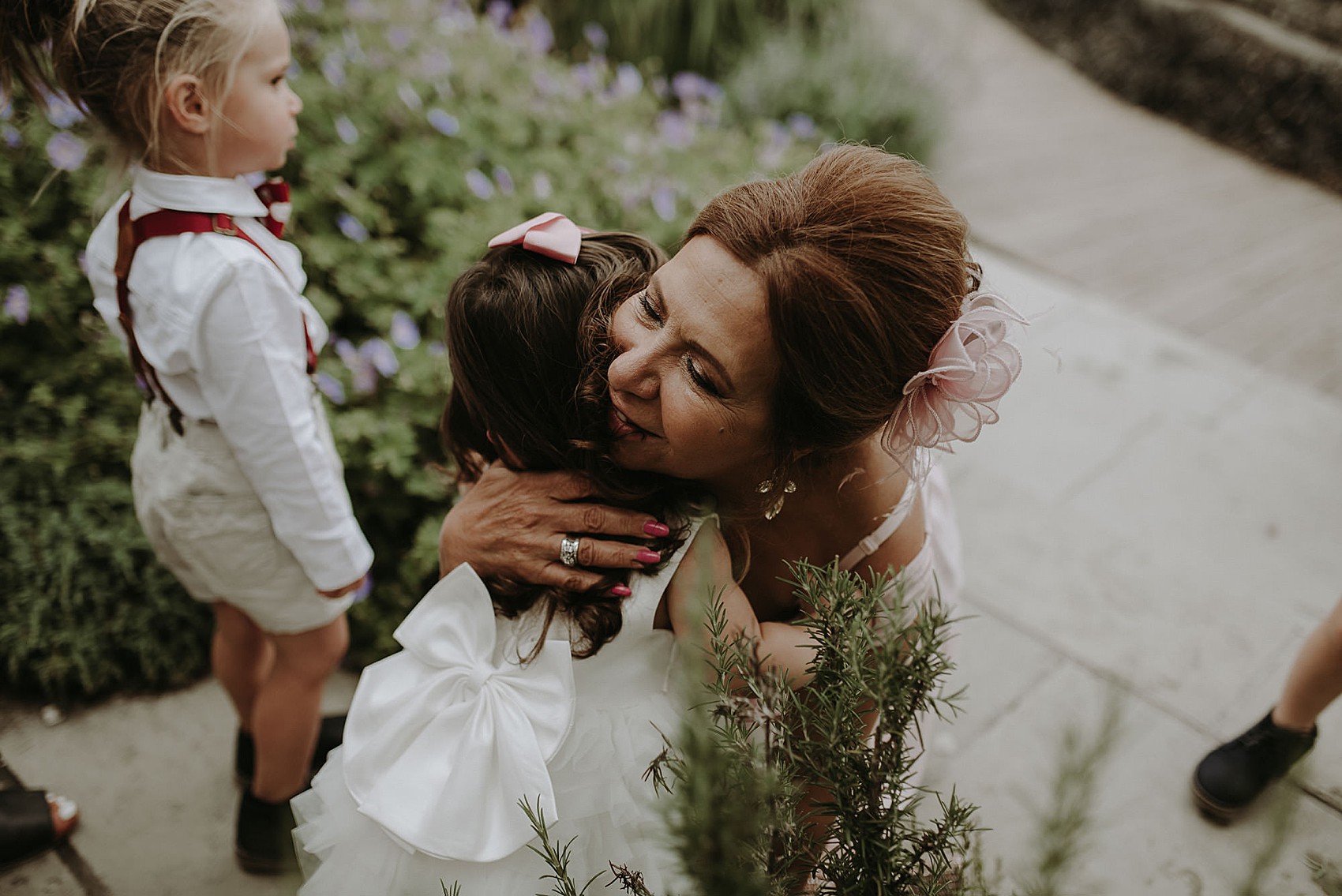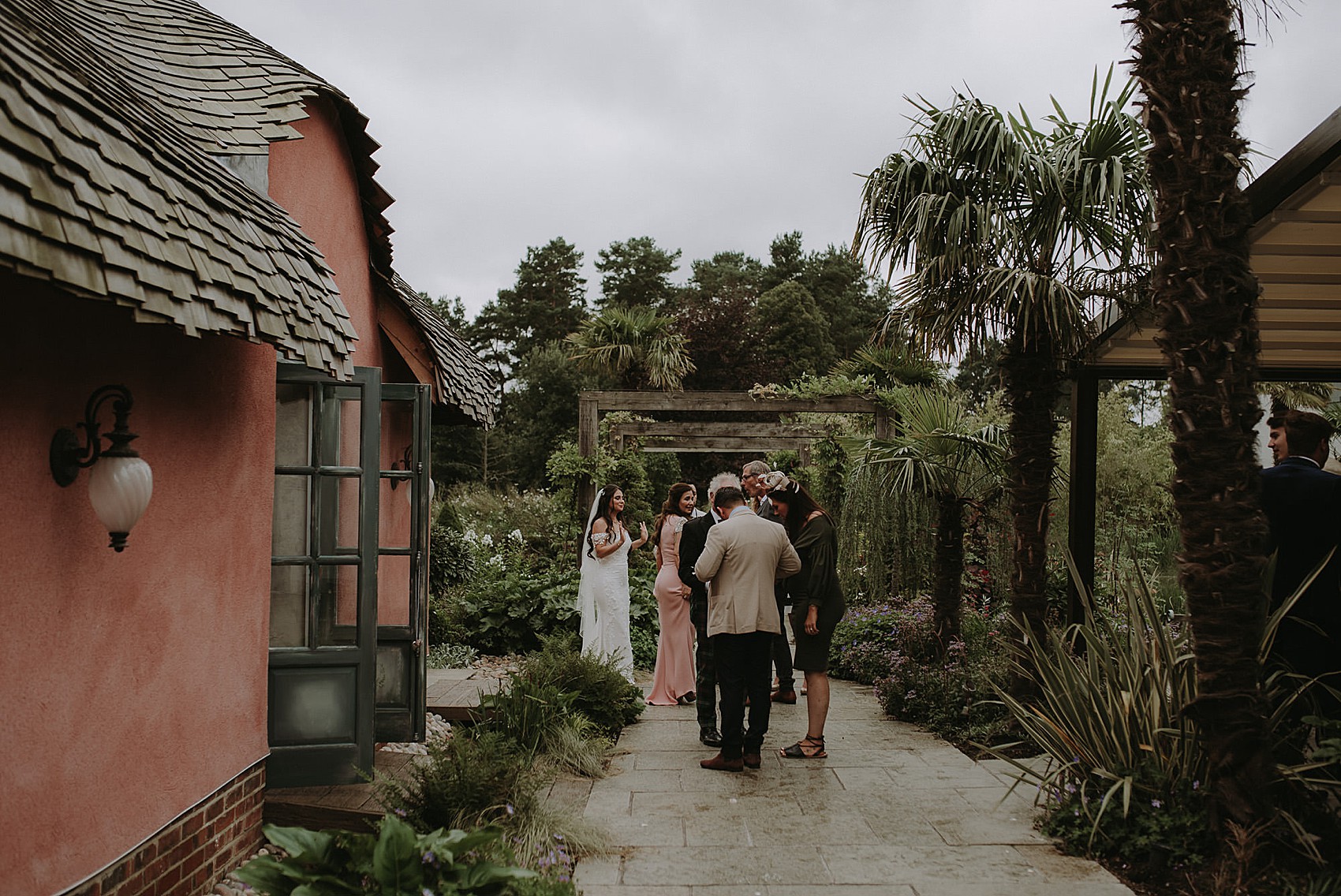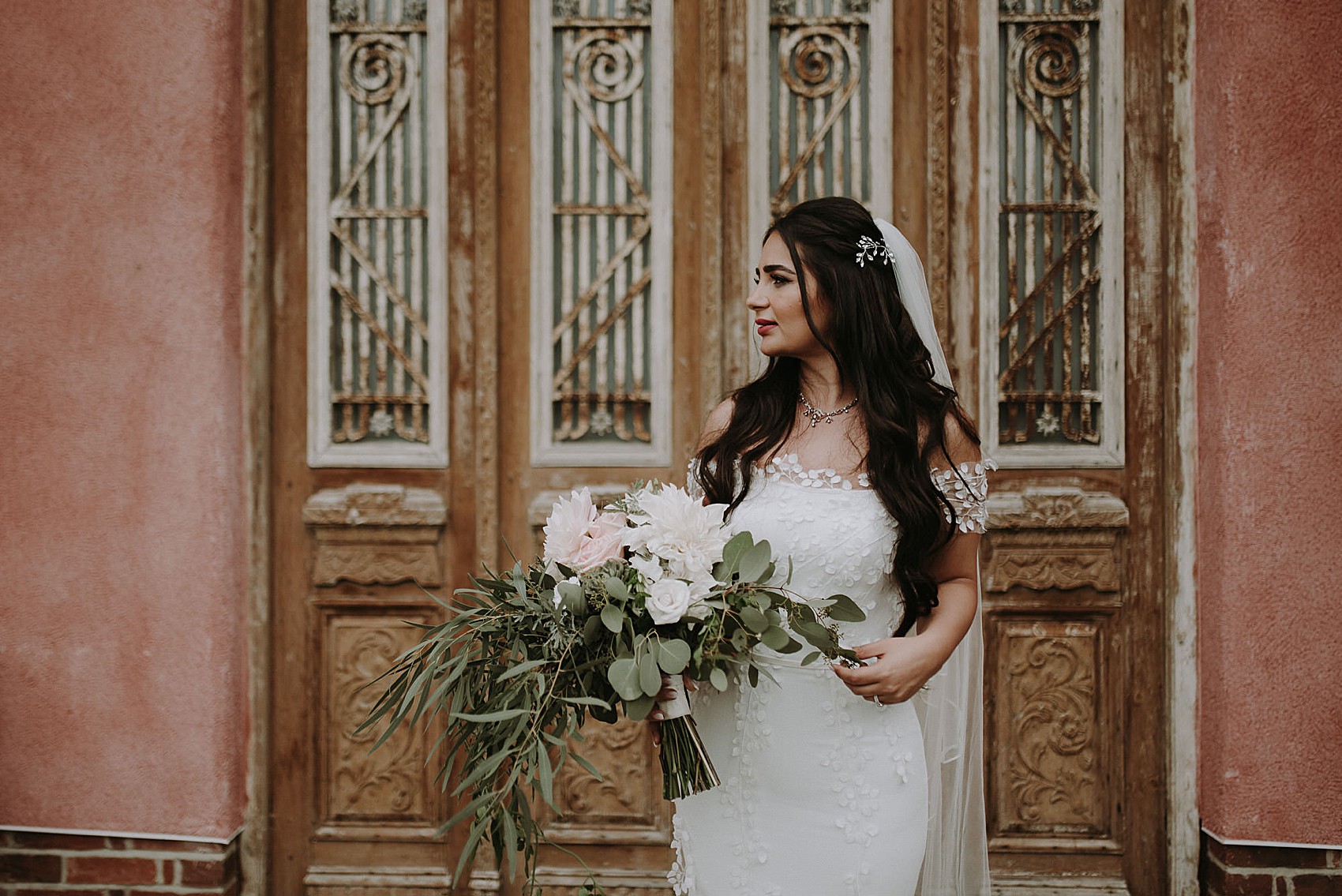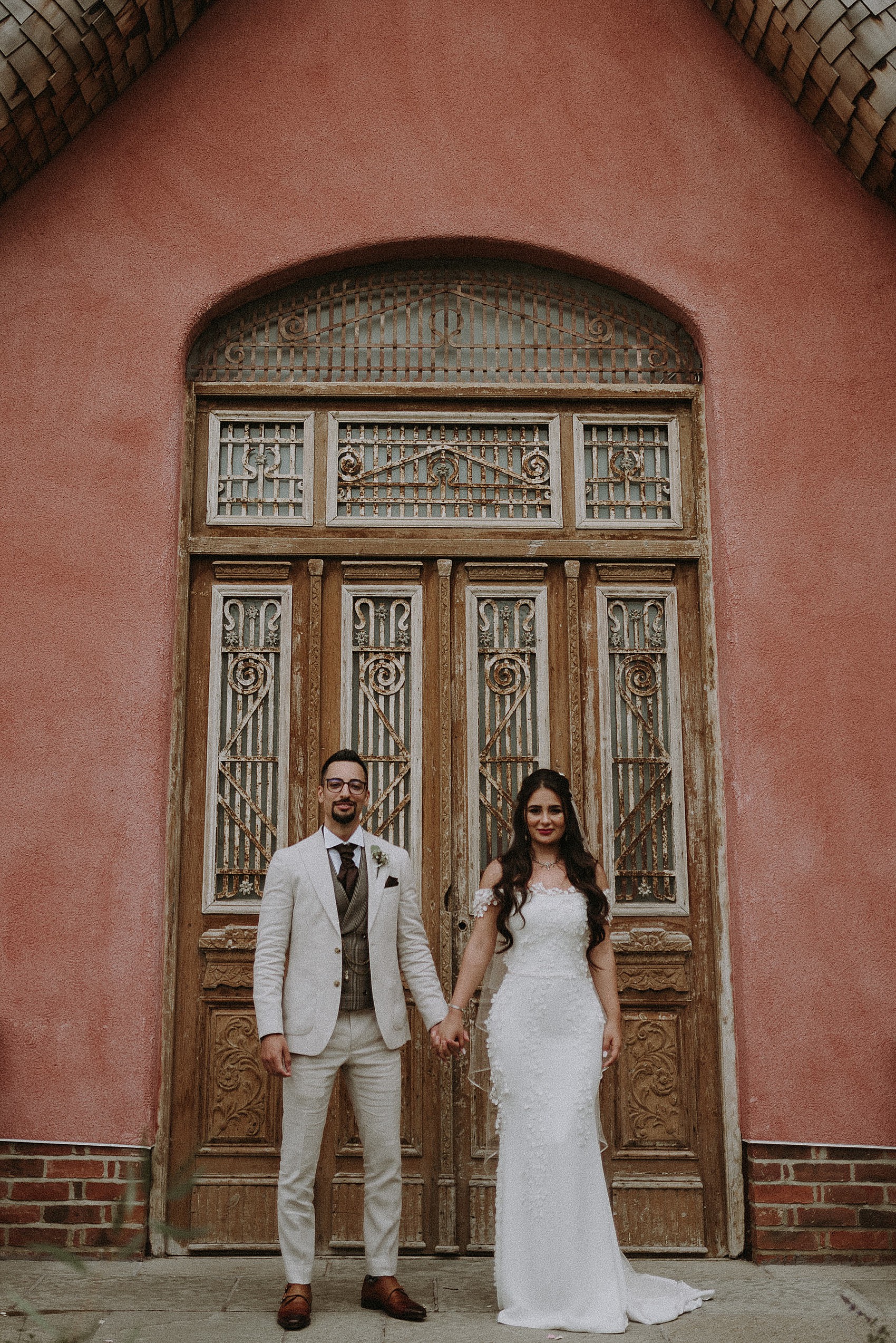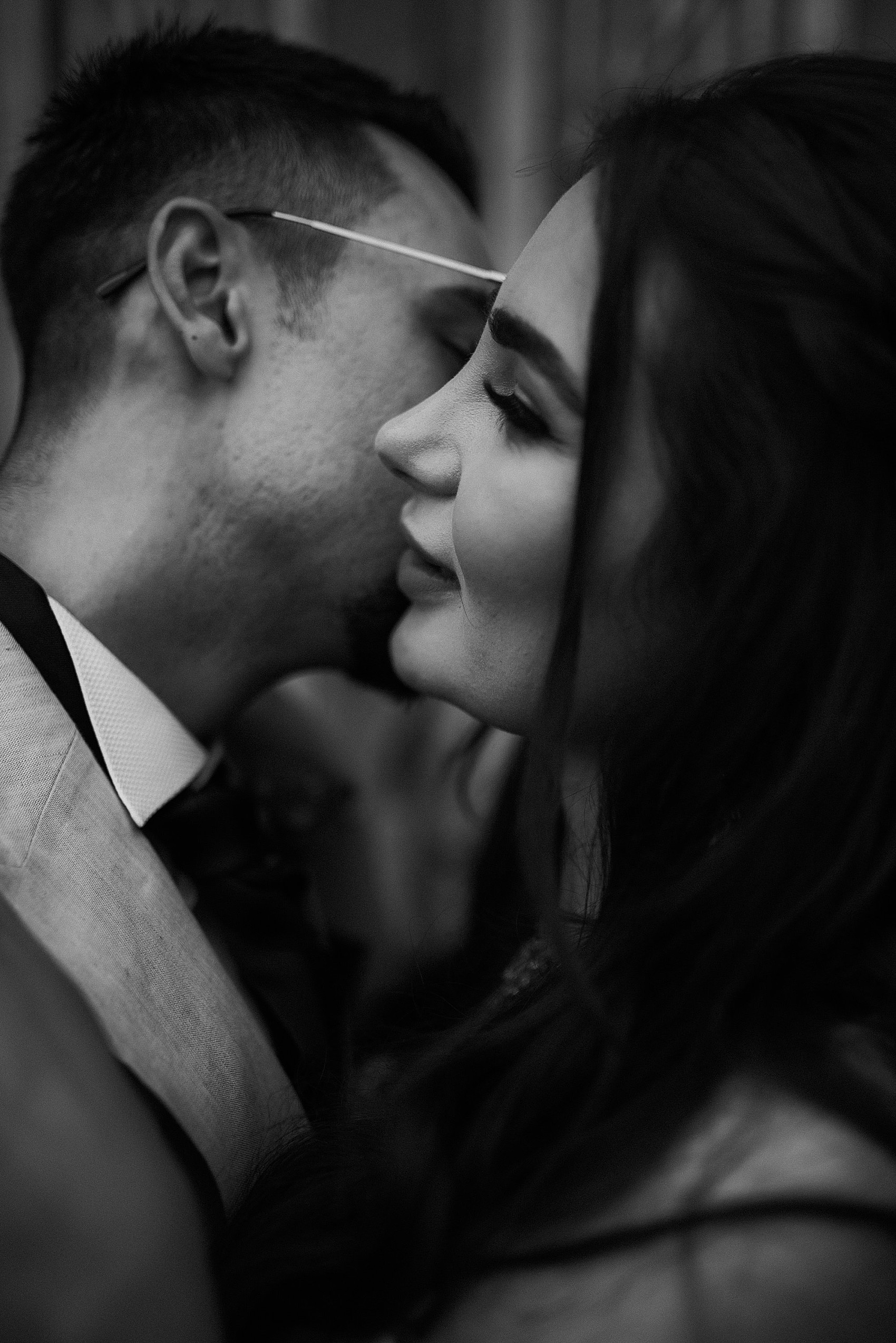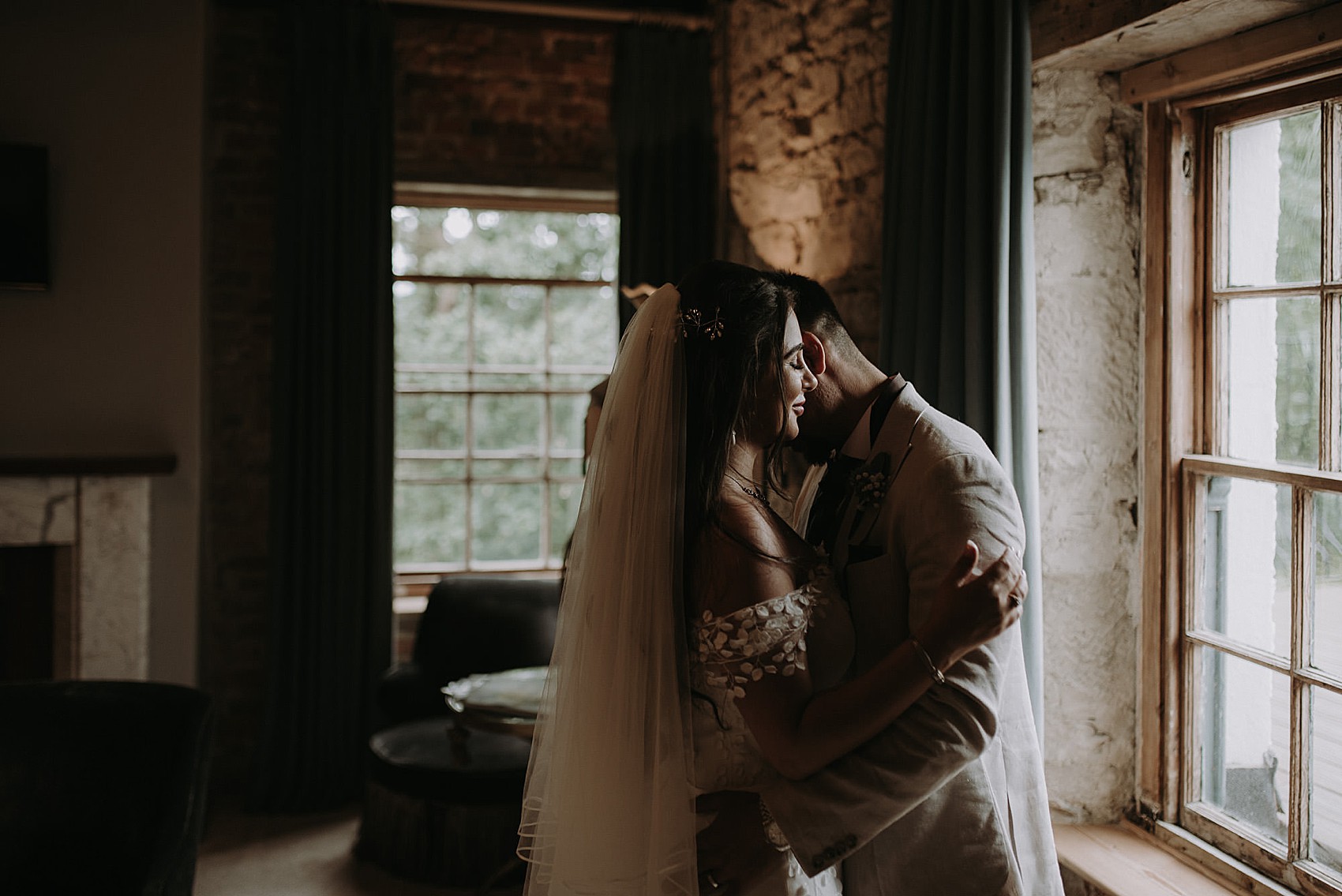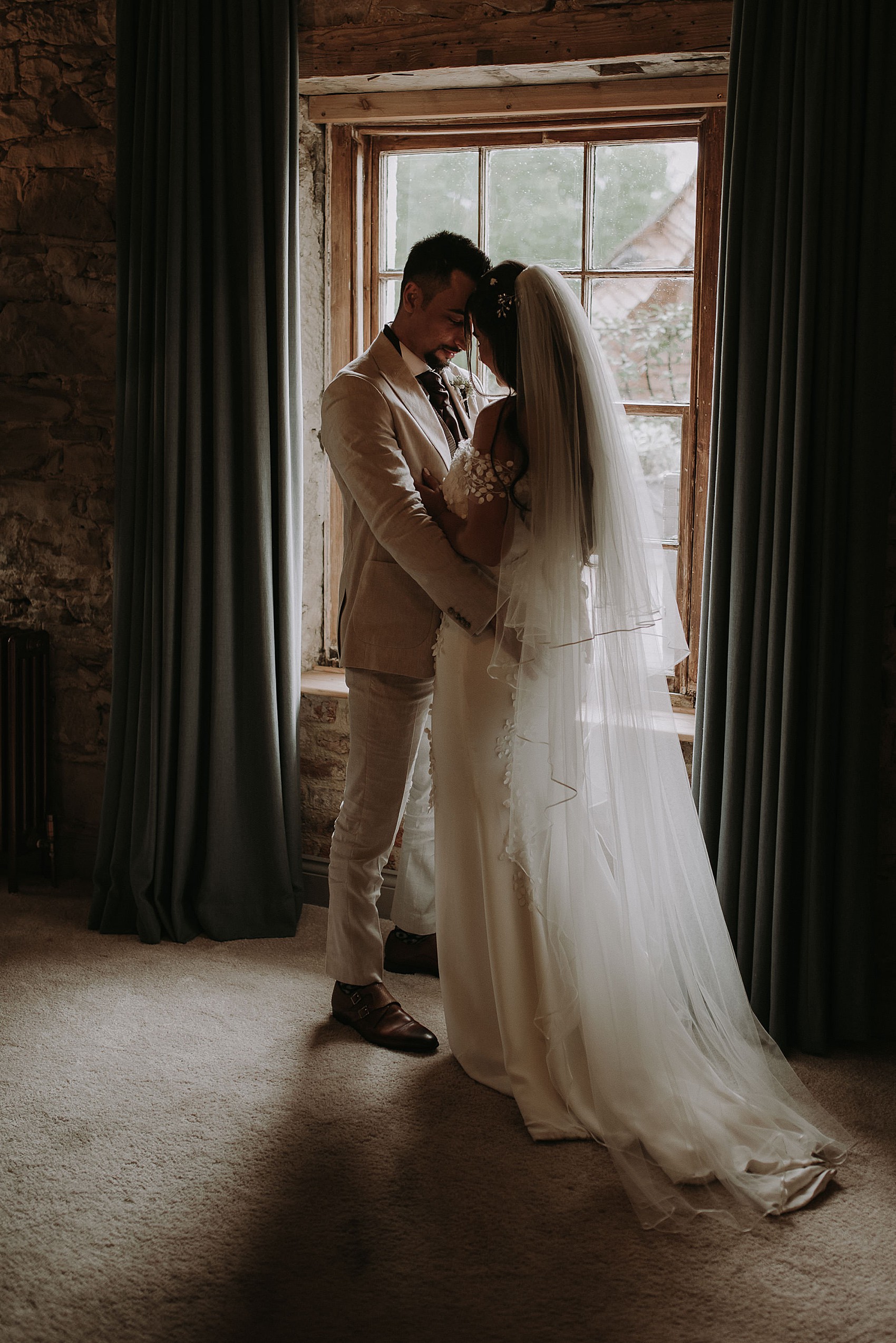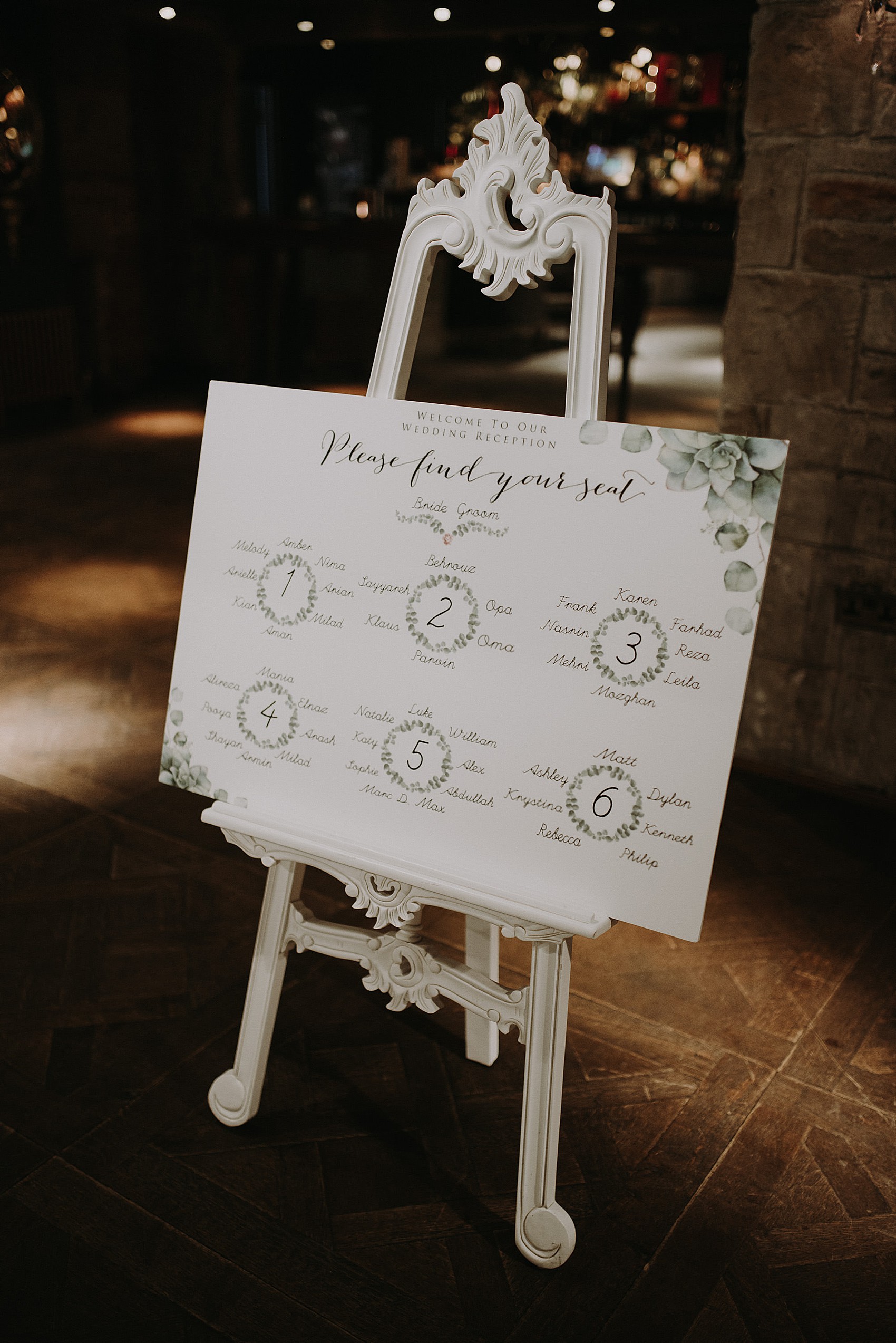 To help save on their wedding budget, the couple styled their wedding using beautiful faux floral creations sourced from Dubai.
"The flowers by the altar and chair decorations where actually artificial and designed by my mother and I. We visited an artificial flower shop in Dubai, and chose an array of flowers and greenery."
"Our wedding favours where in small envelopes propped against champagne flutes on the table. Inside our guests found a small card that read ' Love is patient, love is kind, it always protects, always trusts, always hopes, always perseveres. Love Never fails' And around the card a simple white love bracelet to be tied around the wrist whilst making a wish."
"Table cards and personalised engraved wooden place names were all ordered through Etsy. Menu cards designed by me and printed by a local print shop."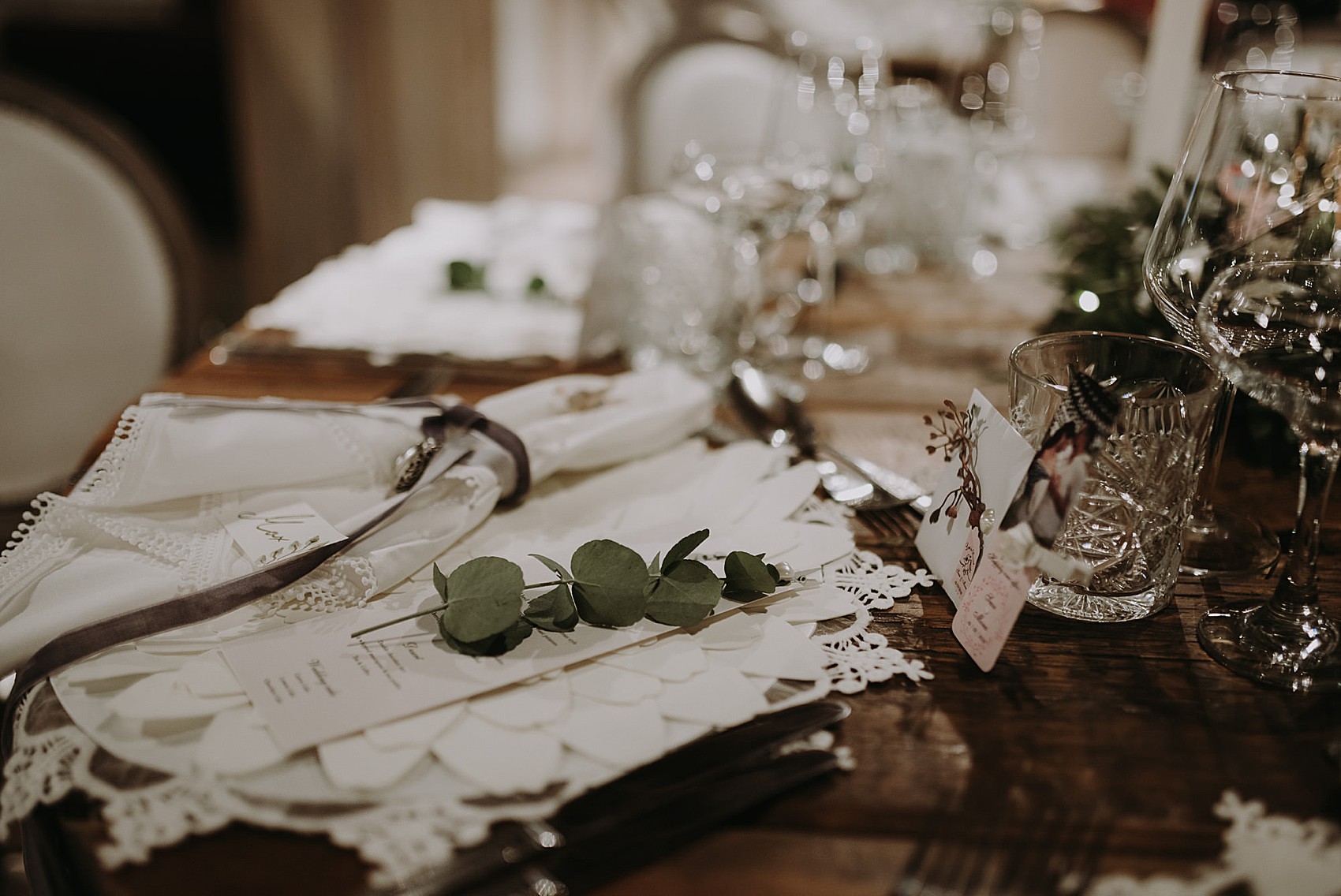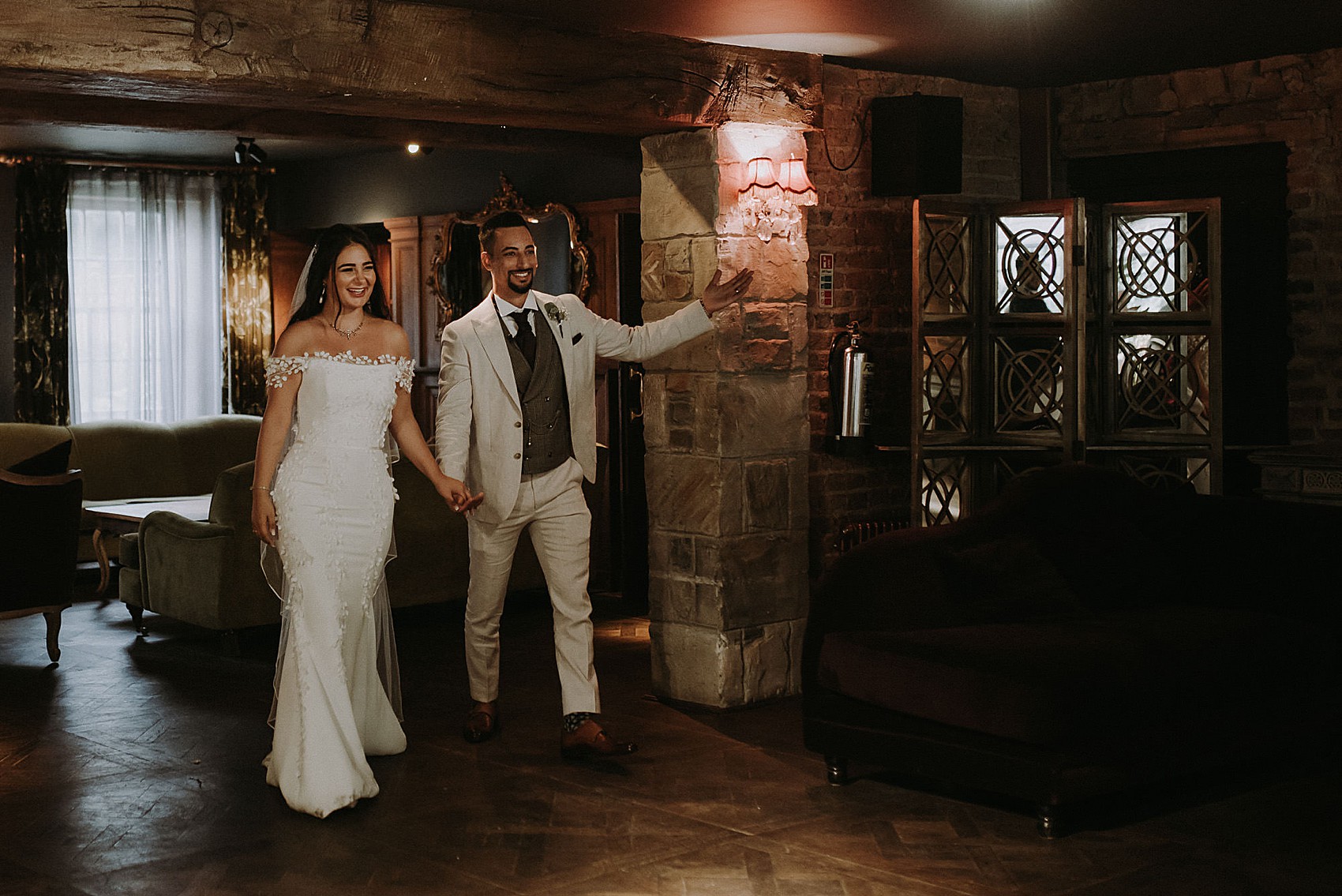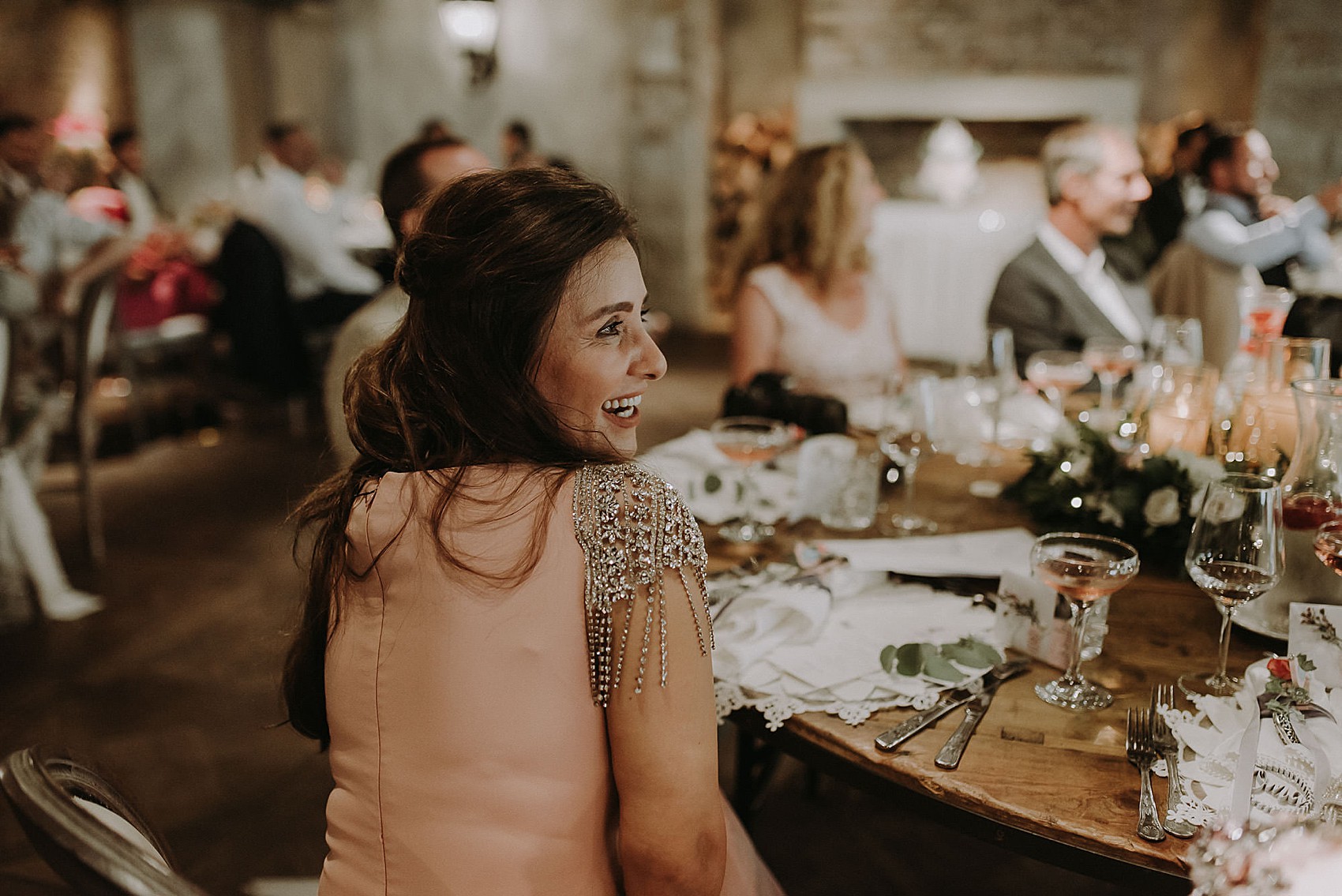 "Our cake was a gift by our family friend Frank. He is a very gifted hobby baker and was kind enough to offer to bake our wedding cake for us. Which was fantastic, one less thing to worry about and a wonderful wedding present."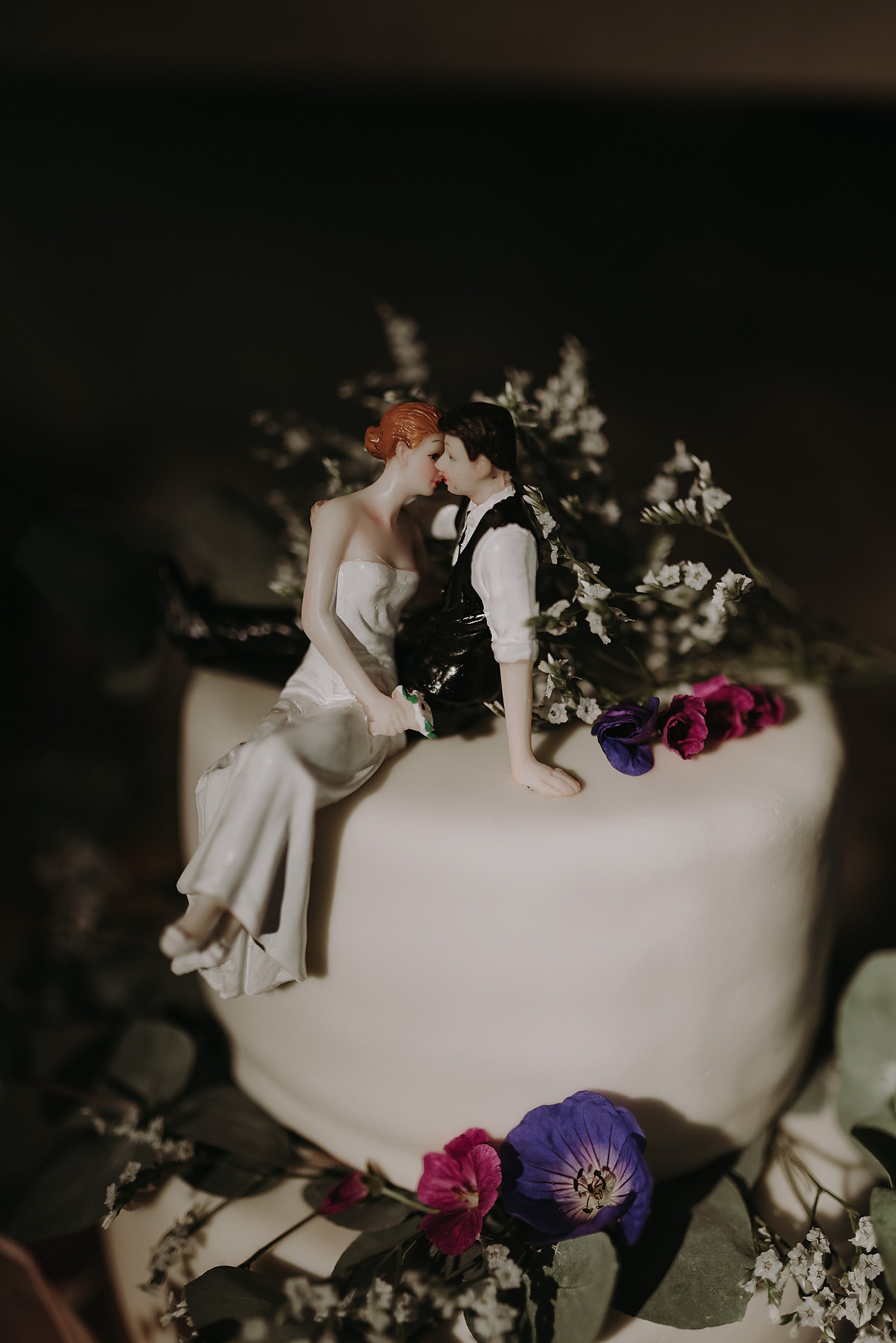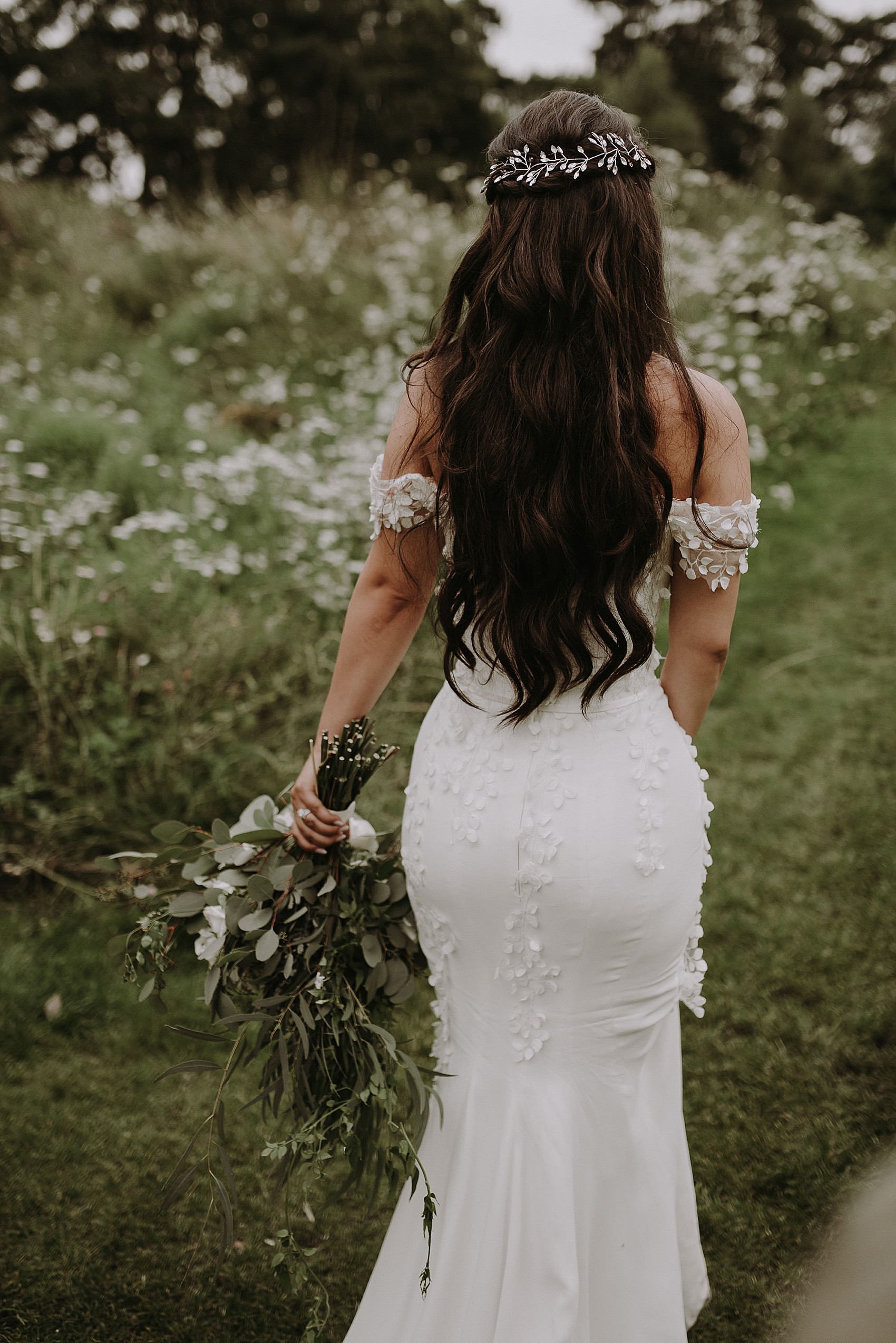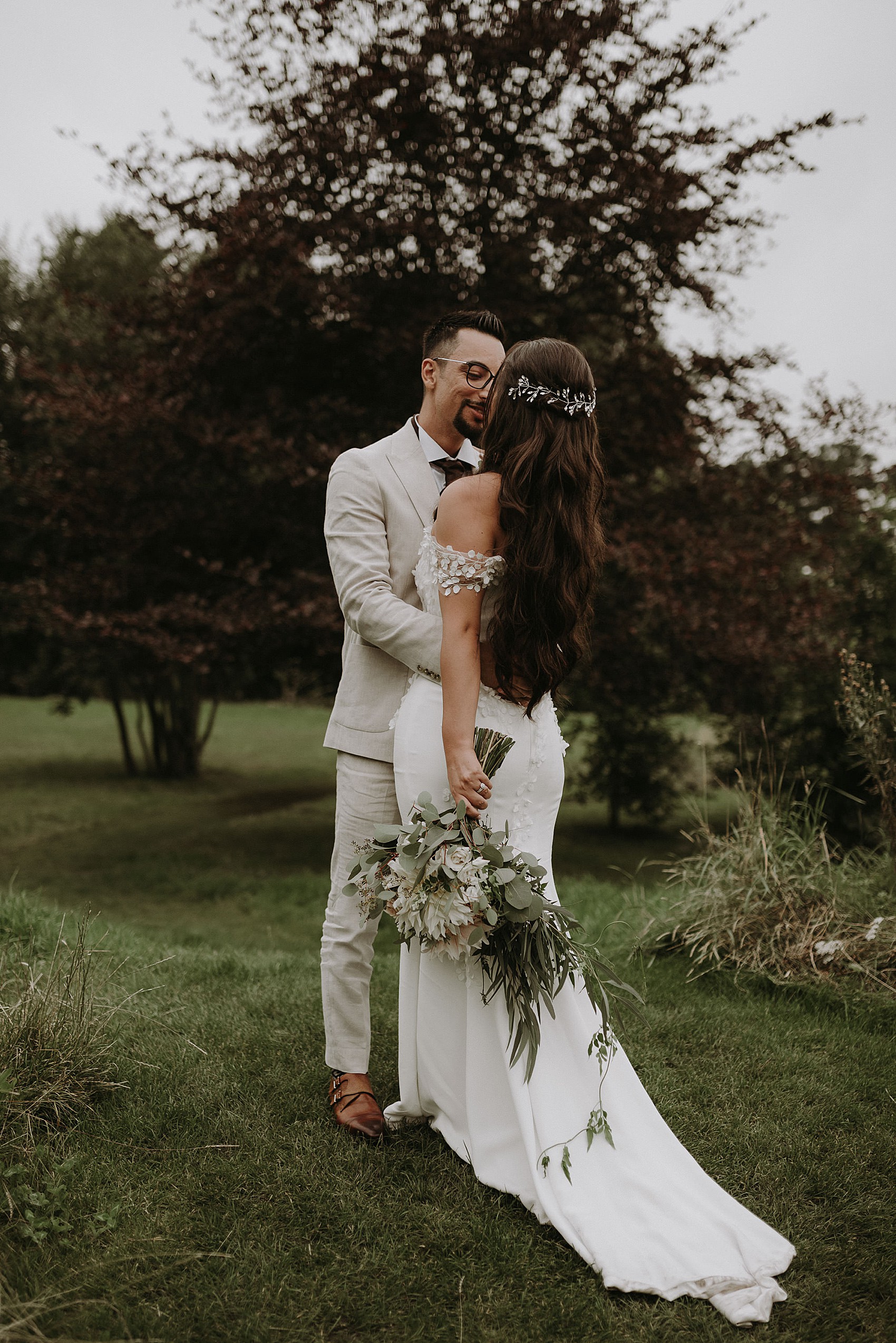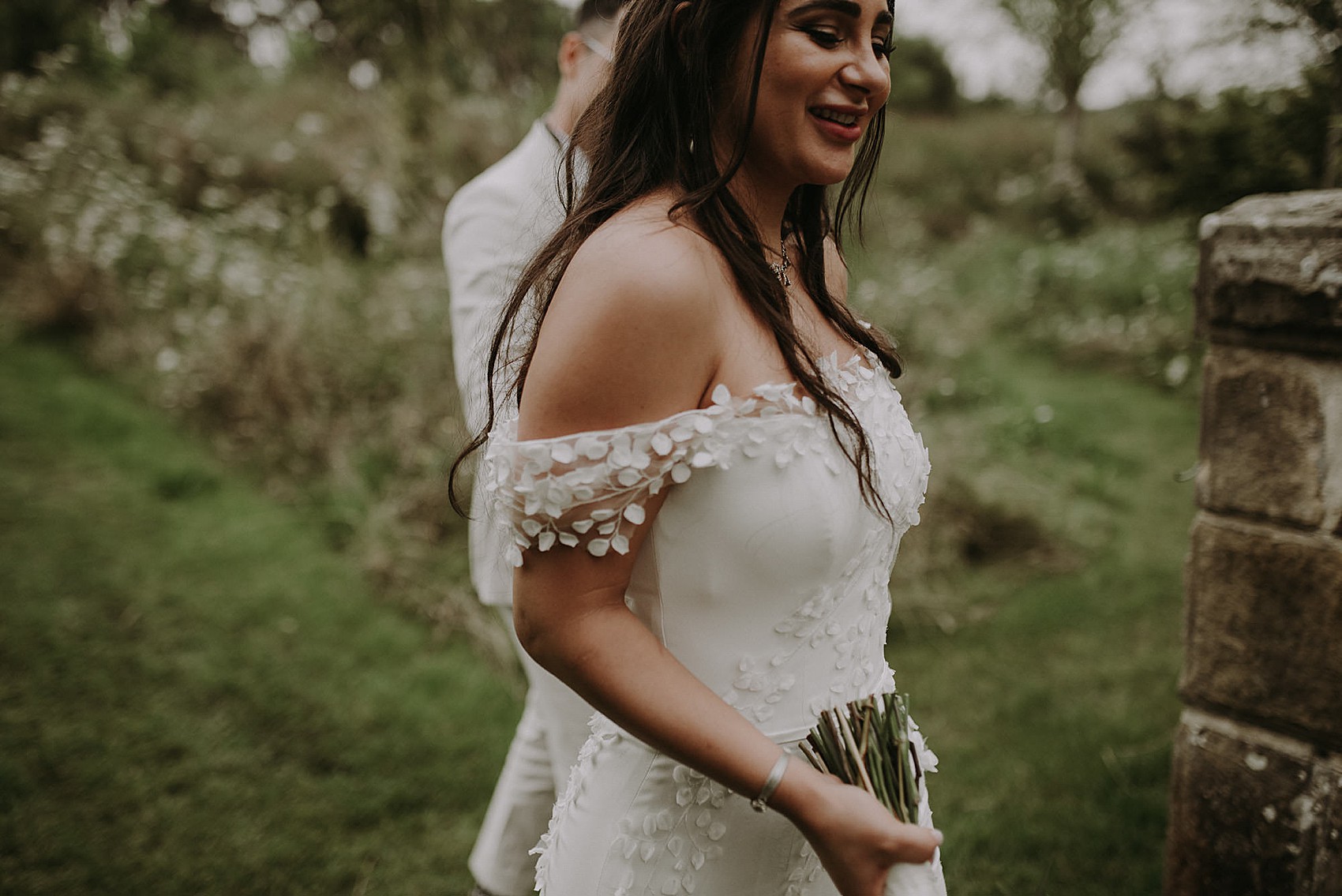 Budget
"We had a budget of £20,000 – though spent an additional £2,000 – £3,000 in the end."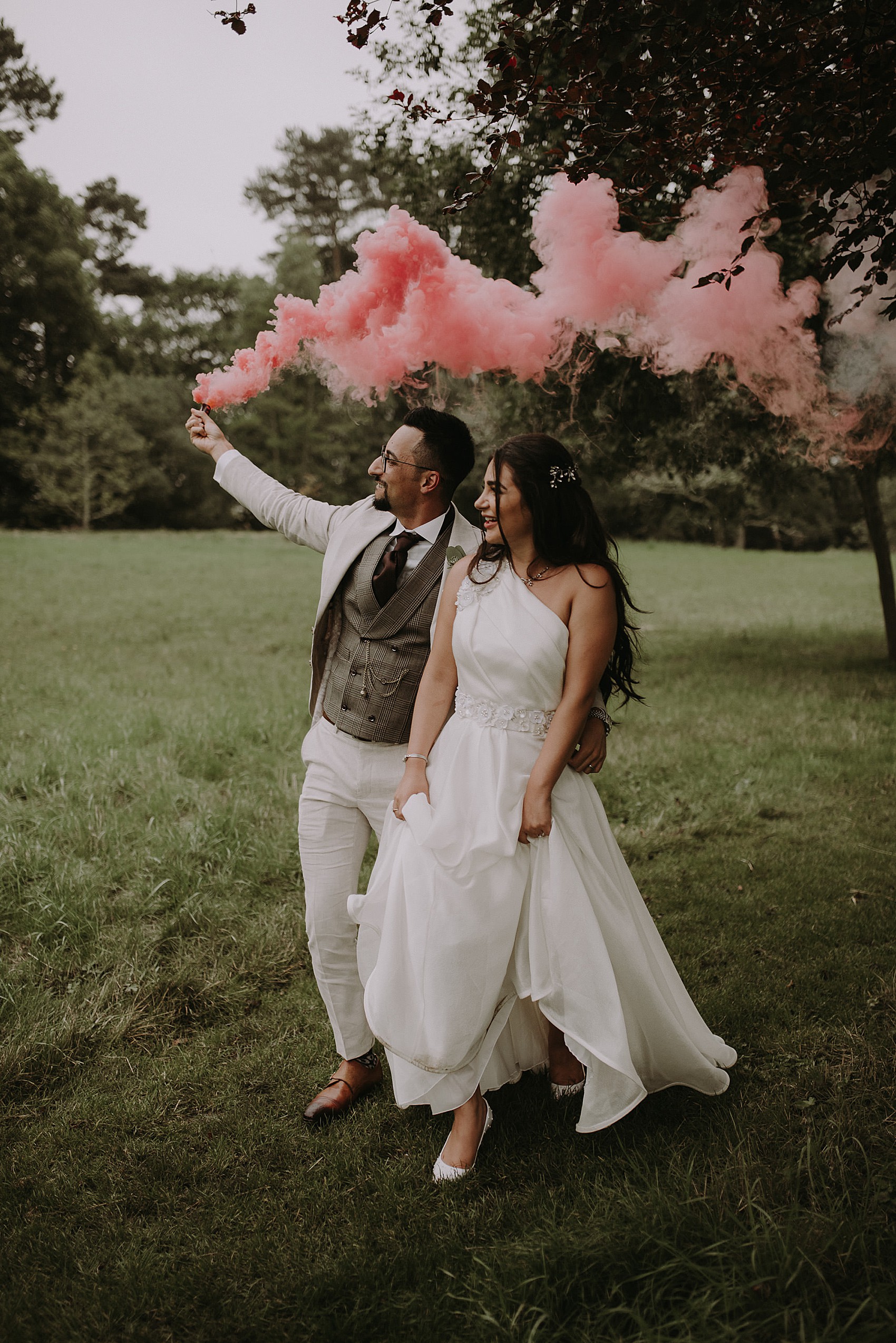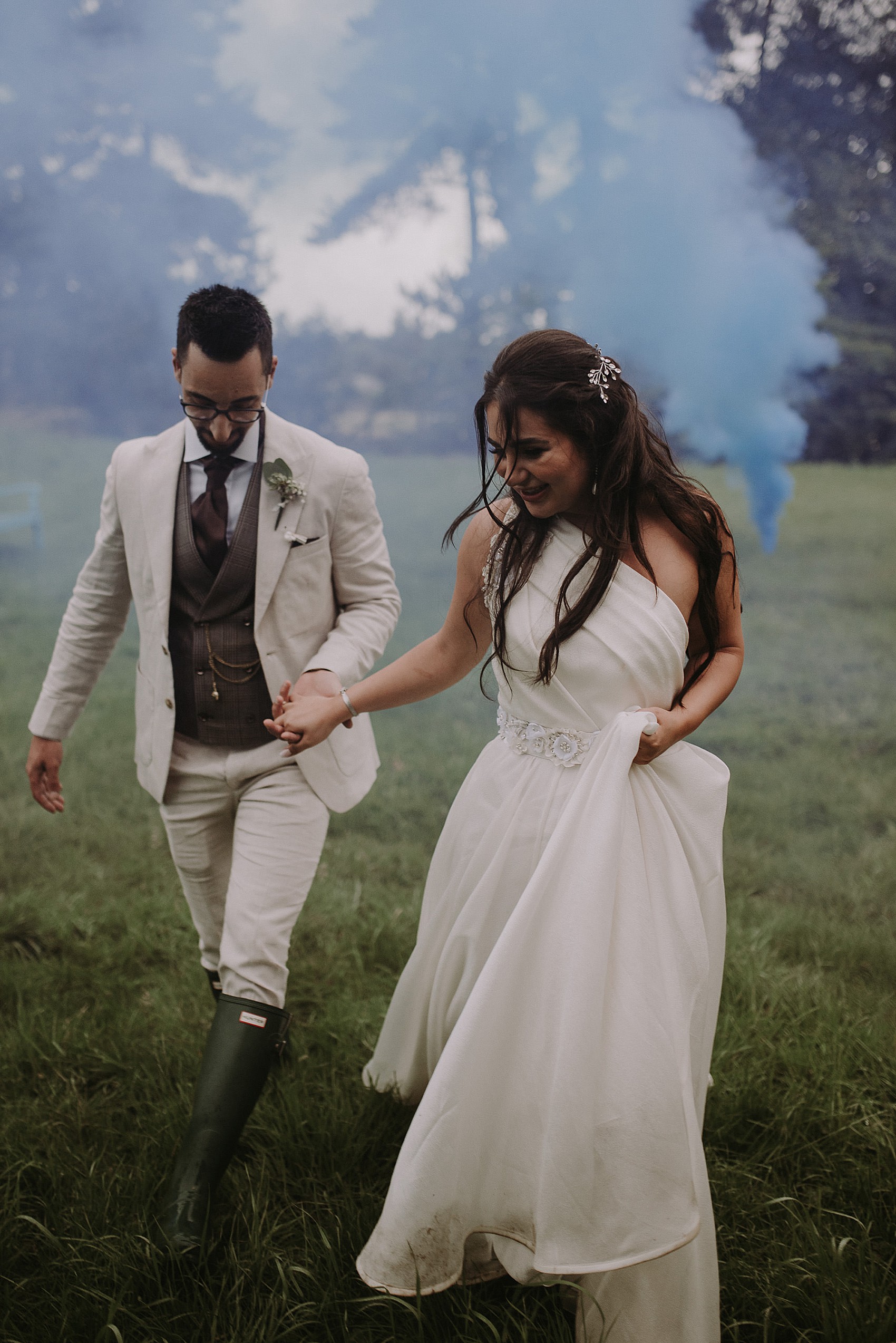 The couple had a first dance to 'What a difference a day makes' by Dinah Washington – how romantic!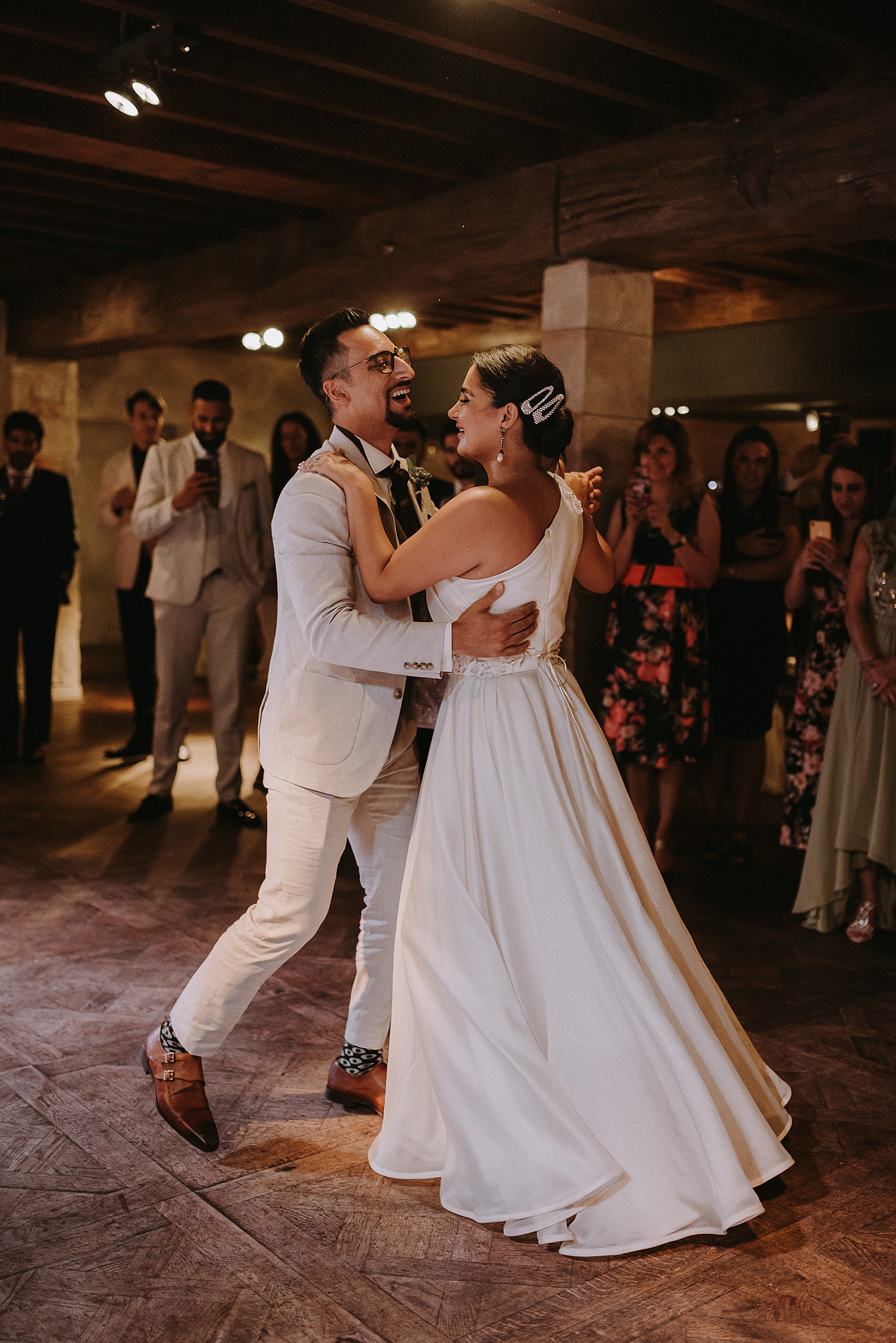 Words of Wedded Wisdom
"To all my lovely brides out there, Congratulations your getting married to your favorite human on the planet! Please don't forget that this is the main objective of the day."
"We tend to lose ourselves in the tiniest of details and believe me when I tell you, it won't matter. Take it easy, don't be too dead set on making absolutely everything match to the last napkin fold, it will make you crazy. Be easy going when it comes to choices. Don't forget to have fun."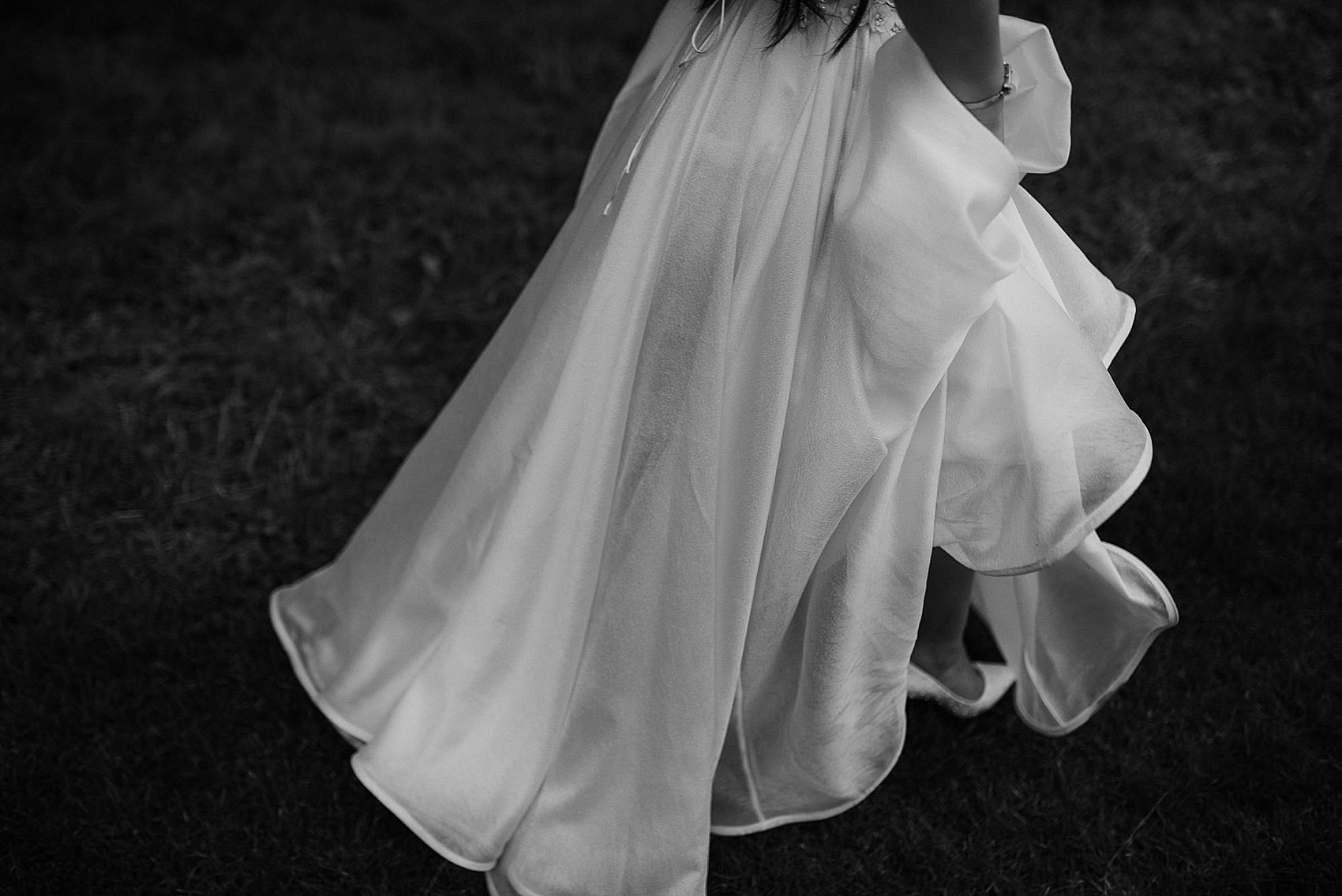 What an absolutely beautiful day – so effortlessly romantic. Thank you so much Mona and Sean for sharing your precious memories.
Brides, you can see more Stephanie Allin brides here on Love My Dress.
Annabel x