I love a city wedding. The juxtaposition of the soft and romantic gowns and flowers with the harder, urban landscape is always such a beautiful contrast and today's photographer has such a magical knack for searching out quiet, intimate streets.
Today we're in Leeds for an August wedding where elegance and glamour meets DIY flower joy.  This is the wedding of Cat, a teacher and Andy, who works in IT, who chose Leeds Minster and nearby blank canvas venue Lambert's Yard for their celebration on 11 August. 
Photography Agnes Black
Agnes Black Photography

+ Follow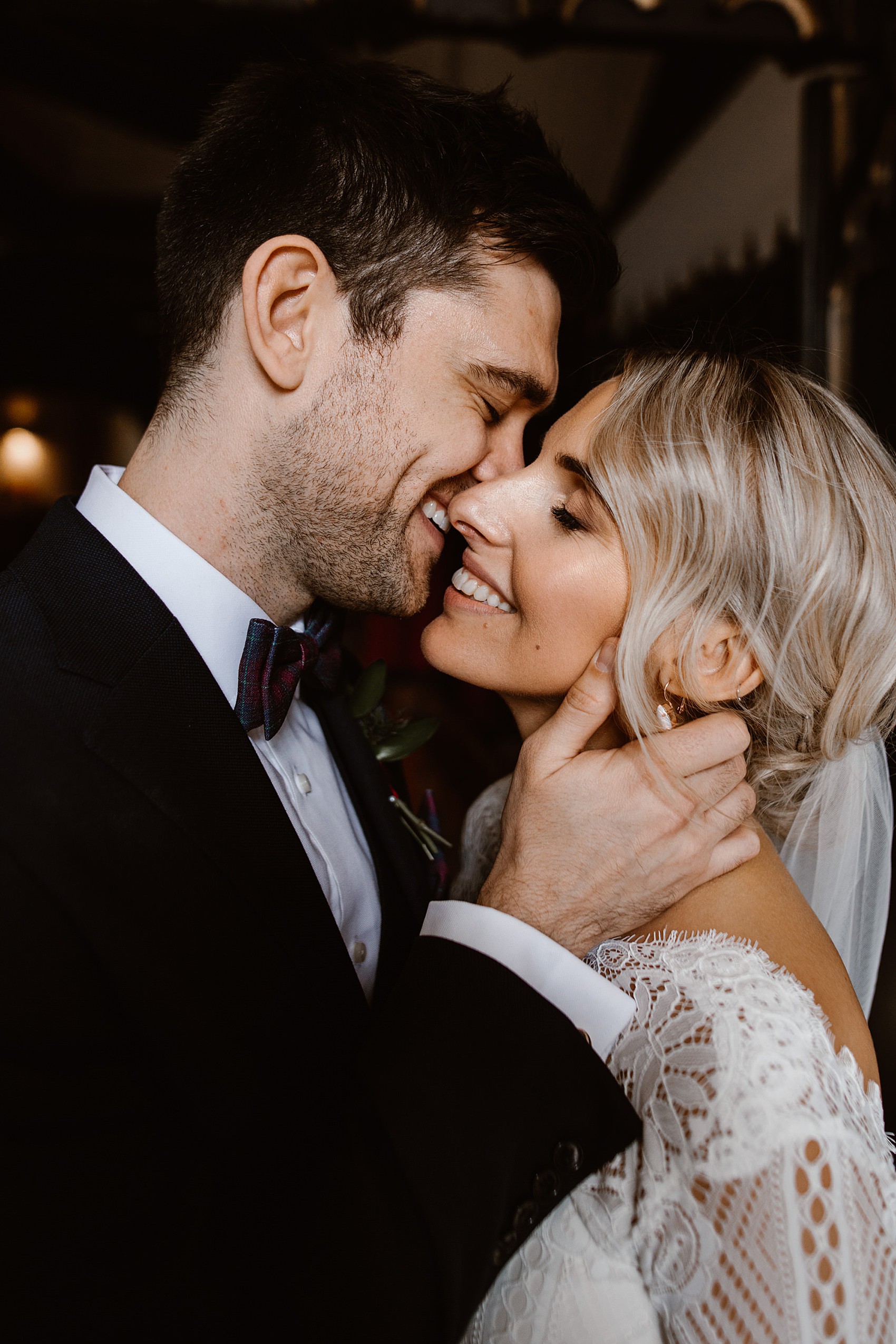 The cool, urban venue, close to their Leeds home, set the tone for the styling of the day, which also incorporated soft and romantic blooms and leaves in a muted colour palette of white and green.
"I thought the green and white floral scheme would look great in the urban chic venue and I always wanted pale green-blue bridesmaid dresses. Everything else was pretty eclectic and just fell into place. Our main goal was for everyone to have tonnes of fun."
I'm so delighted to read that Cat was an active member of our private Love My Dress Facebook group, which I'd like to invite you to join if you're not already on there. She used the group to get inspiration and advice.
"I became a member of the Love My Dress Facebook group which was invaluable. I got lots of ideas from there. I used Triangle Nursery for my flowers who were recommended to me by the group."
"I loved getting ideas from other real weddings on Love My Dress and floral inspiration was a biggie for me as I was doing DIY flowers."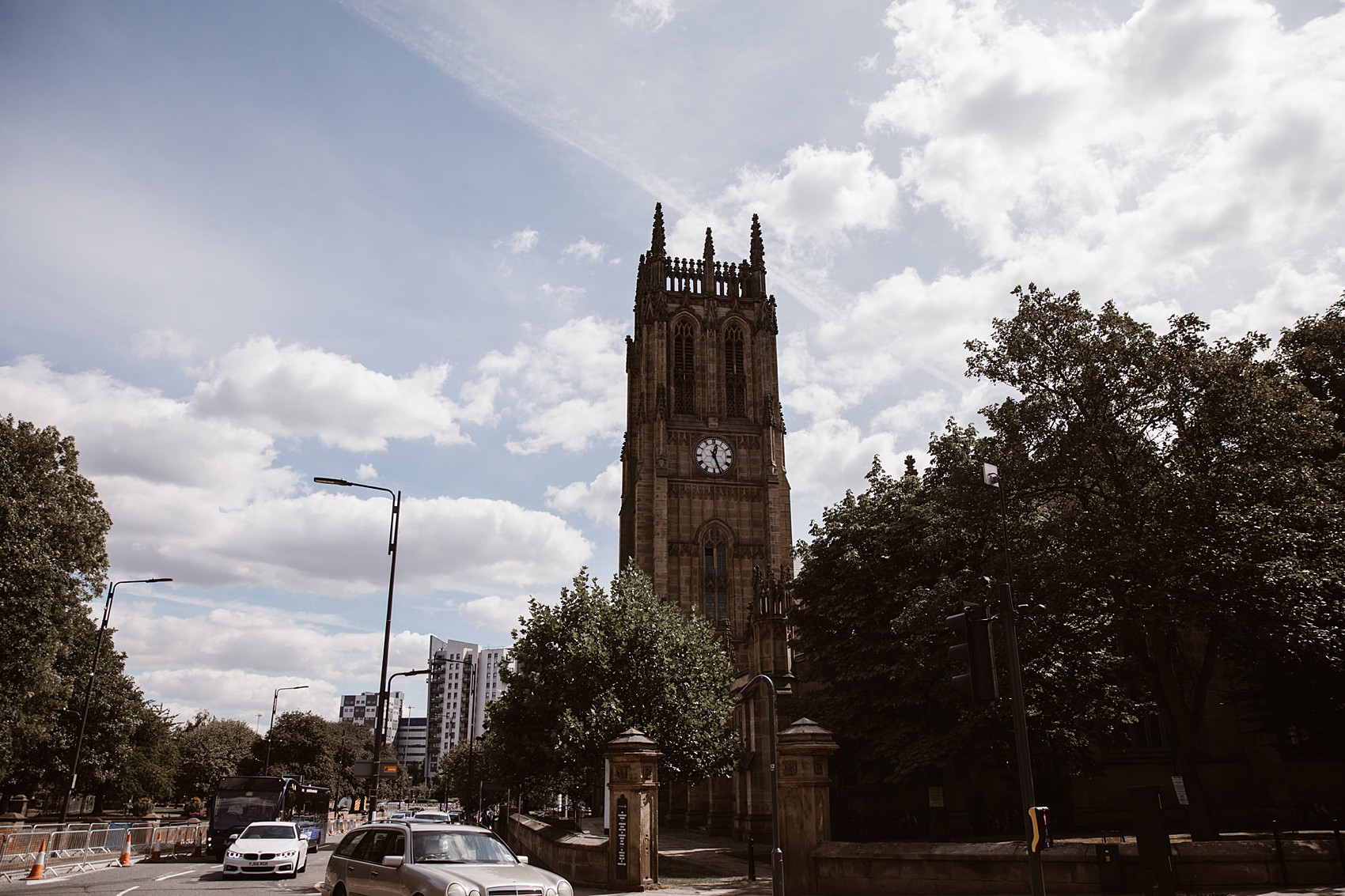 The groom chose a slick black tie look, just wonderful against the urban backdrop, and chose his suit at Moss Bros.
"His burgundy tartan bow tie and pocket square were from Mrs Bow Tie. Andy's mum is Scottish so this was a nod to his heritage."
"There were a lot of groomsmen and we were on a budget so we asked them to wear their own navy blue suits. We hired suits from Slaters for groomsmen who didn't have their own navy suit (only one in the end). The bridesmaids weren't matching exactly either and we both like that look. We bought burgundy bow ties, socks and pocket squares to tie everything together."
The couple met in a bar in Leeds in 2014 and took eleven months for their wedding preparations.
"Andy proposed in August 2017 on a beach in Cornwall."
Cat was keen to have a lace gown, and she found the design of her dreams by Claire Pettibone at Frock & Soul in Saddleworth. This exquisite, fitted number with its long sleeves and subtle boho vibe has so much wonderful detail. It fits the bride so well and I adore the gorgeous flow of the trailing skirt.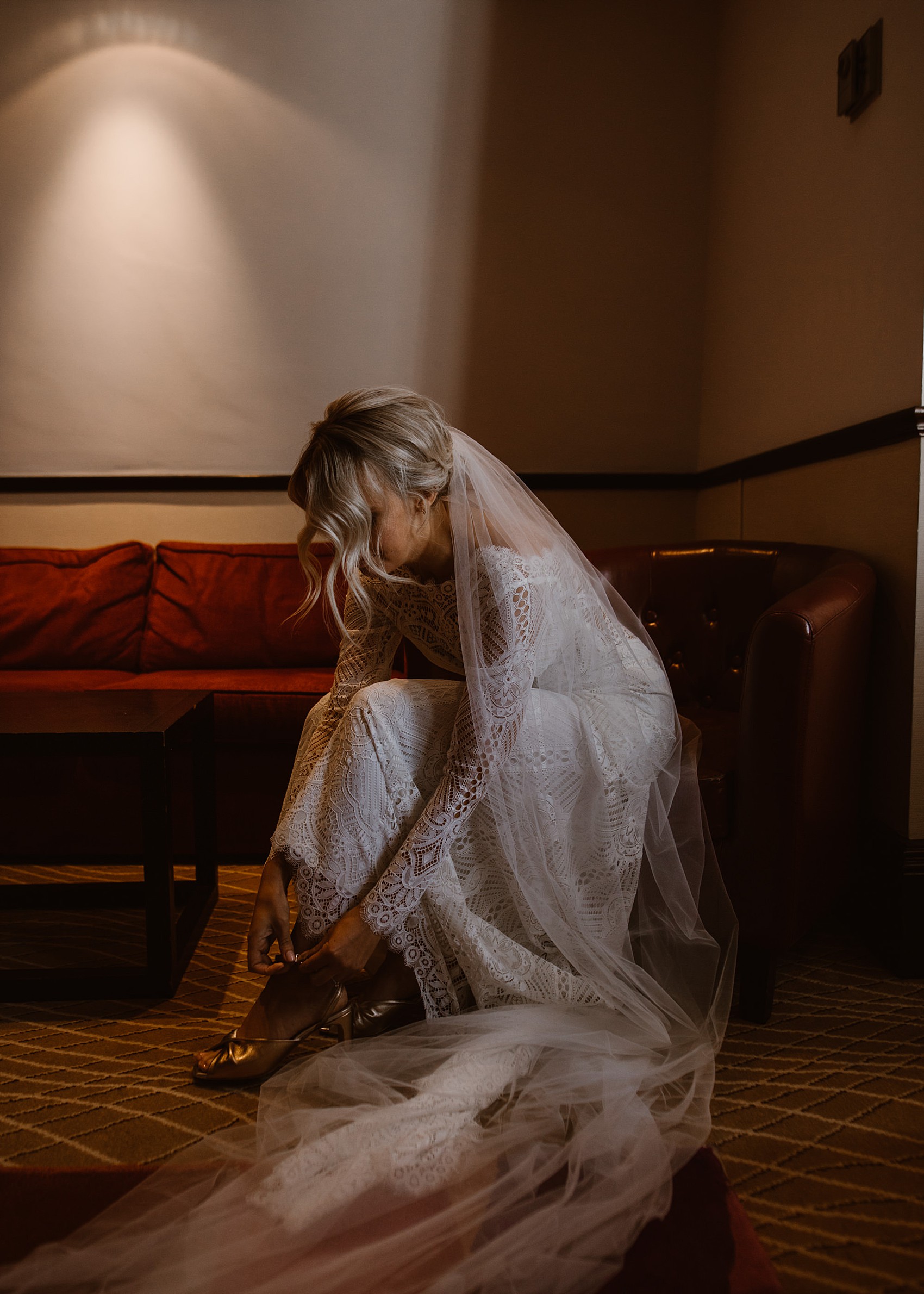 "I knew I wanted a lace dress and I loved the detail on the sleeves, train and cut-out detail on the back. I wanted a dress that felt bridal enough for the ceremony in Leeds Minster but boho and relaxed for the party and dancing at Lambert's Yard later on. This ticked all the boxes for me."
An ethereal vibe came from her simple, pencil edge, chapel length, tulle veil, bought at Etsy shop Maria Loves Lace and her pretty, elegant rose gold and opal drop earrings were also from Etsy shop Hanging By A Thread.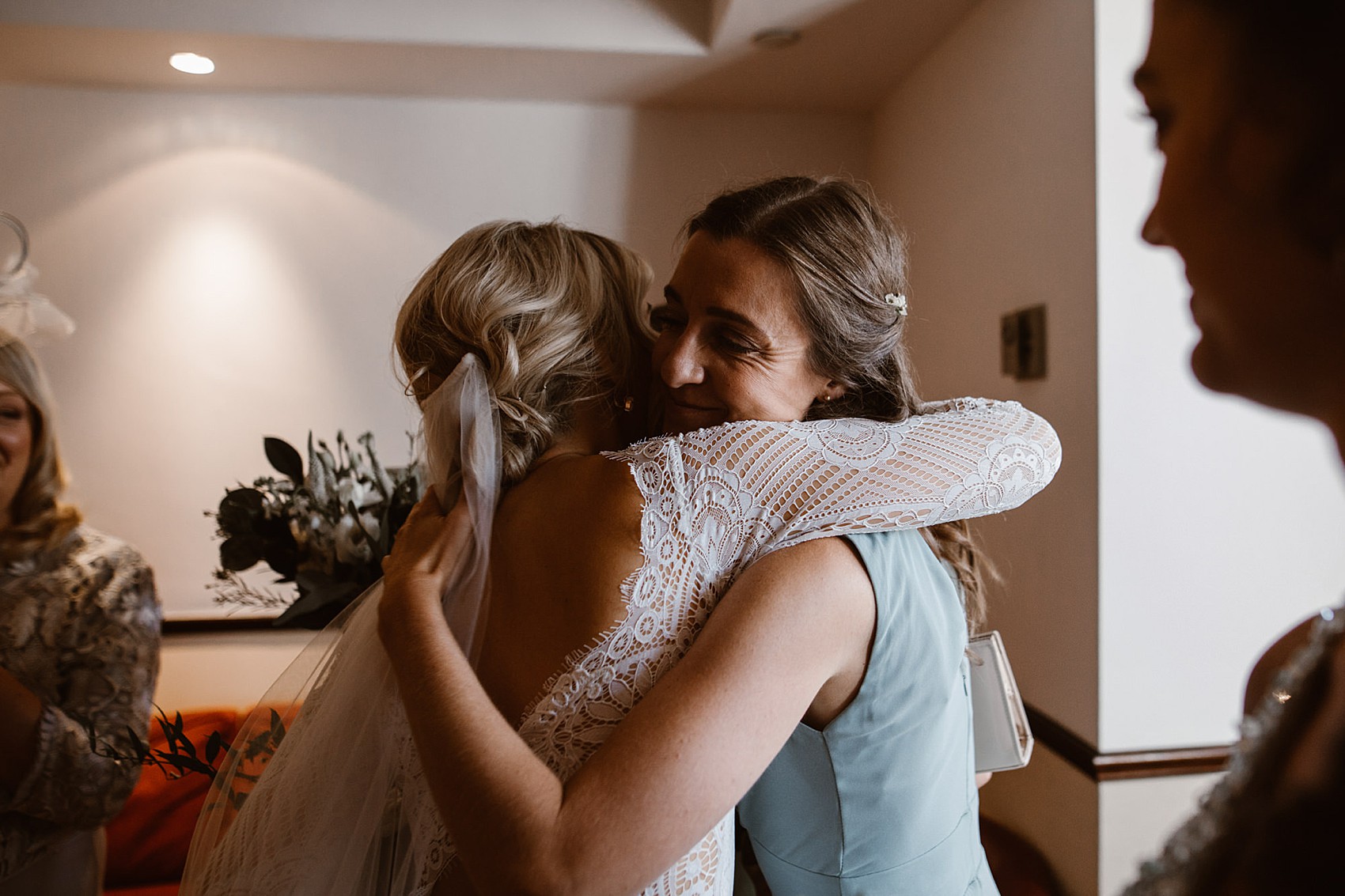 The bridesmaids complemented each other in their pale green floor-length gowns and bracelets from Joma Jewellery.
"All dresses were from different designers at ASOS. The girls picked their own dresses out of a selection that I pulled together online and each dress was different. The girls all have very different style so they wore their own shoes."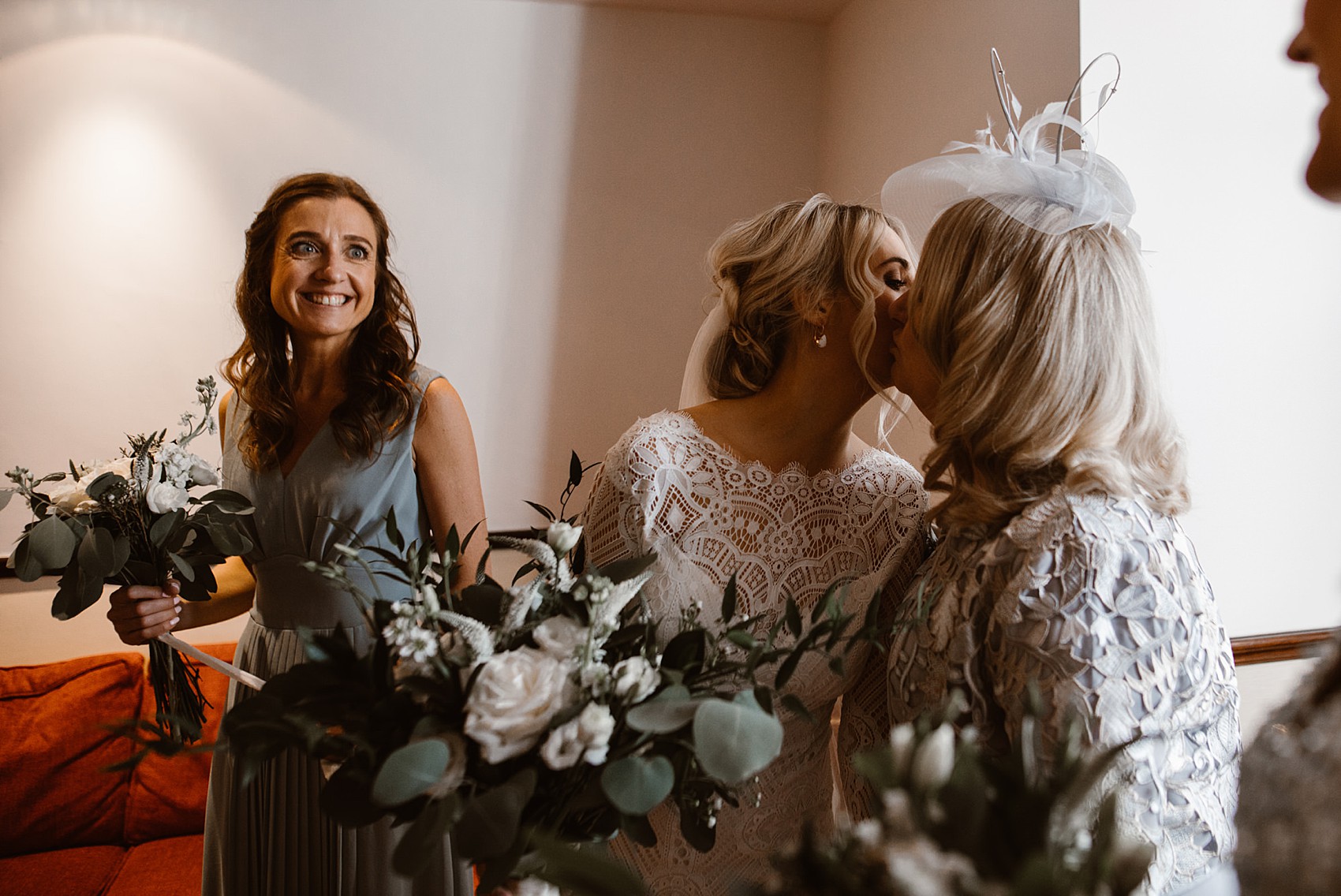 With metallic heels from Anthropologie and a spritz of Jo Malone Mimosa & Cardamom, a gift from Andy, she was ready.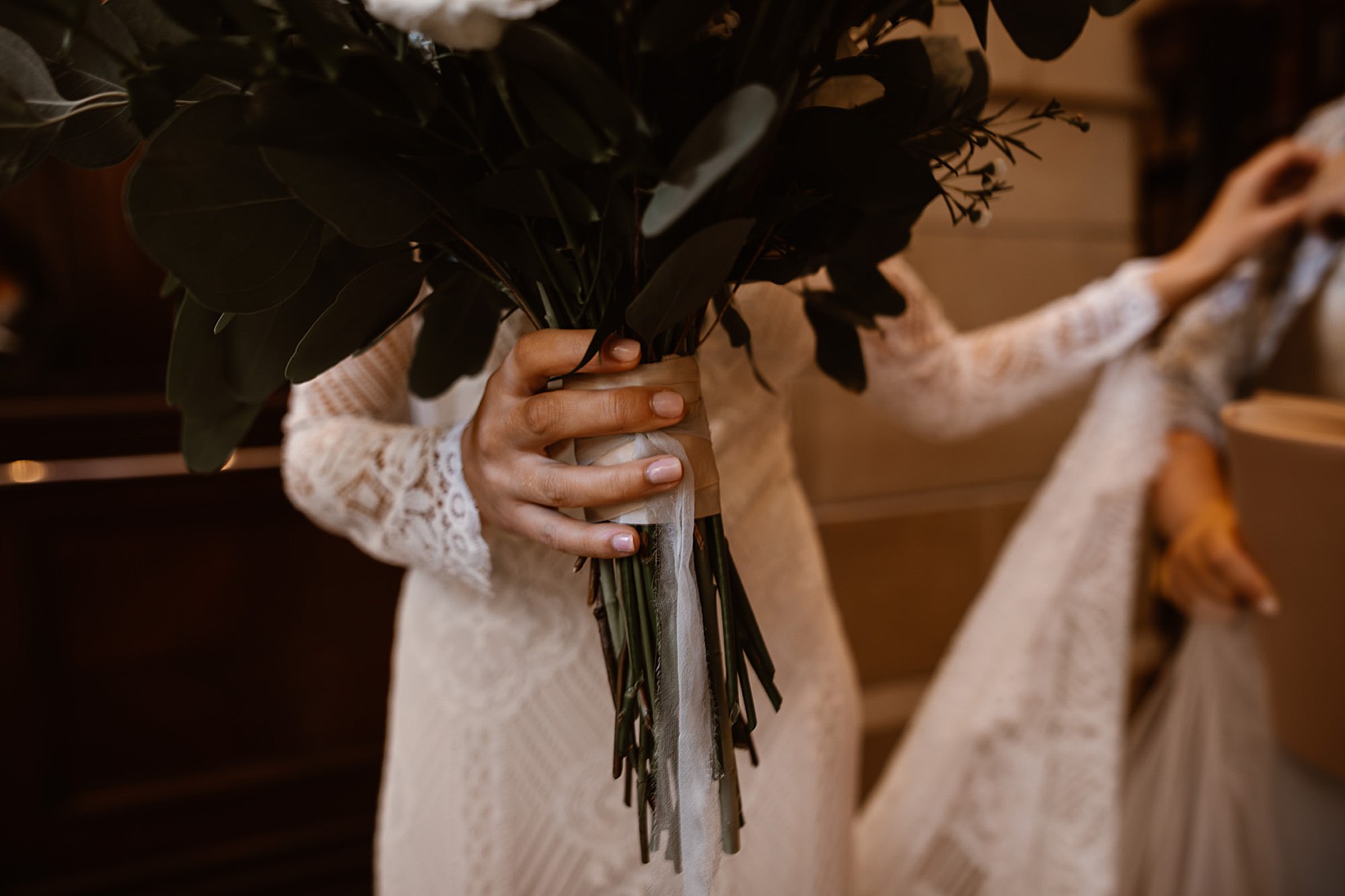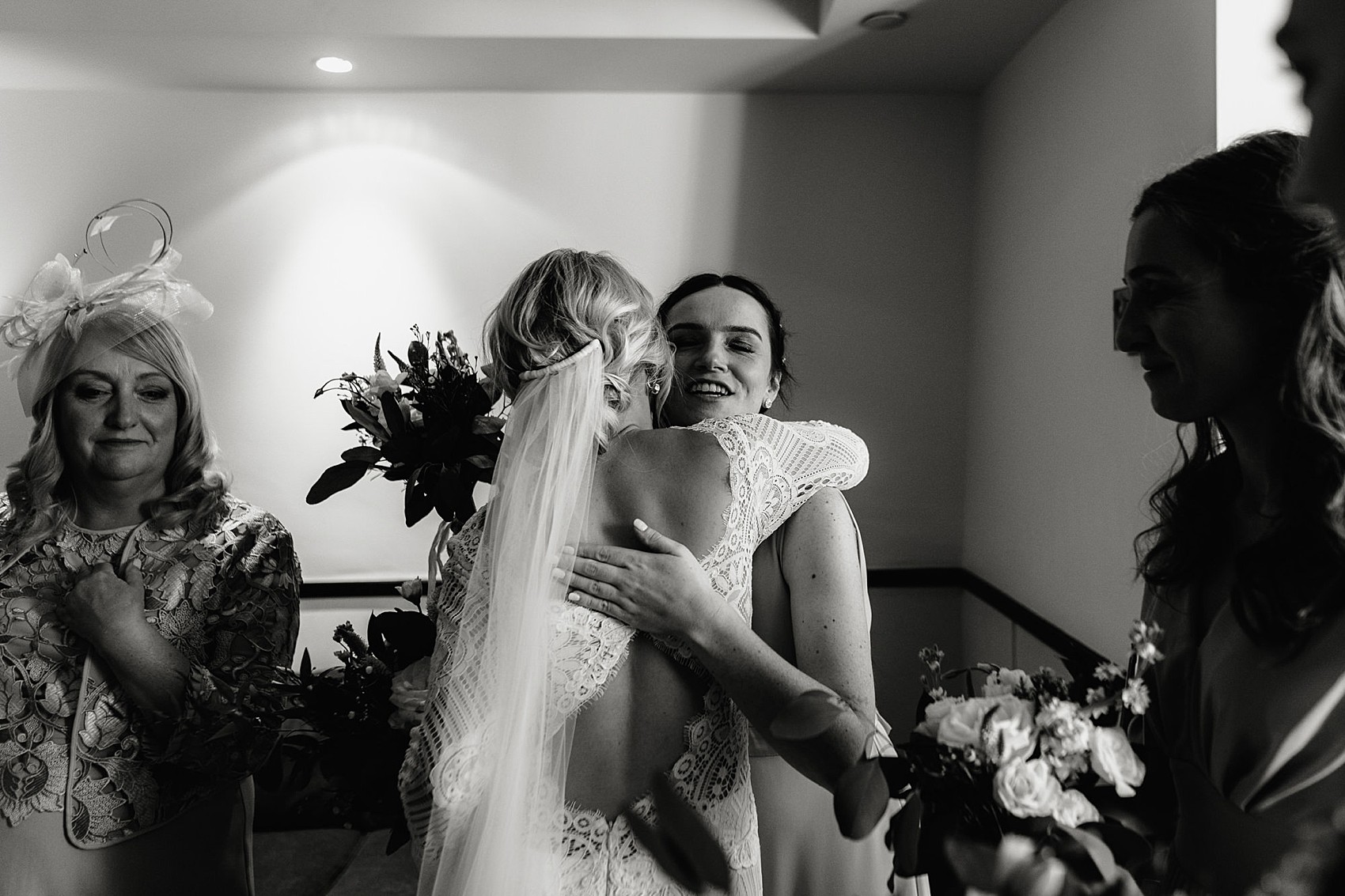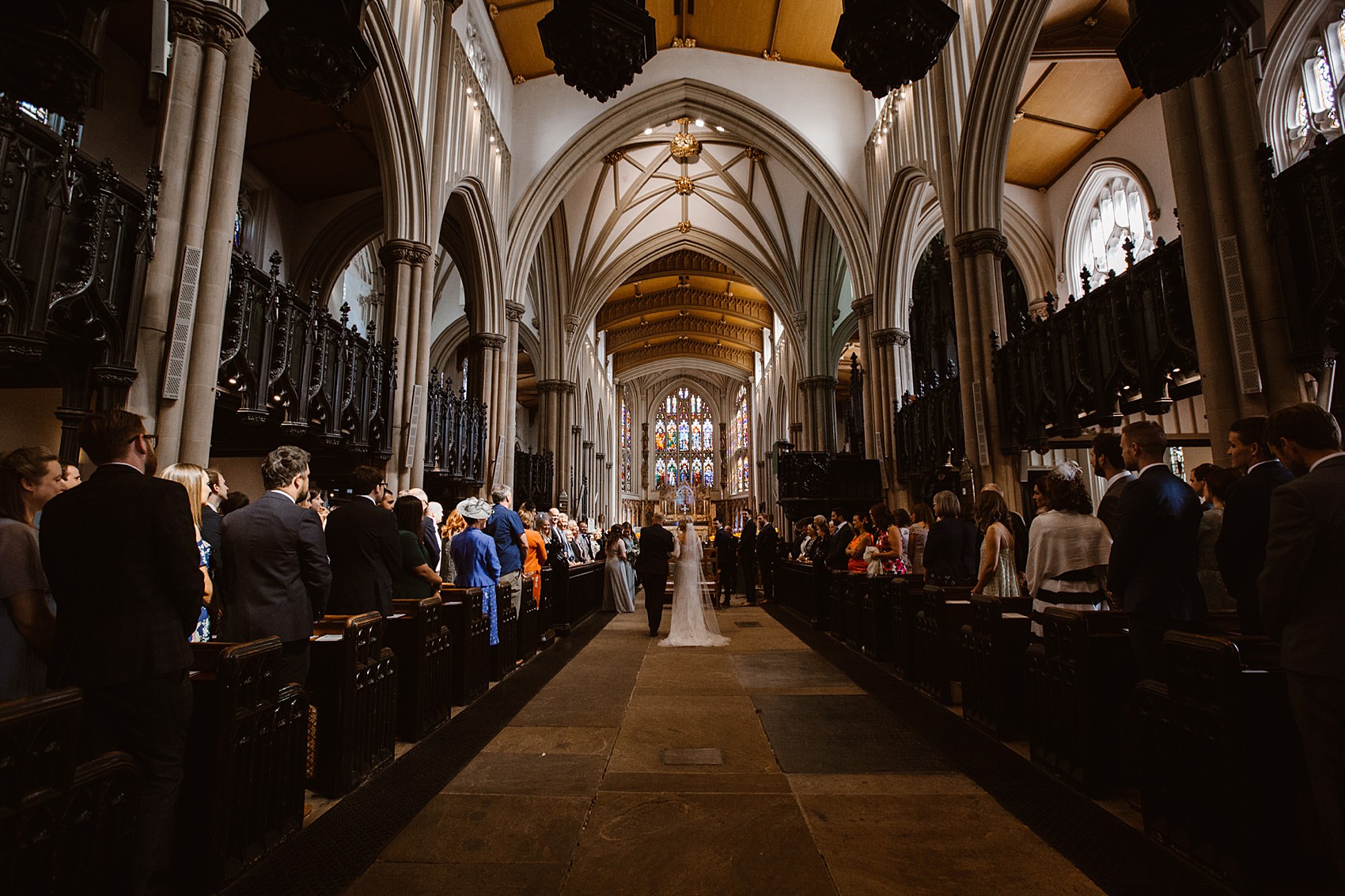 The couple asked a family friends to lead the service in Leeds Minster, which Cat entered with her father to the Piano Guys' cover of 'A Thousand Years'.
"Our venue was within walking distance from the church but we hired a Cadillac to get the bridesmaids and I to the church."
As well as the classic Church of England vows, they exchanged rings. Andy selected a rose gold band from Wedding Rings Direct whilst Cat chose a thin platinum band from Love Fine Diamonds on Etsy.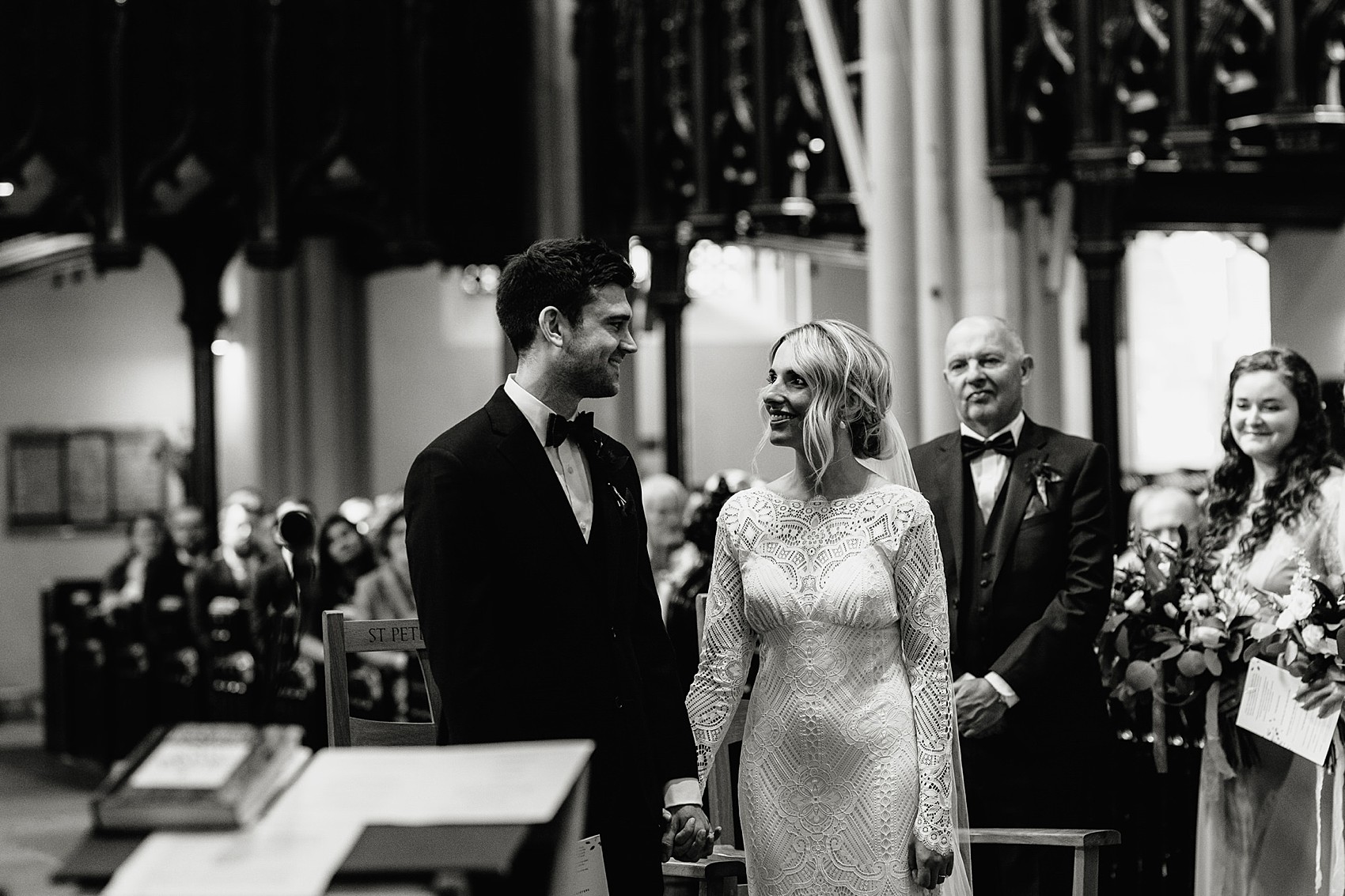 "I really wanted a thin band as my engagement ring (from Birmingham's Jewellery Quarter) has a thin band and this was the only place that I could find one."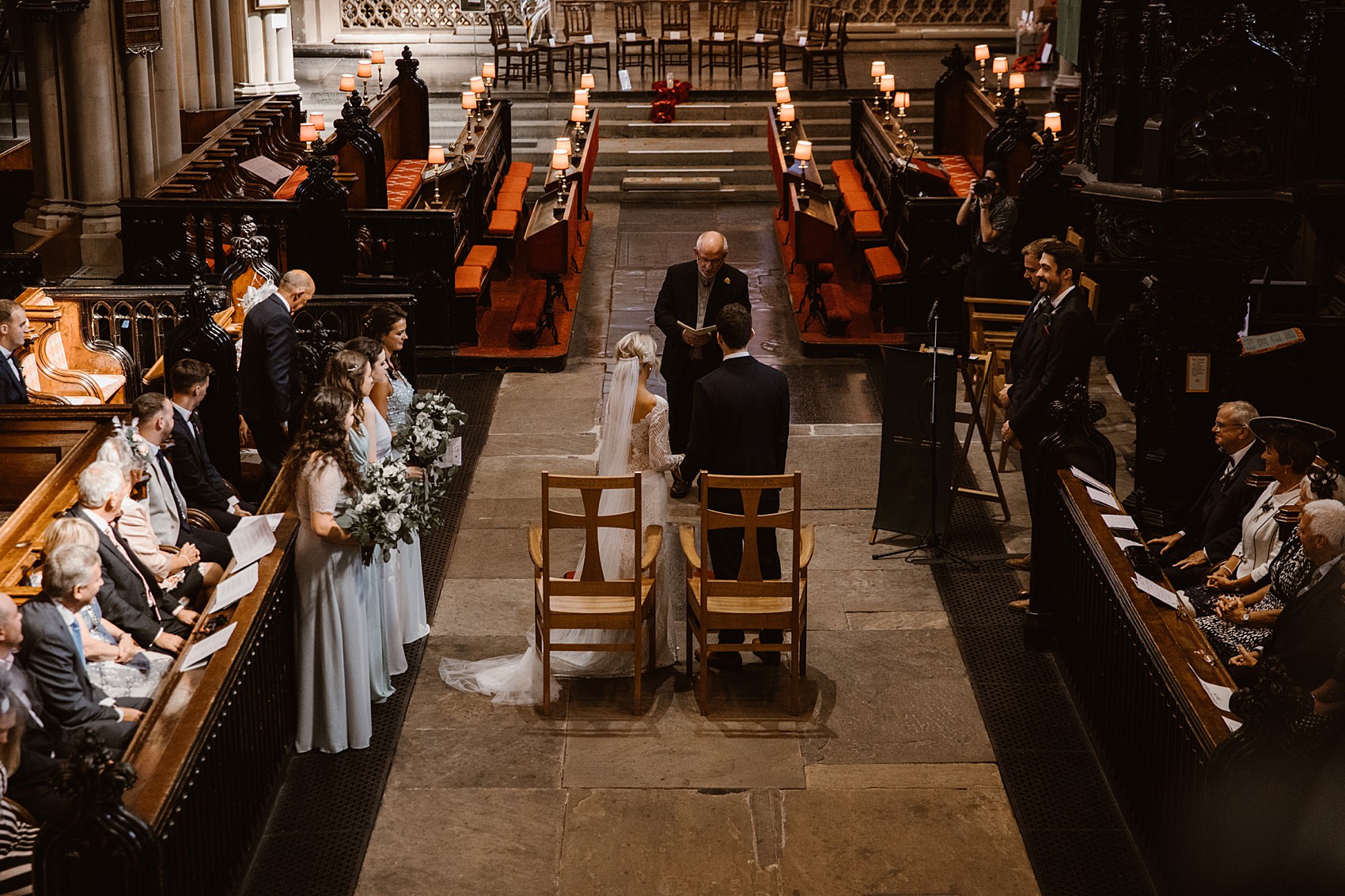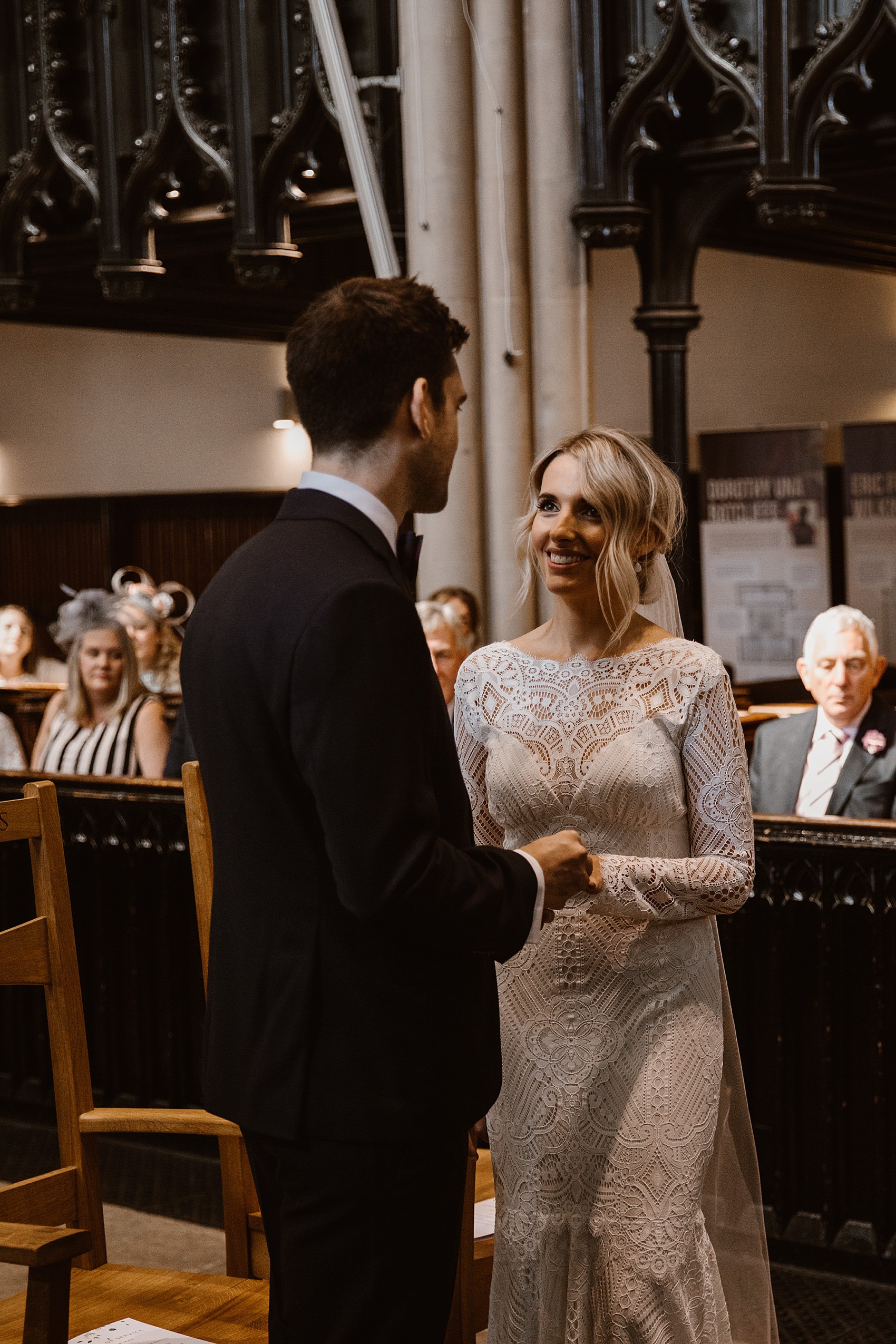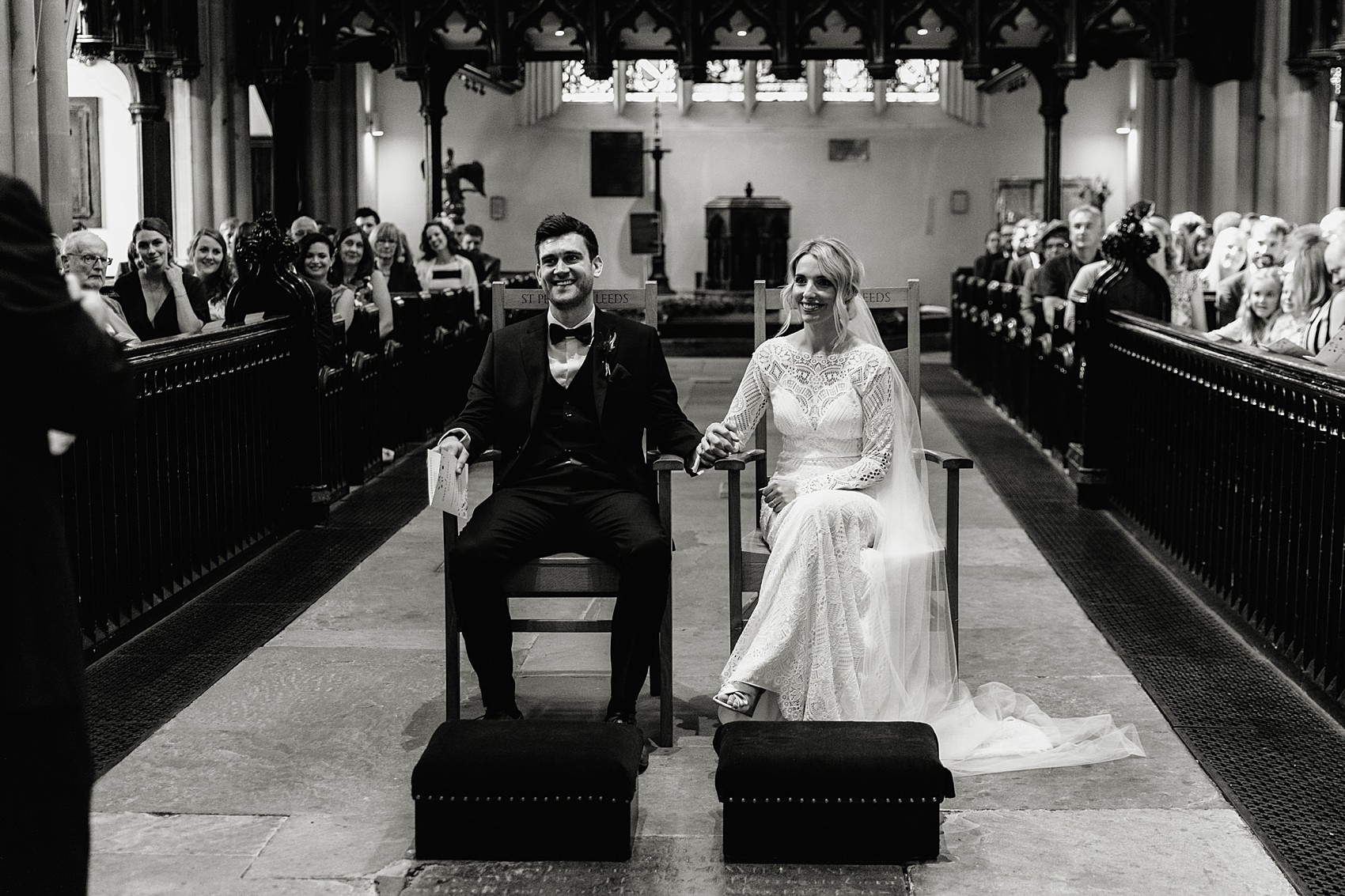 "We walked out to the 'Jurassic Park' theme tune. Andy is a dinosaur geek and the song is surprisingly weddingy!"
"The ceremony was lovely. I just remember walking back down the aisle after saying 'I do' and feeling so, so happy."
On hand to capture the preparations and the celebrations was Agnes Black, whose work we've always loved to share here on Love My Dress.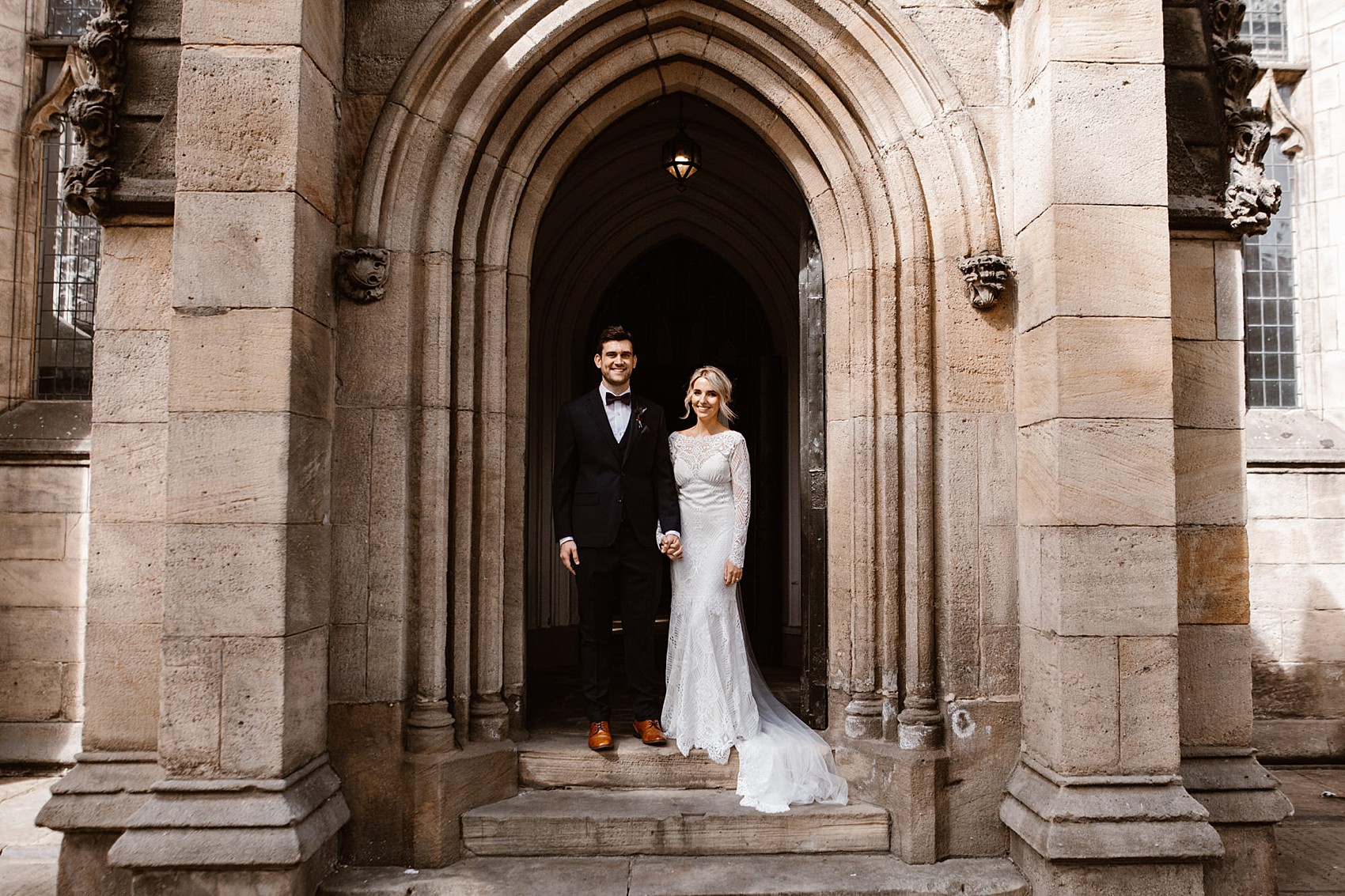 Her signature, documentary style has a cool edgy vibe that is magical (check out those dreamy, romantic portrait shots) and makes such epic use of light and shadow.
"We found Agnes on Instagram and instantly loved her style, especially the gorgeous bridal portraits on her page. I was so happy that she was free on the day and booked her straight away. Agnes was so lovely and really made us both feel at ease in front of the camera."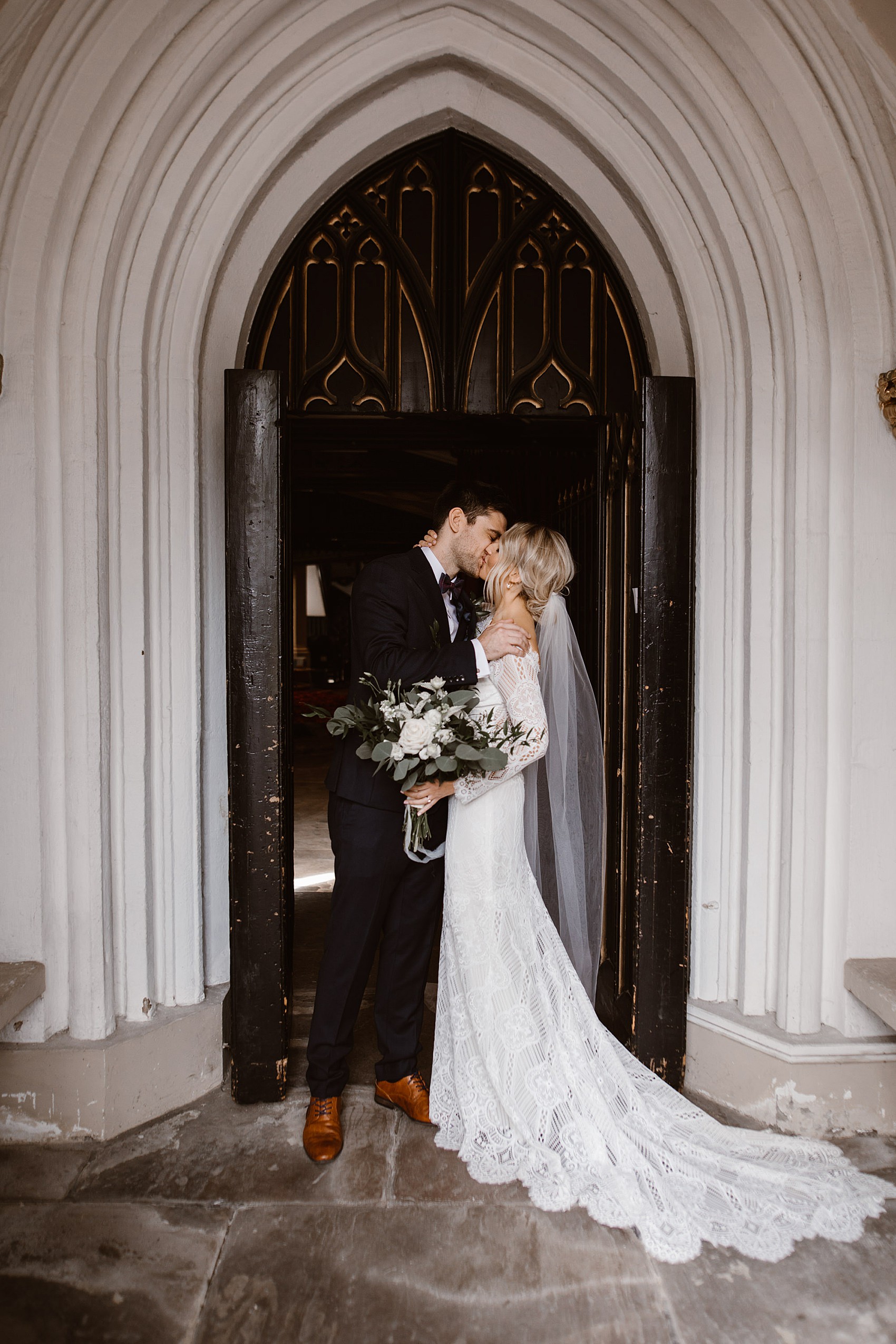 "She also helped to keep me calm when the nerves were kicking in whilst waiting to leave the hotel to go to the church. Agnes brought along a second shooter, Michelle, who shot Andy and the groomsmen getting ready. She was great fun and the two of them made a brilliant team."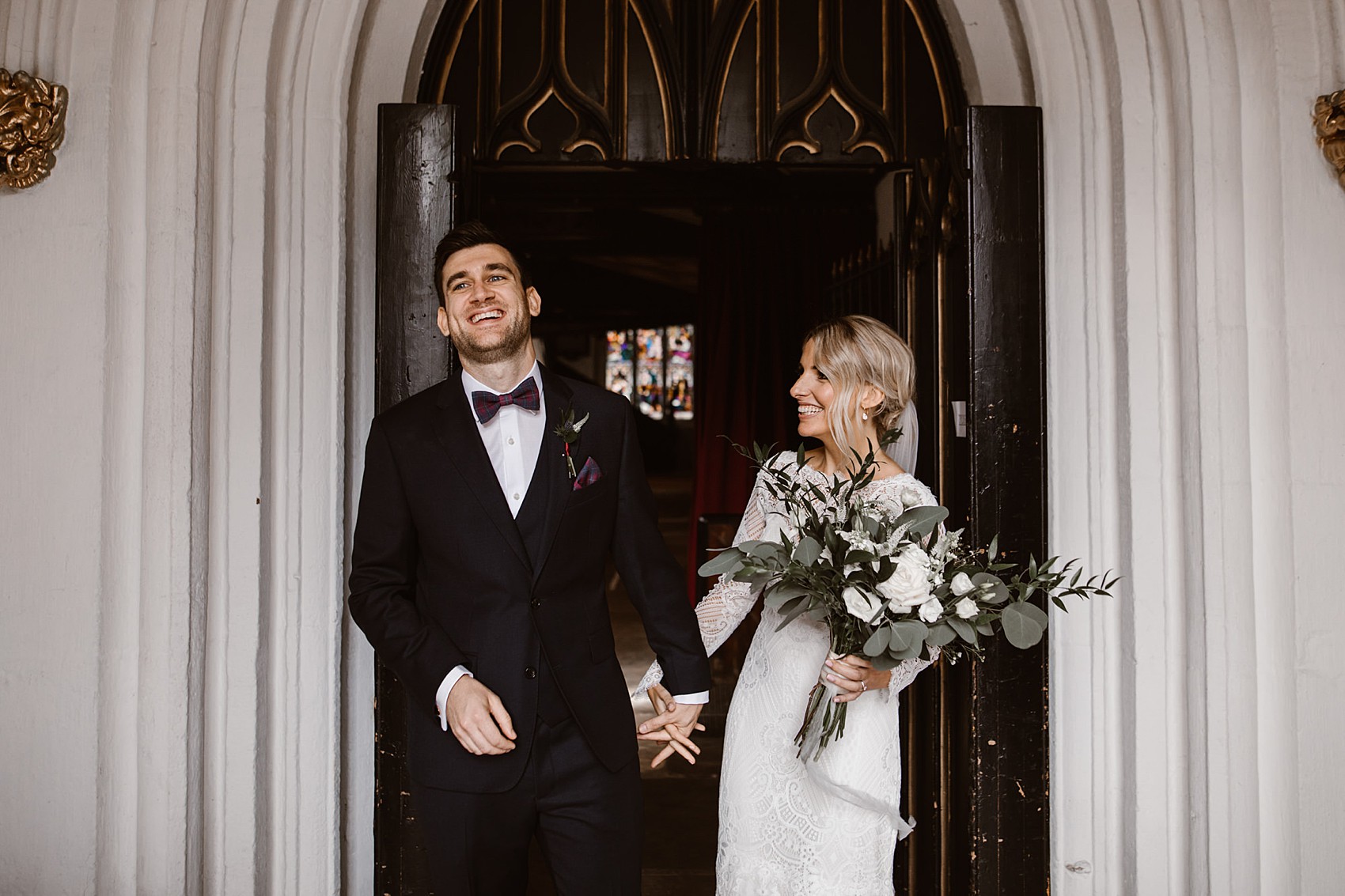 Make up artist Cat Johnson MUA polished the girls to perfection and their relaxed hair-styles were finished off by a few, fresh wax flowers.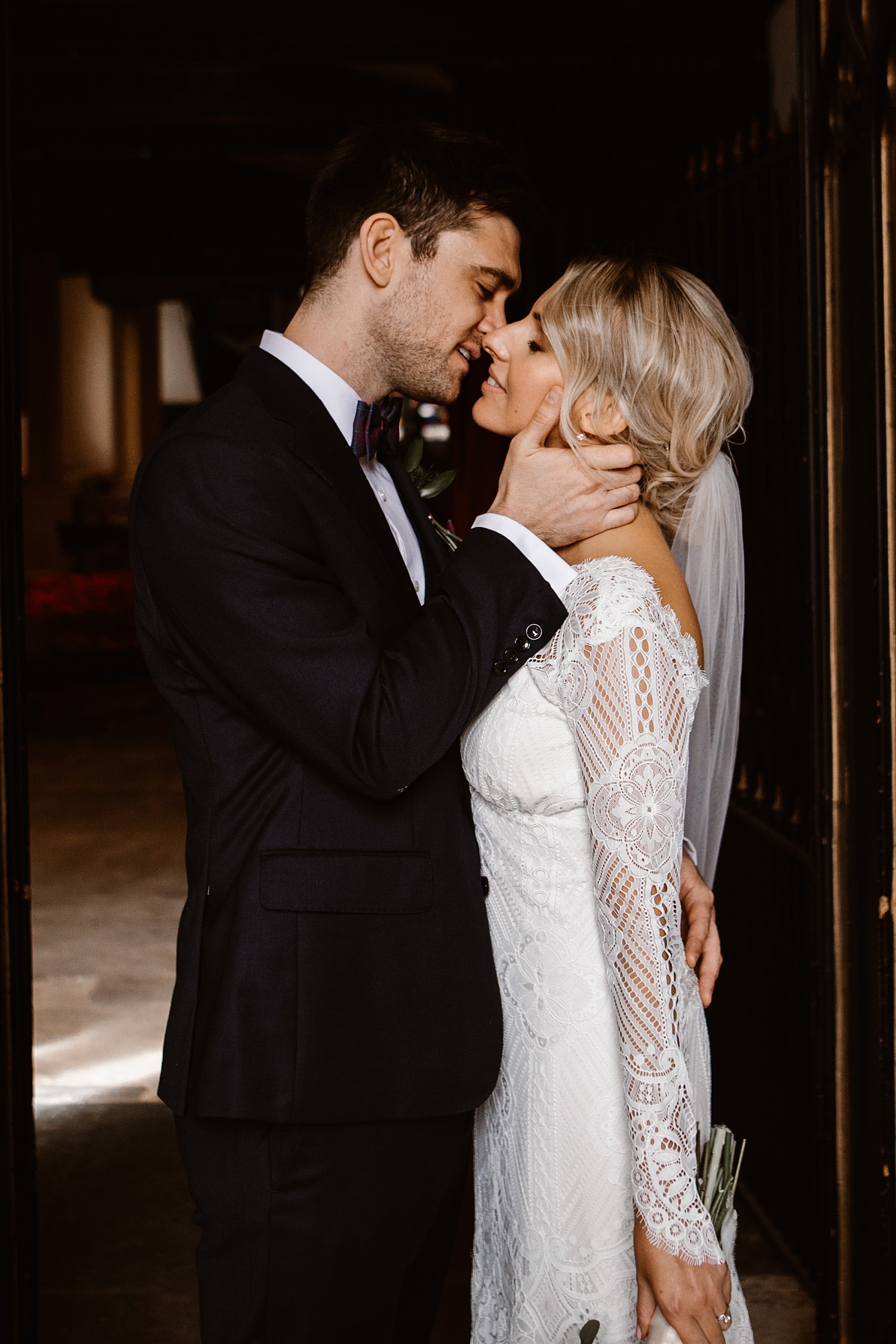 The bride and her bridesmaids carried natural, unkempt bouquets featuring masses of foliage and white blooms, all sourced at Triangle Nursery and arranged by the bride's talented sister-in-law.
"I bought the flowers from Triangle Nursery who were absolutely brilliant. If you're planning on doing your own flowers I definitely recommend them. My sister-in-law is a florist over in America and she created the bouquets and button holes. Under her direction my mum and a few of my friends arranged the flowers for the venue and made foliage hoops to hang from the ceiling."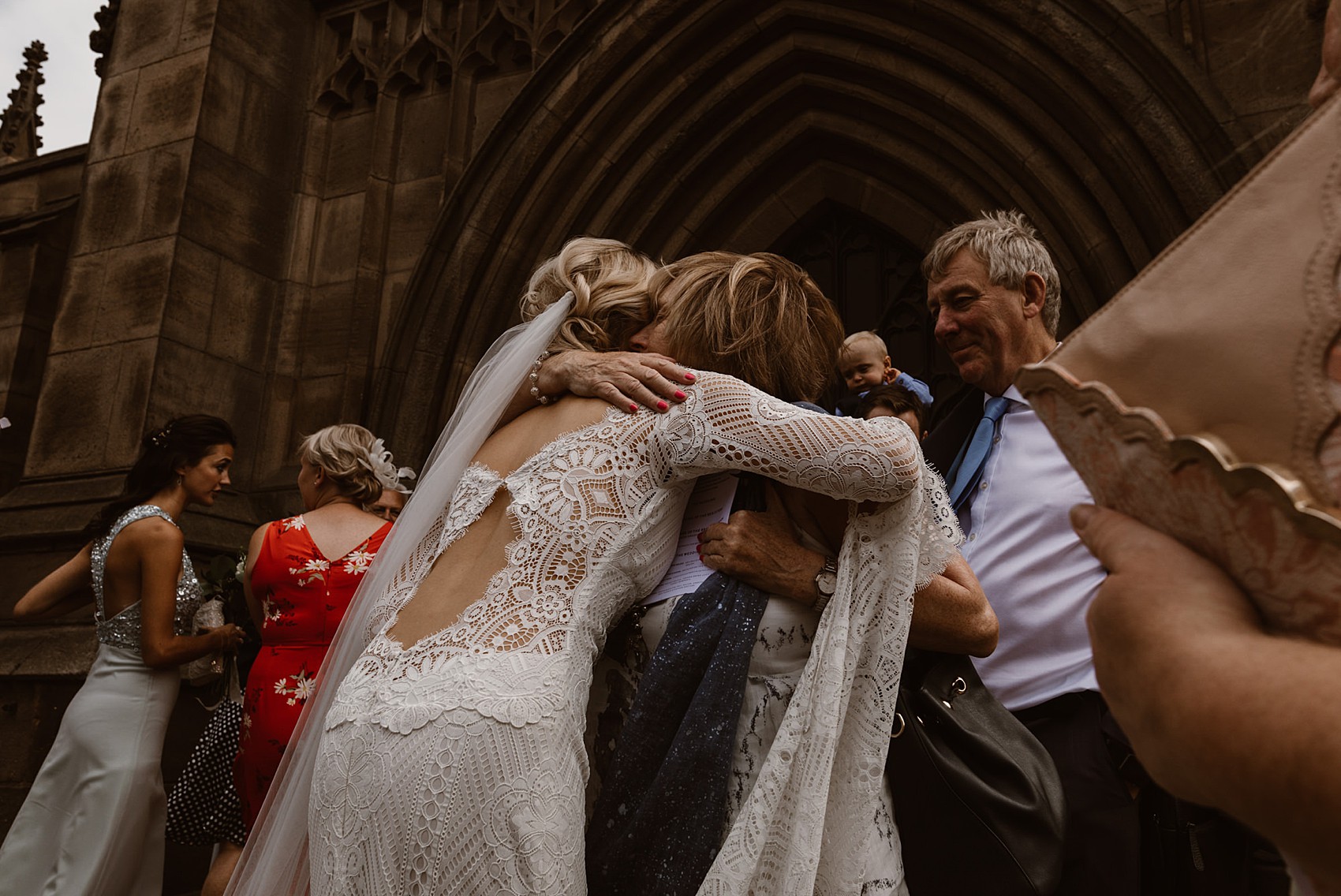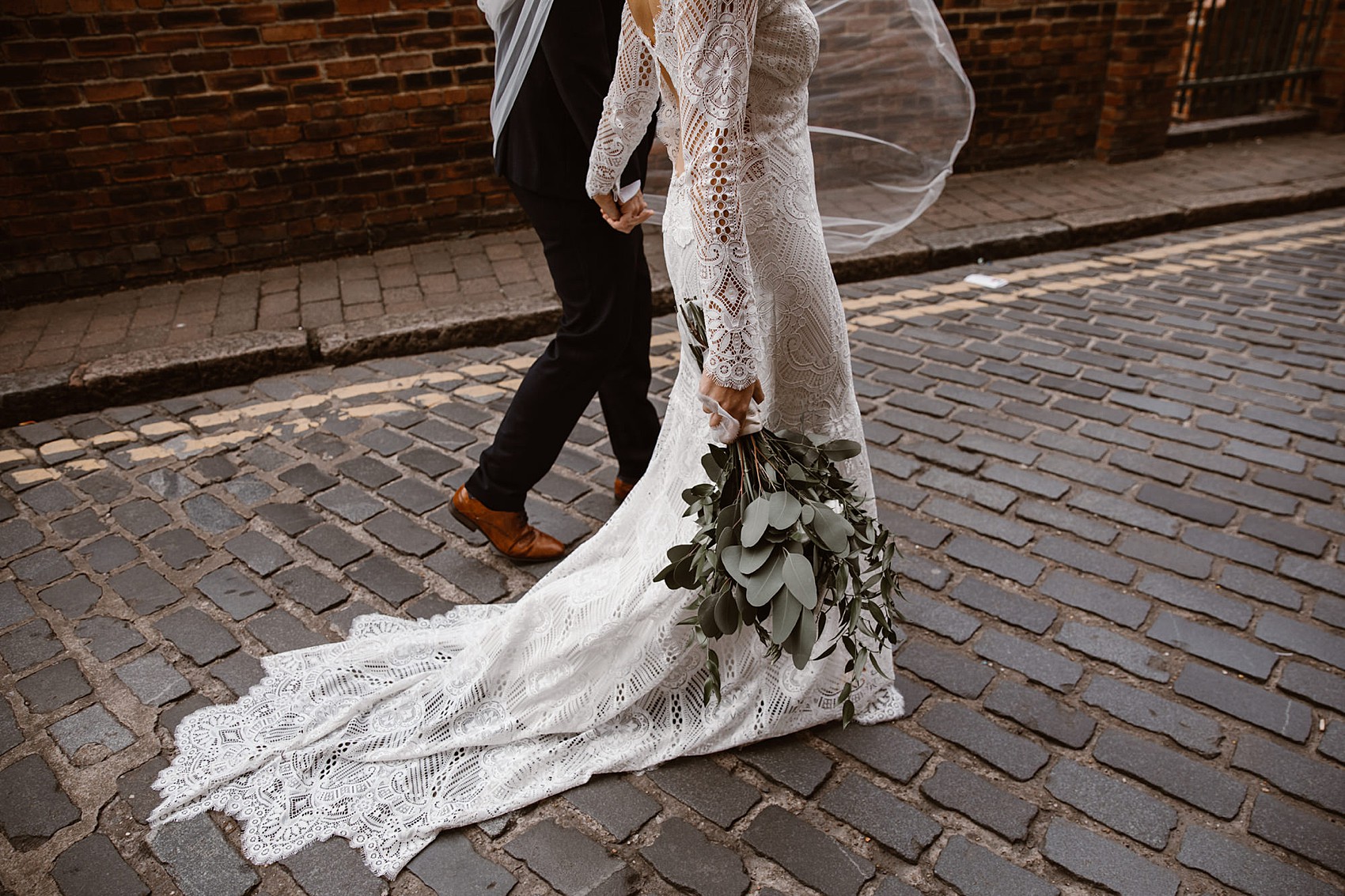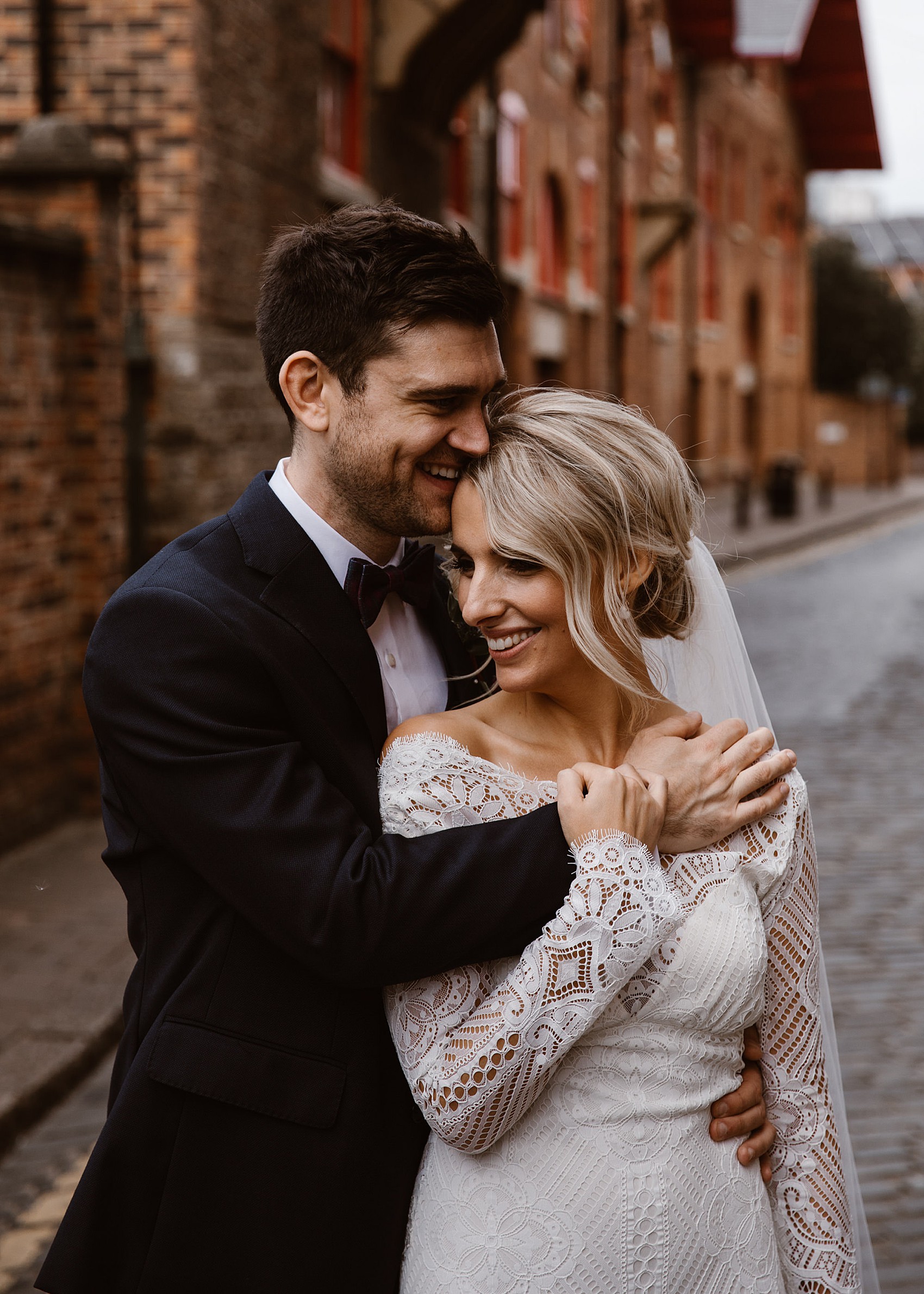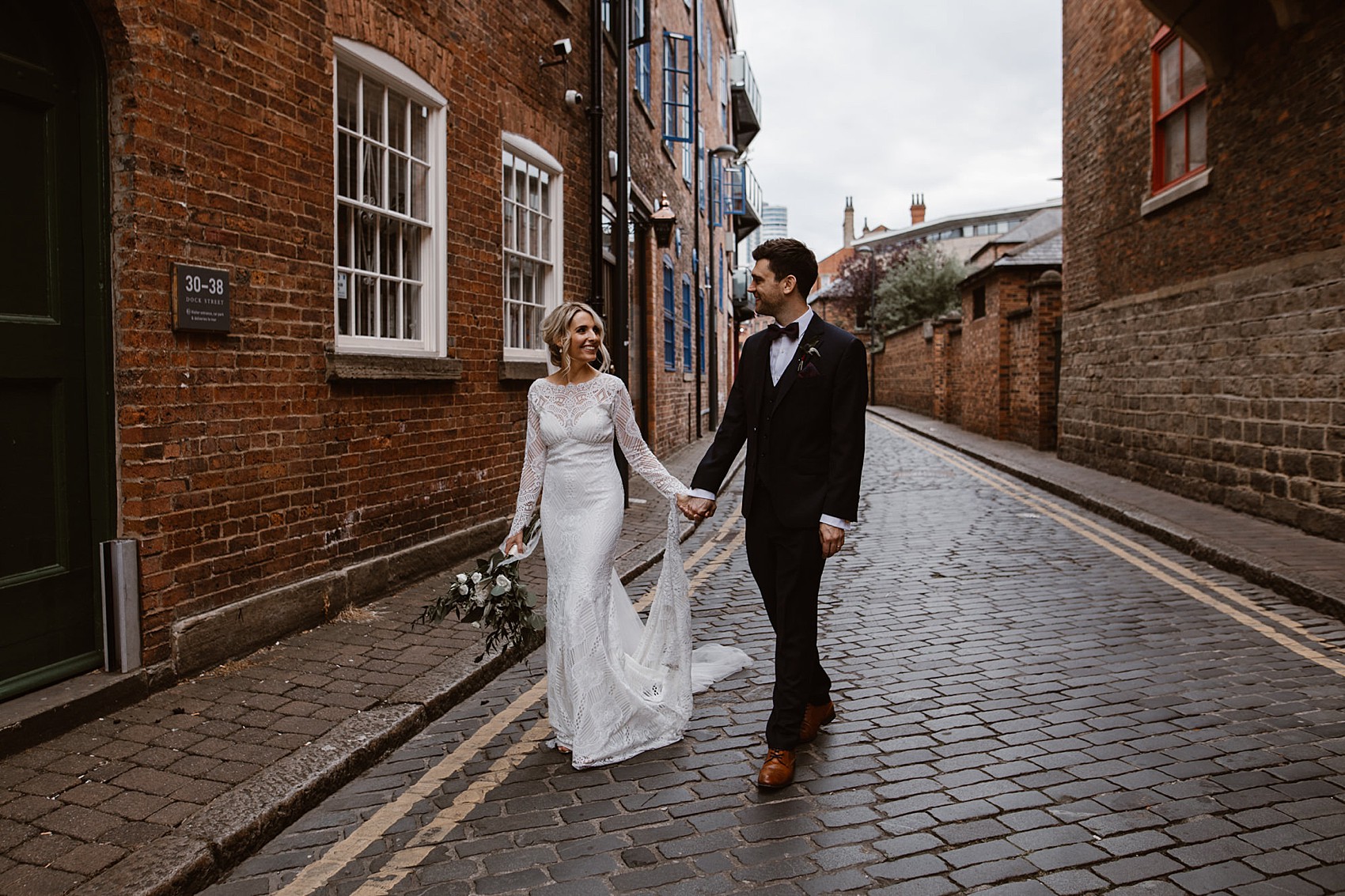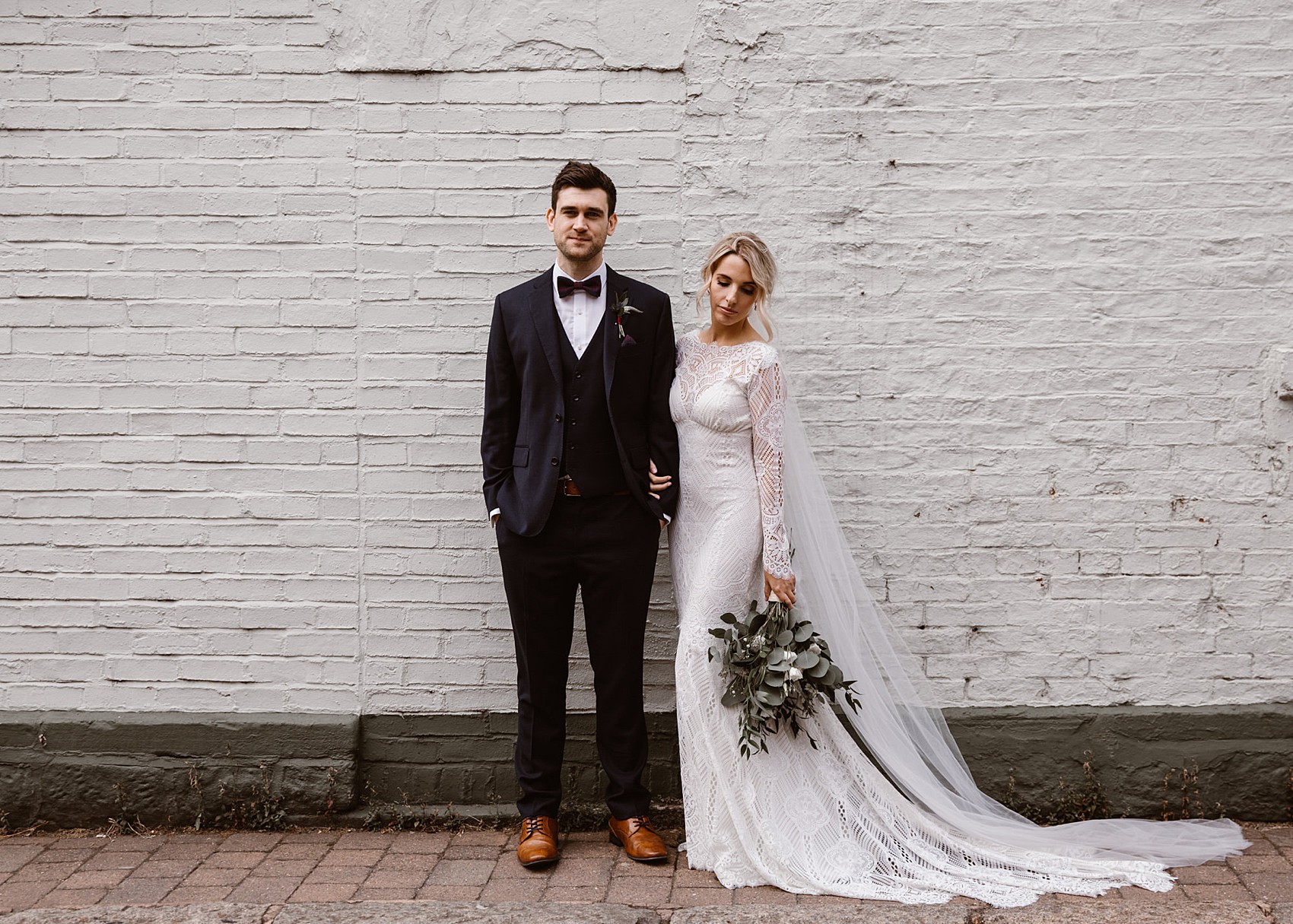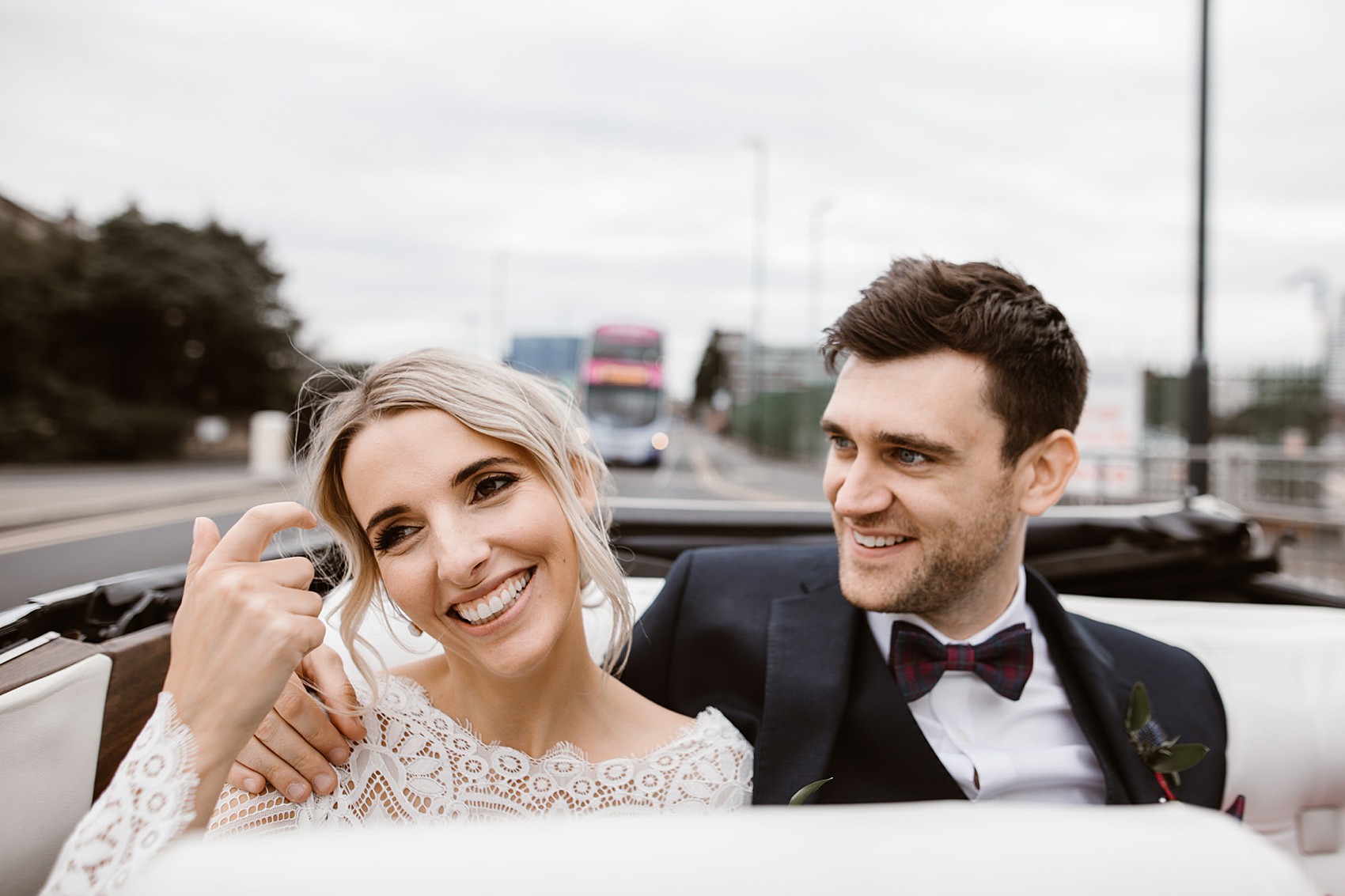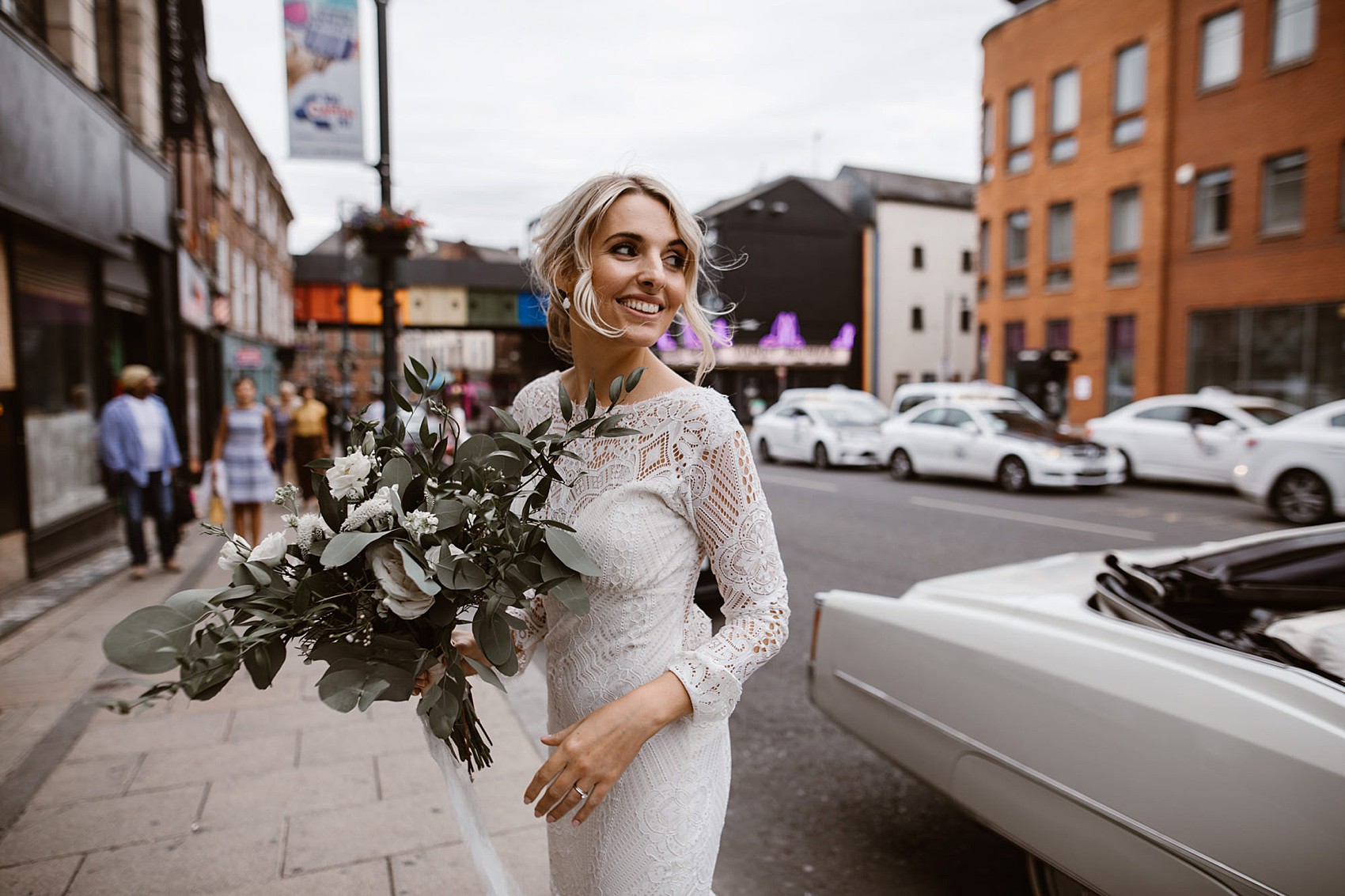 After the ceremony, the newly-weds and their guests wandered through the Leeds city streets to reach Lambert's Yard, which had been decked out with foliage hoops, white flowers and plenty of softly-flickering candles.
"I hired the vintage glass bottles, brass vases and candlesticks and vintage cake stands from a company based in North Yorkshire, Wild At Heart Weddings. We had paper lanterns and giant balloons from Ginger Ray and we hung fairy lights from the ceiling in the bar and dance floor."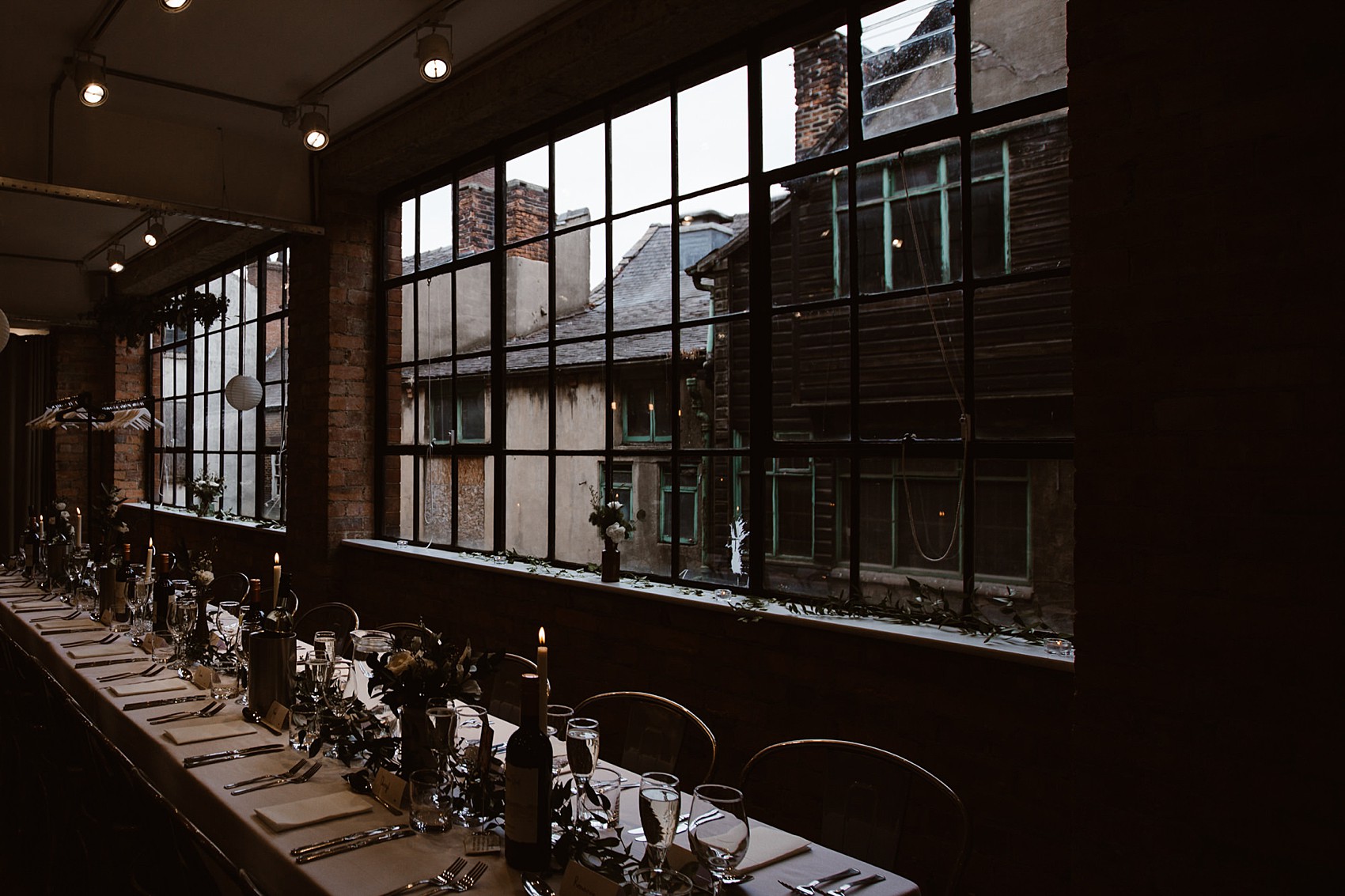 "We also had a games room set up (including beer and Prosecco pong) and a pick and mix sweet table which definitely kept spirits high. We made our own photo booth using a Polaroid Instax camera and the (hilarious) photos were stuck into our guestbook."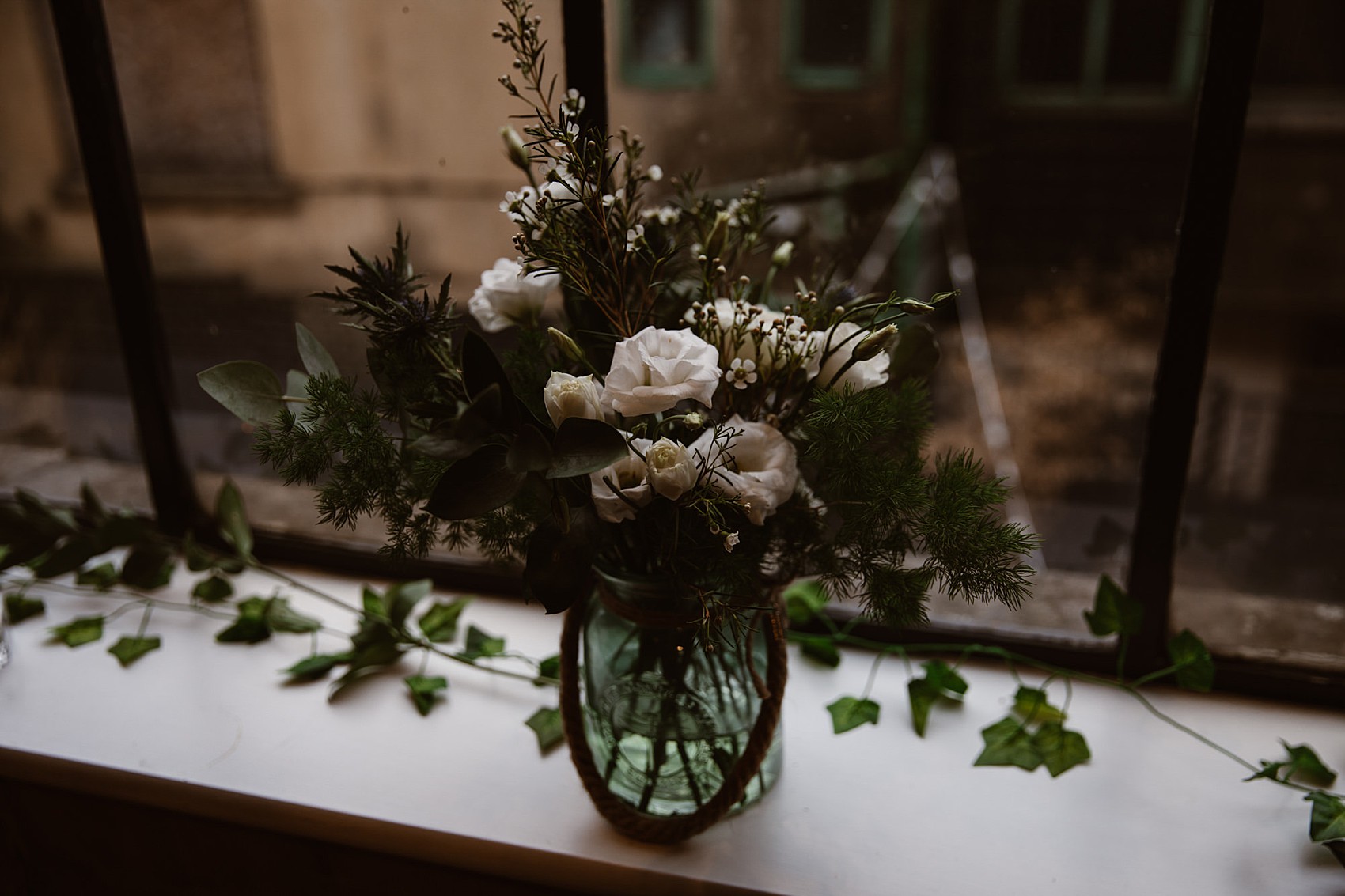 Lambert's Yard provided the wedding breakfast, which was rounded off with home-made cake for dessert.
Throughout the celebrations, York-based band Dysfunktion played.
"We found an eight-piece student band who were so much fun and our guests loved them."
To kick off the evening party, the couple took to the dance floor for their first dance – 'Signed, Sealed, Delivered' by Stevie Wonder.
"Andy isn't really a dancer and felt quite awkward about a first dance. This was the only song we could both agree on as it's up beat and easy to move to."
"How much fun are our friends and family! The atmosphere at the reception was electric and everyone was dancing all night, including Andy's 88 year old granny."
Words of Wedded Wisdom
"Don't worry about other people's opinions or ideas about how a wedding should be. Be true to yourselves and try not to obsess over tiny details."
"Also, take some time during the day for the two of you to stand back and watch your guests enjoying all of your hard work and planning."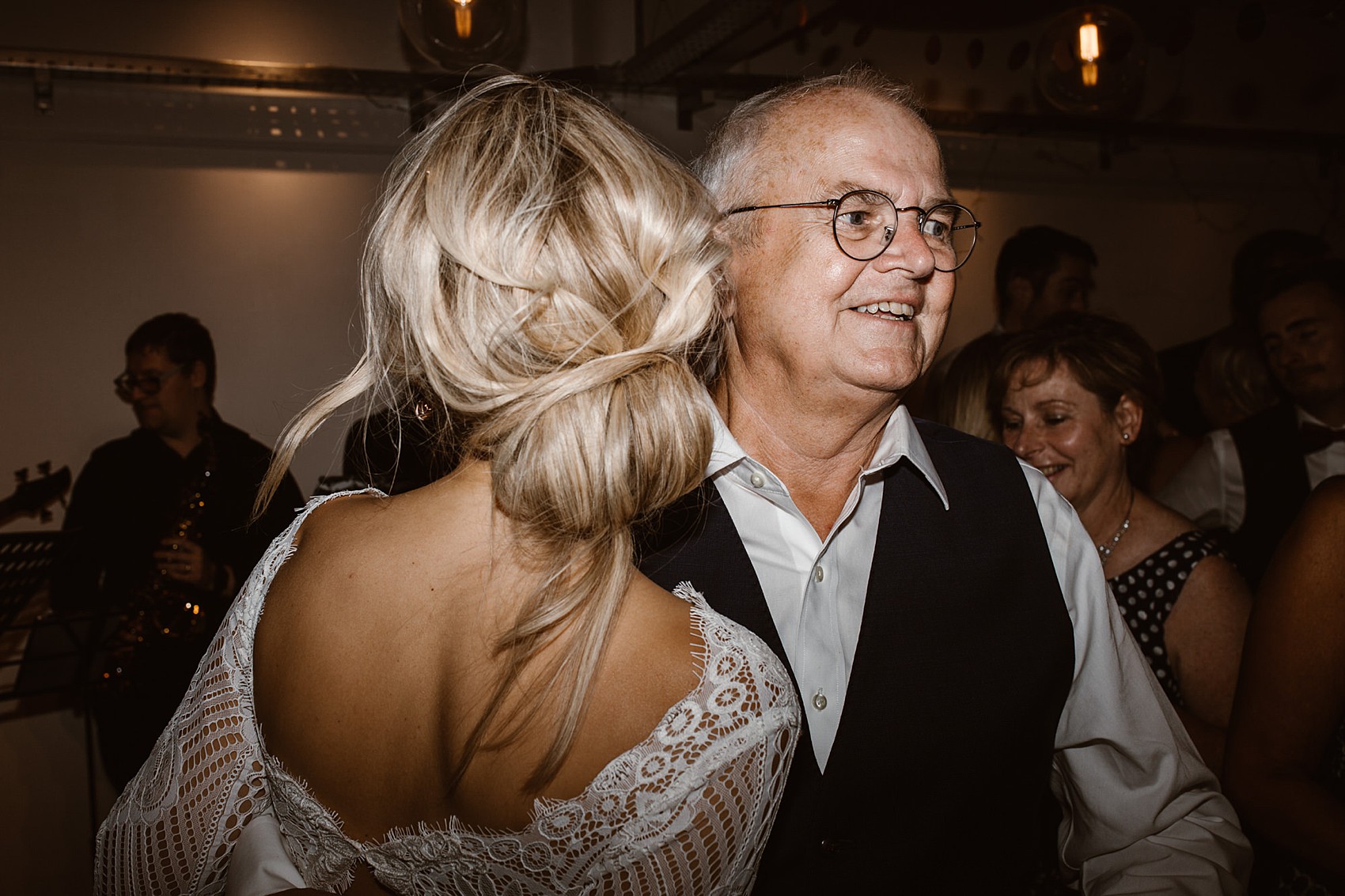 Cat and Andy, thank you for sharing your Leeds City day with us today. What a beautiful venue, and how fantastic to see it transformed by a few simple touches. Thank you too Agnes B, for your wonderful work. Lovelies, if you need more City wedding inspiration then we have many more here for you to delve in to.
Ele xx