Can you believe that March is just around the corner? Spring and warmer weather are most definitely on their way. I'm so excited to share today's wedding with you for three reasons.
Number one, it takes place over a hot, sunny summer; two, it was held in the beautiful Dordogne region of France just a hop, skip and a jump away from where I and my family love to holiday every year; and three, these photos come courtesy of the wonderful Claudia Rose Carter.
Claudia Rose Carter Photography

+ Follow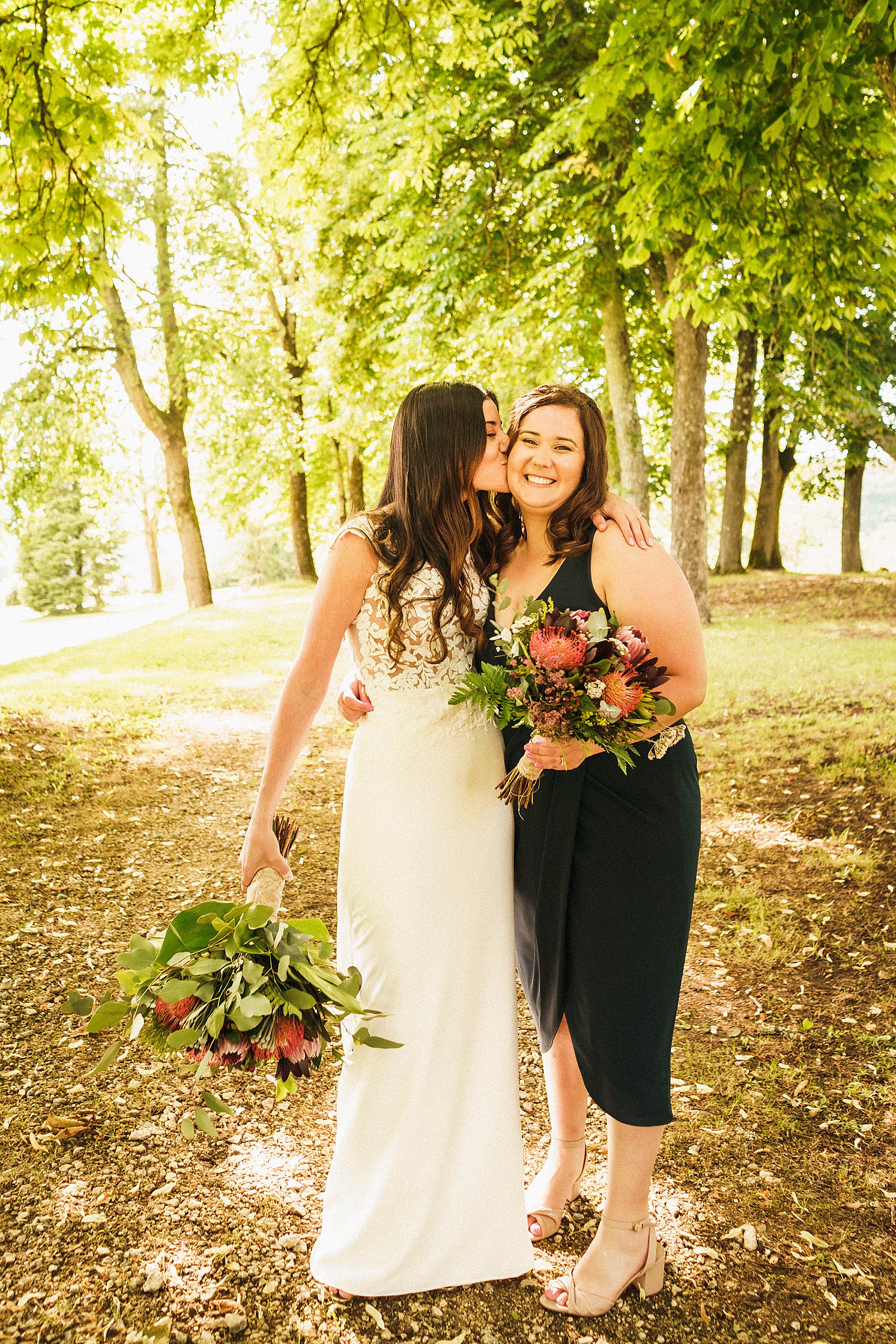 Come with me to Château de Cazenac, Dordogne, France for the outdoor marriage of Kat and Guy on 22 June 2019, who both work as media planners at agencies in London. With their families coming from Australia and England, the couple wanted to spend as much time as possible with their nearest and dearest.
This rural château offered a rustic, spacious location (with incredible views) for their wedding weekend which had just a few nods to Kat's Australian roots.
"I'm Australian and Guy is English so we didn't have the option of a 'local' wedding. It was important that we found a venue that could accommodate our family and bridal party over a weekend. Château de Cazenac was recommended by a colleague at work."
To plan their day from afar, the couple worked with Susan Christie from Marry Me in France and brought Australia to the middle of France.
"Susan Christie was fantastic. Having her there meant that we could simply enjoy the day which is crucial as we'll remember so much more about it in the years to come."
"We briefed our florist on sourcing Australian natives (as much as possible) for the bouquet and table arrangements. We also had eucalyptus-themed stationary and the flower girls wore eucalyptus flower crowns."
Her gold mirror leather, block-heeled, platform sandals were by Jimmy Choo and her fragrance was my own personal favourite, Light Blue by Dolce & Gabbana.
"I've worn this for years and it ticked the 'something blue' box."
In keeping with the rustic elegance of the venue, Kat selected a dreamy, light-weight gown by Delila Fox, featuring delicate floral motifs and a simple silhouette which flows perfectly in to the short train.
"I found my dress when I was last in Sydney, I had tried on a few dresses by that point but nothing caught my eye. A few days before I returned to London we went to Babushka Ballerina."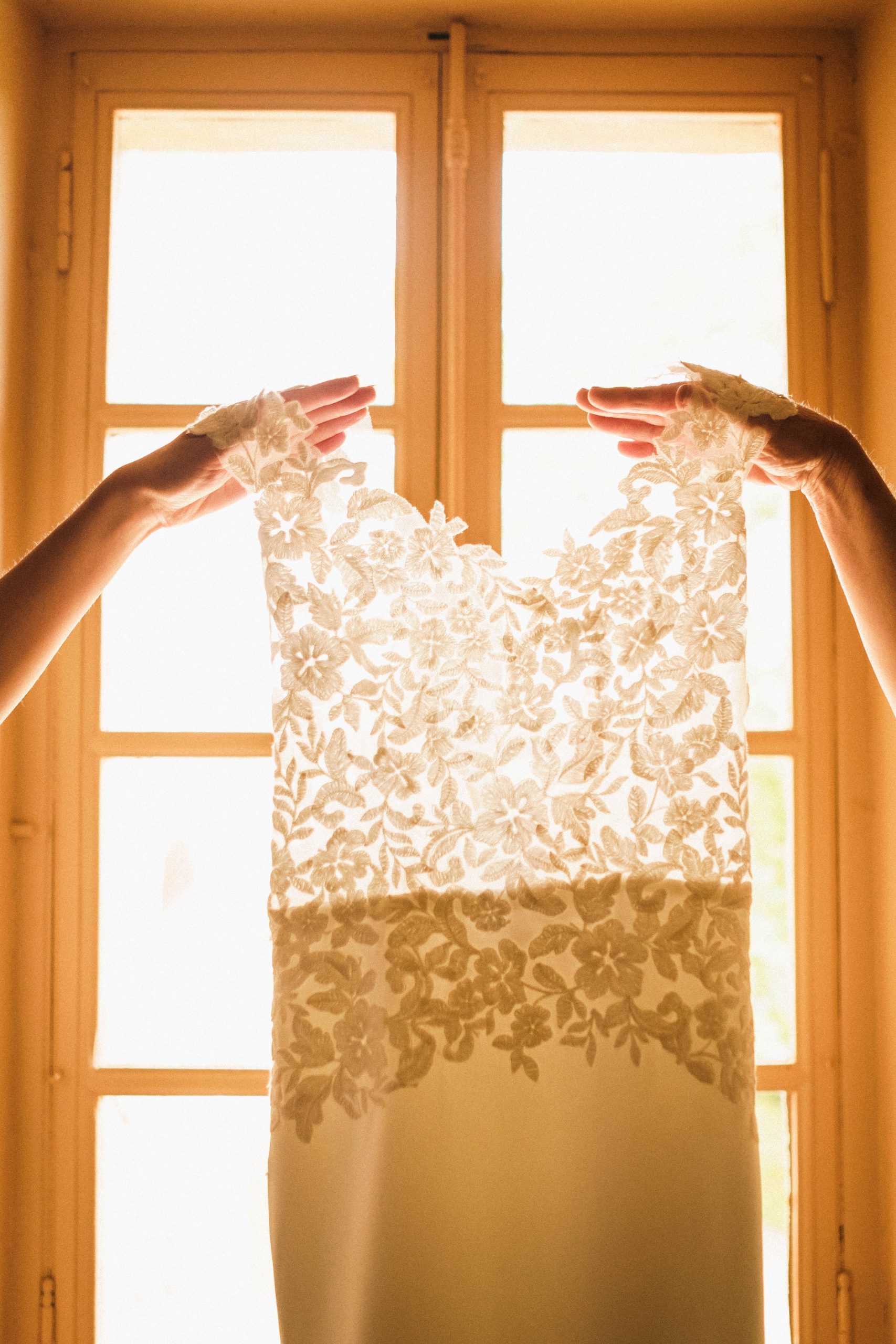 "We were so impressed by their gorgeous range; I could have easily chosen several dresses there. Having my mum with me made the experience even more special. The team at Babushka Ballerina made the whole experience so easy."
"They shipped my dress to London a few months before the wedding and I had my alterations done here. I couldn't recommend them more!"
"After trying quite a few dresses on I knew what I wanted. I was looking for a capped sleeve and low back so it really was perfect. I loved the mix of delicate flowers and crepe; it felt modern yet elegant."
"We had a typical workplace relationship. We met when I moved to London seven years ago but it was two years after this that we started dating."
"Guy proposed on a beach on the south coast of Australia whilst we were visiting my family over Christmas and we were engaged for 18 months."
The couple's ceremony was held outdoors, with the Dordogne scenery framed by a modern, angled arch decorated with more flowers.
The bride walked down the grass aisle with her father, accompanied by 'Moon River' by Frank Sinatra, played by Hicksville Swing. Guy and Kat's celebrant was Claudia Bowen and their vows were tailored to include some personal lines about each other's character.
"Two readings were given; one from the song 'Grow Old With You' taken from the film 'The Wedding Singer' and the other from Victor Hugo's 'Les Misérables'. These were chosen to feel equally quirky and personal to us."
The couple chose their rings, and Kat's engagement ring, at Cheltenham-based jeweller Hannah Kimber.
"Hannah was a recommendation from a friend who had used her before and couldn't speak highly enough about her work. The groom was also very keen to avoid enduring Hatton Gardens and to find something a bit more modern and bespoke."
Each girl carried a beautiful, colourful bouquet of native Australian flowers, put together by florist Angie Steadman at Les Fleurs Coupées.
"Key for the flowers, if we could make it work, was to include a touch of Australia. Angie did brilliantly well to find lots of eucalyptus and proteas, amongst other native Australian flowers, to make up the arrangements."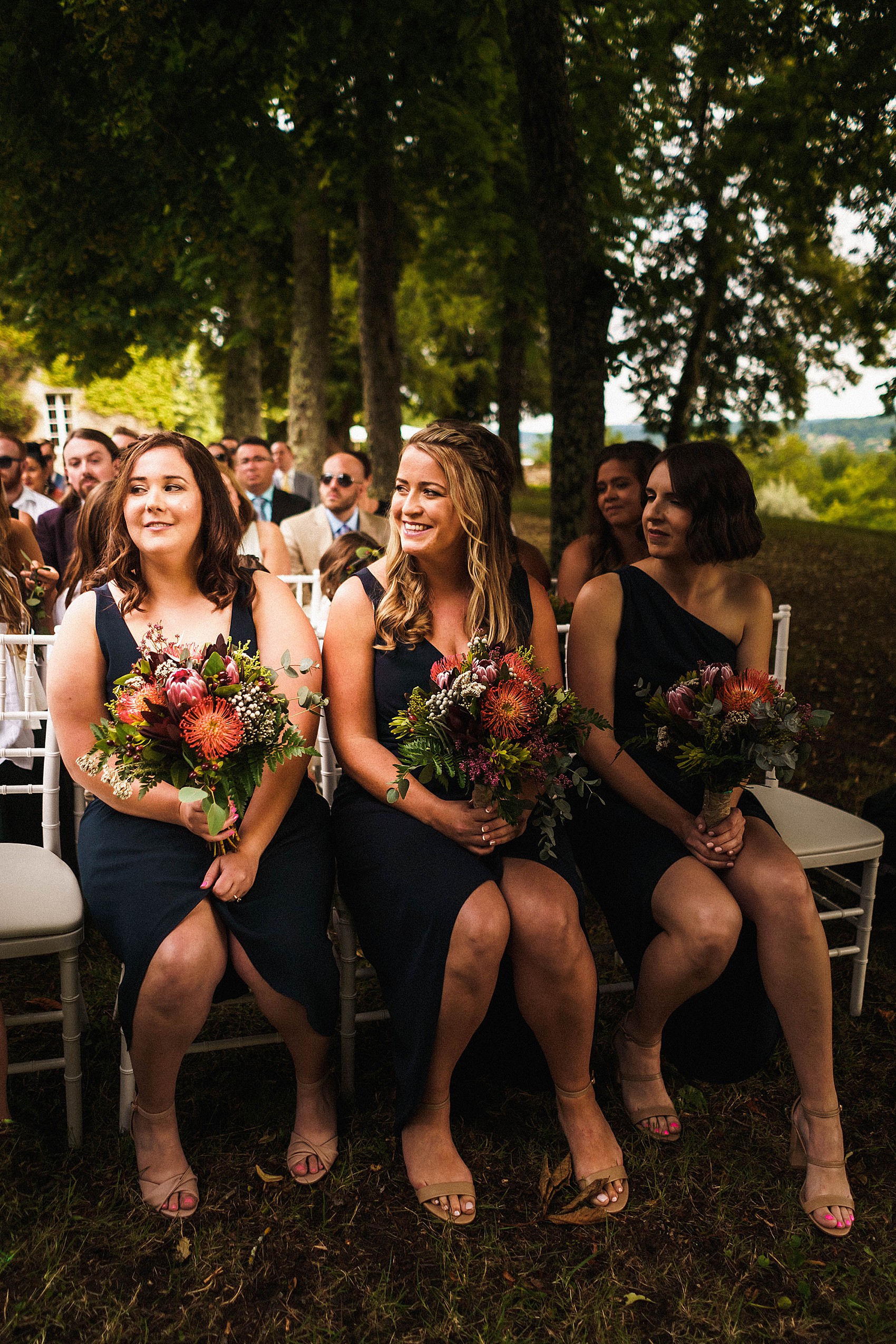 Kat wore a matching, floral-lace edged veil, also by Delila Fox but kept her accessories simple, wearing just pearl earrings borrowed from her sister.
For a quintessential English vibe, Guy selected a summery suit from Reiss, to which he added a tan belt and shoes from Ted Baker, and a statement protea buttonhole. His final touch was a pair of personalised cufflinks with the bride and groom's initials, a gift from Kat. His groomsmen wore matching outfits.
"We wanted suits that looked nicely tailored and suitably modern whilst also being appropriate for the French summer sun."
Aren't these photographs breathtakingly beautiful? Photographer Claudia Rose Carter has captured the essence of rural France to perfection, and added an evocative, romantic touch to all of the ceremony and portrait shots.
We are so proud to count this sensitive, experienced photographer as a Little Book Wedding Directory member, and she has a special engagement shoot offer and discount for all of our readers here.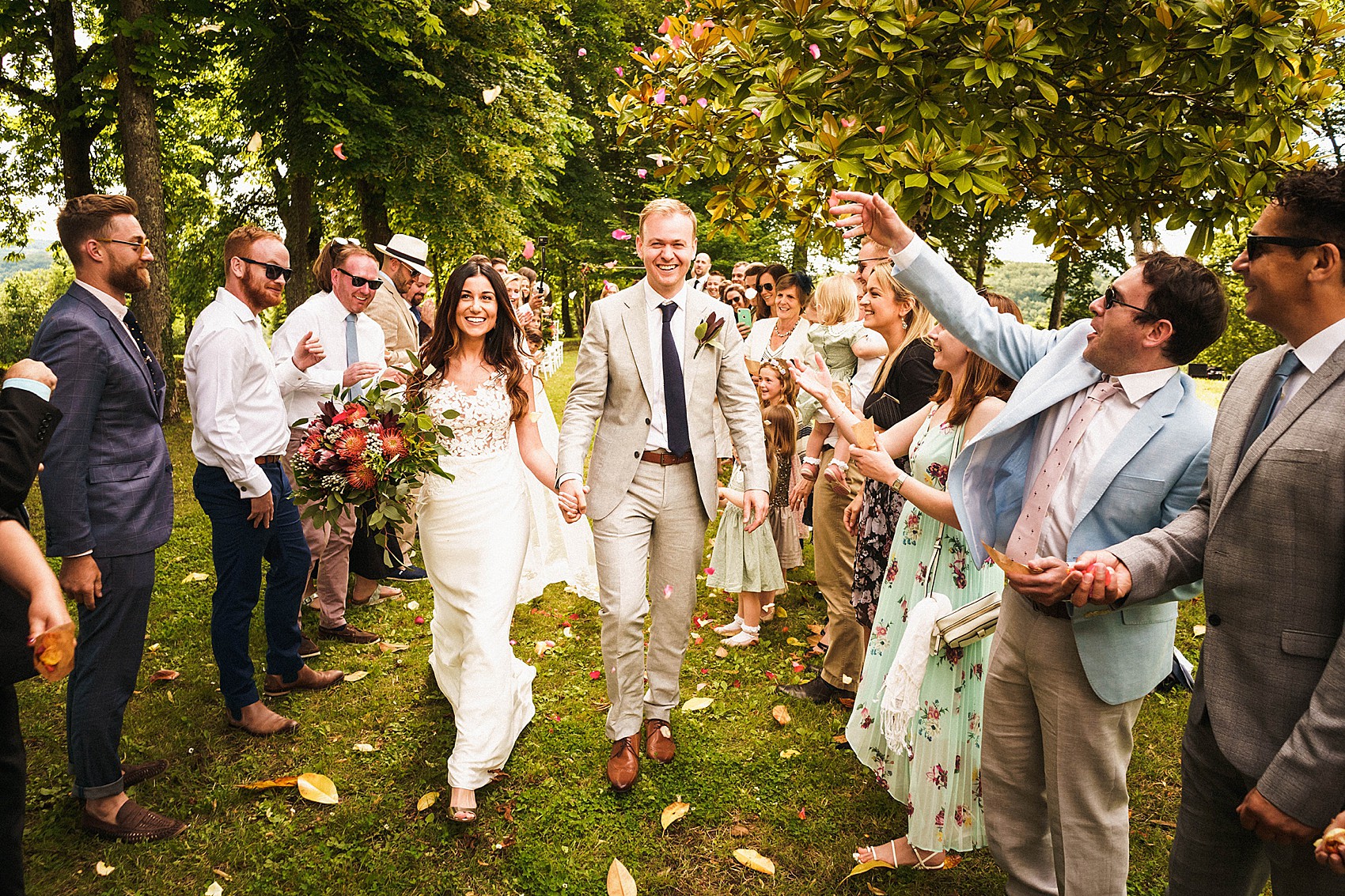 "Selecting the perfect photographer was high on our priority list because we are both awkward in front of the camera. We were looking for someone who could capture the day without it feeling staged or artificial."
"Claudia Rose Carter perfectly answered our brief. She was remarkably inconspicuous but caught every magical moment – both the big and small ones. It's the blend of the two that brilliantly captured the spirit of the day."
Château de Cazenac's beautiful courtyards and terraces were a wonderful place for the outdoor party to get underway, with live music from Hicksville Swing and cool drinks from the gin bar.
"We were very keen to have music throughout the day (both for the service and wedding reception) as well as for the post-meal entertainment, but for that music to feel a bit different from the usual wedding band. George was brilliant to work with, tailoring the playlist to some of our requests. Hicksville drew many comments from our guests, especially as they strolled around the château during the drinks reception."
Echoing the simple elegance of the bride's gown, the bridesmaids dressed in navy wrap dresses from Forever New.
"Forever New is an Australian brand. They all wore the same style but with slight variations on top."
"We were looking for a rustic venue that was beautiful but not too grand. Our first visit sealed the deal; we instantly fell in love with the château and the surrounding region, with its pretty medieval towns, rivers and rolling hills."
The gorgeous June weather meant that the newly-weds and their guests could enjoy the wedding breakfast, provided by Lovage & Pumpernickel, in the château's courtyard. The tables were adorned with table names displayed in gold and glass frames, candles in hurricane lamps, deep green leaves and home-made favours.
"Each guest was given a personalised bottle which contained sloe gin. The wording was 'Drink Me Sloe'."
"Given the wedding breakfast was held outside we had some soft lighting around the inner courtyard of the château, which included some hanging lanterns."
The wedding cake was a tall, pure white creation adorned with fresh summer berries, baked by The Cake Lady, Stephanie Fritchley.
"Stephanie was a recommendation from the wedding planner when we said we wanted an uncomplicated, rustic style. We went for a classic Victoria sponge with three layers – perfect for the summer setting."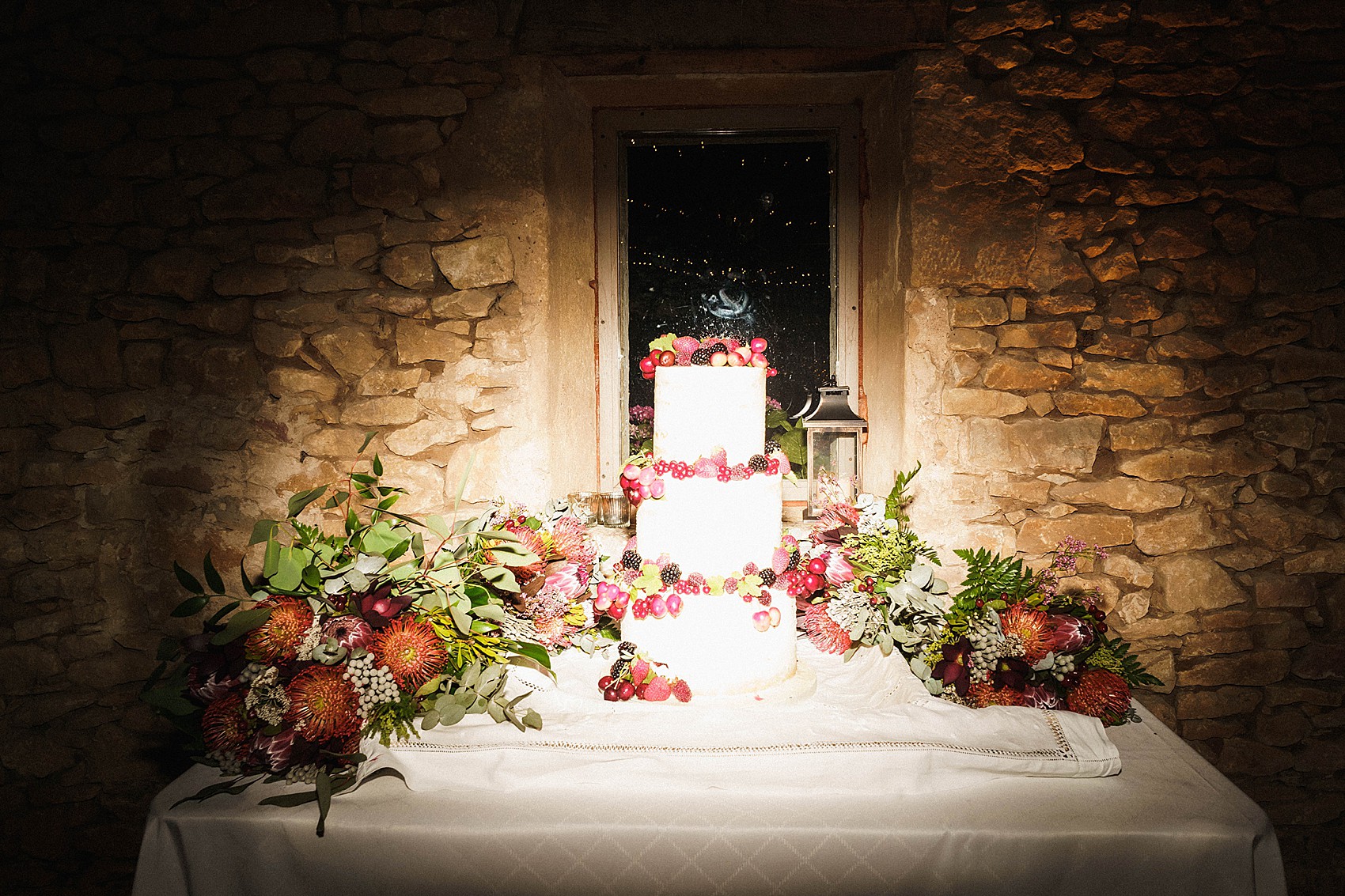 As night fell, the atmosphere was magical with the soft lighting and lanterns. The couple's first dance, to 'Harvest Moon' by Neil Young, kicked off the rest of the evening party.
"We both love Neil Young. It was our first choice."
"It's hard to pick just one moment; Hicksville Swing's strolling afternoon set in brilliant sunshine overlooking the château grounds and valley below, the gin bar, our first dance under the stars, our nephews and nieces carving up the dance floor, blaring Australian power ballads at 2am. We wouldn't have changed a thing."
Words of Wedded Wisdom
"It's easy to get overwhelmed by the small details but ask yourself whether people will actually care. Put effort into a few big things that matter most to you; it's your wedding after all! For us it was the venue, food and drink and music."
"We were also thankful that we found a fantastic photographer – your wedding album is how you'll relive the cherished memories of your day."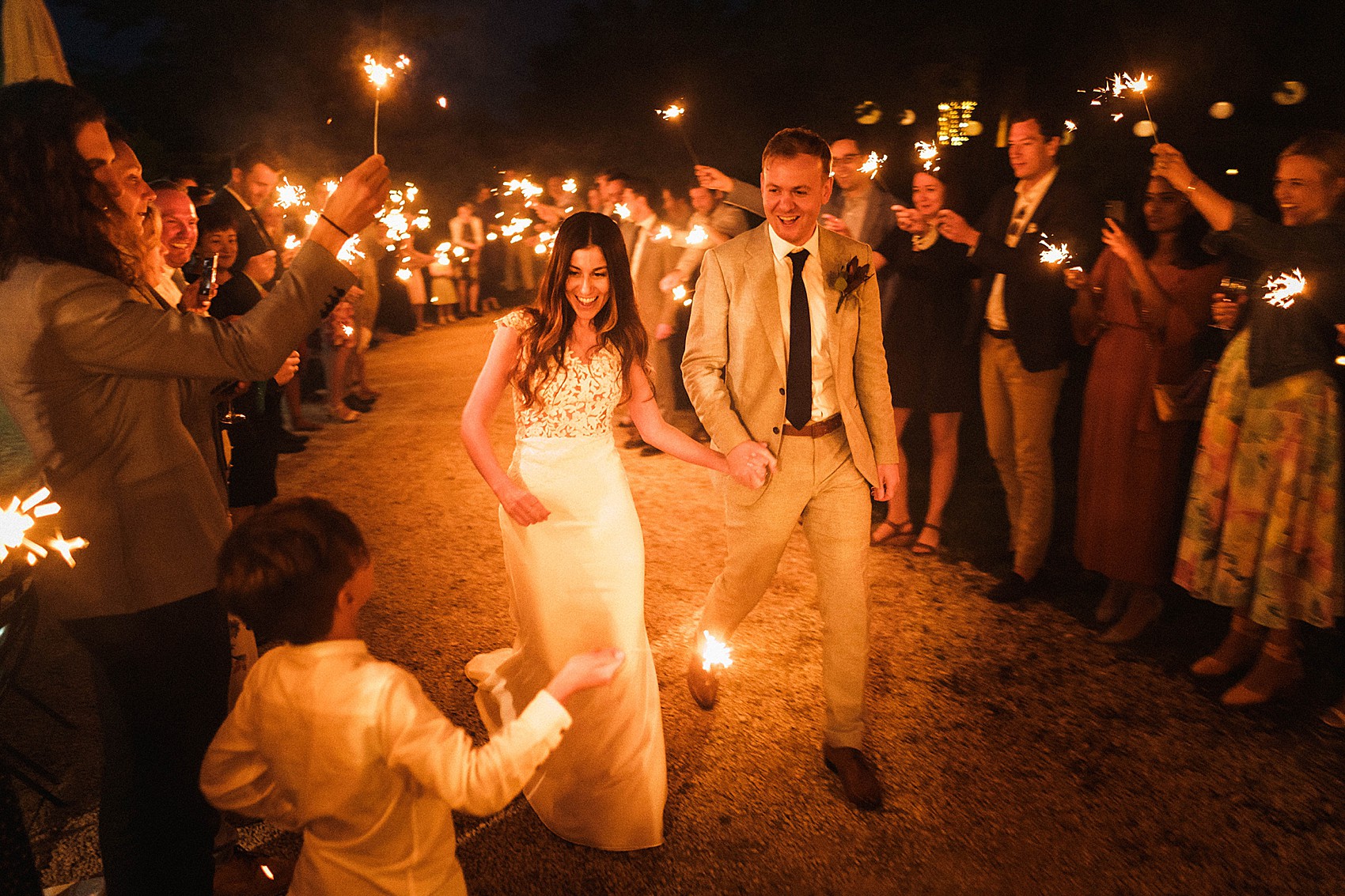 Kat and Guy, what a beautiful, relaxed wedding weekend. Thank you and congratulations to you both. Please also join me in sending thanks to photographer Claudia Rose Carter for her always-beautiful, romantic images.
For more French Château wedding joy, I invite you to soak up these other Love My Dress weddings.
Ele xx