If you're a fan of the rather lovely River Cottage in Devon, then you're going to love today's foodie celebration, because that's where it all took place.
If you're also possibly planning a wedding in a short space of time, then do read on for some excellent words of advice and reassurance on how it can be done. On the 28 July, Sustainability Consultant Claire married her love James, a Barrister, in a wonderfully relaxed, fun day spent at Hugh Fearnley-Whittingstall's River Cottage, Devon.
Nova Wedding Photography

+ Follow
Claire's elegant dress, with its sweet, scalloped lace bodice and capped sleeves was by French designer, Laure de Sagazan, and she discovered this beauty at the brilliant Mews Bridal Notting Hill.
"They could not have been more helpful, and their boutique in Notting Hill was an absolute treat to spend time in. I would 100% recommend."
"It was the first dress I tried on! I love the fact that I felt like 'me' in it, and having looked in a few bridal magazines in the weeks beforehand, I thought this might actually have been impossible to achieve! I did try on others of course, including in a couple of different boutiques, but I came back to the first one, which I still absolutely love."
I love the dramatic low V back and row of buttons running all the way down the skirt, too – just lovely.
Claire carried a beautiful hand tied bouquet of seasonal blooms, including garden roses, scabiosa, campanula and sweet peas; made by the talented Charlie from The Real Cut Flower Garden.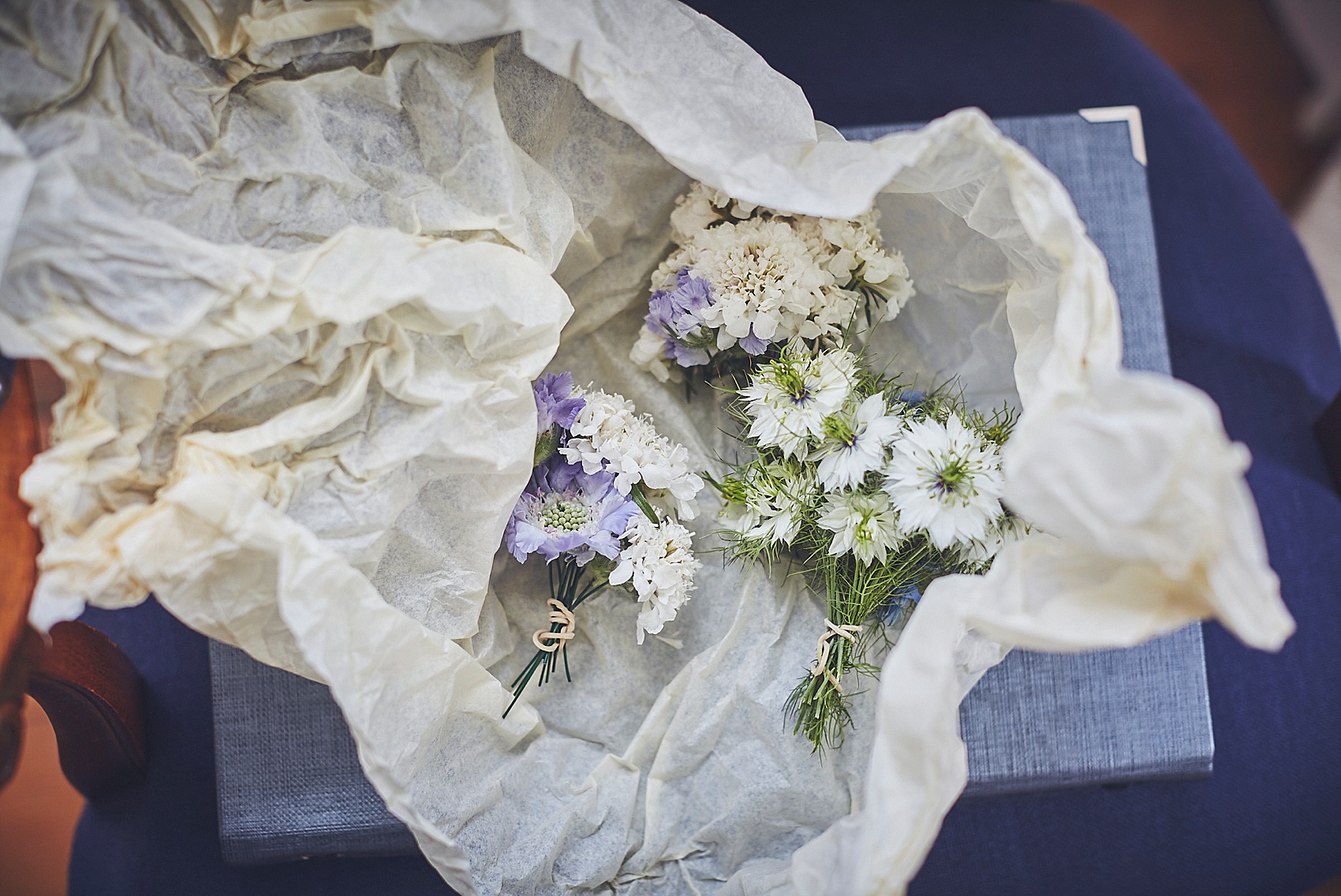 "We really loved the idea of a barn wedding in the countryside. As much as we love London, we also love leaving the city behind. We wanted a relaxed and fun day, and River Cottage could not have been more perfect!"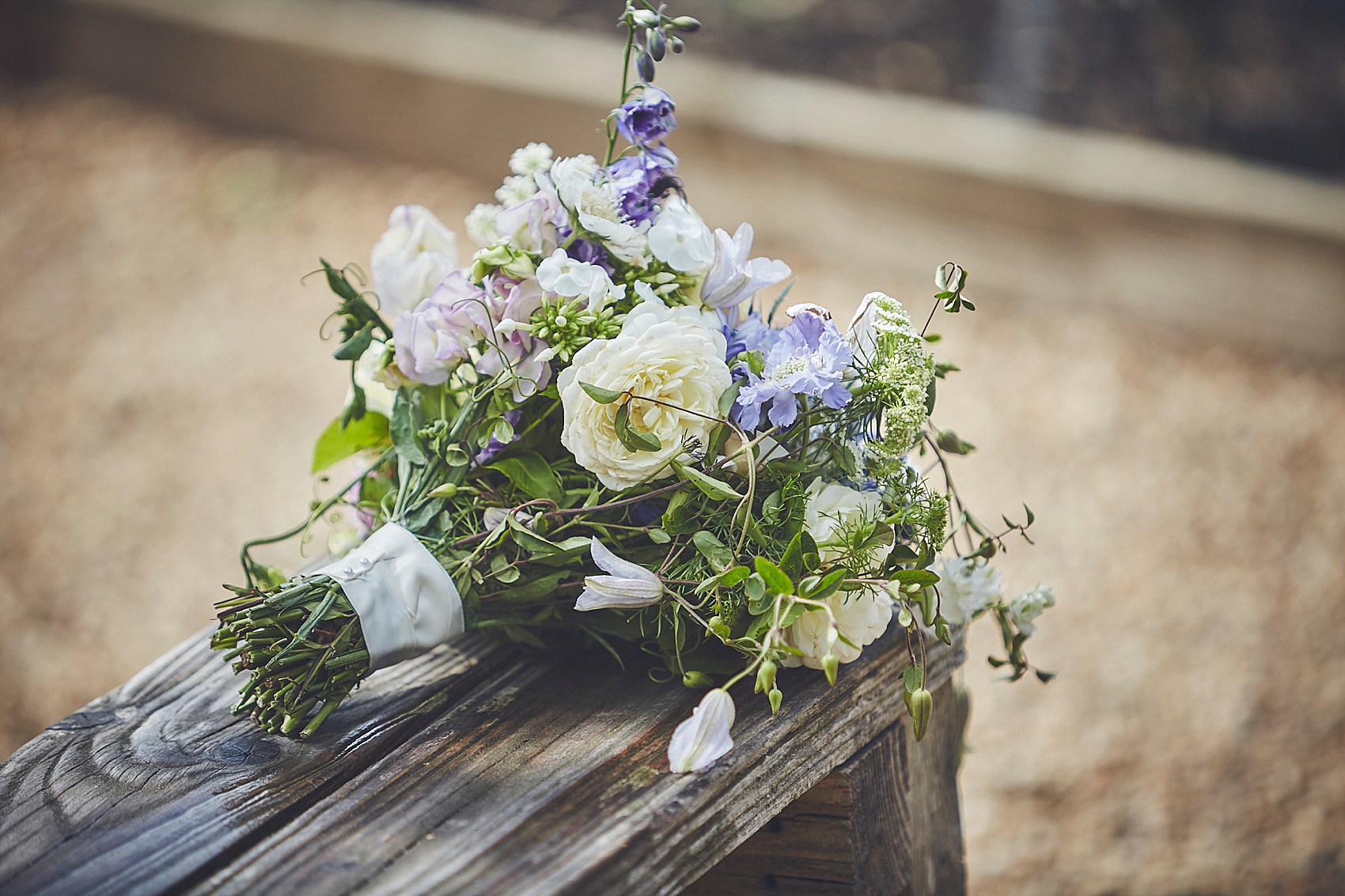 Claire's make-up was done by one of her best friends, and her hair was styled at Aveda salon Robin James, and adorned with fresh flowers, including bright blue love-in-a-mist.
"I wore diamond earrings from Tiffany & Co.; a present from James, which I opened on the morning of the wedding (and which reduced me to floods of emotional – happy – tears!). My bracelet was borrowed from my sister, and she wore it on her wedding day, too."
The bridesmaids wore dresses in a vibrant cornflower blue, which were handmade by Carley at Violet & Bean. They looked lovely worn with simple ballet pumps from Next, fresh flowers in their hair, and initial necklaces from Not On The High Street.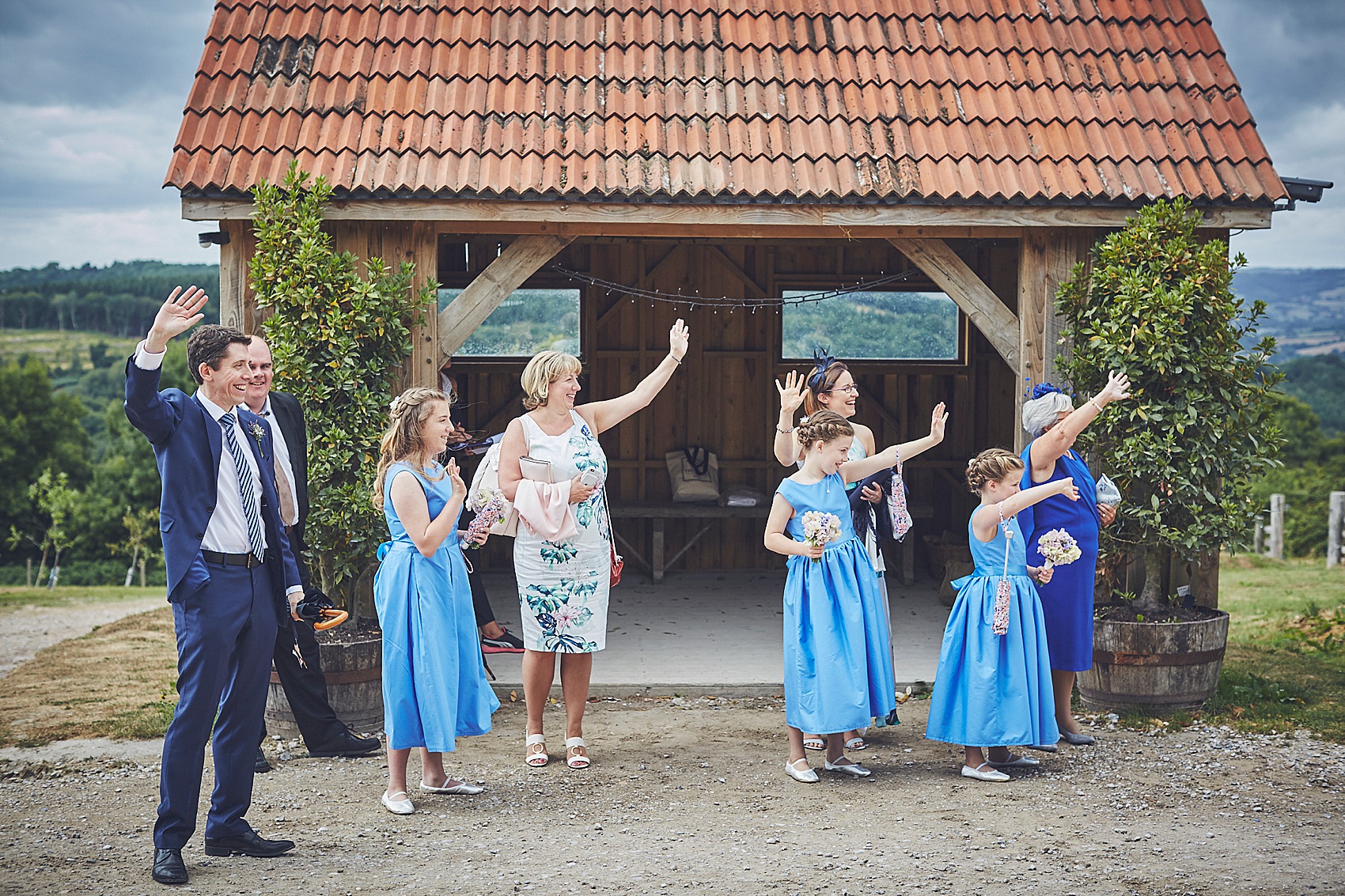 "The Coastal Trail Series run takes place in December, so originally we were looking for a barn wedding venue in the vicinity of Lulworth Cove, where the run starts and finishes, thinking that we could do the half marathon trail run in the morning, with as many guests as we could convince to join us, and then get married in the afternoon (sometimes we have funny ideas!)."
"We came across River Cottage, and although they weren't available on the day of the run in December (possibly a blessing in disguise), they happened to have one Saturday free in July, so after a quick ring around to make sure our families were free, we jumped at the chance to book it."
"We immediately loved the venue for its relaxed feel in the middle of beautiful countryside, plus the fact that Claire in particular is a bit of a foodie. Neither of us are from Devon, but we were drawn to the area by a coastal trail run that we wanted to do."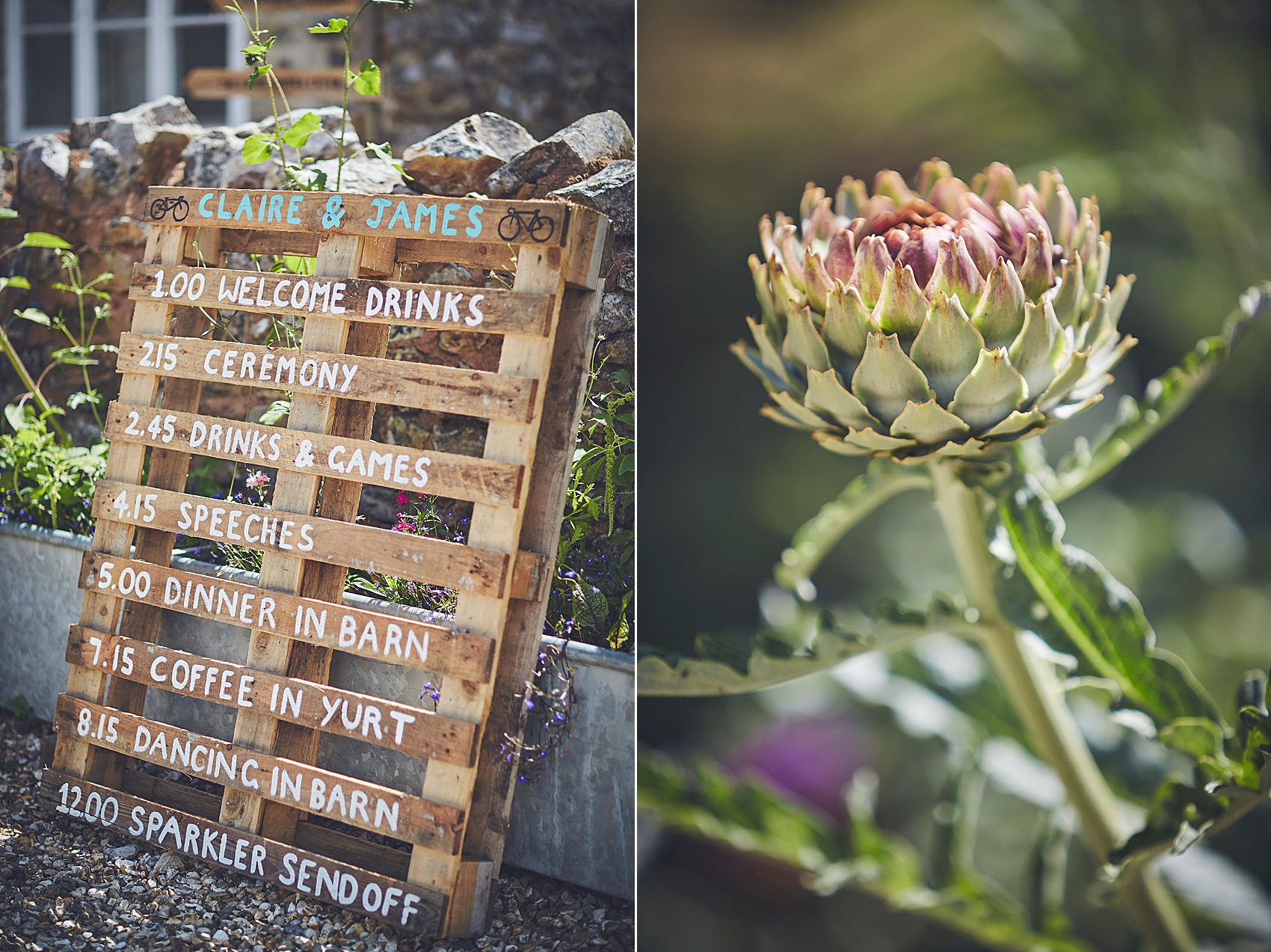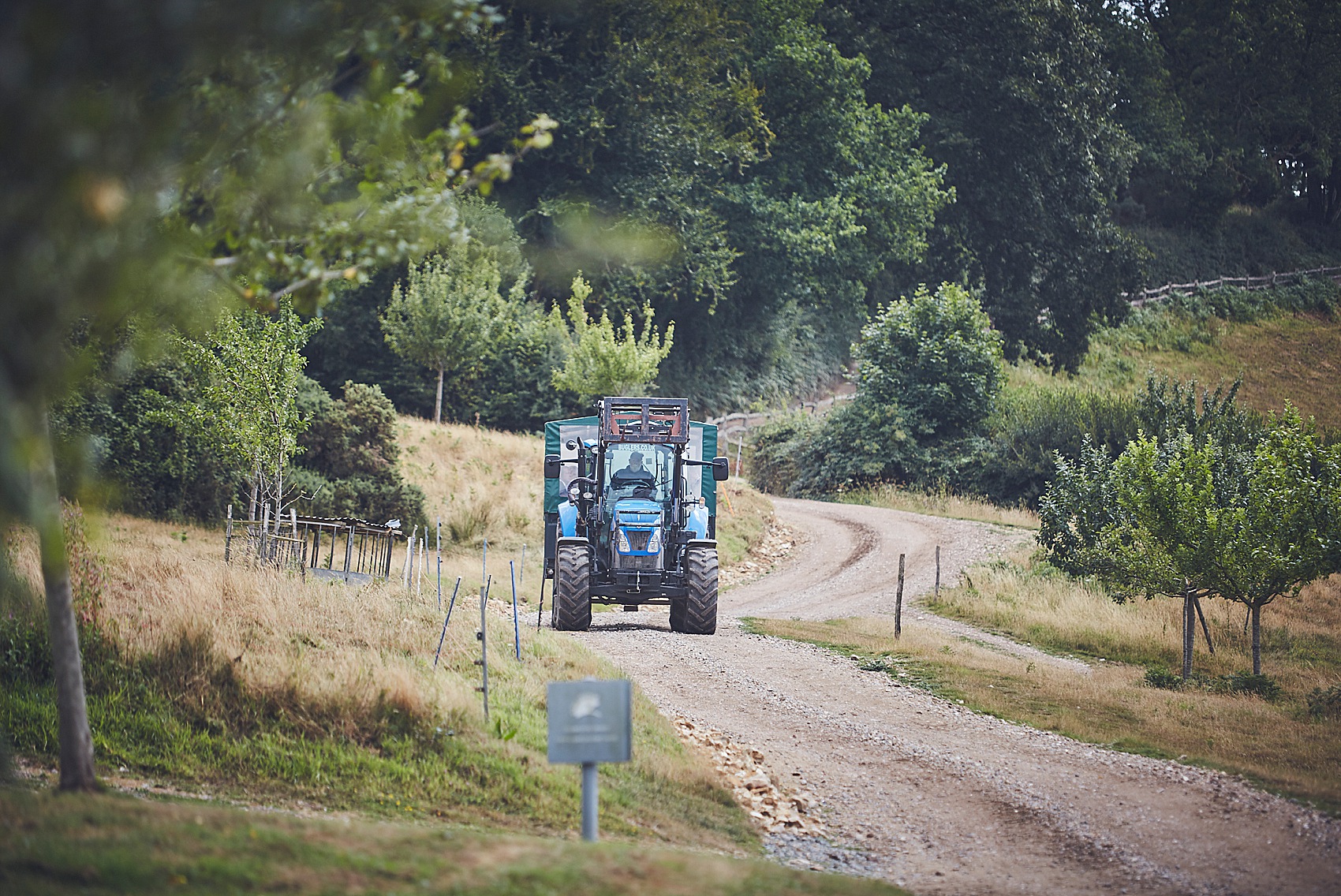 James wore a beautifully tailored blue suit by Gieves & Hawkes, which he paired with a pale pink tie by Hermes. His three Best Men wore complementary blue suits, too.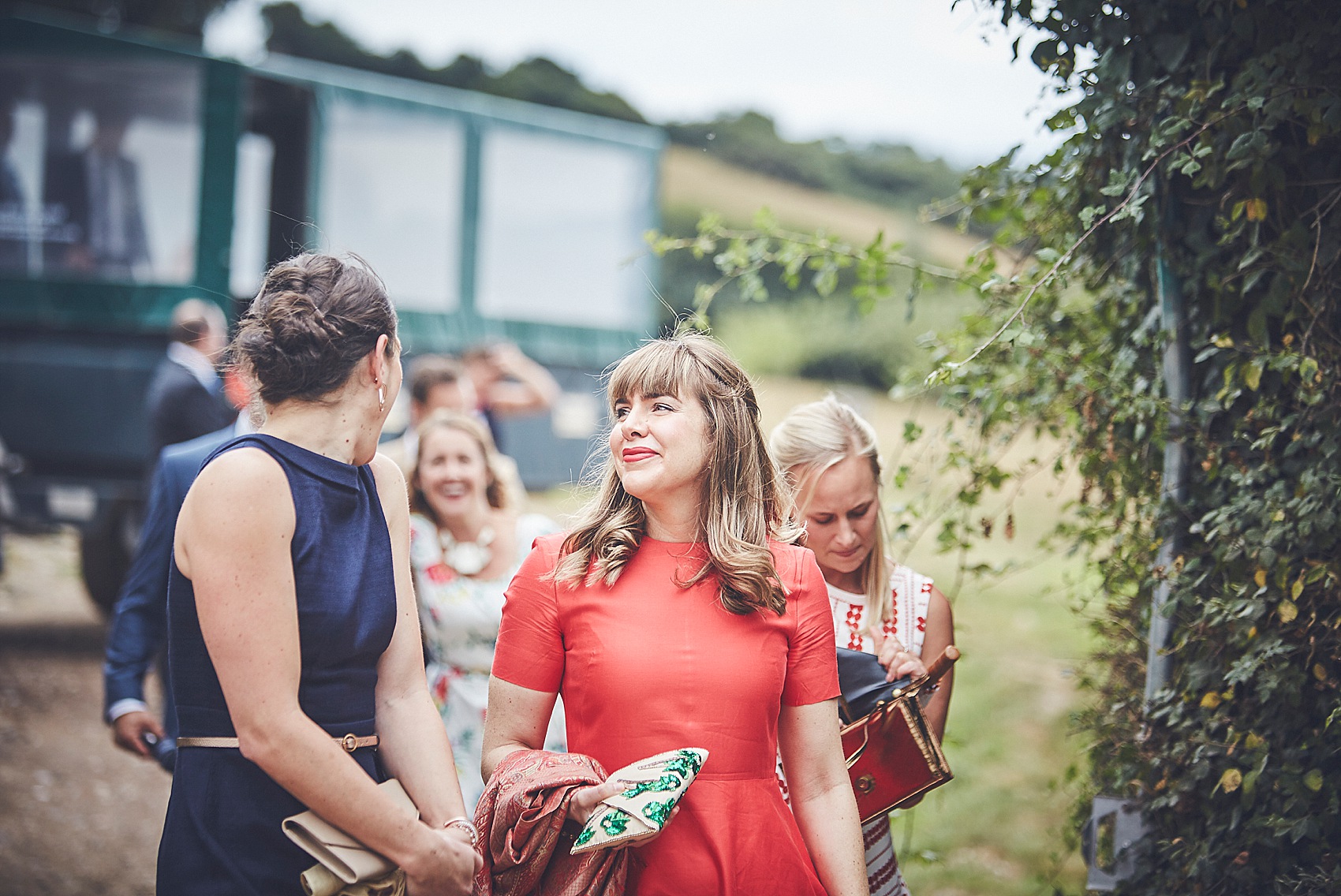 "We decided to save on wedding cars and keep it low key – after all, guests and most of the wedding party parked at the top of the valley, and then accessed the River Cottage by tractor!"
"My father drove me door to door in my Mini, which was very special as I have had the car for years, and even shipped her to Australia for 5 years when I lived there. "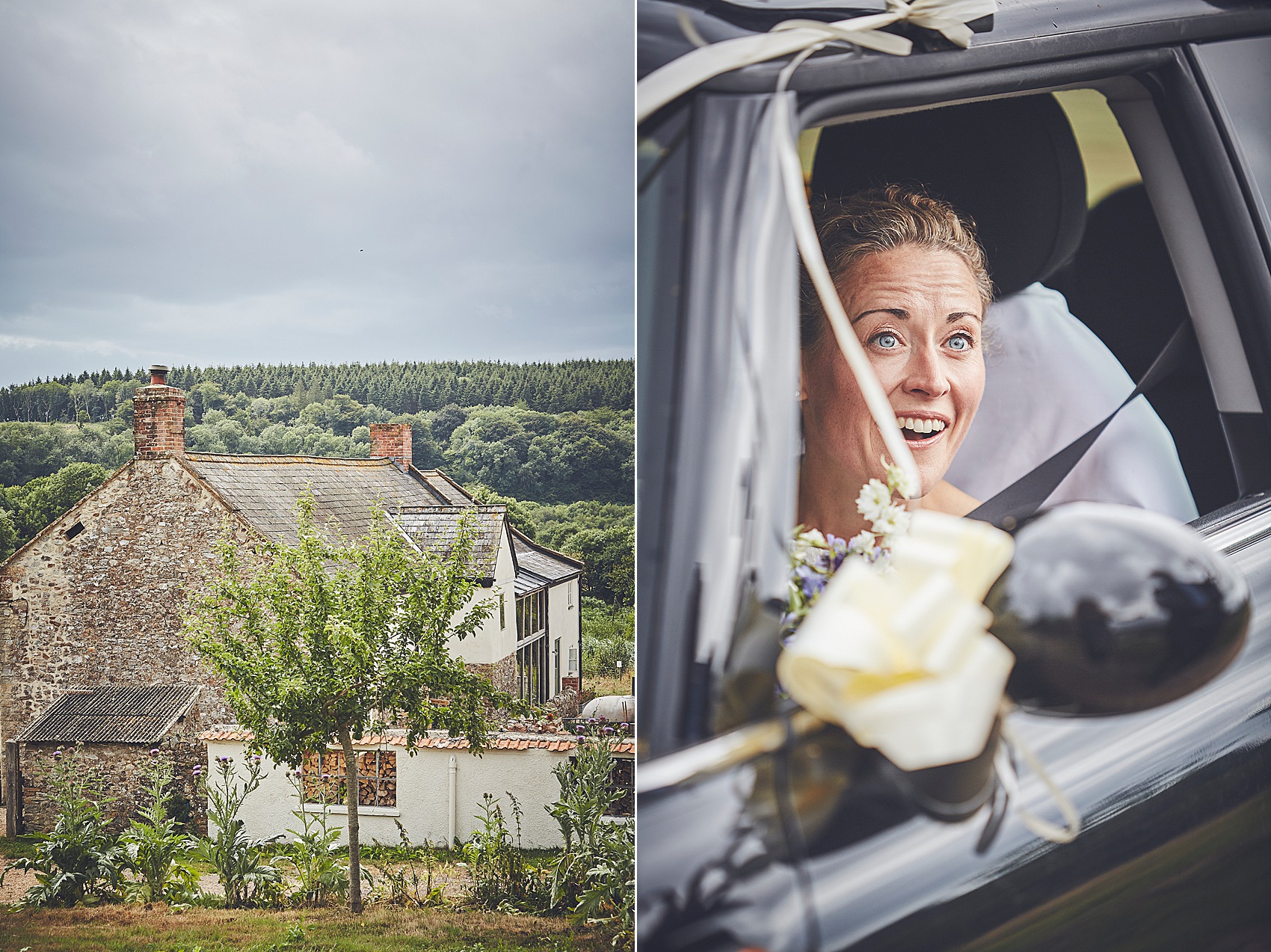 As Claire and her party arrived at River Cottage, the heavens opened. Luckily, there was swift shelter to be found underneath umbrellas before quickly making it inside!
"Neither of us are religious, and although I would have got married in the local church where I grew up and like the traditional aspect of it, James felt strongly that he would not have been comfortable getting married in a church, which I completely respect."
On her feet, Claire wore ivory satin block heels from Paradox London, and added a mist of her favourite perfume, Chanel Chance, which was also the first perfume James gifted to her.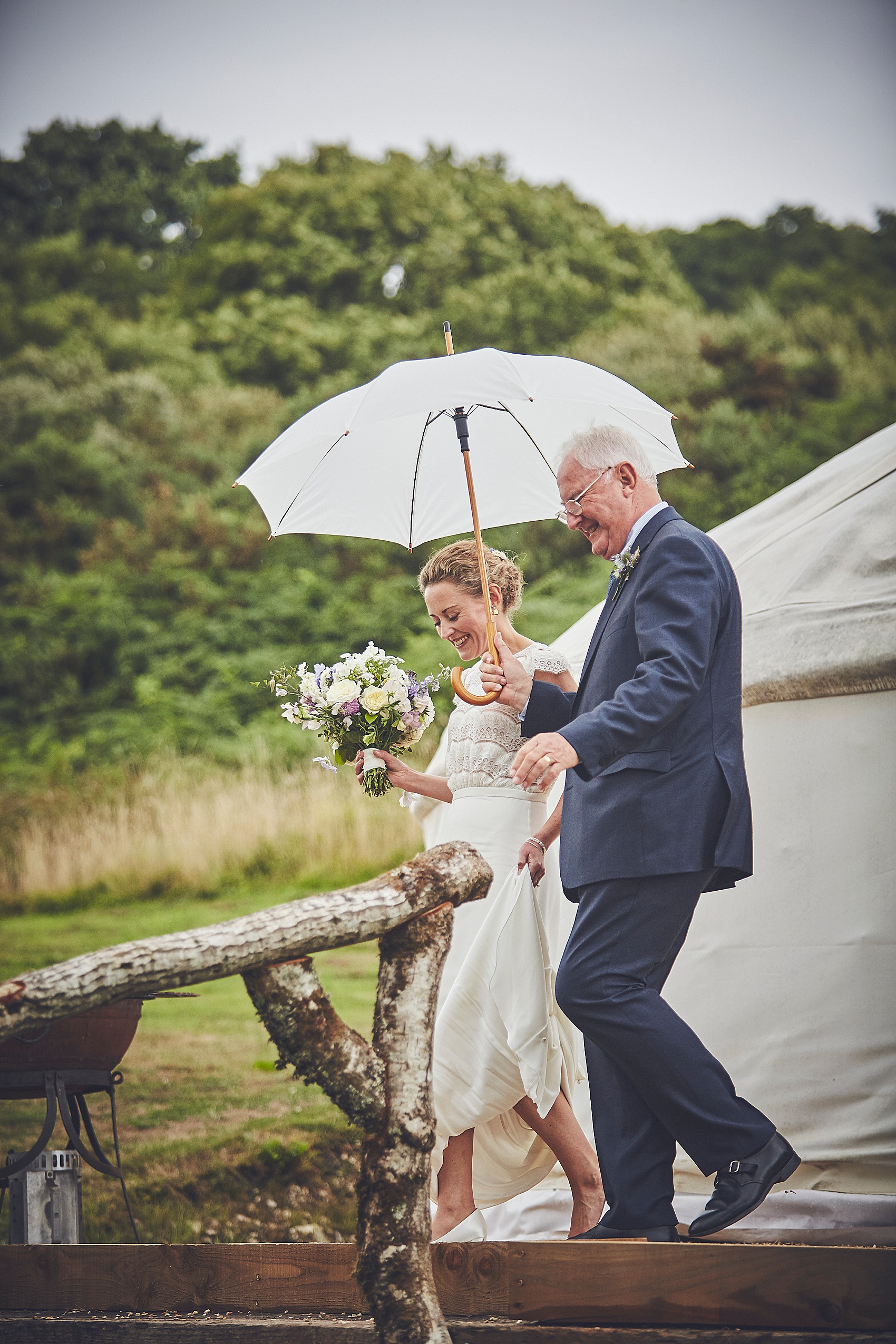 Claire was accompanied down the aisle by her father, to the sounds of Nat King Cole singing Let There Be Love, and the ceremony was conducted by a registrar from the Devon Registration Service.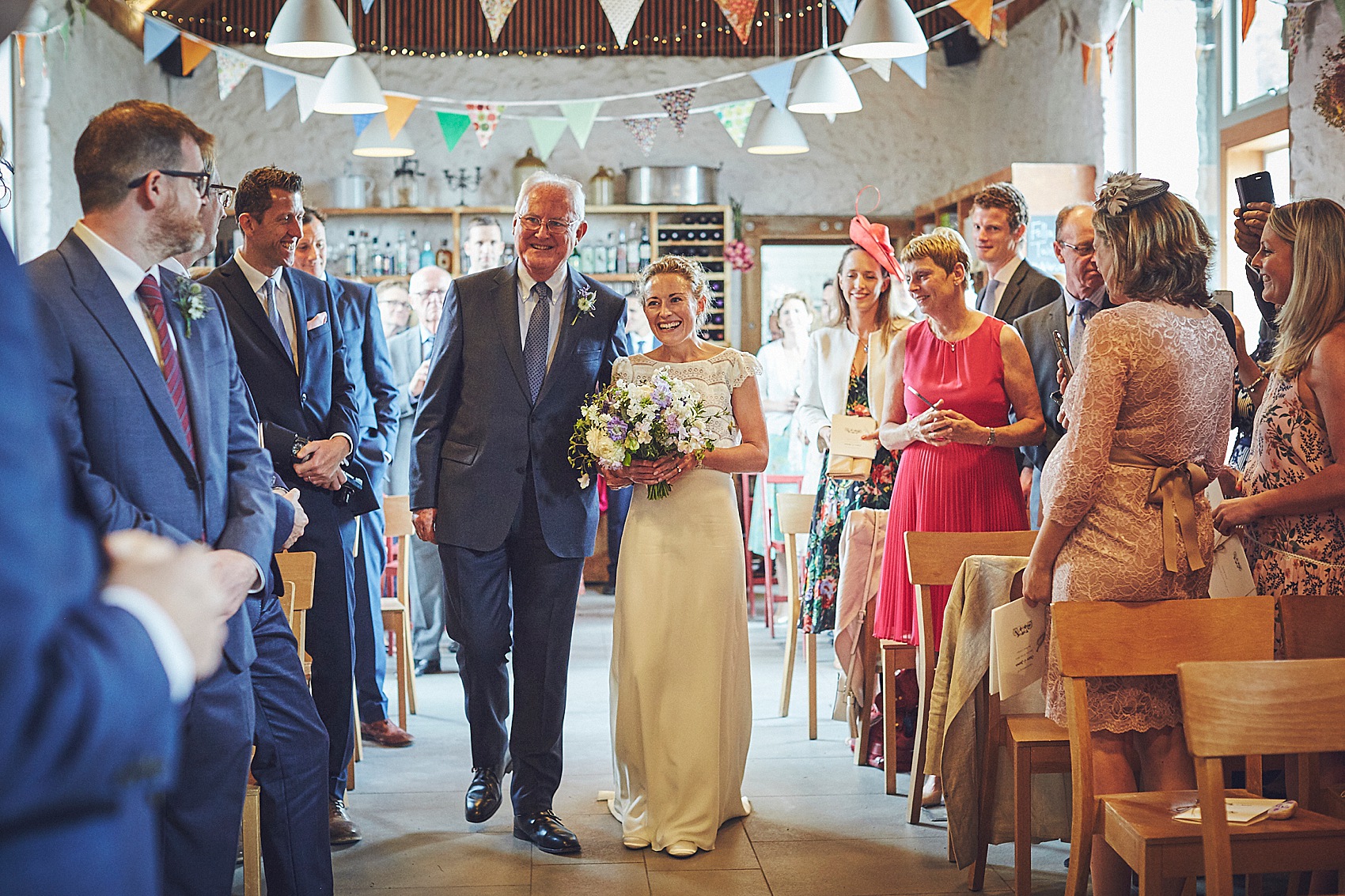 "James and I met cycling up mountains in the French Alps, which we now do every year in aid of breast cancer research at the Royal Marsden. Le Cure, a four day ride covering about 100km, and 2-3 Tour de France climbs each day, was set up by mutual friends. I was living in Australia the first year I came over to do the ride, and only briefly met James that year."
"By the following year, I was back living in London, and we spent more time getting to know each other cycling in the mountains. We went on our first date about a week after getting back to London! Seven months later, we moved in together, and 10 months after that, James surprised me with a weekend away in Florence."
"He proposed at the end of an early morning run, in the Boboli Gardens overlooking the amazing city (and even produced a gorgeous ring out of his running shorts pocket!). That was February 2018, and we got married at the end of July 2018. Who says you need a long time to plan a wedding?!"
The couple tailored their vows to each other, and gave each other rings chosen at a jeweller based in Hatton Gardens (sadly, no further details provided).
Finding just the right ceremony readings was difficult, but Claire and James eventually settled on Marriage Joins Two People in the Circle of Its Love, by Edmund O'Neill, followed by an extract from Winnie the Pooh, by A.A. Milne. Their final reading was an extract from Laurie Lee's book, I Can't Stay Long.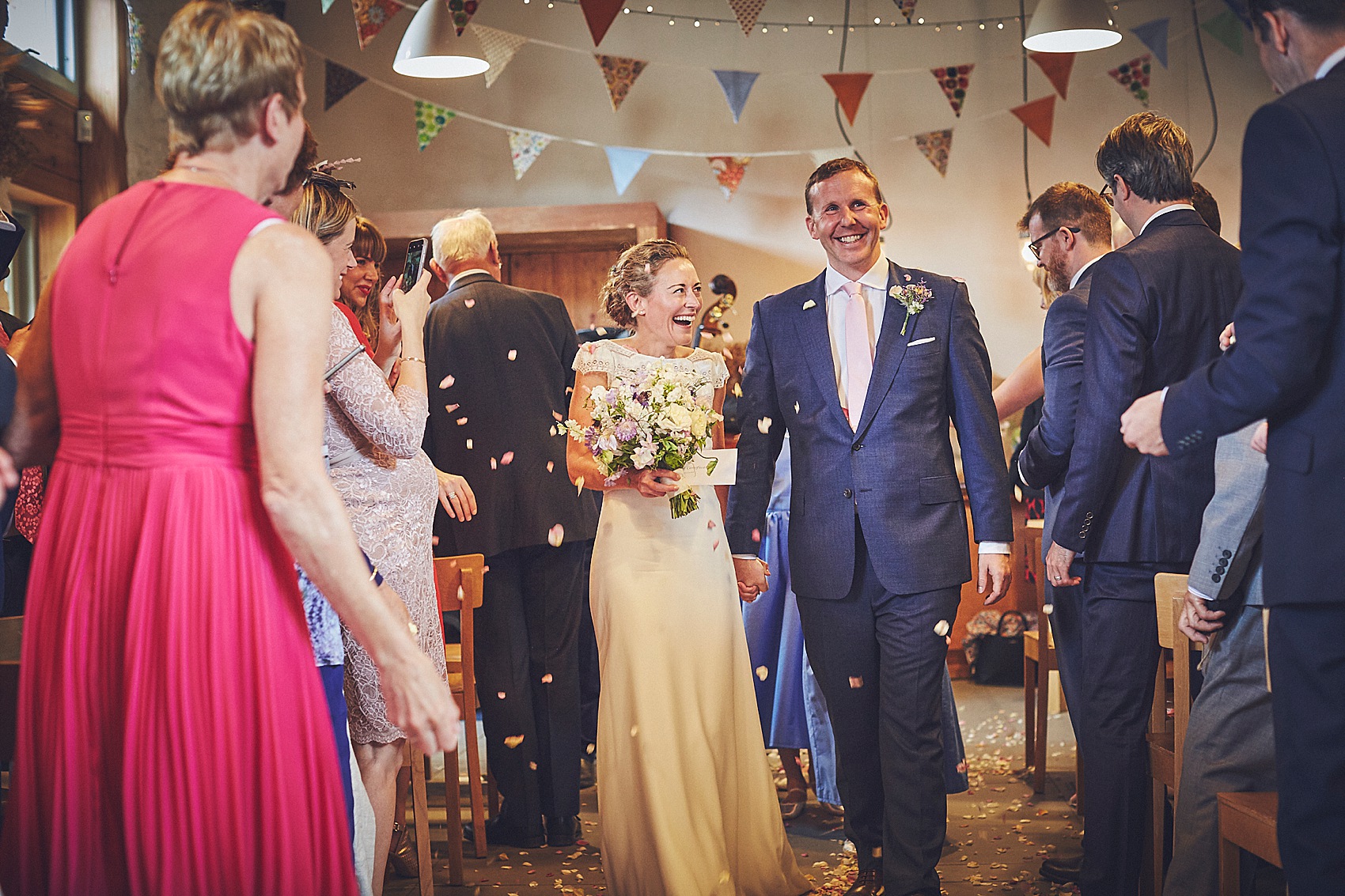 It was still raining as the ceremony ended, but drinks and canapes were enjoyed nevertheless, and the sun was soon shining again as Claire and James walked in River Cottage's wonderful gardens, taking in those joyous, just-married feelings.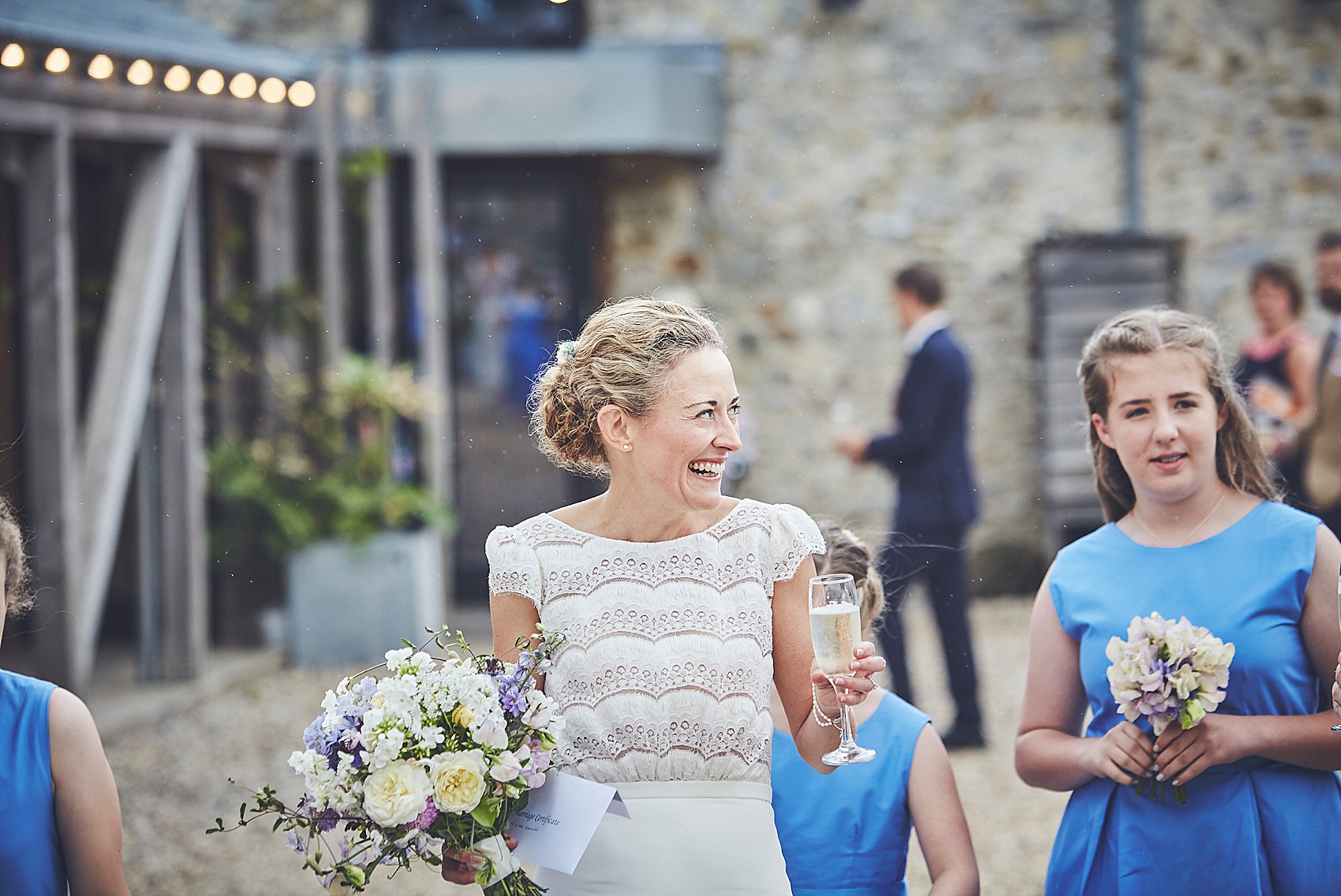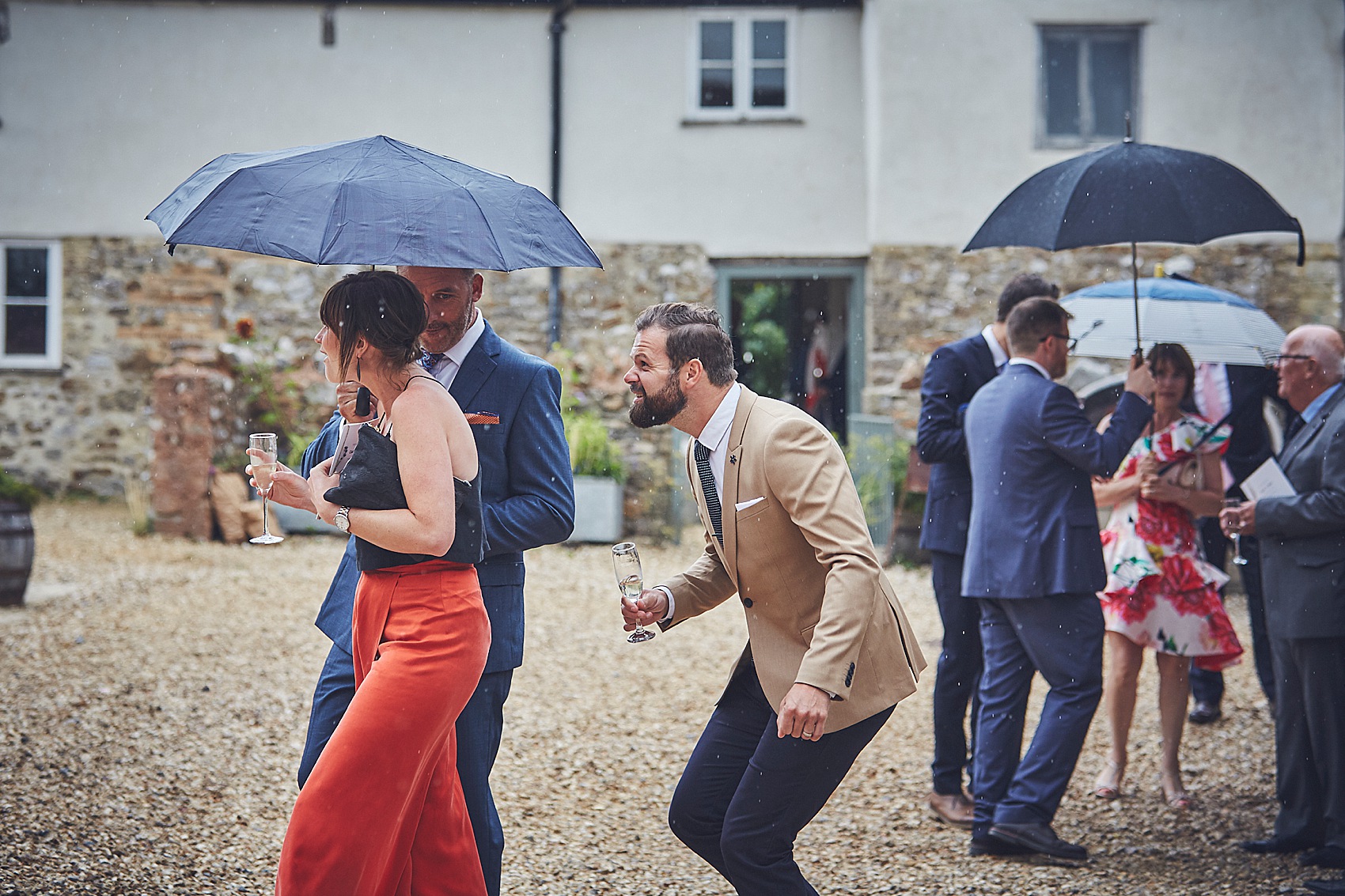 There to capture the day (including some energetic welly wanging!) were Katherine and Steve from Nova Wedding Photography, who handled the changeable weather and light conditions admirably!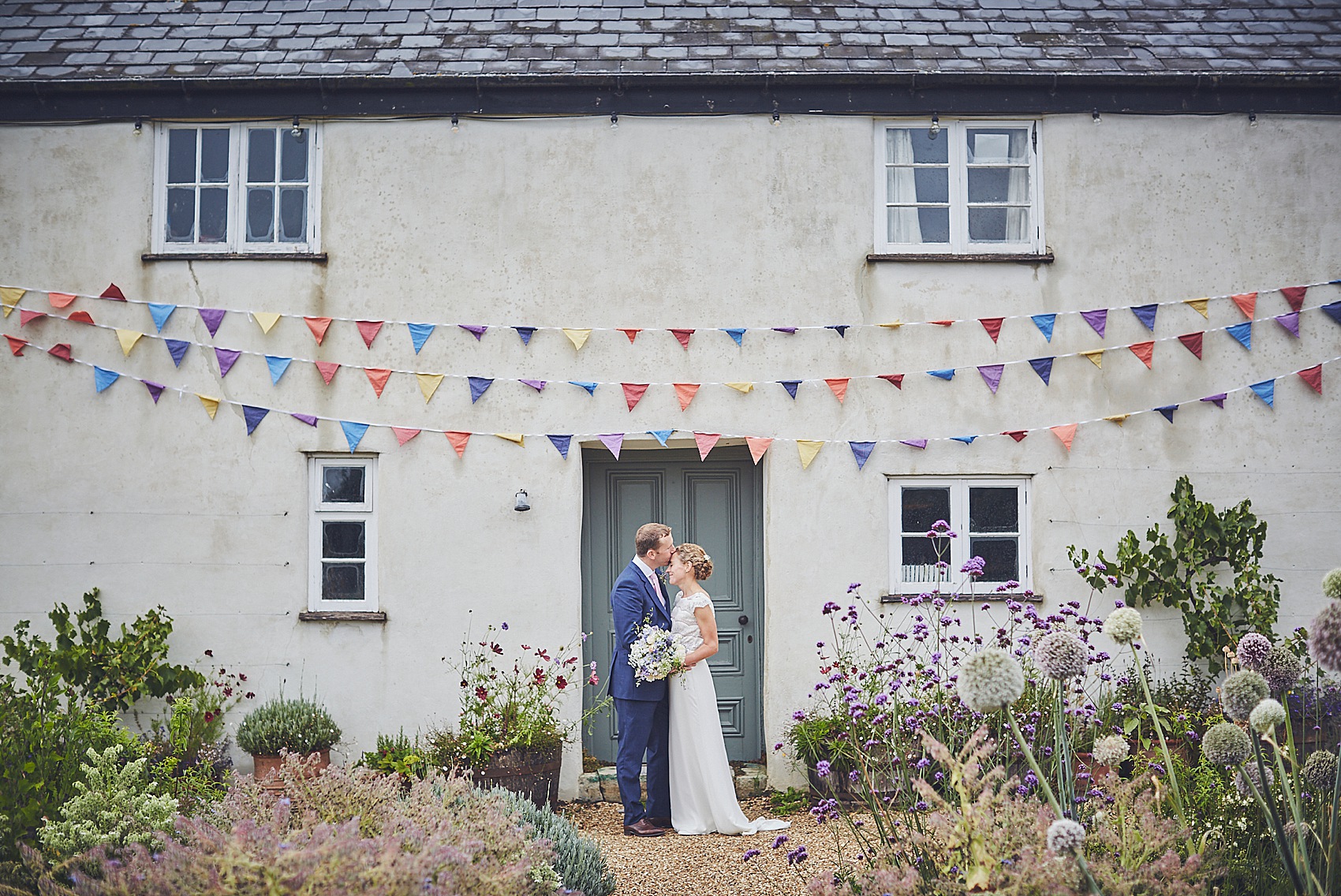 "Katherine and Steve were amazing, and we loved them being part of our day. They captured so many wonderful moments, details and expressions throughout the day, in all sorts of weather conditions, and they were professional, friendly and relaxed."
"We were thrilled with all the photos they took, which are such a special reminder of our day! All our friends and families love the photos, too."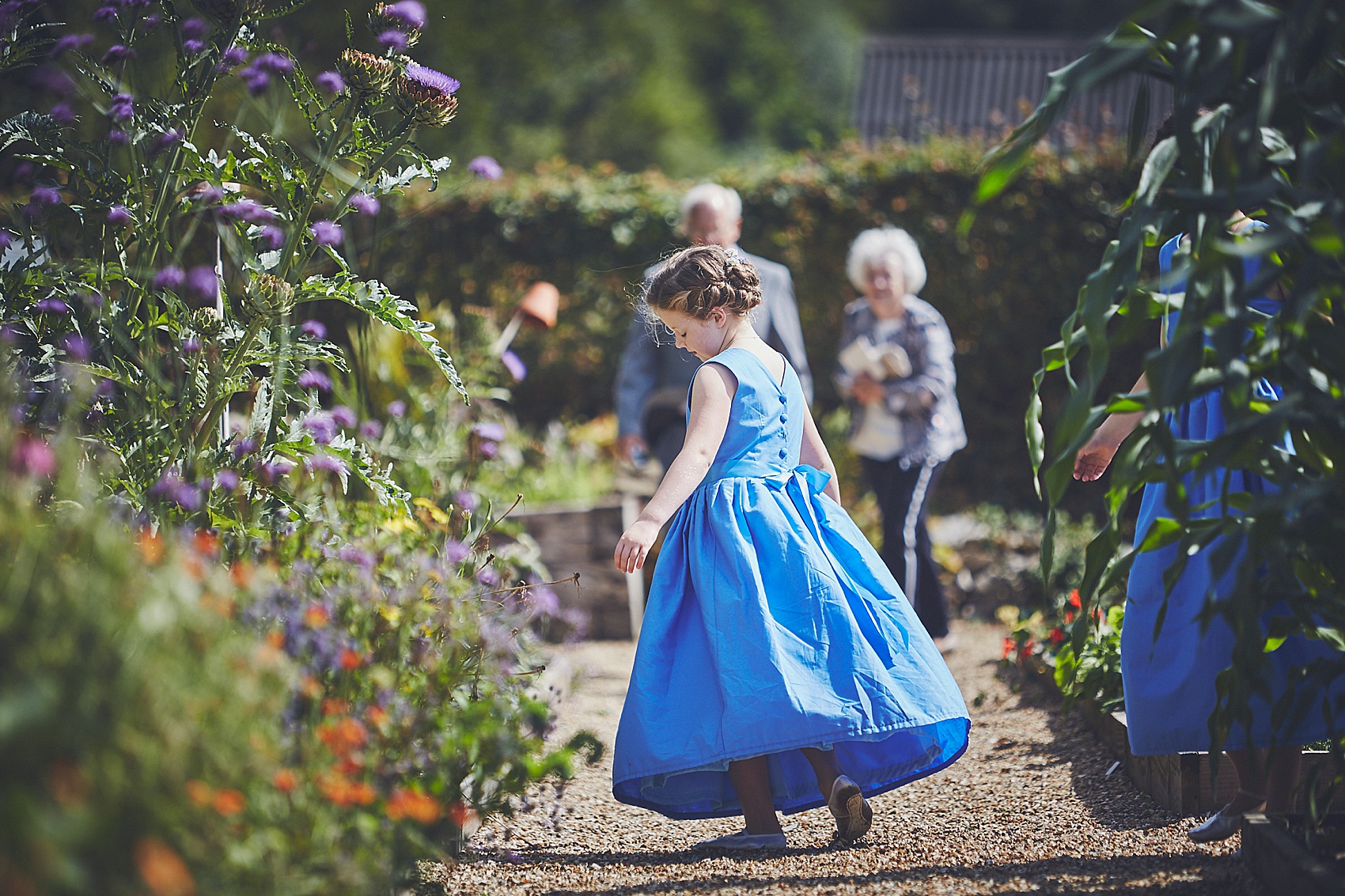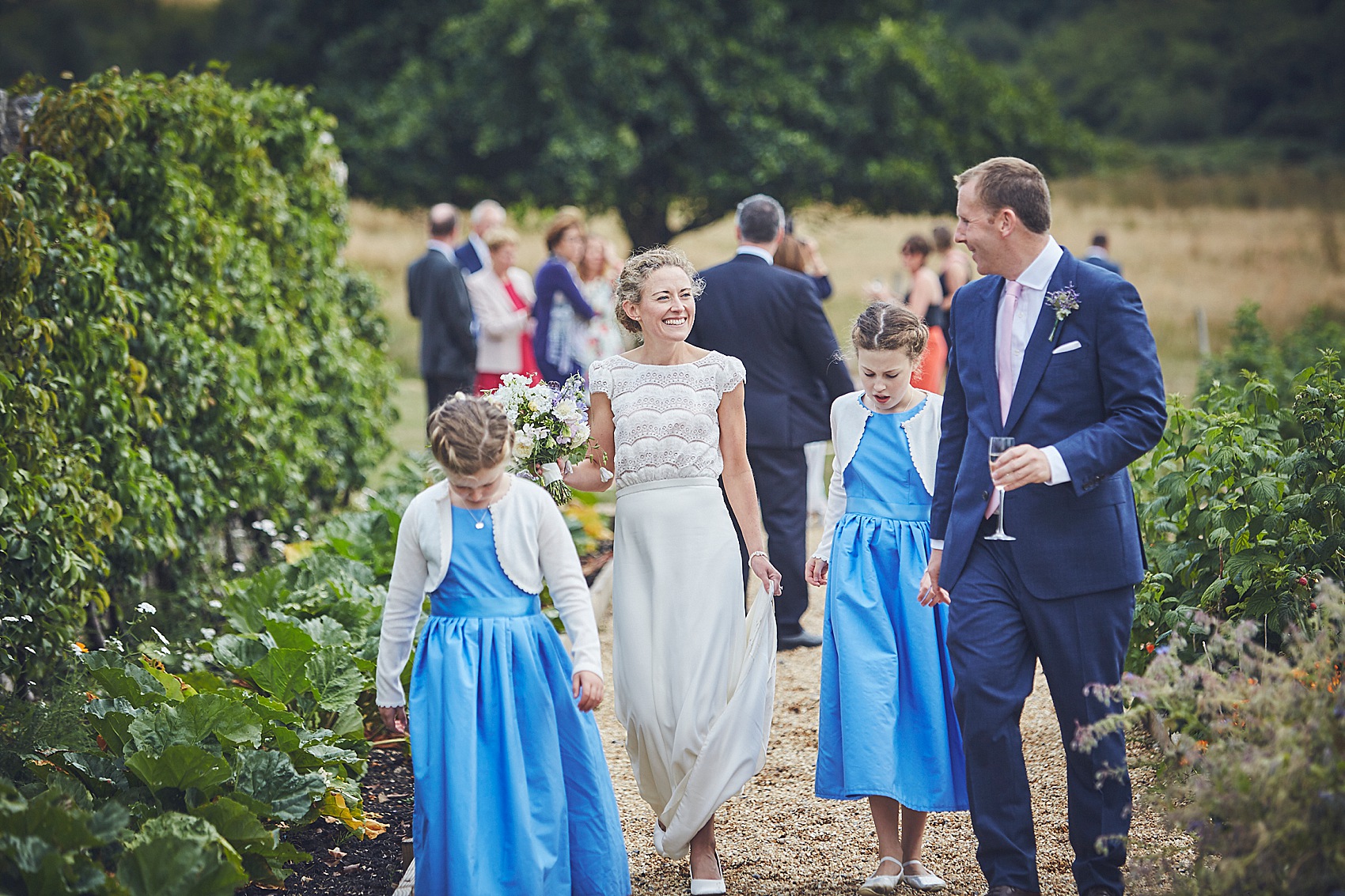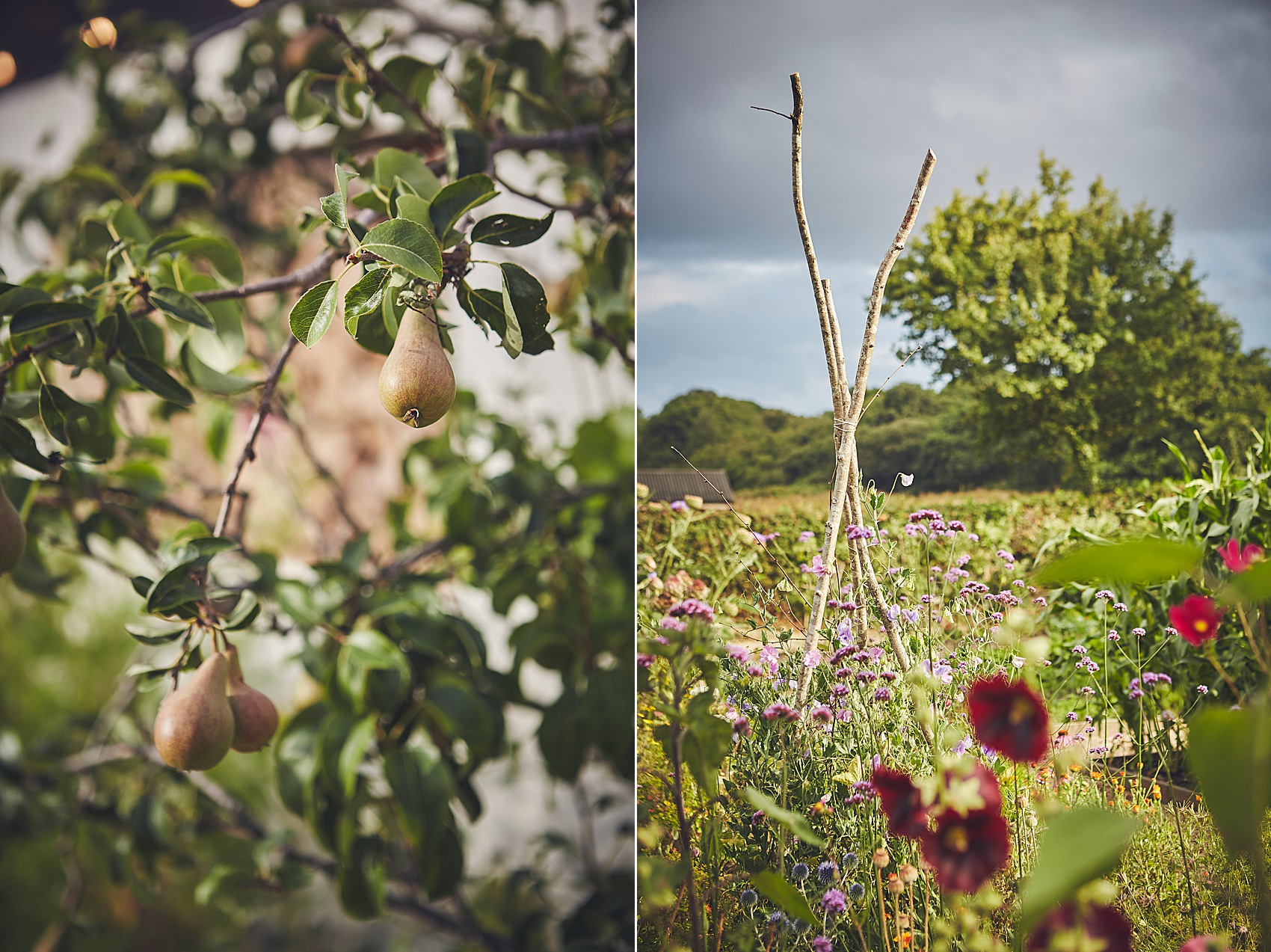 Inside the barn, rustic wooden tables were set for a feast, with colourful cottage flowers from the venue, and bunting strung overhead. Favours were jars of homemade raspberry and strawberry jam, which also doubled as place settings.
"We bought a customised rubber stamp with 'Claire and James' and the date, plus the same image of the bicycle we had used on our invitations and stationery, which we designed ourselves."
"We added fresh lavender to the jam jars of flowers from our garden in London. We had included a sprig of lavender in each invite, and also on each order of service, too, and we added tea lights on the tables."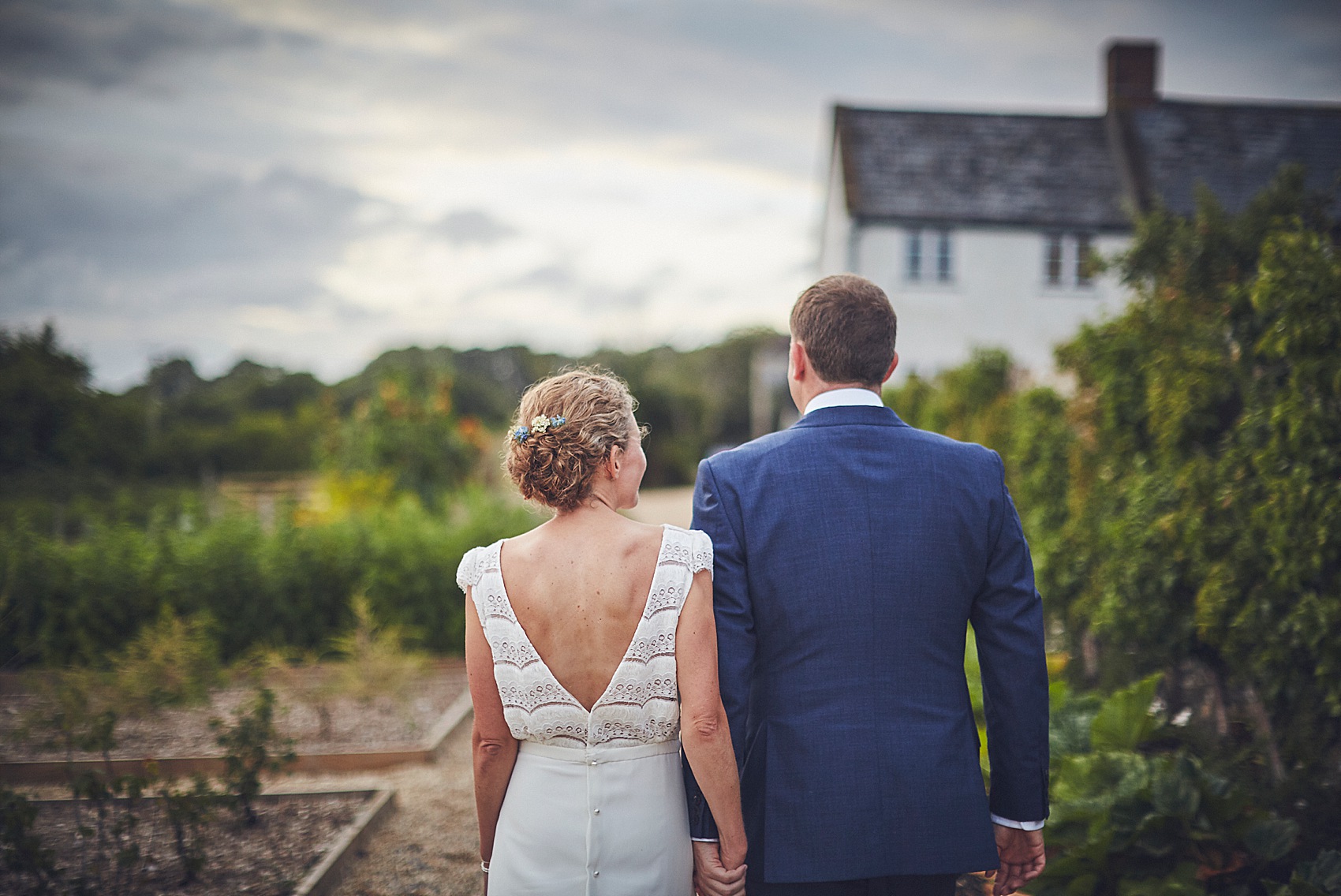 The delicious food by River Cottage was quite rightly, a highlight of the day, and was followed by a wedding cake, also made by the River Cottage team, decorated with jewel-like fresh strawberries, blueberries and flower petals.
After dinner and speeches, Claire and James' first dance as husband and wife was to (Your Love Keeps Lifting Me) Higher and Higher by Jackie Wilson, followed by brilliant live music from Blue Lion Band.
"It's hard to pick a favourite part of the day, because honestly, it was all a favourite part; from waking up, going swimming in the sea, getting ready surrounded by friends and family, driving to the River Cottage with my father, walking down the aisle and seeing James, the ceremony, having drinks and delicious canapes, and chatting to all our friends, welly wanging, speeches (I always love speeches), hearing from the chef who talked us through what we were going to eat, the amazing food, having an hour or so after dinner to chat to friends, each other, and family, in the yurt while the band set up in the barn, and then hours of fantastically fun dancing!"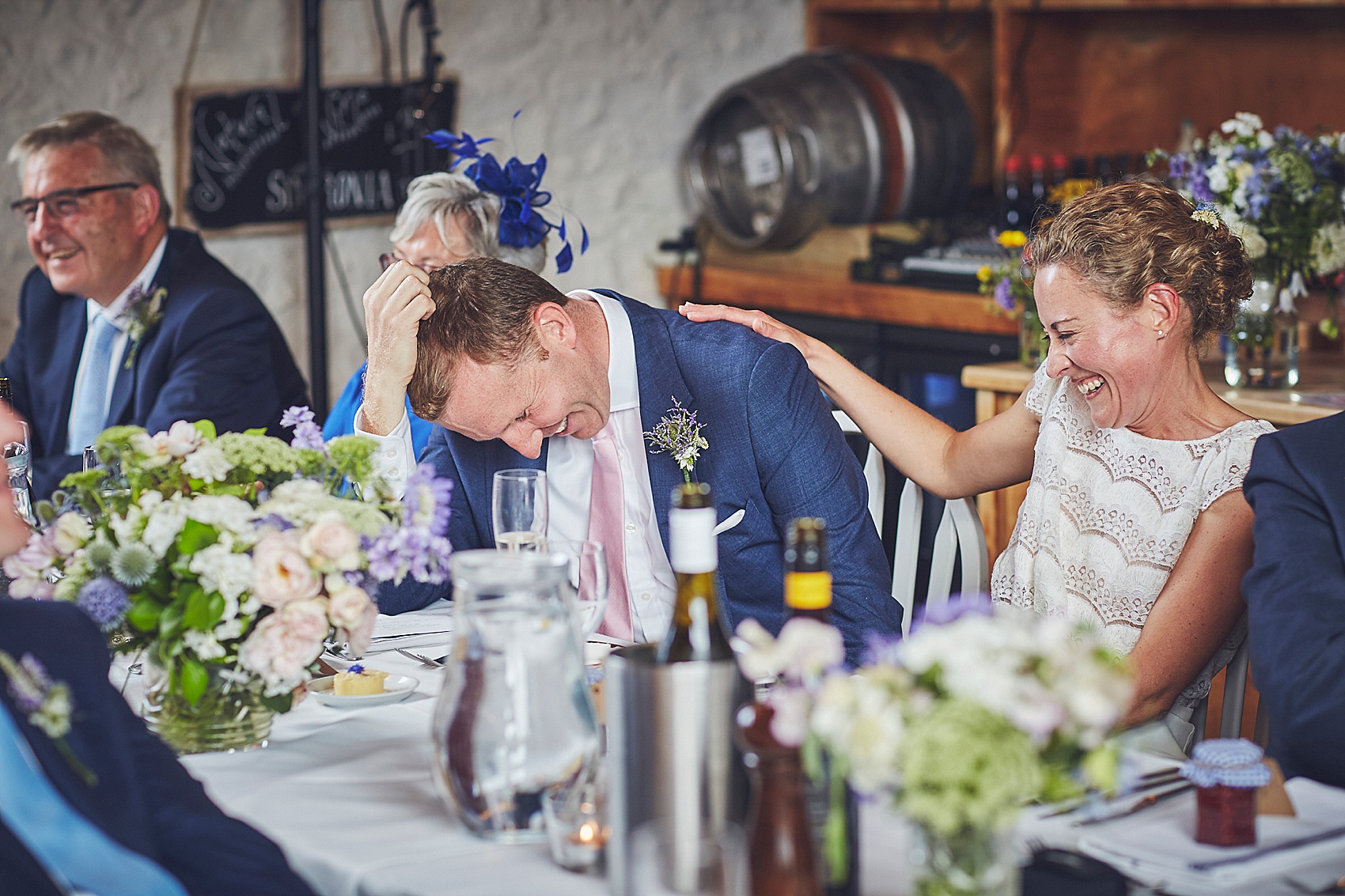 Words of Wedded Wisdom
"Don't think a wedding has to take years to plan if you don't want it to. We went from getting engaged in February to getting married at the end of July in the same year. This included getting a wedding dress made, designing our own invitations, making wedding favours, and all the other planning involved, whilst both working full time, and both training for a half Ironman."
"Make lists, and think about different jobs that people can do to help, because people will want to help, and feel better if they have jobs to do, however large or small."
Well, wasn't that just wonderful?! Thanks so much, Claire and James, for sharing your day with us, and of course, to Katherine and Steve from Nova Photography for their bright, colourful images.
Until next time.
Love,
Laura