Don't you love how a belt here, a cape there, maybe a flirty overskirt too, can transform a gown from beautiful to bewitching?
That's just what Jennie, today's bride, did with her choice of bridal separate. Let's take a look. International teachers Jennie and Dan chose 28 December 2018 for their wedding day, choosing St Michael and All Angel's Church in Bassingham, Lincolnshire, where the bride's mum is vicar, for their Church of England ceremony.
No Ordinary Films

+ Follow
Afterwards, the industrial spaces of The Pumping House in Ollerton, Nottinghamshire were a flexible place for a laid-back, individual reception with hints to their love of travel and a warm and sophisticated colour palette of black, gold and green.
"Because it was near Christmas, I was keen for it not to be a Christmas-themed wedding. I love Christmas – it's my favourite time of year – however, we wanted the wedding separate so it still felt special to us. We went with a black, gold and green theme for the inside of The Pumping House and used this in the flowers, place settings and favours."
Photography Martin Cheung Photography
Martin Cheung Photography

+ Follow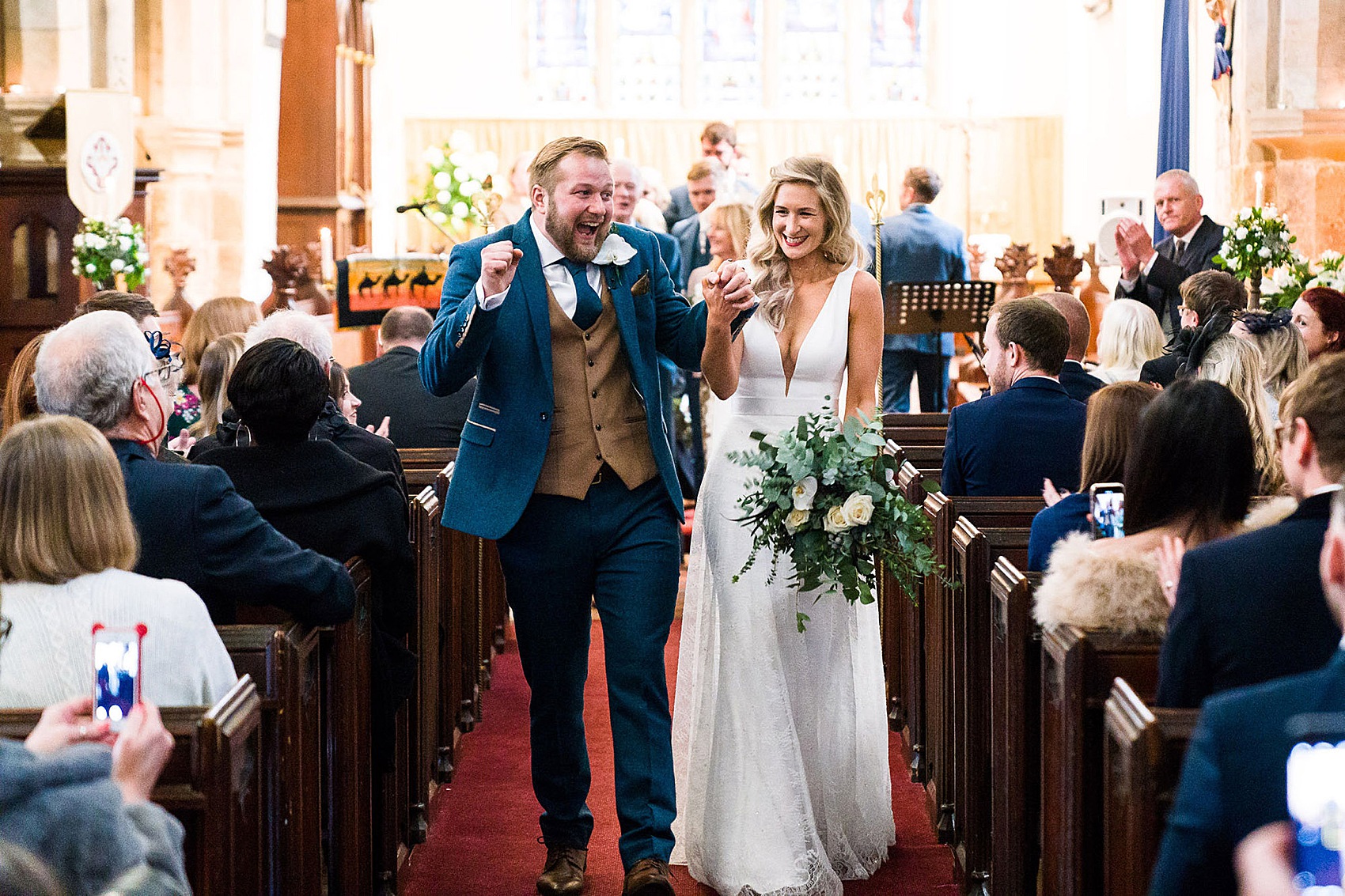 I'm a big advocate of bridal separates and love the individuality that choosing individual bodices and skirts can bring. This bride chose different pieces for day and night, meaning that her elegant and sophisticated gown was transformed into a modern, funky piece for the evening party.
The gown was a Suzanne Neville design and, for the day, she wore a lacy overskirt by Augusta Jones. Both of these pieces, and the divine, bespoke, feather belt, were chosen at Southwell boutique Frances Day Bridal.
"I simply cannot say enough positive words about this beautiful shop. Julia is just absolutely divine. She made me feel like I was the most important person in the world – anything I wanted, she would be so excited to try. As a designer herself, she helped with how to create a unique look. I was panicking about buying a dress because of living abroad. "
"I was aware of ordering it in advance and I only come home in the summer and Christmas so I bought it eighteen months before the wedding. However, I knew I had chosen the wrong dress for me so she let me change it, no problem! If you want a 5 star experience, please go to this bridal shop. She is incredible!"
"The dress is so simple that we could change the look for the day and for the evening. We added a lace overskirt for the church so I felt more 'bridal'. It had a subtle sparkle which made me feel wintery. For the evening, Julia made me a belt with feathers on which I loved! Just completely unique and everyone complemented me on it. How special to have something made just for you–honestly, I felt like a film star!"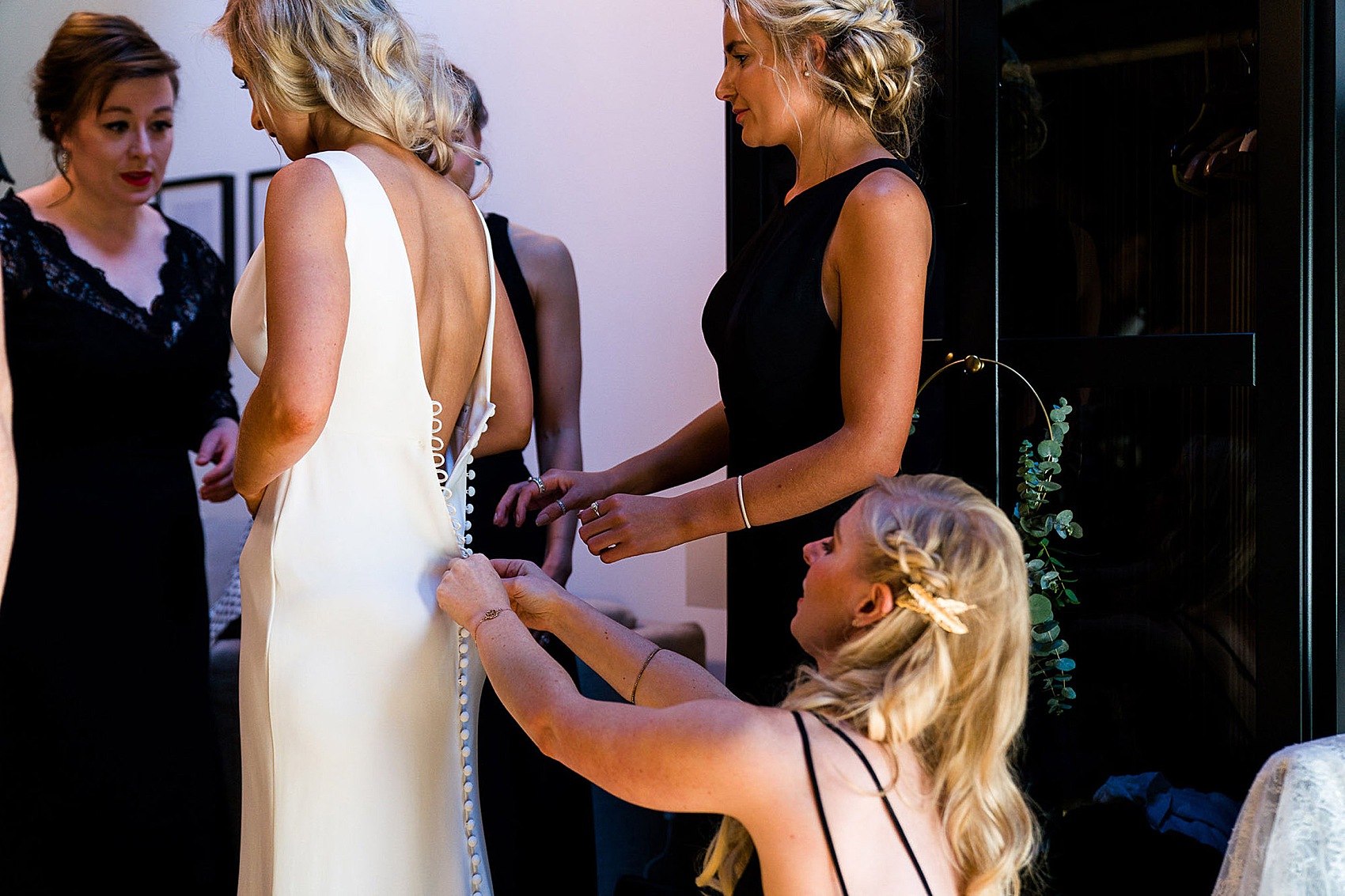 "My shoes were beautiful and so comfortable by I Am Florence. They were so brilliant that I was in them dancing until 2am without a problem. I am going to dye them so I can continue to use them – they are such a beautiful design that I don't want to keep them in a box."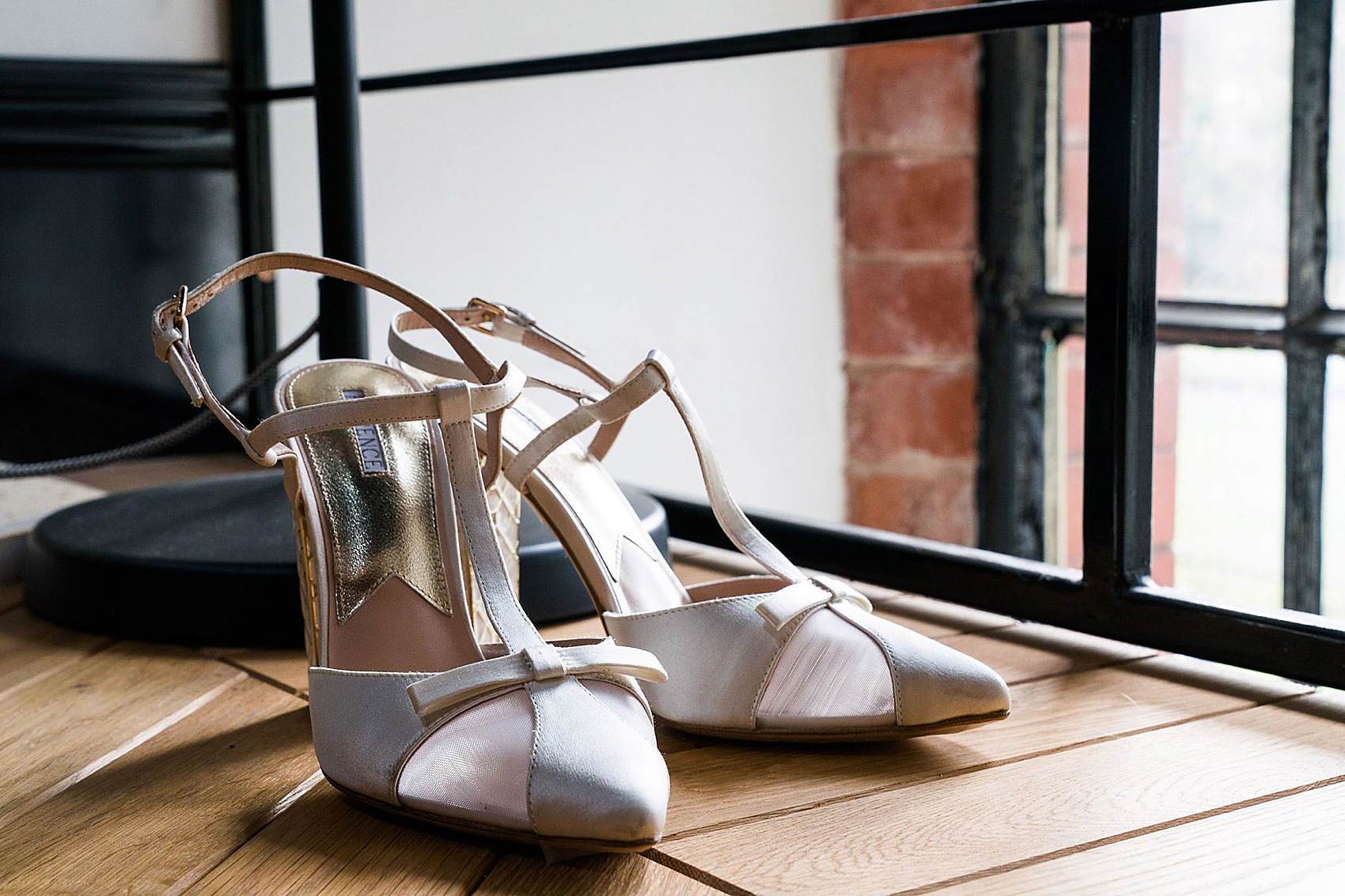 I love the bride's glossy, blond waves (total Hollywood film star goals!) and her make-up was polished and sophisticated. As a finishing touch, the bride sprayed on Charlotte Tilbury's Scent of a Dream.
"I had my trial with Ashleigh at Halam Salon and it was perfect on the first go! She came with a colleague and did everyone's hair on the day (bridesmaids' and Mum's). They didn't need photos beforehand – just a conversation with the person and everyone was so happy. I just wanted everyone to feel like a million dollars, and I really think they did."
Dan and Jennie met whilst working in Qatar, and planned their day from their new home in South Korea.
"Dan was working as a teacher in an International school and had been there for 18 months. He was a loud, Northern boy with a huge personality which was so endearing. When I arrived, he was one of the first people to come and talk to me. Initially, we were just very good friends, although Dan did try for us to be together from the beginning. However, I was new and didn't want to be seen dating a teacher as I was technically his boss. After about eight months of persistence, I gave in and it was the best decision I ever made because he is just the most wonderful person."
"After about a year he proposed in Japan in Nara National Park. We went with friends for the Cherry Blossom season – he took me to a lake with deer surrounding it and proposed by a pagoda in the middle of the lake. The ring, which he designed, was stunning so I couldn't say no! The whole proposal was perfect. Isn't it mad how you fly half way across the world and find someone who lives about two hours away from you in the UK?"
A traditional wedding car transported the bride to the church.
Fitting for the country setting, Dan chose a relaxed three-piece suit in warm wool from Gere Menswear in Lincoln.
"All of the groom's party suits were from there. We wanted to buy everyone's for them and this shop was perfect. The guys in there were so helpful. Their stock is beautiful, there is so much to choose from and it's really stylish. Dan chose a blue. We just wanted everyone to feel their best and he looked gorgeous."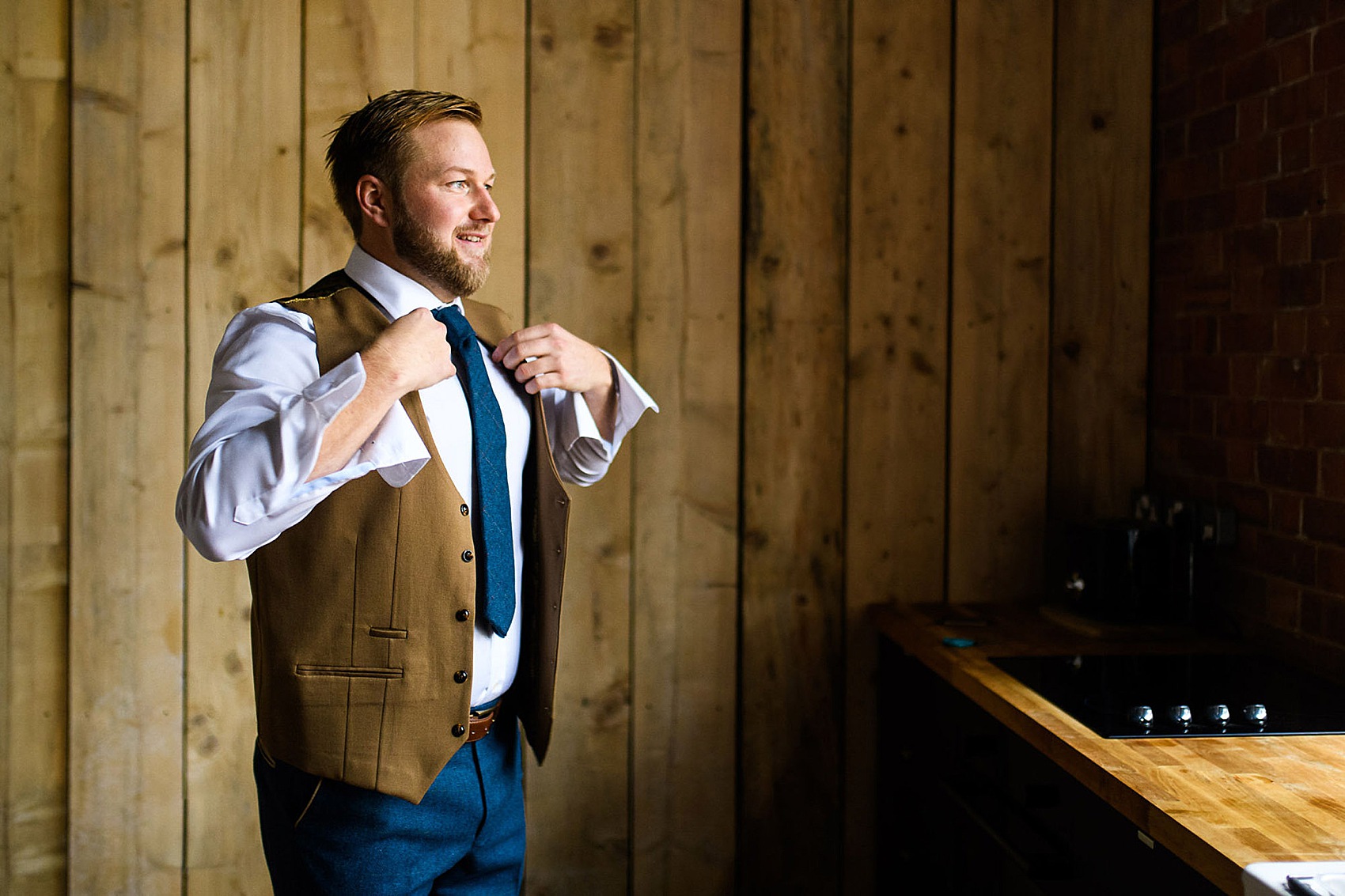 Setting the tone was the gold-flecked black stationery, created by two of the bride's friends.
"One designed the save the dates and one designed the invites."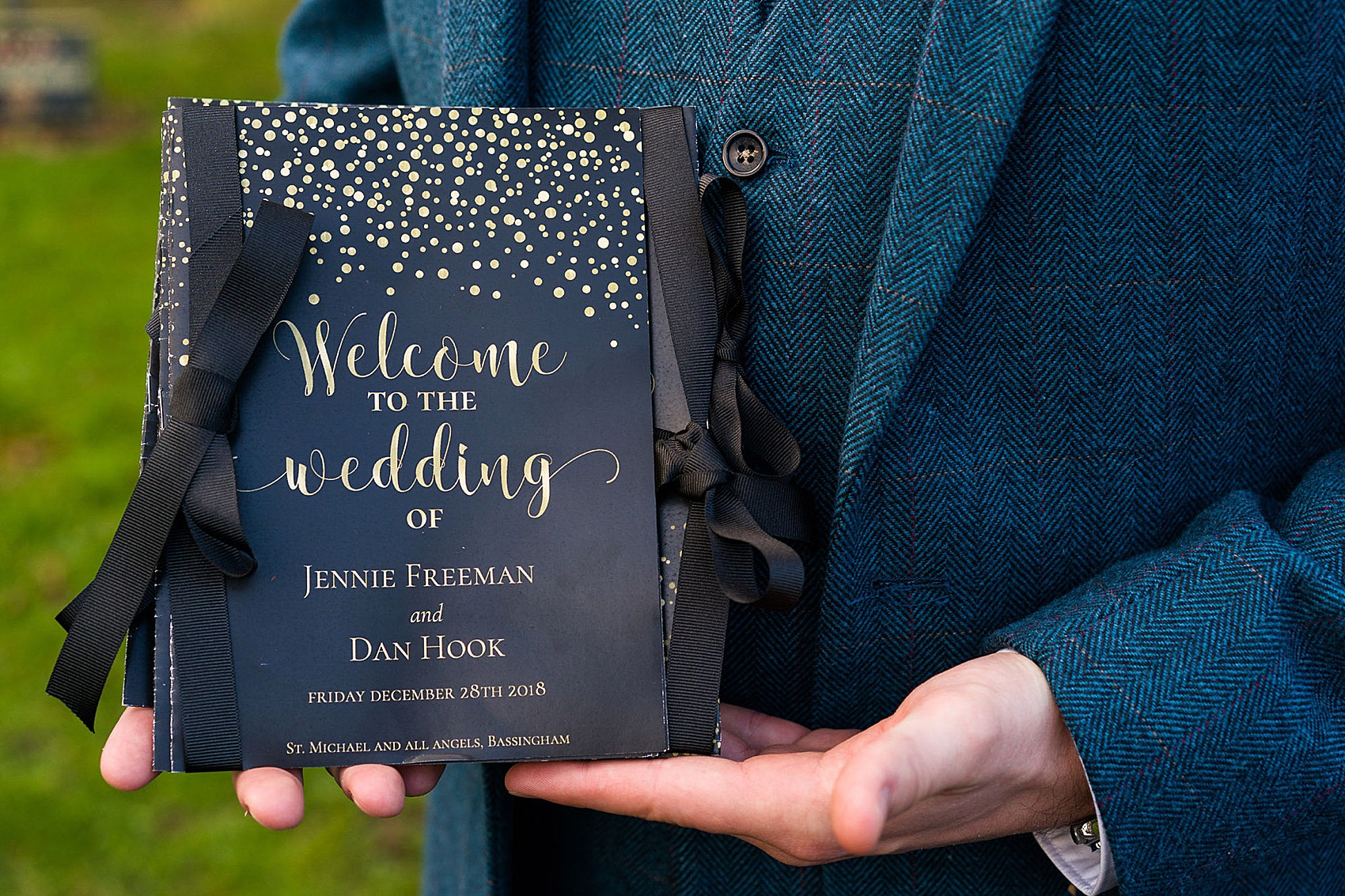 Rather than a veil, Jennie chose a cape to show off the beautiful V-back of her gown and accentuated it further with a back drop necklace.
"I wanted my hair down and the back on my dress was a V shape. Julia helped by suggesting a JJVeils cape on the shoulders of the dress so I got the veil effect without it covering up too much of the dress."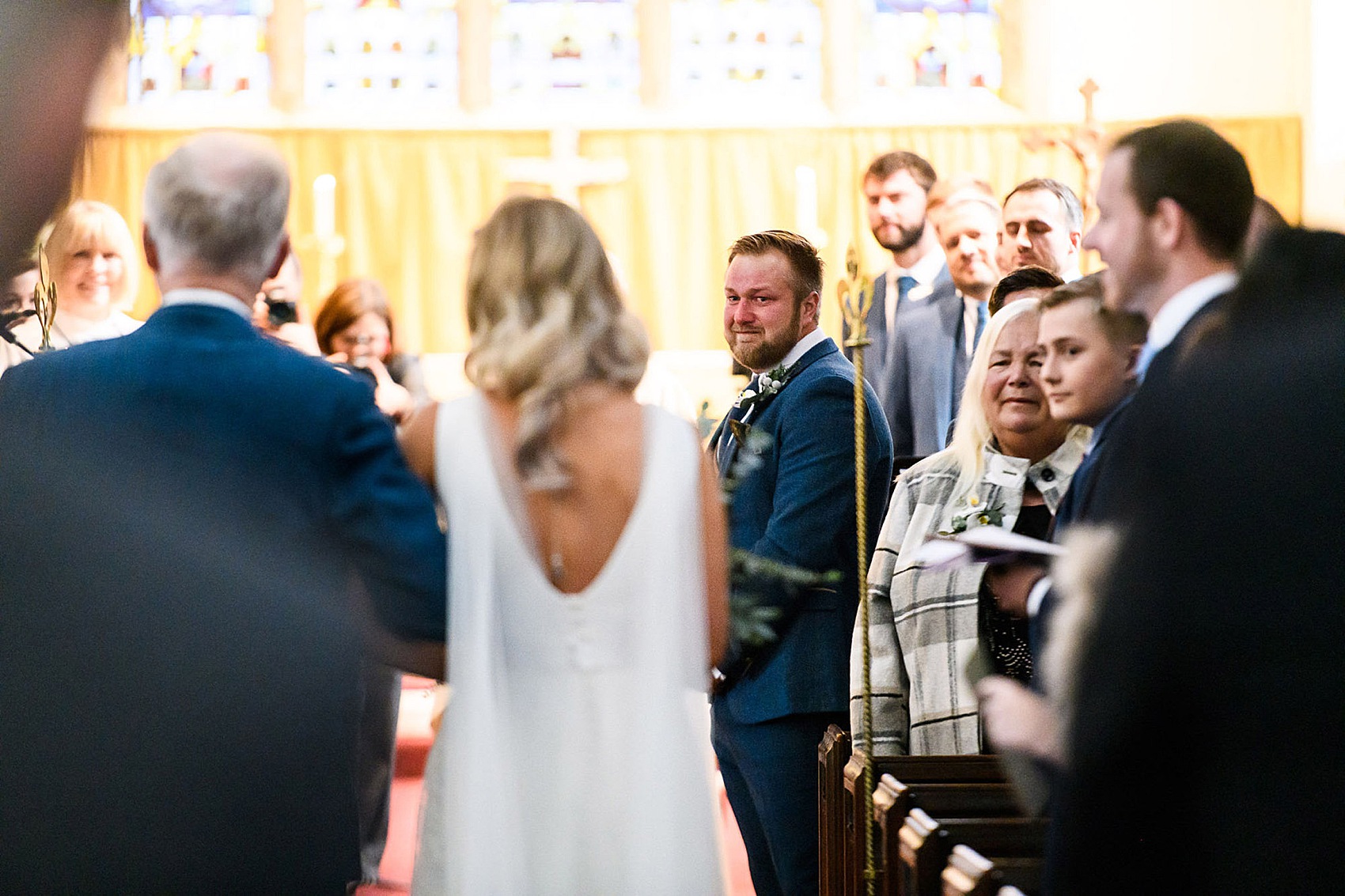 As vicar of the church, the bride's mum Dee Freeman conducted the wedding service and Jennie walked down the aisle with her father to Ruelle's 'I Get To Love You'.
Seeing Jennie walk towards him was one of Dan's favourite parts of the day.
"When Jennie walked down the aisle, she looked stunning and I was a mess. I had known for a long time that I was ready to marry her but it was just all confirmed when I saw her."
The bride's own favourite part was the exchange of vows, which they wrote themselves.
"It was so important to us that we wrote our own vows because then you're not simply going through the motions, but you're making vows forever to each other and so to us, we wanted to really make them and know they're something we promise to stick to for the rest of our lives. They were incredibly personal. I am someone who has suffered from anxiety for a long time and Dan has helped me through so much. People are there to celebrate you as a couple and they want to hear about you. Everyone you love is already there so you can feel comfortable knowing that everyone just wants to support you."
"We had the traditional Corinthians, 'Love is patient, love is kind', and 'Union' by Robert Fulghum."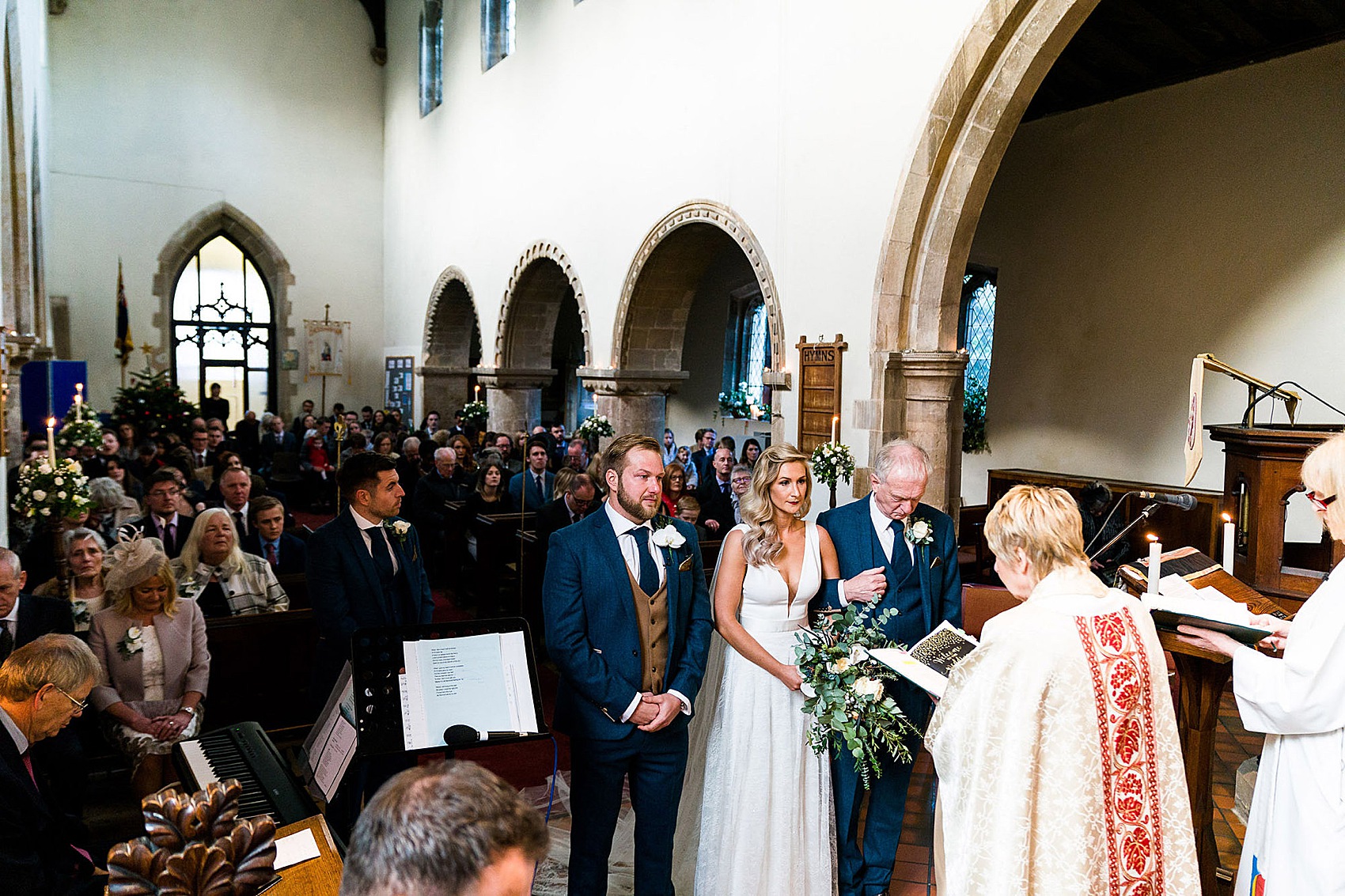 "Dan designed my engagement ring in Qatar – it's a tanzanite stone with two diamonds on either side. He has climbed Mount Kilimanjaro and I lived in Tanzania doing a Marine Biology project for three months. Both experiences meant a lot to us and so he wanted a stone that represented us a couple – how thoughtful! To match, we went back to the place he got my ring made and designed tanzanite earrings, which my parents paid for as my 30th birthday present."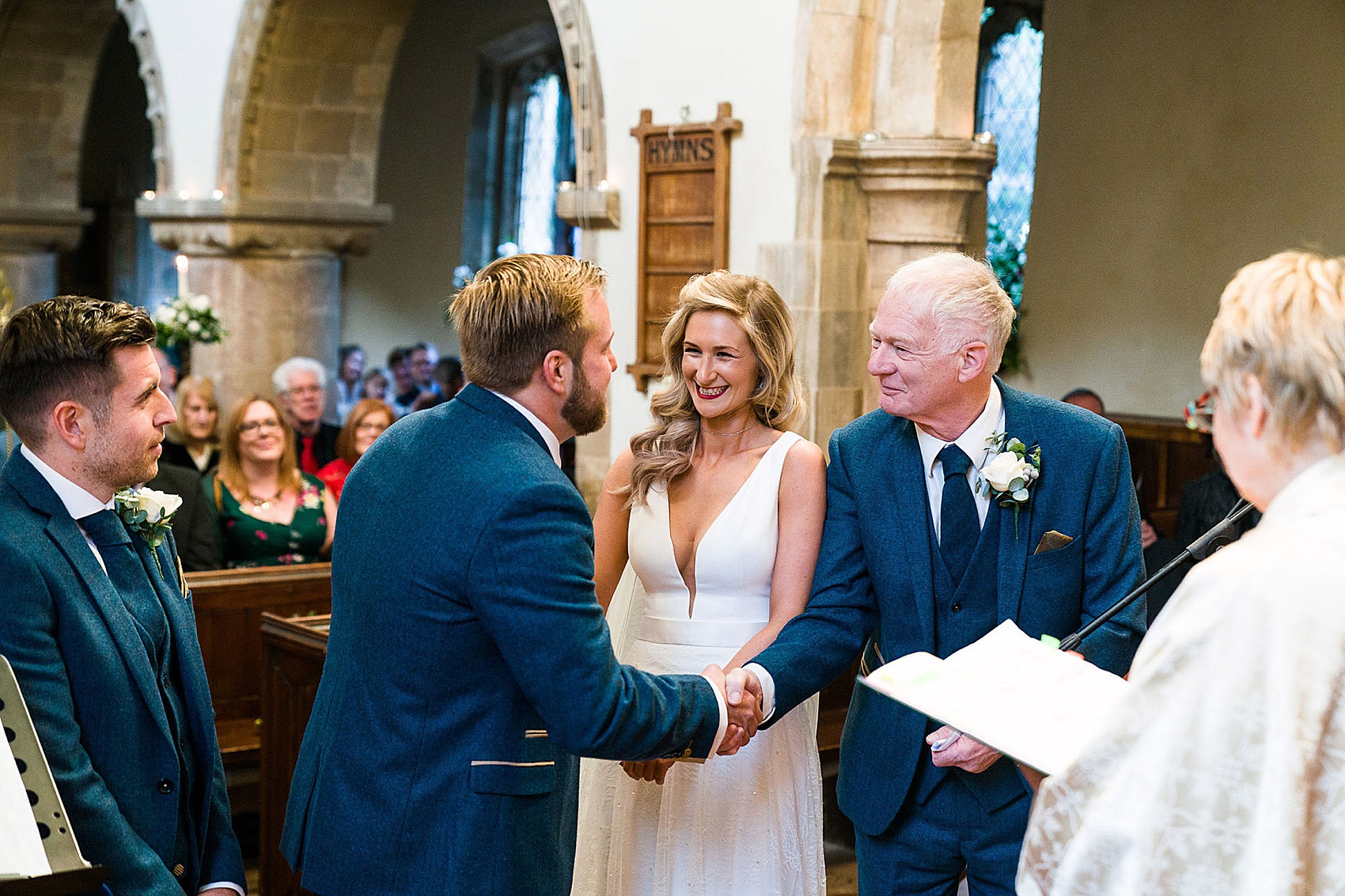 "I used Etsy to find a similar back necklace to hang down the back of my dress. I really loved the 'glam' feeling I had when everything came together on the day. They were also my 'something blue'."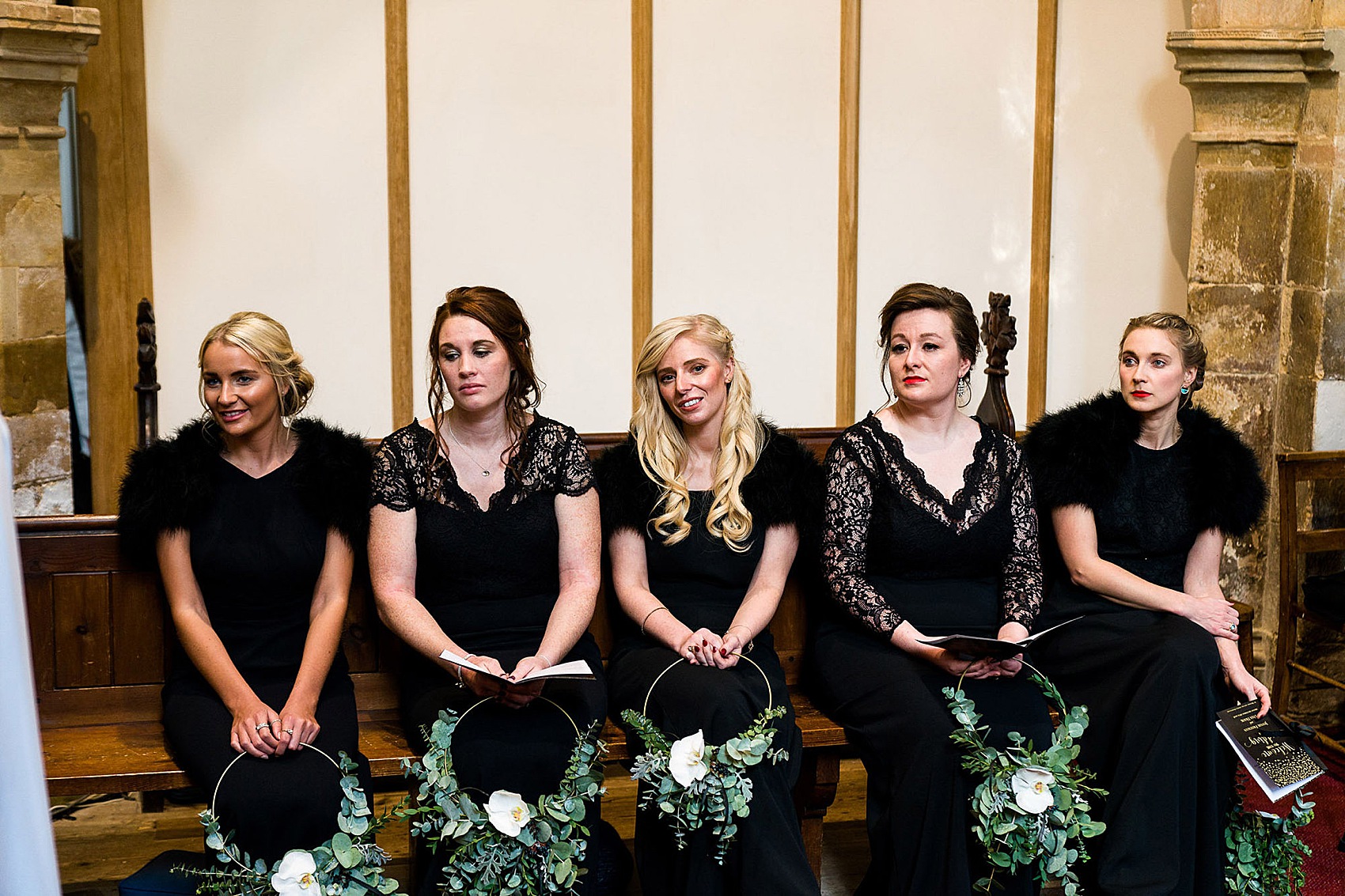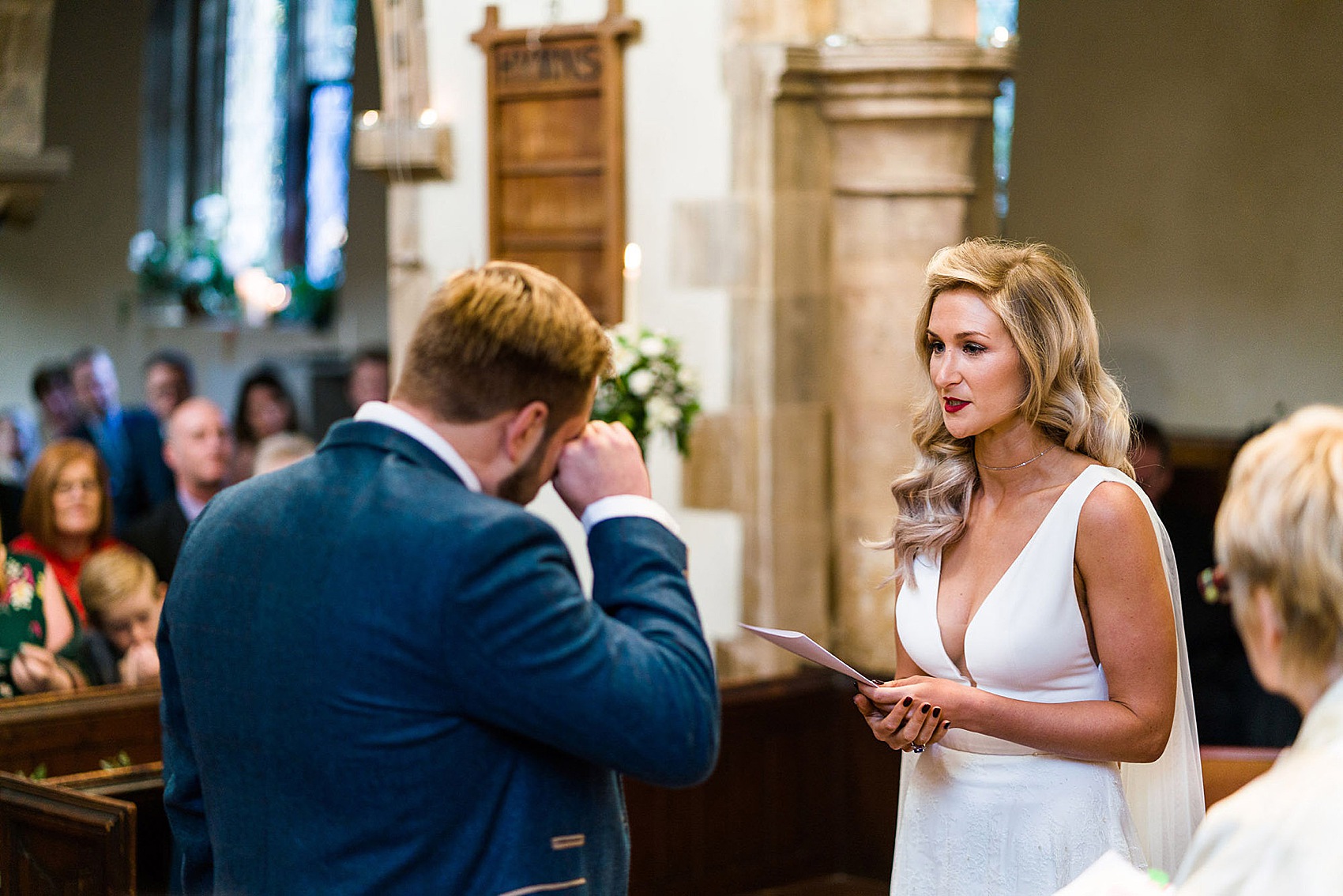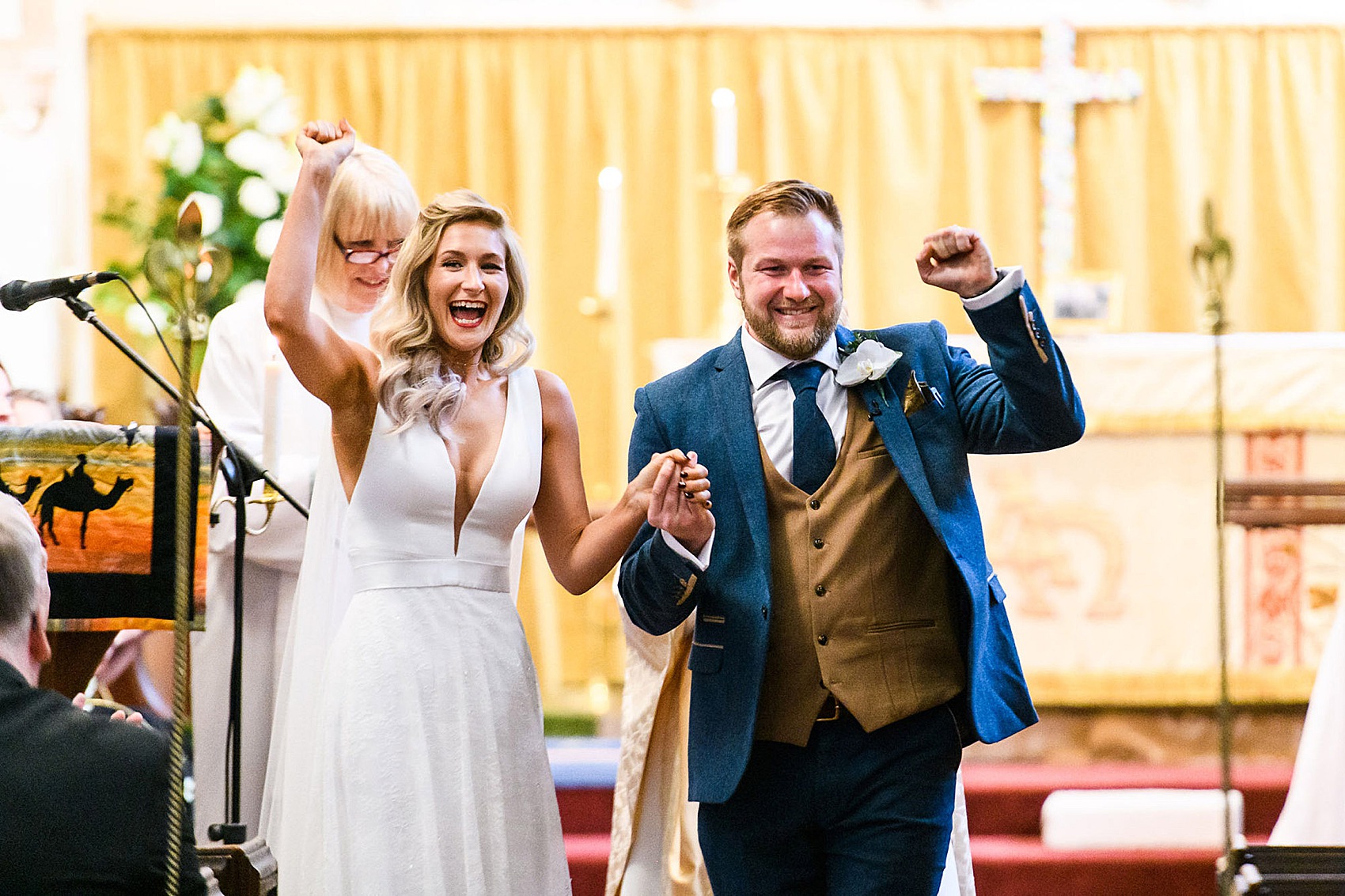 The final touch were the wild and wonderful hoops of white flowers and green foliage, with an extravagant bouquet for the bride.
"We used a family friend for the flowers who was amazing. We went for whites and greens with winter berries. I loved that we used hoops for the bridesmaids. One of the girls has dried their flowers on the hoop and put it up in her house which is so lovely and it looks really effective. We kept the table decorations very green – five different types of eucalyptus which were loosely laid and intertwined with candles."
After exchanging rings made in Qatar, the newly-weds walked out of the church in to a cloud of confetti before heading to Ollerton and their reception venue.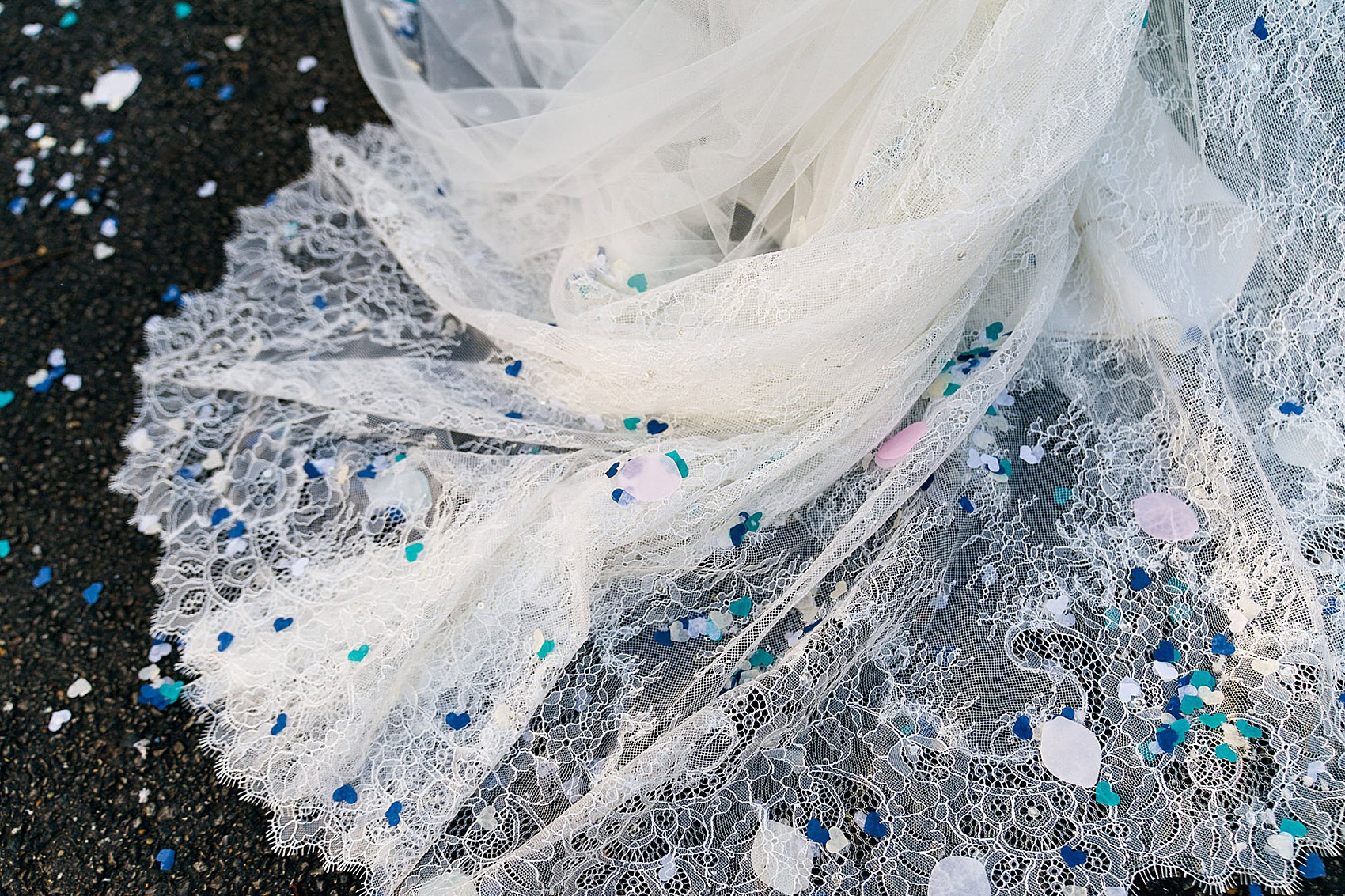 For a sophisticated vibe, the bridesmaids were dressed in lacy black gowns from Dessy UK.
"We chose black for the girls. They could all choose their own dresses from the website and they were ordered into Frances Day as they are a stockist. I did not mind at all what they chose–I just wanted them to feel comfortable. Being abroad, it was tricky getting everyone together for shopping so this was a really helpful solution."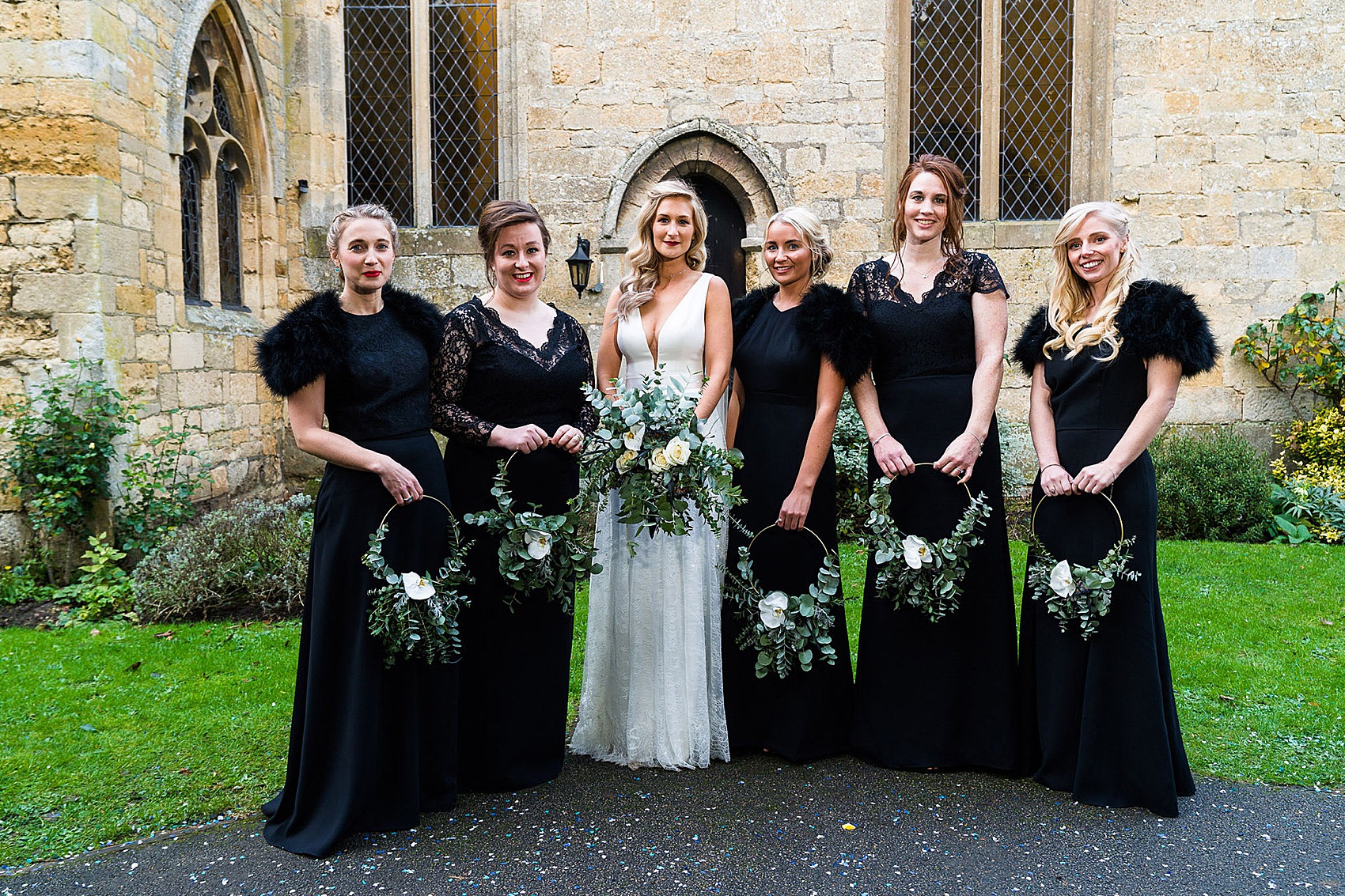 Capturing the day from start to end were husband and wife team Martin Cheung Photography and No Ordinary Films whose documentary style reflects all of the fun and love of the day as well as getting the countryside in its winter beauty.
"Martin was just wonderful–so helpful and knew exactly what we wanted. We chose him because of his use of light in landscape shots and we thought for winter, we might be able to get some more unique shots. We don't particularly like having our photo taken so we wanted Martin as his style takes in the whole surroundings, and not simply us as a couple. He captures the essence of the day."
Martin's wife, Daiga of No Ordinary Films, created this divine film.
"We could not be more thrilled with the video – it's very personal as our speeches are included. We couldn't have asked for more as it shows us as a couple and the journey we've been on together."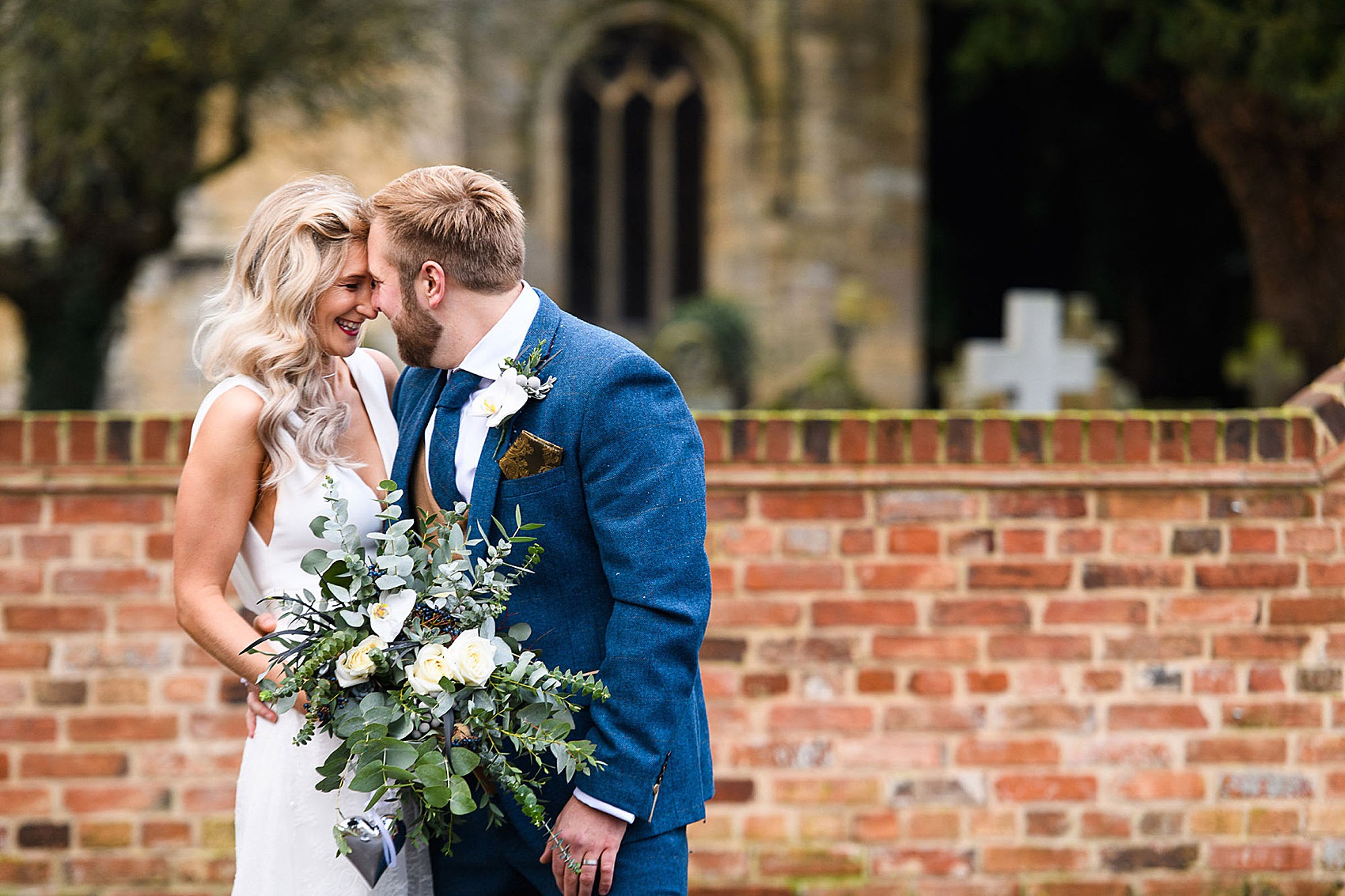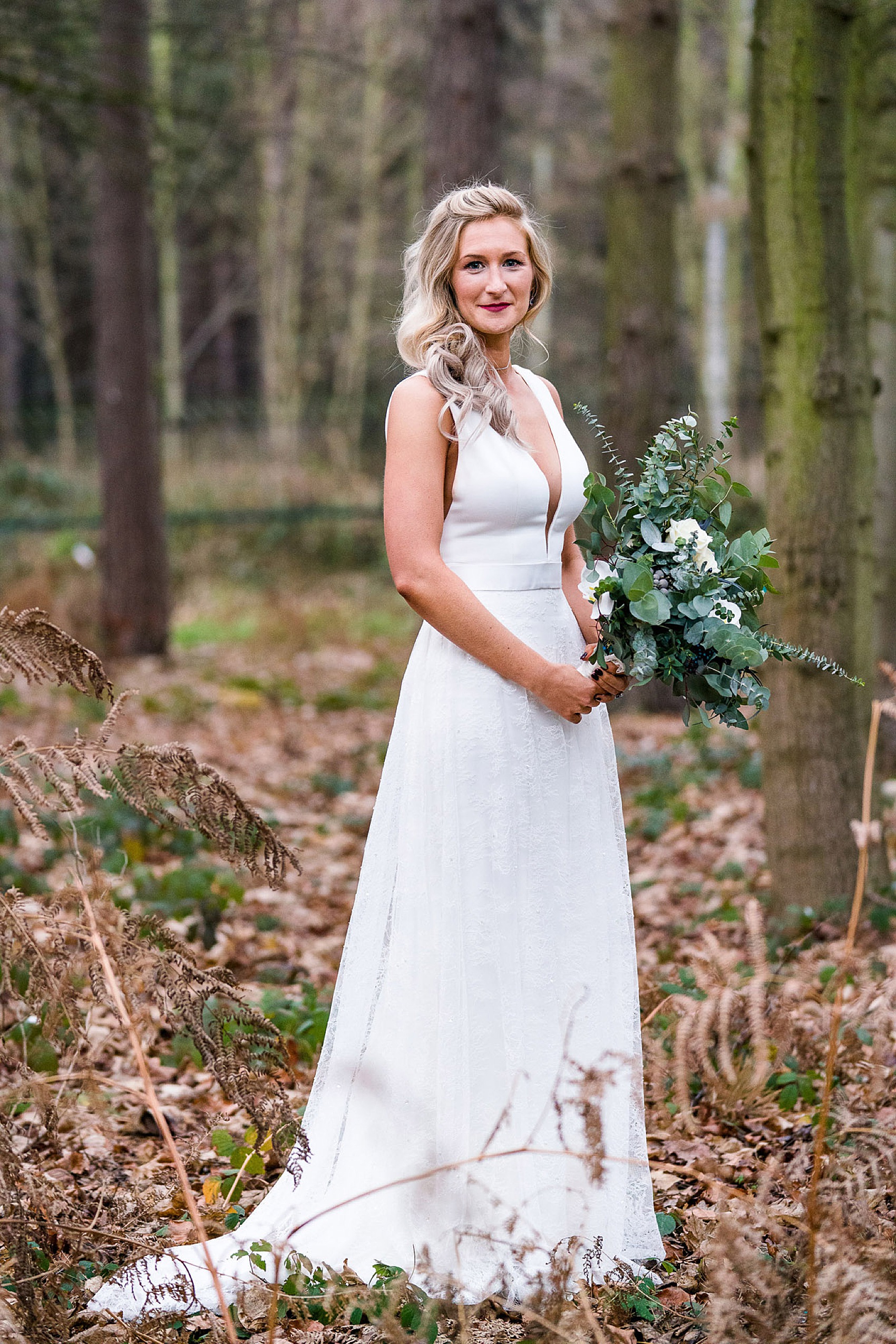 The couple worked with The Pumping House to plan their day from afar.
"Dan chose it because of its industrial feel and how varied the space is. They were also incredibly flexible with our ideas, much more so than any other place we had visited. We moved from Qatar to South Korea while planning the wedding so we had to plan everything from abroad, which was tricky. To take the stress away, we just bought what we liked and made it work on the day. We wanted it to be very individual and hoped our guests felt the wedding was very representative of 'us'."
The industrial spaces of The Pumping House had been made cosy and fun with the addition of so many thoughtful, personal touches. The foodie elements were inspired by the couple's travels, too.
"The Pumping House is huge! It has lots of different rooms which are carefully decorated but we added our own touches: a hot chocolate bar, prosecco and food from Jeju Island (where we live) for people to try, a sweet table, a Mr.Whippy machine and a crêpe maker. There was a photo room and a map room where people could pin on a world map their favourite place for us to visit and why – we are going to put this up in our house."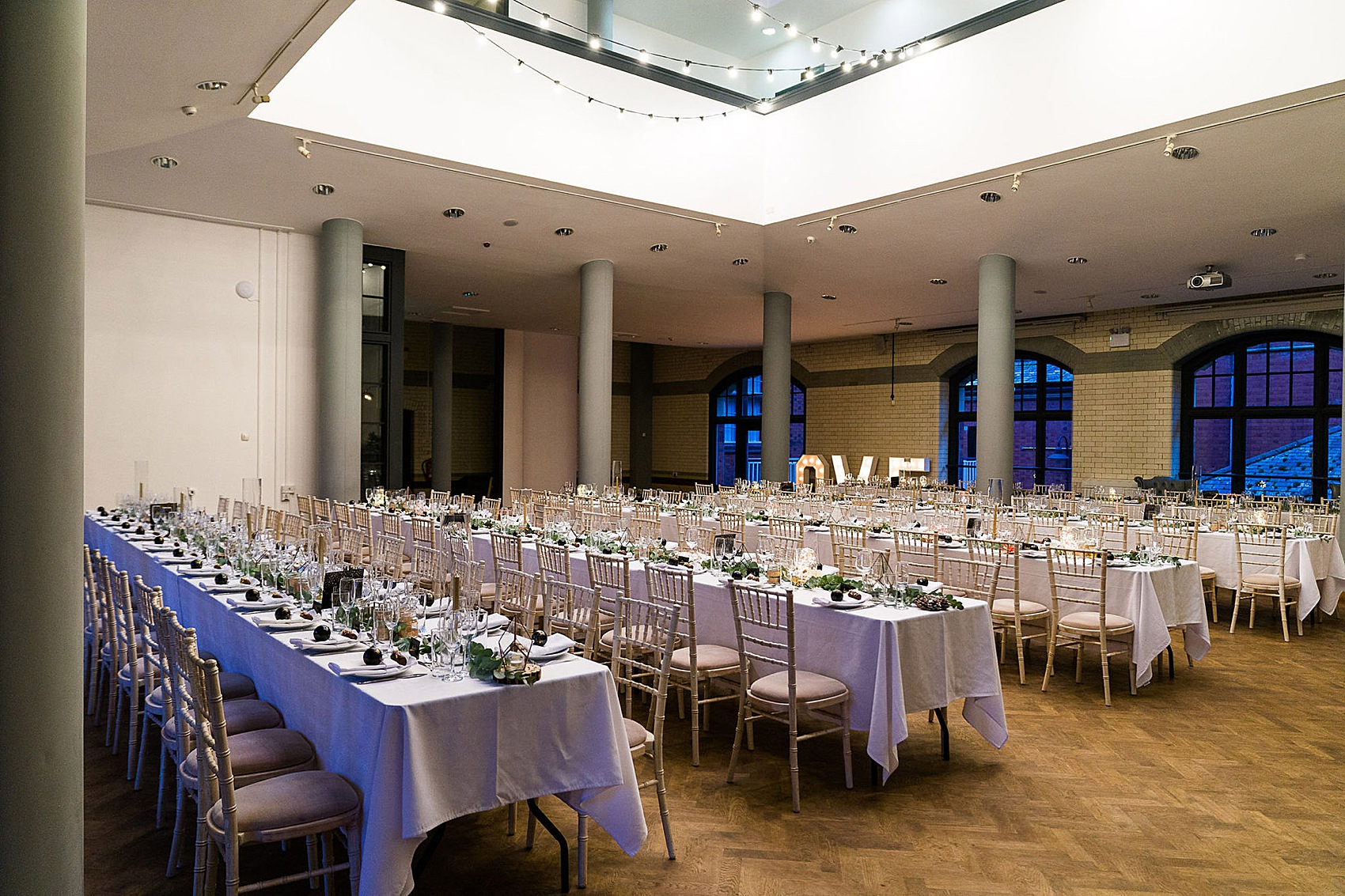 "There was a cinema room with all of the videos Dan has made of our holidays with popcorn and comfy chair, a gin room with all of Dan's homemade gins for guests to help themselves to and the postcard room. We had South African-themed food outside from Jane White at Now Now South African Food Co. and sparklers at night time."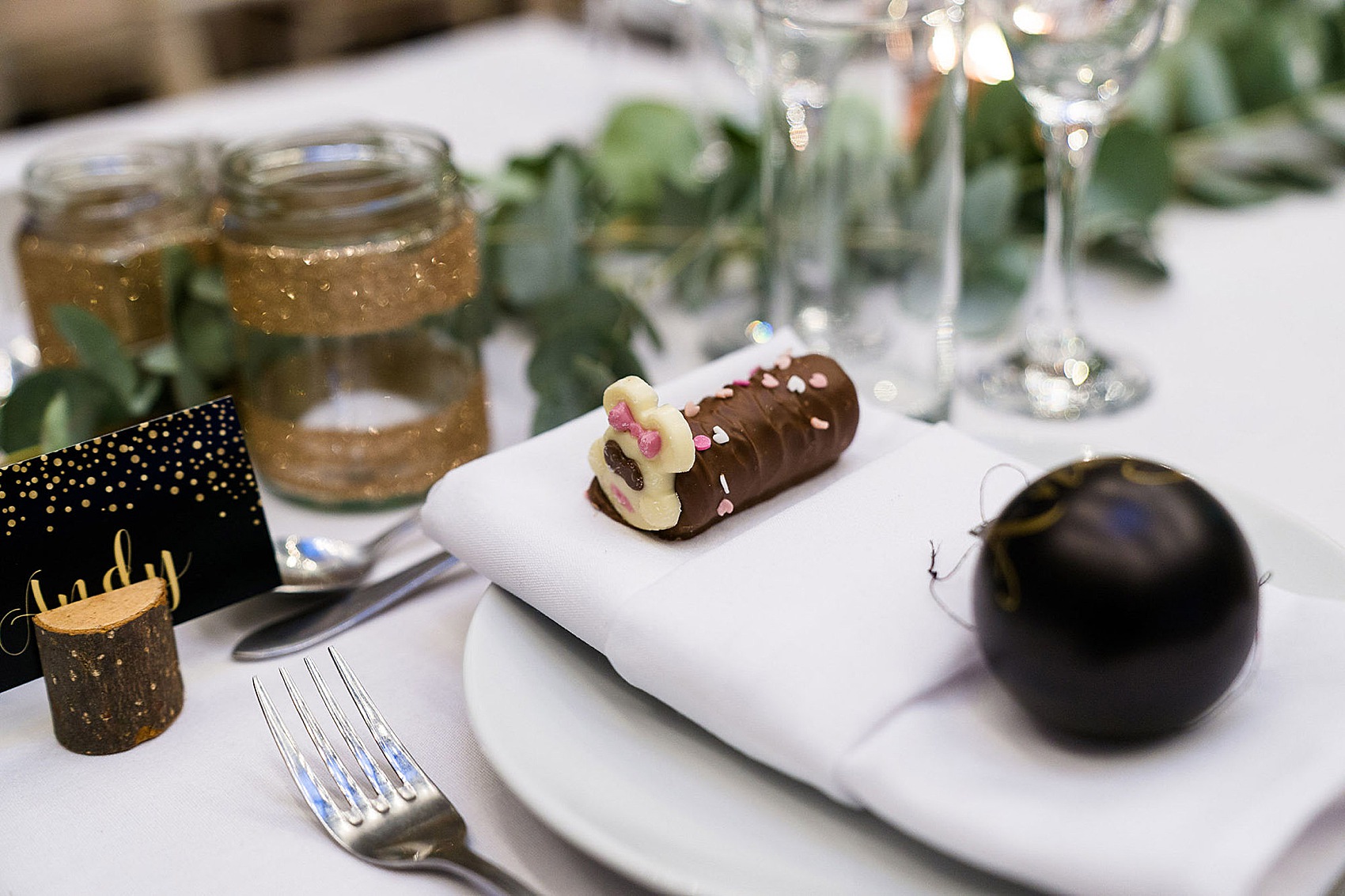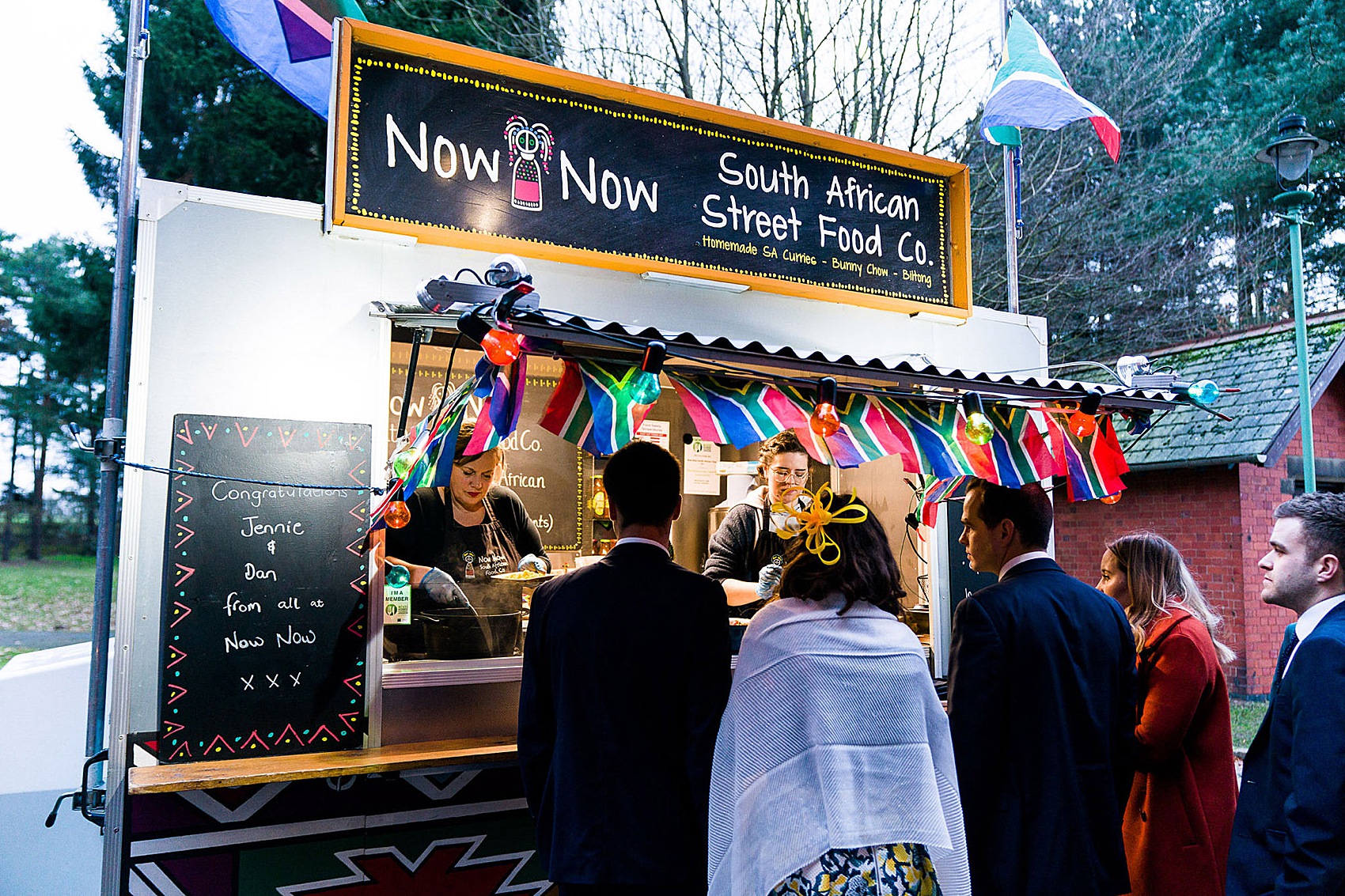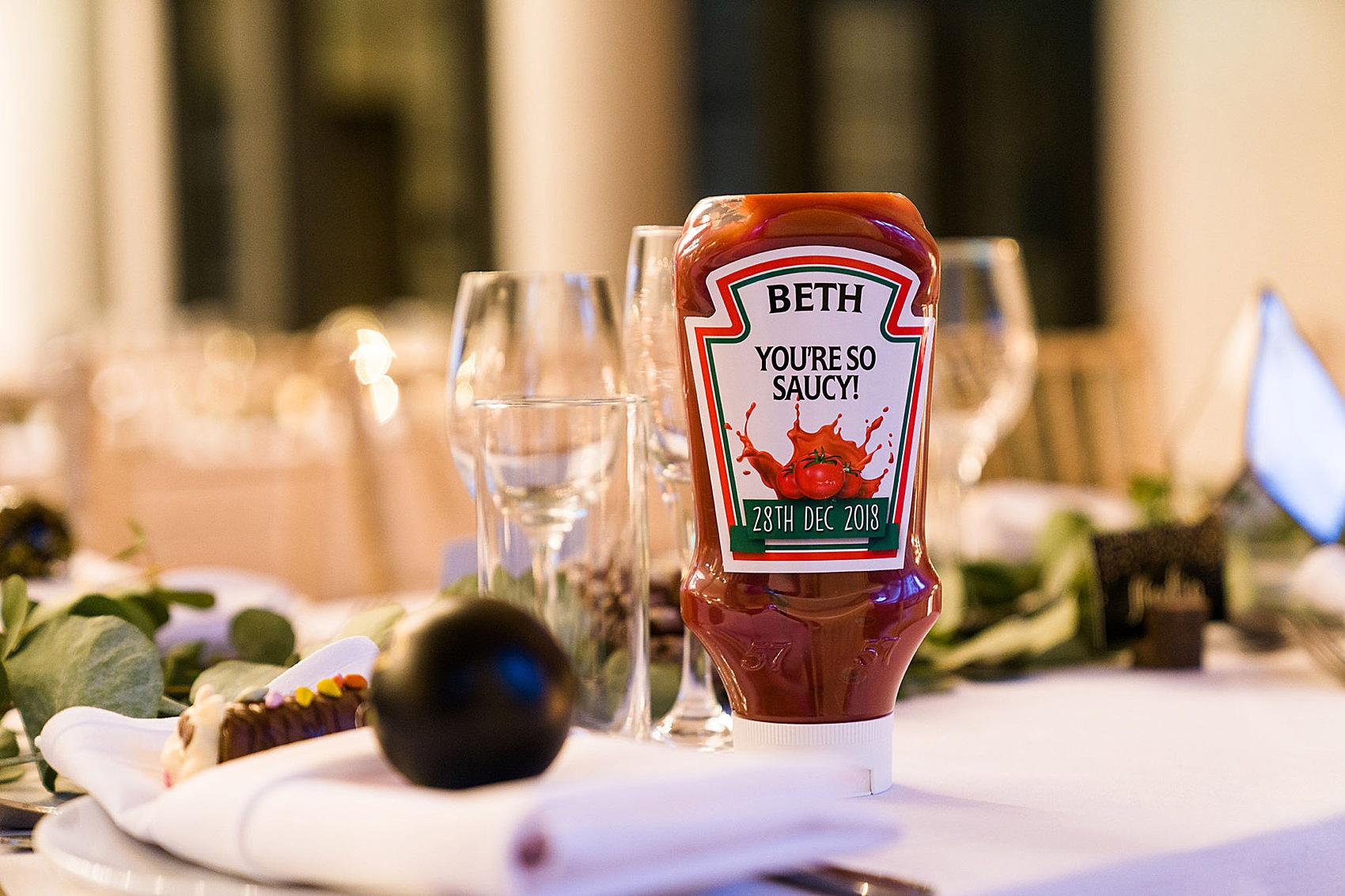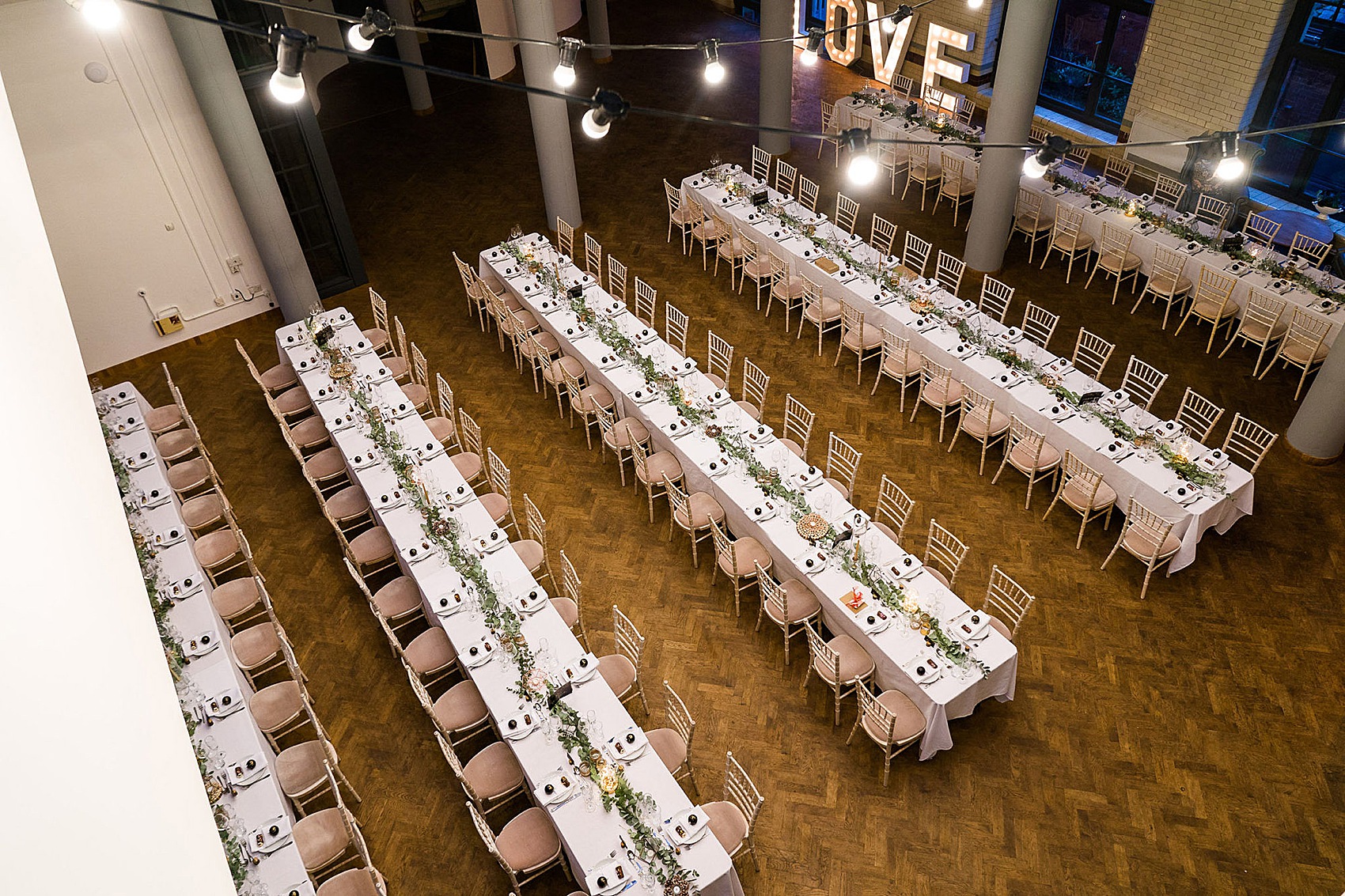 "We loved travelling and we wanted this to inspire the food during the day; we had dishes from the countries we have visited together. We collected postcards from our holidays and wrote an individual one to everyone who came so they knew how much they meant to us."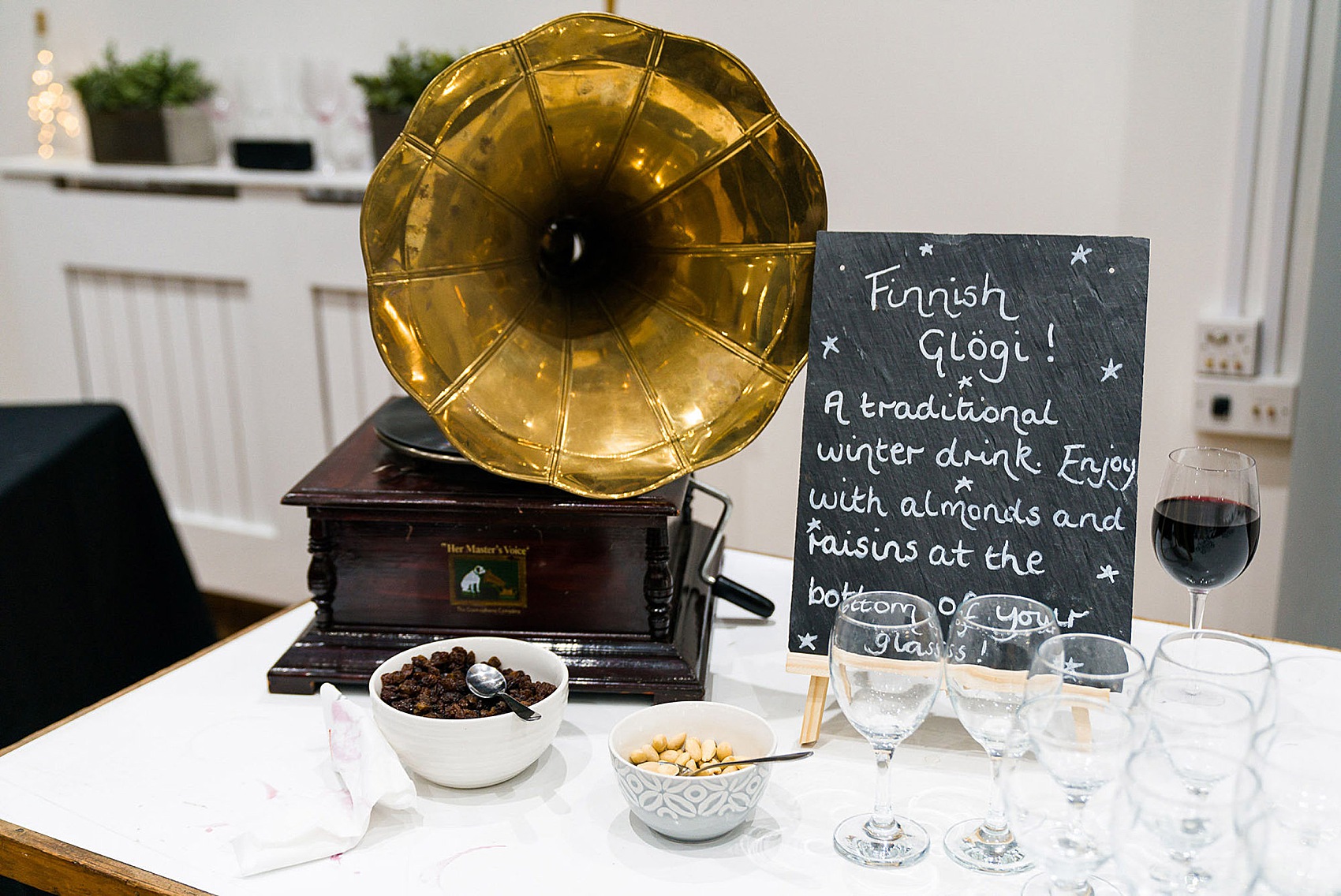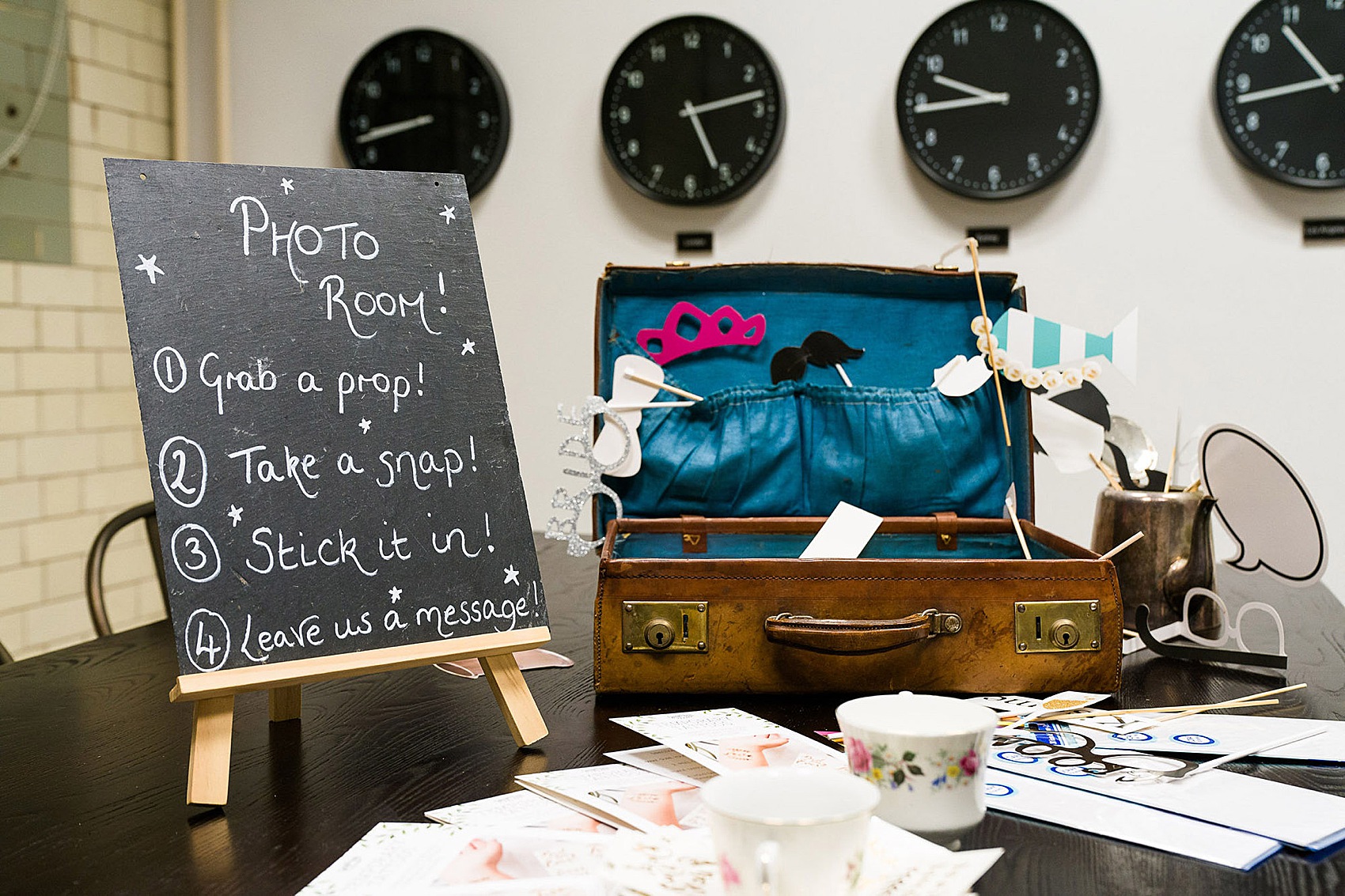 For the wedding breakfast, the guests' places were indicated by hand-made Christmas baubles.
"We created baubles with everyone's name on. We hand-wrote everyone postcards from our travels and everyone had a Colin the Caterpillar because Dan made me a caterpillar cake for my birthday about two months after arriving in Qatar (hoping it would win me over!). He delivered it to the restaurant before all of us arrived for a huge birthday meal and the staff brought it out and everyone sang 'Happy Birthday'. He thought it would win me over and while it was delicious, I think he simply got ridiculed for it in school for a long time after (but not by me!)"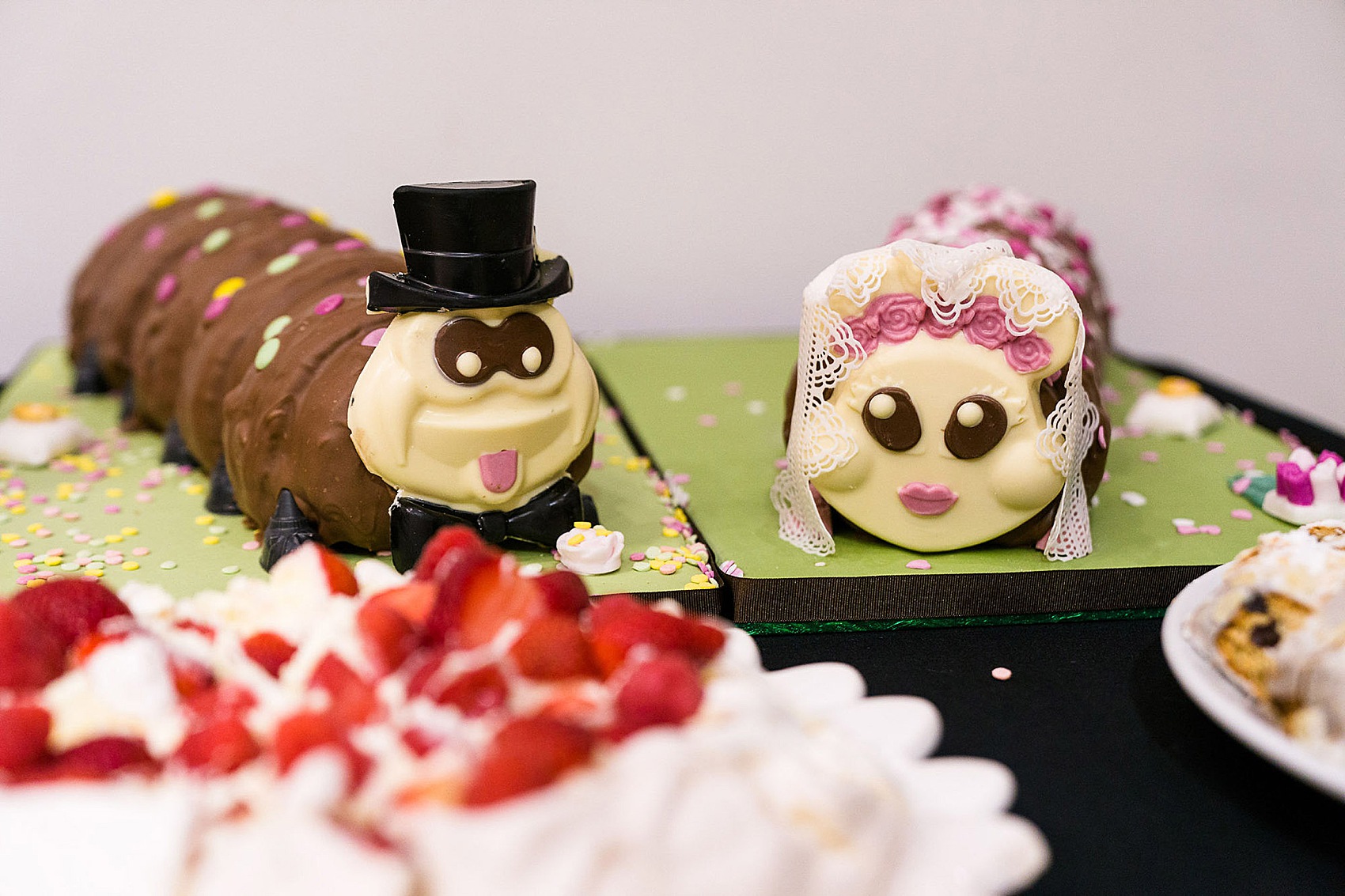 I have to mention the monochrome wedding cake, a beauty created by the bride's mum, decorated with hand-made sugar orchids.
"It was one of the most beautiful things I have ever seen! I asked for black, gold and white and she created an absolute masterpiece! It was incredibly difficult to transport but stunning (and alcoholic!) fruit cake which we in Lincolnshire eat with cheese (and sometimes jam) – wonderful for after dinner! When I got back in the summer after the wedding, Mum had so kindly put the flowers she made for the cake in a box frame with our name cards from the wedding as something to put up on the wall in our house–how lovely."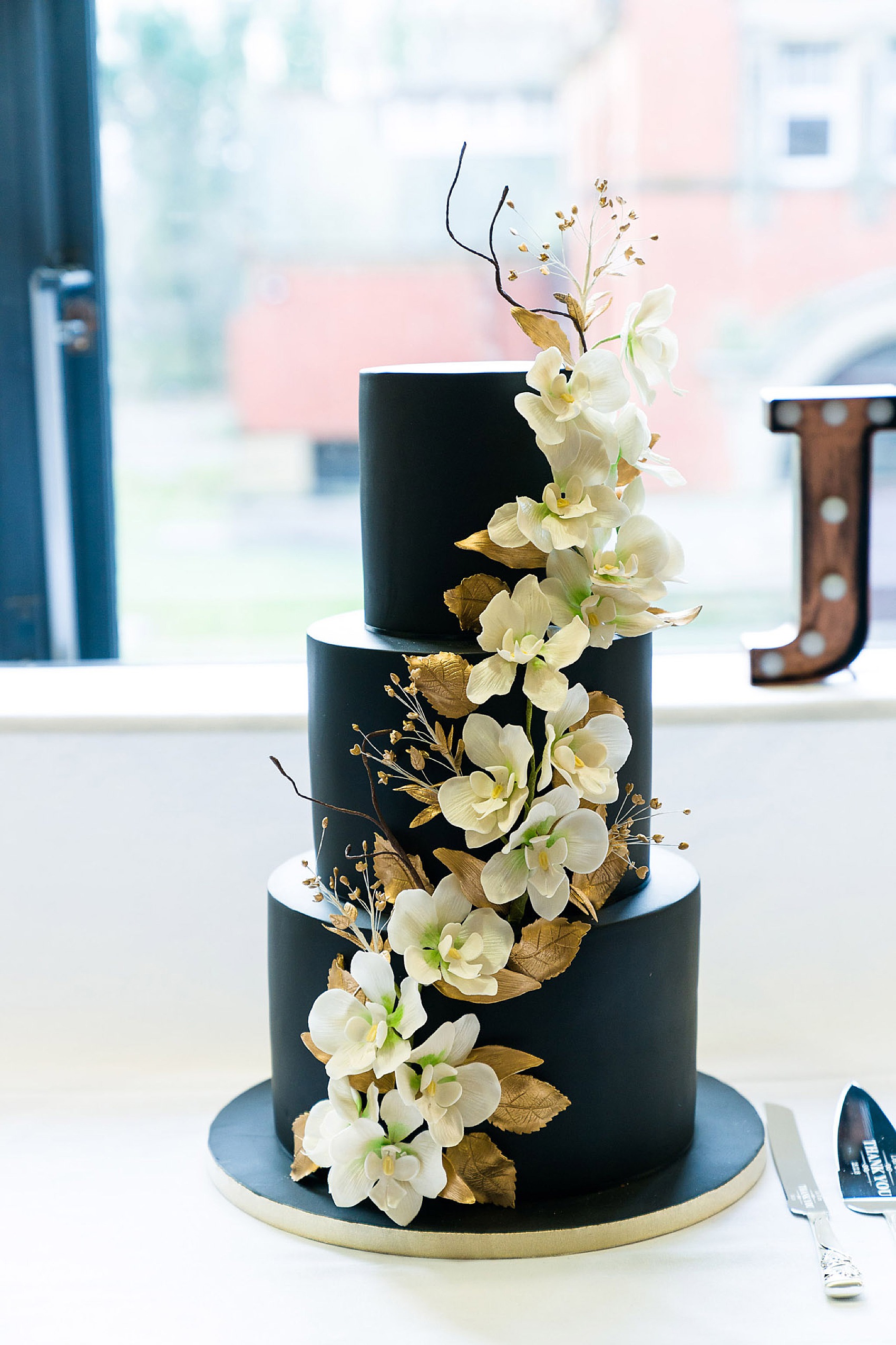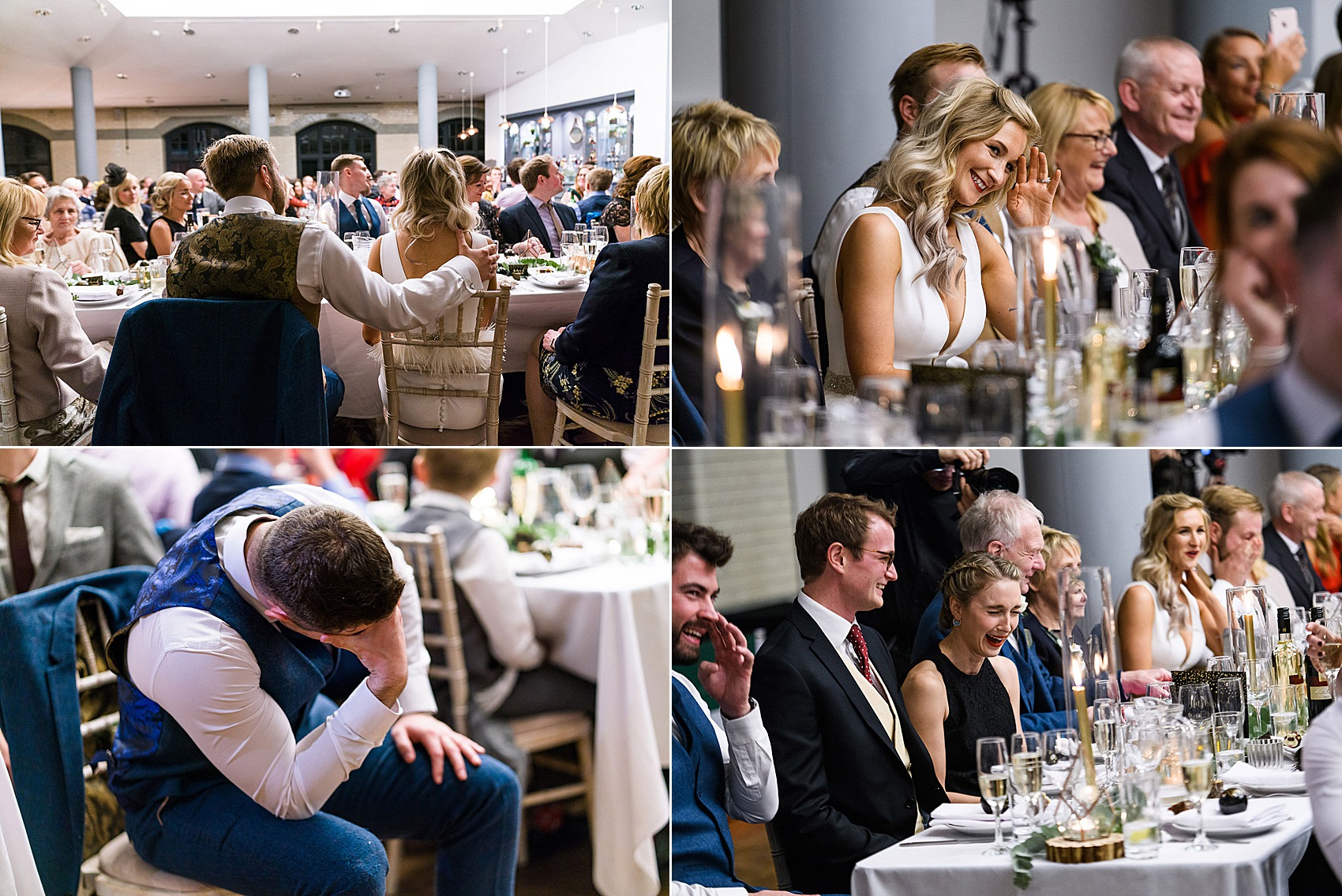 Before dancing to the band, the couple took to the dance floor for their first dance to 'In Case You Didn't Know' by Brett Young.
"We love country music! We were so lucky because our wonderful dance teacher at school, Natalie, choreographed a simple dance for us."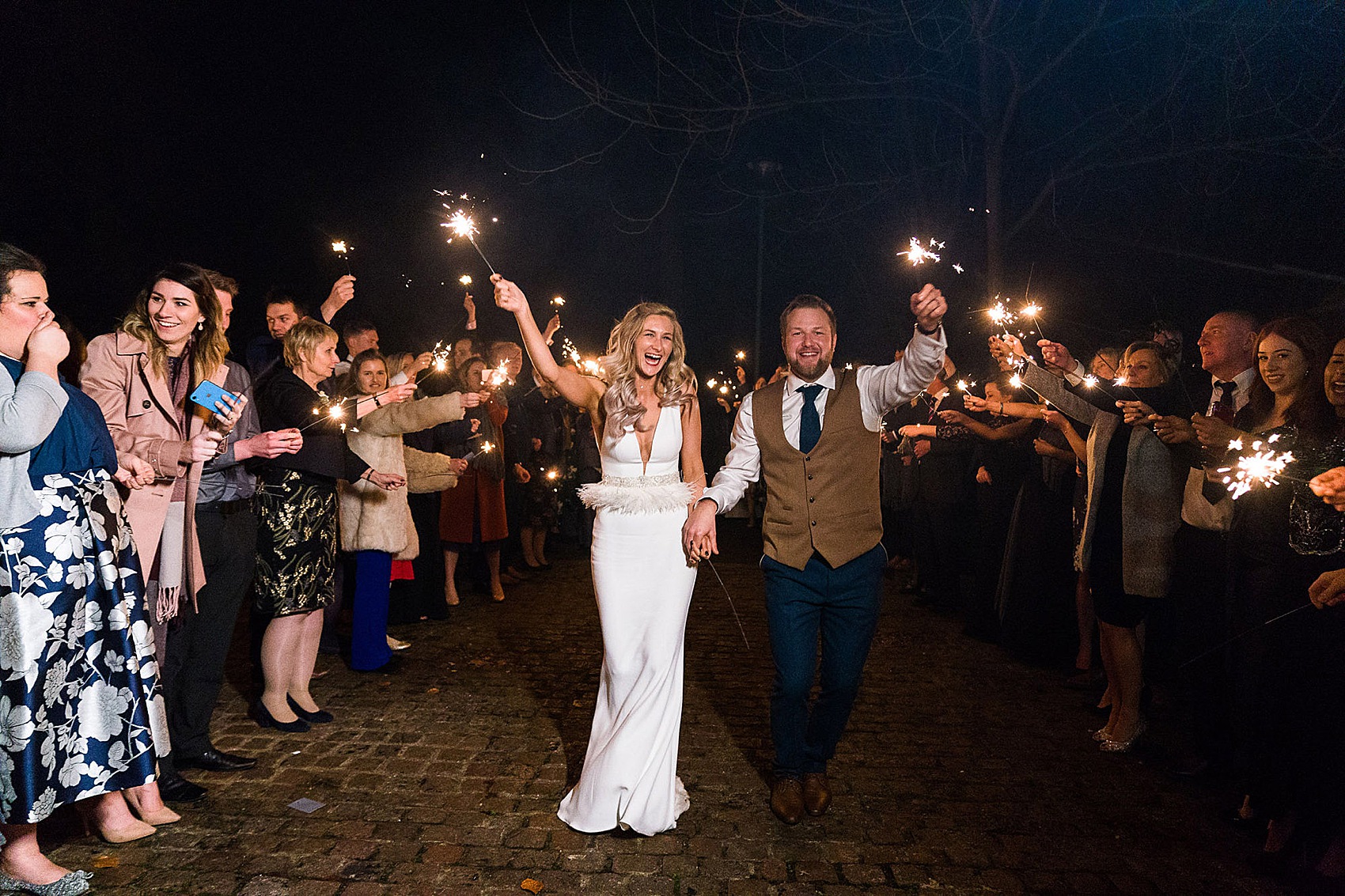 Words of Wedded Wisdom
"Take time in the day for just yourselves. I can't stress that enough – take each aside and go and watch everything you've planned and see everyone having an amazing time because time goes so fast on the actual day."
"Give your bridesmaids and groomsmen one job for the day – that'll help you to stop thinking about everything because honestly, you don't have time!"
All this beauty just leaves me to say, thank you Jennie and Dan, for sharing this insight into your December wedding day; what gorgeous fun it looks. Thank you too, Martin Cheung Photography and no Ordinary Films, for your divine work too. For more winter wedding inspo, I'd love for you to enjoy these weddings here.
Ele xx