As promised dear friends, we will continue to spread love and joy throughout these troubling times. Did you see this morning's article celebrating the most happy and uplifting wedding photographs?
We sincerely hope that you are all OK, that you are safe, healthy, retreating into social distancing and brides, that you are having conversations with your suppliers about postponing, if your wedding is due to take place anytime between now and AT LEAST the end of June.
This is the wedding of financial trader Tom and Olivia, director of a marketing agency, who chose The Ash Barton Estate in Braunton, North Devon for their nuptials on 23 March 2019.
 Toby Lowe Photography

+ Follow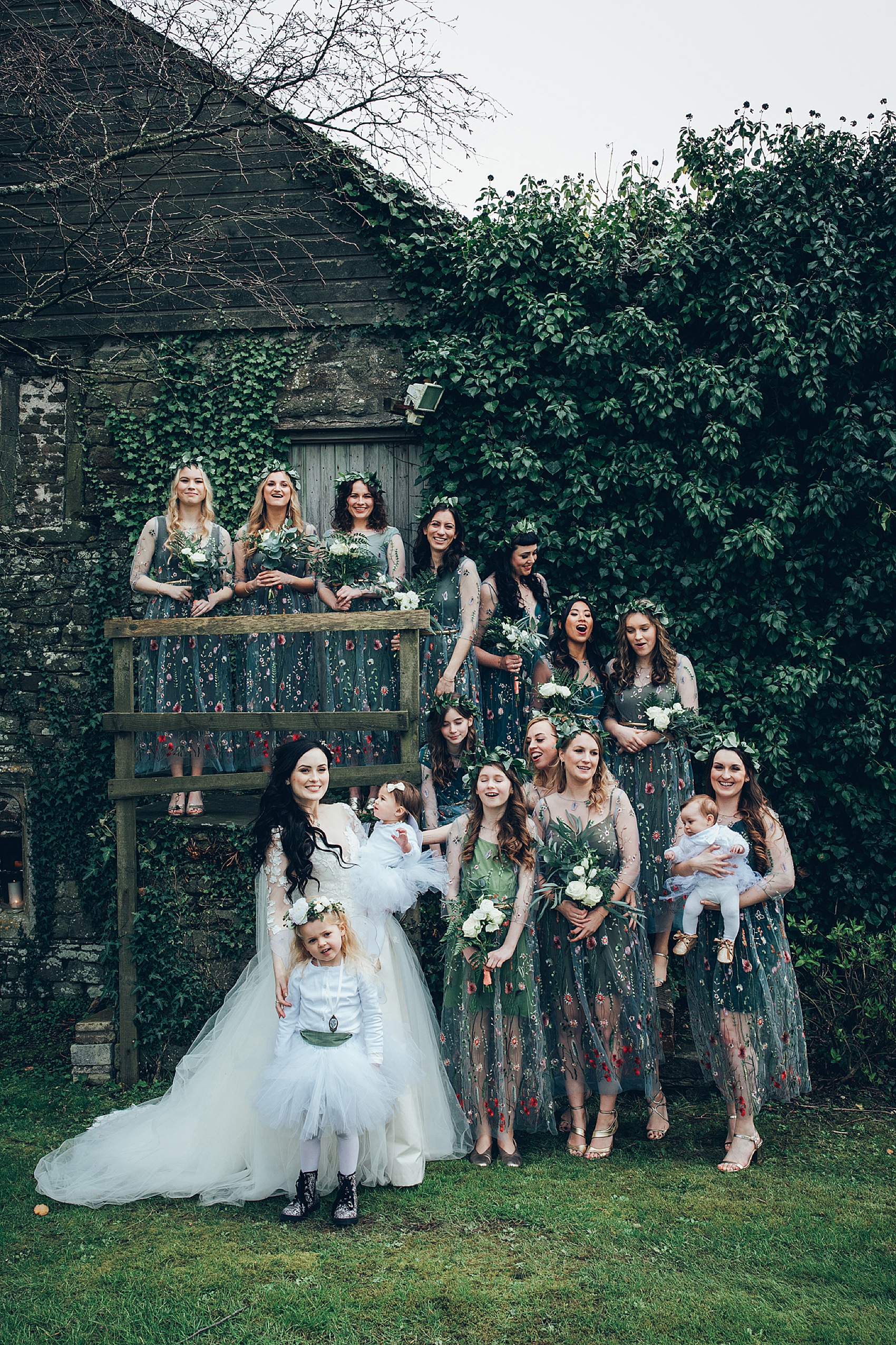 At the heart of its magical, DIY styling was a blend of earthy tones, deep green, foliage and natural elements, all tied up with the bride's love for dramatic touches. Oh, and a desire for the guests to relax and have fun.
"I knew I wanted it to be DIY with loads of personal touches. Most of all I wanted it to be fun for our guests and magical for the kids. I like a bit of drama so mixed that with gold candelabras and a big poofy dress. Words I used to describe it in the lead-up were ethereal and 'A Midsummer Night's Dream'."
Olivia had twelve bridesmaids and, with so many body shapes and tastes, finding a gown to suit them all could have been difficult. It sounds, though, as if Olivia hit on a perfect solution.
"I bought a floral overlay dress from China – AliExpress – and each bridesmaid picked their own under-layer in green. That meant they could all wear something they felt comfortable in and express their style if they wanted. I bought them all a gold bracelet with a leaf design and they wore foliage crowns."
Olivia looked every inch the Shakespearean fairy queen in her dramatic, bespoke gown which was designed and hand-made by Bethany Weatherill at Make & Mend Seamstress in Hackney? With a frothy, pure white skirt, appliquéd flowers cascading down the long sleeves and a plunging neckline, Olivia is simply beautiful.
"Bethany took my chaotic ramblings about what I was after and brought them to life. Although I ended up getting it made, I visited over sixteen shops in my quest to find the dream dress. Through endless research I found about seven images of different elements that came together to make the dream dress. I knew I wanted long sleeves and I was obsessed with a big tulle skirt and 3D flowers."
Olivia let her dark hair tumble over one shoulder, adorning it with a full-length veil and a half-crown of dried flowers.
"I used Suzi Winter Makeup Artist for make-up and Kyrelle at Devon Wedding Hair for my hair. I was absolutely thrilled with both. I hadn't had a test with Suzi but I had an instinct she was right and I'm so glad I went with my gut feeling. Tom's cousin Danielle did the make-up for the bridesmaids which was incredibly helpful."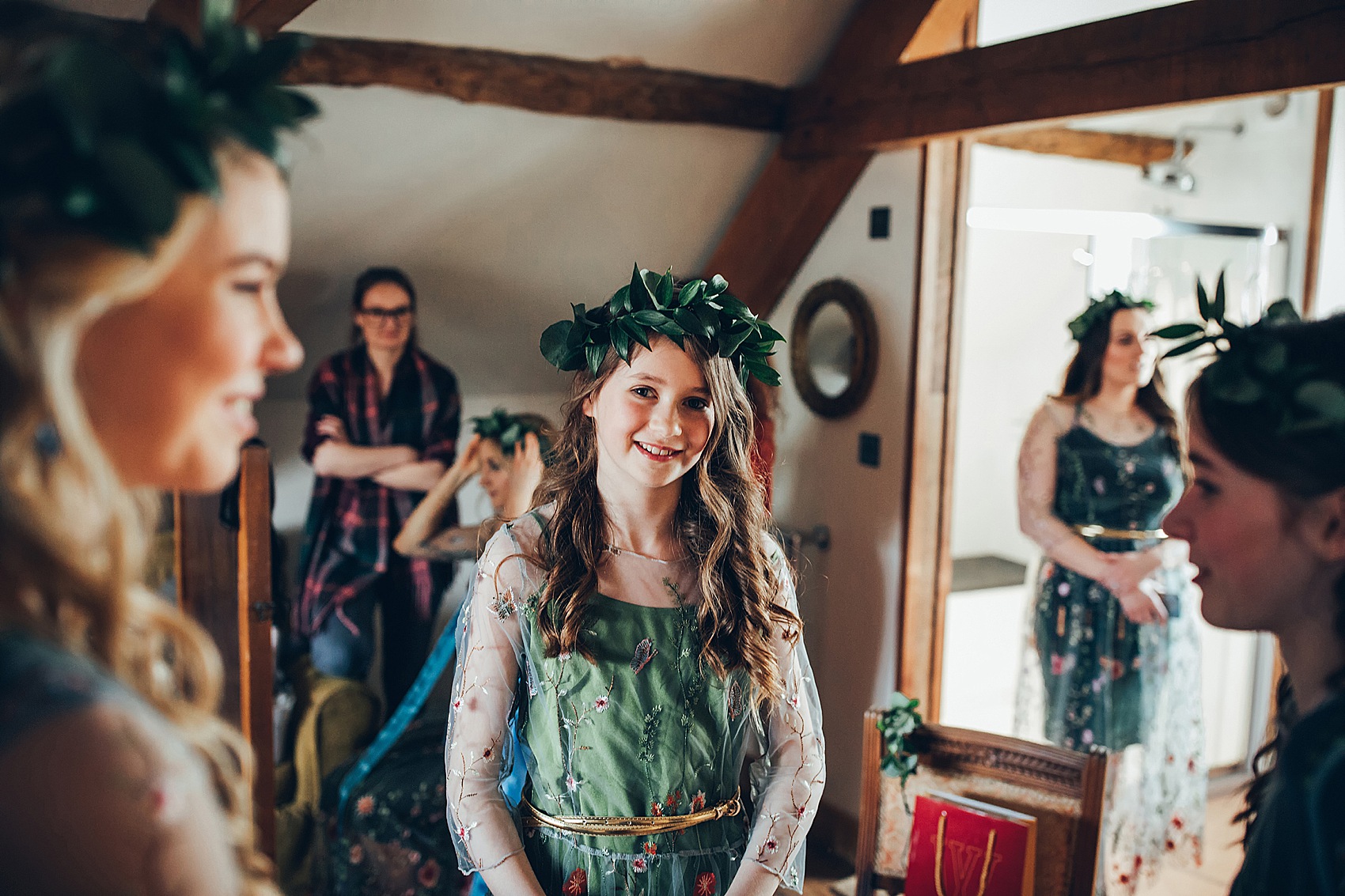 Reflecting the style of her own gown and The Midsummer Night's theme, the little flowergirls wore white tulle skirts over white leotards and tights.
"I provided them with a tulle skirt, gold shoes, wings, a sage green belt and a headdress, all bought from AliExpress."
"The pageboys bought their own shirts and short trousers and I gave them green long socks, green braces and bow ties to match the ushers."
Kicking off the green theme was Olivia's emerald engagement ring, which Tom proposed with on a trip to India
"We met at Queen Mary University of London, were friends for a few years and then got together ten years ago. We'd been keen to get married for a while but the timing wasn't right. I thought it was never going to happen!"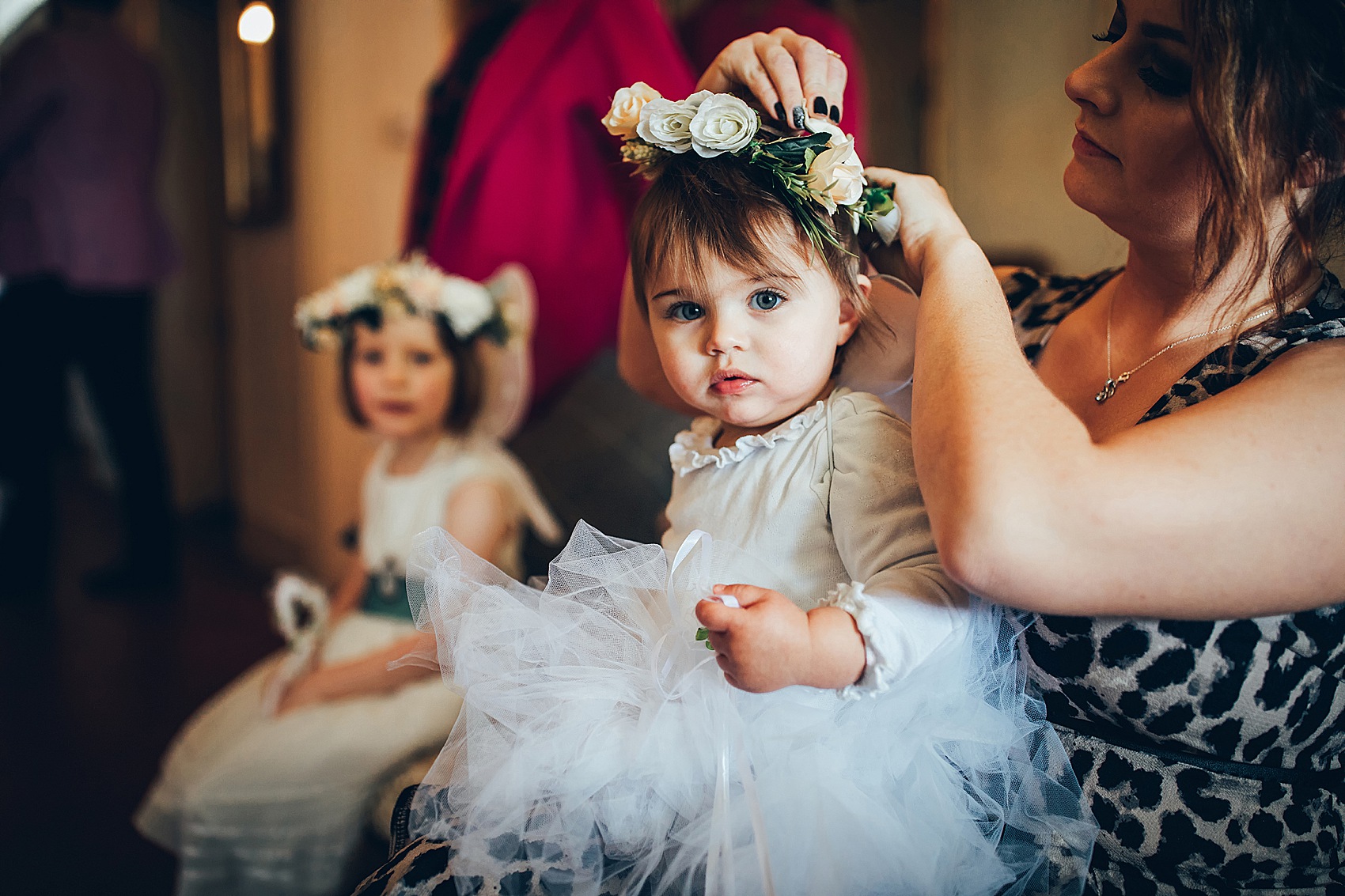 "I took Tom on holiday to India for his birthday and, little did I know, he had an engagement ring hidden in his socks. One day we woke up at the crack of dawn to watch wild dolphins, then got a boat to a secluded island where I started to read my Kindle."
Tom pretended to pick up a crab (I hate crabs and Tom is a wind-up merchant) and walked towards me with his hands clasped. I started shouting at him to stay away and he got closer and closer until he opened his hands to a stunning emerald at the same time as getting down on one knee. We told all our family and friends via Facetime that evening."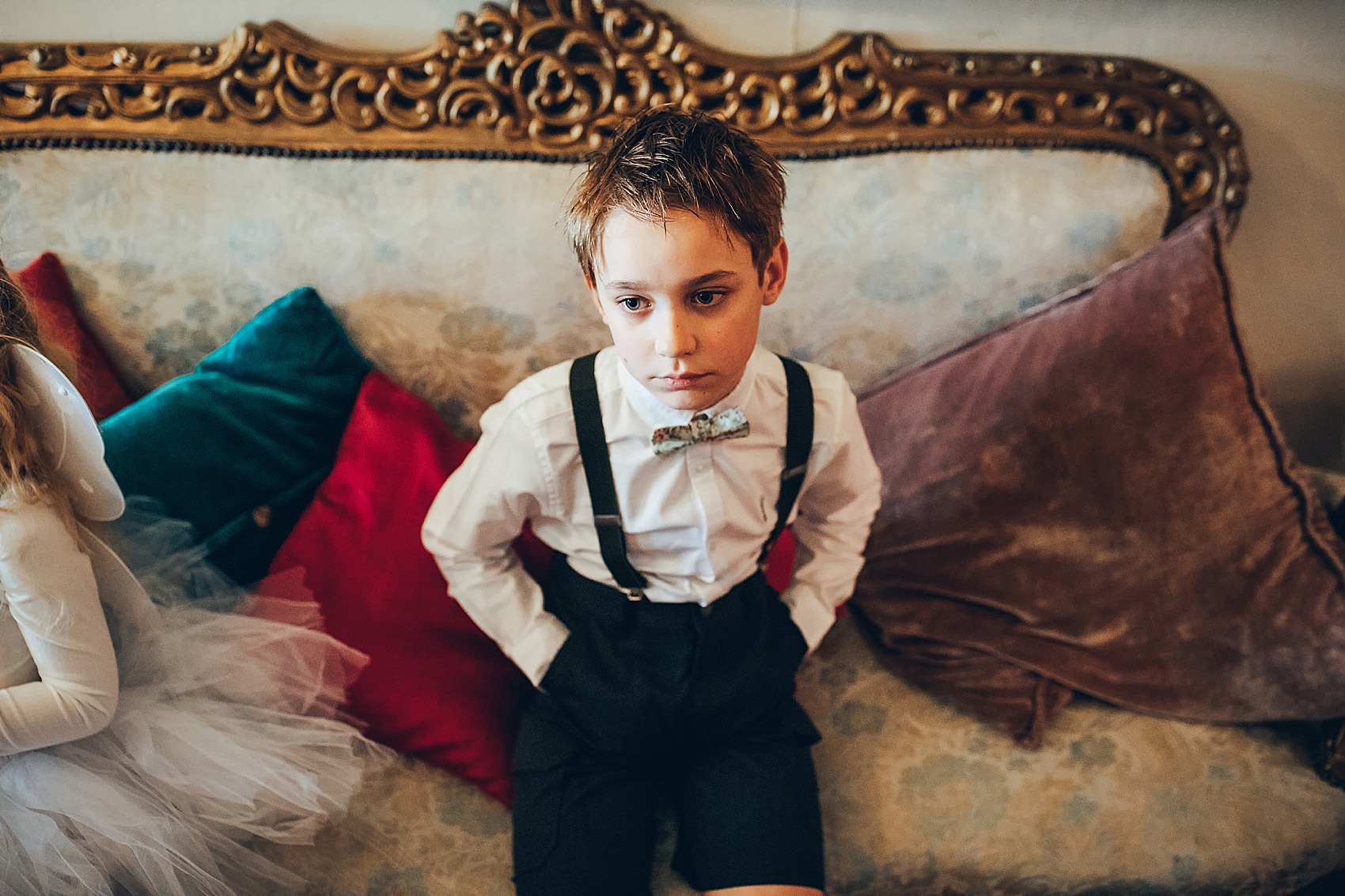 "My veil was handmade by Bethany with flowers from the dress sewn onto the bottom. I commissioned a dried flower headpiece from Folky Dokey who took my colour scheme and made a bespoke piece which was white with flecks of gold and lots of foliage."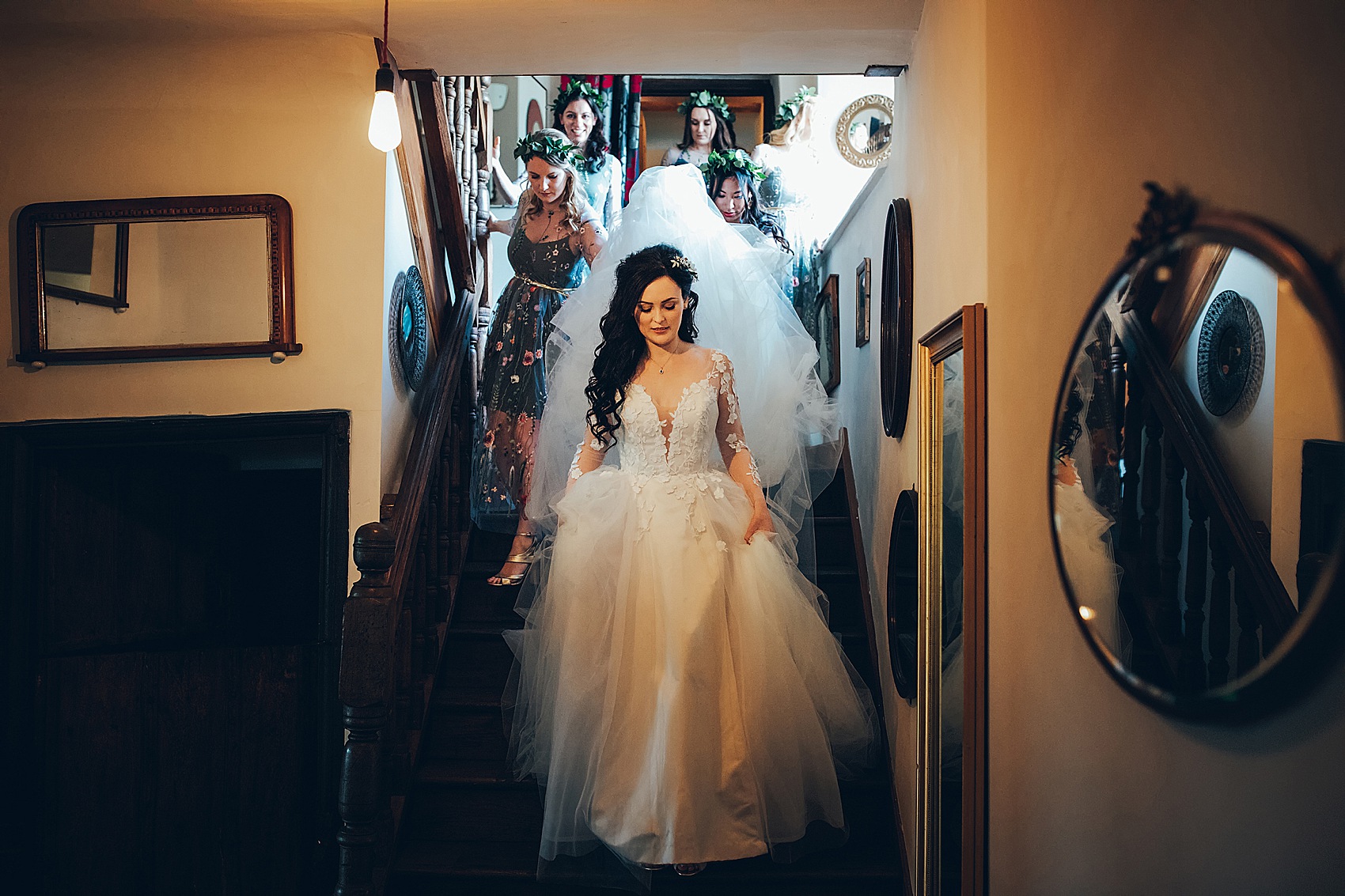 Her accessories perfectly matched her emerald ring and mirrored the hues of her bridesmaids' ethereal gowns too.
"My mum and Tom bought me an emerald necklace to wear – a little risky as it was a gift for the day and I hadn't tried it on but luckily it went perfectly. It matched my emerald engagement ring and the emerald earrings that Tom bought me a few years ago, all from Hatton Garden."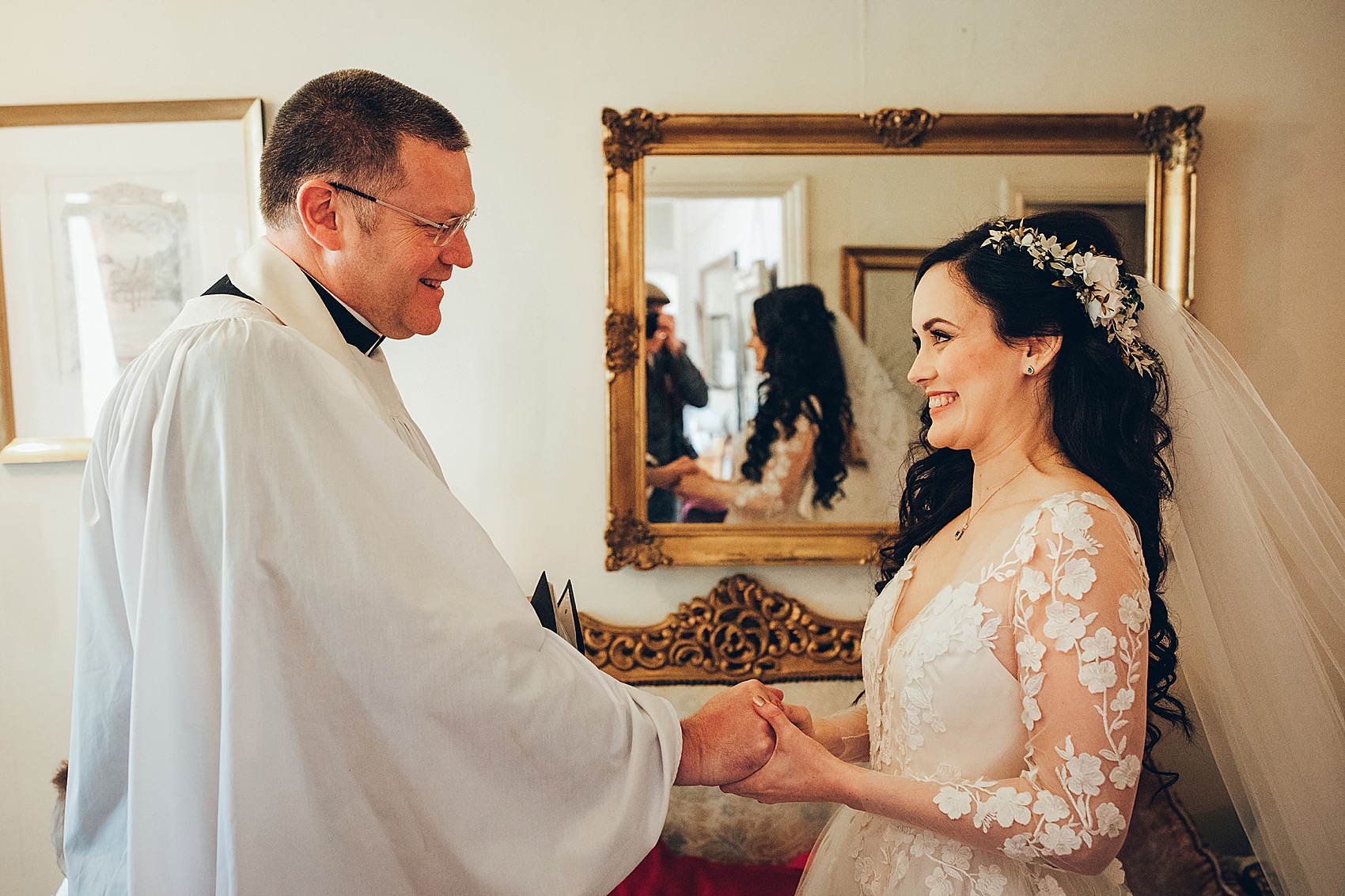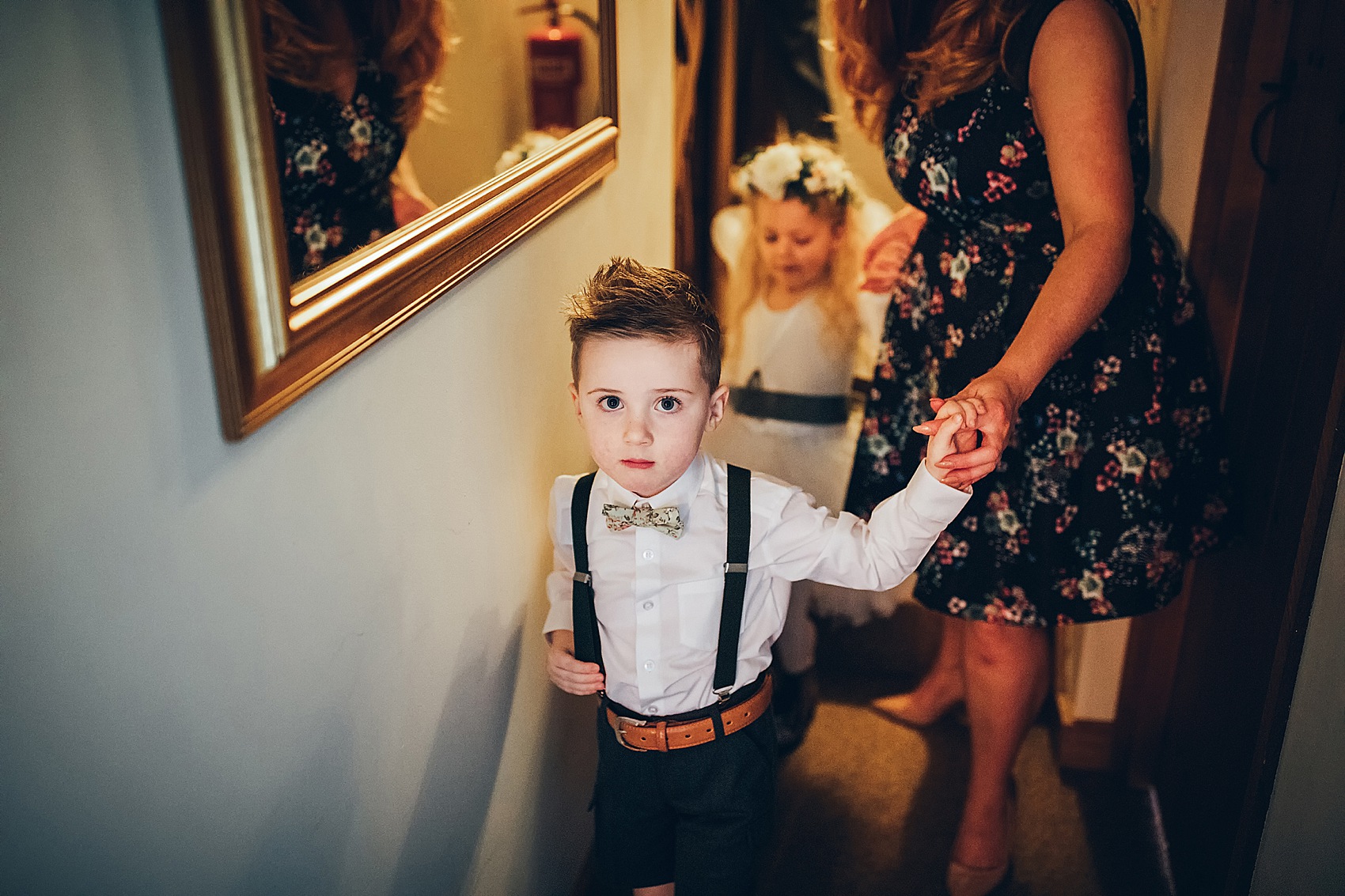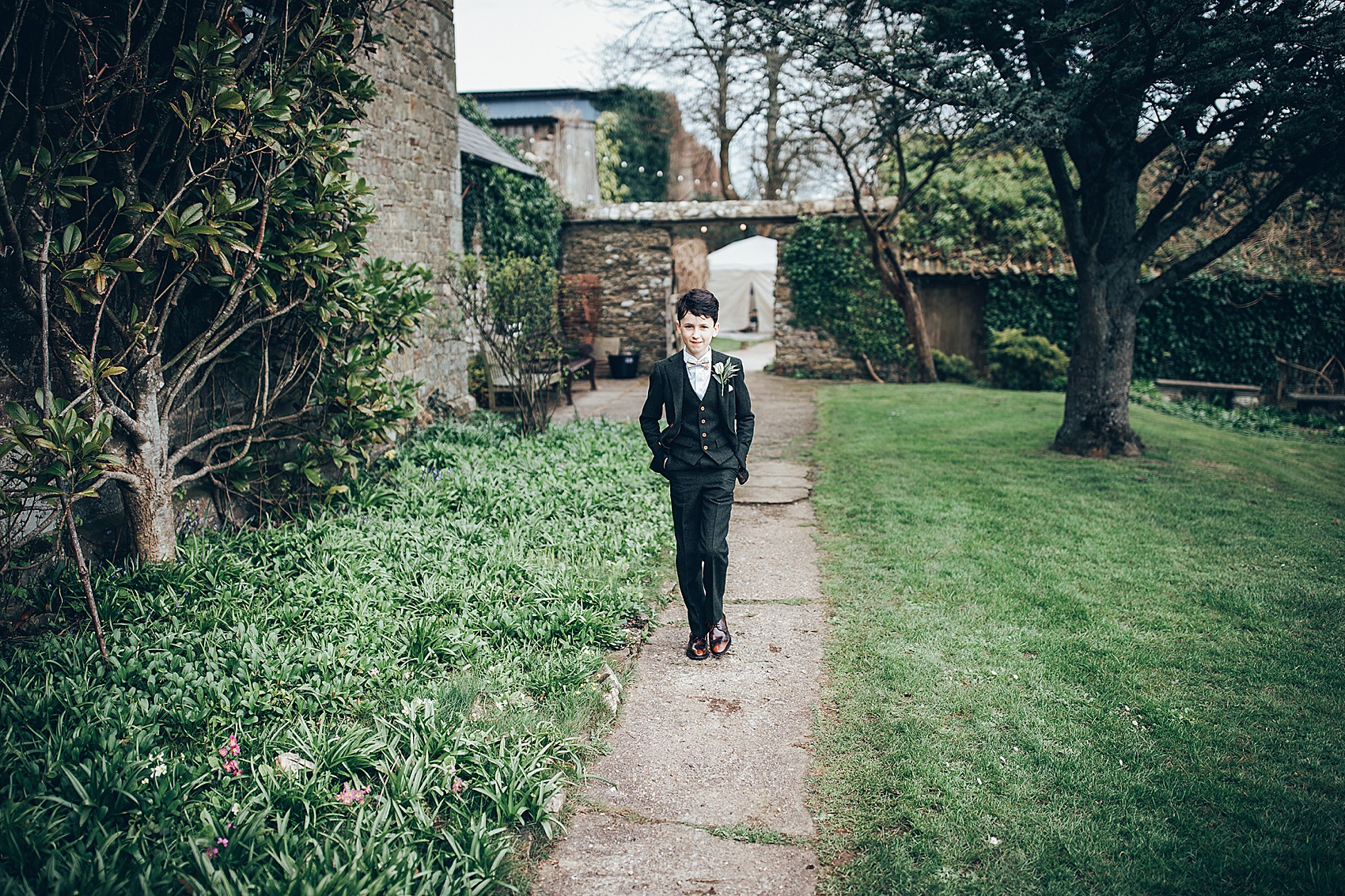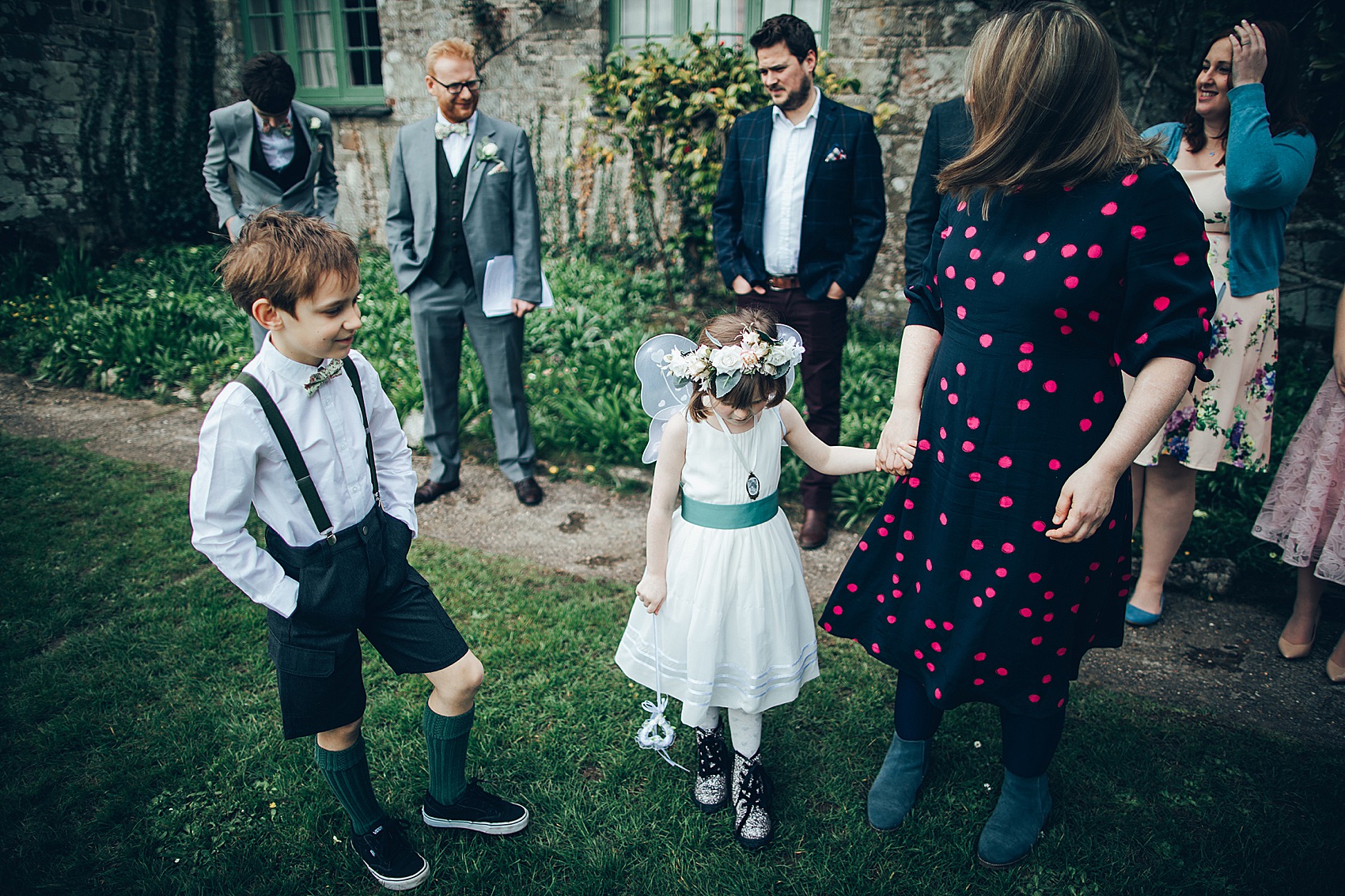 The groom's party were also dressed in shades of jewel green, Tom in a custom-made dark green suit from Jennis & Warmann in Hackney.
'We had an identical suit made for Tom's ten year old brother who was best man. We had floral bowties made for Tom, his best man and ushers."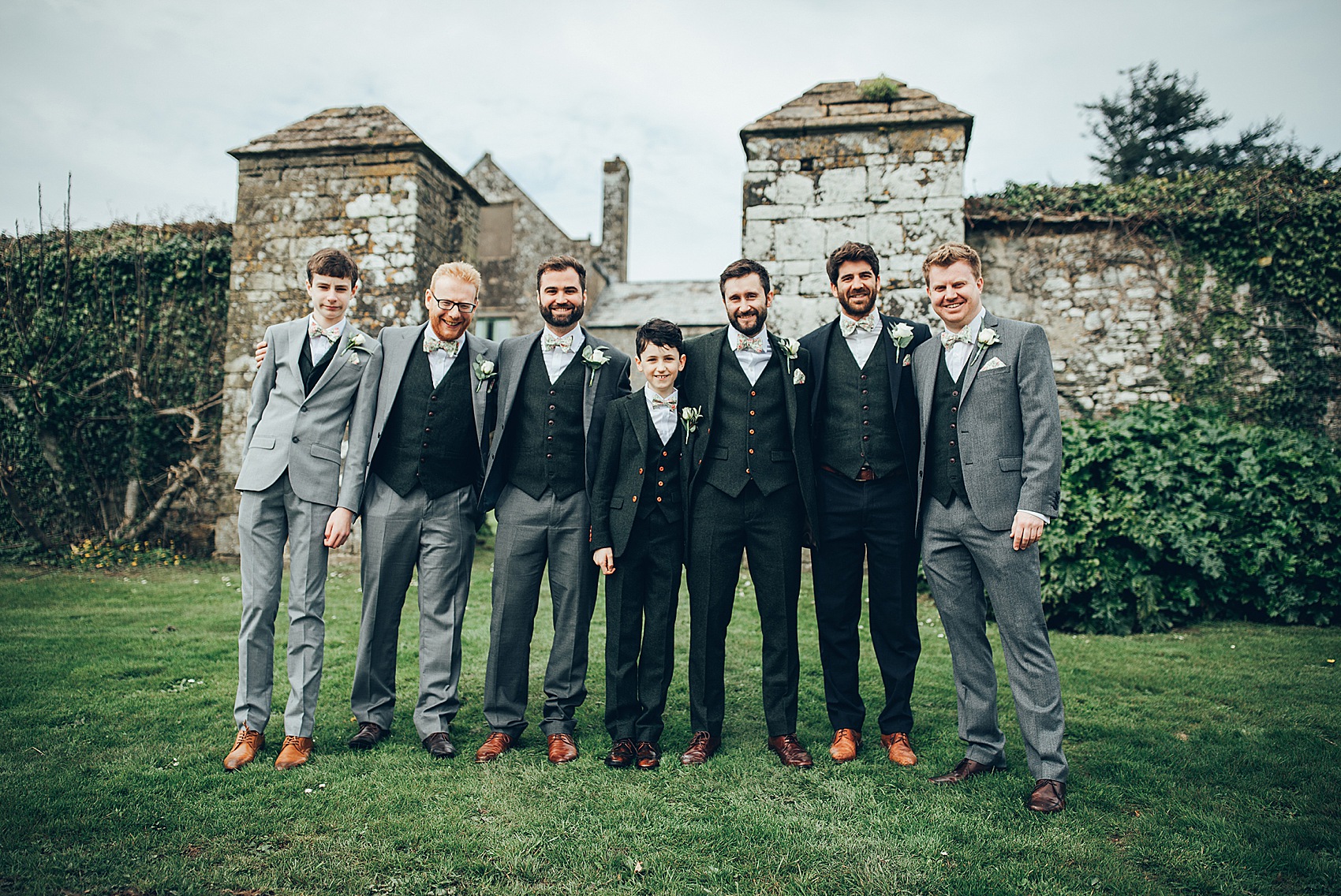 "I bought him cufflinks to wear that had the time of our wedding on and 'meet me at the altar'. I personalised a favourite pair of his pants from ZLDN and he had green socks to match the groomsmen."
"The groomsmen all wore their own grey suits but had green waistcoats to match Tom and the best man. They wore the same floral bowties and the same green socks."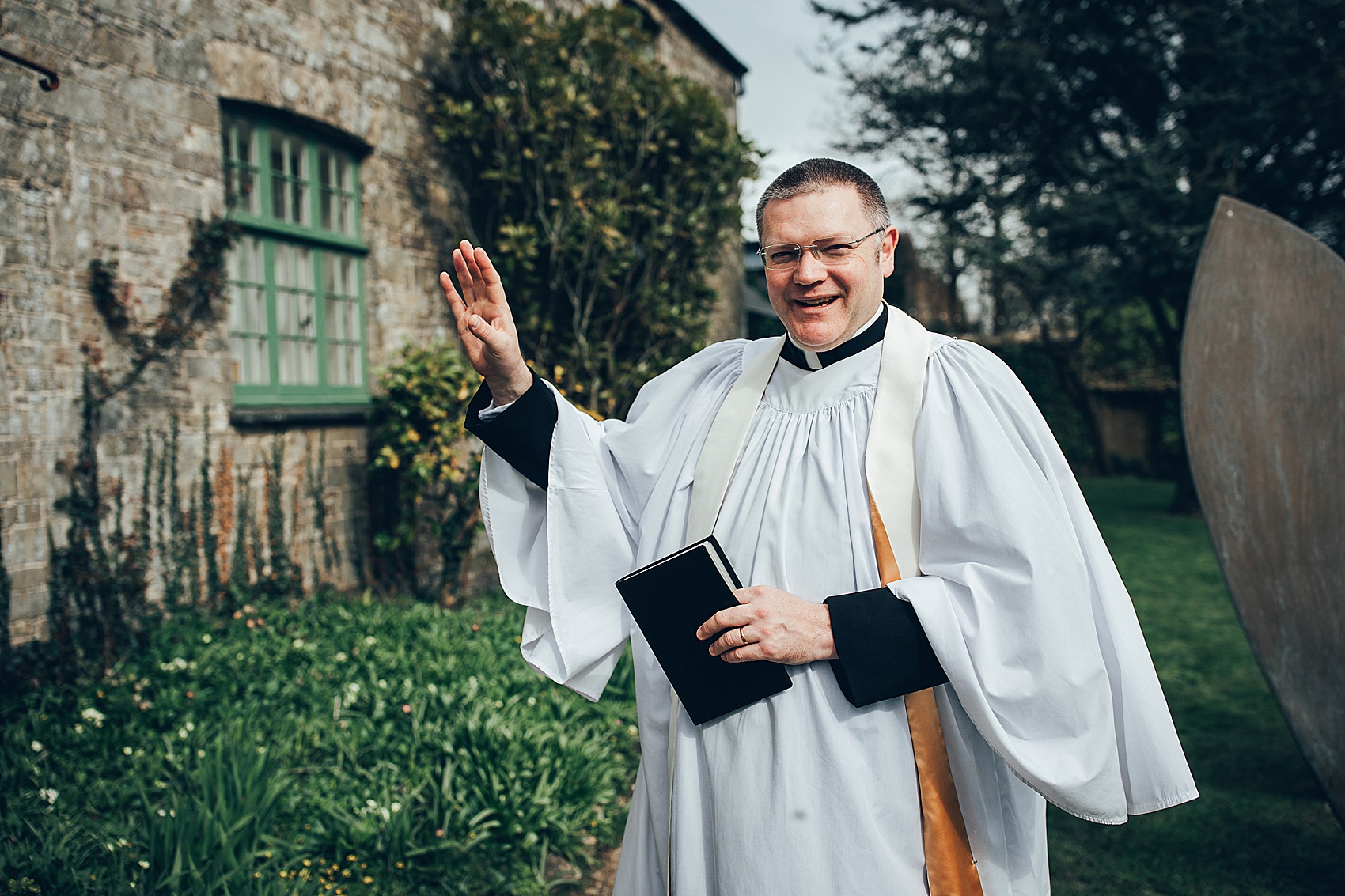 The bouquets, wild and natural, were put together by the bride's talented bridesmaids using flowers from The Flower Monger.
"I describe The Flower Monger as the Ikea of florists. You choose the bouquets you want and she provides you with the flowers unassembled. My bridesmaids Annajane and Ella worked tirelessly the day before to put together my bouquet, twelve bridesmaids' bouquets, button holes, corsages and floral headpieces."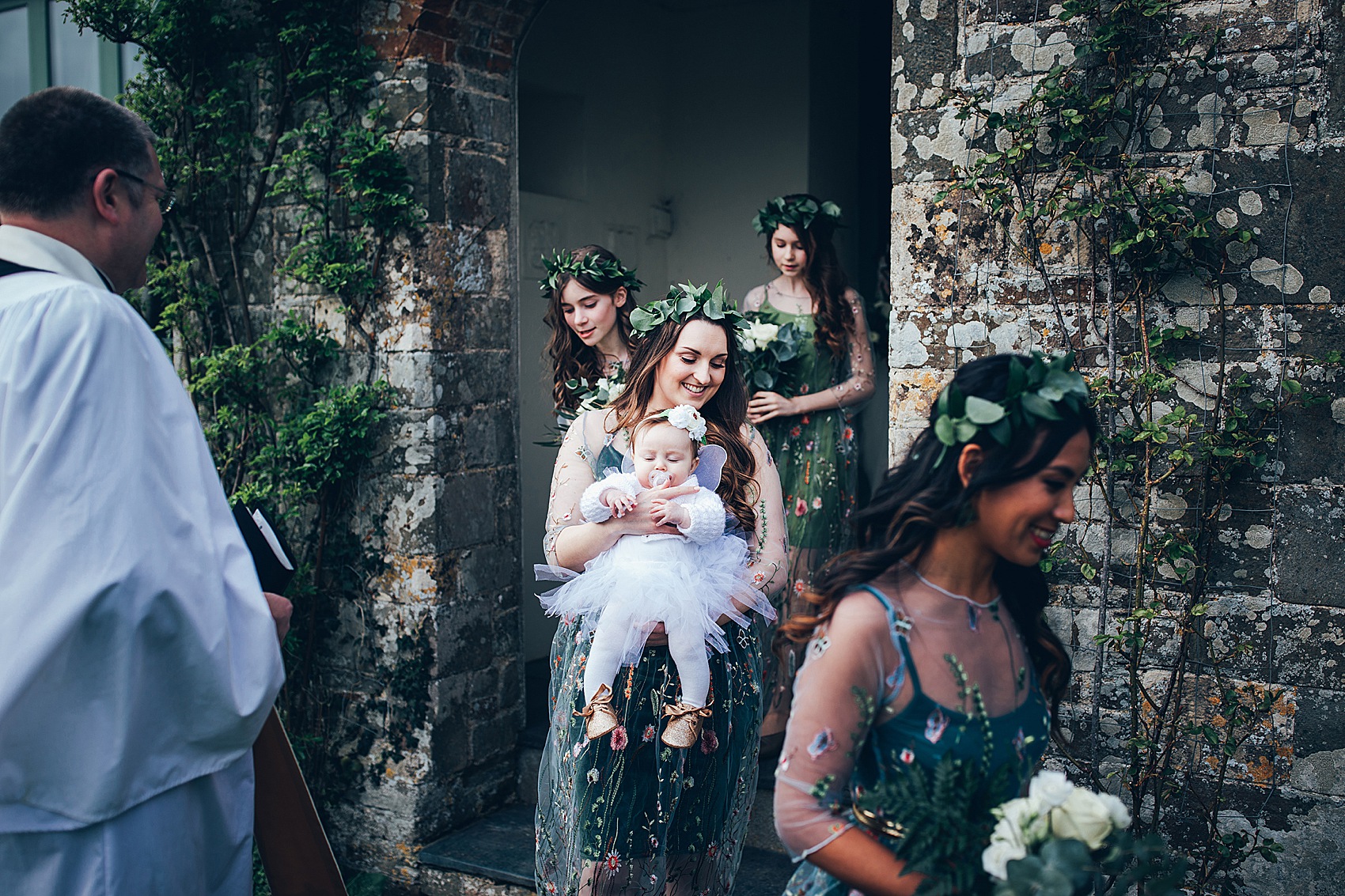 The bride is so lucky to be surrounded by some very talented and creative people and the couple's stationery was courtesy of Samantha at Okey Dokey Design.
"One of my bridesmaids is an amazing designer and she created bespoke invitations, the order of ceremony, menus, signage etc.. It was all on theme and she understood my mad ramblings when it came to describing what I wanted. I can't recommend her highly enough."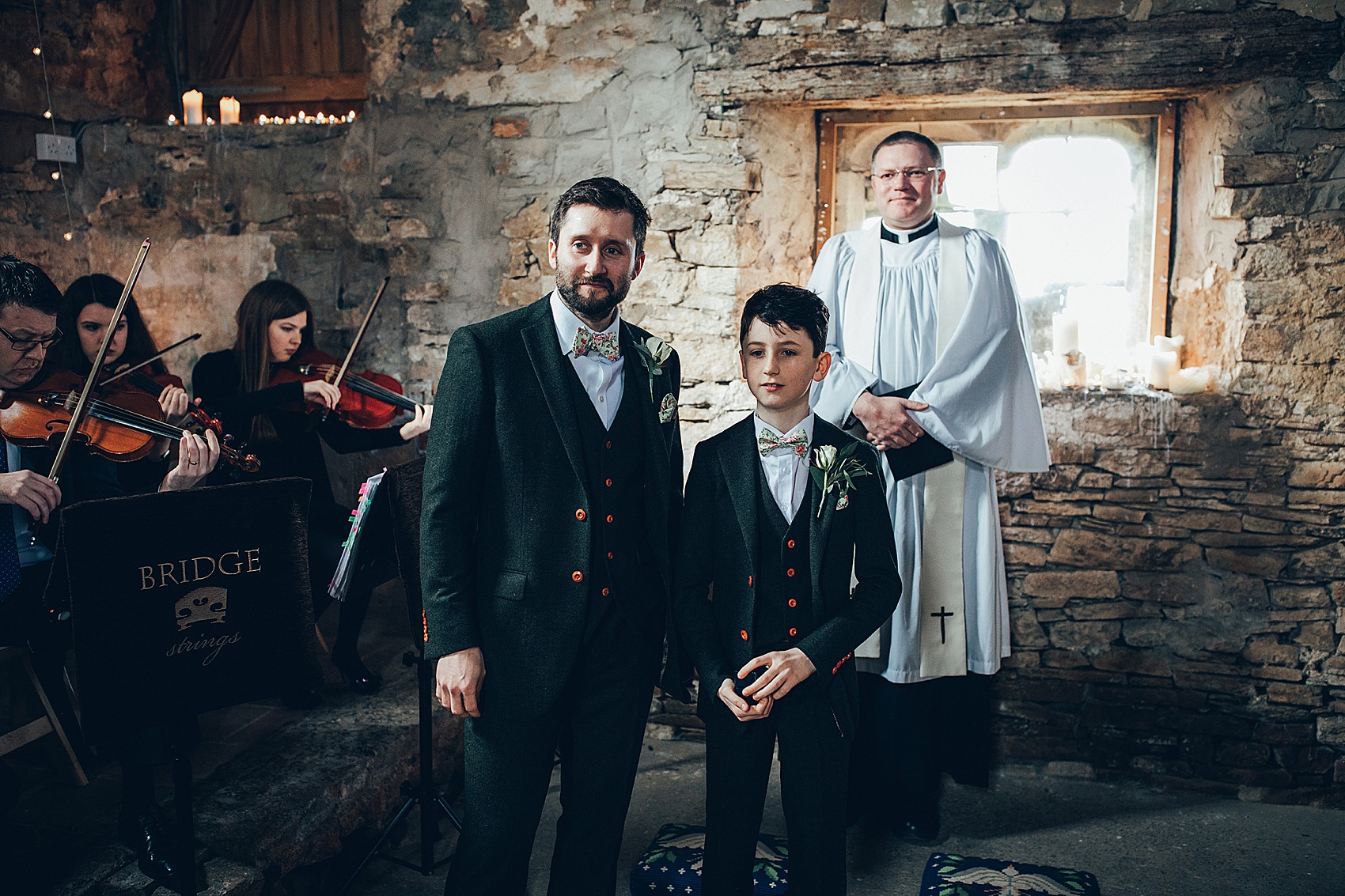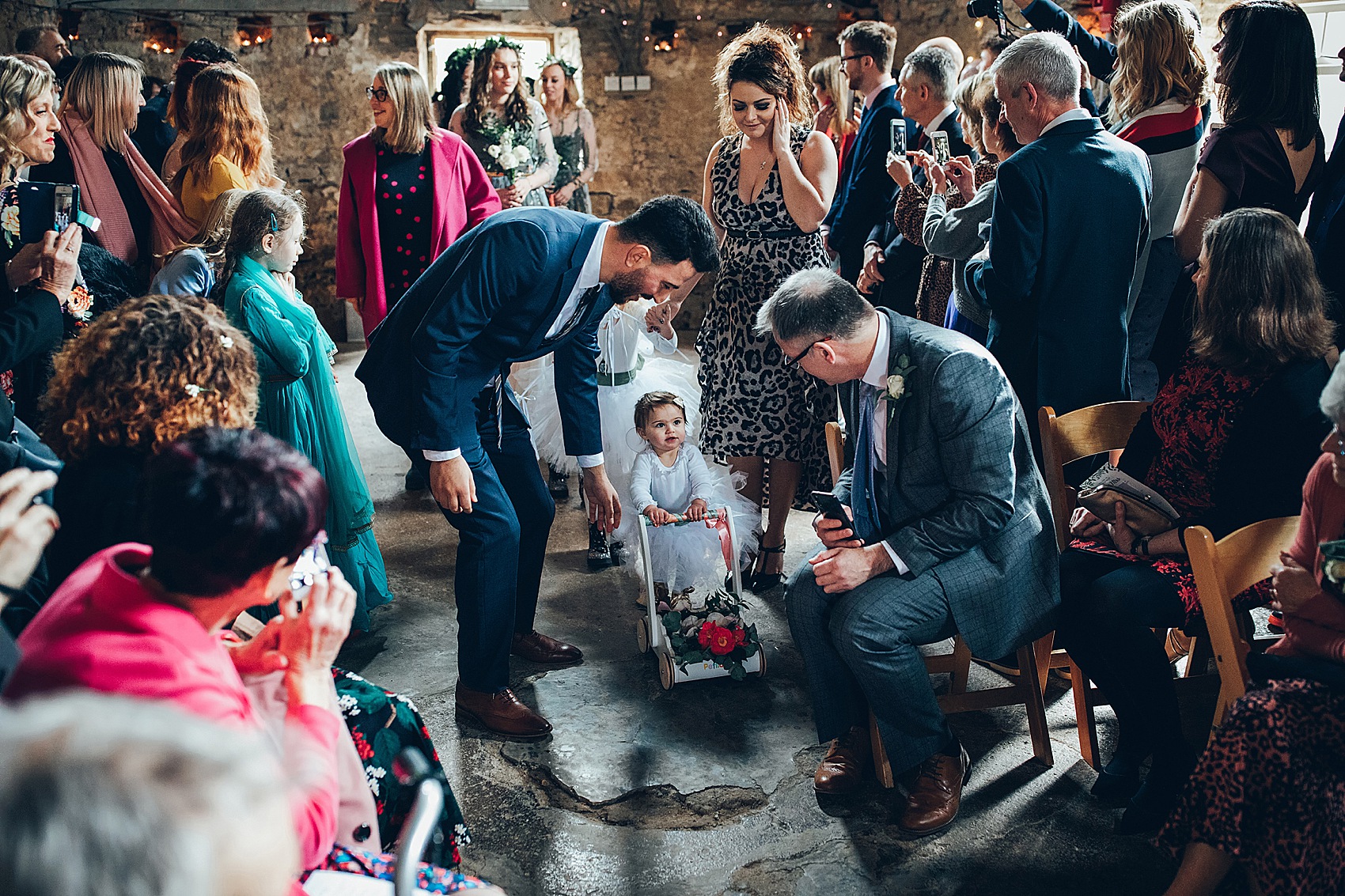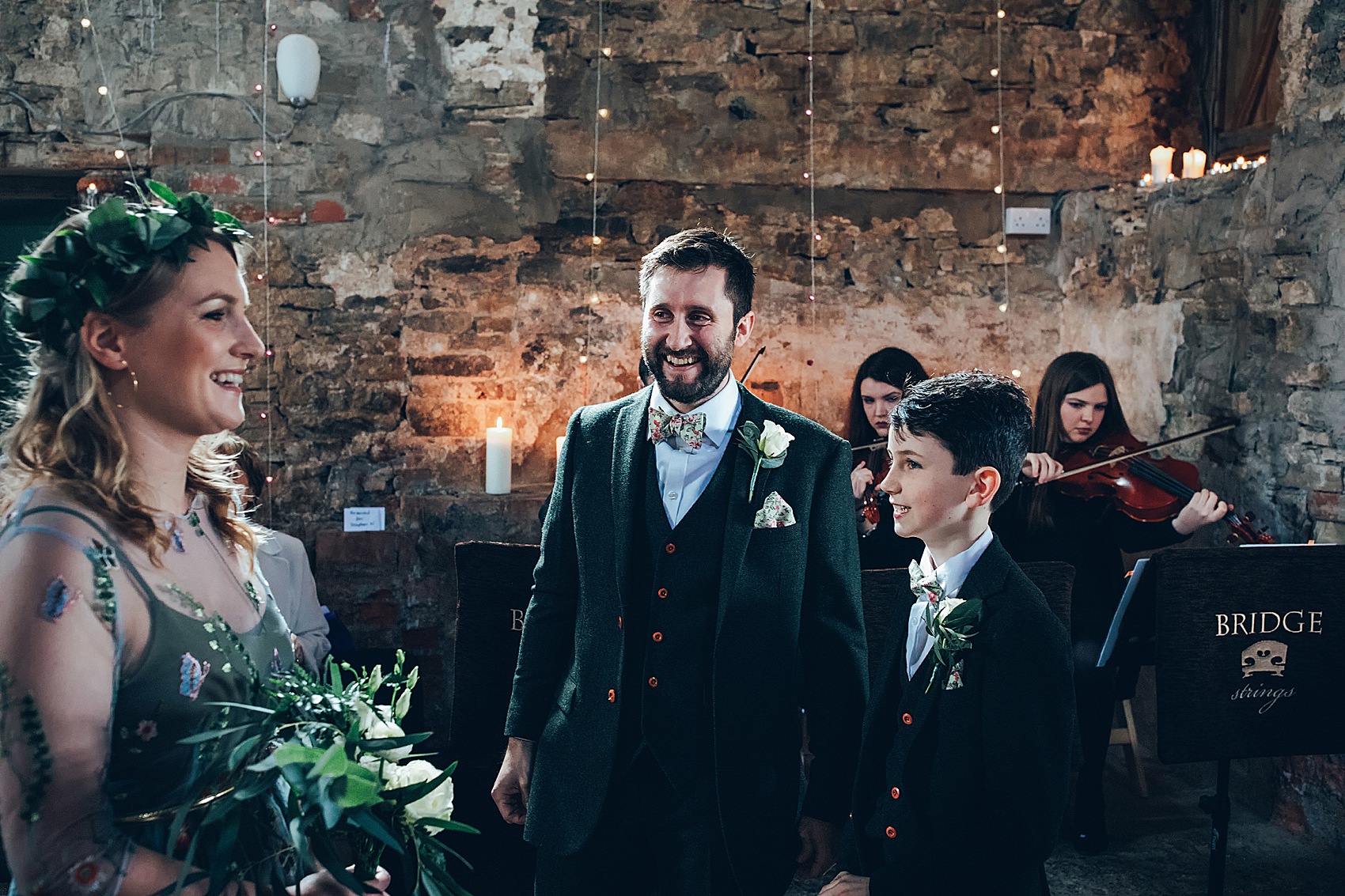 "My mum's favourite song is 'Moon River' so I chose the spring quartet to play that. It was super-emotional and slightly funny as they had to play it around four times to get all the flower girls and bridesmaids down the aisle first."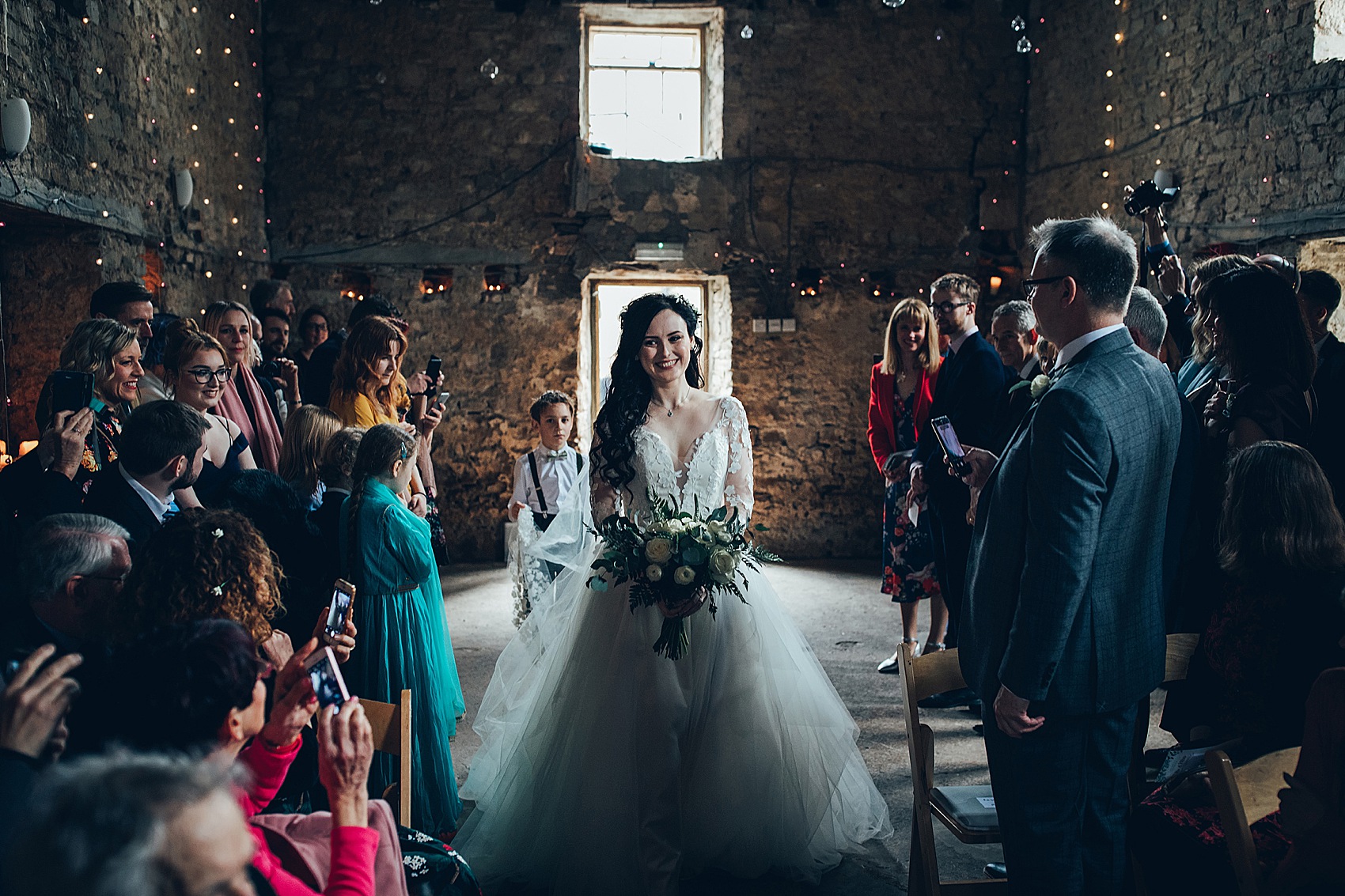 Having everything on site was one of the benefits of marrying at Ash Barton, so it was just a short walk across the courtyard to the chapel. She asked her brother, a reverend in the Navy, to marry her and Tom.
"Being 92, my dad is quite immobile but I didn't want anyone else walking me down the aisle. I walked myself down and kissed him on the cheek before I greeted Tom."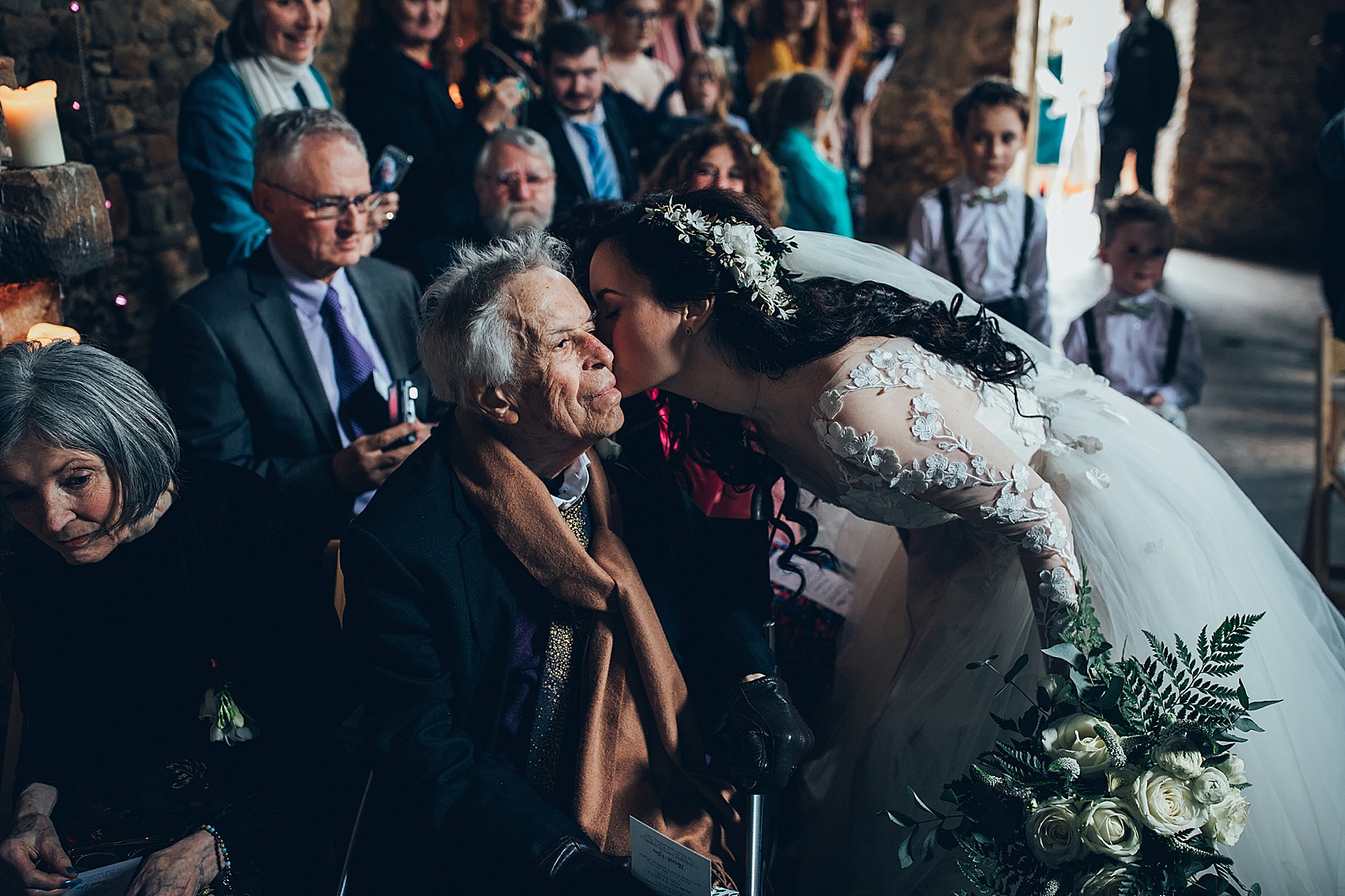 'We chose the readings as they seemed romantic. 'Time In A Bottle' particularly resonated as we love spending all our time together, even if we are doing nothing in particular. The song, I chose about 15 years ago and knew my sister would sing it at my wedding one day. I love musicals and the lyrics are very fitting for a wedding."
"My wedding band was from Hatton Garden and Tom's was from Amazon. He wanted a ring he could open beers with so bought one in a really hard metal."
"We kept the ceremony pretty standard but my brother did a section about Marvel movies (which we are fans of) which was fun. The best bit was after we kissed, we kissed again and one of my great-nephews shouted 'Eew, not again!'."
Tom and Olivia's readings were 'Time In A Bottle' and 'Song Of Solomon'.
"They were read by my sister Ariel and Tom's uncle Duncan. My sister Bathsheba sung 'All I Ask Of You' from 'The Phantom Of The Opera' with our mutual friend Doug. That was the most emotional moment of the ceremony. It was incredible."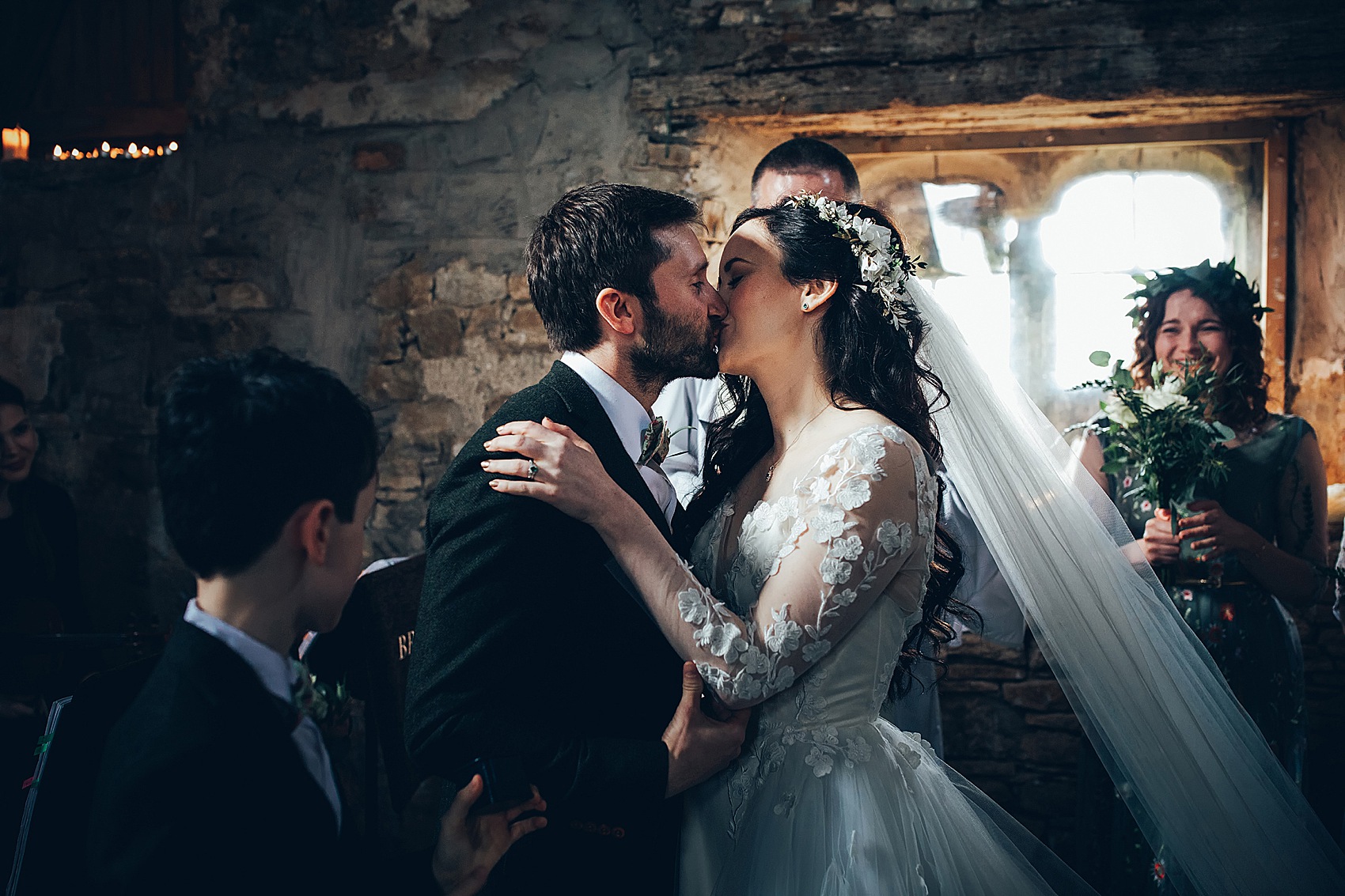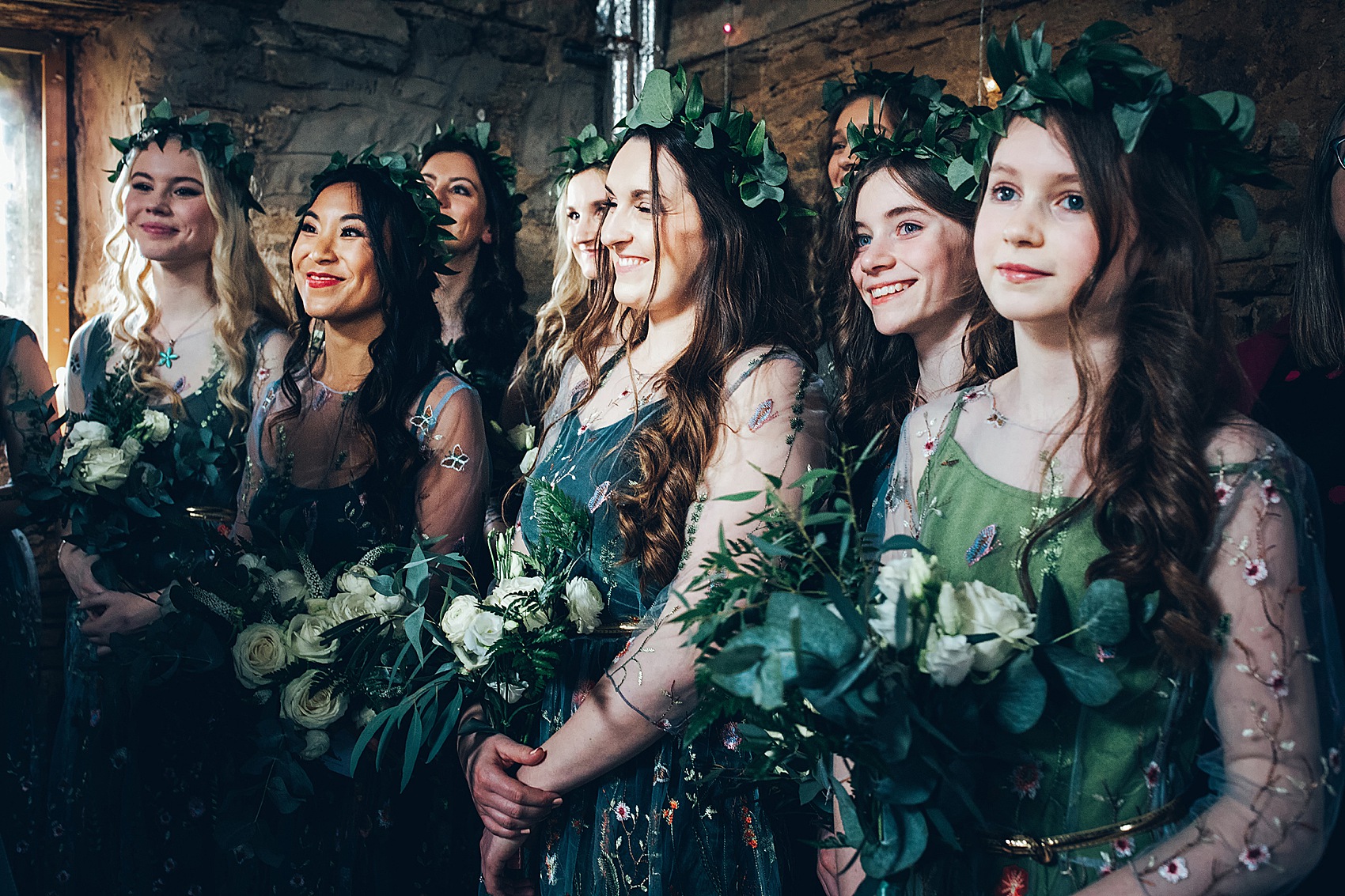 Every emotion and magical moment was caught for posterity by photographer Toby Lowe, whose eye for light and shade and timeless images is exceptional.
"We used the amazing Toby Lowe Photography who totally understood us and the vibe of the wedding. He fitted in like a wedding guest and we were thrilled with the end result."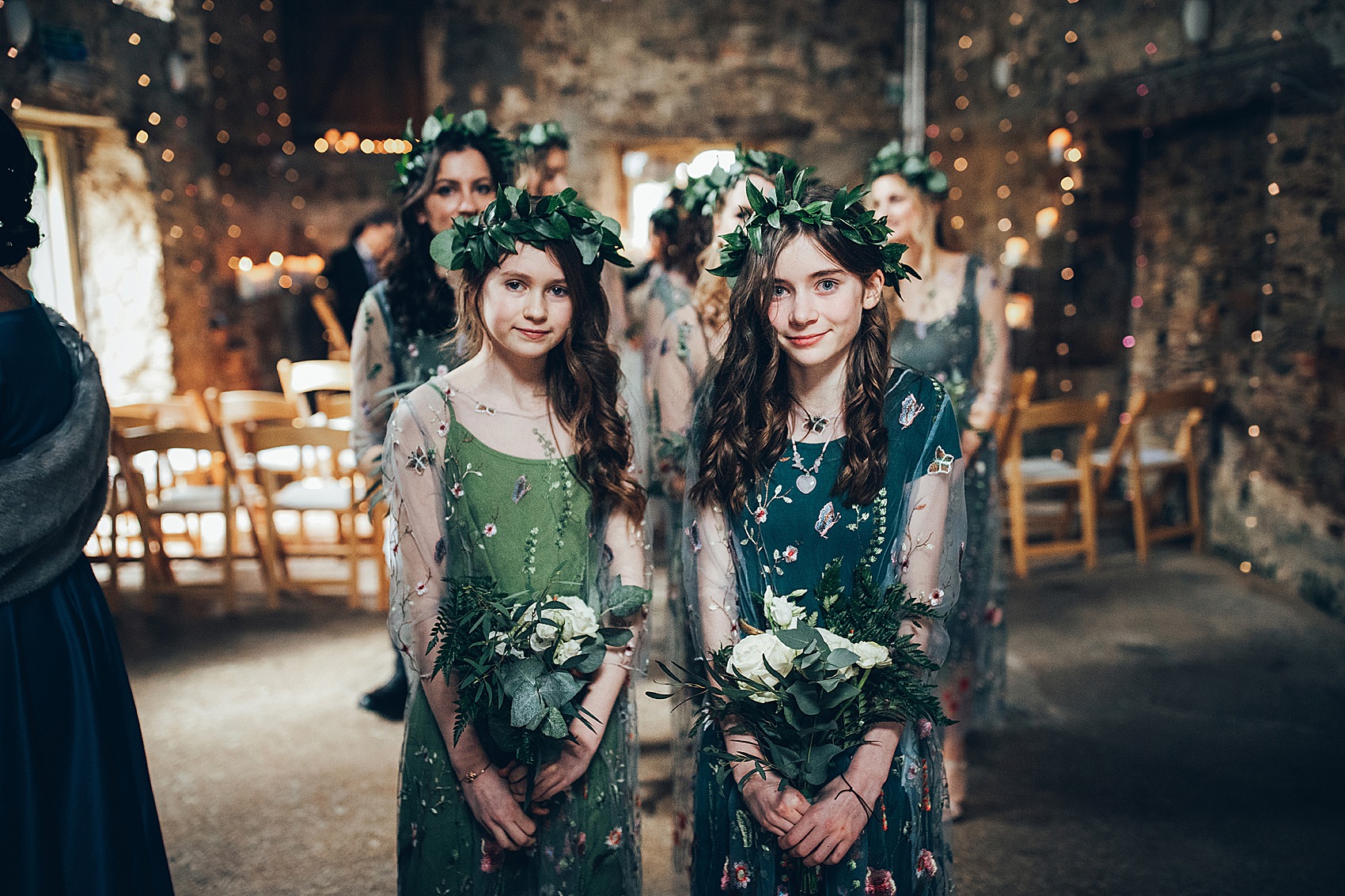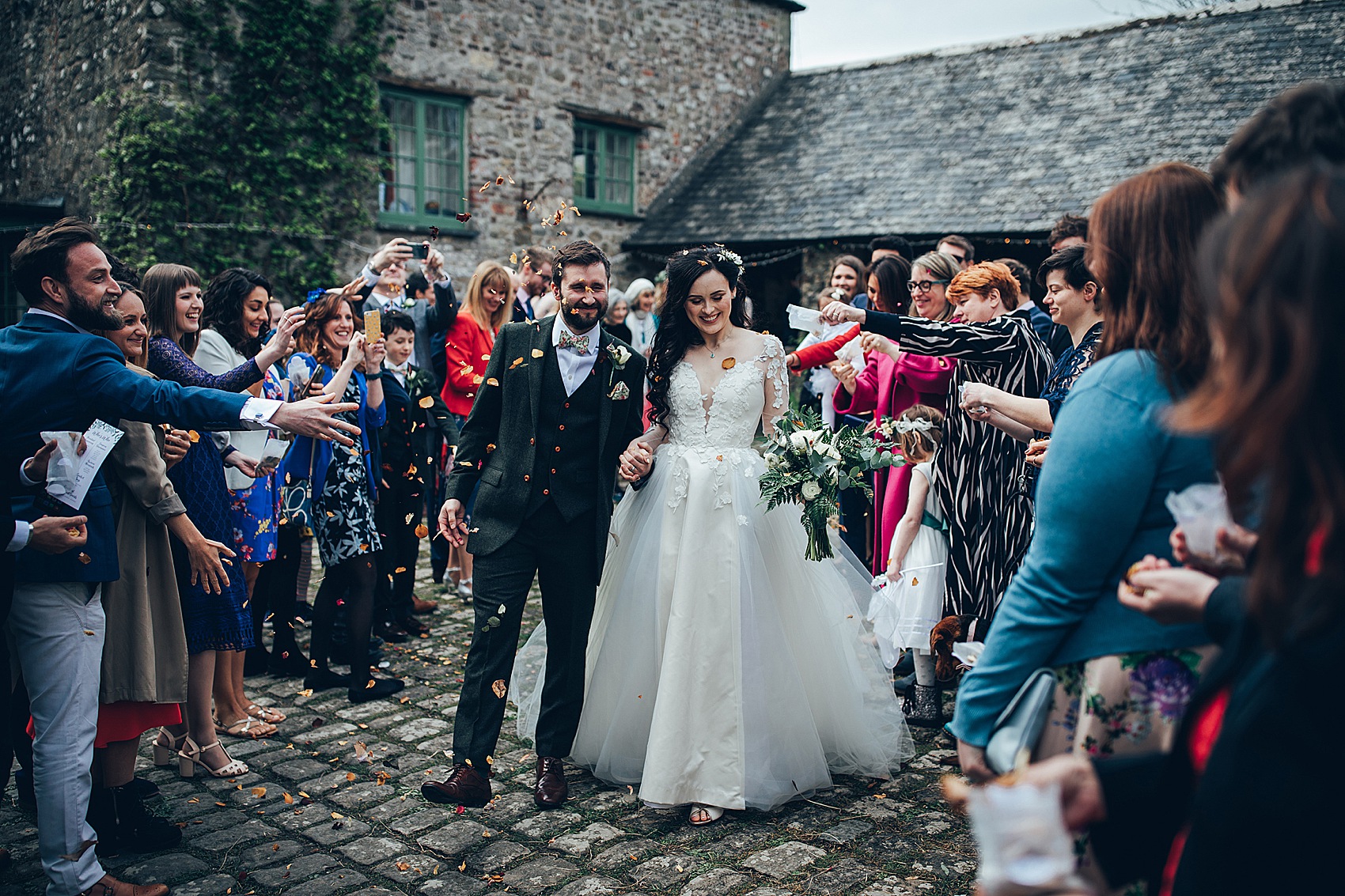 As the newly-weds escaped for some time alone on the wind-swept Devon beach, their guests were entertained by Bridge Strings.
"During the day, we had Bridge Strings playing contemporary music on a string trio. It was absolutely stunning and the family of musicians were a delight to work with."
"We wanted a venue with no curfew, no corkage and where the bridal party could stay on site. We were looking in Dorset (where Tom is from) but couldn't find anything so started looking the next county over."
The dining room had been adorned with yet more flowers to complement the garlands of fairy lights which were already in situ.
"I really wanted hanging flowers for behind the top table. I bought fake flowers from Ebay and the day before the wedding, my cousin Emily and Tom's cousin Hannah spent hours stringing them up. We got engaged in India and so I had little gold elephants holding up the vellum place names which matched the vellum printed menus."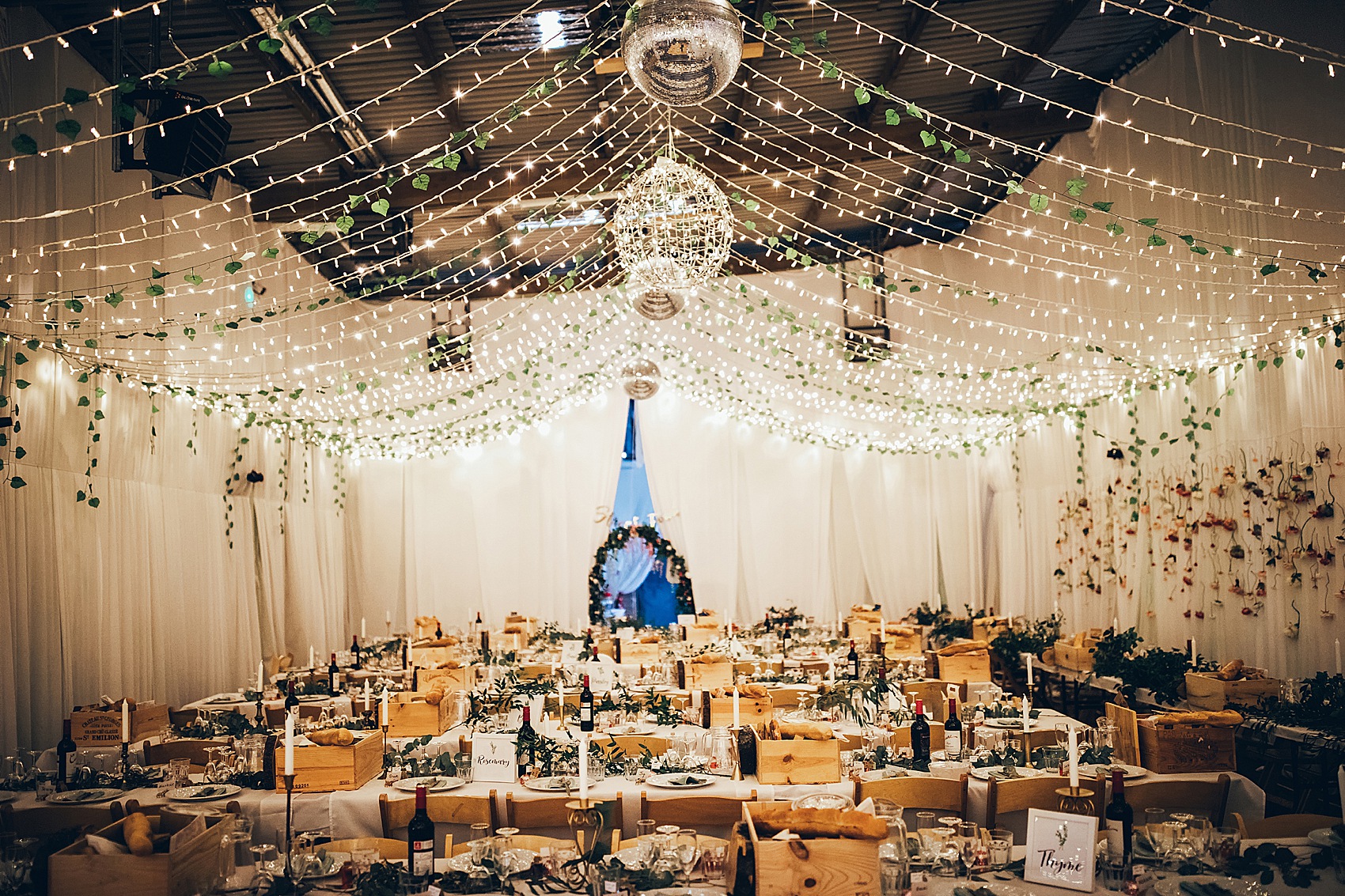 "We had extra tables of fun in the room. One was a glitter bar stacked with glitter and personalised tattoos created by the stationery designer (and bridesmaid) Samantha. Another was a sweetie table, one was a petit fours table and there was a photo booth."
"We wanted favours that people could enjoy there and then so we provided everyone with a shot of flavoured spirits in a little bottle to take a shot when they fancied. For each guest, I found a photograph of either me and them or Tom and them and wrote a personalised message on the back of each."
We had a few tears reading them and everyone I spoke to mentioned how much they enjoyed them. Each person had a Tunnocks tea cake with a flag in it saying, 'Don't eat yet'. Tom's family call them 'smash your head cakes' so during his speech he got every guest to smash one against their head. Much hilarity!"
Another, and very important, hand-made element of the day was the food, which Olivia and Tom organised themselves.
"We did the wedding breakfast ourselves. Our favourite food is deli-style sharing food so we sourced our favourite suppliers for meats, cheeses and antipasti and put them in wine boxes (one per six people) to share. Our friends helped us put in the food on the morning of the wedding. Tom's Grandma Jo made savoury scones, my cousin Jazz made cookies and my niece-in-law Clare made salads. There were amazing snacks from Made For Drink and cheese from Lancashire Bombs. A group effort! The evening food was street food – posh lamb kebabs – from Tasty Beast."
"Tom's Auntie Polly makes the most amazing brownies and she kindly made us enough for a brownie tower."
"I spent the year before collecting tea pots and French presses and then bought a massive hot water dispenser and laid out a table with twenty tea pots, twenty French presses, tea cups, milk jugs and tea, coffee, milk and sugar. People filled up a teapot for their table and enjoyed a nice cup of tea or coffee after their meal. Good for avoiding the post-meal slump!"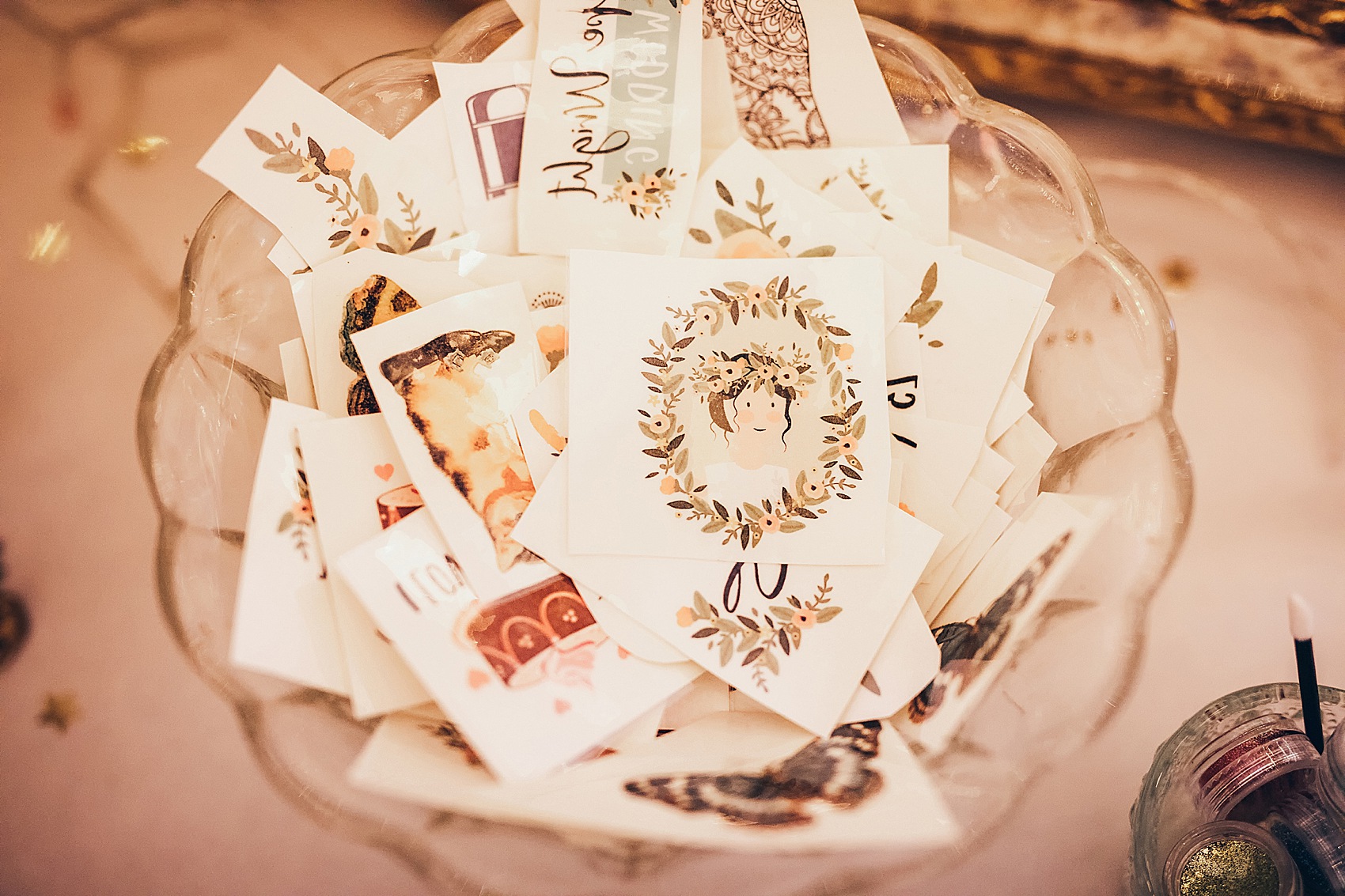 Olivia has so many favourite moments to remember from her and Tom's celebrations.
"I was giddy with happiness from start to finish. My highlights were: sneakily watching the guests arrive from my bridal suite where I'd spent a dreamy morning with my bridesmaids, walking down the aisle (we had a small chapel so while the family were inside the chapel, our friends created an aisle outside the chapel and then filed in after me so I got to walk down a tunnel of some of my favourite people)."
"Also, the speeches – every single one was incredible and whenever I'm having a bad day I watch the recordings; Tom's little brother did a PowerPoint presentation which was incredible and he got the largest cheer at the end; going to the beach with Tom as everyone was cheering and panicking about their dogs; dancing for hours on the dance floor and in the afterparty; seeing all the guests letting their hair down and having fun; and seeing different families and different friendship groups mixing and having fun together."
"We couldn't have done it without our incredible friends and family in the lead-up. On the day, Tom's ushers went above and beyond, including Tom's friend Oliver who was our MD and basically the lynchpin that held the day together, especially with me shouting instructions at him when plans changed."
The ushers gave out wine, cleared tables, set up the afterparty and went above and beyond on the day to make sure it ran smoothly. They were incredible."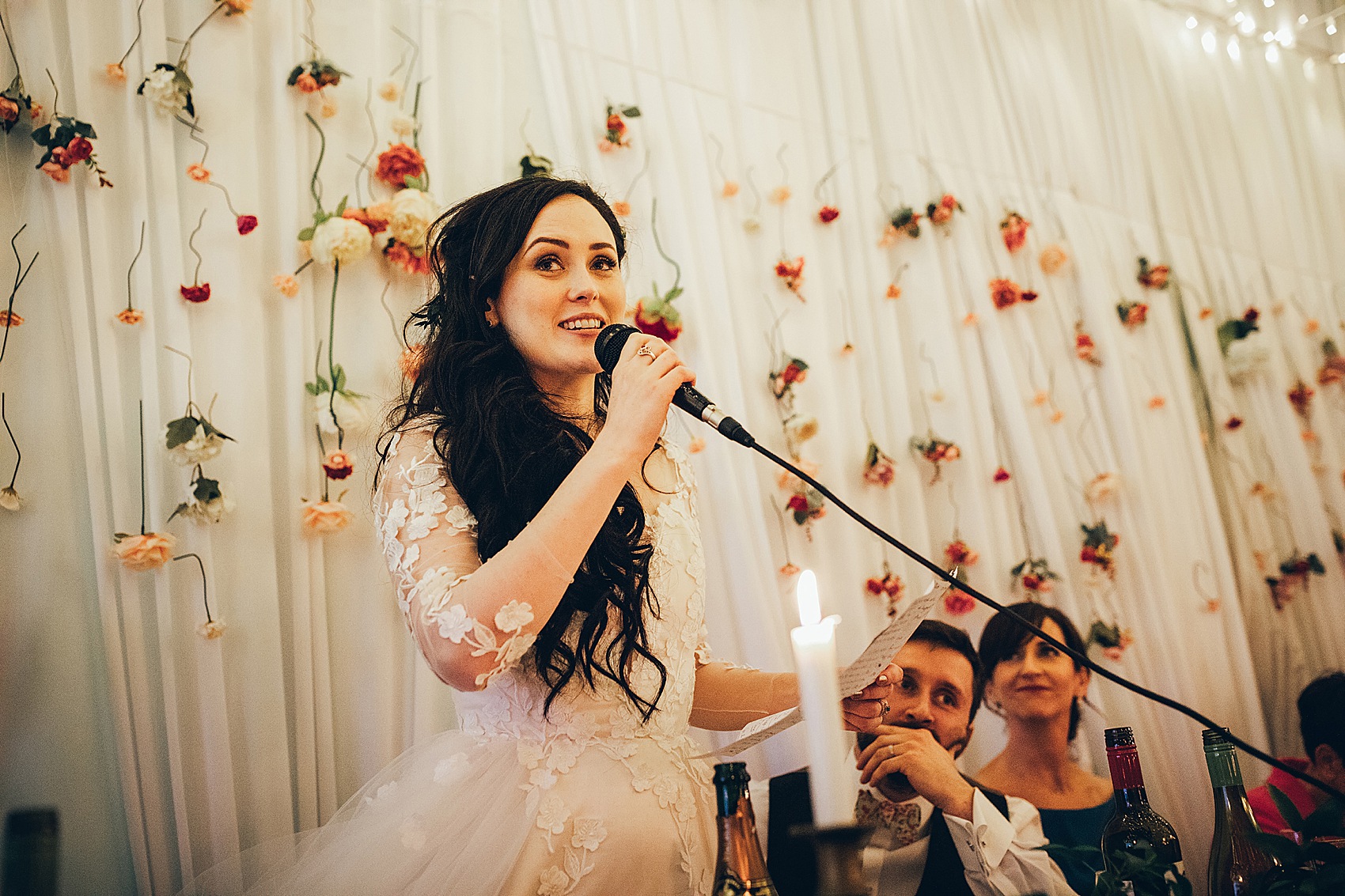 Also warding off a dip in energy was the couple's first dance to 'What A Wonderful World', which was followed by a party Ubermeister Party Band.
"Tom wanted something non-cheesy, so we chose a song that was about general happiness and joy. It really summed up the day! The best bit was when all our friends and family flooded the dance floor."
"Ubermeister got the party going amazingly. The dance floor was never empty!"
"Tom's family had been practising a flash mob dance routine to a pop song which they performed in between the band's sets. Even the uncles were dancing along! I'd been so focussed on every little element so it was magical to have something that was an utter surprise!"
Words of Wedded Wisdom
"If you are doing a DIY wedding and have loads of time, order bits and bobs from China – Ali Express or Ebay. It's super cheap, but takes ages to come. I got the glitter station, toys for the kids, shot glasses and even the bridesmaids' dresses."
"DIY as early as possible. I super-enjoyed the early DIYing but when it was coming to crunch time it felt a little exhausting. I'm glad I did the majority in advance. "
"Take time choosing suppliers. I was meticulous about who I chose, contacting around thirty people for each job. I was thrilled with each and every one."
"If you have time, add personal touches. That was one of the biggest bits of feedback, that it was just so very us, from the polaroid pictures to the golden crabs."
"Don't worry about having an unplugged ceremony. We didn't and I LOVED seeing everyone's pictures and videos."
"Chill the night before. We hired a beauty company, Julie's Mobile Beauty, who gave us manicures, massages and the like. It was amazingly relaxing!"
"On the day, don't stress the small stuff. A few little things didn't go exactly to plan but by that point there's nothing you can do by worrying – just brush it off and enjoy the day. Some of the 'wrong' things actually made the day even better with their hilarity."