Hello loves, how are you doing? We very much hope that if today has felt like one of those uphill struggles, that these photographs will remind you what it's all for in the end. Sincerely, we hope you are staying safe and well.
We're heading to Yorkshire to visit a wedding venue that is a member of our Little Book Wedding Directory, which I'd love for you to visit if you haven't already discovered it.
This is the wedding of Bethany and Christopher who chose Middleton Lodge near Richmond in North Yorkshire for their nuptials on 14 September 2019. The couple, who together own a modern recruitment firm, styled their day according to their mantra 'less is more'.
Jules Barron Photography

+ Follow
Class and elegance ran through every detail, from the bride's sexy, statement gown to the sophisticated black and silver stationery suite. We are so delighted to name this classical Georgian country house wedding venue, and its 200 acres of beautiful estate, on our Little Book Wedding Directory so please follow this link to find out more.
"We fell in love with the idea of getting married under Middleton Lodge's beautiful spiral staircase, dancing under the intimate, starlit marquee ceiling and finishing the night in their cosy yet ultra-cool cellar bar."
"It was only our second venue visit but we knew nothing else could compete with Middleton Lodge."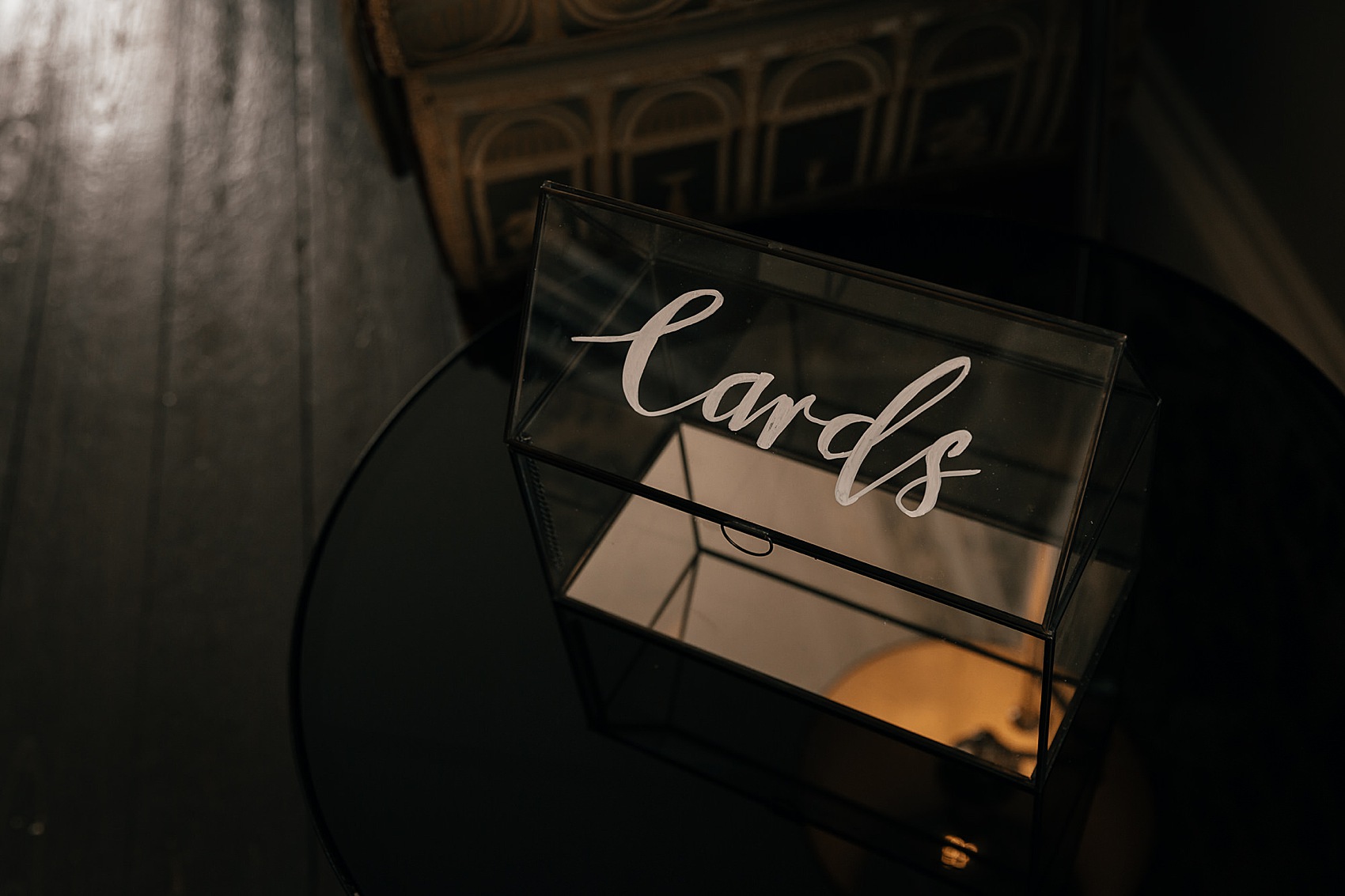 "Anna Miller, one of the events co-ordinators was the cherry on top of the tree. She showed us round on our first visit and we were lucky enough to have her co-ordinate our perfect day. She was amazing to work with and was always two steps ahead."
Bethany visited Victoria Robson Bridal in Northallerton to choose her Caceres gown by Pronovias, a simply-cut, figure-hugging gown featuring a plunging V-neckline and a lacy, sequinned insert in the long train.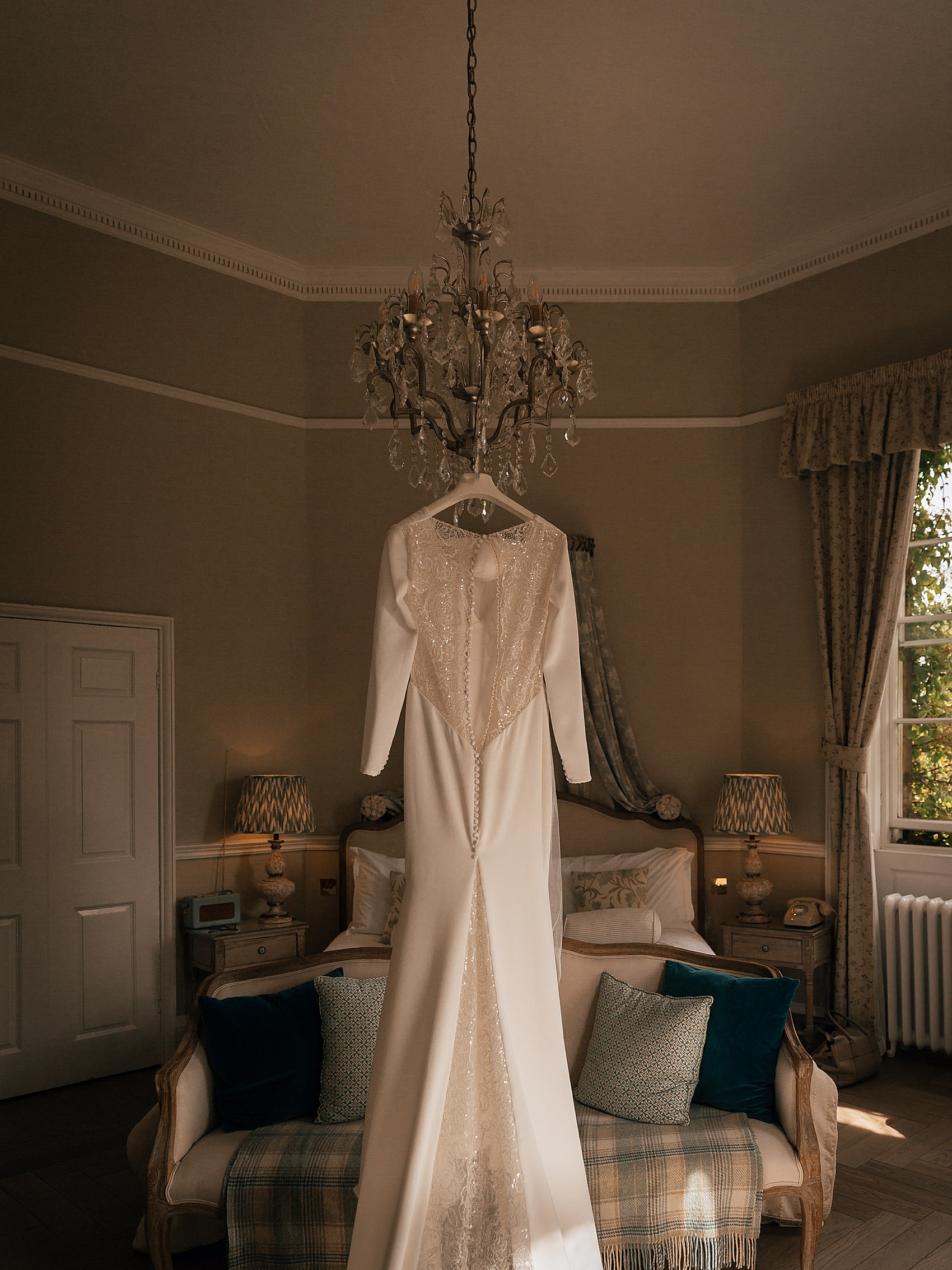 "It was my fifth bridal shop visit. They were having a Pronovias Trunk show, a designer that I loved, so I made the hour trip up to Northallerton which, in the end, was worth it."
"Victoria, the owner, is an inspirational woman and it's clear why she's won customer service awards year after year. She went above and beyond throughout the whole process."
"I wanted something striking. I think it goes without saying that it was the beautiful detailing on the back of the dress and the train that made me fall in love with it."
The bride pinned a gossamer-fine veil, also from Victoria Robson Bridal, into her hair just below her polished chignon and it flowed so wonderfully behind her as she descended the Lodge's staircase. She added a wide, beaded headpiece of florals, created by Pretty Magpie, to frame her face and a pair of modern, sequinned sandals from Simmi.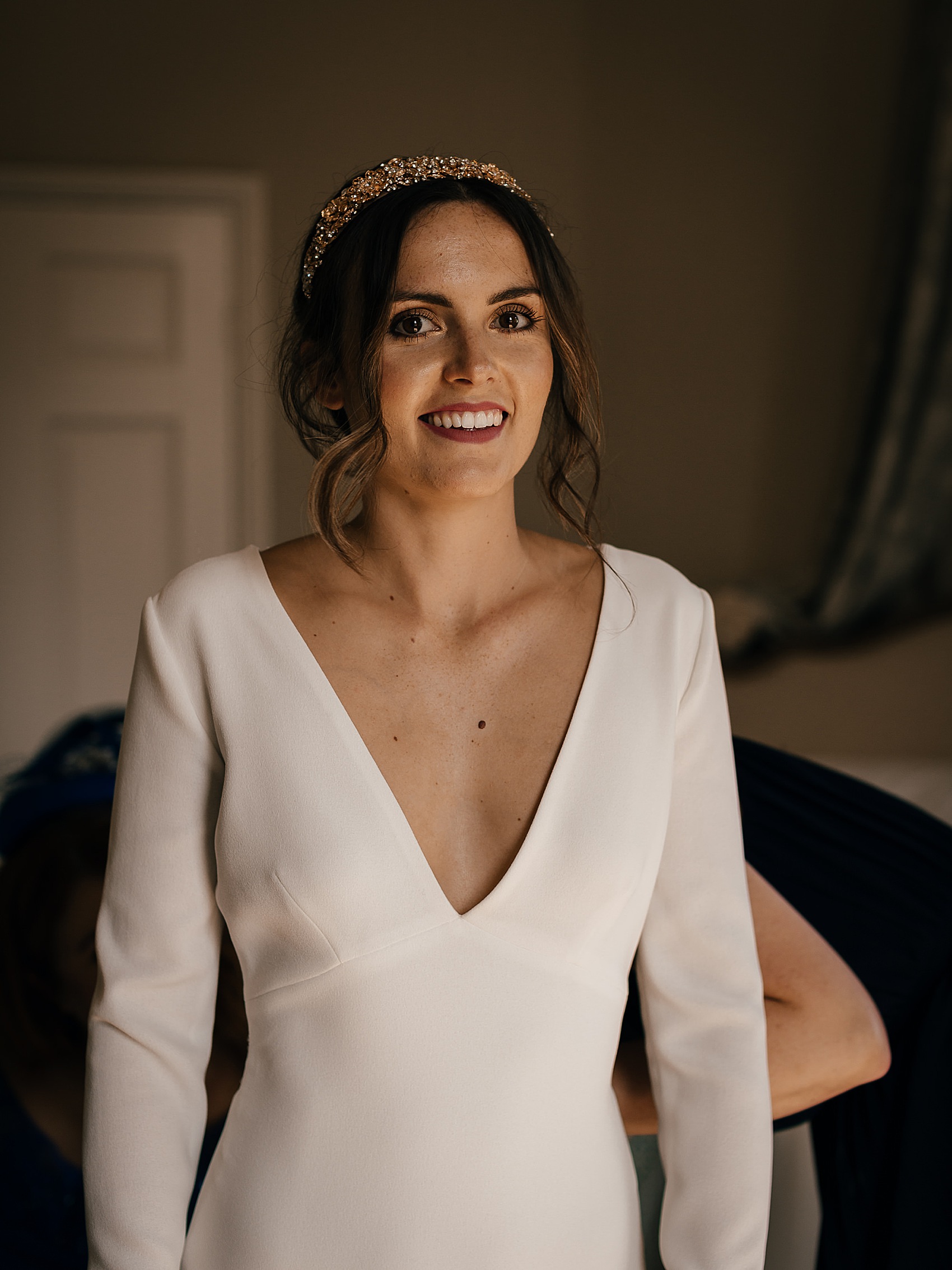 The flowers for the day were styled by The Petal Studio, who used a mix of eucalyptus, olive and ferns alongside burgundy dahlias, protea, astilbe, hypericum berry, calla lilies, veronica and anemone.
"It was another last minute decision of mine to change the floral colour scheme and I'm so glad I did! I originally just wanted foliage and white florals until I saw a beautiful burgundy boutique on Pinterest. We kept the button holes for the groom and groomsmen as white Calla lilies and they looked brilliant against their tuxedos."
For an elegant feel, totally in keeping with the Georgian grandeur of the venue too, Christopher chose a dapper tuxedo and suit trousers combo from Moss Bros, adding a bow tie from Mrs Bow Tie. His groomsmen wore matching outfits, with a single, striking Calla lily as a buttonhole.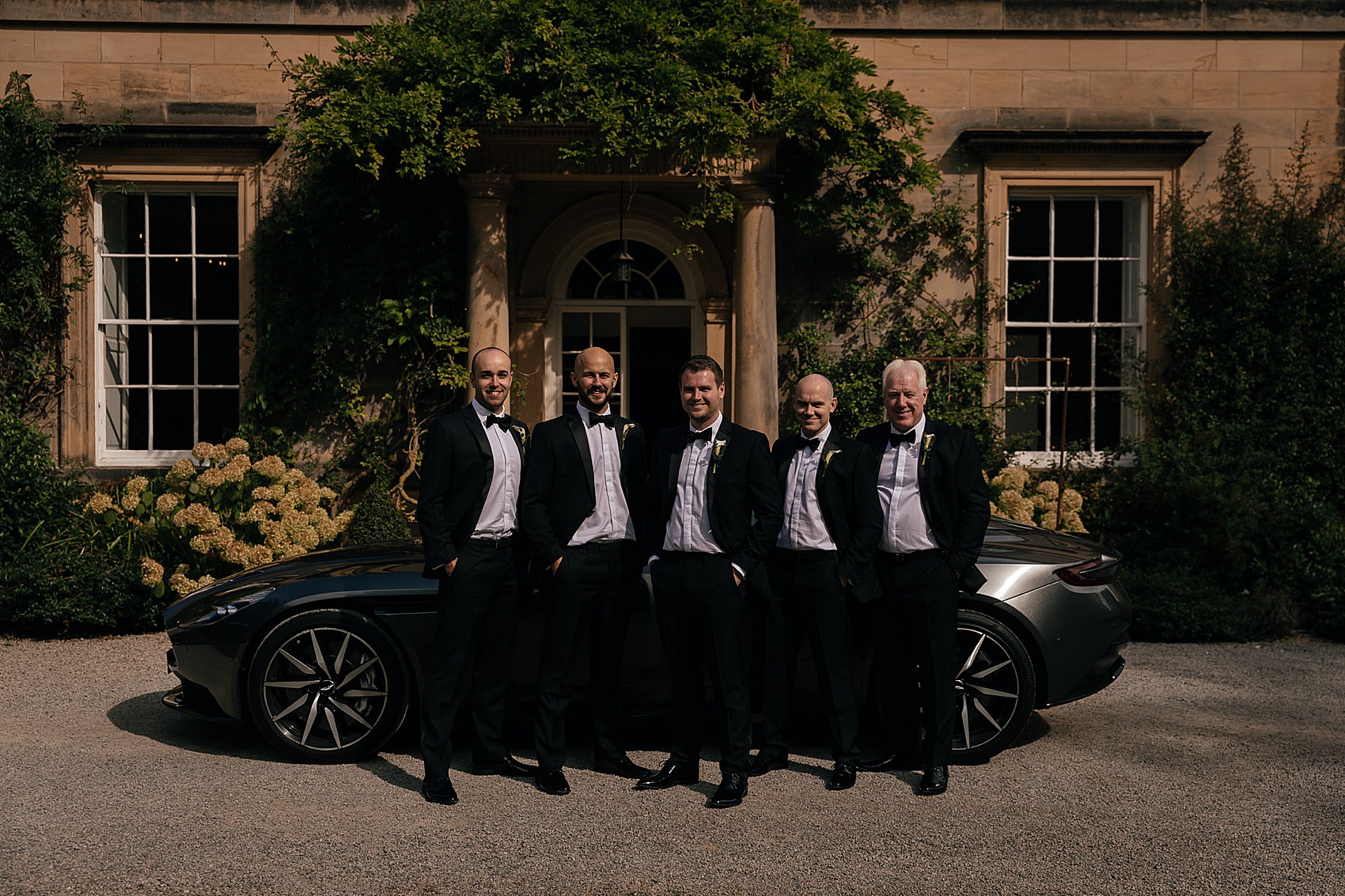 Christopher has shared the story of how he and Bethany got together.
"We met two to three years before we started dating. We were both working at Topshop/Topman at the time. At this point I think it's fair to say I wasn't exactly Beth's type. With long shaggy hair, I wore mainly vests and double denim and had a reputation for being a bit of an idiot. Funnily enough, there wasn't much chemistry between us."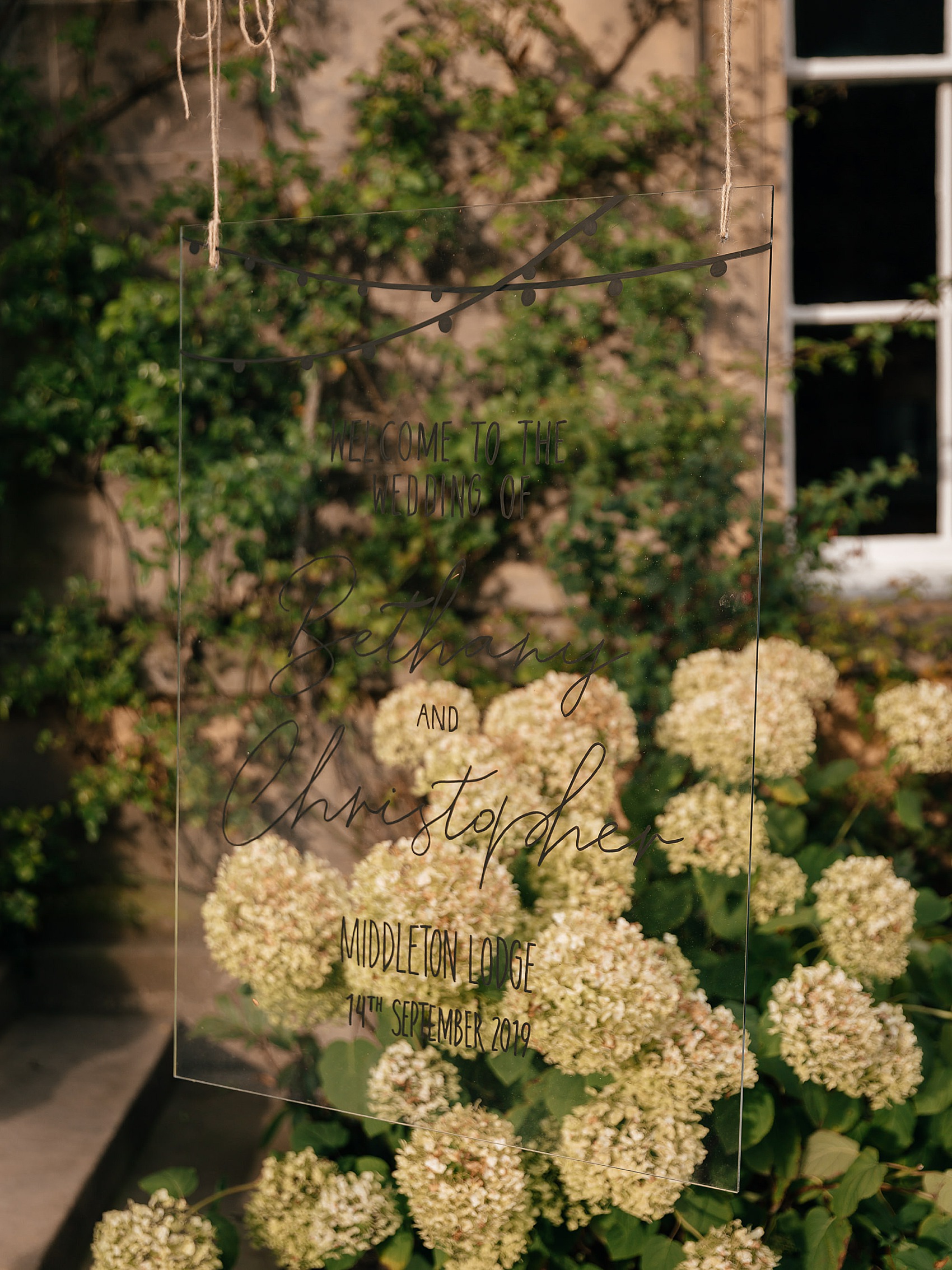 "It wasn't until August 2014 when we would cross paths again, this time on the notorious 'dating' app, Tinder. Between August and October we went on a lot of dates and I was very quickly realising that this one was different."
"In October, I felt things were going really well with Beth so after about five pints I plucked up the courage to ask, 'Will you be my girlfriend?'. She said no, she wasn't look for anything serious. I was always super scared of asking if she was my girlfriend after that, so I guess we only started our serious relationship in November last year when I proposed! We were engaged for ten months before getting married."
The ceremony was held beneath the Lodge's staircase and the bride made a dramatic entrance, walking down the stairs herself with all eyes on her as The Upstarts (found on our Little Book Wedding Directory member Alive Network) played an acoustic version of 'Just You & I' by Tom Walker.
"I walked alone and I'm really happy with my decision. It was a really empowering moment. We were having a non-traditional ceremony and being 'given' away wasn't a tradition I wanted to follow. We're independent individuals, we paid for the whole thing ourselves and it was only our decision to spend the rest of our lives together."
Before the afternoon ceremony began, the groom and his groomsmen drove over from the couple's house in Leeds in a snazzy Aston Martin DB11 from Aston Martin Car Hire. Meanwhile, the bride was having a moment to herself before entering the Lodge's hall, a time which was her most precious of the day.
"The last fifteen minutes before walking down the aisle had felt really stressful. I'd spent the last 24 hours feeling so nervous, and the last ten months stressing about every tiny detail but as my bridesmaids and flowergirls picked up their bouquets and lined up at the bridal suite door, I felt so emotional – they looked beautiful."
"The nerves and stress vanished and all of a sudden I felt so calm and so god damn excited to see Chris. The girls went first and I had a surreal minute by myself, before the bridal suite door opened fully, and it felt like pure magic. Euphoric. How I wish I could relive that moment again. It was made even more intimate and special by the fact that there are no photos or videos of that minute alone, only the memory."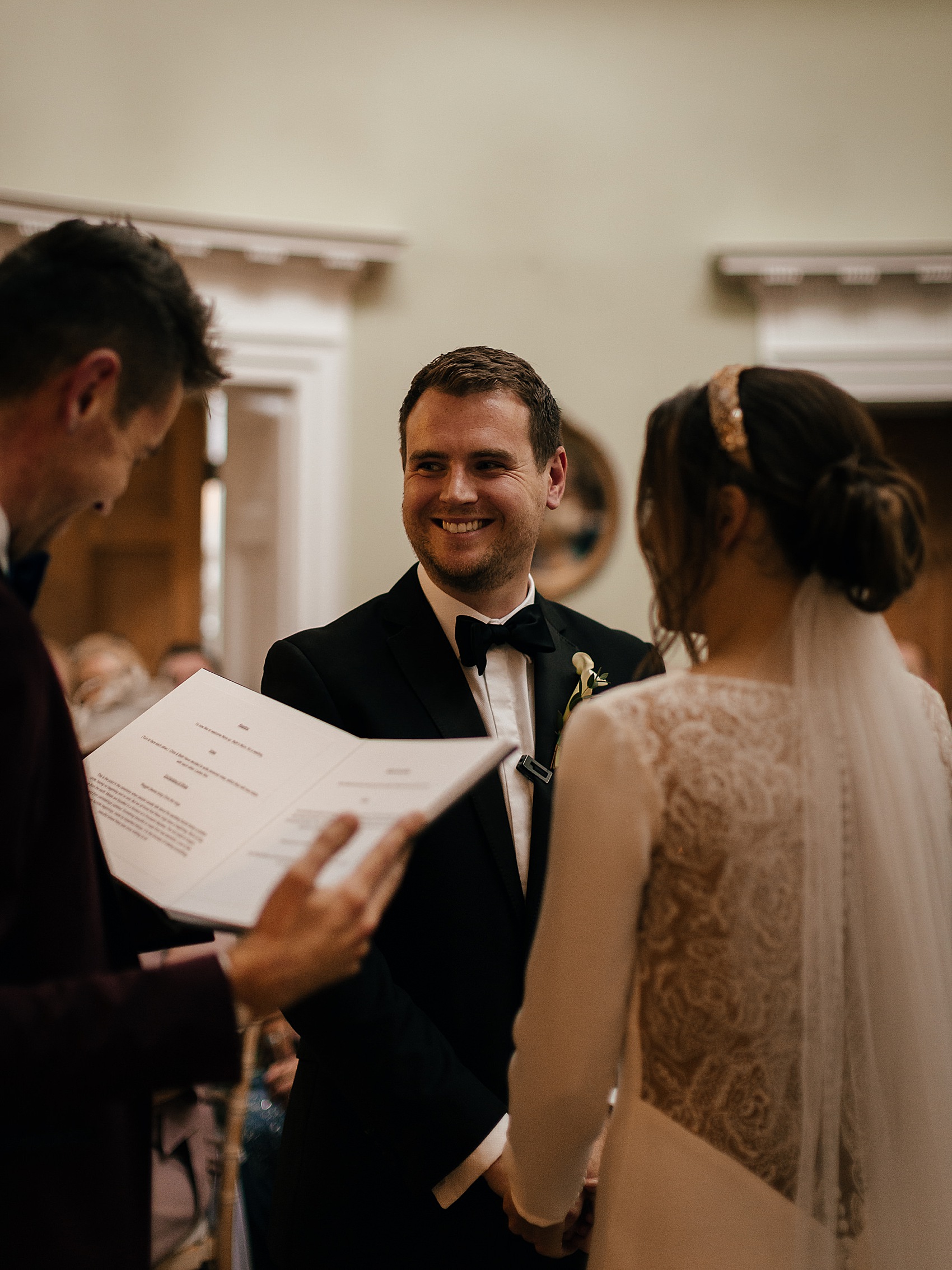 The couple asked Christopher's brother to lead the ceremony, which included a reading by the bride's mother.
"Years ago, we asked Chris' brother if he would perform our ceremony if we ever got married. It was a surprise for our guests. For such a special moment in our life, we wanted to be able to create something truly personal and meaningful. We wrote the script and our vows ourselves. It was intimate, romantic and at times, funny."
"We had one reading by my mother. There wasn't one dry eye in the room. She absolutely knocked it out of the park. It was a Bob Marley quote that she amended slightly to apply to both of us."
"He's not perfect. You aren't either, and the two of you will never be perfect. But if he can make you laugh at least once, causes you to think twice, and if he admits to being human and making mistakes, hold onto him and give him the most you can He isn't going to quote poetry, he's not thinking about you every moment, but he will give you a part of him that he knows you could break. Don't hurt her, don't change her, and don't expect for more than she can give. Smile when she makes you happy, yell when she makes you mad, and miss her when she's not there. Love hard when there is love to be had. Because perfect girls don't exist, but there's always one girl that is perfect for you."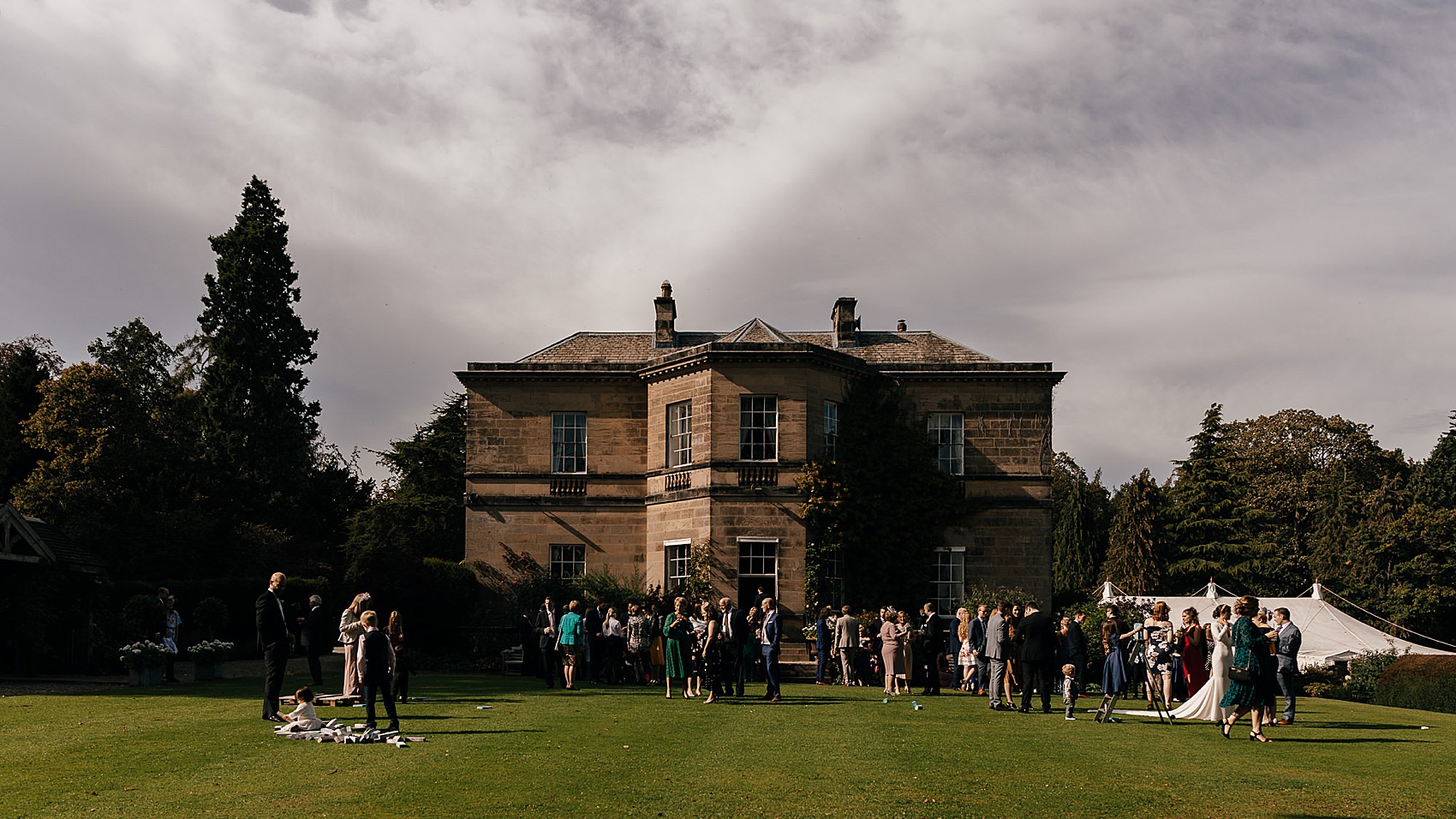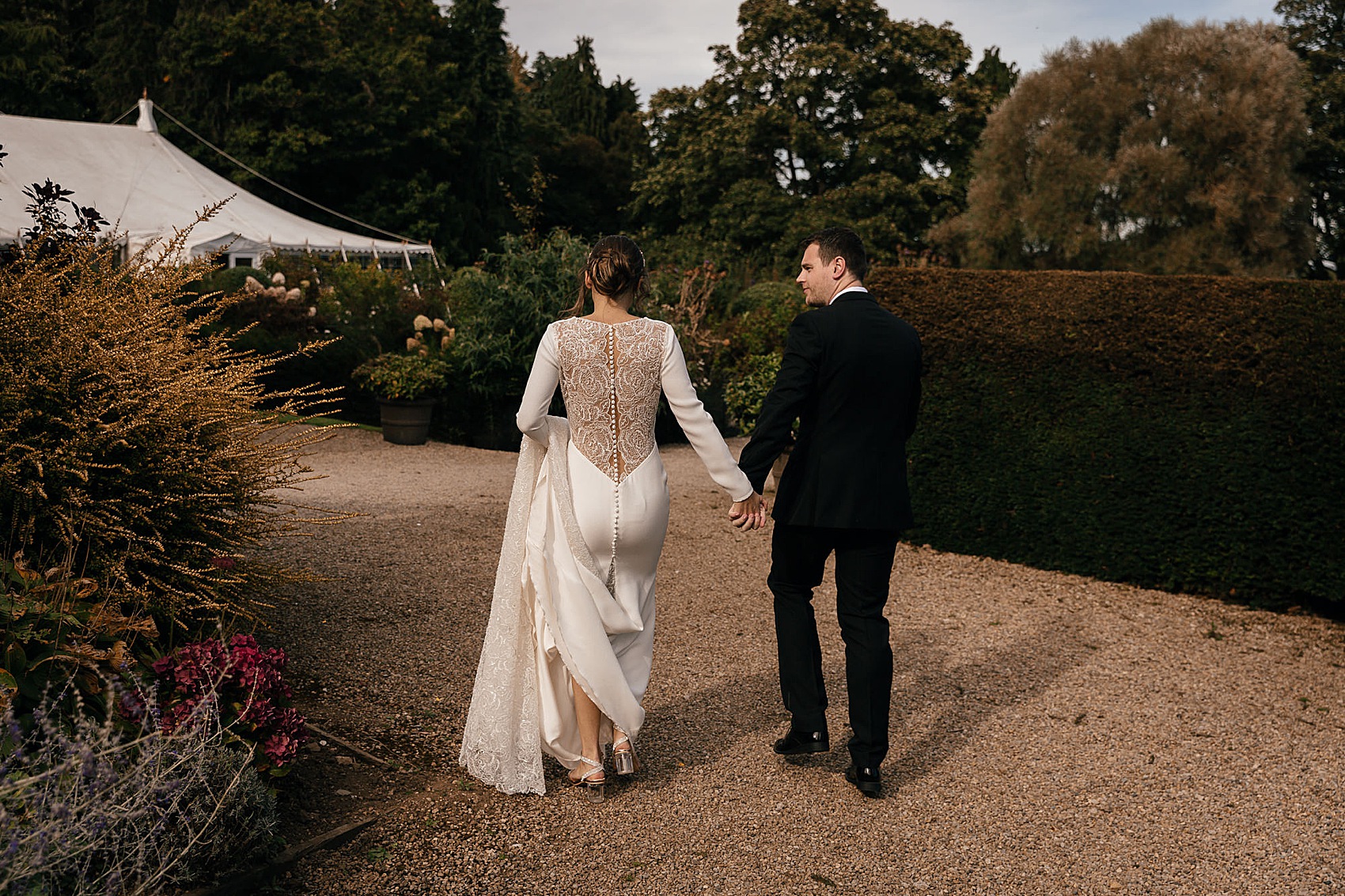 Bethany's bridesmaids wore halter-neck gowns in the deepest of blues from Chi Chi London and to harmonise with them, the flowergirls wore classic dresses from Monsoon.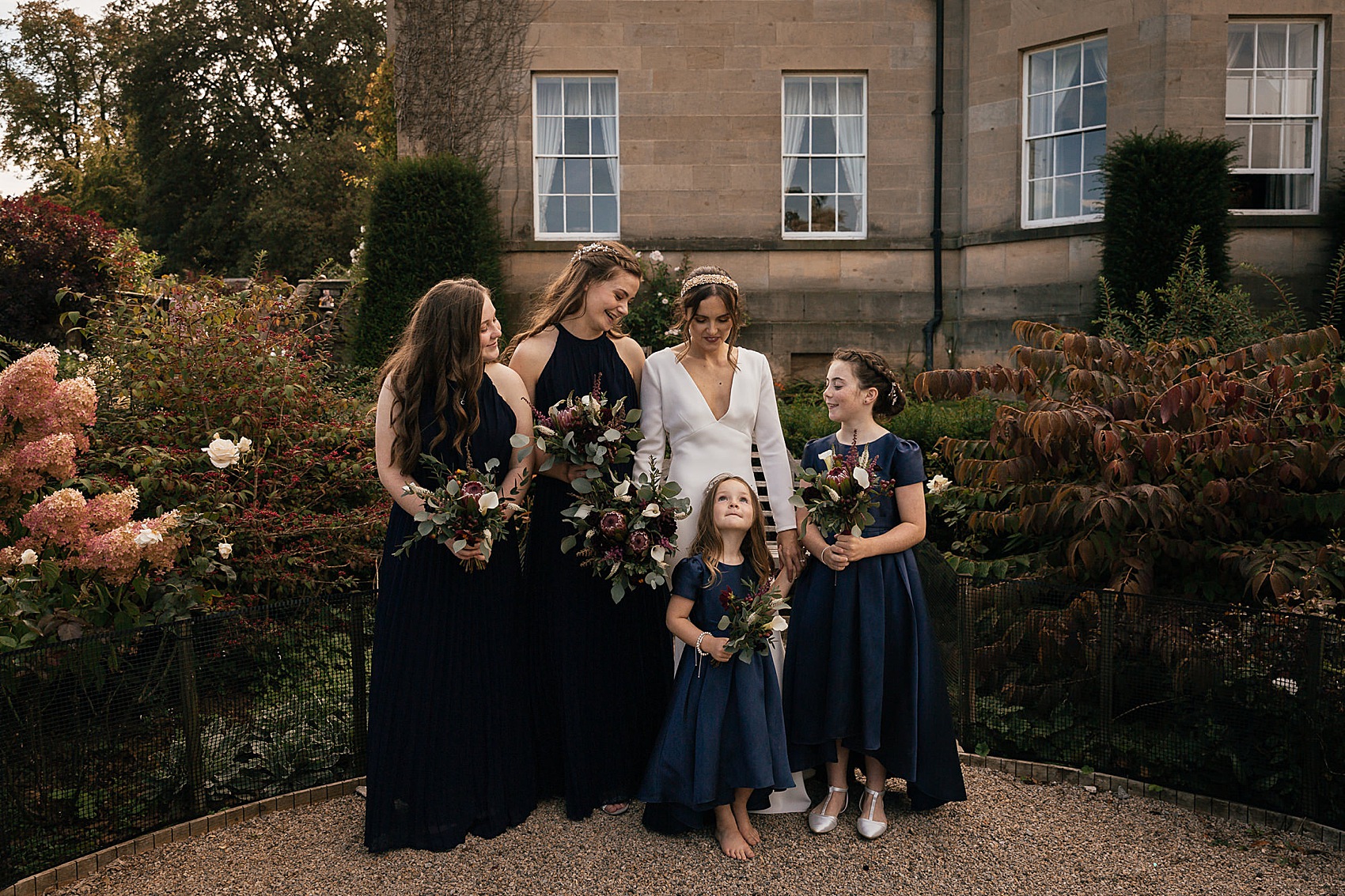 The bride carried a loosely-arranged, hand-tied bouquet, the perfect, seasonal piece against her elegant yet oh-so sexy gown.
"I love my bouquet so much I'm having it preserved by Infinity Flowers."
To capture every part of the day, from the hallway ceremony to the dancing late in the night, Bethany and Christopher recruited Jules Barron. To me, her work is romantic and emotive, capturing every mood in a timeless style.
"I'd already booked a photographer but soon realised that they didn't suit our style. After many weeks of researching I don't actually know how I found Jules, but I'm so glad I did. I can now easily say it's the best decision I made (apart from marrying Chris) to choose Jules."
"She was unreal from start to finish and I'll be recommending her to anyone who will listen. Our photographs are incredible and that was all her doing. We're not normally a photogenic couple and have very few pictures together!"
"We had an engagement shoot with Jules too, which I'd massively recommend if you're not use to or don't like being in front of a camera. It made us much more relaxed on our wedding day."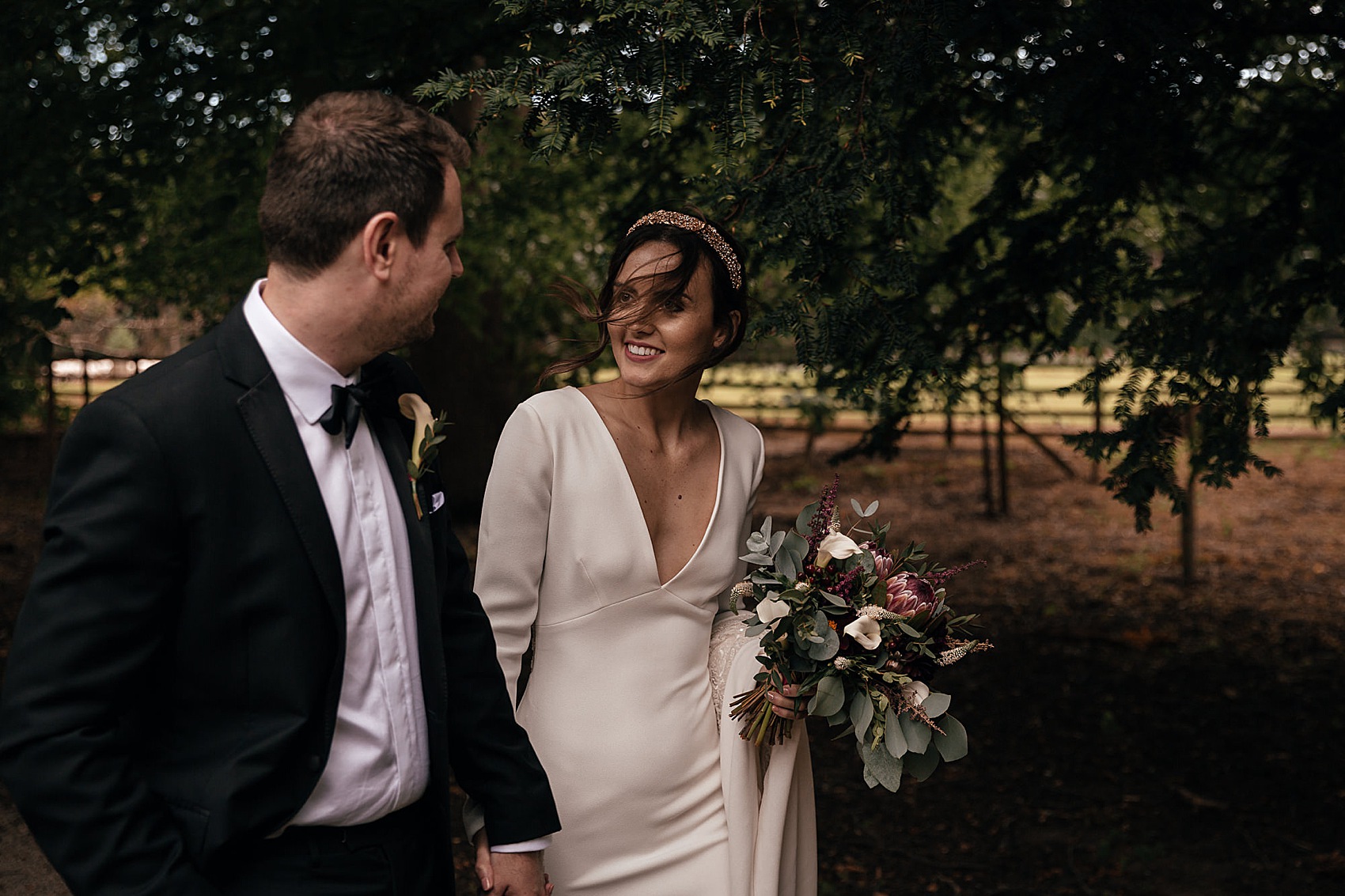 Thanks, Bethany, for this advice – we've had many Love My Dress brides share similar words about the benefit of a pre-wedding shoot so I hope you do consider one if you're nervous about your on the day photographs.
With such beautiful, warm September weather, the guests and the newly-weds drifted outside to enjoy the fresh air and sunshine before making their way in to the Lodge's marquee which had been styled by Shindig Event Styling.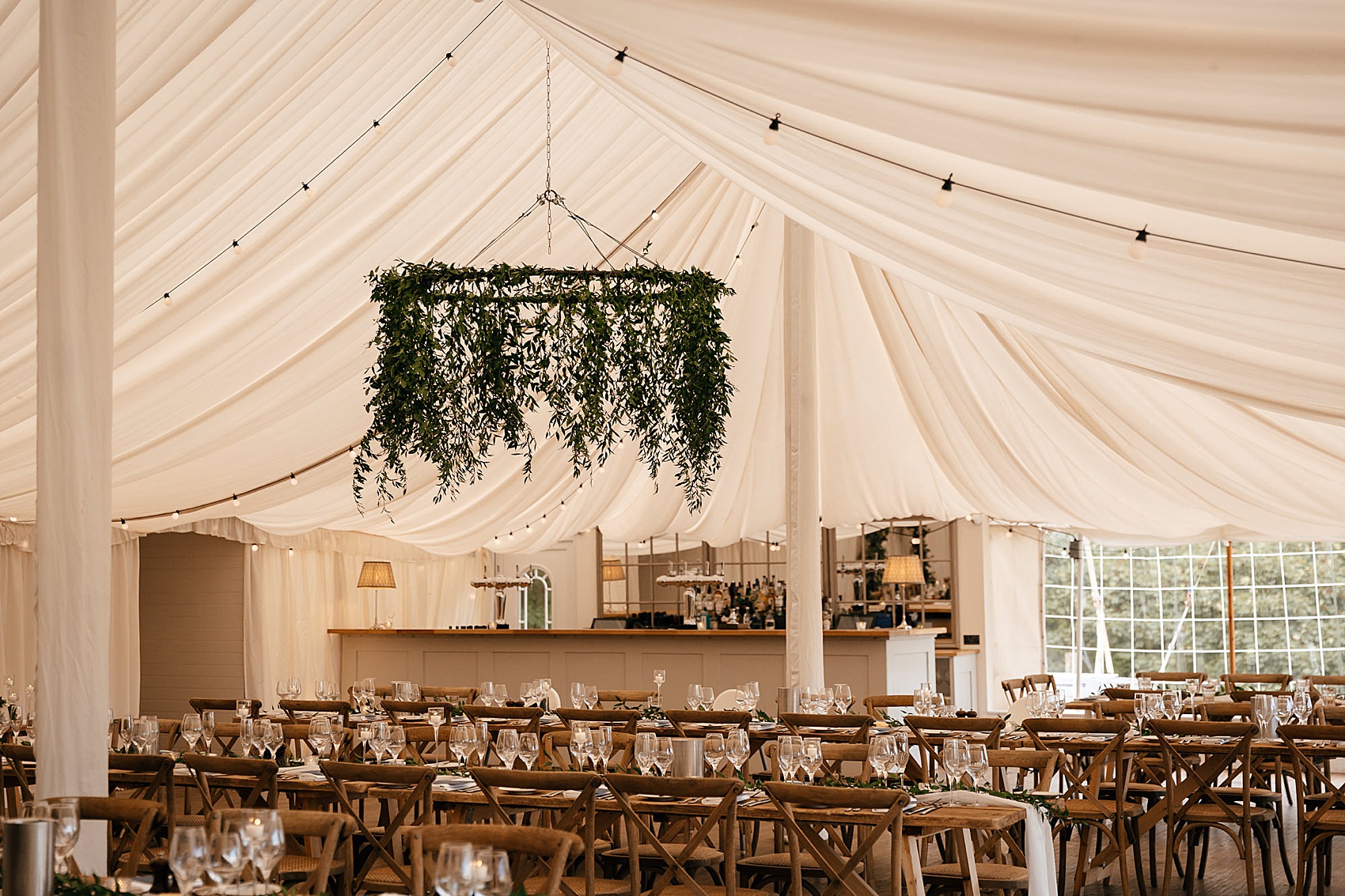 "We had mostly foliage décor styling and Shindig provided it all without a hiccup. They were fantastic, providing a staircase curtain, moon gate, ceiling hoops, table foliage runners and candles."
"The Little Wedding Warehouse made our amazing seating plan, order of the day and welcome sign. The wooden stands and cooper stand were all handmade by them too! They also provided our card box and outside games (also handmade!). Emily Lancaster Design made our beautiful name places and our vow booklets and invitations were from Somers Creative.
My favourite detail is the incredible floral moon gate which framed the top table. During the day there was more music from The Upstarts.
"They were fab. They played me down the aisle, an acoustic set, full band in the evening, followed by a DJ set in the cellar bar!"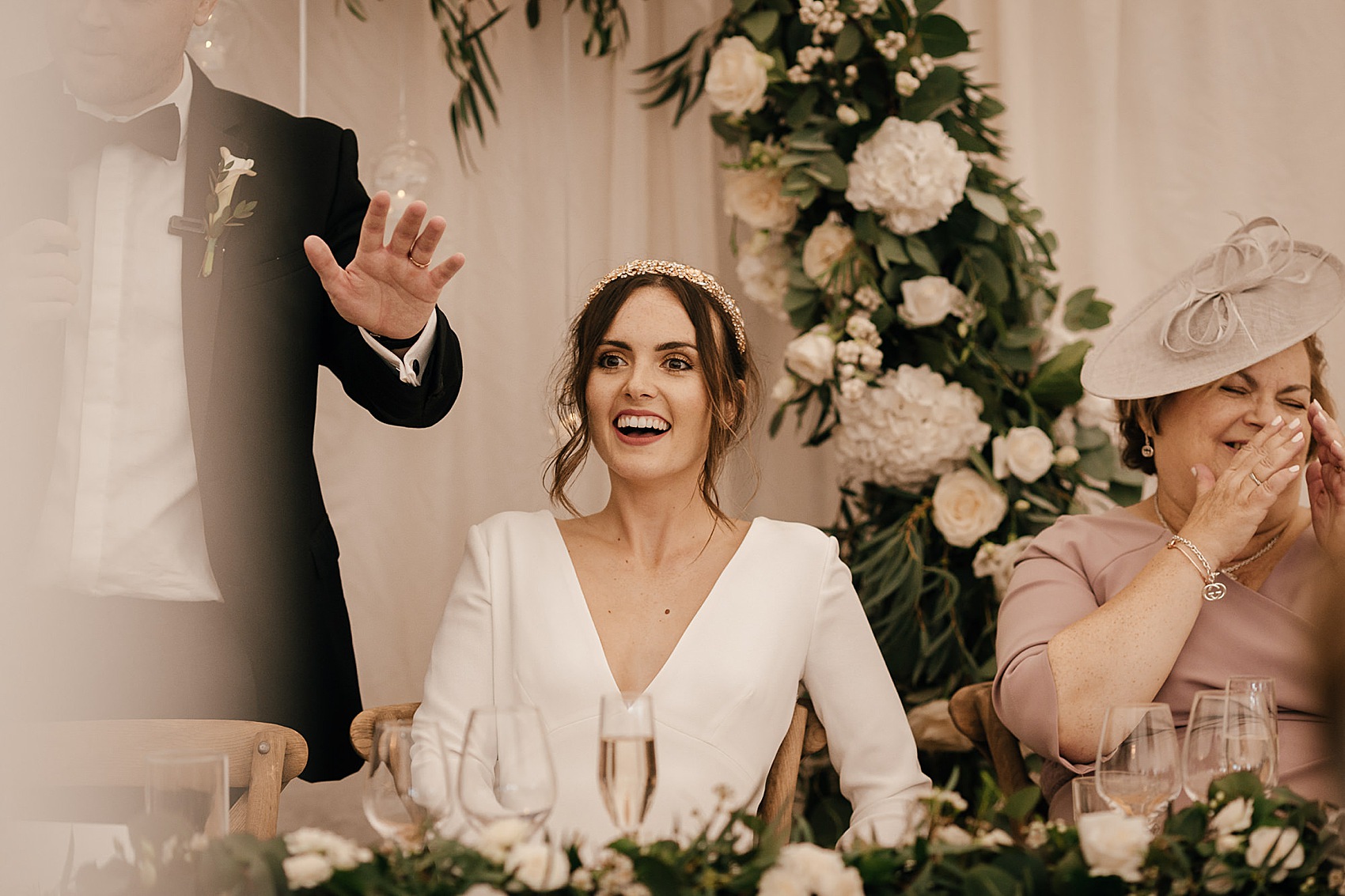 After the wedding breakfast provided by Middleton Lodge's in-house catering team, there were sweet treats from The Sunshine Bakery in Leeds. Oh, and check out that 'We Belong To Cheddar' sign!
"They provided us with the BEST brownies and cupcakes. It's been my favourite place for my years so it was a no-brainer. We also had a cheese cake from The Cheese Shed. We used their online cake builder and had it delivered a couple of days before the wedding."
In a nod to their love story, Christopher and Bethany's first dance was to Haley Reinhart's 'I Can't Help Falling In Love With You'.
"After two months of dating, Chris asked me to be his 'girlfriend' and I said no. I didn't want anything serious but I fell I love with him anyway."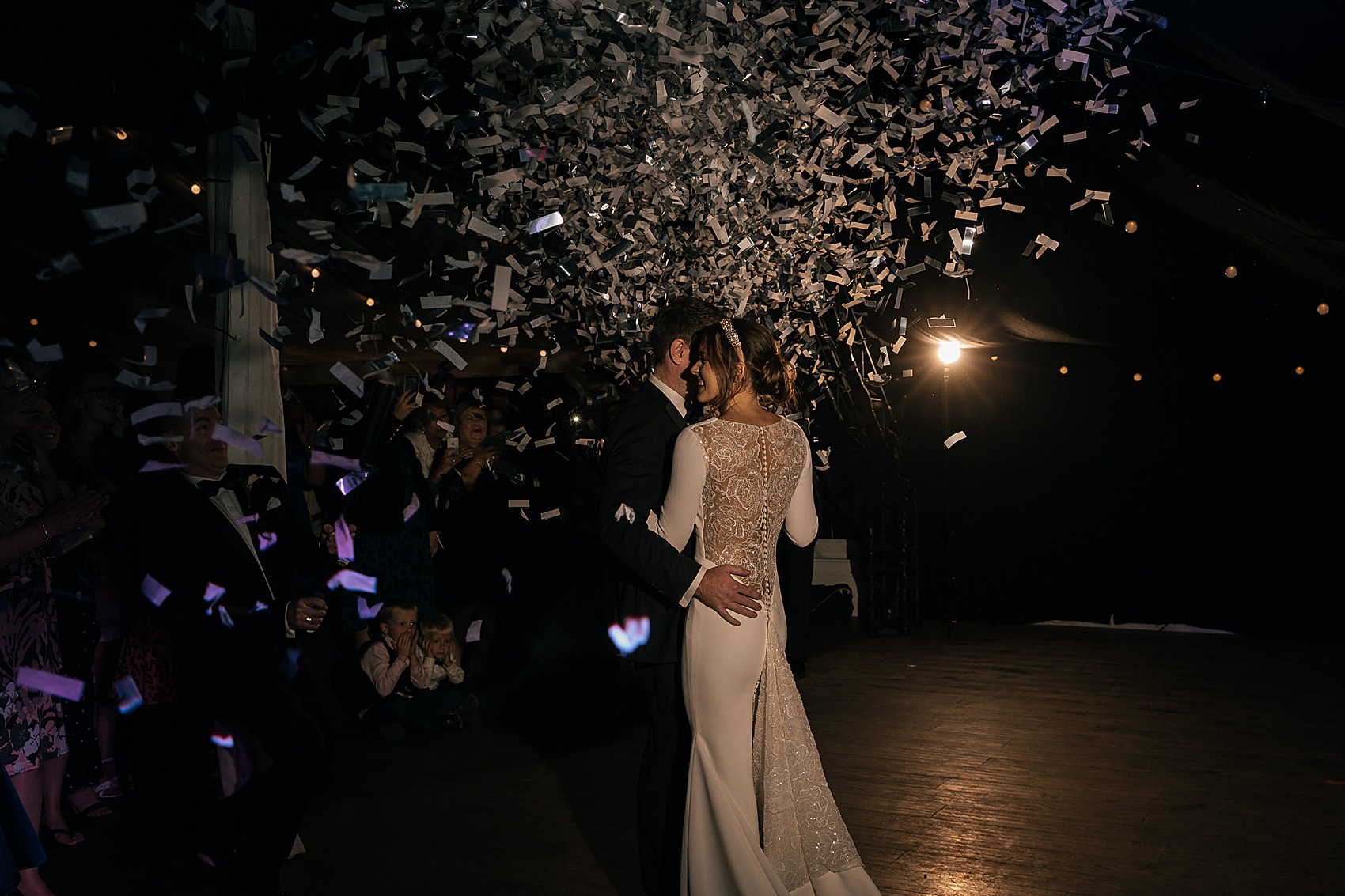 Words of Wedded Wisdom
"So many decisions you make are about making other people happy or not hurting other people's feelings. Make sure those decisions don't make you unhappy."
"If there's a decision you're not happy with, change it. Even if it's last minute or you'll lose a small deposit, it'll be worth it. I'm so pleased I did."
"Although Pinterest can be great, it gave me way too many ideas and choice. I found I was creating unrealistic expectations. Try stepping away and limit that use."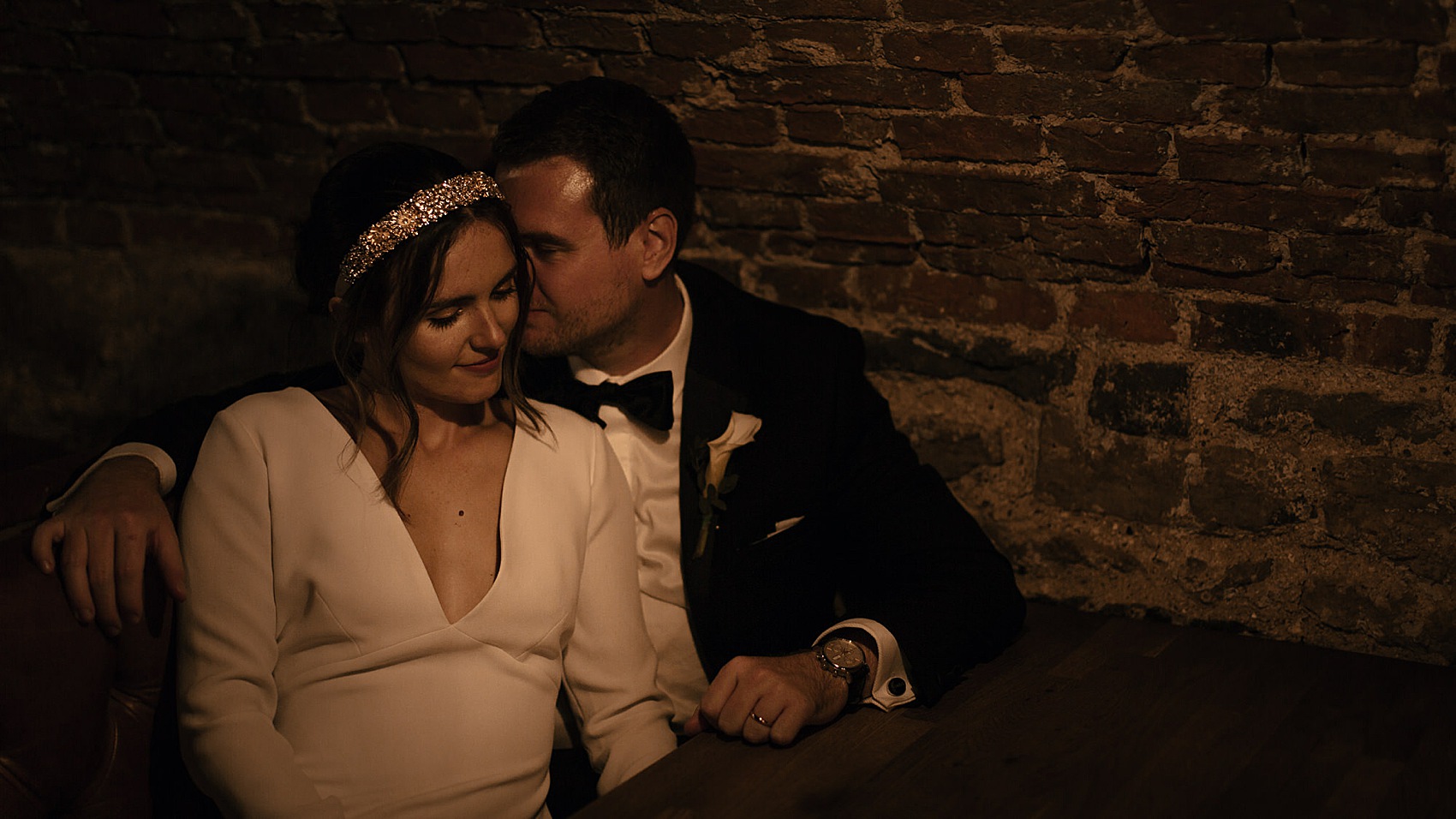 Bethany and Christopher, thank you so much for sharing your elegant, graceful day with us. It looks like you enjoyed marvellous weather, and it's been so refreshing to hear that, if something doesn't feel right, it's completely ok to change your mind. Thank you Jules Barron, of course, and if you'd like to enjoy more of her work please follow this link.
Ele xx