Lovely ones, I very much hope you're ready for a burst of vibrant colour, some 1970s disco and music festival vibes, a bride in a beautiful red dress and dancefloor-ready gold platforms – because we're about to serve that right up.
This super gorgeous wedding was captured wonderfully from start to finish by our friend and Little Book directory member, Chris Copeland Photography. This is the wedding of dancer Sibéal Davitt and her love Gavin FitzGerald, who is a filmmaker.
They were married on the 29 June 2019 in a humanist ceremony at MART; an art gallery and community arts and cultural hub in Rathmines, Dublin. After the ceremony, the couple and their loved ones walked over to Gavin's family home for their reception, with tent hire courtesy of LPM Bohemia.
Images by Chris Copeland Photography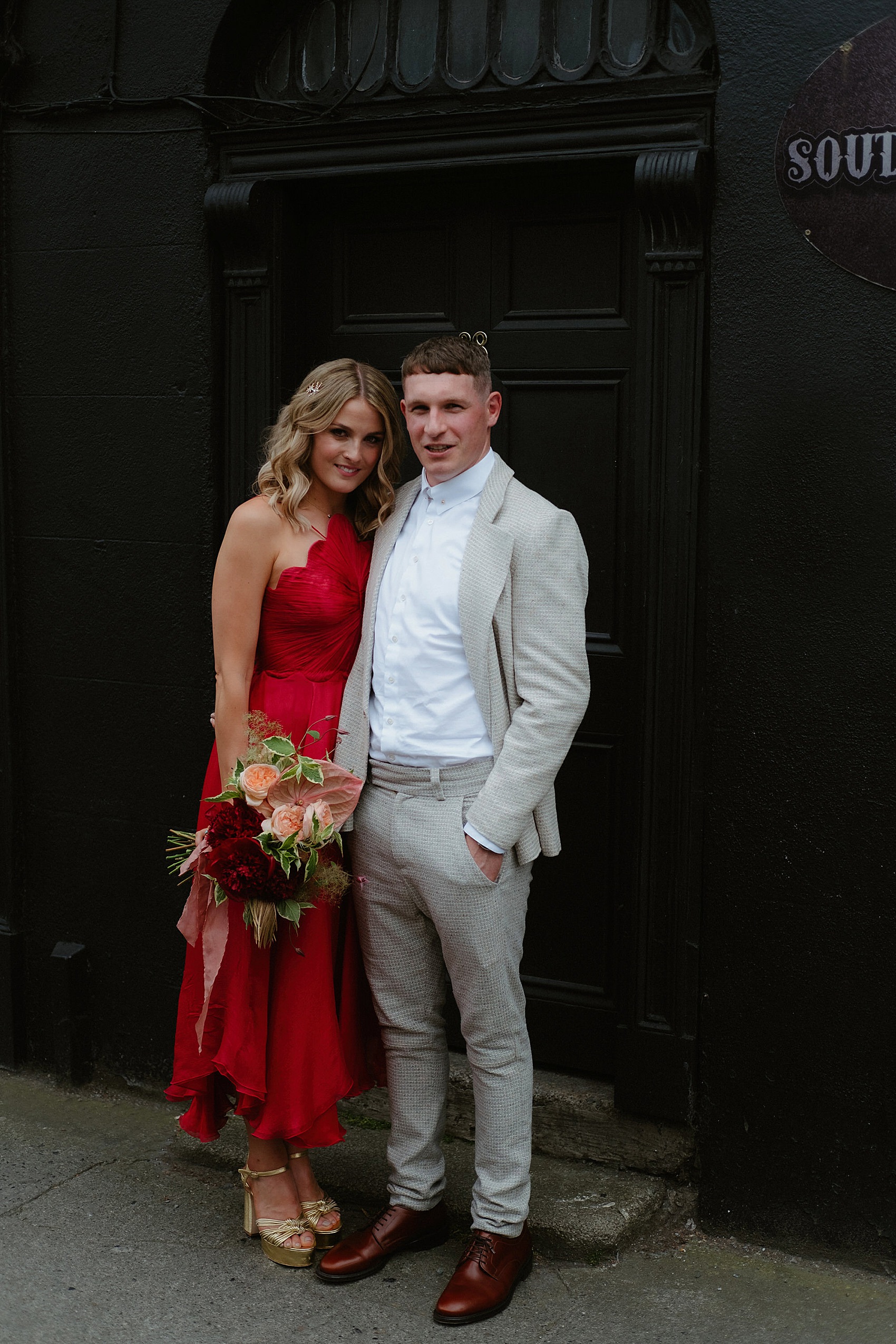 "We wanted the wedding to feel like a festival with lots of colour and disco vibes. Red was clearly a common thread! We had lots of help from my sister-in-law Ellen FitzGerald, who curated the lanterns and sourced the disco ball. Traditional music and the Irish language are a big part of my life, so it was important to have them as part of the day."I just love the 1970s disco inspiration behind Sibéal's beautiful bridal look. Her hair was styled by Rebecca O'Neill (sadly unable to find any details for Rebecca) and she wore a set of Jennifer Behr's celestial 'Venus' bobby pins. Groomed to rosy, radiant perfection by make-up artist Natasha Ray, Sibéal added a mist of Good Girl by Carolina Herrera – a gift from her aunt.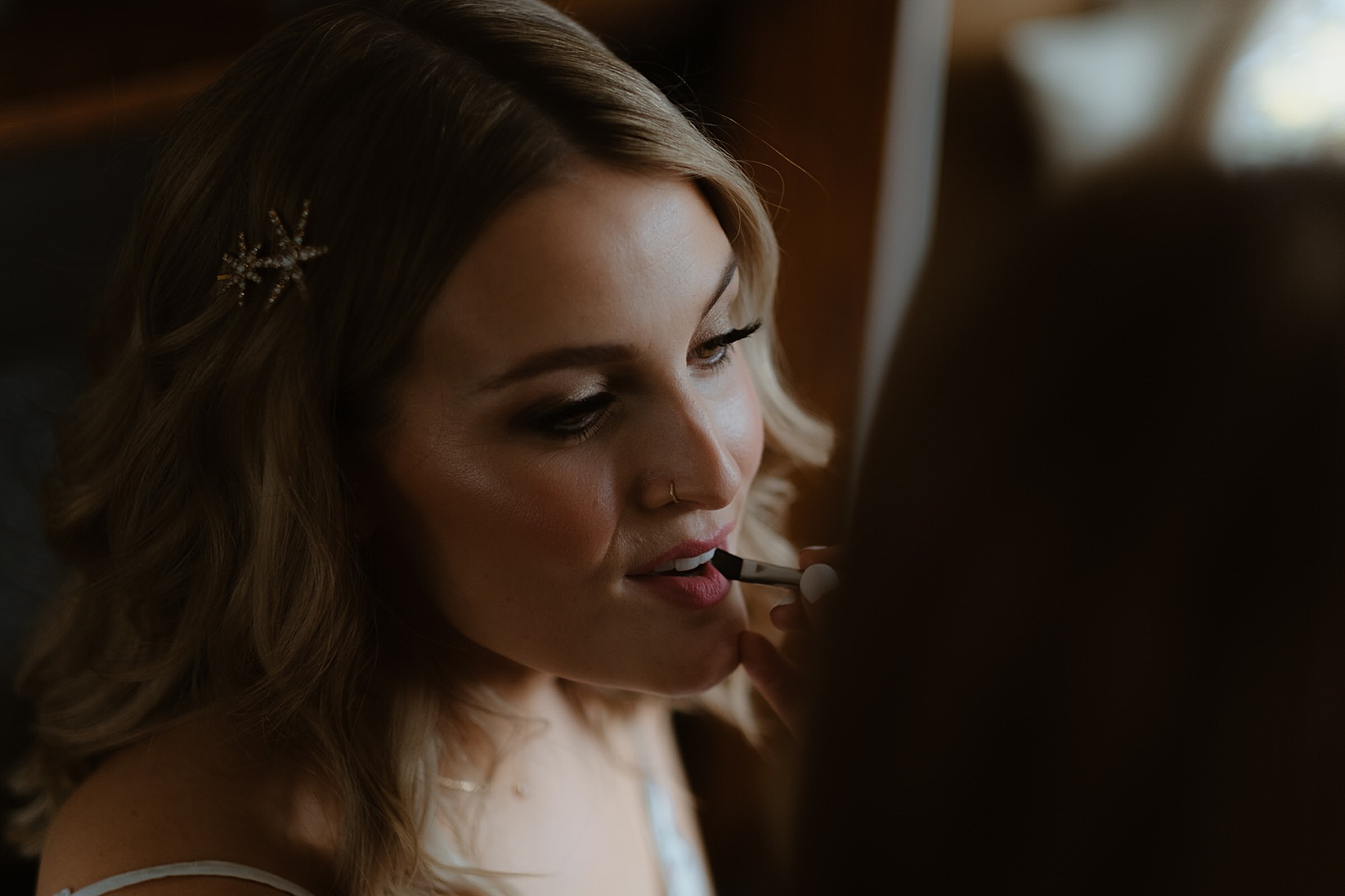 Sibéal's amazing, 70s boho inspired red dress was by Maria Lucia Hohan, which she discovered through website Matches Fashion.
"I actually fell in love with my dress even before I was engaged. I wanted to wear something I loved and that flattered my shape, and I took a chance getting it online. I bought the dress a size too big, and got it taken in by a lovely seamstress a year before the wedding. There was no fuss, and it didn't cost me a fortune with fittings, etc. I can't wait to wear it again!"
The lovely halterneck bodice reminds me of the petals of a flower, falling to a flowing, chiffon midi skirt revealing a pair of super gold platform heels by Rachel Zoe.
A delicately pretty necklace and earrings by One Dame Lane completed Sibéal's look.
"Our flowers were by Anna Donnelly at Yarrow. Anna is a friend of mine, and she was an absolute dream to work with. She listened to everything I wanted, and I trusted her to create something magical."
Gavin looked incredibly smart in an oatmeal check double-breasted suit, worn with a white shirt, by Alan Taylor. He sourced his Hope accessories through Vestiaire Collective.
Bridesmaids' dresses were by the brilliant Self Portrait, with shoes from Vestiaire Collective, and jewellery from One Dame Lane.
"My sister was such a help. I think I sent her about 100 texts a day for the whole year. I could not have done it without her. My sis-in-law Ellen and best friend Ciana were also so helpful when it came to fashion advice. 1970s style is my favourite. The Grecian cut and 70s glamour was what attracted me to the dress – the colour was an added bonus."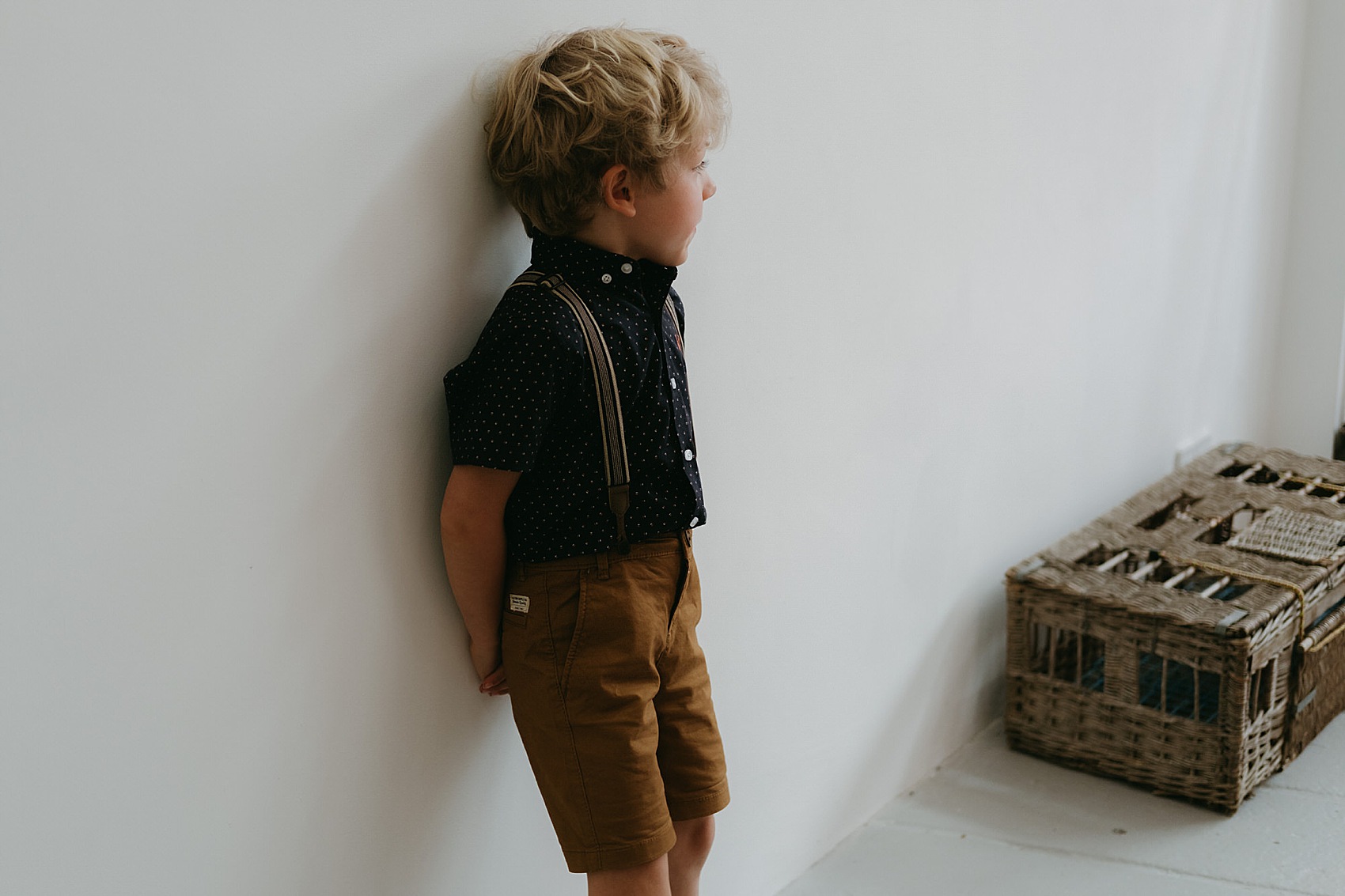 "We grew up five minutes down the road from one another, but only met at university. We lived in Gav's house for four years, and so we felt it was the perfect venue for our celebrations. It was really important to us to get married at home – it made everything so much more personal."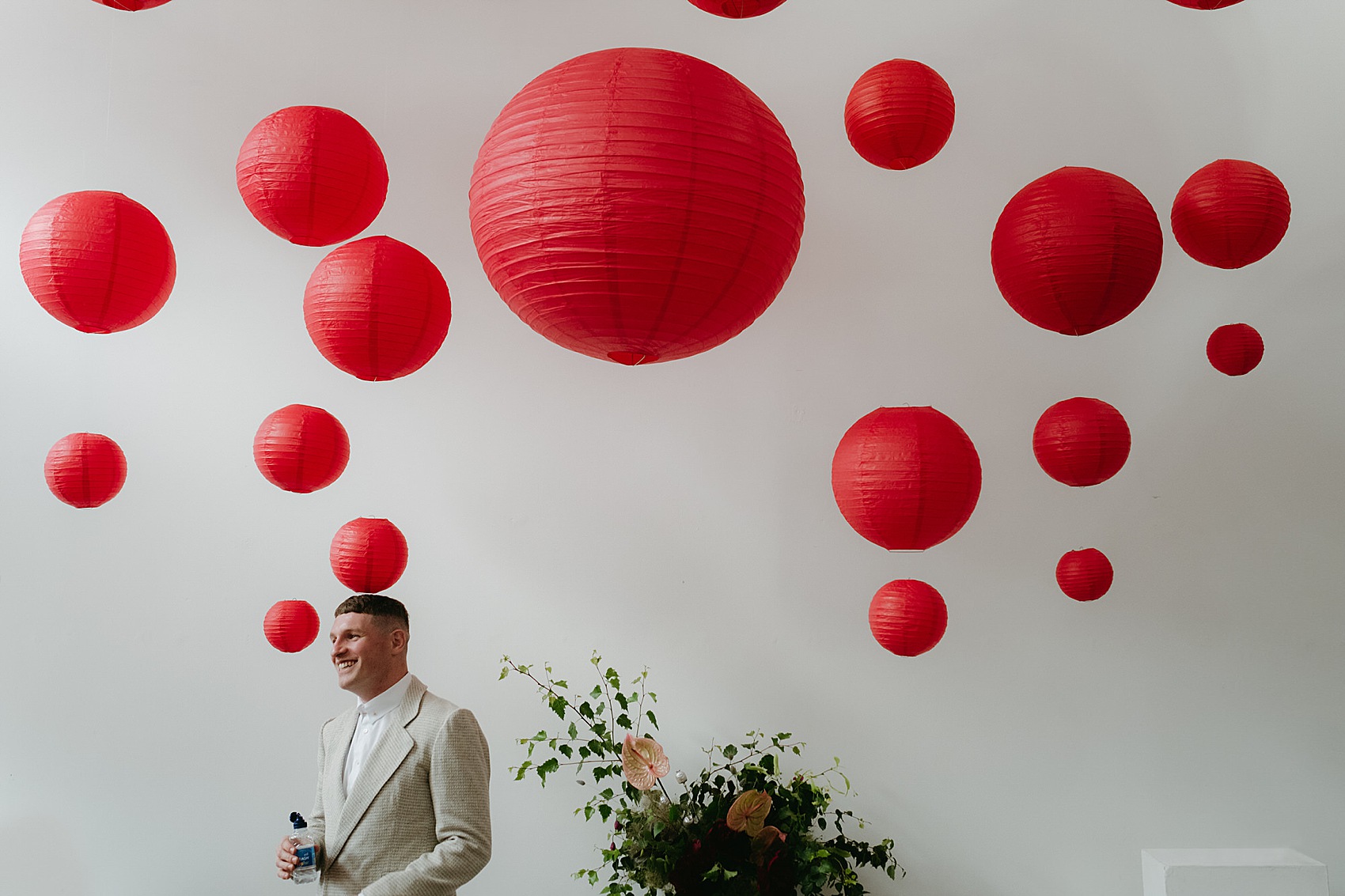 Family and friends gathered in one of MART's beautiful gallery spaces – a converted garage that used to house fire engines.
I love the contrast between the bright red doors, and the bright, white space within, decorated with lots of red paper lanterns, suspended from the ceiling, and flowers by florist Yarrow.
The bridal party walked over to the gallery, and Sibéal walked down the aisle together with her brother, whilst one of her best friends, Maitiú Ó Casaide, played a slow air on the uilleann pipes.
Sibéal and Gavin first met at university in 2010, where they were both film students, and became engaged in March 2018, and planned their wedding for the following June.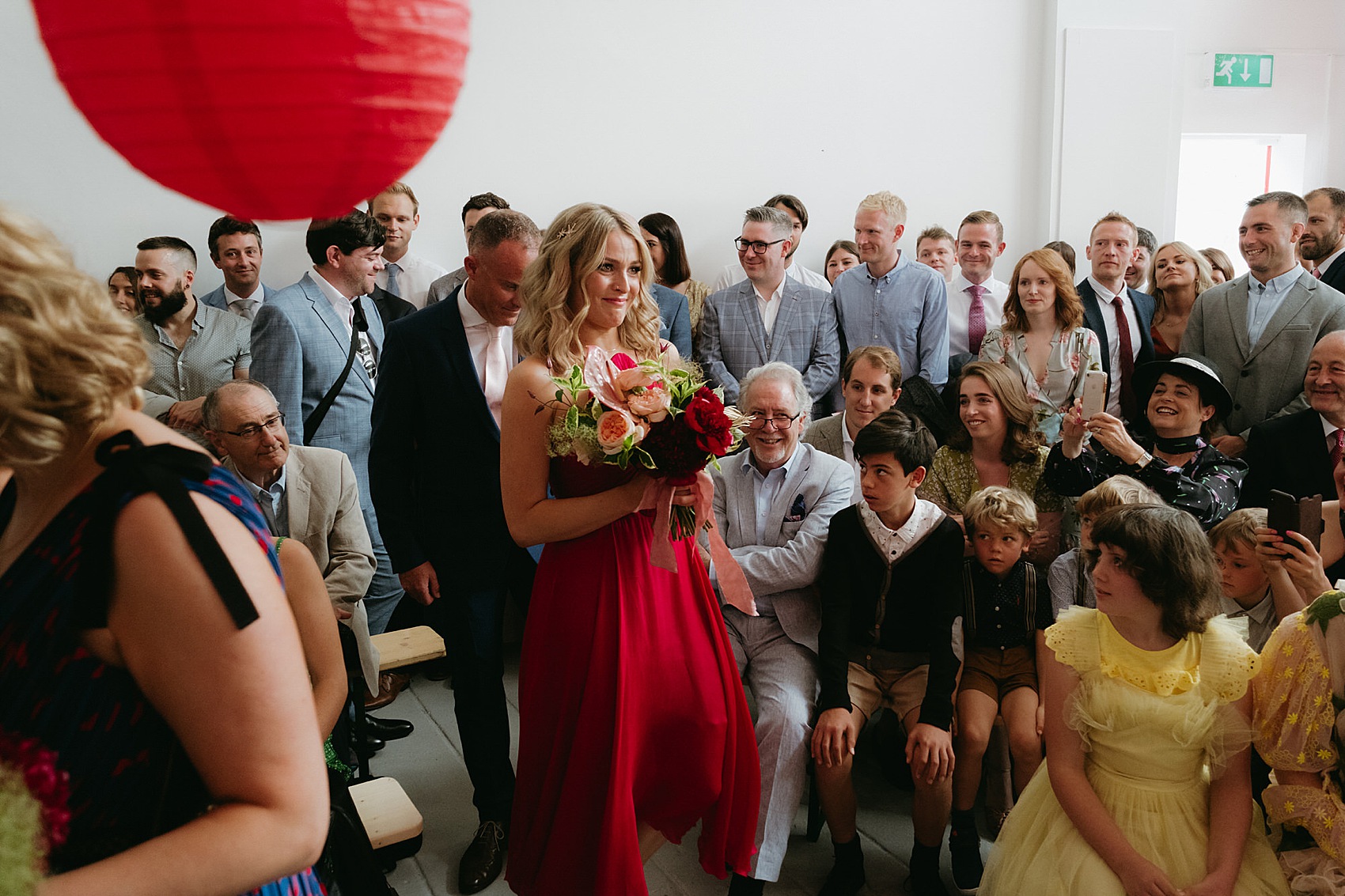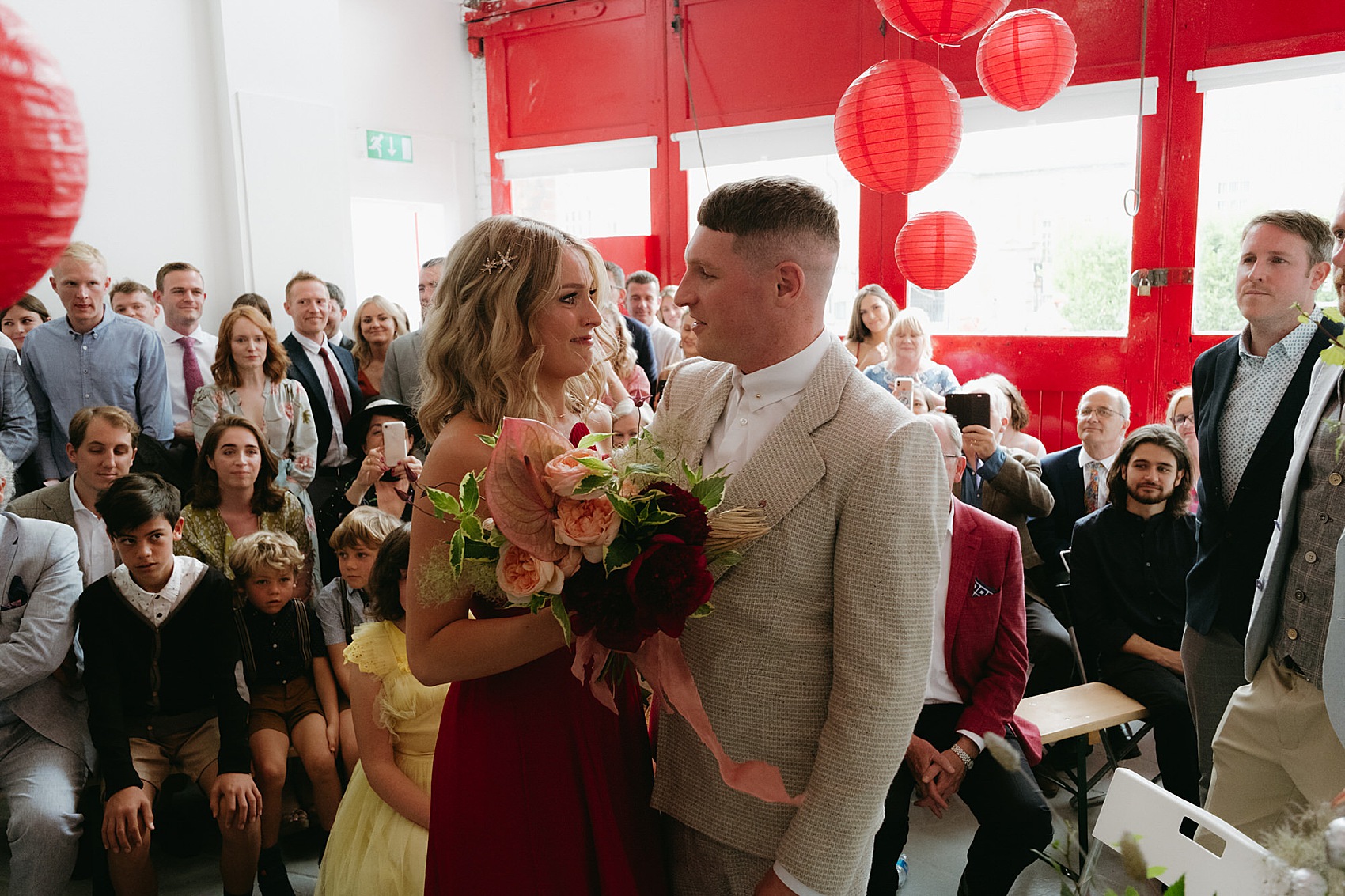 Their humanist celebrant was Niamh Davis, and the ceremony was filled with traditional music played by Sibéal's talented mother and their friends.
As they made their heartfelt vows to each other, the couple also exchanged rings, which were chosen at Courtville – Matthew Weldon Antique Gallery at Powerscourt Townhouse in Dublin.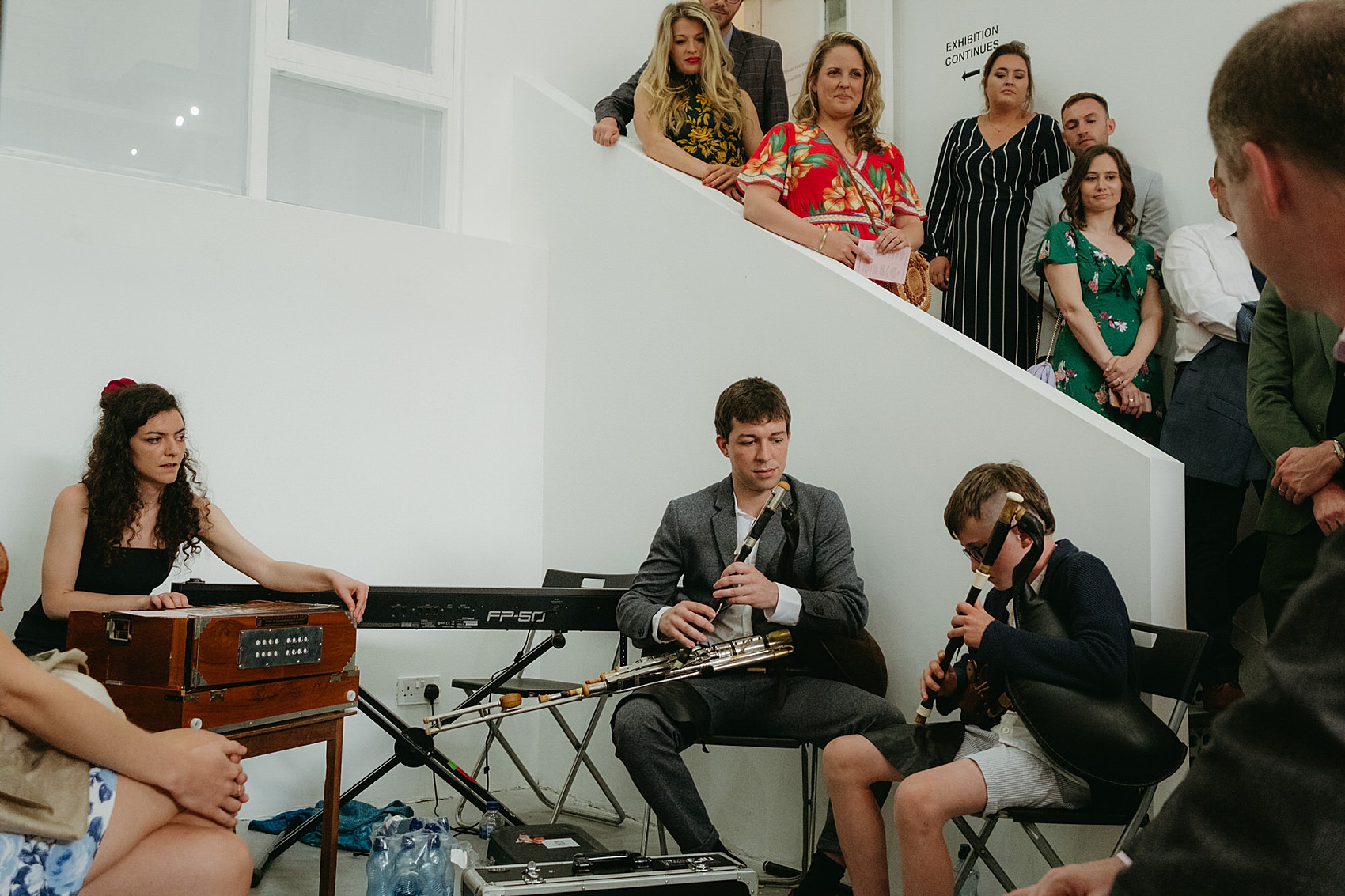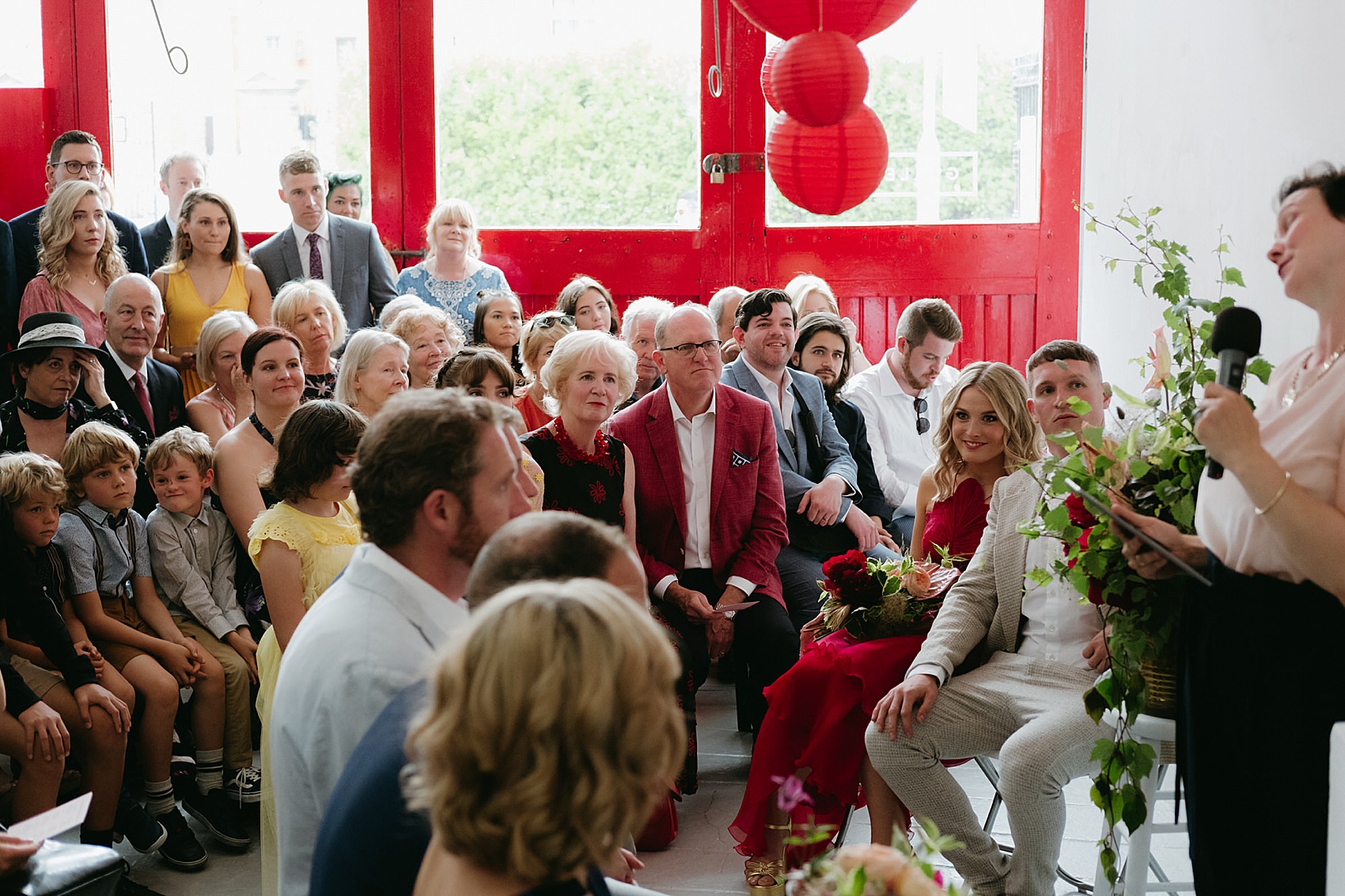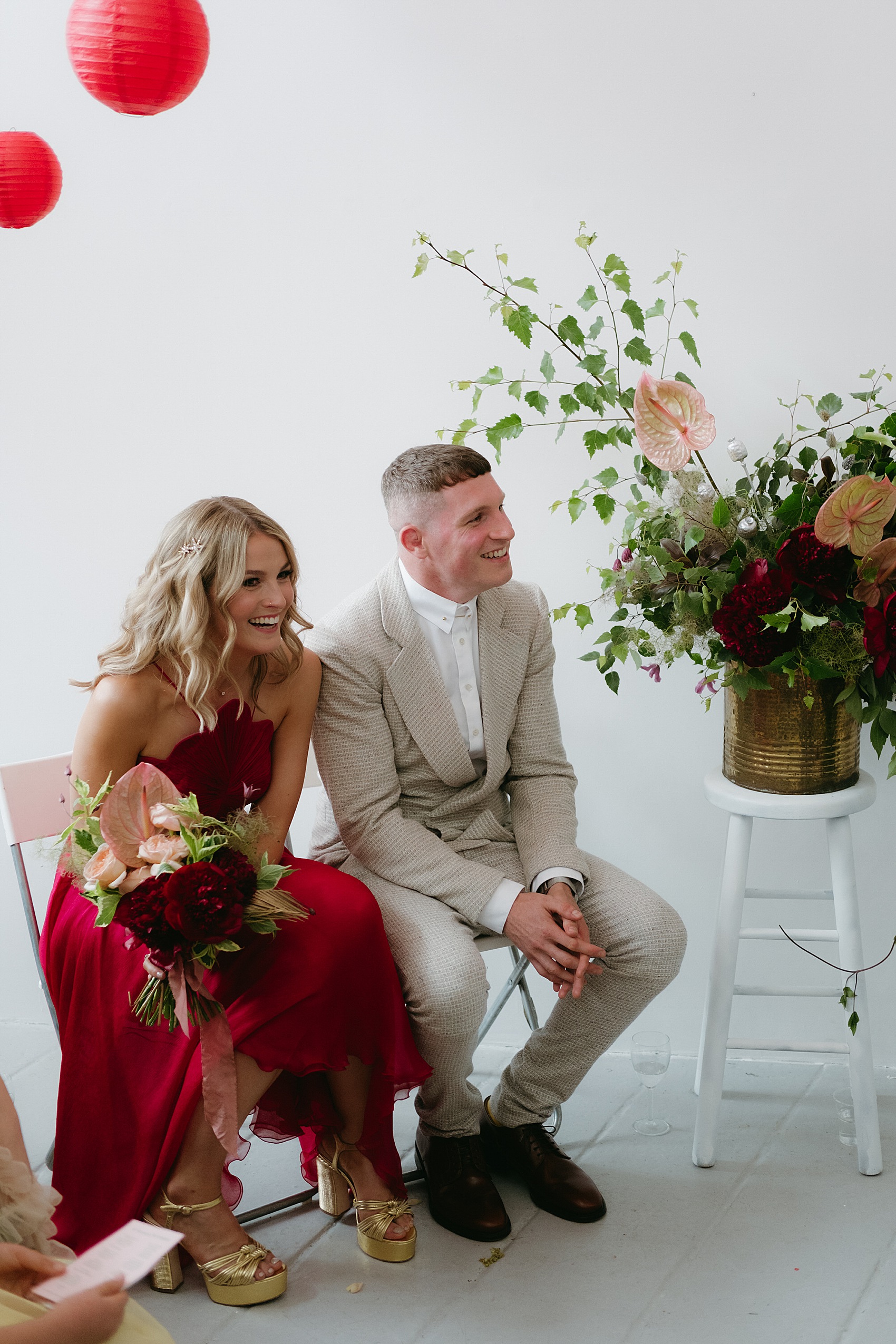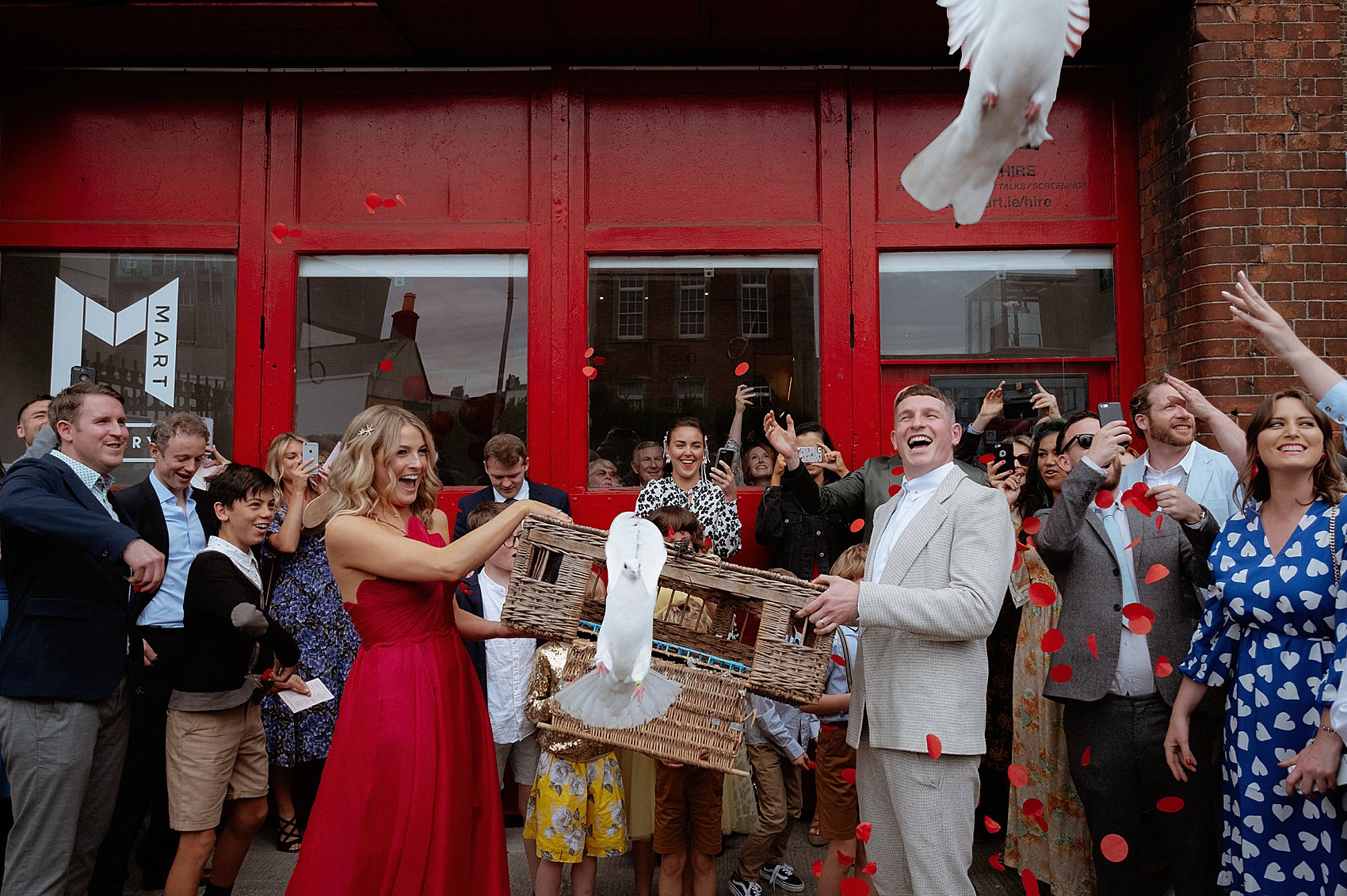 Outside post-ceremony, handfuls of red confetti were thrown, and there was even a dove release, too!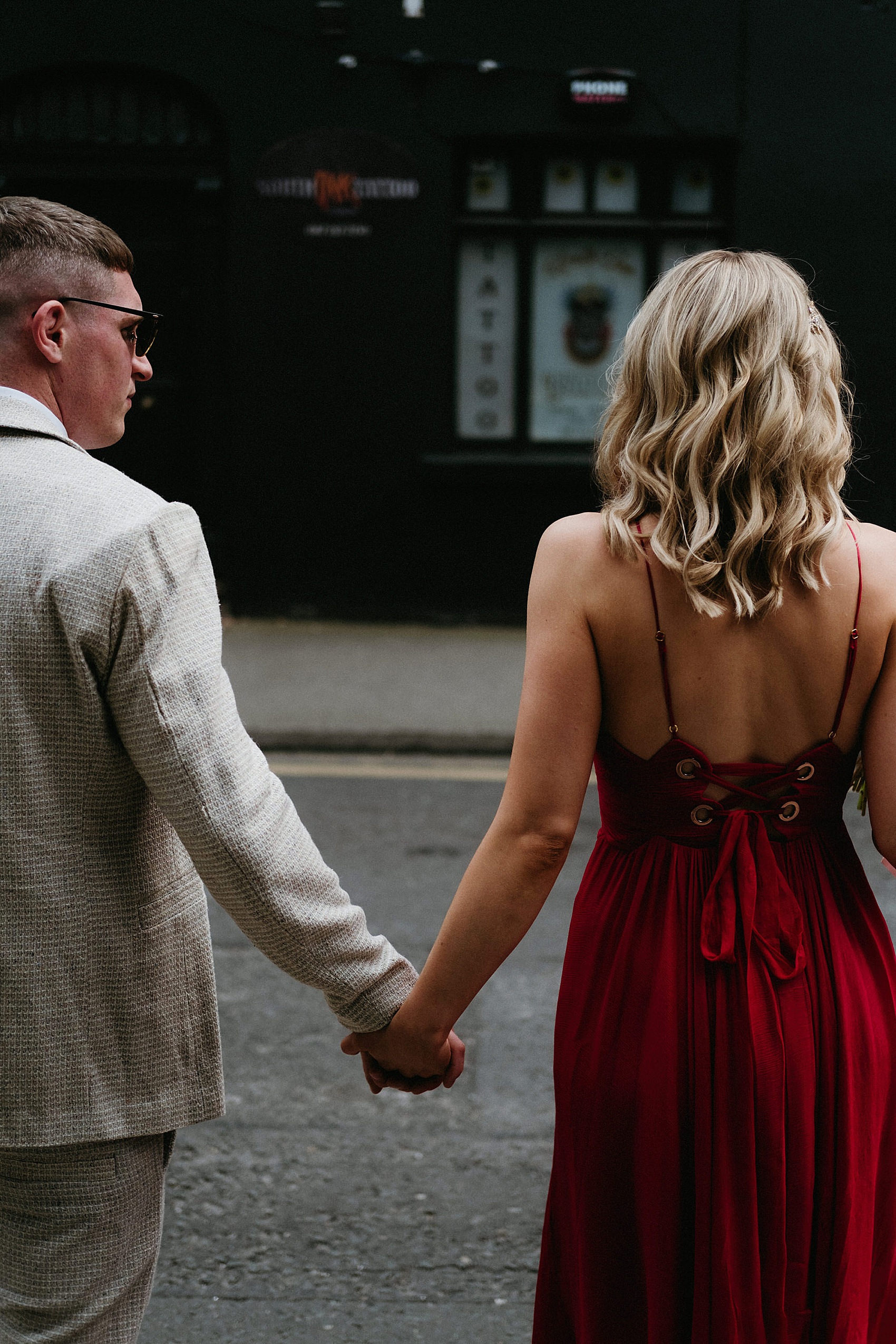 Together with their loved ones, the newly married couple strolled hand in hand over to Gavin's house, and I just adore the way these moments have been captured by photographer Chris Copeland Photography.
We have lots of Chris' exquisite work to enjoy on our pages, and he's also part of our most recent article series celebrating uplifting, joyful wedding imagery.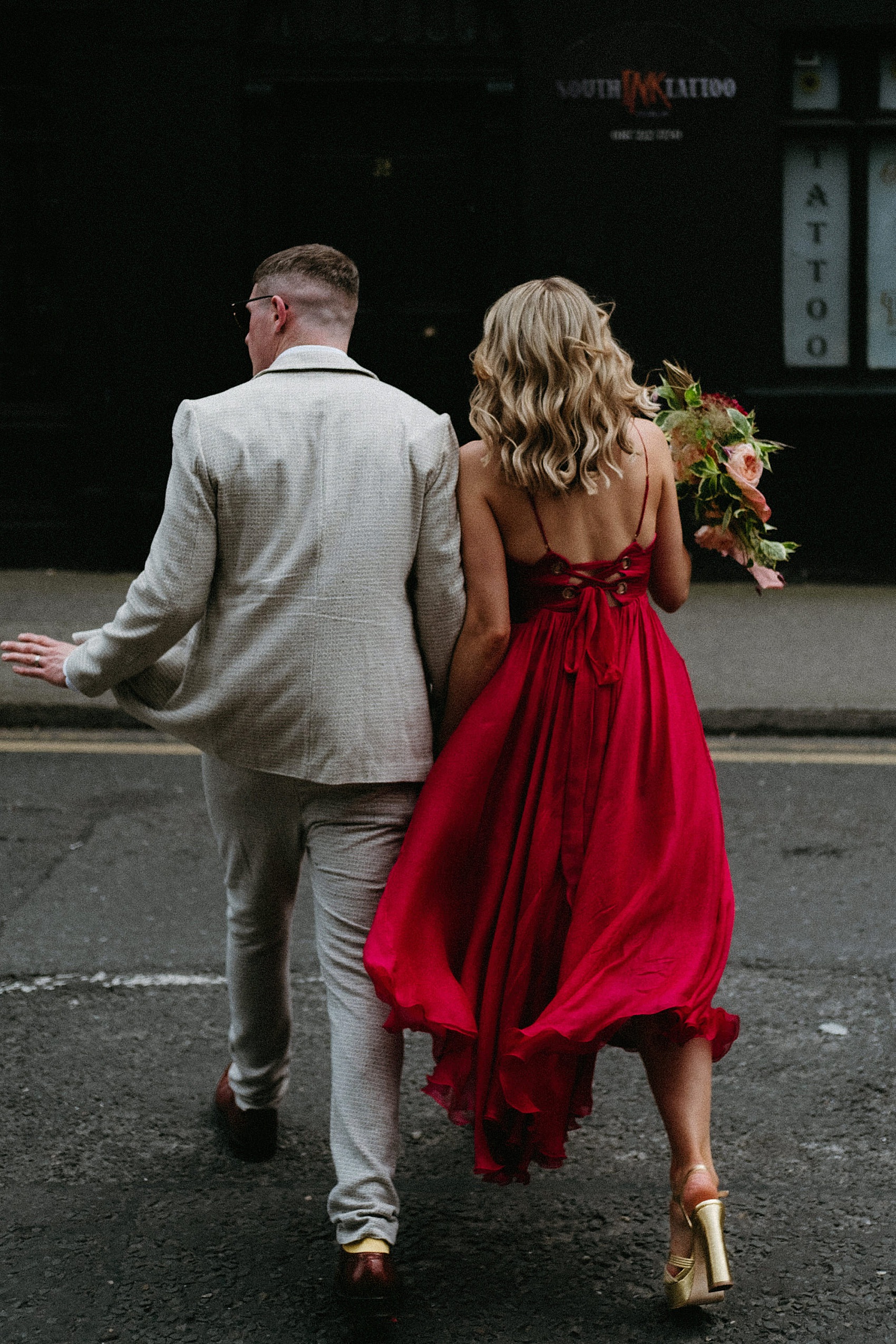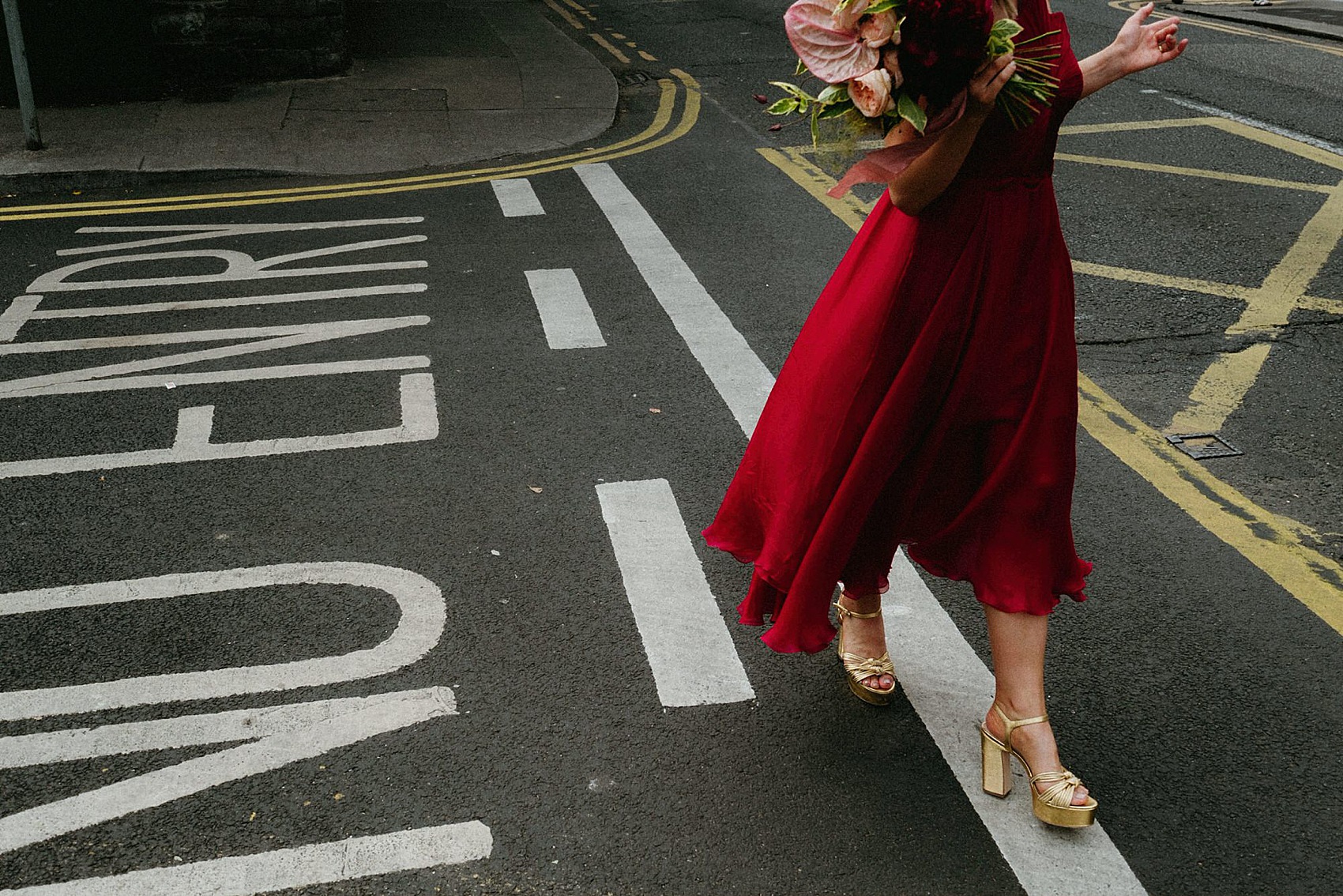 Guests mingled inside the house and out in the garden, where stretch tents had been put up by LPM Bohemia.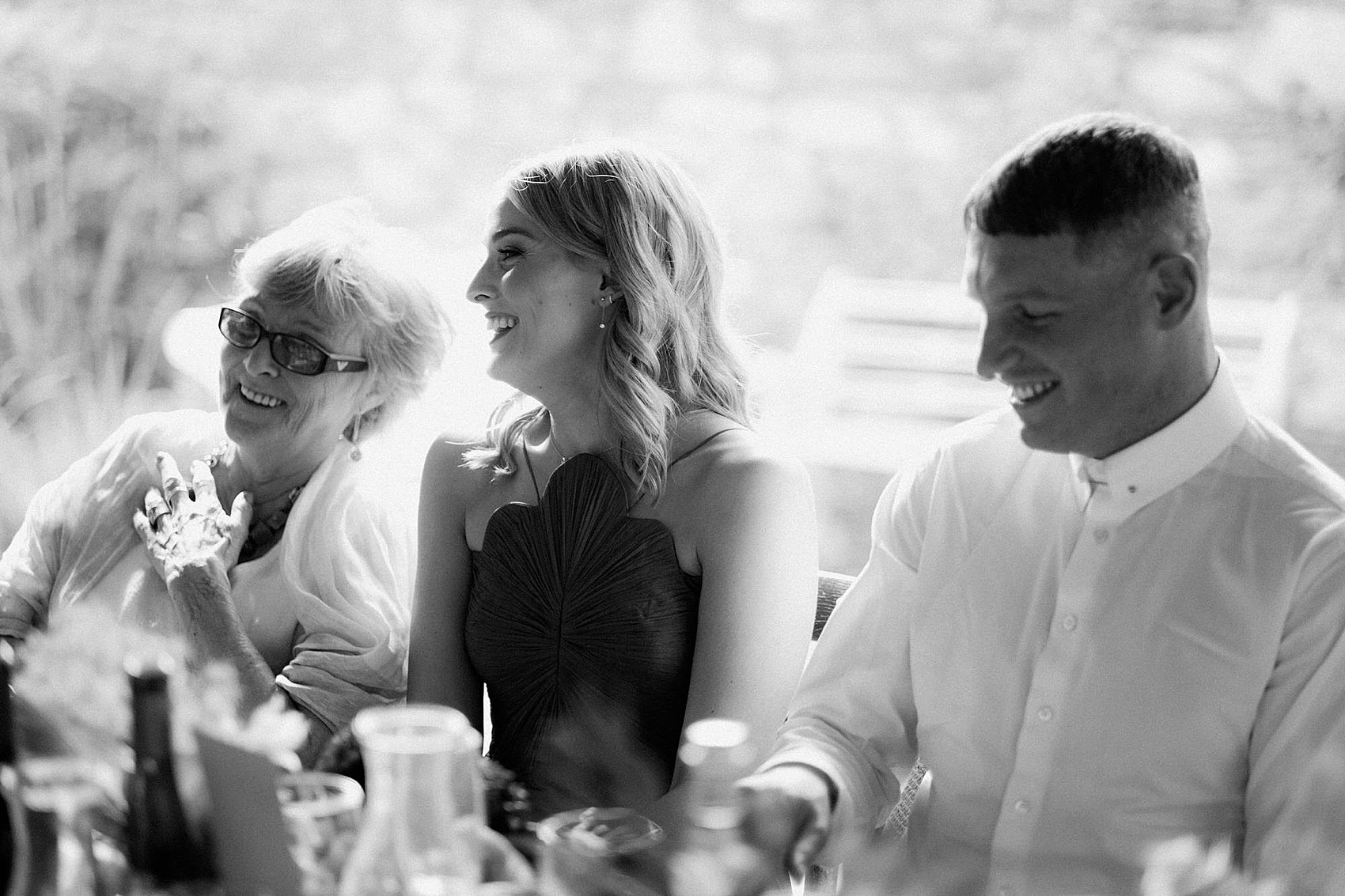 "Bronwyn at LPM Bohemia was like a fairy godmother. She was available to talk through everything all the time, and there was nothing she wouldn't handle."
Inside the tents, more colourful paper lanterns, and a shiny disco ball hung from the ceiling canopy, sourced by Sibéal's sister-in-law, Ellen. Pretty stationery was designed by Sibéal's talented friend Ciana March, and the long, rustic dining tables were simply decorated with flower posies.
Everyone sat down to a vibrant, sharing feast by Eathos, and the couple's beautiful, three-tier semi-naked cake (adorned with colourful fresh flowers, strawberries, and even a mini disco ball!) was made by another talented friend, Eva Lawes, of Delicious Circle.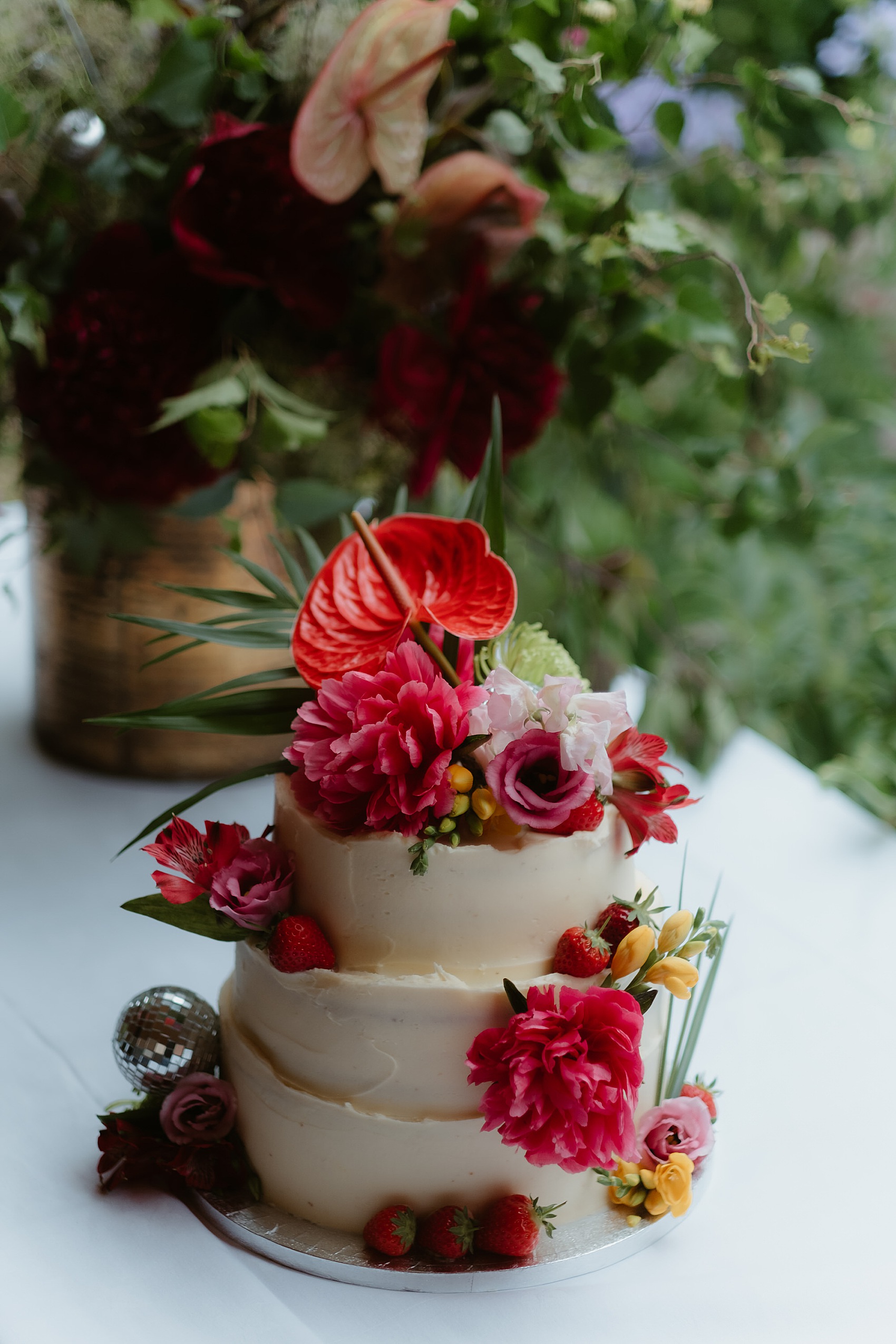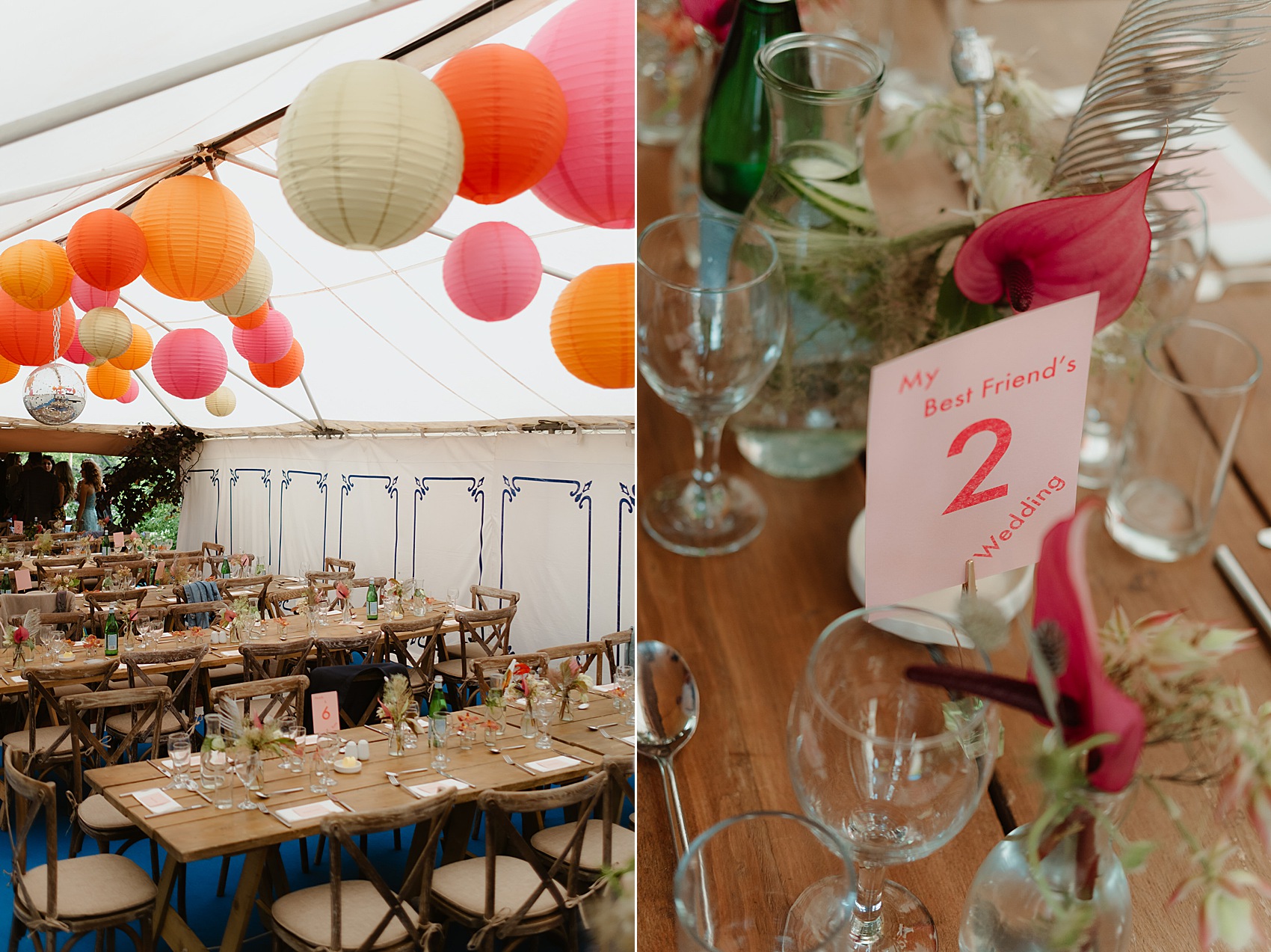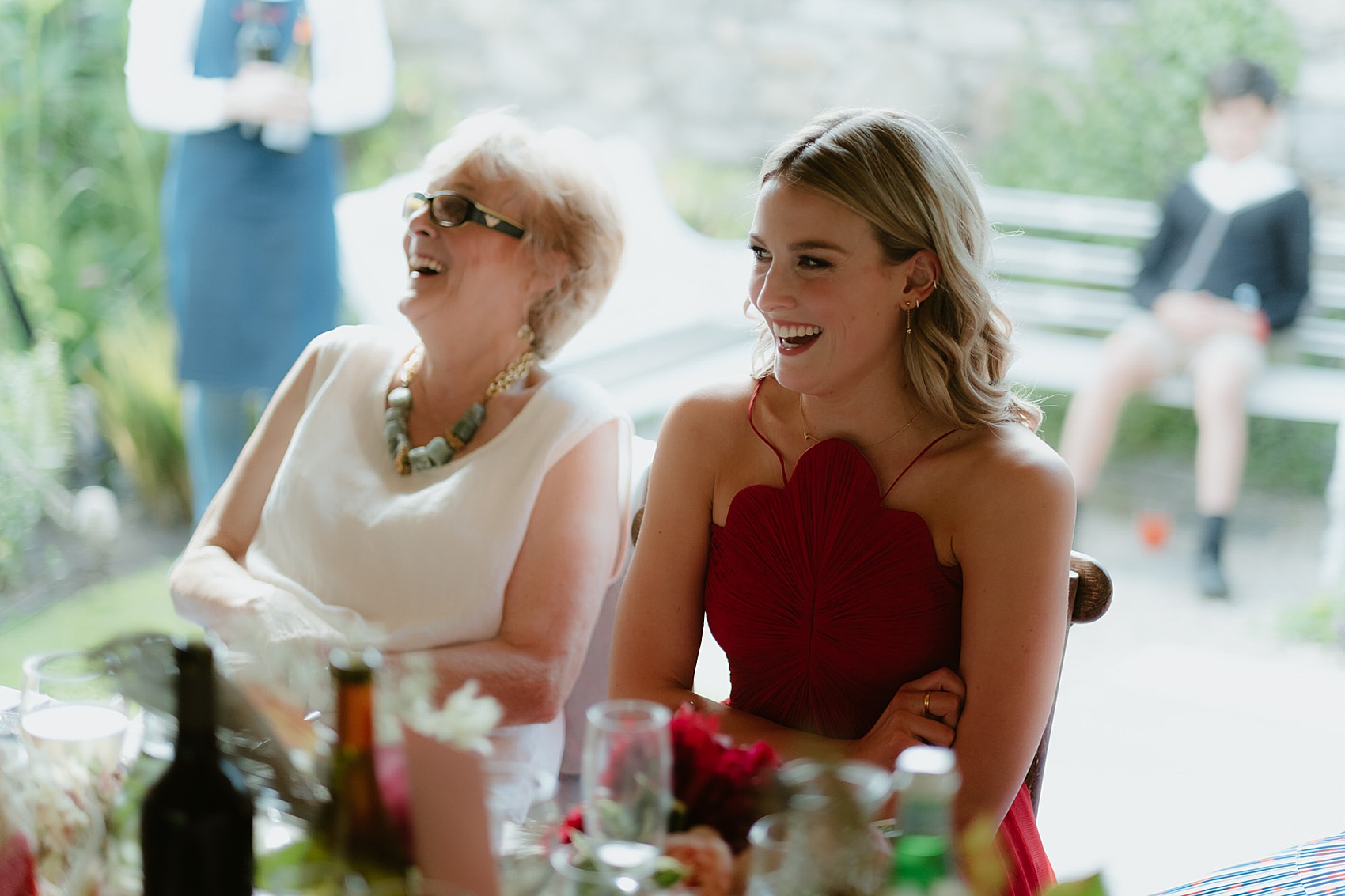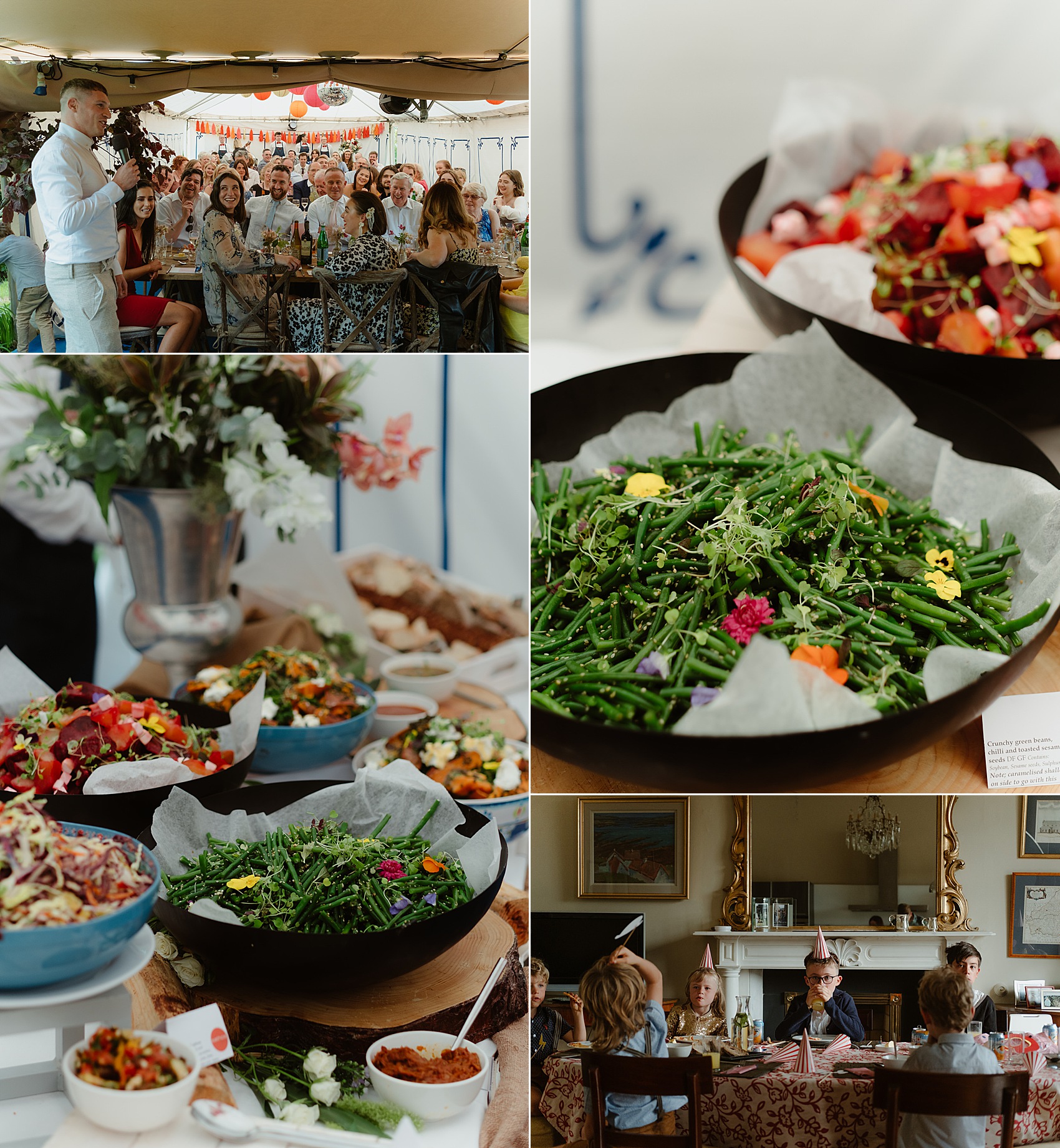 "I'm dancer and choreographer so our first dance was the only part of the wedding I felt qualified to take care of! I choreographed a piece to This Must Be The Place (live) by David Byrne."
"I used movements from different things we love – The OA, Rick and Morty, Daft Punk, and my dancer friends joined us at the end (you can view our dance here). We had more music from Pádraig Ó Sé (céilí) and our friends DJ'd."
Words of Wedded Wisdom
"Honestly the only thing I would say is to do your own thing. Take all the things you love about weddings and run with them – scrap the rest."
"If you're not feeling it, you don't have to do it. It's your day, and you deserve to have everything the way you want it, and if you don't know what you want, think outside the box."
"If you have creative friends, get them involved, they will save your life!"
Well, Sibéal and Gavin, thanks a million to you both for sharing your day with us – it's been brilliant! I love the way friends and family came together to lend their talents to different aspects of the day. Huge thanks also go to Chris Copeland for the beautiful way in which he captured everything.
With love,
Laura