We've featured some beautiful glasshouse weddings over the years – take a look at this sublime wedding at the Eden Project for starters.
It must be an incredible experience to exchange vows and make merry in these spaces, and today's couple were understandably inspired by their venue – the plants, as well as the fascinating history of the Victorian venue, too.
Emma Ledwith Photography

+ Follow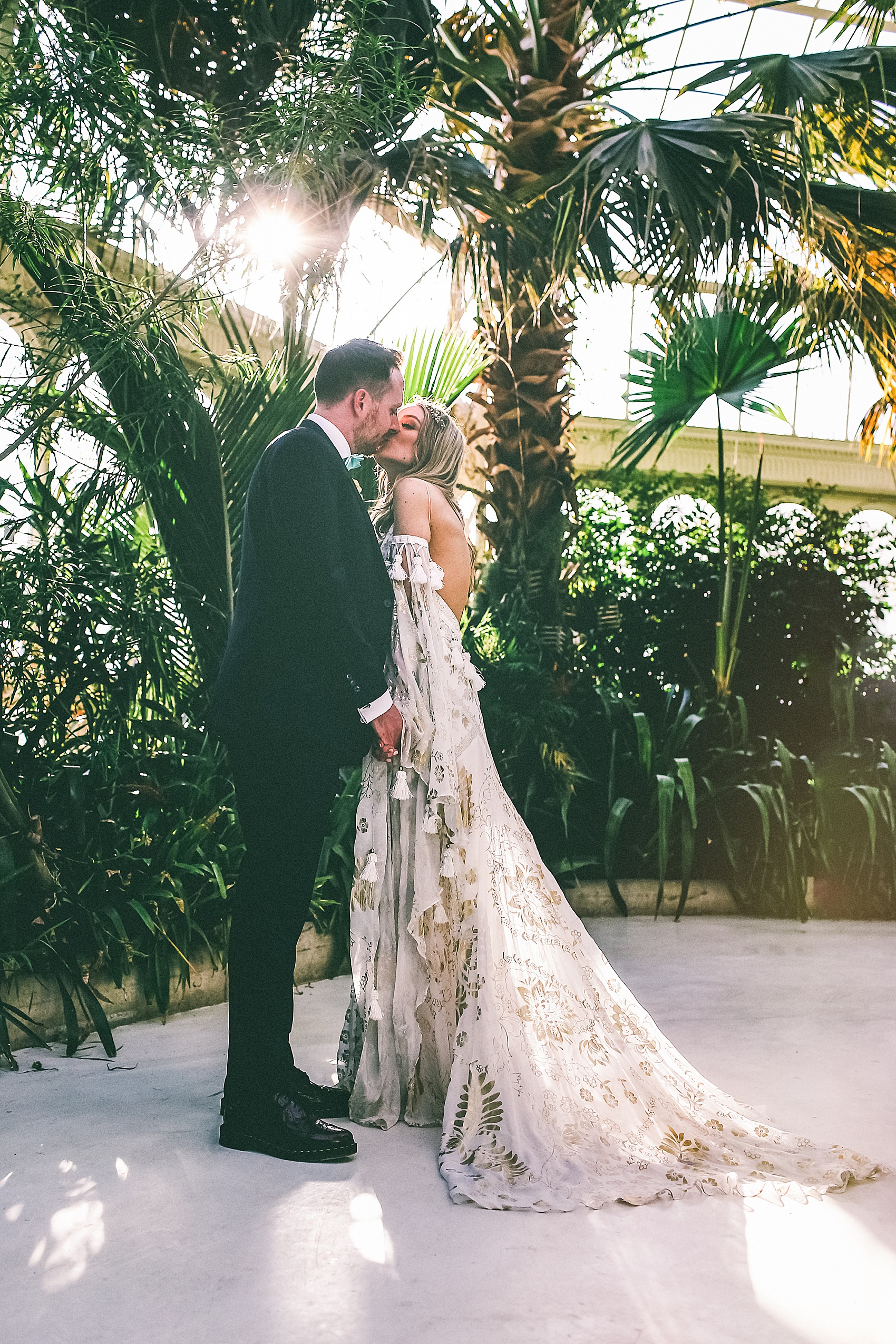 Lucy, a Visual Merchandiser, and Chris, who is a Financial Advisor, were married on the 11 May 2019 at the spectacular, Grade II* listed Sefton Park Palm House, Liverpool. The couple first met in 2013, and got engaged in 2017, during a trip to Lisbon.
"Chris and I both knew that we wanted a unique venue to hold our wedding, and after weeks of scouring the internet, searching anything from swimming pools to Las Vegas venues, we finally stumbled upon Sefton Park Palm House. As soon as we walked through the front doors of the Victorian glasshouse, we knew that this was exactly where we wanted to host our wedding, and celebrate our marriage."Lucy and Chris wanted their day to reflect them as a couple, and include lots of things they love, too. Lucy's sister designed their stationery, using a whimsical House of Hackney wallpaper as a backdrop – a favourite of Lucy's.
"The wallpaper, called Hackney Empire, features animals being mischievous, drinking cocktails, and playing instruments, and we thought this was perfect for our party animal theme."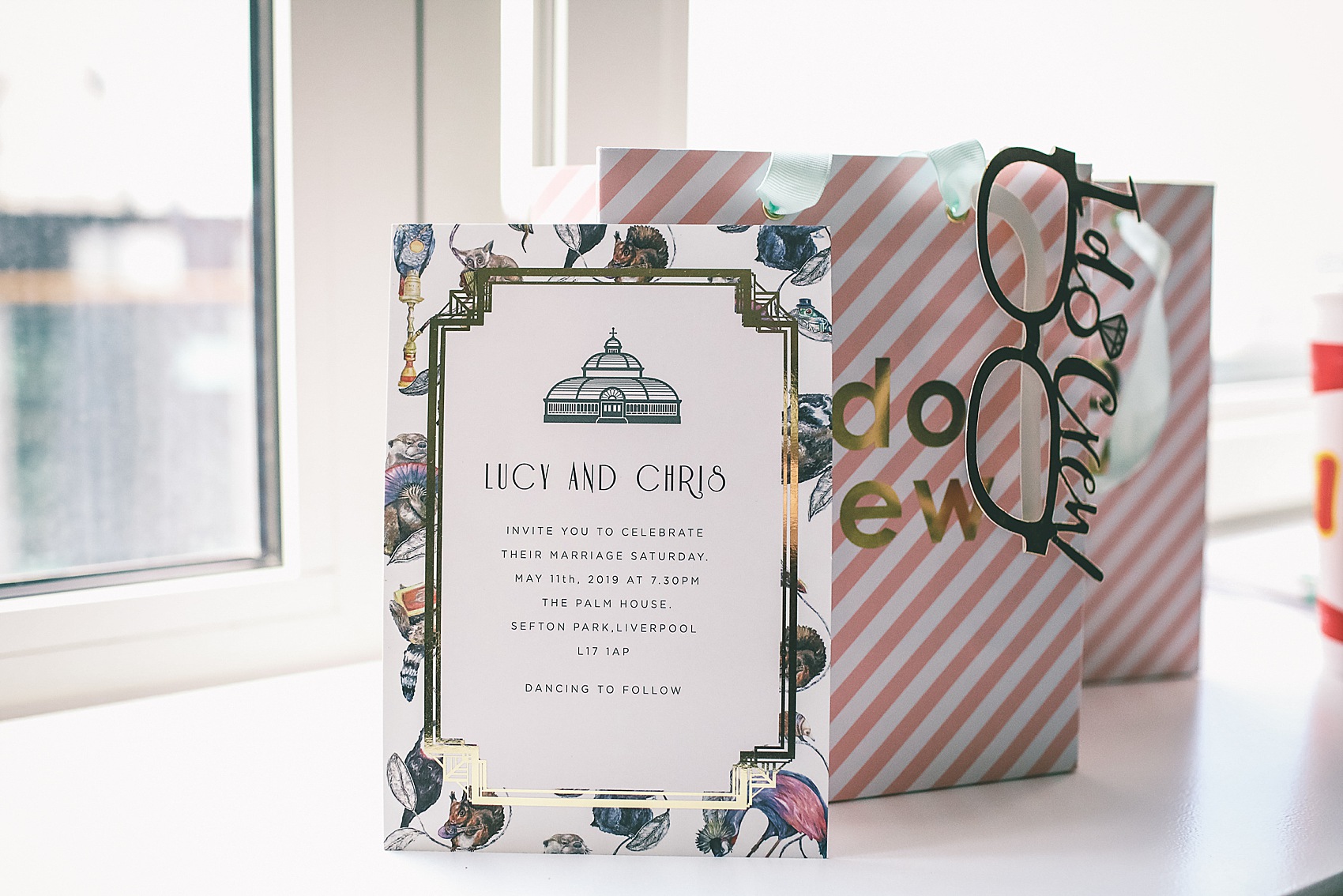 Lucy's talented friend Laura was on hand to take care of her make-up, and in her hair, she wore a starry, gold crown of crystals and pearls by Etsy-based Be Something New. Chain earrings and a star necklace were by Rachel Jackson London, via Harvey Nichols.
"My perfume was Cheeky Alice by Vivienne Westwood. My Dad bought me this perfume as a tribute to my Nanna Alice, who unfortunately passed away a number of years ago. She would have loved to have been at the wedding, and I thought this was a lovely reminder of her on the day."
Lucy's dress was a lovely, boho confection by Rue de Seine – the 'Mira', which she discovered at boutique Jean Jackson Couture. Where to begin with this dream of a dress?! The botanical, gold foil print is beautiful, as is the neckline, handkerchief hem, tassels and floaty sleeves.
"I went to Jean Jackson Couture with one dress in mind. I had wanted this dress since I began my search for a wedding dress, and was convinced that this would be the one that I would be wearing for my wedding. When I tried the dress on this wasn't the case."
"Whilst it was a beautiful dress, I really didn't think it suited me. In stepped the super stylish ladies at Jean Jackson Couture, who helped me find the most beautiful alternative. They made me feel at ease, and really listened to what I was looking for in a dress, and came back with so many gorgeous suggestions."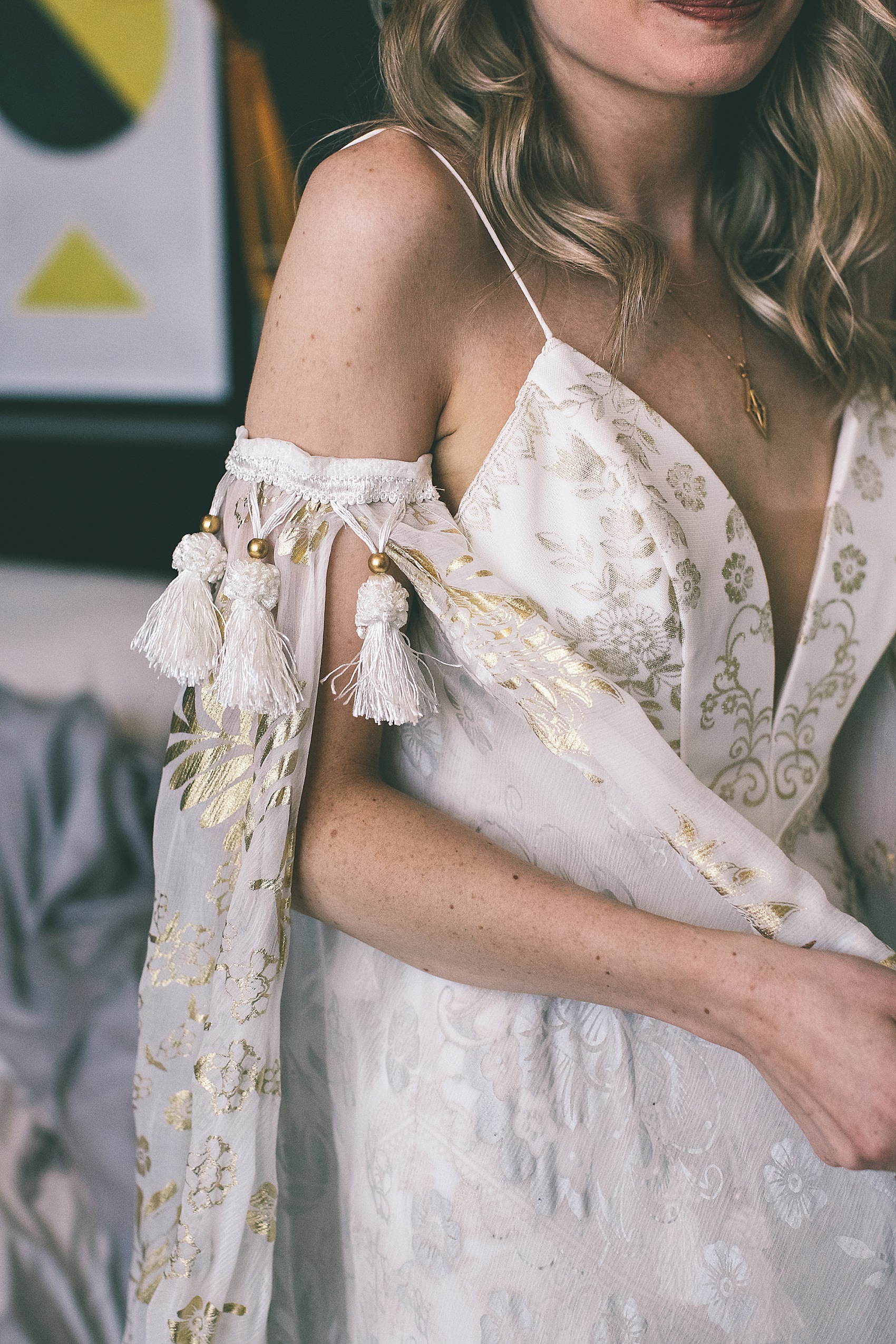 "Rebecka and Felicity persuaded me to try on a dress that I liked, but never thought I would have had the confidence to wear, and this ended up being the dress that I fell in love with and choose for the wedding. The ladies at Jean Jackson Couture couldn't have been more accommodating, and the shop has the most gorgeous selection of dresses for brides looking for something a little different."
"I have always loved the dresses by Rue de Seine. I love their use of lace and pattern in their pieces, and really wanted to wear one of their dresses. I chose the 'Mira' gown as the laid back, bohemian style of the dress fitted perfectly with our venue."
"I loved the gold foil print featured all over. I found the details in the print very reminiscent of all the tropical plants in the Palm House, and I loved how the foil really caught the light. I adored the tassels (all 44 of them), but I think the sleeves really sealed the deal for me. I really liked how they were optional, so that you could have two different looks for the ceremony and reception."
The wedding party travelled to Sefton Park in fine vintage style, in a classic VW Campervan from I Do Campers. Laura from Flaural Designs put together a magical array of blooms inspired by the bohemian spirit of Lucy's dress, and the tropical plants inside Sefton Park Palm House.
The colour palette was kept to fresh and simple greens and whites, with protea, Veronica, roses, and waxflowers, mixed with beautiful greenery – eucalyptus and different grasses like lovely bunny tail.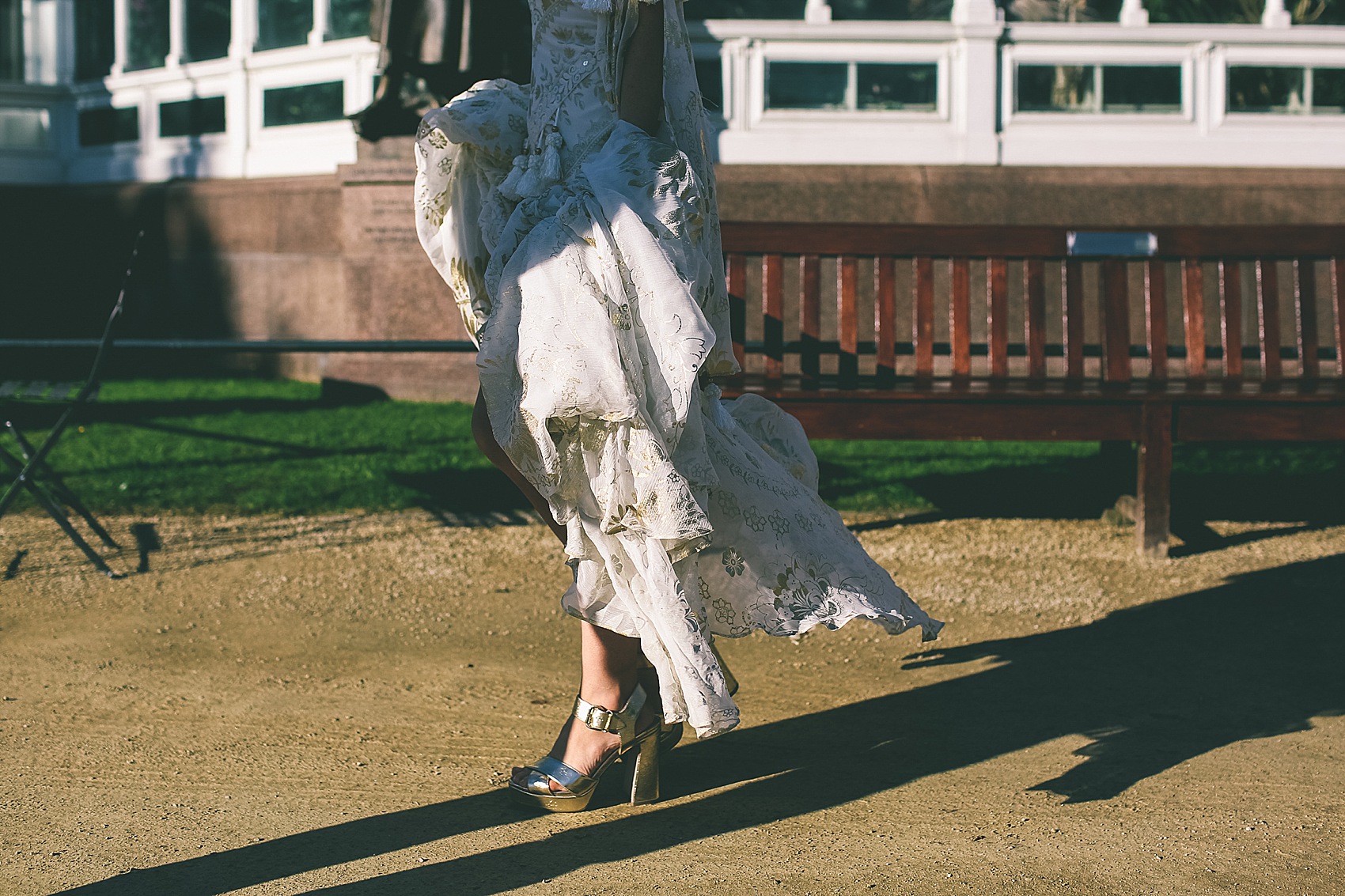 "From consultation to the day of the wedding, Laura was amazing. She got our vision for the day from our first email, and had so many creative ideas and suggestions to help us achieve our dream. Along with this, she seemed genuinely excited about our day, which meant a great deal."
"The attention to detail for all our wedding flowers was incredible, and Laura thought of all the little details we hadn't, such as a gorgeous headband for our little flowergirl Elizabeth. We both feel very lucky to have had Flaural work on our day."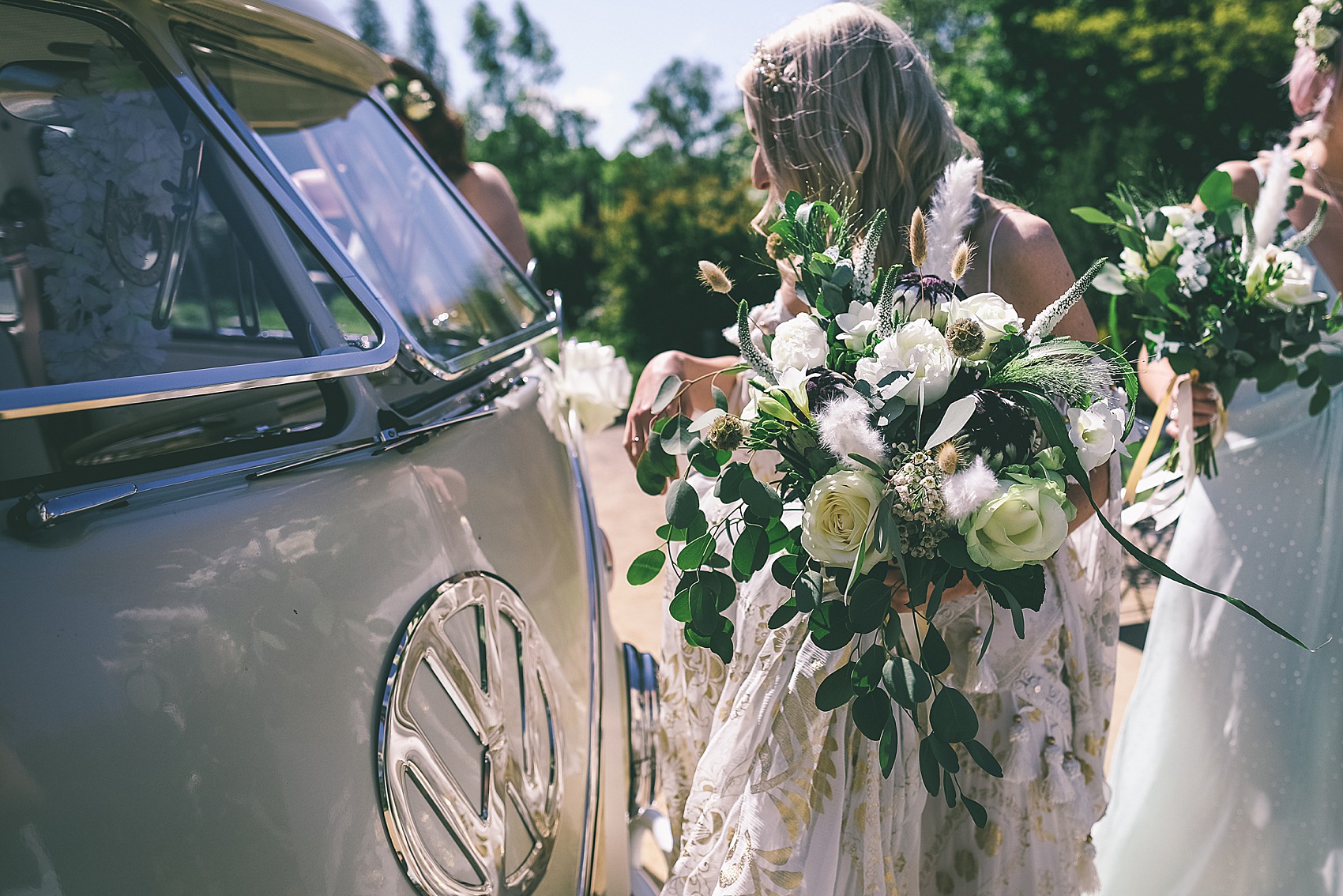 The bridesmaids looked super-cool in spangled, mint green slip dresses from Topshop, with shoes by Vivienne Westwood and New Look, and fresh flower combs in their hair, courtesy of florist Flaural Designs.
"I knew that they would look great shimmering in the sun (if we were lucky enough to have good weather) at Sefton Park. The girls looked amazing in them, and the majority of them have said they want to wear them for other occasions. This was really nice to hear, and it's good to know that the dresses aren't just limited to one occasion, and can be worn again and again."
"Surrounded by parkland and monuments, we fell in love with the Palm House's wonderful collection of plants. The selection of botanicals and natural light provides a perfect tropical backdrop for any wedding, and this was exactly what we wanted."
"Along with this, we also loved that there was a great deal of history surrounding the venue, and that by hosting our wedding there, we would be helping towards the restoration of a beautiful building that was once threatened with demolition."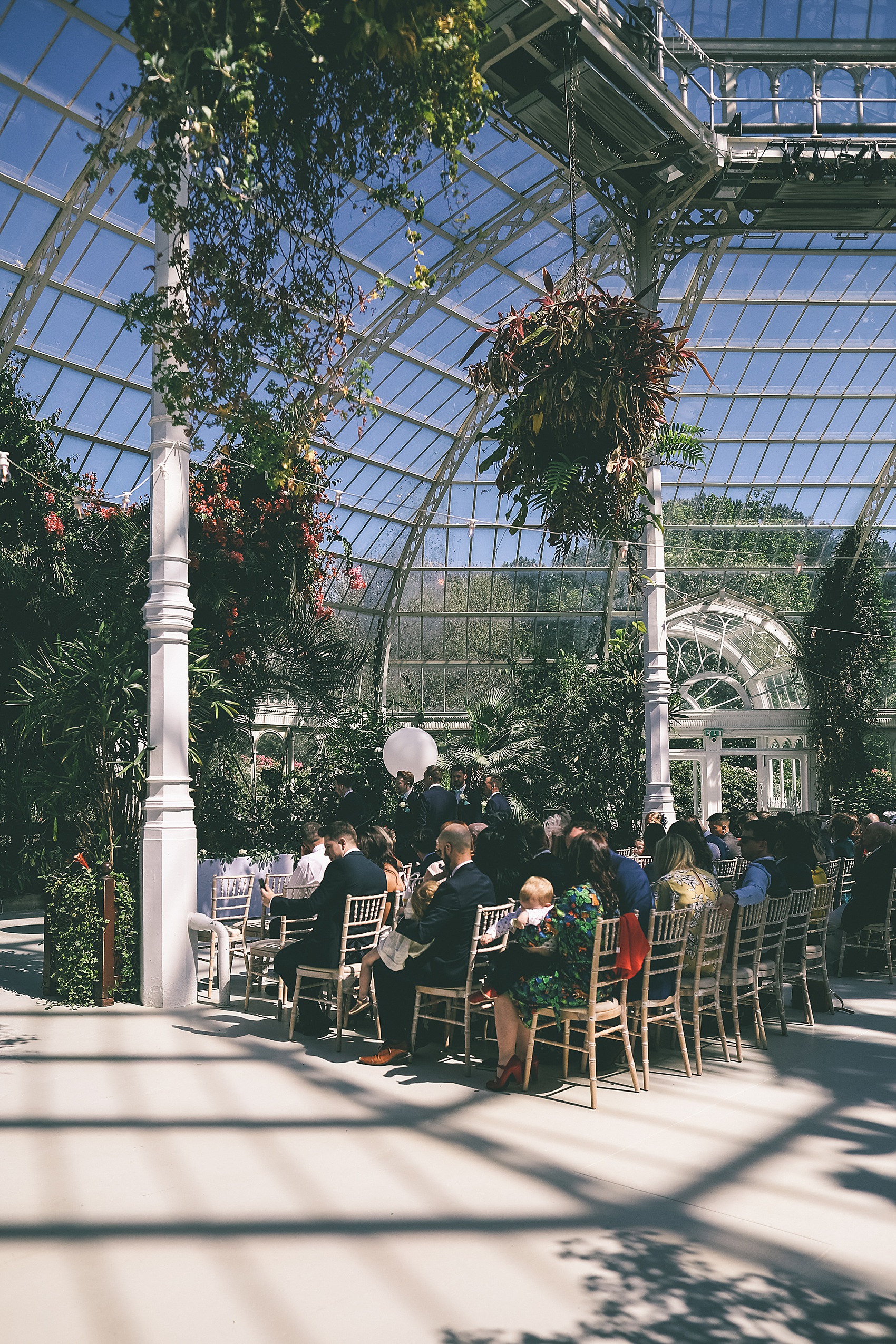 Loved ones gathered in the magnificent Palm House, where Chris waited with his Best Man and groomsmen.
Chris wore a navy blue three-piece suit from Ted Baker, together with a mint green, polka dot bow tie to complement the bridesmaids' dresses, from Ties R Us. He also wore a pocket watch sourced from Amazon, and as a nod to the venue, colourful palm tree socks from Next.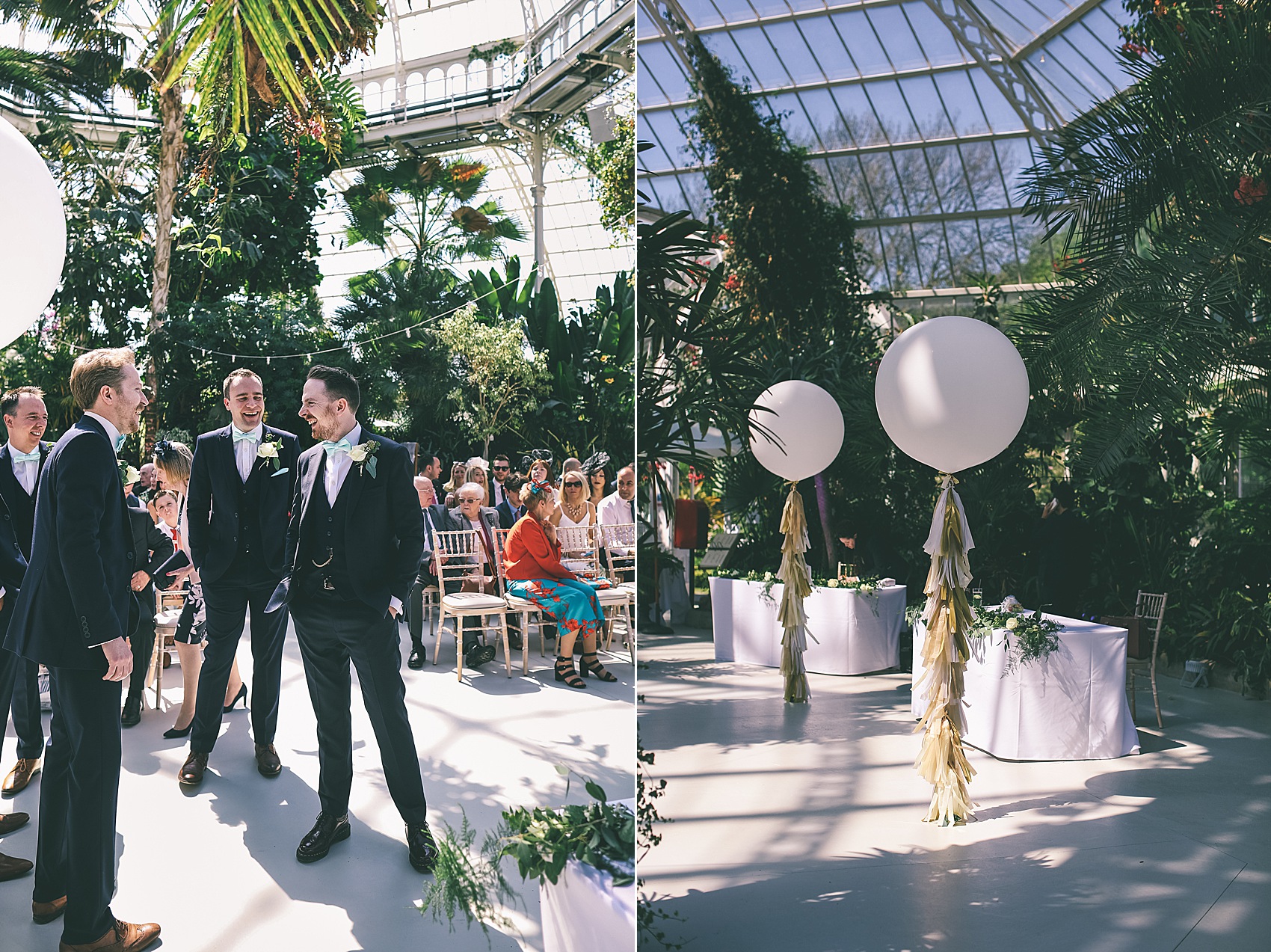 "I was originally looking at a brown pair of Dr. Martens, as Lucy and I both love Docs. When I went to purchase my suit, the waistcoat has a very nice dark red/maroon pattern on the back, and the dark cherry Dr. Martens looked perfect with this. Paul Smith cufflinks  were bought for me as a present for the big day by Lucy – palm trees to fit in with the palm house, and gold to tie in with the colour scheme."
The Best Man and groomsmen looked smart in matching navy blue suits from Slater Menswear, which they wore with mint green bow ties, and palm tree socks, as also worn by Chris.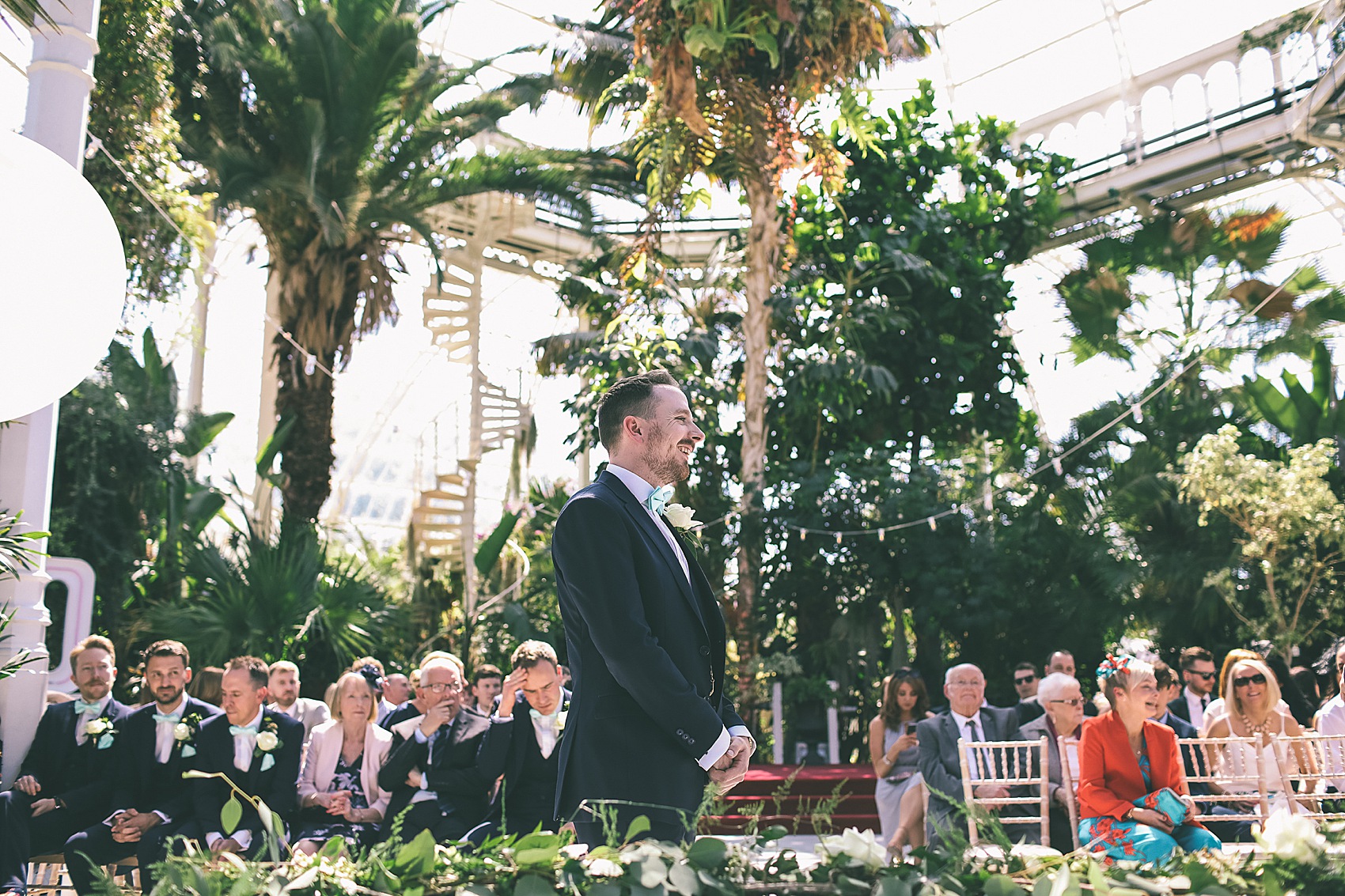 The beautiful song You and Me by Penny and The Quarters played as Lucy walked down the aisle together with her Dad, and the couple opted for a simple, civil ceremony conducted by a registrar from Liverpool City Council.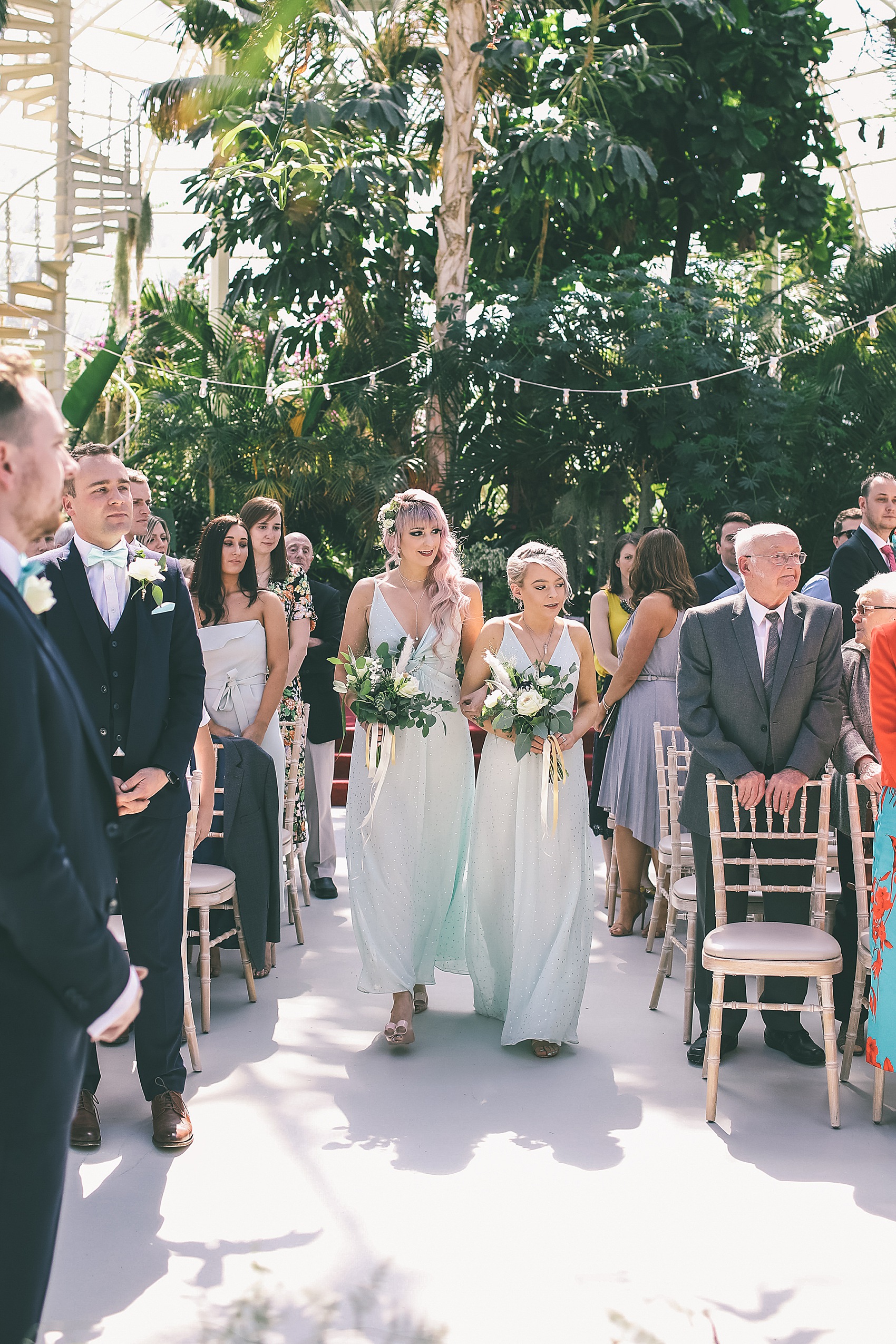 "Our birthdays are one day apart, so we like to do something special when we can to celebrate. Chris turned thirty in 2017, so we took a trip to Lisbon. The views there are incredible, so after a long walk one afternoon to the top of one of the many hills, Chris got down on one knee and proposed."
"I said yes immediately. Portugal has always been one of my favourite places to visit, and it meant a great deal that Chris decided to pop the question there."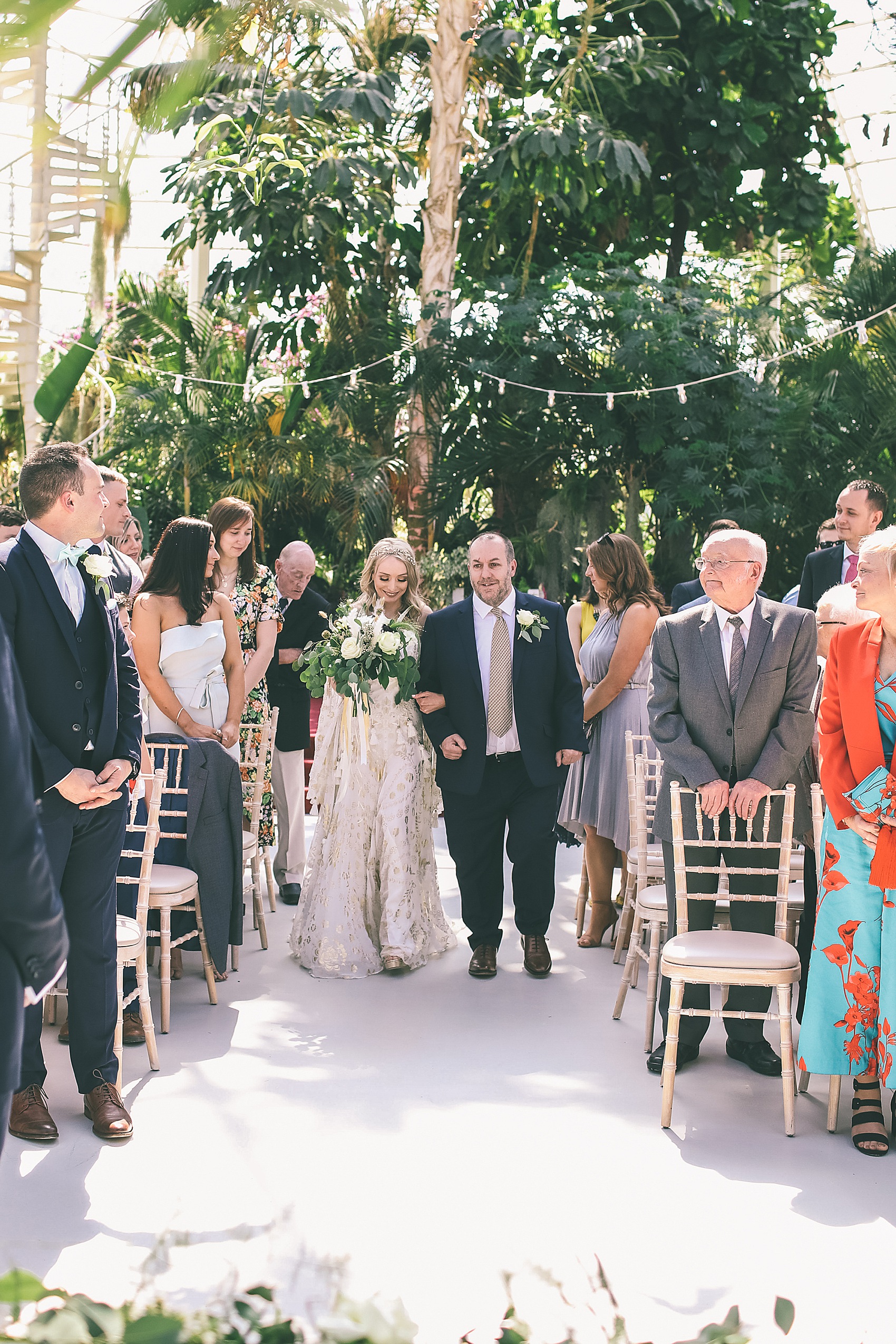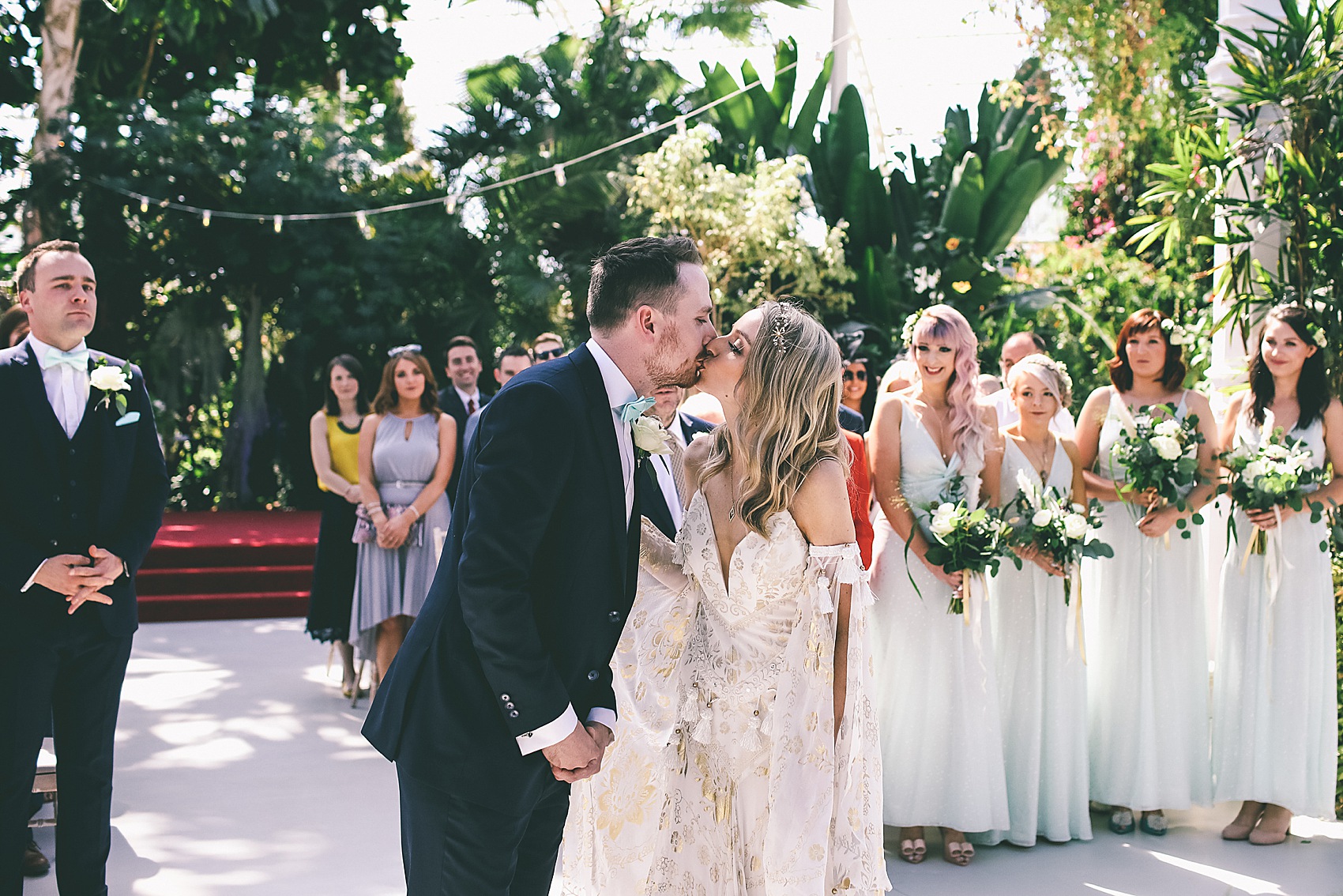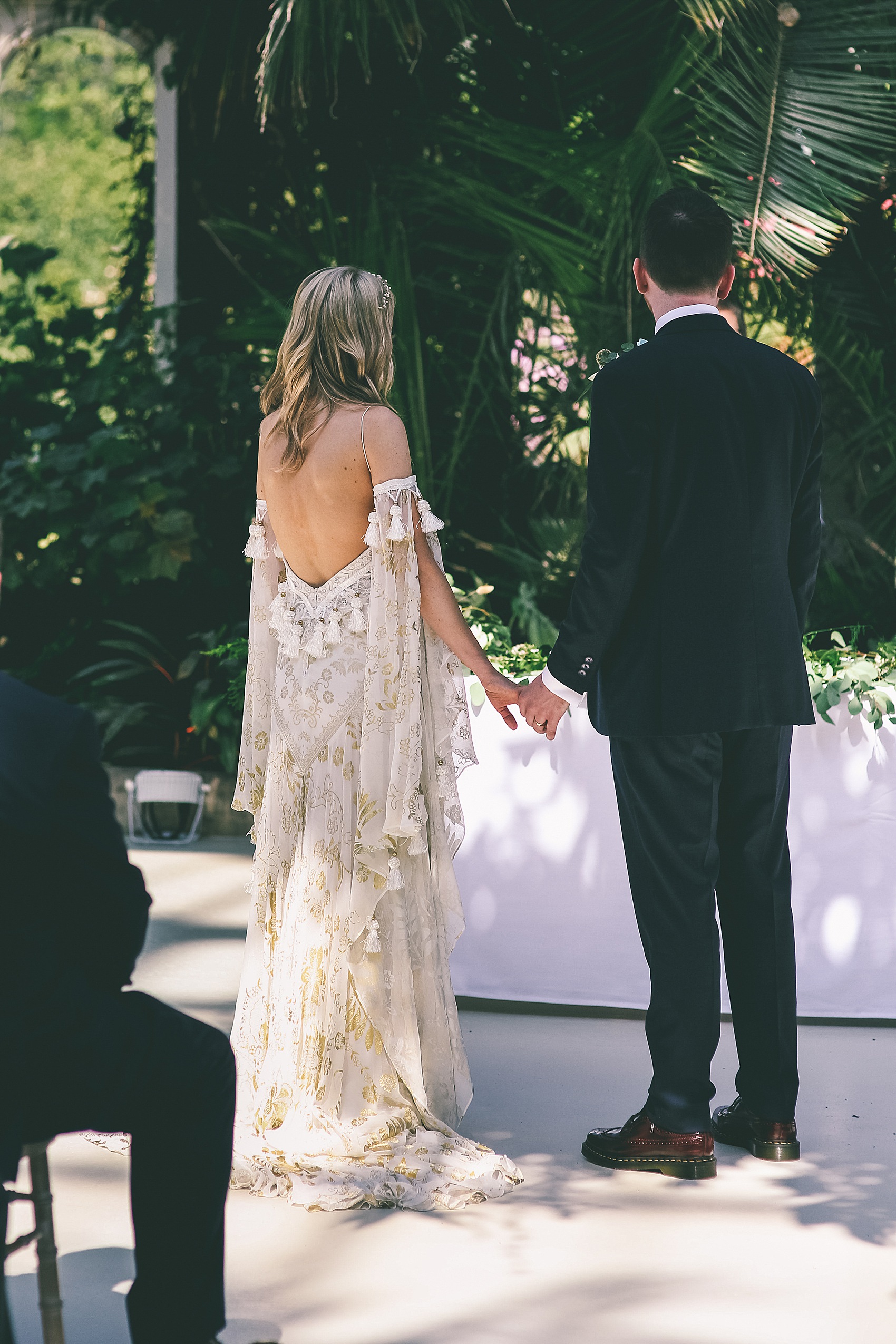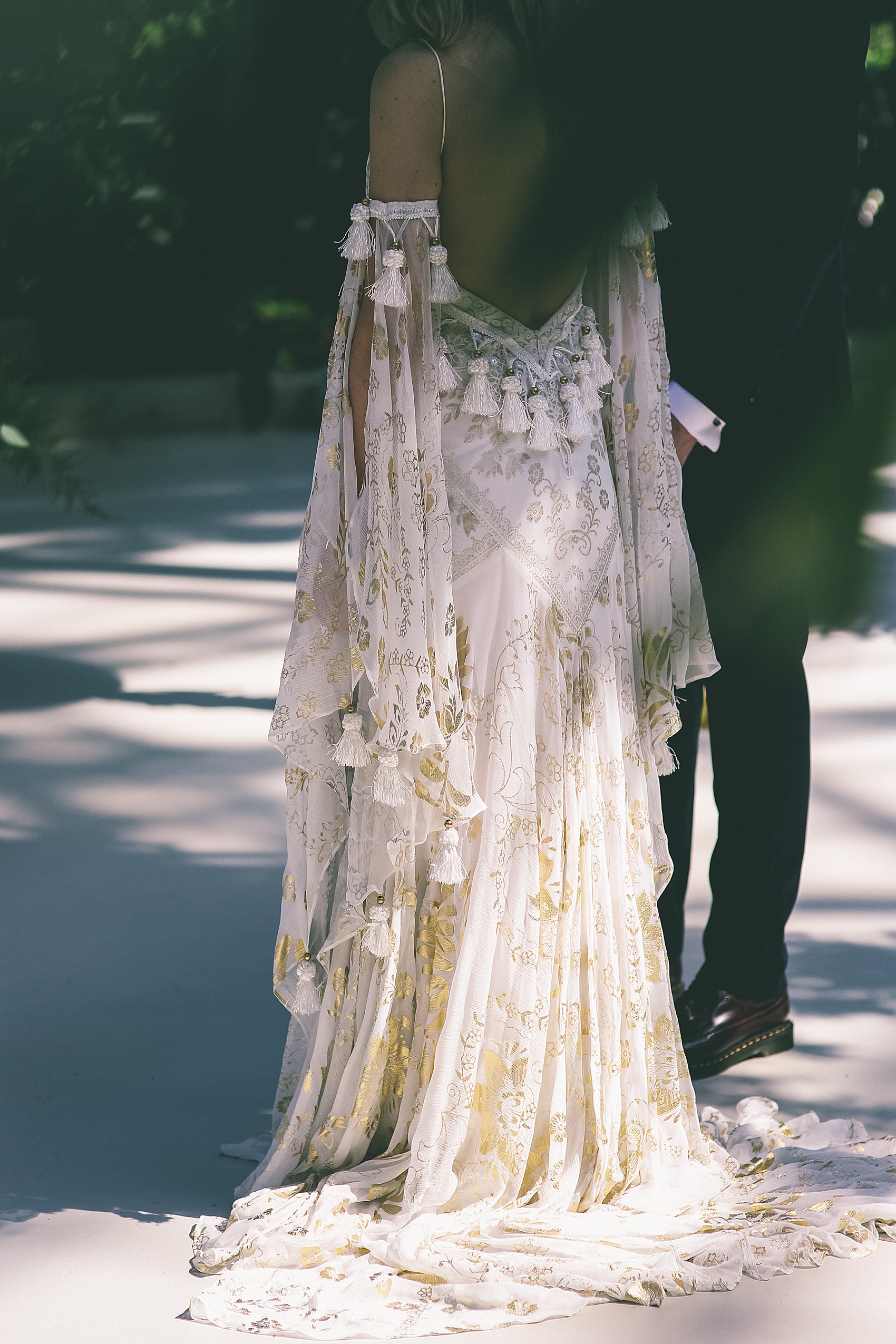 "Along with this, turning around and seeing all the people we love in the same room was an amazing feeling. My Maid of Honour had flown all the way from Australia with her family to be there, and seeing friends and family travel from across the country and abroad to attend our wedding overwhelmed us with gratitude."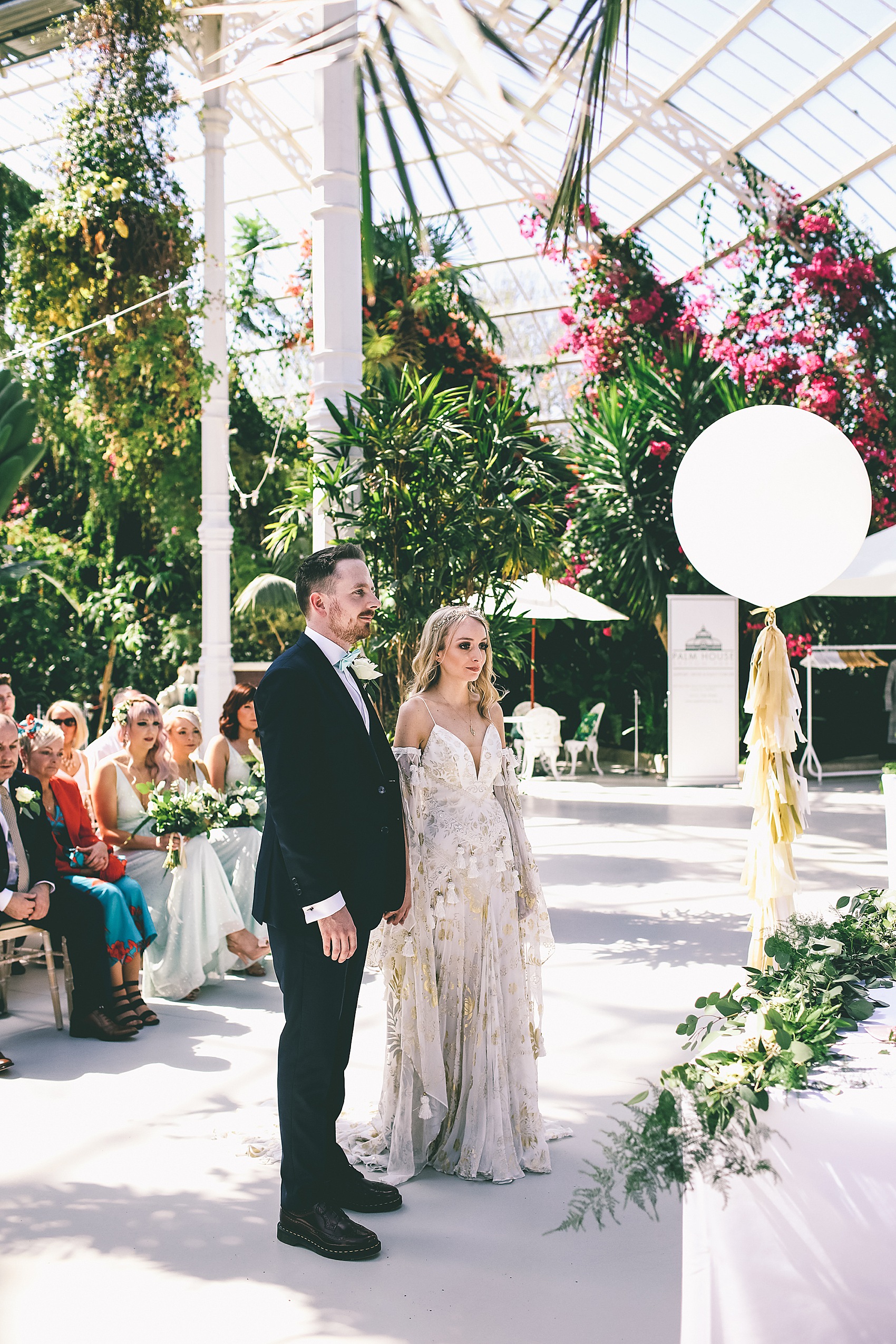 Lucy loved the vintage inspired rings from The London Victorian Ring Co., and chose an engraved wishbone ring to sit nicely with her engagement ring. Chris chose a classic gold band from Goldsmiths.
"The ceremony is definitely up there with my favourite memory; seeing Chris' face for the first time walking down the aisle was a great feeling, after nearly two years of planning the day, for it to have finally arrived, and seeing our vision come together felt very surreal for us both."
There to capture all the botanical enchantment, laid back spirit and effervescent happiness of the day was Lucy and Chris' talented photographer, Emma Ledwith, whose work we're sharing for the first time here today.
"We first spotted Emma's work on Instagram, and absolutely loved her candid and authentic style. We loved how her pictures really captured the atmosphere of the weddings she photographed, and the emotions of the guests. We arranged an appointment to meet with her shortly after we got engaged."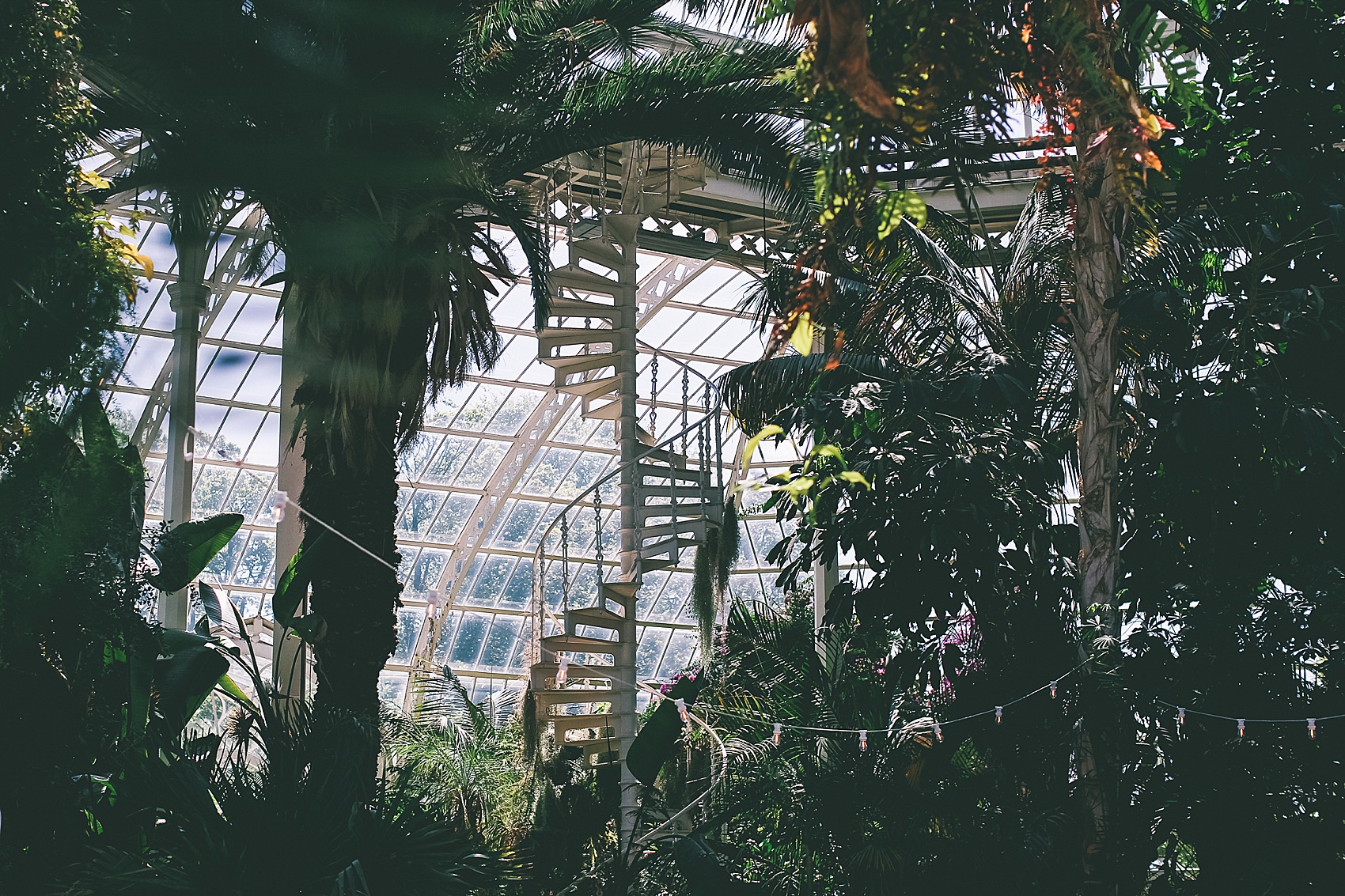 "From the minute we met, we were struck by how approachable and friendly Emma was, and this was key on the day, as neither Chris or I are comfortable in front of a camera. She made us feel so relaxed during our photograph sessions, through good direction and plenty of humour."
"We were blown away when we received our photographs from the wedding. Emma had captured the Palm House beautifully through her use of light and angles. I think Emma might secretly have an identical twin due to the sheer amount of amazing moments she managed to capture of our guests – there were a lot, and I don't think the guests even realised they were having their photo taken."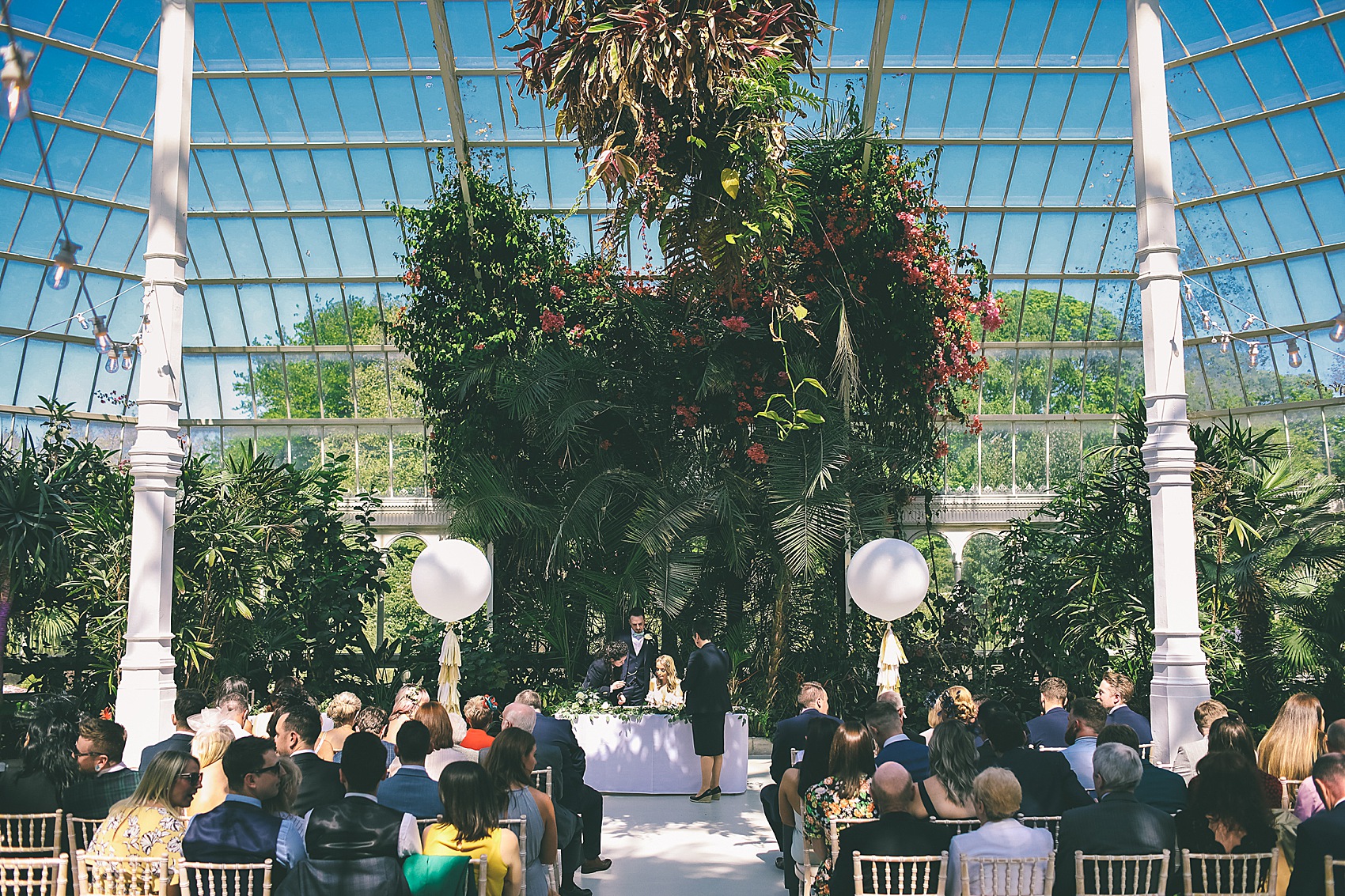 "The day goes by so quickly and in such a blur, and it can be difficult to take stock of everything, so it was lovely to look through these photographs and relive these memories, and have a laugh at the ones we missed. Photographs are one of the only things you get to keep from the day, and we're so glad that we picked Emma to capture our big day for us."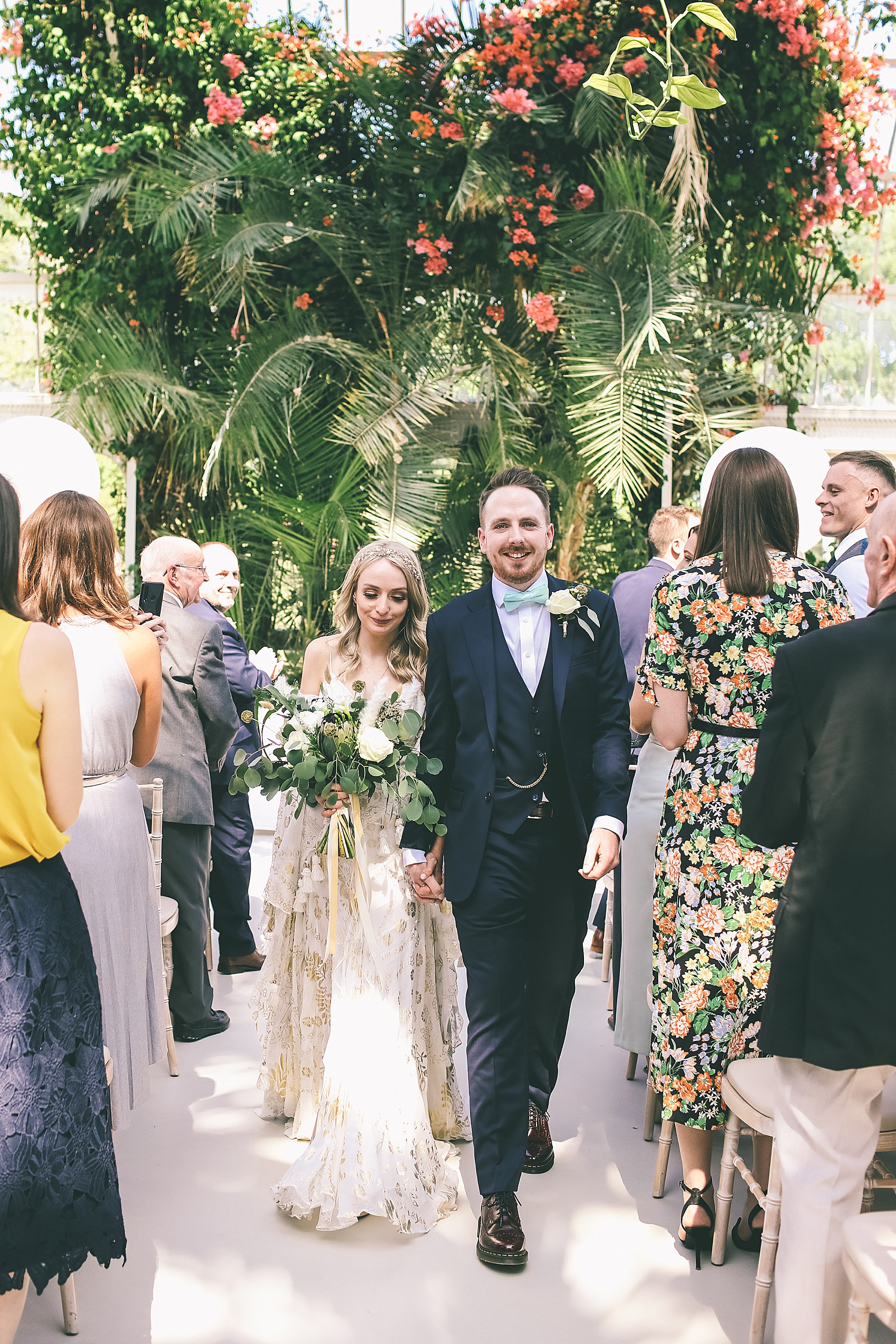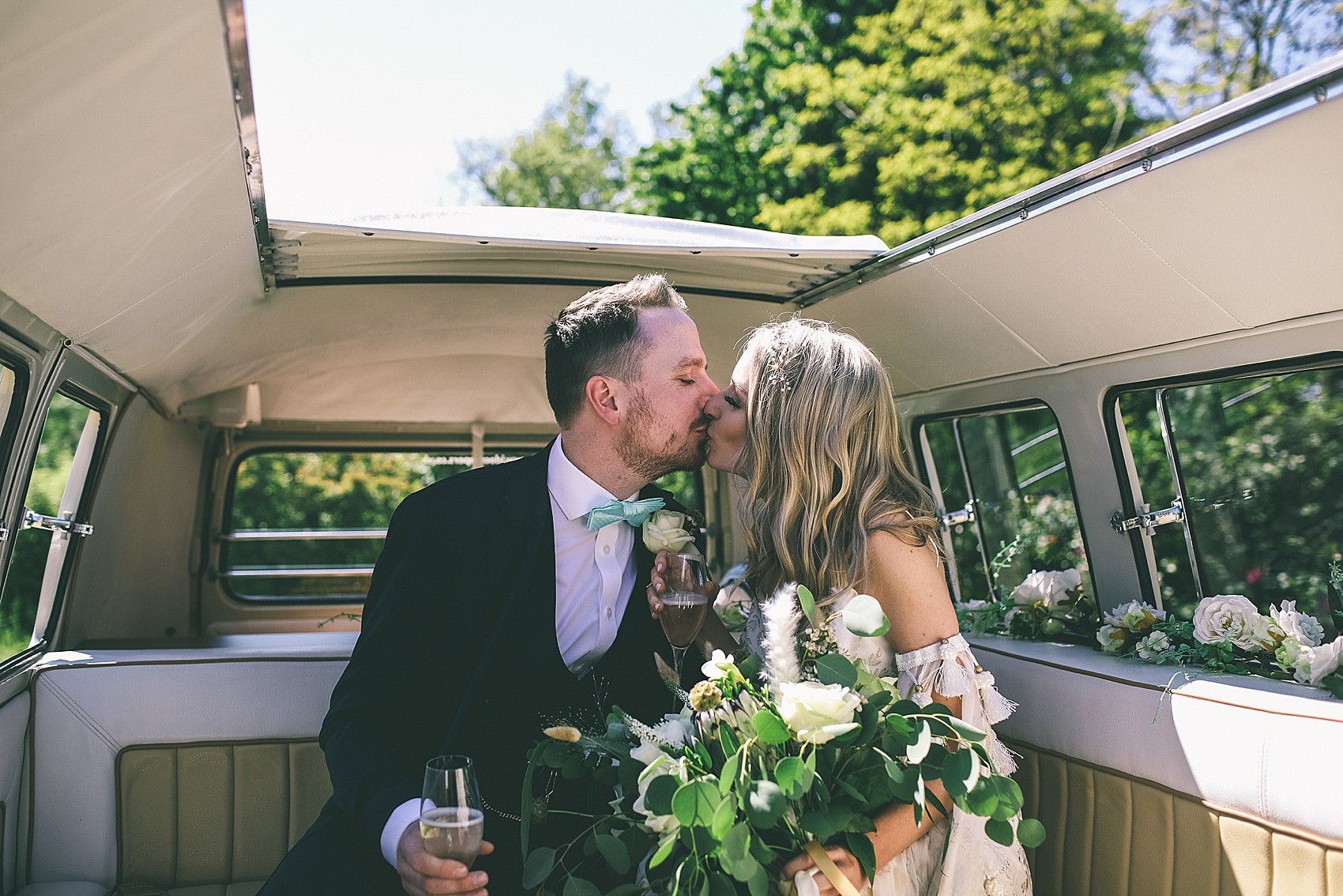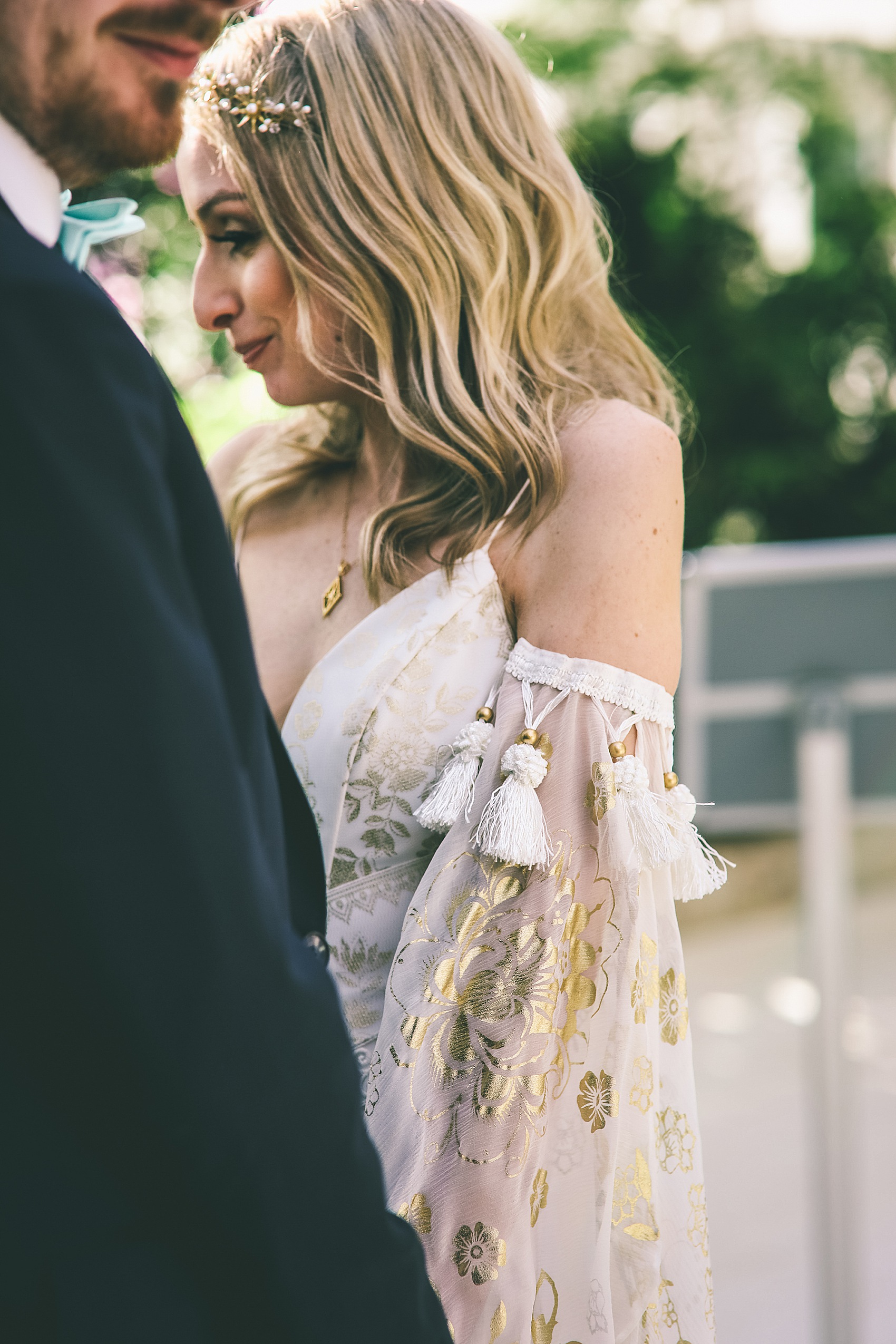 "Animals featured heavily in our decorations, and this stemmed from a trip to Vienna early last year."
"A restaurant we visited had animal vases on the tables with the most beautiful flowers in them, and this gave us the inspiration for our centrepieces, and so we began collecting the vases, buying one every couple of months."
Tables were set for dinner inside the sunny Palm House, surrounded by the most spectacular palm trees, plants and flowers. Tassel balloons from Prop Me Pretty tied in with the multitude of tassels on Lucy's dress.
"As our wedding was in a botanical glasshouse, we thought it was fitting that we gave plants as wedding favours, so each of our guests received a little succulent or cactus to take home with them from the day."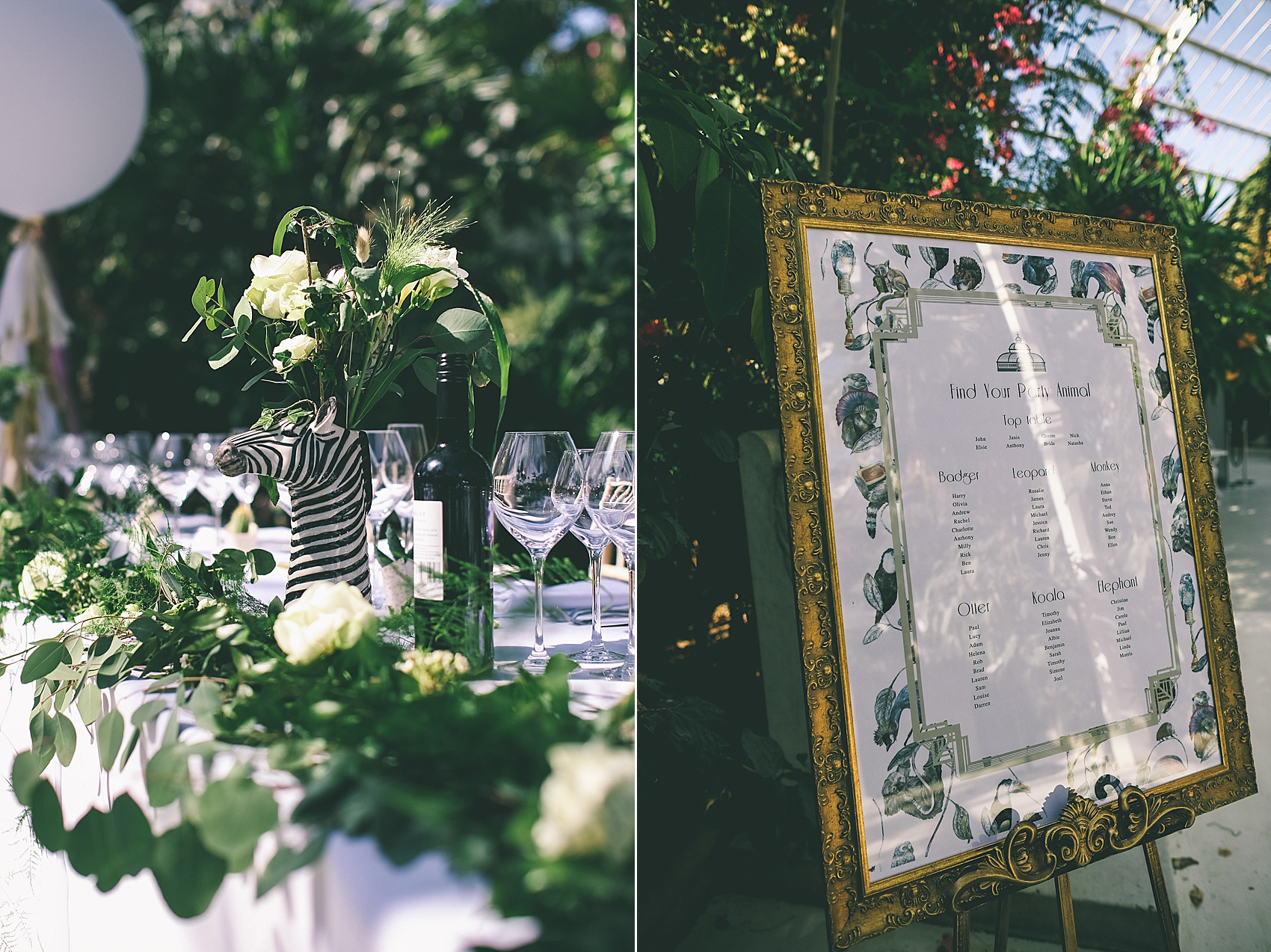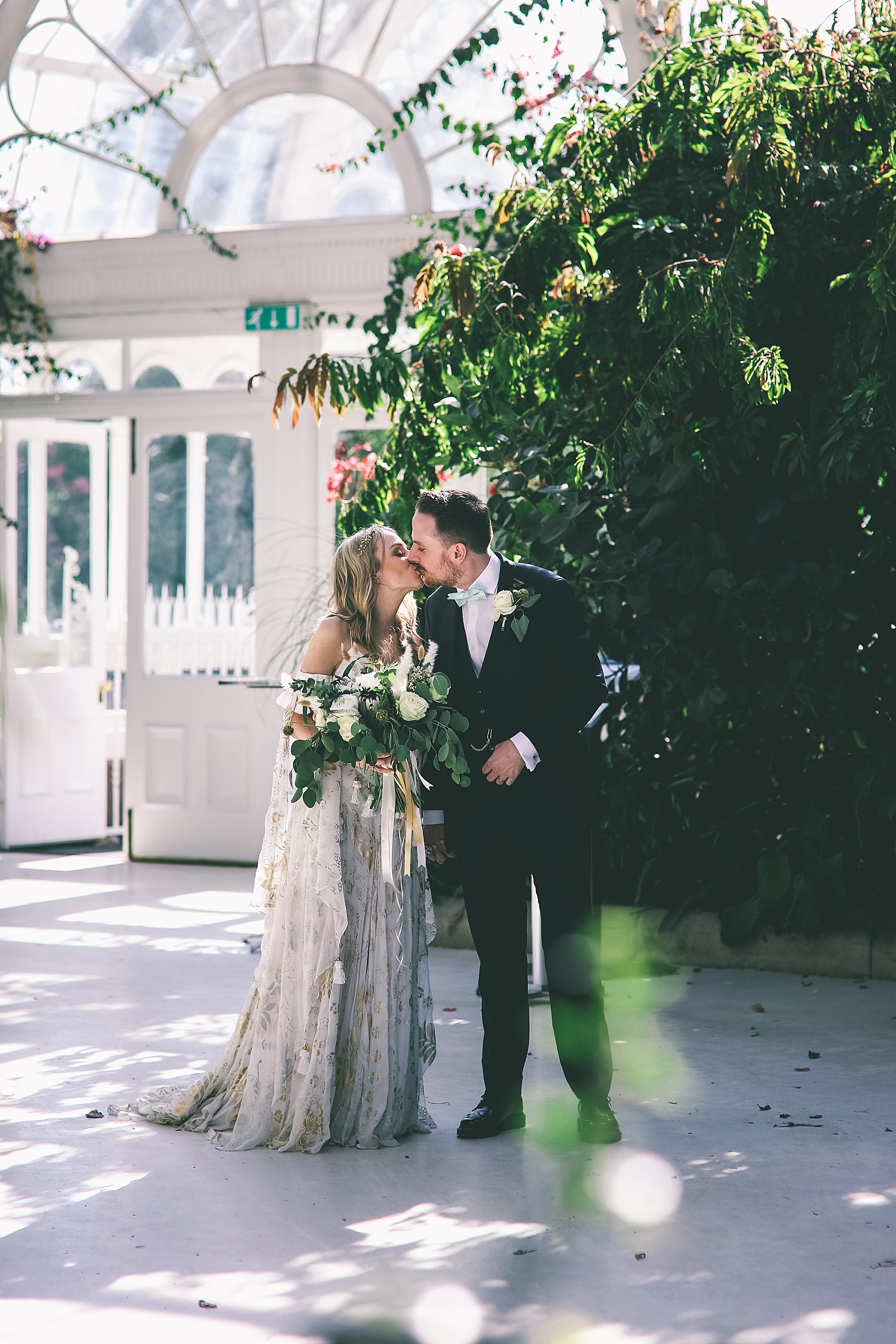 "We hired a neon 'Love' sign from The Word is Love. We always knew we wanted some neon at our wedding, and booked the sign at the Indie Wedding Fair in Manchester last year."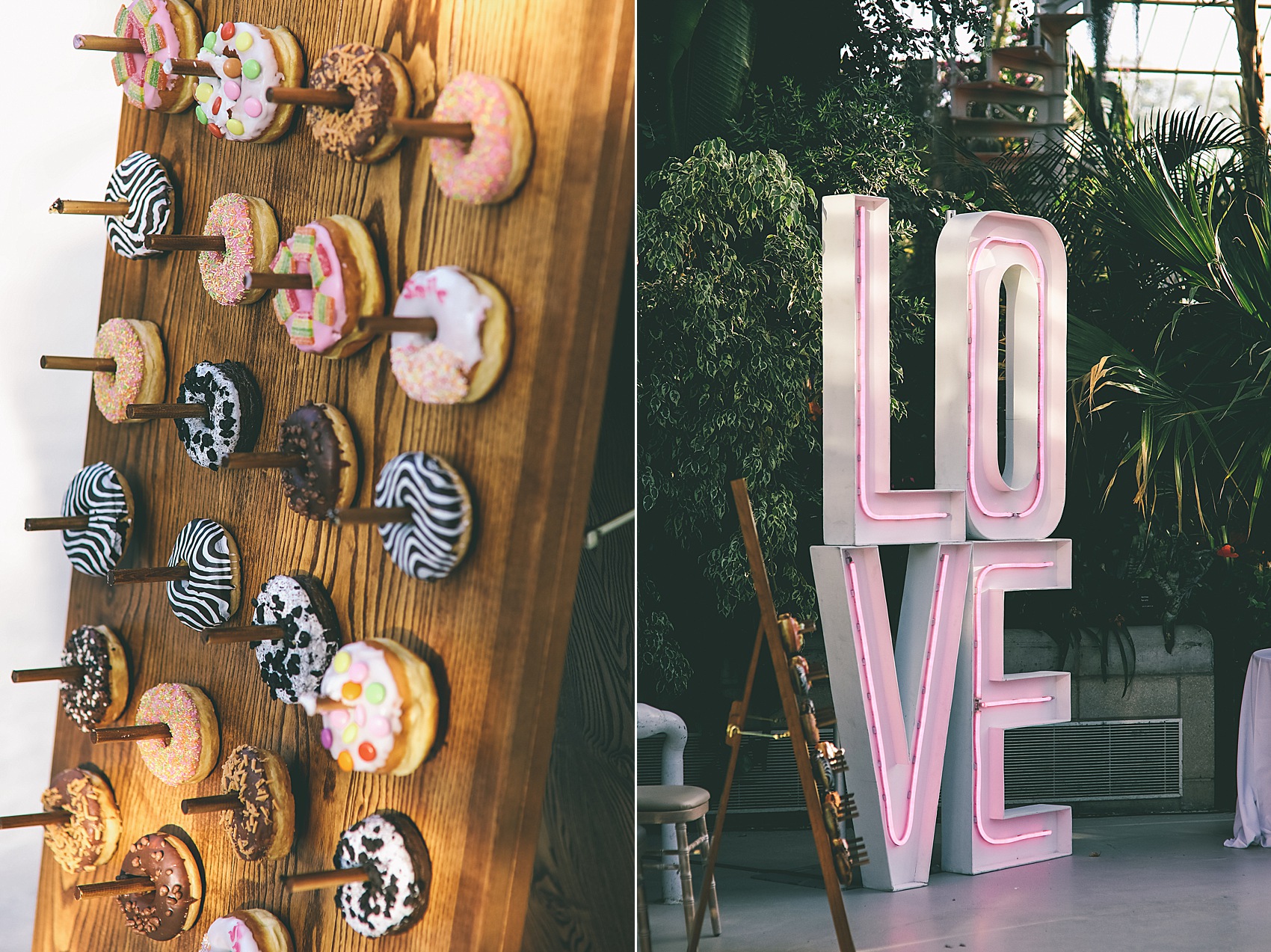 "My mum is a legend, and picked all the succulents up for us at Wilko, and kept all of them alive for six weeks before the day (no pressure). My amazing Maid of honour helped me to wrap them in decorative paper a couple of nights before the wedding – there was some sore fingers after that!"
The wedding feast came courtesy of Dine Contract Catering, and Lucy's dad built a lovely (and delicious) doughnut wall, which was a big hit. The couple's showstopping pink drip cake, decorated with macarons, meringues, doughnuts and fresh flowers, was made by their friend Edwina, from Weenie Bakes.
"I handed Edwina my flamingo cake toppers, some feathers from Hobbycraft, and a couple of pictures of drip cakes one afternoon early this year, and she really worked her magic." 
"My favourite layer was the bottom tier, which was birthday cake flavour, and had a rainbow sprinkle surprise when you cut into it. The cake was better than anything I could have ever imagined, and spotting Edwina sneaking in with it in during our wedding reception was one of my favourite memories."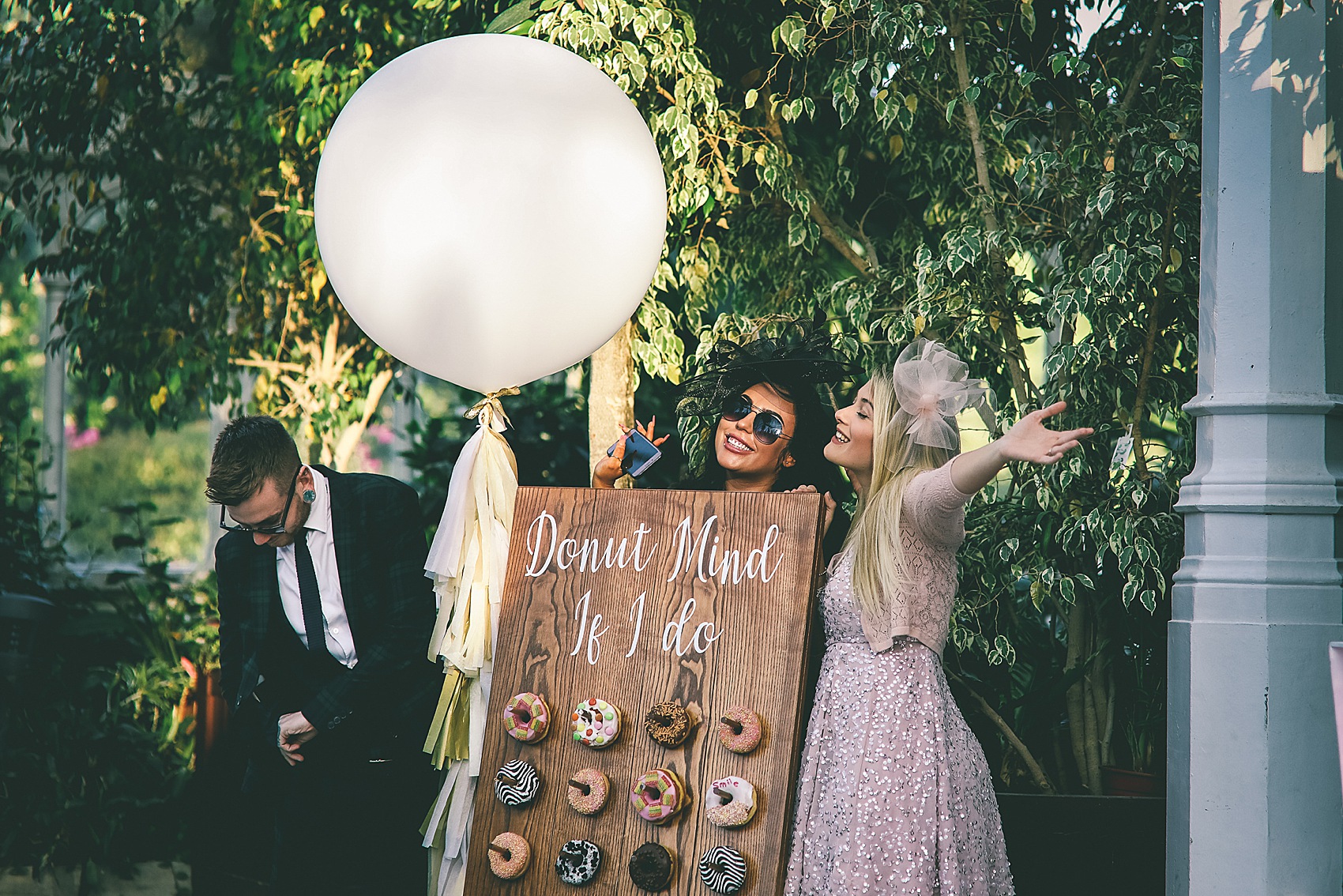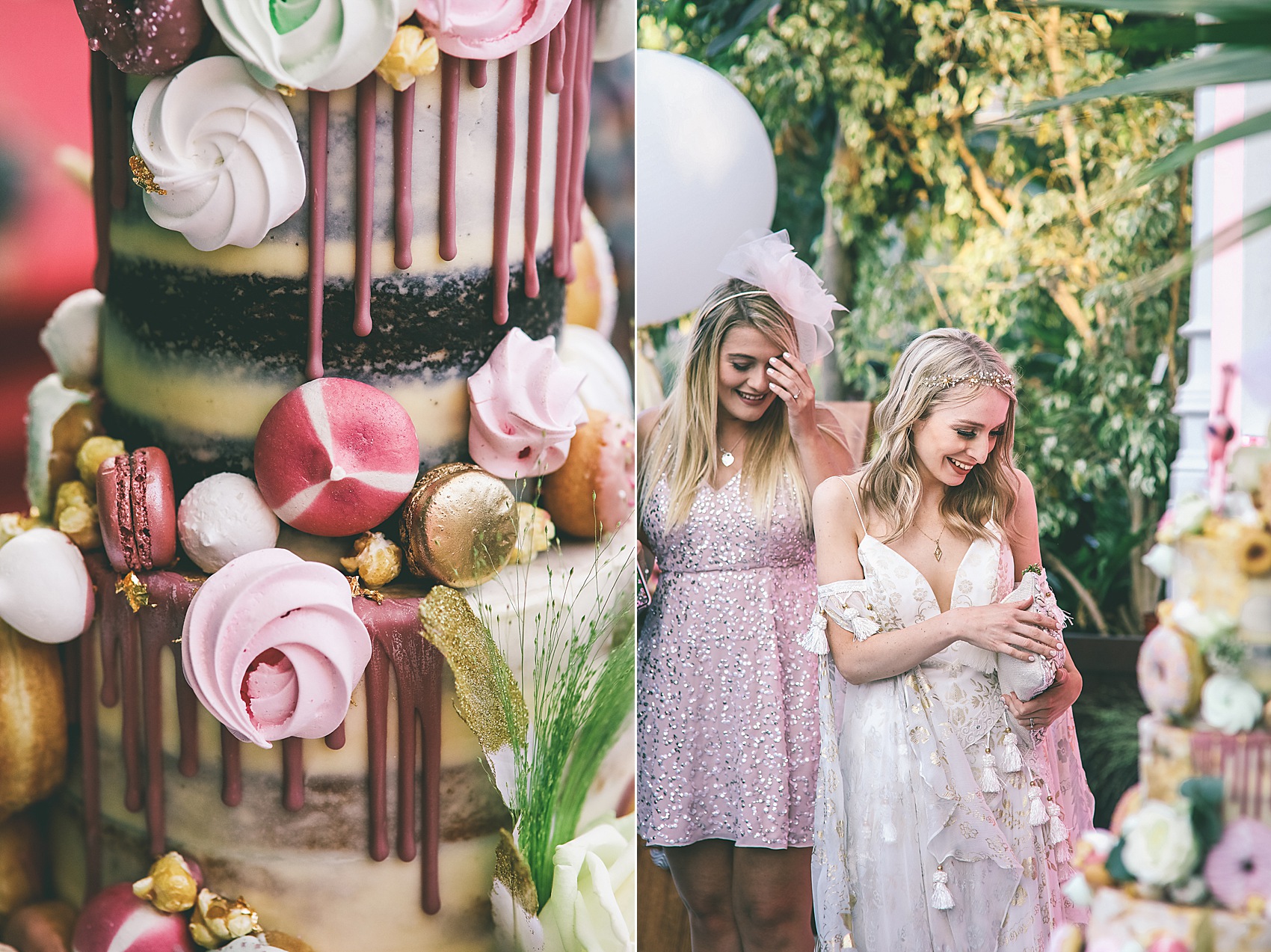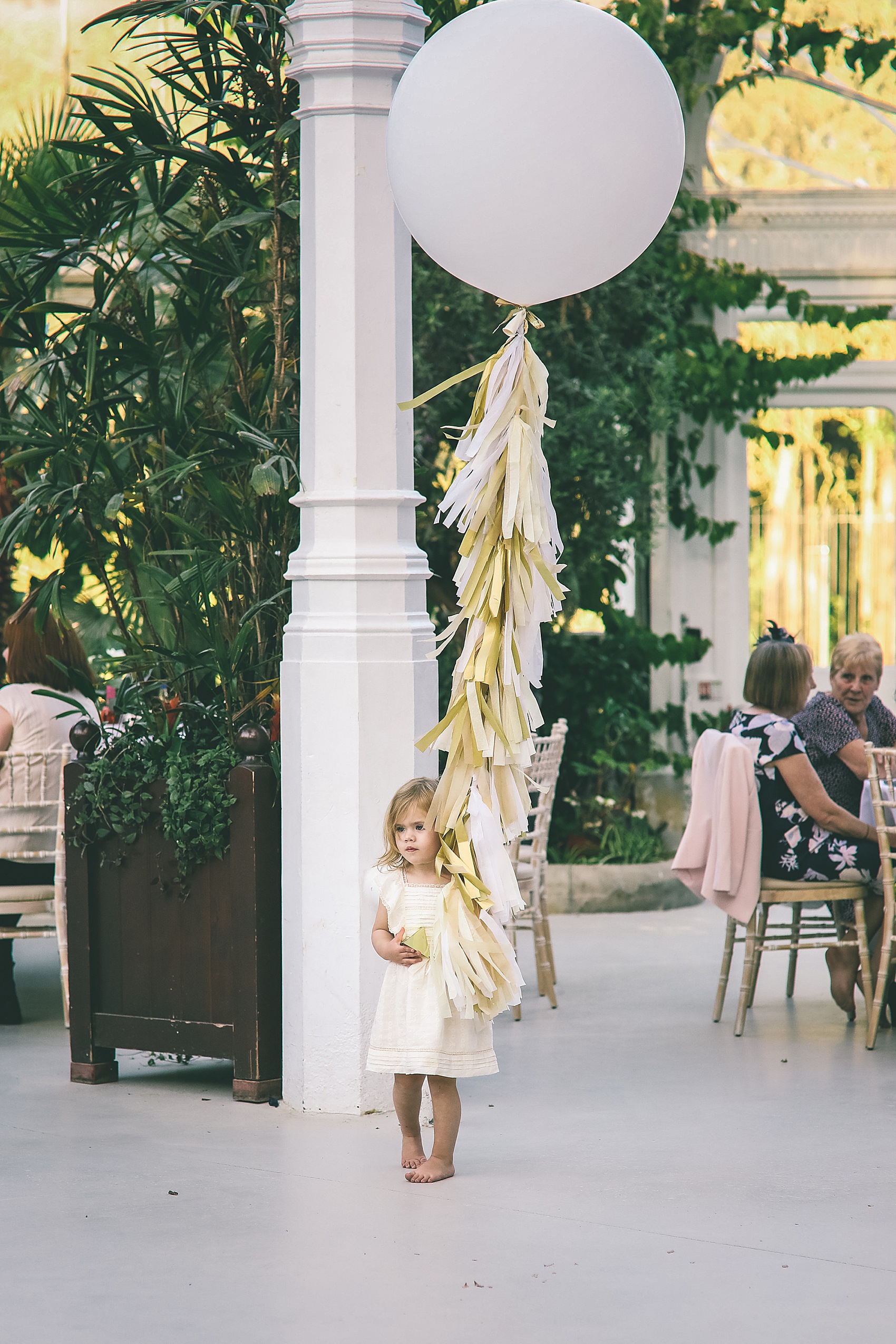 There was brilliant live music from Mariachi Rey, whom Lucy and Chris booked as a special surprise for their guests.
"As soon as we heard Mariachi Rey's cover of Human League's Don't You Want Me, we knew we had to book them. The band did a mixture of traditional Mariachi songs and pop covers. More than anything, we wanted our guests to enjoy themselves and have fun, and the band got everyone on their feet."
Lucy and Chris' first dance was a mash-up of two versions of the same song – Latch by Sam Smith, followed by the version by Disclosure.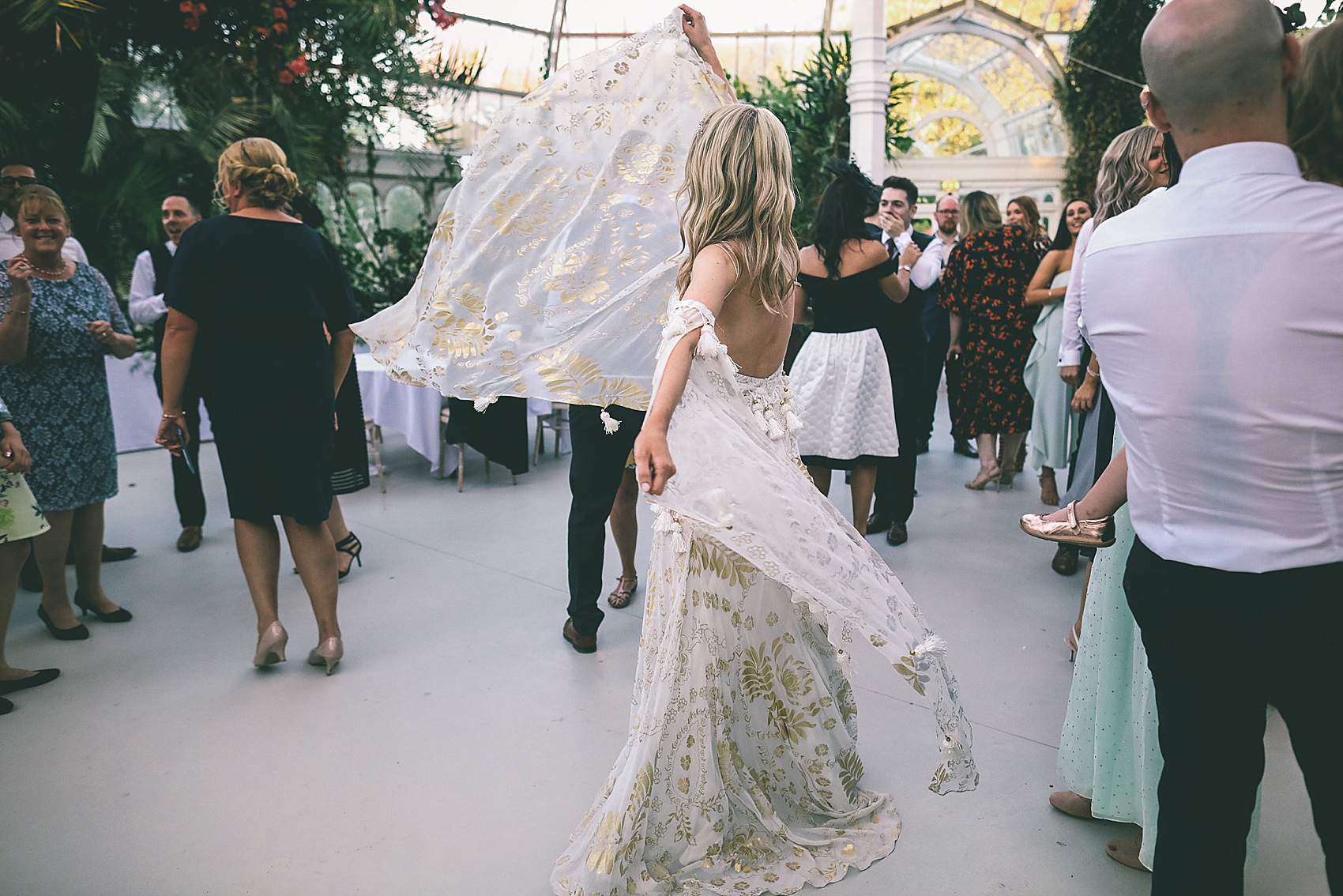 "We wanted to dance together, but also get our loved ones on the dancefloor too, and this was the perfect way of doing this. We loved both versions of the song, and had many memories associated with it from festivals we'd attended when we first started dating."
"We booked Wedding Jam, and our DJ, Dan, was amazing, and nothing was too much trouble for him, including a last minute request to mix our first dance song. We had previously been asked to pick twenty of our favourite songs for them, and then they would build our wedding playlist around this."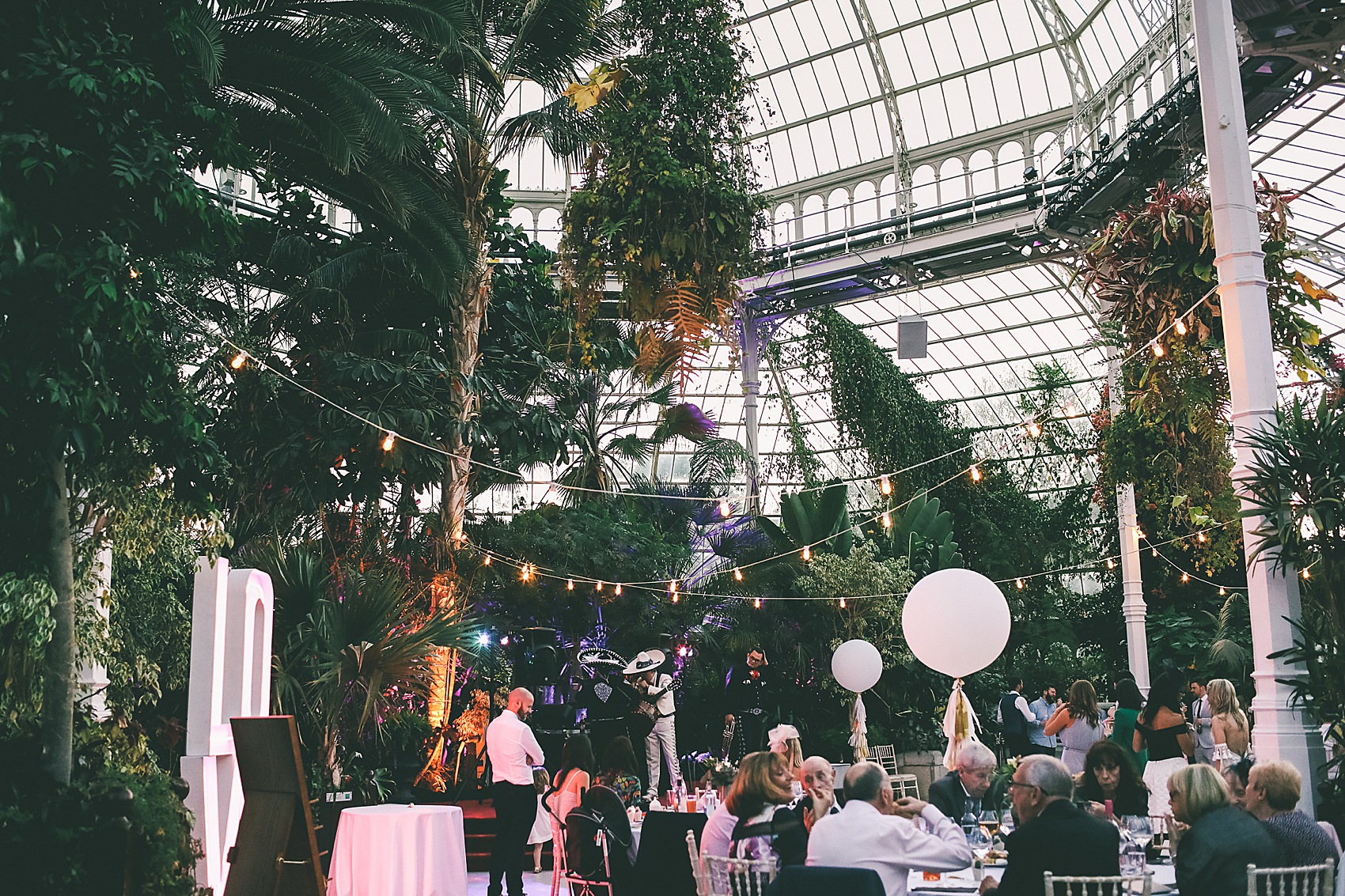 "Picking these songs was my favourite memory of planning our wedding, Chris and I had so much fun picking songs, remembering forgotten old favourites, and it really built up our excitement for the day."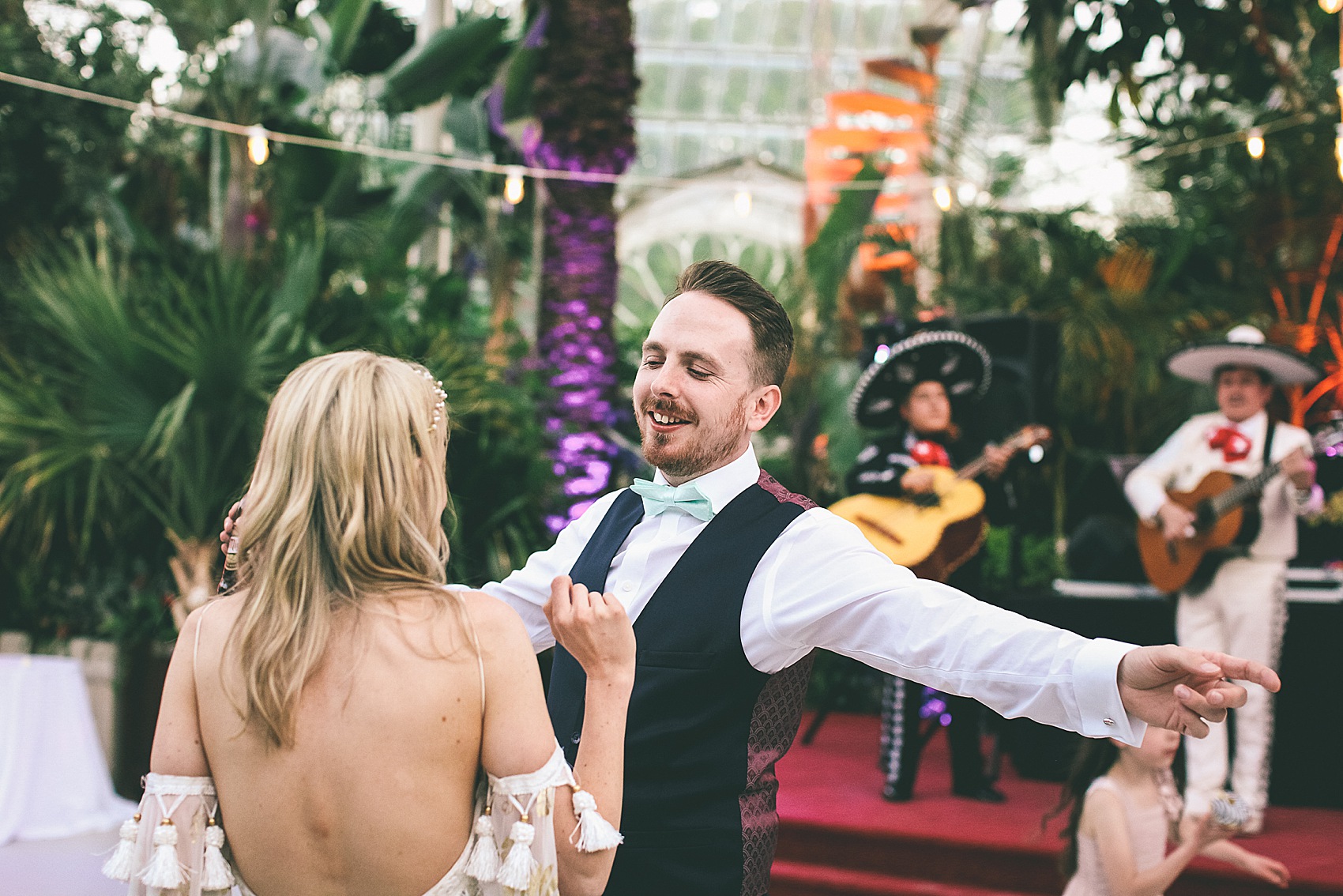 In the evening, the Palm House became a tropical wonderland, with coloured spotlights and festoon lights twinkling.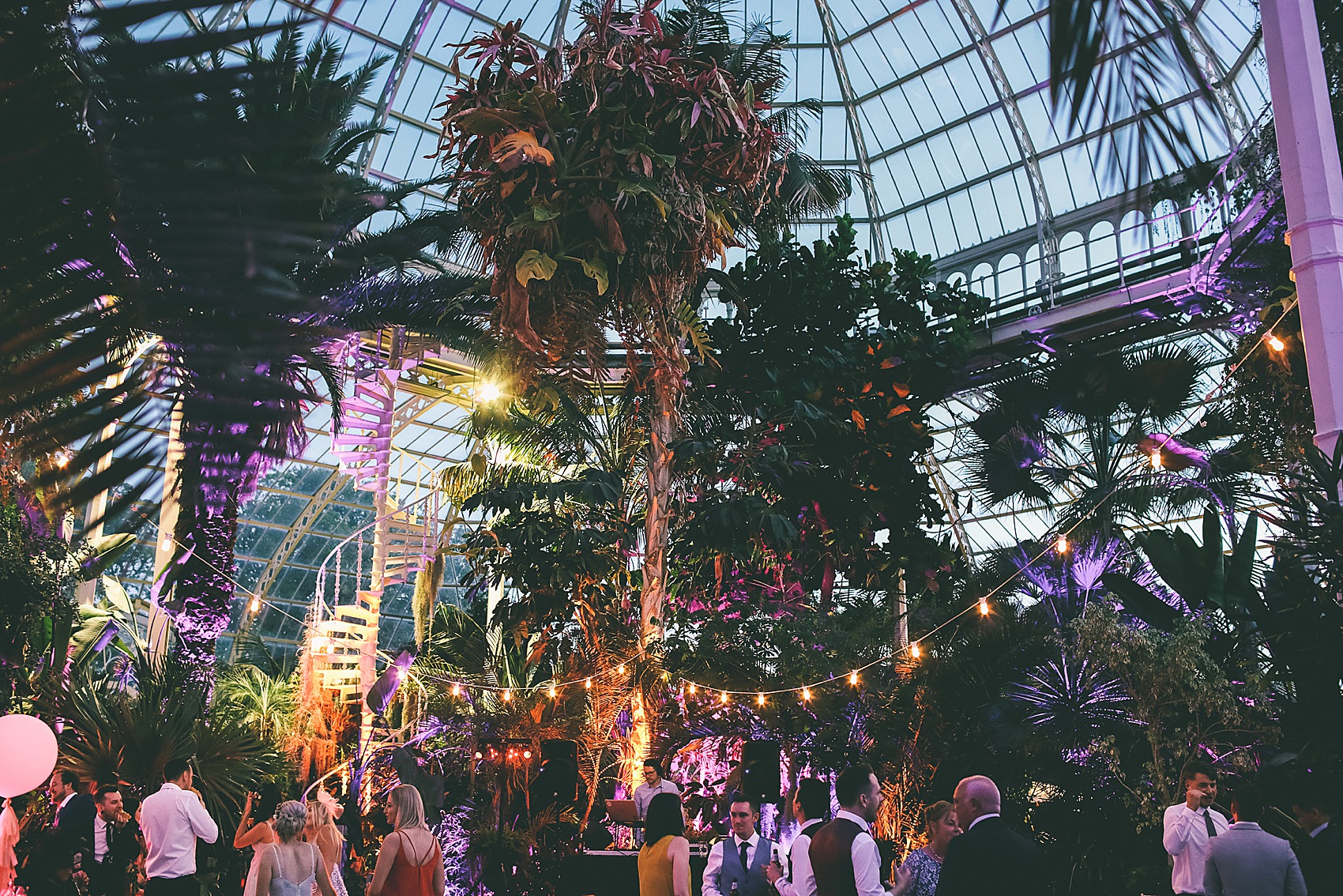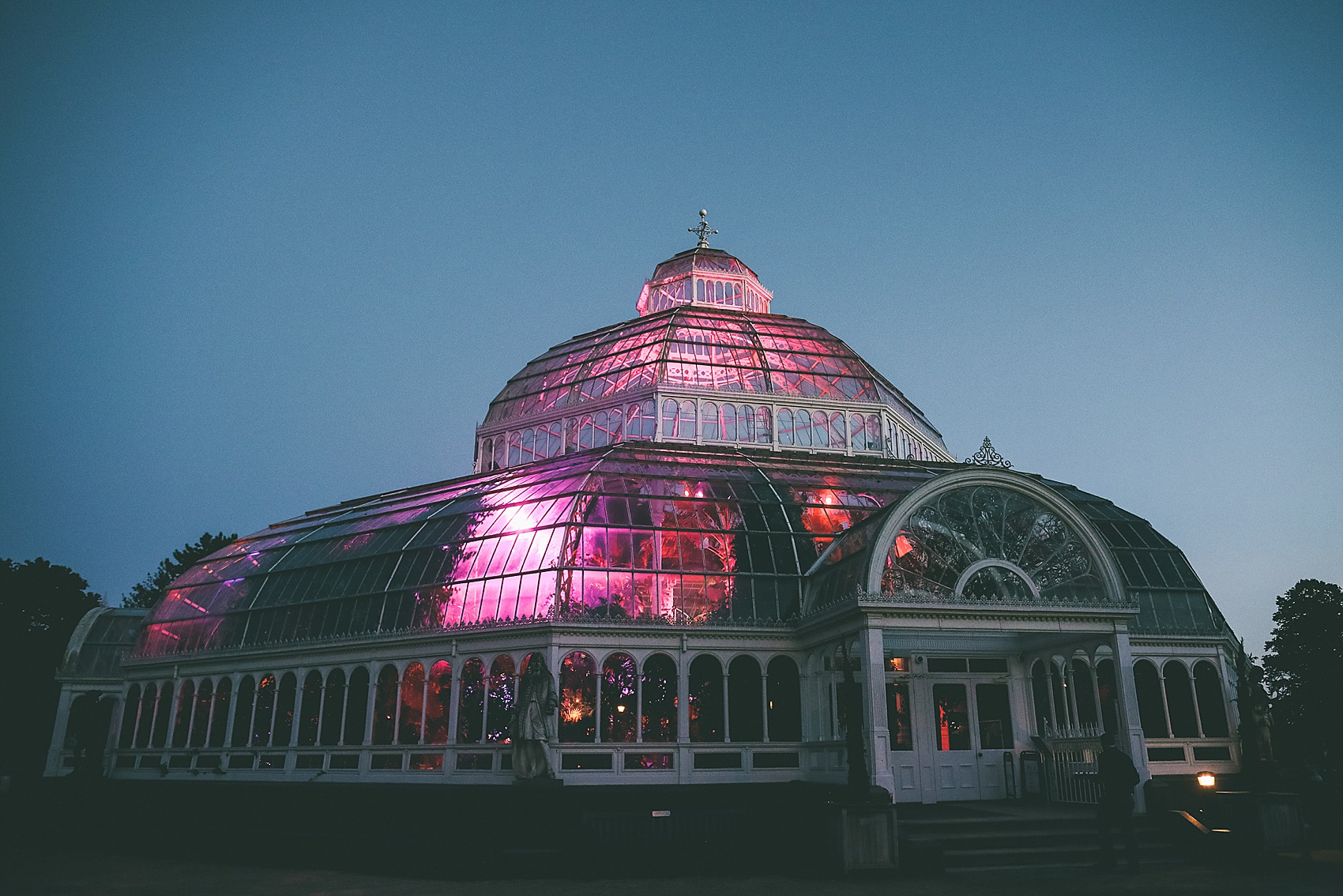 Words of Wedded Wisdom
"Enjoy the process of planning, not just the day. Chris and I had so much fun planning our day; researching venues, choosing our favourite songs, and finding items that reflect the things we love."
"But planning a wedding it isn't always easy, so don't forget to thank the people who helped you along the way."
Thank you so much, lovely Lucy and Chris. It's been a joy to write about your gorgeous, botanically inspired day, and Lucy, your dress was a dream! Huge thanks to Emma Ledwith Photography for this lovely collection of images, too.
Until next time.
Love, Laura