It's no secret at all that I love it when literary influences weave their magical way through couples weddings, and today's much needed celebration is even more enchanting because it's inspired, in part, by J.R.R Tolkien's Lord of the Rings trilogy.
The setting is a medieval castle in Co. Meath, Ireland, and the focus was on sustainability, and the beauty of nature. Travel Director Emma, and Jonathan, who is a Doctor, celebrated their marriage on the 7 December 2019 at Durhamstown Castle, Co. Meath.
Kat Mervyn Photography

+ Follow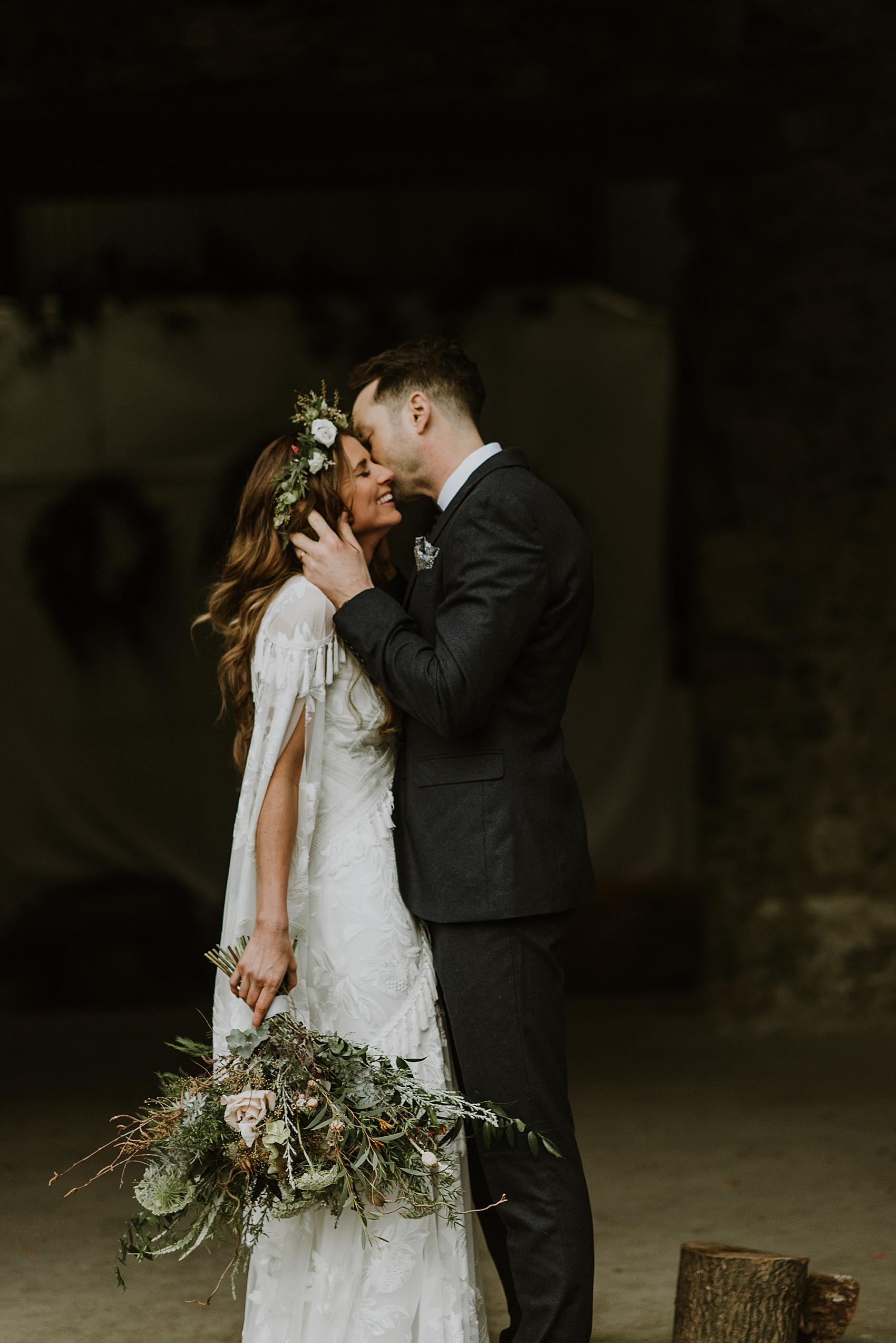 "I'm a massive Lord of the Rings fan, in particular the idea of Rivendell. I'm a fan of sustainability and less flash, and wanted the day to be somewhat ethereal, with a nature vibe."Emma spent a lovely morning getting ready with her bridal party, as well as the couple's lovely rescue dogs. They now have three – Jethro, Anthony and Winston!
Hair stylist Niamh Roche and make-up artist Michael Browne were on hand to create gorgeous looks for everyone.
On her feet, Emma wore a pair of incredible gold heels with pom poms and tassels, by Alameda Turquesa, and her wedding day perfume was Miss Dior.
Emma chose her Rue de Seine dress at The White Gallery, and what a beautiful choice. I love the botanical inspired lace, the high-low illusion hem, the caped sleeves, and all of those wonderful tassels – so dreamily beautiful.
"The White Gallery had a great vibe, and the girls are so friendly considering I had to try find a dress 4 weeks after having a baby! I felt like Arwen or a pixie. I loved the sleeves and tassels, and the fact the dress is busy, but still manages to have simplicity about it."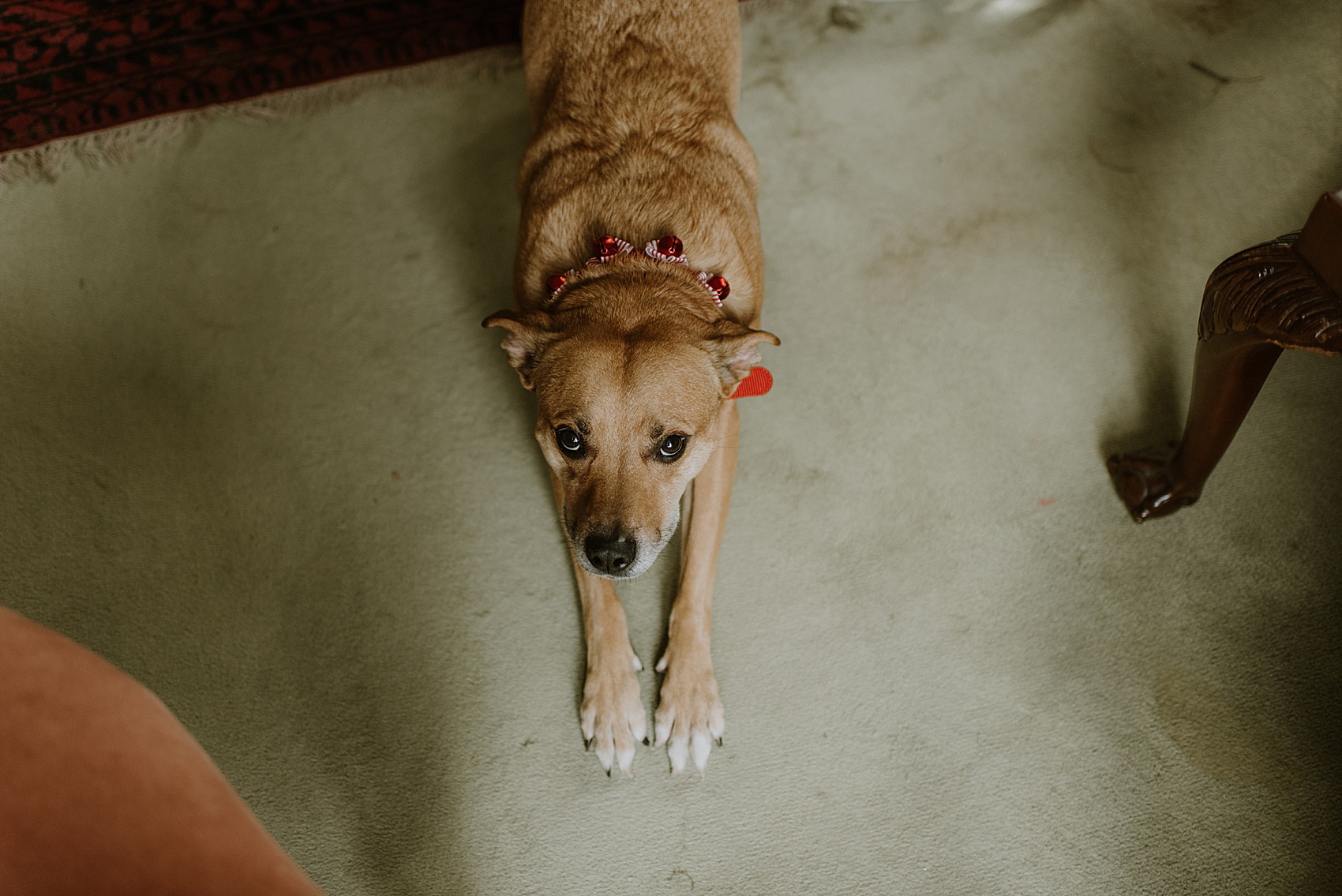 Florist Sarah from Myrtle & Thorn made a charming, romantic flower crown, which included white roses, hellebores and sprigs of olive.
She also created a spectacular, wild bouquet for Emma, in a beautiful, subtly muted colour palette, with browning fern leaves, grasses, berries and seed heads alongside roses, hellebores, sea holly, festive evergreens, and the most amazing, sinuous branches of corkscrew hazel.
"I loved Sarah's creations. I wanted someone to understand what I meant when I said Lord of the Rings, and didn't need direction. I gave her full creativity."
Durhamstown Castle is owned and run by couple Sue and Dave Prickett, who bought the castle in 1996, and have set about restoring and it, as well as opening up the doors to host weddings and celebrations. It was the perfect choice for Emma and Jonathan's day; grand yet welcoming, and rustically beautiful.
"We met when Jonathan came to study medicine in Ireland several years ago. We got engaged on a beach in Waterford (with our dogs) where we lived for 6 months. We fell in love with the area, and it was something Jonathan wanted to do before we left. Our daughter Isla arrived 2 months after the engagement. We got engaged, had a baby, moved twice, and got married in 2019!"
The couple's ceremony room was decorated with boughs of greenery, fairylights and bunting, and Emma was accompanied down the aisle by her dad, daughter, and dogs, to Songbird, by Eva Cassidy.
Emma and Jonathan opted for a humanist ceremony, and as they made their vows, they also gave each other letters they had written for one another, to be opened in 5 years time.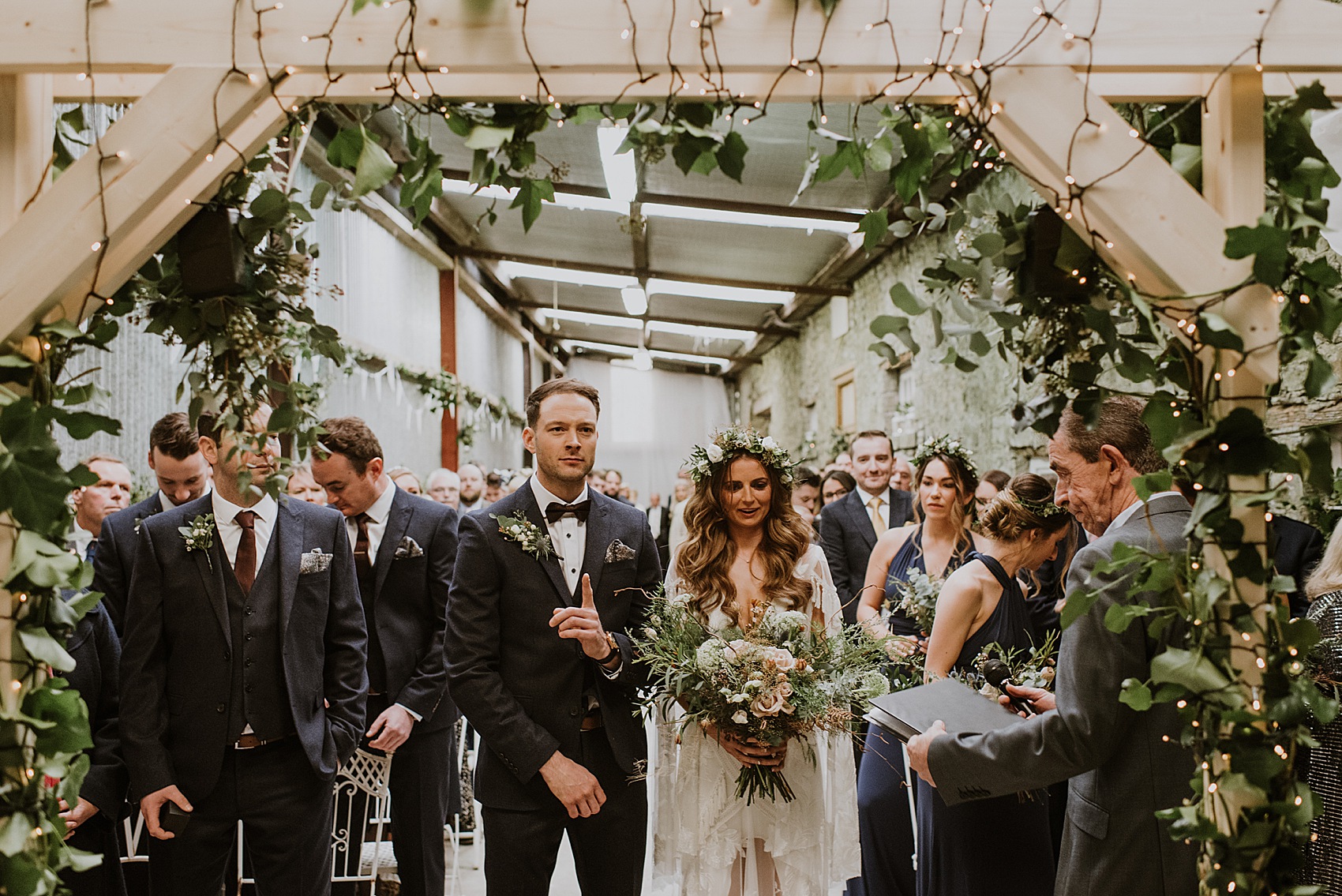 "Jonathan's ring was by Michael Perry, a jewellery designer in Ireland. Mine was by Rudolf Hetzel. Jonathan wanted to create something with a noted jewellery designer that was simple and suited my lifestyle, but was a one off."
After the ceremony, Emma and Jonathan walked together with their sweet daughter Isla, and their dogs in the castle gardens, and there to capture those lovely moments, and all of the ethereal, winter beauty of the day was their photographer, Kat Mervyn.
"We chose Kat because she loves dogs, and her pictures are of the moment. She just gets it, and she's cool AF!"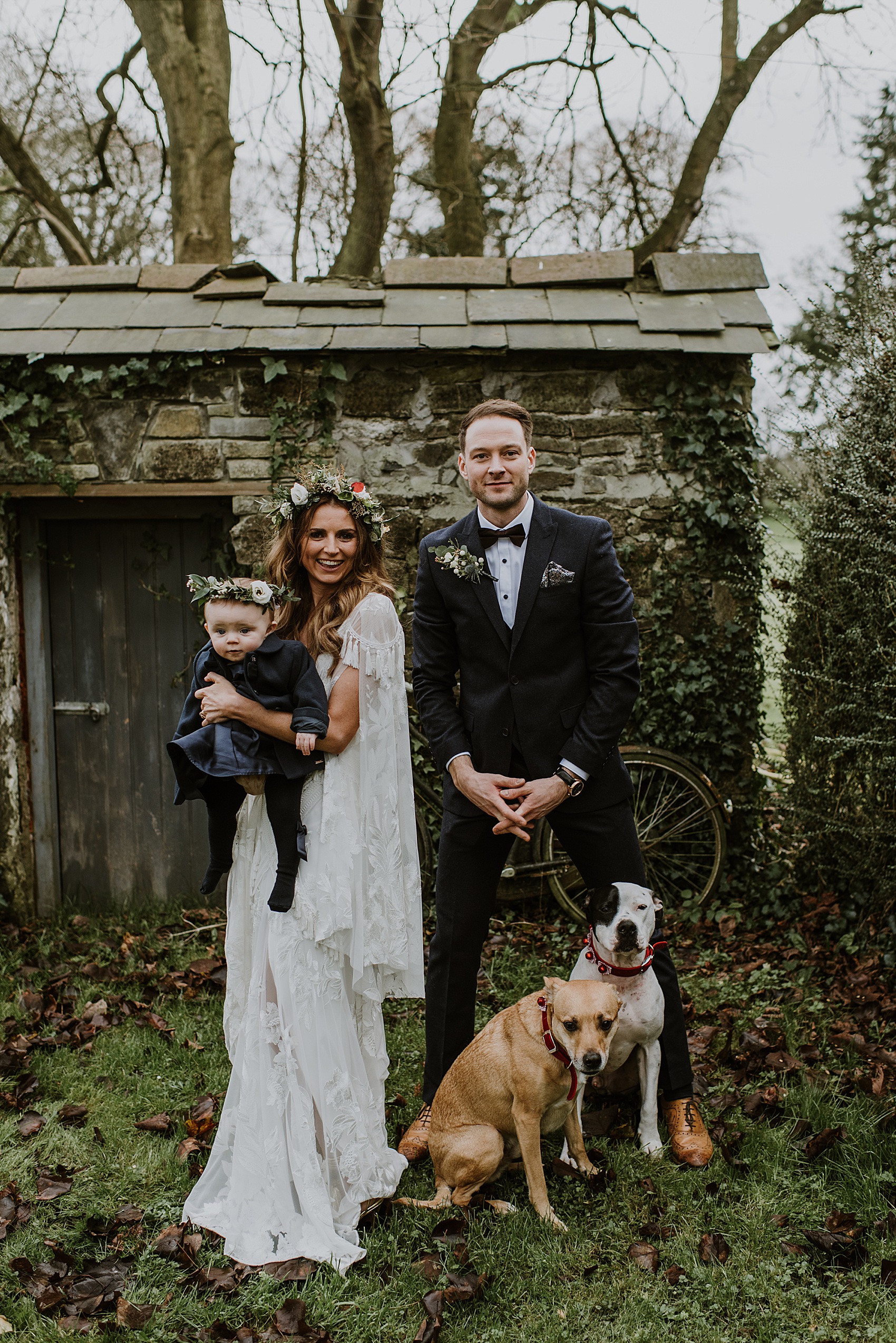 We've featured Kat's effortlessly stylish, fine art work before in a styled shoot on our pages – do check it out.
The bridesmaids wore flower crowns in their hair, and navy blue multi-way dresses from ASOS, with shoes from Missguided, whilst Emma's bridesman wore full Highland attire.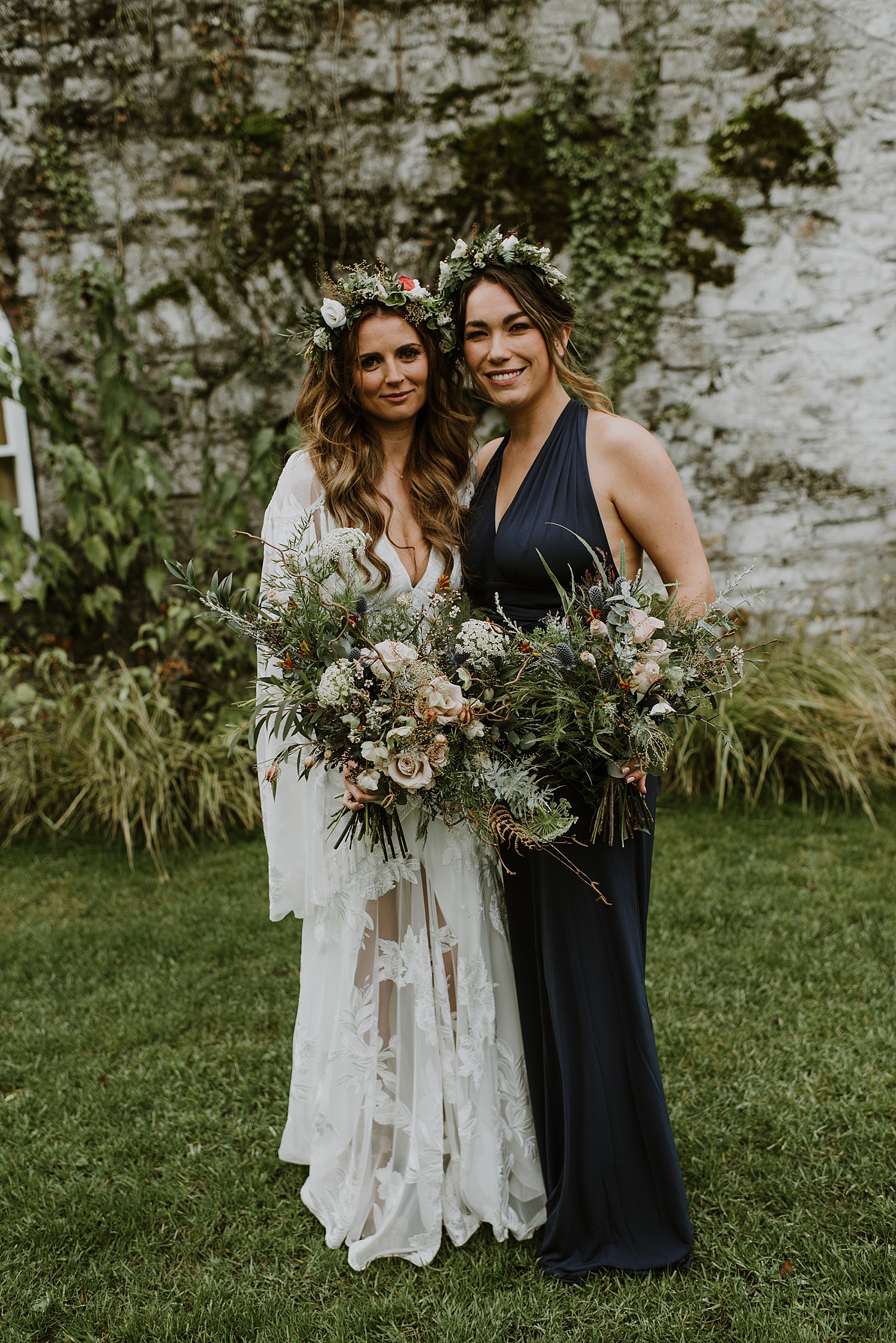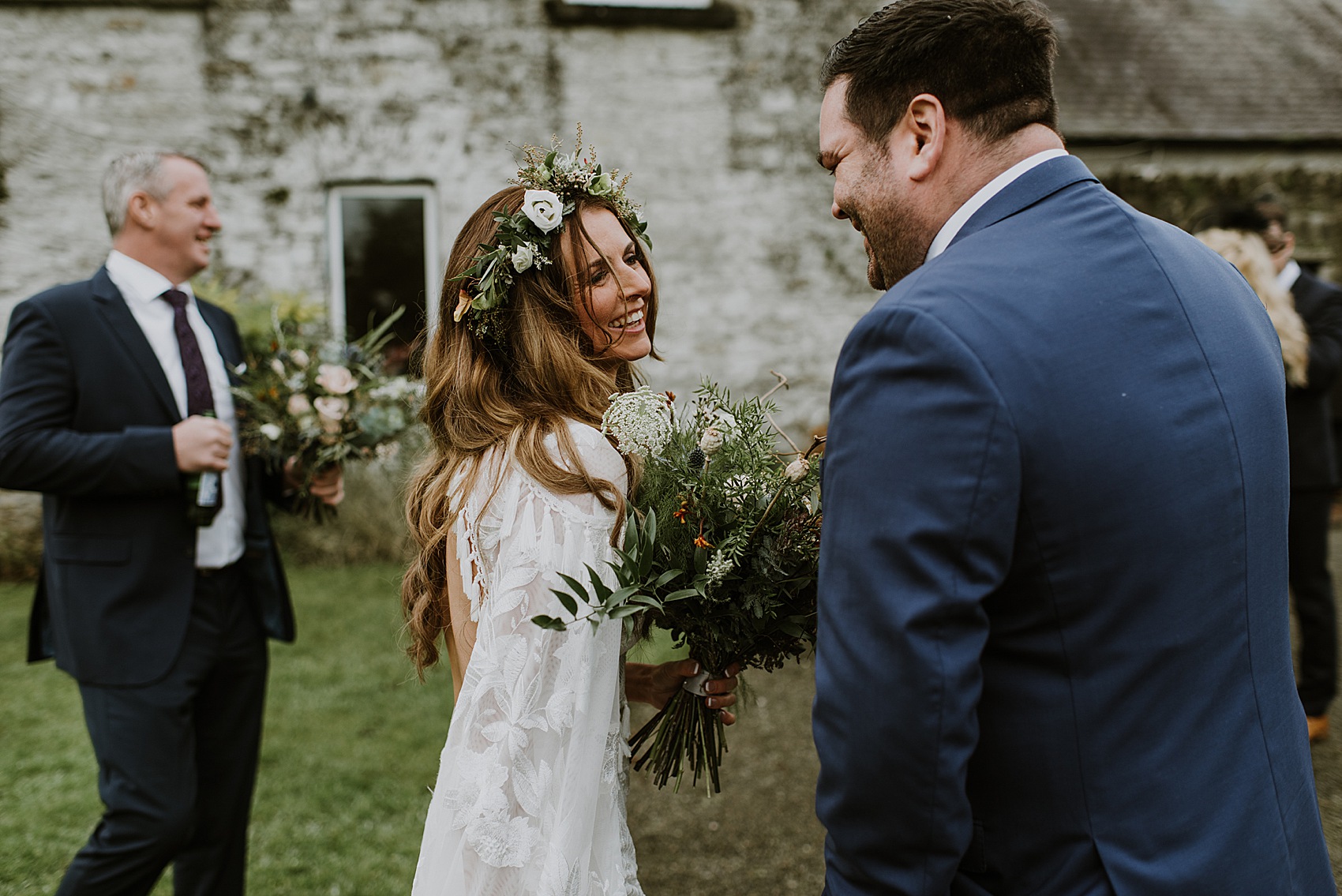 Groom Jonathan looked smart in a dark tweed suit from Next, worn with a white shirt, bow tie, floral print pocket square, and shoes by Barker.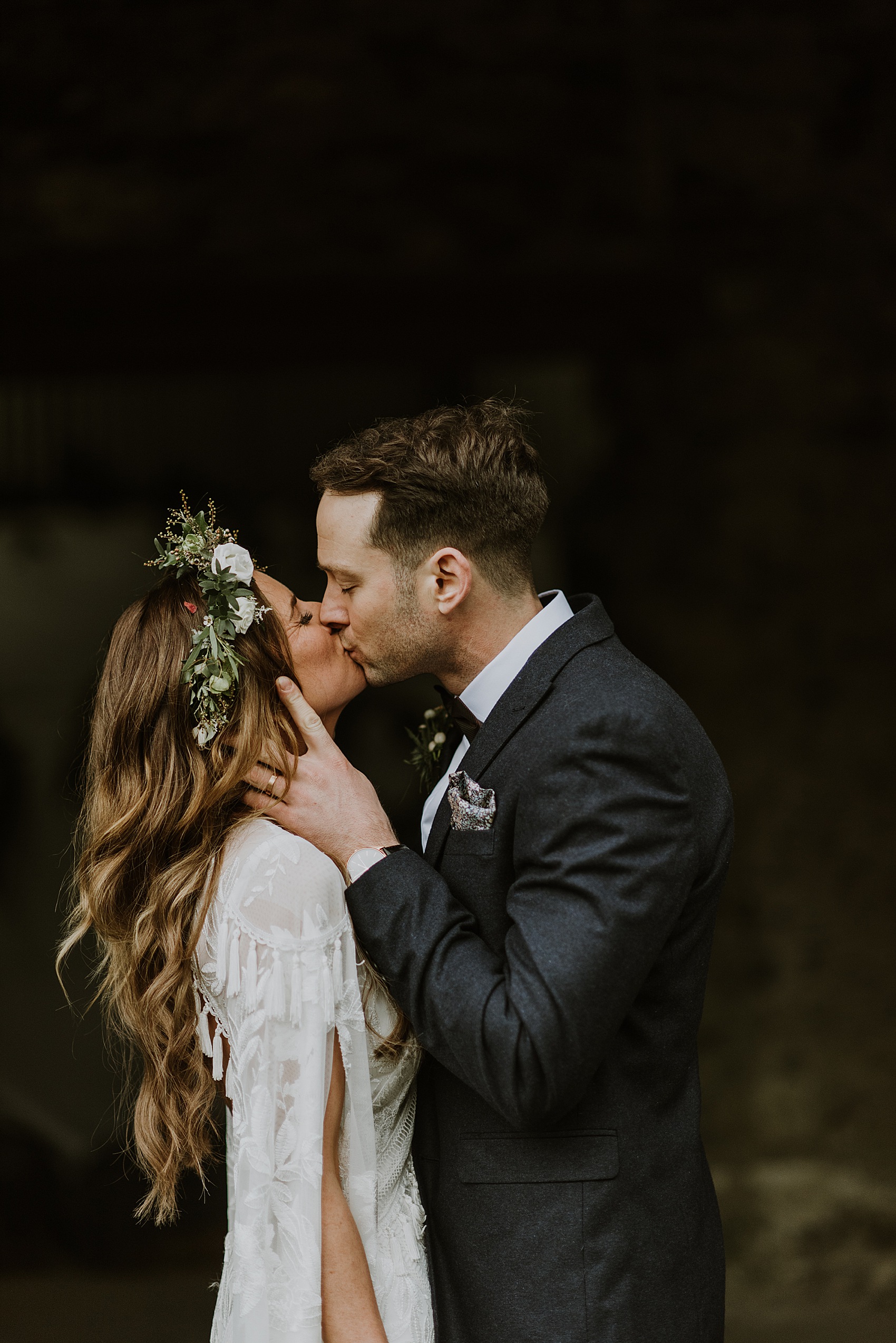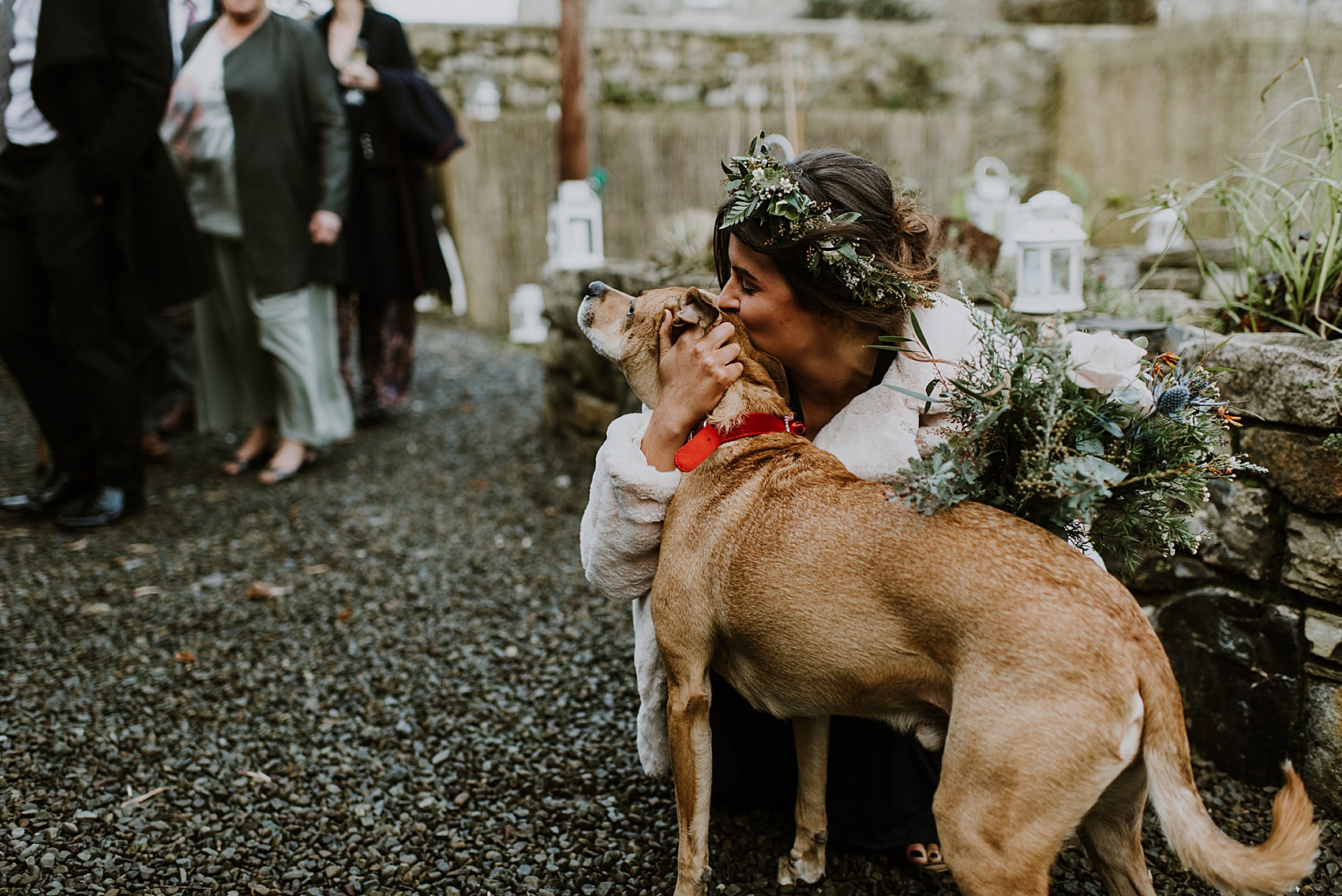 The castle's Great Barn was decorated beautifully for Emma and Jonathan's reception, with lots of subtly festive details as a nod to the season. There were fairylights twinkling all around, and the timber ceiling beams were draped with garlands of ivy.
Rustic, mismatched tables and chairs were pushed together for feasting, with lace trimmed hessian runners down the middle of the tables, interspersed with floral centrepieces given extra height by being placed on top of log slices.
Stationery was by We Do Printing, who Emma says were amazing to work with, and custom made, personalised Christmas decorations (sadly no further details about these) were put with each place setting.
The couple's cake was made by cousins; a lovely, three-tier semi-naked creation, which was then adorned with greenery, flowers, berries, and fairylights.
The wedding feast, courtesy of Durhamstown Castle, was a relaxed, joyful affair, with Emma and Jonathan's dogs also present. There were heartfelt speeches and toasts, and afterwards, the couple took to the dancefloor for their first married dance, followed by live music from award winning wedding band, After Dark.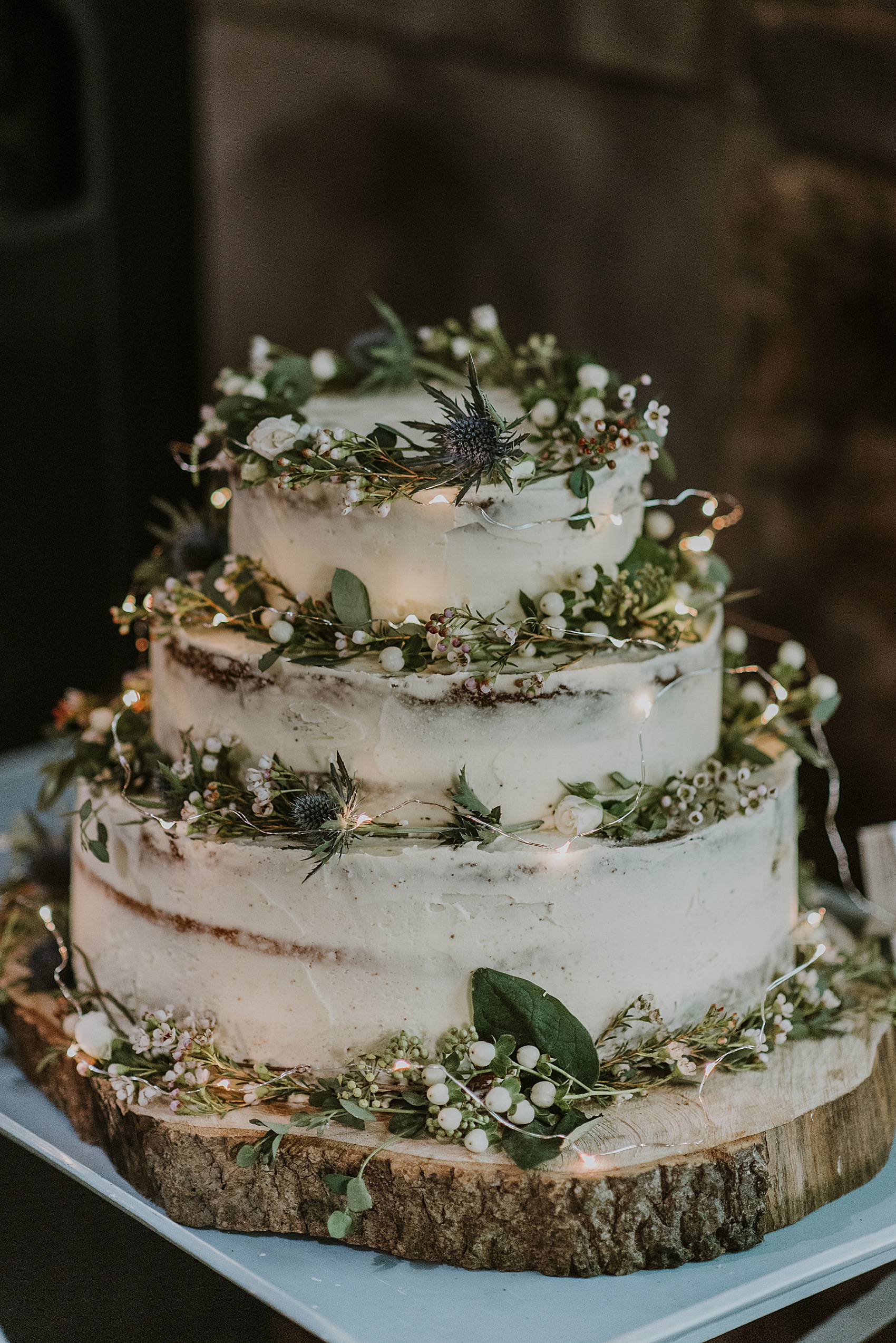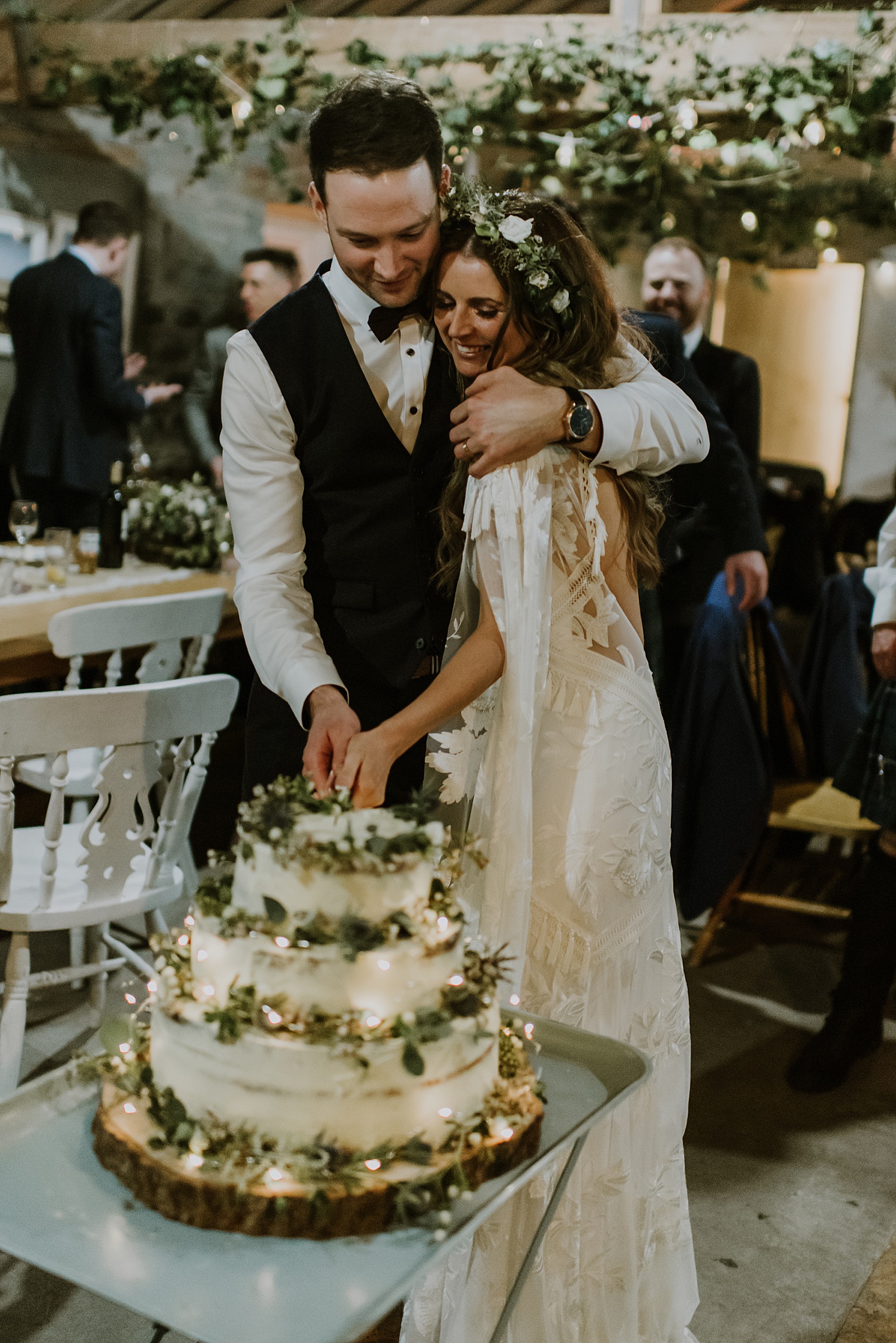 "Our first dance was Travis – Turn. We're both massive fans, weirdly!"
"My favourite part of the day was Jonathan stealing me away for 20 minutes to chat to each other – and the band were great. I was pretty relaxed, maybe I shouldn't have been (!) but it's just a party – what's the point of stressing?"
Words of Wedded Wisdom
"Relax. Book the main things such as the venue, photographer, and band. Oh, and guest lists are awful to do, and family tend to be the most difficult to please, so set out rules at the start."
"I know weddings can be stressful, I just think people need to remember it's their day, and that's it. Do what you want. Also, it will always cost more than you think, so be ruthless."
"Don't sweat the small stuff. Literally no-one cares about the flower wall you didn't put up!"
Emma and Jonathan, congratulations and best wishes to you, and thank you very, very much. Many thanks to Kat Mervyn for her beautifully elegant images, too.
Lovely ones, if you're in search of more incredible real weddings in Ireland, then we have  lots to enjoy here, as well as more spectacular Rue de Seine brides, here.
Until next time.
Love, Laura