Evening lovelies – we've another gorgeous wedding treat for you this Easter Sunday evening that we hope you love.
Katie, an Internal Communications and Engagement Manager and Andy, a Gas Engineer, tied the knot on 28th August 2019 at The Barns in East Yorkshire. The couple's day was a family focussed affair.
"I've had a Pinterest board since we got engaged, and had a distinctive look, feel and style in mind. We both wanted the day to be quite relaxed, rustic, simple and bohemian, with lots of romantic elements. I wanted to do all the planning and details myself and love the styling and creative element of planning. Even though it was quite stressful I really enjoyed seeing our vision coming together."
Silver Sixpence Film & Photo

+ Follow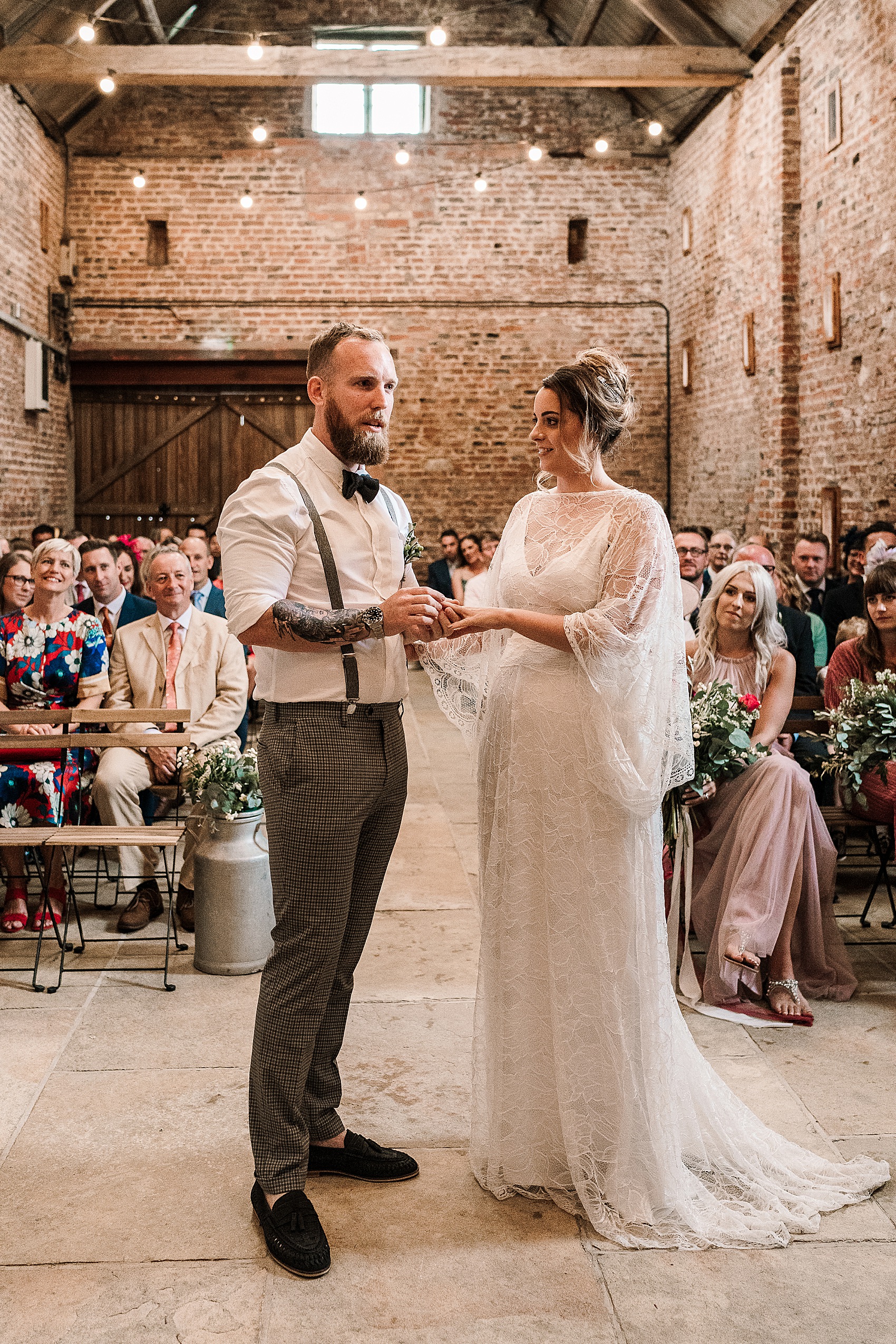 Ed from Silver Sixpence Film & Photo documented the couple's wedding.
"Ed is super talented and we are so lucky to have had him shoot our day. We both love the look and feel of his photography style, it's exactly what we were looking for (fun, informal and documentary style). We are absolutely over the moon with the images, Ed managed to catch beautiful natural moments of our day, which we will treasure forever."
"We have had so many comments about how beautiful the photos are!. He is such a great chap to be around too, and made everyone feel really relaxed and at ease, we had a lot of fun. We would recommend Ed to anyone."
Katie wore the Vesper Dress by & For Love, which she discovered at Ghost Orchid bridal boutique.
"The owner of Ghost Orchid, Katey, was amazing. Originally, I was very anxious about choosing a wedding dress but she put me at complete ease. I've already recommended Ghost Orchid to all of my engaged friends and can't stop shouting about it."
"I must have tried between eight and ten dresses in all – but two really stood out. I went for the Vesper dress because it was so me and everything I wanted in a dress. I loved the back detail, the train and the lace – it was perfect."
"I bought a plain veil, however when I tried on the dress with the veil a few weeks before it really didn't go or look right."
"We didn't decide until the morning of the wedding if I would wear either a vintage looking flower crown made from wax flowers or the vintage style hair piece – it was the hairpiece in the end and this was from Accessorize."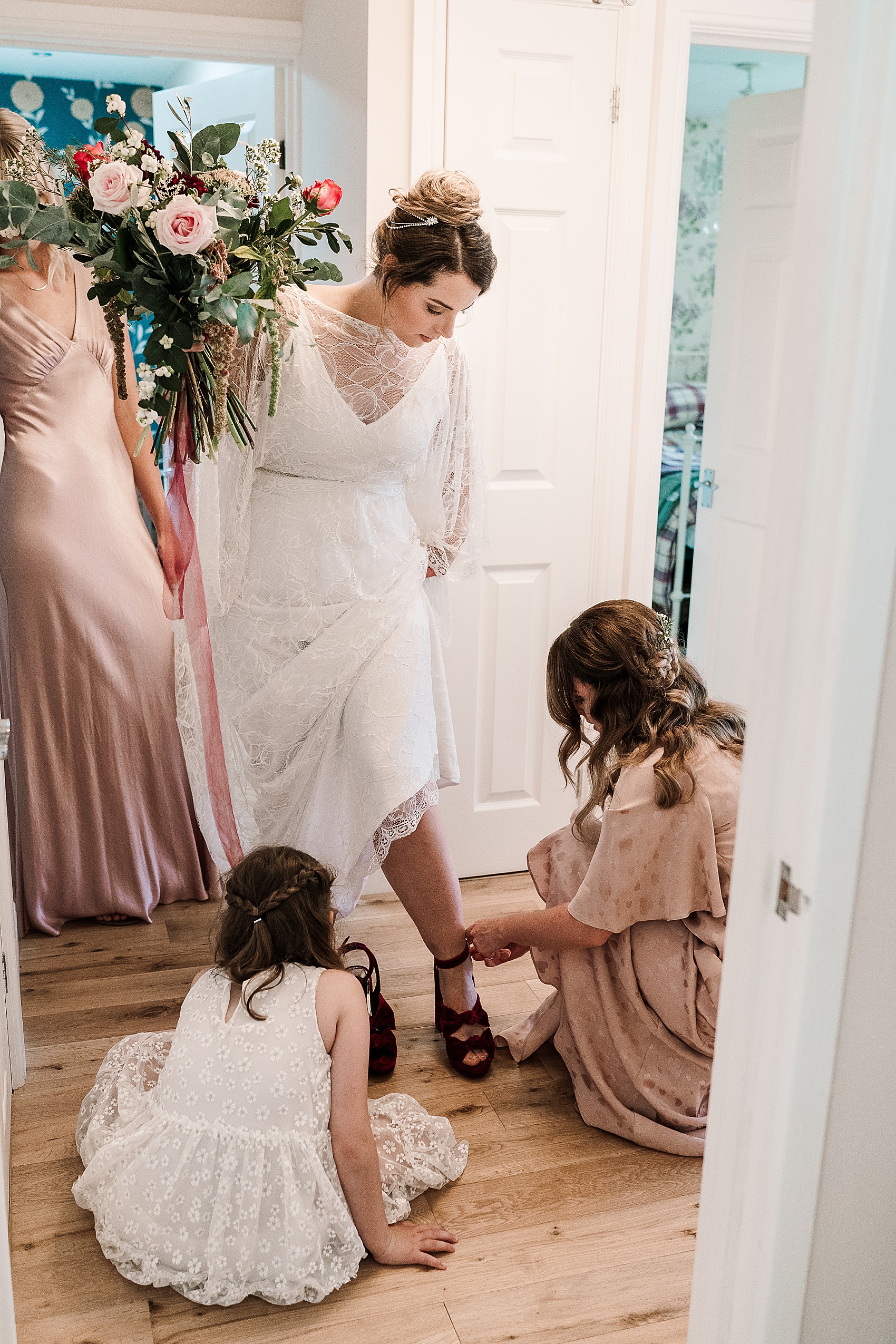 "I had been looking for some velvet platforms since we booked the wedding and was starting to lose hope; I nearly wore some nude heels but then two weeks before the day itself,  I found these shoes from River Island online. I couldn't believe my luck – they matched the flowers in my bridal bouquet perfectly too."
"My perfume was English Pear & Freesia, by Jo Malone – a special scent to me. My best friend Nicola (also my bridesmaid) brought me this for my 30th birthday – it's just beautiful."
"Our two page boys, our gorgeous nephews wore a white shirt  from Next, shorts from Matalan and shoes from River Island. Their bow ties were from Amazon."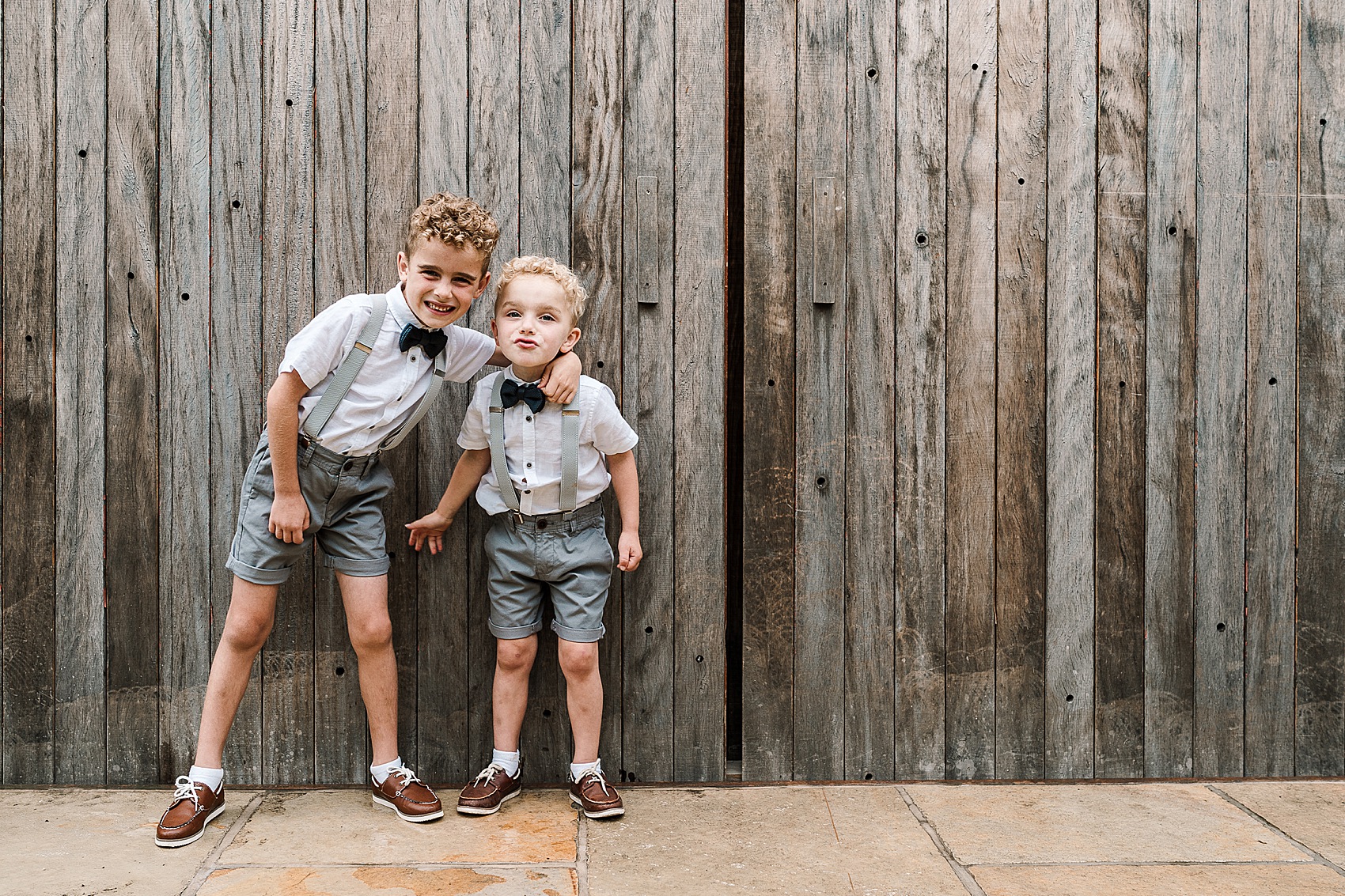 "We both fell in love with The Barns – the venue was everything we could have asked for – beautiful original brick work, lots of woods and steel – a rustic blank canvas to put our own stamp on."
"We also wanted to be able to have the ceremony and reception in the same place for ease for our guests traveling from all over the country. The venue was in the middle of nowhere, surrounded by beautiful fields and also right next to the river Humber."
"Andy and I both knew it was perfect for us – it was down to the feeling we both got. We were so taken back by the venue we booked it the very next day."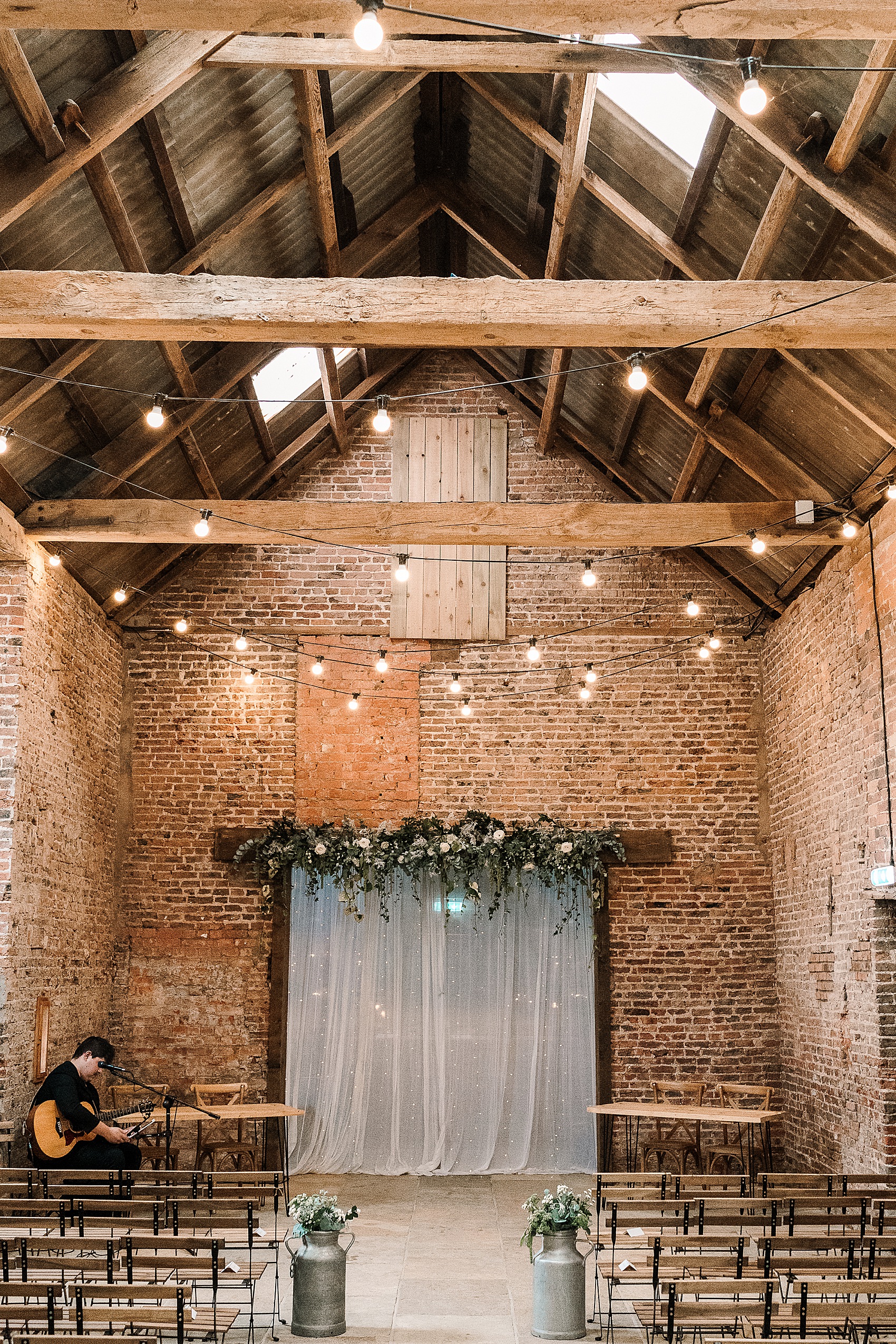 The bride got creative when it came to their stationery.
"I did all this myself – picked the greenery theme and went with it designing our Milbank Wedding sign which sat on a rustic easel. Initially I bought a template from Esty for the wedding invitations but then tweaked and developed it to make it more personal to us as a couple."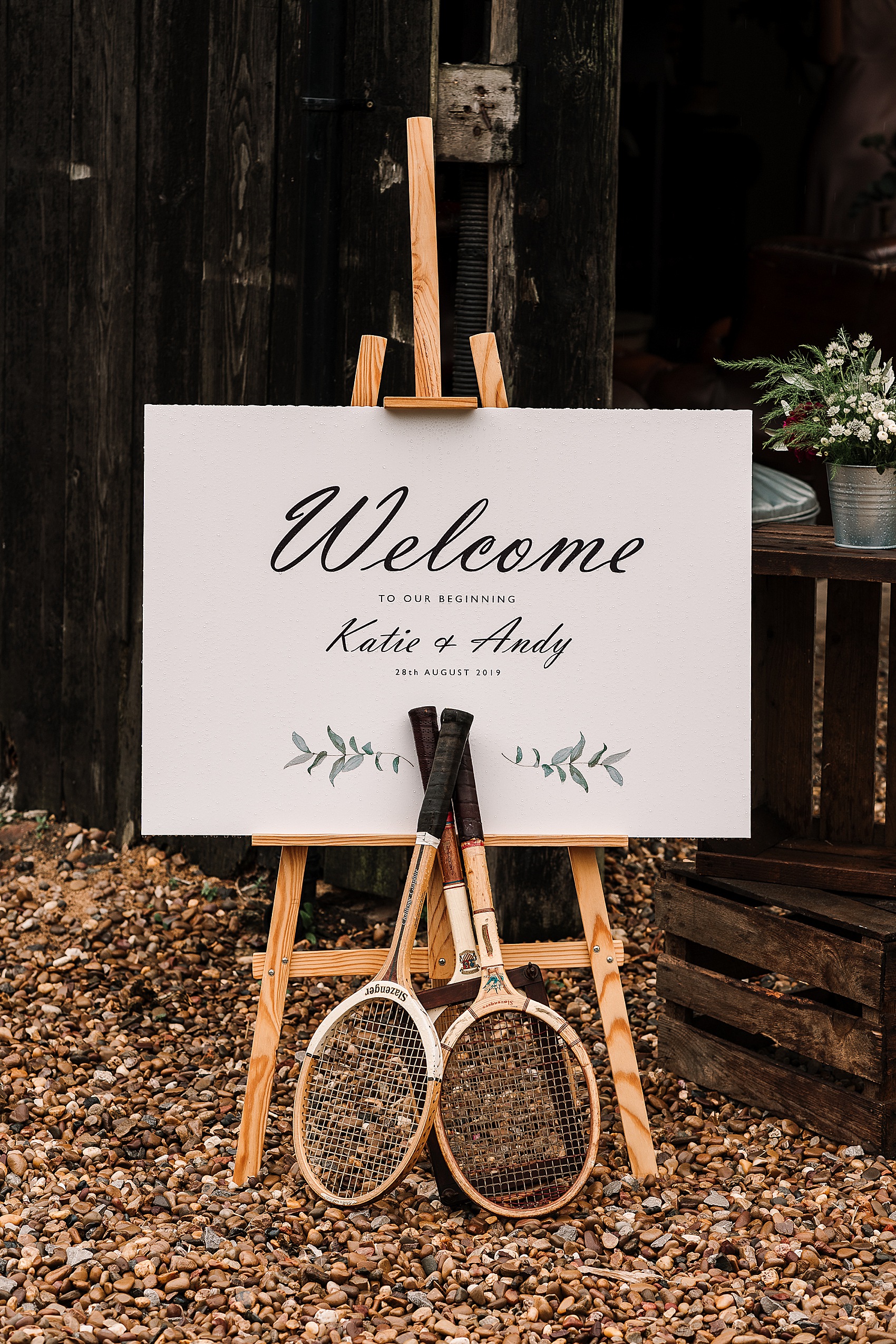 This lovely couple met online…
"Cutting a long story short, we swiped right and then soon started chatting at the gym we both went to and as they say the rest is history. In 2016, a year and half later, we got engaged."
"We were heading down to Cornwall for a staycation and stopped off in The Cotswolds for an overnight stay to break the journey up. Andy got down on one knee during a walk around the grounds near a beautiful lake at The Fish Hotel. Apparently, Andy was meant to propose when we got to Cornwall but he just couldn't wait!"
"Since the engagement, we've had a little girl called Edie who is now 18 months old. We thought it was the right time to get married when she was pottering about and walking. We started viewing venues in December 2018 and booked the wedding for eight months later."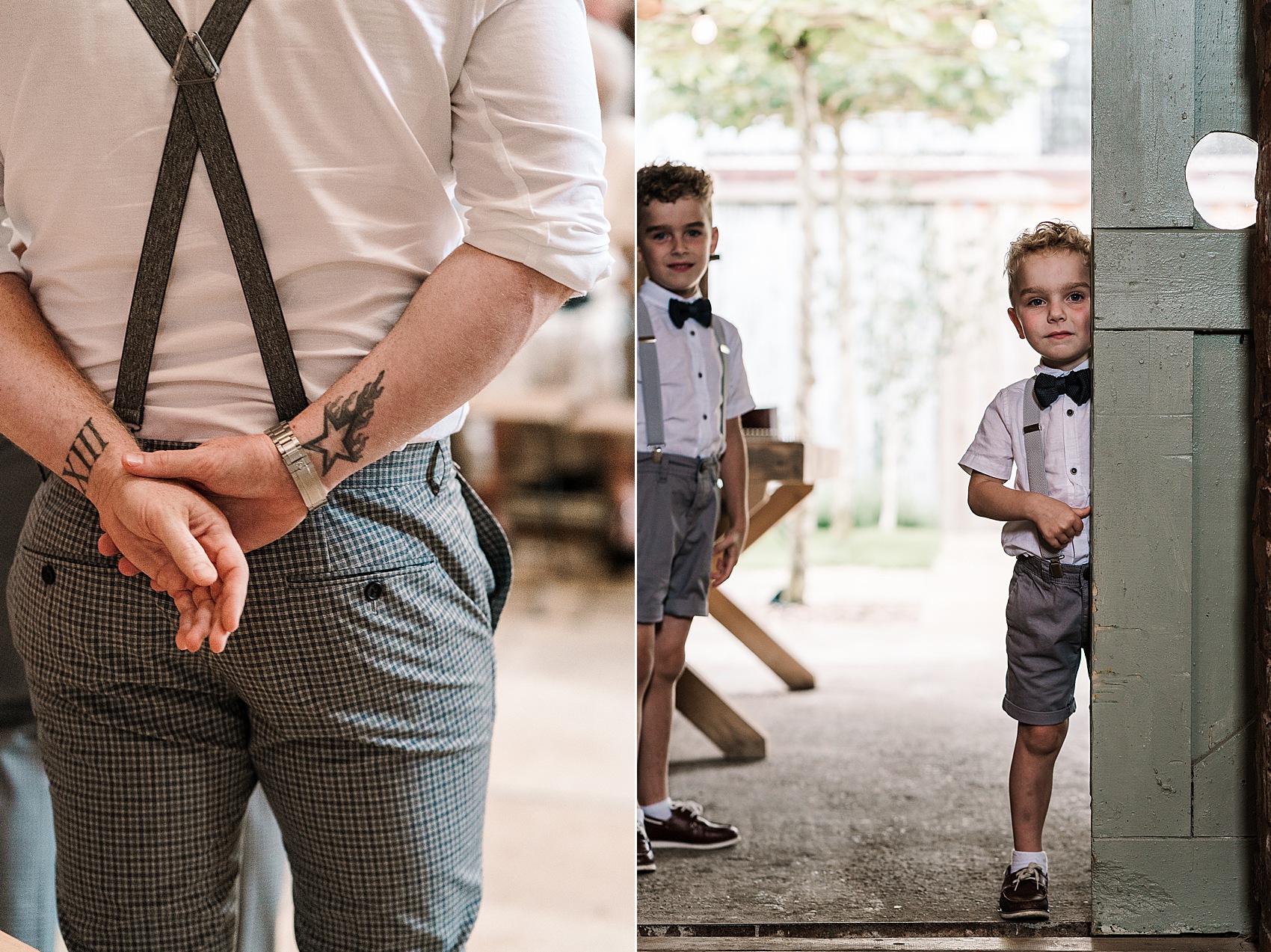 "The bridesmaid dresses  colour palette came first and the rest followed. Their dresses from were ASOS, & Other Stories, Ghost and Monsoon."
"I wanted a collection of mismatched dresses with different textures like satins, velvets, crimped etc. I'm just so glad the bridesmaids went with the look and feel I wanted and loved their dresses just as much as I did."
"Making sure the bridesmaids felt confident, comfortable and beautiful in the dresses they wore was one of the most important aspects. I chose a few of them and asked who liked which dress and a few of the girls picked their own in the style they wanted and managed to stick to the brief and colour which was tricky in itself."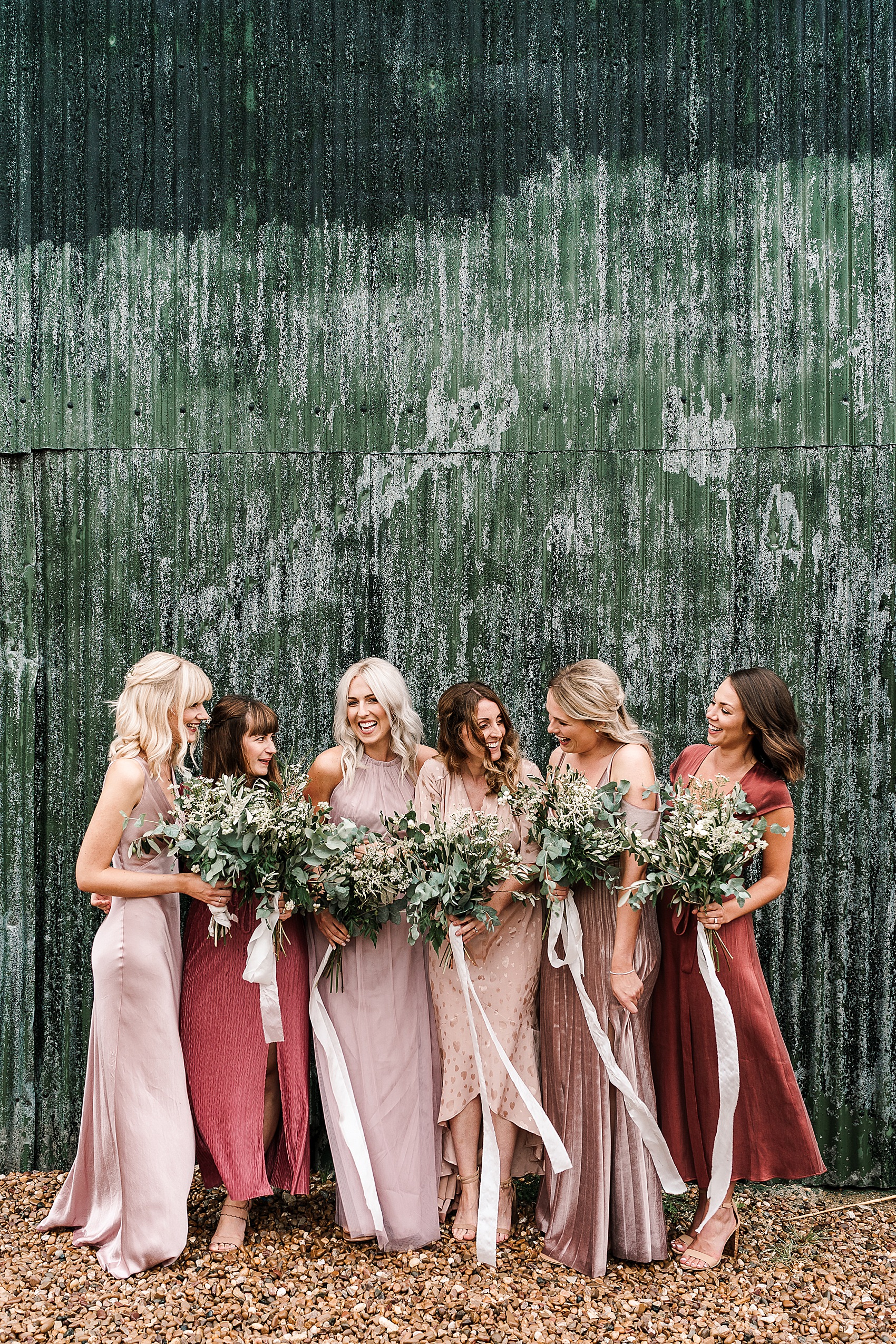 "The wedding day was the first time everyone had tried the dresses on altogether and I couldn't of been more happier with the way they looked collectively – they all looked stunning."
"The bridesmaids wore wax flowers in their hair from our florist. One of the bridesmaids wore one of her own clips which looked quite vintage."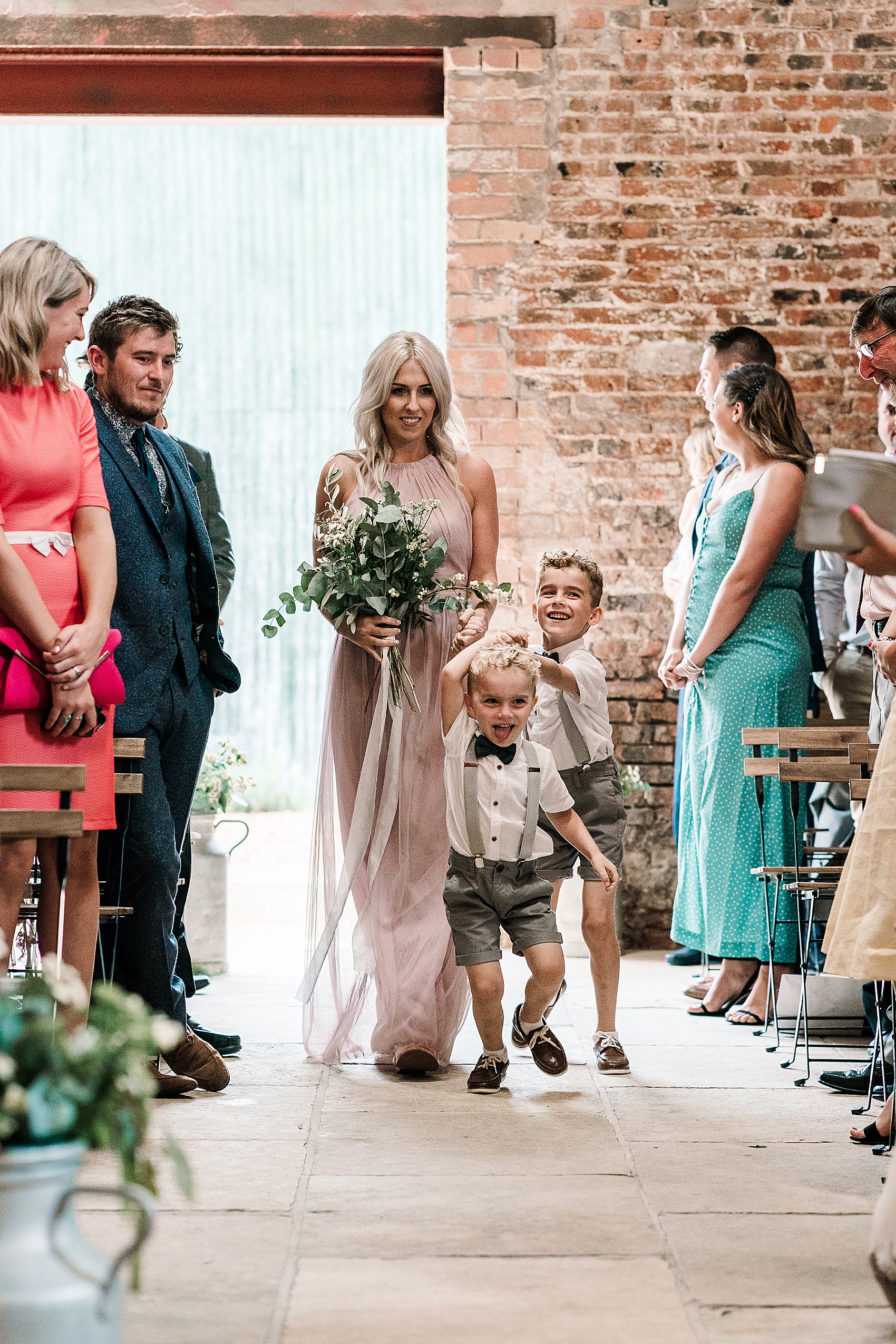 "Our favourite moment was walking down the aisle and seeing our little girl Edie at the front with Andy, I know it's cliché but seeing all the people you love in one room at that moment is something I will never forget."
"It was also a very surreal moment for me – normally I'm a nervous wreck in big groups and Andy is the one who shines in front of a crowd. However I felt so calm walking down the aisle, no worry or anxiety just pure happiness – even when it started to rain!"
"Our beautiful daughter Edie and niece wore white dresses from Mothercare and H&M."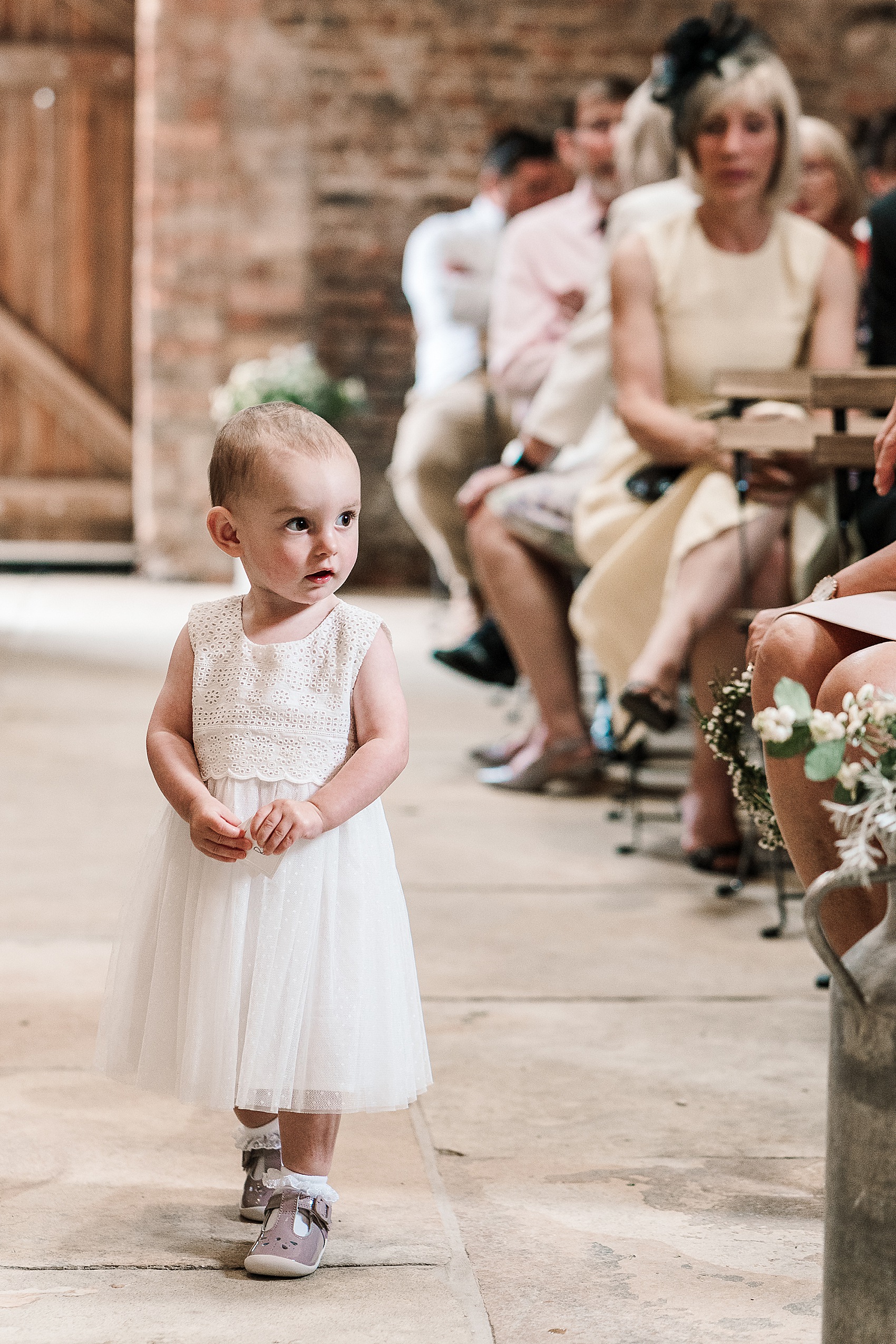 "My dad walked me down the aisle, a special moment I will always remember. Andy asked me to select the ceremony entry song as a surprise, so our band played an acoustic version of James McMorrow's 'Higher Love', which is my favourite song and very romantic."
"We had a short and sweet ceremony which lasted around 20 mins, we wanted it child-friendly and didn't want it too long!"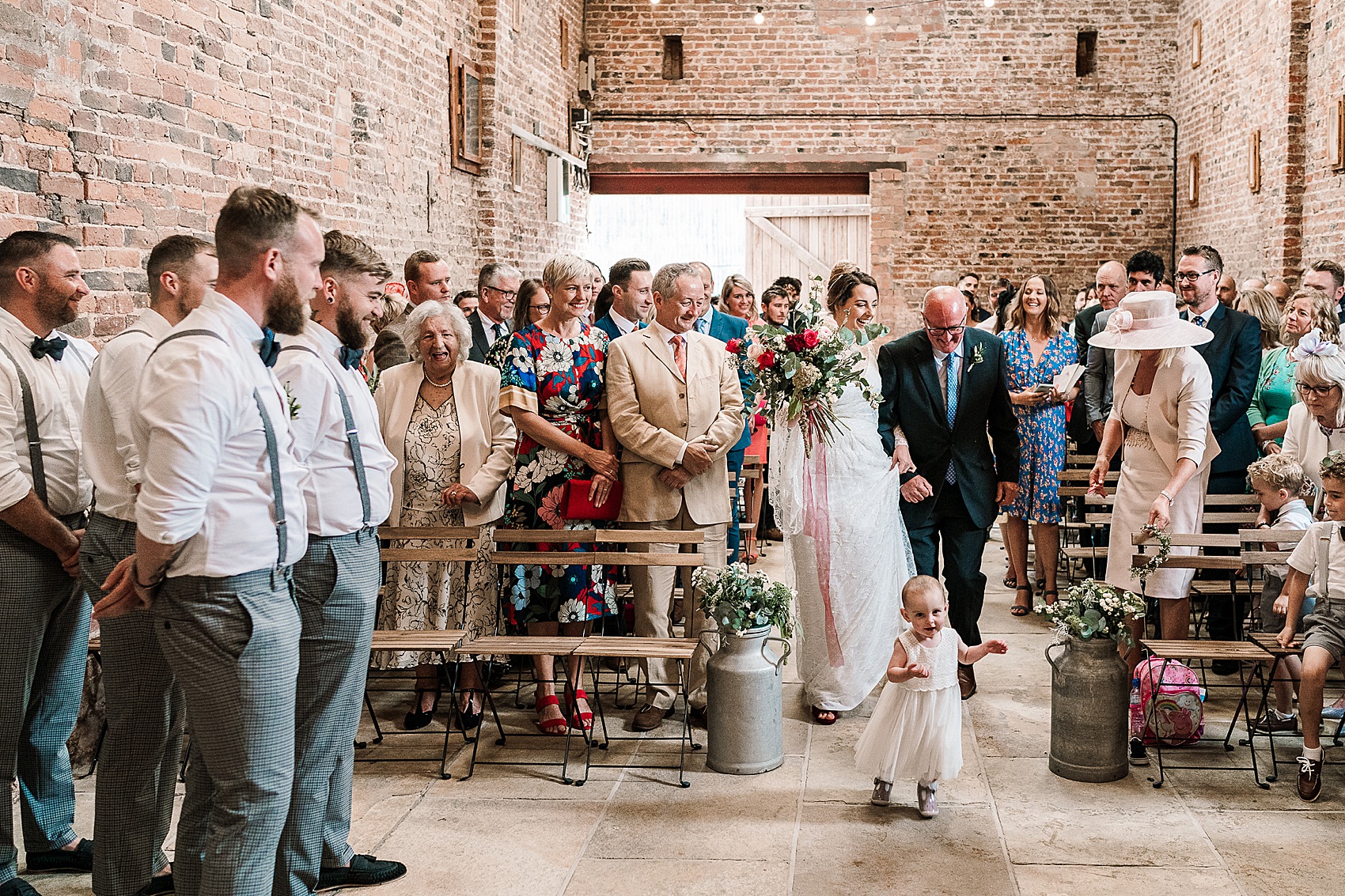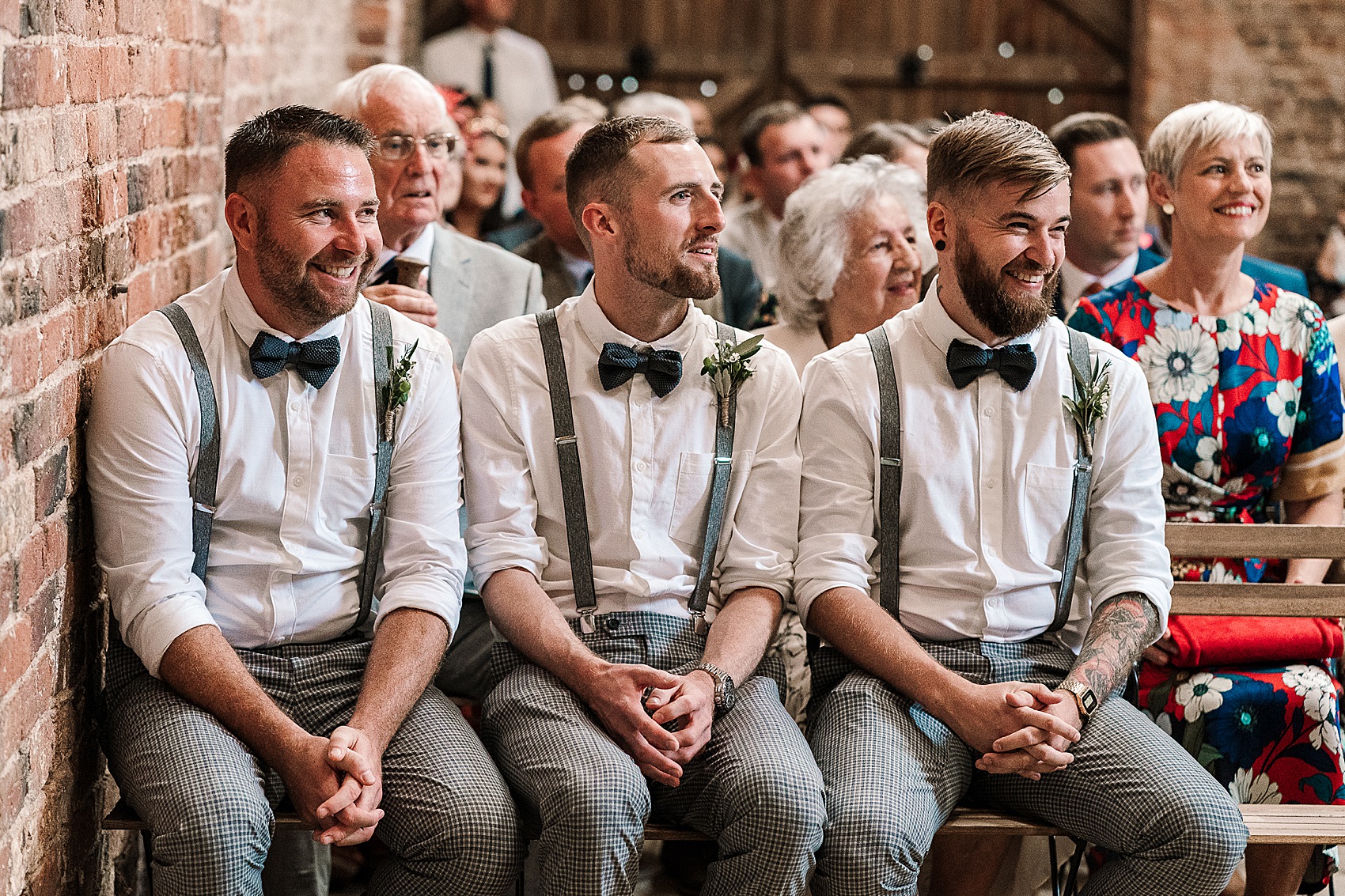 The couple opted for 'nice and simple' rings. These included a thin, plain delicate gold band for the bride and a silver plain band for Andy – both were from Goldsmiths.
"Our reading was The Ocean of Love, by Karen Gorringe, the most beautiful reading delivered by one of my closest friends Emma. We choose the reading together as a surprise for Andy."
"This couldn't have been more perfect for both Emma, a beach girl who moved from East Yorkshire to Devon to live by the sea, she goes surfing every moment she can and has always had a passion for the outdoors and water."
"And Andy, who has always grown up by the sea in his childhood home, a little seaside town. He also comes from generations of fisherman and I knew this theme would mean a lot to them both."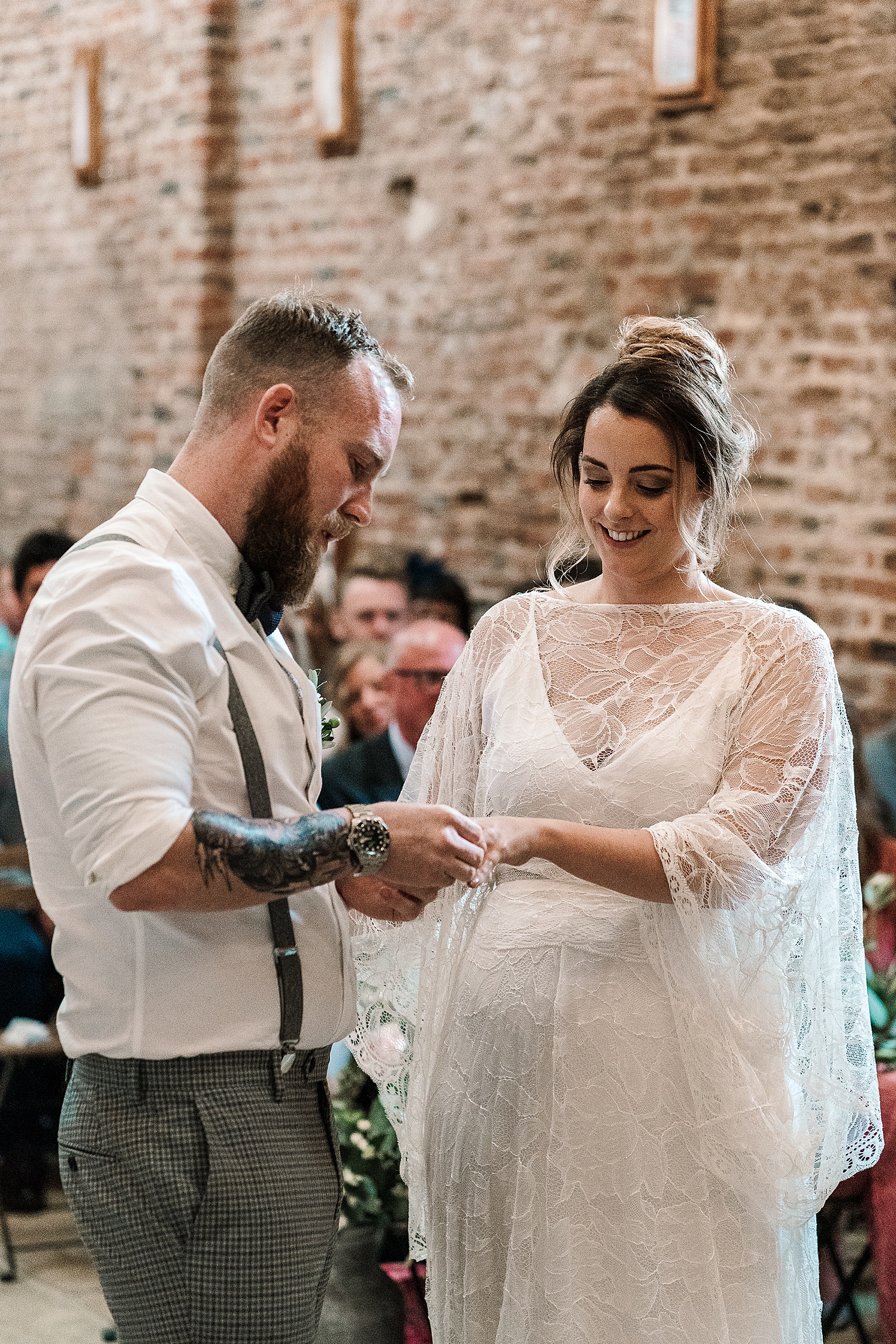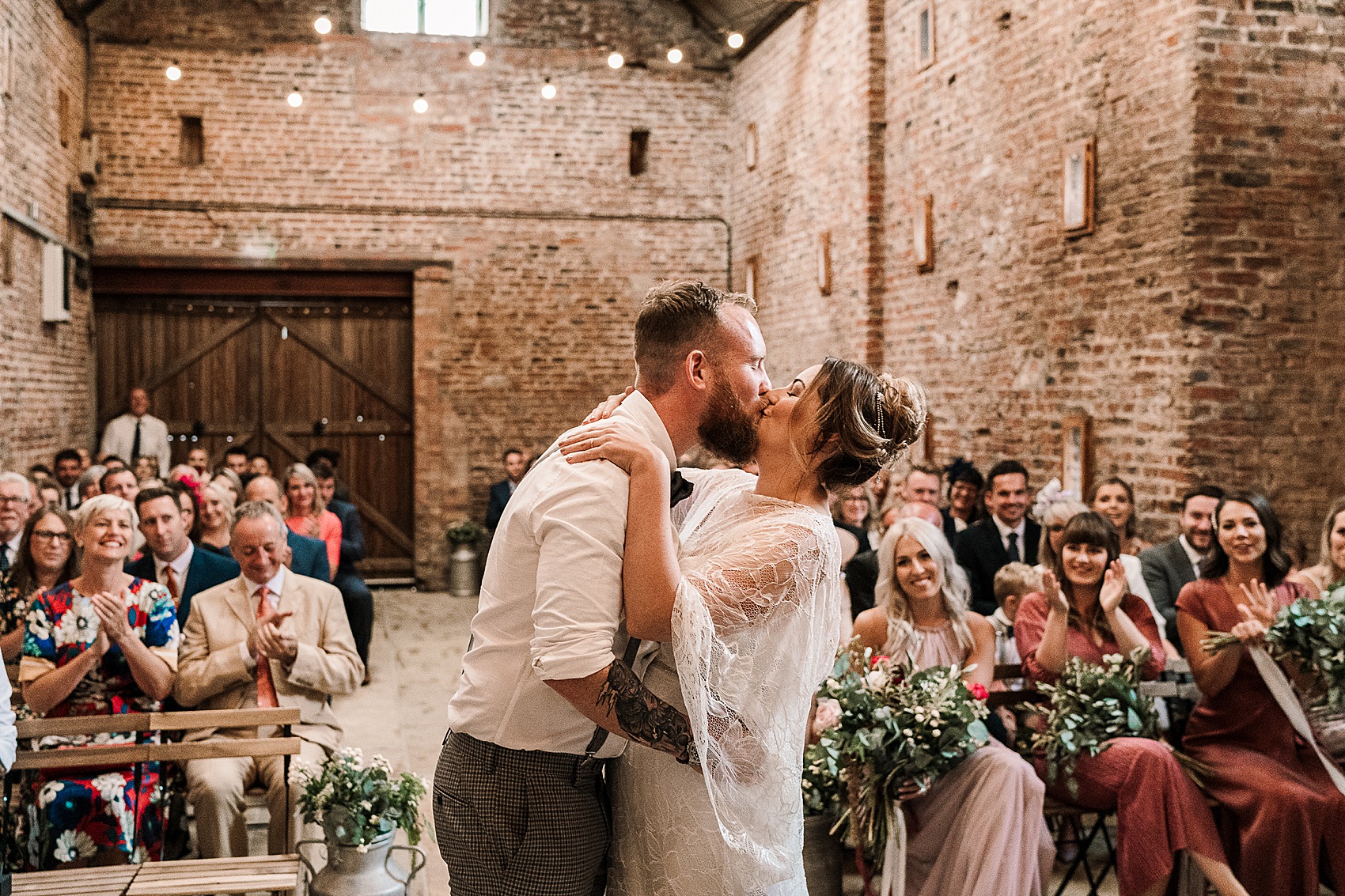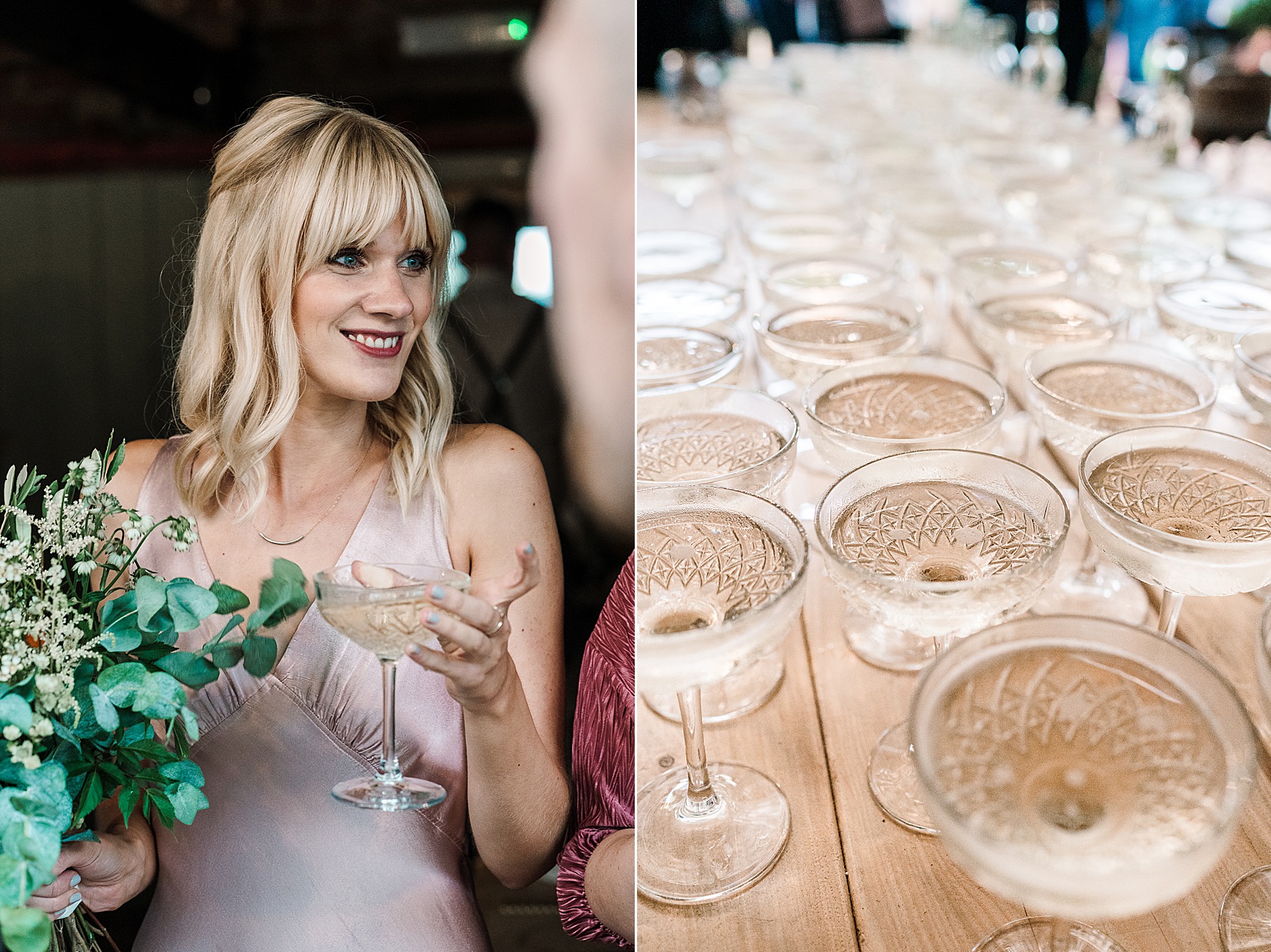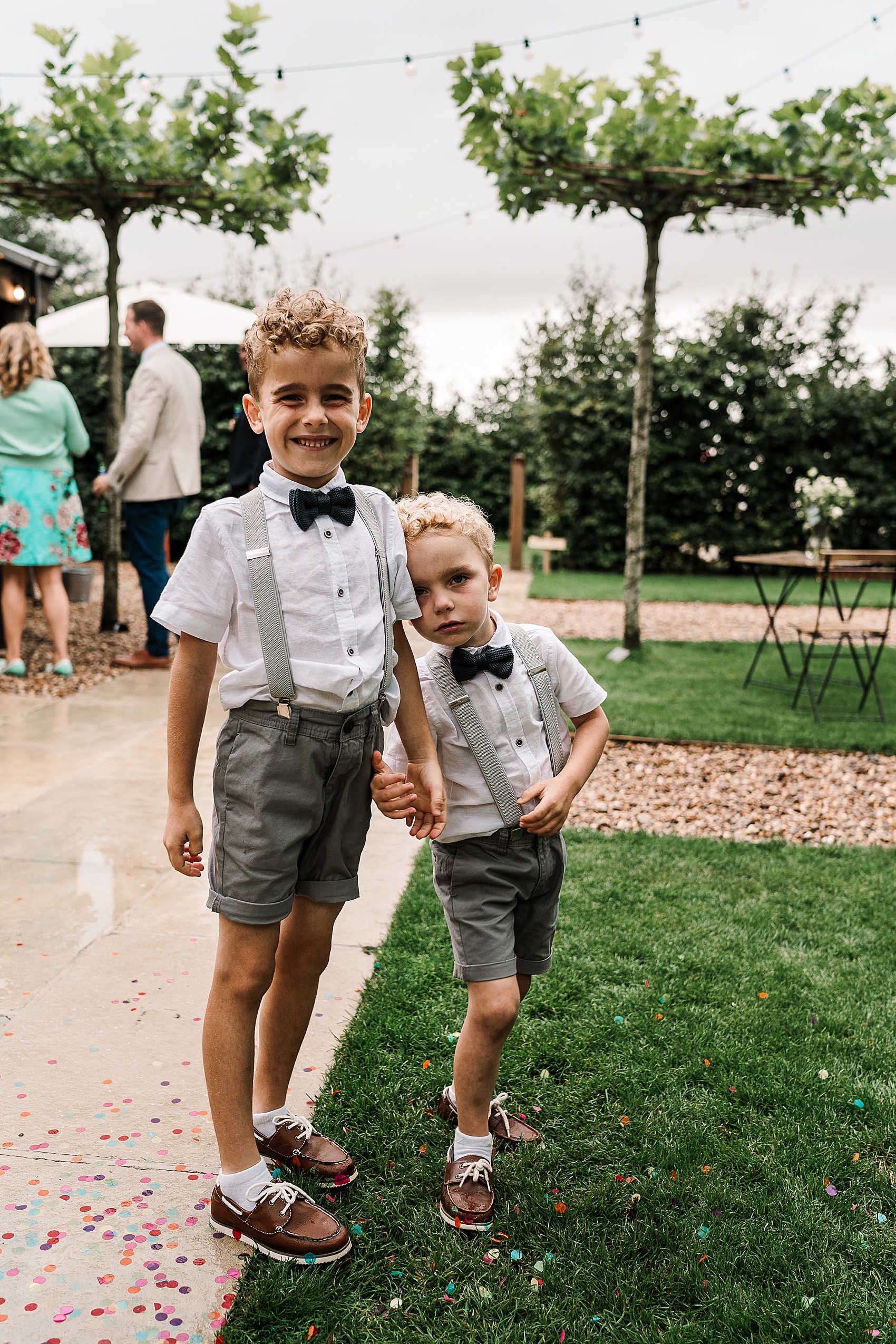 "Our florist was Gill Rogers of Flower Corner – Gill has been a family friend all my life – we have always called her 'Flower Pot Gill'."
"The flowers were a huge part of our wedding and really important to me, I had my heart set on exactly what I wanted in terms of style; very loose, long stemmed bouquets with lots of greenery, berries, textures and wild looking."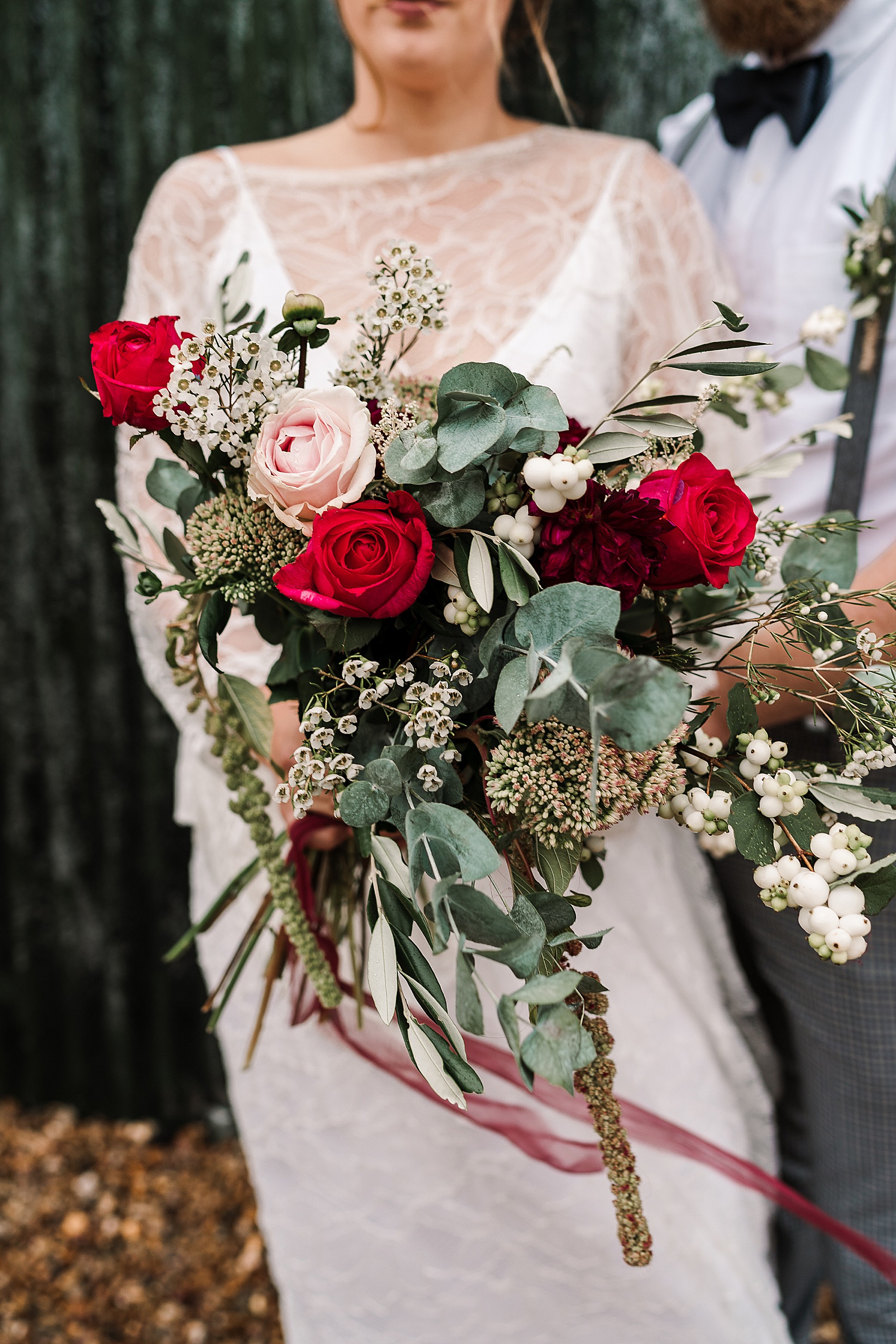 "The colours were even more specific with just white flowers and greenery for the bridesmaids and for the bridal bouquet hot pink colour pop mixed with whites, dark burgundy and lots of greenery. Gill delivered and managed to get them exactly right – I think the flowers set the tone for the whole wedding and it was everything I could have dreamed of."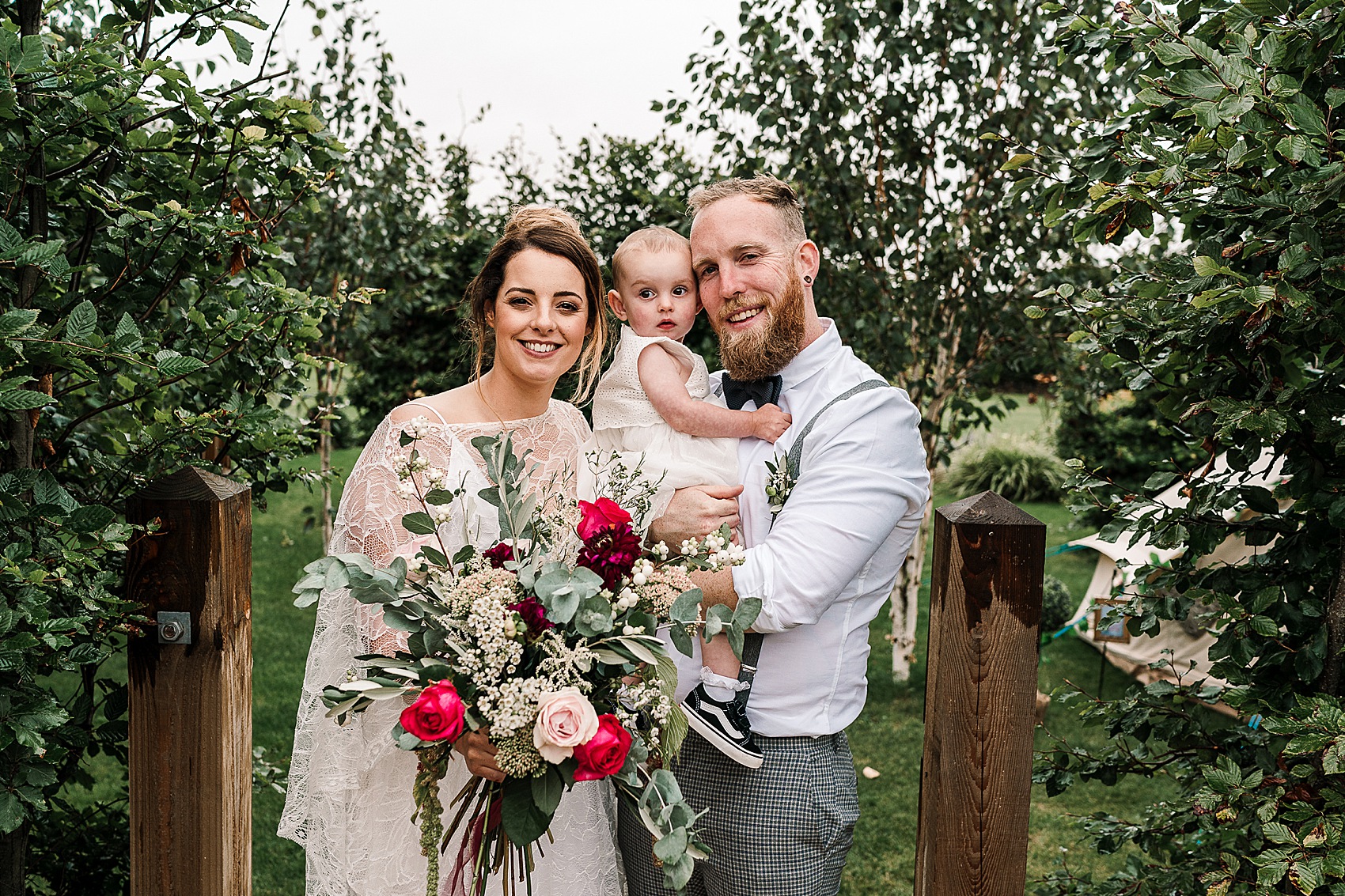 "Everything around the venue was greenery and white including a beautiful arrangement on a beam in the ceremony barn – it was stunning. We had lots of eucalyptus on the long rustic trestle tables, arrangements on milk churns and also multiple vases with a colour pop the same as my bridal bouquet dotted around the venue."
"We had two extra large hanging hoop wreaths which hung from the original barn beams – you would never have thought these were upcycled adult hula hoops spray painted and then hung with rustic rope. We choose little wax flowers and greenery for flower crowns and buttonholes – simple yet beautiful."
"We had lots and lots of brass, gold and glass candle holders a mix of new and vintage. We also had a guest book with a difference – guests could write us a message on a vintage guitar that I've had since I was 15 years old – we put it to some good use as I can't play a single chord!"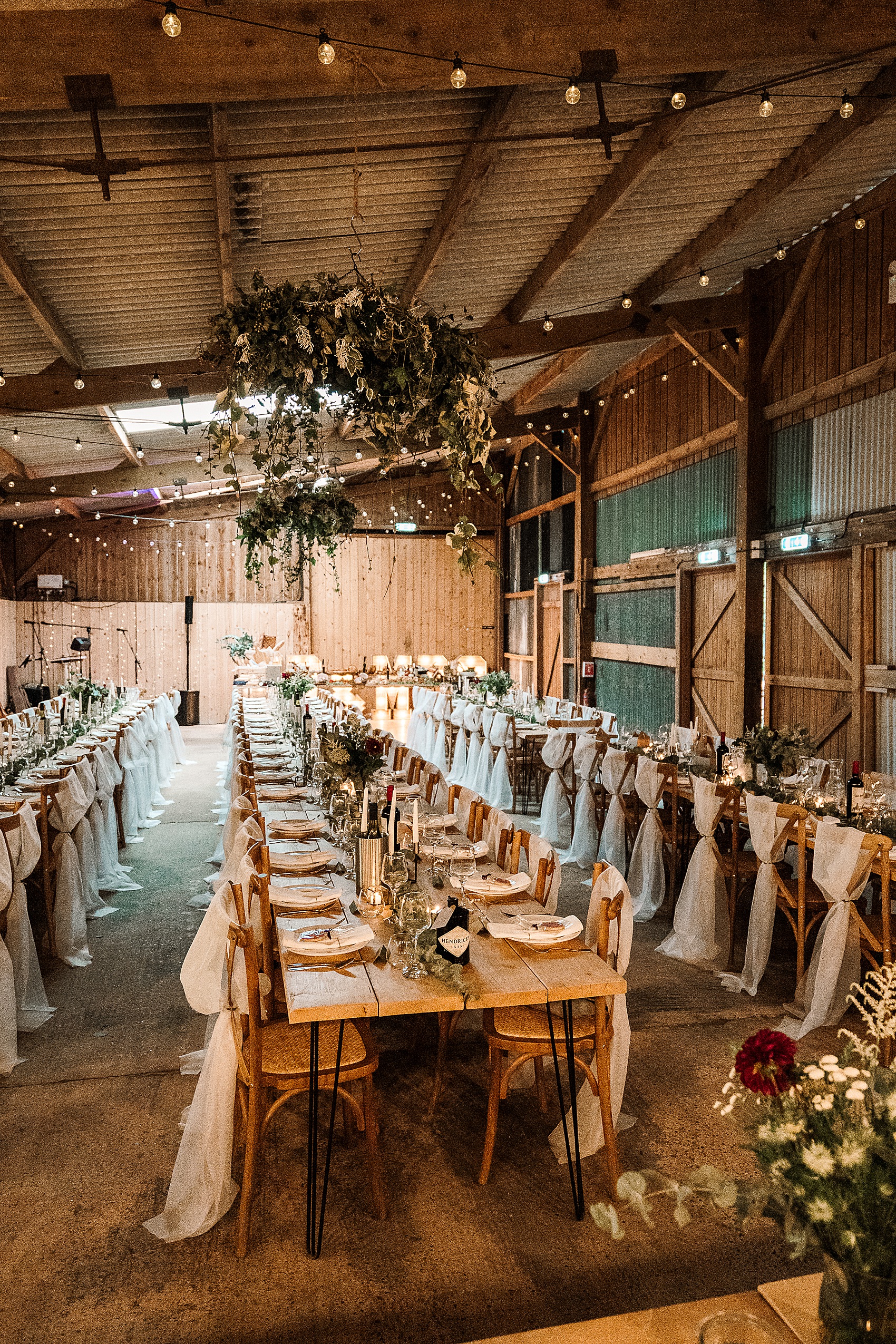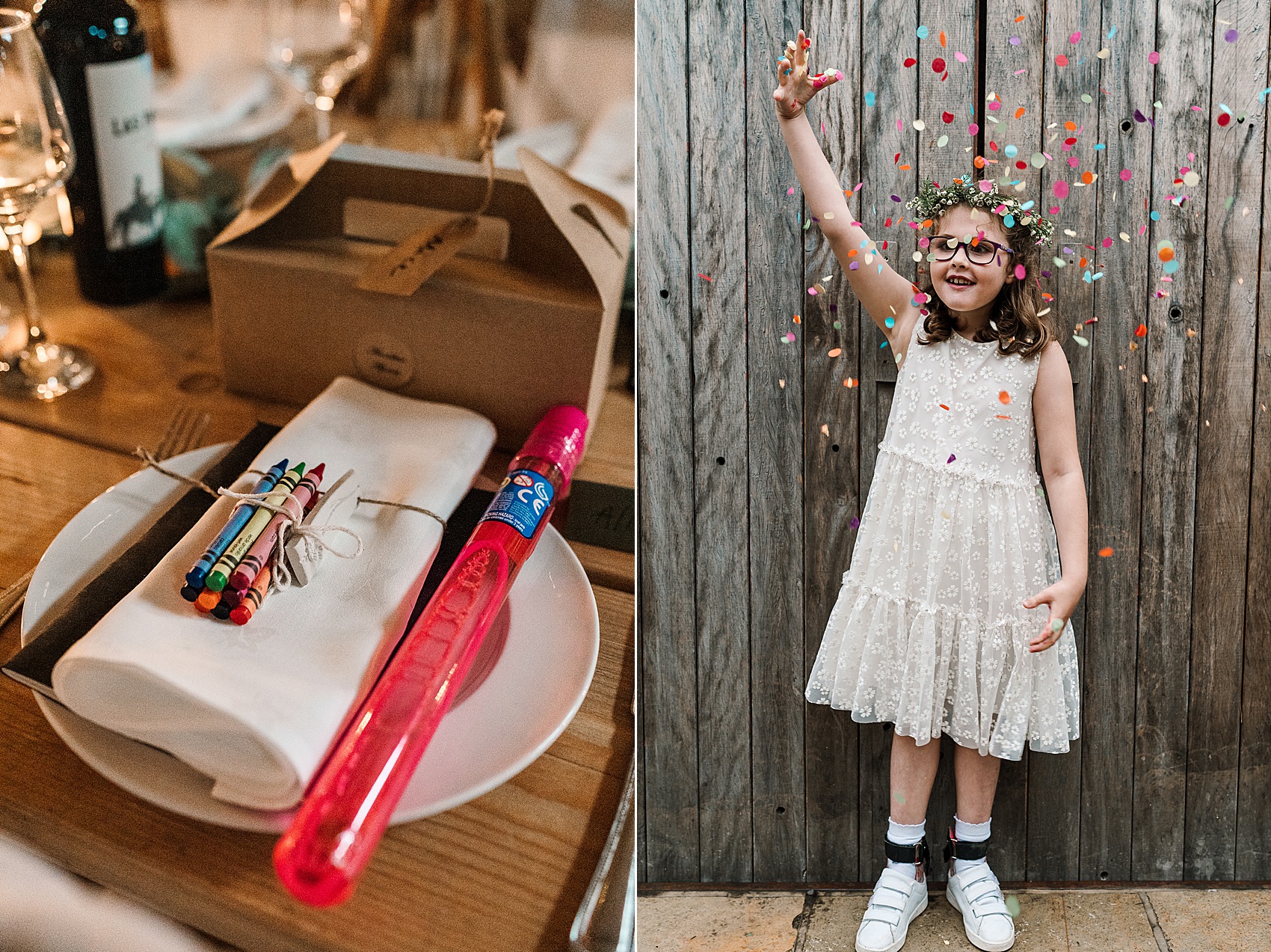 When it came to catering, the couple hired two different but equally brilliant suppliers to feed their guests; Annika's Apron catered during the daytime, and The Sausage Box covered the evening.
"We knew from the moment Annika started catering weddings that we wanted one of her rustic buffets to be an important part of our wedding. We wanted the wow factor when guests walked into the barn to sit down, and they certainly got that! It was like a feast out of Game Of Thrones."
"We had personalised pork pies with our initials, a vegan and vegetarian area, which included an edible troff with soil made from hummus and carrots –  all tiny details which Annika went above and beyond expectations. The food was just stunning and super, super delicious. I mean the pate and bread was to die for! Guests went up two, three times for more. It was literally food heaven." 
"The Sausage Box  provided delicious gourmet and speciality sausage in the evening. We loved everything about The Sausage Box Company – the converted horse box fitted the setting and venue so well and it was super relaxed. Guests could go grab a sausage as and when they pleased throughout the evening do. Throughout the years in my previous roles in marketing I worked at quite a few different food events and festivals and wanted to incorporate it by having more of a street food vibe."
"Dan the owner was great, helping us decide on the menu by recommending a variety of options suitable for my guests! We loved the locally sourced Yorkshire ingredients – a big selling point for us. The sausages were incredible – Andy was thrilled when they even did a 'Grooms' special during the evening which entailed the biggest sausage you have seen, with multiple toppings and lots and lots of cheese."
"So many guests commented on how incredible the food was which was music to our ears, as Andy and I pride ourselves on being foodies."
"We had three beautiful cakes – my sister and Bridesmaid made a scrumptious half naked chocolate cake, decorated with the most gorgeous dried flower petals and a ring of greenery for the top – it really did look the part. Nicky one of my parents oldest friends who I've know since I was born made the fruit cake – a traditional wedding cake which was a real hit with the guests and will last us until Christmas."
"Grace Eva Cakes made our beautiful white chocolate and raspberry cake with stunning hand modelled flowers and greenery which matched the colours of my bridal bouquet. It also had gold leaf decoration which took it to another level – it was super delicious too. Three completely different cakes that worked perfectly together – the cake table was a piece of art in itself!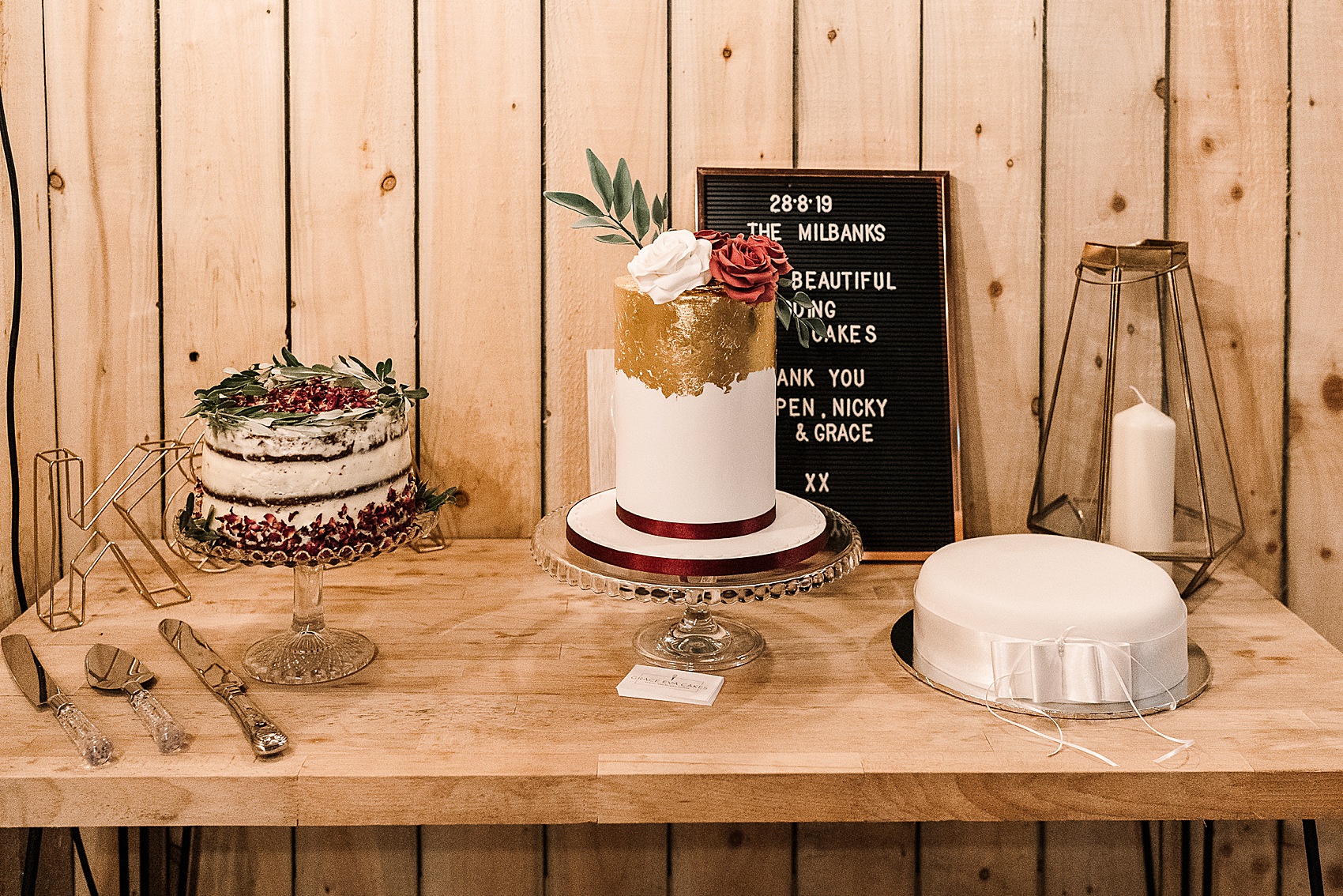 "We didn't do wedding favours as such, however Kirsty – one of the bridesmaids and I made some clay tags which we then stamped which took us hours and hours! They had an imprint of a greenery stem, a tiny detail to wrap around the napkins – it went beautifully with brown twine. Quite a few guests took these home as keep sakes which was so lovely to see."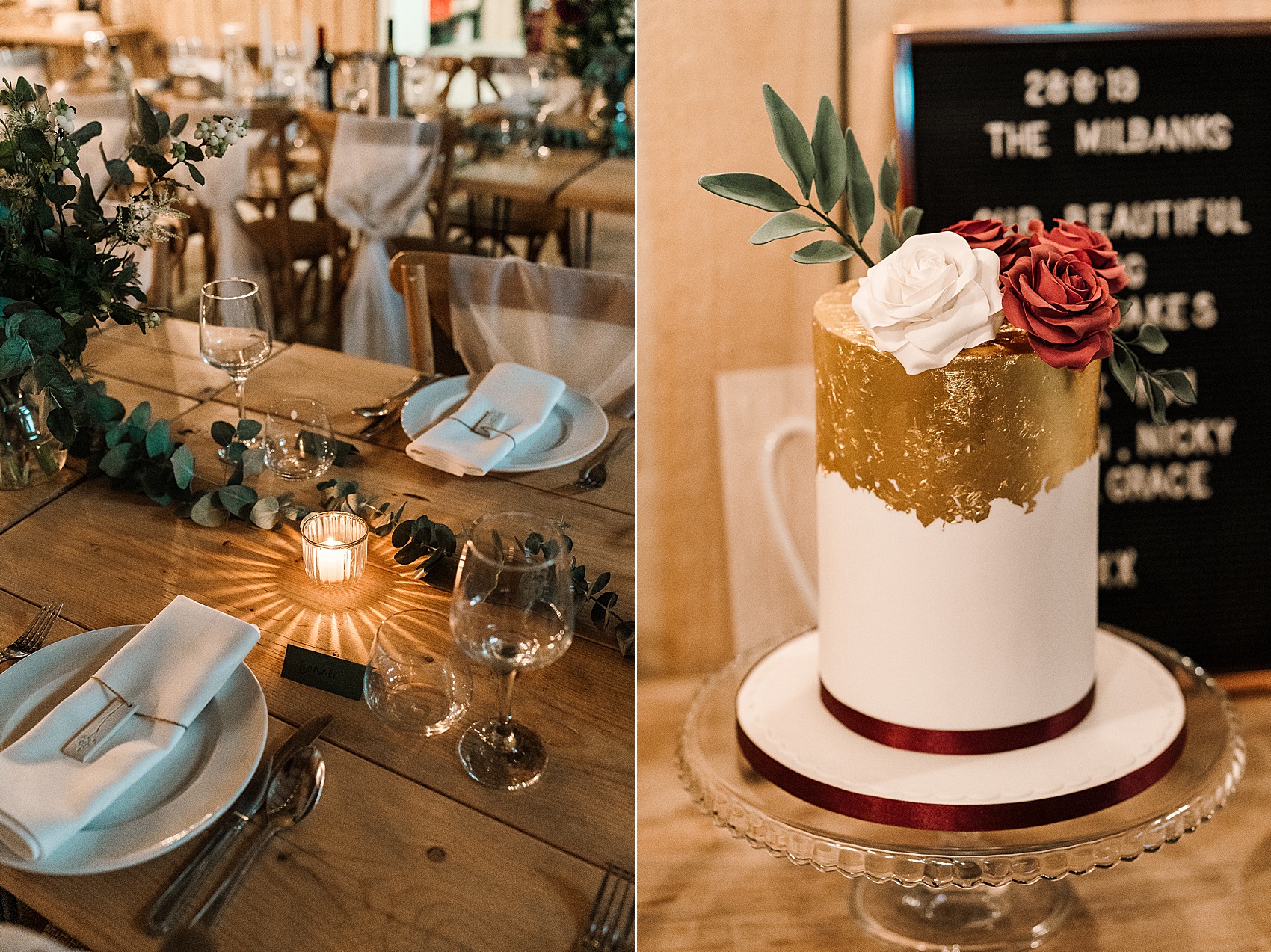 "A beautiful bell tent from Florence & Bell, full of things to do, games and colouring to keep the kiddies entertained at the reception."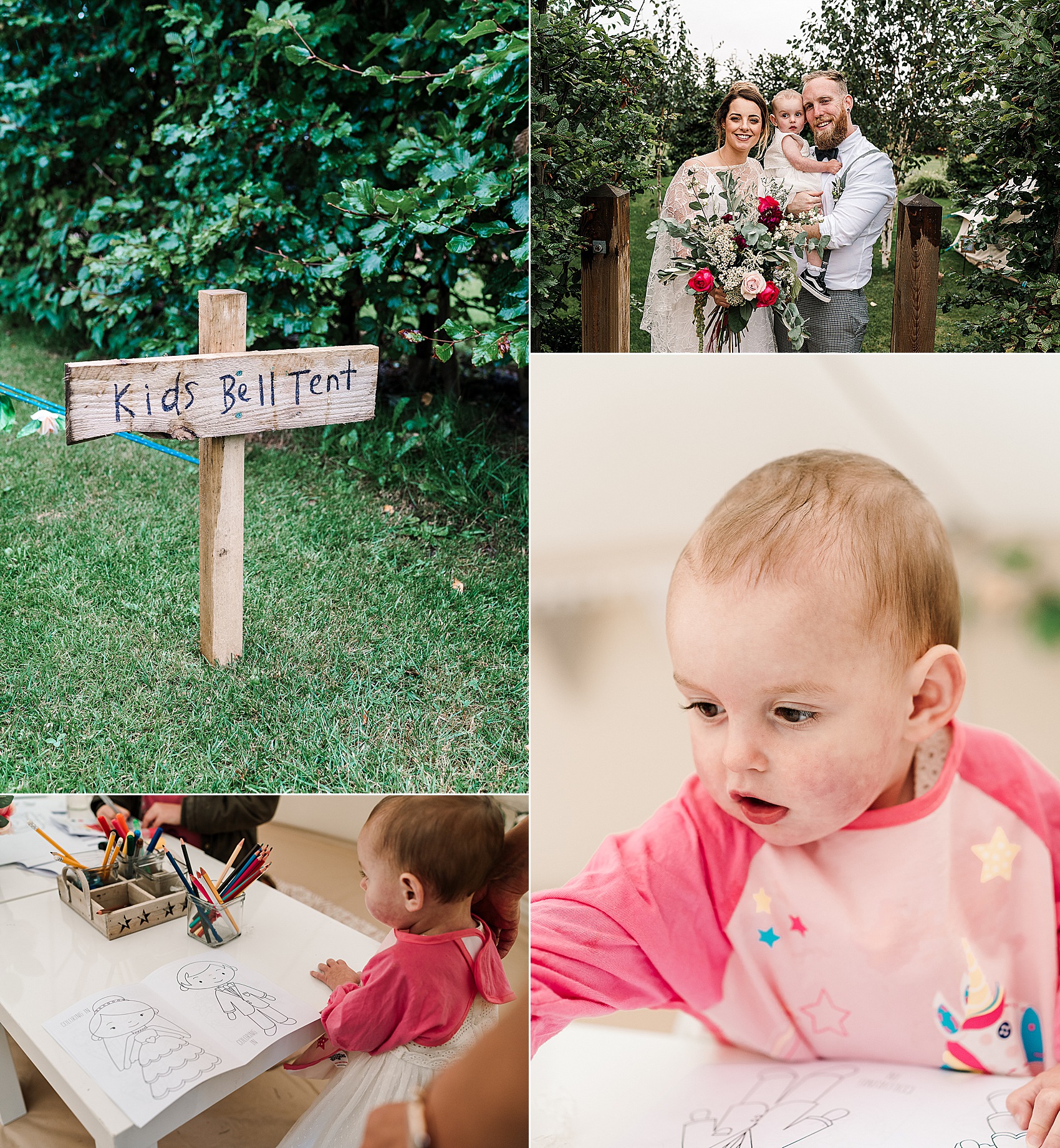 The couple's first dance was to 'Riptide', by Vance Joy.
"It's so lovely to have a song that we can always remember. Our band, Tailor & Co, were incredible – they really did make our day. A set of lovely chaps who were extremely talented, humble and just genuinely nice guys."
"They played a beautiful acoustic set at the ceremony and drinks reception and then played three more sets in the evening. They really did get everyone up out of their seats to dance, even a little bit of limbo at one point. I couldn't recommend them enough – a great band to work with."
"We had some Mr & Mrs Lights positioned on the dance floor and a wooden post-box for wedding cards."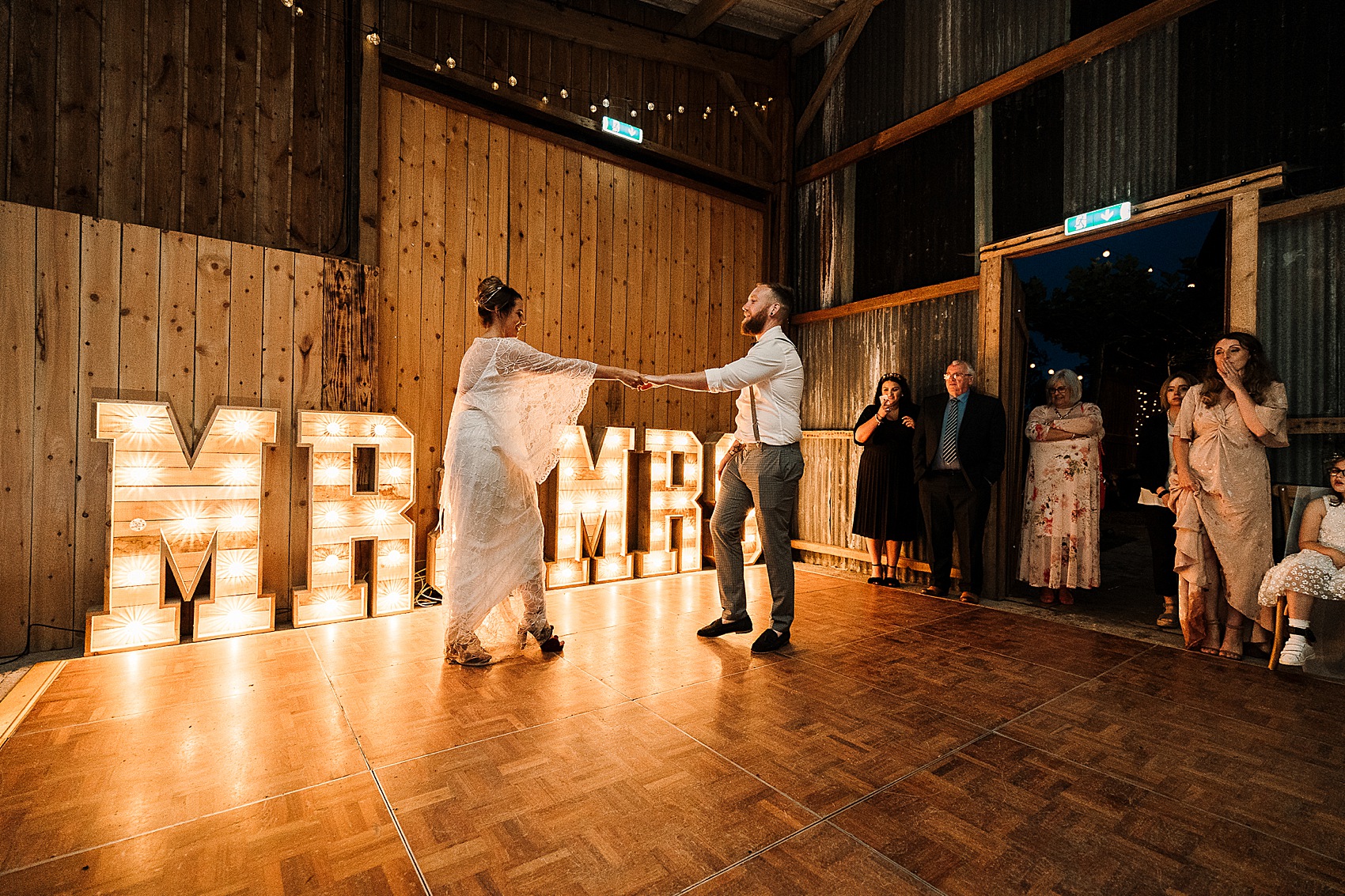 Words of Wedded Wisdom
"Try and soak up all the little moments as best you can, the big day is a whirlwind and goes so quickly; it's such a blur. Be as present as you can and try not to worry about the tiny things – I know it's harder said than done."
"In the lead up to the wedding, so many couples mentioned how important the food was – well-fed guests are happy guests was the common theme."
"We were so lucky to have such a talented bunch of family, friends and suppliers to make our big day so special."