Happy bank holiday Monday everyone – may you be discovering this beautiful wedding from the comfort of a warm bed, feeling safe and healthy.
A quick reminder for those of you worried about the coronavirus pandemic and its impact on your wedding plans – we have created these pages that we hope provide support and reassurance. You can also join our closed/private Facebook group if you are a bride, and join our Wedding Industry Action Group if you are wedding supplier.
We've already promised to continue to share inspiring weddings every day to inspire you and remind you of the wonderful gatherings, celebrations, joy and love that you can look forward to once lockdown is lifted. And on that note, I'd love to introduce you to bride Anne and groom Jeppe, and their beautiful, modern and contemporary wedding that took place on 7th September last year in Denmark.
"Overall, we just wanted to invite all our family and friends to celebrate in cool settings with nice food. That vision kind of conflicted a bit with me also being super detail-oriented and over the top. I love traditions, etiquette, values,  history and rituals."
"The process of planning the wedding was me coming up with one hundred ideas, Jeppe cutting them down to ten, me who then ran ahead with three, and finally Jeppe who ended up choosing one. This was pretty much the process for everything, from venue to flowers and confetti. Call it teamwork! It was a modern traditional wedding with a basic recipe; church, reception, dinner and party. The actual work was in planning the detail."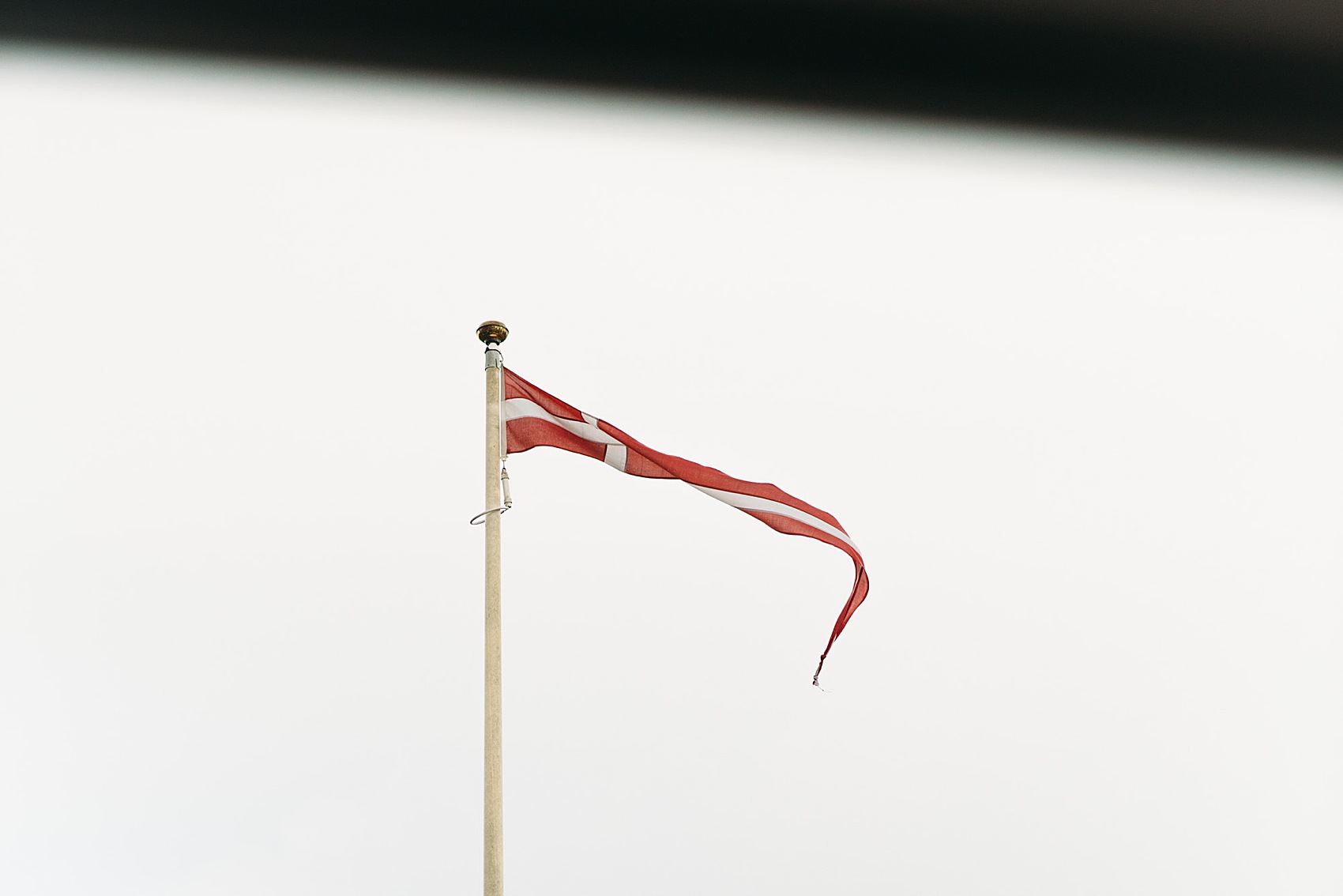 "I actually ended up buying two pairs of shoes for the day. The first pair I bought was Petar Petrov's sculptural Siri pumps in a glossy white patent-leather, but I ended up wearing Jimmy Choo's Love 85 all day (also in white patent-leather) – they were simply just nicer to wear."
The bride wore two dresses throughout the day. In the evening, she wore a dress that she designed and created herself along with her mum, but her main dress was by designer Kaviar Gauche.
"I bought my dress two weeks after our engagement on a family vacation in Berlin. I wasn't really looking for a dress at the time. I had fallen in love with a photo of Fleur Egan's wedding dress from J'aton Couture."
"First of all the dress was way out of budget, and second I had always pictured, that my mom and I would sew my wedding dress. My initial plan was to sew something inspired by the J'aton dress."
"We hadn't quite figured out the construction though, and I also found it difficult to find some laces that could create the same silhouette as the J'aton dress. We were up for a challenge."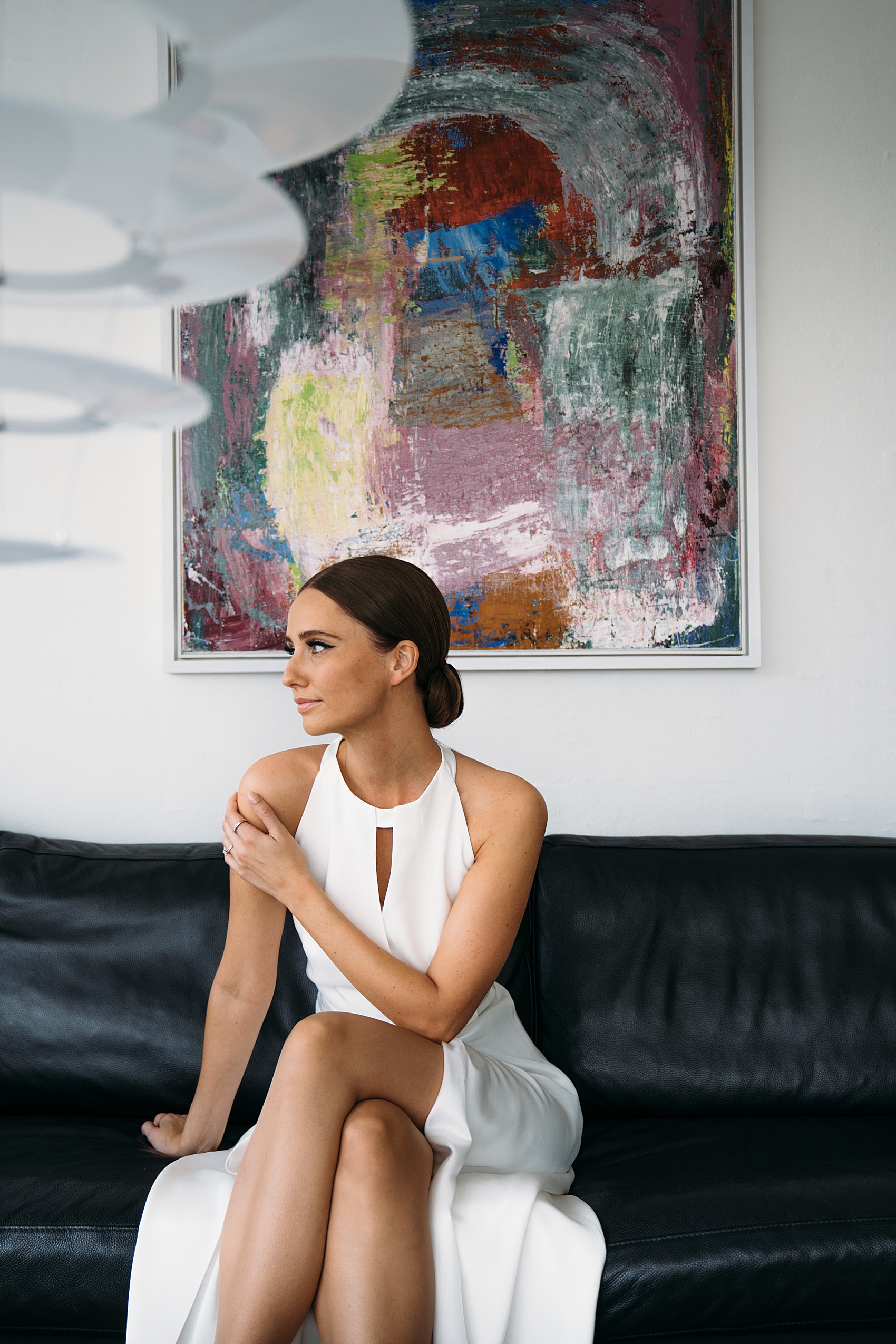 "However, I had not given up on the idea of ​​sewing the dress, so I had no expectations when I visited Kaviar Gauche with my mother and sister. The first thing I saw in there was the cape, and then that was it. I bought the cape and dress after an hour in the store. The expression was far more simple than I had imagined but the formal look of the heavy silk and clean cut of the cape did it for me."
"I went to Berlin twice the following year for fittings. They sew the dress and the cape after my measurements and we ended up with a minor redesigning of the dress. The process and the staff were extremely competent, professional and helpful."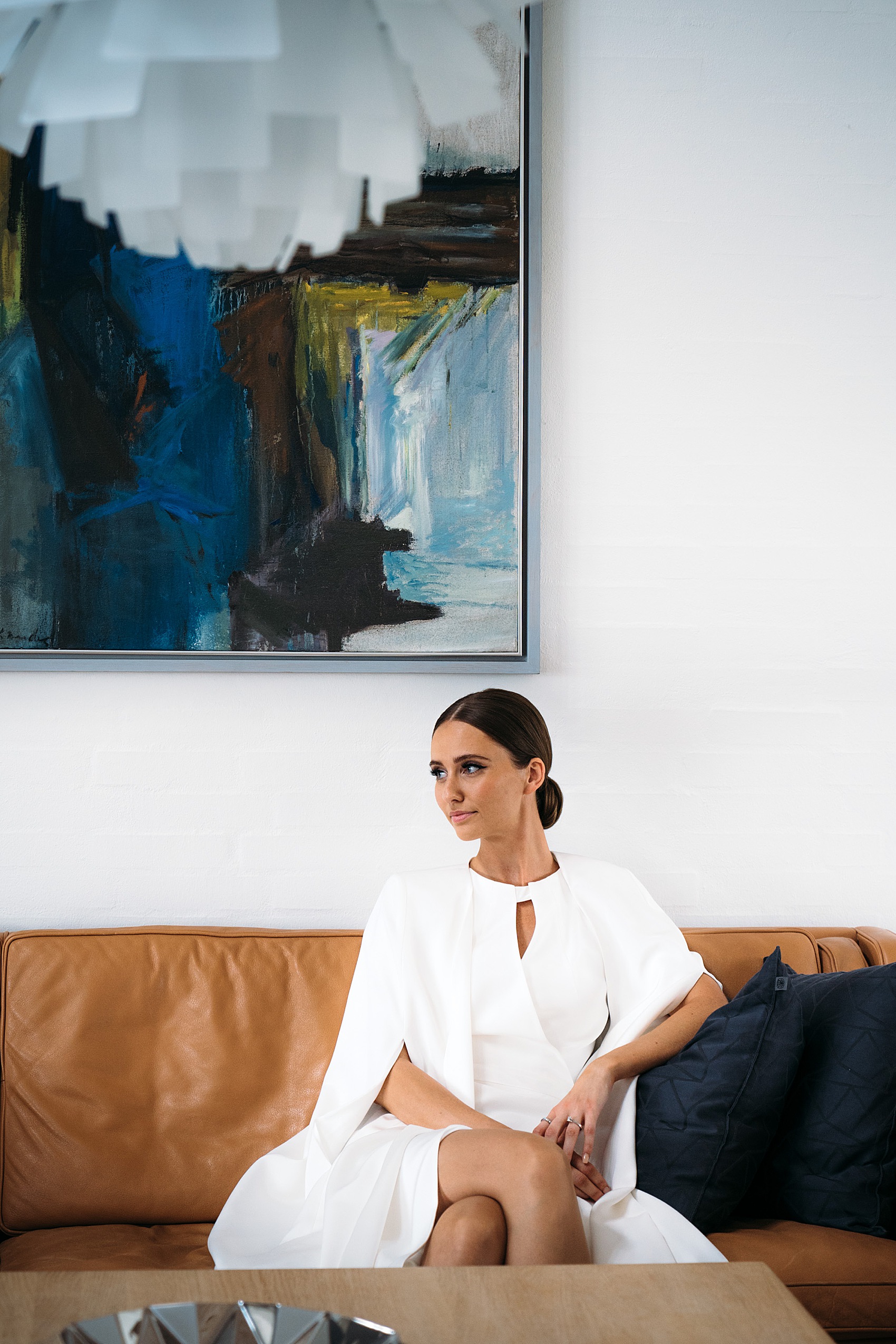 "Initially, I imagined a huge flower hat with the shape of an afro in violet pea flowers, but practically it didn't work. It had to be made on a bathing cap, and then the flowers would last only the first half of the day. It just got too difficult."
"Instead I went with a hairdo which is quite similar to my everyday look – except for the big Chanel bun, which required some serious skills from the hairstylist since my hair was on the verge of being too short."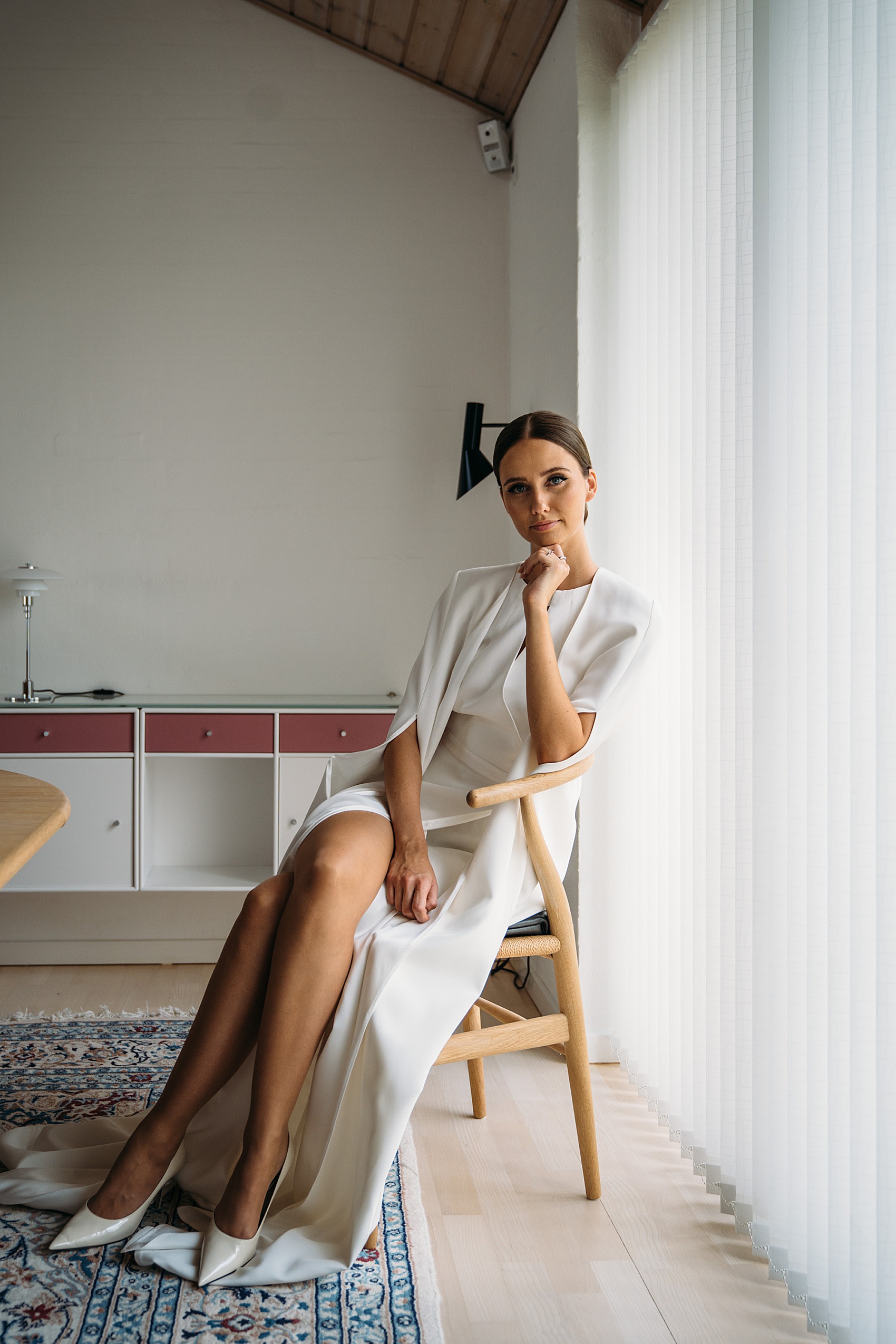 "For something 'borrowed' I loaned an eternity ring from my mother and wore it on my index finger at the same hand as my engagement ring. Jeppe designed the engagement ring together with one of my best friends. Her mother owns a  jewellery store and got the ring made by her jeweller."
"Jeppe wanted the ring to be simple with a twist and chose a rectangular brilliant on a high socket creating air between the finger and the stone."
"The ring is white gold and shaped as a triangle to ensure it stays in place with the stone in the middle of the finger."
"My sister in law (on the left) wore a long floral dress from Rotate Birger Christensen, with a black waist belt. Fun fact: the Crown princess of Denmark, Mary, wore the same dress to an event just a couple of weeks prior."
"My mother wore a floral knee-length Dolce & Gabanna dress in all her favorite colors. She wasn't able to try it on before she bought it and ordered it a size too small. Suddenly the dress started to sell out online, and she ended buying it two numbers too big because it was the only one left. Luckily she managed to sew it in so it fits her perfectly."
"My sister wore a polka-dotted knee-length dress from Barey Collection for the reception with these big '80s inspired shoulder pads. She originally wanted to style it with a big hat, but the week before the wedding, she chopped off 40 centimeters of her hair and rocked her new bob instead. After the reception she switched to a custom-made dress from the Madrid-based designer Reveligion, who she found on Instagram and who make these amazing tulle layered dresses in endless colours.
"For the flowers I had a pretty clear vision inspired by the Japanese ikebana tradition. I gave the florist a mood board with flower arrangements and six different colours."
"From there the florist, Bang & Thy, did an amazing job in picking the right flowers and arranging them. The bouquet she made for me was next level. She made matching and unique bouquets for each table and each flower girl."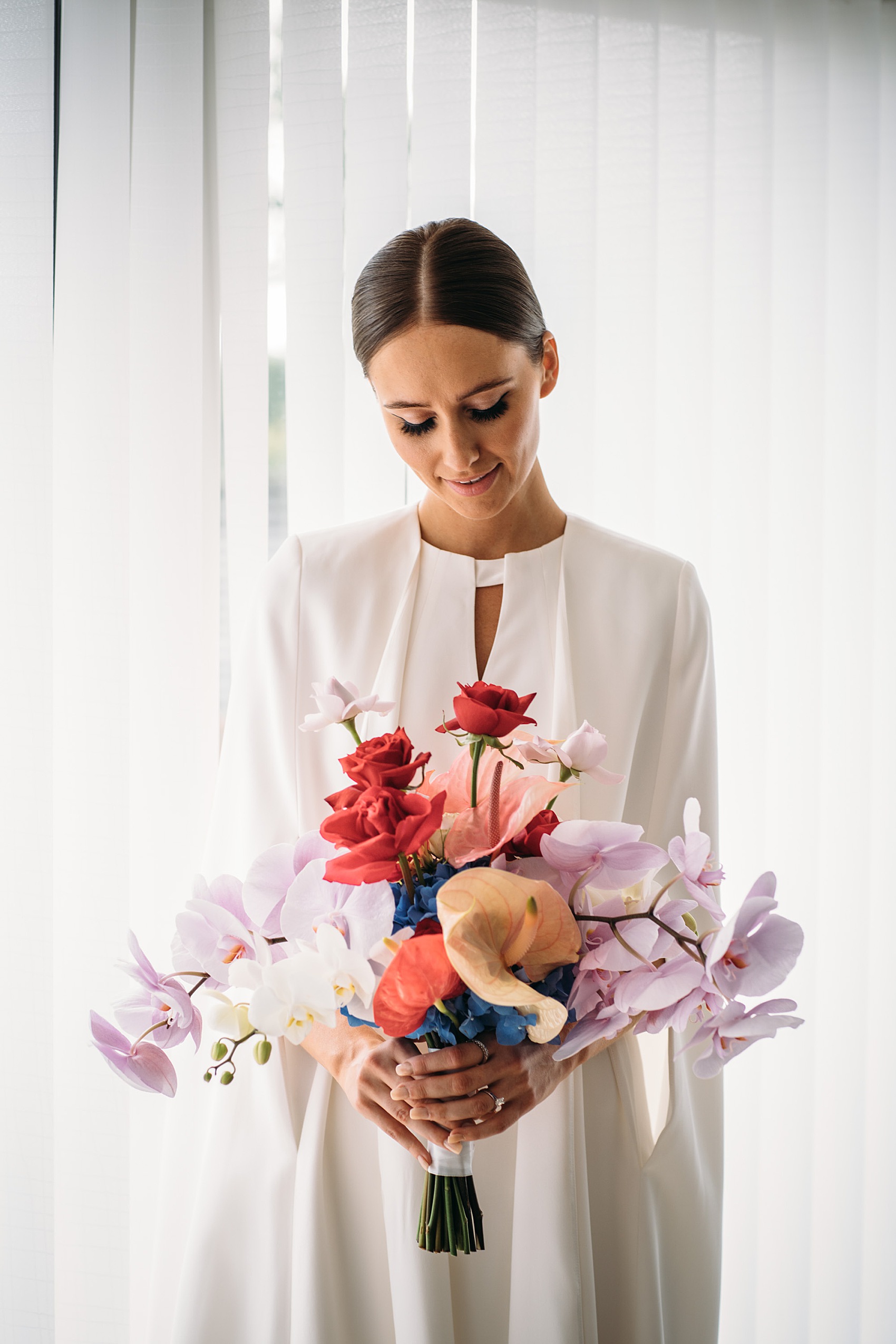 "Jeppe was keen on a tuxedo but not quite into the black and white look. He ended up with a blue 'Jerald Smoking' from Tiger of Sweden, with big black labels and a black silk self bow tie. For the buttonholed flower he wore a voluminous and puffy white rose in full bloom with no greens or extras. It looked insanely cool, almost like a styled silk handkerchief. The only downside of the flower was the vulnerability – it looked a bit wilted at the end of the day after the many hugs."
"Jeppe's best friend and best man Nicklas twinned up with Jeppe wearing the same shoes and a quite similar tuxedo, though in black, also from Tiger of Sweden."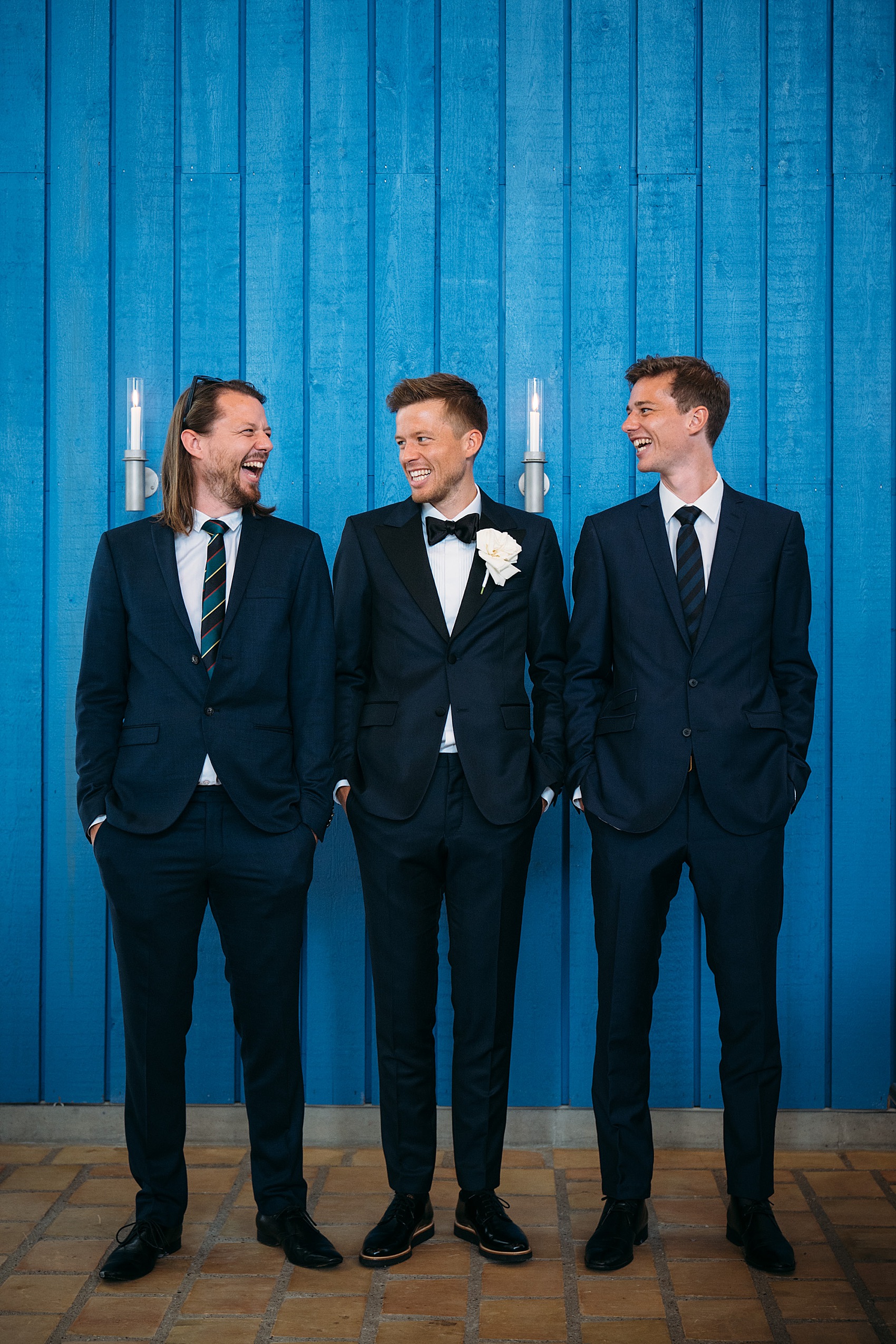 "Jeppe and I were classmates. We had the same class in our first year of studying Marketing Economics. At one point we went to class together, lived together and were in the same study group."
"Too much? Later we chose different Masters degrees. The year we finished our Masters was the same year Jeppe proposed."
"My mom and I designed and sew the dresses for the five flower girls. Four of them are my nieces and one of them my goddaughter. One design for each – mostly because the process of sewing them was funnier if it was not five identical dresses."
"It also made the decision process much easier because we had the opportunity to try different ideas. We found this beautiful raw silk fabric in a bright pink colour and styled it with braids and different white sneaks that the girls chose themselves."
The bride's father accompanied her into the ceremony.
"The church was magical and without comparison the best part of the day. Seeing each other and just being present. Also, the weather was pretty bad; it rained most of the day with only a few moments of sunshine."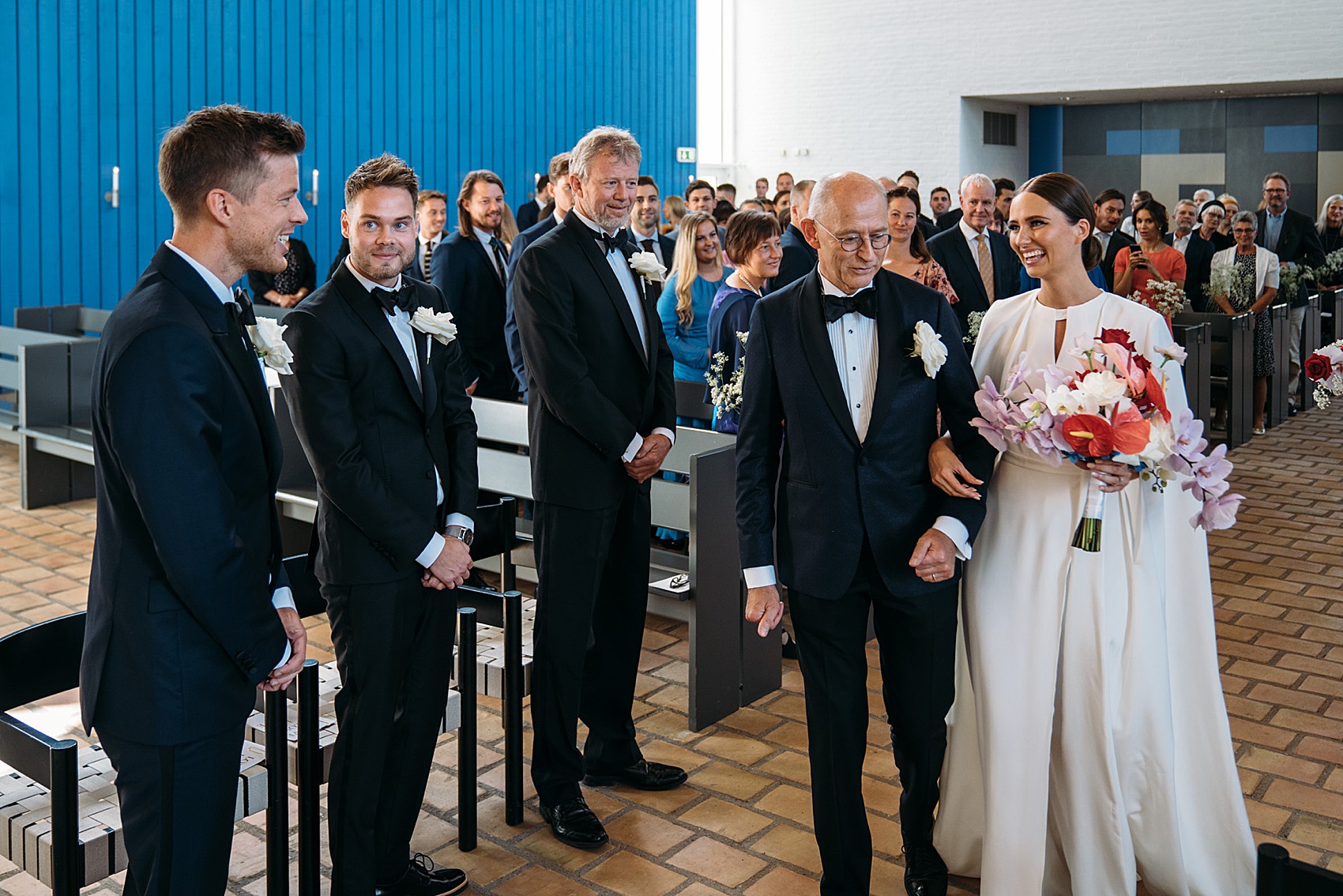 "The church was decorated with pink hydrangeas from my parents' garden and white baby breath down the aisle almost creating the effect of small clouds."
"At one point during the reception, the sun came out, and it was spontaneously arranged that I threw the bridal bouquet on the restaurant's rooftop, where we originally should have held the entire reception (if the weather would have allowed it)."
"It was amazing up there with the sun, all the colourful dresses and my best and most pregnant friend grabbing the bouquet. She gave birth a month and a half after the wedding."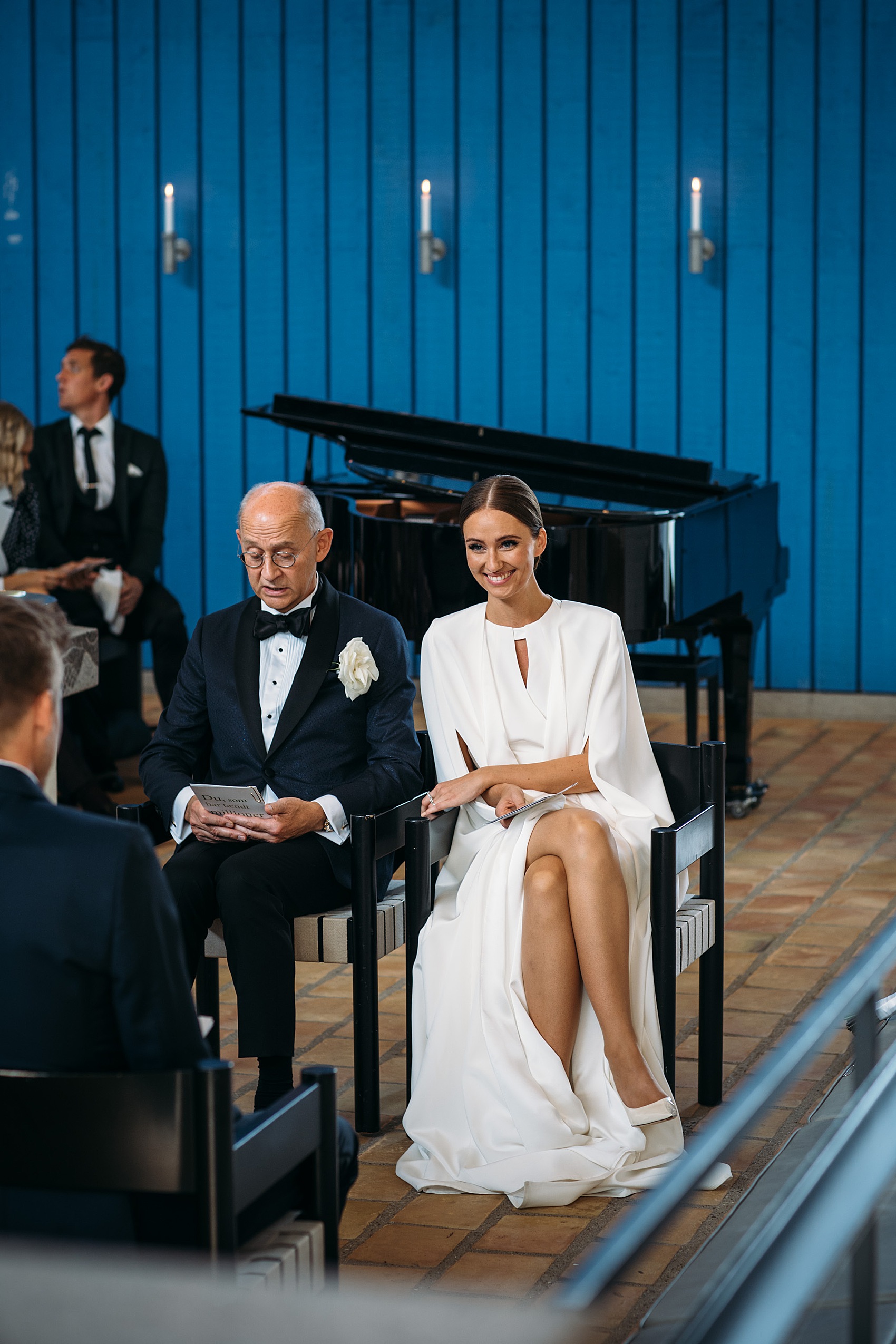 "We got married in the church where I am baptised. It's located in a suburb of Aarhus (the second-largest city in Denmark) where we live. The church is pretty atypical – it was built in the 1980s and was designed by the architects 'Friis and Moltke'."
"The church is contemporary, raw and honest in its sculptural expression and with its bright coloors. I would love to live in a house designed by the same architects one day."
"We got the rings made by the same jeweller, who made my engagement ring. Jeppe went for a classic gold ring with our wedding date and my name engraved on the inside. I got two rings which I can wear separately or together."
"One is in gold with Jeppes' name and our wedding date on the inside. The other is a slightly larger silver ring with our initials 'JA' engraved on the outside. In English, 'JA' is translated to 'YES'. That's a pretty spot on symbolism for the occasion, right? Ha. Yes, to each other!"
"We hired a few guys to play and sing at the church. We wanted it to be upbeat, happy and light, so we went for a cheesy classic with a trumpet – 'I can't take my eyes off of you', by Frankie Valli. It surely did lift the roof and was my first time clapping in a church!"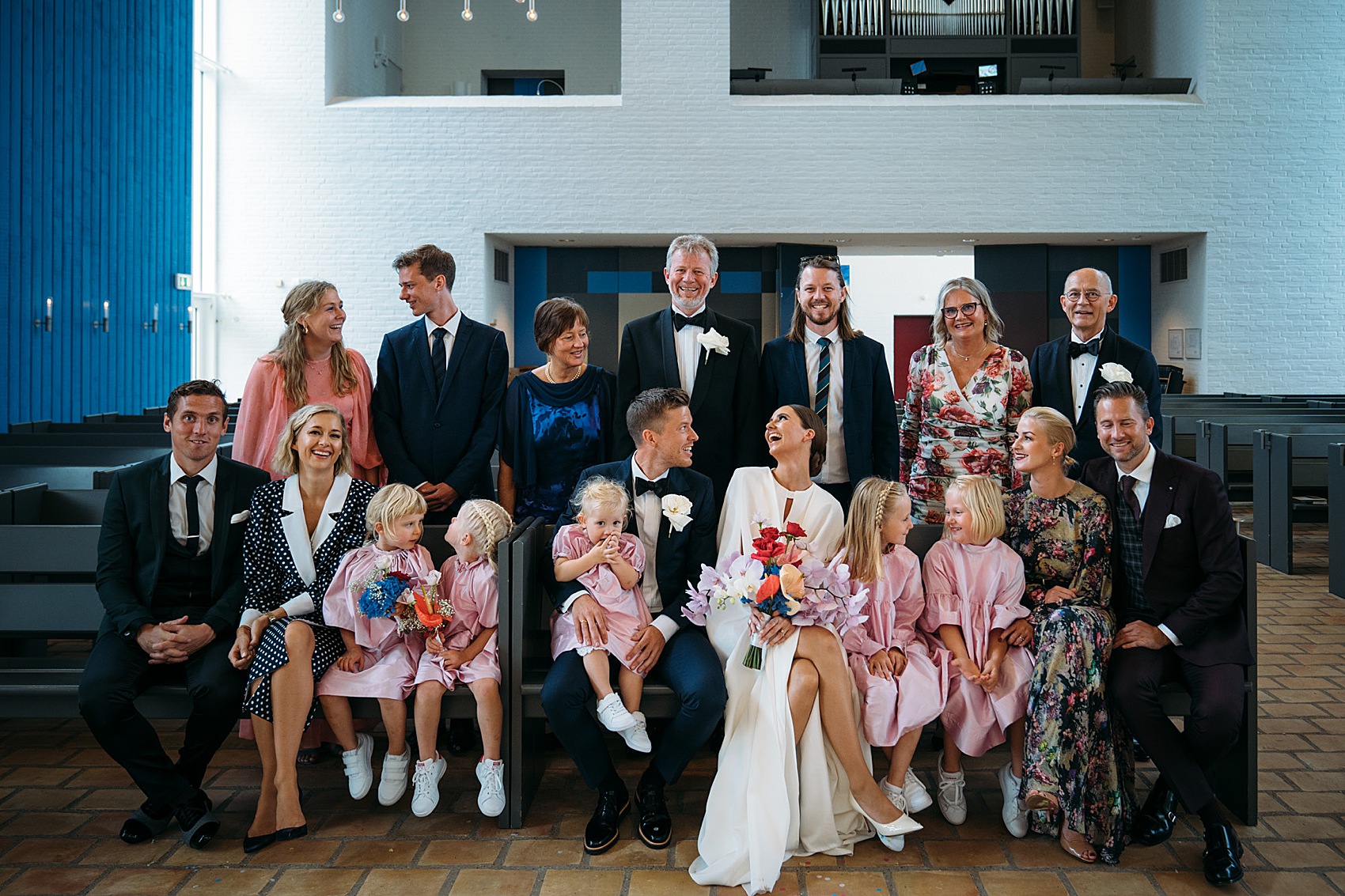 The couple hired one of my favourite ever photographers (who I became pretty smitten with after sharing this unforgettable wedding), the talented Joanna Bongard.
"Joanna Bongard was probably the best money we spent. I'd stumbled upon one of her photos randomly at Google. I fell for her aesthetics and combination of documentary and editorial style with natural colors and playful lights. She has an eye for detail, both when it comes to clothes and decorations, but also when it comes to moments and situations."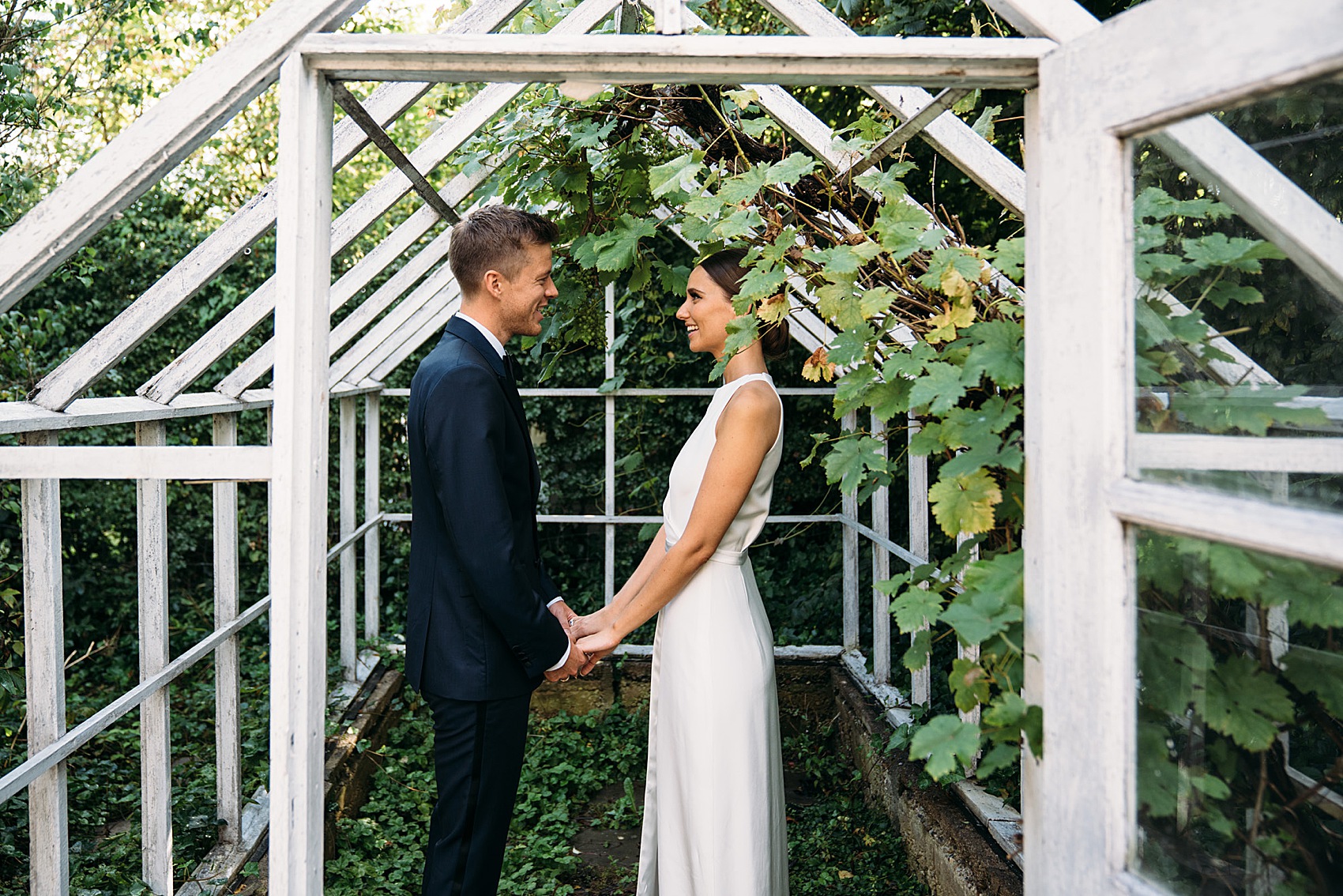 "I first looked at street style photographers to get the look of these effortless situations in movement, but I found it very reassuring that Joanna is used to photographing weddings. Both in the dialogue up to the wedding, but also on the very day, she was full of ideas and knew just where to be and then."
"She was an absolute star throughout the whole day working 14 hours and coming straight from the airport. She completely blended in and at the same time she had a tremendous positive presence making everyone feel their best -even us, who are not particular fans of having our pictures taken.
We are extremely grateful for the moments she has captured."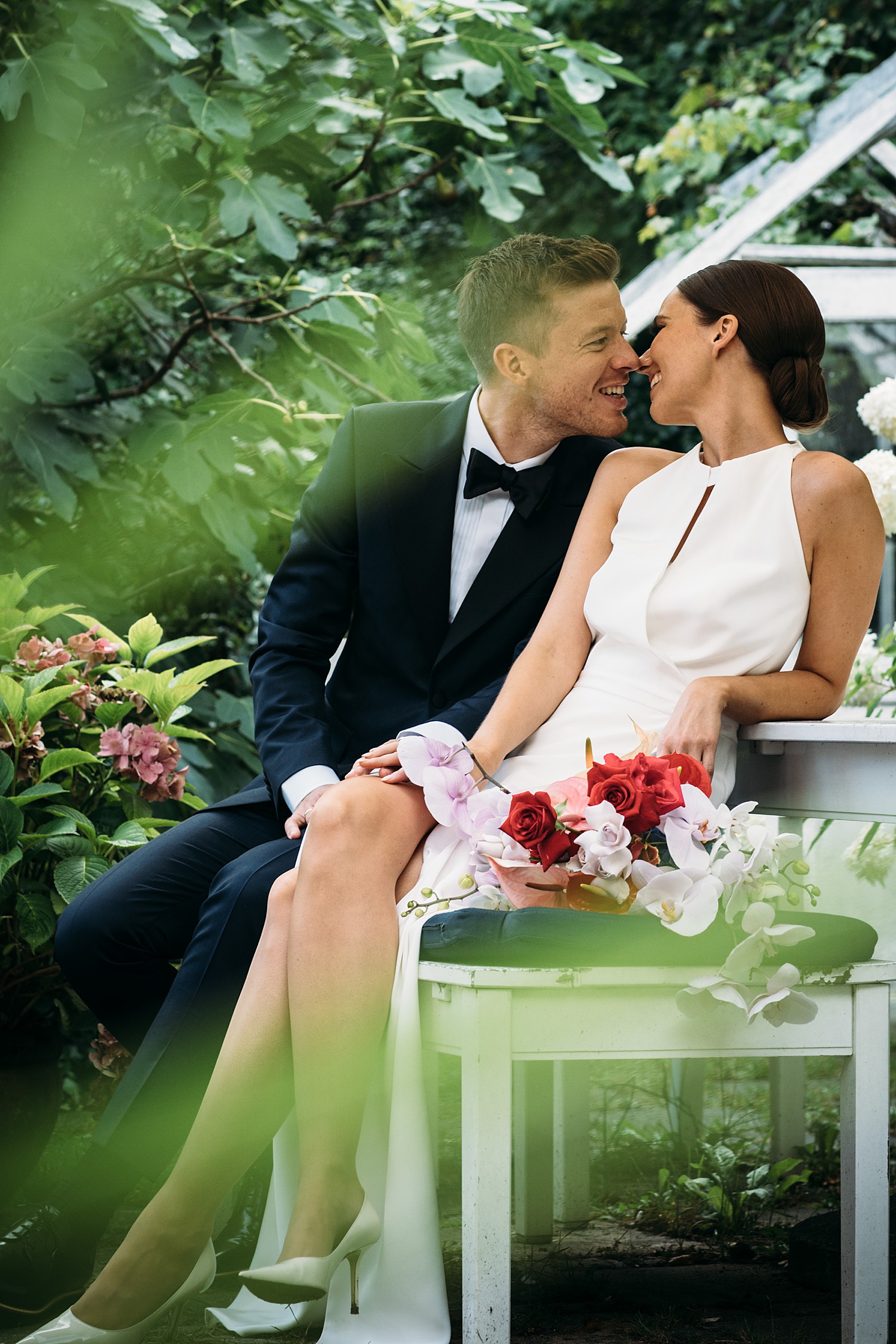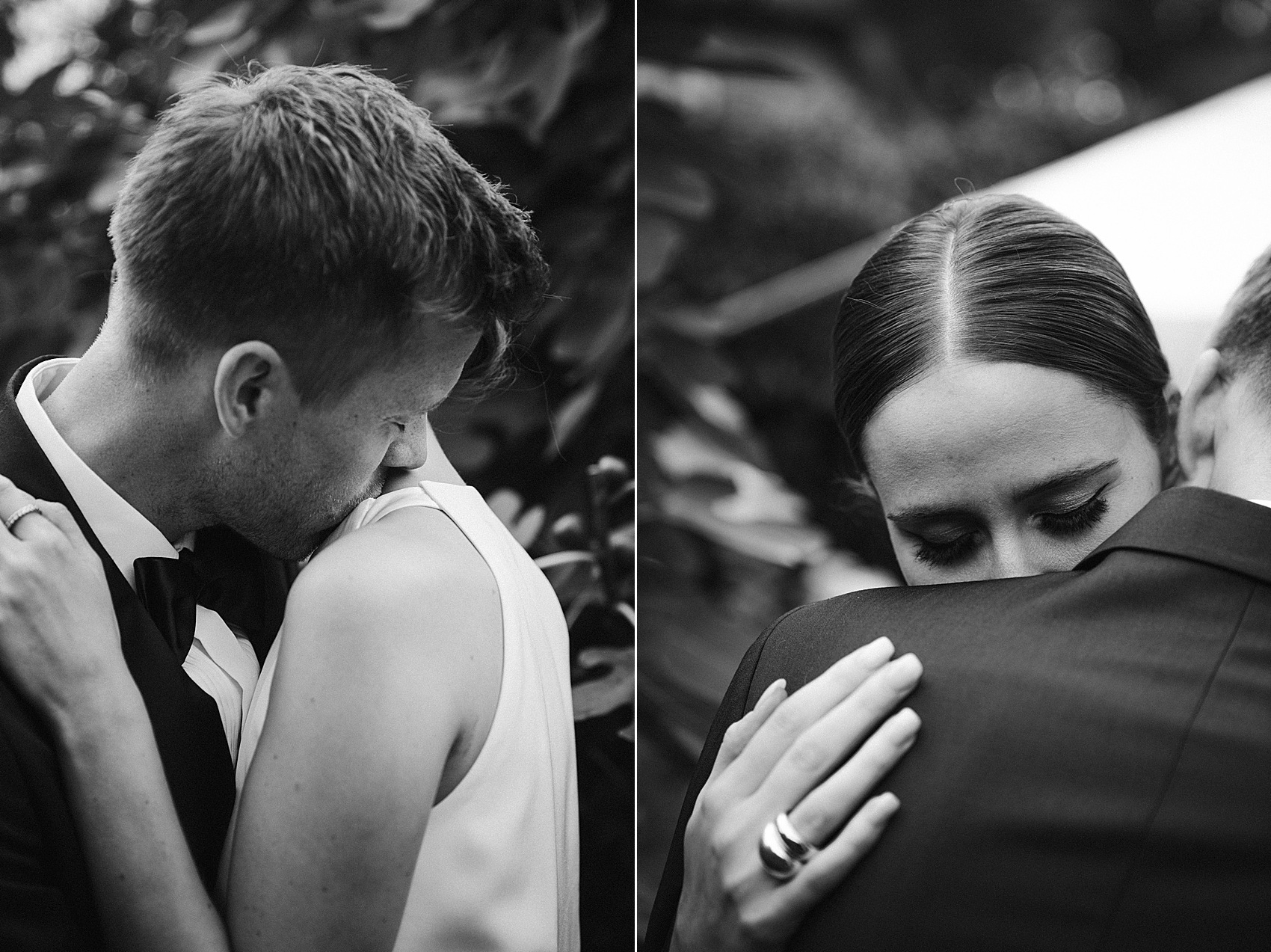 "After the ceremony, the entire party met up at 'Pakhusene' at Aarhus harbor, where we held the reception, dinner and party at the same venue, Martin IB. Aarhus is a port city and in recent years a new area has been built at the harbour."
"It is a mix of different architecture and it still appears partly as a building site with Michelin restaurants, penthouse apartments and low key greenhouses."
"It kinda felt like a familiar choice for us – we live just next to the area and it was easy for the guests to get there after the church. Also, the venue is pretty cool with one side covered in timber cladding and the other side as glass windows."
"Our venue, Martin IB, describes itself as an 'Aarhus-based food circus with high-quality gastronomic food'. The hallmarks are modern gastronomy as well as classic dishes in new interpretations. It is creative food presented through various concepts. During our consultations over the menu, we asked them to make the dishes fun – we ended up with 7 courses where one for example was presented as a nugget and for dessert we were served a bramble instead of wine."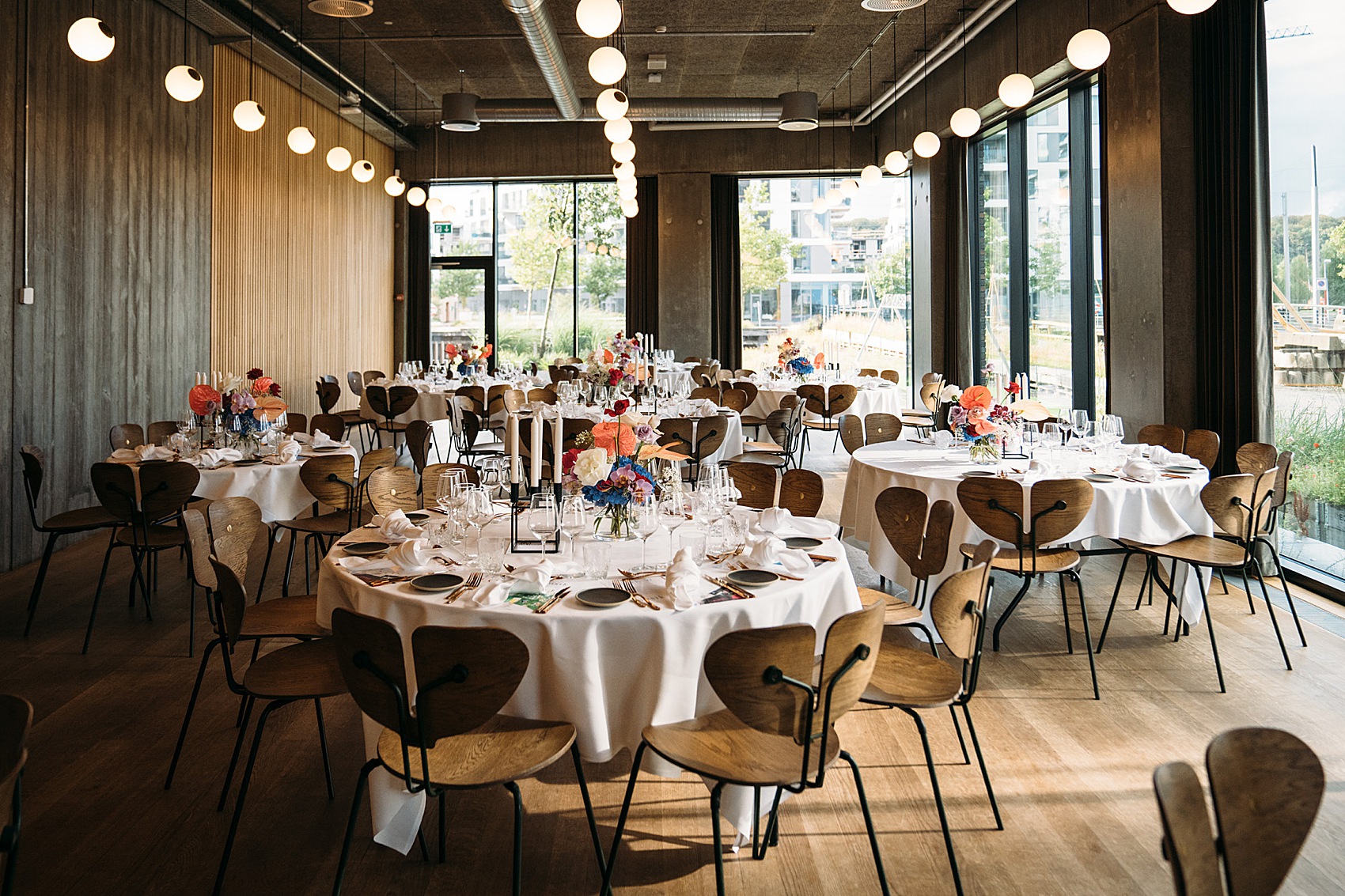 "The many dishes gave a nice flow through the long dinner and acted well as 'happenings' between the many speeches. The kitchen and staff managed to coordinate and do all seven dishes plus 11 speeches before midnight!"
"At daylight, we were looking out at the harbour, the greenhouse and the building mess, and when the sun went down, the windows almost turned into mirrors reflecting the lights from inside."
"We didn't go bananas with the cake. We had pavlovas in different variations with toppings as salted caramel, berries and liquorice. One of our best friends, Heidi, made one of the cakes, which made it more personal for us. Also, she promised to make us the cake again at our first anniversary.
The rest of the cakes were made by the catering Martin IB."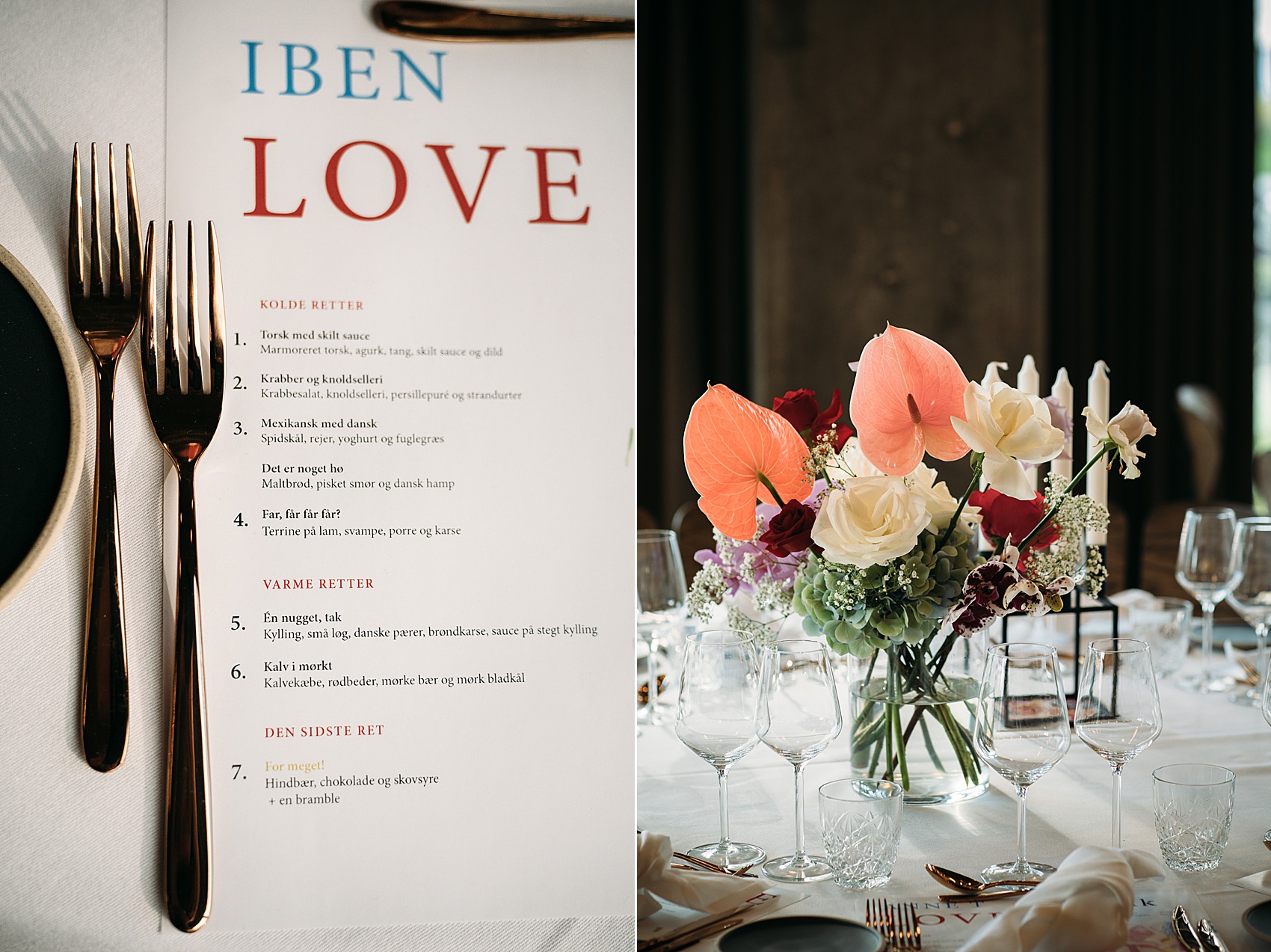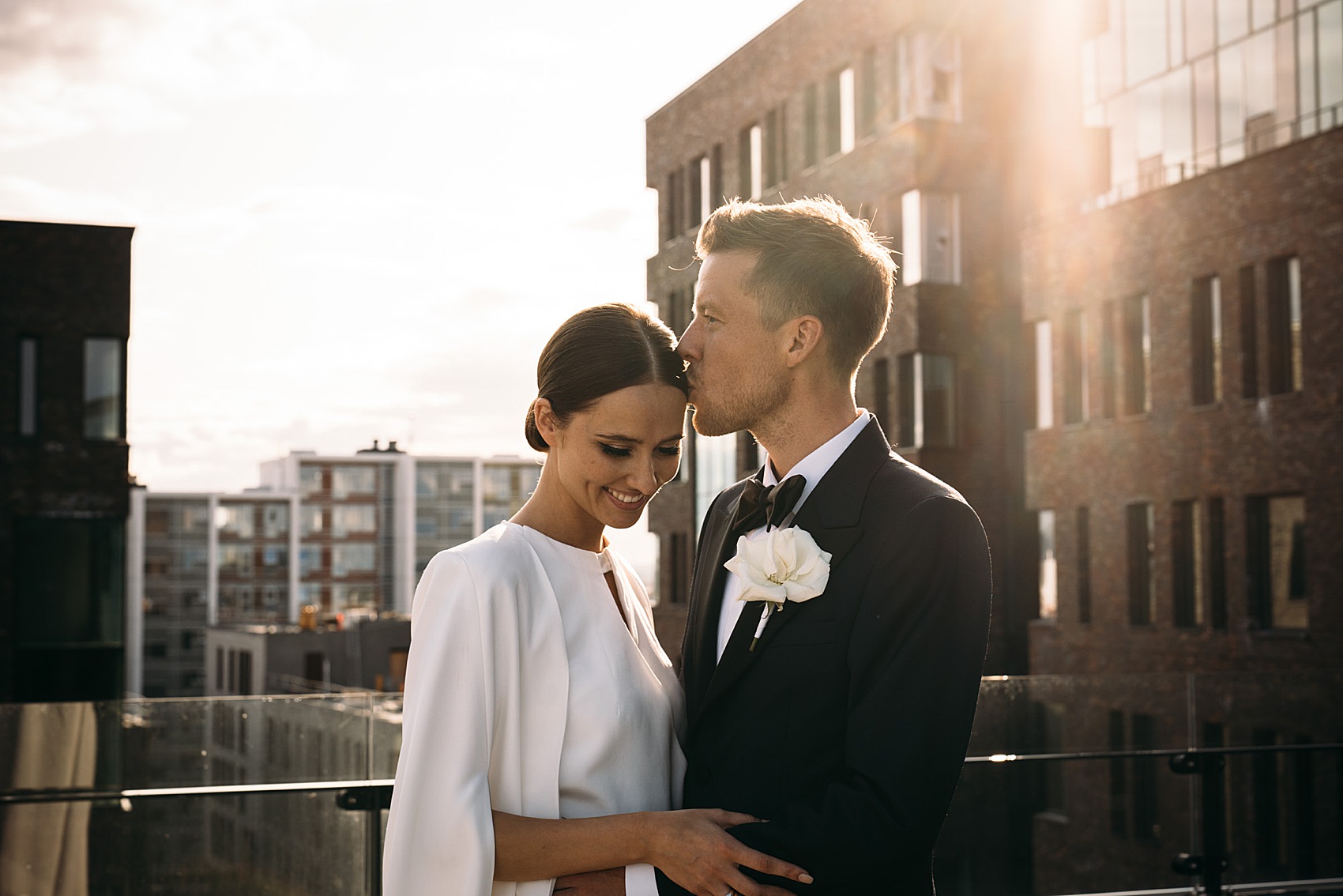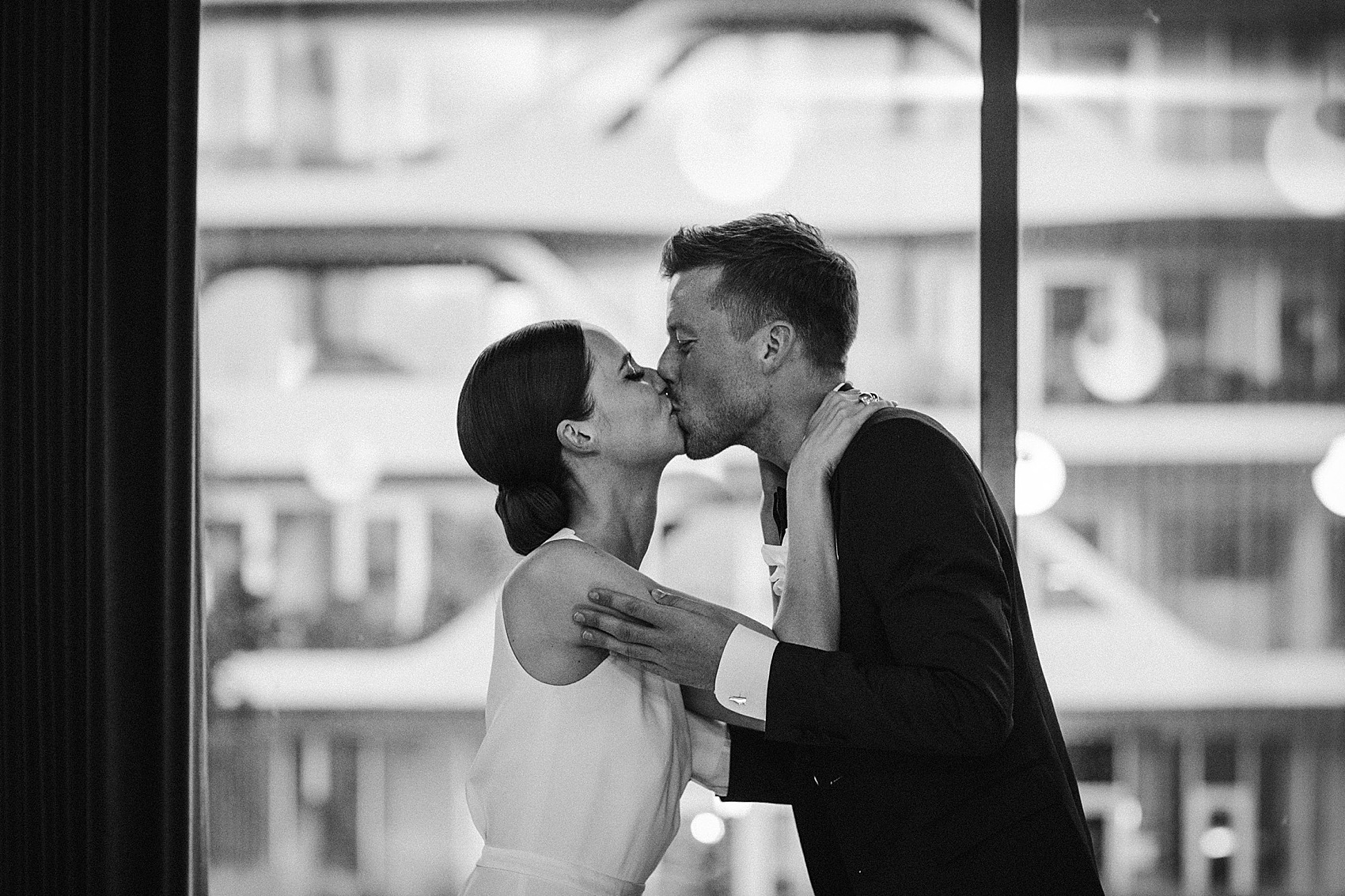 "We made four different playlists for day; one was for the reception, with a mix of songs we associate with love and happy vibes raging from J.Cole to the Supremes."
"During the dinner the theme of the songs changed three times, starting with a mixtape of The Beatles and Erykah Badu, moving on to Obamas Summer Playlist 2019 and ending with favourites from Florence + the Machine, The xx, Daft Punk, Parov Stelar and more."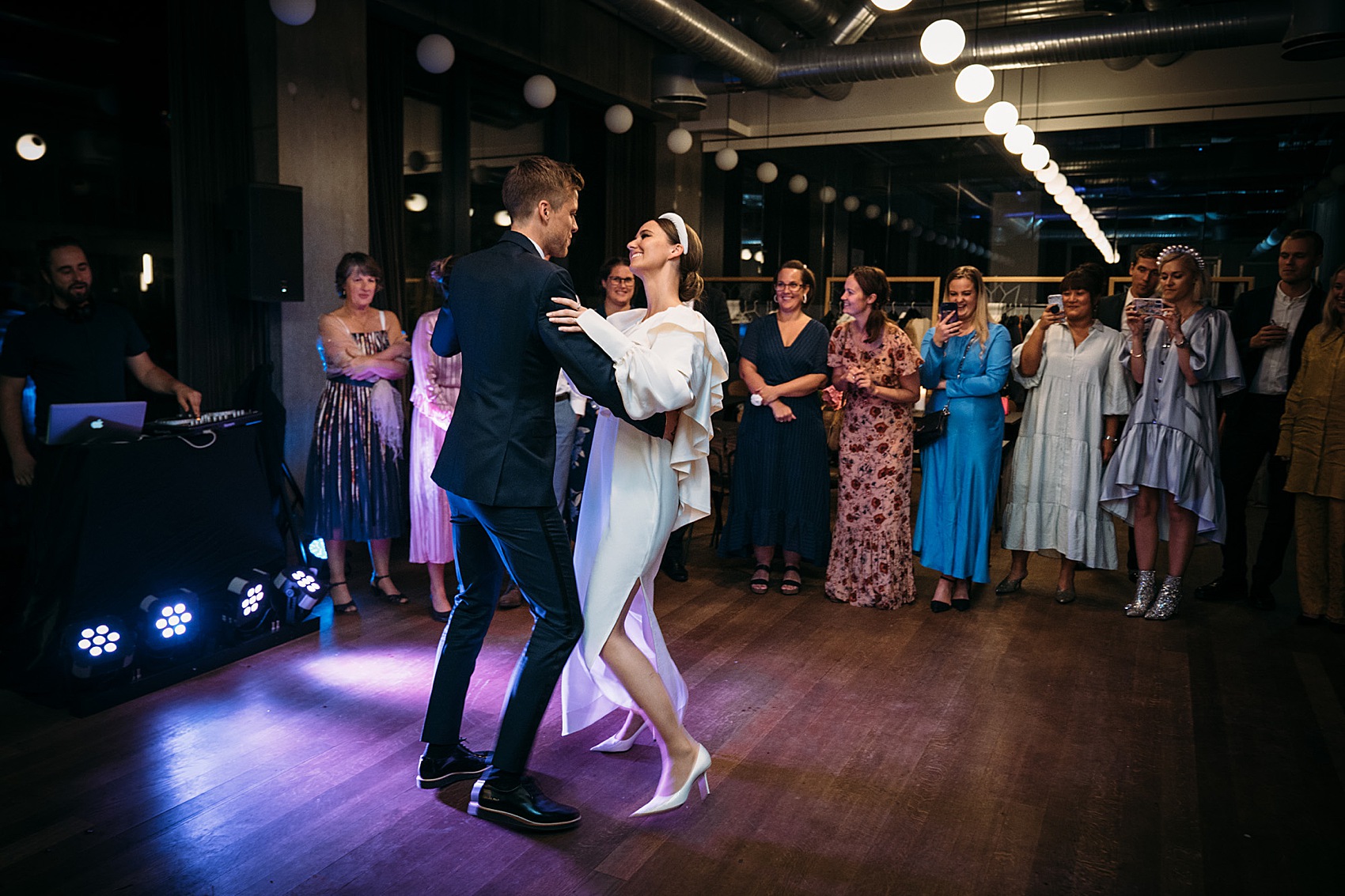 Words of Wedded Wisdom
"Start writing your speech long before the wedding. I kept getting good ideas for things I wanted to say to Jeppe in my speech which also meant that I kept postponing getting it written."
"I ended up writing the speech the night before our wedding. I don't know how much other brides sleep before their wedding, but I got two hours!"
Super, gorgeous, modern contemporary style – and I was completely in my element preparing this beautiful wedding to share with you.
Anne and Jeppe – thank you both so much for sharing your beautiful day with us.
Brides – you can continue to explore more gorgeous modern and contemporary weddings here. Make sure you're also following us on Pinterest and Instagram too.
With love,
Annabel