I know that there are many thousands of you who have, or are currently in the middle of postponing your wedding and rescheduling dates from spring and summer, through to late autumn and winter.
And it goes without saying that I know this disruption will be a lot for you to be dealing with right now. We are here to help, not only with practical advice and emotional support, but constant inspiration to encourage you to look forward to your most precious winter weddings.
There are going to be a fair few more winter weddings this year than originally planned because of the number of postponements and so we hope this content will inspire you.
Perfect Moment Films

+ Follow
This editorial was conceived by wedding planner and stylist Natalie, of Natalie Hewitt, whose words follow. I adore the glamour and playful vibes – I hope you do too. Over to you Natalie…
"Ragley Hall  is one of the most incredible historic wedding venues, nestled in the glorious Cotswolds, not too far from Stratford-upon-Avon. It is certainly a hidden gem, and one of my favourite stately homes to design and plan weddings at. It has been the ancestral seat of the Hertford family for over 300 years and the baroque plastering in the Great Hall and the incredible wall paintings in the south staircase really make this a magnificently unique location to celebrate your wedding."
Holly Clarke Photography

+ Follow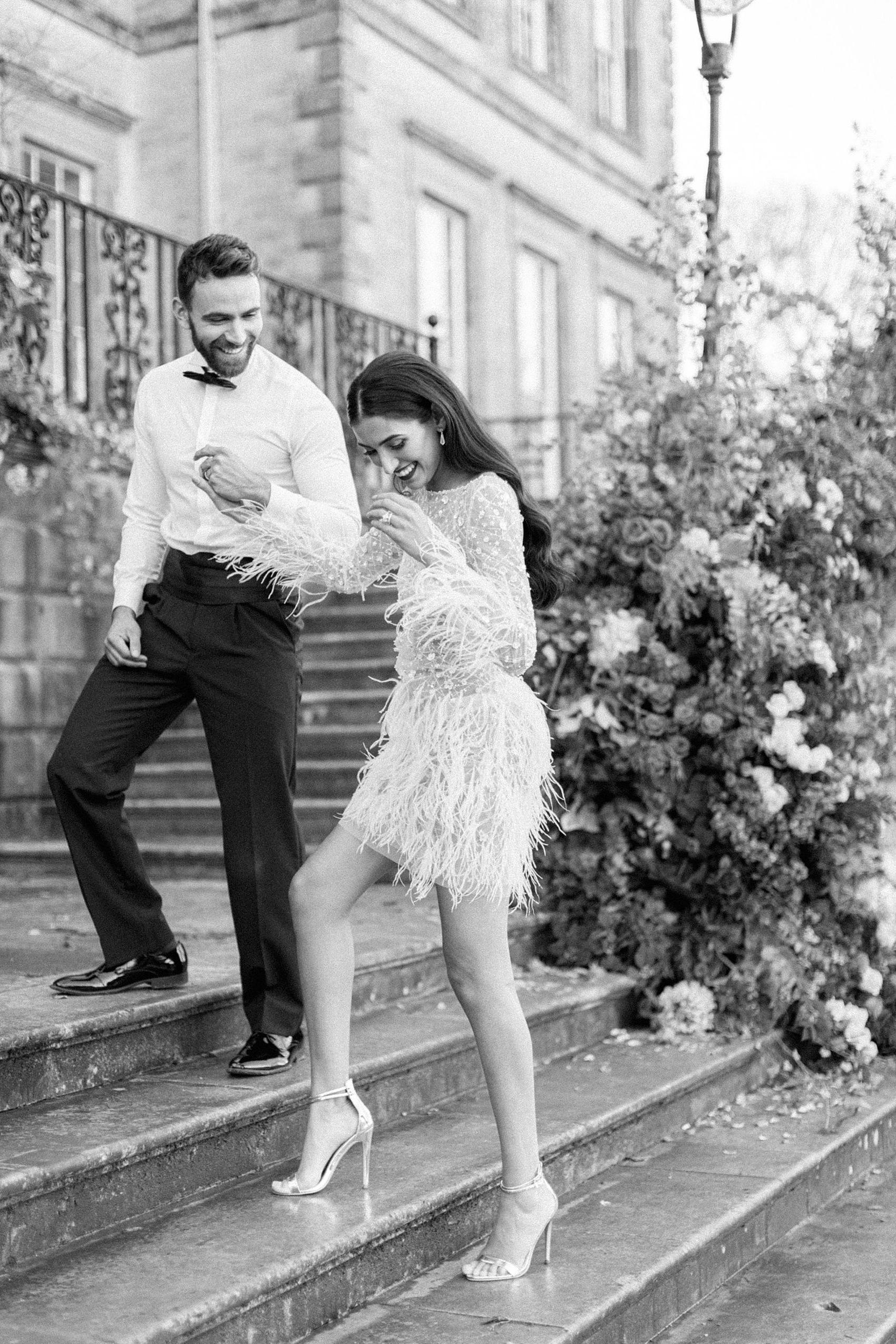 Words by Natalie Hewitt below…
Having worked with the team for the past few years I was so excited to be asked to produce an editorial shoot for them, to coincide with their rebrand. I know I wanted to create something show stopping to compliment the incredible architecture but ultimately something striking, unique and a concept that oozed after party fun.
This editorial is the epitome of a millennials black tie wedding and after party; fashion forward, style conscious and absolutely setting their own trends.
Holly Clark was the perfect choice for photographer; her style, her ability to capture an epic party shot and her experience photographing fashion campaigns meant she was going to photograph the full shoot concept exactly how I envisioned it. I also wanted an editorial film to compliment the shoot; telling a story of the day and encapsulating the details, mood, fashion and venue.
Perfect Moment Films always produce such romantic trailers and this one is no exception; it's so wonderful to have a video to look back on, following the event.
The Bridal Look
We collaborated with The Wedding Gallery for the two day-time bridal gowns; both by Inbal Dror and both as equally as exquisite. The first, a full pearl bodice (which is a big trend right now), satin skirt and full veil.
The second, a sheer fitted lace down, with exaggerated bishop sleeves (again, statement sleeves being another trend at the moment.) The third gown we featured was our little party number which we loaned directly from Mira Zwillinger. The low back and feather details made it such a striking dress for our evening shots and a perfect change for dancing the night away.
Such incredible gowns couldn't be left un-accessorised and we partnered with Pragnells, one of the world's finest jewellers (who handcraft rare jewels here in Great Britain,) to dress our bride in some of the most jaw dropping diamonds; a delicate tiara, kite cut drop earrings, an asher cut diamond ring and a pink pear cut diamond ring. It was an absolute privilege to have the team join us for the day.
Botias is a luxury bridal service specialising in hair and makeup and with Boe's experience styling discerning clientele, she was a perfect fit. We kept Nour's day look quite natural with a neat up do; bringing the hair down for the lace gown and then adding a red lip for the evening look. Such dramatic changes but so seamless, making them ideal for a wedding day outfit change.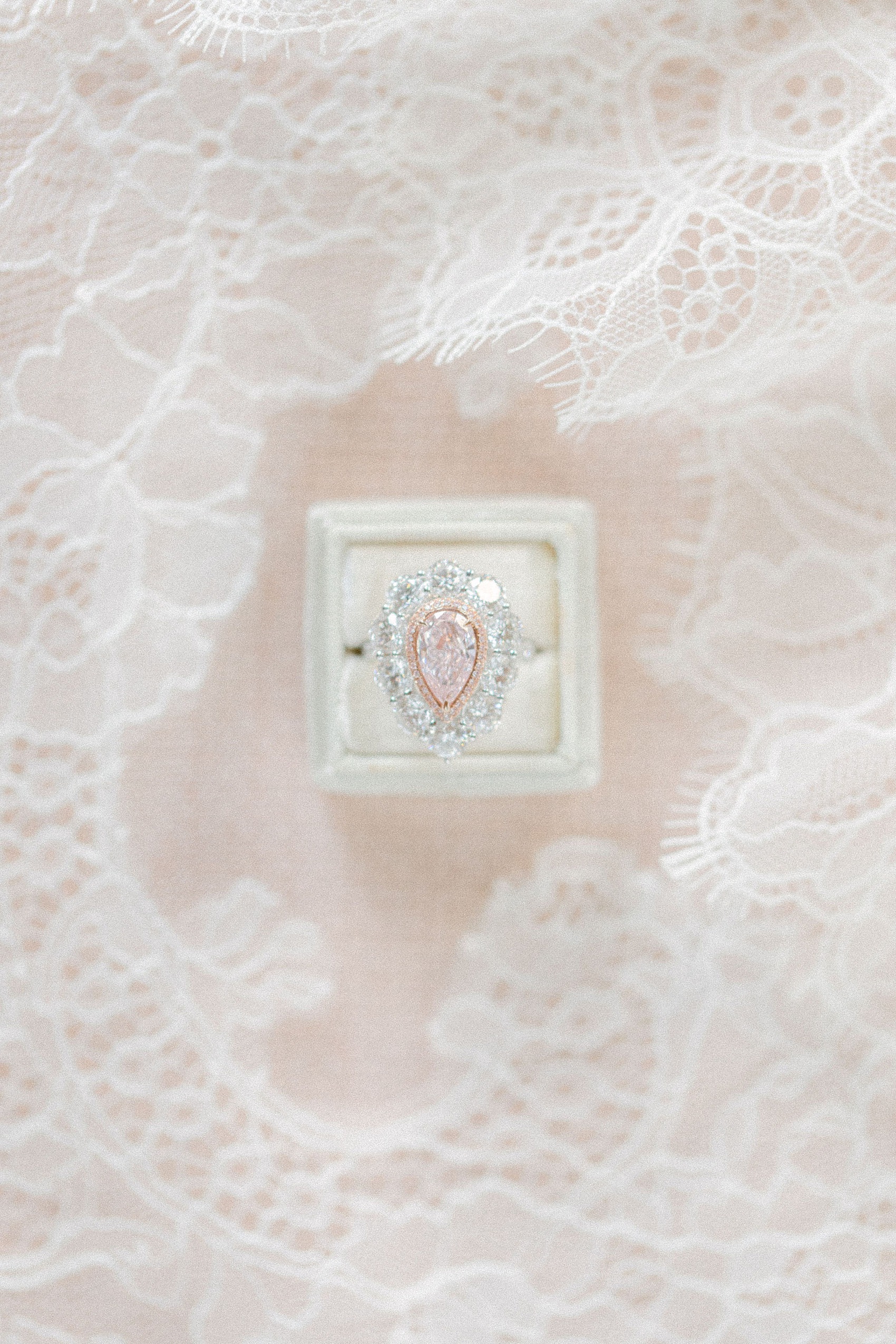 The Florals
The florals had to be epic and All for Love London delivered, and then some! Pink and red are two of the most fashionable colour clashes being seen on the catwalk at the moment, so I wanted to bring that into the floral design.
I'm predicting that Chinoiserie vases are going to be a big trend too within the wedding industry and not only did they look stunning with our bold colour palette, but they complimented the baroque plastering in the Great Hall perfectly; bring the stately home styling into a more relaxed, modern and elegant way.
My motto is "go big or go home" and the fireplace display and the outside staircase installation sat perfectly against the grandeur of Ragley's architecture. Not to mention the team are amazing and deliver an exceptional, high quality service. If only I was getting married again!
The Details
You might think that cake pillars are a thing of the past and reserved for cakes of the 70's and 80's, but I assure you, what goes around, comes around! CAKE by Caroline Debonnaire used pink pillars to blend into the cake, giving it a more modern feel. And I just love the handmade sugar flowers; exquisite details that make a treasured momentum from your day which Caroline often displays in glass domes for her couples post the wedding day.
Louise Richardson took inspiration from Ragley's interior for her stationery suite and ended up designing an incredibly striking invitation and menu collection. It's so refreshing to see an invitation design featuring such a strong colour pallet. Daring, bold and one hundred percent bespoke! And once again, featuring tassels on the menu cards brought in another trend we'll start seeing more of.
For this shoot I pictured my bride and groom sitting in a vintage car, as well as capturing that iconic car shot driving through sparklers at the end of the night. I invited Barry James vintage car hire and MLE Pyrotechnics to come along and create the inspirational imagery and how incredible do they look. The perfect finishing touches to our stately home editorial.
I've also worked with the Mixology Brothers on a number of weddings and it was fantastic to have them join us to style the bar and showcase the downstairs party scene; and their cocktails passed the taste test.
As with all of my weddings, the attention to detail is so important, and something my clients don't want to overlook. Styling the table really can make a dramatic difference to the wedding breakfast; adding a more personal touch to wow your guests. Two of my go to suppliers are Just4Linen and Duchess and Butler who both offer incredible quality items. I wanted to carry on the colour clash with the linen and crockery and just love the bold red and pink; don't be afraid to do something daring with your wedding styling and make it your own!
As a design-led planner, it's my job to create a concept that works perfectly for my couples style and taste, (as well as perfectly scheduling their wedding day, managing their budget and supporting them with all of the wedding administration,) but just as importantly, selecting high quality suppliers that compliment my couples and work perfectly together as a larger team.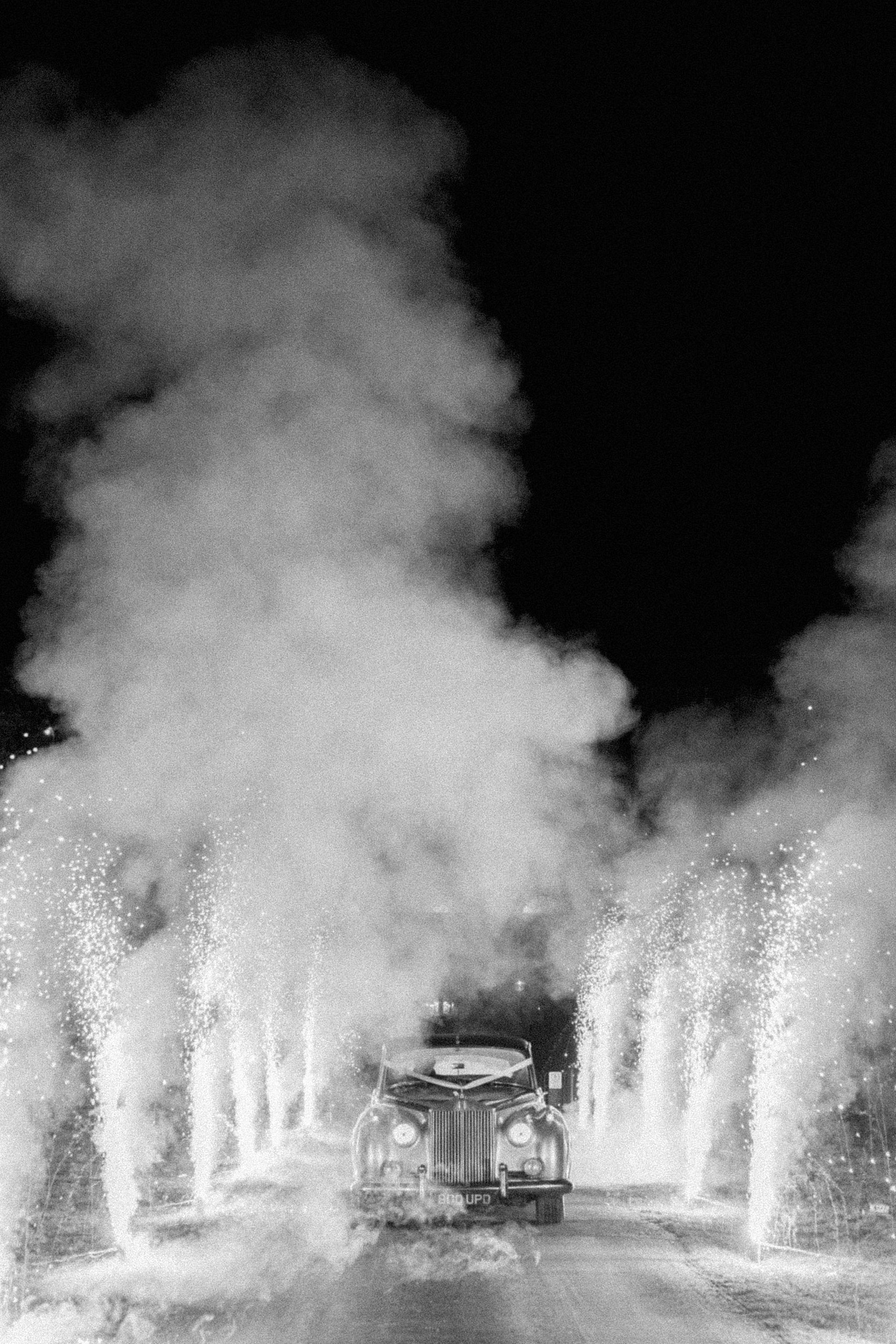 Having a strong design concept that makes your wedding yours and a cohesive unit of suppliers are two of the most important things to get right when it comes to planning your day. I hope this editorial has given you some exciting inspiration for your own wedding.
Congratulations on your engagement and good luck,
Natalie x