As a writer for Love My Dress, I often get well and truly lost in the dreamy, romantic images that we are sent, and today is no exception.
And it brings us an extra dose of joy today knowing that three of our beloved Little Book Wedding Directory members played key roles in this wedding; the very talented designer and dressmaker Emma Beaumont created this exquisite dress, the wonderful PapaKåta provided the Sperry tents that the couple and their guests celebrated in after the ceremony and Sylwia Kunysz, a member of the Kristina Gasperas Makeup Artist styled the bride's hair.
It's a real pleasure to introduce Isy, a marketing executive at Sotheby's Auction House and Ope, who works at American Express. They married on 7 September 2019 in a wonderfully vibrant, fusion wedding which blended English and Nigerian traditions, with their reception in a PapaKåta tent set in the romantic, country estate of Buckhurst Park, Withyham, East Sussex.
Photography by Ben & Kadin

+ Follow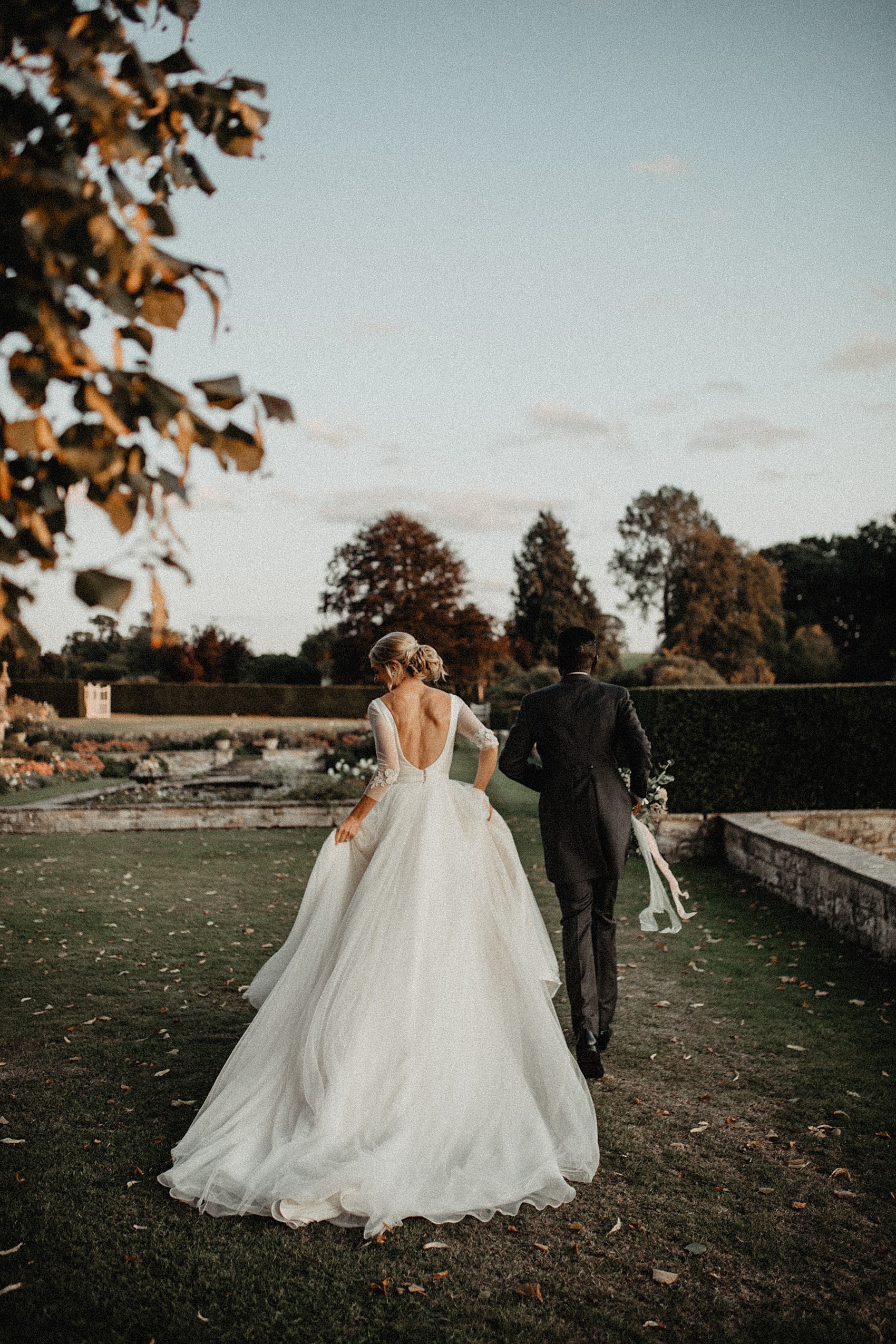 This wonderful selection of images come from the talented couple, Photography by Ben & Kadin. With a romantic, timeless style, their use of natural light and an eye for movement make for some truly beautiful photographs.
"We honestly couldn't recommend them enough. They flew all the way from California, leaving their five-month-old daughter for the first time. They were just incredible to have around; so much fun, lovely, creative and imaginative. I am absolutely thrilled with our pictures."
Isy has well and truly encapsulated English countryside romance in her choice of gown, a custom-made dream by Emma Beaumont. Isn't it so breathtakingly romantic with that sweeping skirt and train in pure white, not to mention the sexy plunging back?
"I visited about six or seven different bridal shops which were, for the most part, lovely experiences but I knew exactly the dress I wanted really so having it made really did seem like the best option. I found Emma by chance on Instagram and I am so glad I did!"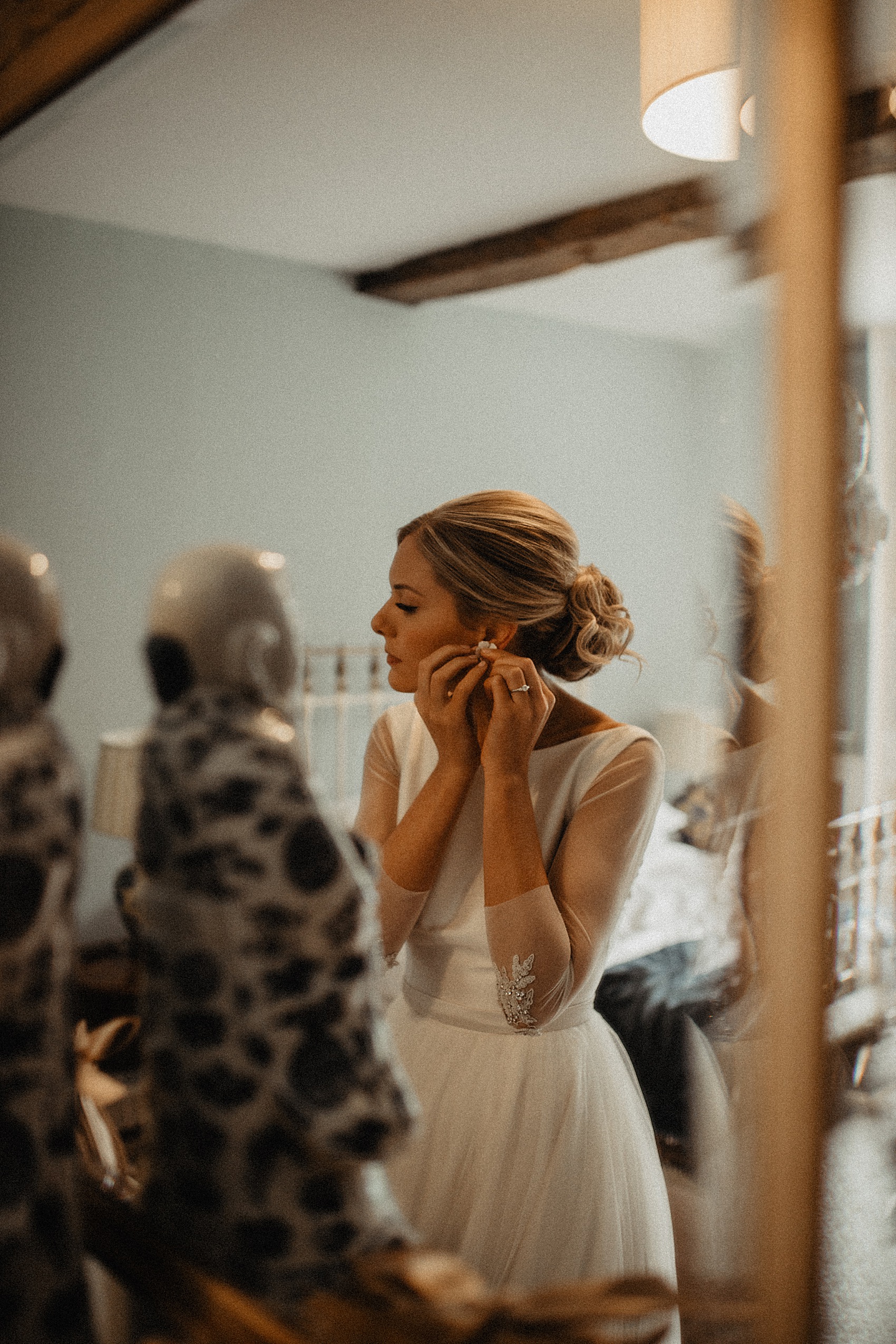 "I absolutely adored my dress and felt amazing in it. It was actually a very simple design with a boat neck and the top was a satin Mikado fabric. I always knew I wanted sleeves but thick sleeves seemed just too restricting so when we decided on the sheer sleeve it was perfect. The skirt was the main feature with a 4.5 metre train and six layers of tulle."
"The embellished element on the sleeve was a rather last minute suggestion from my maid of honour who thought I needed a bit of sparkle! I just loved how the dress moved. It was heavy but not overbearing and it moved and swished so beautifully."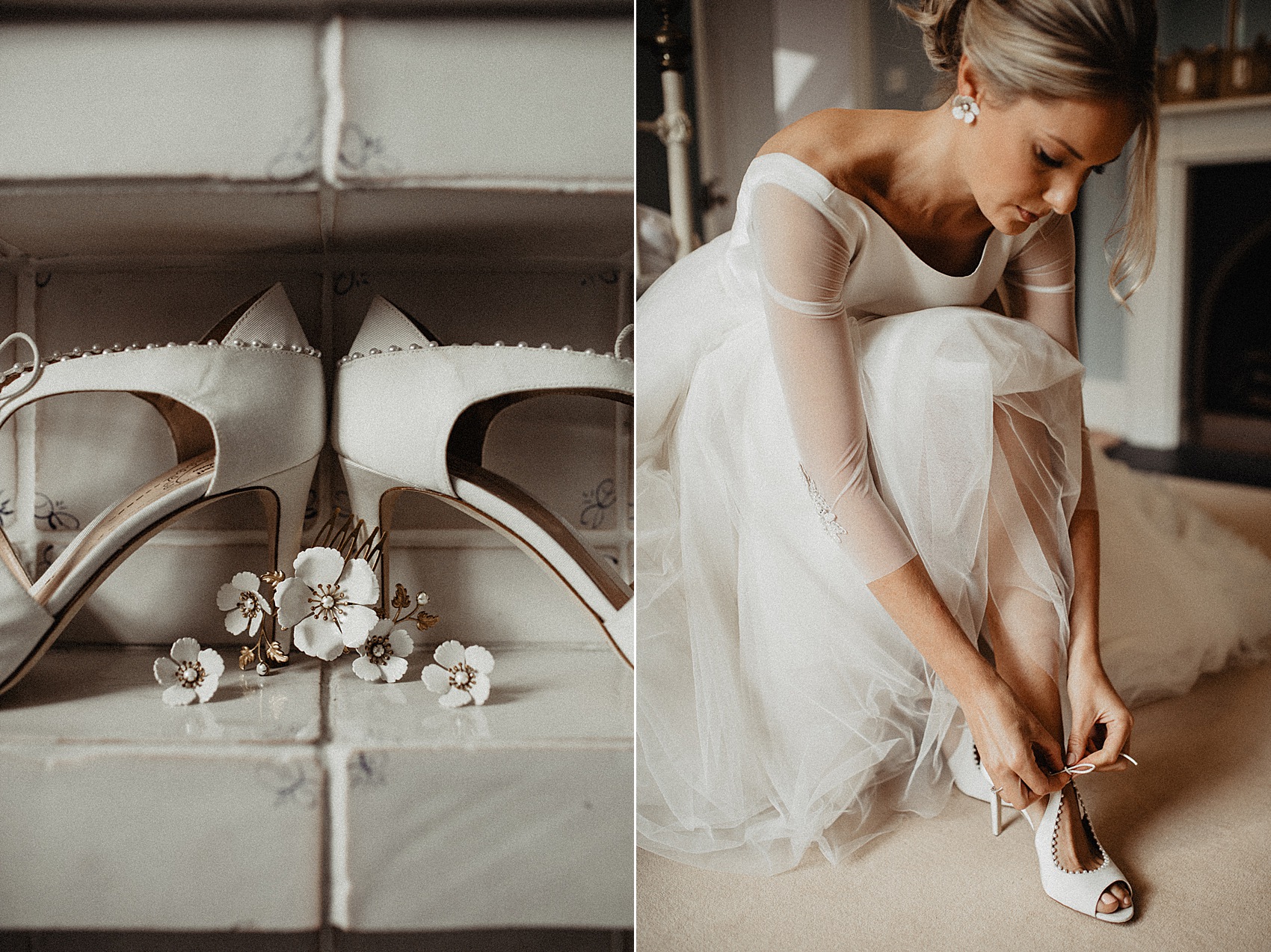 The bride's beaded, tie-up shoes were from L.K.Bennett X Jenny Packham and she wore statement flower earrings designed by Anna Marguerite, who also designed her hair accessories.
Hair stylist Rosie Hart made a beautifully elegant and polished low bun whilst Sylwia Kunysz from Kristina Gasperas Makeup Artist created a glowing, flawless look. You can find out more about Kristina and her team over on her Little Book Wedding Directory listing here.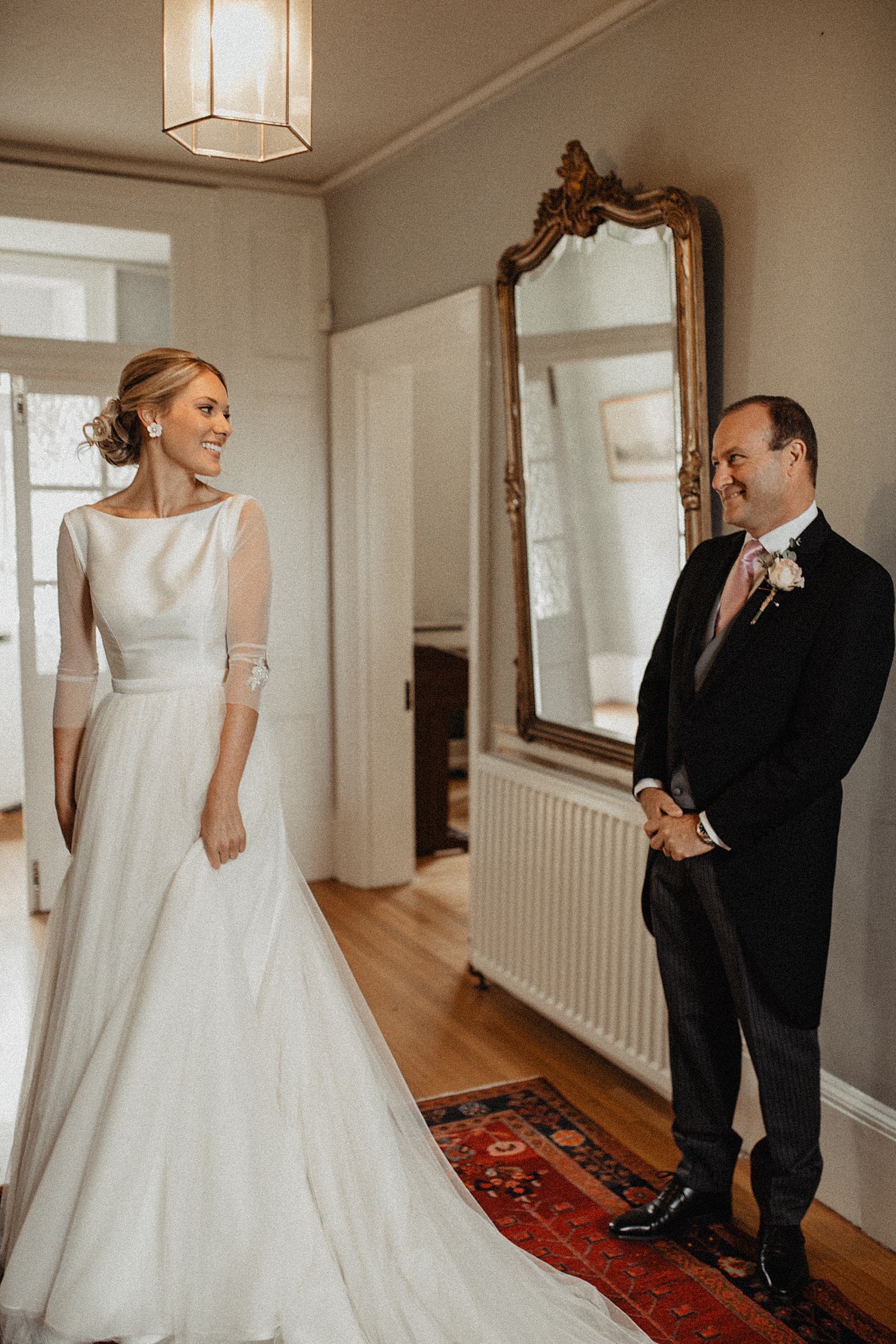 The bridesmaids looked charming in a variety of dresses in dusty pink and sage green, chosen at Rewritten, Show Me Your Mumu and Jenny Yoo and worn with hairpieces from Etsy.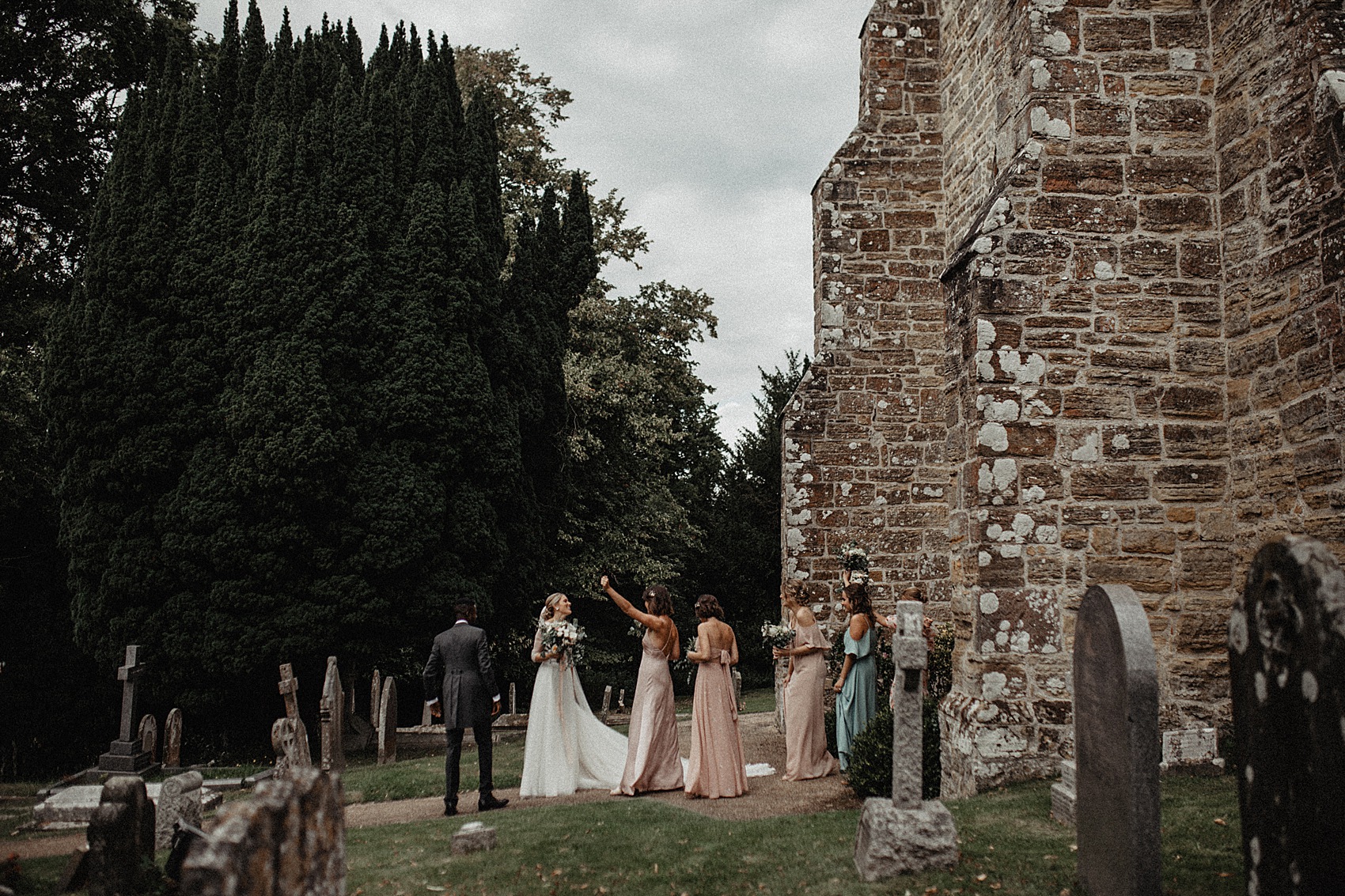 "Flowers played a huge part in decoration and both the church and reception tent were full of them. We did have a colour theme of dusty pink and sage green and I tried to tie this through the whole day and through both the ushers and bridesmaids."
"In the church, we had a large arch over one door, something I had dreamt of since I was little, and a beautiful smaller arrangement on the entrance door. We had five arrangements inside the church and pew ends which were super-simple but really effective; we just used one single pale pink rose with ivy, tied around each pew with hessian straw. We moved two arrangements from the church to the reception which was great as we got to enjoy them for the whole day. We also used hops at the reception which were reasonable inexpensive and very effective. They also smelt amazing."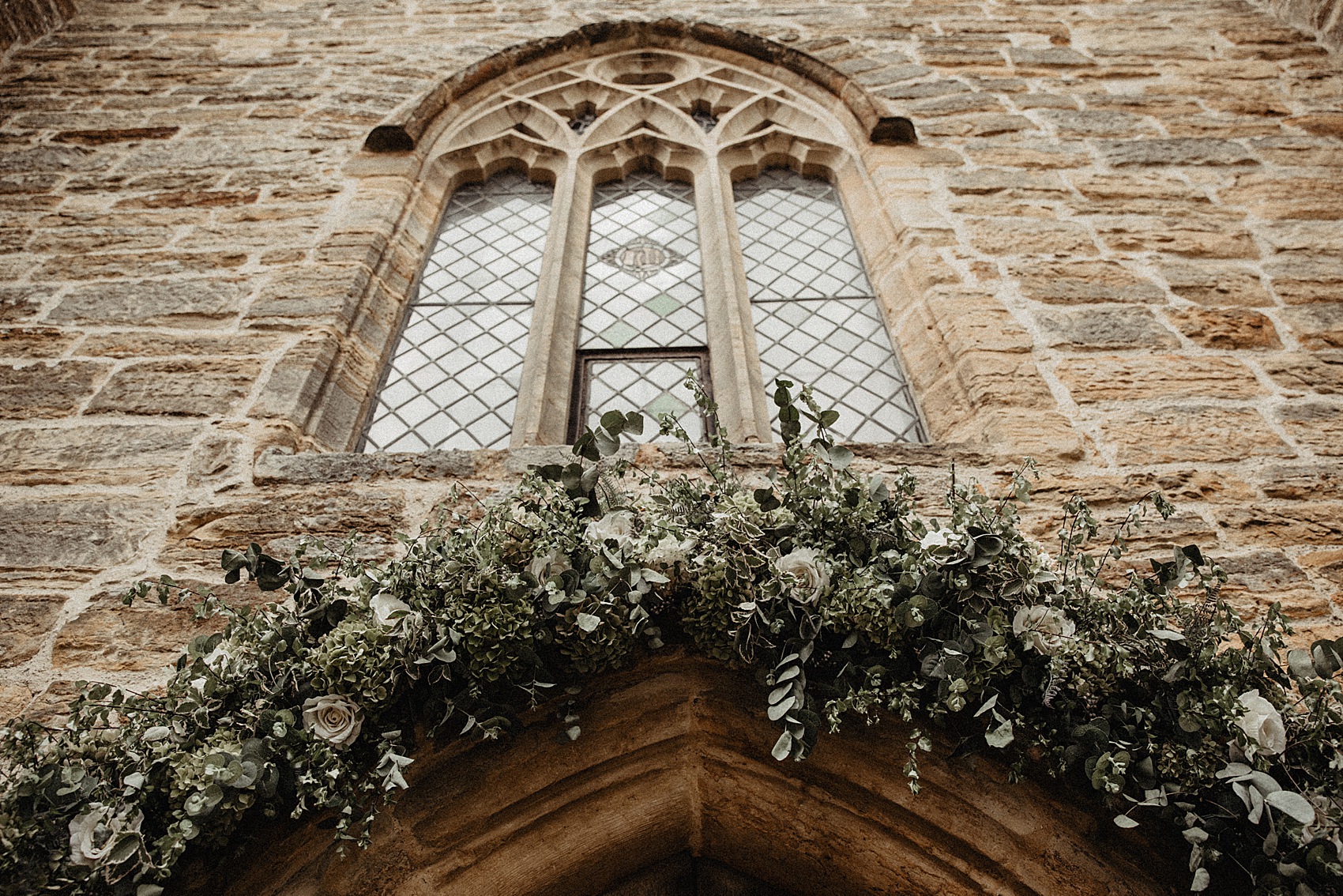 Buckhurst Park has the most beautiful, ancient church nearby and Ope waited by the altar as Isy and her father travelled there in a vintage Alvis from Distinctly Vintage. The bride, looking absolutely radiant, and her father walked down the aisle to 'Thousand Years' by Cristina Perri before she and Ope wed in a traditional Church of England service.
The veil with its embroidery of trailing leaves and flowers was also made by Emma Beaumont and features the charming detail of Isy and Ope's initials embroidered onto it.
"Ope is Nigerian and two weeks before our wedding we had a traditional Nigerian wedding which was full of energy and dancing. I know Ope and his family felt very proud to be able to show our English friends and family their culture."
"Similarly, for our wedding I wanted to incorporate not only the Nigerian cultural aspects but to also show that English culture is beautiful and vibrant also. Our wedding became a wonderful fusion of both, with English guests in morning suits and Nigerian guests in traditional Nigerian attire, which made the day so beautifully colourful.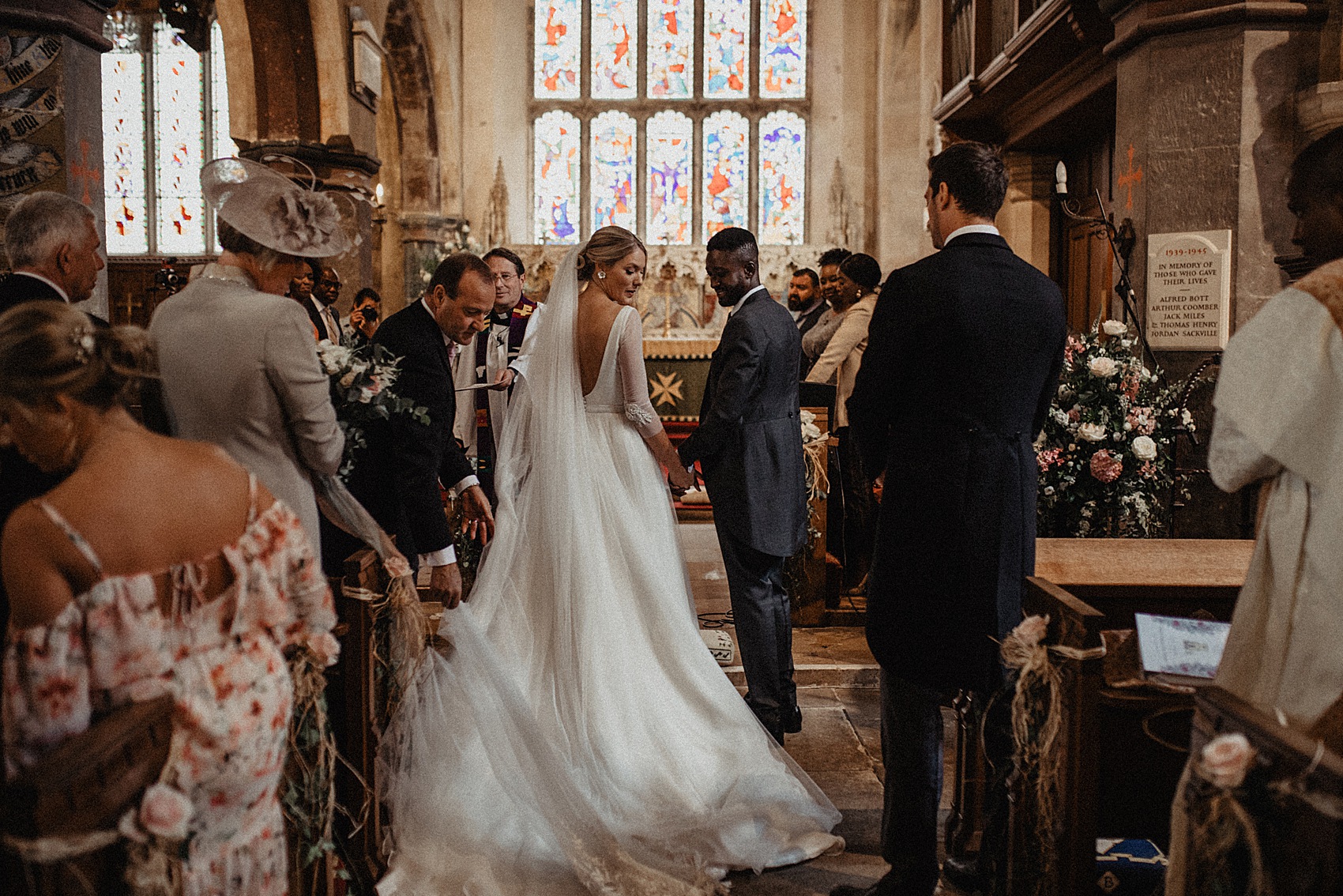 The couple were introduced at a mutual friend's New Year's Eve Party and after a two and a half year romance, Ope proposed on holiday in Sri Lanka.
"We had been on holiday for ten days and arrived at a beautiful hotel in Tangalle. Ope asked me to get dressed up for a 'walk along the beach' and I freaked that this was going to be a proposal so naturally took ages to get ready with him nagging me to hurry up. We took bottled beers and walked along the beach stopping at a little swing bench – but nothing happened!"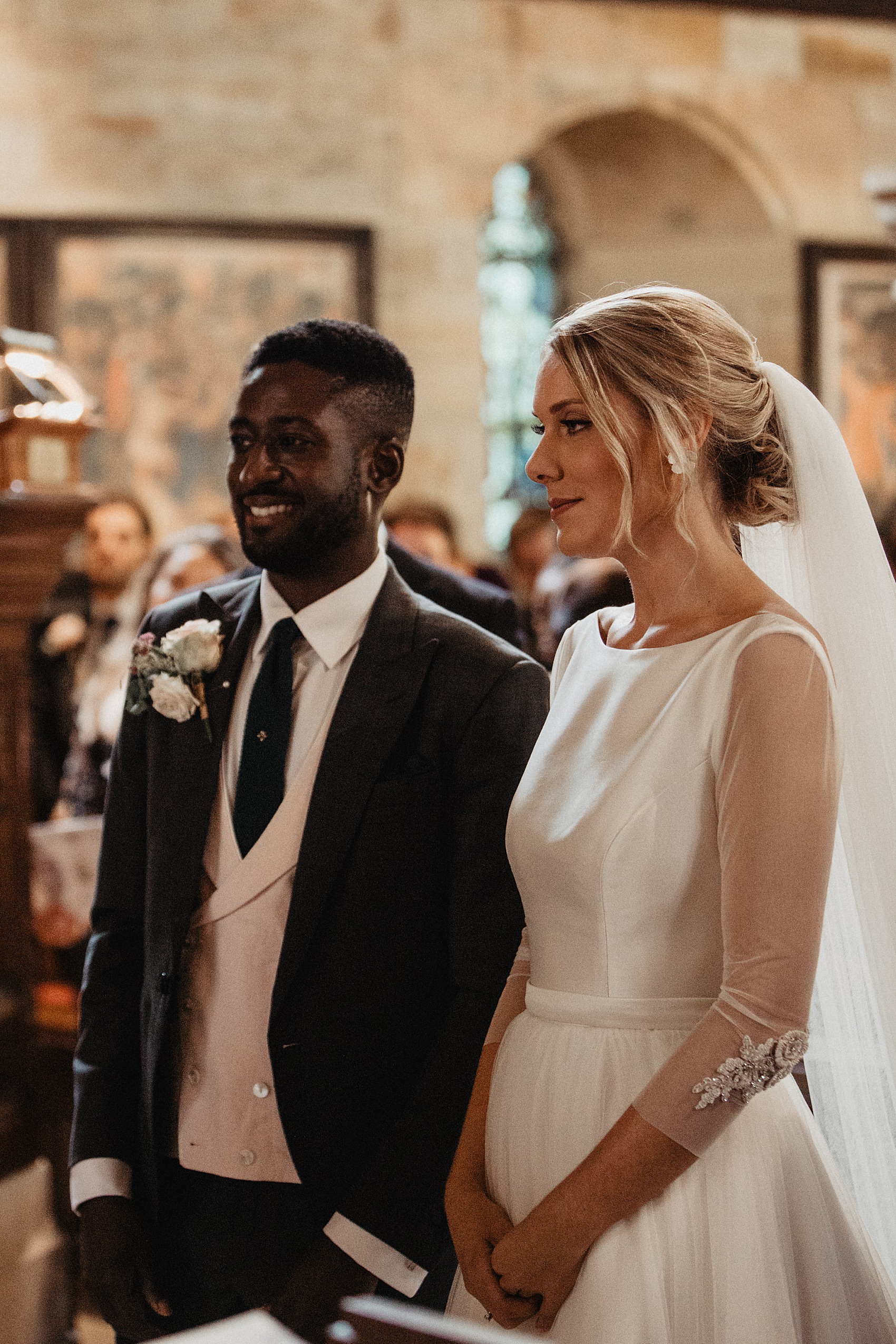 I kind of thought he'd either changed his mind or maybe I just got the wrong end of the stick. We went for a cocktail and he pretended to forget something back in our hotel room (much to my annoyance as I was hungry and wanted to get going to dinner) so we popped back and when I opened the door the room was full of flowers and petals, all thanks to the amazing hotel staff."
"Cut out of bamboo leaves on the bed was the message, 'Will you marry me'. It was so pretty and the smell of all the flowers is something I will never forget."
"I burst into tears, sobbed out a 'yes' and continued to cry for the next five hours! Ope had booked out a whole restaurant for us so we walked there and had dinner outside overlooking the ocean."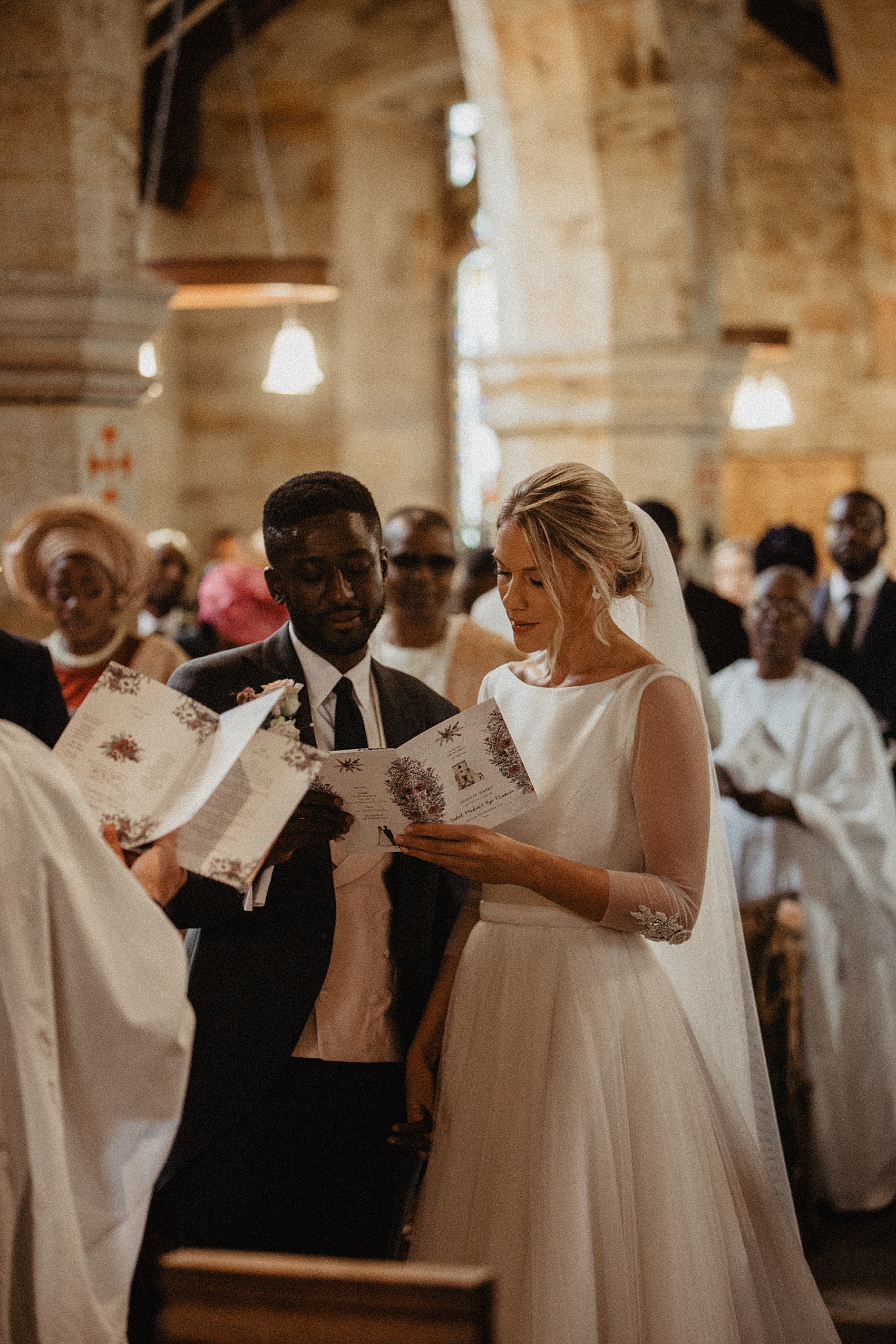 "We had three readings; a religious reading from a close friend – Song of Solomon 2:10-13, 'Arise, My Love', 'Marriage' by Anon read by my brother and then an extract from Michael Curry's sermon. 'The Power of Love', read by Ope's younger sister. We tried to have a mix of readings and spent a long time picking ones we hadn't heard before at weddings."
"The whole church service was really special, particularly when the choir sang 'Stand By Me' with our guests."
"We had custom-made wedding bands from a jeweller known to a friend of Ope's who works in Hatton Garden in London."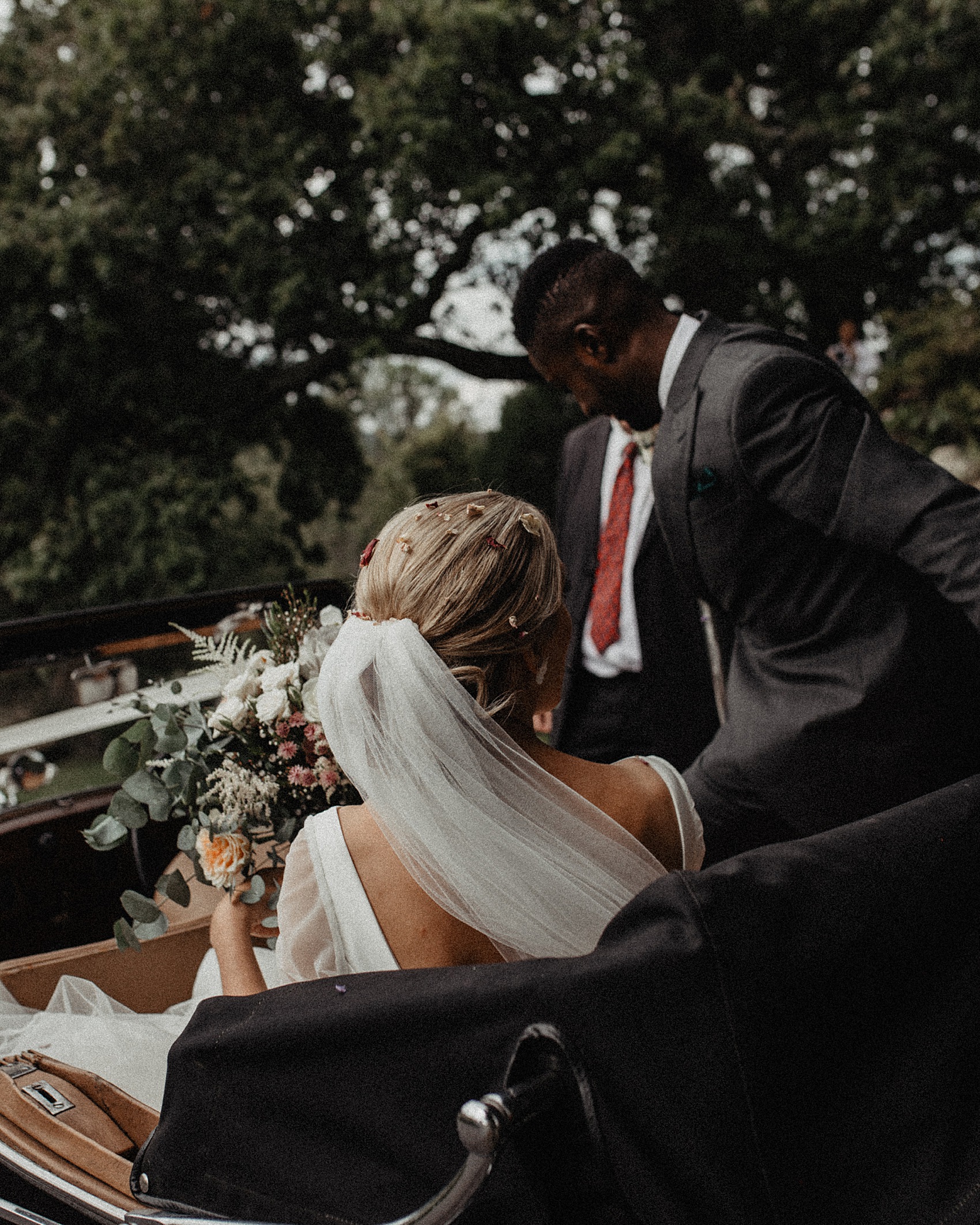 "Ope's morning suit was from Hackett and pink linen waistcoat was from Sirplus. He wore an antique sapphire and pearl tie pin. Our page boy wore an outfit from Next Children."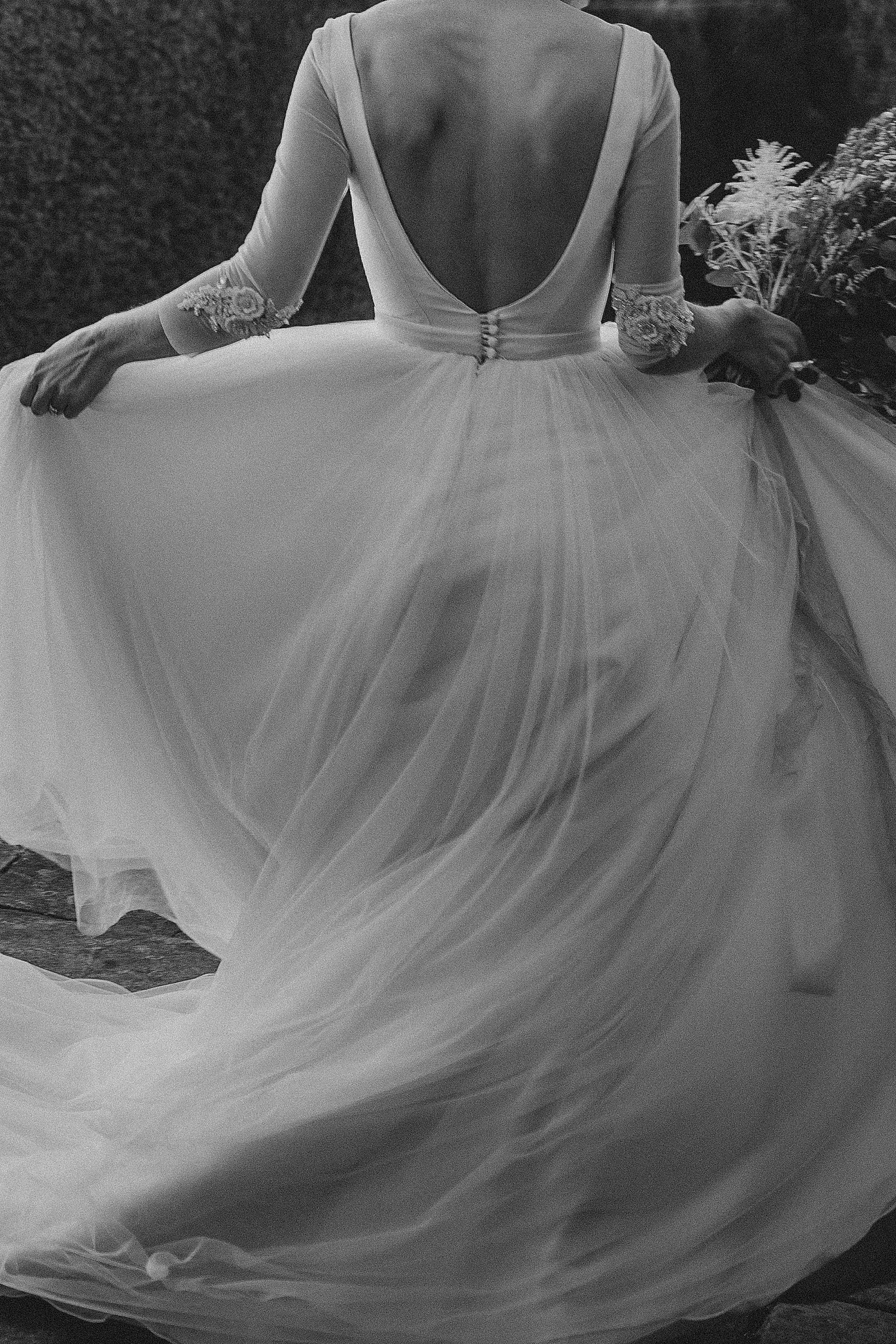 "We blitzed wedding venue searching and after a lot of research narrowed it down to five we liked the look of and saw them all in a day. They were all lovely in their own way but after the fourth visit I just wasn't getting the 'feeling'. But driving to Buckhurst I knew as soon as we came in the drive! It was absolutely stunning and then when we saw the church a mile away I burst into tears."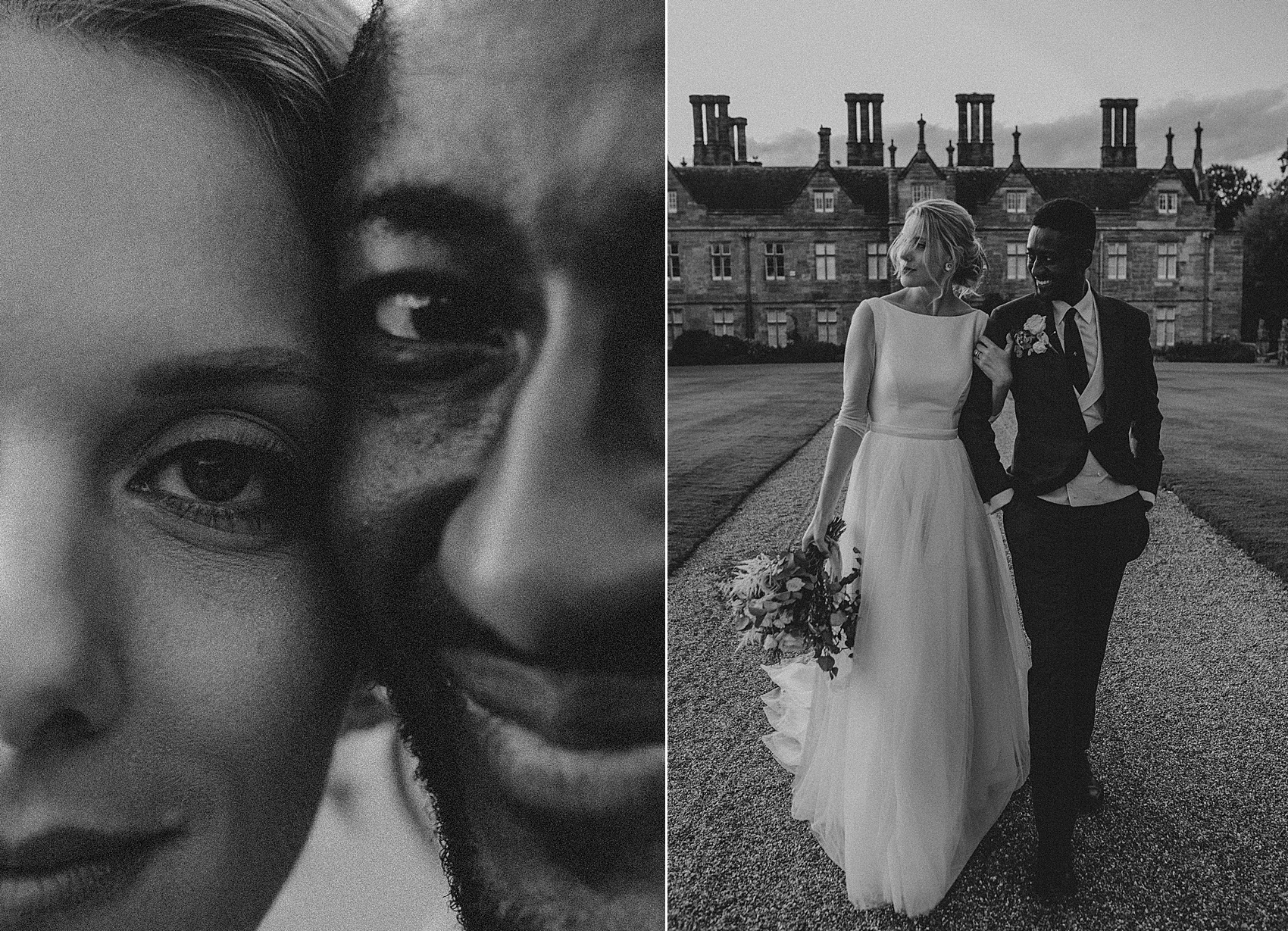 The newly-wed couple travelled to Buckhurst Park in style, with the top of the convertible Alvis down so that they could enjoy the fresh air and the late summer countryside.
"When we arrived at the reception on the back of our vintage convertible car, all of our guests were waiting for us and waving. We felt like royalty."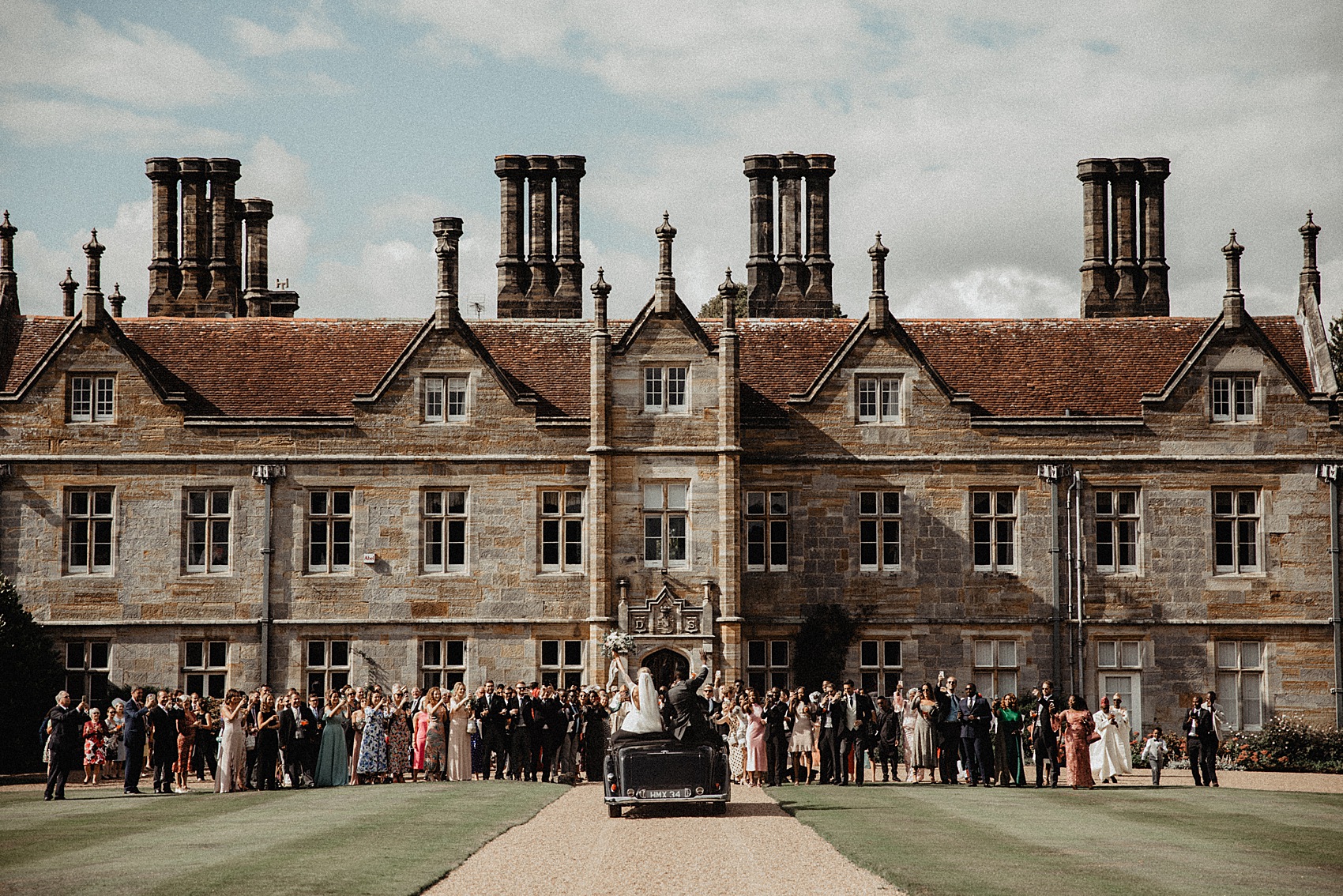 The main styling element of the day were masses and masses of flowers, and the bride's bouquet was a sumptuous and romantic blend of roses and herbs.
"Flowers were a really important part of the day for me. I have always adored flowers so together with our florists Caroline and Rowena of Garden House Flowers we put a lot of thought into how we could get as much as possible for our budget – and this often involved using a lot of greenery."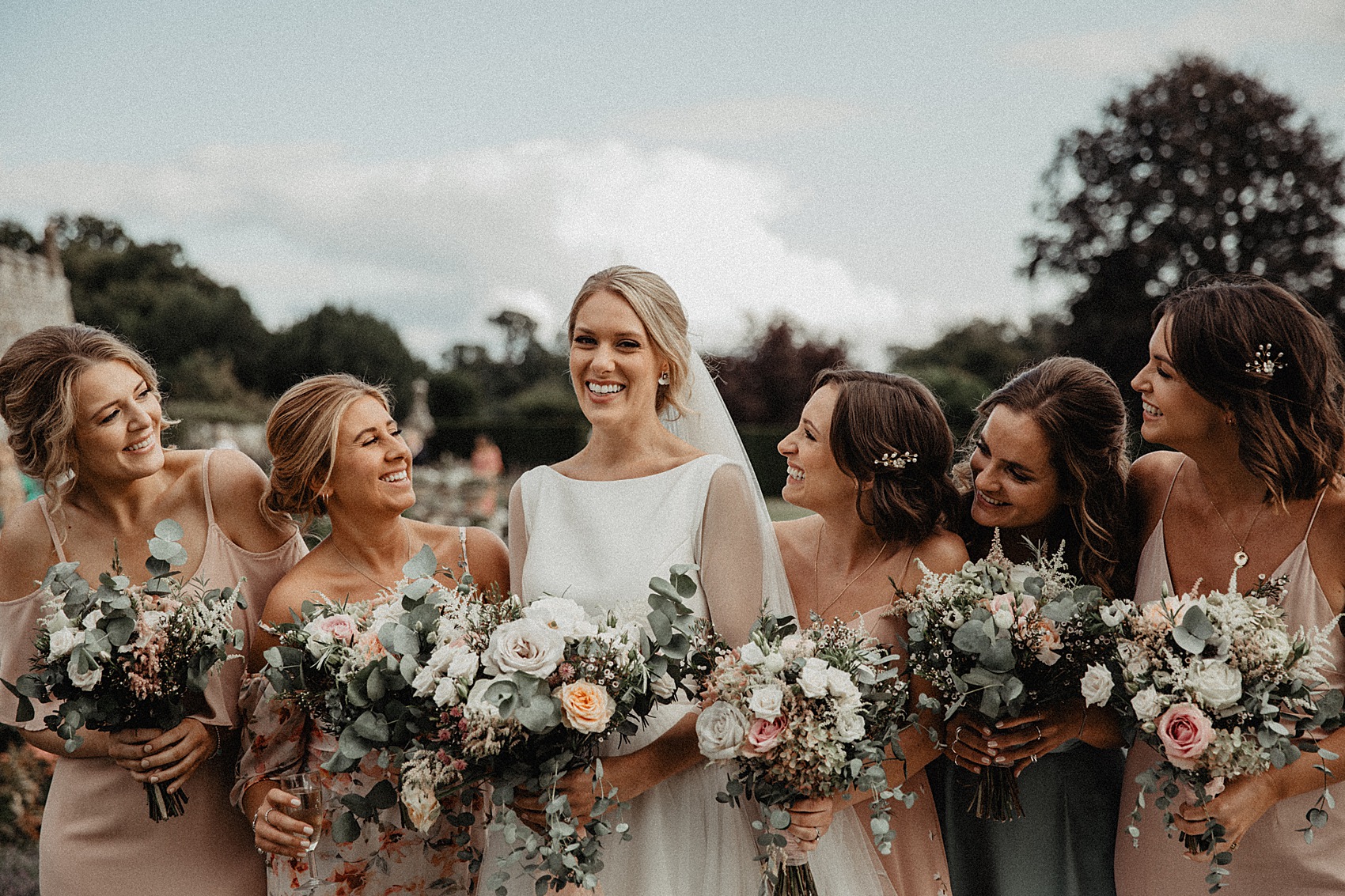 "My bouquet was made up of four different types of avalanche roses (pearl, white, sweet and pink) with the centrepiece being an incredible, dusty grey rose called an earl grey rose."
"I also had rosemary for good luck, lots of eucalyptus, royal porcelina spray, astilbe and a personal favourite – the white anemone flower. My bouquet was tied with silk chiffon ribbon in a dusty pink and sage green."
The couple had chosen one of PapaKåta's airy, high-ceilinged Sperry tents for their reception, and it looks so wonderful with its dressing of garland lights, hanging tendrils of foliage and additional pieces from Bohotanical.
"We hired a beautiful macramé backdrop, various lanterns, plant stands, rugs and cushions from her."
If you'd like to find out more about the fabulous PapaKåta and their range selection of gorgeous, super-high quality tents and teepees, please do take a look at their Little Book Wedding Directory listing here.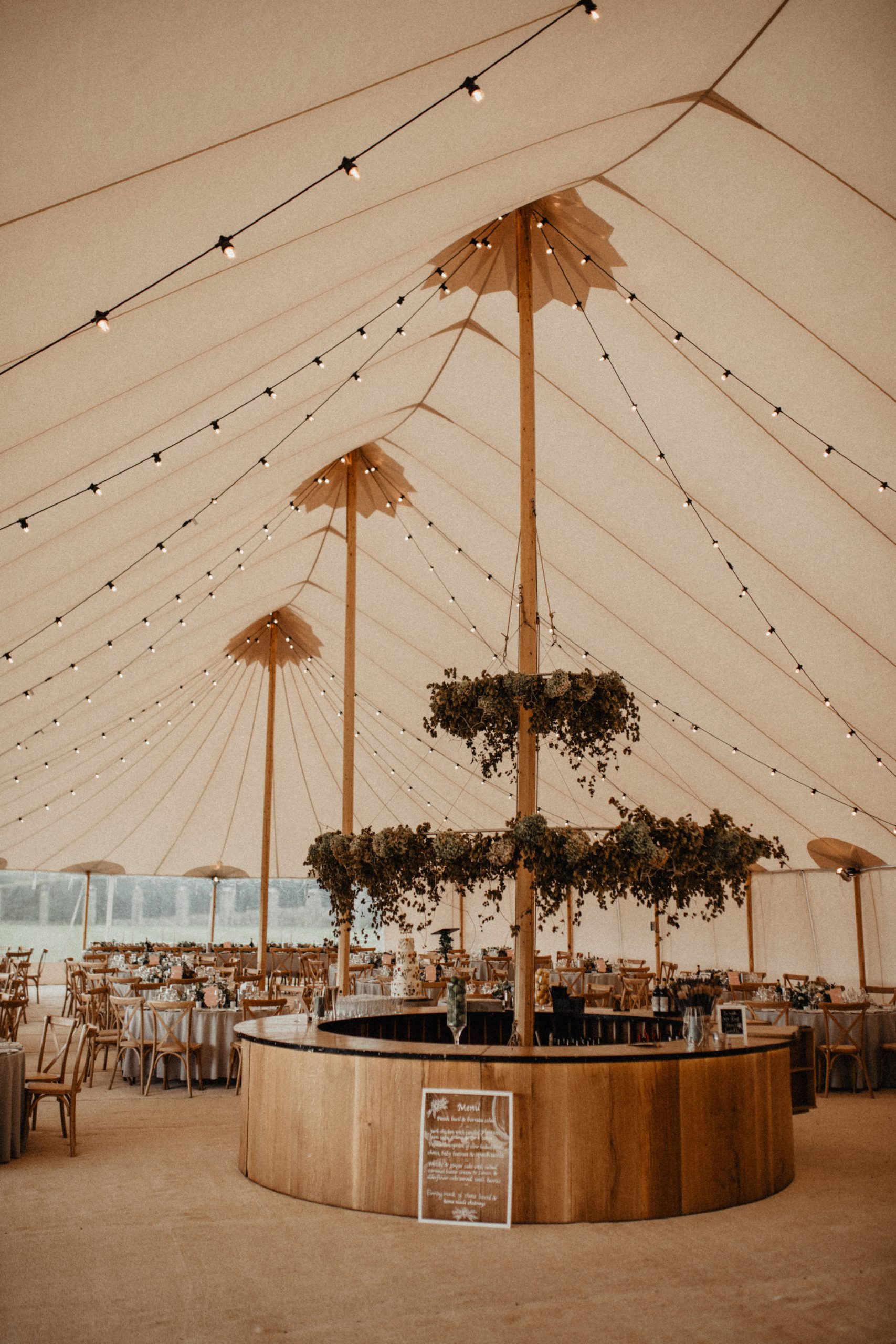 The tables were dressed for dinner with more flowers, pillar candles and floral stationery from Zoe Barker.
"For favours we hand-made soaps of rose and lavender."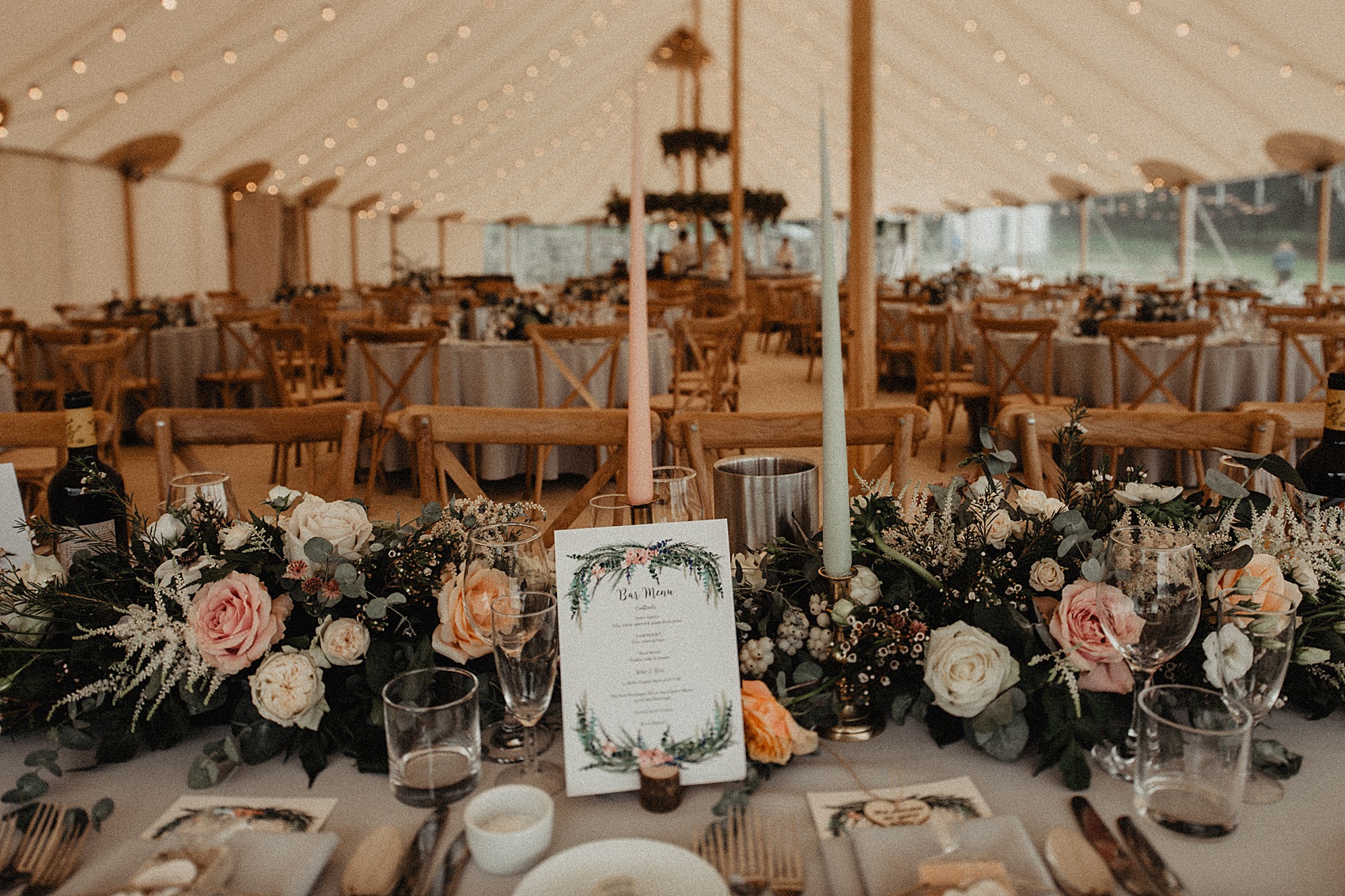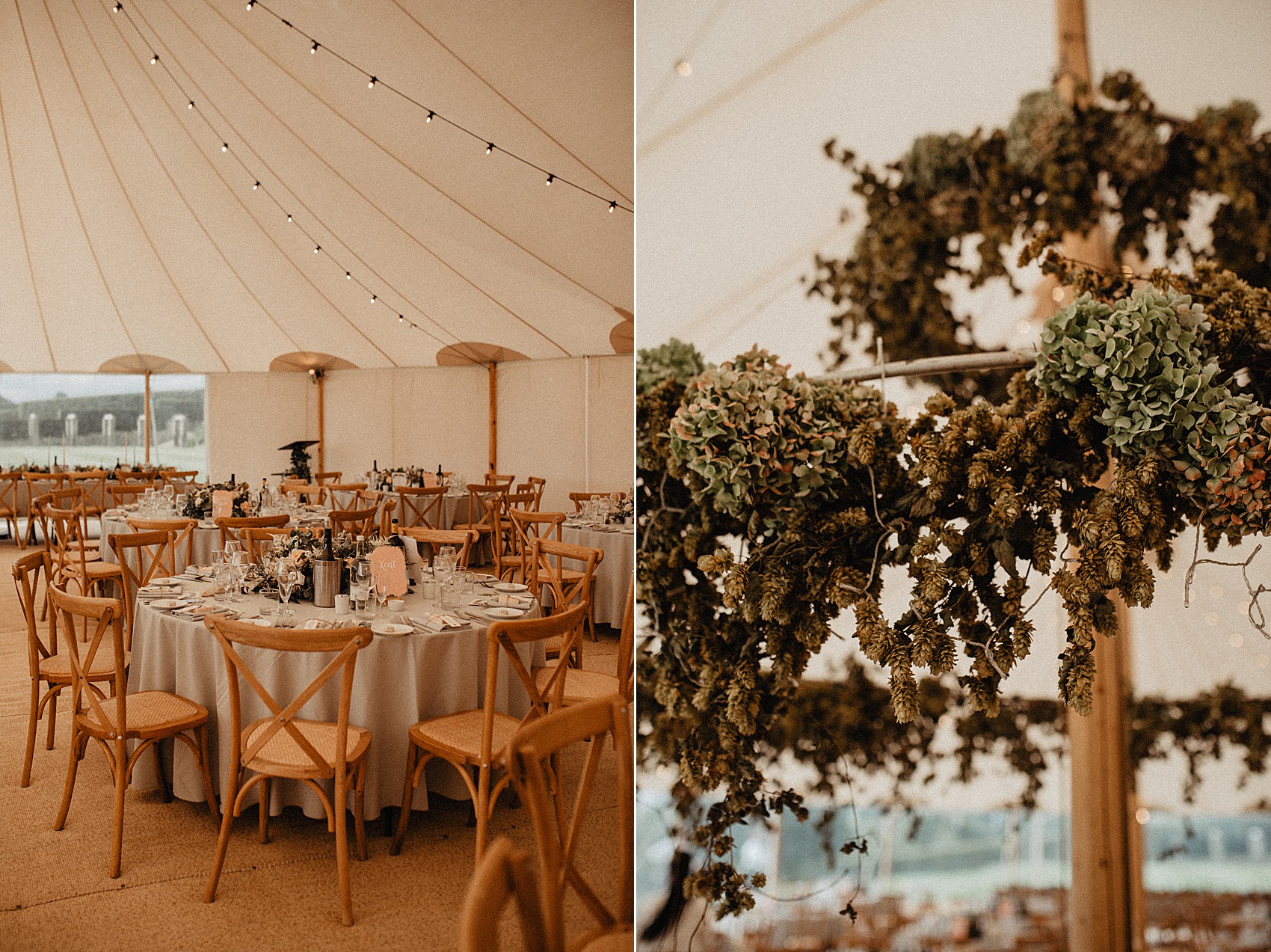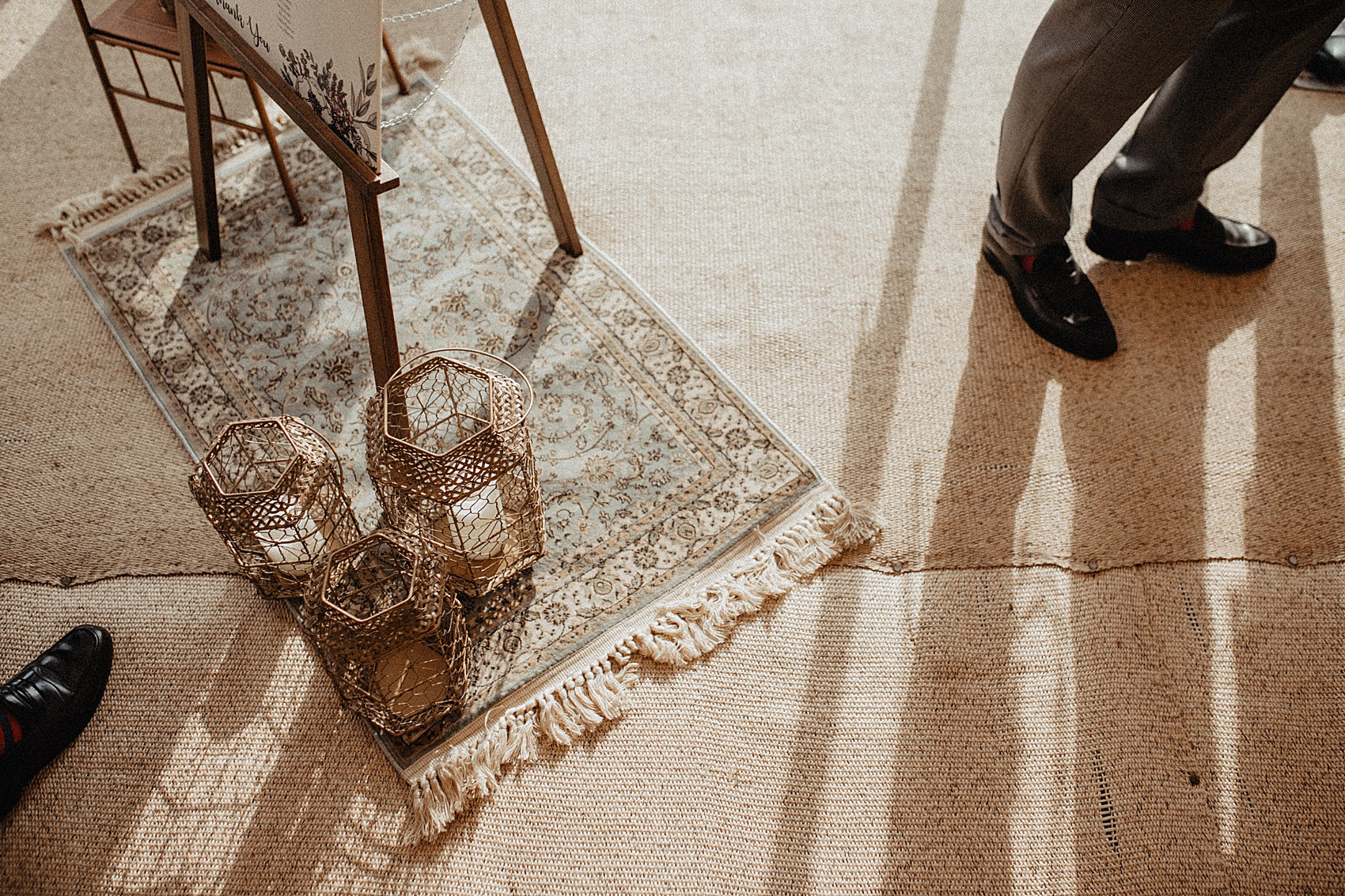 Dinner came courtesy of Kitchen Of Kent and for dessert, Isy and Ope cut into their magnificent, wild-flower-bedecked wedding cake, crafted by The House of Eliza.
"We served our cake for pudding and had two flavours; lemon and elderflower and whisky and ginger with a salted caramel buttercream. The cake was four tiers and covered in beautiful pressed flowers."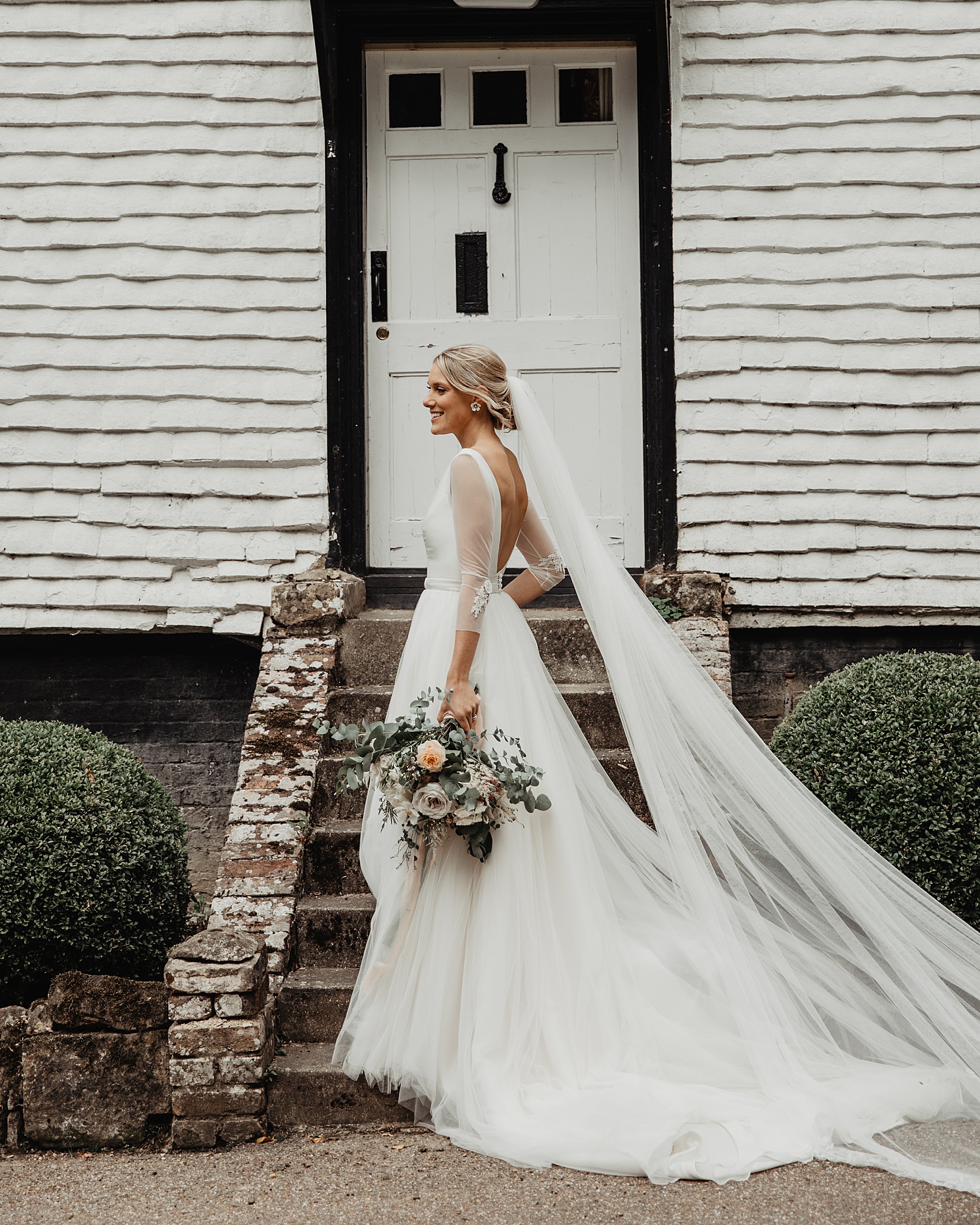 The evening party got started with a first dance to the Tiesto remix of 'All Of Me' before dancing to music from Central Avenue Function Band.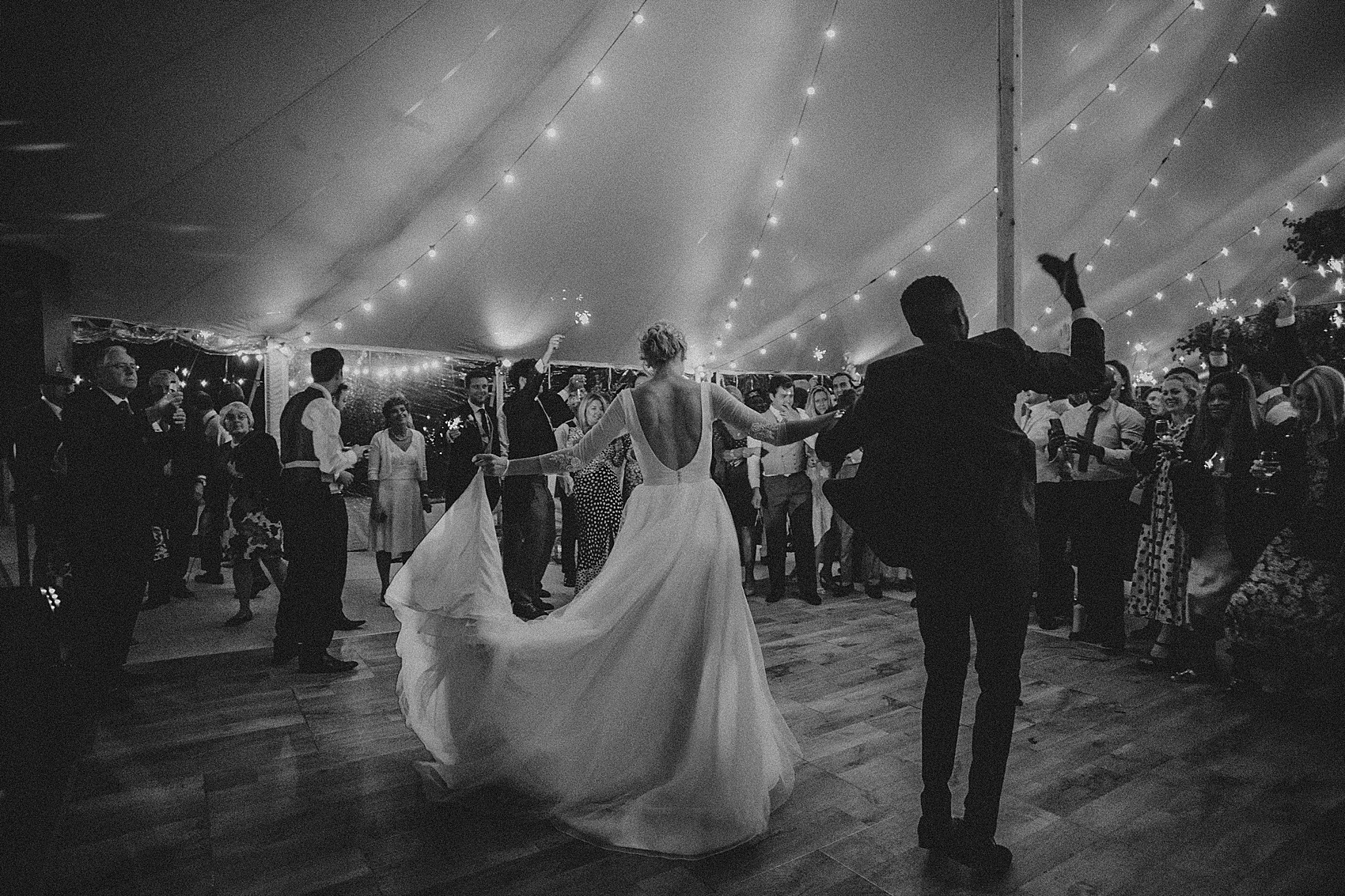 Words of Wedded Wisdom
"I really enjoyed planning our wedding and so I really would encourage brides-to-be to try and really savour and enjoy it! If you're creative try and make as much as possible but also know when to stop and leave it to the professionals."
"Haggle on every quote. We managed to get money off pretty much everything; you never know unless you ask."
Ope and Isy, what a beautiful wedding you had, and those flowers! I'm so happy to have seen you blend your two heritages together, so thank you for sharing it with us today. Thank you also to Photography by Ben & Kadin for your wonderful work.
With love
Ele xx