Lockdown is a funny thing. The days and weeks tick by but somehow time seems to stand still. I'm genuinely feeling quite disorientated with it at the moment, are you?
It can feel strange to think about anything beyond the next few days but with each new day that dawns, we do get closer to the return of life outside of lockdown. And, when the day comes when weddings can take place again, my goodness, how we'll celebrate.
Whether you've had to postpone your wedding or whether your big day is still a little way off, you can certainly use this time, this 'pause' in normal life, to continue with your wedding planning. In fact, continuing to move ahead, even at a slower pace, is how we ensure that when all this is over, we're in a good place and ready to go. 
We've spoken to lots of the suppliers that you'll find in Little Book, our altogether rather fab wedding supplier directory, to find out what they're doing to help couples continue to plan in lockdown and we've also got some spot-on planning advice from expert and highly experienced wedding planner Katrina Otter too.
If you're still trying to plan your wedding during this lockdown, we really hope you find this article helpful.
View this post on Instagram
Virtual Appointments With Boutiques & Designers
Whilst the doors of boutiques, studios and wedding venues might be closed right now, there are still lots of ways to connect with your suppliers and actually, now is a great time to do this. With the 'usual routine' on hold, lots of boutiques and designers are offering virtual appointments and this is an absolutely fantastic way to spend a little extra time perfecting your bridal look.
Designer Sally Bean is offering virtual appointments to brides and is even giving glimpses 'behind the scenes' on her Instagram.
Kate, at Heartfelt Vintage, is offering appointments over Zoom and these consultations allow you to create your dress shortlist now so that when the boutique re-opens, you're ready to try on gowns you know will suit you at your appointment. You can even add family members and bridesmaids to the appointment so that everyone can be part of this uplifting and enjoyable experience.
Designer Elbeth Gillis is also embracing the opportunities that lockdown presents with Skype and Zoom calls with clients so why not make the most of this time and Kate Halfpenny and her exceptional team are also offering virtual appointments and phone consultations so that you can talk through your ideas now before you visit their 'dressing up box of dreams' once all this is over. Now, isn't that something lovely to look forward to?
View this post on Instagram
Online Venue Consultations & Tours
Similarly, lots of wedding suppliers in all sectors are reaching out to offer virtual consultations – makeup artists such as Claire Bowring are seeing a huge uptake of their virtual skincare consultations and innovative venues, such as the idyllic Pynes House, are taking couples on virtual tours:
"Whilst our doors may be closed for meetings at the house, we are still very much open in terms of virtual tours, virtual meetings, by telephone or on email," says co-owner Kate. "We are very lucky that we live on-site next door, so can offer personalised virtual tours where we can discuss couples' individual plans – it really is the next best thing to a visit in person and we have had great feedback from couples."  
"For those couples who have already booked with us, we are also very happy to help answer any questions by email, phone or video-call about plans for weddings beyond this current situation."
The delightful Askham Hall has also produced a marvellous virtual tour that's available on their website and on their Little Book listing. The 3D view is absolutely brilliant – you can look right around the spaces, zoom in on the areas that interest you and really get a sense of the layout of the venue, which is so important for planning purposes! 
So, as you can see, the wedding world is most certainly still open, even if they are behind closed doors right now. Reach out to suppliers, book consultations, visit venues, see what they're offering and continue planning – you'll be glad you did.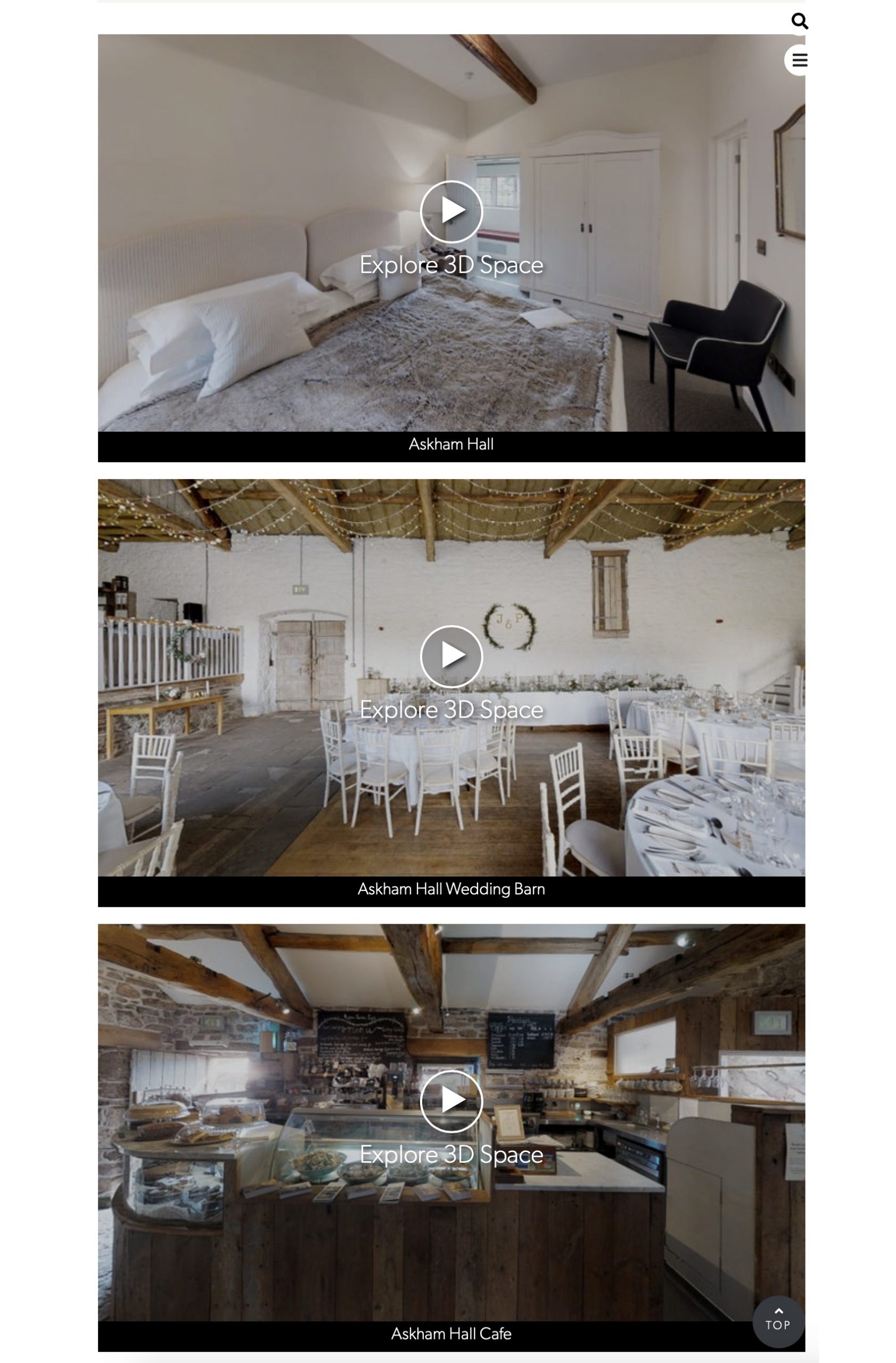 *Click image to view Askham Hall's virtual tours*
Planning in Lockdown: 11 practical tips from Katrina Otter
"Whether you're carrying on with your wedding date as planned, you're seeing how things go but have a Plan B or backup date on hold just in case, you've postponed your wedding and have confirmed your new date with friends, family and suppliers, or even if you're recently engaged and looking ahead to your 2021 wedding (and beyond), lockdown doesn't mean that wedding planning has to cease to a halt. Here are just some of the things that you might want to consider whilst we're in lockdown"
Ensure that all of your paperwork is up-to-date – now's the time to get on top of your spreadsheets, payments and schedules.  If you've postponed your wedding then make a note of your revised payment terms, dates and amounts and double check contracts as well.  It's not the most glamorous of tasks (unless you're as obsessed with spreadsheets as I am!) but if there's ever a time to really get on top of the admin, then it's now!  

Review your planning timeline and tweak dates/months/years accordingly.  

If you had meetings scheduled in the diary (i.e. a food tasting, hair and makeup trial, site visit to your venue) then reach out to your suppliers as soon as possible to talk about the feasibility of postponing and the practicalities of online meetings and virtual tours instead.

Continue to thoroughly research and book suppliers, especially if you're in the early stages of the planning process. Due to postponements, a lot of suppliers now have limited availability and are getting booked up years in advance so the luxury of time may now no longer be on your side.  

Stay in touch with your existing suppliers, share the love, jump on a call, plot, plan and scheme alongside them, I'm sure they'd love to hear from you. You could for example set up a call with your caterer to talk about bespoke menus, or your hair and makeup artist to chat more about skin care regimes and looks for the day.

Continue to be inspired by perusing Pinterest, Instagram and your 

favourite blogs

, whilst also creating any mood boards and considering the smaller more personal details. If you've postponed your wedding to a different month or season, then now's also the time to refine your style and vision, working alongside your suppliers to discuss seasonality and practicalities.

If you've postponed your wedding then you may also want to use the time to notify your guests of the change of date, amend your wedding website, notify your insurance company of your new date, think about how the new season/year will impact your wedding and as a result the things you may need to tweak, add, remove etc.  

Create a wedding website to keep guests informed.

Create your wedding gift list or charity register, with the added bonus that this can be a fun activity to do together as a couple.

Tick off those easy-to-do (but usually left to the last minute) items from the wedding to-do list such as playlists (including your first dance and last song), group photos, your speeches, emergency kit bags, toiletry baskets and ceremony reserved seating plans. 

Finally, and most importantly, now more than ever is the time focus on you and your mental health and wellness routine so please be kind to yourself (and others), stay safe… and stay at home!
View this post on Instagram