Lovely readers, I can honestly say I've been completely transported by today's charming country wedding celebration, and as we're all perhaps in more need than ever of a little escapism, I hope you enjoy all of the details, and all of the joy radiating from this as much as I have.
This is the wedding of lovely Jessica and Richard. Jessica is a Media and Communications Officer for CLIC Sargent, and Richard is a Sports Reporter, and they were married on the 14 September 2019 at the medieval St. Peter's Church, Stourton, Wiltshire.
Siobhan Amy Photography & Film

+ Follow
Jessica and Richard were blessed with a gloriously sunny weather on their wedding day, and it was all captured exquisitely by Siobhan Amy Photography & Film, who I'm very pleased to say is one of our highly valued Little Book directory members.
"I found Siobhan after Googling weddings at Stourhead, and her pictures came up. I loved her style and natural shots and lighting. We met in Bristol, and she was so nice, and I knew straight away she was the perfect person to capture our day, and really trusted her."
"You definitely need and want a photographer that gets you and what you want, and makes you feel at ease. We actually then picked our date based on Siobhan's availability and the venue – because it meant a lot to get those two right!"
"Siobhan was amazing on the day, making sure we got all the shots she knew we would want, and everyone has said how incredible and beautiful the pictures are, and that is down to her amazing talent. I couldn't recommend her enough! She is absolutely fabulous."
"I designed our wedding stationery using Canva. I sourced a beautiful floral design on Shutterstock, and paid about £20 for the design elements, and then used a local Bristol printers (Clifton Print Services) to design the invitations and orders of service."
"It was really fun creating our own unique design, and something that I loved doing and would recommend. Canva is really easy to use for anyone."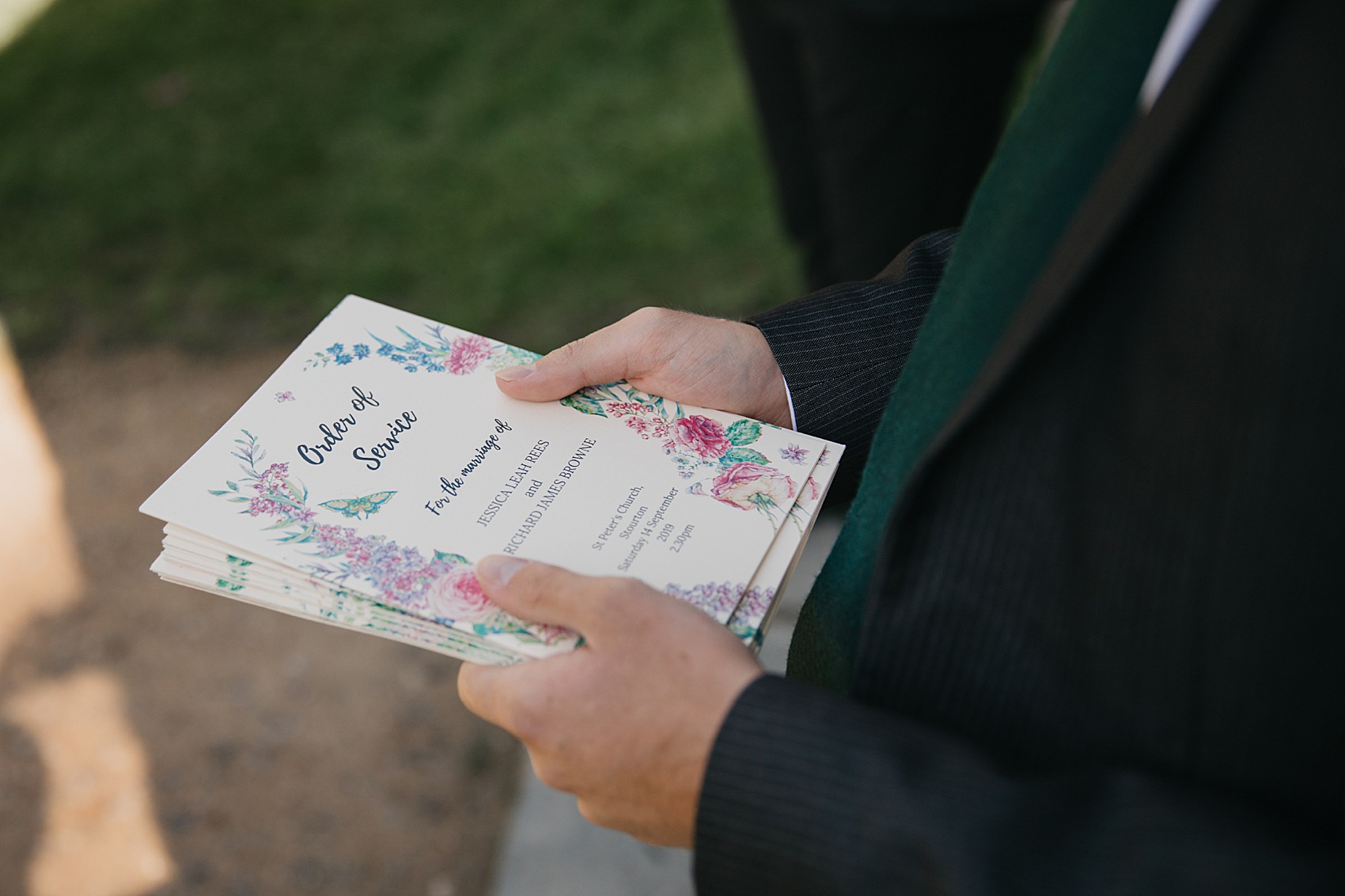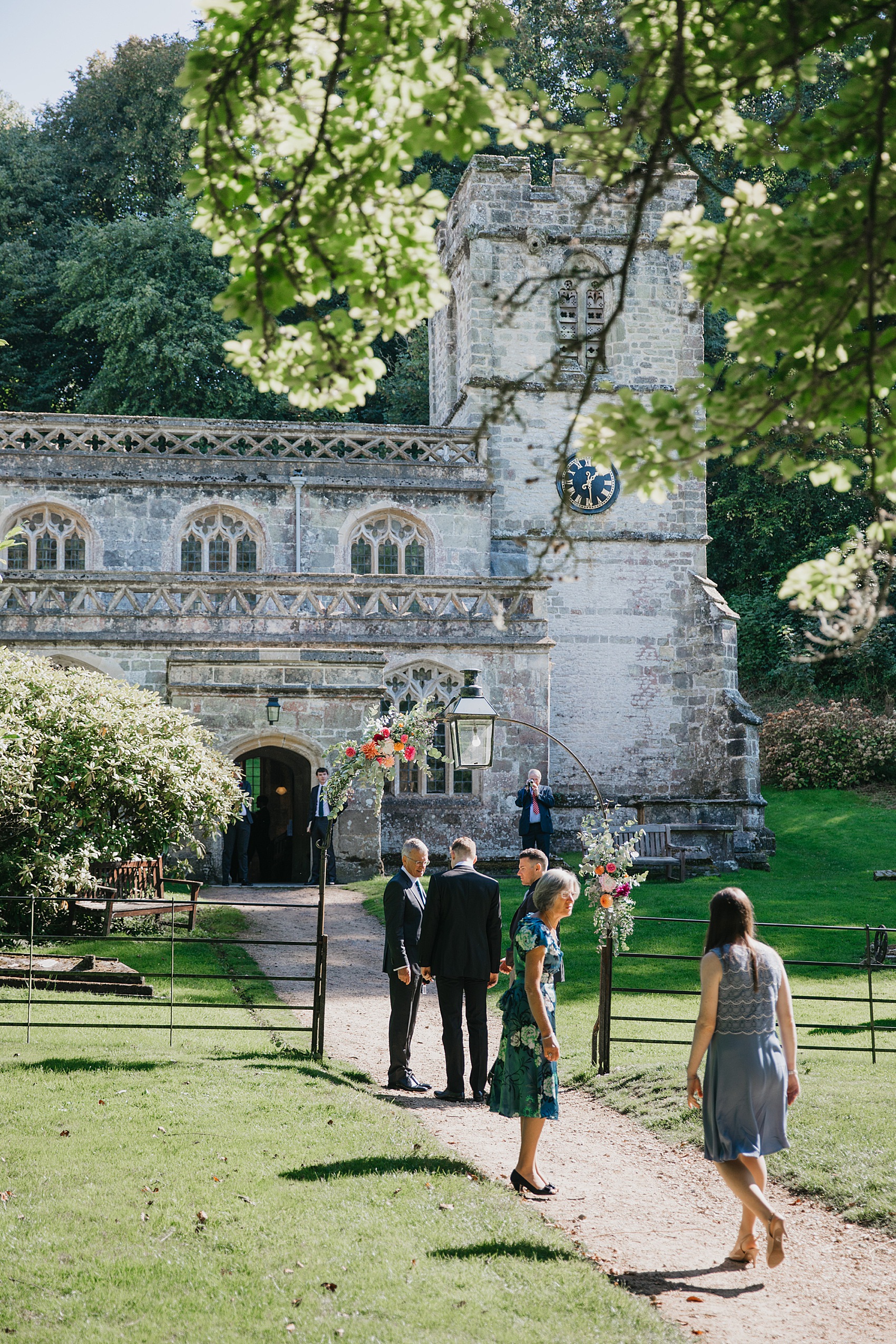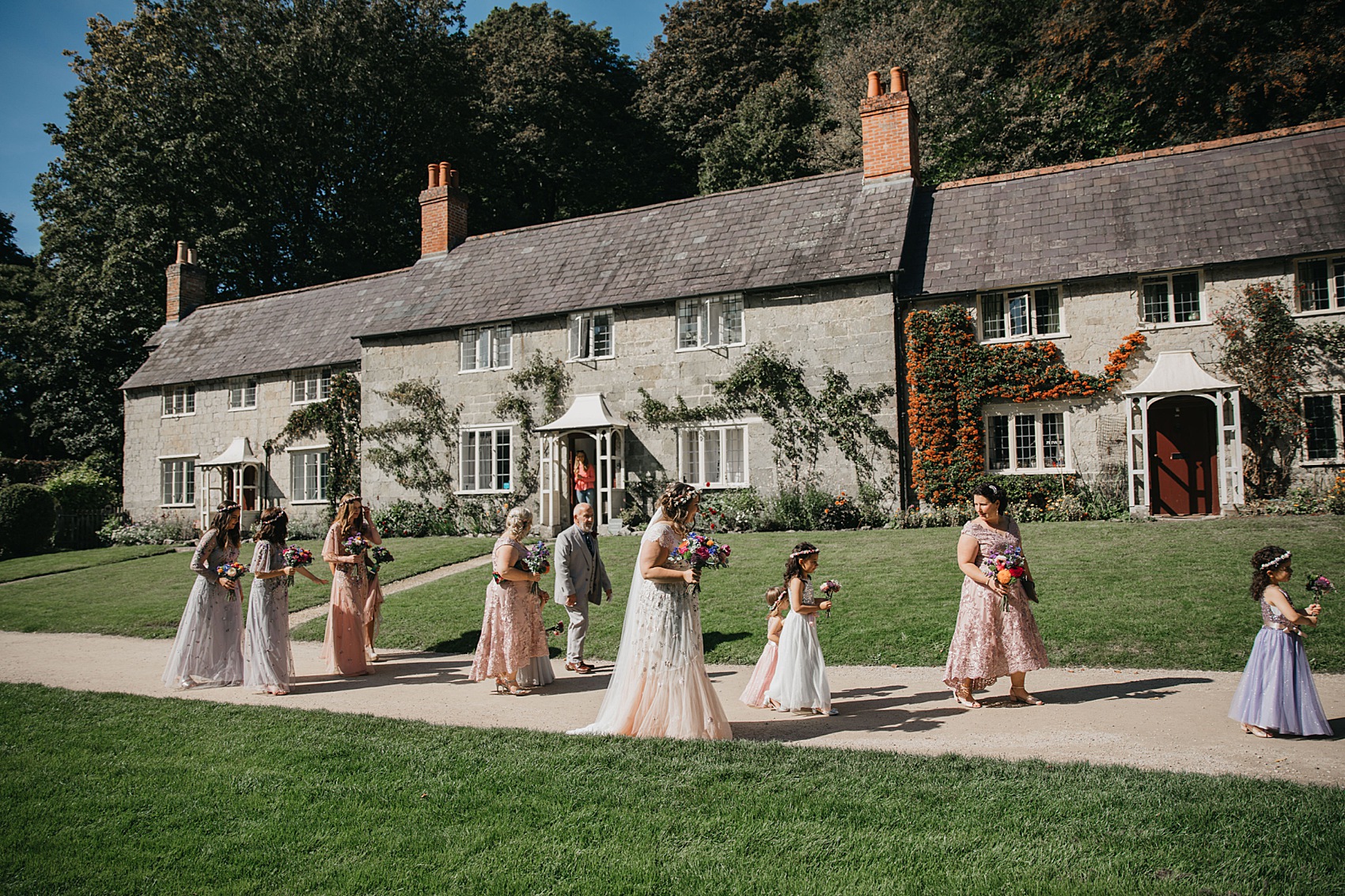 Jessica's hair was styled in soft, romantic waves by Olivia Dunn of Lavish Locks with Olivia, and her make-up was by Cristina Salazar.
"I made my headdress. I found the base of the hairband in a charity shop in Bristol and then I went to Whittingtons in Bristol (a must for any floral obsessed bride!) and bought flowers and rose gold gems that I worked into the hairband so that it blended with the blush pinks of my dress. The hairdresser then dotted flowers throughout my hair."
Jessica looked like a dream in her soft blush pink ombré dress by Needle & Thread. Inspired by the beauty of flowers throughout the day, Jessica's dress was no exception, covered in delicate floral embellishment and embroidery, with a pretty scalloped lace neckline and sleeves.
"I ordered my dress online at Needle & Thread after so much research looking for an embroidered floral wedding dress. I knew I wanted something different. I wanted a little bit of colour, and I wanted it to be embroidered all over. That proved expensive, until I discovered Needle & Thread, which was so reasonable and amazing quality."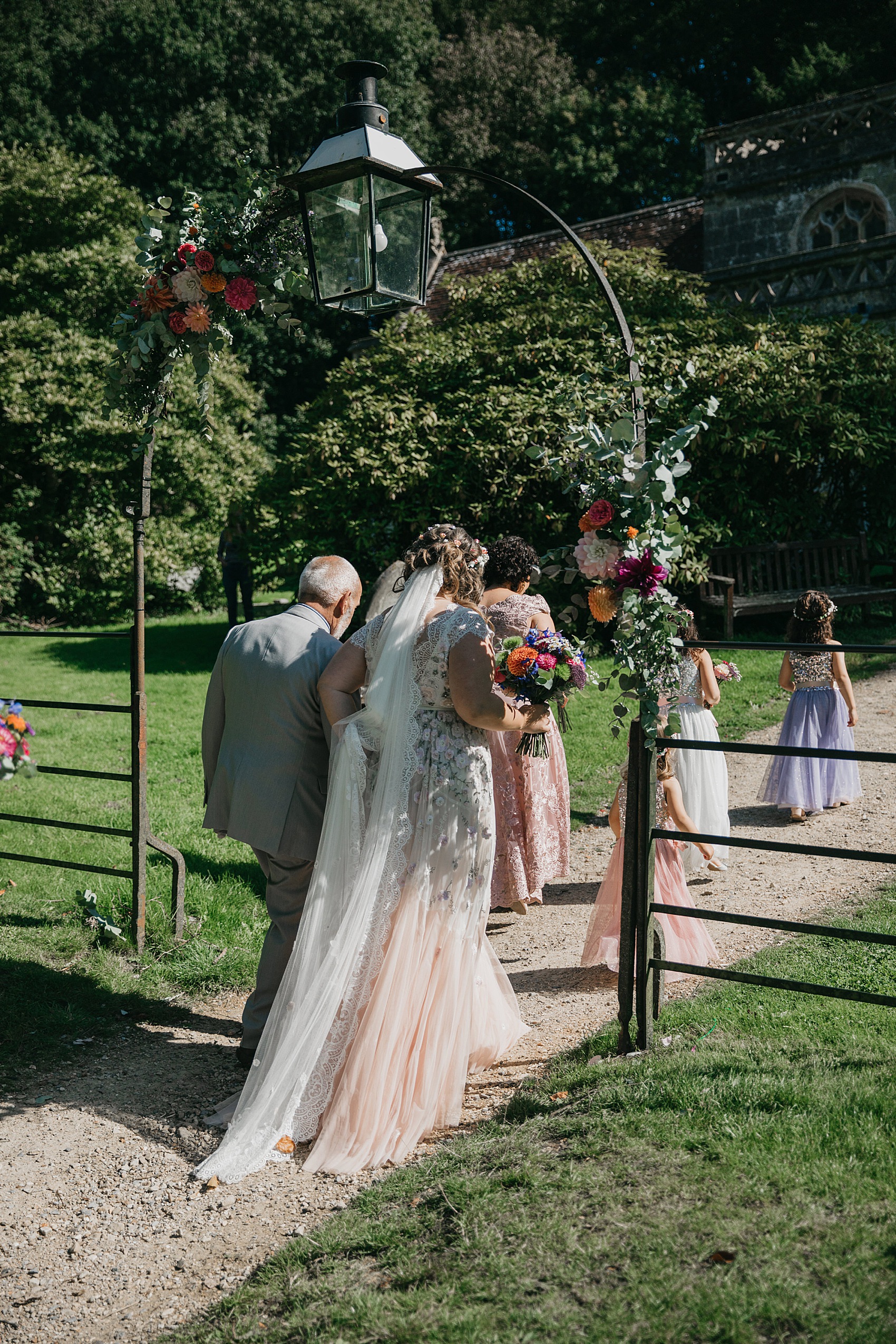 "The dress was stunning, and was the first and only dress I tried on. It had thin straps, and so I worked with a Bristol based seamstress to design lace sleeves for the dress, which I always knew I wanted to have, too. Emma Dee was amazing and made the dress even more perfect."
"I would say to brides, don't be scared to do something different, and make alterations to make your dress unique to you."
"I couldn't recommend Needle & Thread more for any bride wanting a floral dress. I just love everything about their dresses, they are full of intricate and beautiful embroidery, and it was important to me to have a dress that was different – and full of flowers."
Jessica walked to the church with her dad and her bridesmaids, who wore pastel hued dresses from ASOS, together with their own shoes. The sweet flowergirls wore full length dresses from Monsoon.
"I made the bridesmaids and flowergirls all floral crowns using wiring and flowers from Whittingtons. I loved making them, and it meant I could tailor the colours and flowers to fit with the scheme and their dresses."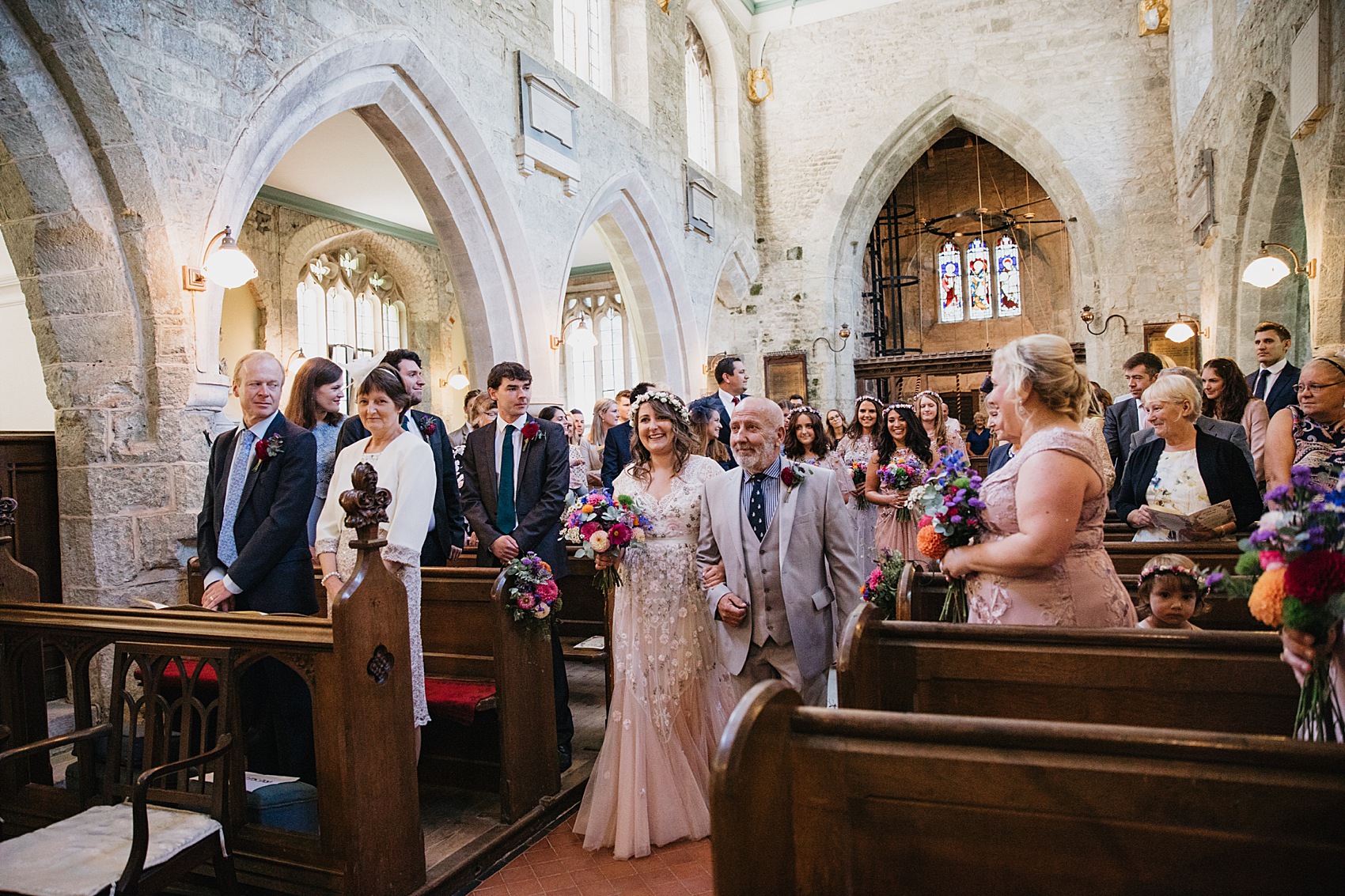 It meant everything to Jessica to be able to walk down the aisle with her dad, supported by her sisters as Maids of Honour, her nieces as flowergirls, and her best friends, Richard's sister, and niece as her bridesmaids. Their entrance music was also very special – Be Thou My Vision, sung by Jessica's friend's choir.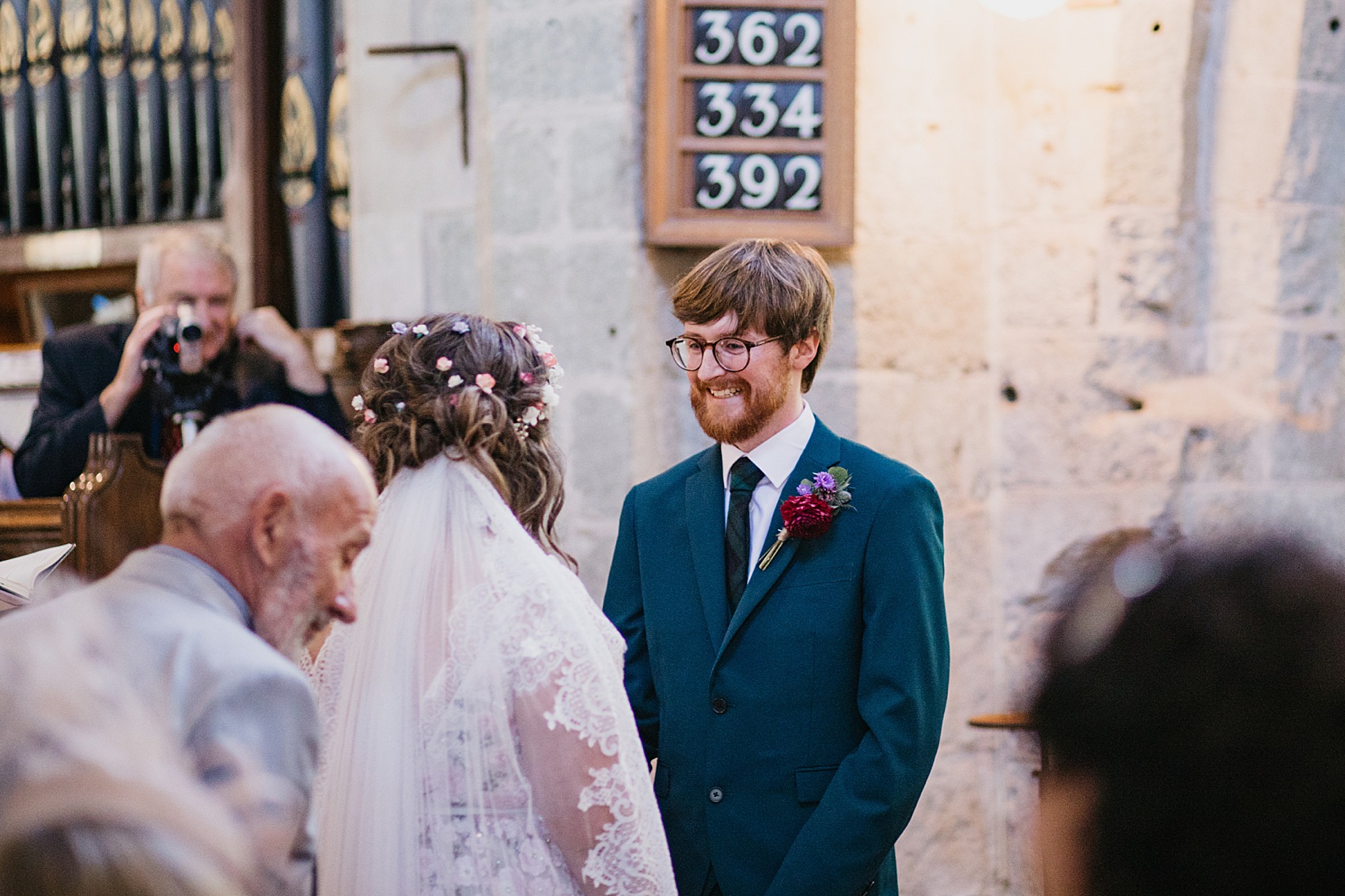 "When we got engaged, my friend Izi suggested her choir sing at our wedding, and they completely made the service. They were incredible, singing acapella, and as their voices filled the church they completely blew everyone away."
"My favourite song they sang was Loch Lomond, which we will treasure forever – it was an incredible moment."
Emma Dee also handmade Jessica's veil, using off-cuts from the alterations made to her dress so that Jessica could have the magical, floral embroidered veil she had dreamed of. It was then edged with the same scalloped lace used to make the dress sleeves and neckline.
Jessica's shoes were rose gold glitter kitten heels from the 915 range at New Look.
"I kept accessories simple and minimal, wearing just rose gold floral stud earrings, and let the dress and hair flowers do the talking. I also wore Emporio Armani 'She' perfume – my sister's favourite scent and perfume who passed away. I wanted her with me on the day."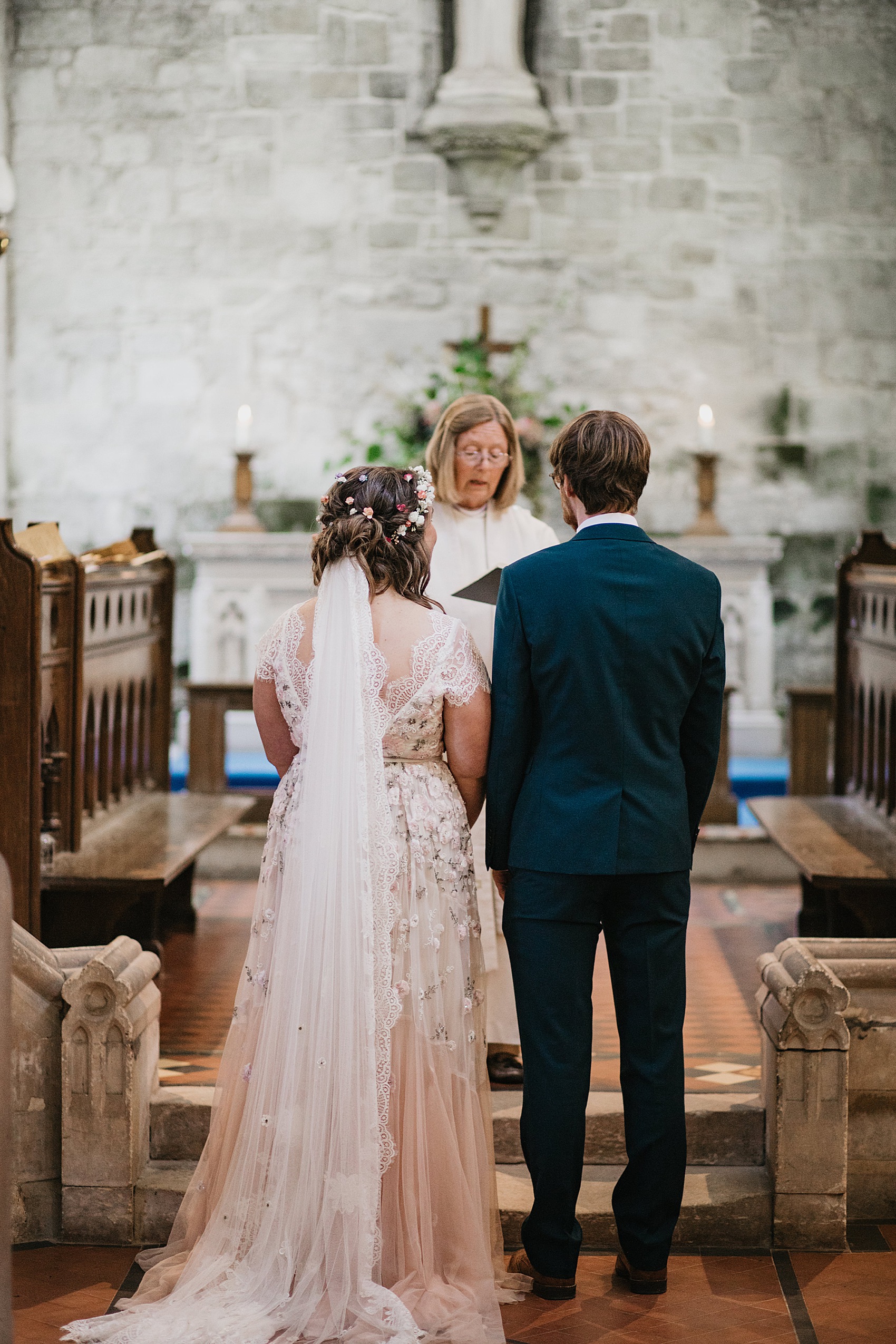 The couple's ceremony was conducted by Reverend Vickie Goodman, who put them at ease with her warmth and friendliness, taking the time to get to know them ahead of their wedding day.
"We had three readings: a religious reading and Carrie's Poem, by Cindy Chupack, from Sex and the City, and That Still and Settled Place by Edward Monkton. We chose the readings as I completely love Sex and the City, and Edward Monkton's was our favourite from everything we read."
"We liked they weren't too long, and the words really meant something to us. My best friend Sofia and niece Leah did our readings, and Rich's mum shared the religious reading as part of the service, which was really special."
As they made their vows surrounded by loved ones, Jessica and Richard also exchanged rings, which they chose at H. Samuel.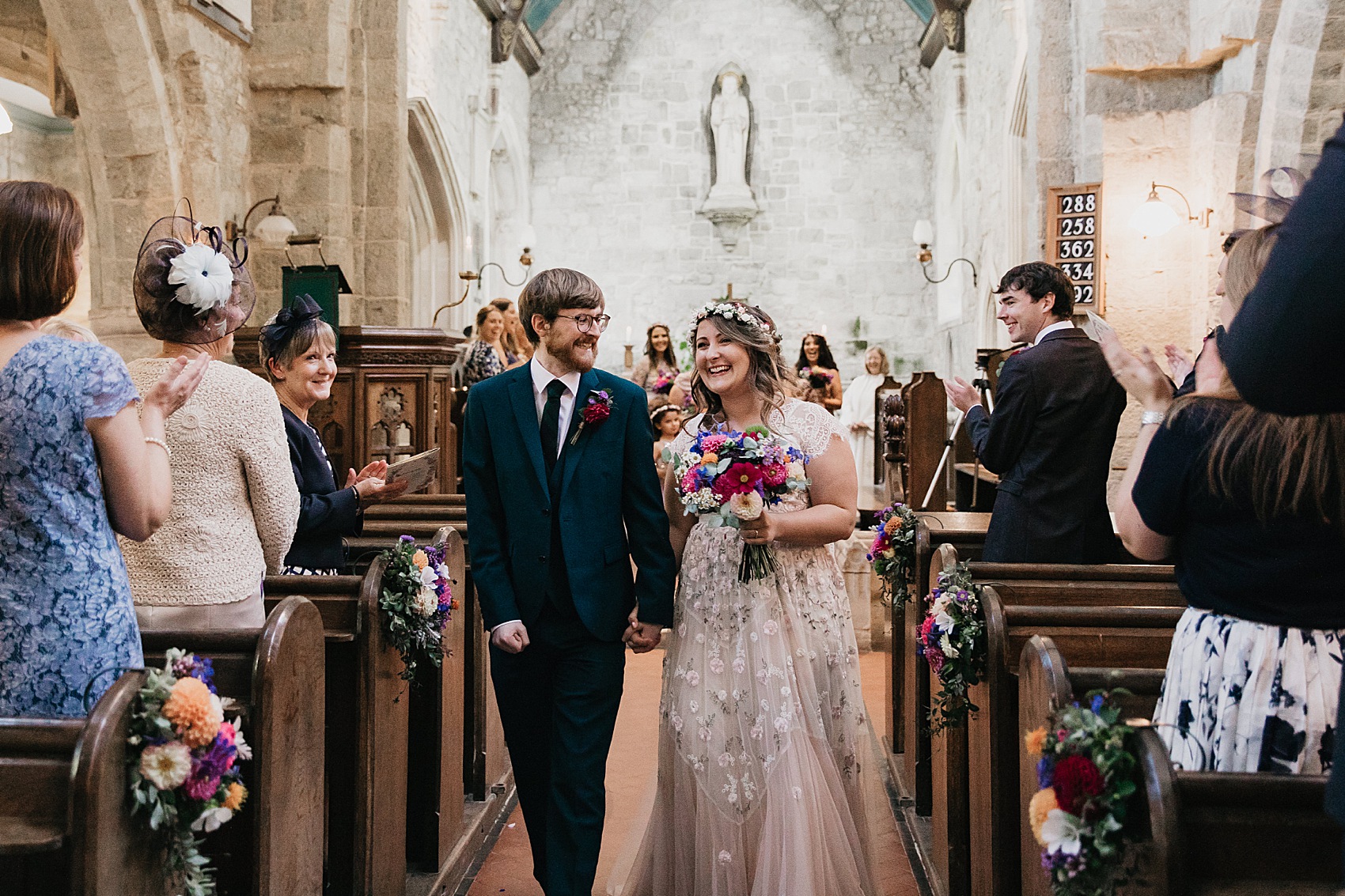 "My favourite part of the day was having all of our family and friends there. I don't think anything can prepare you for what that moment feels like to have them with you celebrating. The service was an unbelievable feeling, and the choir singing, too."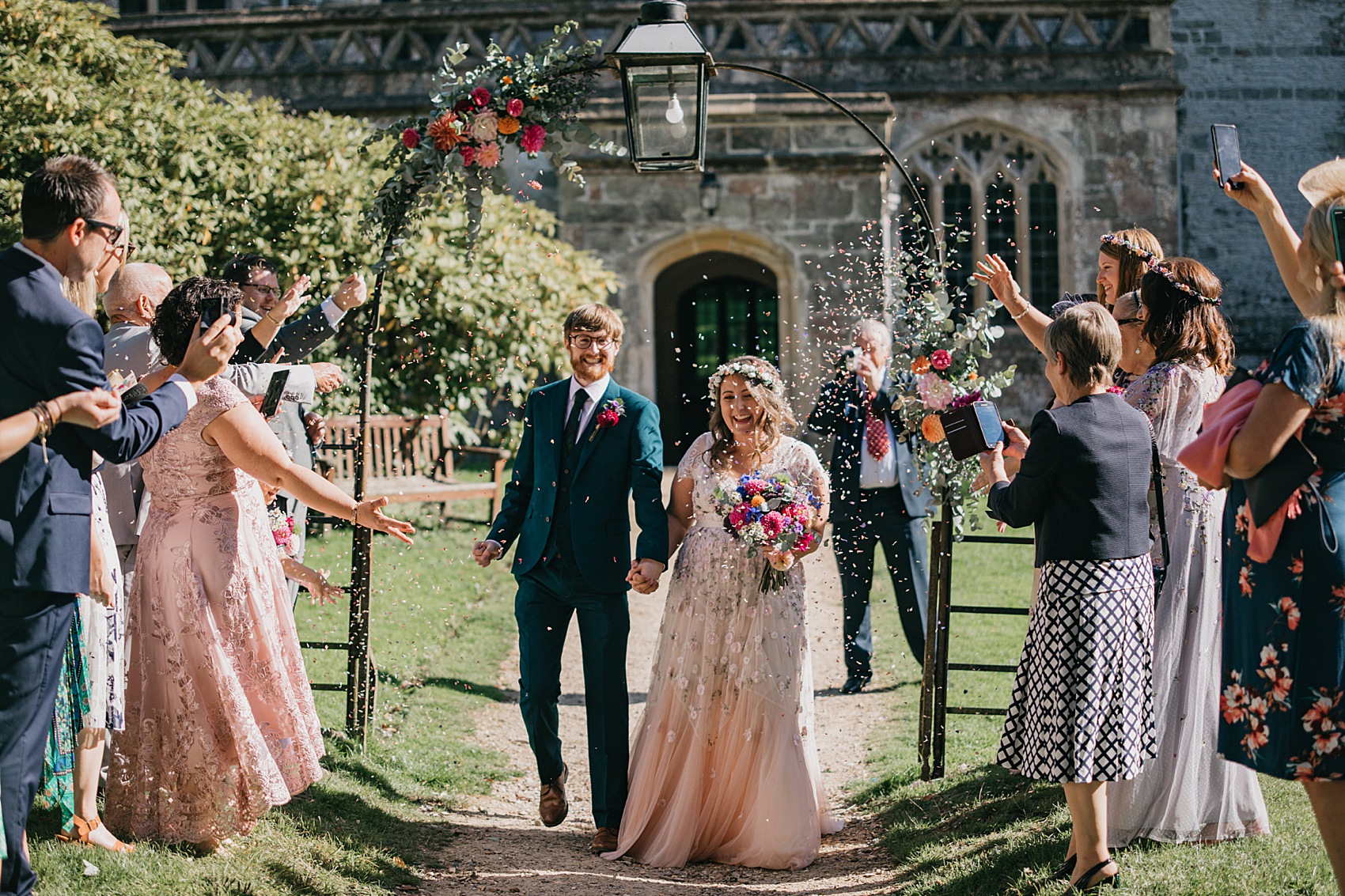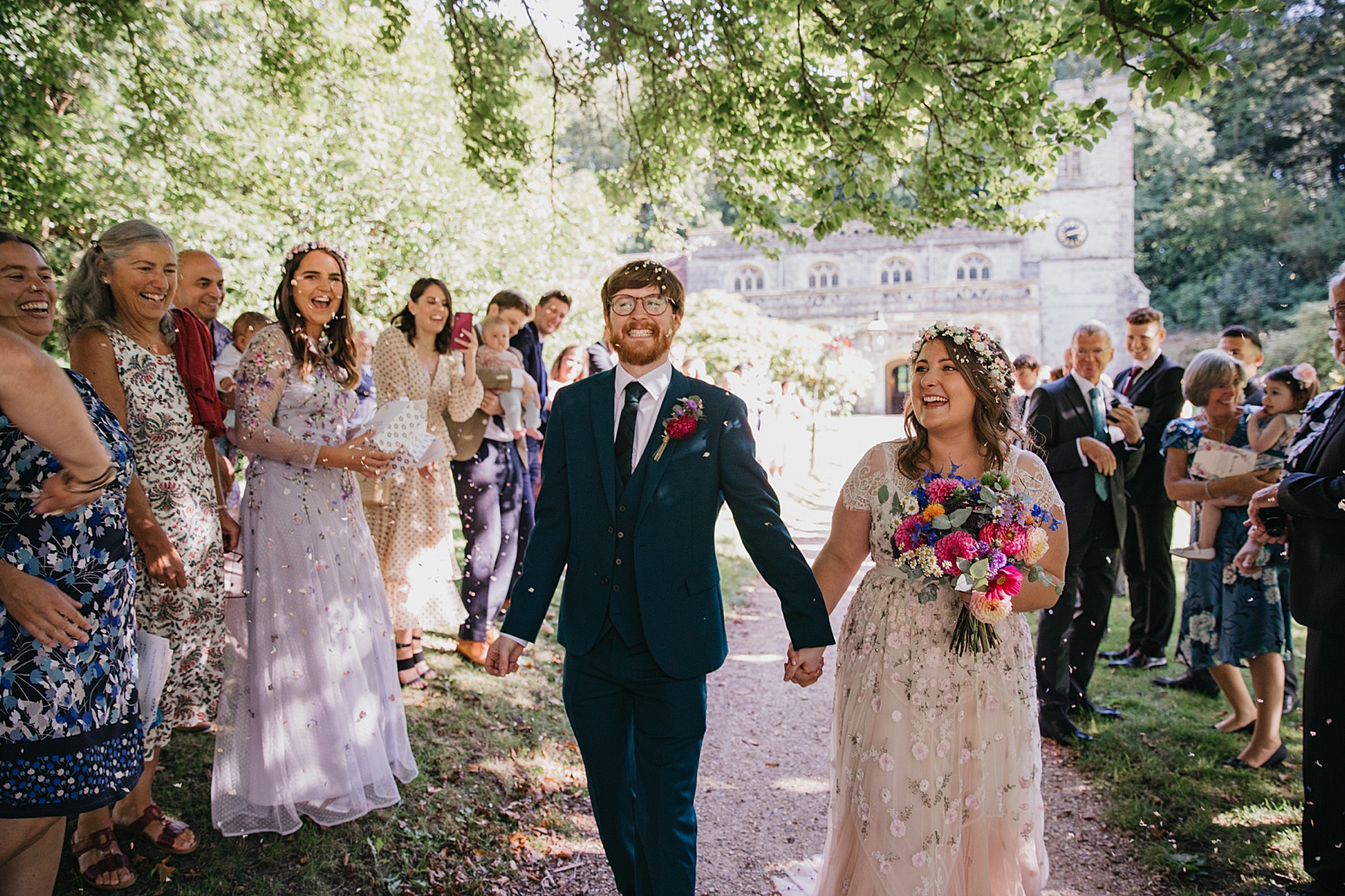 The whole bridal party carried gorgeous, vibrant bouquets, which included dahlias, daisies, roses and statice in shades of pink, orange, purple, all made by Jodie Farrell of Walled Garden Weddings.
"I loved that Jodie was based in the south west, and sourced her flowers locally. We met at the Walled Garden of Mells in the winter and Jodie really took time to listen to what we wanted – lots of dahlias and colour!"
"Getting the flowers right was actually one of the biggest things for me, and having a real mix of colours and textures. I loved the end result so much. Jodie did an amazing job, especially with the dahlias, which were so beautiful and in full bloom in September."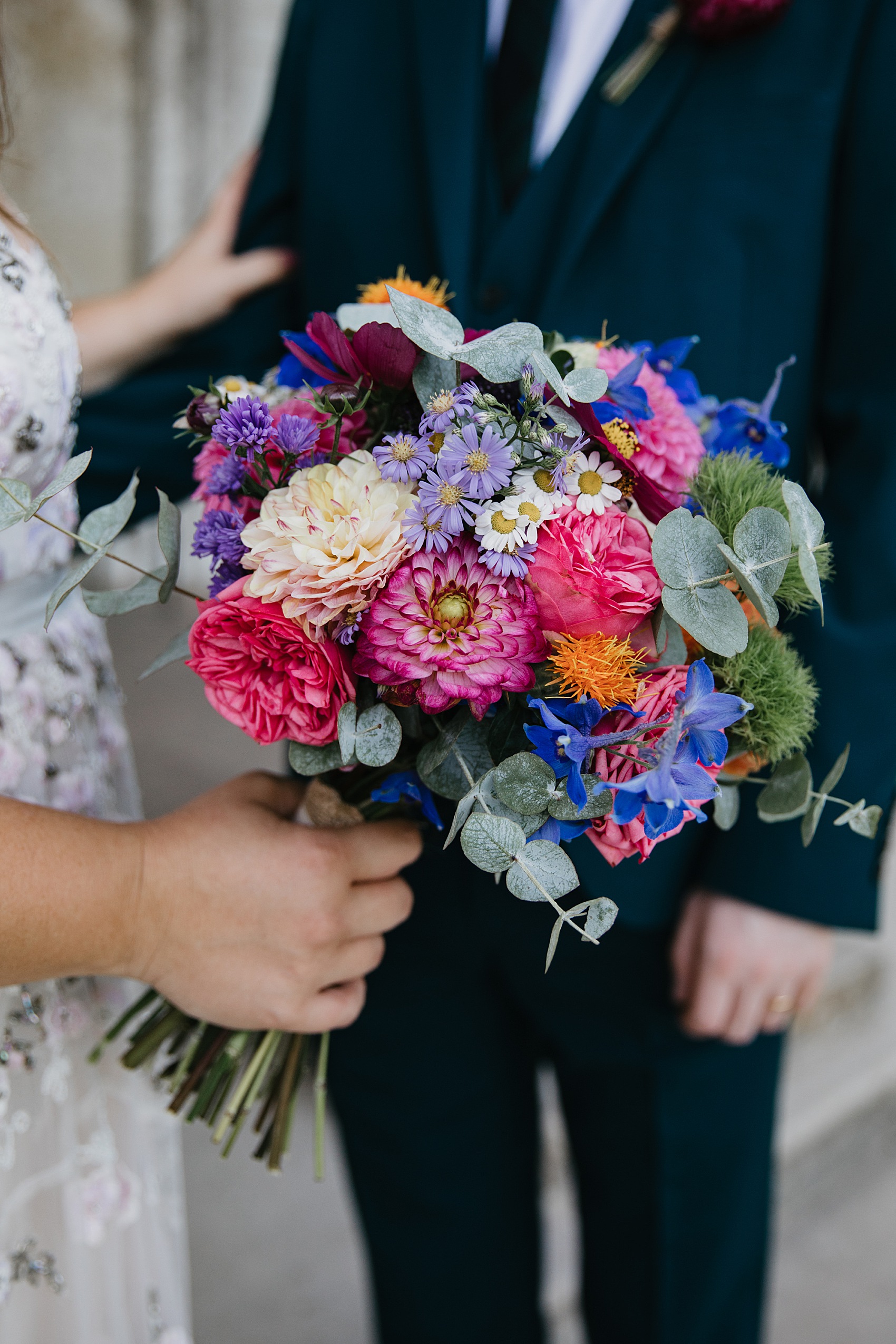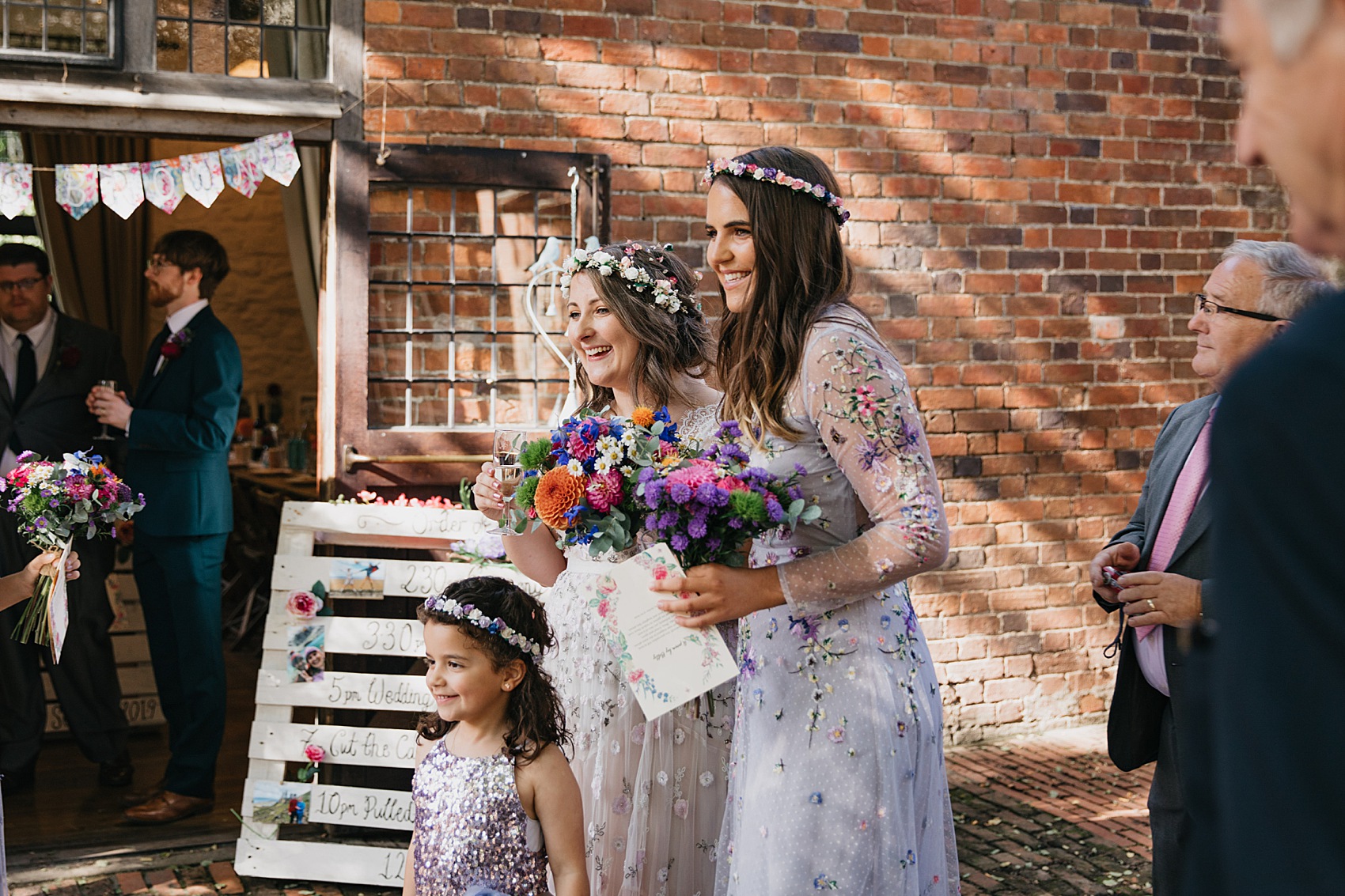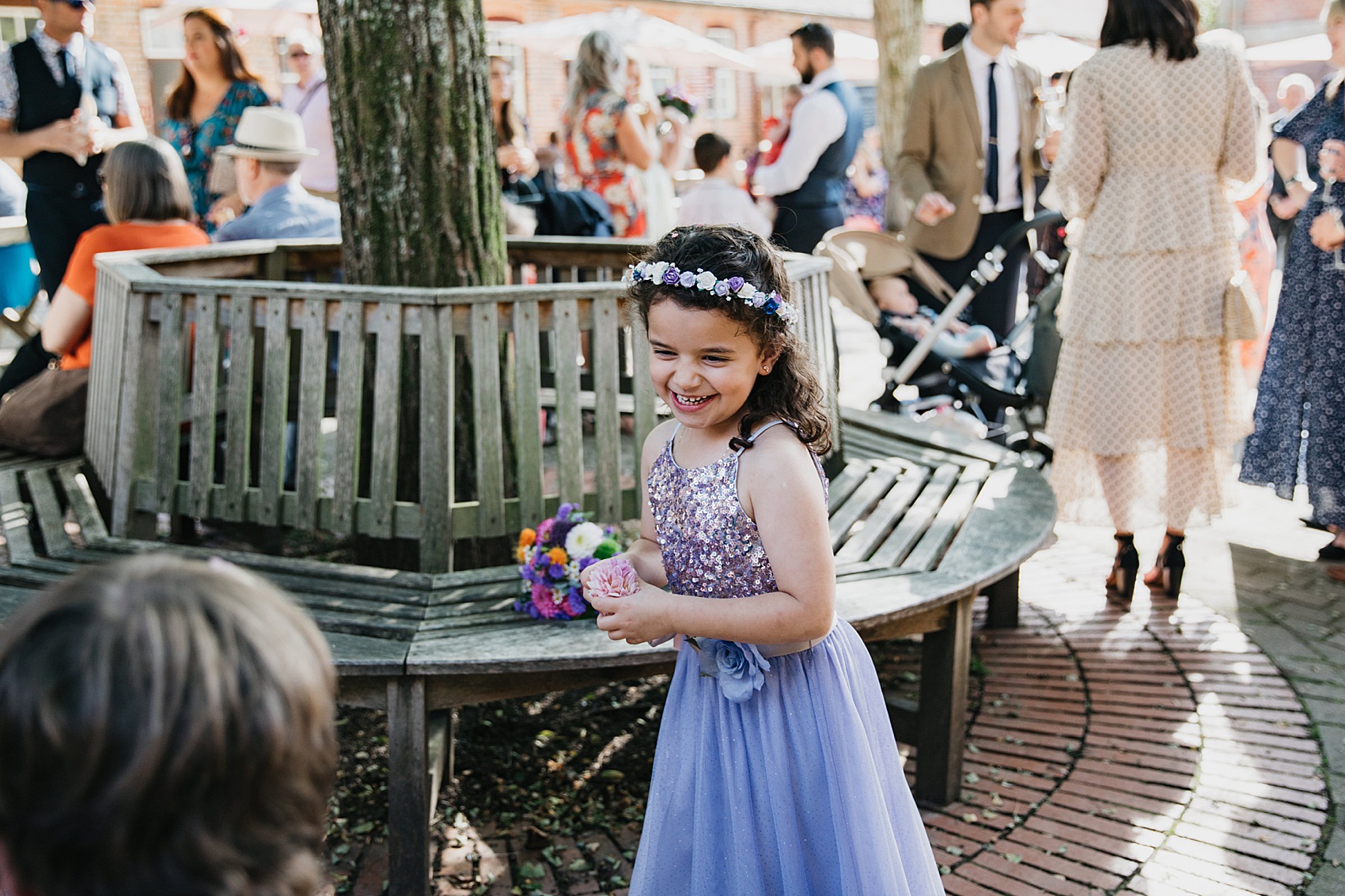 The newly married pair made their way out of St. Peter's and into the sunshine, where glasses of fizz were waiting to be enjoyed outside the village hall.
This was also the time that Jessica and Richard were able to take alone to walk the spectacular gardens of Stourhead, which was another favourite moment from the day.
"That was a moment because it was our moment alone, away from everyone to just enjoy the peace and beautiful scenery."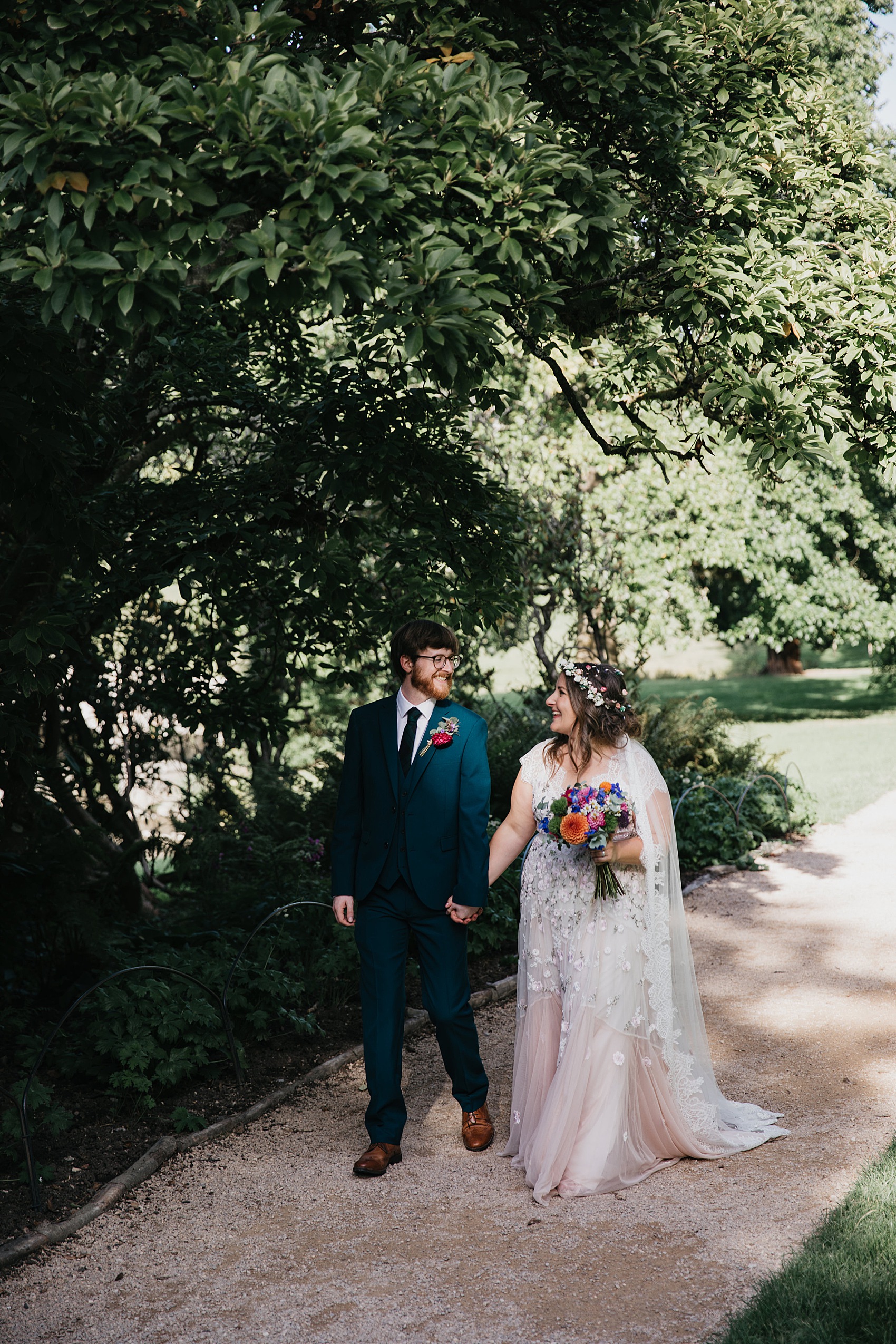 "We met in the newsroom at the Dorset Echo in Weymouth. It was my first job in journalism as a trainee features writer, and Rich was working there as a sub-editor."
"We hit it off at a work night out at a David Bowie tribute night, and went from there!"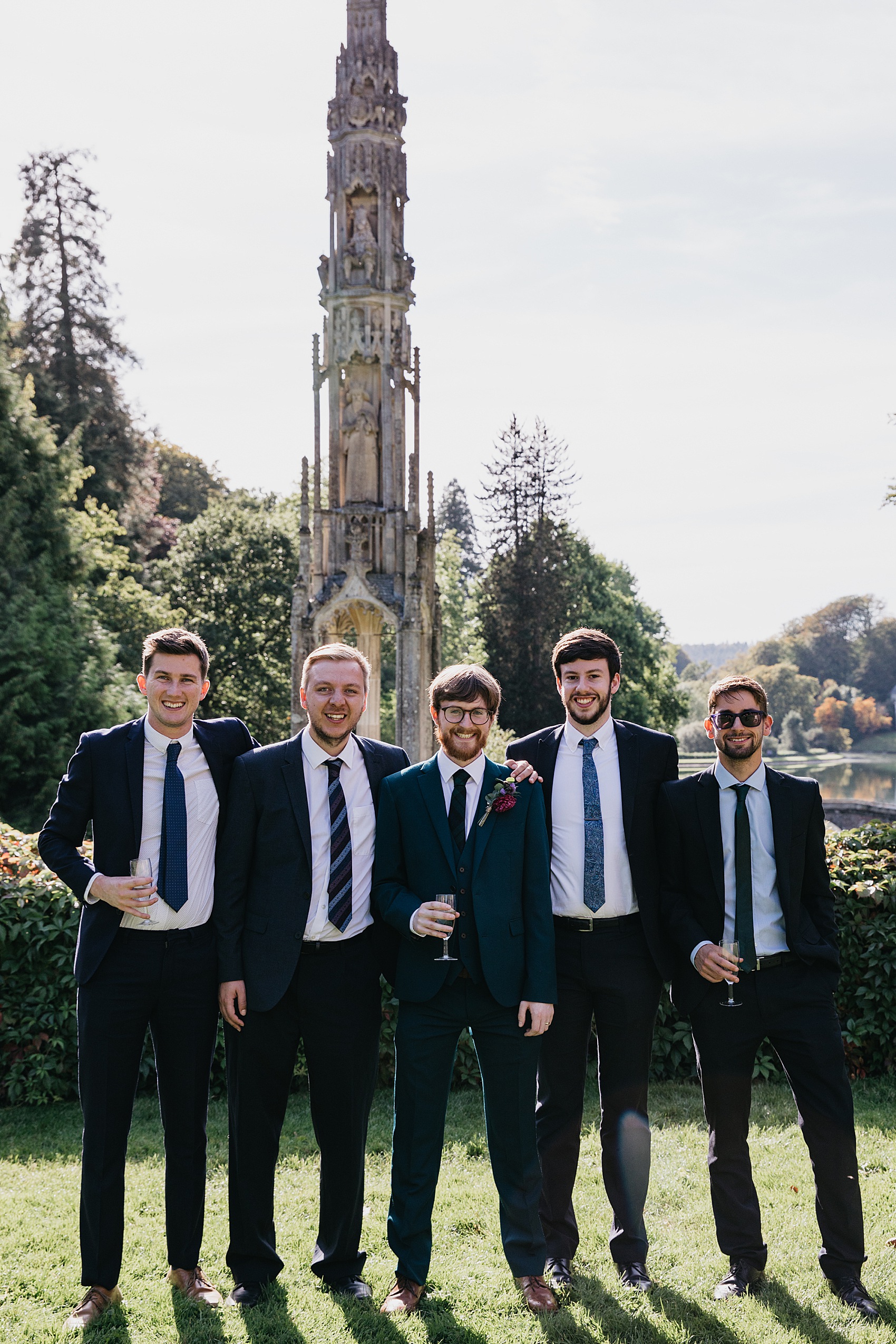 "We got engaged two years later in Cornwall during sunset at Watergate Bay. Rich knew that is my favourite place to watch sunset, and so it was the perfect setting to say yes! We got married the following September, one year after he proposed."
"I have always been passionate about the south west of England (I also have an Instagram account I share photos, called South West Living) and was passionate about having the wedding, and as many of the suppliers as possible based there."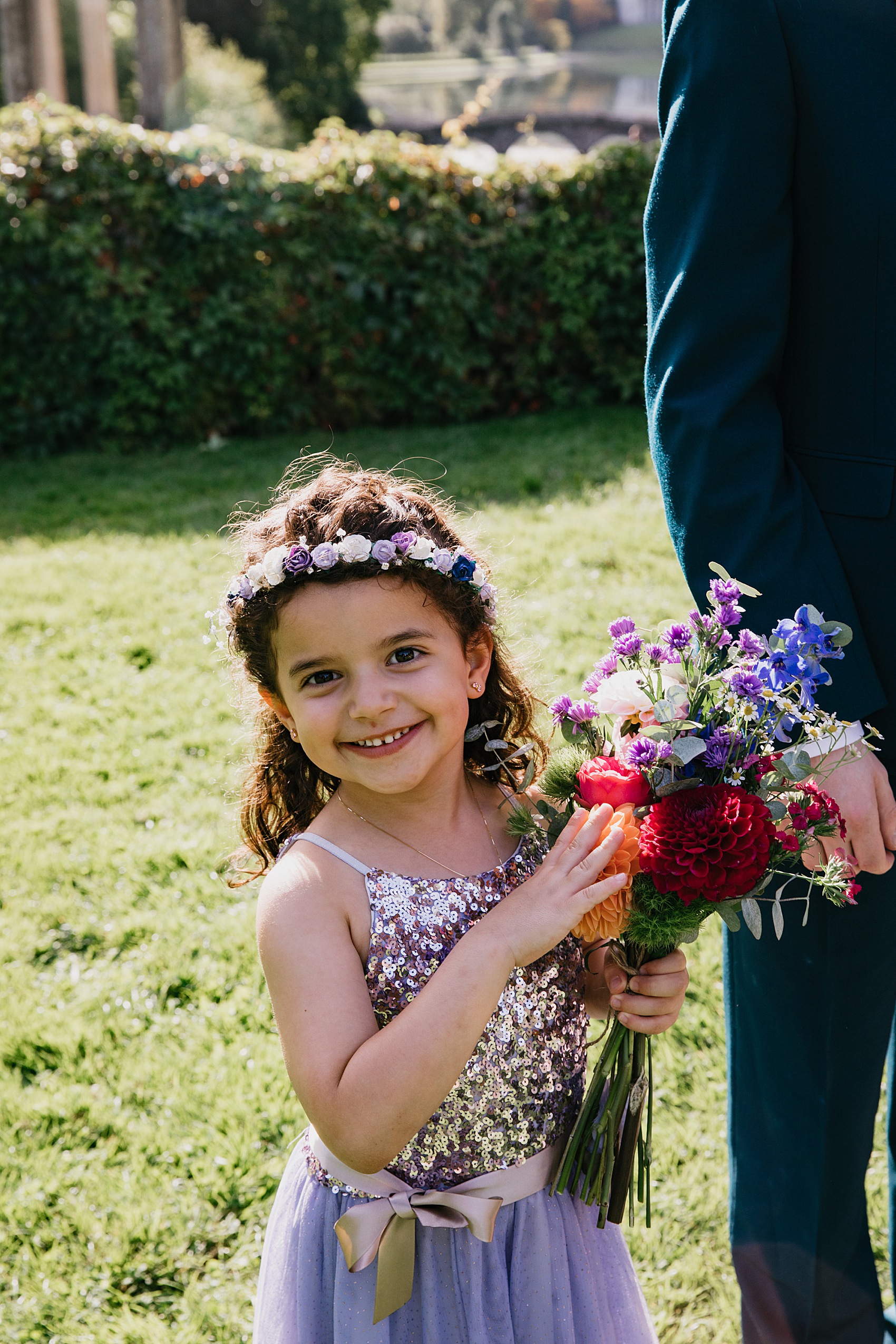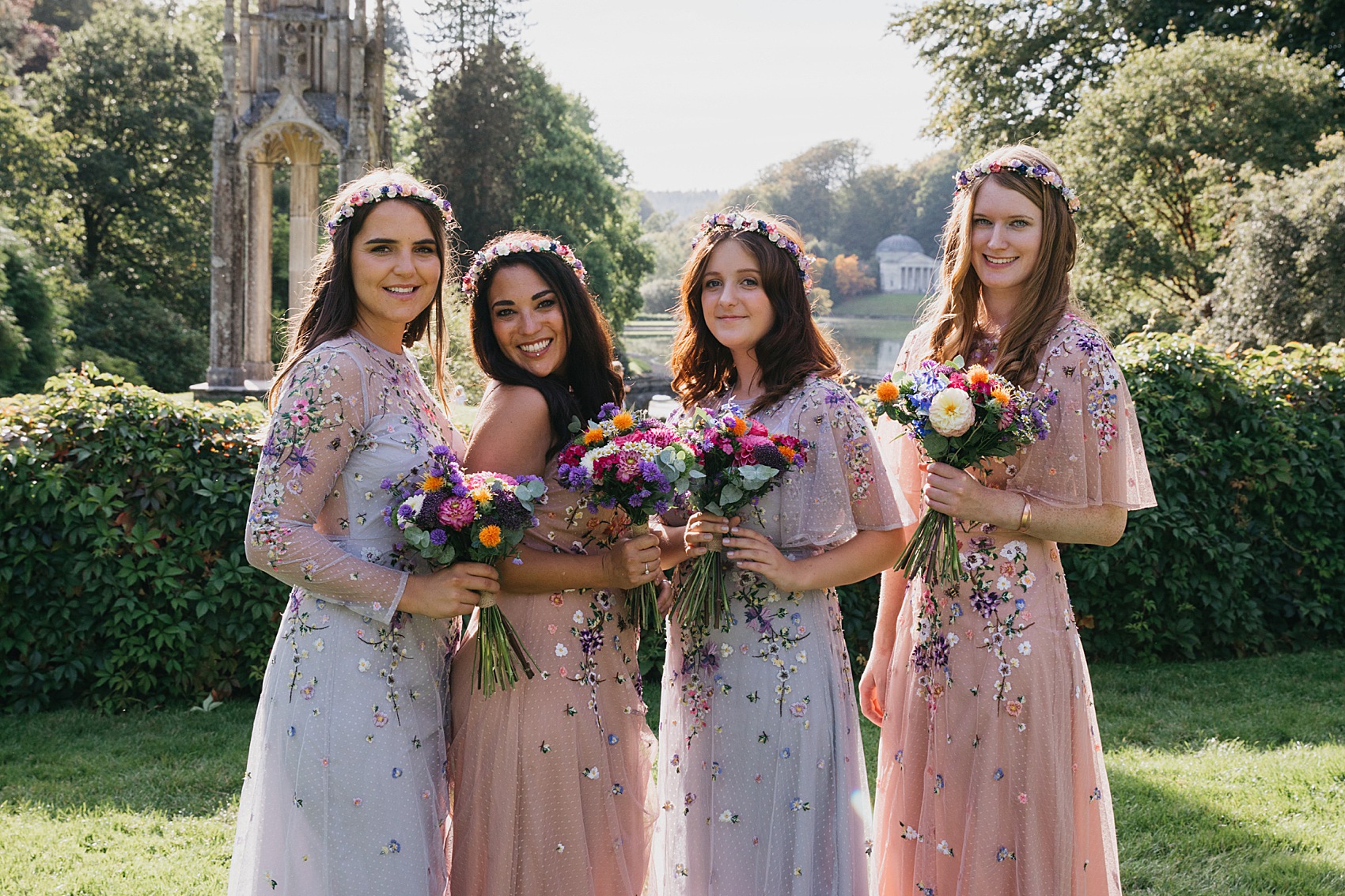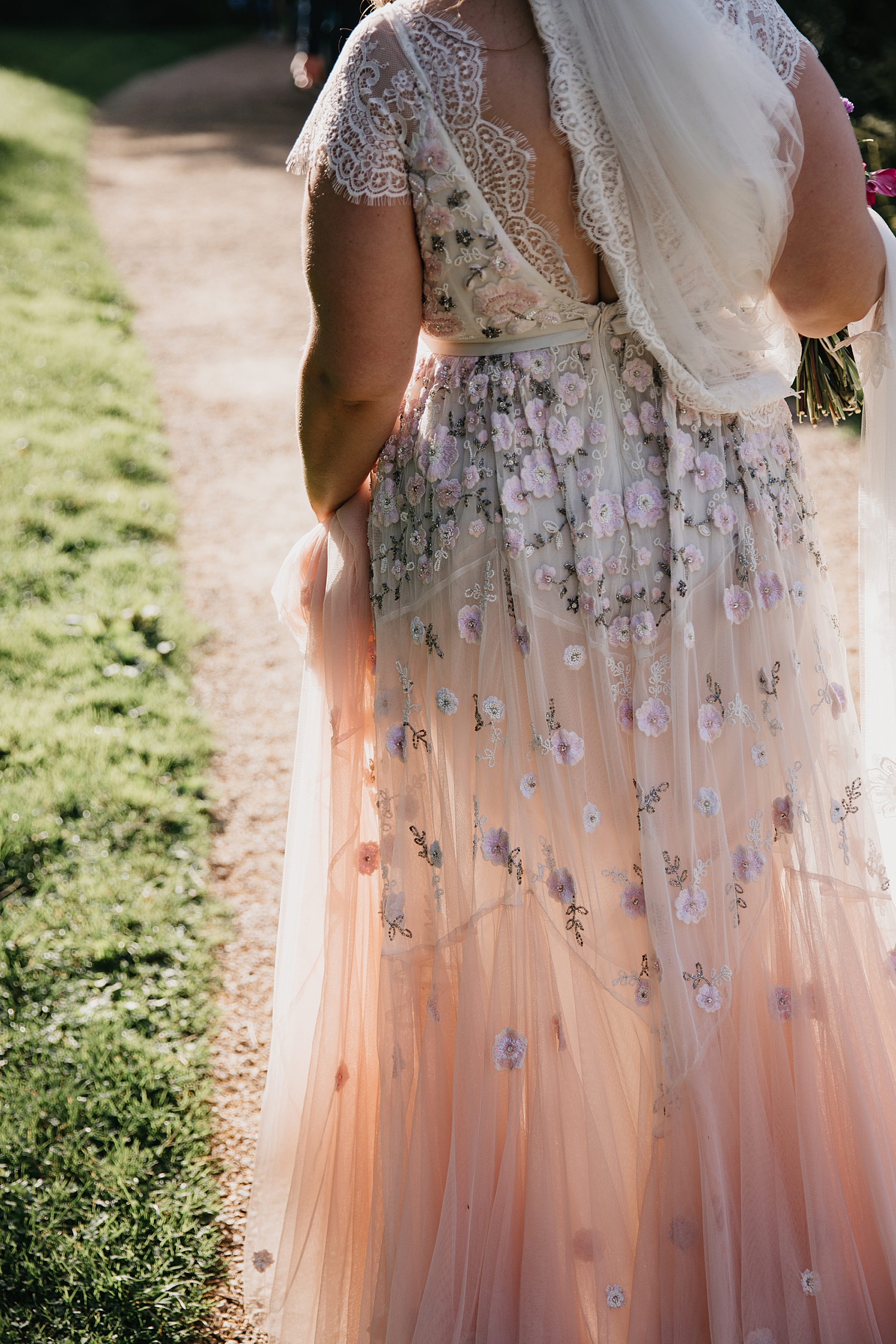 After their ceremony, the couple enjoyed a walk in the beautiful eighteenth century landscaped gardens at Stourhead, before making their way to Stourton Memorial Hall on the Stourhead estate for their reception.
Richard wore a suit from Next in a deep shade of teal, which also had a floral lining, and as a nod to his Scottish roots, a tartan tie [sadly no details supplied about this].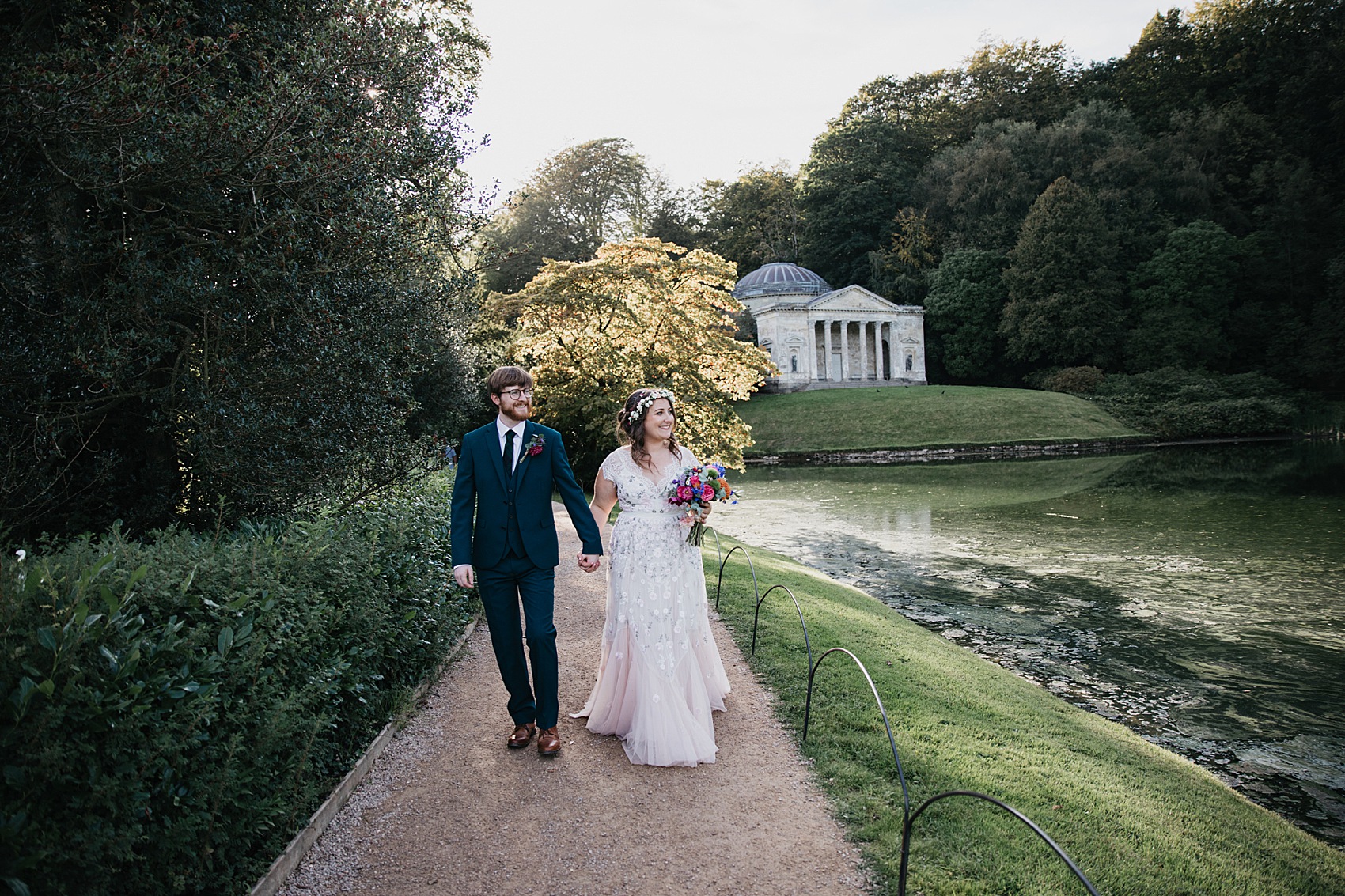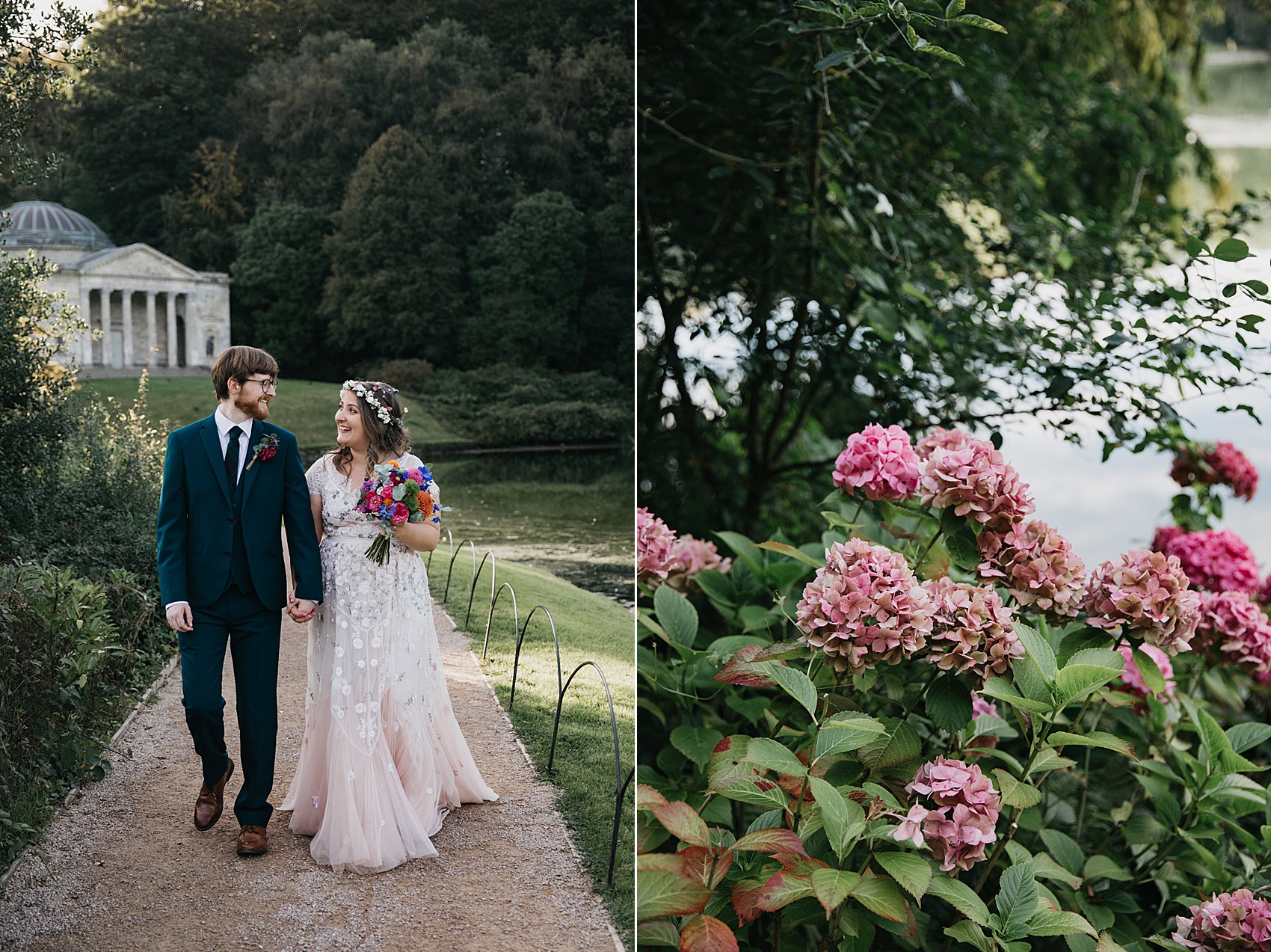 "Stourton Memorial Hall is a beautiful old village hall with whitewashed brick walls and wooden floors. We chose Stourhead as it has always been a place that has meant so much to us."
"It's a place we go to walk each season, for family occasions, and is close to where I grew up. It meant everything to have it there, and the setting of Stourhead is just beautiful with the lake and grounds."
Flowers were the main element of decor for the village hall, and these were supplied by Jodie at Walled Garden Weddings, and arranged by Jessica into pretty posies inside upcycled jars and vases sourced from charity shops.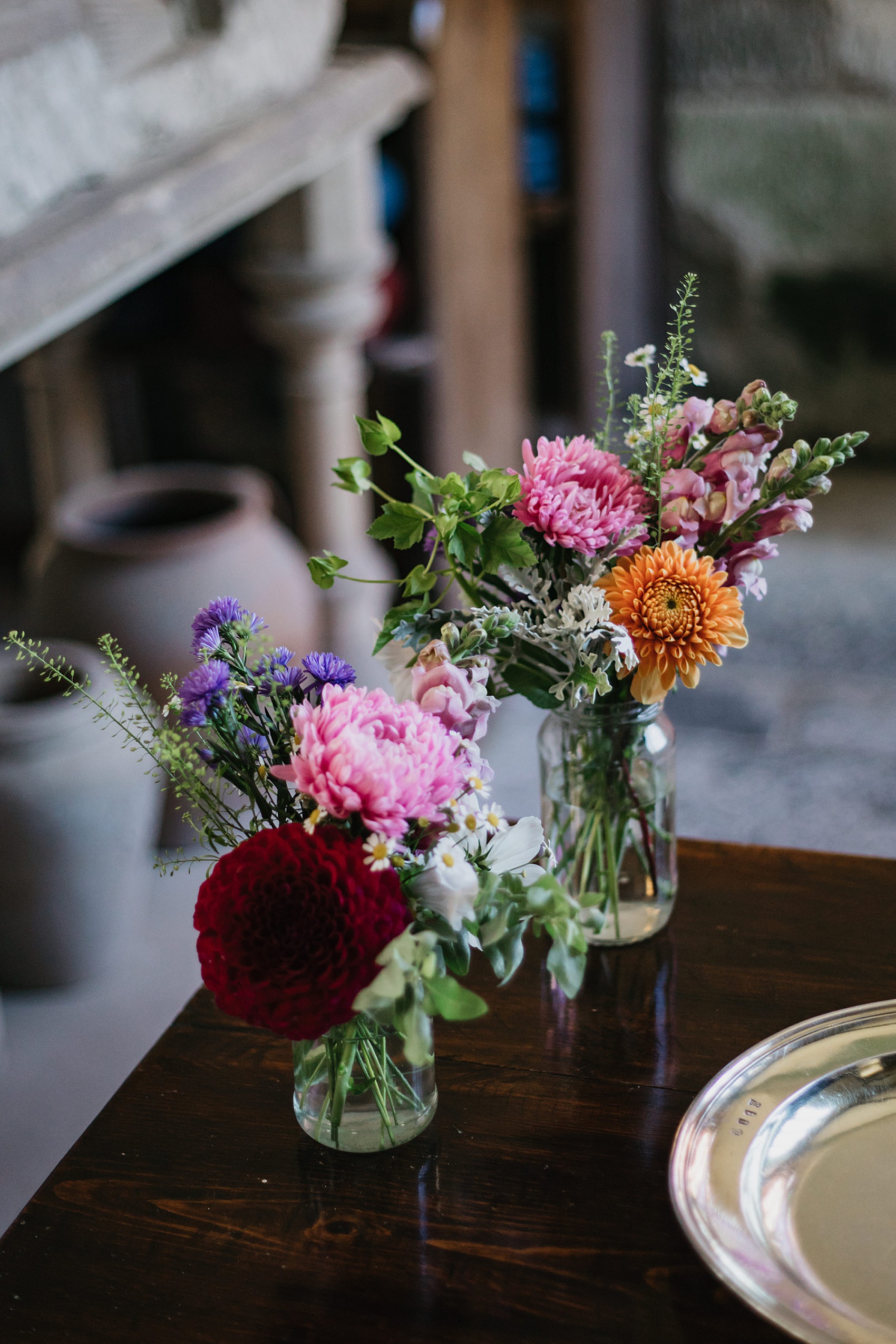 Paper lanterns, bunting and fairylights were hung from the ceiling, and there were lace runners across the rustic wooden dining tables.
"We wanted everything to have a floral and vintage style without being too twee, and I think we got it just right. I picked up paper napkins so that we could have a floral design and add to the décor of the table rather than have plain white. We then printed photos of us through the years and growing up to decorate the venue, which we know family particularly loved."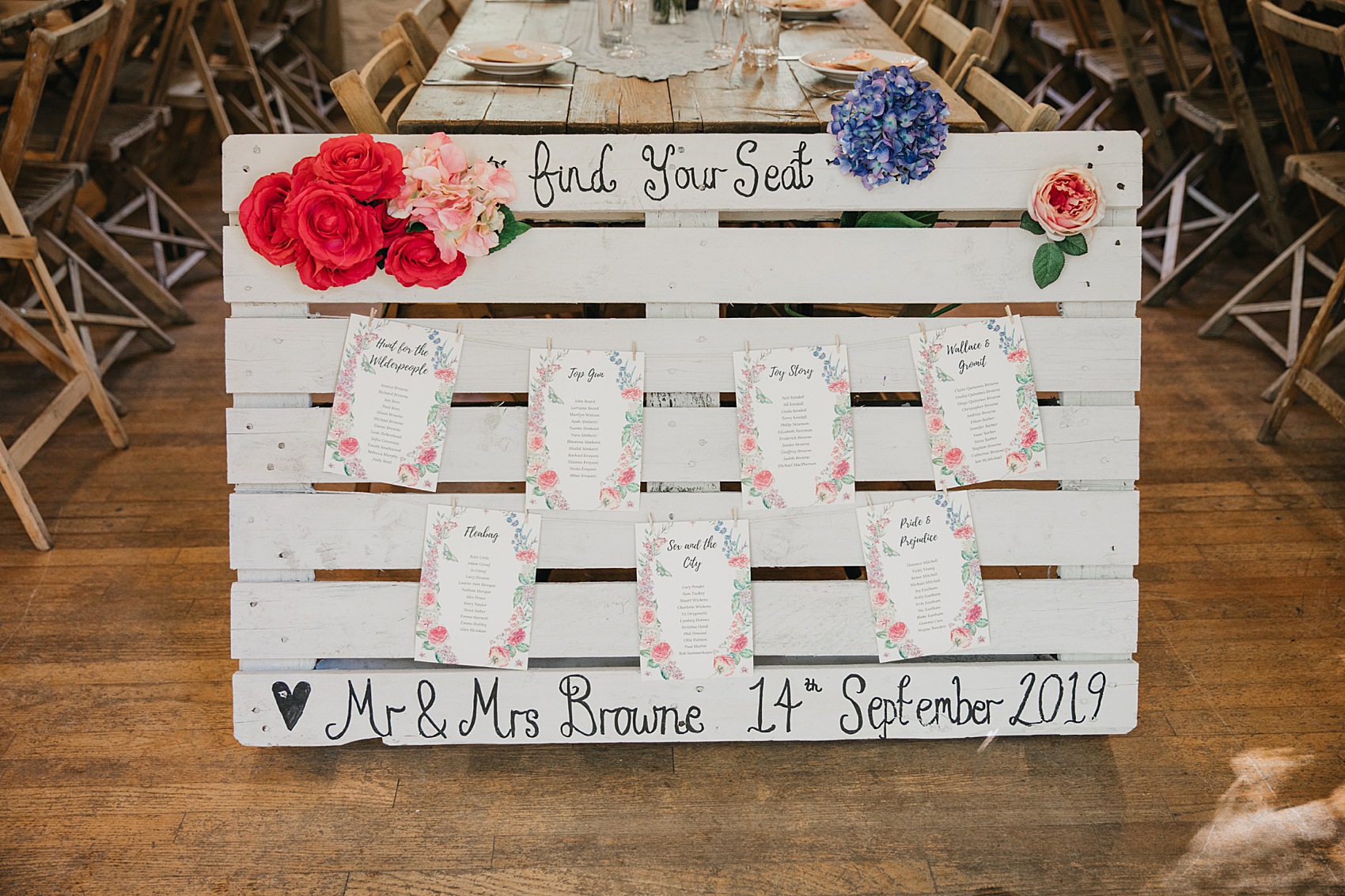 "For table place names, we made them all using a photo memory for each person at the wedding, which we felt added a personal touch and everyone really liked. We either went for funny photos, or a memory that we knew would mean a lot to the person. Lots of people then kept their place name as a keepsake of the day."
Favours were flower bulbs in brown paper bags, with personalised stickers designed by Sarah Burns Prints.
Everyone sat down to dinner from Charter 1227 Catering, followed by dessert from a table of delicious treats, including a white chocolate and raspberry wedding cake made by Jessica herself, adorned with edible flowers from Maddocks Farm Organics.
"The edible flowers were the perfect touch! A friend then made some chocolate brownies, and I ordered a floral cake and some Colin and Connie Caterpillars from M&S to top up the cake table. I wanted to make our wedding cake just for the personal touch and Bake Off feel. It also saved a lot of money and the end result was great."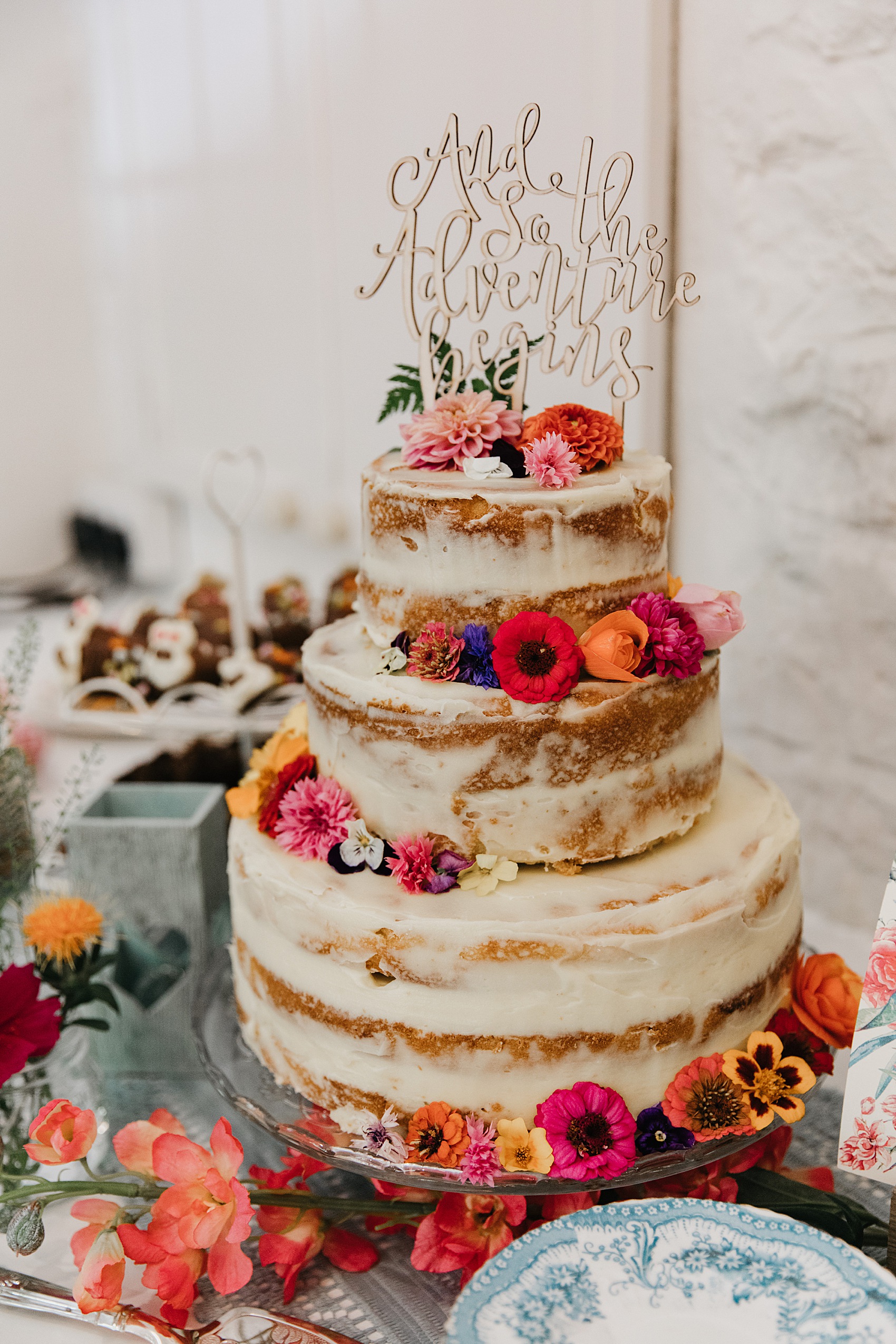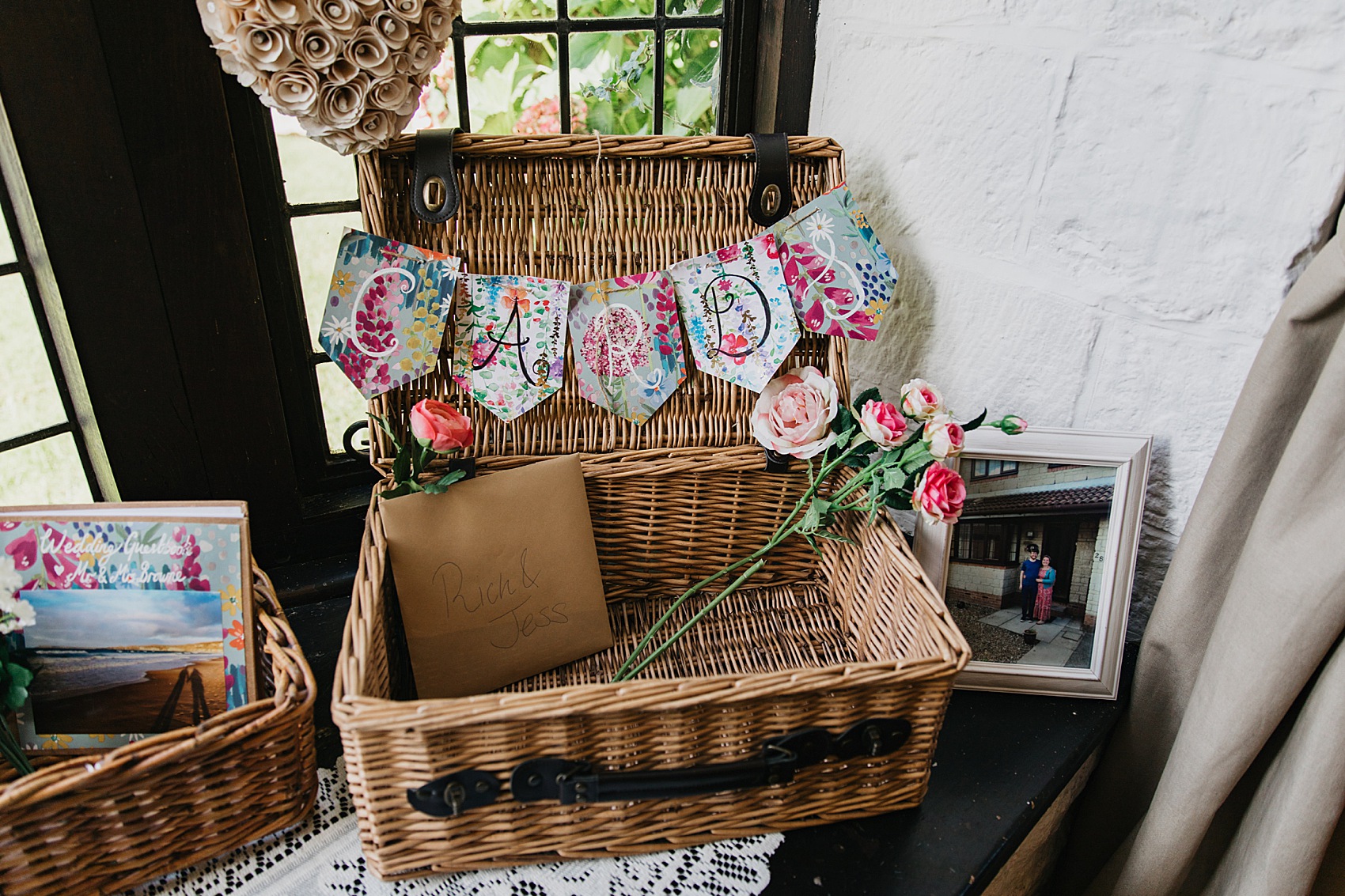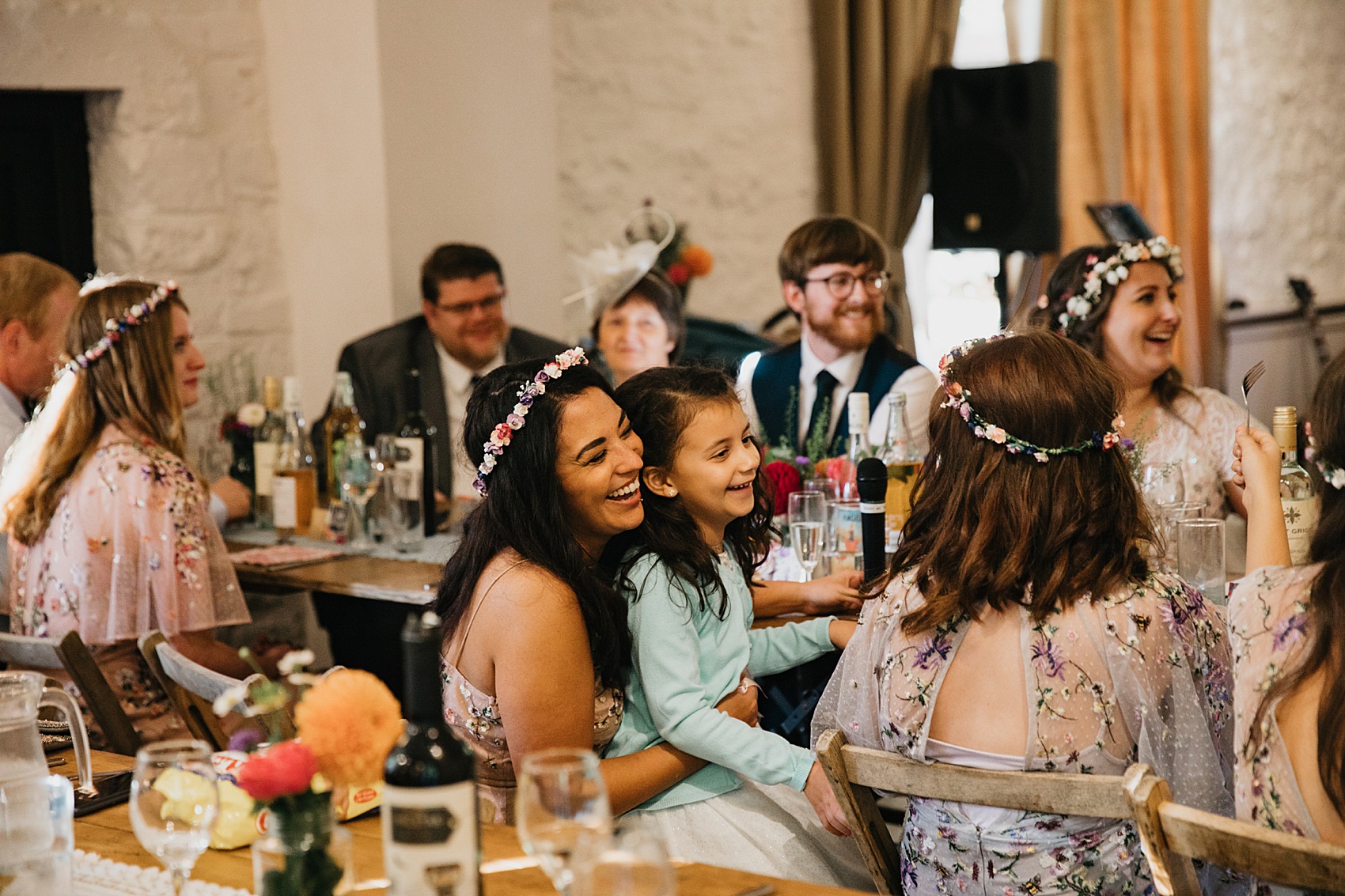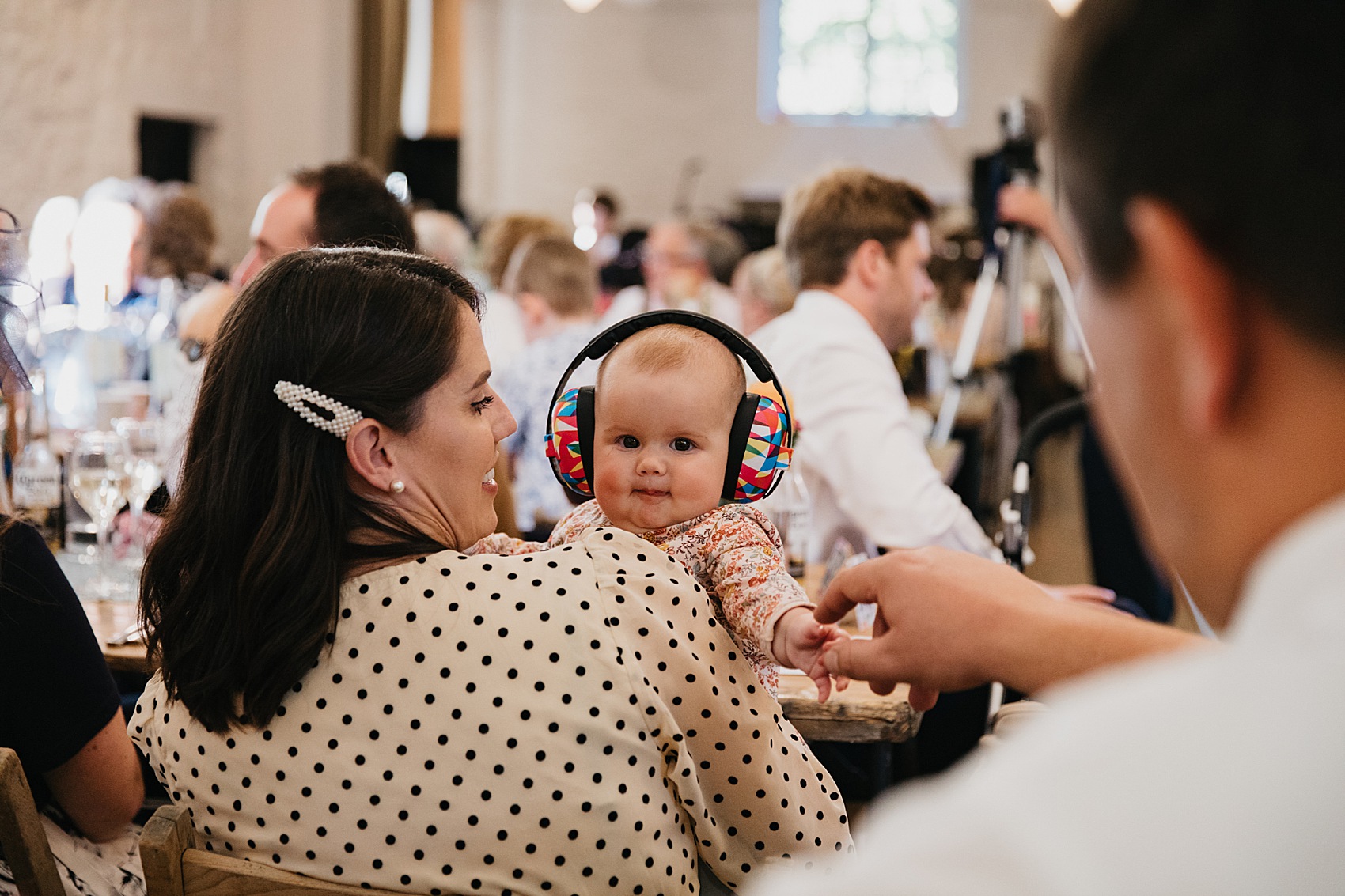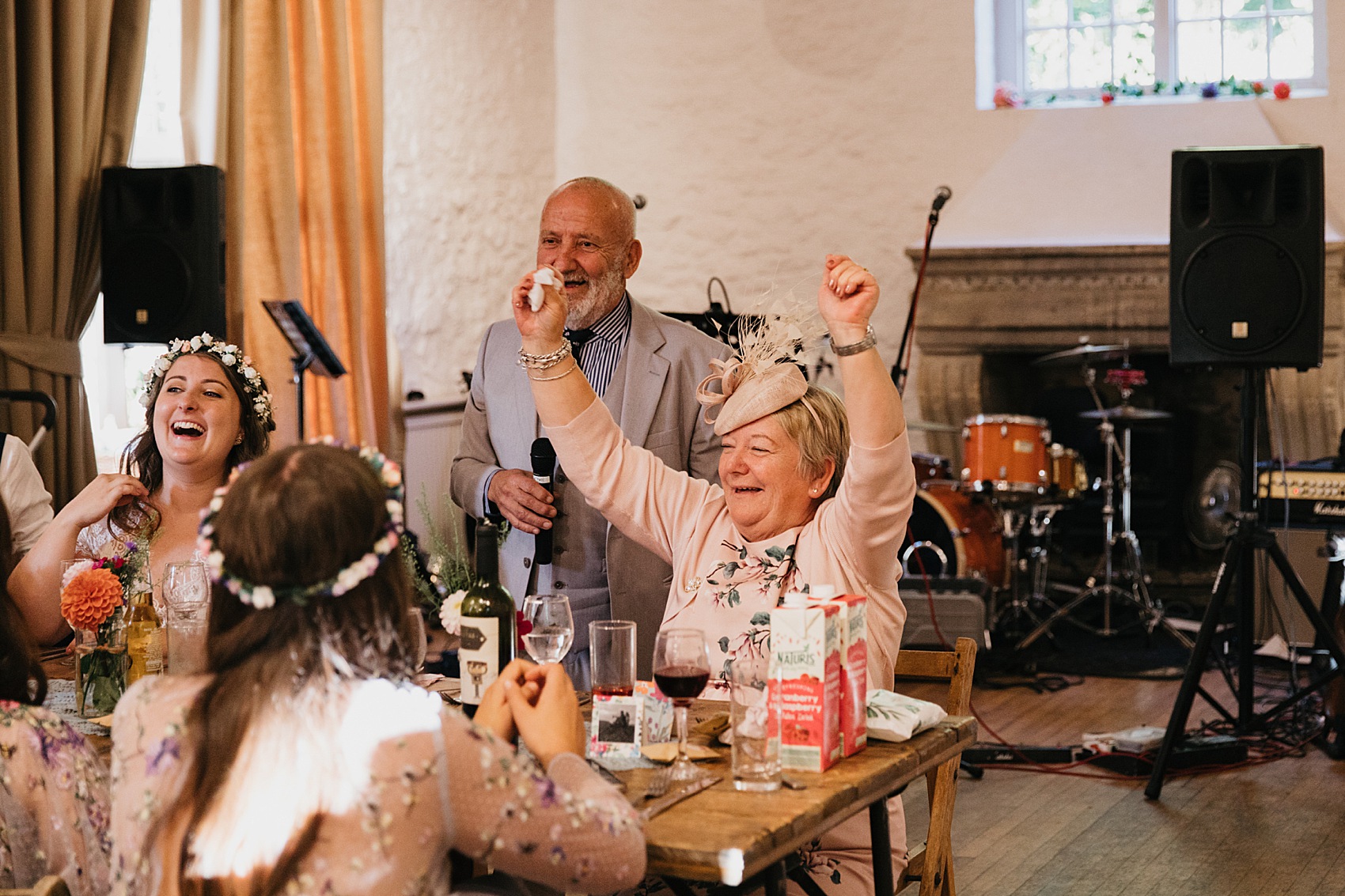 For their first married dance together, Jessica and Richard chose Songbird by Fleetwood Mac, played on a record player they had bought in the run-up to the wedding.
"When we would be doing wedding bits, we would put it on and play it and it was just always really special. We had a local band called Uncle Tom's Cobbleys, who were amazing! The guys were incredible and people danced the whole night. We couldn't recommend them more."
"They were so entertaining, and we knew we wanted a band with a country feel and fiddle, and they put their twist on every song we requested and we loved them. I would recommend really looking for a local band, visiting pubs and just putting the question out there."
"My other favourite moment has to be us dancing with our family and friends on the dancefloor all night long. Basically the whole day was my favourite!"
Words of Wedded Wisdom
"My words of wisdom would be to do it yourself! I loved the opportunity to be creative and use our own skills to make our wedding our own. From designing our own invitations to making our wedding cake, and arranging our flowers – they were all touches that really came together on the day – and saved us a lot of money, too. Pinterest, Instagram and wedding blogs are amazing at helping you to get ideas and be creative."
"My husband's words of wisdom would be to create a spreadsheet! I think that spreadsheet may have been his favourite part of the wedding process, and ticking things off and turning them from red to green! But it was really useful to have one place to keep track of everything – and how much we were spending."
"There is nothing I would change. There were moments where my veil wouldn't go in my hair, or when I forgot the confetti – but the bridesmaids were there to put things right, and I love them for that! The day really was the best of our lives and just felt so personal to us with all the touches we had worked hard all year to create. I wouldn't change a thing."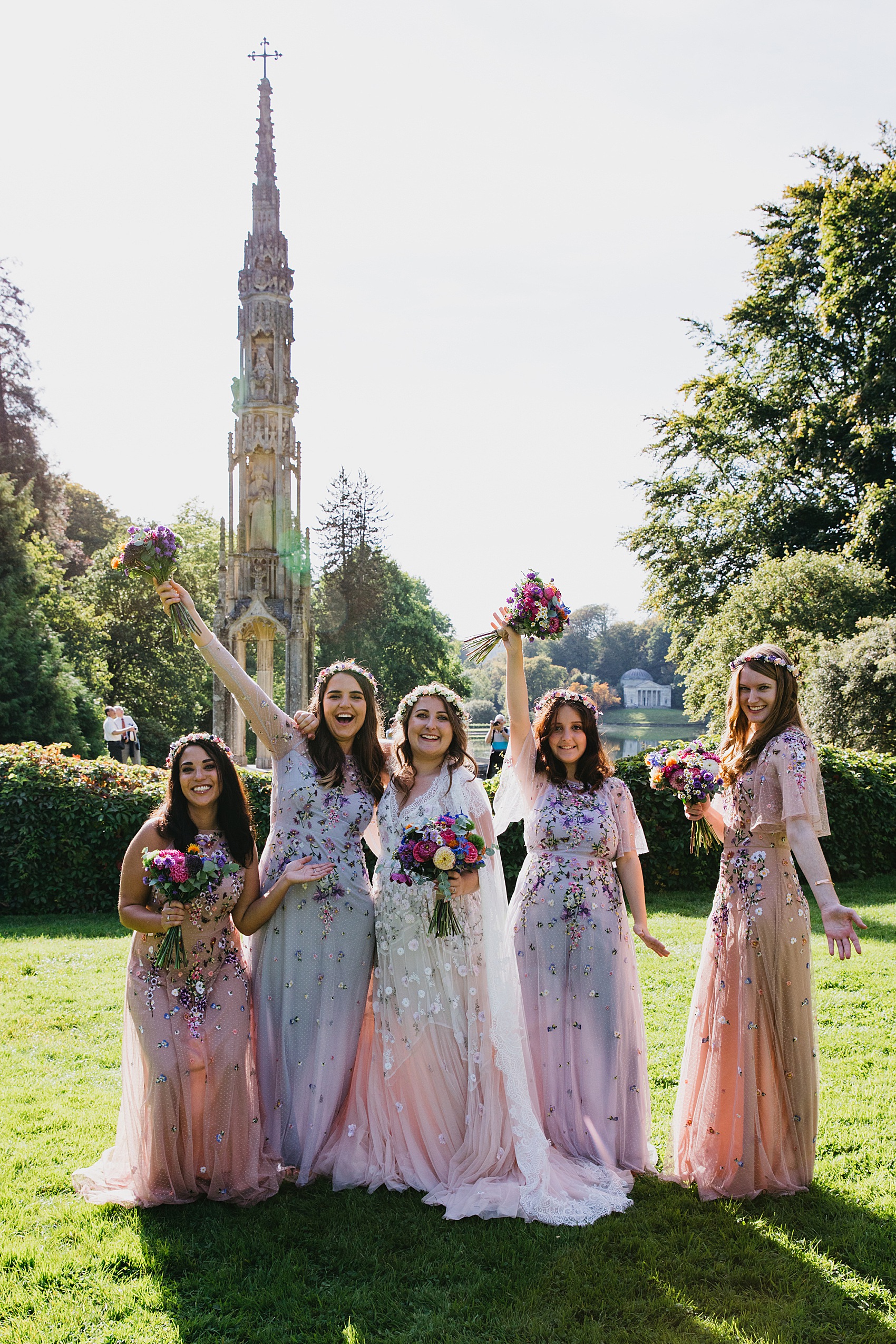 Jessica and Richard, thank you so much. What a delight it's been to share your day. All of the DIY touches were so lovingly crafted, and the floral theme was just lovely.
Huge thanks to Siobhan Amy Photography & Film for these wonderful images. You can see more of Siobhan's work on our beloved wedding blog right here.
With love,
Laura