Darlings, if you need a shot of positivity, joy and love, stop what you're doing and just let this feature give you a big old boost.
This really is a story for our times and it's just about the happiest, most wonderful thing we've heard for a while. When the world is shaking around you and you're wondering what you can hold on to, this is proof that if you hold onto love, you'll be just fine.
This is the story of Emma (a member of our wonderful closed Facebook group for brides), Josh, their amazing friends, their brilliant neighbours and what was, in so many ways, their wedding day.
Emma wrote these words prior to her lockdown 'nearly wedding' on 1st May, but the images you see were taken on 1st May – the day that would have been her wedding.
Emma's Story
Our wedding was due to take place on 1st May. It was going to be a big wedding – a ceremony in our local church, a big reception in a venue that's just a thirty second walk from the ceremony and a wedding after-party the following day so we could have more time with our guests.
My dad was going to walk me down the aisle, we'd chosen the hymns and we'd even added in a little surprise after the ceremony. We had everything ready, we were just waiting for the day to arrive and we couldn't wait to be married and, despite 'the show', in reality all that mattered was getting married. We wanted to do it properly, with everyone, which is why so much love went into it.
We postponed our wedding after the government declared lockdown. The big day was just six weeks away and everything felt so surreal – I'd only just picked up the orders of service and we'd had our Banns read in church.
It was so close. But yet so far.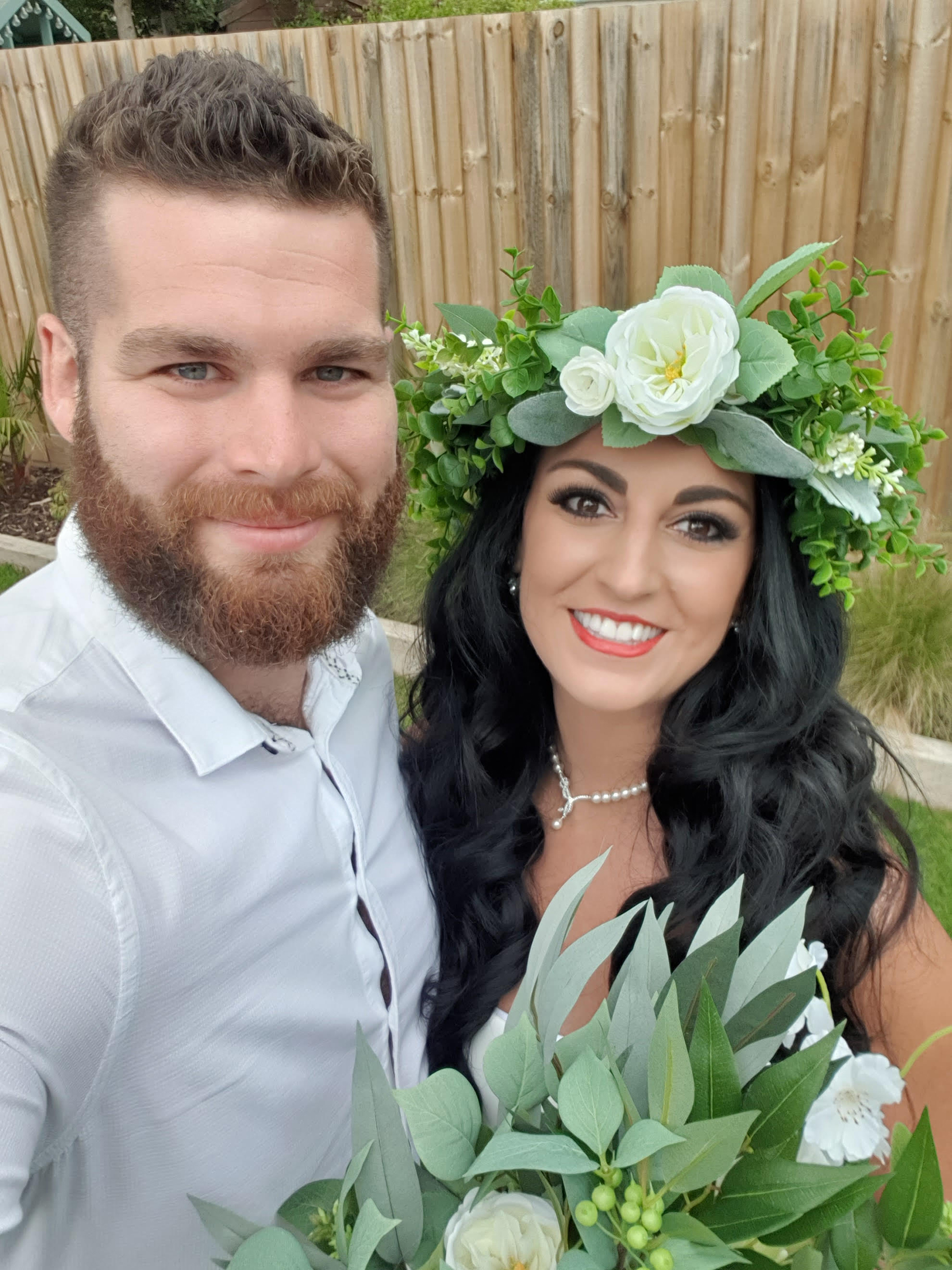 It's not just the postponement, it's the domino effect that comes with it. You don't just move 'the date', there's so much more to do to liaise with suppliers, re-measure suits, re-order outfits for page boys and flower girls who'll grow out of things in the interim. There's also the fear of being knocked back again.
And then there's life too – this postponement postpones life plans and everything is on hold. So it's not just a wedding, it's a whole load of other things that follow. But, most importantly, I thought that on 1st May, I'd have a life partner, a husband and marrying him would have been just the best day. And that's been taken away. So, whilst I'm so thankful that we're well and we have each other, the magnitude of the whole situation beyond us is so overwhelming.
But, here comes the fun part.
When Josh and I had our Banns read, two darling little ladies who were sat in front of us, came to us after the service and told us how excited they were to hear about the wedding. They showered us in compliments and made my heart feel full. We found out one of the ladies, Sylvia, lived just three doors away from us and she invited me in for coffee.
Then Covid-19 hit and coffee didn't happen. But, one Thursday night, as we were outside for the NHS and key-worker clap, Sylvia shouted out that there was a 'street tea morning' at 11am on Friday. So, the following morning, with mugs in hand, the doors opened and our road saw life again. Everyone's two metres apart, which makes hearing tricky for some of the older residents, but everyone was devastated to hear about our wedding as it turns out that Sylvia had told our story.
We still had things planned for the day though because when we cancelled our wedding, I said to Josh that I still wanted to celebrate. I planned photos, a bouquet, a flower crown and a buttonhole. However, things have moved on.
As our 'wedding day' was a Friday, it coincided with our weekly street coffee morning. I typed a letter to everyone, explained the situation and said if they'd like to dress up, throw confetti and sip champagne instead of coffee (all in a socially distant way, of course), we'd love it.
It snowballed from there. One of the ladies in our street replied – she's a professional violinist and her son is a singer so they're playing for us. The local paper are coming and a local company, All Caked Out, are providing us with an afternoon tea.
We're also having our 'ceremony'. One of my bridesmaids, is the funniest person you'll ever meet and she's my absolute best friend. We'd also joked that if our actual vicar couldn't make our ceremony, she could step in. Well, lo and behold, her dream has come true.
This brilliant girl has spent hours writing the funniest vows you'll ever hear. She'll don a black shirt, dog collar and angel halo and what people are going to witness is going to be once in a lifetime! Her friendship means more than she'll ever know.
So, after our Zoom ceremony, we're going to have photos, drinks, a kitchen party and our local restaurant are going to deliver a feast. Then it's back on Zoom for our first dance and cake cutting.
1st May was, and is, our wedding day
Months of work, thousands of pounds and so much effort has been put into it so we just have to celebrate. All of our friends are really excited and this will never happen again. Never again will a virtual vicar say your vows in the kitchen and never again will a street, where most of you don't know each other's names, will don wedding attire and stand outside for you and never again will people dress up to sit in front of a computer.
People have died, thousands of them, people are suffering, people are working hours upon hours to keep this country running – teachers, lorry drivers, pharmacists, shop working, emergency services and, of course, our NHS. Everyone is tired and everyone is suffering. I just hope that this may reach out to everyone who's finding things hard and make them smile.
I just hope that every bride who's had to postpone can grab inspiration, celebrate and know they're not alone.
This will be one hell of a tale to tell in years to come, as stressful as it is right now.
What we thought was going to be our Happy Ever After has actually just started our story.
This is our Once Upon A Time.