And just like that, we're at the end of another week in lockdown, wondering what the future holds and when and how the restrictions we've all become so used to, will be lifted.
I sincerely hope that the images we share in this wedding will lift your spirits and remind why your wedding postponement  is so worth the wait. We know how difficult and challenging these times are, but we encourage you not to lose sight of the celebration that awaits you when the time is right.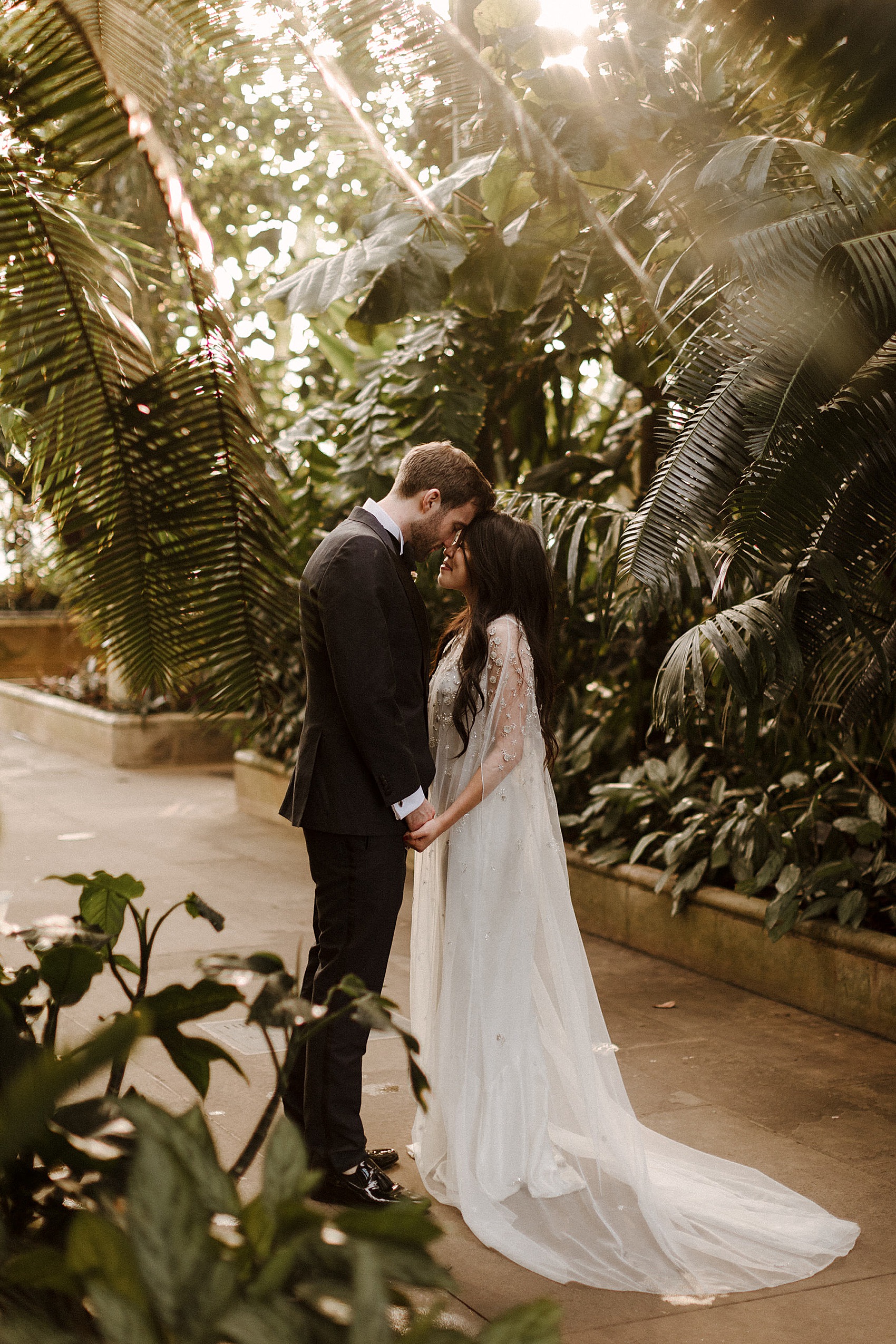 Editor and writer Lisa married project manager Brendan on 4th May, 2019 with the most effortlessly glamorous of weddings at the magnificent and majestic Royal Botanic Gardens in Kew, London. This weddings was photographed by our faves The Curries, who Lisa discovered, along with most of her other wedding suppliers, via Instagram…
"I did most of my wedding planning using Instagram and my gut instinct. I didn't have a Pinterest board, I didn't buy a single wedding magazine, and I did not have any kind of bulging file. I also used the Notes app on my phone a lot. We also planned our wedding ourselves – both of our jobs involve organising and planning, and we knew we wanted to choose every little detail together. It was hard work and quite daunting at times, but so worth it in the end as we got exactly the day we hoped for and it felt more rewarding!"
"I found Love My Dress really useful for inspiration, especially around the finer details of our wedding. We both did a lot of homework to make sure every aspect of the big day was exactly as we wanted, and I remember finally finding one of our two readings on your website after hours of online trawling."
"It could not have been more perfect – and I could not have felt more relieved to have finally found it. I promise I'm not just saying this, but Love My Dress was one of my favourite wedding blogs to look at for inspiration – especially your Real Weddings section, which I found helpful for ideas around readings etc."
Why thank you, Lisa!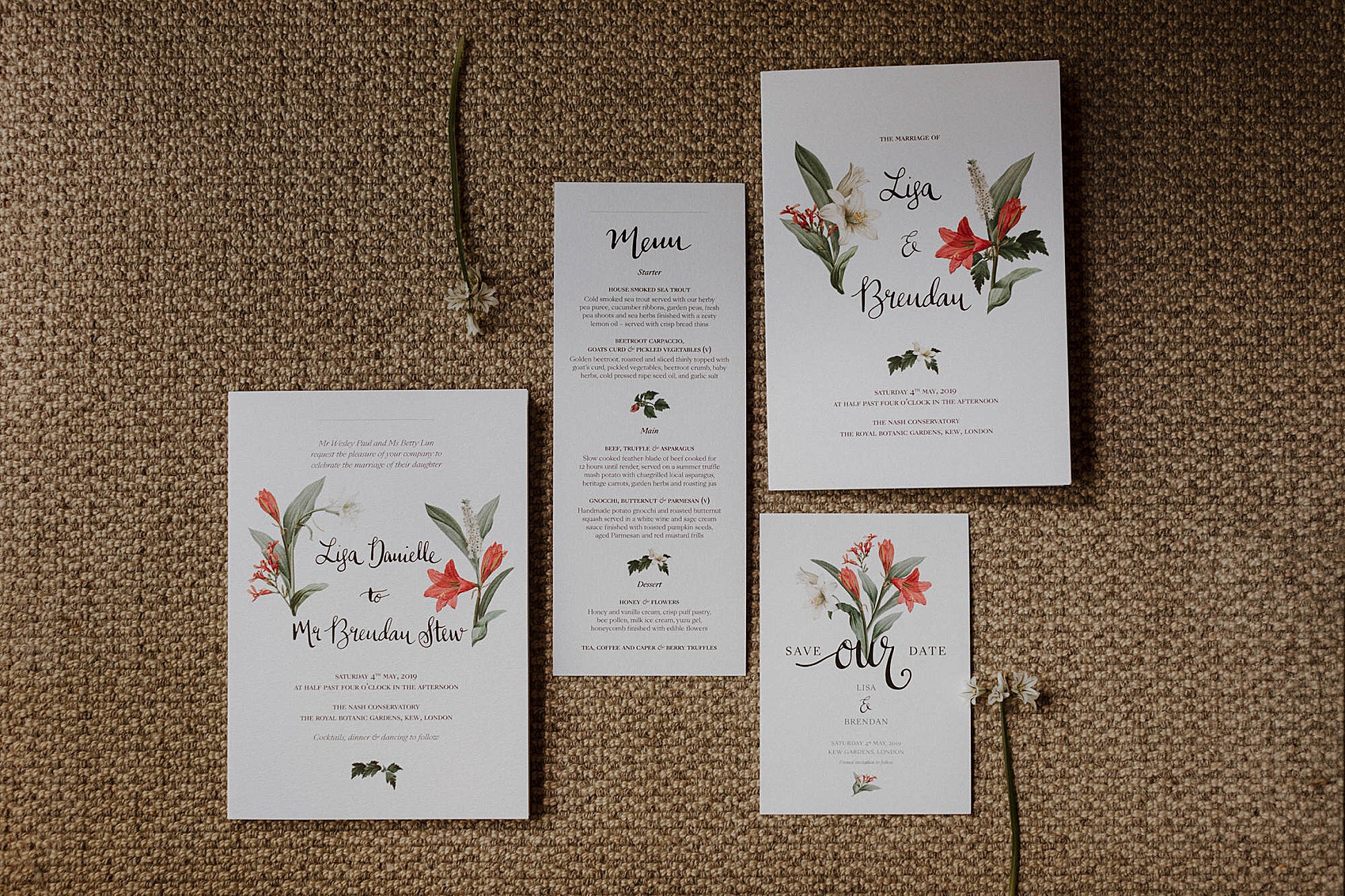 "I work at an editorial agency and I was lucky to have my good friend and colleague Emma generously help design all of our wedding stationery. Thanks to her skills, my (probably quite shoddy) calligraphy for the wording was transformed! I then 'calligraphied' all 150 guests' names on the Save the Dates, invitations and place cards myself using green ink. A real labour of love."
"Agata at Kristina Gasperas Makeup Agency did mine, my mum and two of my bridesmaids' hair and makeup and she was the absolute dream."
Kristina Gasperas

+ Follow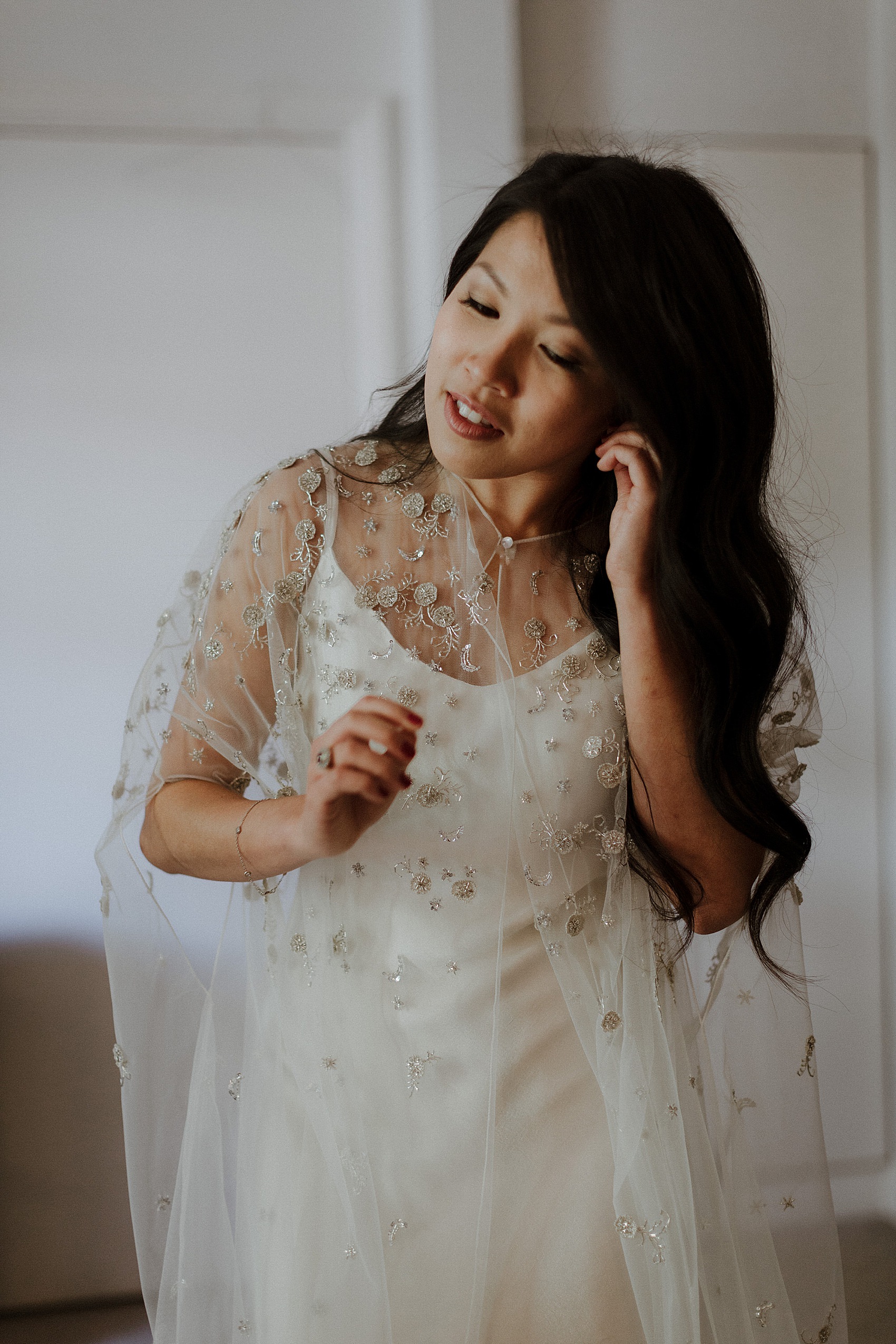 "I chose to wear the same perfume I wear everyday – Jo Malone's Mimosa and Cardamom cologne, which was a gift from my mum and felt perfect for the botanical setting of our day."
"I found two pairs of heels I loved in the Christmas sales, and because I couldn't decide which pair would work better, I ended up wearing one pair for the ceremony and changing into the second pair to dance! The first was a gold pair of stilettos from Dune covered in pearls and the second was a silver pair from Whistles – perfect for the dancefloor. I also had the most comfortable pair of Birdies slippers in blue for my short walk through the gardens back to the hotel on Kew Green."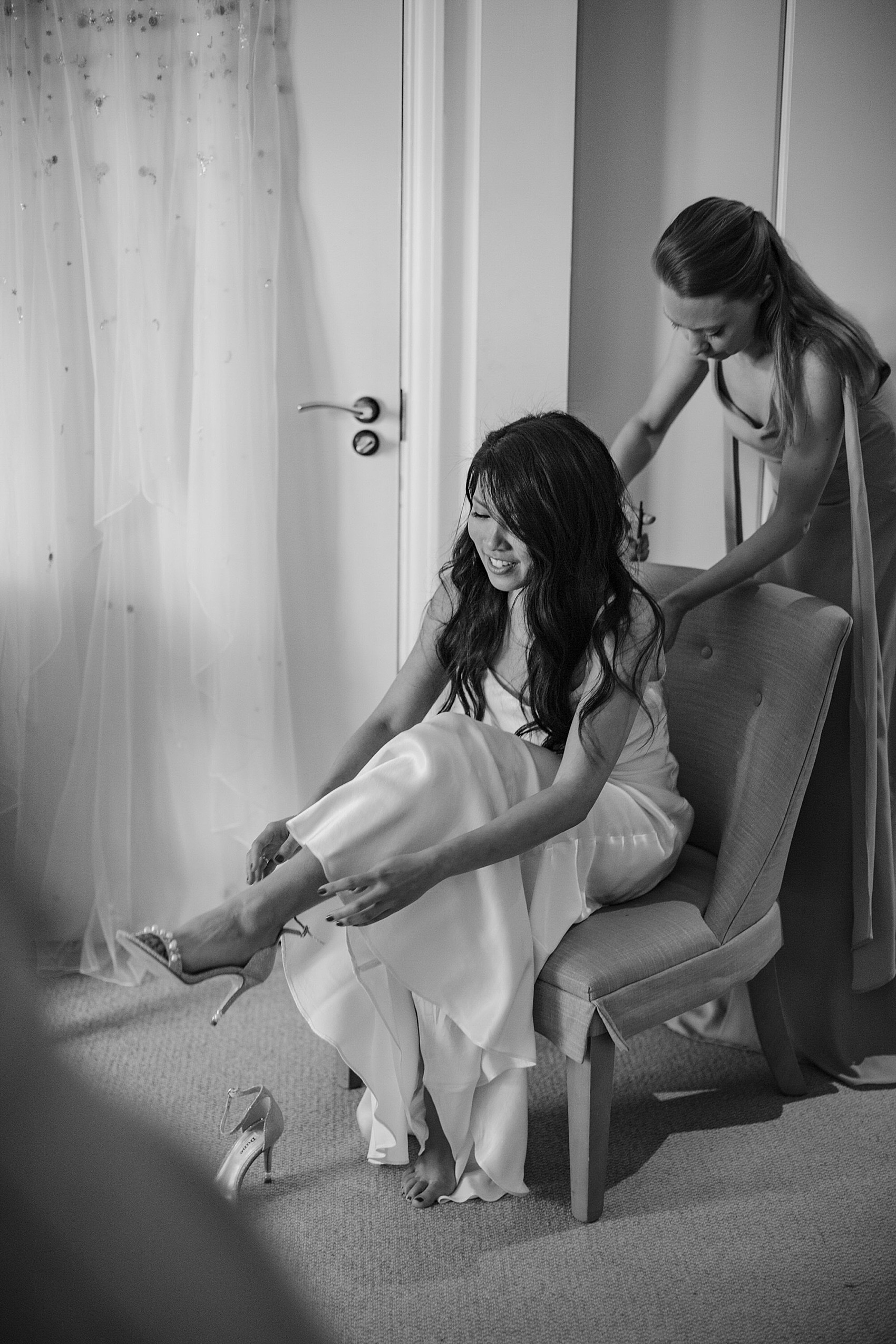 "Other than my engagement ring, which Brendan designed, I wore a white gold bracelet I've never taken off since I received it from my mum years ago for my 21st birthday. I'm a sucker for a great pair of earrings so I also borrowed a pair of simple pearl drop earrings from my mum as my 'something borrowed' and switched them up come dinnertime for a statement pair of Christie Nicolaides Matrimonio earrings that I found on Instagram – these were my 'something blue' and 'something new' and it was so fun wearing them."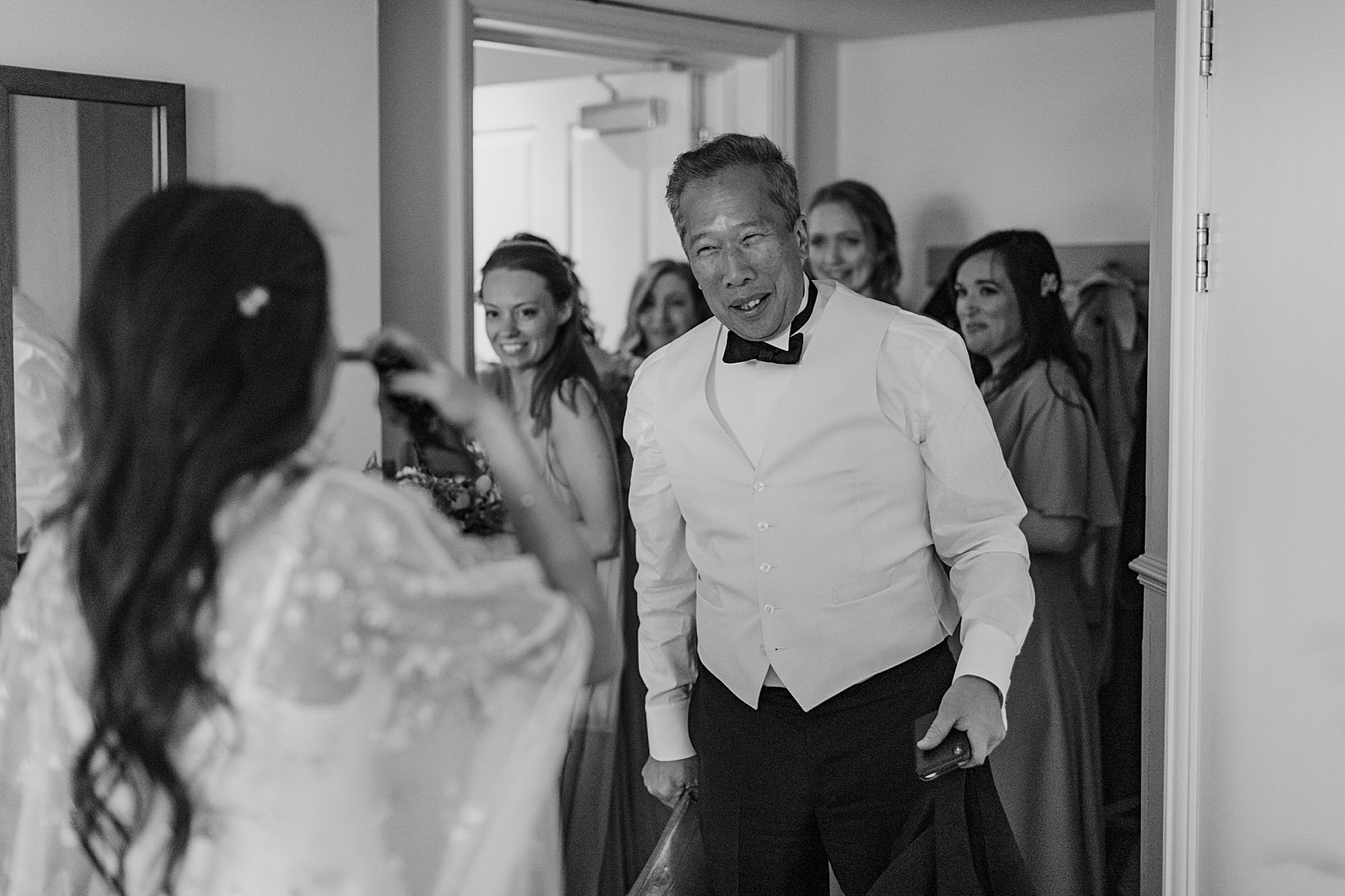 "Taking inspiration from my cape, I wore little star and moon hair clips in my hair from Anthropologie (well I actually found them on Amazon for a third of the price!)"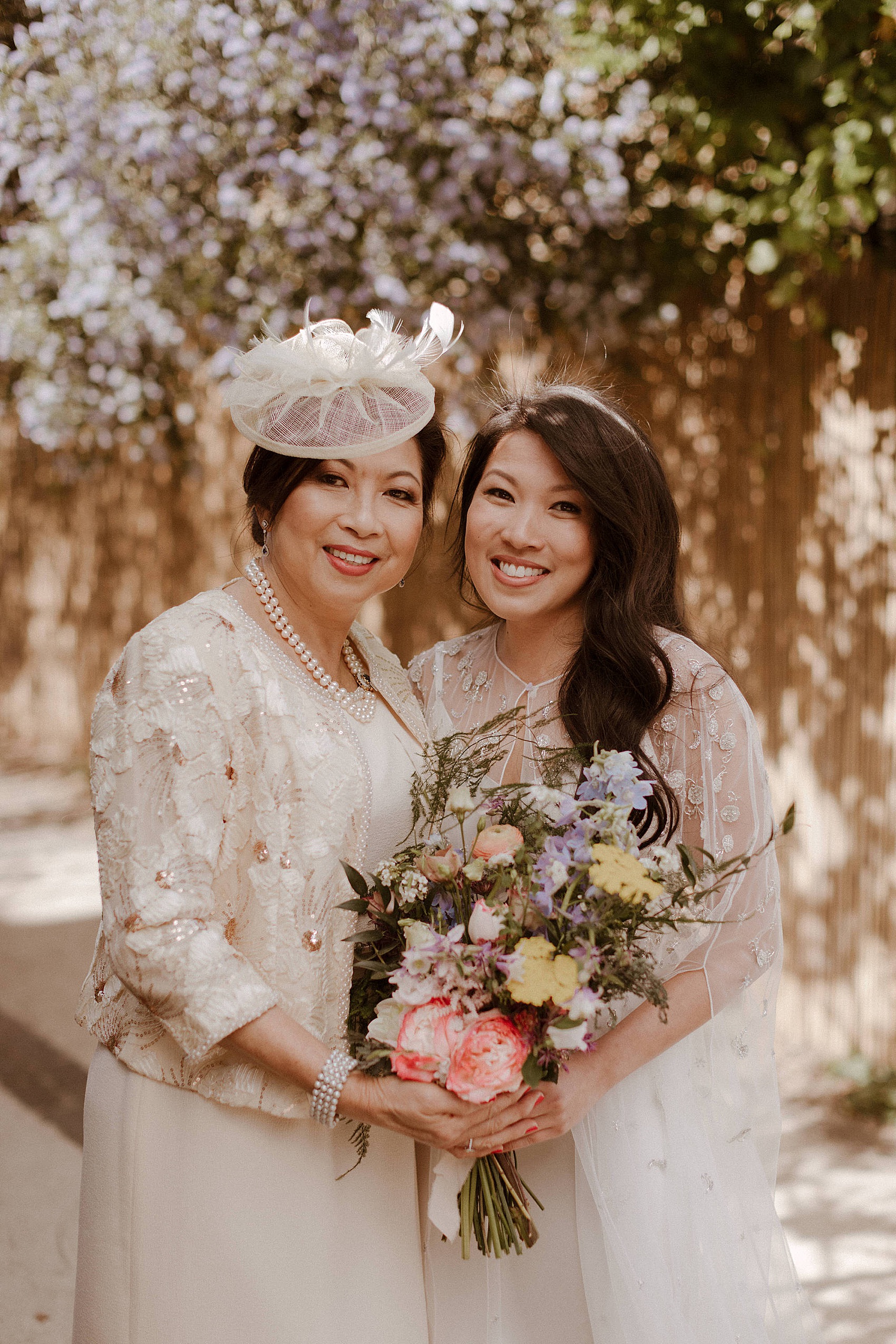 "I wore the Luna Cape by Alexandra Grecco, which I paired with the Bella Dress in Ivory from Ghost."
"We live in Stoke Newington in London and the only place nearby that stocked the Alexandra Grecco cape was Blackburn Bridal in Blackheath. My brother, his girlfriend and one of my gorgeous bridesmaids came with me and as soon as I put it on I felt like some sort of bridal superhero. The staff at the boutique were very helpful and full of styling advice – I would highly recommend the experience to other brides."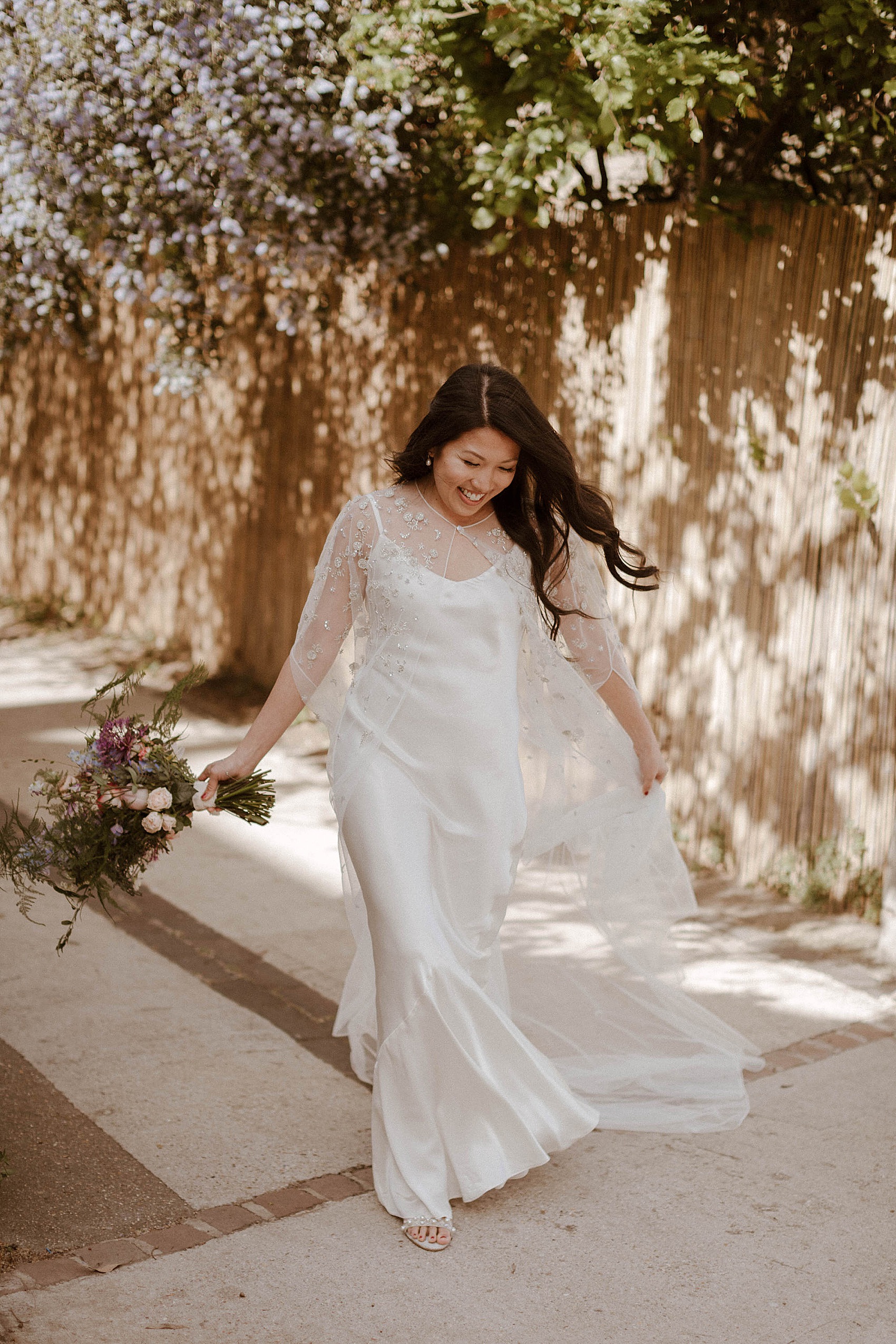 "I knew as soon as we got engaged that all I wanted to wear on the big day was a cape. In fact, I got so fixated on the idea that when I finally found my cape of dreams, it felt like my outfit was sorted. I had to be reminded that I still needed to find the dress."
"In the end, I decided to let the cape do the talking and wear it with a simple silk slip dress. I found the perfect match in the Bella dress in Ivory from Ghost: its classic simplicity was the ideal pairing for my sheer celestial cape, which was delicately embroidered with stars and moons."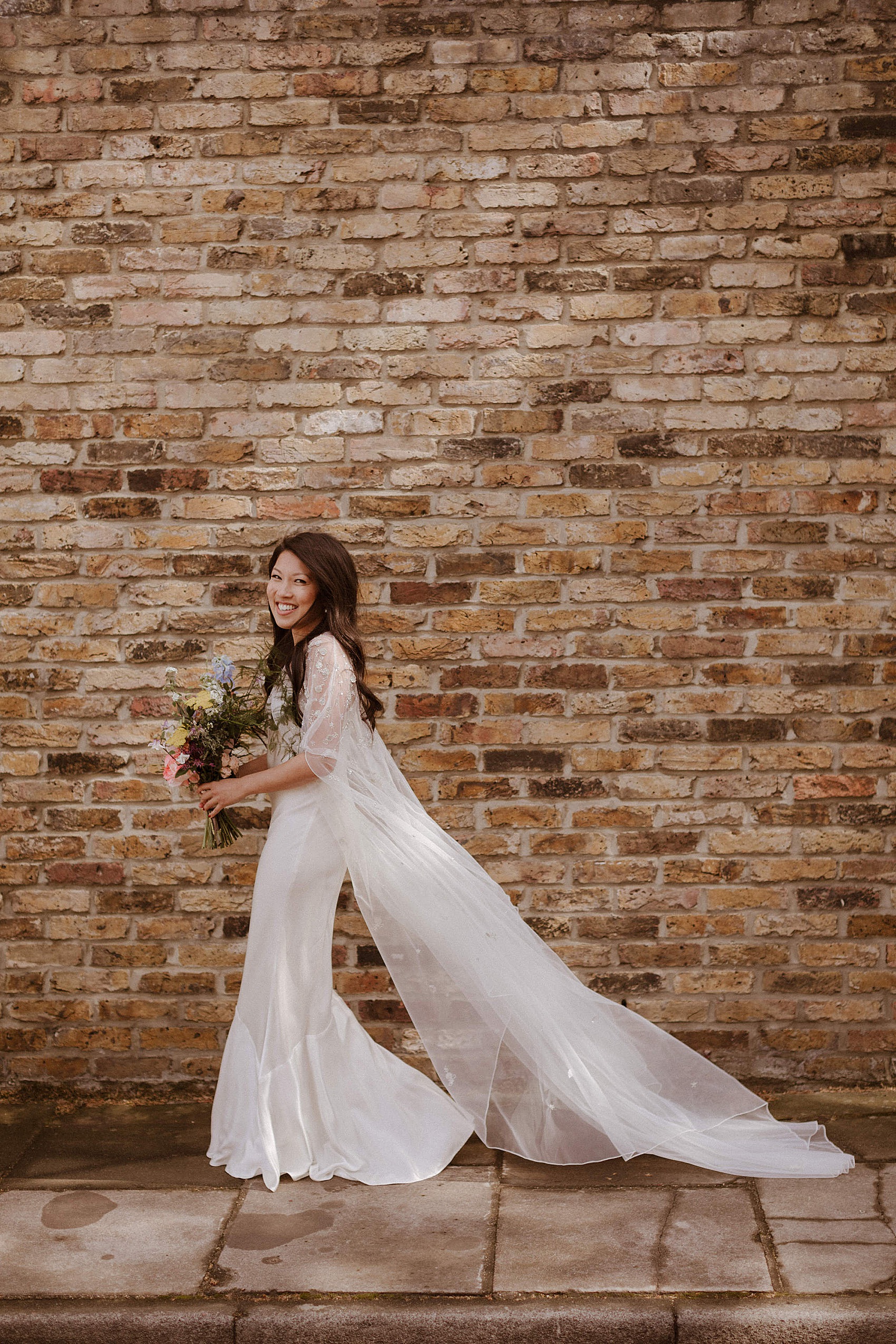 "Another no-brainer for us was choosing our florist. I'm a huge fan of Grace & Thorn's wild, slightly asymmetrical arrangements and their love of foliage and greenery. In short, I didn't want anything too classic."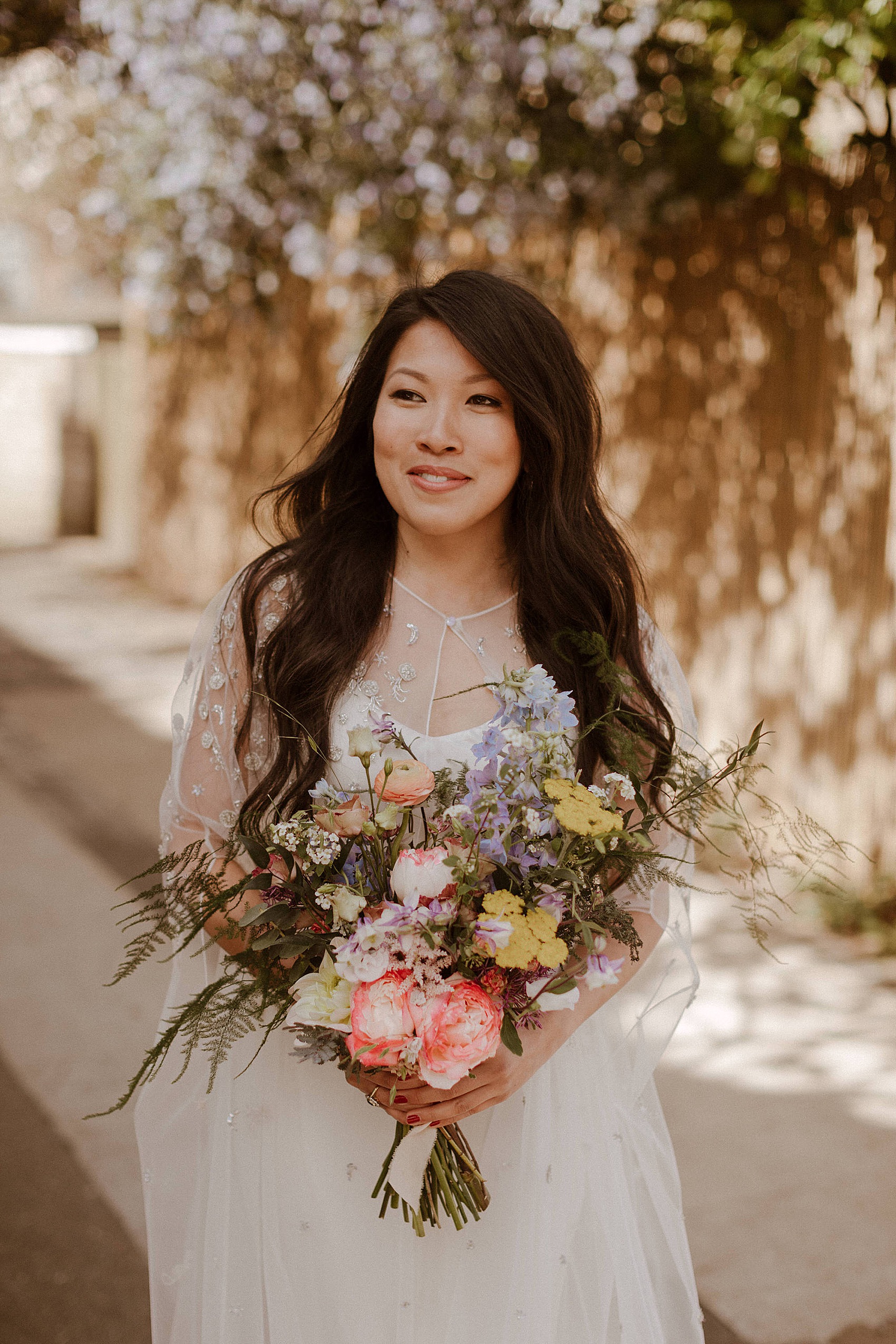 "We chose a colour palette of soft blues, yellows, oranges, pinks and whites, all with lots of texture. As we got married in early May, so many wonderful flowers were in season, so our flower arrangements and bouquets were made up of some my favourites including delphinium, lisianthus and craspedia."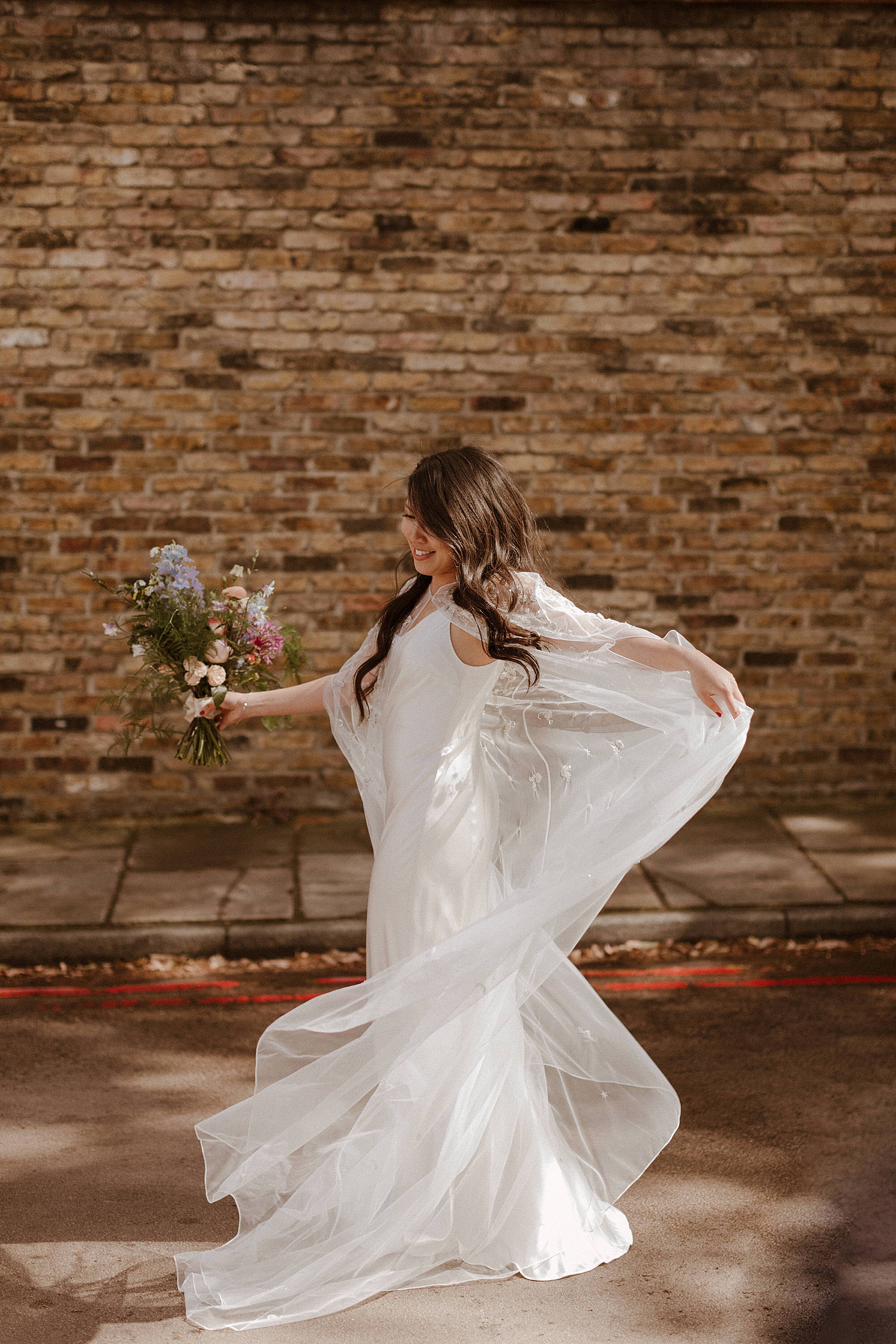 "I never set out with a specific colour scheme for the day, but as our planning took shape I accidentally kept coming back to the greenery of Kew Gardens."
"In fact, lots of our wedding details ended up being a shade of green! So I decided that my six bridesmaids could wear whatever style of dress they felt happy and themselves in, but that they would all wear the same sage colour for consistency."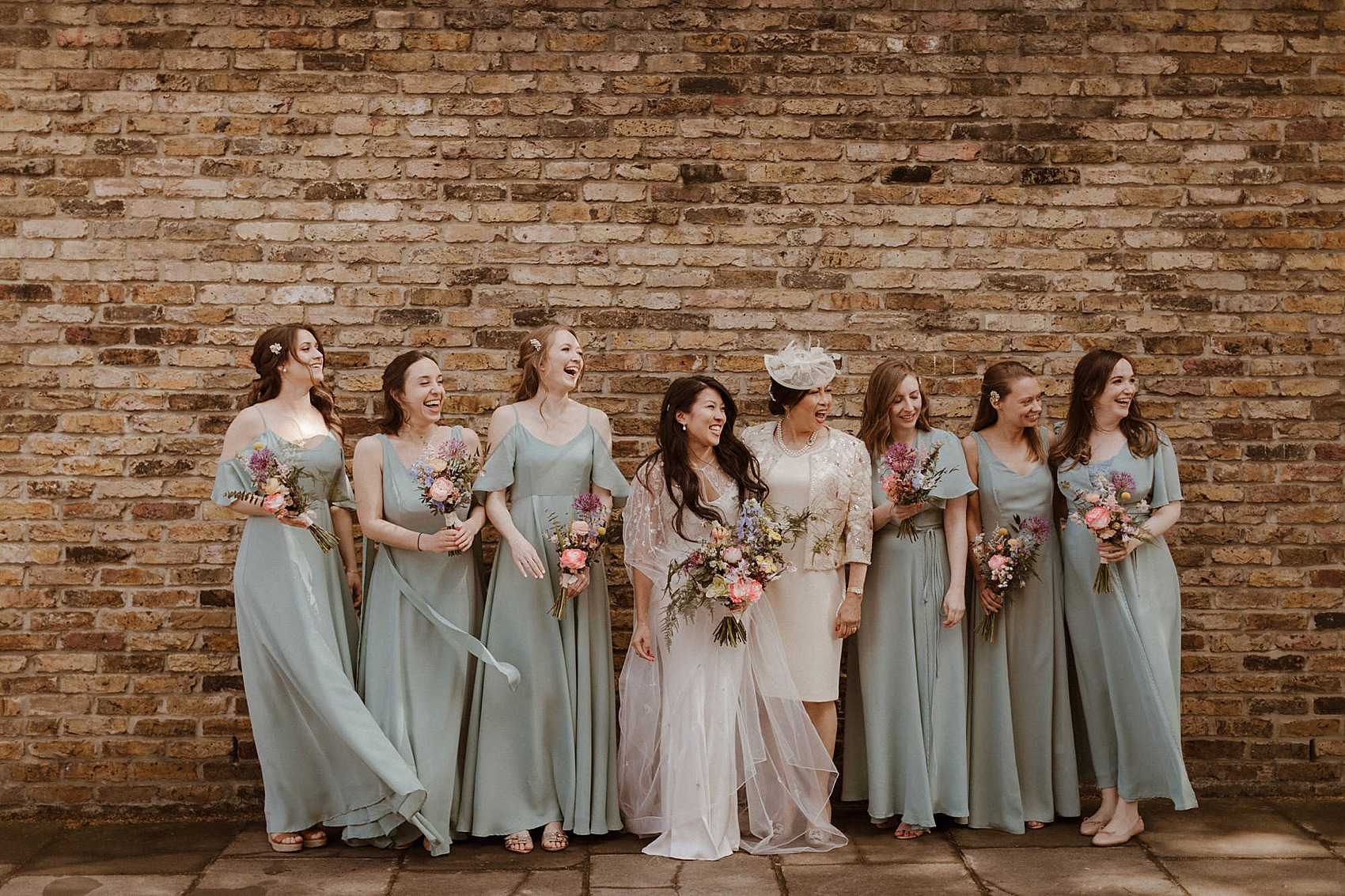 "I found the answer in the amazing bridesmaid brand, Rewritten (another Instagram find) – all the girls wore the gorgeous sage-like shade the brand calls Marine, but they chose different full-length dress styles to suit them. They all looked so beautiful."
"I asked our florist, Grace & Thorn to provide white wax flowers for my bridesmaids' hair and little flower crowns for our flower girls."
"Brendan's two nieces, who were only 3 and 18 months at the time, were our little flower girls. I found their dresses in the Ghost sale – they were perfect as they were the exact same shade of green as the bridesmaids' dresses, and they looked so sweet wearing them."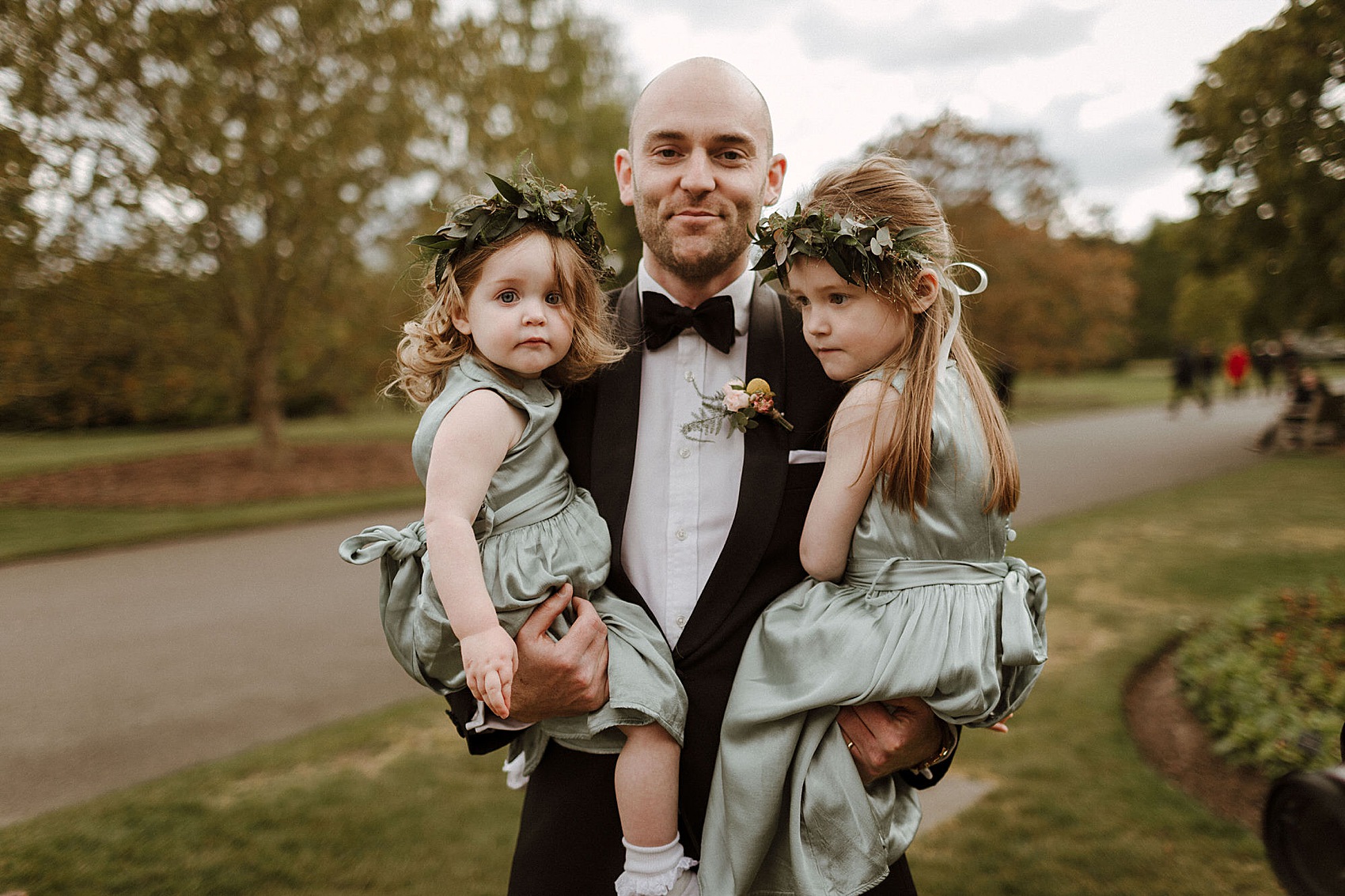 "Brendan wore a midnight blue tuxedo from Suit Supply. He accessorised with a black bowtie; his grandfather's antique pocket watch, which was a really special way of including him in our day; and monogrammed cufflinks from Aspinal – a birthday gift from my brother."
The best men and groomsmen all wore black tuxedos from Moss Bros, and simple buttonholes from our florists, Grace & Thorn."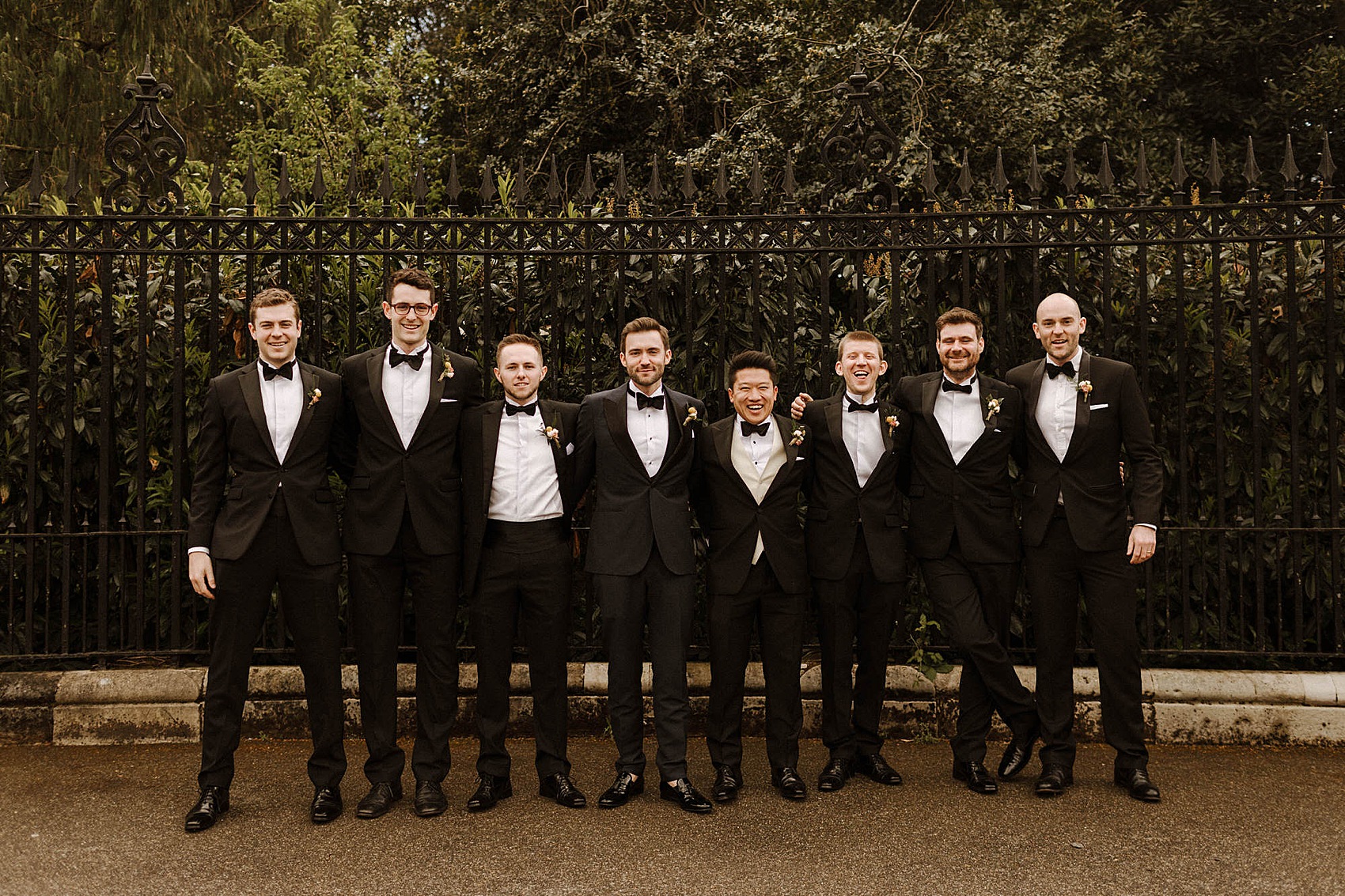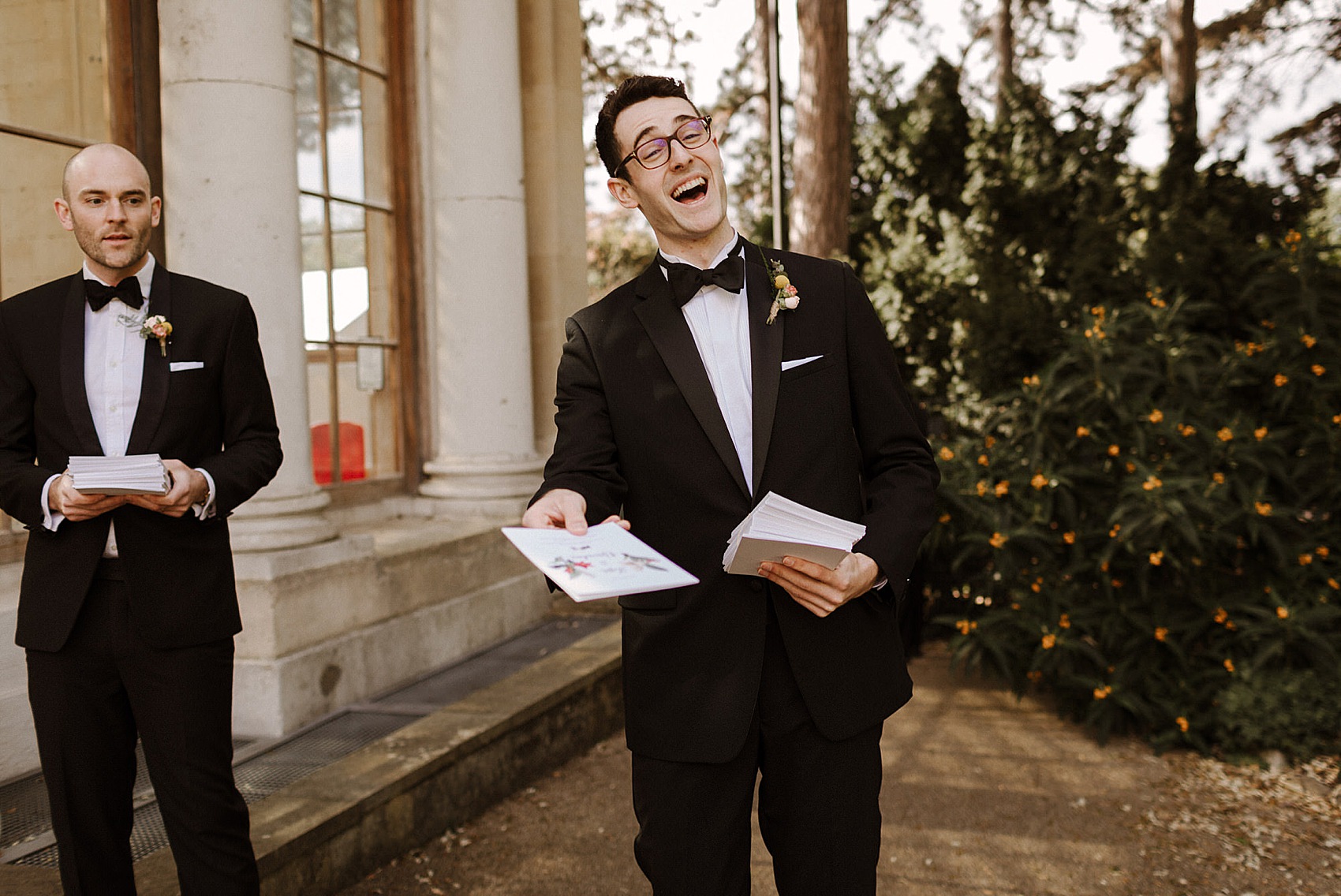 "Brendan's two nephews, aged 5 and 1, were our page boys and we bought them each adorable three-piece suits from Marks & Spencer."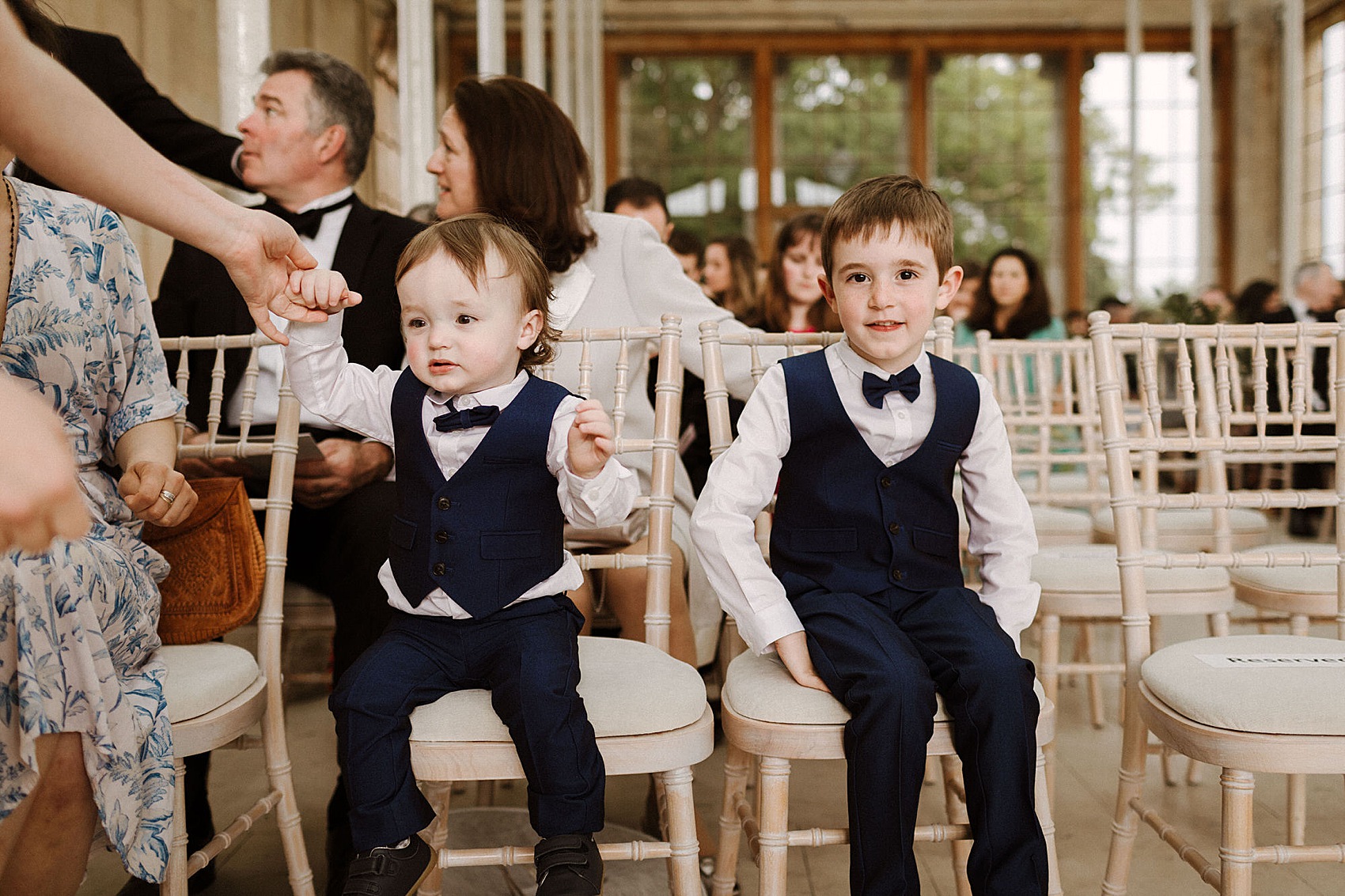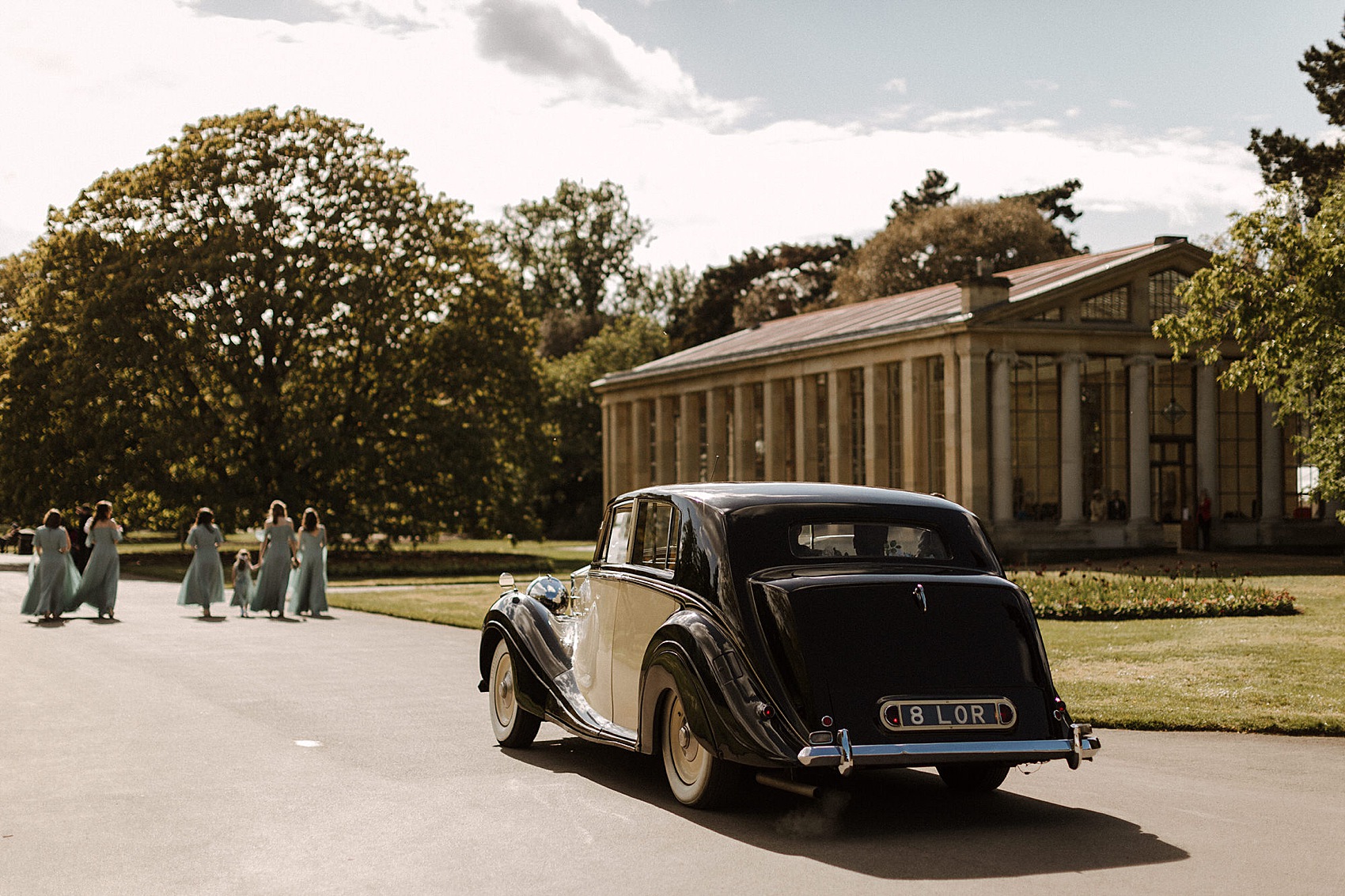 "I arrived with my father in a vintage Rolls-Royce Phantom, booked through Lords Cars. Brendan and I swayed back through the gardens to our hotel room at the end of the night on foot."
"We only viewed two wedding venues before we went to look around Kew and we knew straight away that it would be our dream location to tie the knot. Neither of us is particularly religious, but the Nash Conservatory at Kew where we had our ceremony has a real hushed, church-like magnificence to it, which felt so special."
"Plus, the Palm House is one of my favourite places in the world and we just felt that the lush greenery of the Princess of Wales Conservatory and the gardens would provide the perfect backdrop to our wedding reception."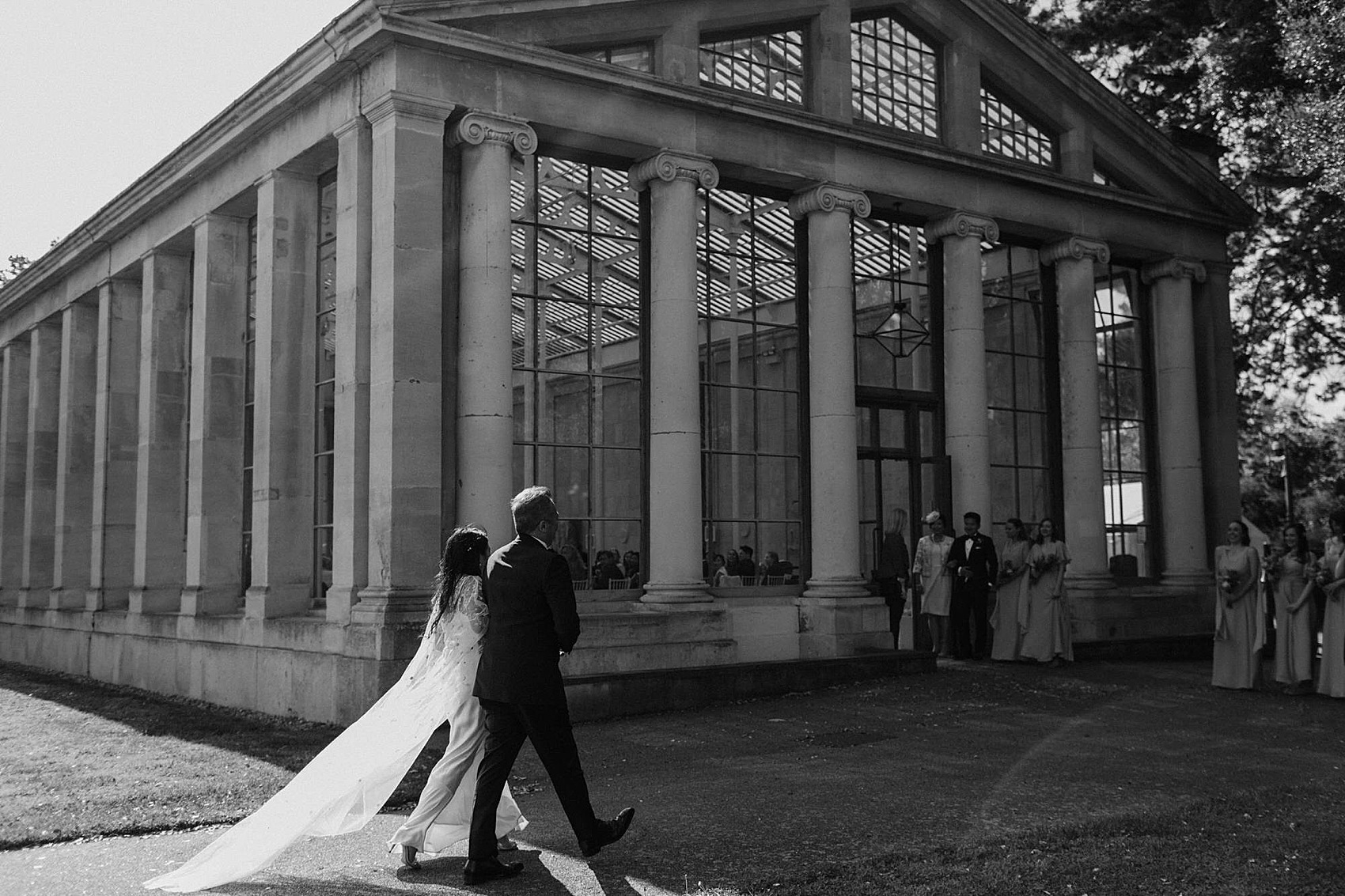 "We met online in 2013 – Brendan was the only online date I agreed to and I remember being very nervous beforehand. I'm so glad I went! We got engaged on the beach near my mum's house in Hong Kong in November 2017 and started planning our wedding last February."
The bride's father accompanied her into the ceremony to one of her and her soon to be husband's favourite songs, Spring 1 by Max Richter, played by the Niche London String Quartet.
"It was one of the best moments of my life. Brendan and I had a wonderfully droll officiator called Michael from Richmond Council, who doled out great wedding advice and generally made our ceremony quite memorable! He also had a great moustache."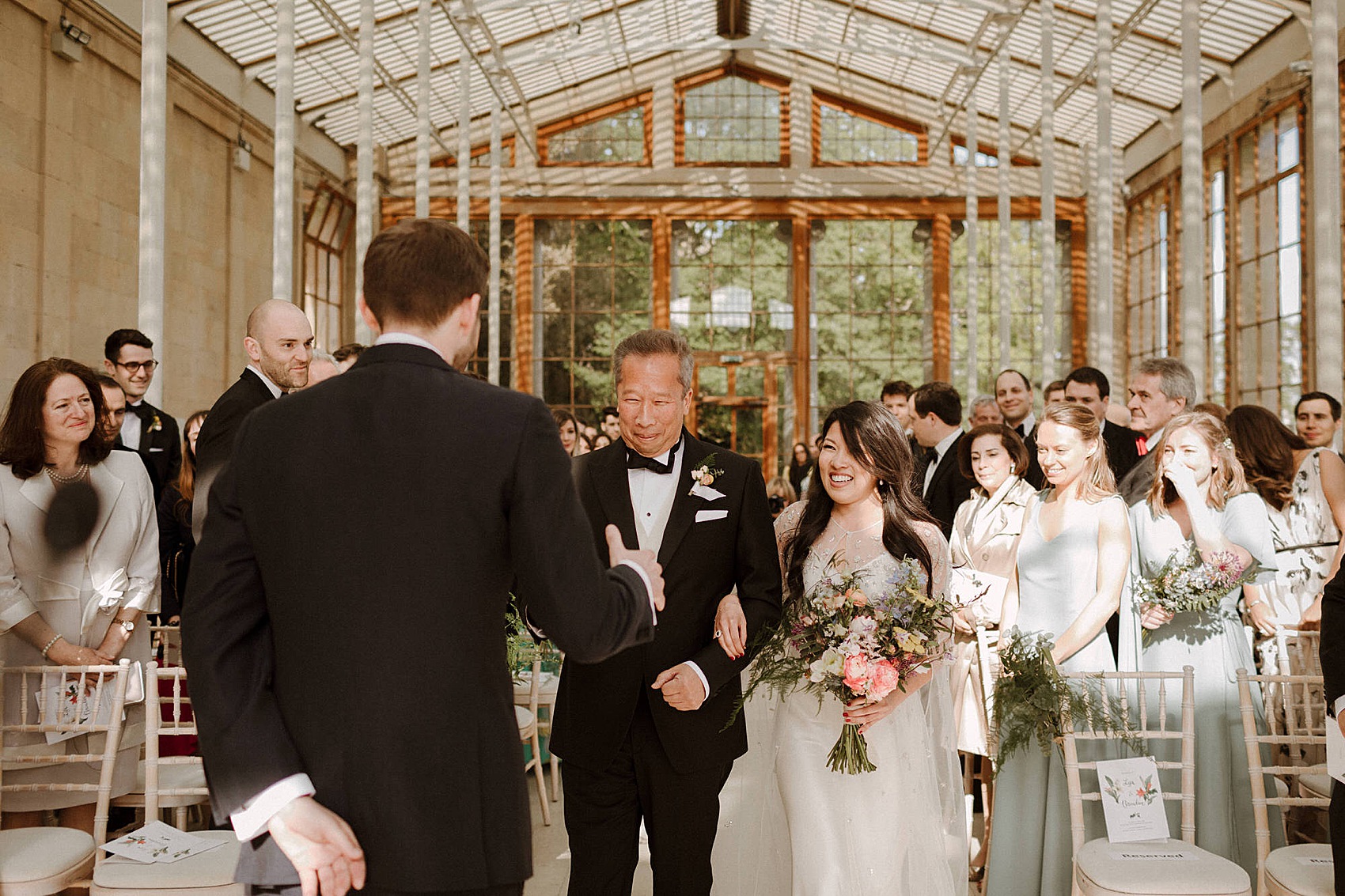 "Brendan and I wrote our own vows as we didn't feel that the traditional civil vows drilled into the meaning of our relationship. Although it took us both a while to write them, looking back we're both happy that we spent time thinking about what we wanted to say to one another as it felt much more meaningful and considered."
"We had two readings during our ceremony: my brother read the first and Brendan's sister read the second. Brendan and I both wanted to choose readings that not only meant a lot to us as a couple but also would feel appropriate for the person reading."
"We were also adamant that we wouldn't just settle for any cheesy reading – it was really important to us to choose pieces that resonated."
"After many hours of searching online, I finally found the perfect reading for my brother who studied Classics. Called 'Ithaka' by C P Cavafy, it's all about enjoying the spirit of adventure, a core part of mine and Brendan's relationship as we love travelling and hiking.
"Meanwhile, Brendan chose his sister Helen's reading, 'Wedding Thoughts: All I Know About Love', written by his favourite author Neil Gaiman. She absolutely blew it out of the water. I think my brother was very glad he went first."
"A family friend recommended a jeweller called Graham Fenton, who made my engagement ring that Brendan designed himself. We went back to Graham for our wedding rings, both of which are cast in classic yellow gold."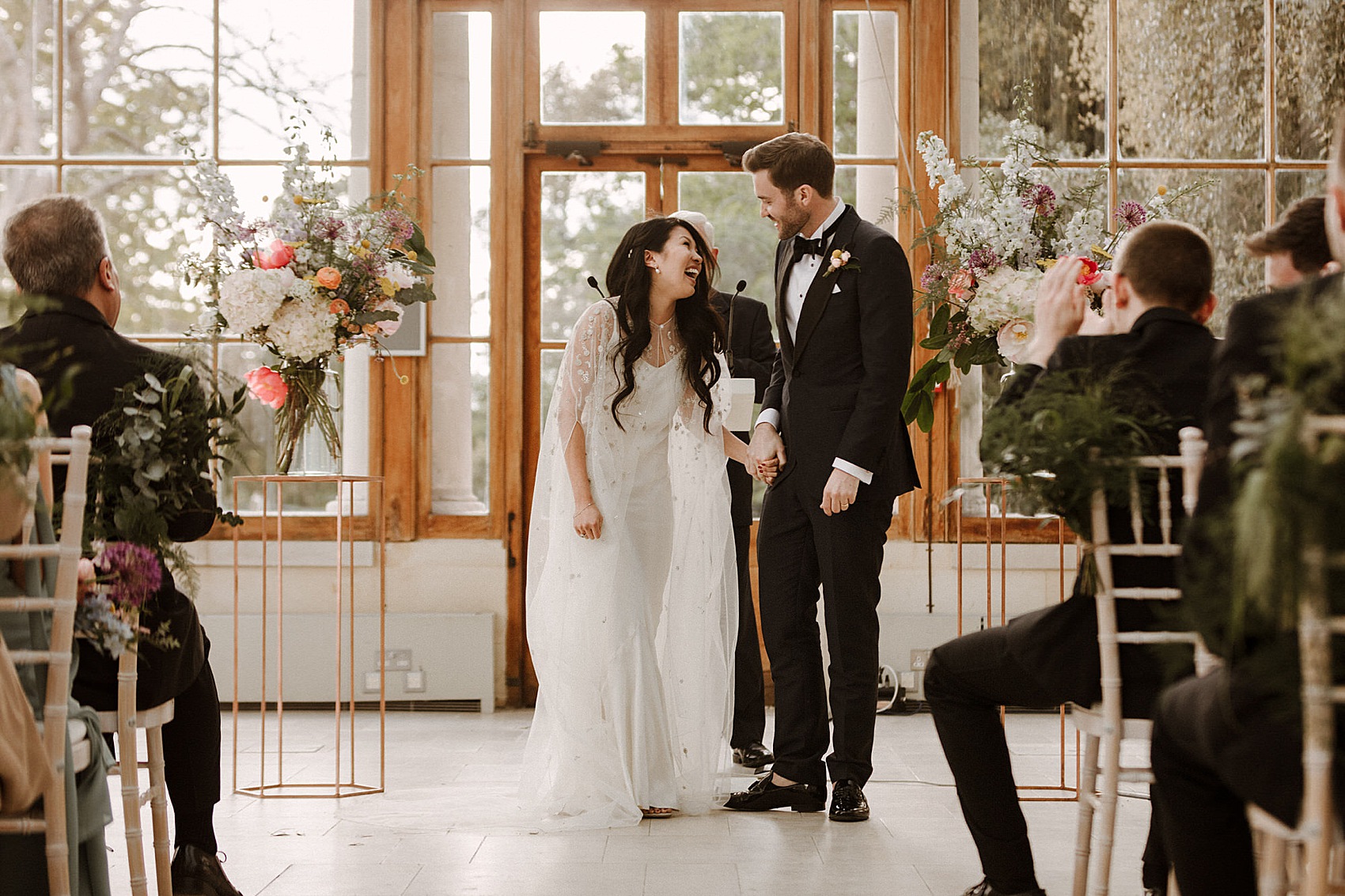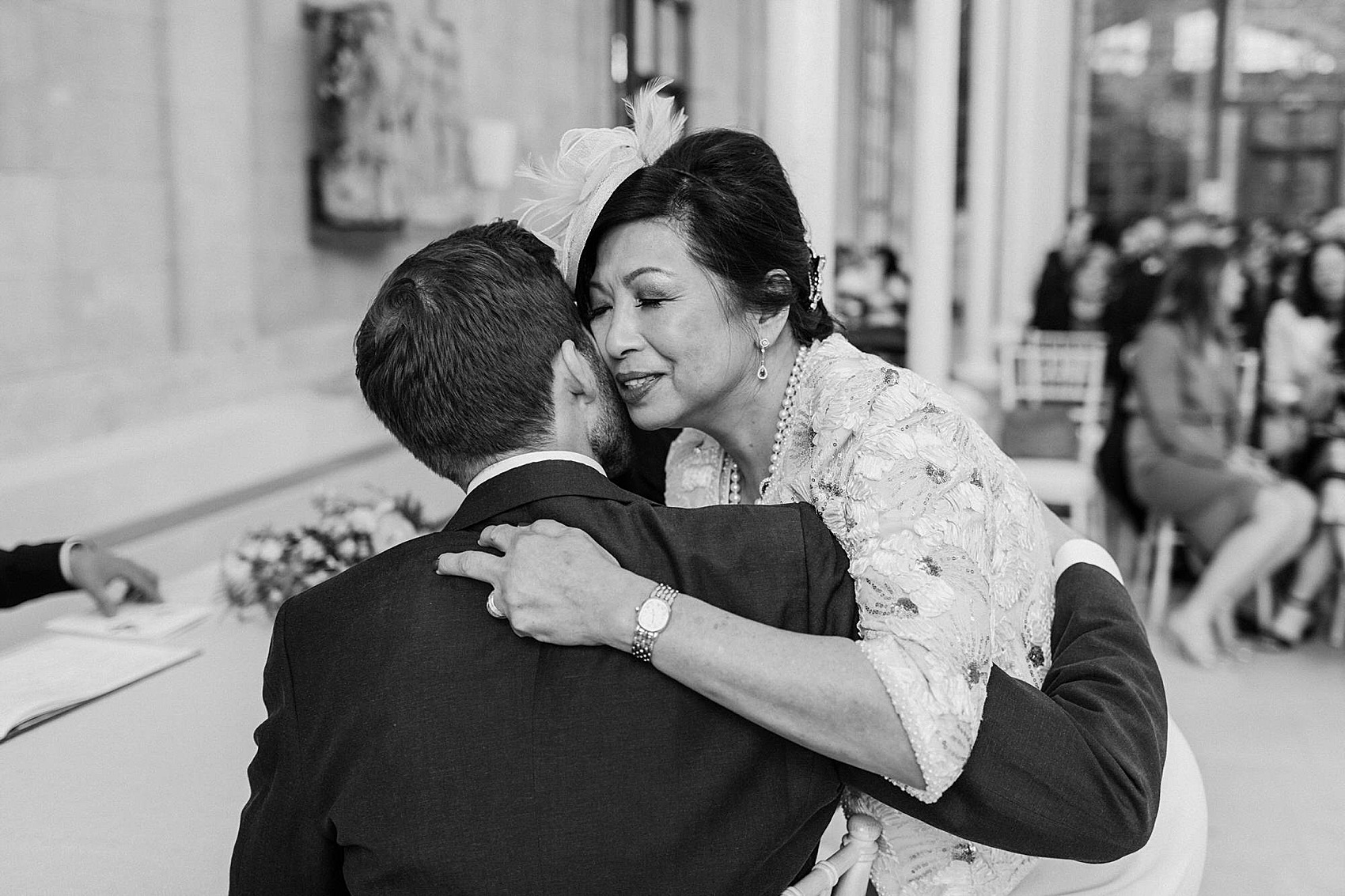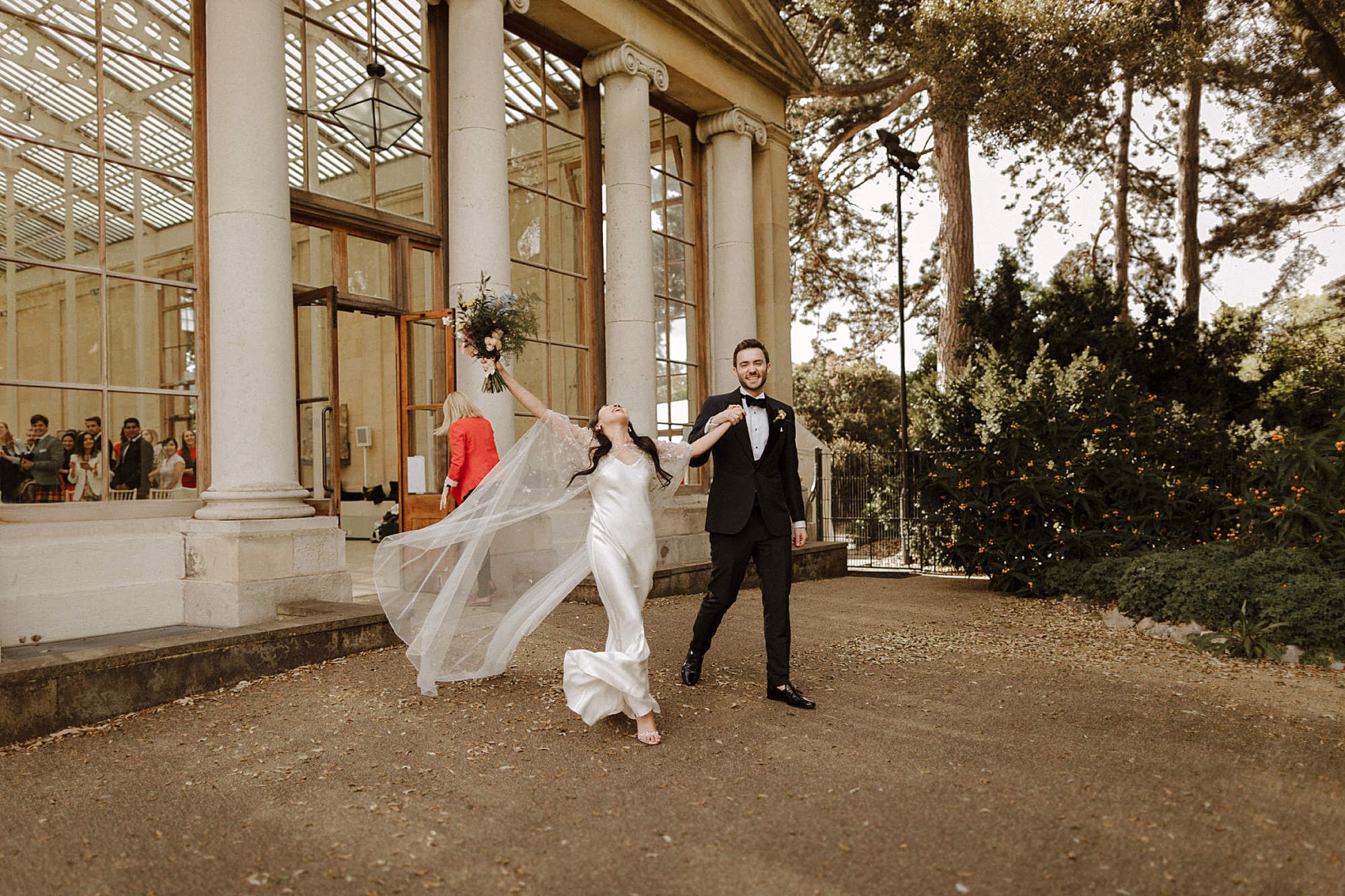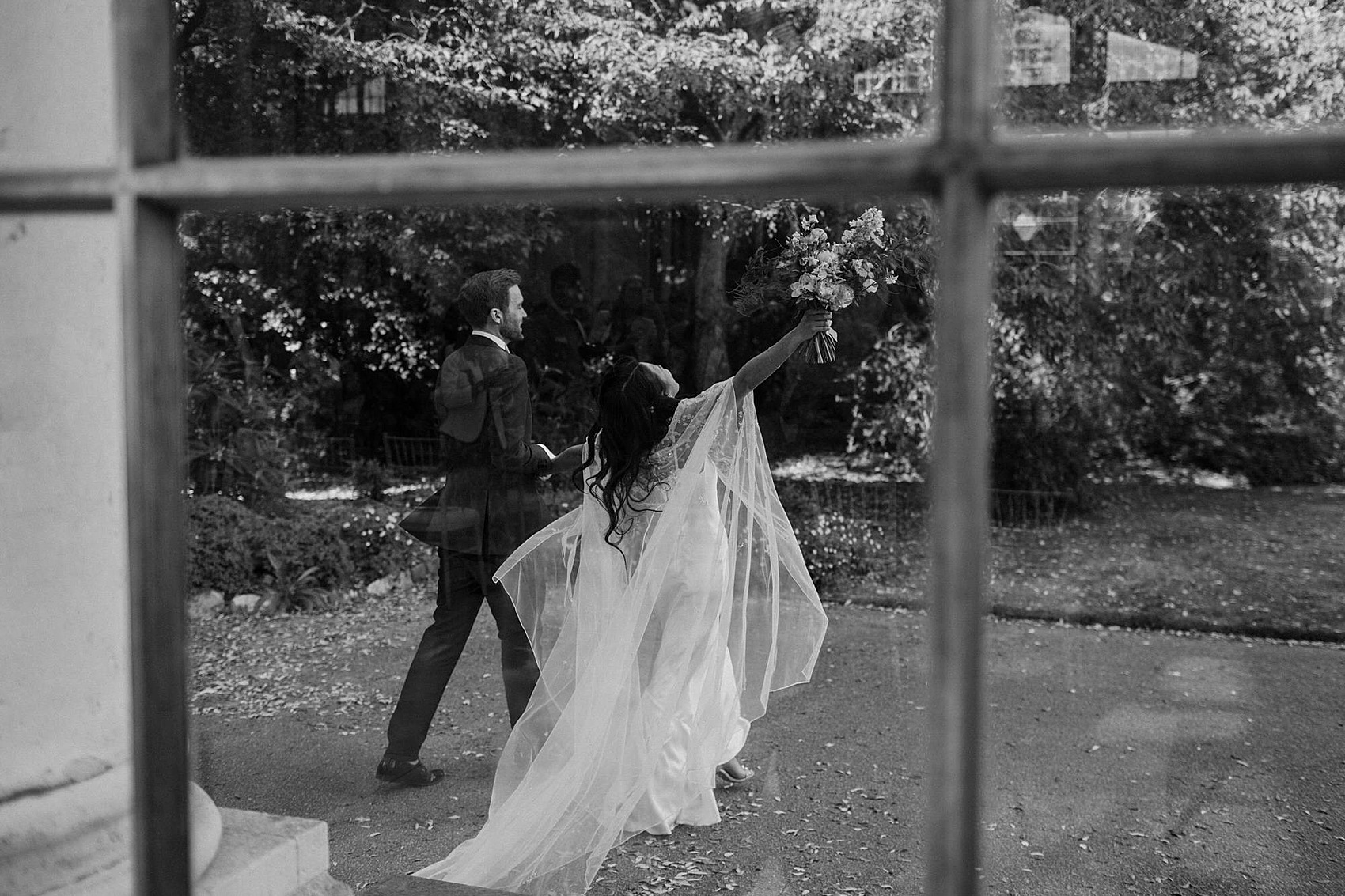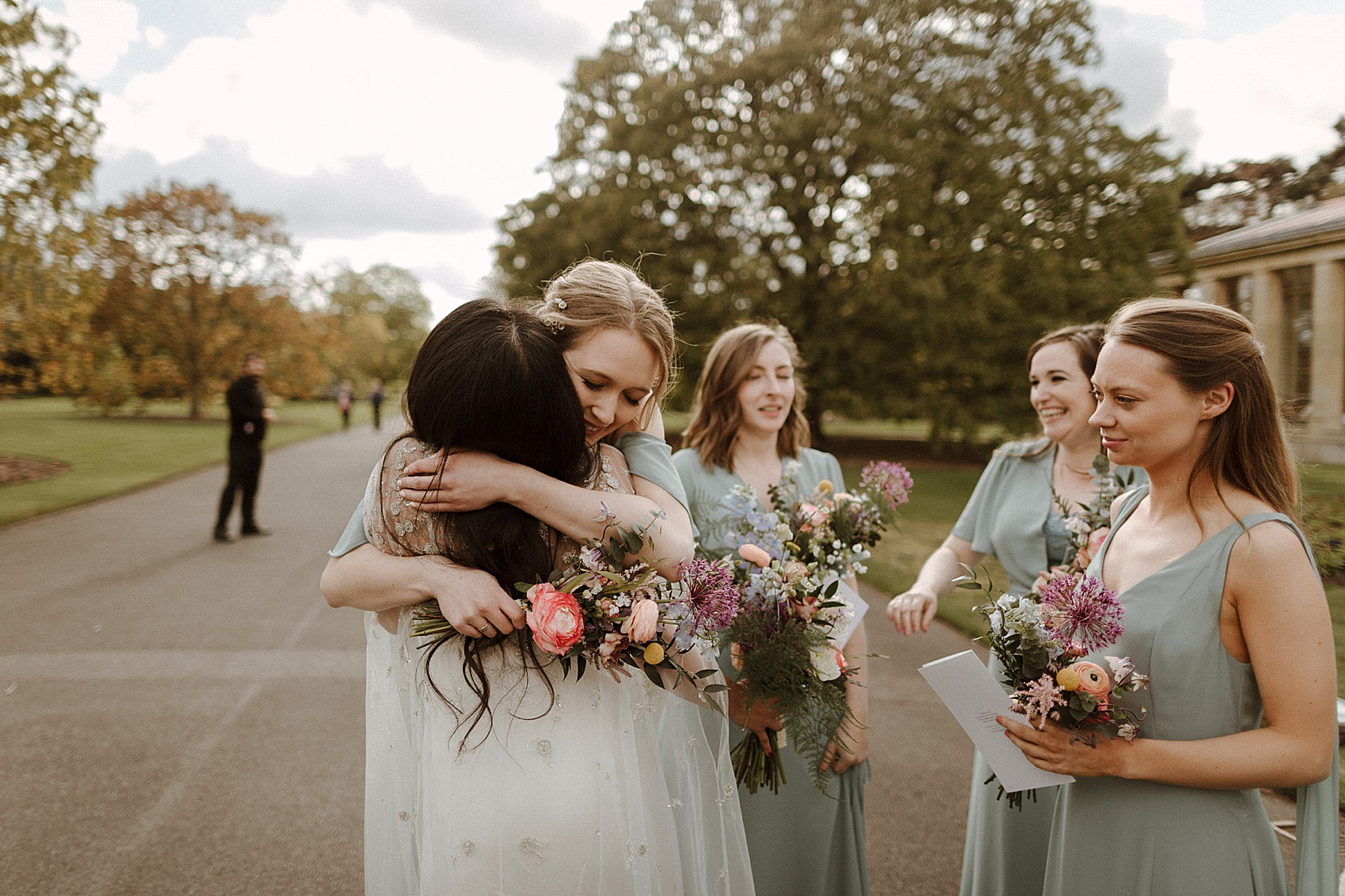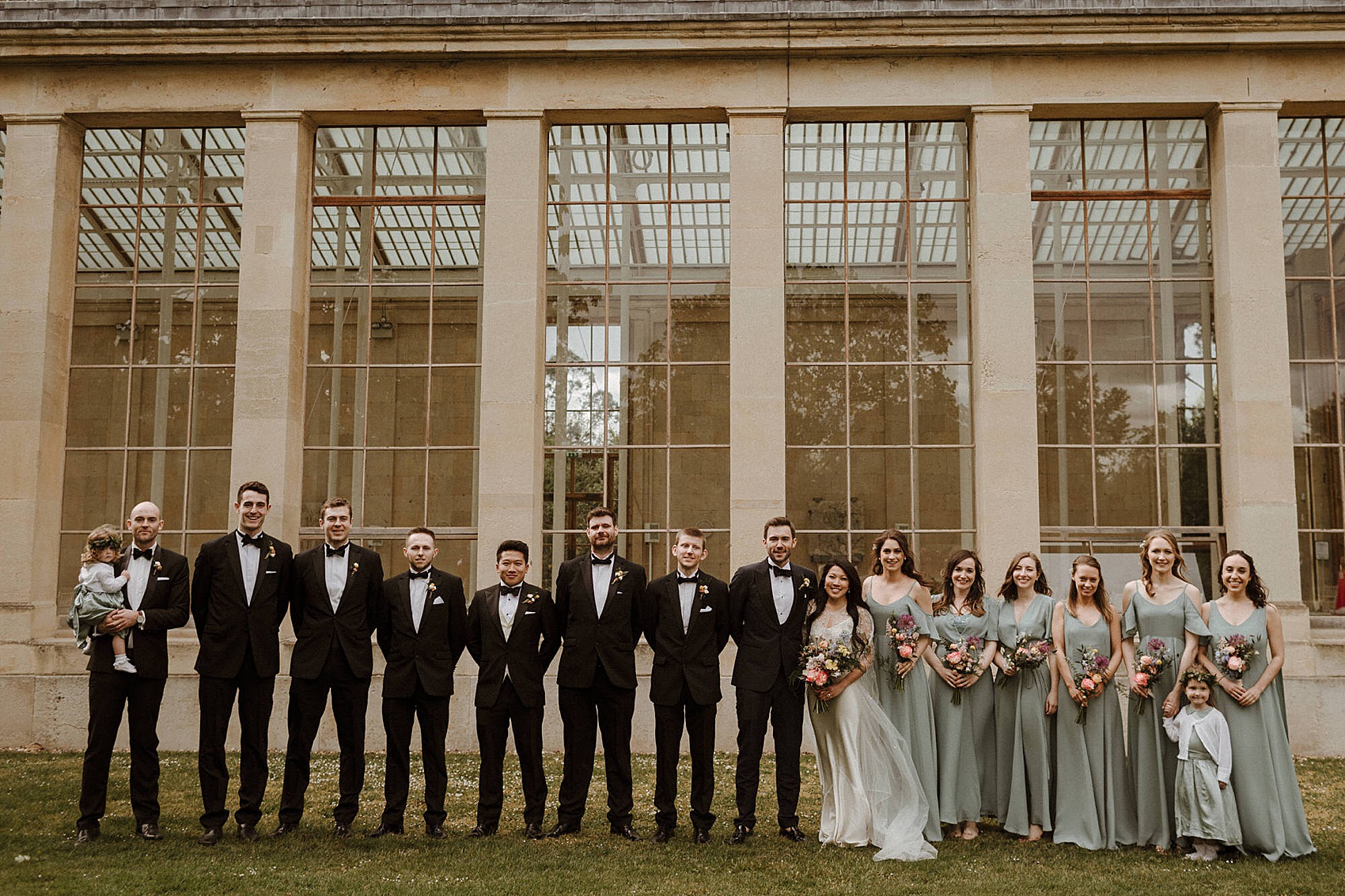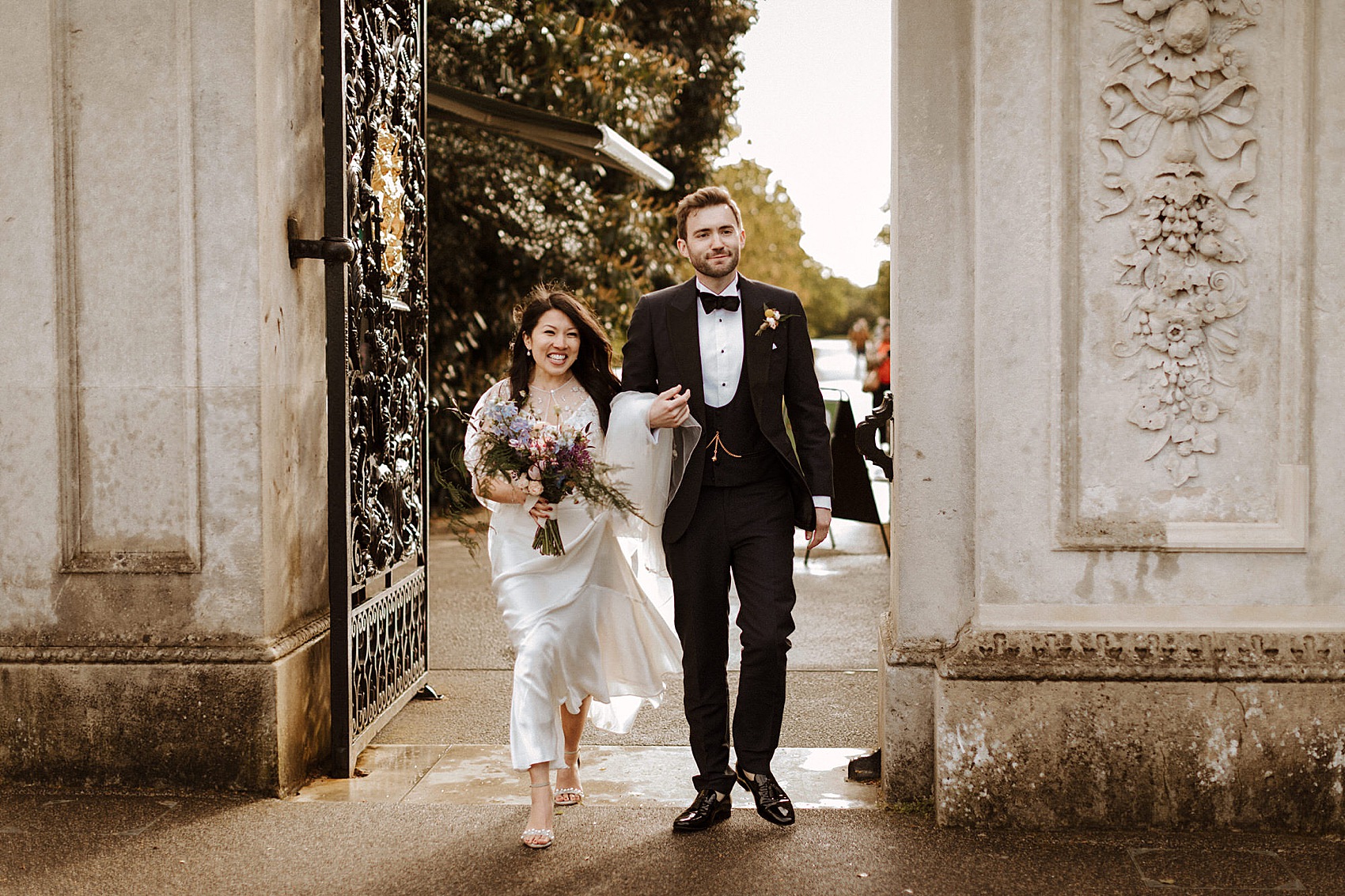 "As with pretty much all of our wedding suppliers, I found The Curries late one night while scrolling through Instagram. We had only just booked Kew Gardens and I knew straightaway that their dream combo of cool, symmetry shots, intimate close-ups, and relaxed documentary style would perfectly capture our day."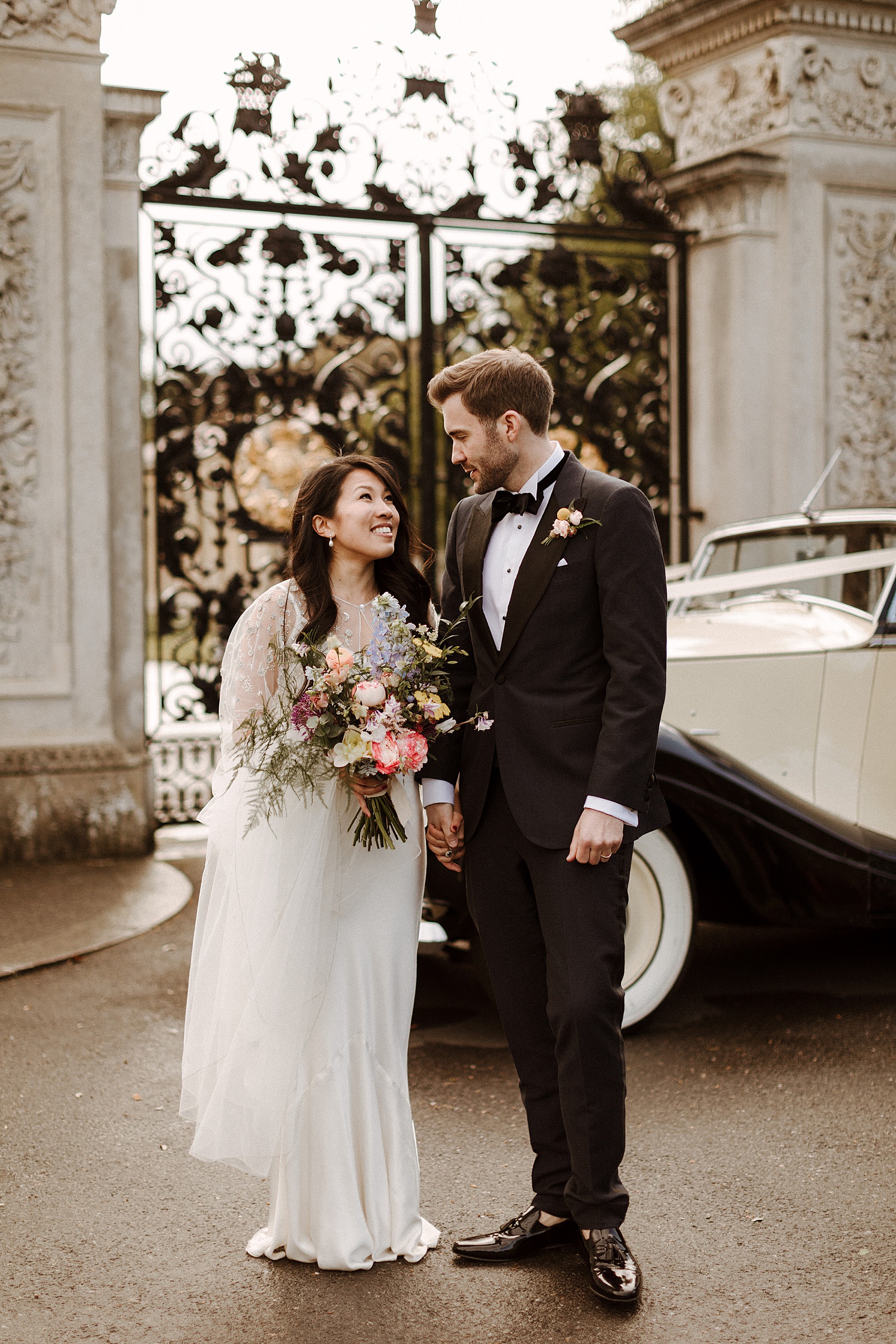 "They had also recently captured a wedding at Kew, and I loved a shot on their website of a couple silhouetted in the Palm House."
"We met Gillian and Chris for a drink soon after and Brendan and I instantly warmed to them – they're both super down-to-earth and friendly, and insanely talented without being at all intrusive."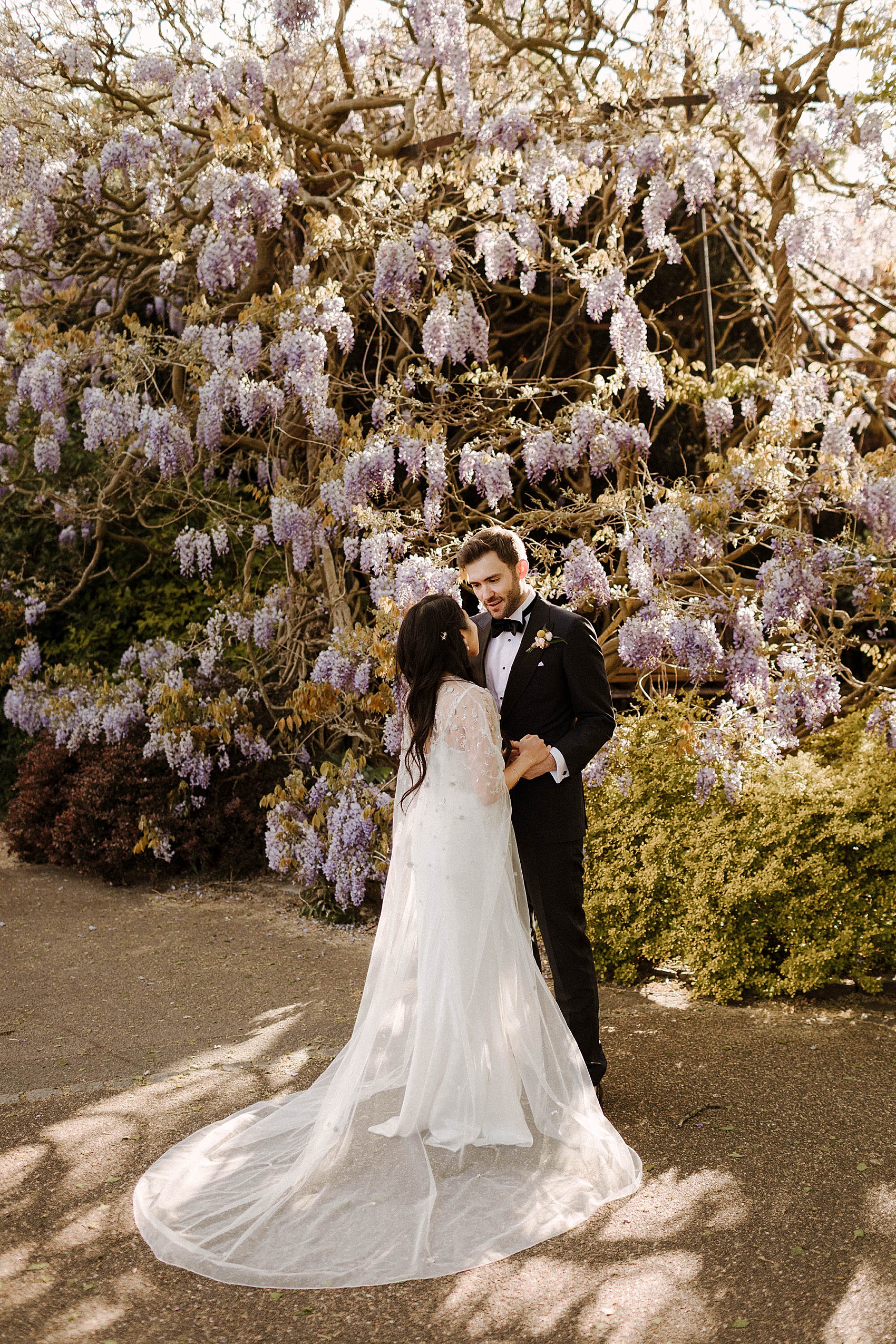 "We booked them immediately and never looked back! Both in the lead-up and on the day itself, we found their expertise and experience invaluable – it was like having an extra usher and bridesmaid!"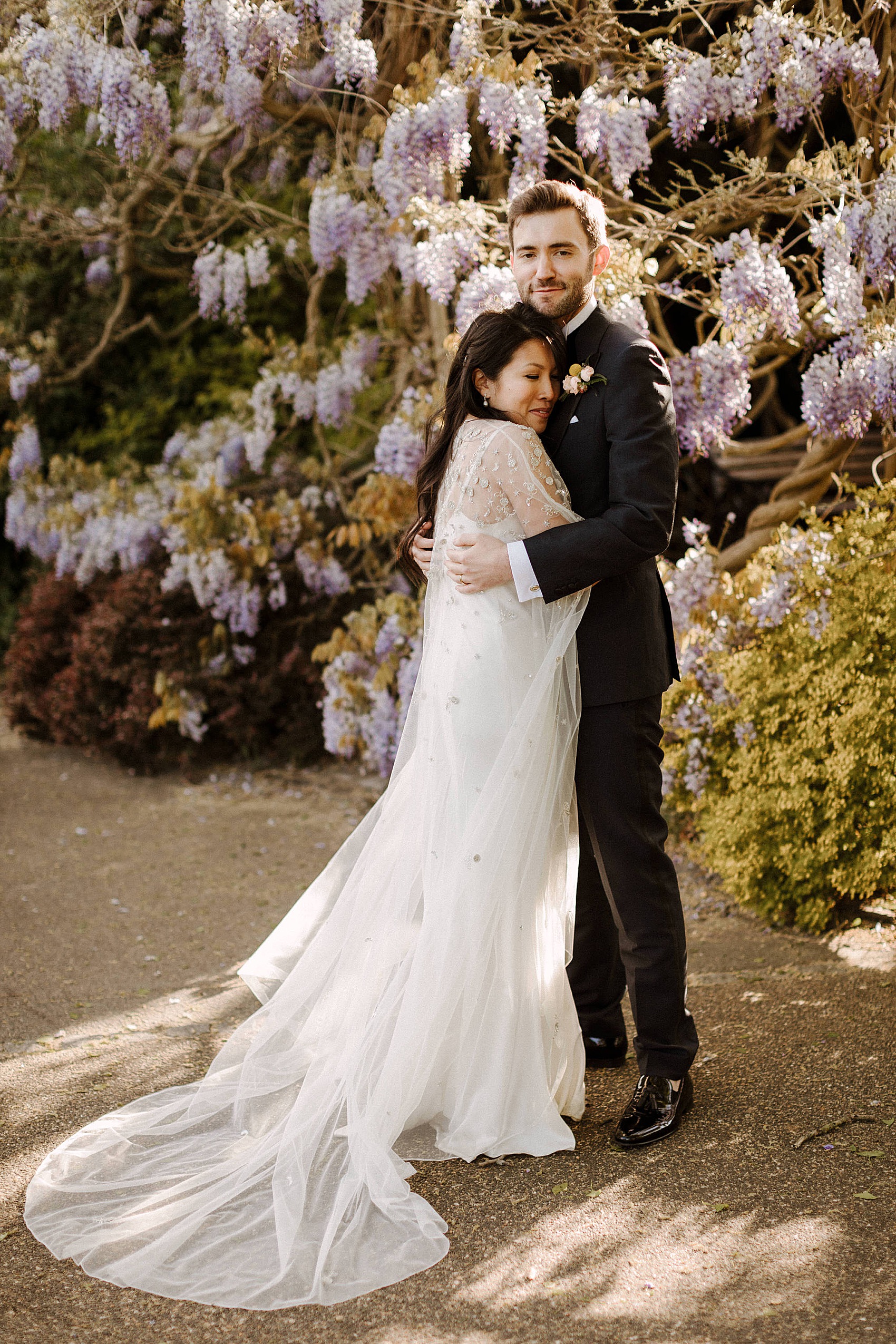 "They somehow captured all the moments that made up our day, big and small, without either of us even remembering seeing them or their cameras. We didn't have to spend ages standing around taking photos, which was important to us as we wanted to mingle with our guests, and they were quick and made us feel totally at ease."
"Everytime we look at our wedding photos, we are reminded of the magic of our day. Plus, they took our very own version of that silhouette shot in the Palm House. We didn't want a videographer – photography was much more important to us."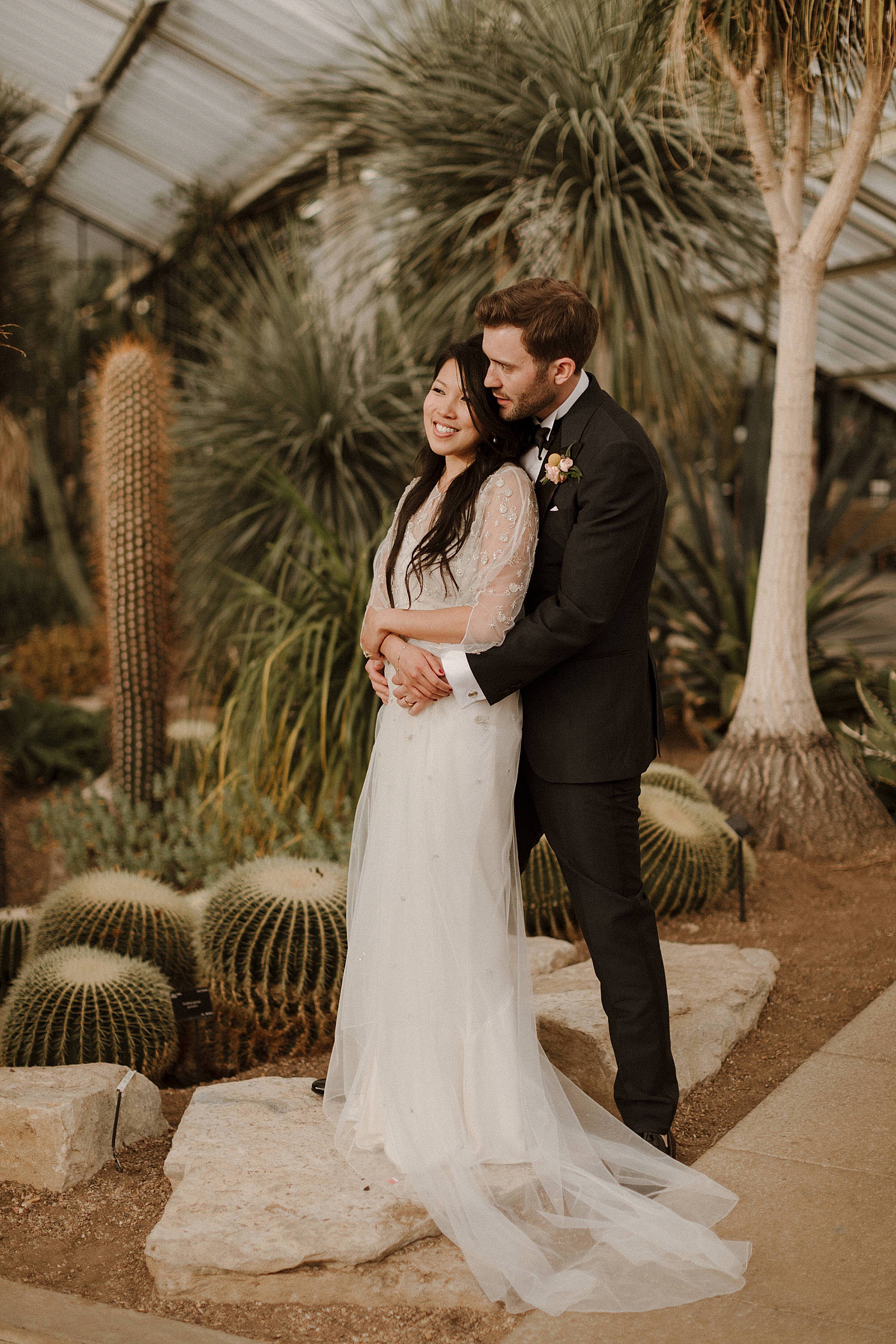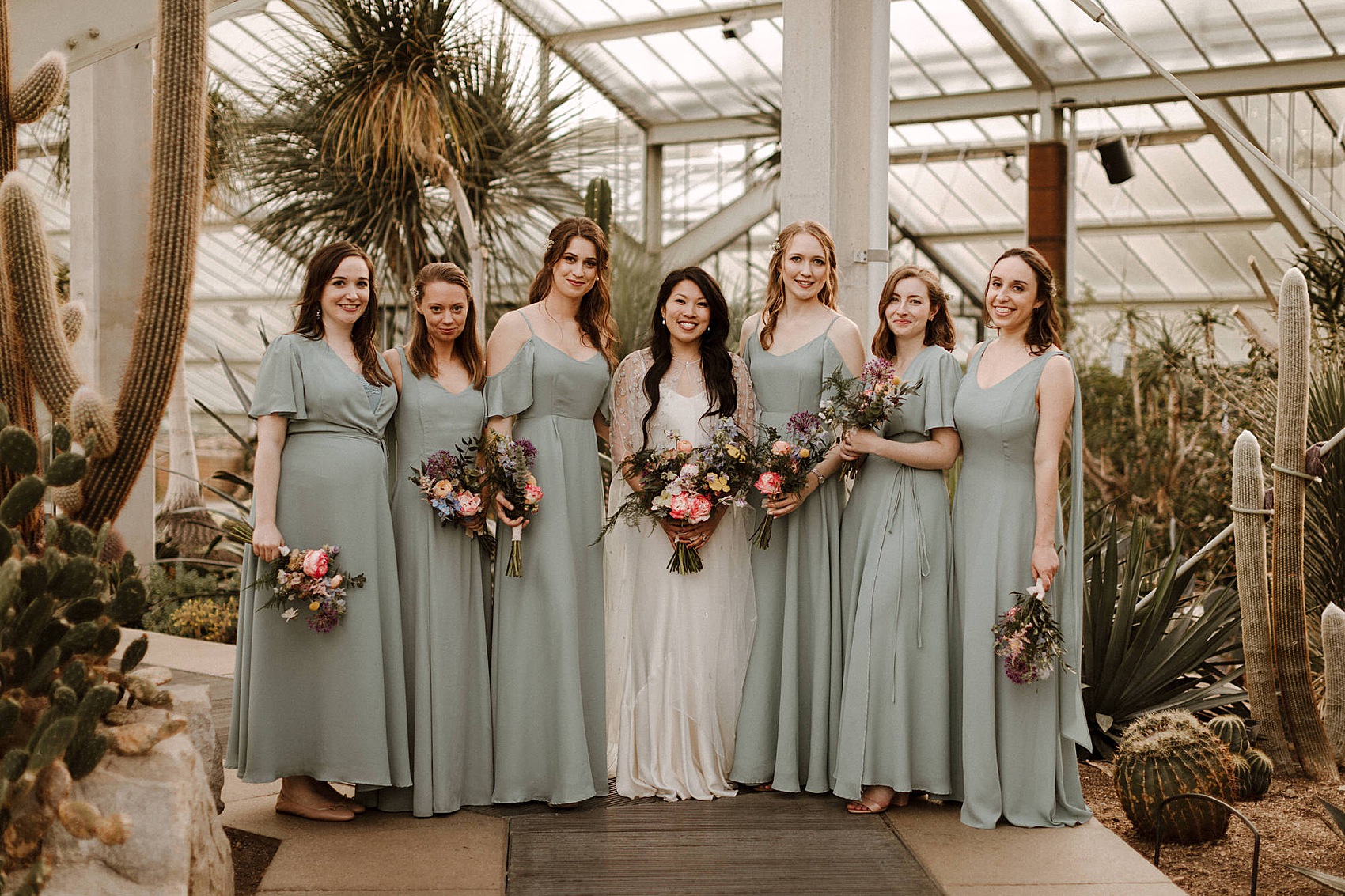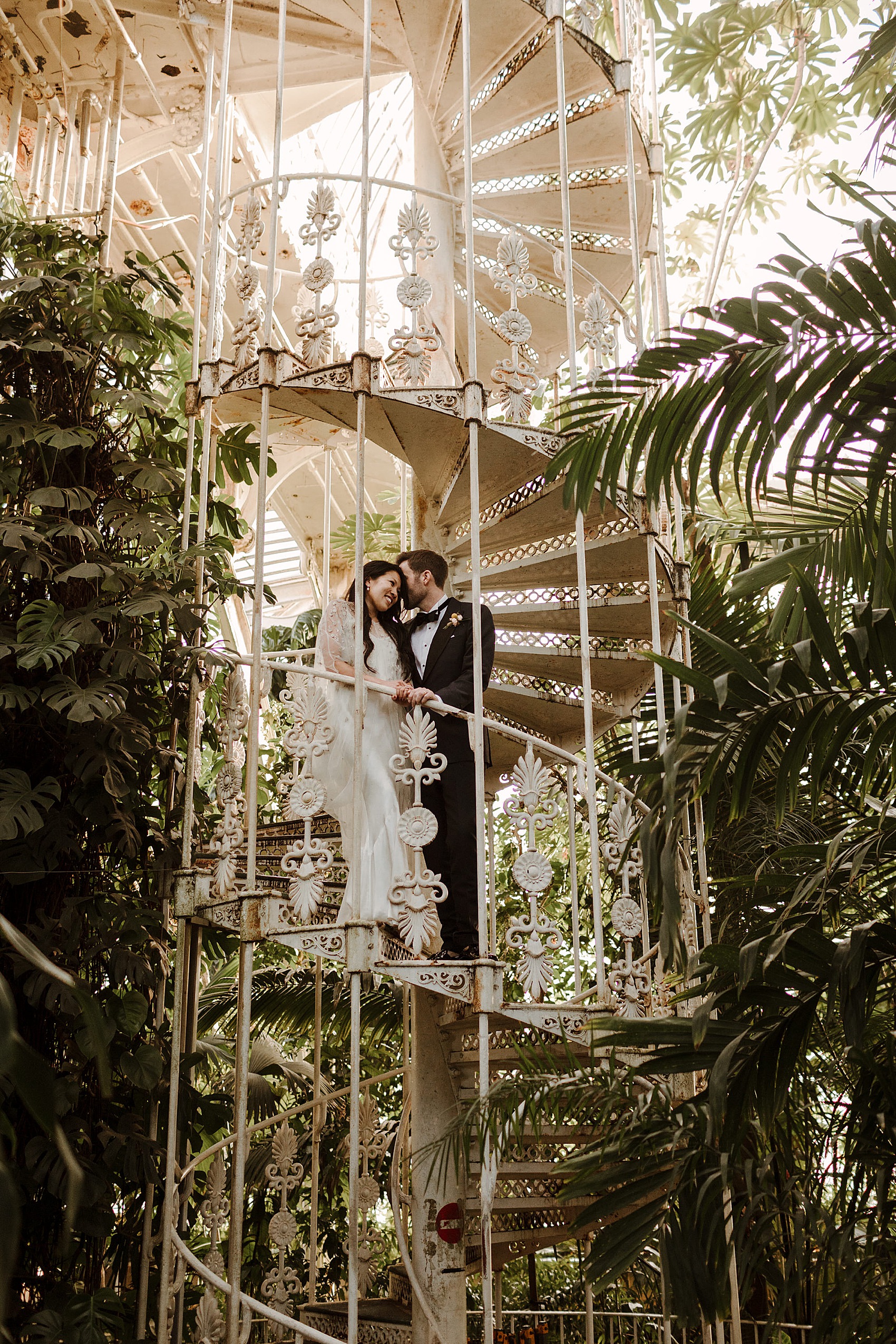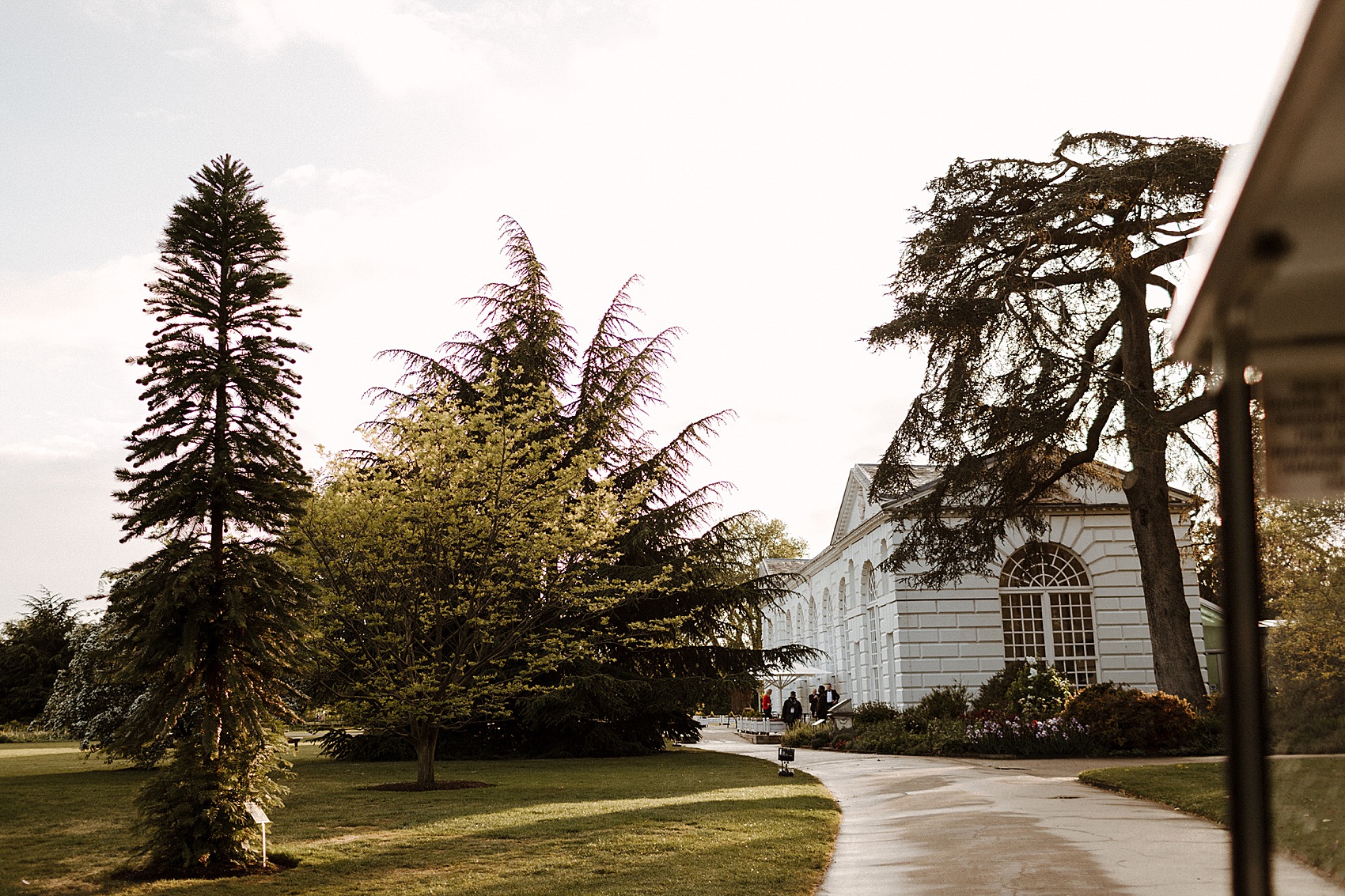 "We decided early on to let the greenery of the gardens do the talking, with two simple large vase arrangements and foliage pew-ends during the ceremony, and low table arrangements and crisp white table cloths and napkins at dinner."
"Our drinks reception was held in the Princess of Wales Conservatory among all the plants – you couldn't ask for better decor than that. The only hint of colour was the copper plinths our flower arrangements sat on during the wedding ceremony."
"Both of us are proper foodies so finding the right caterer was second to photography in importance for our day. As with all weddings at Kew Gardens, we had to choose our caterer from their list of preferred suppliers – and I'm so glad as it helped us narrow down the field of options. Caper & Berry were incredible."
"So many of our guests have since told us that our three-course dinner was the best wedding food they'd ever eaten, and the canapes they served during the drinks reception were amazing."
"The staff and service was all utterly impeccable from start to finish. I really don't think our day would have gone as smoothly without them."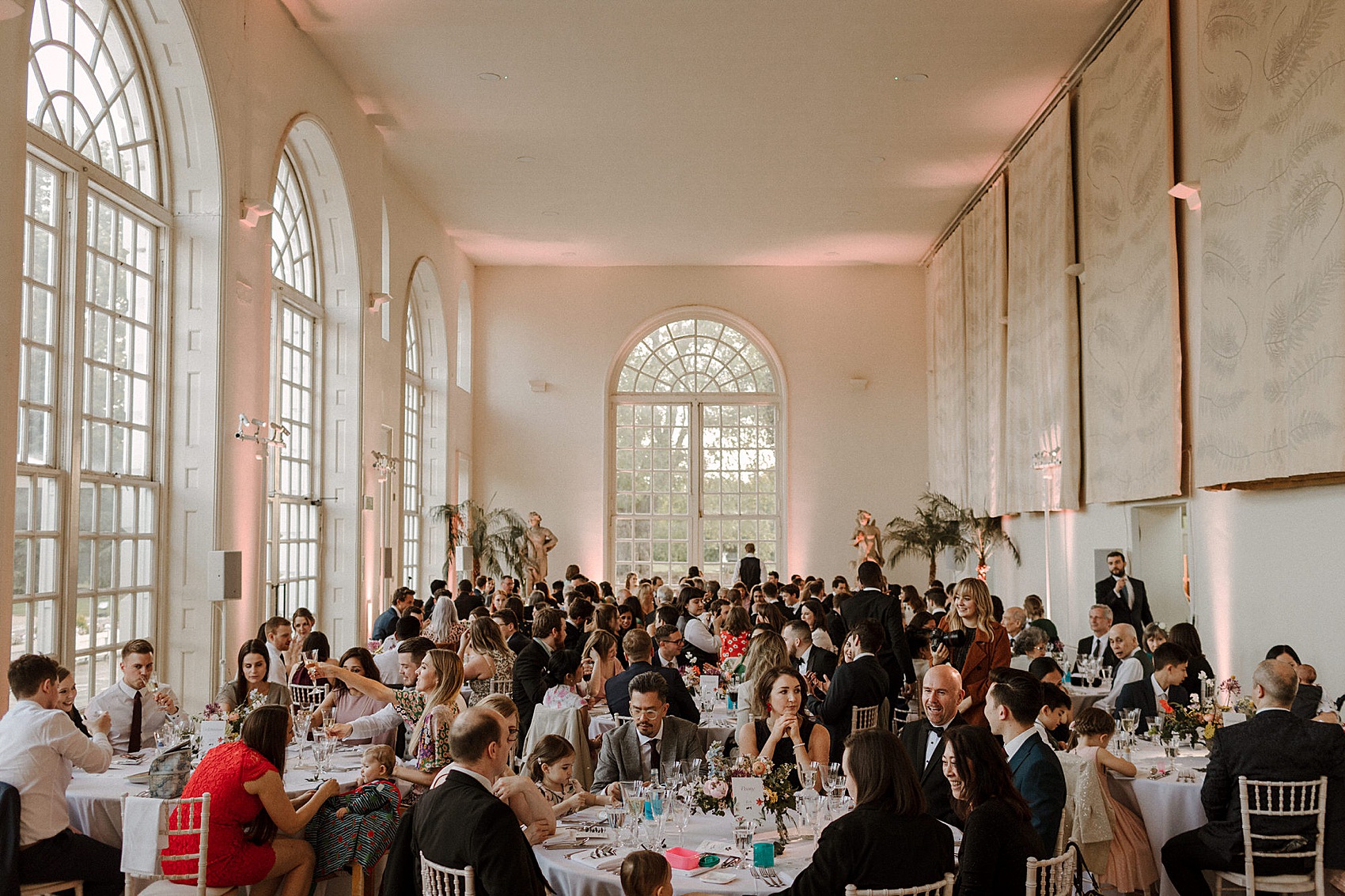 "Yes, you guessed it – I found our cake baker, Jen's Cakery, on Instagram! We wanted our cake to be classic and elegant, so we chose her 4-tiered Emma cake which we had decorated in simple foliage from Grace & Thorn. I would recommend Jen to any couple – she sends cake samples in the post if you're too busy to visit her bakery, which is basically the best post ever."
"Brendan and I had a couple of happy evenings doing cake taste-offs, before we finally settled on our 4 flavours: lemon drizzle, carrot & orange, vanilla and raspberry, and a small top tier of earl grey. It was delicious. We ate it for breakfast the next day."
"We had our first dance to 'Can't Take My Eyes Off You' sung by our amazing swing band, Jazzbomb."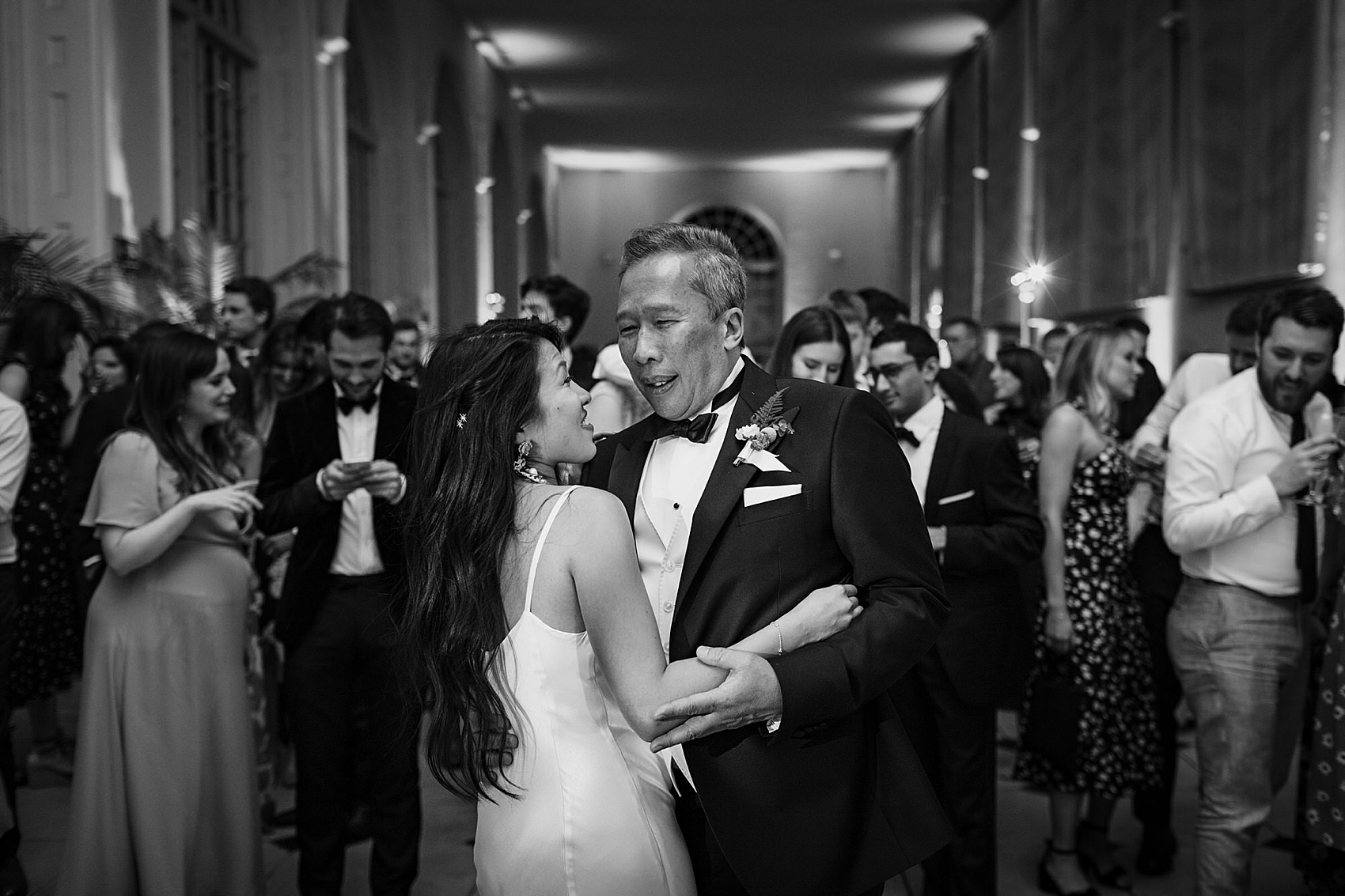 "Looking back, our day was everything we hoped it would be from the start to finish – we can't believe how lucky we are to have had a wedding day like it. Particular highlights would have to be seeing each other down the aisle, the sheer relief as we exited the Nash as a married couple, having our photos taken in one of our favourite spots, the Palm House, and being cheered into the Orangery for dinner by our 150 guests. I also loved our sparkler tunnel at the end of the night – the photos turned out so well."
"We hired Niche London String Quartet to play during our ceremony and drinks reception and then the swing band, Jazzbomb (who we booked through Prelude Entertainment) kept everyone on the dancefloor until the end of the night. We also had an unforgettable sparkler tunnel… 150 rather merry people with extra-long sparklers – we were lucky nobody caught alight."
Words of Wedded Wisdom
"Planning my wedding was one of the most consuming tasks I've ever undertaken and while I stayed fairly relaxed throughout the process, there were times when I felt totally overwhelmed by the number of decisions we had to make (things I'd never even thought of, like what colour napkins we wanted). So my biggest piece of advice would be just laugh and enjoy it all, because afterwards you do miss it! And don't sweat the smaller details, everything does come together in the end and on the day if anything goes wrong you won't even notice it because you'll be too busy having the time of your life."
"Also even if you don't rush off on your honeymoon straight away, try and book at least one night's stay somewhere just the two of you. You'll want some quiet time together to just reflect on what just happened."
"For couples looking to get married at Kew, that their events and wedding team are simply the best. We were assigned our personal event planner a couple of months beforehand. She was called Jess, and she was my saviour on the day, working with our amazing bridesmaids and ushers to make sure everything went to plan so I could just relax and enjoy myself."
"I would rather not disclose our budget, but yes we did end up exceeding it. However, for every luxury, such as my cape, I matched it with something more affordable, such as my Ghost dress. We were also very strict about just ruling out details we felt were unnecessary for us as a couple, such as a photo booth or a videographer, and instead focused our budget on the things we both felt were important, such as giving our guests a free bar."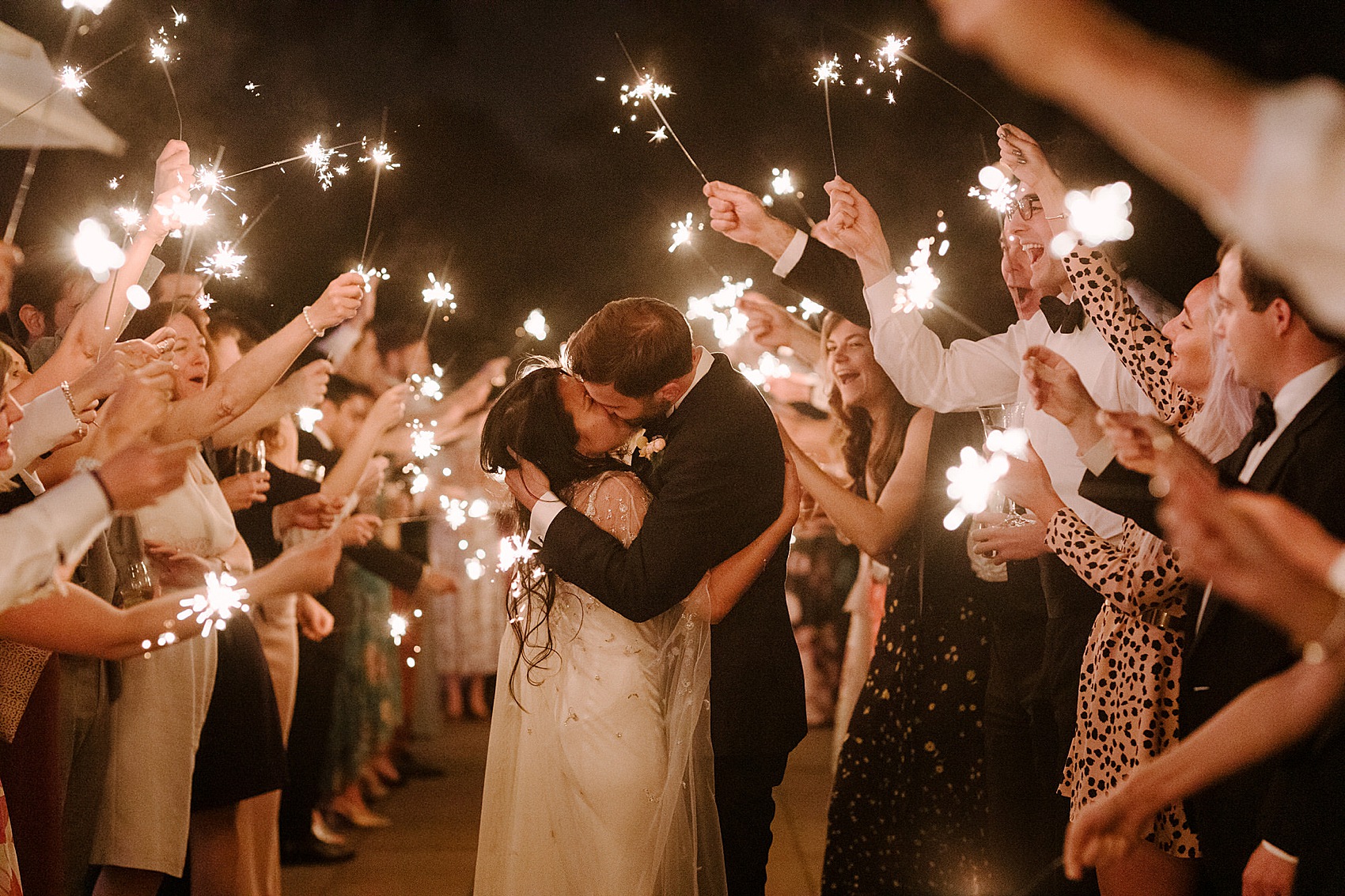 Such a beautiful day – I am always so delighted to share the work of The Curries but this is next level beautiful. You can see more work from The Curries here on Love My Dress. Also be sure to follow them on Instagram as their feed is the most beautiful insight into the quality of their work.
Lisa, Brenda, wishing you the loveliest first wedding anniversary tomorrow! I hope you are able to celebrate in lockdown style.
With all my love,
Annabel xx