How are you all today loves? We've a very busy week ahead and will be sharing more about our shortlist following the competition with Freya Rose to design your own shoes later this week – keep your peepers peeled for updates on our Instagram.
In the meantime, we have a gorgeous wedding to share with you this Monday and very much hope that this will add to the steady stream of gentle inspiration that will help you stay positive about your own wedding, despite the ongoing pandemic induced disruption.
Joanna Bongard Photography

+ Follow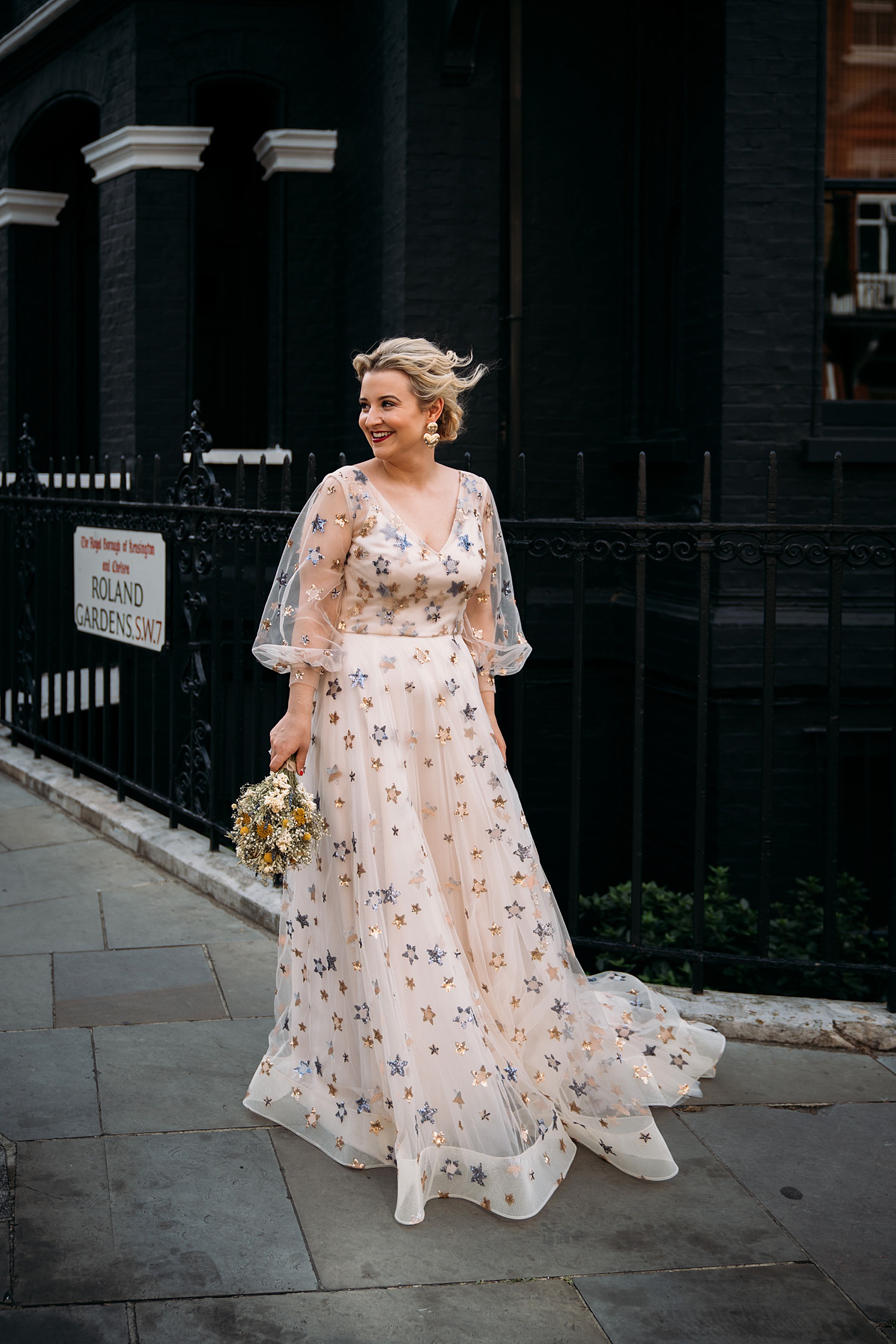 This wedding is a lesson with always doing what feels right to you when it comes to your wedding day. The couple had been planning quite a different day before they realised they didn't want to go for the big affair with over 100 guests.
Charlotte, a Nail Artist and Dan, a Barber, tied the knot on 1st June 2019, with an intimate city wedding at Kensington & Chelsea Register Office, celebrating afterwards with friends and family at The Ivy Chelsea Garden – a popular restaurant on the Kings Road in London.
As owner of her own nail salon, Charlotte is well versed in beauty and applied her own wedding day makeup.
"I was working in fashion PR in London and exhausted with it. I moved home to Surrey for a break, took a job in a pub whilst retraining in makeup and nails and met Dan."
"Makeup and nails were by me, as I am a makeup artist and nail technician – but hair was styled by the lovely Helen of The Boho Bride."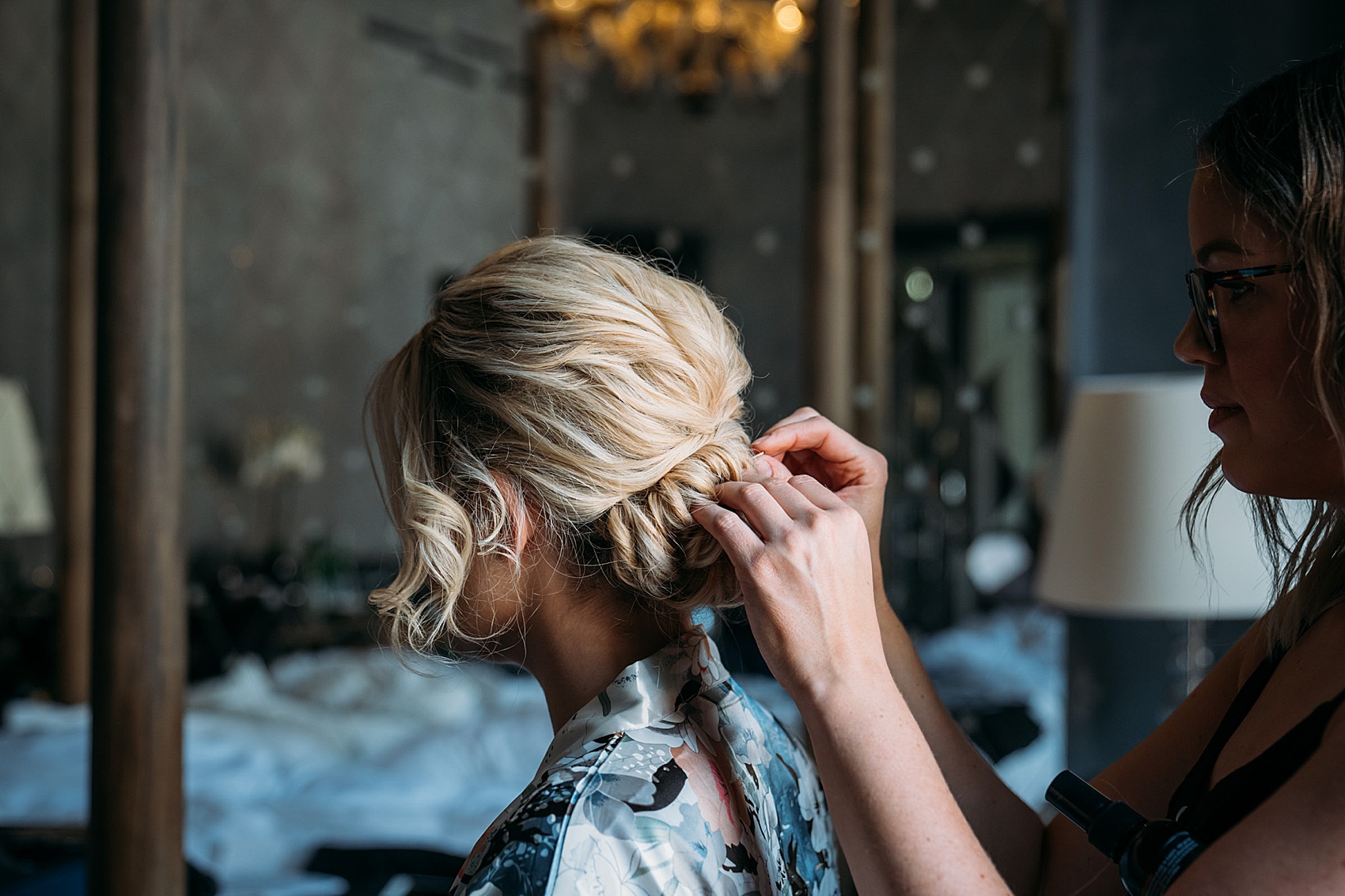 Charlotte was very keen to find a dress that would help her express her sense of identity and creative spirit. She ended up falling for the 'Starstruck' gown by Natalie Wynn.
"For me, creativity and individuality is very important – I searched high and low for a dress that was different, but still special enough for our wedding. Im not a fan of the traditional wedding dress style."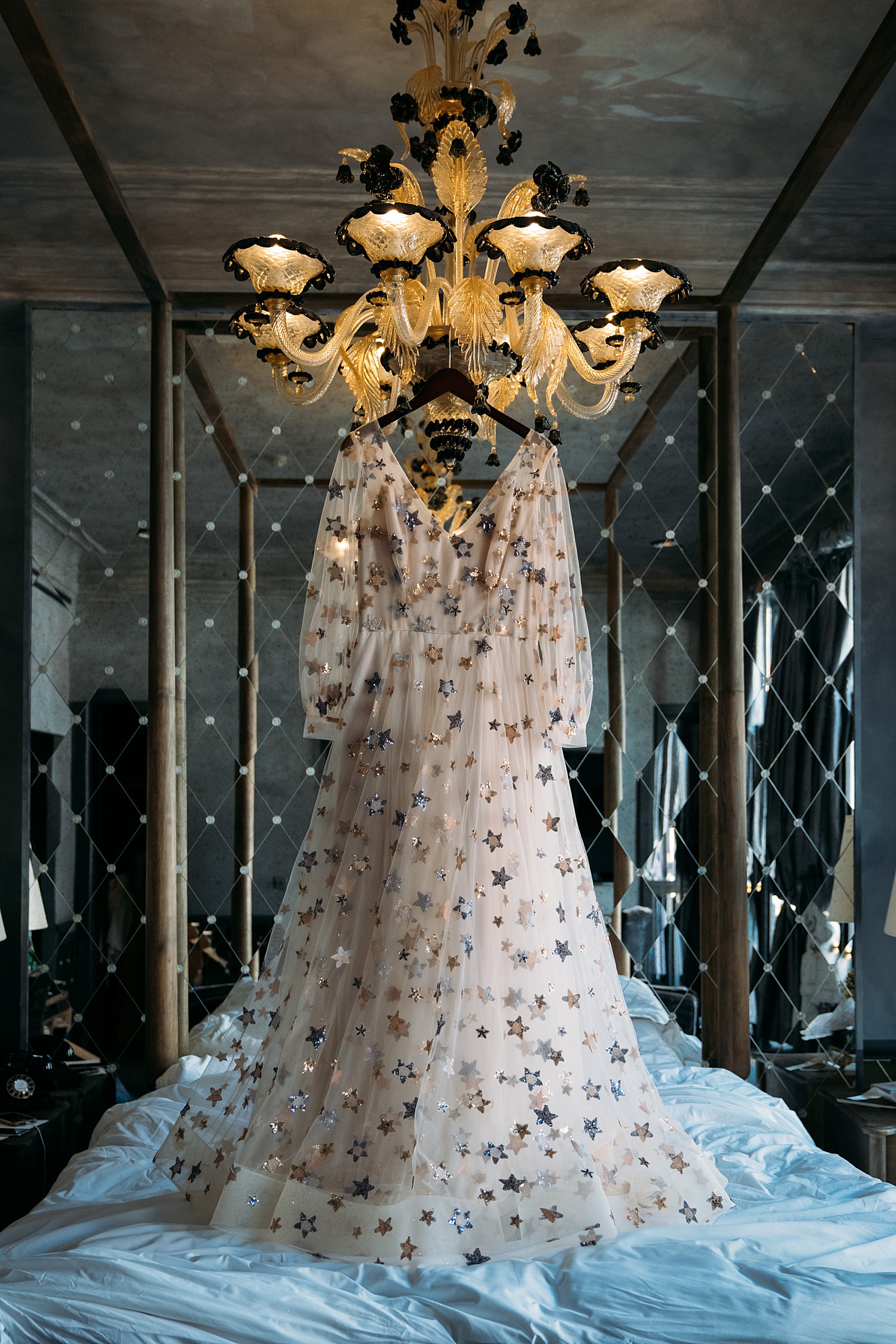 "Designer Natalie spoke to me via emails and was great! She made all the alterations I suggested, sent a thorough measurements list and the dress fitted perfect, despite her being in UTAH USA and me in surrey. The whole experience was very calming, helpful and I would totally recommend her."
"I chose this dress ultimately for its uniqueness and the fact it was made by a small, independent designer. I knew it was unlikely that anyone else would have a similar design."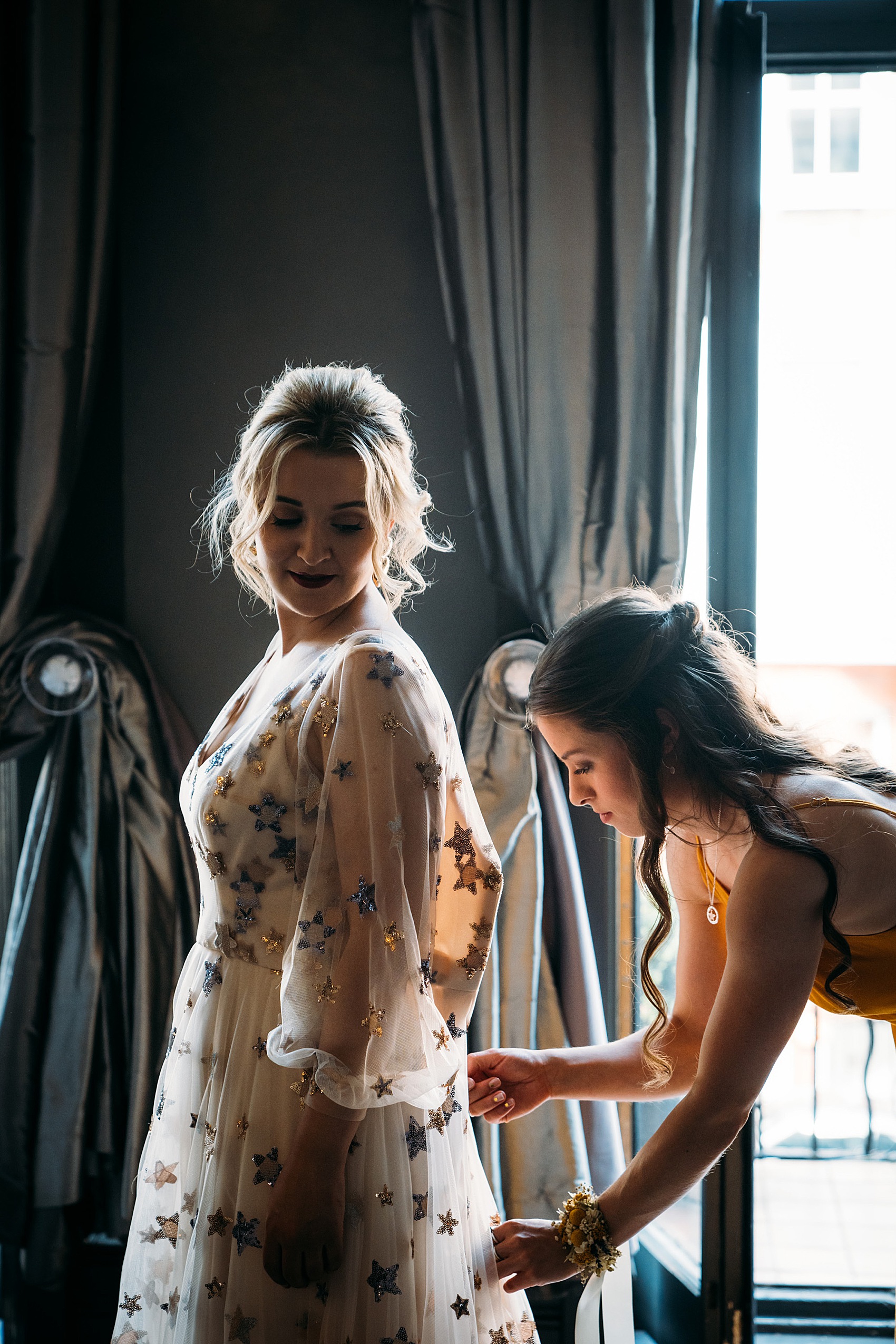 "I bought so many pairs of earrings and ended up wearing a cheap £7 pair from New Look. They were Pat Butcher style giant gold hearts. I loved them more than any of the fancy, more expensive ones!"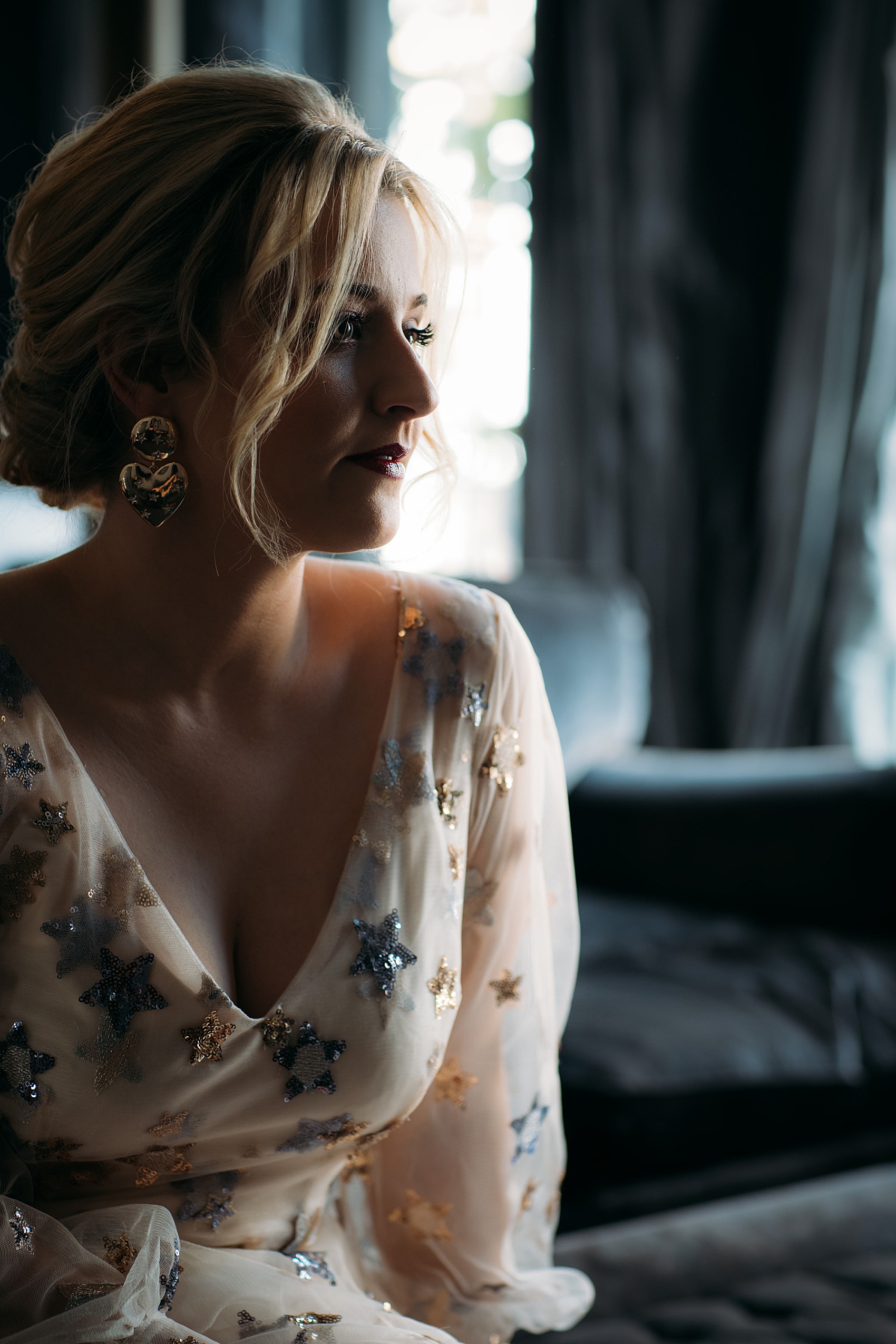 The couple went shopping together in London to find wedding day scents.
"Dan chose 'Trafalgar Cologne', by Truefitt & Hill,  because they are the oldest barber shop in the world and because his grandfather left him a painting of the battle of trafalgar when he passed away, so it was a sweet ode to both his love of barbering and his grandad who couldn't be there."
"I chose ''Floris 1976' – an ode to the Kings Road in Chelsea, where I spent most of my teens, and to Chelsea being where we would now get married. We both love Bergamot based scents."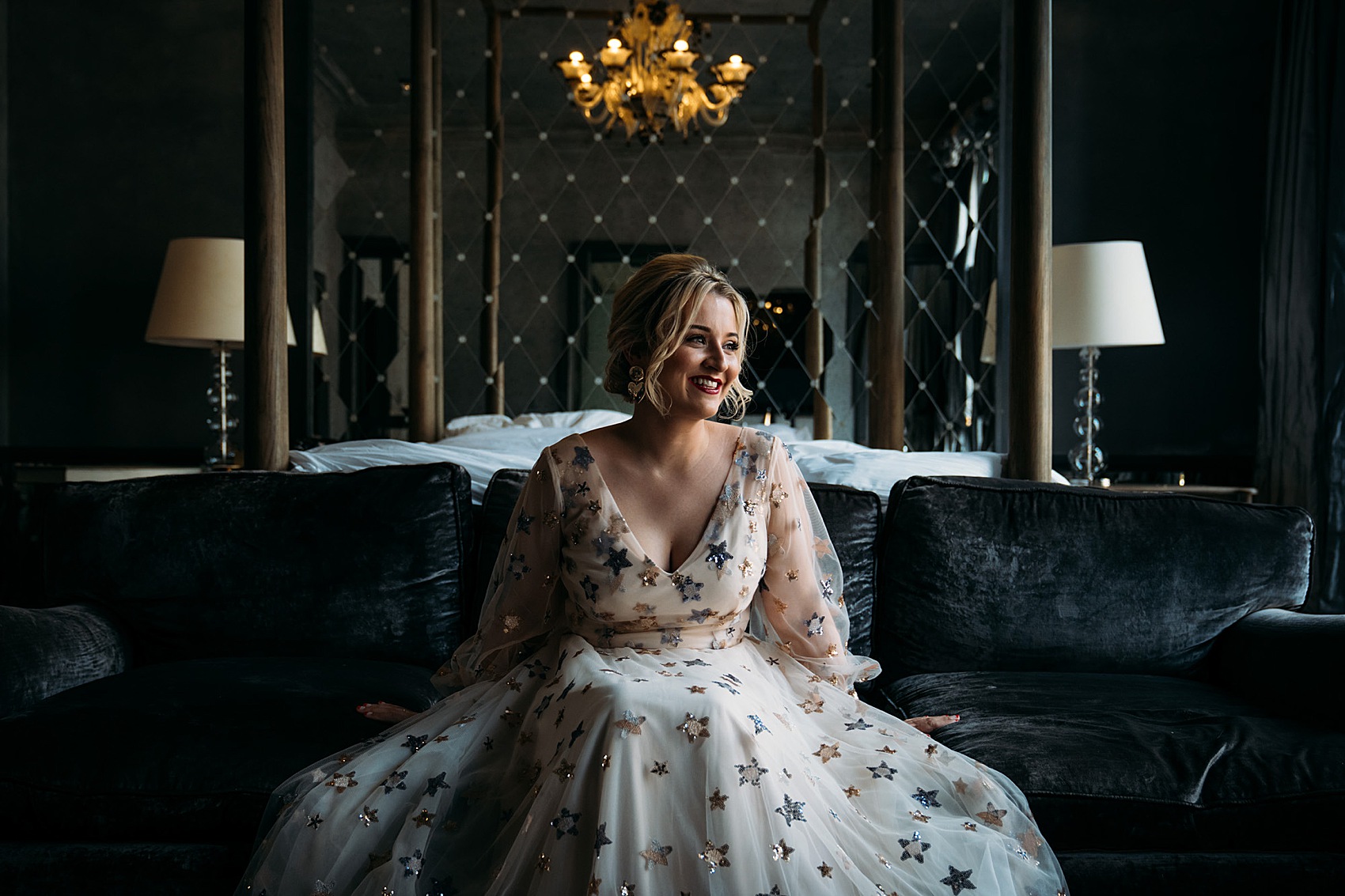 "I originally had a pair of gorgeous mustard Sam Alderman Jolene block heels to wear, but my great aunt bought me a pair of sparkly wedding heels – which were far more special to me, despite not being the heels I'd imagined I'd wear on my wedding day."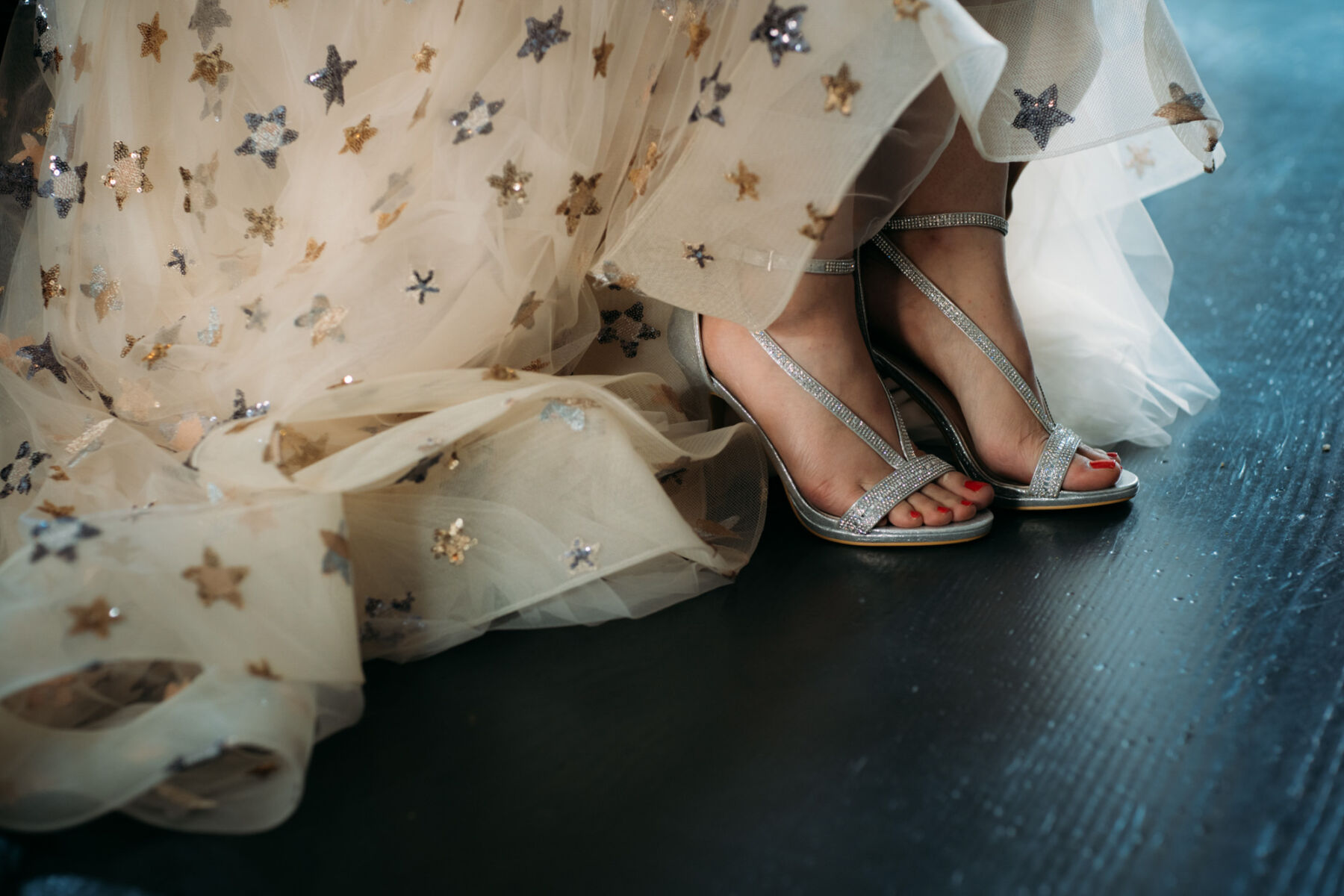 The bride didn't want to make a huge statement with flowers on the day and opted instead for dried flowers, which she sourced from EnglishFlowerFarmer on Etsy.
"Their boho sunshine collection of dried flowers arrived securely and perfectly intact."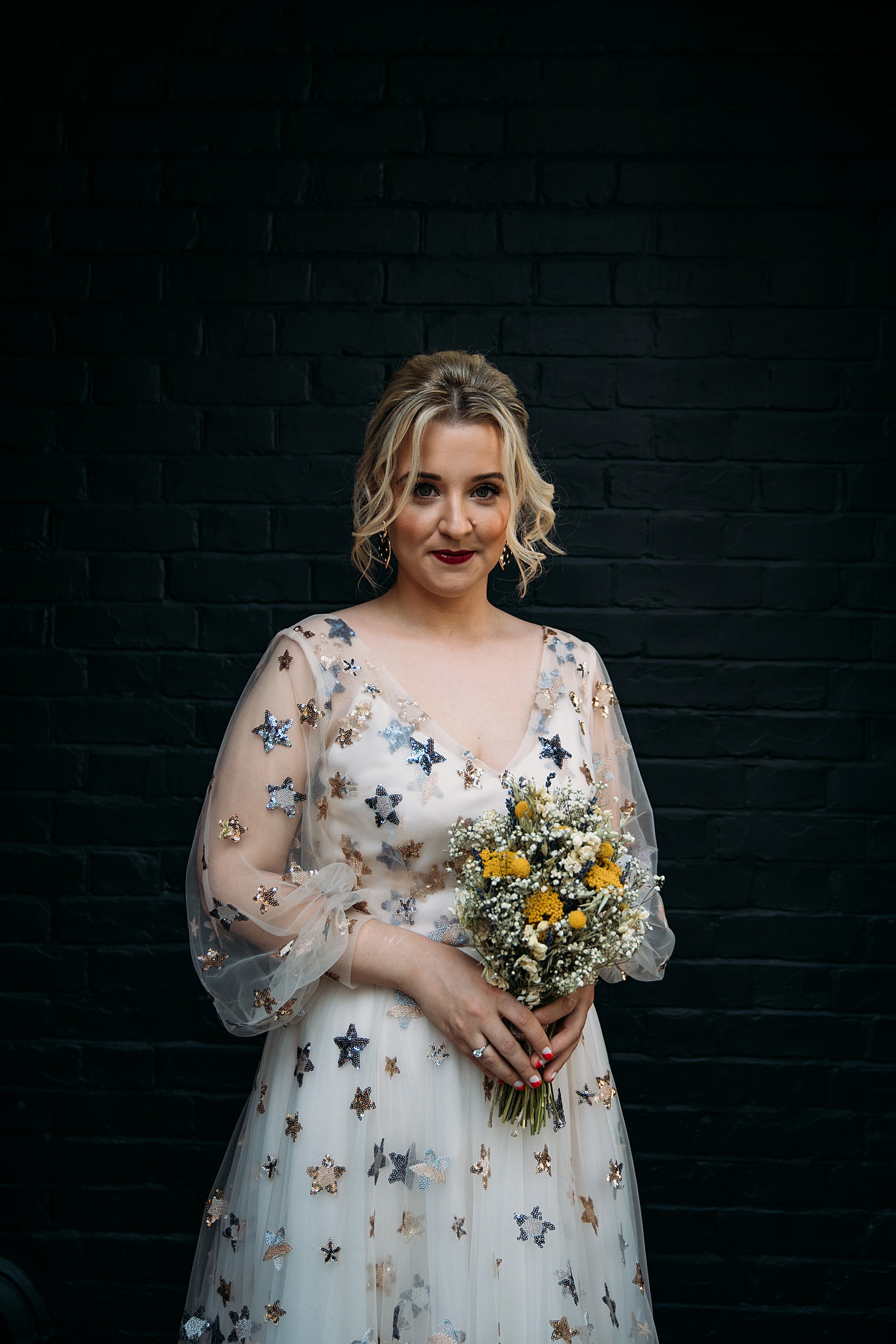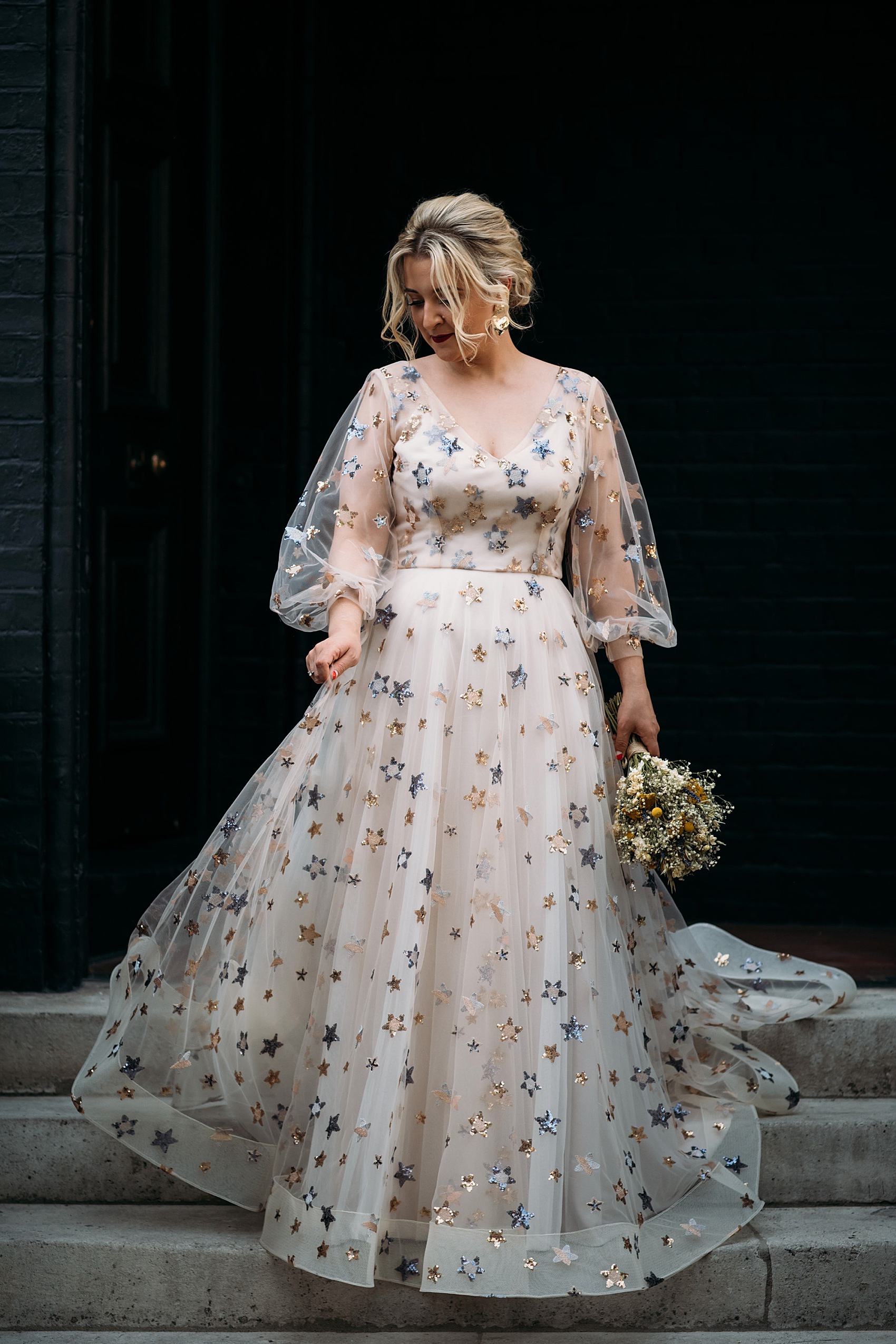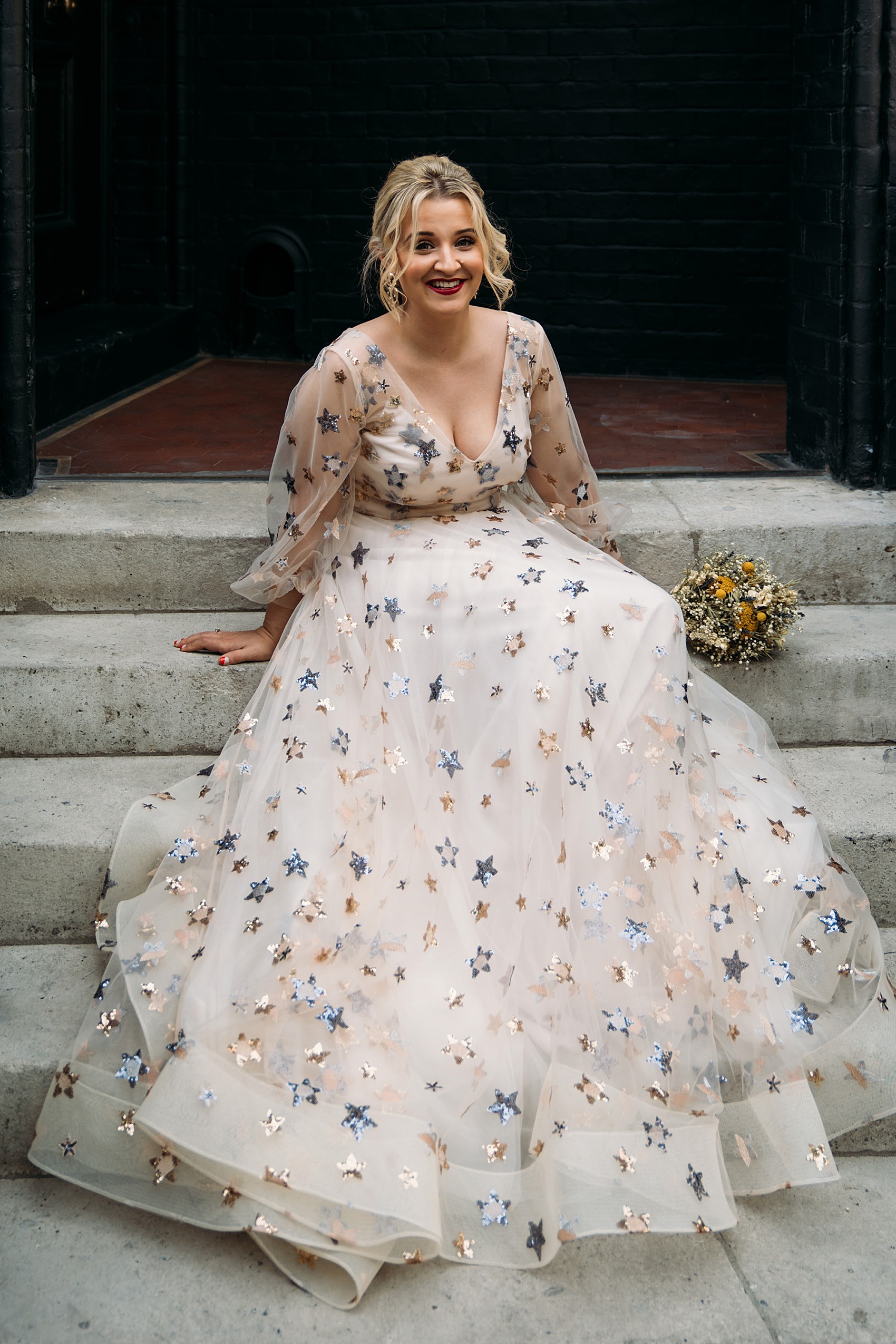 Charlotte's sister was her only bridesmaid – and as it turned out, the dress she wore was one that Charlotte purchased 3 years prior from former fashion outlet, Forever21.
"We couldn't find anything nicer than that so she wore it! It was about £20 – my sister also wore mum's 1970's vintage wooden platforms."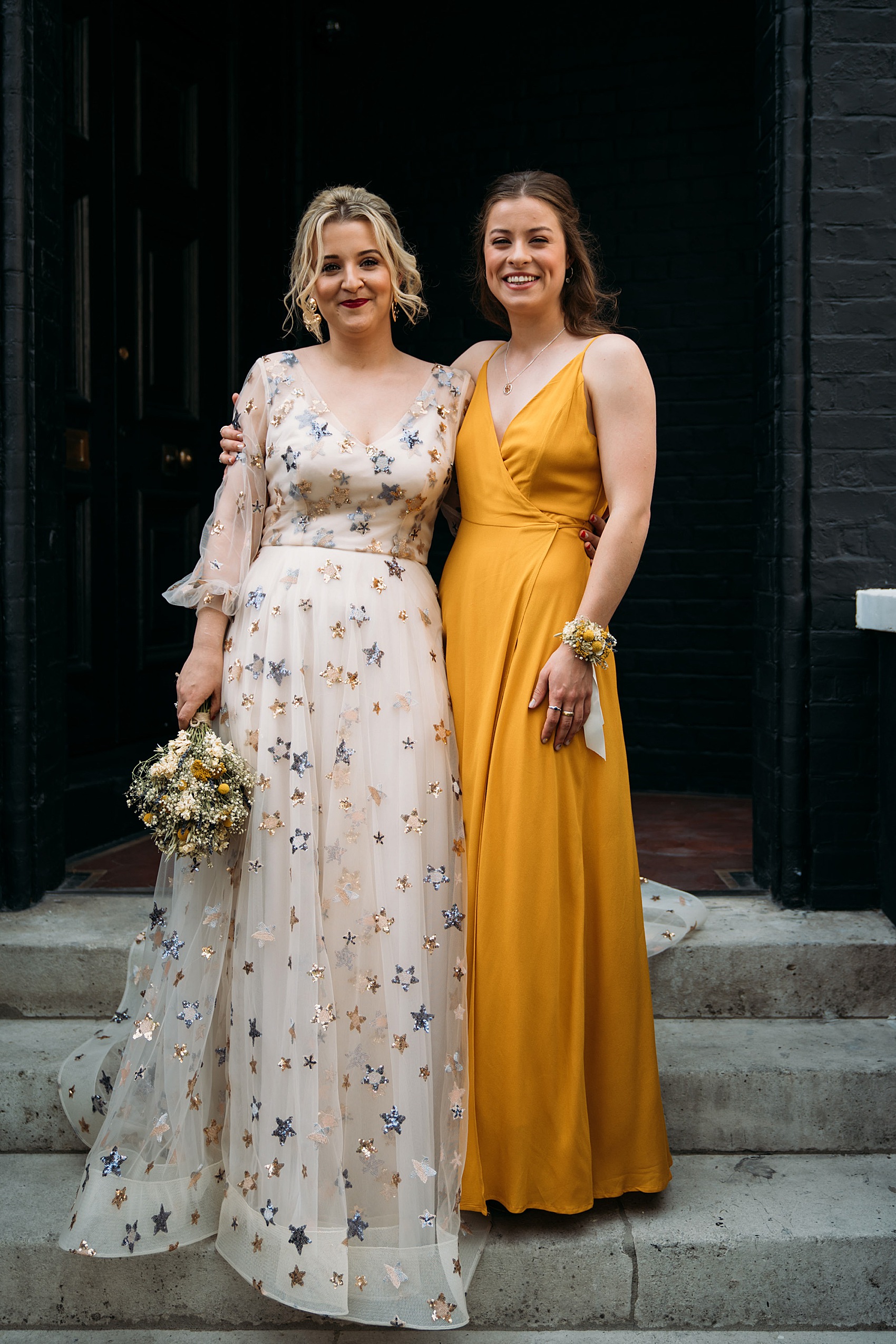 The vibe of the day was very much influenced by the bride and groom's own strong sense of fashion and style…
"Dan loves skinhead and suedehead influences – he's meticulous when it comes his dress sense. I'm a little less, 'organised' – and just love the 1940's vintage style, red lips, victory rolls but then also adore all things stars and sparkles."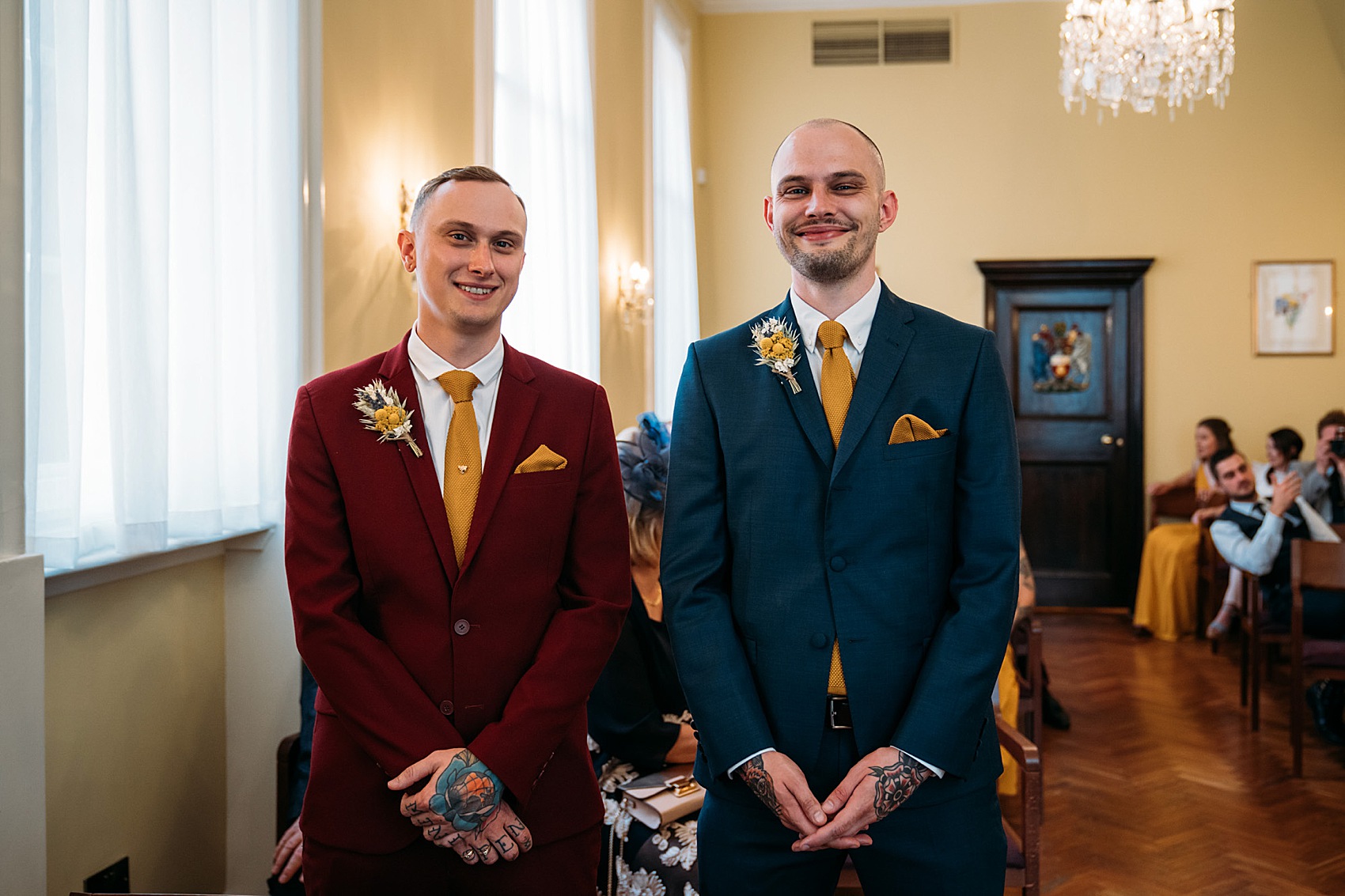 I love how the bride recollects her favourite moment from the day…
"My dad walking me down the aisle – I've always wanted him to do this! Also, seeing Dan's face as he saw me in my dress! And of course, staying at Blakes London Hotel."
The bride's dad accompanied her into the ceremony…
"Despite our wedding not being the big event it originally was planned to be, I still wanted some classic wedding vibes, so we went for Pachelbel's 'Canon in D' as my wedding entrance song."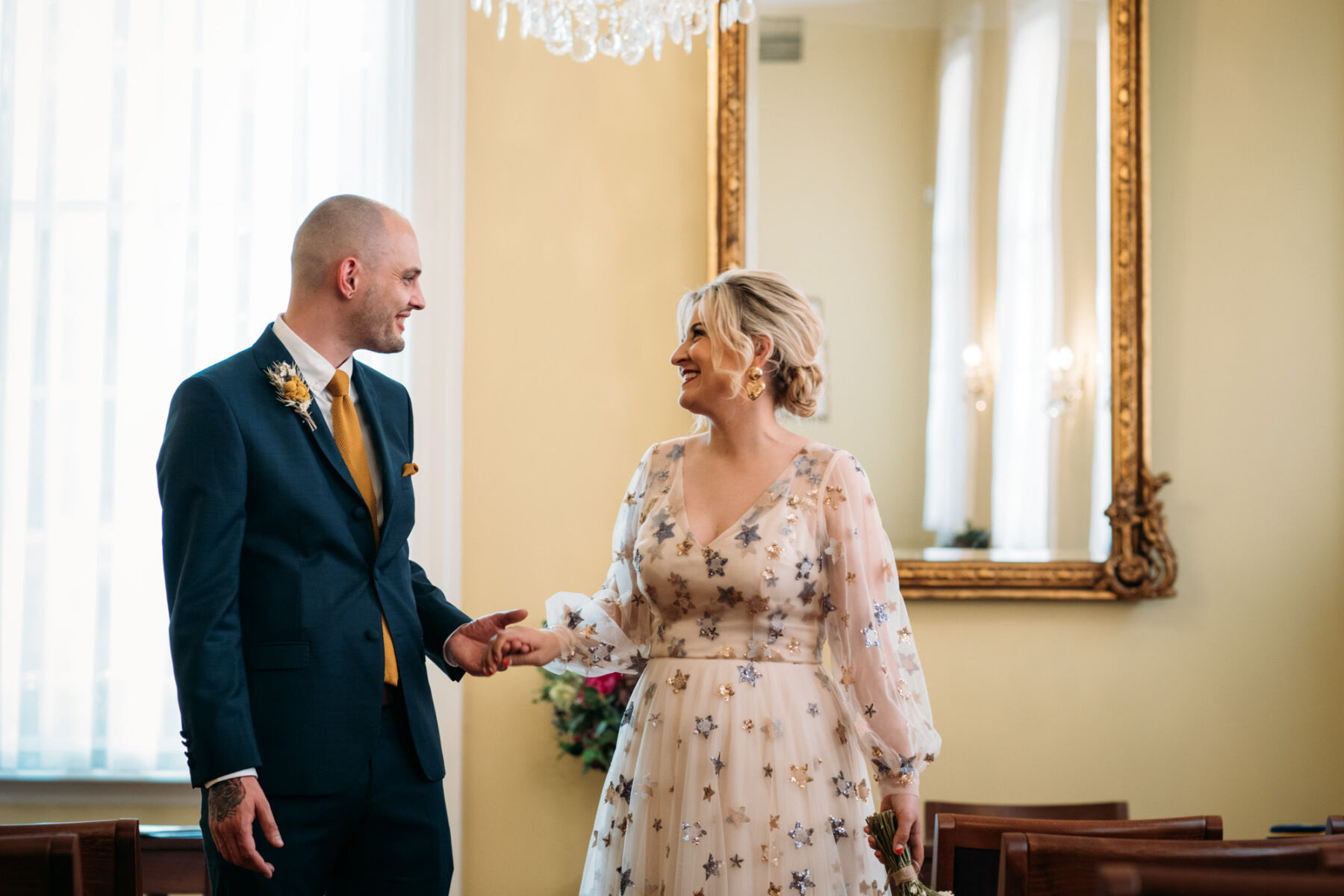 The groom was a little nervous during the ceremony and so no fancy vows were exchanged, just simple, meaningful commitments.
"I was a wild child growing up with a few issues and Dan calms me down and keeps me grounded. I never thought I wanted a quiet life and never appreciated the value of contentment, so my sister chose an extract from Dolly Aldertons 'Everything I Know About Love'.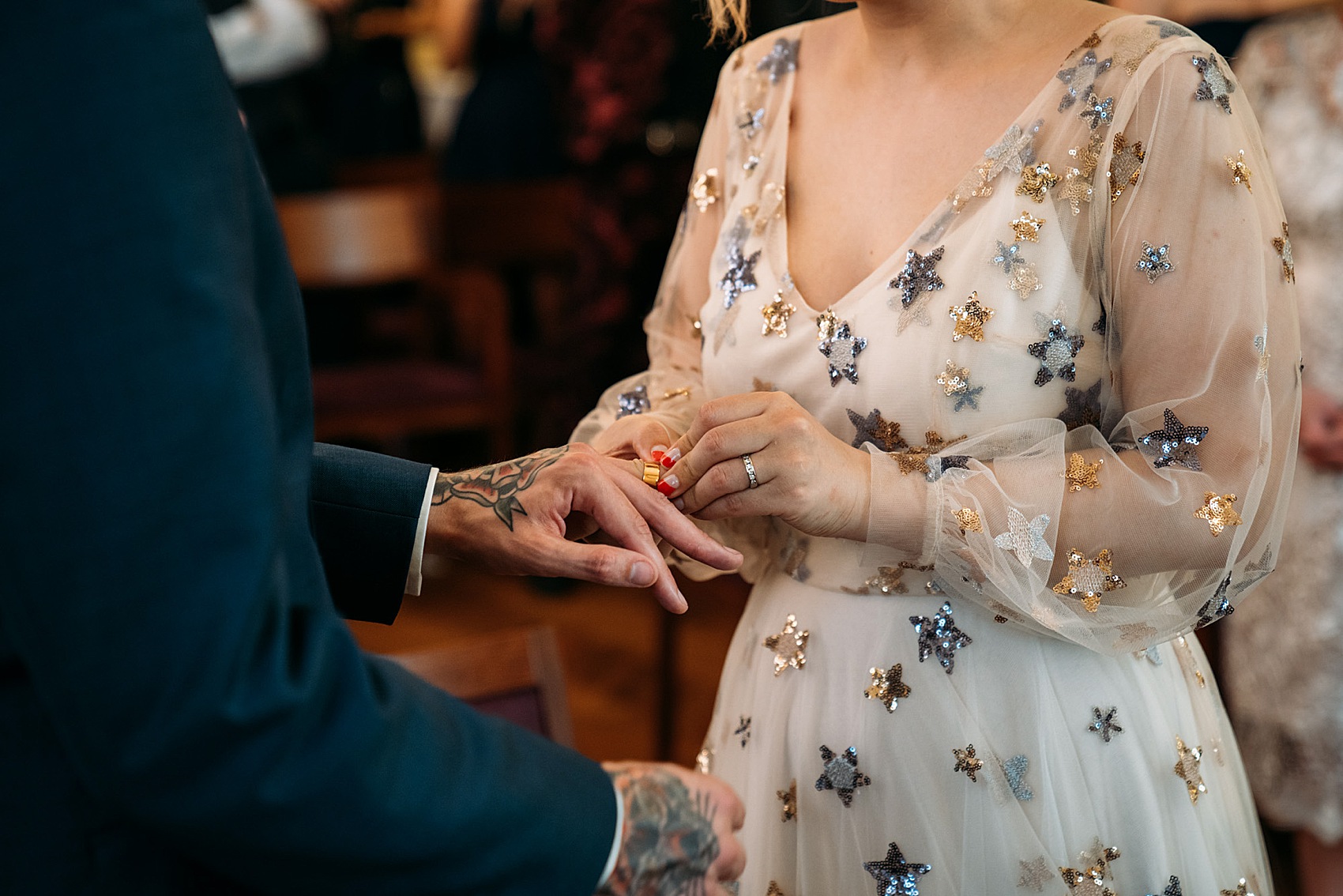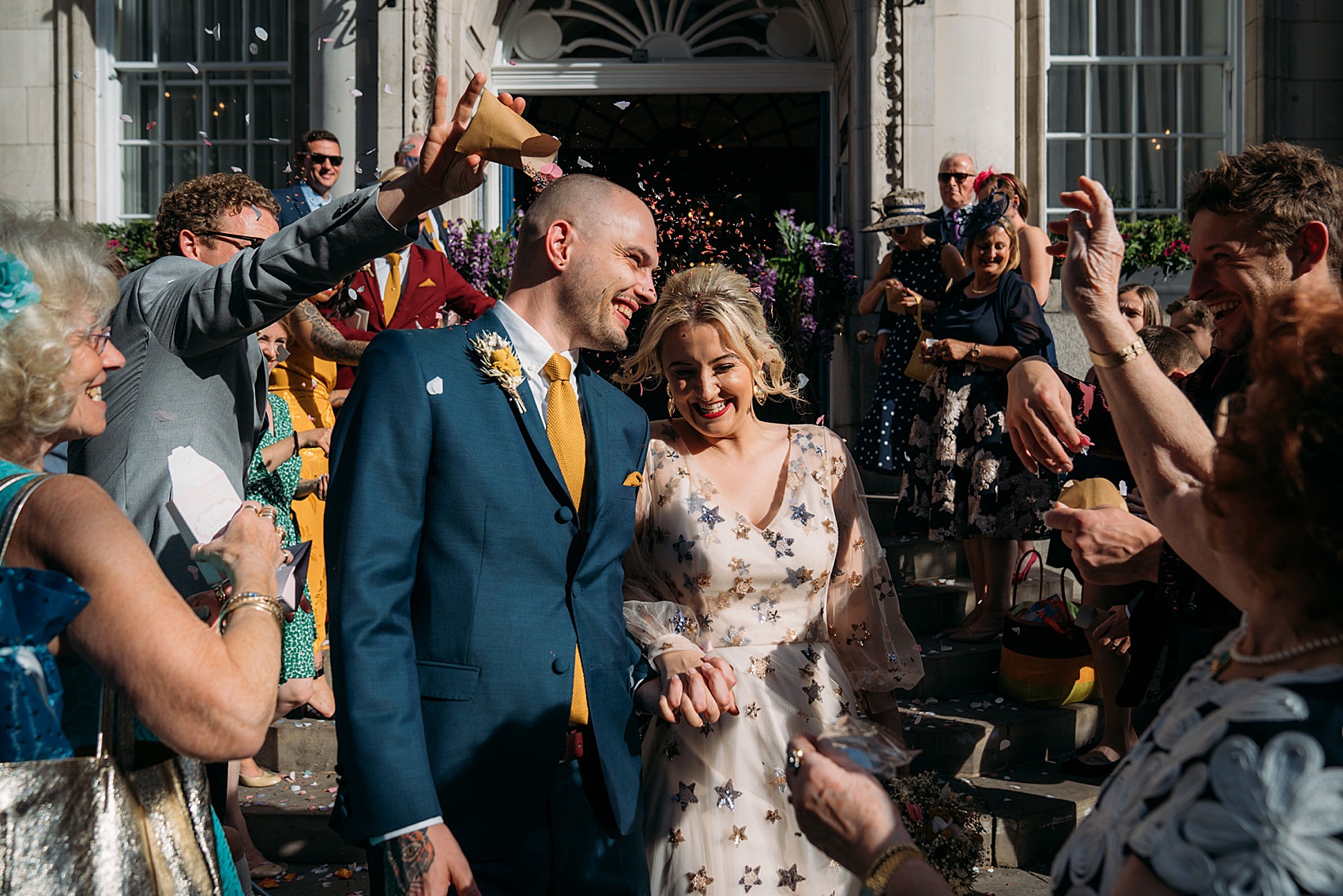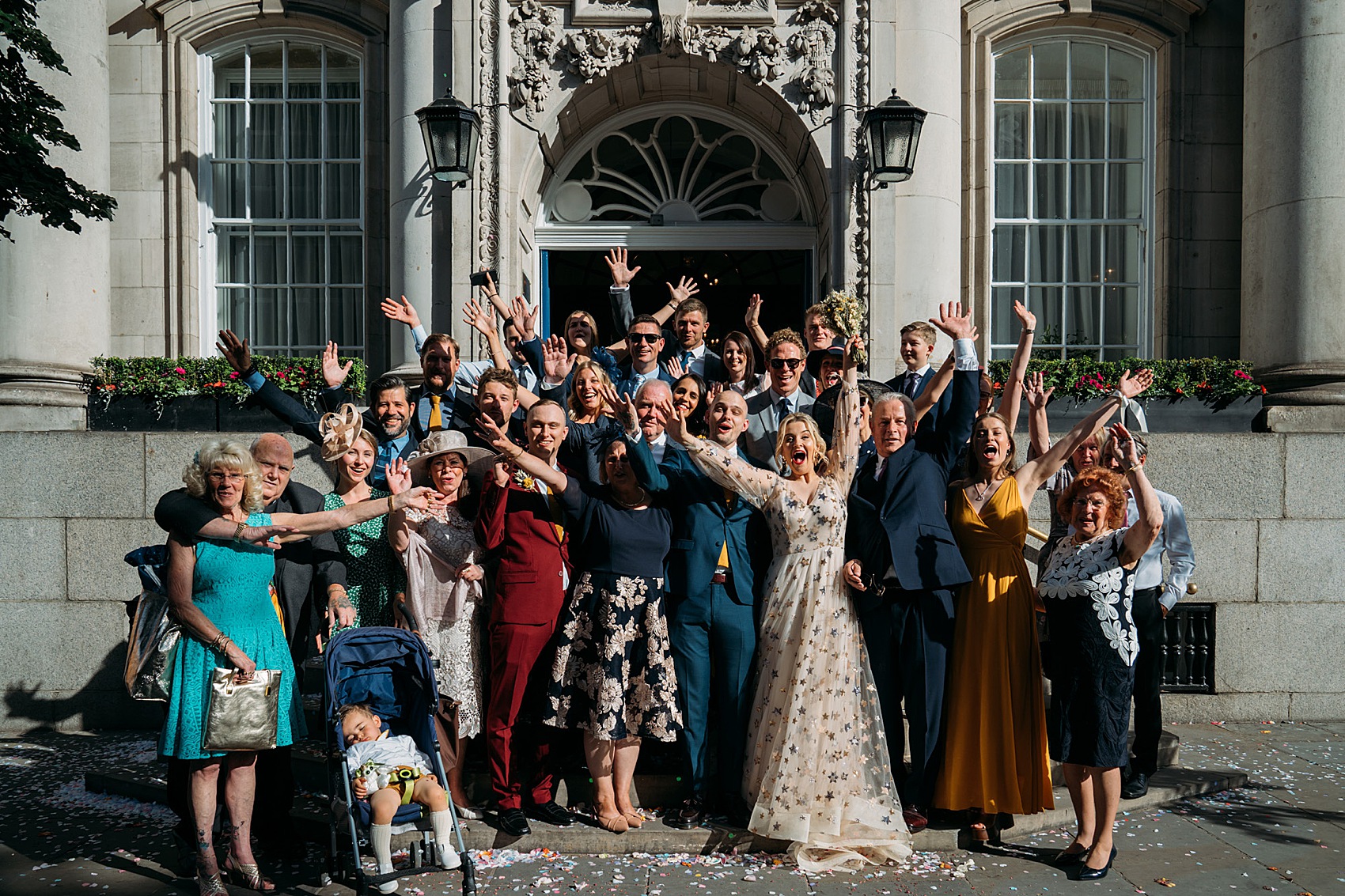 The couple hired the wonderful Joanna Bongard to document their day in images. I'm a super fan of Joanna's work, I I have to say (more weddings by Joanna here).
"I knew I wanted Joanna Bongard from seeing her work on instagram – she is so professional, so friendly and informal, yet takes charge when she needs to control the herd. She is flawless – and worth every penny."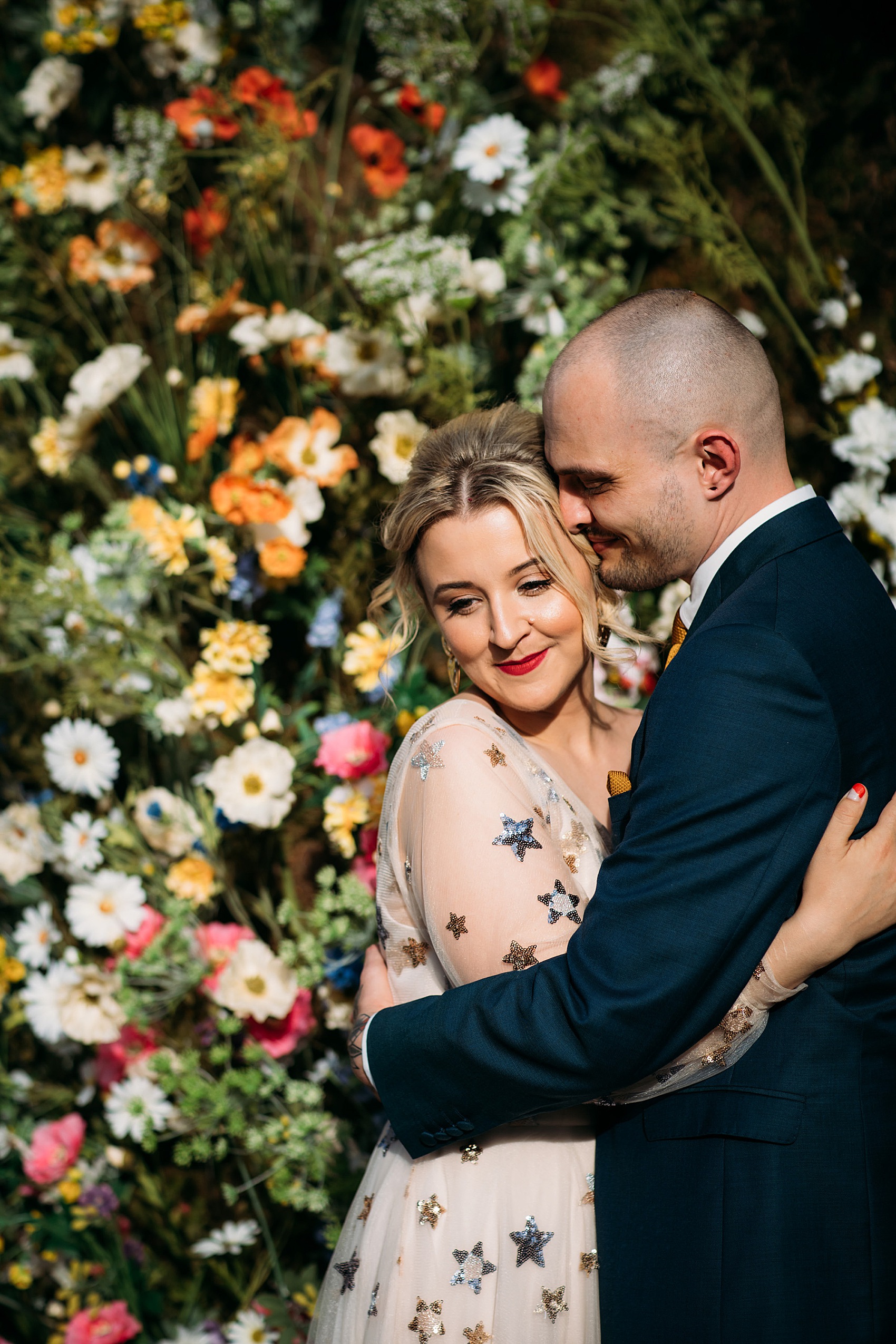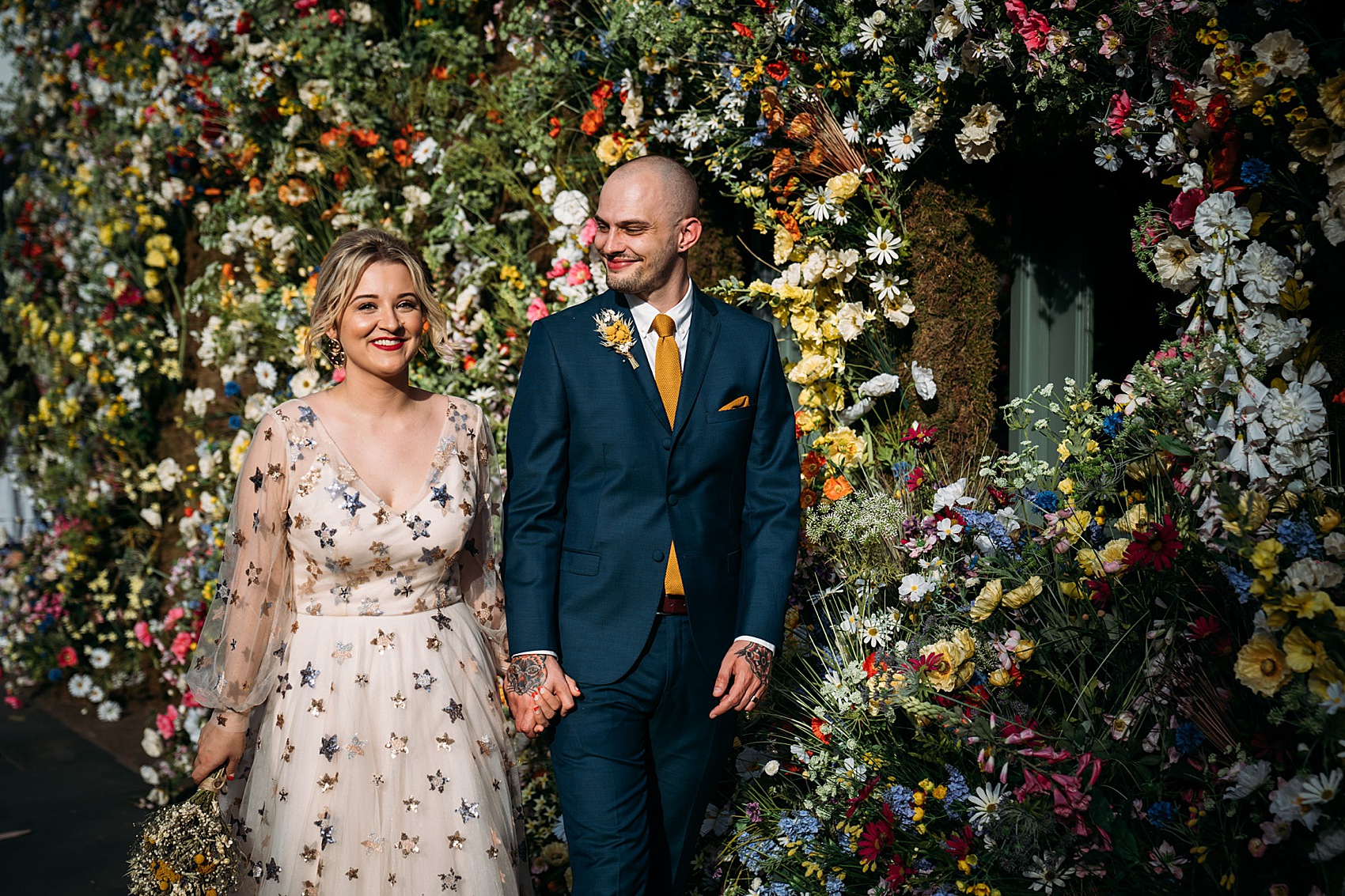 "We were both so stressed after planning a huge 120 person wedding and then cancelling it because we decided the cost was too high, so we chose The Ivy Chelsea Garden's private dining room as our wedding reception venue, because it is already beautiful and glam!"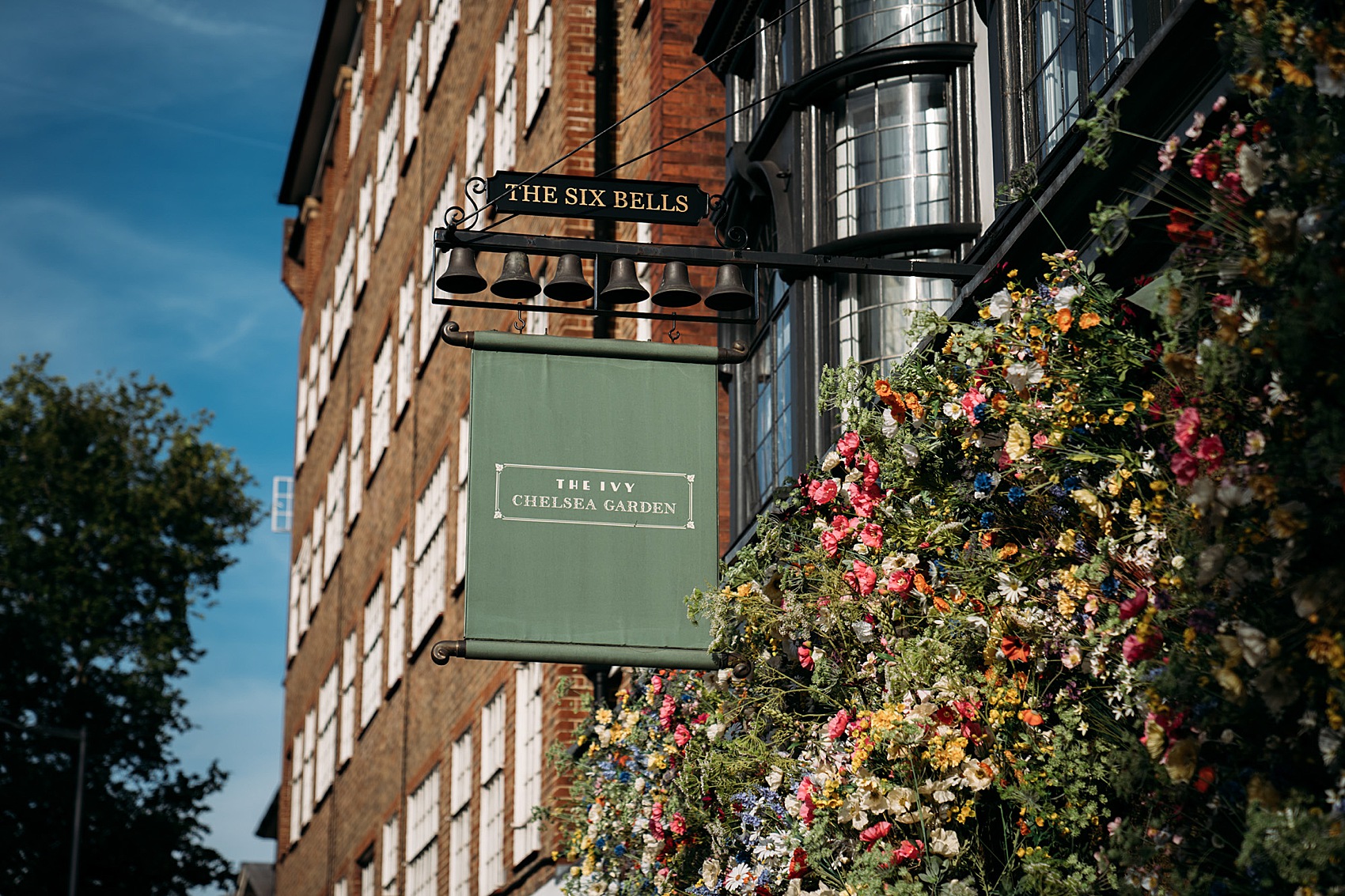 "We had neon pink edged invitations created by Lucky Ink Press, who got my vibe totally and were amazing. I changed our venue twice and had to have them reprinted – and designer Holly managed it!"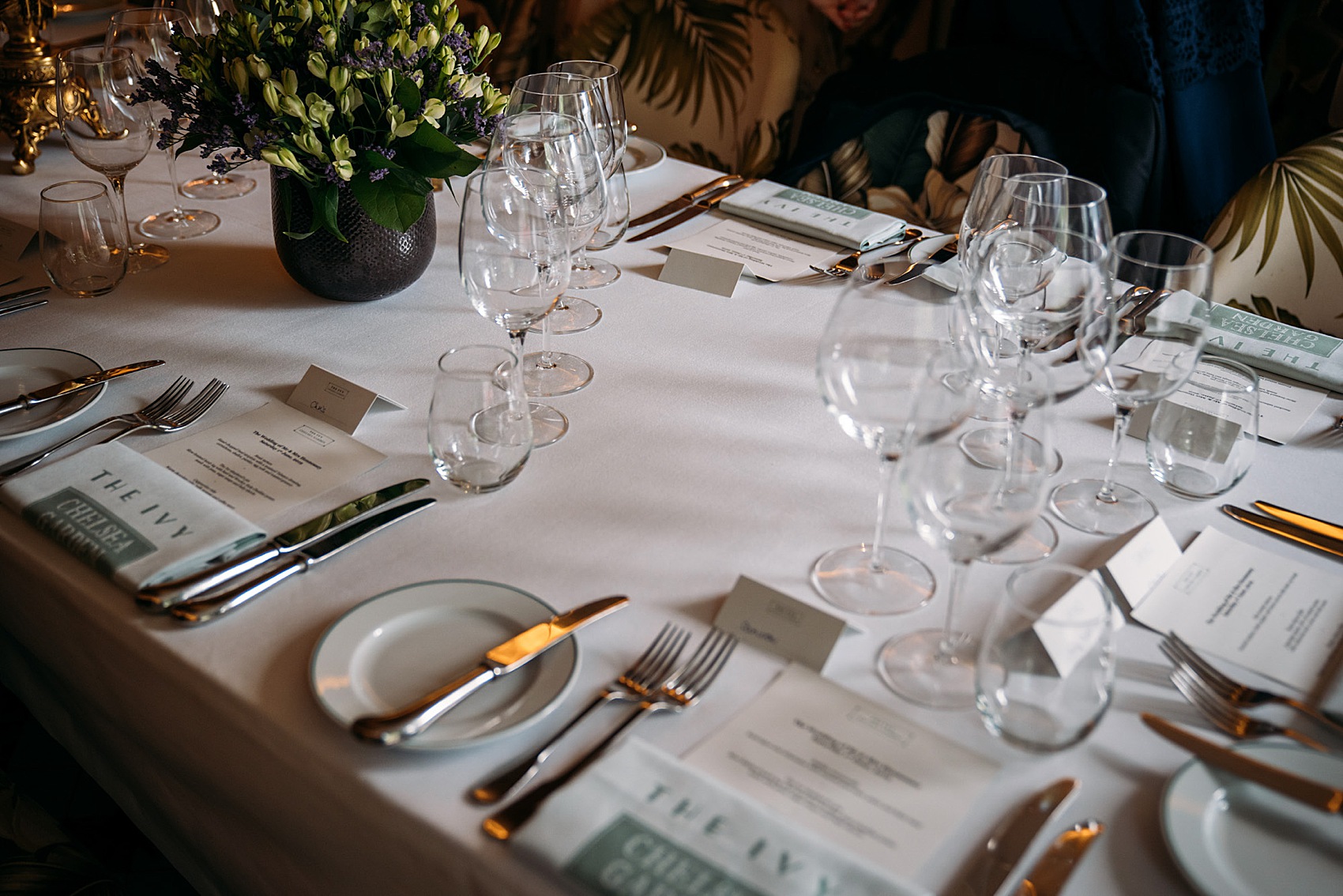 "We have bee hives at my Dad's house in West Sussex, so along with his partner, Debbie, we made small pots of homemade honey and attached little labels and mini drillers – which we then provided as favours."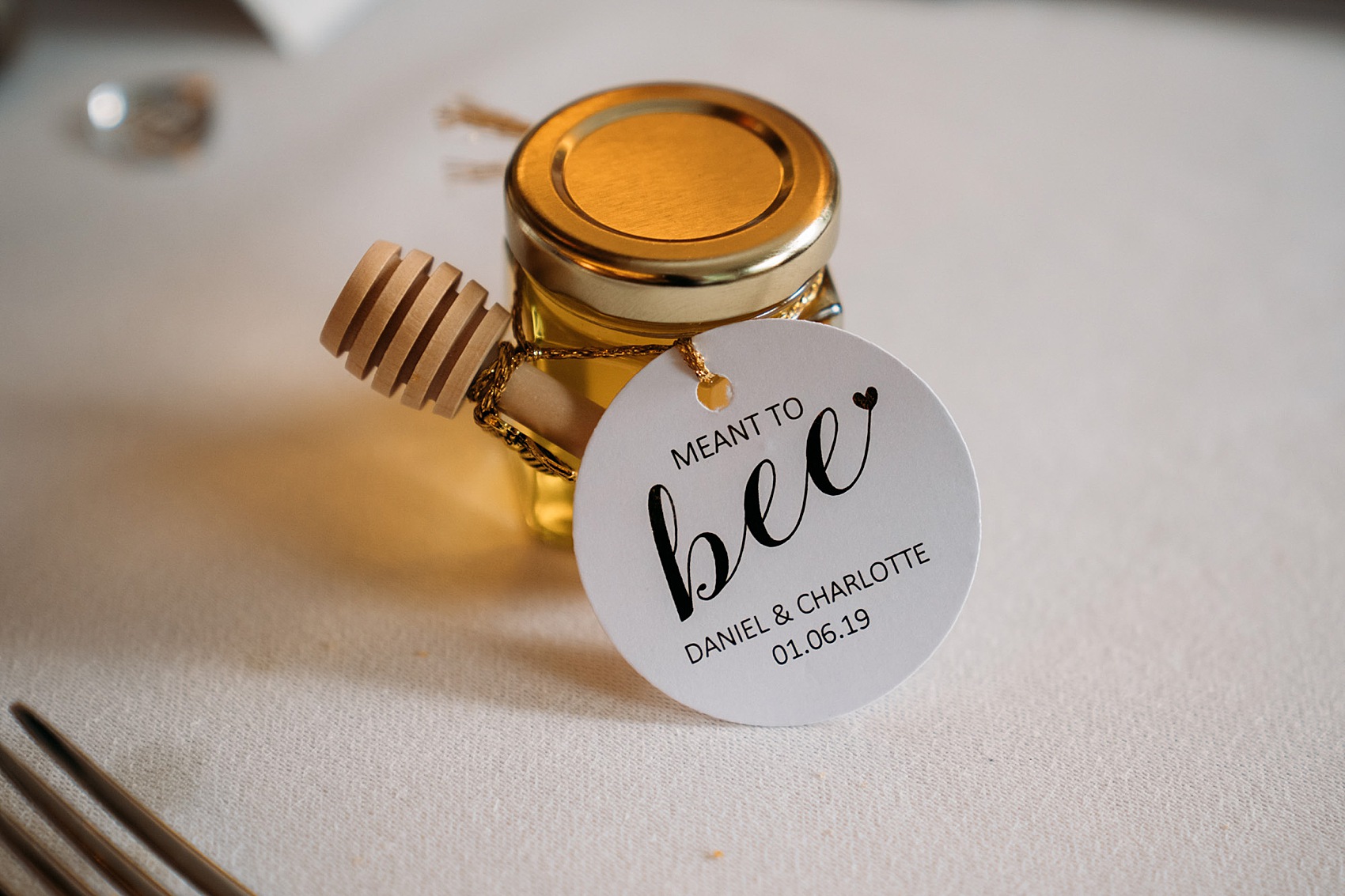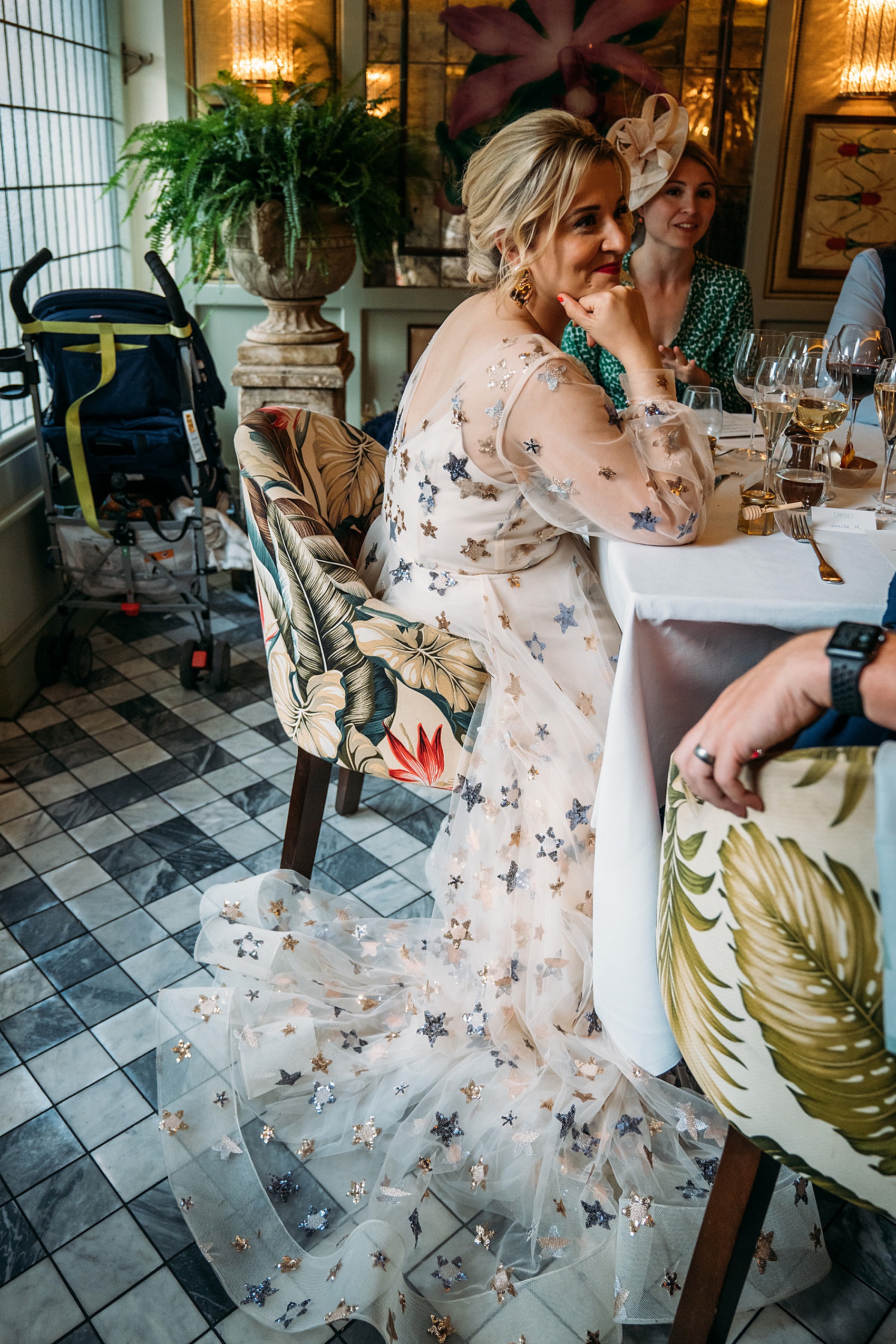 "Our cake was covered in gold leaf to match the interior of the Ivy private dining room. It was made by Laura's London."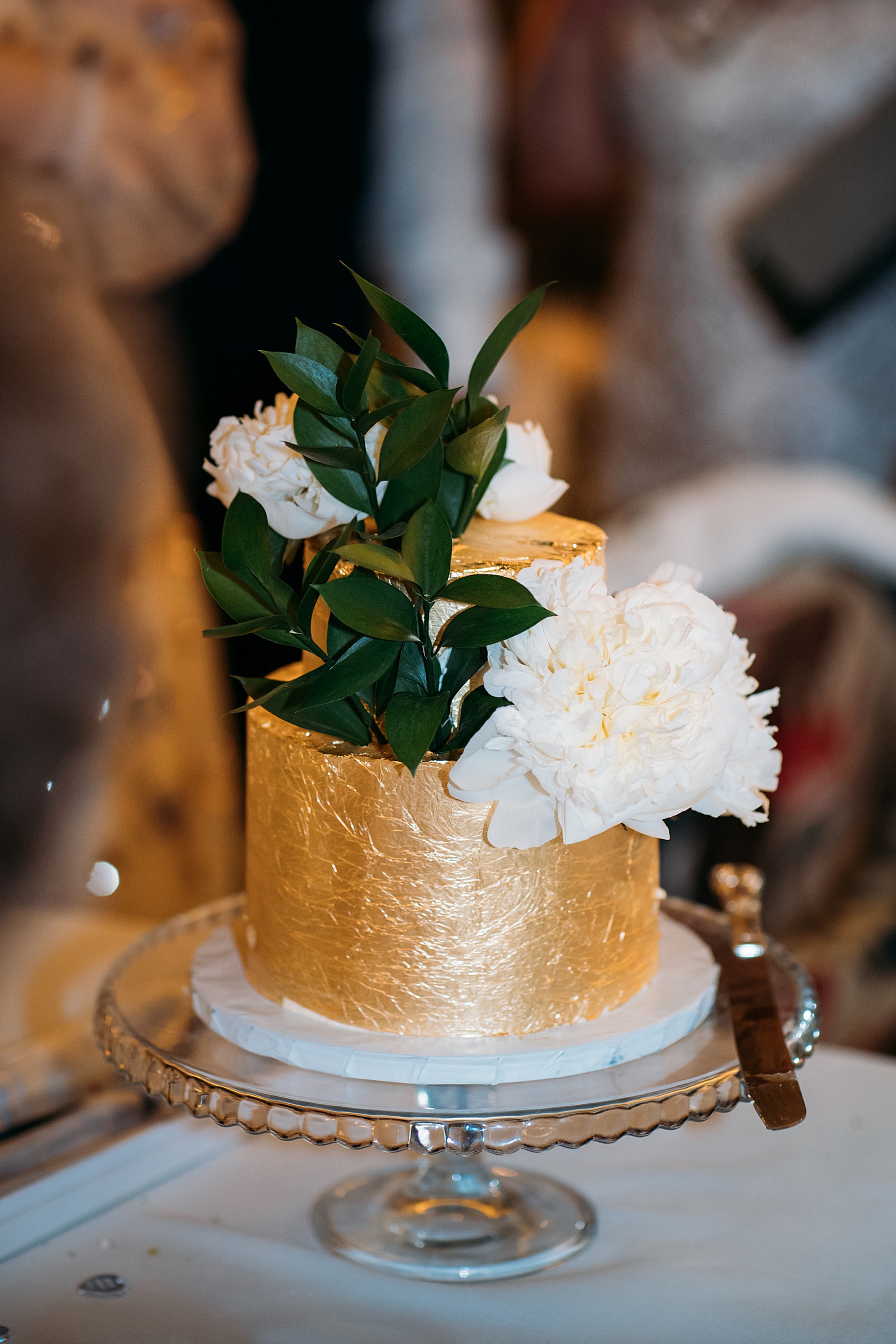 "Our first dance was to Alton Ellis's 'You've Made Me So Very Happy', because I struggle with depression and Dan has changed my life and hopefully my encouragement in his career has changed his too."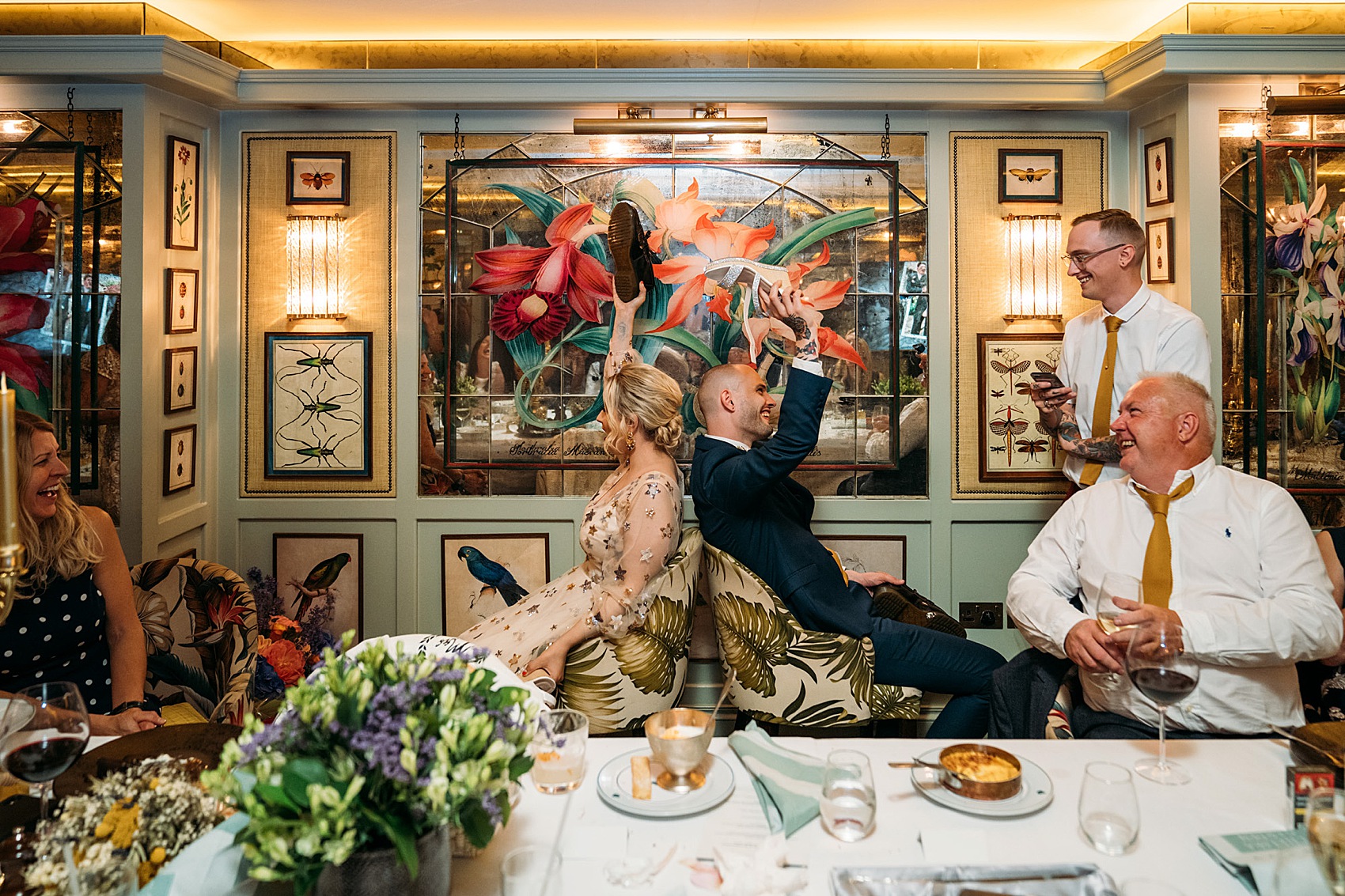 Words of Wedded Wisdom
"Stop trying to 'keep up with the Joneses' and do what you two want to do, ie, have only who you want at your wedding, let people sulk because you didn't invite your 'great great great great aunt Susan', who you met once when you were three! Save money for your honeymoon and future goals you have as a couple."
"We initially chose a bohemian garden wedding, but when the 'at home' wedding budget estimate started to increase quite considerably, we just took a breath and thought 'what the hell are we doing?', so we just cancelled everything and ended up spending just under £15k on a family wedding with 30 people instead."
"Also, I gained huge inspiration from blogs – I barely read any magazines. Love My Dress shared stunning imagery – the weddings are unique and the articles always well written."
Ahh, thank you so very much Charlotte, we really appreciate your kindness!
It's always such a treat to be able to share Joanna Bongard's photography – more of which you can see here on Love My Dress.
Love Annabel x