Pinterest fans, you're in for a treat today! Not only because there's undoubtedly lots to love and pin from this classic, elegant wedding at a beautiful, picturesque medieval priory, but also because our bride was a self-confessed 'Pinterest bride' who took lots of inspiration from the different boards she created when planning her day.
If you haven't already, do make sure you head on over to the Love My Dress Pinterest page, where you'll find all kinds of loveliness…
Rachael Fraser Photography

+ Follow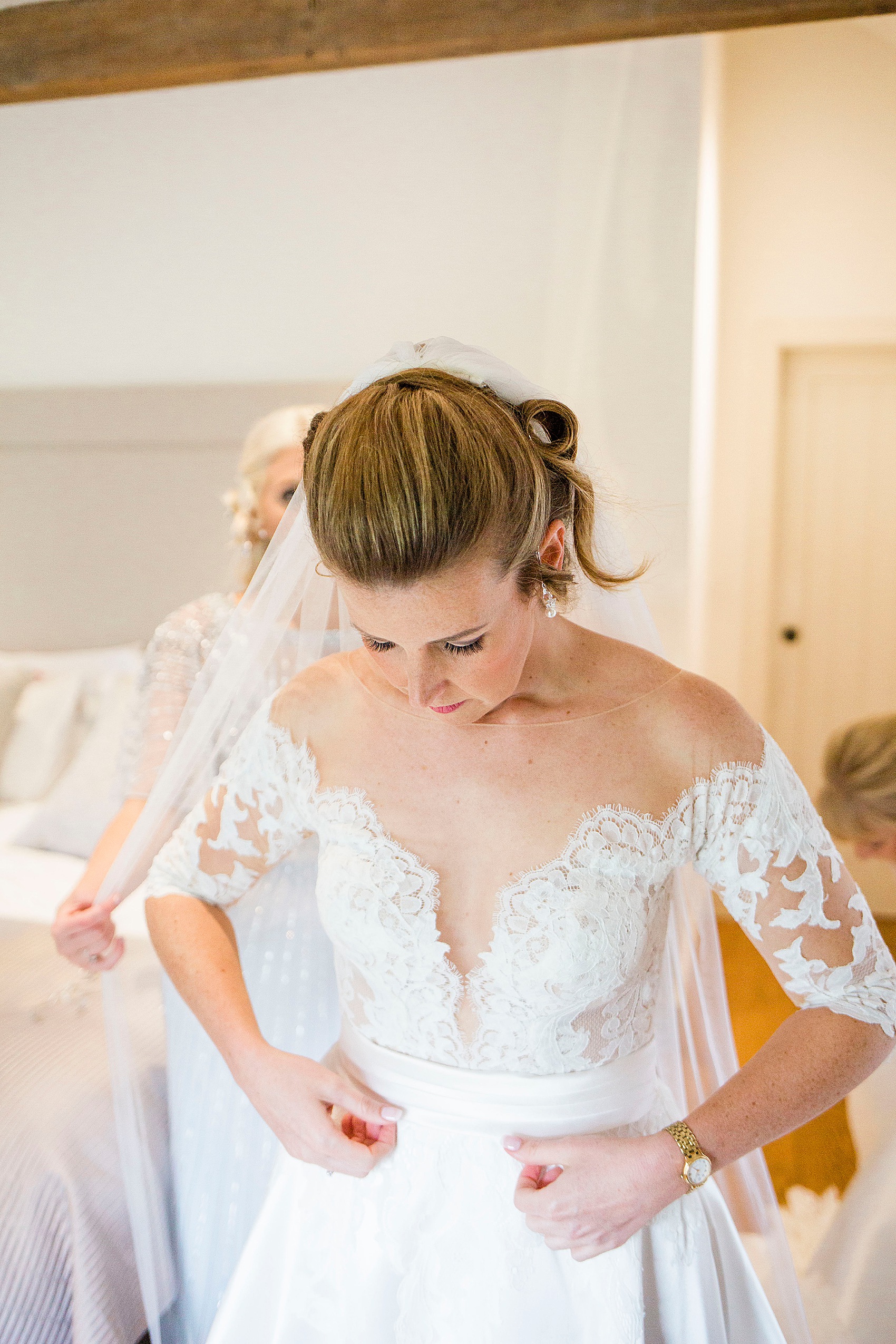 This is the wedding of Mr and Mrs Whiteley; a foundation stage sports coach, and operations manager for a London caterer respectively. They were married on the 27 July 2019 at the magnificent Brinkburn Priory, Northumberland, with a ceremony held inside the restored medieval priory. This was followed by a tipi reception within the lovely grounds.
"We didn't see the tipi before confirming the venue, but fell in love with the priory, grounds, cottages, and everything about the setting. We liked the rustic feel of the venue, and the fact that we could put our stamp on the spaces."
"Being able to hire the venue for the weekend exclusively meant we could bring everyone together for the whole weekend, truly enjoy ourselves, and take in every moment together. We loved the idea of it being all in one area, as most of our guests were coming from afar."
Mrs Whiteley wore a spectacular gown by Pronovias, which she chose at Wimbledon boutique, Teokath.
"I used to live in Wimbledon, and would always walk past this boutique and admire the dresses in the window. I don't think there were ever any I didn't like, so I knew I had to book to go there."
"I would 100% recommend them to anyone. They were welcoming, warm, inviting, and super helpful. They made the experience enjoyable for me and my family, and were there to accommodate us every step of the way, from the first appointment to the third."
I simply adore the timeless beauty of this dress, with a full skirt and sweeping train, and a lace and tulle illusion bodice giving a sexy, contemporary twist.
"The dress I chose was actually the first I tried on. It was my wildcard dress, and as soon as I put it on, I loved it. I started my appointment in the dress, and when I put it back on at the end, I had my family and friends in tears. That's when I knew it was the one. When looking, my only criteria was that I wanted the dress to have sleeves, and it ticked that box in a delicate way."
Ahead of the wedding day, the bride and her mum chose to have a make-up trial with Dani MUA, and had a wonderful time with her.
"Dani was fabulous on the trial and on the day. She was down to earth, listened to everything we asked of her, and her wealth of experience was so obvious. She was patient with us all on the morning, including my sister who went back and forth with her eye make-up twice!"
"I left her to it, and trusted her to do her thing, as she was the expert, and she didn't disappoint. Everything was so natural, photographed just as she said it would, and I didn't feel 'made up'. She made us all feel beautiful."
Wanting the lovely detail of her lace and tulle bodice to shine, the bride kept her jewellery to a minimum, with petite crystal and pearl drop earrings from Jon Richard at Debenhams, and as her 'something borrowed', a watch belonging to her grandmother.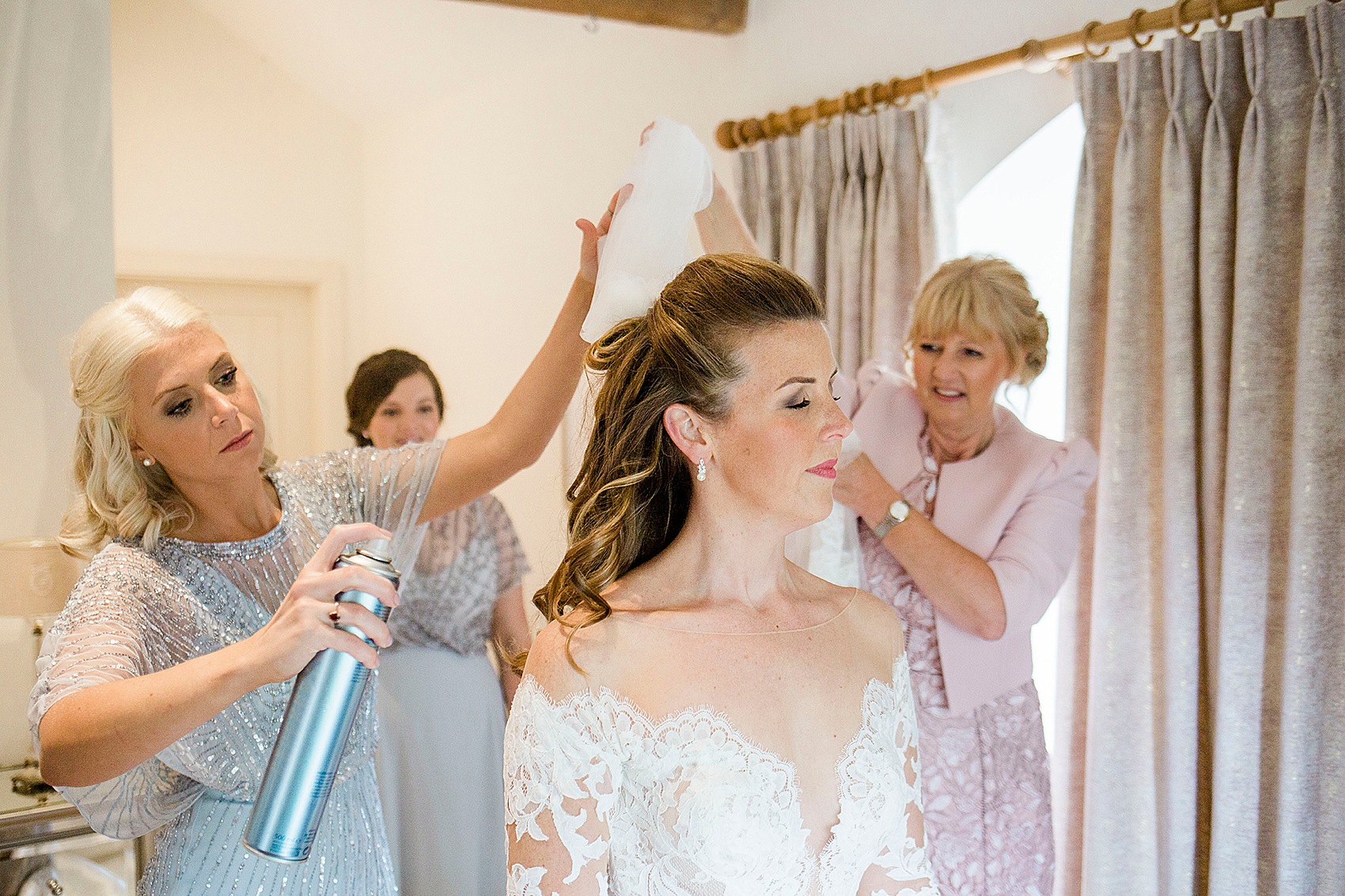 In her elegantly styled hair, Mrs Whiteley wore a lace edged veil from Teokath, and on her feet, a pair of block heeled sandals embellished with jewelled studs by Carvela, from John Lewis.
"As part of our wedding gifts, Mark and I went to Jo Malone on Regent Street in London to choose our wedding gifts. They were so lovely; we sat at a counter, and the assistant in there walked us through all the scents, and listened to what we liked and didn't like. We we fairly decisive, and very quickly settled on our scents. I liked that the one I chose was exclusive for that store and therefore more limited edition."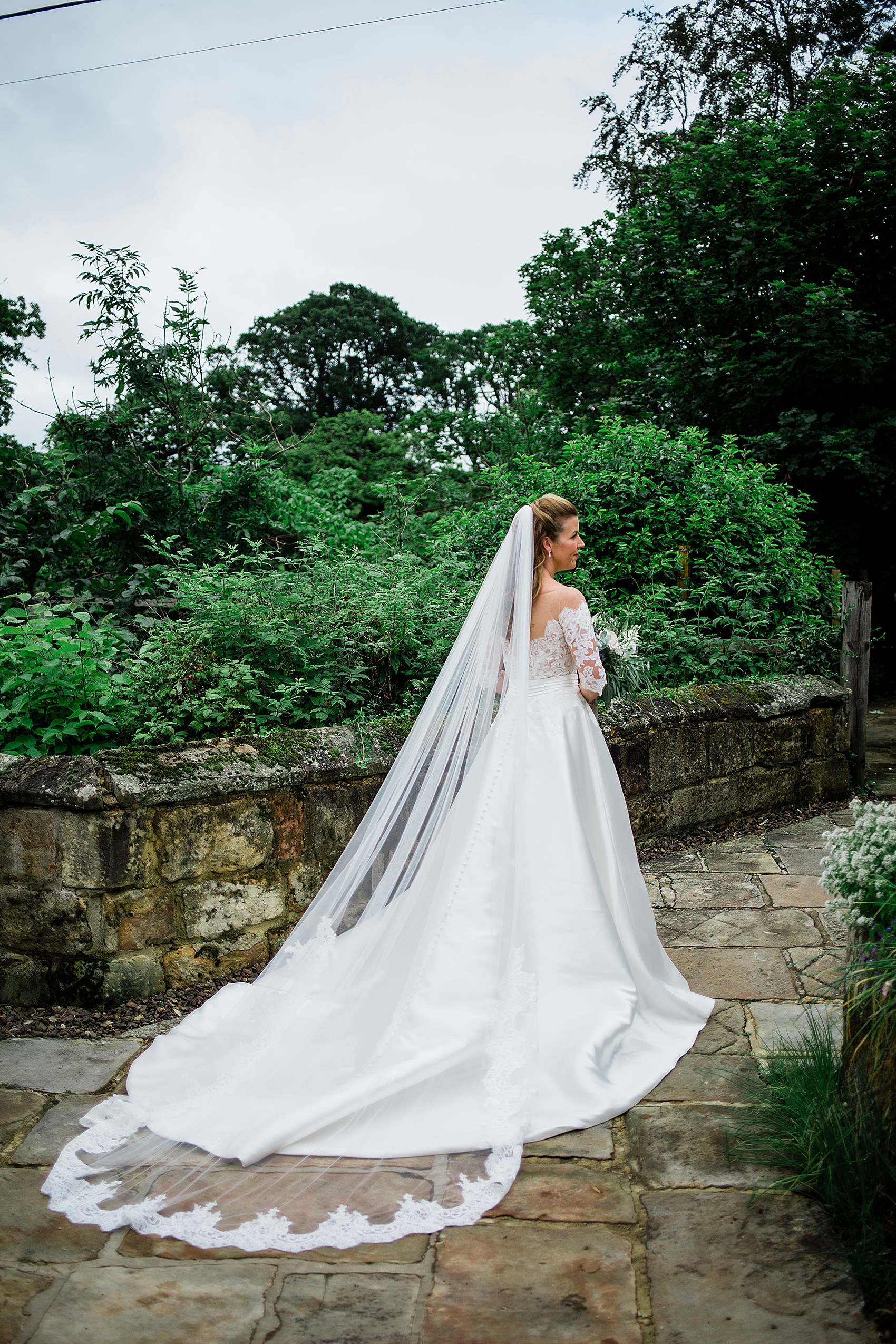 The bridesmaids accessorised with their own shoes, and each wore a pair of simple pearl earrings gifted to them by the bride.
"Maisie's dress was from the Monsoon flowergirl range, but my very talented mum then added a silver sash bow so that it matched with the bridesmaids' dresses, and all tied together."
"We hired Mark and the groomsmen suits from Debenhams Formal Hire. We felt buying them was a unnecessary expense, and when looking at the hire options, we were still able to mix and match to personalise the look the way we wanted it. Mark bought his own shirt on the day, and Debenhams helped us find one that matched the others."
Julie from The Enchanted Florist created dreamy bouquets in softly romantic colours for Mrs Whiteley and her bridesmaids, filled with Veronica, roses, lisianthus, love-in-a-mist and astilbe. There were also thistles as a nod to the Scottish heritage of the groom's grandma, and lots of eucalyptus to honour his Australian roots.
"Julie was actually the only florist we went to meet in person, and from the moment we met her she just had a lovely warmth about her, and was super welcoming."
"As Julie hadn't worked at Brinkburn before, she made the journey to meet us there so she could see it herself before the day, and kept in contact regularly throughout the process."
"I was so happy with how it all looked on the day, and felt like Julie really understood what we were trying to achieve with the flowing, loose and natural look of the flowers."
"My dad walked me down the aisle, and it was as magical as everyone said it was going to be. Some of my favourite moments of the day were when we were waiting outside of the church with my sister, bridesmaids and dad."
"My mum went to visit the Priory without me one day and heard an organist rehearsing. As soon as she sent me the video it gave my goosebumps, and even though it was a bit extra, it felt right for the venue. If you're going to go big at any point, it may as well be on your wedding day!"
The couple's smart page boy Noah wore a complementary navy blue suit from Monsoon, whilst the bridesmaids wore their own choice of sparkly, embellished dresses, with two from Monsoon, and one from ASOS.
"I'd seen an image on Pinterest of bridesmaids lined up in sparkly / sequinned, mismatched dresses, and that was the look I then decided I wanted to achieve, so I gave my bridesmaids the colour grey to work with, but let the girls choose their own dresses."
The couple first met online, and Mr Whiteley proposed in Bath in December 2017. They decided on a summer wedding to coincide with the groom's work schedule, so they would be able to enjoy a honeymoon straight after.
Heartfelt vows were exchanged in front of the Priory's beautiful, colourful stained glass windows, as well as rings chosen at a Hatton Garden jeweller (sadly, no further details provided).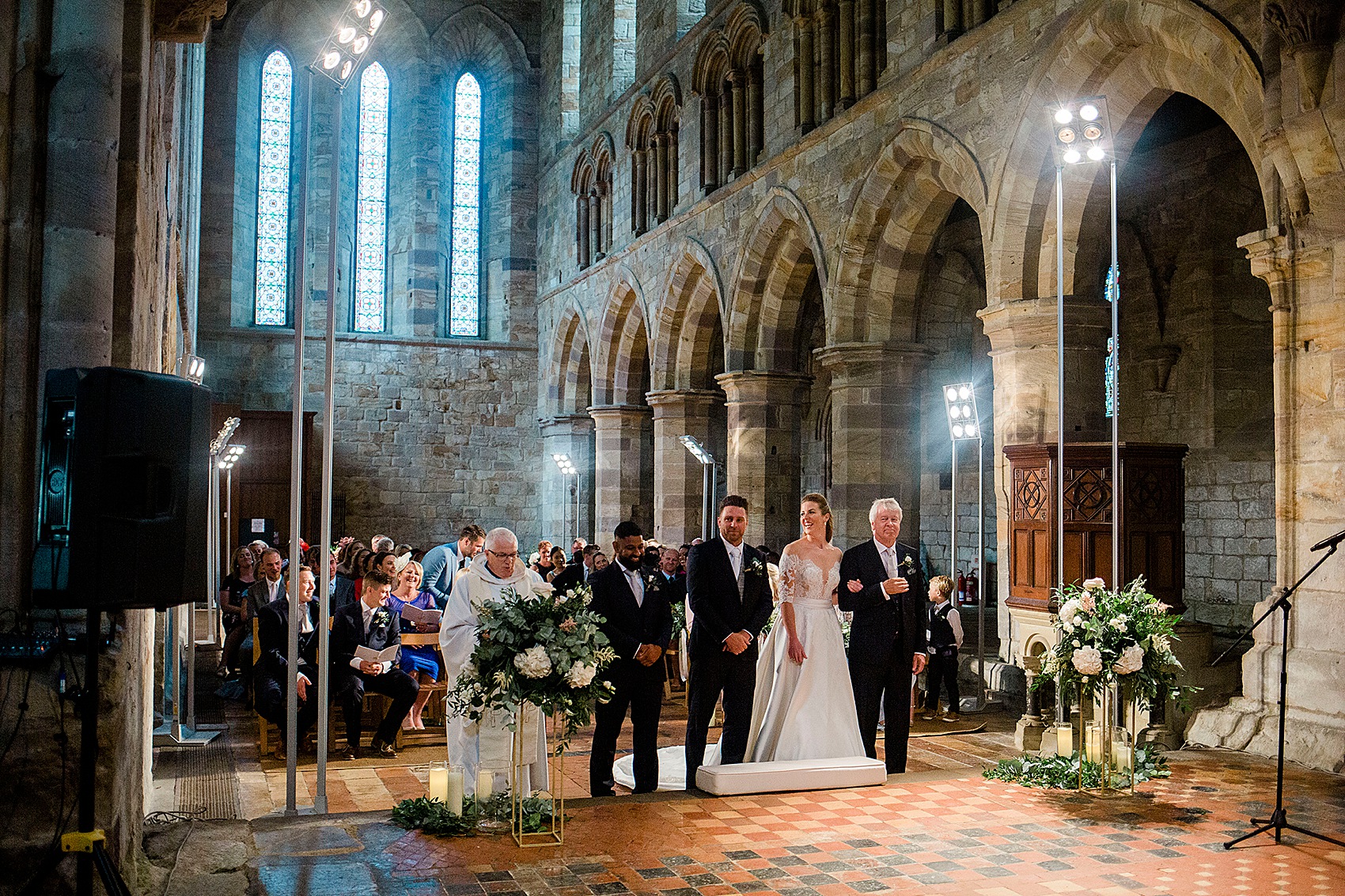 "There were so many people we wanted to be involved in the wedding, so having some of our nearest and dearest involved by asking them to give a reading was a lovely way to do this. We allowed the girls to choose their own readings and they chose to read Song of Solomon 2:10-13; 8:6-7, and The Promise, by Heather Berry."
Brinkburn Priory is a photographer's dream, and after the ceremony, the newly married couple took some time together to walk in the grounds, as well as in the magical, faded grandeur of the old Manor House. Every moment was sumptuously captured by Rachael Fraser Photography, with the most exquisite use of natural light.
"We cannot stop looking at our photos, and Rachael captured them exactly as promised; discreetly, real, without us knowing, and she captured every detail, no matter how big or small."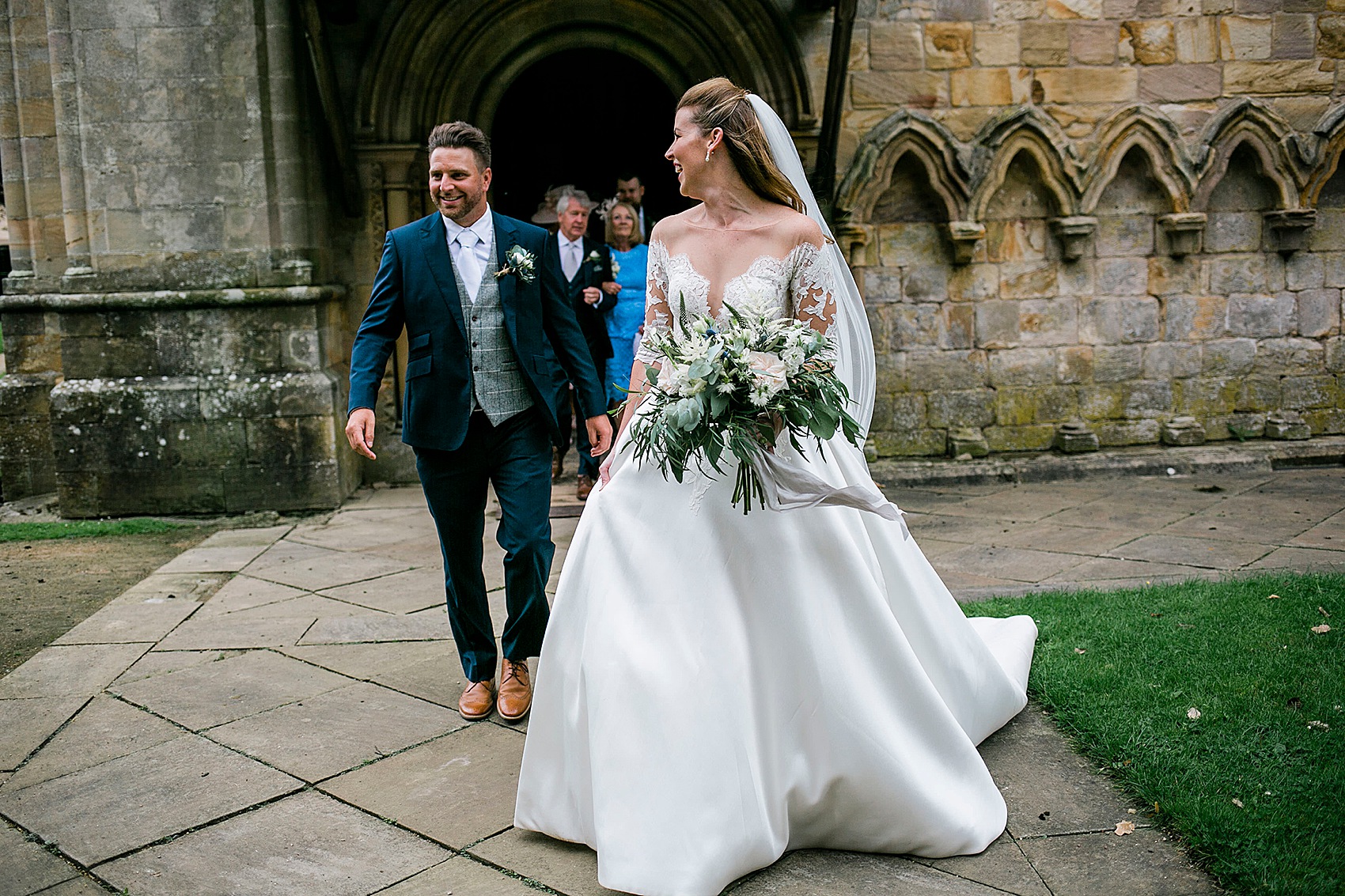 "The beautiful setting of Brinkburn gave us an amazing backdrop, but Rachael made it happen; knowing exactly where to take us, the best settings, working the venue and grounds to achieve the most gorgeous images, highlighting all the reasons we chose the venue."
"We did a pre-wedding shoot and at first, I thought it was really cheesy, but a friend who got married just before us said it was the best thing they'd done and highly recommended it. If you think about it, this person is about to be a part of your most special day, and you don't want to be stiff with them. You want to get comfortable, and have a relationship ahead of them being there on the day."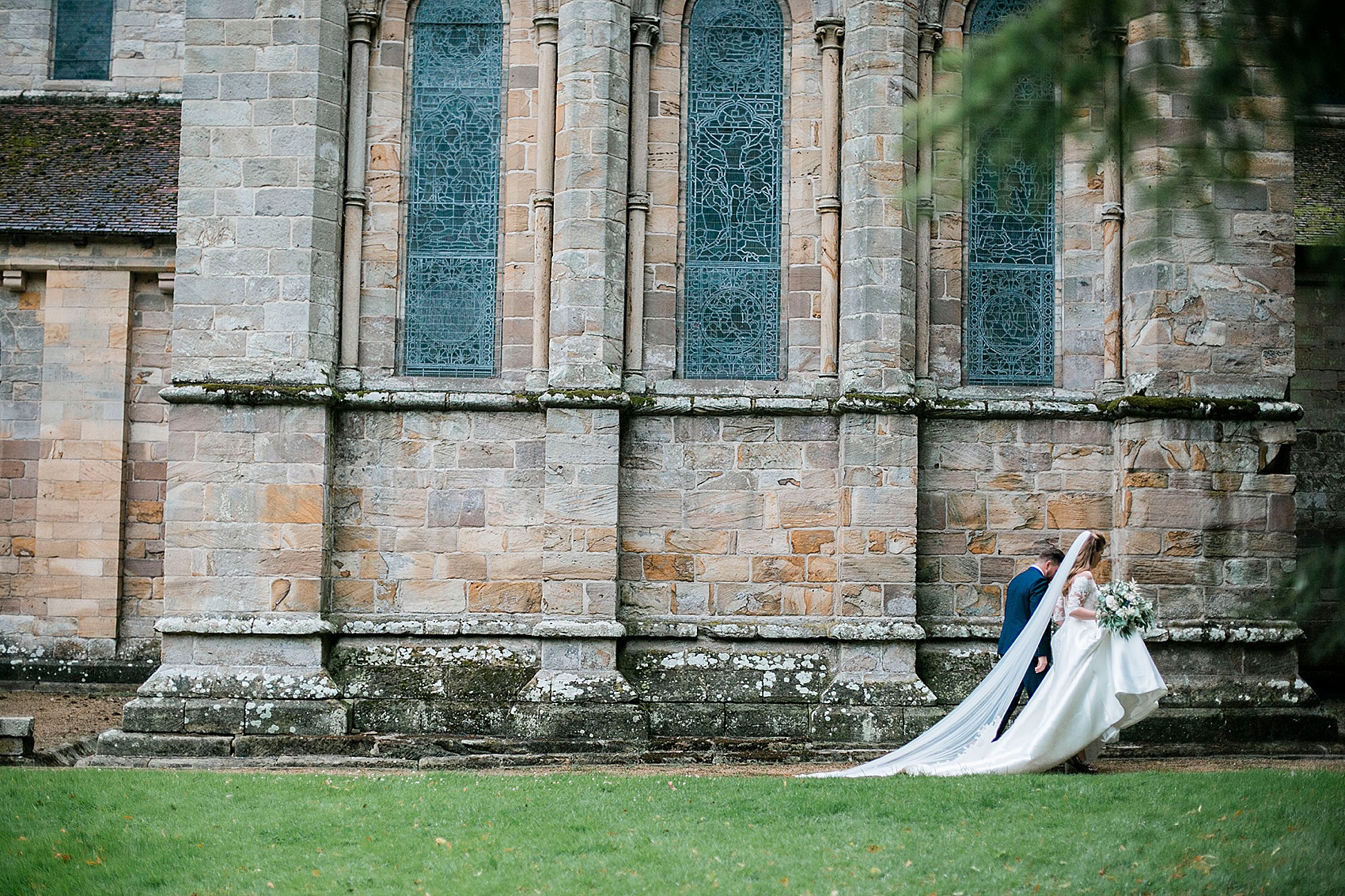 "I'm so happy we did this, as we joked it was for Mark's benefit, but I was the one with the awkward hands, not knowing where to put them! We have no idea how to choose from the incredible photos we've received, but can't wait to get them printed and cover the house in them."
Guests enjoyed cold beers, soft drinks and personalised glasses of prosecco during the drinks reception, with live music from acoustic duo Evoke.
The reception was held inside the purpose-built double tipi on the Brinkburn estate, and was thoughtfully decorated by Mrs Whiteley, her mum, and Julie from The Enchanted Florist, with lots of inspiration taken from Pinterest and Love My Dress.
"I'm a Pinterest bride, and had a board for every element! I used Love My Dress for real wedding inspiration looks/feel. I loved looking at what other people had done, colours they'd used and all the little touches."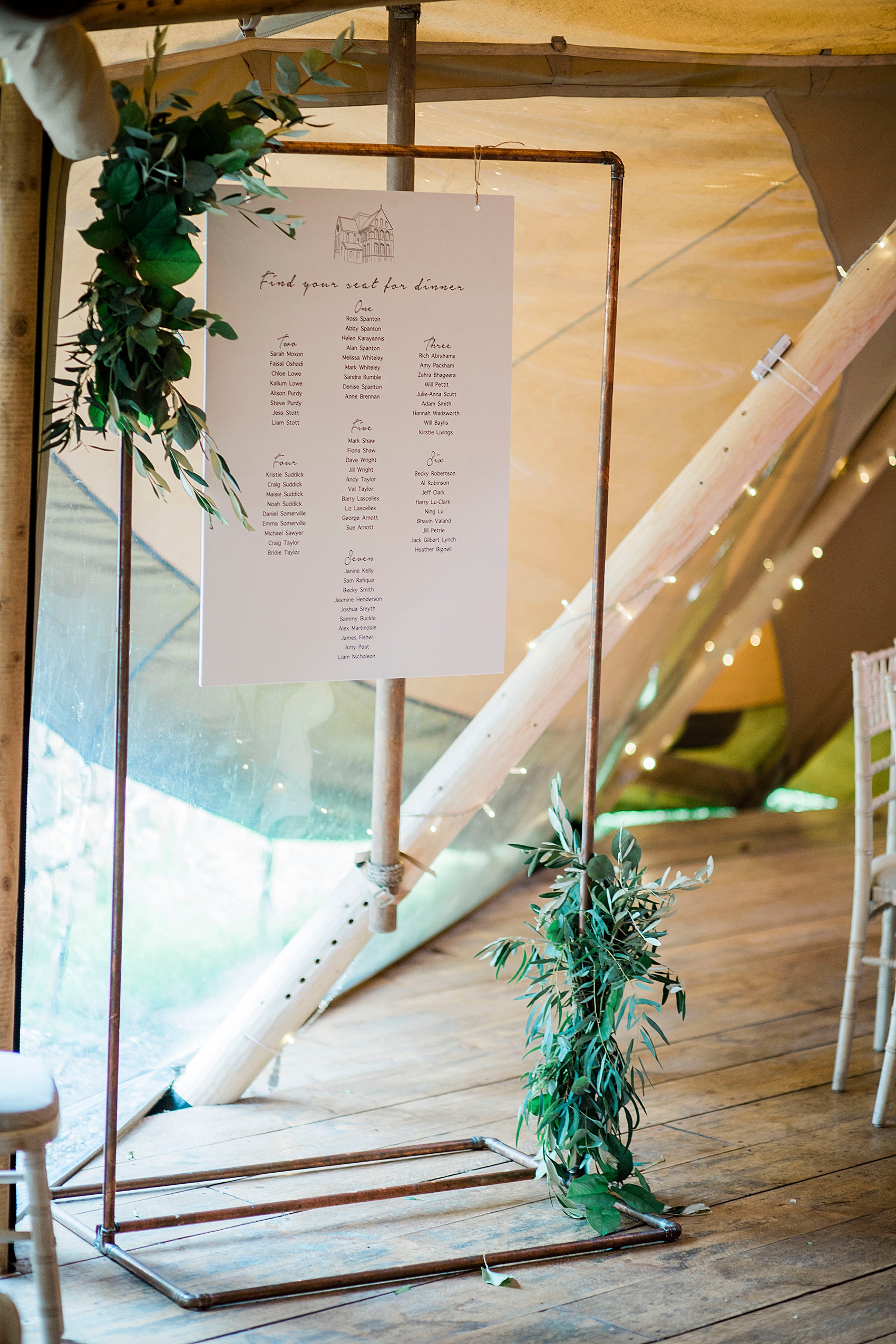 There were fairylights and garlands all around – hanging from the ceiling, and across the tables, as well as tall, elegant centrepiece arrangements.
Save the Dates and invitations came courtesy of Artcadia, whilst on-the-day stationery was designed and printed by the bride, with menus printed on delicate vellum, paired with grey linen napkins on the place settings. Place cards were hand lettered by a former colleague of the bride.
"We wrote all the wooden signs ourselves after watching a YouTube video, we trawled markets for old mismatched candlesticks, bought photo frames and printed signs for inside them, dyed linen to line the top table with, and created table number stickers for the front of gin bottles."
"We gathered fun toys for the kids, and made them personalised activity boxes with disposable camera challenges and colouring books."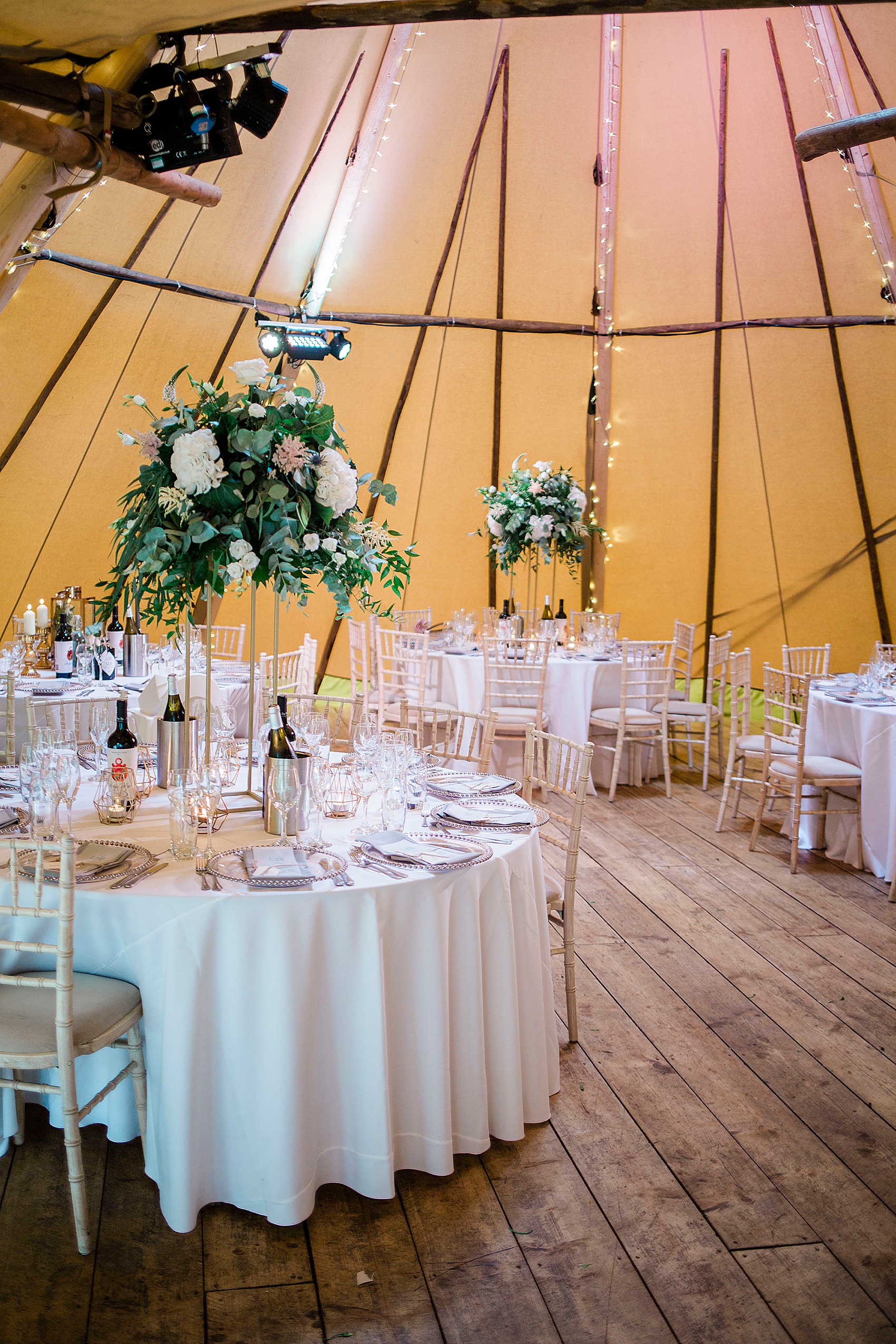 Brinkburn put the couple in touch with caterer Neil from Wilkins Fine Dining, who did a wonderful job with all of the food throughout the wedding weekend.
"Neil was a pleasure to work with and made everything so easy. He was flexible, amending the menu when we asked, and working with our requests, including making a simple chicken dish for my mum. We had so many compliments on the food, and even more so for the staff that worked with him. Everyone was so friendly and caring."
"We chose to add a BBQ brunch to end the weekend and bring everyone back together on Sunday after the wedding, and nothing was too much trouble for Neil and his team. After doing a full day at the wedding, he was back, smile on his face, enjoying himself and giving us and our guests a fab end to the weekend. He even included our nephew Noah as his little sous chef, and absolutely made his day!"
When Mrs Whiteley saw the amazing cakes made by Dawn from The Master Cakesmith on her Instagram page, she knew she would be the one to make their own delicious masterpiece.
"Her cakes are beautiful, like works of art. This was Mark's favourite part of the whole experience – the cake tasting and choosing the cake, so he made the decision on flavours, and in the end we went for carrot cake, a Victoria sponge with muddled raspberries, and a millionaire salted caramel shortbread."
"Everyone commented on how delicious it was, and we found ourselves munching it for days after. I may have over ordered slightly to ensure we could!"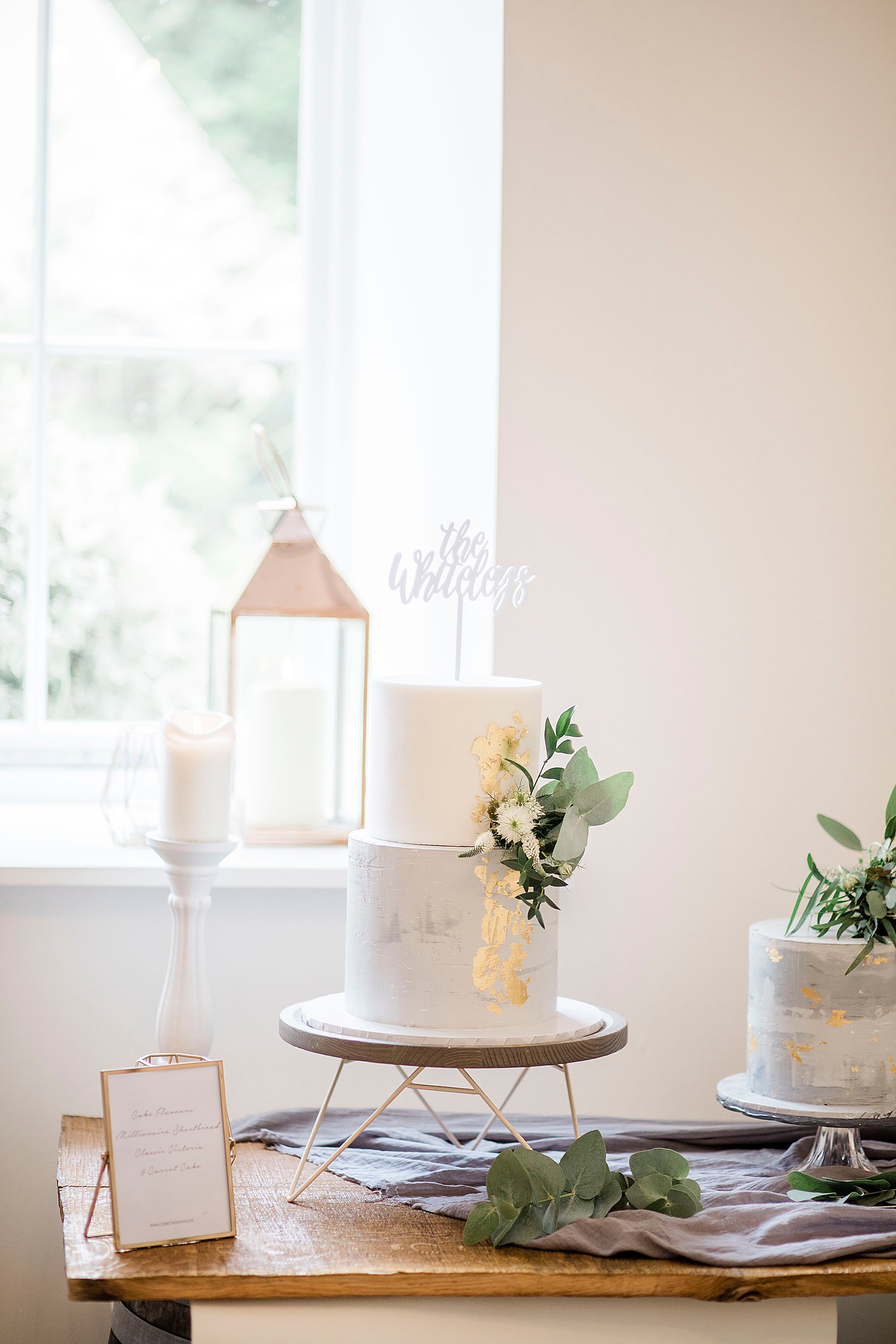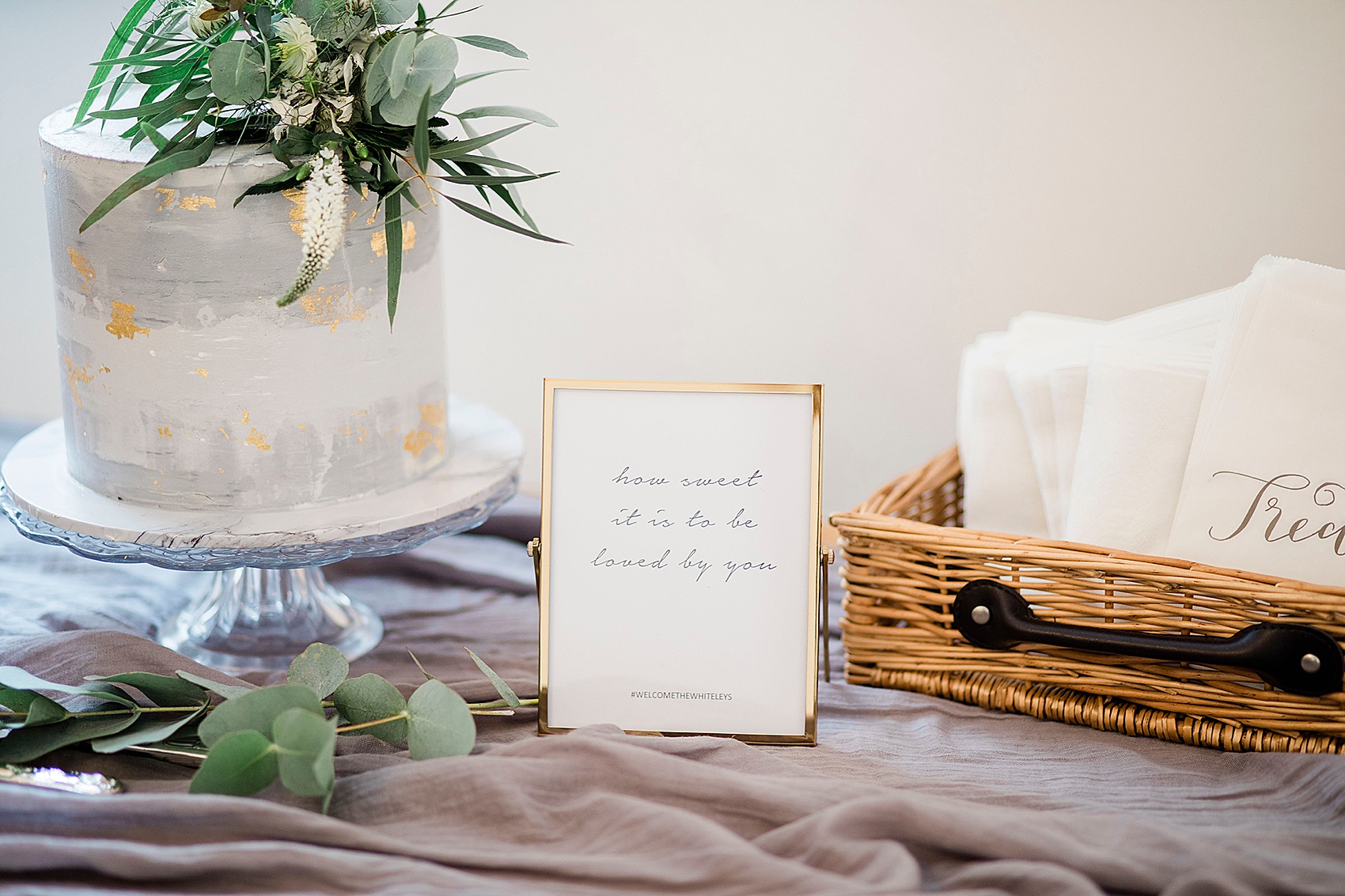 When it came to their first dance, the new Mr and Mrs Whiteley had a surprise in store for their guests! They chose a song with happy memories from a holiday they'd been on, and halfway through, saxophonist Joe Reeve emerged from behind the DJ booth and began to play.
"We worked with Joe and asked him to come in when the beat in the song started to change, to entice people onto the dancefloor. Music was a really important factor for us, but it was really hard to do everything we wanted within the budget! I would have spent everything on live music if I could. Our evening DJ was Bride and Groove."
"Mark's favourite moment was our first dance song. He was super excited for it, and the sax. We actually had a dance lesson as a bit of fun, but didn't end up practicing once! Just before we were about to dance we watched the video we'd taken at the lesson and practiced in the kitchen of the cottage we stayed in during the wedding. In the end, we winged in and it was still lots of fun!"
Words of Wedded Wisdom
"Don't sweat the small stuff as no-one else will even notice on the day. Enjoy the experience, and enjoy relaxing in the lead up. Don't remember the moments that you stressed over place cards, table numbers, candles and all the other silly, pointless things that I can say I did!"
Mr and Mrs Whiteley, thank you so much, and many congratulations. Readers, I do hope you've enjoyed this breathtaking celebration – wasn't the venue incredible? Many thanks to Rachael Fraser for her exquisite photography, too.
With love,
Laura