I'm so excited to take a trip today to Hebden Bridge, West Yorkshire for the nuptials of Beth, a head of design and Simon, an accounts manager.
The couple were wed on 29 June 2019 at former textile mill Gibson Mill in Hardcastle Crags, a beautifully-restored space that is full of light and historical detail. After the civil ceremony, they made their way to another converted textile mill in Halifax for a reception that was filled with allusions to summer and nature, with airiness, light and natural texture key to the look. Beth looked beautiful in her bohemian inspired dress by Kindling Bridal – a Love My Dress recommended supplier.
Photography Mark Newton Photography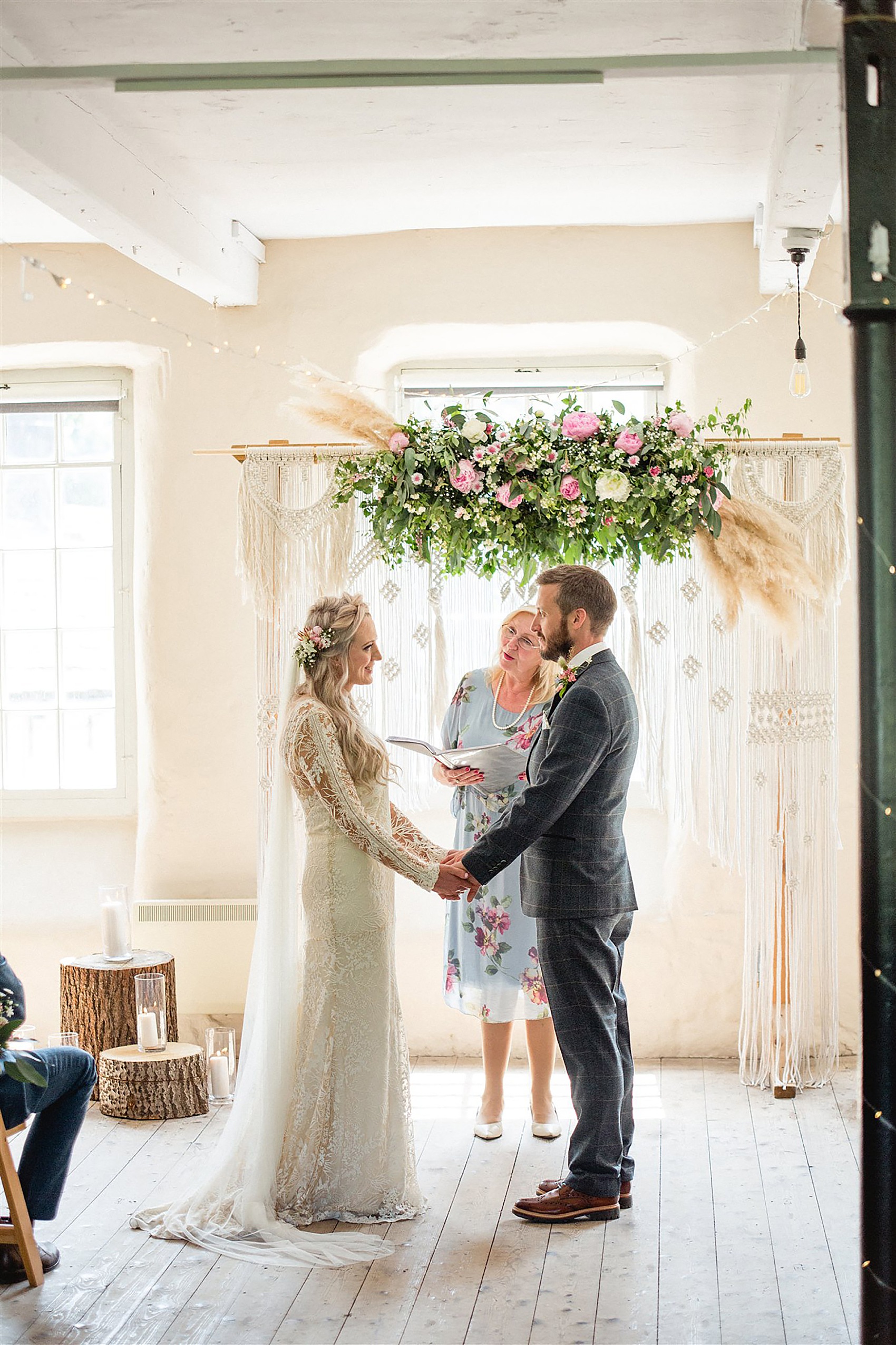 Beth's long blonde hair was styled in to loose waves and a statement, boho-inspired plait by Jenn Edwards & Co., all topped off with a dainty flower crown.
"Jenn Edwards & Co. are some of the most talented and creative ladies I have met. I was a little worried about this element of the day as I'd never had my make-up done professionally before and it's such a personal thing. I found the wedding industry fantastic as each supplier gets to know you and your vibe and suggests other suppliers who they think would be a good fit. Jenn Edwards & Co. came highly recommended."
"I looked through their Instagram and already knew that I really loved Jenn (hair) and Kelly's (makeup) creative style so when I got assigned them it felt like fate."
"They specialise in relaxed hair styling with all the boho vibes and natural make-up looks so I knew I was in safe hands. They asked lots of questions about the dress, venue, theme and vibe and when I explained my ideas for hair and make-up they got it straight away. I trusted them 100% which was a huge relief. It's obvious they completely love what they do and approach each bride with masses of support and enthusiasm. I love them!"
"I wanted some form of flowers in my hair but I was worried about the execution as I also knew I wanted plaits and curls and a veil… that's a lot of things! I decided on half a flower crown and had planned to wear it at the front but ended up with it at the back as it felt more wearable, especially with my plait. It was made from fresh flowers so I'd not had time to do a trial with my hair and flower crown."
After a bit of experimenting it just wasn't sitting right. Luckily there are no end to Jenn's talents. She disappeared with a pair of scissors and the flower crown for a good ten minutes. When she came back it fit perfectly and was a little more subtle. It came together so well but I would definite recommend a hair trial with the exact flower crown you are planning on wearing to avoid any unplanned floristry on the morning of your wedding."
"I wore simple Salt-Water sandals in silver. They were great for walking around the woods for photos after the ceremony and dancing all night long. I kept accessories simple as the flower crown, veil and dress were all quite a statement."
"We met through work in 2010 and became friends. We started dating three years later and got engaged in April 2017 in the back of a camper van in New Zealand. It was my 30th birthday and we were at the very bottom of the South Island in Curio Bay."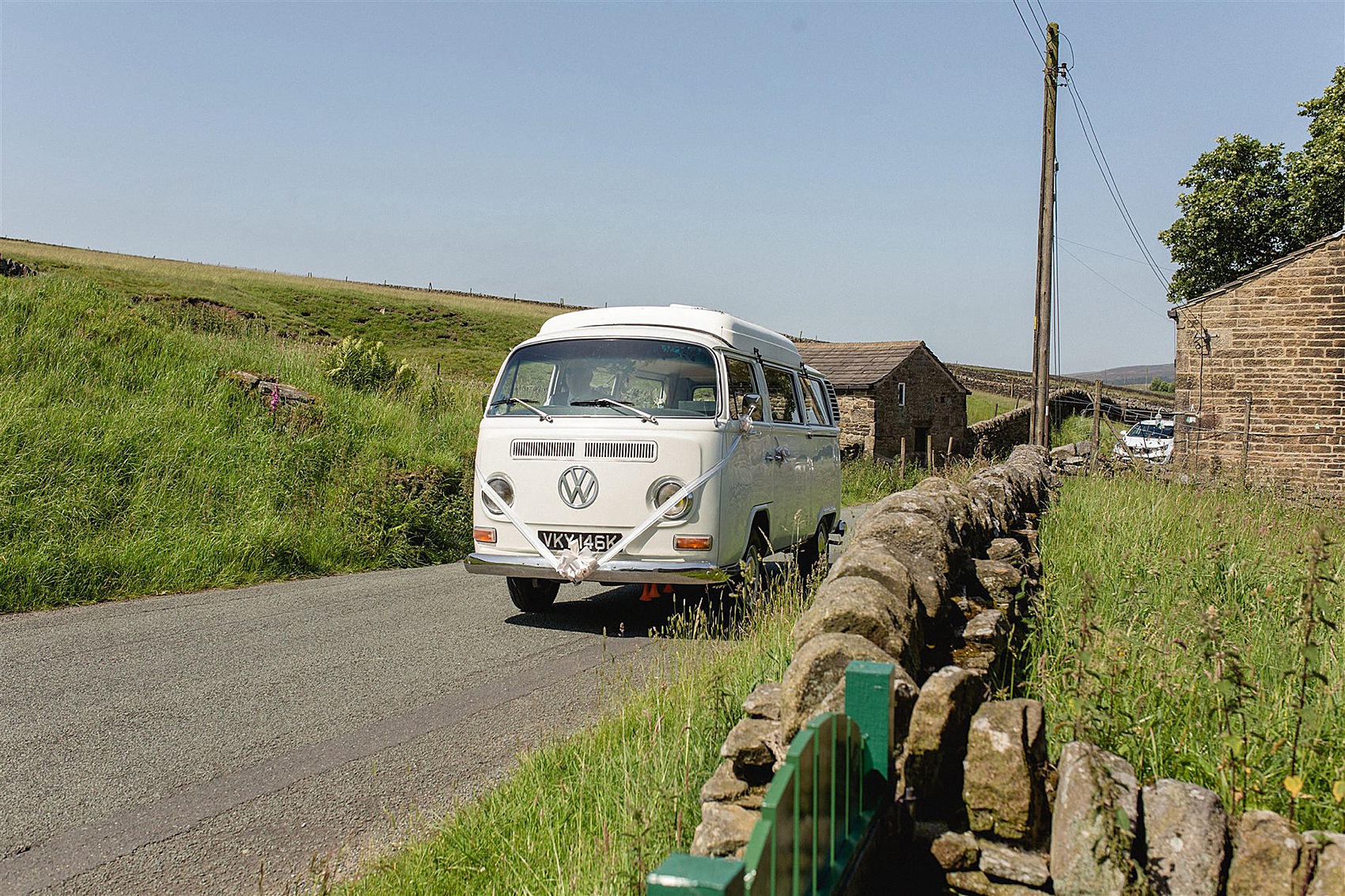 "We'd had a fantastic day exploring the South coast and had just returned from a walk on the beach. He had filled the van with candles and fairy lights."
"The candles spelled out 'Marry Me'. When I turned round he was on one knee with a ring. He asked me to marry him and I said yes. We spent the rest of the evening drinking champagne and Skyping family – most of which already knew! It was perfect. "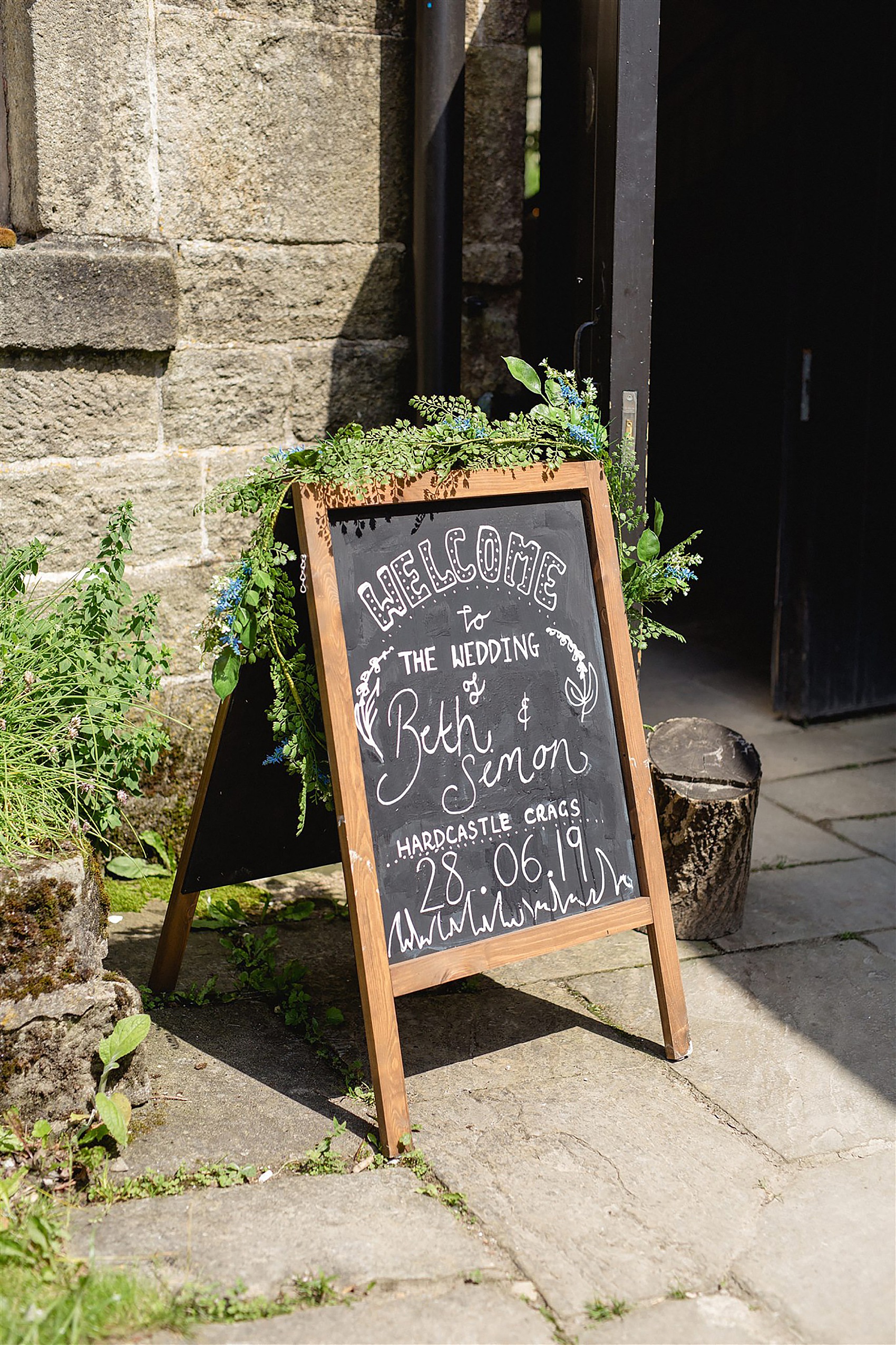 "We didn't want a really long engagement so we started planning our wedding pretty much straight after getting engaged but had to factor in some time to save up. We set the date for two years later in 2019."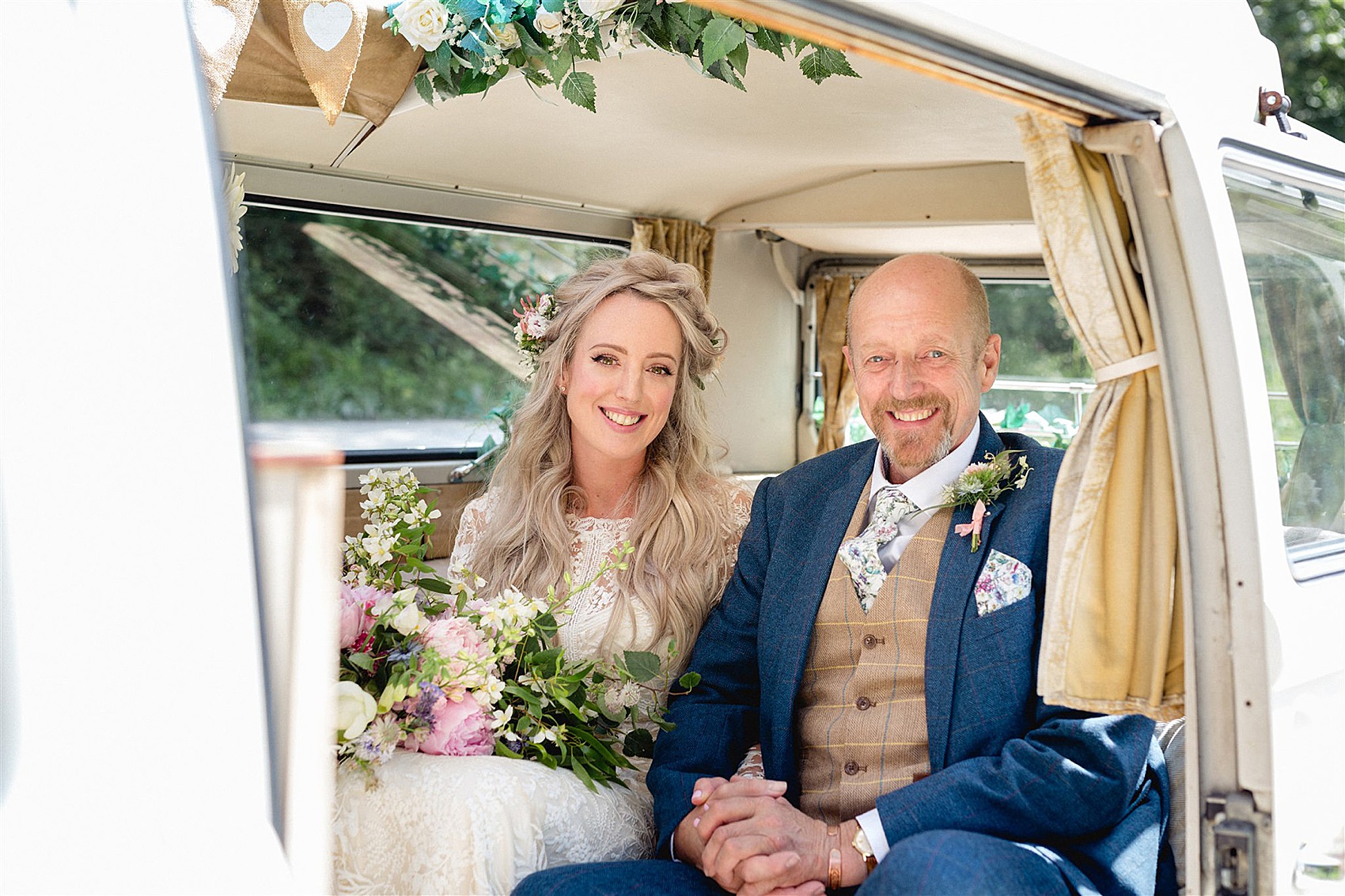 The wedding flowers were the essence of summer, a seasonal riot of soft pink peonies, pure white blooms, wildflowers and fresh green foliage, all put together by Rachel at The Yorkshire Flower Patch.
"Rachel grows her flowers in the most beautiful location on the hilltops of the Calder Valley. The flowers were an integral part of the décor. Peonies are my favourite flowers so these were the starting point. The rest were a variety of wildflowers, foliage and wild grasses of varying scales, led by the colour scheme of soft pinks, greens, creams and a few pops of yellow and purple."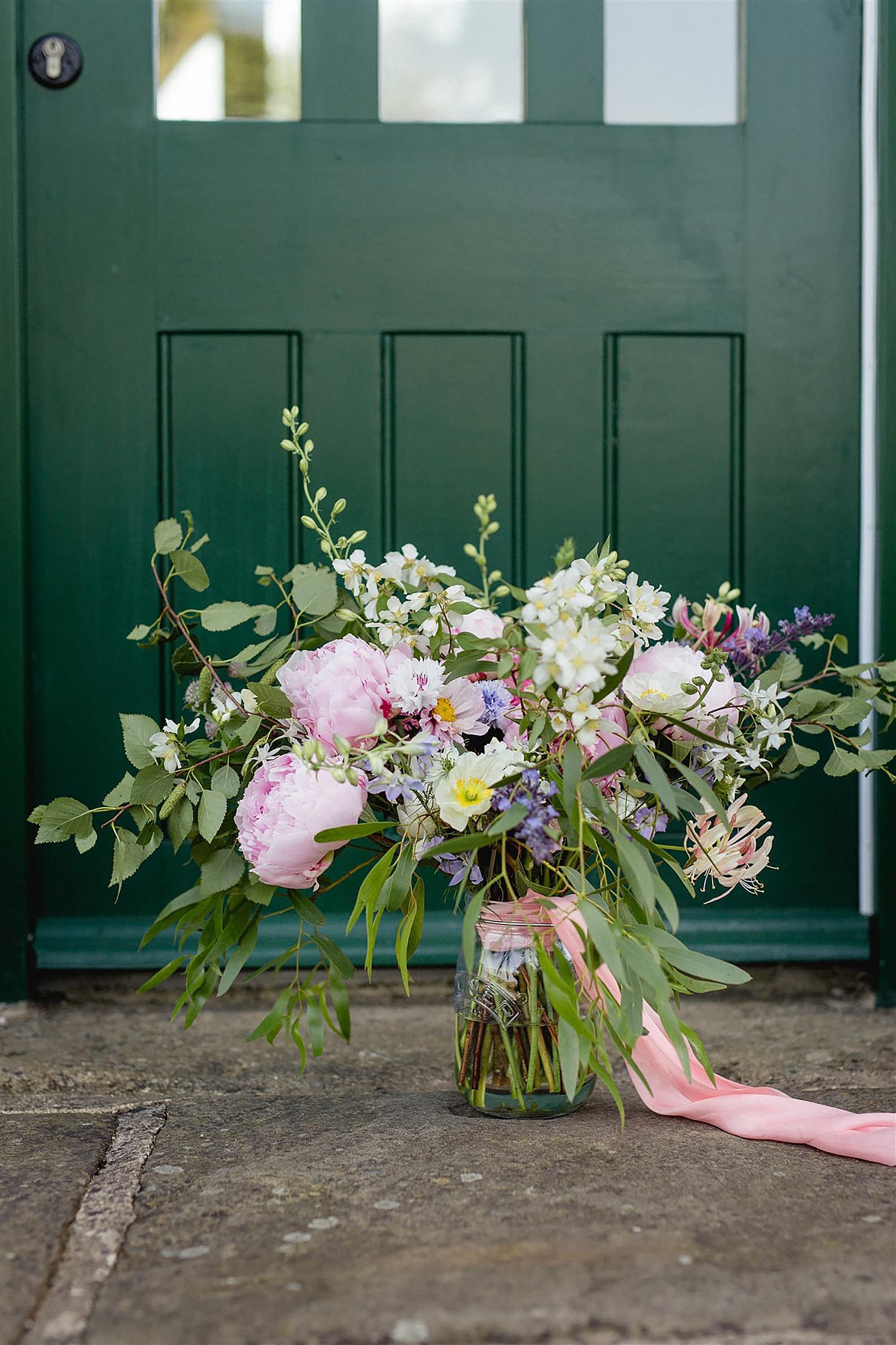 "I went for a pretty large, unstructured bouquet with trailing pink and cream silk ribbons and Rachel built an amazing flower archway replicating all the flowers from my bouquet and adding pampas grass."
"She made it so we could transport it between venues on the day which worked well. We also added mini milk bottles of gypsophila to the backs of the chairs. As the day was split between two venues, we were concerned about the implications of decorating them."
"Rachel offered a fantastic option of DIY buckets filled with all our mixed flowers and foliage. This allowed us to assemble loads of jars of flowers for the tables at The Arches which helped to control budget."
"Rachel is a very chilled, talented lady. They were such beautiful flowers and really helped pull the whole theme together."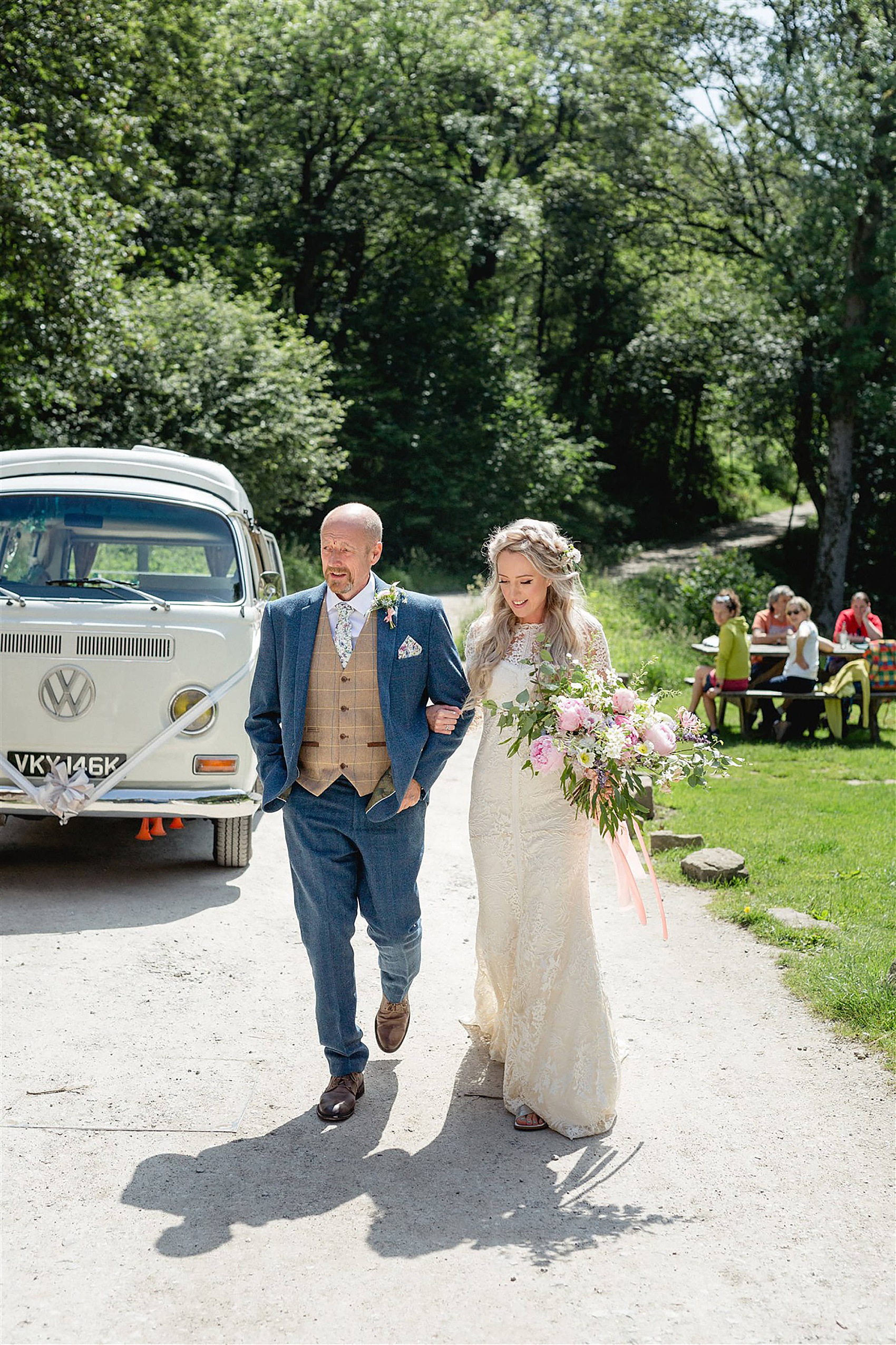 "We hired an old white vintage VW campervan. We spend the majority of our spare time travelling around in our own van. It's a huge part of our lives so it felt like a great option for our wedding day. Travelling between the ceremony and reception venue in the VW vintage van was fantastic."
"It gave us time alone together to chill and let everything sink in after the ceremony. Richard the driver was lovely, nothing was too much trouble and he suggested a more scenic route to the reception to avoid traffic and stop for pictures. It was such an amazing experience."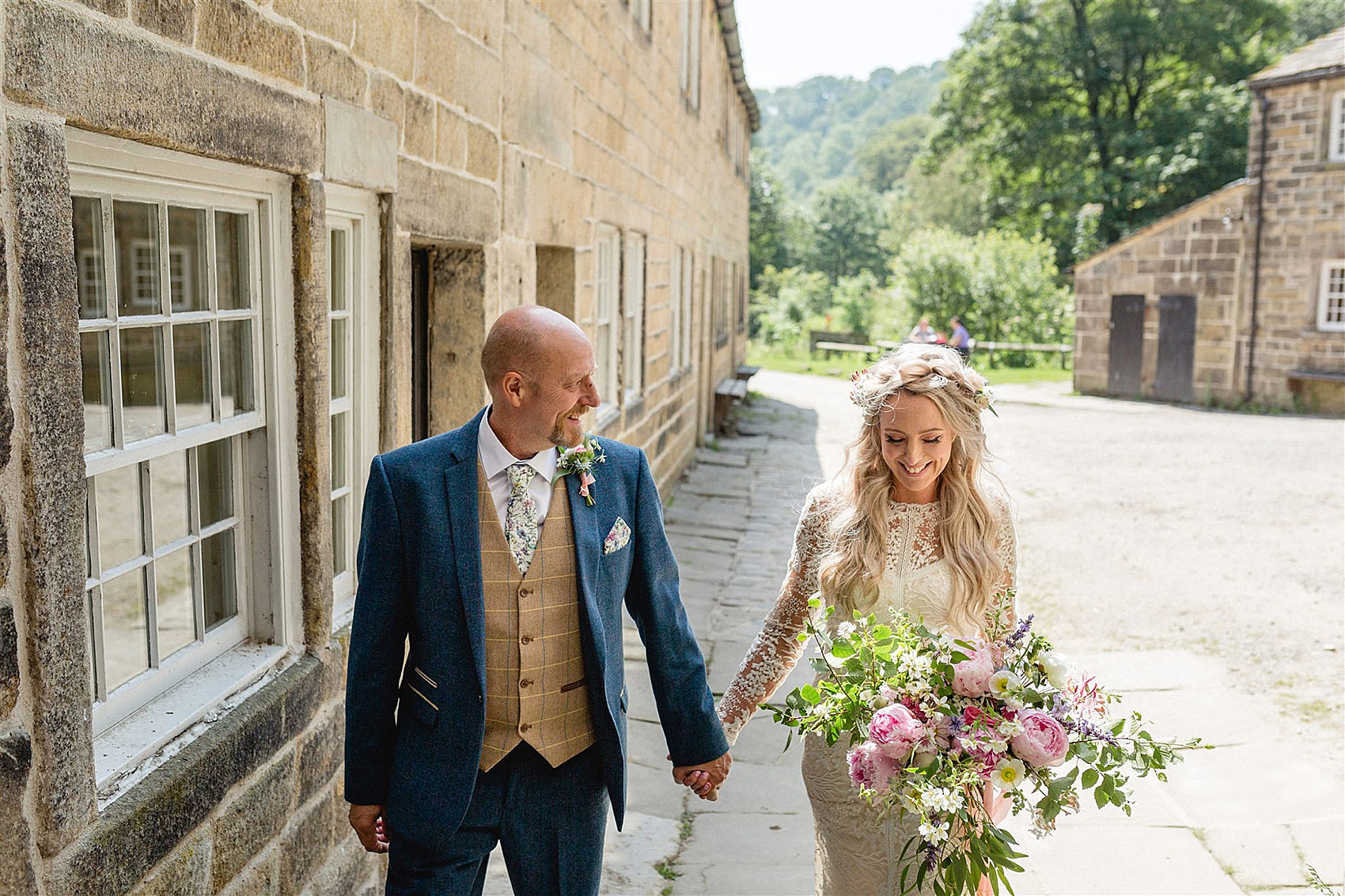 The couple chose 'Old Pine' by Ben Howard for the bride's entrance song.
"My lovely dad travelled to the ceremony with me and walked me down the aisle. He was a real calming influence. When we arrived at Gibson Mill, just before we got out of the van, is a moment I will never ever forget."
"He's quite clumsy so was convinced he was going to stand on my dress but everything went to plan and I felt so lucky to have him by my side. 'Old Pine' is all about adventures, travel and making memories. It always reminds us of our travels around Scotland together in our van."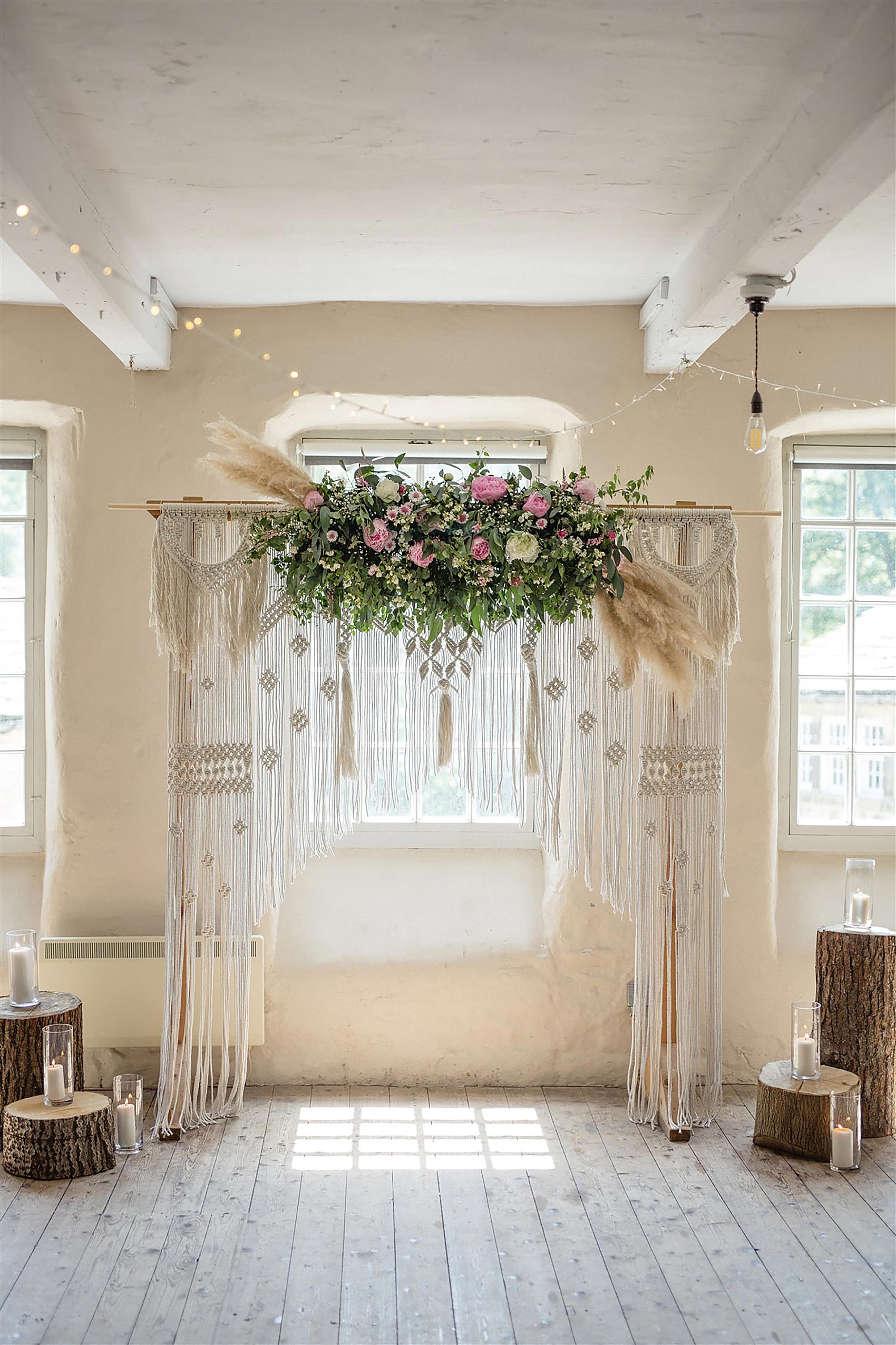 Matching the floral theme were the groom and groomsmen's ties and pocket squares.
"Simon and his groomsmen wore Marc Darcy suits from Tweed & Groom with floral, liberty print ties and pocket squares. They have a great capsule collection – perfect for mixing and matching to create different looks. The size range is huge so everyone easily found their perfect fit."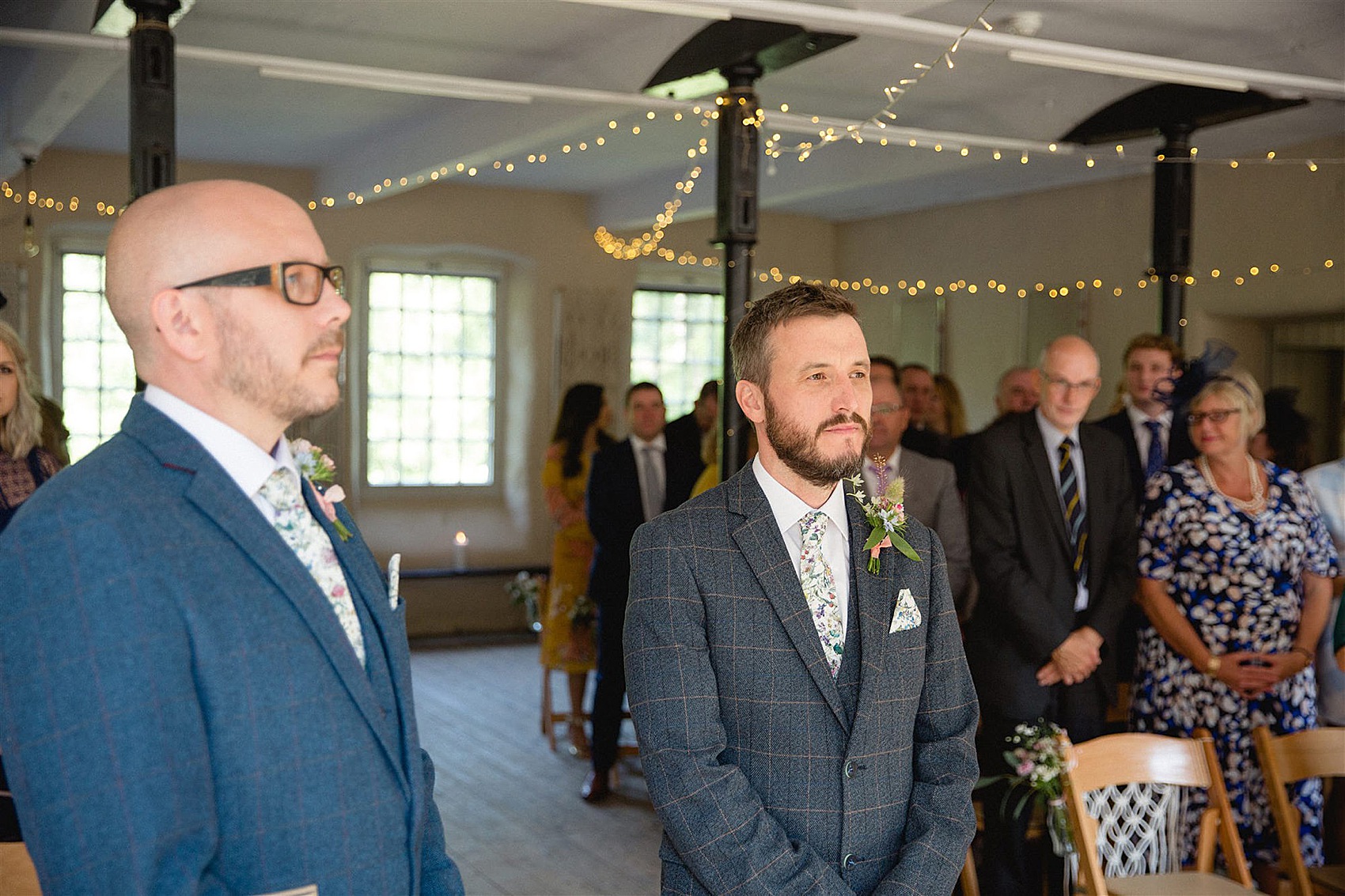 The couple married against a light-infused backdrop of macramé and a statement floral arch.
"We wrote our own vows. Simon's were beautiful, they even made our registrar cry. It was quite a daunting thought writing down your innermost feelings and speaking them out loud in front of your family and friends, but I am so glad we did because that's what it's all about really – making promises and commitments to each other."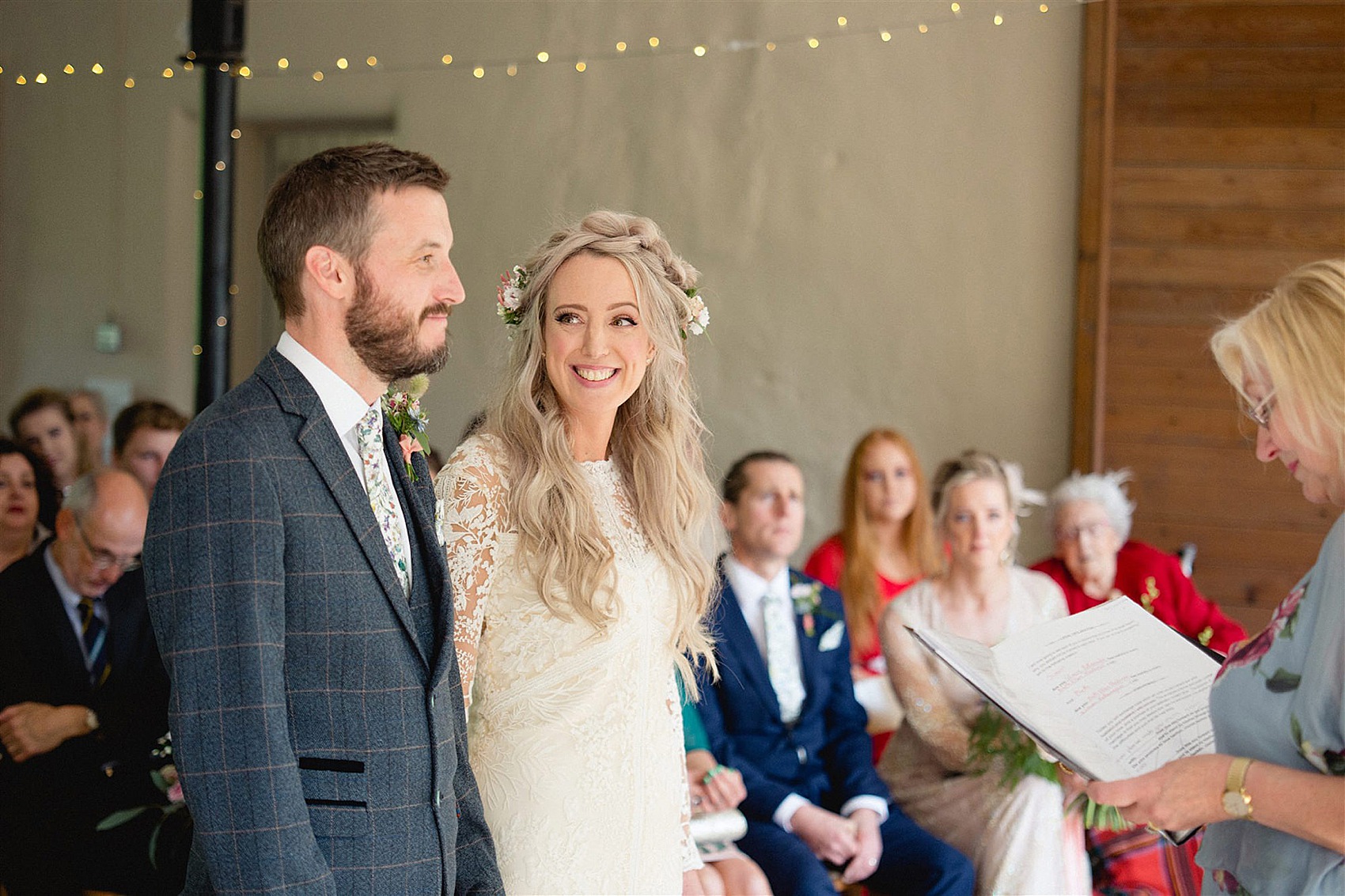 "It truly felt like there was only me, Simon and the registrar in the room until she announced us as husband and wife and then I suddenly saw everyone."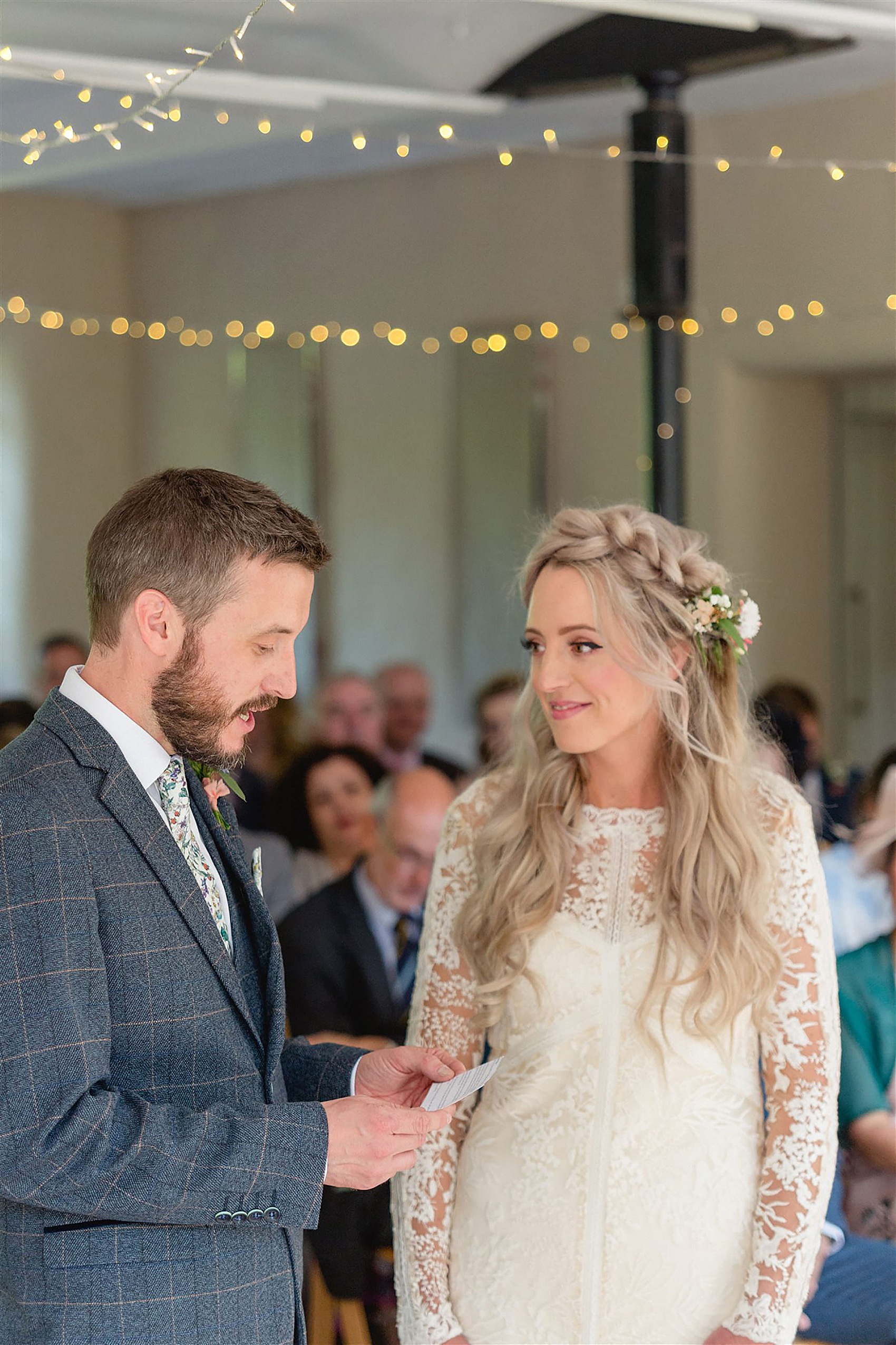 Before the wedding day, Simon and Beth spent time with Max's Jewellers and Workshop, a local Hebden Bridge jeweller, to design their own rings, including the bride's engagement ring.
"Simon proposed with a simple hammered silver band from the Outer Hebrides because he wanted me to choose my own engagement ring. After looking around and finding nothing that felt right, we ended up designing our own rings with an amazing local jeweller in Hebden Bridge. I went for a pear-shaped engagement ring with a central black diamond which he let us source ourselves to control budget."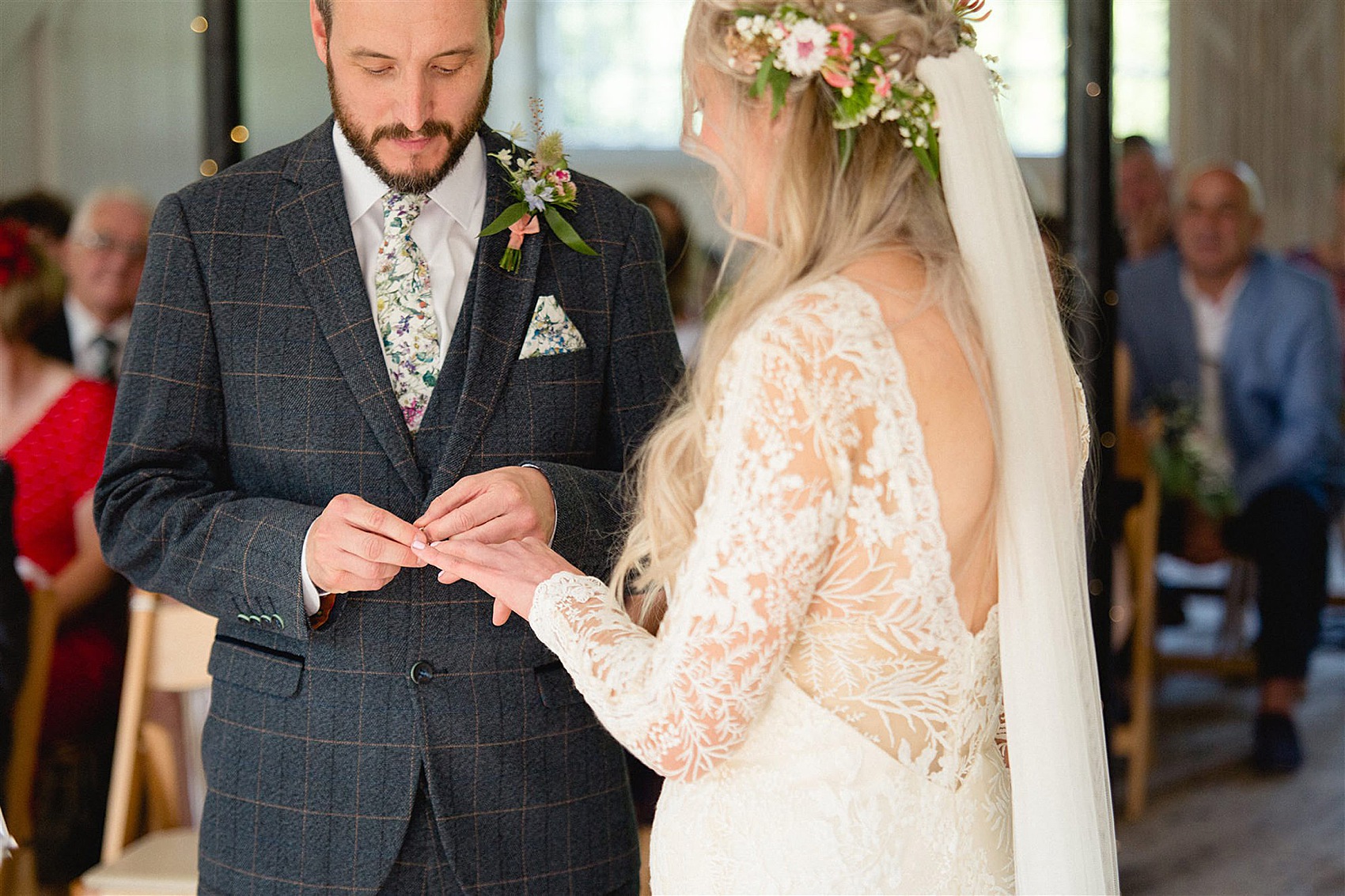 "My wedding ring is a crescent moon which sits around my engagement ring. Simon's wedding ring is a brushed, dark grey, zirconium band. He tends to break or lose most accessories so needed something tough."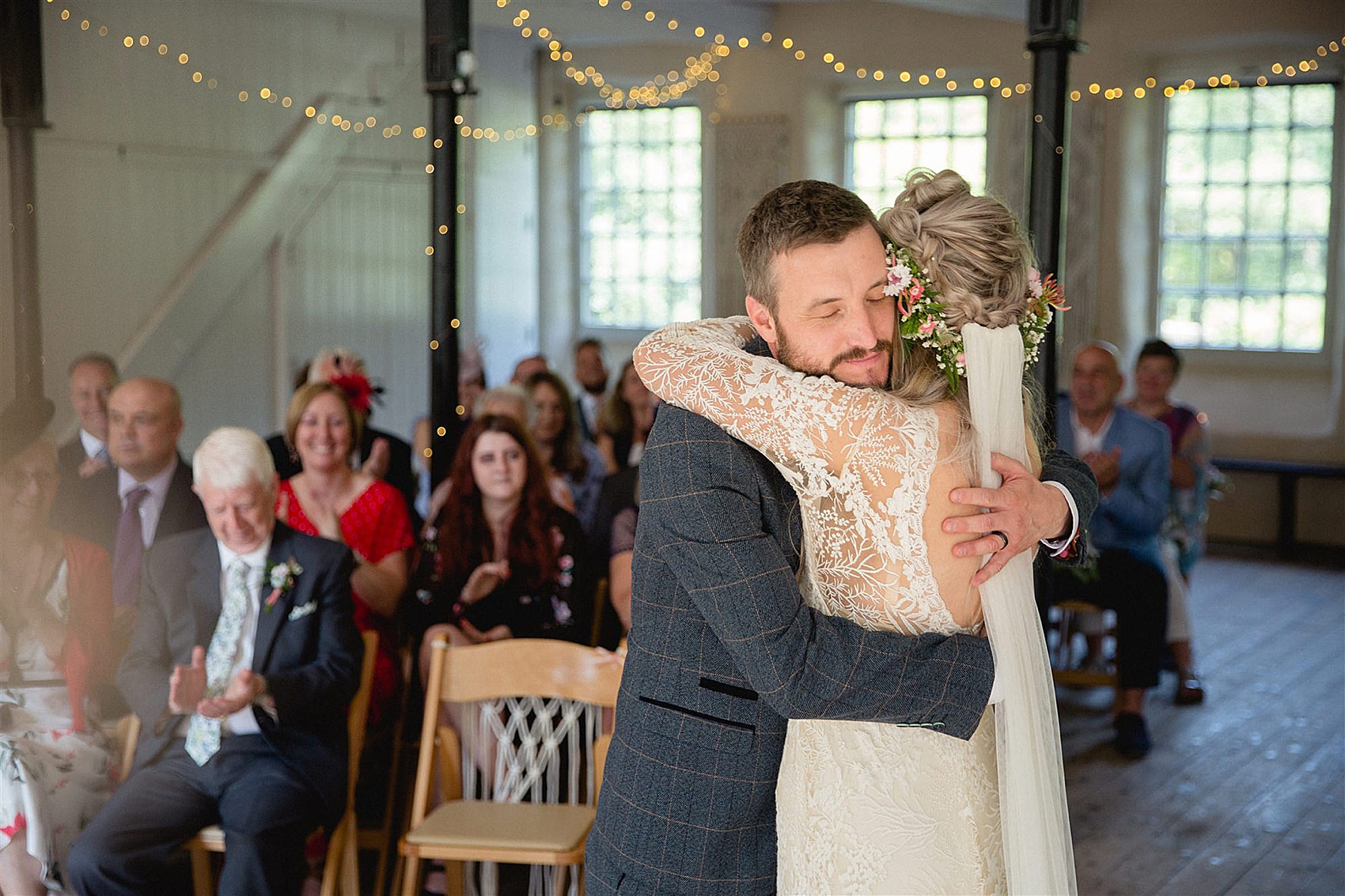 "A combination of a lovely hot sunny day, a tweed three-piece suit, nerves and excitement made Simon's knuckles swell to about twice the size so it was quite a mission to get the ring on his finger."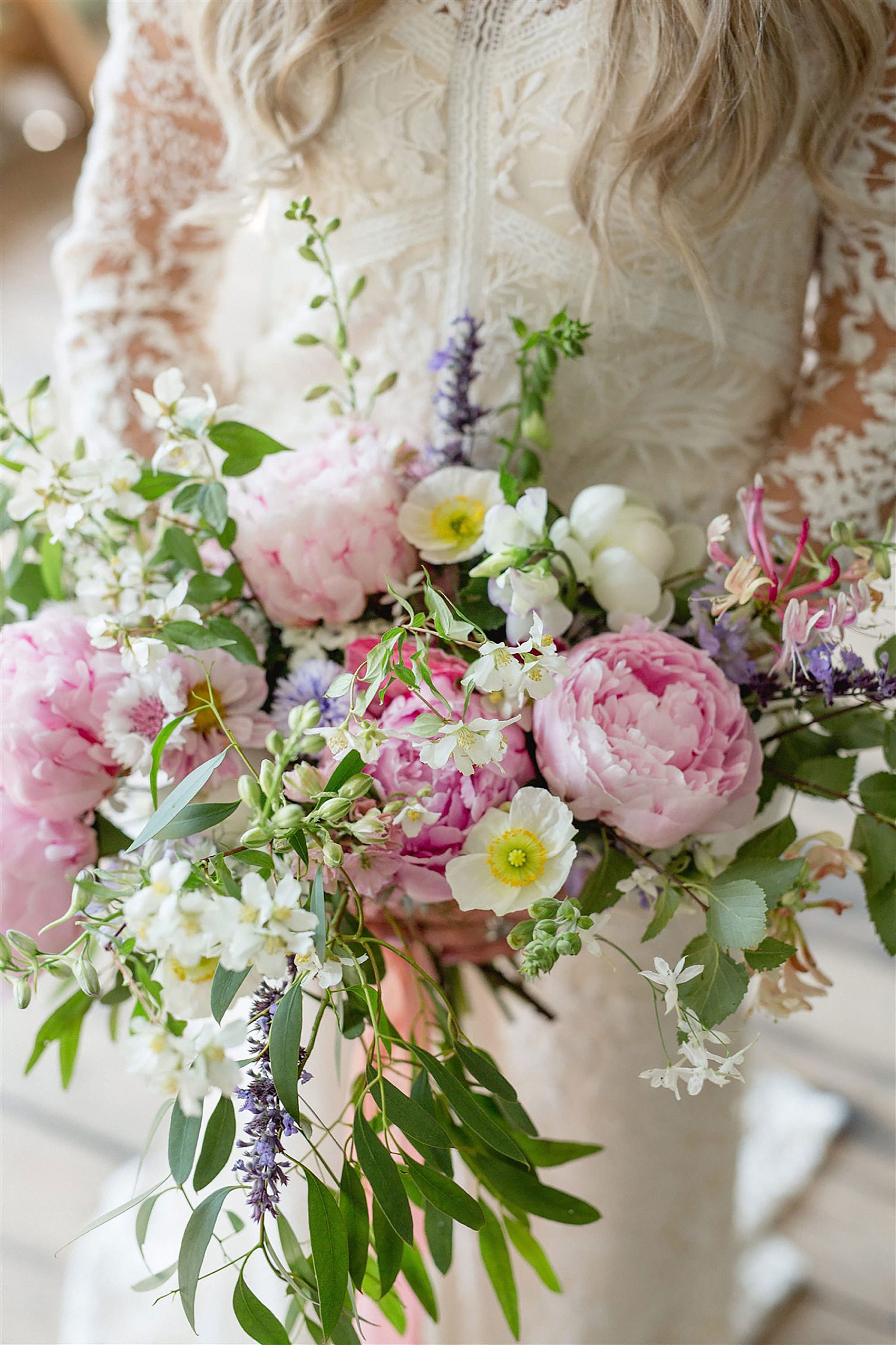 The couple emerged into the June sunshine before travelling to their reception venue, a Victorian mill perched by the waterside, and surrounded by beautiful green woodlands.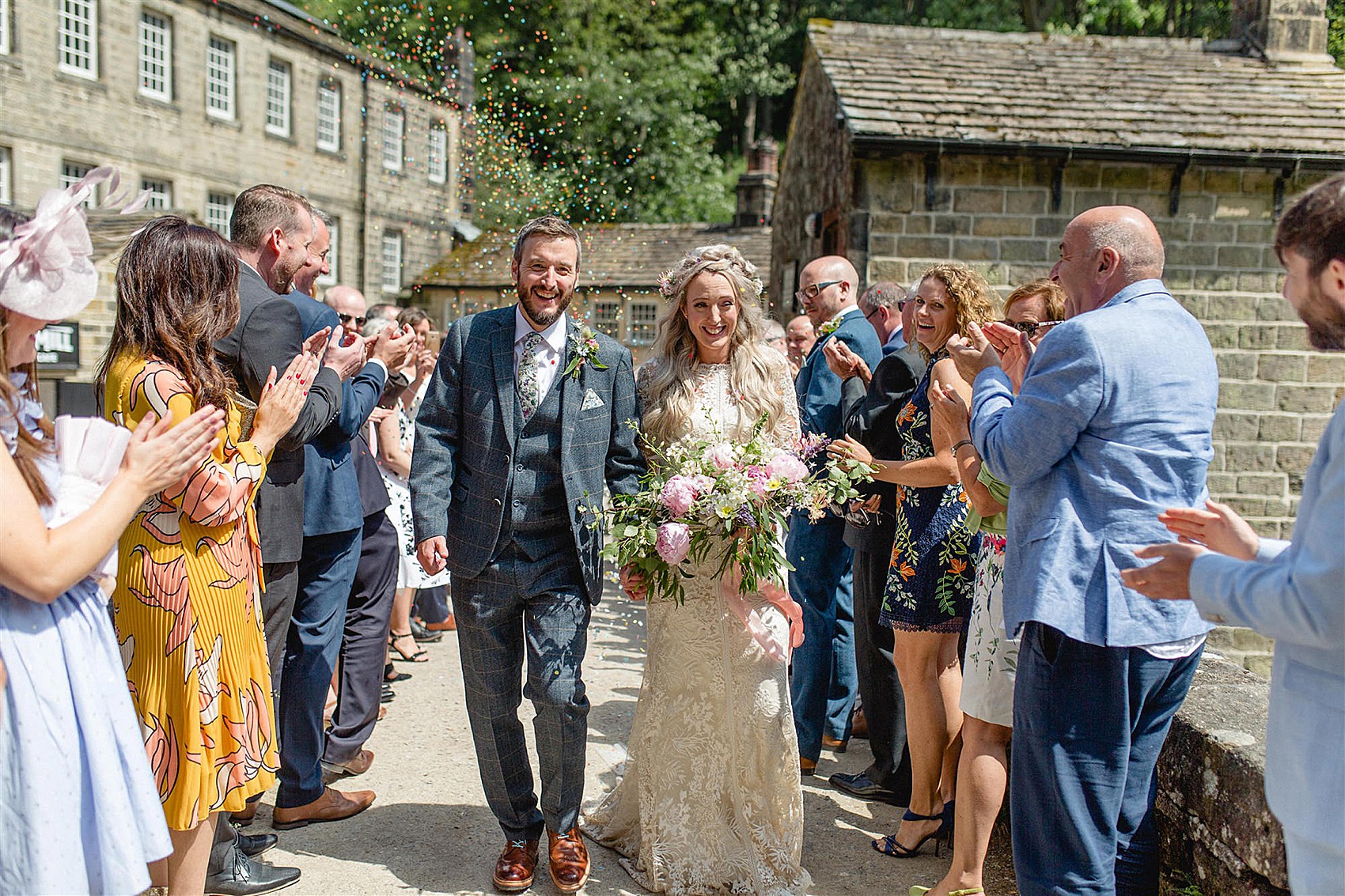 I love the light touch which Mark Newton Photography brings to his work, so well-suited to the summery feel of this wedding. From the perfectly-framed landscapes to the floral details, each shot is romantic yet modern.
"We booked Mark after following his professional journey and admiring his work for many years. We love his super-versatile style, capturing beautiful, timeless shots with a modern edge. His images tell a story of the day with no detail overlooked."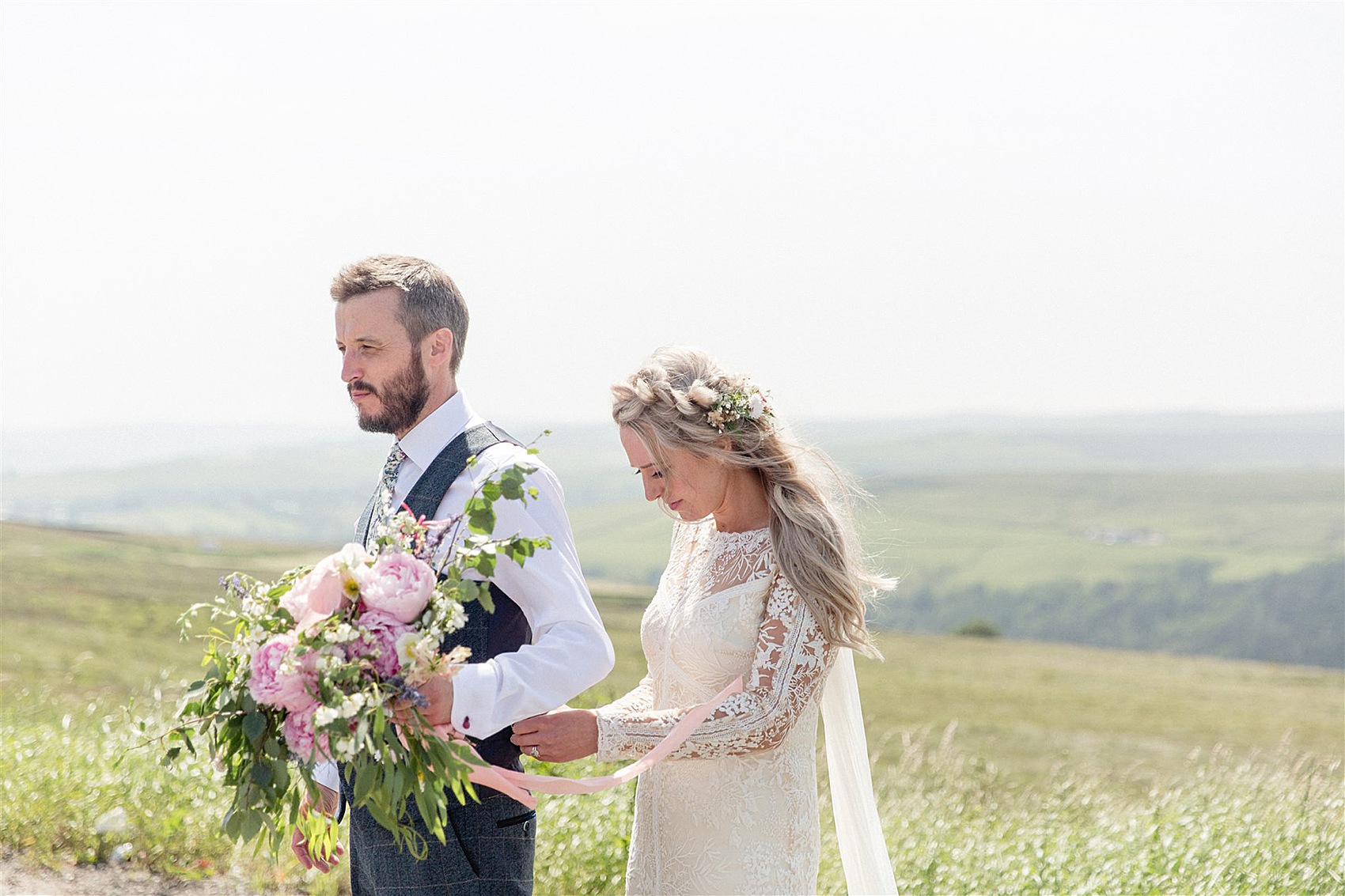 "Mark gets to know you as a couple and what's important to you and then manages to capture that in his work. He was the perfect addition to our day – really professional and not at all intrusive. He made everyone feel relaxed and put even the most camera-phobic people at ease."
"Mark's ability to help co-ordinate the running order of the day and large crowds of people is a skill which should be acknowledged in itself. He has an amazing way of balancing a really natural relaxed vibe with absolute efficiency."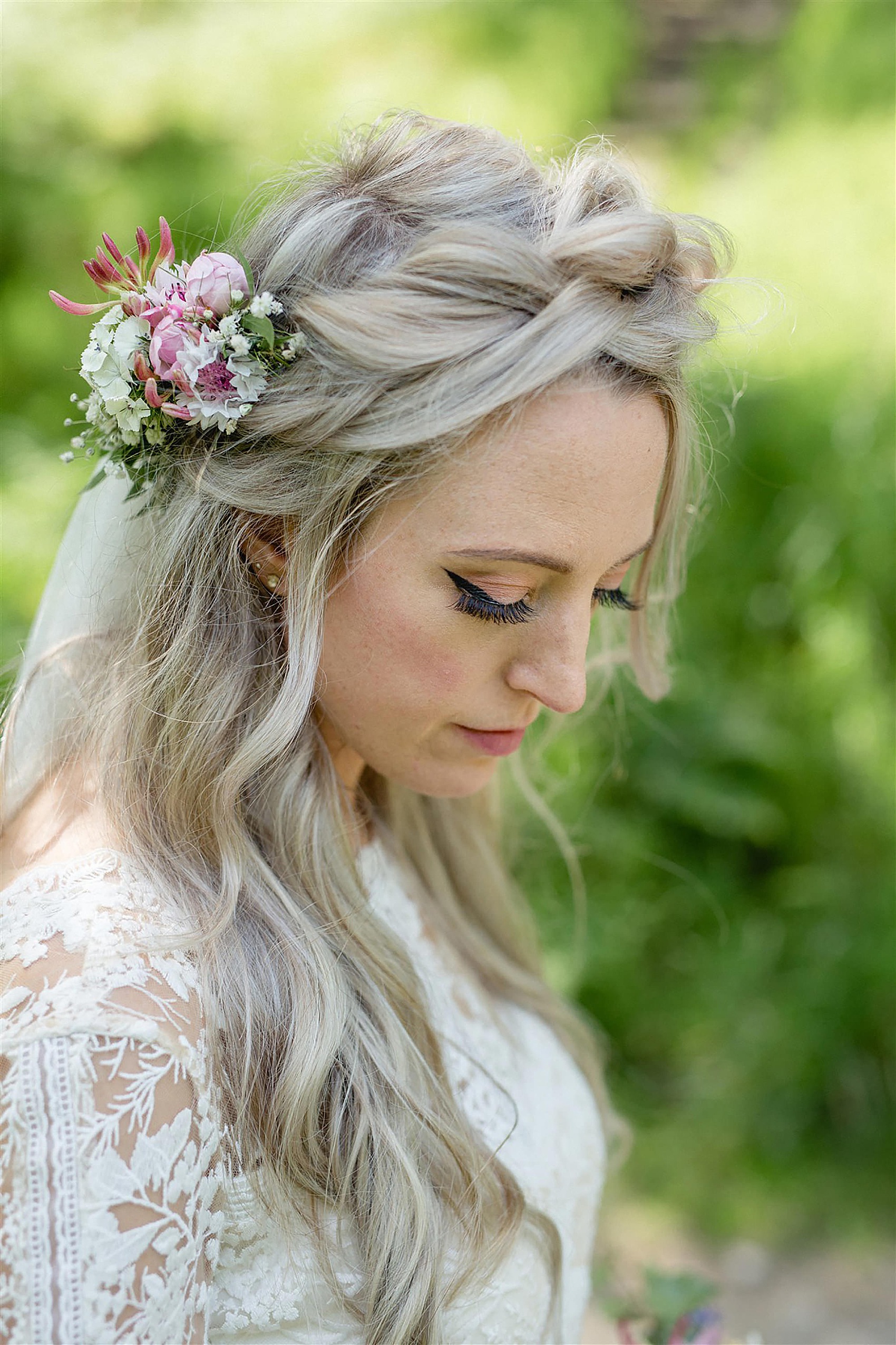 "Mark was really open to ideas and with all his experience he gave us some great advice and helpful tips to make sure our day ran smoothly. He was a dream to work with from the start of the journey through to final images arriving – which we were completely overjoyed with."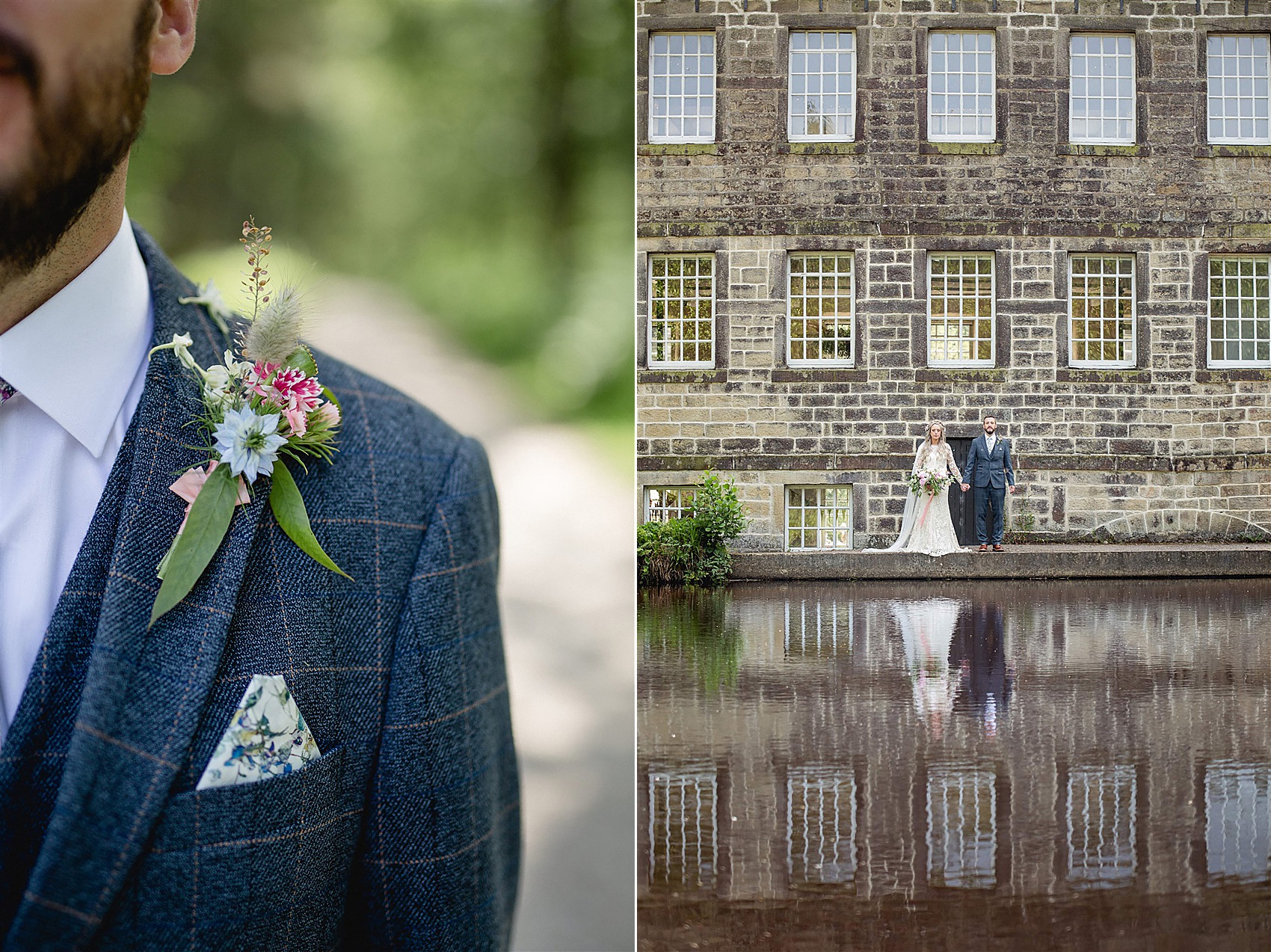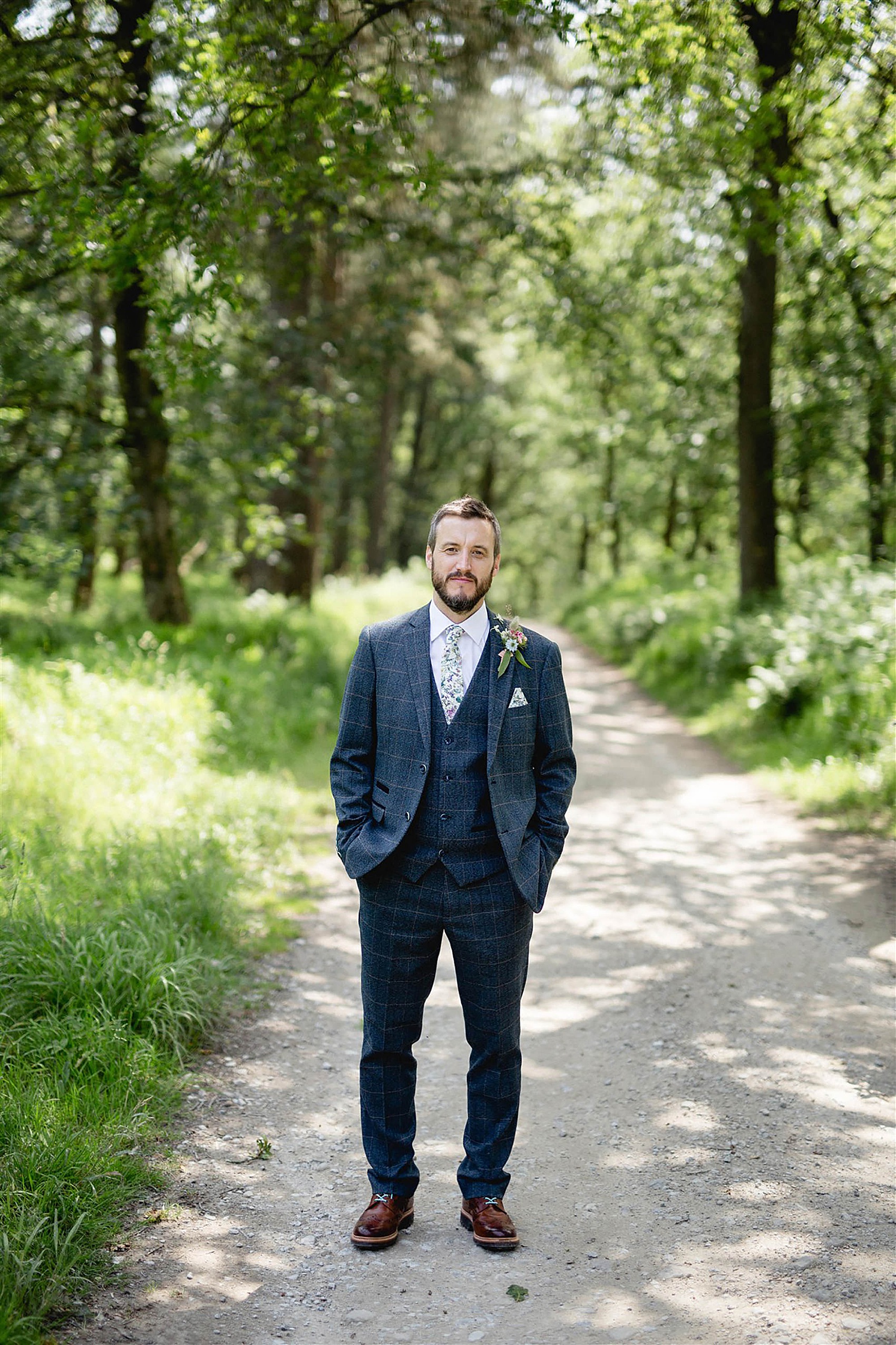 The Dress
Beth's beautiful dress was created Kerri, the founder behind Kindling Bridal.
"I love the whole vibe of the Kindling studio. It's super chilled and instantly puts you at ease. For me having a capsule collection where each style offers a completely different look allowed me to experiment without getting overwhelmed by too much choice."
"I wanted to customise a few details on my dress to suit my shape and taste – Kerri is so open to bringing your ideas to life, she is literally a dream to work with."
"Her skills with pattern cutting and alterations are just as good as her design skills so the end result is something really special. One of the many things I love about the Kindling collection is depending on how the dresses are styled they take on completely different looks."
"On one hand they can be styled to look super modern and boho. On the other hand they can take on a more classic and regal look! The quality of everything from the fabrics, to the trims to the make up of the dresses is second to none. Would 100% recommend to any bride to be."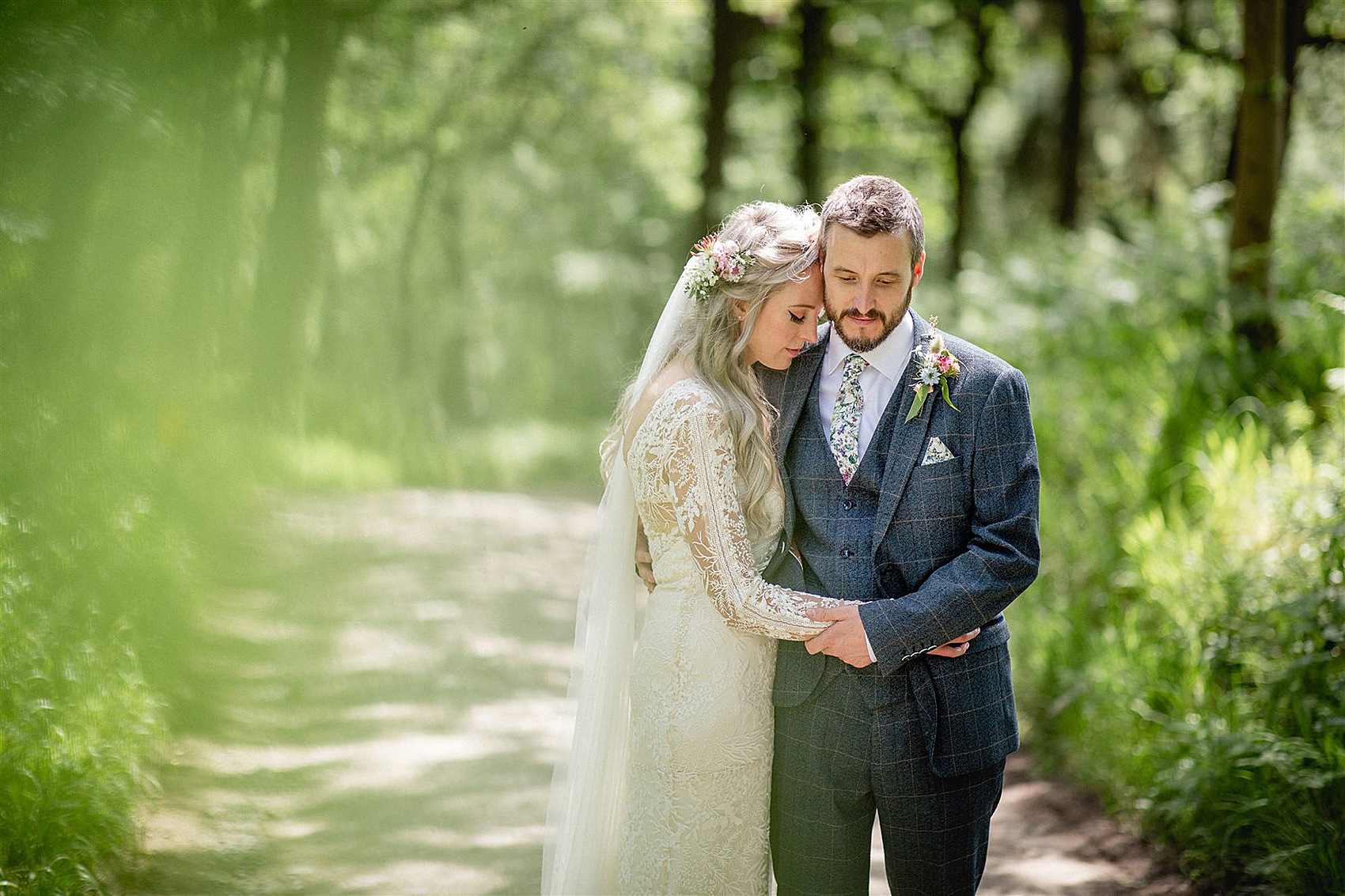 Her raw-edged veil also came from Kindling Bridal, and I love the sheer, ethereal look of its tulle against the Yorkshire countryside.
"I loved it so much I wore it all day and night which did result in it getting stood on quite a bit but was totally worth it. I wore my normal perfume, Diptyque Philosykos. I think it's important to smell like yourself on the day. The base notes are coconut and wood which are my top two favourite smells in the world."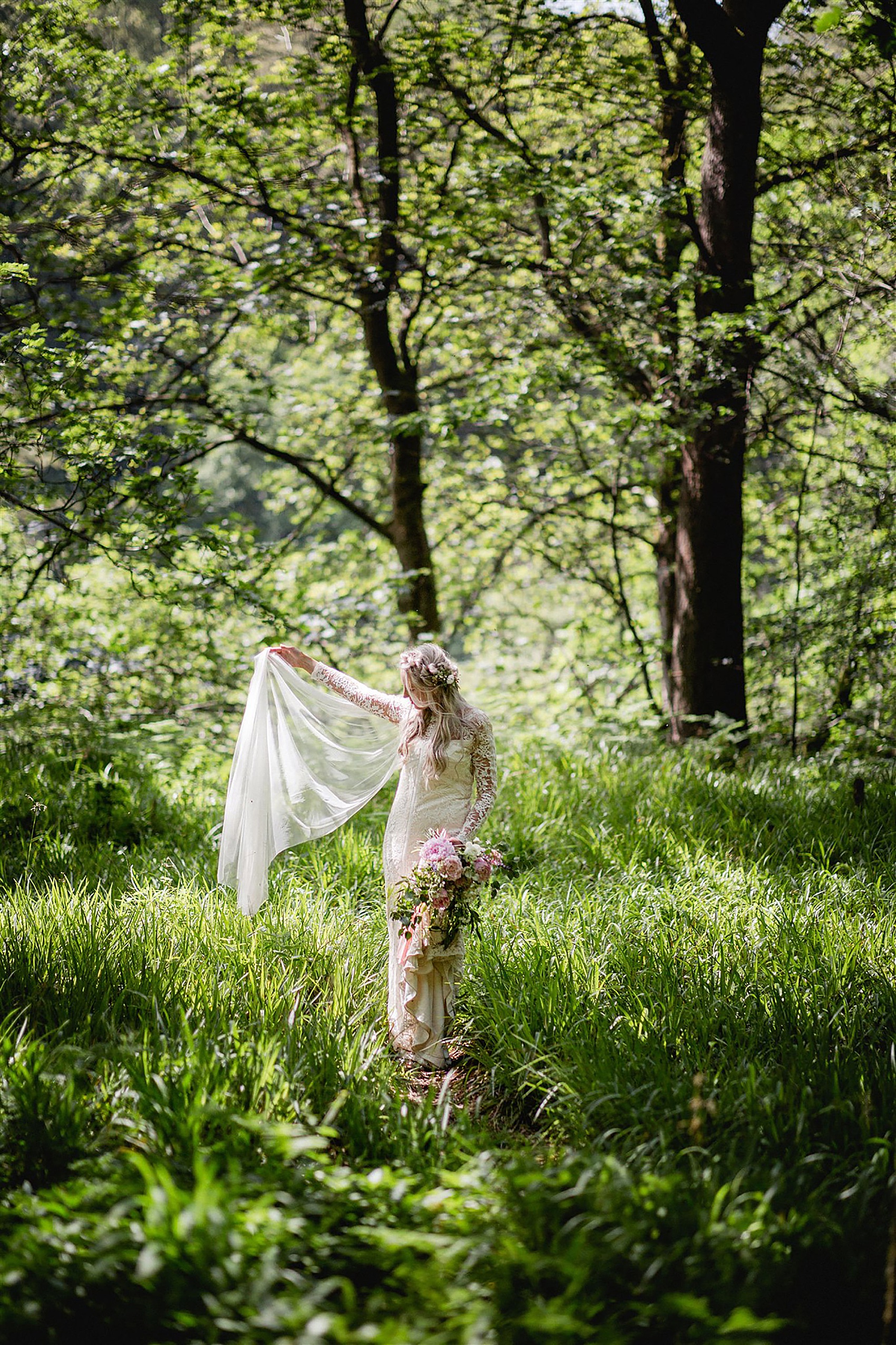 "We held our reception at The Arches, Dean Clough Mills. It's a beautiful space in an old converted Victorian textile mill.""
"The mill retains a lot of original features with the vaulted ceiling and Yorkshire stone floors, blending heritage and contemporary."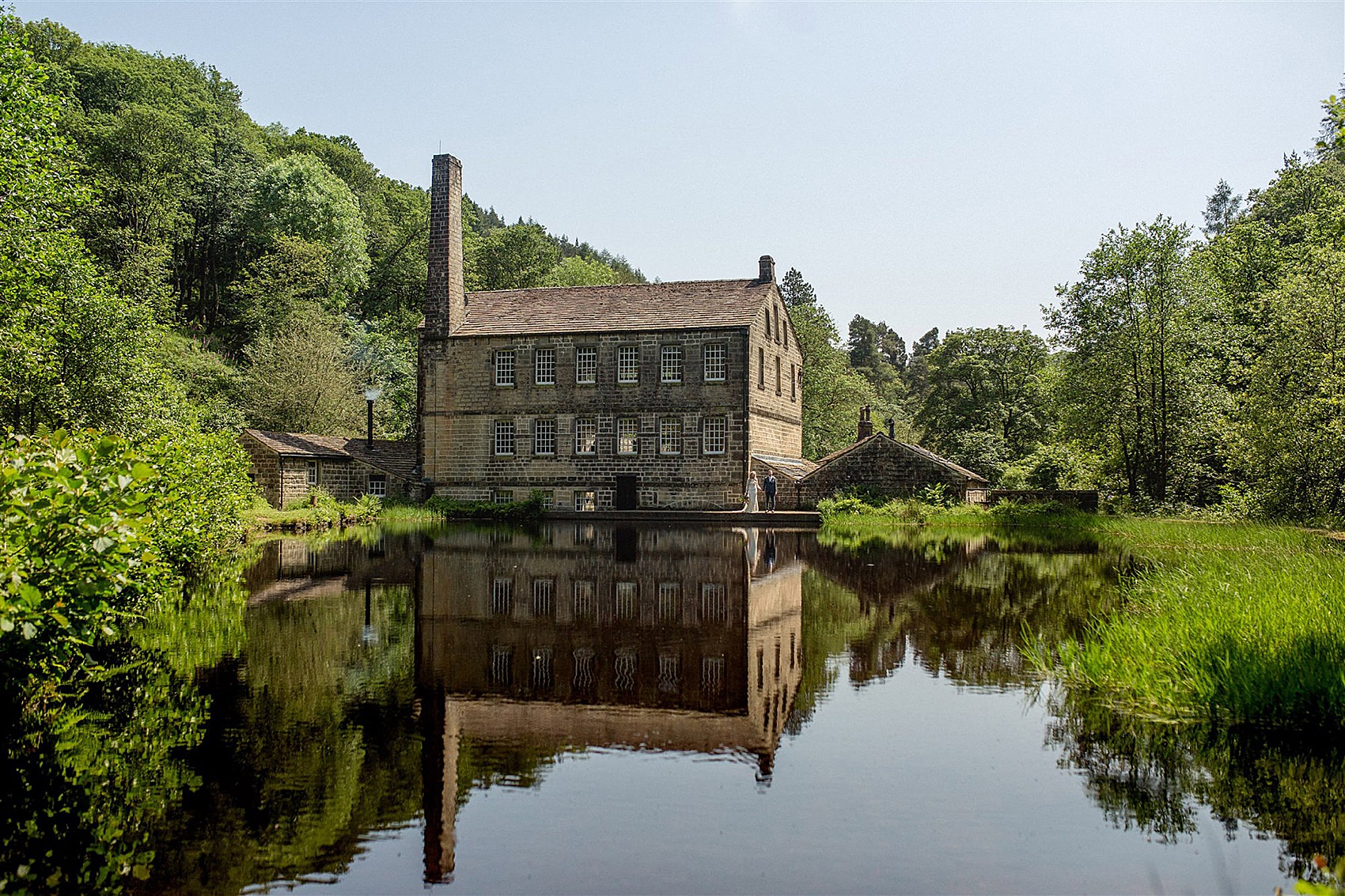 "The location is great for accommodation of varying budgets and transport links. They have an amazing chef and offer a variety of all-inclusive package, so we always knew where we were with our budget. The food at The Arches was absolutely fantastic, one of our top priorities for the day."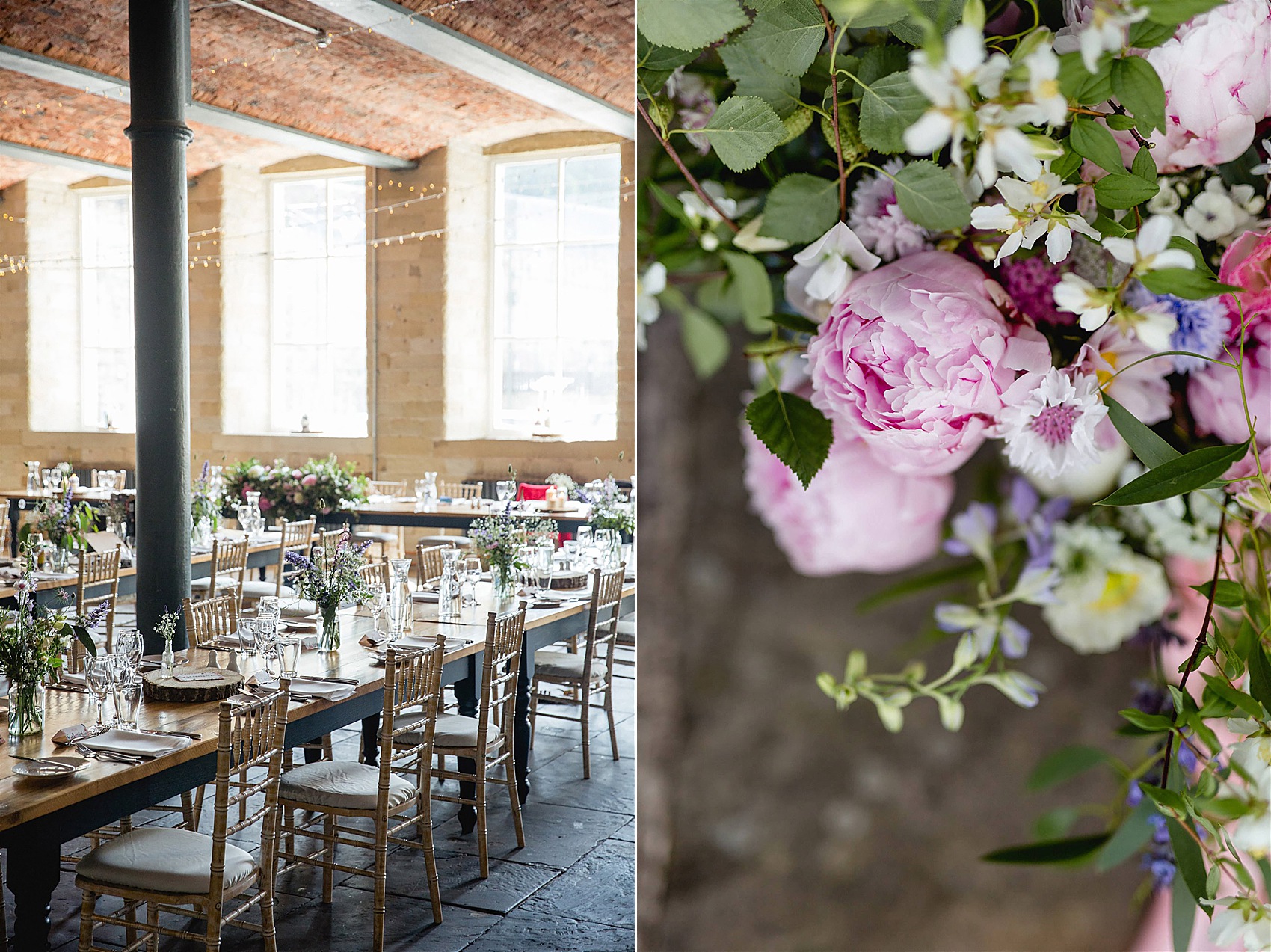 "The chef is so talented and catered for all different dietary requirements with really creative options. The whole team were on it but special thanks to Nicola and Dianne who helped to make our day so special."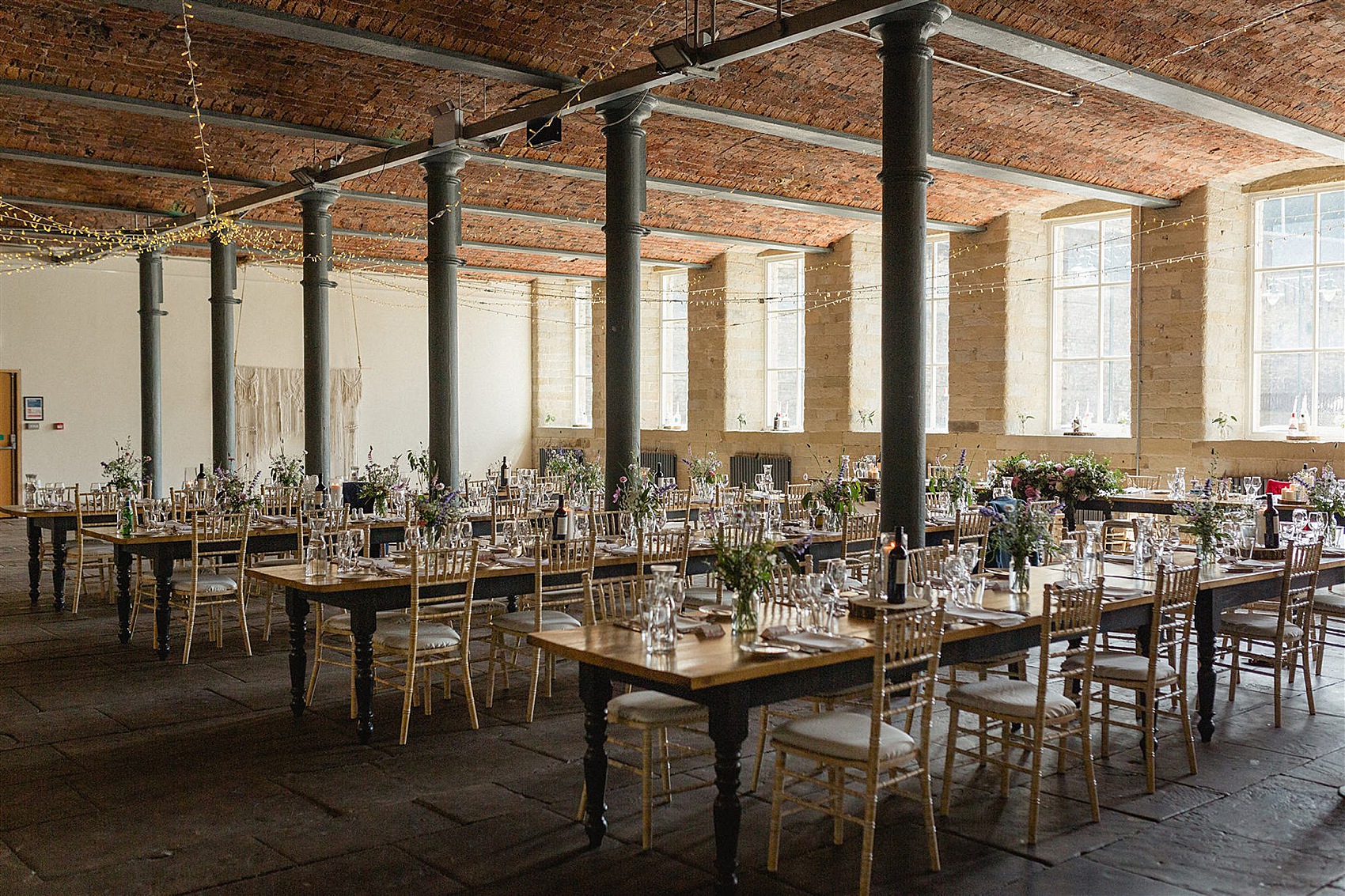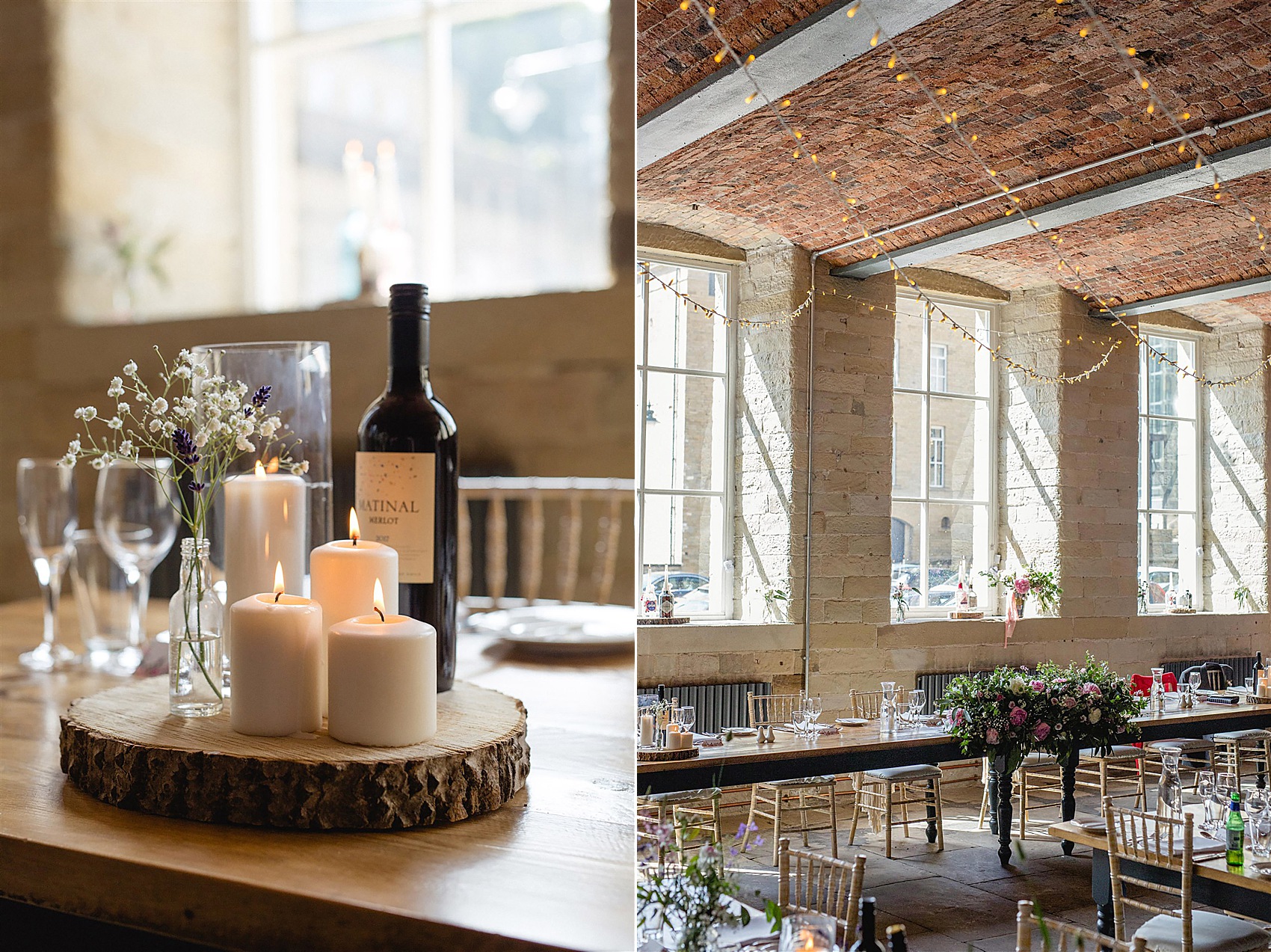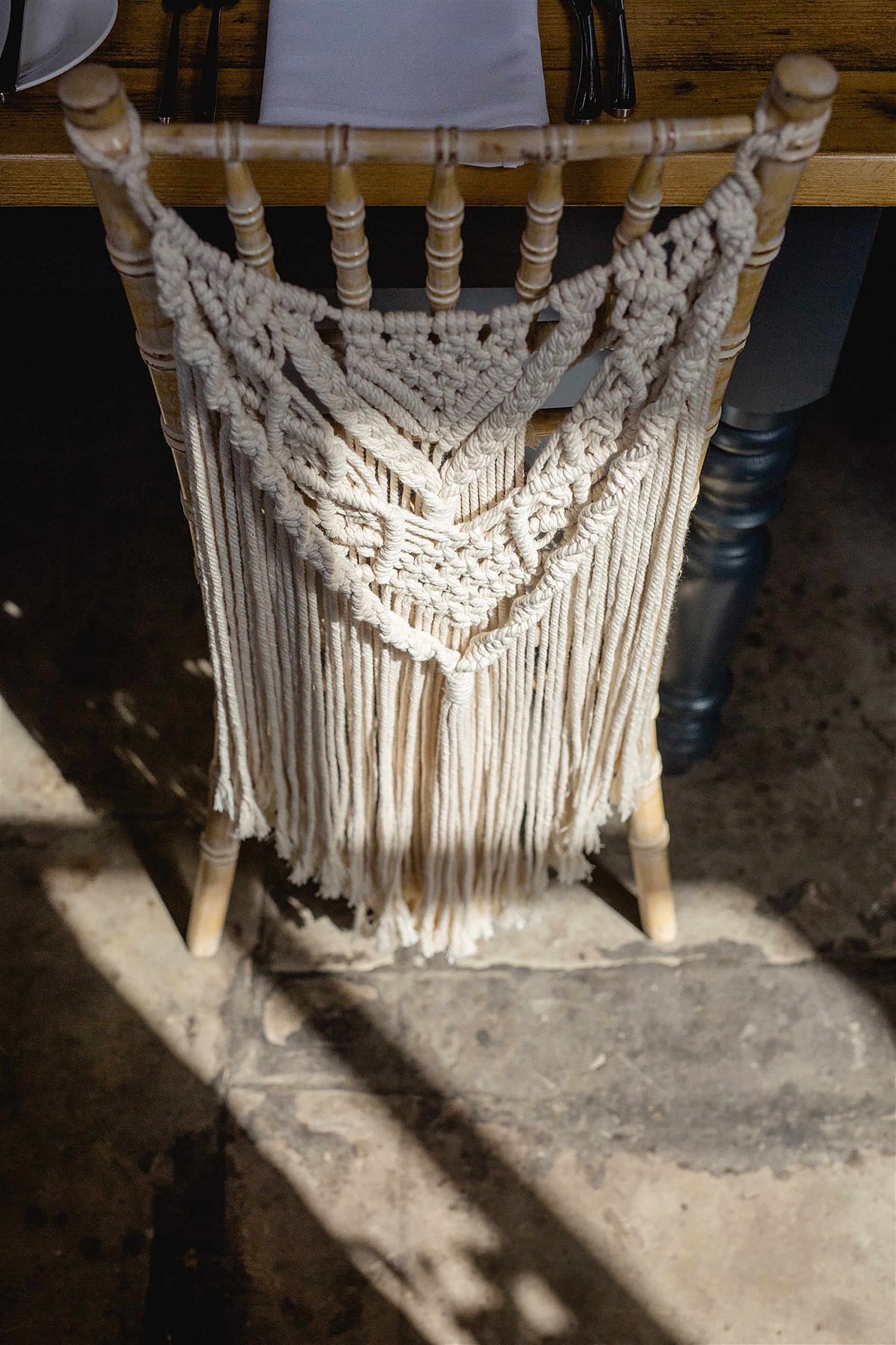 To set the floral, summer theme for the day, Beth got creative and designed her wedding stationery.
"After the invites and save the dates, I kept the stationery for the day simple with a seating plan and name place cards. I think you get to a point in the planning where you start to question if it's really necessary? Will you use it again? If the answer is no to both we ended up decided against it."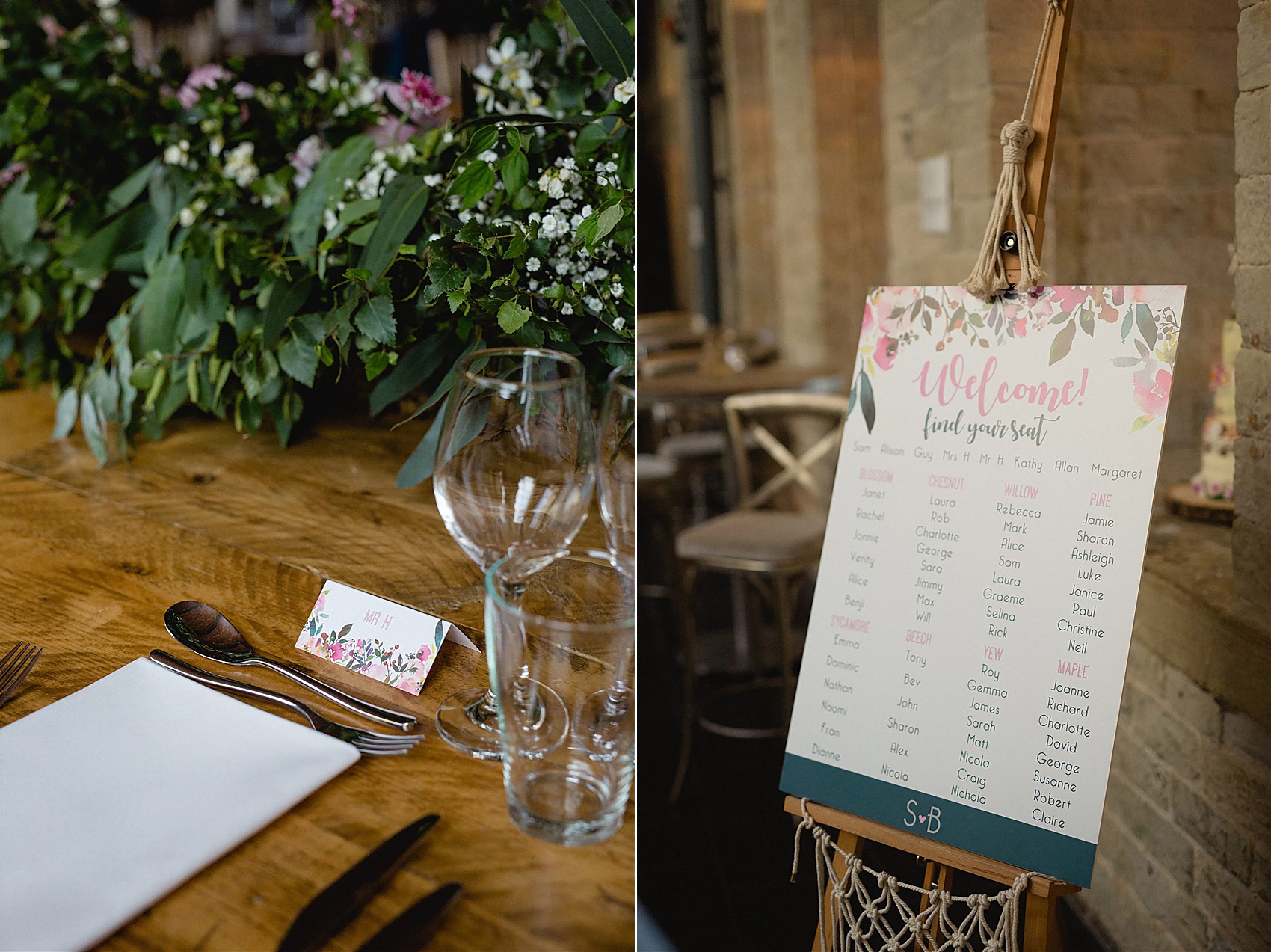 The wedding breakfast came courtesy of The Arches team, whilst one of the couple's friends baked the cake, complete with delicate, edible flowers.
"Our friend is an amazing baker who took on the challenge of the cake. It was a semi-naked, three-tier cake decorated with edible flowers and infused with gin and different citrus flavours. Although don't know whether it's just us but cutting a three-tier cake together is not a daily occurrence. Suddenly we found ourselves stood in front of everyone wondering how the hell to tackle this huge cake."
"Do you try cut from the very top to the bottom? Hide behind it and pretend to cut? Cut one tier only Excuse yourselves and have a quick strategy meeting? Slice a bit off the side? We went for the latter and thought we'd styled it out until the pictures came through – we still laugh at Simon's face now!"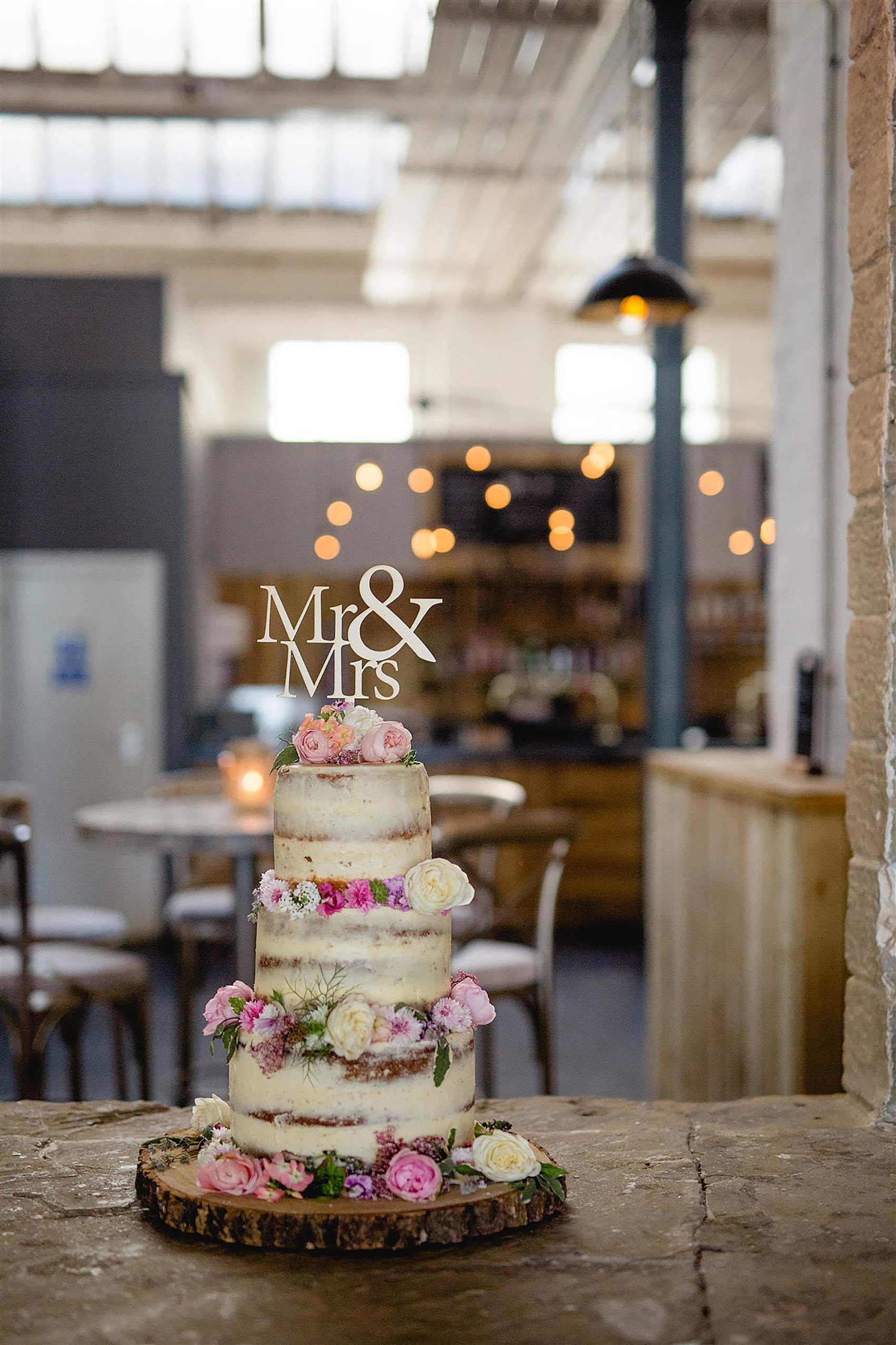 Simon and Beth also created the two macramé tassels whilst the rest of the woven décor was created by Beth's dad's partner.
"The theme for décor was wild flowers, candles, fairy lights and lots of macramé. I have always loved macramé and the natural crafty element lent itself so well to the space in the mills. Luckily my dad's partner is a macramé queen."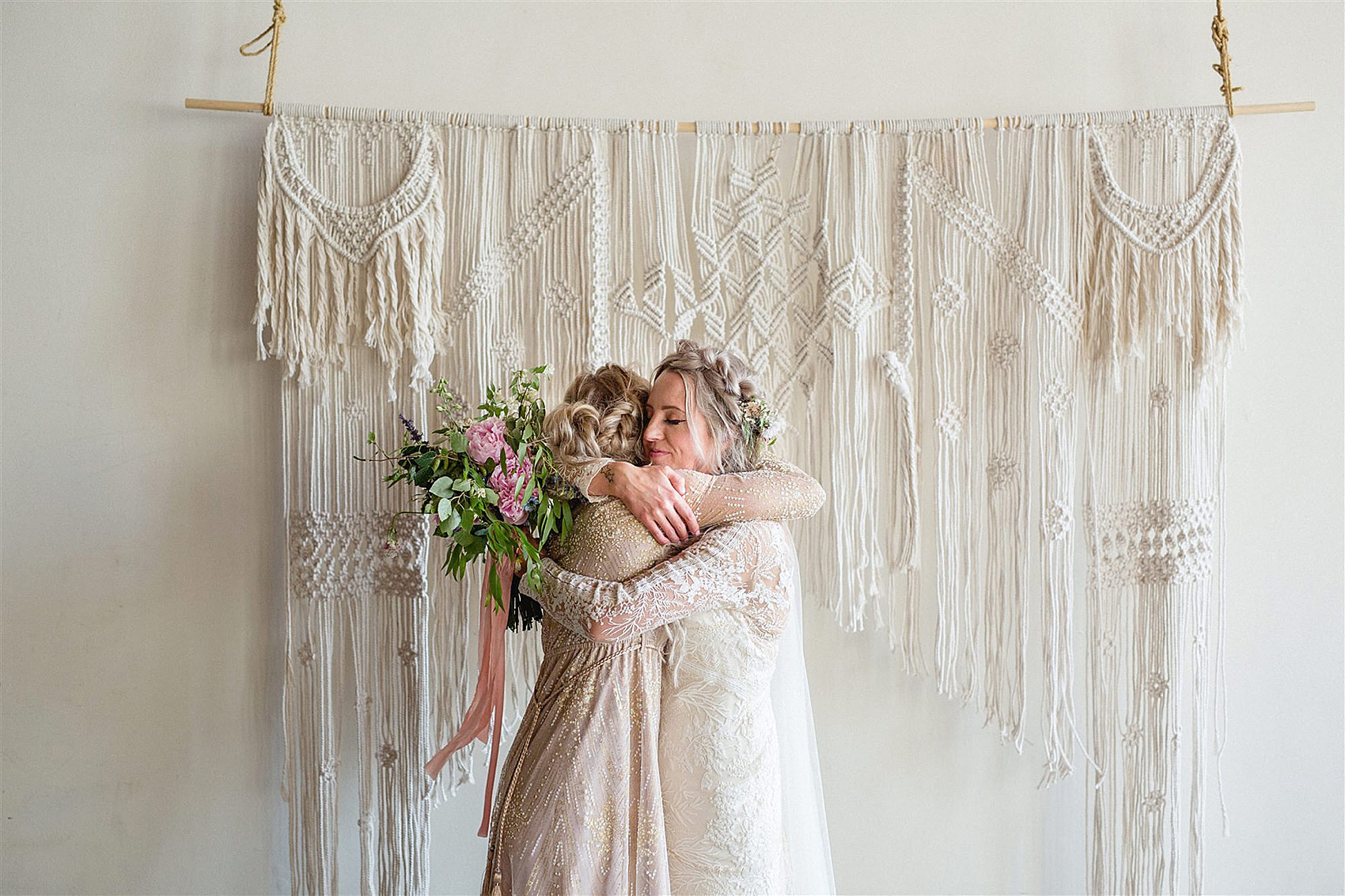 "She made all the macramé including the most beautiful hanging for the archway we placed at the altar, except for two large tassels me and Simon made to symbolise each of us. We didn't know it at the time but these are the things that become even more special as time passes."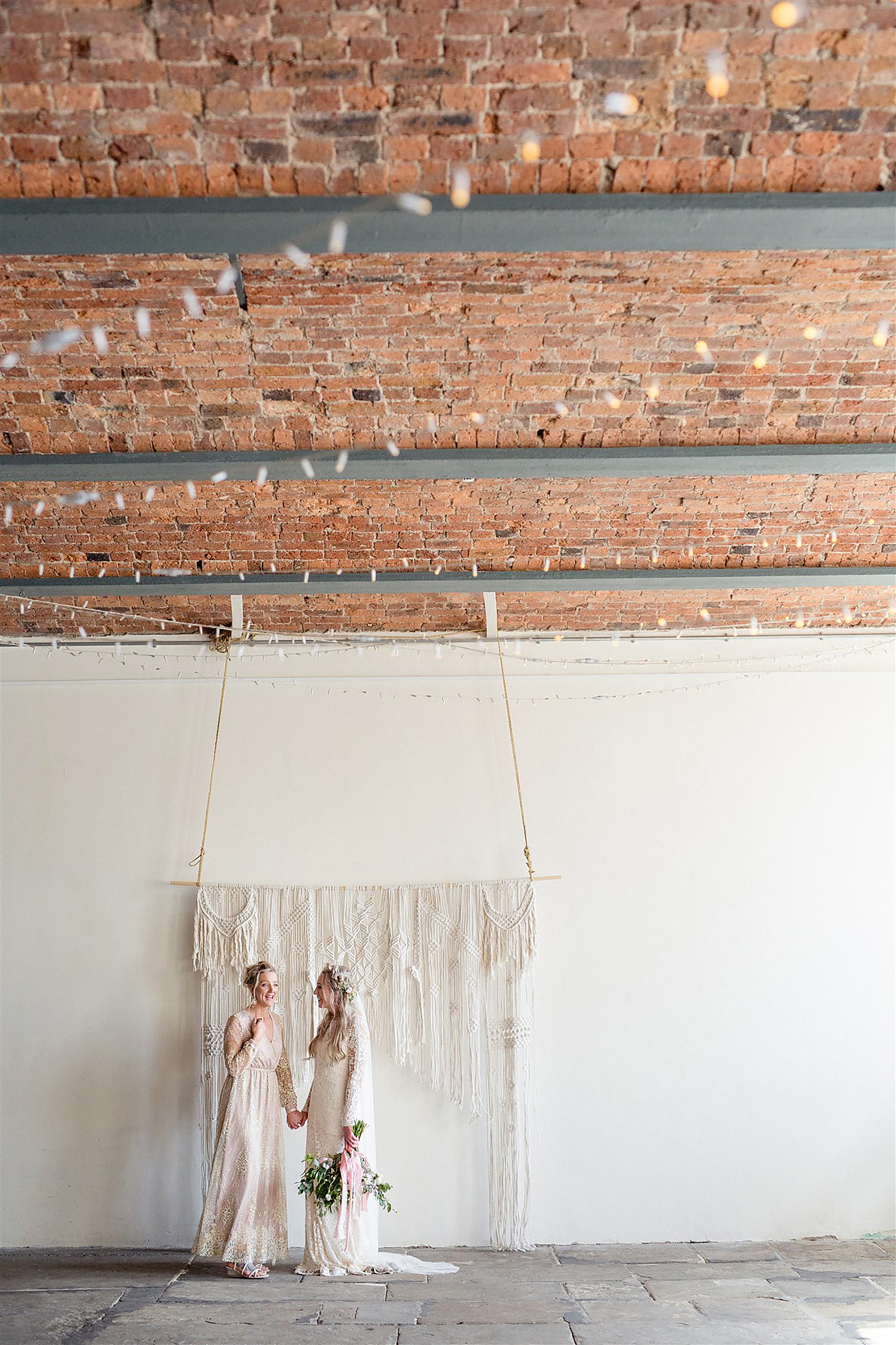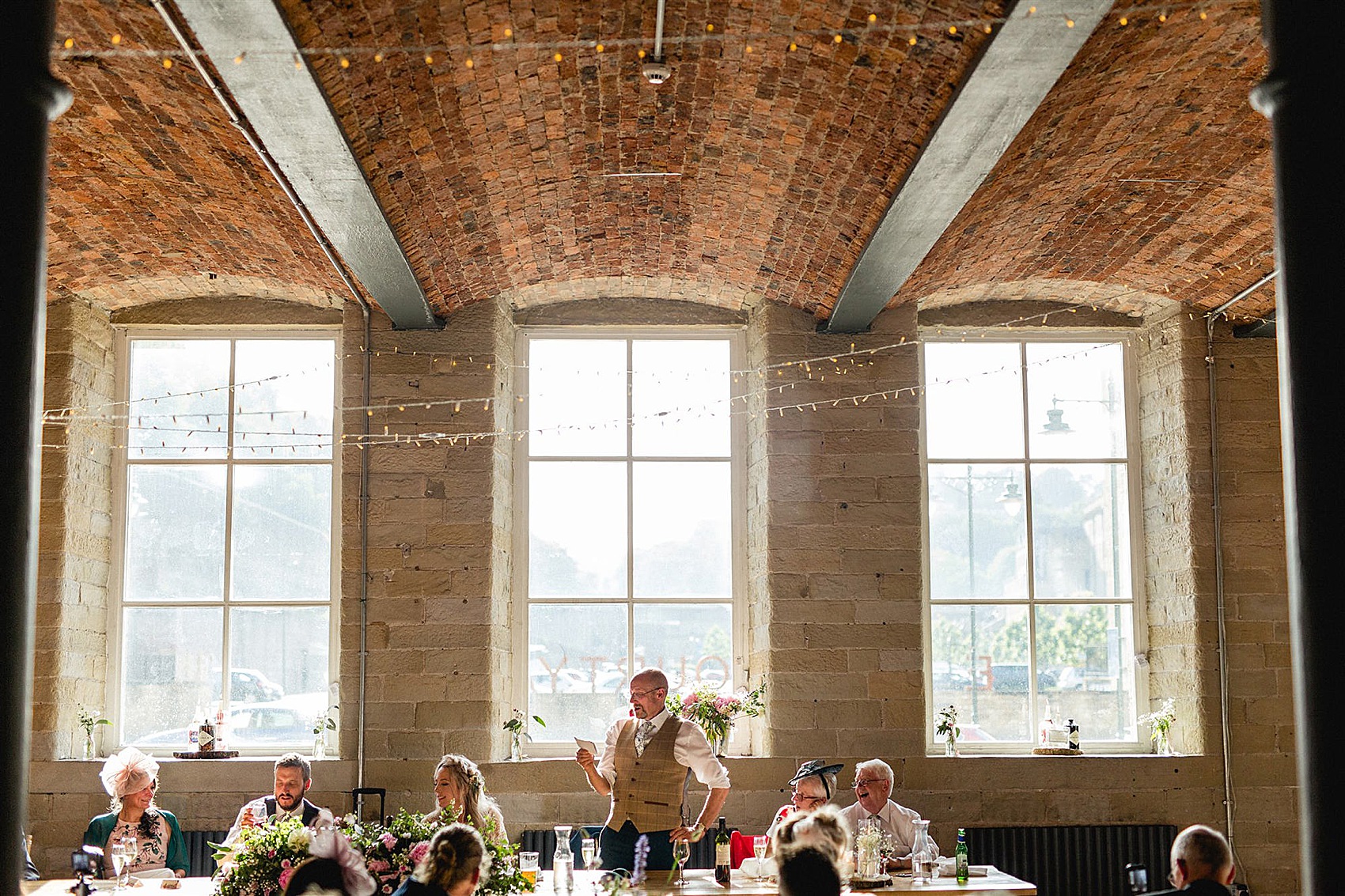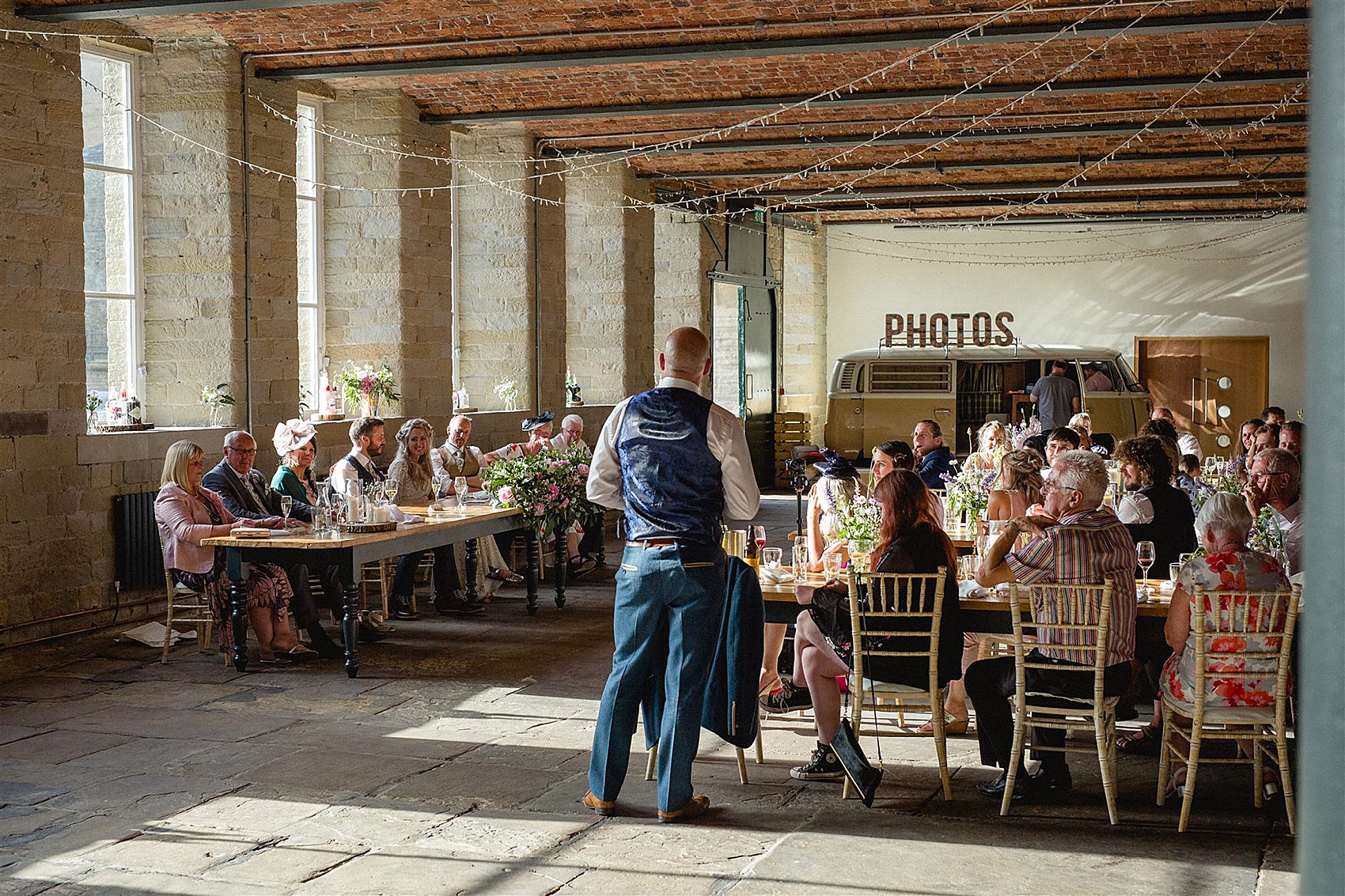 "Our first dance was 'Thinking Of You' by Sister Sledge. It's a song that means a lot to us and evokes so many happy memories. We choose it even though it's hard to dance to –  that's true commitment!"
The guests were kept entertained with a vintage VW campervan photobooth and, of course, dancing. The venue looks incredible with the late evening sunshine slanting through the windows to illuminate the newly-weds.
"The photobooth was in the back of a VW vintage campervan called Herman which was driven directly into the venue. We were a bit torn about whether we really needed this, but it kept people entertained for hours so was glad we went for it."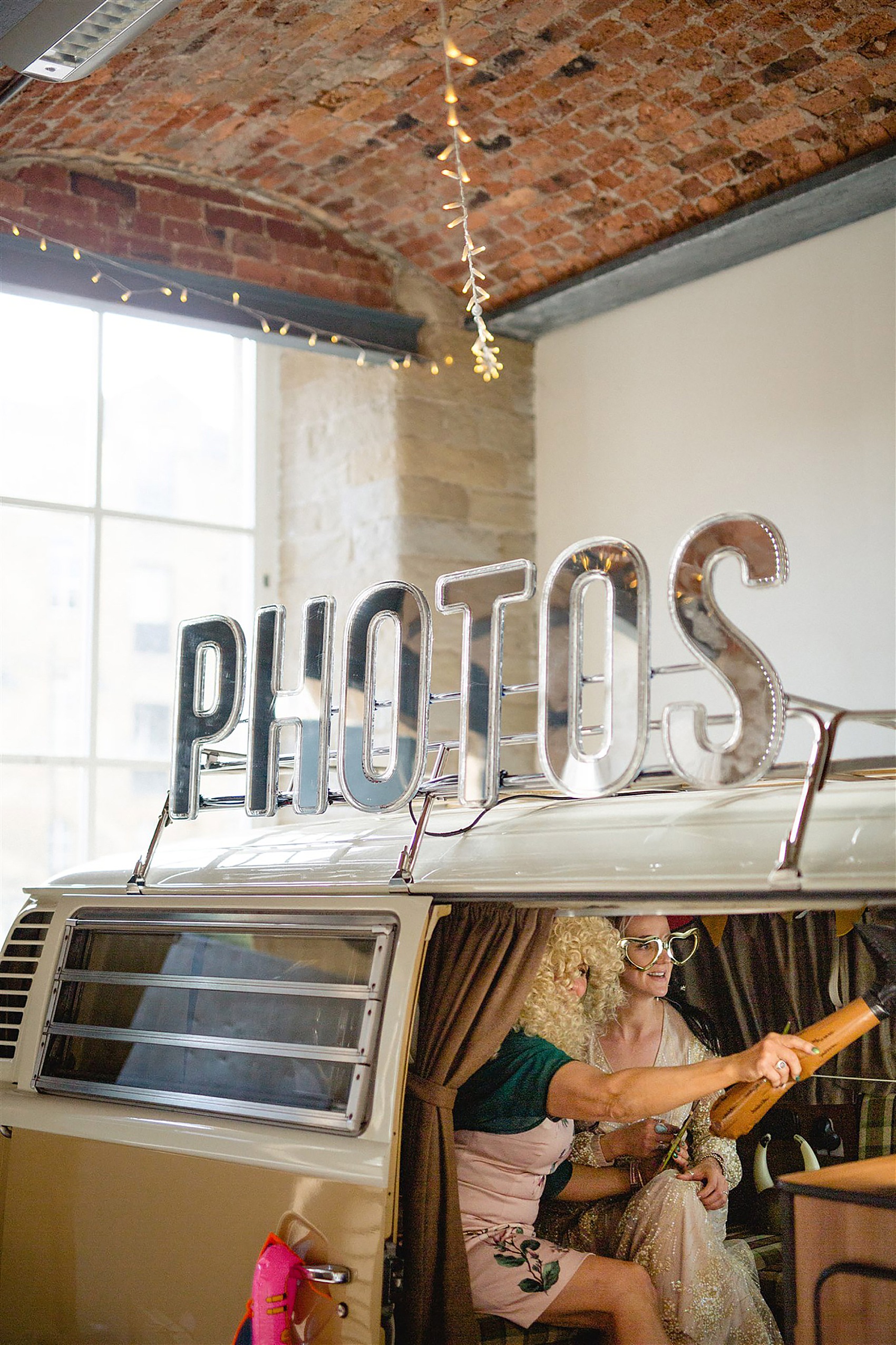 Words of Wedded Wisdom
"Go with your heart and be authentic to your own style and taste. It's so easy to get swayed and overwhelmed by the huge amount of options out there and other people's opinions."
"Remember you don't have to do everything. The wedding should reflect you as a couple; list the most important things to you both and keep them at the top of the priority list."
"Don't sweat the small stuff and know you will never be able to please absolutely everybody. No matter how much you plan and prep, not every single detail will go exactly to plan on the day but trust me when I say you will be having way too much fun to care!"
"Enjoy every single second."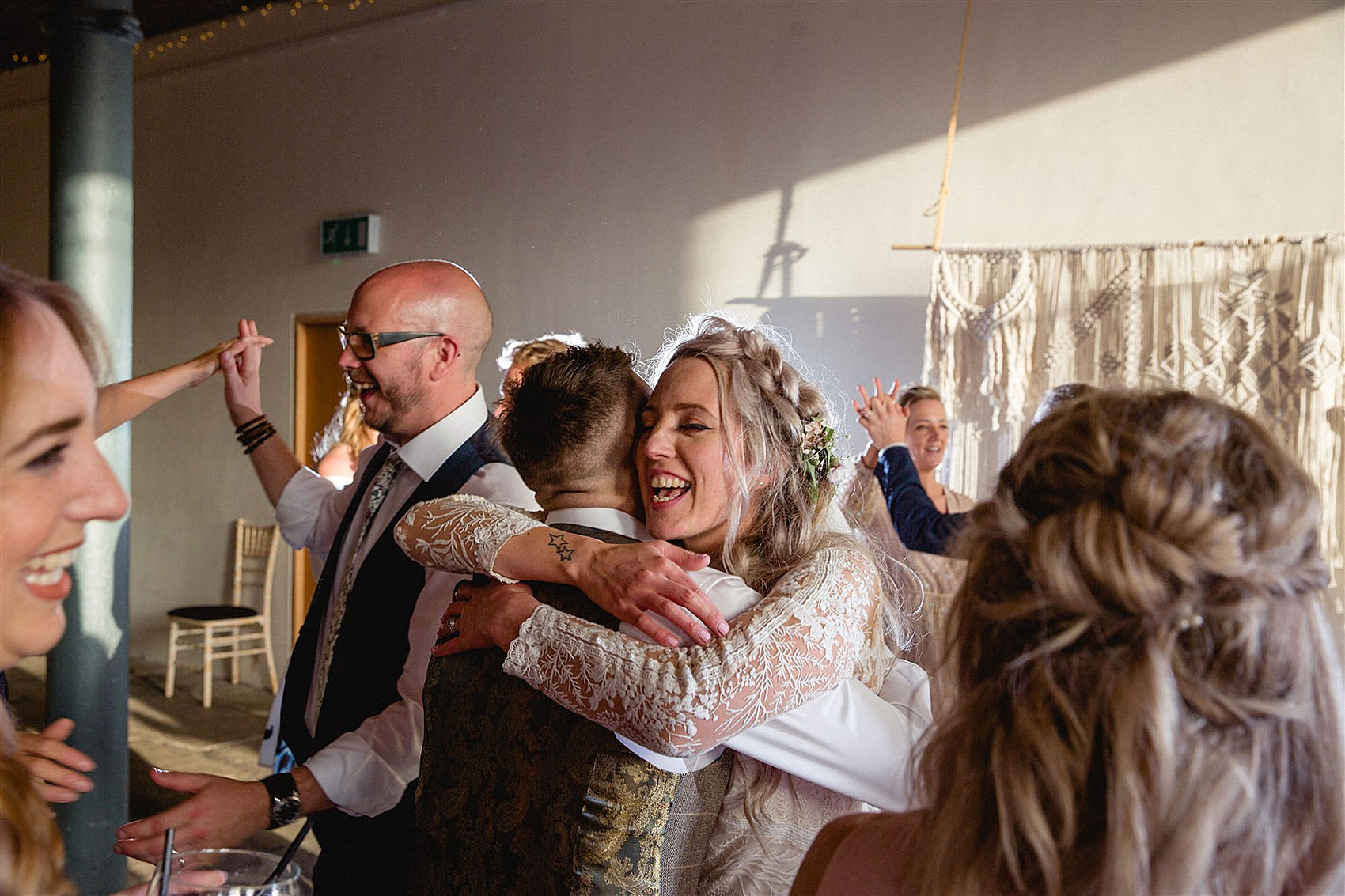 This wedding sings of summer, so thank you Beth and Simon. I hope you had a wonderful day, and a very happy anniversary too. Of course, thanks to Mark Newton Photography for your beautiful, light-filled photography.
For more nature-inspired wedding inspiration I invite you all to discover these Love My Dress weddings.
Eleanor x