Hello loves, I hope this finds you well and surviving amidst this rather drab and dreary, rainy week! Prepare for the heatwave next week, it's going to be scorching by the looks of it!
Let's get to today's beautiful wedding of Ash and Paul, who tied the knot on 27th September last year at Wickbottom Barn near Marlborough. We're really proud t learn that our Little Book member, Claudia Rose Carter, photographed this beautiful day.
"We found Claudia Rose Carter, our Photographer and then noticed that an old friend of mine had used her as well. We read our friend's wedding story on Love My Dress and fell in love by the way Claudia had shot the day. We're so glad we found her."
Claudia Rose Carter

+ Follow
"We organised our entire wedding ourselves. We really wanted the day to truly reflect us and our vision. It was a lot of work as we had to hire in every element (down to luxury loos and cutlery)."
"It also took a lot of time and coordination and at points, it felt very stressful (like loading a van full of props, booze and a pink Smeg fridge weighing over a tonne and a half, just after I'd had my wedding nails done!). But it was all completely worth it to see the day we created come together so magically."
"Paul is from Devon and I'm from Manchester so we wanted a mixture or raw, informal and laid back. Neither of us are religious so we had a legal ceremony with close family a few days before and then a humanist service on the day."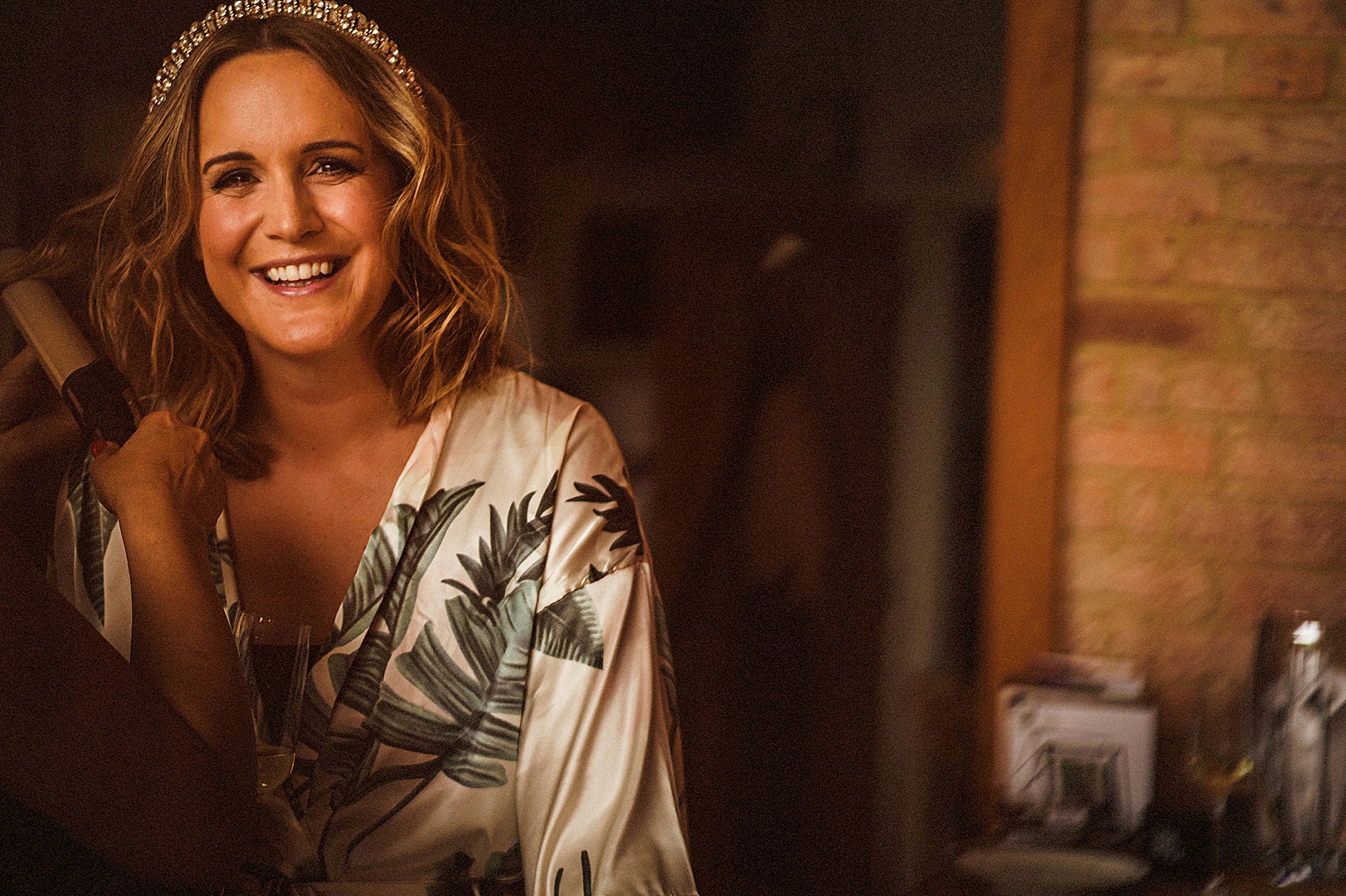 Ash wore a pre-owned dress by ​One Day Bridal.
"I bought my dress second hand. I absolutely fell in love with the dress and then found out the full price and it was double my budget. I then was told about Still White and found a dress in my size in Sydney."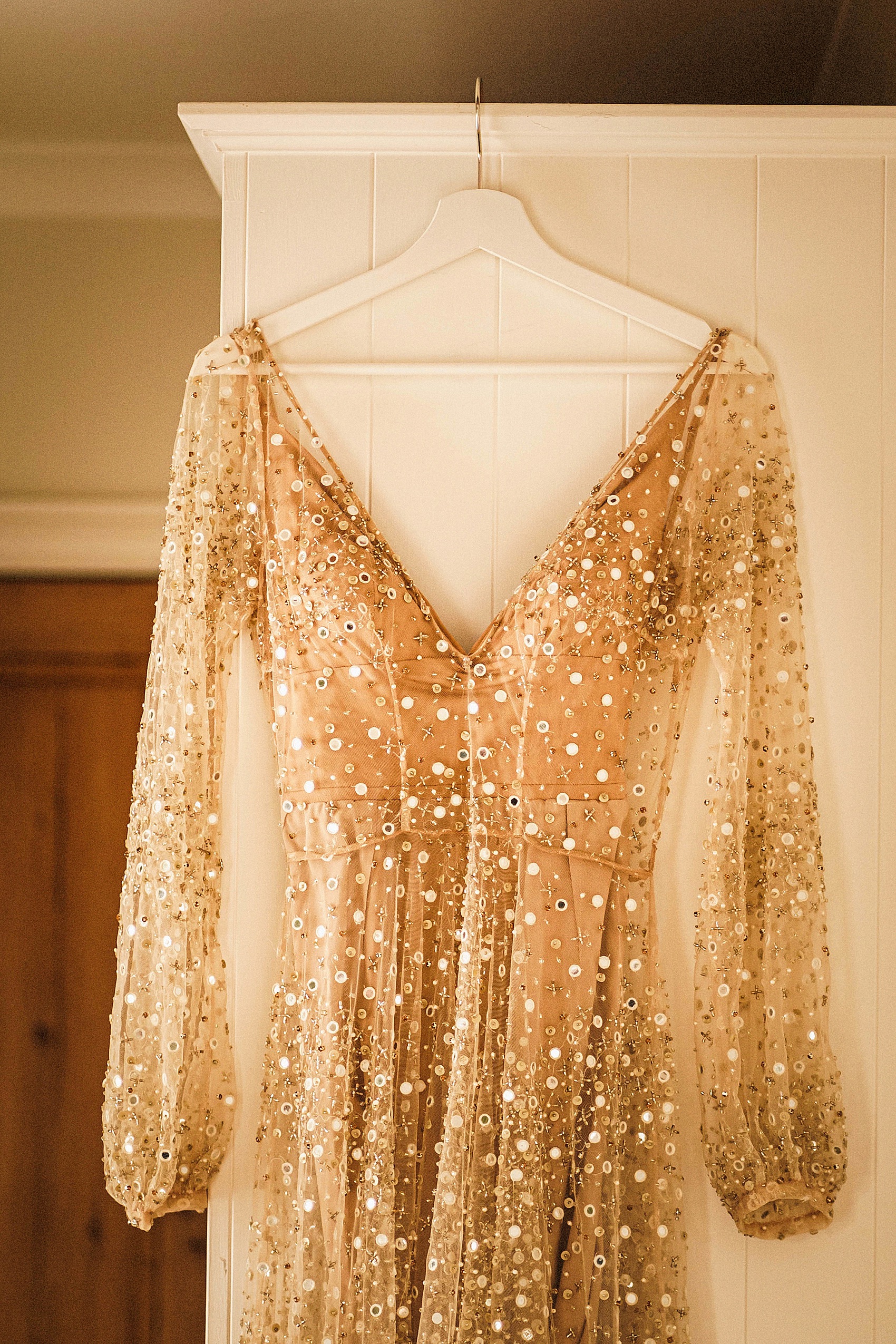 "I connected with the women who was selling it and ended up purchasing it from her. A good friend of mine who lived in Sydney picked it up and another friend flew it back with them on the way home off a holiday."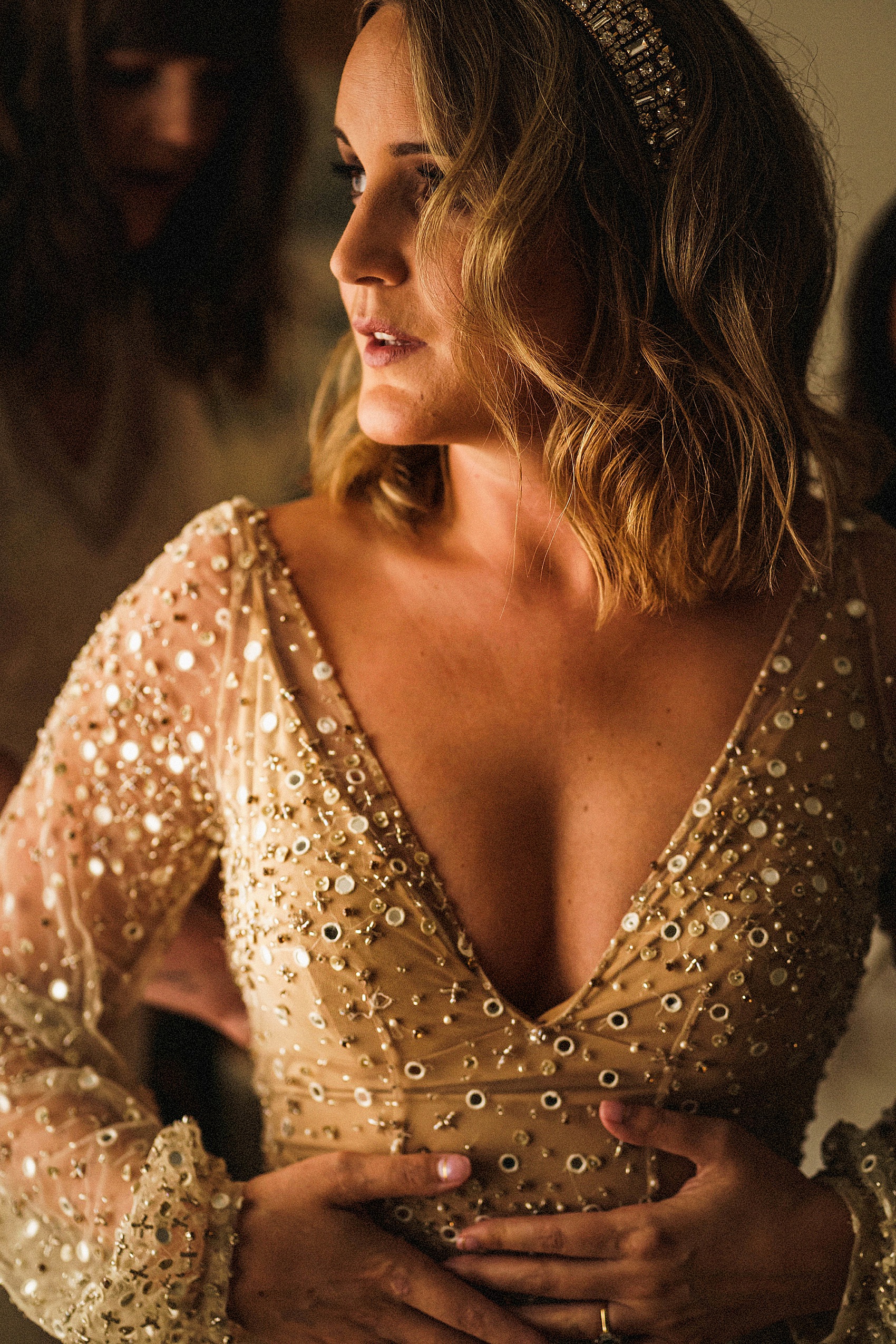 "I tried it on back home and loved it. I loved that it came with a back-story and off the back of another beautiful wedding and was happy that I could put it back to good use. I'm still considering reselling the dress as would love someone else to wear it and love it as much as I did."
"I didn't wear a veil – I felt the dress spoke for itself, but I ended up purchasing a headband from Zara the week before on a whim that cost just £20 and I got so many compliments on the day for it."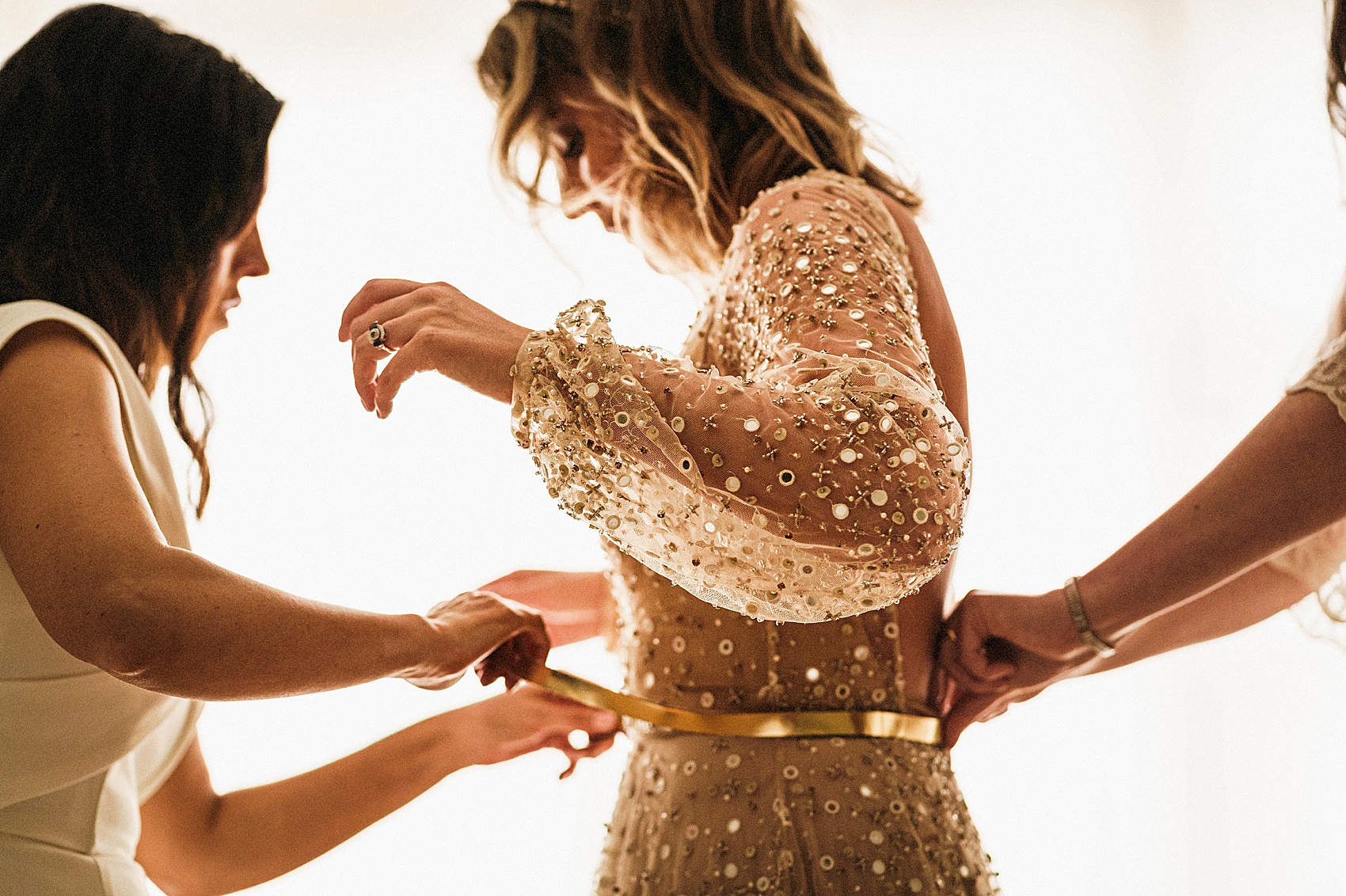 "A few friends chipped in for my Gucci wedding shoes as a bridal gift and they're my favourite shoes of all time."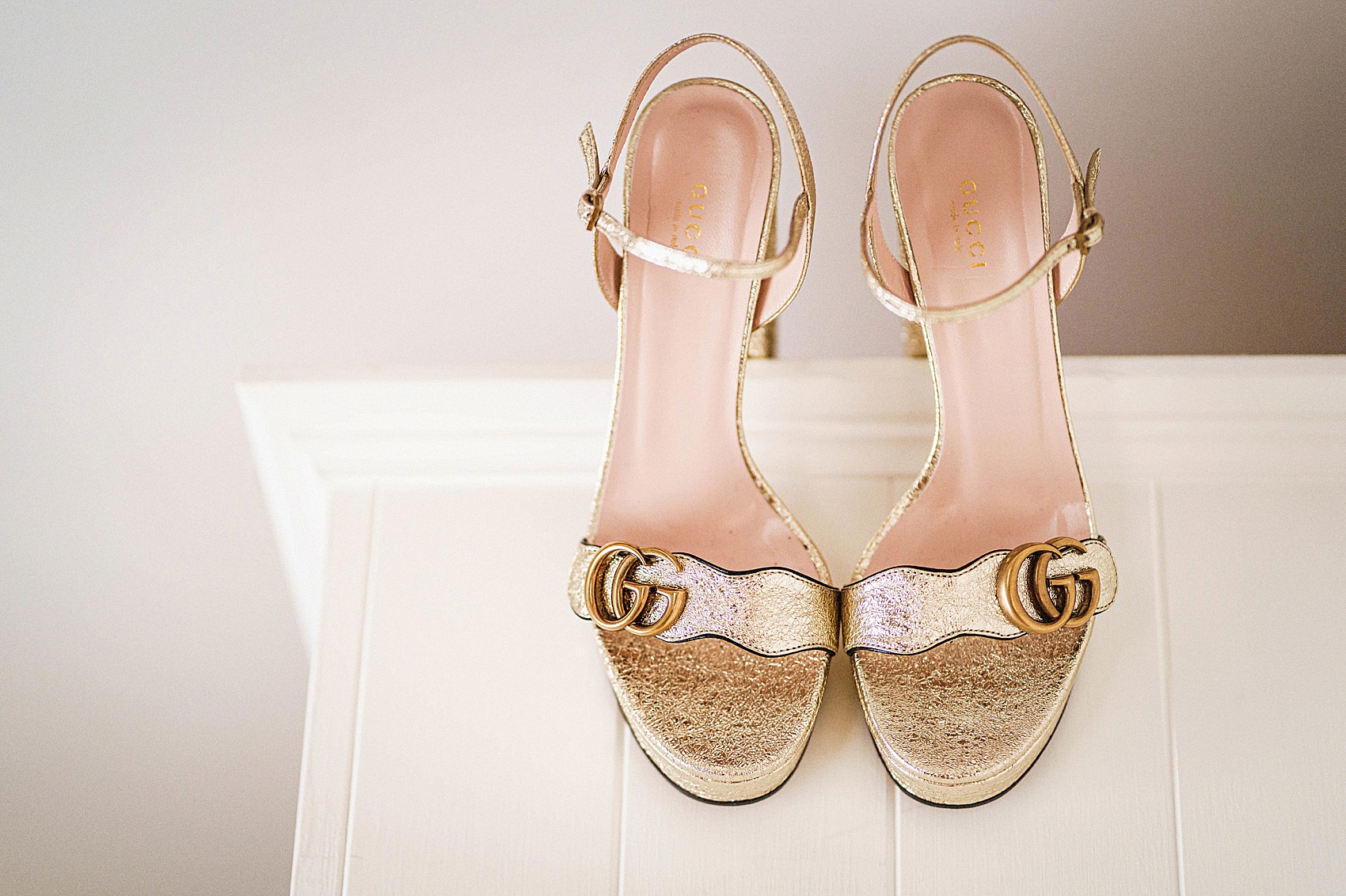 "I made Paul meet me in the Gucci store on Bond street to make sure they weren't too high as I haven't worn shoes that high for a long time."
"I bought some gold converse to change into for the evening so I could dance the night away and never needed them. The Gucci shoes were super comfortable."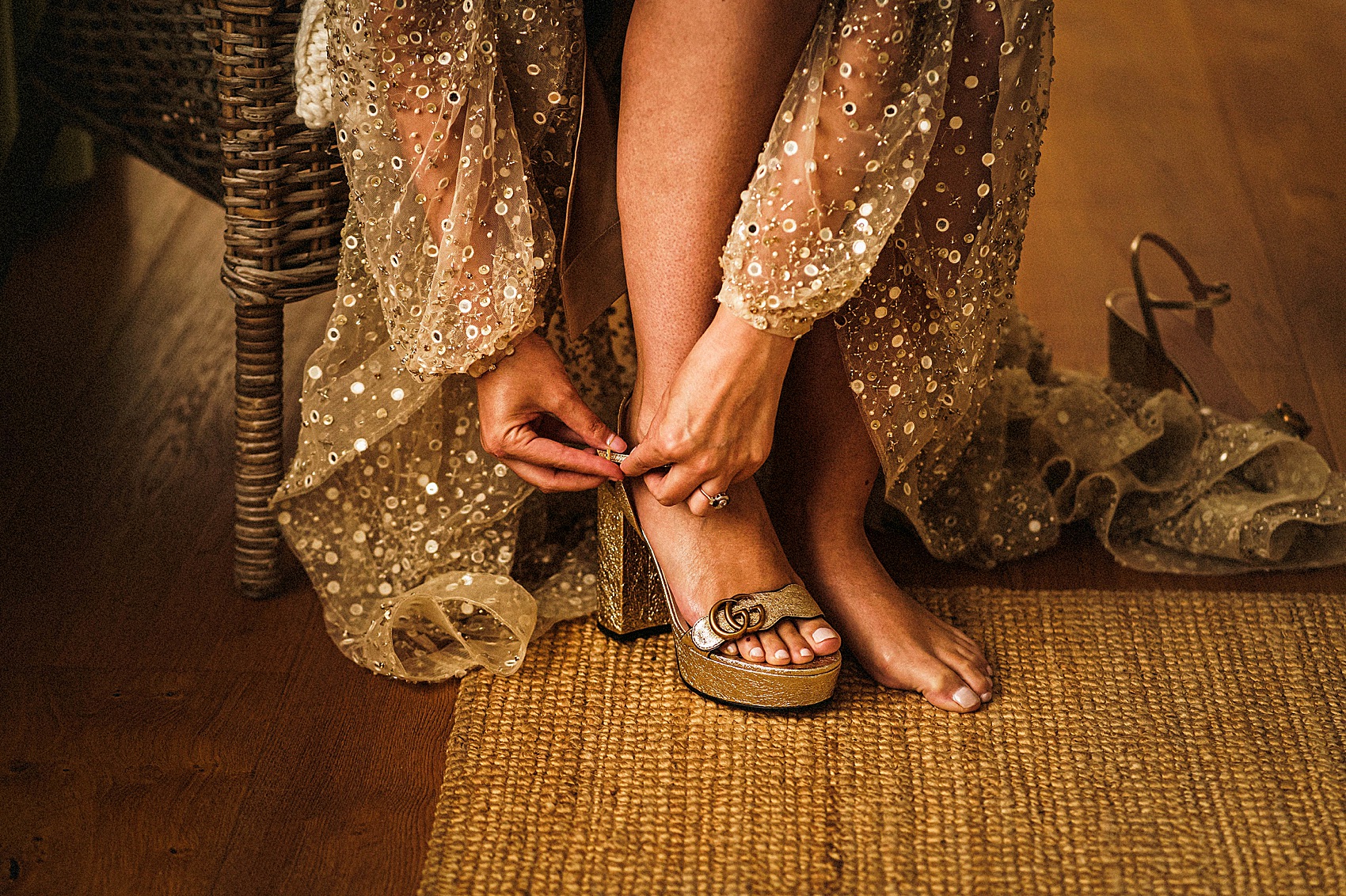 The bridesmaids each wore their own choice of dress, and carried sweet pink bouquets.
"I loved every element of my wedding wardrobe but the dress in particular I both loved but was nervous as it wasn't traditional. I knew it would look perfect in the venue with the hundreds of candles and fairy lights so I stuck to my guns."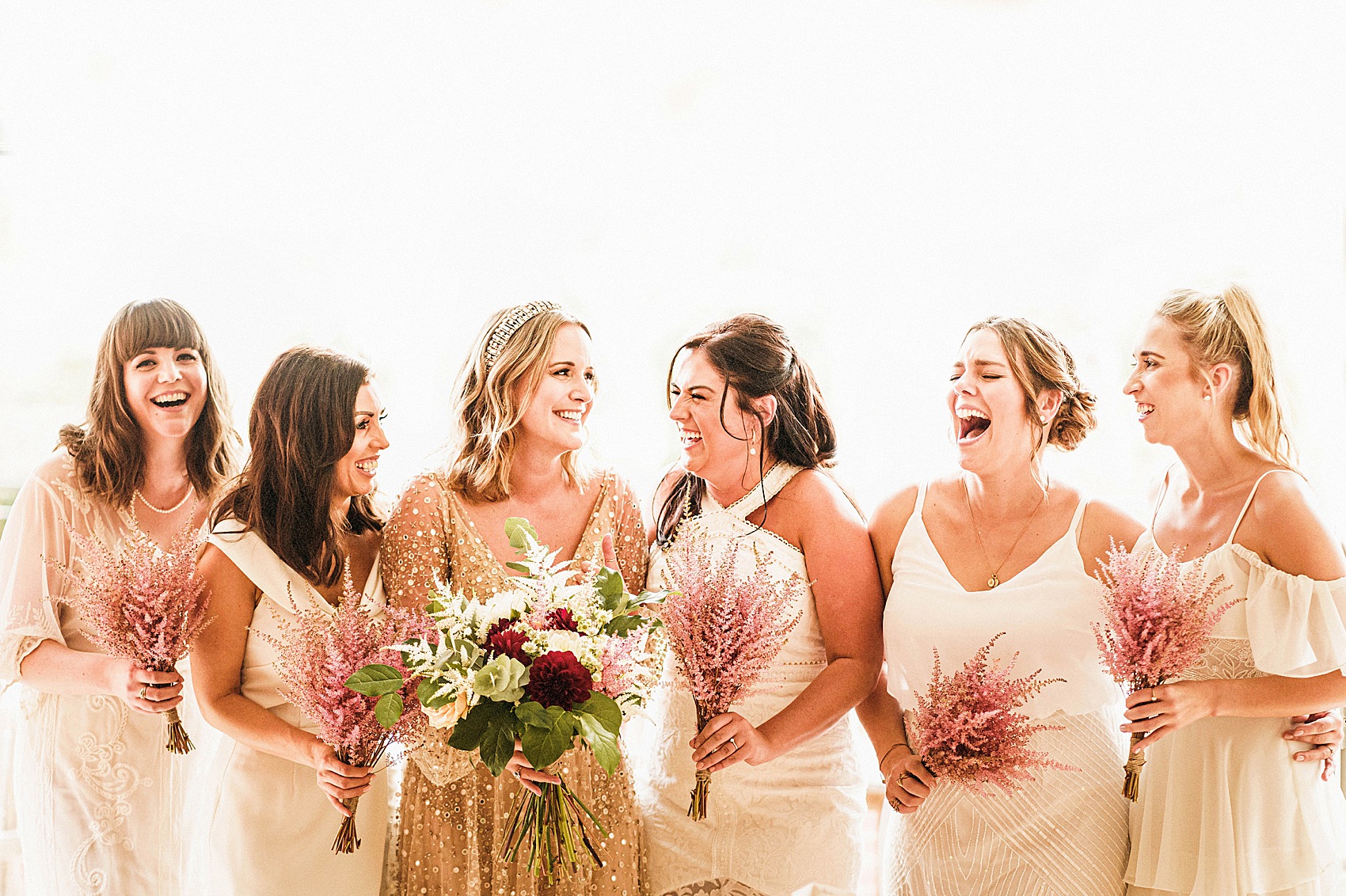 We chose Wickbottom Barn because is was a blank canvas and had no corkage fees, or curfew. It's a nicely rustic and relaxed venue, which fits us both perfectly. Both coming from creative backgrounds, we really wanted to put our own stamp on it so this allowed us to choose every element to create a day that truly represented us and our style."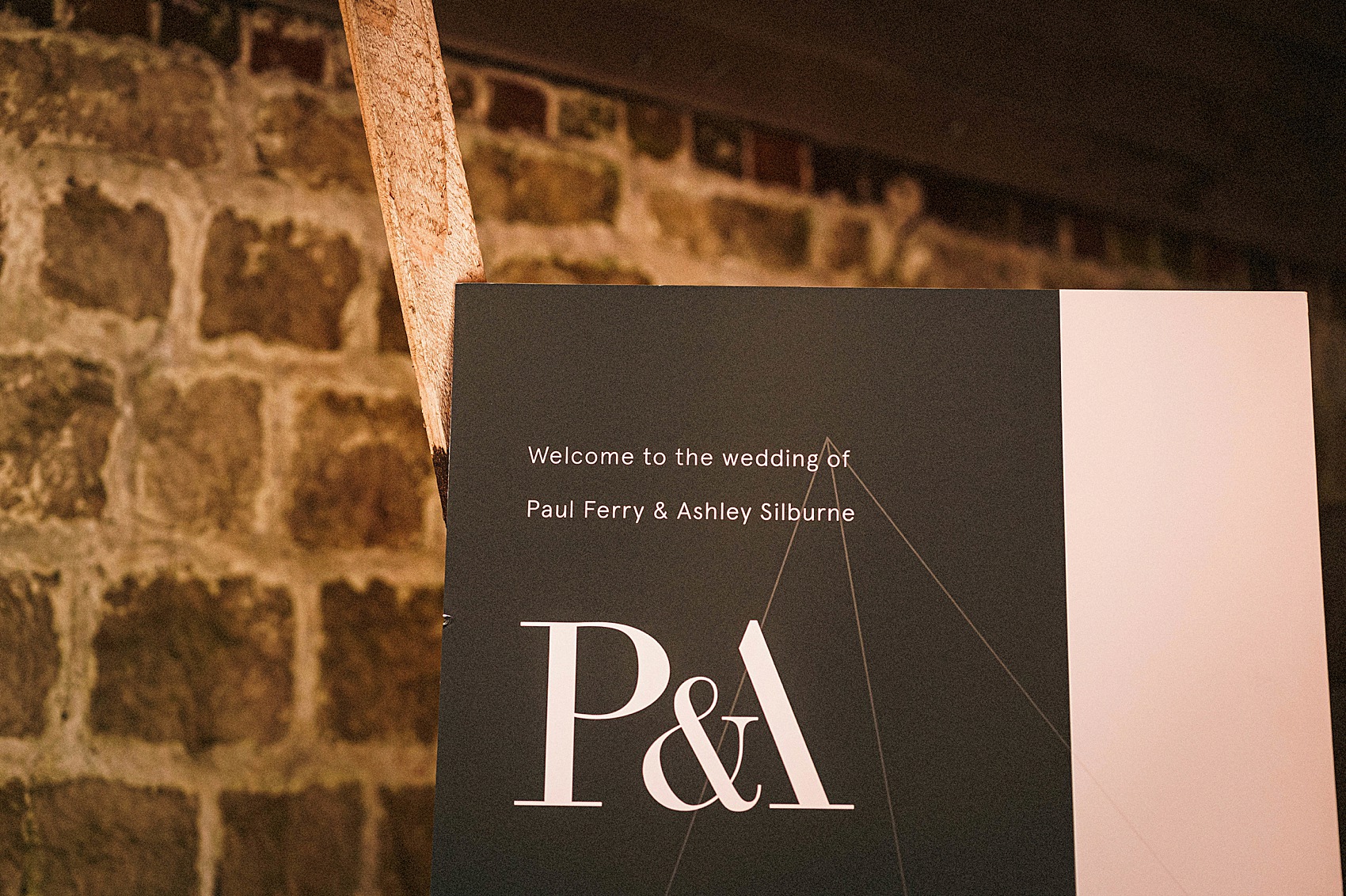 "Paul's friend drove me and my bridesmaids to the ceremony in his orange VW camper van."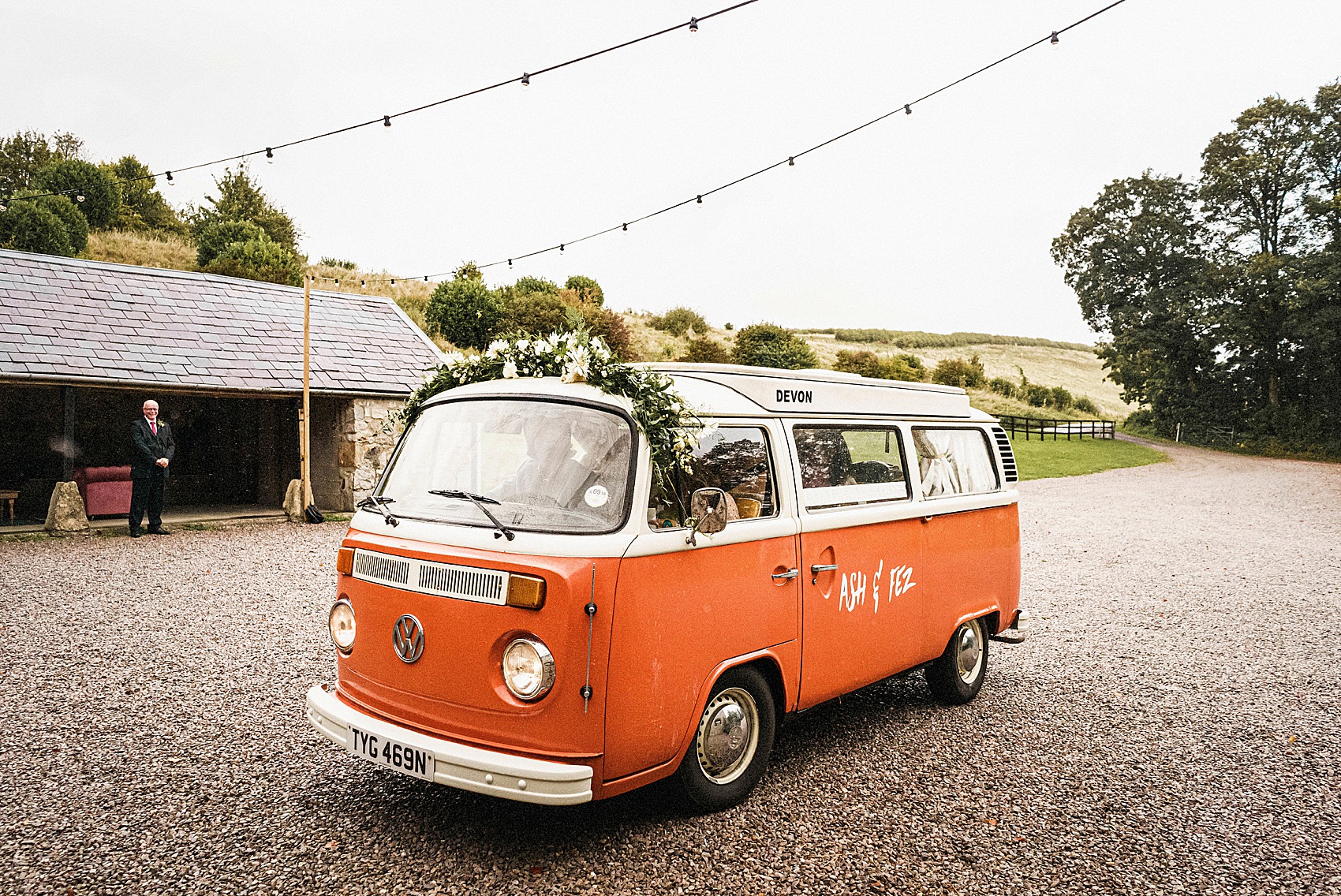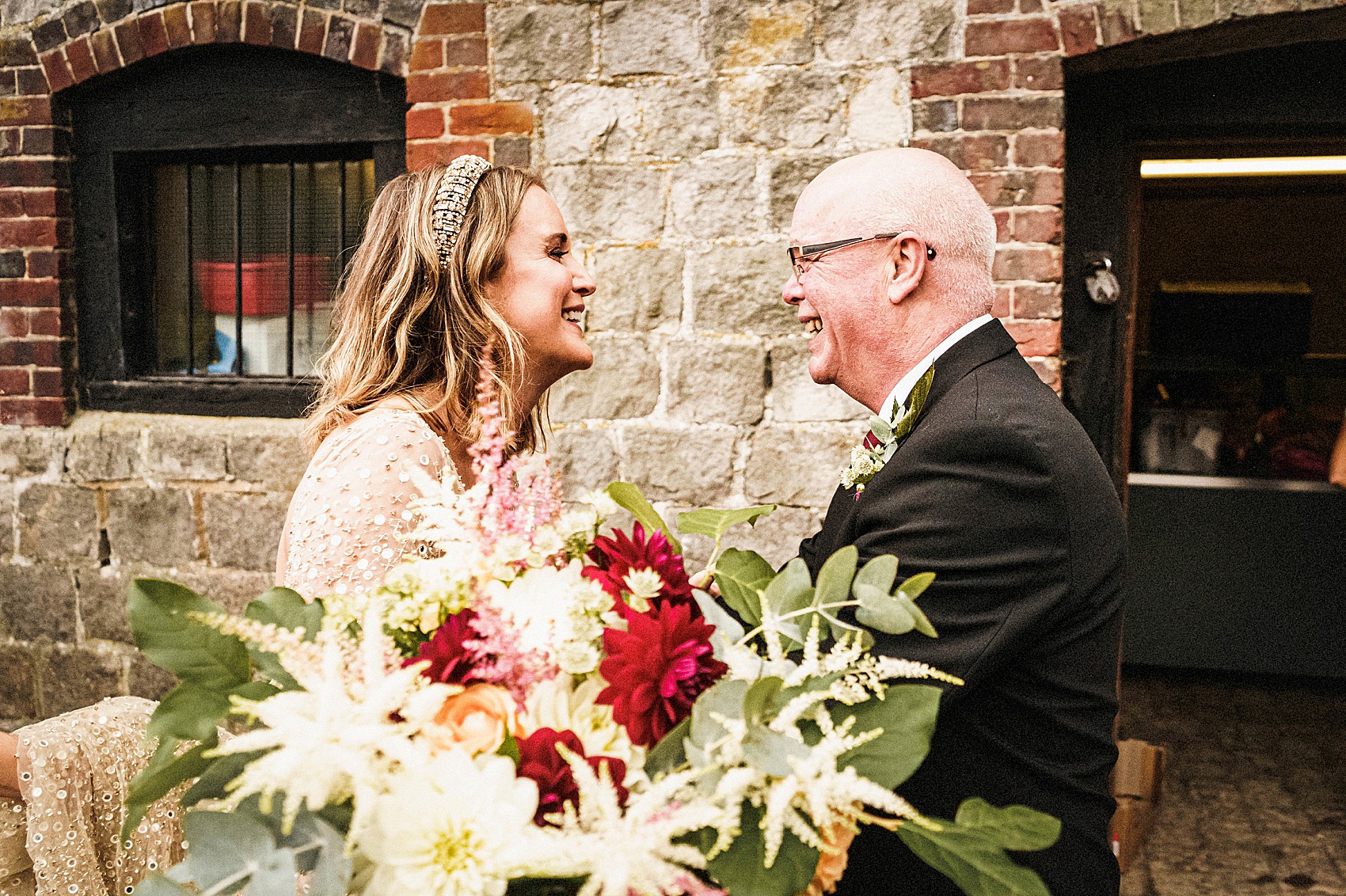 The groom was kitted all out in a beautiful burgundy suit by Burberry.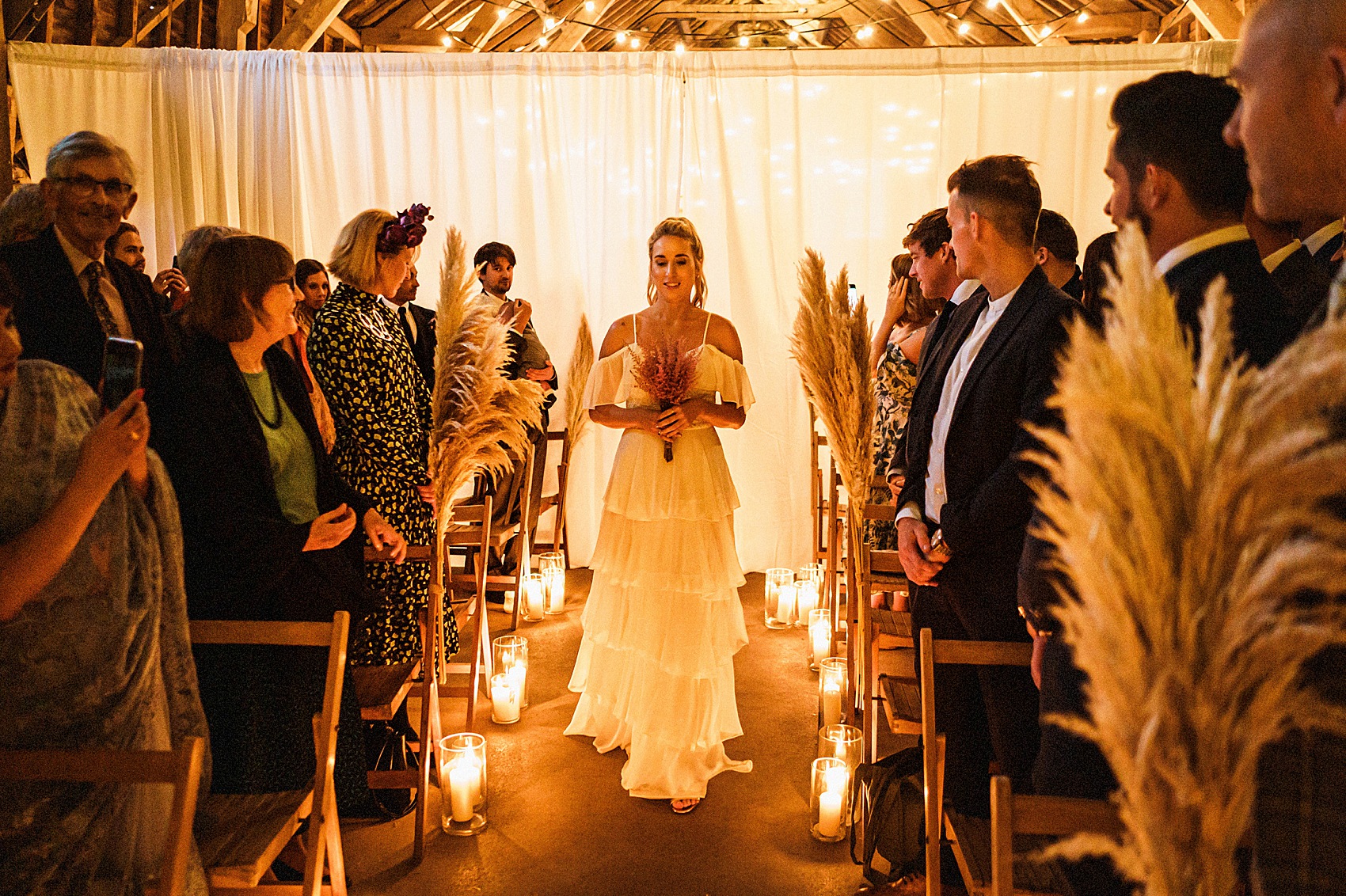 The bride's father accompanied her into the ceremony to the sound of 'I Found', by Amber Run.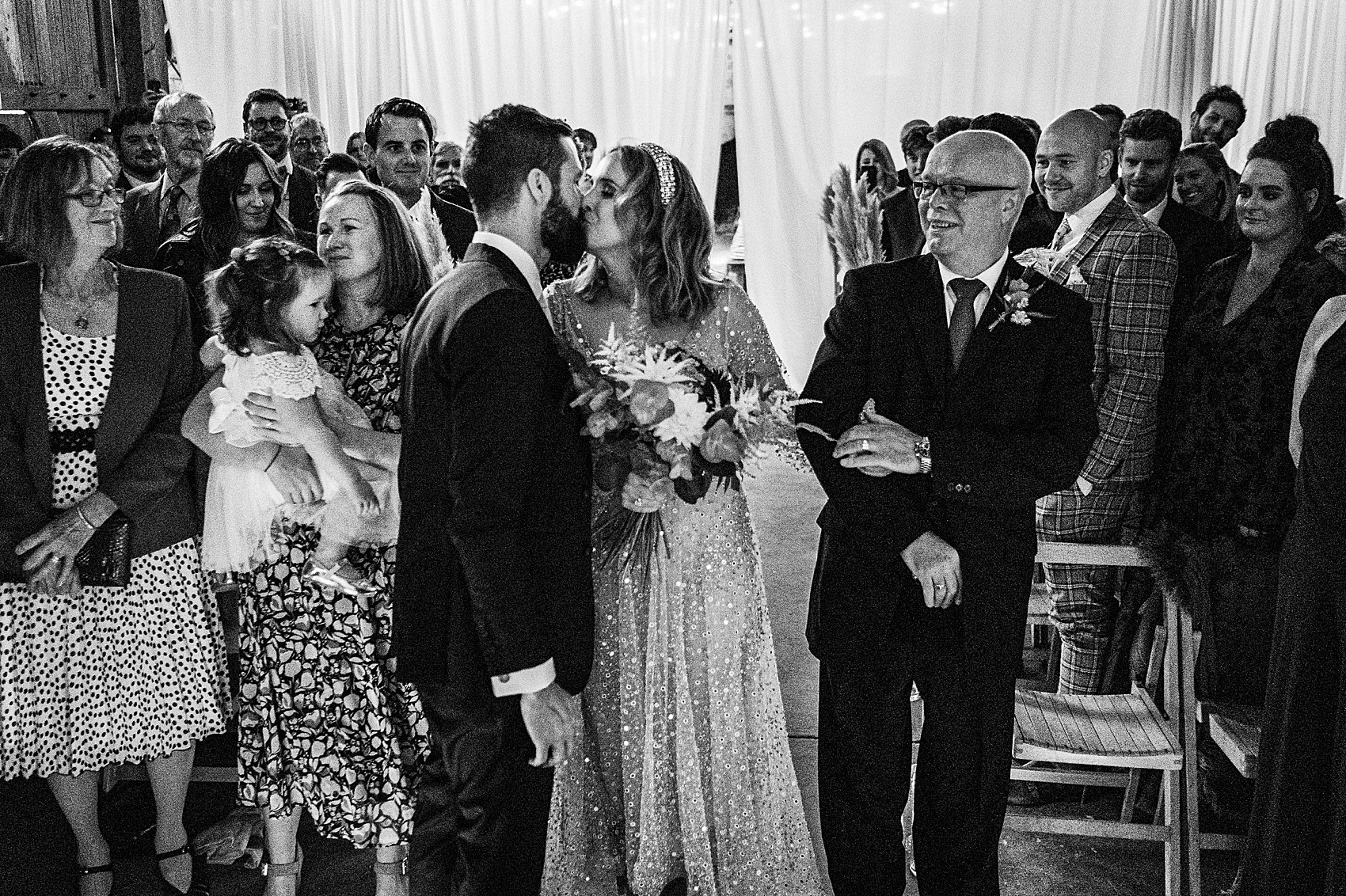 Humanist Liz Phelps led the couple's Humanist ceremony…
"As it was a humanist ceremony is was very personal to our story, how we met and what we wanted to say to each other. After meeting us, Liz put our story together and sent it over, she asked us questions about each other, about why we love each other and why we'd like to get married to each other."
"We also wanted our vows to be personal to us and the reason that we're going into this together as a team, but as two individuals that love and respect each other and want each other to thrive and be happy."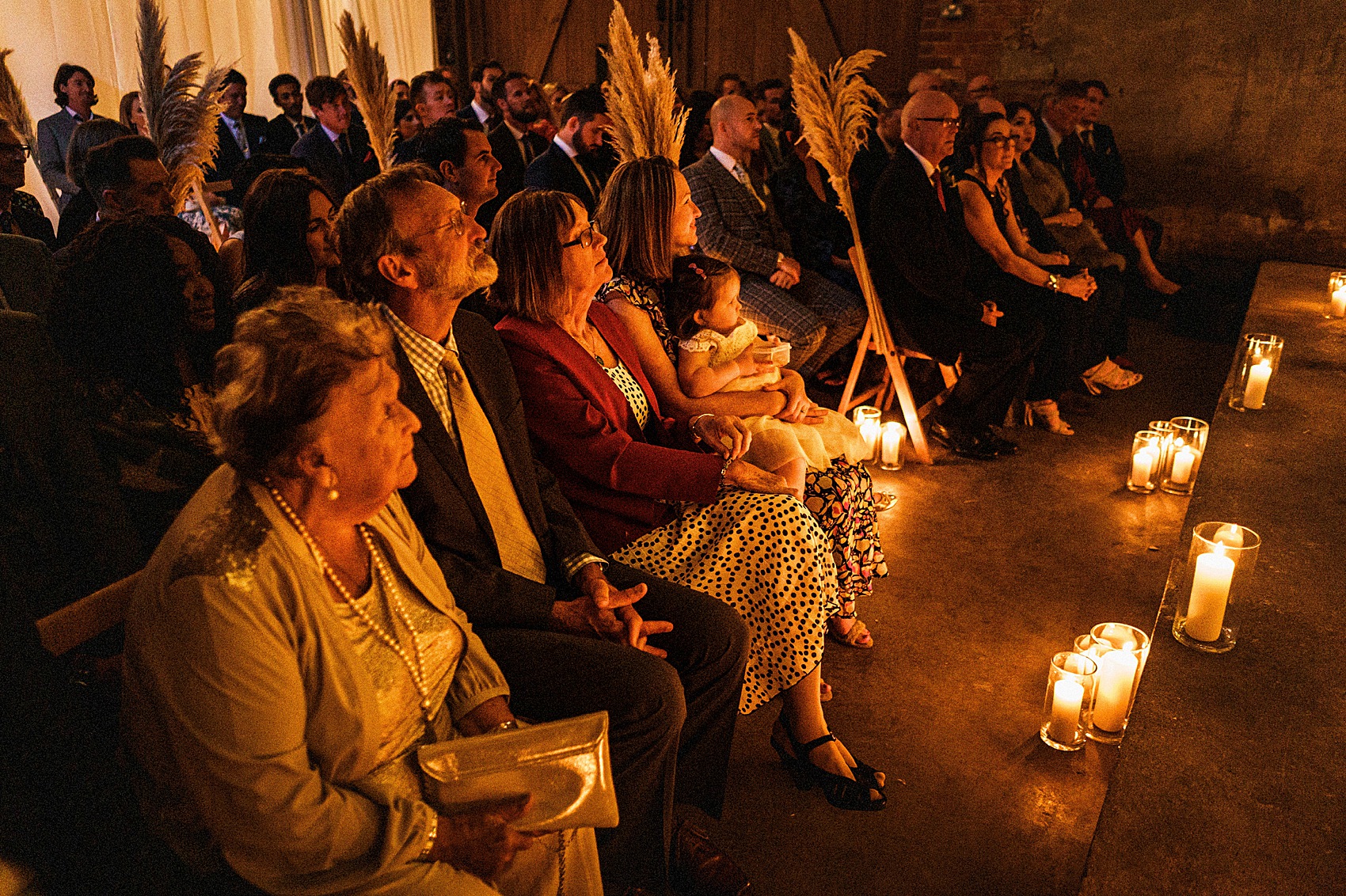 "We had three readings at the ceremony and a lighting of candles – One of the readings was ​Blessing of the Hands by Rev. Daniel L. Harris."
"We asked the readers to choose the readings so that we could hear them for the first time on the day. It was nice to hear the words that they had chosen for us."
"It feels very much a cliche, but I wanted our wedding to look like the wedding in friends when Ross get married to Emily. The barn was very basic so we covered it in hundreds of fairy lights/festoons and candles to create the magical atmosphere."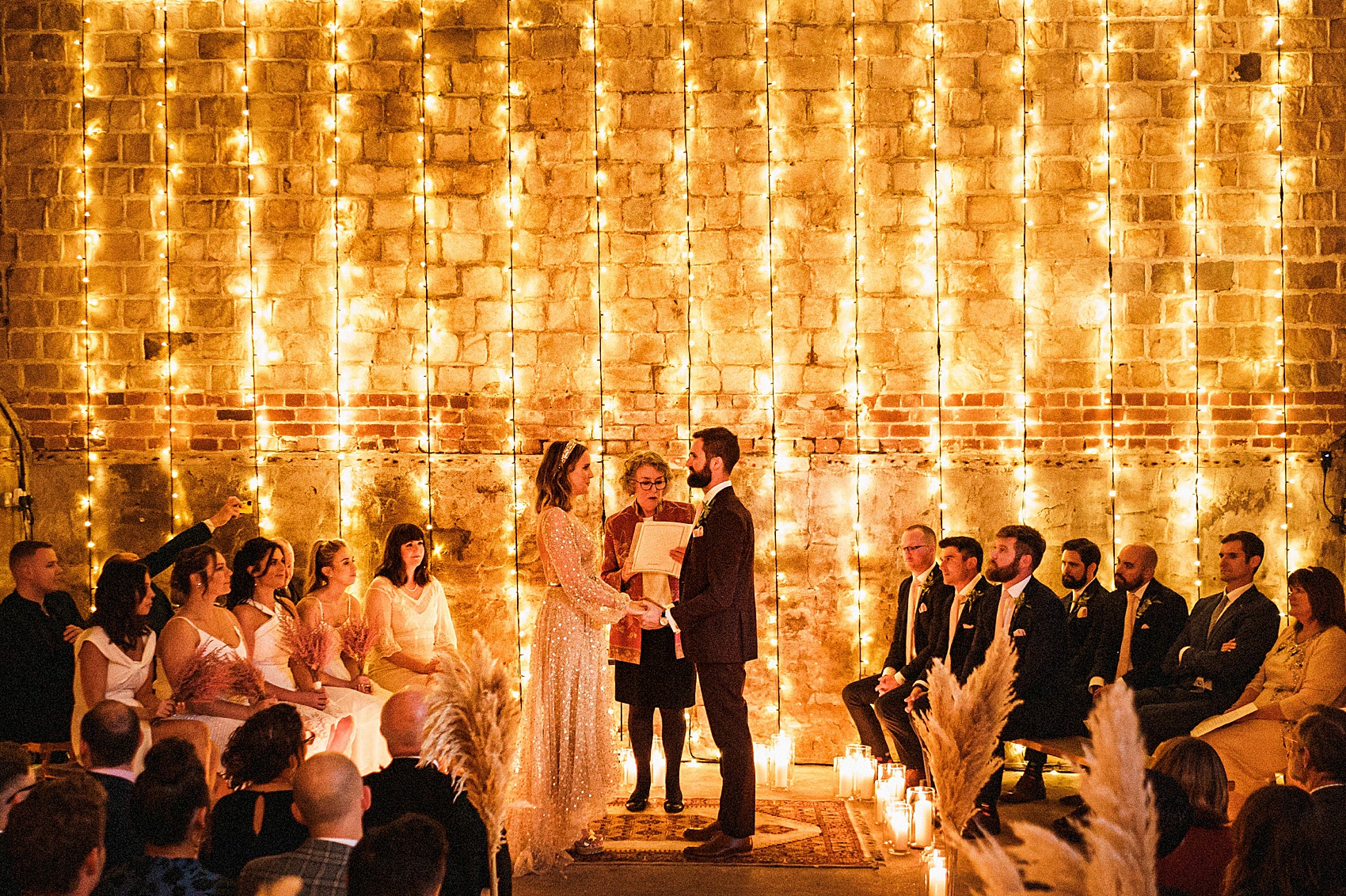 "Our rings, including my engagement ring, came from a beautiful independent designer called Bear Brookbank based in East London. We chose Bear as she specialises in modern twist on art deco jewellery."
"We designed my engagement ring together and it's the most beautiful ring…I love it! She's incredibly talented."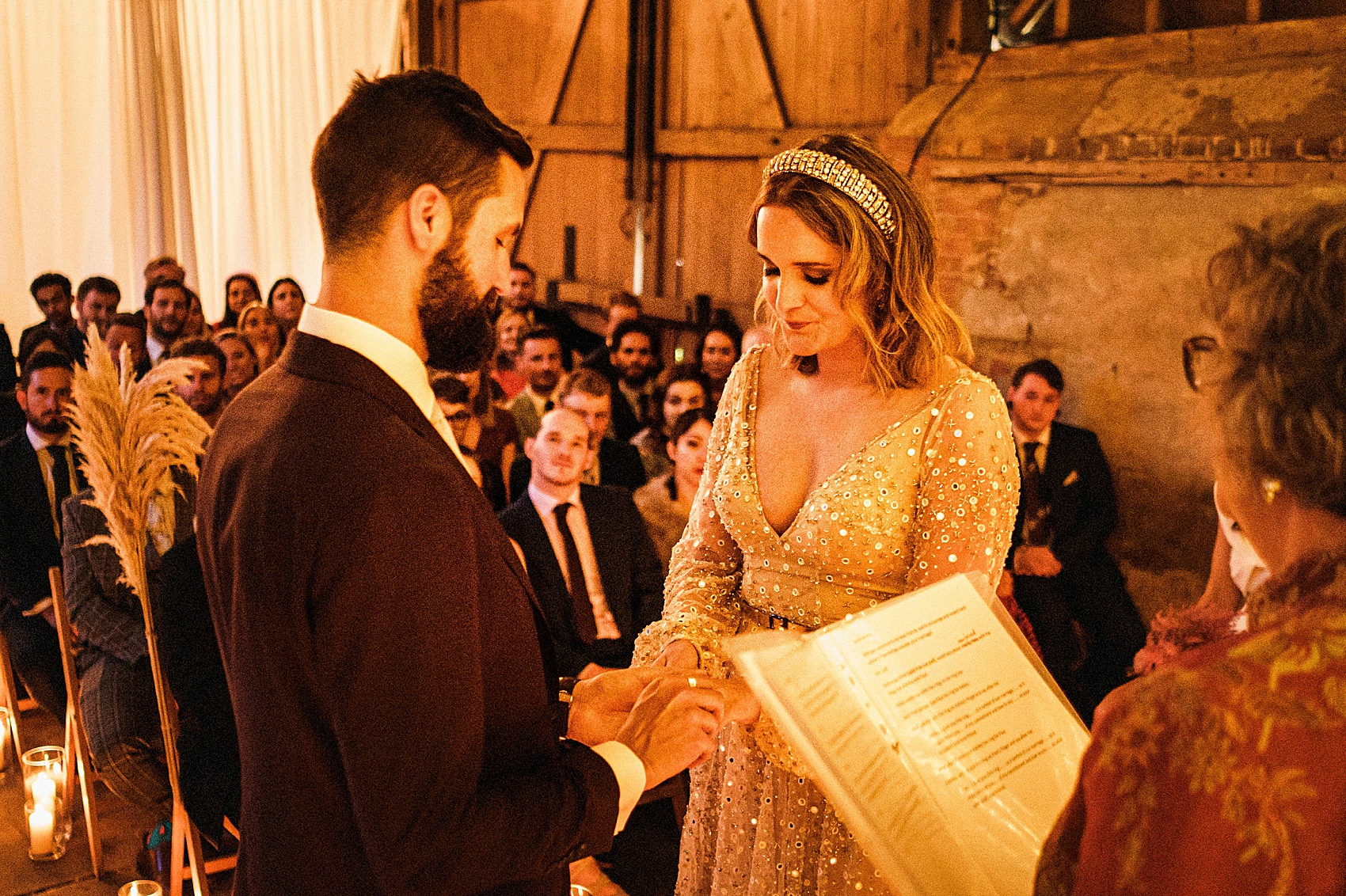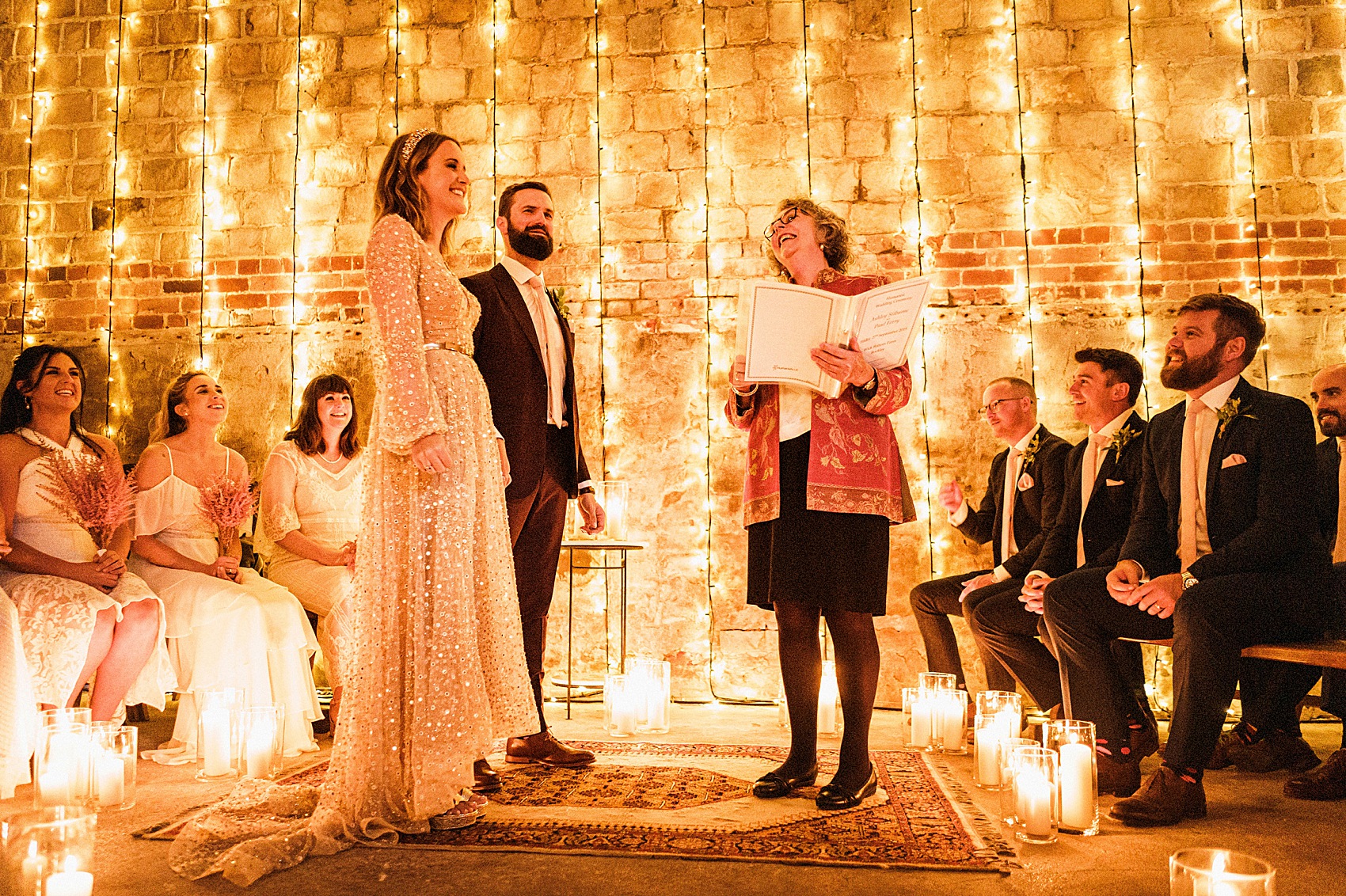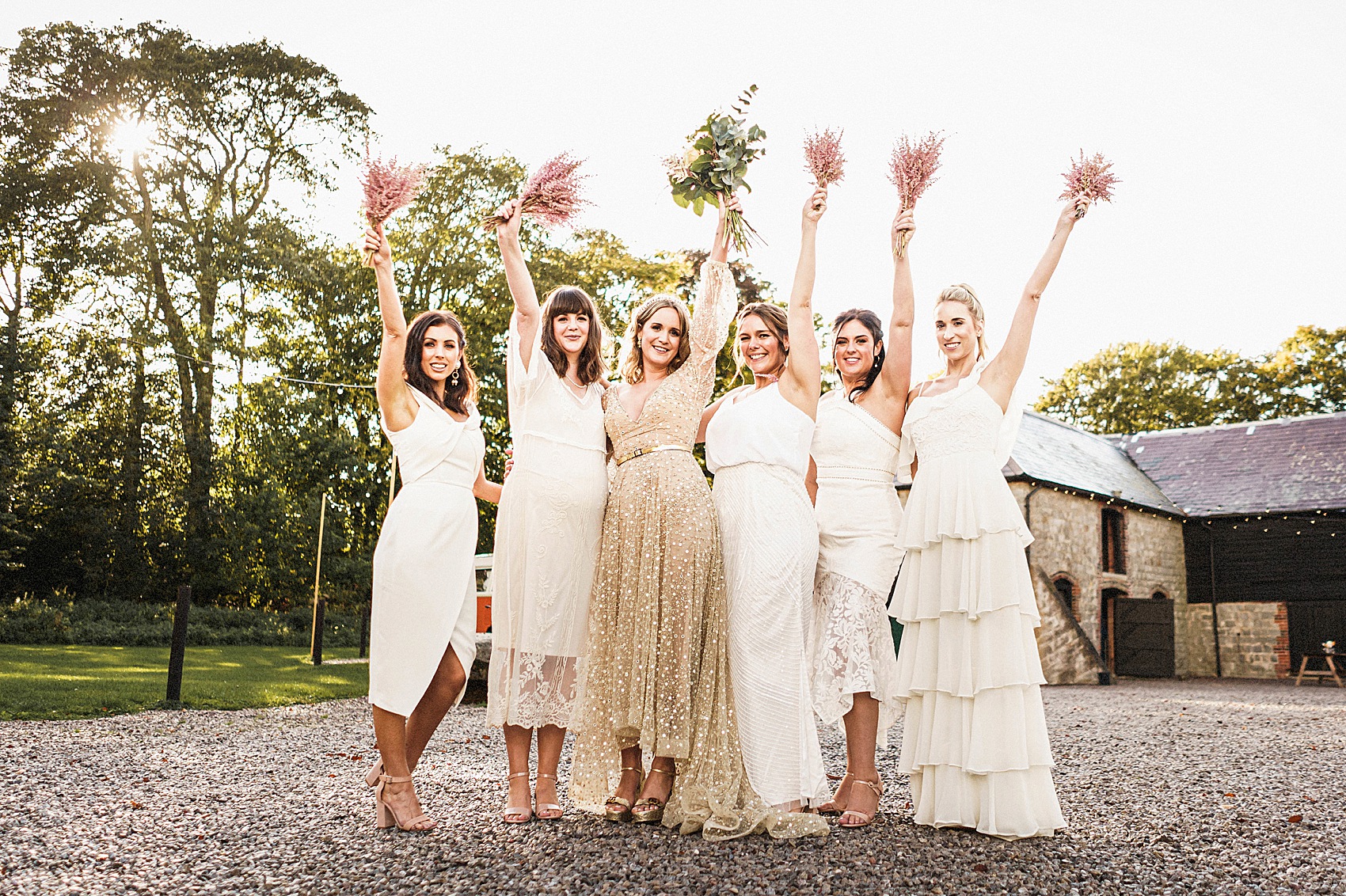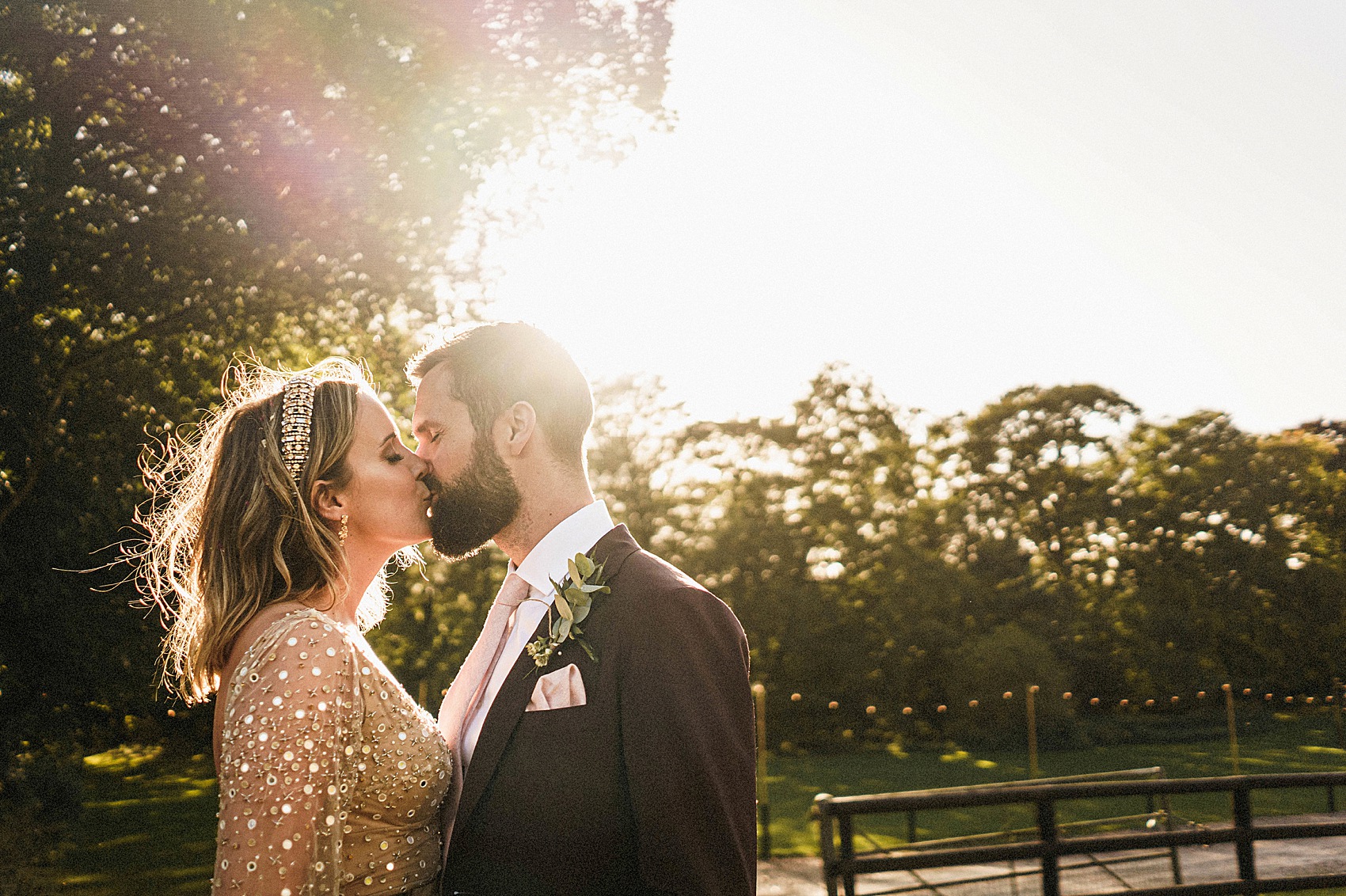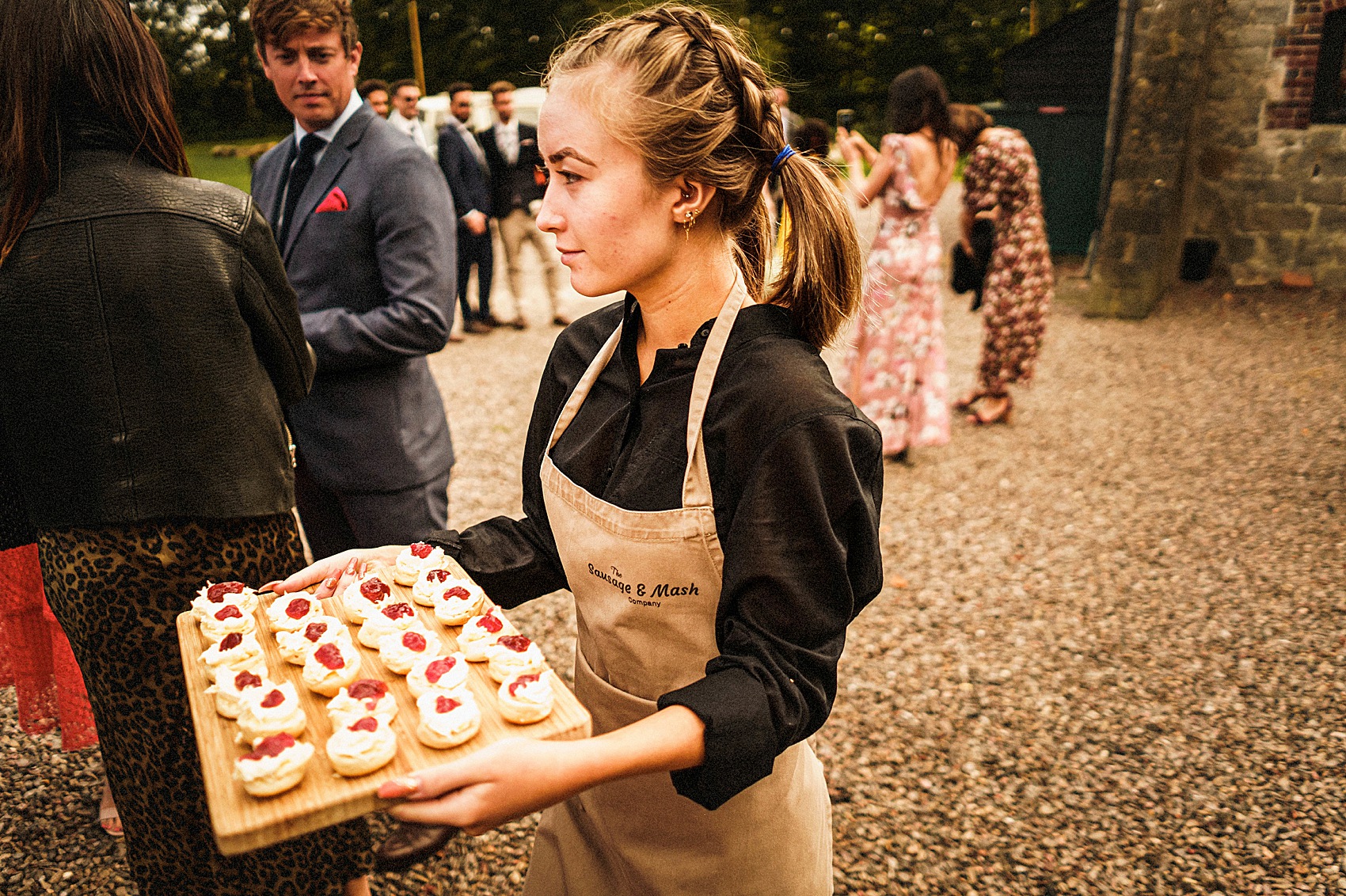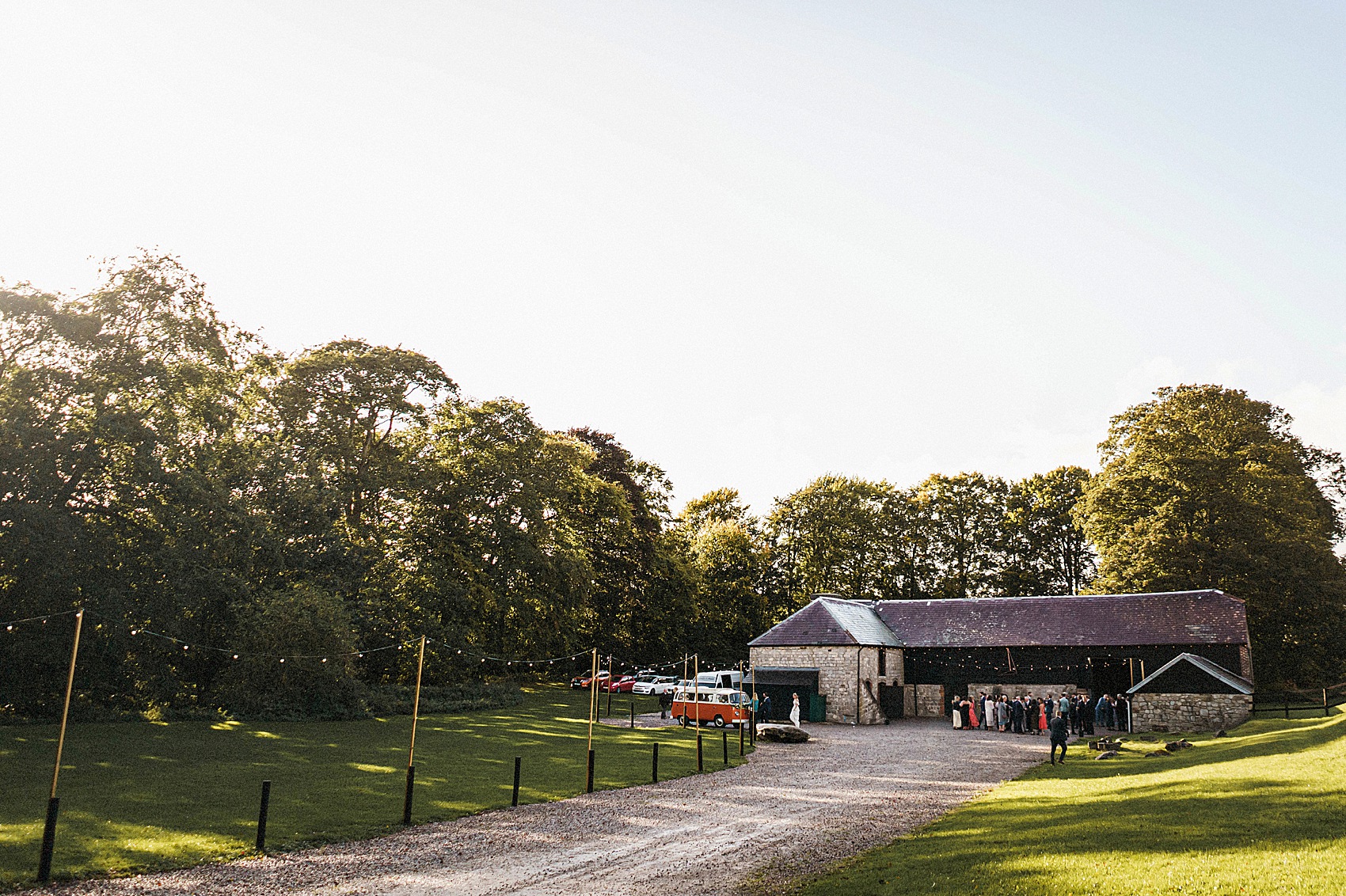 "It was all about the lighting and setting the atmosphere so lots of candles and festoons and lighting were required. We could choose what kind of lighting we wanted so we worked with the supplier 'Lightfantastic' in getting it just right – from the randomly placed festoons over the seating/dinner area to the fairy-lit backdrop on the stage during our ceremony."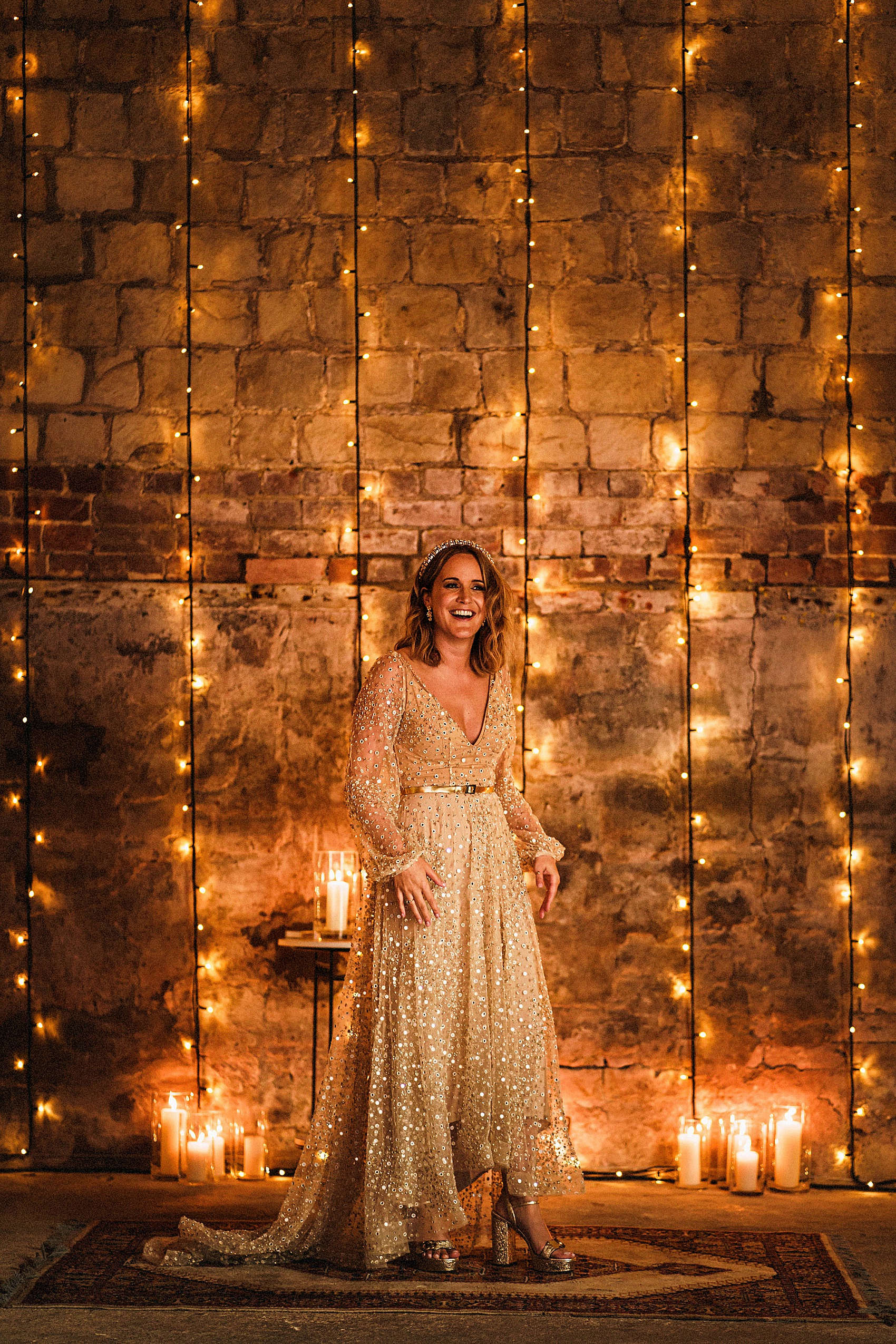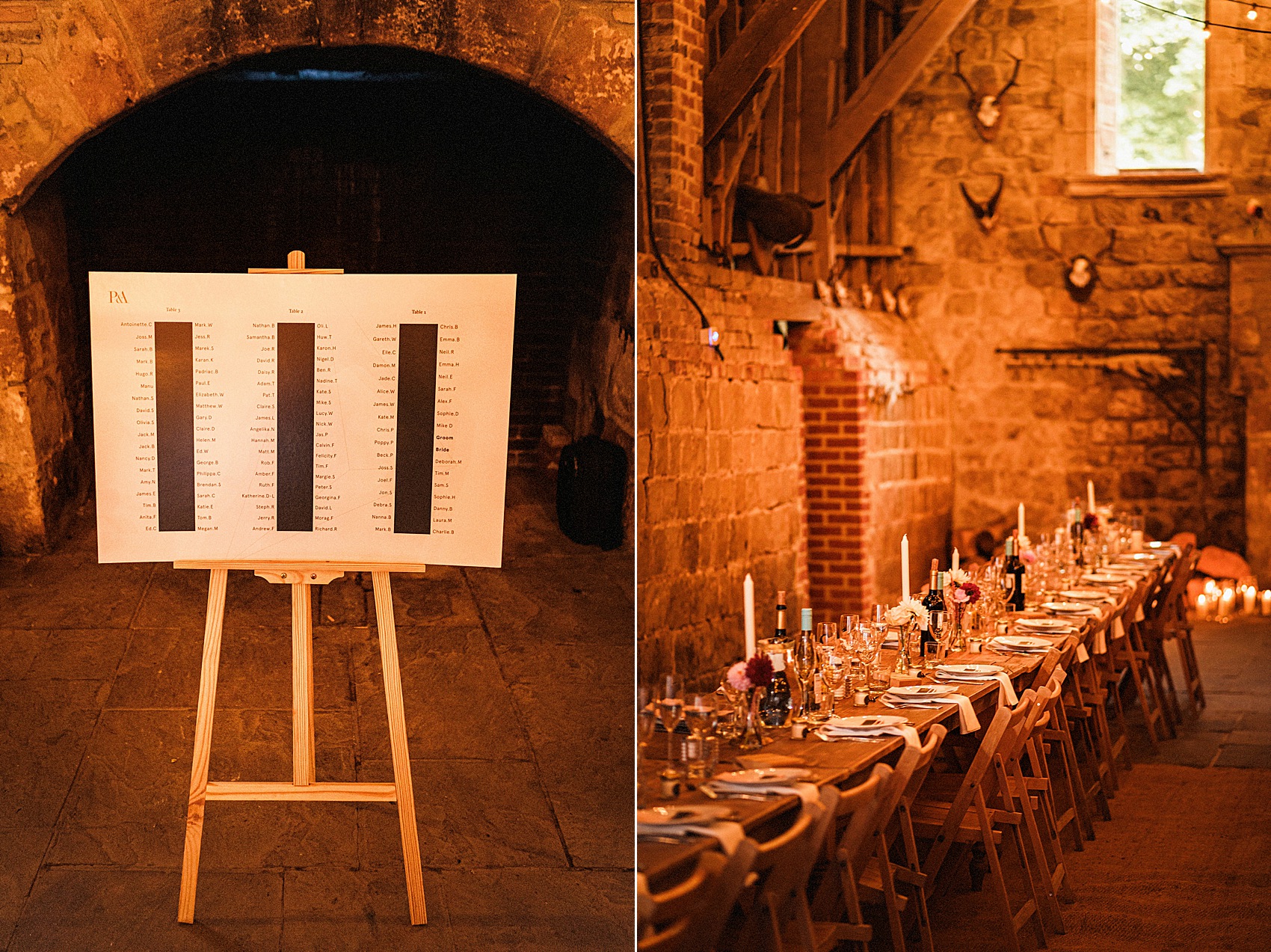 "If I had to choose I would say the favourite part of the day was the dinner, when we sat down and everyone was enjoying themselves and chatting with each other, the room was full of laughter and we felt very loved and very proud that we had put this day together ourselves and it had all come together even better than we had hoped."
"A friend and I handmade candle wedding favours for everyone – it was a great idea, though actually making 110 candles was quite a challenge!"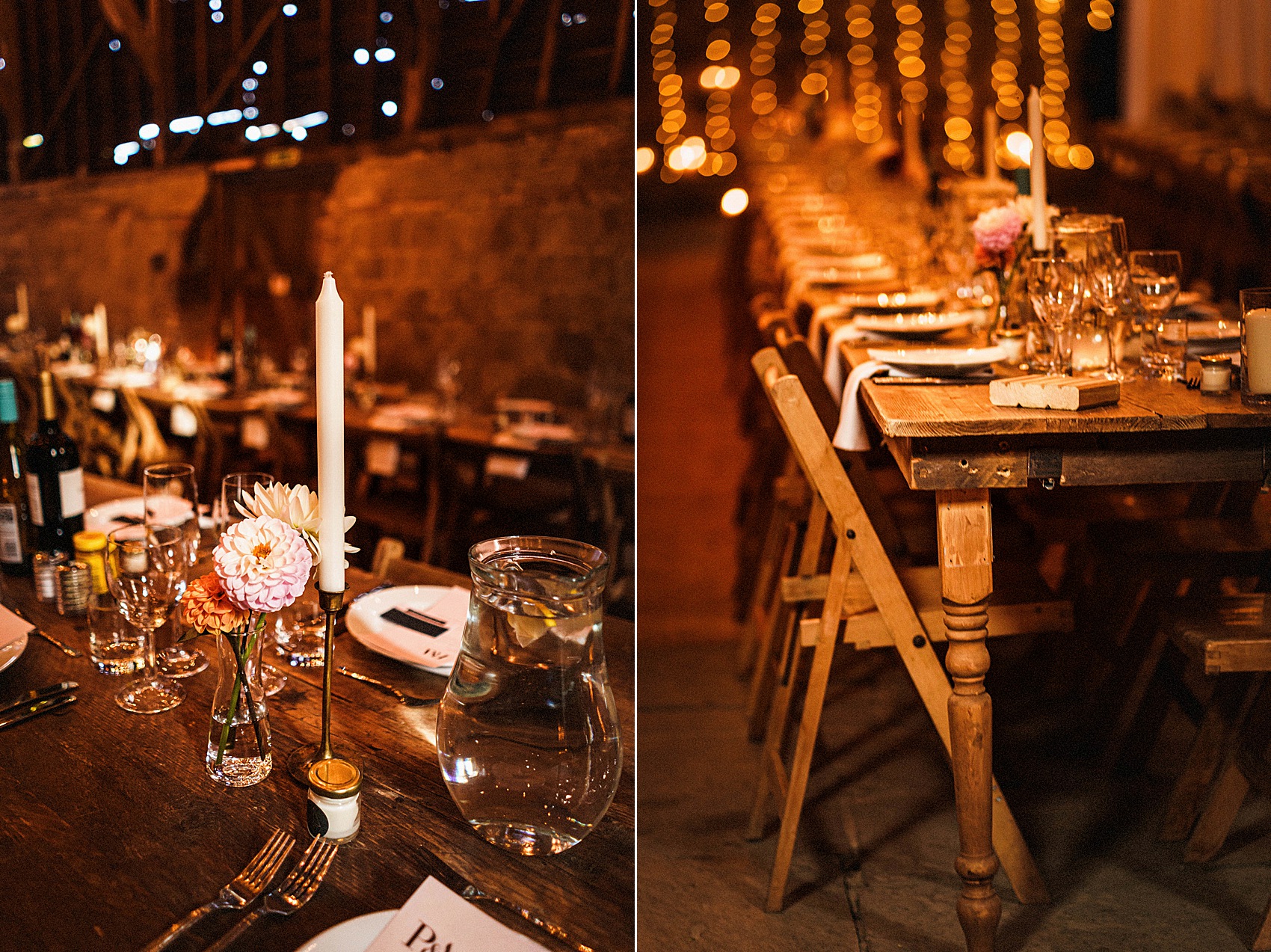 "Paul's agency Shop Talk created all the stationery, along with our own logo. The logo is now on the inside of our rings. My Dad welded a 6ft high version in copper to go on the barn and Paul has a necklace made with Bear Brookbank to give me on the morning of the wedding."
"The logo represents that I'm from Manchester, Paul's from Devon and that we live in London. Our venue was pretty central to these locations."
"We met at work around four years ago. We'd worked together for around eight months before we started dating. Sparks flew at the Christmas party and the rest is history."
"We'd been together for around three and a half years when Paul proposed. We were away celebrating my 30th birthday in Hvar for the weekend and Paul completely caught me off guard with an extra little gift."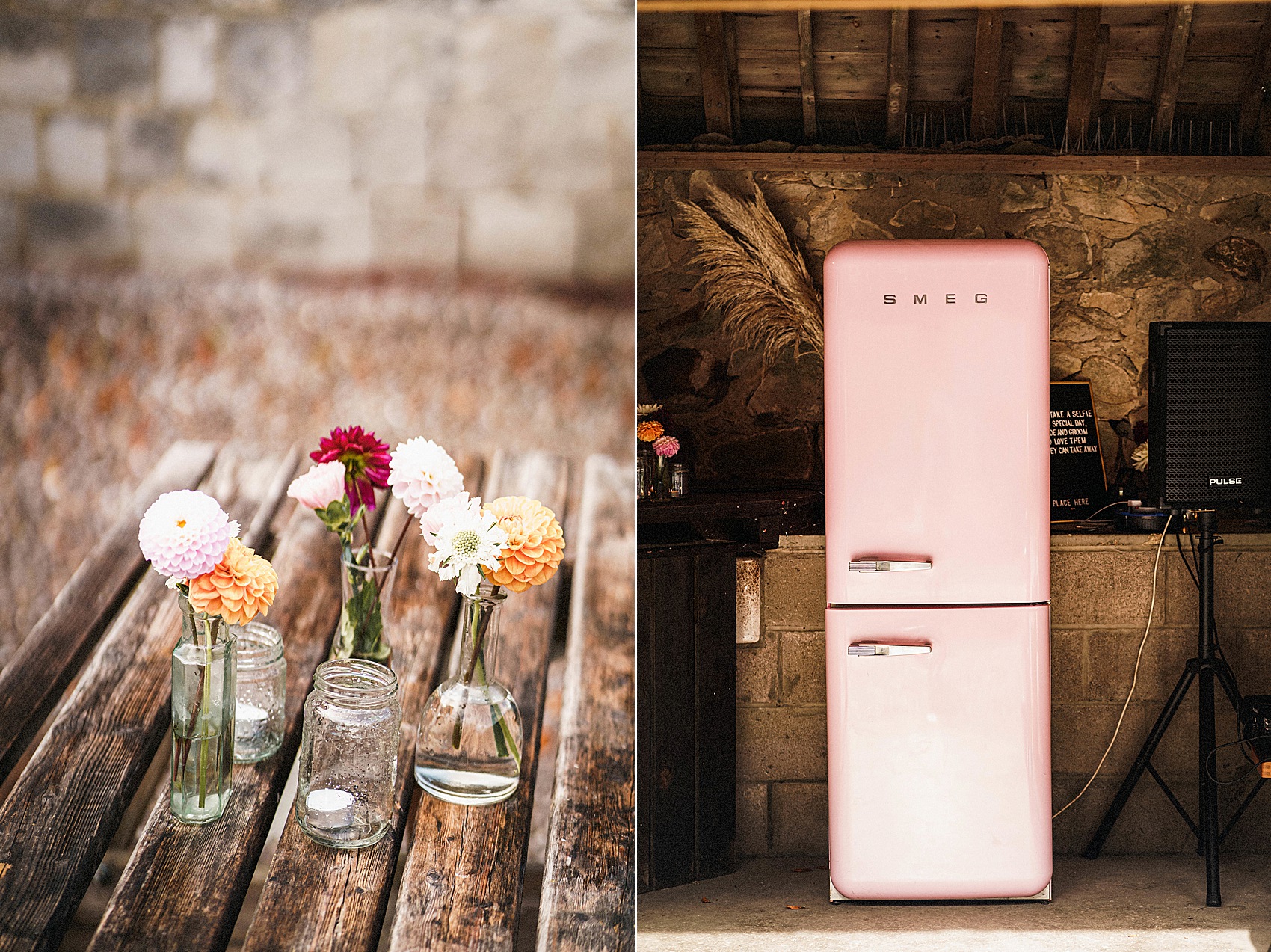 "I'd joked that I wanted a pink Smeg fridge for my 30th so he had a miniature made by a lady that specialises in making miniatures for dolls houses."
"I was laughing at the mini pink Smeg fridge when he asked me to open the fridge door, in the door was a note and then as I read the note I realised it was a proposal, I looked up and Paul was on one knee and it took me a while to stop sobbing from shock."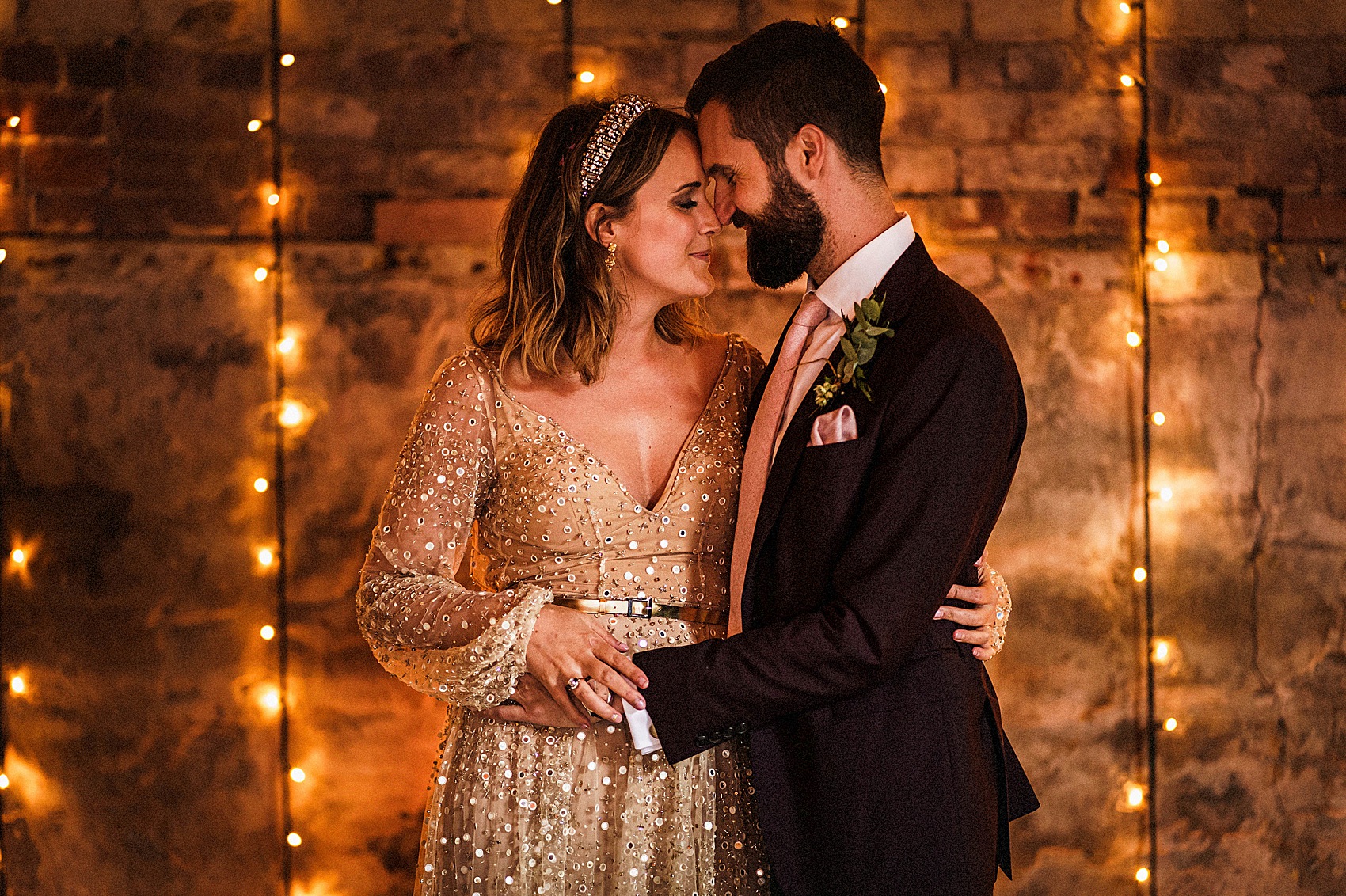 The couple had all bases covered when it came to entertainment.
"My cousin delivered an acoustic guitar set for the champagne reception The band Agent Smith (who everyone LOVED) played a few sets in the evening and then my friend DJ'd into the wee hours."
"Our first dance was to 'High', by The Lighthouse family."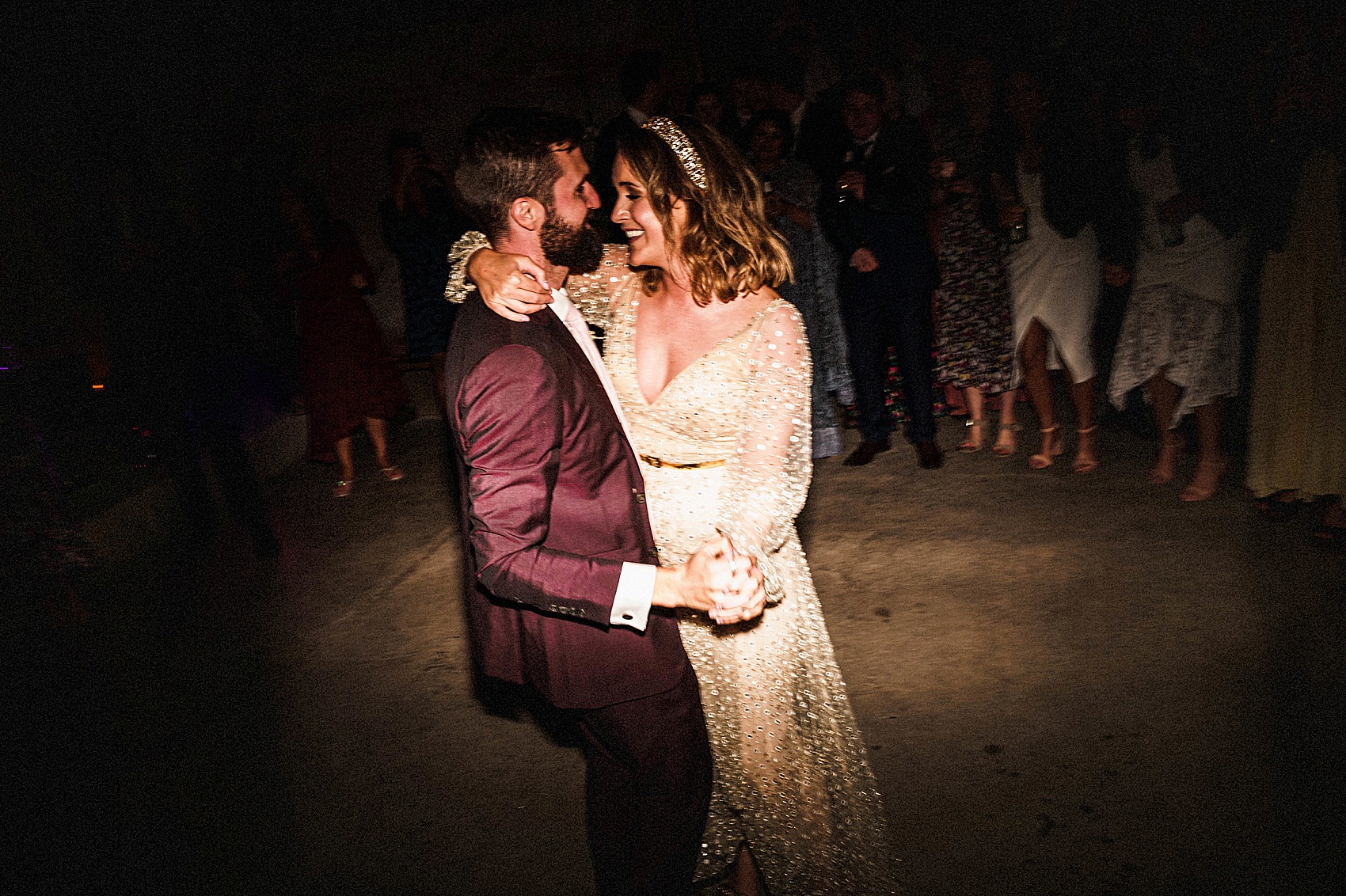 Words of Wedded Wisdom
"We really didn't want to follow the tradition, we wanted the day to represent us and individuals and as a couple. I didn't wear white or cream, by bridesmaids wore white and chose their own dresses, we had a humanist ceremony and I did a speech. Everyone was so complementary and it meant a lot to us that everyone felt like we'd created the day and it was very 'us' (whatever that means)."
"Little personal touches really are picked up by the guest so staying up until 1am to make 110 candles will be perfect when you receive the pictures from the guests the following days of them lighting them at home. Also, try not to over think everything, it really will all come together on the day and it will be more perfect then you could have hoped, all the small things really won't matter."
"I would say that DIY weddings are hard work and very high stress when you have to co-ordinate so many different suppliers etc, a few days before the wedding I thought that we were mad as there was just so much to do and arrange but when it all came together and the memories that we made, it was completely worth it. Even the clear up afterwards."
So beautiful! Oh Claudia, you never cease to delight with your gorgeous photography. Readers – view much more from Claudia here on Love My Dress.
You can also see lots more barn weddings here.
Love to you all,
Annabel x