Hello loves, and how the heck are you? It feels like it's been a pretty long week already doesn't it?
Annabel and the team have been working tirelessly to support all those of you whose weddings have been impacted by Covid-19 – you can follow progress over on Instagram and here on Love My Dress if you're a bride/groom to be, and if you're a wedding supplier or venue, please make sure to join our incredibly supportive closed Facebook group (we have over 5,300 members now).
This is the wedding of Hannah and Ed who wed in deepest Surrey on 17 August 2019 at St. James Church, Abinger Common, Dorking followed by a wood and canvas marquee reception at Holmbury Cricket Club.
Carrie Lavers Photography

+ Follow
Ed, a marine underwriter, and Hannah, a major gift fundraiser for a children's mental health charity, planned their day themselves and were keen to wed in Hannah's home village. Their day was summery, relaxed and perfectly 'them', with a villagey, home-spun vibe.
"We knew we wanted a marquee/ DIY wedding so that we could really put our own stamp on it. I was very keen to get married in my local village. I work in events and love organising so for me part of the joy was in the planning.  We did, however, have an amazing caterer who look after everything on the day and a florist who we trusted implicitly to make sure all every little detail was correct."
The bride's full-skirted gown, classic with a sexy, contemporary edge thanks to the plunging bodice, is instantly recognisable as a Jesus Peiro design. I'm delighted to share that she found it at Miss Bush, a unique bridal boutique in Ripley, Surrey that we love to champion through both Love My Dress and our Little Book.
"I couldn't recommend Miss Bush more. It was a such a special experience and it's amazing to have the chapel to yourself and take time to look through all of the dresses and chat to Emma. She was so knowledgeable and, despite meeting brides all day every day, she made me feel really special and instantly at ease. She always gives honest, no-nonsense feedback and so when she agreed the Jesus Peiro 933 was the one it really made me feel confident in my choice."
"Ed always knew he wanted to wear a morning suit and I had always pictured myself in a 1920's style but as soon as I put on the Jesus Peiro 933 (the first wedding dress I tried on) I knew that this was the style for me. I loved the full skirt (I never thought I would) and the bow details and the plunging front – which felt acceptable because of the thick luxurious material and my non-existent cleavage."
"I didn't opt for a petticoat as I was conscious of making the dress even bigger but actually, I loved the way it fell and felt without the extra structure. I didn't want to take it off – l loved everything about it. I didn't give a second thought to any of the other dresses I had tried and when I thought about Ed in his morning suit, I thought the 933 was the perfect match."
I totally agree, Hannah, and love the flow of your skirt behind you as you move.
"A dramatic, thick lace-edged veil was what I had always wanted but it just didn't work for me. In the end I went for a very simple tulle veil. Thanks to Rosie at Miss Bush for her advice and patience with mum and I as we went back and forth between lace and plain for weeks! We decided to keep it elegant and simple so as not to distract from the clean lines of the dress. I wore it high on my head above my ponytail so that it framed my face. I wanted it to be visible from the front too and not just trailing behind."
For shoes, a pair of chunky Whistles heels struck the right balance between cool and comfy and she spritzed on Jo Malone's Peony and Blush Suede.
"I wanted to do something fun with my shoes and I think my colour theme came together when I found these bargains in the Whistles sale! Thanks go to one of my bridesmaids who searched high and low and must have found the last size 6 in the whole country. I loved them. They were super comfy and just what I was looking for."
Matching the musky pink of the shoes, Hannah selected a variety of floor-length, boudoir pink gowns from Ghost and they all looked elegant and so happy carrying their summery bouquets from Kingfisher Flower Shop.
"I knew I wanted soft pinks and greens and pretty much left it up to the wonderful Marion at the Flower Shop to work her magic. The flowers included white wax flower, two different roses, pink astilbe, white astrantia and green hydrangeas framed by eucalyptus. I loved the satin ribbons which perfectly matched the bridesmaid's dresses, bringing everything together."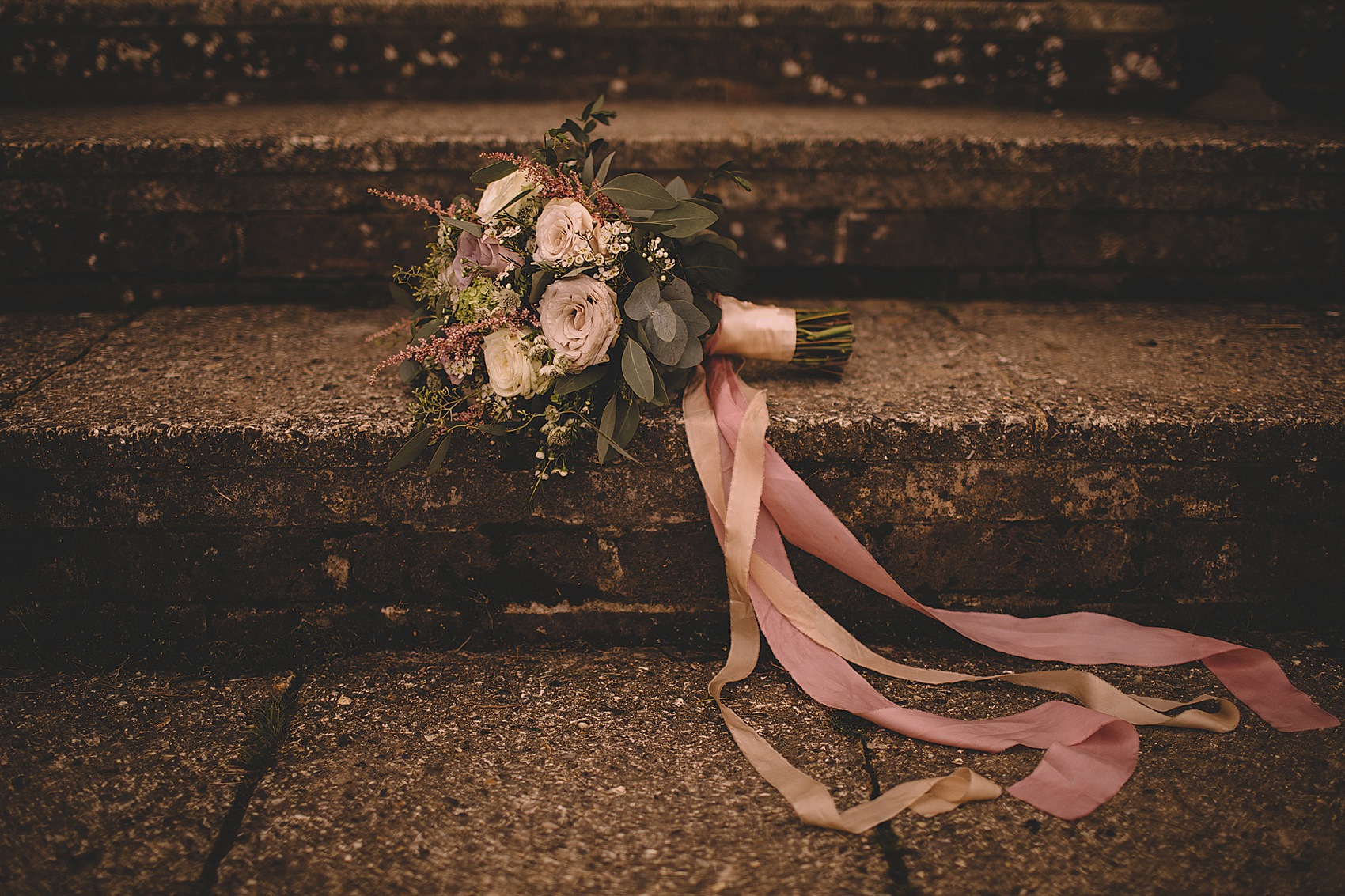 Her classic pearl jewellery came from Lily & Roo and in her hair she wore a simple hair vine from Accessorize. I love the modern, sleek pony that she her dark hair was pulled into by Carolanne Armstrong who also applied her glowing make-up.
"From Carolanne's ethical products to her light touch, everything was perfect."
"We chose an old Defender from Webbs of Weybridge which my dad drove me in to the church alongside my mum and four bridesmaids. It was so fun to all be together on that crazy emotional journey to the church."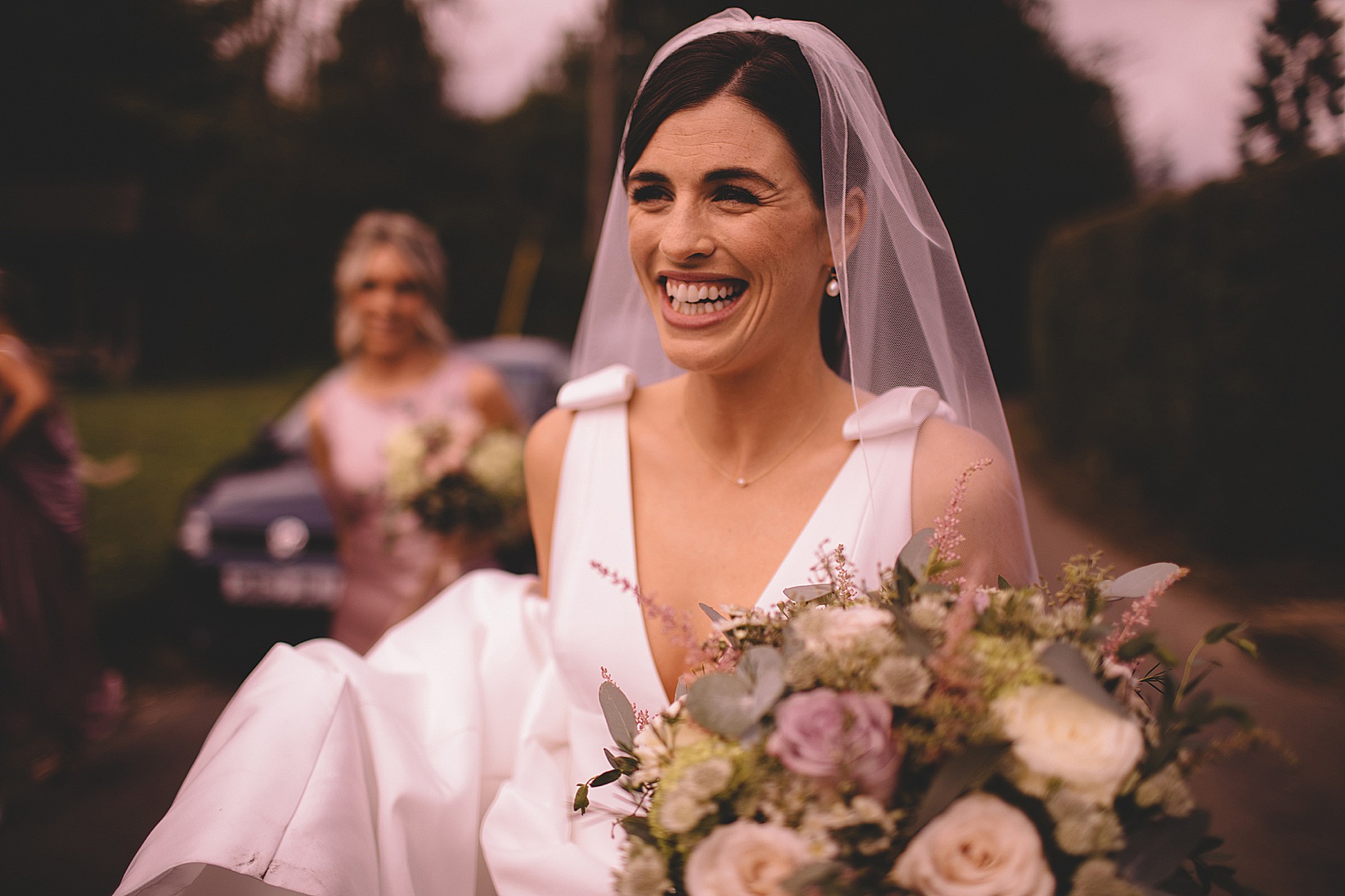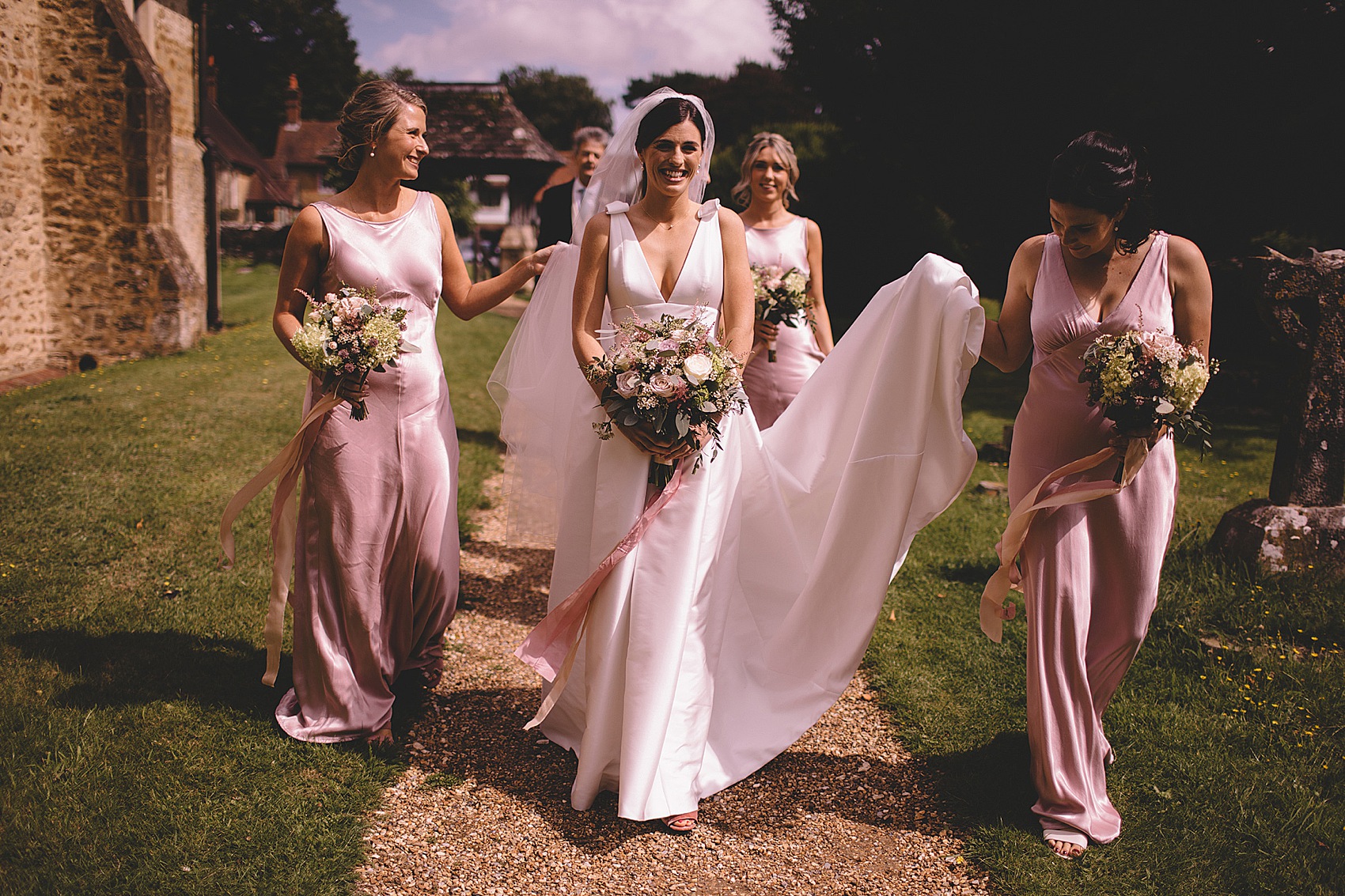 The bride walked down the church aisle hand in hand with her father to the sounds of Pachelbel's 'Canon in D'.
"My favourite part of the day was the church – walking down the aisle and seeing Ed for the first time after all the build-up and planning knowing that it was finally here and we were getting married."
The couple met back at university but were just friends before their relationship developed.
"Ed proposed one Tuesday evening after work in the back garden. It was a lovely evening and he had set up a cute little picnic scene which he claims he bought straight out of a John Lewis display. He took the afternoon off to get everything ready but met me at the station as we normally do on our way home so I just thought he had been at work as usual. It was such a surprise; it was perfect. We got in engaged in May 2018 and married in August 2019, so we were engaged for fifteen months."
The couple wed in a traditional Church of England ceremony, in front of all their family and friends.
"The service was so special and I loved listening to the readings and singing the hymns we had selected together. Seeing all of our friends and family for the first time together in one place just for us really was magical – cheesy but true!"
"We were very lucky that a friend of ours wrote something for us and our other two readings were 'Captain Corelli's Mandolin' by Louis de Bernières and 'Song of Solomon 2: 10-13′."
Ed and Hannah exchanged rings by Jessie Harries, and I love the bride's unusual choice of two rings.
"Following a not-so-subtle hint from a friend a few years ago, Ed found Jessie Harris. Jessie helped Ed to design my engagement ring and Ed loved the whole process. My engagement ring was perfect and it felt like the right thing to ask her to create our wedding bands (I also really wanted to meet the wizard who had made such a beautiful ring!)."
"Ed went for a timeless gold band. I knew I wanted two rings, one gold to match Ed's band and one platinum to match my engagement ring. Jessie helped me to create the perfect delicate combination and I love them. We each got our bands engraved with the others initials."
Ed chose a traditional morning suit hired from Neal & Palmer, worn with a cream waistcoat and a soft blue, T.M.Lewin tie.
"It was quite hard to find morning suits we liked for hire. Often the suits were thick, or the choices of material or colour were really limited so we were thrilled when we found Neal & Palmer who had just what we wanted."
After the service, the newly-weds emerged into the summer's day and a shower of rose petal confetti.
"I made our confetti myself, much to Ed's annoyance and often taking over our whole living room floor in the year before the wedding carefully drying all the roses Ed and friends had bought me. My mum and a few of her friends also joined in and by the wedding we had just enough."
"The staff were so helpful, and nothing was too much trouble. We loved that it was a family-run business and the shop is so cute. We look at coloured waist coats but in the end, we decided the cream was classic and worked best with the tie Ed had chosen."
One of the best parts of writing for Love My Dress is being able to see the work of some incredible suppliers, and I'm besotted with Carrie Lavers Photography's timeless and romantic fine art style.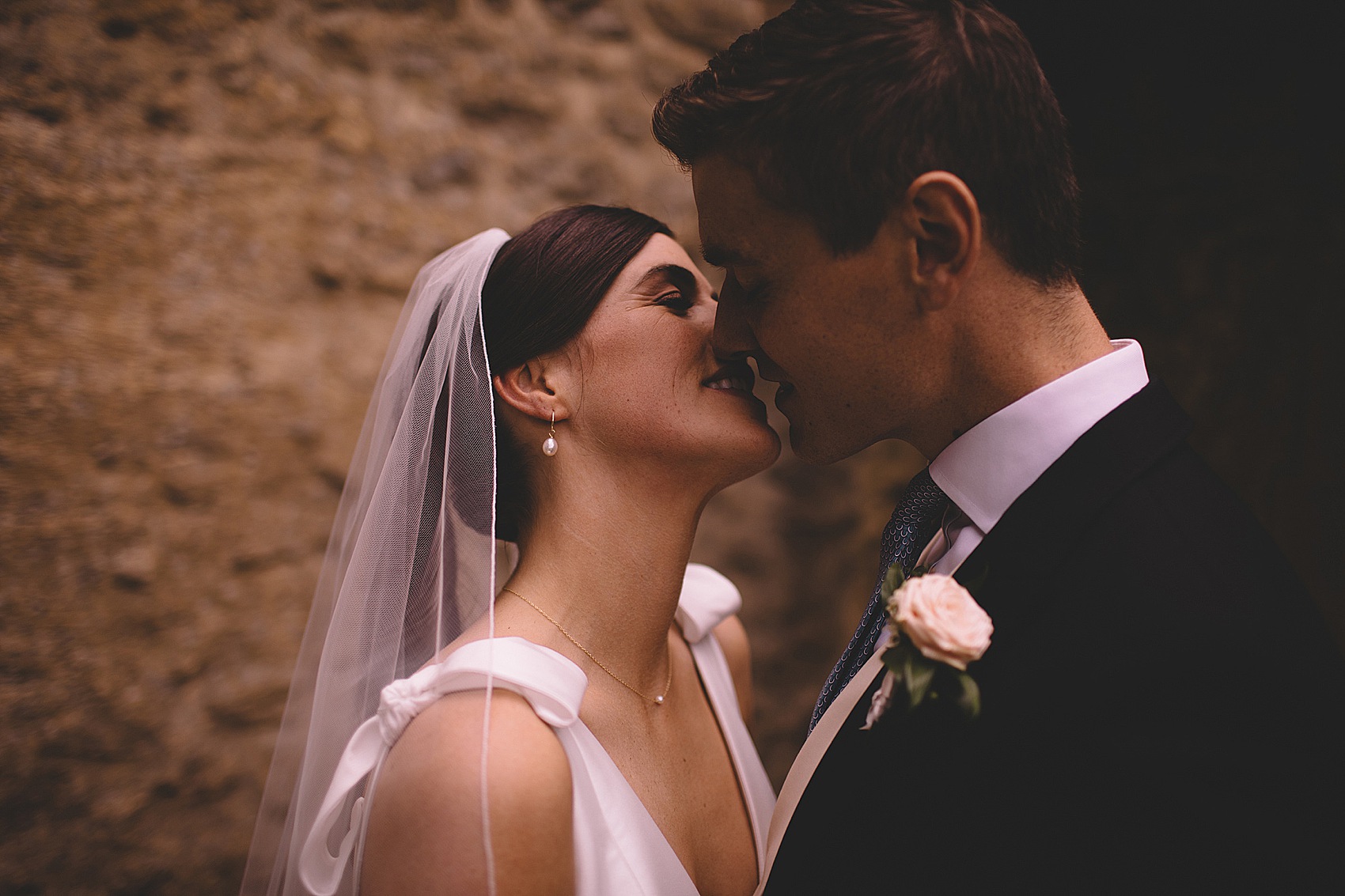 With a knack to capture people in a totally unobstrusive style, she's able to catch raw emotion and unexpected moments; just look at these glorious photos of Hannah and Ed and you'll see what I mean. We've had the joy of sharing her work many times on Love My Dress (take a look here) and are so proud to list her as a member of our Little Book Wedding Directory.
"We were so lucky to find Carrie. It was quite last minute. I happened to come across her on an early morning wedding inspo Instagram scroll and immediately sent her a message thinking she would already be booked. As luck would have it, it was her last free date of the summer and I knew it was meant to be. I loved her romantic and relaxed style."
"Carrie was incredible, she is so calm and lovely and instantly put us at ease (no easy thing with Ed who basically has a phobia of posed shots). She captured some really special moments and we absolutely love every image she has sent us."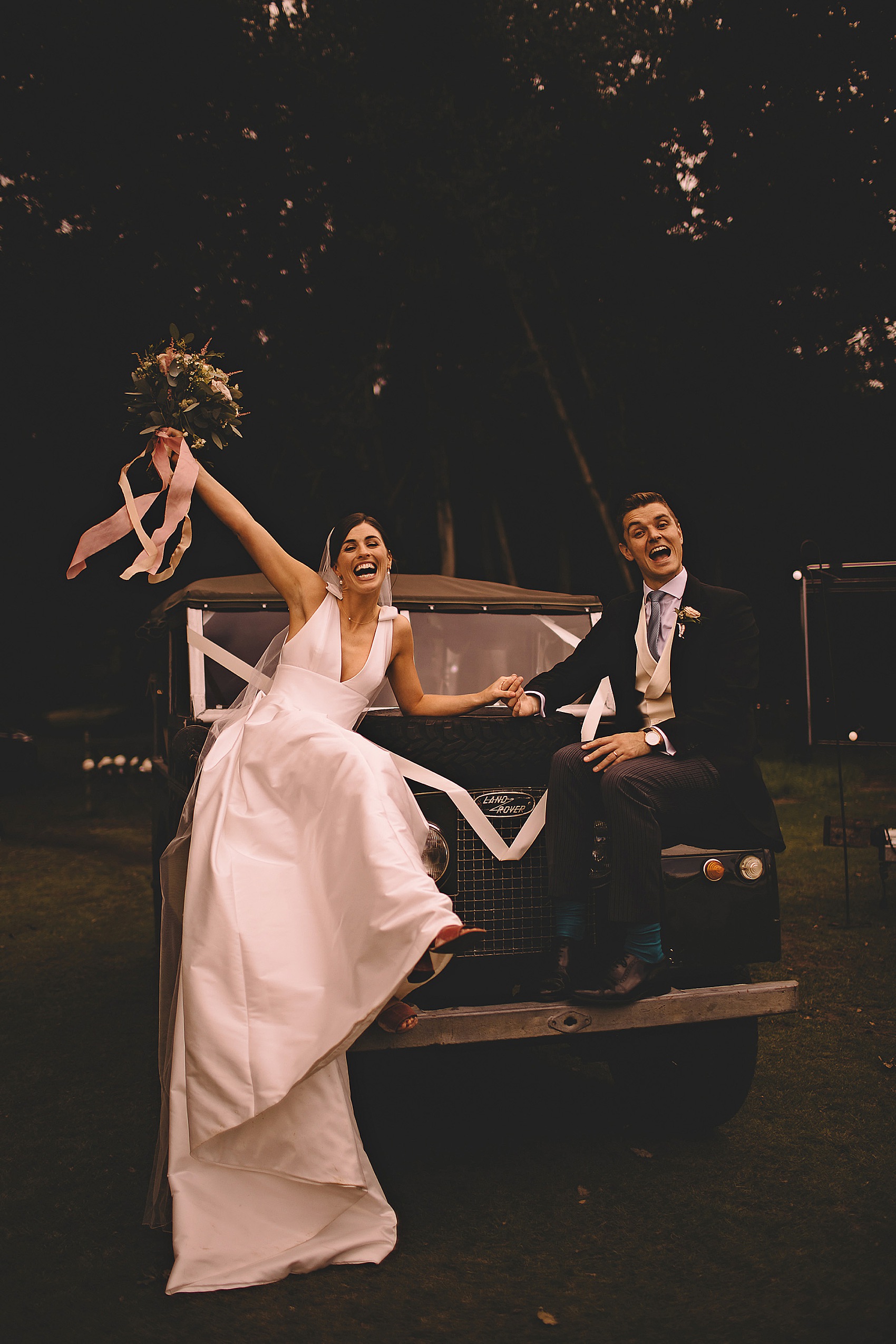 Hannah and Ed had put so much thought and care into styling the marquee from Carron Marquees. Over to the bride to explain more.
"Our main priorities were good food, lots of booze and lots of flowers. Being in a marquee, there wasn't any corkage or restrictions on suppliers which was great it meant we could do what we wanted in the most cost-effective way."
"Flowers are expensive but we both wanted there to be lots in the marquee to bring it to life and make it feel special. Alongside the flowers, we added lots of greenery which is cheaper but can be really effective."
"We went for a floral 'runner' along the full length of each of our long tables, made up of leaves, ferns, single stems in onion vases and small arrangements which looked beautiful and were cost-effective. When Marion, our incredibly creative florist, mentioned hanging birch trees in the marquee, I was hesitant but Ed loved the idea. We went for it and I am so pleased we did. They looked amazing and were such a statement."
"We chose a canvas and wooden marquee in the hope it would tie into the secluded wild setting we had chosen. We hung reams and reams of handmade satin bunting around the inside of the marquee, the guy ropes and the fence at the edge of the field. A close family friend had made it the previous year for her daughter's wedding. It was really special to have something so unique and so beautiful."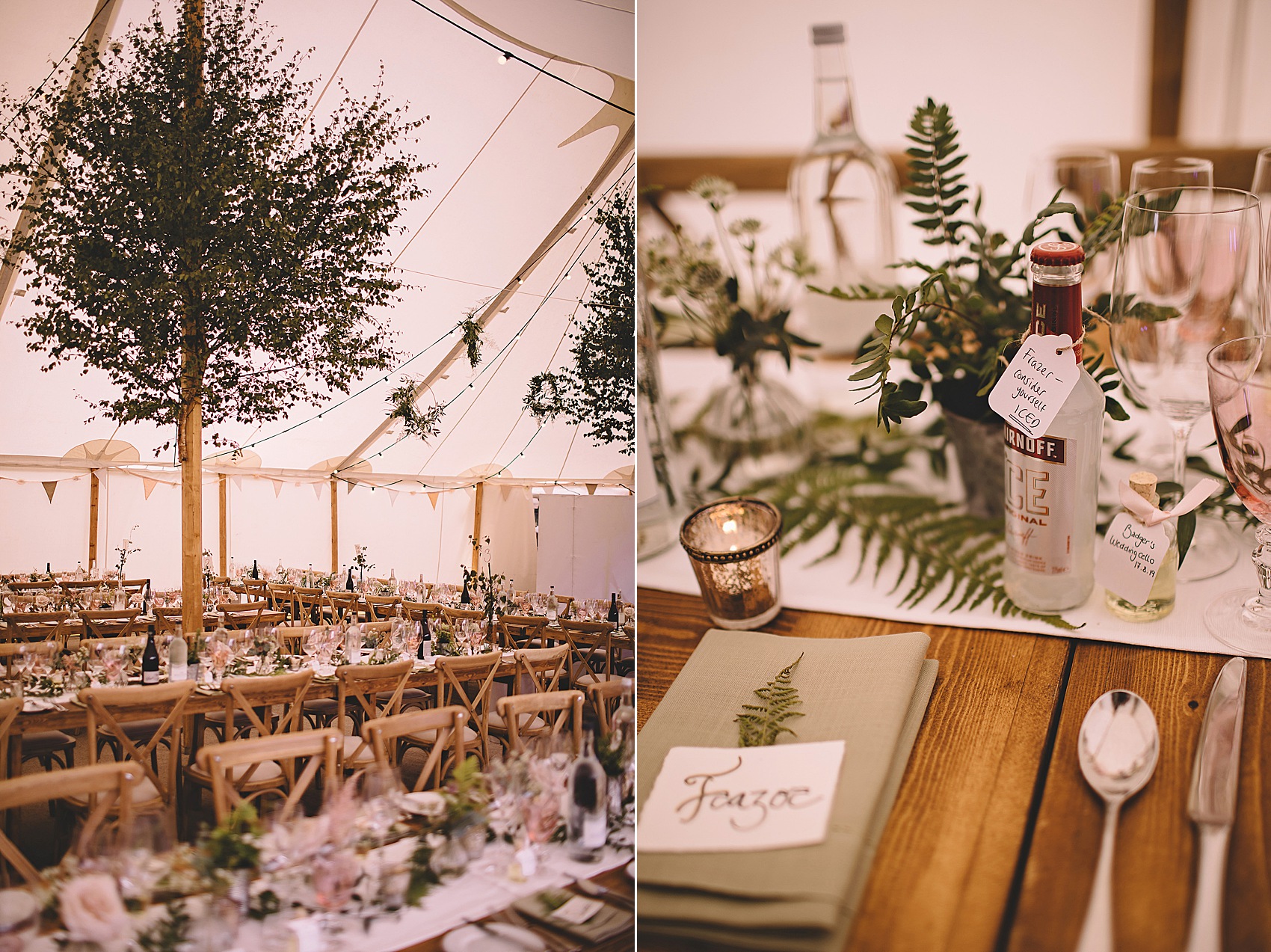 "I wanted to do something to mark all of the special weddings that had come before us and we had a small table of pictures of our nearest and dearest on their wedding days, including each of our grandparents."
"One of my bridesmaids wrote out our seating plan and place names on fancy card. It can be so expensive getting everything printed and I love the homemade look; they were perfect. Our stationery was by Geri Loves Emi; beautiful designs and so helpful."
Hannah and Ed hired the bar from The Vintage Bar Company whilst Two Many Cooks provided all of the (very delicious) food.
"Emily and the TMC team were absolute super stars, from menu planning to sourcing local suppliers to the team on the day. They made everything so simple."
The exquisite, textured and flower-topped cake was also home-made by a family friend.
"We wanted something simple and yummy decorated with real flowers which is exactly what Jill delivered."
Home-made limoncello doubled up as a favour and a drink for the speeches.
"A friend made limoncello which we bottled individually and hand-wrote labels which we tied with ribbon. It was quite a fun thing to do with family in the lead-up to the wedding. The shots were drunk together during the speeches. We also put some personal touches on the tables for friends, for example alcopops for 'strawpedo races' and birthday crowns for a few of our guests who were celebrating their birthdays that weekend."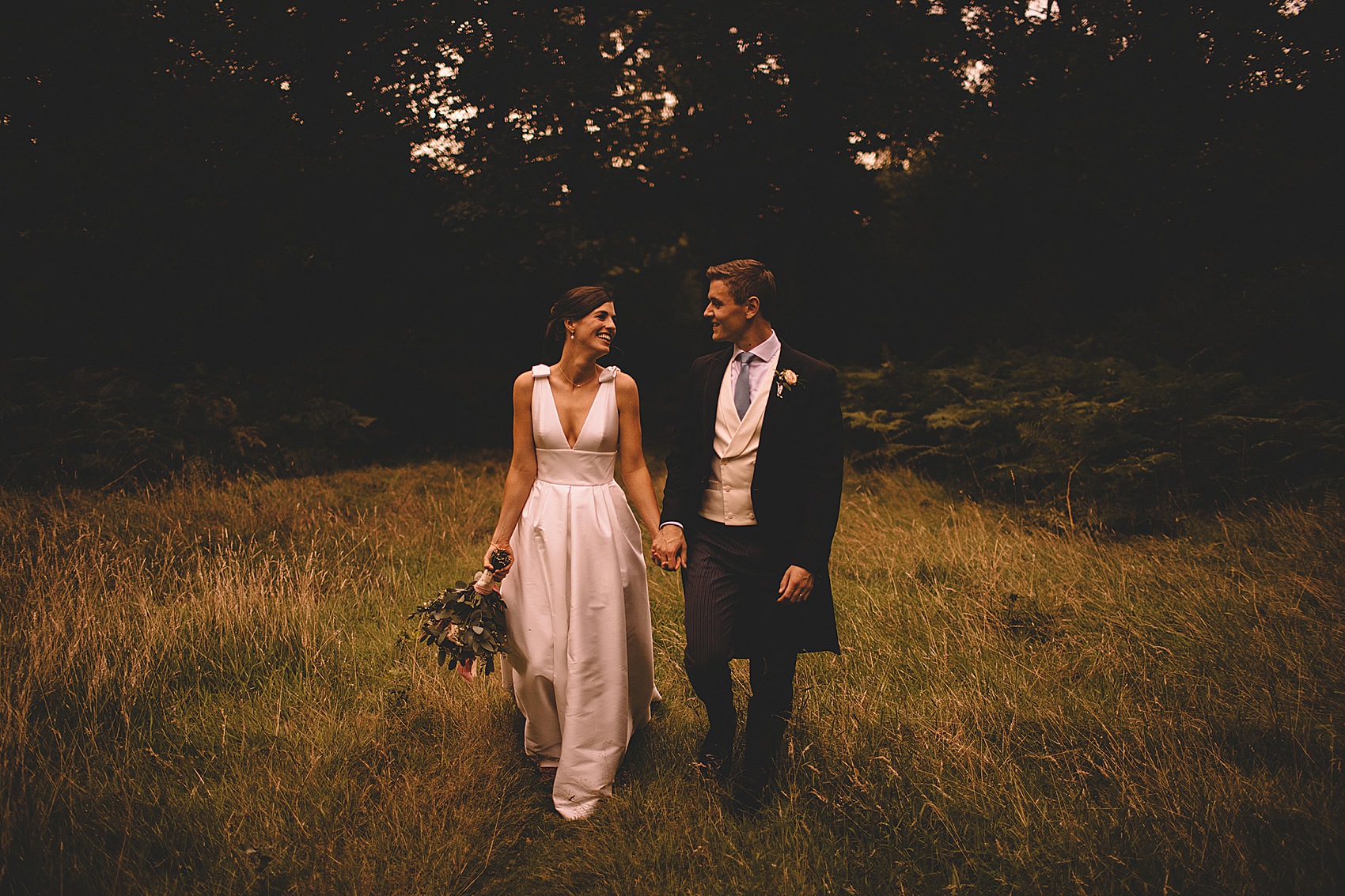 Whilst the couple slipped away for some time alone and some more portrait shots with Carrie Lavers, The Dominos set up, ready for the first dance and the evening party.
"Our first dance was 'Can't Take My Eyes Off You' by Andy Williams, sung by our band. The Dominos are the best wedding band available. We knew they had to play at our wedding having seen them play while we were skiing and seeking out one of their gigs in London. The wedding was pretty much planned around their availability. It was so worth it – ties were immediately put around the head, shirts off and the dance floor was packed all night with all ages. I think the photos will tell you how much Ed and I love this band."
As the party wore on, Hannah swopped her gown for a slinky slip dress.
"I had a second dress because why not? It's my wedding day and if you can't be extra then, when can you? So, at about 11pm I changed into a white slip dress from Zara and personalised 'Mrs A' Superga platform trainers. When I changed dresses I put my veil back on for extra drama, which I loved."
Words of Wedded Wisdom
"Enjoy your engagement. Don't start too early as it's super easy to get caught up in the planning, the details, the politics. It's going to come around very quickly so make sure to take a breath and relish this special time."
"There will be a lot of opinions but the only ones that matter are yours. Know what your priorities are and what you are both happy to compromise on. Weddings are expensive and you can't do everything and, more importantly, you don't need to. It doesn't have to be perfect. Use your creative friends, pull in favours and hand-make as much as possible. It's fun to do things together with friends or family! Create a day that is perfect for you two and everyone will love it, I promise!"
"Find suppliers you love and trust. We loved finding and supporting small local suppliers and having worked at both our caterers and our florist in my uni summers I knew they wouldn't let us down. Not having a wedding planner for a marquee wedding can be daunting but with amazing suppliers, careful planning and many spreadsheets it's totally doable."
"Take time off before to enjoy the build-up, particularly if you have some DIY elements and a lot of set up. It's really fun but I imagine would be stressful if you haven't left enough time. People want to help. Delegate and make sure there are jobs you can share out and people know the plan so they feel involved and helpful. If you aren't at a venue organise a recycling pick-up the next day – that mammoth trip to the bottle bank wasn't great on a wedding hangover!"
"We tried really hard to stick to our wedding budget and I think in the end we did quite well. However, the original budget was revised a number of times following some initial research and realising the cost of things. You just have to work what each of your priorities are and make sure it's the day that you want – what are you willing to compromise on and what's not negotiable?"
Carrie Lavers, thank you so much for your work and for allowing us to publish it again. What a joy it has been. Congratulations to you both Hannah and Ed; I hope you have so many happy memories of your day and thank you for sharing it with us all. If you're interested in seeing more beautiful brides wearing Jesus Peiro, just like Hannah, please take a look at these weddings.
Ele xx