Whenever I see brides on this beautiful wedding blog of ours, rocking sky-high heels on their wedding day (especially ones like the 70s disco inspired gold platforms today's bride wears) I'm always rather impressed, and immediately wish I was better at walking in heels myself!
Sun-drenched Sicily is the destination for this gorgeous celebration – the wedding of Georgie, a Global Portfolio Director at a media company, and Luc, a Secondary School Teacher. This lovely couple were married on the 4 May at Villa Criscione on the east coast of Sicily, south of Catania.
Sarah Burton Weddings

+ Follow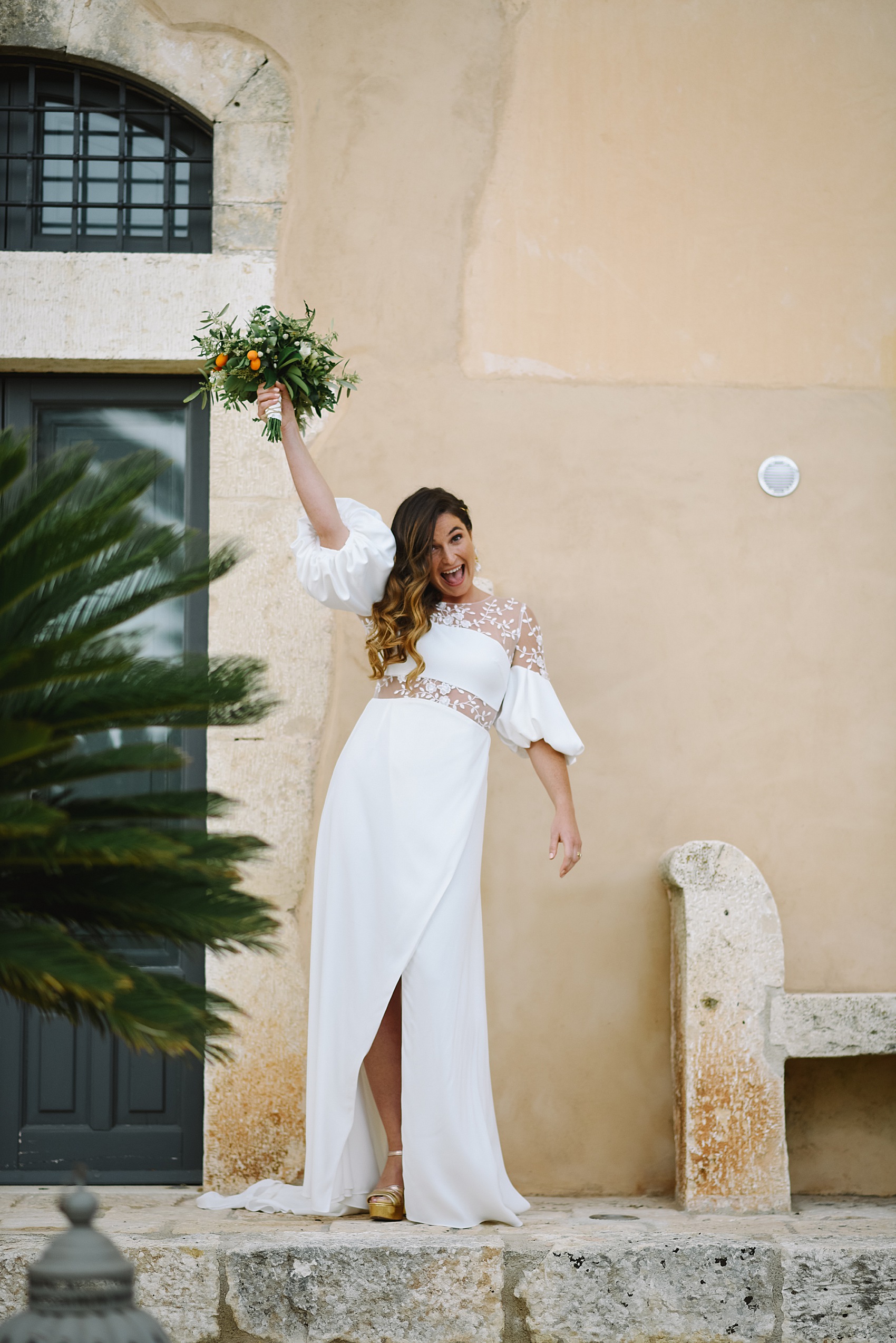 "The only criteria I had was to find something that made me feel happy to wear, that I didn't want to take off, and that I felt comfortable in. I loved everything about my dress, even though it was totally different to anything I would have imagined wearing. The thing I loved most was probably the unusual modern lace inserts and the sleeves."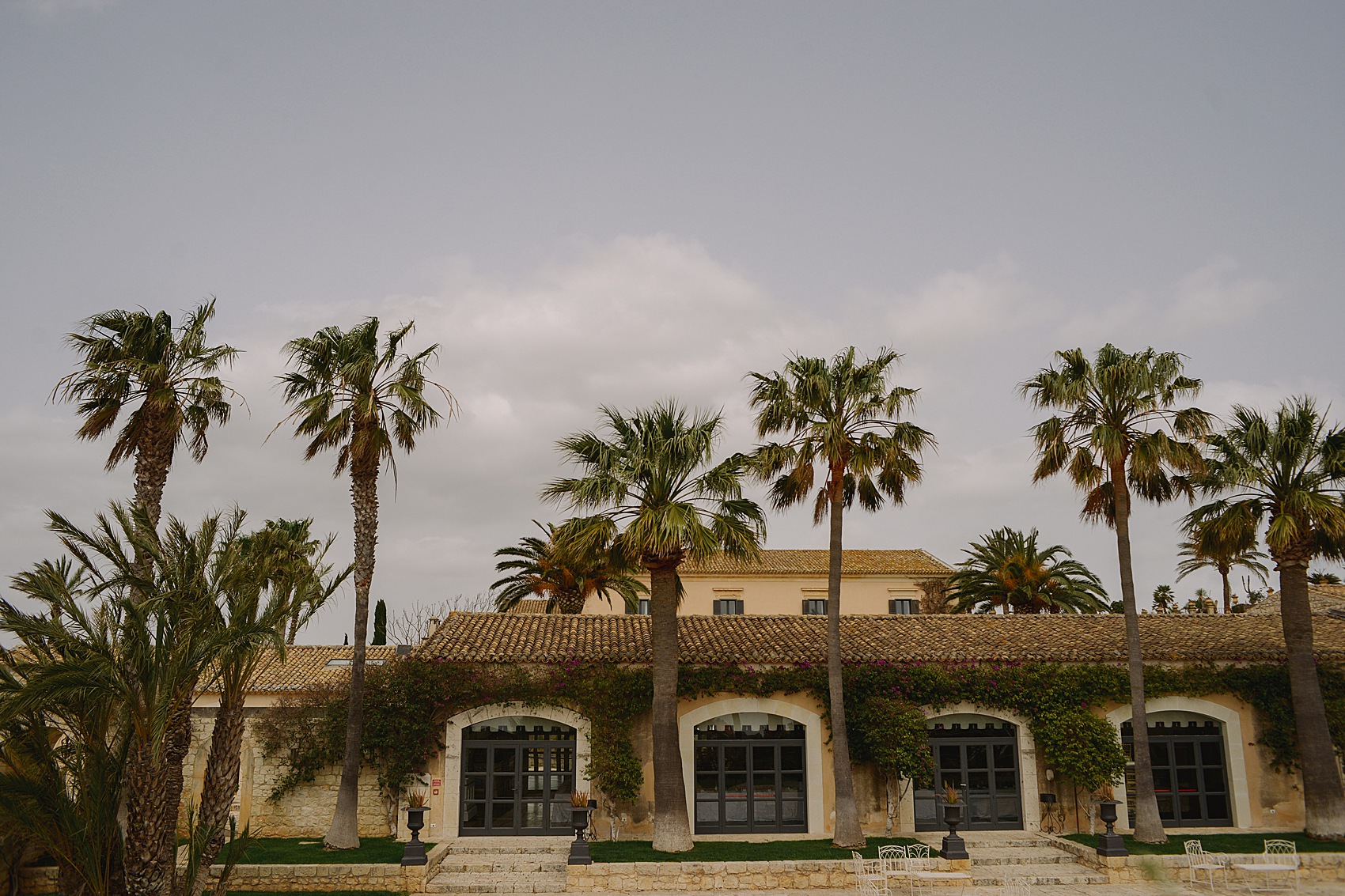 "I've always had my heart set on a Mediterranean wedding, and having spent two weeks every summer in Italy, it was a happy place for us. It was also close to where my Grandmother and Mum are from; Malta, which we also considered as a location."
"However, some Maltese friends put us in touch with the family who owned Villa Criscione, and when we went to visit, it was better than we could ever have imagined."
With the help of a local friend, Georgie booked a hair stylist for the morning of the wedding (no details provided, sadly). After a trial three days before the wedding, Georgie's hair was styled into glorious side-swept braid and waves.
"Make-up was done by my Aunt Samantha, who is a trained beauty therapist and make-up artist, and who did a brilliant job. It was lovely being able to spend more time with her in the lead up practising the look, and trying new products, and of course having her with us on the day itself."
To choose her dress, Georgie headed to a boutique that has been dressing many of our real brides on our pages, consistently and beautifully over many years – The Mews Bridal in Notting Hill.
"I absolutely loved the experience with The Mews. We had so much fun trying on dresses, and they helped find something that was exactly the vibe I was going for – non-traditional, fun to wear and easy to dance and eat in!"
"Of all the many shops we tried, this one had the most designers and dresses I loved, and certainly made me feel the most comfortable and at ease with doing things my way.
In fact, I've already recommended The Mews and the alterations company we used, Sewn Right, to other friends planning their wedding."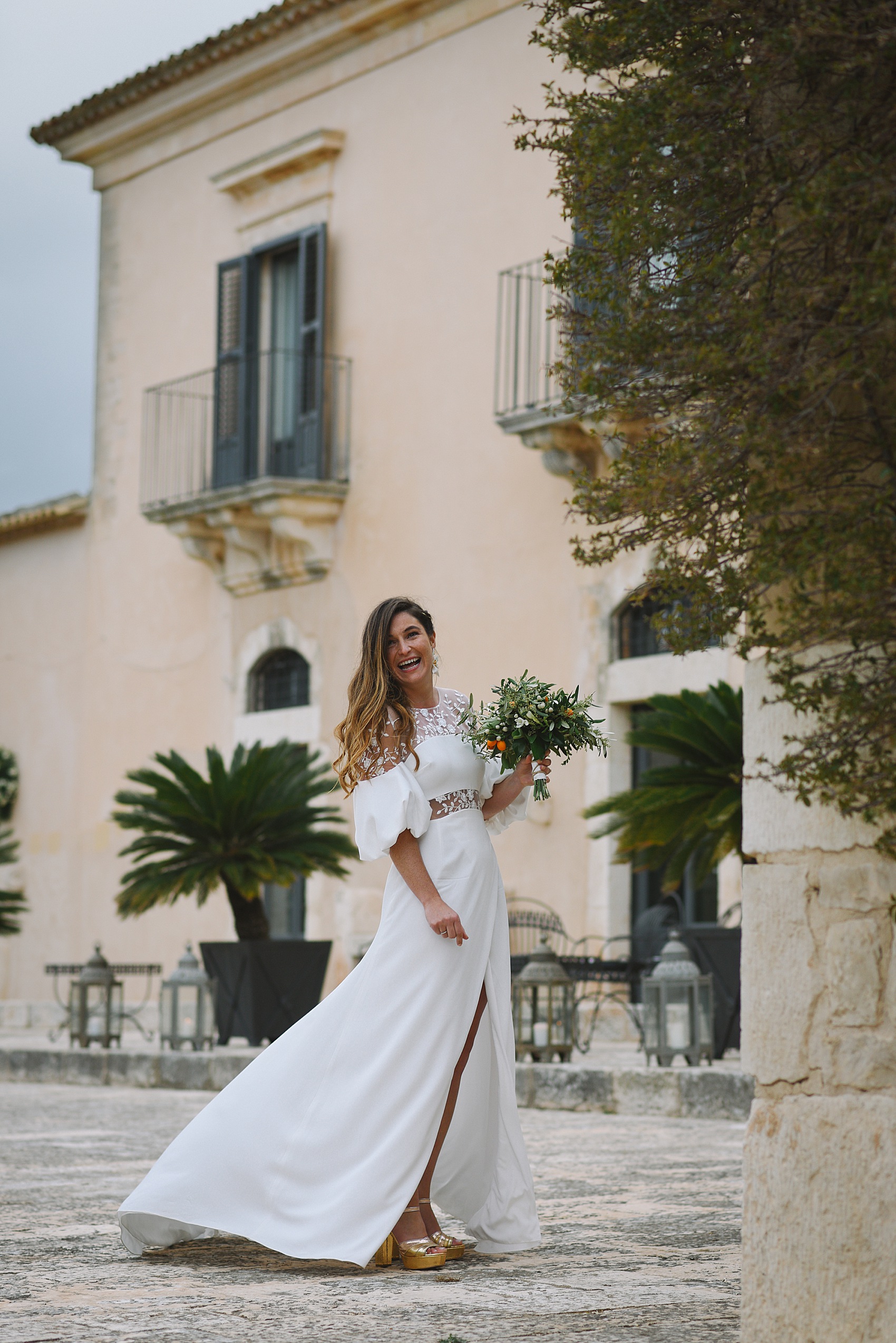 Georgie chose a beauty of a dress by Rime Arodaky, with floral illusion lace across the waist and shoulders, and the most amazing statement puffed sleeves, too.
"Right from the start, I didn't want anything about our day to be too traditional, and considered not wearing a white dress. I was actually super nervous going to my first ever wedding dress shop, thinking I'd be made to feel like I should look a certain way, but as soon as I tried on a few gorgeous white dresses, it felt like too good an opportunity not to wear a white gown!"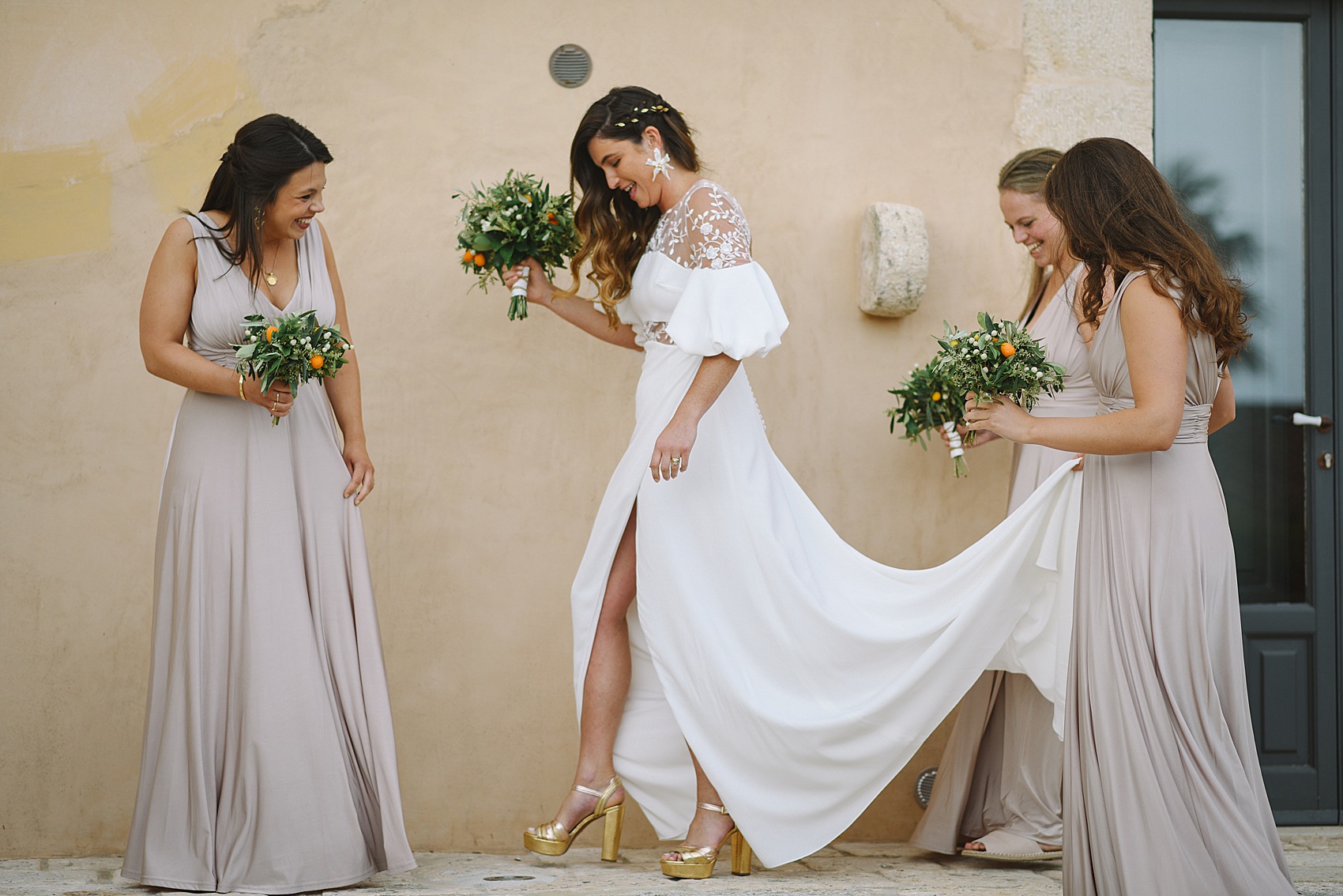 The bridesmaids wore deep V maxi dresses in champagne, by Biba at House of Fraser, which they wore with their own shoes, and Missoma necklaces given to them by Georgie as a thank you for their support.
"With the help of a Sicilian friend, we sourced a local florist. In classic Sicilian style, we didn't hear from her until a day or two before the wedding after one initial meeting! However, she created brilliant bouquets and buttonholes from local flowers. These included eucalyptus and kumquats."
"We were a bit nervous to ask friends to travel, but everyone was so excited and ended up making a holiday of it. The landscape is very similar to Malta, and you know you're going to get great food and wine in Sicily, so half the hard work was already done!"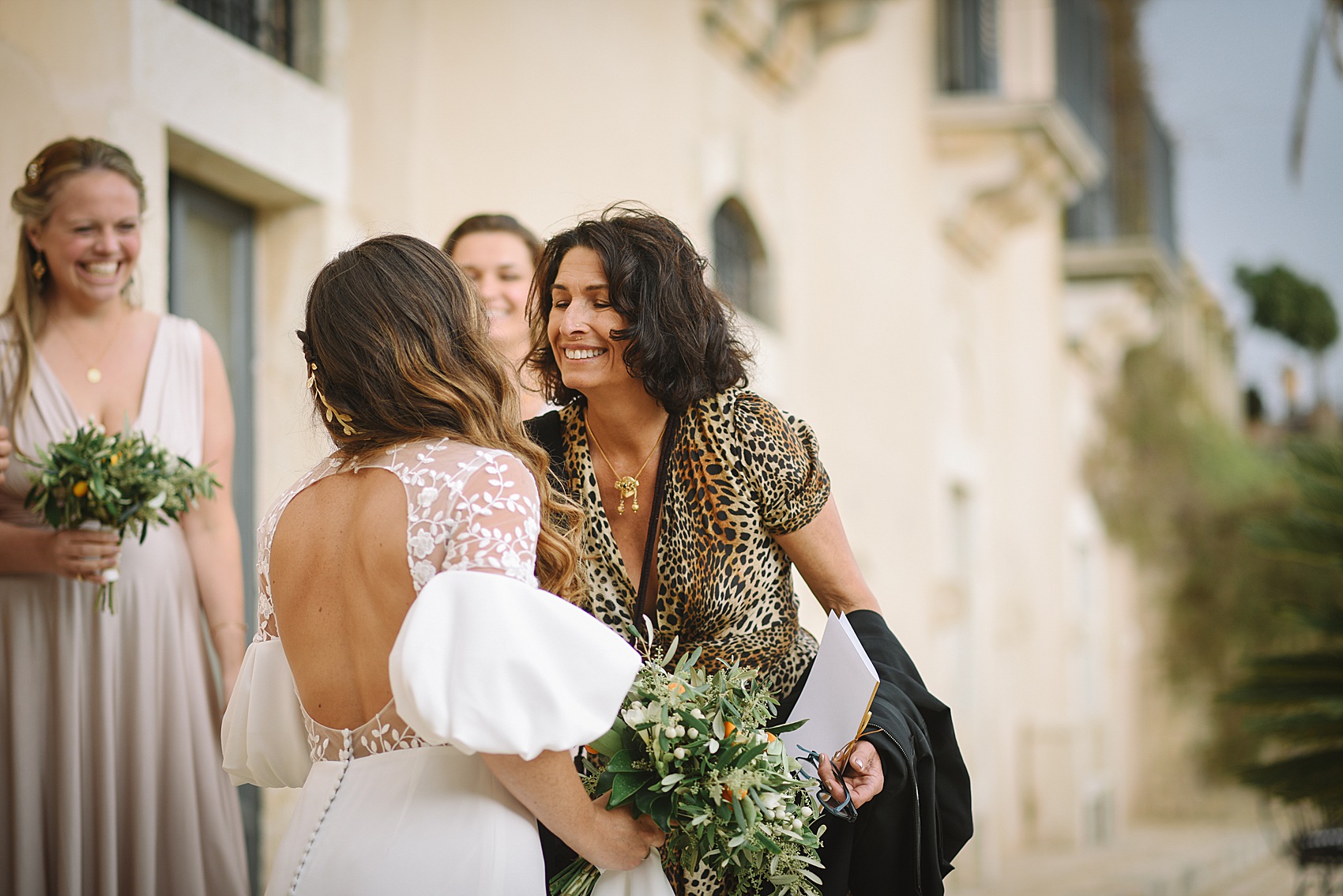 Woven into Georgie's braid was some gold leaf ribbon her mum had found in a haberdashery shop. For her 'something old', she wore a diamond band gifted to her on her 30th birthday a few months before, which had originally been a gift to her mum from her grandfather.
"I wore a pair of awesome gold disco platform sandals from Michael Kors. My dress revealed quite a lot of leg, so I needed something that complemented the outfit and provided my legs with some much needed length!"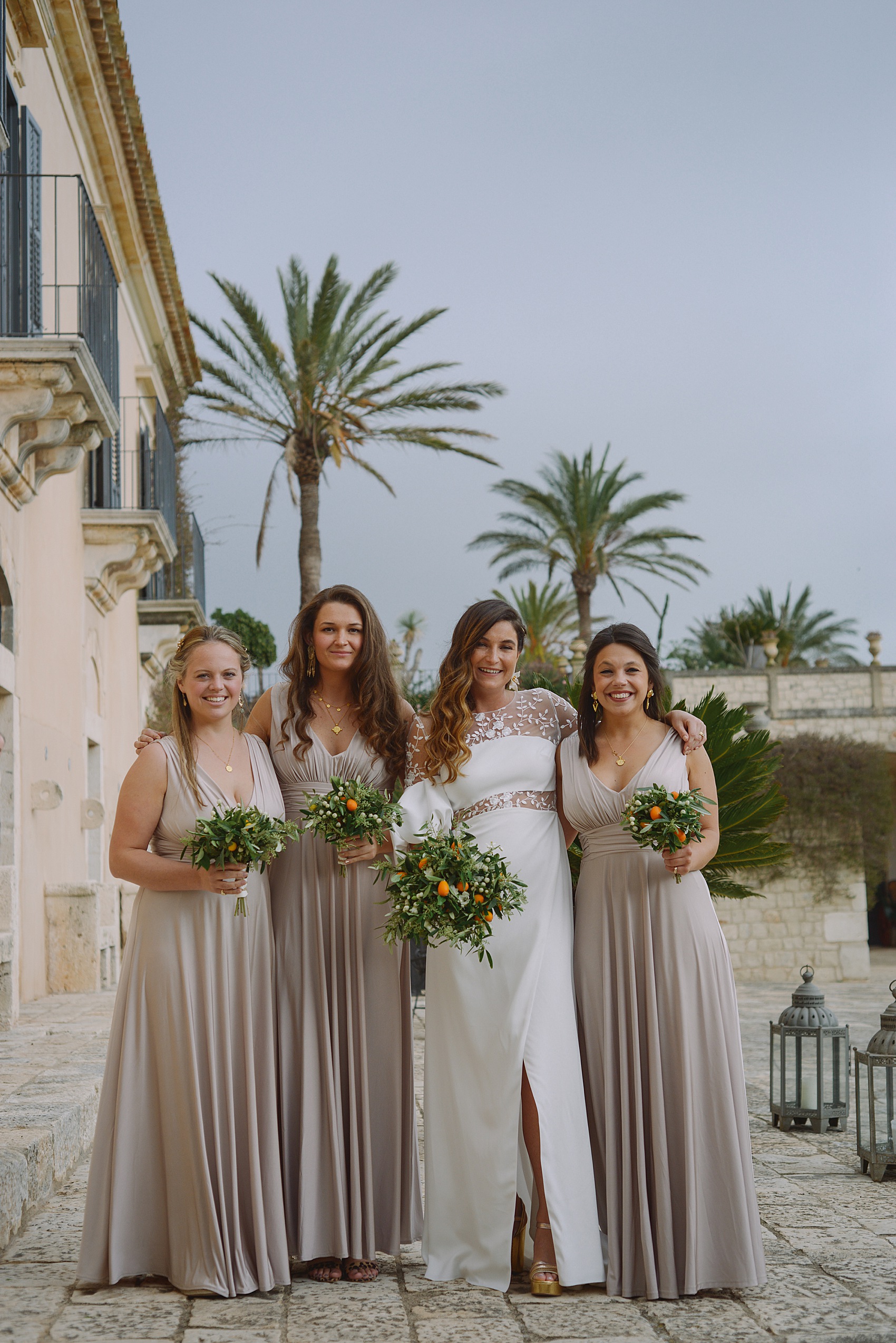 For Georgie and Luc, there were a couple of important considerations when it came to planning their day. Firstly, they wanted to highlight the beautiful area they were married in, by using local suppliers for food, and to style the venue with local flowers, ceramics and art.
"Having been to a few weddings in the last few years, we definitely wanted ours to be a fun, relaxed party that felt personal and was a bit more homemade. We both love Italy, and were so excited to celebrate with all the people we love in a favourite place."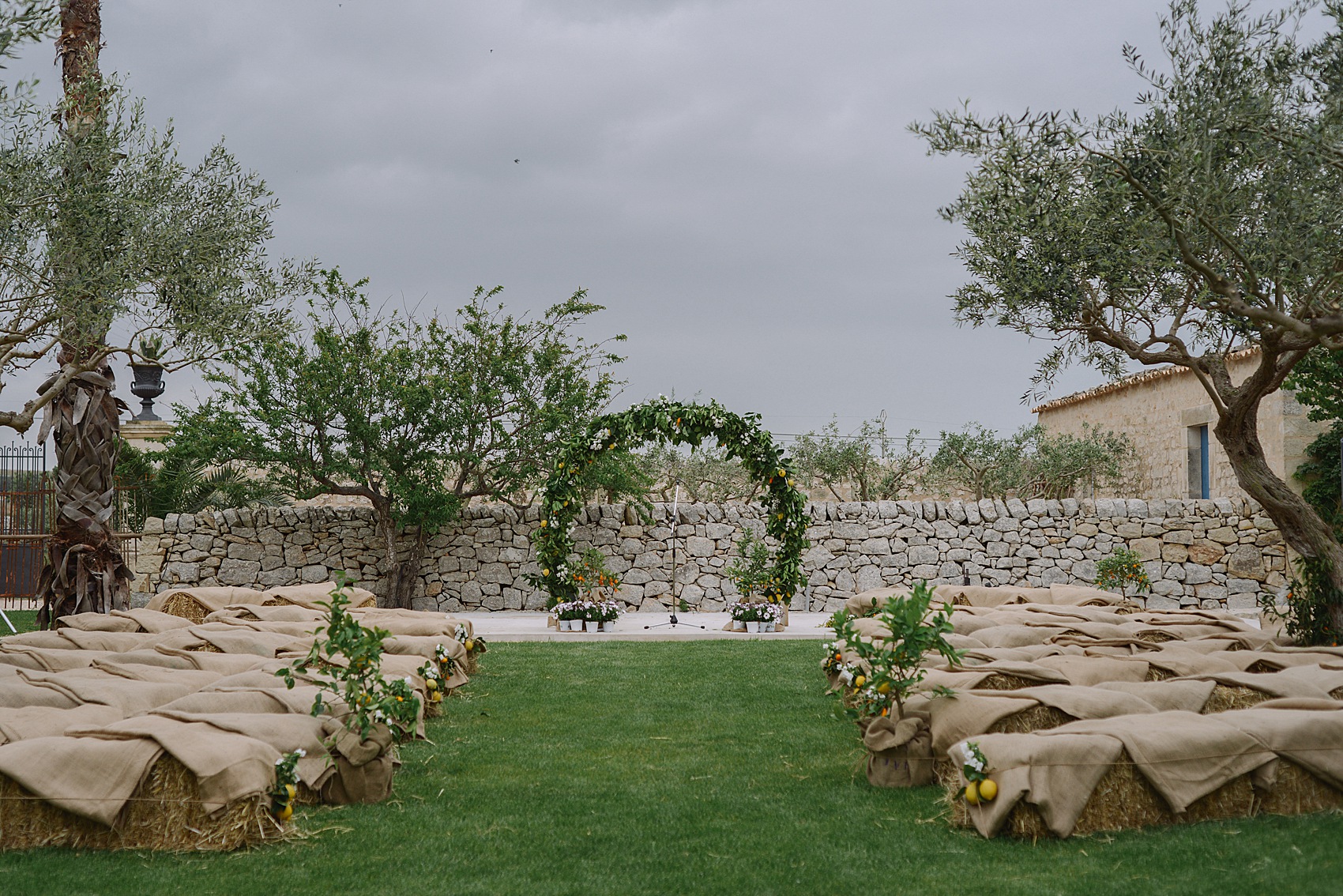 Georgie's entrance music was an acoustic version of Wedding Song by the Yeah Yeah Yeahs – what a great choice! The couple's celebrant was their family friend, Kate.
"As we had opted for a symbolic humanist ceremony, we had a lot of freedom to create a very personal service, which Kate presided over. It was really special to have someone who has known us together over the last 10 years create such a warm, poignant service, which was also humorous."
"We each wrote three promises to each other, which we read out alternately. [Georgie] I got a lot of inspiration from a brilliant book my sister Abbie had given me, How to Get Married by The School of Life."
When it came to Luc's outfit, they did quite a bit of research about what might work (and look) the best for a destination wedding, and in the end went for a classic black suit by The Kooples, paired with a white collarless shirt by Armani, and suede shoes from Russell & Bromley.
"The moment just before I went outside, and all the adrenaline has built up and I was excited to see Luc is probably up there as one of my favourite moments. I was so excited to see everyone and to see my husband up there, and felt so happy and proud to walk out with my dad. I think that was the best moment."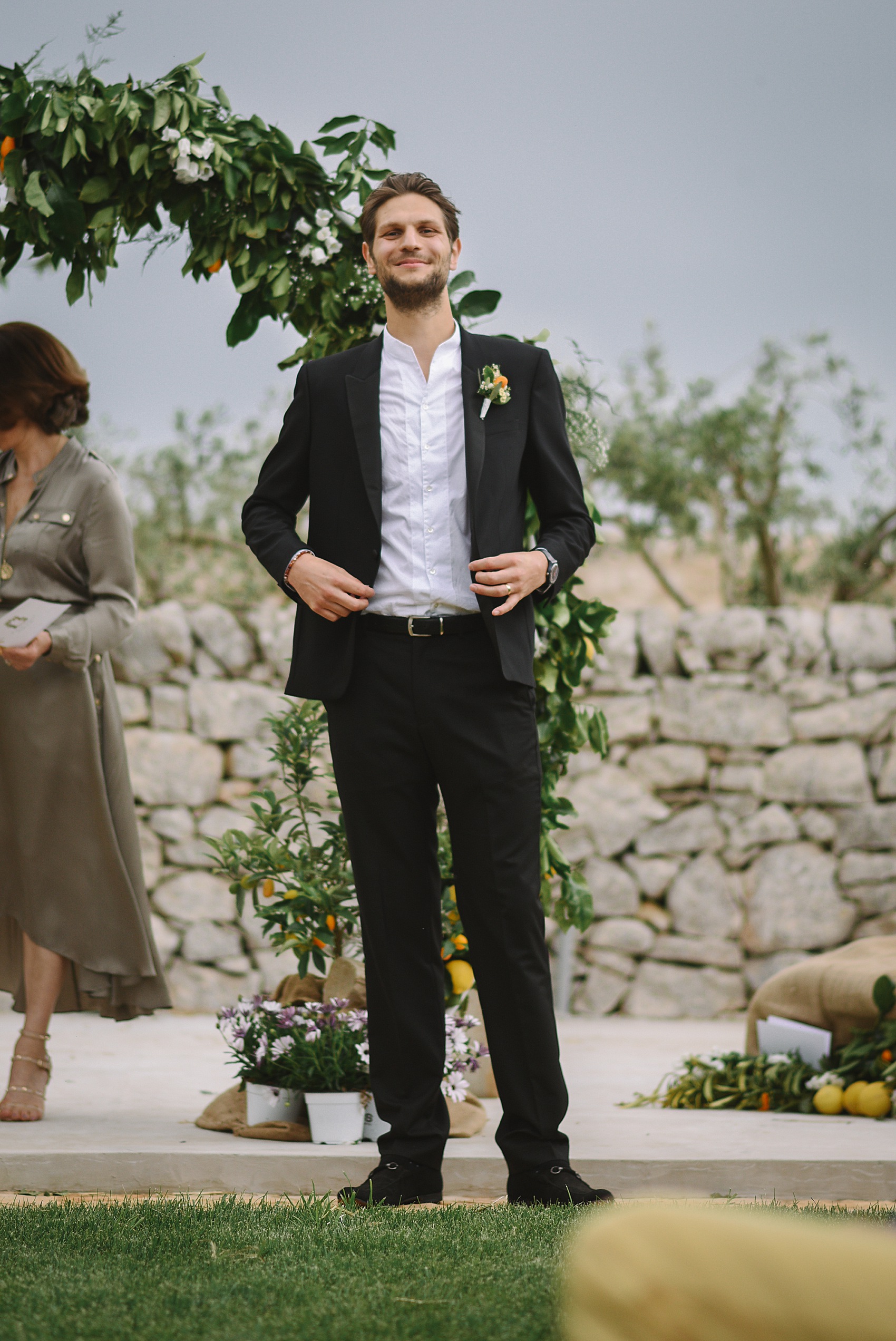 "My dad Gavin [Luc would like to give a special shout-out to Gavin's hand painted silk waistcoat!] walked me down the aisle. I was quite nervous when we went, and although it wasn't a church wedding it was still really special to walk with him and have someone to grip on to!"
There was touching involvement from Georgie's brother and sister after the vows, when they came to help with a handfasting ceremony, using personalised ribbon that Georgie's mum had sourced via The Ribbon Company.
"We liked the idea of a more spiritual and symbolic ritual as part of the ceremony to accompany our promises."
Georgie's wedding band is a Russian wedding ring, or trinity ring by Cartier, and Luc chose to wear his late father's yellow gold band, which was resized to fit him.
"We had three readings. The first was from Georgie's mum Melissa, who read a beautiful extract from one of our favourite books, Captain Corelli's Mandolin. Having spent the last 10 years counselling and supporting both of us through ups and downs, it was really special to us all for her to give a reading about how love develops over time."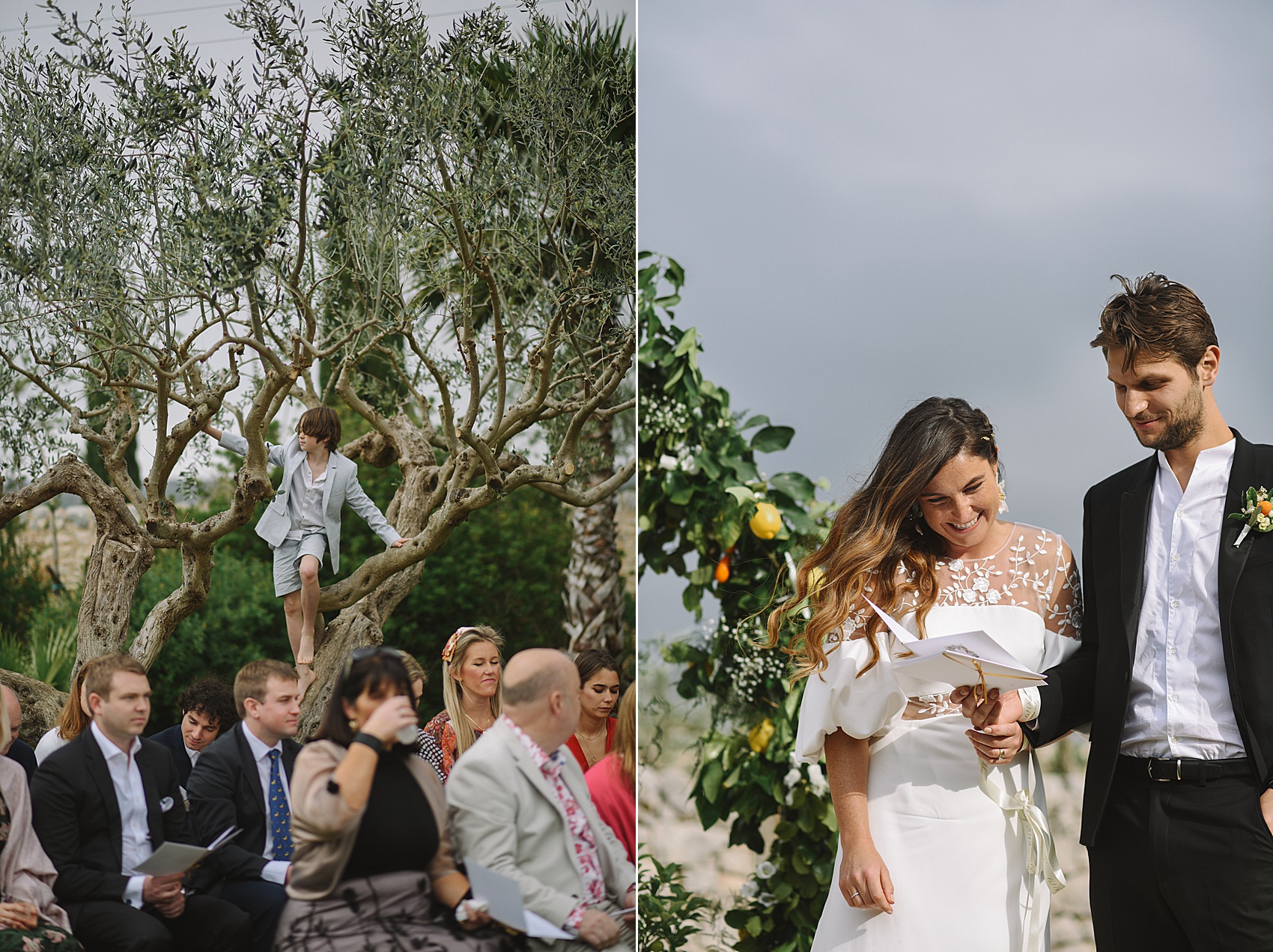 "The second reading was given by our close friend Annie, who read To Love is Not to Possess by James Kavanaugh. The third and final reading from our friend James was He Never Leaves the Seat Up by Pam Ayres. Both of the readings meant a lot to us and our belief that marriage is a partnership built on respect that grows over time."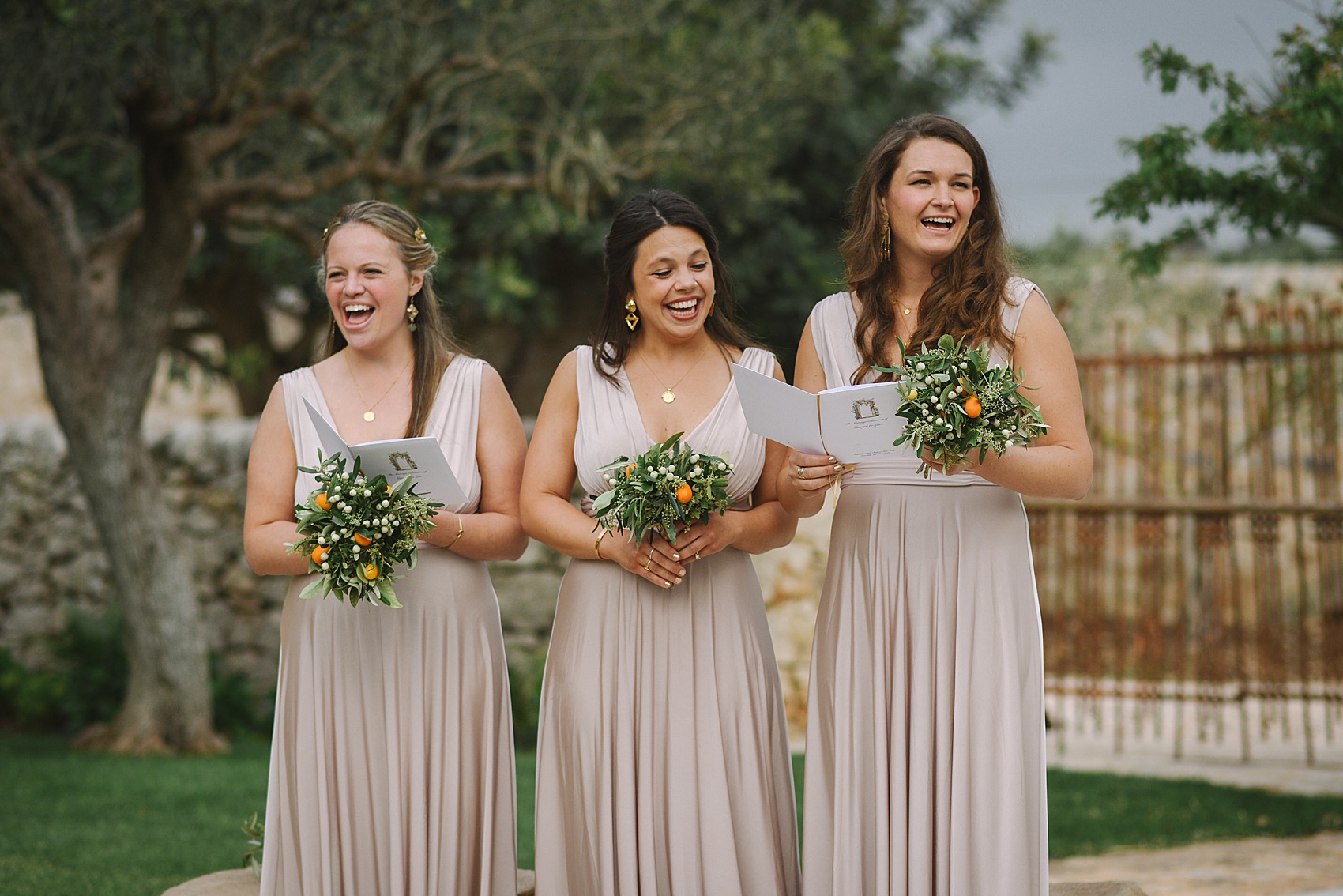 I just love the fact that Georgie and Luc chose to say their vows outside, in the midst of the villa's olive grove, against the backdrop of a green arbour studded with bright kumquats and lemons. After the ceremony, they moved to the venue's terrace for drinks and canapes.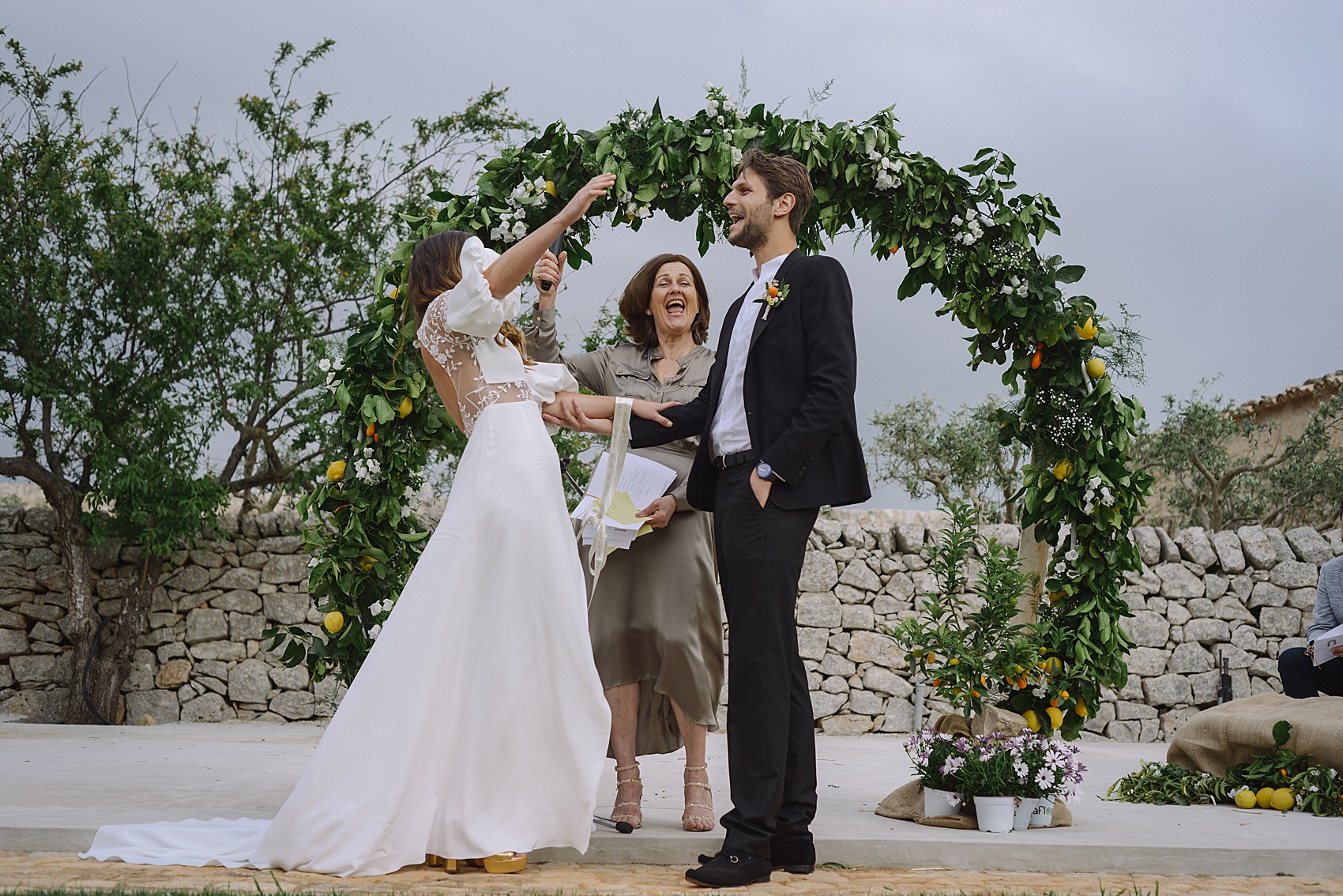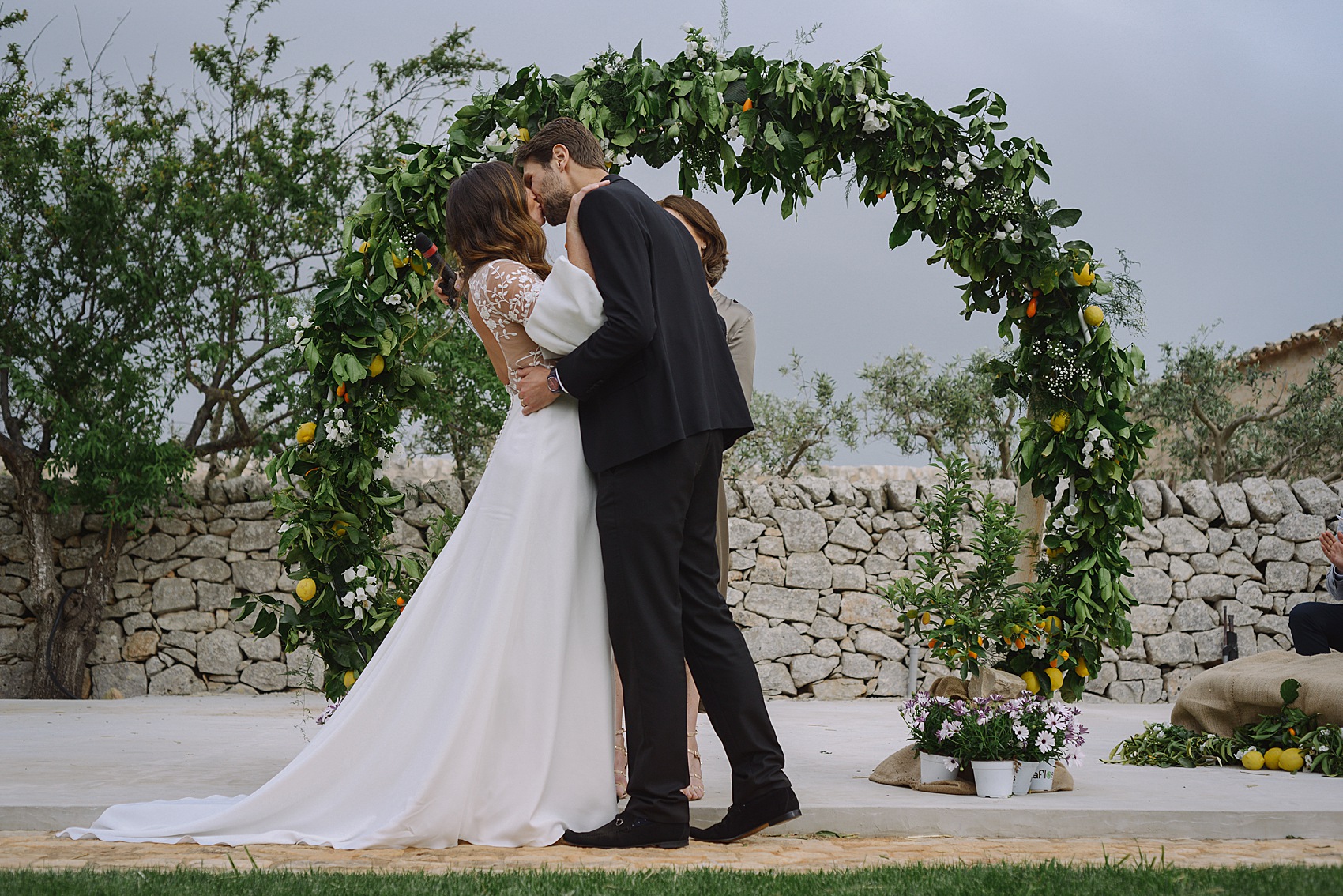 The couple searched high and low for the right photographer, and came across Sarah Burton's beautifully spontaneous yet elegant, fine art style work on Instagram. It also turned out that Sarah had shot a friend's wedding in Mallorca, too.
"We loved the way she captured the natural environment and light in her photos, which was really important to us. We were looking for someone who would make the most of the incredible landscape and venue, without necessarily being a 'conventional' wedding photographer, and although we'd hoped to find someone based in Sicily, her work was so awesome, and we didn't find anyone else who came close."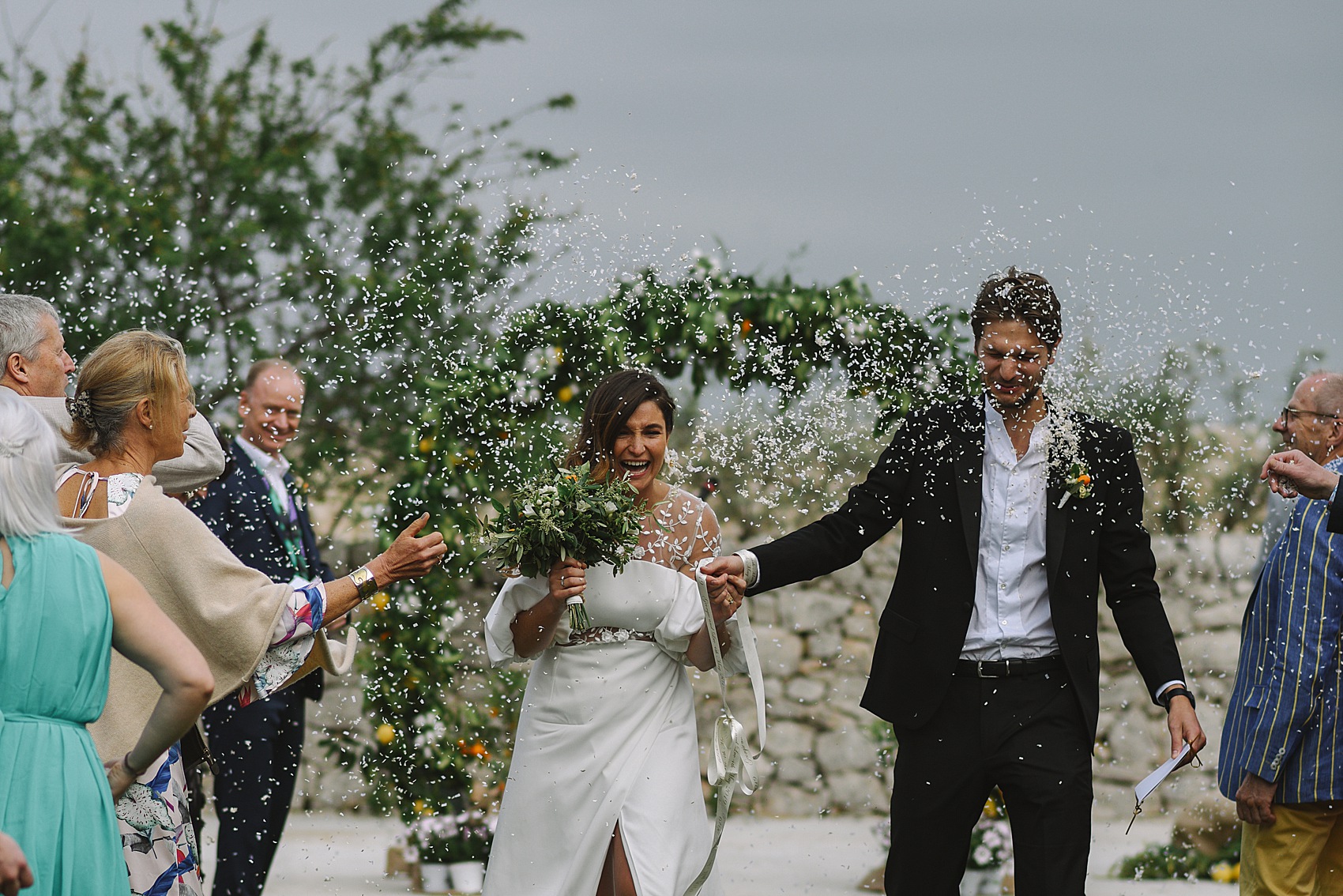 "We both loved working with Sarah, and she was lovely to have around on the day, making us all feel relaxed and capturing the moments and emotions that really mattered to us."
"We didn't want the pictures to be too formal, which Sarah was totally on board with, and she definitely captured the fun, light-hearted nature of the day in her pictures."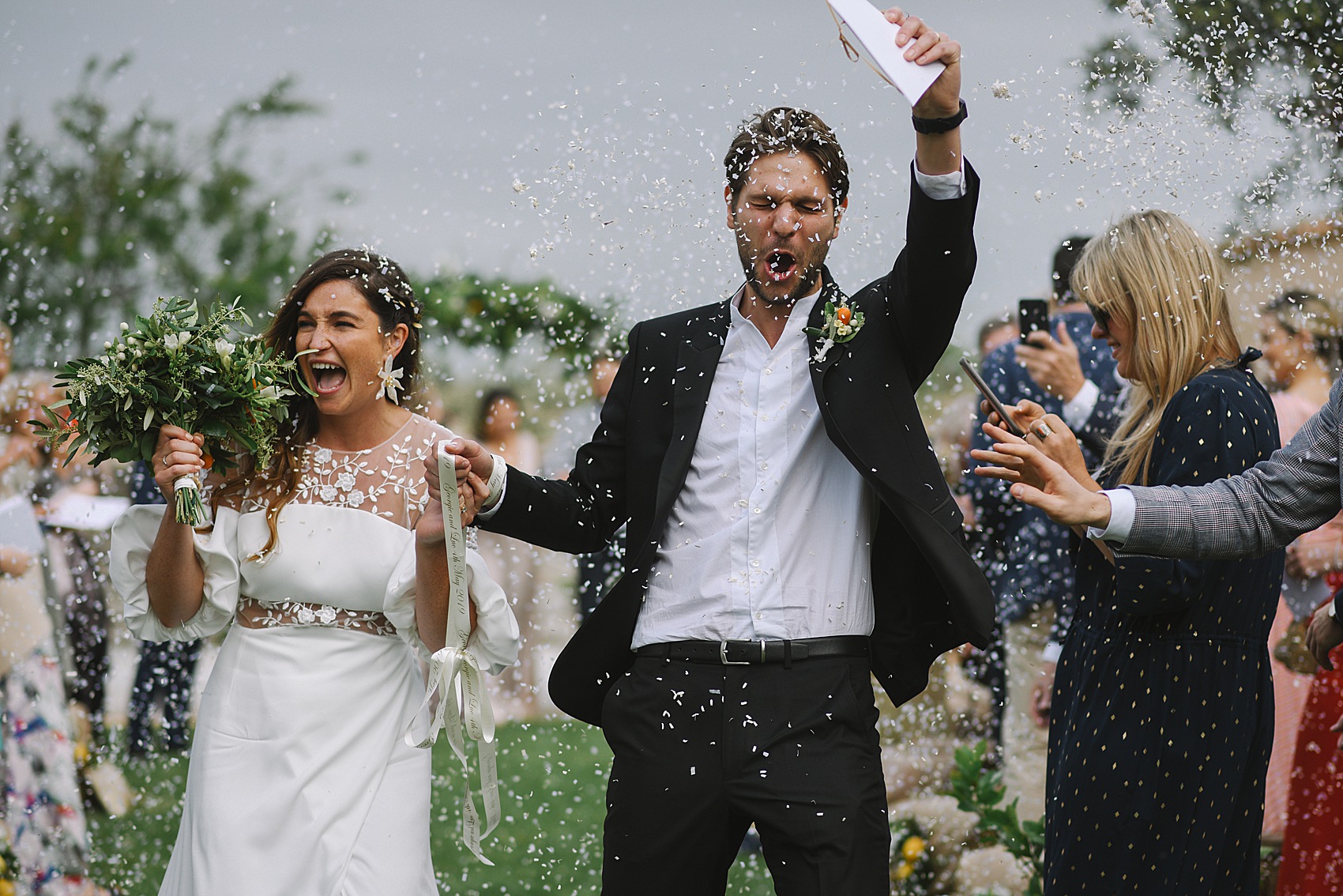 "We would absolutely highly recommend working with Sarah, and only regret not also commissioning her partner to create a video on the day as well!"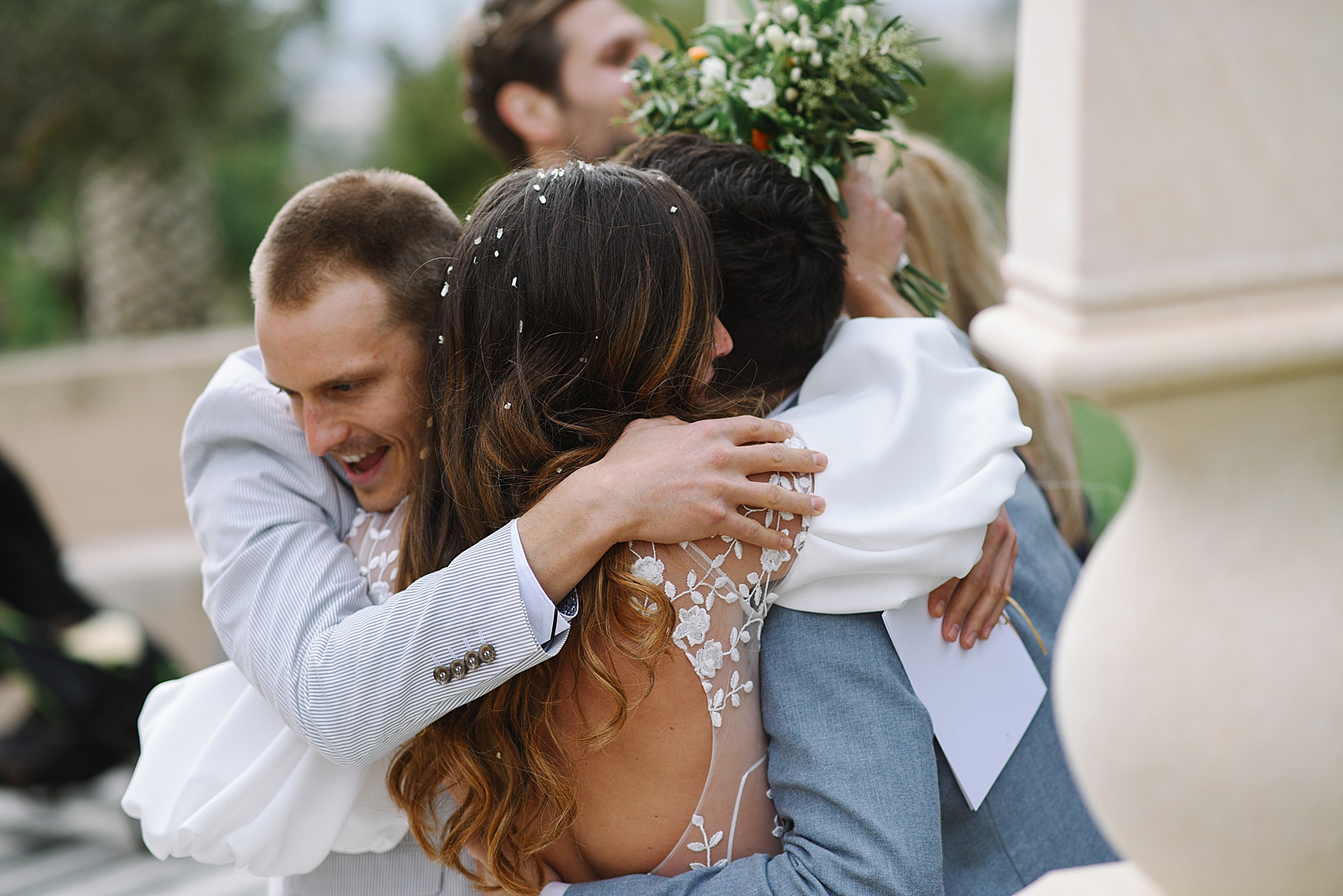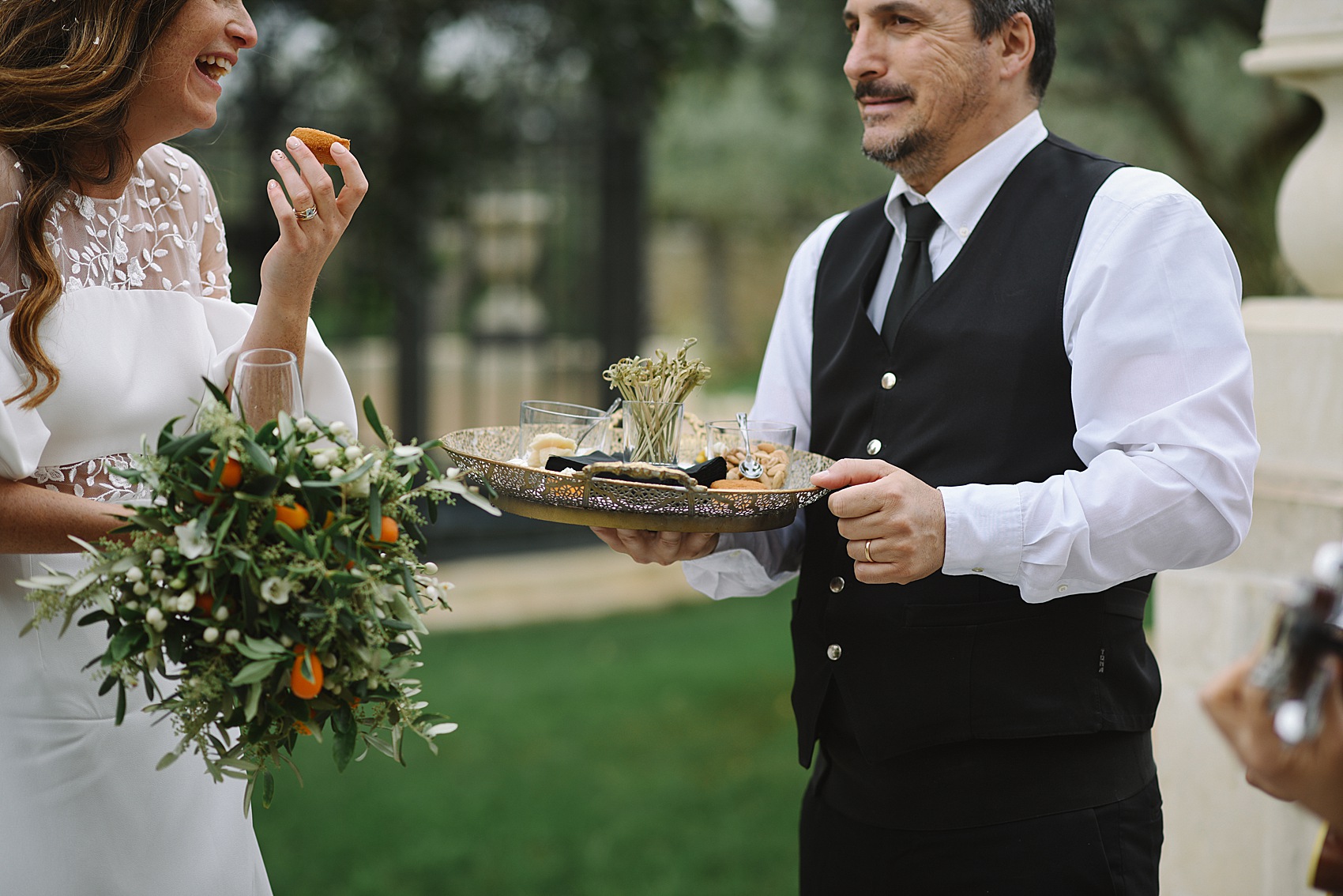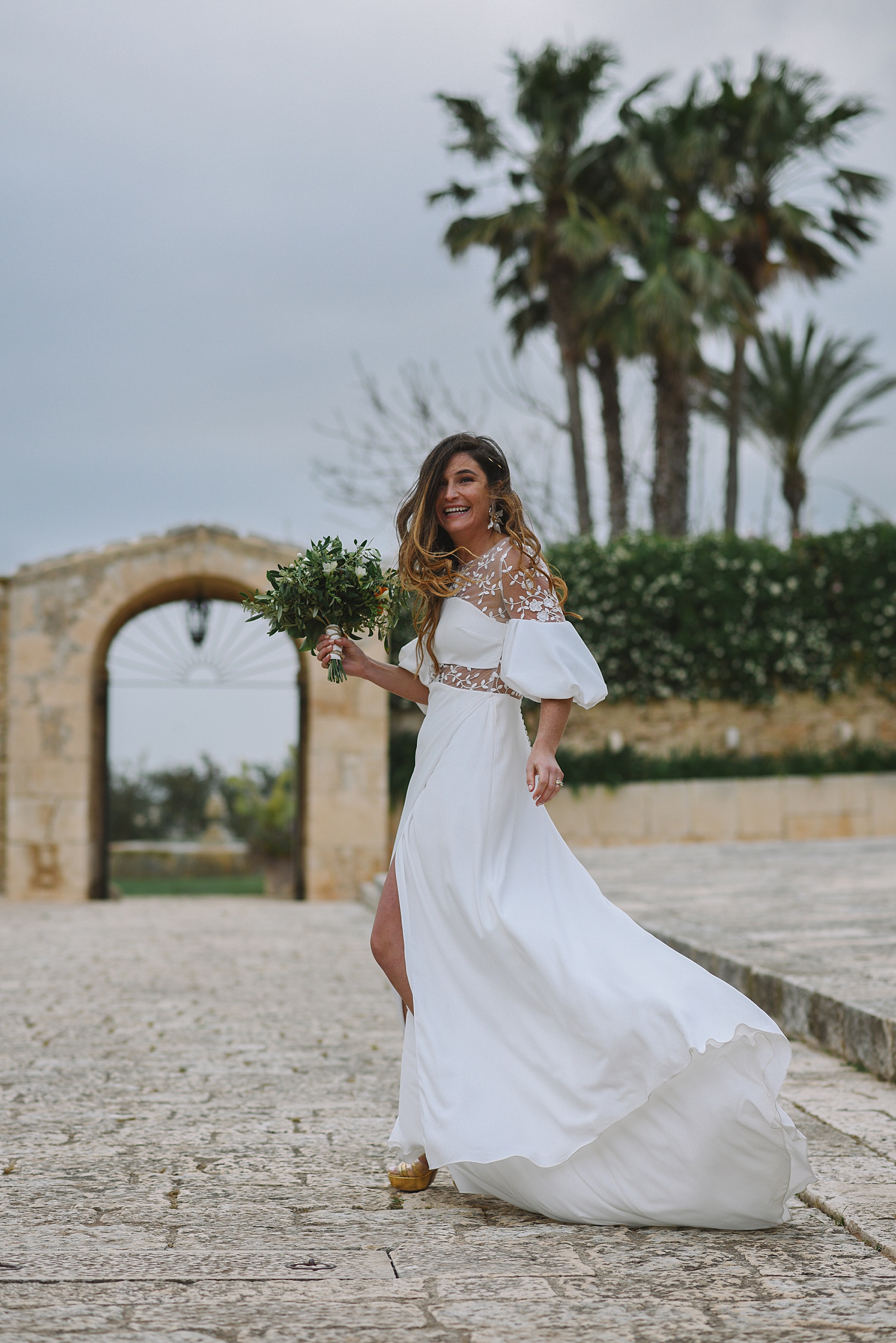 Georgie's statement earrings were a pair of mother of pearl and gold lovelies by Lele Sadoughi.
"I went to Jo Malone to look for a scent that would go with the Italian theme, and in the end wore the Nectarine Blossom and Honey body cream, with Acqua di Parma Blu Mediterraneo – Mirto di Panarea perfume over the top."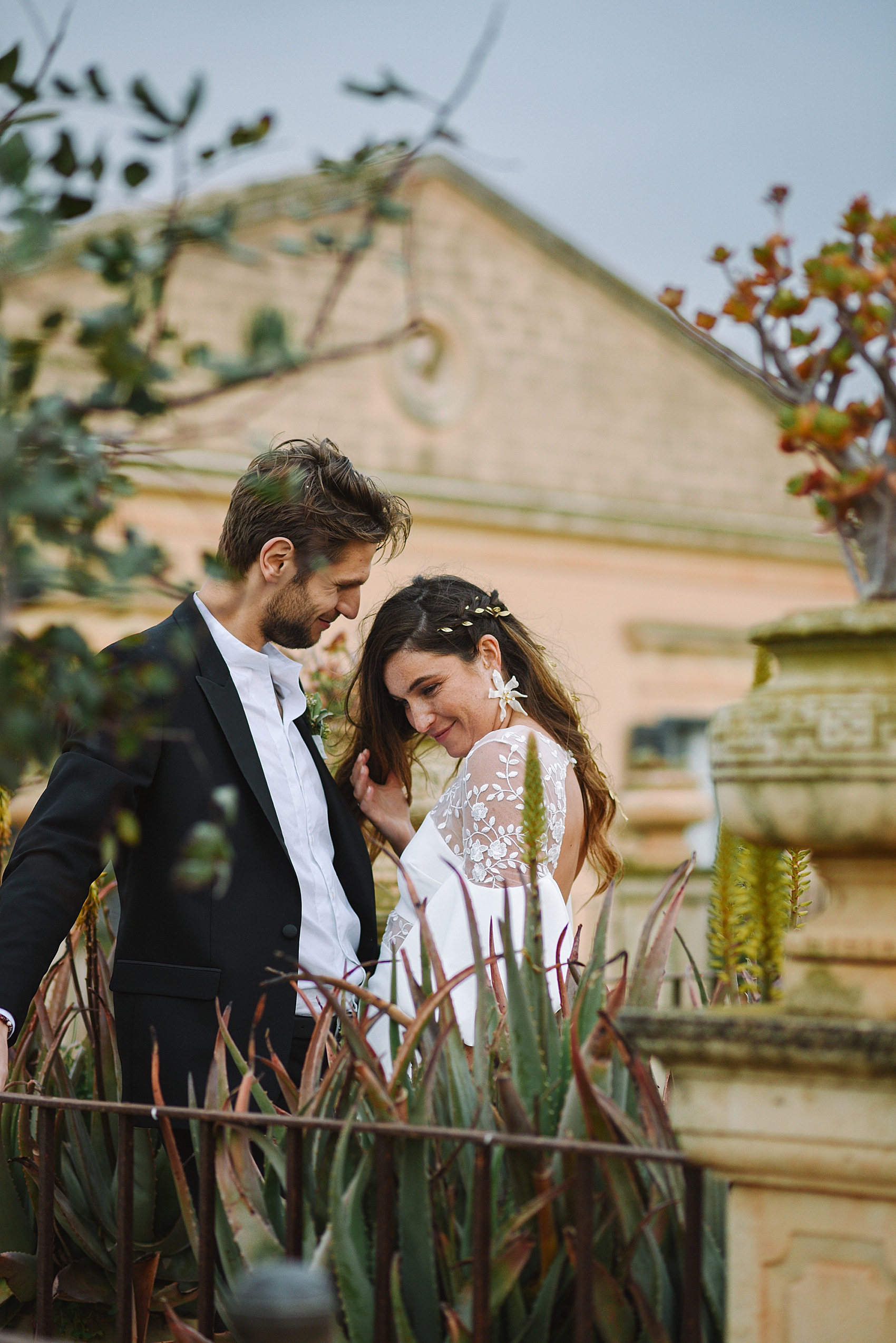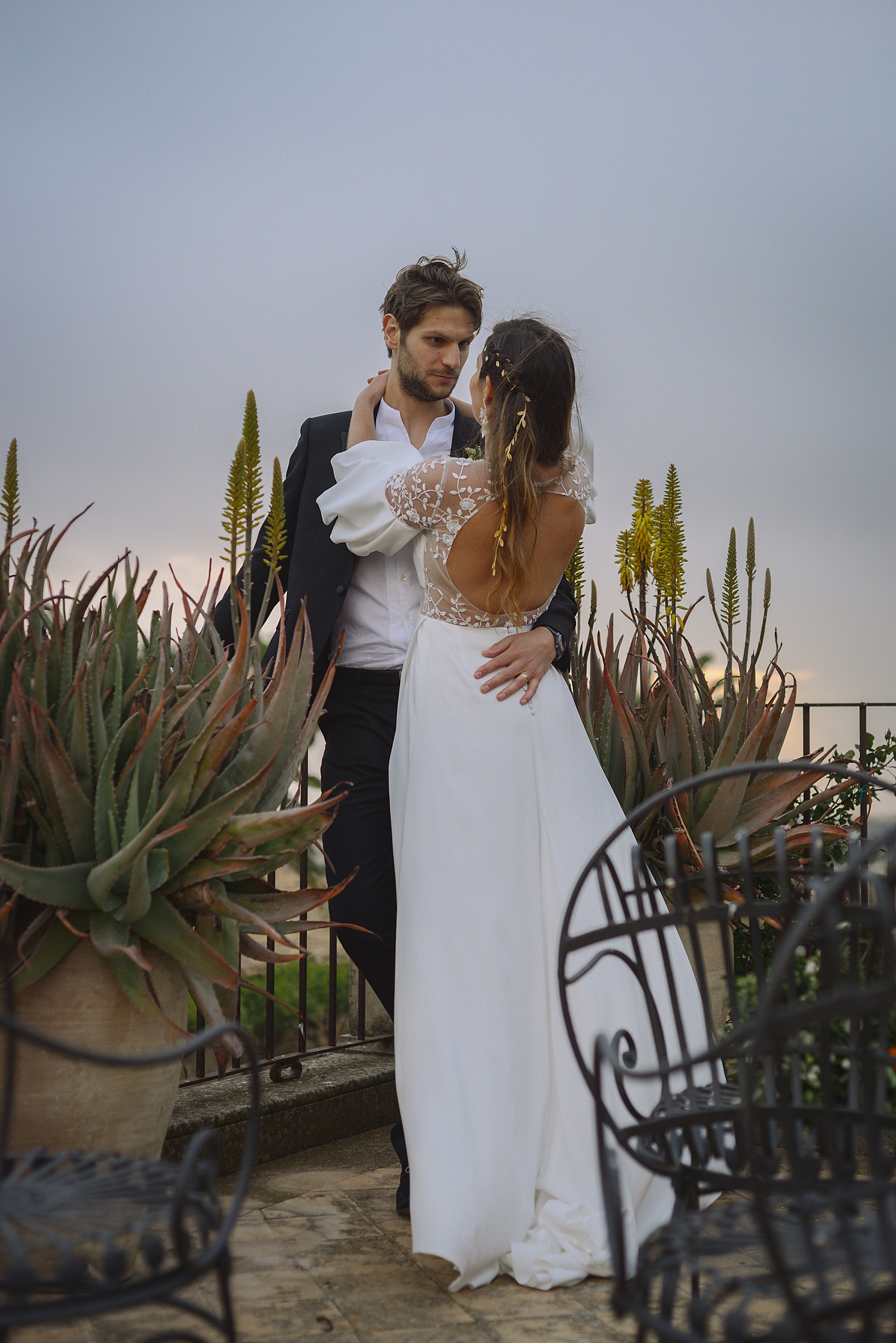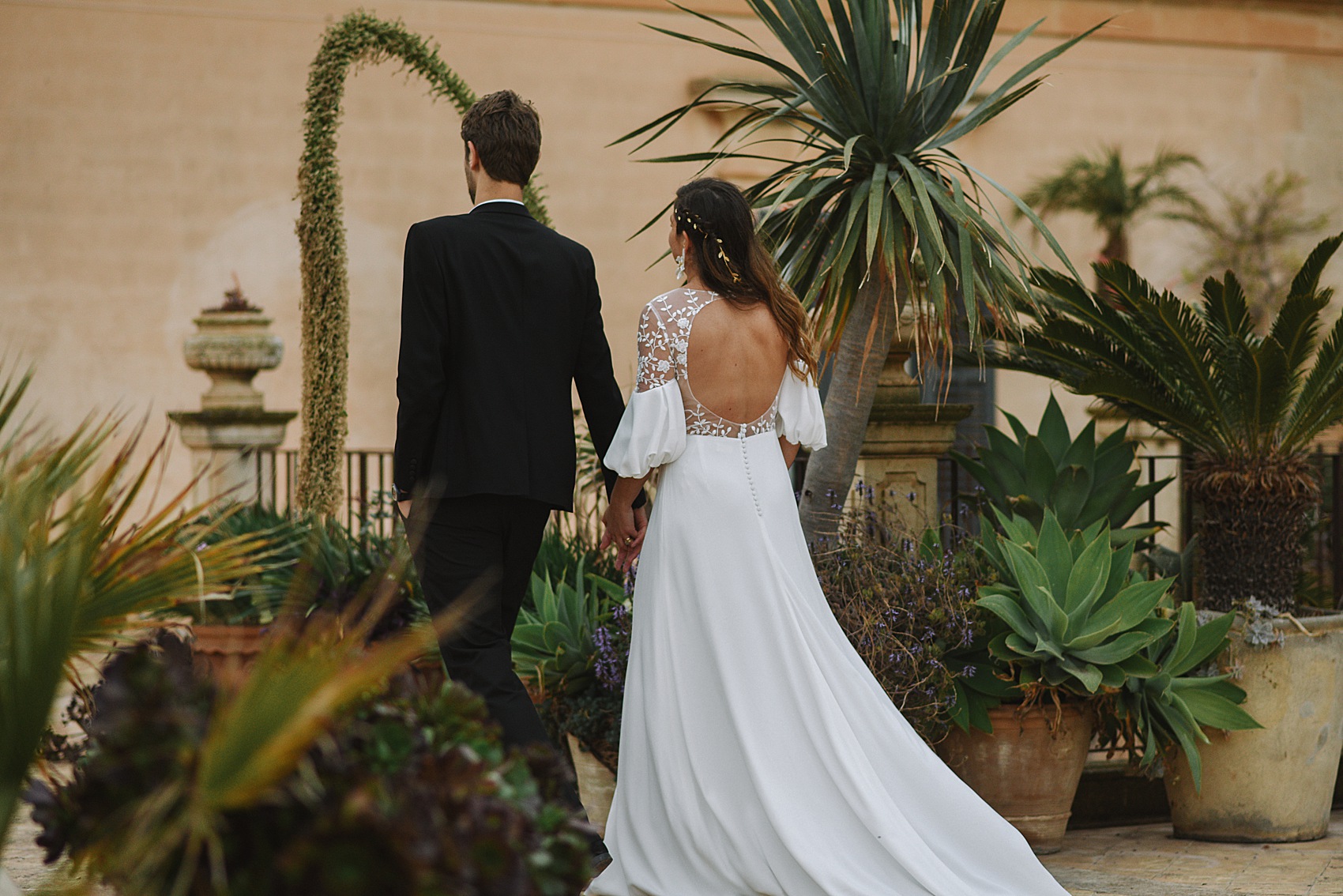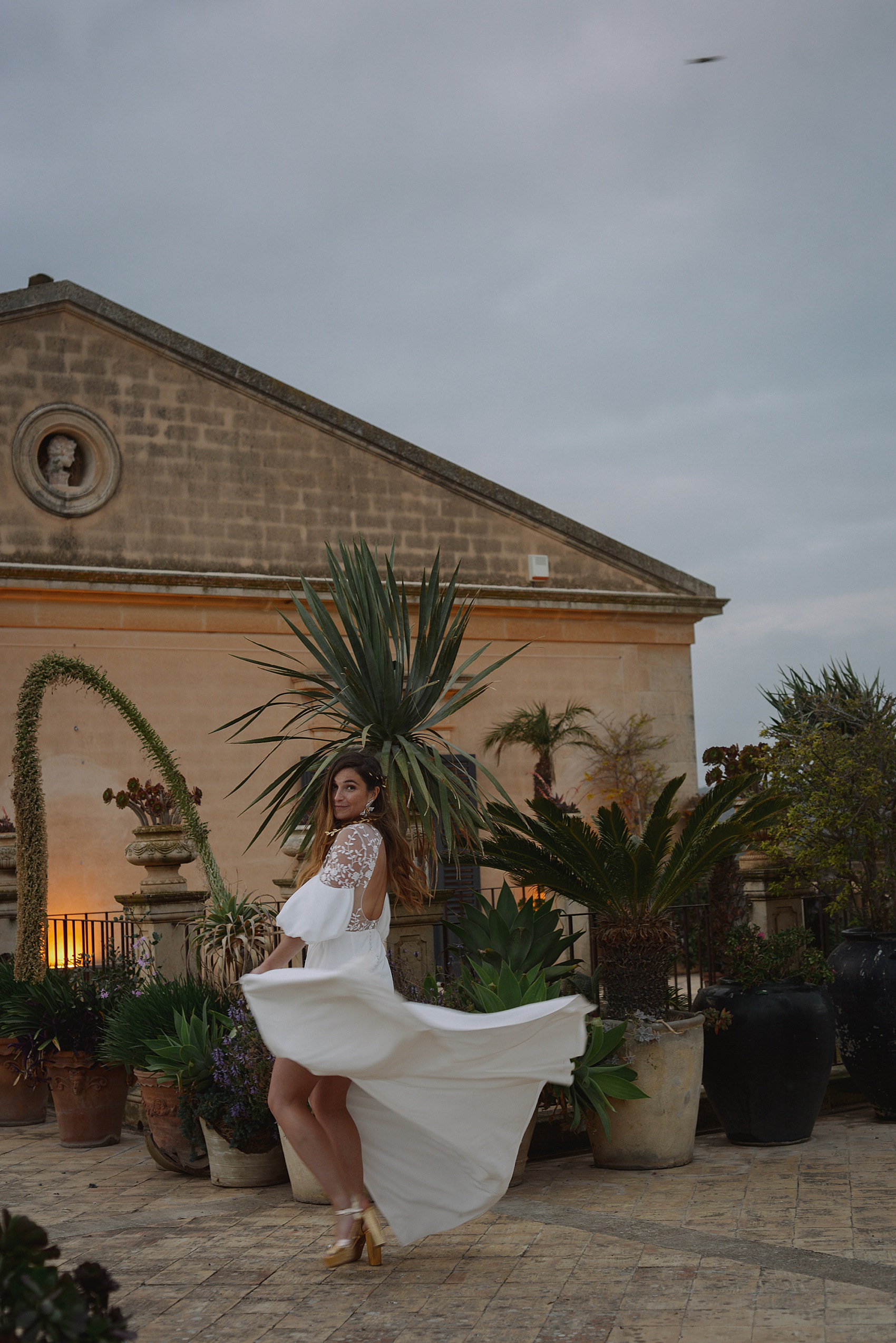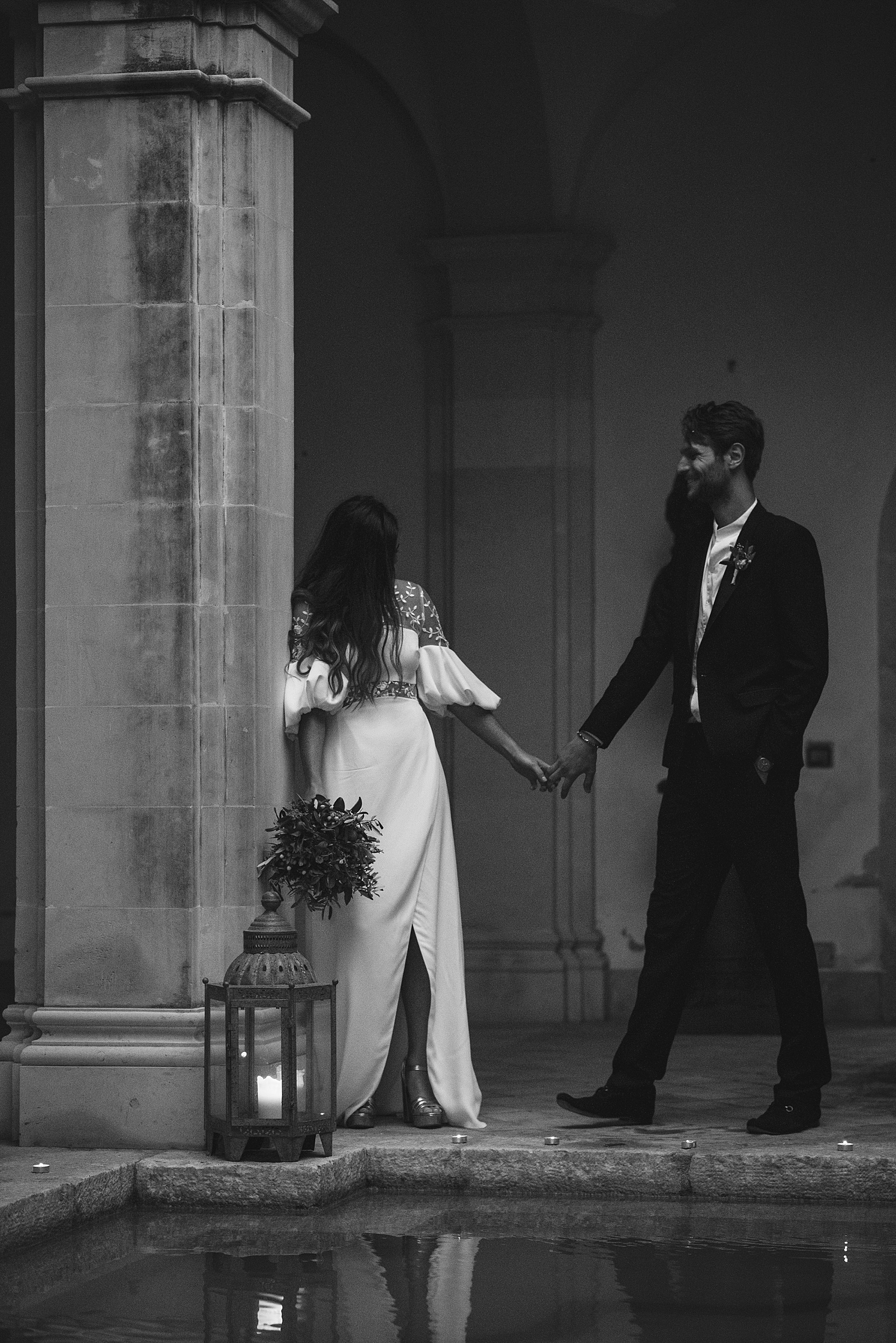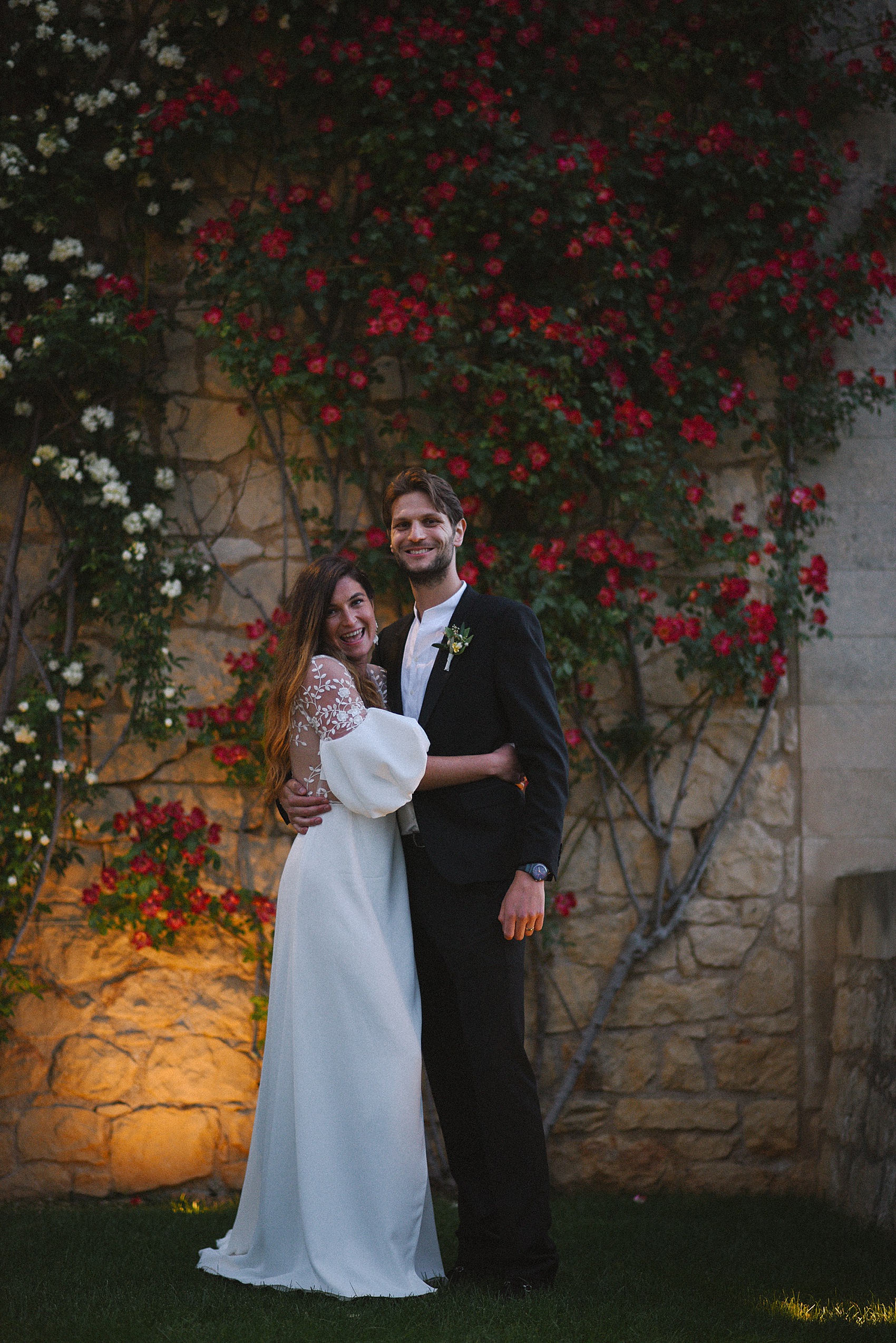 Honeytree Publishing provided the couple's invitations, orders of service, and place cards. Sadly they are no longer operating, although you can still view their Instagram page for inspiration.
"A close friend of ours, Harry Haynes, created some beautiful illustrations, which we used on the order of service and table plan, which we made at home with lots of coloured card and Pinterest trawling!"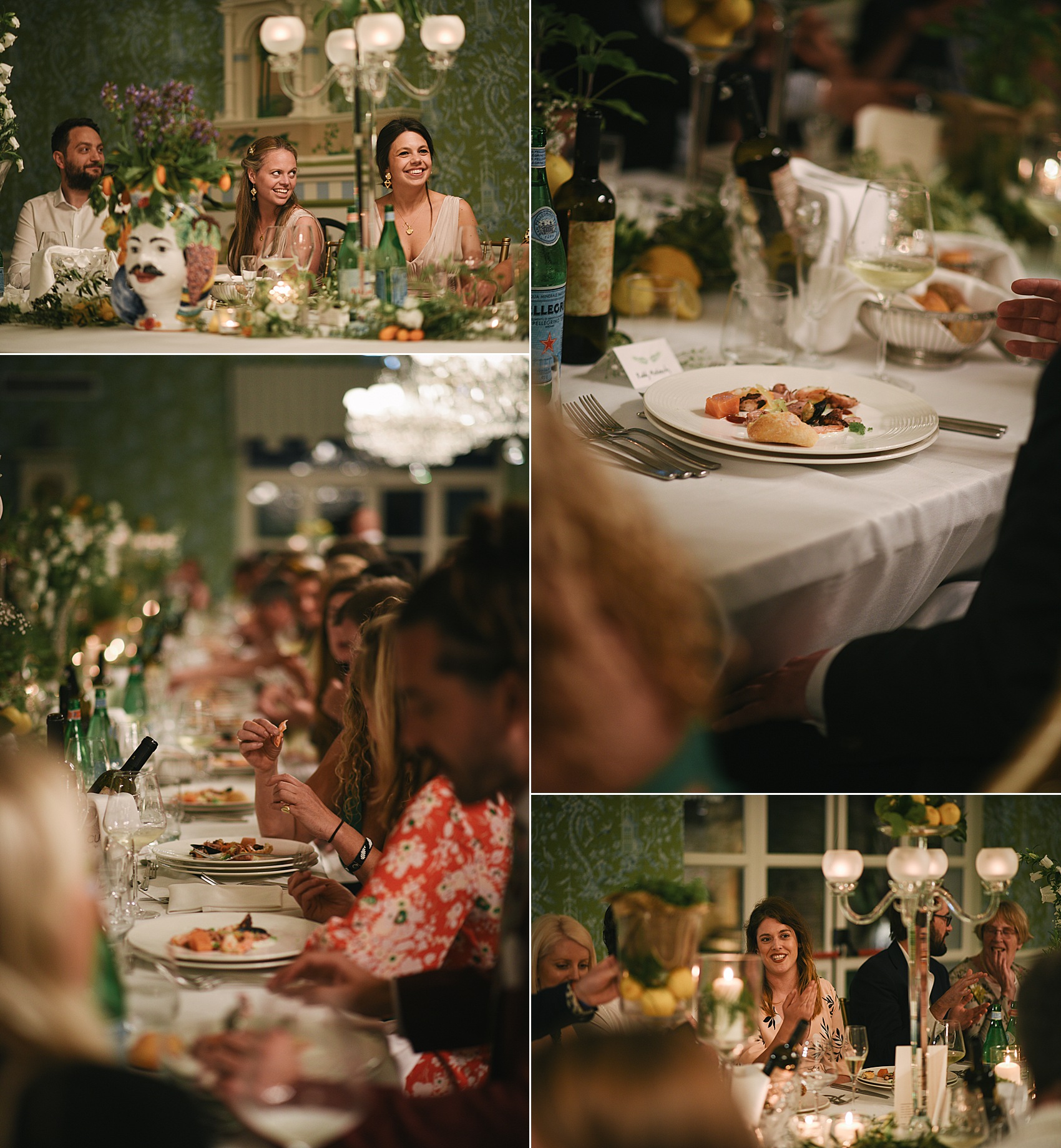 The villa's chef also baked the couple's wedding cake, which had four different flavours, including a vegan layer, which was then iced and adorned with olive leaves and jewel-like cape gooseberries.
"Once again, we to put our trust in their hands to create something that we wouldn't see until the day! In the end the cake was absolutely amazing and tasted delicious, not that we managed to eat much of it on the night!"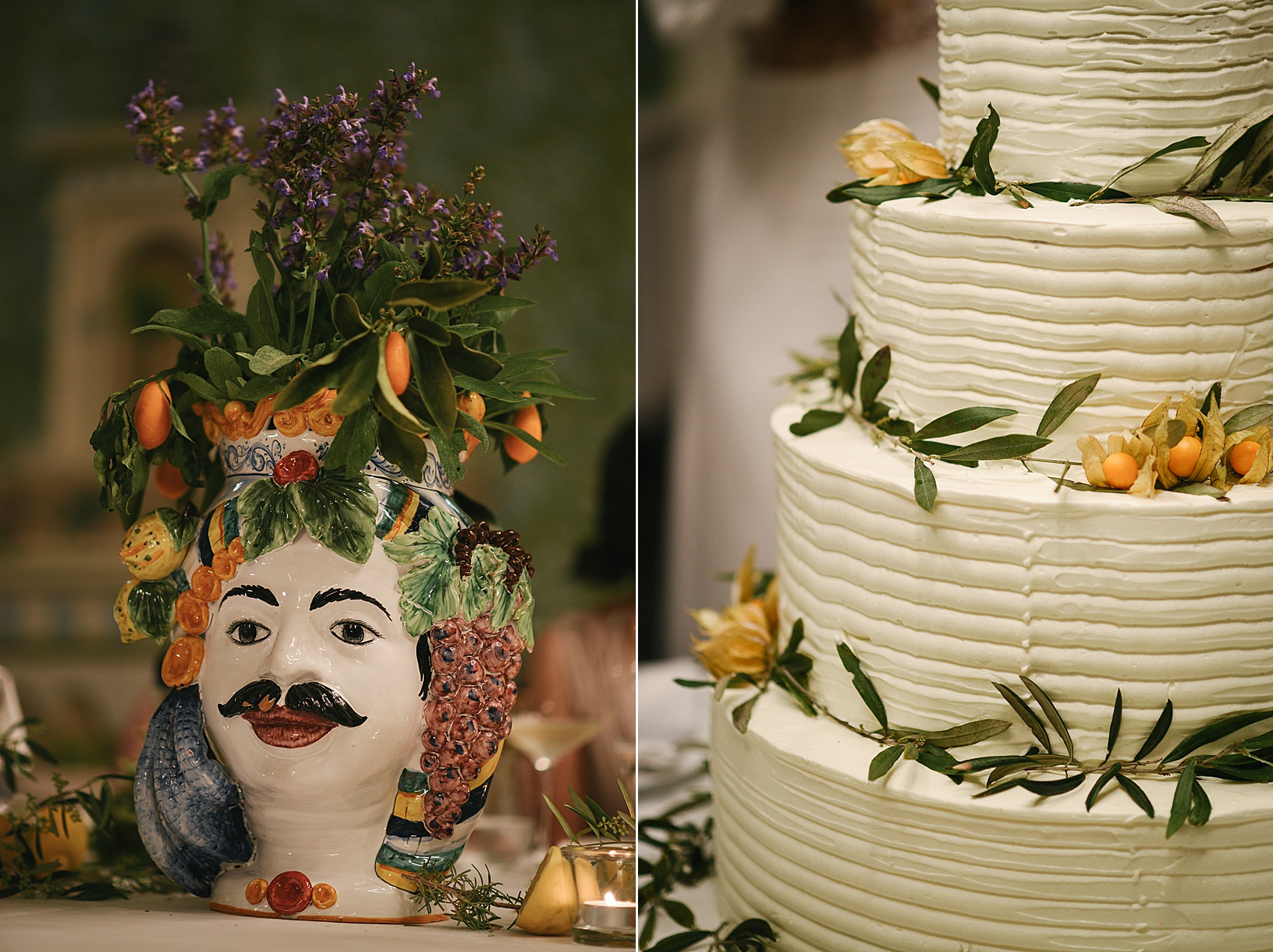 "The interior decor of the villa is spectacular, to match the building itself with its beautiful honey toned stone work. There were also a lot of local flora at that time of year such as bougainvillea, oleander and cacti, which meant that we didn't actually need to decorate it too much. We also took out lots of fairylights to decorate the courtyard outside."
With the ornate decor of the villa's dining room, Georgie and Luc decided to keep the rest of their styling simple, with locally grown flowers in Sicilian ceramics, and garlands of greenery decorated with fruit.
"Our venue had an in-house chef who did all the catering. We discussed seasonal, local produce with them, and did a food tasting about a month before the wedding. We also opted to have a pescetarian / vegetarian menu, and in typical Italian style this consisted of 5 courses, which was heaven."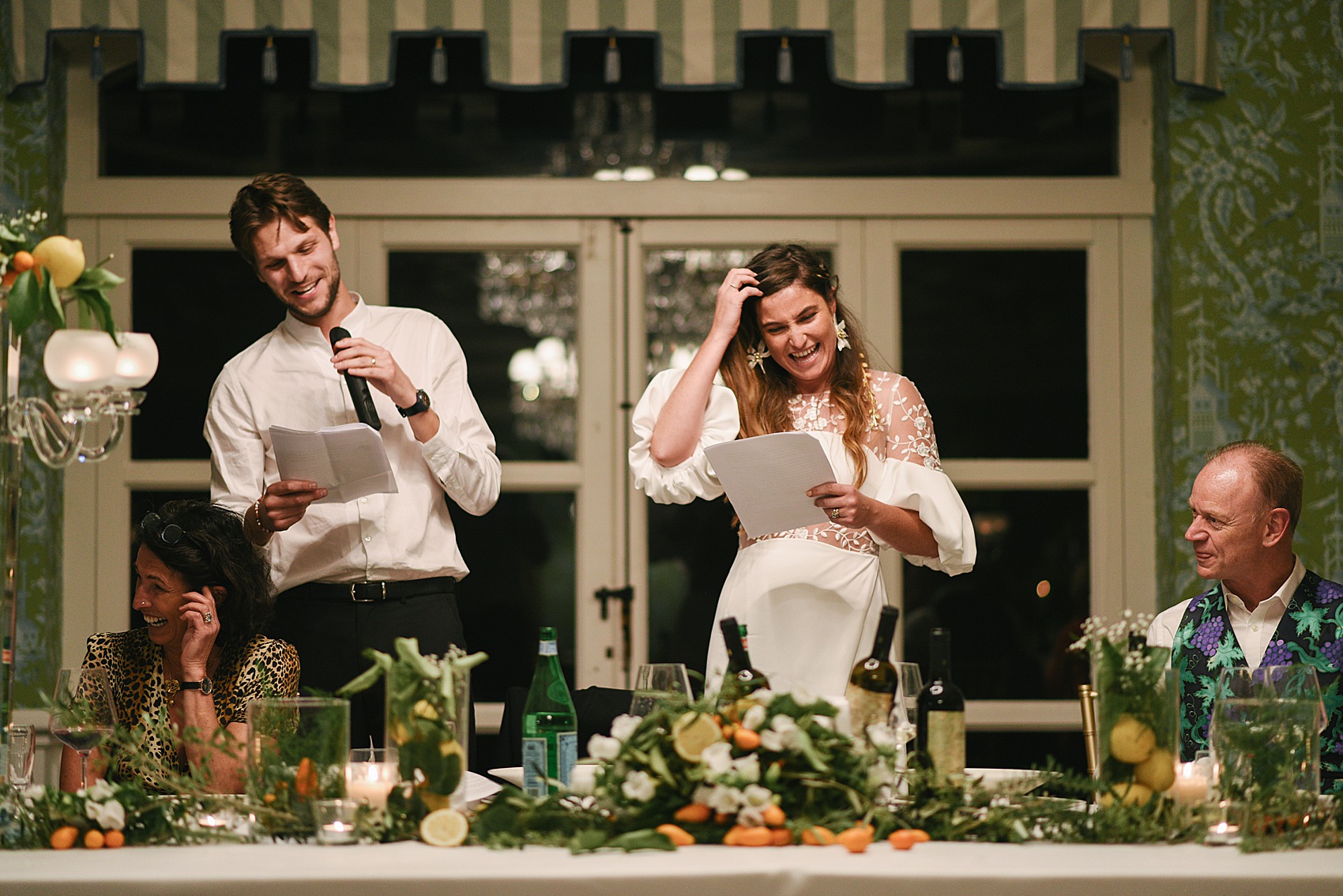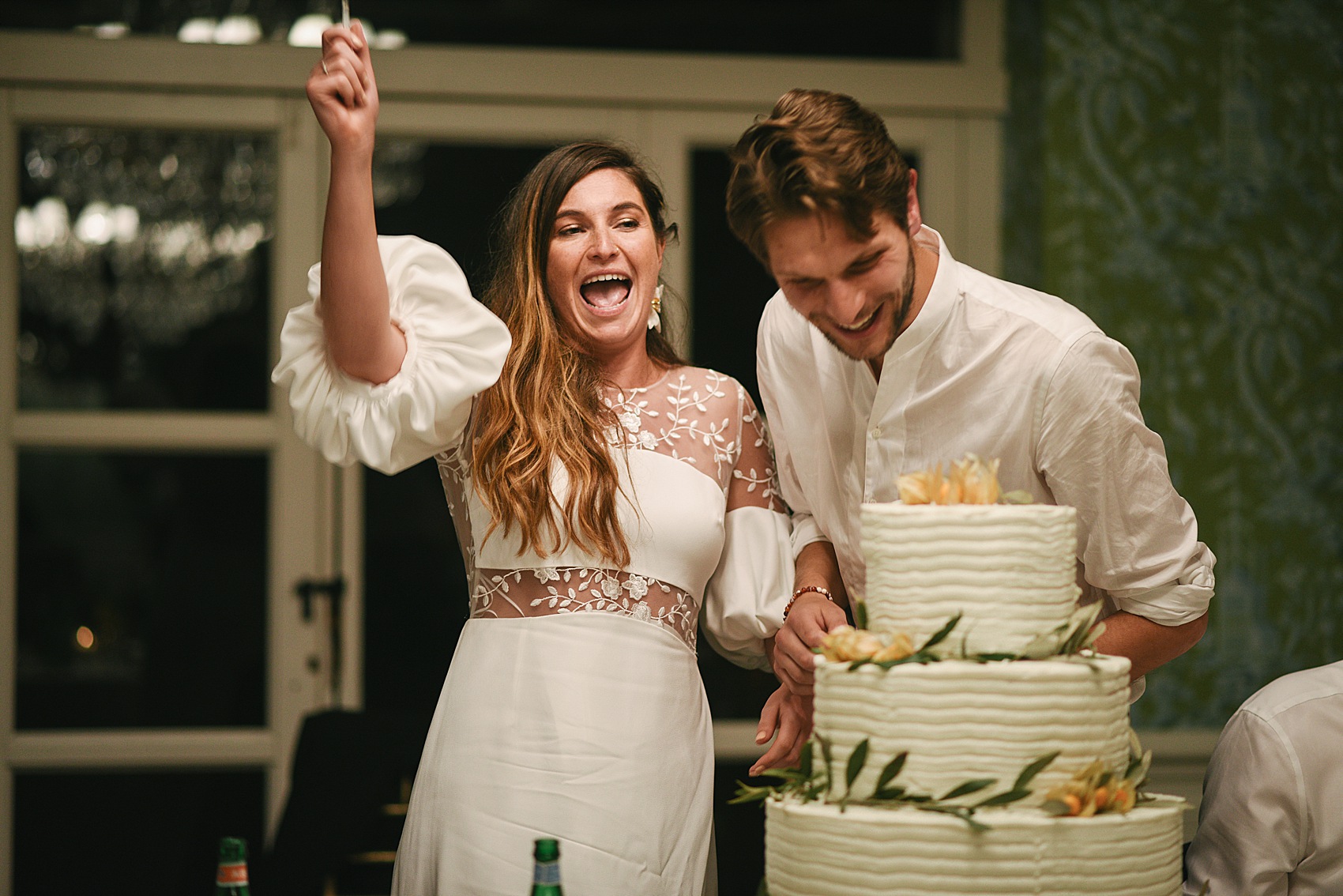 For their late night partying, Georgie and Luc found a local band, Seltz Limone e Sale, who played classic R&B and disco brilliantly. Later on, there was a DJ set until past 3am.
"Our first dance was to I Believe in a Thing Called Love by The Darkness. We chose this song because it is fun and energetic, and we wanted to get everyone on the dancefloor! We both love dancing and air guitar-ing together, and a slow and serious first dance song just didn't feel like our style."
"It's such a joyful, playful song that feels a lot more like our kind of attitude, and we wanted everyone to feel like part of a joyous celebration of love. 
Single friends of ours have also said it made them feel a lot less isolated, and it definitely got everyone straight into the mood to dance all night!" 
"Luc: I didn't have just one favourite part. It was amazing seeing all our friends turn up with massive smiles on their faces. Then watching my beautiful wife making her way down the aisle. The smile and excitement on her face was just amazing!"
"Dancing with all our friends until the early hours of the morning. I think it was just brilliant being with all our closest friends and family in one place, and seeing them all mixing together and having a great time. With hindsight, I would perhaps have taken a couple of days more off work so I could have really gotten into the Sicilian spirit."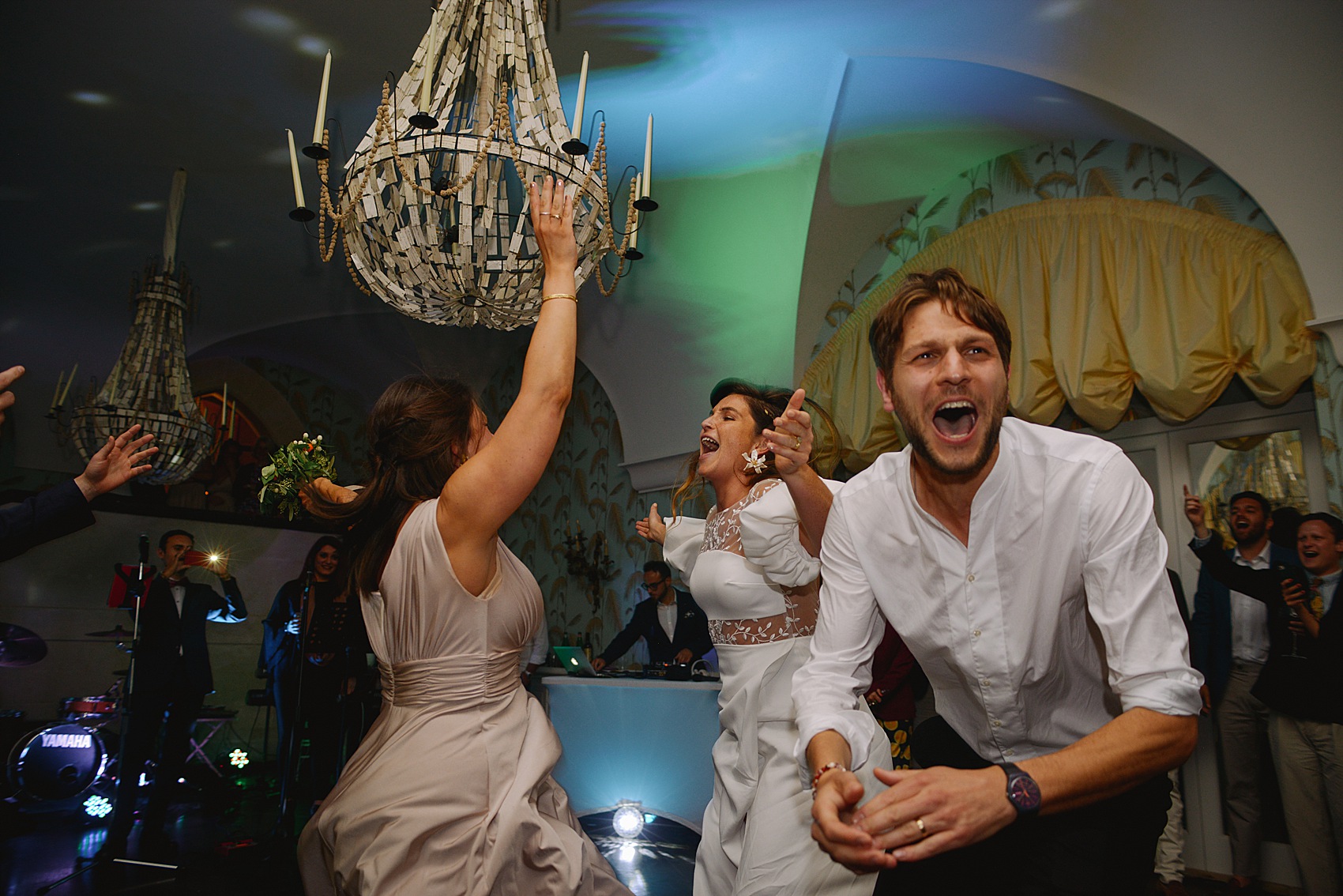 Words of Wedded Wisdom
"The only thing I'd do differently is to have someone to help run the logistics on the day. My mum spent a lot of time running around trying to sort things out, and it would have been nice if she'd had someone to help with this so she could relax a bit more and not worry on the day."
"Georgie's parents very kindly offered to pay for our wedding, with an original budget of £20,000. However, thanks to a few 'lost in translation' moments, our original estimate ended up £10,000 over on venue and catering related costs. Our other suppliers (flowers, stationery, band, etc.) came in on budget."
"Trust the creativity of your partner. They are amazing, and given the opportunity they can create a truly memorable day. Offer to arrange the more mundane parts of the day, like coach hire!"
"If you're planning to get married abroad, especially in Italy, be prepared to dispense with any very specific details you might have had in mind. Organising a wedding overseas can be an additional stress, with everything made harder with language barriers, unexpected challenges, elderly guests, added logistics and the inevitability of something going wrong!"
"I got quite stressed in the lead up and worried on the day that no-one was having fun (it's hard to tell when you're part of the 'bridal bubble', and you don't feel like you get the chance to interact much with your guests until after all the formal parts are over) but as soon as I accepted I couldn't control the situation and forced myself to relax, I realized everyone was having a great time, and I could really enjoy how much love there was."
"Abroad or not, take the time to enjoy the moment with your other half, and don't be afraid to feel all the feels on the day. Don't be afraid to do things differently. As long as you're being true to yourself it will all work out on the day."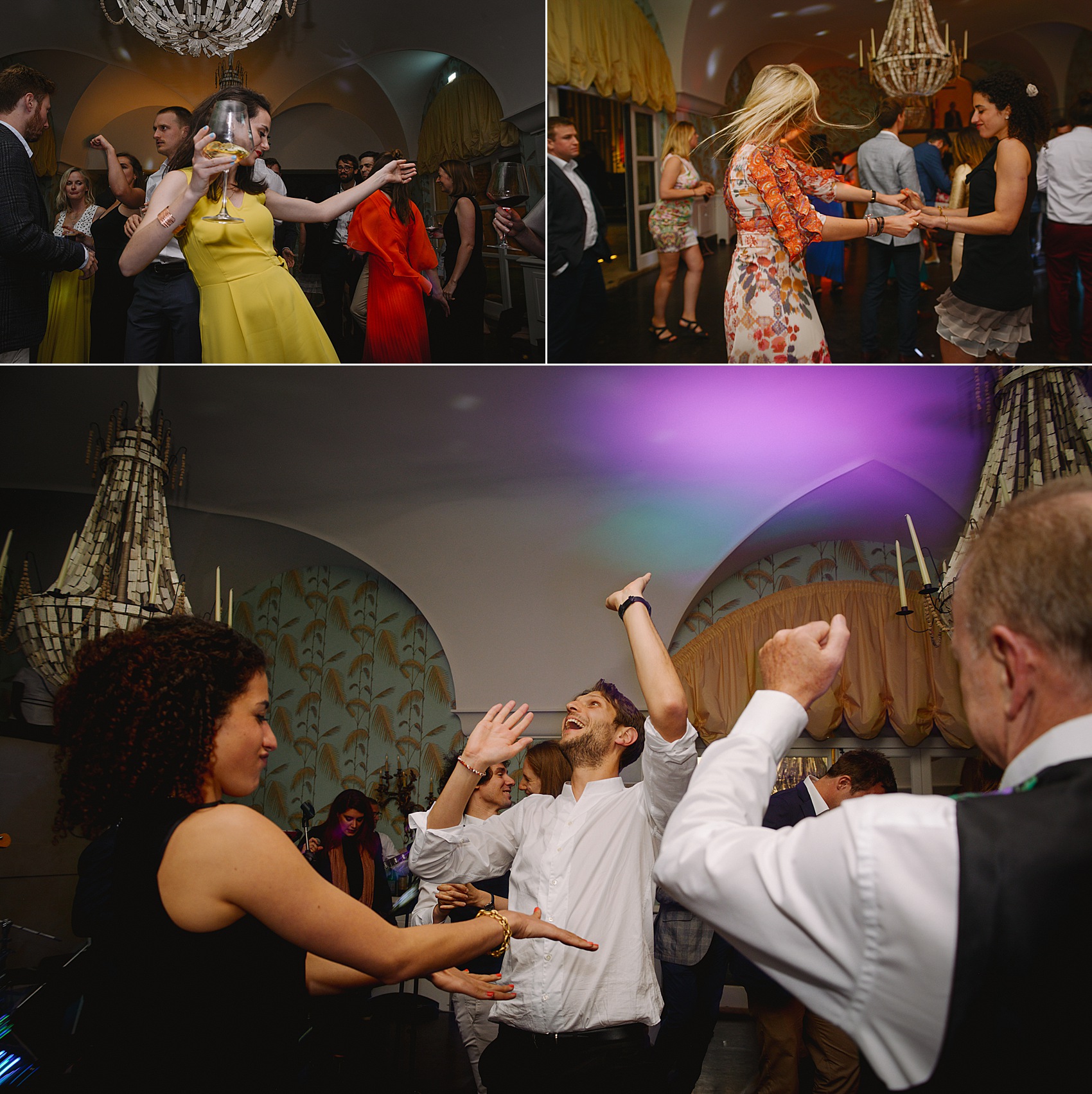 Georgie and Luc, many thanks and congratulations, and thanks to you both for your lovely words throughout. Thanks, of course, also go to their photographer Sarah Burton for her exquisite work.
Until next time!
Love, Laura