This is truly one of the most beautiful outdoor weddings we've shared and having only just returned from remote North West Scotland after a short break there two weeks back, these images make me yearn to return.
Maya, who is studying full time for a Fine Art degree and also works freelance as a neuroscience research copy editor, married Simon, also studying for a herbal medicine diploma and who works locum as a doctor, on 7th March 2020.
The couple tired the knot with an inter-faith ceremony at the beautiful Cardney Steading Estate in Dunkeld, Scotland. Our wonderful, long-term Little Book Wedding Directory member, the incomparable Caro Weiss, photographed this wedding. I simply adore her images.
Caro Weiss Photography

+ Follow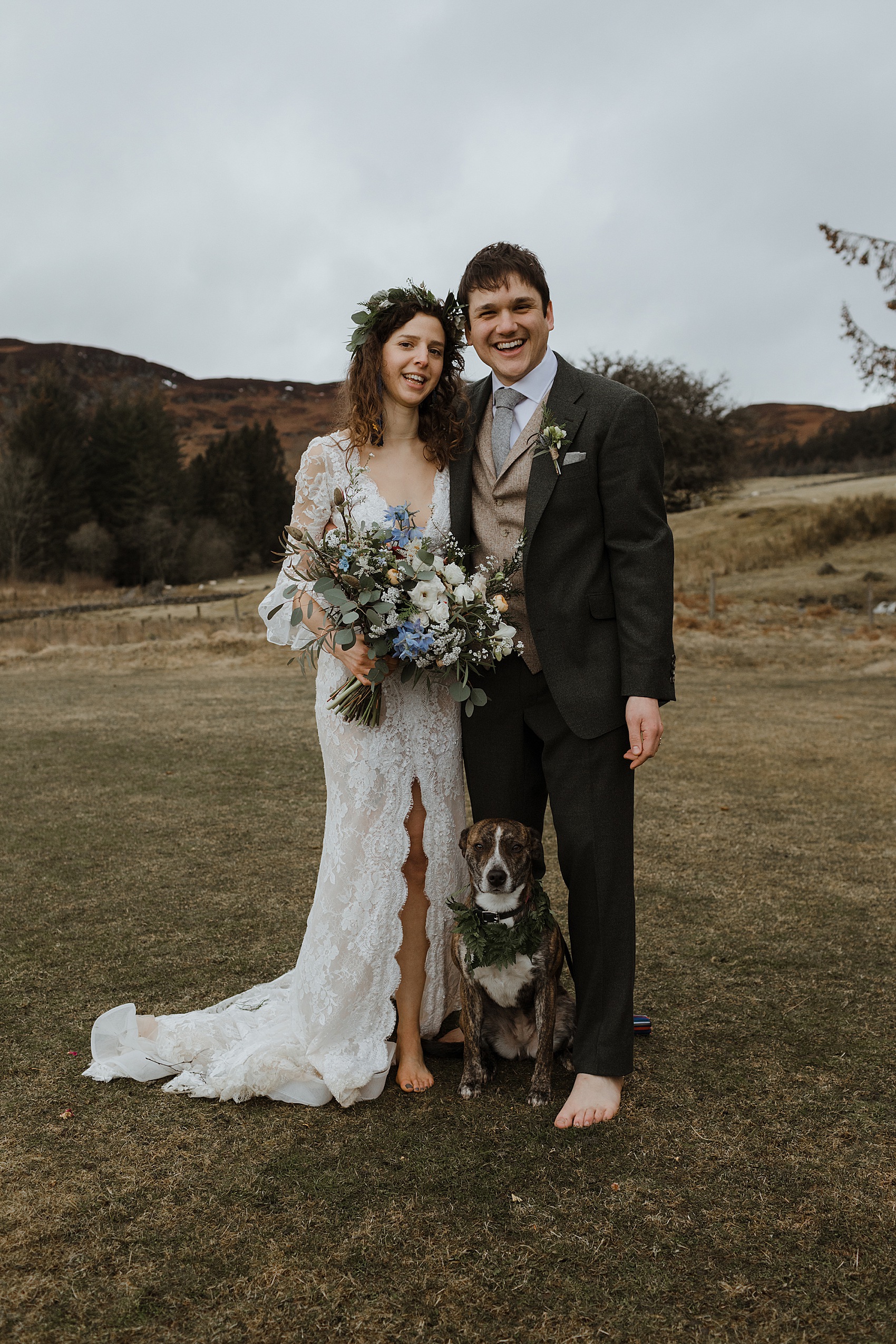 "We were guided by nature, we wanted it to feel relaxed, natural, and magical. Local, seasonal, and ethical concerns were also key in building our day. Maya handled most of the aesthetic choices and had foliage, wild flowers, rustic wood, and fairy lights in mind as starting points."
"The flowers and plants were really important, with lots of fresh, potted herbs and trailing designs. Sophie from Cosmos Floral Design brought everything to life with her work; just a couple of conversations and she created the most beautiful atmosphere that we never could've dreamed of."
"My Rosa Clara Couture dress was from Eleganza Bride in Glasgow, and I had fittings by Karen Rotchford Bridal Alterations. Of all the dress shops Eleganza Sposa, felt the most fancy – they know what they're doing with the champagne and the opulent décor!"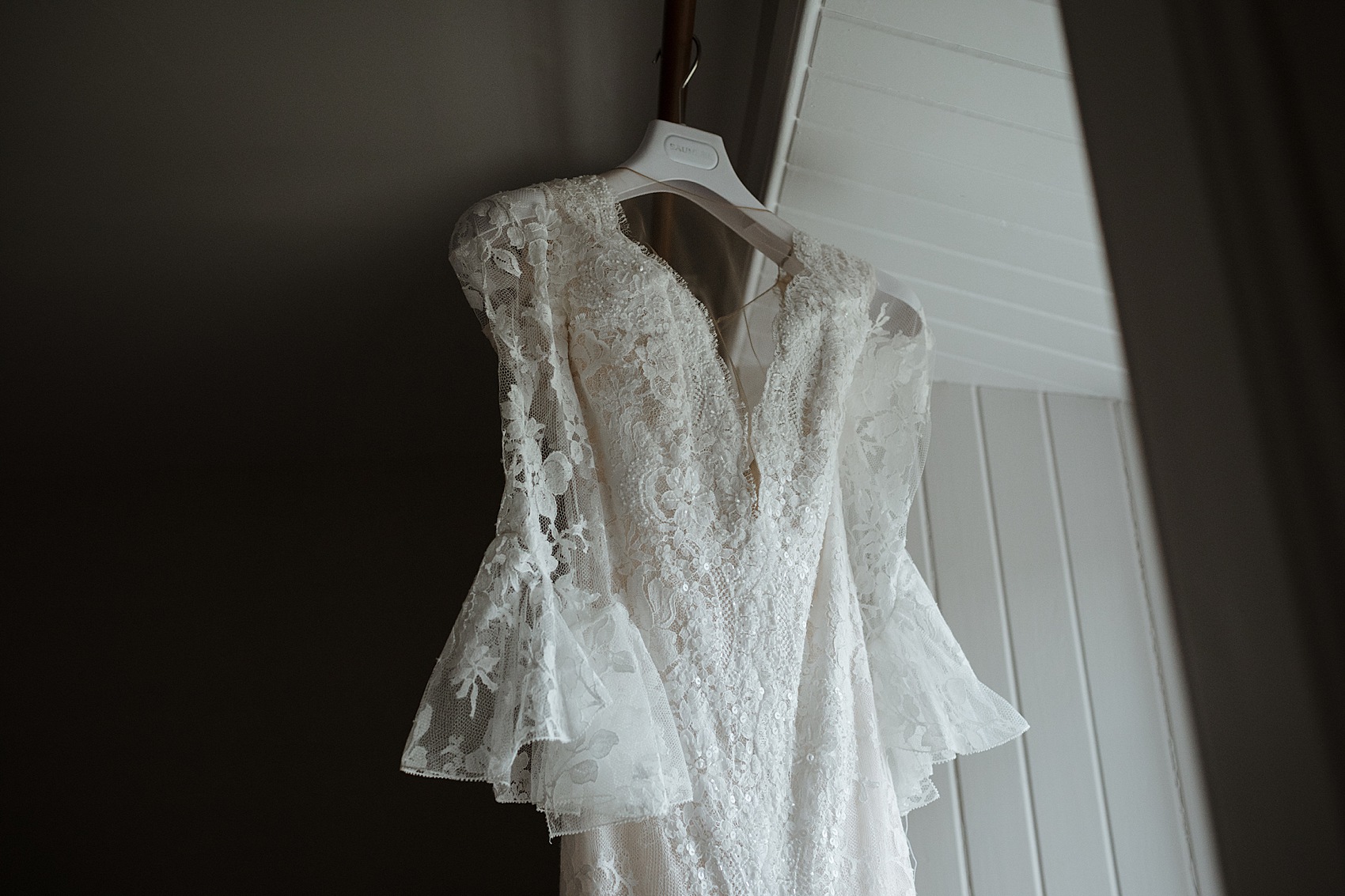 "They were really helpful and positive. In many ways the experience felt too fancy for me, I don't feel pretty or sparkly enough for things like that but everyone I interacted with was really sweet and reassuring."
"It made me feel like a version of myself I didn't know existed. Feminine and beautiful and valuable."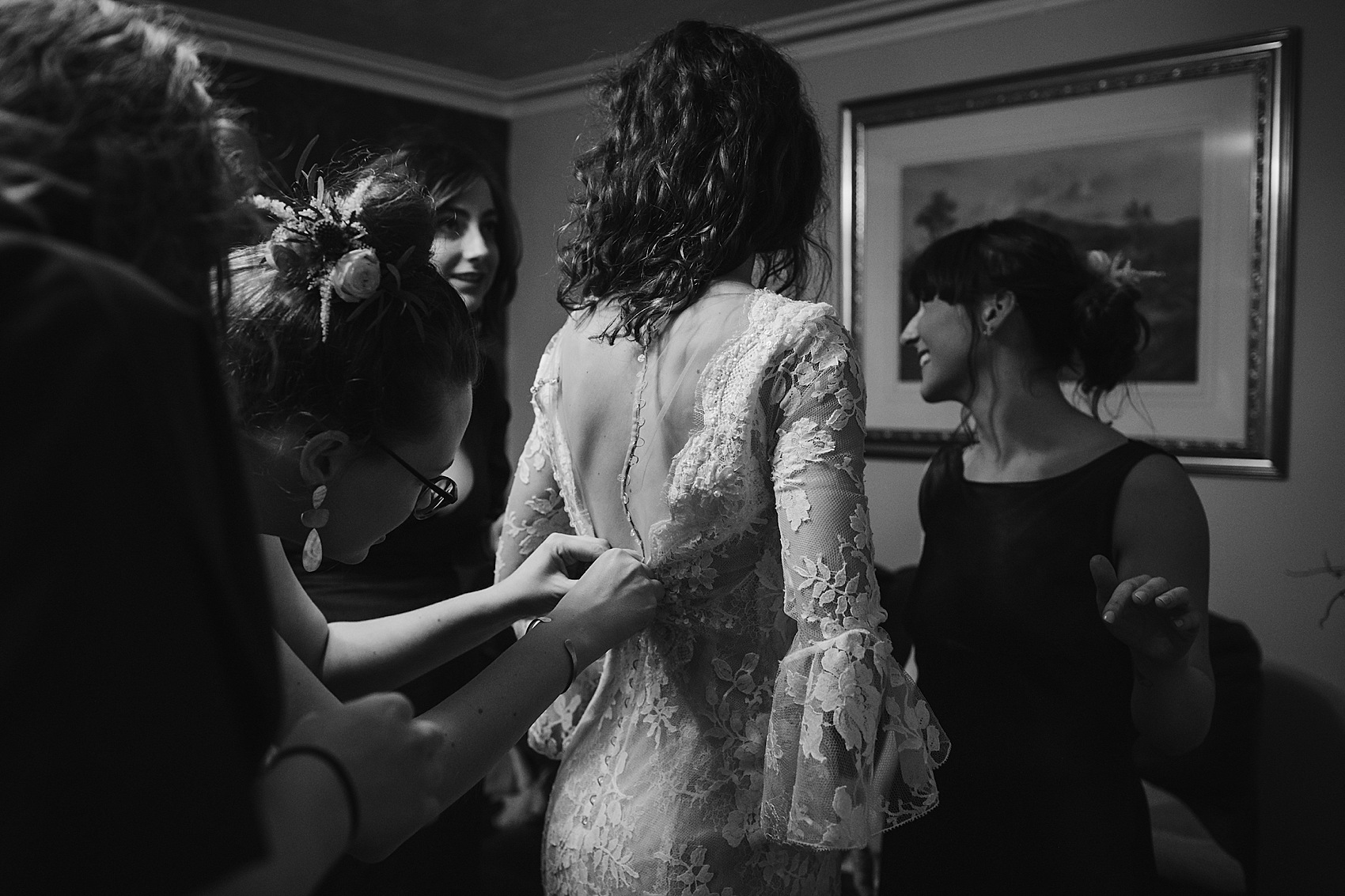 The atmospheric backdrop helped set the perfect scene for the day, gentle, moody mist and earthy tones combined to add a real sense of outdoor magic.
"We were looking for a beautiful venue with a rustic, relaxed feel that had wild outdoor spaces. Cardney ticked every box and the team were also incredibly warm and friendly."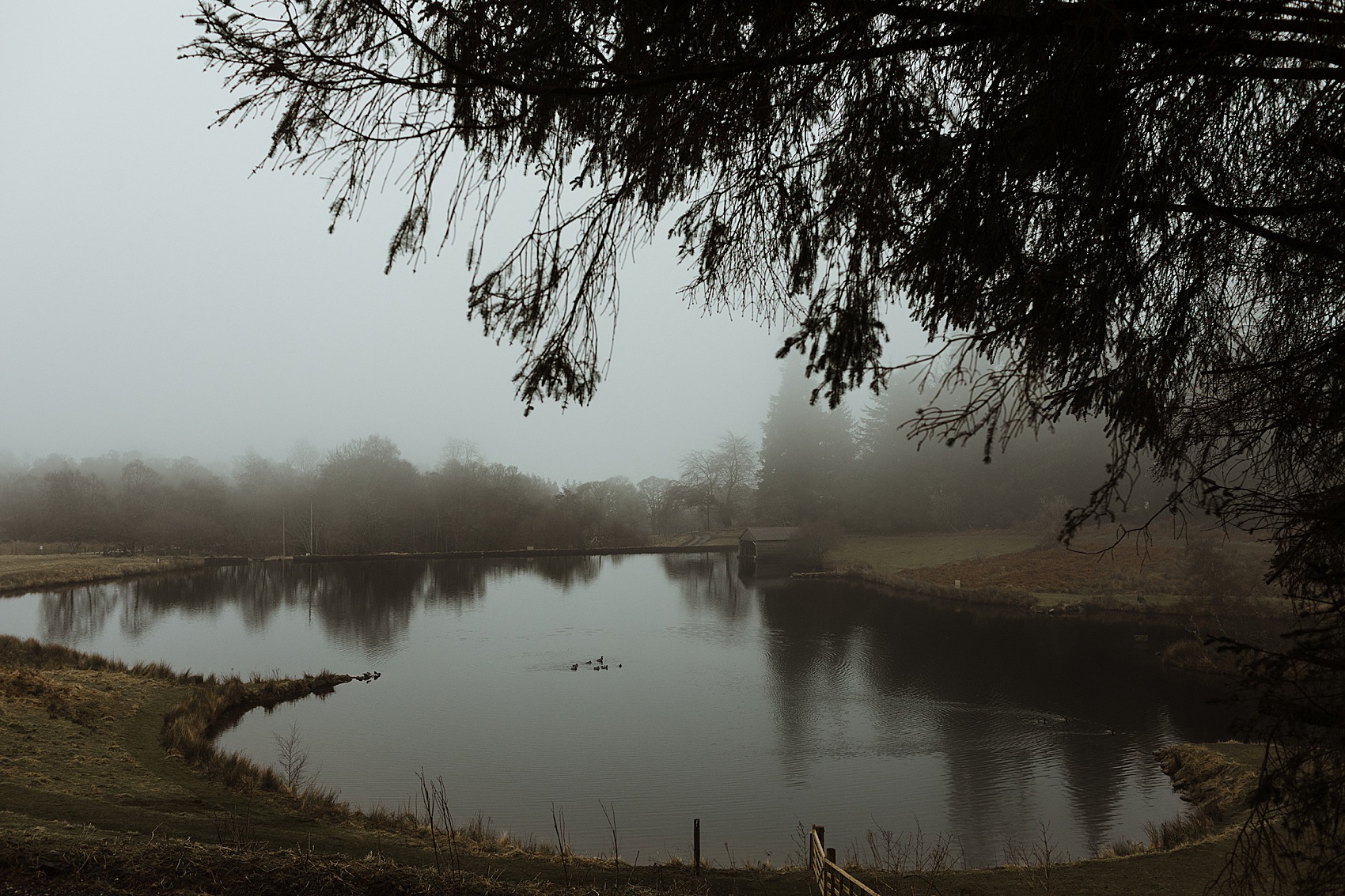 "We met in maths class at high school. Maya was too chatty and disruptive so was split up from her friend and moved to sit next to the studious and quiet Simon (who was split up from his friend in the process)."
"It was hoped that Simon would be a good influence on her but that was not the case. We dated during high school, broke up, and then got back together while we were at university."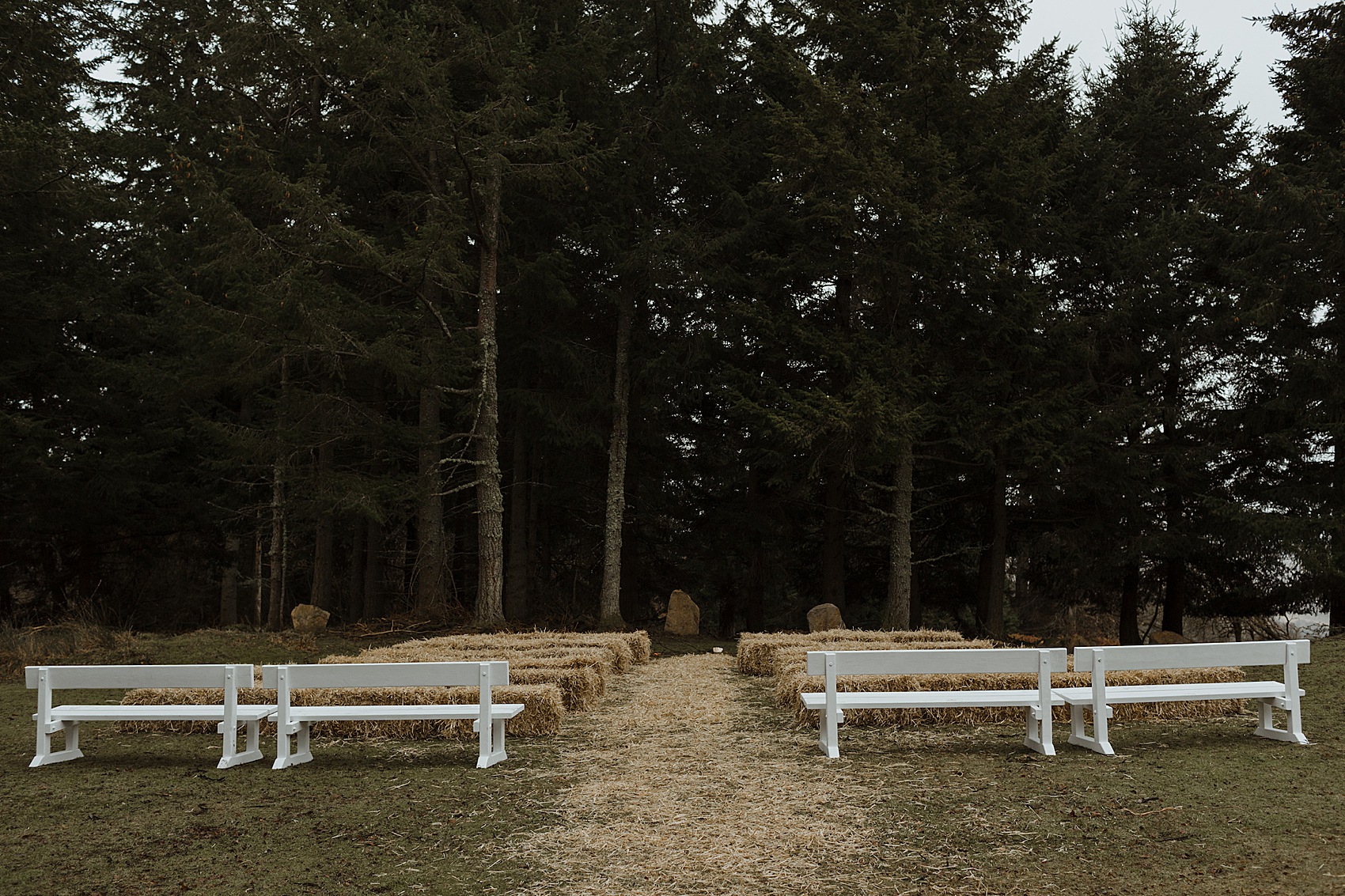 "We started living together in Aberdeen where Maya set her heart on an art degree and dragged them off to the Outer Hebrides to do her BA. Simon proposed on a cliff overlooking Maya's favourite beach that looks out to St. Kilda."
"The engagement lasted about 18 months but the planning was accomplished in the last 5 months because Simon both hates planning and also hates being left out of anything. It took him a while to realise that the only way through it, was to do it."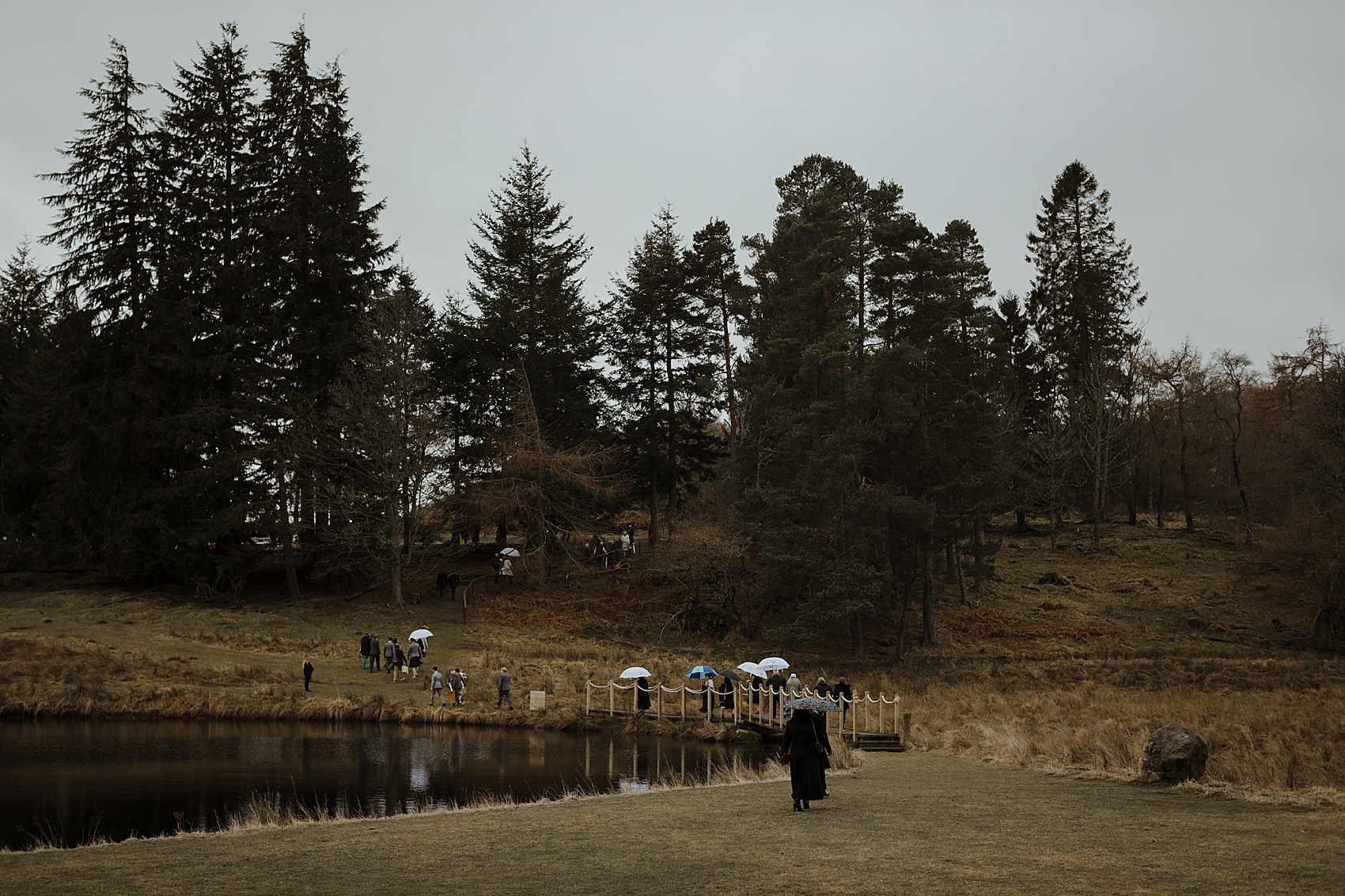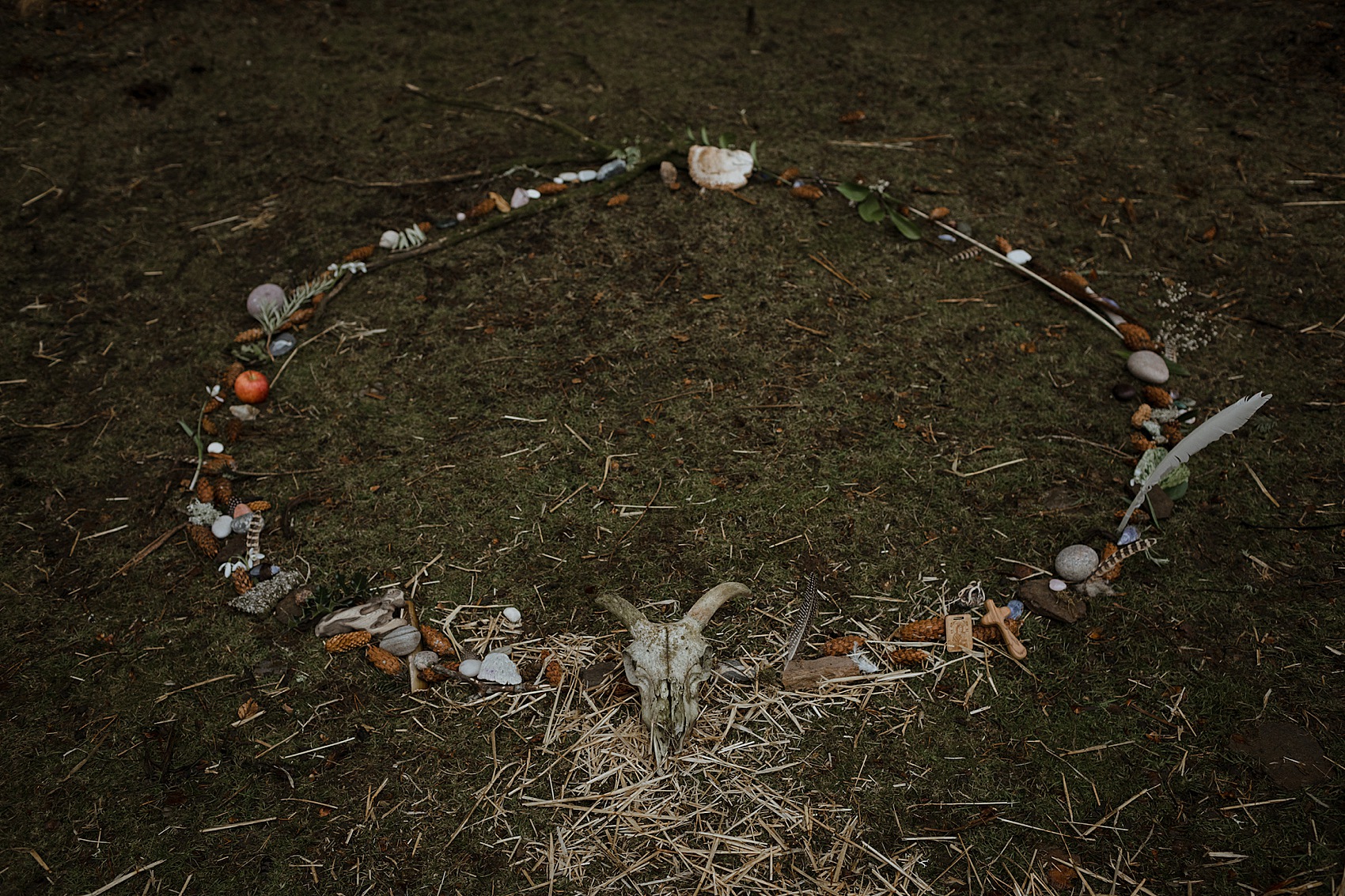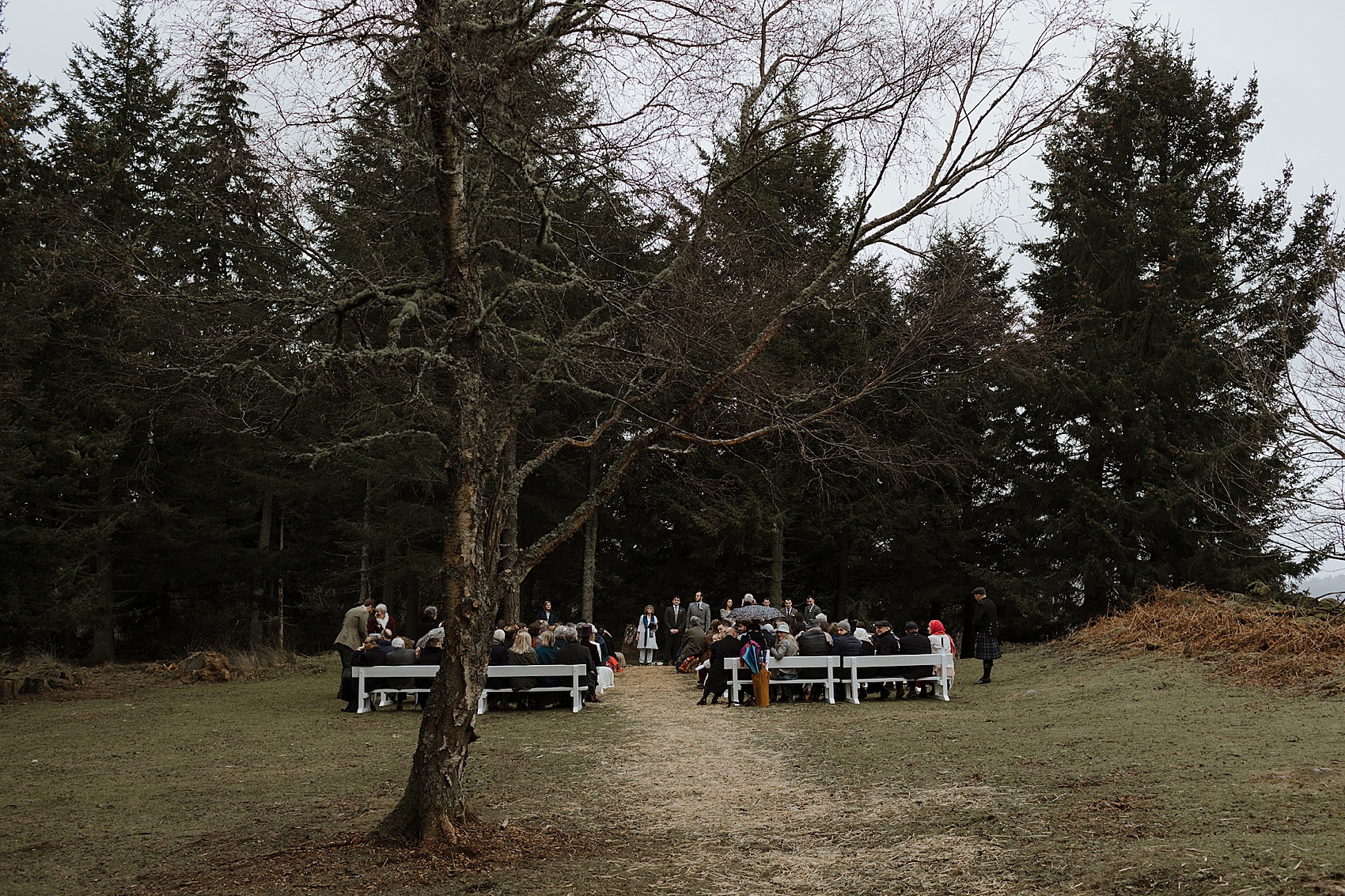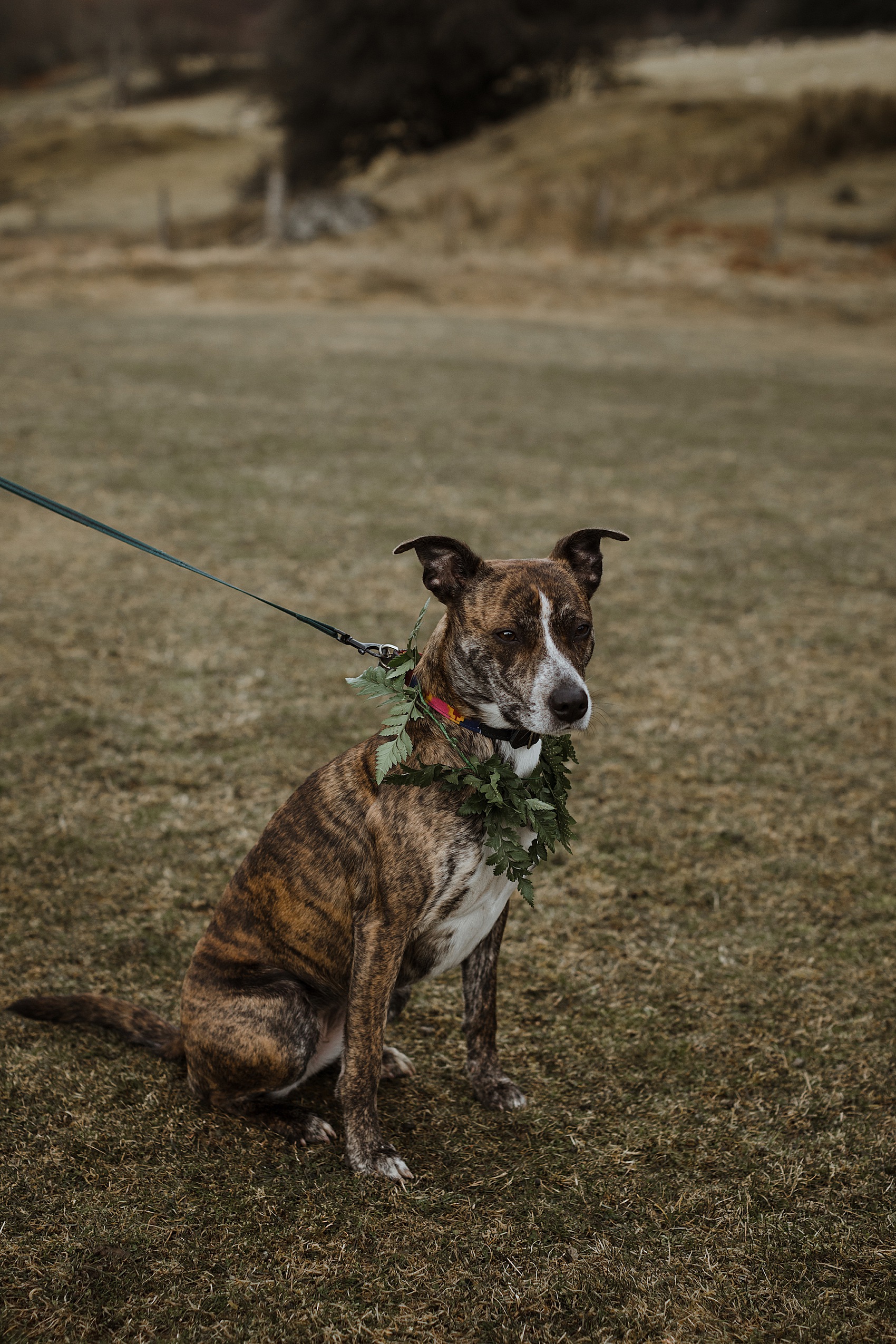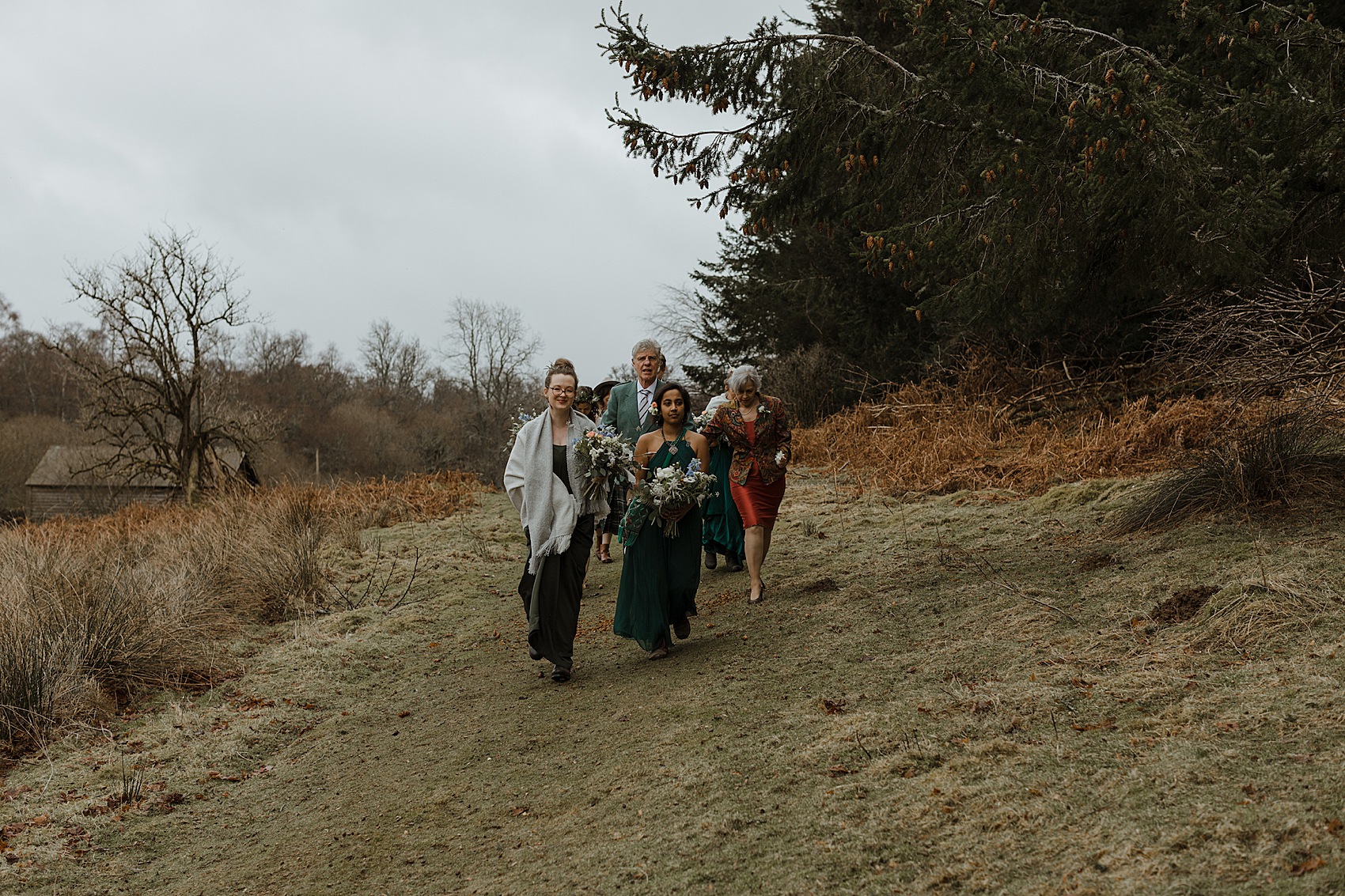 "All the groomsmen and groomslady were asked to choose a grey colour suit but not with any specific brand or company. They wore dark green ties by Frederick Thomas, personalised tie clips made by Goldcrest Designs UK."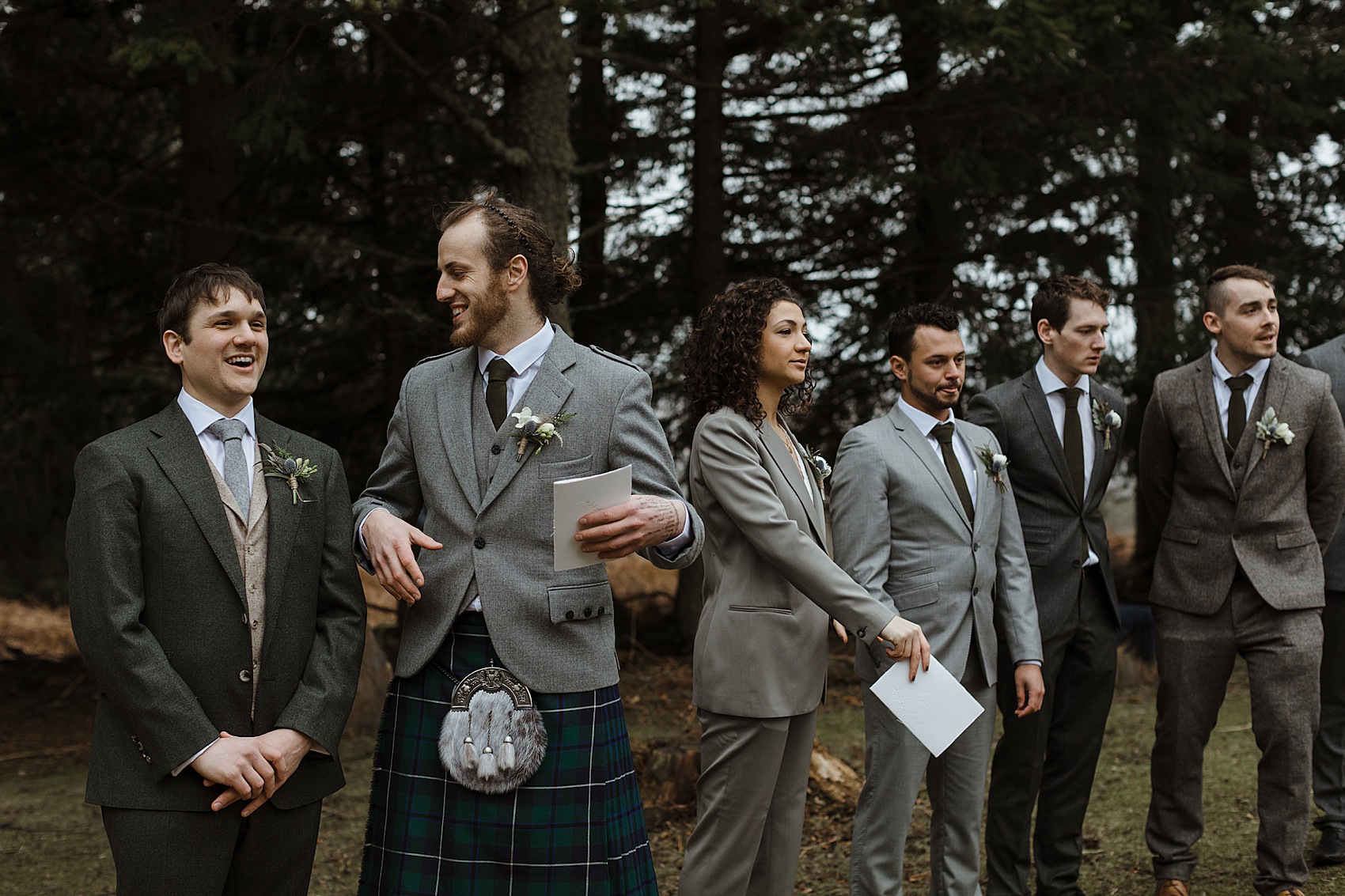 The bridesmaids looked fabulous in dresses from ASOS + Phaedra.
"Everyone chose their own jewellery, but I know that Ruby Jack earrings featured, Wolf and Moon earrings, and some vintage pieces."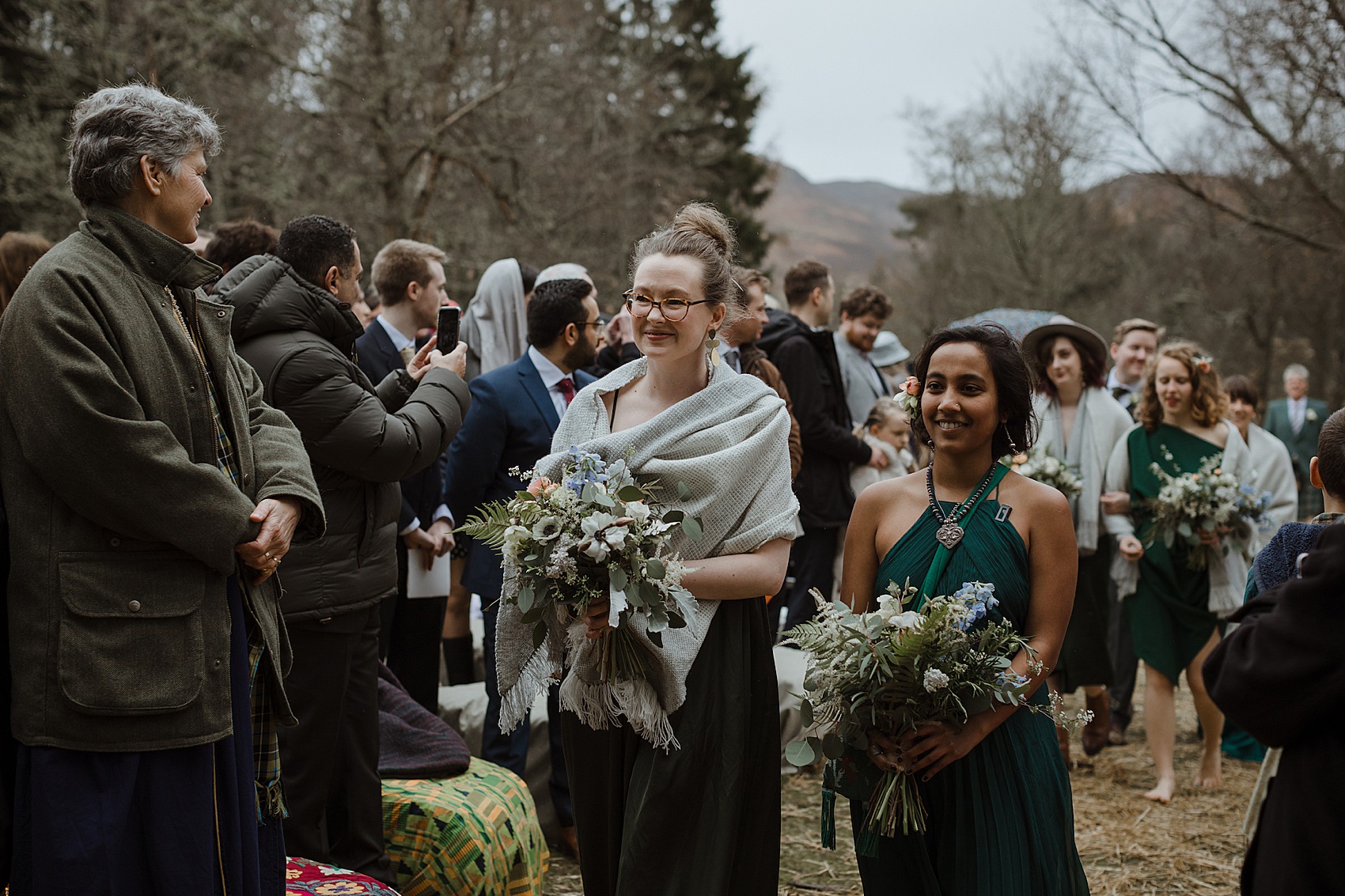 "The bridesmaids also wore custom made wraps by The Orkney Cloth Company, a woman just starting her weaving business in the Orkney islands."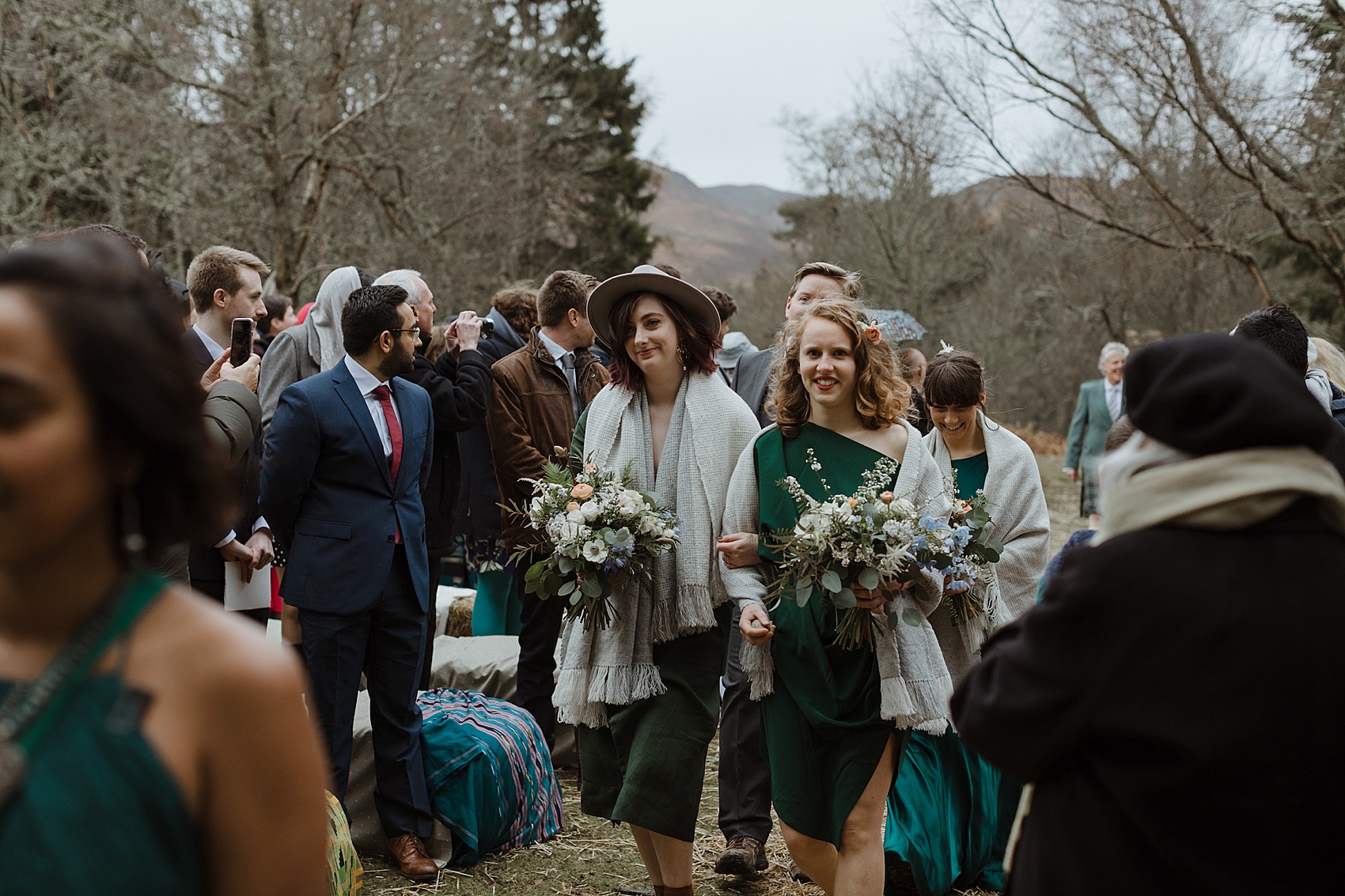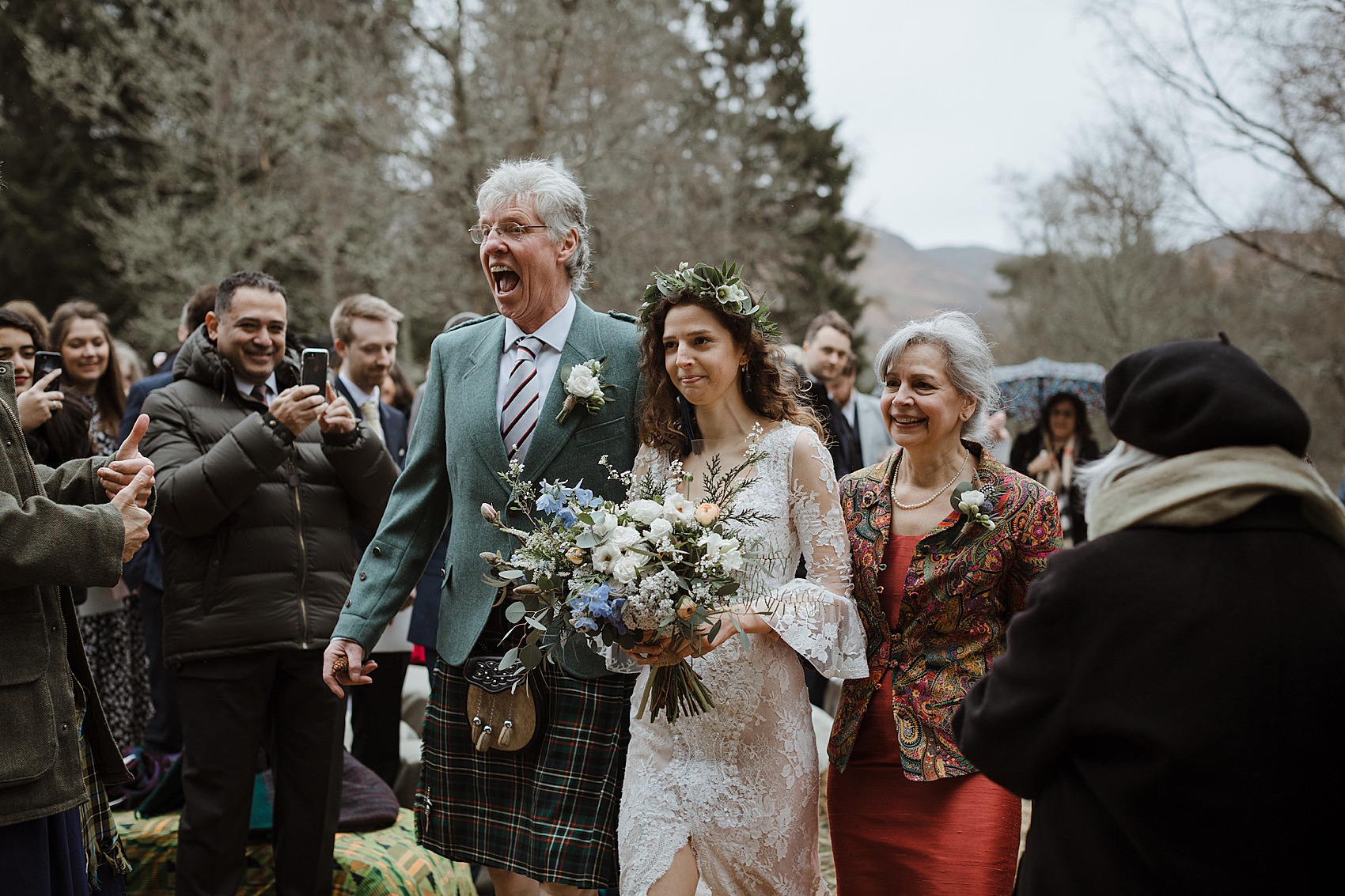 "My perfume was my usual scent – Coco Mademoiselle by Chanel, but  I also wore a scented lip balm/gloss that I'd worn when Simon and I first dated (not the same pot!)."
Ladies, you should read this utterly brilliant article on the important role that scent plays on your wedding day and how to choose a scent to wear as a bride.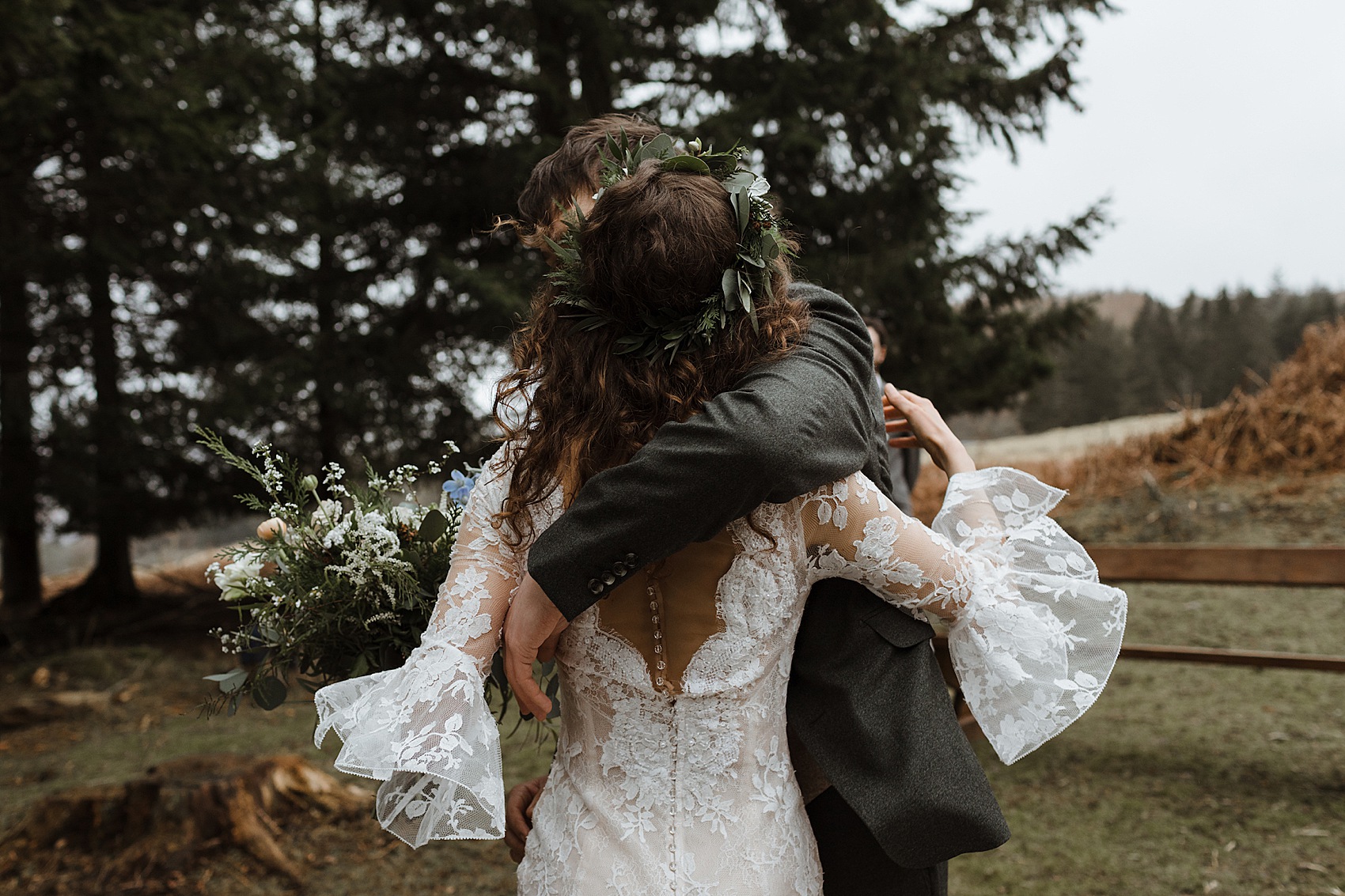 Maya's Mum accompanied her down the aisle to the sound of 'Charmer', by Salt House.
"We had three readings at the wedding; the first was 'A Blessing for The Journey (Buddhist Prayer), by Sensei Wendy Egyoku Nakao'."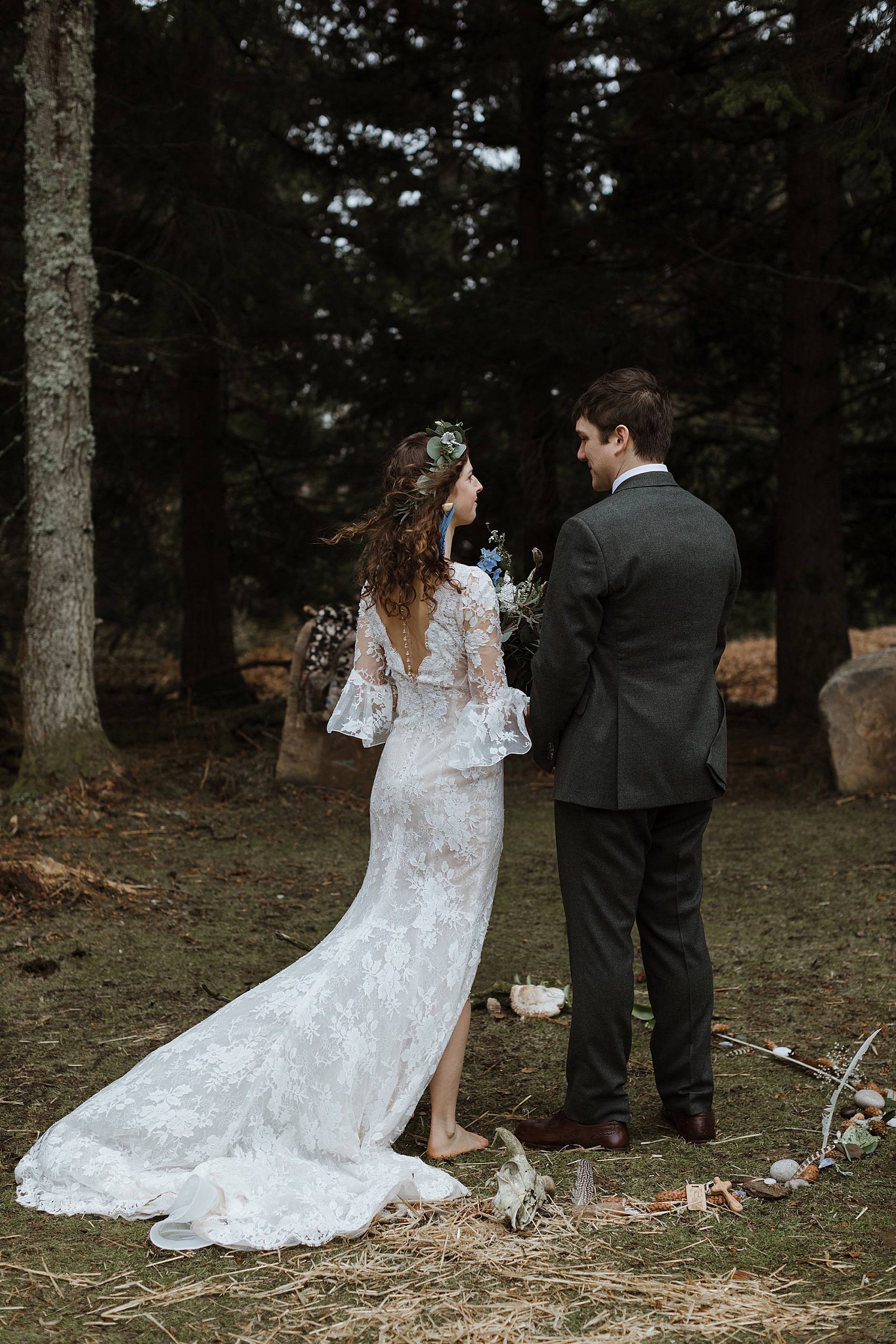 "The second was 'On Marriage', by Kahlil Gibran.  The third was a poem written and read by one of my older brothers, Kester Reid…"
'Because each one of us has ancestors
who dreamed this
and they left their visions and their lessons in our blood
they lived, and sang, and stumbled
to see their children and grandchildren
into a love that moves
both behind and ahead.
It picks up the trailing silks of their web and pulls them tight, and weaves
new patterns of human learning
and of strength.'
The couple hired independent celebrant Morag Cameron to officiate their beautiful outdoor ceremony.
Simon wore a made to measure suit by Erlend Norby at Tailare, a 'Birch' woollen tie and pocket square by Daisy & Oak and silver ivy-leaf cufflinks by Element.isle – the latter of which were purchased for Simon by his mother to represent his maternal grandmother, Ivy. Simon also wore his paternal grandfather's watch (not working and held together with tape!) so that departed grandparents were present on the day through special items.
The couple found their rings at Lisa Rothwell-Young.
"We were looking for something very specific, an ethical jeweller who could work in both gold and silver as we wanted to adapt one of my rings (that used to belong to my Gran, Tia) for Simon."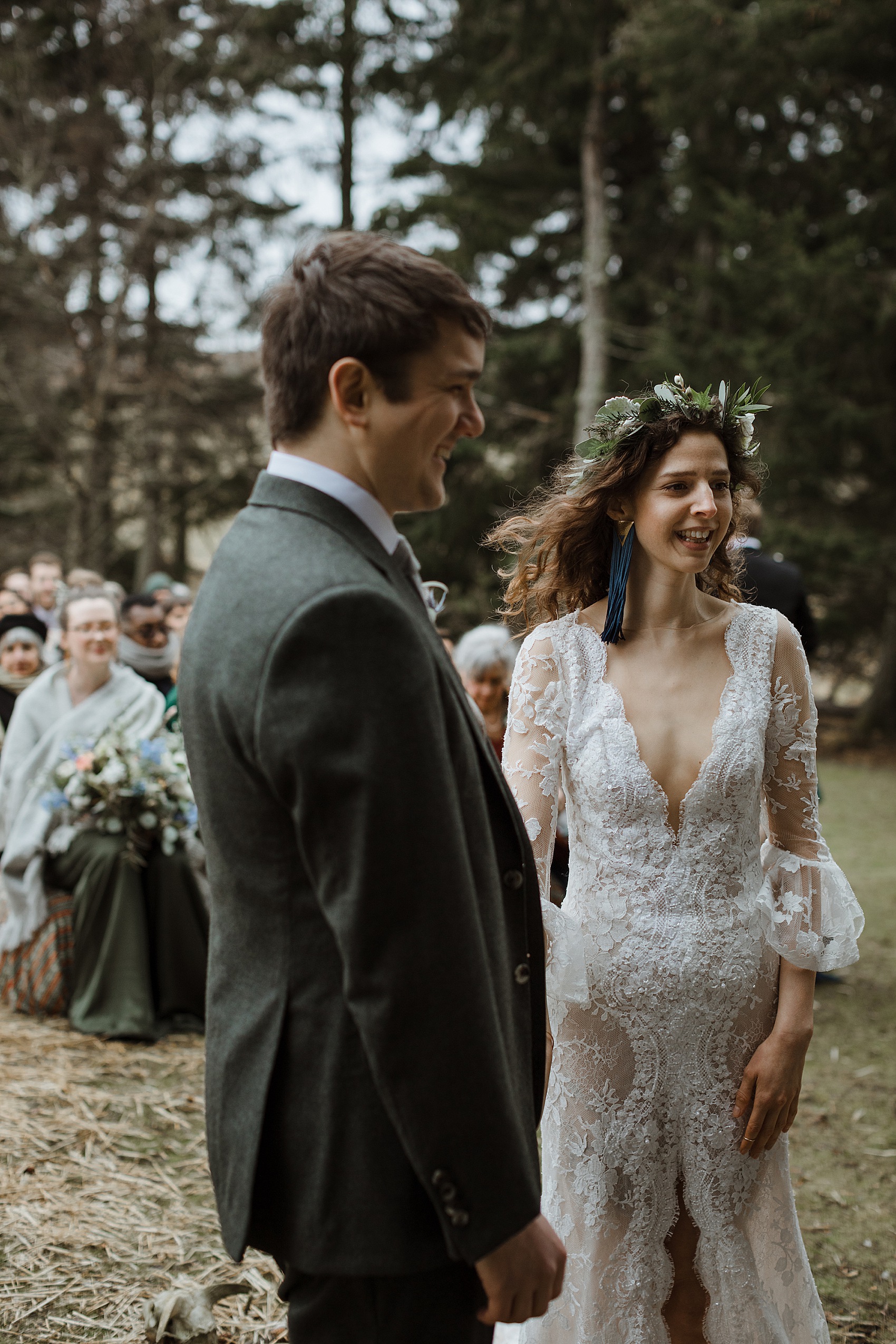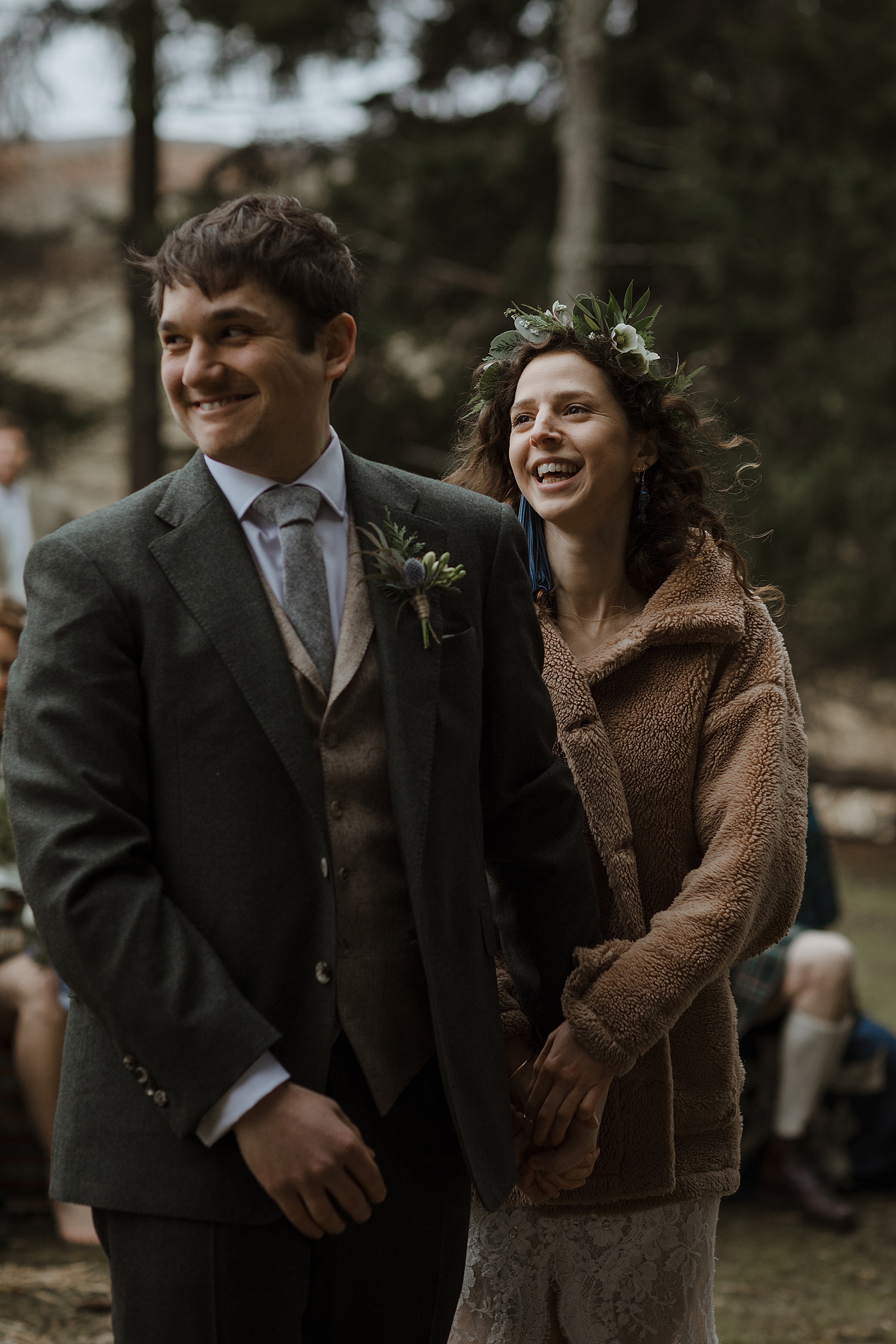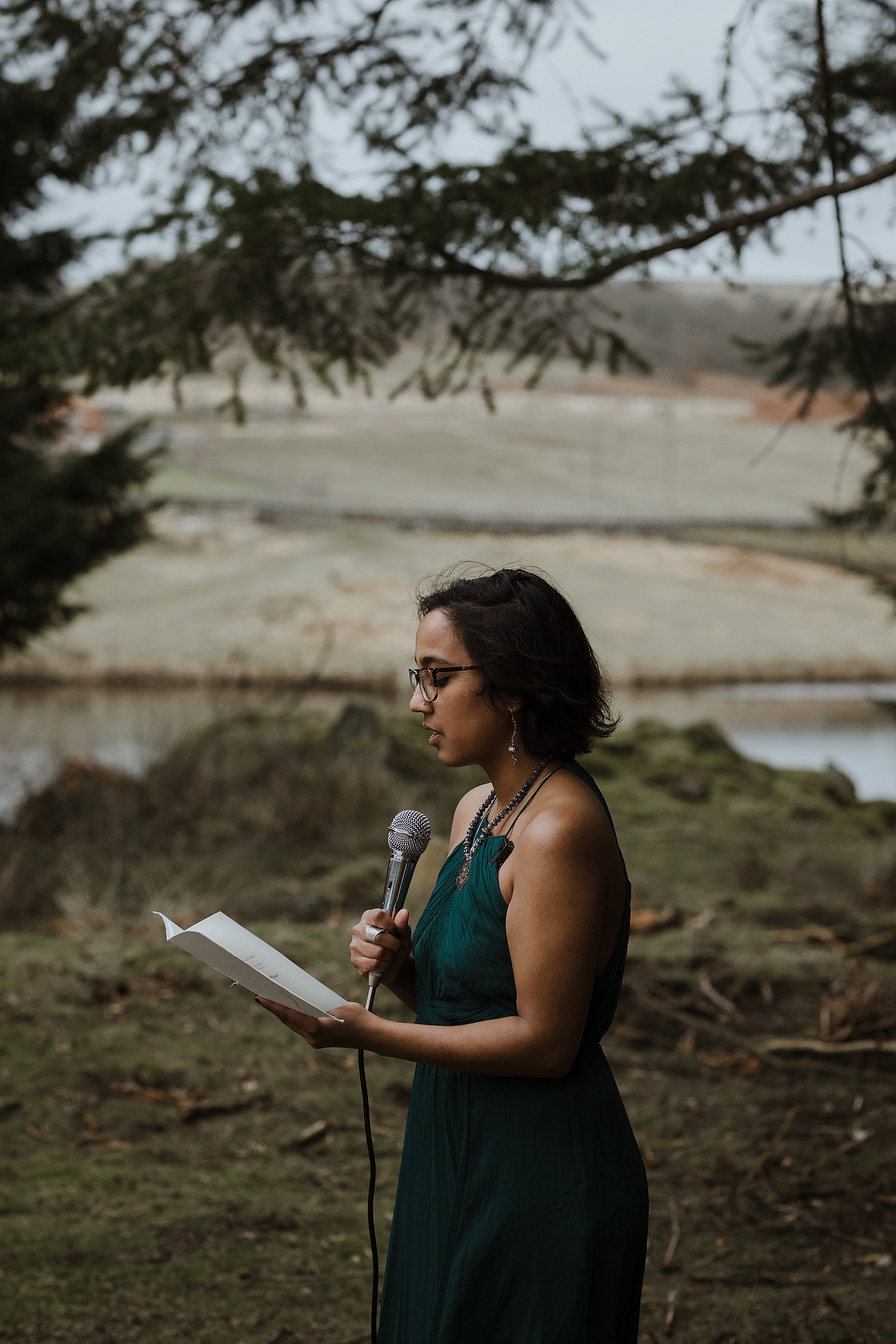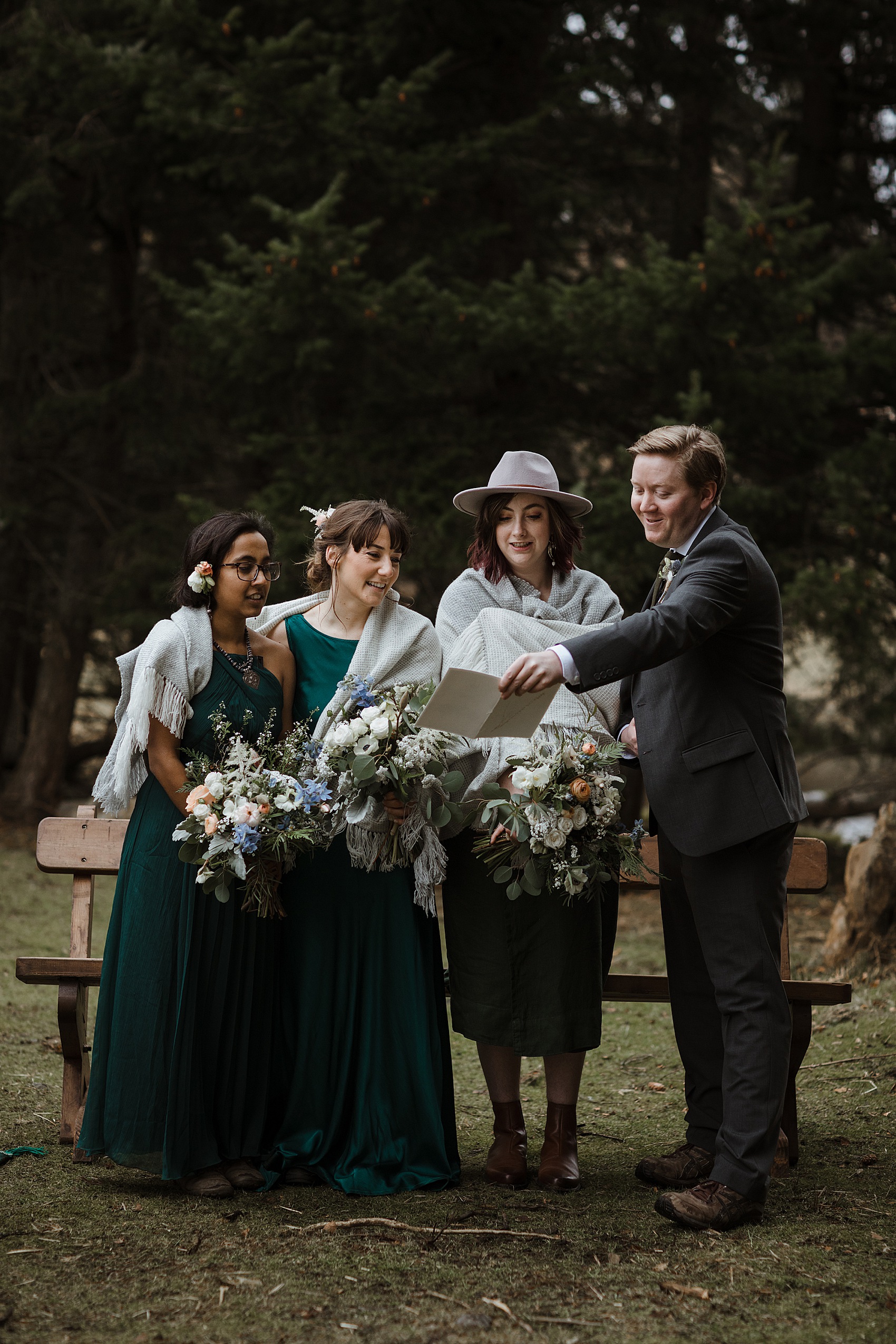 Although the bride spent much of the day barefoot, she also had a pair of boots…
"My boots were custom made by Sevilla Smith and are the absolute best things I've ever put on my feet. Faye was super friendly and gave me loads of advice about what style and colour of shoe would work best with the dress – she was very patient!"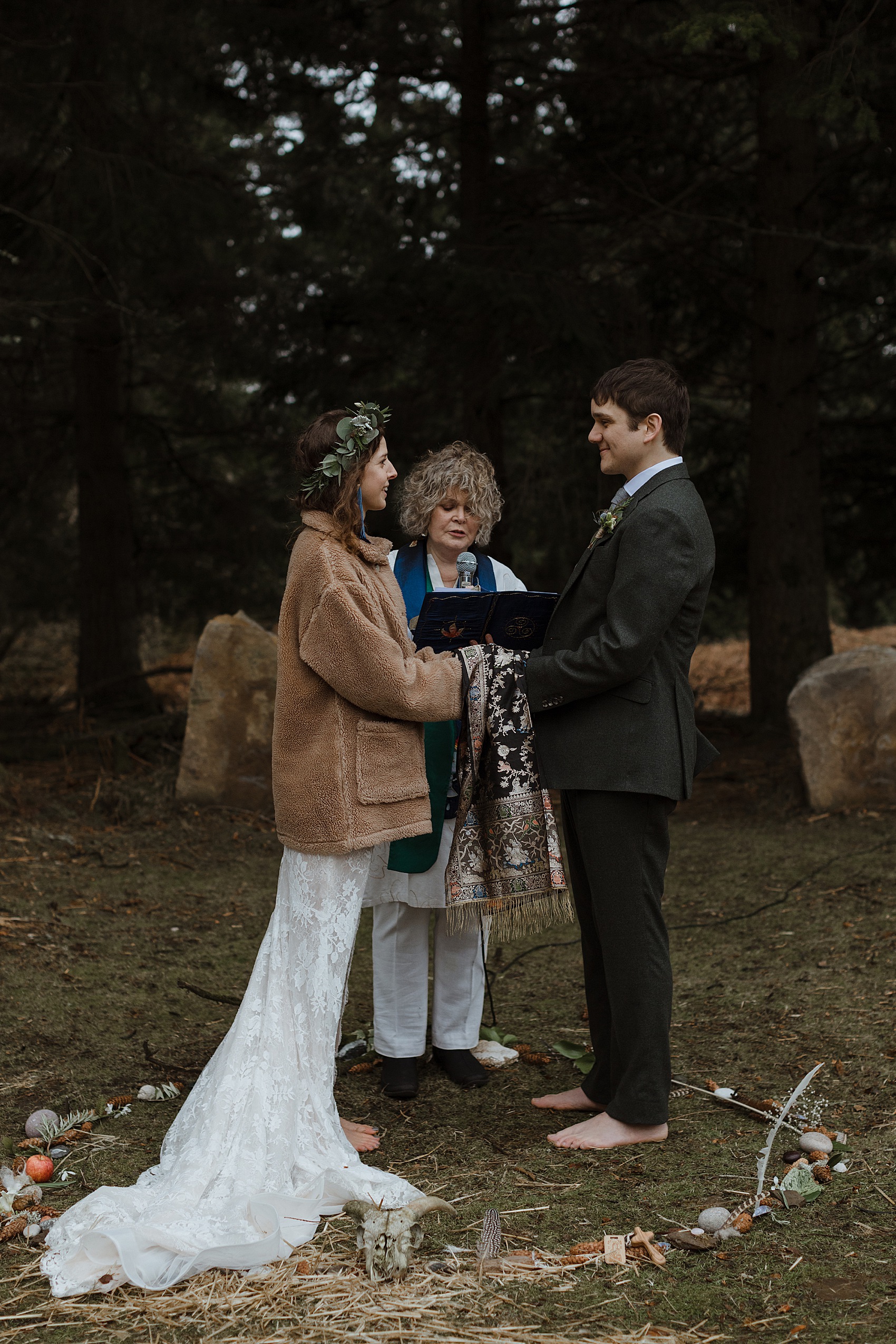 "It was a real challenge to do most of the planning and shopping over the internet, it is so remote where we live and transport off the island is often cancelled. Working with kind, fun, and understanding vendors made everything so much easier."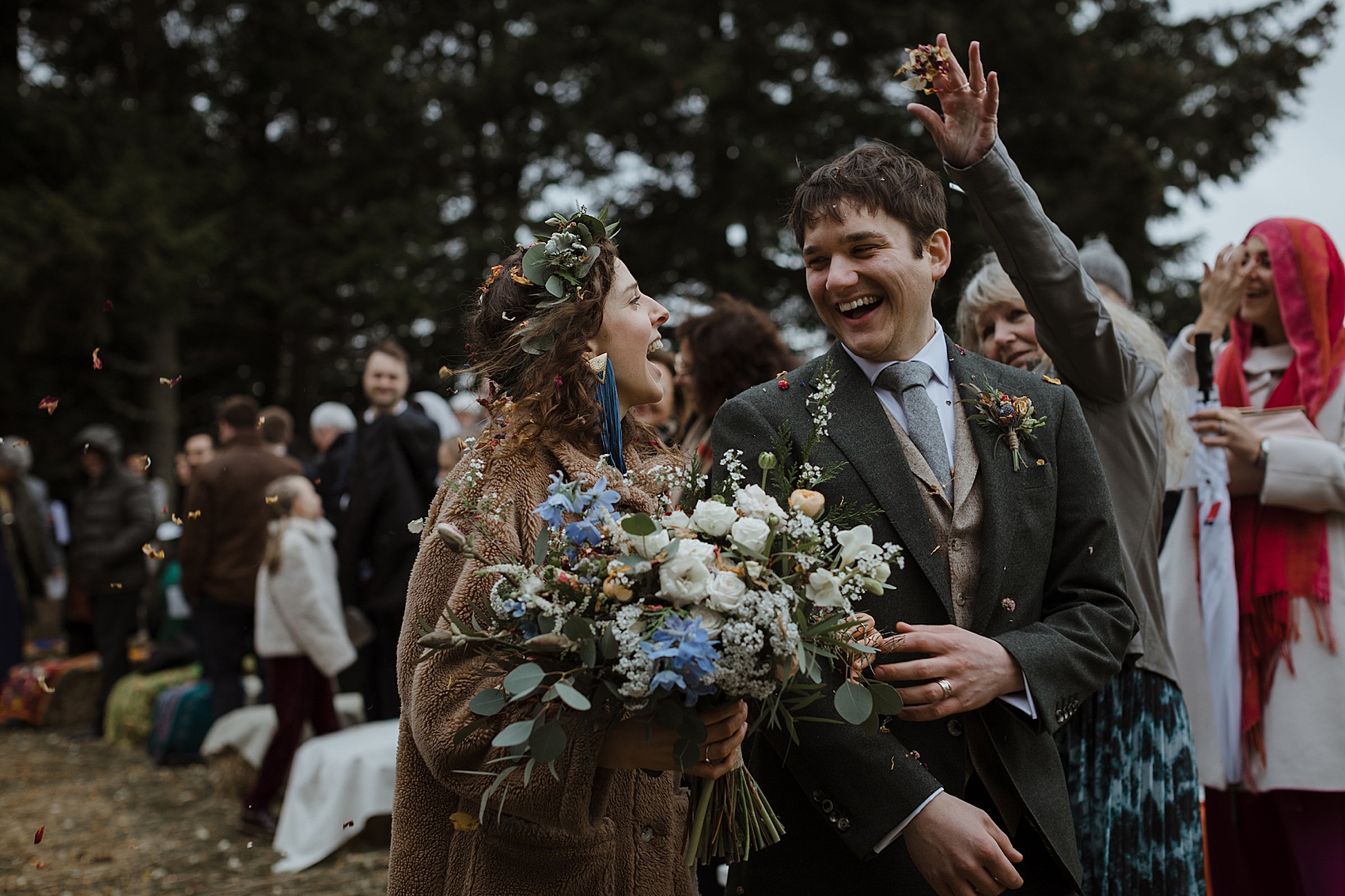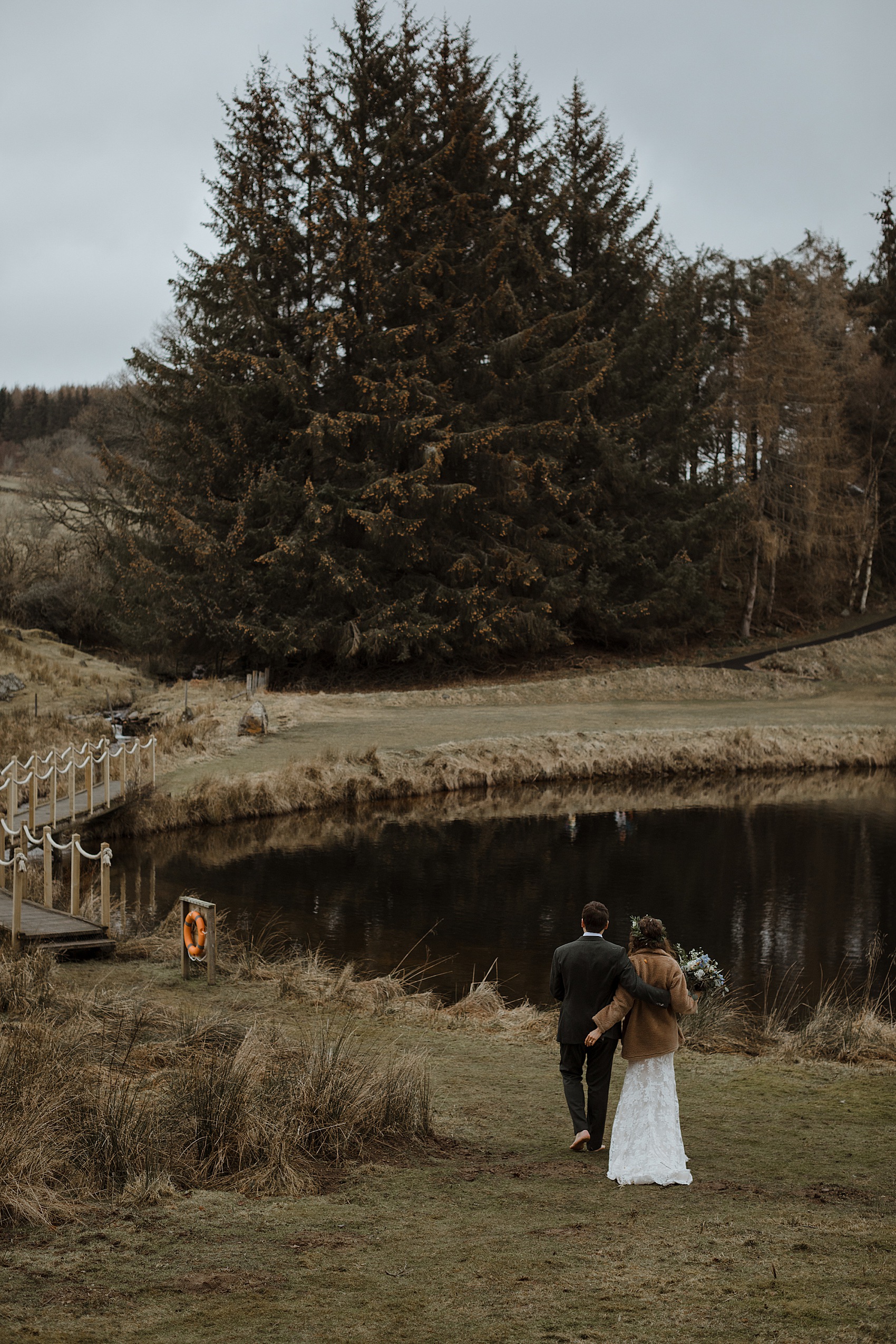 We are just so thrilled that the wonderful Caro Weiss capture this day so beautifully. We've been recommending Caro for over a decade now – she is fantastic, funny and incredibly talented.
"Caro was brilliant, she just seemed so full of joy and positivity about us and our day. In the lead up she was helpful, reassuring, and informative, not just about the photos but about planning weddings generally."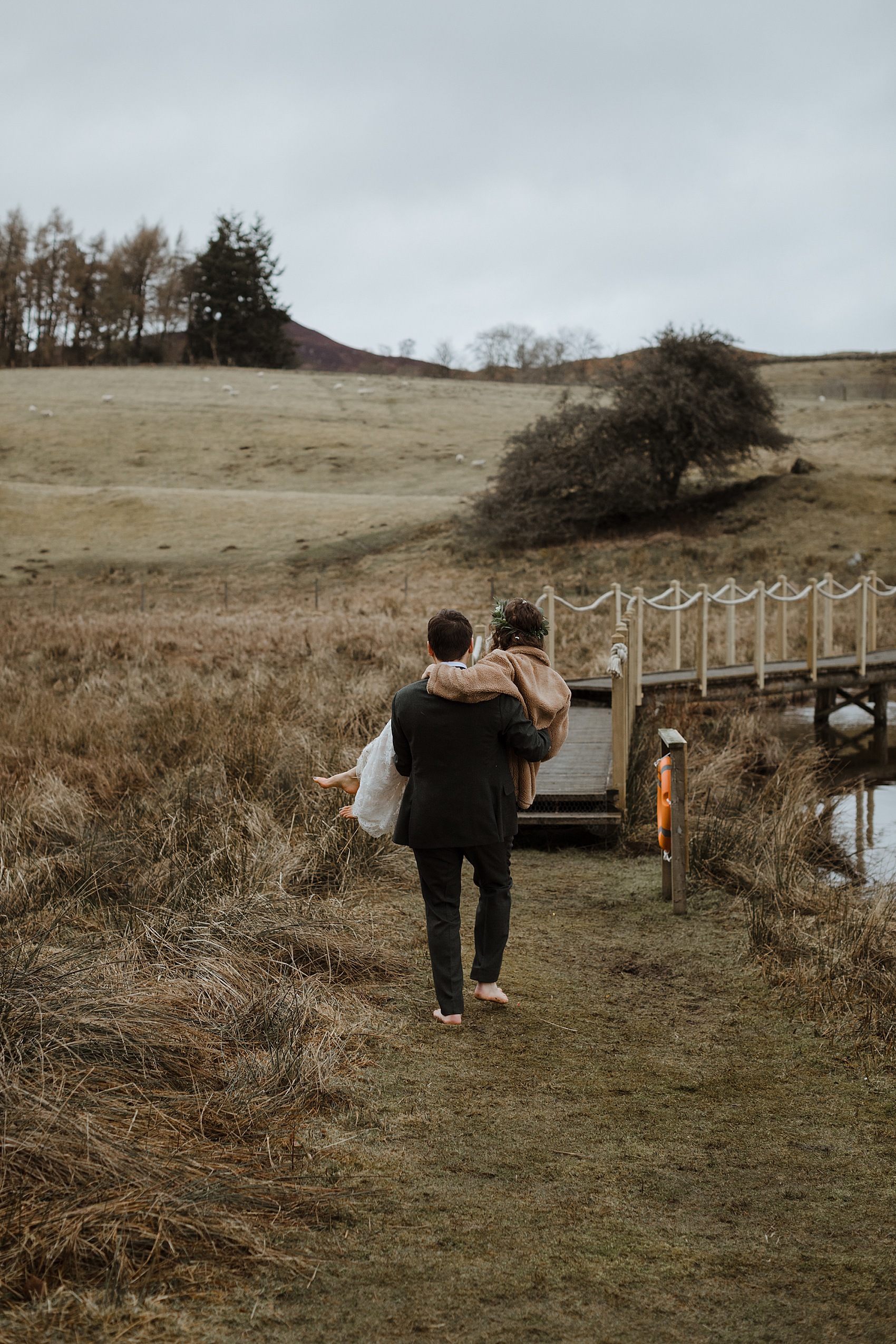 "On the day she managed to capture everything without me ever realising she was there! A perfect balance of support and subtlety. We were recommended Caro, and many of our other suppliers too, by one of our bridesmaids.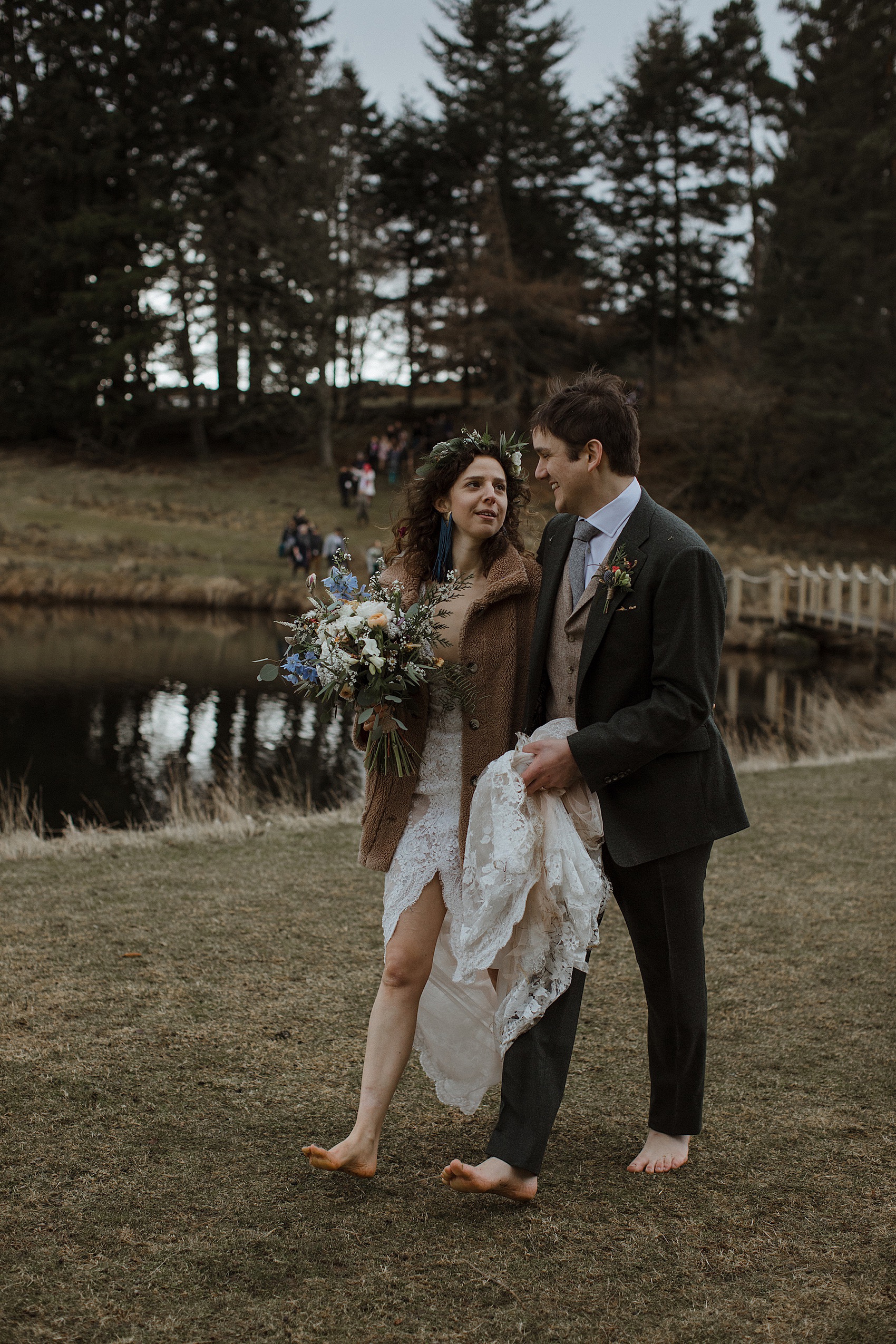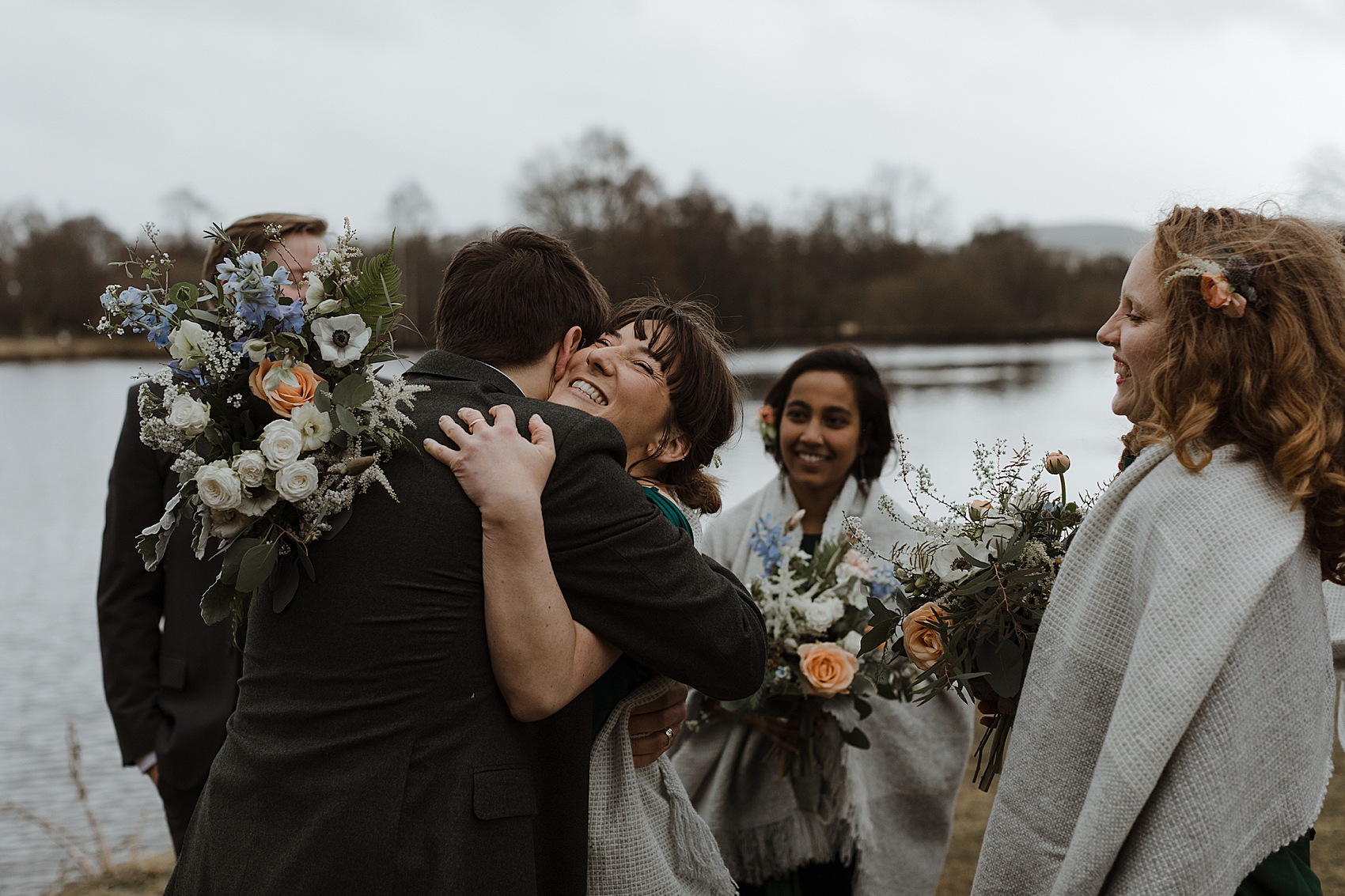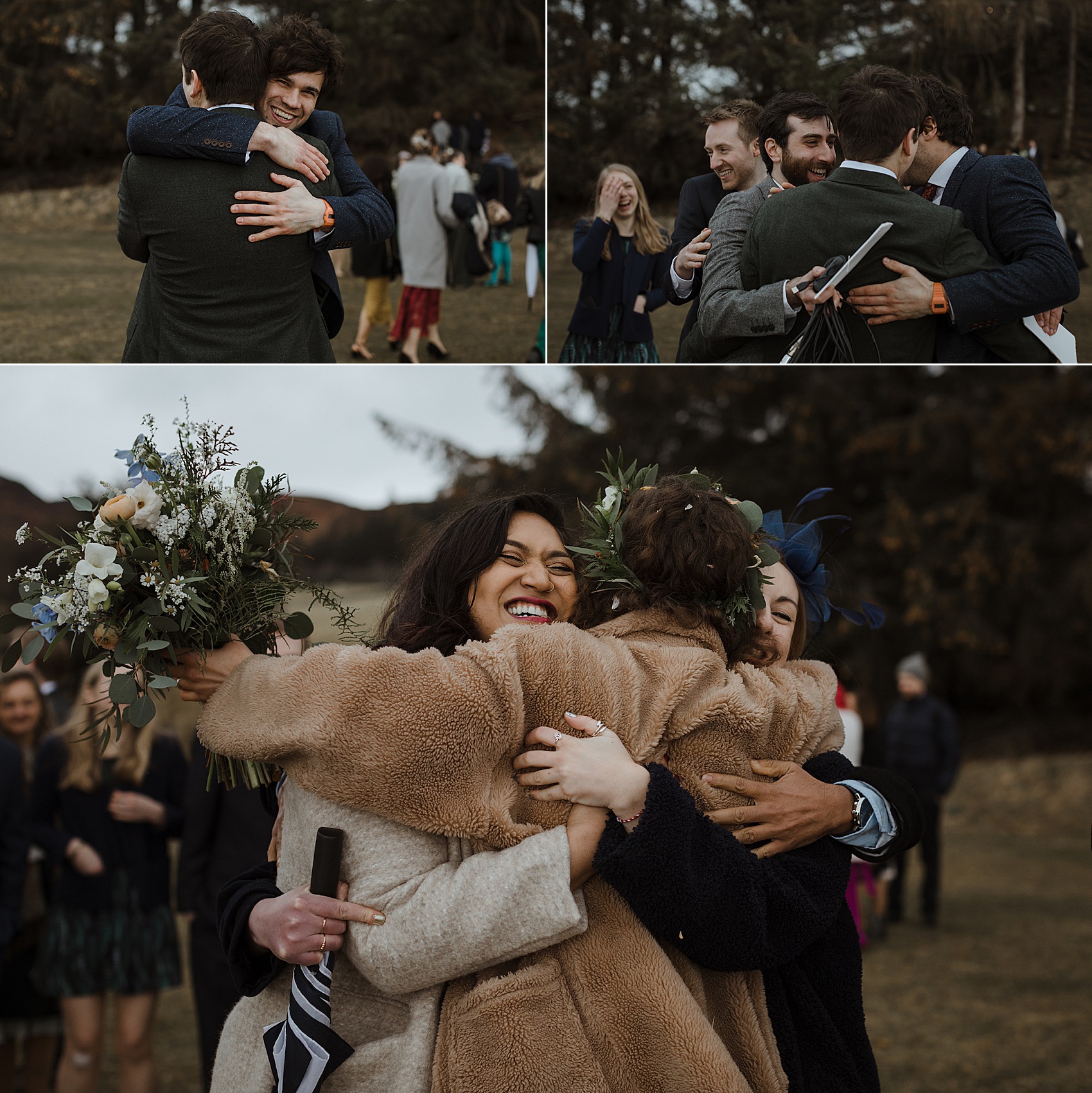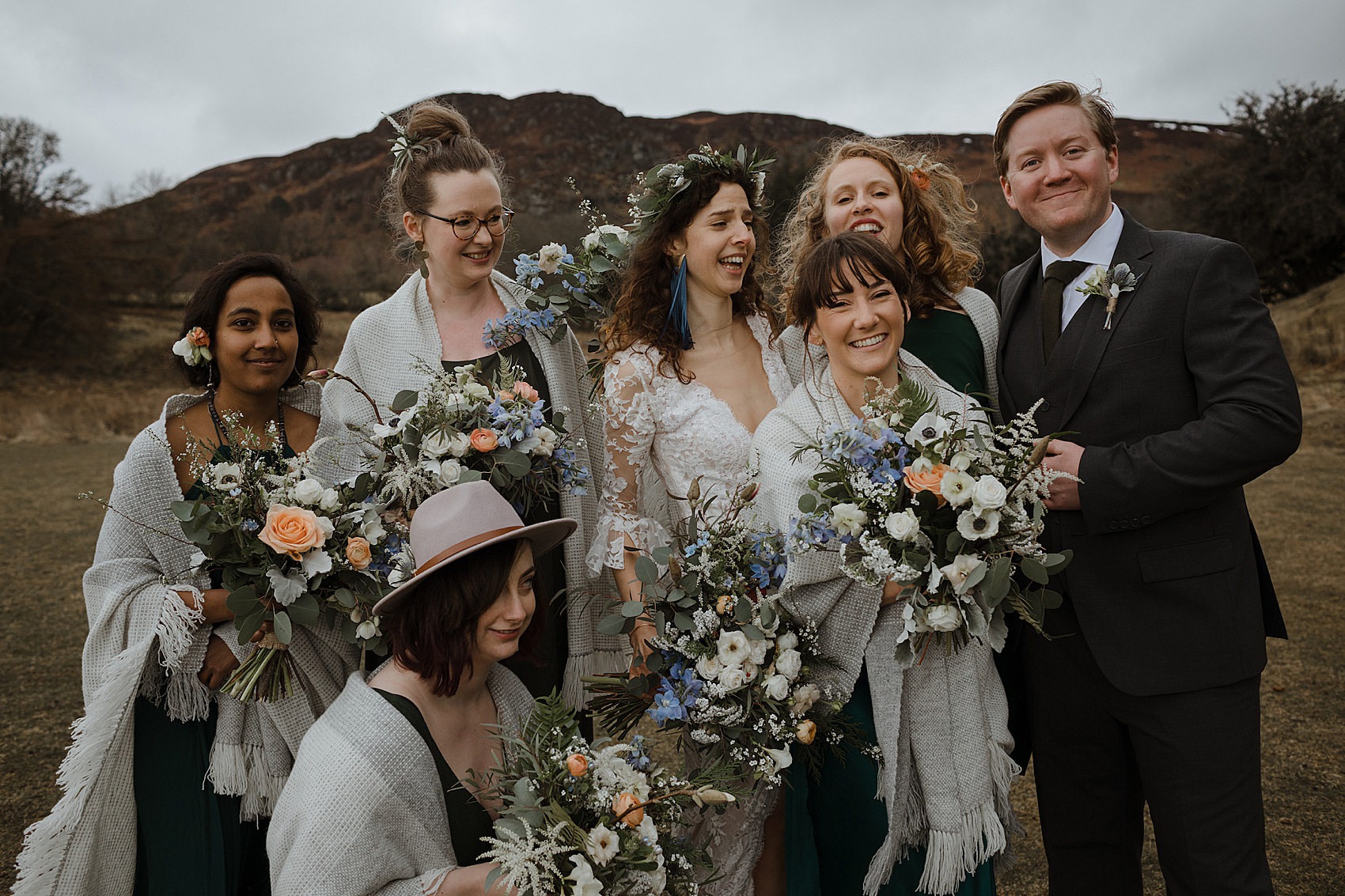 "Our florist was Cosmos Floral Design. We wanted as local and as seasonal as possible, lots of foliage with a wild, delicate, and trailing aesthetic. We were guided a lot by Sophie, the florist based on what would be available for our time of year."
"Lots of herbs were included, like chamomile and white yarrow, which was super important for us given our way of life and Simon's training. Sophie did the most incredible job. Bridesmaid recommended."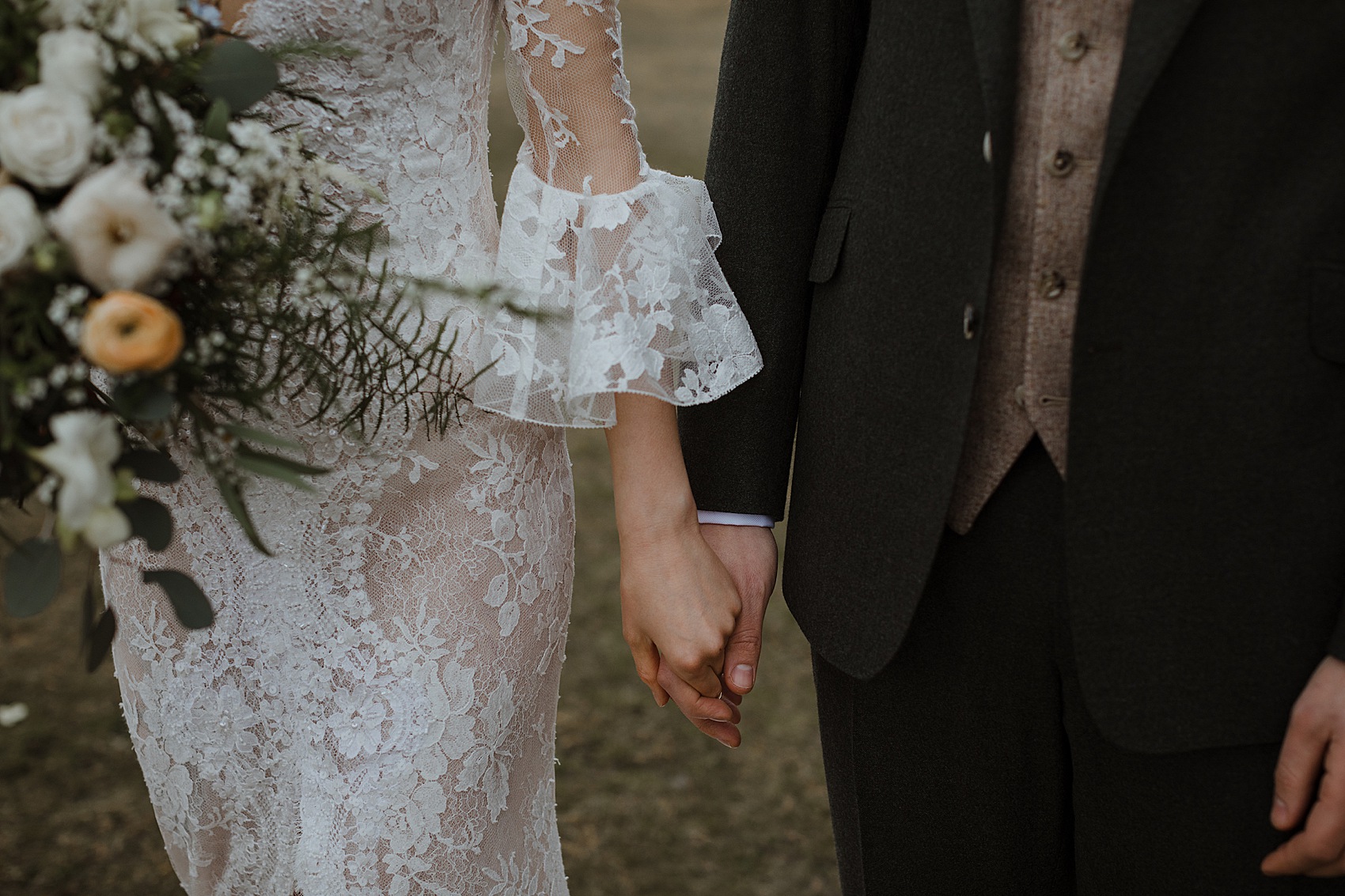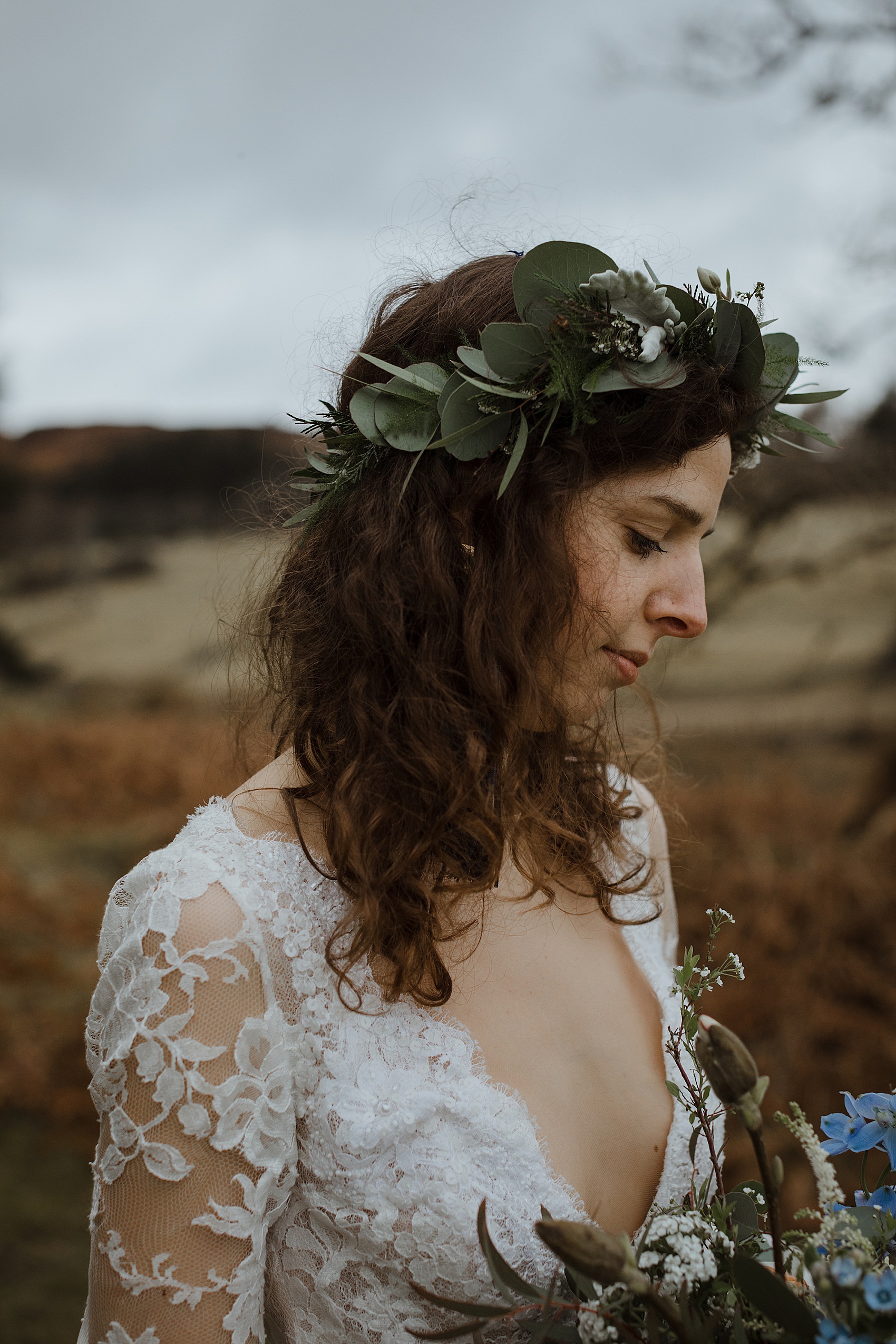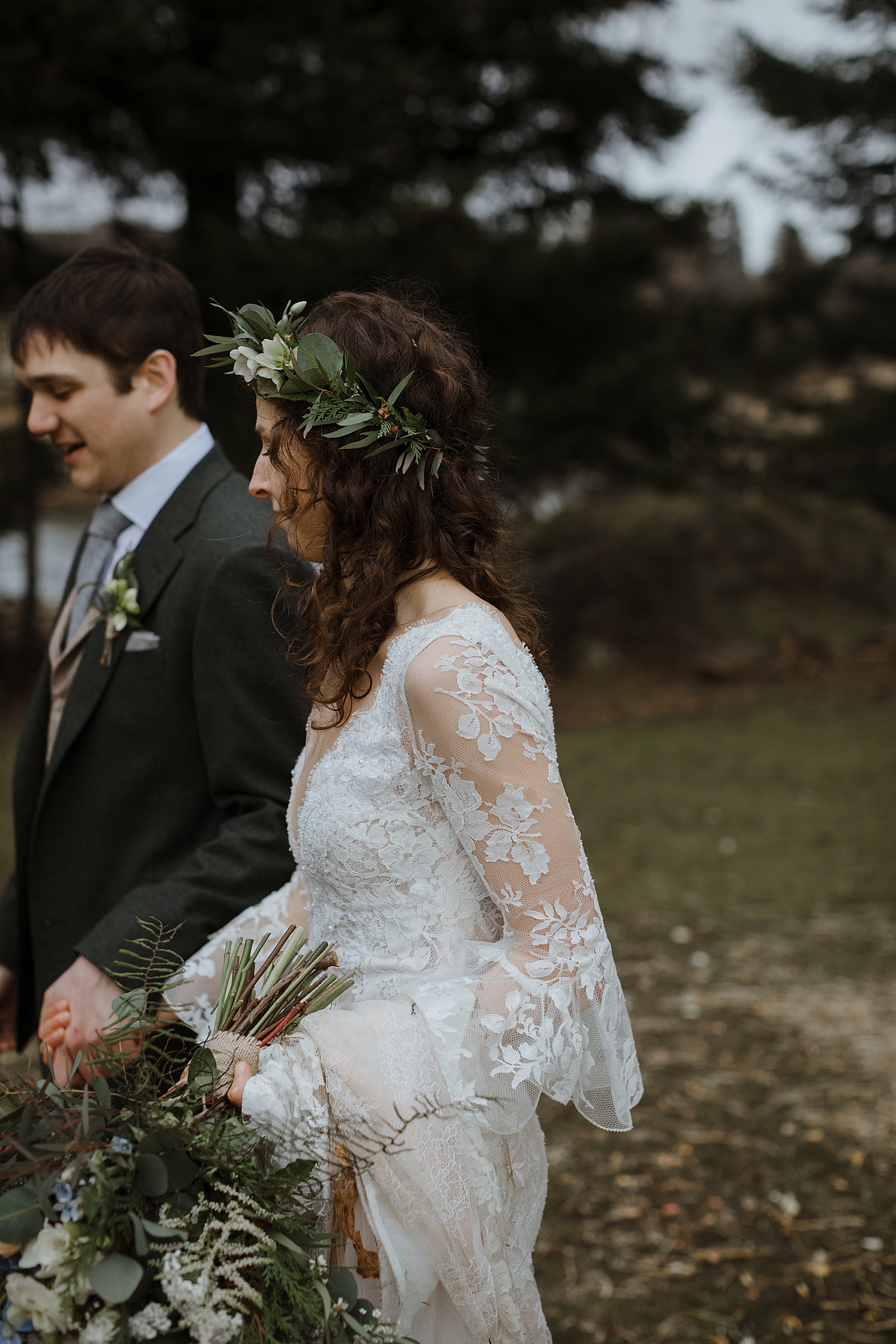 "Maya all wore a pair of vintage blue goldfish costume earrings, that had belonged to her maternal grandma and a long blue fringe earring from Odyssey & Oddities on Etsy."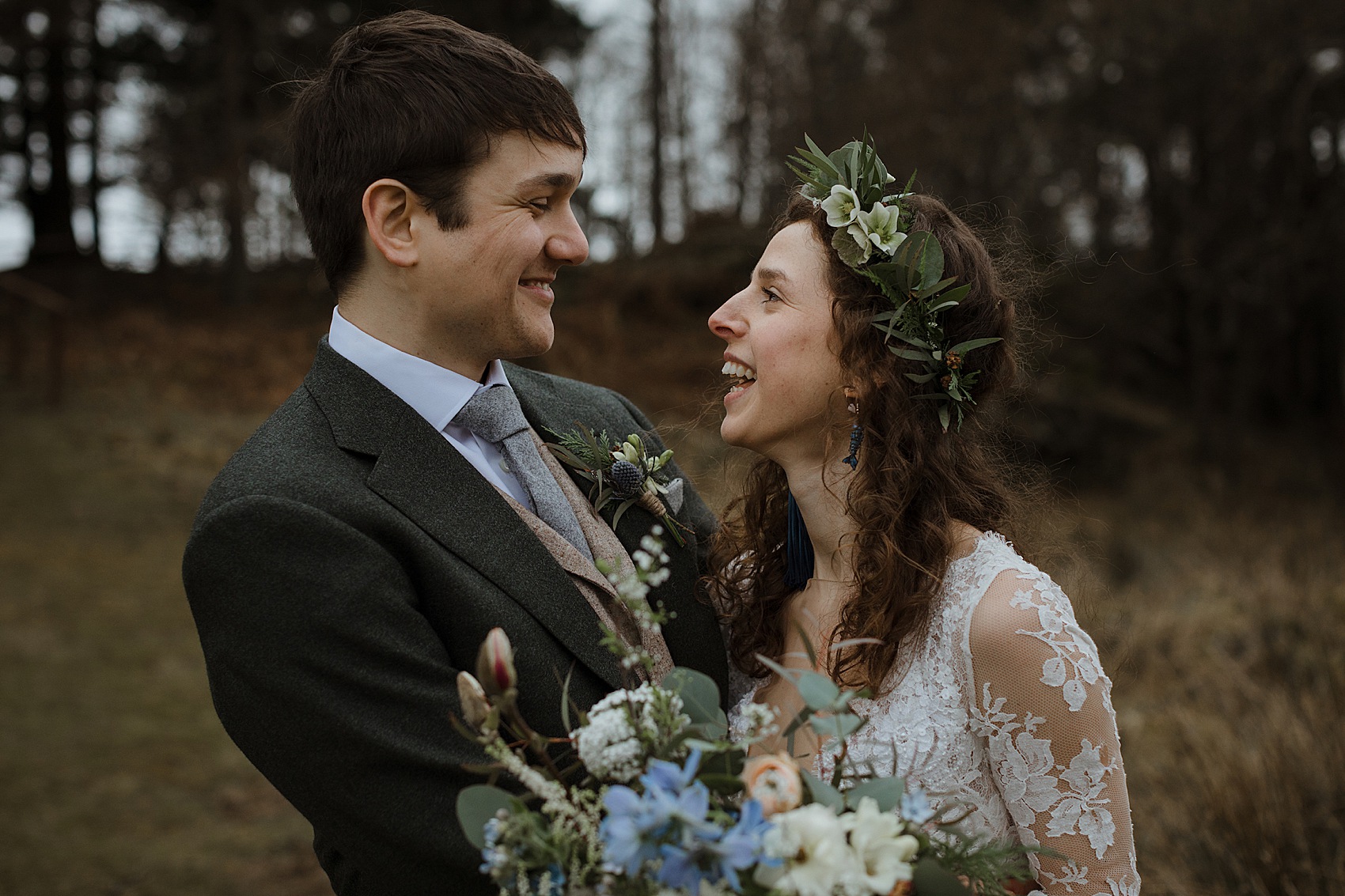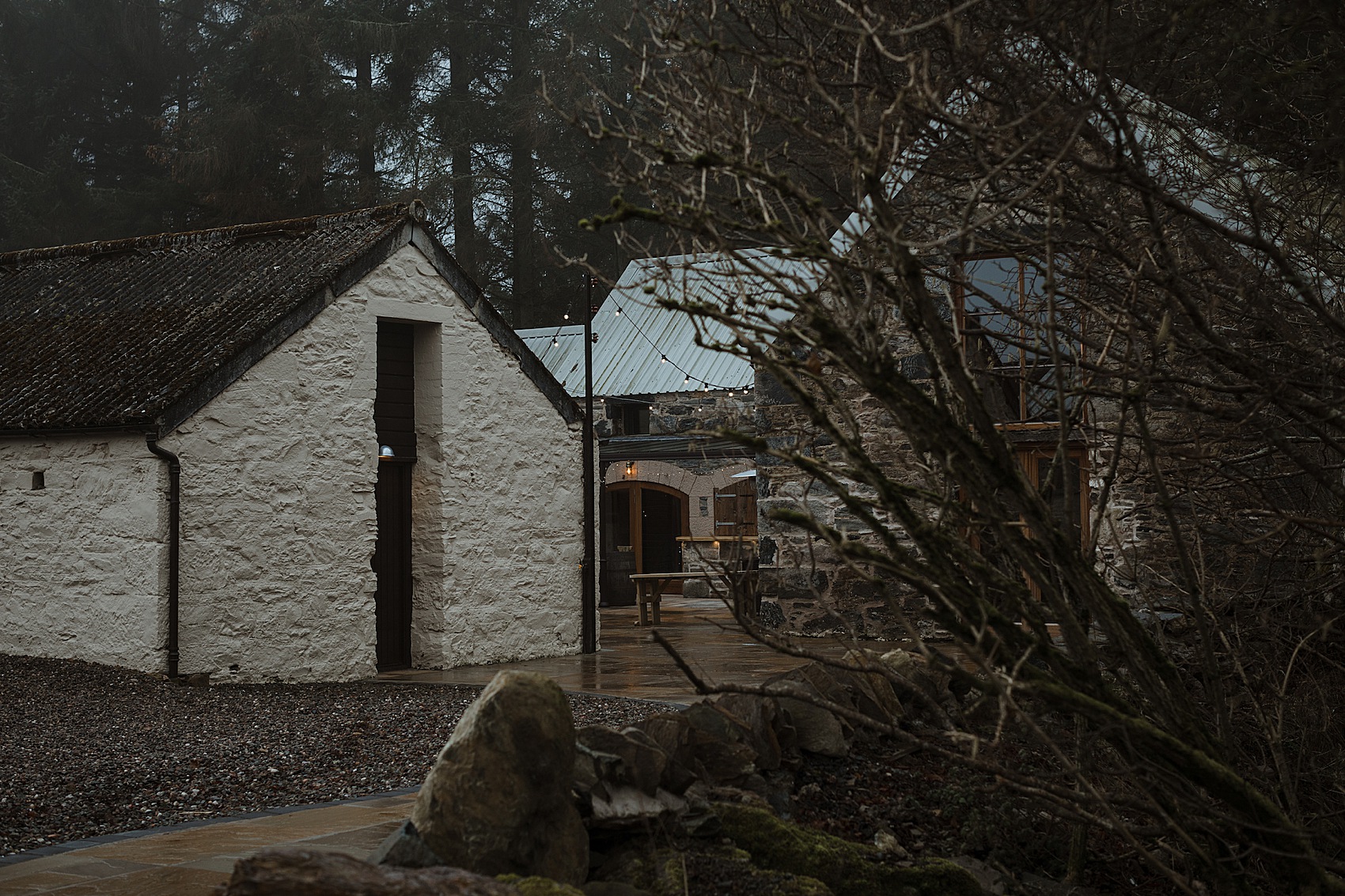 "Maya designed and made all the invitations, orders of service, table names, and place cards. She embossed rag paper with natural flora from the islands as our main design theme. Printed seed paper was attached for the invitations – they were all rescued by an absolute heroine of the bridesmaids after Simon couldn't print them."
"We had an embossed cover and then just used normal paper inside for the orders of service; we stitched them with the help of the wedding party. The table names and place cards were all written out by another very hardworking bridesmaid."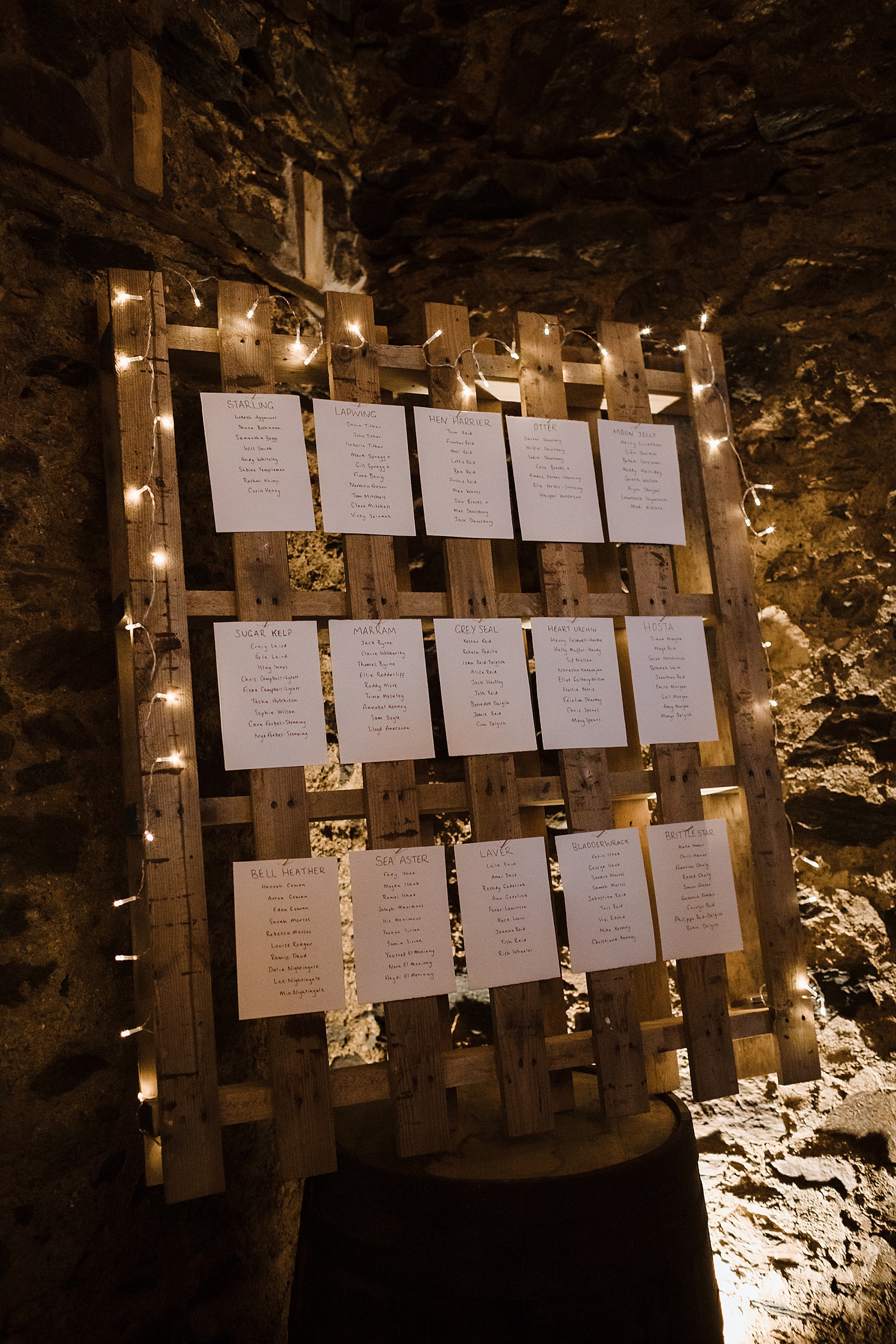 Tables and chairs were supplied by Rustic Hire, with table dressing candlesticks, sofas, and rugs supplied by Gloam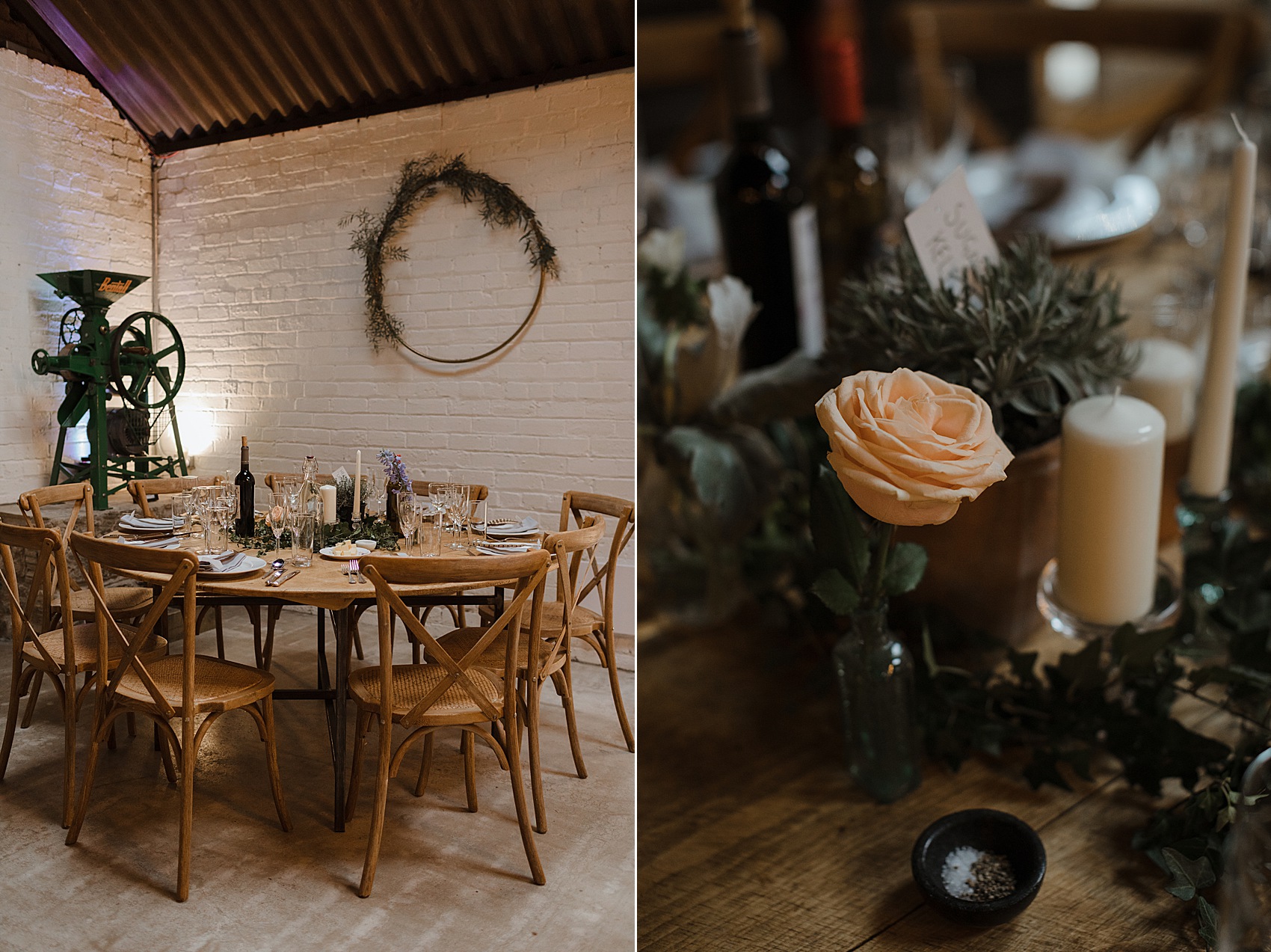 Catering was provided by Lazy Sunday Catering,  The Falafel Prophecy and Harajuku Kitchen
"Lazy Sunday Catering served us venison shot on the Cardney estate, and a mushroom butternut squash wellington for our vegetarian guests. The Falafel Prophecy provided post-dancing falafel wraps (Simon's father is Egyptian and these really lived up to our Egyptian guests' expectations!). And finally, Harajuku Kitchen aided in the next day relaxation at the venue with miso, noodles and gyoza." 
"We were advised that wedding favours are often left behind and we really wanted to minimise waste so we saw the seed paper on the invitations as wedding favours. We got them from wildflower-favours.co.uk."
"We had fantastic luck in that Aran Bakery was only a few miles from our venue. Their cakes are gorgeous, they operate a seasonally minded bakery, and their dairy-free options were mind-blowing. Bridesmaid recommended."
The evening entertainment gathered the newlyweds and their guests together closely ahead of dancing. The couple also hired Joro Afrobeat to entertain their guests in the evening, which they say was "absolutely essential – honestly! They came up from London to play for us!"
"Our friends and my cousins sang an arrangement of 'Bright Morning Stars', my family sang an arrangement of Jubilate Deo, and as a congregation we sang Morning is Broken all together. Music is a big part of our life, it would not have been a celebration without song."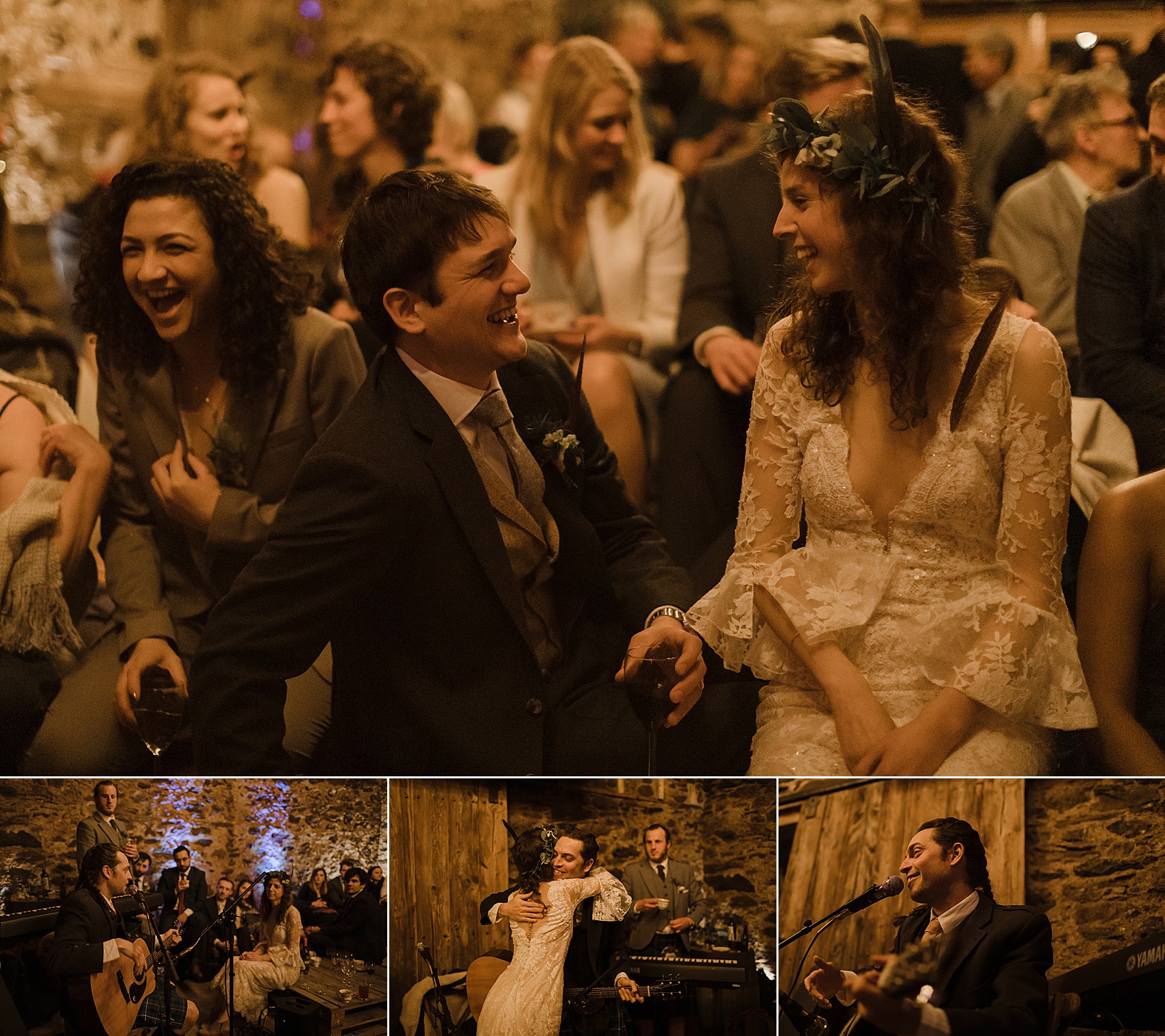 "We were hoping to avoid a first dance but the band had learned and reimagined Makkan by Fat Freddy's Drop for us (at our request) so when they played that it became our unofficial first dance. Fat Freddy's Drop are absolutely legit and this song is so sunny, happy, and full of love."
"So much was perfect. The ceremony had so much significance and felt so powerful and then the party afterwards was just a riot. We had an open mic for speeches/toasts after the meal, which became a musical and hilarious affair. And the band was just. So. Ridiculously. Incredible. There were lots of different flavours of favourite!"
"But if we have to choose our most favourite part of the day, it would be saying our vows in a Scottish mist-filled forest, looking around during the meal and seeing the conversations between people we'd sat next to each other on the agonising table plan, and the feeling throughout the day, of being constantly surrounded and supported by love."
Words of Wedded Wisdom
"Things will go wrong, no amount of planning can prevent that, but trust that wrong doesn't necessarily mean ruined. Know that the hard work beforehand will pay off and on the day just go with the flow and let whatever happens happen. Your wedding day can still be perfect even if it doesn't come off exactly as you planned.
Also, if something/someone isn't aligning with your perfect vision (inevitable I'm afraid), think about when you look back on this day/period in ten years time, are you going to regret your behaviour over this? Pick your battles, keep some perspective, and as long as you both say your vows, nothing else matters."