Evening everyone! We've taken a very long bank holiday weekend to spend with family and I am personally eeking out as many fun days as I have left with my children before they return to school on 9th September after what feels like an absolute age.
But we can never stay away for long with inspiring wedding content, and so this evening, it gives me great pleasure to introduce you to Elena, a philosophy of science and technology PhD student and Ian, who manages social media for a broadcaster, on 3rd August 2019.
Chris Barber Photography

+ Follow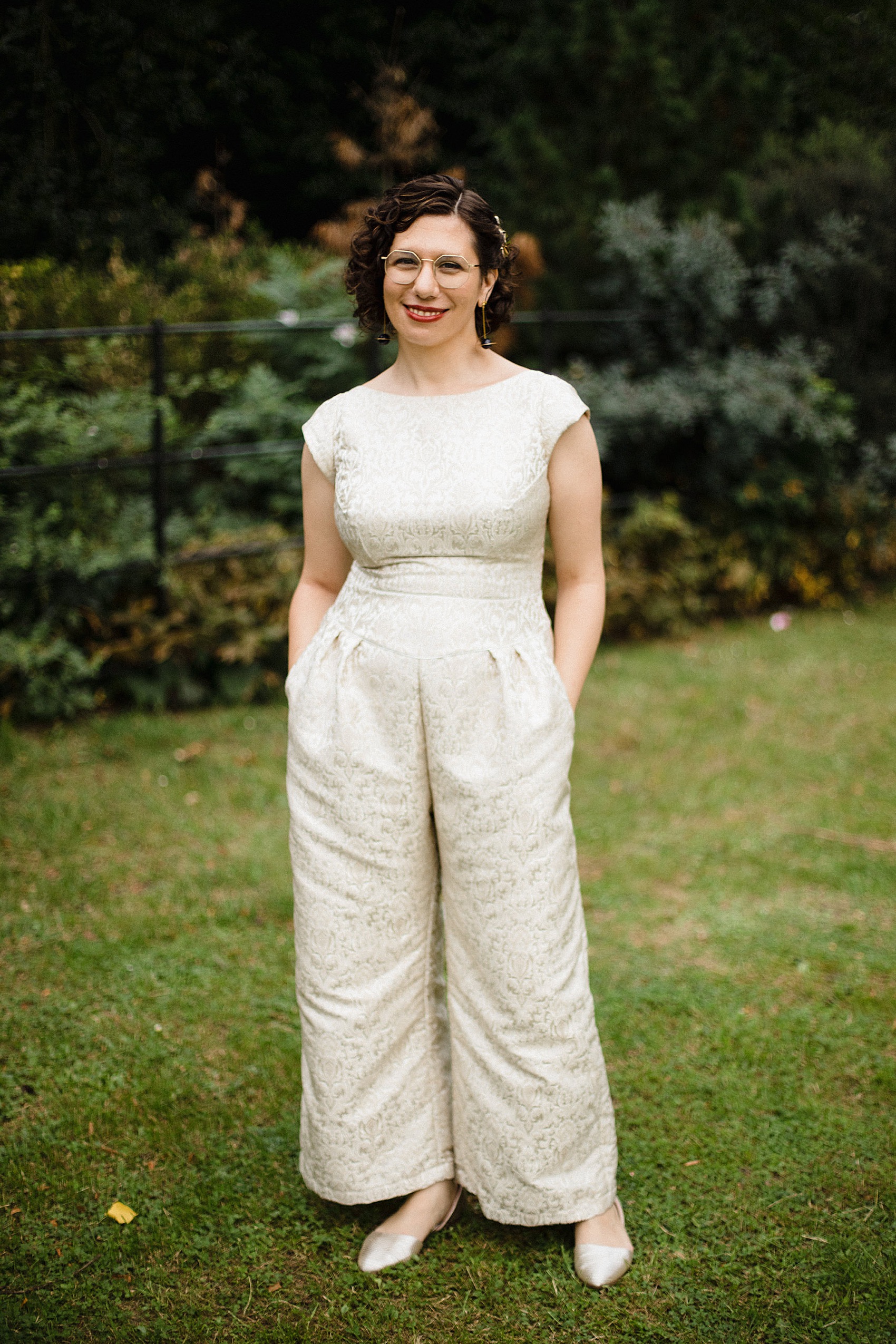 The couple tied the knot at Battersea Park in London with a ceremony at the bandstand, followed by a picnic at The Green, and an evening party at Putt In the Park (a minigolf course).
"We wanted a relaxed, unpretentious, happy day. We were also keen not to lean upon any patriarchal traditions, which took a bit of research and a fair amount of work. So we walked down the aisle together, we didn't do a cake cutting, and I gave a speech as well."
"Our first date was in an Islington pub that's smaller than our living room, and our flat is in London so that's saying something. We got engaged on New Year's Day 2018, in Edinburgh, shortly after getting absolutely soaked with rain on Arthur's Seat, and accidentally stumbling into the oldest skittles alley in Scotland. We got married about 18 months later."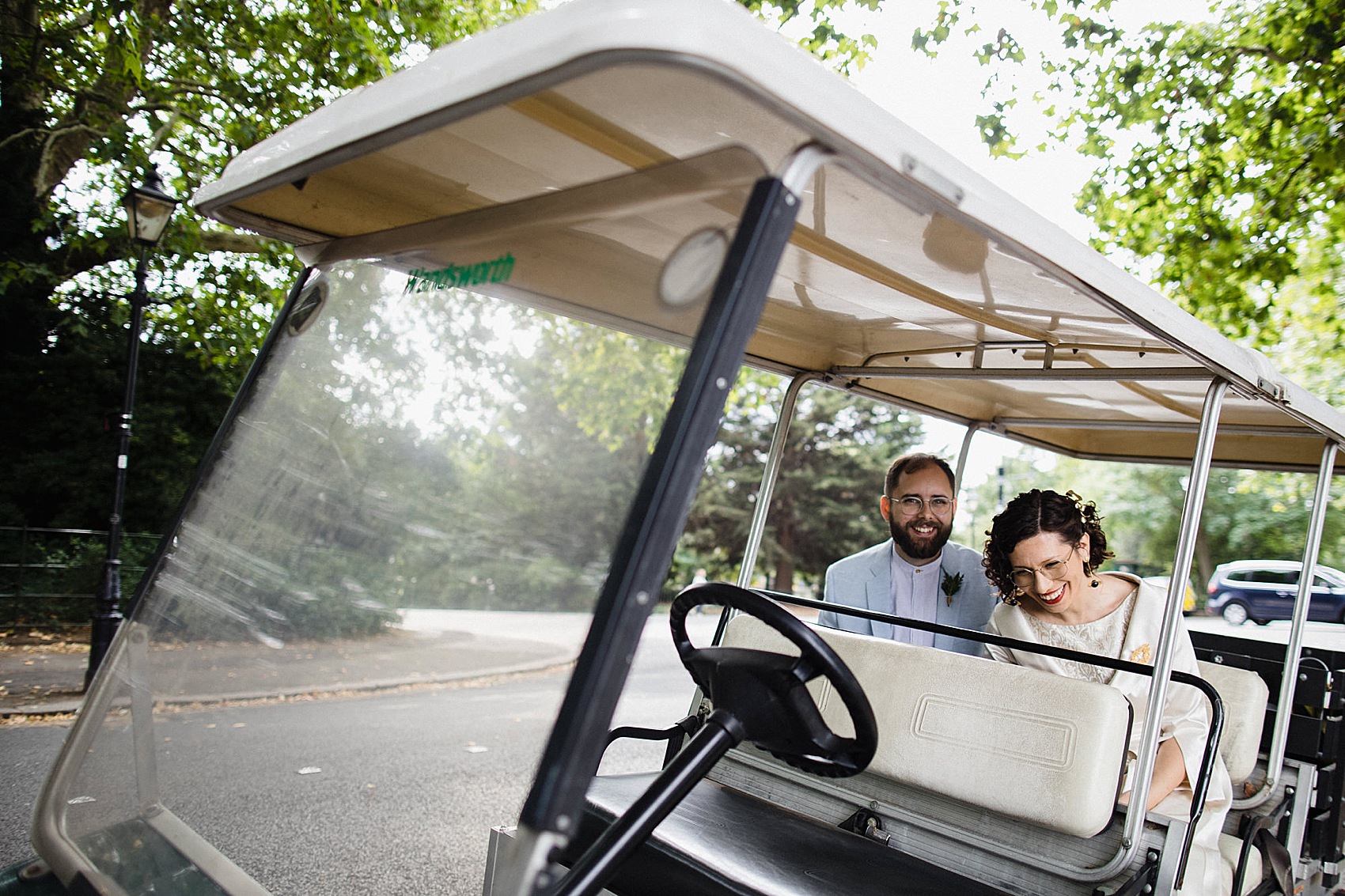 "We love mid-century design, and we wanted to get married somewhere green. We chose Battersea Park for our venue, and we knew that it hosted the Pleasure Gardens of the iconic Festival of Britain in 1951, so a lot of our styling was influenced by that festival and modernist design."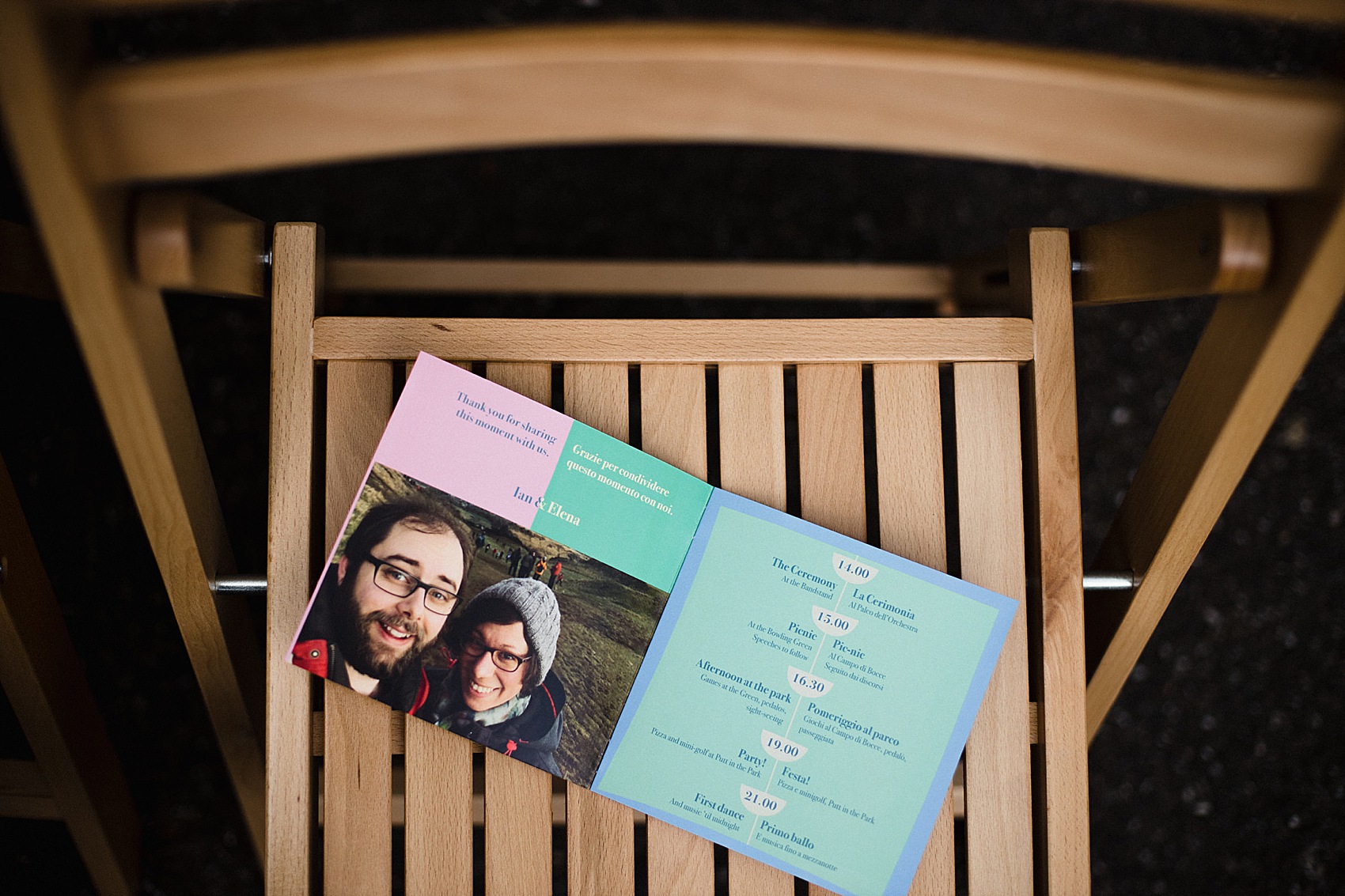 "Our car to the top of the aisle was kindly provided and driven by our friend Lynn, whose yellow VW Beetle (named 'Tallulah') really stood out."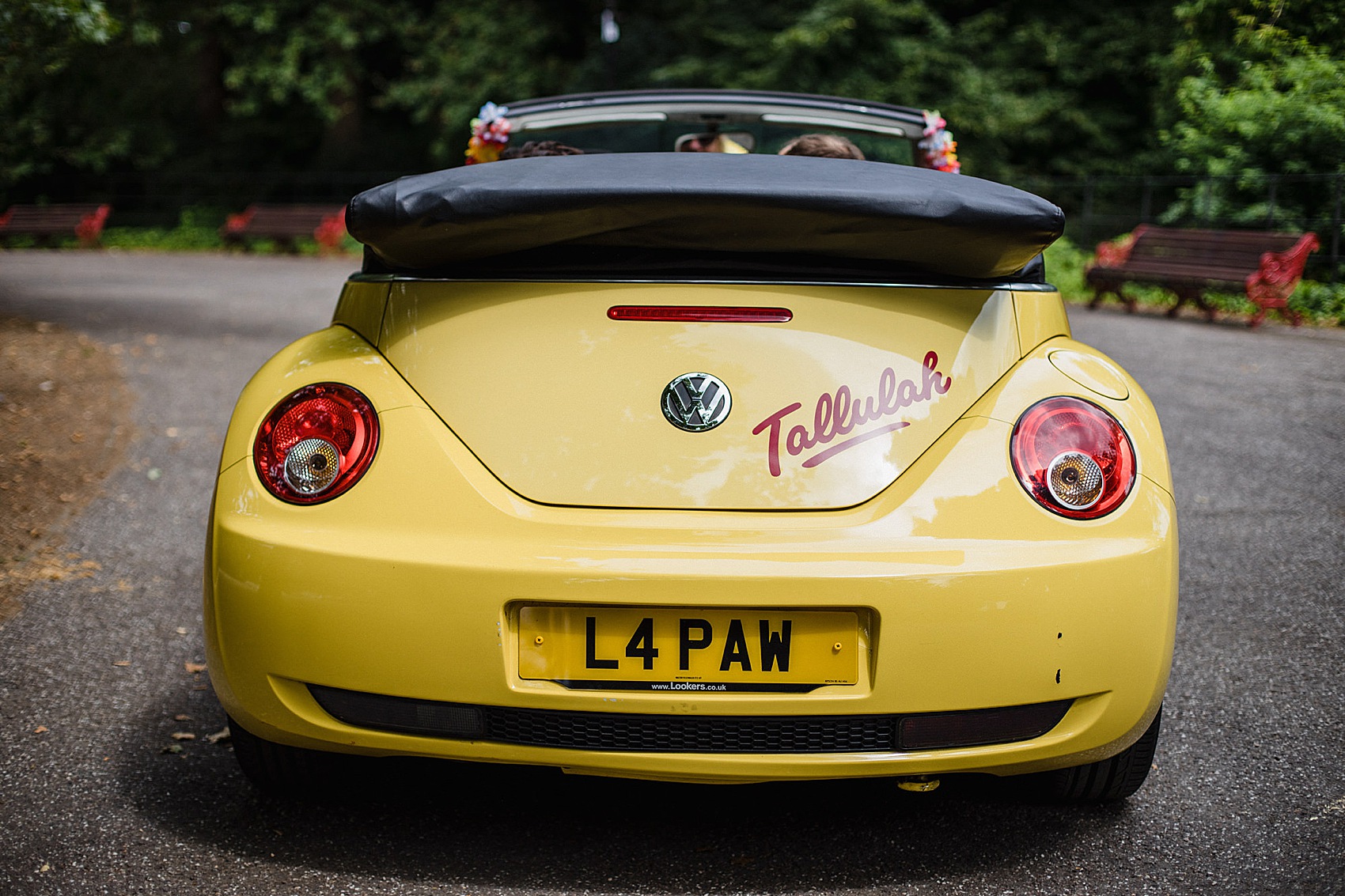 The couple chose to have beautiful Luna as their flower-dog! She wore a handmade collar with a very pretty bow.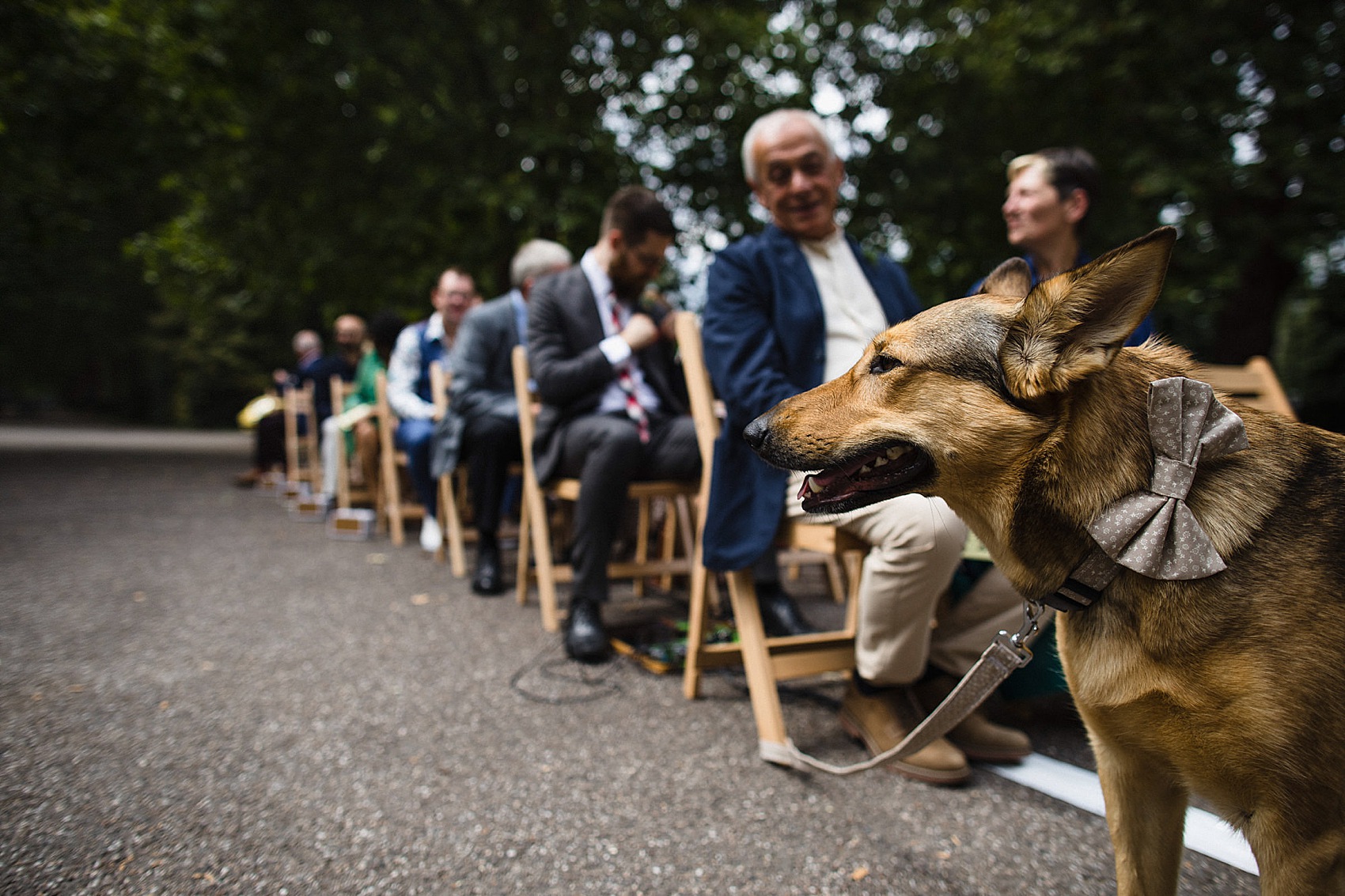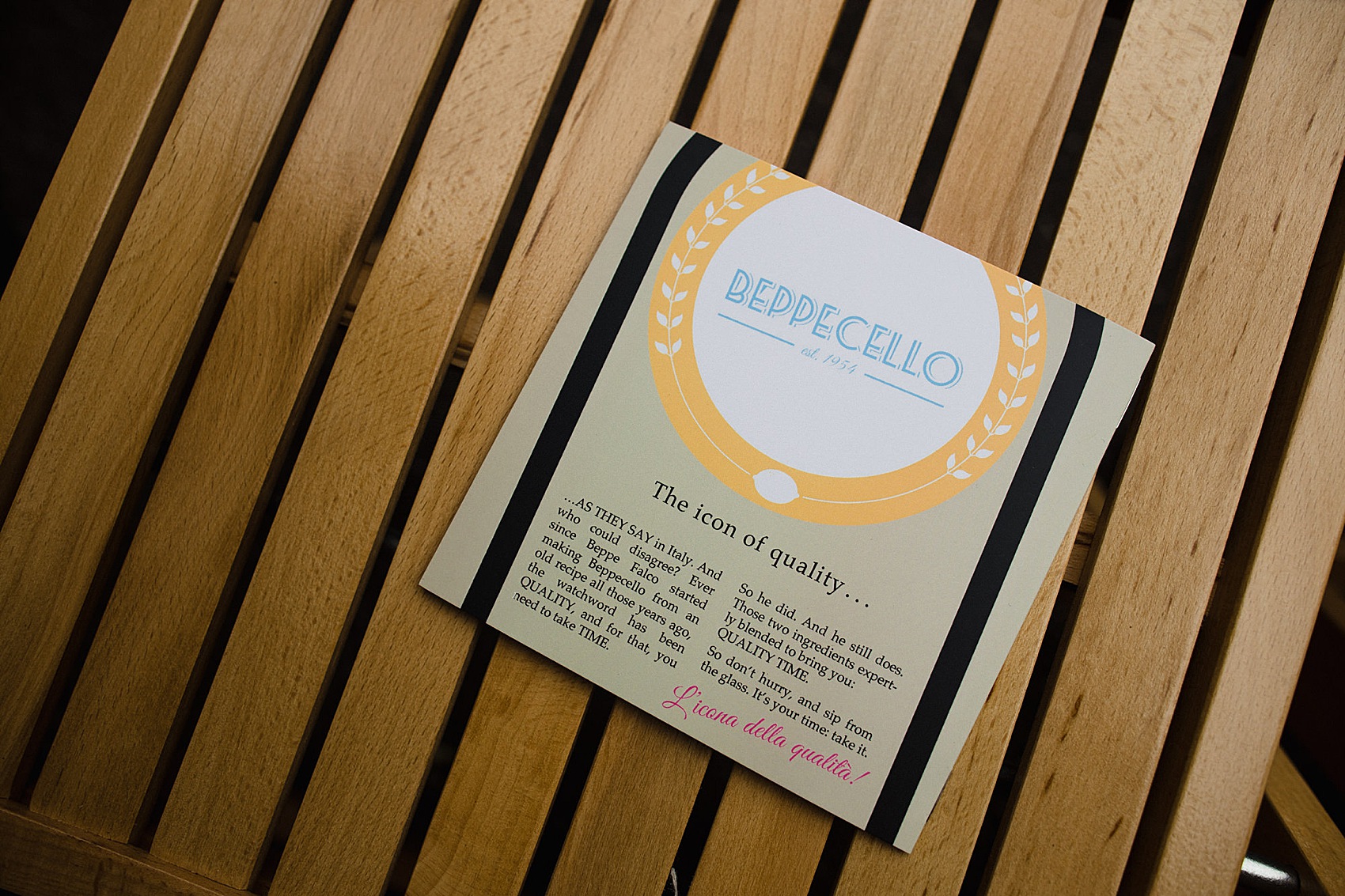 Elena wore a jumpsuit crafted out of 1950's vintage silk brocade, by Dig For Victory in Brighton.
"The jacket came from ASOS, and was topped by an original Vendome brutalist brooch. My shoes were Toms – golden, no heels, fully fabulous!"
"Dig For Victory are absolutely excellent as well: they make their own high-quality clothing out of end-of-the-roll and vintage fabrics. It's very affordable and they were happy to adapt one of their designs to my wishes."
"I felt quite strongly that I wanted to wear something spectacular that I could also dance in. The jumpsuit plus jacket combo was a perfect choice. I also didn't feel wearing white was for me – and wanted something that was in keeping with 50's style."
"I love to wear vintage daily, so felt fully at ease, and that was the most important thing to me."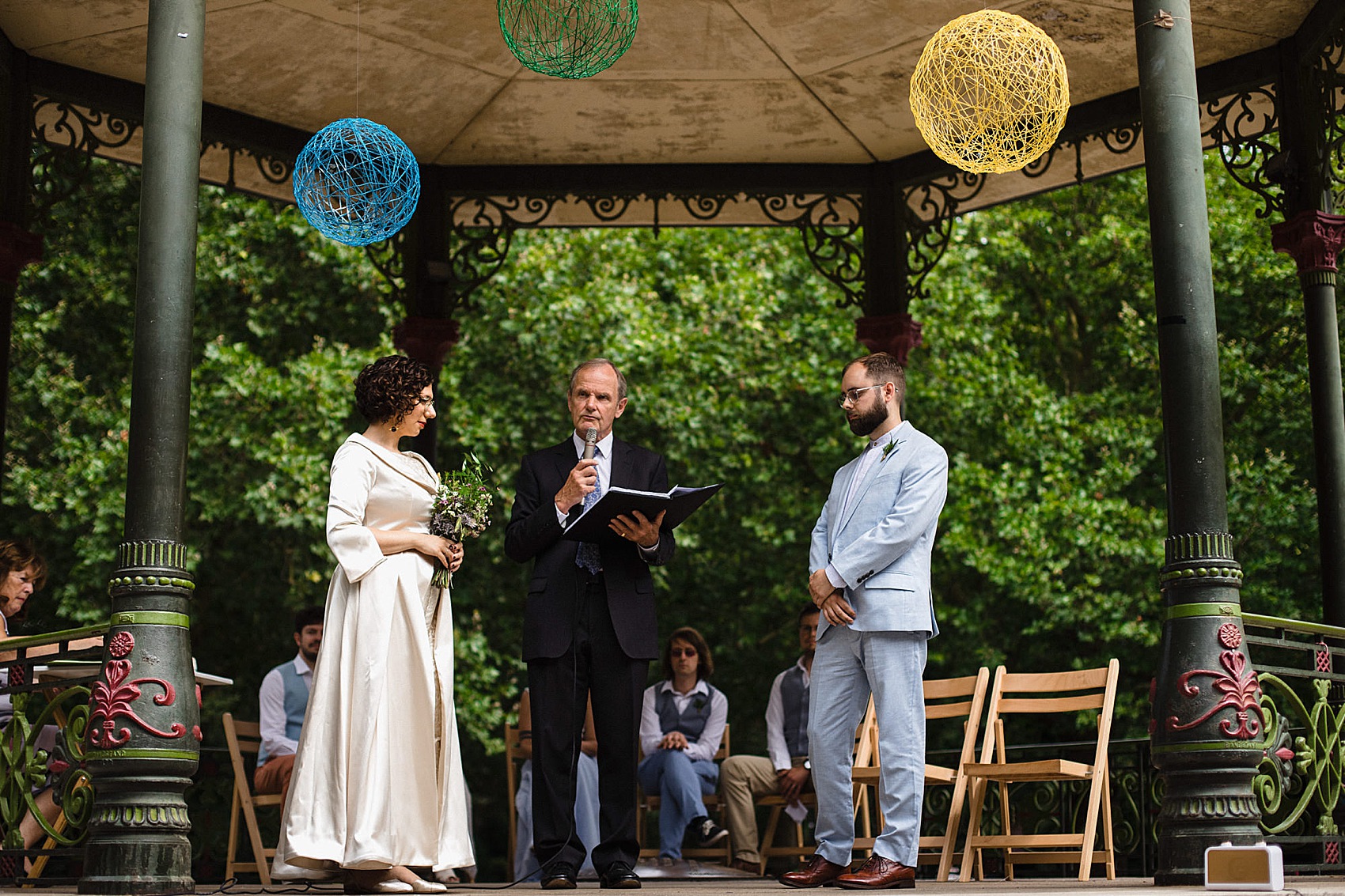 "In order to harmonise out outfits, we both wore golden details. Oh and Ian knew full well what I was wearing. In fact, he helped me choose! It was a lovely process – we were both fully involved."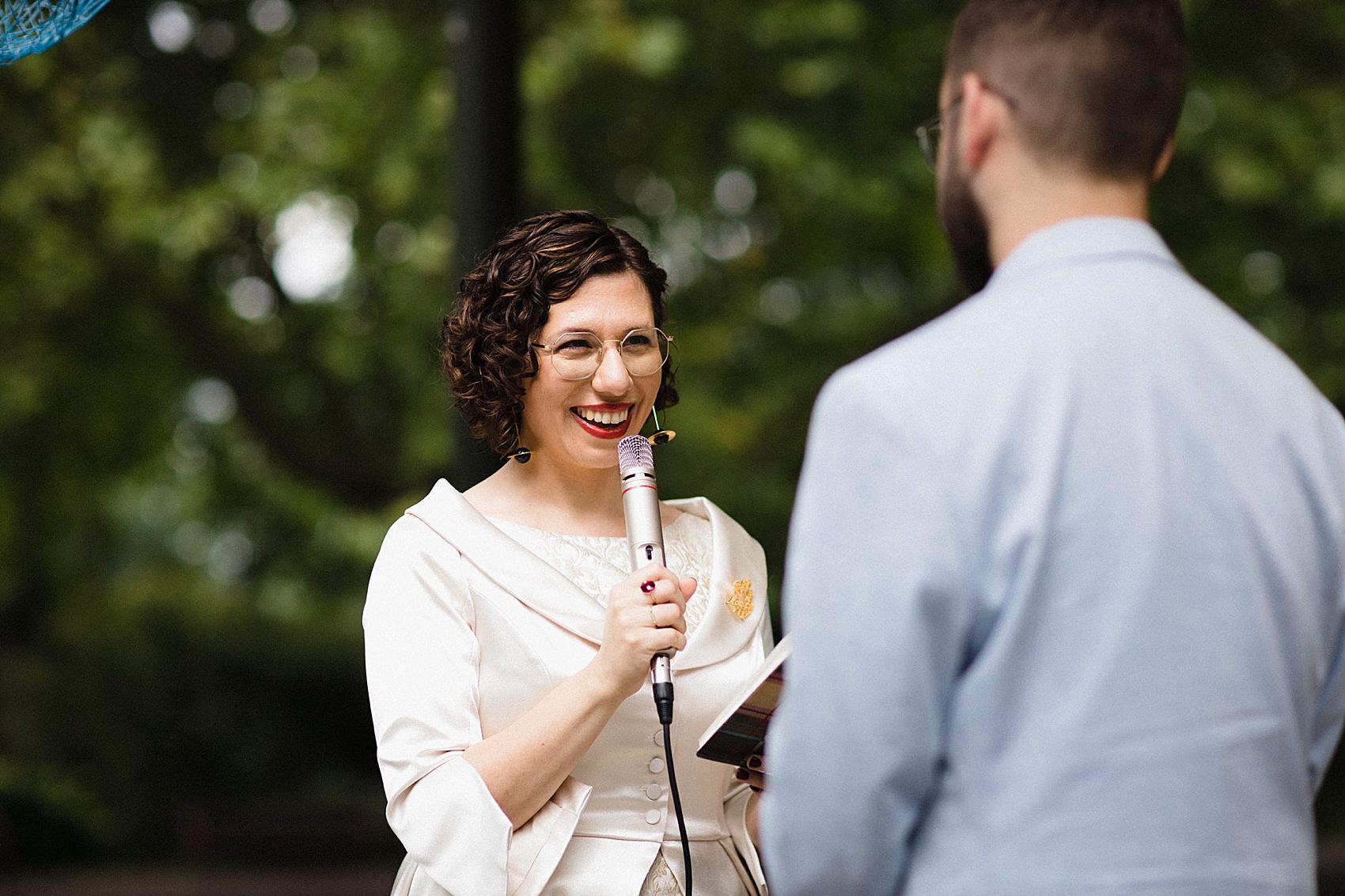 The couple walked down the aisle together…
"We walked down the aisle to one of our favourite songs, 'This Must Be The Place', by Talking Heads. During the signing of the register we played 'You Make My Dreams'. by Hall & Oates, and 'Signed, Sealed, Delivered I'm Yours', by Stevie Wonder."
"We walked back down the aisle to a ska version of the classic Italian love song Il cielo in una stanza, covered by The Scalas."
"Vows were the only thing we kept secret from each other, and probably the only part of day when we felt some solemnity was needed. Vows are a serious matter. We wrote them ourselves, speaking in our own authentic voices, in little notebooks that are now sitting in our living room."
"We had two readings, one in English, one in Italian. They were both written by authors we love. The first one was an excerpt from On The Modern Cult of The Factish Gods, by French philosopher Bruno Latour (we know how that sounds! Bear with us and read it)."
"The second one was from The Restaurant At The End of The Universe, by Douglas Adams."
"Both our rings have slightly rough, organic shapes. We bought our rings from Tomfoolery, a London jewellery shop which stocks independent brands from all over the world. They have a great eye for design, and it was a pleasure to go in and try on their selection. Buying rings was what made it real for us. We went to celebrate with a G&T afterwards!"
The couple hired London florists Grace & Thorne to provide the blooms…
"They have a modern approach, make striking arrangements with seasonal flowers. We wanted wildflowers to be featured in my bouquet, and leaves-only buttonholes and corsages."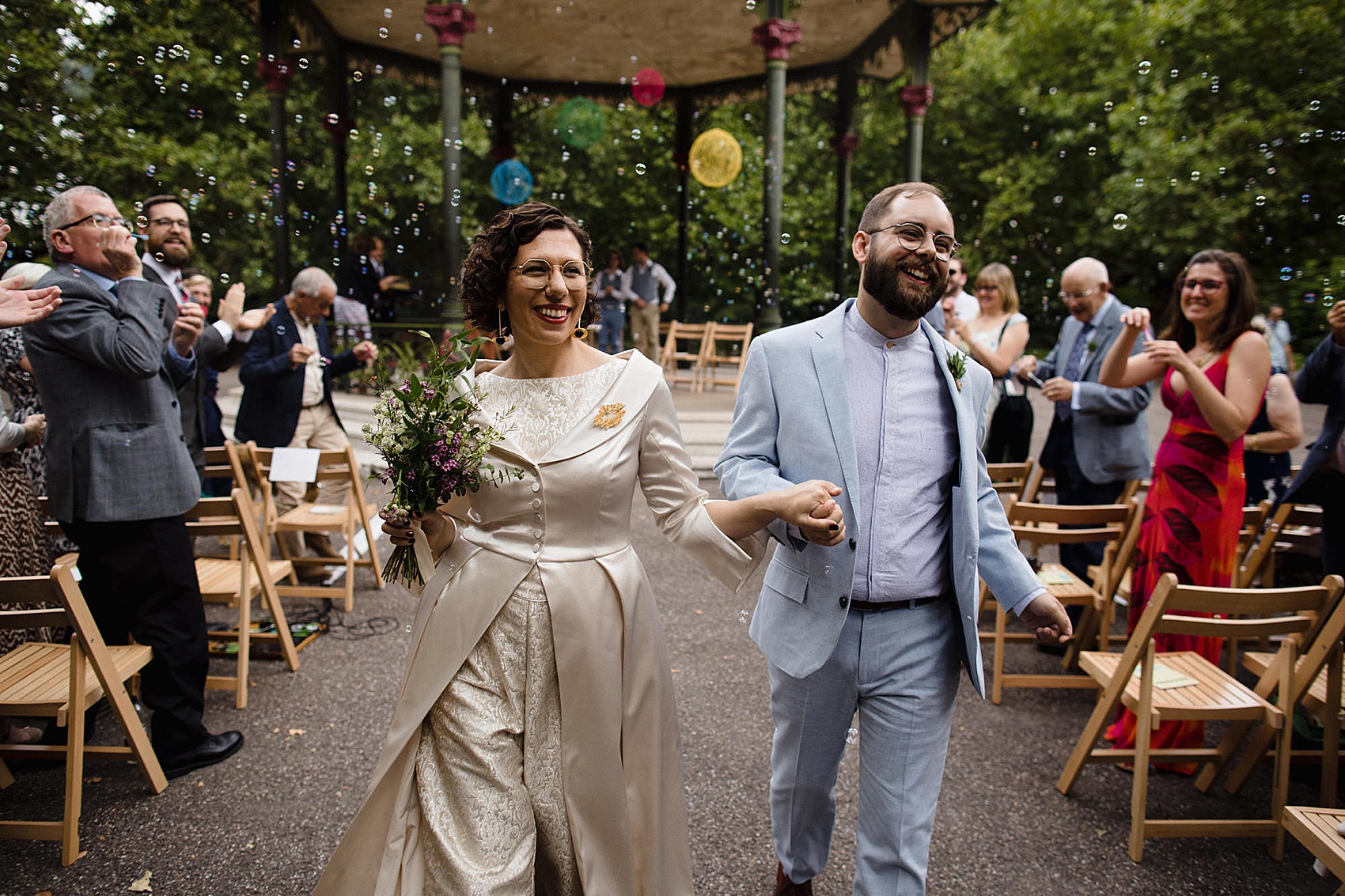 "Ian was wearing a JCrew suit, over a Paul Smith shirt (known to us as 'The Perfect Shirt'), Paul Smith shoes and a handmade leather belt, with debossed initials, made by amazing Sicilian artisans."
"Claudio from Regent Street JCrew was Ian's personal angel, very helpful throughout. The belt was from La Fenice Artigianato, who did an incredible job of it on very short notice. Ian still loves and wears that belt a lot!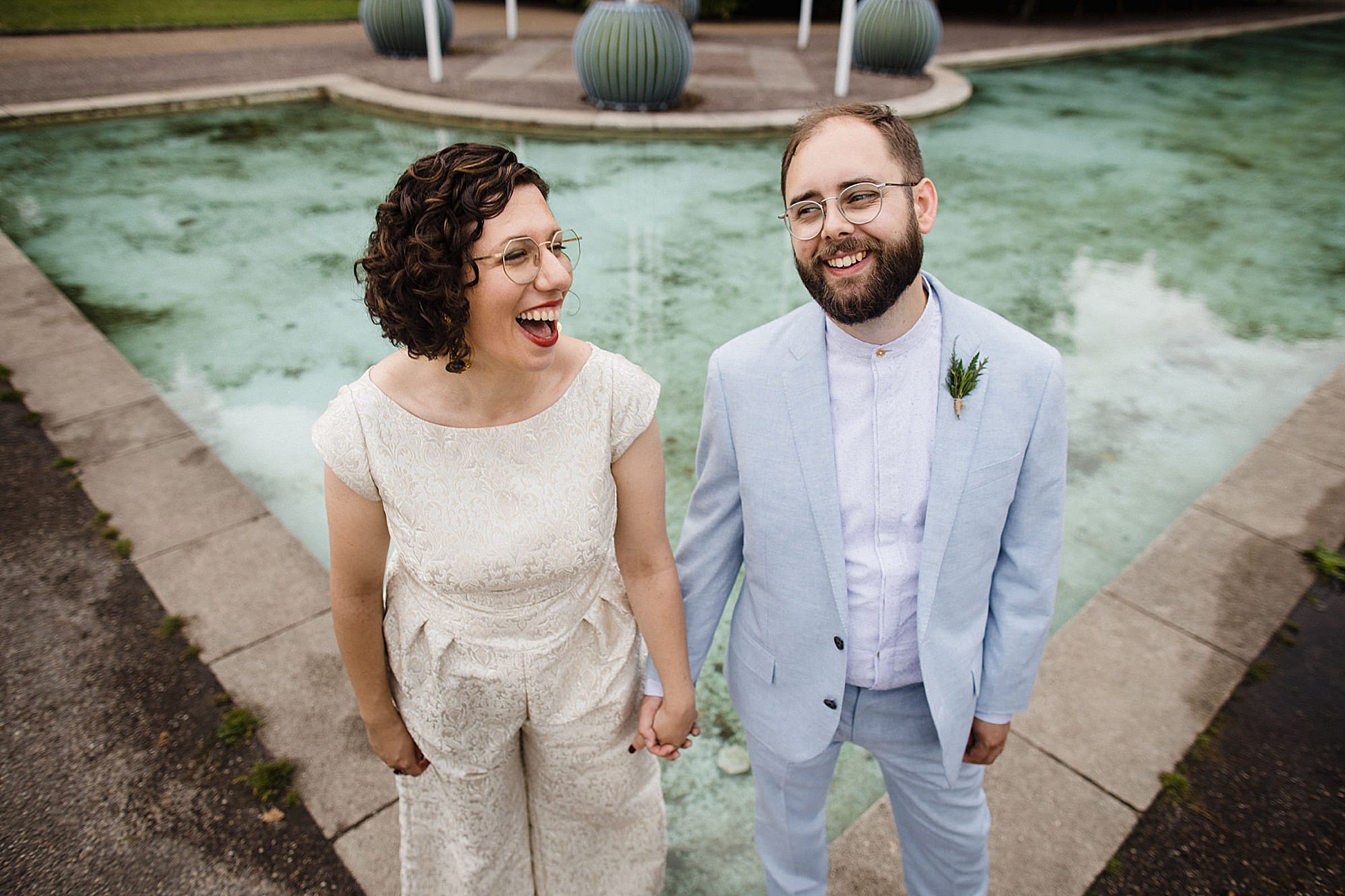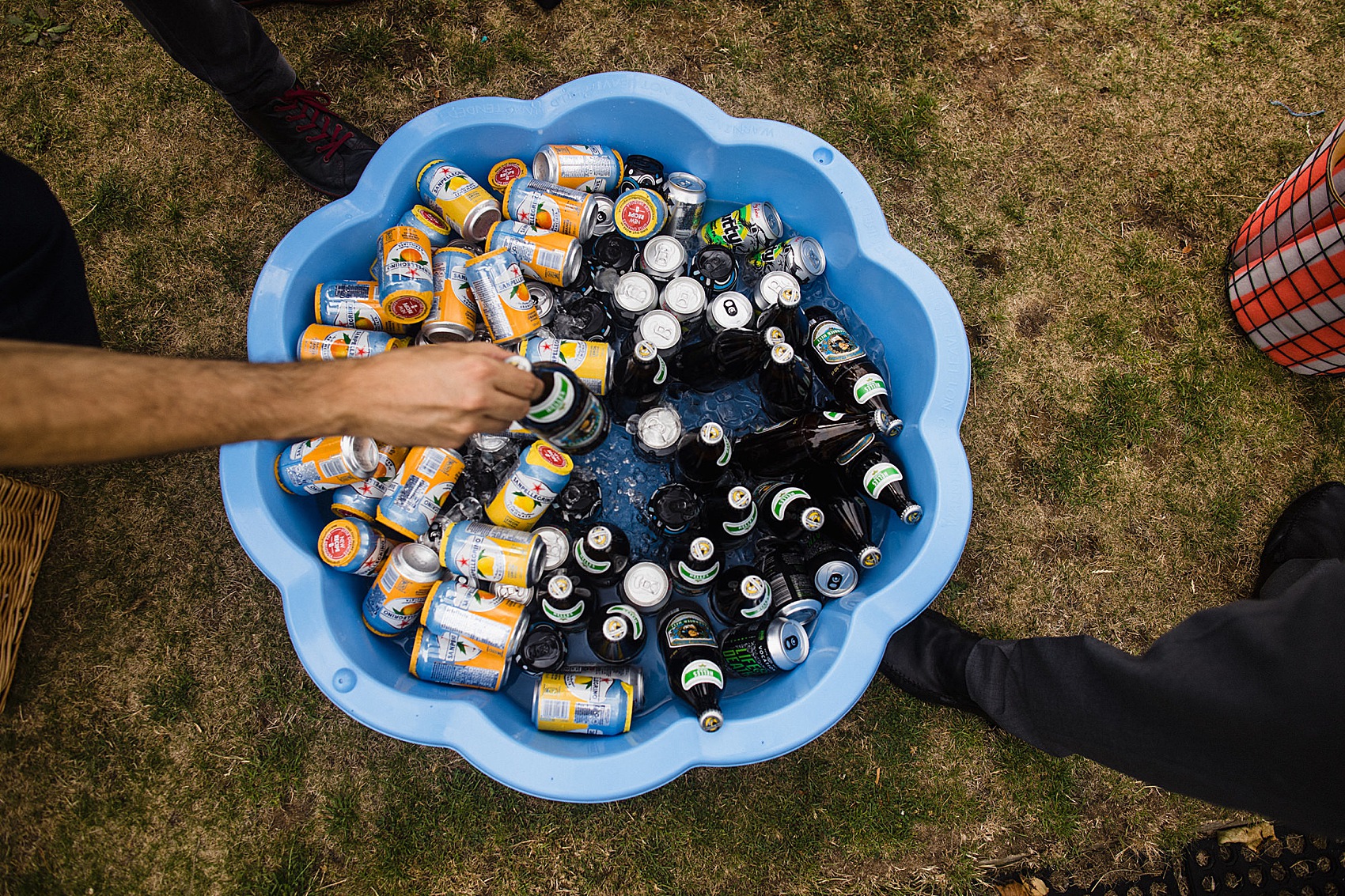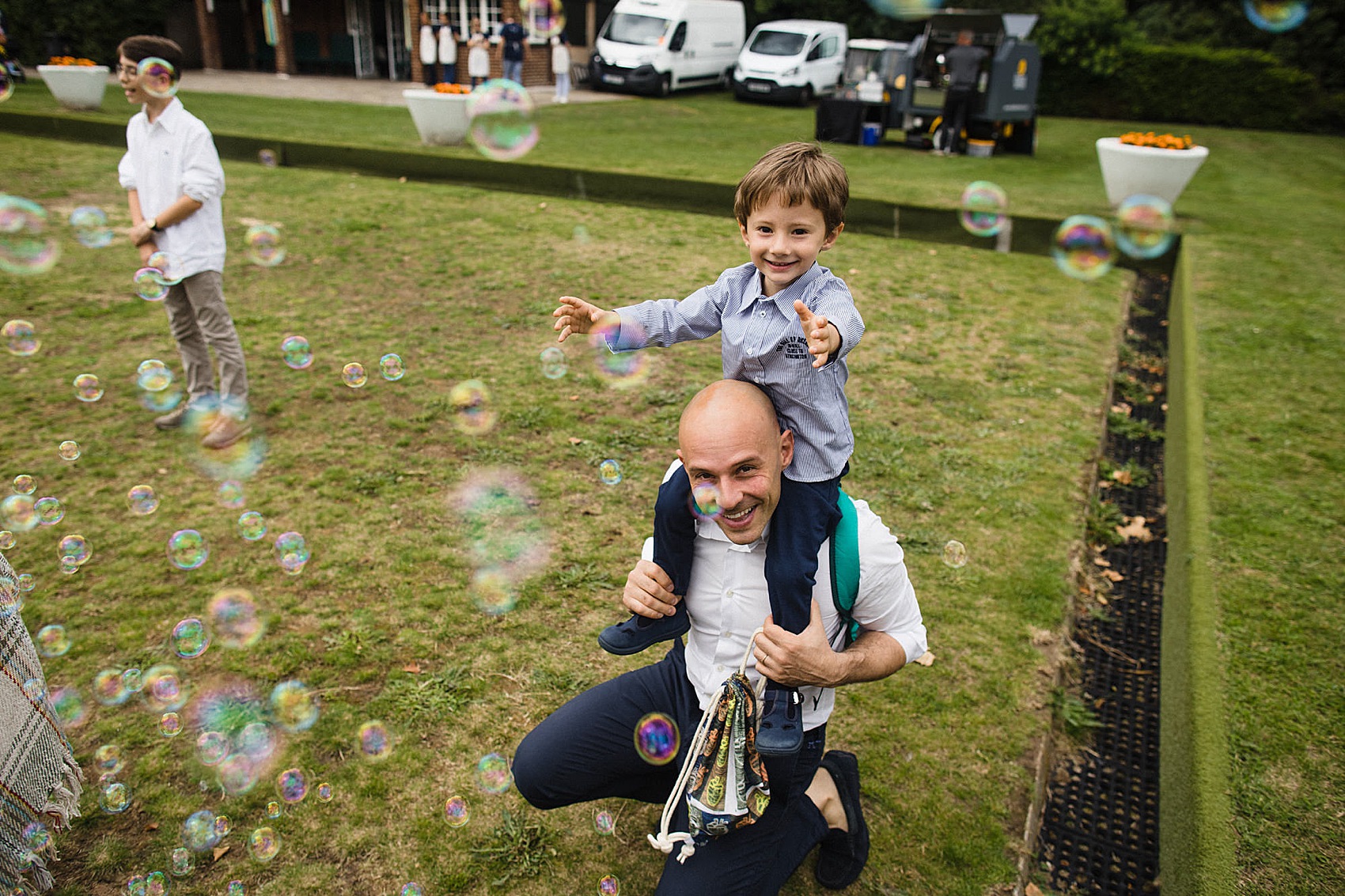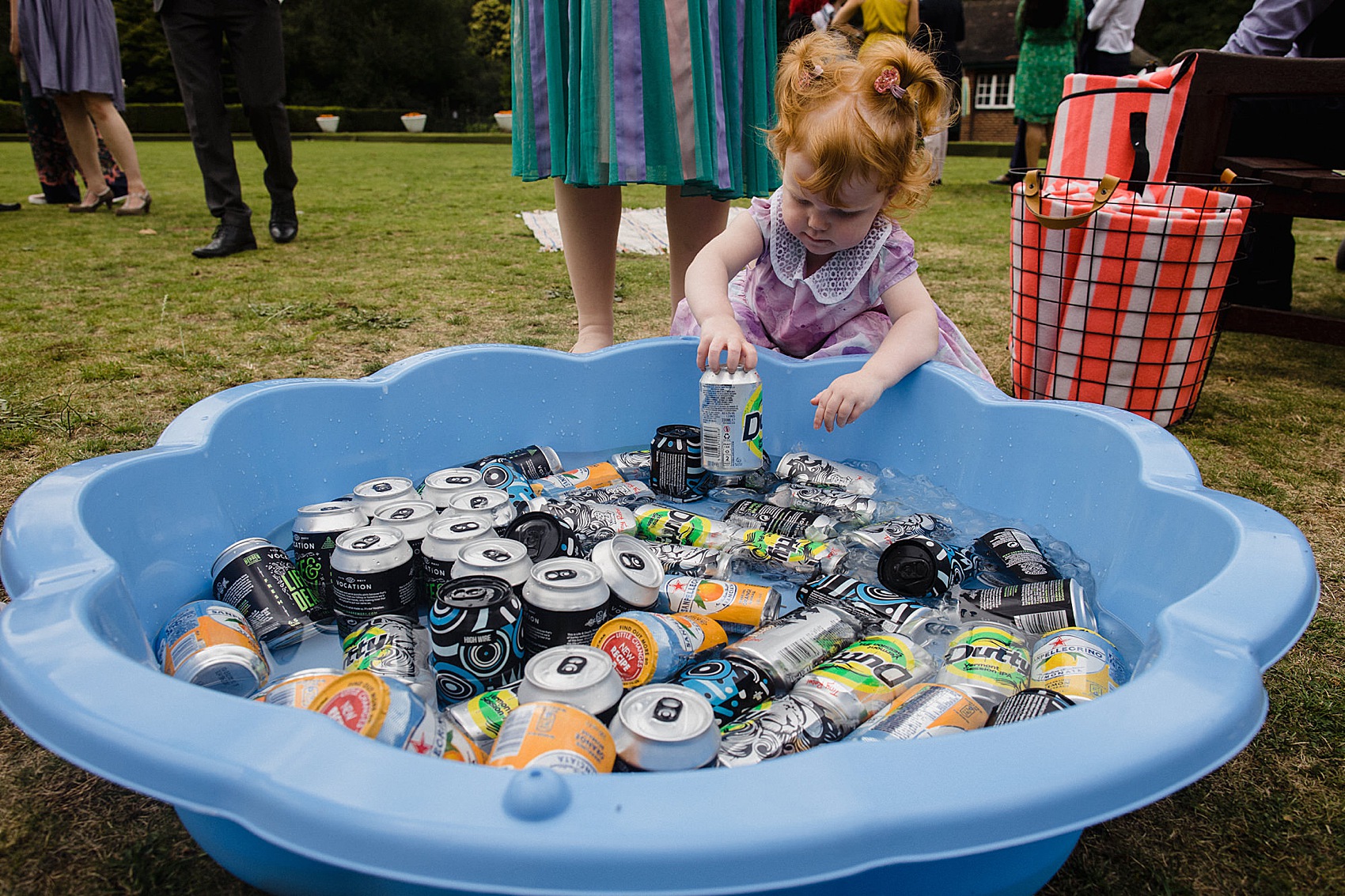 "The stationery was designed by Ian and included invites, a combined order-of-service and park guide 'souvenir programme' (which also featured a retro ad for my dad's limoncello, served during the evening party) for guests, posters and more. The major influences were the design of the Festival of Britain programme, and 50s designers such as Lucienne Day.
I illustrated 12 postcards, each featuring a park of significance to us, to serve as table names. I also illustrated our menus, as a visual guide to what our guests would find in their picnic boxes."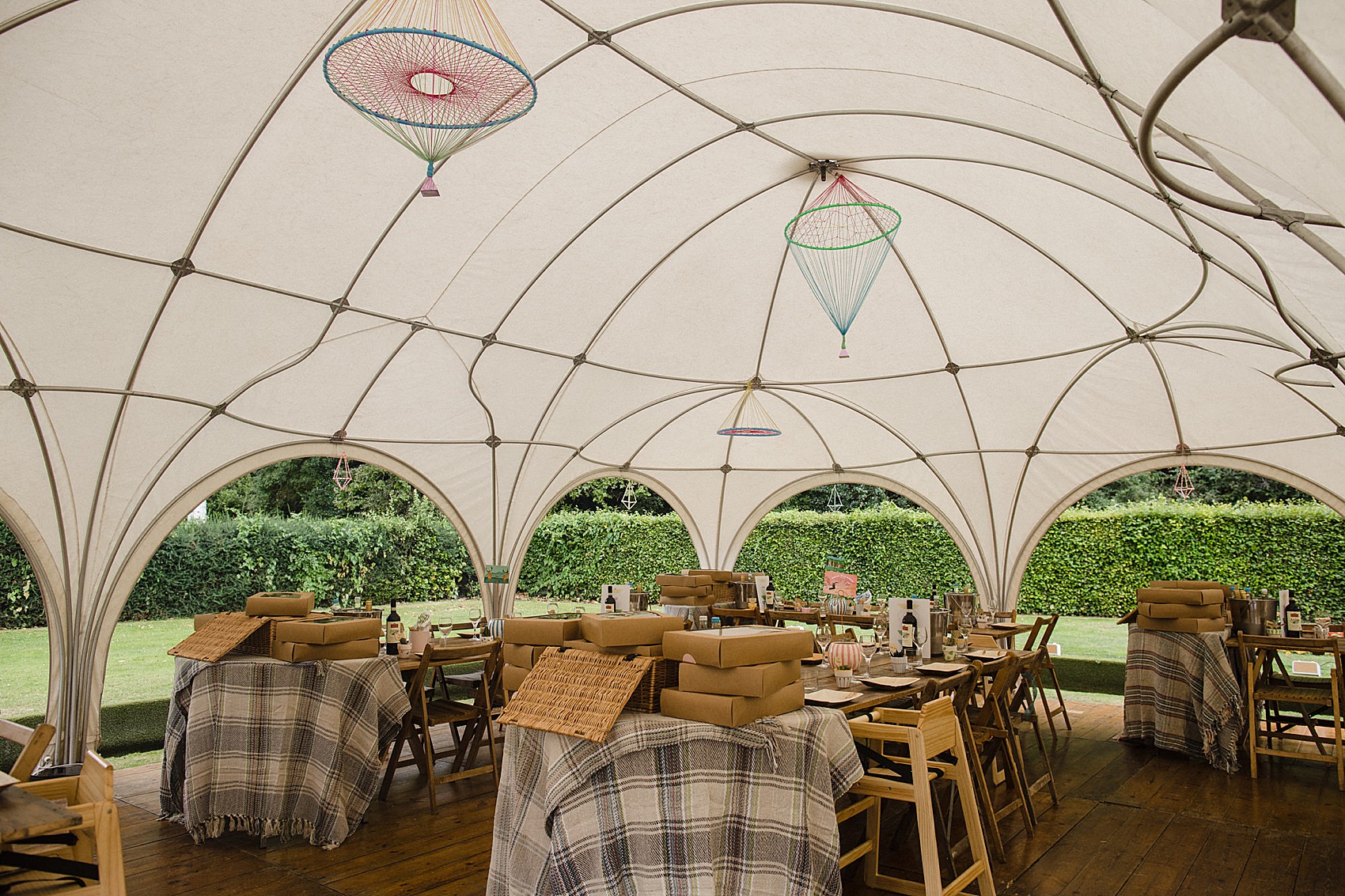 "We had some place names-come-wedding favours for day guests. Living succulents and cacti were placed in hand-decorated pots, one per person, with the name of the guest written on a plant tag."
Each ceramic pot, originally simply glazed in white, had been decorated by the bride, with a different, mid-century inspired, design. Guests took them home and the couple say they are still receiving photos of their little plants leading happy lives all over Europe. Some of them have even blossomed.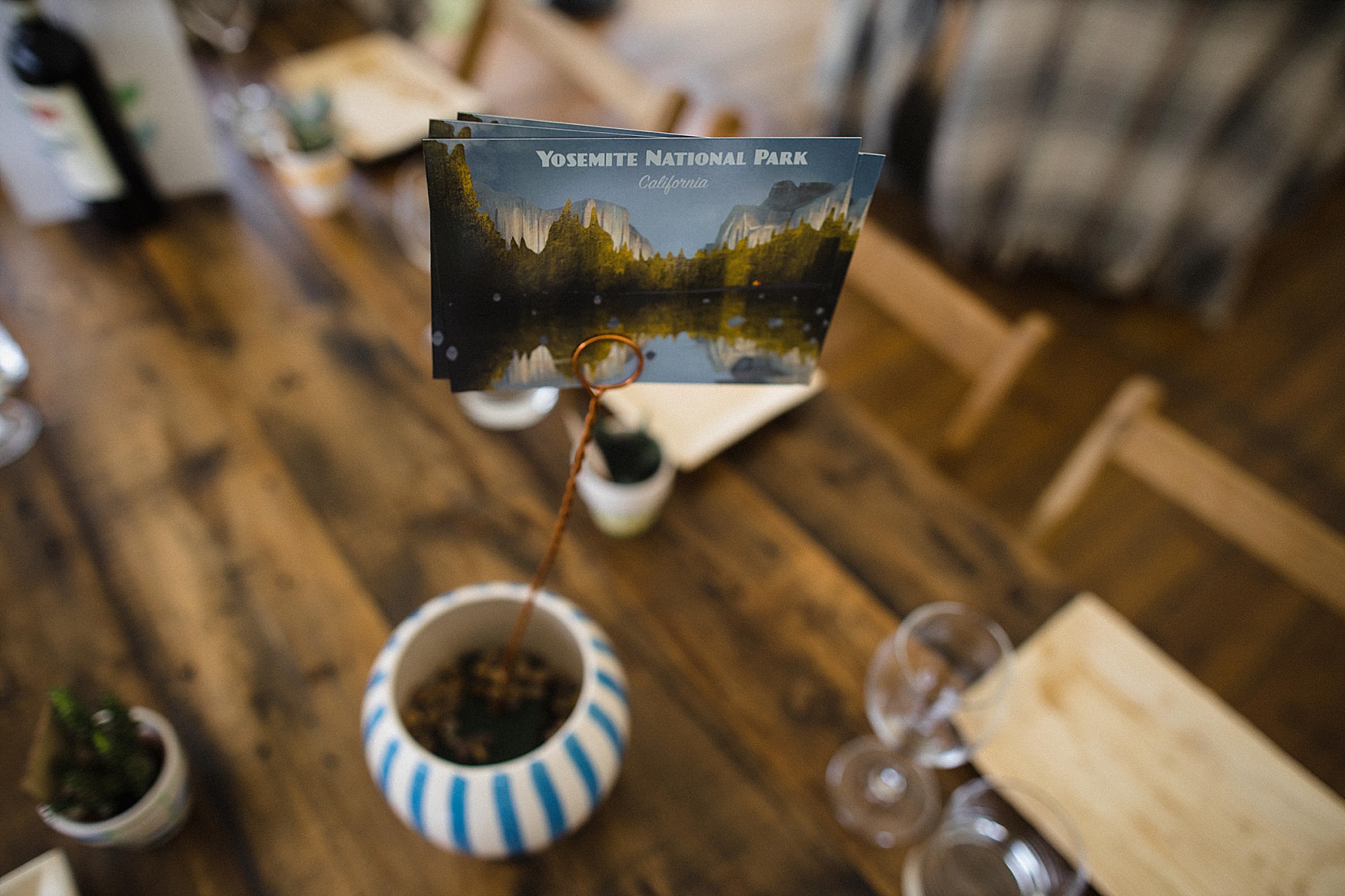 "Ian had the idea of using thread and knots to decorate the space. I made some simple macrame decorations."
"The hanging pieces were designed by me and built by our amazing friend Heather, who is a production designer for film and theatre. Heather also built signs and decorations for the ceremony."
"Pique are a small company, run by two young women entrepreneurs, who supply posh picnics, and that's exactly what we wanted for our lunch! They were very accommodating and brought picnic hampers, with individual boxes."
"Each guest got to open their own, and enjoy. They also brought lovely blankets and styled the tables for us."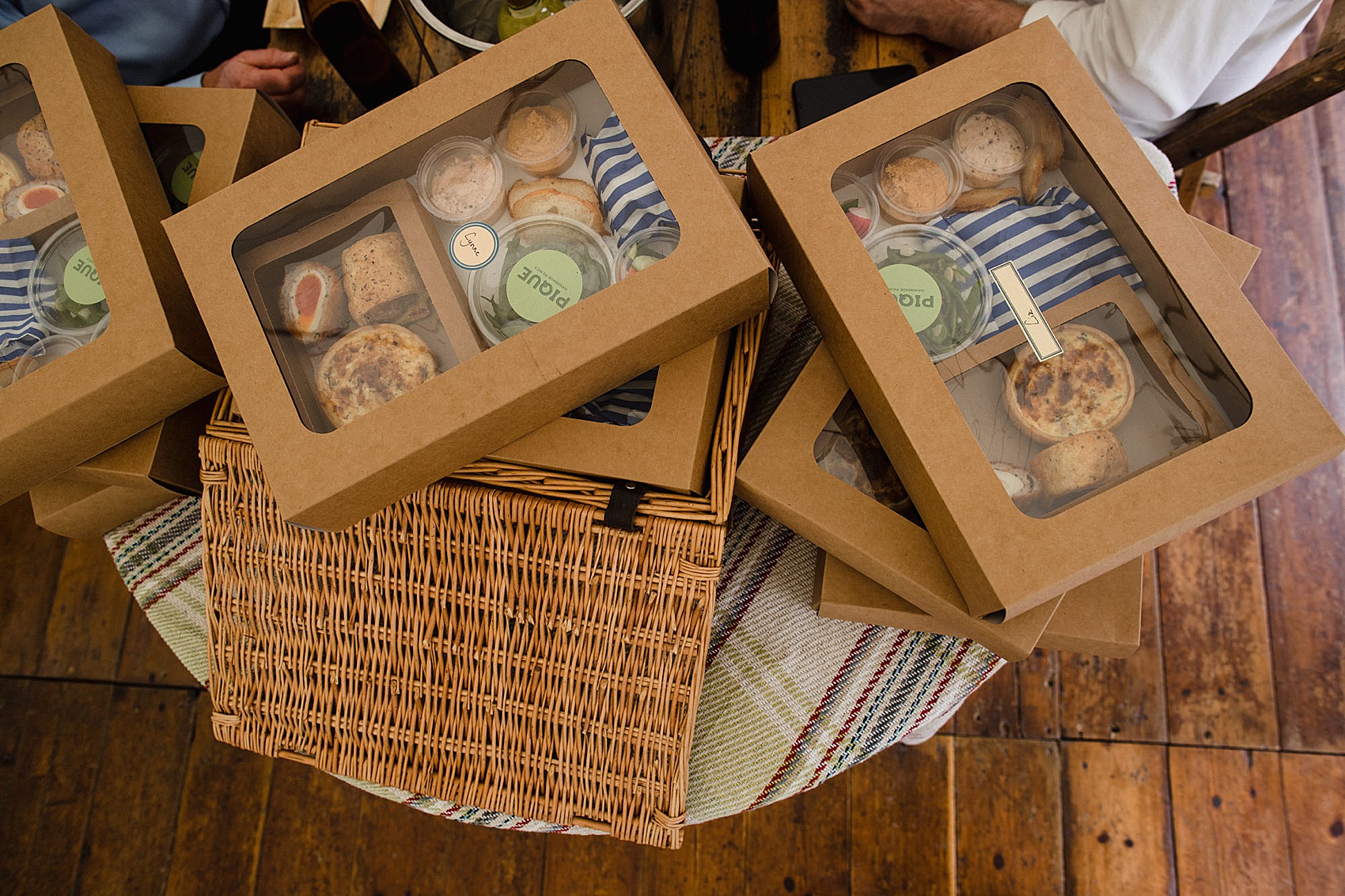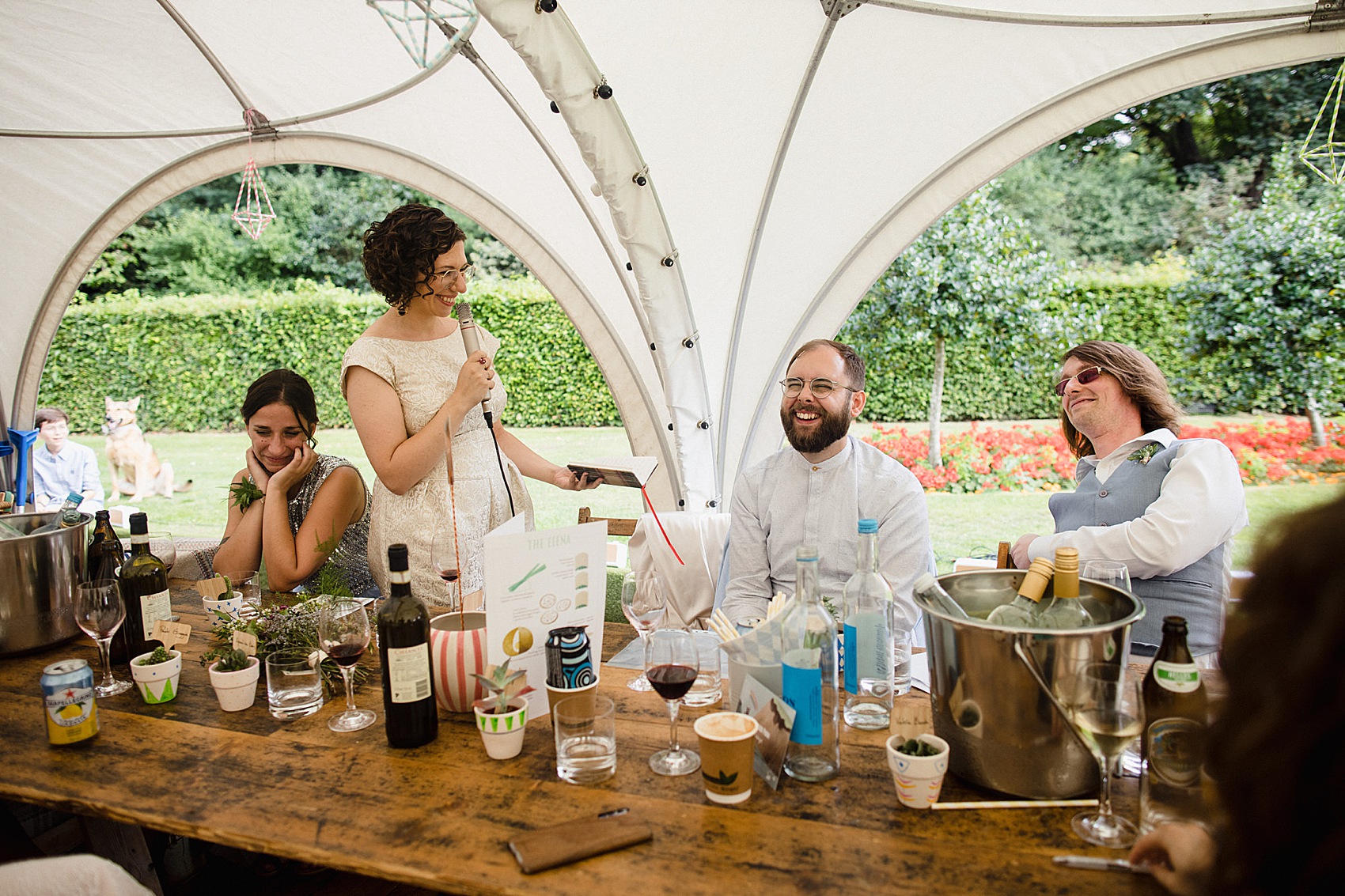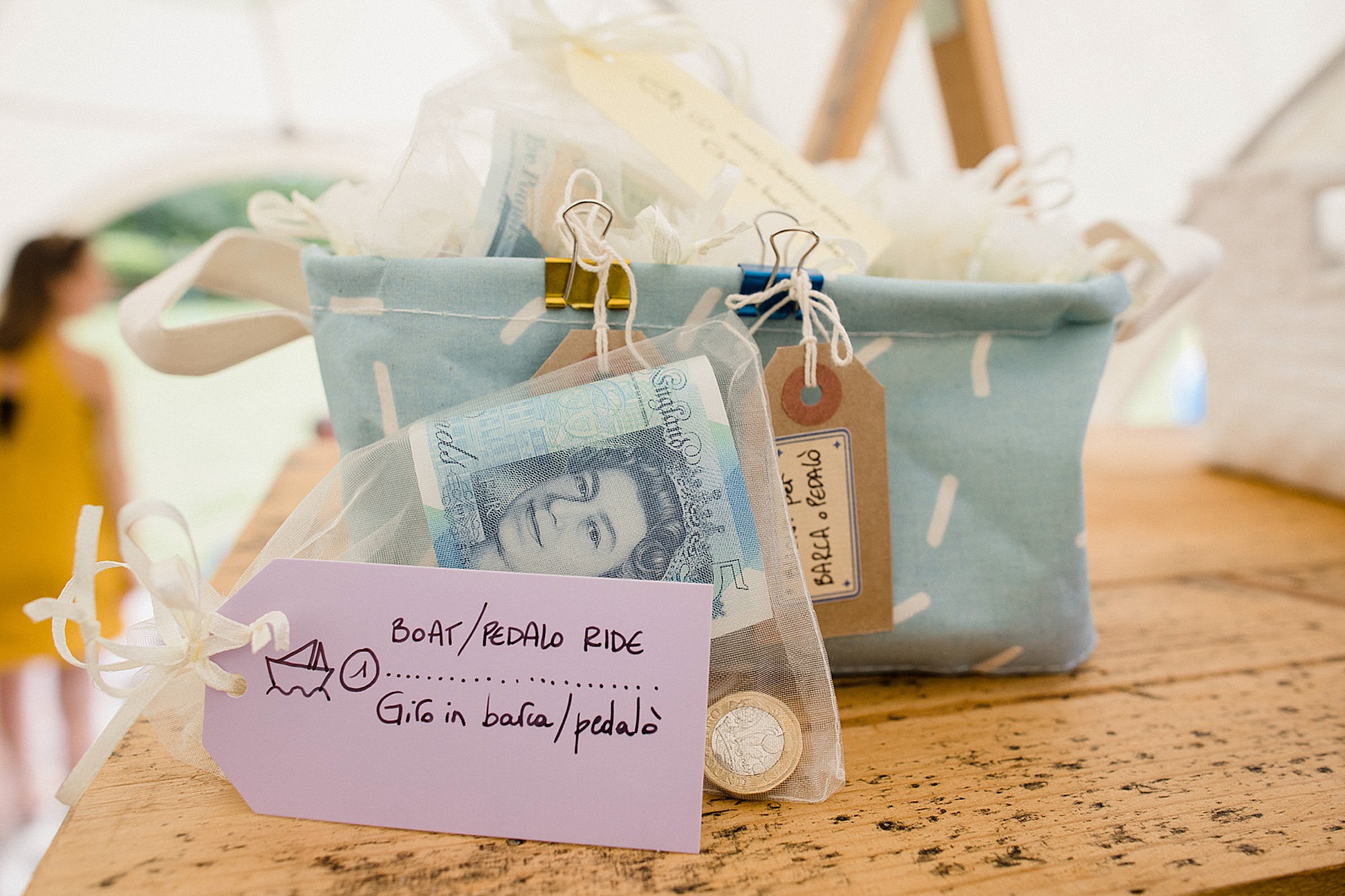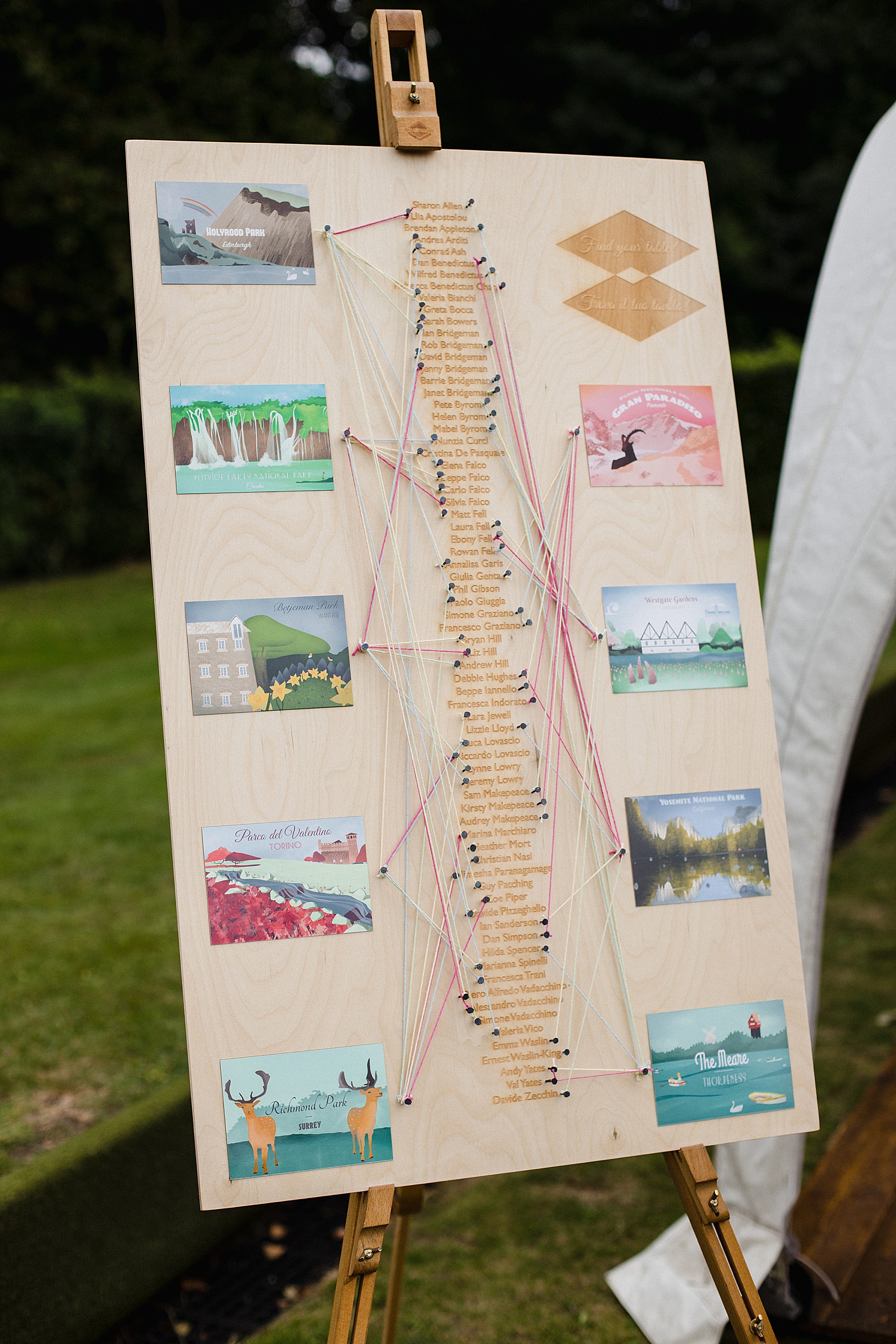 "We didn't really have bridesmaids and groomsmen – we had mixed-gender teams. The men were asked to wear light-blue waistcoats and feel free to choose the rest of their outfit. The women also decided autonomously, based on our colour palette (loosely speaking: dust blue, grass green, custard yellow and light pink)."
Elena and Ian hired one of my aaallll time fave photographers, the incomparable Chris Barber, to document their day;
"We wanted bright, clear, gimmick-free, documentary-style photography full of life and energy. As soon as we saw Chris Barber's website we knew he was the photographer for the job, and he didn't disappoint."
"In our discussions with him he understood immediately what we were looking for, and took careful note of our specific requests. On the day he was a really positive presence – able to direct groups and crowds when he needed to, and at other times catching the kind of shots you'd think a photographer would get in the way of. We'd recommend him without hesitation."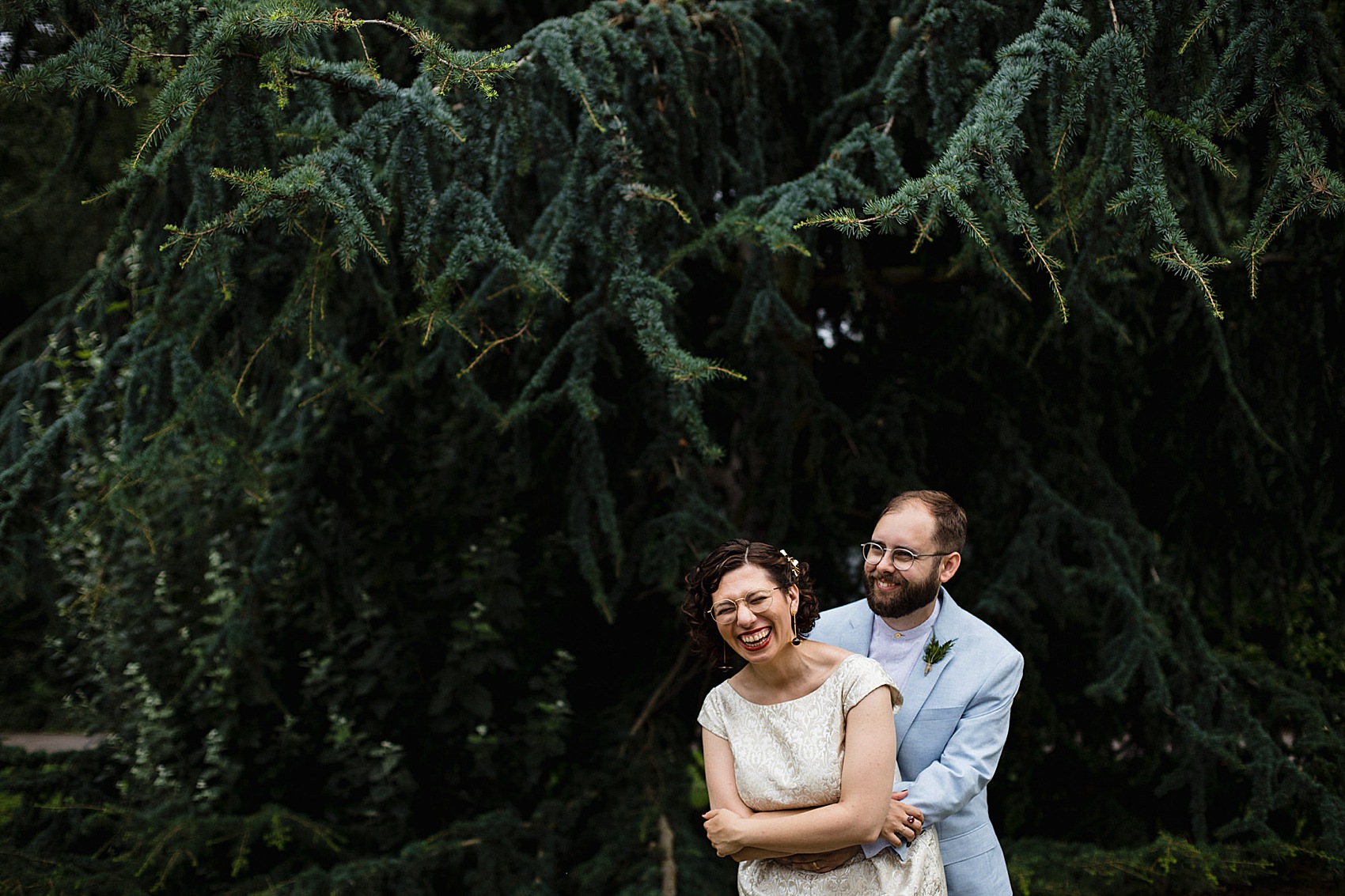 "There's lots to do and see in Battersea Park so we built in some time for our guests to take in the sights and ride the pedalos. We also had lawn games and toys on the Bowling Green; particularly popular with the kids were the giant beach balls. Our evening party featured the greatest entertainment of all (in our opinion)… mini-golf! Once our guests had had their run of the Putt in the Park course, our good friend Dan began his DJ set."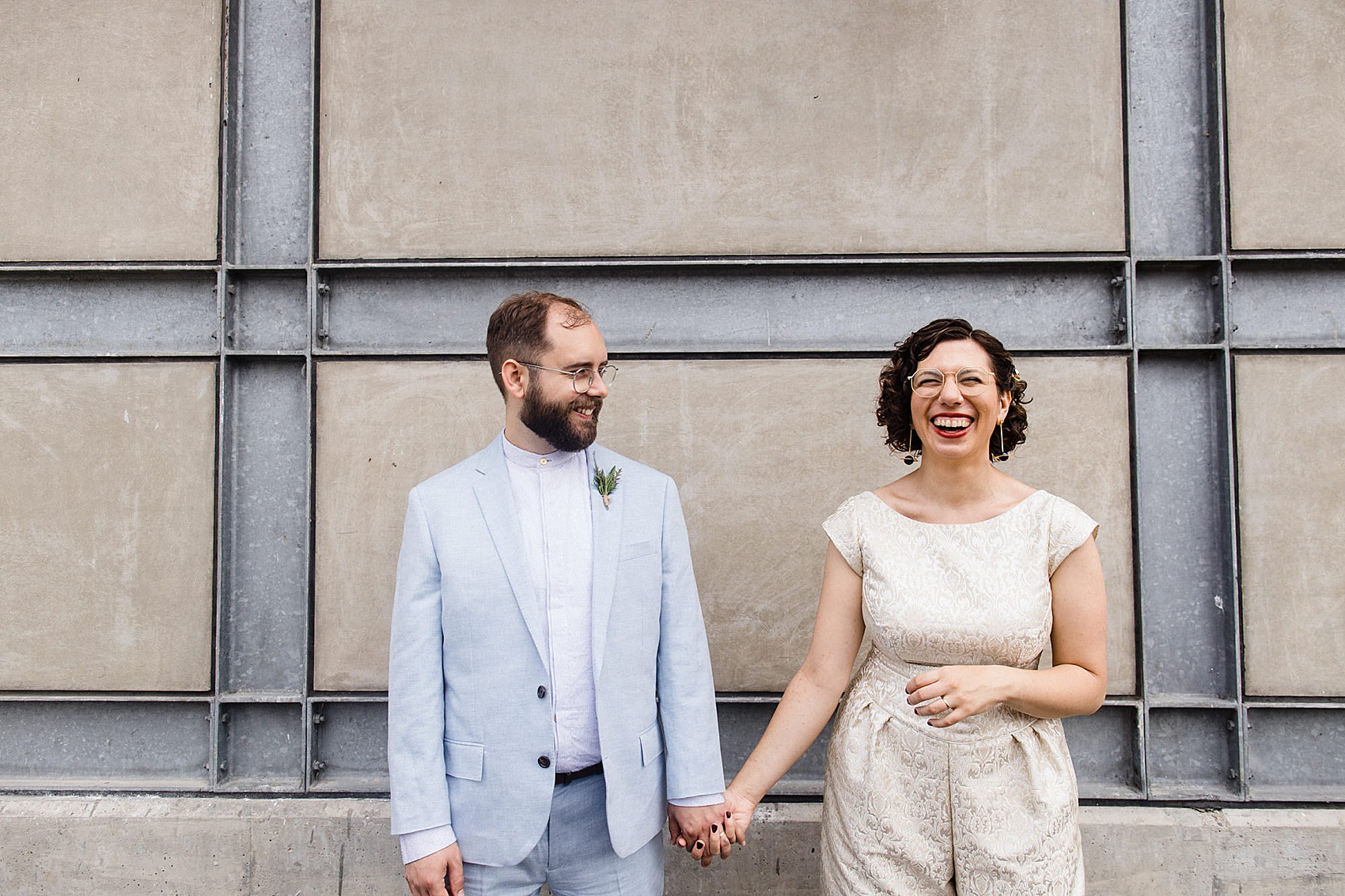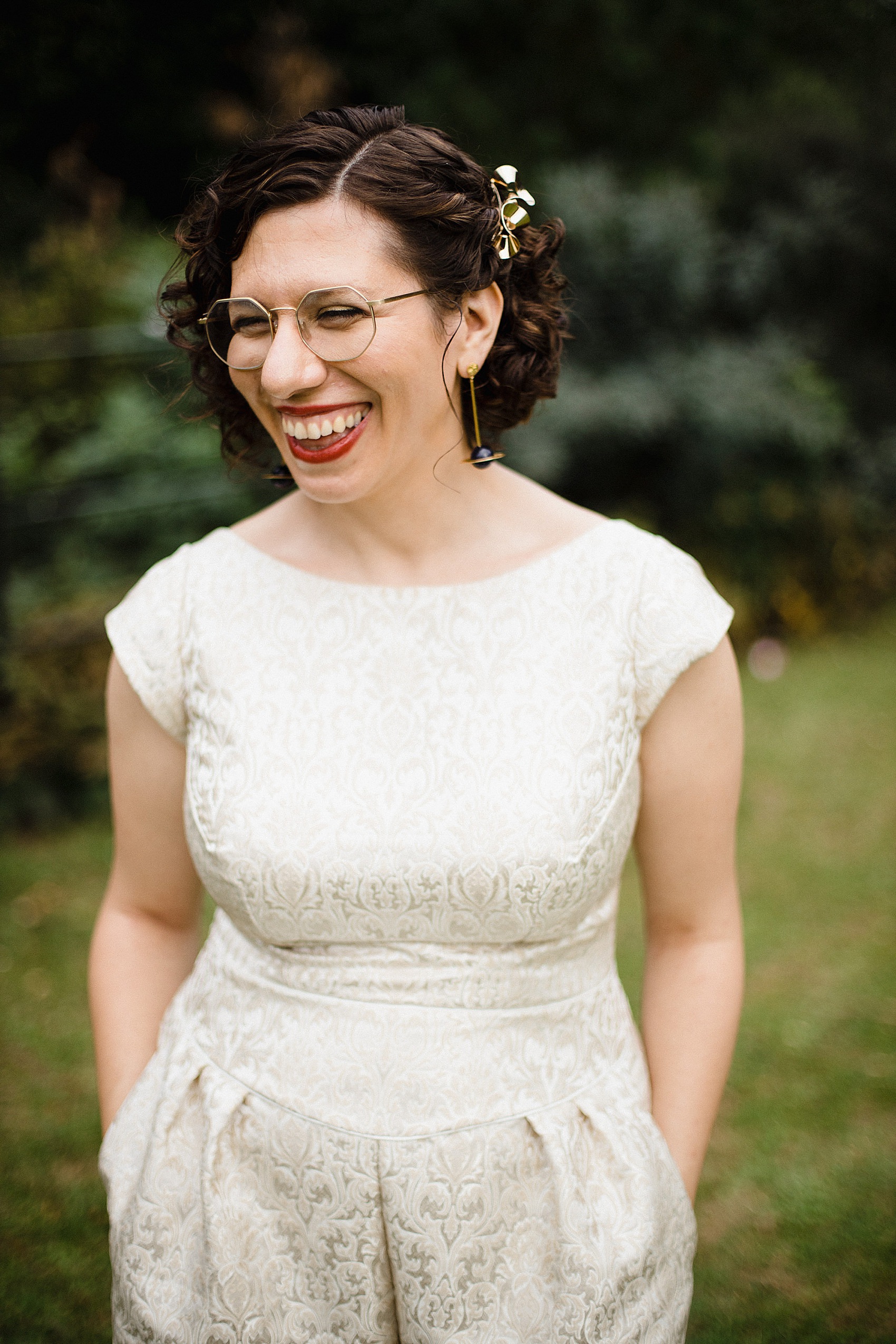 "In the evening, we wanted pizza. I am Italian, and it was very important for pizza to be just right. Discovering that the minigolf in the park had a wood-fired oven, and made pizza, was one of the highlights of the planning process. We tried it, and it was delicious! So that's what we had. Italian family and friends were happy. Brits seemed rather pleased too."
"We had two cakes provided by Cutter & Squidge and a litter of biskies (small sweet cookie-based delights). One cake was matcha and raspberry –my favourite – and the other one was Millionaire's salted caramel – Ian's favourite!"
"We are regulars at Cutter & Squidge Soho, and it was delightful to have their cakes with us on our wedding day."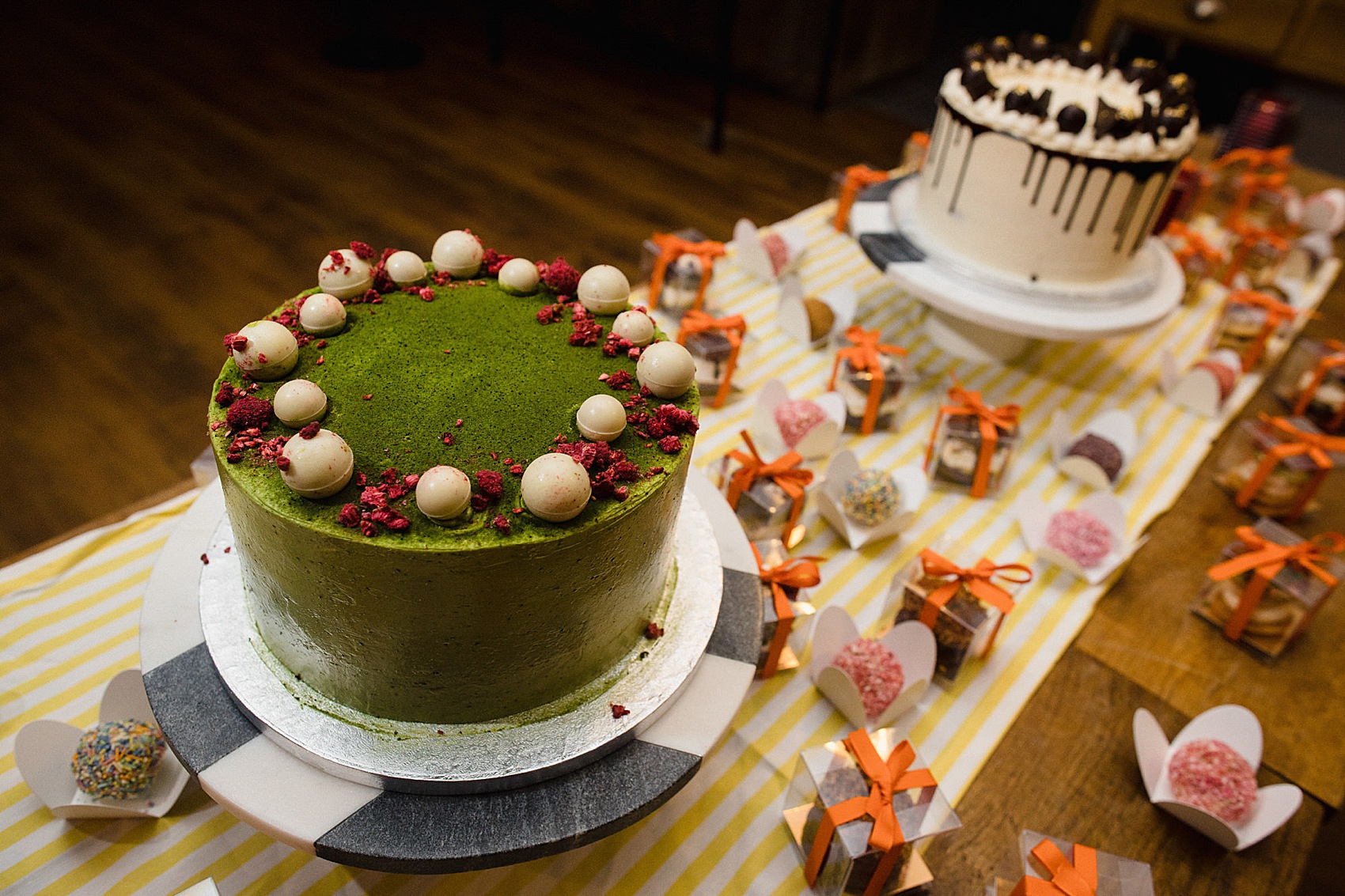 "We need to give a shoutout to Hasta Barista as well (Hasta Barista @hastabarista). Our own personal barista, Peter, set up his converted Ape van on The Green and served excellent espresso throughout the afternoon. Bride needs her coffee."
"For the evening party, we decided to follow the Italian tradition of offering sugared almonds in small boxes. We gave them to people as a parting gift, when they were leaving at the end of the night."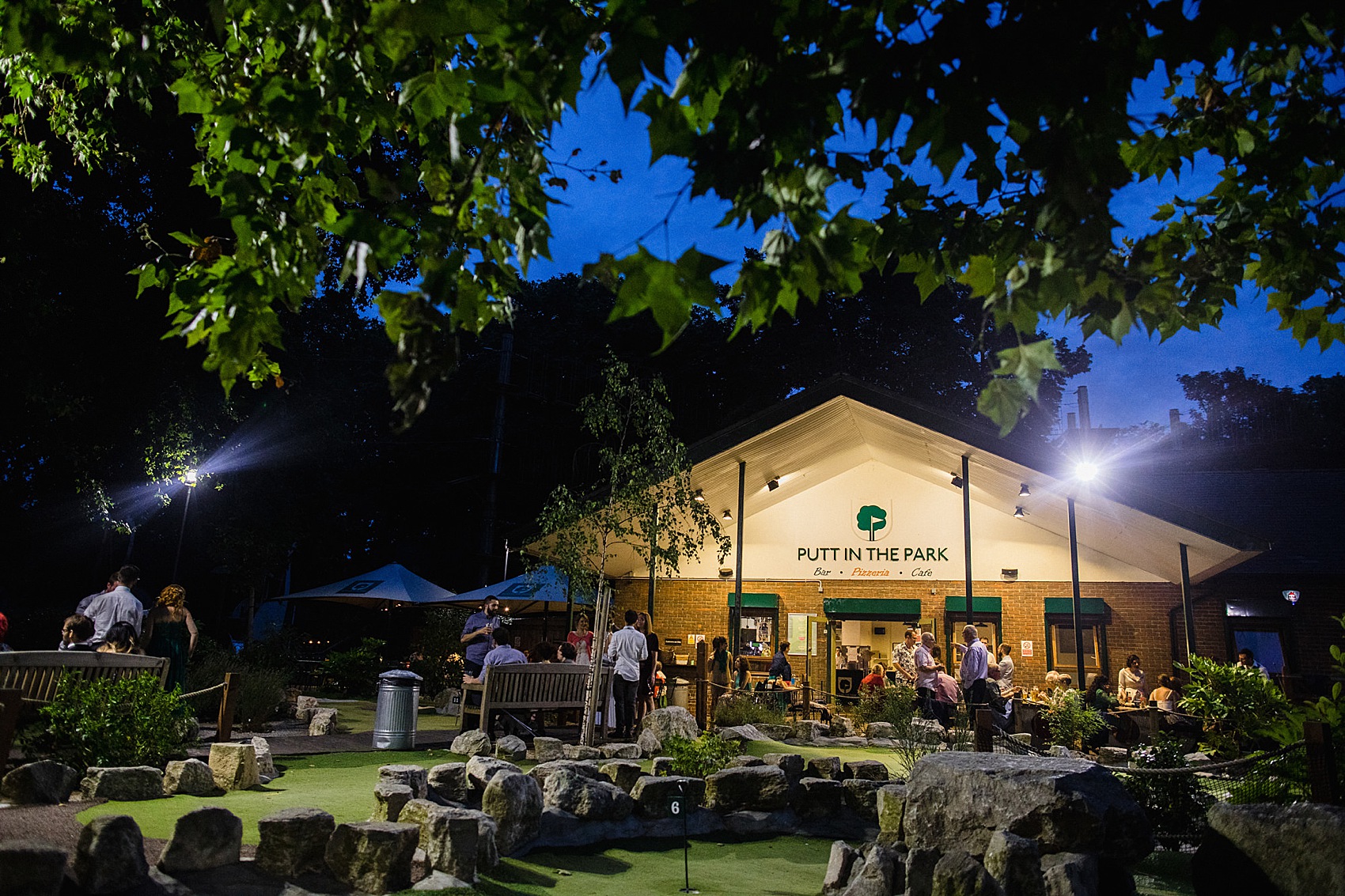 "We chose 'A Simple Beautiful Truth', by Wild Beasts, a band we both loved, for our first dance. We could dance to it, and the lyrics were meaningful to us. It's about having found something real and beautiful. It's a call to authenticity."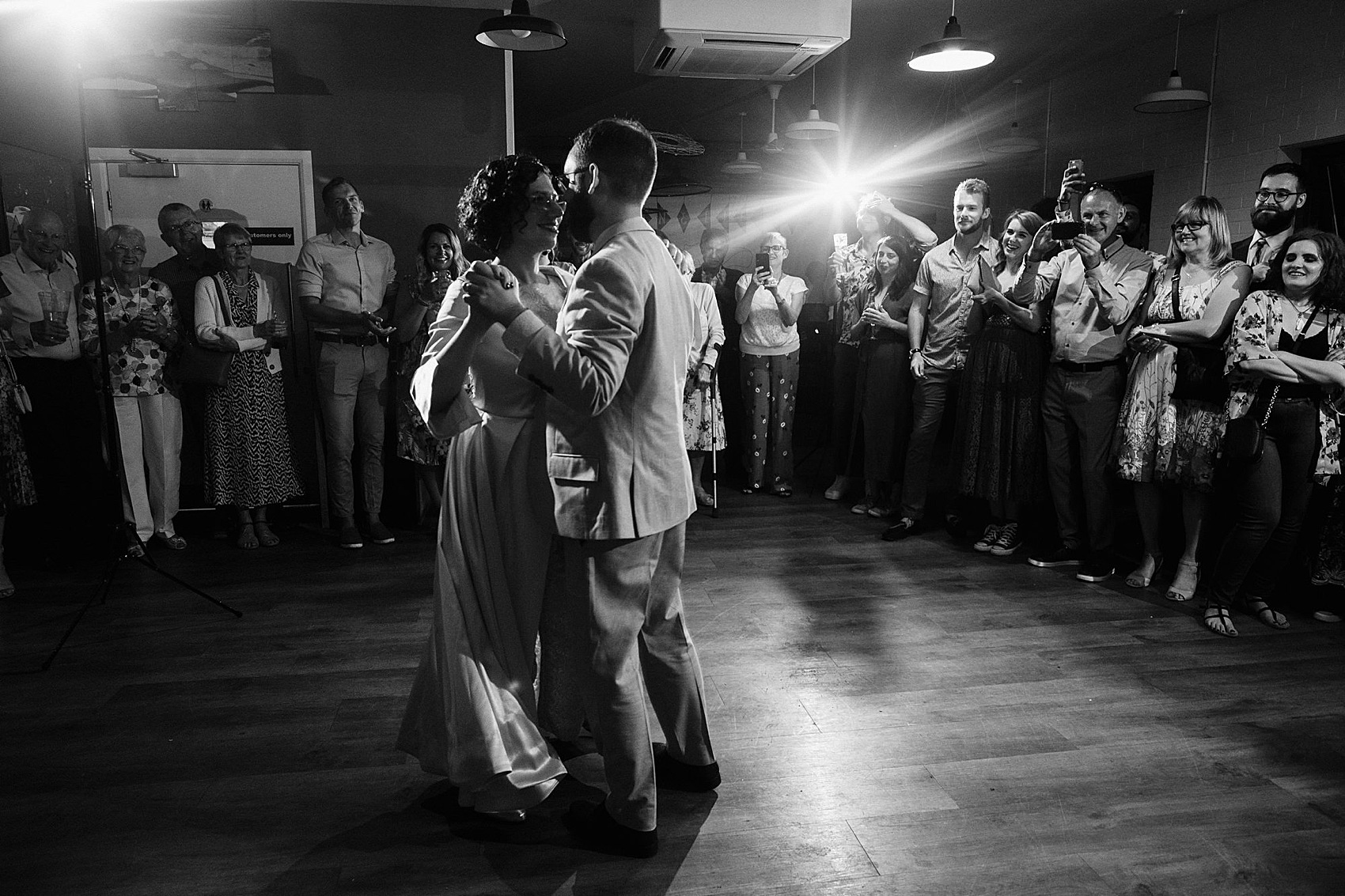 Words of Wedded Wisdom
"Plan, plan, plan. Everyone wants an effortlessly, spontaneously fun event. And it will be, if people feel taken care of: that's why you need to painstakingly make sure that everything that needs to be onsite will be, and that for each moment of the day, those who are helping know what they are in charge of."
"Your guests will get hungry, thirsty, bored, tired, and on that specific day, it is your job to fulfill their needs. Rather, it is your job to make sure that others – hired or kindly offering their help as friends – will fulfill their needs. Because that's the thing: if you plan ahead, and delegate, you can just sit back and enjoy the day, without worrying about whether the tables have been set, your vegan friends are going hungry, or the DJ is ready to go."
"The comforting part is that providing food, shelter and entertainment is your only duty to your guests. Everything else – what you wear, how the venue is styled, whether prosecco is served, who walks where with whom, is up to you. It doesn't matter what your mum/friends/Pinterest say. You can show up dressed as a hot dog (true story!) if you wish to, because it's your wedding and you deserve it."
"Oh and listen to the lyrics of the songs you're playing at key moments. Dancing With My Father is not about what most people think it is about."
"We would have gone easier on the evening decorations. There wasn't really time to put them up properly. Less is more (manageable)!"
The couple say that since marrying, "we both have a deeper appreciation of the work that goes into planning a wedding. It's easy to fall into the trap of thinking, 'we don't want anything fancy or special, something simple will do, so planning won't be too much trouble'. The thing is, people have different opinions of what 'something simple' means. Take chairs: we never thought we had opinions about chairs. Then we realised that we didn't like most chairs offered with hire packages. Go figure. So we had to find chairs. The ones we hired in the end were delightful! But it was one of many unexpected choices we had to make."
Budget
"We thought we could get away with a £10k budget with a picnic on a patch of grass and some evening entertainment. But British weather being what it is, we had to buckle up and get a proper marquee, which also means floors. The one we went for was a bit on the pricey side, but hey, it looked great. We also got a bit carried away with furniture hire, espresso van and some little extras. So in the end we spent around £15k."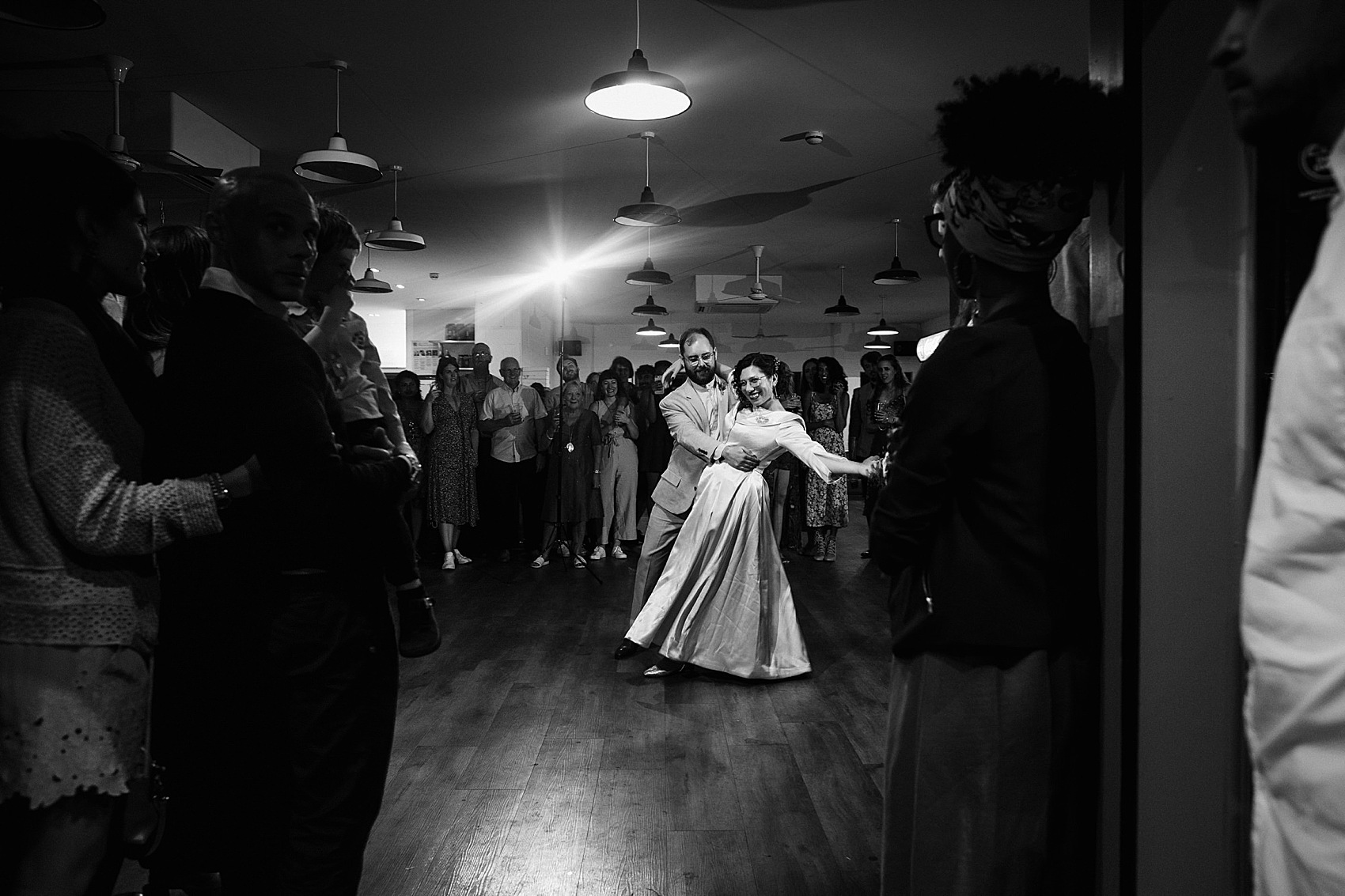 You can see more work from photographer Chris Barber here on Love My Dress – and more brides in trousers here.
Sending love to you all,
Annabel xx