It's such a pleasure today to be sharing the creative work of Lianne Tucker of Blonde Army – Yorkshire wedding stylist, planner, coordinator and hire decor specialist.
I've long admired Lianne's style and approach and adore the dark, romantic, moody tones in these effortlessly modern and elegant images. The super glamorous backdrop is Thicket Priory wedding venue in Yorkshire.
"This editorial, entitled 'Modern Elegance with Elizabethan Charm', was inspired by the setting, Thicket Priory a new luxury exclusive wedding venue in Yorkshire, UK"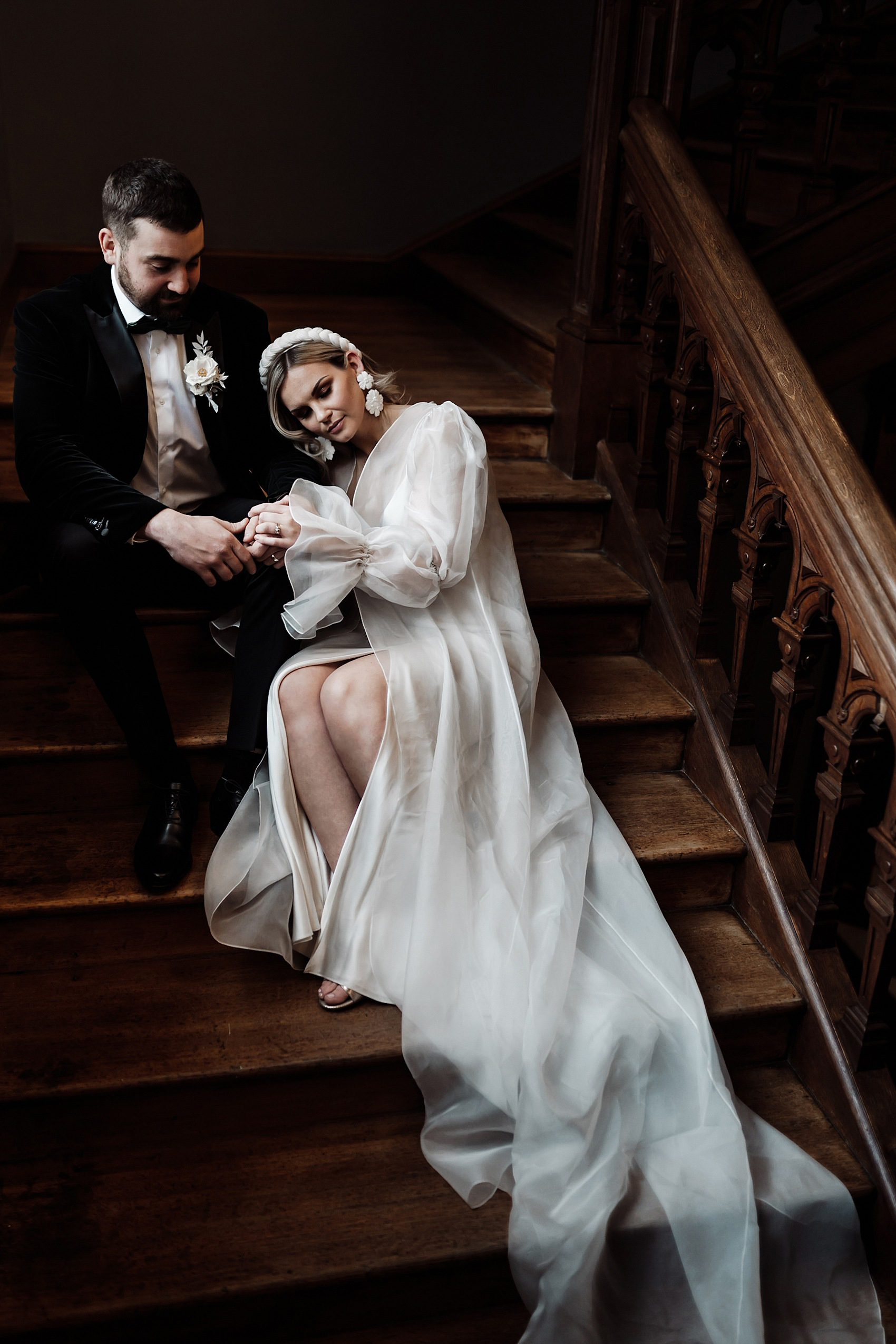 By the way, I'm keen to share that Lianne has teamed up with photographer Emma Ryan on a genius new service for couples facing the task of planning a wedding throughout this pandemic. Their collaborative 'Marry Now, Party Later' service provides a great option to legally marry this year, safely and within government guidelines, and still look forward to celebrating with you family, friends and loved ones at a later date. Find out more here.
"Our Marry Now, Party Later service is for couples seeking adventure and authenticity.  We offer a stylish approach to elopements by helping to create an intimate, relaxed and romantic occasion for just the two of you."
Emma Ryan Photography

+ Follow
"Eloping is exciting and given the recent circumstances, we want to help plan a celebration of your love that you know you will be able to look forward to. Imagine still being able to say your vows to one another and doing it in a beautiful and meaningful place to you both."
"From the legals to the locations, we have every detail covered. You just focus on marrying the hell outta each other. And once we are through the other side you can celebrate this journey with your loved ones. Romance has no rulebook, so marry now and party later!"
Brilliant, huh? Back to this beautiful editorial for – full of micro wedding and modern, intimate elopement vibes in it's own right. This was all about creating inspiration for the modern couple who are fearlessly themselves, effortlessly elegant and unafraid to make a style statement on their wedding day.
Lianne created a soft yet dramatic vibe, using a stationery suite by Bureau Design, dried and fresh floral installations by Forge Events.
She also used a striking emerald 3-tier cake by Where The Ribbon Ends, hair and make up by Becca Hunton and bold bridal wear from Chosen by One Day and Alexander Grecco available at Ghost Orchid Bride.
Thank you so much Lianne and Emma and the entire team below for entrusting us to share your beautiful creative output! We thank you (and are off to pin the life out of this one —> right here!)