The dreamy Arts & Crafts house that is Voewood is the setting for today's relaxed, autumnal affair; a celebration honouring the cultural heritage of our bride but not being constrained by it, with loved ones coming together for a wedding house party to remember.
This is the wonderful wedding of eye surgeon Aaminah, and her love Ross, who is an actuary. They were married on the 26 October 2019 at beautiful Voewood, an exclusive use country house in the Norfolk countryside – and a real home from home.
Camilla Andrea Photography

+ Follow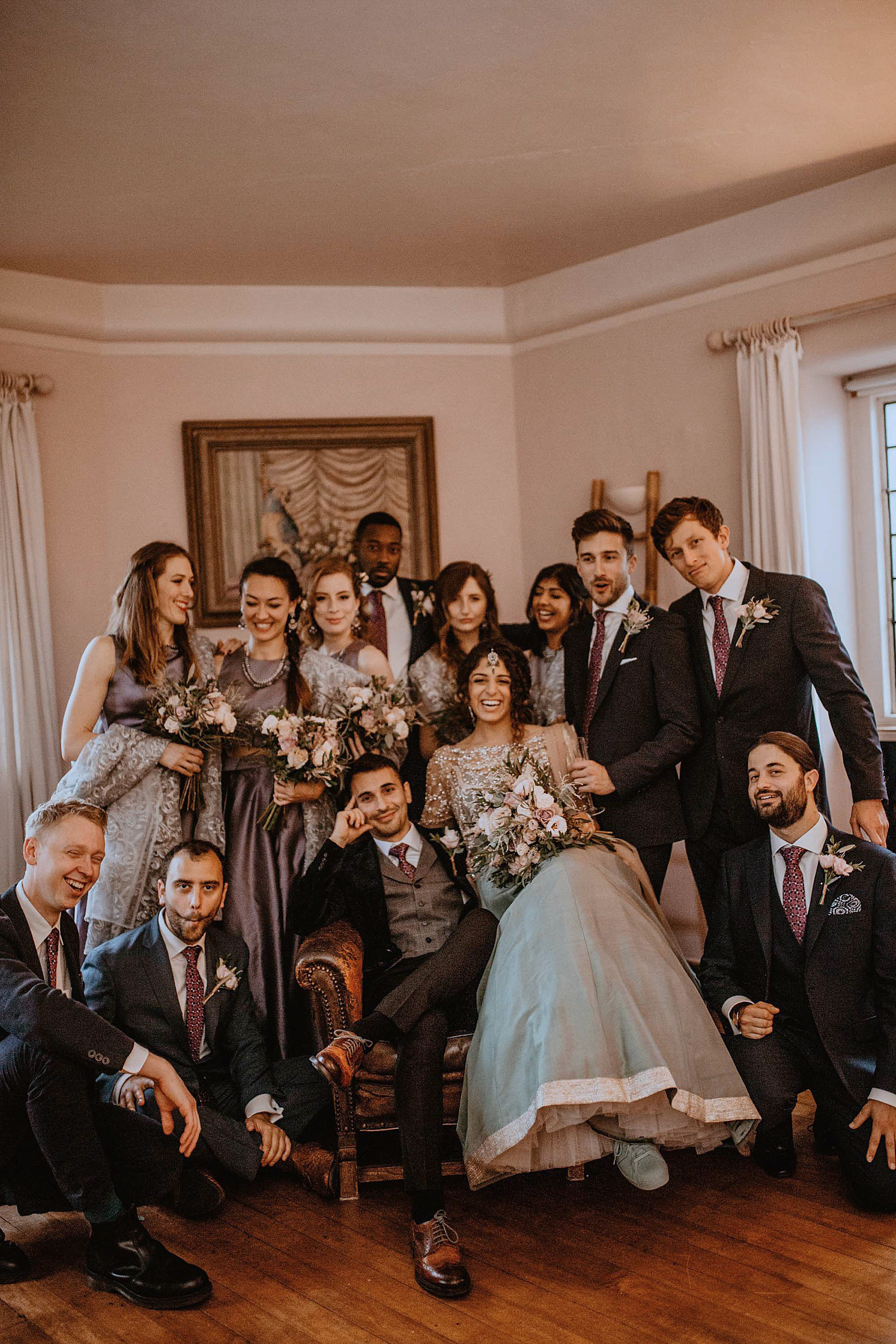 This was an intimate celebration at Voewood, and the couple also held separate Muslim and Jewish religious ceremonies, too, with more guests invited to each.
"We wanted to make sure each aspect of the meaning of marriage was considered thoughtfully, from customising the service to the readings and vows, to truly reflect what marriage means to us. We wanted it to feel like a house party weekend, informal, room to explore the venue with no time limit."
Elegant, soft hued flowers were by Floral Sistas, who filled bouquets with succulents and eucalyptus, roses, lisianthus, Veronica, and feathery stems of astilbe.
"I really liked the work they had done that I had seen on Instagram. They knew the venue well, and so were able to advise me how best to dress it within our budget, which was really helpful as I couldn't visit the venue in advance except for the one booking visit."
"I gave them a lot of flexibility; I asked for succulents if possible, scented if possible, tonal with our colour scheme, and asked them to choose whatever was nicest in season, mentioning some flowers I like. They did an absolutely beautiful job. There were deliciously scented eucalyptus leaves in the bouquets, and the room was dressed magically. My mum cried for the first time that day when they brought in the flowers."
"Voewood is an amazing and quirky Arts & Crafts house with lots of interesting details. We wanted a house party vibe, and it allowed a massive proportion of our guests to stay on site. We provided accommodation for our immediate family, bridal party, groomsmen and some other close friends, and we were really glad we could do that, and minimise the cost of attending for our guests."
Across Voewood's magnificently quirky fireplace was a beautiful flower garland, with more greenery trailing from the table beneath, and lots of candles in lanterns, and festoon lights strung overhead.
"We met through mutual friends at university. We got engaged whilst making up after a fight! Then Ross had to run off and dig out the hidden ring to do it properly. We were engaged for a year before the wedding."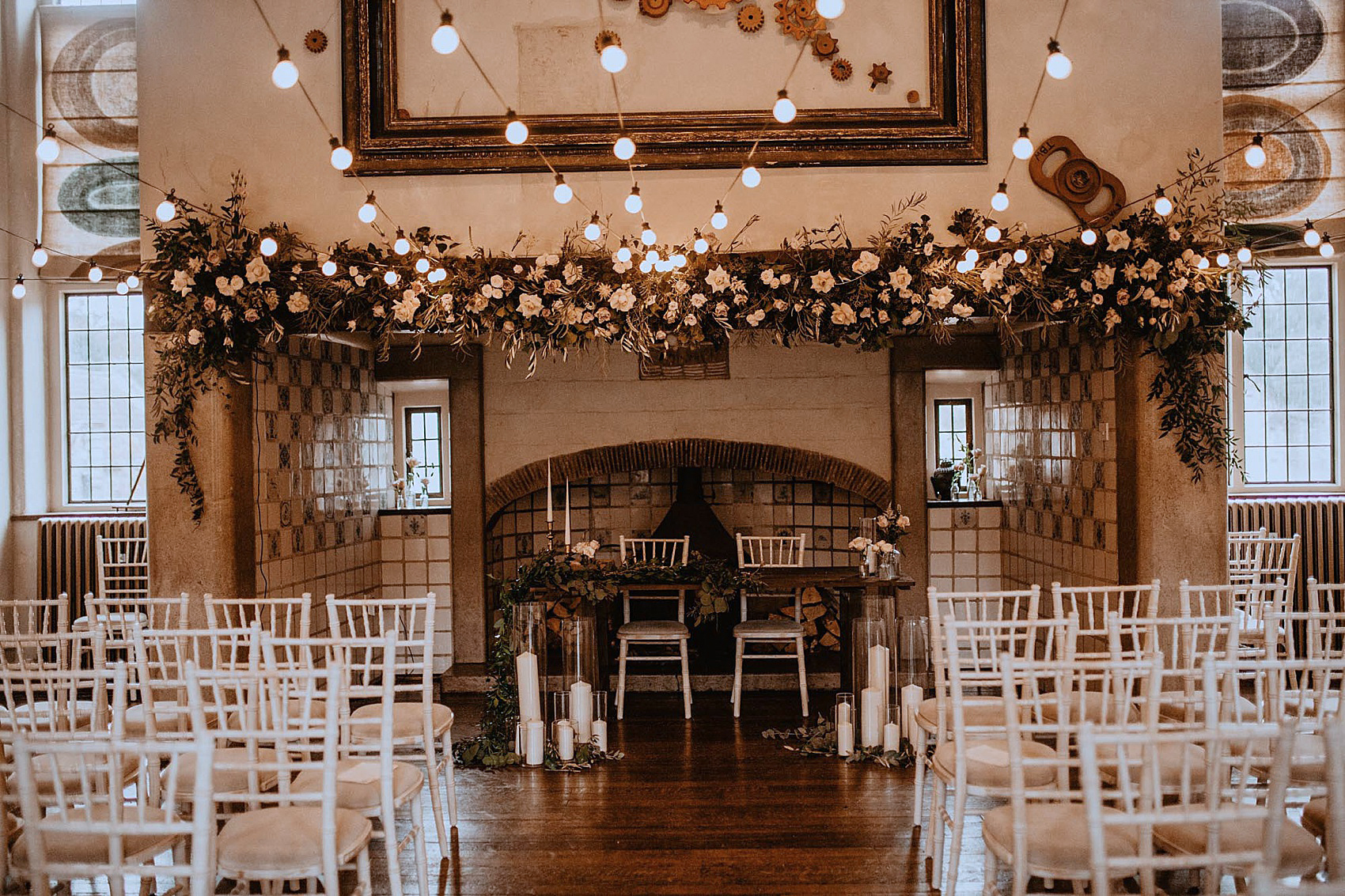 Aaminah and Ross went their separate ways in the morning in order to get ready, and Aaminah and her bridesmaids had their lovely hair and make-up styled by Something Blue Wedding Hair & Make-up.
"I wanted to keep my hair naturally curly, and wanted to find someone I felt confident could manage that. I was really happy with what Natasha did."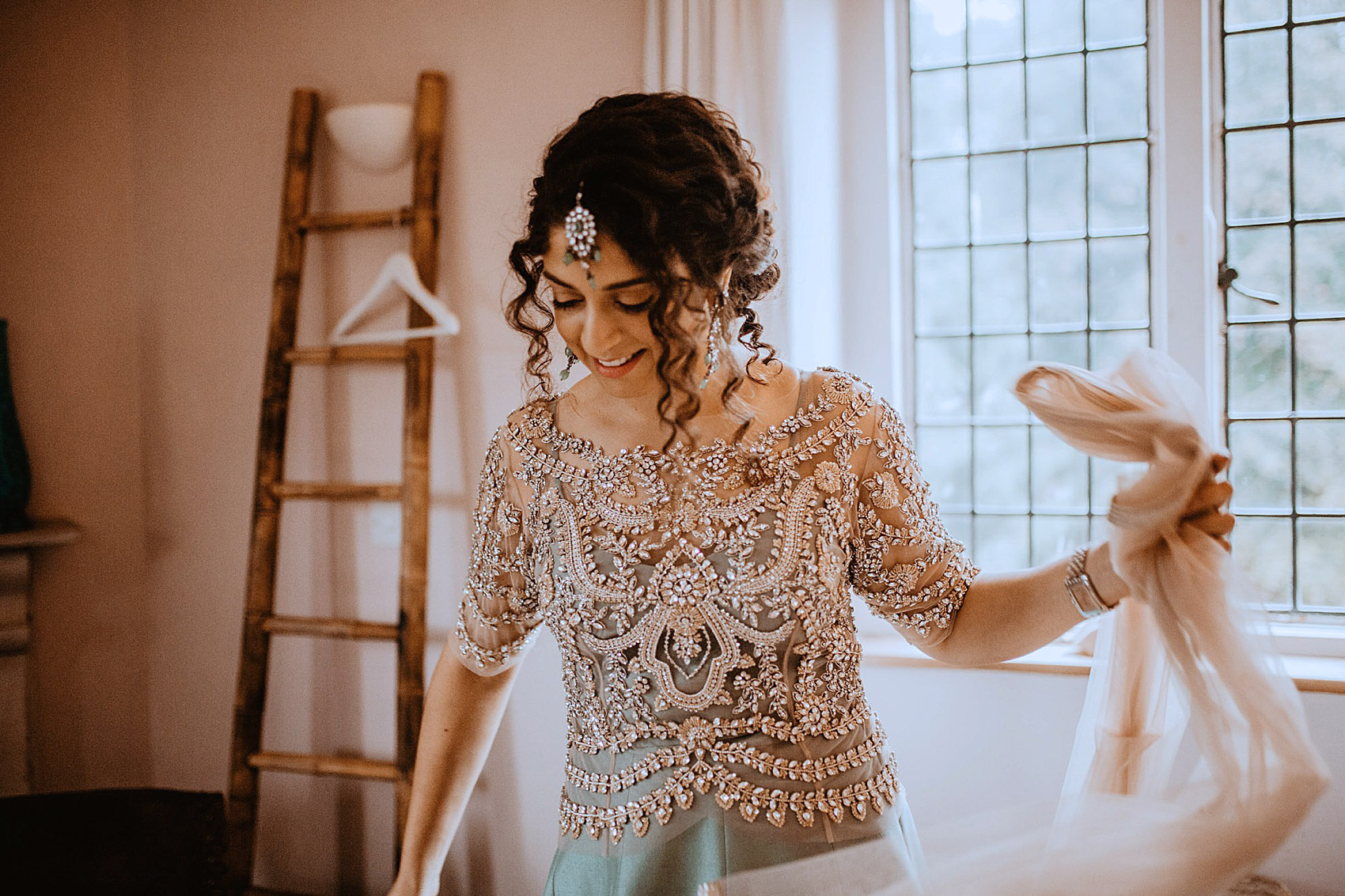 Aaminah's shoes were pale turquoise Adidas trainers, ensuring she was comfortable all day long, and ready to dance in the evening! She also wore flowers in her hair, and a blush pink dupatta across her shoulder.
"My jewellery was from Monga's in Southall. You are able to customise the colour of the beads to exactly match your clothes."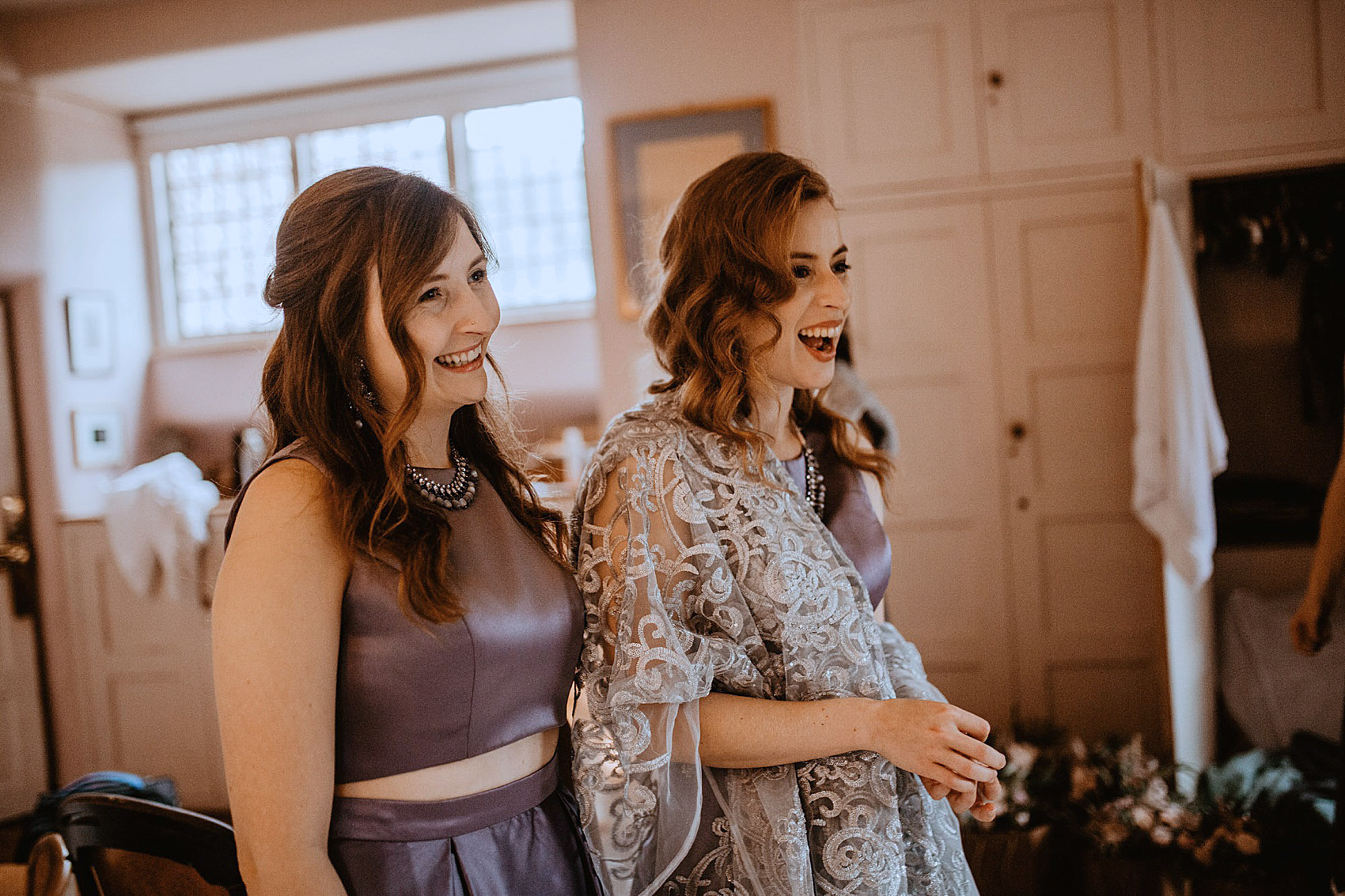 For her bridal look, Aaminah wanted a fusion of Eastern and Western styles, and opted for exquisite separates by My Trousseau in a beautifully soft sage green, worn with a top embellished with sparkling beads and crystals to catch the magical evening candlelight.
"They were separates, which means I will be able to use them again, and they were so comfortable and beautiful. The boutique is run by two sisters who are very talented. I was able to combine the aspects of various separates to create an entirely bespoke look."
"They were really helpful and efficient in the trying on stage, focusing on the decisions that needed to be made to narrow down options. The quality of finish was very high, and I did not require any alterations."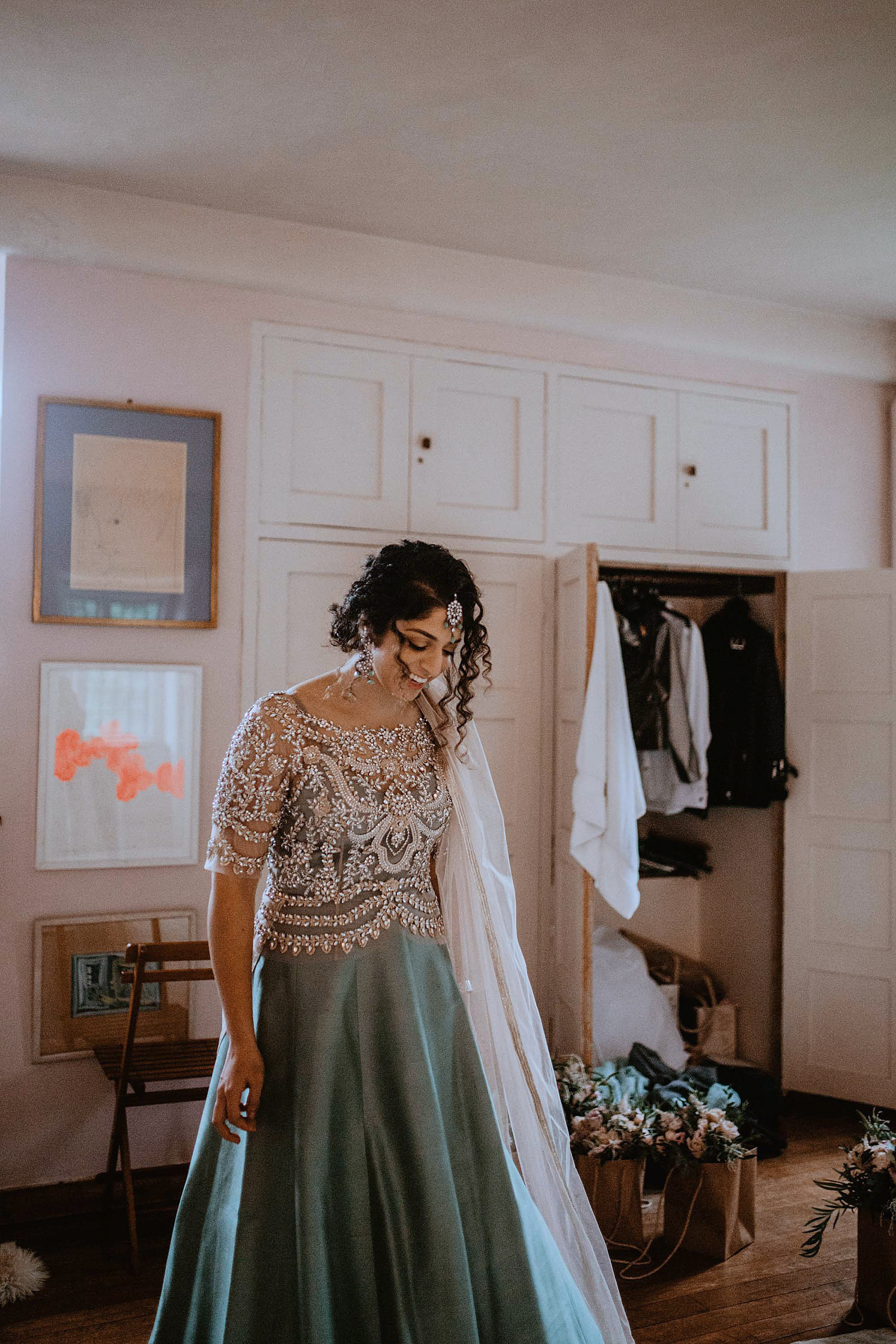 "I bought the girls jewellery from Monga's. We went to a fabric shop in Southall and found net/embroidered material for their shawls, which I got hemmed at a local tailor. I asked them to wear whatever shoes they liked, and most of them wore trainers!"
The bridesmaids' tops and skirts (with pockets – crucial!) in a lovely frosted plum shade were by JJ's House.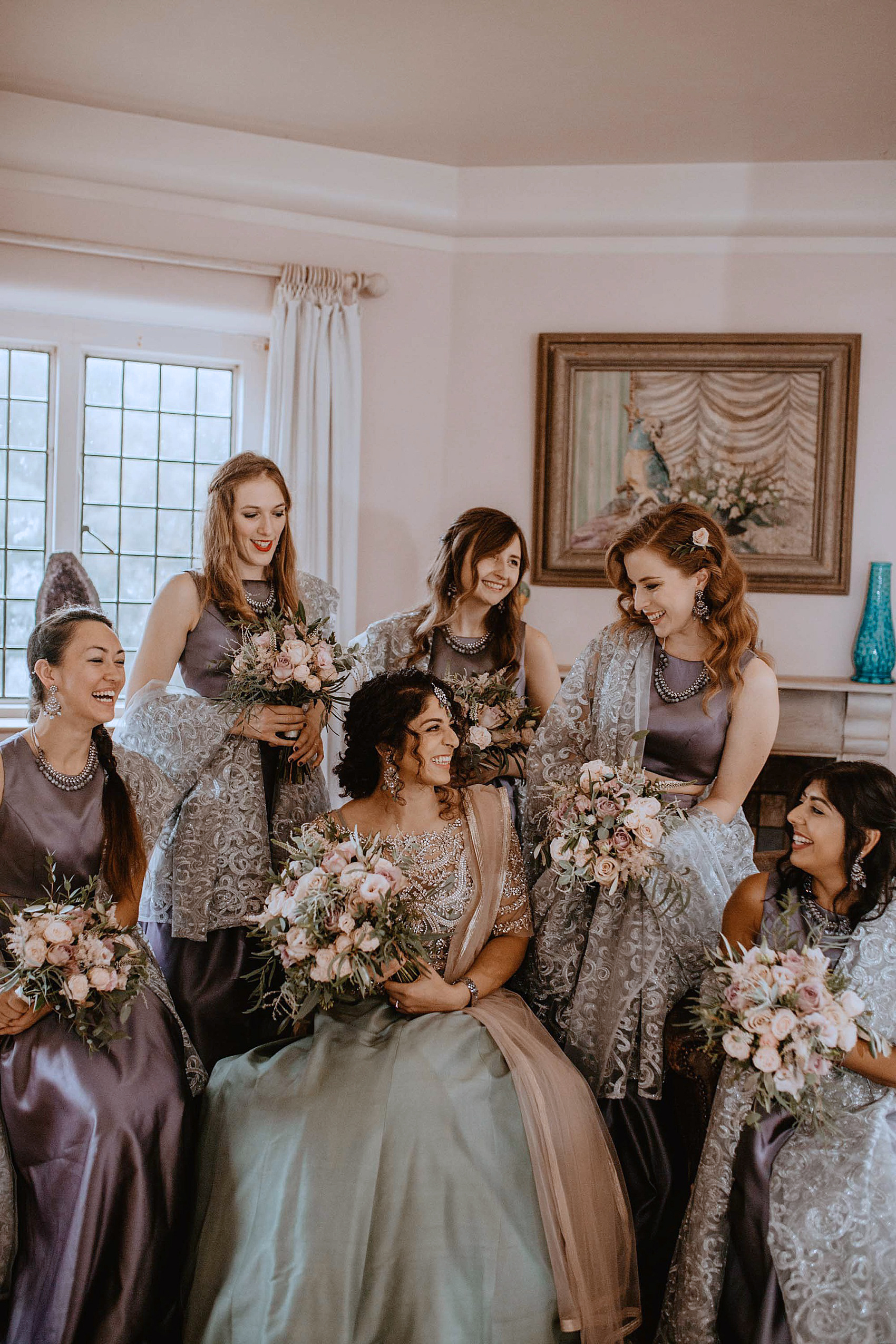 Ross built his wedding look around a totally amazing blue velvet jacket he'd bought from Ted Baker, and never had an occasion to wear. He paired it with a contrasting checked weave waistcoat, trousers, tie and shoes – all by Ted Baker, with a custom made shirt from iTailor.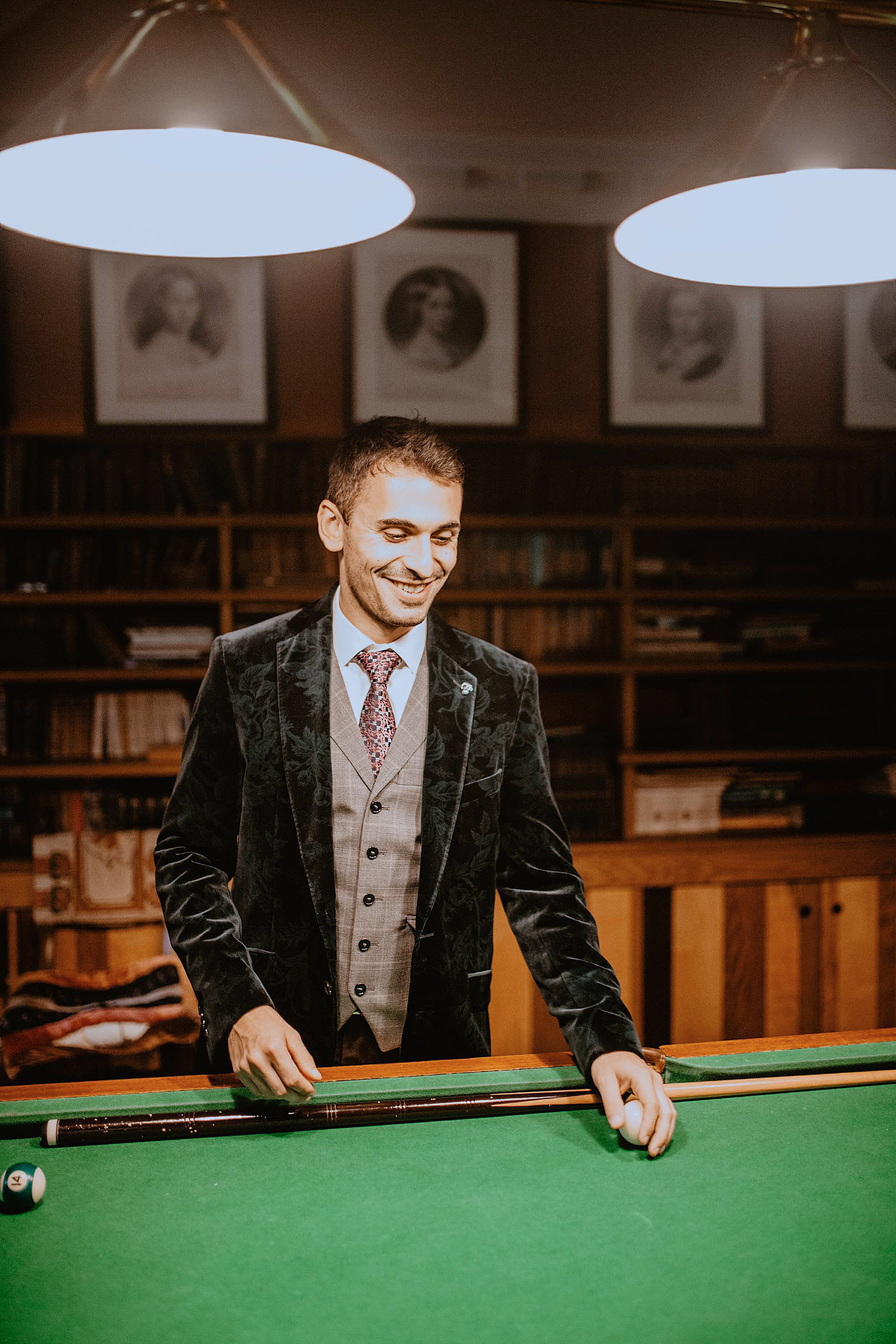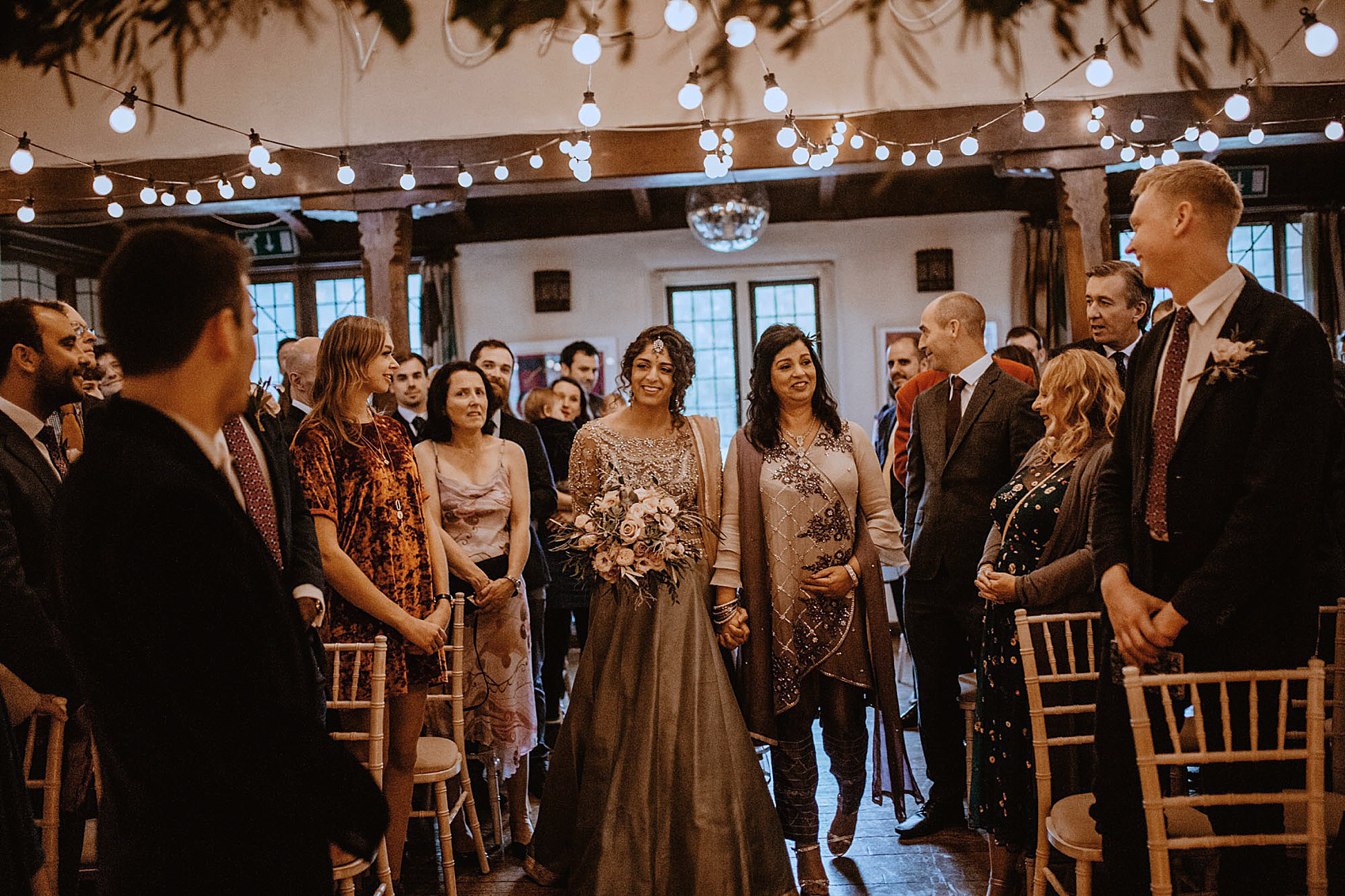 To Cat Power's song, Sea of Love, Aaminah walked down the aisle together with her Mum to begin the ceremony.
"I loved walking in and seeing a room just full of people we love, looking delighted to be there. Seeing tears in Ross' eyes."
"We used a local registrar, but there are a few sections we could change, e.g. 'Welcoming words' can be said by someone else, and we asked a friend to do it. We also very carefully chose from the script options, and wrote our own meaning of marriage in the parts available."
Ralph, one of the friends who originally introduced Aaminah and Ross to each other, welcomed everyone to the ceremony, and the couple decided to write their own heartfelt vows to one another, based on the the promises they wanted to make.
"My father-in-law is a jeweller, and so Ross got my engagement ring from him, because he was too confused by all the options to go without guidance! He knew I didn't want a very raised single solitaire, as that would be difficult for my work."
"Our wedding bands were from Mappin & Webb. We went to a load of the small jewellers off Regent Street in London until we found what we liked there. My ring has channel set baguette diamonds, and then three solitaires that mirror my engagement ring. I wanted them to look like a matched set. Ross' is rose gold, as it looks lovely with his skin tone and has a personal engraving inside."
Friend Sydney read an extract from The Amber Spyglass by Philip Pullman ('I will love you forever') and then friend Sian read Let Me Put It This Way by Simon Armitage.
"We chose it because I'm a notorious mid-party napper, and fall asleep on Ross all the time. The tenderness of him letting his arm go dead rather than disturb me definitely resonated!"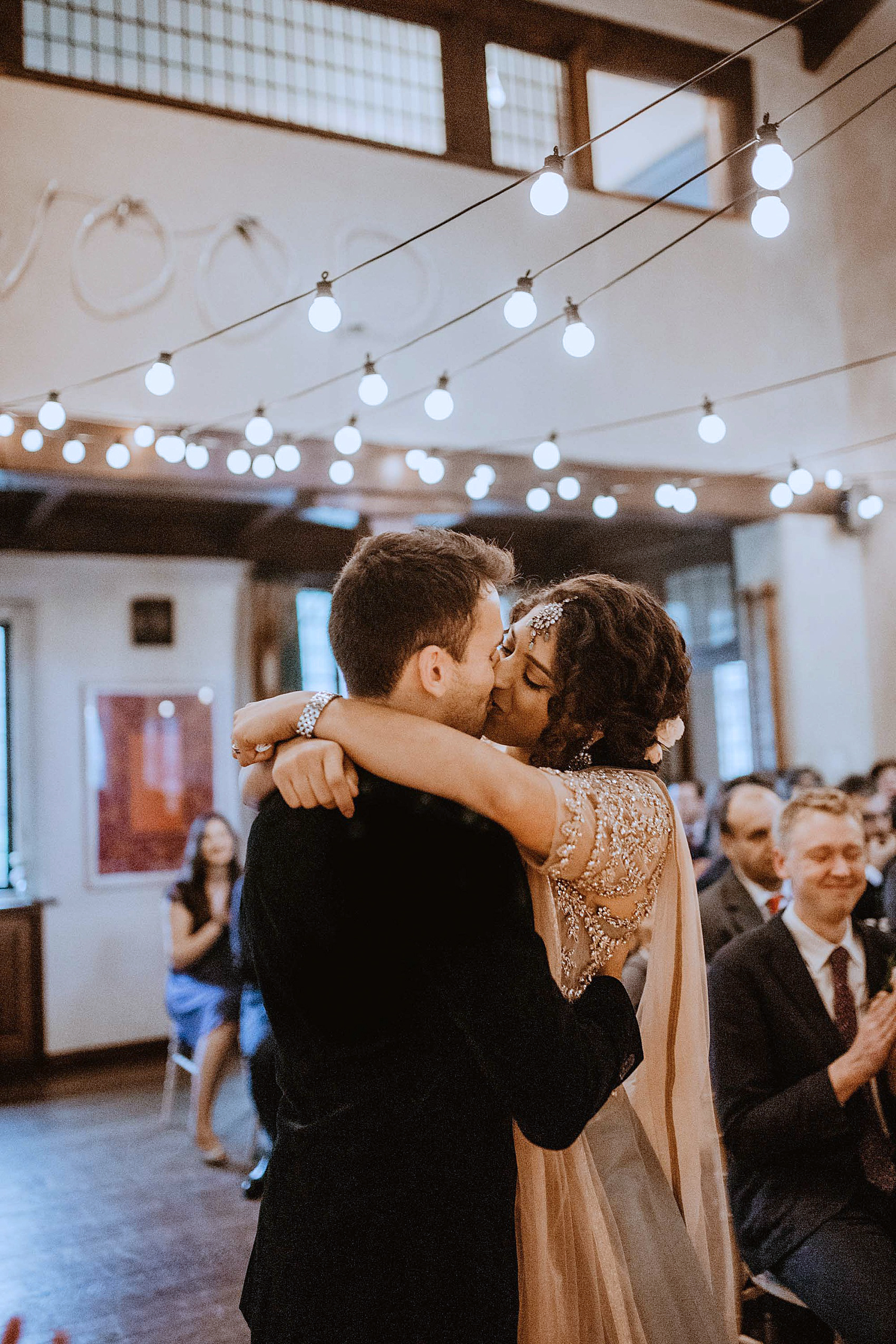 The register was signed, and when Aaminah and Ross made their way back up the aisle together, they were greeted with a glass of cold champagne each to toast their brand new marriage.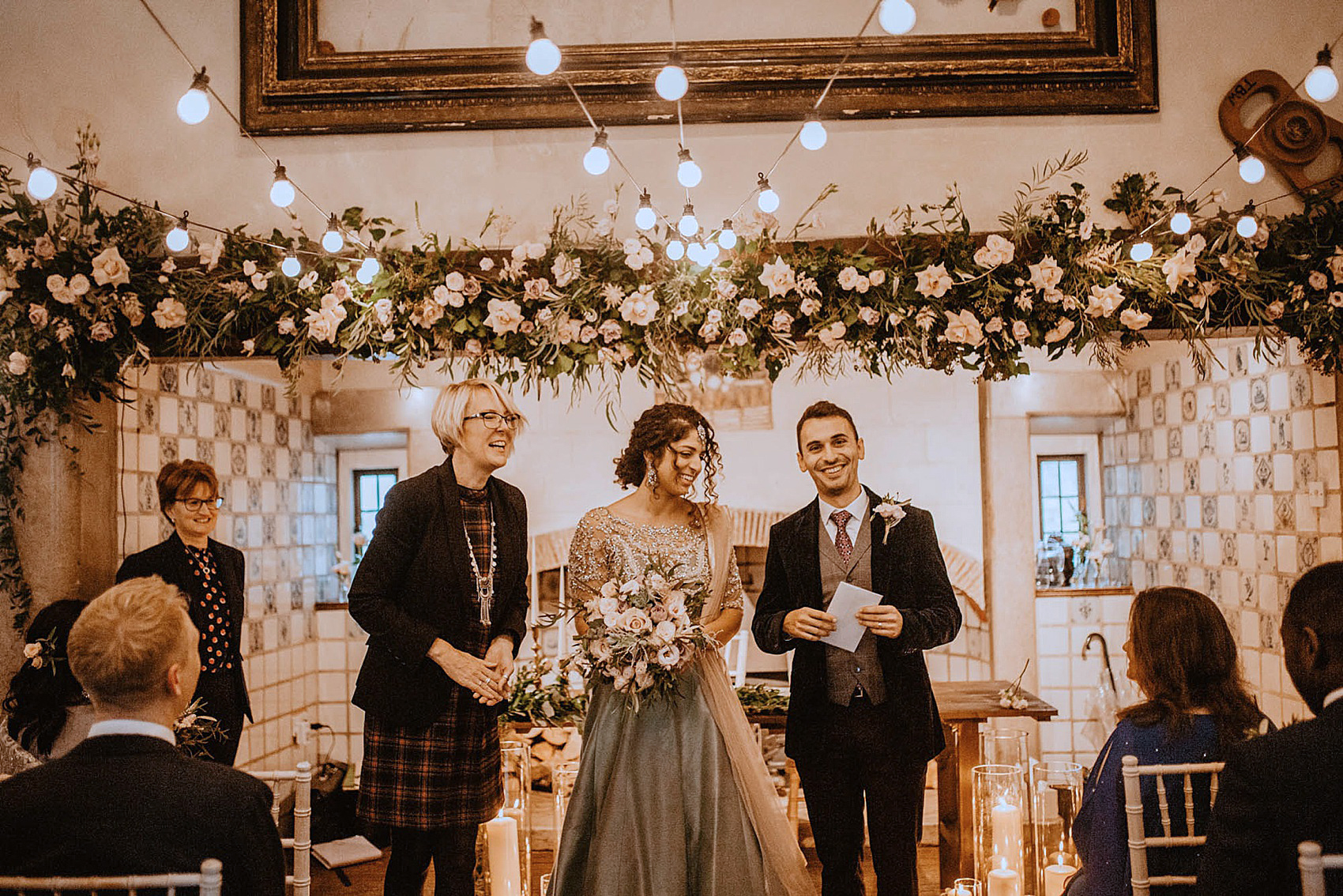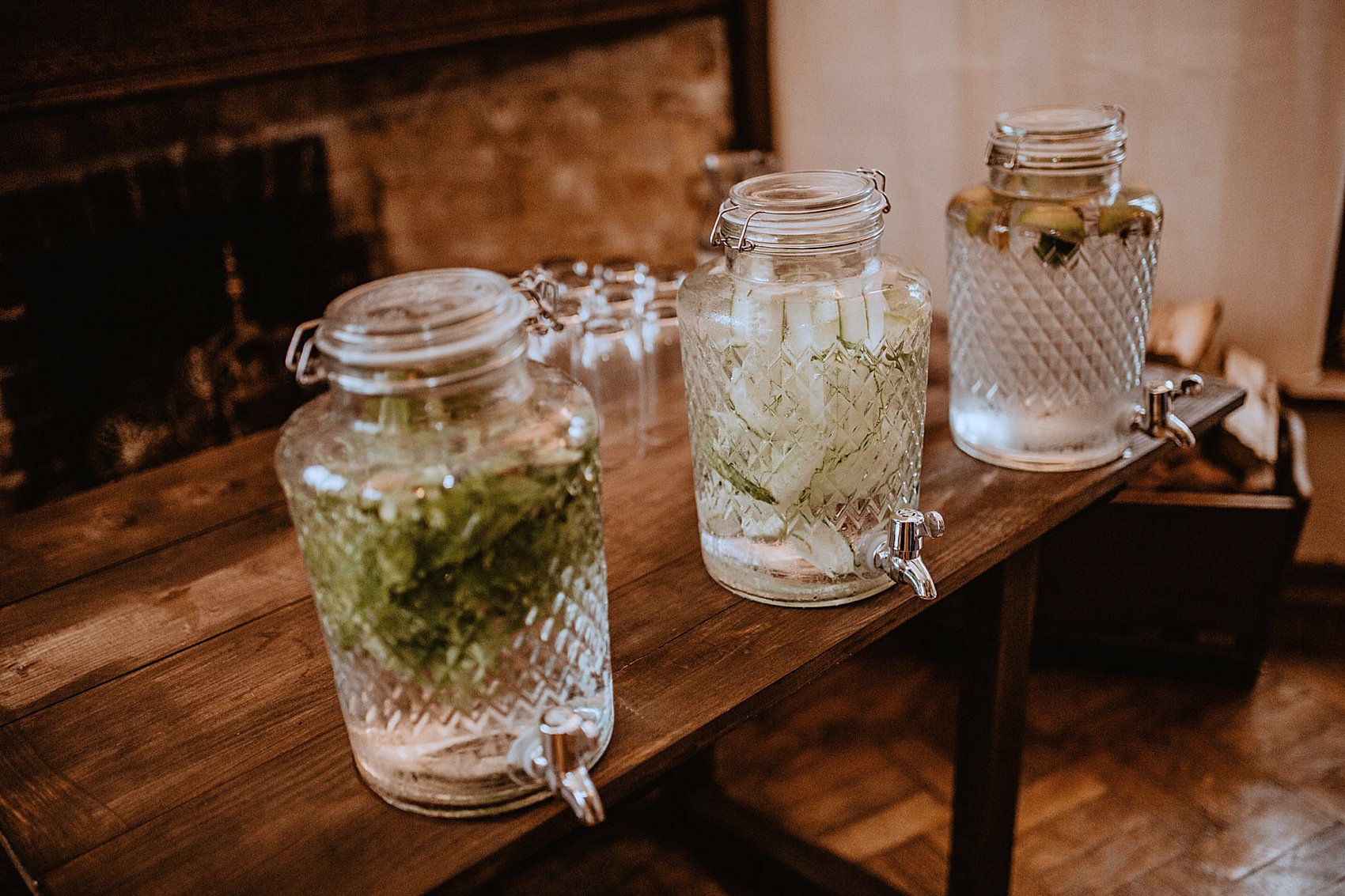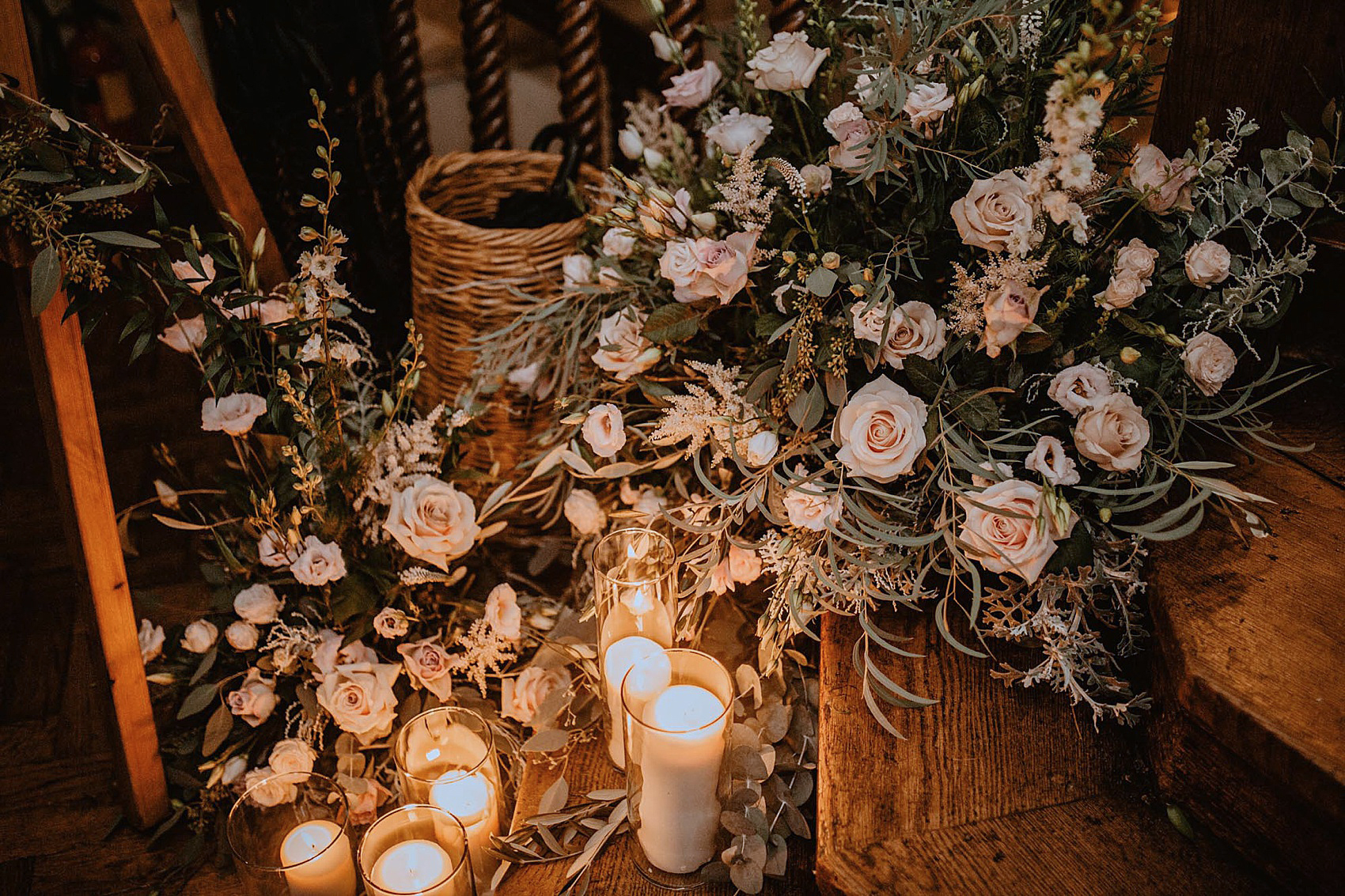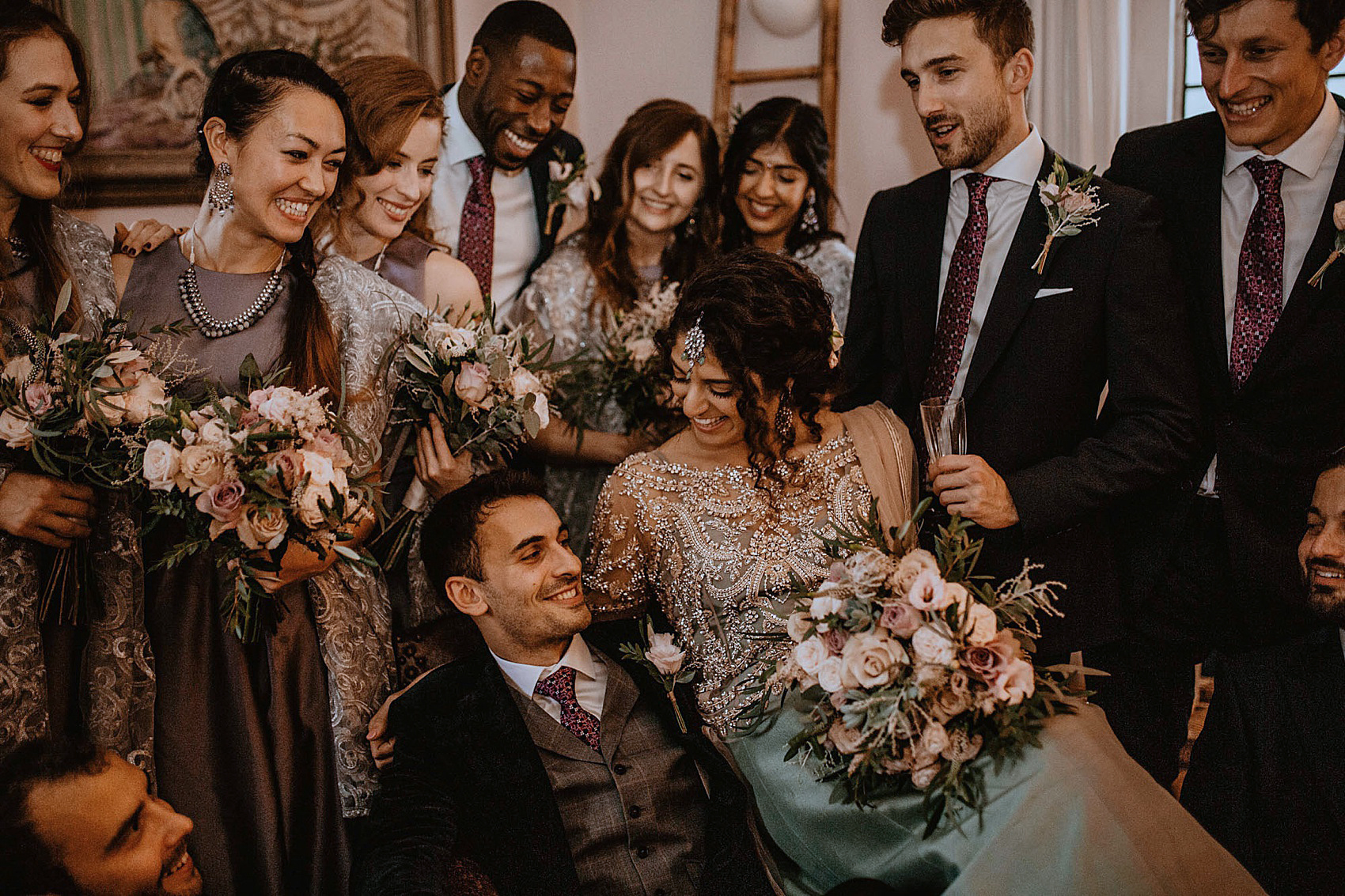 Candles were lit, beers were cracked open, and canapes enjoyed whilst Aaminah, Ross and their respective wedding parties spent time together with photographer Camilla Andrea.
"We live in London, the wedding was in Norfolk, and we didn't have many free weekends with all my on-calls, so I found most of the vendors via Instagram, including Camilla."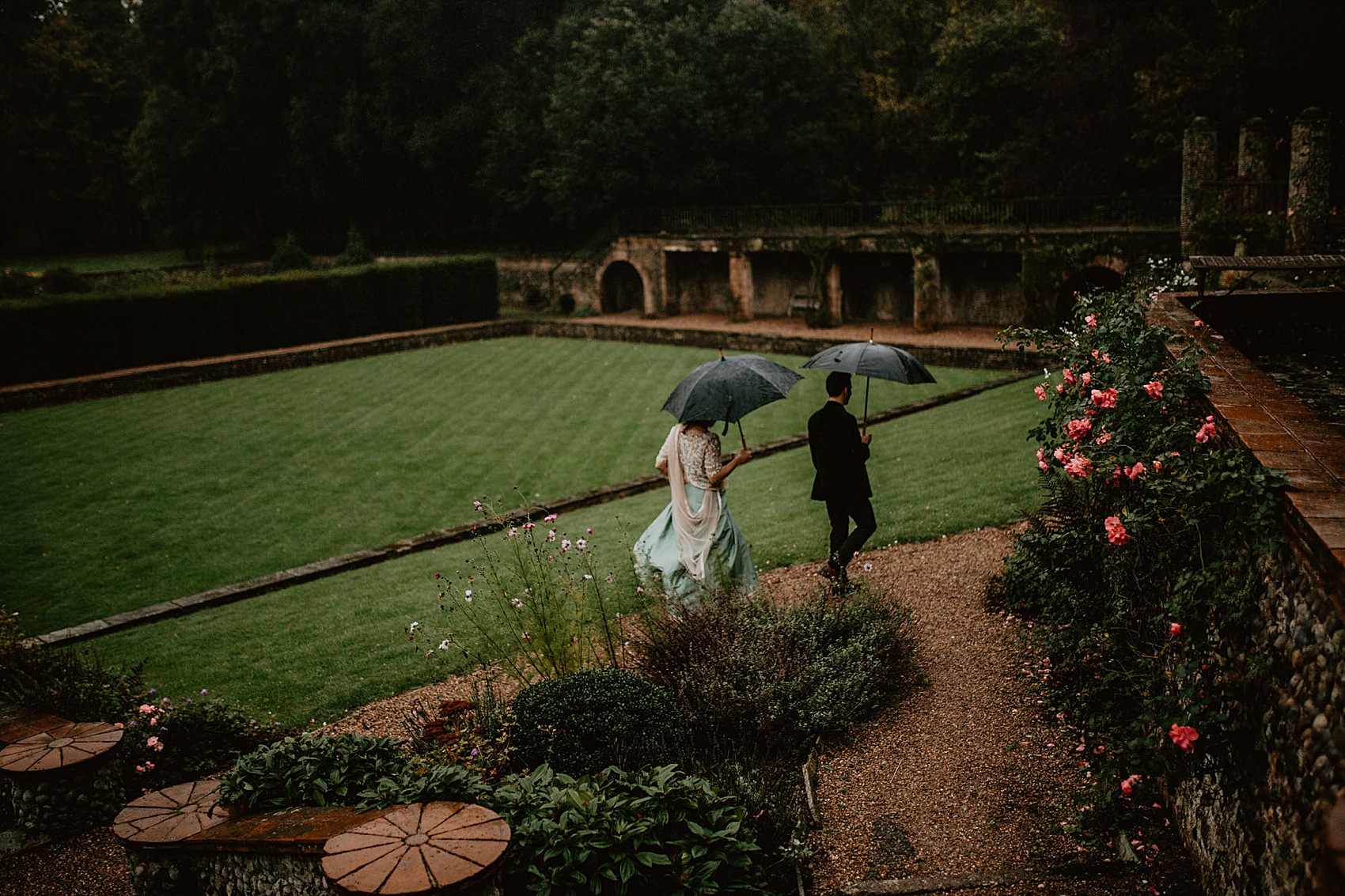 "She was responsive, always lovely in messages, and seemed interested in what kind of vibe we wanted for our pictures. I wanted photos to look real, not very formally posed, but also for the  photography to not be so intrusive it disrupted our guests."
We've featured Camilla's elegant, atmospheric fine art work before on our pages, and it's wonderful to be able to add this splendid collection as well. Beautiful work, Camilla!
"Camilla was so wonderful on the day. She was palpably excited and she felt like a friend. She made us feel really at ease, and I'm delighted with the photos she took."
We've featured Camilla's elegant, atmospheric fine art work before on our pages, and it's wonderful to be able to add this splendid collection as well. Beautiful work, Camilla!
"Camilla was so wonderful on the day. She was palpably excited and she felt like a friend. She made us feel really at ease, and I'm delighted with the photos she took."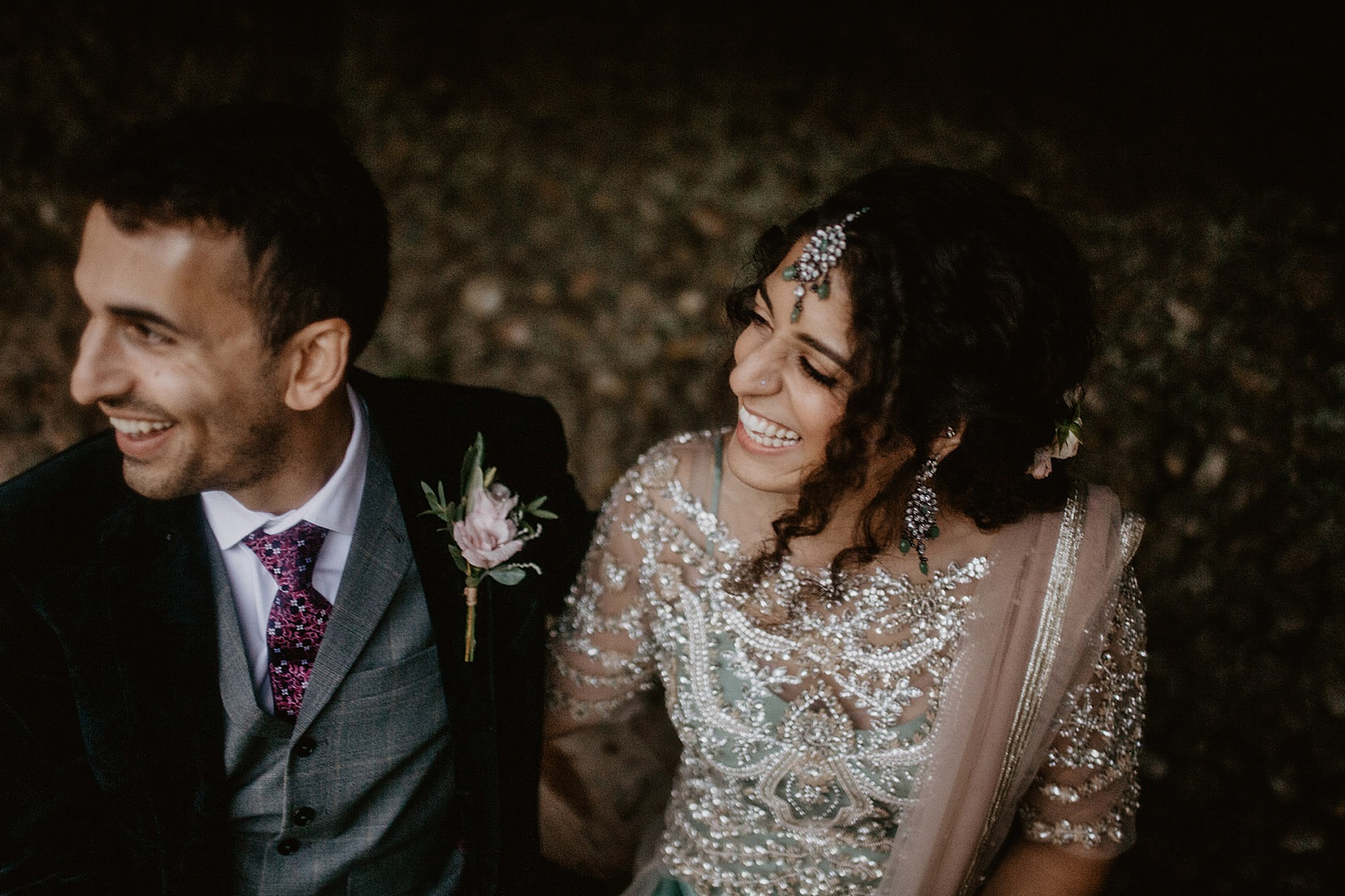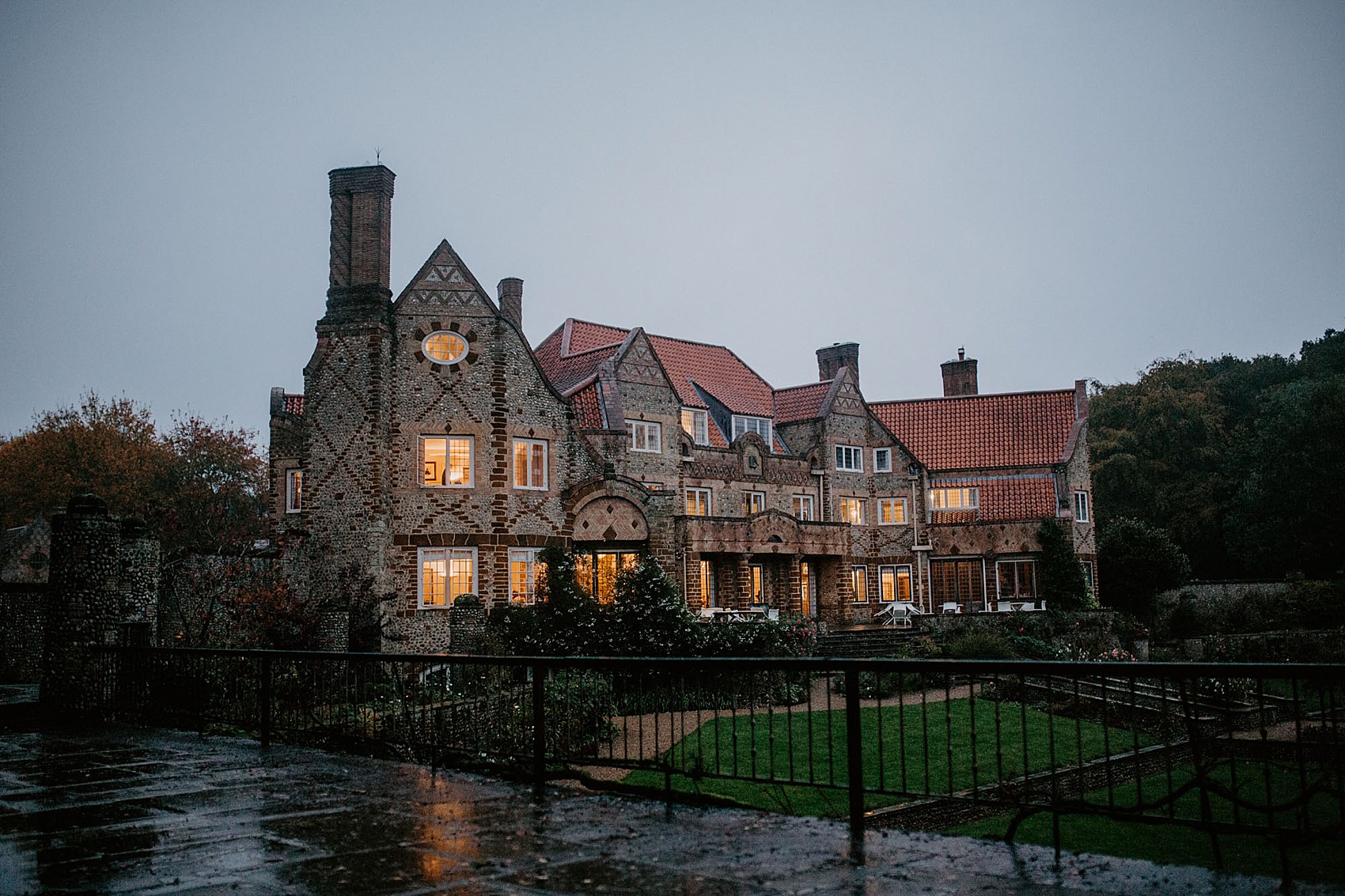 The Little Lending Company provided the cheery festoon lights strung around the room, and Ross found some eye shaped mirrors from Flying Tiger, which he then wrote on in in gold pen, and placed with the table plan.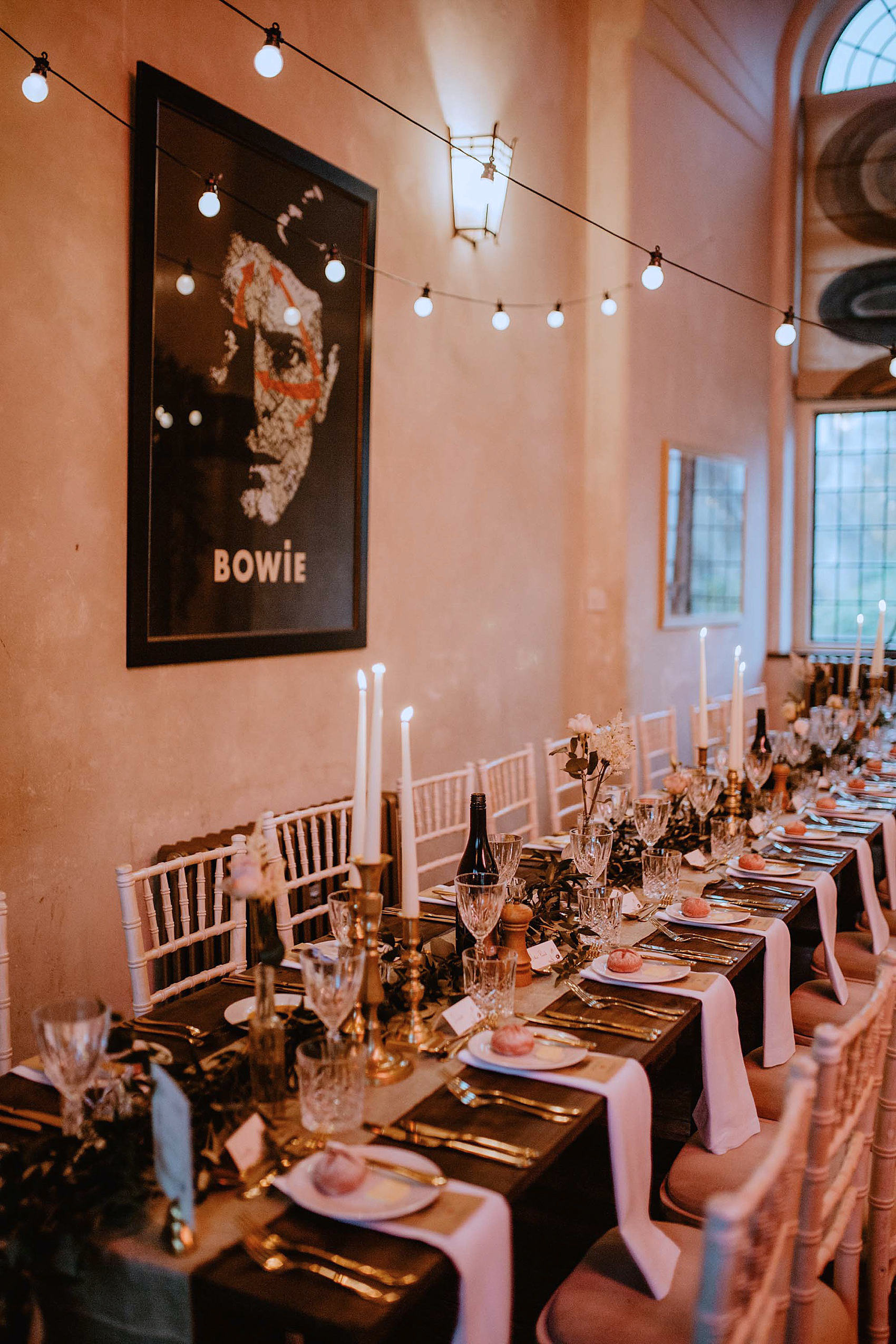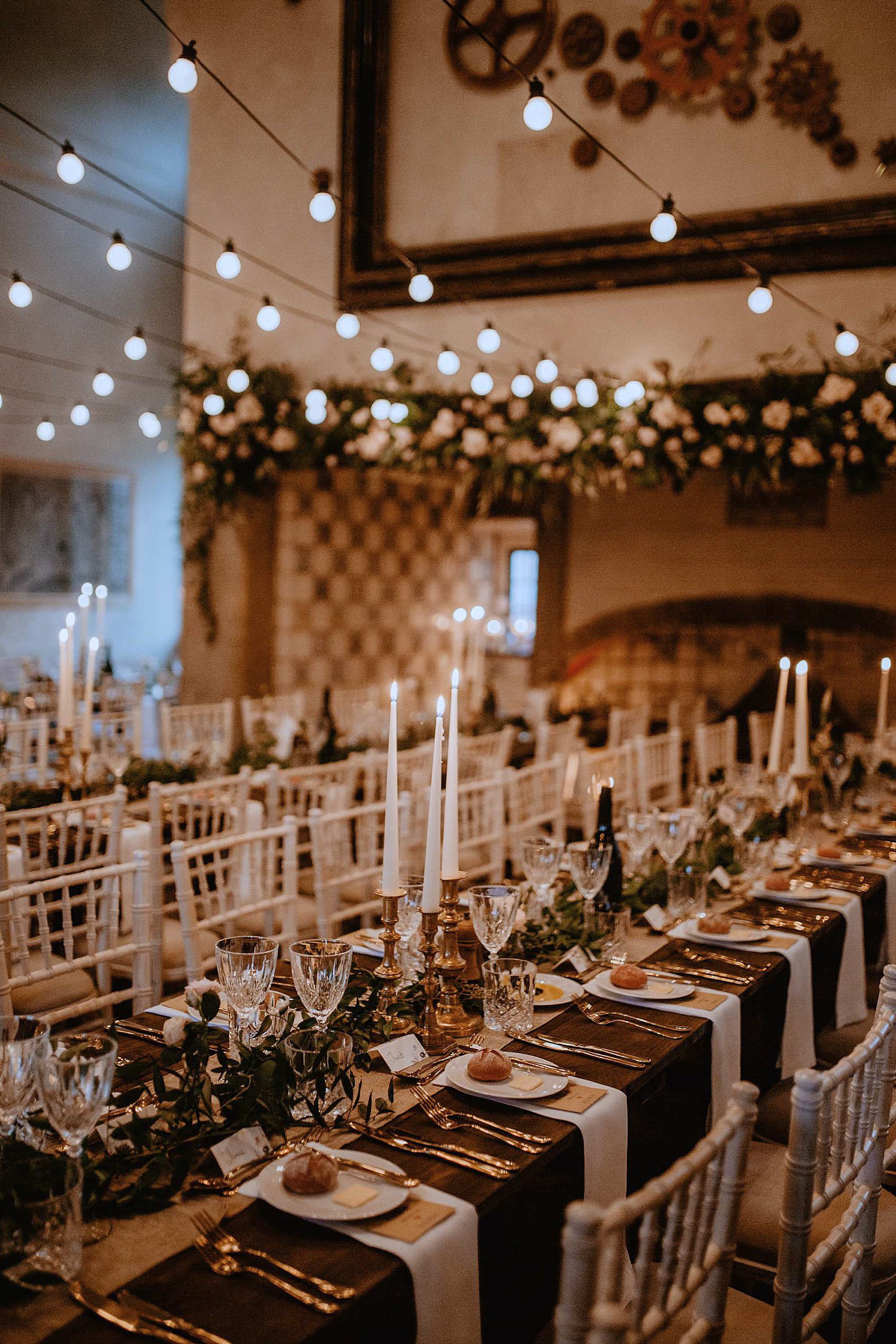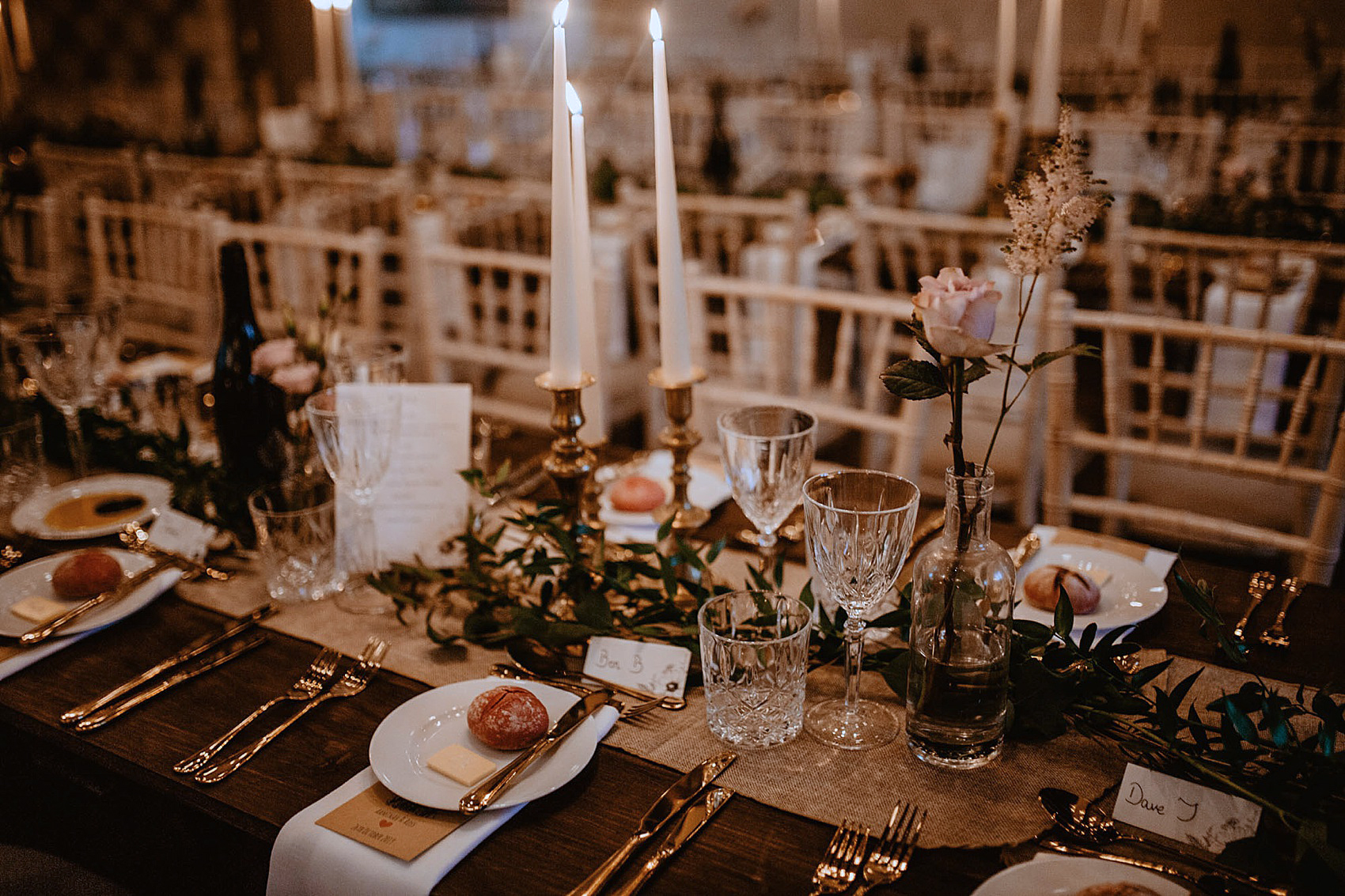 Elegant tables were laid with natural linen runners, topped with garlands of greenery, posies of flowers, and cut crystal glassware. There were also lots of gorgeous candles – in gold candlesticks and glass lanterns, giving off a cosy glow. The delicious wedding feast came courtesy of caterers Florentina Events.
All of Aaminah and Ross' wedding stationery was from Papier, and guest favours were personalised packets of seeds from Wildflower Favours, with proceeds going towards the Bumblebee Conservation Trust.
"We didn't have a planner or a stylist, but we used lots of decor items from The Little Lending Company, who does provide a full styling service. Her Instagram was excellent for inspiration, and she was lovely to work with."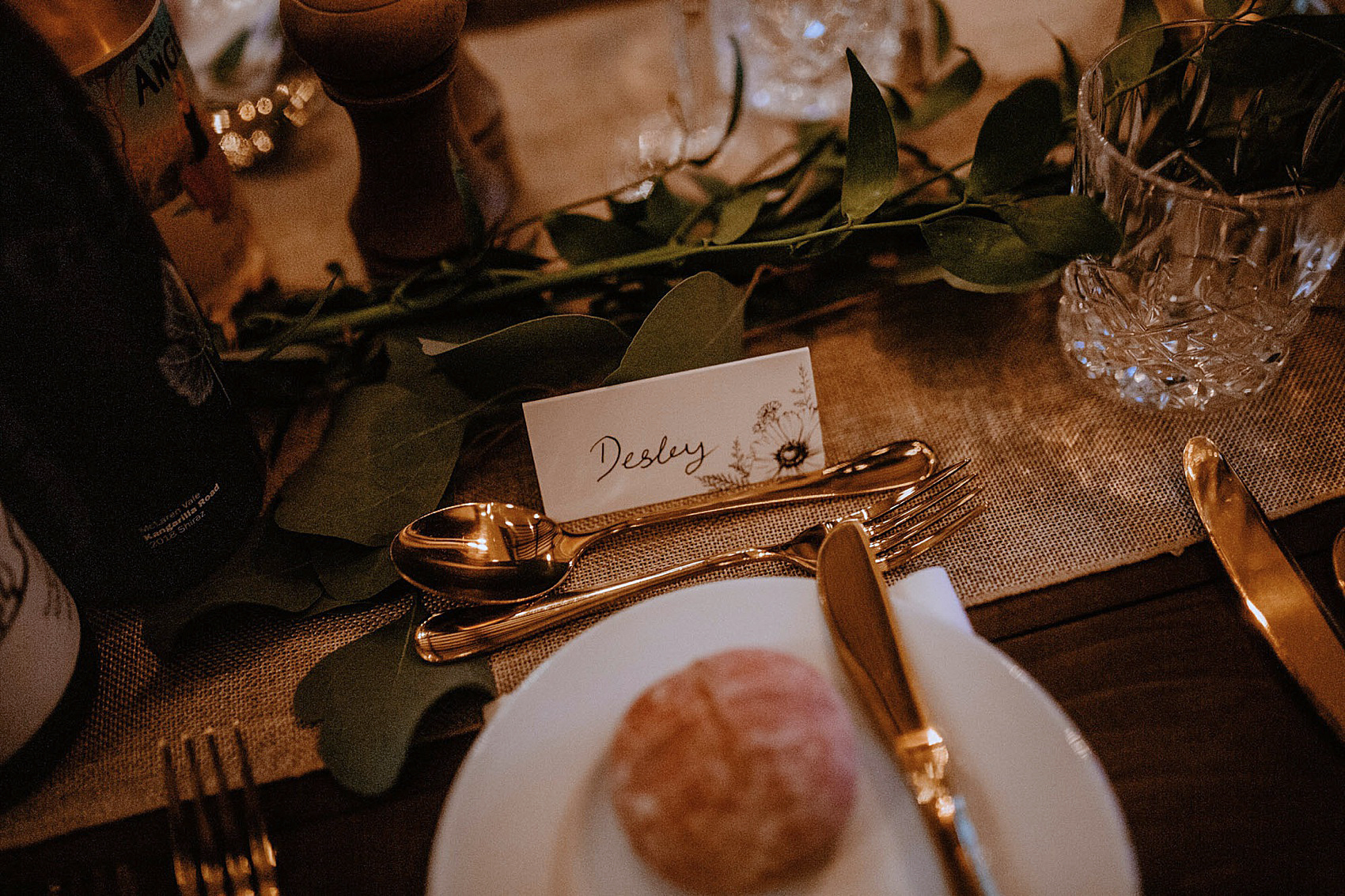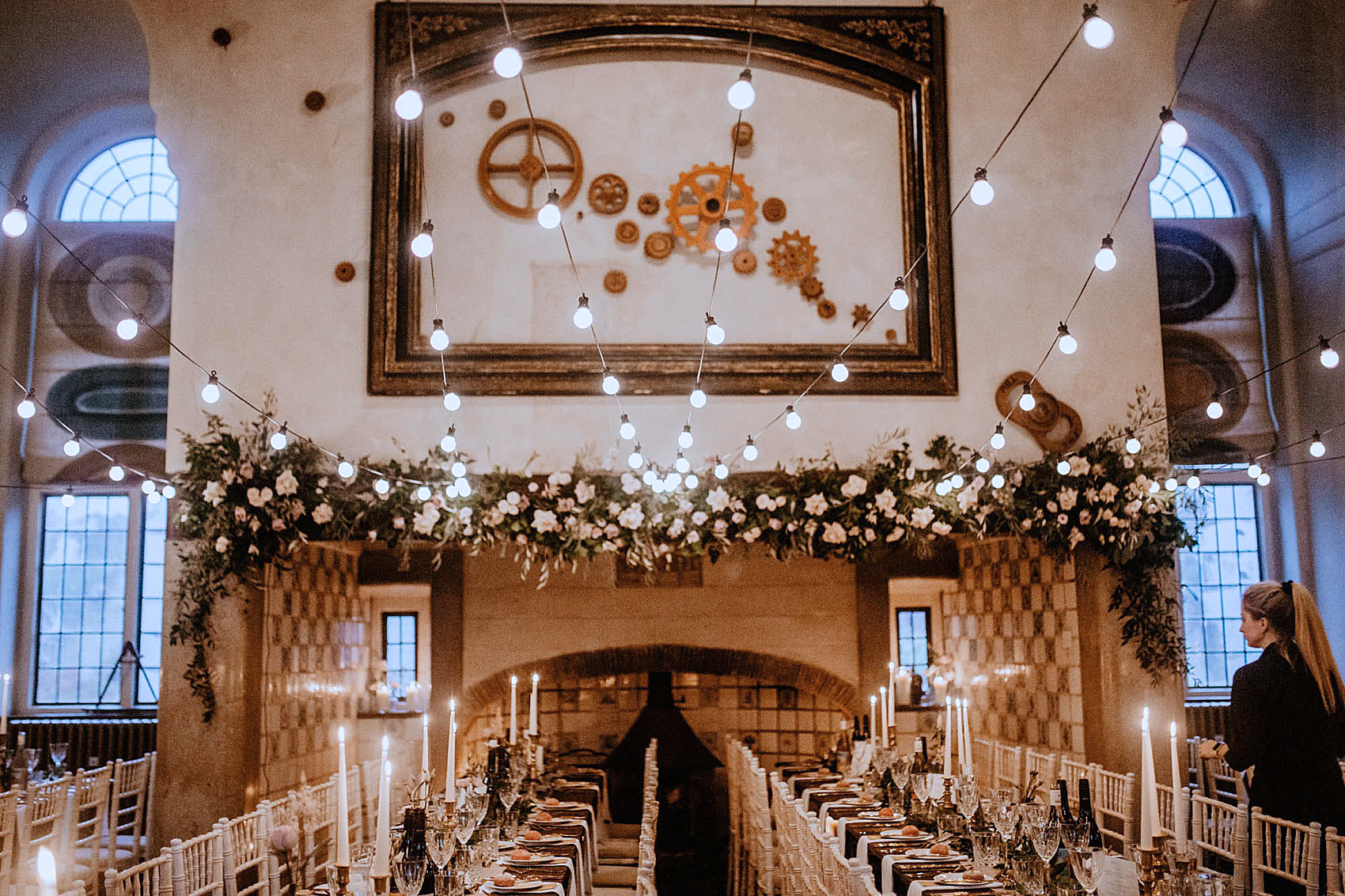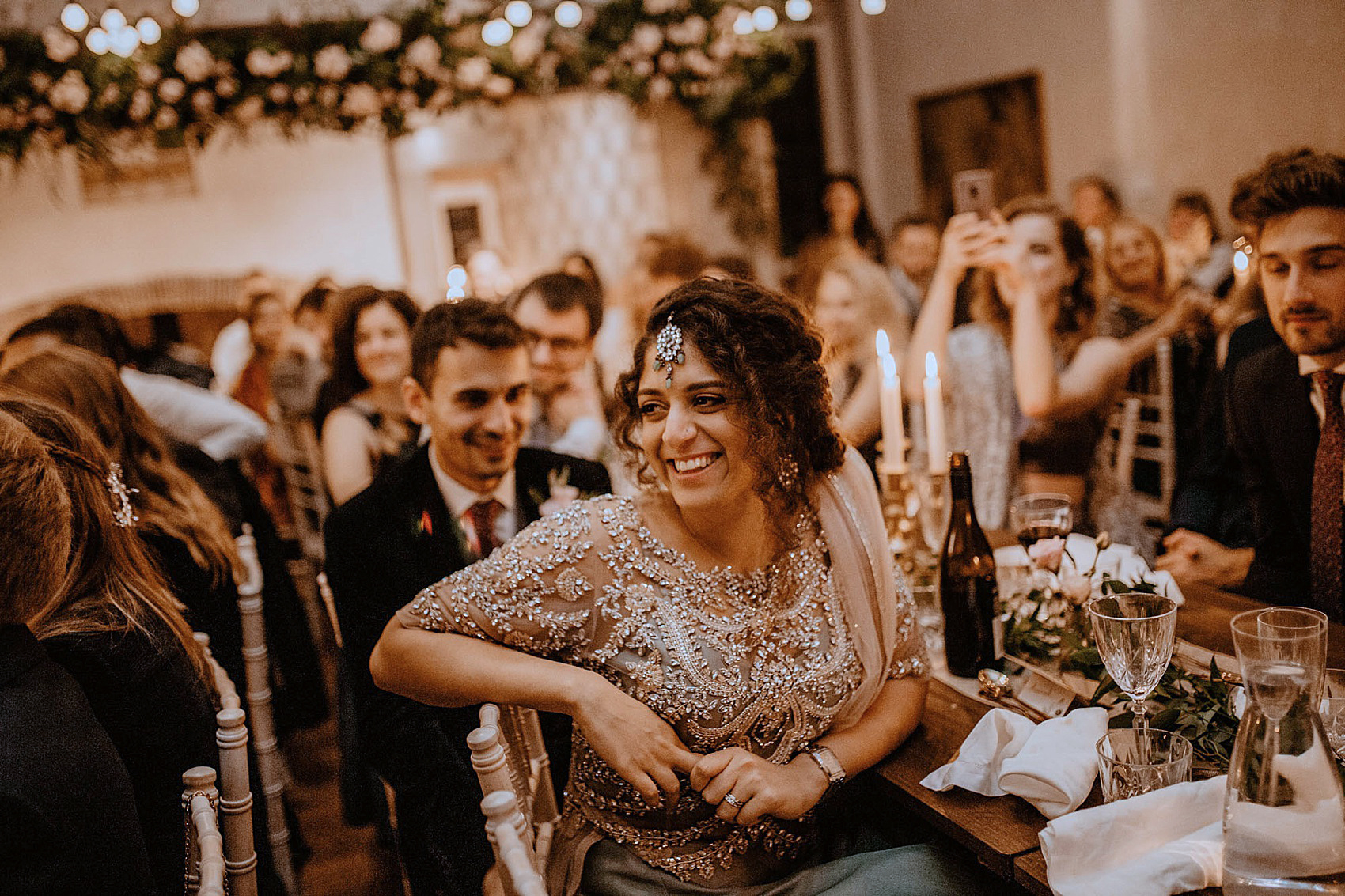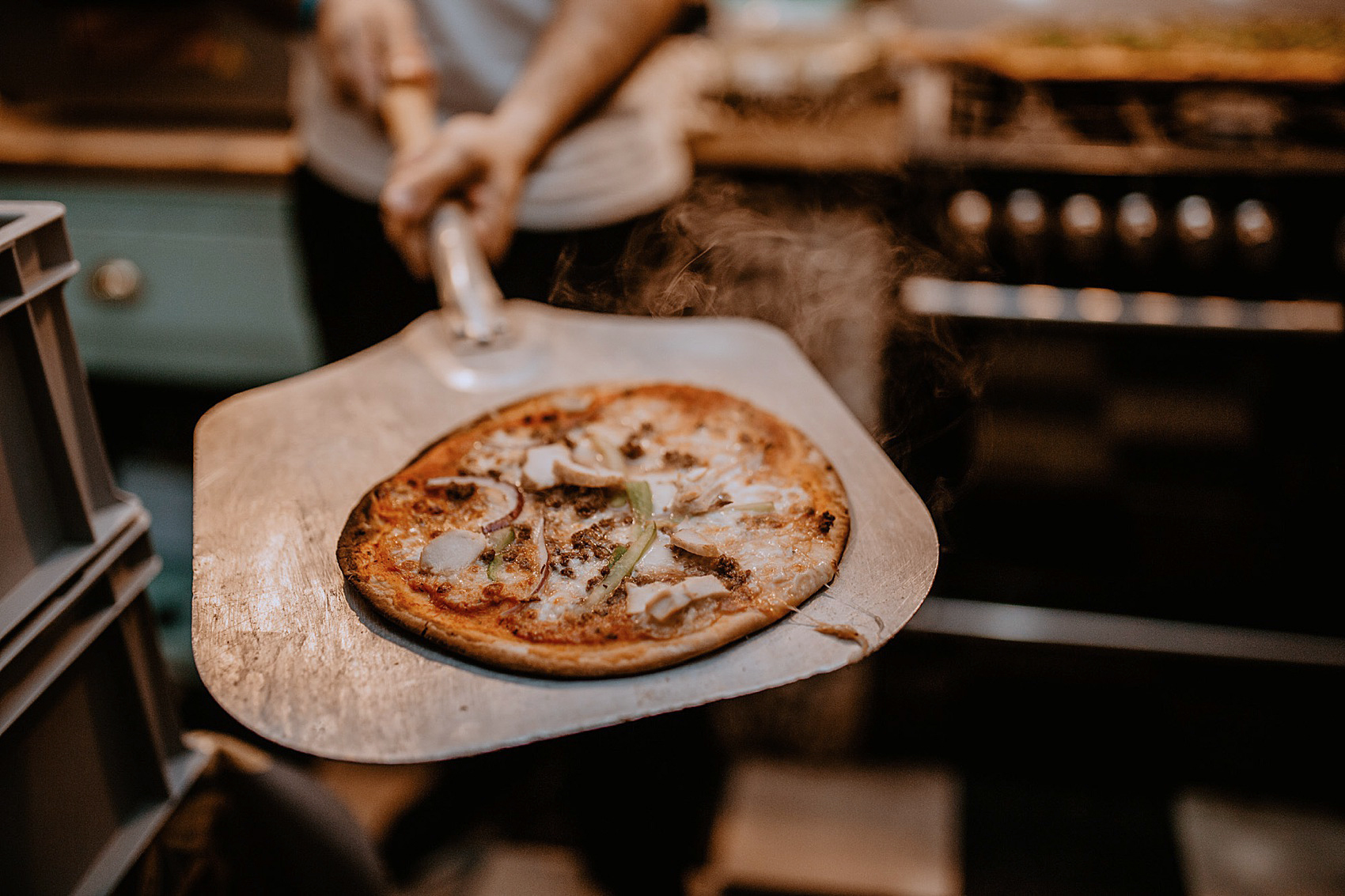 Later in the evening, after the last bites had been eaten and the cake had been cut, Aaminah and Ross danced together (admittedly reluctantly!) to Beautiful Freak by Eels, which was then mixed into Le Freak by Chic so that loved ones could join them on the dancefloor.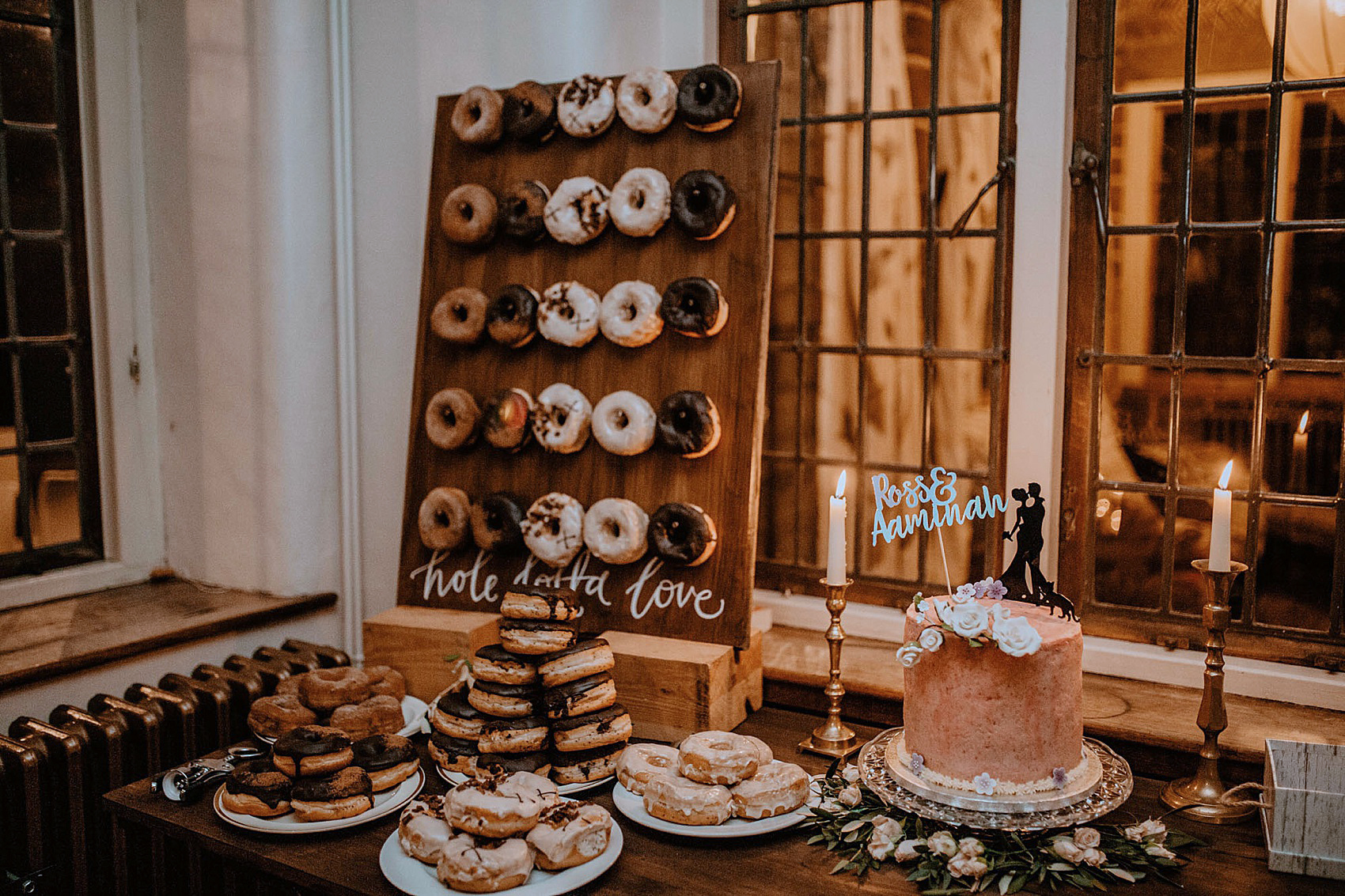 "My mother-in-law made the cake, as we wanted her to be involved. We also got doughnuts from Crosstown Doughnuts, because they are beautiful and vegan. We displayed them on a board from The Little Lending Company."
"Our DJ, Nick Chatten, was very professional and had an online portal where we could ask for particular songs. The clocks went back on our wedding night, so we planned an ending and then an after party to make the most of the extra hour. Our friend Chal Ravens is an excellent DJ and took over for this part, which people still talk about now!"
"For the two of us, there was a favourite moment when I'd flaked and was heading upstairs to bed, then Chal played one of my favourite songs and I heard it through the floorboards and came running back down, surprising Ross as I jumped in to dance with him."
Words of Wedded Wisdom
"Start by thinking about the feel of the day and the principles you want to base your it on. For us, we wanted it to be beautiful, easy and relaxed for our guests. Then make all your decisions based on those principles, and don't get waylaid by all the other things you are told are important."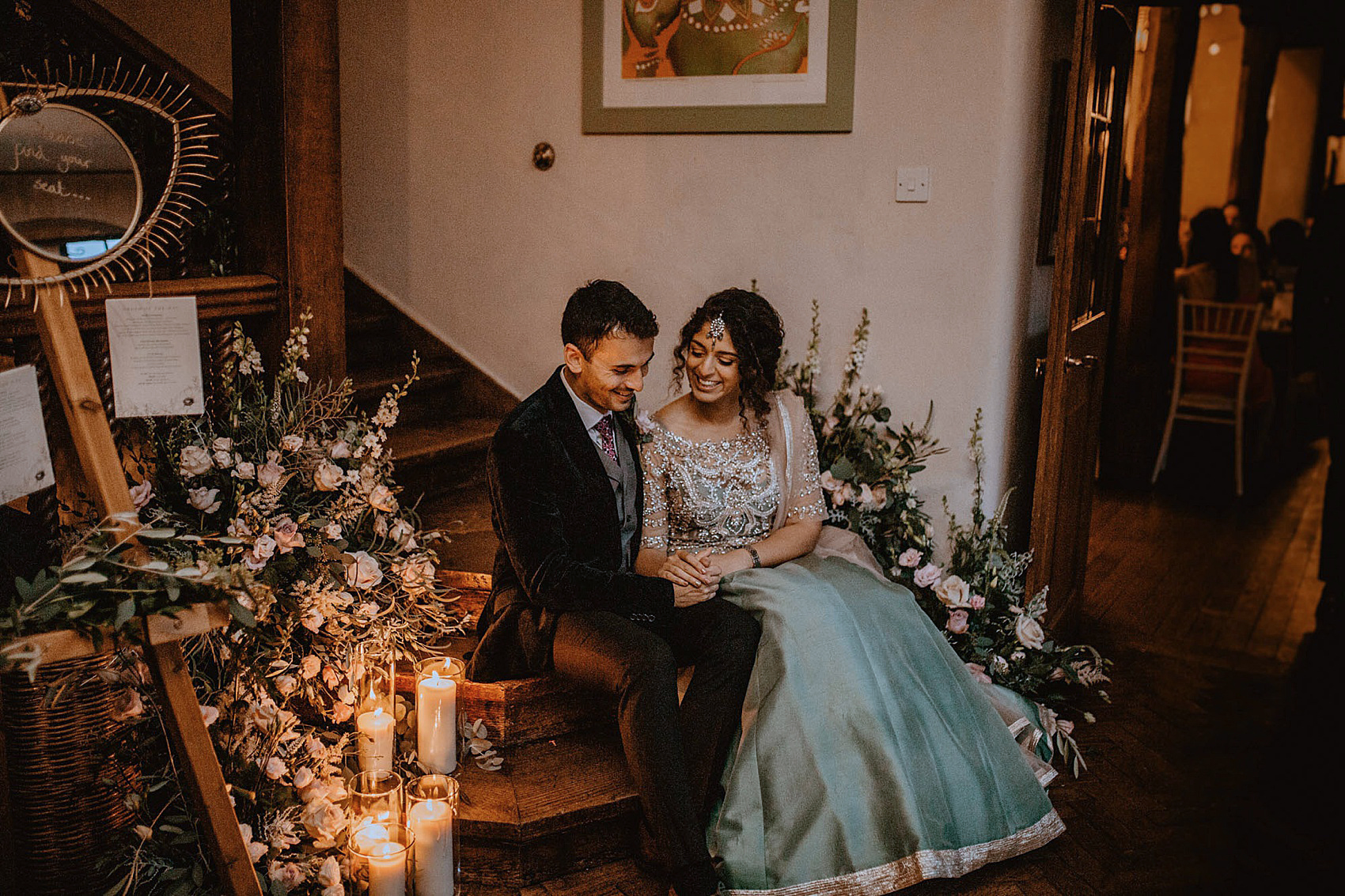 Aaminah and Ross, I can't thank you enough for sharing your glorious day with us. I know that its lovely intimacy will resonate with so many readers at the moment. Voewood is an endlessly wondrous venue, and we've featured lots of other celebrations within its welcoming walls and magical gardens, too.
Finally today, huge thanks to photographer Camilla Andrea for these breathtaking images.
Until next time.
Love, Laura