Lovers of colour – especially pink – you're in for a treat today; likewise if you're a movie buff, too, because the wedding I have the pleasure of sharing is packed with thoughtful, personalised touches reflecting our couple's love, and their favourite things.
Standby for colourful balloons, cinema inspired styling, and dresses and flowers in soft and romantic shades of pink, including our bride's beautifully made dress. Look out for her exquisite, star spangled evening dress, too.
Images and Film by Samuel George
Melissa is a film and TV lawyer currently working in private practise, and James is head of media studies at a London school, and this joyous pair were married on the 27 July last year, in a ceremony at St. John the Evangelist Church, Dormansland, Surrey (Melissa's family parish, and where her dad sings in the choir) followed by a reception at the magnificent Buxted Park Hotel, East Sussex; an eighteenth century Palladian mansion turned luxury hotel and events venue, set in 312 acres of parkland.
"Our day was Instagrammable fun that reflected what we love. We didn't ever want a theme other than for the wedding breakfast (which was film based). I (Melissa) am a bit 'extra' so we always knew that would guide everything! I had followed Bubblegum Balloons for a while, and knew I wanted to add colour to our wedding with one/some of their installation/s, and then added in flowers according to budget."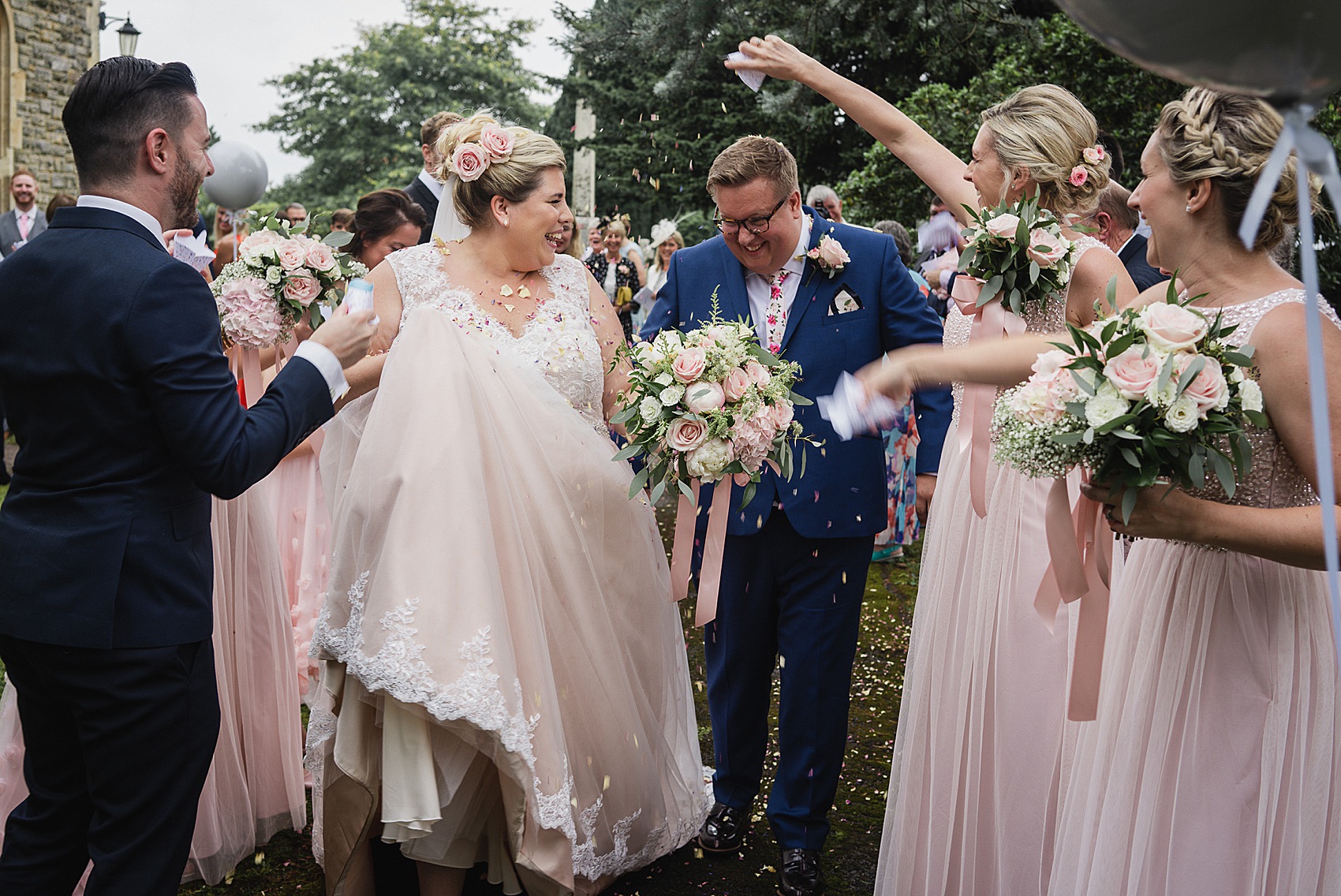 To help with the set-up on the day, and coordination of all the many moving parts of Melissa and James' party extravaganza, they secured the services of our Little Book member Laura, of Devine Bride, who offers a flexible, pick and mix approach to wedding and event planning and coordination.
"Reading Laura's reviews and testimonials really makes even someone not planning a wedding want to book her. She was insane value for money, and has become a friend to the both of us. She totally got what we wanted to achieve, and after an initial free consultation and lots of free time chatting back and forth, we paid for her to visit the venue with us for a run through, and to run the day from early doors to late in the evening. She was in charge of all the extras and the go to for Buxted for any on the day decision making – we trusted her completely, and she executed the best day of our lives. We will be forever grateful."
"My hair by the incredibly talented Roxy Farrier. I found Roxy on Instagram and knew immediately from her pics that she would be able to help me find a style I liked – and for all my bridesmaids. She was endlessly patient with me during two trials, and I was so, so pleased with my hair. Roxy arranged for an assistant to help her, Sarah's Blow Dries [unable to find any contact details for Sarah, apologies] so that I didn't have to worry about finding a second stylist for my entourage of bridesmaids, and between them they nailed the getting ready process on the morning of the wedding."
"Roxy was full of kind words and wisdom that really put me at ease and made me so comfortable. I will never forget her and Emma (make-up artist) putting the final touches to me just before I left for the church, it was really special – they were so wonderful."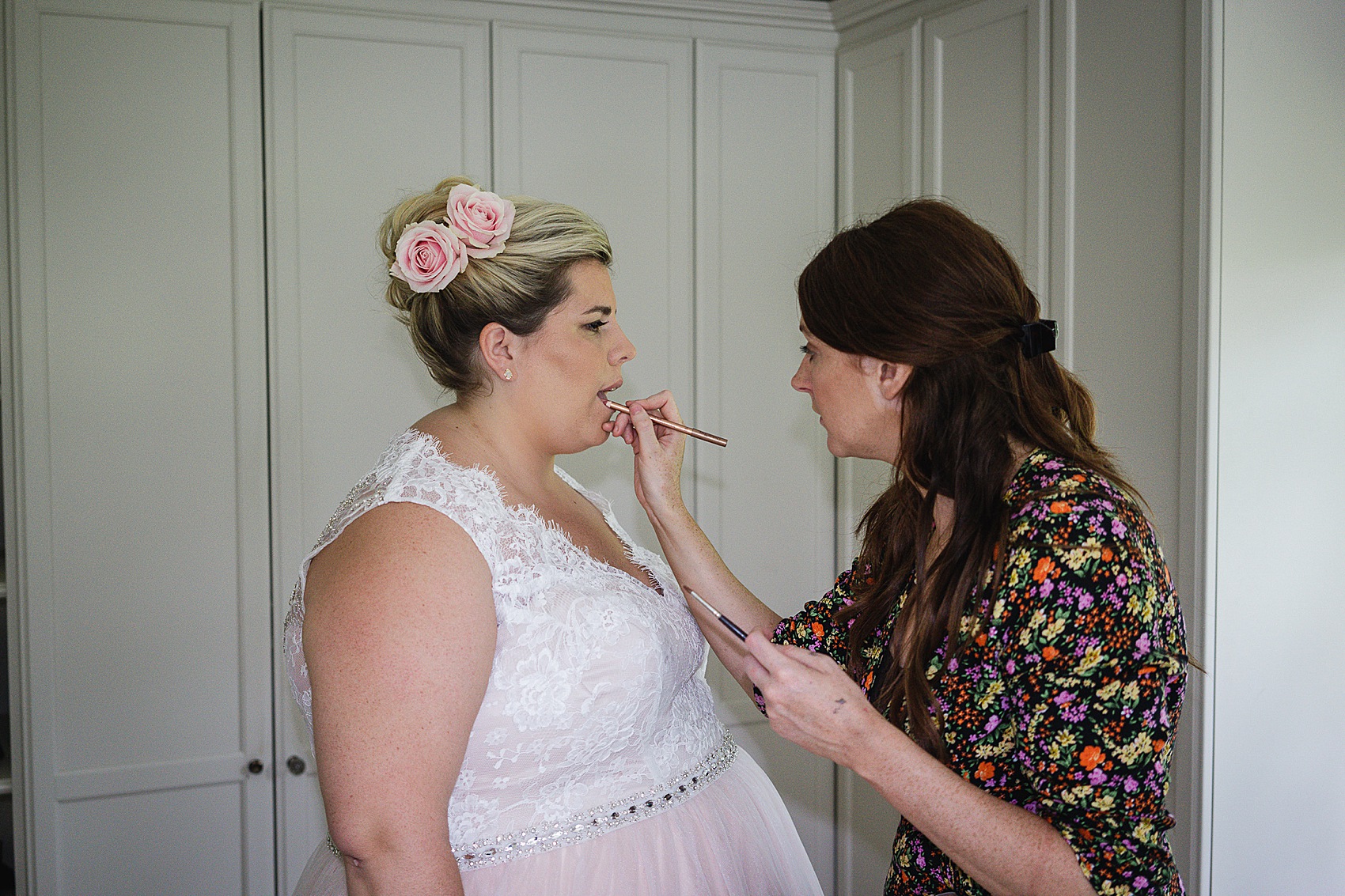 In her hair, Melissa wore two pretty Avalanche roses, and following a recommendation from a friend, her radiant make-up look was created by Emma Lily Curran. Emma also very kindly helped Melissa find a second make-up artist for her bridesmaids – Alison J. Smith Bridal Beauty.
"Alison was so lovely and easy to liaise with. I booked her to help with the makeup for three bridesmaids (and my Best Man who had an emergency spot situation on the morning of). The girls were all thrilled with her, and like Emma she was super professional but warm and fun to have with us in the morning, I am just sad I cannot have these women with me every morning! Every single one of them made every meeting so faff free, set up all their things, cleared everything away, mucked in with anything else that was going on whilst they were waiting for someone – just amazing."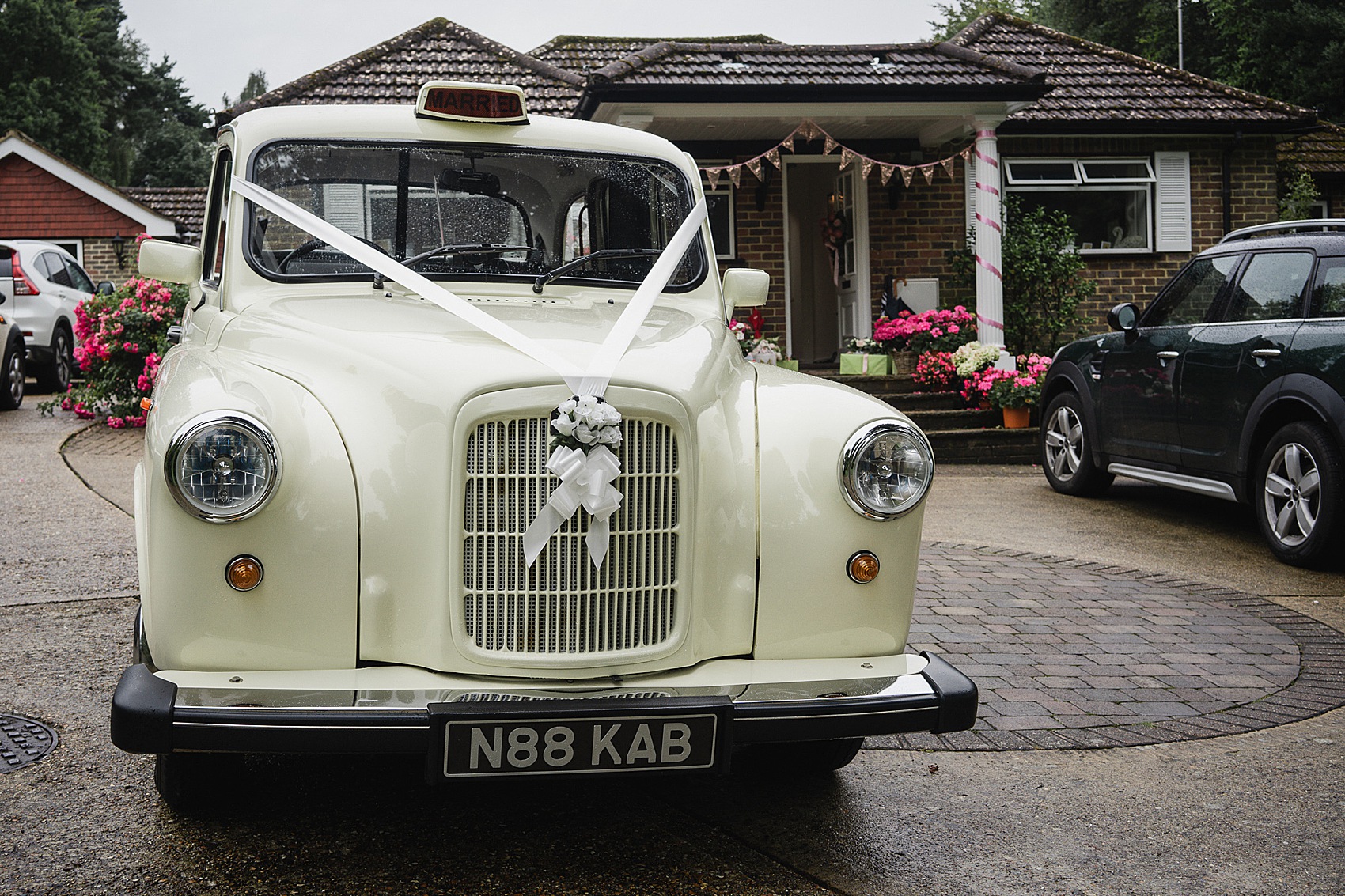 As a nod to the past ten years the couple have spent living in London, the wedding car was a white Hackney cab hired from White London Taxi Wedding Cars. Balloons adorned the church entrance, and the whole way down the aisle, too, for Melissa's walk to meet James, together with her Dad.
The ushers (Melissa's nephews) wore smart navy blue suits from Next, with their own choice of shoes from ASOS, and pale pink ties, also from ASOS.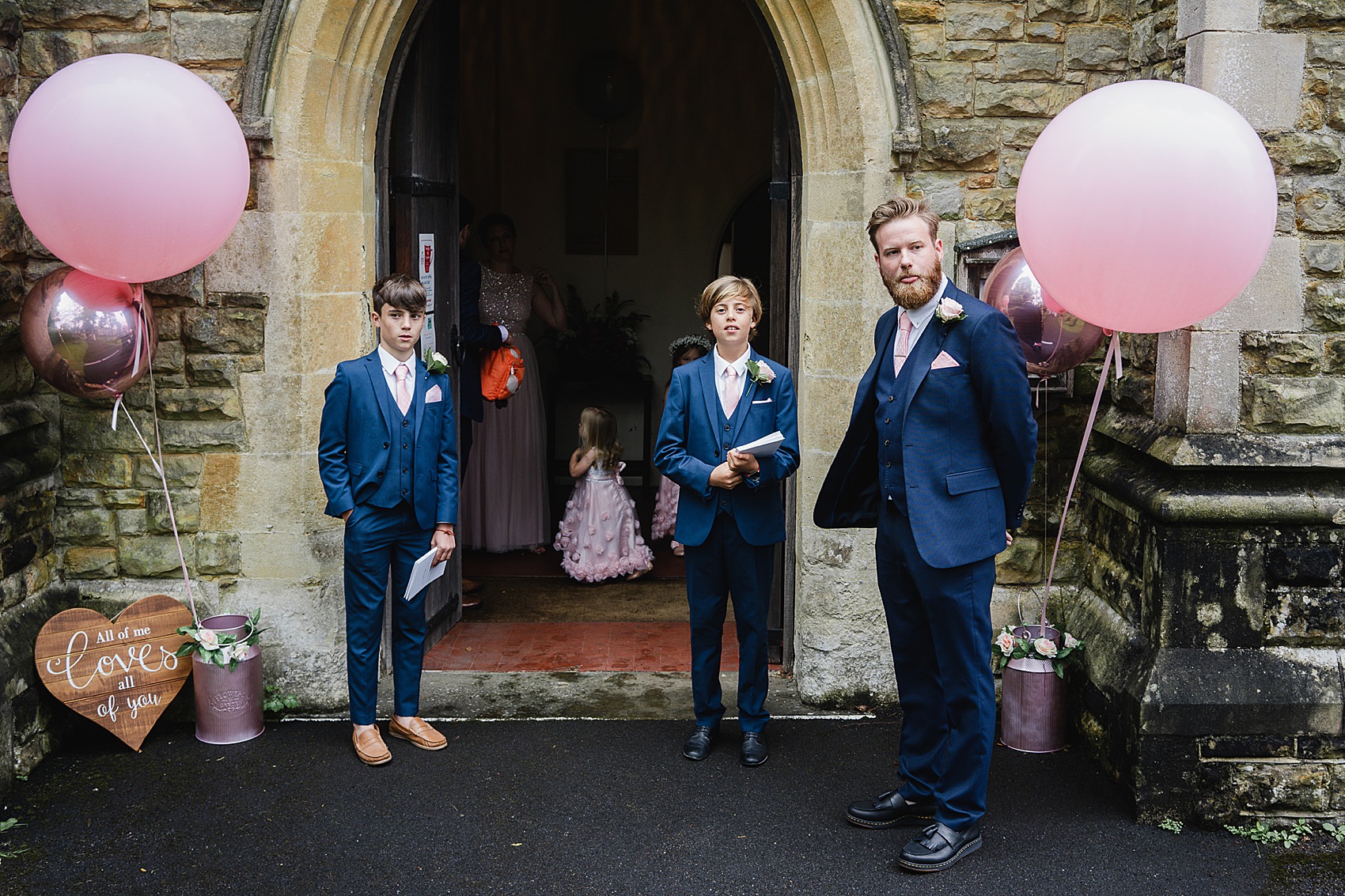 Melissa's sweet flowergirls looked lovely in pink high-low hem dresses with appliqué roses from Monsoon, worn with pink bow-adorned shoes, and crowns of gypsophila made by a friend.
"The bridesmaids' dresses were from Dorothy Perkins. Dotty P's dresses were just so pretty, a better colour match to my dress than the dresses I'd originally chosen, and most importantly passed the comfort test! My sisters needed to be able to perform high kicks and 'get low'."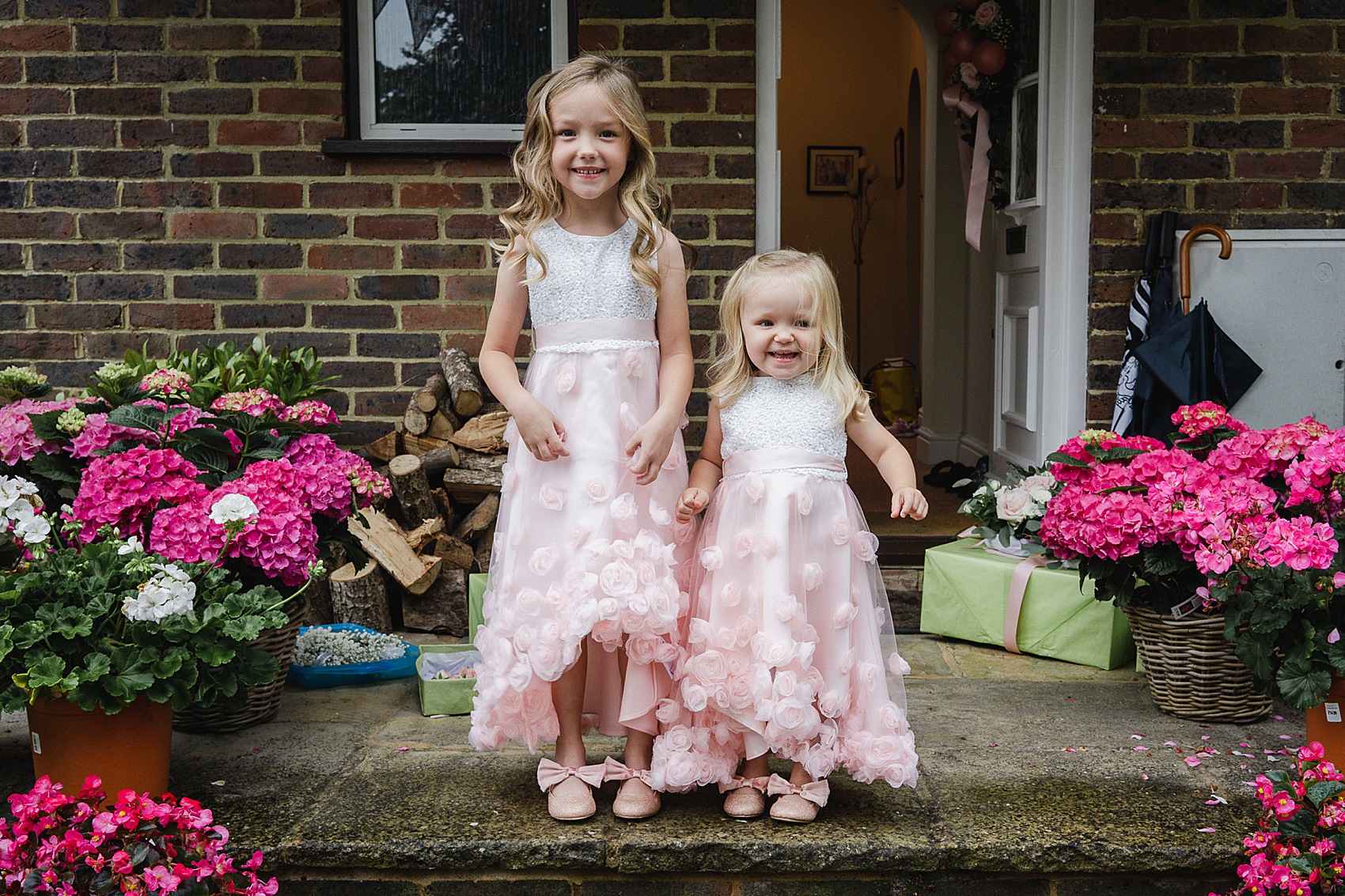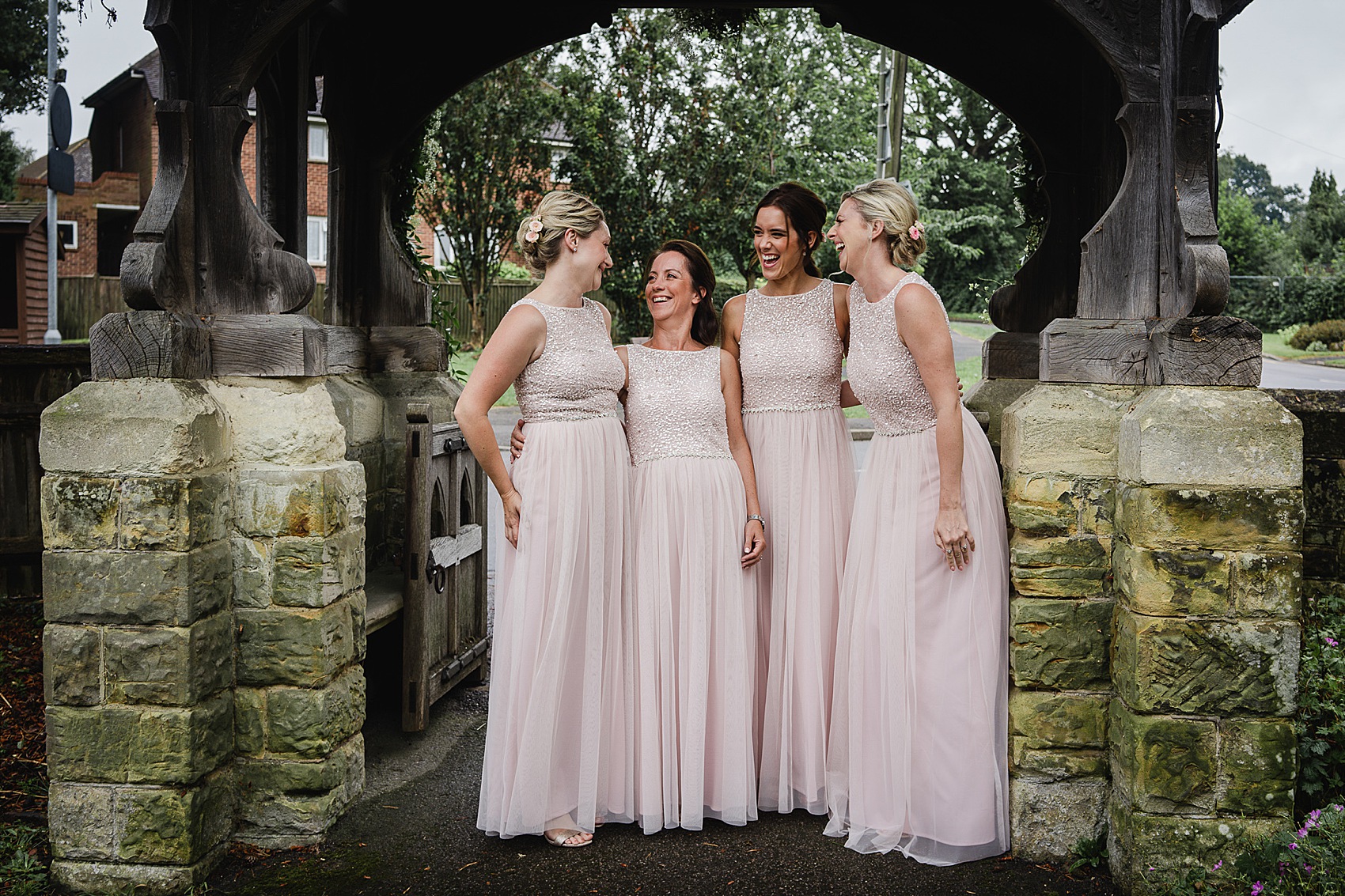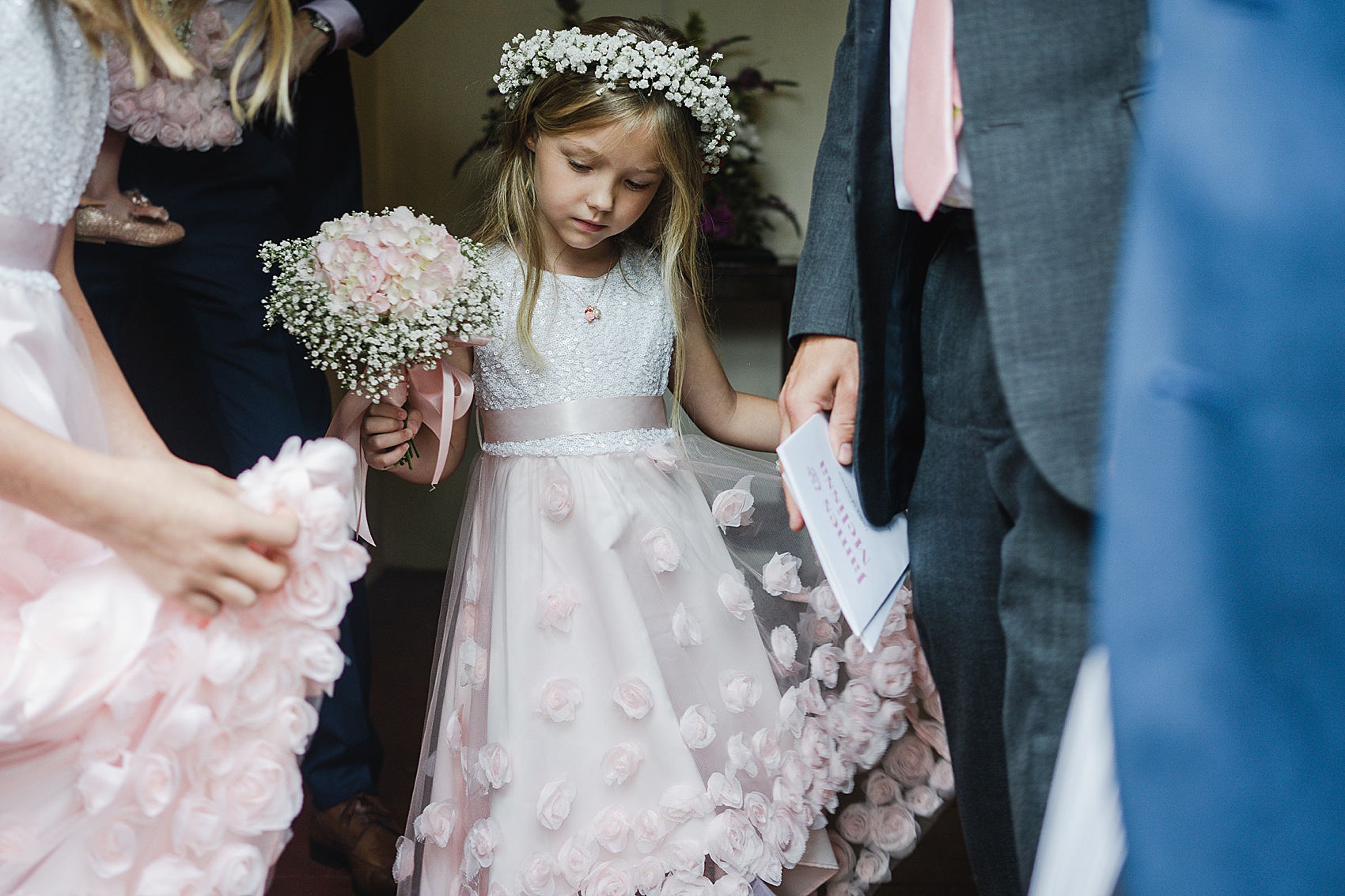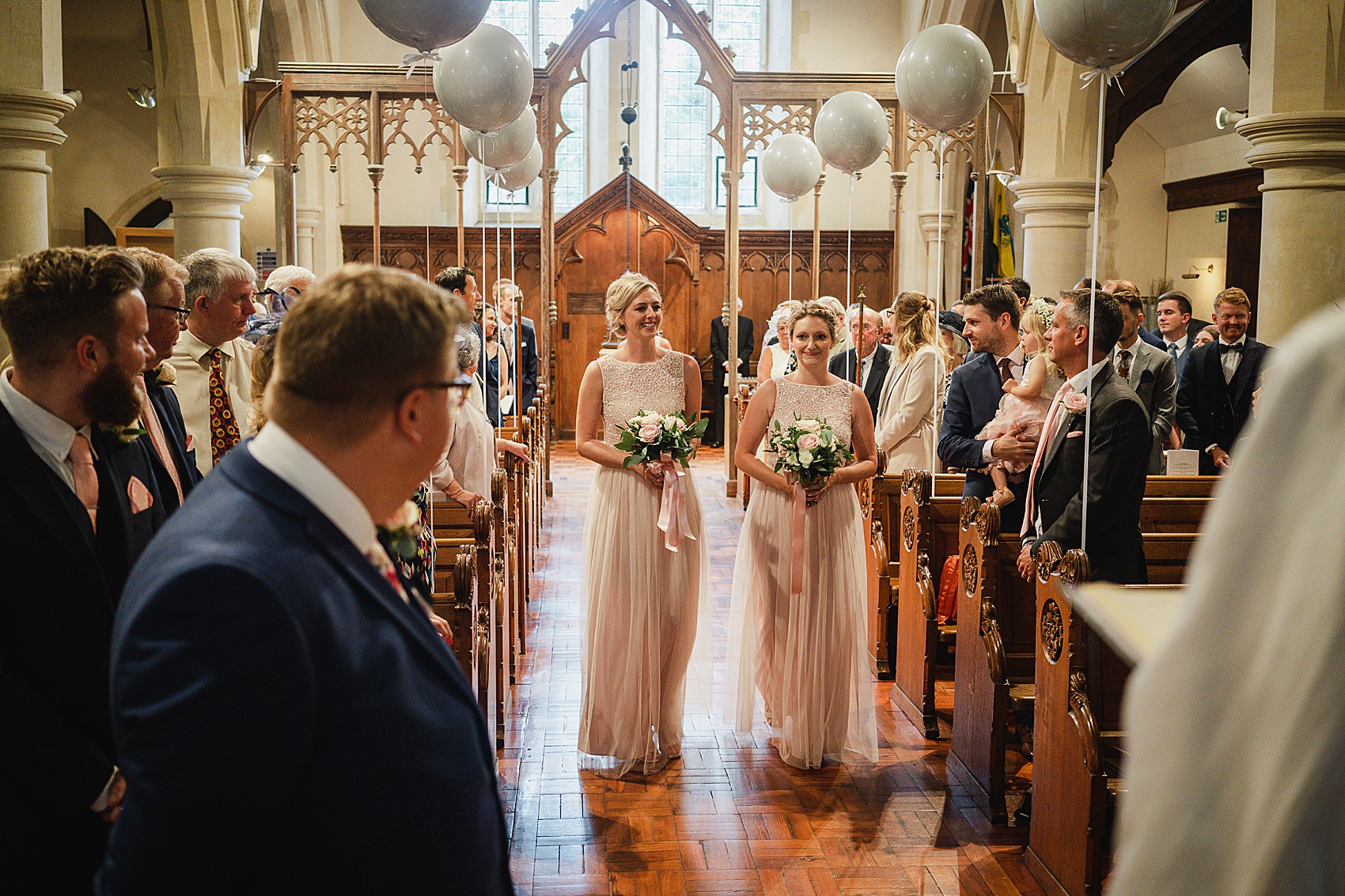 James wore a beautifully cut blue suit from Ben Sherman, made for him bespoke at their Carnaby Street boutique in London. In keeping with the floral beauty of the day, he also wore a floral print tie and pocket square from Ted Baker, and accessorised with dinosaur cufflinks from Cool Cuffs. James was supported on the day by his two Best Men, Glenn and Luke, who wore three-piece suits from Marks & Spencer.
"Jim proposed in the kitchen in our new home in Peckham, London. I was in my pyjamas, and for once home before him, reading a magazine at the kitchen table. He looked really smart but had said he'd had parents evening (he had actually been collecting the ring) so I didn't think much of it."
"When he proposed I was absolutely blindsided, as always presumed I would have guessed/seen it coming. Such was my shock he ended up having to propose again once I had regained the power of speech – and the next 18 months were incredible."
"Everyone was so happy for us and I was so proud of Jim. He hates surprises, and I love that he couldn't wait and couldn't bear the stress of hiding the ring so proposed as soon as he collected it – it was very Jim, and that's the way everything should be; how you want to do things and what feels right for you – that was what our wedding was all about."
"We were together for 5 years when we got married, and met in a bar in Islington. Jim sat on a speaker he thought was a stool and wore novelty socks. In spite of that, our first meeting went smoothly, and it was 'us' thereafter."
"We were married by Reverend Nigel Hinton who took us for our marriage course six months prior to the wedding and gave a spectacular service. Not too stuffy and poignantly sentimental."
"If you are getting married in church then you have to respect the way the vicar/ priest likes to manage/run things, but its important you get along and Nigel was very accommodating of us – especially when we brought in 16 giant helium balloons as pew ends!"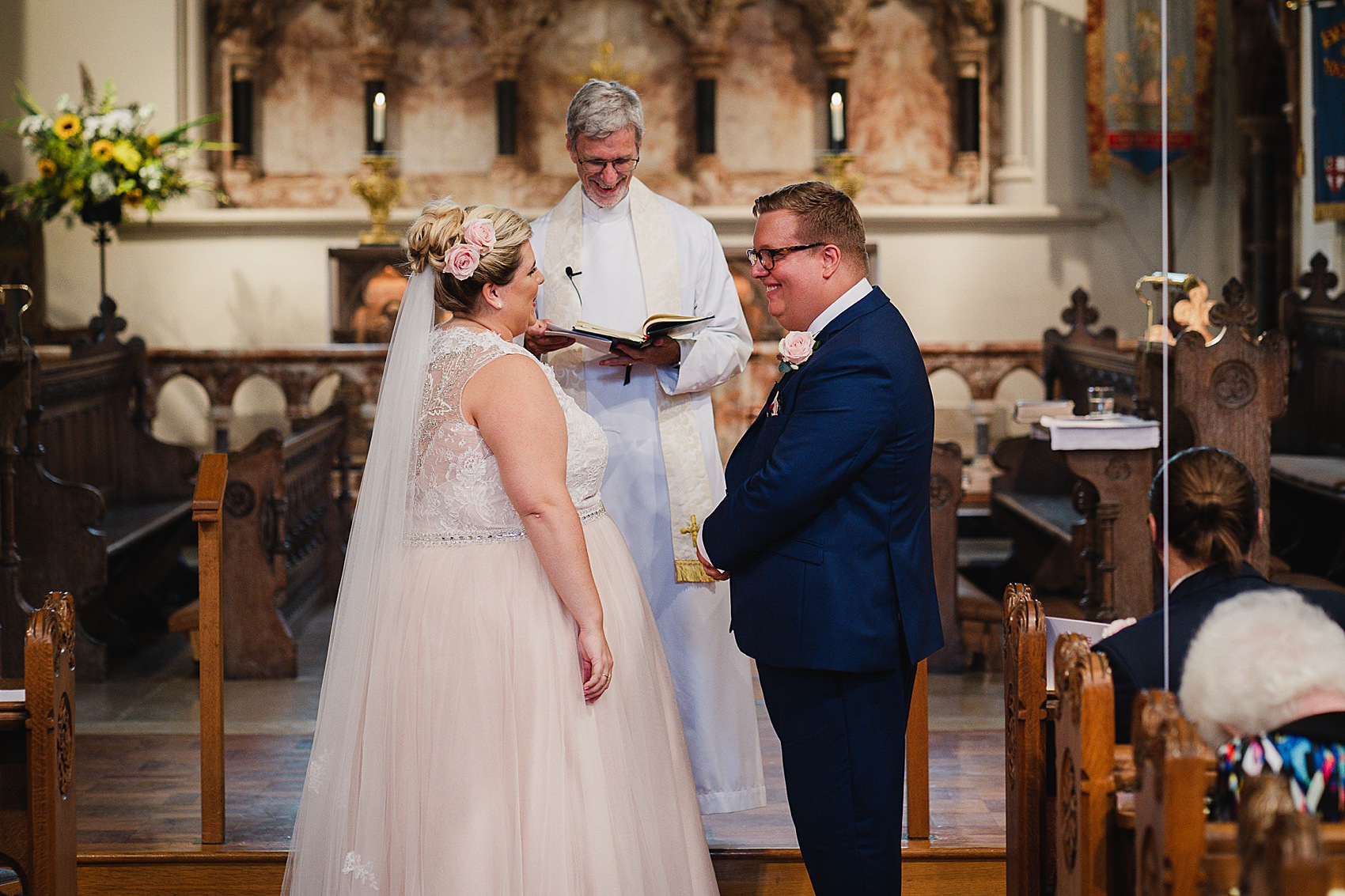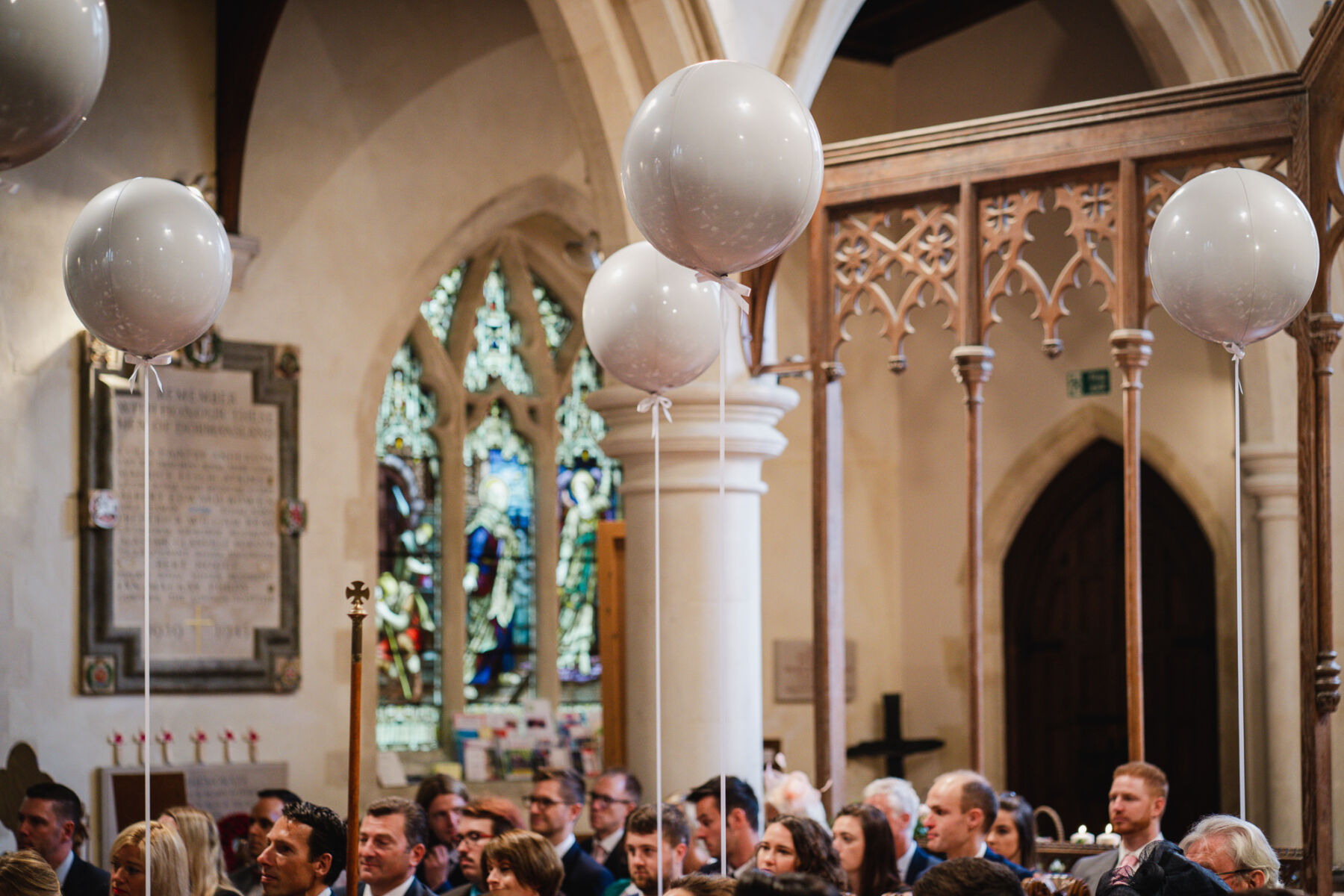 Melissa and James made their vows – traditional Church of England – and exchanged rings, too. Melissa's engagement ring and James' wedding band were from Goldsmiths, whilst Melissa's wedding ring was a bespoke creation made using diamonds from her Great Aunt's legacy jewellery [sadly no details as to where the ring was made].
"Jim's best friend Amanda flew in from Detroit and read an extract from Dolly Alderton's book Everything I Know About Love, chosen by Jim, and with a few edits by him, too. It was wonderful and even more so because of her delivery."
There was a reading from the Bible, too – Romans 12: 9-16 (Love in Action) as well as the lyrics to Steven Curtis Chapman's song, I Will Be Here.
"If we had to pick our favourite parts of the dy then mine (Melissa) was walking down the aisle, because I had never thought I would be so lucky to find someone who would love me so much, and I never thought I would really feel like a bride, but walking down to Jim with my Dad was just the best moment of my life."
"Jim: Seeing Millie walk down the aisle was my favourite part of the day, too. I had been really nervous in the morning, running on autopilot for most of it, but when the music changed and I turned to see her walking down the aisle, every worry faded away, and from then on it was the greatest day of my life. She is my everything."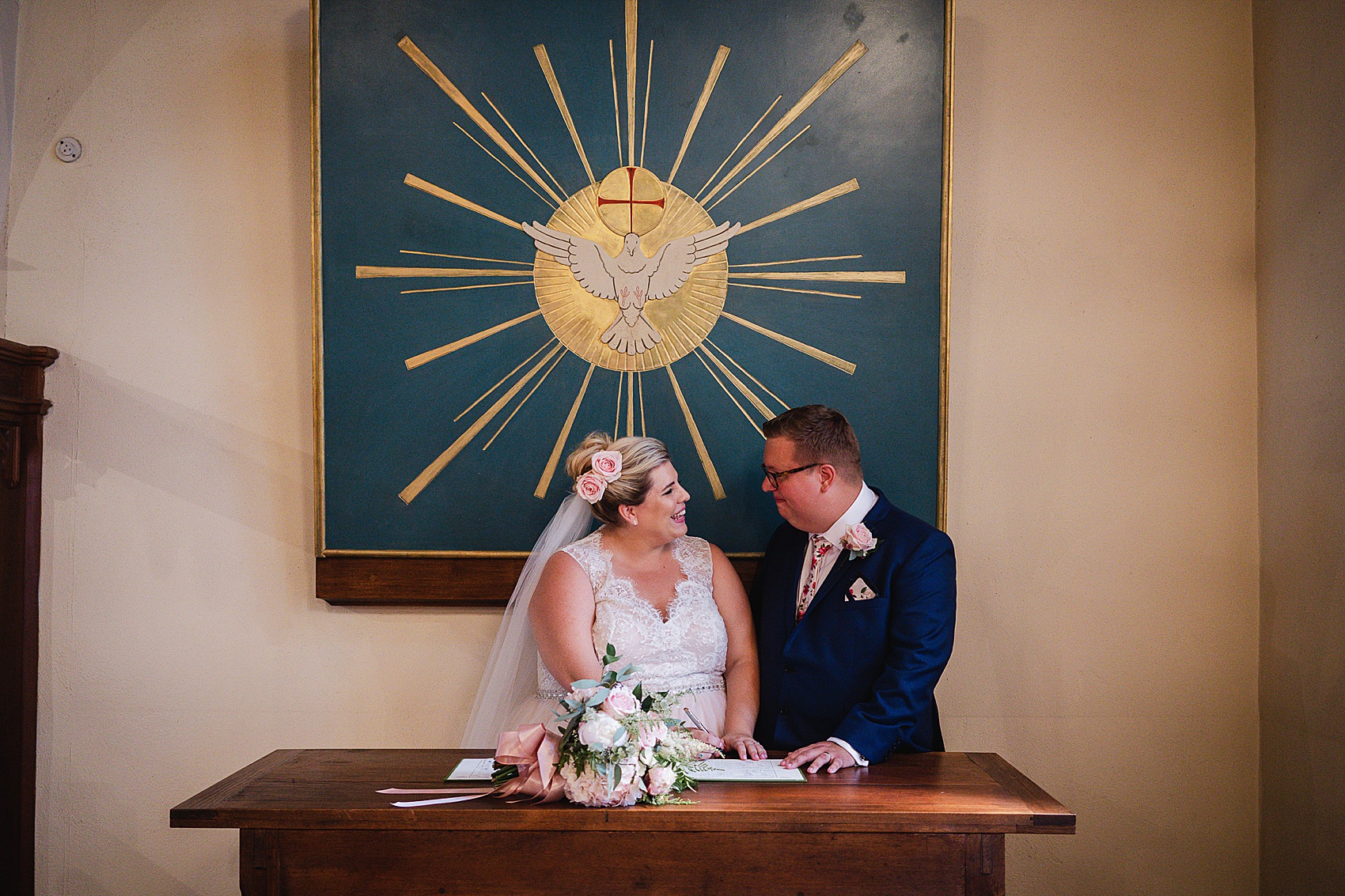 We have fantastic photographer and videographer Samuel George to thank for both these beautiful images, and for that wonderful highlights film, too. Welcome to the pages of Love My Dress, Samuel. The sense of fun, family and friendship really shines through here.
"Sam was the photographer/videographer at the wedding of two of our friends, so I called him as soon as we were engaged. He made me feel so comfortable, and we loved the style of his videos in particular."
"When we spoke through the logistics of Jim and I getting ready in separate places, a church separate from the venue etc, Sam was unfazed and had worked at Buxted before. He made it easy to get in touch – lots of WhatsApps, and offered us a free engagement shoot, which was ideal to get used to having our picture taken. He understood what we wanted and how natural we wanted the pictures,  and never pushed us. We are thrilled with the results, and he got everything to us so quickly."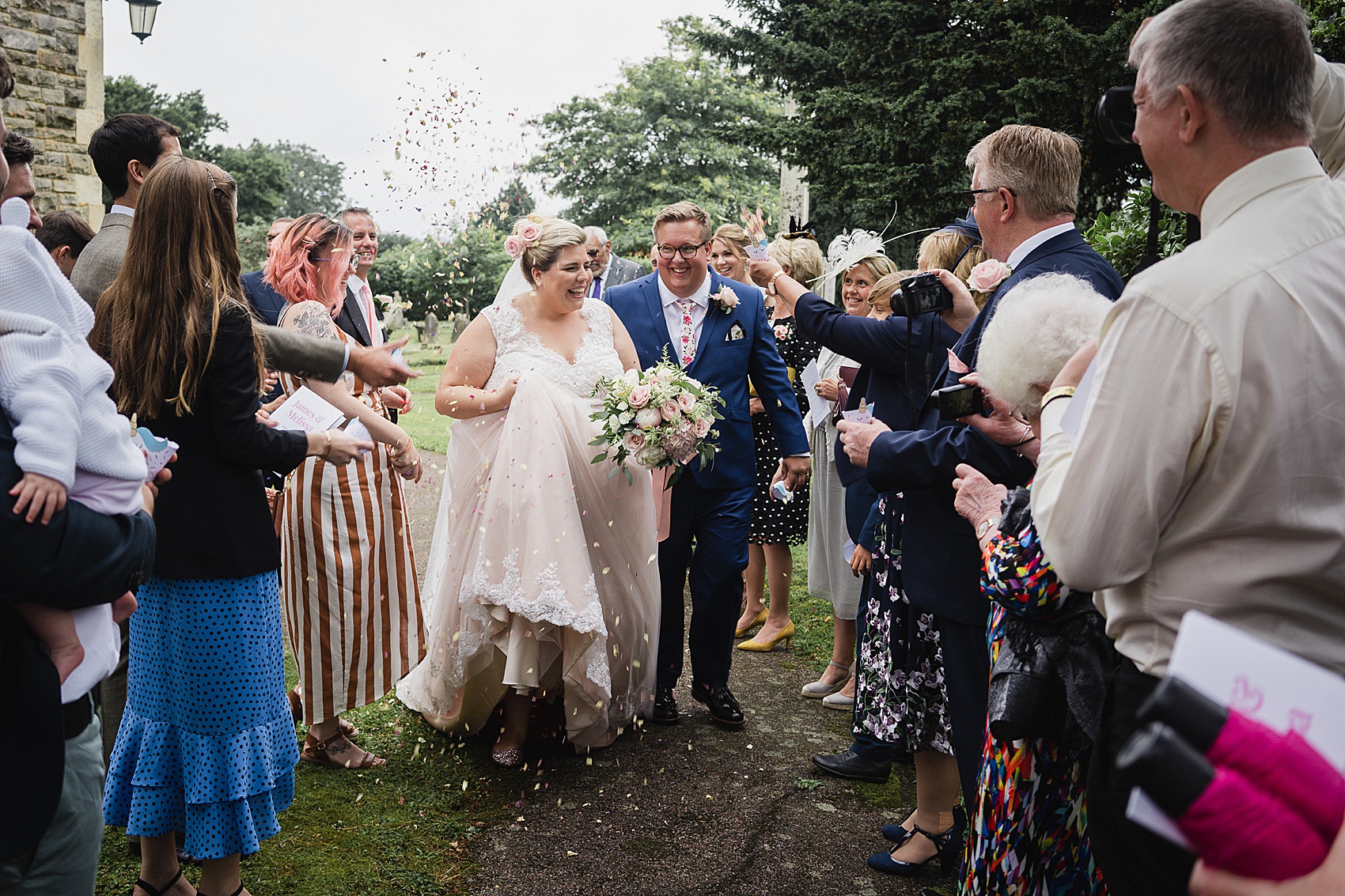 Melissa's wedding day fragrance was Liz Earle No.15 – a favourite of James', and on the morning of the wedding, he gifted her a pair of earrings by Carrie Elizabeth Jewellery.
Melissa also wore a beautiful antique turquoise sapphire ring given to her by her parents, and her shoes were sparkly flats from New Look.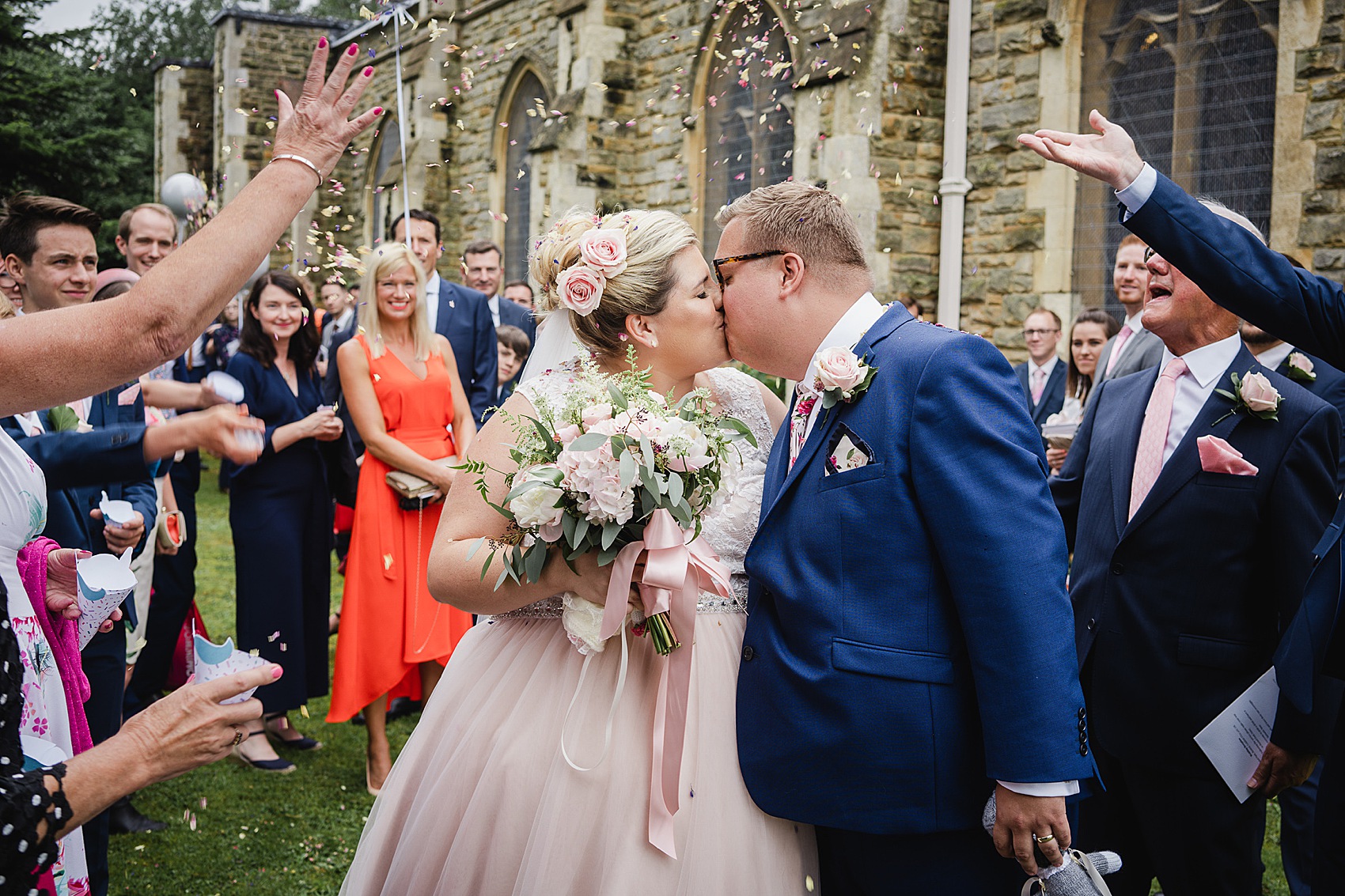 Colourful balloons were wound around the neoclassical pillars at the main entrance to Buxted, giving guests a flavour of what was to come inside. The reception was where Melissa and James' cinematic theme came to life, chosen because it's such a great love of theirs.
"Table numbers were screen numbers made with little light boxes and centrepieces were flower filled popcorn boxes, and flowers in empty gin bottles with vintage cinema tickets entwined in the display. Some tables also had giant blossom trees hired from Buxted's recommended supplier Bows Hire who also supplied the wedding breakfast chairs"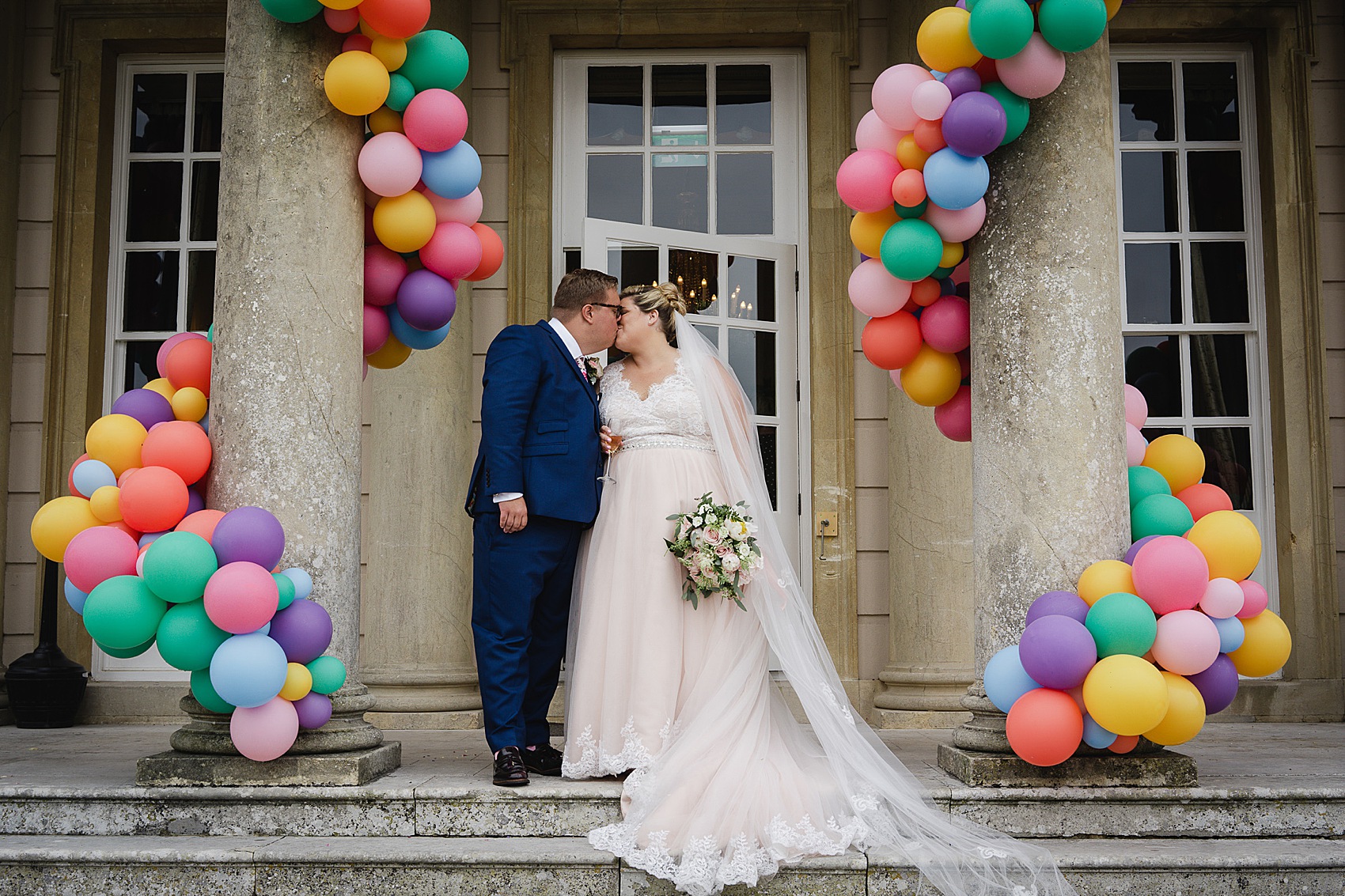 " Our florist Lynda is super talented and very patient, and worked with me to put together all my ideas and make things that were fun, pretty, that people could see over/though, and which didn't break the bank (completely)."
"The table plan (made by Jim on Photoshop) was a cinema listing poster, which we stuck on a wooden board and surrounded with vintage bulbs and lots of foliage. All of our decoration was a mix of homemade, hired and made by professionals (florist)."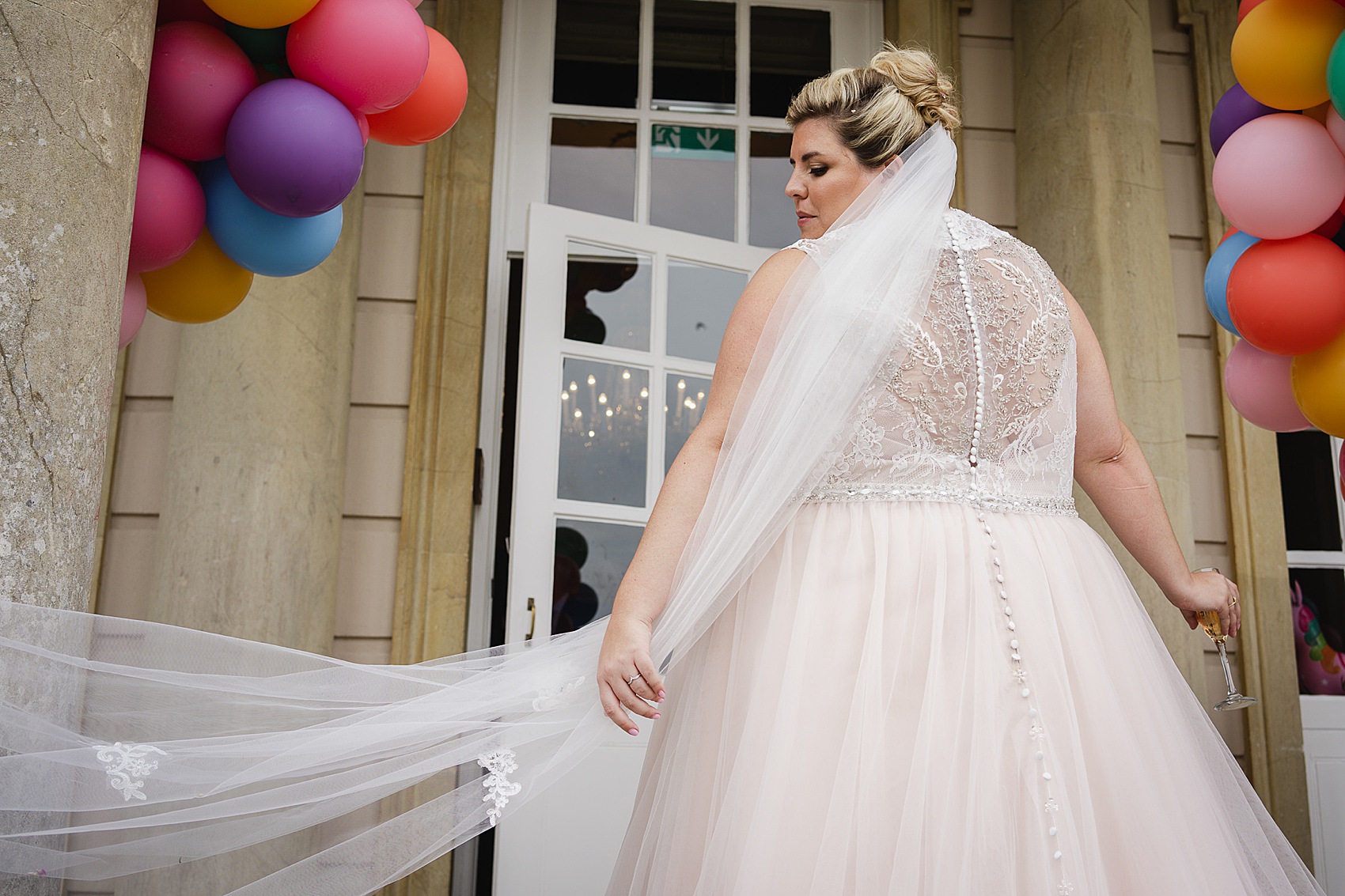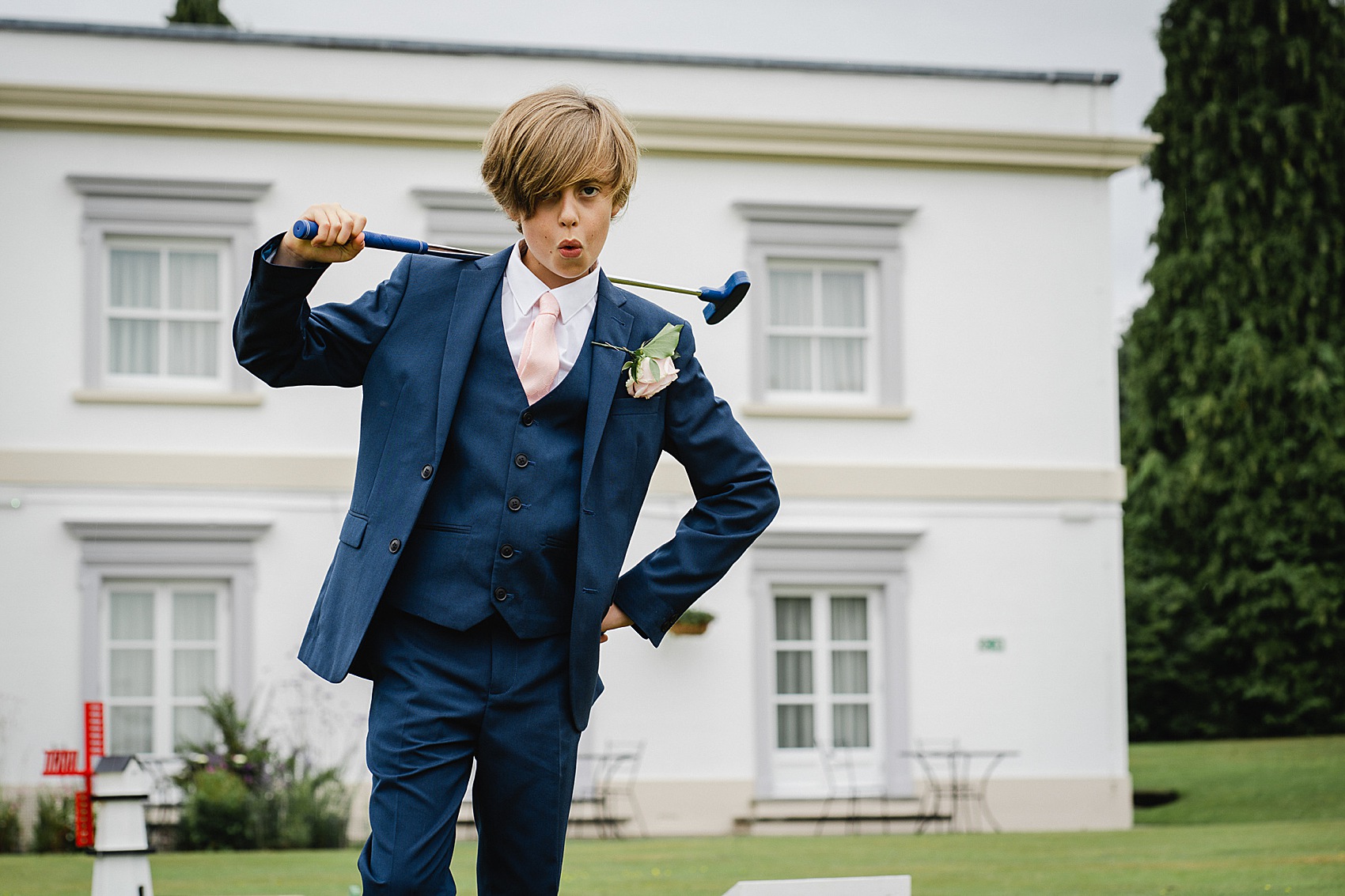 All of the glorious floral arrangements you see throughout Melissa and James' day were by the brilliant Lynda from Orchard Nursery in East Grinstead. She made beautiful buttonholes with Avalanche roses, as well as an array of pastel pink hued bouquets, filled with more roses, hydrangea blooms, peonies, astilbe, astrantia, eucalyptus and ferns.
"Lynda is well known to my mum, and the supreme master of floral inventiveness. Lynda whipped me into shape, offering inspiration and well needed doses of realism. She introduced me to the Avalanche rose, which was the staple flower of our whole day, and indulged my request for peonies (out of season) in my bouquet and found the perfect complementary hydrangeas for all other floral displays. She was endlessly patient with all my ideas, and roped in a hugely talented team to help us."
"The flowers were a huge feat as they had to set up the church and Buxted in very little time (12pm ceremony) but it was seamless and everything was beautiful. The roses were classic and the perfect complementary colour to my dress, and we chose hydrangeas as I wanted big flowers for the most impact, and they work so well with lots of foliage, which is on trend and is a good way to add colour and texture whilst being kind to the budget!"
"Lynda also decorated the porch at my parents' house where I got ready in the morning, ribboning the pillars and loaning us various plants from her nursey to make the steps pop. She also sorted all tealights and candles for the church on her own, and went above and beyond to settle my various anxieties."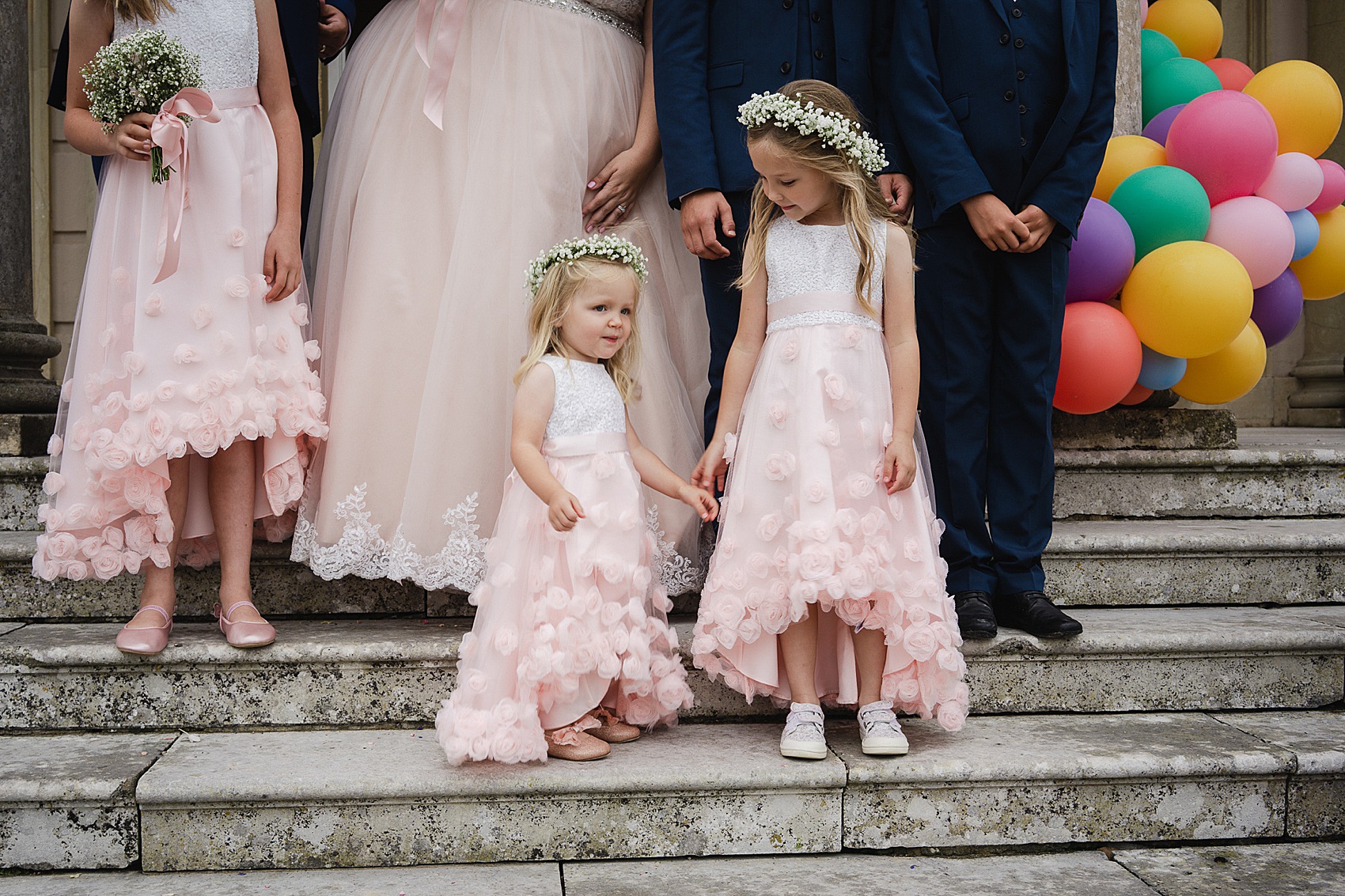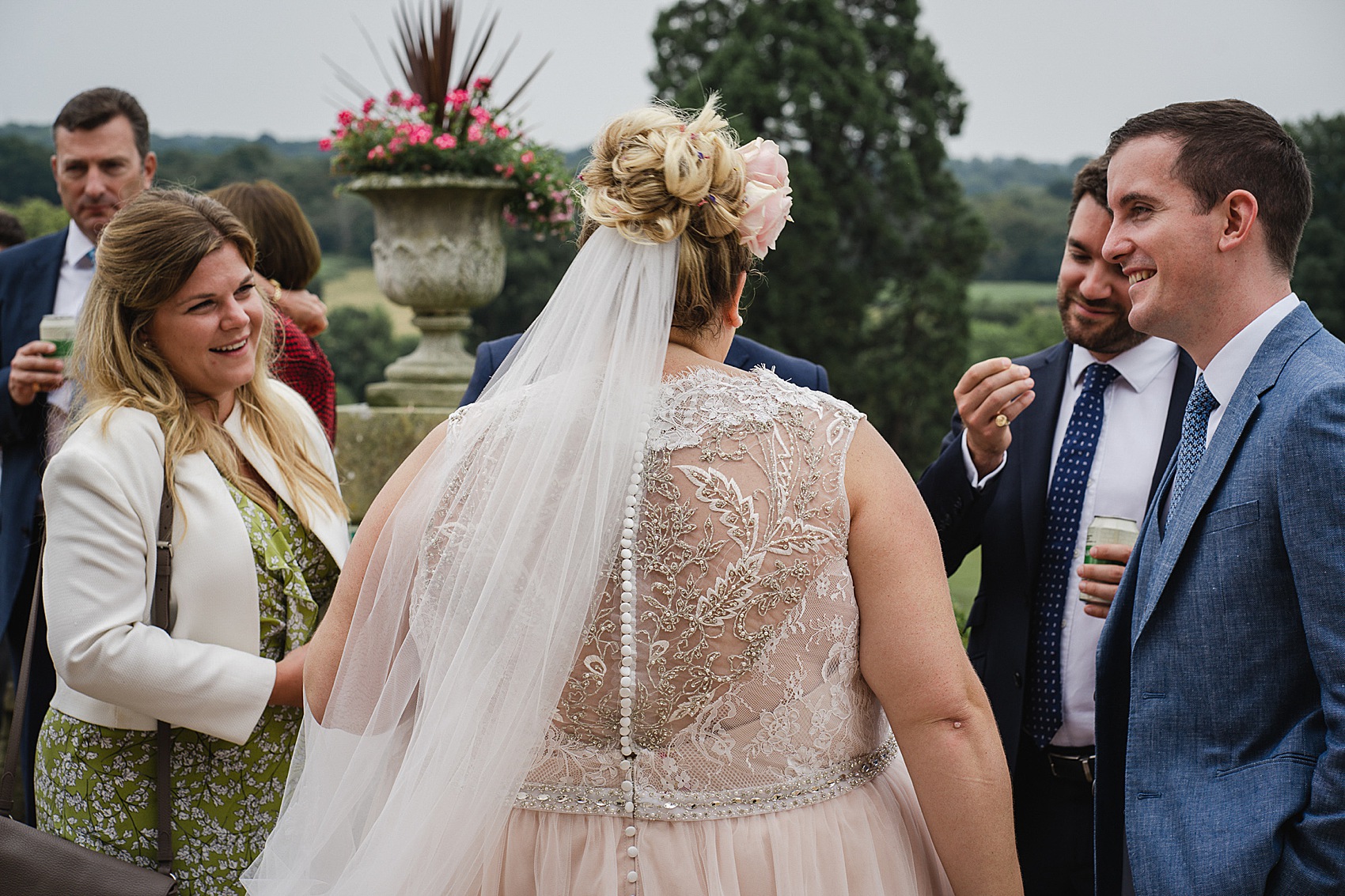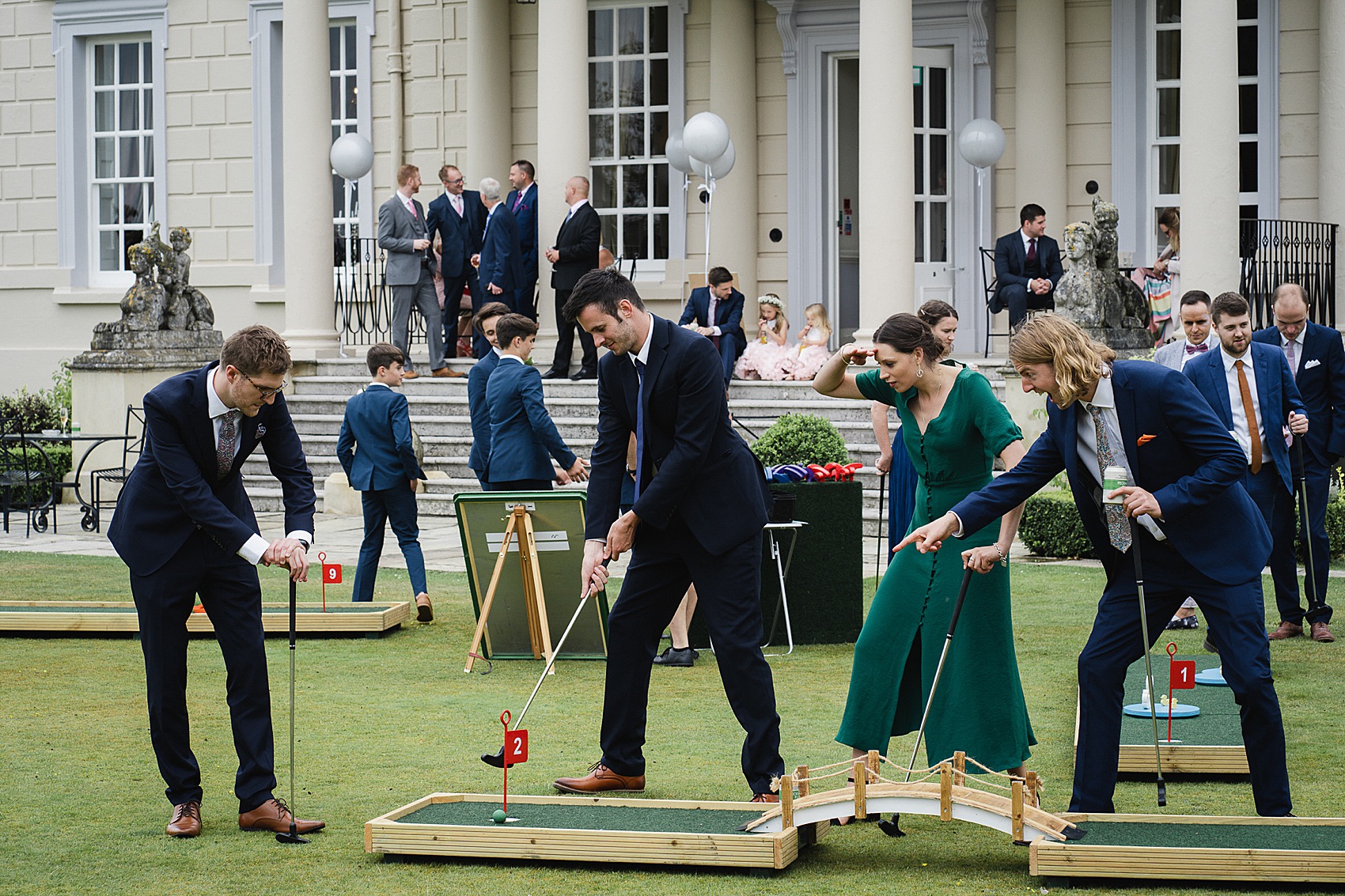 "During the day we had the amazing Wandering Hands, who created the most wonderful moments during reception drinks, and lit up the room for the start of the wedding breakfast."
"We knew we wanted an acoustic walking/interactive band during the day and scoured YouTube until we found these guys – they are incredible. They offered 3 x 45 miuten sessions but were very flexible with our timetable."
"They started once all our guests arrived at Buxted, serenaded people, played during the mini golf, gave a private show when we snuck off for some couples pics, and then literally lit up the wedding breakfast. We said perhaps just some background music but they were infectious and took requests from each table and had everyone on their feet – it was incredible and not even the video can do it justice."
"There was an hour of a 12 table singalong, starting straight in with Melissa's choice – Sex on Fire. It was honestly just amazing an d one of the highlights of our day."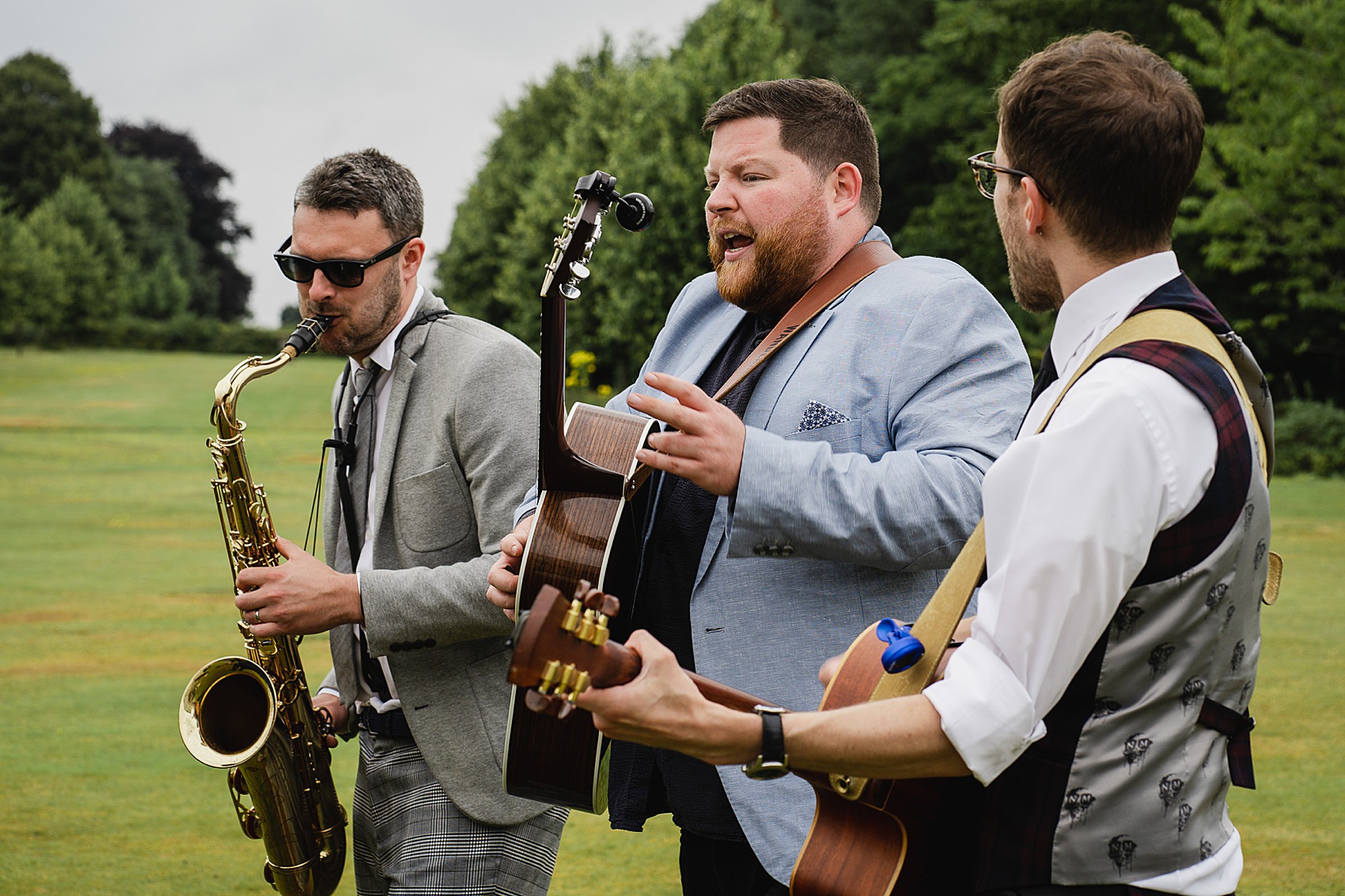 After the ceremony, it was time to head over to the spectacular Buxted Park Hotel to continue with the celebrations. When they first viewed the venue, Melissa and James were bowled over by the beauty and history of the mansion, its grounds, and the variety of different spaces for entertaining.
"Most importantly they were also incredibly organised and flexible. Its perhaps not as fashionable anymore to choose a venue where they host so many weddings but Buxted never made us feel any the less special for being one of many customers, and our day still felt as bespoke, as if it were their only wedding that year."
"That's mainly down to the incredible Marc Desseaux who never made us feel like anything was too much trouble. We are not sure Buxted had ever dealt with as many emails as we (Melissa) threw their way, or the level of decoration we brought in, but they rose to the occasion and made it work for us – it was perfect."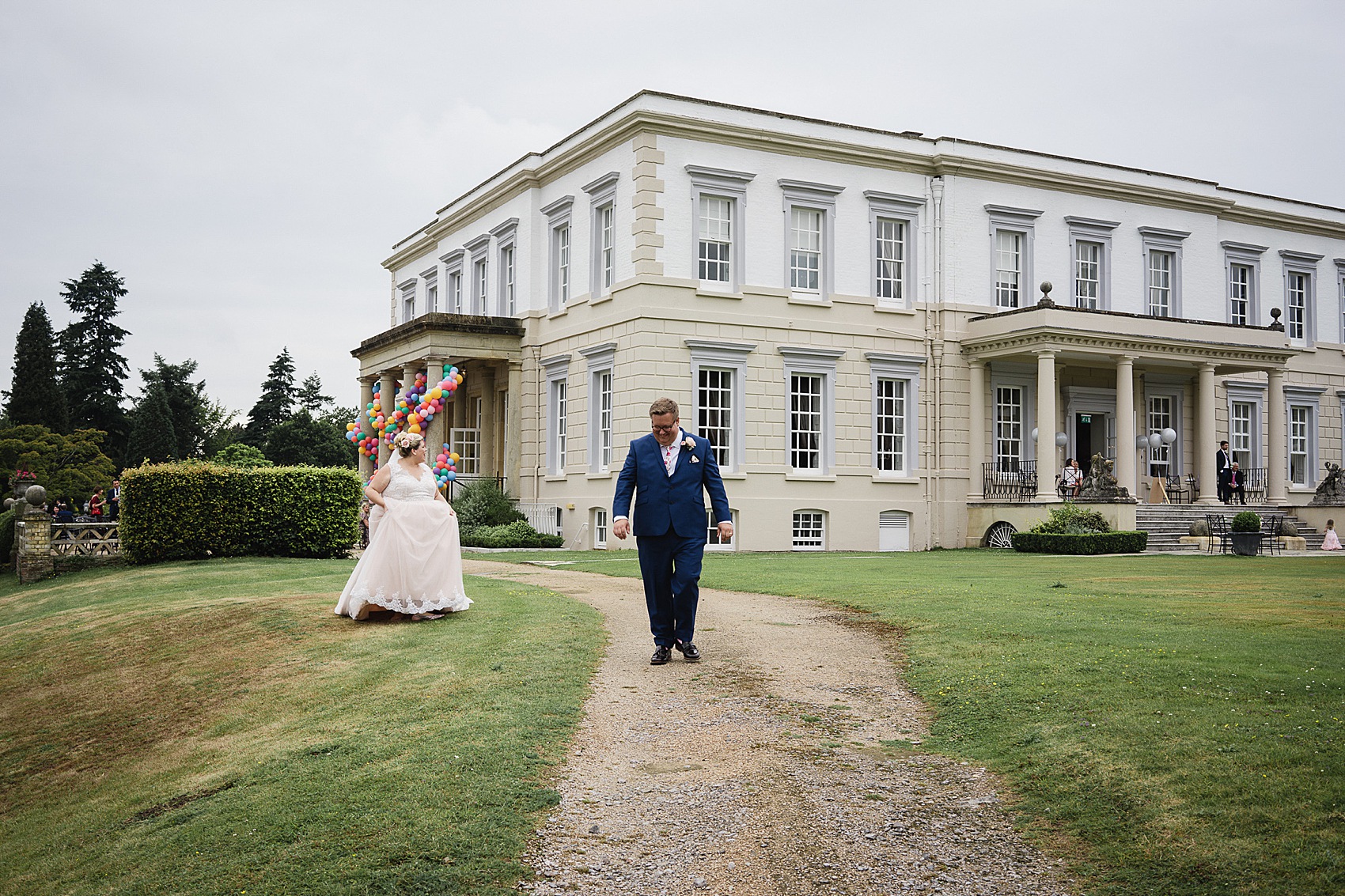 Melissa looked like a dream in her custom-made dress by Cambridge Bridal Studio, with its delicate lace bodice (that scalloped edge detailing around the neckline!), sparkling embellishment at the waist, and a beautiful tulle skirt. All that, and it's a gorgeous, soft shade of blush pink, too.
"My dress was chosen from the rail but then made to order to my measurements and with some customisation (the lace around the bottom and, if you can believe it, some layers of the skirt removed)."
"I didn't think there would be many options for me to buy a dress from a store – not being a conventional size – so I was on the hunt for a dressmaker to make me something bespoke. I visited Lynne's shop with my best friend Jo because we saw it did a range of sizes, and Jo suggested I just try some dresses to get a feel for shape/colour before I started designing my own. We made an appointment with Lynne, and when I walked into her studio, I saw my dress on a mannequin and nearly cried."
"I am so lucky to have had an experience of buying in store, and the bespoke designing process. The thing that is most important when you buy/design your dress is liking the people you are buying from."
Feeling comfortable and special is just so important, and finding people who get that right is the first step to success, because you do speak with those people a lot,  even if you buy off the rail. For plus size women the process is a little harder, and so that rapport is even more important – none of us want to feel like we should settle."
"There is so much choice out there that my process might not be for everyone, but hopefully it passes on the message that everyone can have a choice. I will just forever love that my wedding dress was pink."
"Other than the pink the back detail of my dress was glorious and not many designers would risk this detail/level of see-through for a plus size dress – but it was exquisite and made me feel incredible."
James designed the menu, place cards and orders of service as well as the table plan, with the place cards made to look like vintage cinema tickets, which were then hand lettered with guest names by Melissa's sister. There were also wooden clapperboards dotted around, too, and their friend Rich painted a sign with the different timings for the day.
"Our wonderfully talented friend Kirsty designed our bespoke save the dates and invitations based on an illustration of us and the balloon theme. She was endlessly patient with us and created such beautiful pieces that we have framed at home."
Guests enjoyed welcome drinks and canapés on arrival at the reception, provided by Buxted, which the Melissa and James supplemented with English sparkling wine and Peckham Pils beer from Brick Brewery as a tribute to their home (and place where they became engaged) in South London.
"We had mini golf! Buxted had a main terrace with lawns either side but not too far away that guests were split up. We hired The Prop Factory who set up at the venue fuss free (even though it was raining when they arrived) and it was such good fun. Great for kids and adults alike."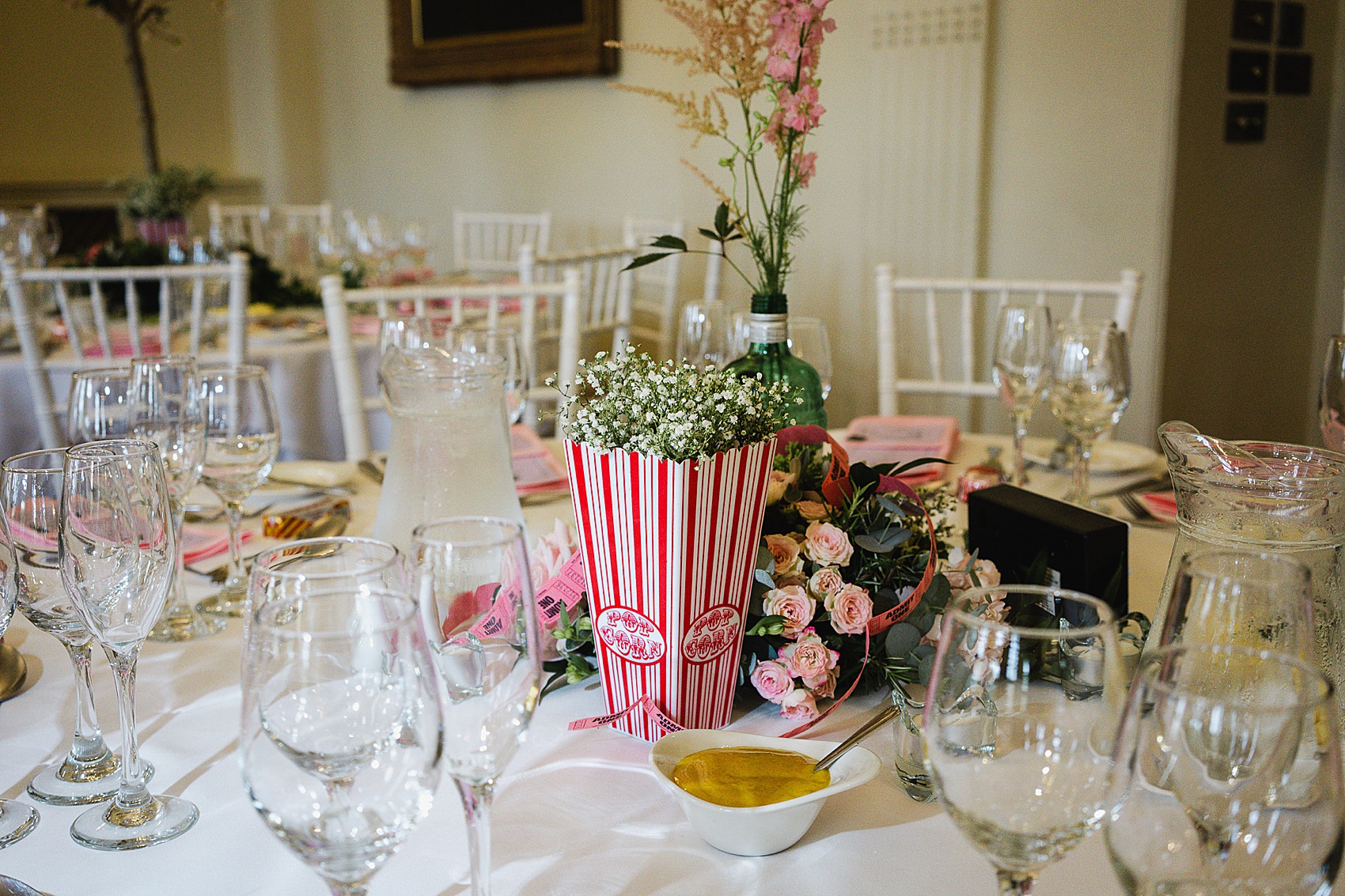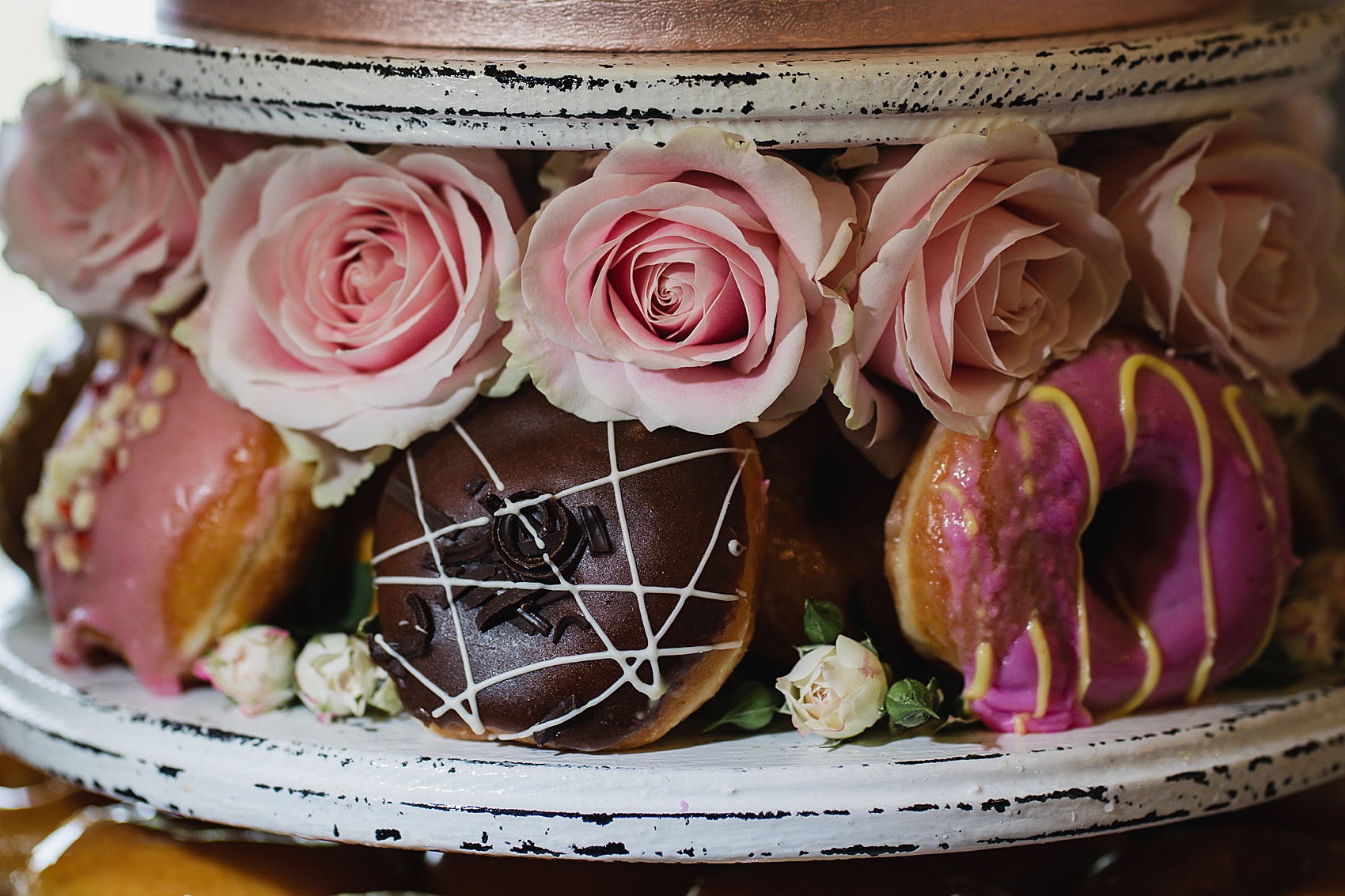 "After the wedding breakfast, we had a gin bar set up on the steps leading out to the terrace. Buxted quoted us and we specifically requested certain gins and tonics. They had a great selection to choose from and were super helpful in sourcing anything not on their menu."
"They laid it out with garnishes and glasses and had staff member serving, and we provided a lot of décor such as paper straws, tealights and a lightbox that said 'MACKNEY'S GIN BAR'. We also framed a famous film quote (Casablanca): 'Of all the bars in all the world, she walked into mine'."
The delicious wedding breakfast came courtesy of the Buxted Park team, with sausages and mash (including veggie and vegan choices) and sticky toffee pudding for dessert. Instead of a wedding cake, Melissa and James filled a stand (from Etsy) with Krispy Kreme doughnuts, with the love heart adorned top tier by James' Mum, with toppers from Etsy, and fresh flowers added by Laura from Devine Bride.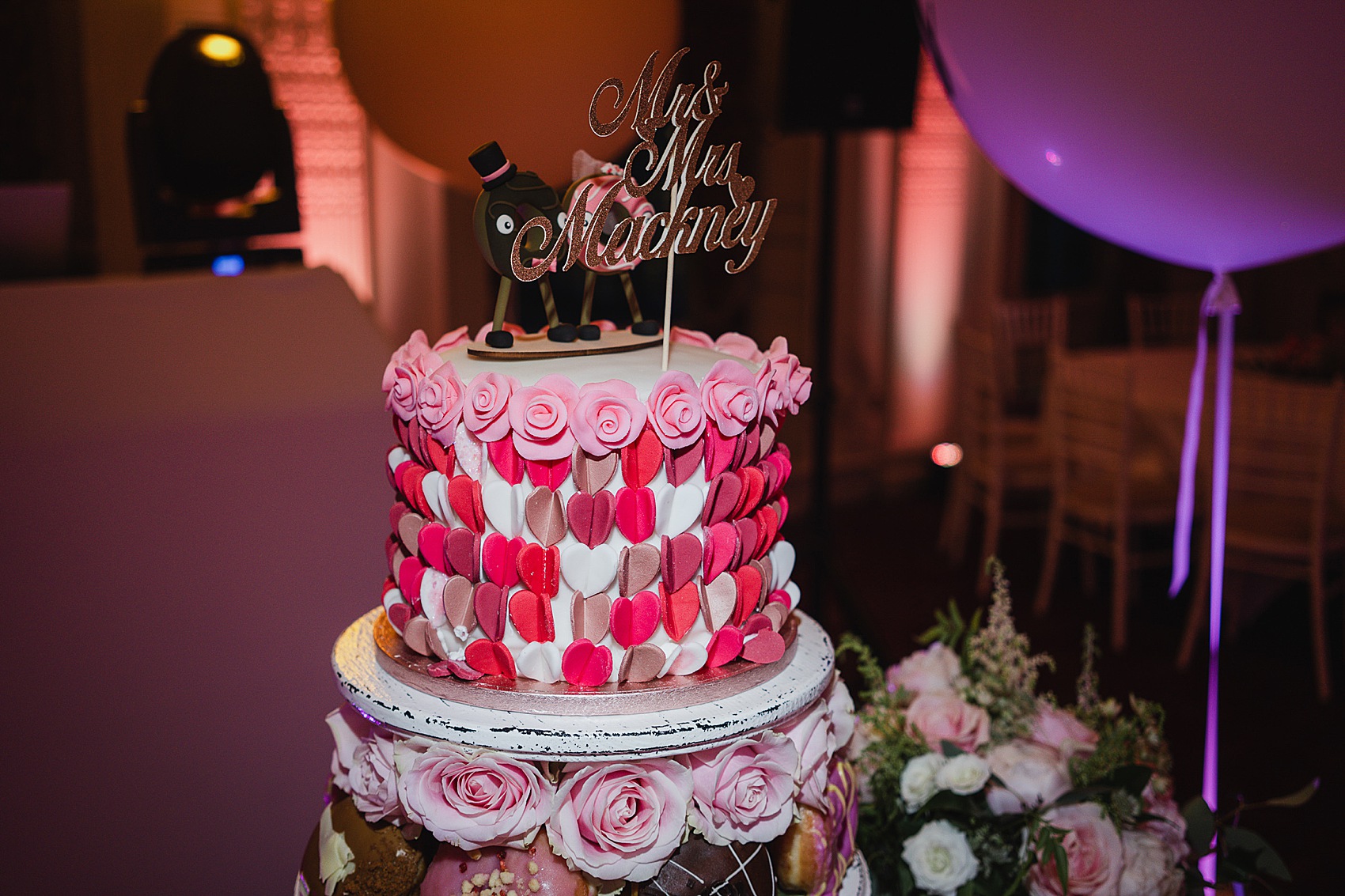 For the evening's festivities, Melissa changed into a bespoke dress by Felicity Westmacott, and she sourced a golden sparkling star printed tulle from Etsy for the skirt, which contrasted beautifully with the simple zip-up bodice with delicate shoulder straps.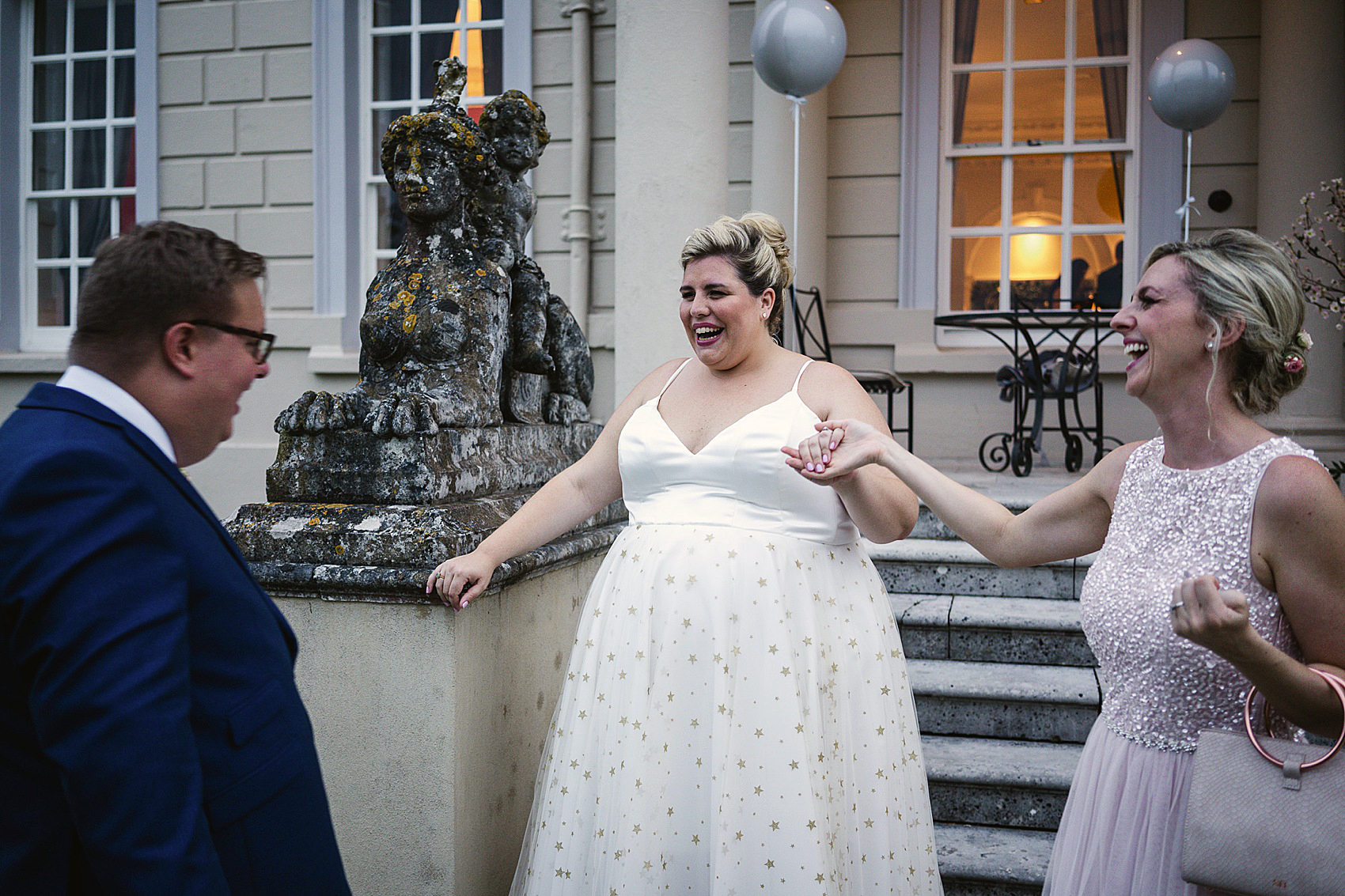 "It was all a surprise for Jim, and we had a really lovely moment where my sister revealed my second look to him in one of the hidden nooks at Buxted – caught on camera. I felt amazing  and danced my heart out. Felicity made me feel so comfortable, was truthful with her opinions on design, and I think one day I will be able to wear this dress again."
"I still felt like a bride, but one that could do the Macarena and high kick to Footloose without falling on her face."
I'm amazed by all of the elements Melissa and James dreamed up to keep their loved ones entertained, and after dinner as they made their way out to the newly set up gin bar, there was also glitter artist Charlotte from The Glitter Squad, who adorned beards and painted faces all the way through the night.
There was also ice cream in a mouth-watering array of flavours served from a vintage van by Vanilla Pod.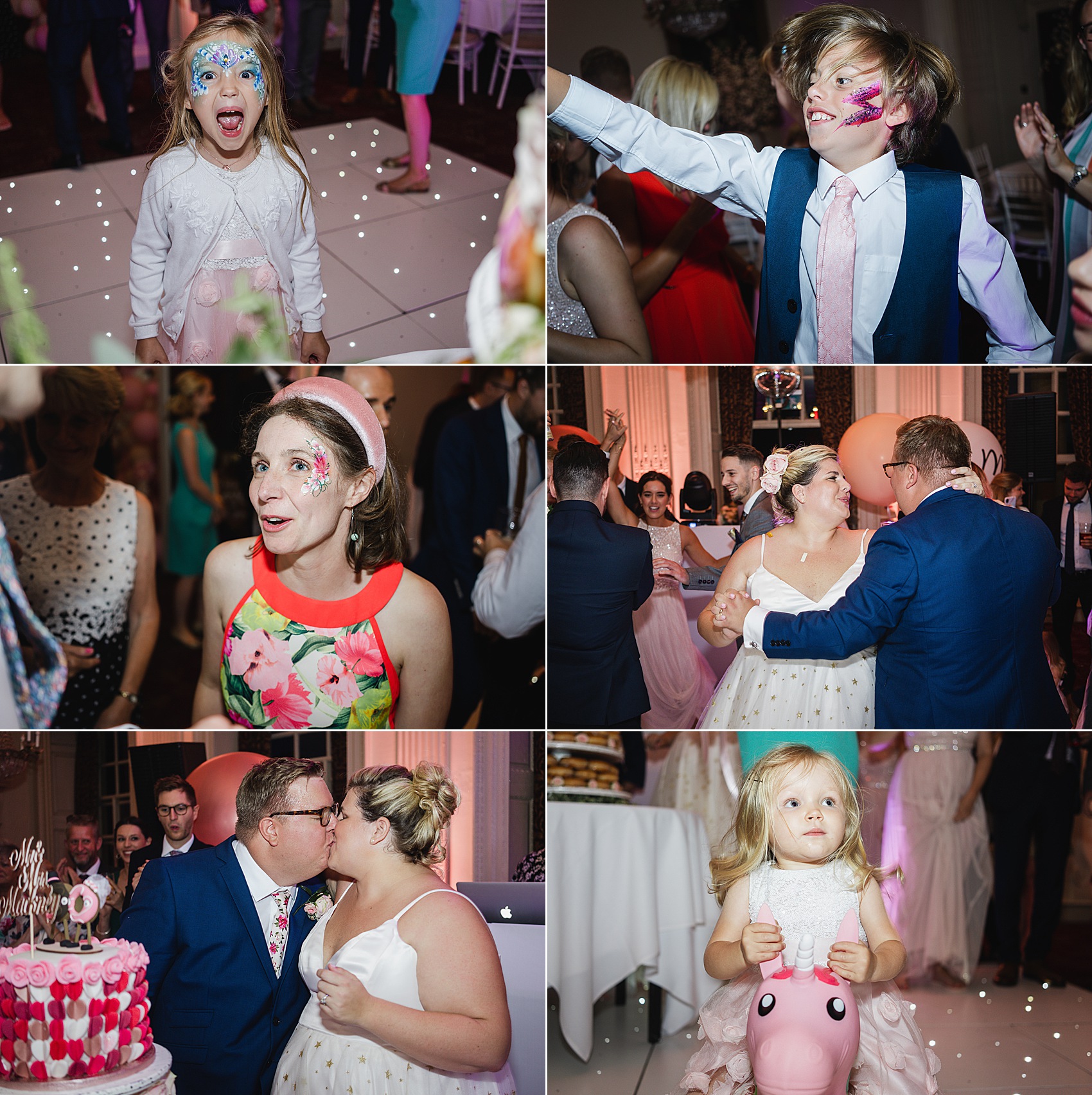 "In the evening we had Buxted's recommend supplier, Disco Fever, ho also supplied the photobooth. Ian was amazing – he offers this website where you can upload your own playlists, options to fill in so you think of all key moments,  which means your evening music is so well curated, and our party was just epic. The dancefloor was always full and he took pics and videos from the DJ decks, which we didn't expect and they are amazing! Jim and I chose to walk into the room to the Match of the Day theme tune, which Ian sorted for us."
For their first married dance together, Melissa and James chose All of Me by John Legend, which is a special song for them both. Two of their best friends also let off confetti cannons as a signal for everyone else to pile onto the dancefloor.
Words of Wedded Wisdom
"I followed Love My Dress because I felt it reflected beautiful but realistic/achievable weddings. It also had a good representation of different people and relationships. As a plus size bride it made me feel included, and that is so hugely important."
"No money can buy the atmosphere of loving family and friends, so spend on things that mean something to you but remember whatever happens it's those people that make the party and comprise all the important bits of the day."
"Organisation is everything. So is Devine Bride! There are so many options these days to do décor in affordable ways – foliage and candles would be my top tips. Watch out for discount codes at places like Matalan and go to The Range, Home Bargains and Primark Home – whatever your taste you can find handy things like frames, vases, signage or stationery."
"Celebrate the best day of your life exactly how you want to. With some glitter on top."
With some glitter on top – how about that for words of wisdom?! Melissa and James, thanks a million for your words, and for sharing all the gorgeous details and enchanting moments from your day. What a delight. Many thanks to Samuel George for both the film, and this collection of images, too.
With love,
Laura