Hello lovelies, thank you so, so much for bearing with us these past few days. We've an enormous collection of weddings to schedule and share with you, but we're still a small team operating under COVID times and at the moment, campaigning for the support our wedding sector needs has been my number one priority these past couple of weeks.
Our team of writers are currently very busy working their magic on inspiring new weddings we'll be sharing with you in the coming days and weeks. For now, I just wanted to acknowledge that our schedule has indeed slowed a little of late as I've tried to ensure all the Love My Dress energy is being used where it's most needed right now. That all said, let's enjoy our first, beautiful wedding of the week.
Maureen du Preez Photography

+ Follow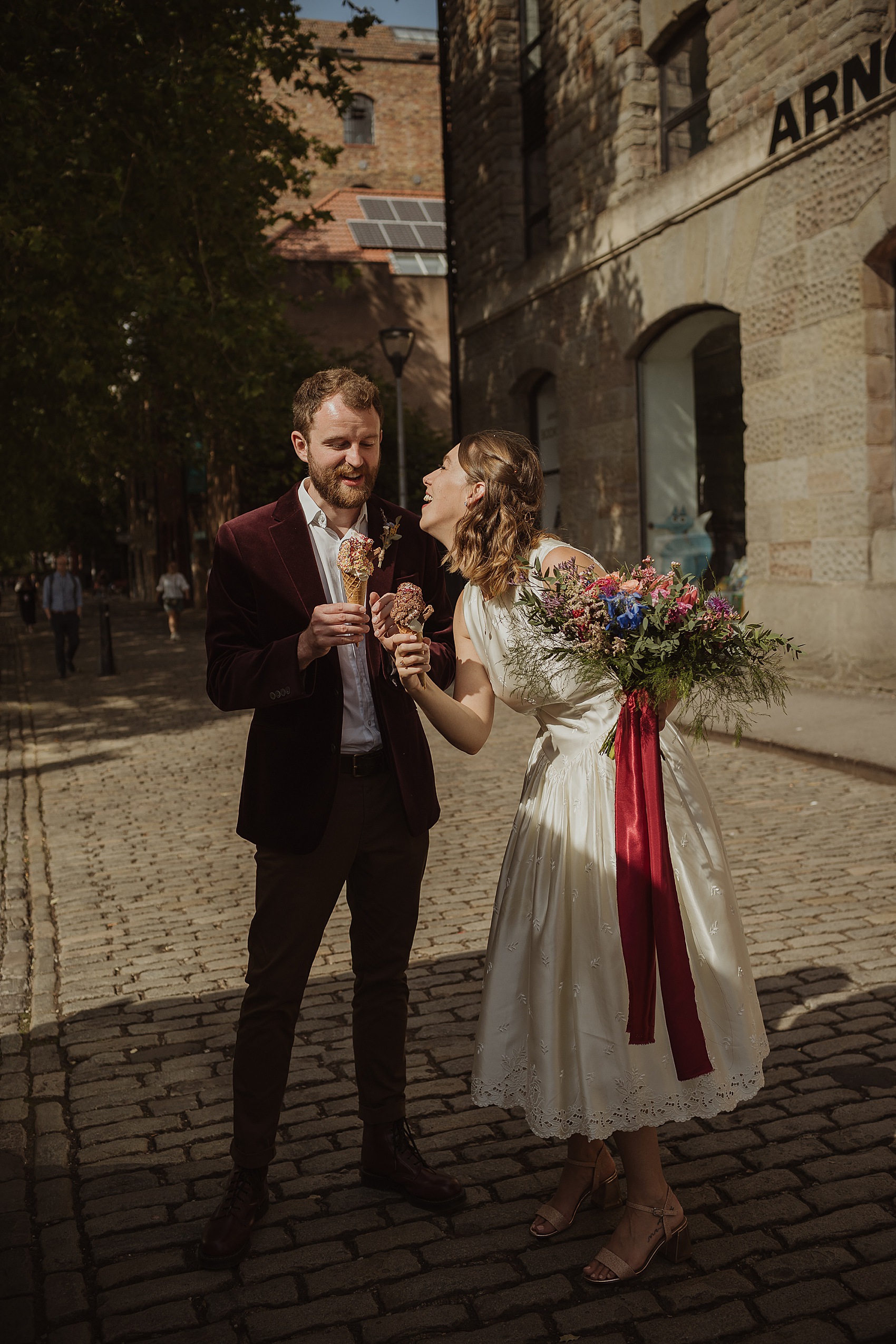 Milly, a brand consultant, and Tom, a photographer, tied the knot on 21st July 2020 at the the Registry Office, followed by a celebration in Leigh Woods in Bristol.
"Tom and I met at university in Falmouth, Cornwall in 2012. After university we went travelling together and returned to settle in Bristol, the mid-way point between my family in Swansea, his in the West Midlands."
"In March 2018, we went back to Falmouth for a long weekend and spent the Friday exploring Cornwall before returning to our old favourite haunts in the town. As we were walking through the Princess Pavilion gardens, Tom asked to take my photo through a stone archway on a bench overlooking the sea."
"He directed the shot and had me to look out to sea before asking me to turn around to face him for the next photo. When I turned, he was down on one knee with an engagement ring in front of him. He managed to capture my reaction before asking me to marry him."
"We knew we didn't want anything too structured and I'm a big Wes Anderson fan, so we loosely based our bridesmaid and groomsmen colours on Wes Anderson's aesthetic but that didn't matter in the end!"
"Our original plan was to have our wedding in South Wales on the 25th July 2020, our venue wasn't licensed for weddings and we live in Bristol so we had arranged to pop to the local registry office on the 21st July to sign the official papers with just a couple of witnesses."
"When the country went into lockdown in March, it became clear that the yurt wedding with 100 guests in remote Pembrokeshire we had planned wasn't going to be able to happen the way wanted. So we took my Dad's advice and made a list of the aspects of the wedding that were most important to us."
"I wanted to wear my wedding dress and Tom wanted to have a picture with both sets of parents but more than anything, we both just wanted to be married."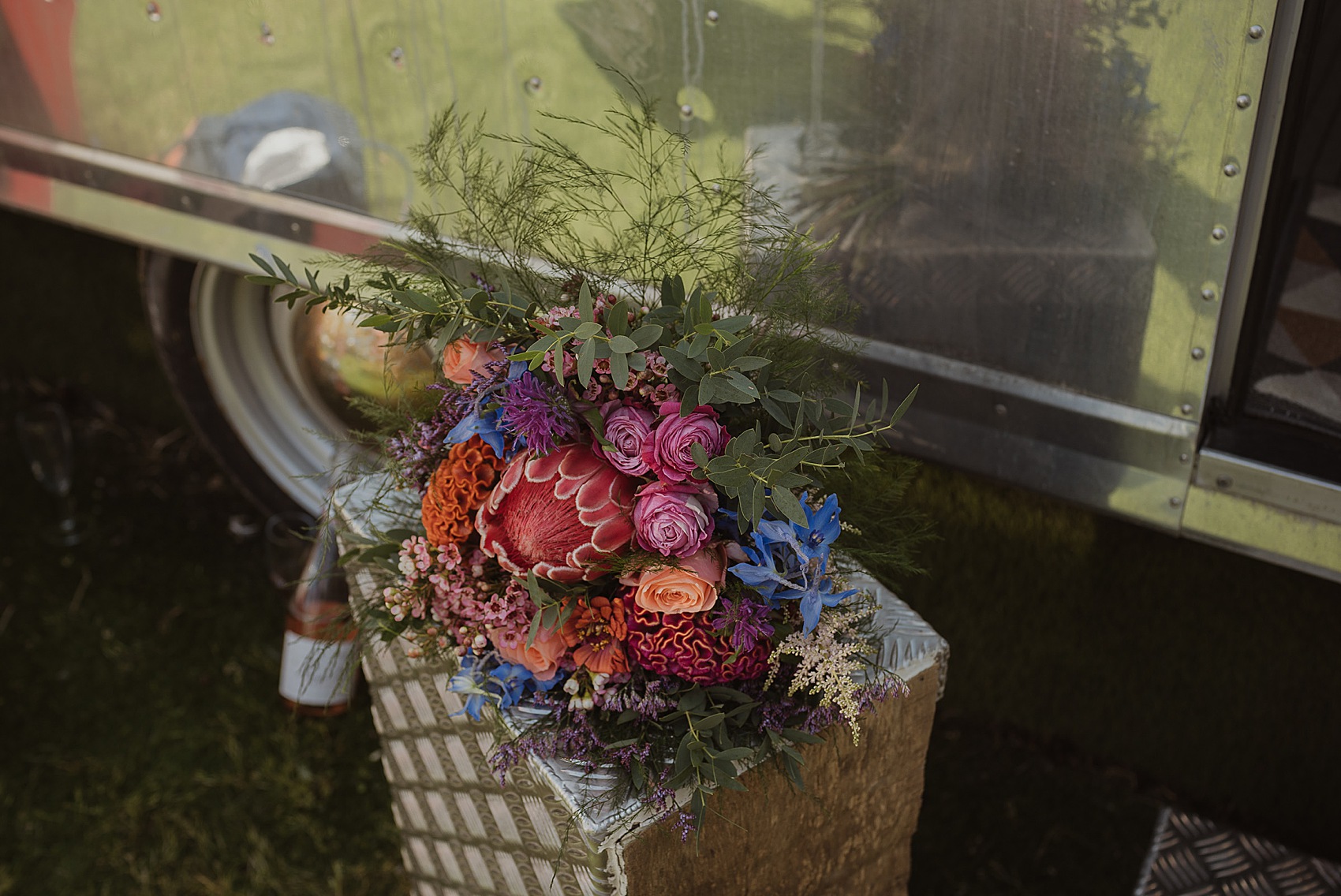 "This made the decision pretty easy; postponing was not an option. We decided to keep our original Registry Office date in the hope that we would be allowed to attend by that point. We invited the bare minimum of guests, each of our parents, and kept our fingers crossed that we would just be allowed to sign the papers and be married."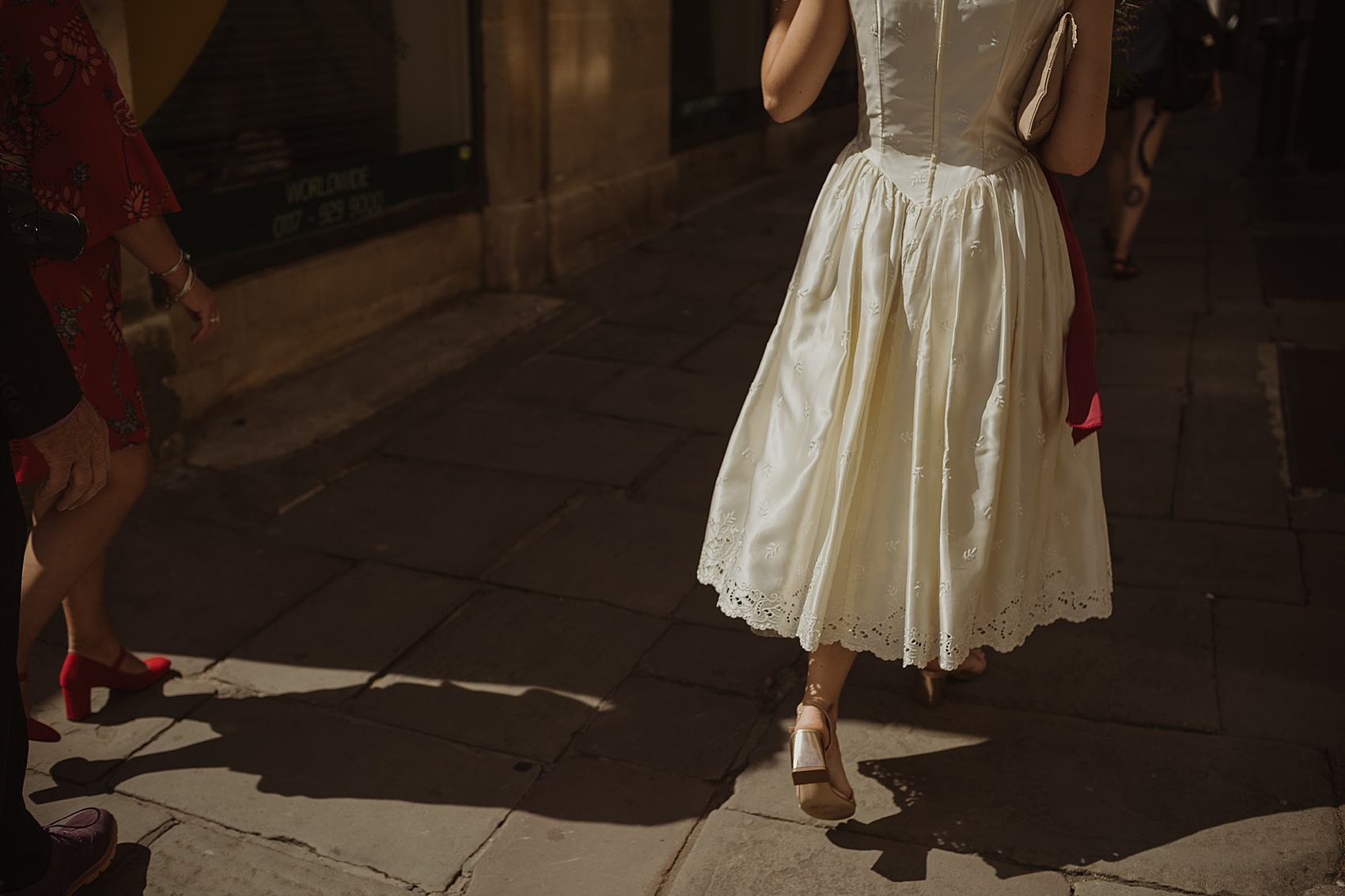 "There were a few tears shed over lost deposits and not spending our wedding day surrounded by all our friends and family, but everyone was incredibly understanding when we told them about our plans and thankfully, our photographer, Maureen was so flexible, kind and understanding about our changing situation."
"As things were changing by the day leading up to the wedding, we had planned the day itself to be as lockdown-friendly as possible! Most of it was held outside (thank goodness it didn't rain) and we used hand sanitiser and obeyed the precautions taken by Bristol Registry Office. Everything was sanitized – even the pen between signing our names!"
"Also, I was surprised how supportive everyone else was. We did feel guilty cancelling the wedding that many people had already booked accommodation and travel for, but every single person understood and sent their best wishes. There were no hard feelings."
"My shorter 'city' dress was my mum's wedding dress that she altered to remove the puffy 80s sleeves! My long 'forest' dress is by Anna Sorrano. Rose Savage did a wonderful job of altering it to make it fit me like a glove."
"I loved wearing my Mum's dress the most. It was sentimental and comfortable! It fit me perfectly without any alteration, we just removed the sleeves."
"I decided to wear this dress for the Registry Office because it's in the middle of Bristol city and a long dress with a train just felt out of place in the city."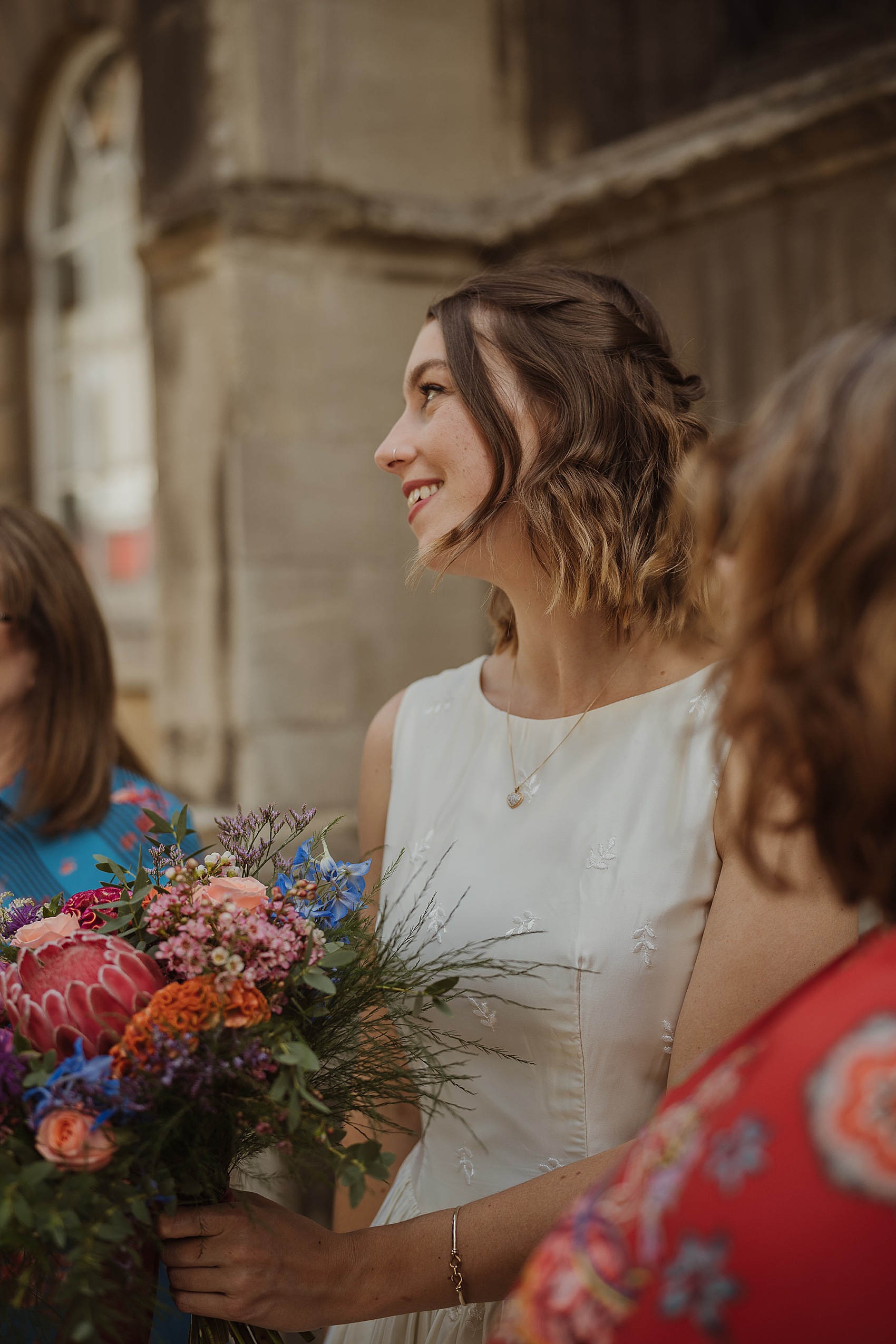 "We didn't really have an aisle, but I had planned to walk down solo! I enjoyed the moment when Tom and I walked into the ceremony room together. I thought I might walk down to Be Mine by REM or Strangers by The Kinks."
"Tom and I made our rings out of a combination of my family and his family gold that was melted together. We were lucky enough to get in the workshop with Lucy Lyon before lockdown to hand-make each other's rings under Lucy's wonderful supervision."
"This was definitely our favourite part of the wedding run-up and our rings are so sentimental knowing that they're not only made from recycled family gold but were made by each other."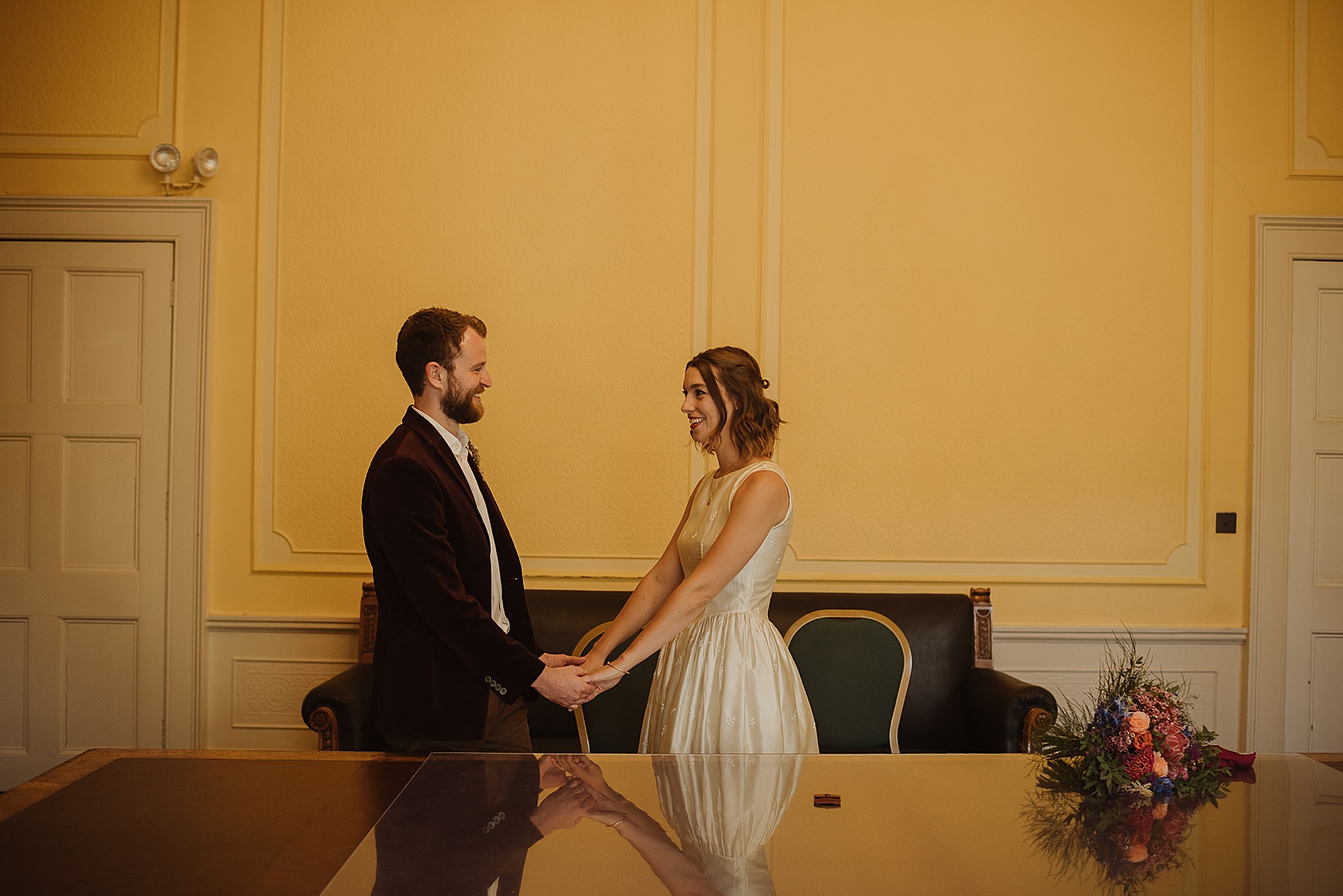 "We had planned to have a hand-fasting and we had a few sentences in progress for that, but given that it couldn't happen, we chose a few lovely words from the Registry Office's list."
"The vows we had written were centred around old Celtic vows and were about entering our partnership as equals. We still hold their value even if we didn't say the words."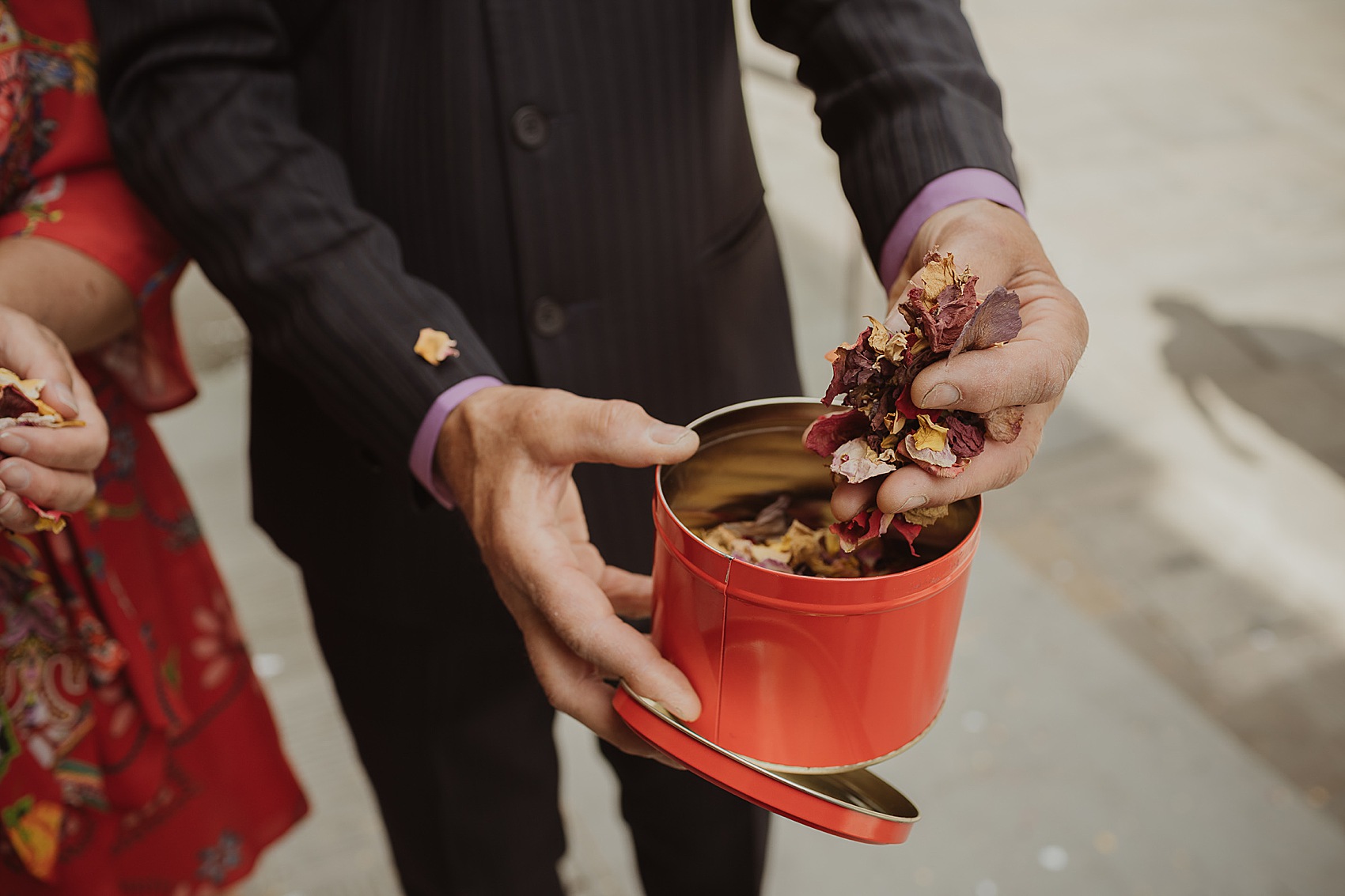 "My shoes were sparkly rose gold and around £23 from New Look. I don't wear heels very often so I didn't want to spend much on shoes I'll unlikely wear again and I also wanted a block heel so I could move and dance properly. They came in useful on the cobbles in the city and in the woods."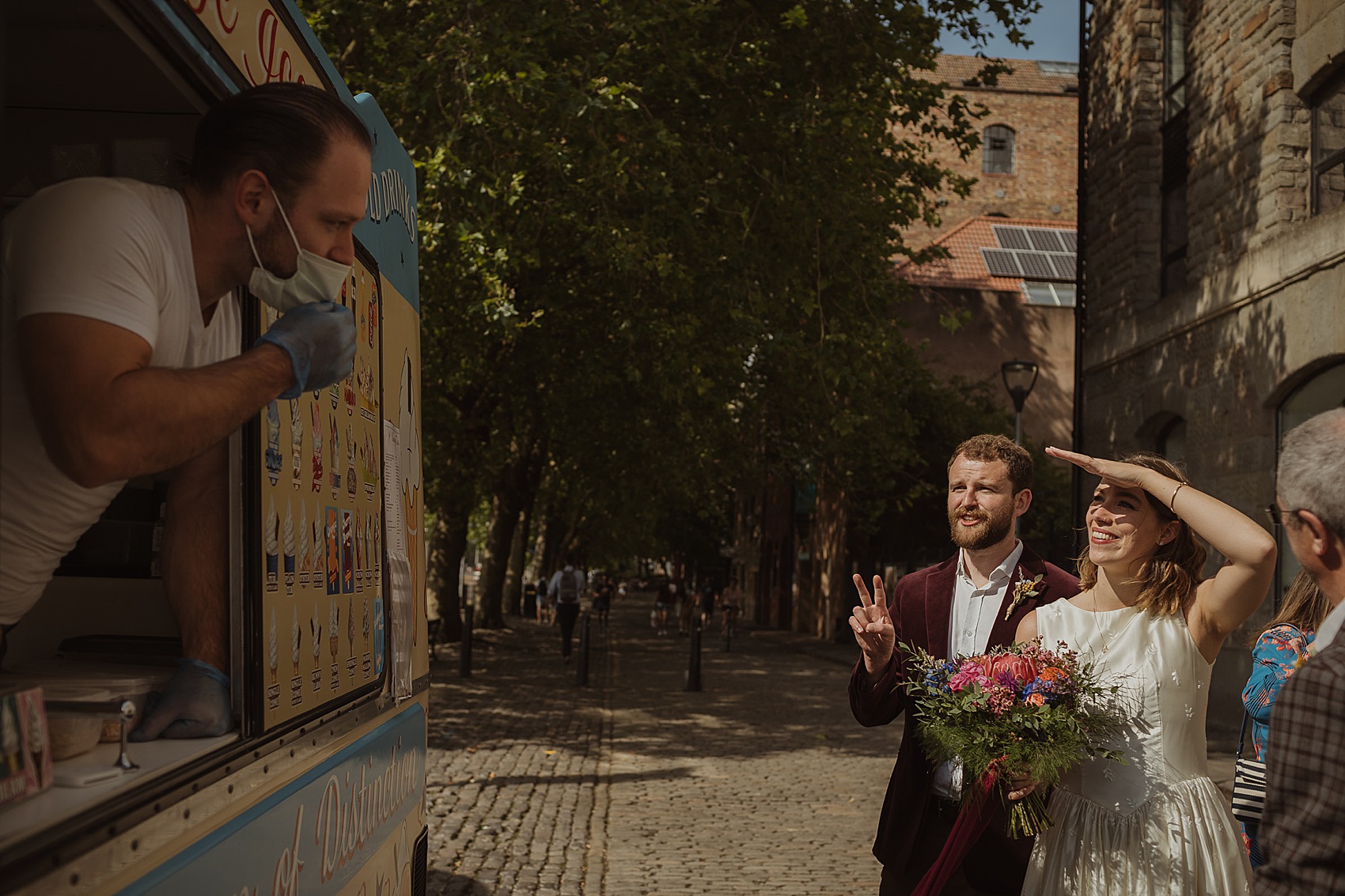 "I think my favourite part was getting an ice-cream in the Harbourside after the ceremony. It was so spur of the moment and something that would never have happened at the wedding we had originally planned!"
"I also loved the moment when I went back to my parent's hotel to change dresses before the woods and I had a glass of bubbly with just my mum and dad. I remember breathing a sigh of relief knowing that whatever happened now, Tom and I were married and I could stop worrying about the lockdown restrictions preventing it! It was also lovely to spend time with my parents for the first time in 7 or 8 months."
"Tom's jacket is Chester Barrie from House of Fraser and his shoes are Solovair. He did have a pocket square from Wales Tartan Centre in the Welsh 'Wynn' family tartan. That's Tom's last name, so that was our gift to his parents too."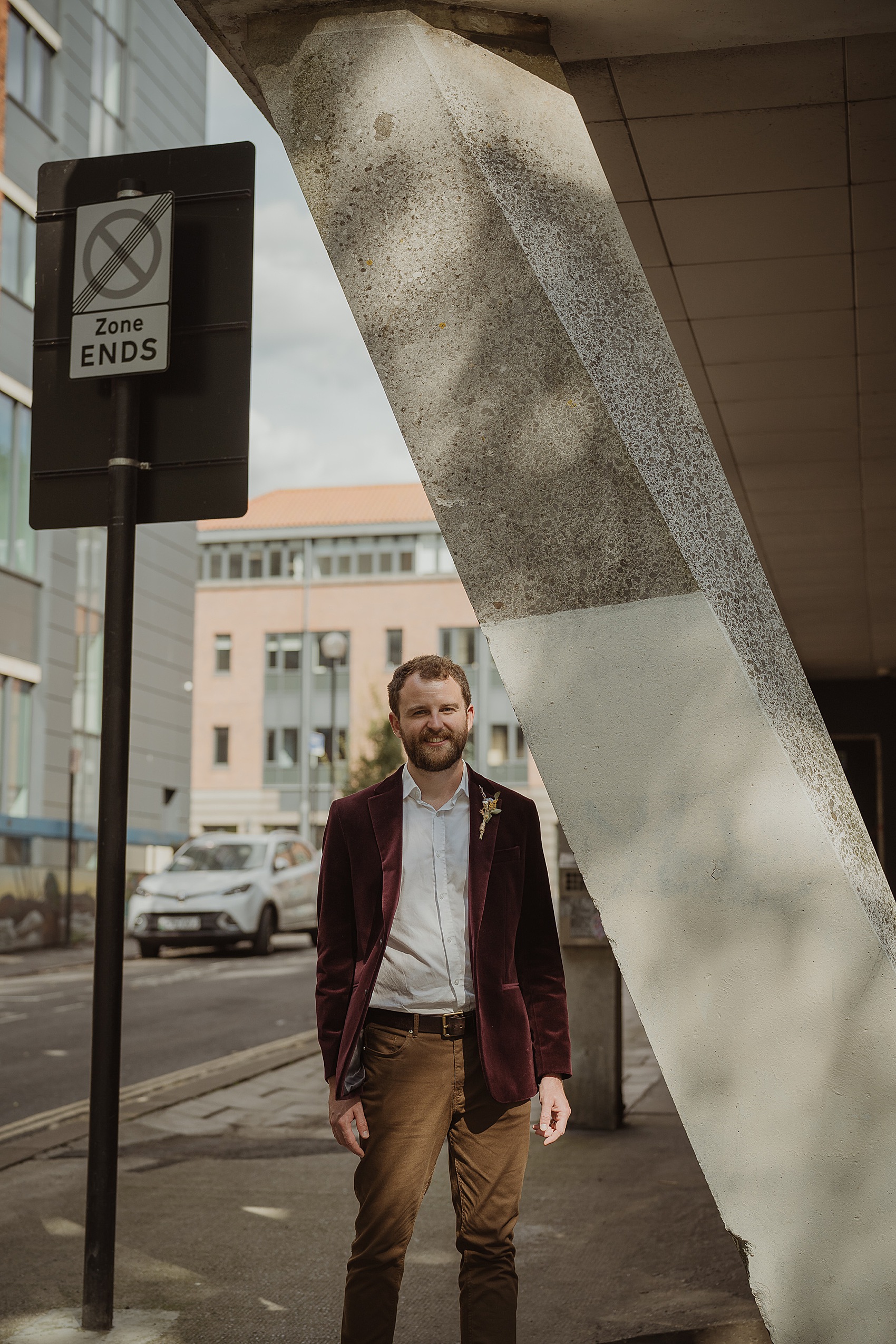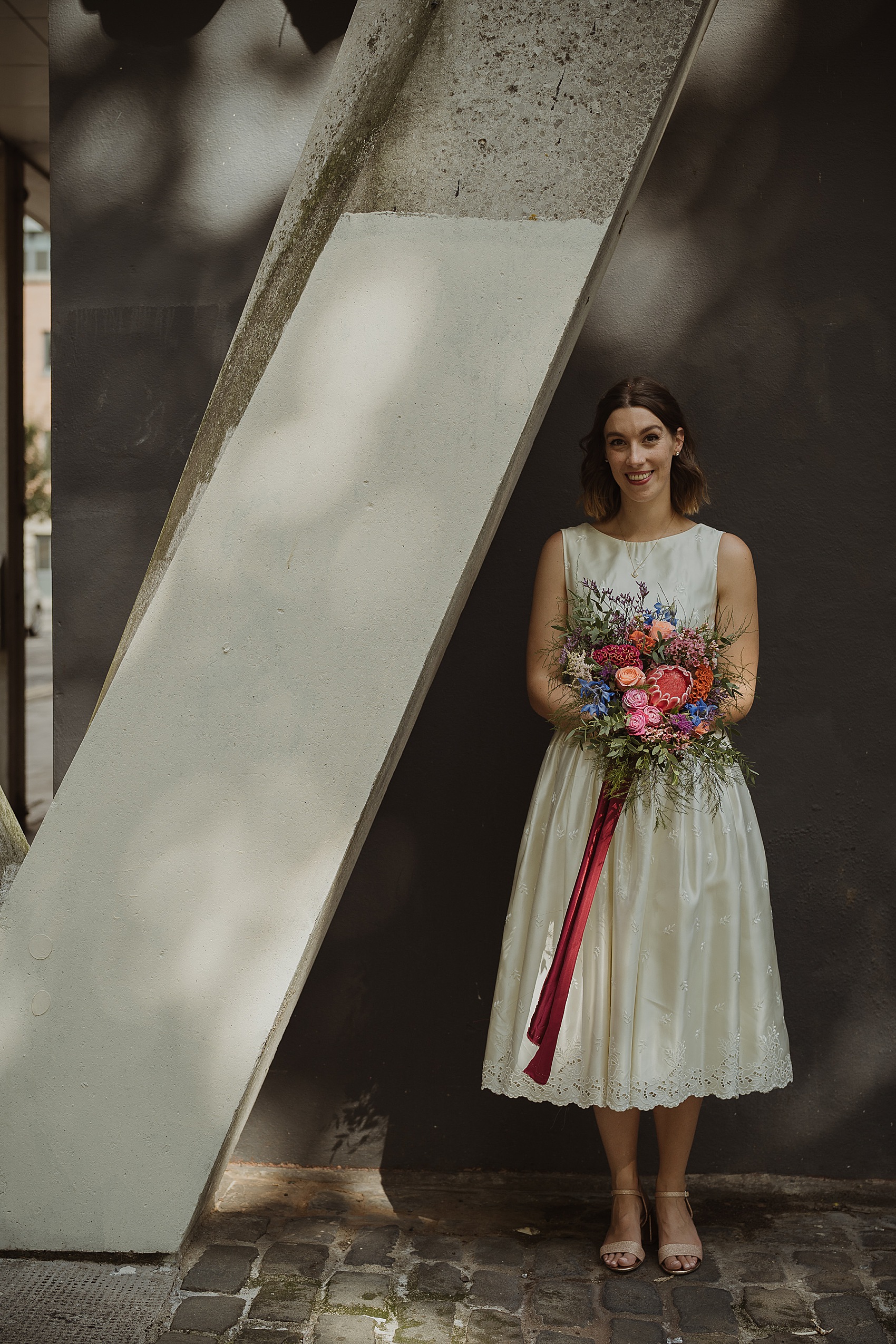 "My bouquet was from Les Fleurs in Bristol. They were amazing! I had a brief chat with the florist over the phone and told her what flowers I like but otherwise allowed her free reign to create anything she wanted. I'm so glad I did because my bouquet was such surprise and delight! I adore it."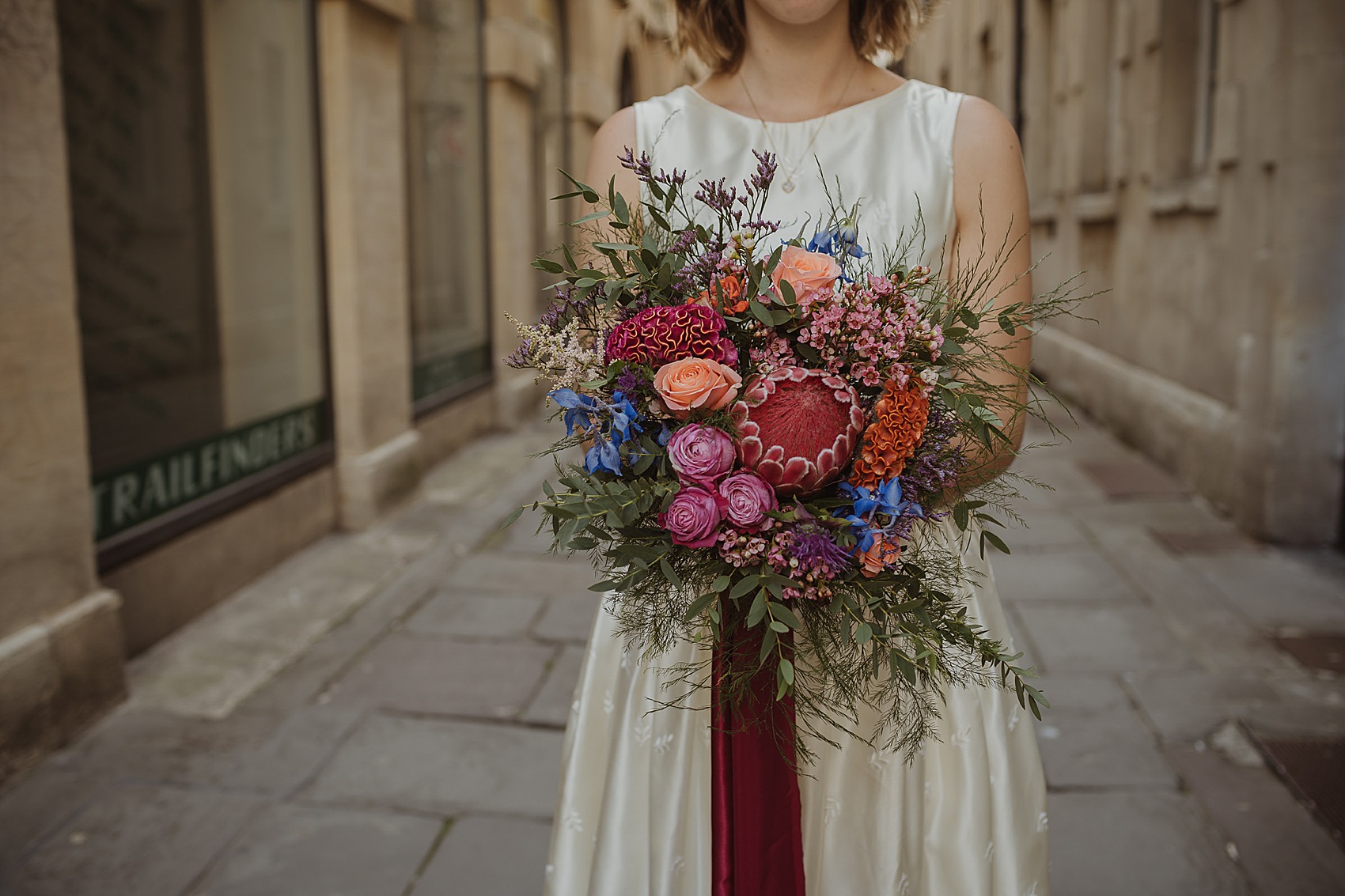 "I wore a little heart necklace that belonged to my Nana before she passed away, she always told me that I could wear it at my wedding so I saved it especially. My bracelet had belonged to my Grandmother, so both parental lines were represented."
"My something borrowed were my earrings I lent from my Mum. My Dad had bought me the silk around my bouquet from my favourite place in the world, Hoi-An in Vietnam."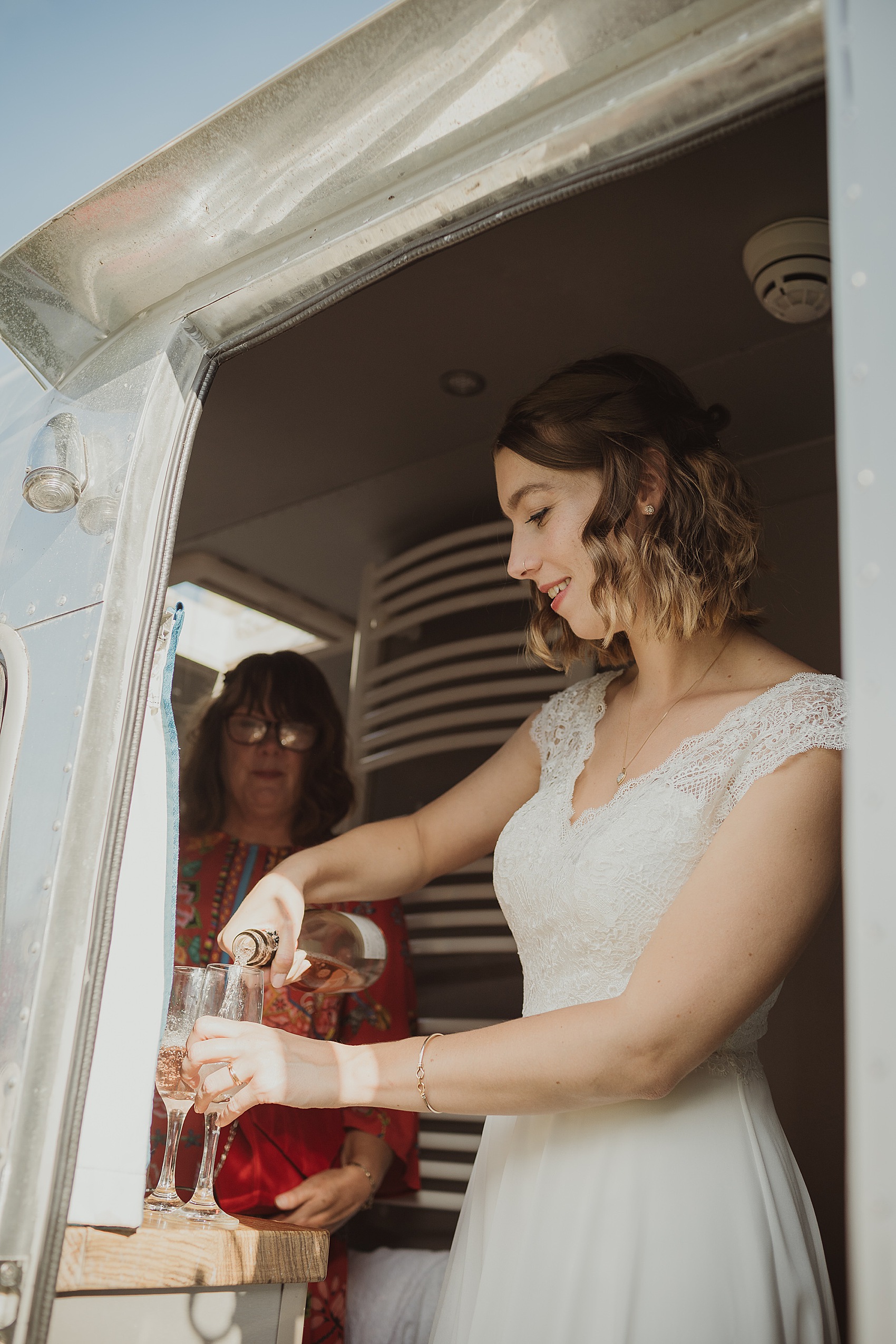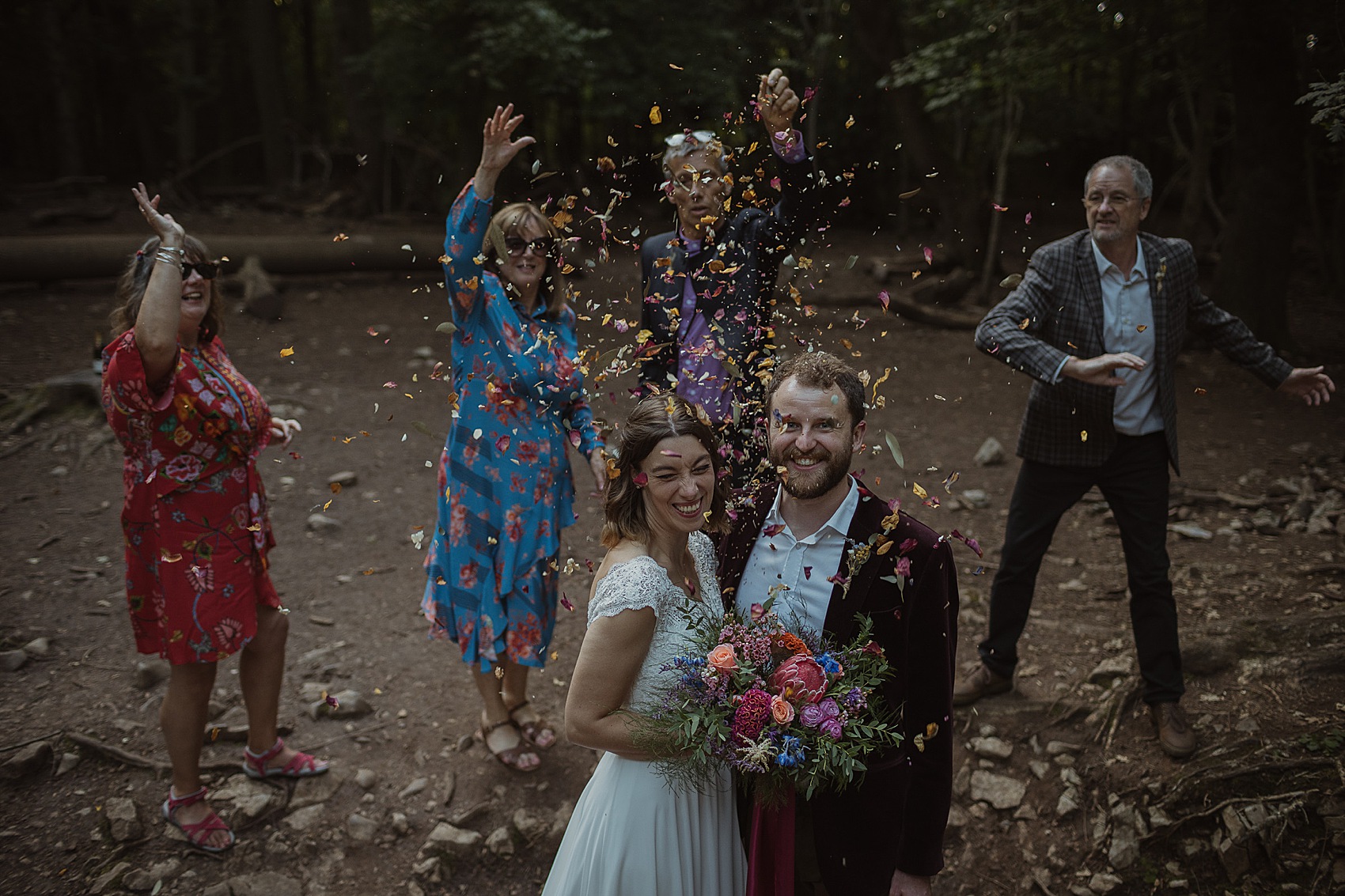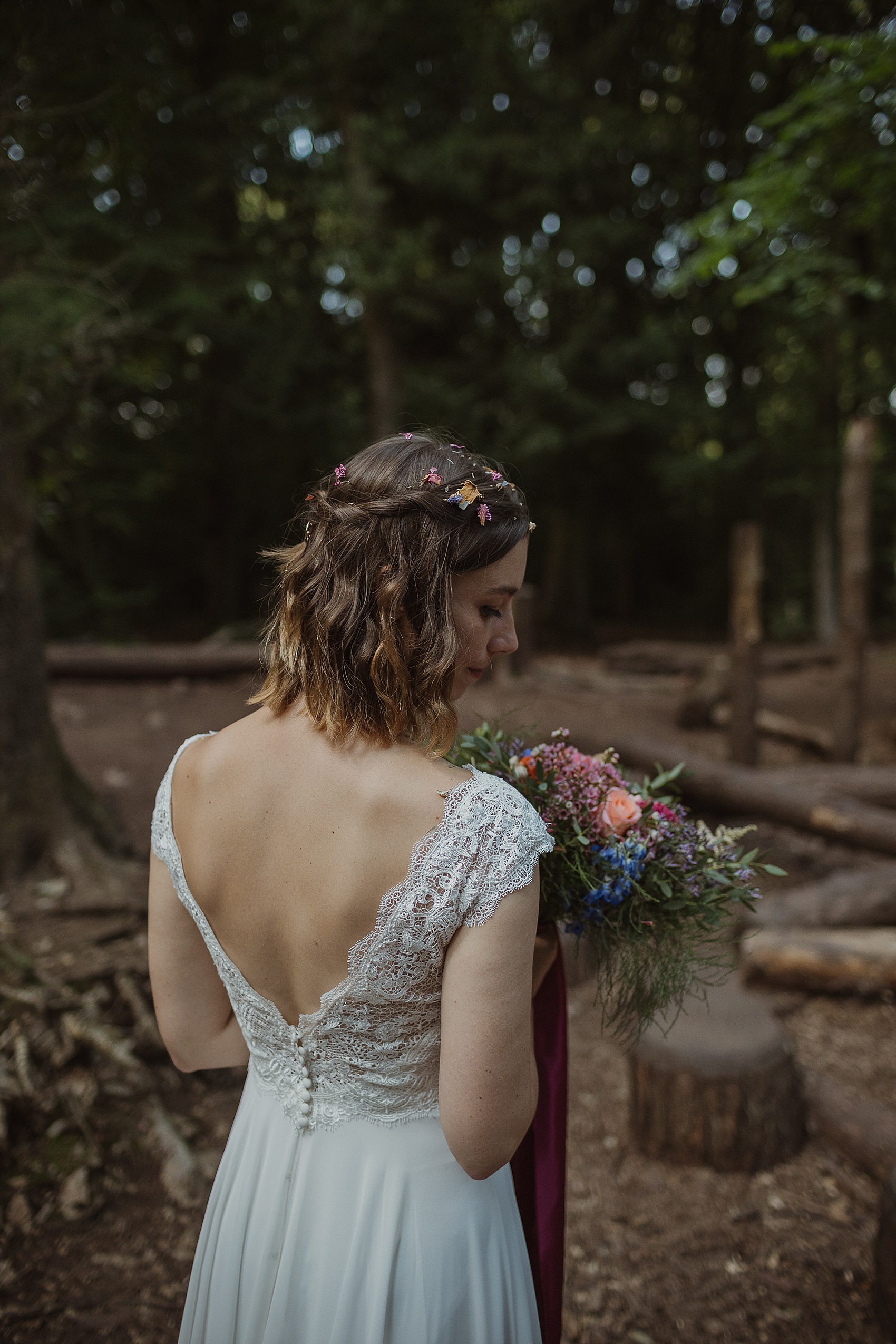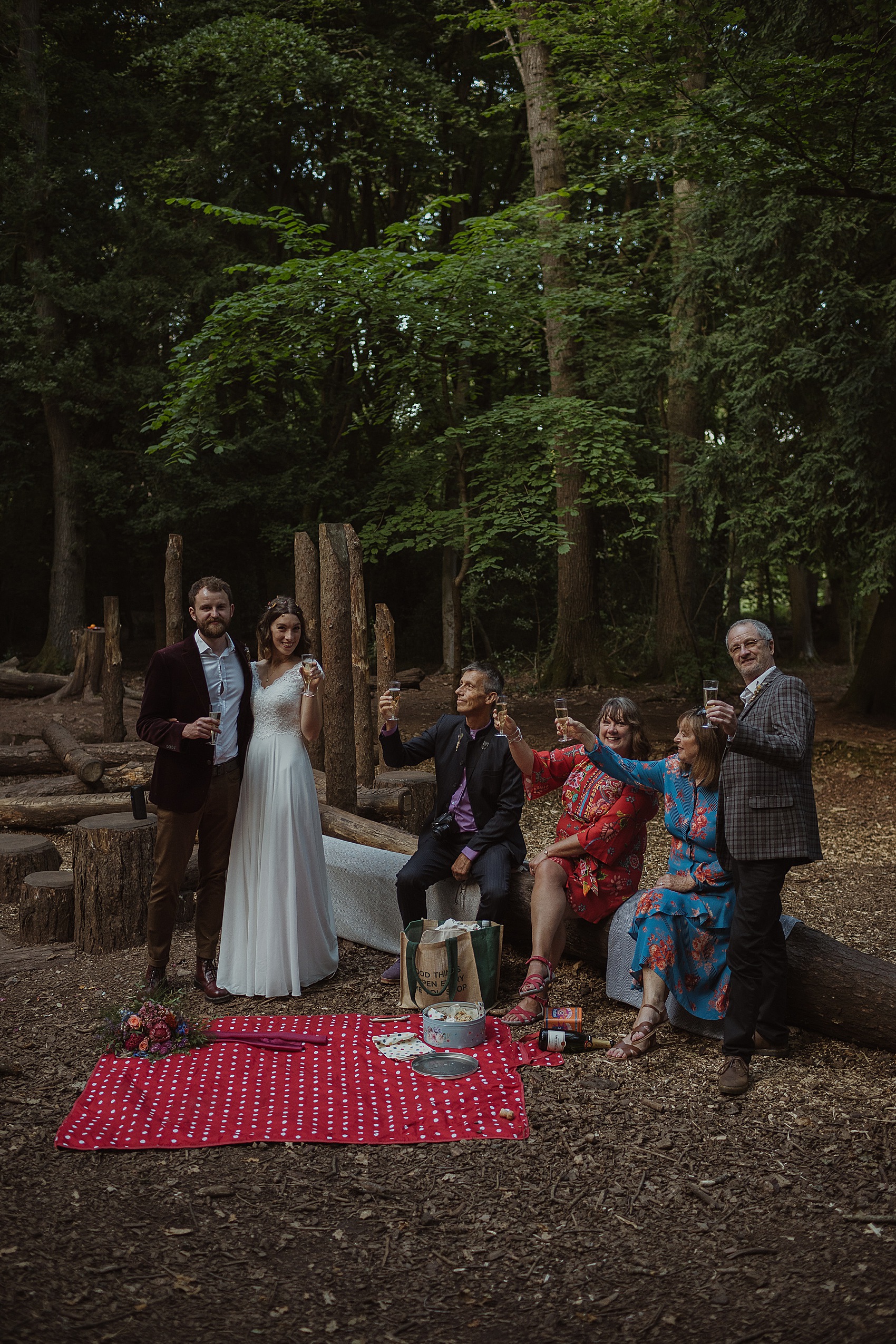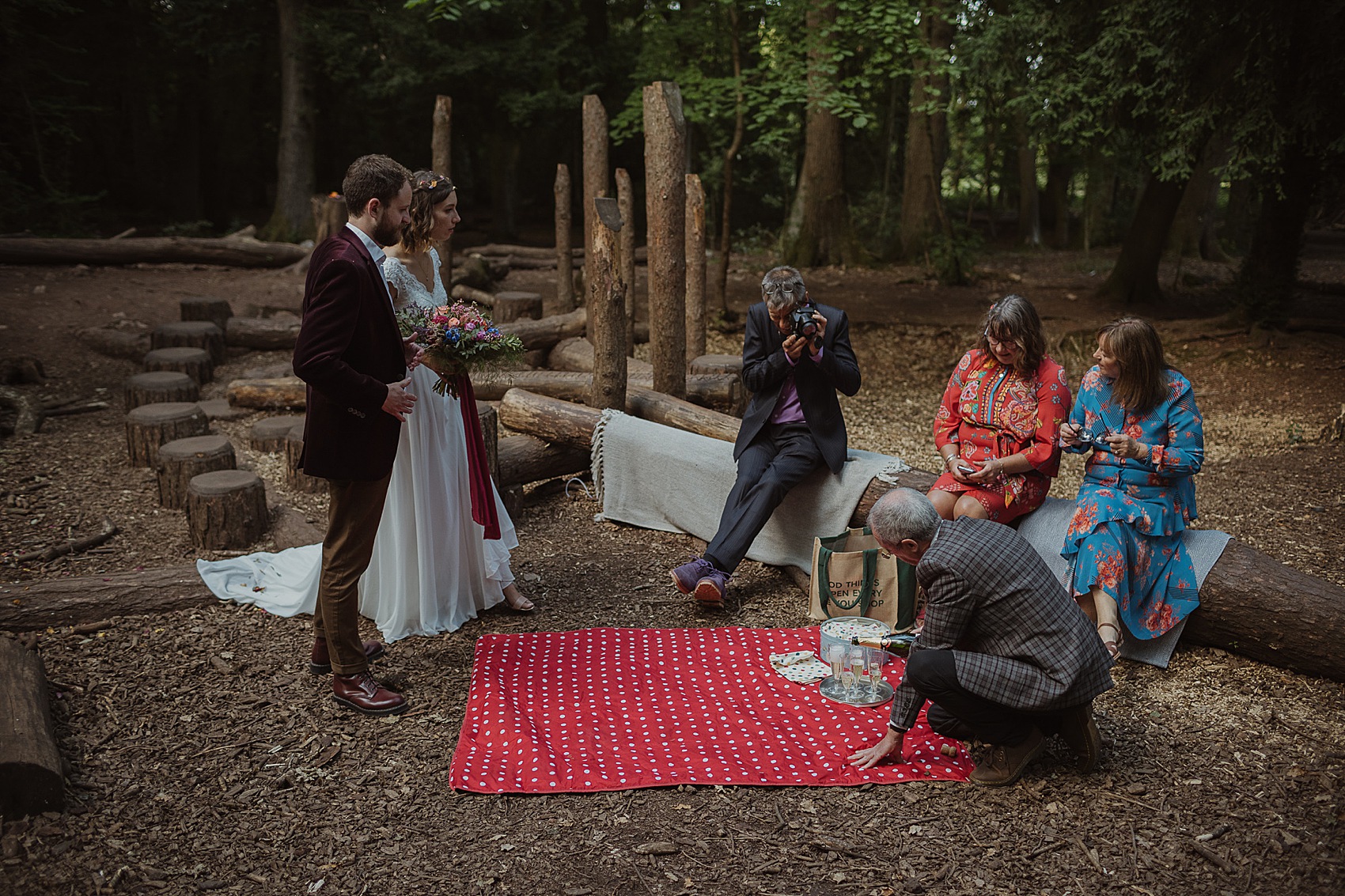 "I purchased an 'infinity' symbol clip for my hair from Lovely Littles and Co on Not on the High Street."
"I wore Youth Dew by Estee Lauder. It was the perfume that my Nana used to wear."
"My talented florist family friend, Marcie, sent us some flowers which we put into jars that we divided between the parents to take home."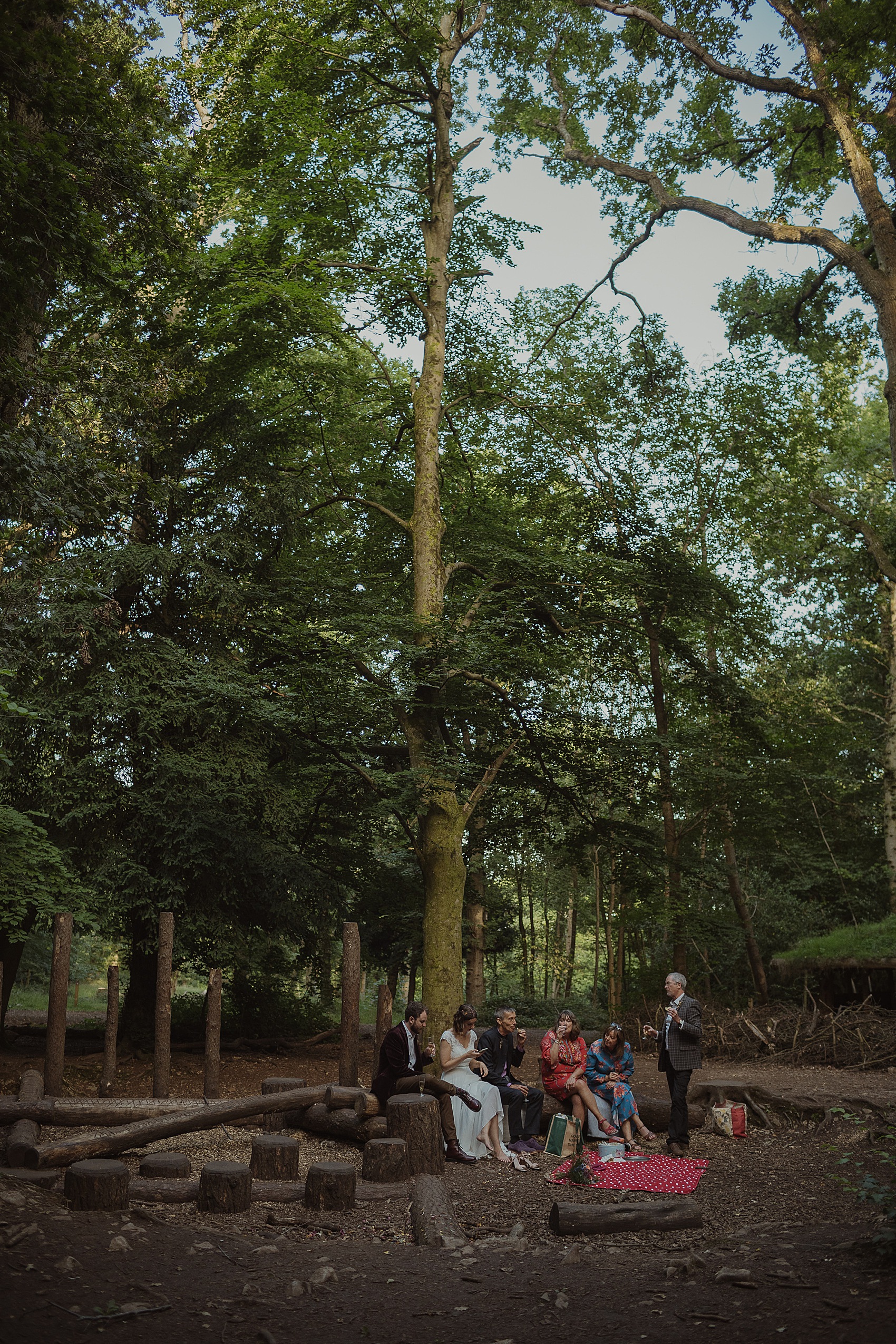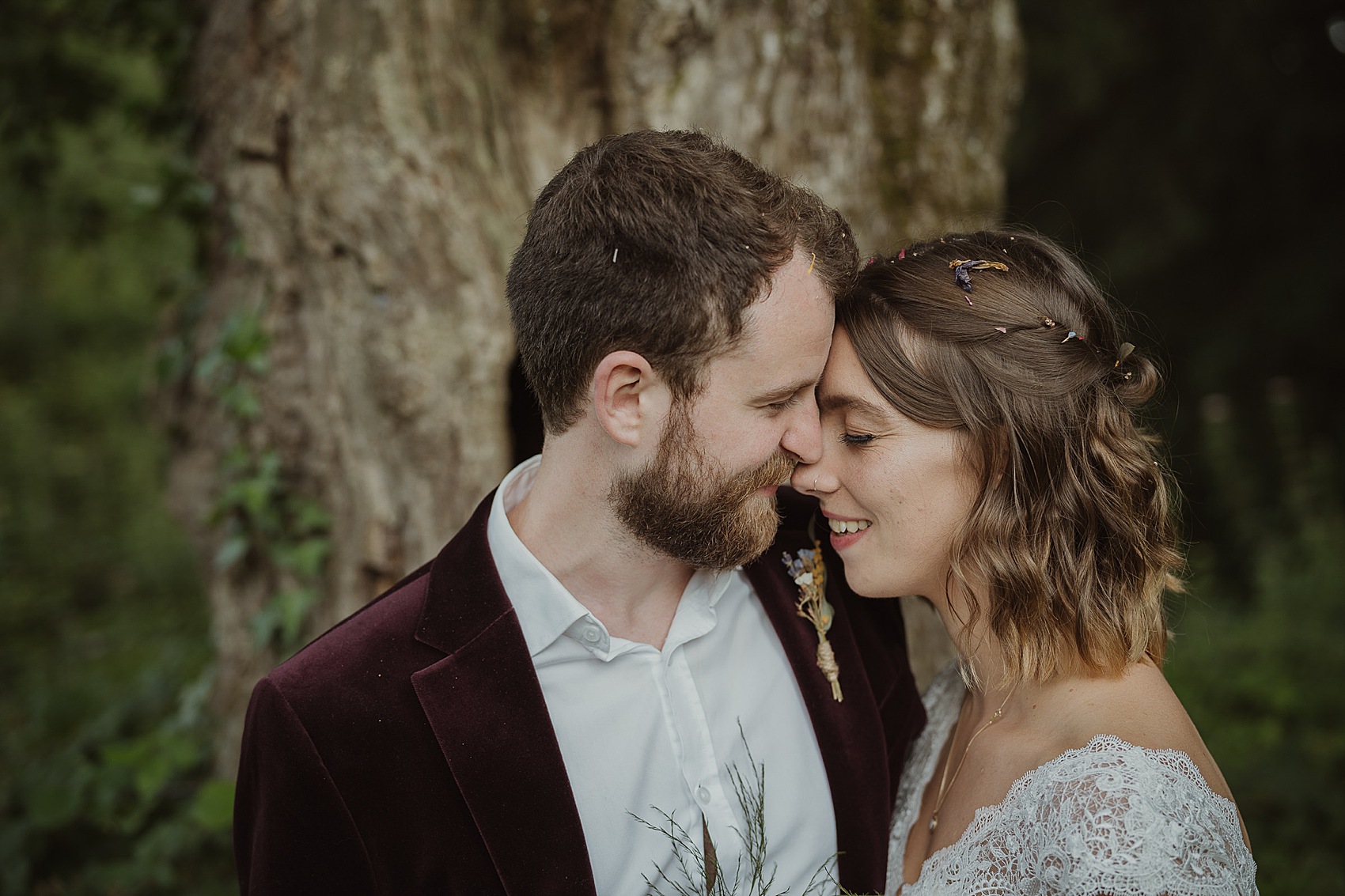 The couple hired Scottish based photographer, Maureen Du Preez, to document their day. Maureen is a hugely talented
"I had spotted her work long before Tom and I got engaged during my brief time working for a Bridal Designer so as soon as we got engaged and I got in touch for a quote and booked her almost immediately."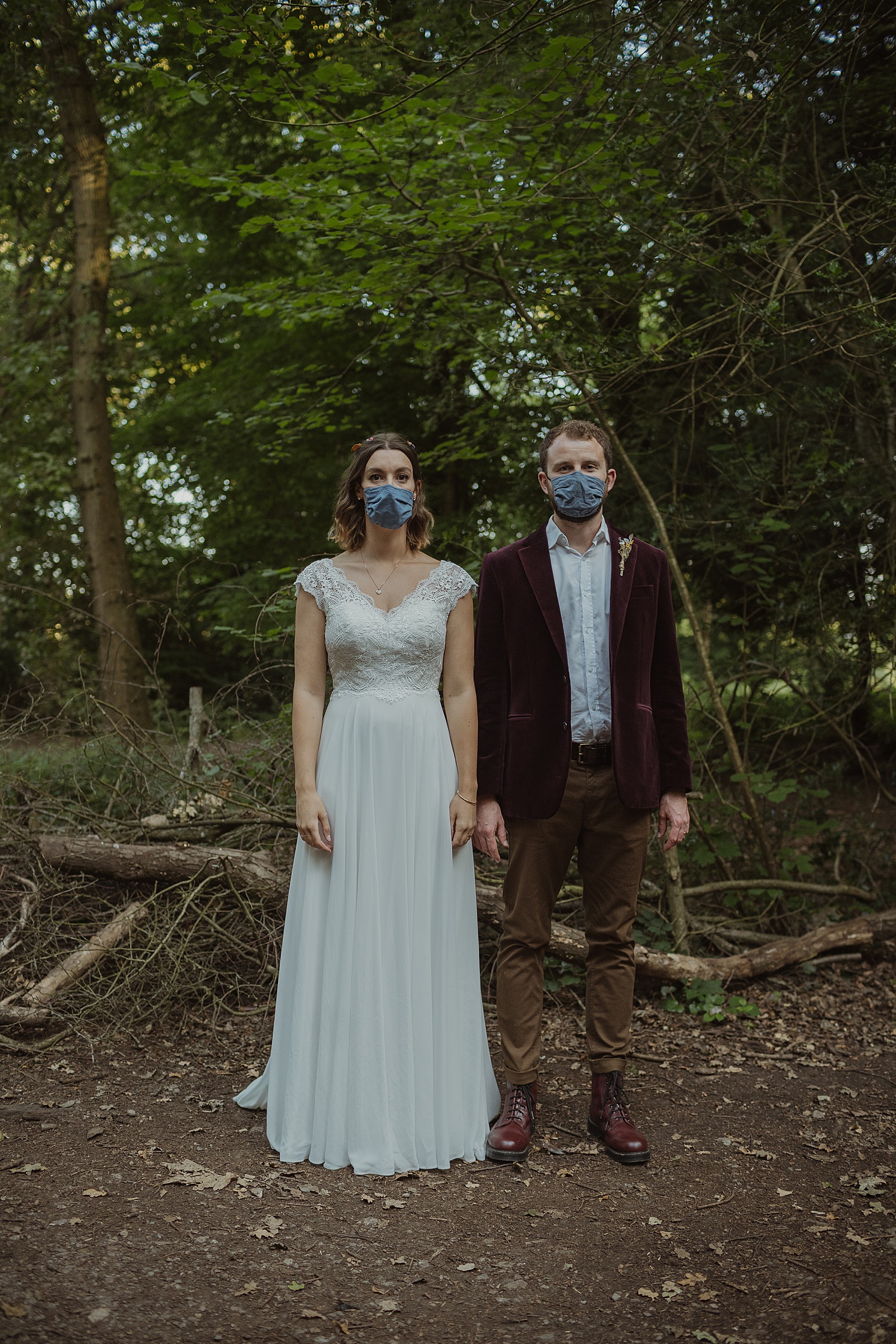 "Maureen was an absolute delight to have onboard and was so incredible when I was worrying about things then changing the plan every other week in the run-up to the wedding."
"I was worried she wasn't going to be able to make the trip from Scotland during a pandemic and having a young baby."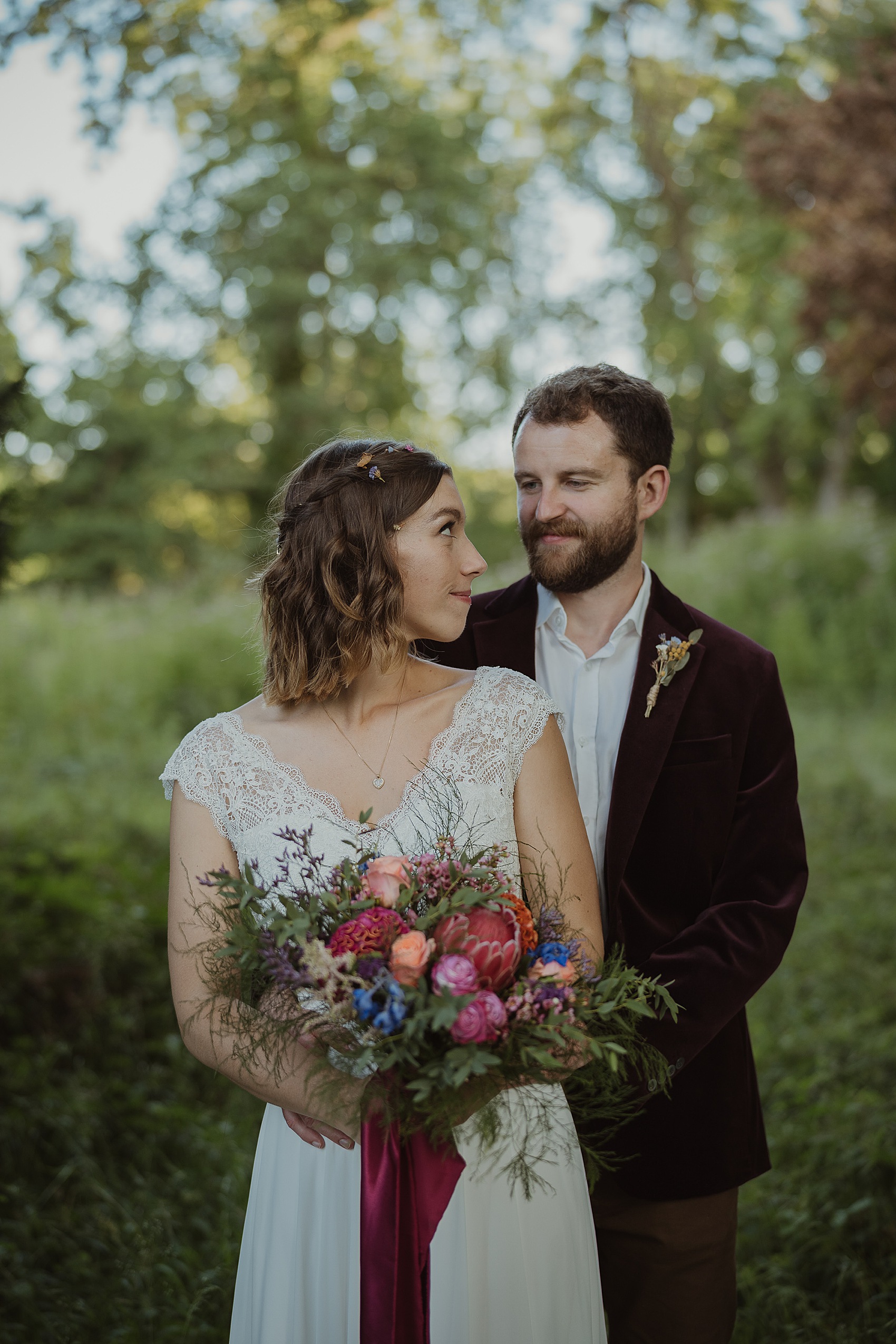 "But we met for a coffee the day before the wedding and she was just lovely, she was unobtrusive on the day as a photographer but also made great company! I'm so, so thrilled with the images she captured, every step felt really special, I couldn't recommend her any more highly."
"My Mum made the cake, it was lemon and elderflower and divine! She also made the Welsh cakes we had in the woods."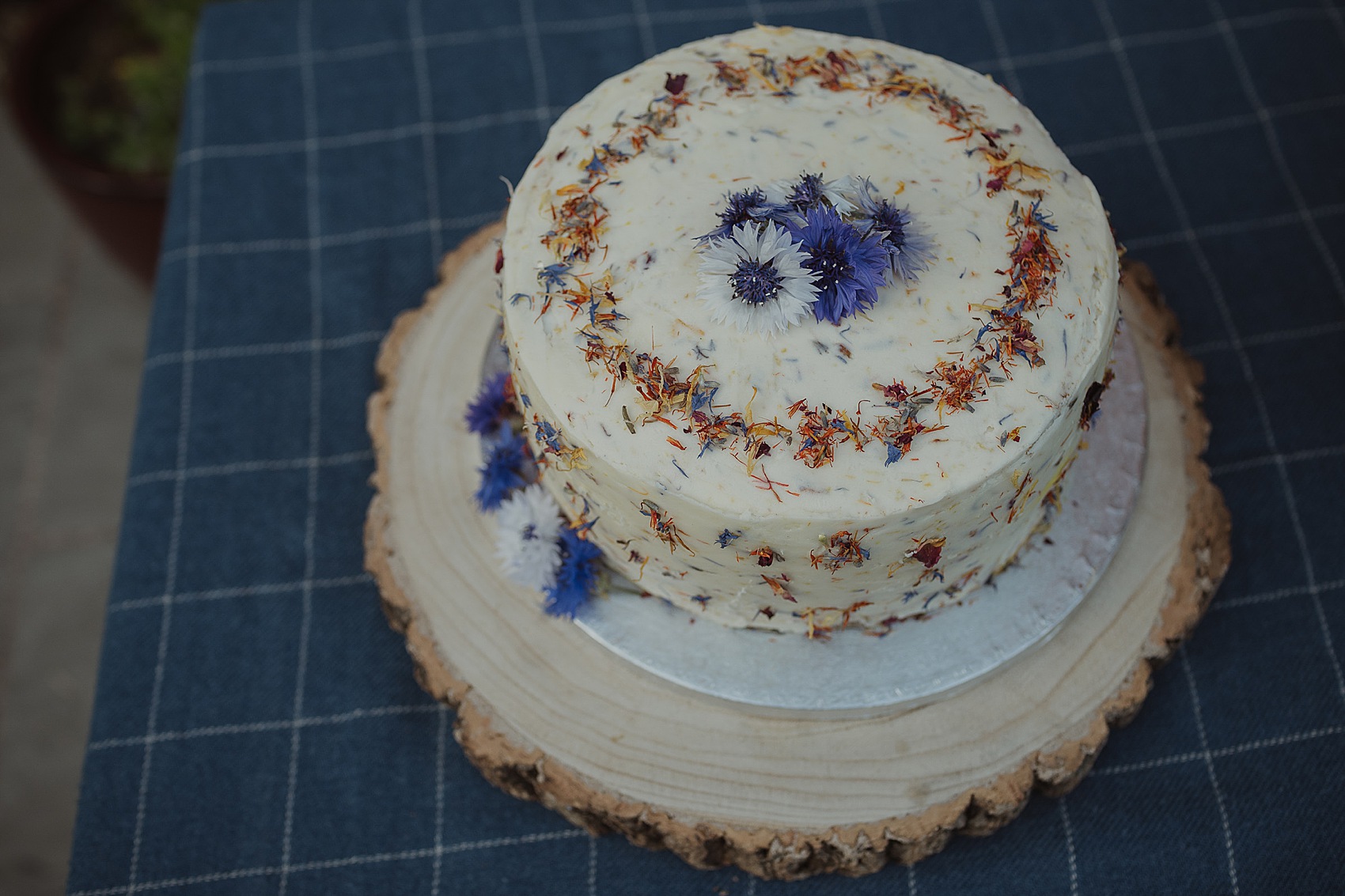 "We used a mixture of our home-grown flowers and Marcie's flowers to spruce up the back garden. I made a very rudimentary flag out of some cotton, paint and some wool for the tassels!"
"Once our photographer had left, we had our first dance together in our back garden to La La Love You by The Pixies. It was amazing because we almost certainly would have had stage fright in front of 100 guests, but this was so intimate and relaxed, we could dance without feeling any pressure."
Words of Wedded Wisdom
"Tom gave me the best advice the day before the wedding; if we have a good time, then our guests will too. I found it so easy to get absorbed into stressful 'party planner/host mode' and try to please everyone when, really, our guests are there for us and just want us to be happy, everything else isn't really important!"
"Make a list! My Dad's advice really, really helped us focus on what was actually important for us. It's so easy to be swept up with wedding planning and the lockdown gave us the opportunity to reevaluate what we really wanted to get out of the day."
"I wouldn't have worried so much – I think I put a lot of pressure on myself to create and perfectly plan the best day of my life, Tom's life and each of our parents' lives in the middle of a pandemic! In hindsight, we all would have been just as happy without my stressing!"
You can see more micro weddings here and more from photographer Maureen du Preez here on Love My Dress.
Love Annabel x