Lovely ones, I have a proper corker of a celebration to share with you today. The effervescent joy just fizzes out from these beautiful images, and there's colour and whimsy galore.
From the pink tiered and embroidered dress worn by our bride, to her flower crown and shiny disco heels, and our groom's super tartan suit. Did I also mention there are DIY fluffy pom pom garlands, too? Let's dive in!
On the 20 September 2019, Jade and Richard were wed. Jade has recently started her own business as a weddings and events florist (Wildflower & Fox) and Richard is a fraud manager.
Through the Woods We Ran

+ Follow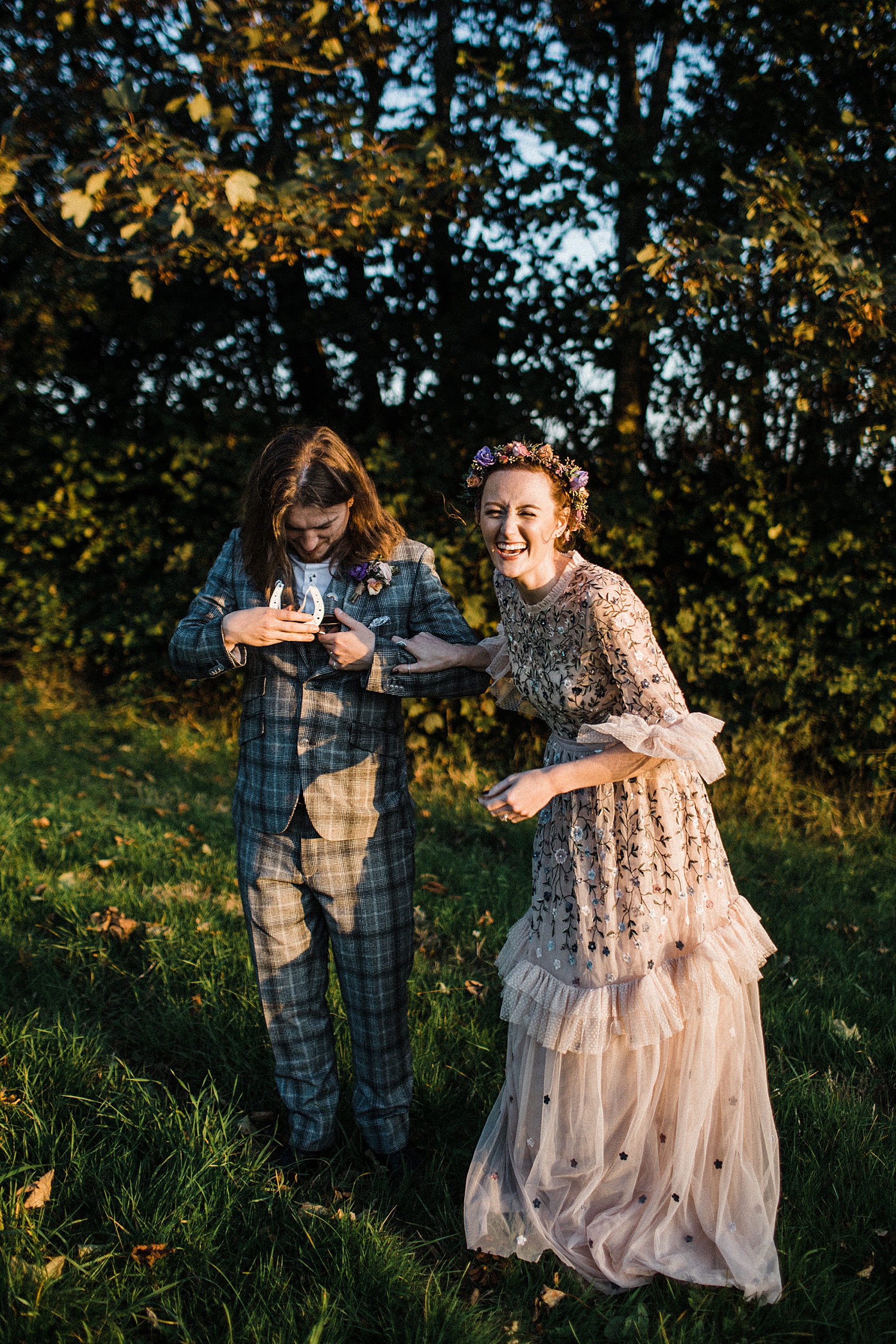 They held their homespun, DIY delight of a day at lovely barn venue Wonwood Barton in the Devon countryside.
"We absolutely fell in love with how rustic and naturally beautiful it was, but also because of the location. A rural location and being out in the sticks is our thing, and this venue delivered. It had the most amazing views of the Devonshire countryside, which we fell in love with straightaway."
Jade's wonderful soft pink tiered dress, with its ruffled sleeves, polka dot tulle, and beautiful floral embroidery was by none other than Needle & Thread. At the time of choosing, Jade was working for ASOS, so purchased from there using her staff discount.
"When I got engaged, I knew pretty much straightaway that I didn't want to do the whole 'go to a bridal boutique' thing – and with us having a fairly small budget, I didn't want to spend lots of money on a dress either."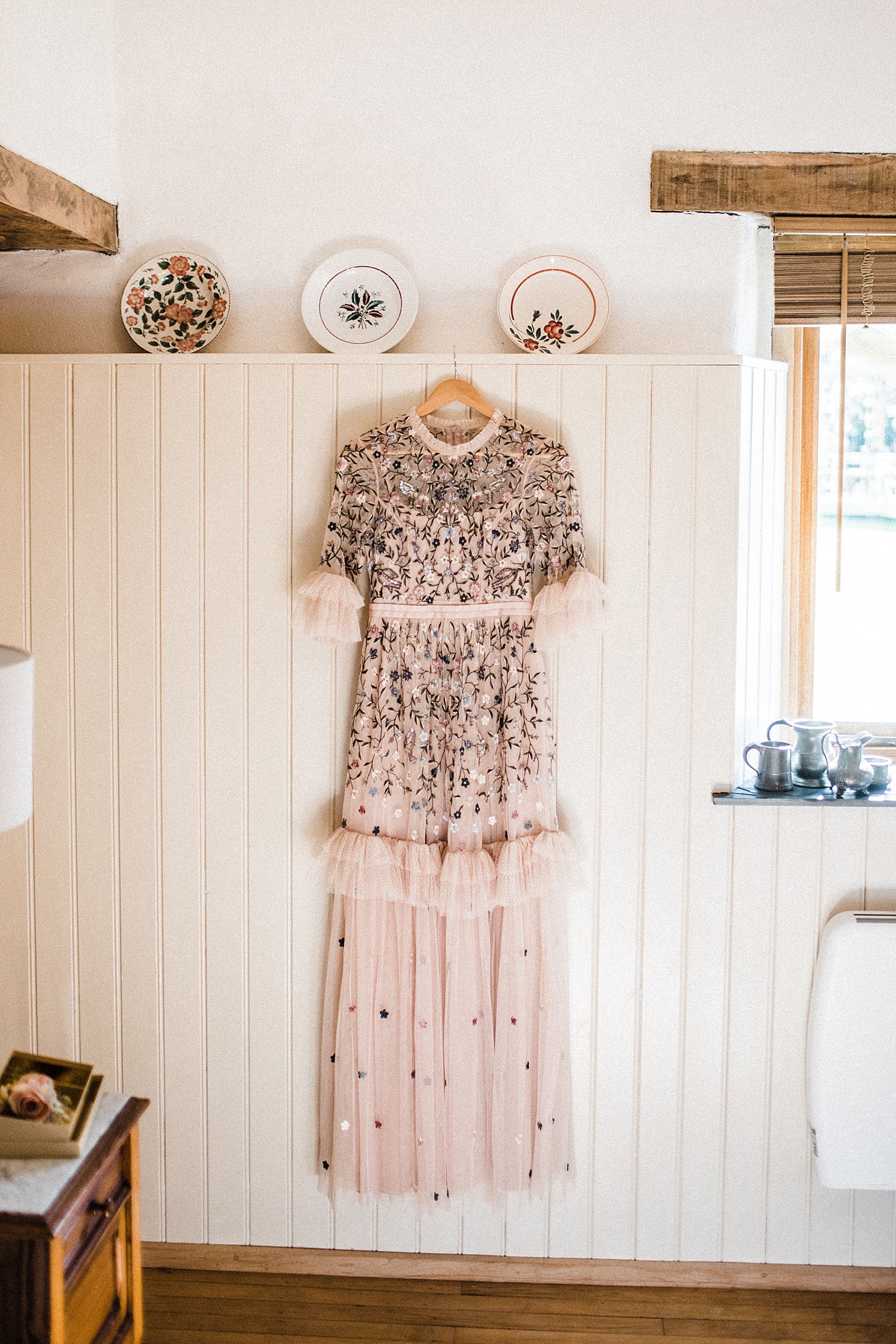 "Having a white dress wasn't something I felt really passionate about, and in my mind I pictured a dress that was little different and more unusual. As soon as I saw the Needle & Thread dress, I fell in love with all of the frilliness, sequins and embroidery – it was perfect!"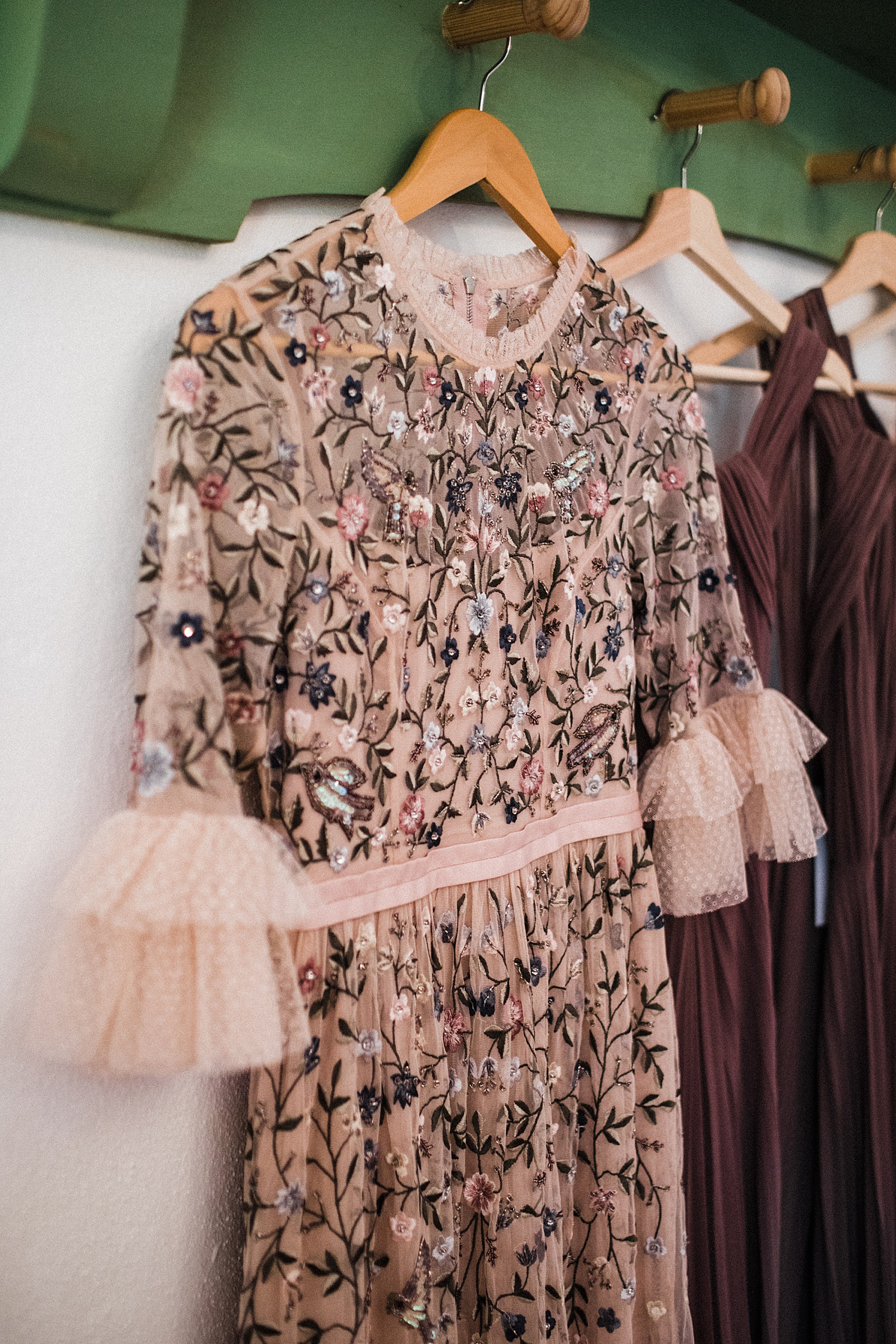 Radiant make-up for Jade was by Fiona Miller, and her hair was styled in pretty milkmaid braids by Devon Wedding Hair. The braids were adorned with the most gorgeous flower crown in shades of violet, pink and apricot from Hollyhocks Florist.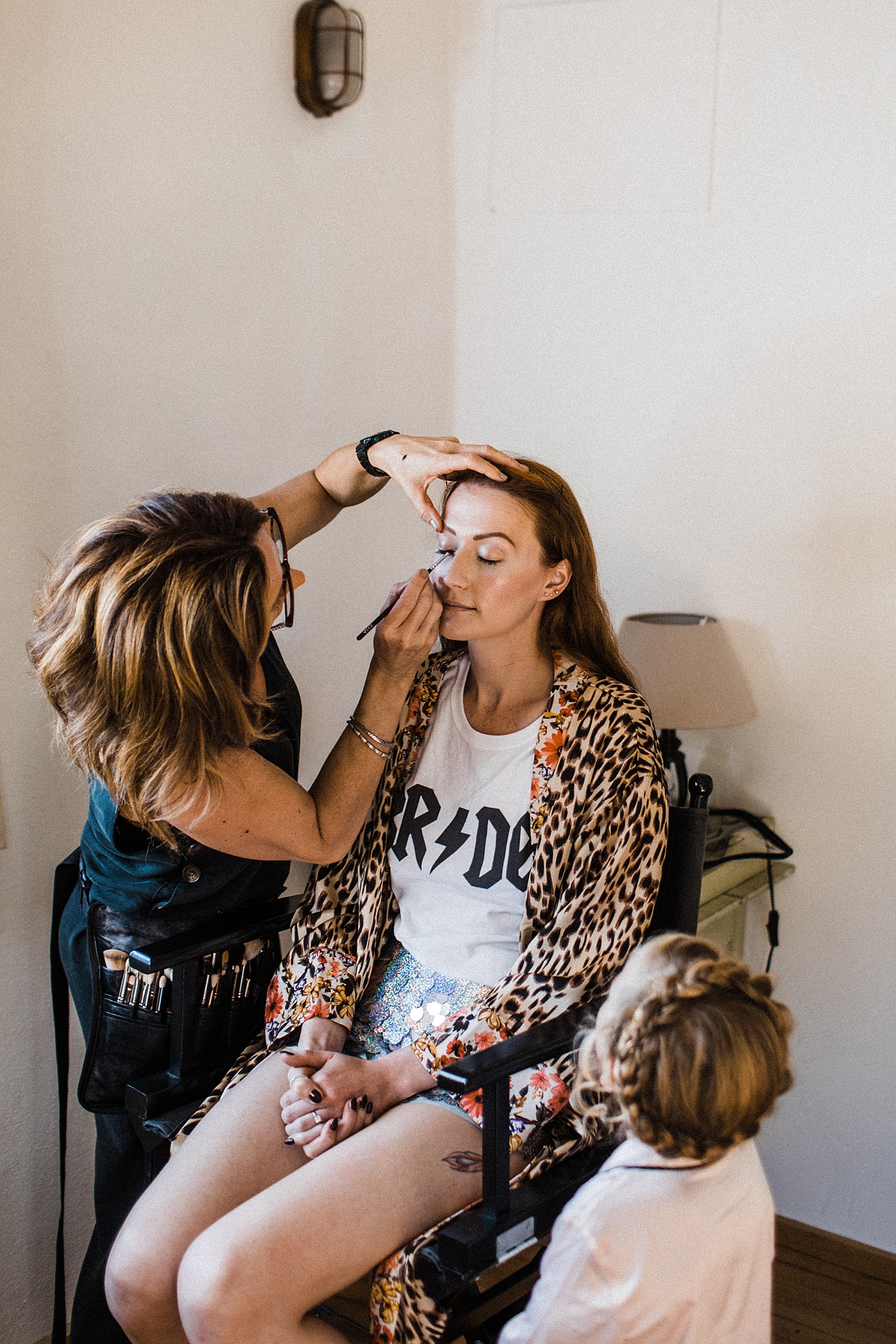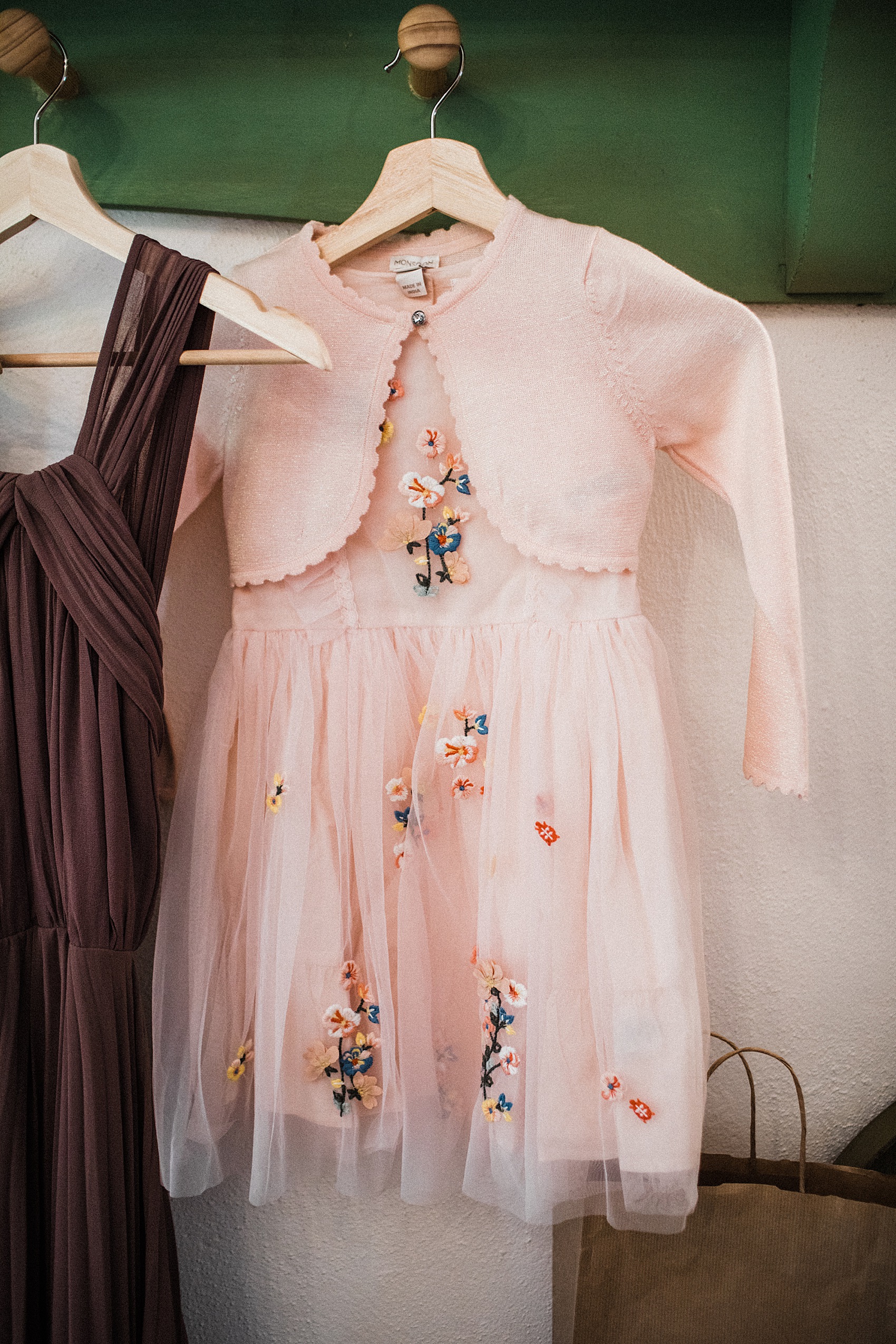 Jade accessorised with an Agent Provocateur garter, the rings she usually wears, and on her feet, a pair of awesome heels by Sophia Webster. Both fluffy and shiny – amazing!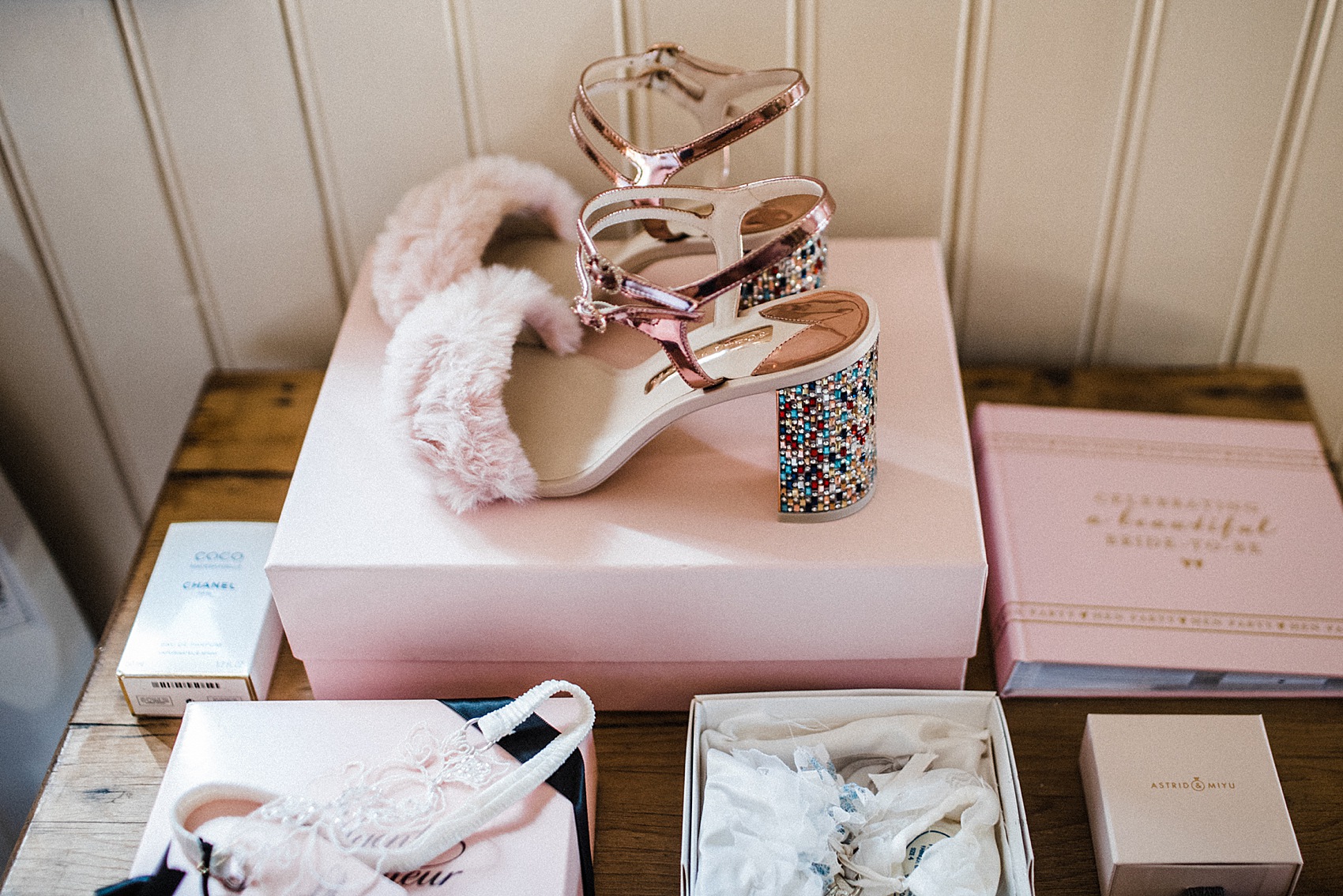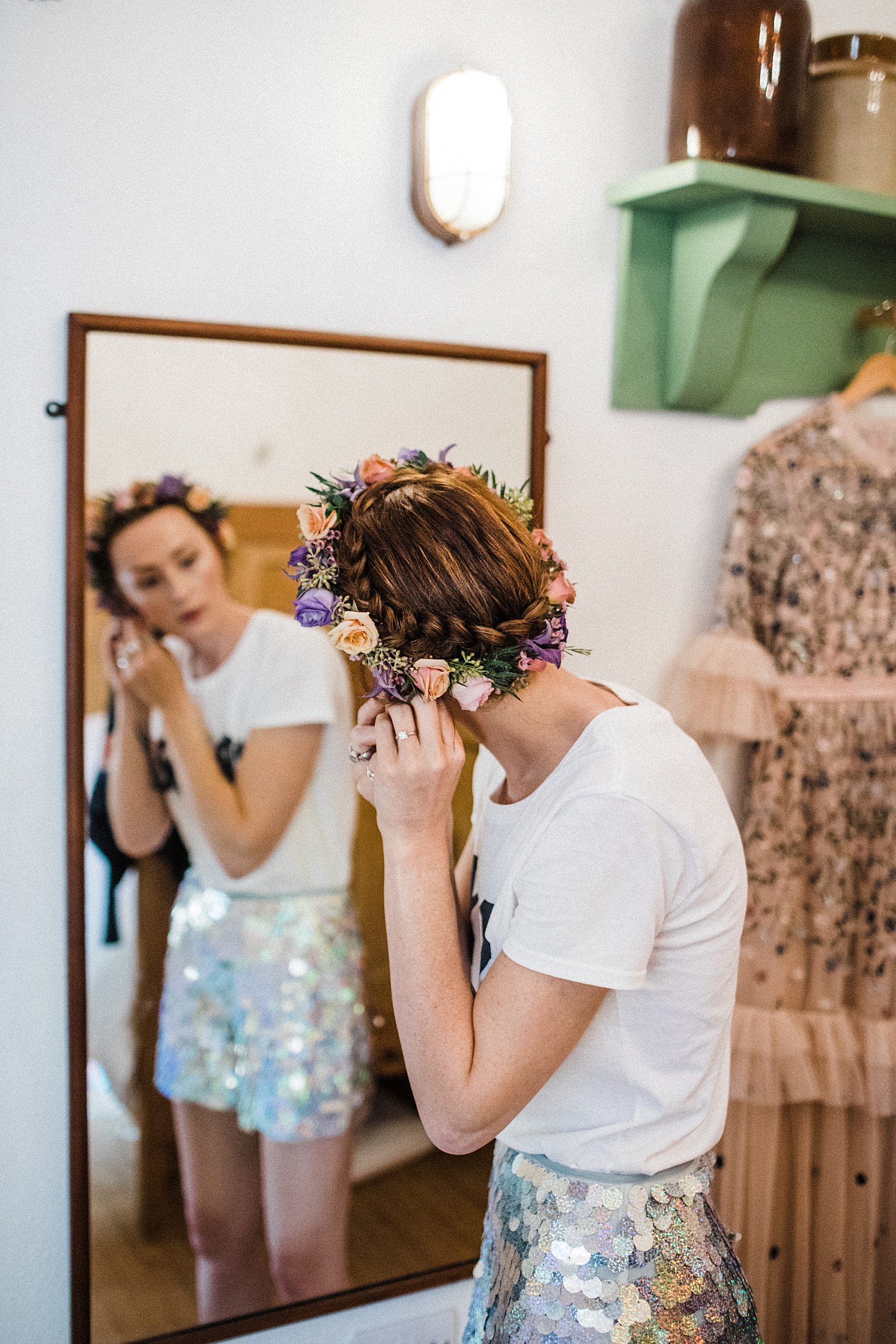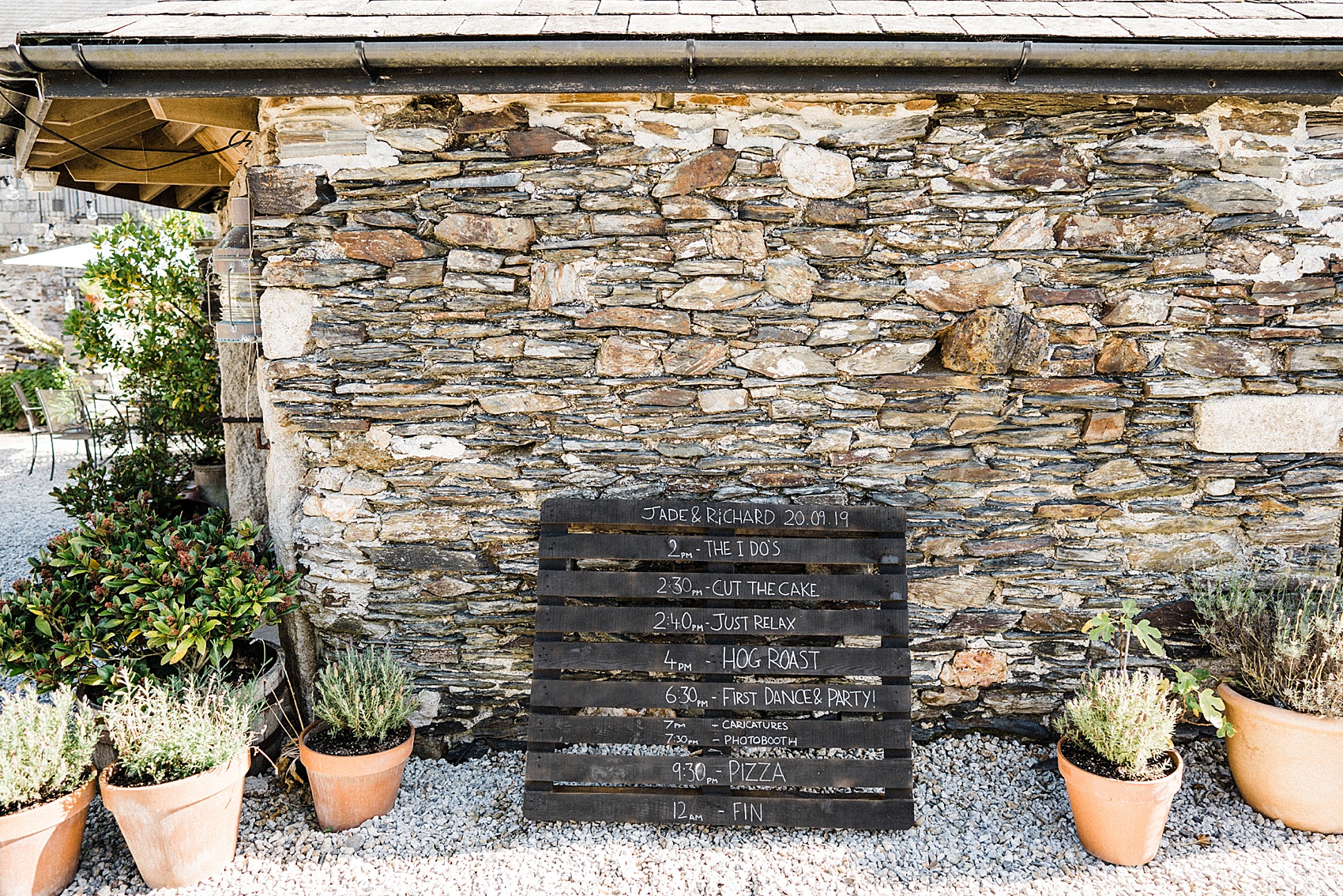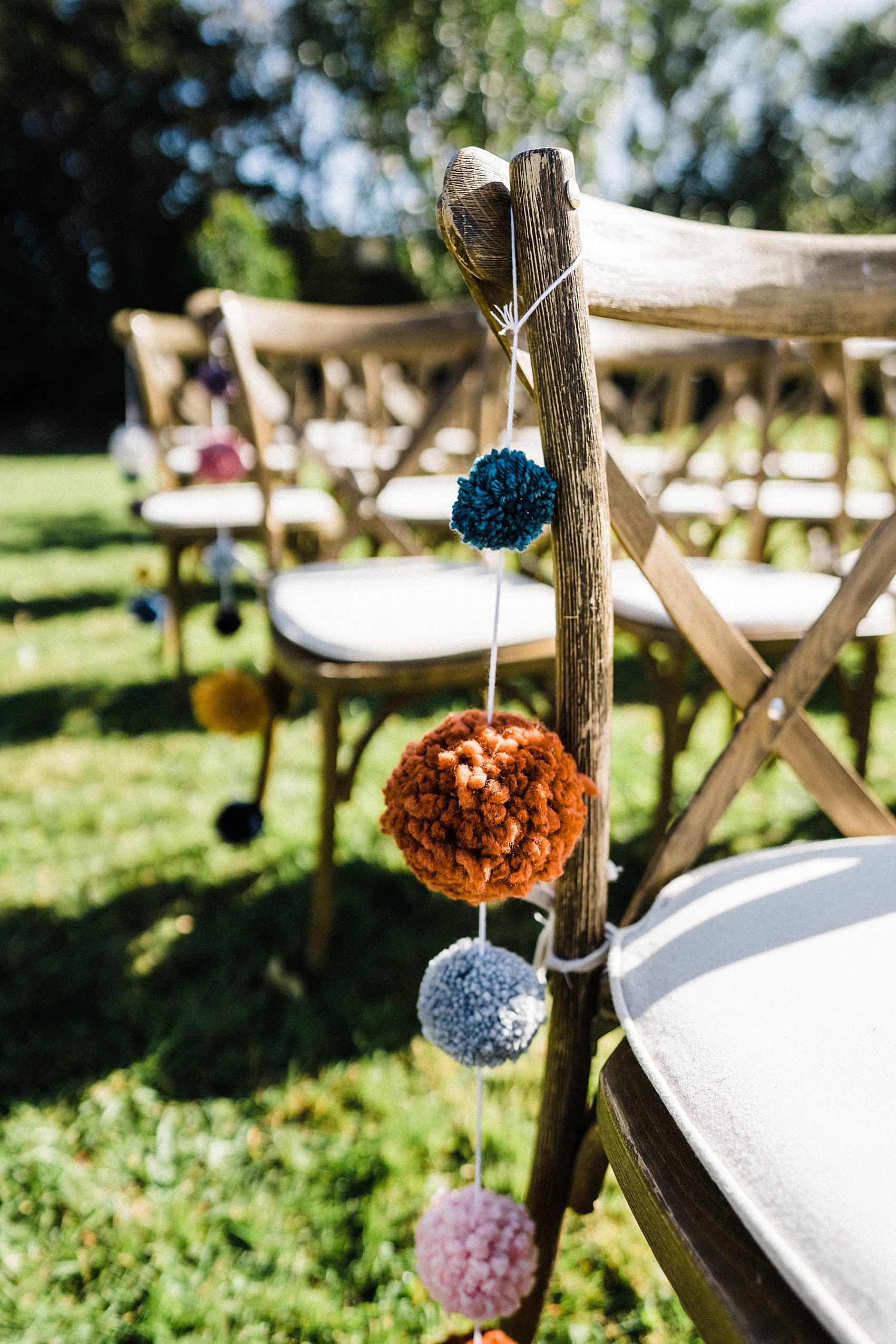 Jade and Richard decided to hold their ceremony outdoors, surrounded by the rural beauty of Wonwood Barton's farmstead. The ceremony gazebo and guest chairs were decorated with colourful handmade garlands of fluffy pom poms.
"We spent a lot of time creating approximately 400 pom poms, and then used these to make pom pom garlands to decorate the venue. It was a really cost-effective way to create high impact décor, and we loved the end result."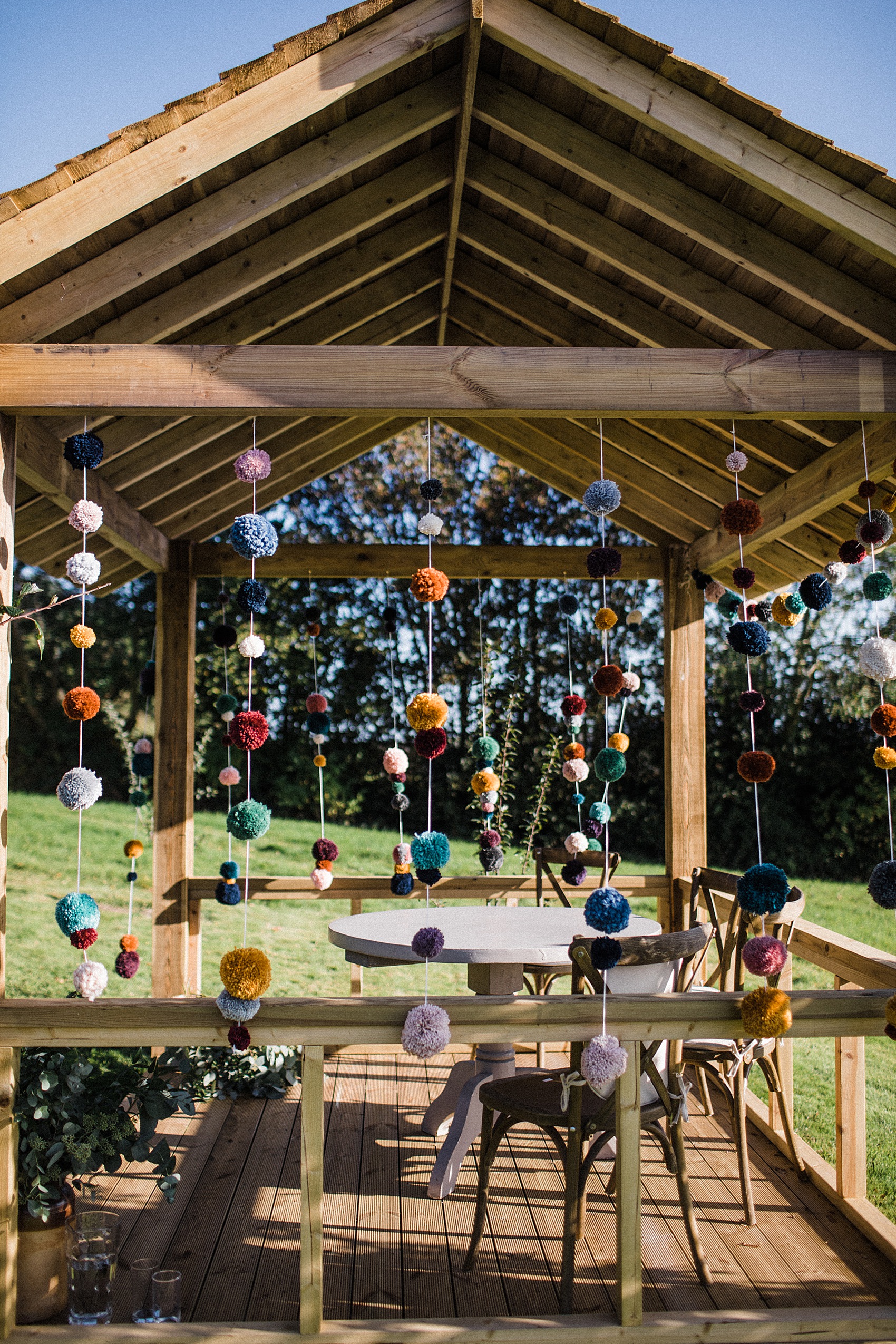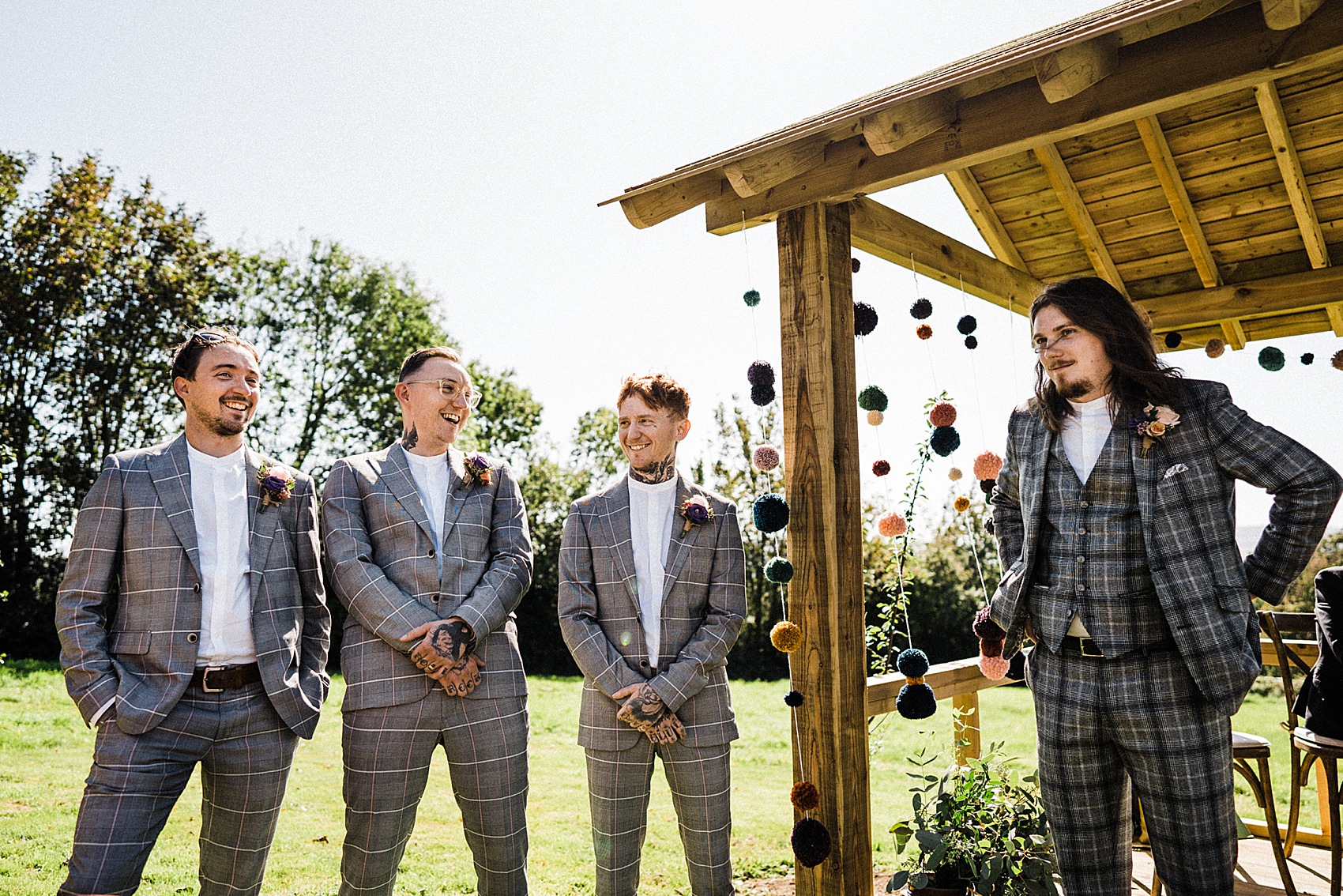 Hollyhocks Florist made a beautiful, vibrant bridal bouquet tied with ribbon, including garden and spray roses, dahlias, waxflowers and sea holly.
"We didn't go mad on the flowers as our venue was surrounded by plants, shrubs and foliage, so looked for someone that was happy to do bride/groom flowers only. I found Holly via the web and loved her natural and wild looking bouquets."
Richard waited in the sunshine for Jade's arrival, and looked fantastic in a custom-made tartan three-piece suit by Moss Bros.
Jade walked down the aisle to the song Kiss Me by Sixpence None The Richer, and the couple's ceremony was conducted by a registrar from the Devon County Council team.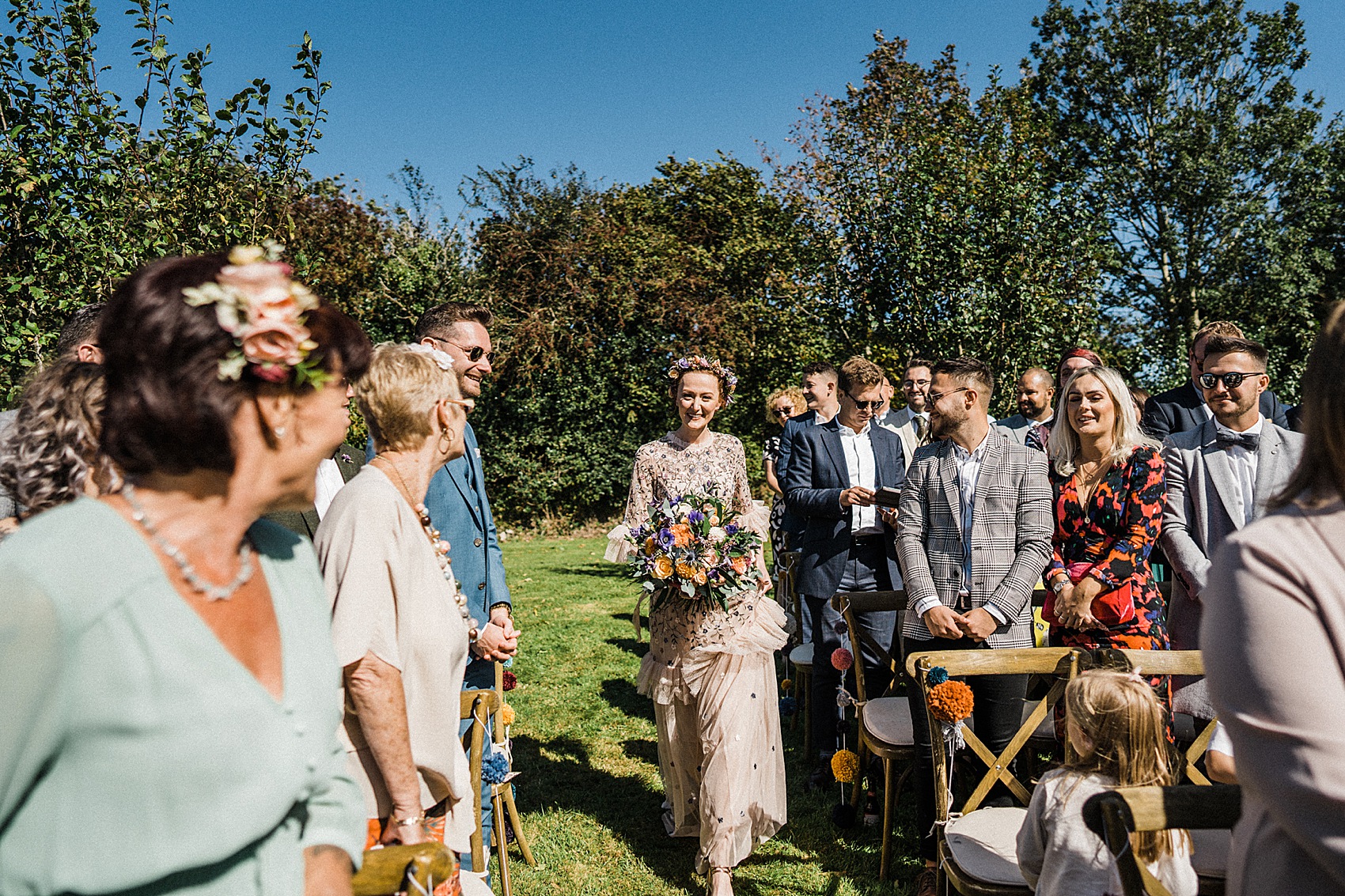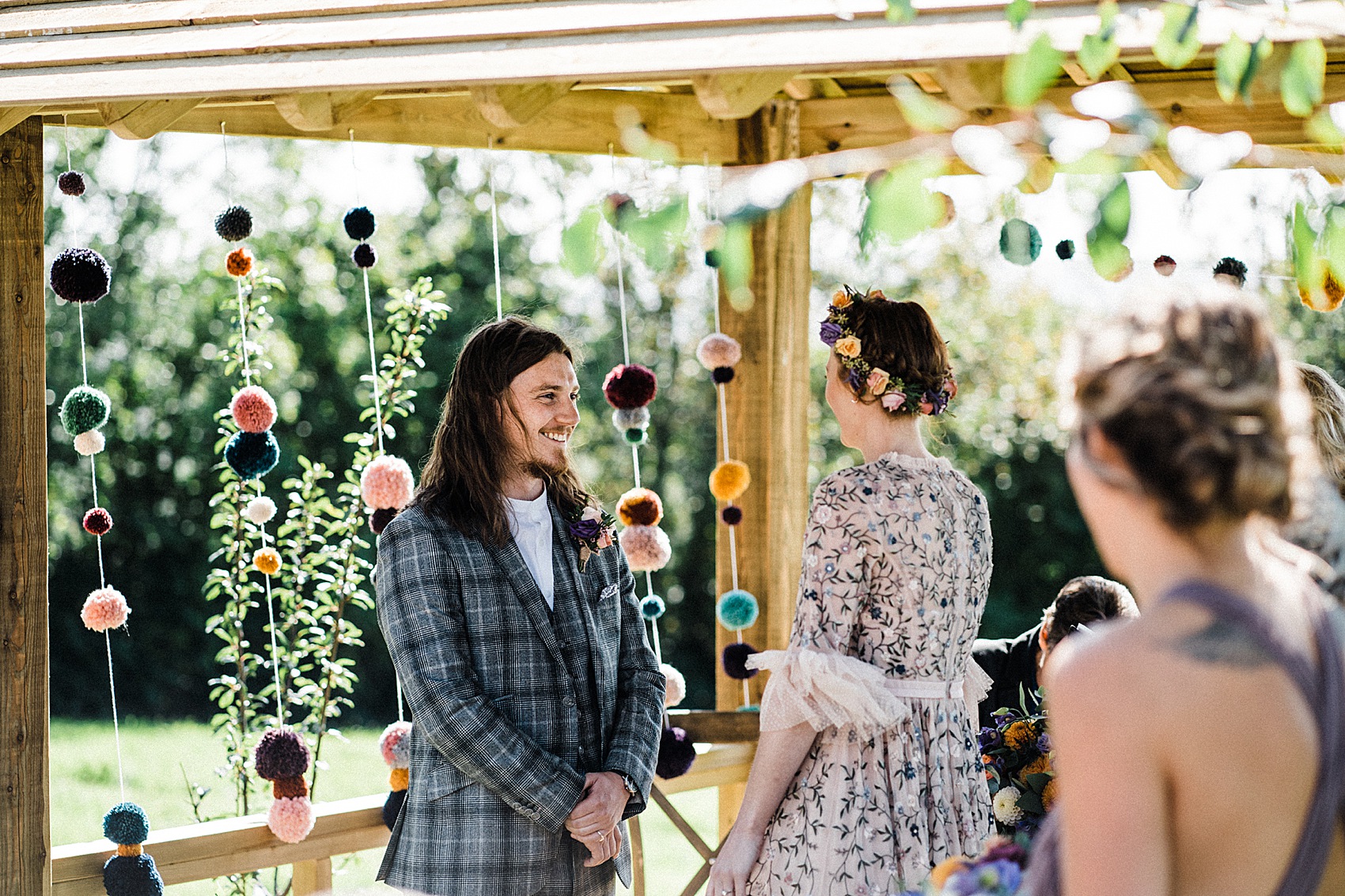 "We wrote our own vows to each other. Here is a snippet from me to Richard: 'I feel incredibly lucky to have you in my life, and I want to say thank you for not only loving me but letting me love you. You're so easy to love, and I can't wait to keep loving you for the rest of our lives'."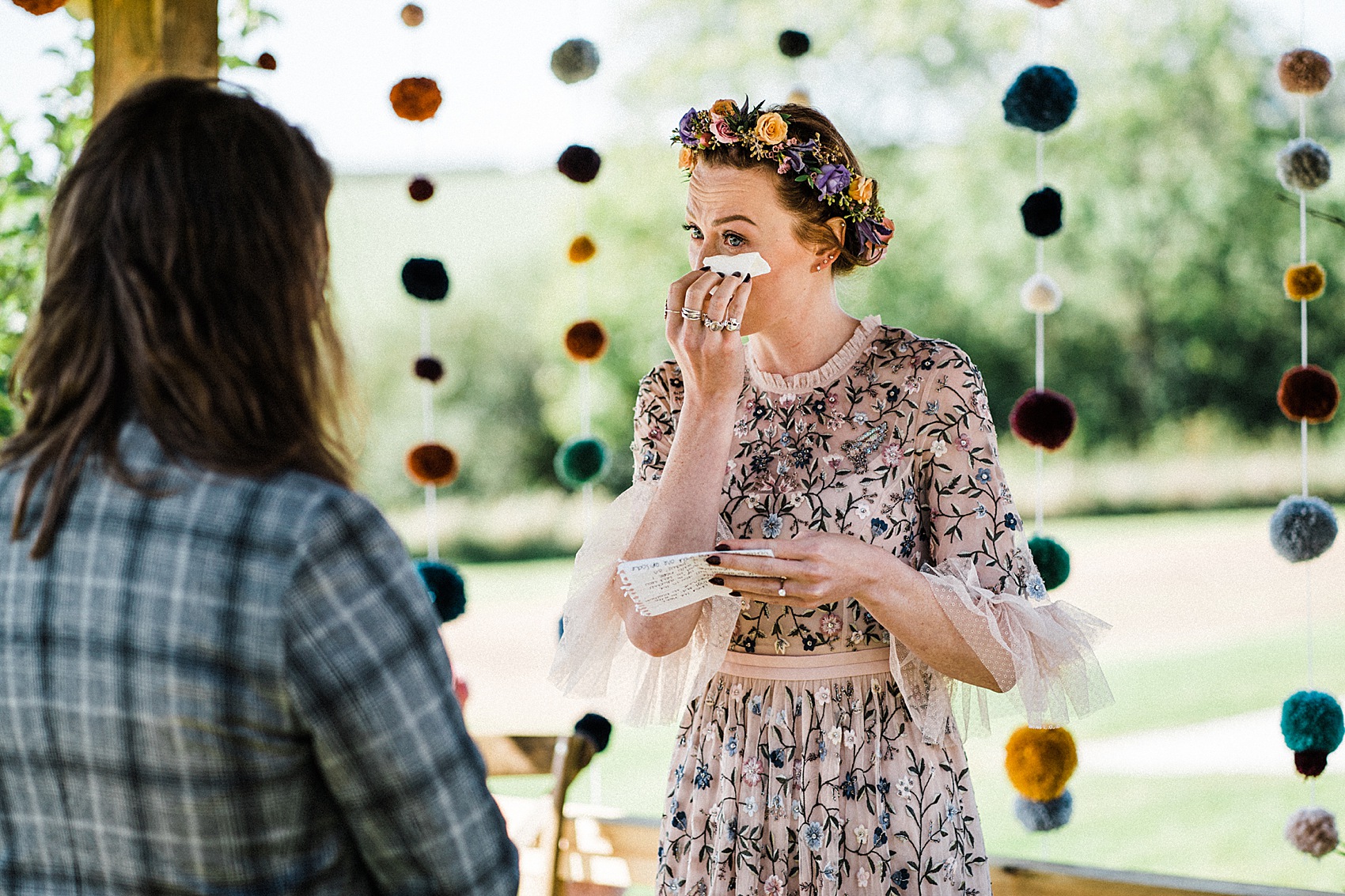 The bridesmaids wore ASOS maxi dresses in a muted aubergine colour, and to complement Jade's dress, her flowergirl wore a pink tulle embroidered dress and matching cardigan from Next.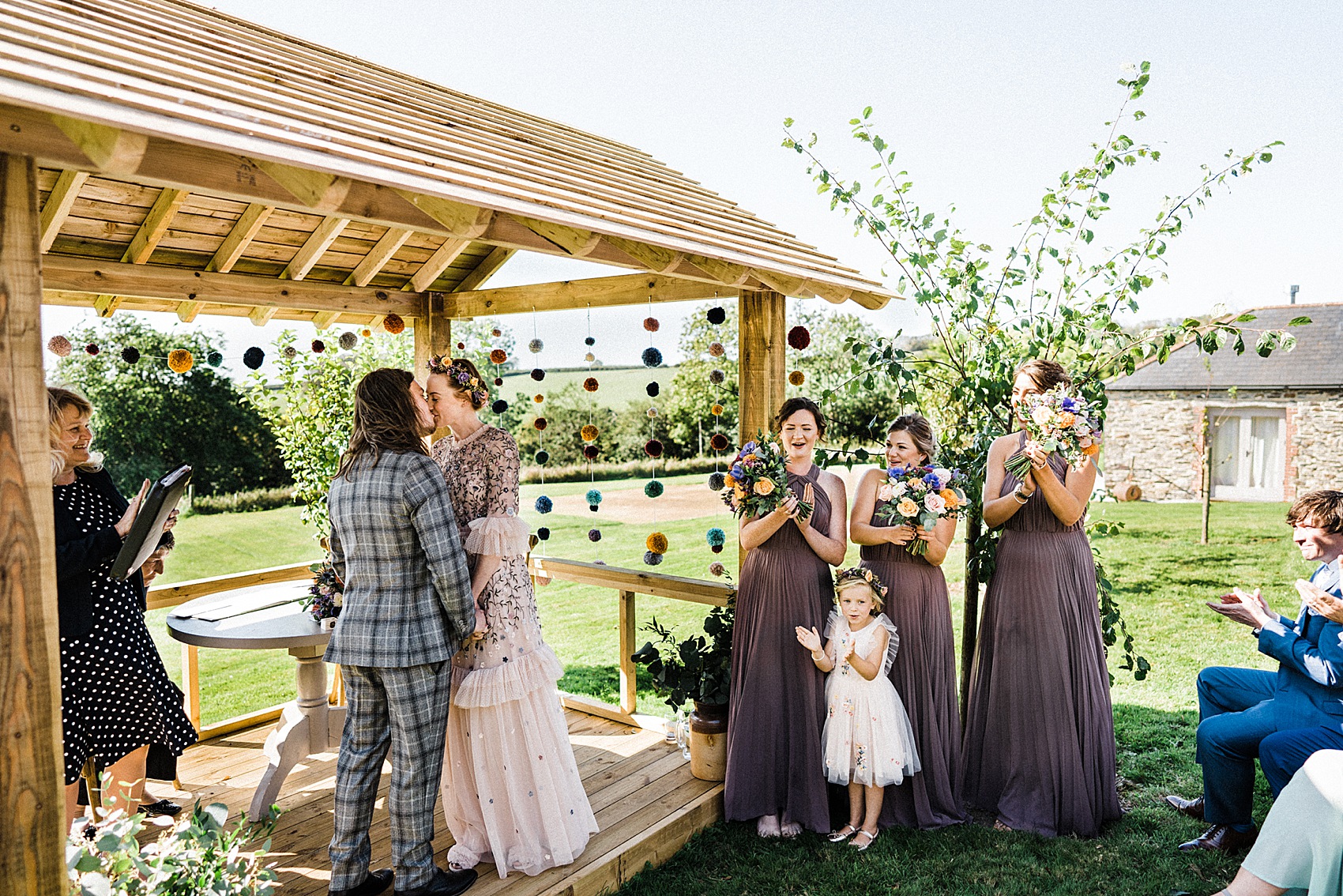 As their heartfelt vows were spoken, Jade and Richard gave one another rings, too. Jade's was a simple platinum band from Beaverbrooks, and Richard went for a plain silver band from The Great Frog.
"We met whilst we were both working at ASOS. I'd just been promoted, and he was doing some of the training for my new role. We'd been together 5 years when Richard proposed. It was the Saturday before Christmas and we were due to spend the afternoon with family. For that reason we decided to have a chilled morning on the sofa."
"We were watching TV at the time when Richard casually said, 'Will you marry me?' and jokingly I replied 'Yeah, sure'. At this point he left the room and walked into the kitchen, coming back with a ring he'd made out of tin foil, which he then popped on my finger."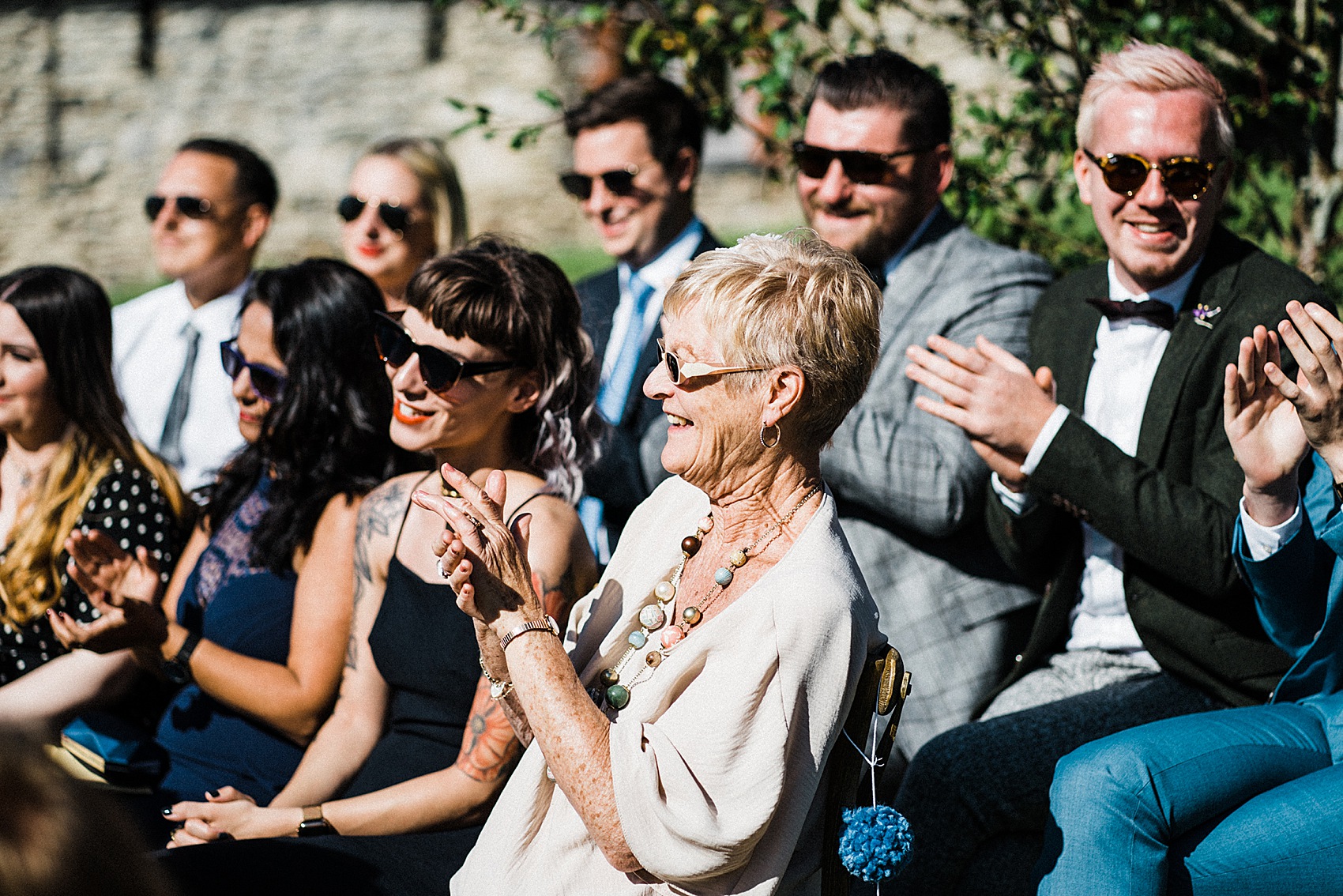 "Needing to head out soon, we both went upstairs to get ready – I cracked on with my make-up whilst Richard sorted himself out. There wasn't anything out of the ordinary when he was finished before me and was waiting downstairs. When I was ready I walked down the stairs, and that was the point I saw him on one knee and he asked me to marry him! I instantly burst into tears, not believing what had actually happened, and it was just the most amazing feeling."
"Later on, he told me that he wasn't actually planning on proposing until the following March (the anniversary of our first date), but said our morning had been spent just laughing, being silly, and having a great time together, and that is was the perfect moment."
After the ceremony, handfuls of confetti showered the newly married couple and danced in the breeze. Lots of hugs and kisses were exchanged, and a glorious home-baked wedding cake made by Richard's Mum was cut.
"We had a three-tiered naked cake of Victoria sponge, chocolate and lemon, and one of my bridesmaids decorated it with fruit the morning of the wedding. We chose a naked cake as we felt it was most fitting for our day – simple, informal and relaxed."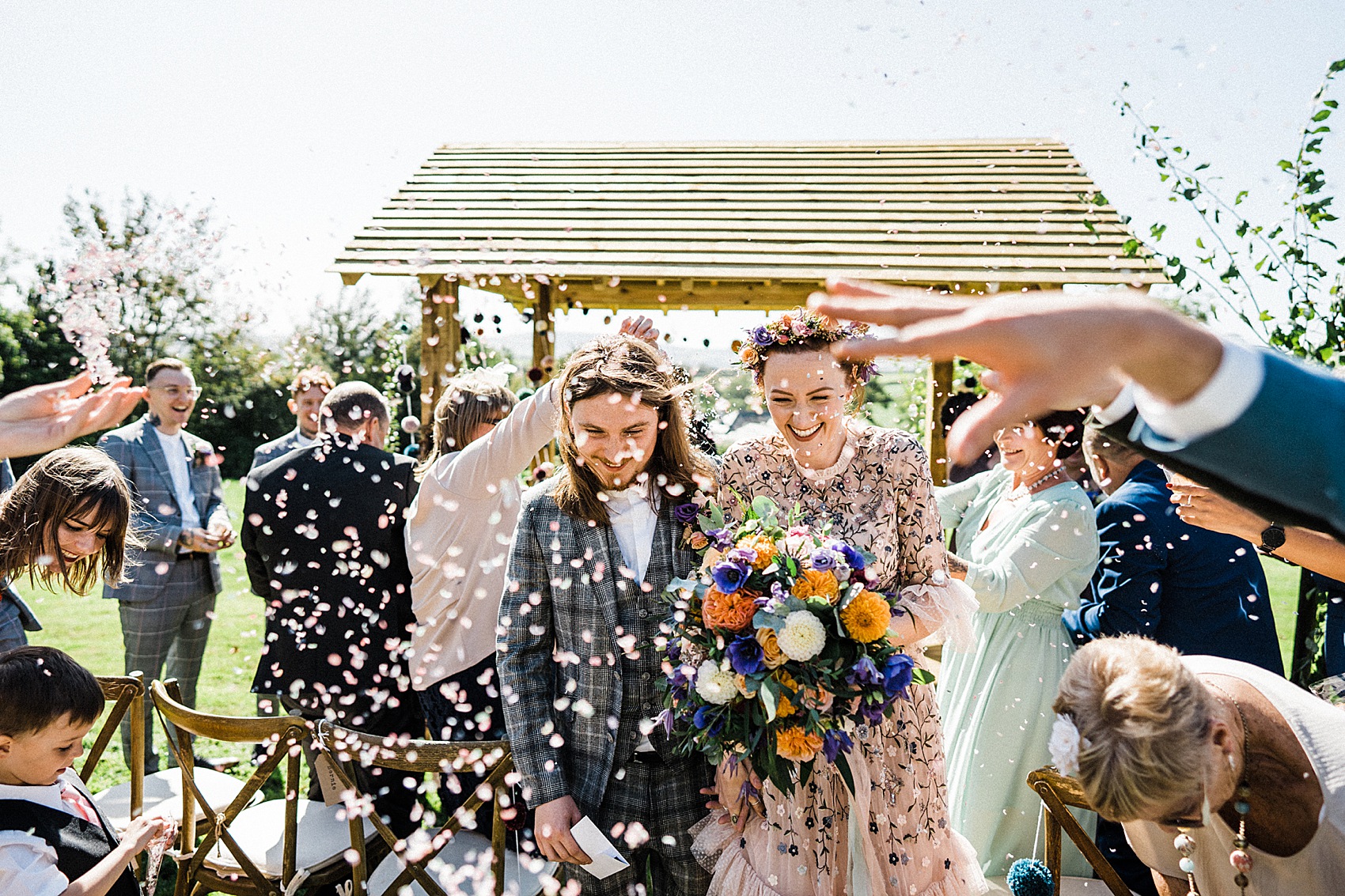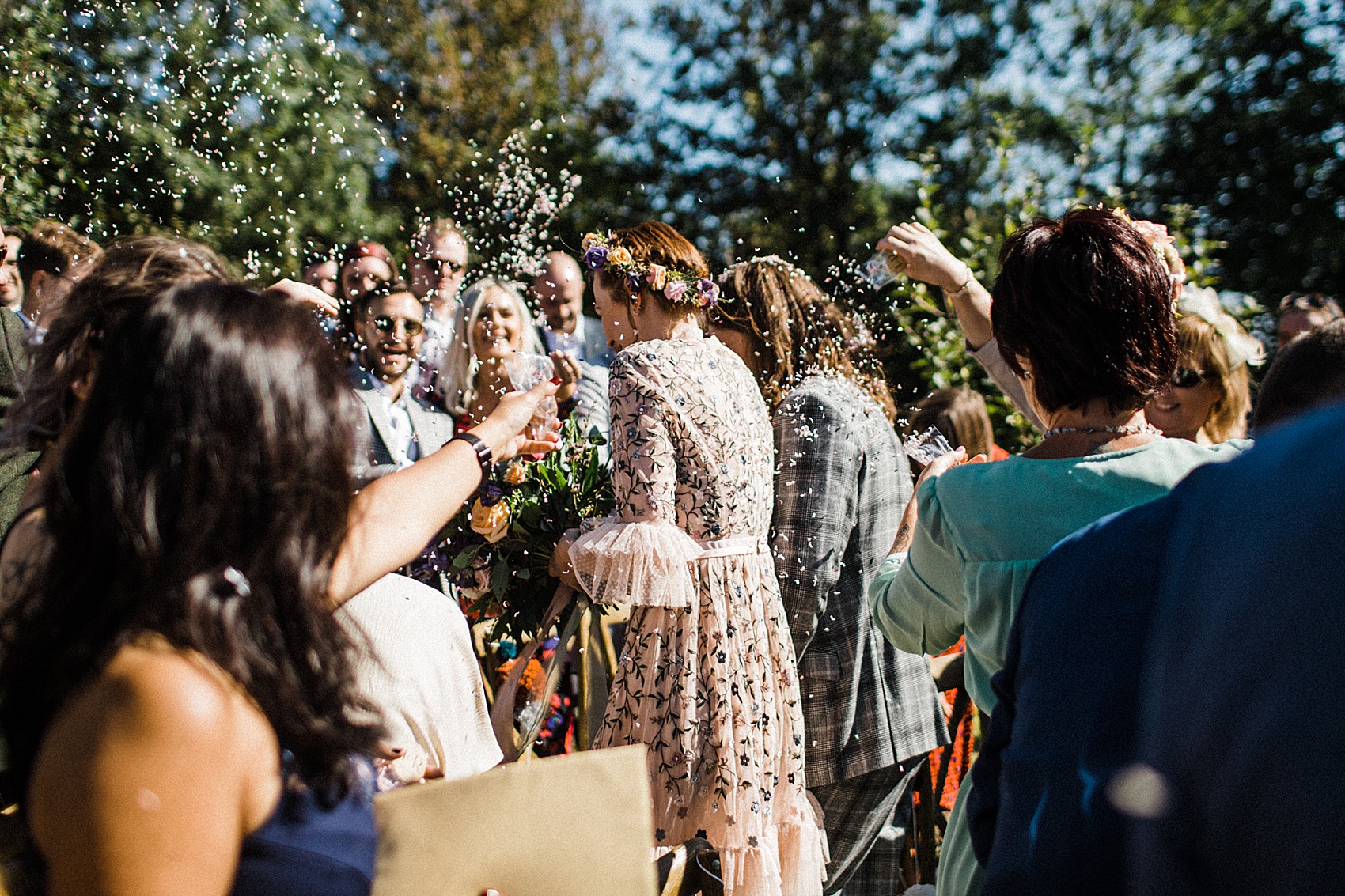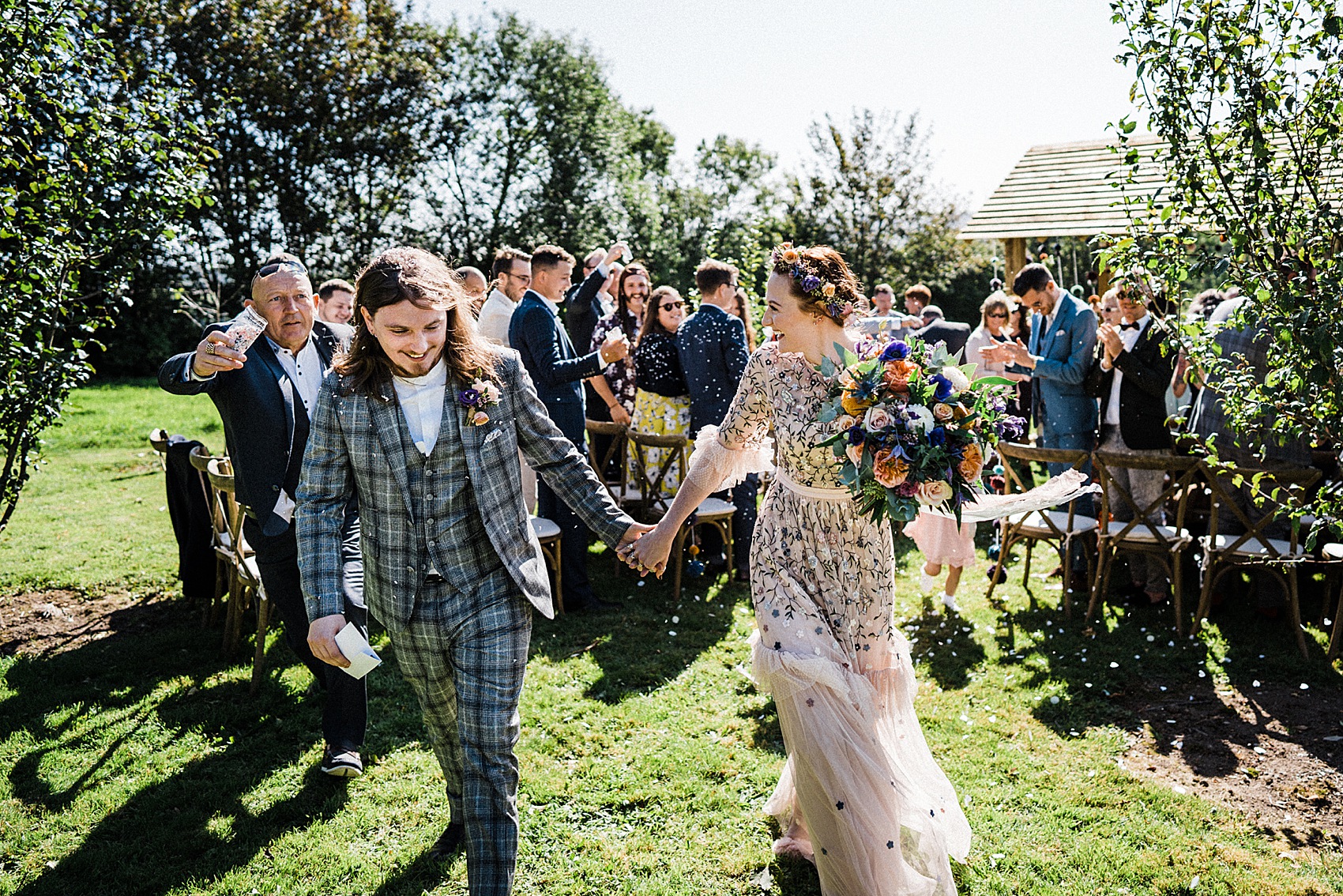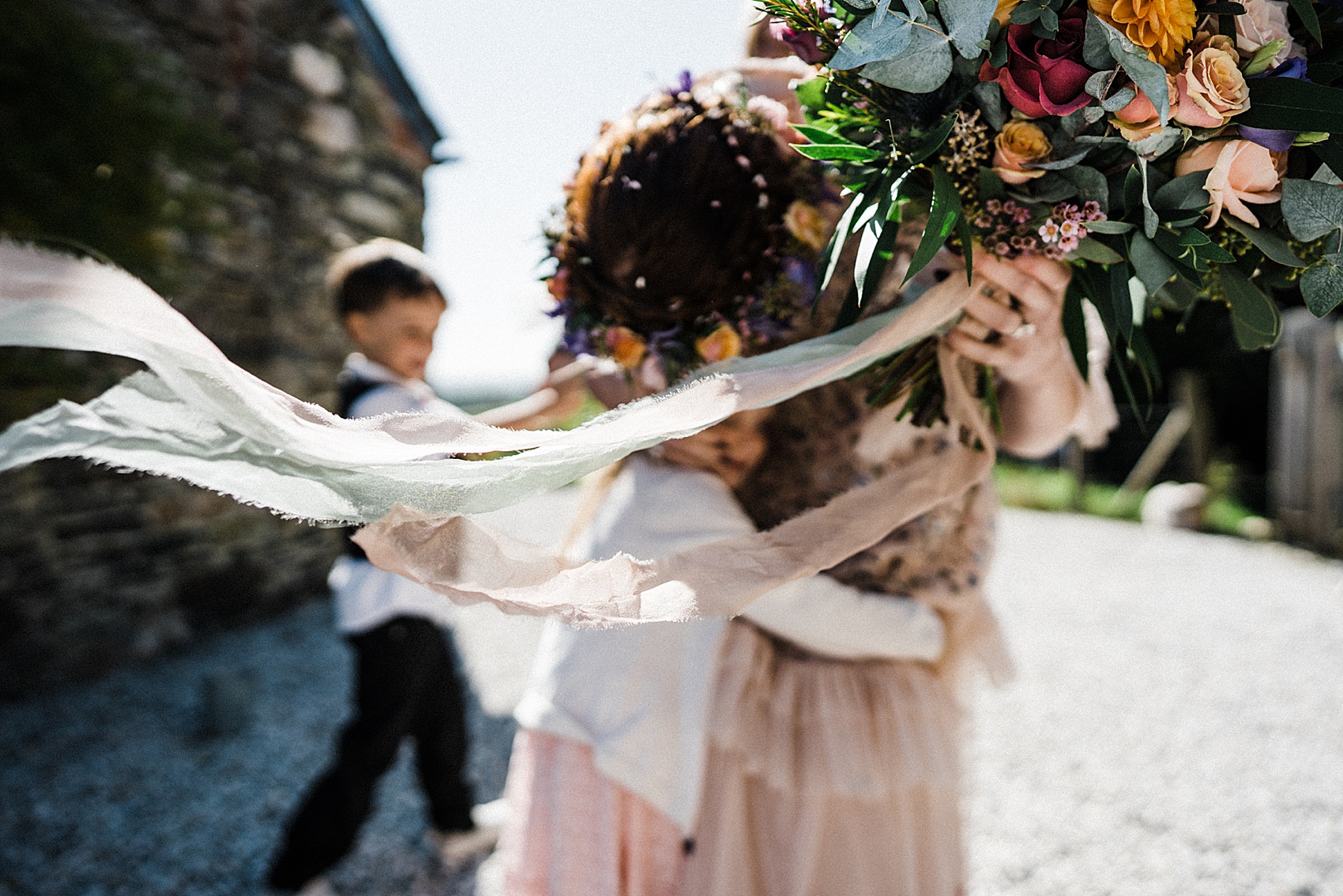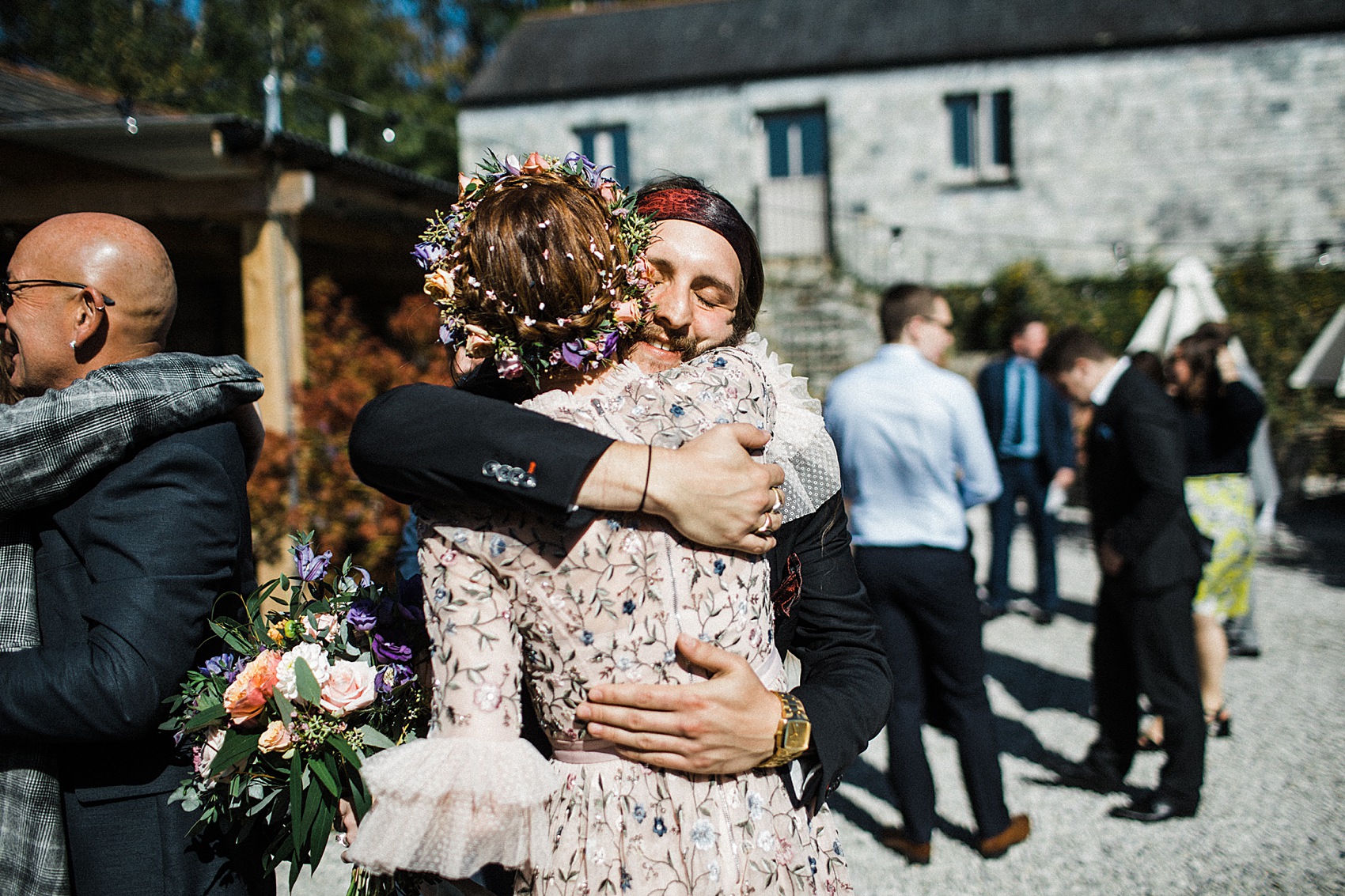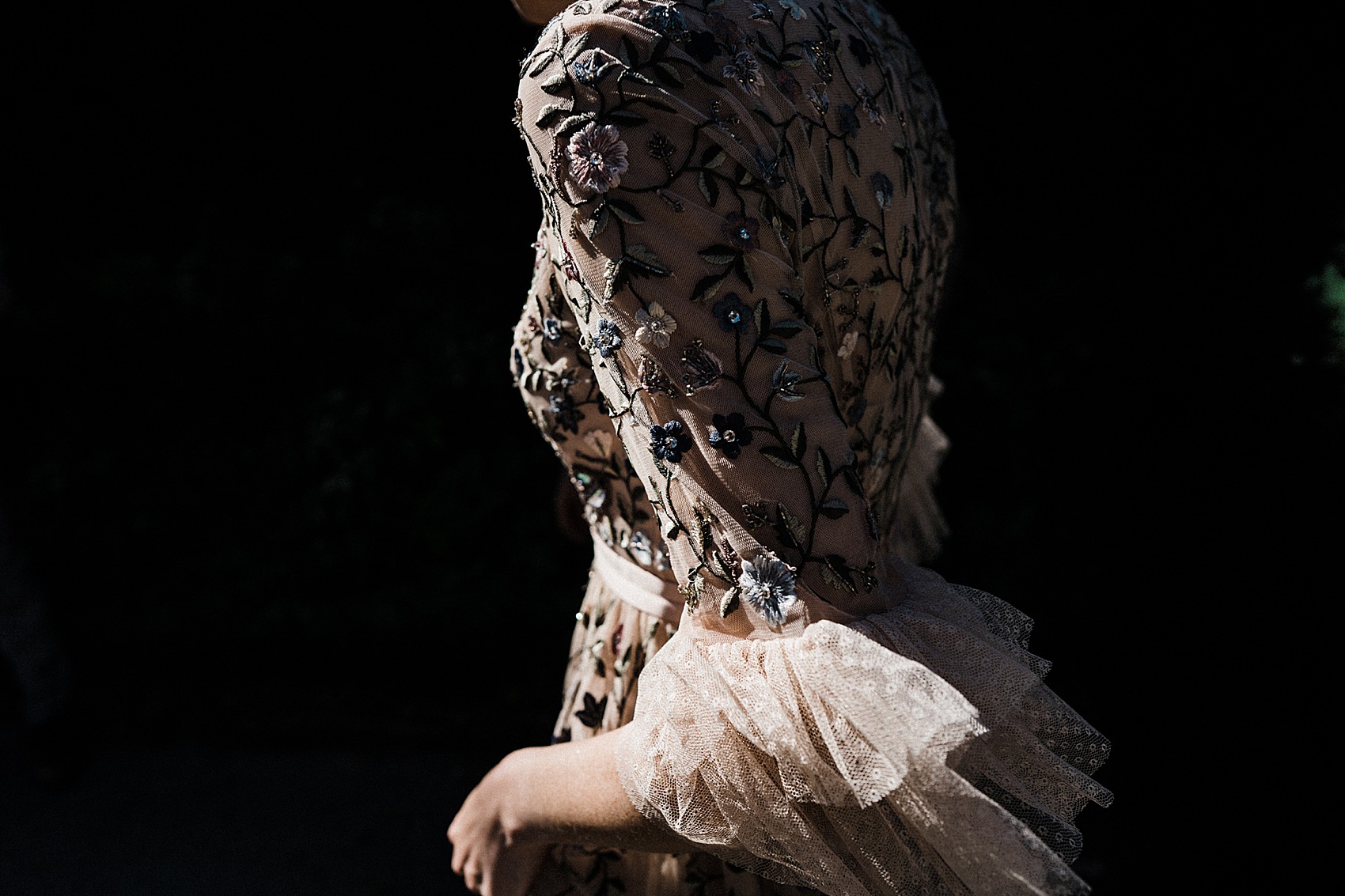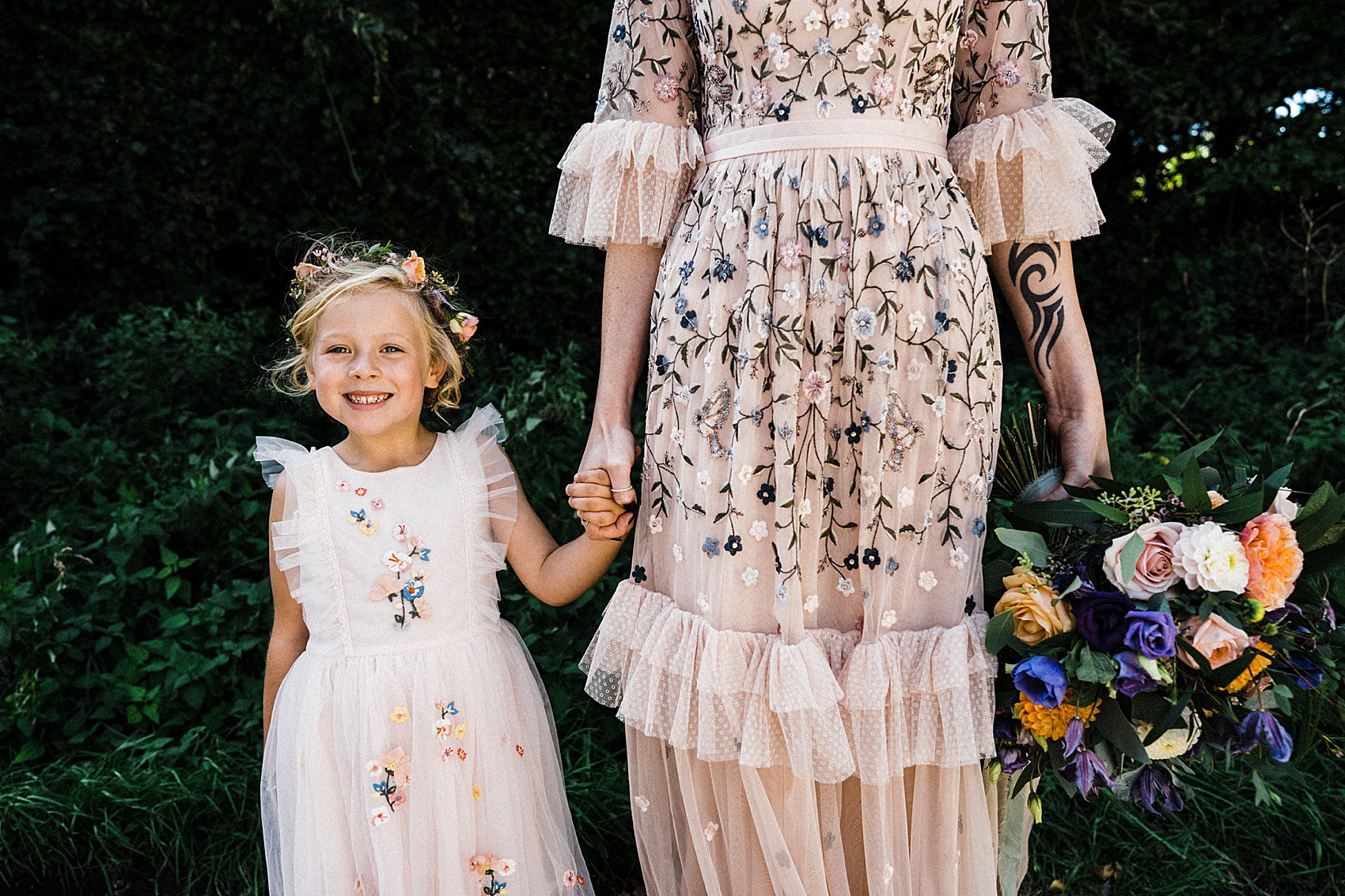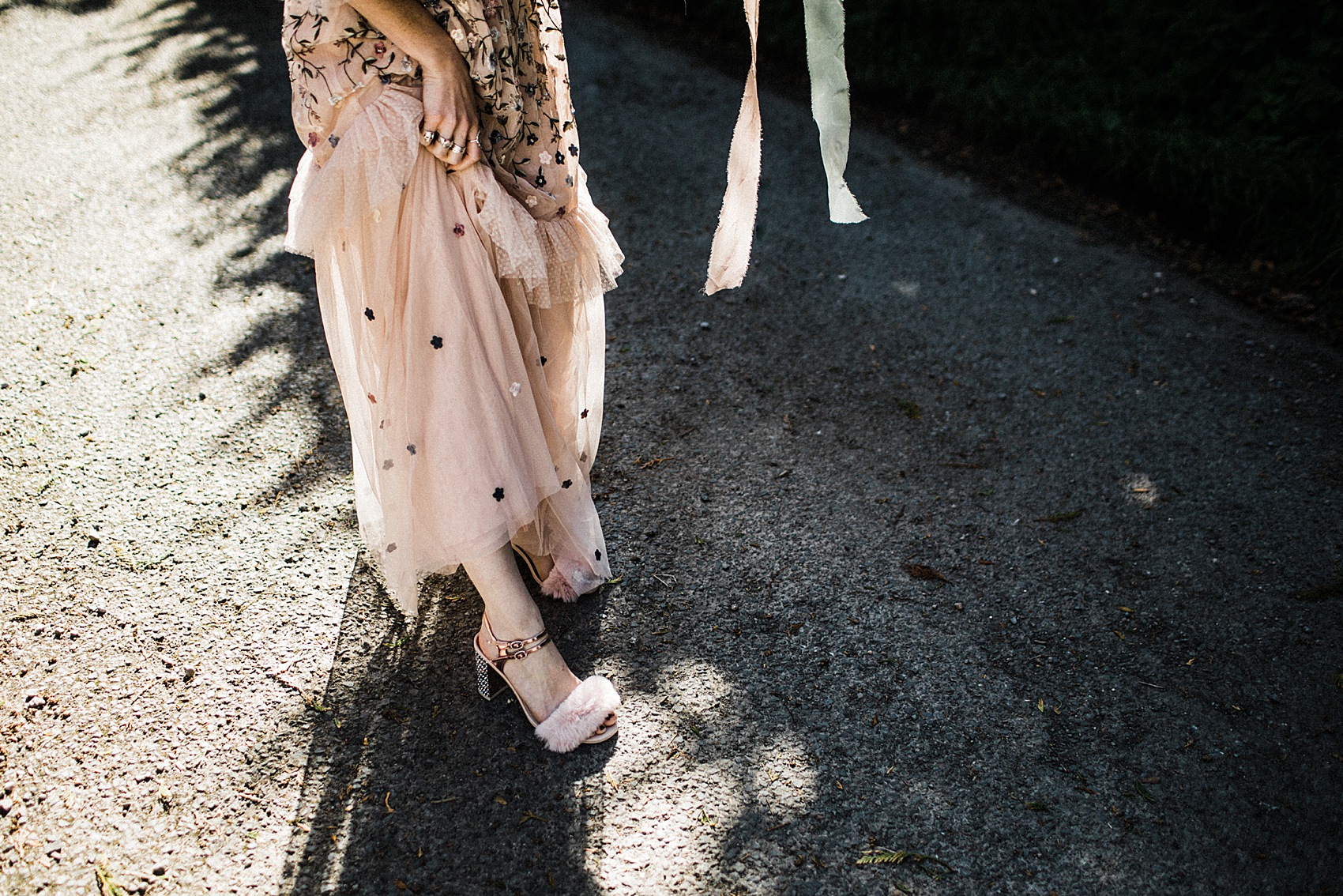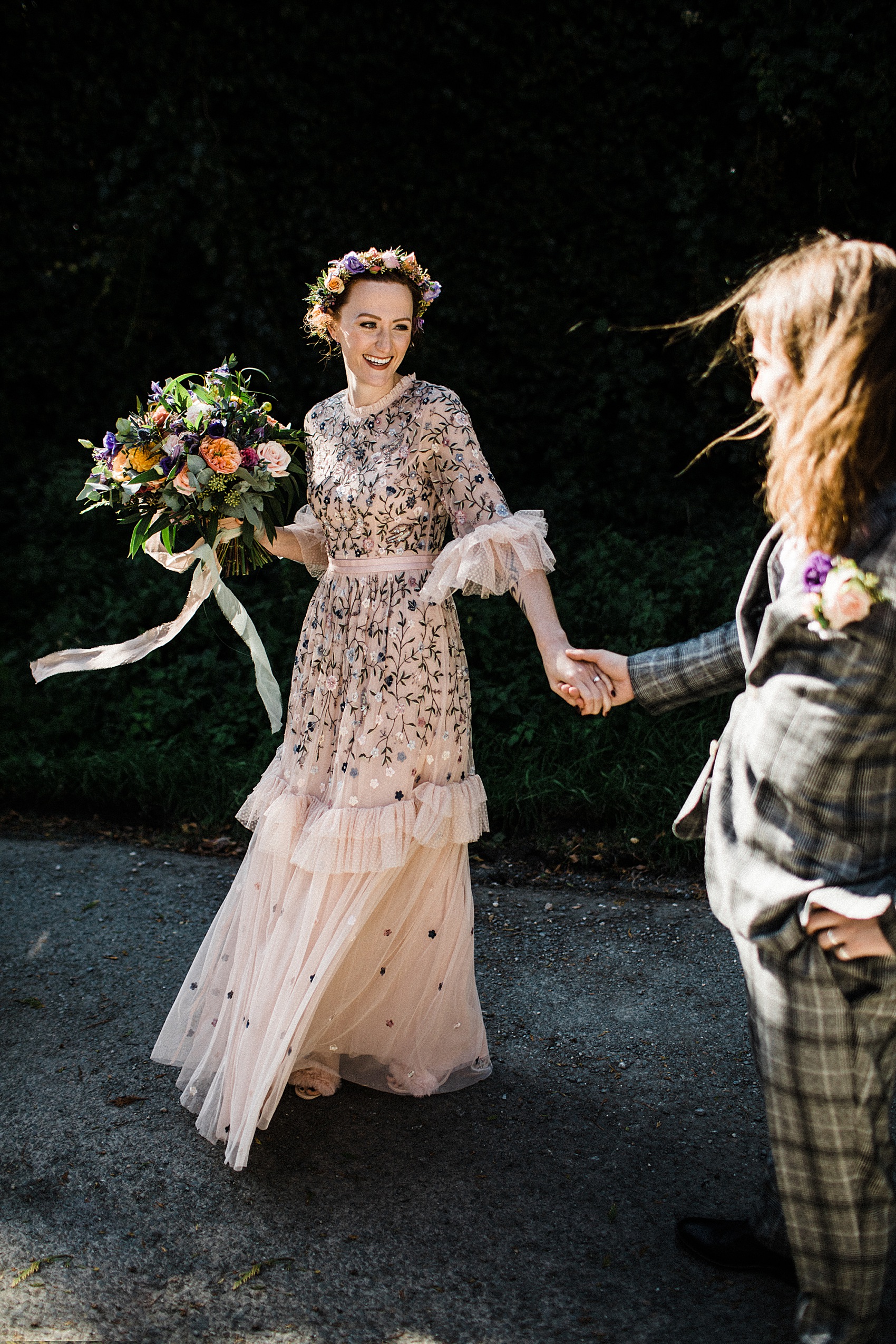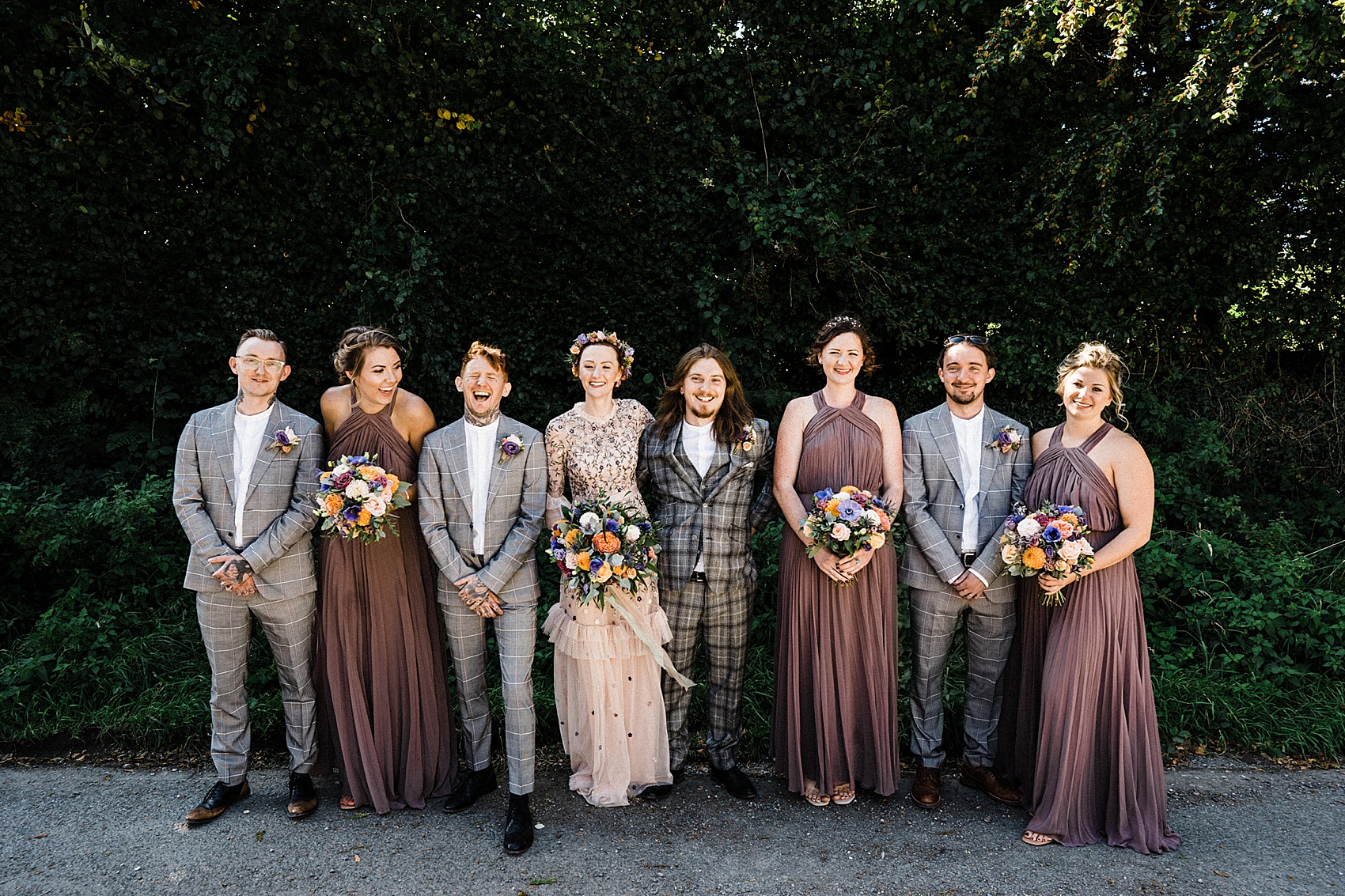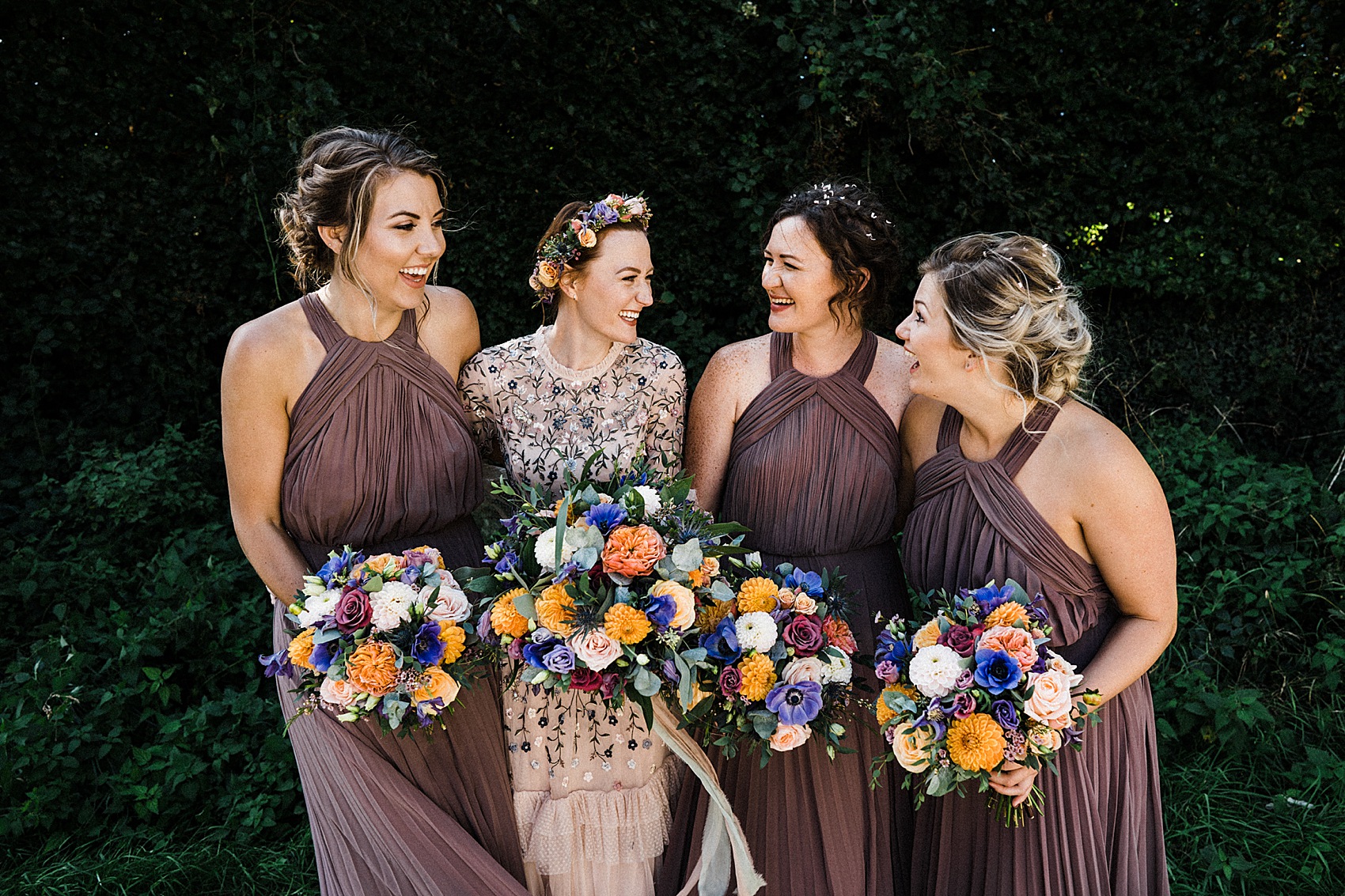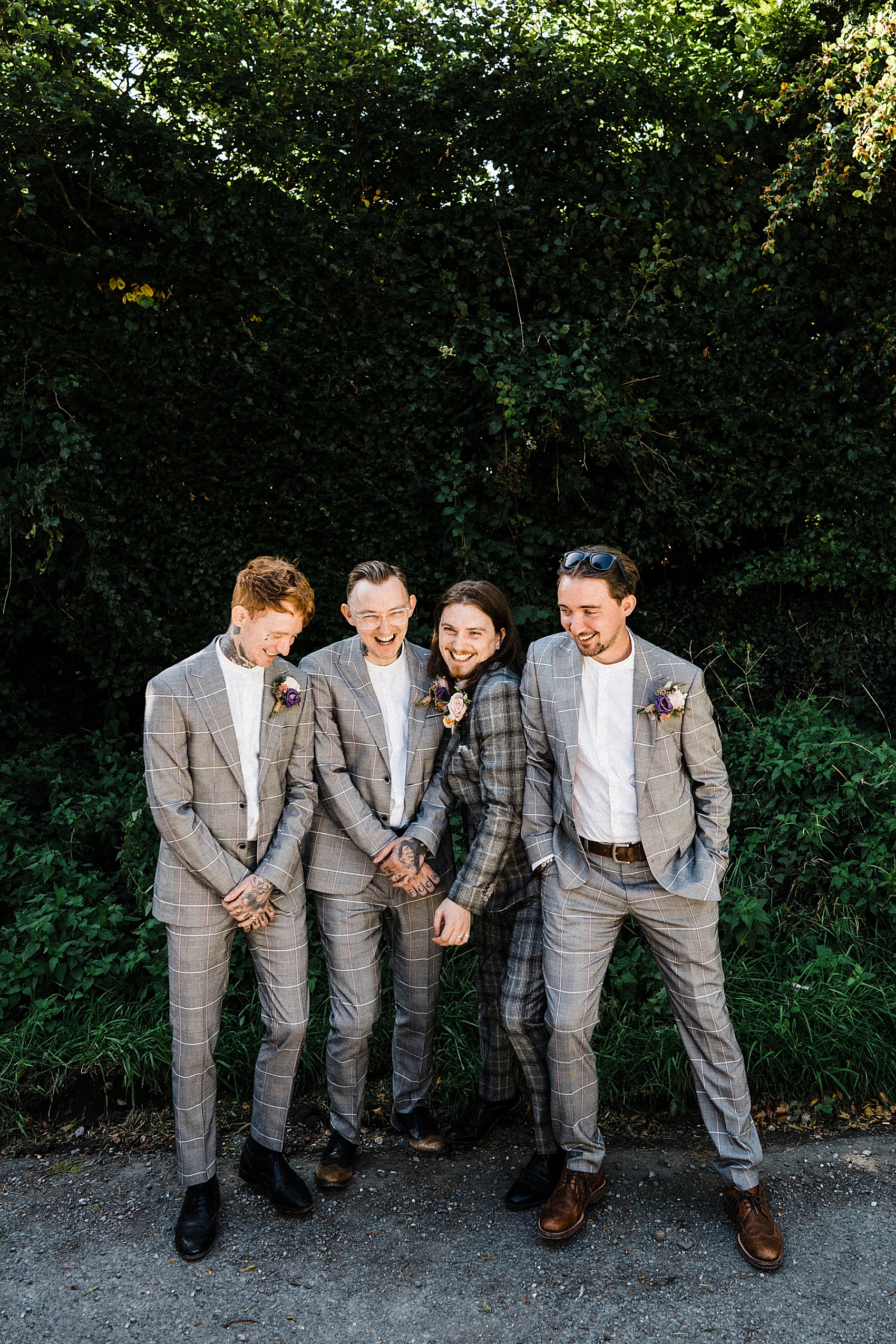 Photographers Lauren and Glenn from Through the Woods We Ran are such a talented and creative duo, and they worked their customary magic whilst capturing Jade and Richard's day.
"We loved that they weren't your traditional wedding photographer. We weren't having a traditional wedding so wanted someone to complement our day. We loved their style – raw, fun, capturing the emotion. We are in love with our wedding photos!"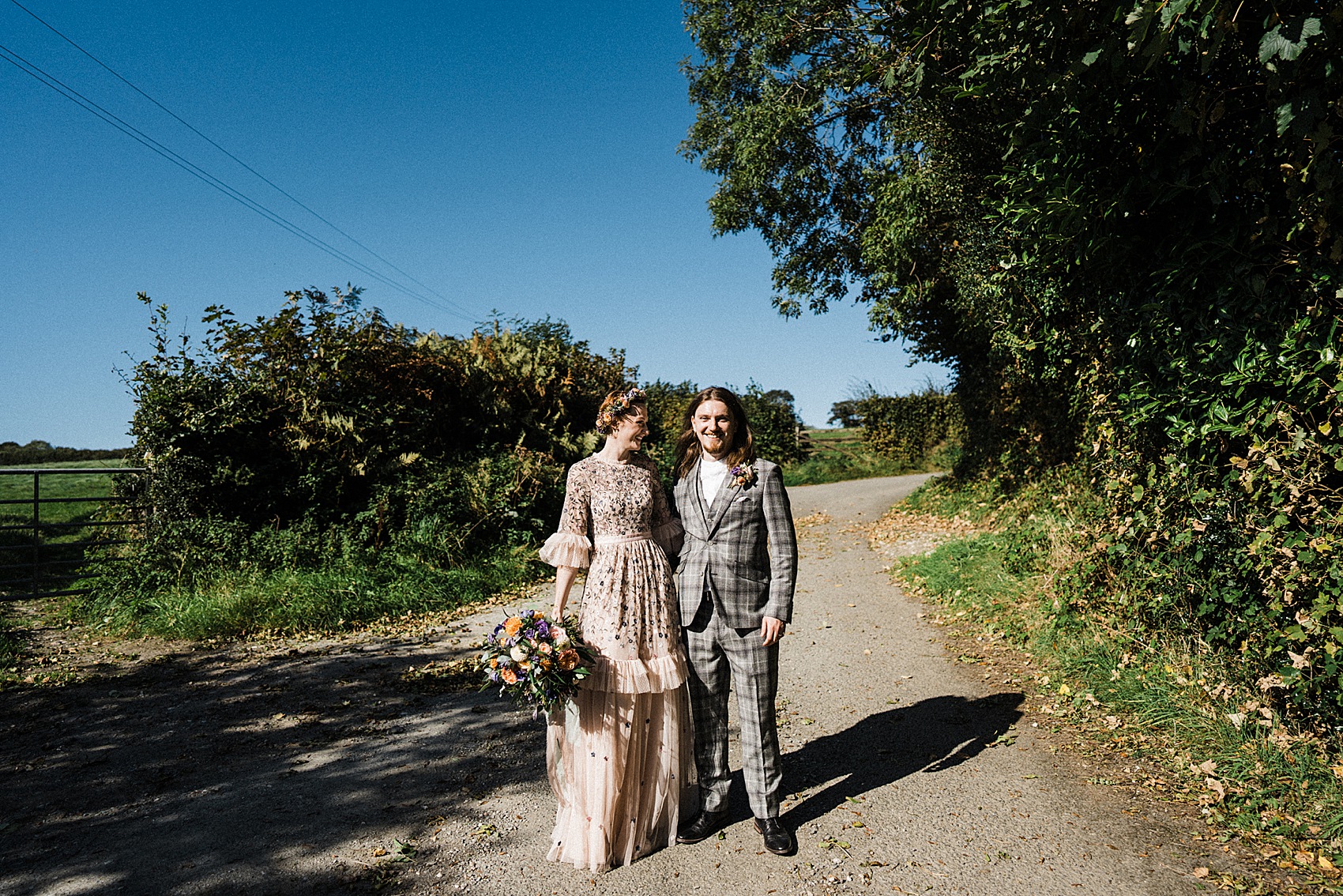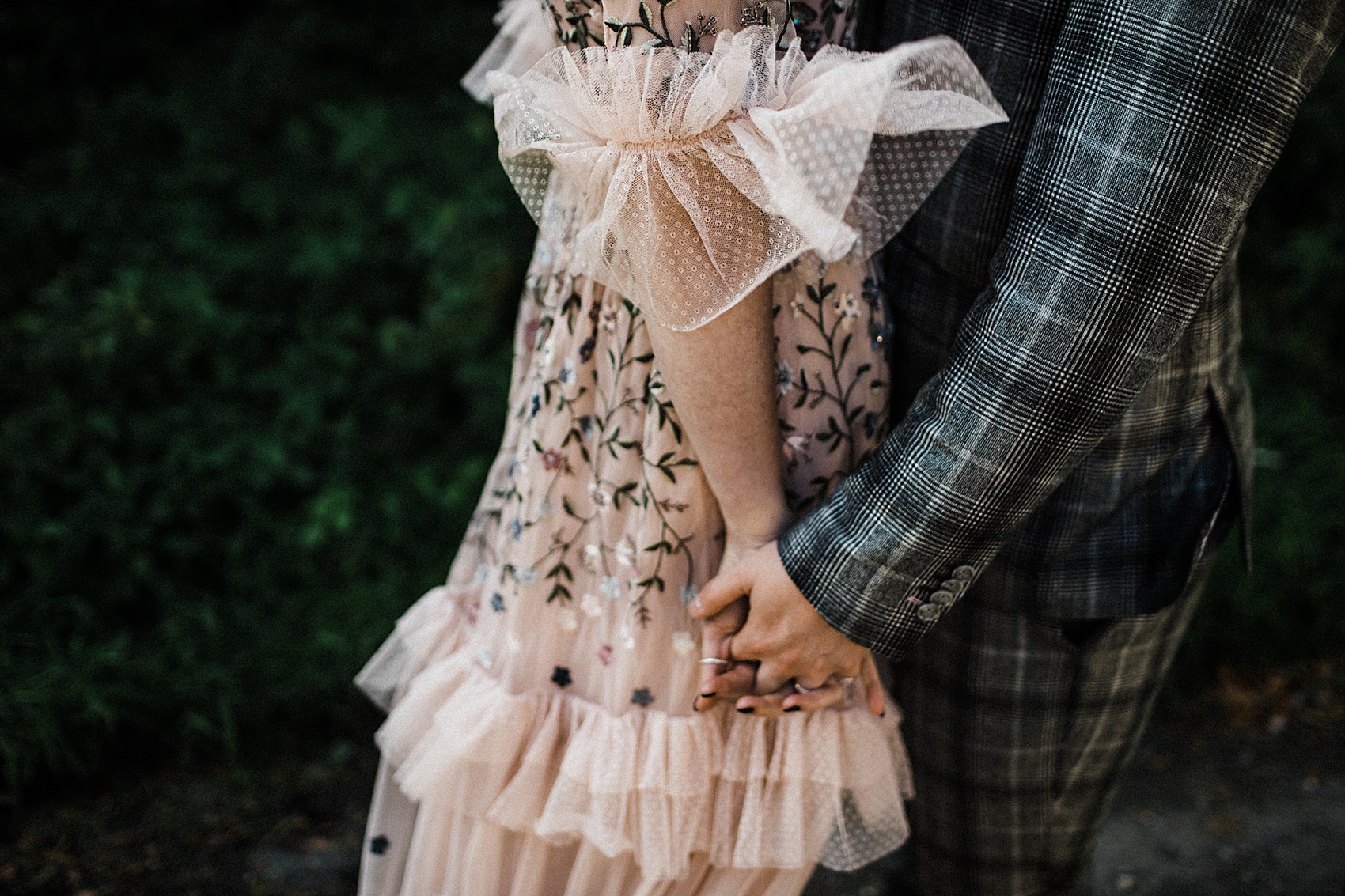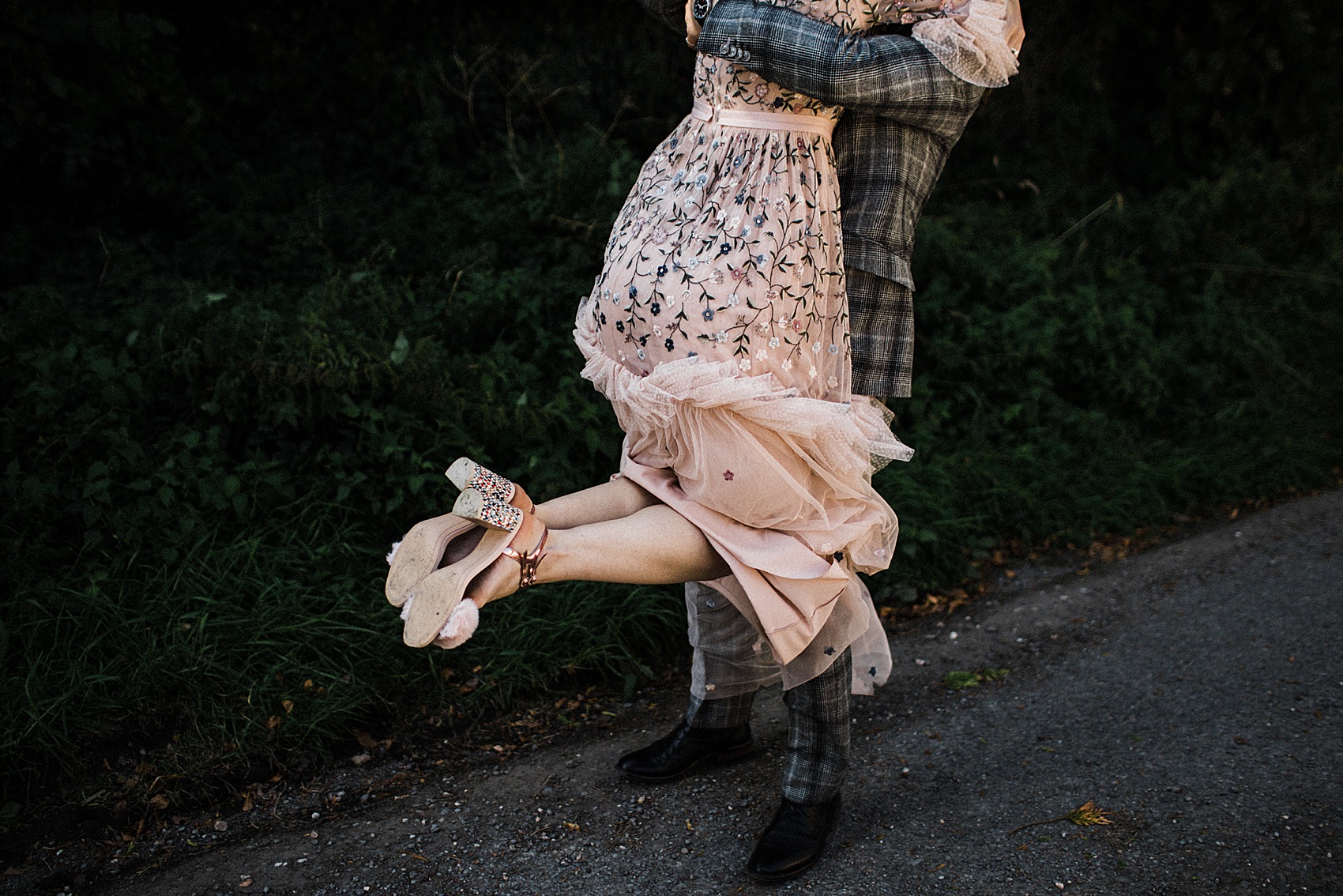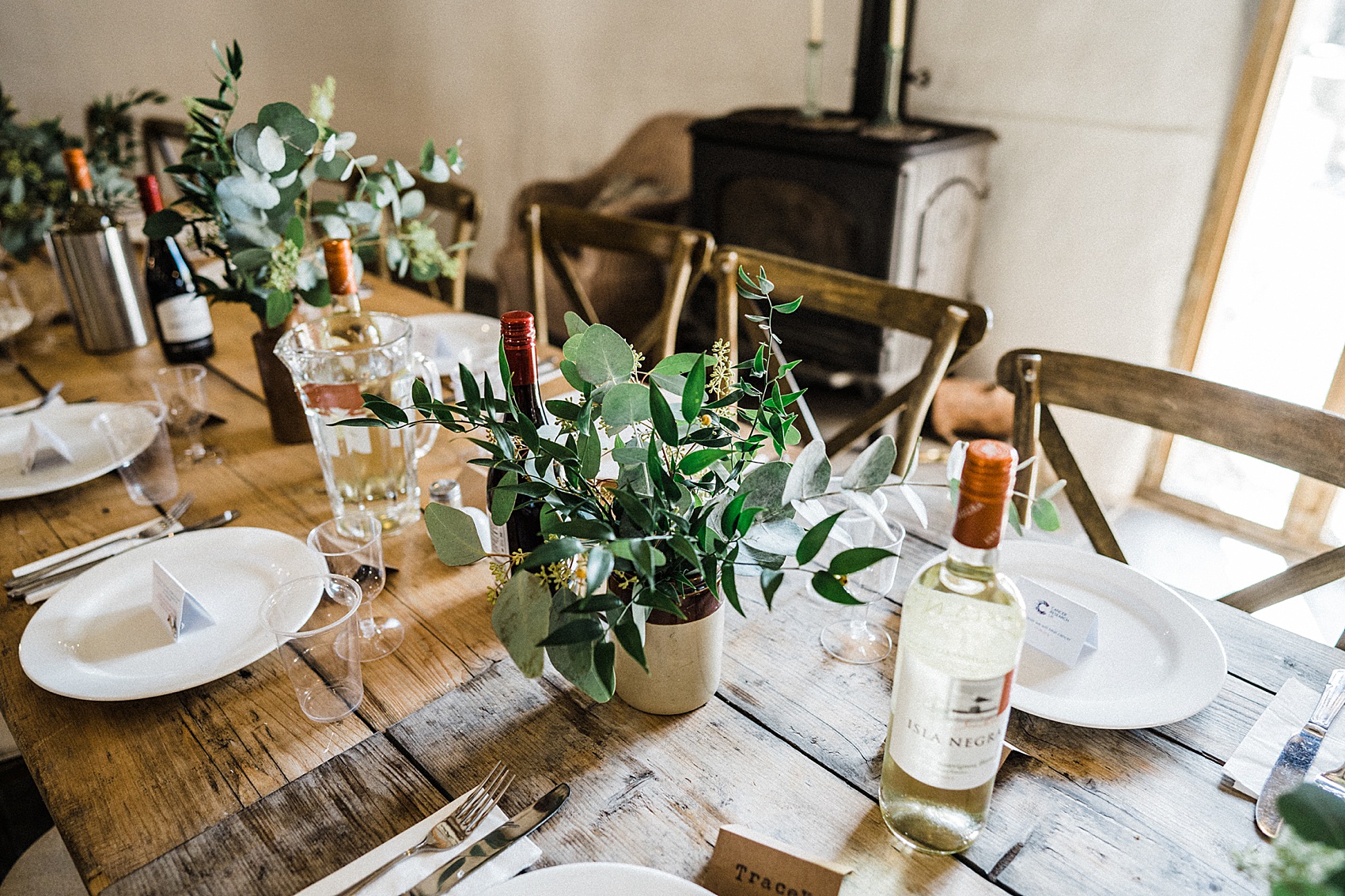 The couple created all of their own stationery, and hung more lovely pom poms (as well as festoon lights) from the ceiling beams of the barn. Below, long and rustic dining tables were arranged and decorated simply with vases of wild greenery.
"We've both had close family members pass away due to cancer, so decided to donate money to Cancer Research and get pins that guests could attach to their outfits."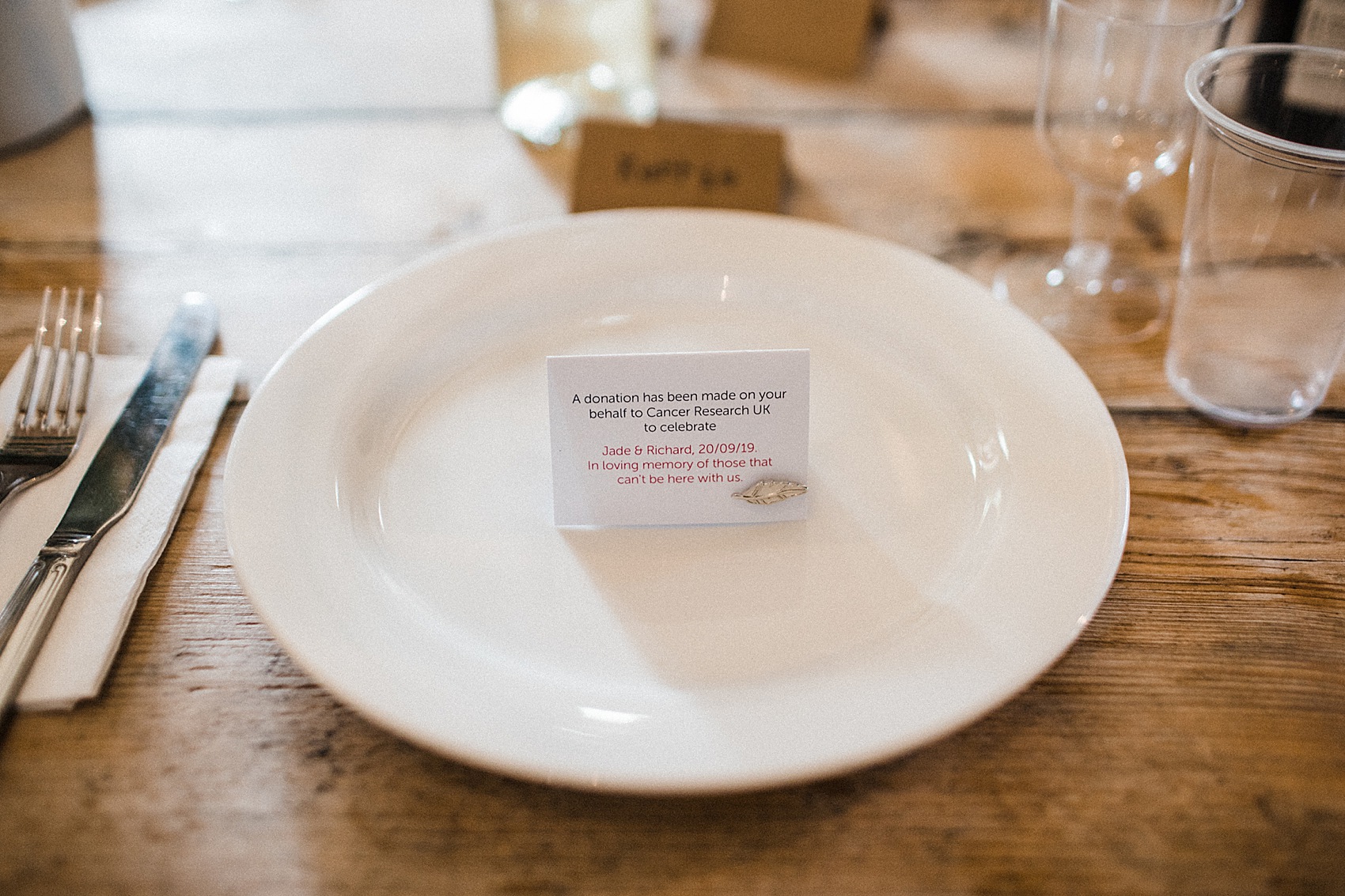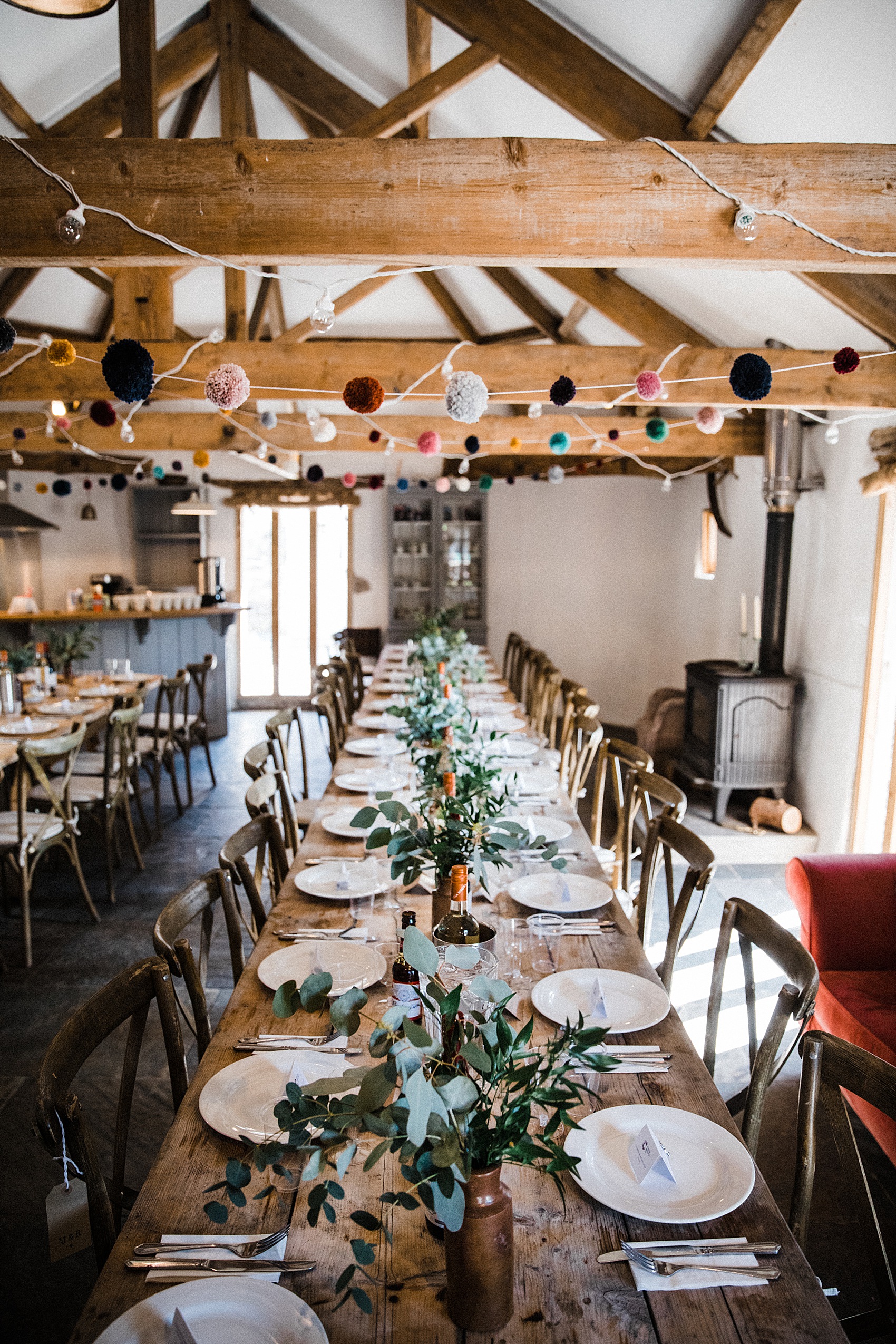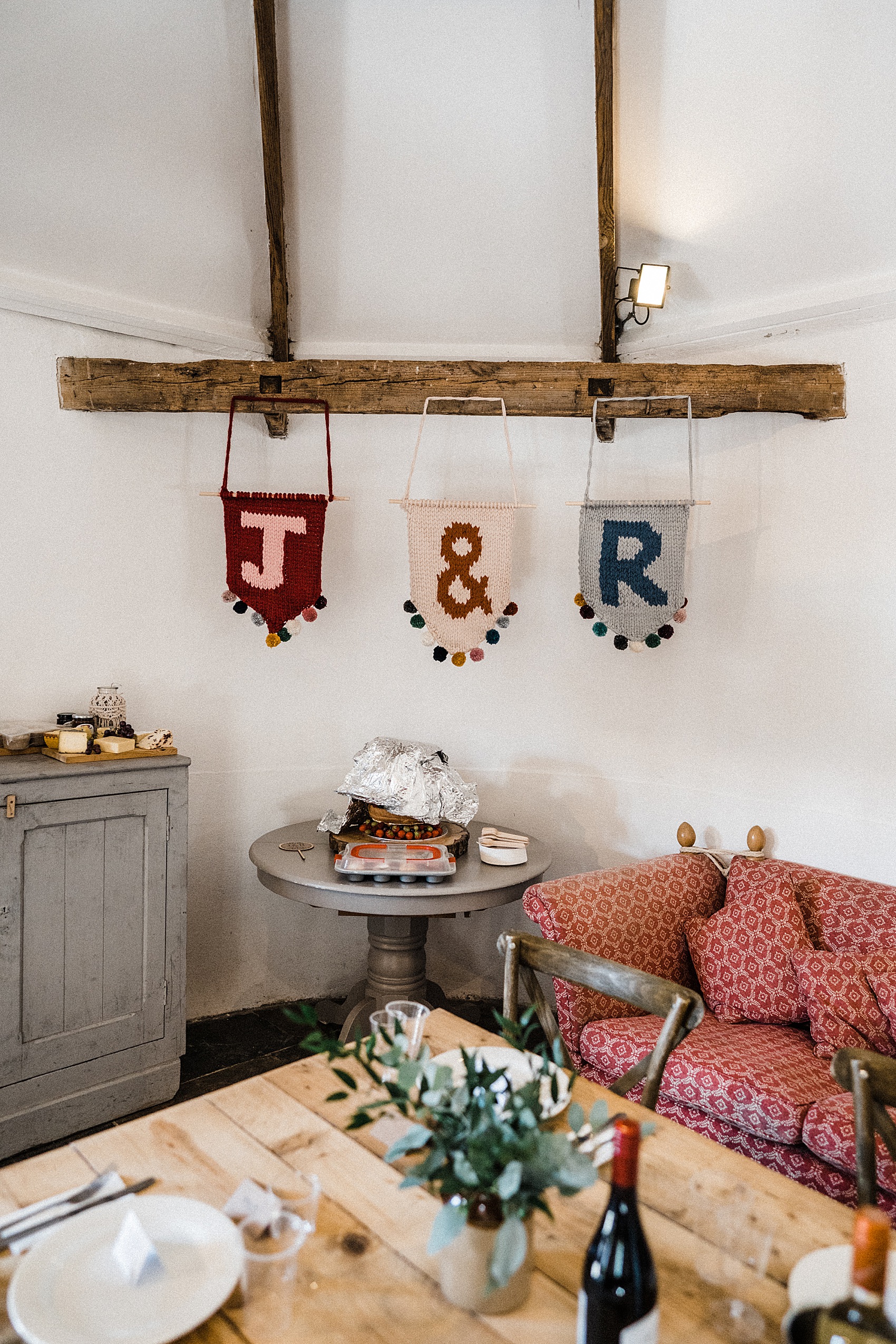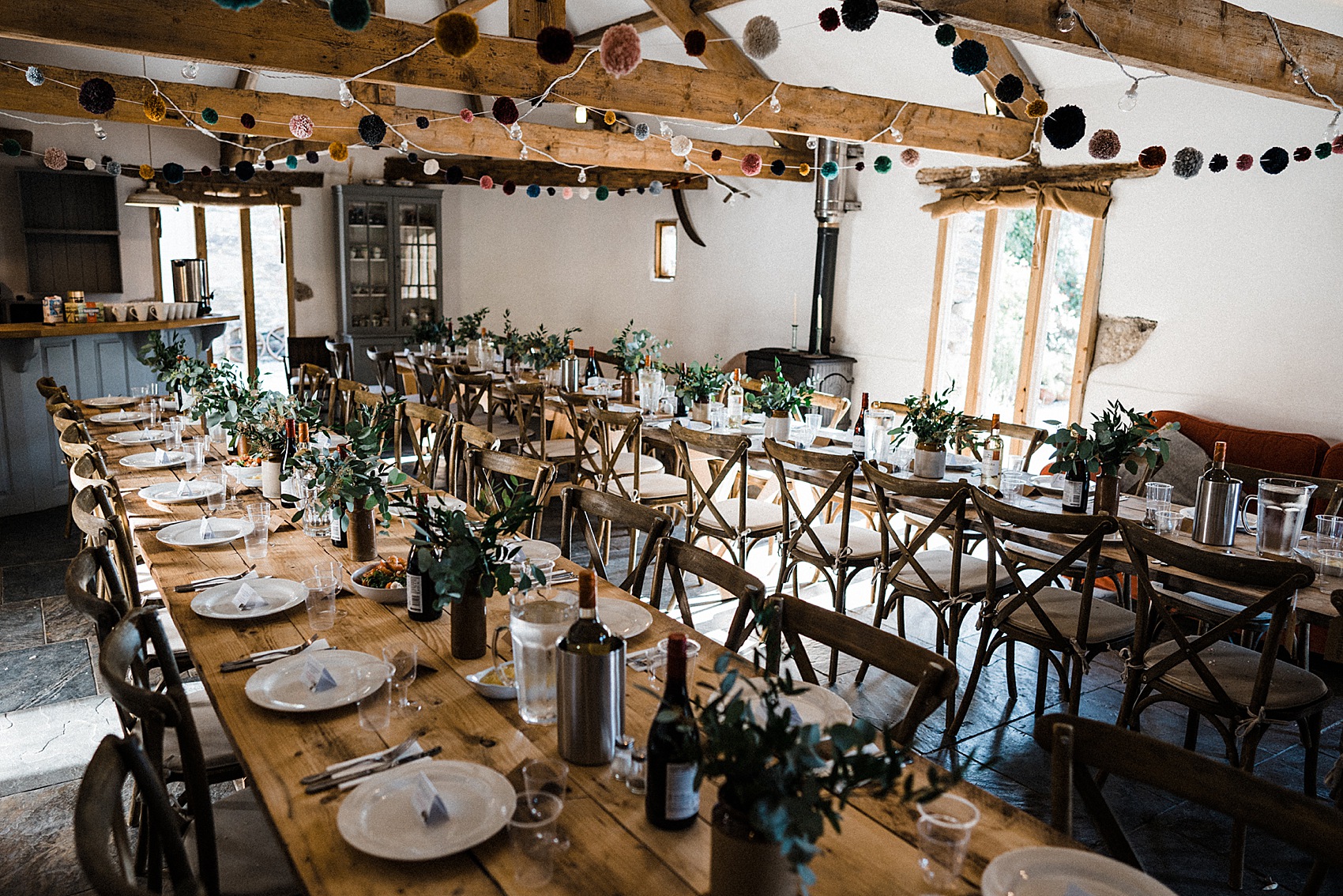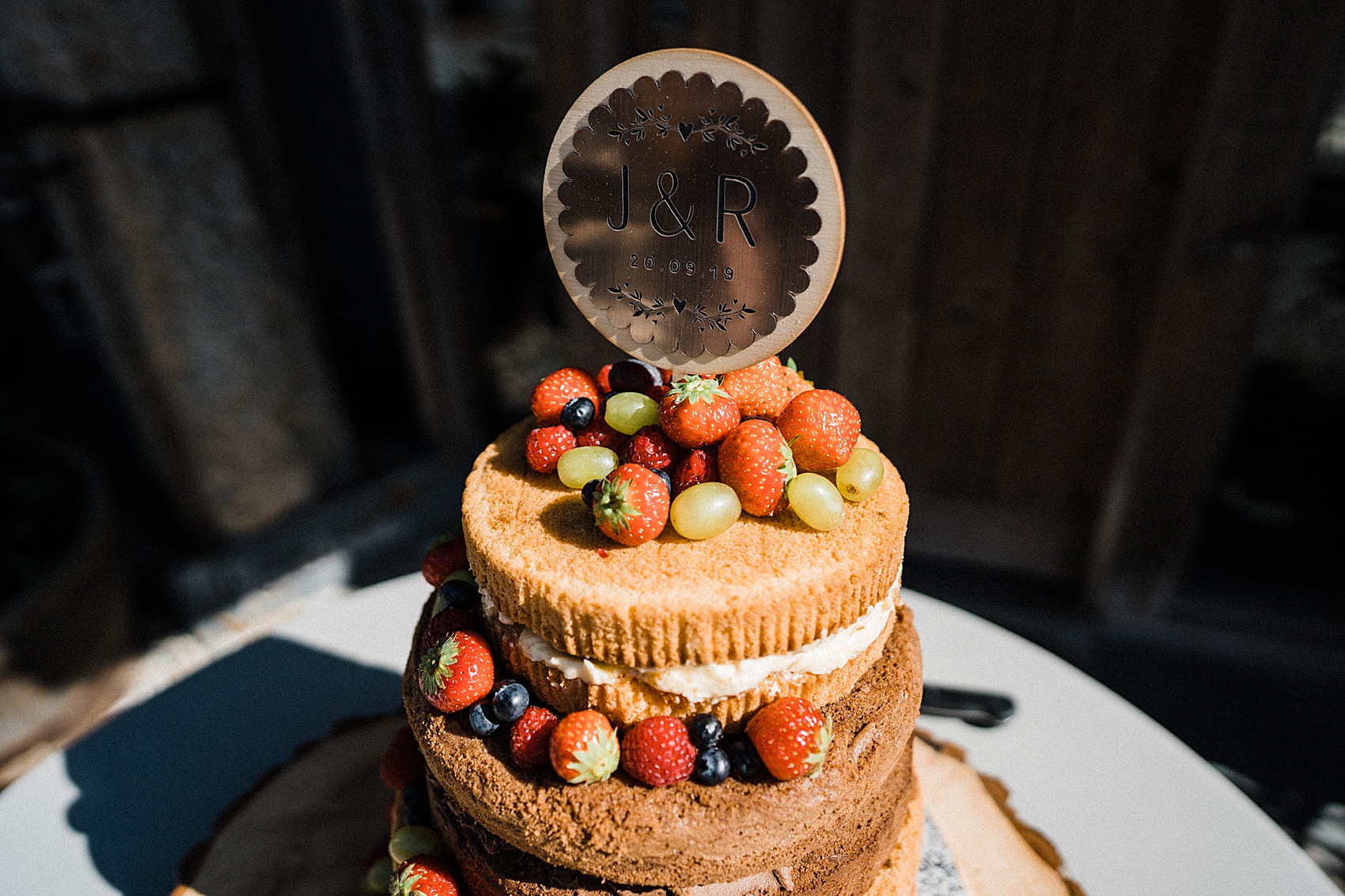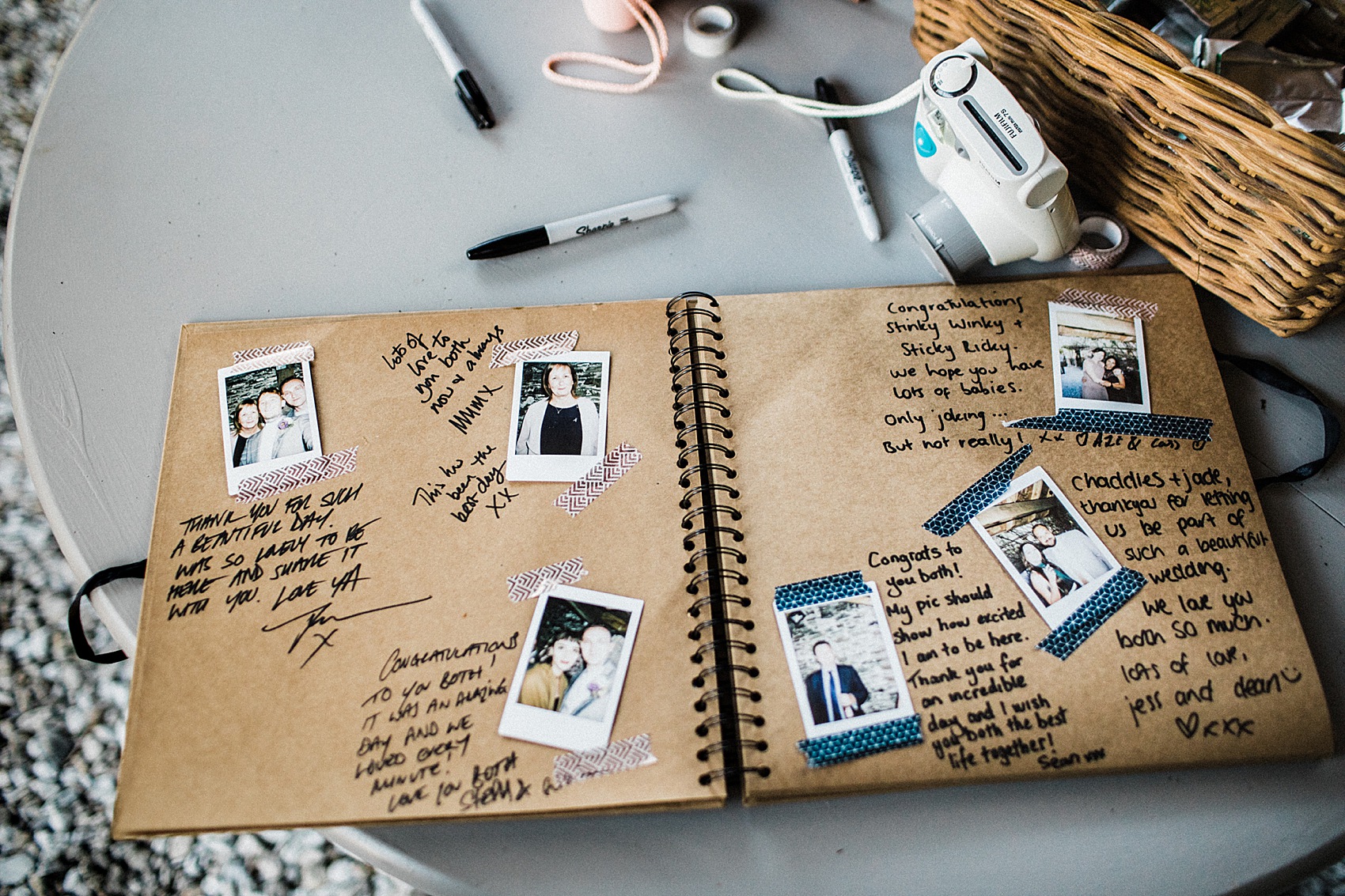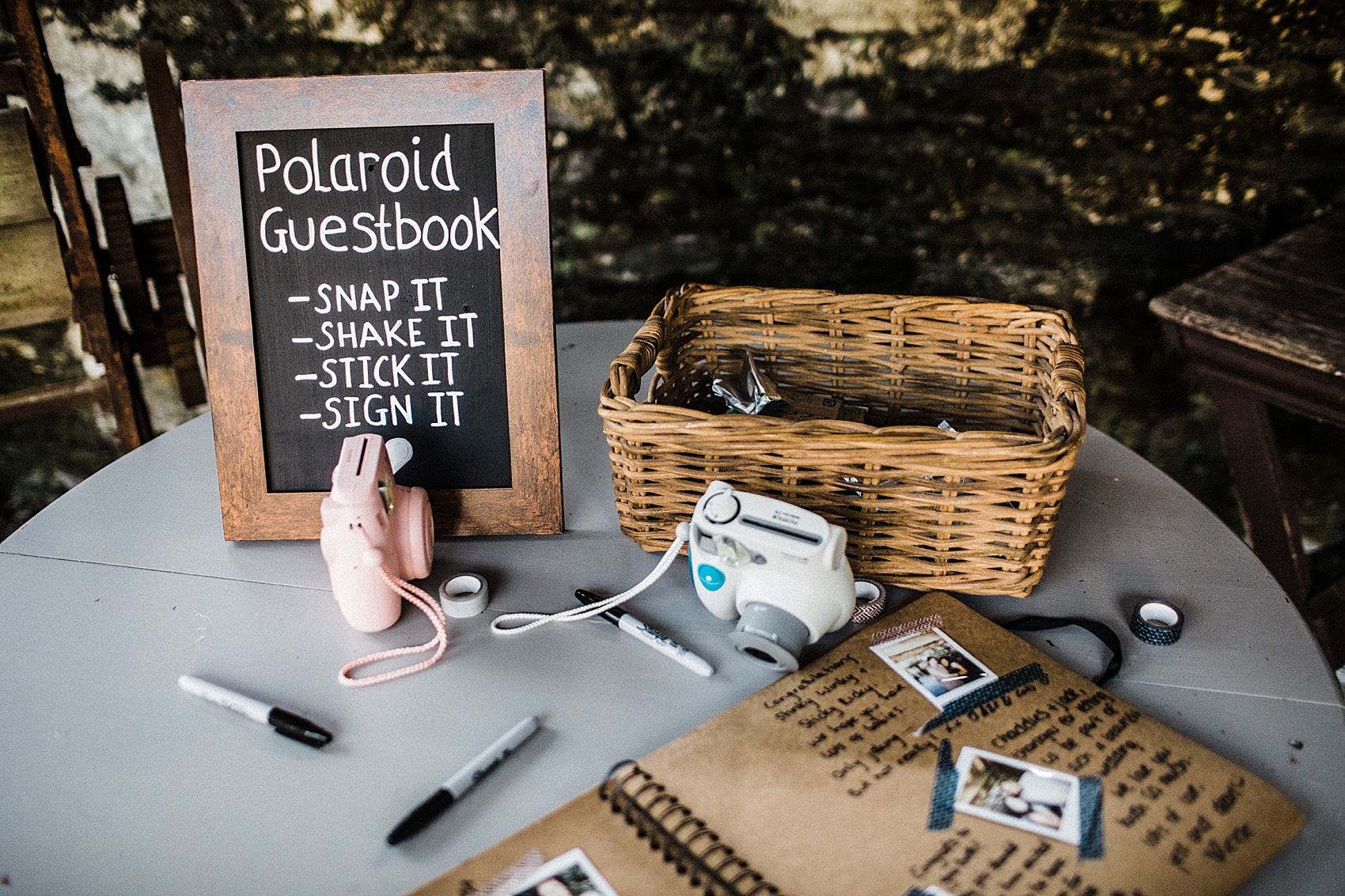 Dinner was a relaxed, convivial affair courtesy of The Spitting Pig Co. Cornwall, with sharing platters of meat, potatoes and salads, followed by a buffet table of dessert treats.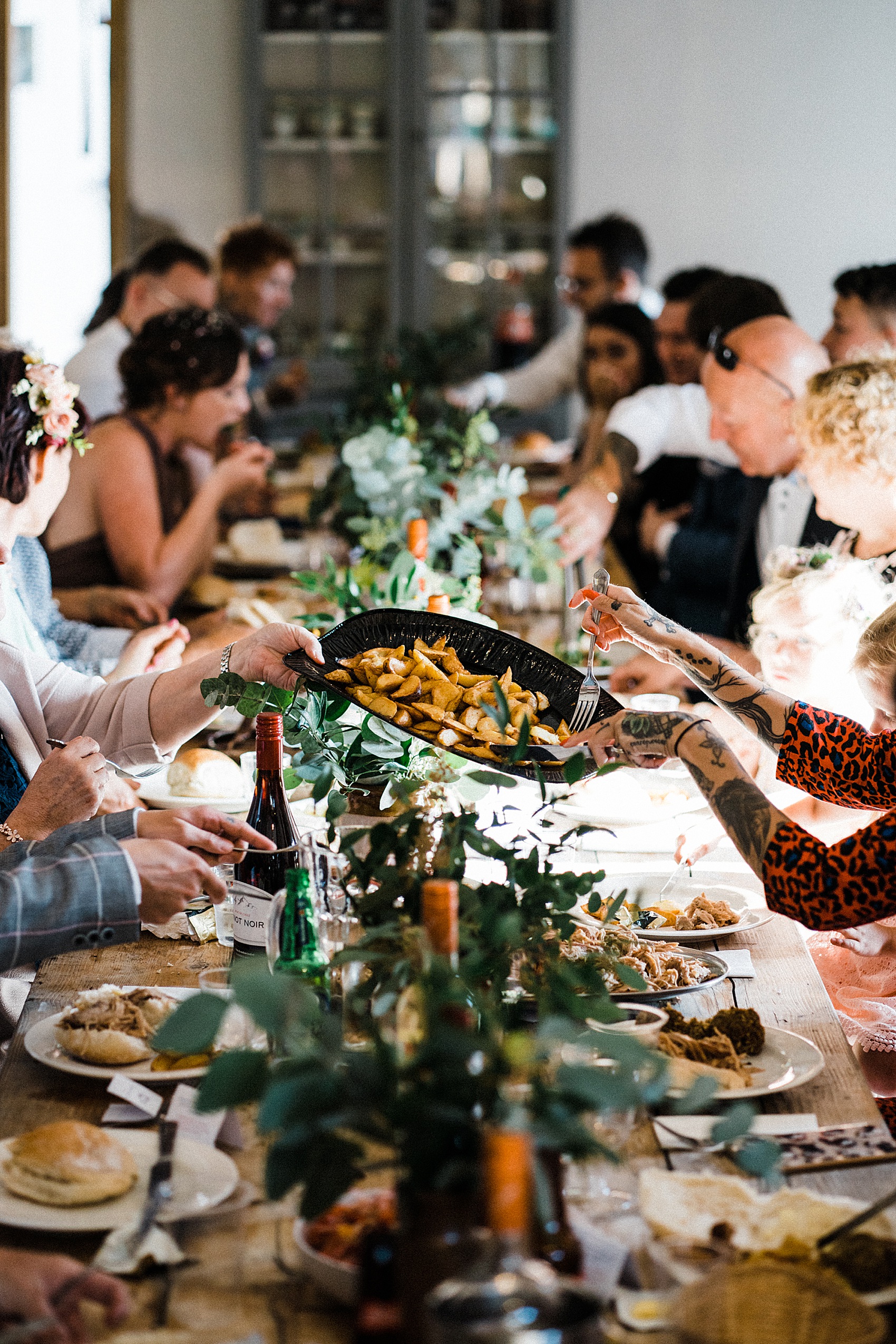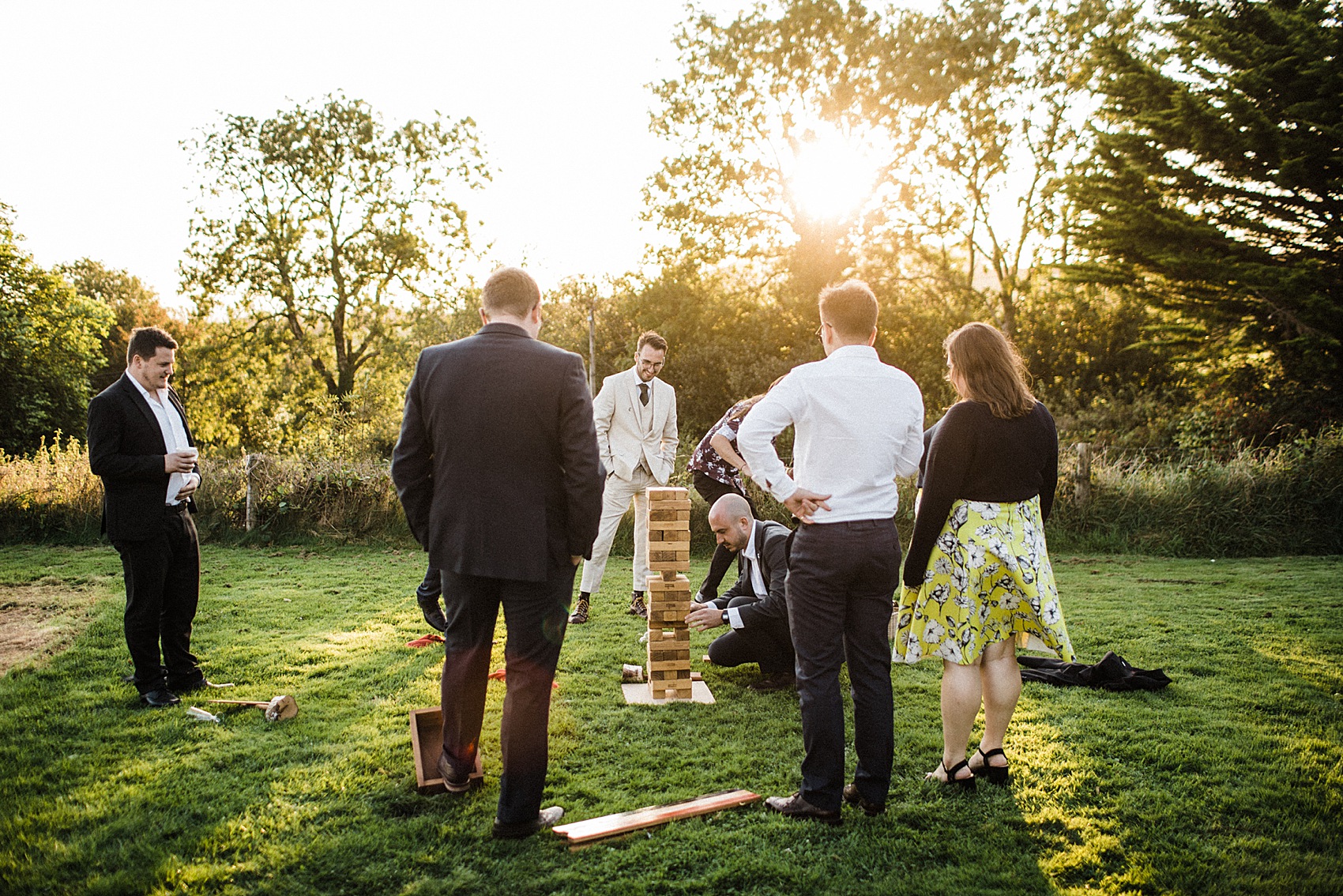 Jade and Richard's favourite part of the day was the same for both of them. In the late afternoon just before golden hour, they went to the ceremony pergola together to spend a little time alone.
"We just sat there reflecting on everything that had happened so far, talked, laughed, and took some silly photos on our phones. It was such a lovely point in the day where we both felt so lucky to have one another, and for the most amazing day."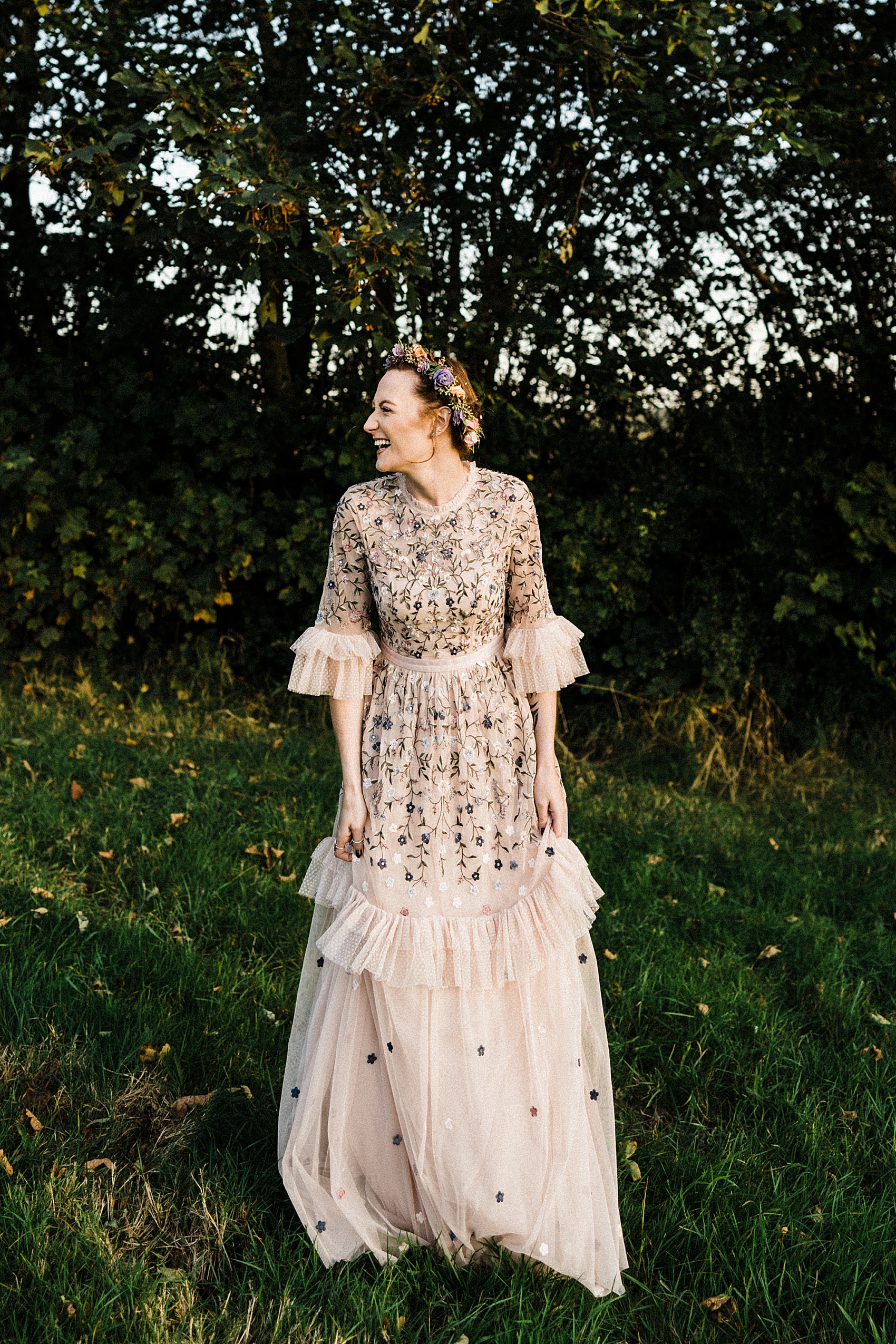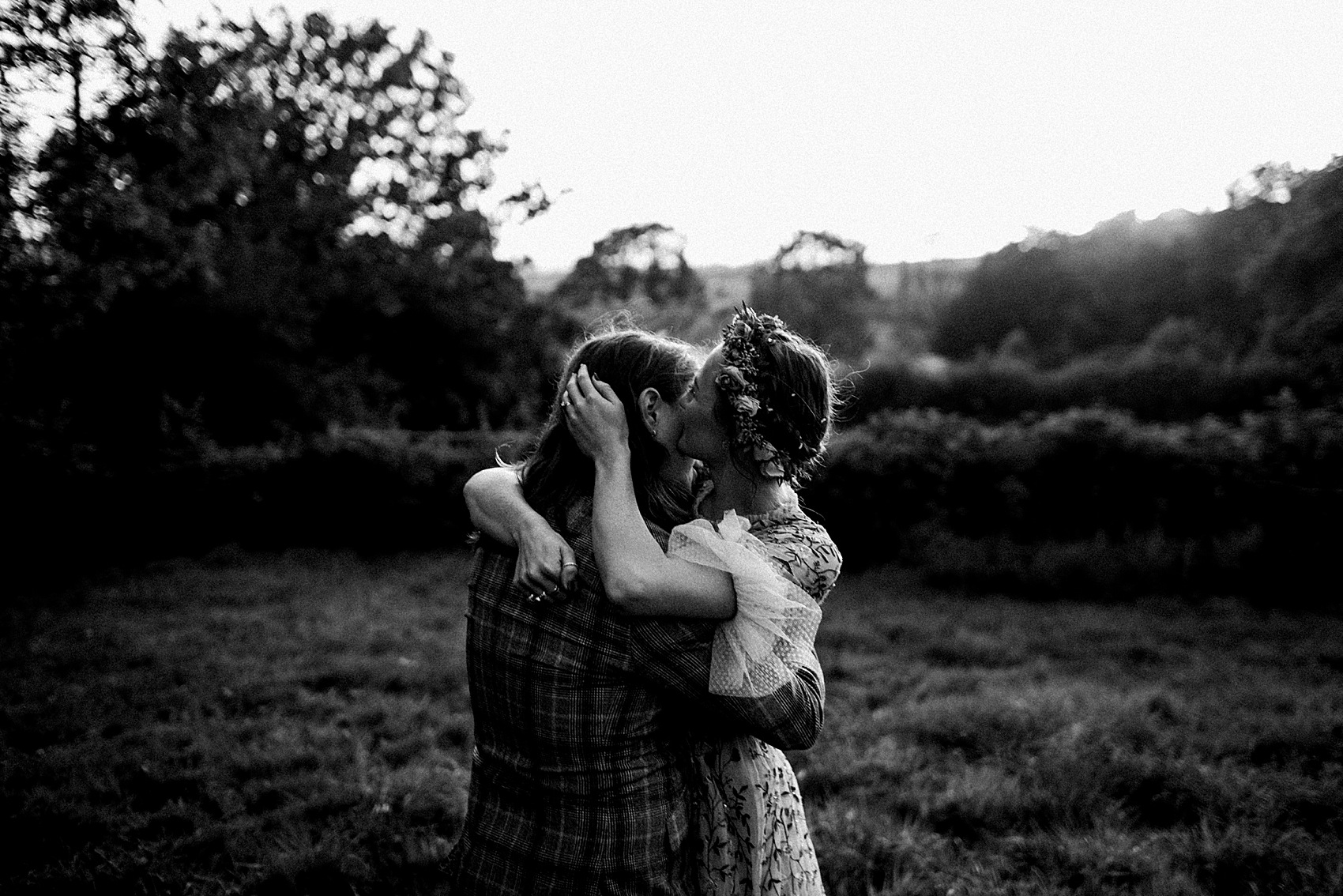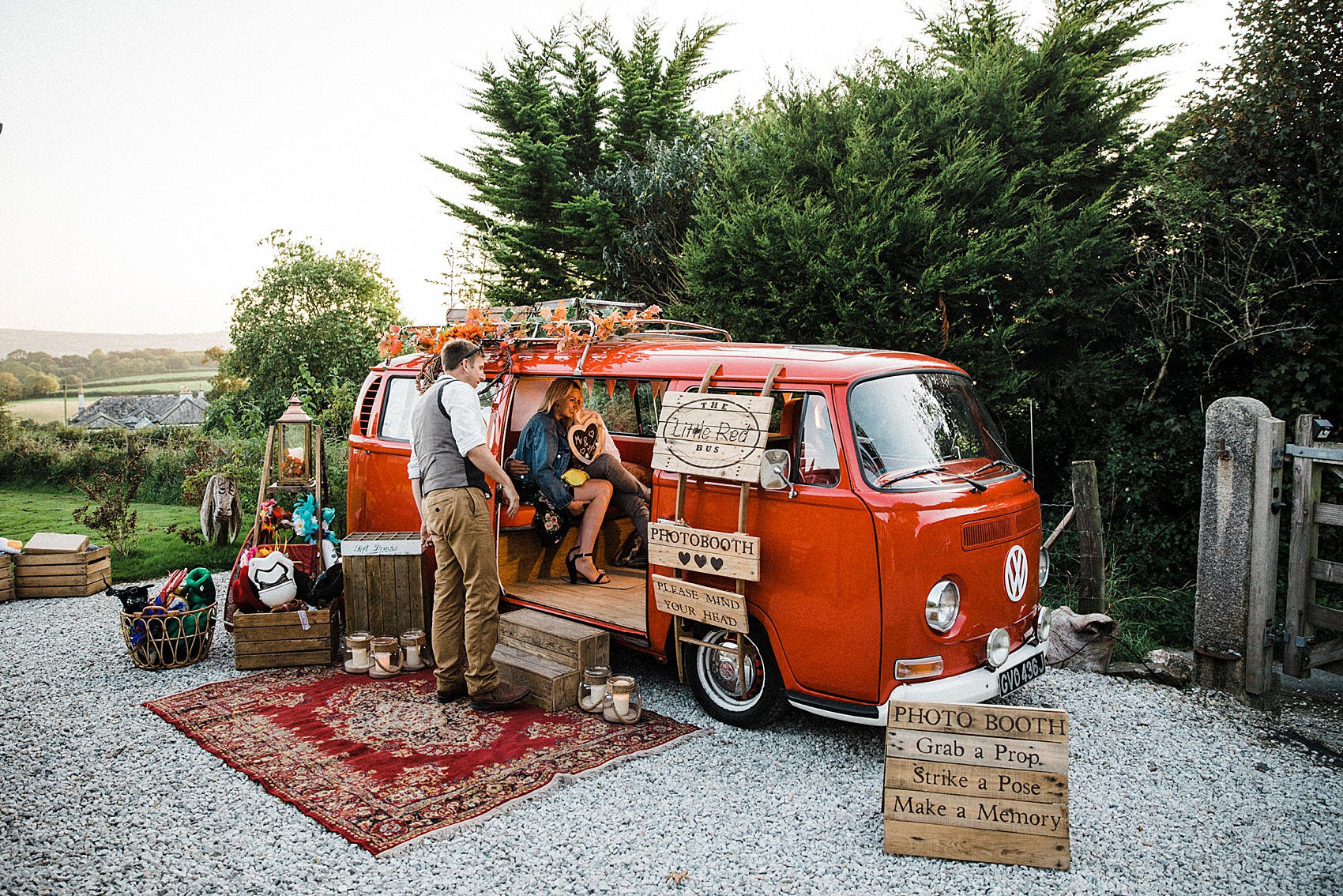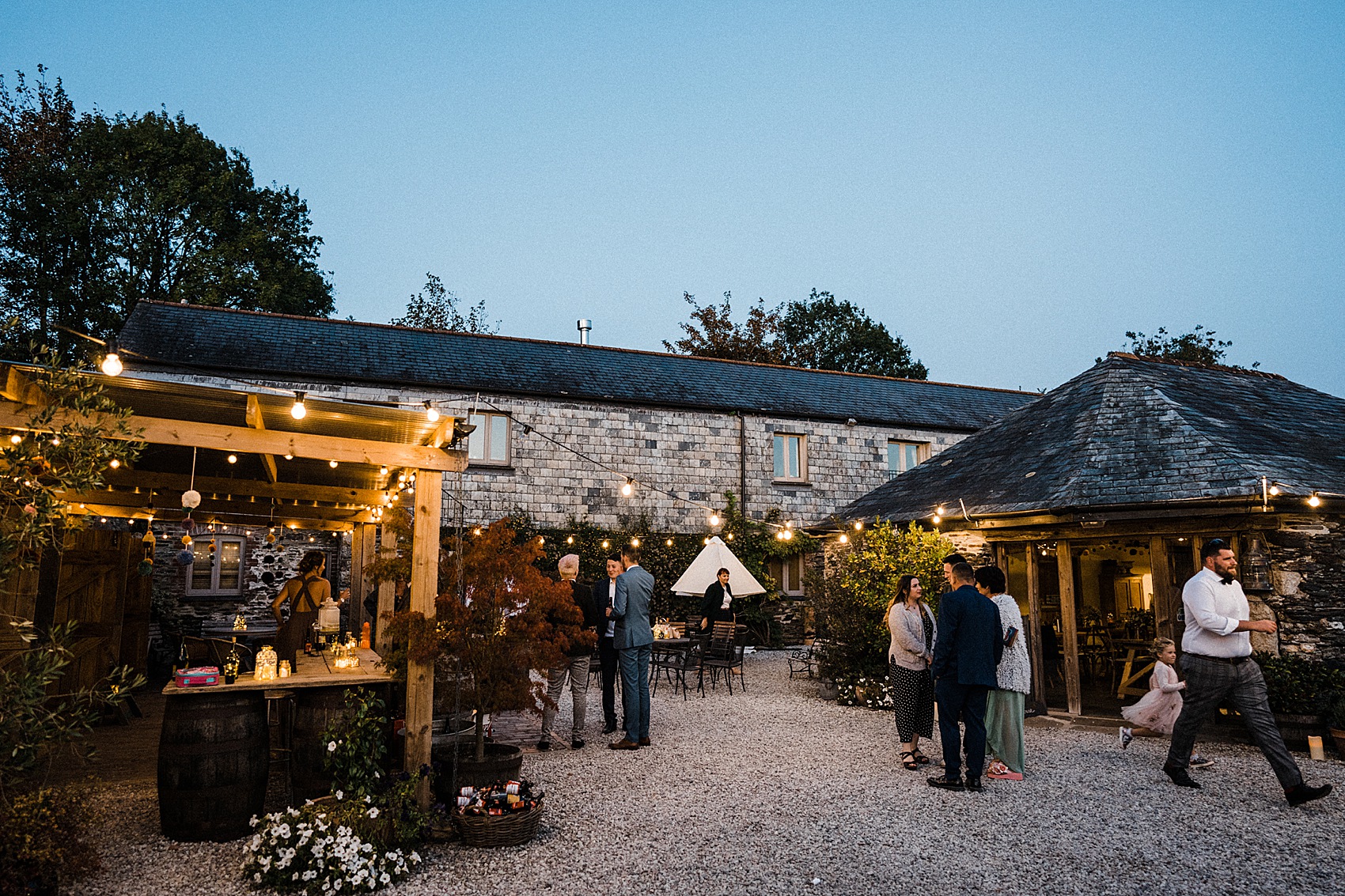 After speeches and toasts, guests relaxed around the venue – playing giant Jenga, having their caricatures drawn by Rye Smile Caricatures, or taking themselves off to The Little Red Bus photobooth.
"Our first dance was Ain't No Mountain High Enough by Marvin Gaye and Tammi Terrell. It's not sentimental in any way, but it's a fun song that we both enjoy."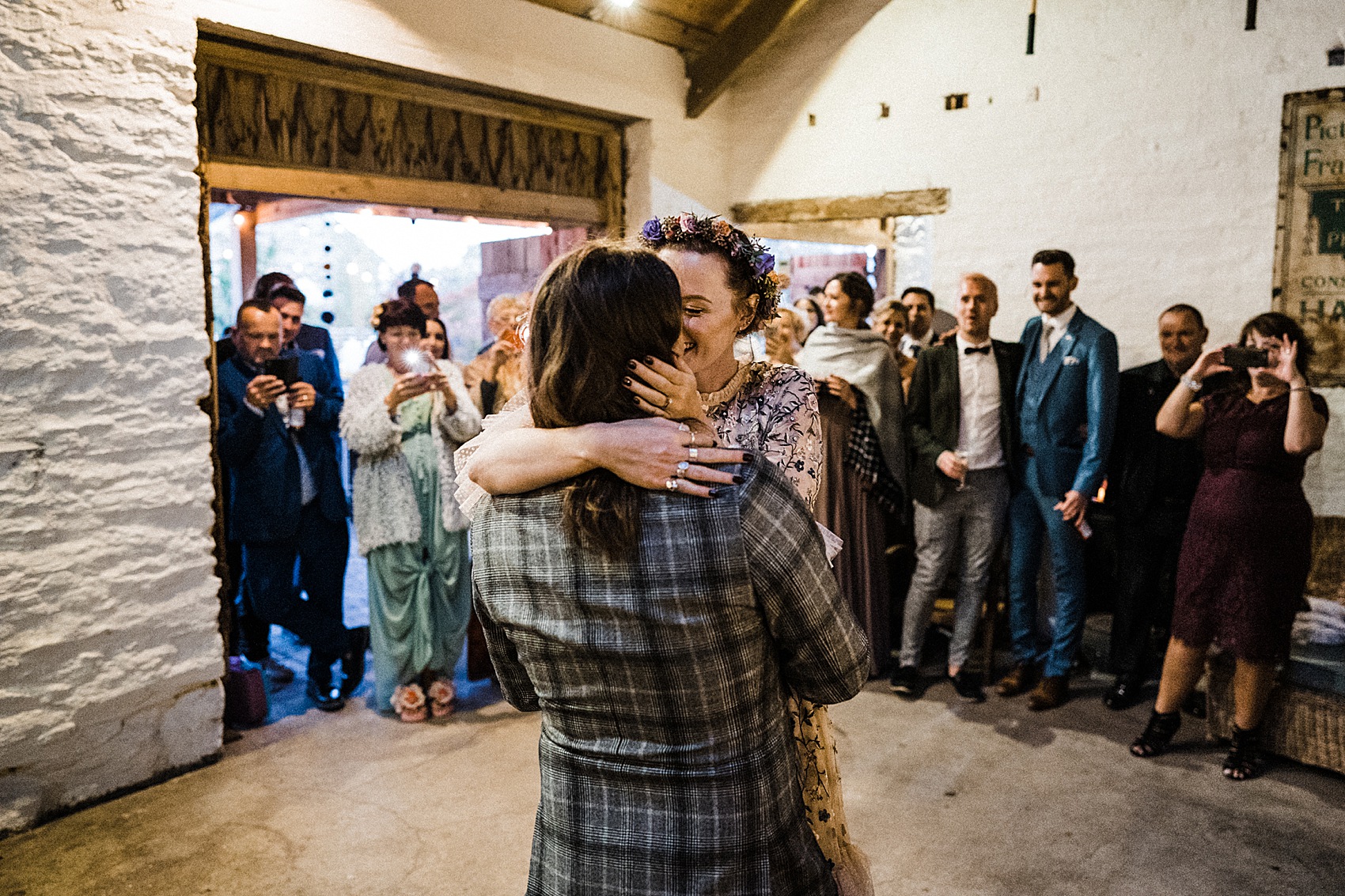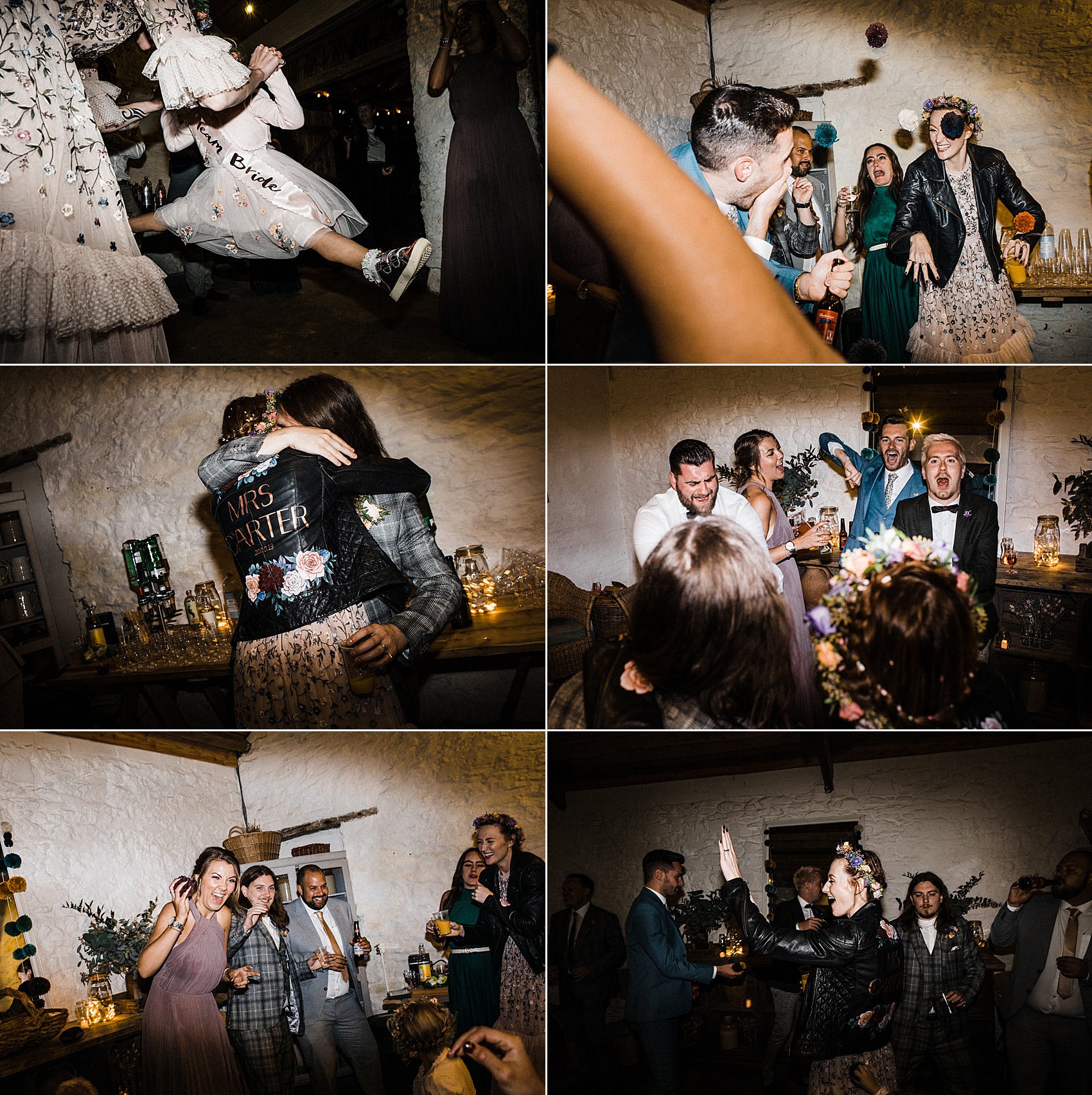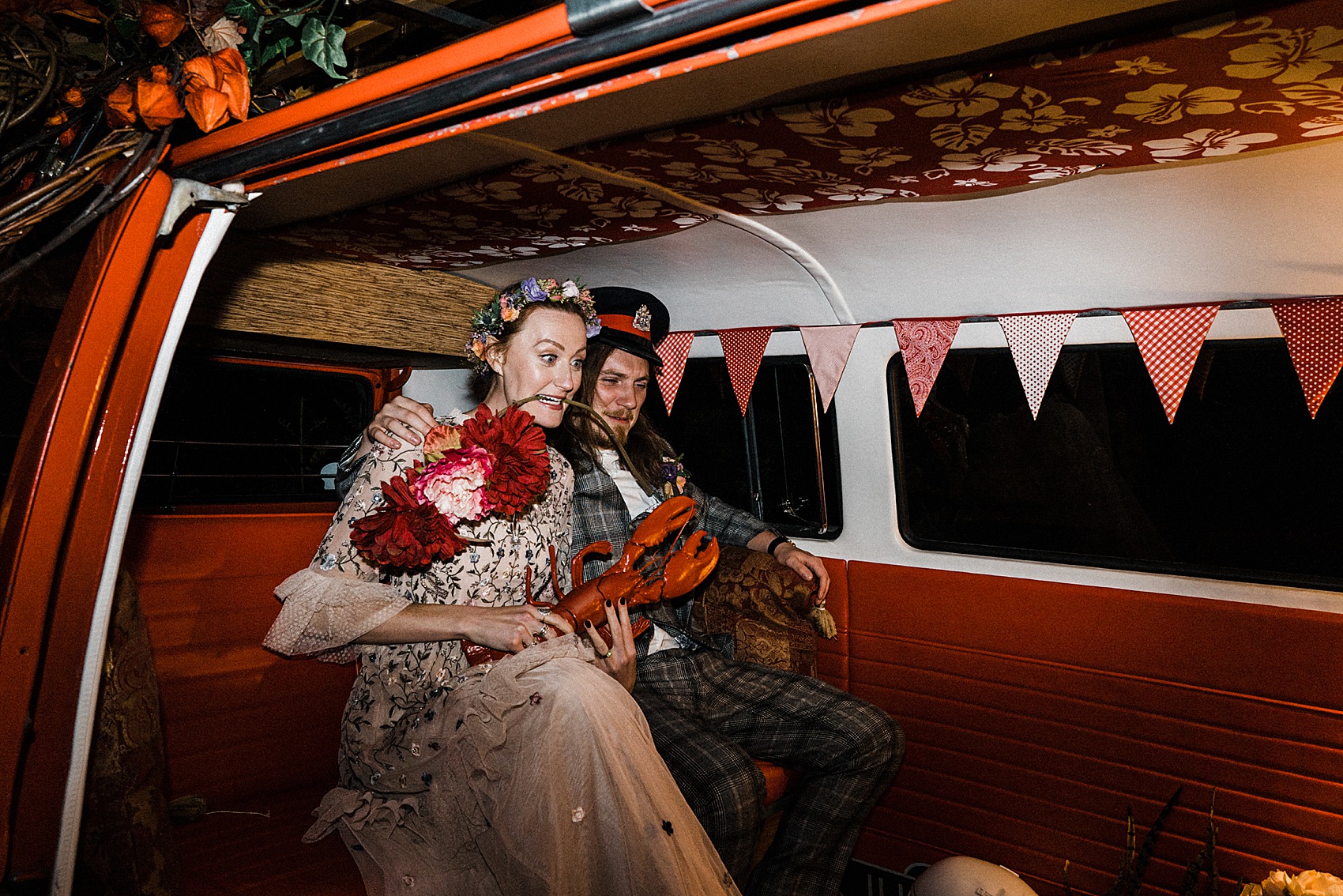 Words of Wedded Wisdom
"On the day, we had a bit of a 'mare with our evening caterer as they didn't turn up. Panic initially set in but after some reassurance from Richard, my Mum and bridesmaids, I knew it wasn't going to spoil the day so just got on with it. On reflection, and if I had to do it all over again, I would have contacted all the suppliers to confirm the date to ensure the day ran smoothly."
"Don't feel like you have to follow tradition – it's your day so do whatever the hell you want. Make sure it reflects you and your partner, and don't be pressurised in to thinking something it's the 'right' way of doing it. It goes by so quickly, so you need to make sure you're loving every minute of it. Take some time away from everyone and everything, just you and your partner, and sit and just enjoy the moment."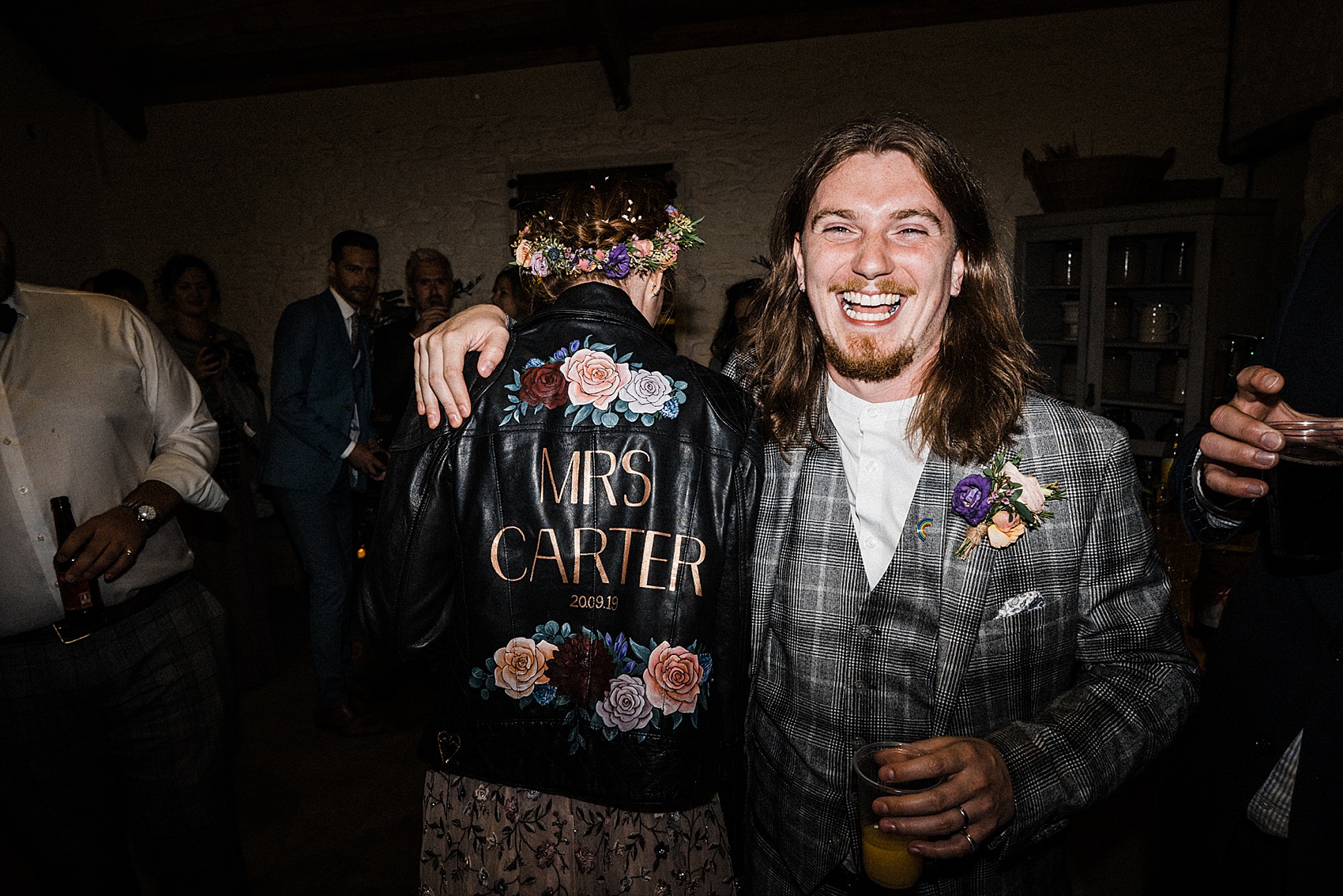 Jade and Richard, thanks a million for this, it's been absolutely lovely and so joyful, along with these breathtaking images from Through the Woods We Ran. Thanks Lauren and Glenn!
Until next time.
Love,
Laura