I think we're all needing some regular wedding inspo right and and with that in mind I am so delighted to share with you a beautiful French affair that took place just under a month ago.
PR Professional Sophie married Company Director Andrew on 7th September last year, at Chateau de la Bourlie in Urval, France. Their wedding day was full of effortless, elegant touches and that wonderful bucolic French countryside vibe. We're incredibly proud that our Little Book Wedding Directory member and Dorset Wedding Photographer, Richard Skins, was chosen to document this beautiful day in his gorgeous, documentary and storytelling style.
Richard Skins Photography

+ Follow
"Richard made us feel really comfortable in front of the camera both the day before and on the wedding day. He is incredibly talented, and he works so hard! All of our guests said they thought there were a few photographers because he seemed to be everywhere! He has such a good eye and I would 100% recommend him, we were so so happy with our wedding photos!"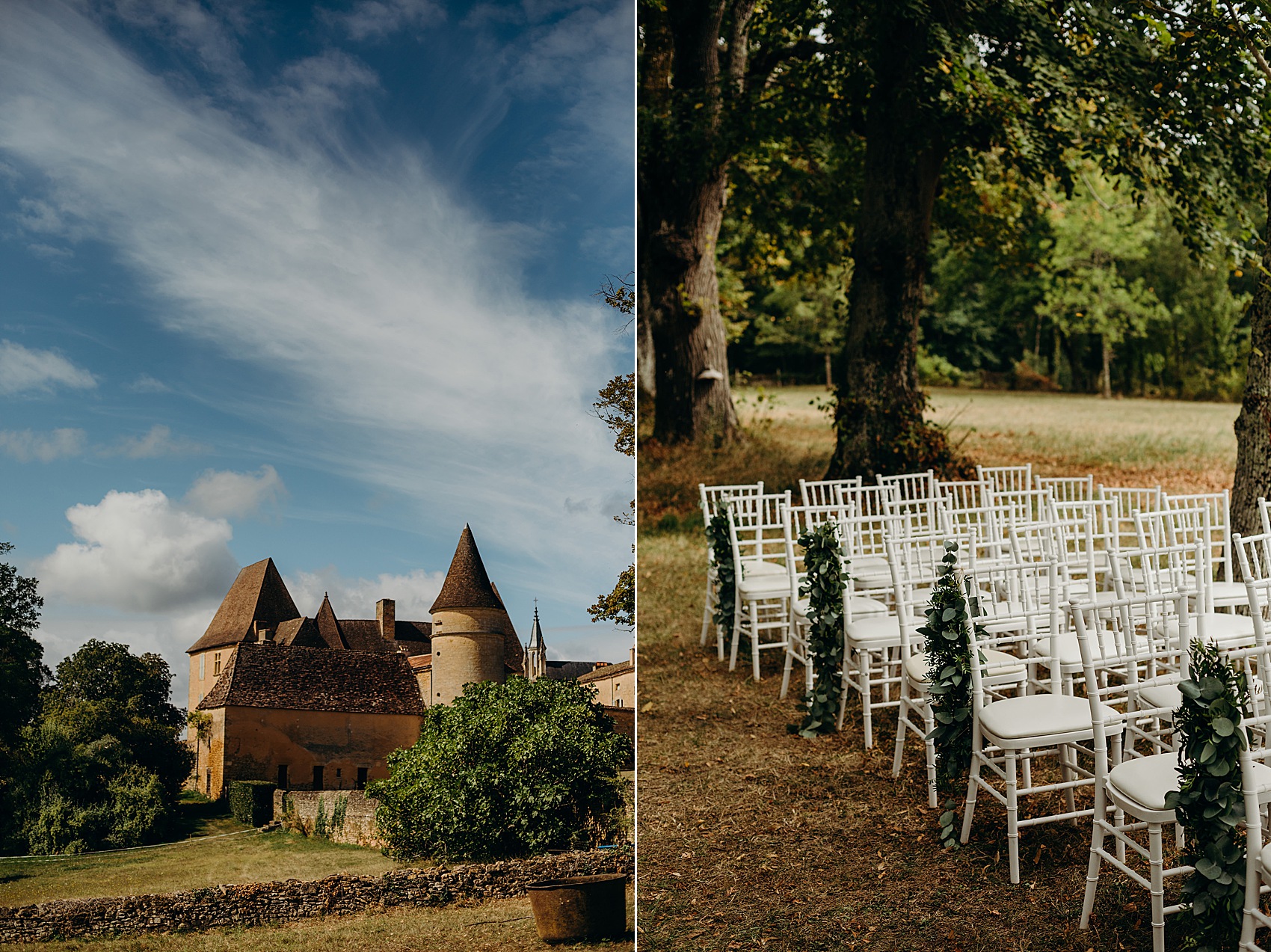 "We knew that we wanted to get married either in the Dordogne or in Provence, I had spent a lot of time there as a child and we had great nostalgic memories of being in both the Dordogne and Provence. We travelled through France looking at lots of venues in both regions, but when we saw Chateau de la Bourlie we knew it was the one for us. It had different areas for each part of our wedding, stunning gardens and was beautifully kept."
"Our amazing wedding planner was Rosie Green of Rosie Green Events. Her organisational and styling skills are second to none and it was such a pleasure to work with her! She's based in my hometown Leeds, we live in Dubai and the wedding was in France – so it wasn't simple but she completely exceeded our expectations."
"Our amazing stationery designer was Louise from Lou Paper. She designed exactly what we wanted and everything looked gorgeous."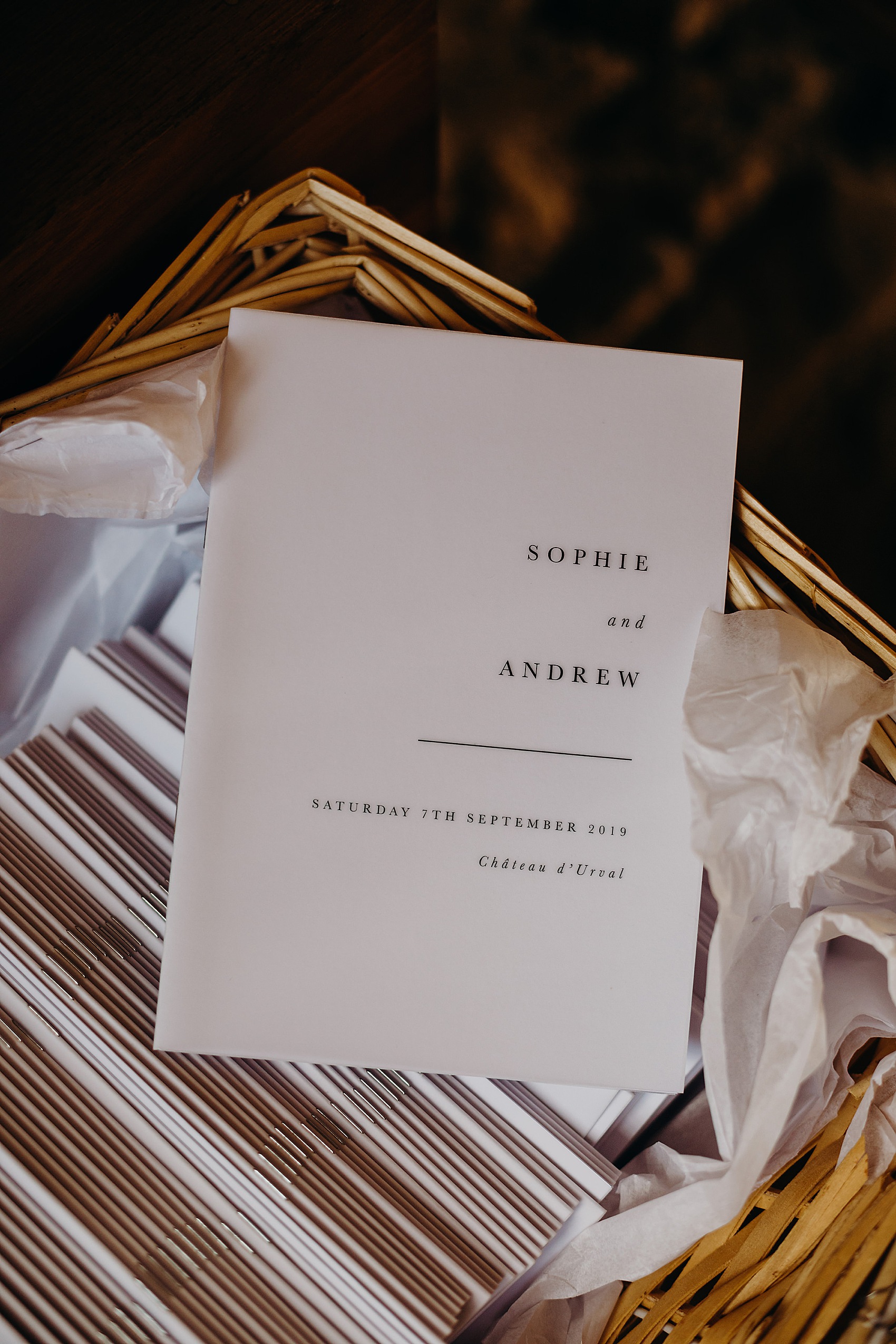 Sophie chose Jo Malone's 'Wood Sage & Sea Salt' as her daytime scene, then wore BYREDO Gypsy Water in the evening.
"My good friend Emily Naylor did my makeup, she is a trained makeup artist but doesn't do it professionally any more (although she should because she's fab!)."
The bridesmaids were kitted out via ASOS Bridal in chic, simple slip dresses.
"We tailored them slightly to ensure they were the perfect fit. I bought all the bridesmaids really delicate gold & diamond necklaces to wear on the day. I had these made at Cara Jewellers in Dubai."
Sophie's dress was an exclusive Suzanne Neville design from the former 'Wedding Gallery' in London (now closed).
"Before making the decision on my dress, I had tried on about 80, so needless to say it wasn't an easy process! The dress I ended up with was completely different to what I had initially thought I wanted. "
"I wanted something modern, timeless and not super traditional. I loved the dress I finally chose because it was flattering (I could eat & drink as much as I wanted without worrying about looking / feeling bloated), it was different to anything I'd seen before – but it was still timeless."
"I also wanted something that felt good quality, and this did! It was actually quite heavy, but it look light and flowy. The thing I loved most about it was the detail, from the waist down it was layered / ruffle tulle. It was actually quite girly for me, but I loved it and felt great in it on the day."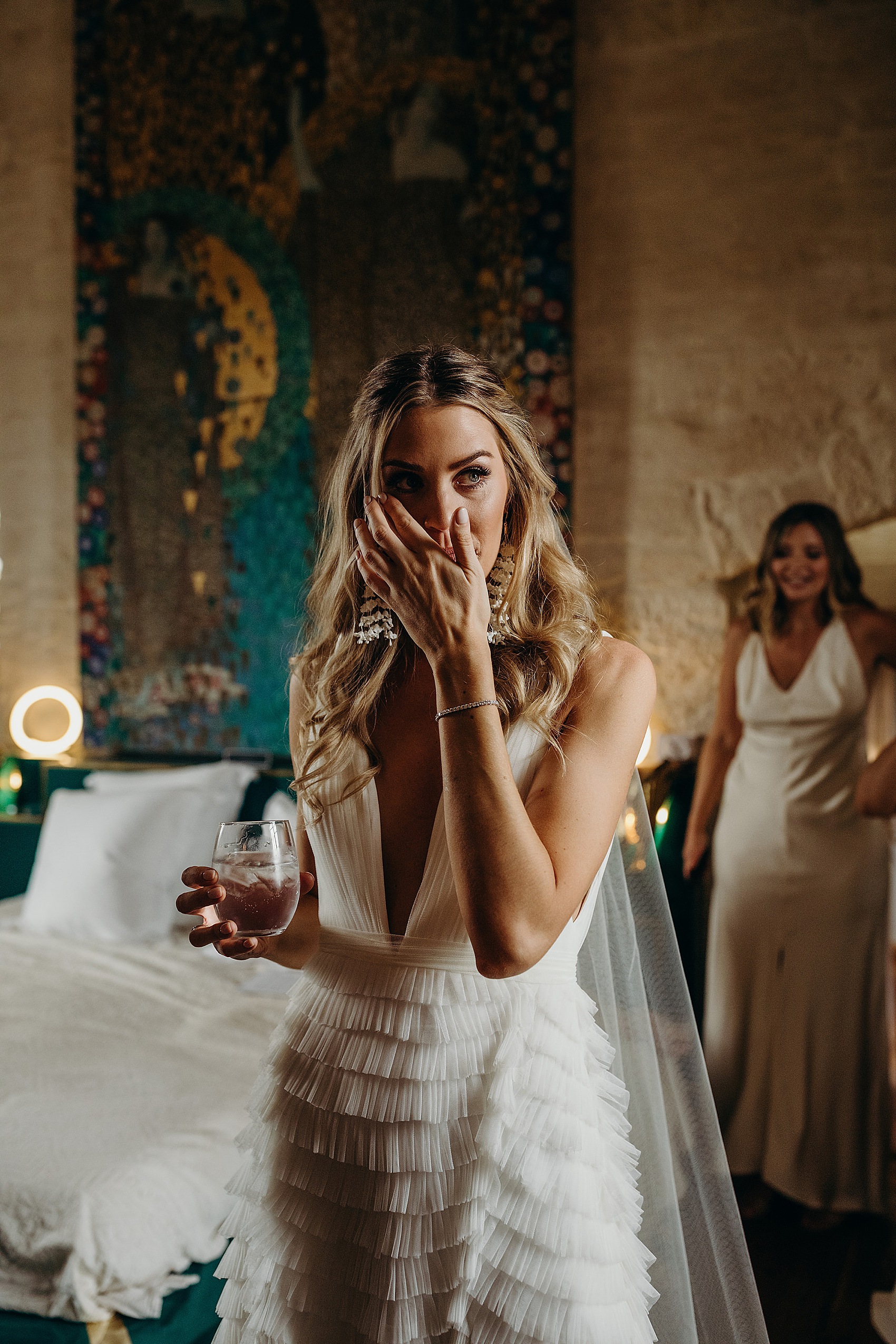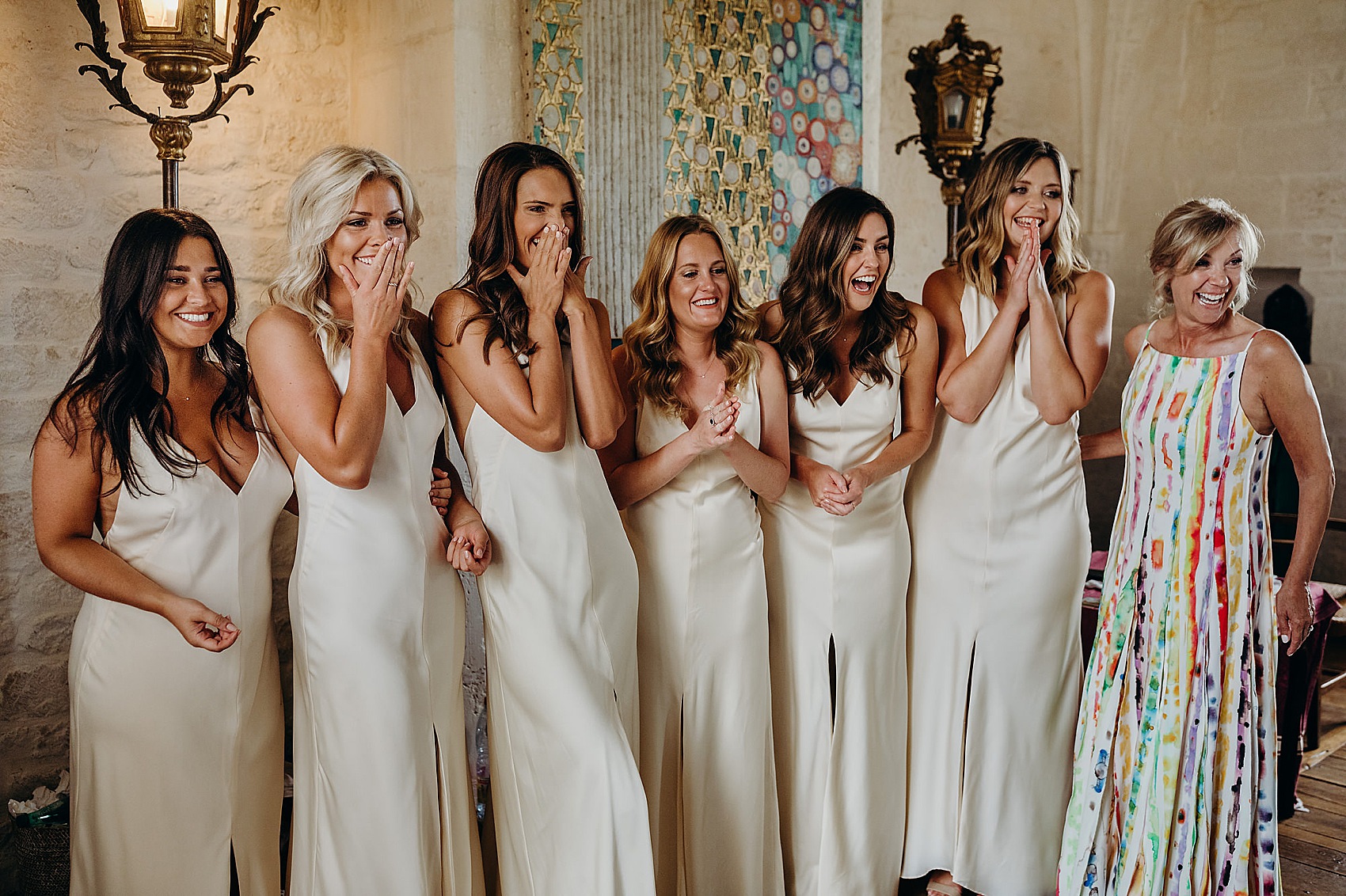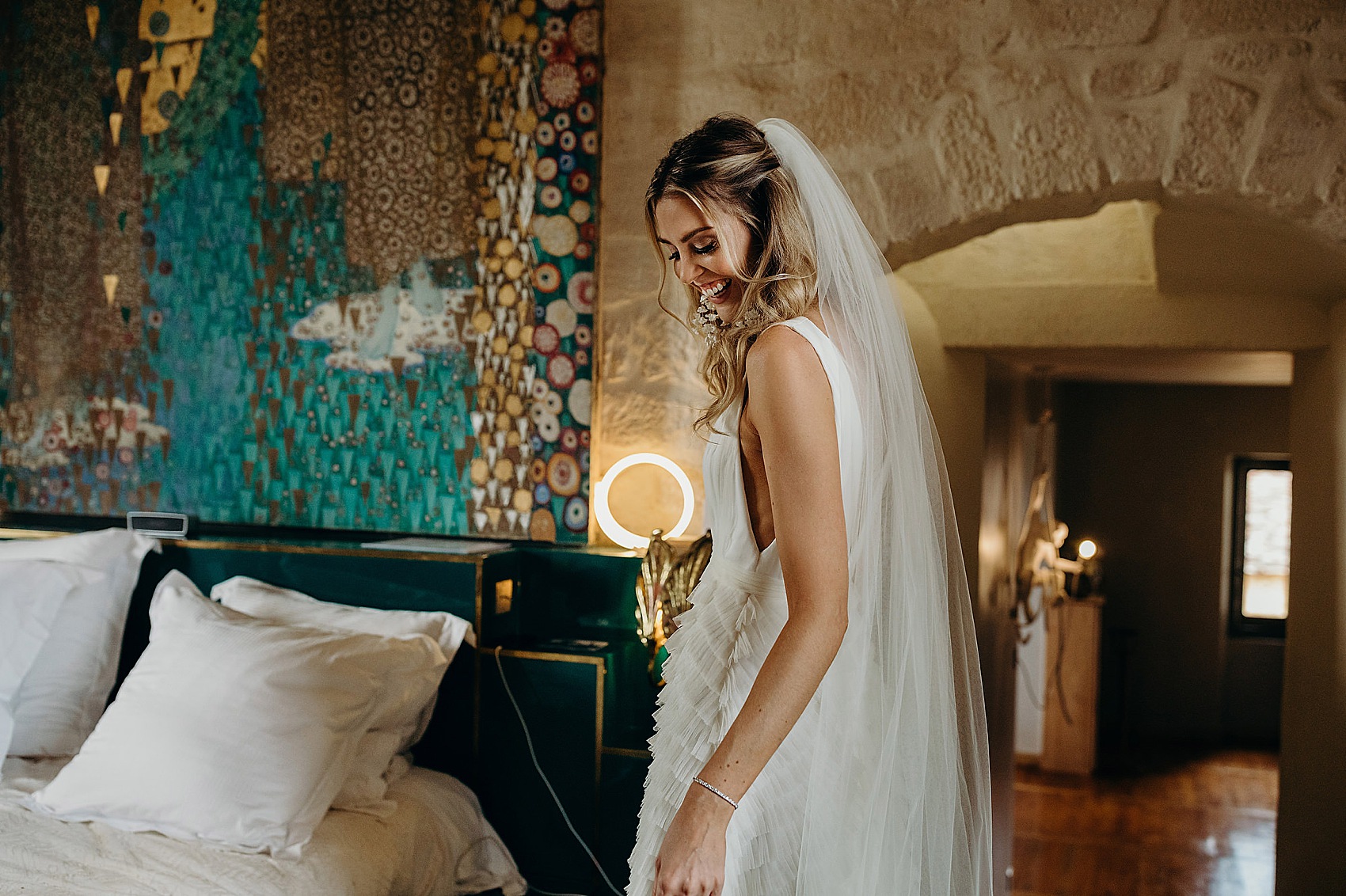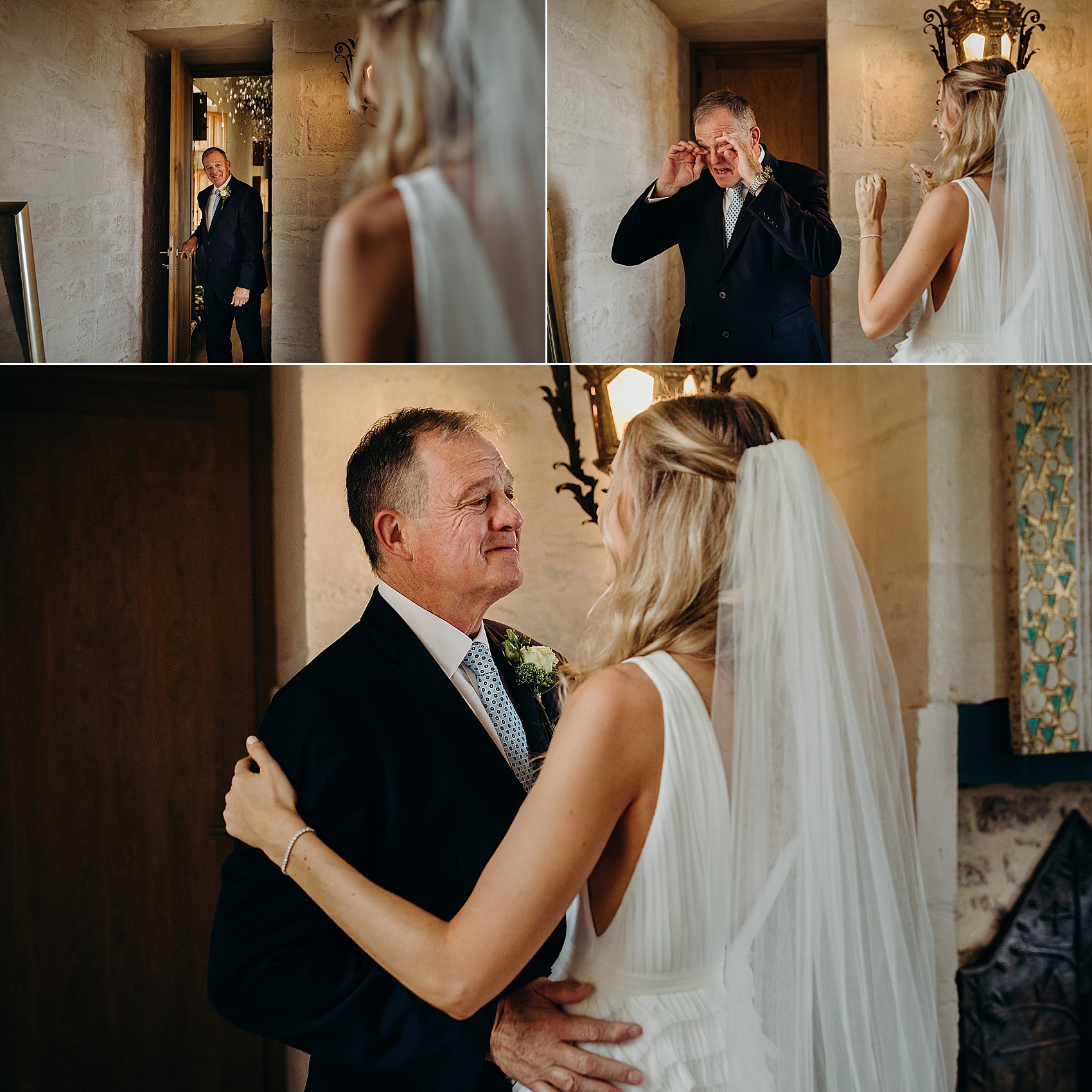 "I wore the most beautiful handmade earrings by the very talented Lou Simmonds, designer at Lunabea Bride. I wanted to wear big earrings as I wasn't wearing a necklace. They were perfect, they were delicate yet a statement piece. The tiny flowers were made from silk which meant they moved in the wind and intertwined with my hair perfectly."
"Andrew and I met at Leeds Festival, the summer of 2008. Neither of us had really planned on being there, so it almost felt like it was meant to be."
"Andrew proposed to me in 2018, he surprised me with a trip to Whistler, Canada for our annual ski trip. After our first day out on the slopes, we came back to the hotel and had a swim in the outdoor swimming pool. We had a glass of champagne in the hot tub, whilst the snow was falling – it was a really beautiful setting. When we arrived back to our room, the (in room) fire was roaring and there was a gorgeous bouquet of roses and a bottle of champagne waiting for me."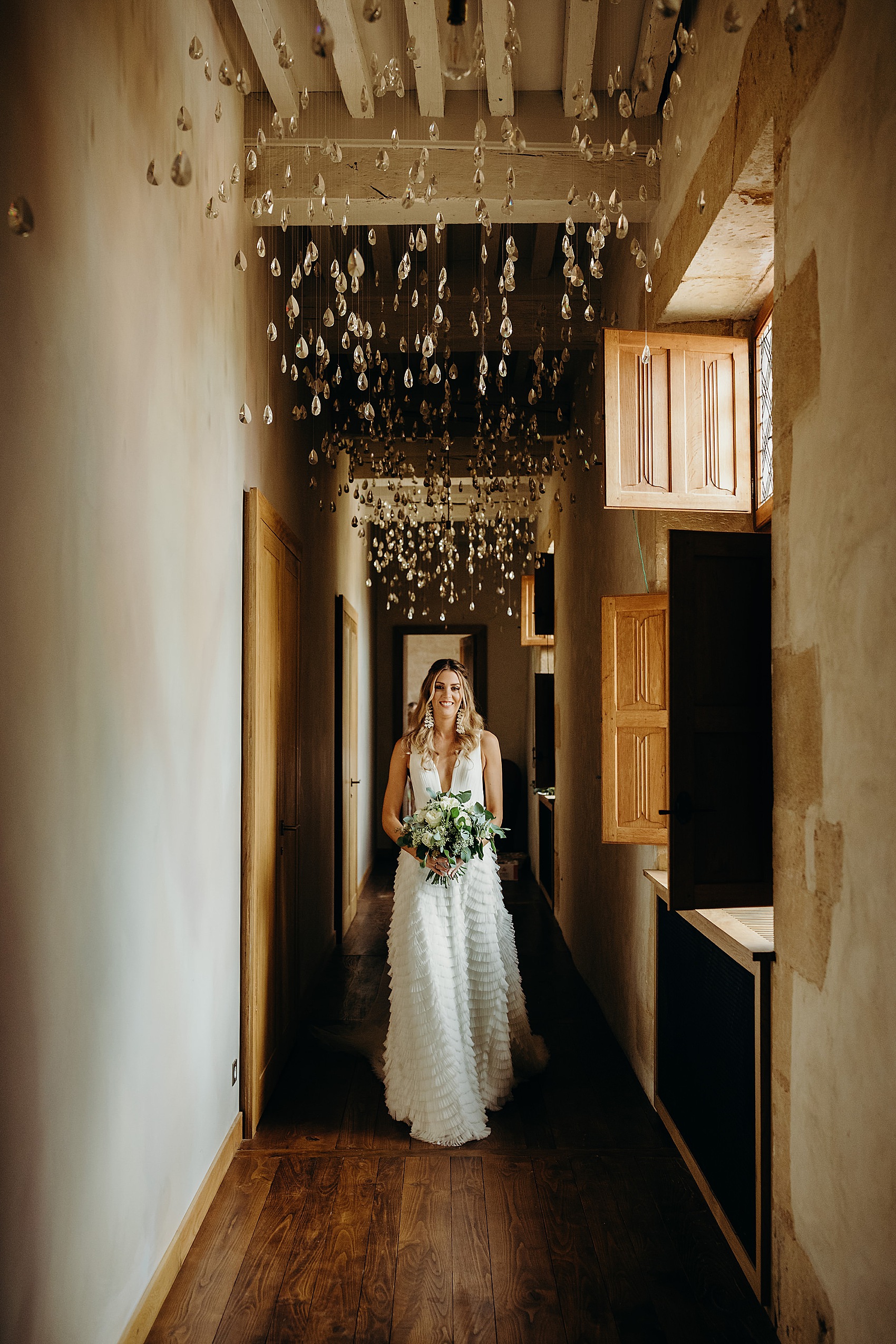 "I thought it must've been an early treat for my birthday (which was in 2 days time). However, after a few minutes he got down on one knee and presented me with the most perfect ring. I was in such shock, I didn't actually say 'yes' but it was clear that it was a big fat yes!"
"We were engaged in Feb 2018, and married in Sept 2019, so were engaged just over a year and a half before our wedding. We would have been happy with a 1 year engagement, but wanted to get married in the September."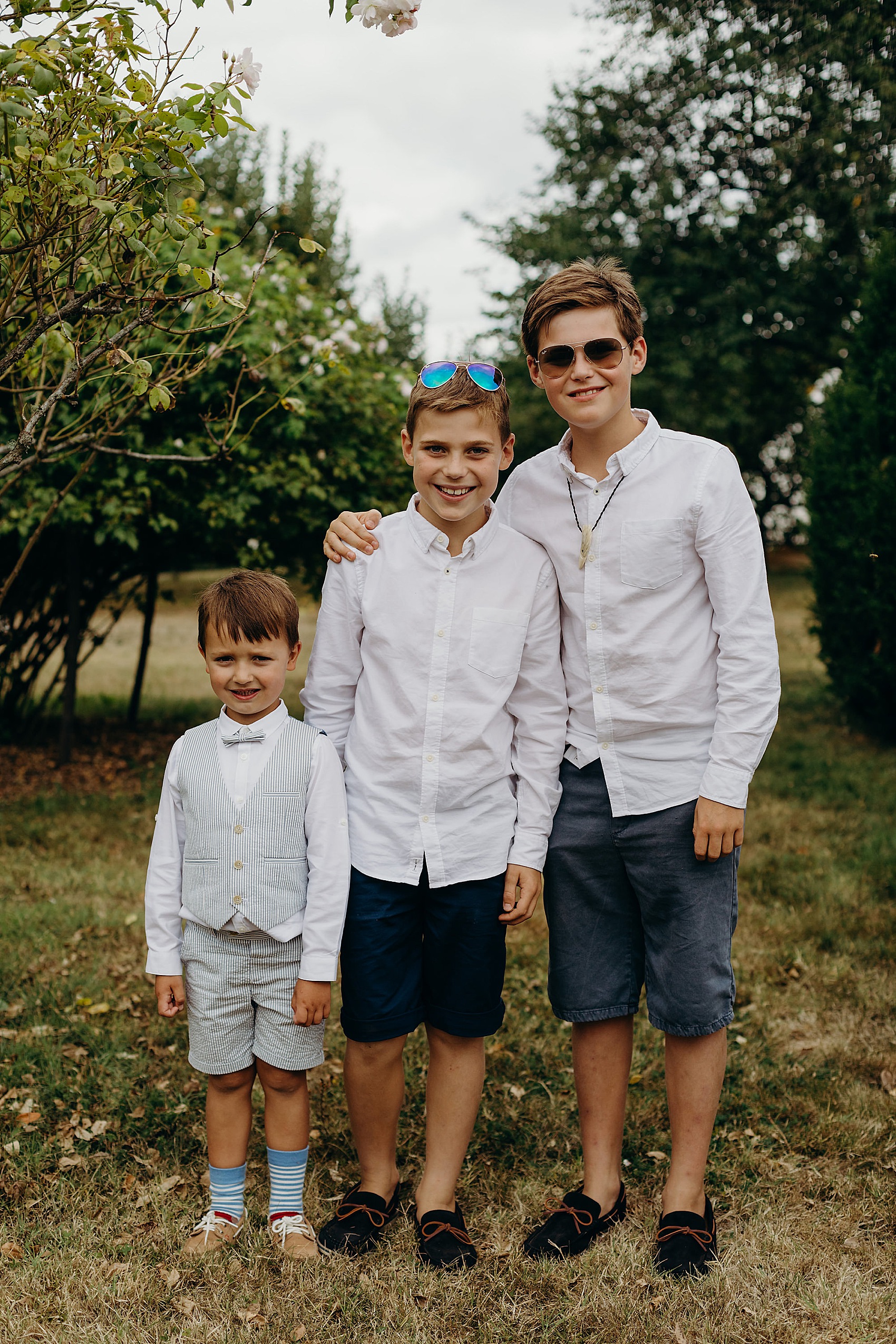 "It had been my dream since I was about eight years old, to get married in a Chateau in France. As a family, we used to Kayak down the Dordogne and I would point out at the Chateaus and tell my parents I would get married in one of them, one day. So it was more of my 'vision', than a specific inspiration."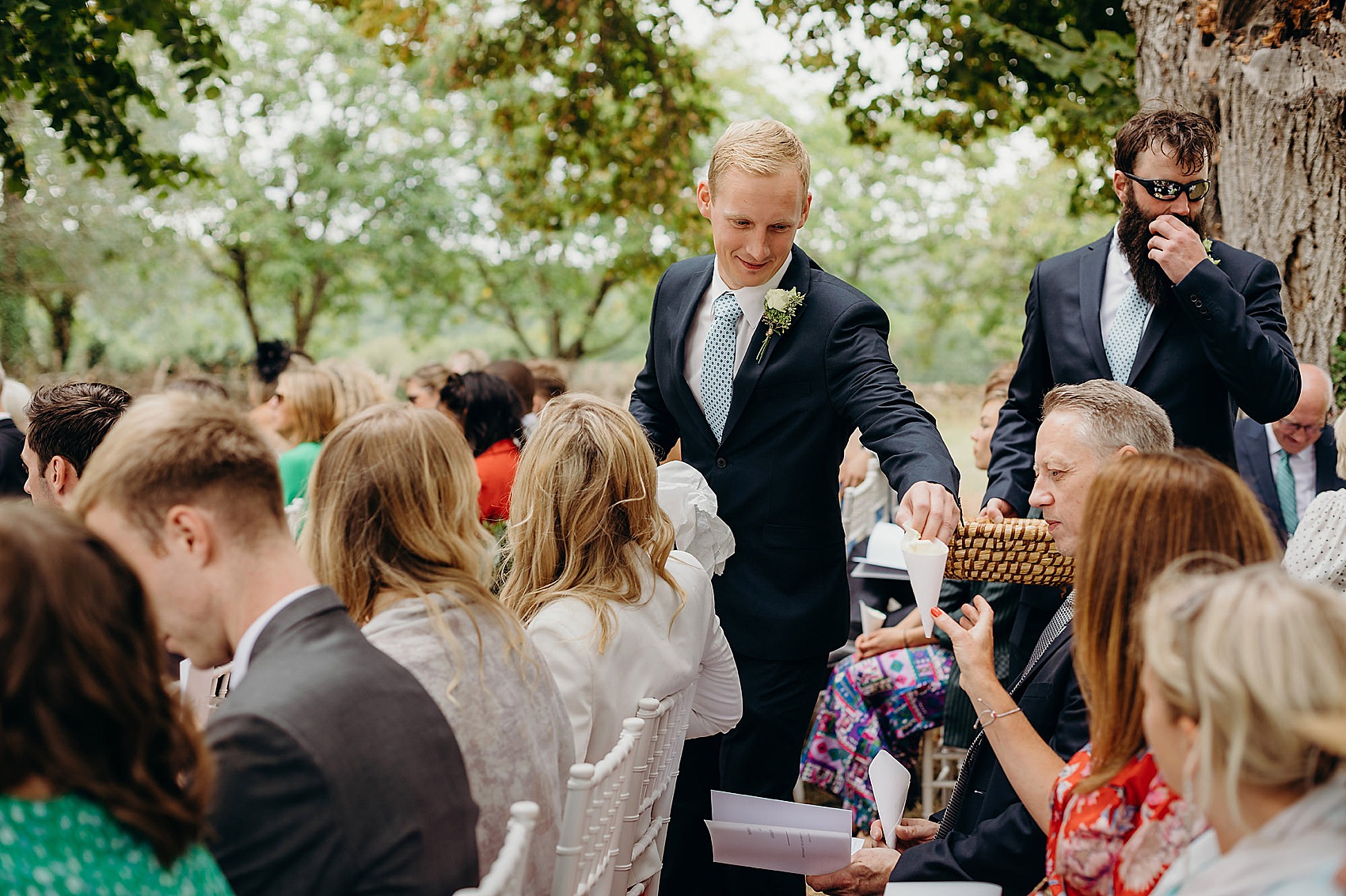 "I knew I wanted all my flowers to be neutral so went for whites and greens, and I really wanted our stationary to have a modern feel – we tried to stay away from anything looking too 'traditional', without it being 'faddy' or handmade. Then the rest of the inspo was influenced by the surroundings, the beautiful gardens and the stunning french countryside."
"George, our page boy, wore a little white & blue striped short suit from M&S."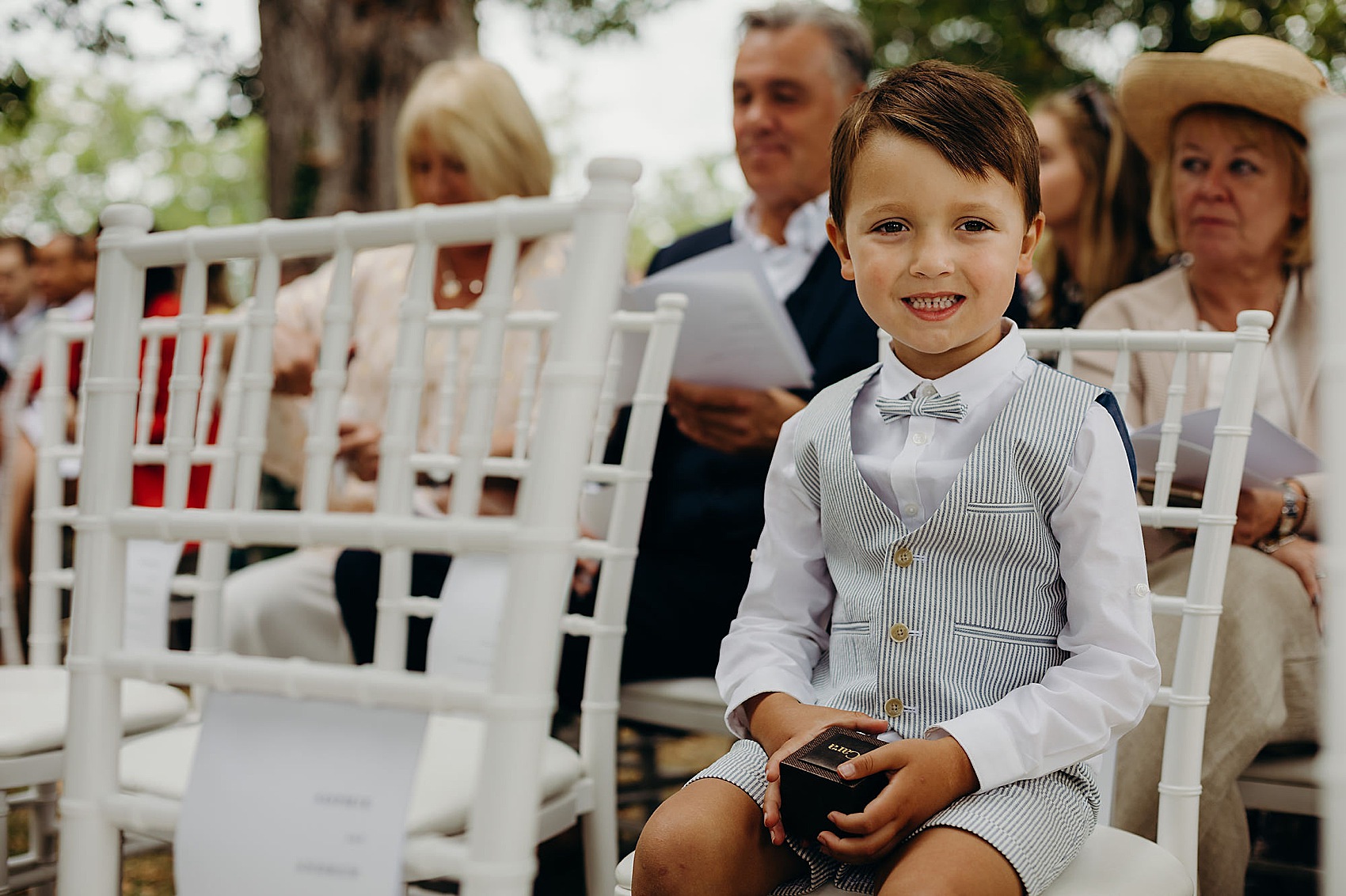 The bride's father accompanied her down the aisle to the sound of Etta James"At Last', delivered by the Toulouse Gospel Choir.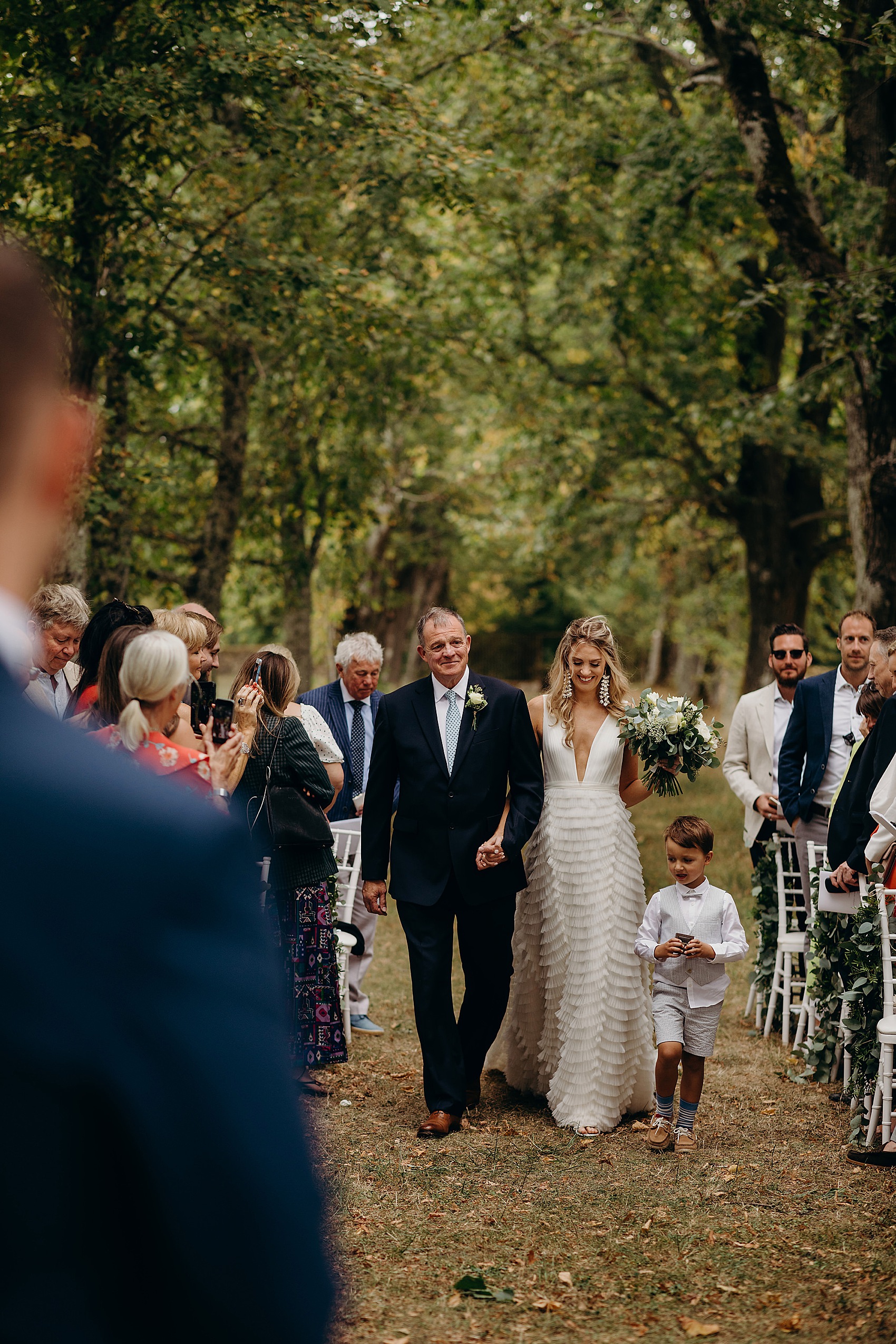 Jenny Fairbanks of My Wedding Florist provided the bouquets and floral design throughout the day.
"We wanted neutral flowers so kept to whites, creams and greenery. I love eucalyptus so this was incorporated into all of our flowers. Jenny was great, she took my vision and created just what I wanted."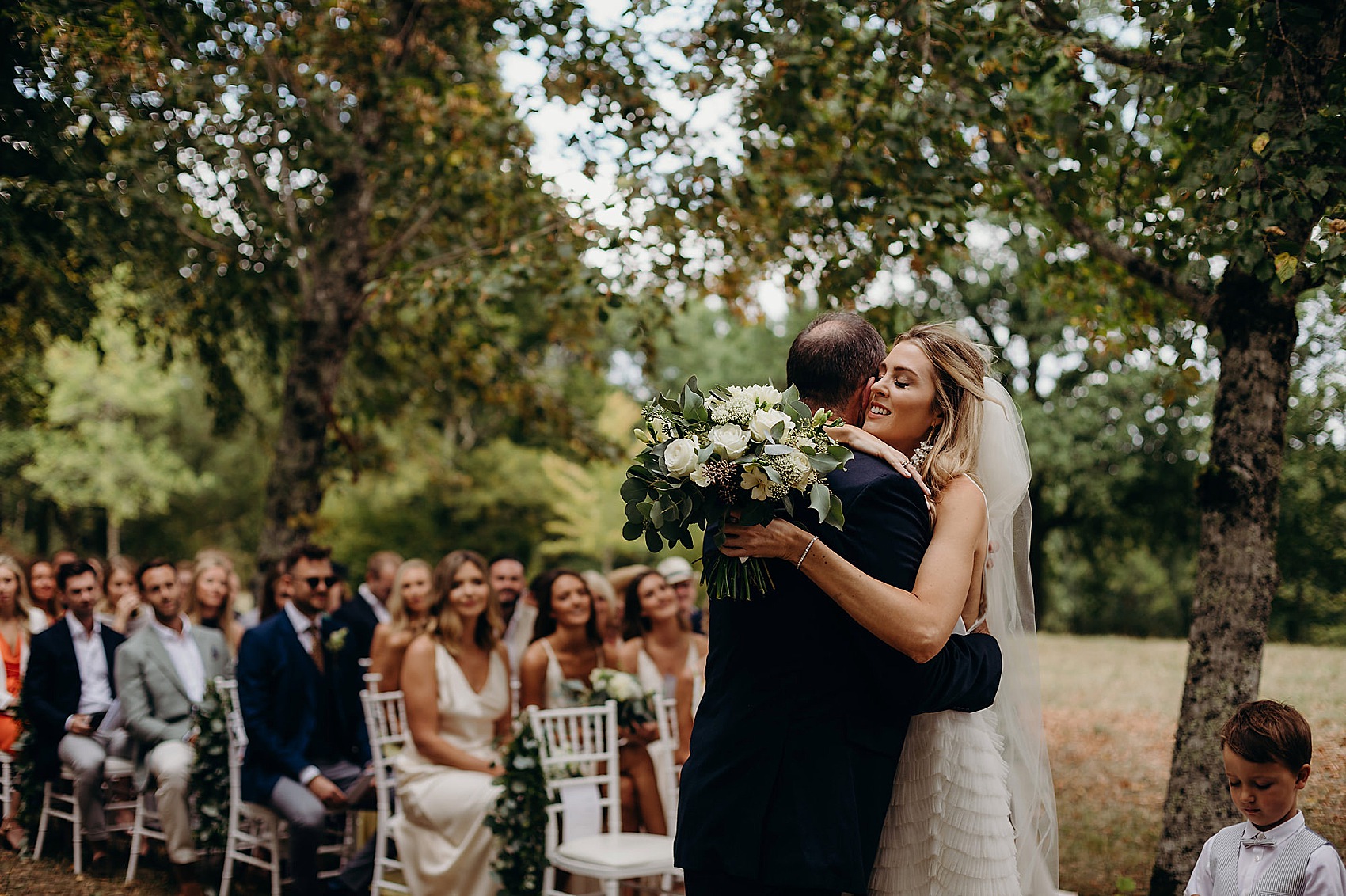 The ceremony was conducted by celebrant Alison Philipps, who the couple way was fantastic.
"We kept our vows traditional, we decided we wanted to do this because the rest of our wedding was quite 'untraditional'. However, Alison asked us to write a few paragraphs about each other which she read out, this was really personal and really engaged our guests. She also told our story which was lovely, some of our guests asked if she was my auntie because the service felt so personal!"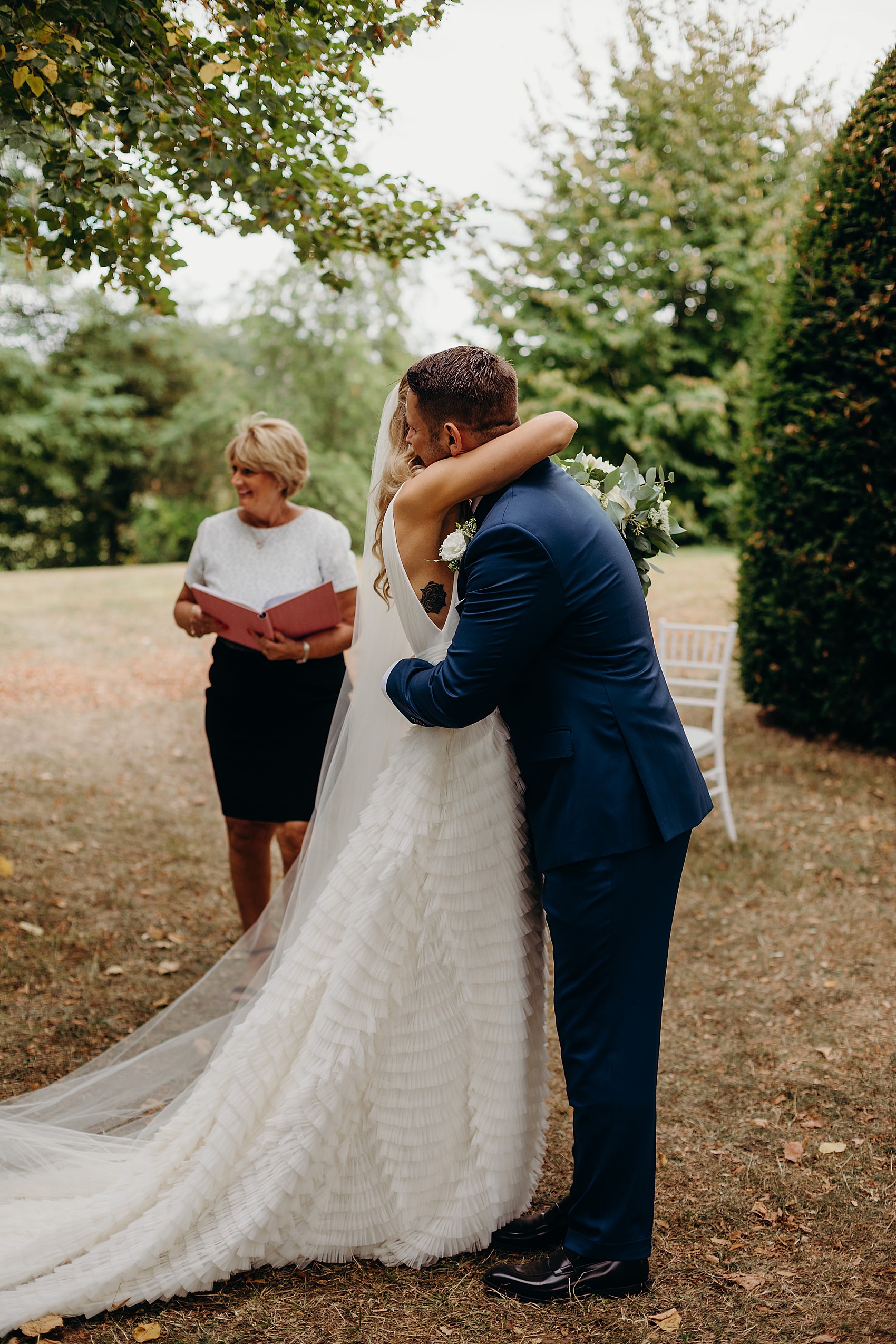 The couple had three readings during their ceremony; "These were read by my grandpa, my auntie and one of my bridesmaids.  They were an extract from 'The Bridge Across Forever', by Richard Bach, 'Union', by Robert Fulgham, and a quote by Oscar Auliq-Ice – as follows:
'Sometimes you meet someone, and it's so clear that the two of you, on some level belong together. As lovers, or as friends, or as family, or as something entirely different. You just work, whether you understand one another or you're in love or you're partners in crime. You meet these people throughout your life, out of nowhere, under the strangest circumstances, and they help you feel alive. I don't know if that makes me believe in coincidence, or fate, or sheer blind luck, but it definitely makes me believe in something.'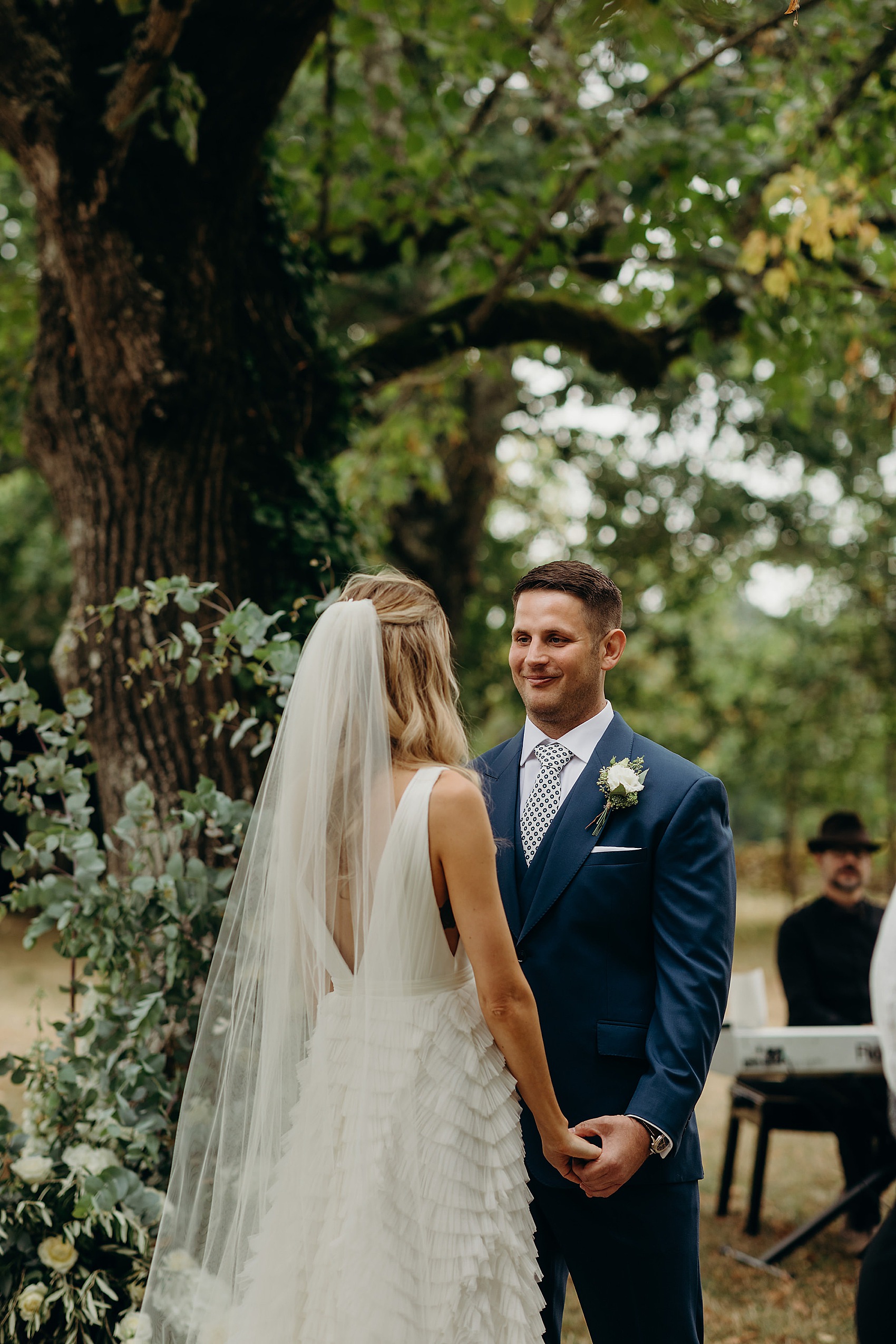 "I found choosing the readings one of the hardest parts about the wedding. We're not religious so we didn't want anything biblical and so tried to find readings that reflected our relationship and our life beliefs."
"The quote by Oscar Auliq-Ice (above) really felt like it reflected us, we met by chance but it was evident it was meant to be. This was the reading by my bridesmaid, who is also one of my best friends – it felt really special."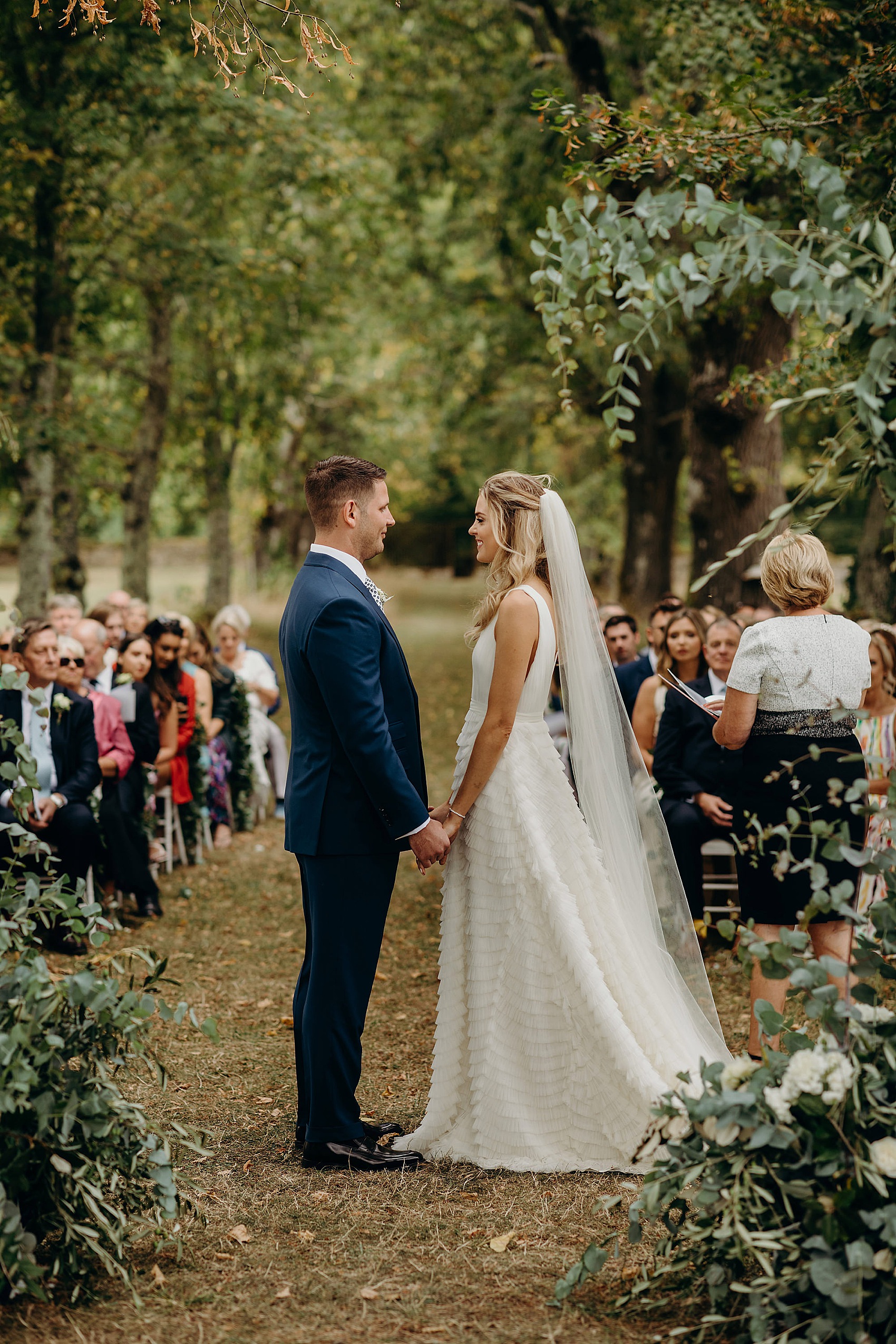 Readers, did you know we have a wedding reading section where you can browse through all kinds of popular and read-submitted readers to including in your own wedding ceremony? Explore them all here.
"We hired Toulouse Gospel Choir from Scarlett Entertainment. They sang at the ceremony and reception and the DJ & Saxophonist for the evening was Mixology through Fix the Music."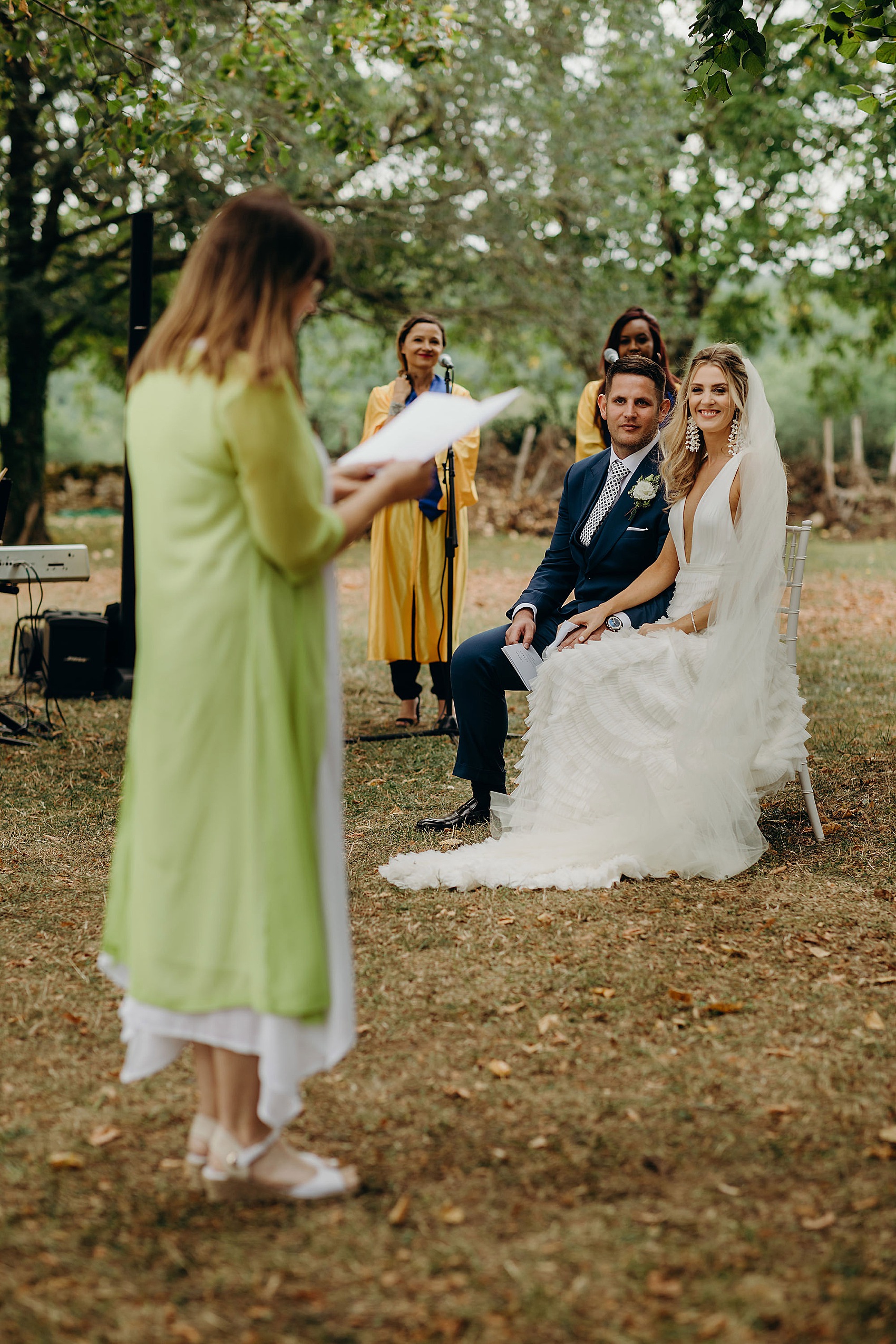 Andrew wore a bespoke suit tailored by Collars & Cuffs.
"His shoes were Church's Loafers and I bought him a Breitling watch to wear on the day."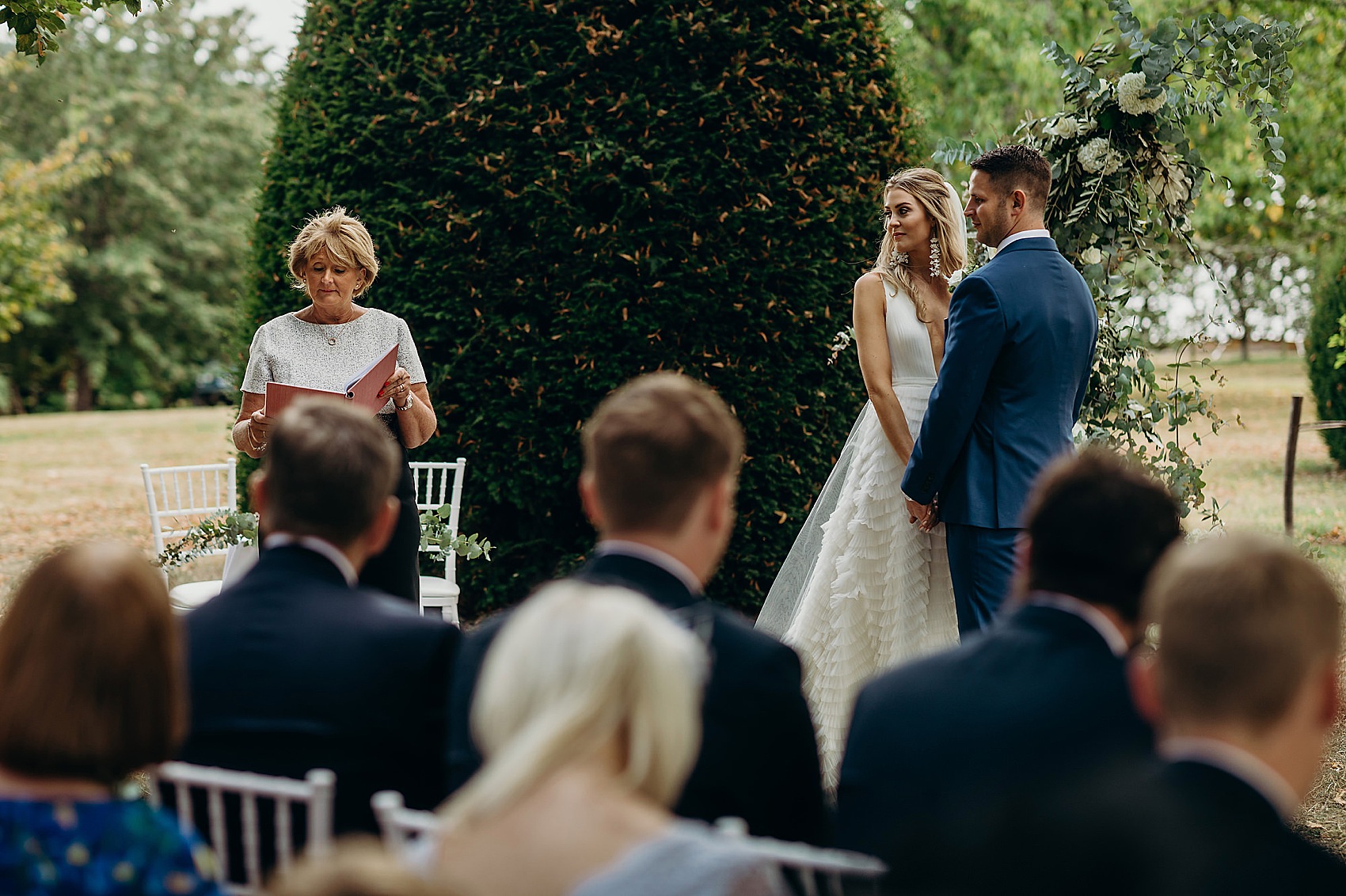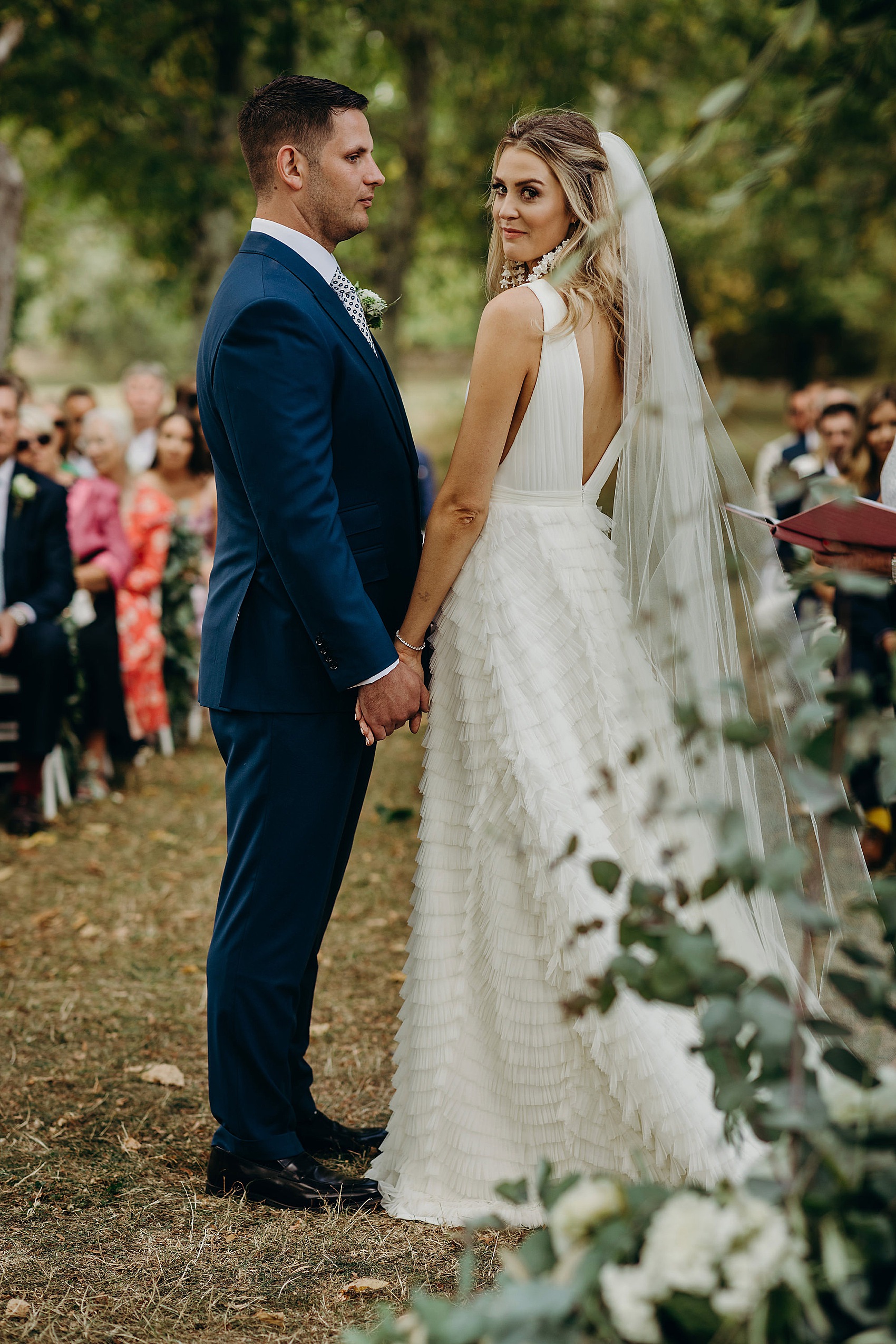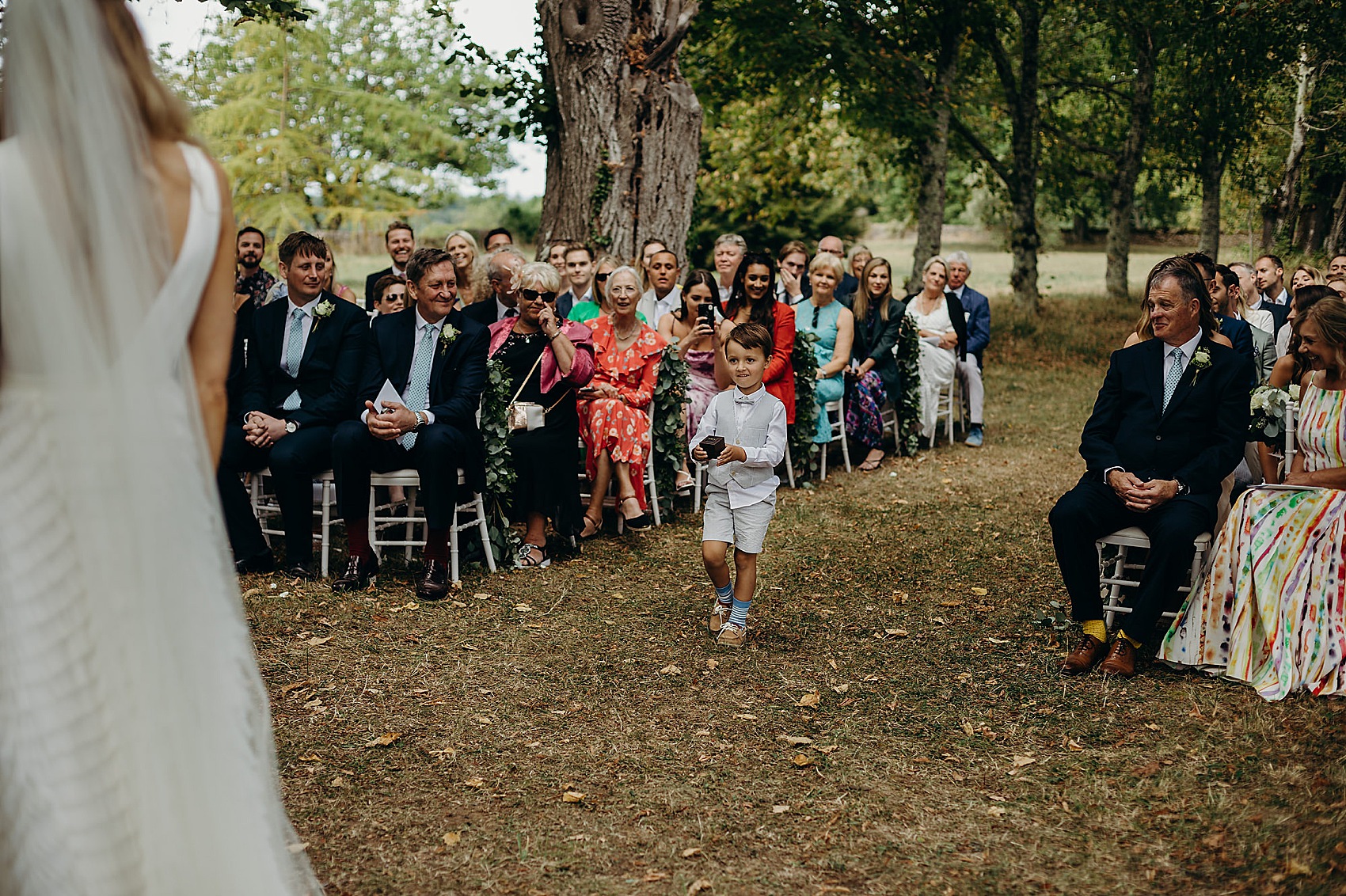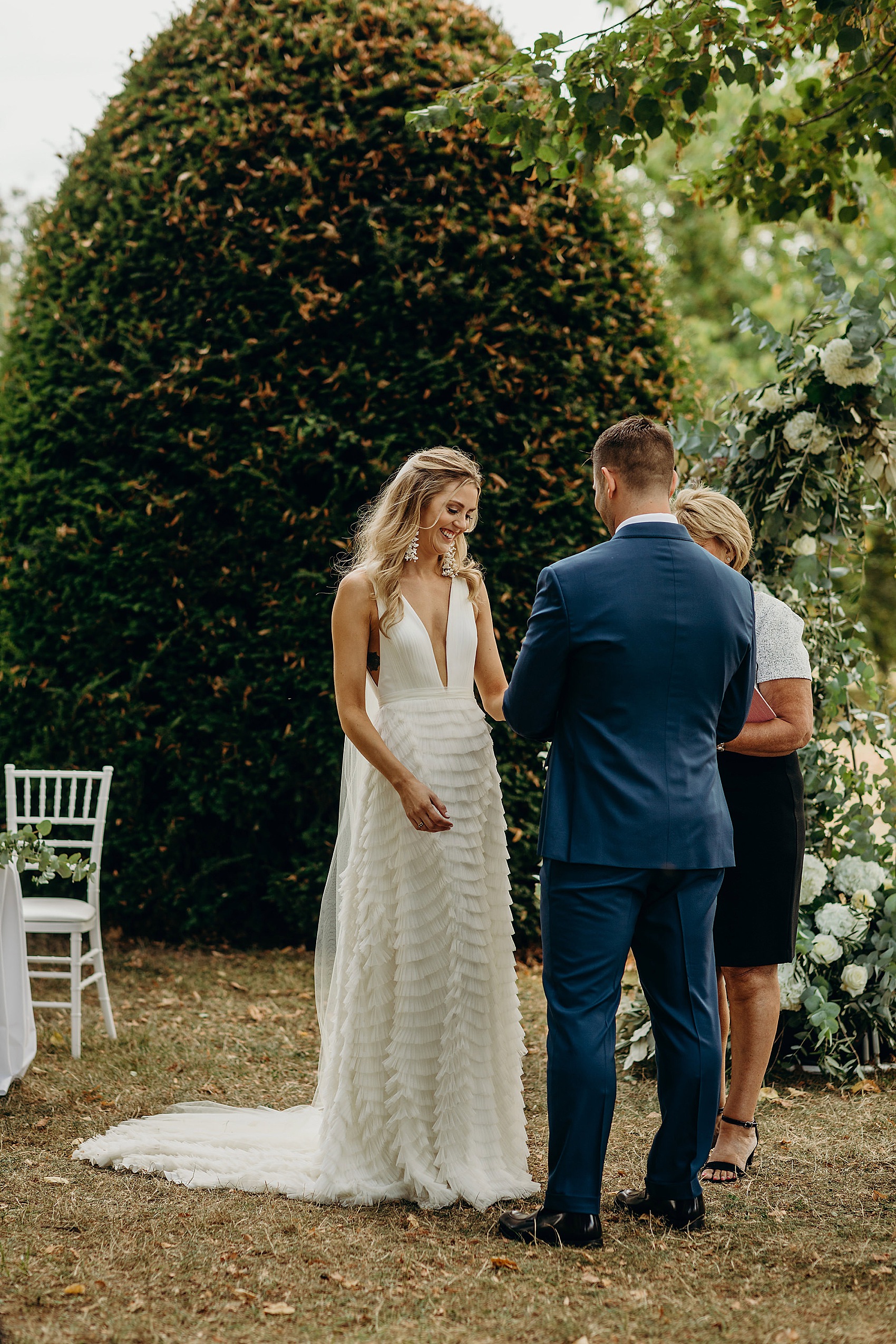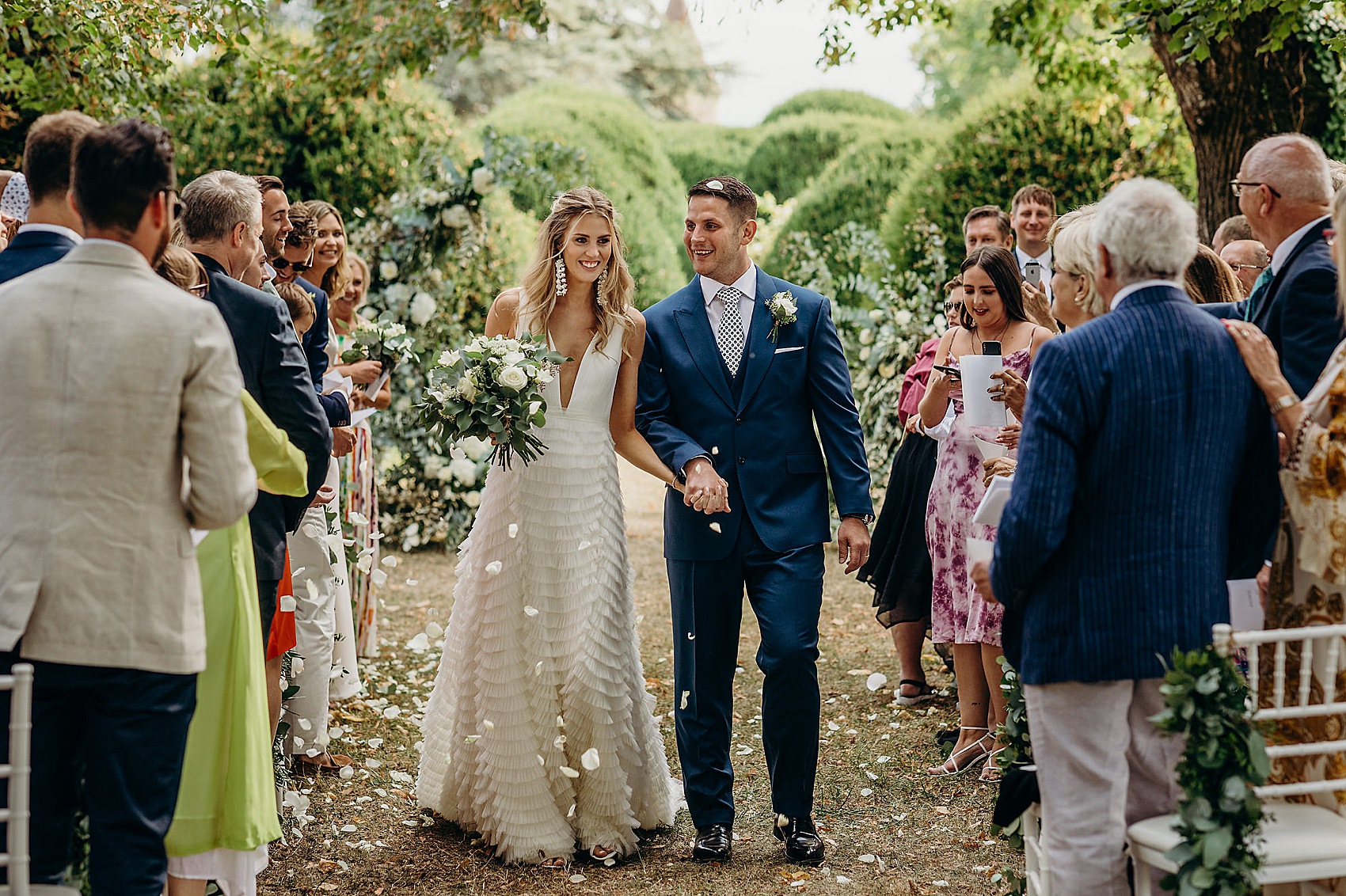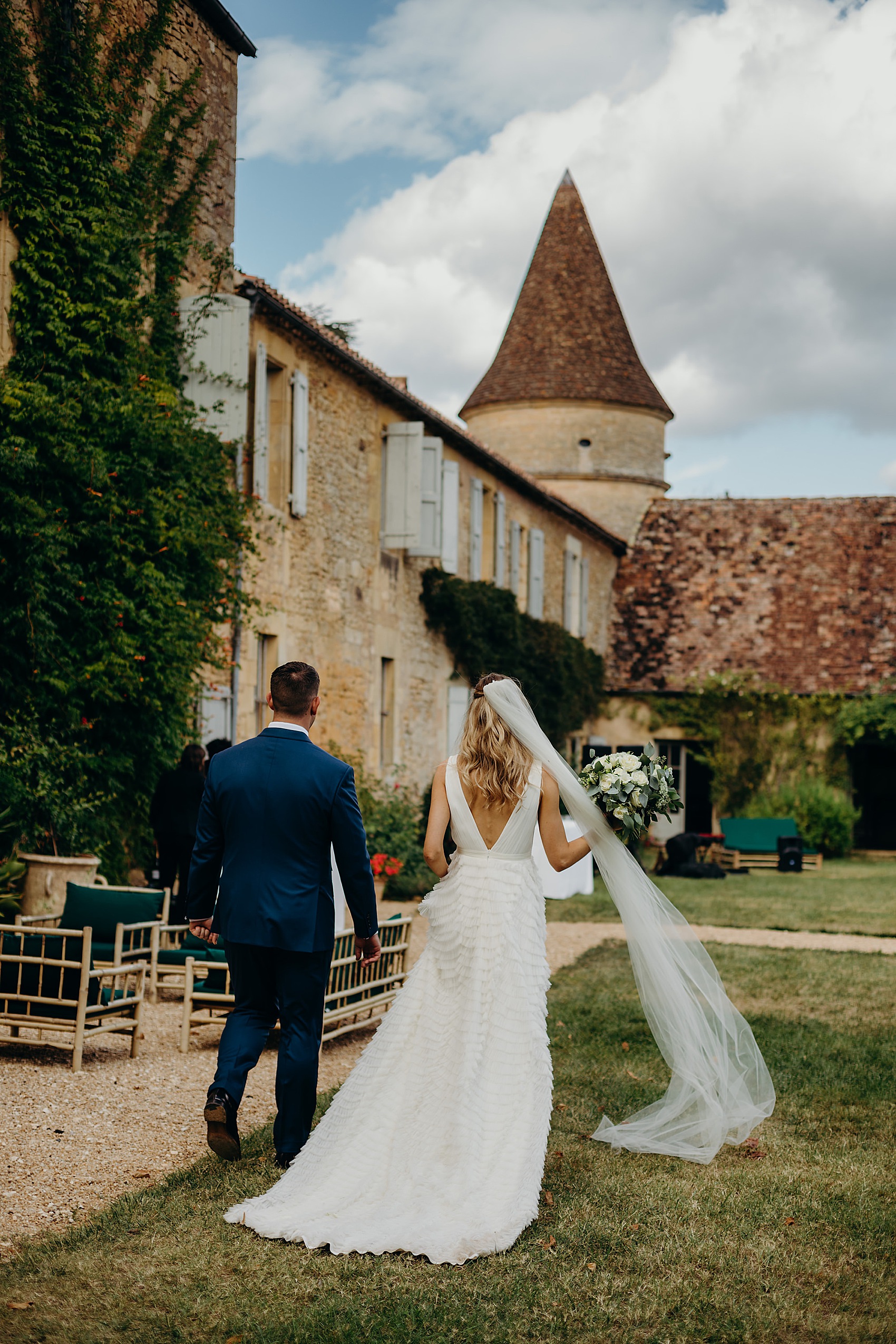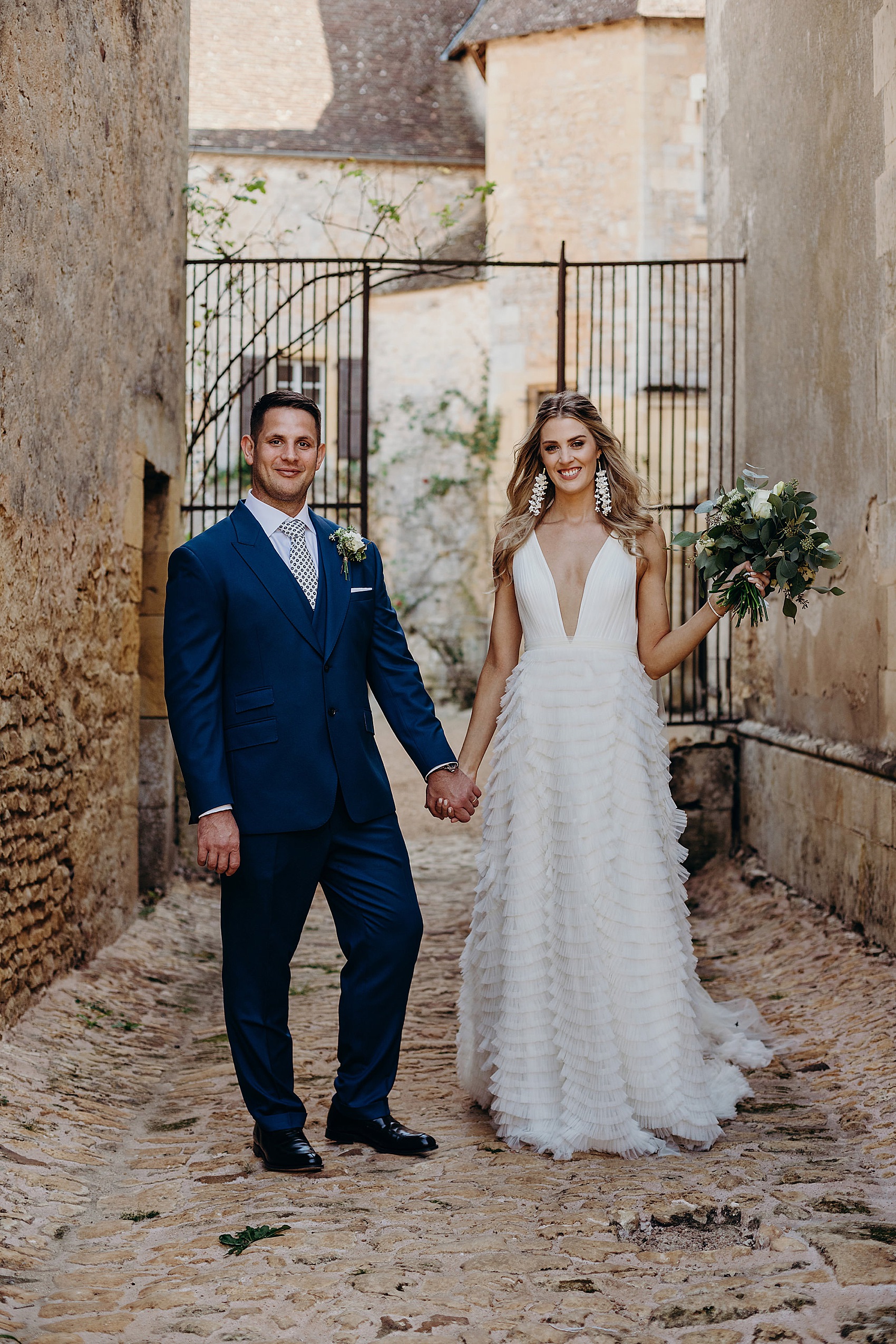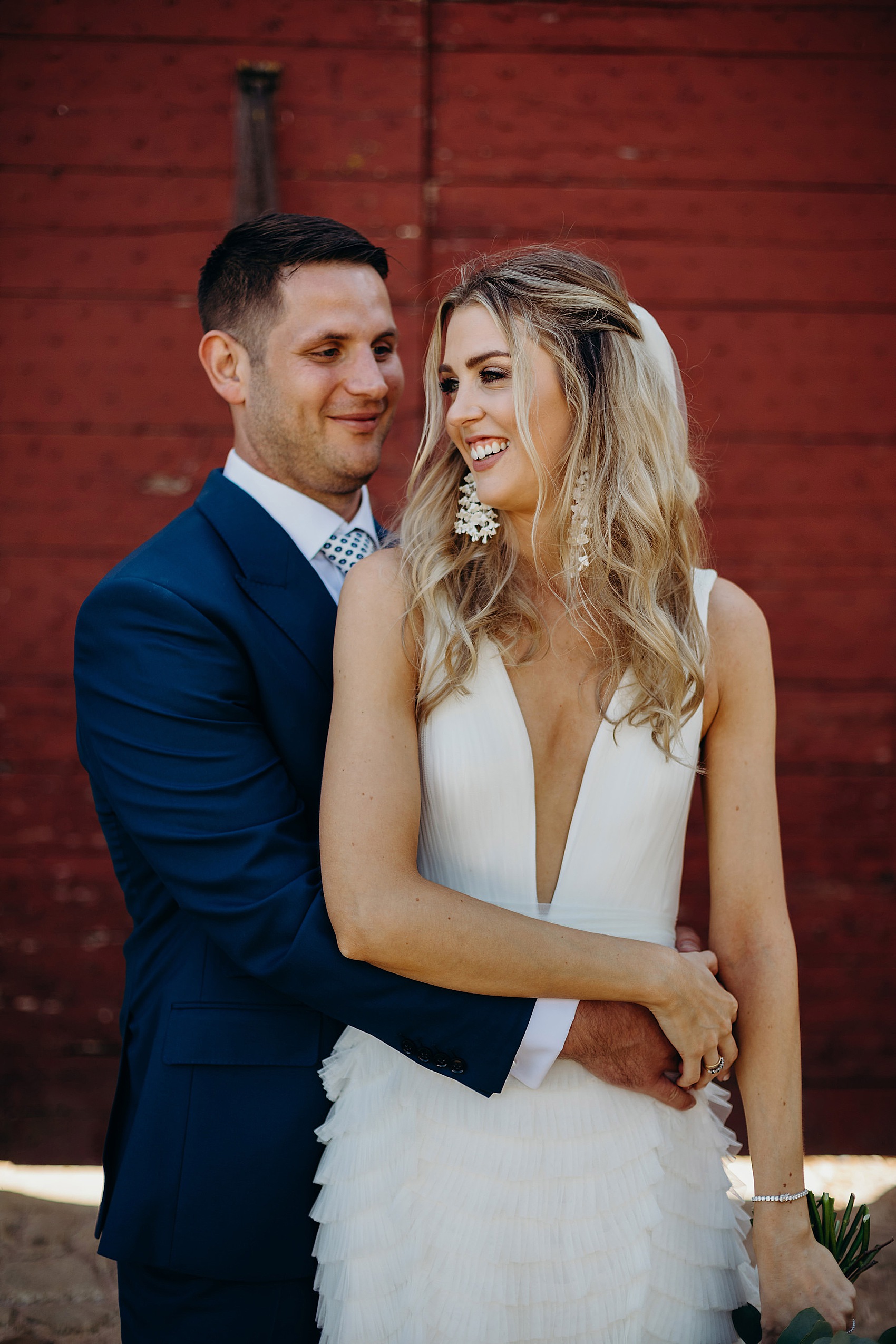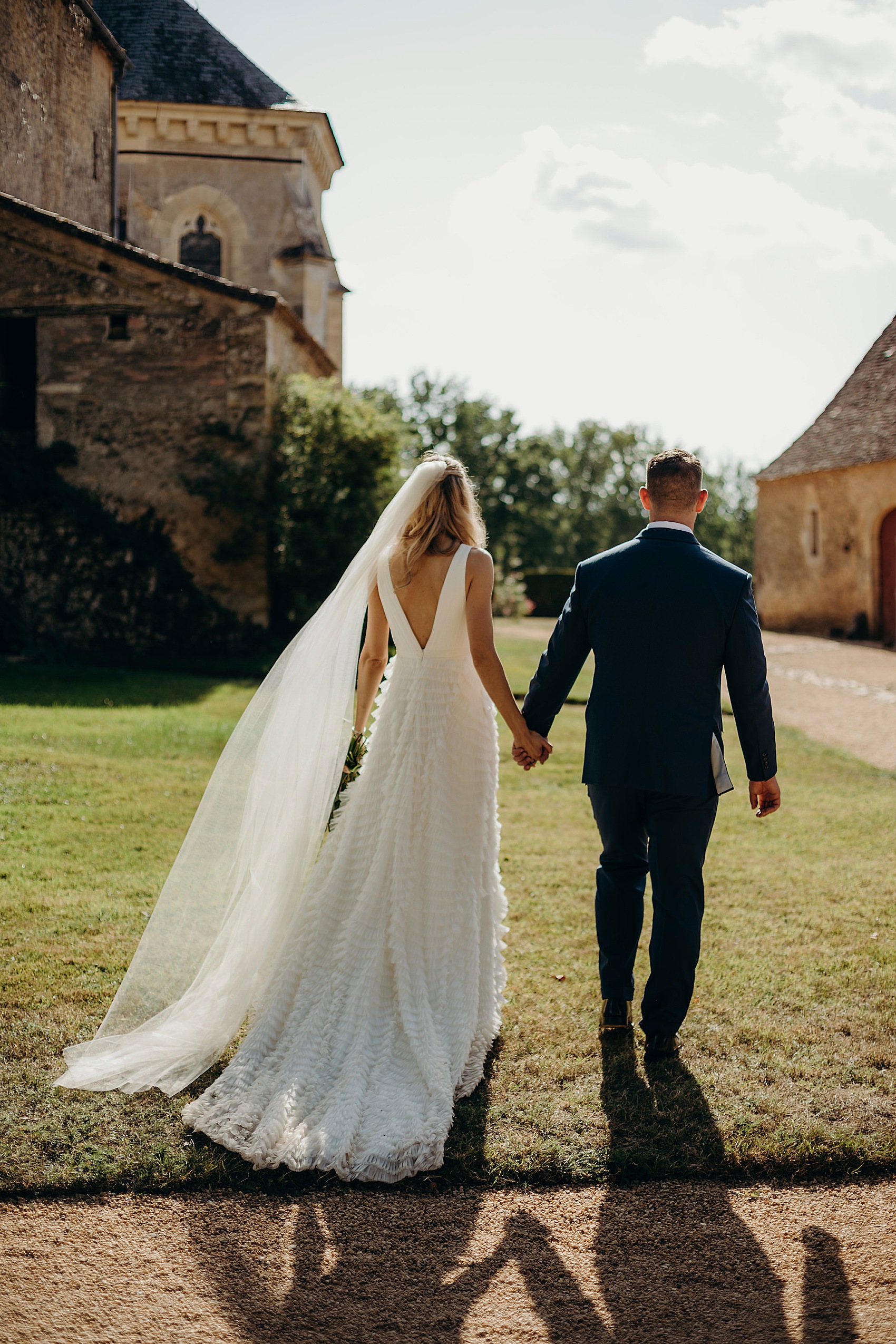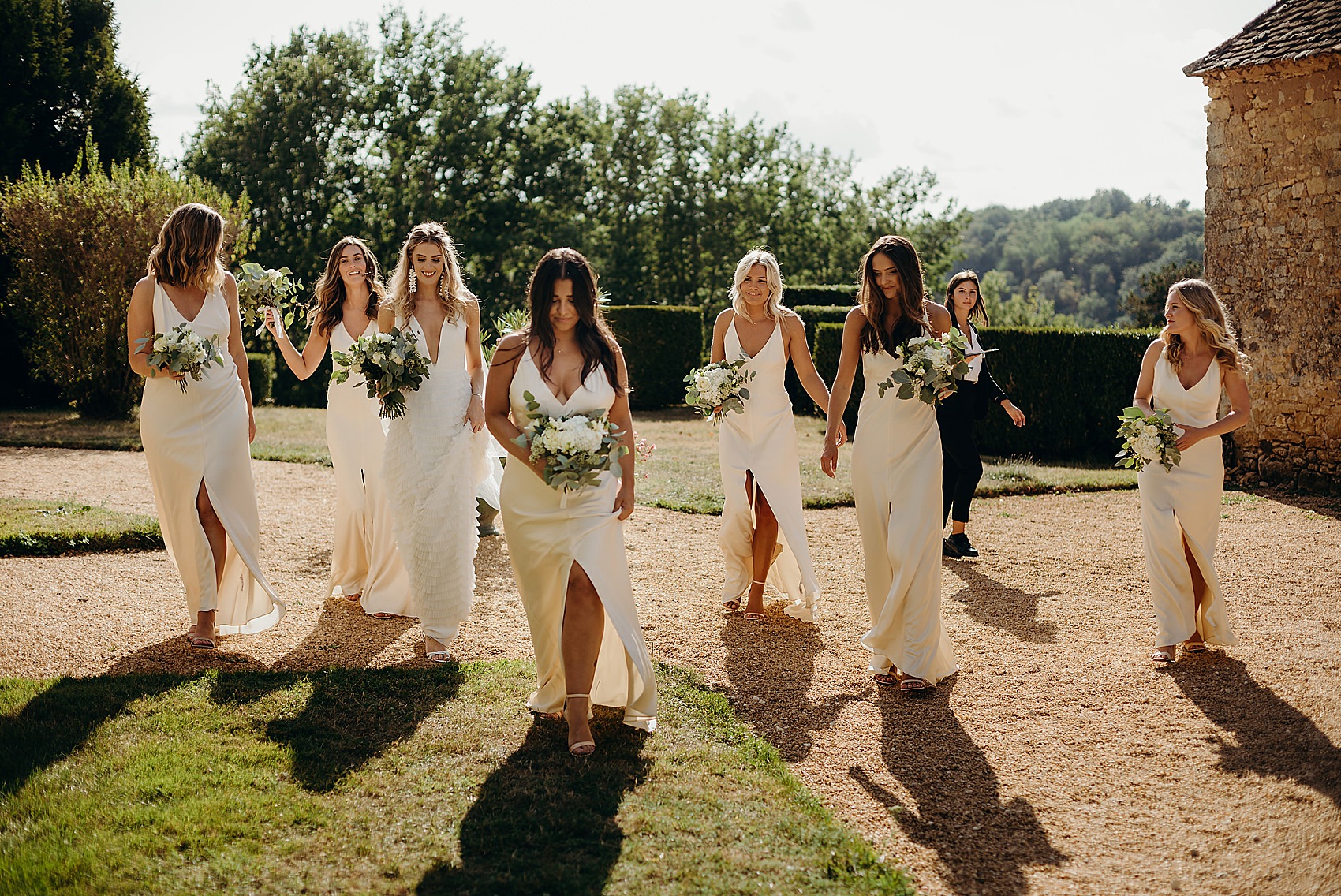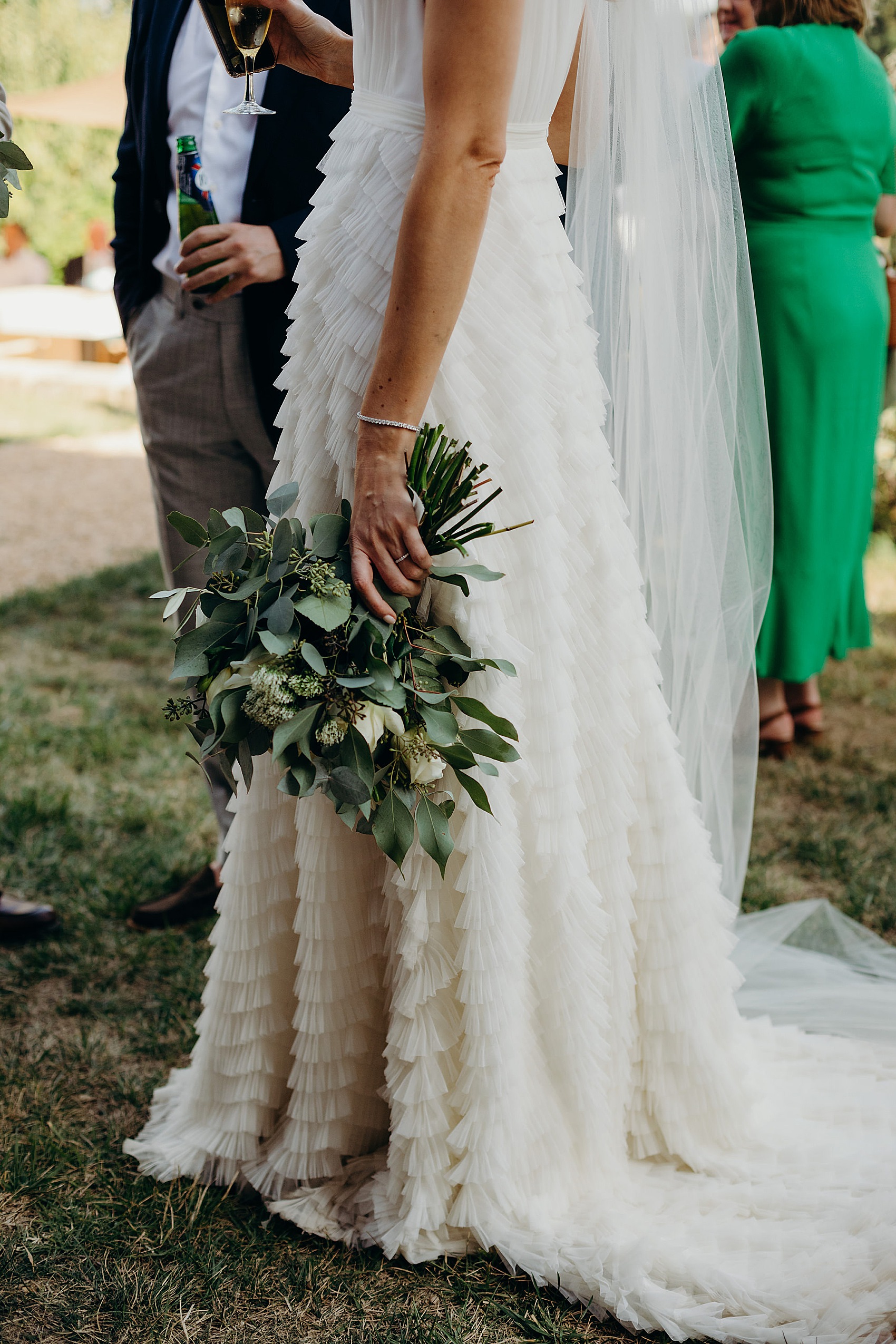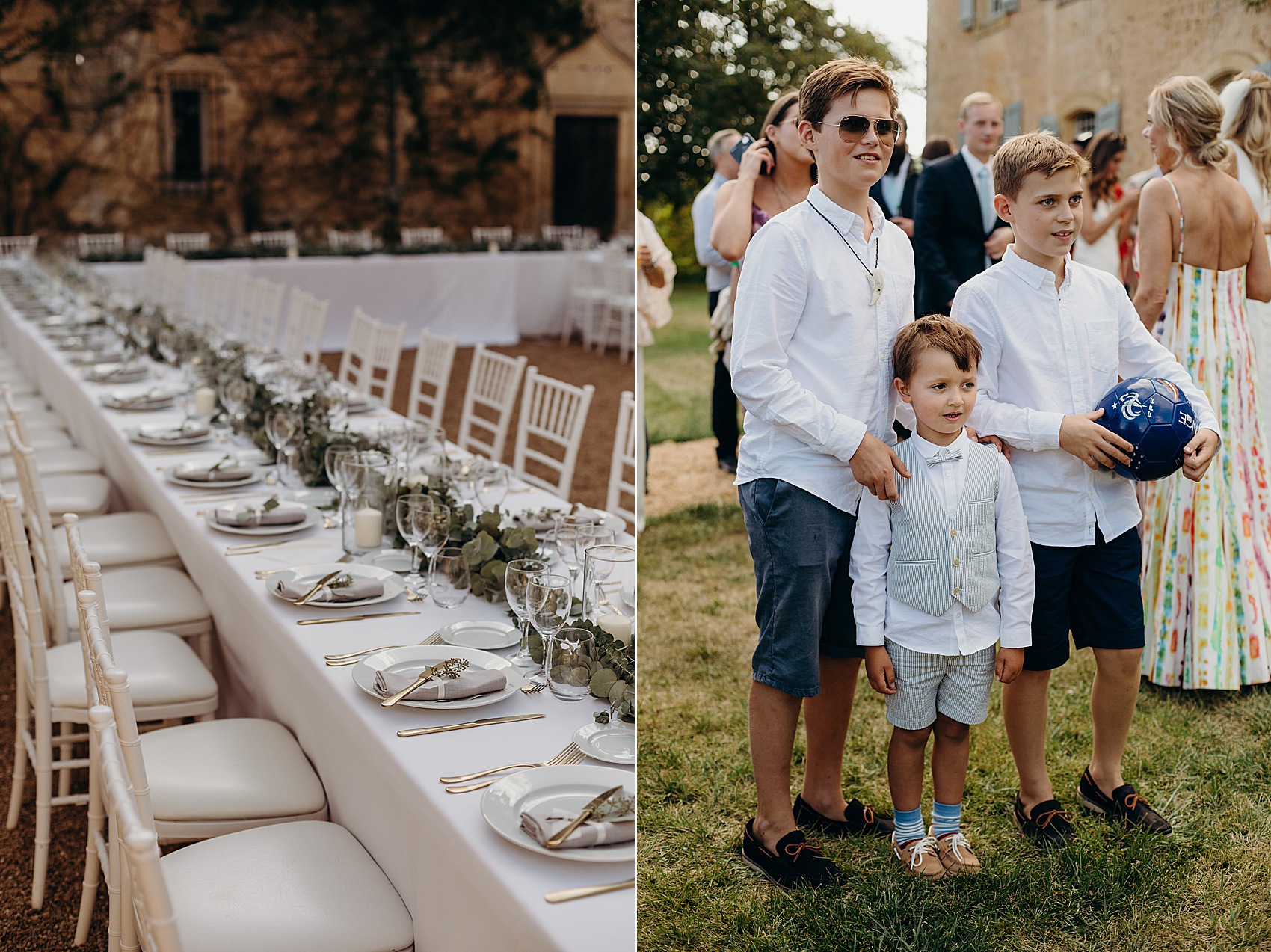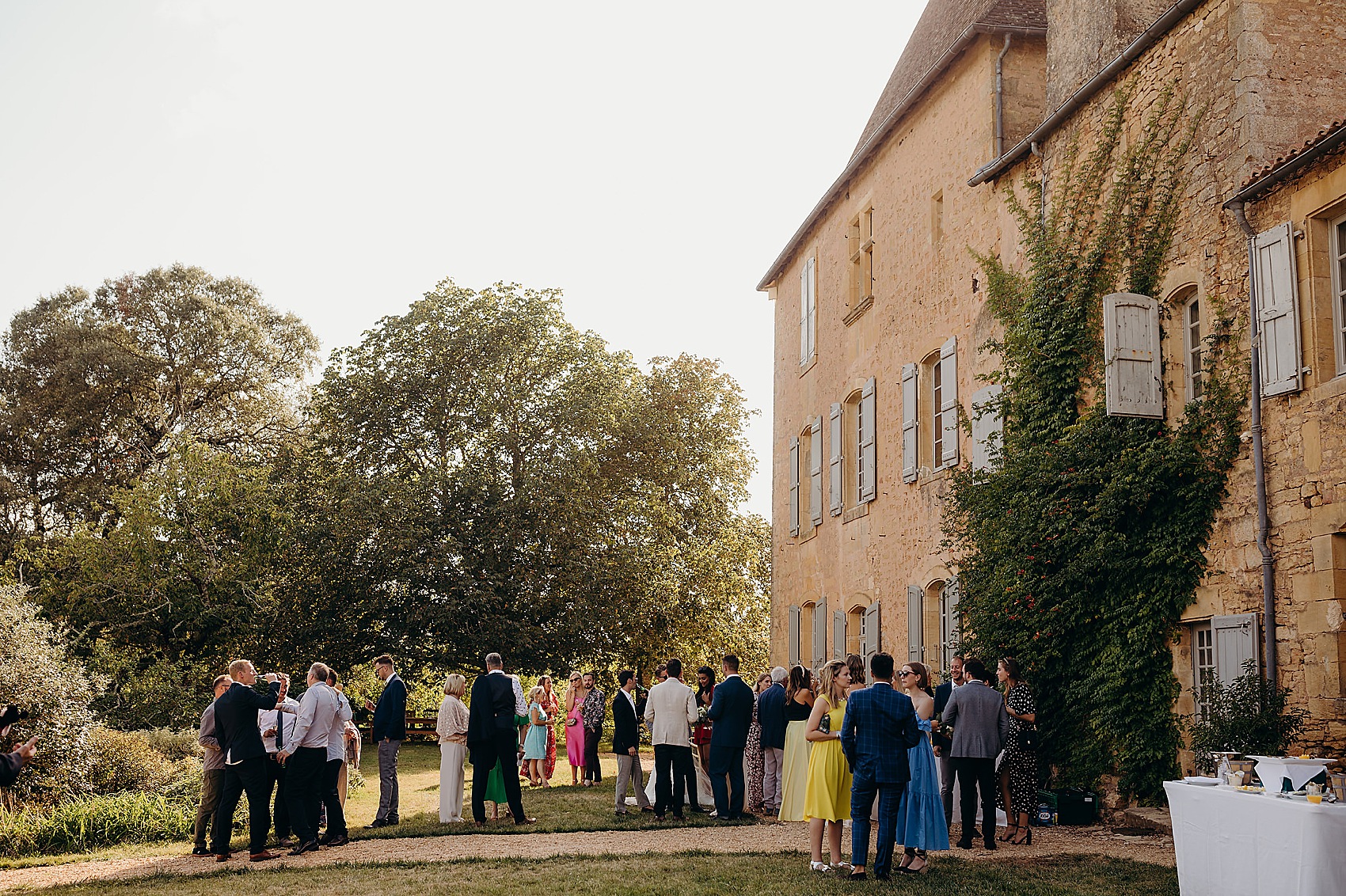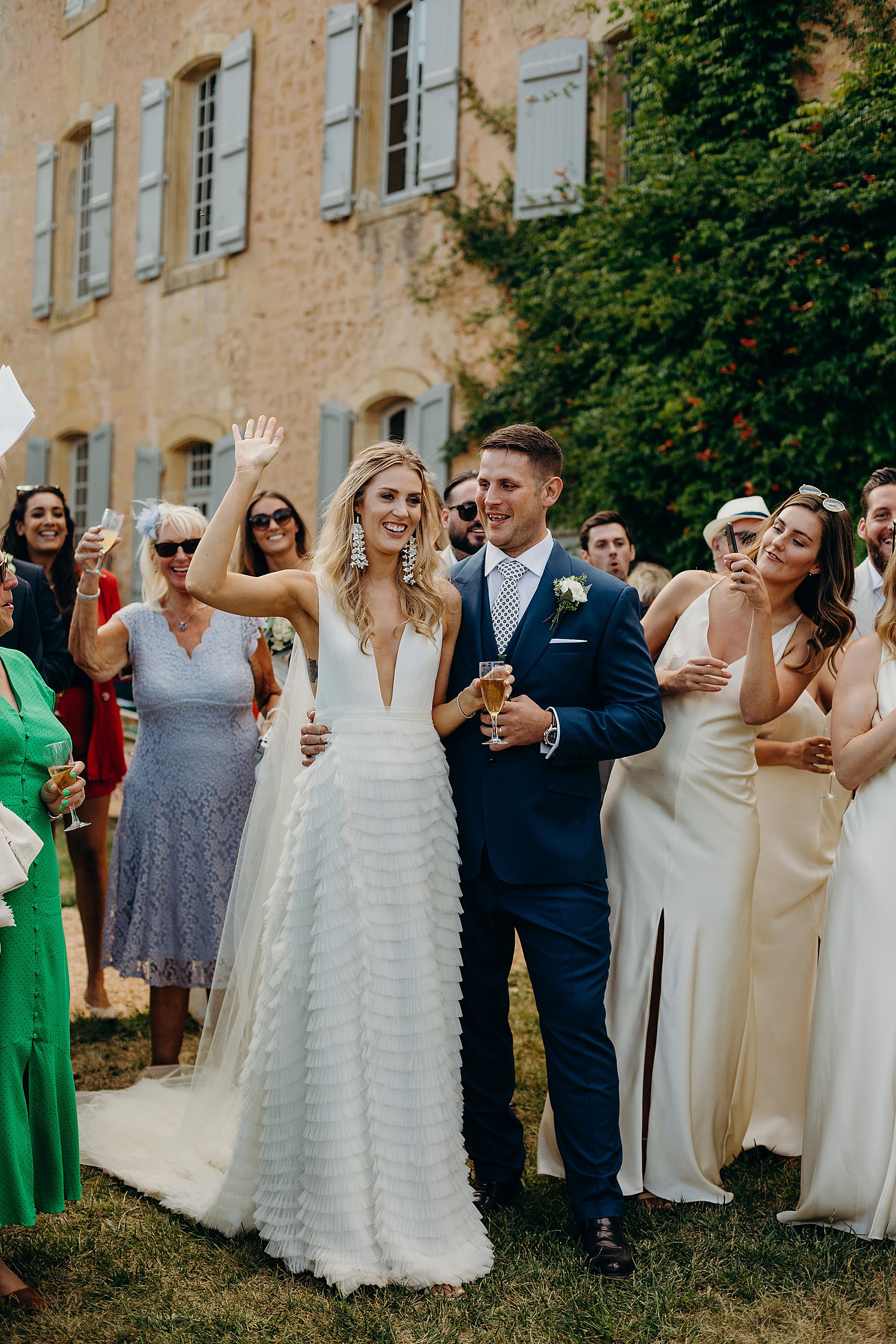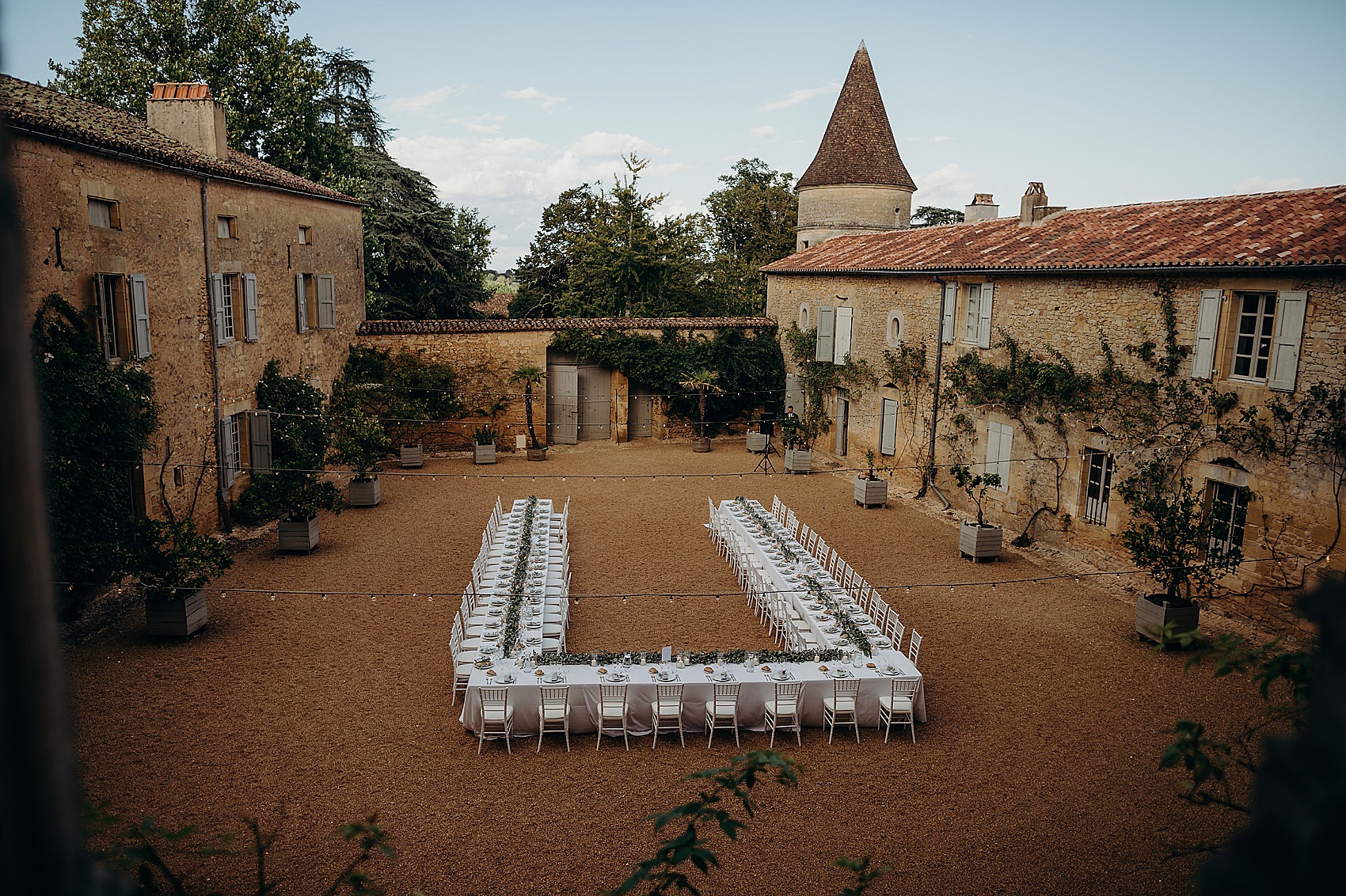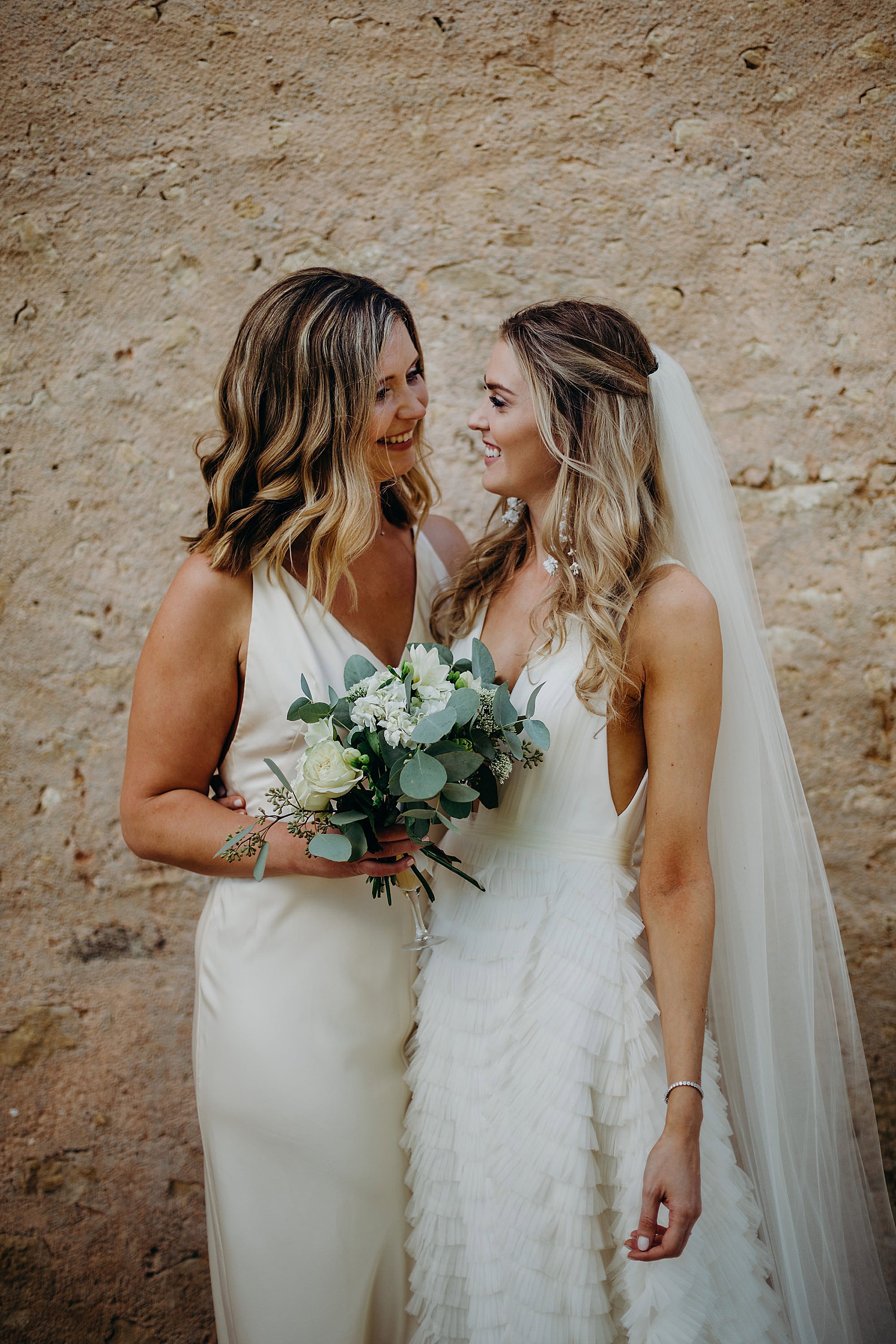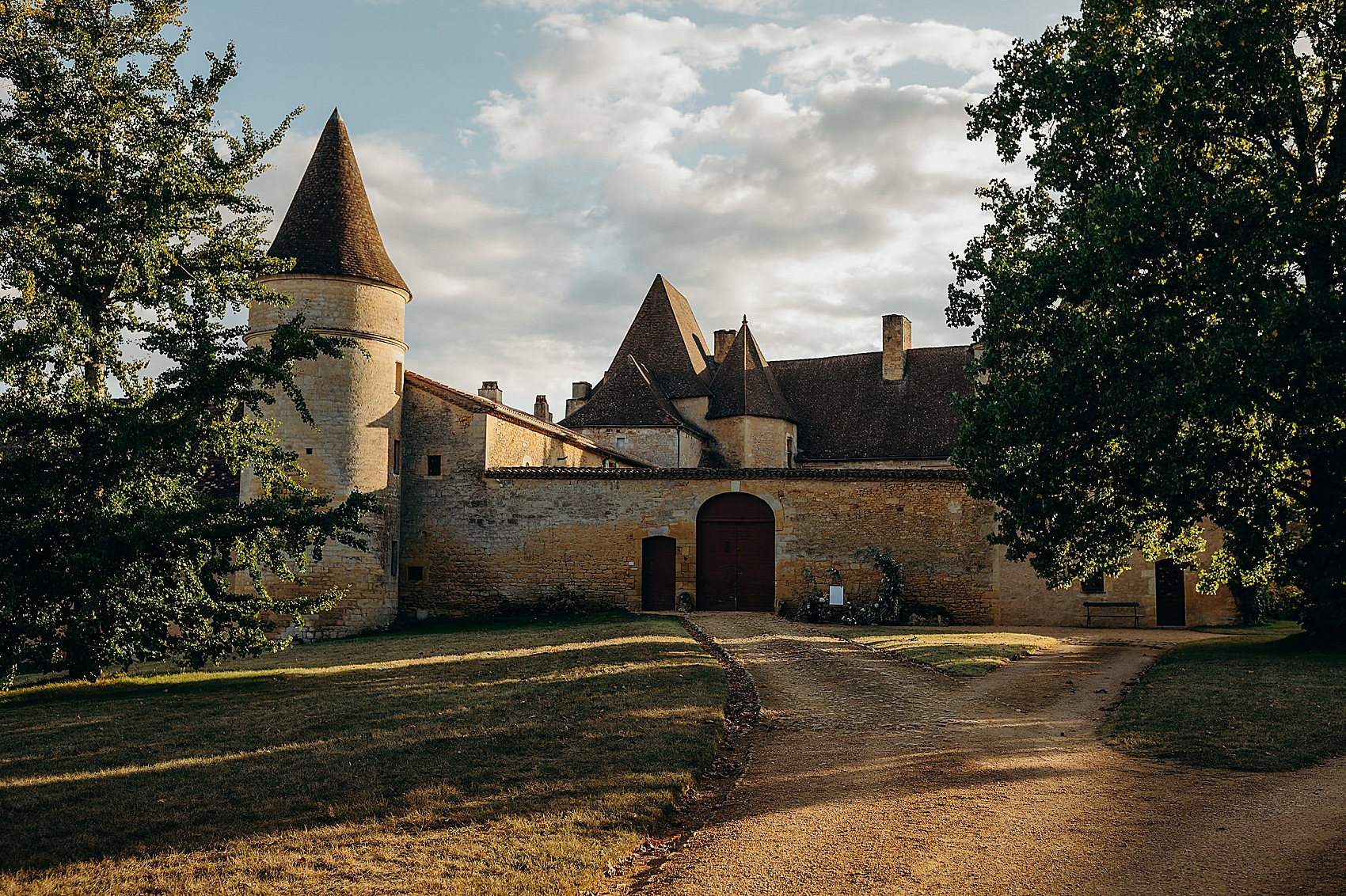 "When it came to cake, we went for a traditionally French Croquembouche. We're not big cake people and we didn't want it to go to waste, so this was perfect. We served it instead of dessert which went down really well. The Croquembouche was supplied by our catering tea."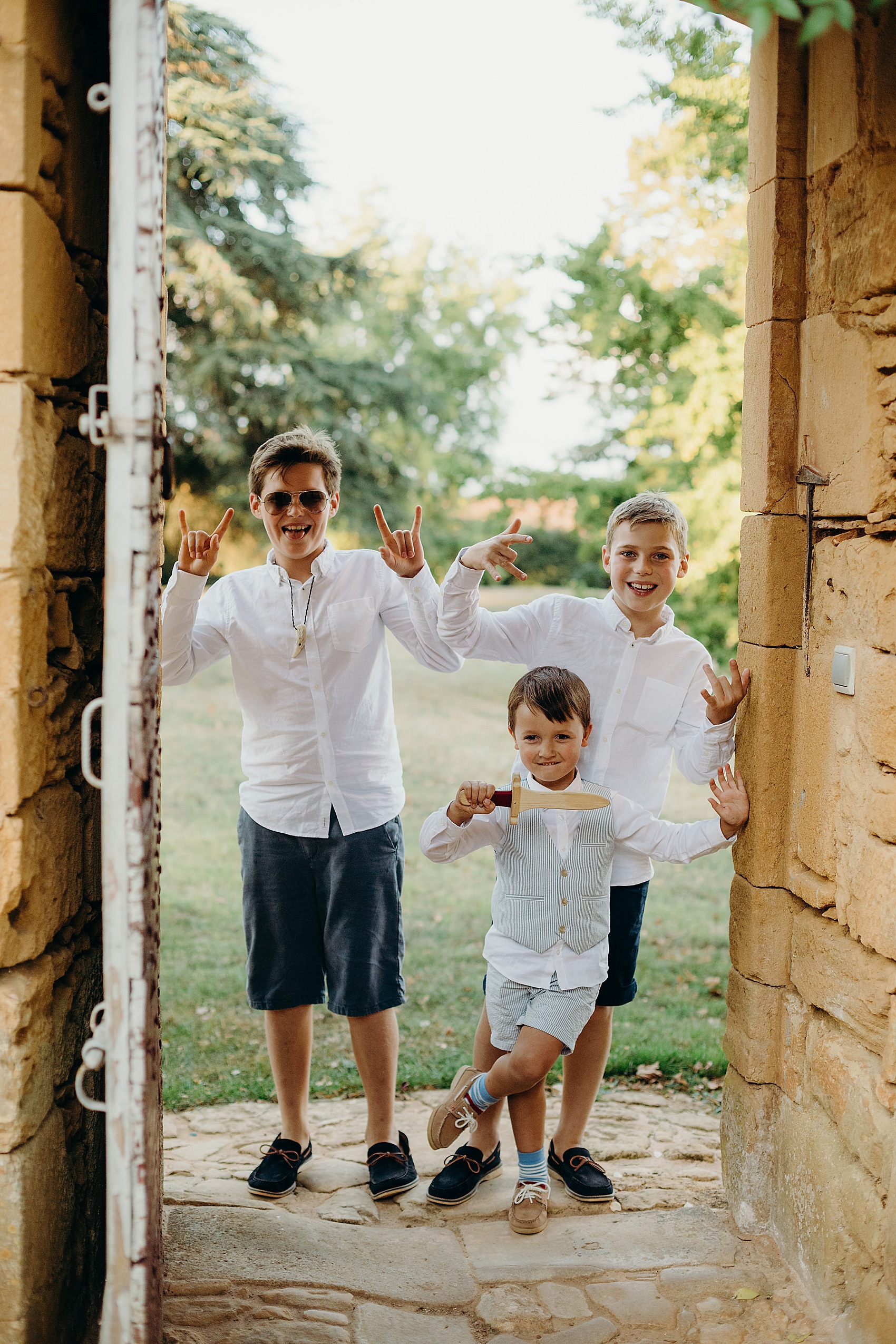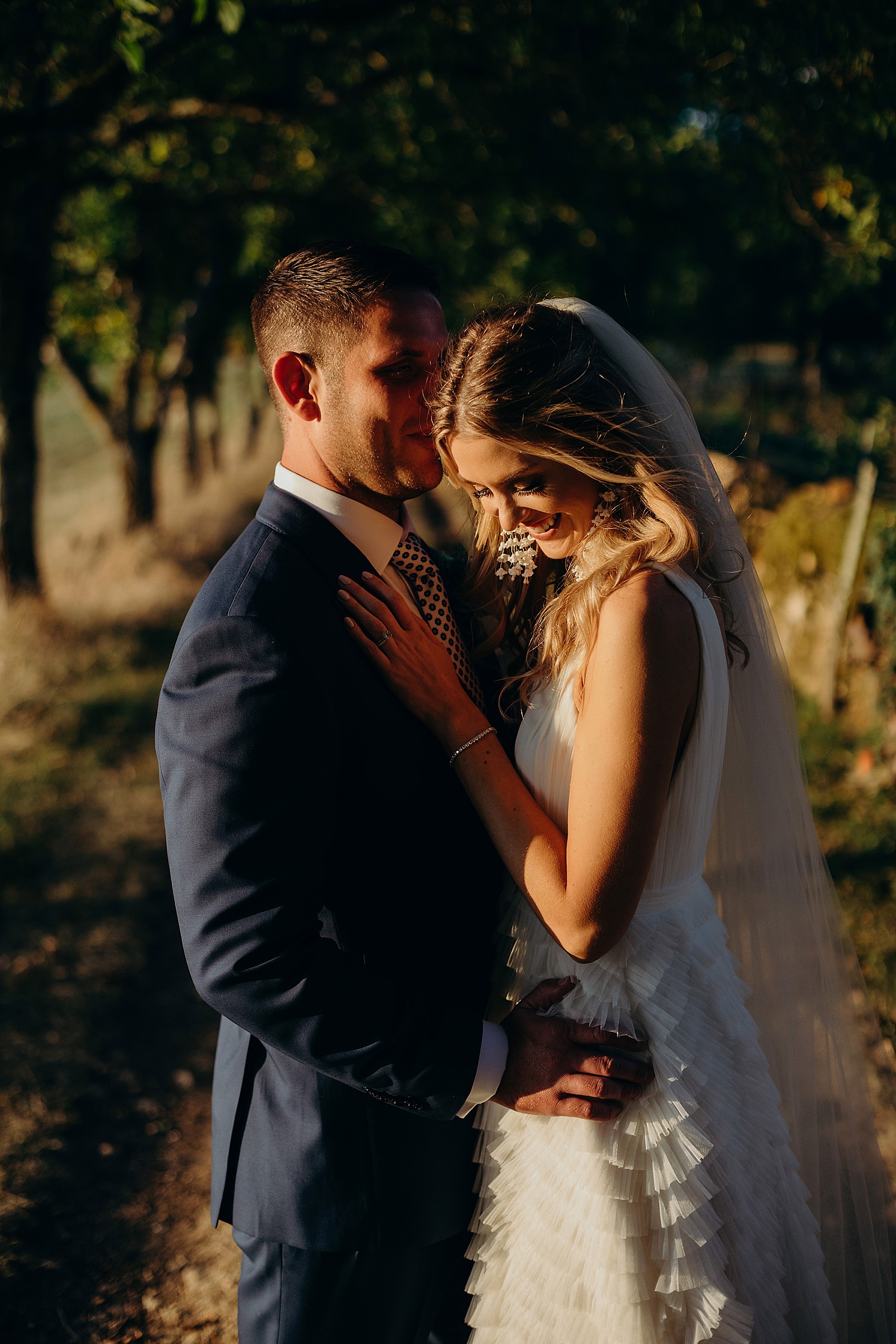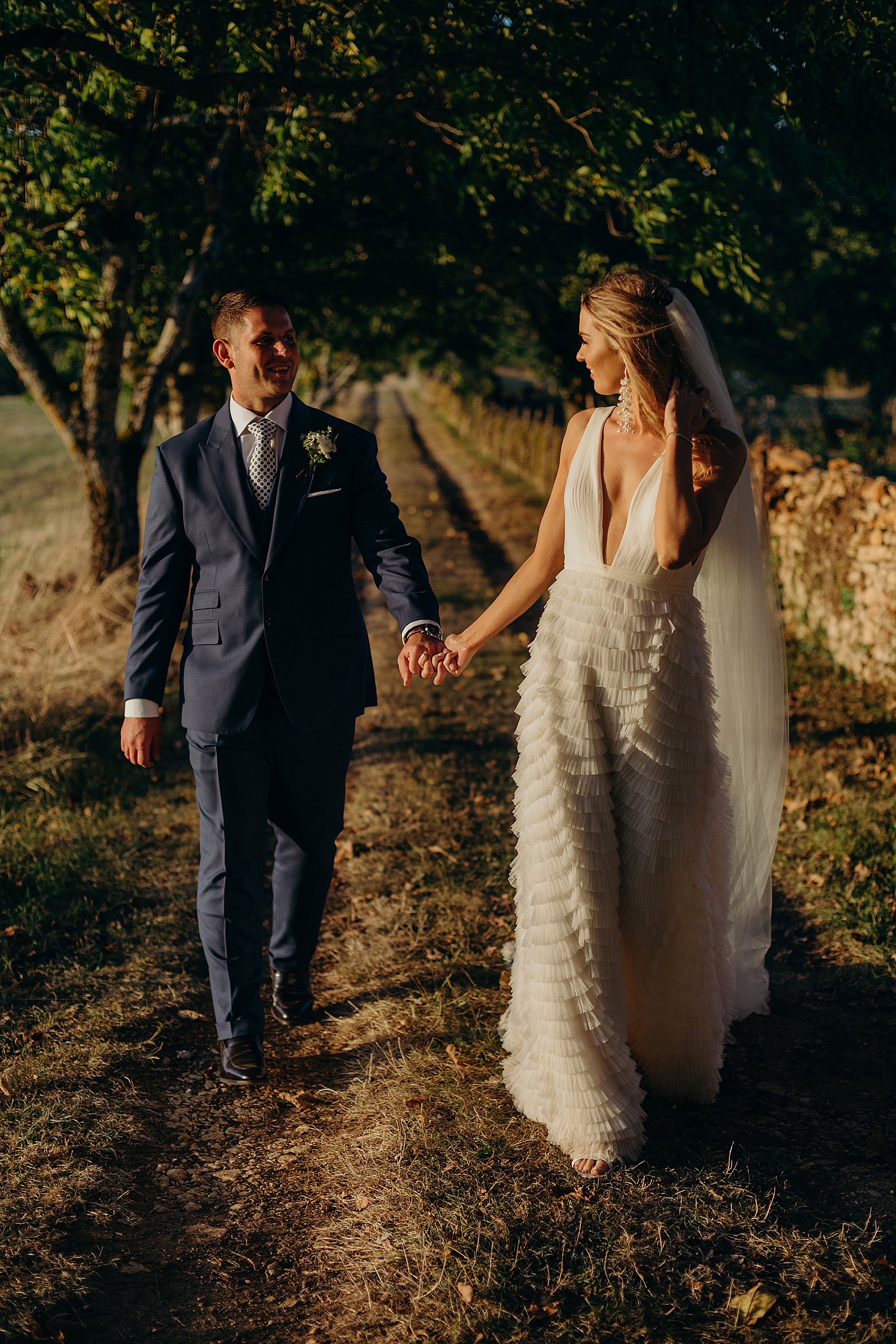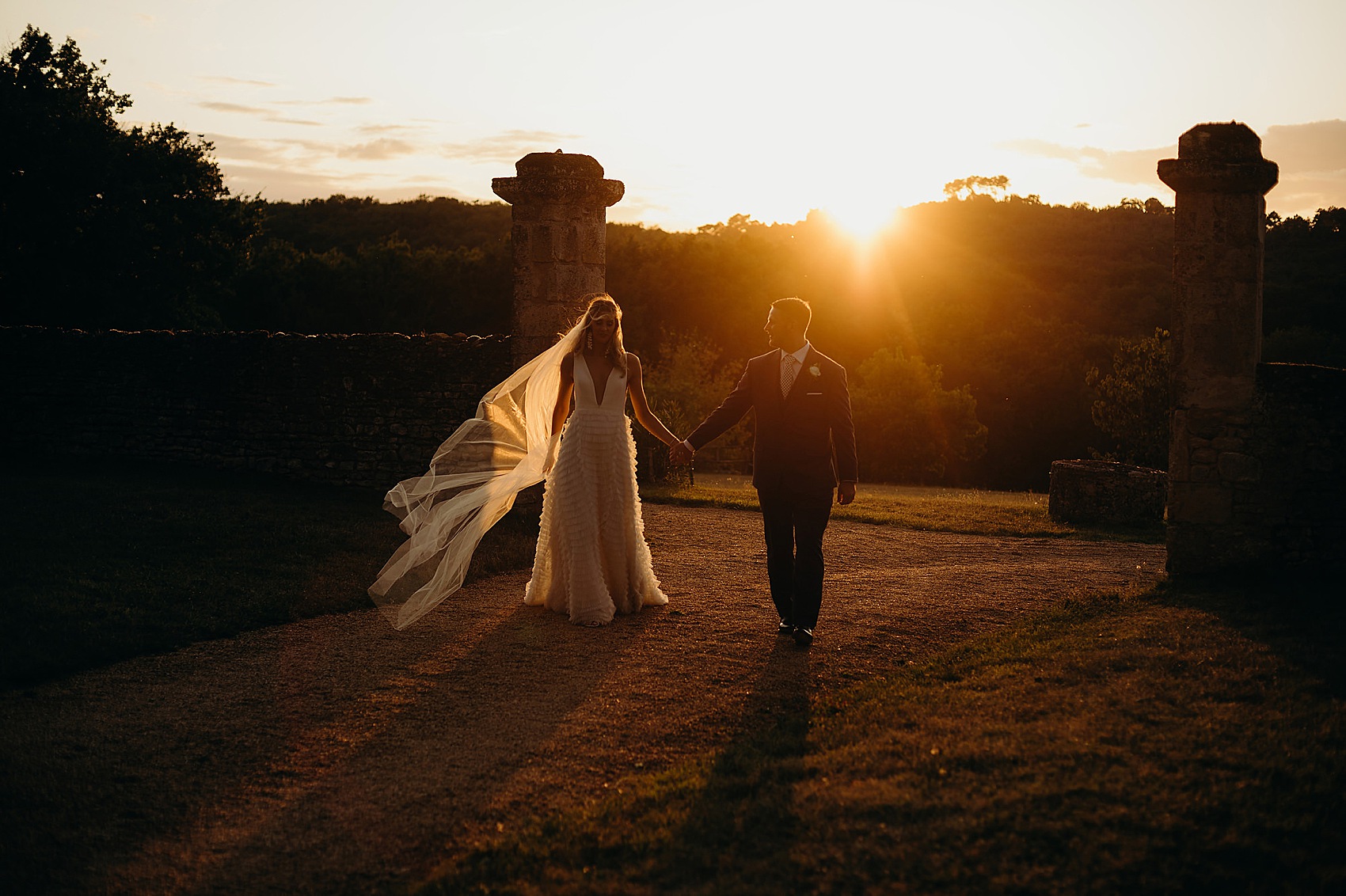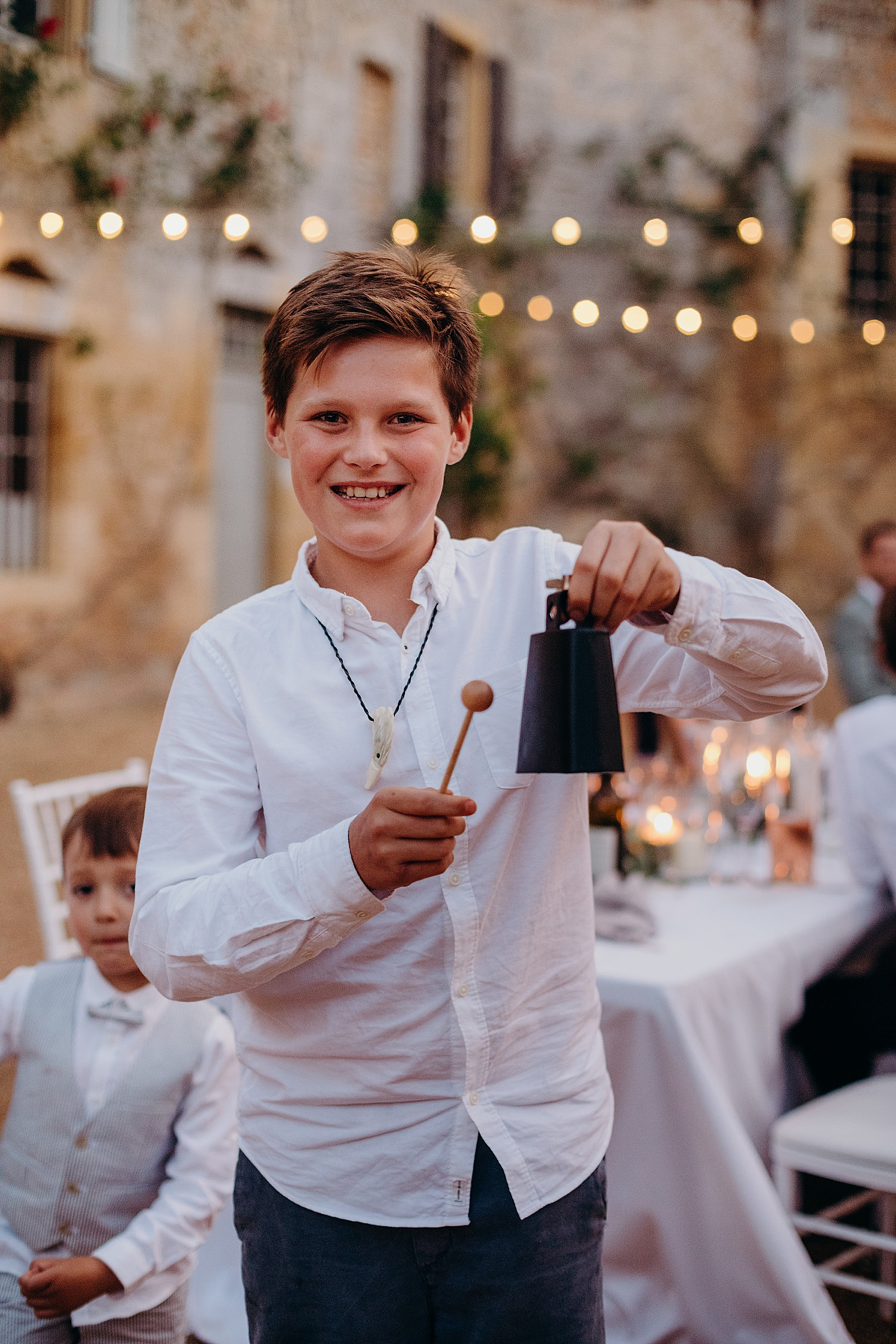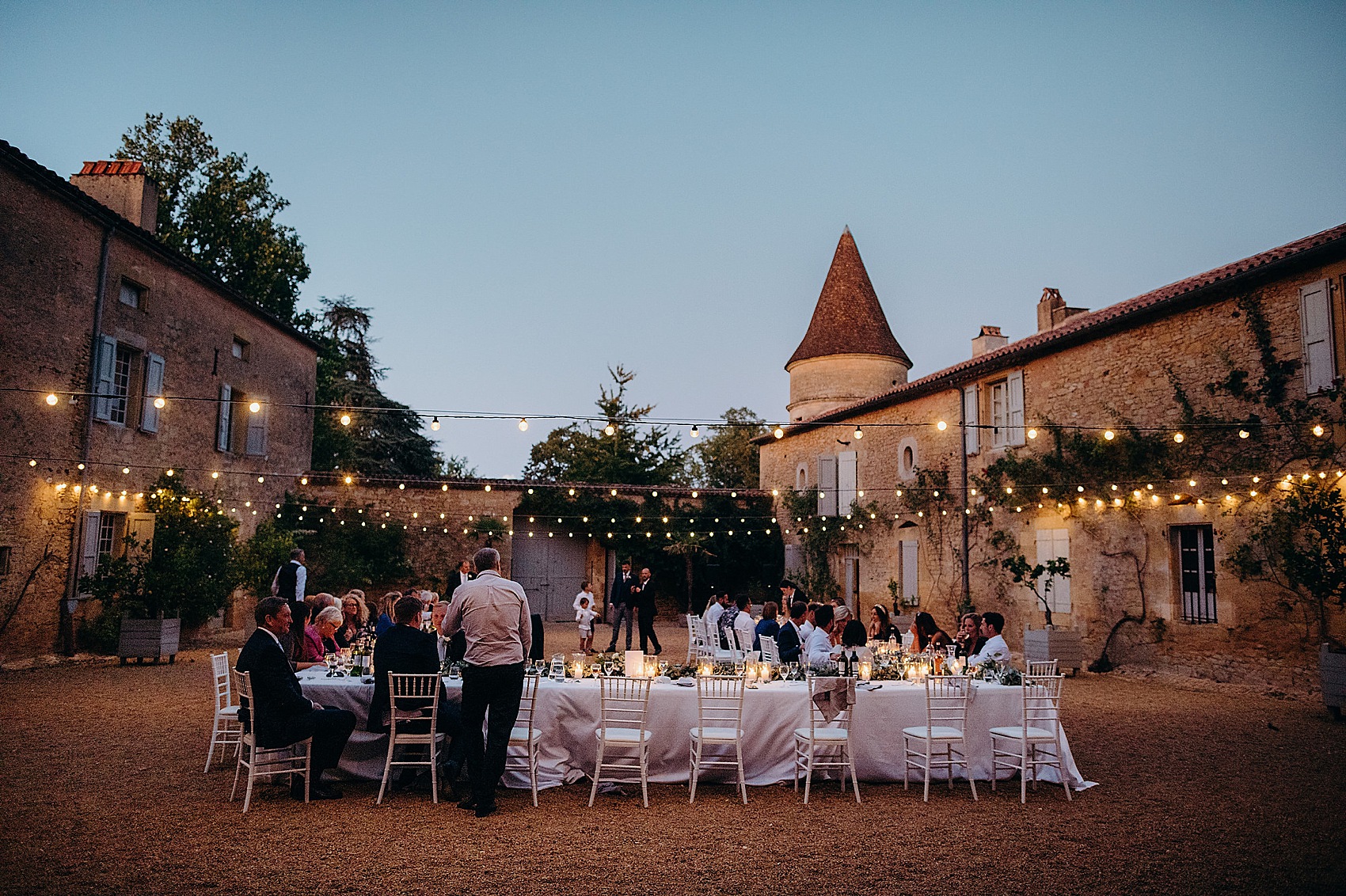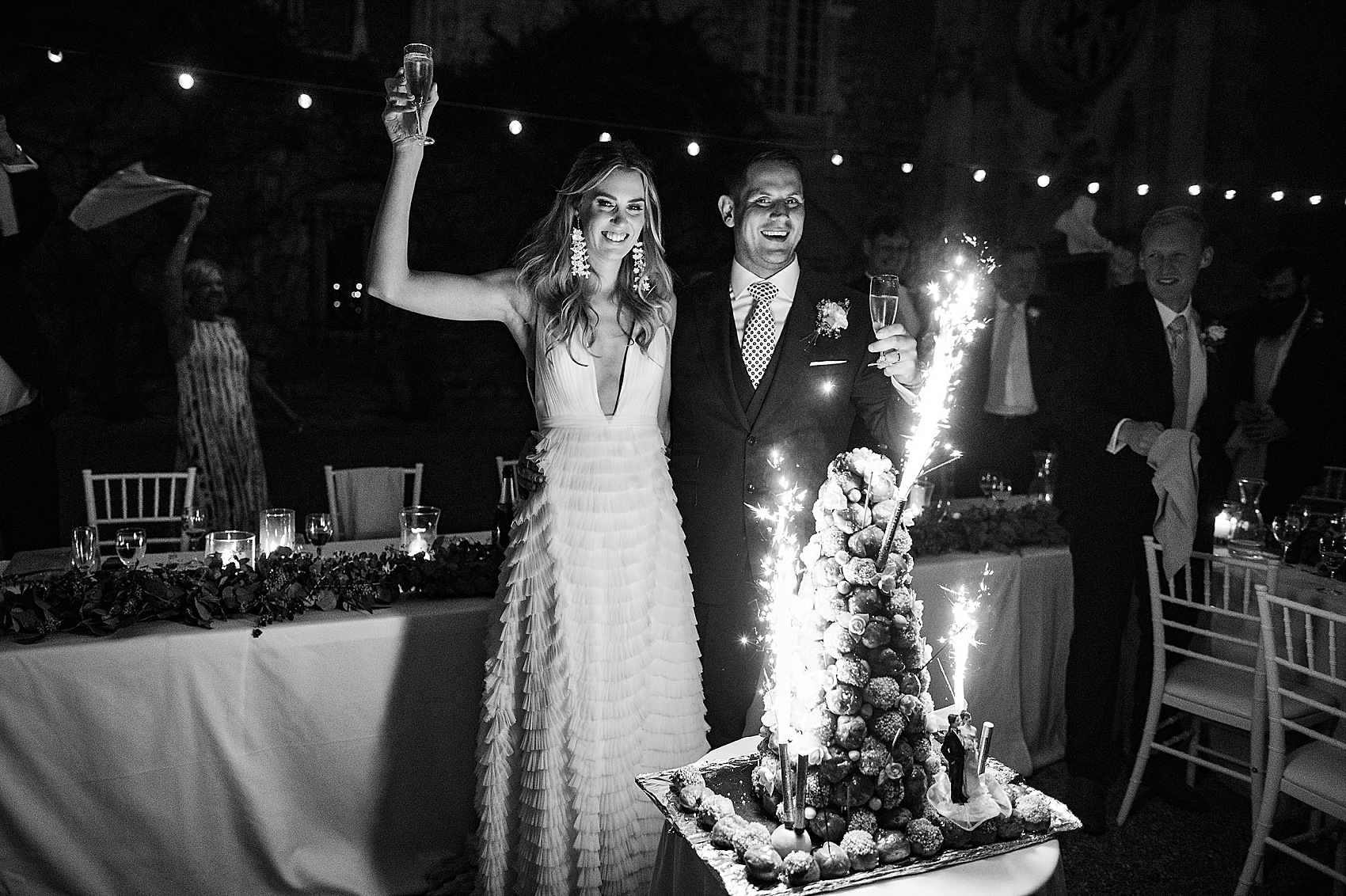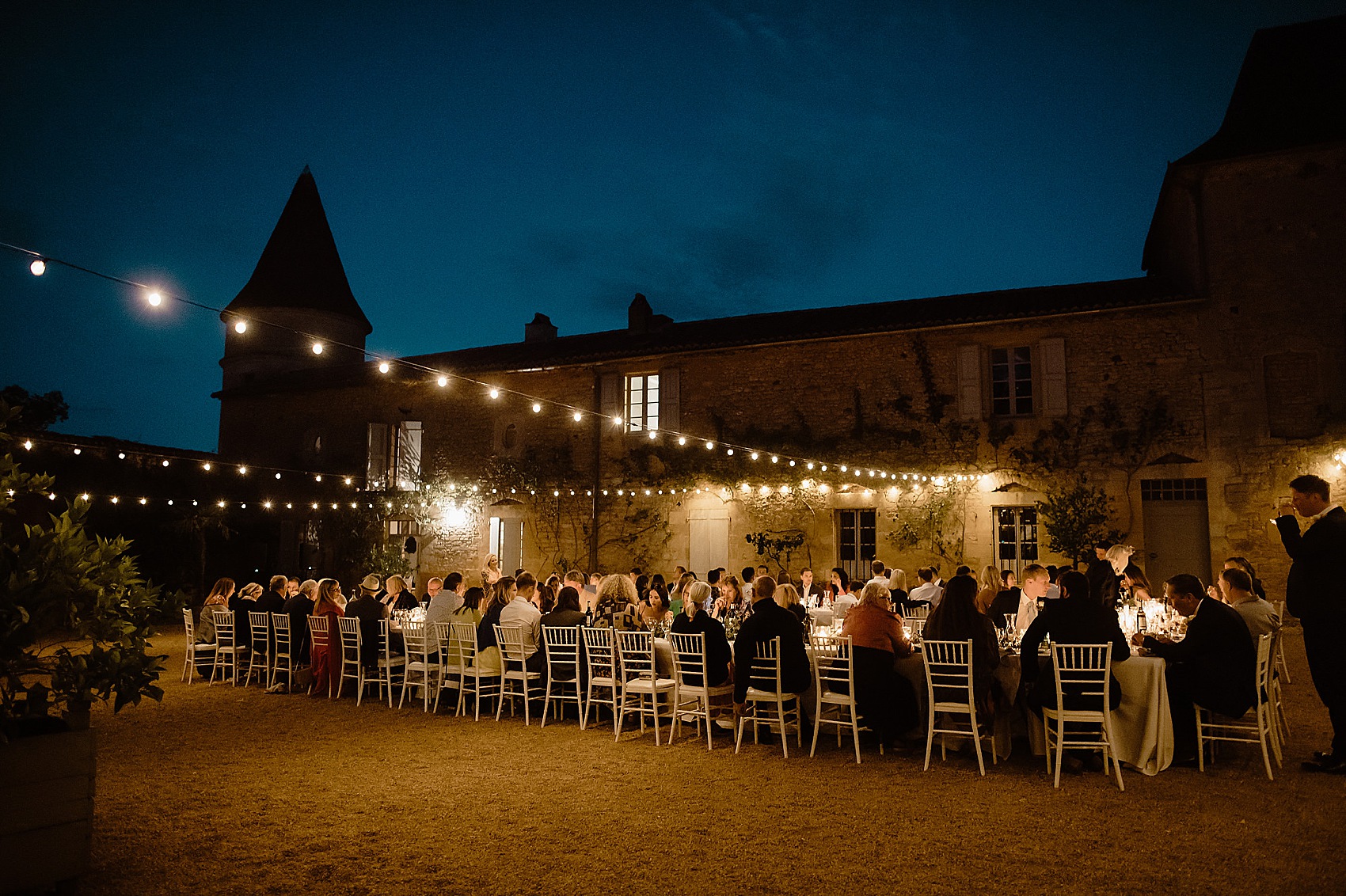 "We had our first dance to  'You've Got The Love' by Florence + The Machine. It's one of my favourite songs and a song that always gets us both singing, we didn't want anything we had to slow dance to. It was fun, yet meaningful and it got the dance floor going!"
"Each part of the day was perfect and different. I loved our wedding breakfast, Andrew and I got some time to relax and chat about the day so far, eat some good food and drink good wine – whilst also taking in the amazing setting and catching up with our guests."
"Another really special part of the day was walking down the aisle with my dad and seeing Andrew at the end of the Aisle! It felt really special."
"A few of my friends have lost their dads, and we lost our grandpa a few years ago. So I felt really lucky and privileged to be able to have my dad there, it was really emotional."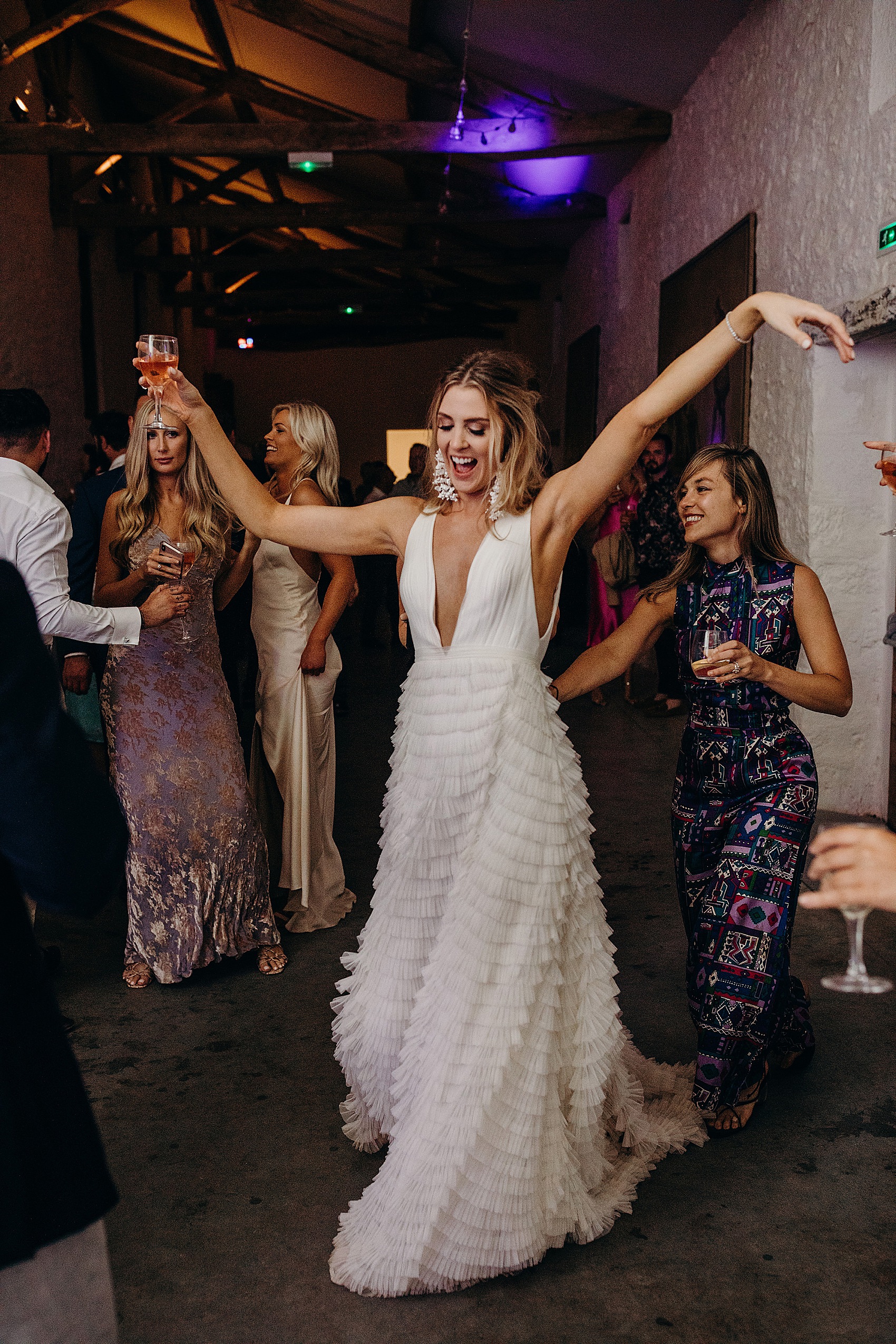 Words of Wedded Wisdom
"Even though we had lots of time to get ready, I ended up feeling quite rushed. I wish I'd not been 'too' bothered about being bang on time and just enjoyed getting ready a bit more. I also wish I'd had taken a bit of time out with my mum before the day began too – it was all such a whirlwind!"
"Enjoy the planning and the run up to the wedding, try not to stress the small stuff as on the big day it doesn't matter. As I was getting ready on the morning of the wedding, I noticed our napkins were the wrong colour – I was so stressed about it, but in the end, no-one even notices (or cares!)."
"Take time out on your big day to just sit with your new husband / wife and take it all in. Don't worry too much about talking to every single guest, you'll never have the chance to enjoy yourself otherwise.
I cannot explain how quickly the day goes!! It honestly felt like we had dreamt the whole thing. A combination of adrenaline and nerves makes everything go so much quicker, so try and embrace every moment."
"Finally, don't not do something because you feel there won't be time or you feel silly doing it. it's YOUR day and you can't do it again – I won't disclose exact figures, but we ended up being roughly 5k over budget."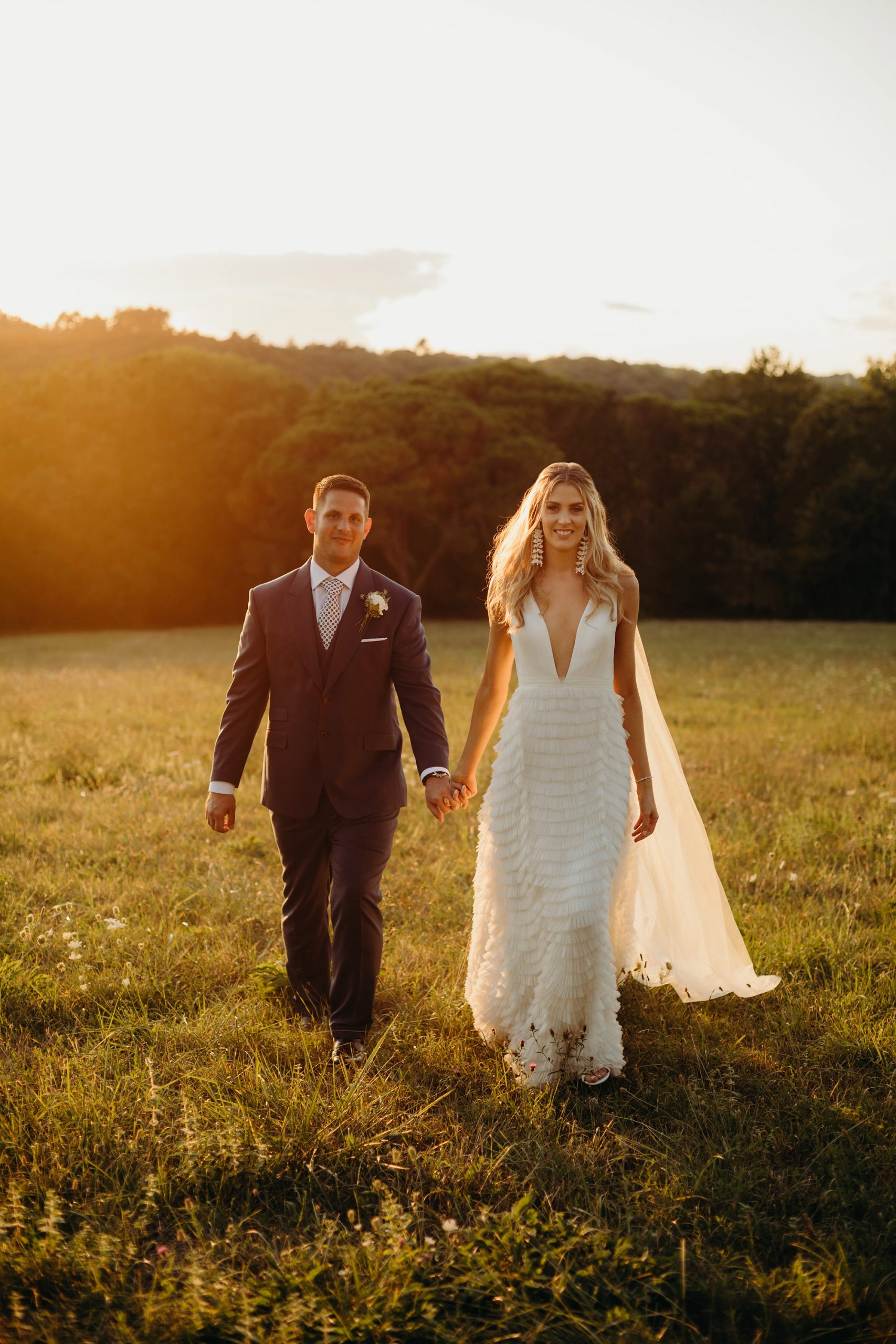 Truly beautiful photographs and a wonderful story too. You can explore more weddings in France here and many more weddings photographed by the super talent that is Richard Skins right here.
With much love all,
Annabel x