Hello and welcome to another week. Here's to it being a positive and smooth seven days for us all. Today, we have the huge pleasure of sharing a wonderful intimate city wedding that took place on 19th September with you but there's a slight twist in this feature.
Not only are we including the couple's view, we're also taking you behind the scenes with the venue team that managed the day. The fabulous professionals at London's RSA House made the day extraordinarily  special for Sophie and Ben, the new Mr and Mrs Millions, and we're going to find out exactly how they did it.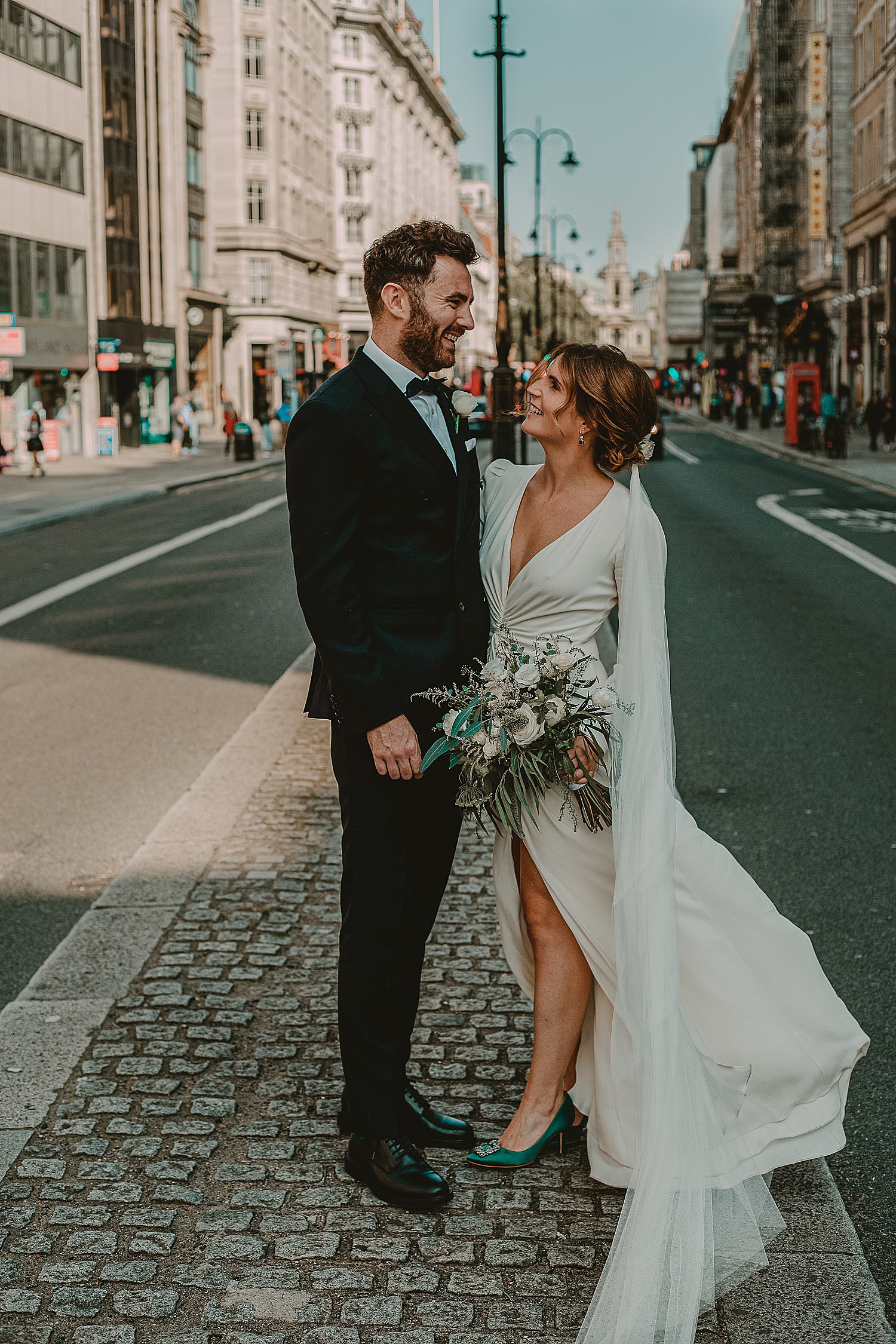 Let me first introduce you to RSA House, a venue that has a special place in my heart. This stylish and romantic townhouse is just a stone's throw from The Stand and it really does have it all. History sits alongside modern touches and guests love it. Who wouldn't fall for the sweeping staircases, the marble floors and the fantastic range of spaces hidden behind its doors?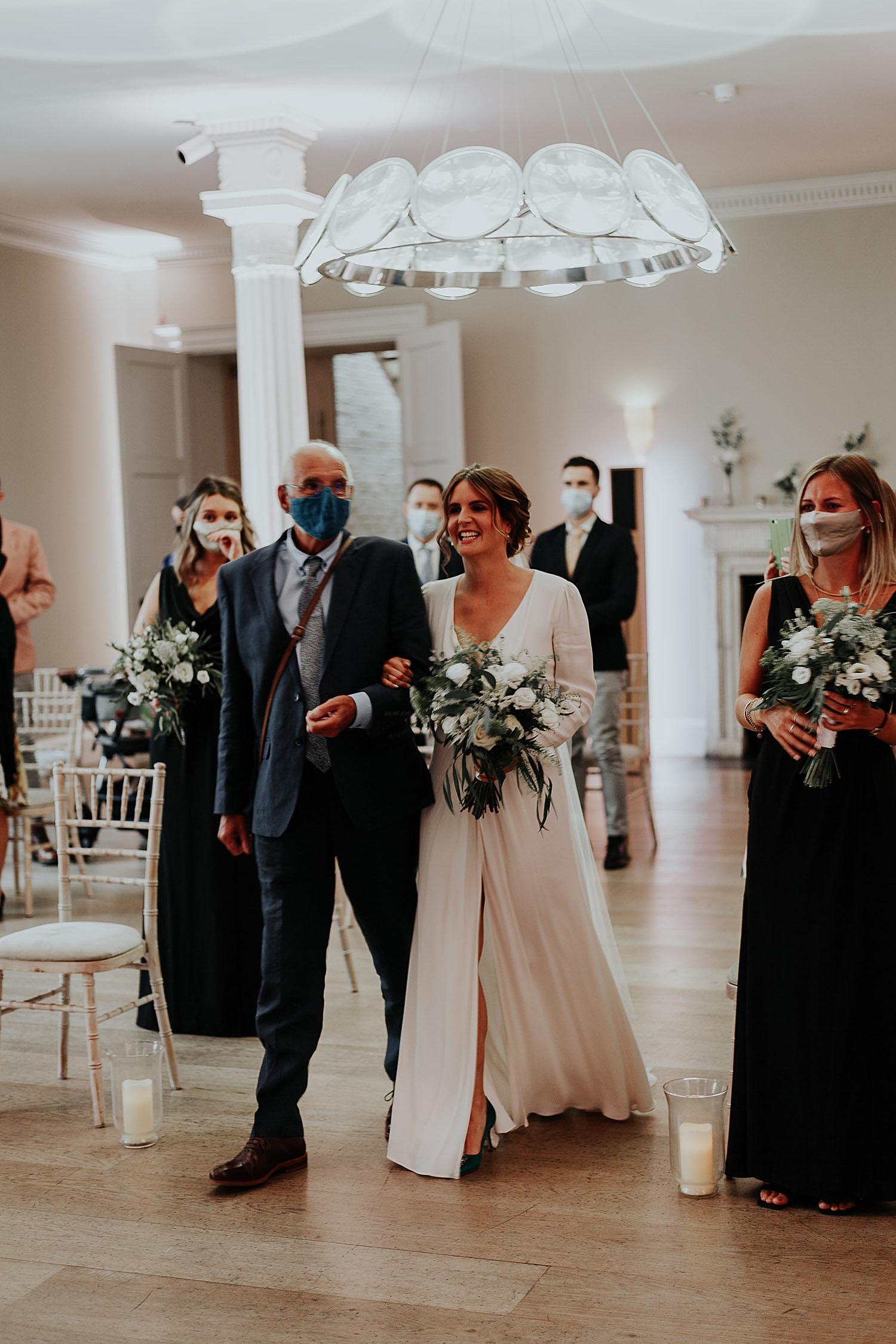 It's an award-winning wedding venue for very good reason and the superb team there really do make you feel supported and reassured on every step of your journey and whatever obstacles might pop up along the way, you can be sure they'll have everything under control.
So, let's hear from Olivia Parrott, Senior Event Executive, about this very special wedding:
"We are so pleased to have been able to welcome weddings back to RSA House. RSA House is a renowned London venue and weddings are at the heart of what we do so we're just so happy to be back. It's been absolutely incredible to be part of this day – from the planning, working with the couple, coordinating suppliers, dressing our beautiful house and making everyone so happy has been just amazing."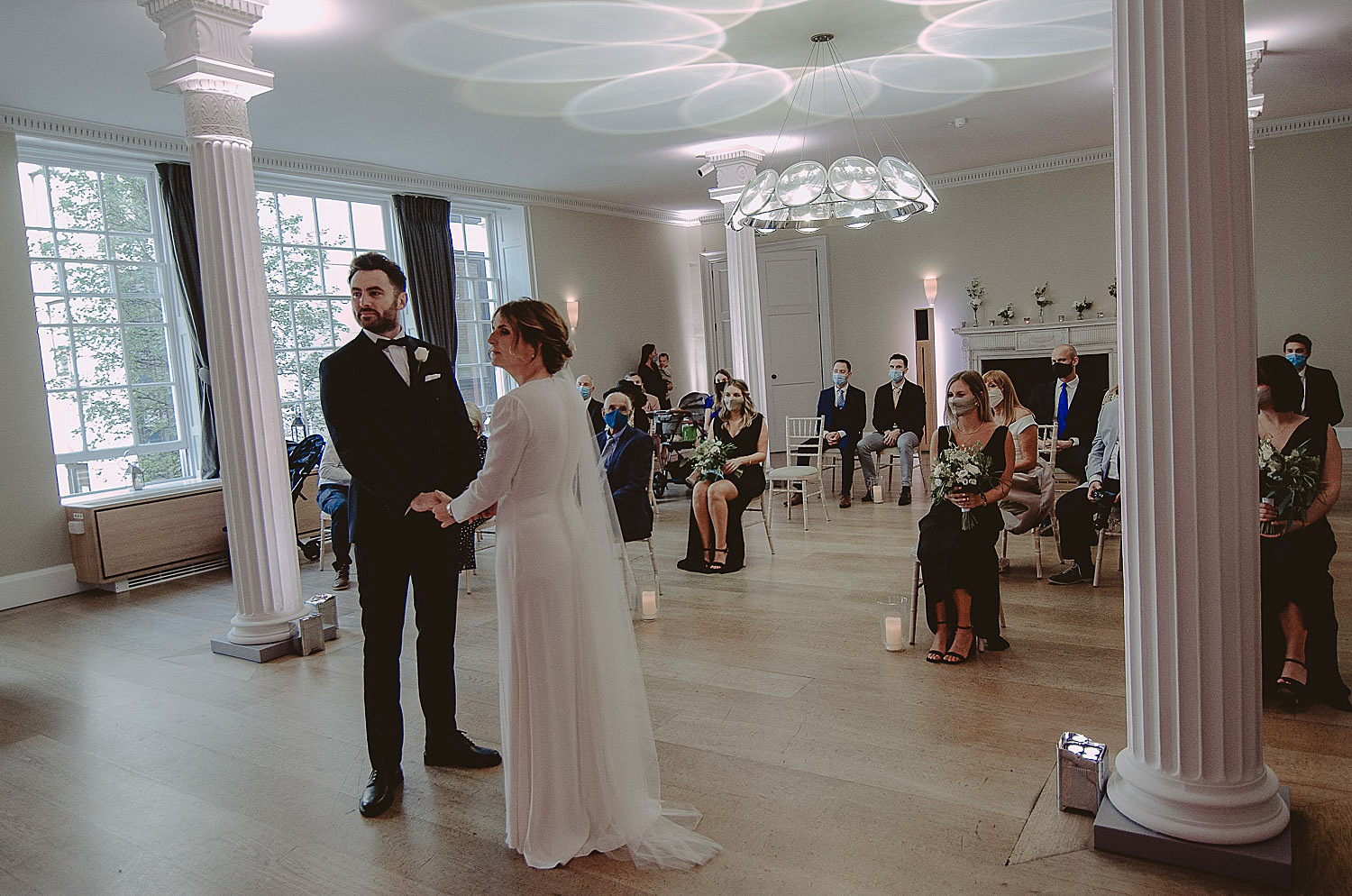 "Throughout this time, we've always tried to turn the 'challenges' around the current restrictions into something positive. There are lots of new elements and differences to consider and, above all, ensuring guest and staff safety is always most important."
"We've just adapted to the and we've proven that we absolutely have the ability to create the most incredible and memorable wedding days for couples, families and friends at RSA House."
The venue has worked tireless to make sure that they're able to open safely and the fact that they've been awarded a number of events and hospitality industry certifications highlights their commitment to safe working. Room capacities have been revised, the venue's layout has been changed to incorporate a one way system and staff have completed specific training.
Guests have their temperatures checked on arrival, the RSA House cleaning team works throughout the day and there's a safe room on site for anyone who starts to feel unwell during the day.
After all the preparations, the couple and their guests really did enjoy the most wonderful wedding day. Flowers by Mary Jane Vaughn, a menu by CH&CO that featured mouth-watering seasonal favourites and the extra special joy of being all together meant that this was an incredibly memorable day, for all the right reasons. Sophie explains:
"We've always wanted to get married in London. It's where we met and where we've spent our whole relationship together. We fell in love with RSA House immediately, it felt so unique compared to other venues we'd seen."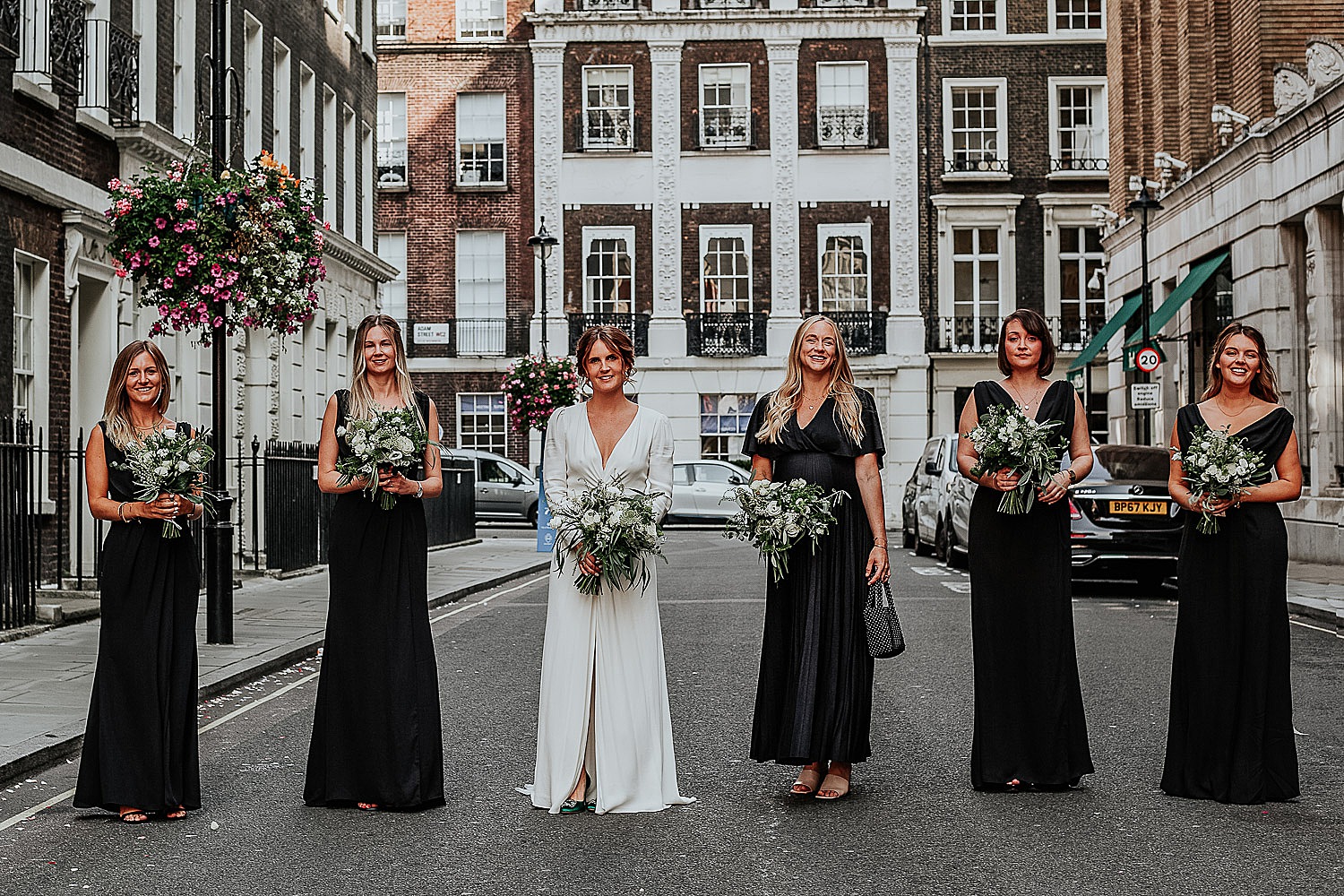 "Olivia and the team at RSA House have been absolutely amazing with their safety procedures. We couldn't, and wouldn't, have wanted to organised our wedding without their expertise, we'd have been completely lost!"
"There have been lots of ups and downs. The initial delay in wedding receptions hit us quite hard, then there was the further easing of restrictions and then the 'Rule of Six'. What I would say is that RSA House, Olivia and the team have been brilliant throughout. Olivia has been so supportive and understanding, which has been invaluable."
"My favourite part of the day was immediately after the ceremony. We had a glass of champagne on our own then had some socially distanced group shots. At that point, the official part of the day was done, our immediate families and closest friends were there and, most importantly, we were married. It was such a mixture of relief and happiness."
"This situation has really made us focus on what's important and celebrating with our immediate family and friends was so precious. There wasn't anything we'd have done differently on the day, it was perfect."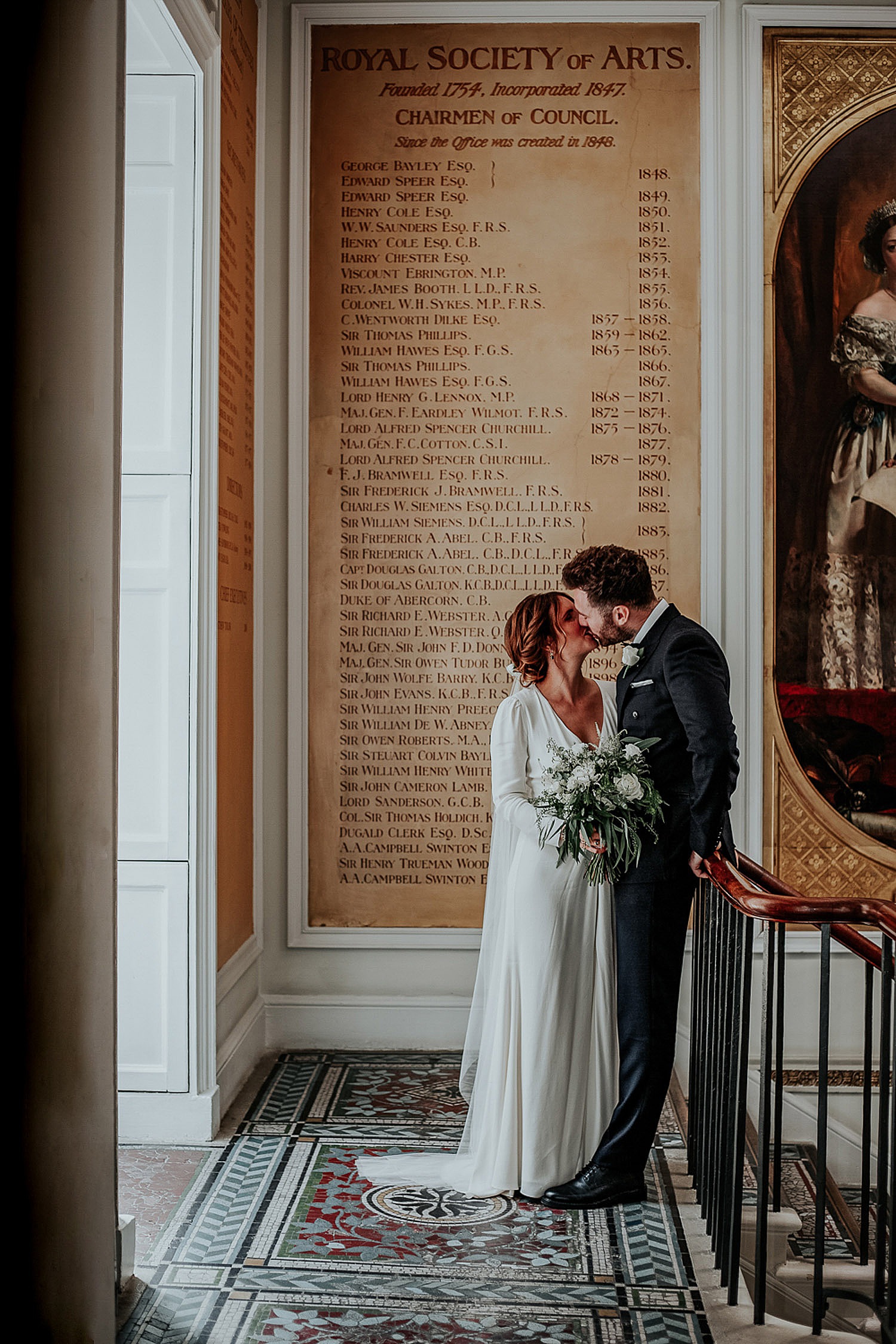 Tips for special and safe intimate weddings from Olivia at RSA House
Intimate doesn't mean any less lavish and beautiful! Having a smaller celebration can mean a higher budget for other elements such as florals and décor which creates a more memorable impact.
Love always wins! Distance makes the heart grow stronger and, in a world where you cannot hug or kiss, an intimate wedding with family and friends being safety reunited makes a wedding day even extra special.
A smaller guest list means less expense and being able to celebrate with your nearest and dearest to you.
Don't underestimate how important it is to over plan! Risk assessments, council protocols and checklists are more important than ever, couples want to know they are in safe hands at a venue like RSA House where this is taken care of and always go the extra mile.
Have a venue Covid safety officer for the event to manage the new procedures. Some people are always likely to push the boundaries and so there must be processes in place to manage this.
It's all in the detail – gifts, favours, little personal touches through your day is one thing that isn't restricted, so make sure personal detail is plentiful throughout the day. Could you offer your all-time favourite cocktails after dinner or provide entertainment? Ideas such as these make up for the no dancing!
Be patient! We are all in this together, we are following this road through 'new normal' together. Be patient with each other, but know an intimate celebration really creates memories to last a lifetime.
Ensure to consider venues that are spacious, remember a venue like RSA House that can usually host 120, this is the perfect size for intimate celebrations with distancing.
Never forget a wedding day is about you as a couple, having a small wedding doesn't take away from this, it makes it even more intimate and special.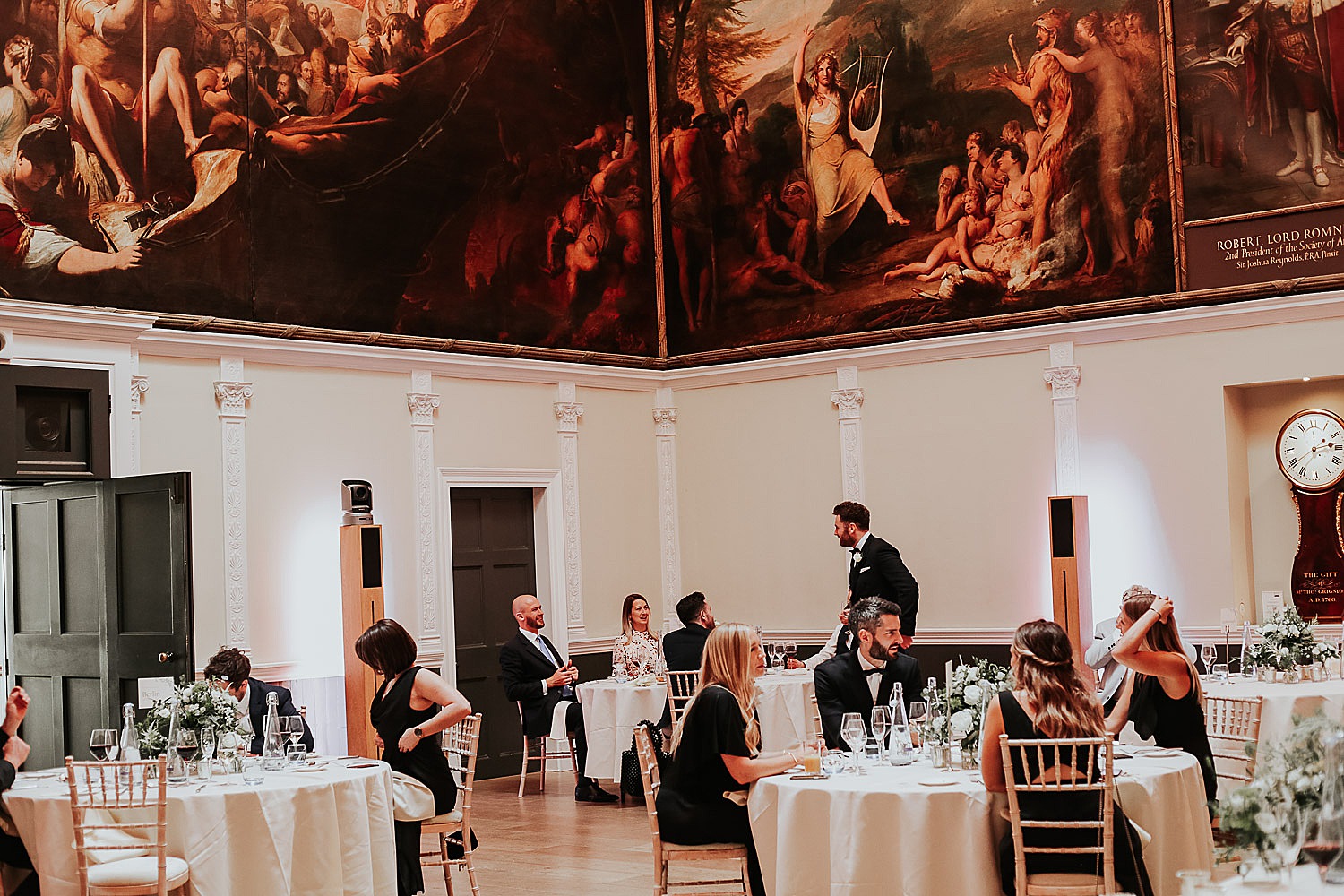 All of us at Love My Dress send huge amounts of love and congratulations to the new Mr & Mrs Millions – here's to years and years of happiness together xx
To find out more about weddings at RSA House or to view their new range of packages including ceremony-only weddings at RSA House, intimate weddings at RSA House and Vaults wedding party package at RSA House, which would be perfect if you're planning a celebratory party as soon as it's possible, just click here. If you'd like to talk to the team to discuss your plans, don't hesitate to contact them on 020 7451 6855 or email [email protected].