If you're here in search of either small, intimate or micro wedding inspiration, and/or you're thinking of a city celebration, then I have just the thing for you today.
This is a relaxed yet ever so stylish affair, with a town hall wedding at an iconic London venue, and a cosy afternoon tea at a nearby hotel. This is the wedding of Cat and Andrew, who held their ceremony at Old Marylebone Town Hall in London on the 14 September 2019, followed by a cab ride over to Charlotte Street Hotel in vibrant Soho for their teatime reception.
Hannah Larkin Photography

+ Follow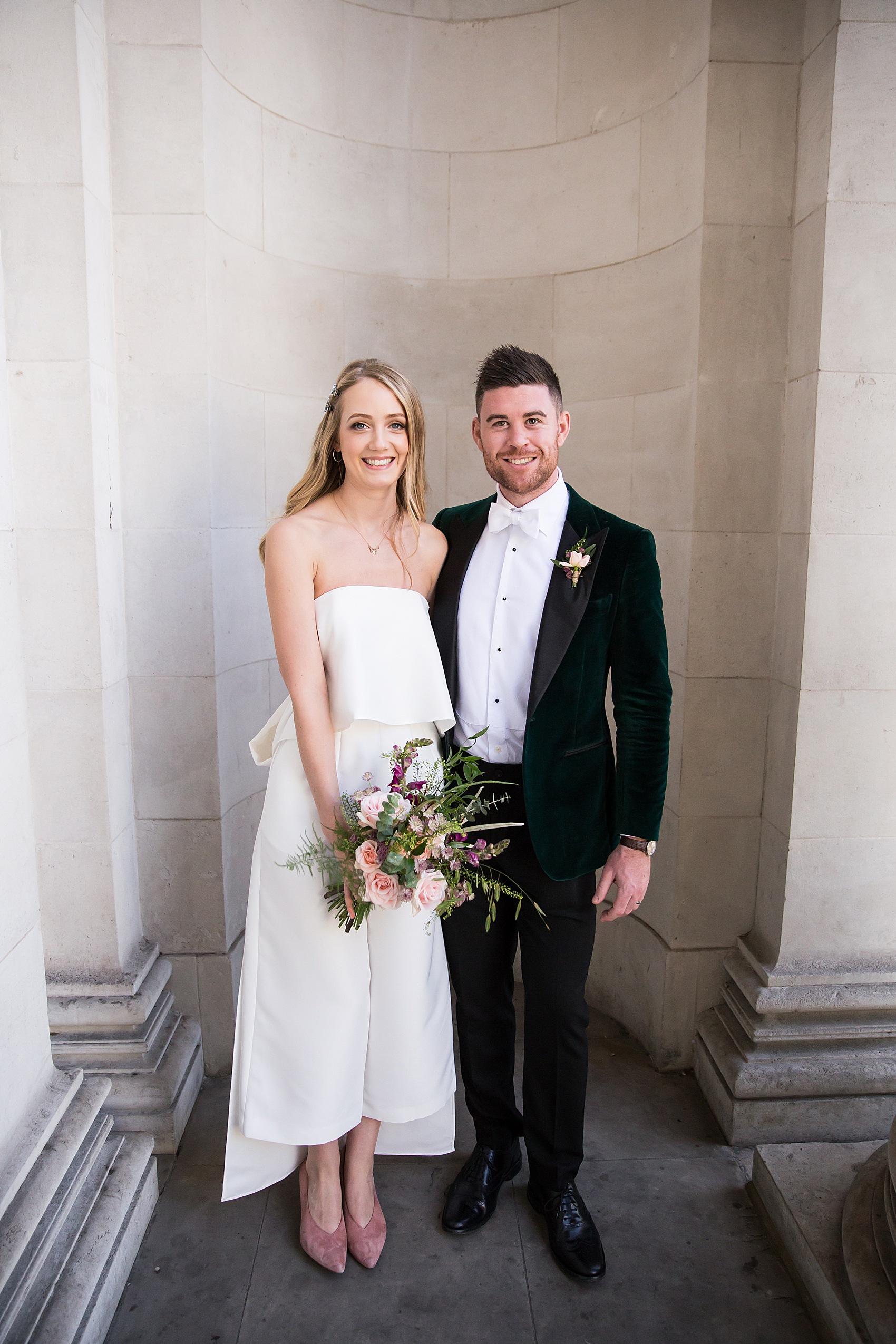 Cat was inspired by chic city weddings and by London itself, and initially thought of wearing a 1960s inspired minidress. She knew she wanted something different and non-traditional, and then she discovered the most amazing bridal jumpsuit from ASOS, complete with a gorgeous statement bow at the back.
"I wanted a relaxed bridal look that didn't cost too much to be honest! I was very inspired by the idea of wearing a trouser suit, or something different to a classic dress. I loved the huge bow detail at the back of the jumpsuit, that made it look unique despite the low price tag."
On her feet, Cat wore rose pink shoes from & Other Stories, a heart shaped locket necklace which was her grandmother's, and in her hair were personalised crystal 'Mrs Tarby' hair clips from Etsy [apologies, Cat cannot recall the seller details].
Holly Hayward (booked through blow LTD) created Cat's beautiful make-up look, and styled her hair in luxuriant waves.
Andrew looked so smart and sharp in white tie, worn with black tuxedo trousers and a deep forest green velvet jacket with contrasting black lapels from Suitsupply. He also wore a vintage Omega watch that Cat had gifted to him on his 30th birthday.
"We went to the same university but met a year after leaving, in a bar in Clapham, 8 years before we got married. We got engaged on a very rainy walk in the Lake District in August 2018, and married 13 months later."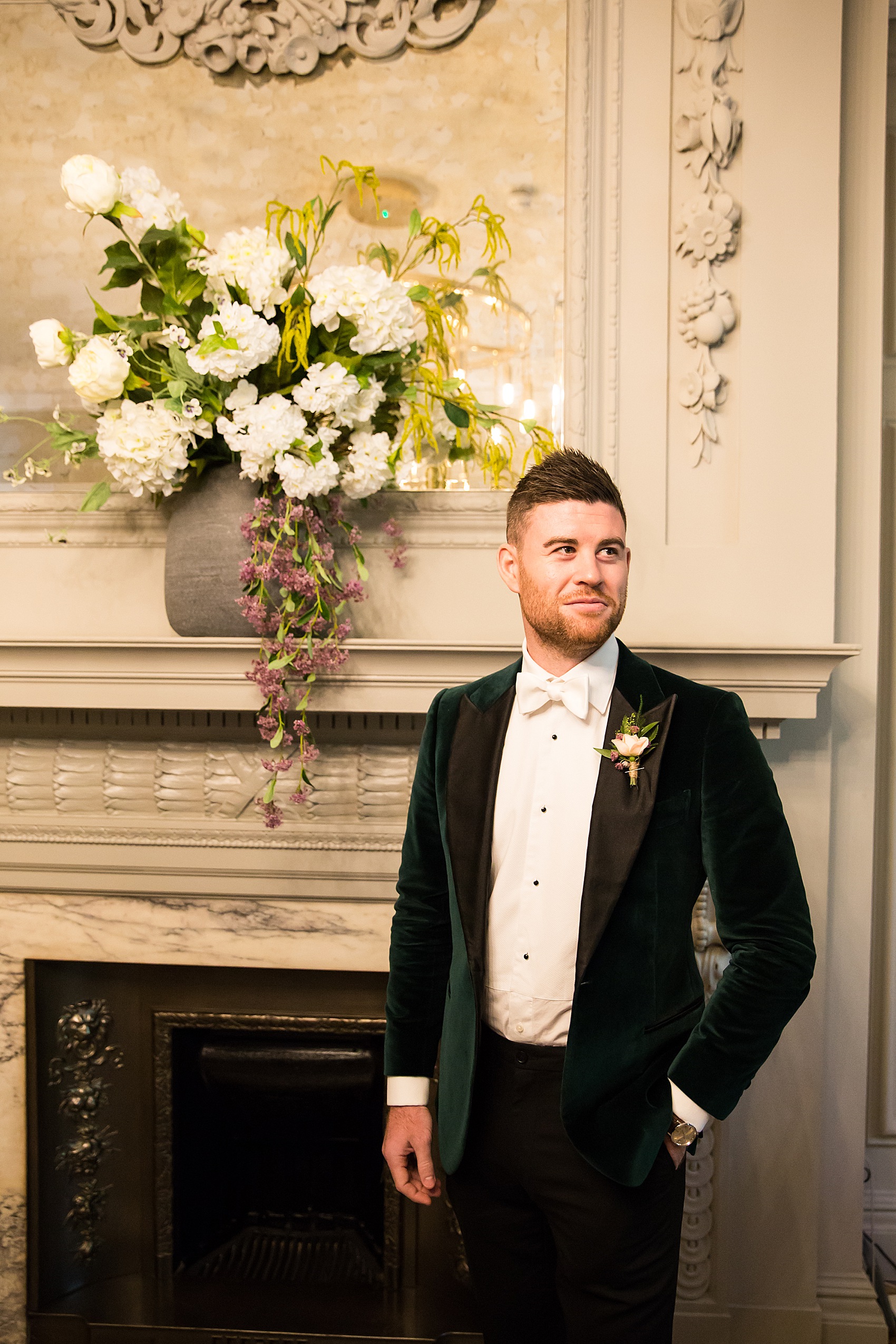 "We chose Old Marylebone Town Hall because we wanted an iconic London venue that had a timeless quality. I'm (the Bride) London born, and it was important to me that we could get married in the city. We were having a bigger wedding celebration in Spain two weeks later, so this was the more personal, homely side of things for me."
"Also, we felt if it's good enough for Paul McCartney and Liam Gallagher it's good enough for us! Andrew is a huge Oasis fan, so that connection was definitely a key selling point – although we're definitely hoping our marriage lasts a lot longer than his!"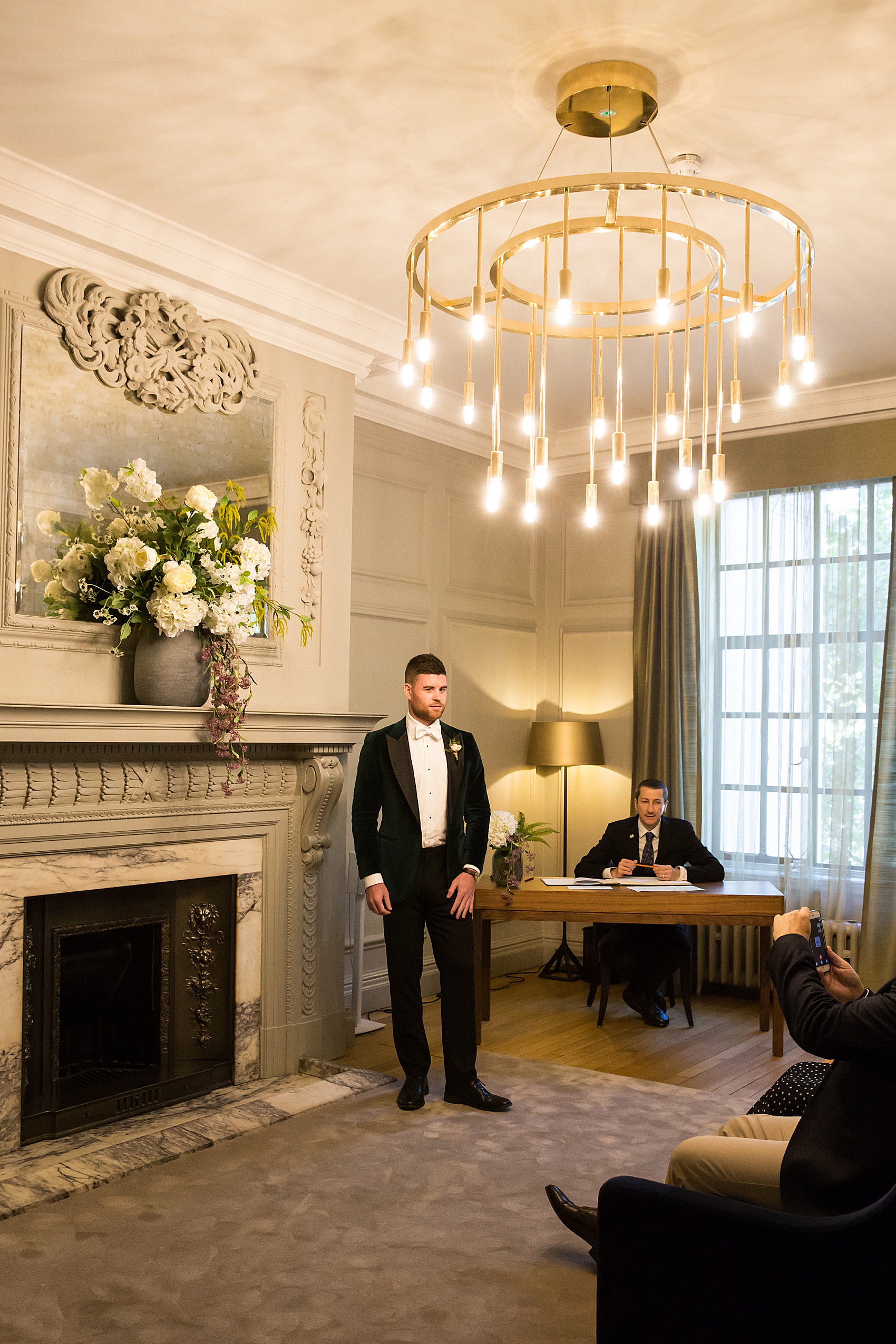 Arm in arm with her Dad, Cat walked down the aisle to Sam Cooke's song, Wonderful World. The couple's ceremony was held in the intimate yet splendid Soho Room at Marylebone Town Hall, with its spectacular chandelier and ornate carved mantelpiece.
Between their vows, Cat and Andrew also chose two readings – one was an extract from Richard Bach's book, The Bridge Across Forever, and the second was Elizabeth Bishop's sweet poem, Close, Close All Night.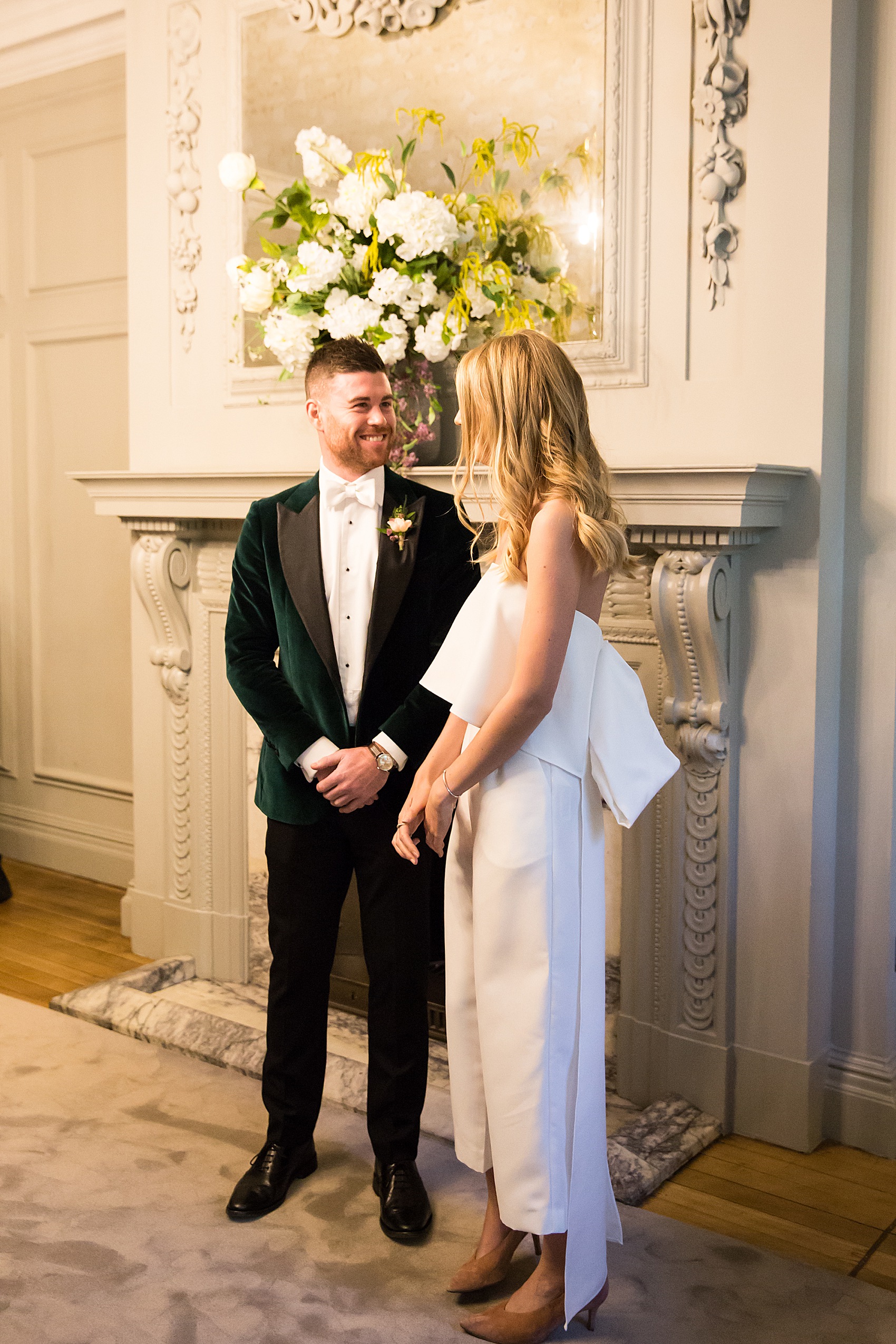 "We had our family only London wedding with just 16 guests. In the run up, we felt this was just the legal side of things before our bigger wedding in Spain a few weeks later. But as the day got closer, we could sense that this day was becoming more and more special, and we decided to arrange a photographer to help us remember it."
"Now looking back after a year, we have such fond memories of this day. Both small and large weddings can be amazing – yes they feel different, but I would not have given up our London day for the world."
What gorgeous feedback for those of you planning an intimate wedding because of COVID-19 restrictions.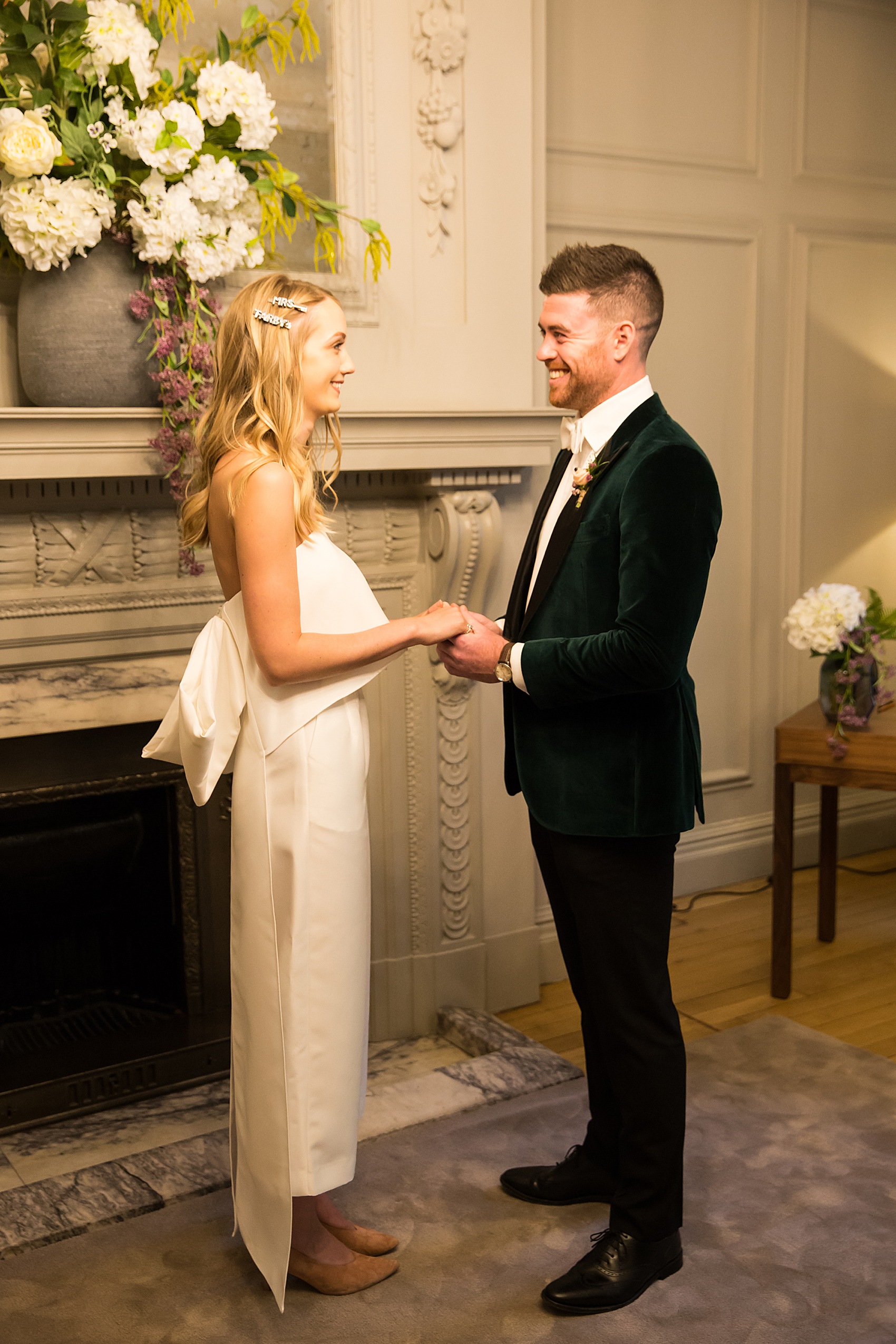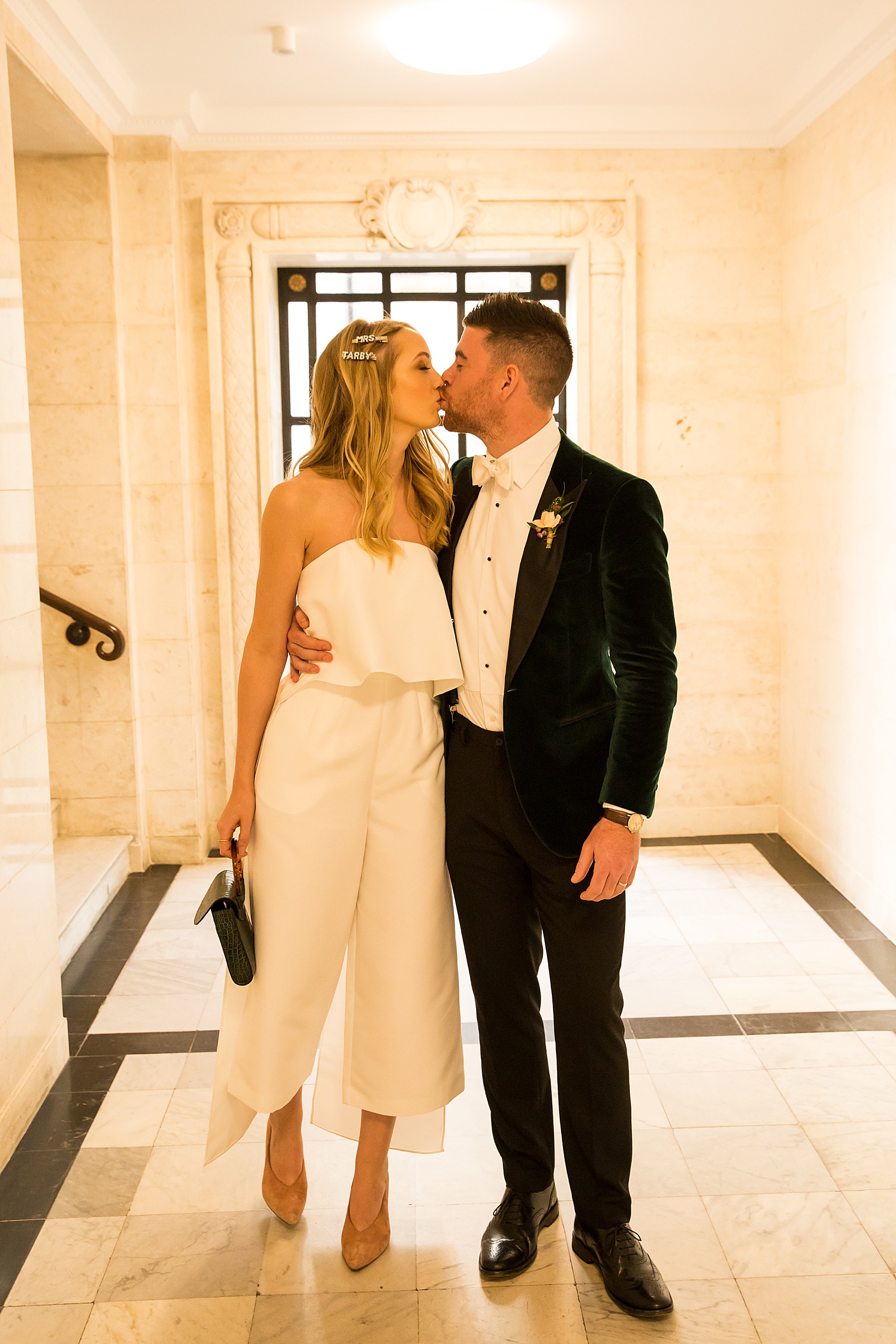 Grace & Thorn offer a great 'Ready to wear' wedding flower service online, where you can select different sized bouquets, as well as buttonholes, vase arrangements, corsages, and even garlands of greenery. Cat's bouquet was a sweet, candy coloured assortment of roses, snapdragons and astrantia, with grasses and greenery like asparagus fern.
"I chose Grace & Thorn for my bouquet, because their flowers are incredible and they do bridal bouquets by delivery."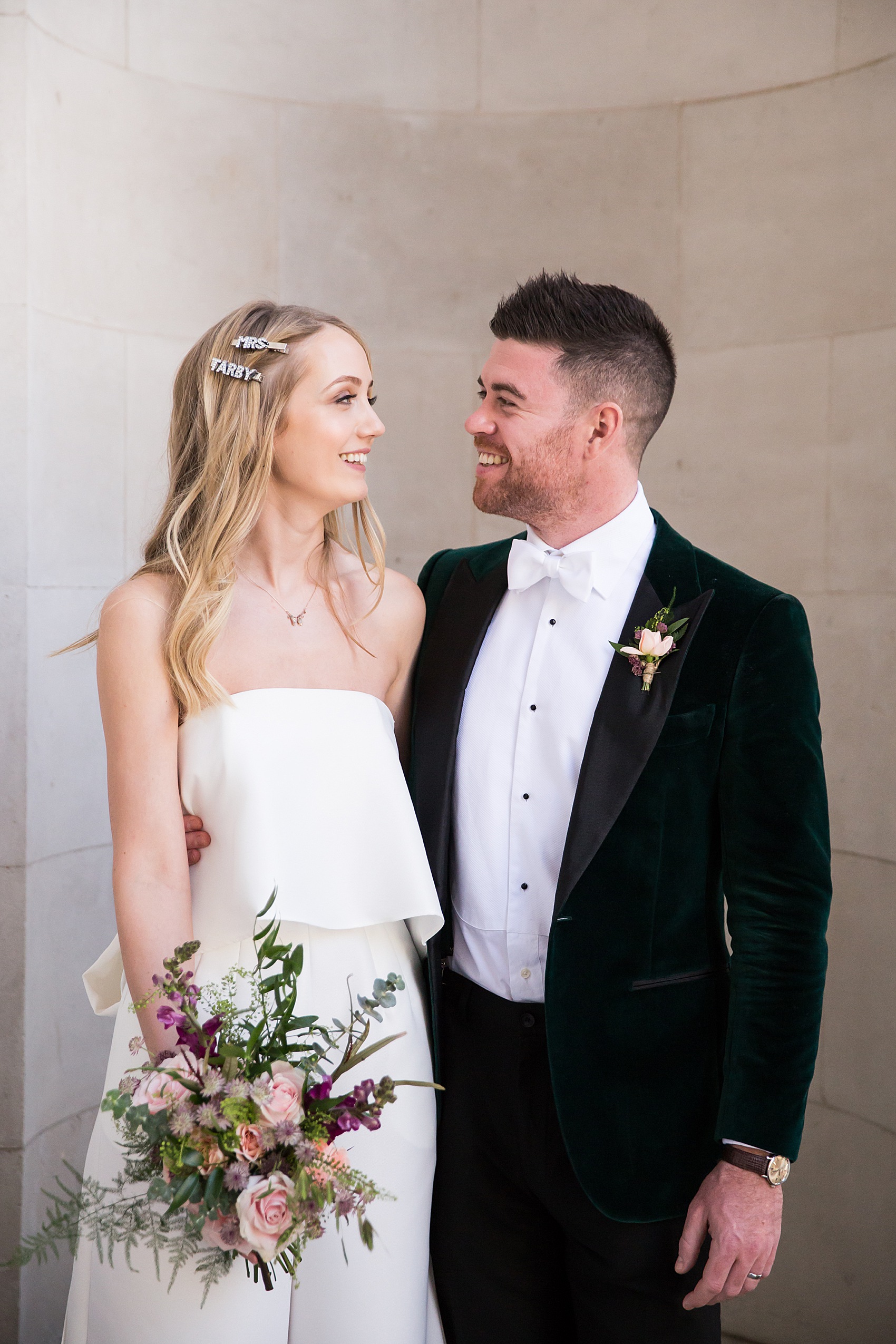 London-based photographer Hannah Larkin was a brilliant find for Cat and Andrew, and she beautifully captured the story of the couple's city celebration.
"We were looking for a photographer for just a few hours. As this was a more relaxed day with fewer people we felt we didn't need a full day's worth of photos. We found Hannah via a friend who is also a wedding planner."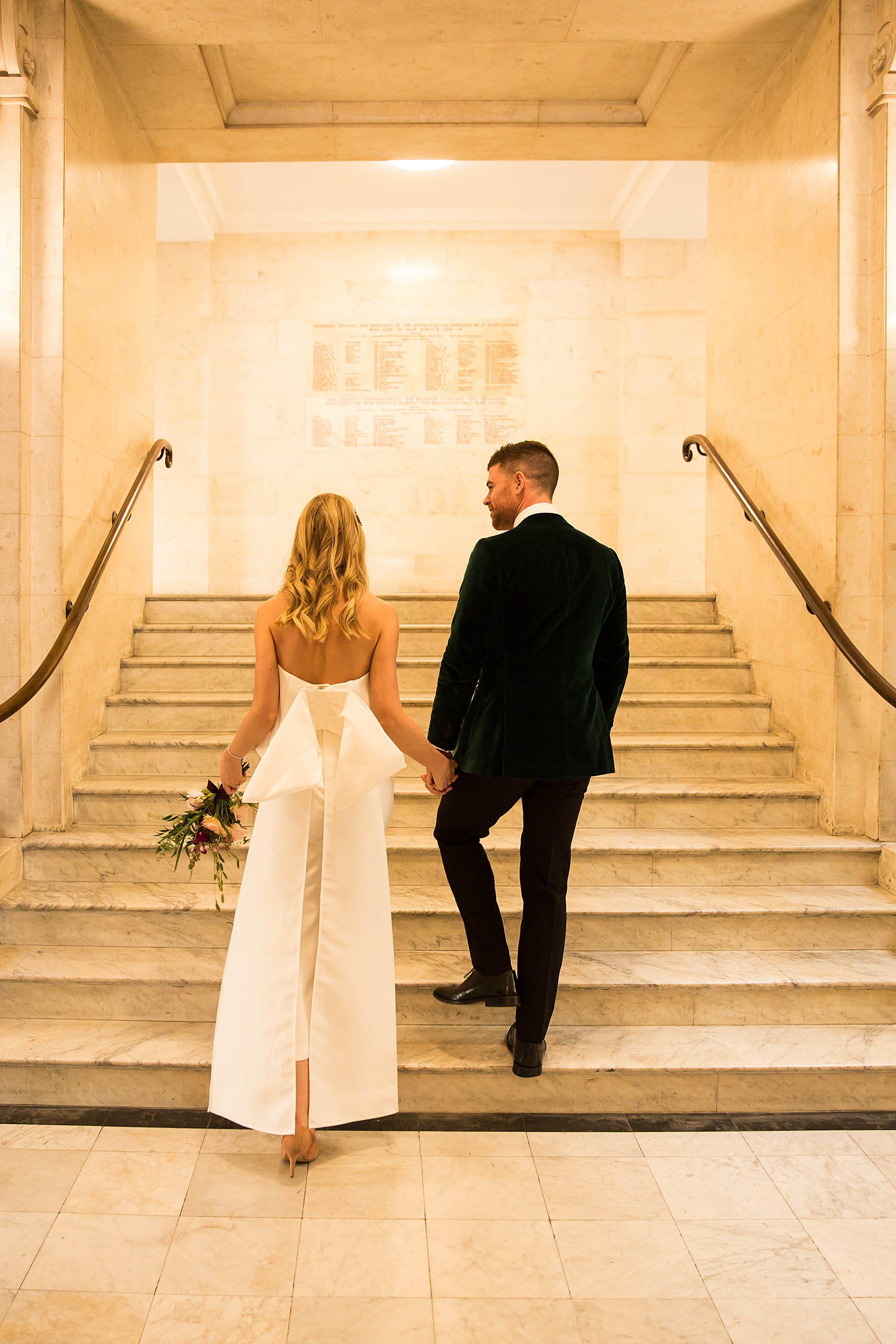 "Hannah was so accommodating of our needs, her style was professional but warm, and not intrusive. She made us and our guests feel very relaxed. Perfect for a small wedding. We would absolutely recommend her – the final shots and the album were also beautiful!"
Not only is Hannah a talented photographer, she is also a psychologist in the NHS, and earlier this year, very kindly wrote a piece for Love My Dress about self-care and managing uncertainty during a pandemic. Do take some time to read this if you wish to.
"Our favourite part of the day was the taxi ride to the hotel, because it was just us and we were just married! Plus we drove through Fitzrovia, a part of London that I know well and love."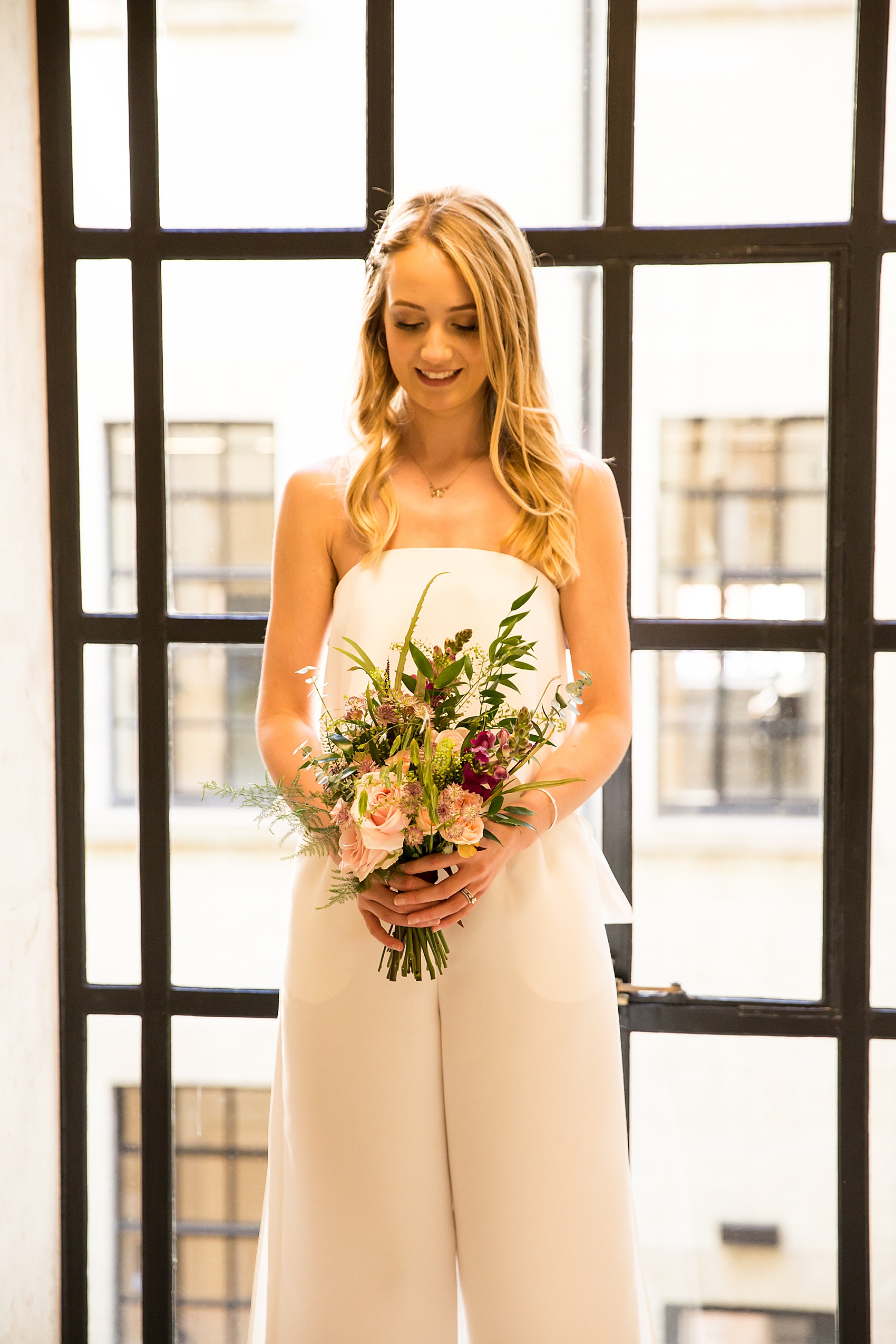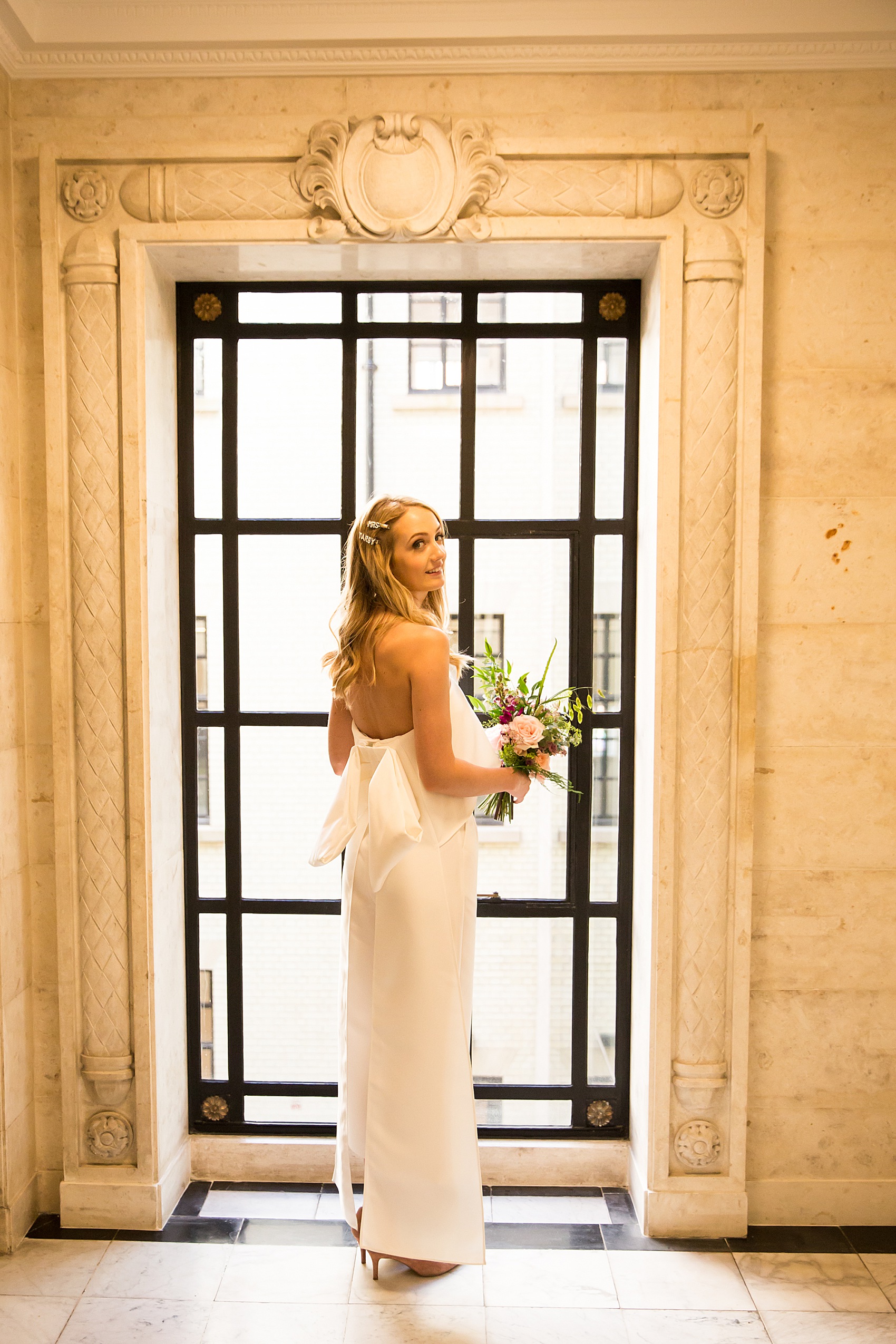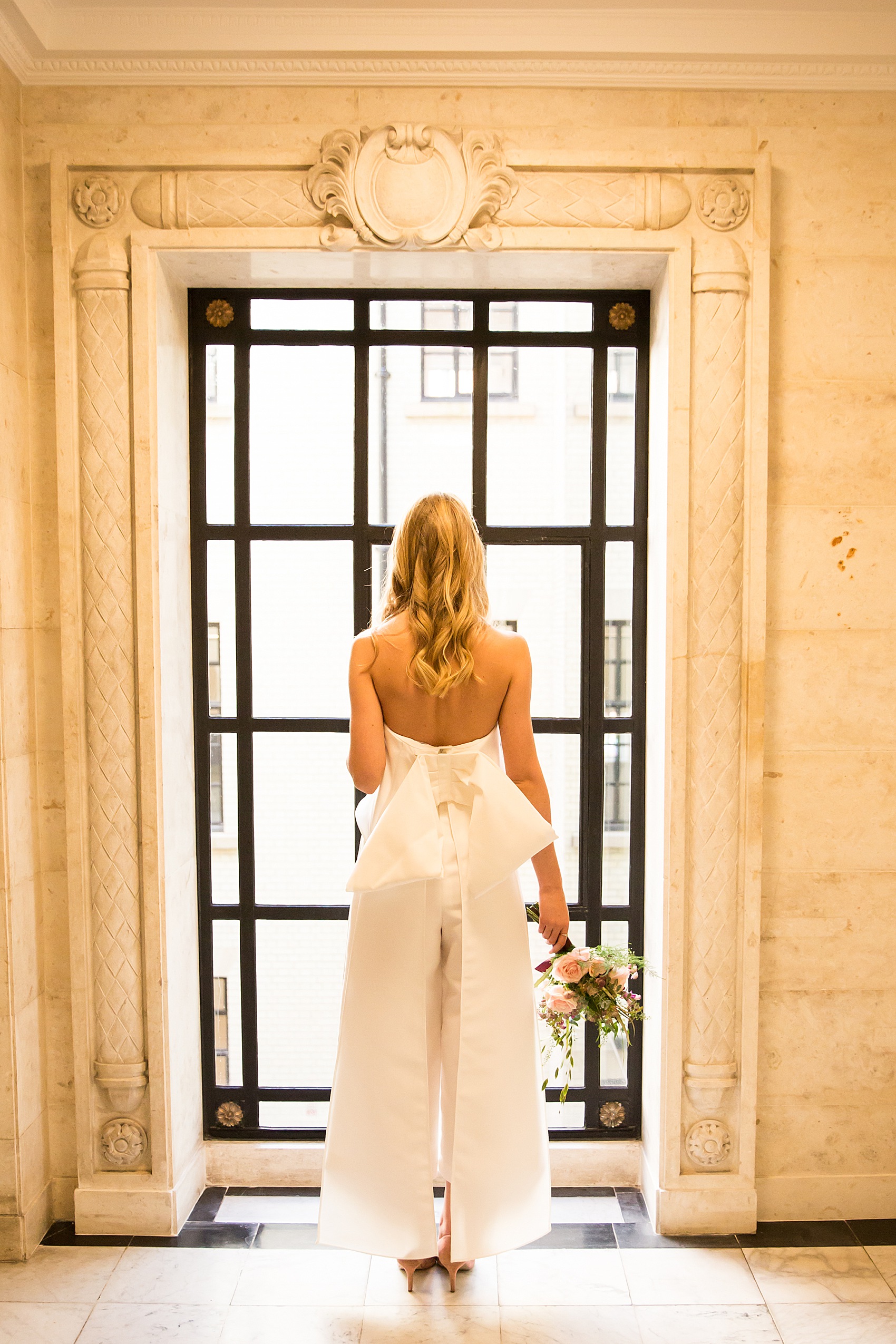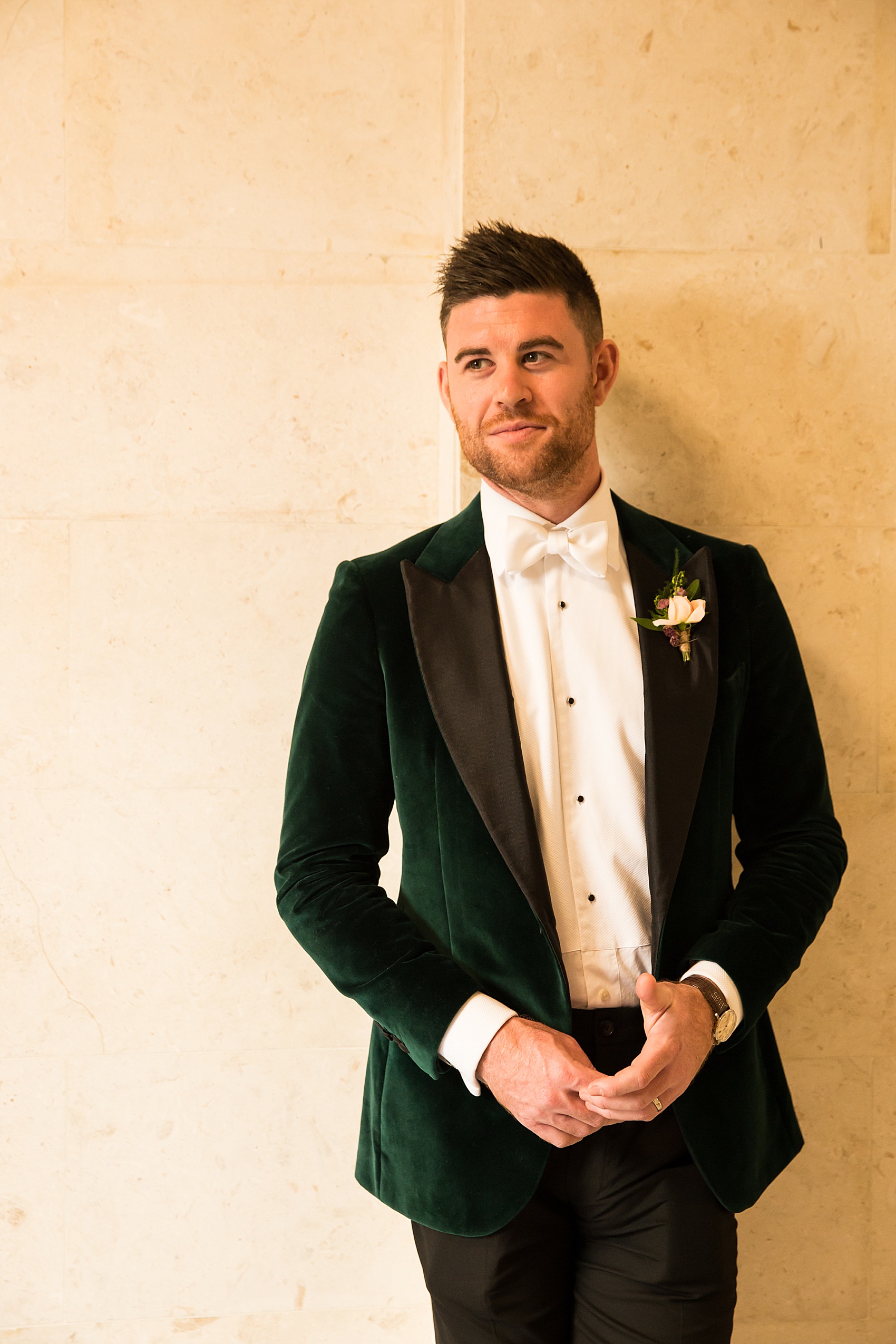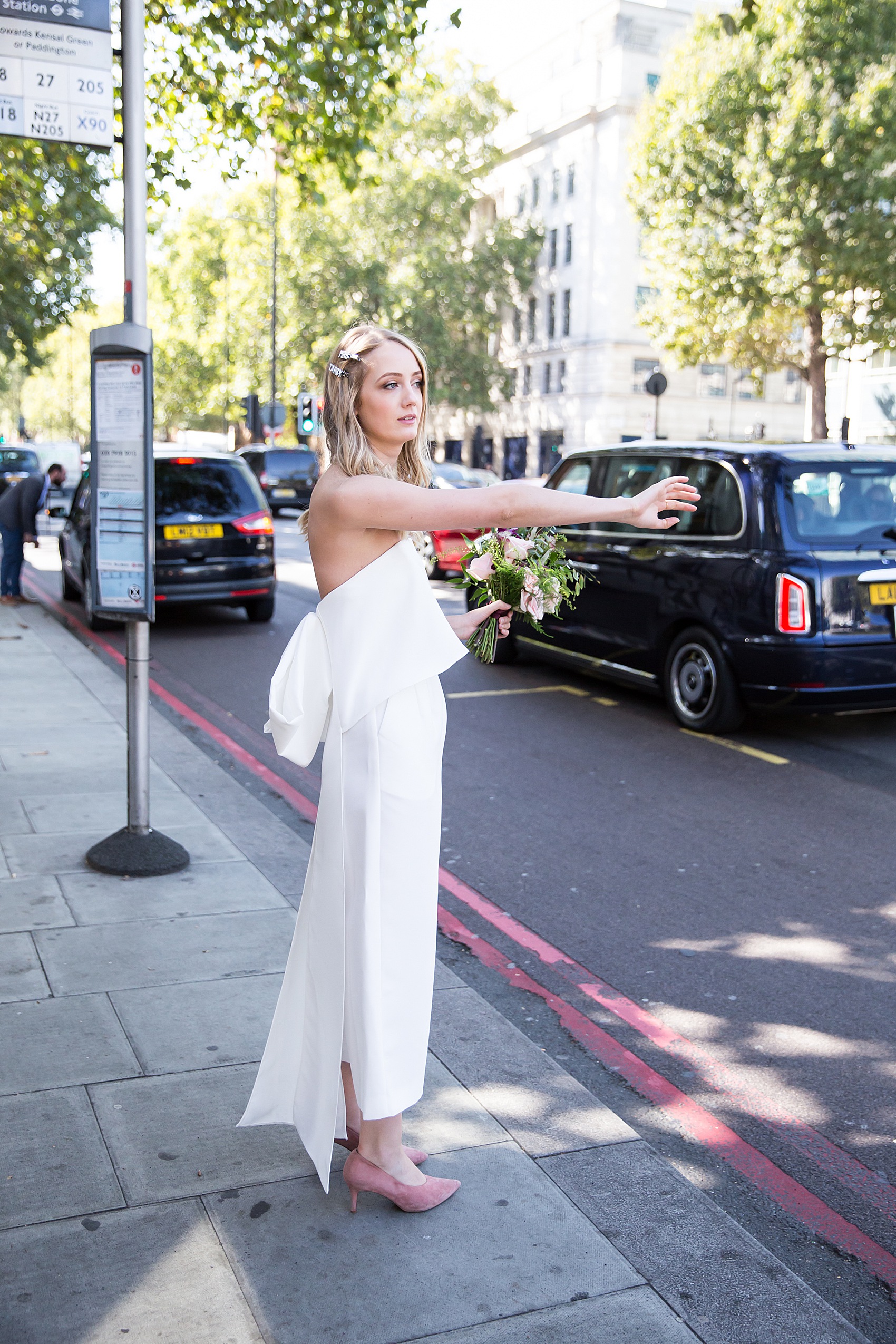 Charlotte Street Hotel is such a lovely venue, and the interior design is inspired by the aesthetic of the Bloomsbury Group.
"We chose this venue because it's only a short cab ride away from the ceremony, and to fit with the London vibe we wanted to get a black cab between the venues."
"Charlotte Street Hotel is one of my absolute favourite places in London. It is such a beautiful boutique hotel. I've spent many nights at the bar there before!"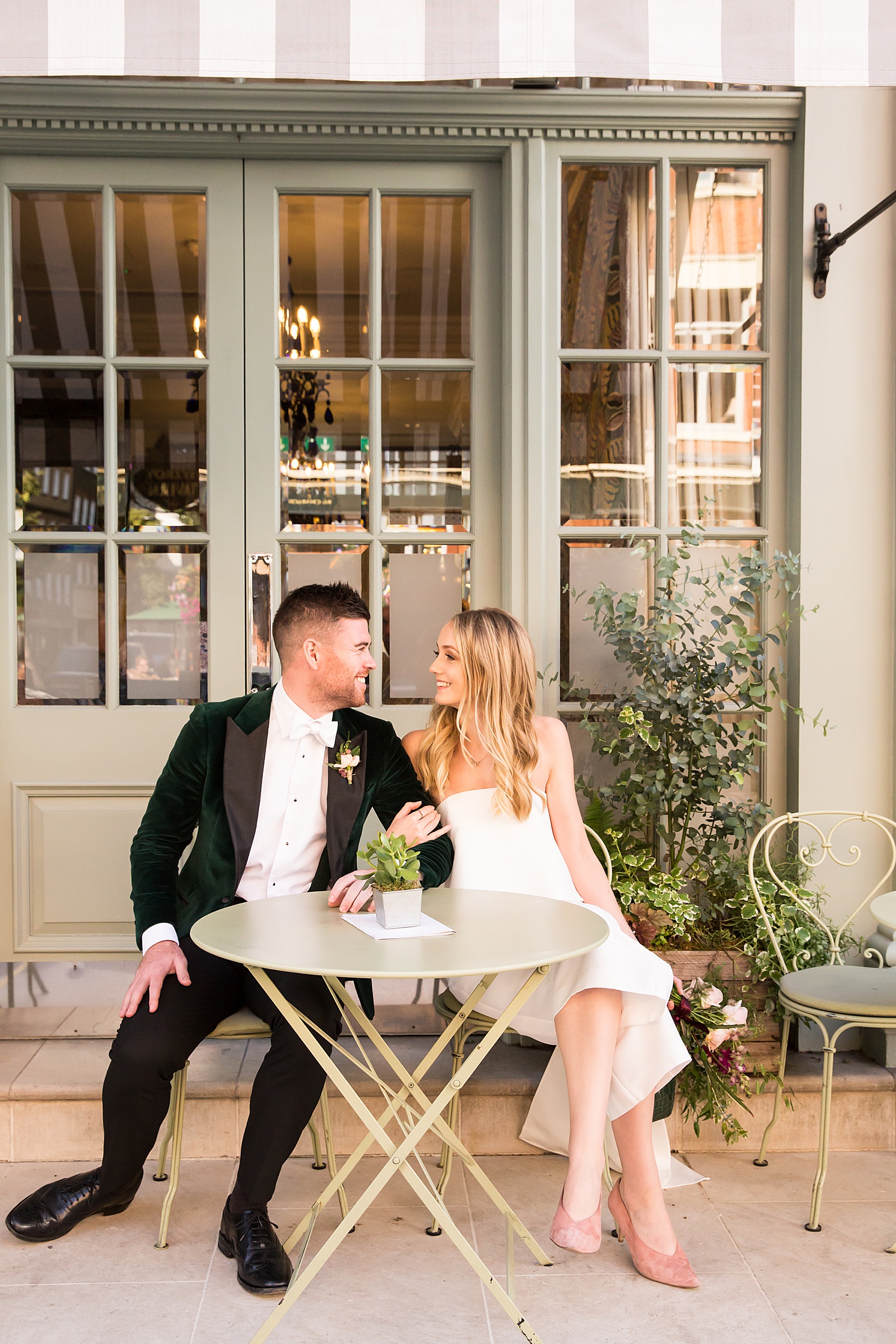 Chilled champagne on arrival was followed by afternoon tea, with lots of delicious treats, speeches and toasts enjoyed as everyone relaxed around the table – and a wedding cake from Marks & Spencer. This was exactly what Cat and Andrew wanted, rather than a full sit-down meal, and it suited the feel of their day wonderfully.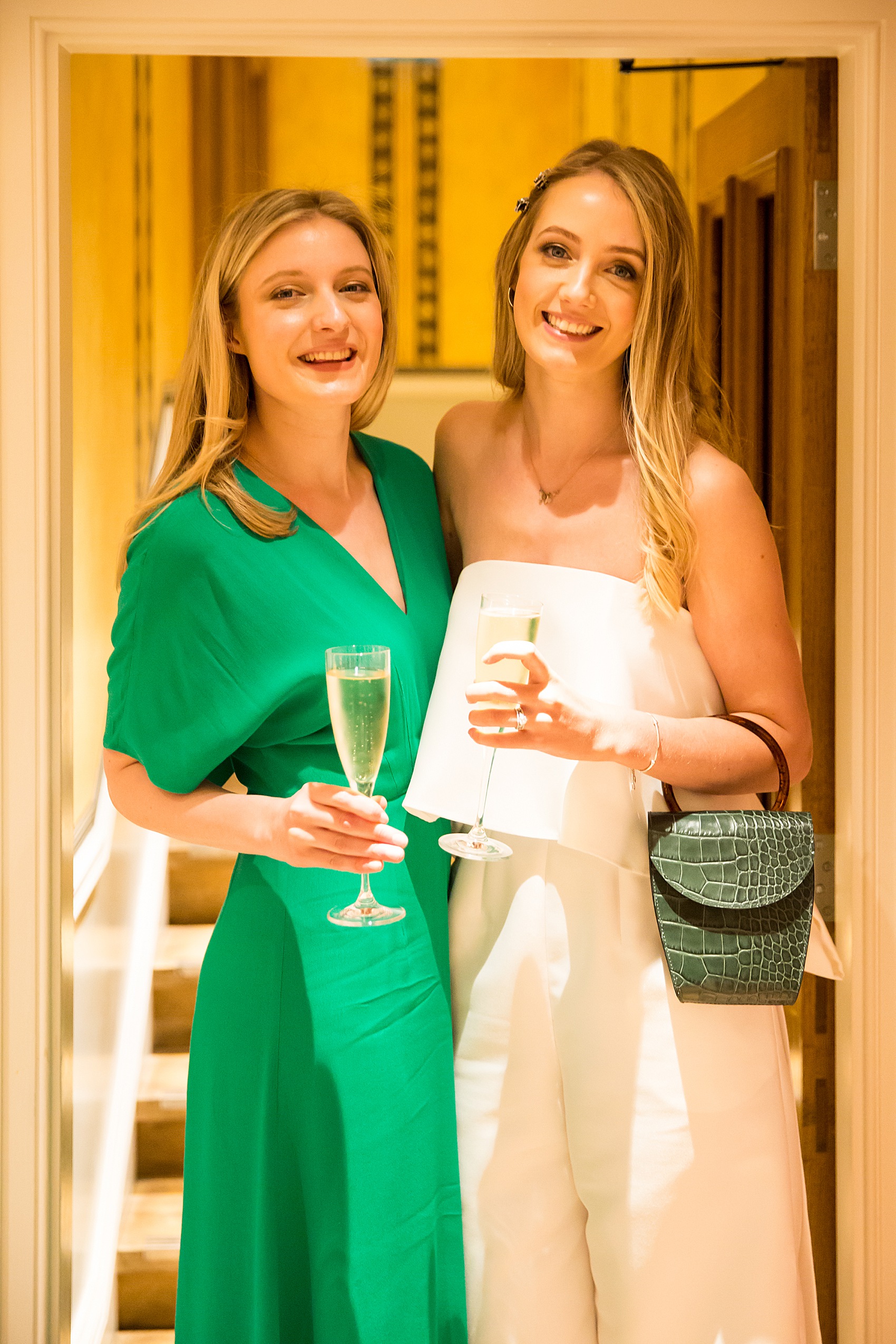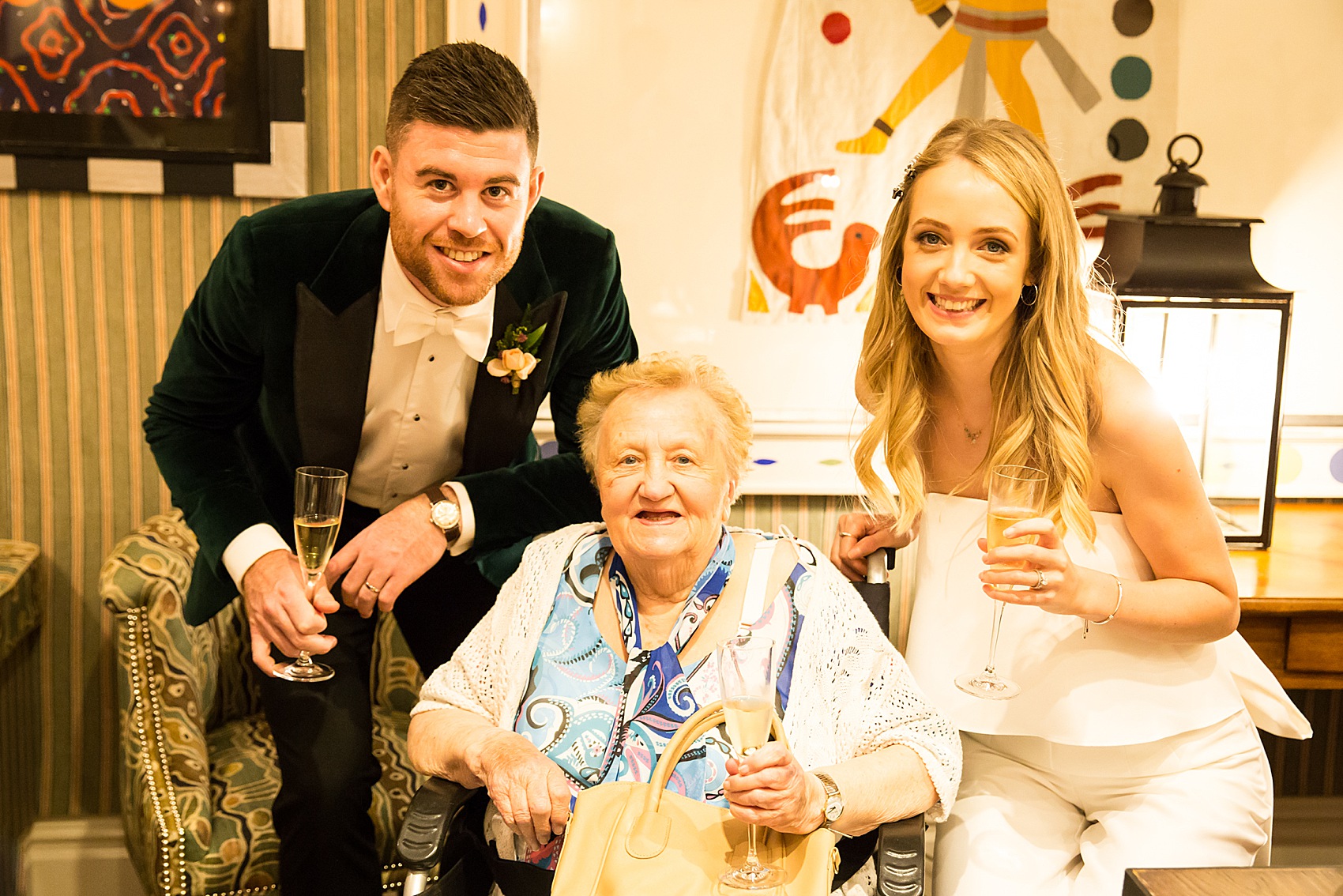 Words of Wedded Wisdom
"Just do whatever is right for you – stay firm to the wedding you want. The best feeling is knowing you're having the day that is perfect for you."
"Our day was so personal, so intimate, and profoundly special to us. For those having to cut down on their numbers I would say, the day will feel just as special to you regardless, so long as you have your key people there (and yourselves!) it will absolutely feel special to you."
Cat and Andrew, thank you so much. Cat, I love your cool wedding jumpsuit so much – and that bow – out of this world! Many thanks to Hannah Larkin for these touching images, too – just lovely.
With love,
Laura